When it comes to Indian weddings, red or pastels are common colors that many brides are opting for! But if you want to stand out from the crowd and try something unique for your big day – we have got another color waiting for you. GOLDEN! It might not feel like a normal color to experiment with. Hold your opinion until you reach the end of this blog. A golden lehenga, in our opinion, is one of the best things to have happened to brides-to-be! Here's why:
They are all sparkly and shimmery. So you would be shining like a star on your wedding day. Second, they go so amazingly well with Indian skin tone. Third, the jewelry options to wear with them are endless. All the colors go with golden – from red to pink to green! Isn't it exciting?
So, if you are even a little convinced with our case for golden lehengas for your big day, scroll through, these 25 brides in stunning golden lehenga designs will do the rest of the convincing for us!
#1 Sequined Golden Lehenga
This bride wore a glamorous sequined golden lehenga with a pink dupatta for her wedding in Thailand. Set amidst the day, she walked down the aisle looking like a pot of dripping gold. Styled with minimal jewelry and makeup, she kept the grace of her outfit alive with these choices. The red choora further added a dash of vivacity to the entire outfit. 

Via: @shadesphotographyindia, @simran.takkar, @sabyasachiofficial
#2 Golden Bridal Lehenga With Pink Dupatta
Just like our starter bride, this one too complemented her golden shade outfit with pink accents on the side dupatta and the sheer pink color for an over-the-head dupatta. Another noticeable element is the high bun she paired with her lehenga – adding a unique touch to an otherwise trend of low floral buns. The red bridal bangles complete the look and enhance the timeless attribute of her bridal look.  

Via: @hitchedandclicked
#3 Anushka's Sabyasachi Golden Lehenga For Mumbai Reception
Each & every look and element of Anushka's wedding has been deciphered, doted on, and reported by media and bridal inspiration websites. For her Delhi reception, the actress stunned in an all-golden bridal lehenga by Sabyasachi and diamond jewelry; giving us yet another look to admire! Beauty-wise, Sharma opted for a softly contoured face, dusty rose lips, and movie-star waves.  
#4 Golden Lehenga With Red Dupatta
If you're mesmerized by the color golden but don't want to feel FOMO by missing red attire on the wedding day, how about you create an ensemble that's the best of both worlds? What we mean is add a red overhead or side dupatta to your golden lehenga. It's a beautiful lehenga color combination and one that's timeless. Go further ahead and add a distinctive touch by option for a full-sleeve lehenga blouse design with the attire.

Via: @hitchedandclicked
#5 Golden Bridal Lehenga Bedecked With Pink Accents
Sabyasachi sequined attires are a work of art! At the start of his career, we saw many sequined clothes from his collection becoming popular and he still includes them in his launches. Be it the sequin sarees or the sequin lehengas – his mastery of handwork is irreplaceable. Here's a bride wearing Sabyasachi golden lehenga design with a pink dupatta for her wedding day. Pairing it with diamond jewelry and a high bun bridal hairstyle, we're loving the entirety of her wedding look. 

Via: @shadesphotographyindia
#6 An All-Gold Bridal Ensemble & Magnificent Jewellery
A twirl shot is a must-have in your bridal portrait album and what are the odds that an airplane flies right across the sky to give you the perfect background prop? Quite slim! This bride was able to get this opportunity & the photographer didn't miss it. Love how the white marble, blue skies, and textured ground added a whimsical touch to her golden ensemble and pose. 

Via: @hitchedandclicked
#7 Minimalistic Elegance!
While elegance isn't defined by minimalism or maximalism, it's definitely defined by the overall aura of a bridal look. We are admiring how this bride kept it minimal with all her wedding elements. From daintily embellished golden Sabyasachi lehenga, simple diamond jewelry, to modest mehndi design and matte makeup – she looks graceful in every sense. If your mantra is also minimal and elegant – take cues from this bride on how to ace it! 

Via: @malvikaperiwalphotography
#8 Shining with all her glory!
A beige and golden palette as your wedding ensemble will look absolutely ravishing – here's proof! Paired with a half-half hairstyle, dewy makeup, and antique jewelry, there are so many things to admire about this bride. Also, you can go for a monochromatic golden look and look amazing. A golden lehenga combination works great, but the winsome color looks very much good on its own too! 

Via: @noorulainali
#9  What A Stunning Bridal Look!
If you've been a wedding inspiration content follower, you will recognize this bride. She went viral for her monochromatic golden look and impeccable styling. To go with her dazzling golden lehenga design, she picked smokey eyes bridal look, and a red lip. Further, she added red Chura to not opt-out of the quintessential wedding color completely. The kundan jewelry pieces were just the perfect finishing touch to the look. 

Via: @design_aqua_studio
#10 Absolute Stunner
By now, you'd have been convinced or leaning towards picking this whimsical color for your big day. But if you aren't quite there yet, here's another radiant bride who opted for this hue. While the classic red lip has taken a backseat in the wedding world, there's no better time to explore the same than when you're wearing a golden bridal outfit. The combination of two creates such a charming combination, and this bride here seconds for the same. 

Via: @red_veds, @facestoriesbyleenabhushan
#11 Twirling & Sparkling In Her Golden Bridal Lehenga
A golden bridal lehenga with pink dupatta is a winning combination on this list and the one that never fails to impress! Love how this twirling bride is showing off her sparkly golden lehenga color with a beautiful smile on her face. Also proving that a golden lehenga can easily help you transition from wedding to reception look in seconds. You won't have to splurge on two outfits to look fabulous in two functions. 

Via: @sabyasachiofficial
#12  Monochromatic Gold Look
This Sabyasachi golden lehenga is clearly a hit among brides. Here's another gorgeous look created with this attire. The twirl definitely suits this attire too! Keeping in line with the latest trend, this bride used a belt to cinch her dupatta and add an old-world charm to her ensemble. Not to forget the bridal red, she added a red lip, red flowers to her bun, and red choora to incorporate the hue and create an alluring ensemble. 

Via: @_tapsi
#13 Monochromatic For The Win!
Monochromatic Golden lehenga & How Gorgeous! A kundan kamarbandh adds a traditional touch to her millennial shaded outfit, and the kundan jewelry with meenakari accents completes the look. If you're wanting to add a kamarbandh to your Indian outfit, just go for it! This 4000-year old Indian accessory has been a staple in the royal family's attire and can add a regal touch to your bridal look as well. 

Via: @nikprettylicious, @asianacoutureofficial, @the_wedding_files, @vinay_makeovers
#14 Intricate Golden Work On A Pink Base
Peach is the favored color for the bride for a day wedding. Add some gold and you're in for a dazzling lehenga color combination. This bride completely opted out of the red, bright colors for her D-Day and went all-in with mellow, neutral palette to create inspiration for brides having a day wedding. If you're having a wedding taking hints from Western traditions, walk with a bouquet of flowers and complement the shades with your lehenga shade. 

Via: @linandjisra
#15 Shimmer On Your Sangeet!
Not just your wedding day, but a golden lehenga combination can work amazingly well for your sangeet night too! Payal Kadakia wore an all-golden sequin lehenga for her sangeet and dazzled on the sangeet stage. Give that she's a dancepreneuer, of course, her dance performance was killer and elegant. Embedding a video of her dance performance as well! 

Via: @payal, @stylebysusmita
#16 Pristinely Bedecked Golden Lehenga
Sequin on a golden lehenga is common, but such intricate resha, zari, and thread work isn't a usual sight! If you're looking for an alternative to sequin, then a golden bridal lehenga looks breathtaking with another traditional handwork too. Further upping the charm of her wedding attire, this bride added a train to her lehenga and wore heavy kundan jewelry. With a red lip and stunning kaleerein, she's oozing perfection through her bridal look. 

Via: @design_aqua_studio
#17 Simple Golden Bridal Lehenga
While gold lehengas often come with elaborate designs, you can pick one that shimmers daintily for a whimsy touch and keeping in line with your simplistic style. Bride Yashika's sangeet look comprised of the same. Fo her golden lehenga choli, she opted for a blouse with fringe sleeves to create a fashionable attire and went for diamond jewellery to line with the minimal style. Looks like a practical sangeet outfit that dazzles and offers movement functionality at the same time, don't you think so? 

Via: @yashikakhatri, @guneetvirdimua
#18 Intricacy at the best!
Her golden bridal attire with bronze undertones and elaborate handwork is a sight to behold! And that poses with her little bridesmaid and so endearing; something she'll love looking back to for years down the line. Teaming the outfit with the heavy necklace set, pearl haar, kaleerein, and red choora – there's so much to dote on in this bridal look!

Via: @design_aqua_studio
#19 Another radiant creation by Rimple & Harpreet
RAH outfits are uniquely curated and stand out in the crowd. Bedecked throughout with such noteworthy handwork and styled to perfection, the entire ensemble is an inspiration like no other for brides-to-be! Her golden lehenga blouse is sleeveless, an unusual pick for brides. The choker set just adds the cherry on the top to her bridal look. 

Via: @rimpleandharpreet
#20 Golden Diva!
This is yet another timeless look that props up our feed time & again. We love her reception look, but also the elegant styling. She went for smokey bridal eye makeup and a cherry red lip. On top of that, the remarkable diamond jewelry makes for superb complementary trinkets for the dazzling golden bridal lehenga. The portraits do justice to her entire look! 

Via: @morviimages, @jasmeetkapanyofficial
#21 Golden With A Tinge Of Yellow
Her golden lehenga has a tinge of mustard yellow shades, making for such a distinctive color palette combination. We're in awe of the bride's simplistic pairing of kundan jewellery, dewy makeup, and fresh red florals in the bun to create a majestic bridal look. Save this to your Pinterest wedding board right away!  

Via: @prajactas, @plushaffairs, @amritkaur_artistry
#22 The Maharani Vibes!
Talk about the monochromatic bridal look! Not only did she go for a fully golden lehenga with the dupatta in the same color (elaborately embellished as well), but she also wore golden jewelry and kaleerein to go with the same! For the beauty look, she kept it clean with a brown lip to beautifully balance the attire. 

Via Instagram
#23 That Ravishing Beauty
This custom golden bridal lehenga by Ricco India is so gorgeous and beautiful! There's nothing more satisfying than knowing that the look you pondered on for months is a class act and comes off just like you imagined in the head. We bet for this bride it was better than what she expected. The red accents in her jewelry add the newly-wed vibe to her reception look superbly. 

Via: @riccoindia
#24 Cuteness Overloaded!
What's better than having that bridal look come off perfectly? When you know that it's also getting captured well to be remembered for years to come! The portraits are adorable, and photography each element of the wedding details well – especially the couple's chemistry. Just like the common way to add red when you wear gold, this bride also opted for jewelry and roses in hair that was of the quintessential Indian wedding shade. 

Via: @lenseyeziaproductions, @anubhadawar, @dvasabyabhi
#25 Ending it with this trending bride – Isha Multani!
The bride who took the Internet by storm – Isha Multani – rocked her wedding day is golden. She wore red on her mehendi day so as to not miss out on the customary shade completely. But for D-Day, she kept it all gold & dazzling. See her wedding blog: Gorgeous Mumbai Wedding With Bride In Drool-Worthy Outfits

Via: @ritikahairstylist
#26 One Golden Lehenga – Two Looks
For her Udaipur destination wedding, the bride Anj wore her Manish Malhotra golden lehenga twice – one for her day wedding and next for the Sangeet celebrations. She just changes the golden bridal lehenga combination for the two looks. If you're planning on investing in a high-end designer lehenga and want to get the most of the bucks spent, try this simple styling trick.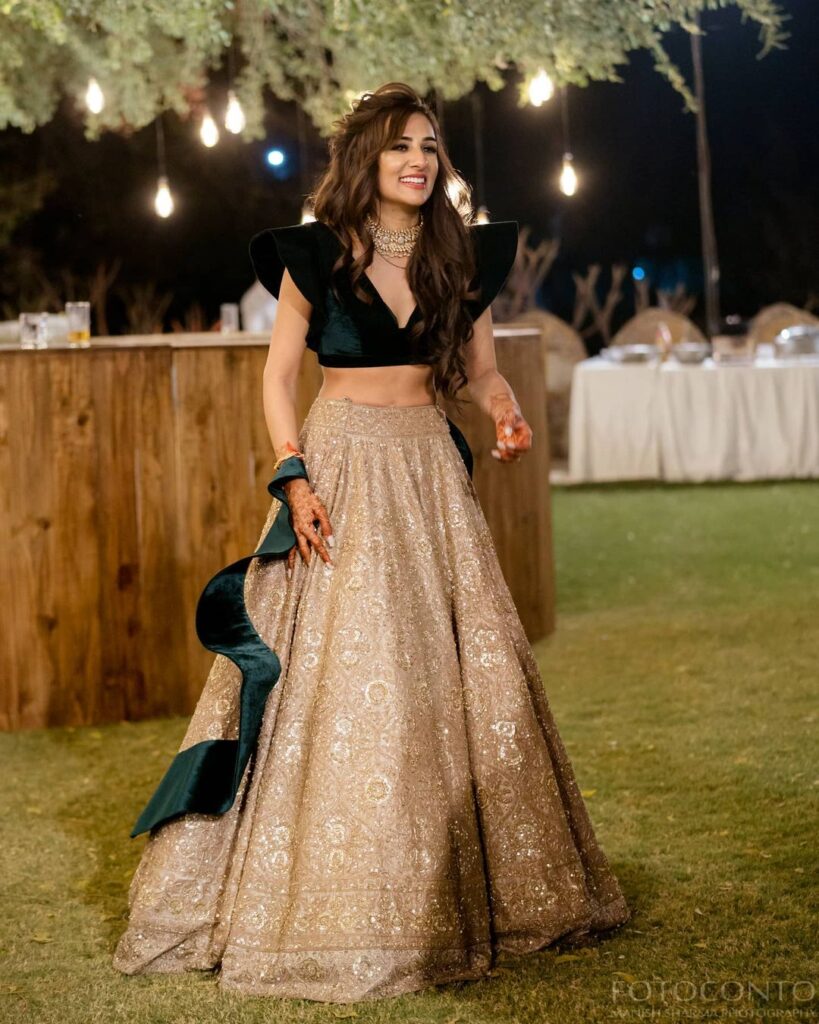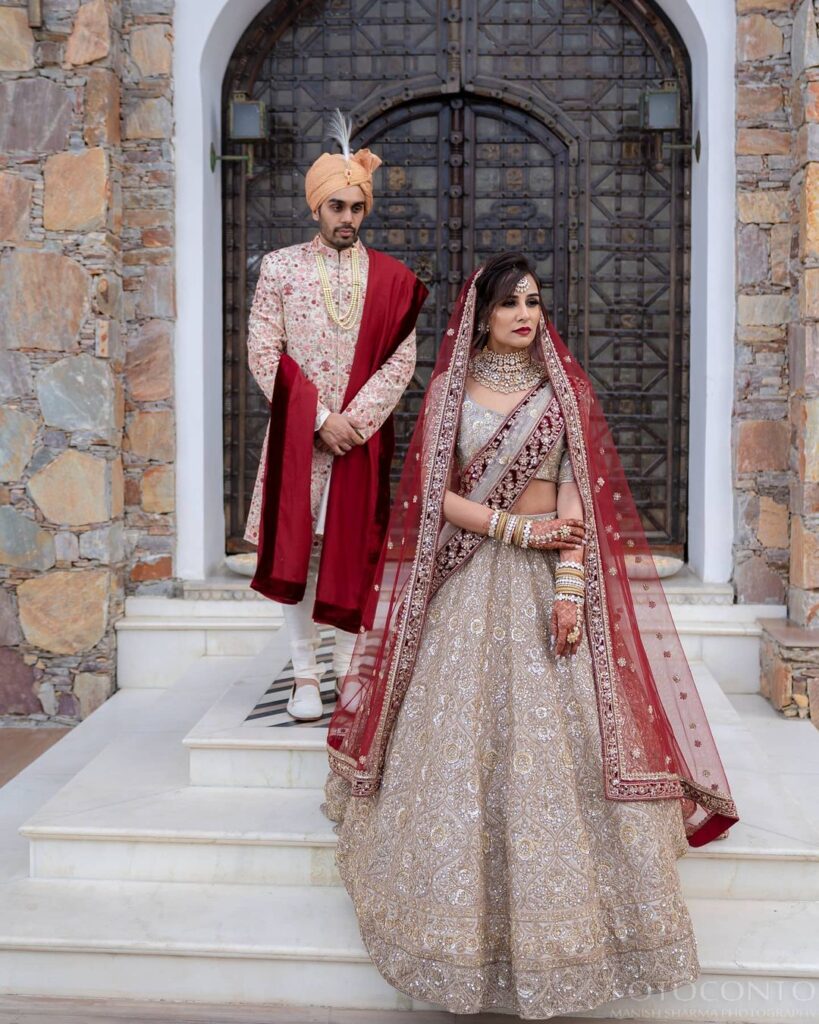 See her wedding blog here.
#27 Golden Princess
Twirling happily in her Sabyasachi golden lehenga, we love the engagement dress of this bride. She picked a shade that went well with the enchanted decor setup and styled it minimalistically so as to let the dress be the center stage of her ensemble. She further left her hair open in tight waves without any drama to go with the simplicity of the dress.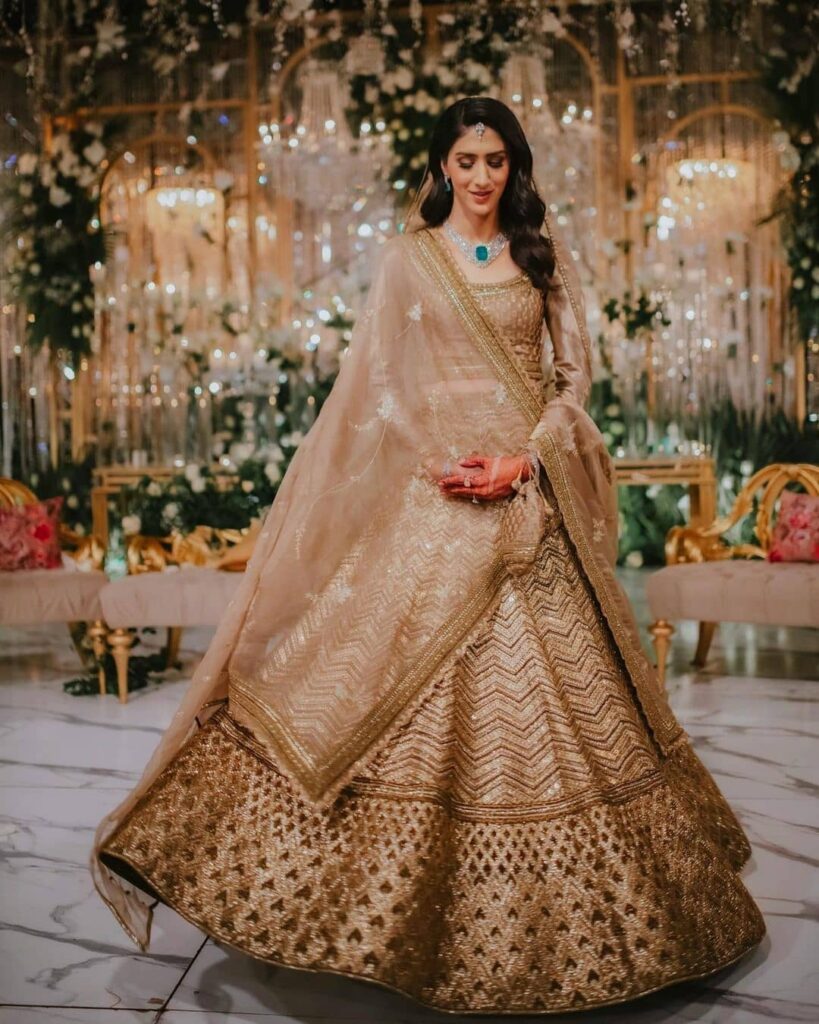 Courtesy: Sara Idrees
#28 Golden Bridal Lehenga Of Your Dreams!
Kashika Kapur went all golden on her wedding day with a lehenga elaborately embellished with gorgeous embroidery. She teamed the attire with kundan-meena jewelry, glamorous makeup, and a paasa-maang tikka combination. As a bride, she definitely oozed some dazzling inspiration for millennial brides-to-be.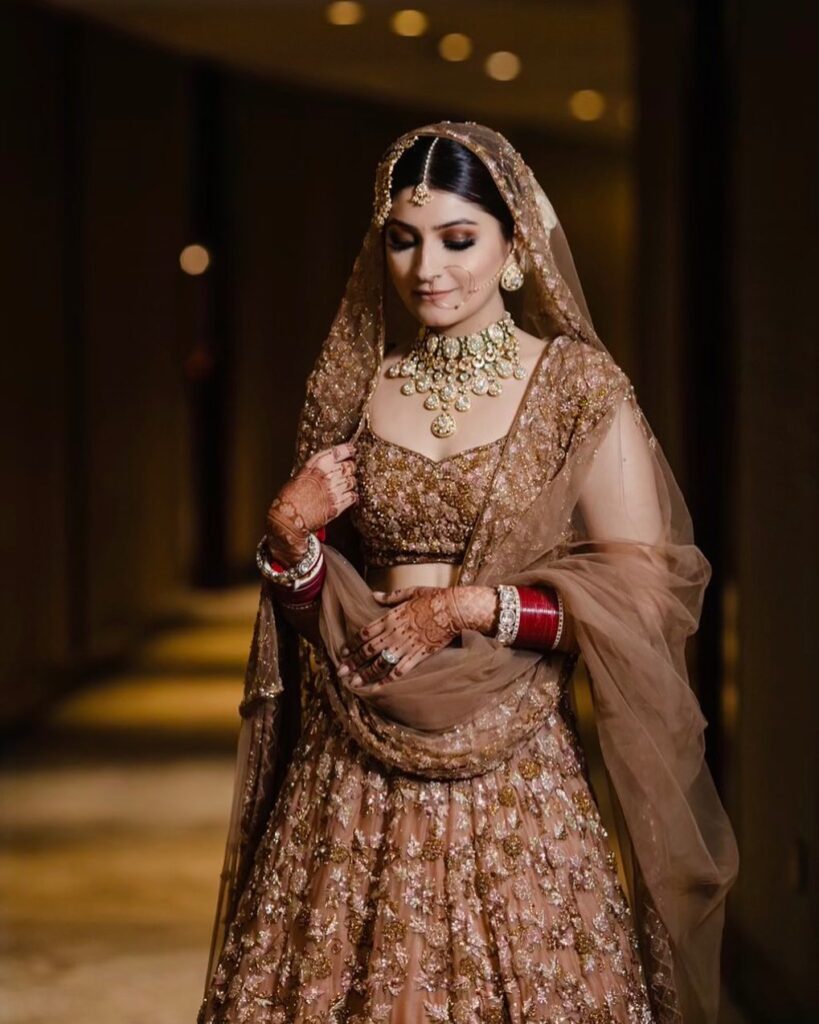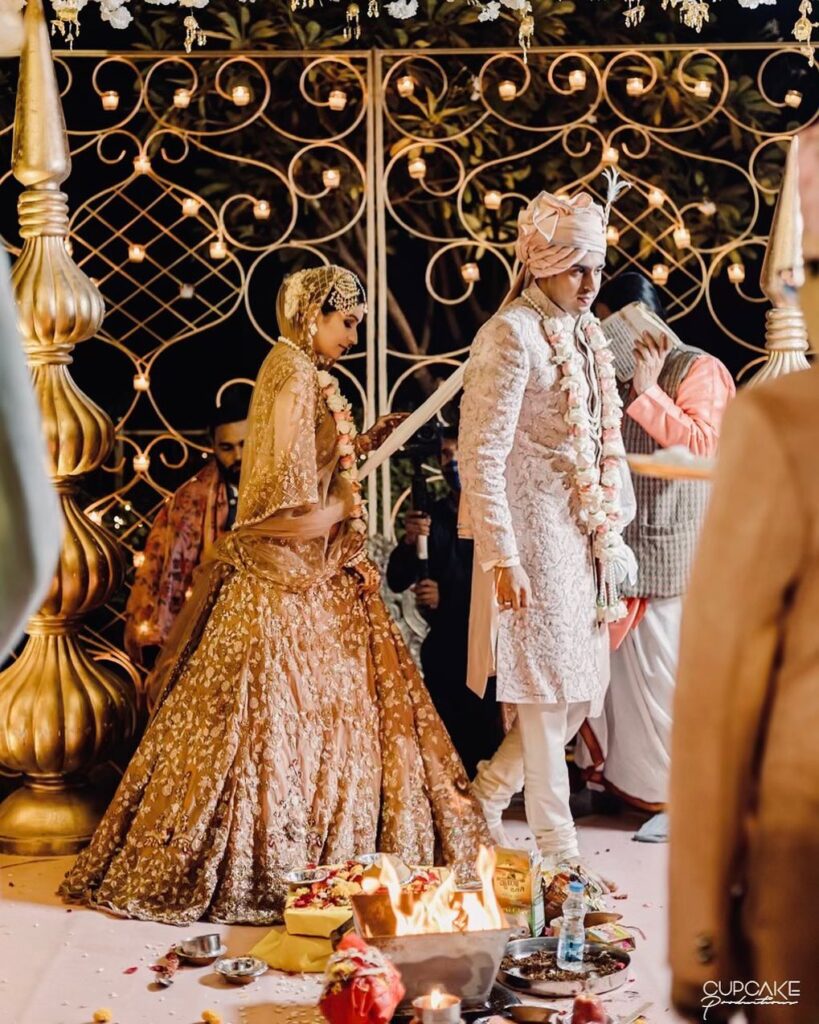 Courtesy: Kashika Purna
#29 All That Glitters Is Gold
Seema Gujral's designs are known to exude a glistening shine with their mirror work, threadwork, and sequins. To let the work shine, she often relies on monochrome attires like bronze, gold, silver, ivory, and peaches. Her latest collection has these amazing golden wear with unique mirror work to charm the brides & the guests at the party. Going to your save collection, right?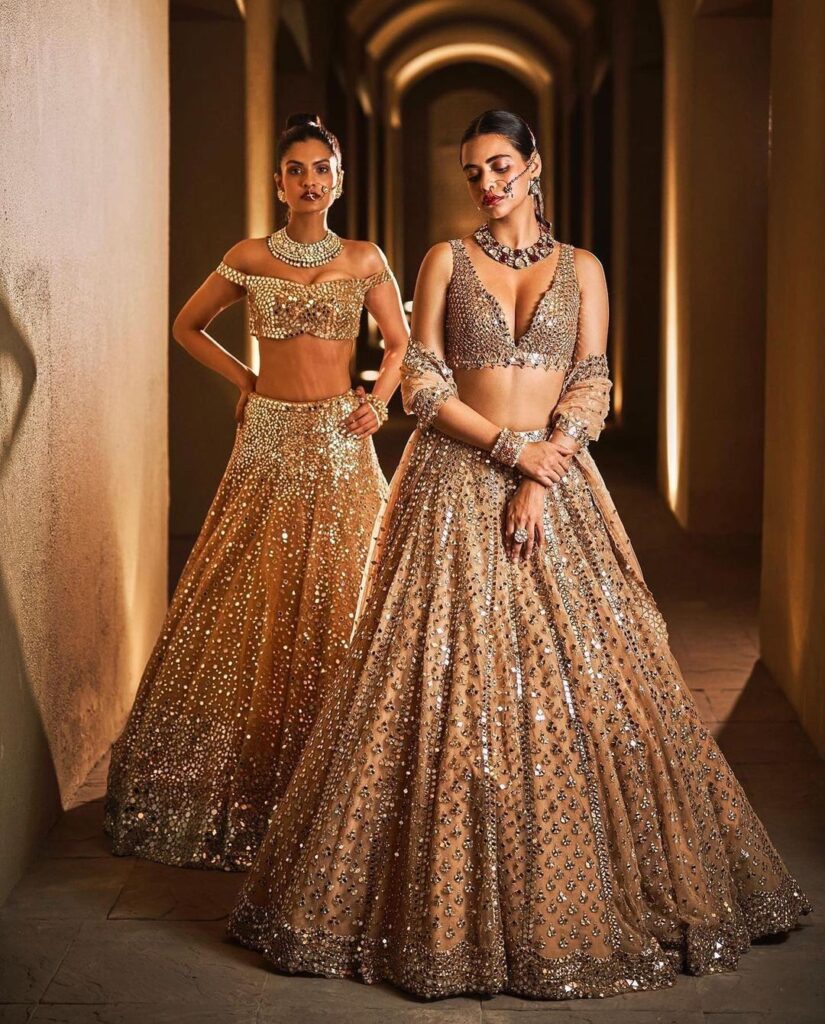 Courtesy: Seema Gujral
#30 Golden With Light Pink Accents
We recently featured Yukti's opulent Chandigarh wedding on our blog. If you read it, you know she's a Manish Malhotra fan and has dreamt of wearing a MM couture since she was a child. On her wedding day, she opted for a splendid golden lehenga consisting of a pink base and wore head-turning jewelry with it. She looked utterly gorgeous and will remain a part of our curated lists for a long time.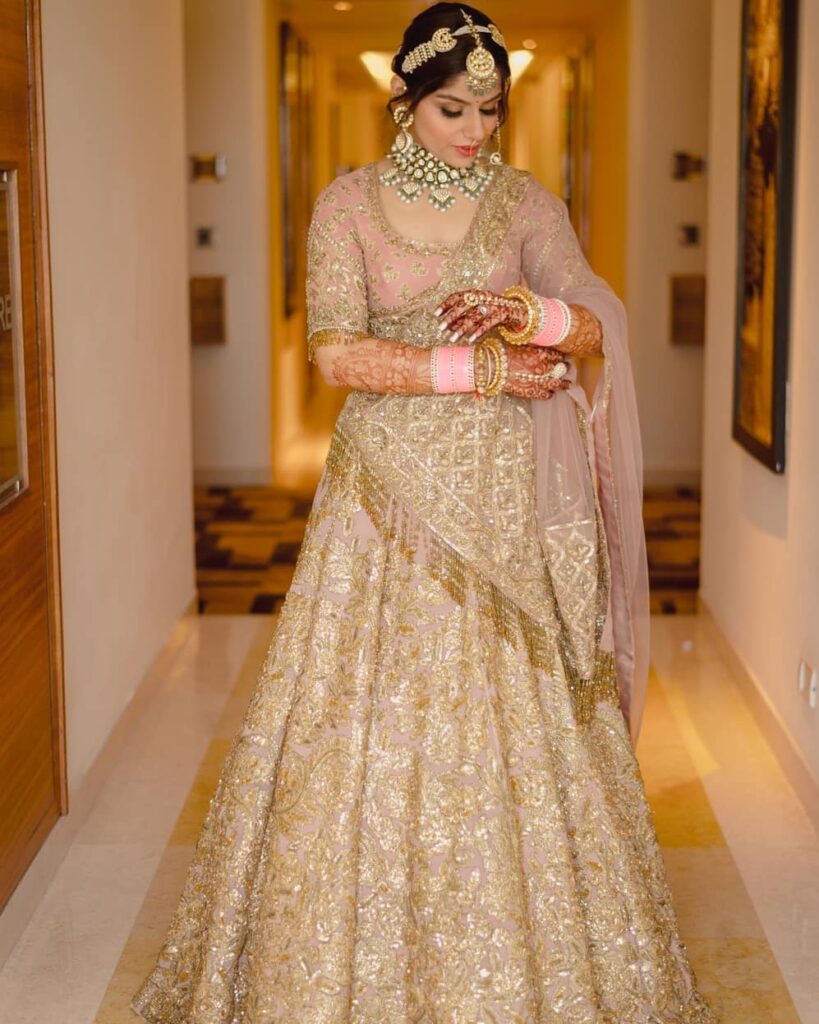 See her wedding blog here.
#31 The Golden-Beige Palette
The golden beige palette is the one that can impress a bride who loves the shade gold but wants to explore it on the mellow side. This bride featured here is wearing a beige-golden wedding dress with ivory work on top which looks utterly unique. For brides looking to don a standalone attire on their big day, here's one that will fit into your vision. You can add some color to the neutral palette with the pink choora, and glamorous makeup. Further, pick a varmala design that also resonated with your color palette. After all, you'd be wearing it for a lot of your pictures.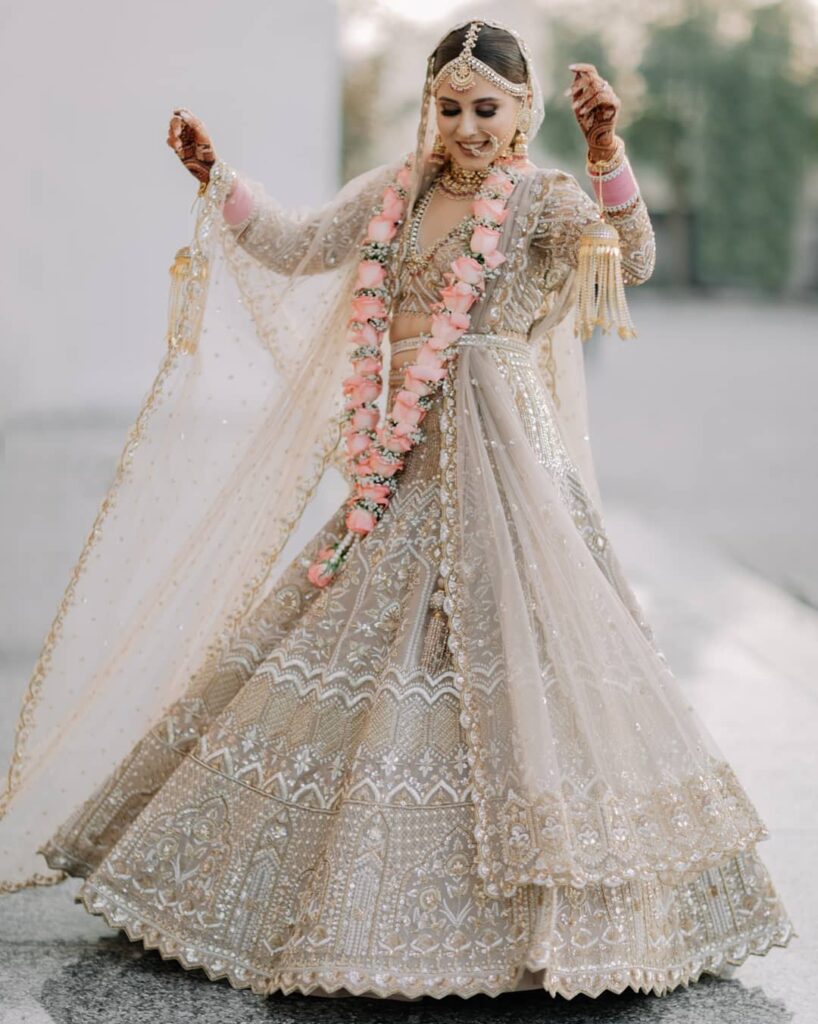 Courtesy: The Wedding Files
#32 An Exquisite Faraz Manan Creation
When Alia Bhatt's girlfriend Rhea Chatterjee got married in a Jaipur destination wedding, she was the center of attention of social media for a while. Hosting sumptuous celebrations at a luxury resort, she didn't let the setting take over the grandiose of her being a bride. For the D-Day, she opted for an alluring Faraz Manan creation, a designer known to infuse intricate work and unique touch to all his attire. To complement, she wore spectacular diamond jewelry and let her makeup & hair be simple to balance out.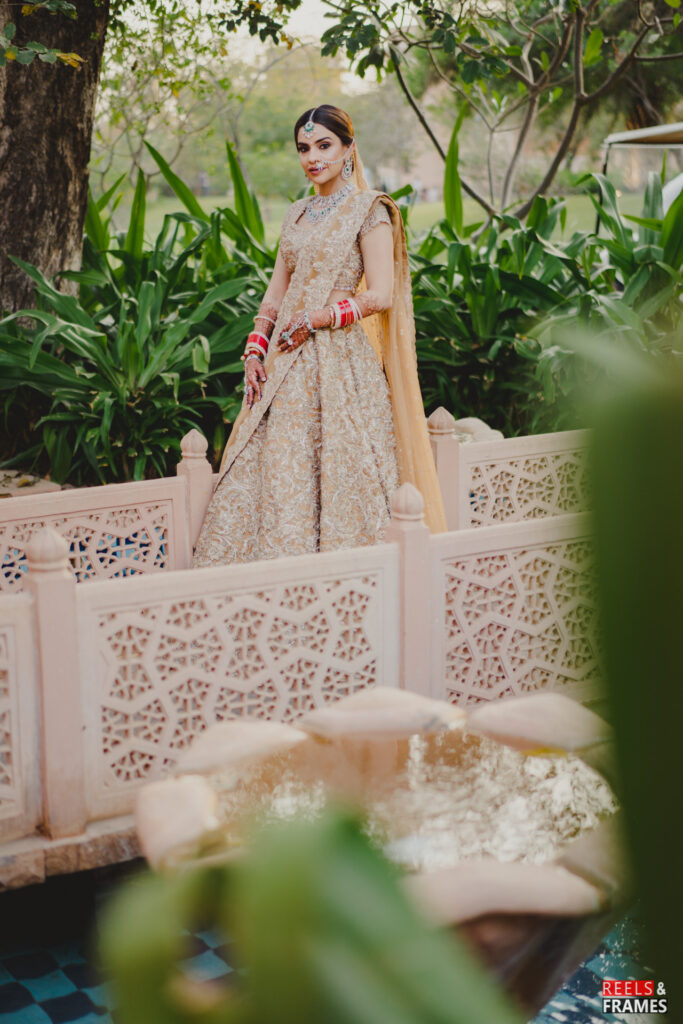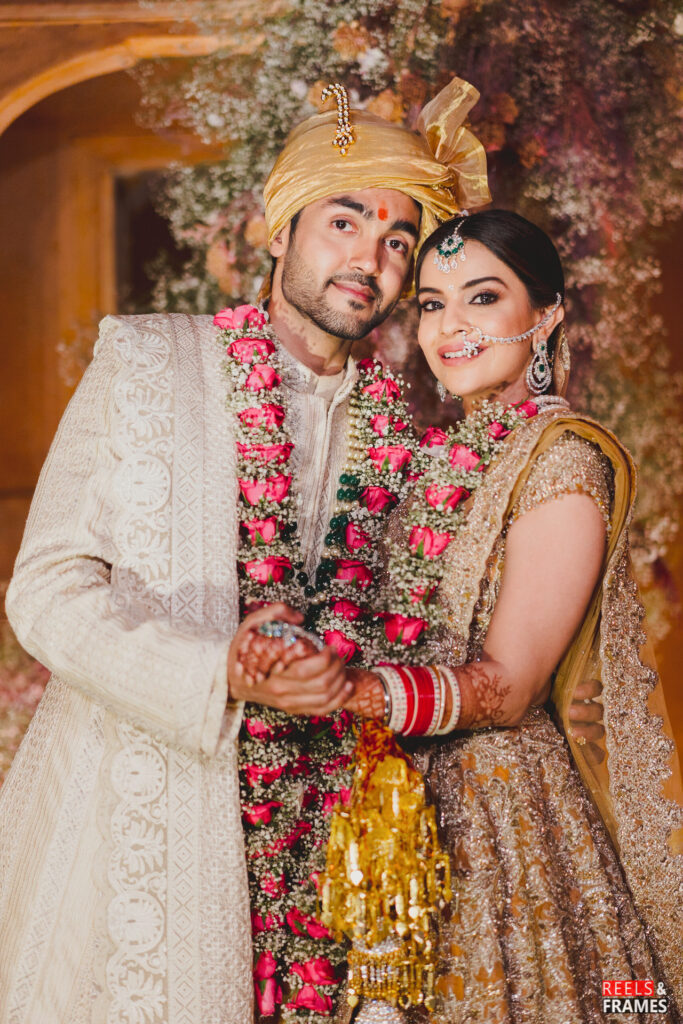 Courtesy: Reels & Frames
#33 Deepika Padukone Golden Lehenga
For Priyanka-Nick's wedding reception, newlyweds Ranveer & Deepika were all lovey-dovey and gushing over each other. Styling-wise, Padukone opted for a Sabyasachi dress (yet again) and looked breathtaking in a golden sequin lehenga with a black blouse & dupatta. She complimented the outfit with her usual soft smokey eyes, middle-parted sleek hair, and an emerald choker set.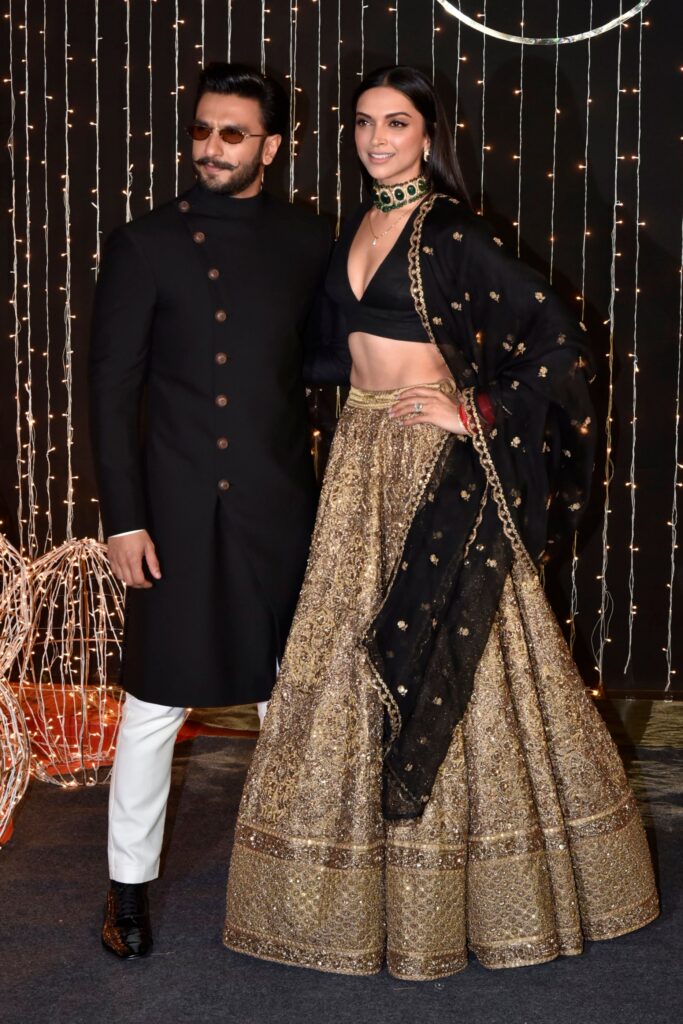 #34 All Gold, Everything! 
A fully-sequined golden lehenga in broad daylight so you shine brighter than the Sun. That sounds like a good idea, doesn't it? Love how this bride aced the golden bridal dress look with ease!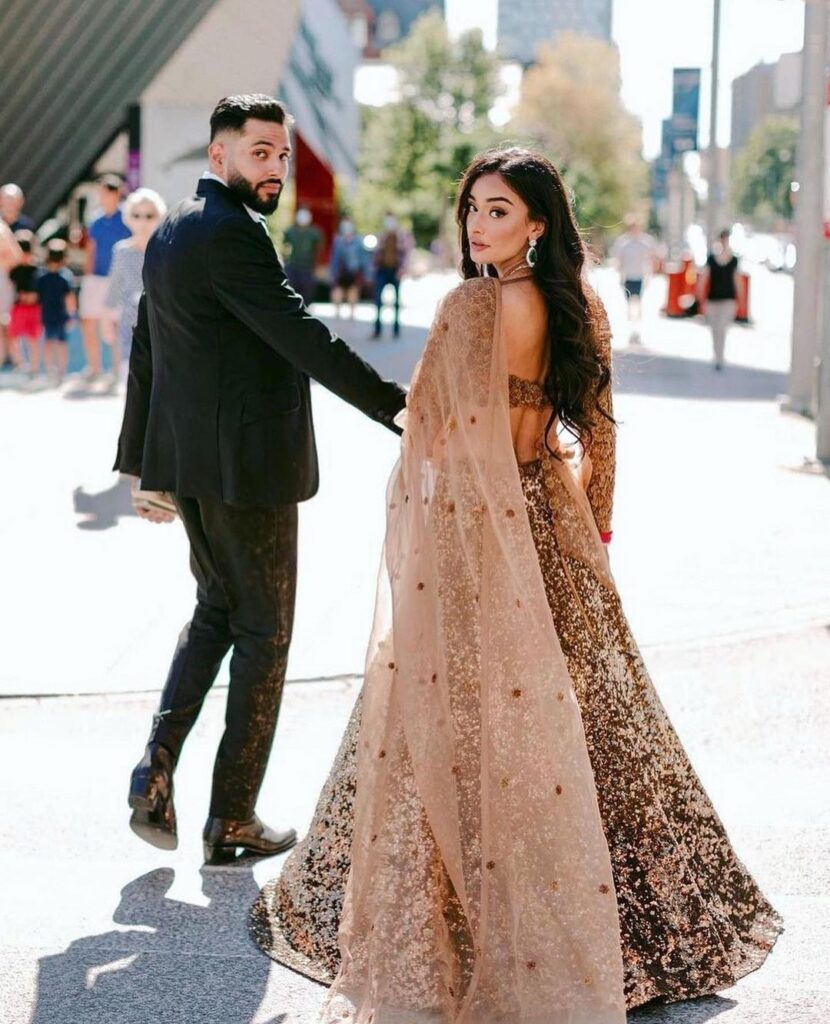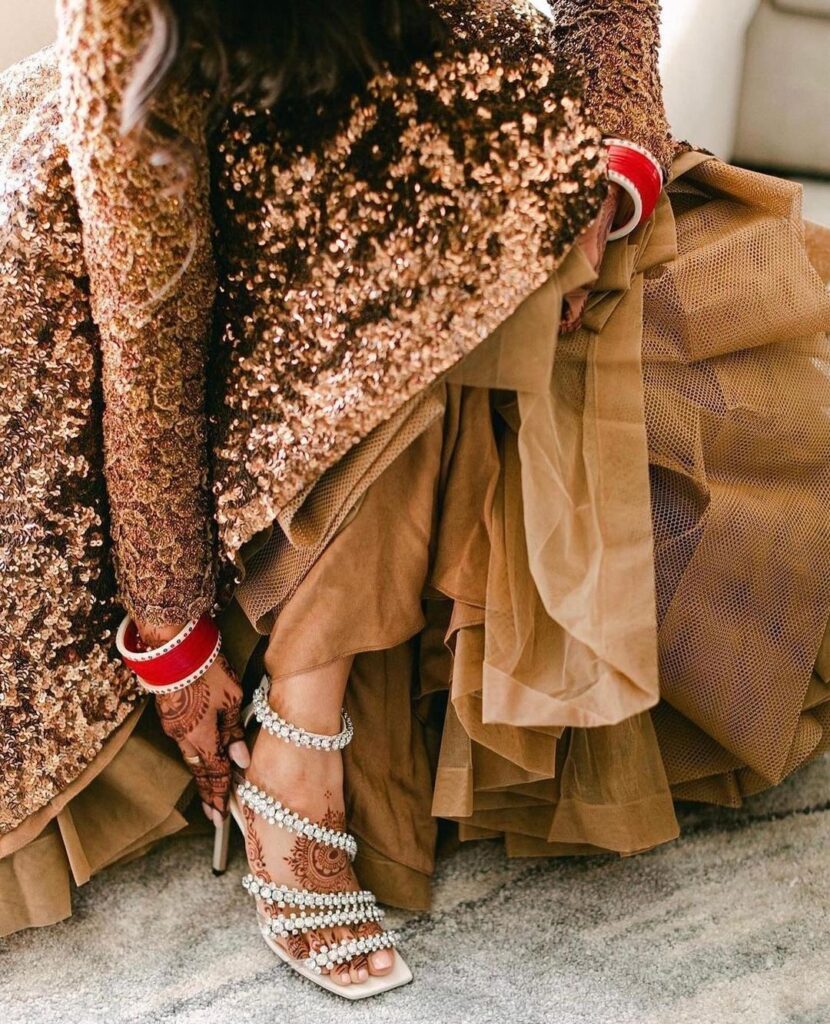 Courtesy: Gagan Bassi
#35 What A Stunner!
Ending this golden lehenga list with an eye-catching design by Rimple & Harpreet. The bridal lehenga has a train that doesn't overbear the lehenga, although it adds the princess touch. Further, the attire is embellished with peacock motifs and elaborate traditional designs all over. If you're on the lookout for a maximalist graceful attire for your wedding, the search ends here.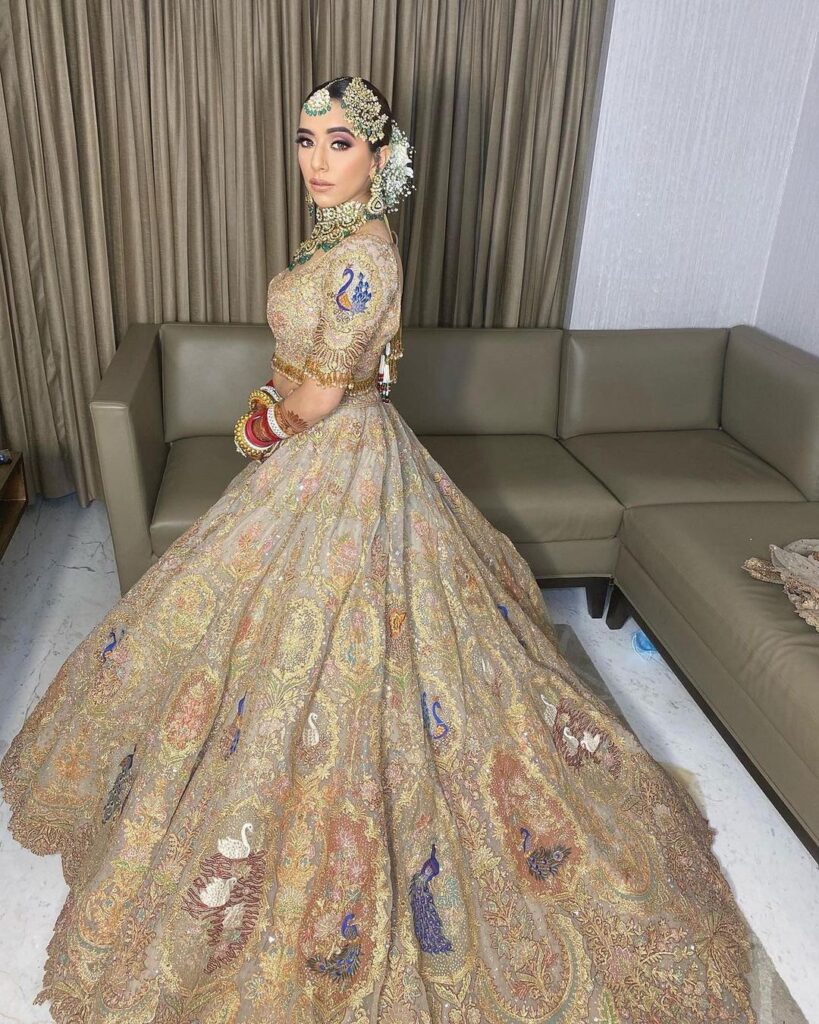 Courtesy: Samaira Sandhu
Aren't you dreaming about wearing this lovely color for your wedding? How much did we change your mind? Tell us in the comments below!