Kumkumadi Oil or Kumkumadi Tailam is an ancient Ayurvedic remedy to treat all skin-related issues and give it a radiant glow. In recent times, this beauty product has gained momentum, and in keeping with the demand of consumers, many companies have launched their own kumkumadi thailam. If you're wondering what the buzz is all about, and what brands have the best kumkumadi oil, keep reading. 
What is Kukumadi Oil?
Kumkumadi Oil is a facial oil created using a base/ carrier oil (majorly sesame) and around 15 to 25 ayurvedic herbs seeped into the oil using the sundry method or double-boiler method. The name kumkumadi comes from the main herb added to the oil, saffron, which is called kumkuma in Sanskrit. Because of the addition of kesar, all kumkumadi tailam, no matter what the brand is, has a beautiful red color. Other common herbs added to the oil are manjishta, sandalwood, rose petals, bibhitaki, mulethi (licorice), haritaki, and haridra. According to Ayurveda, your skin reflects the overall health of your body and mind. And although the inside work matters in eradicating the skin conditions, so do what you put on your skin. Your skin is the largest sense organ and represents touch. Therefore, external therapies play a pivotal role to soothe and support the natural healing process of the skin. Kumkumadi oil is deemed as a miraculous elixir and is said to impart a blemish-free golden glow to your skin. 
What Are The Benefits Of Kumkumadi Oil?
Here are the top 5 benefits of Kumkumadi Oil:
#1 Helps With Skin Glow
Kukumadi Oil contains many herbs that repair damaged skin and boosts blood circulation. Anything you put on your skin gets absorbed into the bloodstream, confirmed by Harvard University. The skin-benefiting elements in the oil get absorbed and increase the blood flow to your facial region. This makes your skin glow instantly. For best results, do a gentle massage to release tension in facial muscles and helping the oil gets soaked in better. In a 2002 study, the majority of women reported skin tightening and supple skin after 3 months of regular facial massage, and 14% reported a delay in the onset of wrinkles. You'd be combining two powerful ingredients for better skin, and results are bound to happen. 
#2 Reduces Acne
Enriched with many powerful Ayurvedic herbs proven to kill acne-causing bacteria, kumkumadi oil can act as a savior for acne-prone skin. One such herb is Majishtha, which in Ayurveda, is an ultimate beautifier. It helps to purify the blood, and also the lymphatic drainage system. An overloaded lymphatic system is a primary precursor of acne in many individuals. Further, it inhibits the growth of P.acne bacteria, reduces inflammation, and speeds up wound healing. That is just the tip of the iceberg. Saffron and vetiver in the oil help in closing the pores, sesame oil and licorice balance the sebum levels, and haritaki and haridra fights skin infections like acne, pimples, rashes, etc. Overall, the product can kill existing acne, treats its after scars, and prevent any breakouts in the future. 
#3 Diminishes Pigmentation
Pigmentation scars are basically skin wounds that haven't healed yet. The body heals these wounds by delivering nutrients and oxygen to the surface. Kumkumadi oil boosts blood circulation to the skin's surface and hence, new blood to these wounds. This speeds up the lightening of the pigmentation scars and diminishing them faster. The oil also prevents acne and thus, decreasing the chances of formation of these dark spots in the future. The same logic goes behind suntan. It is nothing but damaged tanned skin, and needs to be replaced with new, untanned cells. This process takes its own sweet time, but you can expedite it by boosting the skin's blood circulation by using topical ingredients like kumkumadi oil. 
#4 Anti-Aging
Preventing aging is a multi-layered process. What you eat, what you think, external stressors like sun damage, pollution, etc, and how you treat your skin can all contribute to the skin's aging process. To help you with the last one, kumkumadi oil can prove to be an amazing addition. Its natural herbs work together to tackle many skin problems like acne-scarring, poor blood flow, sun damage and bolsters the skin's protection levels to prevent the topical aging process on many levels.  
#5 Evens Out The Skin Tone
Kumkumadi oil enhances blood circulation, speeds up wound healing, and hence, counters any dark spots or uneven skin tones on the face. It also helps with dark circles around the eyes, skin discoloration around the mouth, age spots, and melasma. When used consistently, it can bless you with an even skin tone that's radiant and gorgeously attractive. 
How To Make Kumkumadi Oil At Home?
If you want to make kumkumadi oil at home, you totally can! That's the best thing about Ayurvedic beauty, you can DIY almost anything. To make your own Kumkumadi Thailam, here are all the ingredients you will need. 
(You can add harithaki and haridra powders also) 
All you need to do is mix these herbs into the oil and let it sun dry for 2 to 3 days. The oil will change color to red and then, you can sieve it and store it in a bottle. Here's a complete demonstration of the process. 
Can I Use Kumkumadi Oil Daily?
You can use Kumkumadi Oil every day. Here are three ways to use it:
Use Kumkumadi Oil as a massage treatment after cleansing. Simply apply a few drops of the product all over your face and massage upwards and in circular motions with slight pressure. Let the oil sit on your face for around half an hour and wipe off with a warm washcloth. You can also use a good clay mask like

multani mitti face pack

or

a Himalayan clay mask

for a nourishing self-care routine. Follow up with a good face cream. 

Use the product as a moisturizer. You can take 2 to 3 drops of the facial oil and mix it with rose water. Apply this mixture to the face. Alternatively, spritz your face with rose water and tap a few drops of the oil on the entire facial region. 

Lastly, allow the kumkumadi oil to work overnight. FYI, only do this if you aren't suffering from any pre-existing conditions. If you are. Consult an Ayurvedic practitioner beforehand. 
Can Those With Oily Skin Use Kumkumadi Oil?
Yes, people with oily skin can use kumkumadi oil. It seems counterproductive to use oil when you have oily skin. But it can help your skin balance sebum levels. Facial oils often mimic sebum and trick your skin into believing that enough oils have been formed, reducing the oil formation, and hence, helping in stabilizing the oil balance. The Kumkumadi tailam also has powerful herbs that can reduce acne caused by excessive oil. 
Can Those Who Suffer From Acne Use Kumkumadi Oil?
If you're suffering from just a few pimples here & there, we'd say it's okay to include kumkumadi oil in your skincare routine. Although, if your acne is a condition like Vulgaris, Cystic, Comedonal, etc, then see an Ayurvedic practitioner before using the product. 
Top 10 Best Kumkumadi Oil in India
Price Comparison Table: 
#1 Blue Nectar Kumkumadi Thailam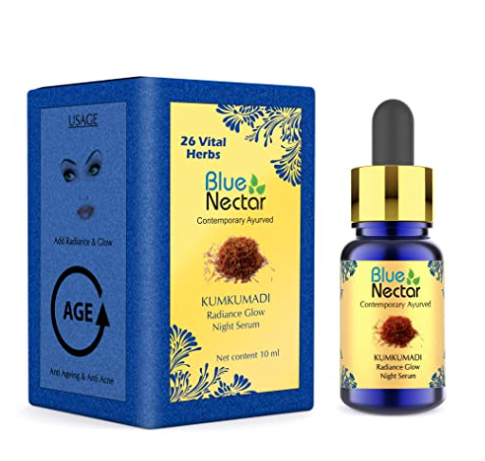 The Blue Nectar Kumkumadi Thailam comes in a blue bottle with golden labels that mention the product information. The product is formulated with 26 herbs like kumkuma, lodhra, nagakesara, padma, padaka, laksa, surabhi, etc. All the herbs are sourced from their best places of origin like saffron is sourced from Kashmir, Indian madder or manjishtha comes from Mangalore and sandalwood from Mysore. This high-quality herb sourcing ensures your skin is delivered with the best ingredients and also, pushes the price of the product. 
The Blue Nectar range is cruelty-free, clinically tested, and 100% natural. With 2000+ positive reviews, the product is already loved and favored by women and has been rated as one of the best kumkumadi oil for the face. Here's what one reviewer wrote, "I am in my late 20's and started seeing pigmentation on the skin. This kumkumadi oil is best for pigmentation, the spots have faded and my skin texture has improved. I am posting this after 30 days and can't wait to see what it does over the next few months." 
A disadvantage is less quantity of product (10ml) while most other products on the list offer ~ 30ml in one bottle. However, this can also be a great pro in case the serum doesn't suit you and you don't end up with a lot of oil to use. Less guilt-trip for wasting! 
Another con is they don't mention which oil is used as the base. Most likely it's Ayurvedic favorite Sesame, but it would be nice to know which one is added. 
Overall Rating: 9/10 
Purchase here. 
#2 UrbanBotanics Kumkumadi Serum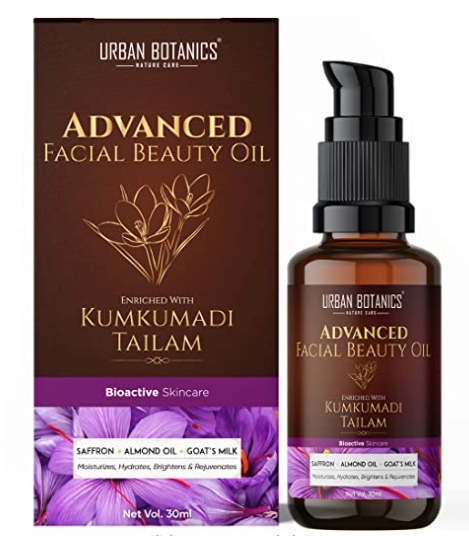 Uniquely curated with goat's milk and several other oils like almond oil, carrot seed oil, and wheat germ oil, this UrbanBotanics Kumkumadi Tailam is ideal for oily skin types. Goat milk contains fatty acids that balance the skin's microbiome, repair the skin's barrier, and exfoliates while moisturizing. Carrot seed oil fights skin infections and can do wonders for acne-prone skin. Further, wheat germ oil is high in collagen and can help tighten skin and make it supple. A mix of these amazing elements along with therapeutic herbs like manjishtha and saffron, this facial oil can help with dark spots, skin aging, and brightens the complexion. 
Cruelty-free, this skincare product is free from mineral oils, parabens, phthalates, propylene glycol, and SLS. 
A possible con of the product is they don't mention which ayurvedic herbs they add in their kumkumadi tailam. Apart from saffron and manjishtha, no other name has been mentioned on the product. 
Overall Rating: 9.5/10 
Purchase here. 
#3 Auravedic Kumkumadi Oil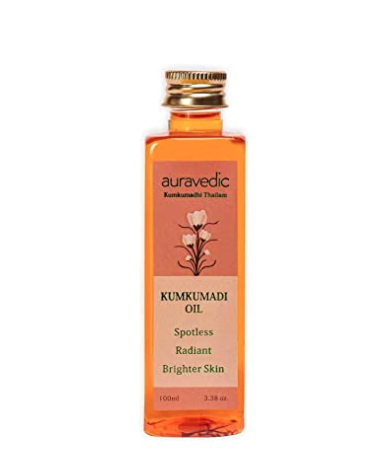 With more than 7000+ reviews on Amazon and a 4-star rating, this Auravedic Kumkumadi Oil is a budget option for women/ men looking to try this Ayurvedic product without shelling a lot of bucks. Purely organic, this iteration of Kumkumadi tailam boasts a blend of saffron, daruhaldi, padmaka, and manjistha. These 4 have been touted by the brand as their main ingredients and the ones that would give you the magical results you're looking for! 
You can use this oil as a cleanser or as a massage treatment. You can also leave this as a moisturizer at the night, or dab a few drops to create a perfect canvas for your makeup. The potent formula has been created with expertise passed down from generations by the founders who believe in traditions above all. "Love the fragrance. I was using Kama products, it was excellent but expensive. So thought of trying something in the budget. It has been 1 week and the difference is visible on my skin," writes one reviewer. 
A drawback is the ingredient list, which only mentions the key ingredients and not the complete list. However, this specific point is a common issue with many products on the list.
Overall Rating: 9/10 
Purchase here. 
#4 Khadi Kumkumadi Oil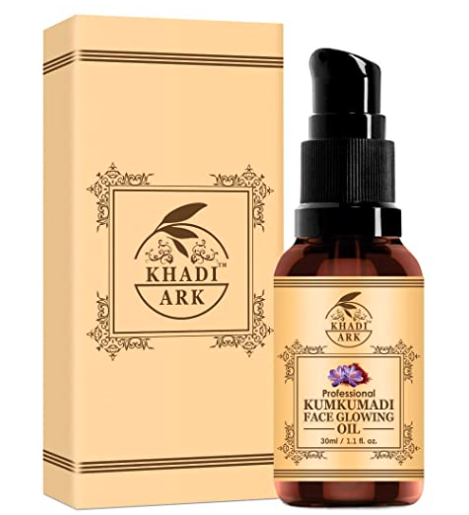 The Khadi Kumkumadi face glowing oil is yet another budget option on this top 10 kumkumadi oil list. The product is infused with high-quality saffron and other therapeutic herbs for optimal skin improvement benefits. With consistent use, the product claims to smoothen skin, fade pigmentation, remove acne and blackheads, brighten skin, and rejuvenate the complexion. 
"Loved it. It actually made my skin glow and the dead skin under my eyes and cheeks completely disappeared," writes one reviewer. "Such a nice product. I got my skin tone back. After using it, my pimples reduced, and my face got brighter. I'll be purchasing again," says another review. 
Though this oil is great and has some amazing reviews, they don't mention ingredients on the package – not even the key ingredients. This can be confusing for the consumers who like to have their research handy before purchasing a product. 
Overall Rating: 9/10 
Purchase here. 
#5 Dr.Vedic Kumkumadi Serum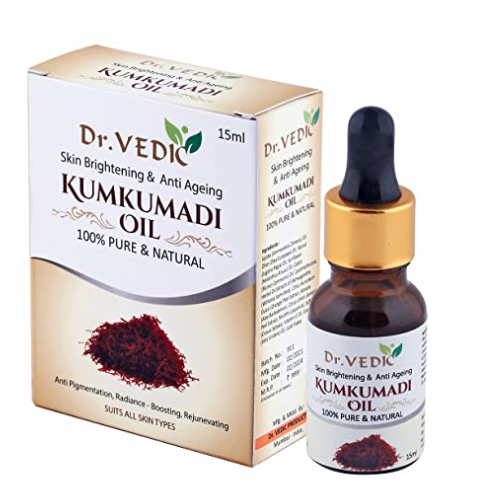 100% natural product, this kumkumadi tailam has a unique blend of many cold-pressed oils and herbs. One of them is jojoba oil that mimics sebum, reduces inflammation, and keeps skin calm. It also has walnut oil that's enriched with Vitamin E and fatty acids that nourishes the skin and boosts collagen levels. Further, castor and grapeseed oil protects the skin's barrier and makes it supple. Another star ingredient is gold flakes, which slows down collagen depletion, makes the cells firm, and keeps the skin glowing and youthful. 
"For the cost, this product is just amazing. It gives an instant glow after application and doesn't give you any pimples. All in all, an awesome kumkumadi oil for oily skin," writes one reviewer. "This oil is extremely effective on my skin and one of the best kumkumadi tailam in India. Highly recommend," says another reviewer. 
Cons: As ayurvedic herbs, this oil only has saffron and ashwagandha. It also has lemon & orange peel extract which can be irritating to some people. 
Overall Rating: 8.5/10 
Purchase here. 
#6 Ozone Signature Kumkumadi Face Serum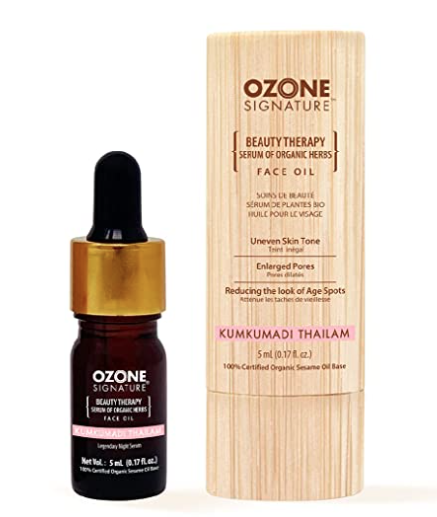 A formulation handcrafted with proper proportions of many therapeutic herbs meant to be a part of Kumkumadi Tailam, this beautiful product will leave you stunned with the first use. The curation is based on the prescription by Ayurvedic texts, and the exact composition & name of each ingredient is mentioned on the list. An honesty that's unique to Ozone Signature Kumkumadi Oil. 
The formula doesn't contain any essential oil and is made with a sesame oil base. The ayurvedic herbs like saffron, vetiver, sandalwood, licorice are sourced from high-quality growers and added as their solid form to infuse in the base oil. The result is a beautiful golden red product that your skin loves! With regular usage, the product helps in moisture retention, cell renewal, calmness, smoothness, and natural radiance. 
Cons: None! It's expensive though!  
Overall Rating: 9.5/10 
Purchase here. 
#7 Soulflower Kumkumadi Tailam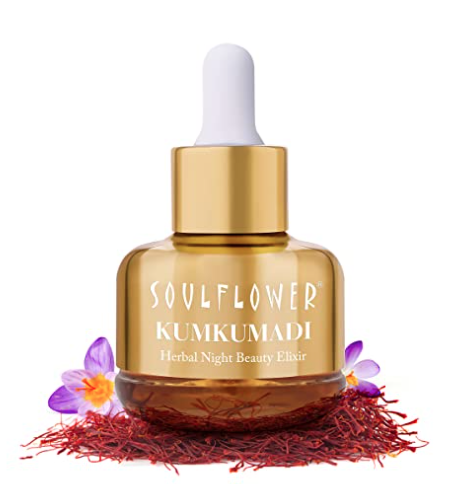 The Soulflower Kumkumadi Tailam is made from 26 ayurvedic herbs and a blend of oils like coconut, almond, sesame, etc. that nourishes the skin from within, reduces blemishes and gives it a gorgeous glow. This potent formula contains turmeric, mahua, and vetiver, that refines skin texture and boosts blood circulation from deep within. 
"Absolutely love everything about this oil. Amazing packaging, good price, quality ingredients. It gives a good glow to my skin and you just need 2 drops of the product. I apply it every night and I think this bottle will easily last for over 4 months," says one reviewer. "You can actually smell kesar and the pleasant scent lingers on. It didn't give me any acne (thank god!), instead lighten my existing pigmentation and improves skin's elasticity. Love the product!" writes another reviewer. 
Cons: Due to the mix of many oils, it might not suit acne-prone skin. 
Overall Rating: 8.5/10 
Purchase here. 
#8 The Tribe Concepts 24k Kumkumadi Tailam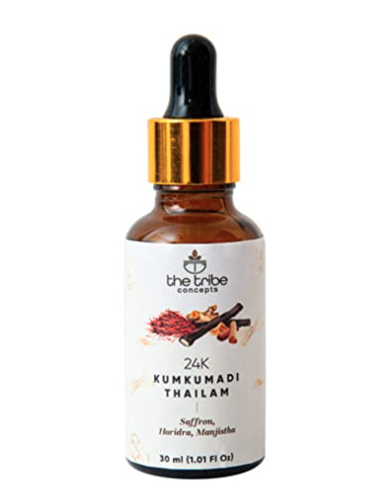 A newly-launched brand but one that has gained attention because of its high-quality product range is The Tribe Concepts. Their 24k Kumkumadi Tailam has a straightforward ingredient list: Saffron, Haridra, Lodhra, Haritaki, Hrivera, Musta, Manjistha, Rasna, Usira, Bibhitaki, Tila Taila, Saindava Lavana, Karpura, Sandalwood, Sun-Dried Rose Petals & Nothing Else… This sincere reveal of the ingredient list is what attracted me to the brand too! I'm currently using their Face Brightening Daily Cleanser for months in conjunction with my daily face wash and it's a remarkable product. 
Cons: It might not be suitable for acne-prone skin. 
Overall Rating: 9.5/10 
Purchase here. 
#9 Kama Ayurveda Kumkumadi Oil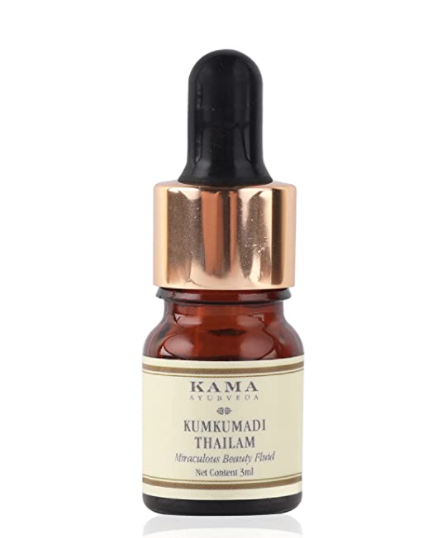 Kama Ayurveda's Kumkumadi oil has been clinically tested to reduce pigmentation, appearance of wrinkles, and increase skin-brightening and hydration within 28 days. I have tried this personally and experienced great benefits. It didn't break out my skin and improved the texture. I didn't re-purchase because of the price tag and the quantity you get for it. I prefer using the Forest Essentials Kumkumadi Night Cream instead, which offers those luxurious feels but also a good quantity of product for the price. 
Kama Ayurveda's products are, no doubt, quality and deliver results. It has pure Kashmiri saffron that fights inflammation, speeds up wound healing, increases cell turnover, and protects the skin from harmful UV radiation. It also has manjhistha that is recommended as the best herb in Ayurveda to treat skin allergies like eczema and acne. The herb also has anti-oxidant properties that better your skin complexion. Overall, this skincare oil is a superb pick if you don't mind the money. 
Overall Rating: 9.5/10 
Purchase here. 
#10 Forest Essentials Kumkumadi Night Cream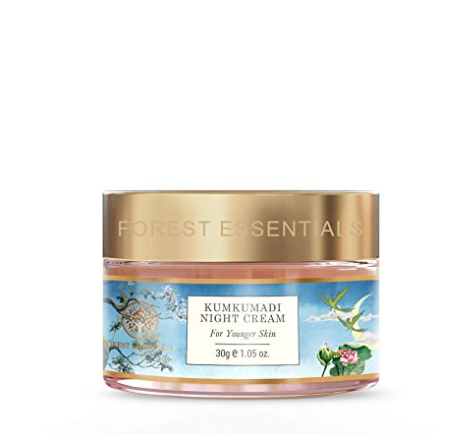 Forest Essentials is yet another luxurious & popular Ayurvedic Indian brand that creates eco-conscious, sustainable products based on years-old Ayurvedic principles. One of Ayurveda's premises is if you can't eat it, don't put it on your skin. Following this key ethic, all Forest Essentials curates skincare that is as pure & natural, that it's safe to be ingested. One of their popular product is the Kumkumadi Night cream. 
The cream is formulated with Kumkumadikeram (made using 16 powerful herbs), pure ghee, saffron, and Kasturi manjal. When used consistently, the cream helps with increasing cell turnover, boosts collagen production, prevents acne, and improves hydration levels. The packaging is eco-friendly and the cream doesn't have any chemicals. 
"This Kumkumadi cream is best for oily, acne-prone skin. It reduced my post-acne scars in a week. It smells amazing, like saffron, and absorbs well on the skin," says one customer. "This kumkumadi cream helped with my pigmentation so much. It evened out the skin tone and gave me a beautiful glow," says another customer review. 
Cons: Not budget-friendly
Overall Rating: 9.5/10 
Purchase here. 
Final Thoughts: 
Ayurveda has blessed us with many great formulations, and kumkumadi tailam is one of them. With consistent use, this facial oil can lessen your pigmentation, slow down aging, and make your skin glow. You can also DIY this at home. Best part? This oil doesn't have any side effects. So, even if it doesn't work for better, it at least won't work for worse. Ayurvedic concepts are meant to heal the skin in a slow, sustained manner. Give it time, and you will love the results.