Not to add more pressure, but choosing a mattress is a very important decision to make. Your bed is the place where you unwind, loosen up, and get recharged after a good night's sleep. And there's nothing that plays a bigger role in ensuring the quality of your shut-eye than a good mattress set. So, after going through multiple reviews, people's search stats, and brand trust, we've narrowed down a list of the 11 best mattress brands in India. From firm to soft to one that's suitable for back pain and fits into an affordable price range, you can find a good mattress brand in India on this list to fit into your preferences. Read on for price comparison and full reviews: 
List Of Best Mattress Brands In India With Price:
#1 Springwel Orthopedic Best Memory Foam Mattress In India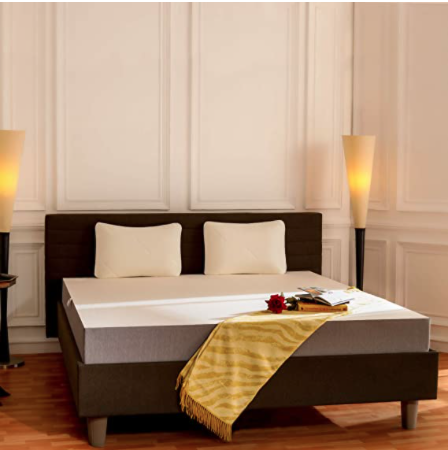 For those looking for the best mattress in India under Rs.15,000/-, the Springwel Orthopedic Memory Foam mattress will impress you. Priced conveniently at Rs.9316/-, the mattress is comfortable, soft, and suitable for those looking for relief from back pain and neck pain. Many mattresses are too soft or too firm, hindering blood circulation when you are sleeping. But this one offers the perfect spinal alignment for smooth blood flow and keeps you relaxed through the night. It's also considered one of the best orthopedic mattress in India, and can help those suffering from orthopedic issues, or those looking to avoid them in the future. 
What It's Made Of:
The mattress has a total of 5 layers. The first one is a premium quality premium cover – completely washable, soft, and breathable fabric to prevent any damage to the inner layers of the mattress. The cover comes with the mattress and you don't have to pay extra. The next one is a thin layer of soft foam for comfort followed by the pressure-relieving memory foam known to take the shape of the body and provide the ultimate coziness feeling to the sleeper. Lastly, there's a large layer of PU foam to offer rigidity to the mattress and support the sinking yet coming-back structure of the mattress. There's another layer of premium-quality cover on the end so you can easily flip the mattress and use it. In fact, the company recommends the mattress be rotated every 3 months and flipped every 6 months. 
Features & Reviews:
The company claims that the bedding to take shape of your body and relieves tension on the pressure points to help with back, neck, shoulder, and hip pains. Because of the ergonomic shape, it won't cause any ripples when you move so your partner can enjoy quality sleep even when you twist and turn in the bed. "The product arrived in a well-packaged condition. Quality is awesome and the mattress is comfortable for the price. The manufacturer even called for the feedback, which earns several brownie points for me," writes one of the reviewers. 
Another benefit is that it comes in many sizes so you can pick the one to fit into your bed. There's also a warranty of 2 years, which gives a nod to the company's confidence in their product. You will also see the mattress having anti-microbial properties. India is a hot and humid country, which is considered to be apt conditions for microbial growth. I admire Springwel's effort to give optimal protection to their consumers, making it one of the best mattress brands in India for sleeping.
Cons: Because of the PU foam, this mattress will be soft and not suitable for anyone looking for firm best-selling mattress brands in India. PU foam also doesn't last as long as latex foam mattresses. But, owing to its inexpensiveness, all affordable mattresses will often contain PU foam material. 
For a detailed guide on PU Foam vs Memory Foam vs Latex Foam, refer to the end of this article. 
Purchase here.
#2 Amore High Resilience Bonnell Spring Mattress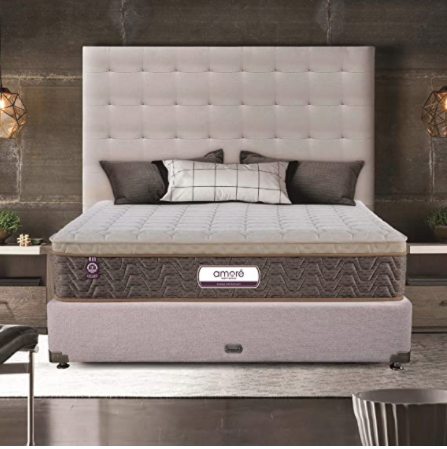 Yet another one of the cheap and best mattress brands in India is the Amore High Resilience Bonnell Spring Mattress having many layers with varying materials for pressure relief and cradling comfort. There are many differentiating factors in this mattress that makes it stand out from others on the list. Like Bonnel spring – which is the earliest, most durable, and affordable coil technology known to offer firmer bedding systems for those who prefer it. Because of the many layers, this mattress is heavier and taller than others. It has a 10-day return policy and a 5-year warranty. 
What It's Made Of: 
The 6-inch long mattress starts with a heavy GSM knitted fabric. GSM is a standard measurement of fabric weight and often corresponds to the plushness and quality of the material. A heavy GSM fabric on top means more comfort, durability, and absorbent power of the material. There's a layer of HR foam after comfort foam in the product. HR foams have an open cell structure and have greater elasticity & airiness than other foams. Two layers of high-density Turkish felt cover the Bonnel spring on both sides for high insulation and firmer support. In the end, there's an anti-skid fabric that doesn't let your mattress slip when you sit or push a bit. 
Features & Reviews:
Whilst doing our customer reach we found that buyers don't prefer mattresses with the feeling of "sinking in" or mattresses on a rigid side. Instead, they preferred the feeling of being cushioned without struggling too much to move. This is exactly what this best spring mattress brand in India offers and people are loving the soft and comfortable feels of it as well. Here's what one of the reviewers wrote, "This is one of the best mattresses I've ever used. In all the mattresses, I always had some problems with comfort and slight back pain. But this one gives me the best sleep yet. For the price, it's a steal and I've also ordered one for my parents. They're quite happy with the product too." 
This mattress is also the answer to your question "which brand mattress is best in India?' because of the high-quality products used for manufacturing, like the heavy gauged and high tensile tempered steel. Both of these properties makes the steel, and hence the spring in your mattress, strong and durable. The anti-skid fabric below also adds value to the consumer's everyday usage.
Cons: Bonnel spring system, though durable, firmer, and affordable, is motion-sensitive, which means your partner will feel the movement when you move as well. 
Purchase here.
#3 The Sleep Company SmartGRID Luxe 8 Inch Best Soft Mattress In India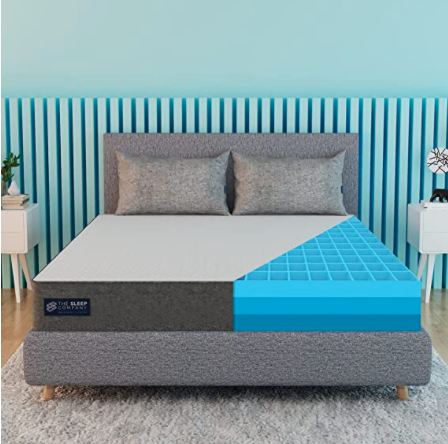 While this might not be the cheapest product on the list, the Sleep Company mattress uses a patented Smart Grid technology to ensure superior comfort and value to their customers. This is one of the best mattresses for couples in India. Given the softness, coziness, and health benefits, newlyweds looking to redecorate their new room should consider this as a safe option. This one of the best mattress brands in India will last you a long time, just like the memories you'll make in the new room. 
What It's Made Of:  
The Sleep Company Mattress comes in 3 to 4 layers depending on what size you choose. There are choices of 6, 8, and 10 inches for the thickness of the mattress. The topmost layer is a cotton viscose blend sheet for a luxurious feel and utmost softness. The following layer is the patented 2" Smart Grid technology. The company claims this installment to be revolutionary and one-of-a-kind in India. The SmartGRID adapts to the body shape without sinking, crumbling, or collapsing, so as to give you both softness and firmness at the same time. Next, there's a transition layer to perfect the re-bounce and enhance the longevity of the mattress. In the end, there's a support foam to keep all the layers balanced and strong so they do their job well. 
Features & Reviews:
With over 5000+ positive reviews on third-party platforms, the Sleep Company has earned a spot among the best mattress brands in India, and rightfully so! Smart grid comfort has impressed many buyers. With some quoting that "it was the best sleep they ever got" and other writing about how their "pesky sciatic pain is completely gone". Another one of the reviewers wrote, "it's extremely comfortable, plush, and soft – so soft that I've ordered 2 more for other beds in my house." Given the SmartGRID layer has 2000 channels for air, it's no surprise that customers are also praising the ventilation element of the mattress. 
Besides the innovative technology, the Sleep Company's mattresses also comes with food-grade material, so its safe and hypoallergenic. Hypoallergenic materials in a mattress can provide several benefits, especially for individuals who are sensitive to certain materials or have allergies. One of the main benefits is reducing the risk of allergies and asthma. Mattresses made with hypoallergenic materials are less likely to harbor allergens like dust mites and mold, which can trigger allergic reactions and asthma symptoms. This can help individuals to sleep more comfortably and wake up feeling refreshed.
Cons: For those looking for firm mattresses, this won't be a suitable option. 
Purchase here.
#4 Cozy Coir – Heavy Density Coir Mattress (Best Coir Mattress)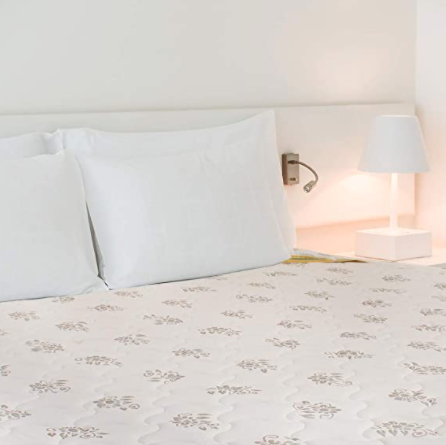 For those who care about the environment (and it's high time we all should), coir mattresses made from coconut husk with layers joined together using latex are your best bet. Cozy Coir is a completely eco-friendly best coir mattress brand in India and produces many bedding products like pillows, bedsheets, comforters, and foldable mattresses. With 35 years of industry experience, the company has several certifications in its name like ISO 9001:2008, BIS, and NIC. 
What It's Made Of:
All coir mattresses have a quilted, plush exterior the outside. Next is the layer of natural rubberized coir followed by a foam-based supporting layer and then, another layer of coir. Most of the coir used is produced from agricultural waste and joined together using natural latex. There's another breathable premium fabric at the end. 
Features & Reviews:
Coir mattresses are an eco-friendly option. They're made from fibers of coconut and further attached using latex. There are no harmful chemicals involved in the making, so it's good for general health, skin, and hair. Because of their comfort and natural properties, the Cozy Coir has supplied beds to many institutions like hotels and hospitals. This prevents any complaints from the clients for any bad allergic reactions. Coir mattresses are also firm and provide much-needed support to the joints. The Cozy Coir mattress in India passes the check of experts for those suffering from back and neck pain. The firm yet soft exterior gives relief from any tension. There's also good breathability in the mattress and it will not retain heat – which is especially necessary for India's hot, humid atmosphere. 
"I ordered this mattress for my parents. Their doctor suggested using firm bedding to lower the back pain and keep it healthy. Both of them are quite pleased with the quality and comfort. Although what I loved the most is the seller who called right after the order was placed and helped me through all the requirements. This is the first time I've received such personalized service from any seller on Amazon," writes one of the reviewers. "Superb mattress in this range. I've been using it for 6 months and there's no hollow or anything like that. Happy with the quality and the mattress service providers as well. Even if you'll have any issues, they will resolve them quickly. Thanks, Amazon for quick delivery."
Cons: Might not be suitable for individuals looking for soft mattresses. 
Purchase here.
#5 Duroflex LiveIn 2 in 1 Dual Reversible Memory Foam Mattress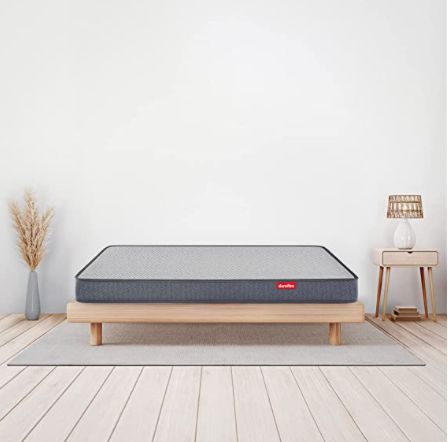 If your partner prefers a firm side and you prefer a soft side, it might seem like it's hard to settle on a mattress for both of you. Well, Duroflex LiveIn 2 in 1 foam mattress has your back. The mattress has a firm support layer on one side and a softer foam layer on the other. You can choose the side depending on your personal preferences. Or flip the mattress every now & then to give each one their turn to enjoy their preferred sleeping experience. It's also listed under the category of best mattress in India under 10,000/- for its quality and resilience. 
What It's Made Of:
The mattress has a total of 4 layers. The top layers are made of an anti-microbial fabric to keep you protected from any harmful bacteria, fungi, and viruses. Right beneath these layers, there is a soft foam on one side and hard foam on the other side. It's a typical memory foam mattress and one of the best memory foam mattresses in India. The layers are covered with a premium knitted fabric in grey to provide optimum comfort to users. The knitted fabrics are also known for reduced friction, which means your bedsheet will fall less into creases.
Features & Reviews:
The Duroflex LiveIn 2 in 1 Dual Memory Foam Mattress comes in a bed-in-a-box hassle-free packaging. You don't need any external help to unroll the mattress. Just take it out of the box, put it on the bed, and it will automatically unfold to the fuller version. Both the topmost sides of the mattress are made with anti-microbial technology to prevent any dust, molds, or any types of other micro-organisms to grow and cause any diseases. Since it's a dual-foamed mattress, you can flip the side depending on your needs for cushion-like comfort or some extra support for your joints, making it top mattress brands in India 2023 for sleeping as well as orthopedic support. 
"It's a very comfortable mattress by Duroflex. It's neither too heavy nor too light. I love that there are two sides so I can flip at my convenience. It's not too soft so as to give me backache, but provides the right support to prevent any sprain. Amazon delivery is excellent. Overall, I am satisfied with the entire experience and would suggest to anyone looking for a memory foam mattress in India," writes one of the reviewers on Amaaozn. 
Cons: It can be difficult to adjust for those not used to memory foam mattresses. 
Purchase here.
#6 Wake-Up 8-Inch Medium Firm King Size Mattress (Winner)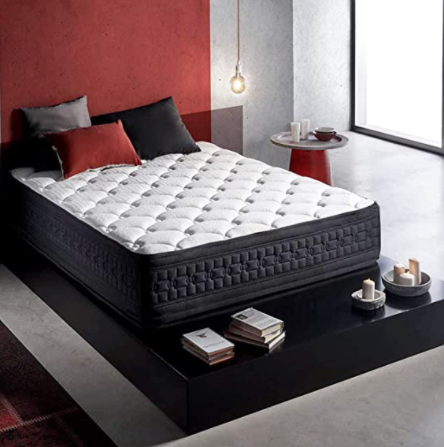 An expensive mattress in India, but one that pays well for every penny. With over 2000+ positive reviews just on Amazon, the Wake-Up 8-Inch king-size mattress is a pocket spring mattress and ideal for buyers looking for bedding with a firmer feeling. Unlike memory foam mattresses, the spring mattress doesn't contour the sleeper's body as much and holds up the body weight to provide a firmer feeling and support. 
What It's Made Of:
A quilted, high GSM knitted fabric on the top to provide optimal relaxation to the buyer and prevent any wear & tear of the material over the years. Next is a layer of high-resilience soft foam to cradle your body as you sleep and relieve pressure points for any pain relief. The layer of pocket spring is covered on both sides using felt. Felt is an important layer in spring mattresses. They protect you from the spring and make sure the foam and the spring layer are uniform and stay that way through the durability of the mattress. Felts are also fire-retardant and heavily absorbent, so even if you spill anything on the mattress, they will protect the springs from any damage. At last, there's cotton knitted fabric in a thick layer to give low friction to the mattress, protect the entire base, and maintain proper oxygen circulation through the mattress. 
Features & Reviews:
Our consumer testers and survey respondents have all reacted positively to the mattress. For a company that doesn't enjoy the fame of it's competitors, the quality surpasses many well-known brands, and therefore, they're able to offer the product at a higher price. Because of the medium-firm attribute, the mattress is best for people suffering from back pain. While it does provide a comfortable hug feel, it won't swallow you, making it the best for both back and stomach sleepers. 
All that extra cushioning and comfort materials also means Wake-Up is great at absorbing motion, so the partners won't feel the movement of the other at night, giving both parties a sound, restful sleeping experience. "The technology of this mattress is really great. It gives great support to the back and doesn't suck you in. The movement is easy and absorbed, so anyone else sleeping with you will not face any disturbance. I've tried brands like Sleepwell mattress and Kurl-On, but can honestly vouch for this as one of the best mattress brands in India." writes one of the reviewers. 
Cons: Expensive
Purchase here.
#7 The Sleep Company SmartGRID 6 Inch Medium Firm Mattress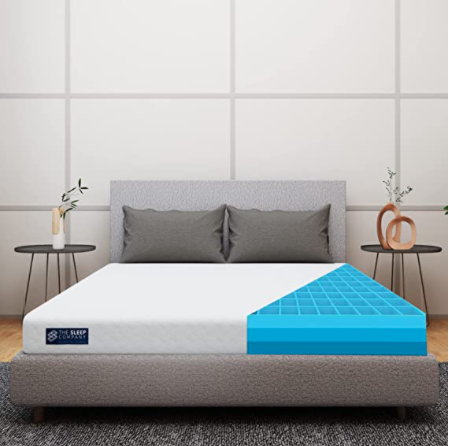 The Sleep Company has designed one of the best mattresses in India for back pain. Their SmartGRID technology is no memory foam, no springs, no latex, but a patented Smart GRID to adapt to your body's shape and provide cushioned comfort wherever needed. Unlike a memory foam mattress which offers equivalent support across all areas, the Smart Grid provides a proper level of support across different parts of the body. The Sleep Company has certainly revolutionized the mattress brands in India since it launched and if it suits you, it's the one we think offers the maximum bang for your buck. 
What It's Made Of:
A soft and breathable, high GSM knitted cotton cover on the top. GSM or grams per square meter corresponds to the metric measurement of the weight of the fabric. The higher the GSM, the denser the fabric will be. The Sleep Company Orthopedic Mattress has a cover of 550 GSM, conforming to the durability and the high quality of the mattress. Next is a 1-inch layer of patented Smart Grid cover for ultimate comfort and pain relief. There's a firmer foam on the bottom for support and resilience. 
Features & Reviews:
The ergonomically designed mattress is firmer on the back to give ample sipe support and is soft on the shoulders and hips. It changes the cushion to a firm feeling and vice-versa as you move in the bed. Don't worry though, the smart motion sensors will not disturb your partner's sleep through the movement. The Smart Grid is also made of highly elastic material to prevent any sagging as the years add to the mattress. 
"I have lower back pain issue and was looking to replace my old mattress. Finally, bought these mattresses after lots of research, survey, and feedback sessions. I've used it for close to 4 months and to date, I've experienced no issues. It's durable, doesn't sag, and gives you a good night's sleep. The back pain has also vanished," writes one of the reviewers. "This is a revolutionary technology in the mattress. There's nothing like it. The gid technique provides a good comfortable sleeping experience. If you can ignore the price, this is one of the best mattress in India for back pain. Go for it," says another review. 
Cons: Quite expensive. It can be soft for those who like a firmer feeling on their mattress. 
Purchase here.
#8 Dr. Smith Orthopedic Memory Foam Mattress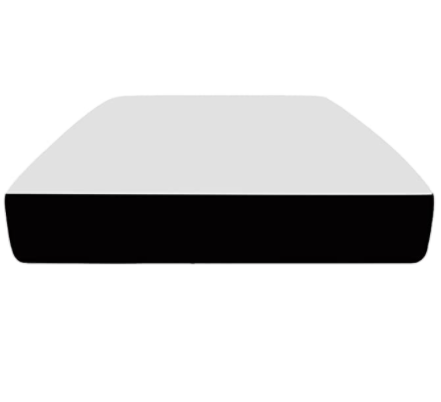 For those looking for budget options in orthopedic memory foam mattresses, then Dr.Smith Orthopedic Memory Foam mattress is your best pick. Any mattress that mentions orthopedic in its name is surely meant to help your joint pain and keep them healthy as you age. Obviously, the quality of the mattress matters when it comes to choosing orthopedic bedding. When chosen wrongly, it can have the opposite effect. Thankfully, Dr.Smith's Orthopedic Memory Foam mattress is backed by reviewers and scientists to help with any pesky pain in your joints. 
What It's Made Of:
A high GSM knitted outer cover that feels smooth and comfortable. The durability is high owing to good GSM. There's a softer cushioning foam to help with the cradling effect. High-responsive memory foam forms the third layer followed by a high-resilience foam base (known for its stability, durability, and high-compression modulus) for support. Another high GSM knitted fabric on the lower end ensures there's optimum friction between your bed and mattress to prevent movement and over time, wear and tear. 
Features & Reviews:
A memory foam mattress is designed to mold and sink in response to the pressure and heat response in the body. This provides amazing comfort. When released, the memory foam will bounce back to its original shape. Over time, the memory foam remembers your body shape (hence the name "memory") and quickly cradles you for ultimate ease. Dr.Smith's Orthopedic Memory Foam mattress comes in a box. All you need is to open, unroll, and let the mattress come to life. It's as easy as that. If for any reason you aren't happy, there's a 10-day replacement of the mattress.
Another great benefit of this mattress is that it works with most of the bases and frames, from bunk beds, floors, and box springs, to slutted platforms or fundation. One of the reviewers wrote, "It's easy to assemble and does the job well. For the price, this is definitely one of the best foam mattresses in India. The quality of the product is good and for the last 1 month, I've had no problems with my back pain. 10/10 would recommend this product." 
Cons: There's no return on the mattress. 
Purchase here.
#9 Sleepwell GenX HR Foam Mattress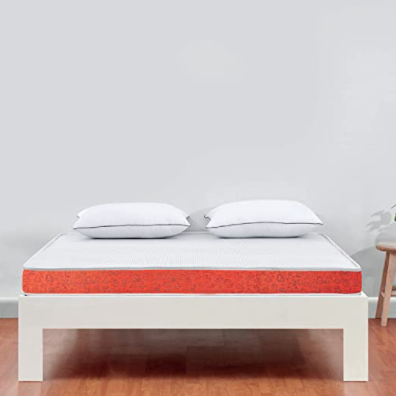 Sleepwell mattresses are popular all across India owing to their quality products and fitting into the budget and attribute preferences of all kinds of buyers. Whether you want a firm mattress, medium-firm mattress, foam mattress, or a coir mattress, this is one of the best mattress brands in India that serves you in all ways. We've featured 2 mattresses from their collection on this list and one of them is the Sleepwell GenX HR Foam mattress, the only HR foam mattress to be included on the list. 
What It's Made Of:
The layers of a Sleepwell's mattress are quite simple and straightforward. It all starts with a knitted fabric with a smooth texture and high strength. The high quality prevents any wear and tear over the years. Next is a thick layer of HR foam. HR foams are a type of PU foams with much higher resilience and responsiveness than memory foams. They bounce back much quicker than memory foam and will interest buyers who feel it's hard to twist and turn in a memory foam mattress. Even after 4 to 5 years of usage, the high-quality HR foam mattresses don't sink. To cover the HR foam and the entire mattress, there's an airy strong fabric to support all the layers and extend the durability of the mattress. 
Features & Reviews:
This medium-firm mattress provides optimum support to your joints and doesn't give any sinking feeling. Due to the quicker bounce-back, it's easier to move through the mattress and any movements will not disturb your fellow sleeper as well. All Sleepwell mattresses come with a unique Neem Fresche technology to prevent any microbes like dust, mites, and virus to grow on the bedding. This is ideal for those suffering from allergies or acne-prone skin. 
There's also a 5-year warranty with this one of the best mattress brands in India and a 1-day free replacement in case of any product defect. You also get 2 Sleepwell pillows for free with the product. Here's what one of the reviews says, "So I was having back pain for a long time due to my old mattress and it had also changed shape, giving rise to my cervical pain. I ordered this after reading good reviews and just had my best sleep. No ache and no pain. The best thing is it was so easy to open up and assemble. There's no hassle. The pillows are super soft and perfect for the neck. A few more of my family members have ordered this mattress and enjoying the perks too."
Cons: None! 
Purchase here.
#10 Sleepwell Cocoon Half-Half 6 Inch King Size Mattress
This Sleepwell mattress is the only customizable best mattress in India 2023 with two sides – a gentle side for extra comfort and a firm side for extra support. If you and your partner have separate firmness preferences in the mattress, Sleepwell's Cocoon Half-Half mattress is your best pick. Priced a little higher than the other mattress brands on the list, the luxurious feel and unmatchable comfort will make every penny spent worth it. The product comes with a 5-year warranty and free pillows for an all-rounded blissful sleep experience. 
What It's Made Of:
On the top, there's a premium knitted jacquard fabric. It's softness and plush nature will make you want to lie down without the bedsheet. The smooth layers have nice friction though and won't move your bedspread around with simple movements. Next is a layer of foam with dual features. On one side the foam is firmer to provide extra support for those who prefer firmness and on the other half, the foam is bouncier (not the one that sucks you in, but gently cradles the body) for anyone looking for coziness. To keep them all in place, there's a few inches of Sleepwell Resitec Foam – a high-resilience foam for pressure point comfort and a comfortable bounce. All of this is covered in an air mesh fabric to ensure breathability and freshness in the mattress. 
Features & Reviews:
The only customizable best mattress brands in India at the moment. It gives you the option to choose both sides as gentle, firm, or one side as gentle and firm. I don't think we've come across any company that offers this amazing perk to their customers. Because of the strong motion-sensitive foam, the partner will not be disturbed by your movements in the bed. Given that Sleepwell's parent company is one of the leading manufacturers of foam in India, you can be assured of the foam used in the bedding is the best one of the lot. No wonder Sleepwell mattresses last forever. 
"It's hard to imagine that a full king-size mattress can fit in a small carton and be sent to your doorstep. But Sleepwell managed to deliver the mattress and it unrolled flawlessly. This is the most luxurious and comfortable mattress ever. Quality is really good and best for people suffering from back pain. Worth buying!" writes one of the reviewers on Amazon for this one of the best mattress brands in India.
Purchase here.
#11 Boston Hotel Comfort 4 Inch Foam Queen Mattress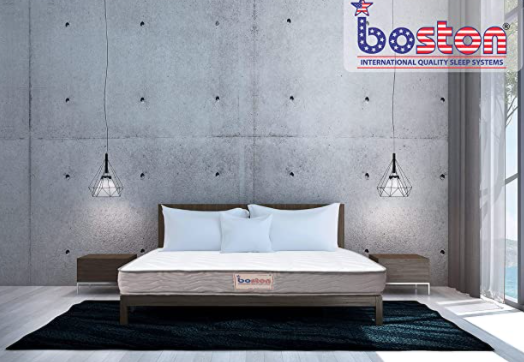 For buyers looking for hotel comfort in their bedrooms, the Boston Hotel Comfort mattress is used by hotels in their rooms and offers a medium-soft feel in their bedding. With over 60 years in the industry, the company has revolutionized the mattress market from time to time. They have been the first to introduce latex mattresses and spring mattresses to Indian buyers. In 2017, they launched the first organic mattress in India, but have always been eco-conscious of their manufacturing and operational strategies. 
What It's Made Of
:
A high-quality knitted cover with an open-air structure to keep you warm in winters and cool in summers. It's followed by 100% pure sleep-grade HR foam that's resilient and offers utter support to the users. HR (high-resilience) foam is a type of polyurethane foam that is known for its durability and support. It is often used in mattresses because it can provide a balance of comfort and support. HR foam is also resistant to compression and will retain its shape for a longer period of time than other types of foam. You can rely on this material and this company when you are looking for the best foam mattress in India.
Features & Reviews:
This is the only mattress brand in India to use sleep-grade PU foam, which is a material that's tested to be safe for sleeping and comfort. It can be a little expensive, so most brands don't use this one and instead rely on a cheaper alternative. Boston, however, uses only sleep-grade material for all its mattresses. This one of the best mattresses in India 2023 also has an open cell structure, a type of foam that has small, interconnected pores or cells throughout the material. These pores allow for improved airflow and breathability, which can help to regulate temperature and keep the mattress cool. Additionally, open-cell foam can be more flexible and responsive to pressure than closed-cell foam, which can provide more comfort and support. They are also more prone to air exchange, making the mattress more breathable, this can help to reduce the build-up of moisture and prevent the growth of mold and mildew.
"I have used mattresses worth 25k and they still give me body ache. But this product is absolutely worth it and has value for money. It isn't bouncy soft but takes perfect shape to help the health purpose of my purchase. There are no neck and back pains after using this. So happy to buy this mattress," writes one reviewer. "Such an amazing quality of the mattress. We've been using this for the past 5 months. It has retained the shape without flipping. No back pain. This is the second Boston mattress for our house, and most likely, not the last one," writes another. 
Purchase here.
Types Of Mattress In India
#1 Foam Mattress
Foam mattresses can be categorized into 3 major categories: PU foam, latex foam, and memory foam. Foam mattresses have preceded the spring and coir mattresses. They're hugely popular these days. Earlier, foam or felt (a common material used to support the layers of the mattress) was only used to support the springs in the bedding. But now many advanced versions have made way to create only-foam mattresses. Find a description of the common types below. 
PU Foam vs Latex Foam vs Memory Foam
What is a PU foam mattress?
PU foam or polyurethane foam is made synthetically using compounds from petrochemicals. They come in a wide variety of qualities and price ranges. Some manufacturers use low-quality PU foam to reduce costs, but high-quality PU foam can be a great addition to any mattress for both support and durability. 
HR Foam (which you must have come across in many mattress sets above) is a high-density and high-resilience form of PU foam. It's said to be one of the finest materials to be used by the mattress industry. The HR foam has much higher responsiveness than the popular memory foam itself. Meaning it bounces back quicker and better than memory foam. HR foams are a common addition to many firm mattresses because of their ability to provide a more even feel and less of a sinking feeling. Improved airness and increased softness are other perks of this kind of PU foam. 
What is a latex foam mattress?
Latex foams are made from natural or synthetic materials. Naturally, latex comes from rubber trees, and synthetically, latex is derived from petrochemicals. A 100% natural latex foam is hard to be used in any mattress in the world. Generally, a ratio of above 80% for natural latex is considered to be of good quality. Synthetic latex is less pricey and breaks down faster than natural latex. If you're looking for a quality latex foam mattress, see if the manufacturer has used natural latex and in what percentage for a smart purchase. 
There are many benefits of a latex foam mattress like good flexibility, breathability, eco-friendly, natural, orthopedic support, and an easier bounce. The unmatched elasticity also means better durability. Thus, latex foam mattresses last longer than any other mattress on the list. Natural latex is also antibacterial material and so no fungi, virus, or allergens can grow on the mattress. 
What is a memory foam mattress?
Memory foam – touted as the next big technology in mattresses – is made from PU foam only. The poly-foam goes through a mix of manufacturing processes involving chemicals, plant compounds, or both, to give the foam it's unique properties. Memory foam is known to conform, mold, and stretch in response to body heat and pressure. It returns to the original shape when this external pressure is removed. 
When you sleep, the memory foam stretches under the high-pressure points of the shoulders and hips. As you stay in the position, the foam further stretches to give you a cradling feeling while sleeping. When you change position during sleep, the pressure points change accordingly. While some people like this unique attribute, others are not such a big fan. The sinking feeling makes them uncomfortable to change their position at night. 
Memory foams come in varying densities. In general, higher-density memory foam is more durable and comfortable. Owing to the popularity of the "memory foam" term in the mattress, many sellers have started selling cheaper, less durable versions of memory foam. Don't fall for the trap. Look for well-known brands with good reviews when buying a memory foam mattress in India. 
Spring Mattress
Spring mattresses are, as the name suggests, made from springs. These springs in the form of metal coils are suspended throughout for a support layer. There can be hundreds to thousands of metal coils in a spring mattress. Even though coil count is an important factor to determine the quality of a mattress, a higher count doesn't always mean a better quality bed. There are many other factors at play. Like the foam, felt, and fabric layers used to cushion the layers of spring can make a huge difference in influencing the luxurious and comfortable feels of the mattress. Coil gauge, referring to the thickness of the wire used, determines the intended firmness of each mattress model. 
A spring mattress is a perfect pick for anyone who likes the springy feel in their mattress, as opposed to the sinking one. There are majorly two types of spring mattress in the market: 
Bonnell Spring
Bonnell springs are the oldest spring design used in the mattress. They consist of hourglass-shaped coils with rounded tops unified using a single metal wire. This inter-connected coil technology makes these mattresses motion-sensitive, meaning if someone moves on one side of the bed, the other one will feel the movement on the mattress as well. These mattresses are firmer in general and quite affordable and durable. For those looking for budget, long-term mattress in India, certainly go for a Bonnell spring mattress. 
Pocket Spring
The pocket spring system in the mattress consists of hundreds of coil units encased individually in fabric pockets. This means each coil can move separately from the other and any movement on one side of the mattress will not cause any disturbance on the other side, reducing interruptions during sleep. Reduced noise is an added benefit of the feature as well. That's the only major difference between Bonnell and pocket spring mattresses. The overall plush comfort and durability of the mattress depend on the foam felt, and fabric layers added to the mattress. Pocketed spring mattresses are pricier than the Bonnell spring mattress in India. 
Coir Mattress  
A completely eco-friendly, natural option in mattresses is the coir mattress. Coir is made from natural fibers extracted from the outer skin of the coconut. Since the fibers are naturally harsh, the coir is then mixed with a soft material like latex or foam to make it comfortable to sleep on. The quality of the mattress depends highly on the quality of the coconut fiber and the cotton or jacquard fabric used to cover the coir layer. Coir mattresses are firm and have been deemed an ideal mattress for older adults due to their pressure-relief properties on joints. The best coir mattress brands in India are also much cheaper than other options in the market. You can also get the best of both worlds in a hybrid mattress, which is a mix of coir and foam. 
FAQ's
How Do I Select The Best Mattress In India?
A belonging like a mattress needs to be a thoughtful purchase. It's expensive, lasts a long time, and is important to give you a good night's sleep – which sets the mood, tone, and relaxation of the entire day. Before you step out to choose the best mattress brands in India, here are some key points to take into consideration: 
#1 Know About Different Mattress Materials
As you'd have already judged, there are so many top mattress brands in India 2023 in the market that it practically dizzies you to know what is what. The section prior to this explained briefly the types of mattresses available in the Indian market. Know that these are just the wider version of variety and not all kinds can be included in the section. It will unnecessarily confuse you, and won't even benefit the purchase decision as the other types seldom come along in this market. 
You will mainly have a choice between foam, coir, and spring mattresses. In the foam mattress, memory foam has taken the market by storm and can be found in a lot of mattresses you come across. There's also the spring mattress or the coir mattress, which is the oldest form of a mattress to exist in our country. Our parents most likely slept on these mattresses. There's also a hybrid mattress available, which is a smart version of a spring and foam mattress. Coir mattresses are rarely hybrid and generally are sold on their own with a few supportive layers. 
#2 Understand Your Sleeping Position
Knowing what kind of sleeper you are can further help you choose the mattress.
Back Sleepers: For those who mostly sleep on their back, a softer mattress will disorient your spine's posture and alignment. For back-sleepers, opt for a firm or a medium-firm mattress. Pick a firmer foam, coir, or hybrid mattress. 
Side Sleepers: Side sleepers need a mattress that cushions their hips and shoulders, the joints that come maximum under pressure in their sleeping position. For them, a softer yet comfortable mattress to release pressure on these joints is preferable for a good night's sleep. 
Stomach Sleepers: A firm mattress is ideal for stomach sleepers as those that sink in will put pressure on the spine and you might find yourself waking up with unnecessary stiffness and pain. 
Toss & Turn Sleepers: For people who turn frequently through the night, choosing a mattress that doesn't suck them in and just gently tucks is the most comfortable. Also, look for motion isolation so you don't disturb the sleep of your partner while tossing & turning in the bed. 
#3 Consider Common Attributes
These are the 5 main attributes to consider before choosing a mattress:
Firmness:

Some people find comfort in extra-firm mattresses, others love the soft, sunken, cozy feeling, while a certain other section of people like a medium-firm mattress with slight pressure release on some points. There's no authentic research conducted to justify what's best for spinal and joint support. Any company claiming the research backs their mattress' firmness to be the best is – first, not genuine, and second, hiding the fact that the research is funded by them. Go ahead, Google. You'll know no research work claims any guarantee over what firmness of mattress should people opt for. 

Motion Isolation:

This is an essential feature to look for partners sleeping together. Motion isolation restricts the spread of movement and doesn't disturb your partner sleeping right next to you. 

Pressure Relief and Body Contouring:

This feature basically judges the mattress' ability to gently sink in at the pressure points like the back, neck, and hips to release pressure off them and provide pain relief. The best mattress is the one that gently cradles the sleeper without making it difficult for them to move. 

Mattress Height:

Most mattresses will average around 6 to 8 inches in the height. If you have a good height, you might prefer a higher height in a mattress. This attribute is simply upto your personal preference. 

Temperature Regulation & Cooling:

Some mattresses retain heat and can make you feel hot during the night. Mattresses with good air circulation are preferred as they make you feel comfortable and airy at night. You will find this feature of good circulation in some of the best latex mattresses in India.
#4 Don't Fall For Marketing Gimmicks
While many brands label their mattress as "orthopedic" or "medically-approved", there's no organization that tests or passes the mattress as any of these things. That's not to say that the mattress can't help with your joint pain or provide comfort, but a company simply claiming them doesn't mean they are helpful. Instead, rely on the materials and use judgment to make this decision. 
#5 Know Your Budget
Budget is a serious and practical topic for anyone setting foot outside to purchase anything that's going to stick with them long-term and will be a part of their daily lifestyle. In mattresses, having a budget of about 10k for a double mattress assures you of purchasing a good-quality mattress. Some mattresses go around 20k to 30k. After you've decided on the kind of mattress you want, it's suggested to decide on a budget. Here are some key factors on which the price is decided: 
Materials:

Some types of materials, like latex, just cost more. Other materials are more technologically-advanced, like the Sleep Company's Smart Grid mattress, so the prices of the product are also on the higher side. Foam mattresses can vary a lot in process, because foam comes in so many varieties and densities. A high-quality foam promises better durability and comfort but also ups the price. The cost will escalate more if the company outsources its raw materials as well. 

Where they're made:

Mattress companies that outsource production to countries with cheap labor tend to cost lesser than those who do all the working prices in a country with high labor costs. If a company manufactures everything in-house, it does reduce the pricing though because everything reaches you directly from the factory. 

Company Reputation:

Well-known luxury brands, and also brands who've invested a sufficient amount of money in marketing like getting a celebrity to endorse their products, etc. will charge higher than normal brands. Honestly, I didn't know many of the mattress brands in India mentioned on this list either. It was only after the research work and personal customer inquiries that I got to know of these other amazing brands. Obviously, well-known brands have an assurance of quality, but lesser-known ones aren't so bad either. 

Type:

Lastly, the price depends on the type of mattress and the material used. Newer technologies of memory foam are priced higher, while coir mattresses fall in the lower price range because of easy material availability, known fabrication, and natural materials. 
#6 Go For Store Trials
To know the real feel of the mattress, it's recommended you go to the store for trials. Sit on the mattress, feel how much it sinks, you can even lie down (most stores allow that), judge the material, and look at the pricing. While generally, prices are cheaper online for the same product because of the middlemen's costs (distributorship, store maintenance, etc.) in an offline store. But there are times when they do have discounts running, you can ask and see if any sale is closer, and purchase the mattress accordingly. 
#7 Look For Warranties & Generous Trial Periods
Many mattress companies offer warranties and generous trial periods for their product. Some offer replacement-only services, which means you can't exchange the product for money. Read the return, exchange, and warranty policy carefully. Some companies offer returns if you order from their own website. Others don't offer the same perks when you use a third-party website. See the reviews of how responsive the customer service officials are when it comes to return and exchange because some brands don't heed to the customers' needs as stated. Also, read till when, and in what case, is the warranty valid. In the majority of cases, the warranty is nullified if you spill anything on the mattress or there's a strain. Read all the clauses so you can avail the advantage as and when needed. 
#8 Spend Time Reading The Reviews
Spend time reading reviews over various platforms for the products. Sometimes, the reviews on the company's own website are purchased. We understand that can be the case with third-party websites as well, but only to an extent. Most Amazon reviews are only offered by verified buyers. Even if the companies pay a few to write a review, they can't pay for them all. You can also trust reviews on Google for the brand. Read the good parts and the bad parts. Sometimes, people are all praise for the product, but not such a big fan of the company's customer service. Other times, they're facing sizing issues. 
If possible, get some personal recommendations on the product. Ask your family, friends, and colleagues about the product. It's just like speaking to them before buying a new phone or a car. Don't hesitate. Buying a mattress does require investment, so research is important. 
#9 Price Doesn't Always Mean Quality
It is a general and safe argument to assume that a higher price will mean better quality for any product you purchase. But it's not always true. And even if the higher price does deliver high-quality, durable products, it's not to say that you'll find it comfortable as well. Foam mattresses are often priced quite higher than their counterparts spring and coir. But not everyone loves the feel of the foam mattress, some are more comfortable with coir or spring mattresses. Yet again, a higher price doesn't always mean good-quality foam is used in the mattress. 
To get an idea of the quality of the mattress, go through the reviews and read up on the materials used in the bedding. If you're unsure, message customer service and ask them about the raw base of the mattress. 
#10 Protect Your Investment 
Mattress strains tend to void your warranty. It's important to use a waterproof mattress protector on your bedding to prevent it from any stains. While most best mattress brands in India won't be damaged from the inside with an occasional spillage of any food item. Over time, with the usage, the inner workings do tend to wear and tear. Given that you spent so much money on a mattress and it's a long-term investment, it's imperative you'd want to protect any damage you possibly can. Many companies have their own version of the mattress protector, which they're willing to offer at a lower price when purchased alongside their high-range product. Or, you can even message the company for any offer if you can't find any online. Most will be willing to offer a good price to their potential customers. 
What Are The Best Mattress Brands In India For Back Pain?
These are the best mattress in India for back pain:
What Mattress Do Luxury Hotels Use?
Many luxury hotels use high-end, premium mattresses that are designed to provide the ultimate in comfort and support. These types of best mattress brands in India are often made with high-density memory foam or a combination of memory foam and innerspring coils. The memory foam conforms to the shape of the body and helps to alleviate pressure points, while the coils provide a more traditional feel. Luxury hotels may also use pillow-top mattresses, which have an additional layer of padding on top of the mattress to provide extra cushioning. Additionally, some luxury hotels may use latex or hybrid mattresses, which offer a balance of comfort and support. They also often use mattresses with adjustable firmness, which allow guests to customize the level of support to their preferences.
What Type Of Mattress Offers the Most Durability?
When it comes to durability, the type of mattress that offers the most durability is generally innerspring mattresses. Innerspring mattresses have a coil support system that is known for its long-lasting properties. The coils are made of tempered steel, which is a strong and durable material that can withstand a lot of wear and tear. Additionally, the coils are often encased in a foam or fabric border, which helps to protect the coils from damage and extends the life of the mattress.
Latex mattresses are also known for their durability and are made of natural or synthetic rubber. Some of the best latex mattresses in India are more resistant to wear and tear, and maintain their shape and support over time. They are also known to be hypoallergenic, dust mite-resistant, and resistant to mold and mildew.
Hybrid mattresses are also a good option as they offer a balance of durability, comfort and support. They use a combination of coils and foam which offer good support, and are often reinforced by more durable materials like gel-infused memory foam or high-density foam.
It's important to note that proper care and maintenance, such as using a mattress protector, rotating the mattress regularly, and avoiding jumping or standing on the mattress, can help prolong the life of any mattress regardless of its type.
When Should You Replace Your Mattress?
It is important to know when to replace your mattress to ensure that you are getting the best quality of sleep and to avoid any health issues caused by an old and worn-out mattress. The general rule of thumb is that a mattress should be replaced every 7 to 10 years, however, this can vary depending on the quality of the mattress and how well it has been maintained.
There are several signs that indicate it's time to replace your mattress. One of the most obvious signs is when your mattress shows visible signs of wear and tear such as sagging, holes, and tears. Another sign is if you start to experience aches and pains, particularly in your back and neck, as this can be a sign that the mattress is no longer providing proper support. If you find yourself tossing and turning or waking up in the night, it could also be an indication that your mattress is not providing the comfort and support you need. Additionally, if your mattress is infested with dust mites, mold, or other allergens, it is definitely time to replace it.
It's also important to consider your own personal comfort and preferences. If you find that you are not sleeping as well as you used to, or if you are waking up feeling tired and sore, it might be time to consider a new mattress. Ultimately, it's up to you to decide when it's time to replace your mattress, but if you're experiencing any of the above signs, it's worth considering a new one, preferably from any one of these best mattress brands in India.
Can You Sleep On A Mattress Straight Away?
It depends on the type of mattress you have purchased. Some mattresses can be slept on immediately after opening, while others may require a break-in period before they reach their full comfort level.
For example, memory foam mattresses typically require a break-in period. The memory foam material is temperature-sensitive and needs time to adjust to your body heat and shape. Additionally, it can have a strong chemical odor when first opened, so it's best to allow time for the mattress to air out before sleeping on it. Many spring mattress brands in India, on the other hand, can usually be slept on immediately after opening. These mattresses are designed to provide support and comfort from the start, and do not require a break-in period.
Hybrid mattresses and latex mattresses can also be slept on immediately, however, they may benefit from a short break-in period, especially if they have a pillow-top layer. It's always best to check the manufacturer's instructions and recommendations before sleeping on a new mattress, as they may have specific guidelines for the best way to break in the mattress and achieve optimal comfort. It's also important to note that it's always good to use a mattress protector, regardless of which one of the best mattress brands in India you choose, as it will protect it from spills, stains, and dirt, making it last longer.
Conclusion & Winner:
No matter which one of the best mattress brands in India you choose, the product surely is a long-term investment.. It affects the quality of your sleep and joint pain. Over time, it might also give you a good posture. Knowing when to change your mattress is also a significant decision. Are you waking up sore? Is your bed bulging on one side so you have to sleep on the other side? Is the layer of the mattress feeling loose? These are all signs that you need to change your mattress. Don't forget to extend the life of your sleep pad by using mattress protectors which prevent spills, dust, allergens, and other hazards.
The winner of the list "best mattress brands in India 2023", depending on user reviews, is the Wake Up 8-Inch Medium Firm Mattress. Here's a video review of the same.
See our other review blogs here: