If you're looking for the best mattress for back pain in India, you have come to the right place. I empathize with you and surely understand the struggle. Having to sit all day, my hip flexors often misbehave, resulting in pesky back pain by the end of the night. A good night's sleep where the pressure points are released to provide comfort is necessary to relieve that pain. Considering the factors, attributes, and special features of the different mattresses, I've listed the 7 best mattresses for back pain in India for an easier buying decision. Scroll to see: 
#1 Springwel Orthopedic Mattress in India (Memory Foam)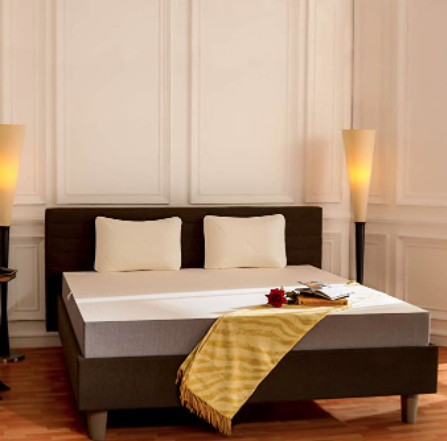 With more than 50,000+ positive reviews over social media, e-commerce stores, and search engines, Springwel mattress is known to provide specialized comfort with its advanced mattress technology and high-quality materials. The company has been in the business for more than 25 years and has been favored by many in the country since then. Innovation has been at the heart of their brand, and the key reason why they've survived over many years in the industry. They were able to meet the expectations of the customers with changing times. 
What It's Made Of
The main material of the mattress is pressure-relieving memory foam. Good-quality memory foam has amazing pressure relief at key body points like the back, neck, and knees. On the front and bottom are foams for different functions. Below, there's a high-resilience PU foam to support the memory foam, elevate the durability of the mattress, and not give the users the ticking off skinking feeling while sleeping. Above, there's a soft foam to support the gentle cradling effect and protect the key memory foam layer from wear & tear. This soft foam is a soft layer so you can experience the benefits of the memory foam layer beneath. On the top and bottom, there's a premium-quality zipper cover to protect the mattress' foam.
Features & Reviews
Springwel is a trusted brand. When you're purchasing a memory foam, trusting a renowned brand is a must. Because of the popularity of memory foam, many manufacturers have started producing a downgraded quality of memory foam. Some of these compromised qualities contain toxic chemicals like isocyanate (a potential human carcinogen), formaldehyde, and naphthalene, which can irritate the skin and the eyes. 
However, good-quality memory foam can do impressive things for your health and joint pain. One of the key attributes is displacing the pressure from points of pain in the body. This helps the body quickly recover from injuries, encourages correct alignment, and boosts healthy blood circulation. After you get out of bed, the memory foam comes to its original shape and you don't have to worry about the bulging bed without having to toss or turn the mattress. The knitted cover on the top and bottom is breathable and washable for a comfortable experience. 
"Mattress arrived in a very well-packaged condition, but inside there was a bit of tearing issue. The seller is amazing and replaced in one day! Coming to the mattress, I ordered because of frequent sciatic and cervical pain. The result is beyond my expectations. I don't wake up with pain in any of these areas anymore. The mattress is super-soft, medium-firm, and looks luxurious in the bedroom. Thank you Springwel!"
Purchase here. 
#2 Wake-Up Medium Firm Pocket Spring Mattress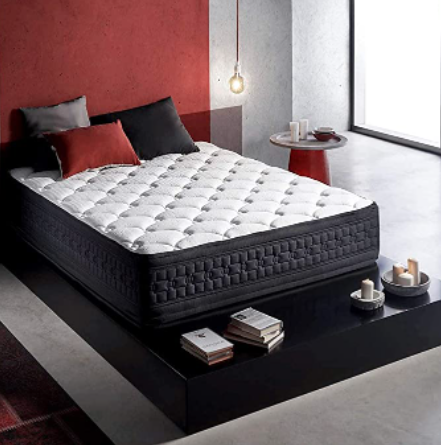 Founded in 2018, Wake-Up mattresses have quickly made their way to one of the best mattress in India for back pain, sound sleep, and general comfort. They entered the market with one basis in mind – providing the best quality mattress at affordable prices to make sound sleep accessible to the majority of the population. Given their consistent quality, they were awarded the most trusted mattress brand in India at the Global Excellence Awards 2022. Their 8-inch pocket spring mattress is the most popular mattress from their collection and has garnered more than 2500+ positive reviews on Amazon now. 
What It's Made Of
The main layer of the Wake-Up pocket spring mattress is the high-quality pocket springs in the middle. Spring mattresses contain thousands of coils in the layer. There are two kinds of spring mattresses – Bonnell spring and pocket spring. While in Bonnell, all of these coils are interconnected and can cause partner disturbance and a more sinking feeling, the pocket spring one has these coils contained in small packets to restrict the movement to the given area and prevent any partner disturbance. 
The Wake-Up mattress uses the latter technology for a smoother experience. On the top, there's a layer of felt – the oldest fabric and common material in mattresses to support uniformity, durability, and protection from external stressors like heat, spillage, etc. There's also a layer of high-resilience foam on the top for a comfortable sleeping experience. On the top and around, there's a cotton knitted fabric with quilted foam for ultra-relaxation, breathability, and just the ideal support on the edges. 
Features & Reviews
Spring mattresses have been around for a long time. They are probably the mattresses our parents and grandparents used. And till now, they find comfort in them instead of the foam mattresses. Spring mattresses do have their own unique properties like better circulation because of spaces between the coils, no sinking feeling due to the coil arrangement in pocket spring mattresses, and lower price. 
The Wake-Up Mattress for back pain in India is also more elevated than the other mattress, ideal for anyone looking to increase the height of their sleeping space. The spring used is made of tungsten carbide, a metal that's 3 times stronger than steel. This metal maximizes the efficiency of processing techniques and protects any wear & tear in the long run. There's premium foam encasement on the sides for a luxurious and supportive feel on all sides. 
"This is a very comfortable mattress for back pain in India. It takes the shape of the body when you sleep and isn't too soft or hard. The design is perfect and they even customize to your cot measurements. The seller is also nice and updates and confirms your order as soon as you place it. Thank you WakeUp mattress and Amazon."
Purchase here.
#3 Sleepwell GenX HR Foam Mattress For Back Pain In India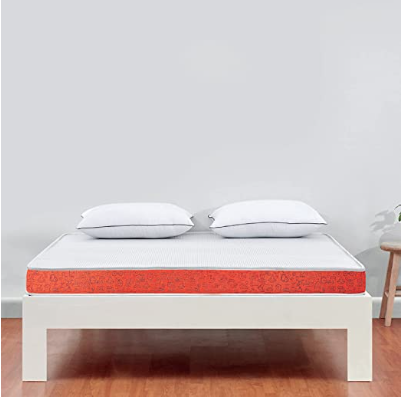 Sleepwell is quite well known as an Indian mattress brand. They have been in this industry for more than 50 years and have continuously innovated products to meet the growing demands of consumers. It has a wide distribution reach and manufacturing network to reach all consumers online and offline pan-India. To cater to those looking for mid-budget yet comfortable mattresses, their GenX range is an ideal one to invest in. Reviewing next is this Sleepwell mattress for back pain in India with HR foam. 
What It's Made Of
The Sleepwell HR foam mattress is made of three layers – a hard foam on the bottom, a softer one next to that, and a premium knitted fabric right above that. There's also a full cover-up on the sides to protect the inner foam from any wear & tear. HR or high resilience foam is a type of PU foam that has much higher responsiveness than memory foam. Basically means the mattress will return to its original shape quicker. This also gives less of a sinking feeling and more of a cradling feeling when you sleep. Sleepwell rarely uses memory foam for mattresses and only uses their ingenious foam, which is mostly HR, because they know this property of HR foams is better for comfort and durability for the consumer.
Features & Reviews
The Sleepwell GenX HR foam mattress has a medium-firm feel – a good balance for those suffering from back and neck pain as this provides them with comfort and not stiffness or sinking. Sleepwell has several patented technologies that they use in their mattresses. Each of their mattresses has a patented foam designed to fulfill the needs of the customer and the unique USP of the product. 
The top knitted fabric has a high GSM and provides superior air circulation to combat the humid temperatures of India. The mattress topper also has a superior loft compared to other mattresses. A high loft means the material has more air than fiber and is quite soft and springy. You will feel the difference right as you feel the mattress once it arrives at your home. Sleepwell mattresses also come with patented Neem fresche technology – a patented technology to protect you from dust mites, allergies, and breathing disorders. 
Here's what the reviewers say – "I have had back pain for the longest time and my old mattress wasn't helping. It also changed shape and gave me bad pain in my lumbar, leading to cervical pain. I just got this amazing mattress 2 weeks back and having my best sleep. My pain is less and it's so easy to install and open up. The free pillows are amazing to use too and are super soft. Great recommendation for those looking for a mattress for back pain in India." Another reviewer says, "This mattress is quite comfortable and matches the aesthetic of my home beautifully. The knitted fabric is so soft and gives a classy look. It ensures I wake up fresh while providing full support to my back.
Purchase here.
#4 Boston Hotel Comfort HR Foam Mattress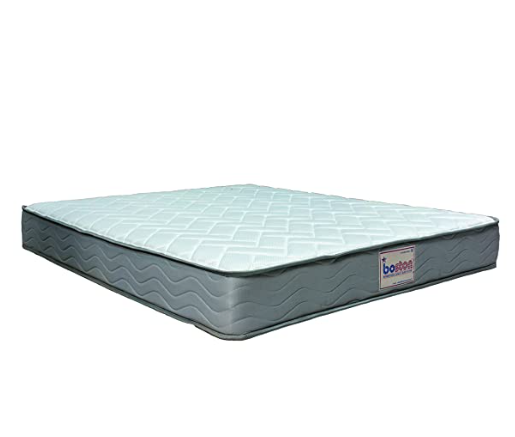 With over 40 years of experience, the Boston mattress brand in India has been the pioneer of many revolutionary mattress technologies in India. They were the first ones to introduce latex and spring mattress in India and were also at the forefront to make online purchasing of mattresses easier for consumers. Their orthopedic mattress in India is affordable, comes with a durable HR foam, and has positive reviews to impress you further. 
What It's Made Of
The Boston hotel comfort mattress comes with just two layers – one is the high-density HR foam to ensure optimal contentment from the sleeping experience. On the top, there's a knitted quilted fabric cover to protect the foam and give the users a better external experience in every way. There's a 1-inch quilted fabric on the top to make sure of this comfort and lavishness. On the sides as well, there's a quilted and knitted fabric with high GSM to prevent any wear and tear to the mattress and give you a mattress with a good look.   
Features & Reviews
The Boston hotel comfort mattress consists of high-density HR foam. High-density foam has many important characteristics crucial for a good night's sleep and relief from joint pain quickly. One of the main attributes is that it's density ensures comfortable firmness to support your joints without making them stiff. A high-density foam also has an open-cell structure to allow air to move freely and keep a comfortable temperature throughout the night. Resiliency in these foams is also higher and makes them durable in a long run. 
The cell structure of a high-density HR foam makes the mattress quite responsive and bounces back into shape. In addition, it also offers appropriate support and distributes pressure across a wide area to prevent sinking, hence, is quite beneficial for joint pain.  What's more is this mattress is recommended by various orthopedics to combat common back, knees, and neck problems. The mattress is available in many sizes to fit the preferences of all. 
"The mattress is neither too hard nor too soft. It's very comfortable. I was about to shell 25k on a mattress but this one is no less than a high-end one I have in my other bedroom. I have used it for 2 months now and have no complaints so far. The delivery was fairly quick as well," says one reviewer. "I am writing this review after using this mattress for 5 months. It's still good as new and hasn't retained any shape without flipping. We need another one for a different room and will be going with this one surely. It's amazing in every sense," writes another reviewer. 
Purchase here.
#5 Sleepwell Cocoon Half-Half Luxury Mattress 
Sleepwell's legacy in mattresses is unmatched. They've been the pioneers of the best mattress brands in India for a while and have successfully created mattresses for those who suffer from back pain to heed to the needs of that niche as well. Their Cocoon half-half mattress is high-end but is one of the best mattress for back pain in India. It also comes with a unique half-half technology where one side is firmer and the other gentle to match the preferences of both partners. 
What It's Made Of
The Sleepwell Cocoon luxury mattress consists of their signature PU foam – common in many of their mattresses. Their ingenious foam is durable, has a plush feel, and has motion control to prevent any disturbances from one side to the other. After the PU foam, there's an air mesh fabric to ensure proper airflow through the mattress and hence, a proper comfortable sleep experience. On top of that, there are customizable ortho layers with one side offering a firm and the other other side offering a gentle feel. Everything is packed using a premium-knitted jacquard fabric. Jacquard fabric is stronger and thicker than other types of weaves. It is also hygroscopic, hypoallergenic, and environment-friendly. 
Features & Reviews
PU foams are quite common in mattresses. When made using cheap raw materials, the PU foam can lose its resilience fast and can start sagging from several points. In addition, low-quality PU foam can also lose its fitness and become quite soft over time. Sleepwell manufactures their own PU foam in their state-of-the-art facility which uses lab-tested materials to curate a strong resilient base for the mattress. This prevents any uneven surface feel and sagging even after years of usage. 
Another laudable attribute of this luxury mattress for back pain in India is the one-of-a-kind two sides – where one is gentle and the other one is firm to support the preferences of two people in one mattress. While it isn't a recommendation to pick one side for back pain. You should choose the one that provides more comfort to you. The mattress also has Sleepwell's patented neem fresche technology to protect your home furnishings from any dust mites and you from any allergic problems. The knitted fabric along with the entire line of mattresses is an added benefit to provide a luxurious appeal and feels to the entire mattress. 
"I bought this mattress after staying at a friend's house that had one. I was shocked at the price at first but loved the experience. I ordered one immediately. It's a very comfortable mattress for back pain in India and has a good plush feel, firm enough to support my joints without making them stiff. It feels like you get into the bucket seat of a sports car like it's hugging your body. My consistent lower back pain has also reduced and I am sleeping much better. I highly recommend this to anyone who likes a firm mattress with a bit of give!" – writes one of the reviews. 
Purchase here.
#6 The Sleep Company SmartGRID Mattress For Back Pain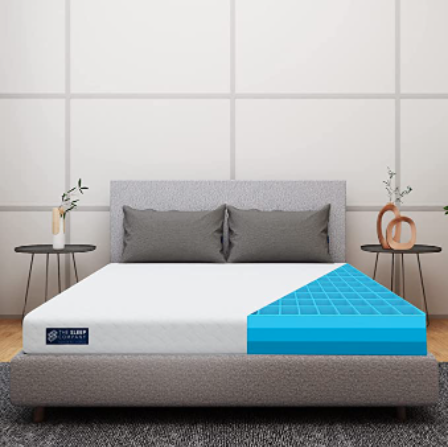 You won't go through any list of best mattresses in India without missing the name of The Sleep Company. Their revolutionary SmartGRID technology isn't foam or latex, but rather a patent-pending super stretchy SmartGRID that takes the shape of your body and isolates the motion quite well. The company has been gaining quite recognized for its efforts to create and market innovative technology in an otherwise frumpy market. Read on to see the full review of why this orthopedic mattress in India works great for back and joint pain, and otherwise as well. 
What It's Made Of
The Sleep Company Orthopedic mattress in India consists of high-resilient foams on the base followed by a 1-inch patent-pending revolutionary SmartGRID. The mattress comes in 2 sizes – 5 inches, 6 inches, and 8 inches. The first two sizes come with 1 HR foam while the 8 inches one also consists of a soft layer of HR foam before the SmartGRID layer to provide an extra support layer. On the top, there's a soft cotton cover for proper air circulation and sweat-free nights. 
Features & Reviews
After realizing that you spend an average of 26 years on your bed, the co-founder of Sleep Company – Priyanka – went on a journey to bring innovative technology into the mattress market. She and her husband, Harshil, created this research-backed SmartGRID to upgrade the sleep quality of every individual. All their raw materials are sourced from Japan and assembled in their state-of-the-art facilities. The materials are used only after a thorough quality check and each mattress is also thoroughly analyzed before being prepared for shipping. 
The Ortho technology in the mattress is designed exclusively to adapt to your body shape and release pressure points to relieve pain and provide optimum comfort. It's not extra firm, but rather offers a cradling feeling to give you an ultra-comfortable sleeping experience. There are also 2500 air channels on the SmartGRID to promote good air circulation throughout the night and give you sweat-free sleeping. With over 5000+ positive reviews, there's no doubt you'd be tempted to explore this option when searching for the best mattress for back pain in India. 
"I was quite tempted by the new technology of this mattress and decided to give it a try. Words aren't enough to describe how happy I am with the purchase. The mattress is amazing for sound sleep and cervical pain. I've used it for over 5 months and it's still working well as new. The base is firm and yet not stiff. Even if you're not satisfied, there's a 100-day return policy – which I doubt you will use though!" – writes one of the happy reviewers. 
Purchase here.
#7 Cozy Coir Heavy Density Mattress In India For Back Pain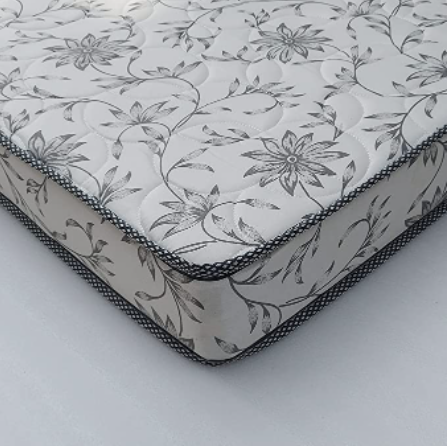 A completely eco-friendly, natural option for a mattress for back pain in India is a coir mattress. Coir mattresses are made from the husk of a coconut, also called coir. Since these natural fibers are quite rough, the material is then mixed with latex or PU foam and covered using a thick cotton fabric to make it comfortable to sleep on. The Cozy Coir is a completely sustainable brand and has been in this industry for over 30 years. This company and its manufacturing practices are certified by ISO 9001:2008, BIS, and NSIC. 
What It's Made Of
This high-density natural coir mattress is used on both sides of the mattress and is covered with a breathable premium quilted fabric to give a comfortable surface on the bedding. In the middle, there's a foam material to provide extra firmness, support the layers, and up the luxurious attribute of the mattress. 
Features & Reviews
The Cozy Coir heavy density mattress is made from natural fibers and is a completely sustainable option. If you're someone who cares about sustainable purchasing and looking for an eco-friendly mattress for back pain in India, this one is the best option on the list. Coir mattresses are also allergic-resistance and are skin-friendly. They are also hygroscopic in nature, which means they absorb any excess sweat during humid weather and keep the temperature cool throughout the night. 
Two layers of coir followed by foam make the mattress medium-firm and offer quite a bit of pressure relief to those suffering from back and neck pain. Both sides of the mattress are usable and you can flip the mattress from time to time to prevent any bending on any side. You get 2 years of warranty with this mattress and the product is delivered straight from their factory to their home. 
Here's one of the reviews, "Amazing quality and natural coir. After a long day of work, it feels so good to sleep on this mattress. Even after using in the rainy season, it doesn't give any smell and there's no change in the posture. There are a lot of customization options available and the customer care is just wonderful. Need to appreciate their way of approach." Another review says, "Comfort level of this mattress is excellent but height is a bit more than I expected. I received a call from customer care right after placing the order and they provide me with personalized guidance. I was really impressed with the personal touch and overall I am quite satisfied with the product, pricing, and experience."
Purchase here.
How To Choose The Best Mattress For Back Pain In India
Sleeping on a mattress that doesn't support your joints can worsen the lower back pain. Lack of support reinforces poor sleeping posture, doesn't keep the spine in alignment, stiffens the joints, and strains the muscles. Sleep comfort is also sacrificed. Hence, a good mattress to support these joints is important. Here are some practical guidelines to help patients with lower back pain choose the best mattress for back pain in India and ensure optimal back and sleep comfort.
#1 Take Into Account Personal Preference
There is no single mattress style or type that works for all people with lower back pain. Some people like plush mattresses while others can prefer medium-firm. So, choose a mattress that's comfortable for you instead of the one that's touted as the best. Your comfort and support are of the utmost importance if you want to get a good night's sleep and want to wake up with no stiffness in the joints. 
#2 Know The Components Of Your Mattress
The coils or innerspring of the mattress are important for support. Different mattresses have different arrangements of layers to support your back. We have separately mentioned what goes inside a mattress to give you an insight into how the mattress has been made. This will eventually help you determine if the specifications meet your preferences. Take into account the padding, height, and firmness when purchasing a mattress for back pain.  
#3 Find A Mattress That Mentions Orthopedic/ Back Support
A good mattress should provide support to the natural curves and support the natural alignment of the spine. Any mattress that mentions orthopedic or back support is probably working on these attributes and will give you good relief from the joint pain. 
#4 Strike A Balance Between Comfort & Back Support
In the hopes of comfort, we choose a mattress that's plush and sometimes, also, doesn't ensure movement isolation. Overall comfort is important though, but so is back supports. That's why we'd recommend a mattress that doesn't sink in when you sleep but instead supports your joints.  
#5 Know When It's Time To Change The Mattress
As a thumb rule, you should change your mattress every 7 to 10 years. Turns out, mattresses tend to visibly sag in the places where it's mostly used and can cause discomfort to spinal alignment and hence, an increase in joint pain. While changing the sleeping position can be a short-term solution, we'd recommend choosing a different mattress if the back pain keeps increasing.