With the advent of globalization, many Indians have gone all around the world to explore, study, and settle with their career paths. Indian or NRI, one of the most life-changing experiences is definitely a wedding, and when you're looking for the key vendors to help you on your big day, you'd want someone who has experience in the Indian makeup arena, even if she isn't of Indian ethnicity. Indian weddings do have certain dynamics than other cultures, and so a makeup artist who understands that is definitely a winner while zeroing in on the vendors. To make your search easier, we have narrowed down the best Indian makeup artists in New York, with prices and reviews. Scroll to see the full list: 
Top 10 Indian Makeup Artists In New York
Website: https://www.cinderellabridez.com/
Mother, wife, entrepreneur, and a talented Indian makeup artist in New York, Barbie Patel caters to South Asian brides in the bustling city and has showcased her stunning art with 800+ posts on Instagram. She doesn't only post the final pictures on her account, but also the before & after, so you can see her magic for real. We love that she doesn't completely mask the natural beauty of her brides, just enhances the feature with her signature makeup style, and makes them look comfortable in their own skin. 
"I loved working with Barbie! She was just the right personality you want to be around on your wedding day. She really listened to me when I told her I preferred natural makeup. She somehow delivered exactly what I was envisioning in three unique looks! She is very professional and easy to work with – I would recommend her to any bride!," wrote one of her ex-brides. And her review column is filled with such heartfelt prices. Besides, she also runs her own YT channel, where she posts her bride's makeup videos, wedding videos, skincare tips, and tutorials. See here: https://www.youtube.com/c/cinderellabridez/featured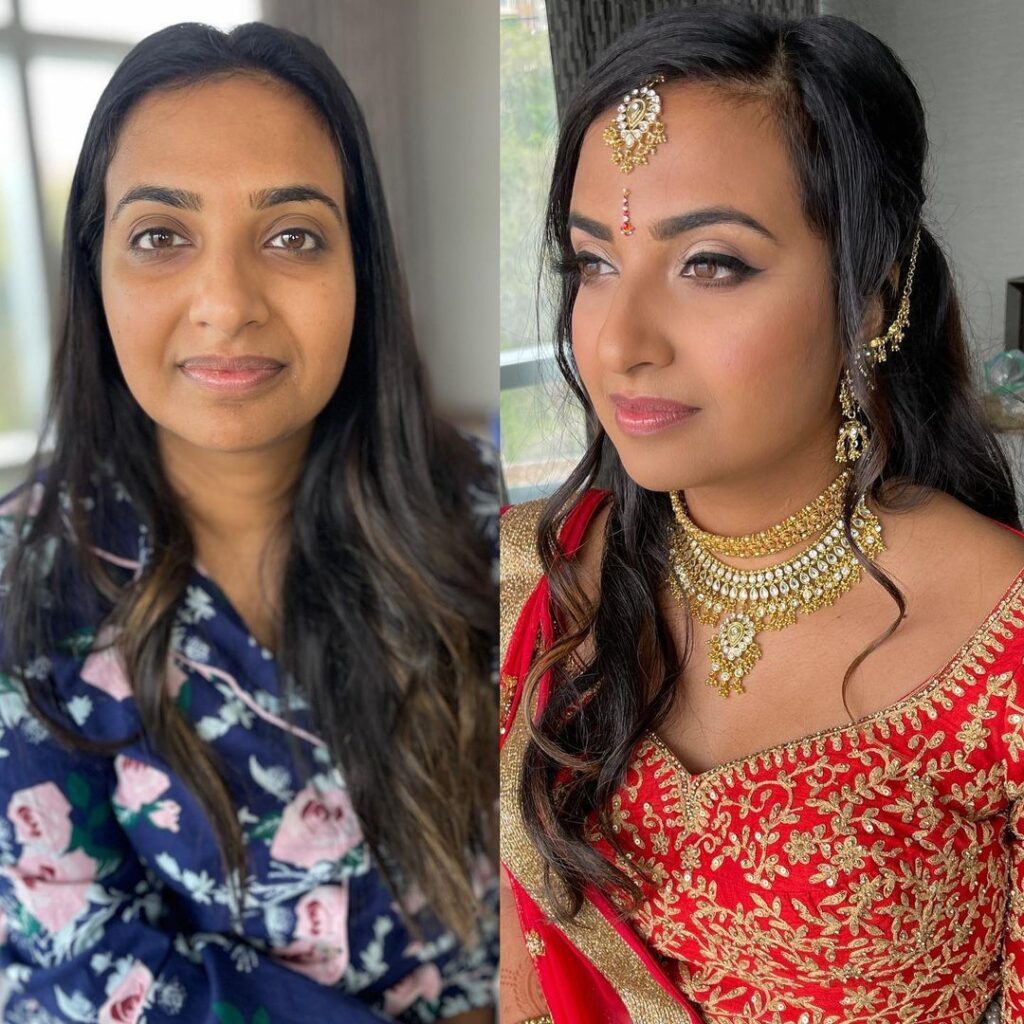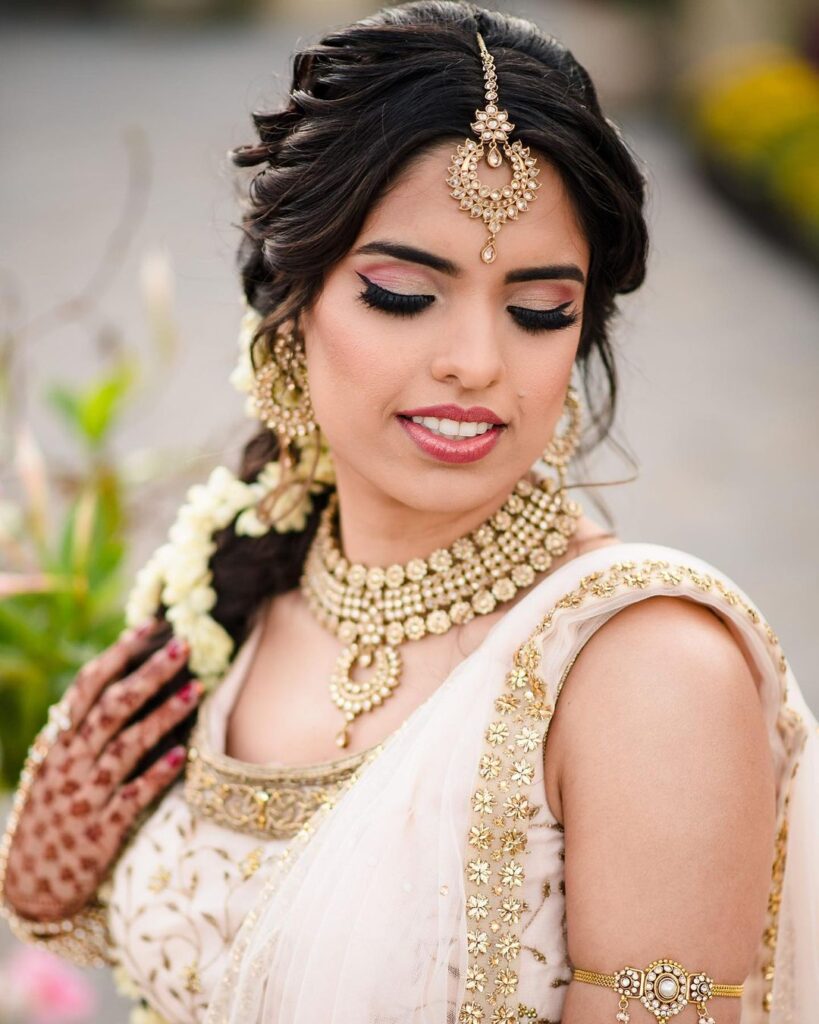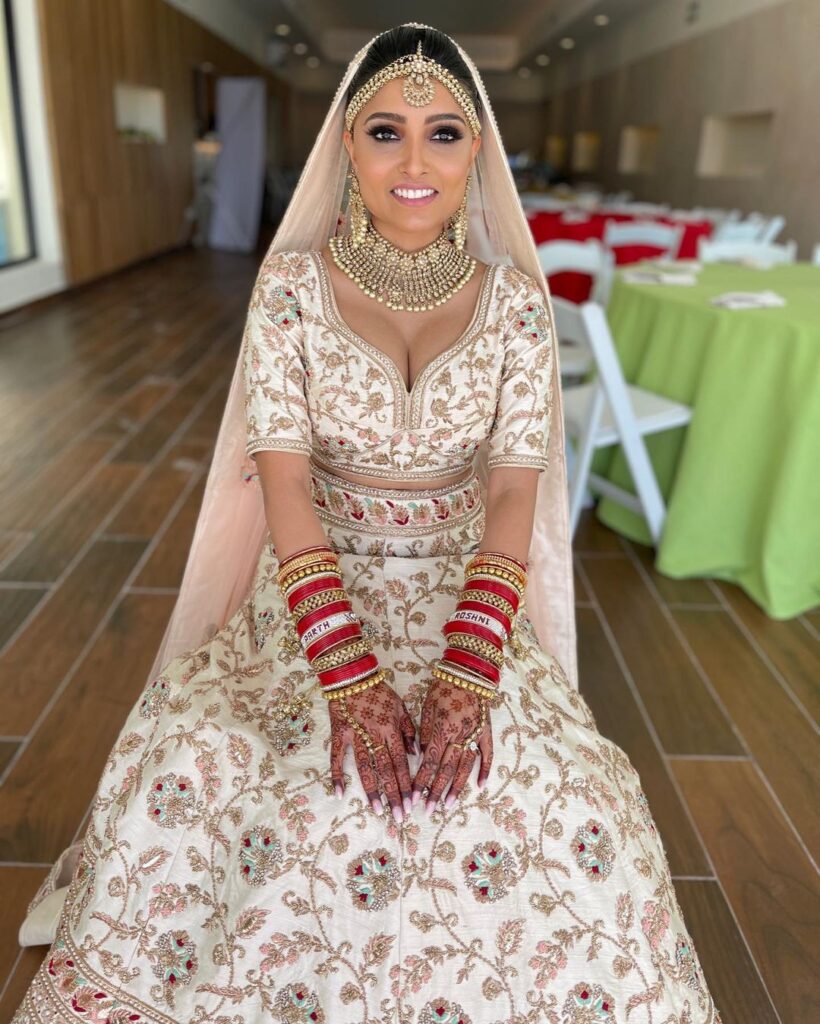 Instagram: https://www.instagram.com/beautybytamanna/
NYC-based Indian hair and makeup artist Tamanna's work is love at first sight! She infuses subtle bridal glam into her clients look and makes them look like their best selves on the big day. Besides makeup, she can also do your hair!. So, no need to worry about booking a separate hair artist for the wedding. From Hindu bridal makeup to Catholic, and Muslim wedding makeup, she has done it all. Her reviews are overflowing with love too. "I booked Tamanna as soon as I saw her Instagram. I was willing to change my dates for her. Lol. She was quite professional too! Started working as soon as she entered the venue. My husband was so impressed, he just couldn't stop smirking. We'll be booking her for my other family weddings too! For sure," writes one of her ex-brides. 
"I booked Tamanna for my engagement. I just loved her previous work. Her work is just amazing. My hair and makeup lasted long and I didn't need any touch-ups. She made me feel so beautiful on my special day," says another one of her clients.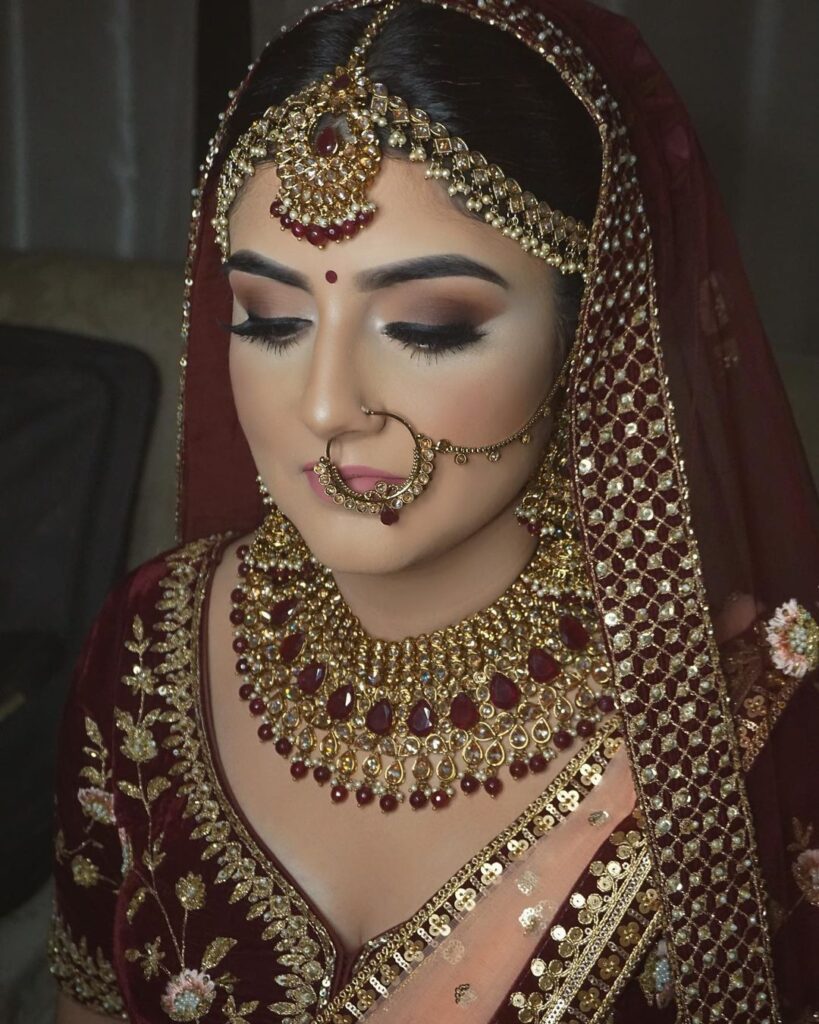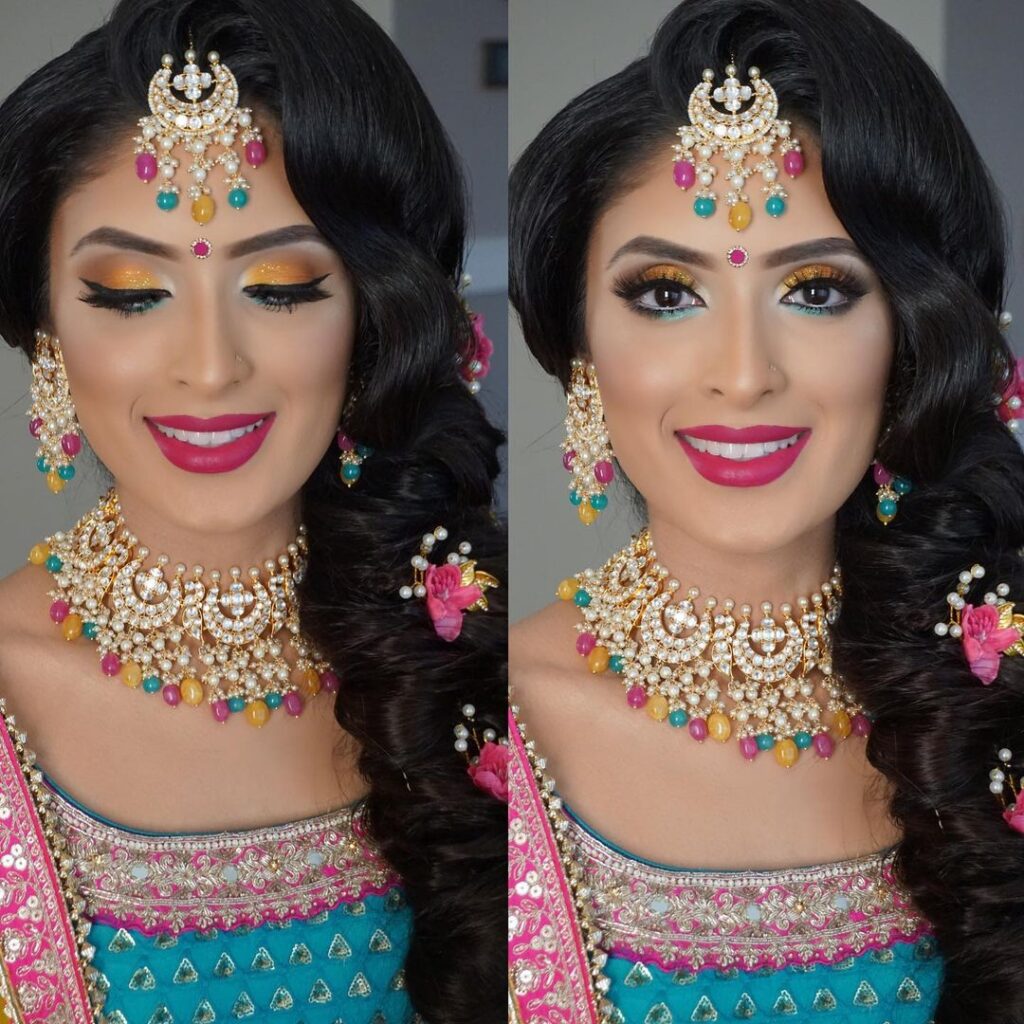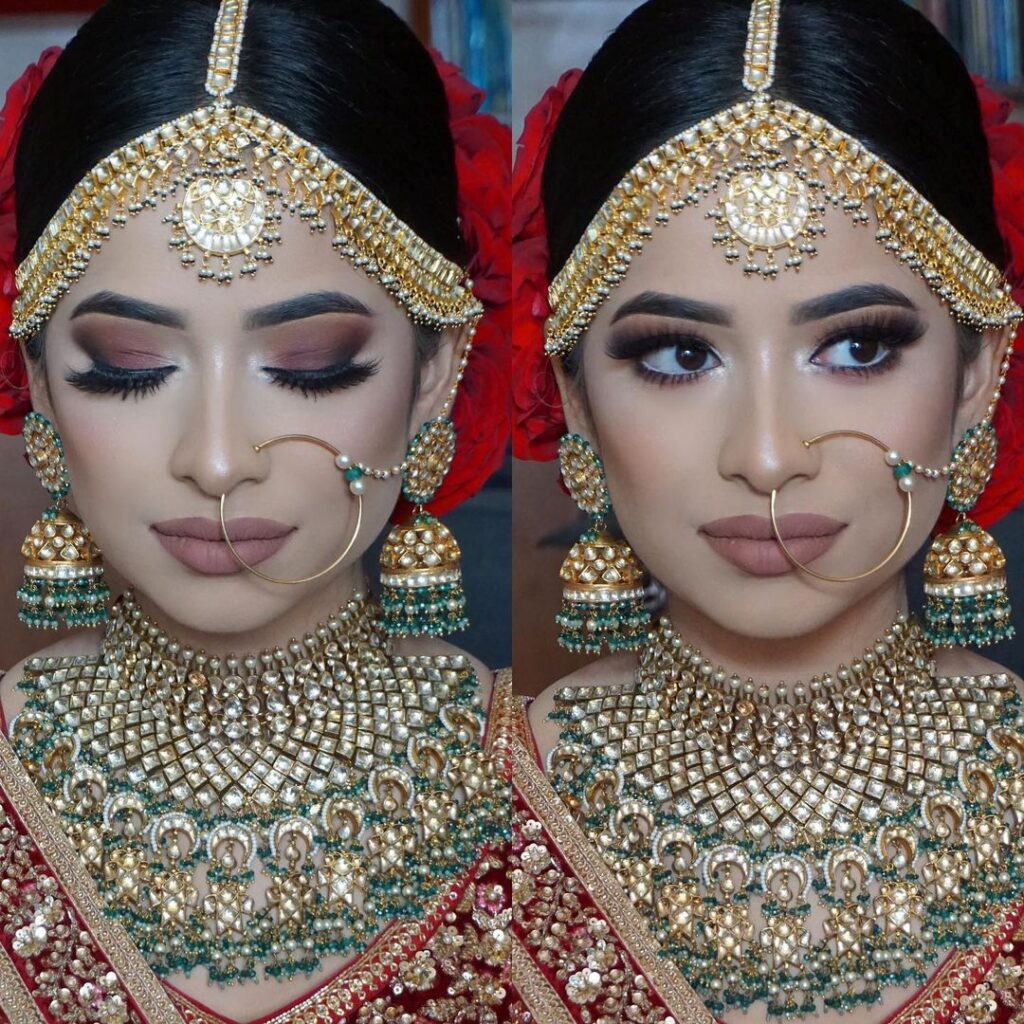 #3 Shailee Bharatia
Instagram: https://www.instagram.com/makeupbyshailee/
Dividing her time between NYC and Mumbai, Shailee Bharatia is no doubt one of the best desi bridal makeup artists in New York. All the momentum she has gained in her career is only through showcasing her best work on Instagram, no advertising involved. That says a lot about her makeup art. While scrolling through her social media, you'll see that her brides exude one thing in particular: simplistic elegance. And isn't that something we'd all want to radiate on our wedding day? She also posts transformation videos of her clients, so you'd know that she doesn't completely change your natural beauty, just accents the same with glowing skin, defined lips, and gorgeous eye looks. Scroll to see some of her best work yet! 
Makeup Charges: Around $600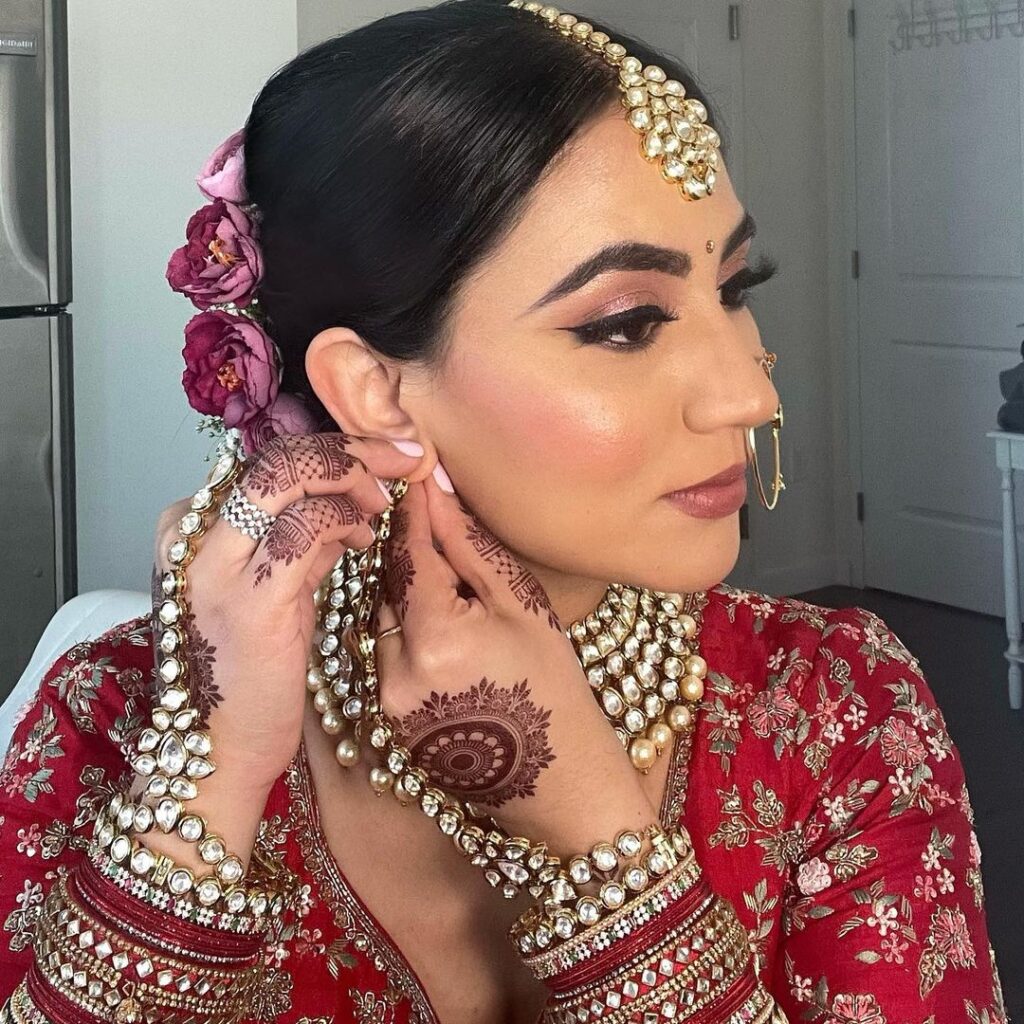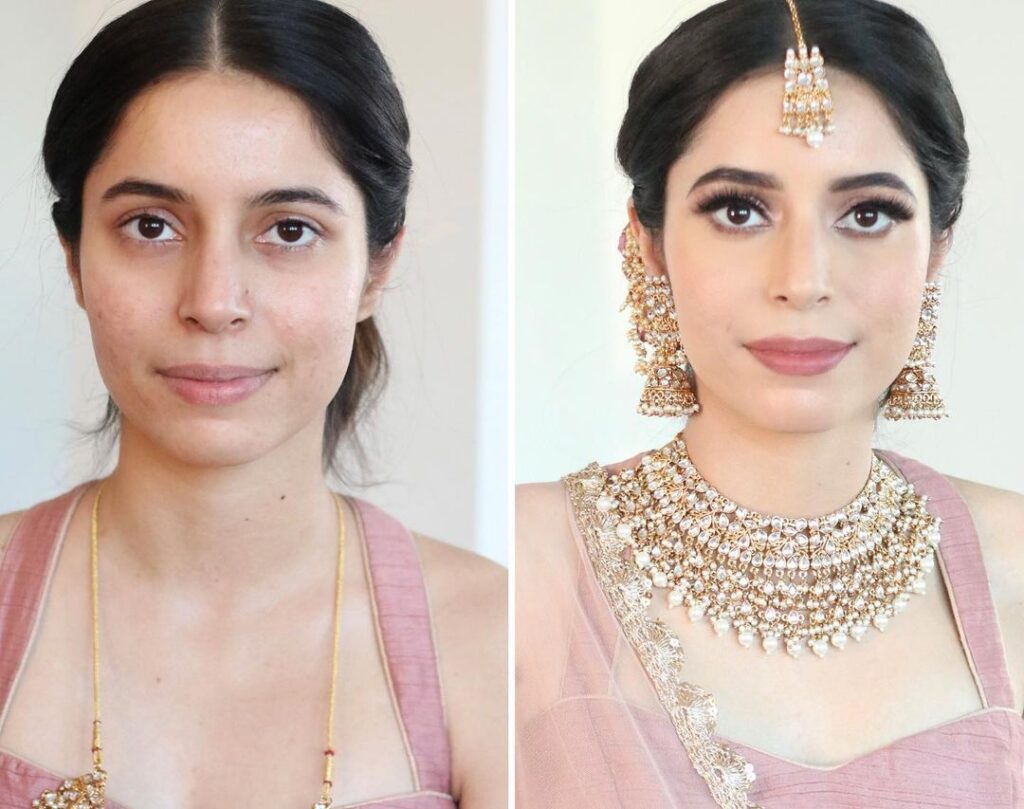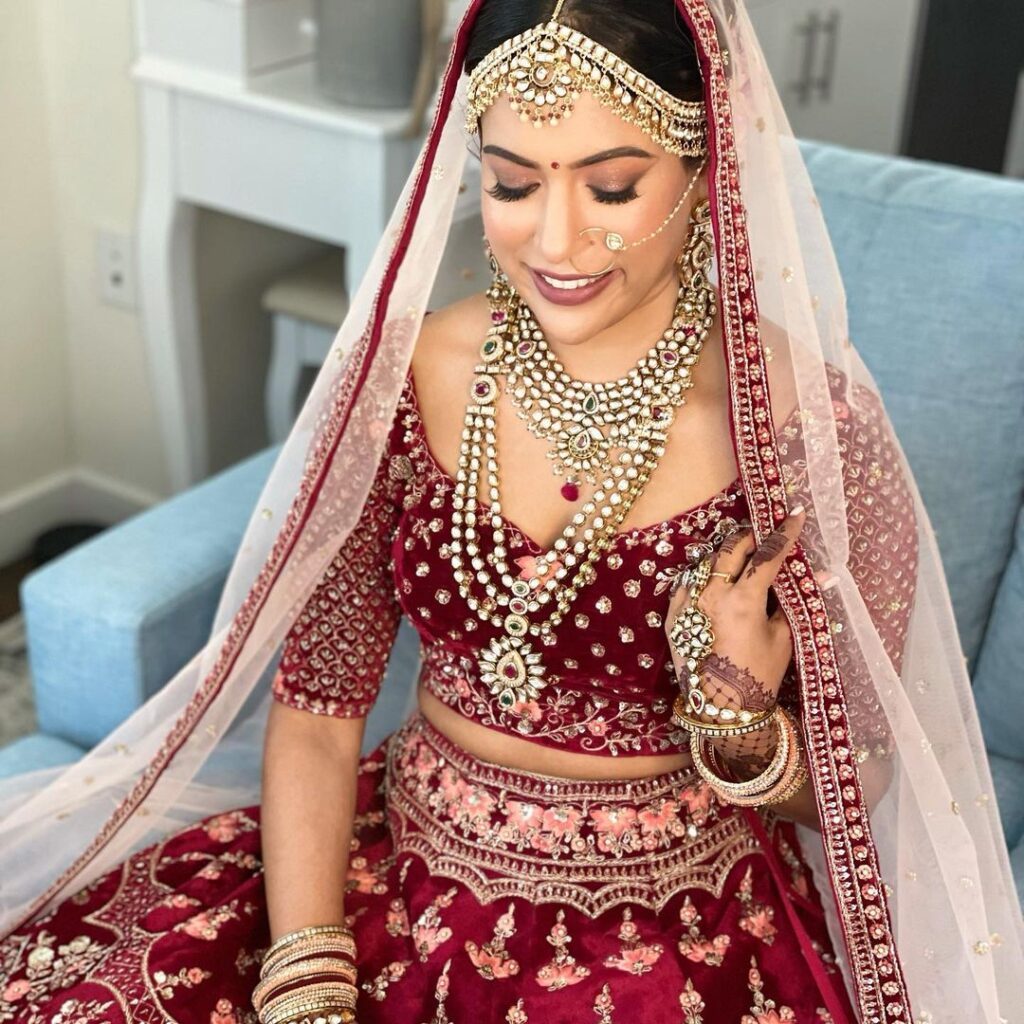 #4 KC Makeup by Karuna Chani (@karunachani)
Website: https://kc-makeup.com/
New York-based makeup artist Karuna Chani isn't just a makeup lover, but also a skincare expert and educator. So, you can use her knowledge to attain that perfect bridal glow and skin too. You can follow her on Instagram, where she posts knowledgeable makeup, skin, and hair videos quite frequently. Among her ex-clients, she is praised for her professionalism, her ability to add uniqueness to each wedding look, and her knack for knowing what will look good keeping in line with the bride's expectations. Here's what one of her recent brides wrote: 
"I couldn't thank you enough for the beautiful looks you both put together for my events! From my garba sangeet to wedding reception, my looks were all very different and refreshing, something I never actually pictured for myself! I can't find the words to let you guys know how thankful I am, you guys did an amazing job! Karuna, I also really appreciated all the pre/pro wedding skin/diet recommendations you gave me and my sister. Thank You so much!!"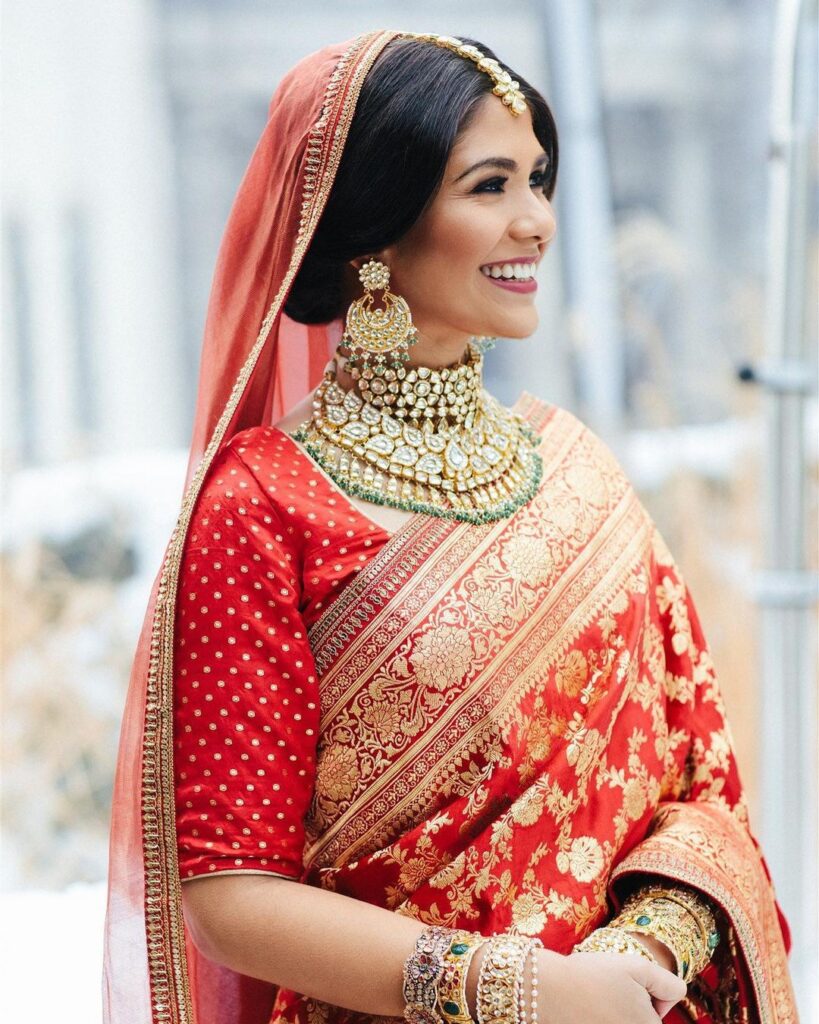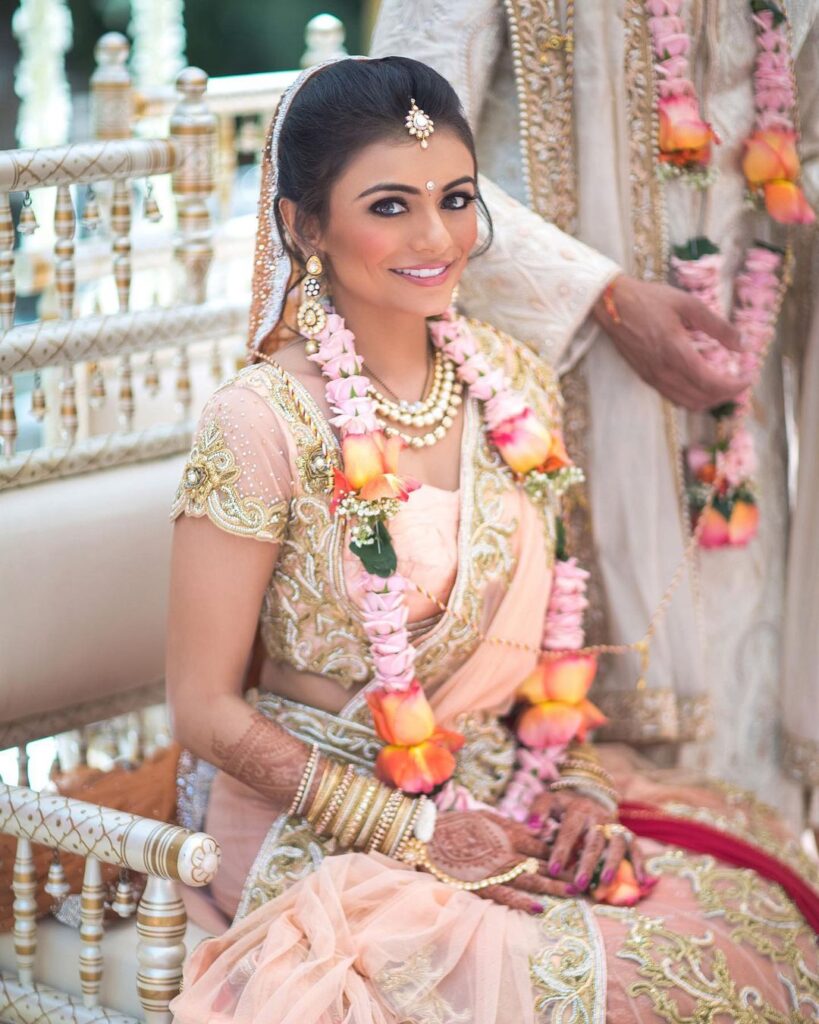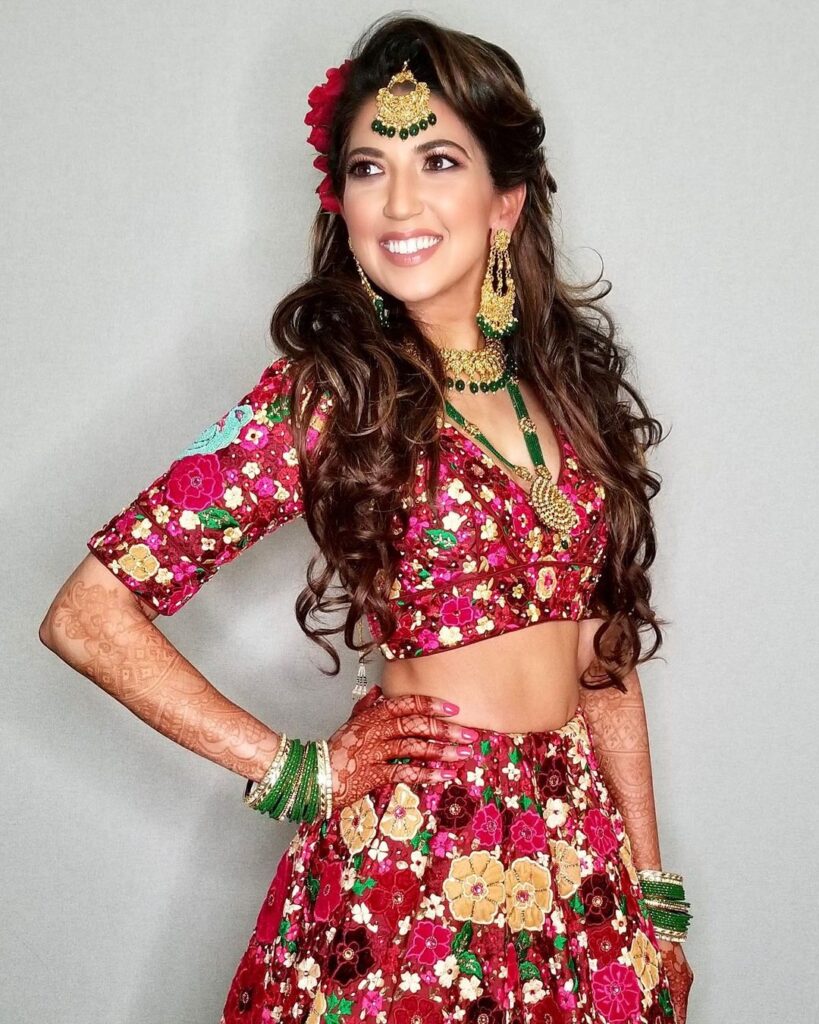 Website: http://www.heenadasbeauty.com/bridal-services-contact
Heena is a specialized Indian makeup artist in New York. She doesn't cater to any other niches as a makeup artist, like editorial shoots, or party makeup. Her main niche is the wedding makeup look! And you can see her passion dripping with gorgeousness on her Instagram account. All her brides are beaming with flawless base makeup and a subtle sheen, paired alongside other defined elements to create a stunning look. She is a hair artist as well, and you can see how creative and elegant hairstyles she has given to her ex-brides. 
"Heena did an amazing job and was great to work with! Everyone commented on how flawless my skin looked. I also loved the hairstyles she pulled together for me. She did makeup for two wedding events, both different yet exactly aligned with my vision, and theme. Her team also dolled up the others in my wedding party, and they were all equally happy," says one of her recent clients. Scroll to see some of her beautiful brides.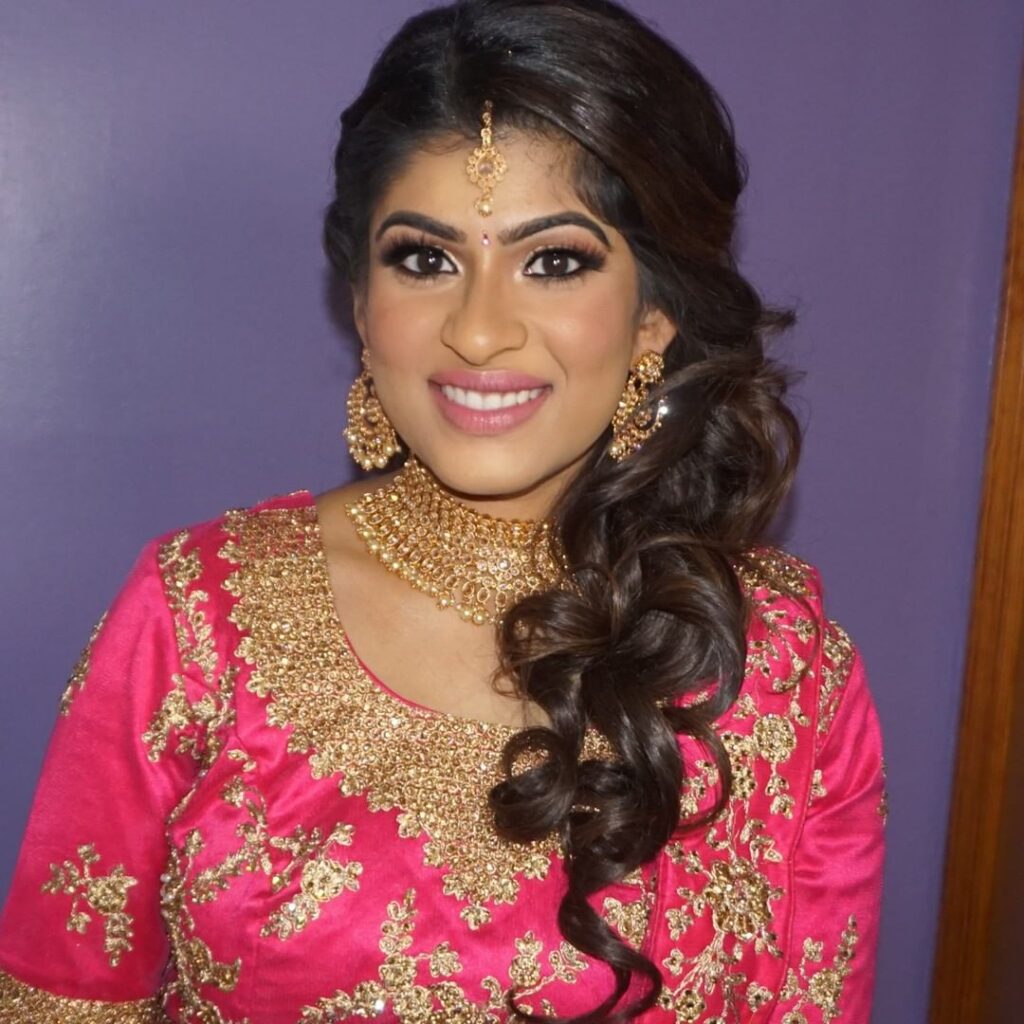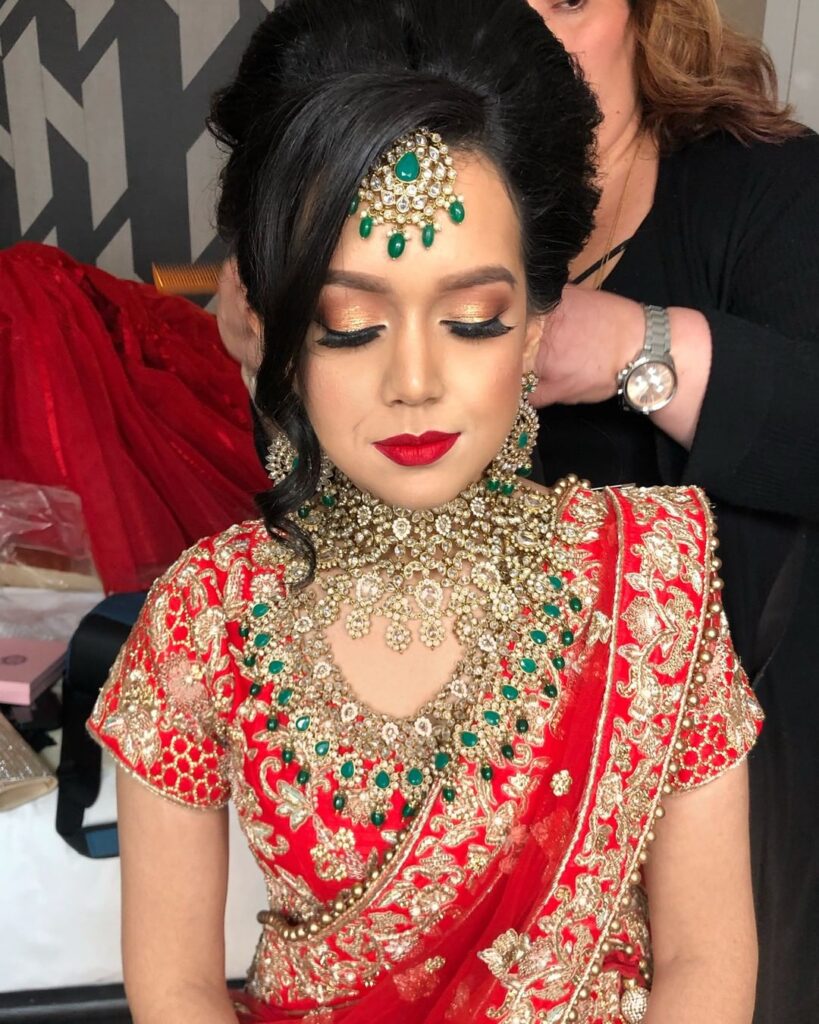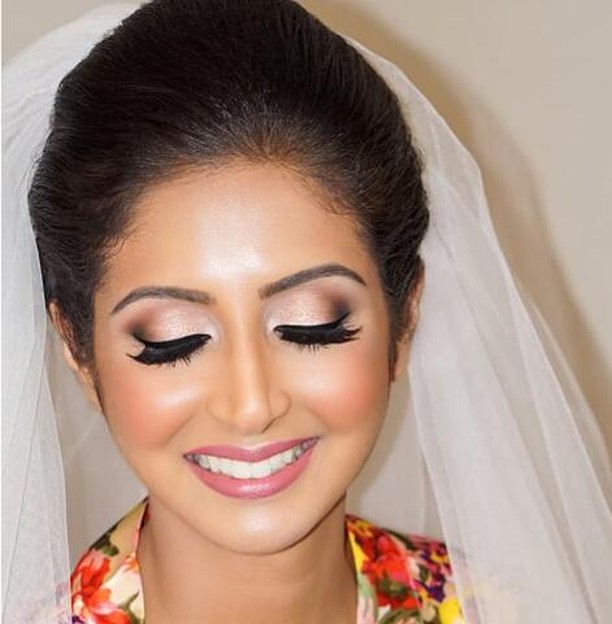 One look at Gurdeep's Instagram and you'd know she is the one for your big day! Her social media is replete with breath-taking brides, all dolled up in her makeup magic. When it comes to bridal makeup, her mantra is simple – keep it authentic yet glamorous. A balance that, although, is difficult to achieve but seems like a cakewalk for Gurdeep. Besides hair and makeup, she applies henna too. Check out her mehendi account here: https://www.instagram.com/hennabygurdeep/
"Gurdeep did my engagement and wedding reception (shaadi) day hair, makeup, and jewelry setting and she was PHENOMENAL. She listened to me and made me look even better than I had imagined. She is such a sweet and down-to-earth person to work with and she helps ease the stress and tension of wedding logistics for the bride. She is so talented with hair, makeup, and jewelry setting and her looks lasted unchanged throughout the night. Definitely recommend her and her services!" writes one of the ex-clients. 
Makeup Charges: Above $700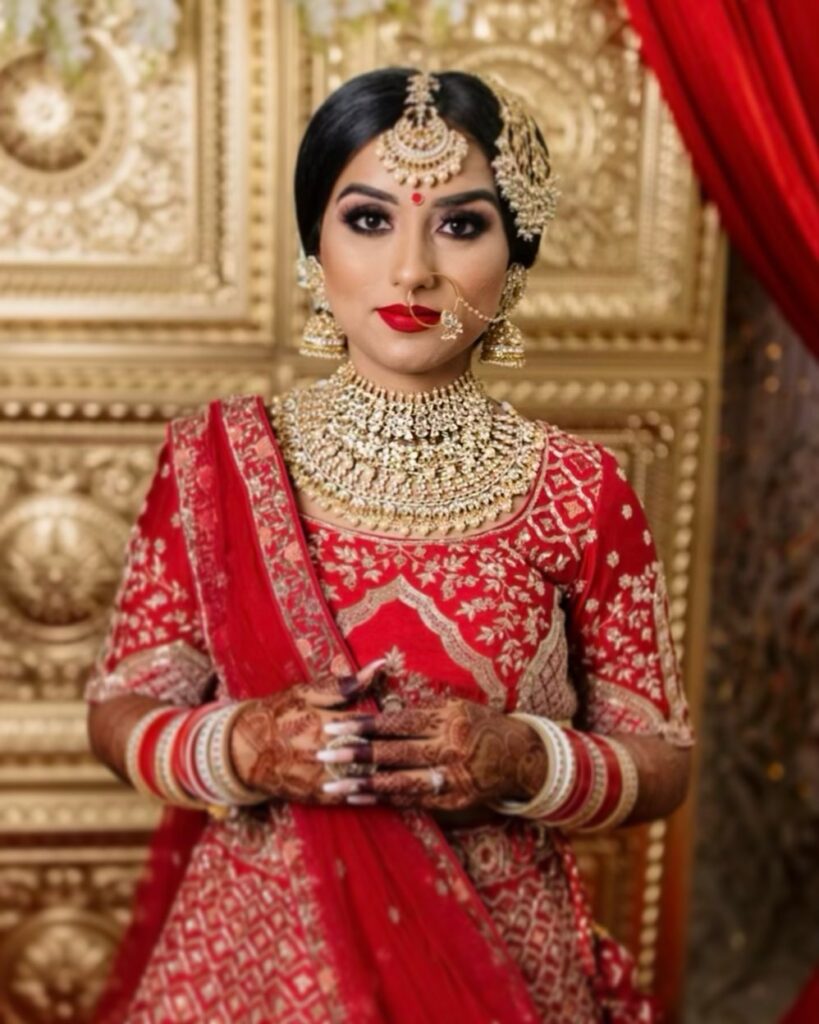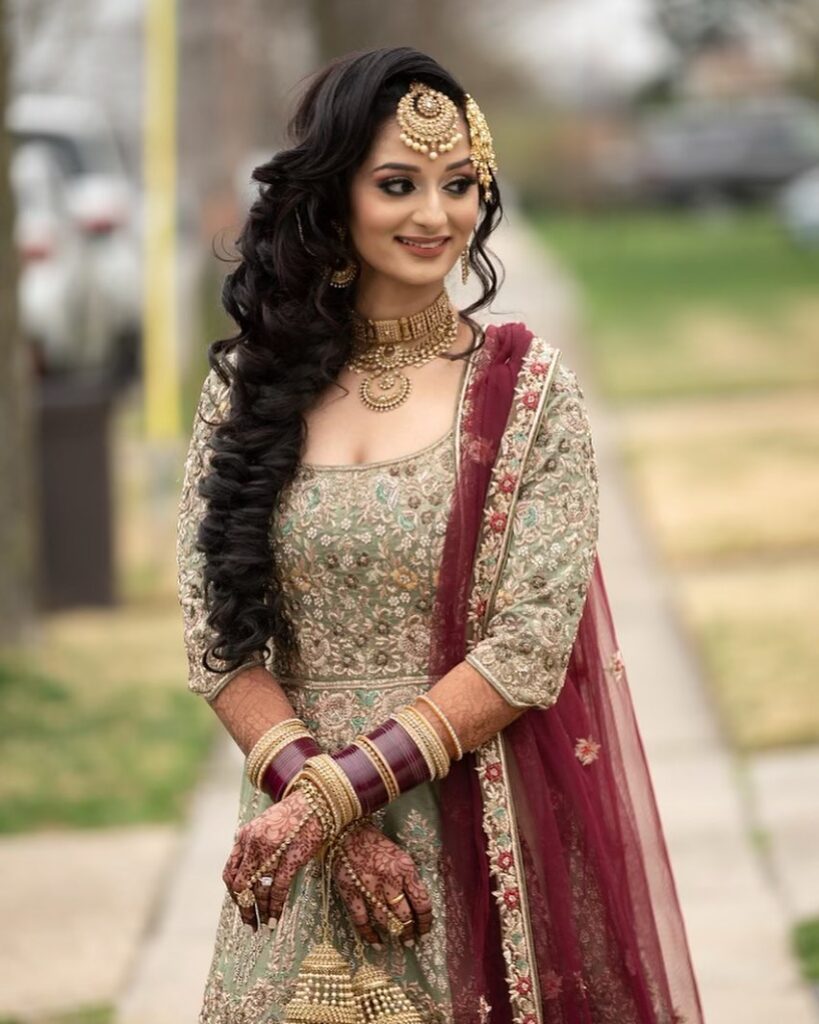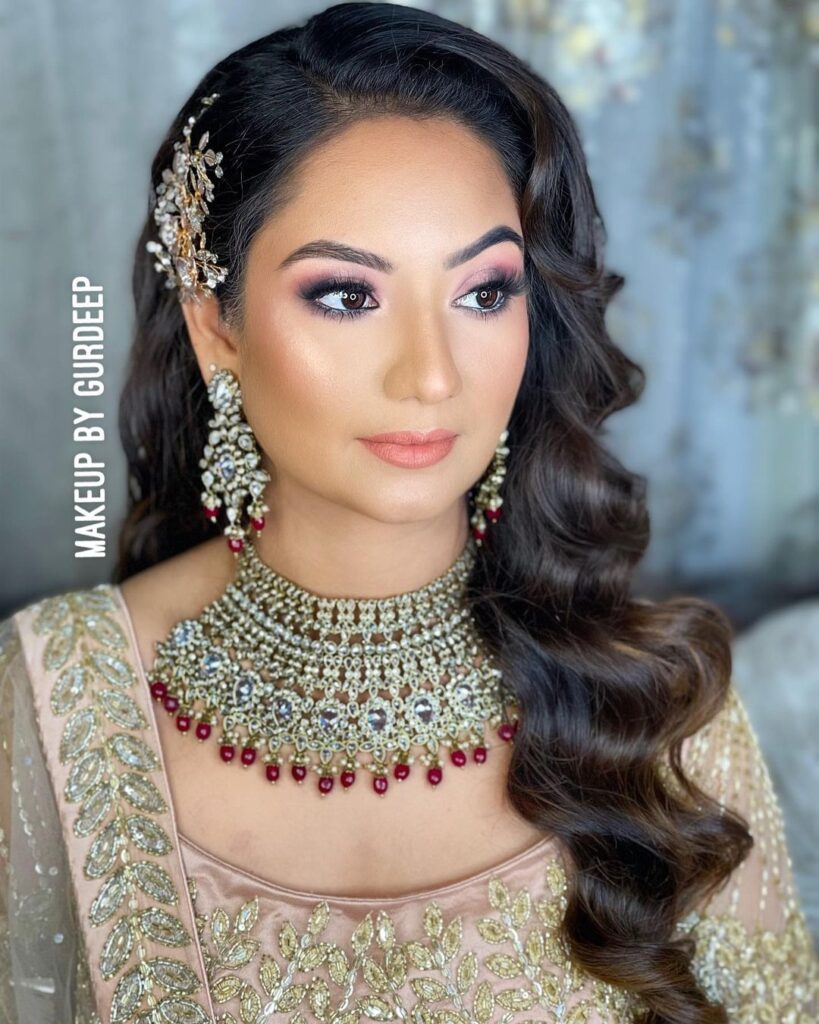 Website: https://www.makeupbymansi.com/
A New Jersey-based hair & makeup artist who's a professional in South Asian weddings, Mansi has worked hard to reach this point in her career. Her knack to know what would look good on every bride, making them look like their best selves, and always using her makeup artist to create something unique, Mansi is surely our best-recommended choice for your special day. Even though she is based in New Jersey, she can travel to New York, which is just a 2-hour drive from her base area. It's not just us, her reviews on vendor listing sites are replete with admirations too. Here's one: 
"Mansi was one of the best parts of my wedding day! I am so glad I worked with her and am thankful for everything she did to make the day flawless. She made me feel and look beautiful but also was so patient, accommodating, flexible and helpful with me during my first look, and outfit changes. Mansi is truly talented at styling brides and making them look their best. I would highly recommend working with her if you want someone who is knowledgeable, sweet, and just fun to work with. She honors your vision, makes herself available for questions, and goes above and beyond to make your day run flawlessly. She truly is a dream to work with," says one of her previous brides.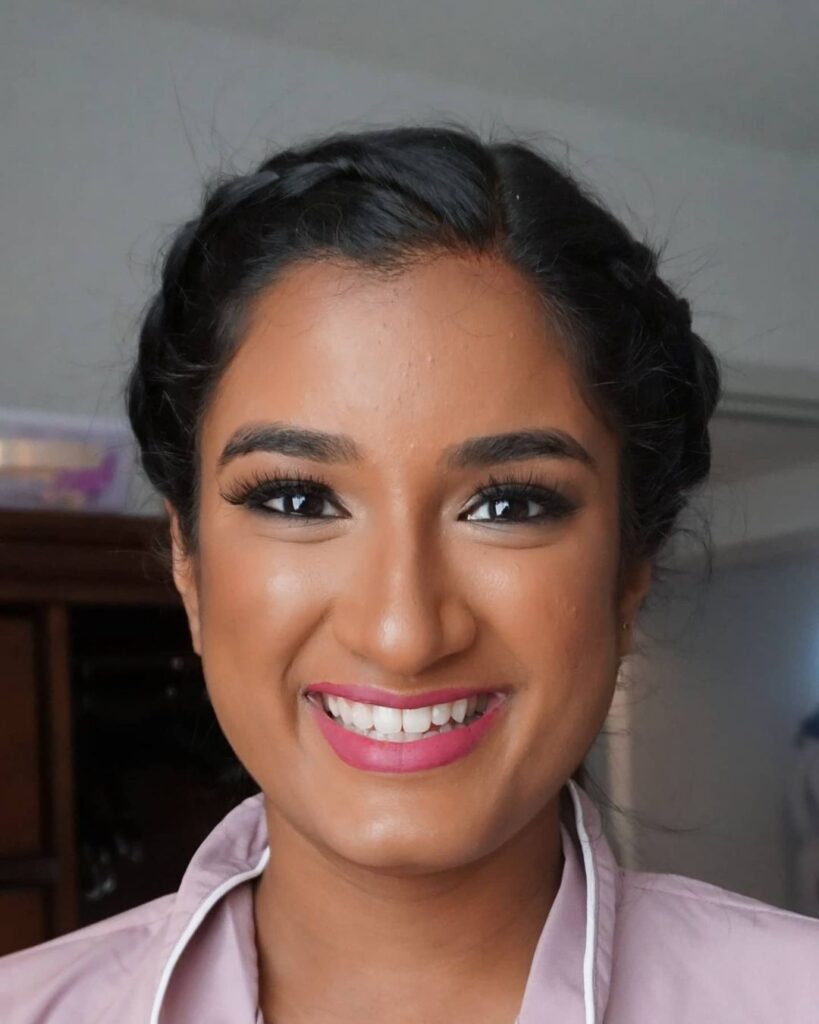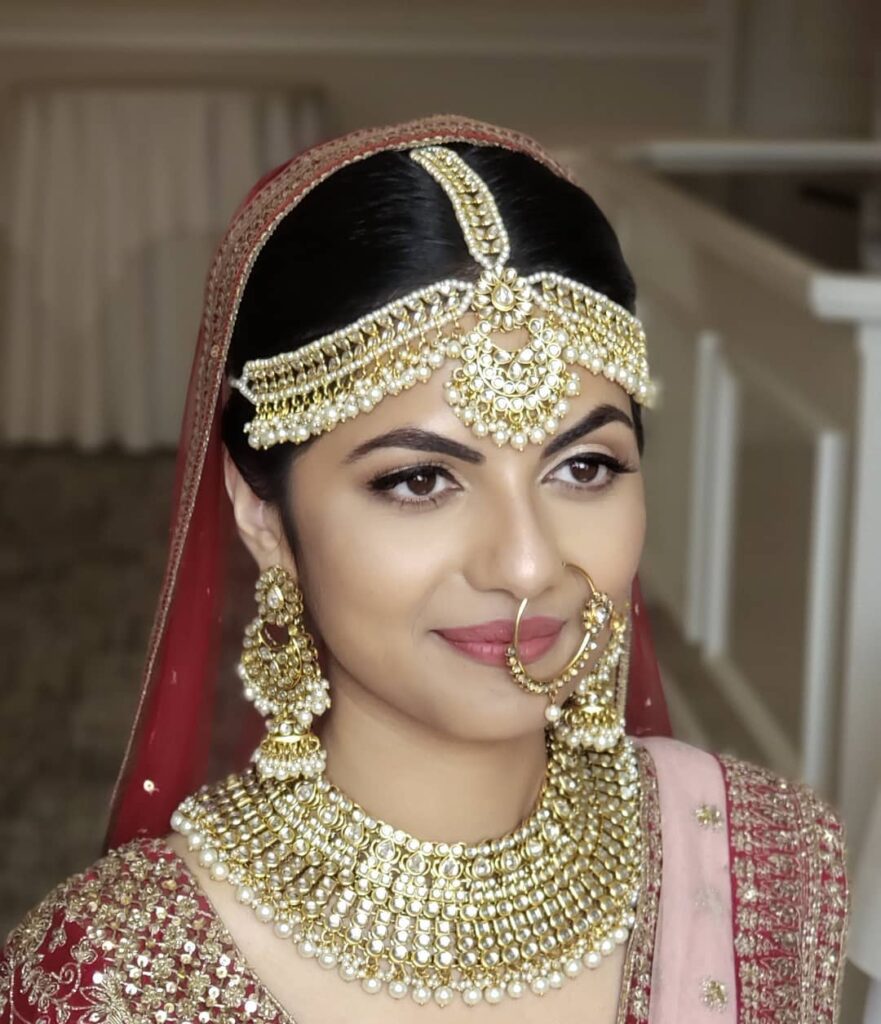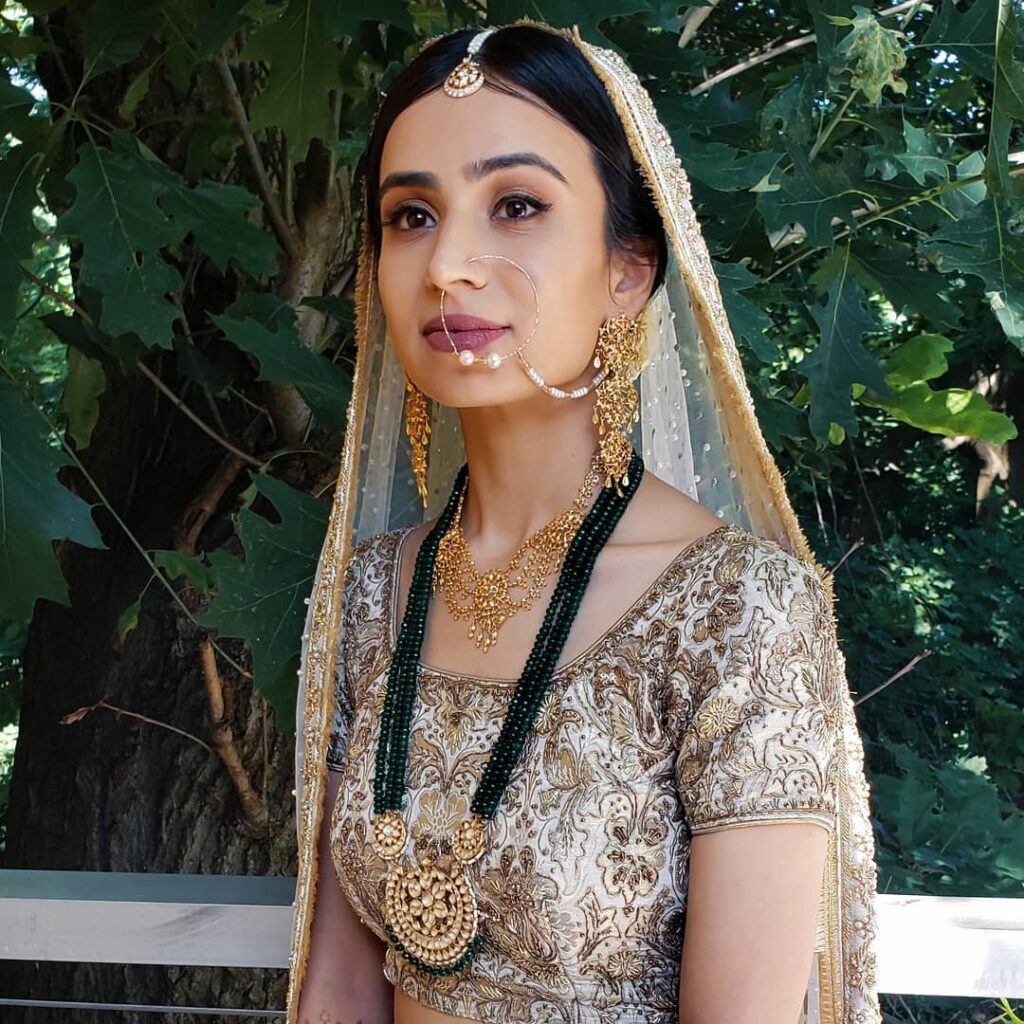 Website: https://www.rangartistry.com/
Raji Arora is a licensed cosmetologist and lead makeup artist at Rang Artistry. She has worked with Sephora for years, and is well-aware of all the top lines of makeup and skincare brands, knowing closely which ones work for what skin type, and which ones are a complete no-no. She still works in the fashion industry throughout the week but dolls up her clients on her free days. If you're looking for an affordable Indian makeup artist in New York, Raji Arora is your girl. Her website and social media will give you a better look into her portfolio, so don't forget to check that out. 
Makeup Charges: Around $400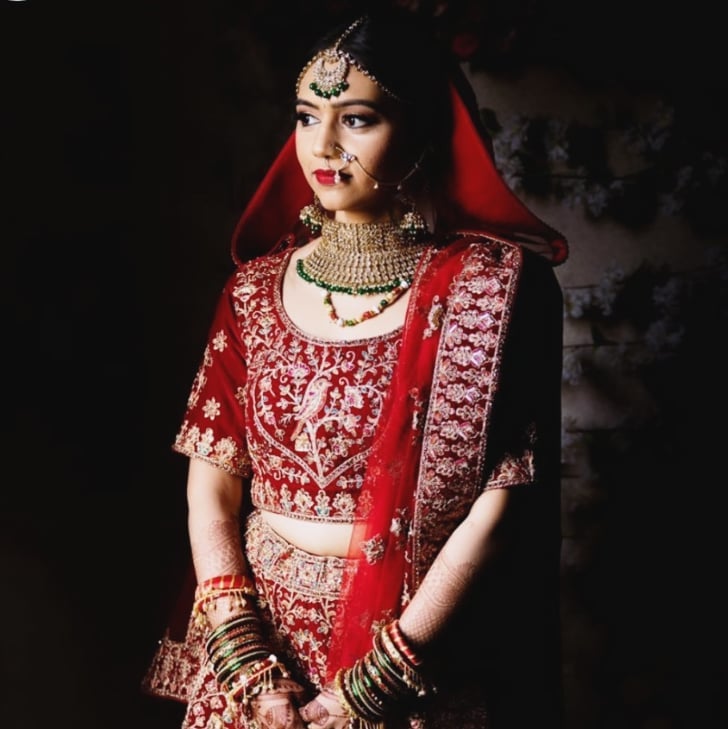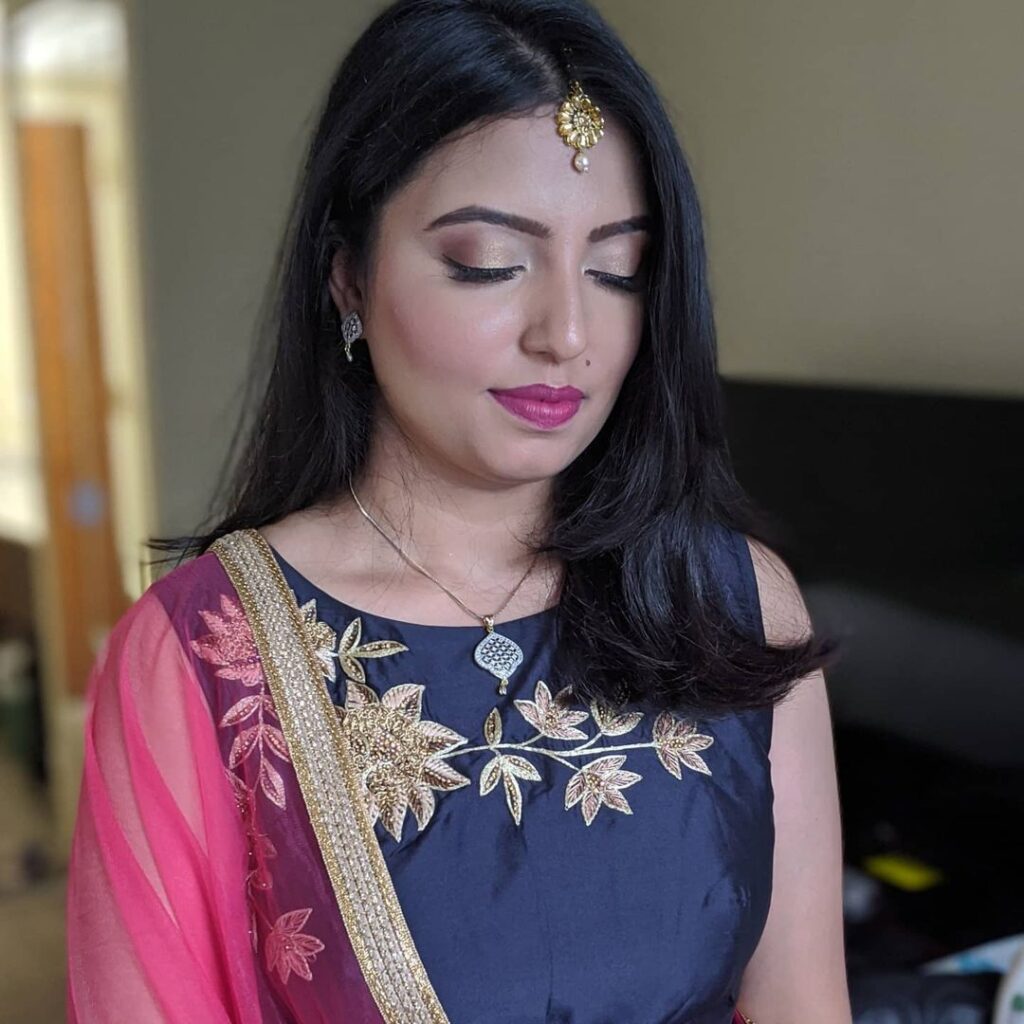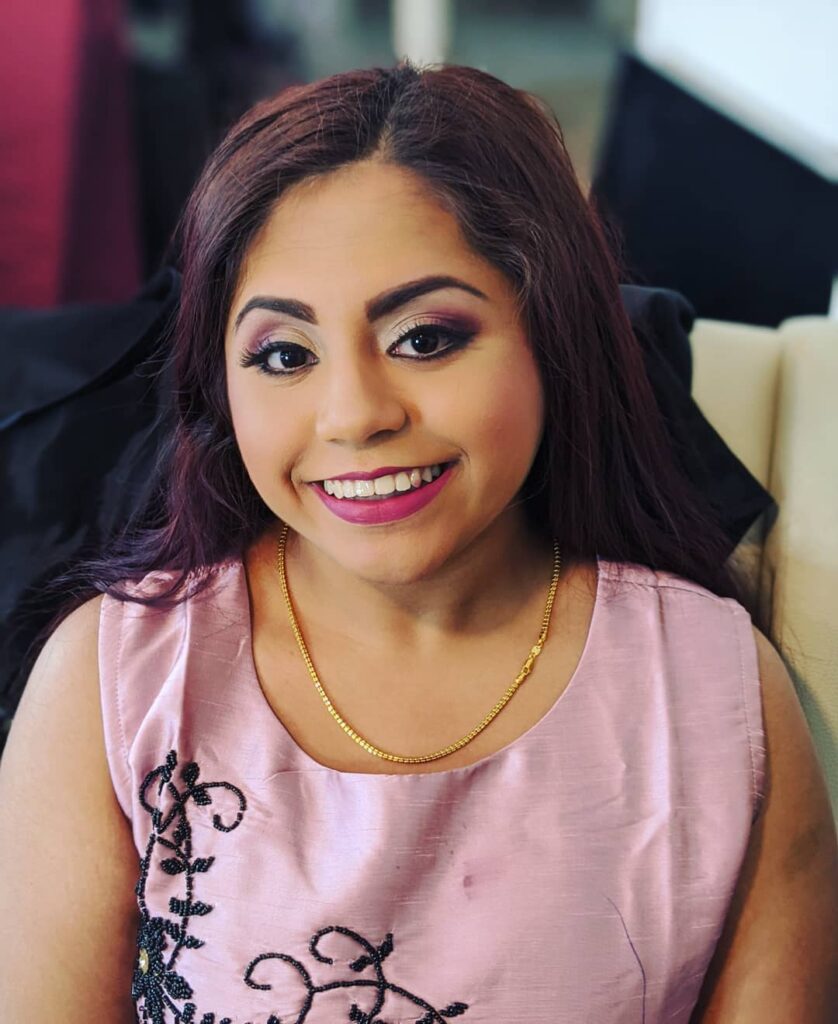 #9 Jacqueline Adevai Kole (@jaxyadz)
Website: http://www.jacquelineadevai.com/
With over 9 years of experience, Jacqueline is a full-time wedding makeup artist in the New York & New Jersey area. On her social media, you'll find dolled-up brides portraying perfect contoured skin, statement eyes, and her go-to nude lip. She has catered to weddings from all ethnicities – from South Asian to Catholic and Church weddings. Besides real brides, she's also a regular MUA to Nicky Hilton's (Paris Hilton's sibling) red carpet looks. 
"Jackie will easily be my first choice for parties and formal affairs moving forward. Responsive, flexible, the sweetest ever, and does the most amazing makeup. I highly recommend it!" writes one of her ex-client. "I had the luxury of having Jacqui do my makeup for multiple occasions. She is beyond talented. She is someone who is incredibly knowledgeable in her craft and she is always willing to listen and create whatever is requested. She is personable and simply a delight to be around. I would recommend her to anyone!" writes another.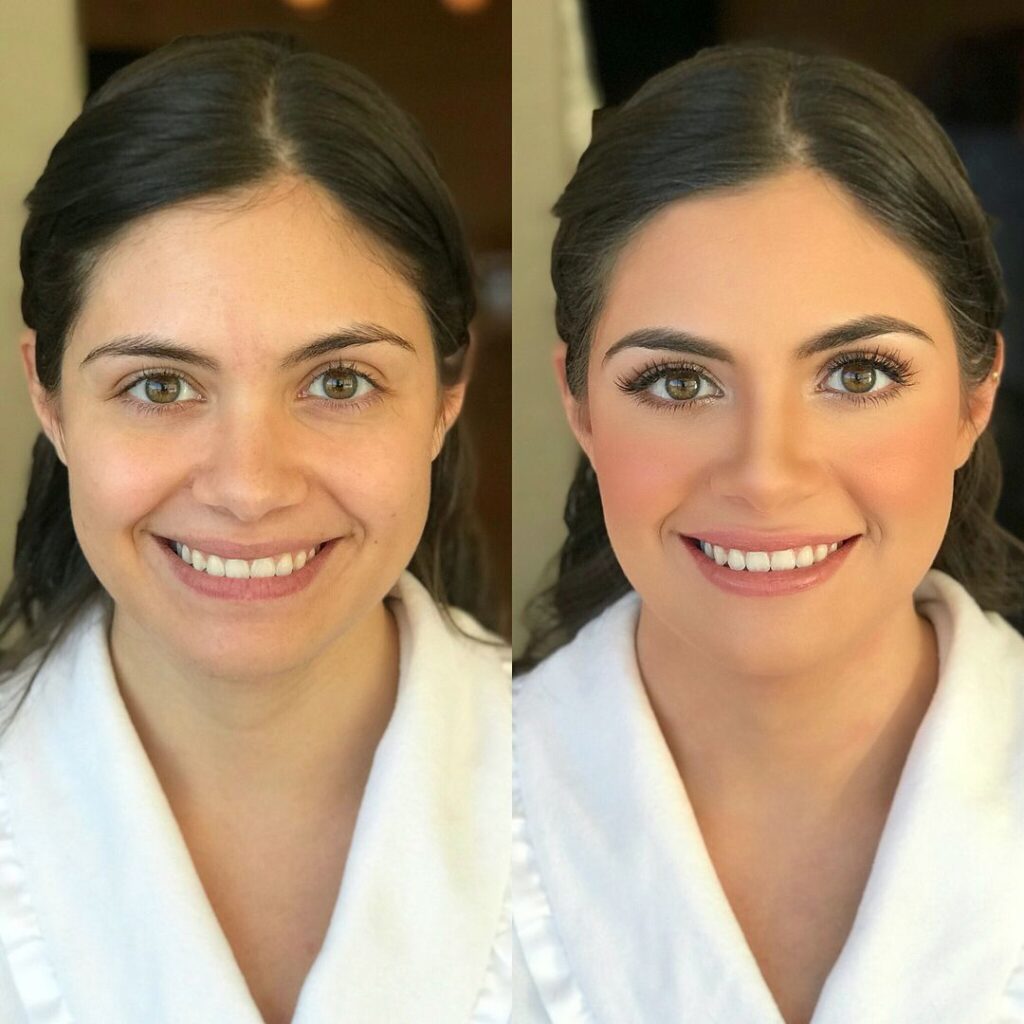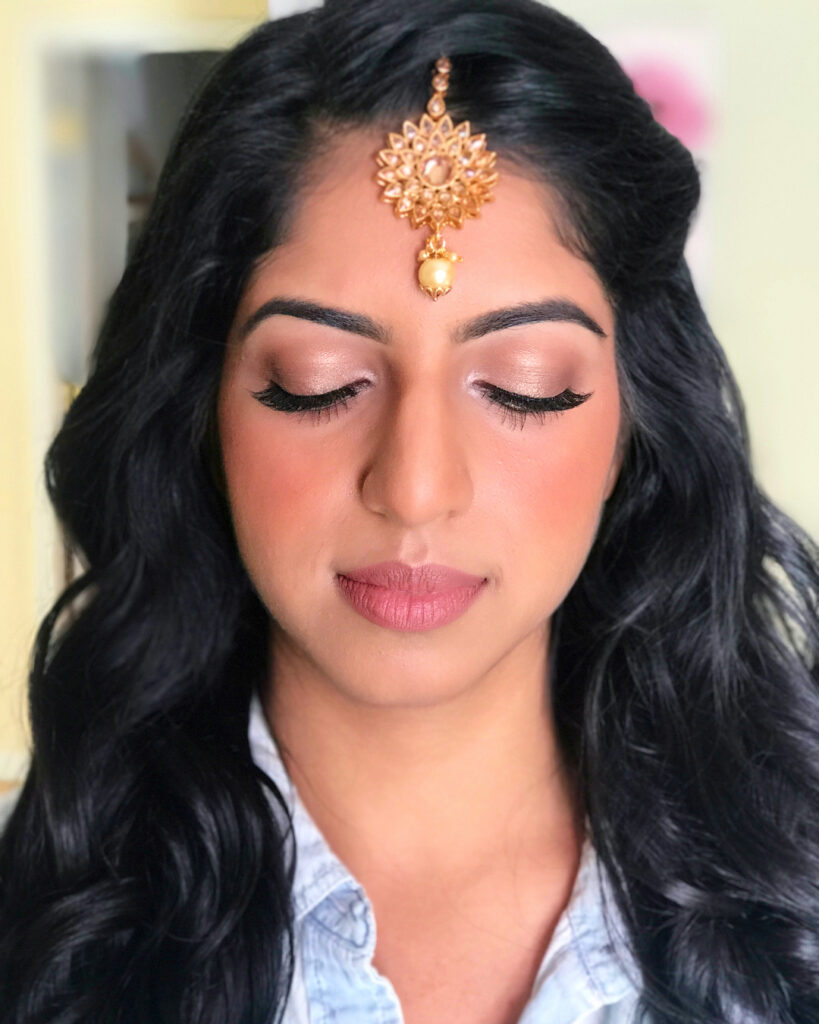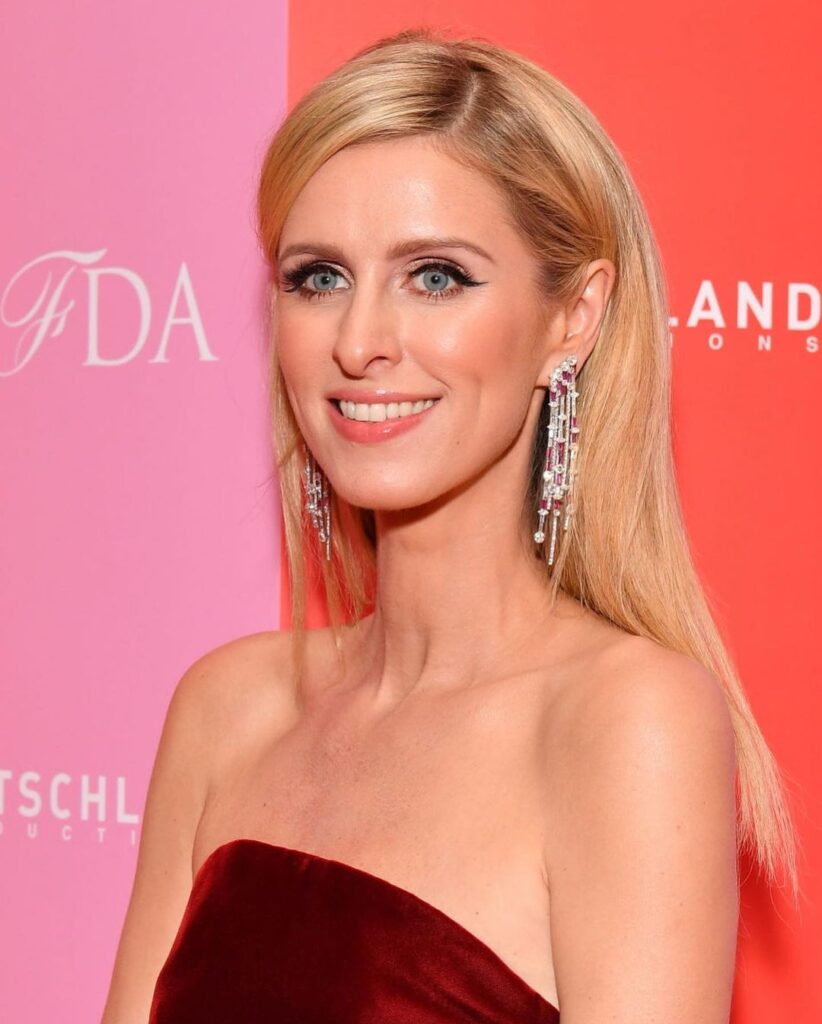 Website: https://bridalgal.com/
Makeup that enhances and not covers, eyes that radiate their prominent self, and skin that feels like skin, just better, is the consolidated essence of Lilly Rivera's makeup. For brides looking for a natural wedding look, Rivera is your go-to makeup artist. Besides a bridal makeup artist, she also frequently caters to fashion magazines and editorial shoots. We're absolutely in love with how Lilly gives makeup to her brides that's absolutely timeless. You know, something that you can admire when you look back 10 years down the line, and not wonder, "what was I thinking?"
"I used BRIDALGAL's hair and makeup services for multiple events in my Indian wedding. My experience with Lilly was amazing! She was attentive and made sure I looked flawless for all my events. She was responsive all the way from the time I booked her services through the week of the wedding. I received compliments on my various makeup looks all weekend. I would definitely recommend BRIDALGAL to anyone who asks!" writes one of her 2021 clients.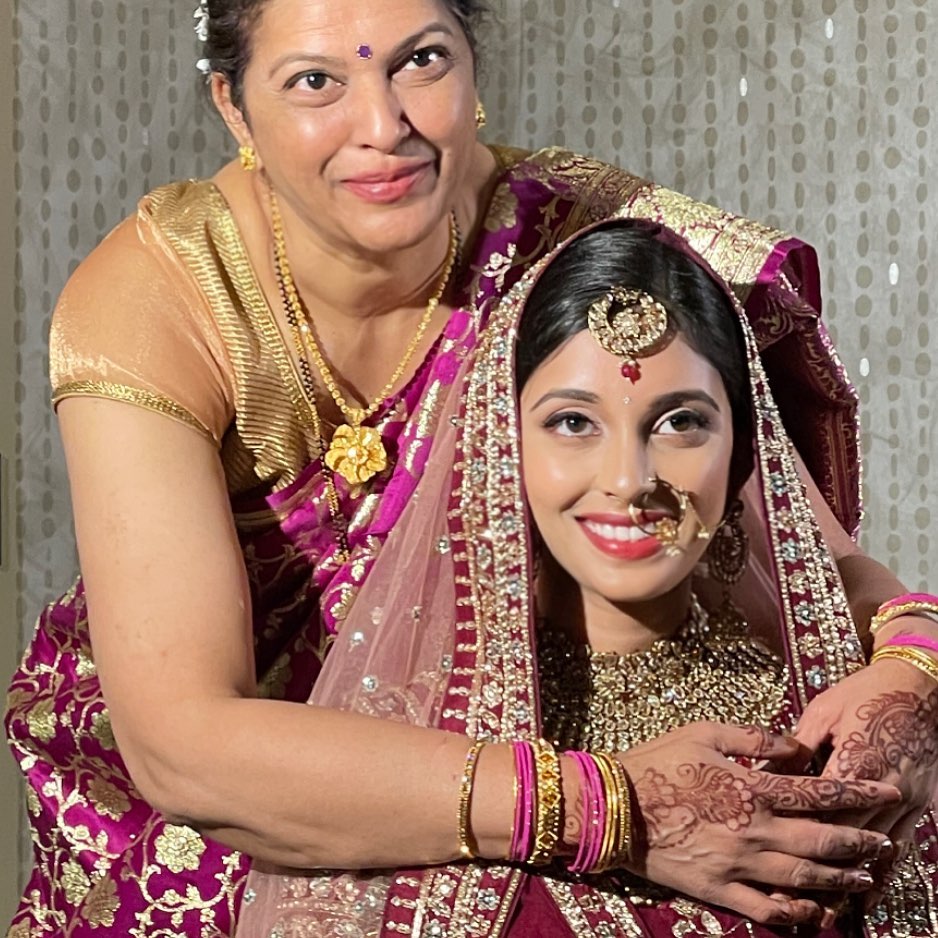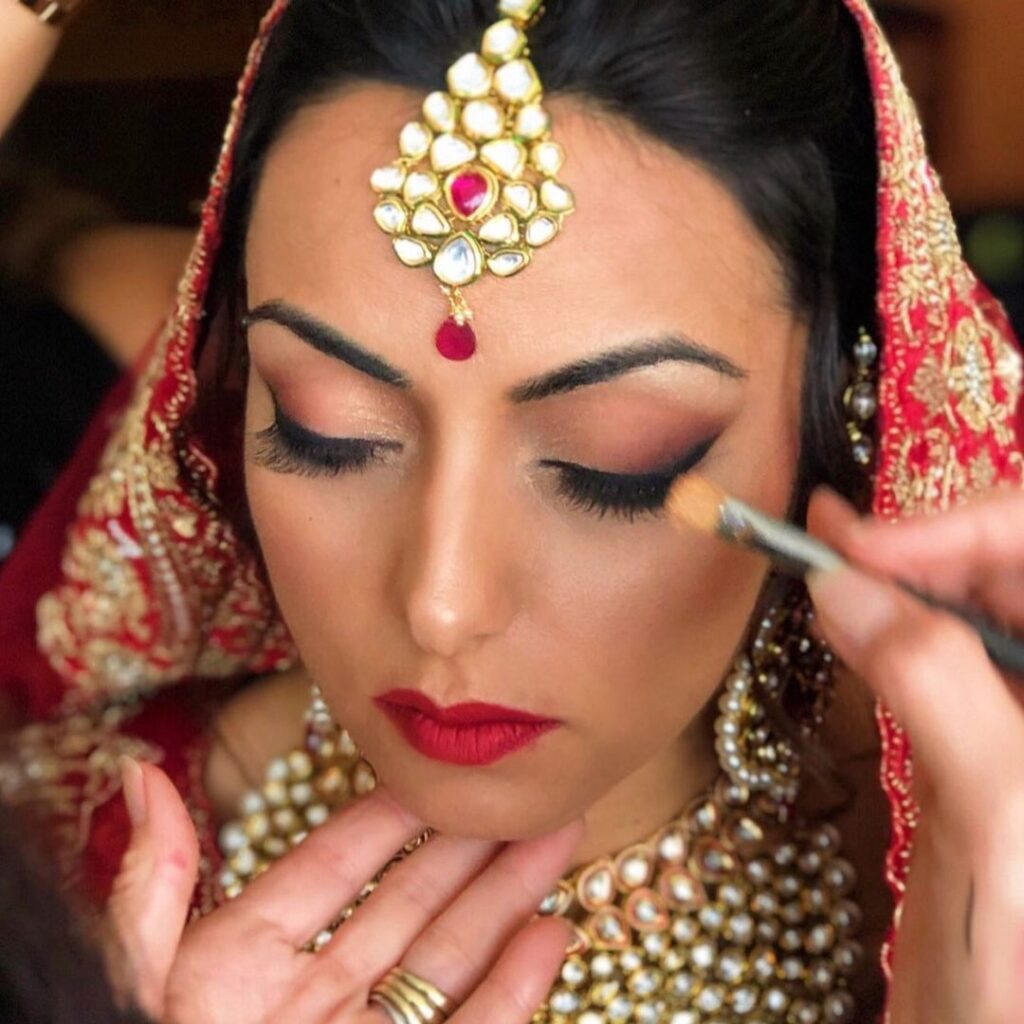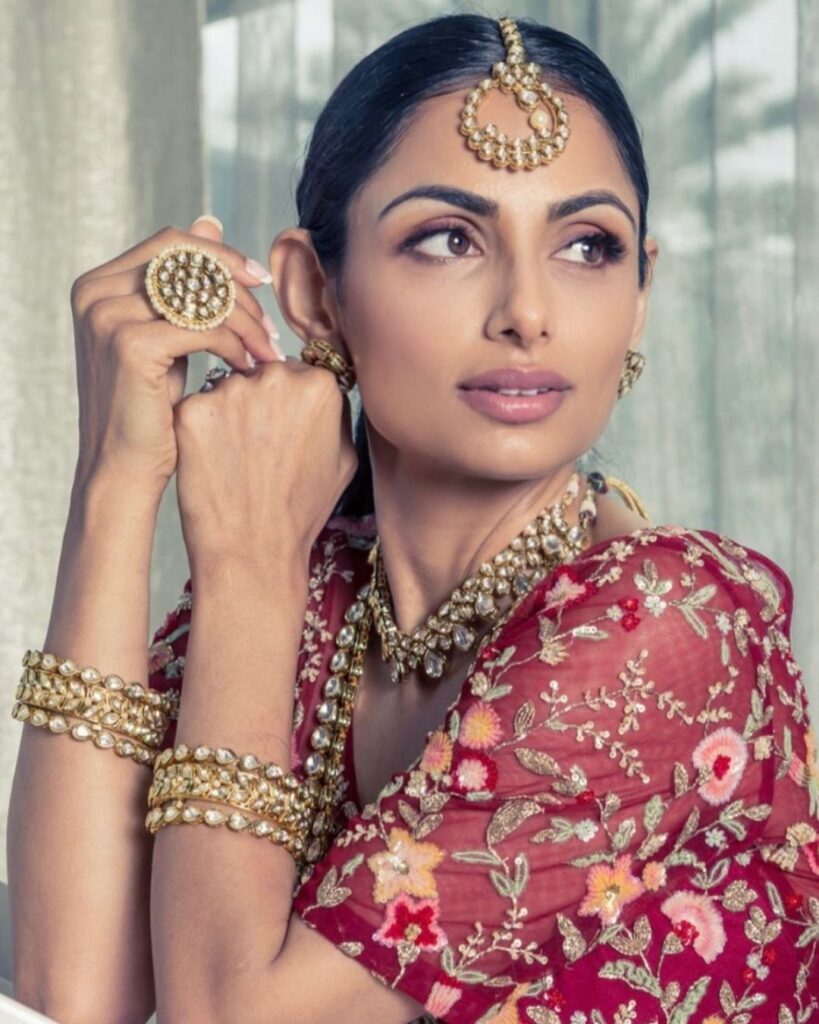 Related: