True beauty comes from within, true! Although, there are some products that, when applied topically, can help boost your hair growth and decrease hair fall. One of the best Ayurvedic herbs recommended for the same is Bhringraj. Whether you prefer bhringraj hair oil or bhringraj powder, for external use or internal consumption, this ayurvedic remedy can give you thicker, softer hair with consistent use. You'll start seeing results in a month, and massive results within 3 to 6 months. You can't wait for everyone to compliment your hair, can you? Read on to see how you can use bhringraj for hair growth, hair fall, and grey hair. 
P.S. Our beauty blogs and buying guides are written/ edited by avid beauty columnists and buyers, so anything that's mentioned on this blog is 100% research-backed and personally tried. Any affiliate links are included after careful product review, and only those products are recommended which have worked for the majority section of people. We might earn a commission through purchases made from those links. Thank you for supporting us! 
What is Bhringraj?
Bhringraj, also known as "keshraj" or "King of Hair" in India and "false daisy plant" or "Eclipta Alba" in English is a medicinal herb that grows in moist parts of India, Nepal, Thailand, and Brazil. According to Ayurveda, the leaves of Bhringraj are an effective liver cleanser and balances "pitta" dosha – known to adversely affect hair health. Farmers consider this plant as a wild weed. The plant grows to a height of 2-3 meters with leaves growing in opposite direction. The stem is thin and the plants also bear flowers with leaves solitary and about 7 mm in diameter. Bhringraj has 3 varieties based on the color of the flowers:
Shweta Bhringraj – White Flowers

Peet Bhringraj – Yellow Flowers

Neel Bhringraj – Blue Flowers 
You can use any variety – there's no difference in potency and nutritional content. The most common ones are white flower ones or Shweta Bhringraj. 
FUN FACT: You can also buy LIVE bhringraj plant online here. 
How To Use Bhringraj Oil For Hair?
The most searched, used, and convenient way to use Bhringraj is to apply Bhringraj oil made from the extracts of the plant. You can massage your scalp with this oil and also, apply it to the length of your mane as it deeply hydrates them too! Leave on for 1 to 2 hours – it's not advised to leave bhringraj oil (especially a pure grade one) overnight. Wash off with a mild shampoo. 
Can I Use Bhringraj Oil Every Day?
No, you shouldn't use bhringraj oil every day. You can use it 2-3 times a week, just before washing your hair. Bhringraj is extremely potent, just like any other ayurvedic remedy, and should be used in moderation. You can see the results of using bhringraj oil within a month or two, and massive visible results within 4 to 6 months. 
Make Bhringraj Oil At Home: 
Bhringraj oil can be made at home with fresh leaves, dried leaves, or powder. We're including 2 videos here to give you a visual insight into how you can make bhringraj oil at home. In the first one, Youtuber Evescafe makes bhringraj oil using fresh bhringraj leaves – you can use the same method with dried bhringraj leaves though! In the next one, Youtuber Ife uses bhringraj powder along with a few other hair growth-booster ingredients. You can definitely add/ omit whatever ingredients are available to you/ what works best for you! 
P.S.: Please make SURE you don't add the WET LEAVES to HOT OIL. To ensure safety, you can just use the double-boiler method – putting the vessel with the oil in another vessel filled with water and on the stove – just like how the next video demonstrates. 
Bhringraj Oil Benefits: 
#1 Bhringraj oil helps with hair growth and reduces hair fall. A 2014 research study on nude mice proved bhringraj's supremacy in hair growth and an increase in hair length and hair density over other treatments like minoxidil and ginseng. Another study concluded a herbal concoction of eclipta alba (or bhringraj), hibiscus, and Jatamansi significantly reduced the hair growth time by around half. The results also demonstrated a greater number of hair follicles in the anagenic phase (growth phase in hair cycle) than in the control group. The oil made with these three ingredients gave much better results than the minoxidil 2% solution. Another study on albino rats proved bhringraj significantly transitions a lot of hair follicles from telogen (resting phase of hair cycle just before falling out) to anagen (growth phase) stage of the hair cycle. Science has backed bhringraj's 'king of hair' synonym quite well!  
#2 Besides boosting hair growth and reducing hair fall, bhringraj hair oil helps with premature greying and darkens the hair strands from within. Several studies (1)(2) have backed the same. 
#3 Bhringraj oil also helps fight dandruff because of its strong anti-microbial and deeply moisturizing properties. Bhringraj restores the scalp's natural pH levels and restores the hydration balance. 
#4 Bhringraj oil also adds shine and luster to the tresses. Because of its deep hydration, the herb prevents split ends and helps the hair length grow. 
Best Bhringraj Oil For Hair Growth:
With the world being confined by the ongoing pandemic, people have resorted to e-commerce stores to fulfill their purchase needs. 
#1 Adivasi Bhringraj Herbal Hair Oil (Our Top Pick)
This is a 100% pure bhringraj oil with amla extracts to reverse baldness, boost hair growth, and give you smooth, shiny hair in no time. It's a little bit on the pricier end – but the reviews will make it look completely worth it.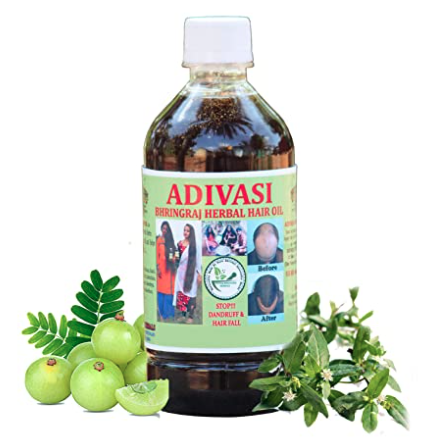 Purchase here. 
#2 Oriental Botanic Bhringraj & Amla Hair Oil
Oriental Botanics have quite a few natural, safe, and effective products up their ally and one of them is their bhringraj and amla hair oil. "My hair feels so soft and smooth. Hair fall is completely gone in a month," says one of the reviewers.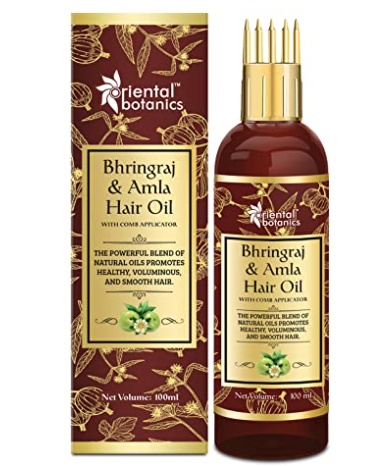 Purchase here. 
#3 RVAP Maka Mahabhringraj Hair Oil
This Mahabhringraj hair oil reviews are replete with miraculous changes in hair health & quality. Made with sesame carrier oil (just like Ayurveda recommends) and other hair-friendly ingredients like amla, rose, jatamansi, etc, this mahabhringraj oil benefits your hair and shows your results within a week.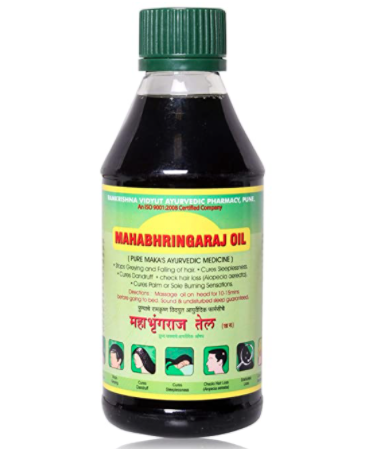 Purchase here.
#4 Himalayan Organics Bhringraj Oil
"My hair fall has reduced and my hair is looking more voluminous within two weeks of using this product," writes one of the users. Himalayan Organics is definitely known to deliver results with its vegan, responsibly sourced products. I have been taking their Biotin tablets for months and my hair has never looked better.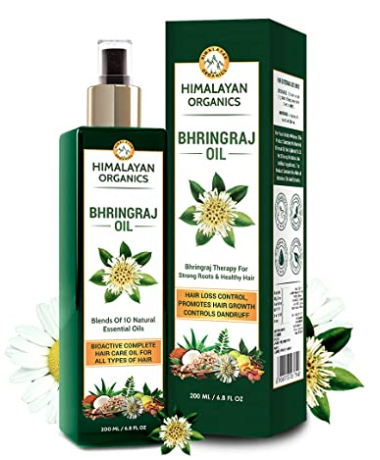 Purchase here.
#5 WOW Skin Science Bhringraj Hair Oil
WOW Skin Science's bhringraj oil delivers results, but it does have a lower concentration of bhringraj. I'm judging this based on the fact that the product labeling advises the consumers to leave the oil on overnight, when according to Ayurveda, bhringraj shouldn't be left for more than two hours.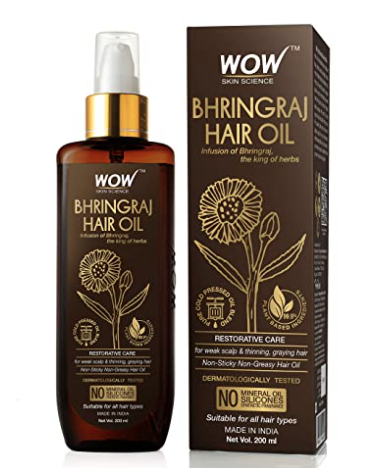 Purchase here.
How To Use Bhringraj Leaves For Hair?
If you have access to bhringraj leaves, then you can use them directly on your hair or take them internally. There are two ways to use bhringraj leaves for hair. First, blend them in a bit of water and apply the leaves paste directly on your mane. Leave on for 45 minutes and rinse with lukewarm water. You can also add other ingredients to this paste, like amla, hibiscus flowers, castor oil, etc. Second, you can make a paste of 4 to 5 leaves in a pestle and mortar, mix in some honey and ingest it directly. You can also mix some black pepper to enhance the taste further. Take this mixture twice a day, not more than that.  
How To Use Bhringraj Powder For Hair Growth?
Bhringraj Hair Packs: 
For any of these packs, you can either use dried bhringraj powder, bhringraj dried leaves, or fresh bhringraj leaves – it really doesn't matter. Bhringraj's chemical compounds and nutrients stay intact in all forms.  If you're using dried bhringraj leaves, you will have to grind them to mix in the pack – either dry or wet. Fresh bhringraj leaves need to be washed and grinded before adding to the pack. 
#1 Bhringraj, Amla & Yogurt Pack For Hair Growth:
Amla or Indian gooseberry is considered to be a miracle cure for the healthy, thicker mane. Our mothers and grandmothers are proof of the same! Research suggests that amla hair oil has significant hair growth properties. The study was done on rabbits and compared to other common hair oils. The results with amla were persistent at 8% to 10% higher than other oils. Studies have also shown amla to be effective at reducing premature greying of hair and boosting melanin.  Besides, the presence of potent antioxidants in these berries also boosts blood circulation and increases the length of the anagen (growth phase) period of hair. 
For centuries, women in India have washed their hair with just diluted curd and Ayurveda vouches for the same. Curd's bacterial enzymes kill off any dandruff, nourish the roots, and cleanses the scalp well. Using amla and curd in conjunction with bhringraj will work wonders for your hair health.  
How To Use: 
Mix 3 tbsp each of amla and bhringraj powder into yogurt, so it has a thick consistency and is not runny, otherwise, the pack will drip from the hair. Apply it evenly on the hair roots as well as hair lengths. Let this bhringraj hair pack sit for an hour and wash off with a mild shampoo. You can use this pack once a week for the best results. 
#2 Bhringraj Paste Pack For Greying Hair 
The easiest way to use bhringraj is to just mix the powder with water, or grind up the fresh or dried leaves with some water. Apply the pack on hair and leave it on for at least 45 minutes before rinsing off. You can use this pack once a week for faster results. Many research studies (1) (2) have established bhringraj's darkening properties that turn hair black and antioxidants that prevent further premature greying. Alongside amla, bhringraj is the best remedy for greying hair. This also means if you have lighter hair color, you don't want to leave on these herbs for more than half an hour on your tresses. 
#3 Bhringraj & Brahmi Hair Pack For Dandruff
According to a study published in the Journal of Applied Pharmaceutical Science, bhringraj has strong antimicrobial properties that kill any bacteria on the scalp, including those that can potentially cause dandruff and white flakes. The herb also has deep moisturizing properties which heal the dry scalp and restores the normal pH, keeping dandruff at bay. Brahmi also has exceptional moisturization properties. It nourishes the scalp and prevents dandruff and itchiness. 
How To Use: 
Take 3 tbsp bhringraj powder and 3 tbsp brahmi powder, mix them in water. You can also dilute them with curd or aloe vera gel. Feel free to change the measurements depending on your hair length. Keep the proportions of both powders equal though. Apply this bhringraj hair pack all over your scalp and the lengths of the hair. Leave on for 45 minutes and wash off with a milk shampoo. 
Buy government-certified brahmi powder here.
#4 Ayurvedic-Booster Bhringraj Hair Pack For Hair Fall & Massive Hair Growth
Ayurveda has many herbs in its dictionary to support healthy hair and reduce hair fall. Besides bhringraj, there's amla, reetha, shikakai, etc. To reap their benefits, you can mix them all in a single hair pack and apply the mixture to your hair for an hour. Do it every week to experience the results within just 2 to 3 months. 
Here's how Youtube Sushmita's Diaries created this pack, and her thick, long tresses are proof that it works:
Here are all the ingredients she used Amla (2 tbsp), Reetha (2 tbsp), Shikakai (2 tbsp), Bhringraj (2 tbsp), Fenugreek (2 tbsp), Hibiscus Flowers or you can also use powder, Curry Leaves (10-12 leaves, can be easily found in your nearby garden), Fresh Rose, & Castor Oil
Of course, you can add and emit any ingredients which you don't have. Not all ayurvedic and natural ingredients suit everyone. For instance, for me, curry leaves always lead to hair fall. So, I skip that as well as the rose when I make this pack. I also don't add coconut oil. Only amla, reetha, bhringraj, shikakai, hibiscus, fenugreek – all in powder form, 1 tbsp castor oil, and rest water. 
You can buy a combo of all these powders here. 
It's always better to make a bhringraj hair mask at home, but if you're keen on trying a ready-made one or just don't have time, try Himalayan Organics Bhringraj Hair Mask. 
Bhringraj Drink For Hair
Bhringraj can be consumed directly with warm water, warm milk, or honey to experience its varied benefits internally. You can take around ¼ to ½ teaspoon of bhringraj powder, mix it with a cup of warm water, warm milk, or honey and consume the concoction. Don't consume the drink on an empty stomach though. Bhringraj is best when taken around an hour after meals, or directly after a light meal. You can also have the herb right before going to bed. A recommended dosage is once or twice per day. Don't exceed this number. It's also best to consume bhringraj in breaks. Like stopping the drink for a month or two after consuming it straight for let's say three months. Ayurvedic herbs are very potent and powerful and should be consumed in breaks and limited quantities only. 
Best Bhringraj Powder For Hair: 
#1 MYHERB 100% Natural Organic Bhringraj Powder (Our Top Pick)
100% pure bhringraj powder meant for both external and internal purposes. My research into the company showed that they don't use any artificial fertilizers or growth methods for their plantations, making them GMO-free and completely natural.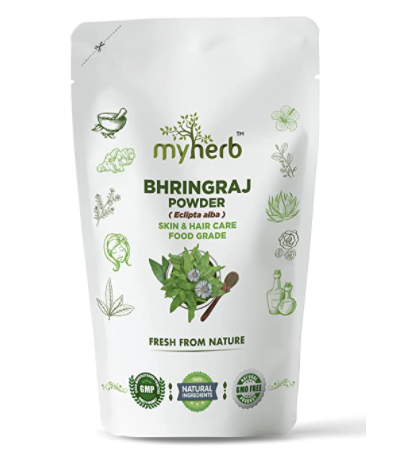 Purchase here from Amazon. 
#2 Herbal Hills Organic Bhringraj Powder
Another pure, 100% organic bhringraj powder that you can consume in warm water or milk just before bed for best results. Don't heat the powder though, add it to the warm liquid.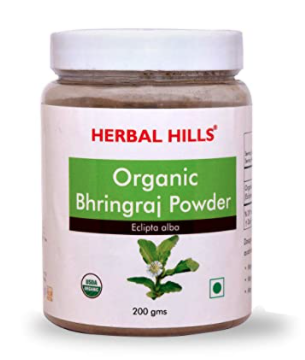 Purchase here from Amazon. 
#3 Grazing Meadows Organic Bhringraj
Grazing Meadows organic bhringraj powder is yet another great find on Amazon, newly-launched, but a great product nonetheless.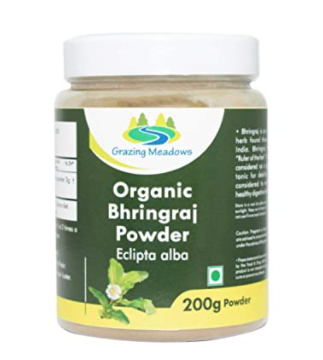 Purchase here from Amazon.
#4 Herbal Villa Bhringraj Powder
"Happy with the product and grateful for quality. I have been taking this with warm milk for a week and my hair fall has reduced considerably," says one reviewer. And Herbal Villa's bhringraj powder is replete with such positive reviews.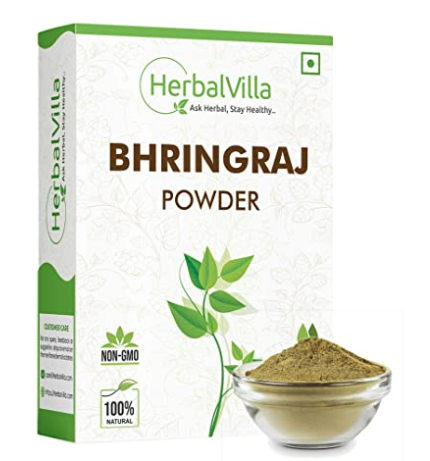 Purchase here from Amazon.
FYI: If any Bhringraj powder brand says that their product isn't meant for consumption, it's safe to assume that it's not a quality product. Bhringraj powder – an original one – is meant to be consumed for internal use. So, if you're eyeing any other brands apart from these, look for this simple strategy to pick a good one! 
If you're reluctant at the idea of drinking bhringraj powder for hair, then resort to the pills instead. Here's a great one we found – Vitagreen Bhringraj Capsules. One of the customers wrote, "My hair did not fall after taking this capsule, as is the case with many supplements. I completed the course for 15 days, 3 capsules each day, as written on the supplement, and started seeing results. Gradually, my hair fall completely stopped."
Benefits Of Drinking Bhringraj
#1 Bhringraj helps balance pitta dosha – an excess of which causes hair problems, and other health issues in the body. Pitta dosha also causes inflammation in the bones. And according to Ayurveda, your hair is a product of bone tissue. So, the healthier the bones, the better your hair health will be. Bhringraj promotes a healthy pitta and rejuvenates the bone tissue. This promotes healthier, thicker hair and also, prevents premature greying of hair due to its Rasayana properties. According to research published in 2015, consume ¼ to ½ tsp of bhringraj powder with milk twice a day for 3 months to see results. 
#2 Bhringraj has an impressive nutrition profile. It is rich in Vitamins A, D, E, iron, and magnesium, along with other compounds like alkaloids, flavonoids, phenols, terpenes, and other powerful antioxidants. These promote anti-aging and wound-healing inside the body, giving you an even skin tone and lightening any scars or tanning.
#3 A research study published in 2017 showed eclipta alba (the biological name for bhringraj) had cytotoxic effects on breast cancer cells, inducing apoptosis-mediated cell death. While the phenomenon was proven on other cancer cells too, it was more pronounced in breast cancer cells. The results suggest that bhringraj can be a great alternative medicine in cancer patients. 
#4 Bhringraj helps to control blood sugar and can fight diabetes naturally. A 2015 study showed that eclipta alba (the biological name for bhringraj) has the same effect on diabetes as metformin (first-line medication for type-2 diabetes). 
#5 This ayurvedic remedy is also effective in treating urinary and intestinal infections. Bhringraj's antibacterial properties help flush out harmful bacteria from the body and restore the normal functioning of these body organs. 
Side-effects Of Bhringraj:
Bhringraj herb has no side effects when taken in moderation and in breaks. Although, if you're on a medication, it's best to consult an Ayurvedic doctor and your physician when taking this herb. In very rare cases, the topical application of bhringraj powder can cause itching, swelling, and allergies. In this case, the use of the powder or leaves should be discontinued. When taken orally, you should stick to just ¼ to ½ tsp of powder twice per day. Internal consumption can lead to increased urination since bhringraj is a diuretic. If you're already taking medications that are diuretic, consult your doctor beforehand. Bhringraj can cause excessive urination and result in low blood pressure. 
You can bookmark this blog by clicking on the *bookmark now* button on your top right side and re-visit in *your bookmarks* anytime you need it. No need to login, just a tap would do! 🙂
Related: