If we had to pick out a silver lining of the pandemic, it's all the uninterrupted quality time with our partner in the solitude of our home. But if you've been planning a proposal, the outdoors is probably off-limits for now. That doesn't mean you should wait. In fact, an at-home proposal can be as romantic, memorable, and fun as the one planned outside. We're here with some amazing ideas to help you plan a sweet home proposal, and show you, when done right, this route can even enhance the whole experience of your special moment. After all, home is where the heart is.
Scroll to see 15 romantic and special ways to pop the question at home that'll seal the deal for you! 
Say It With Flowers
Waking up to a huge box of pretty flowers, macaroons, and an engagement ring sounds like a dream proposal every girl wished for. Make it a reality and surprise her with her favorite blossom bunch, say your romantic speech and wait for her to scream a YES at the end. Later, you can make a complete day out of it. Pamper yourself with a couple spa day, a luxurious dine-in experience, and play soothing music and light scented candles all around the house.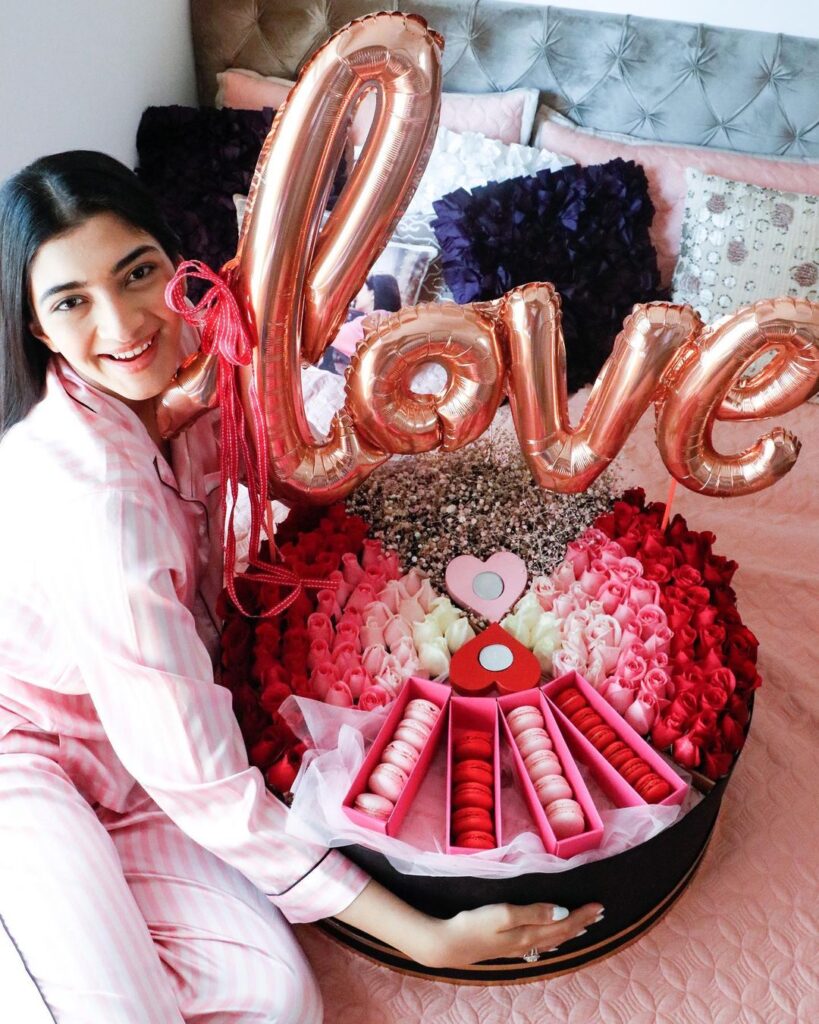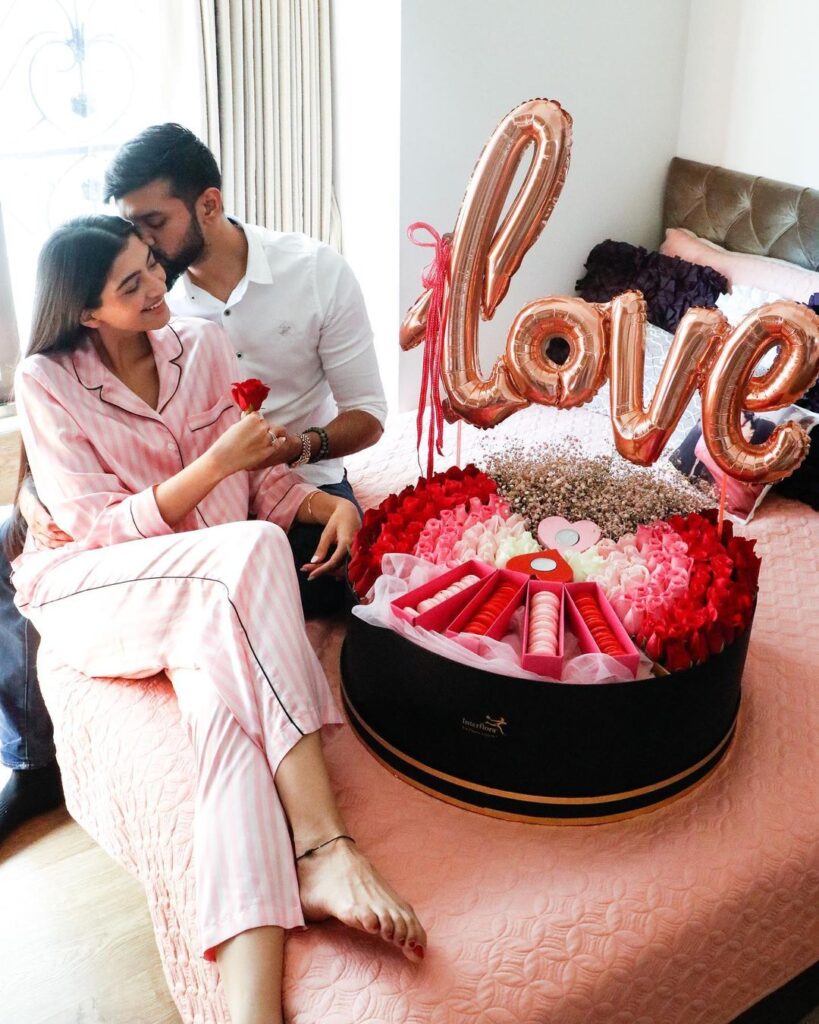 In-Frame: Hanna S Khan, Flowers: Inter Flora India
Purchase the love foil balloon here.
Make Her Morning A Memorable One
If flowers aren't her thing, scones and donuts for breakfast might be it. You can plan the proposal in the bed – in your pajamas and making it a snug affair, or make it an intimate sit-down affair at the dining table. It's down to you to set the mood and you very well know what's right for you as a couple. Another alternative could be balancing the ring (very carefully!) on the top of a breakfast dessert or include the question as icing on the dessert.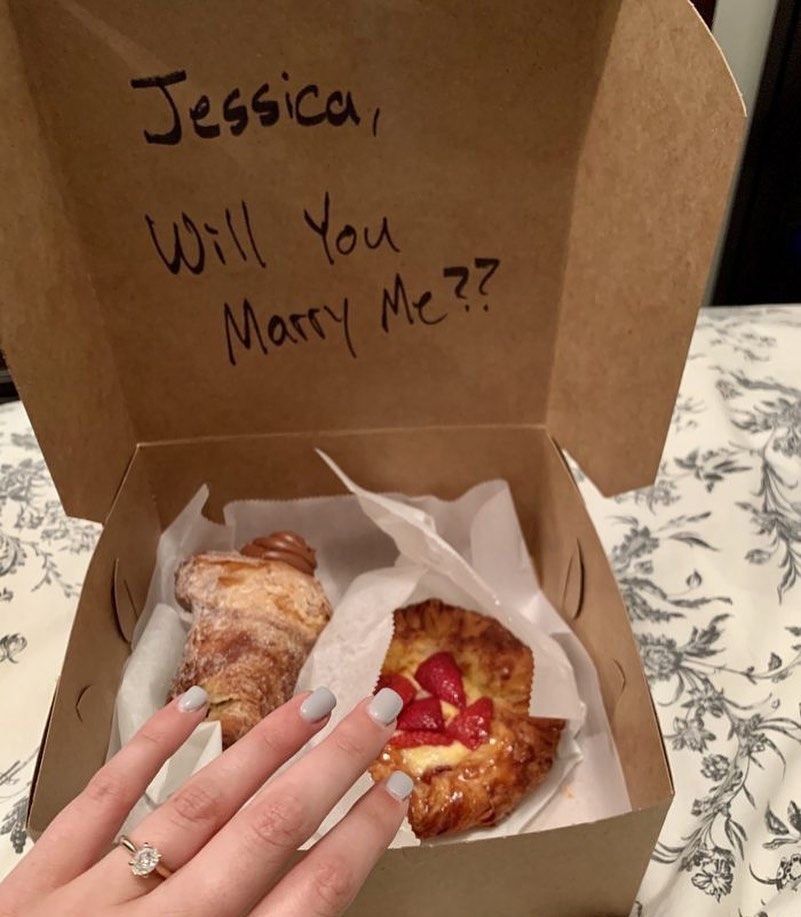 Credit: Jessica Lowe
Sometimes Just The Two Of You Are Enough
At times, there's no need to plan or think about any arrangements, sometimes just the love you two share suffices to make the proposal moment special. That's what the couple portrayed here did and look at the tears, and happy emotions flowing through these images. So, if planning a proposal isn't your thing or just the thought of it makes you anxious, just ask her to marry you by expressing your emotions well and set up a camera on a tripod to capture her reaction and the moment well.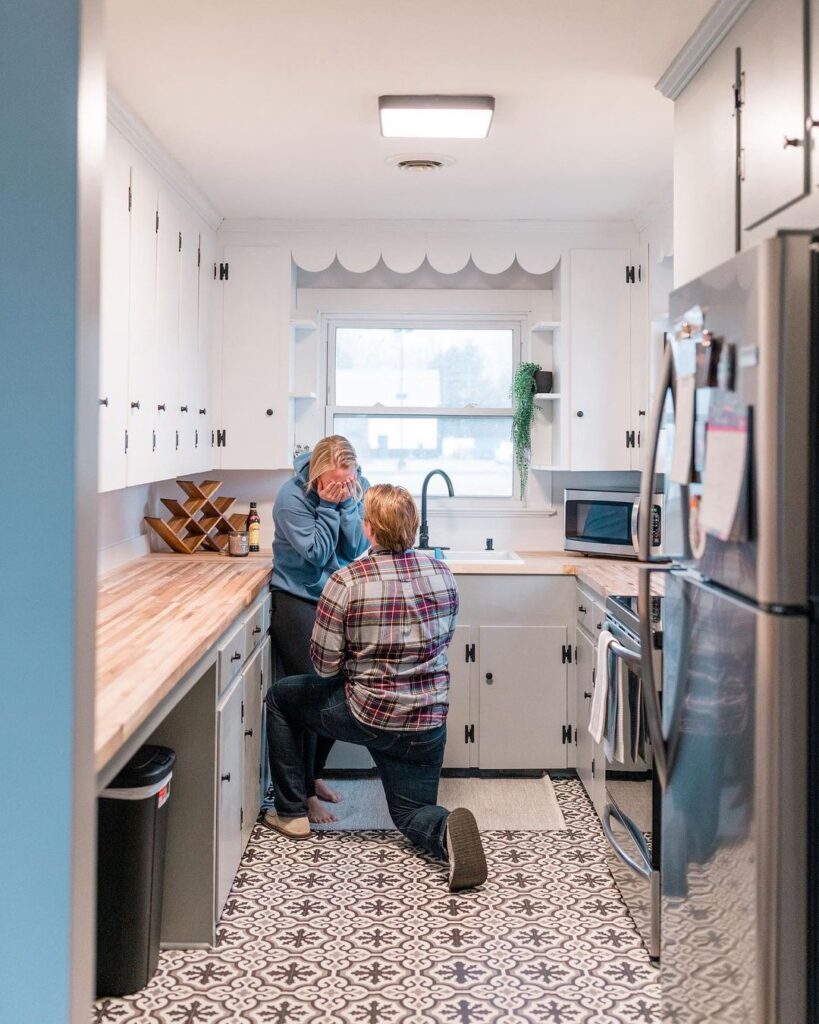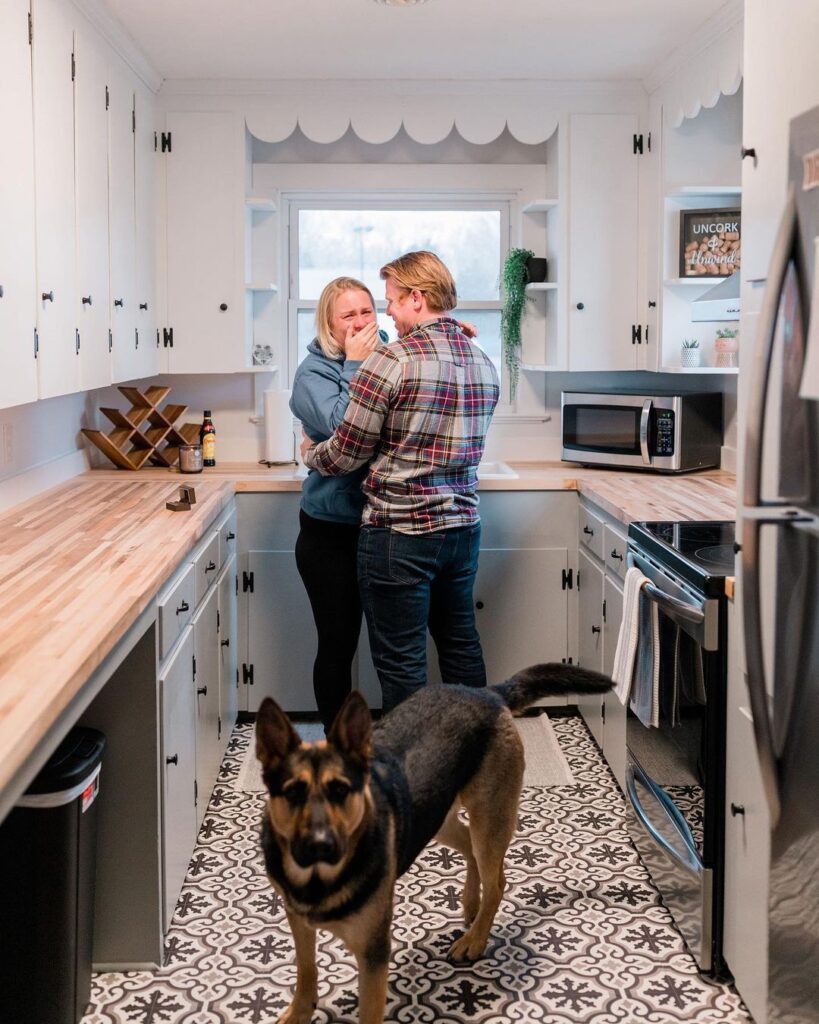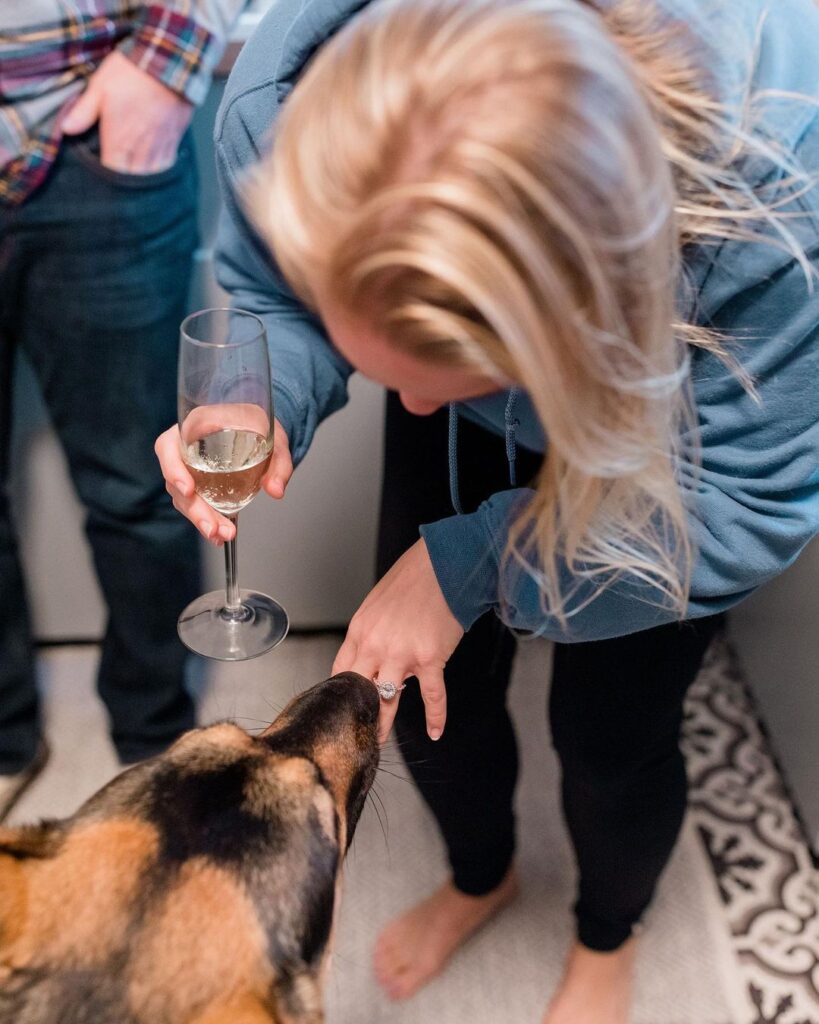 Photography: Cassidy MR, Couple: Katie & Trent
Create A Cozy Corner & Prepare A Romantic Speech
For couples who love nothing more than a lazy, cozy night, this low-key romantic at-home proposal idea is a perfect approach to the special moment. Spread a soft blanket on the corner with some throw pillows and light a candle pathway leading up to the arena. Sit her down and prepare a speech for her – saying how grateful you're for her in your life, what you love about her, a poem perhaps, etc. and end it with the magic words. Keep some tissues handy, please!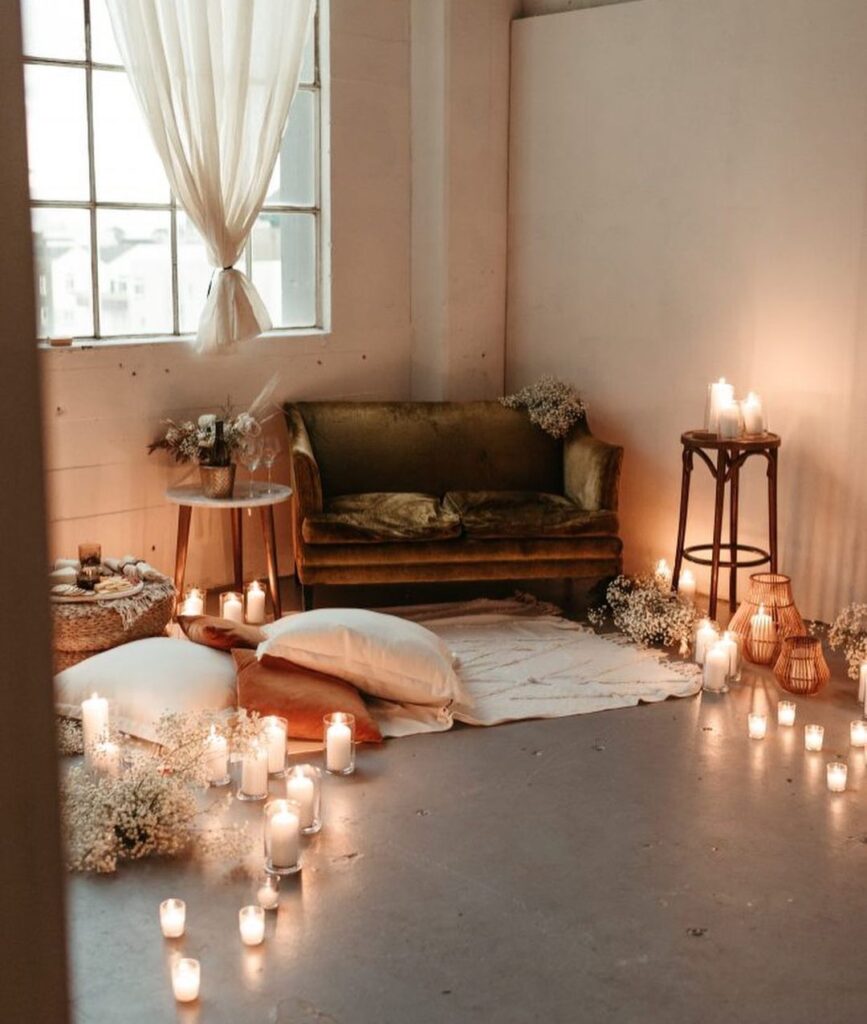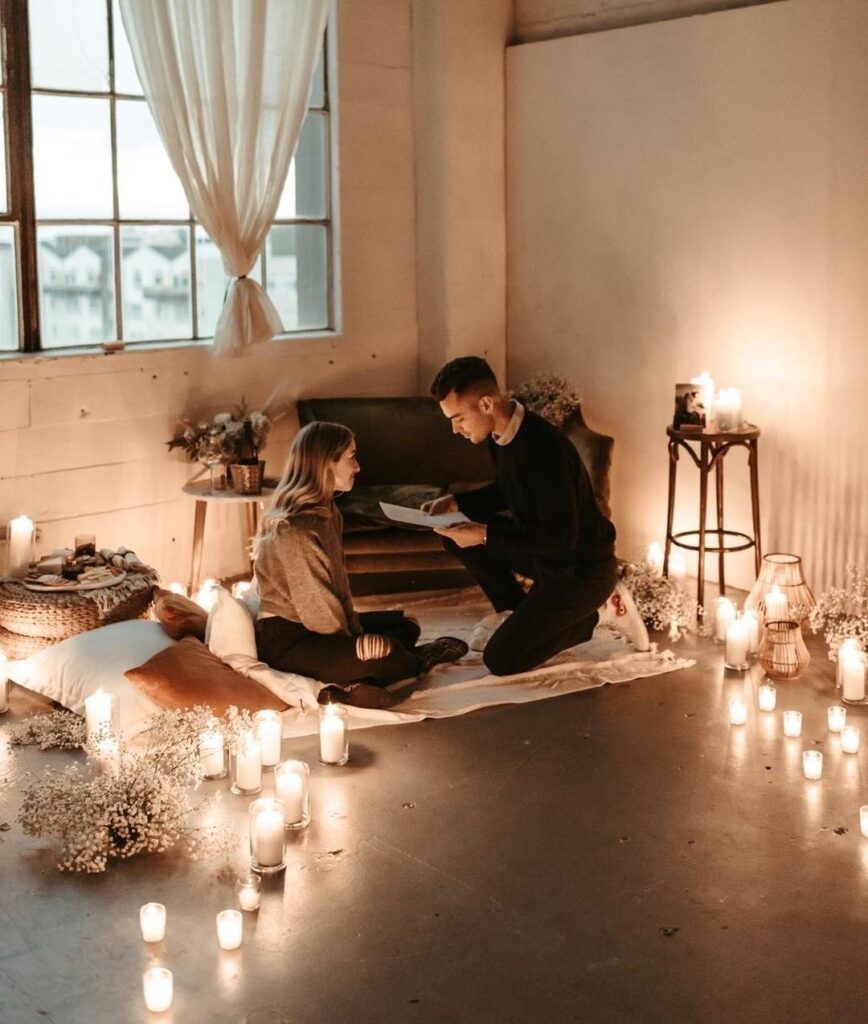 Photography: Anna Elizabeth, Couple: Lexie Barnhorn & Ben Kolde
Purchase throw pillows here, candles here, and baby's breath here.
Set Up A Photoshoot
Everyone wants a great picture of their proposal. After all, how else would make it Instagram official? Just set up a nice backdrop for your images. It could be with fairy lights or flowers, and tell your partner you want to take some nice pictures together. She wouldn't doubt one second and would be thrilled to get all dolled up for the shoot. You know the drill now. In the midst, ask her to turn around for a shoot, and you get on one knee, and as she turns back – there it is! The man of her dreams popping the question. Is this the best at-home proposal idea or what?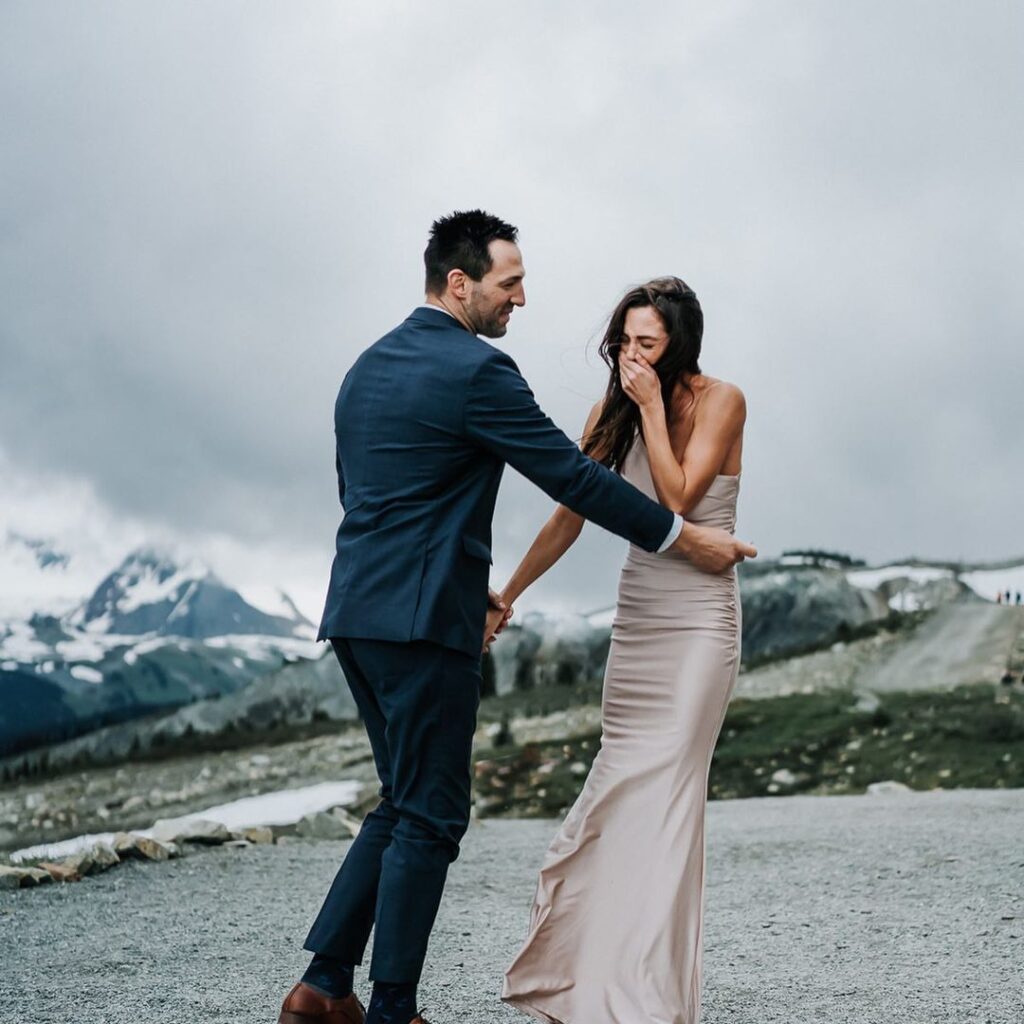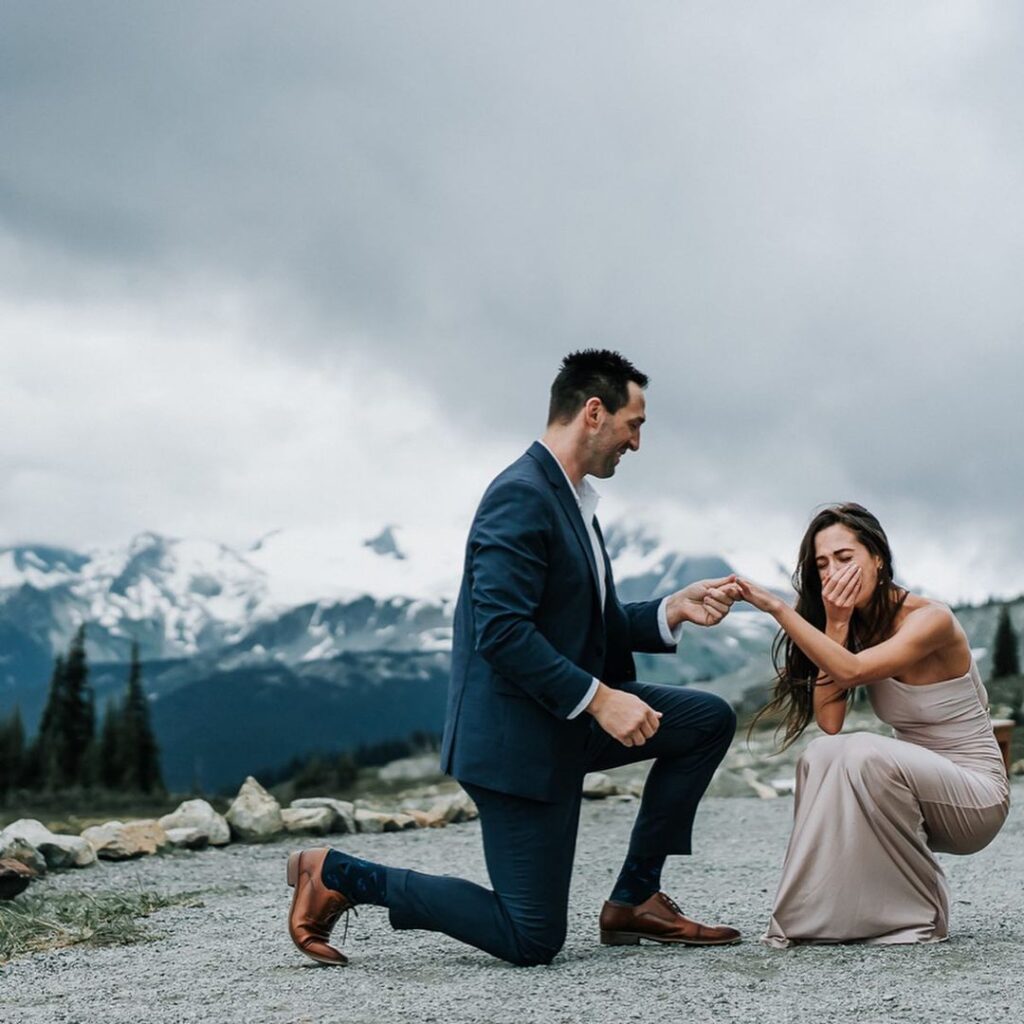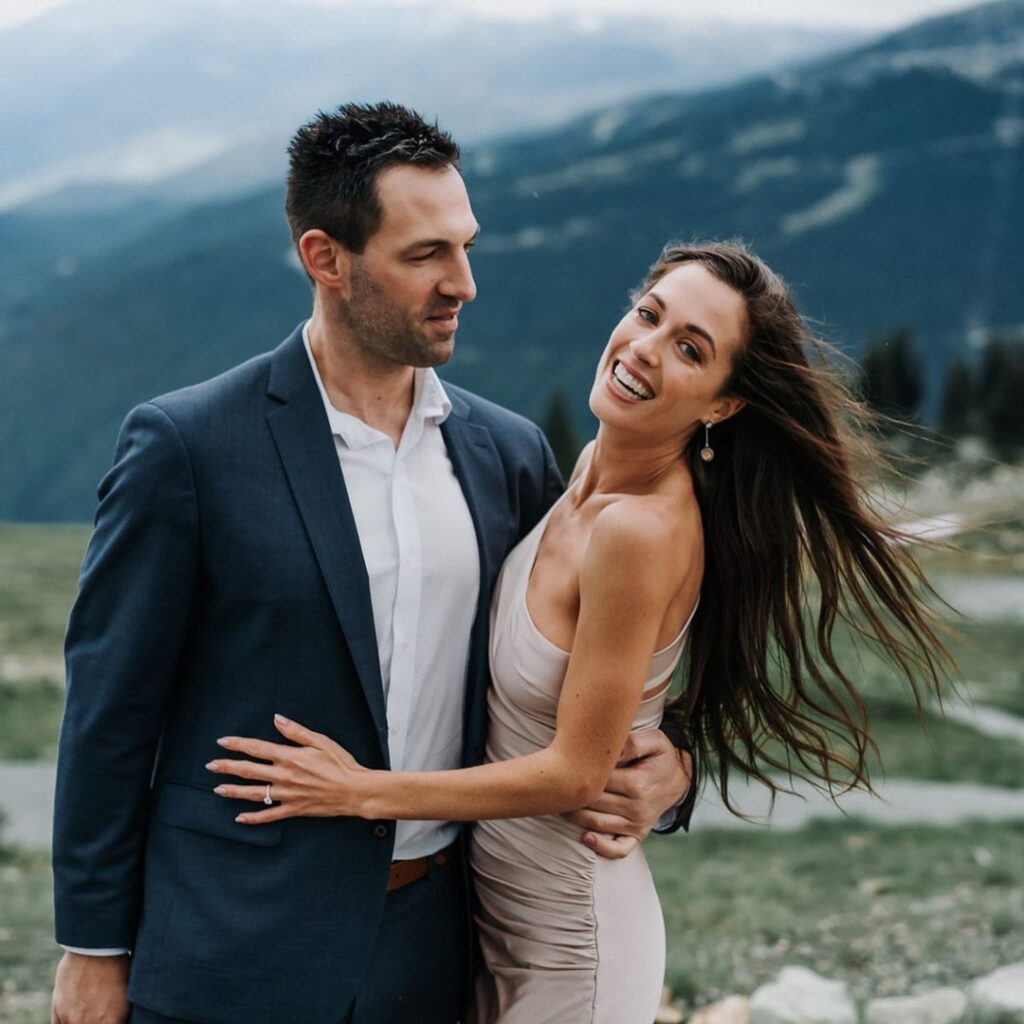 In-Frame: Daniela Dib
Candle & Roses Pathway To Lead To The Proposal Spot
Few things are more romantic than an endearing pathway built with rose petals and candles and you're mesmerized with the mystery of where it leads to. Well, in this case, it could lead to the start of your happily ever after. You can create a pathway from your door to the place where you're planning to propose. A better option? Decorate it all when your partner is away. When she opens the door, the track leads her to the 'marry me' light sign with you on your knees. This is a very straightforward and photogenic way for a home proposal.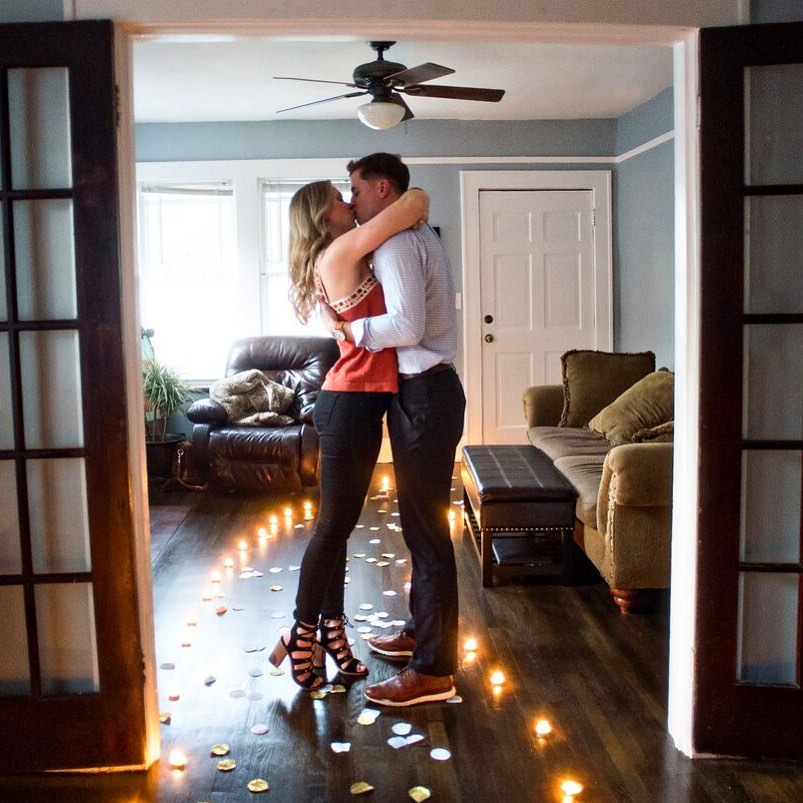 Photo: Life & Love Studio, Couple: Worth Anthony & Kaitlyn
Get these small, electric candles here.
Bedeck The Space With Flowers
Don't worry. Decorating with flowers looks complicated, but it's easy. Just bring a variety of flowers home and spread a few around, put a bunch of them on the walls, or form a heart-shaped figure on the floor. Accentuate the romance of flowers with a few candles and you've curated a gorgeous proposal setup for yourself.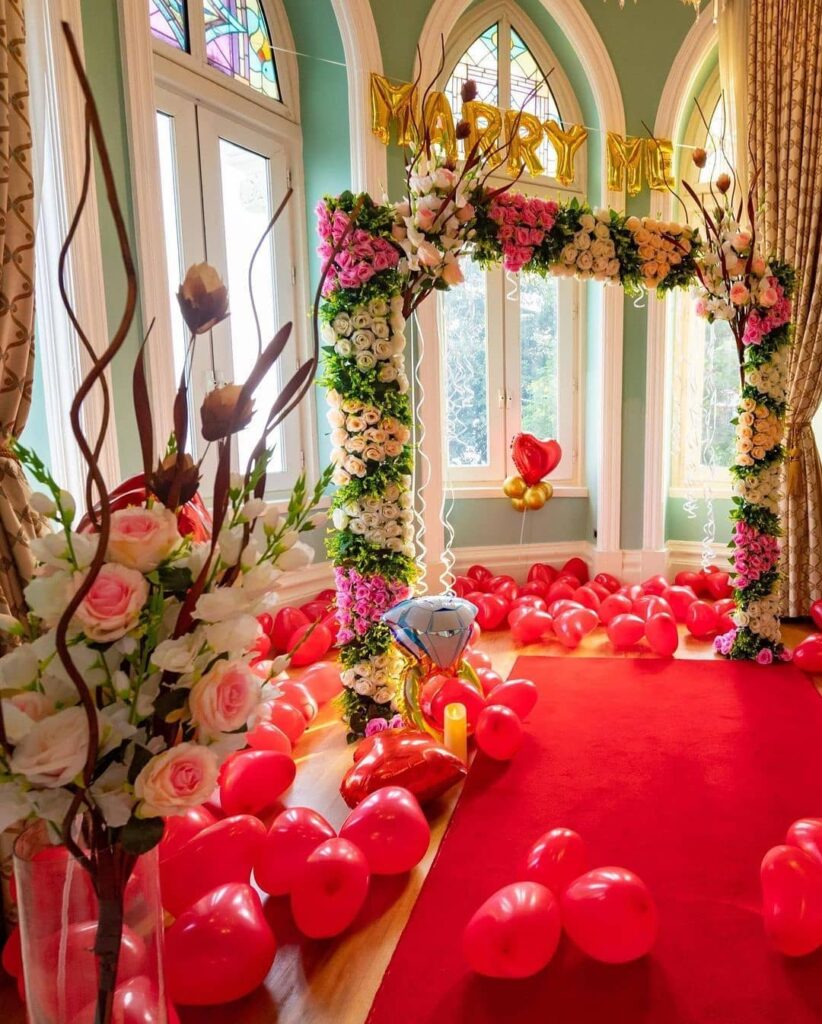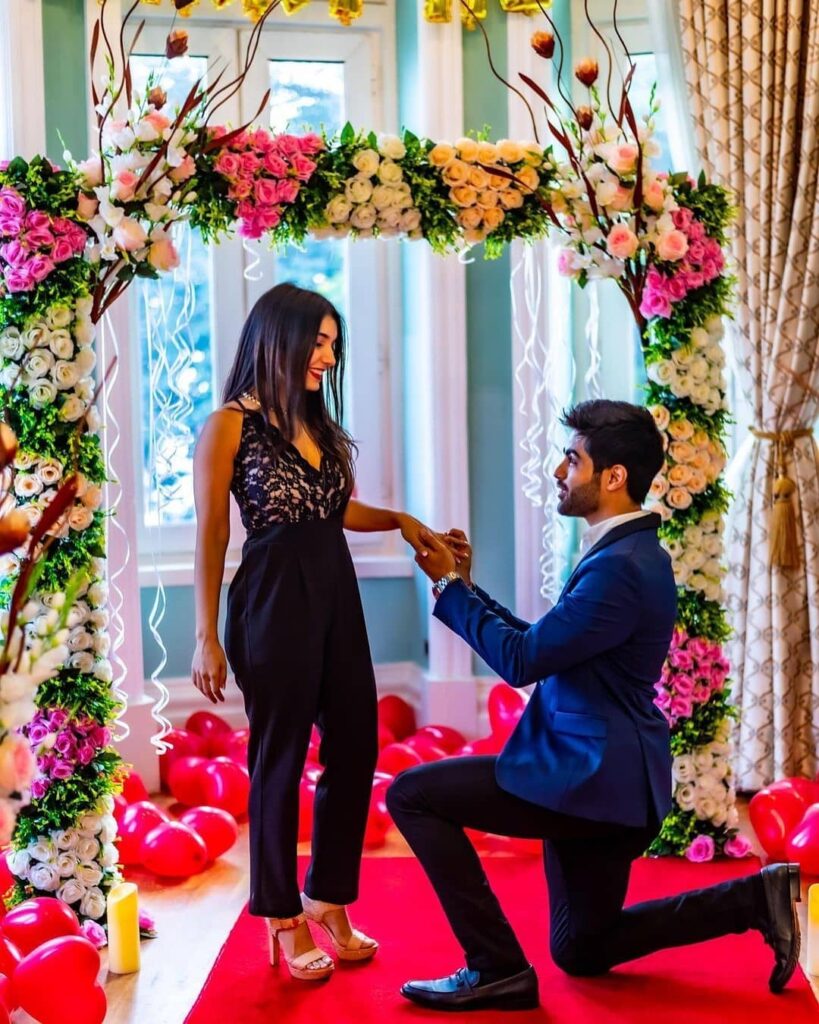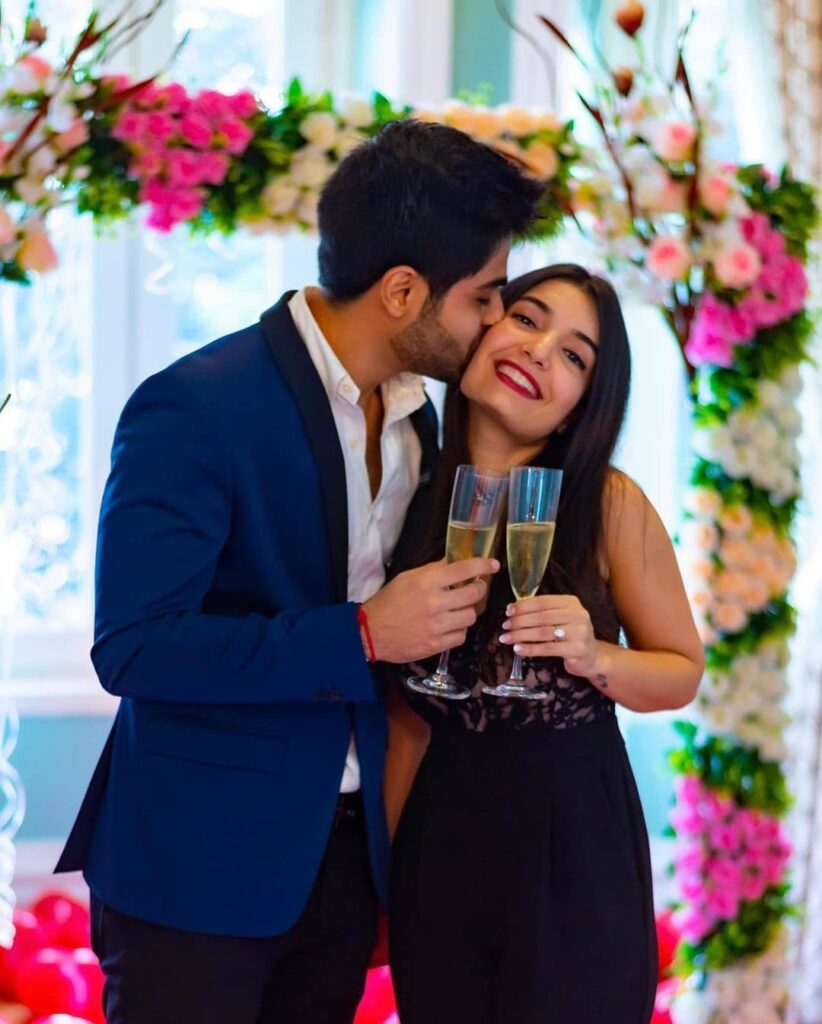 In-Frame: Anushqa
Buy these foil heart-shaped balloons here.
Employ The Garden Premises Outside Your Home
Gardens are usually the best part about homes, all because of their natural flora and fauna. You can use them to your advantage in the proposal, especially if your partner is a fan of natural beauty. The moment can be planned at sunrise or sunset, or you can wait till nighttime and decorate the space with fairy lights, lanterns, and candles. A heart full of flowers with the question asked with a signboard can work well too. 
You can also plan a scavenger hunt that takes her to the backyard, and light up the area when she enters revealing the biggest surprise of her life!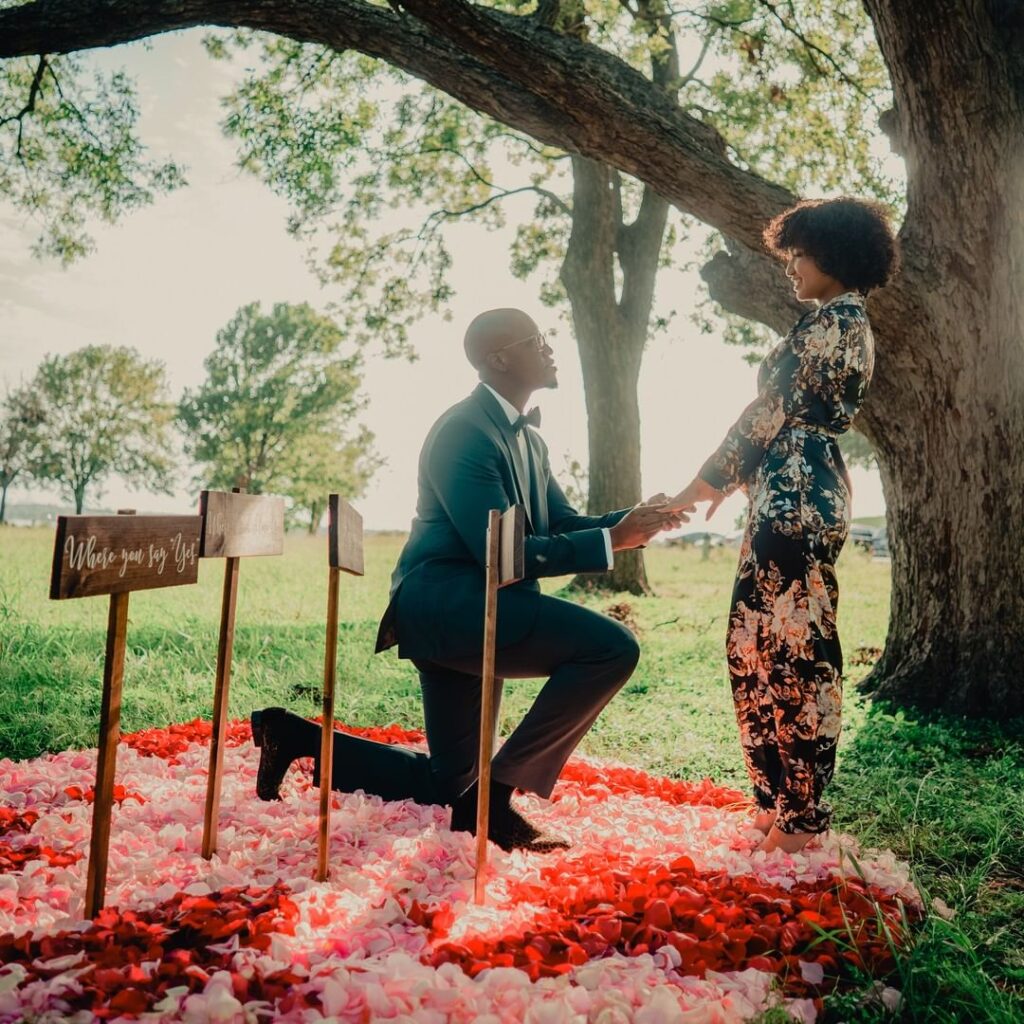 If Your Lady Is A Gilmore Girls Fan, A Proposal With A Thousand Yellow Daisies Should Get You A Screaming YES
There's one scene in Gilmore Girls which says, "When you propose, there should be thousand yellow daisies, candles, and a horse…" So he made sure there were a thousand yellow daisies when he popped the question. Sometimes, it's the attention you give to what she loves and cares about. Infuse that in the proposal to create a personalized, tender-hearted you'll cherish forever.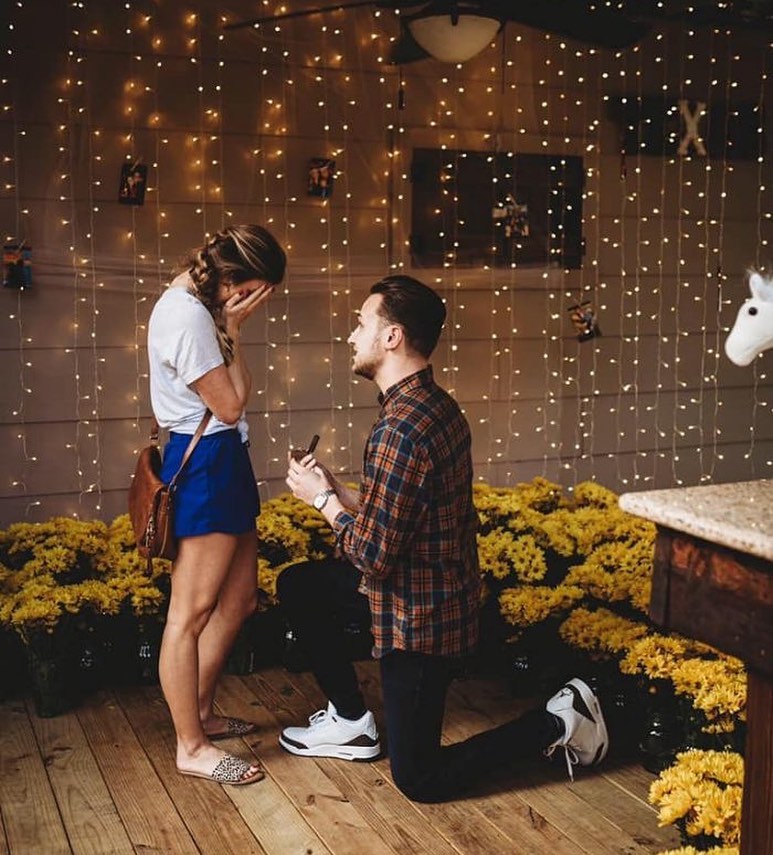 Photo: Kindred Soul Photography, In-Frame: Jasmin Deatherage
Purchase fairy lights here.
Involve Your Pet
For many couples, their sweet fur baby is an important part of their relationship. Employ his help for popping the question, and make him a part of your special moment too. You can tie the ring around the pet's collar so your partner discovers it on her own. Another idea could be putting a T-shirt on your pet with the big question, ask your lady love to read the print, and when she turns around to look at you in utter shock you are down on your knees. 
Or if the Mrs.-to-be doesn't mind being woken up, let the pet wake her up with the bauble lying on the side.  Afterward, you can enjoy a romantic breakfast in bed together with lots of cuddling, smooches, and few happy tears.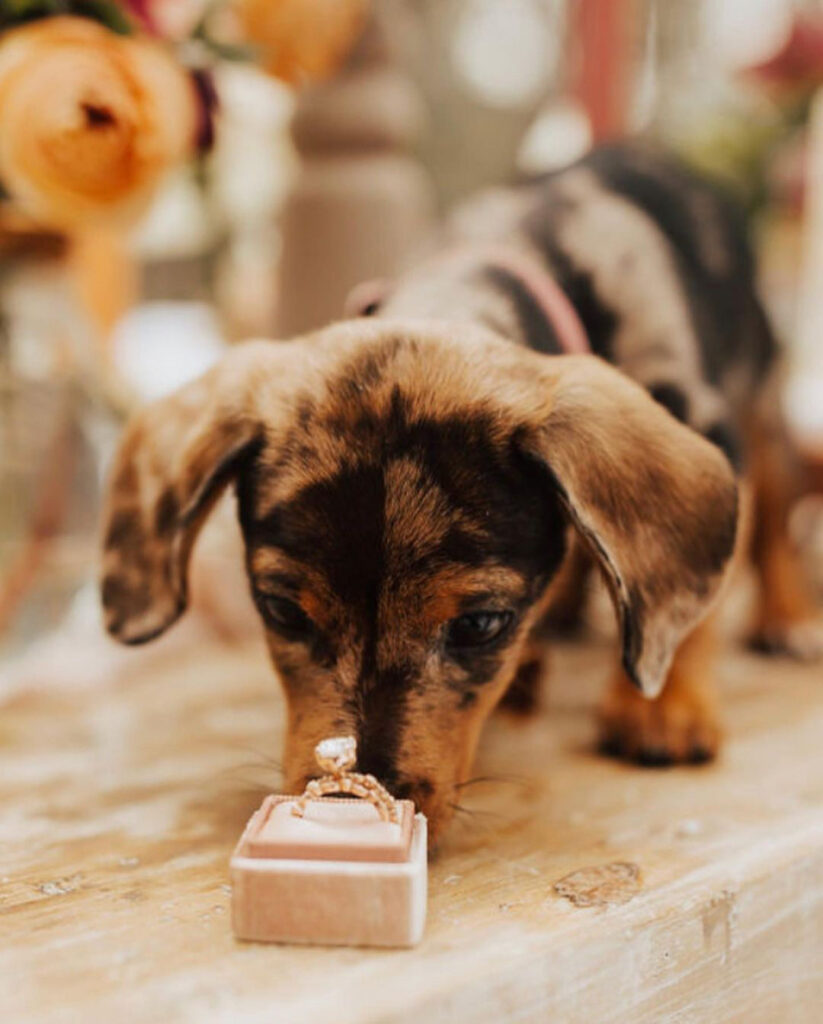 Photo: Haley J Photo, Pup Parents: @savgentry_kittle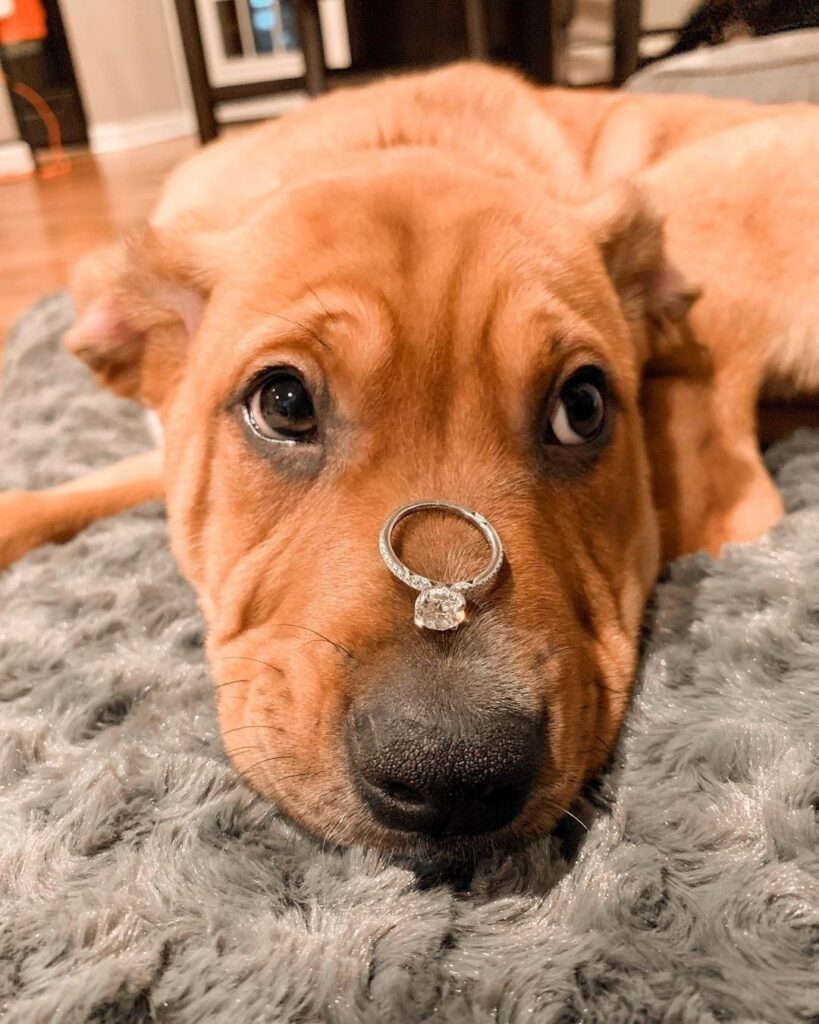 Dog Instagram: Life Of Roscoe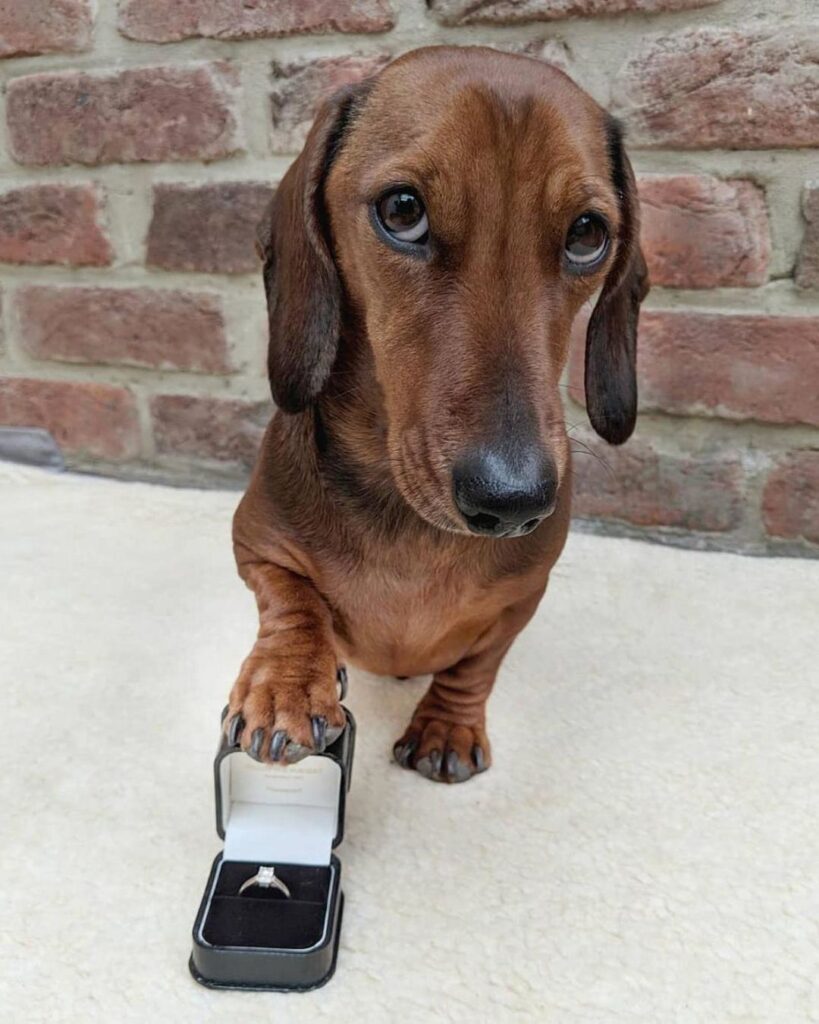 Pup Instagram: Swags The Sausage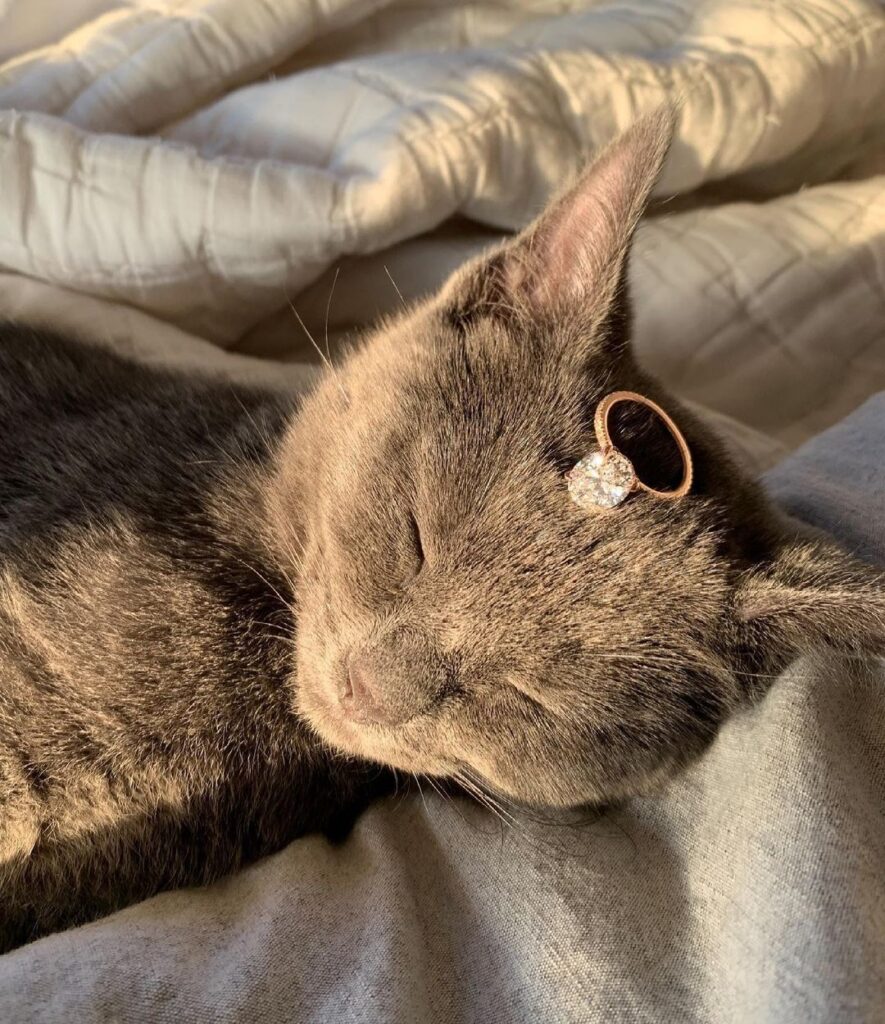 Ring: Brilliant Earth
Cook Your Favorite Restaurant Meal
Since it's hard to dine at your favorite restaurant, whip your favorite dishes at home instead. Missing the lip-smacking biryani? Make one with traditional spices at home, and serve it with shorba. Craving the road-style pav bhaji? Try this recipe here, and your lady love will be impressed with you beyond measure. Create a romantic dining setup, and then, when her stomach is full, make her heart full too by asking the big question.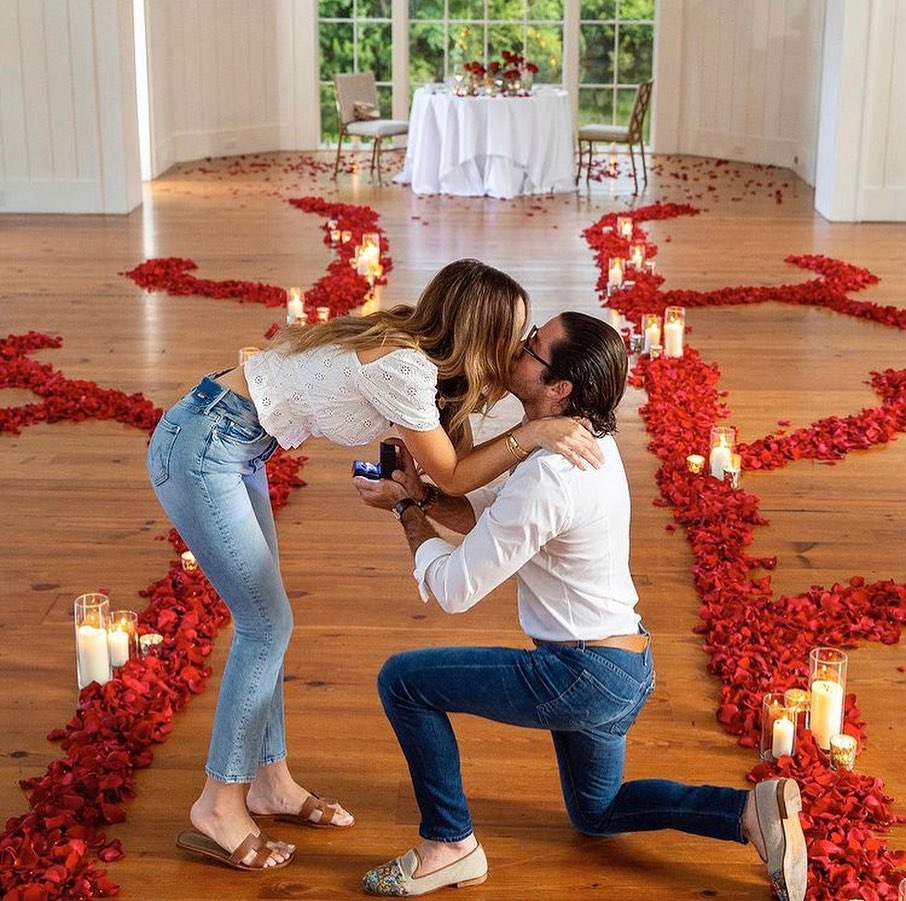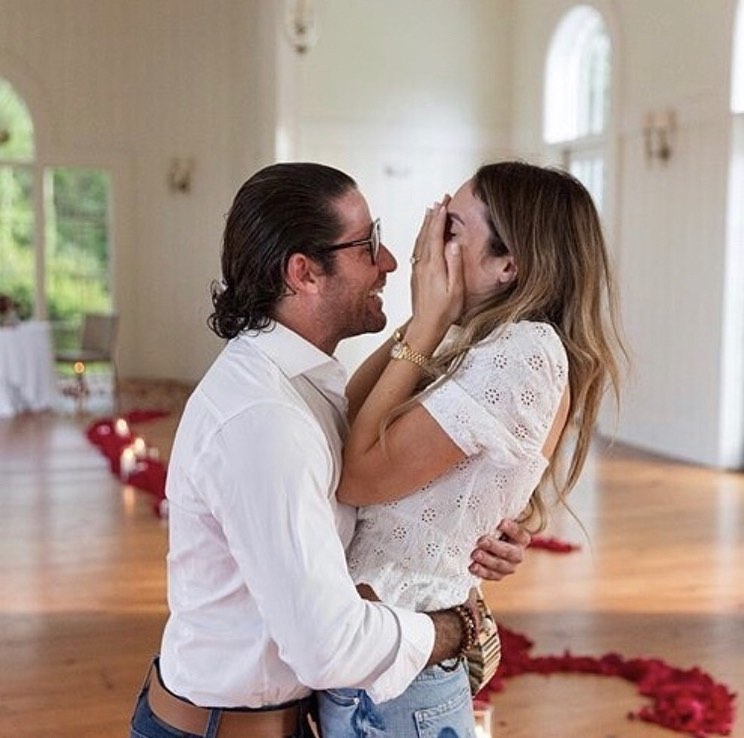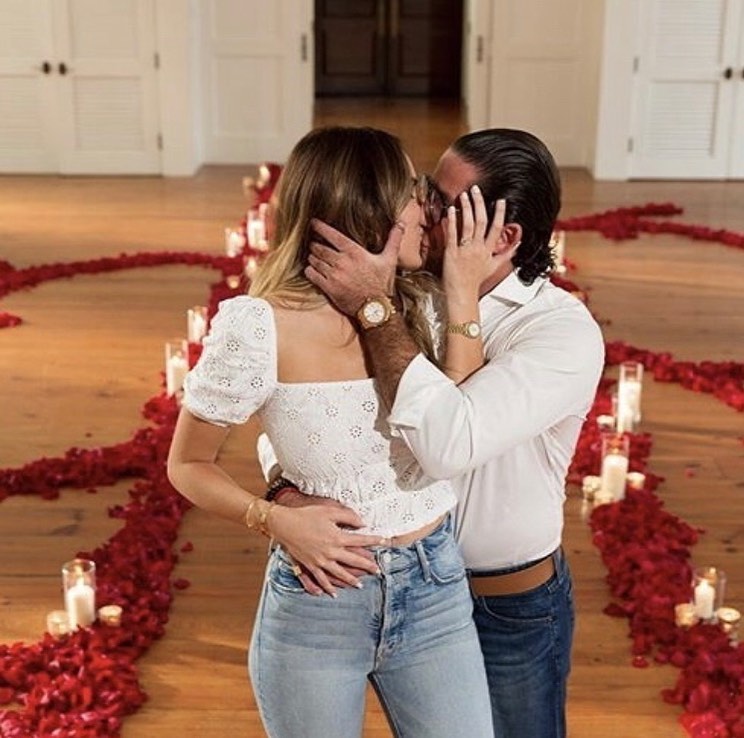 In-Frame: Alexander Goldstein, Photo: Tim Zielenbach
Host A Virtual Cocktail Night
While it's normal for couples to celebrate with the families after the proposal, large gatherings are discouraged at the moment. So, why don't you just ask your family and friends to join on a video call? Ask everyone to dress up and let them in on the secret, tell your partner we're all having a big family dinner, so she will dress up too without any suspicion. And you can propose on the video call, and afterward, everyone can pour their favorite drinks and celebrate! Sounds fun, doesn't it?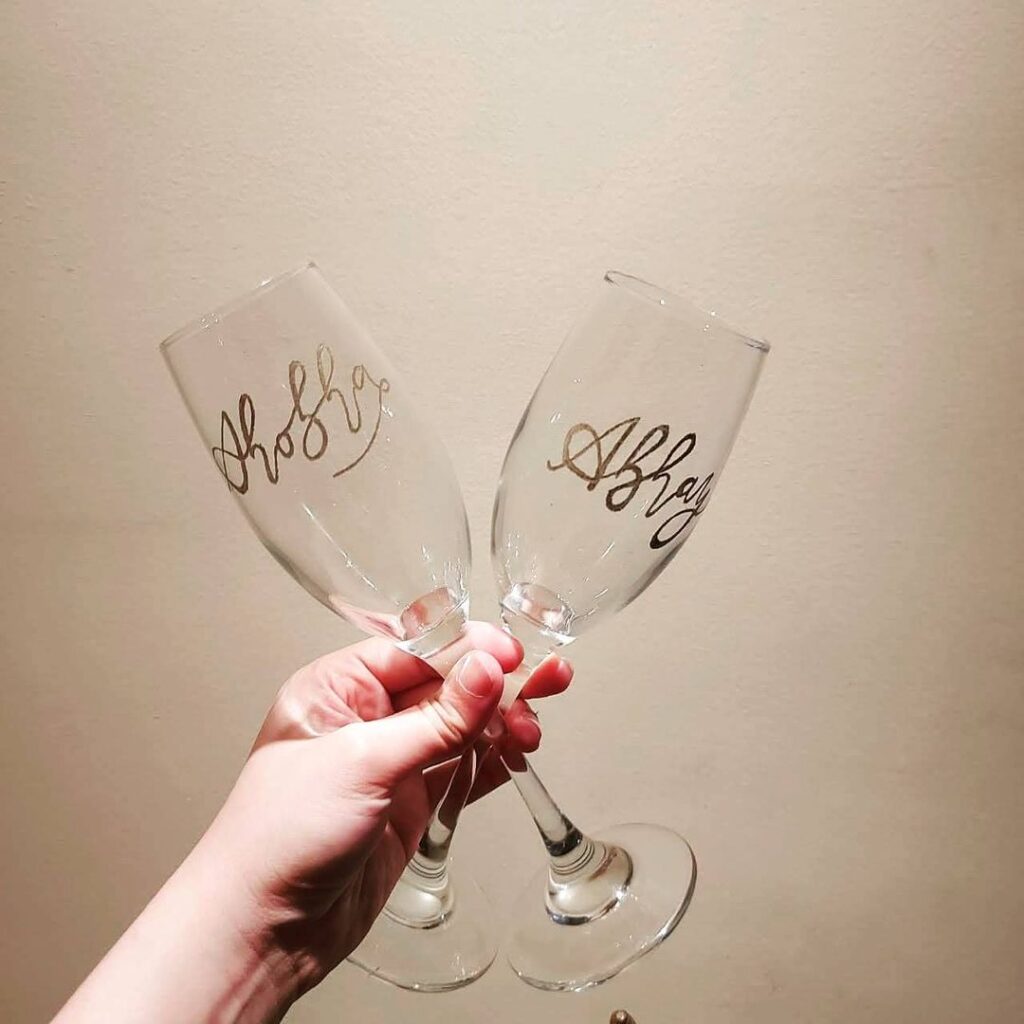 Calligraphy by Pooja Dubey – The Write House
Take A Walk
A safe way to go out is probably for a walk in an area that isn't crowded. On the walk, stop at a destination that's picturesque and special to both of you. If there's no spot that's closer to your home and significant to your relationship, chose a landmark and make it special. You can also take her in a car to watch the sunset at a secluded spot and propose for marriage then and there.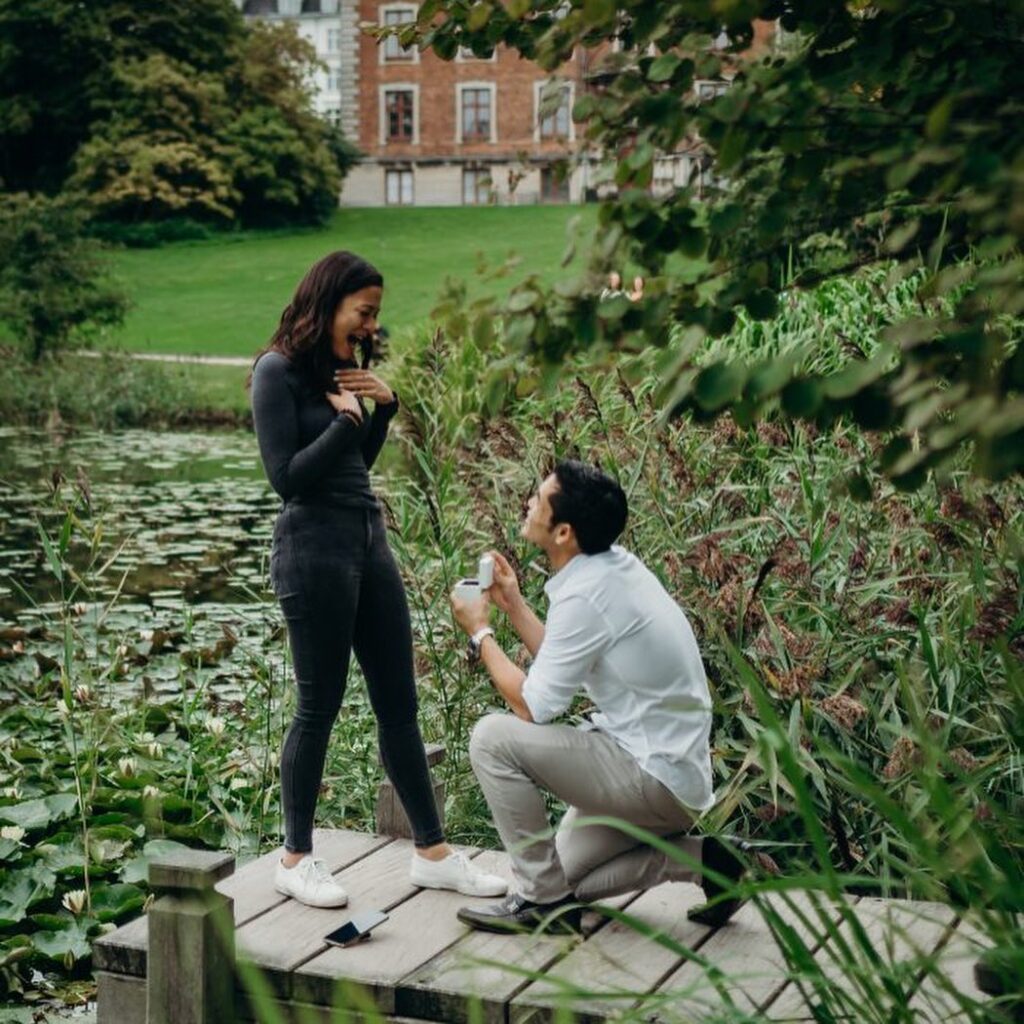 Credits: Flytographer
Propose With Pizza
Pizza + Movies has been one of your favorite ideas for a stay-in date night. But if there's ever a time to take this cozy idea up a notch, it is now. You can easily bake a pizza at home for her, or order in from her favorite restaurant. After it has arrived, you can write the magic words using a black sketch pen on the box or use the ketchup or your favorite hot sauce to write it on the pizza. After she says yes to your delectable at-home proposal, enjoy the meal with celebratory champagne on the side.  
P.S.: Only romantic if pizza is significant in a couple's relationship.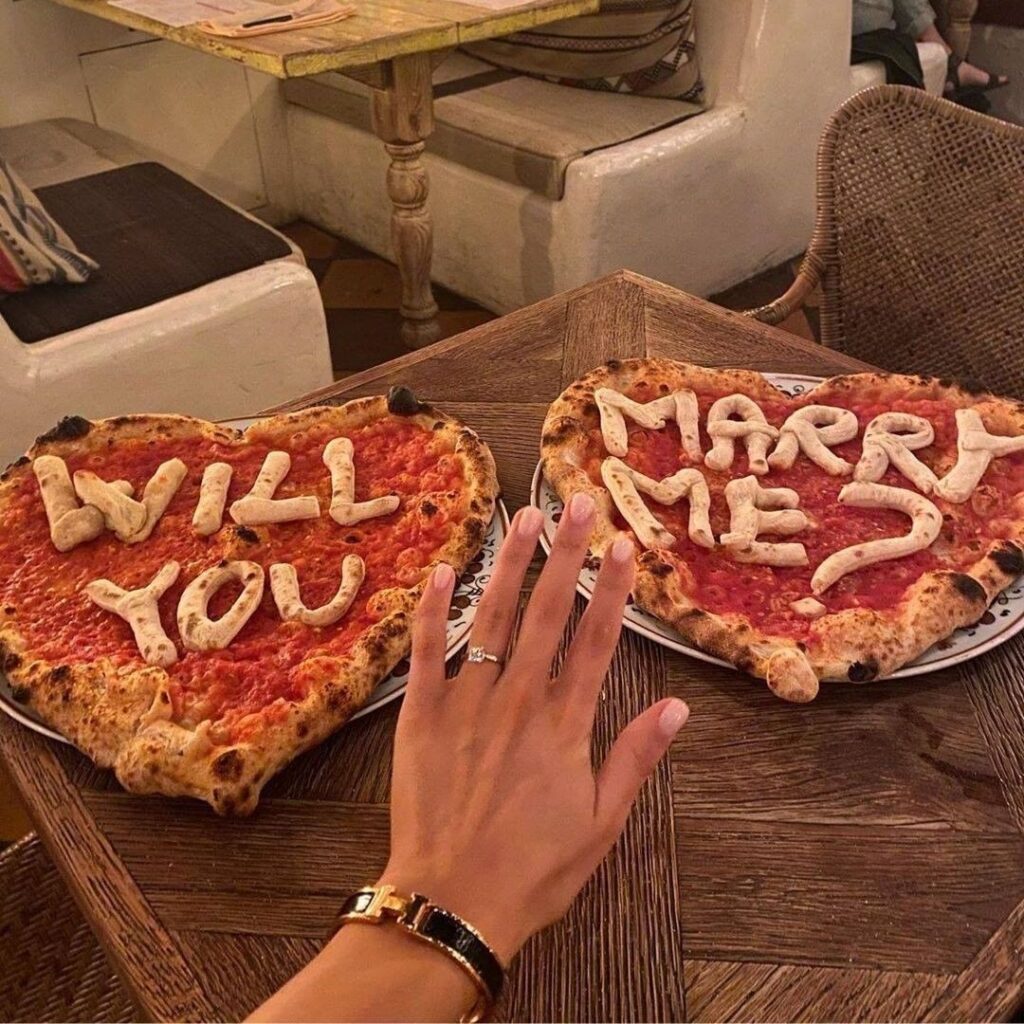 Decorate A Corner With Hearty Balloons
If you don't want to break the surprise as soon as she enters the room, and instead want to take your sweet time building it up, this simple and elegant idea is for you. Pick an empty room in your house, and put some heart-shaped helium balloons on one side (where you'll be proposing), and scatter some balloons on the floor. Pinks, whites, reds, and goldens are your best bet. You can also install a camera stand to capture the beautiful moment. Once she has said Yes, have fun taking some beautiful snaps in this colorful setup.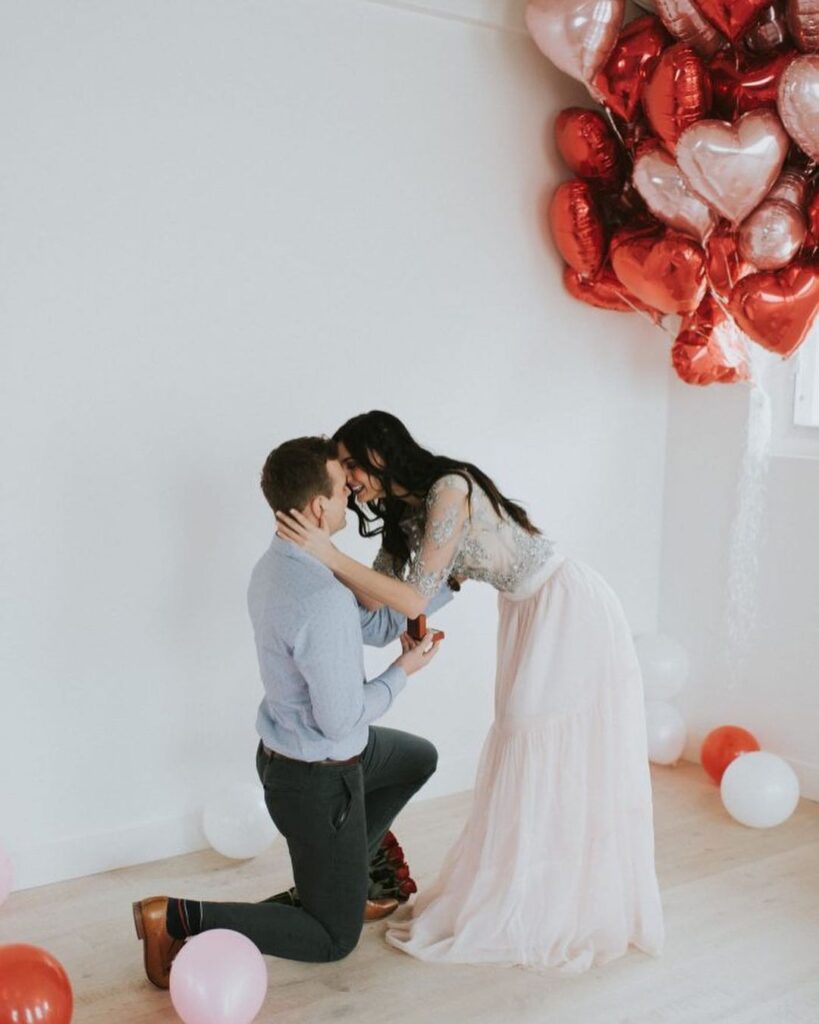 Photo: Corbin Ballard Photo, In-Frame: Sydney Stagg Glen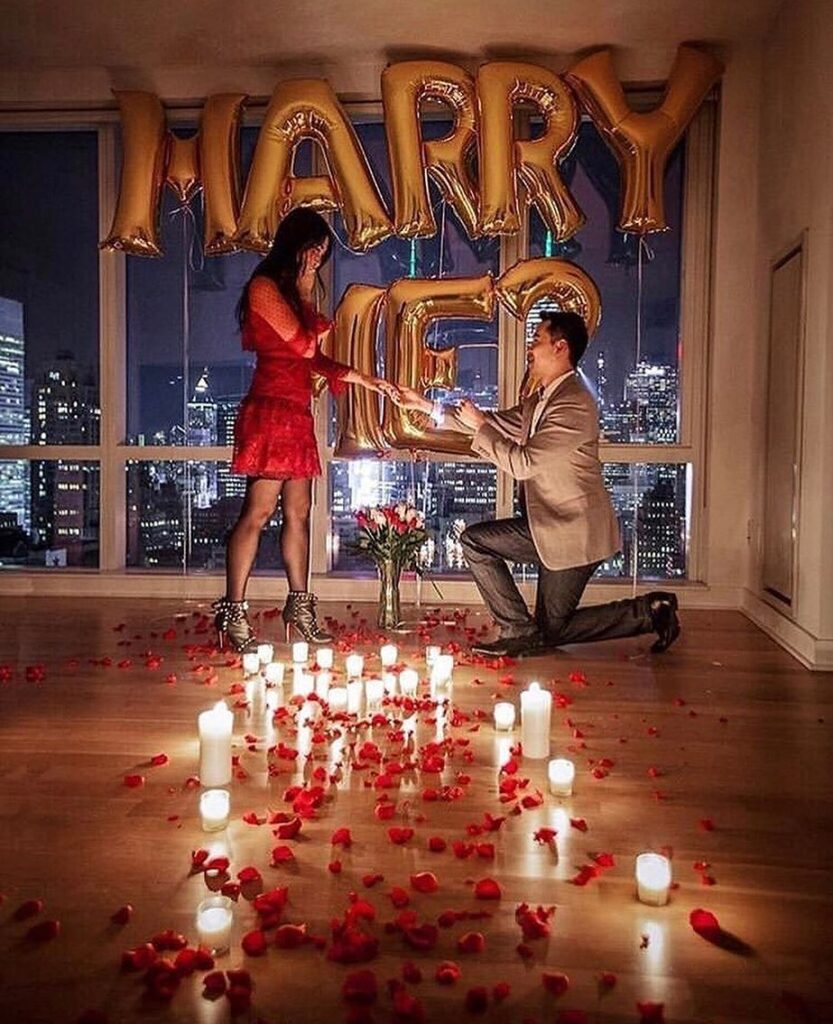 In-frame: Tina Lee
Get 'Marry Me' balloons here and heart-shaped balloons here.
Bedeck Your Bedroom
Your bedroom is the place where you've spent the most special moments of your relationship, so why not add a milestone one here too! A decked-up bedroom with a 'Will You Marry Me?' sign, rose petals, candles set the mood just right for a super romantic at-home proposal and she'll appreciate all the effort you've put into making the moment magical.
Get the 'marry me' balloons here, heart-shaped balloons here, and candles here to have all you need to plan this amazing at-home proposal idea.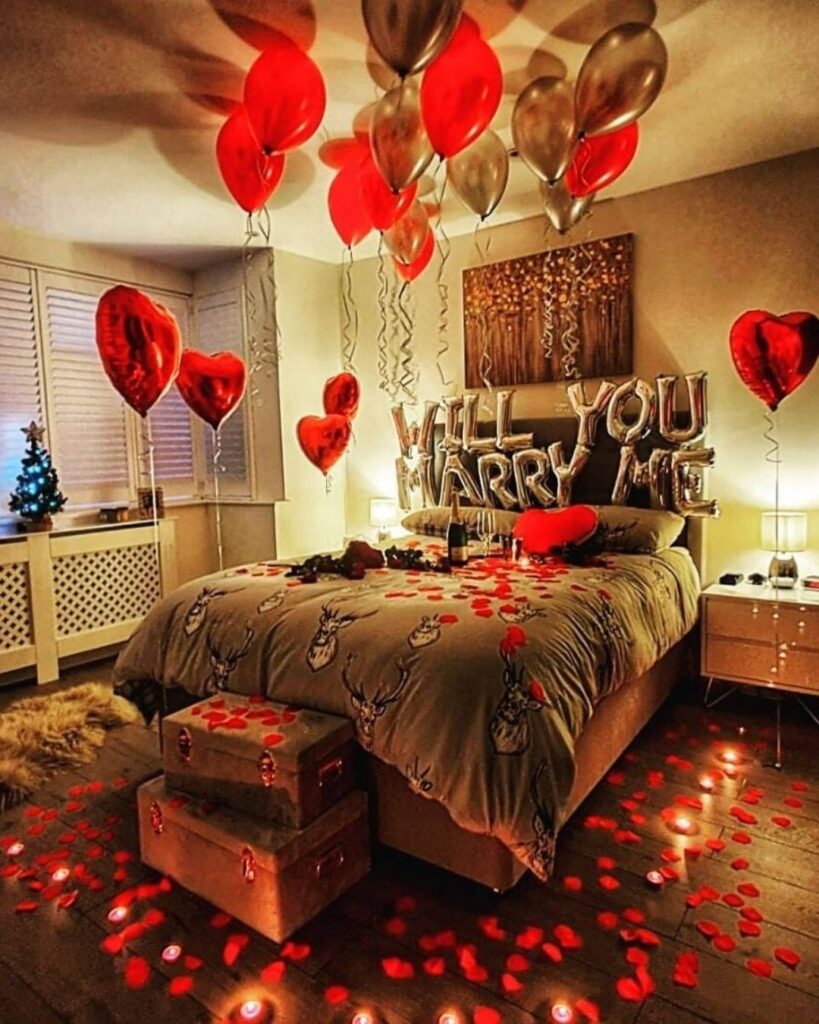 Via: Simona Spagnoli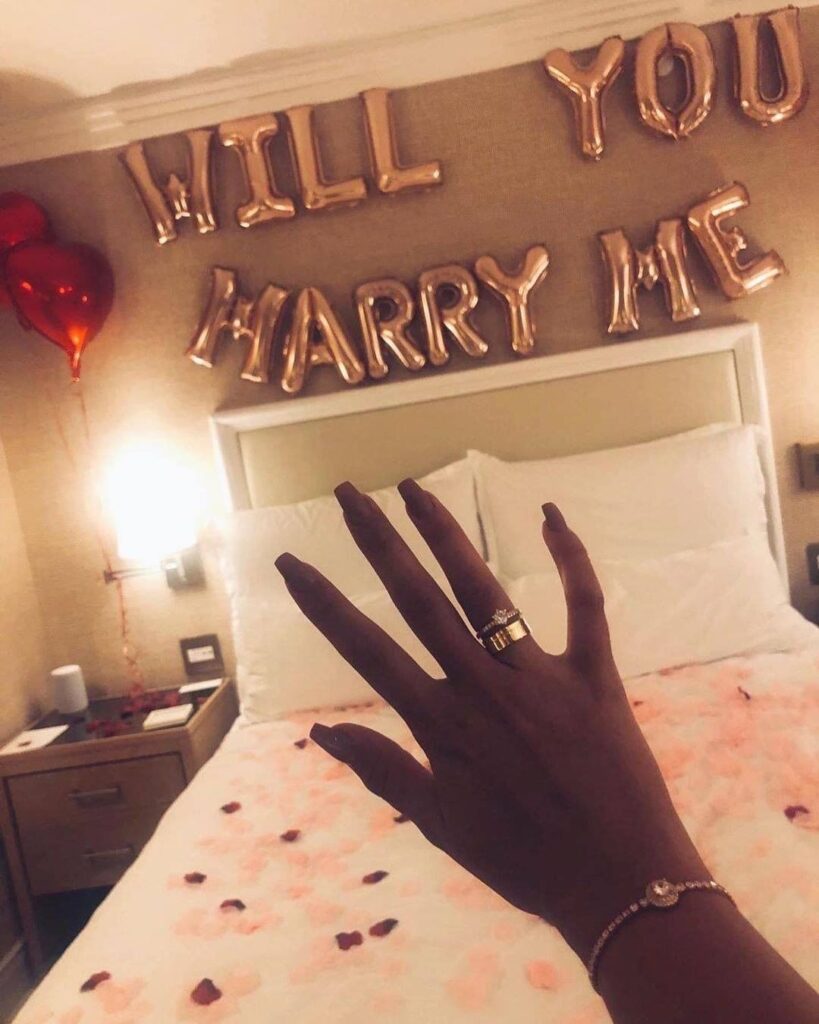 Ring by Vivadoro, Congrats to Mariana Borges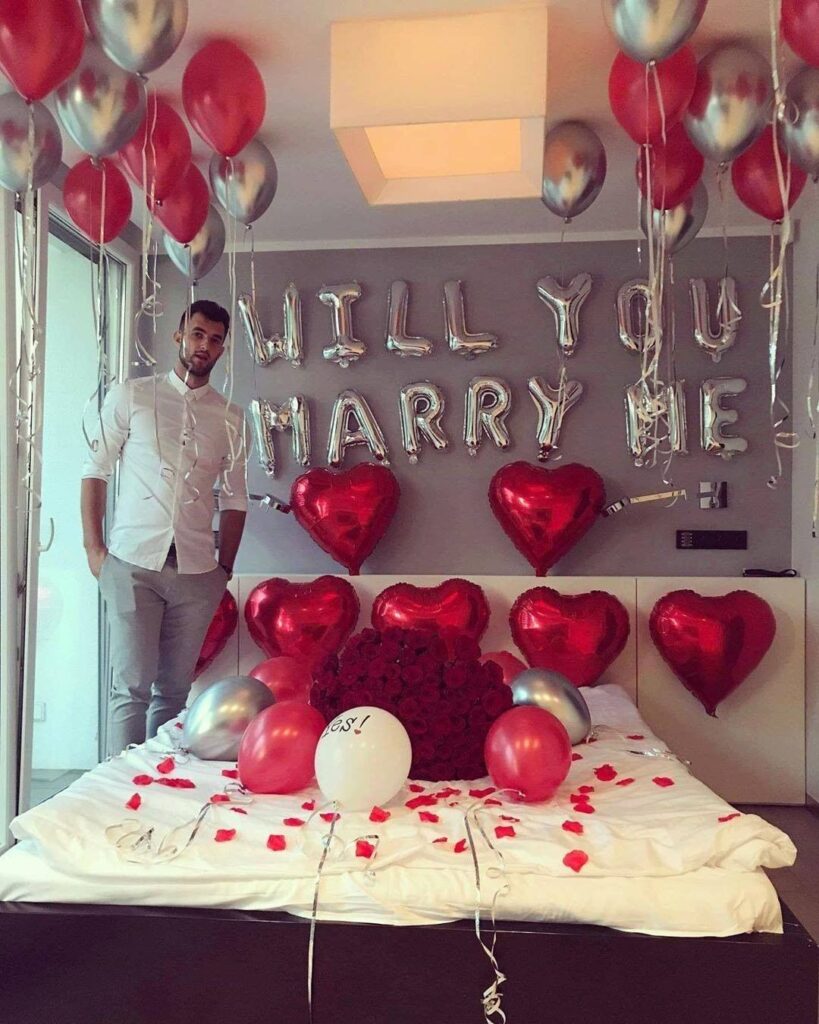 Congrats @ludwinek
Get 'Marry Me' balloons here and heart-shaped balloons here.
A Romantic Evening On The Terrace Should Do It! 
It's the season of rains and winds in India. Make them your BFF and idyllic backdrop of your wedding at-home proposal. Take her on the terrace, say something nice like, 'let's make a date night today, we'll go to the terrace, enjoy the weather, and come back and have your favorite meal'. This way she'll dress up without suspecting anything and when you're rejoicing in the mother nature's cloud cover, pop the question. xD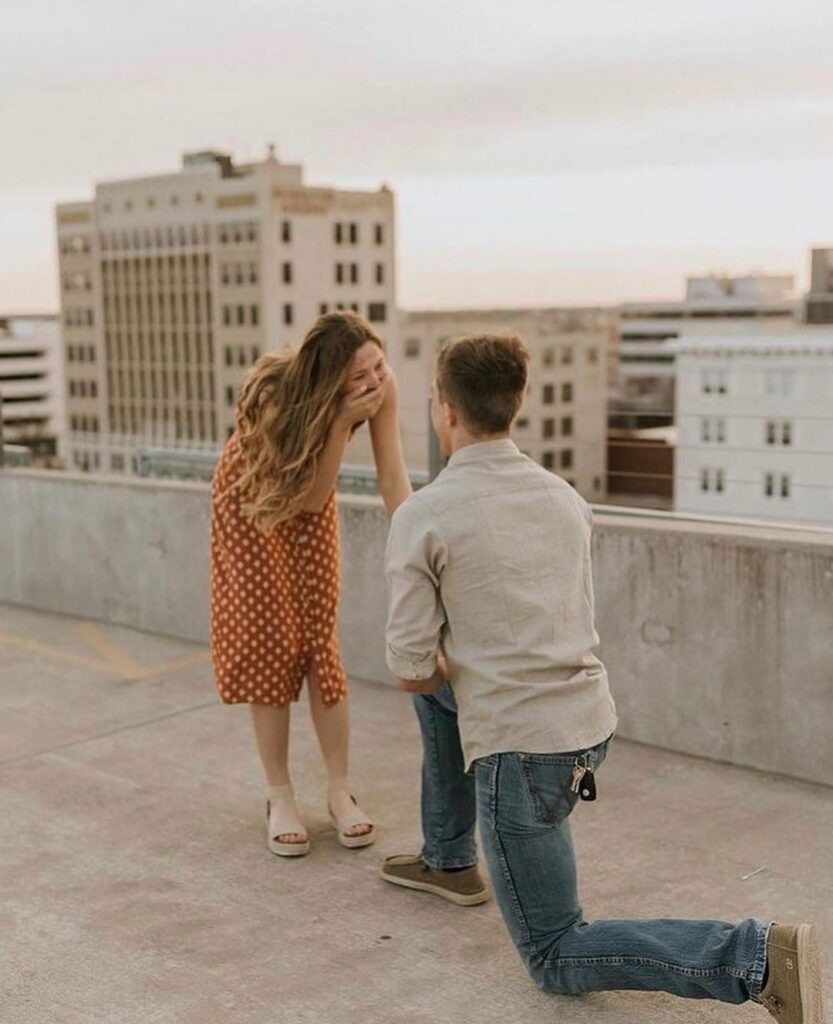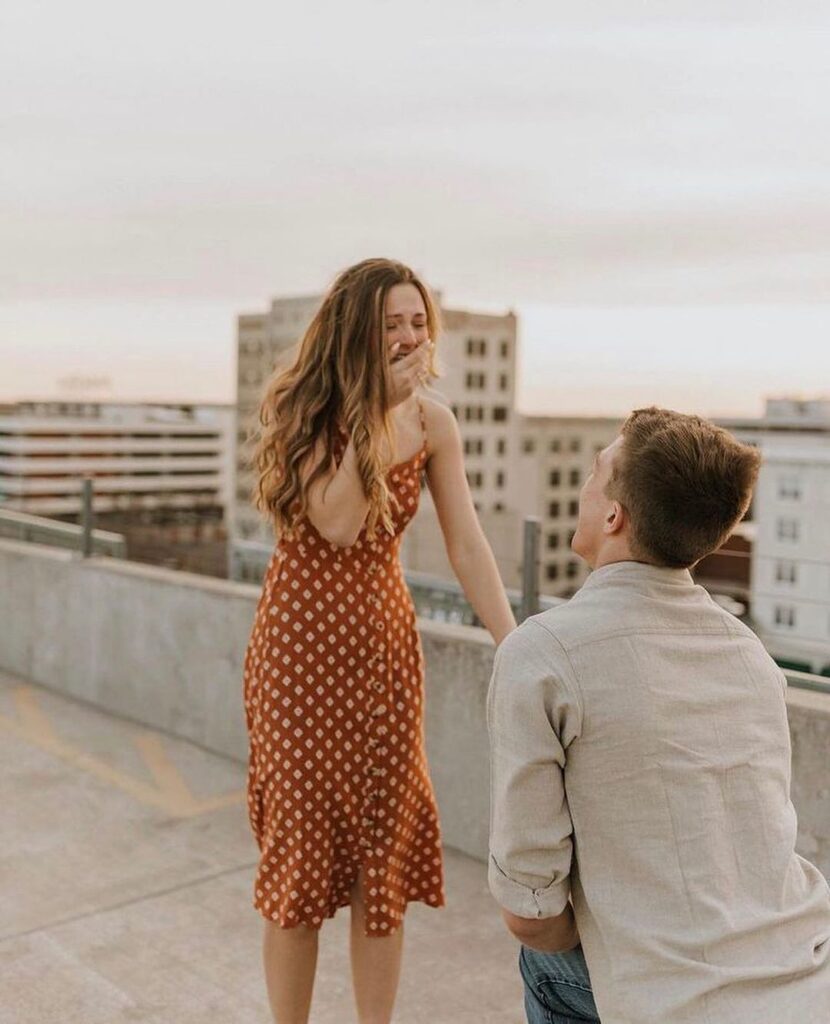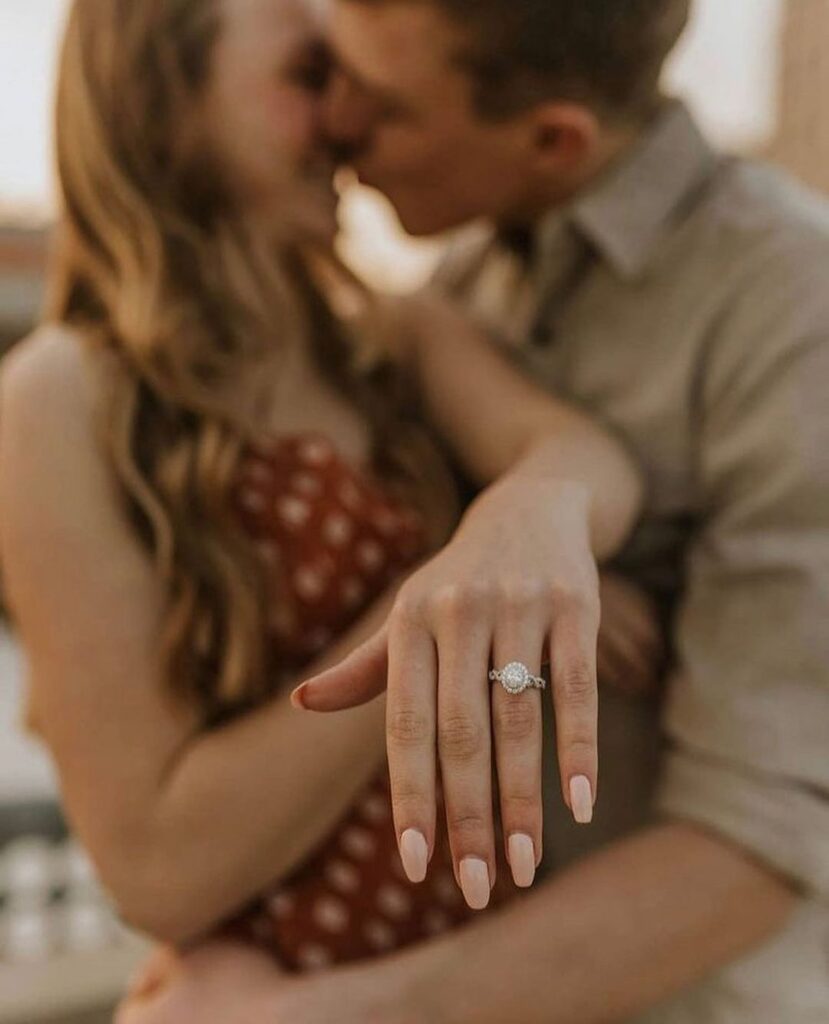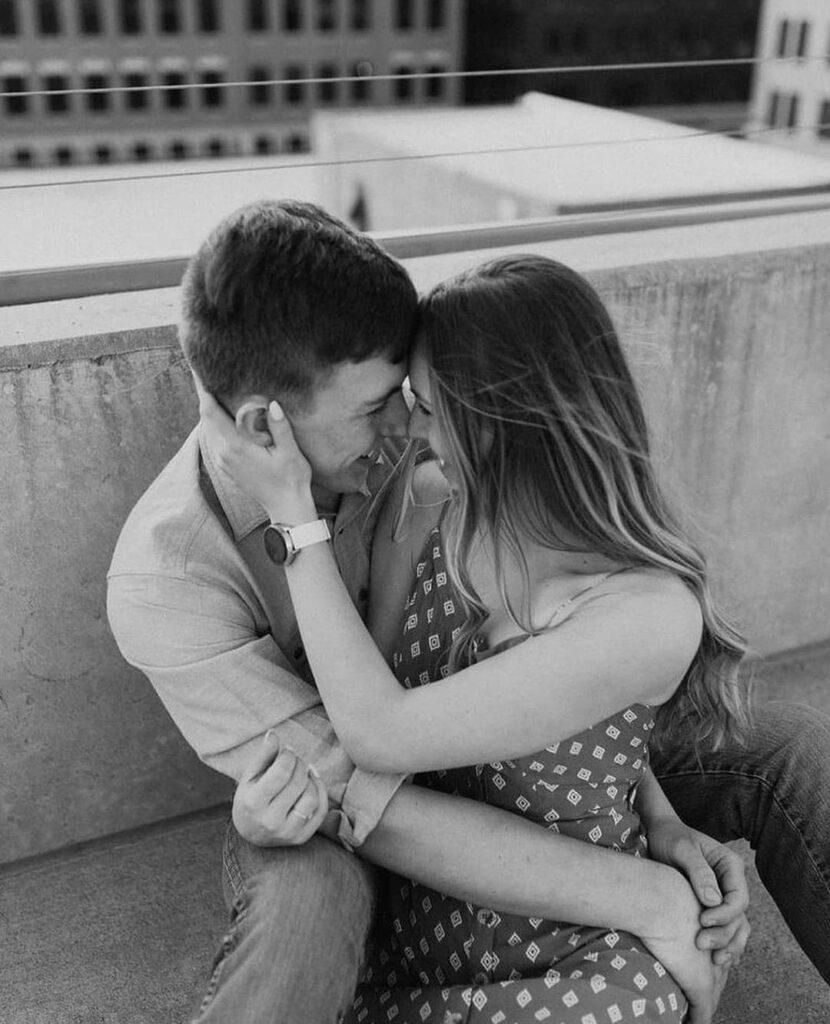 Photo: Mackenzie Gardiner Photography, Happy Couple: Zoe Alexandra & Andrew
At home, you're in charge of things – the decor, the creativity, the moment, etc. Plan it to be as glamorous or as demure as you'd like it to be! We'd love to hear how it all went, and add your pictures and story here. Feel free to reach out on our email or Instagram. Waiting to hear your dream proposal stories!