Just because Kate Middleton did her own makeup on her wedding day, doesn't mean you have to try your hands on the bridal makeup yourself too. Also, keep in mind, the future Queen had an army of experts to help her bestow with the required makeup skills and had no budget restriction on trying any quality products so she has the perfect makeup box ready on the big day. 
Having said that, hiring a professional hair and makeup artist is absolutely worth it. Even if you think you're a pro with your favorite eyeshadow palette and can create a photogenic flawless base, there are a few things that experts infuse your makeup look that's hard to replicate. They'll know how to keep your bridal makeup stay put all day, create defined features using the strategic placement of highlight and contour, and can turn any beauty inspiration saved on your phone into reality. Obviously, all these skills come at a price and can shake your wedding budget if not planned right. Here's our estimate on how much a bridal makeup and hair artist charge:
How much does bridal makeup cost?
Bridal makeup can cost anywhere between Rs.15,000/- to Rs.45,000/- in India. Some of the best and brightest in the field might go a little higher than this. Most makeup artists' charges fall between the 20,000 to 30,000 price range and we bet you can find your ideal vendor within this price range. This number is just for the wedding day, the price is generally the same for sangeet, and a little lower for mehendi. A few makeup artists also offer a package if you book them for the complete wedding. 
If the price seems a lot to you, remember that makeup that enhances your beauty and aligns with your bridal look vision will only be achieved by a pro in the field. They have spent years perfecting their art, and their expert acumen knows all the beauty tricks there are and how to employ them wisely. They'll ensure that your eye makeup doesn't budge during emotional moments of the ceremony and the lipstick stays on till the pheras. 
Further, the makeup artists bring their own high-end cosmetics for the big day. If you total the price of them all, it can easily reach a lakh or more. With these quality, tried-and-tested tools, they can seamlessly give a bridal look you've been dreaming of. 
And, of course, hiring a professional isn't an everyday thing. A wedding is a perfect excuse to pamper yourself. While you can easily do the mani-pedi at home, there's a certain pleasure to get it done by a salon professional and come out all relaxed afterward. The same thing goes for a bridal makeup artist. Having a professional glam squad to tend to you will make you feel like a pivotal person on your big day – just as it should.
Another plus point of having a professional hair and makeup artist on board is you don't have to worry about your beauty look at all! They'll get you ready looking all gorgeous and glossy just in time for the ceremony. You definitely don't want to be running late because the pressure of time abiding made your eyeliner uneven. The vendors are, however, used to it and will have you ready just in time.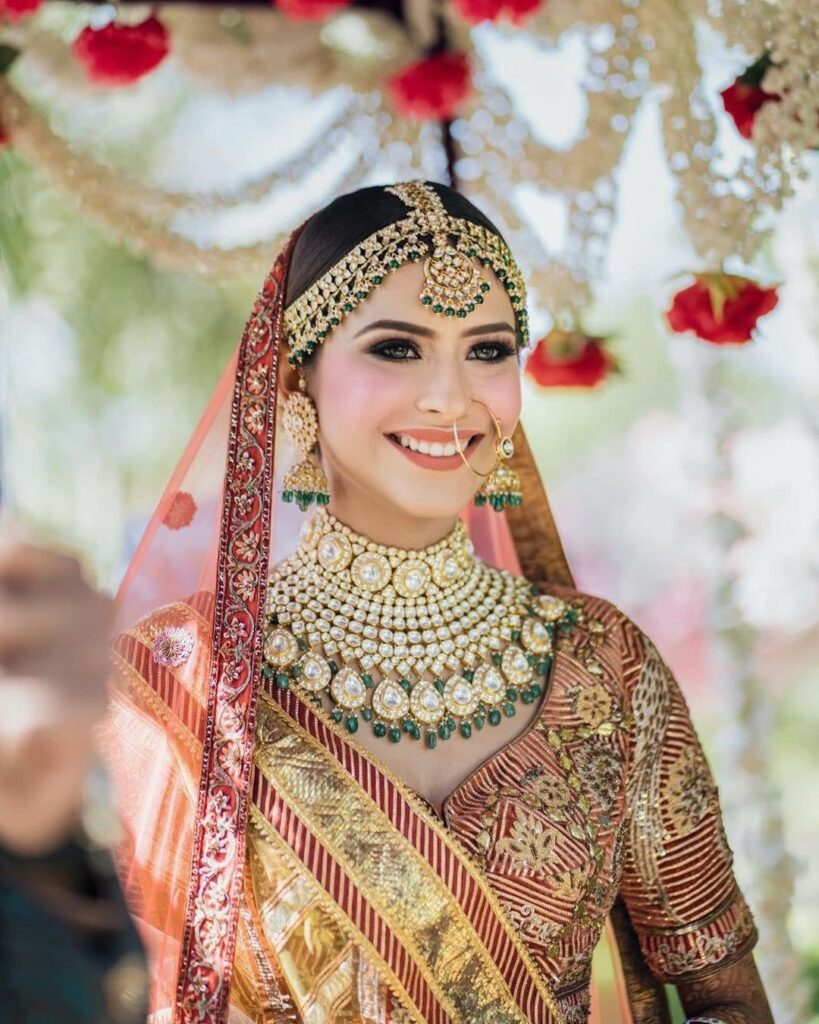 What does bridal makeup include?
Here's what all bridal makeup artist charges include: 
Bridal Makeup

Lash Extensions

Hairstyle

Nailpolish Change

Draping

Hair extensions

Hair accessories
The inclusions can differ for each vendor. 
What are the types of bridal makeup?
There are two major types of bridal makeup: Airbrush makeup vs HD makeup. Which one you want to go for depends on what type your hired vendor specializes in and your own personal preferences. While both offer flawless, spot-on base makeup, there are a few key differences. HD makeup gives a more natural finish than airbrush makeup. The latter also requires mastery and any MUA with airbrush skills will charge a lot more than the one who does HD makeup. Next, airbrush makeup is better suited for women with oily skin, and those with dry skin should stay away from it. Lastly, airbrush makeup does last a tad bit longer than HD makeup. It's best to go for a trial session before booking so you know which one works better for you! 
Do I need to hire a separate bridal hairstylist?
Makeup and hair are a different ballgame altogether. Not all makeup artists take a course in hair too; a few might be able to do a simple hairstyle. Although, on the wedding day, a simple, basic hairdo won't work. Makeup artists generally offer a complete package that includes hair. They will bring a hairstylist along with them to masterfully create the hair look you envisioned for your big day. 
Alternately, you can also hire a separate hairstylist for yourself. Inform the makeup artist beforehand, because that might lower her final prices. Many hair artists have their own page on Instagram now and you can have your own curated beauty team on board to glam you up on your wedding day. 
Are travel and conveyance charges included in the total cost? 
If the vendor you're hiring is from the city, then, in that case, they probably won't be charging anything extra for the conveyance. If you're having a destination wedding or hiring someone from outstation, then you'll have to pay extra for the travel and conveyance charges. Some pro makeup artists have their own salon, and doll up their brides in there. It's best if you read the tariff charges and ask any of these questions right on your first conversion to avoid any confusion later.  
What are the charges for family makeup?
In India, along with the bride, the relatives need a lot of pampering too. Included in their long list of demands is the wedding makeup, all paid for and expertly curated. To give you a rough estimate, a makeup artist can charge anywhere between Rs.1500/- to Rs.5000/- per person for guest makeup in India. For your mother, sisters, and close bridesmaids, if you want to hire a quality makeup artist, the price will lean more towards the higher end of the bracket. Often, the MUA you hire will have someone in her circle who can help you with family makeup services. Just ask her for help with the references. Alternatively, you can also hire your trusty parlor vali aunty.