A Hawaii honeymoon is a dream of many couples! Breathtaking views, golden-sand beaches, unmatched luxury, and a happy vibe are just some of the reasons why newlyweds choose Hawaii as their honeymoon destination. But which Hawaii island is best for a honeymoon? There are a total of 137 islands in Hawaii. That's right! But only 7 of them are inhabited. Out of these 5 are the most popular, and the best ones to choose for your Hawaiian honeymoon. 
It's difficult to give a straightforward answer to which Hawaii island is best for the honeymoon because each one has its own pros and every couple has their own preferences. Some might love the hustle & bustle of the Hawaii Island and Oahu, others might enjoy the lush locations and less big-city vibes of Maui and Kauai, while a few will absolutely adore the privacy of private island Lanai. To help you sort out, we're including the best features and attractions of each of the top 5 Hawaii islands so you can decide on which Hawaii island is best for your honeymoon. 
#1 Maui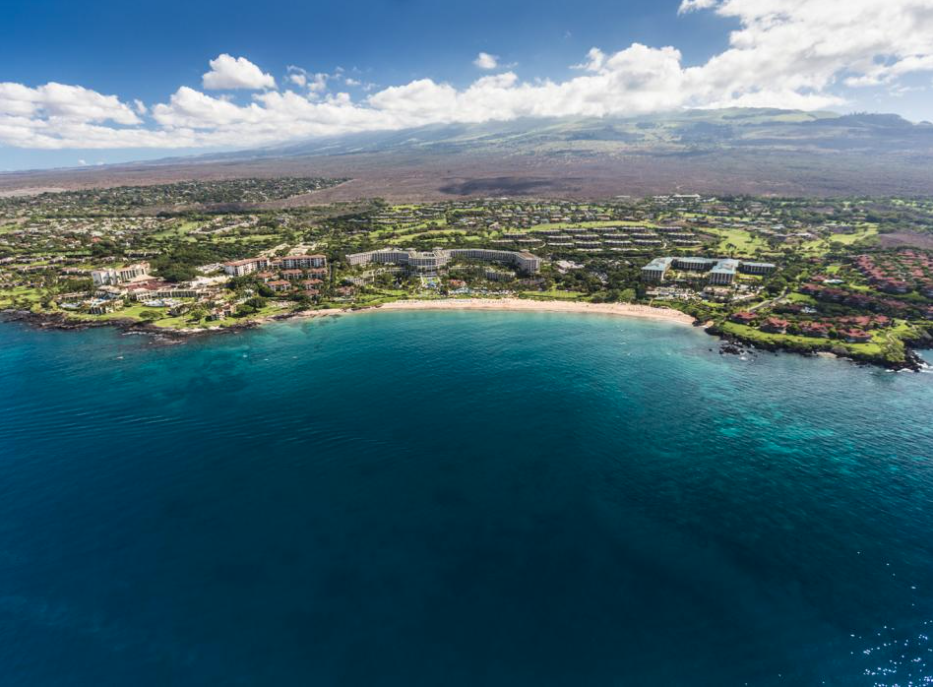 Out of all the Hawaii islands, the one that's most recommended for a honeymoon is Maui. The beauty of Hawaii blends with the local culture to give an immersive experience to the visitors. For over 17 years, Conde Nast Traveler has ranked Maui as one of the best islands in the world. Once you experience the lush greenery, black sand beaches, breathtaking volcanic landscapes, and emerald beaches, you will understand why it deserves the title. 
It's the second-largest island in Hawaii, and third-largest in terms of population, with a total population of 144,444. As per the data recorded in 2016, it accounts for a quarter of Hawaii's tourism and received around 2 million visitors who spent ~ US $3.5 billion on the island alone. The island caters to honeymooners on every budget – from the super-rich to the affordable. Many popular resorts offer suites in every range so as to cater to every couple and make their Hawaii honeymoon dream come true. 
Main Attractions:
#1 Catch The Sunrise At Haleakala National Park
The Haleakala National Park covers 25,000 acres of the area around the inactive volcano Haleakala. This is one of the most visited places in Hawaii and you can find it crowded almost any time of the day – particularly during sunsets. Not super crowded where you can't enjoy privacy, but yes, you will be able to see people at wide distances. 
The National park has panoramic views and an eye-catching up & down landscape. You can stroll around here hand-in-hand or hike to the summit for some gorgeous views from the top. If you want to avoid the crowd, then come around sunrise to enjoy the scenery. You can take a guided tour around the park to know more about the popular attractions like the pools of Oheo, Makahika, and Waimoku waterfalls, Hosmer grove (for bird-watching), etc. 
#2 Take A Road Trip To Hana
Hana is a scarcely populated town in Hawaii and is known for its untouched lush vegetation and spectacular views. The Hana road, which is roughly 40 miles and takes around two and half hours, will pass through some beautiful waterfalls, rainforests, and idyllic fields. However, a one-way bridge means that the round trip takes about 4 hours. However, you can make several stops around scenic attractions along the way. We'd recommend keeping only a road trip to Hana as the excursion on any given day as it will be a tiring (yet fulfilling) activity. 
#3 Beach Time
Maui is packed with many picturesque beaches – each with it's unique USP. There's the Wailea beach, best known for the upscale private resorts. Then, there's the Makena beach which is quite underdeveloped and secluded so it's best for romantic strolls but not for diving or swimming without supervision. There are also Lahaina and Kaanapali beaches which is bustling with activities and fun sports like jet skiing, golf courses, etc. You can also find many restaurants and shopping places along the shore. 
#4 Go For A Sunset Cruise 
Sunset cruises are quite popular in Maui – for couples and other large parties as well. You can choose from a wide array of options. Some even provide a privately curated experience to couples where they can enjoy a dinner by the front of the ship's deck accompanied by live music and tropical cocktails. Most cruises offer all-inclusive packages that include dinner and cocktails as well. 
#5 Explore The Old Hawaiian Capital
Wanting to spend a lazy afternoon? Pick the old Hawaiian capital, Lahaina, as your day of the excursion. Lahaina served as the capital of Hawaii from 1820 to 1845 and is considered the best walking town in Hawaii. The old fishing village has lots of dining and shopping opportunities and beautiful docks perched on the majestic views of the shore. Here, the stunning backdrops will give you plenty of opportunities to click on a memorable photograph. Don't forget to slather on sunblock though as this part of Hawaii is beaming with sunshine and will make you look for a shade more often than not. 
#6 Take A Day Trip To Lanai 
Lanai is one of the most private, quiet, and the most expensive Hawaii island for a honeymoon. If you're traveling on a budget, one of the best ways to explore this island is to take a 1-hour ferry from Maui and return back on the same day. A total of 5 ferries run from Maui to Lanai every day so you can book the ones depending on when you're free. Some of the best tourist attractions in Lanai are shipwreck beach, Munro trail, Manele golf course, and dolphin and whale watching tours. 
Where To Stay: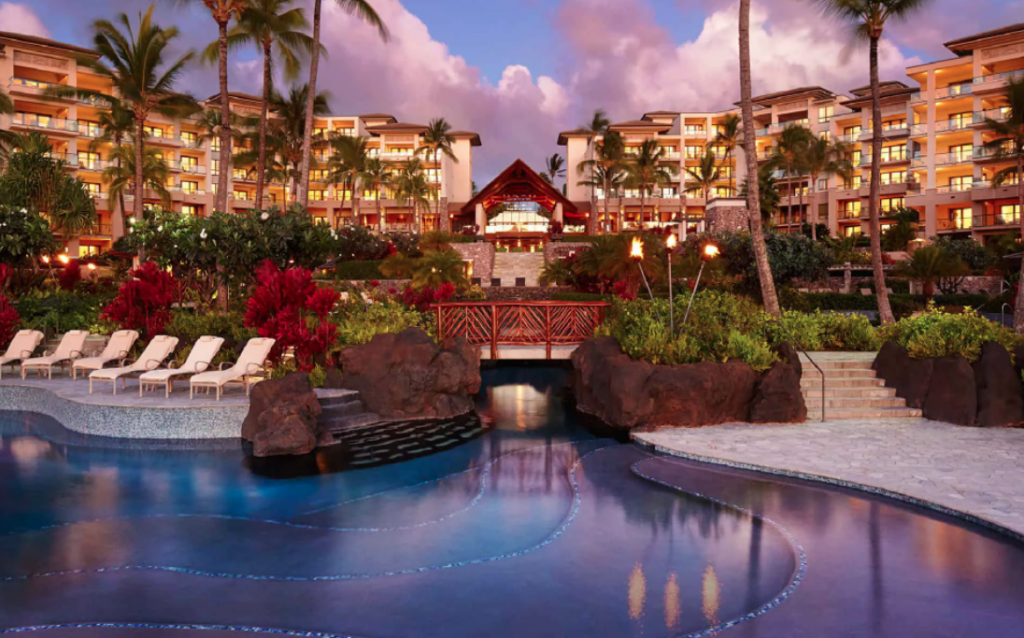 Courtesy: Montage Kapalua Bay
#1 Andaz Maui At Wailea Resort
Get Ratings & Reviews Here
Google the hotel on the Internet, go through the images, and you'll surely experience the island-like zen vibes from the pictures themselves. Set on 15 acres of beachfront, the resort offers neutral aesthetic rooms with modern furnishings, farm-to-table dining, 4 massive outdoor infinity pools, and an eco-friendly spa and salon. For couples, this can be a safe haven because it's near the action of the city rather than in the middle of it – offering all the privacy you'd need on a honeymoon. 
#2 Montage Kapalua Bay
Get Ratings & Reviews Here
Set along the pristine blue waters of the Namalu Bay, Montage Kapalua Bay is where the spirit of Hawaii comes alive. The whole resort is designed so as to give the guests an authentic Hawaiian experience whilst savoring luxury at its finest. Here, you will be treated to residential-style accommodations, live music, tropical cocktails, curated experiences around Maui, and Hawaiian cuisine at its finest with locally-sourced cuisine and super-star chefs
#3 Grand Wailea, A Waldorf Astoria Resort
Get Ratings & Reviews Here
A few things that all Waldorf Astoria Resorts are known for are our unparalleled luxury, authentic local experience, genuine hospitality, and mind-blowing spa treatments. Their 40 acres of lush, tropical paradise in Maui are no different. What's better is that they offer curated and personalized packages for couples that include spa treatments, romantic dinners, and credit towards resort shops. All rooms start at a generous 650 square feet and have their own lanai. If price isn't an issue, opt for the Napua suites which come with their dedicated lounge for snacks and drinks, and a personal concierge. 
#4 Four Seasons Resort Maui 
Get Ratings & Reviews Here
Located on the southern end of Maui's Wailea beach, Four Seasons acquires 15-acres of beachfront land to create its own little paradise on the island of Hawaii. It's the only resort in Maui to receive both AAA Five Diamond Award and the Forbes Five-Star Award. There are many accommodation types to enjoy your honeymoon on any budget – from 600 sq ft guest rooms with a private lanai to 1400 sq ft 1-bedroom premium suite for a truly opulent experience. Explore the resort's amazing experiences like a helicopter ride to an organic farm where you'll handpick the fresh produce followed by an initiative multi-course dinner for two or an aerial tour to a coffee tasting at Bolton estate. 
#5 Hyatt Regency Maui 
Get Ratings & Reviews Here
Spread across 40 acres of Kaanapali Beach, this AAA 4-diamond hotel provides an authentic Hawaiian experience with unparalleled services and amenities. The accommodation has 779 renovated rooms and 31 suites all including a private lanai and has majestic views of any one of the Pacific ocean, Maui mountains, lush gardens, or scenic golf courses. Other amenities include a beachfront spa, a traditional nightly Luau on-site, oceanfront golf gardens, 6 pools, and 5 dining options. 
What's the best time to visit Maui?
The best time to visit Maui is from April to June and October & November. The weather is quite pleasant during this time you can expect to see fewer crowds. You can also get better rates during this time because most people tend to visit during holidays, which is after November. Hurricane season runs from June to November, but it's nothing to deter you from visiting. Hurricanes aren't disastrous – unless there's a warning. Rains are also quite common. Even though Maui tends to be sunny, you can expect some showers any time of the year. So, pack an umbrella with you nonetheless. 
#2 Lanai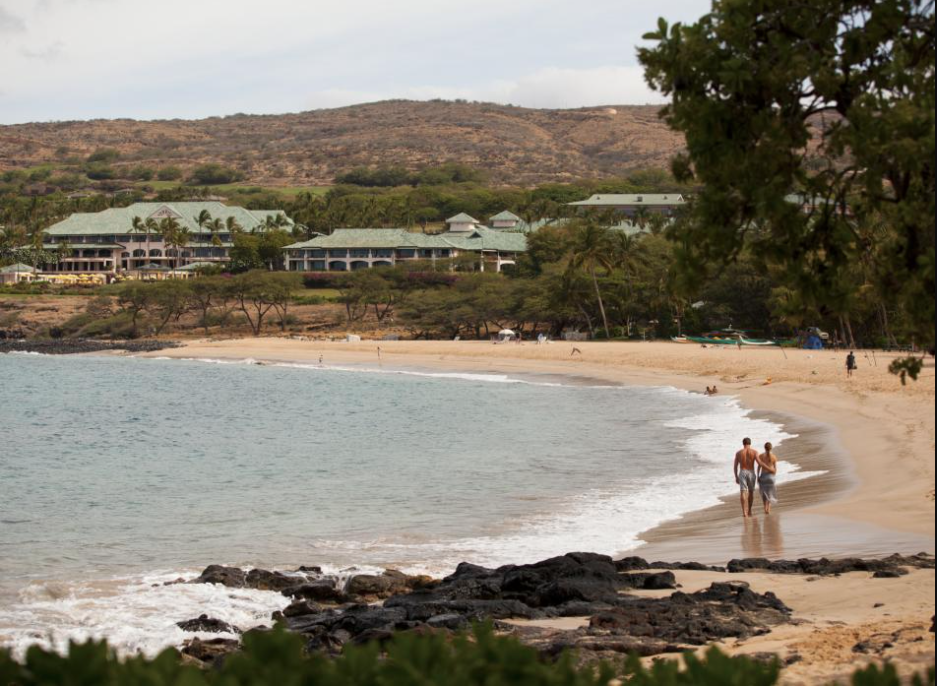 Also known as the billionaire island because 98% of it is owned by billionaire Larry Ellison, founder of Oracle, Lanai is where you can expect to witness the pristine, untouched Hawaiian scenic beauty, culture, and paradise. Ellison purchased the island from David Murdock as he purchased Castle & Cookes' (a real-estate company) 98% shares for $300 million. Murdock bought the island from James Dole in 1995, who owned Castle & Crookes at the time, and was the owner of Lanai since 1922. He grew the island into the world's biggest pineapple plantation until it was phased out in 1992 due to losses. 
The now-owner Larry Ellison plans to build the island with a sustainable power system and renewable energy resources. He has already invested $500 million in the island's infrastructure and environment-friendly efforts. Both of the Four Seasons Resorts on the island, built on sustainability and conservation, are also owned by the Oracle founder. 
Main Attractions:
Explore Lanai City
Lanai city is a very sleepy, relaxed town with a population of just 3000 people and no traffic lights. You can stroll around in the laid-back city and visit some sweet cafes, try local foods, explore art galleries, and purchase some fresh produce from the farmer's market. This is the perfect time to grab some Hawaiian souvenirs. 
Spend Time On Hulopoe Beach
Hulopoe Beach is one of the most gorgeous beaches in Hawaii, and in America. It's rarely bustling with crowds and you can enjoy some private time here. Despite being located at the forefront of the Four Seasons resort, the beach is public. Here, you can snorkel to see some colorful Hawaiian fish and local sea life. If you don't want to get wet, there are also tide pools at Hulopoe Bay Beach Park where you can see starfish, sea cucumbers, Barber Pole shrimp, etc. Keep an eye out for spinner dolphins who play around the bay too! 
Visit Garden of Gods
Don't let the name mislead you – there's nothing lush and green about this garden – what it's popular for is the uniquely shaped boulders. This otherworldly landscape is the closest you will get to being on Mars. The place would look gorgeous during sunset when the warm sun rays hit the ground. Although, prepare to get dirty as the place gets quite windy and the dirt can stick to your body and clothes. You'd also need a sturdy 4-wheel drive to get around this area. 
Hike Munro Trail
Ellison has banned vehicles up the trail. So you will have to either bike or hike along this trail. While the trail promises some breathtaking views, it's twelve miles and it's important to know the route or you could end up walking a lot longer. You can also join along in a group guided by an expert to hike this trail. 
In Lanai city, there are no shopping malls, no red lights, and no official roads. You will have to hire a jeep and have an expert drive you around. Anywhere you go, keep this in mind. Because of the untouched surroundings, many parts are left just as they are! And you'd need a guide around to keep you away from any unwanted and unsafe hazards. 
Where To Stay: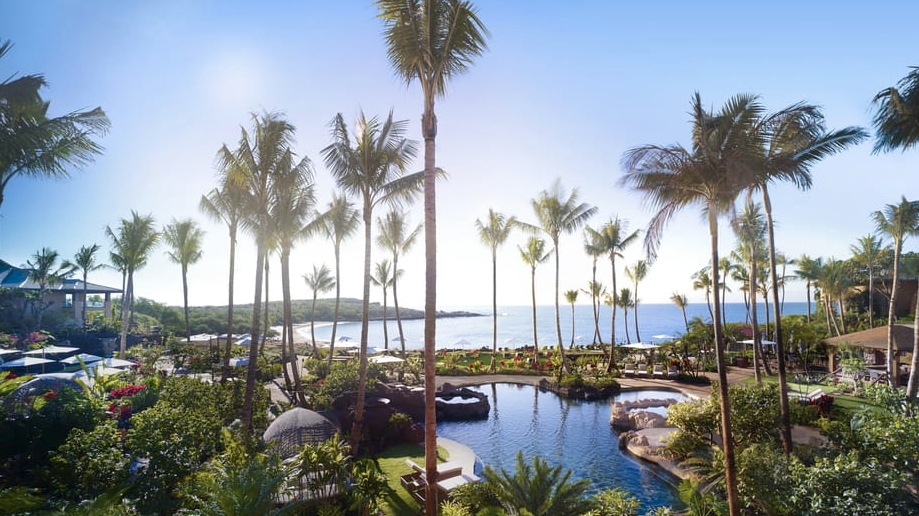 Courtesy: Four Seasons Lanai
Four Seasons Resort Lanai
Get Ratings & Reviews Here
Four Seasons has two properties on the island of Lanai. One is a beachfront resort – which is this one, and the other one is set amidst the prolific Hawaiian greenery and is an adults-only resort, which is the next one, Sensei Lanai. The best part is if you book any of the one resort, you can access the amenities of the other and the hotel also provides a shuttle between the two. The beachfront Four Seasons has modernistic designed 213 guestrooms. Besides the gorgeous accommodation, the resort is also known for its world-class experiences that include botanical gardens featuring many indigenous shrubs and plant species, an 18-hole golf course with spellbinding views of the ocean and rugged cliffs, nine restaurants and bars, a dedicated ambassador who will be there to help you throughout the trip, and other activities like tennis, horseriding, water sports, etc. Despite the hotel beaming with activities and amenities, it's a great resort to just unwind in the secludedness and natural beauty. 
Sensei Lanai, Four Seasons Resort
Get Ratings & Reviews Here
An adults-only luxurious wellness resort, Sensei Lanai is not your typical Hawaiian beach resort but is rather nestled in the lush forests of the Hawaiian landscape. Focusing on wellness – both physical and mental – every guest is treated to a 1:1 consultation and an itinerary personalized just for you. The hotel is best known for its spa, mediation, yoga, and bodywork wellness techniques. With on-site experts, a honeymoon here will be focused to make you reach the highest level of your well-being. 
Hotel Lanai
Get Ratings & Reviews Here
Hotel Lanai is the first hotel to be built on the island in 1923 by James Dole of the Hawaiian Pineapple Company for executives and business people. It was the only hotel in Lanai till 1990. The accommodation has 11 rooms built with wooden interiors and spacious areas. Guests describe the hotel as modern, meticulously maintained, and worth visiting. The hotel also provides cars for hire to explore Lanai's wilderness safely and reasonably.  
#3 Hawaii Island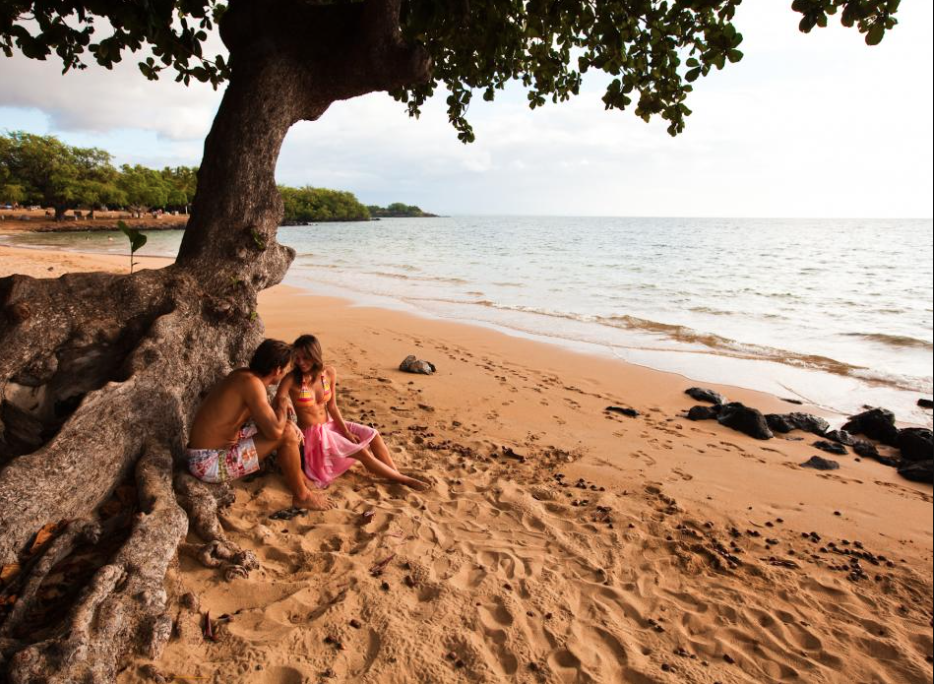 With 4028 square miles of area, Big Island Hawaii is the largest island in the USA but has only 13% of the total Hawaii population. It's also one of the most volcanically active of the Hawaiian islands, also a reason why most tourists visit this island. One of the top attractions is the Kilauea volcano, which has most recently been active in 2018, spewing steam and ash explosions causing closures at the visitor center. That's just one of the things to do on the Big Island though. With many scenic spots, laid-back beaches, water sports, dining options, and local events, there's a chance to curate a honeymoon tailored to your needs on the Big Island. 
Main Attractions:
Visit Hawaii Volcanoes National Park
The Hawaii Volcanoes National Park is home to two active volcanoes. The 4000-foot-tall mountain Kilauea has been oozing volcanic lava since 1983. Various parts of the park are accessible depending on the safety conditions and it's best to check them all before visiting. 
Stroll Around The Hilo Farmers Market
At Hilo Farmer's market, more than 200 vendors gather to sell fresh fruits and vegetables, tropical flowers, handmade crafts, and souvenirs. The market also hosts many special events to celebrate local culture and lifestyle. 
Star Gaze At Mauna Kea
Mauna Kea is Hawaii's highest mountain. The Mauna Kea Observatory is located right on top and is popular among couples for stargazing and unparalleled views. The temperatures are very cold though, and we would advise you to prepare accordingly for the weather. 
See Akaka Falls State Park & Kahuna Falls
These consecutive waterfalls are just a 20 to 30-minute hike away from the main entrance and give some spectacular views of the Big Island. If you're a couple who admires the scenic beauty of nature, this is a must-visit place in Hawaii. 
Admire The Hawaii Tropical Botanical Garden
With waterfalls, orchids, palms, tropical plants, and the Hawaii Botanical Garden is beaming with natural beauty and is home to the conservation of many native flora species. Take your camera because you'd surely want to click and get clicked in these breathtaking surroundings. 
Lounge At The Hapuna Beach
Hapuna means "spring of life" in Hawaii and Hapuna beach is one of the best beaches in the USA. Visited by both tourists and locals alike, the beach is staffed with lifeguards since many tides can create unfavorable conditions. Here, you can just casually sunbathe, participate in water sports, enjoy local food in beach-side cafes, or hike along some scenic trails. 
Where To Stay?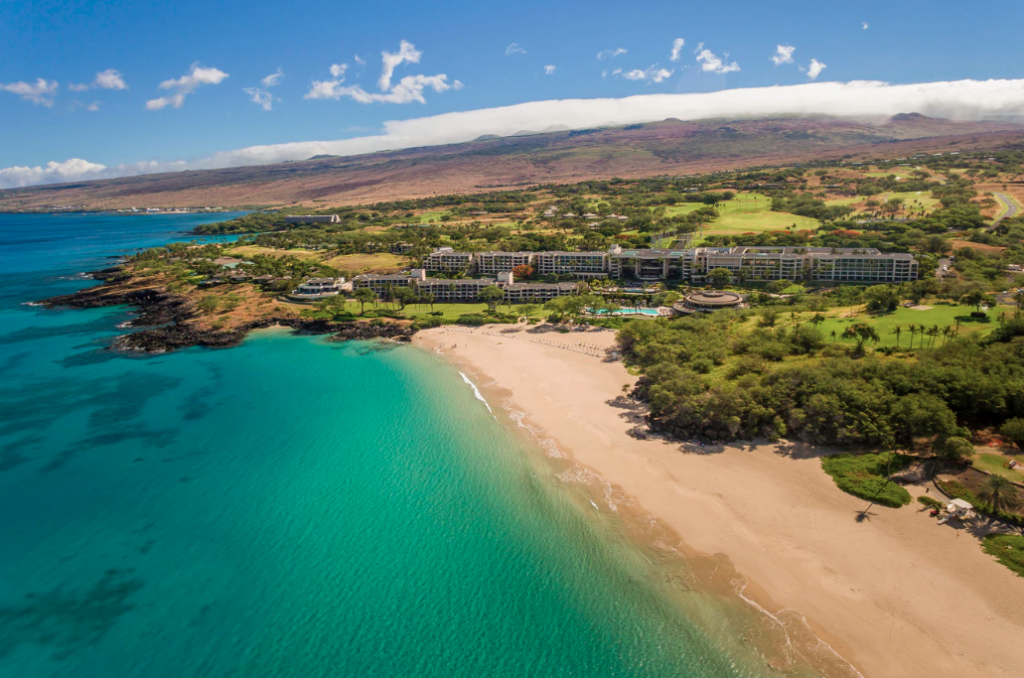 Courtesy: Westin Hapuna Beach Resort
The Westin Hapuna Beach Resort
Get Ratings & Reviews Here
Stretched along its namesake white-sand beach, the Westin Hapuna Beach Resort offers a contemporary style accommodation blended flawlessly with the cultural element of Hawaii. The resort has 249 spacious guest rooms and 17 suites with private, furnished lanais in each for an authentic Hawaiian experience. Additional amenities include an adults-only infinity pool, an award-winning 18-hole Hapuna Golf Course, and four reimagined dining venues. 
Four Seasons Resort Hualalai 
Get Ratings & Reviews Here
Winner of 2010 Tripadvisor's top celebrity honeymoon destination award, Four Seasons Hualalai is an upscale resort on the beach surrounded by black-lava landscapes and white-sand beaches. Spend the day relaxing at the beach, dine at the resort's 5 restaurants, or tickle your adventure buds by signing up for a one-of-a-kind helicopter tour that involves soaring over volcanoes, swimming at hidden beaches, and dining under the stars. 
Hilton Grand Vacations Club Kohala Suites
Get Ratings & Reviews Here
Hilton Grand Vacations Club Kohala Suites is nestled amidst the tropical lush greenery and lava landscape of the Waikoloa village in Hawaii. The resort has spacious two-bedroom suites featuring private lanais, full kitchens, and distinct Hawaii decor. All the hotel guests have access to the amenities at the nearby Hilton Waikoloa Village, which includes beaches, spas, boutiques, and fine-dining restaurants. Staying here is a great way to ensure you're far away from the bustle yet can easily access it anytime. 
Mauna Lani, Auberge Resorts Collection 
Get Ratings & Reviews Here
On the gorgeous Kohala coast of Hawaii, the oceanfront accommodation occupies 32 expansive acres of land and features spacious rooms, 2 spas, 2 golf courses, and a signature farm-to-table restaurant serving local cuisines and seasonal delicacies. Mauna Lani stands for "mountain reaching haven" and signifies the resort's unique location in the midst of five great mountains. Many cultural activities, beach sports, and spiritual training are also offered at this 5-star Hawaii honeymoon resort.  
#4 Kauai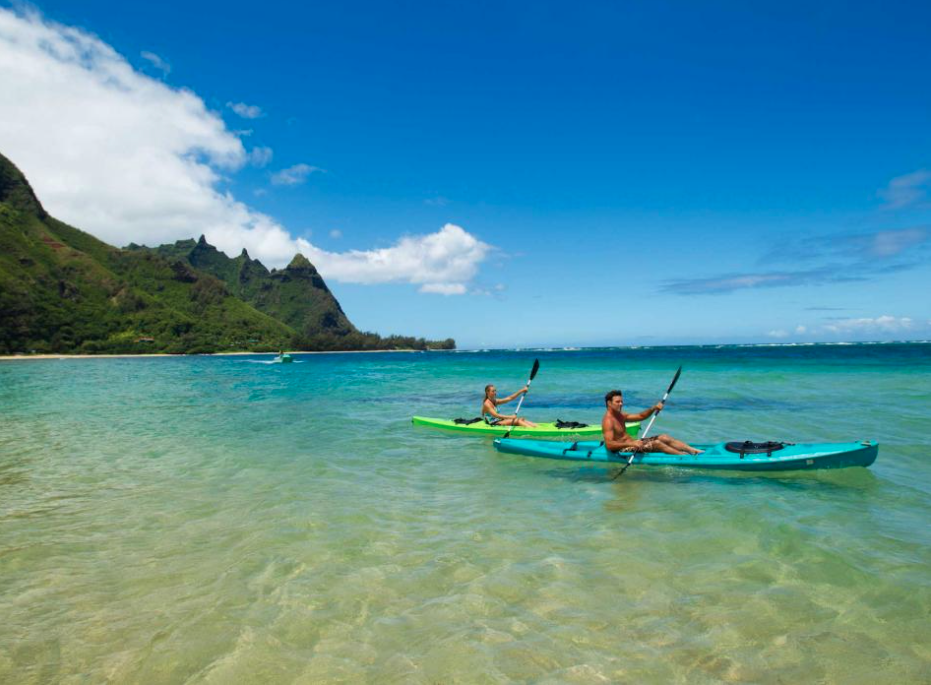 Kauai is Hawaii's oldest island, dating back some 5.1 million years. It's the fourth largest of the Hawaii islands and is also sometimes called the "Garden Island", which is quite accurate of a description given its raw, lush beauty and splendid landscape. Another great part of the island is that there are no roads, and the locals and the tourists like it that way. There's just one highway that covers about three-quarters of the island. Rest, the island is left free and no mountains or forests are touched to create the roads. Preserved pristine beauty, cascading waterfalls, and a total of 60 scenic beaches dot the landscape of this gorgeous Hawaii island for a honeymoon. 
Main Attractions:
Napali Coast State Park
The Napali Coast State Park is a 6175-acre wilderness park in Hawaii. You can explore this area by land, sea, or air. Although, the last two are often recommended because of the steep valleys and taxing trails (because they're untouched). You can take an excursion trip along with an expert to explore the area safely and catch some unforgettable sights. 
Waimea Canyon
Often known as the "Grand Canyon of the Pacific", the Waimea Canyon is a scenic wonder and is one of the most recommended places to visit in Hawaii. Waimea means reddish water in Hawaii, which signifies the area's red soil. Stretching for over 14 miles, here you will witness spectacular waterfalls, deep valley gorges, and green jungles. 
Kauai's Beaches
This Hawaiian island is known for some of the finest beaches with azure blue waters, gigantic palm trees, and pristine white sand. Although, the waves on all of Kauai's beaches are quite strong and you should be aware of current conditions before swimming anywhere. Tunnels Beach, secret beach, anini beach, polihale beach, etc. are some of the beaches to explore.  
Kalalau Trail
The 11-mile Kalalau trail isn't an easy one to hike, but one of the unique experiences in Kauai with some of the best views of the "Garden Island". If it rains, you might have to use some extra gear like appropriate footwear as the path can get slippery. To complete the full 22 miles, you might need to tent and stay overnight before returning. We'd recommend joining a hiking group if you do decide to go on this adventure. 
Where To Stay?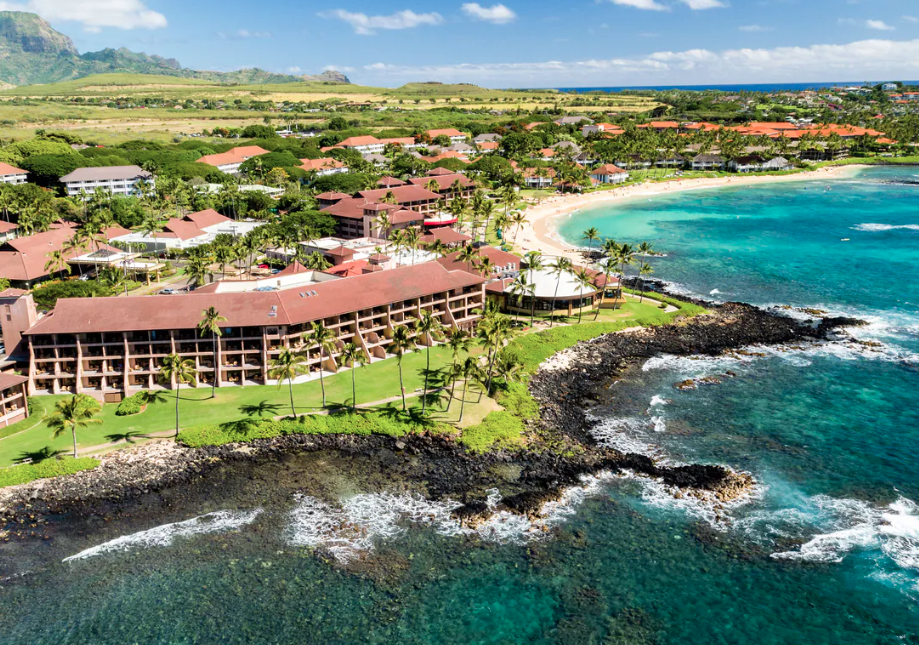 Courtesy: Sheraton Kauai
Grand Hyatt Kauai
Get Ratings & Reviews Here
Unfolding on over 50 acres of lush gardens and on the sunny South shore of Poipu Beach, this luxury resort offers sizeable room & suite options, award-winning multi-level pools, a full-service spa, and six restaurants. Some notable amenities include their restaurant Tidepools – a floating restaurant located over a lagoon with a cascading waterfall on the side, a lava-rock-lined lazy river pool with secret caves and a 150-foot waterslide, and an 18-hole golf course sprawled between lush mountains and rugged ocean cliffs. 
Sheraton Kauai
Get Ratings & Reviews Here
Another scenic resort on the shoreline of Poipu beach is the Sheraton Kauai. The hotel occupies 20 acres of the garden island and offers a good vantage point to enjoy the lush landscape and spectacular beaches of this Hawaiian island. Among the room options, you have renovated guestrooms with modern Hawaiian furnishings. You can opt for a garden view or an oceanfront view. If you have the budget to spend, choose their 1600 square feet oceanfront suite with a separate living area, balcony, coffee maker, and a big bathtub. 
Koloa Landing Resort at Poipu
Get Ratings & Reviews Here
Poipu beach is home to yet another scenic accommodation option – Koala Landing Resort by Marriott hotels. The resort boasts some of the largest room types on Poipu with their lowest range of accommodation being twice as size as other basic hotel rooms. The basic studio rooms offer a kitchenette, full-size washer/ dryer, queen-size sofa, and a furnished lanai. There are also options of penthouse suites providing majestic views of the ocean and the picturesque landscape of Hawaii, and you also have the option to choose from 1, 2, 3, and even 4-bedroom luxurious villas. On the hotel premises, find one of the top 5 pools in Hawaii, a 350,000-gallon signature pool complete with water slides, poolside cabanas, and a walk-through grotto. Also find dining options curated by some of the celebrated chefs of America, 4000 sq ft day spa, 24-hour fitness center, gourmet marketplace, and golf/ soccer/ volleyball fields. 
What's the best time to visit Kauai?
The best time to visit Kauai is in April, May, June, August, September, and early October. Kauai's rainy season runs from December to March, so if that bothers you don't schedule a trip during this time. Although, you can expect some showers any time of the year. Kauai is the wettest island in all of Hawaii, so be sure you bring your wet gear with you. 
#5 Oahu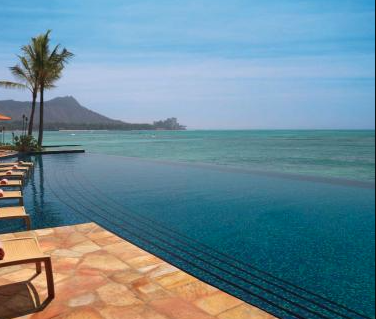 Also known as the "Gathering Place", Oahu is the third-largest but one of the most populous islands of Hawaii, home to over two-thirds of the population of the Hawaii state. Home to the capital Honolulu, Waikiki Beach, Pearl Harbor National Memorial, and some of the world's fantastic resorts, Oahu is one of the most commercial islands of Hawaii and where most of the national and international flights land. There are chances you will be arriving here first too. This Hawaii island is best for the honeymoon because it gives the experience of the Hawaiian culture along with the secludedness in many scenic spots. 
Main Attractions:
Diamond Head State Monument
Diamond Head is a volcanic tuff cone on the Hawaiian Island of Oahu and you have to climb the 760-foot summit to enjoy the breathtaking views from the top. It's one of the favorite activities of the visitors and someone who'd reasonably it can easily hike to the top. 
Pearl Harbor National Memorial 
With 1.8 million visitors each year, Pearl Harbor's historic importance is one of the main reasons why it's the most visited attraction in Hawaii. This is the place of an airstrike by Japan in 1941 which led to the US' involvement in the Second World War. it's one of the most significant sites in the history of America and the entire world as well. 
Explore Waikiki
If you're staying at a Waikiki beachfront resort, chances are you've already enjoyed the lovely beach of the area. But Waikiki has more to offer than just the azure water beaches. There are numerous shopping places in the area, selling everything from local handicrafts to international luxury goods. You can also find many food trucks selling local cuisine at an affordable price. 
Discover The North Shore
If you don't visit the North Shore in Oahu there's a good chance you will miss many of the miracles that this beautiful area encompasses. From breathtaking waterfalls, towering, glassy beach waves, and the old town of Haleiwa, there's a lot to do and explore in this area. As newlyweds, you will be making some unforgettable memories in this area. 
Hanauma Bay Nature Preserve 
With over 300 different species of fish and marine life, Hanauma Bay is a gorgeous wineglass-shaped bay on the Southeastern side of Oahu and around a 30-minute drive away from Honolulu. The bay is quite secluded and is surrounded by lush forests and mountains from all sides. This is a popular area for snorkeling and might be tranquil in the morning, but will be packed with crowds in the daytime. If you want privacy, schedule a trip here in the morning and head back to other adventures by afternoon. 
Where To Stay: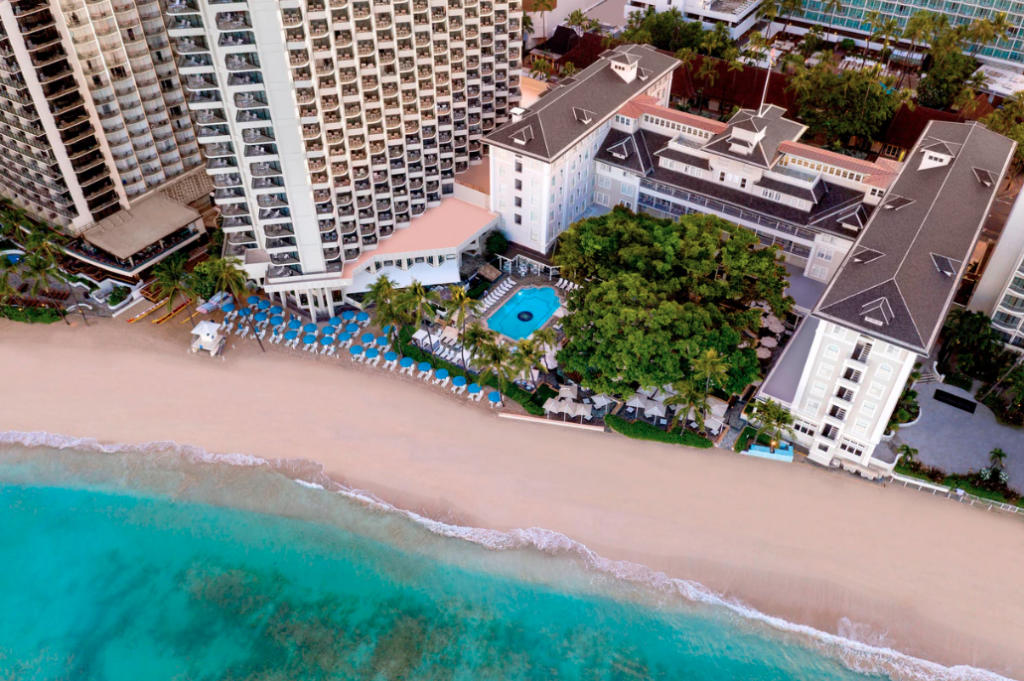 Courtesy: Moana Surfrider Oahu
Four Seasons Resort Oahu
Get Ratings & Reviews Here
Located on Oahu's sunny west coast, this luxurious Four Seasons Resort offers unparalleled luxury, amenities, accommodation, and the comfort you'd need from a vacation – especially your honeymoon. Just unwind and relax at the beach, pools, and lagoons – which the resort is surrounded by! Go on a farm tour with a professional chef and enjoy a multi-course dinner under the stars. Or just spend the day reconnecting with your inner self at their spiritual spa. No matter what the definition of your perfect honeymoon is – it will come true at the Four Seasons. 
Moana Surfrider, A Westin Resort & Spa
Get Ratings & Reviews Here
This historic hotel first opened its door in 1901 and is a seamless blend of Victorian elegance with modern comfort. The hotel is divided into three buildings, and each one offers different styles of accommodations – ranging from local touches to contemporary. Besides the gorgeous rooms, the hotel boasts many amenities like 4 restaurants, a full-service spa with 9 custom massage therapy rooms, and a workout studio.
The Kahala Hotel & Resort
Get Ratings & Reviews Here
The Kahal resort is a luxury accommodation located on a secluded beach and located just 10-minutes away from the world-class shopping and entertainment. This resort is ideal for couples because they're ensured privacy without being too far away from the activities and the bustle of the city. The resort has been popular among presidents, royalty, and many celebrities, and when you go through their scenic rooms, amenities, and beautiful aesthetic, it will be easy to see why! The hotel also offers many stay packages, so do check them before you book.
Hilton Hawaiian Village Waikiki 
Get Ratings & Reviews Here
The Hilton Hawaiian Village resort occupies 22-acres of the widest stretch of the Waikiki beach. Besides the comfortable rooms and suites, there is plenty to do at the accommodation. Unwind at the Duke Kahanamoku beach and lagoon, the world-famous stretch of azure waters and lovely white sand. There are also five sparkling pools, which also include a 10,000 square-foot beachfront super pool and a multi-layered paradise pool. Daily cultural activities include lei-making and hula lessons besides yoga and exercise classes. You can also enjoy water activities with experts on the resort's premises. 
What's the best time to visit Oahu?
The best months to visit Oahu are from April to June and then from September to December. The priciest month to visit is December because that's when the holiday season starts and the cheapest months are February and March when both the flights and hotels rate starts dropping. June and July are also some of the peak favorite months.