A good sandwich is a great way to satisfy your hunger pangs and grab a quick bite. To make a good sandwich, you don't have to spend time on the stove as the sandwich cooks inside the toaster. An electric toaster and sandwich maker does the job for you quickly. You just have to place your favorite filling inside the bread and leave the sandwich inside the toaster to get crispy and delectable. A sandwich maker is a quintessential appliance in the kitchen. So, we have listed the 7 best sandwich makers in India in 2022. Find honest reviews below: 
Price Comparison List:
#1 Borosil Super Jumbo 2000-Watt Grill Sandwich Maker (Winner)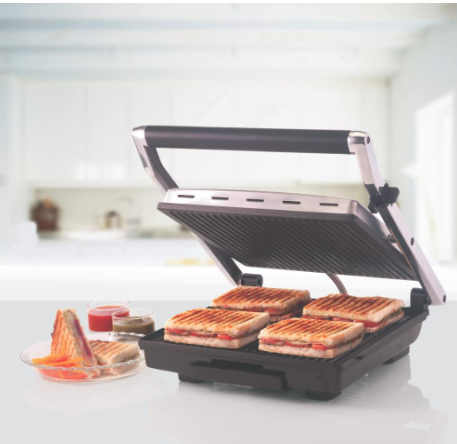 Borosil is an established and trusted brand in India since 1962. With more than 60 years in the industry, their primary market includes glassware, but they have also created a significant presence in the kitchen appliances industry and manufactured products like OTGs, egg boilers, and sandwich makers. Their Super Jumbo 2000-Watt grill is one of the best sandwich makers in India that also supports grilling. With over 3,400+ positive reviews, this is one of the best-selling sandwich makers in India and has over 4.5+ ratings on Amazon and 4.3 ratings on Flipkart. Find the full review of the product below: 
Physical Features & Attributes:
The Borosil Super Jumbo 2000-Watt grill sandwich maker comes in a sleek black and gray color. The outer surface is gray with some parts black and the inner toaster + grill are in complete black color. An elegant look, we must say, to go with your modern kitchen. The toaster opens to 105 degrees and has a grill dimension of 29.5 X 29.5 cm. The item weighs 3.2 kg and has an oil drip collector that you can easily & quickly empty after the grill. Product packaging includes a sandwich maker, an instruction manual, and a cleaning spatula. The product is priced at Rs.4649/-. 
Besides the 105 degrees Jumbo Maker, there's also the availability of 180 degrees Borosil Super Jumbo Maker that can be used to grill, not just sandwiches, but also paneer, meat, and cutlets. It also has some amazing reviews, and you can check that here. 
Benefits & How It Compares To Others:
The Borosil Jumbo Maker can accommodate 4 sandwiches in one go. It's volume makes it convenient when you want to cook for multiple people at one go or have a large family or have guests over a lot of times. The nonstick grill surface makes sure the sandwich doesn't stick to the surface and you can easily and conveniently remove it after the cooking is done. No scraping to get your perfectly toasted sandwich out or scratching afterward to clean. 
One of the notable attributes is that it has an oil drip collector to collect extra oil or butter from the sandwich for a healthier option. You can remove the excess oil from the tray after the toasting is done. There's also an automatic temperature knob to get an even toast all over the sandwich without burning or toasting to a lesser degree on some ends. The anti-skid feet prevent the sandwich maker from moving when you're handling the food. 
"This is awesome! Perfect in absolutely every aspect," writes one of the reviewers on Amazon. "This is light-weight but a heavy-duty machine. It makes crispy sandwiches and takes just 2-3 minutes at higher temperatures. 3-layer sandwiches are also easy to make with this machine. The plates can be used as a grill and I love that it takes out excess oil – both because of the health, and the crispiness that lends to the food. Excellent investments for those who have less time, large families, or small shops," they add. 
Get the 180 degrees Borosil Jumbo Maker Here. 
(You can use the second one to grill meats, paneer, and cutlets as well, besides sandwiches, for just an increase of Rs.250/-)
#2 Morphy Richards 750-Watt Sandwich Toaster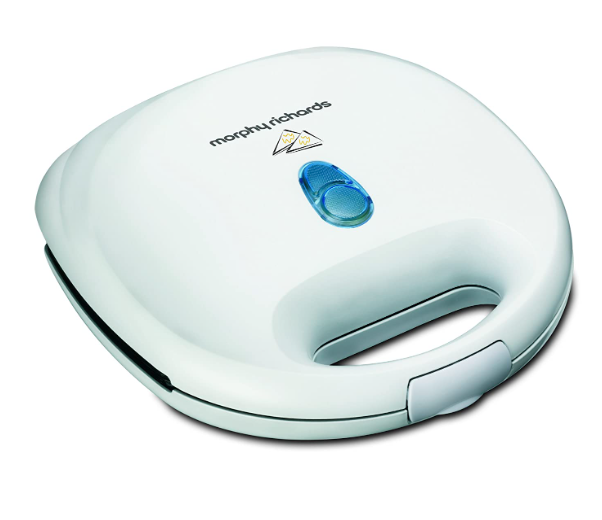 Morphy Richards started selling their products in 2002 in India. Bajaj Electronics partnered with the company to make, sell, market, and distribute their products in India in 2002. Established in 1932 in Kent, UK, the company is known for its electrical appliances all over the world and quickly established its presence in the country as well. One of their popular products in the market is their sandwich makers in India. Read on for the full review of their best-selling sandwich maker in India below:
Physical Features & Attributes:
The Morphy Richards 750-Watt Sandwich toaster comes in white color and has a black coating inside. The power is 750 Watts and the operating voltage is 230 V. Product package includes a sandwich maker, non-stick plate, instruction manual, customer care list, and guarantee card. You will get a warranty of 2 years with the product. The total weight of the product is 1.6 kg – which is fairly lightweight as compared to other products on the list. The product is priced at Rs.1835/-. 
Benefits & How It Compares To Others:
This one of the sandwich makers in India comes with an oil drip feature. A unique attribute that prevents the sandwiches from becoming soggy or the oil from the sandwiches to stick to your clothes or hands. It also prevents you from consuming any unnecessary calories, hence contributing to your healthy lifestyle. There's also a "ready-to-cook" indicator which indicates the device is ready to toast your bread and there will be a green light when the cooking is done. The non-stick surface prevents the sandwich from sticking to the bottom so you can easily take it off after the cooking is done. No scraping or worrying about touching the hot inside of the sandwich maker to enjoy your delicious food. 
The product comes with a 2-years warranty and you can always trust Morphy Richards for an unmatchable service. The reviews will further embolden our statement. They're also in admiration of the coating of the device where some have written there have been no scratches even after 6 months of usage despite using the device quite regularly. The cleaning is easy as the coating is safe and so are the interior layers of the product, which anyway don't accumulate any food particles from cooking. 
"This is a great little sandwich maker at a very reasonable price. Easy to use and gets the job done without any hassle. It's easy to wipe off the grills after use, no food particles stick much, but the ones that do come out easily. Burned cheese is also no problem to remove. It's compact and the perfect size if you want to use it for a smaller number of people, yet frequently. I've tried paneer & cheese sandwiches, aloo sandwiches, and even paninis. It works well with all. No complaints & will recommend surely," writes one of the reviewers on Amazon. 
#3 Havells Perfect Fill 2 Slice Grill Sandwich Maker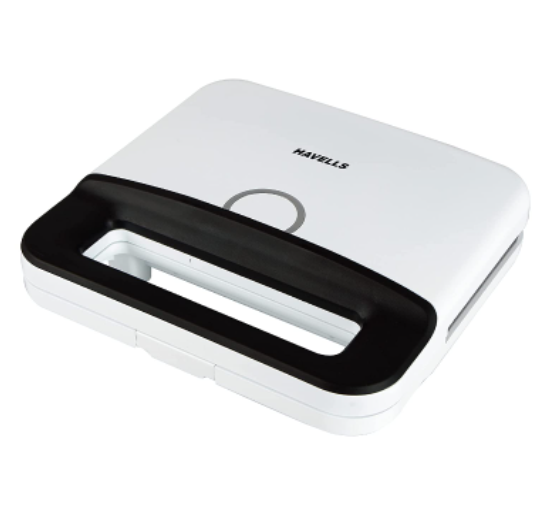 Havells India is a fast-moving electrical good (FMEG) company with its headquarters, manufacturing facilities, and distribution facilities in India. The company is known for its home appliances in many different categories, each offering innovation and USP of its own. The company was ranked 125th among 1200 of India's most trusted brands, according to Brand Trust Report 2014. They're often ranked among the 10 best lists of many electrical products, and is so also our choice of the top sandwich makers in India. Their 2 slices 750 Watt grill sandwich maker is compact and perfect for small families and when you don't need a sandwich maker for regular use. Below, find some of the best features of the product. 
Physical Features & Attributes:
The Havells sandwich maker in India comes in white color with slight black color on the handle. The interiors are all black though, consistent with the material used inside of all sandwich makers. The handle opens close to 90 degrees and the sandwich is cut in half automatically due to the divisions made in the sandwich maker. It has a 750 Watts wattage and 230 Volts voltage. The weight is approximately 1.69 kgs. There's 2 years warranty with the product though – but there are hardly any complaints about the product breakage or malfunctioning. The components included in the product are a sandwich maker and a user manual. The entire unit is priced at Rs.1890/-. 
Benefits & How It Compares To Others:
Havells sandwich maker is a compact product and can make 2 sandwiches at once. It doesn't take more than 5 minutes to complete the cooking and the result is an evenly crispy sandwich. There are non-sticky plates on the inside, which helps with easy cleaning. There's an LED indicator for the power ON and OFF functions to show the completion. There's also a hinged lock and cool-touch handle for an easier operation. Havells products are also known for their durability and low maintenance, and this one is no different. Not just this list, the product is ranked in many lists of best sandwich makers in India, and rightfully so! 
The only con is it's quite compact of a product and can only be suitable for those who are using it for minimal use every now and then. For those who have large families or want to process a good quantity of food at once, this might not be suitable for a product. 
"I don't usually write reviews but this is one of the best electronic products I have purchased online at a great price so just had to write one today. It does exactly what it says it would do and the sandwiches come out crispy and delicious. Cleanup is a breeze, just take a wet cloth and wipe it off. No need to scratch or rub, most stuck food particles will come right off with a wipe though. Even my eight-year-old can easily make herself a sandwich in this one. Certainly makes my job easier around the house. Strongly recommend for couples who have little kids!" 
#4 Agaro Elite Sandwich Panini Maker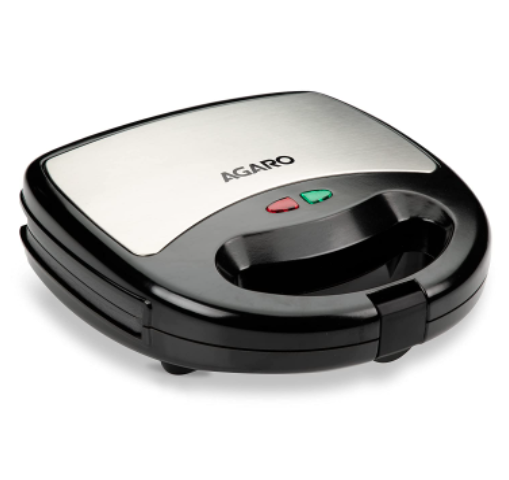 Agaro is a Poland-based company and has a strong foothold in the electronics market in India as well. They are one of the best-selling sandwich maker brands in India, and customers have highly rated their products on many platforms. The company is innovation-oriented and designs easy-to-use products meant to make the everyday life of its consumers easier. From kitchen appliances to massagers to healthcare devices, they have electronic machines to fit every preference. As for this article, we are reviewing their 750 Watts sandwich/ panini maker with non-stick grill plates and a modish design. 
Physical Features & Attributes:
Agaro Elite Sandwich/ Panini Maker comes in a sleek and modern design, ideal for the contemporary kitchen architecture popular these days. It comes in a stunning gray and black color with a polished exterior. The exterior doesn't lose the shine even after multiple wipes. There's a red and green button on the top – red signifying the sandwich or any other food product is cooking and green that it's done and ready to take off the appliance. Inside, there are clear lines so the sandwich doesn't get cut in the middle and you can cut it howsoever you want. The plate dimension is 23.6 cm X 13.3 cm. The weight of the product is 1.1 kg. Inside the product packaging, you will find a sandwich maker and user manual. 
Benefits & How It Compares To Others:
Whenever we decide to buy an electric product in Indian products, we generally tend to trust known brands like Philips, Prestige, etc. Not to say their products aren't worth all the brand name, but at times, even a lesser-known brand can provide equally competitive products. Agaro Elite electrical products are one such example. Many of their listed products are received well and have fewer complaints. Their sandwich/ panini maker in India is no different. 
With an even grill inside with straight lines, this product isn't just ideal to grill sandwiches, but also to make several other products like aloo tikki, paneer tikka, grill vegetables, and barbecue. You just have to apply a bit of oil or butter for crispiness, place it inside the machine and wait till the green button appears signifying the grilling is done.
The non-stick aluminum plate inside makes sure very less food particles stick to the surface and the ones that do are easily removed by a single wipe. There's also a 1-meter-long extra cord for ease in functioning. Some sandwich makers in India have complaints about small cords hence making them difficult to move in the middle of the kitchen platform for easier cooking or if the switchboard is not near the kitchen platform, then looking for the cord length in the sandwich maker becomes essential. 
You will get a 1-year manufacturer warranty with the product. There's a cool-touch handle, anti-skid feet, and top cover locking system for ease of use. The equipment also has overheat protection so you can easily use it for a higher volume of cooking without any worries. 
#5 Concord Sandwich Maker/ Grill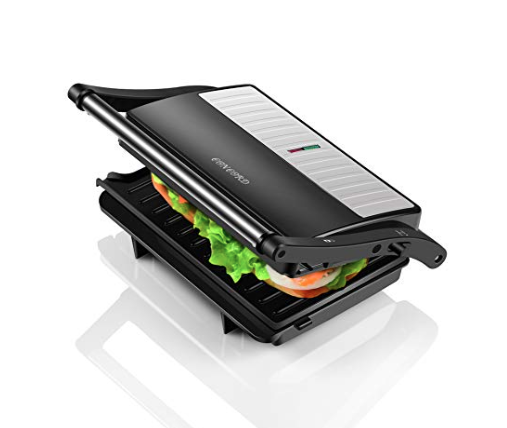 The Concord Sandwich Maker/ Grill is 180 degrees opening sandwich maker that doubles as a grill and is convenient to use, economical, and a modern machine for quick cooking. It's best for couples or big families and has good versatility. Here's a full review of this multipurpose appliance in your kitchen. 
Physical Features & Attributes:
The Concord Sandwich Maker & Grill comes in black color with a few touches of gray. The appliance comes with a floating handle and there's no locking mechanism in this one of the sandwich makers in India, like others. It opens to 180 degrees and you can simultaneously cook on both sides. It has a 1000 Watts wattage system and a voltage of 240 Volts. The weight of the product is 980 grams, which is quite light compared to other sandwich maker brands listed in this article. Inside the product package, you can find the following components: sandwich maker, oil drip tray, and user manual. The total price of the product at the time of upload of this blog is Rs.1649/-. 
Benefits & How It Compares To Others:
One of the first benefits of the Concord Sandwich Maker in India is the 180 degrees opening which makes it a multipurpose machine to grill multiple food products at the same time. It also gives the convenience of the volume and the control of how much you need the grilling to be on each side. There's automatic temperature control though, which doesn't let the food burn or over the grill. There's also green & red light for when you want to grill with the handle closed. You can just close the lid and do your work and come back to crispy, delectable grills. 
Another great feature of this sandwich maker is the oil collecting tray wherein the excess oil is drained and collected in a separate utensil. It can then be drained. It's an admirable feature and useful for those who're health-conscious or really just anyone because excess oil just adds to the body's fat deposits and bad cholesterol. The interiors are made of non-stick material so you can use even tissue to just wipe off the appliance after usage. 
"I bought this for my husband who is a foodie and loves to eat grilled paneer tikka and sandwiches on a regular basis. I thought this was an economically-priced product in the market and we will get an upgrade later on. Little did I know we'd never need that because the appliance is amazing in every way. There aren't a lot of settings, so you can get the work done quickly. You get an even cook. Aside from sandwiches and paneer, it's good to grill vegetables and burger patties too. Other advantages include ease in cleanliness and sturdy design. I am quite happy with the purchase," writes one of the reviewers. 
#6 Philips XL Sized Sandwich Maker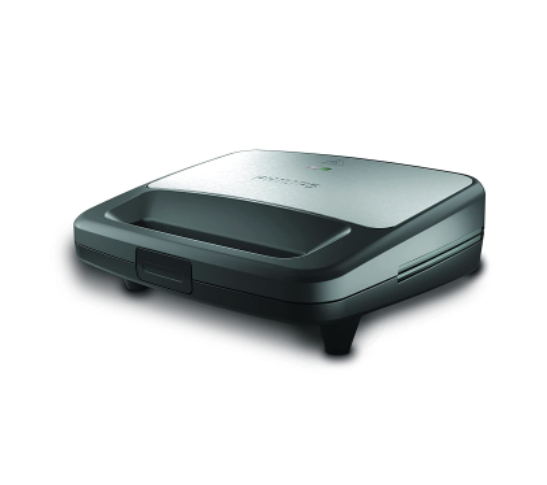 A Dutch multinational corporation, Philips has created quite a brand name in India for their electronic appliances. They began operations in the country in 1930 and have several manufacturing, software, and distribution facilities in India. In the 2014 Brand Trust Report, the company was ranked 12th on the most trusted brands list in India. They currently employ over 80,000 people in over 100 countries. Naturally, when it comes to listing the best electronic products in any category, their name can't be left out. So, here is a full review of Philips XL Sized Sandwich Maker, which is ranked as one of the top sandwich makers in India 2022. 
Physical Features & Attributes:
The Philips HD2288/00 XL Sized Sandwich Maker has a black & silver color with a metallic finish. It has a sturdy handle and a hinge lock to close firmly when the sandwiches are being grilled. The weight of the product is 1.8 kg and the wattage is 700 Watts. It has 4 small anti-skid feet below for firm placement on the platform without any unnecessary movements. Inside the product, you get a sandwich maker and a user manual with the product. The price of the product as we publish this article is ~ Rs.3000/-. 
Benefits & How It Compares To Others:
The Philips sandwich maker has XL-sized plates. Many sandwich makers in India don't give much of a thought to the size of the plates. Although, many sandwich pieces of bread are of bigger size and many people like to enjoy their sandwiches bigger and bolder. The Philips XL-sized sandwich maker is designed to give you that experience. Moreover, if you run a cafe, this can be a perfect pick for your restaurant service because of the quick results and bigger size of plates. There's a secured locking mechanism for safe operation. On the top, there's a green/ red light indicating cooked/ cooking respectively. 
Inside, the plates are made of non-sticky material so the food particles don't get stuck on the surface and the some that do are removed quickly with one wipe. However, this is a feature common among the best sandwich makers in India and an important one to look for when you are purchasing this device. 
Here's what one of the reviewers wrote, "At first I was a bit iffy to buy this because of the price tag but boy I'm glad I decided to follow my heart and purchased this one-hell-of-a product. It has such a modern, chic look for our newly renovated kitchen. A very compact design and a good product. I make everything all types of sandwiches in this and it hasn't disappointed ever. In fact, my kids are fans of sandwiches too and this had made the job si much easier for me. You just need to apply some ghee on the top and the result is a very crispy sandwich. Don't apply a lot thinking it will stick to the sides – because it won't! Great product!" 
#7 Inalsa Dura Grill 2200-Watt Sandwich Maker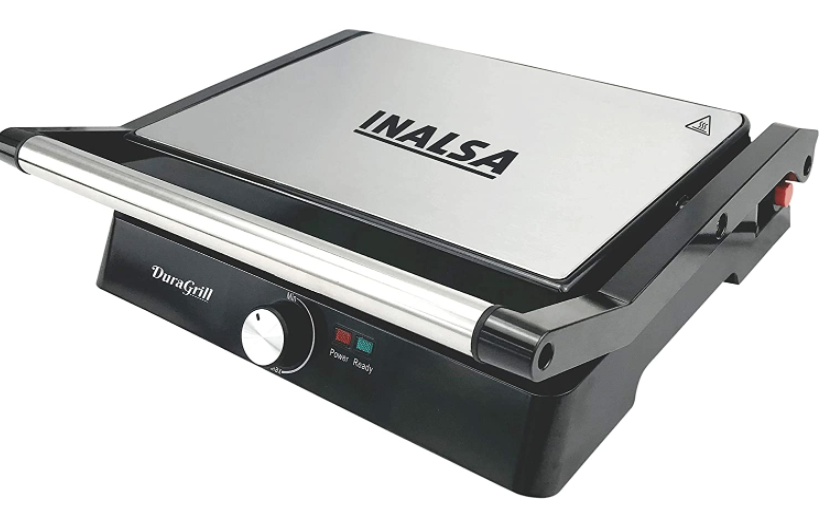 Founded in 1967, Inalsa has been a household name for small kitchen appliances in the country. Two-thirds of their products are sourced from India's OEM and the rest are sourced from China. Their products have garnered more than 100,000+ positive reviews online and the number is steadily increasing. People often vouch for the quality of the products, low maintenance, durability, and consistent performance of their products. Here, we will be reviewing their Dura Grill 2200-Watt Sandwich Maker. Find the review below: 
Physical Features & Attributes:
The Inalsa Dura Grill 2200-Watt Sandwich Maker comes with a sturdy handle that you can use to rotate to a complete 180 degrees. There's a cord length of 1 meter and a voltage of 220 to 240. The product has a metallic finish in black and gray. There's a temperature control knob on the lower side along with LED lights of the usual red & green color. The total weight of the product is 3 kgs. Included components in the sandwich maker include a contact grill, wooden spatula, oil collector tray, instruction manual, and a warranty card. The price of the product is ~ Rs.4100/-. 
Benefits & How It Compares To Others:
The Inalsa 2200 W heating power can be used to make sandwiches quickly, given the higher wattage. It opens up to 190 degrees, which means that you can use it for multiple food items at once. You can use it for sandwiches, sure, but also for other items, like vegetable grilling, paneer, meat, and aloo tikki. Even burger patties can be grilled evenly inside this sandwich maker and contact grill. The interiors of the appliance have a non-stick coating for reliable use and easy cleaning. It has a temperature control knob so you can choose at what temperature you want the food to be cooked. The LED lights notify when the food is done! 
The product comes with a certified 2-year warranty from the date of purchase, which means that any product breakage will be quickly fixed for free. Since the handle goes to 180 degrees, you can cook multiple patties or tikka to the required degree easily. It's the best for big families or when you have guests over. For those who own restaurants, this can be a good option for them as well. 
"I just absolutely love this grill! One of the features of this grill is that it opens up all the way and lays flat. I was specifically looking for this feature because we do grill a number of things at one time. The quality of the end product is just great! Crispy and delicious – just like you want it! It's also good for health addicts because of the low amount of oil required to grill. Trust me, even one brush is enough and the food particles won't stick to the interior. I'd recommend this to other people," writes a reviewer. 
FAQ's 
What To Look For When You're Buying A Sandwich Maker?
Look for how long it takes to make a sandwich in the maker. Timing can be important if you're going to use the sandwich toaster regularly and for higher volumes. A sandwich maker with a good amount of watts will take lesser time than that with lower wattage specifications. You can also see if the sandwich maker offers the grilling option as well, so you can also make tikkas in the appliance. 
Look further for the heat-resistant body and how the appliance manages to overheat. Any electrical appliance should have this feature to prevent damage and maintain the durability of the product. Other features to look for are non-stick coating (for easy removal of sandwiches), warranty, and knobs to control the heat settings. 
Is Sandwich Maker Good For Health?
Sandwich makers are actually quite healthy because they require little to no oil for grilling or toasting. Excess oil can increase bad cholesterol, add to the body's fat deposits, and contribute to unnecessary calories. You'd want your quick on-the-go food to be healthy as well and a sandwich maker can help you achieve the same. Although, make sure the sandwich maker is from a good brand because some brands don't use a good coating and the harmful chemicals can then transfer to the food and be damaging to your health. 
How Do You Clean A Sandwich Press?
Here's an easy method demonstrated in the video. She uses vinegar and water in a 1:4 ratio, heats the sandwich maker for 15 seconds, and then pours this mixture on the grill. Let it sit and wipe off gently! 
Conclusion & Winner:
A sandwich maker is a quintessential part of your kitchen so you need one that does the work quickly with minimal maintenance and good durability. Considering all these factors and user reviews, the winner of the best sandwich makers in India is Borosil Super Jumbo 2000-Watt Grill Sandwich Maker. It's quick, grills evenly, has a sturdy appearance, and has an oil tray feature to collect extra oil from the sandwiches for a healthier take on your food.
You can buy it here.
Check Out Our Other Review Blogs: