Having a few bookmarked rangoli designs come in handy when you need them during festivals like Diwali or Onam, or for simple home decorations, like during a wedding. In this blog, we're including some of the latest rangoli designs, sorted on the basis of simplicity, for Diwali, made using real flowers, etc. Find the scroll-through list below:
Latest Rangoli Designs
#1 Starting the rangoli designs list with this intricate and gorgeous art that uses many different colors and geometrical patterns – all in one big giant circle to give you ingenious art. If you want to make it shorter, only draw till the red part which is just below purple and green, and it will still look gorgeous.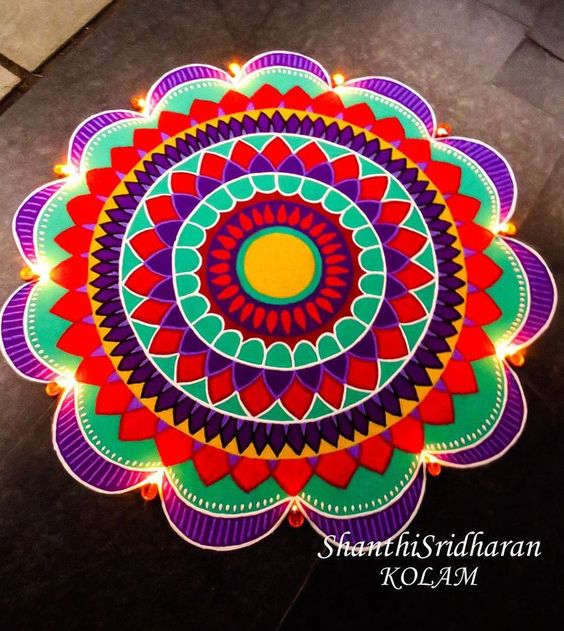 #2 This is another intricate one of the rangoli designs. It's not simple though and can be a task for beginners. If you're a pro, then this rangoli is just what you need to beautify your home.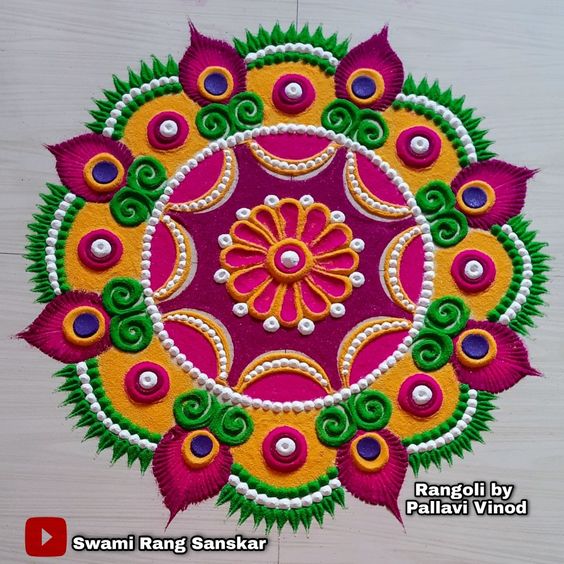 #3 Dominated by blue and complemented with other earthy shades that are brightly complemented with orange, this rangoli designs is an ingenious combination of colors mixed with impeccable art.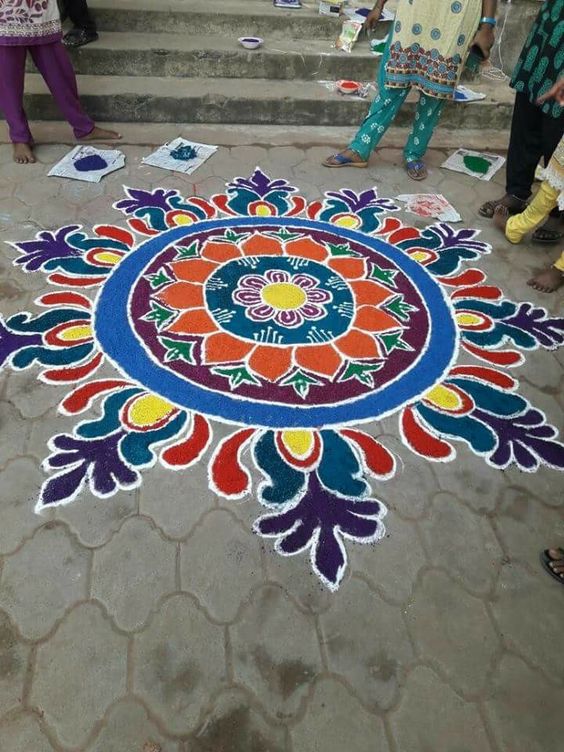 #4 Peacock rangoli designs are popular and despite the majority of them being intricate and difficult to recreate, this one's easy and beautiful at the same time. It just requires a simple outline and a creative mix of colors to recreate.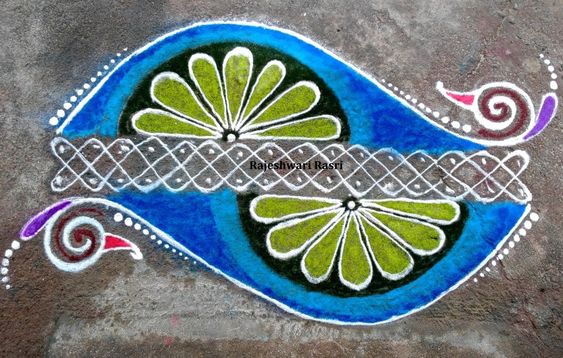 #5 Flowers are a symbol of peace, purity, and generosity in Indian culture, and hence, often used quite a lot in daily elements like rangoli, decoration, or offering to the deity. This rangoli has some gorgeous flower drawings stacked gorgeously together for creative art.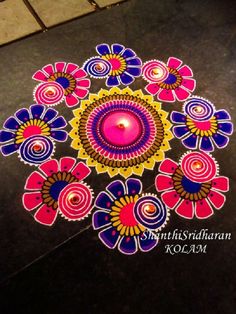 #6 Ink blue, pink, and white create a stunning combination of colors. The last design, as well as this big circular latest one of the rangoli designs, prove the same.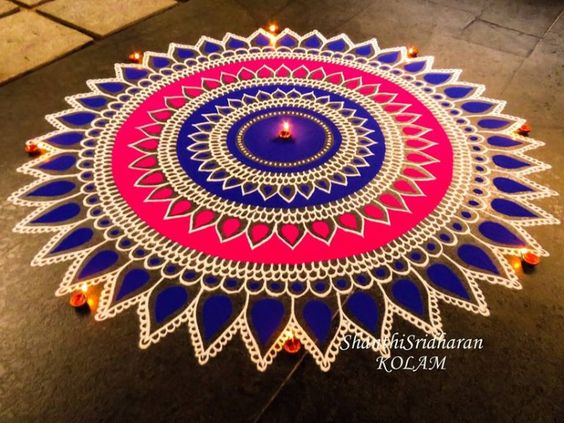 #7 Each rangoli design mesmerizes us differently. Not just with their distinctive patterns, but also with the remarkable mix of colors which just amps up the beauty of the design to another level. The next one shows exactly what we're talking about!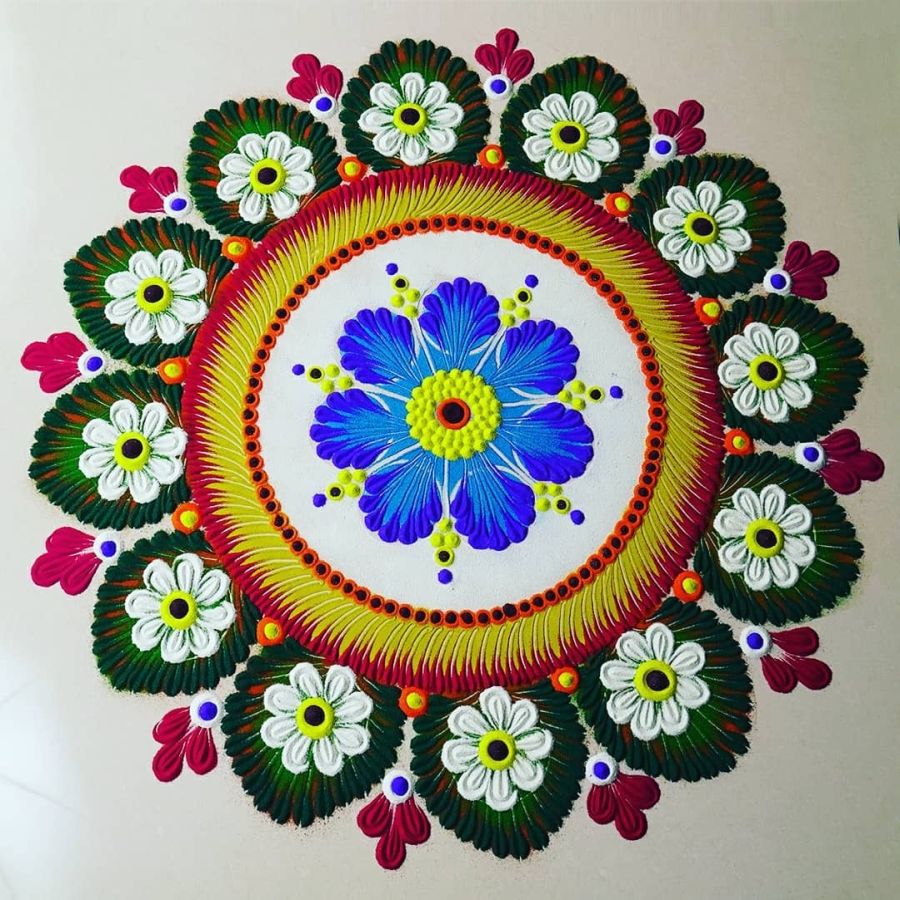 #8 A rangoli design that mixes the color beautifully and blends them together as one while creating intricate designs in a circular manner. A design that will take time and only to be recreated by someone who is artistic and has experience in making rangoli art.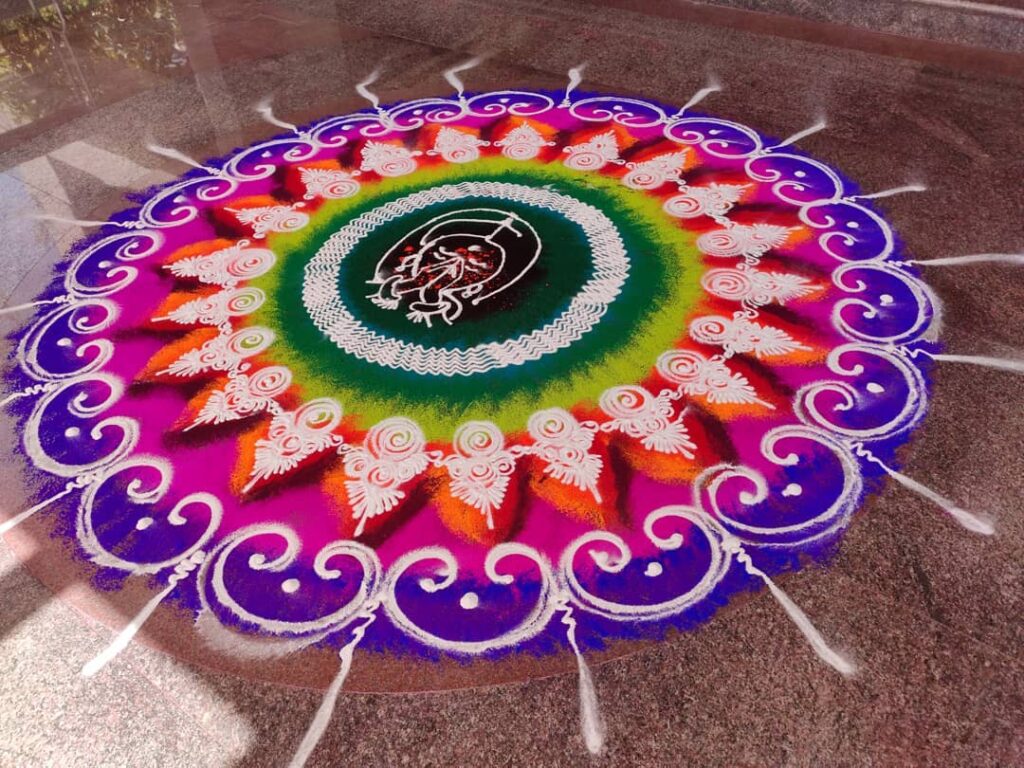 #9 Another aesthetic and creative rangoli design to wow you! It looks tough but it's really a mix of some of the most common elements in timeless art. Master them individually and you'll impress everyone with a gorgeous rangoli design in your new home. 
#10 There are so many things that catch the attention in this one of the rangoli designs 2022. The elaborate pattern in the white part is commendable because of how detailed it's created. The center has a resemblance to the yin-yang while the last one of the concentric circles is all about pink domination with subtle hints of blue, green, and yellow.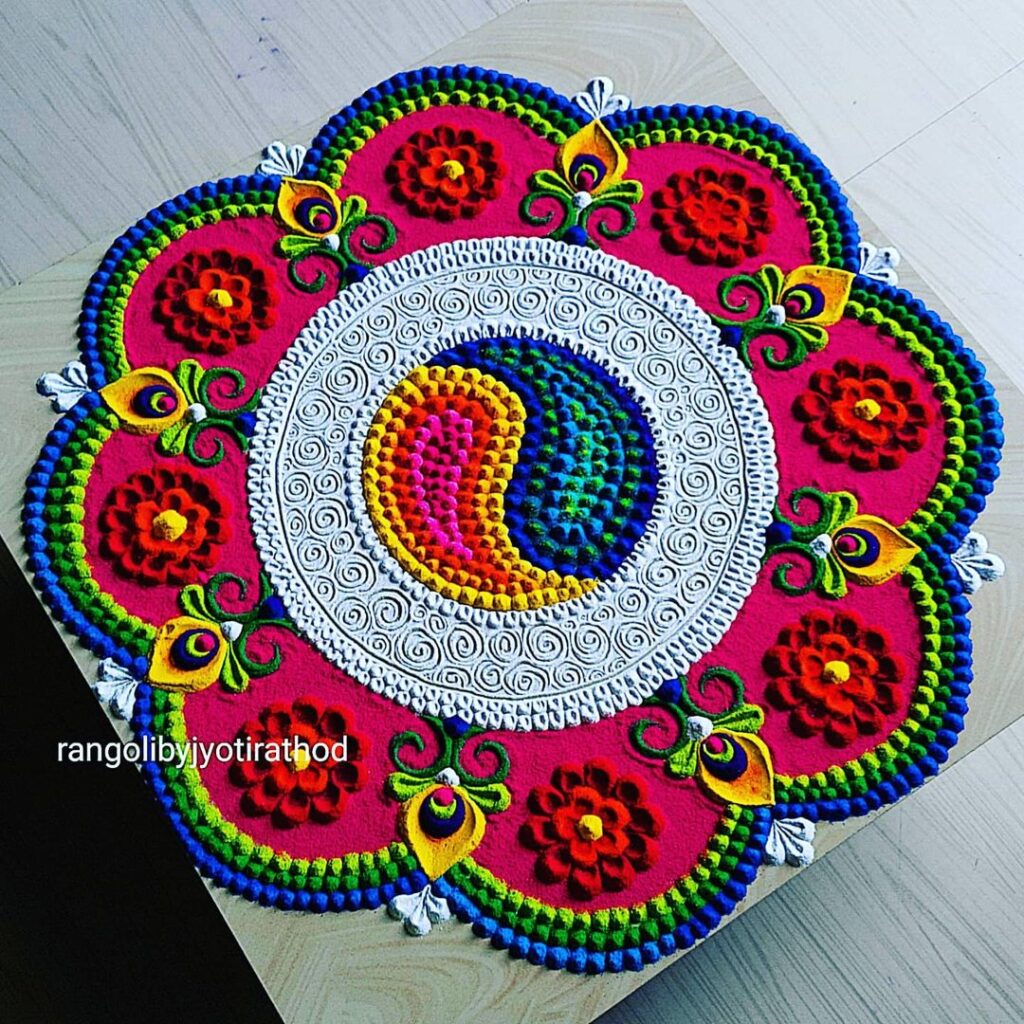 #11 White is one color that goes well with all the hues on the color palette and here, it's coordinated with green, pink, orange, and red in an eye-catching rangoli art.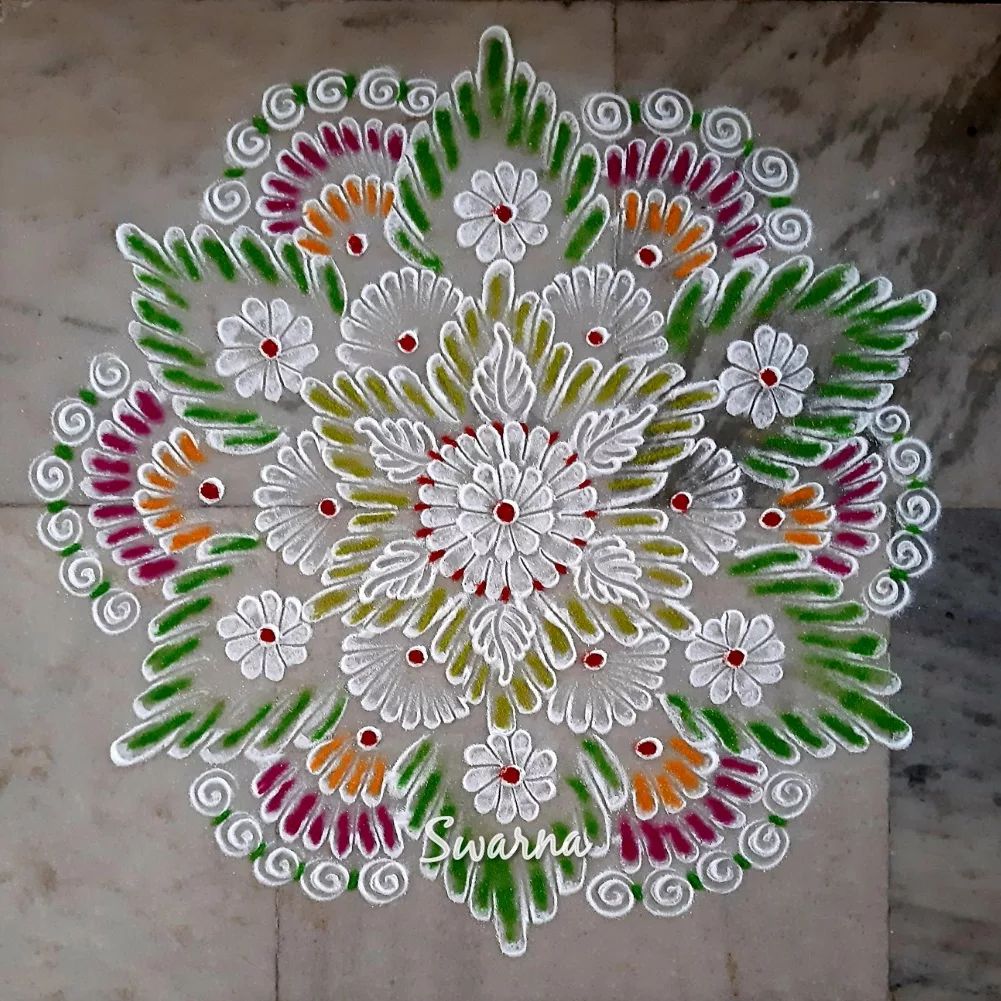 #12 Talk about a burst of colors and this gorgeous rangoli design just brings the idea alive flawlessly! The shades of blue, green, and yellow are coordinated with white in artistic patterns for a striking effect. 
#13 This is one of the easy rangoli designs. The curved edges is a basic and easy rangoli element and are used extensively in this design. Once you learn that, it will be very easy for you to recreate this.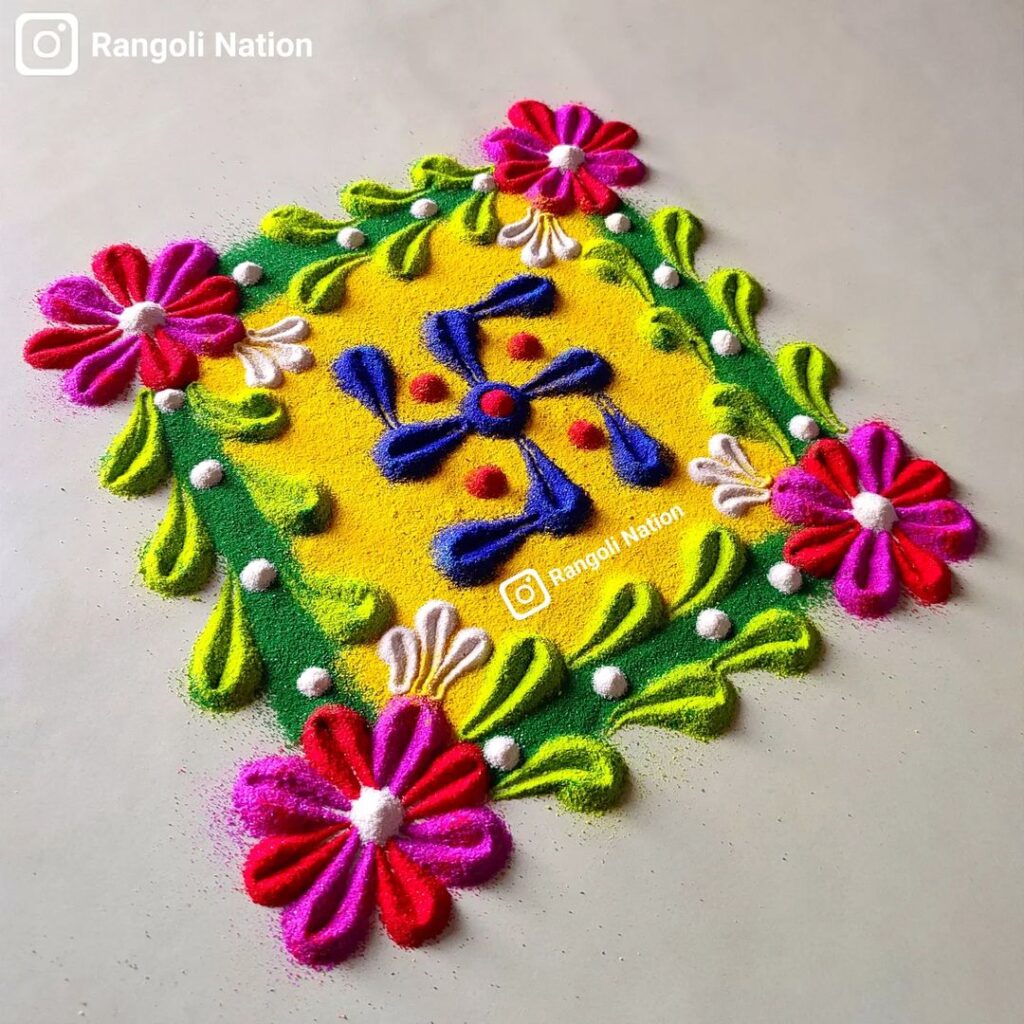 #14 The shading and neatness on this will take a trained hand. There's an optical illusion created by the heightened placement of the rangoli powder giving the design a 3-D effect.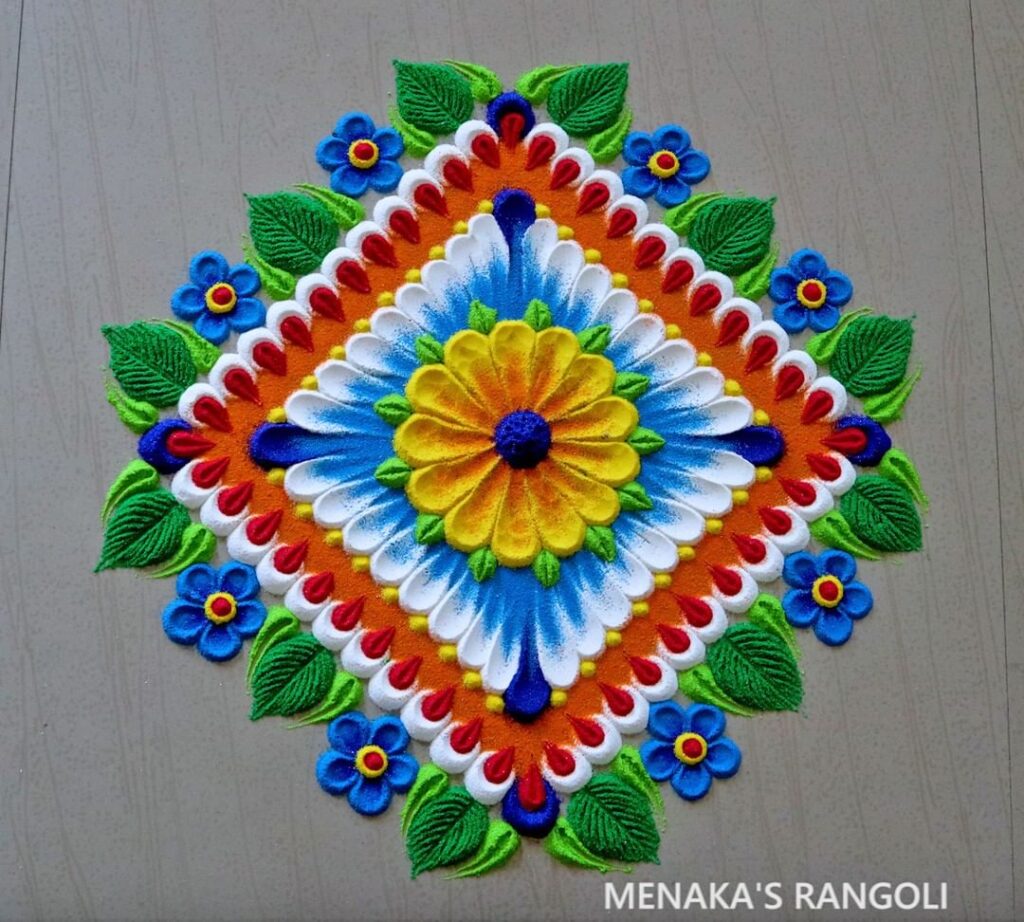 #15 This is another rangoli design where the heightened placement of the rangoli gives a dramatic 3-D illusion. Now, even if this is one of the small rangoli designs, it still looks eye-catching and for someone with some experience with rangoli, it will also be an easy one to create.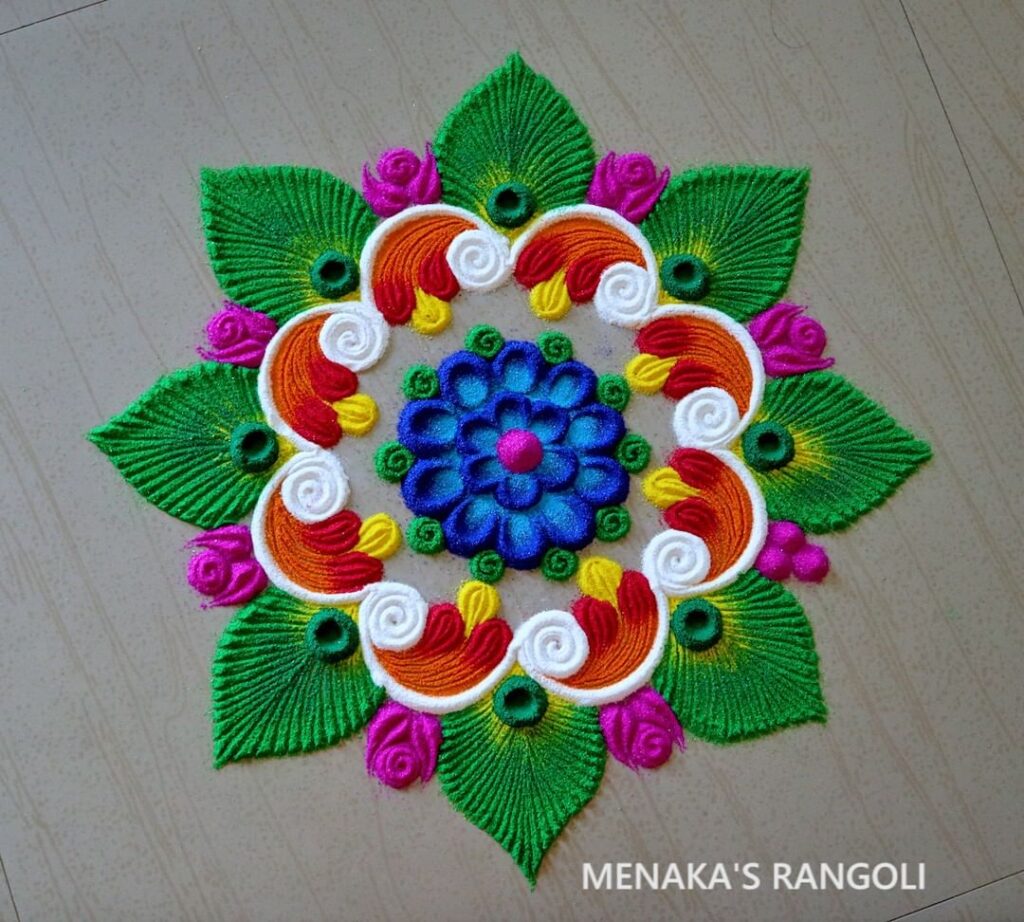 #16 The feet on rangoli is often drawn in Indian culture to signify the welcome of women deity into the house. That's why the impressions of Goddes Laxmi & Durga's feet is often found during Diwali & Navratri respectively. Here's one with feet impressions in the middle followed by stunning rangoli art around it.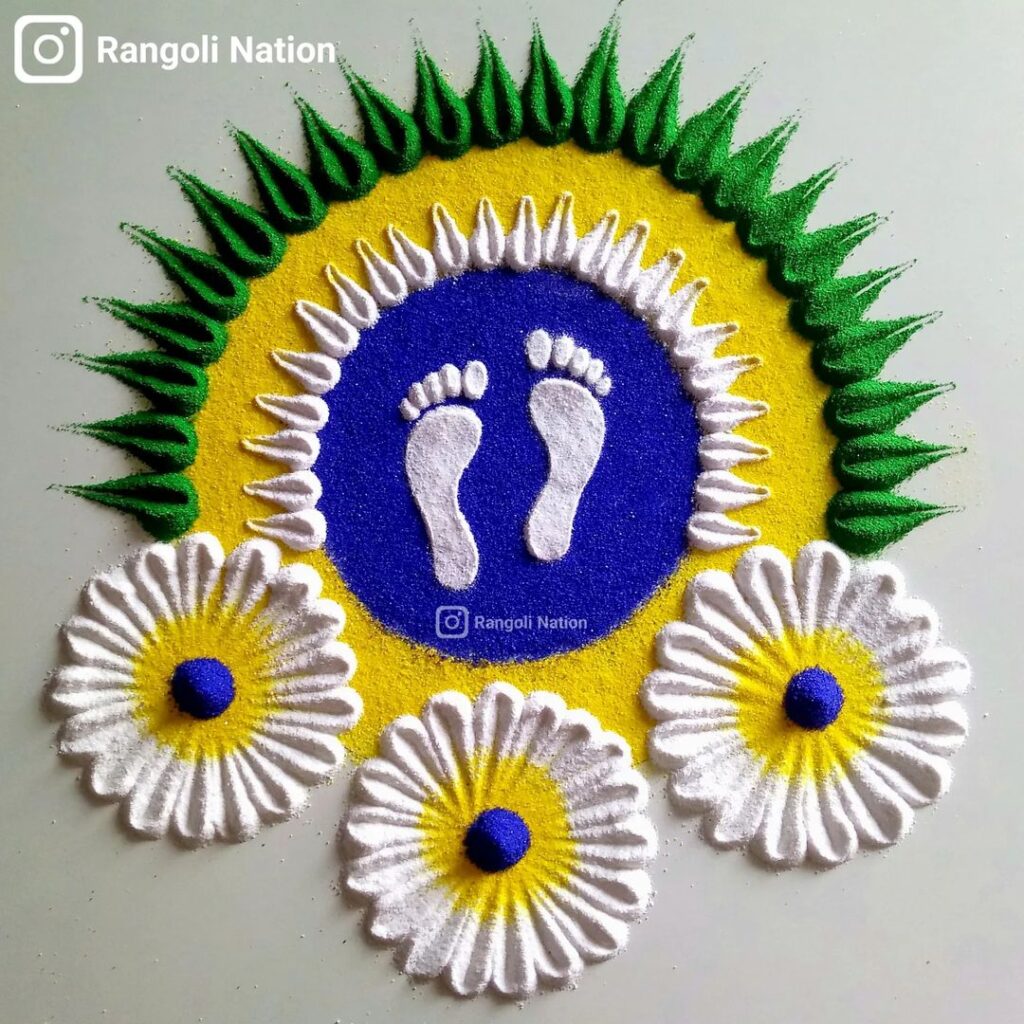 #17 We're loving these colorful rangoli designs. They're an ideal representation of our culture, and no doubt light up the home with brightness and allure.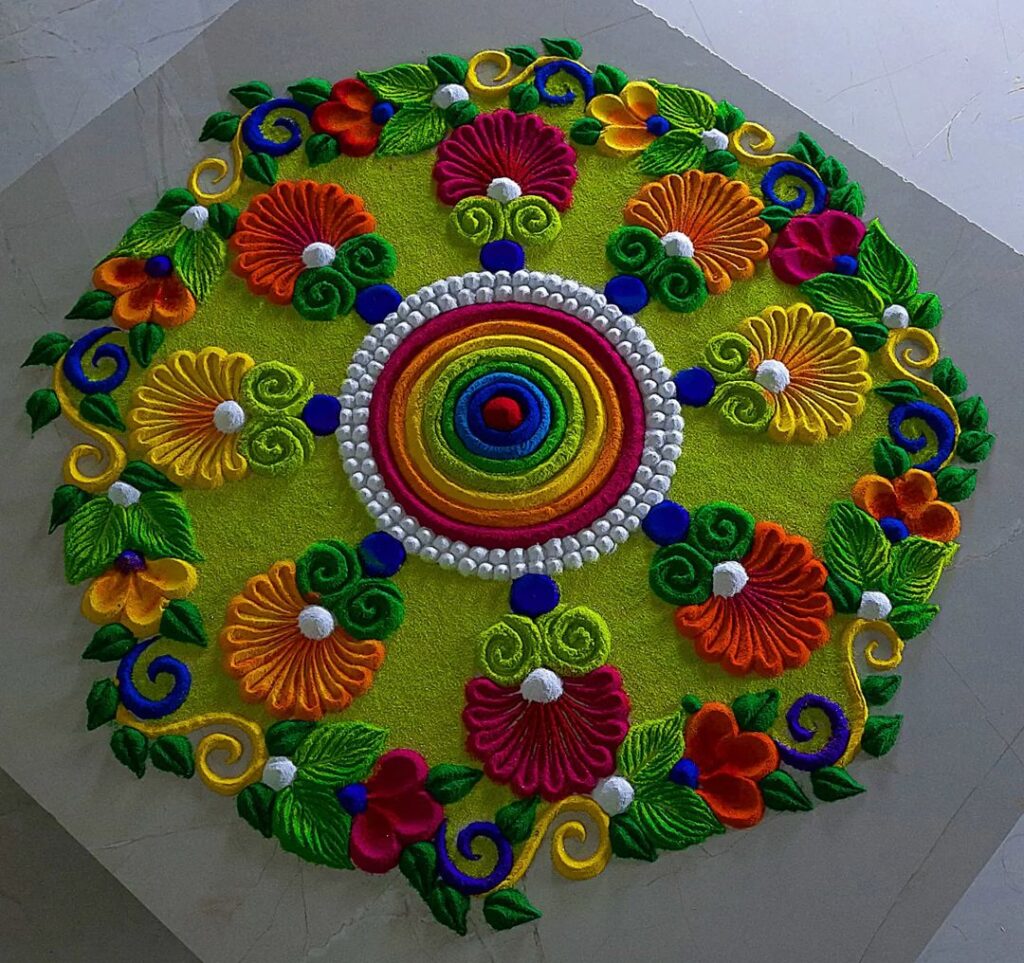 #18 Ganesh Ji is considered the lord of removing obstacles from any new journey you're embarking on! Here's how you can include this significant deity in your rangoli art.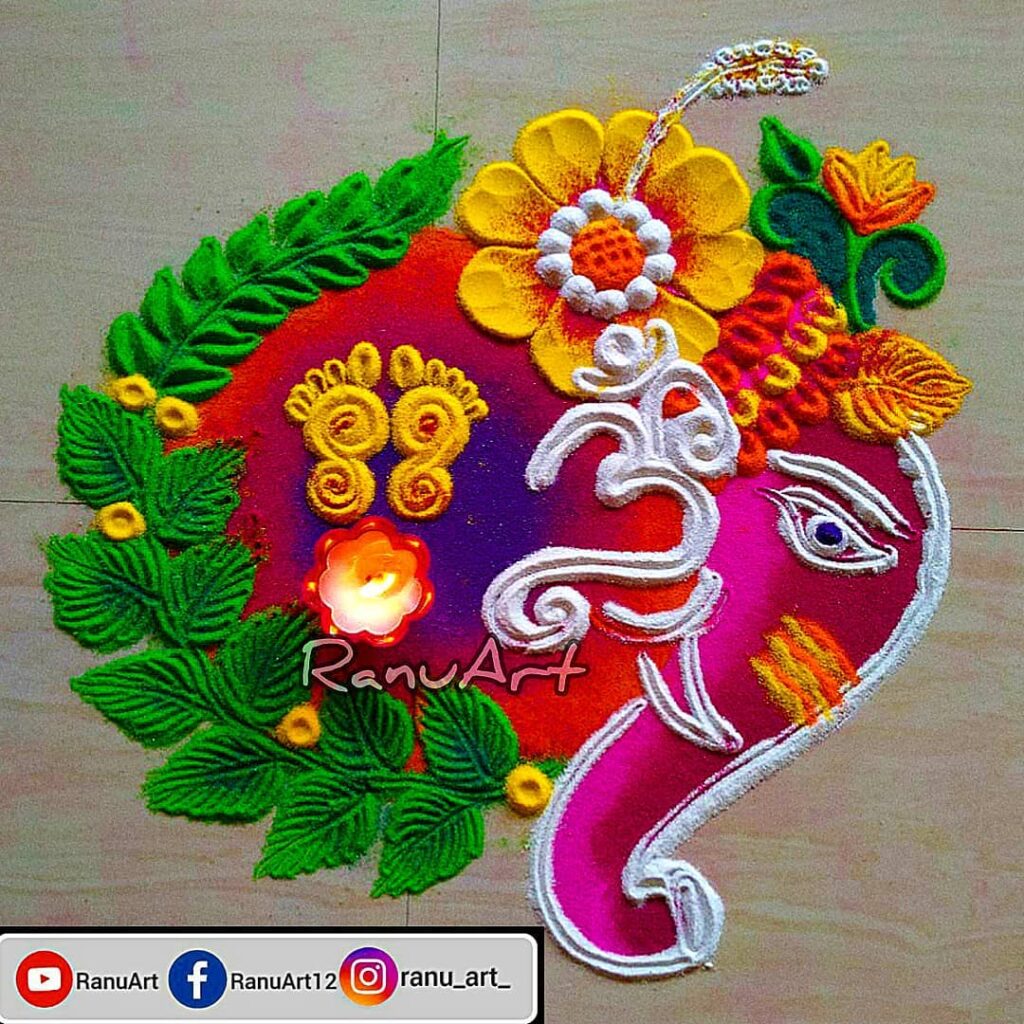 #19 The next one on our rangoli designs list is a beginner's rangoli art to try your hands on! The bigger lines allow you to let go of the subtle intricacy and instead focus on the neatness. This is ideal for beginners who have just learned some basic rangoli skills and want to put it into practice.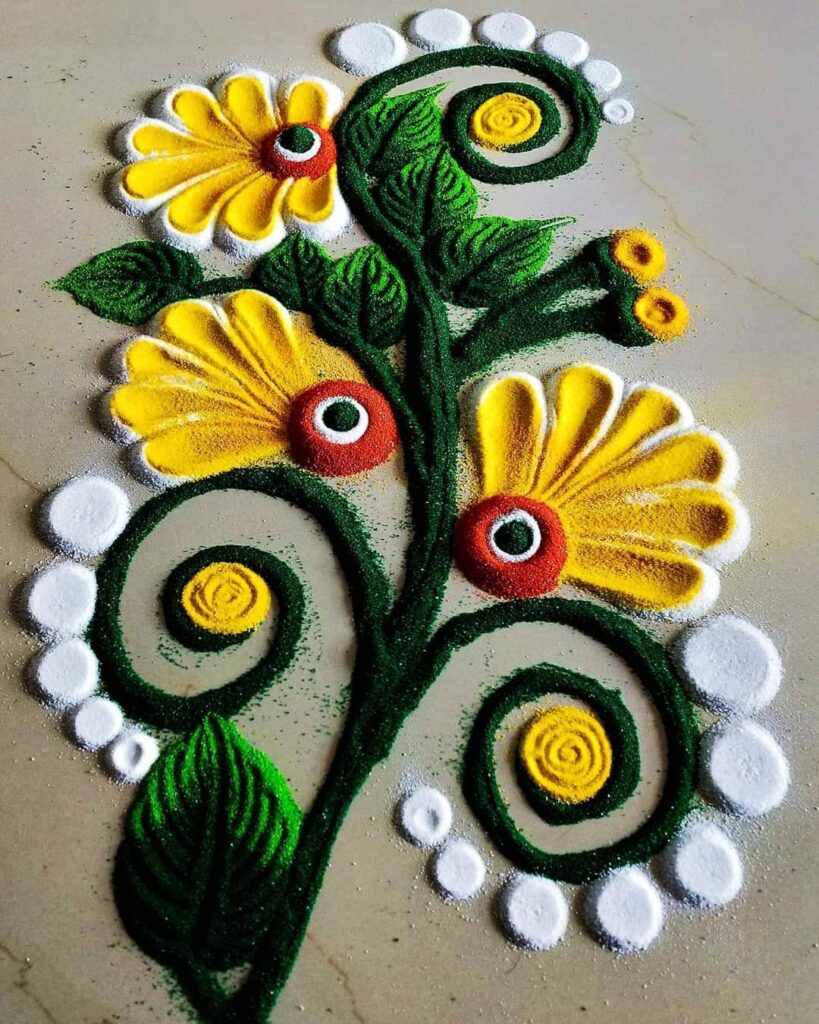 #20 As we said, Lord Ganesha is one of the primary deities in Hindu culture and is often worshipped before offering prayers to any other deity. This can be a religiously significant simple rangoli design to create anywhere in the house on any occasion.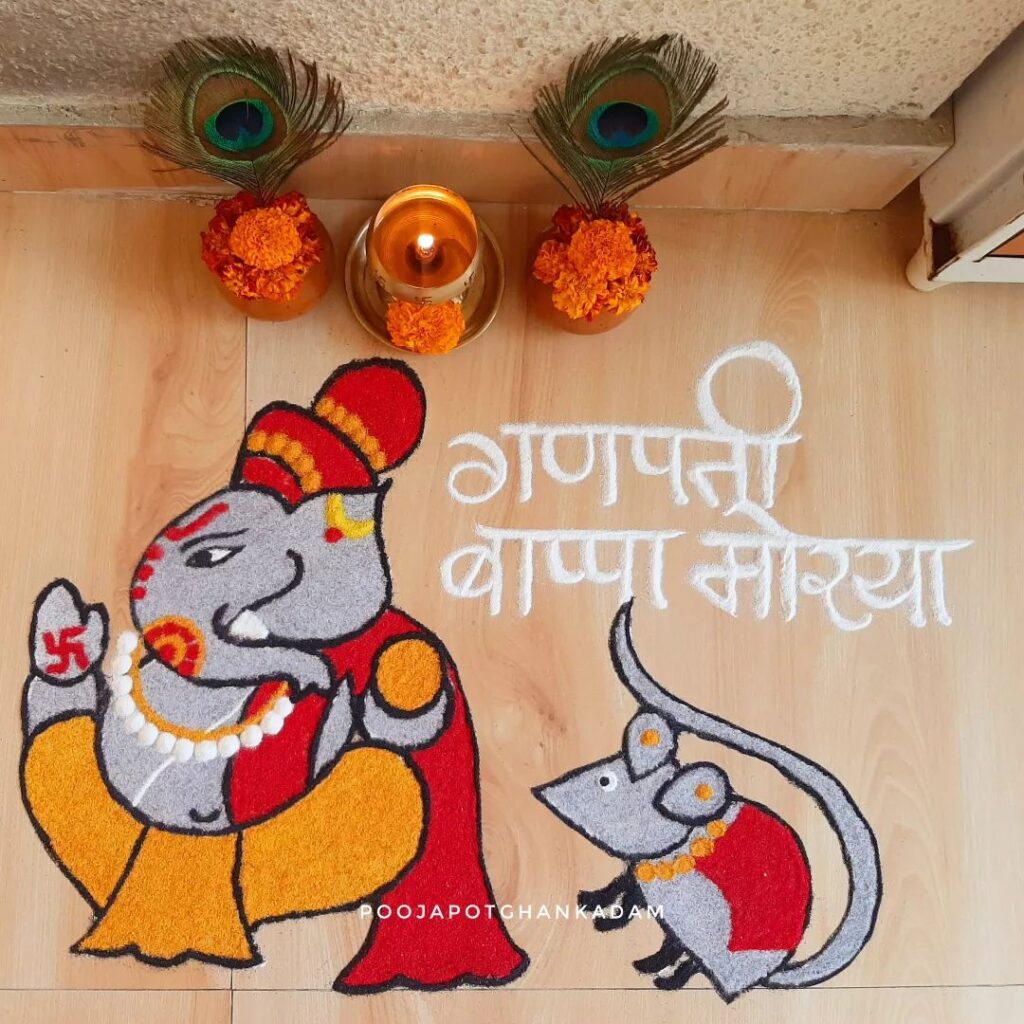 #21 While lotus is the flower on which Goddess Lakshmi sits, swan and sitar signify Goddess Saraswati, and we love what a beautiful amalgamation is of the two deities. More than art for rangoli, this rangoli requires drawing skills because of the large figures. If you have that, there's no way you can't recreate these gorgeous rangoli designs.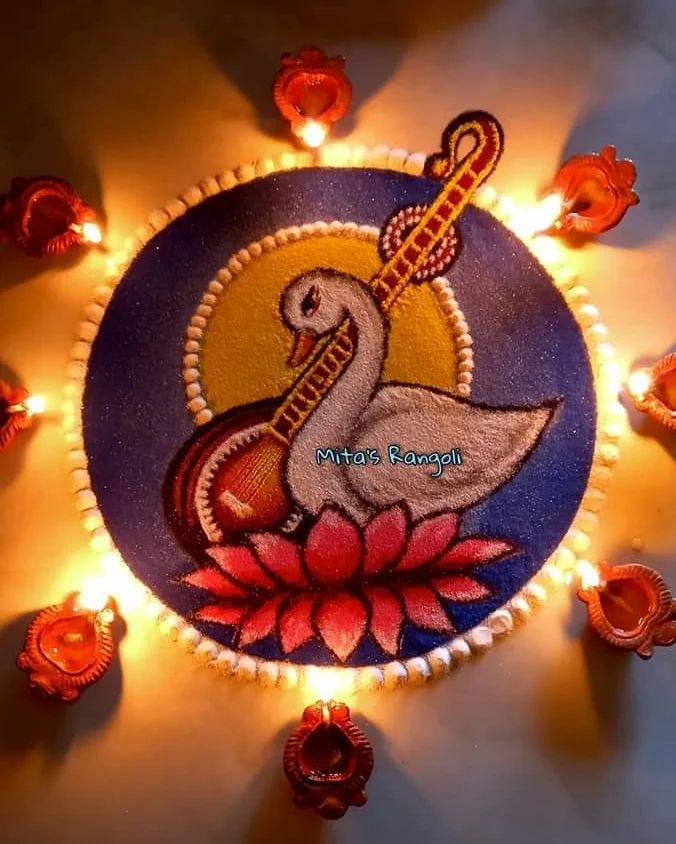 #22 A rangoli design perfect for Holi celebrations. While it's not customary to draw rangoli on Holi, you can totally do that if you're a big fan of this timeless Indian art.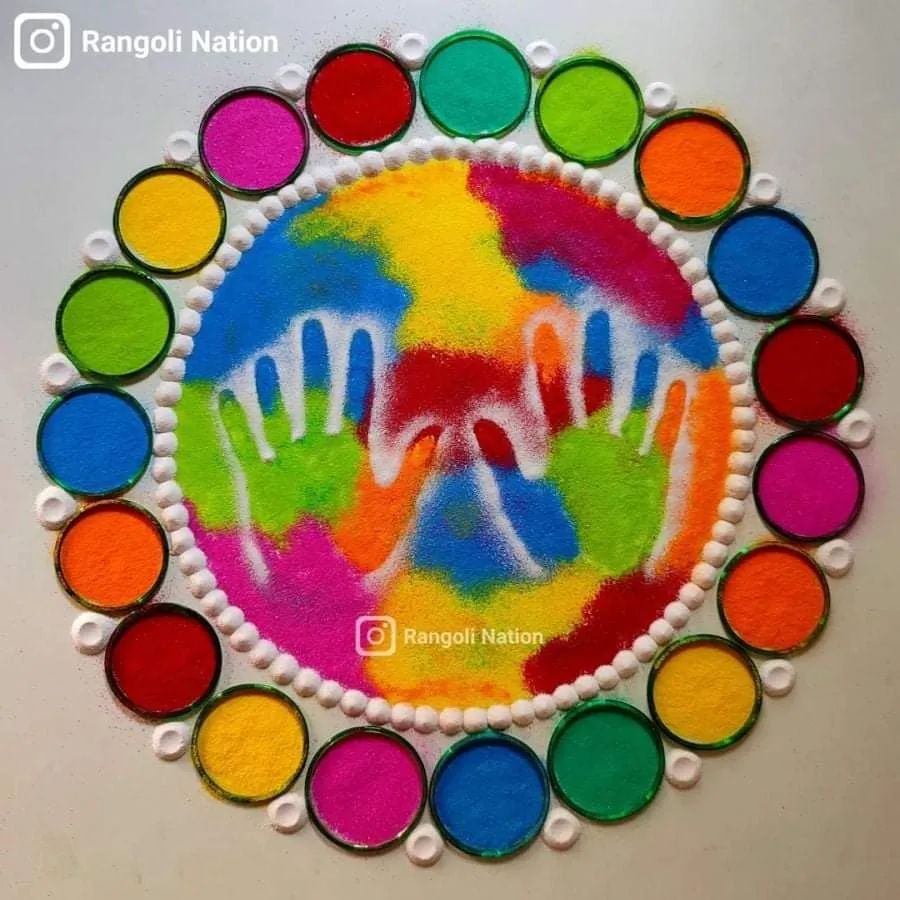 #23 Here's one of the rangoli designs created for Vat Poornima. It involves the elements required for the pooja nicely arranged on a simple rangoli pattern for an aesthetic and bewitching look.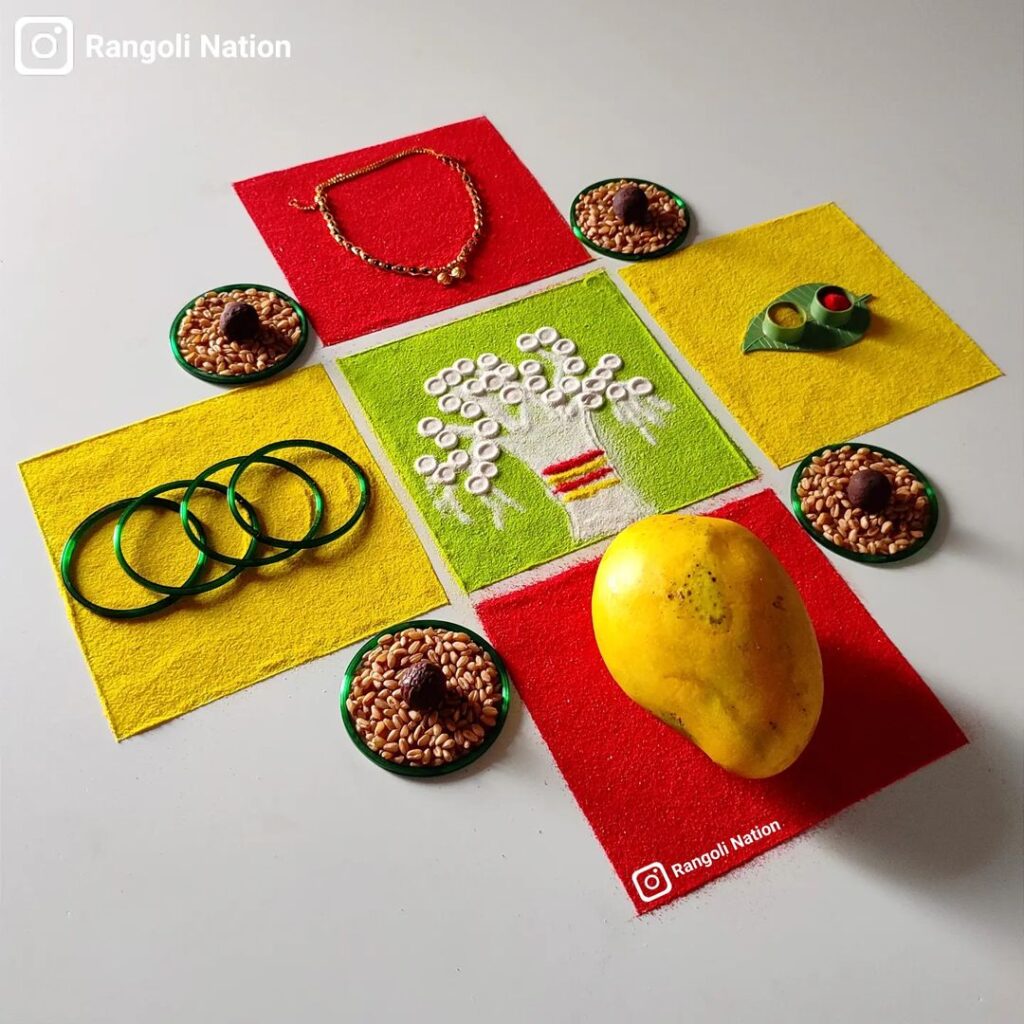 #24 Leaves, just like flowers, are considered symbolic of beauty and purity in Indian culture. Include them in your rangoli designs for allure and symbolic importance mixed in one.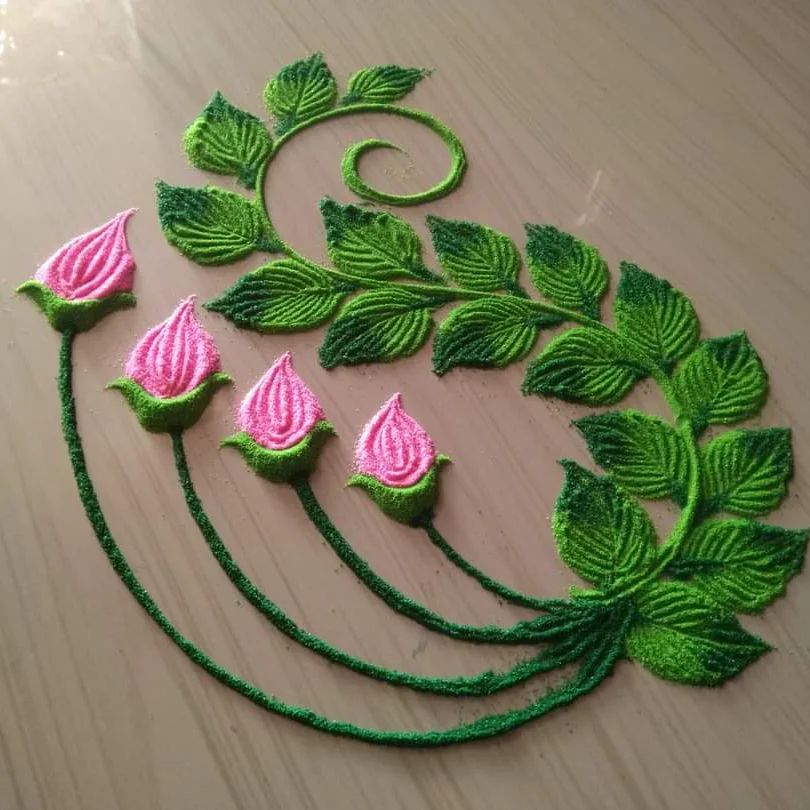 #25 What a beautiful rangoli design to include at the entrance of your home! "Swagatam" means welcome in Hindi, and is used with respect in Indian cultures. Besides the festivals, you can draw this rangoli at weddings as well.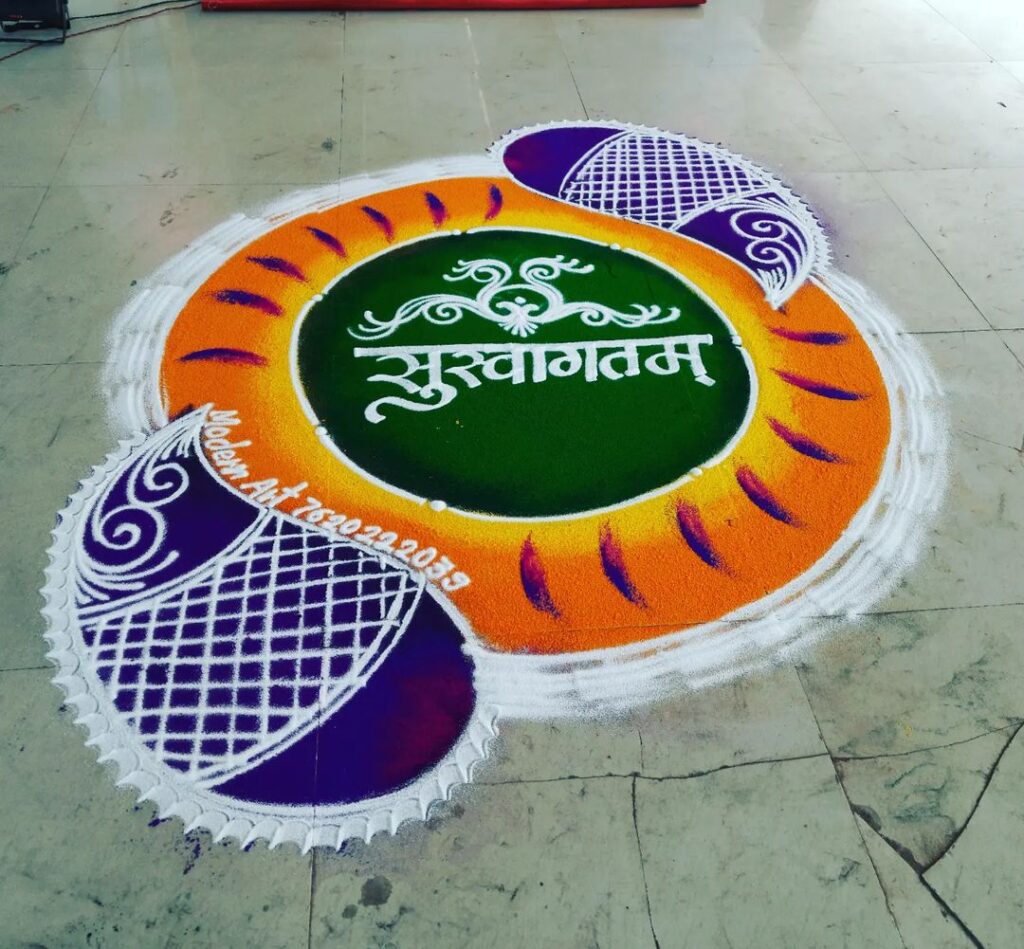 #26 If you're gifted with creativity, then use your skill to create an art form like this which involves swirls, florals, dots, and leaves all in one. It also includes a gorgeous and vivid mix of colors for a beaming effect.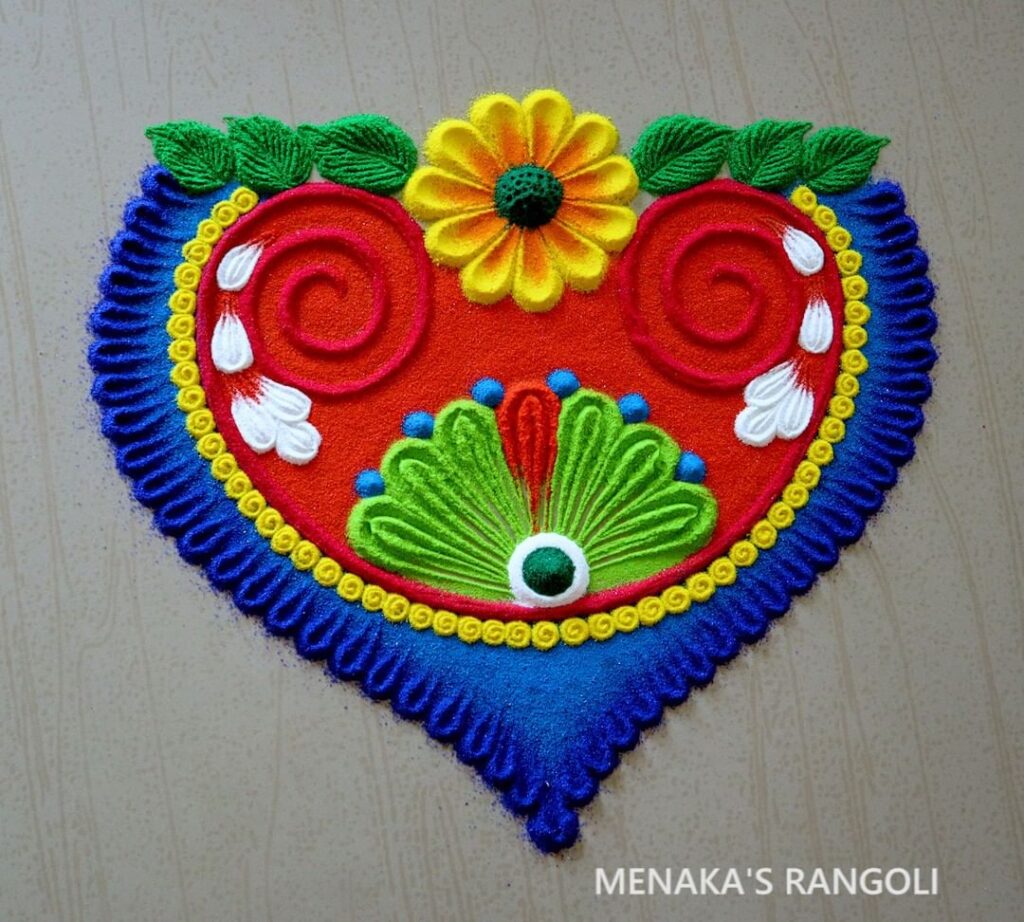 #27 The white rangoli designs are popular because they make any bright color pop out, and as we have seen bright colors often form the backbone of an eye-catching rangoli design.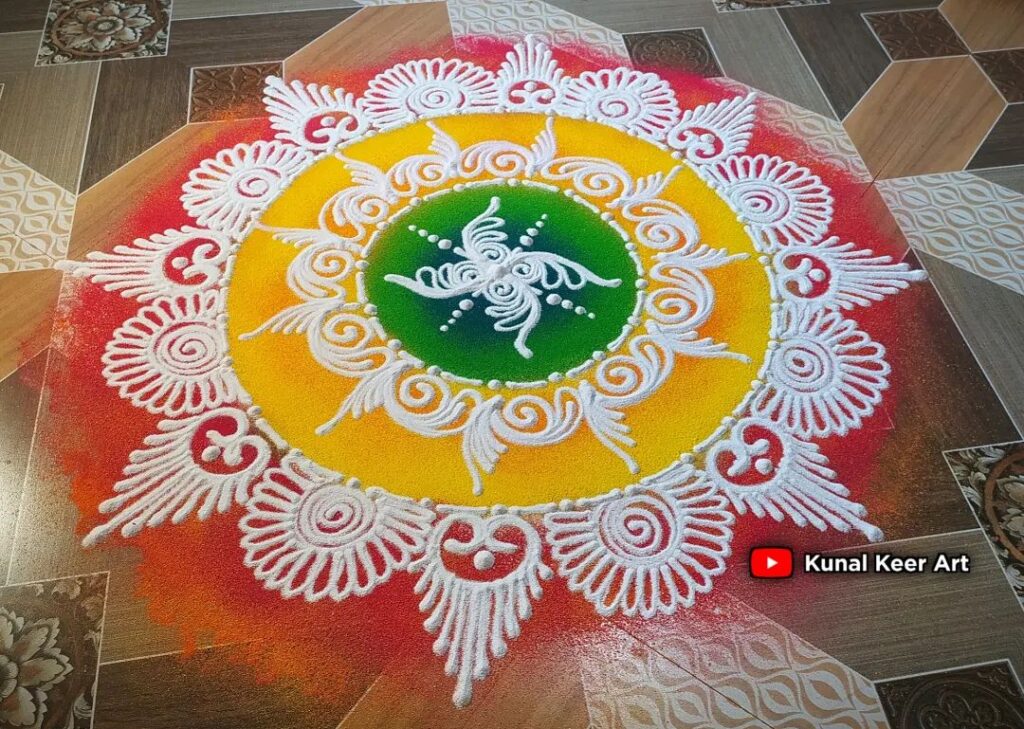 #28 Another one of the white rangoli designs sitting so beautifully on the ground and surely grabbing some eyeballs from the visitors. If you want to create a simple rangoli design, then eliminate the outer design after the close-by peaks.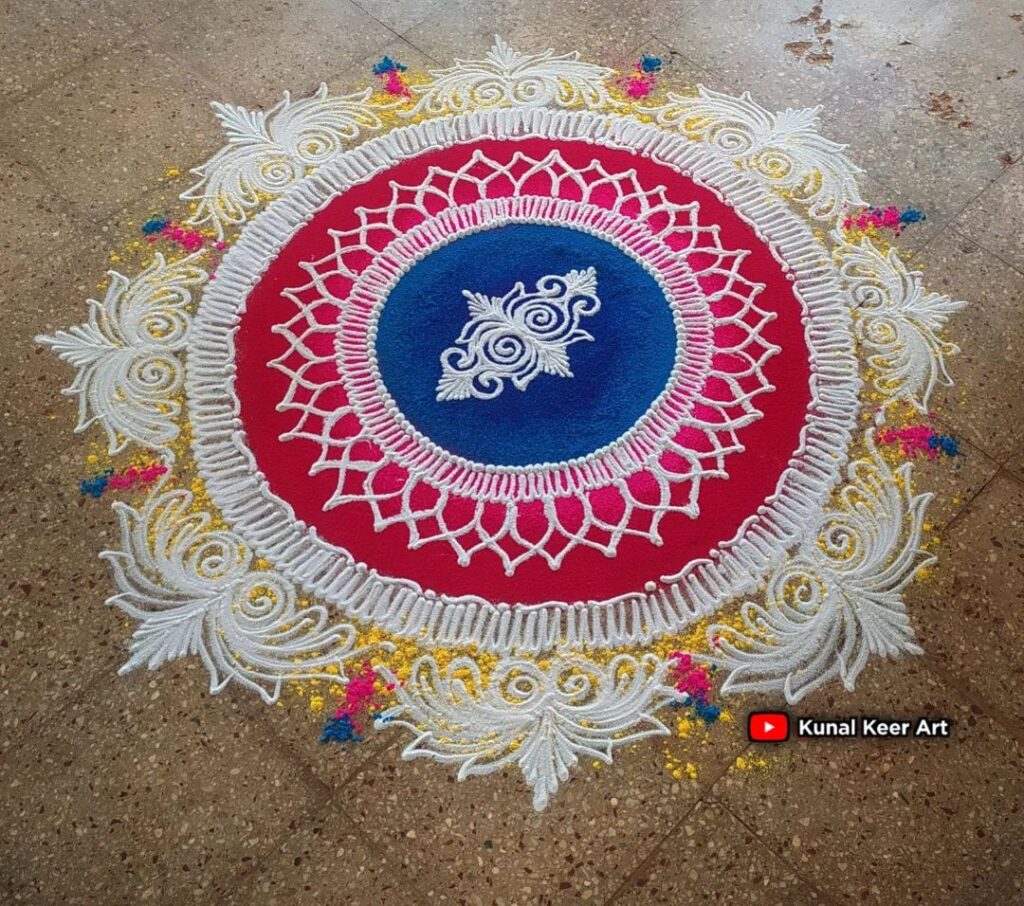 Simple Rangoli Designs
#1 Starting the simple rangoli designs with this real flowers rangoli, which apart from petals also consist of yellow jasmine flowers & bougainvillea – unique blooms since rangolis majorly consist of roses and marigolds. That alone gives this design an unequaled charm and inspires to include more flower types in rangolis.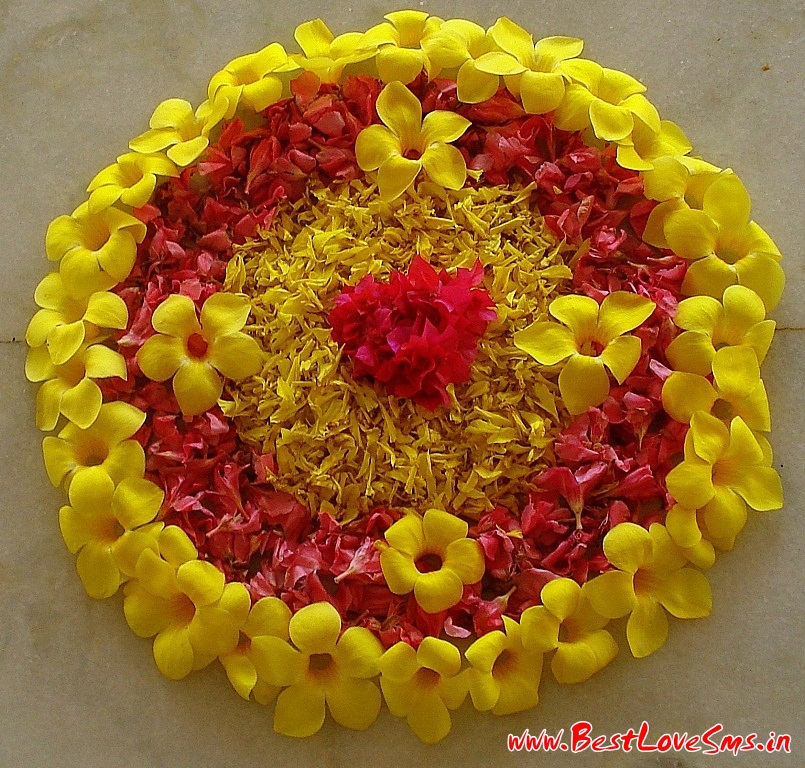 #2 If you're scared of your rangoli design being ruined by someone, then draw them on the periphery instead. The chances will reduce considerably. This semi-circular design on the periphery with vivid colors is gorgeous and surely an inspiration for rangoli designs for beginners.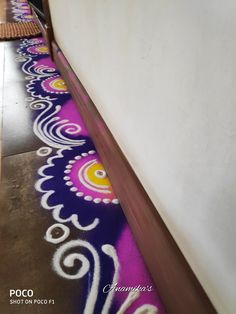 #3 It looks difficult but it's a very easy rangoli design to recreate. You just need to learn some basic shading techniques for the rangoli art and you can DIY this quickly at home. It's also a small rangoli design if you're looking to draw a rangoli in a compact space and want to do it quickly as well.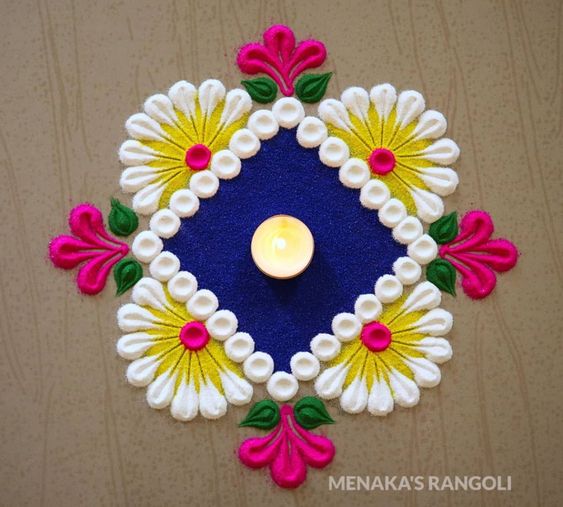 #4 The red-white kolam design is popular in every culture, and before the colors came, rangoli was done in red & white only. This rangoli is popular on Navratri as well. If you're looking for timeless rangoli designs, the next will surely be your favorite on the list.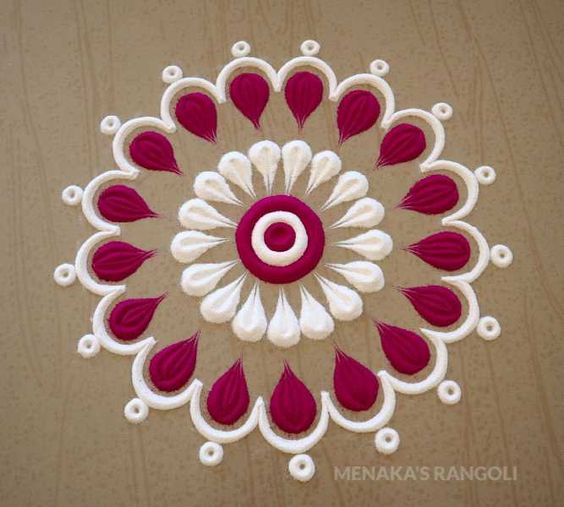 #5 Talk about a colorful rangoli and its charming beauty! We love how the artist has used so many colors in this rangoli yet so strategically. She has placed the same color eye-to-eye in the circle for a subtle organization and used white to make the bright colors pop more.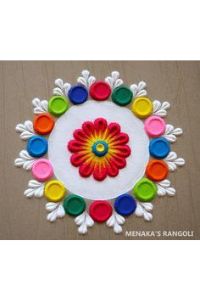 #6 A flower-shaped small rangoli design is a favored choice among many because you can easily reduce or increase the size of this type of rangoli pattern. Here's an idea to save.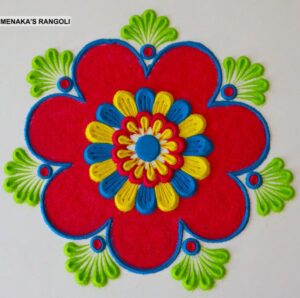 #7 This is an easy rangoli design but does require steady hands to recreate, especially the little dots on the periphery of the outer flower petals. To keep it easier, you can skip on the outer white part that's done alternatively between the petals.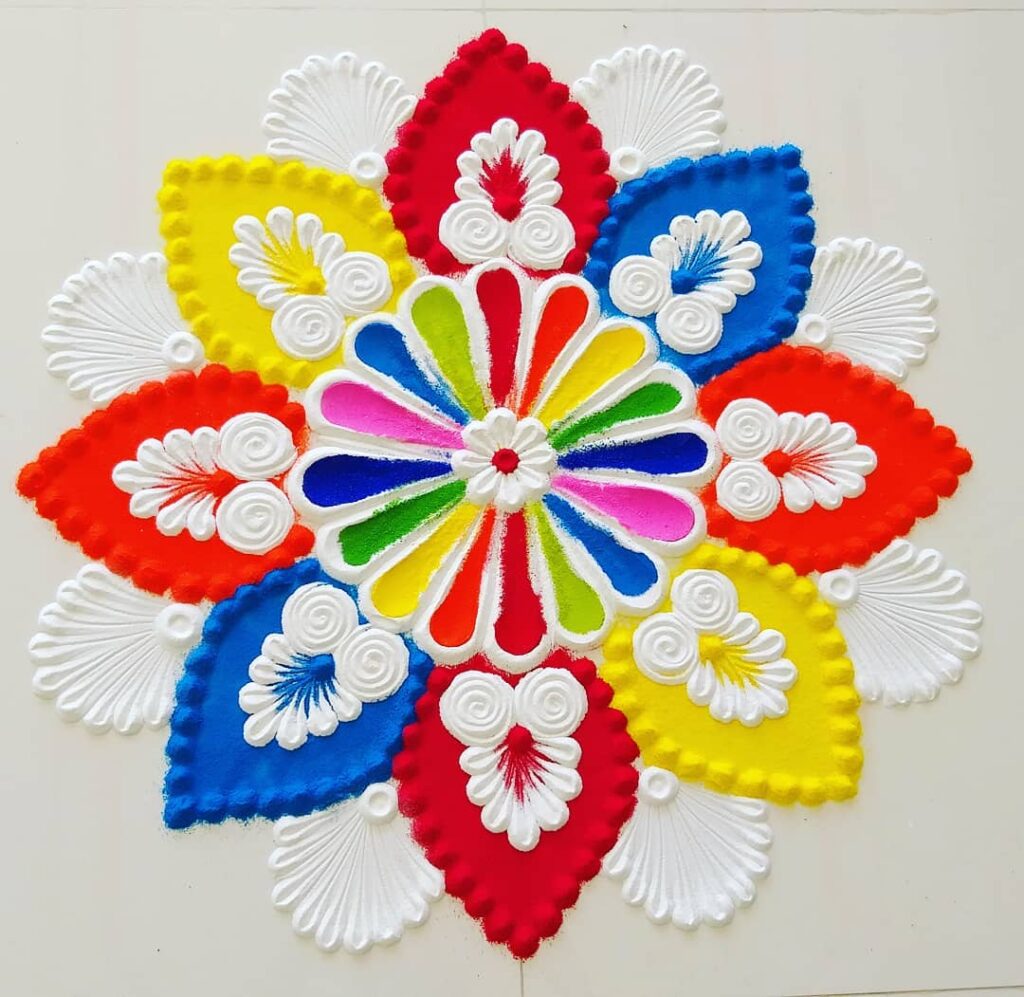 #8 A small rangoli design that is easy and quick to create as well.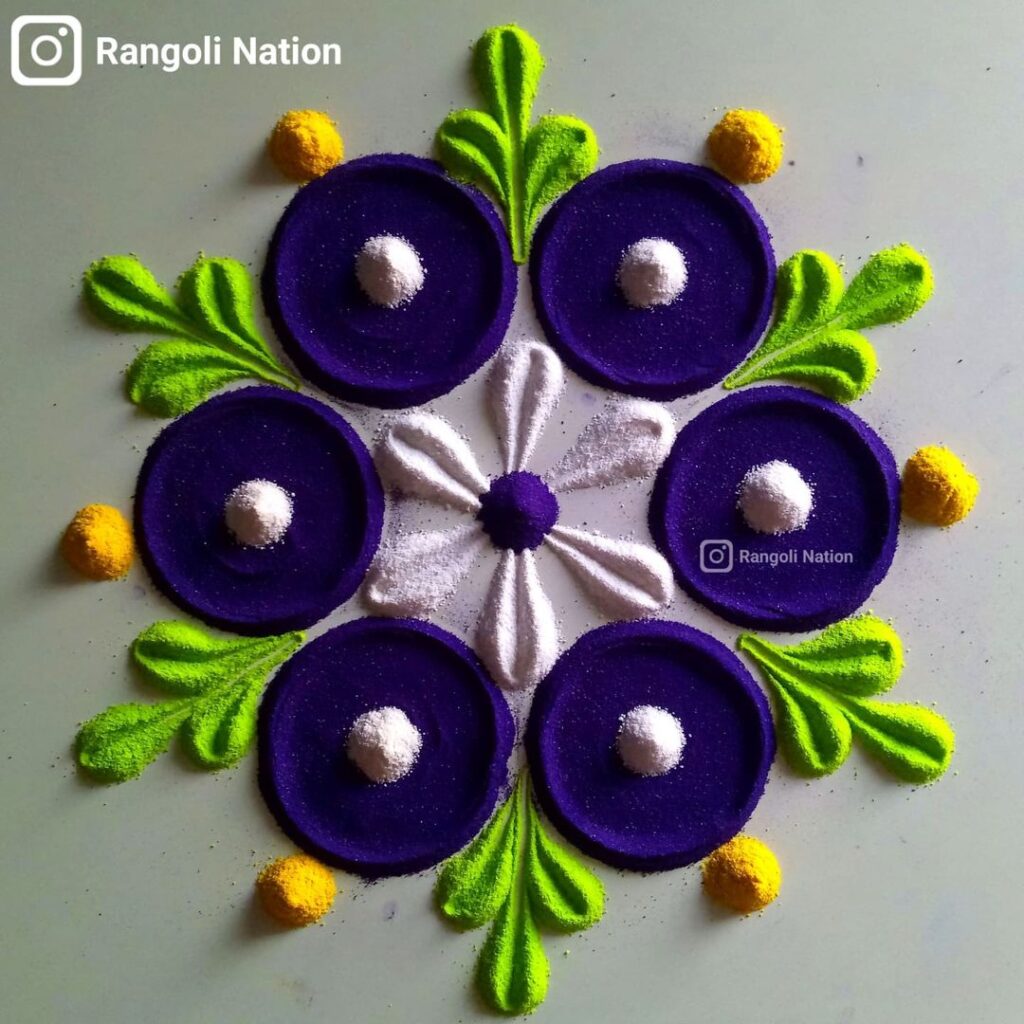 #9 You might think rangoli design drawings and figures are more difficult to create than the common geometric patterns. However, this endearing Lord Ganesha rangoli proves it wrong. Just use a thin rangoli dispenser to create the outline and fill it in. Don't forget to add the rat on the side for an adorable touch to the design.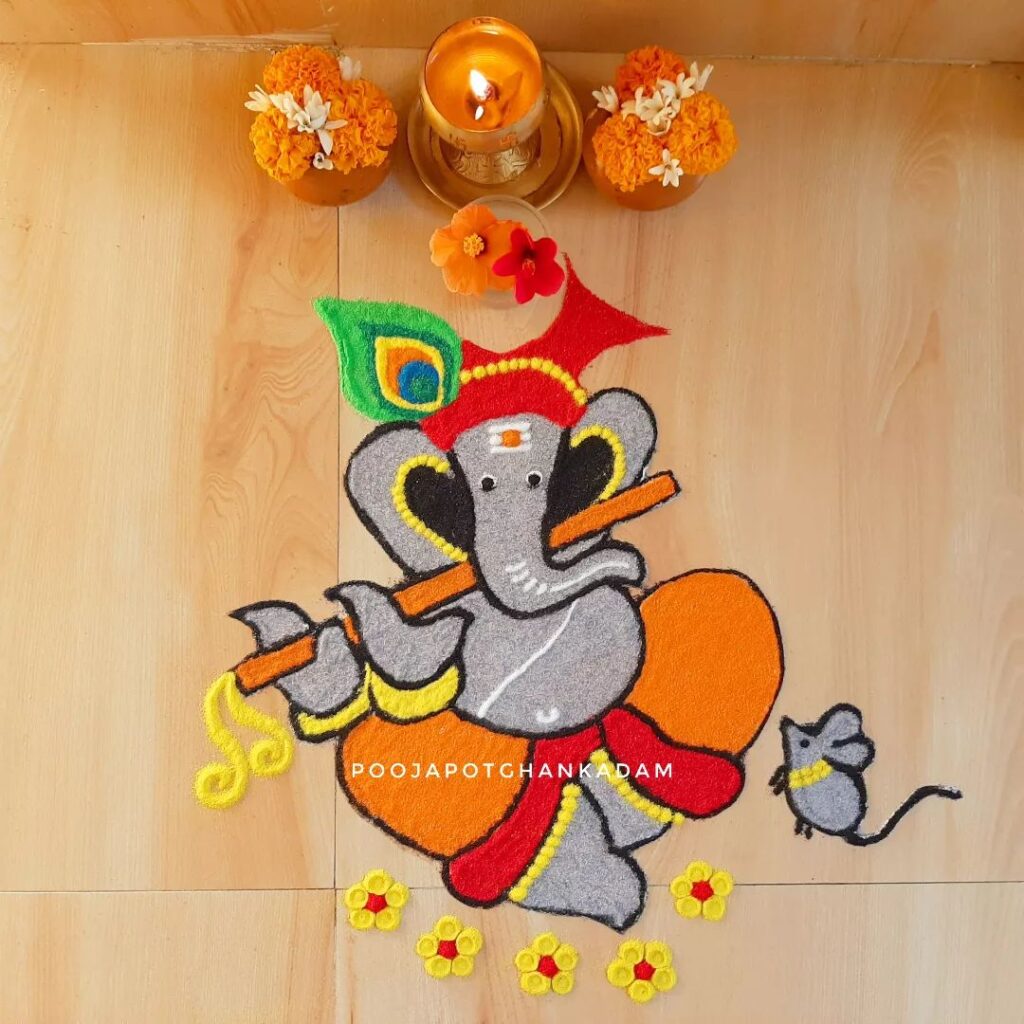 #10 This small rangoli design uses just three colors and basic design elements. It can be done within a few minutes and will still lend the allure of a beautiful rangoli design.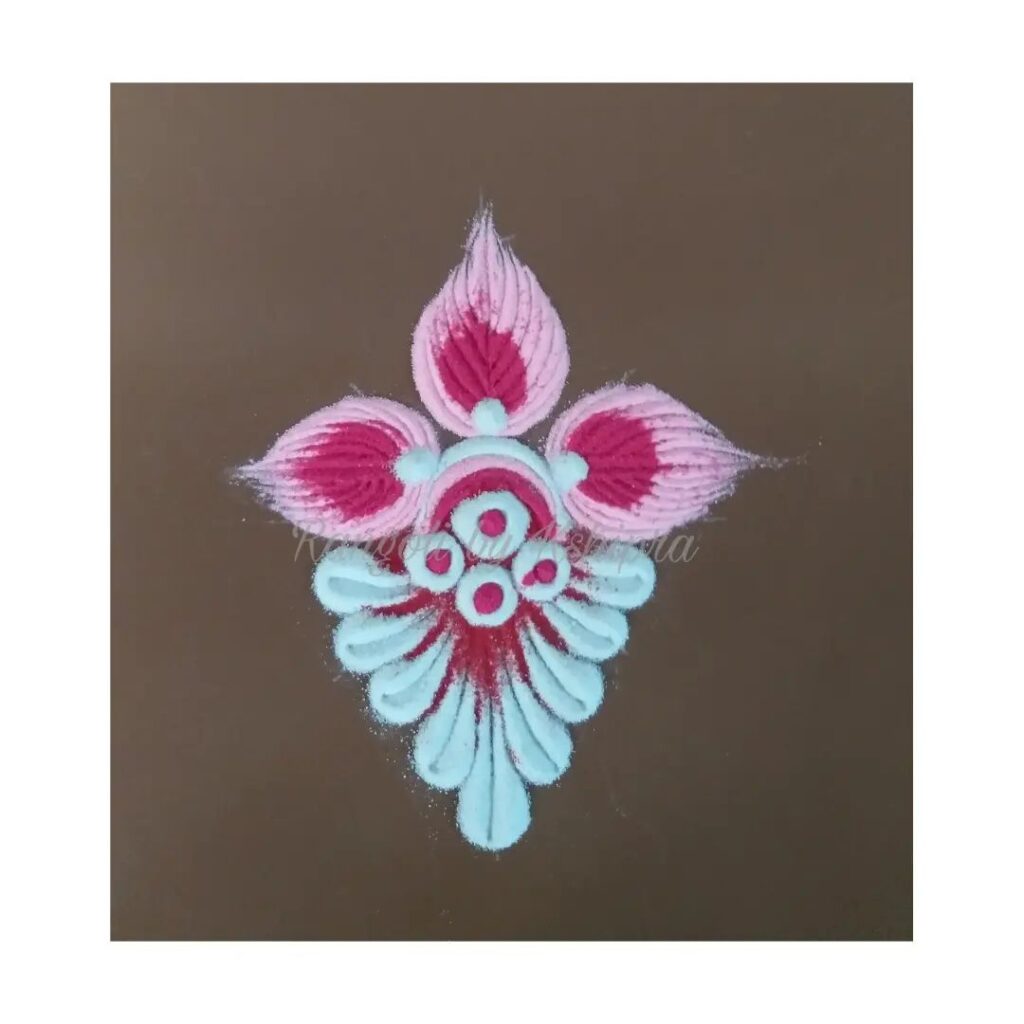 #11 Don't get intimidated by the vast size of this rangoli design. It's easier to do than you think! The bolder outline you see is done after the whole design is done and the shading is fairly straightforward considering you know the basic elements of the rangoli pattern well.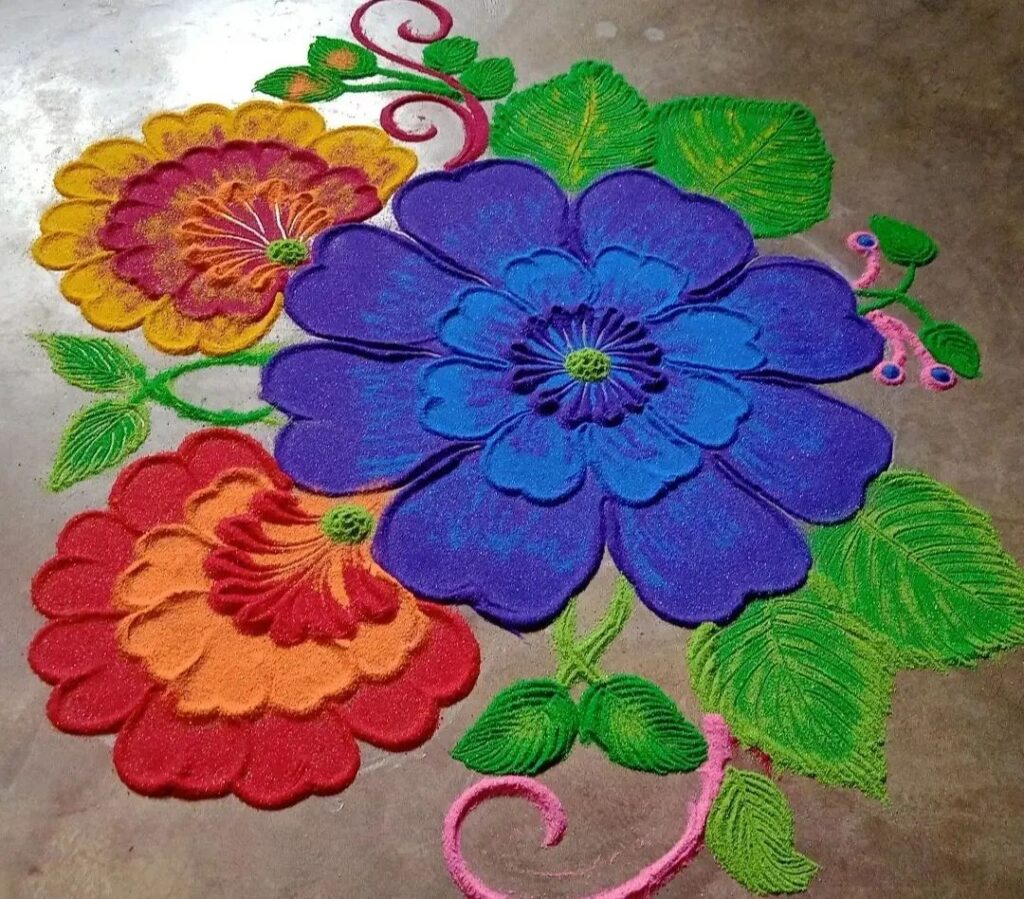 #12 With the dot patterns taking center stage, this rangoli design drawing is a manageable DIY and yet grabs the eyeballs. Also, loving the cheerful colors used in the pattern adding buoyancy and a favorable appearance to the entire design.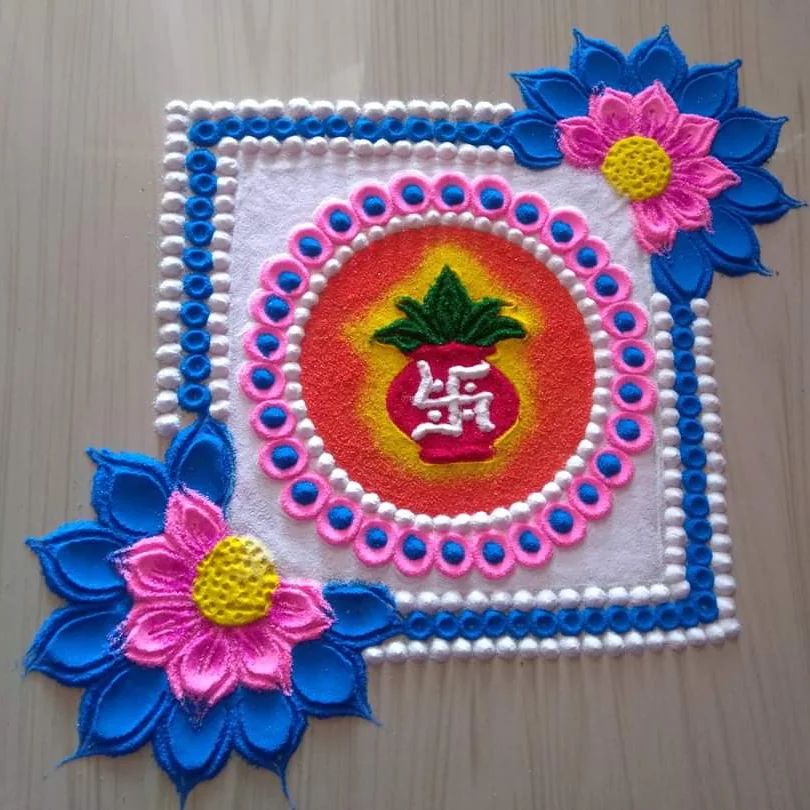 #13 A Lord Ganesha's figure in rangoli can work for many festivals like Diwali, Ganesh Chaturthi, etc. Since Ganesha is worshipped prior to all Gods because of his sharp intellect, his figure can symbolically welcome his entrance on an auspicious occasion. Here's a fairly easy Ganesha rangoli design drawing that even a novice in rangoli design can easily draw.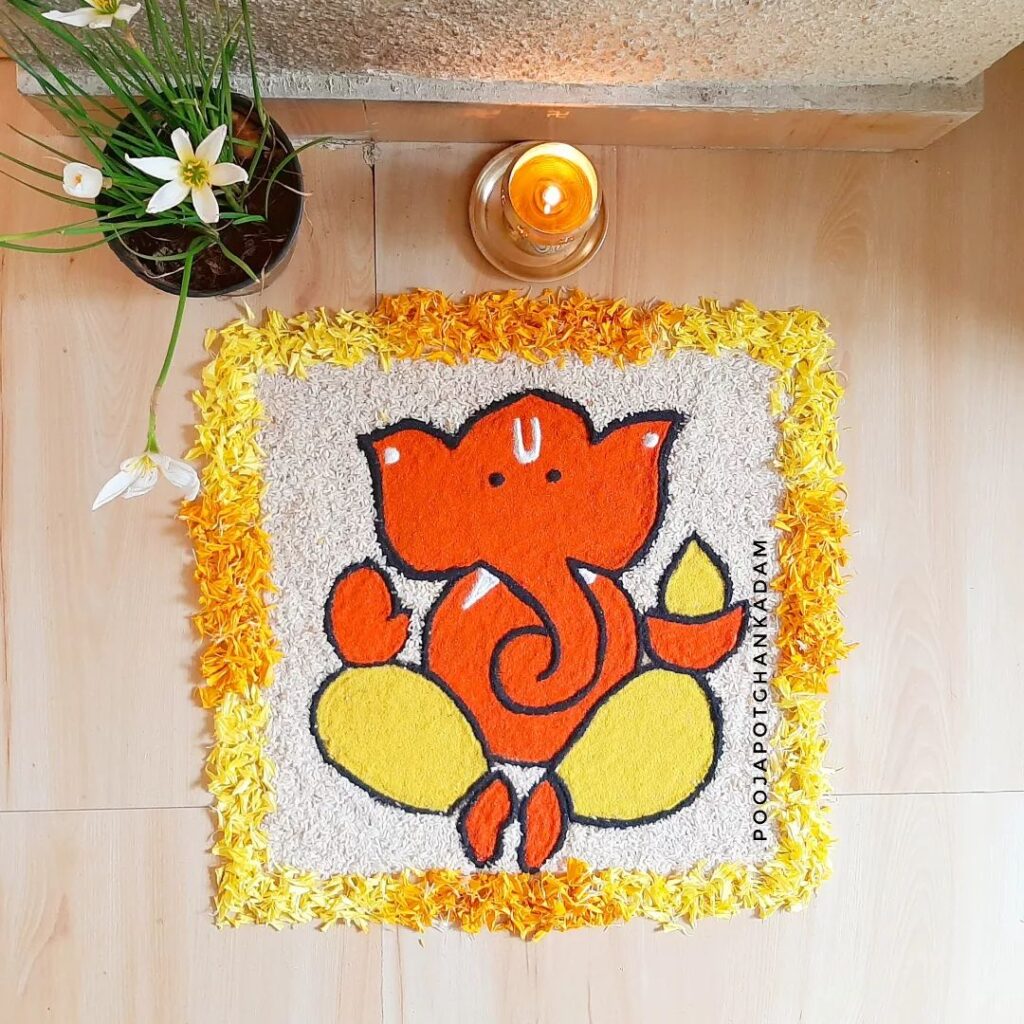 #14 Yet another one of the rangoli designs for the Vat Savitri occasion which is easy and can be easily replicated at home. You can also take inspiration from this design for other festivals like Teej or Chauth.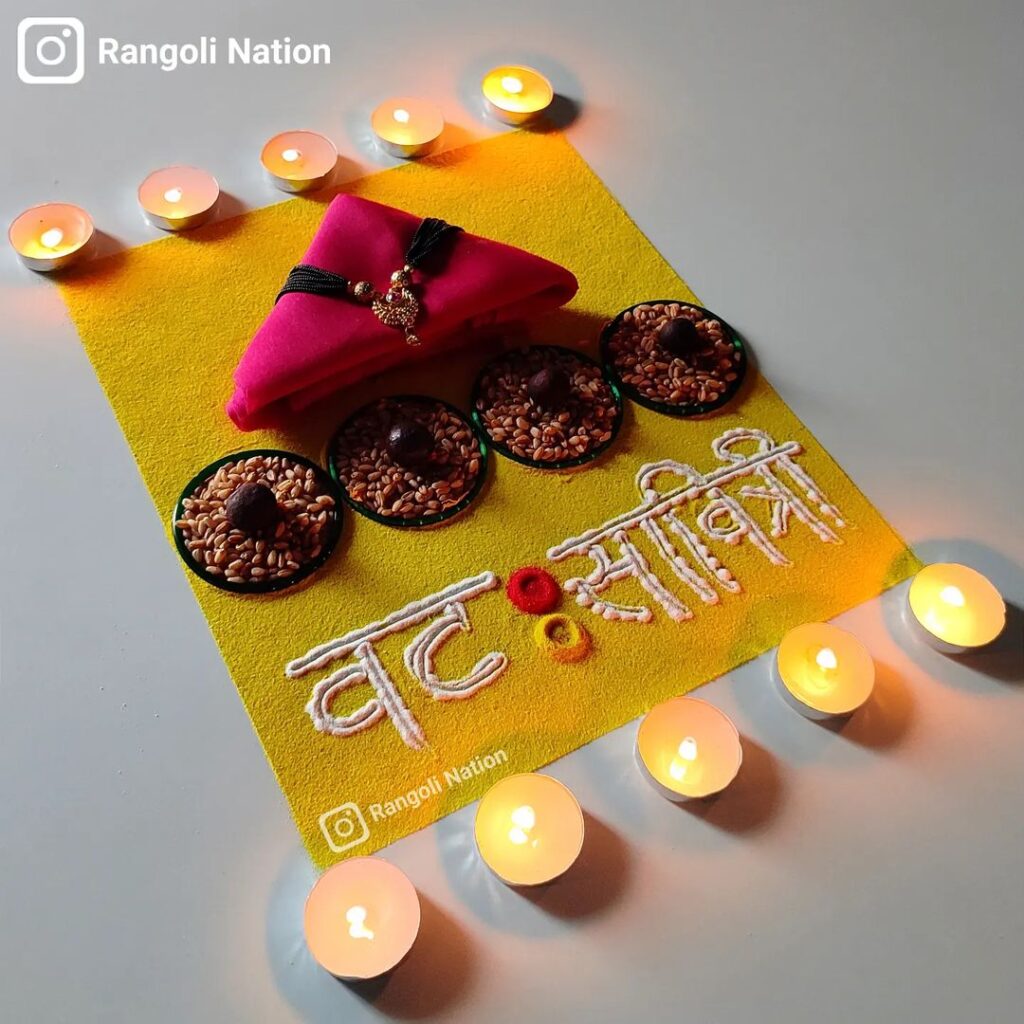 #15 If the last design was way too simple for you, here's a complex rendition of the rangoli designs which uses simple elements but merges them all to create a flawless and intricate design. When recreating, do make sure the leaf structures on the periphery are all roughly of the same sizes to maintain the allure of this rangoli design.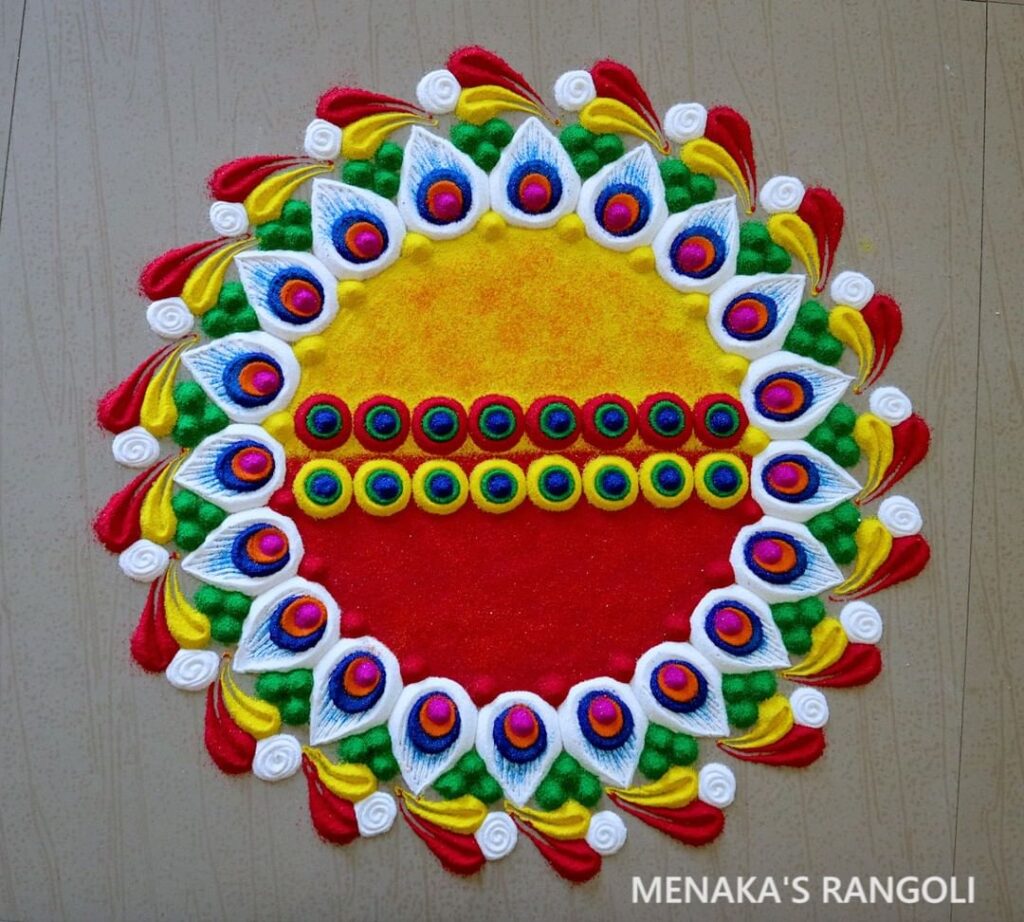 #16 Sometimes rangoli doesn't have to be for a festival, it can also be created to make someone special, like on Father's Day. This will surely make your father happy, and obviously, can be modified for other important people in your life as well.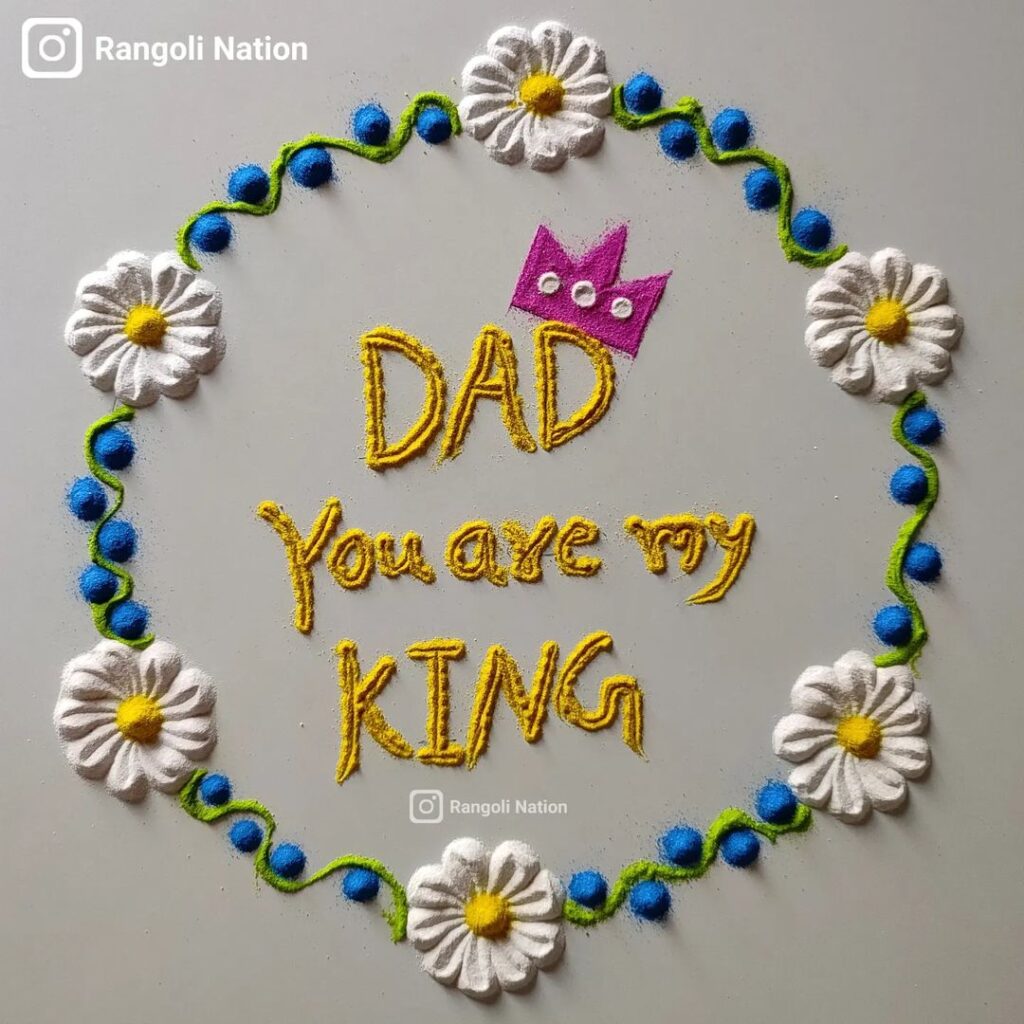 #17 The thing we love most about this rangoli design is how spacious it looks! For beginners, this can be quite ideal considering they are looking for easy patterns and less intricacy. This one blends the best of them both and yet gives a rangoli design drawing that's simple to make and appealing as well.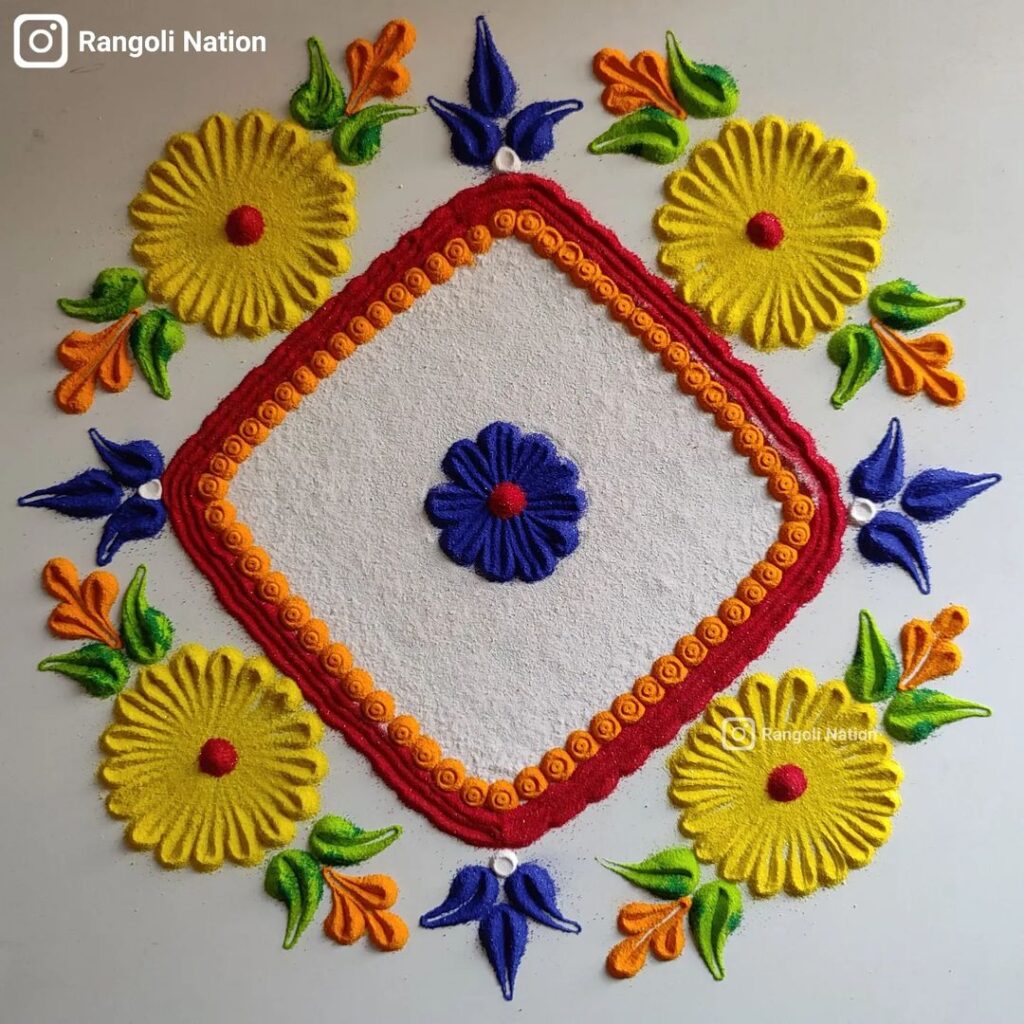 #18 Another one of the simple rangoli designs that involve a floral pattern from the start to the finish. The only tricky part here is the outline, once that's done, you can easily do the filling. Also, you don't have to use the same colors. Take some other color combination inspired by any other design on this list, and let your creativity ooze from your floral rangoli design.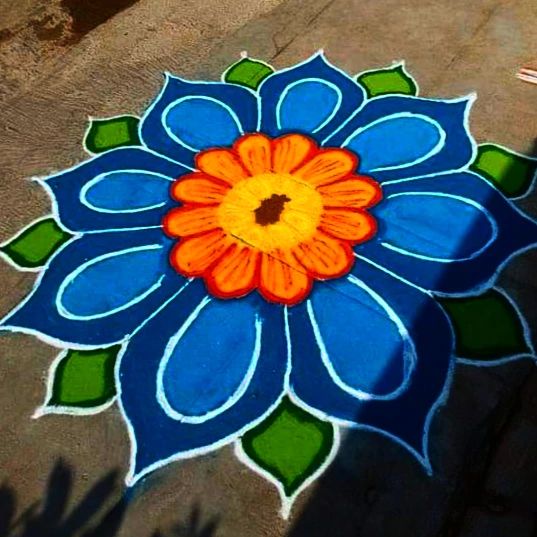 #19 You will notice that in simple rangoli designs, it's the drawing that is a little typical, and the filling is often kept straightforward. The next one also works on the same ideology and gives a unique rangoli sketch, which can be done as small or big in size as you'd like.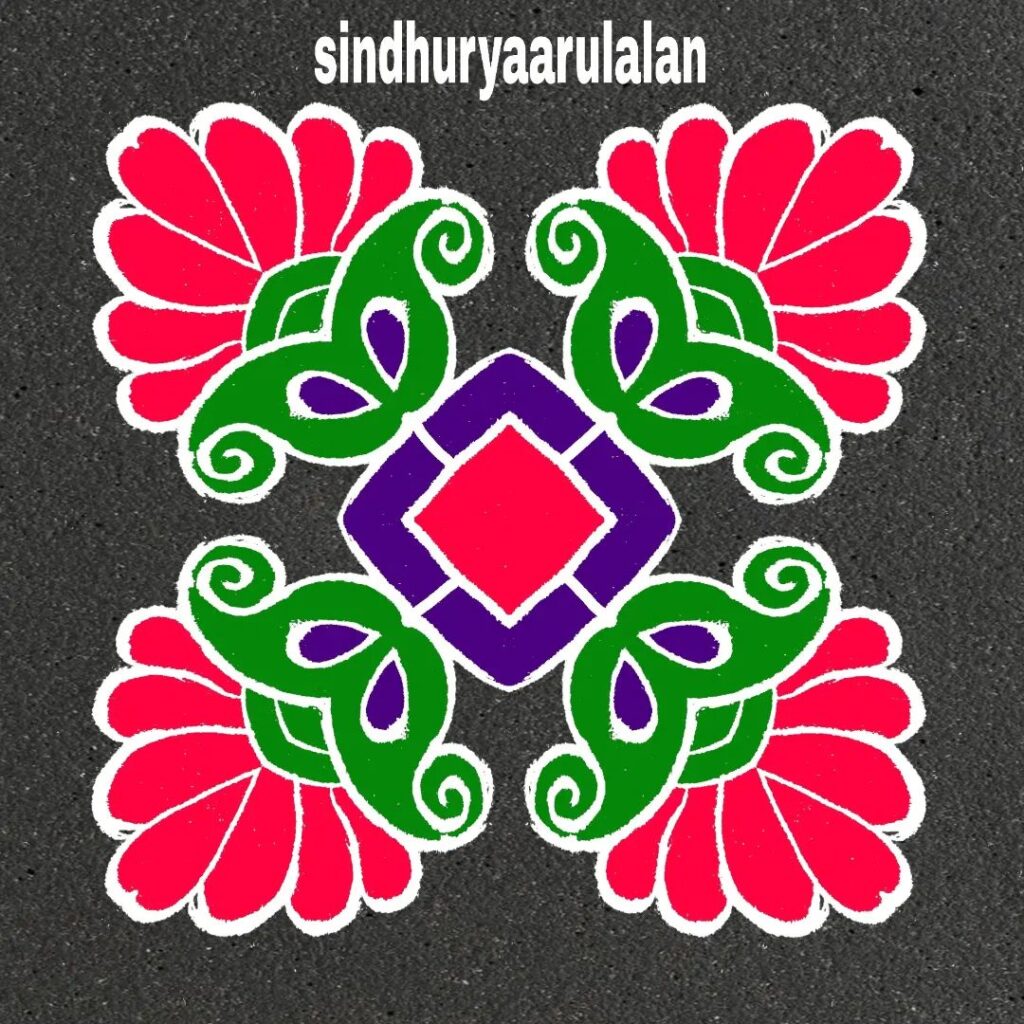 #20 Rangolis are often infused with religious significance especially the ones drawn on festivals. This divine design with feet imprints is ideal for Navratri when you want to invite Goddess Durga into your home with her blessings and love. It can also be done during Diwali for Goddess Lakshmi.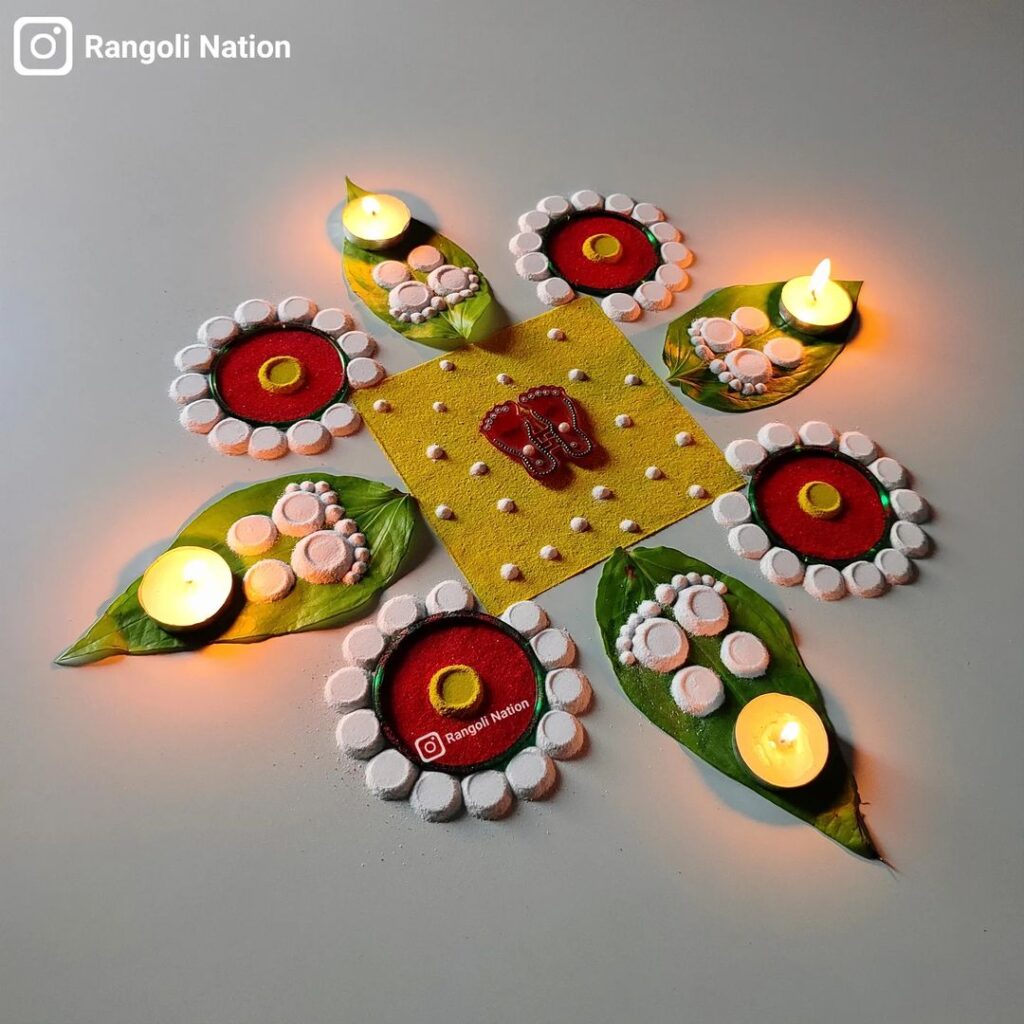 #21 Bringing together flowers, leaves, and circles in sunlight-inspired colors, this one of the rangoli designs 2022 is easy yet artistic and grabs the eyeballs in one look. Because of the spacious pattern, this also doesn't take much time to recreate in your own home.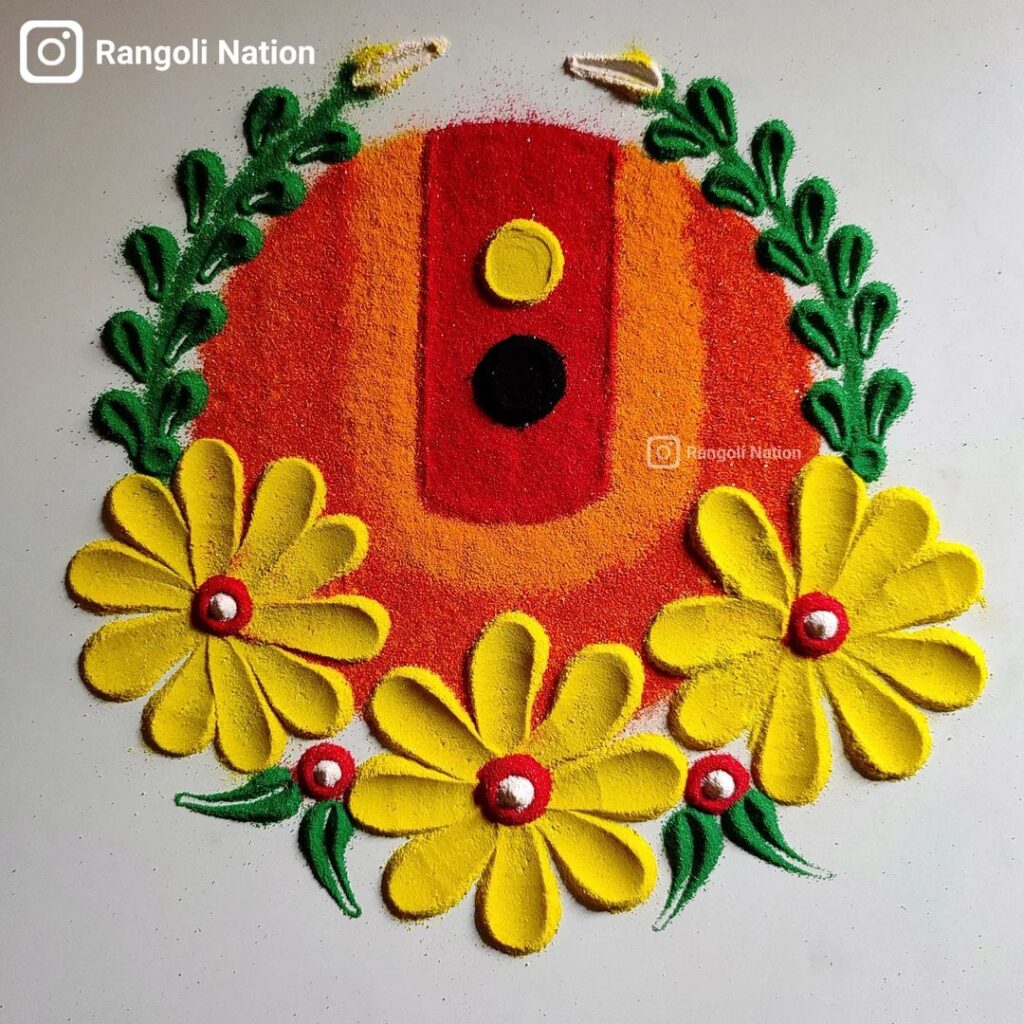 #22 When drawing a rangoli design, especially the ones inspired by a picture online, you might think you have to be as intricate to keep the appeal of the art intact. But that's not always the case. Rangoli designs do retain their appeal even with a few asymmetries here & there. Like here you can see the pattern on the outer periphery is a little asymmetrical but it's hardly noticeable considering the aesthetic beauty of the overall design. So, don't worry too much about intricacy, just create the rangoli design drawing with heart & patience!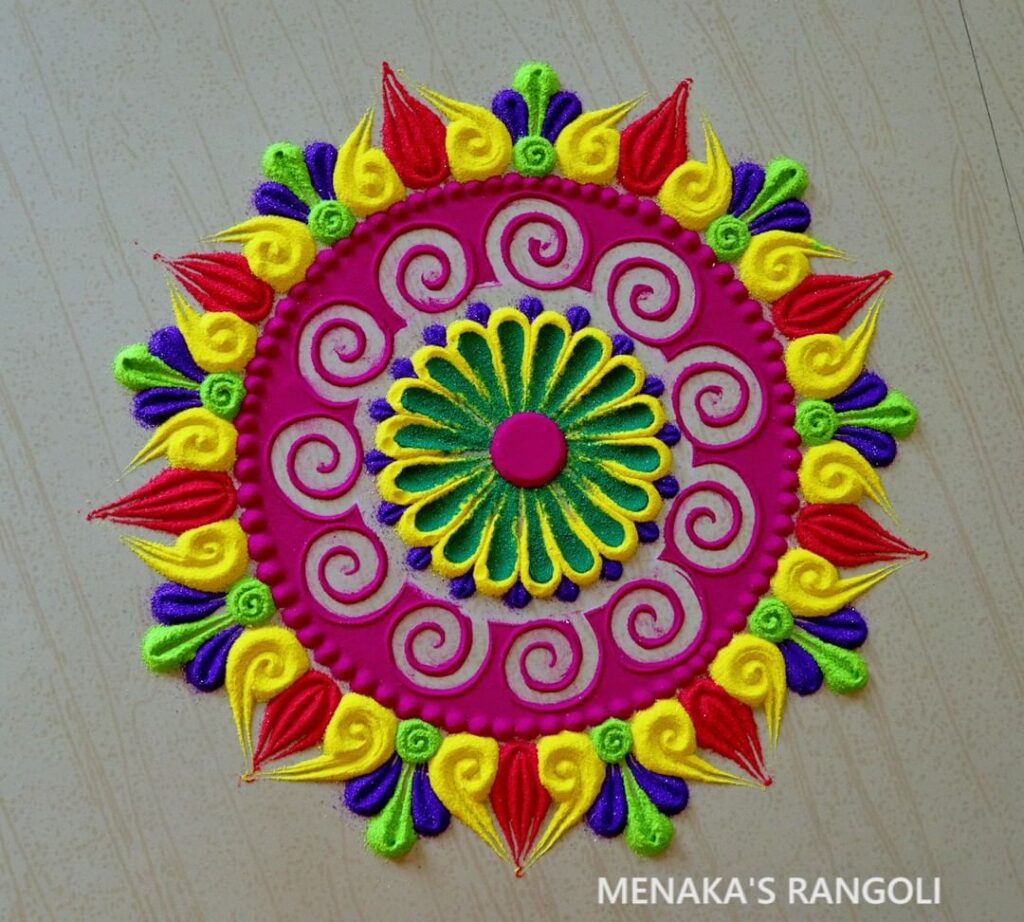 #23 Lush foliage and blooms signify abundance, opulence, and a season of growth & blessings. That's why they are often a part of many celebrations from decor to deity offerings and rangoli designs. Here's one that uses substantially-sized leaves and florals for a distinctive and eye-catching design.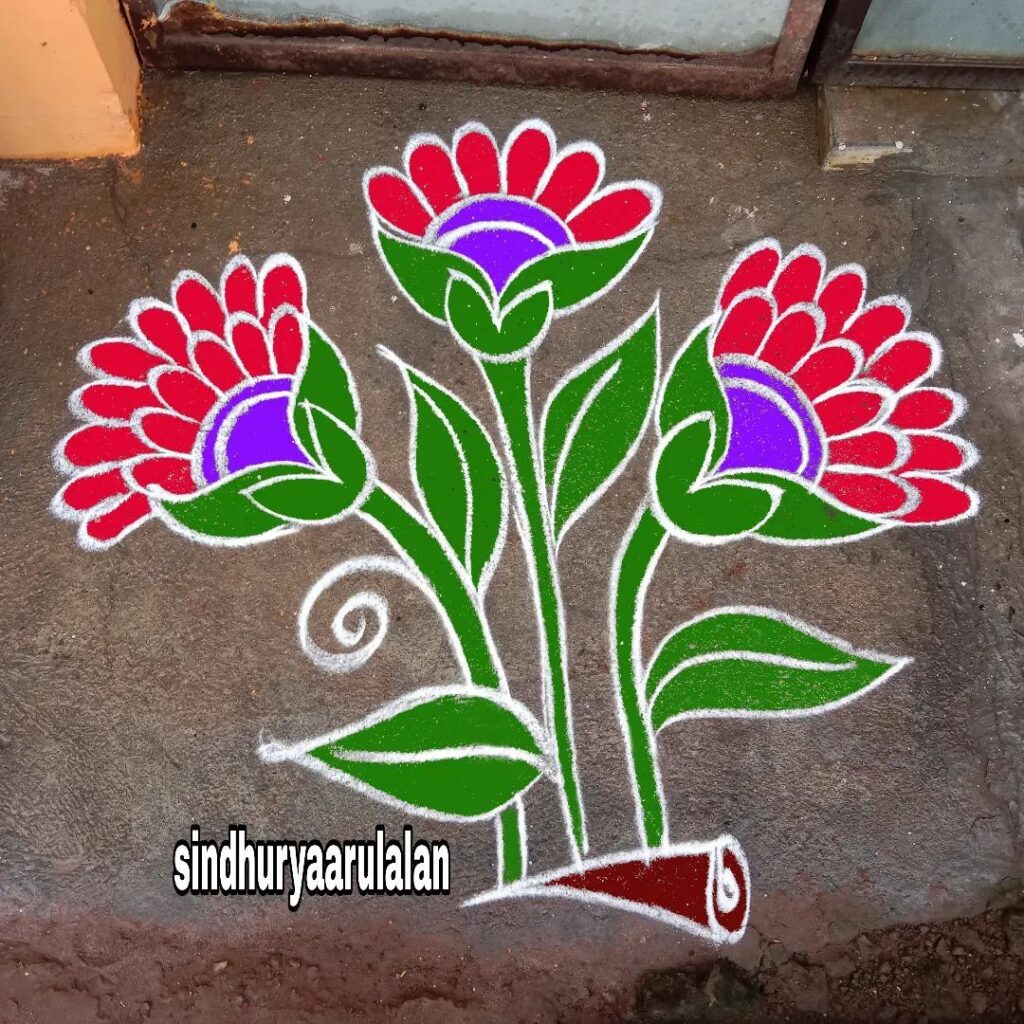 #24 Feet impressions, as you can see, are a common element in rangoli designs and are often drawn on festivals seeking blessings from Goddesses, mainly Navratri and Diwali. You can draw this one at the entrance or inside your home mandir. The red color is also auspicious since Goddess often wears Alta on their feet and leaves impressions as they walk.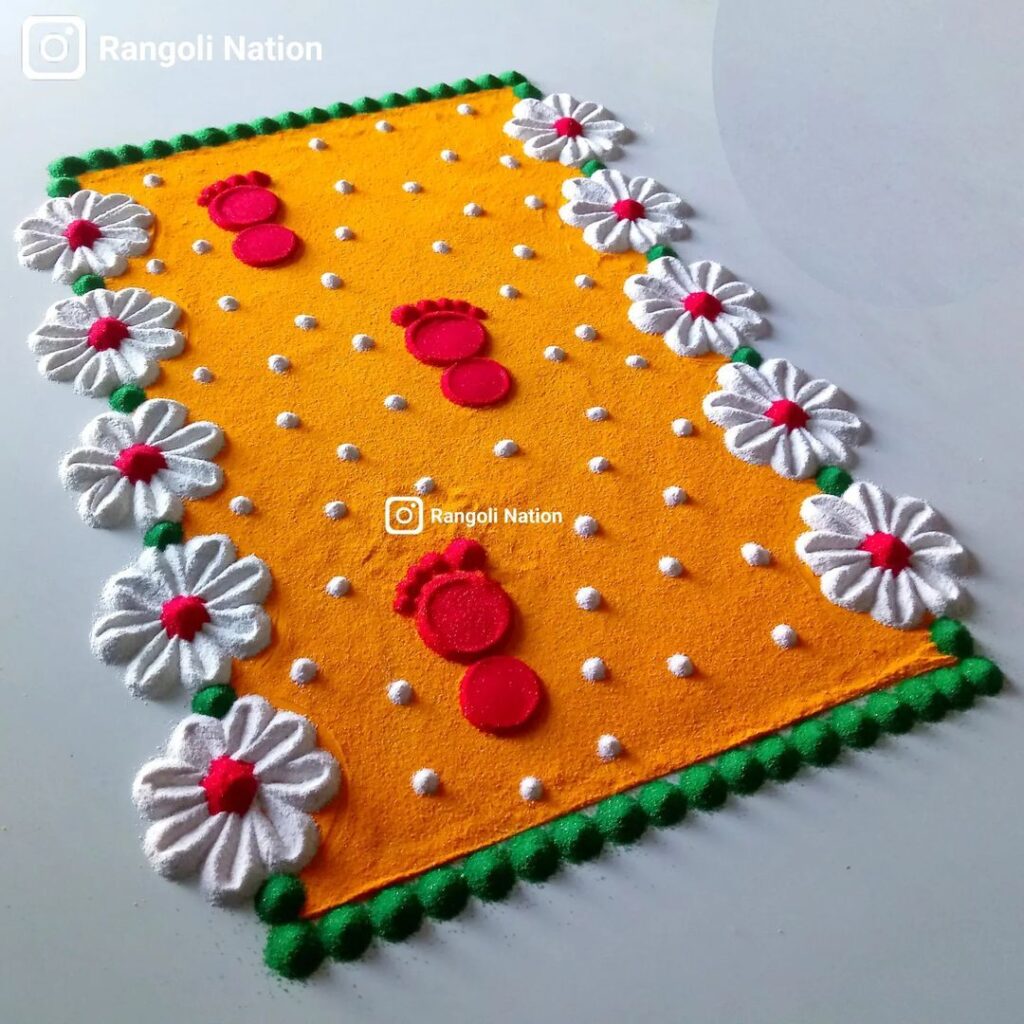 #25 Both feet impressions and Swastika are considered auspicious symbols in the Hindu religion, so it makes sense to include them in your rangoli designs for festivals.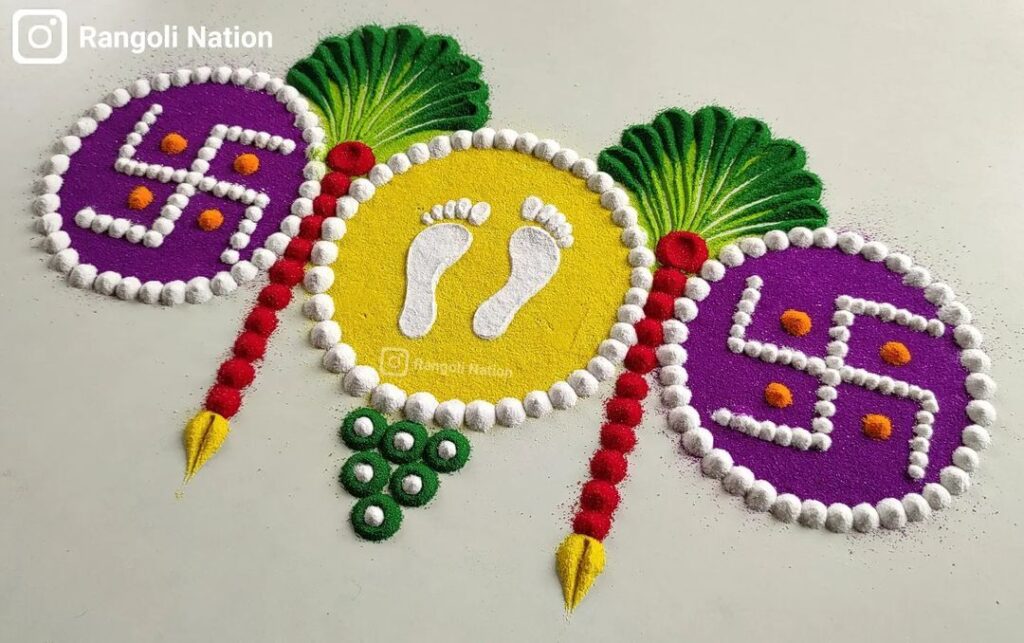 #26 A gorgeous floral rangoli design done to emulate blooming florets and lush foliage is everything! Their beauty is revered everywhere and we love their widespread inclusion in rangoli designs, especially small rangoli designs.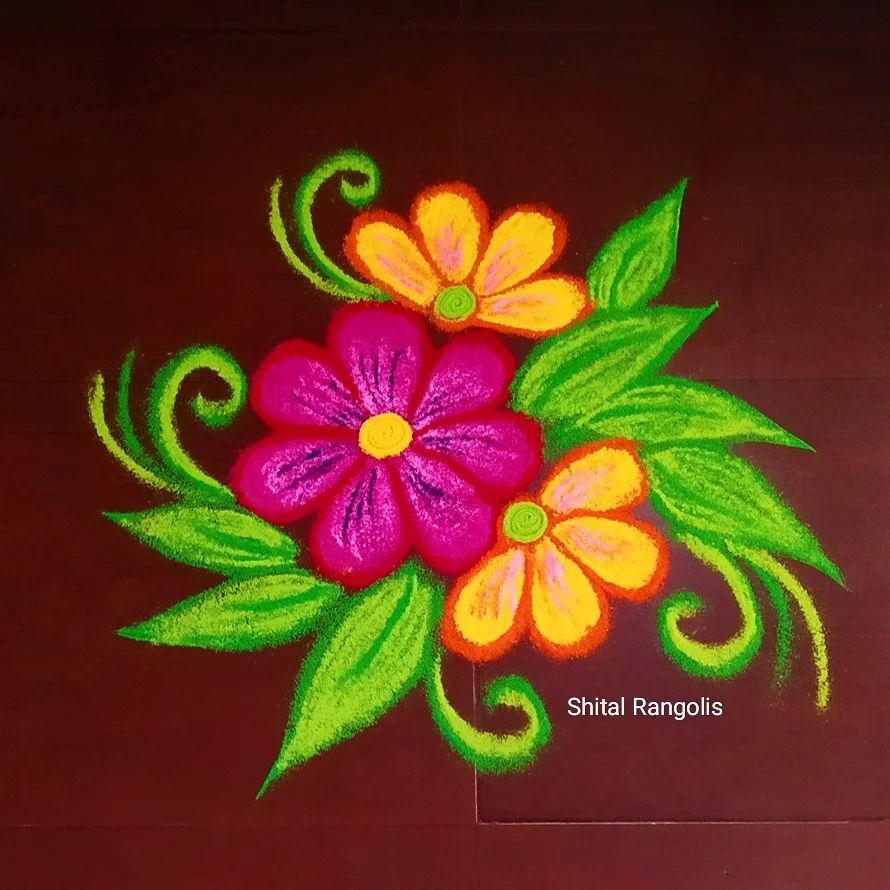 #27 This small rangoli art portraying a smiling Lord Ganesha is endearing and charming at the same time. Don't forget to add the small rat, which amps up the appeal as well.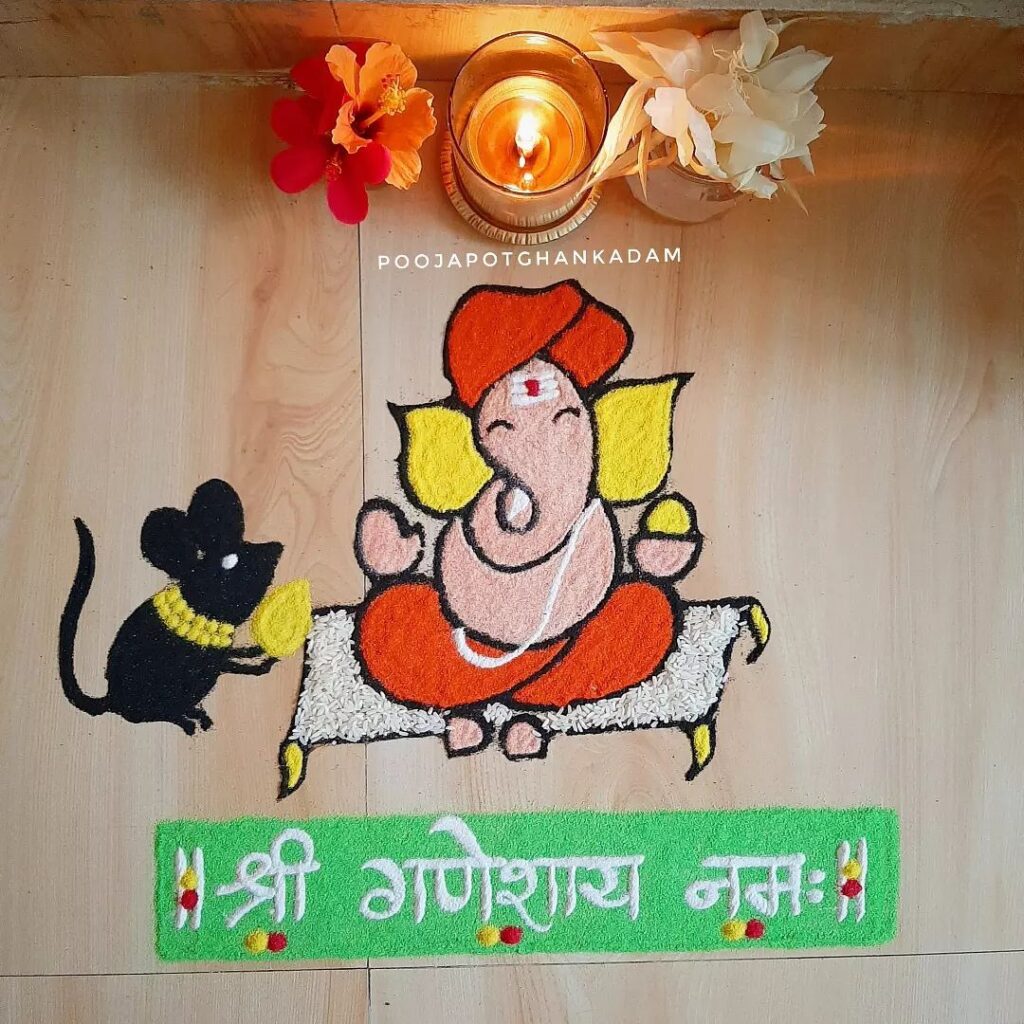 #28 Another floral & leaves rangoli drawing that just wins our hearts.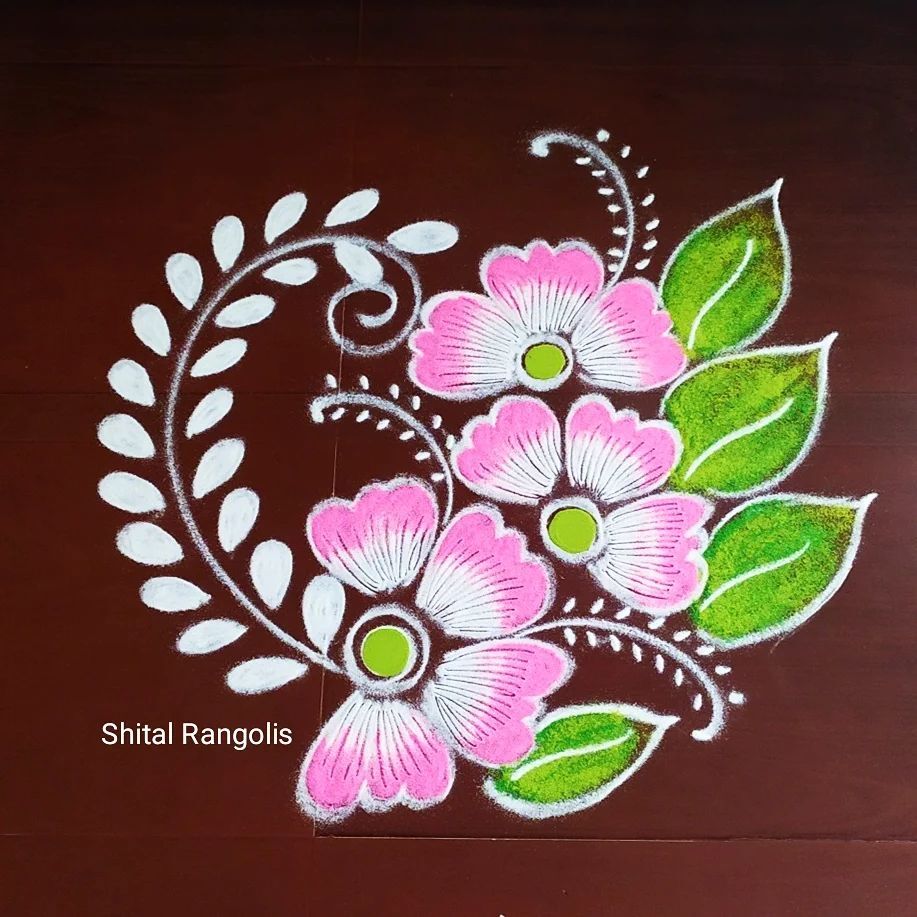 Diwali Rangoli Design
#1 Done using real flowers and a neat outline, this is such a simple rangoli design yet so beautiful. You think artistic rangoli designs need time and effort, but this one proves the common belief wrong and stands on its own. Needless to say, this small rangoli design can be made anywhere in the house because of its compactness and easy variation of size.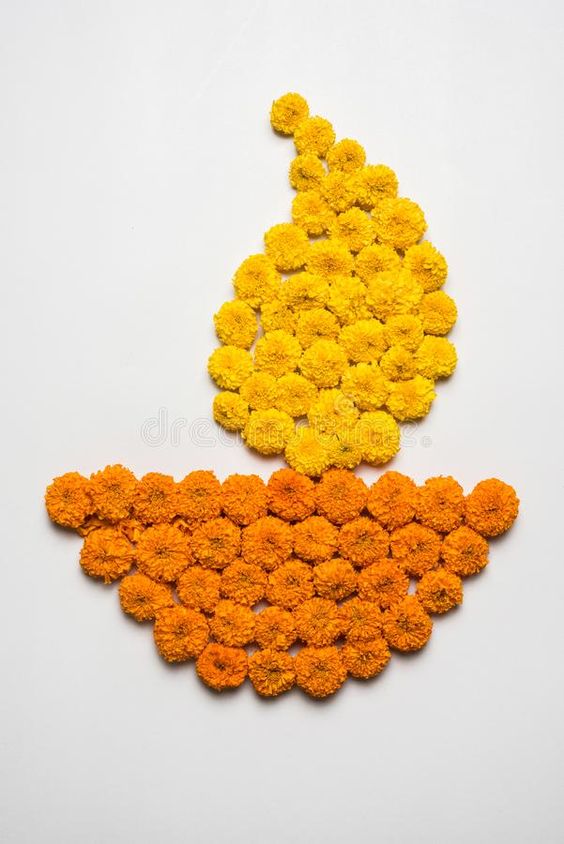 #2 Lotus is considered to be a symbol of purity. Since it grows in murky water, it's also a symbol of transcendence, strength, and resilience. Goddess Lakshmi sits on the flower, and since she is primarily worshipped on Diwali, lotus flowers are also brought home on the occasion. This rangoli with the feet impressions thus signifies Goddess Lakshmi entering the house.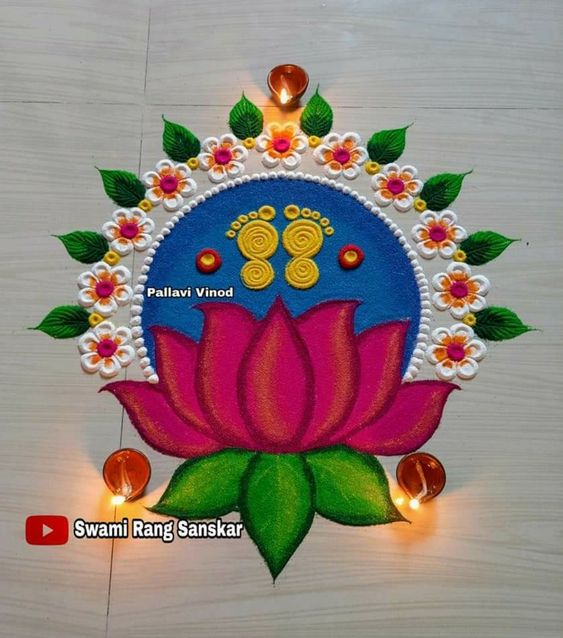 #3 Here's a beautiful way to decorate the corners of your home and light diyas. Put some marigold malas in different colors and place a diya alternating with a leaf.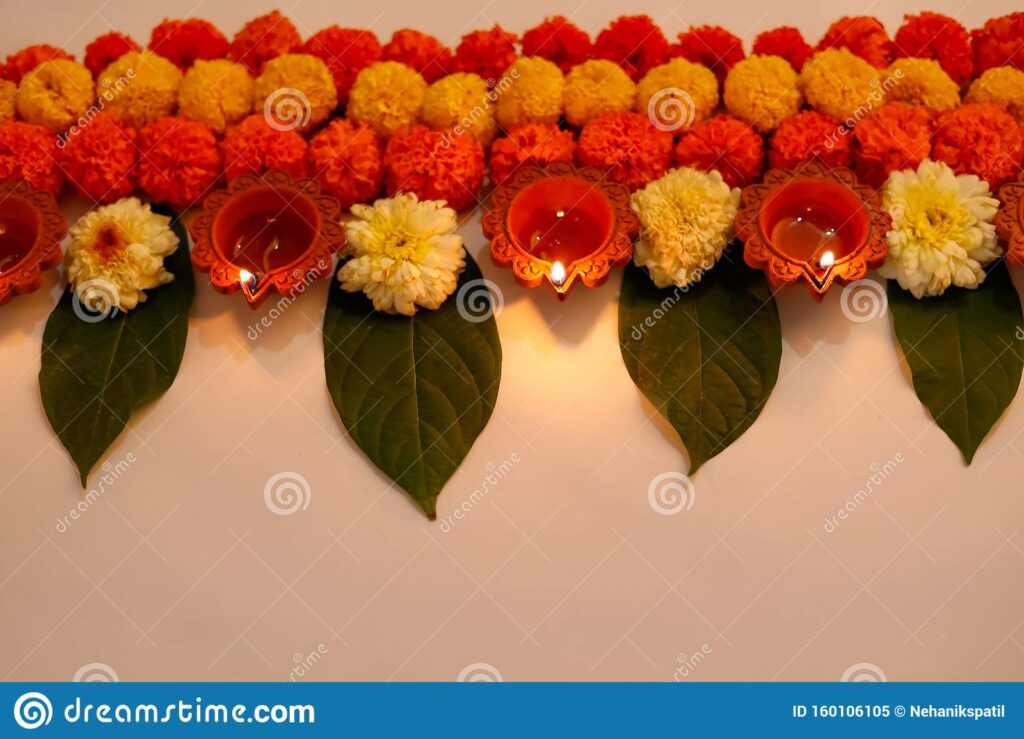 Courtesy: dreamstime.com
#4 What signifies Diwali more than a Diya? This rangoli design drawing consists of a substantial-sized diya bedecked with easy art on the sides. You don't have to draw the exterior yellow part if you just want a small rangoli design instead.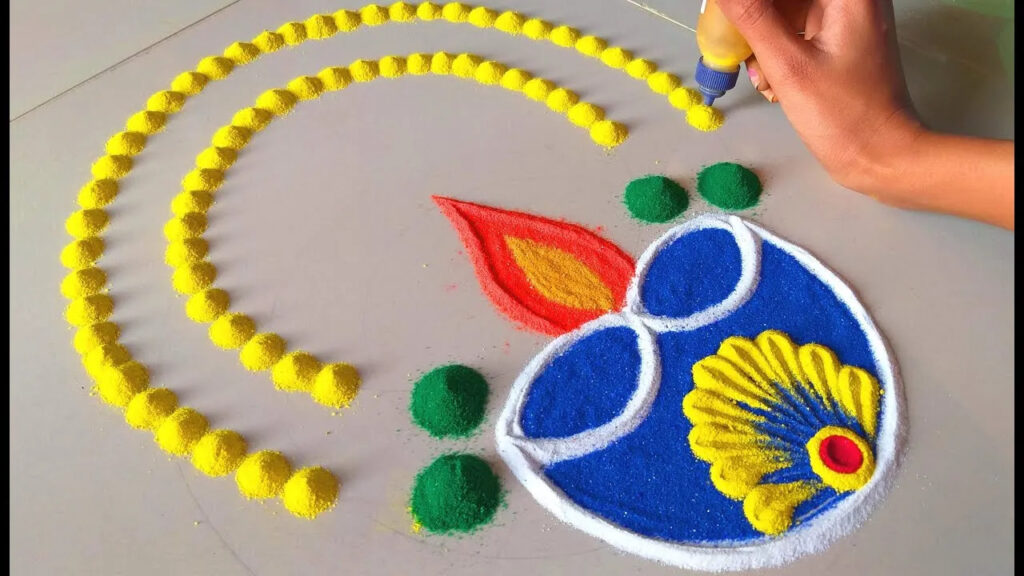 #5 Besides the impression of the paisley on the sides, this is one of the easy rangoli designs because it's mostly just outline and fillings. Once the outline is done (which can take some time if you're a beginner), the rest of the work is fairly easy.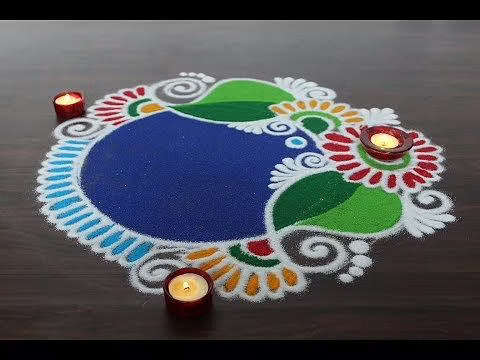 #6 We have all the eyes for this gorgeous 3-D rangoli design. The stunning florals surrounded by such lush leaves raise their prominence and the feet impressions in the middle add the religious significance needed in a Diwali rangoli design.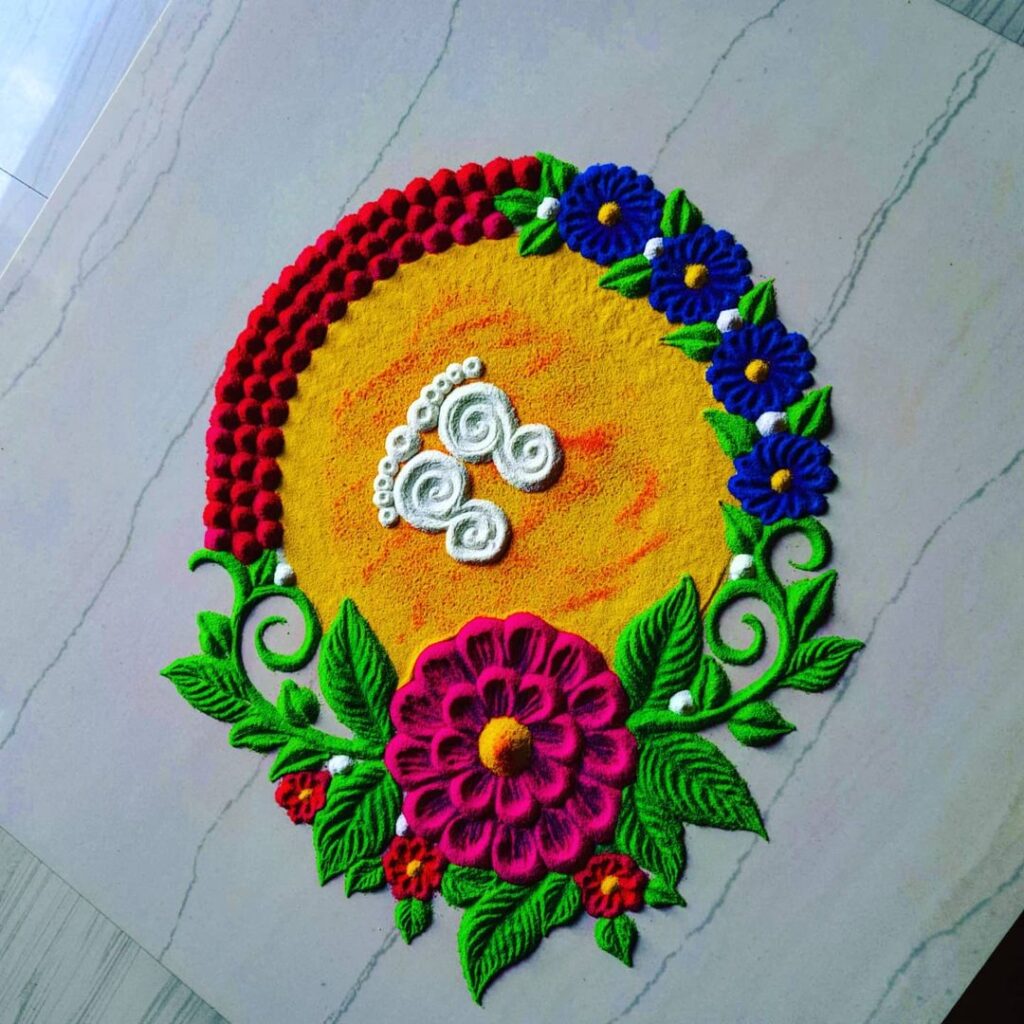 #7 Goddess Laxmi is offered prayers on Diwali, but she is often offered prayers alongside Lord Ganesha. Do you know why? Ganesha Ji is the adopted son of Laxmi Ji, who adopted him from Goddess Parvati. It's also said that while Ganesha Ji is the god of wisdom, Laxmi Ji is the goddess of wealth, and praying them together ensures you receive wisdom with wealth because, without the former, the latter can't stay for long. Now that you know the significance and want to include a religious aspect of Diwali in your rangoli, try to include a Ganesh idol as well.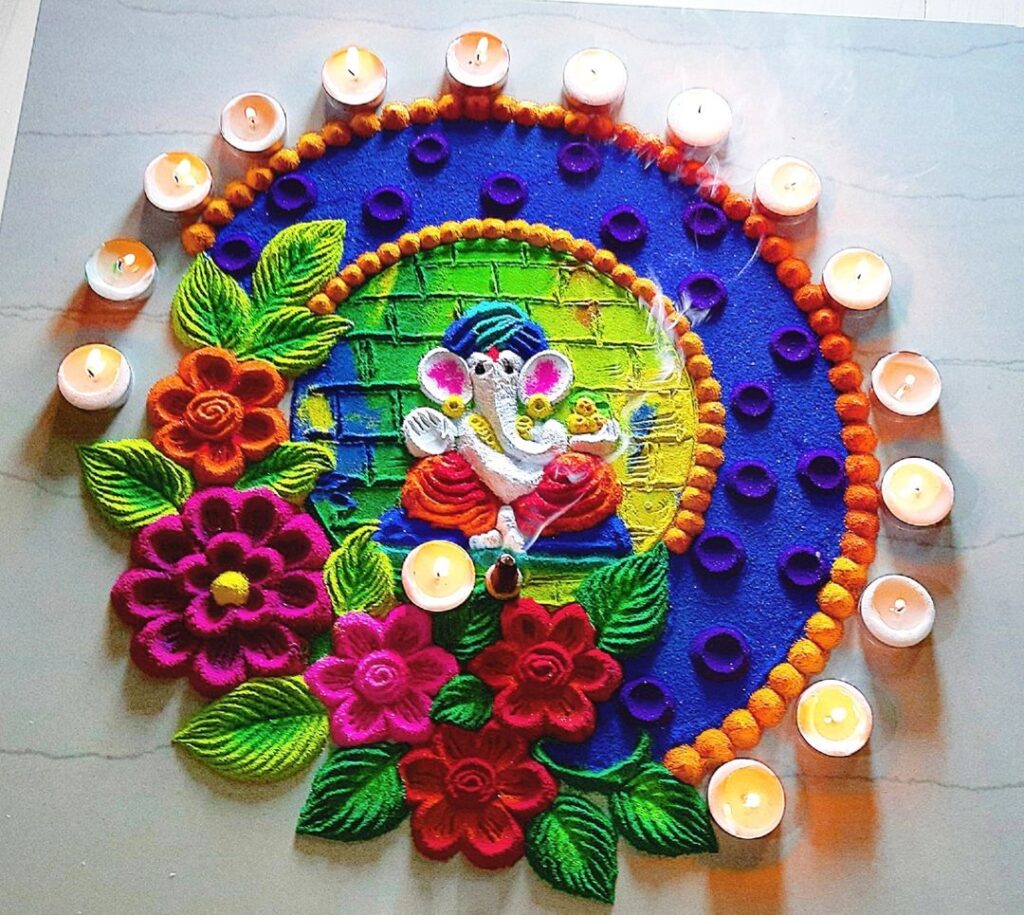 #8 A stunning white rangoli design that is accentuated by the use of ink blue and heightened art. White surely has a way of making rangoli designs eye-catching and dramatic.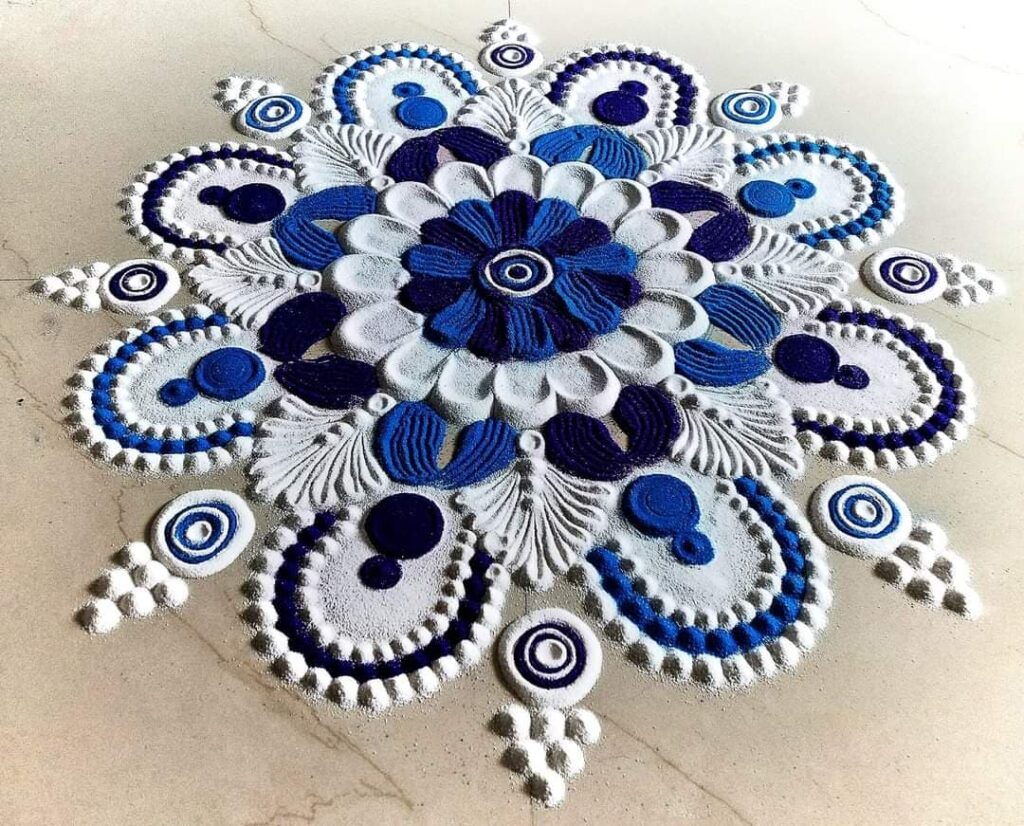 #9 To decorate the periphery of your home, this Diwali rangoli design incorporates diyas and bright colors all in one.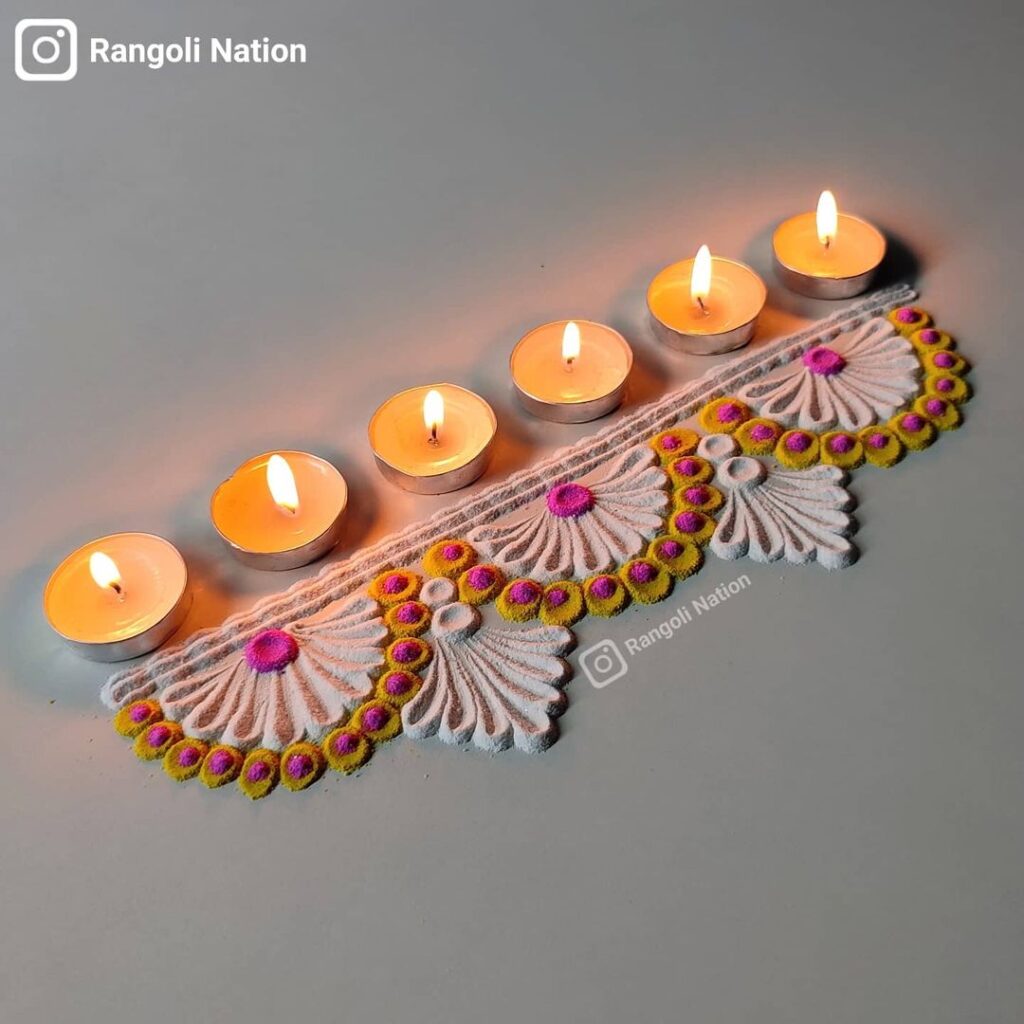 #10 The burst of colors in this Diwali rangoli design paired with a 3-D effect is awe-inspiring. Incorporating peacock feathers is also a good idea – because of their symbolic significance and aesthetic beauty.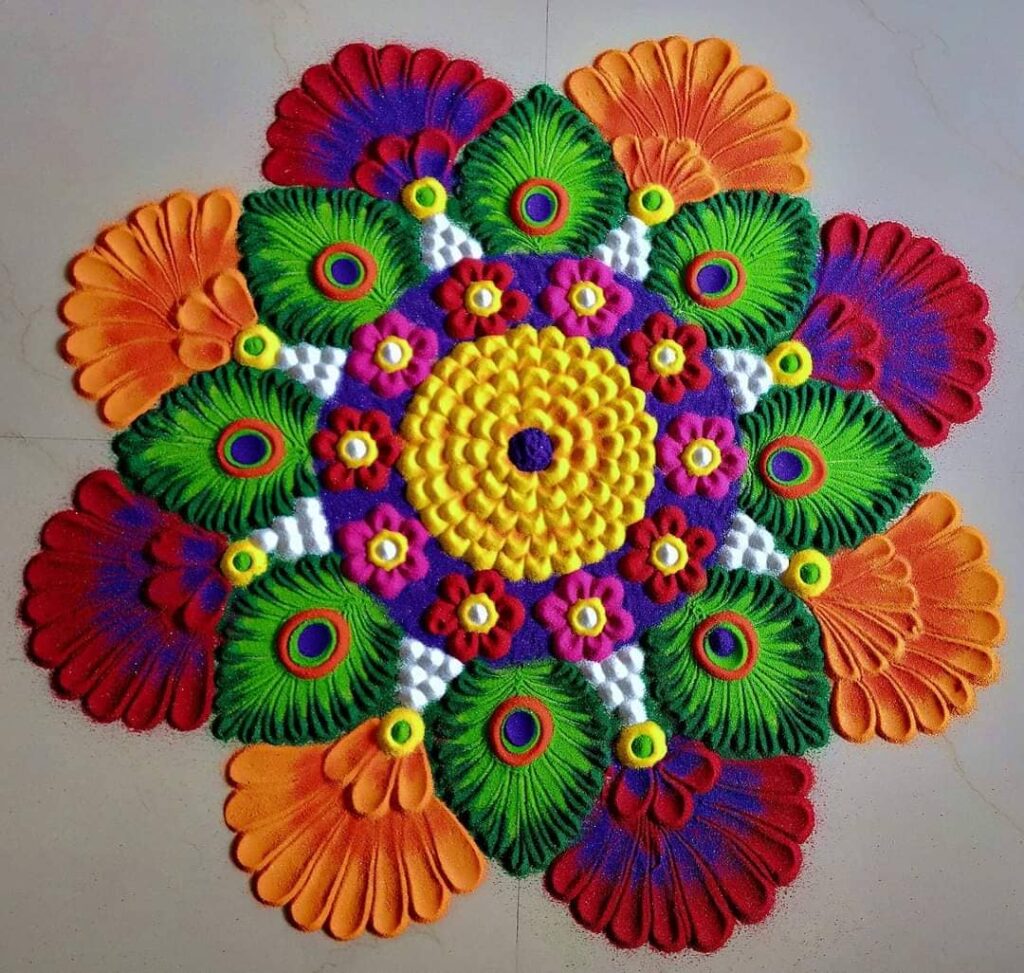 #11 A small rangoli design for Diwali because you need them to decorate small corners in the house.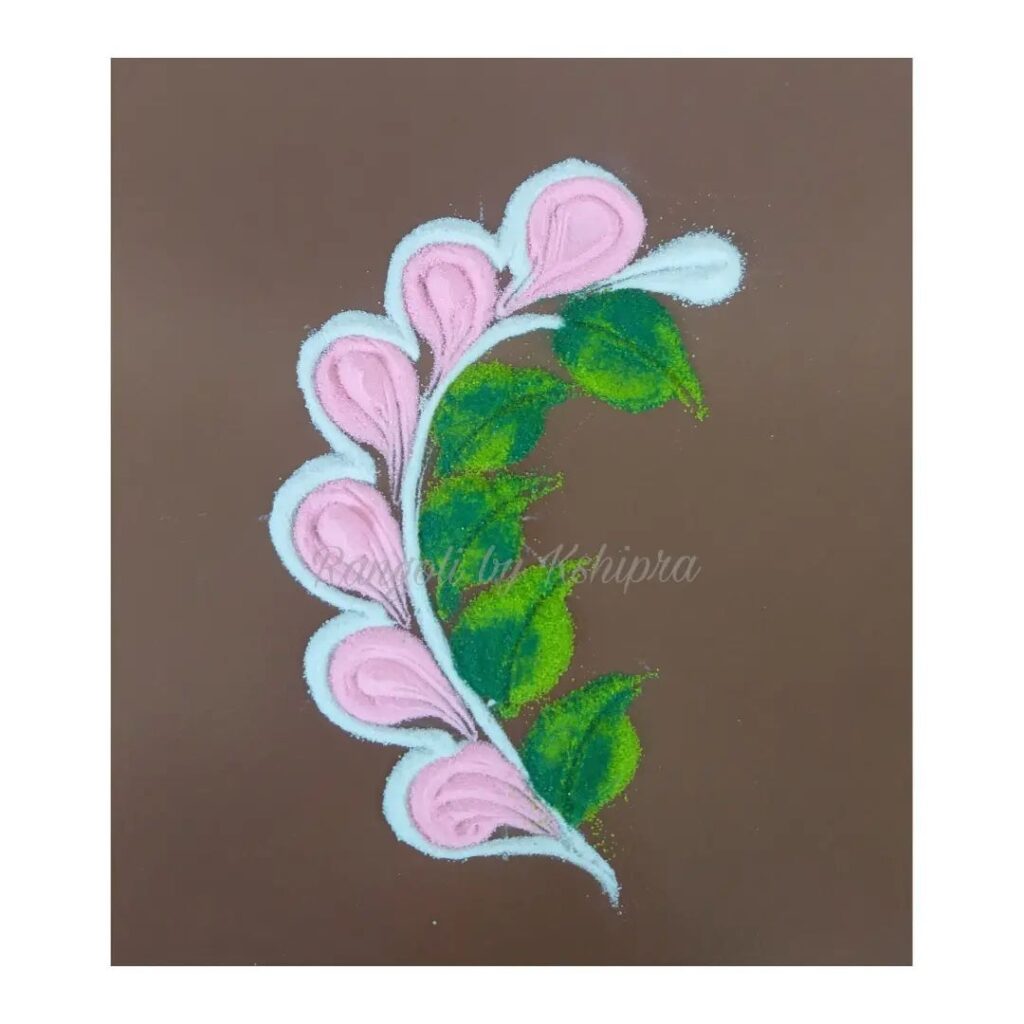 #12 Celebrating the homecoming of Ram, Sita, and Laxman, this Diwali rangoli design is religiously significant and quite endearing.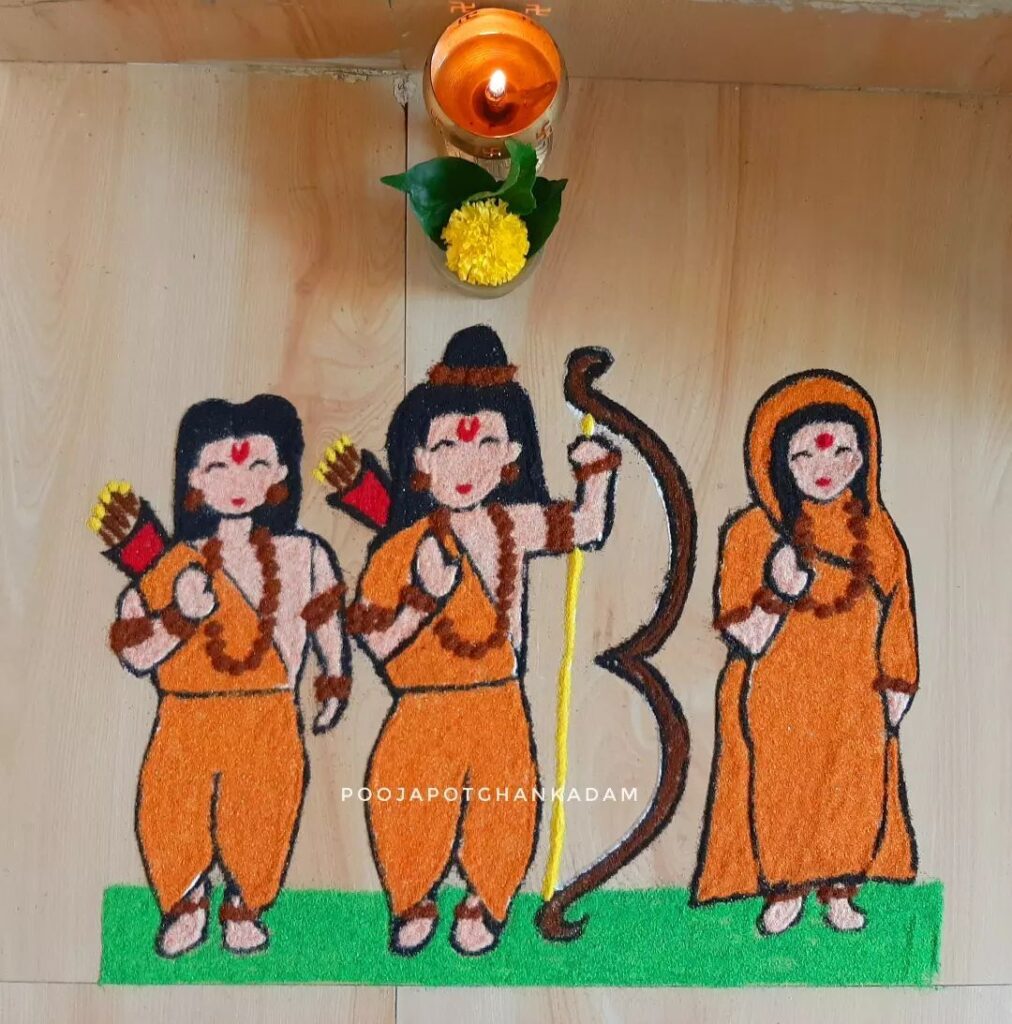 #13 An ideal rangoli design for Diwali welcoming Goddess Laxmi Ji into your home with diyas and vivid colors.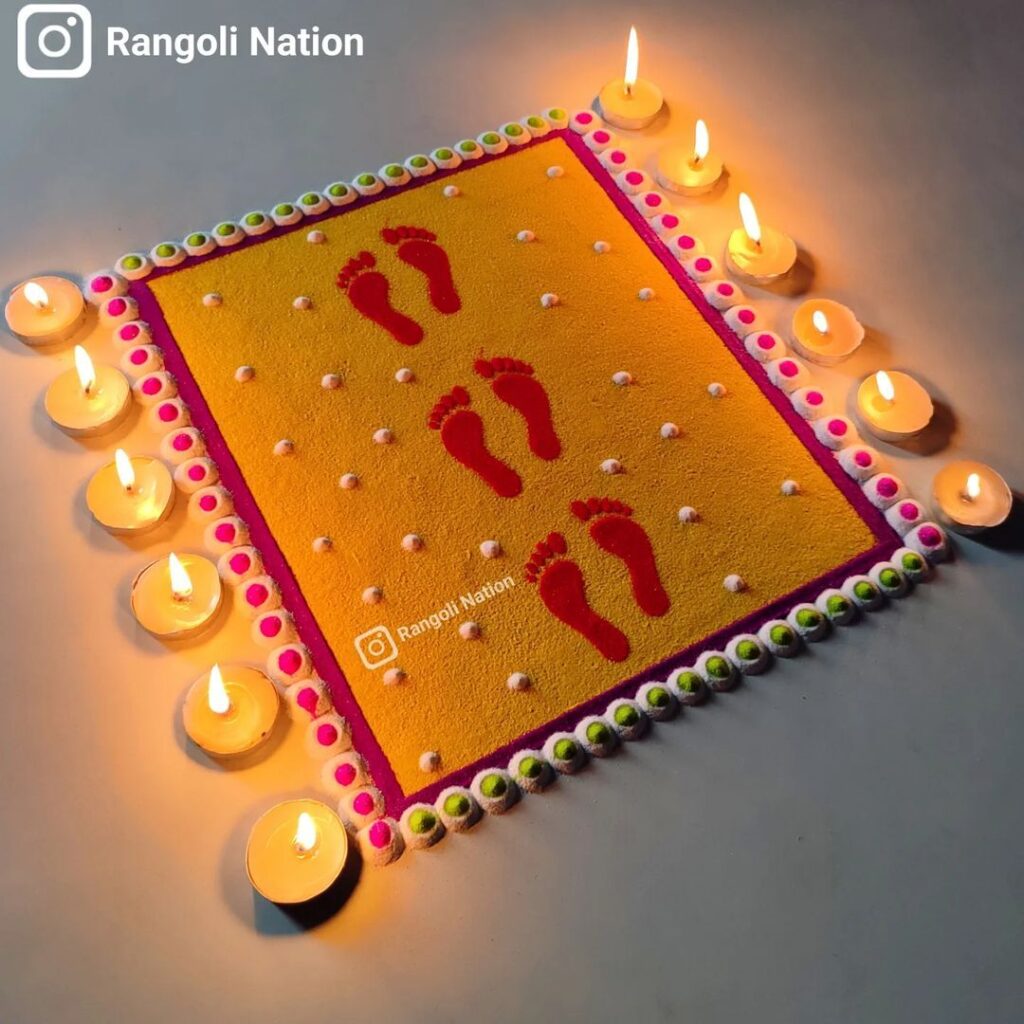 #14 Ah! Such stunning rangoli design adds the divine aspect flawlessly. To make Lord "Ram" name as neat, draw it with a pencil first and then, cover it with dots.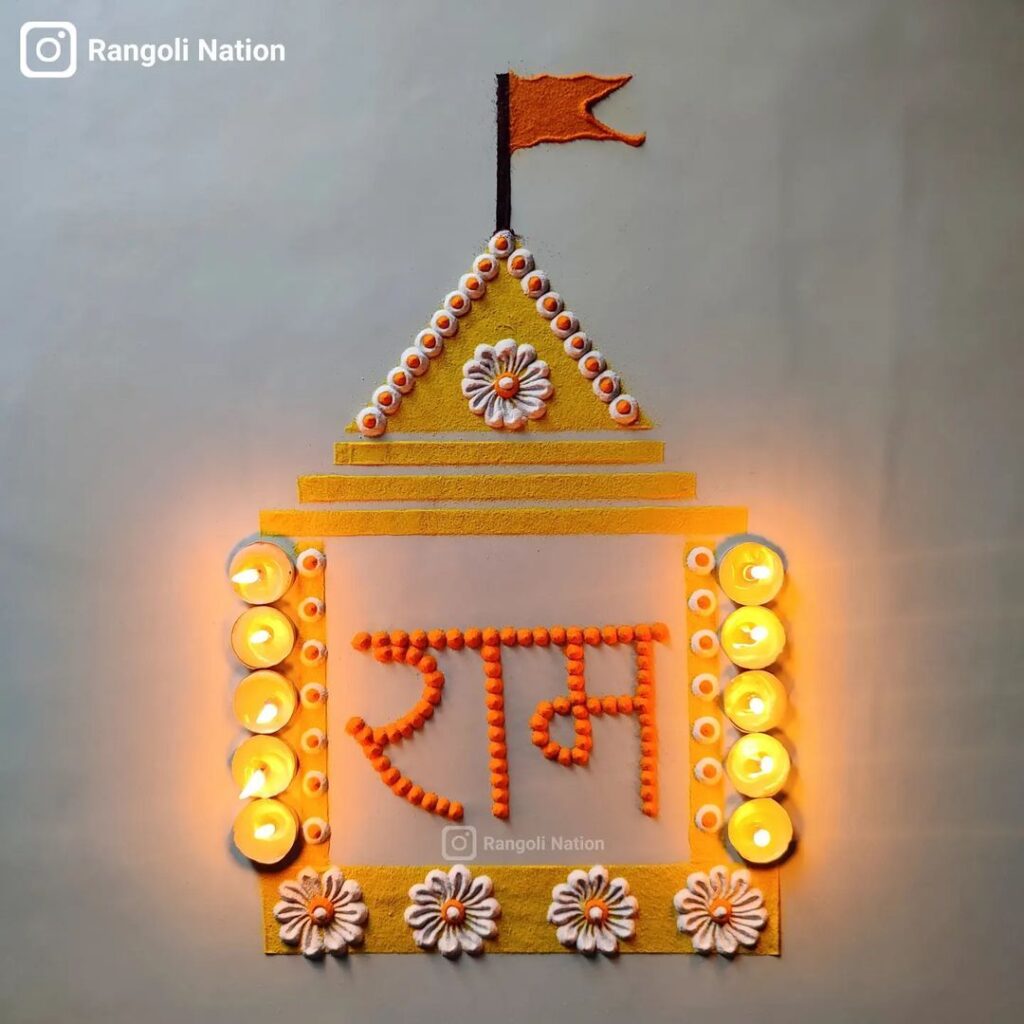 #15 Diwali is all about bright colors and this rangoli design celebrates the same with its pristine sunshine yellow and deep red hues.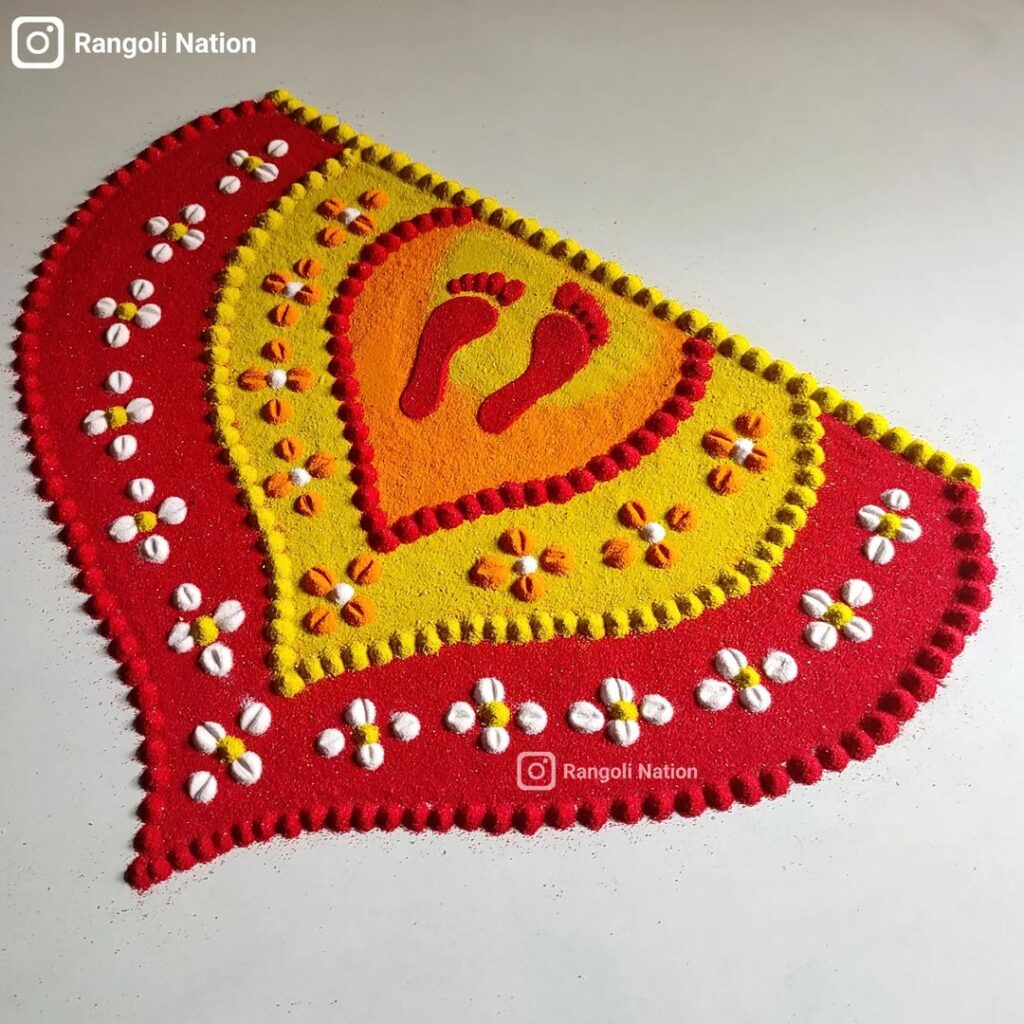 #16 The semi-circle design embellished with 3-D floral patterns gives this rangoli a royal look and bits of yellow and white adds the much-needed finishing touches.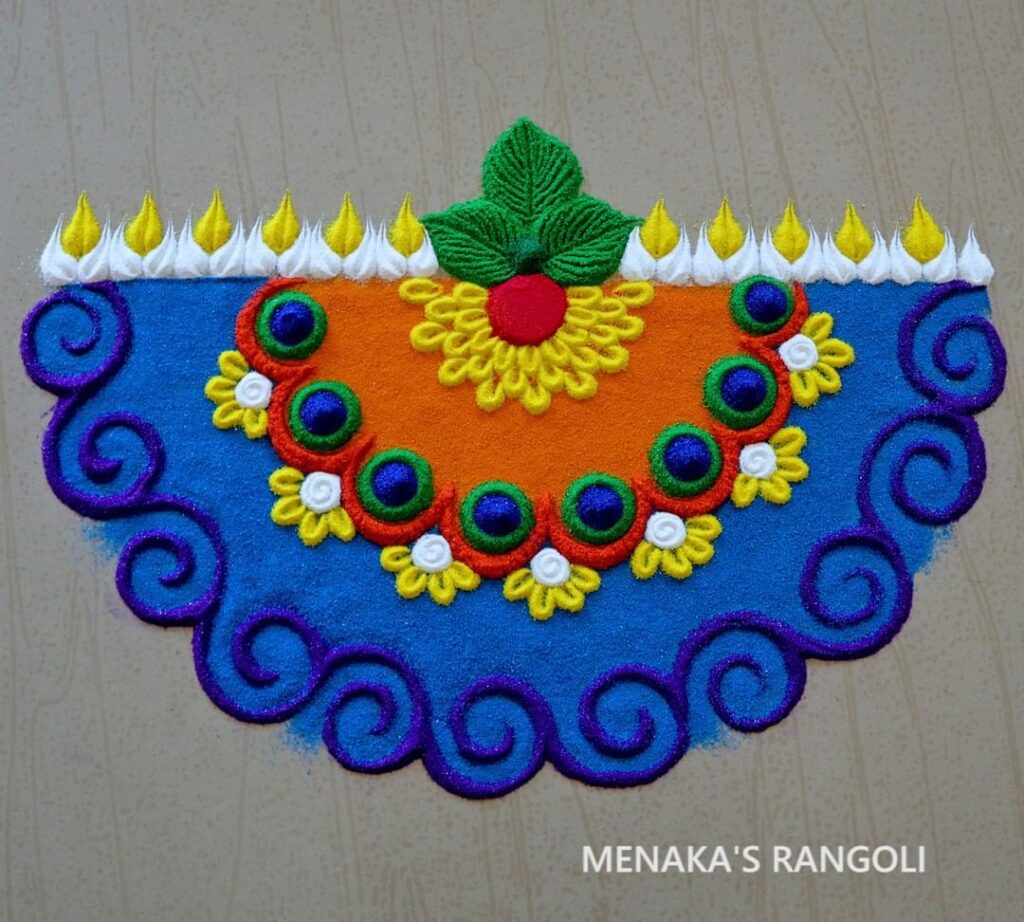 #17 A small yet aesthetic rangoli design is what defines this beautiful art. Draw it to decorate the sides of your home or it can even be drawn on the center table of your drawing room.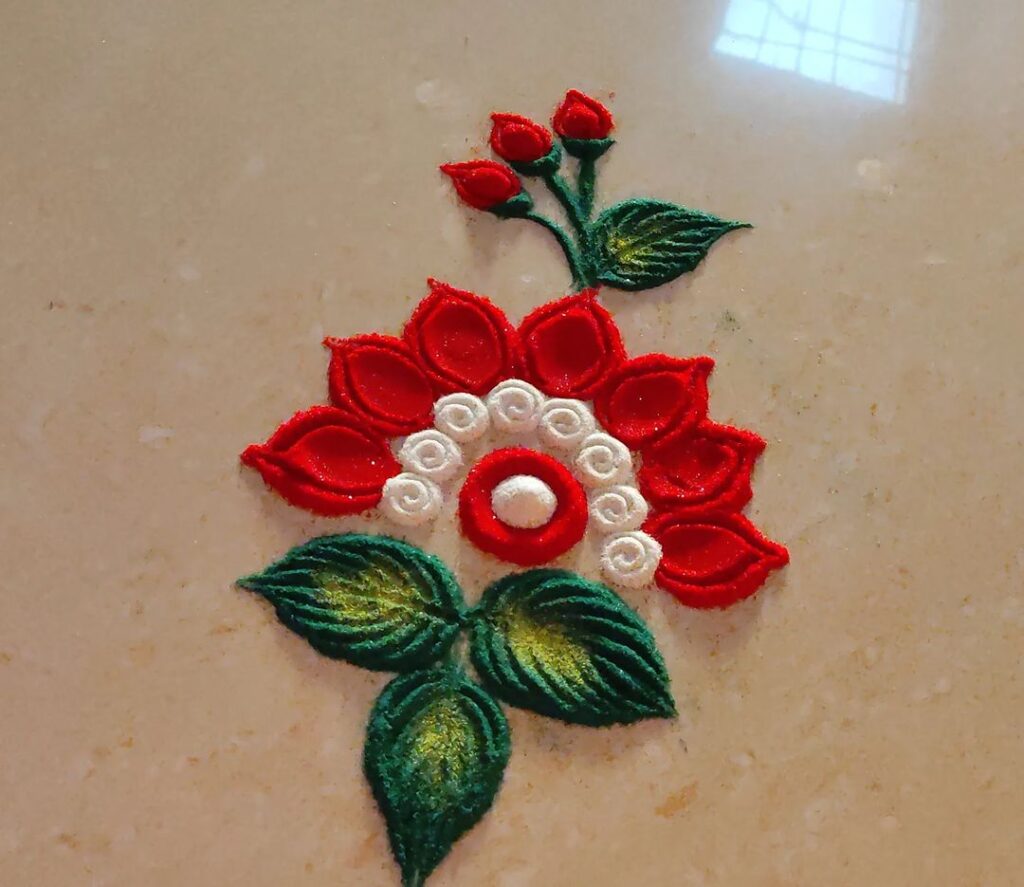 #18 Not all people have the sense of going from the side of a rangoli to avoid destroying it. This one succinctly tells them about the basic ethic.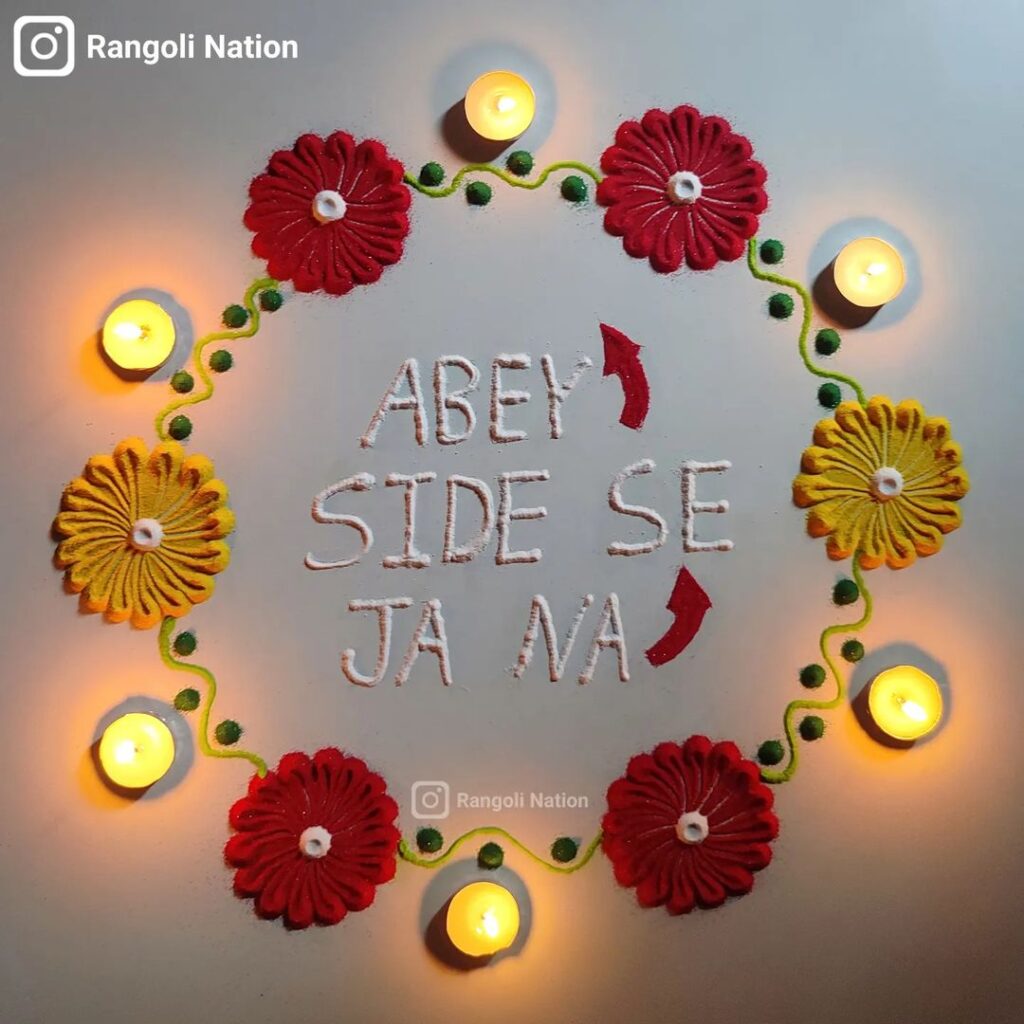 #19 An expert-level rangoli design incorporating 3-D, careful filling, a gorgeous blend of colors, and top-notch intricacy to create a spectacular Diwali rangoli.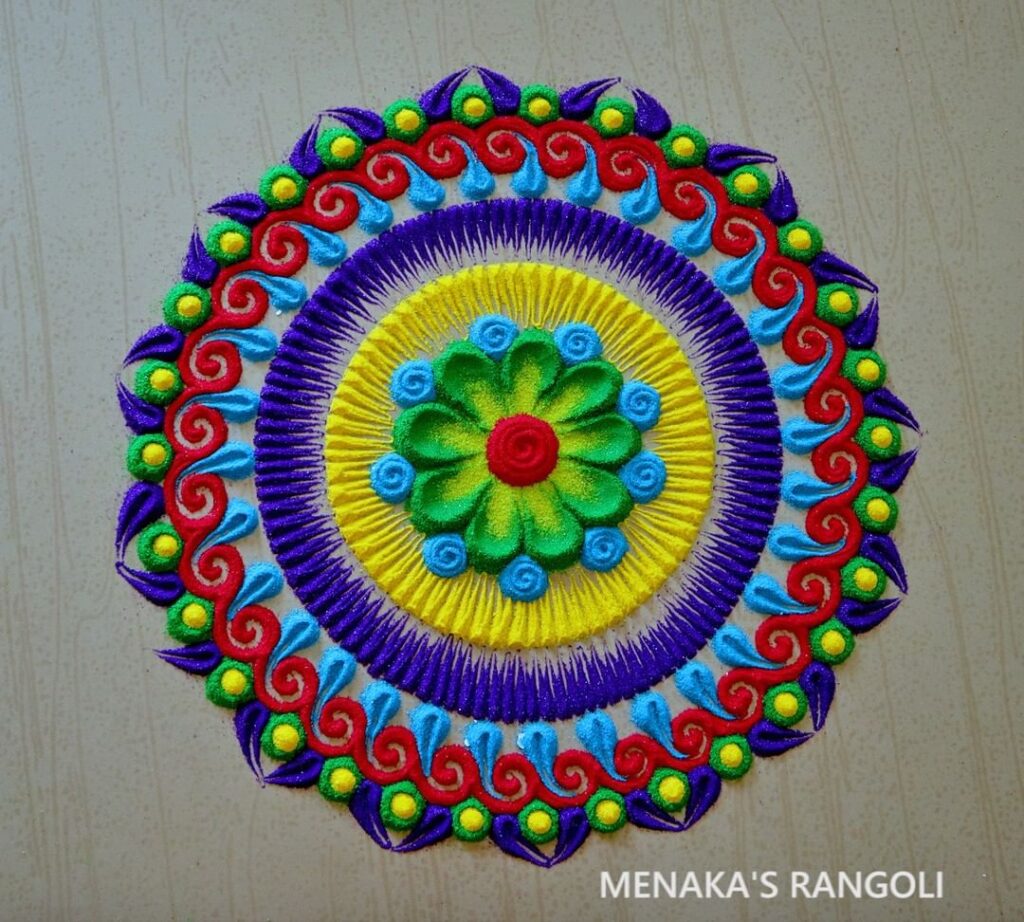 #20 Criss-cross checks in rangoli are uncommon, but when done with impeccable precision, they can look absolutely incredible, as you can see.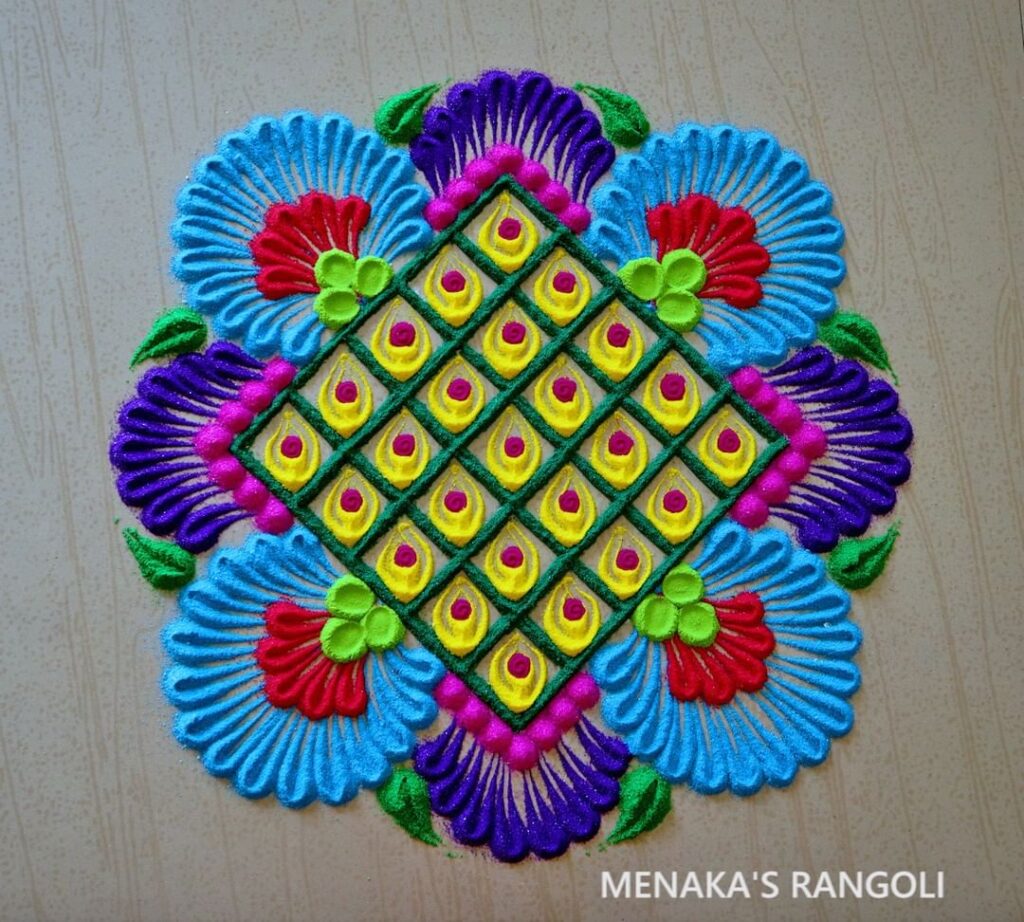 #21 A small rangoli design, but one which requires expert-level artist skills to achieve the same appeal as the picture.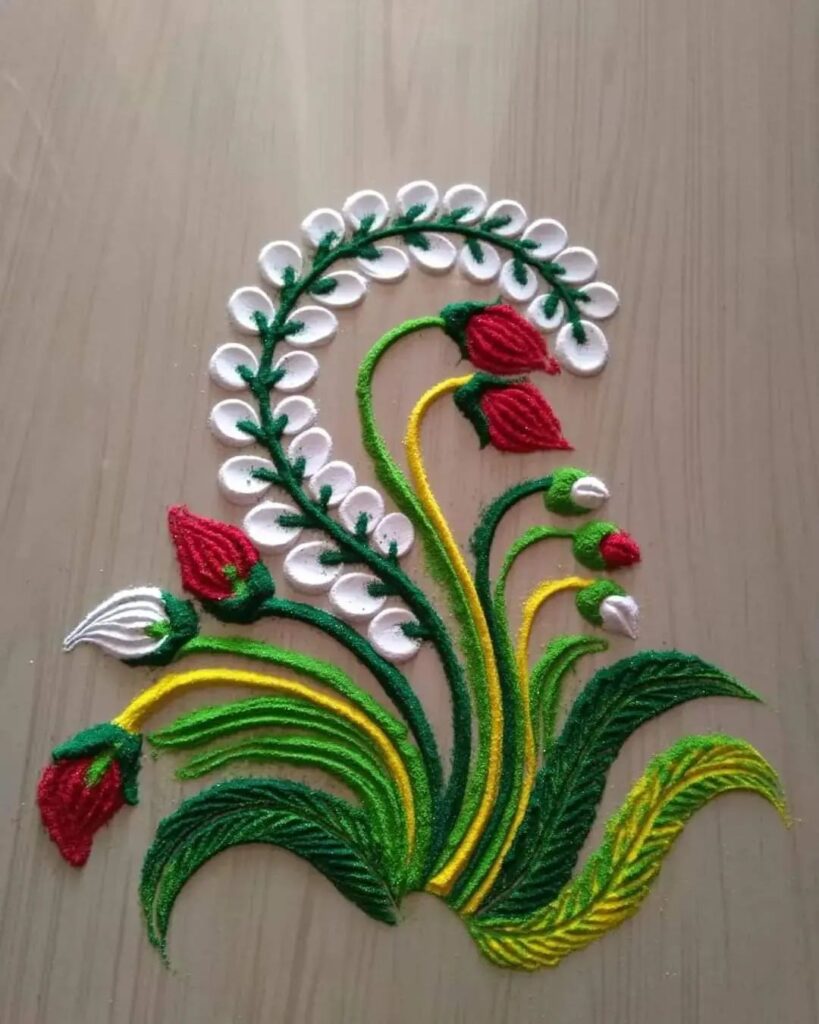 #22 An impressive rangoli design accentuated by the use of white. This Diwali rangoli design portrays exceptional art unique on this list.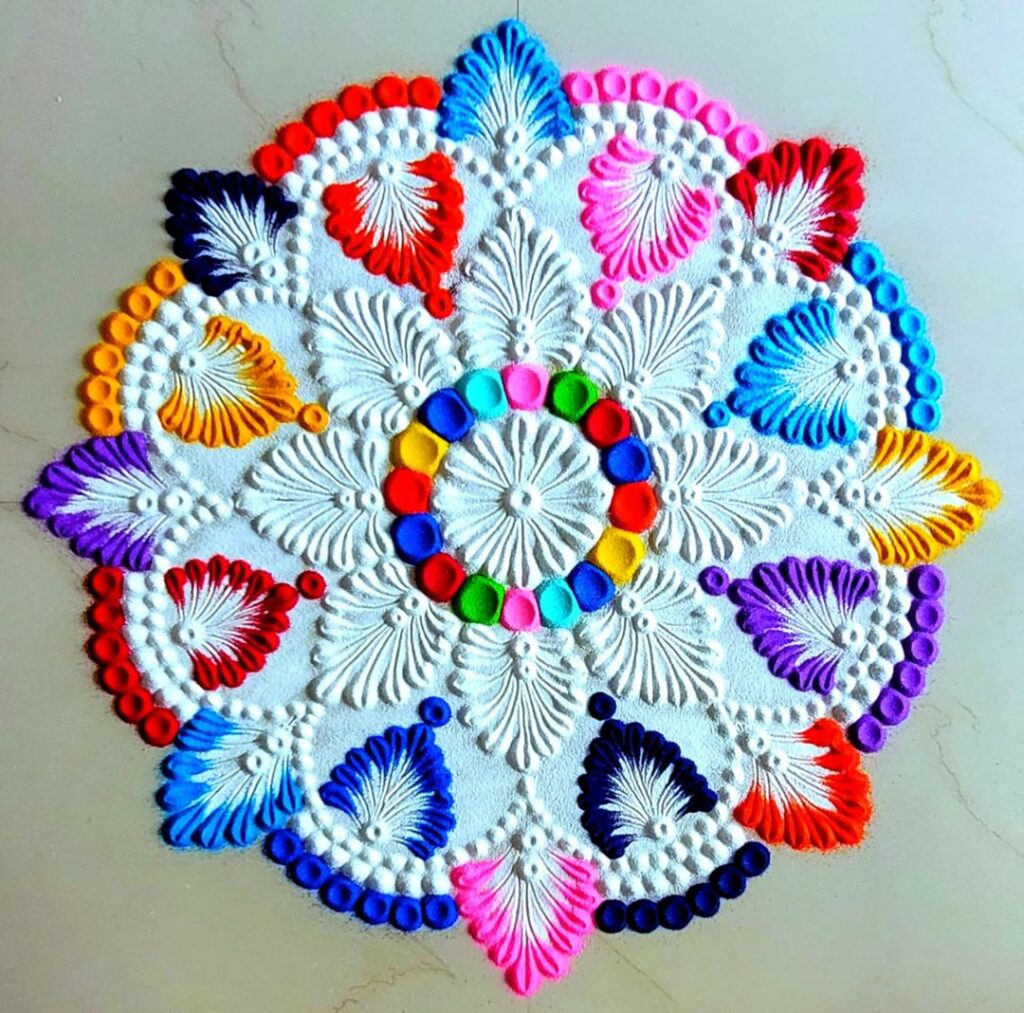 #23 We fell in love with this endearing Laxmi Ji drawing in rangoli. Just the perfect Diwali rangoli idea for those looking for quick yet religiously significant art for decorating their home.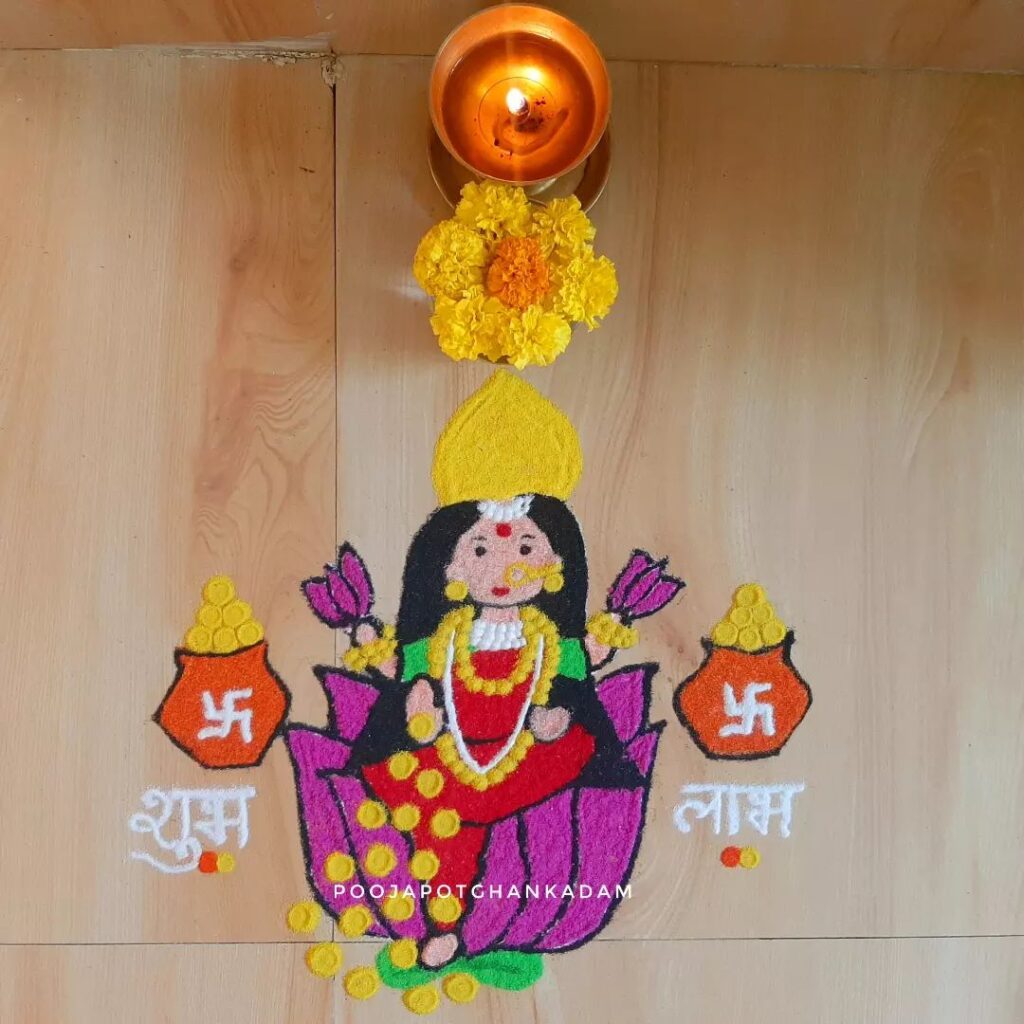 #24 A combination of white with bright colors is often seen in rangoli designs. This is mainly because white accentuates the vividness while giving the art a sense of serenity.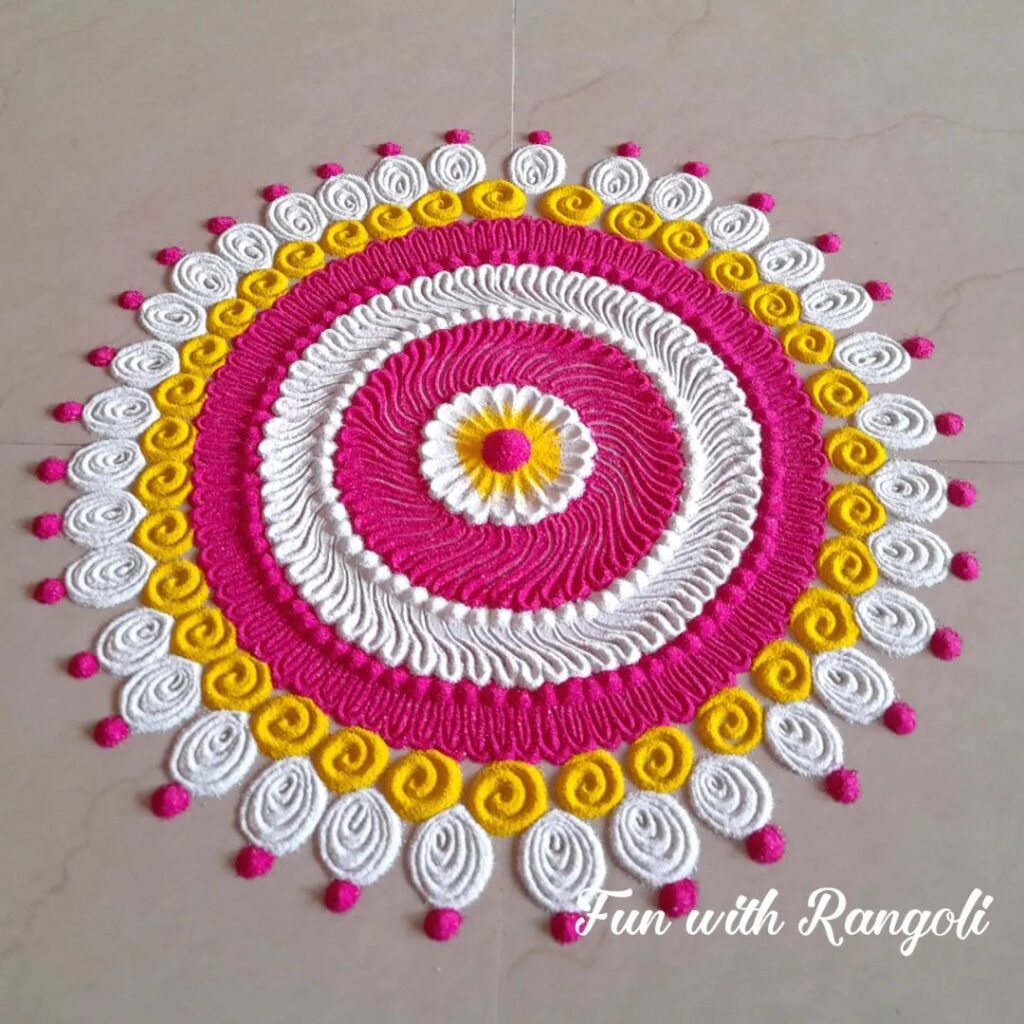 Flower Rangoli Designs:
#1 This is one of the unique flower rangoli created using geometrical patterns. Mixing shades of orange, yellow, and pink creates an eye-catching effect and adds an alluring charm to the whole art. It's simple, but it does require intricacy and so will take more time than other flower rangoli designs included on this list.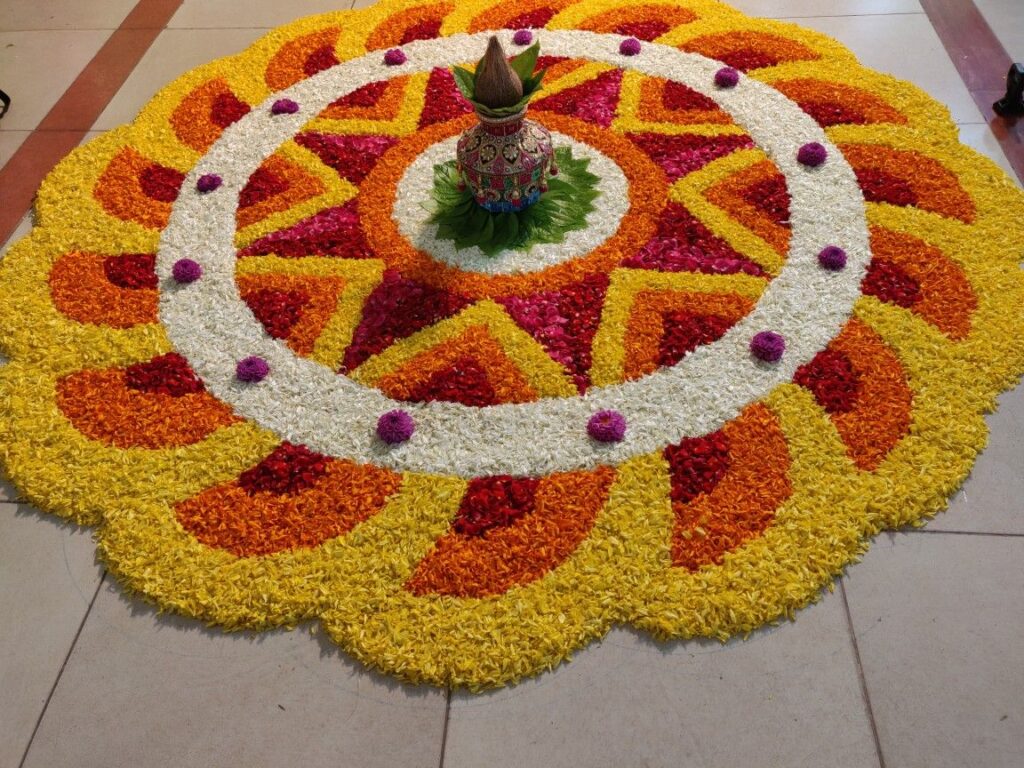 #2 This Rangoli is ideal for Diwali because of the beautiful diyas in the middle, or can also be drawn on the outside premises of the home for the wedding. It's unique concentric arrangement in the form of a leaf is winsome. We also love how a bowl of flowers is placed in the middle for an aesthetic impact.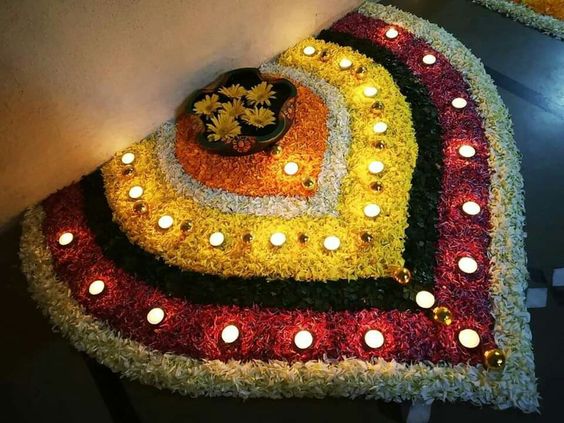 #3 Done only using petals, eliminating the use of flowers completely. A design created using petals often requires fewer flowers than the ones which use blooms as a whole. It also uses just two types of flowers and is created in neat concentric circles. A quick & easy simple rangoli design to recreate.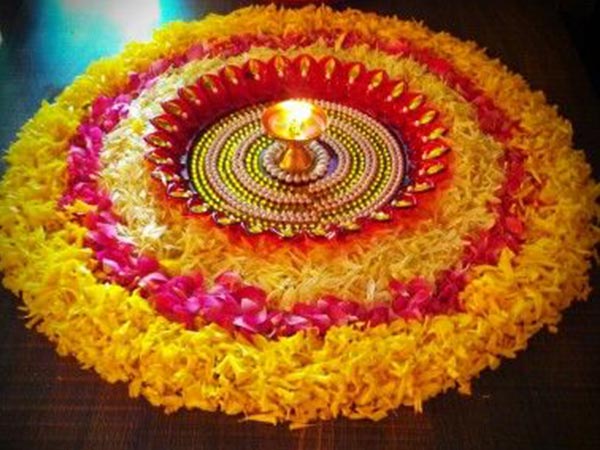 #4 The next flower rangoli design on the list uses simple petals and whole malas to fabricate a stunning art that will look stunning in the middle of the house or on the patio outside. It's easy to draw as well, just make sure the expanded spirals on the end are roughly the same size.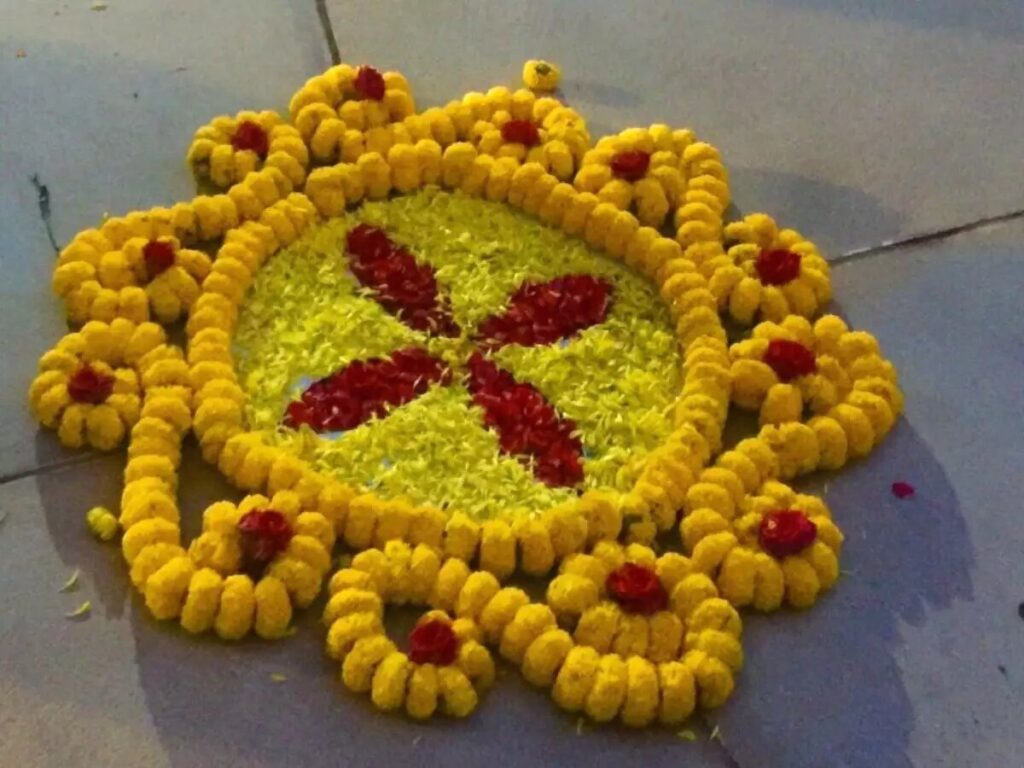 #5 Flower rangoli designs across the borders of the home are popular and instantly add a decorative effect to your home. They are, hence, quite popular during big festivals like Diwali or during weddings. Here's one created using rose and marigolds for a bewitching decor.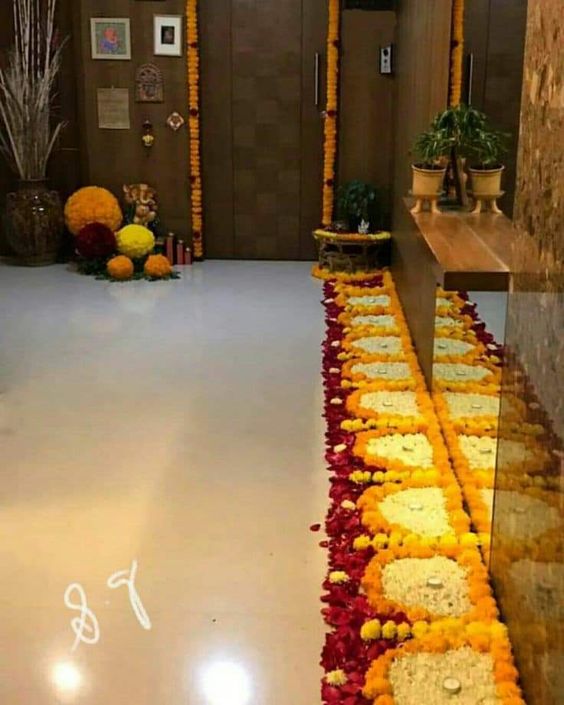 #6 An easy and small rangoli design is all you need when you're busy yet want to adorn your home in a limited time. Since it's created using just petals, it can be done using limited resources as well.
#7 Marigolds and roses are "THE" duo for creating a real flower rangoli. Their combination is both aesthetic and stunning. We adore how the bowl is kept on the side and the art is created around it for an embellishing effect. A unique way to use the bowls lying around in your home.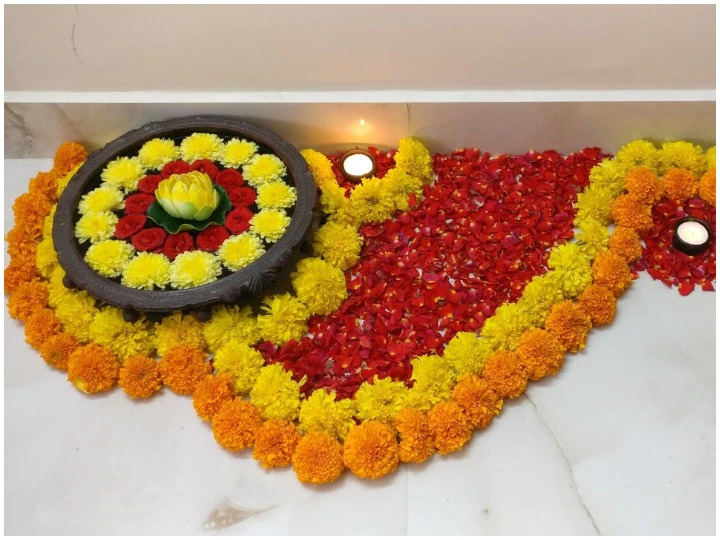 #8 A big fan of roses? Or bored of marigolds in the flower decor? Here's a floral rangoli design created only using the roses with a subtle addition of lily petals in the middle for a fanciful twist. The inclusion of petals on the exterior further amps up the charm of the design delicately.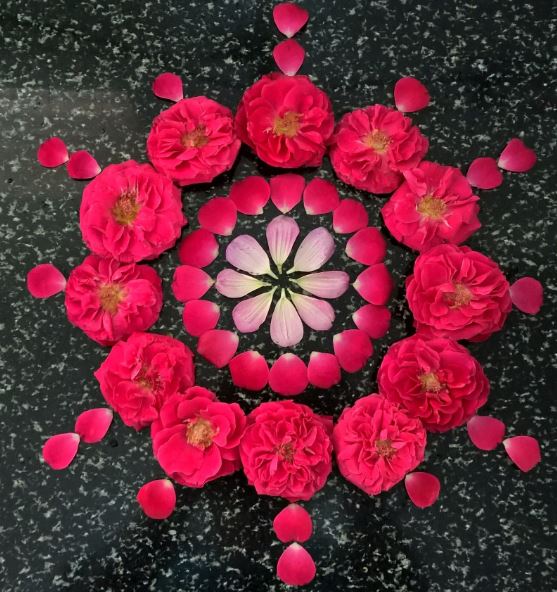 #9 Swastik symbolized good luck and auspiciousness in Hindu culture and is often drawn in marriage ceremonies and Diwali celebrations. It's reverence has made it a common aspect of rangoli designs as well, and here's one that portrays it beautifully using blooming florals.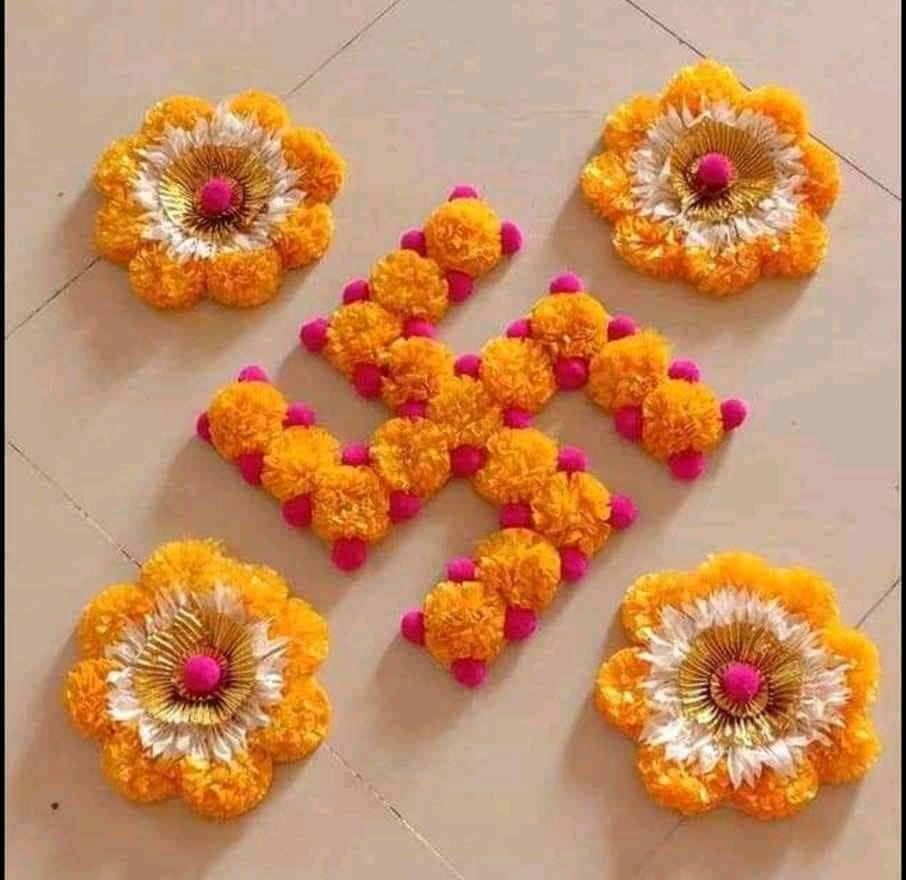 #10 Another artistic way to beautify the periphery of your house is with flowers and bowls. This is an easy rangoli design but does require bigger malas so you can create the spirals easily and quickly. The play of light and dark colors gives this rangoli an ingenious edge over others.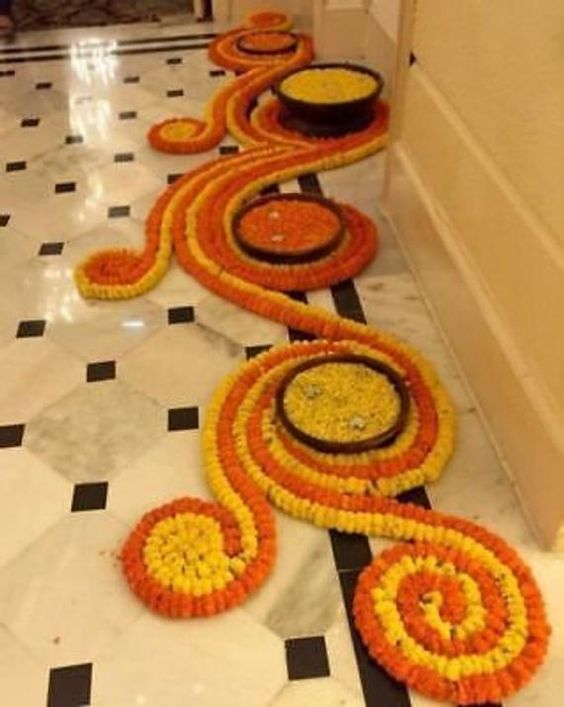 #11 Keeping an elongated diya in the middle, followed by concentric circles of blossoming flowerets and fresh petals on the outer is stunning, to say the least. Neatness and a steady hand are what is required to keep the pristineness of the design alive.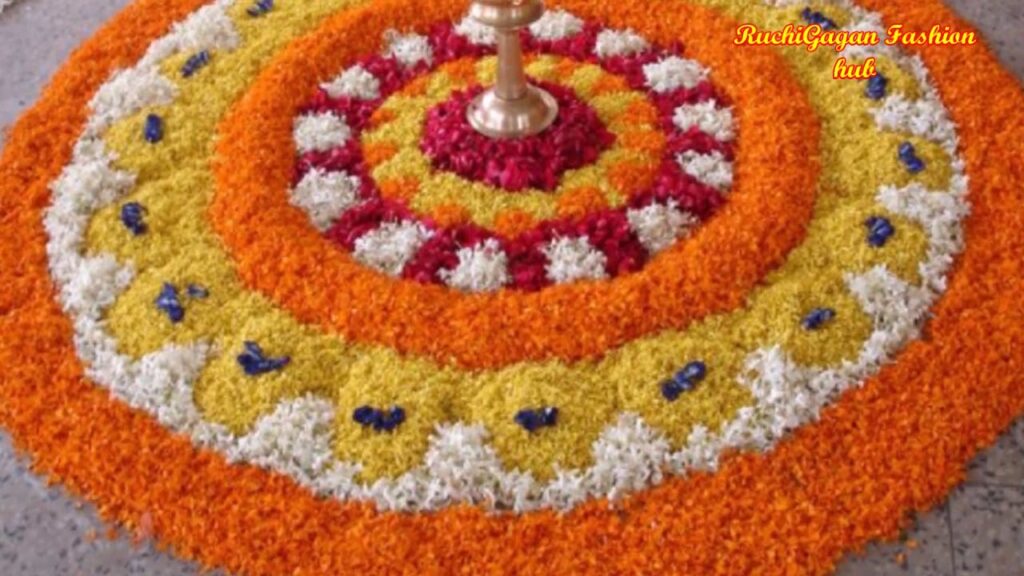 #12 With the symbol of auspiciousness and prosperity in the middle and blooms neatly & closely stacked on the outside. This design is gorgeous and easy to recreate. We love the addition of green in the usual stacking of marigolds for a vivid twist to the otherwise common mingling of colors in the real flowers rangoli design.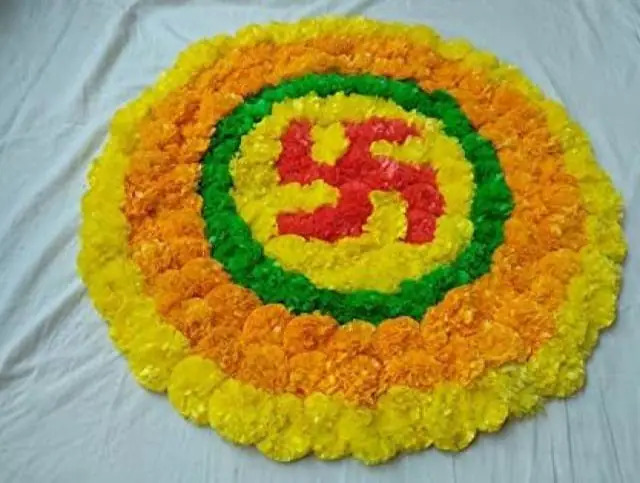 Peacock Rangoli Designs
#1 We're mesmerized and at a loss of words for this peacock rangoli designs. It's scintillating and merges a radiant mix of colors and not just the usual peacock hues of blue & green.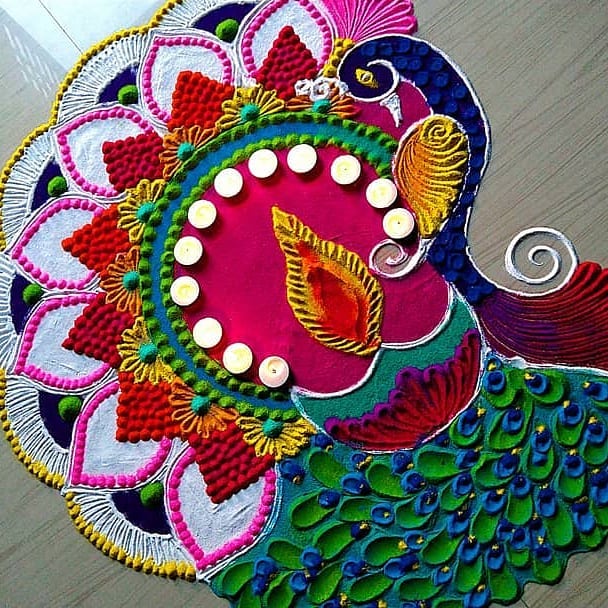 #2 Peacocks, which are also associated with Lord Krishna, signify power, strength, confidence, and even divinity. That's why they are often included in many elements of Indian culture. From home decor to wedding decor and these gorgeous peacock rangoli designs.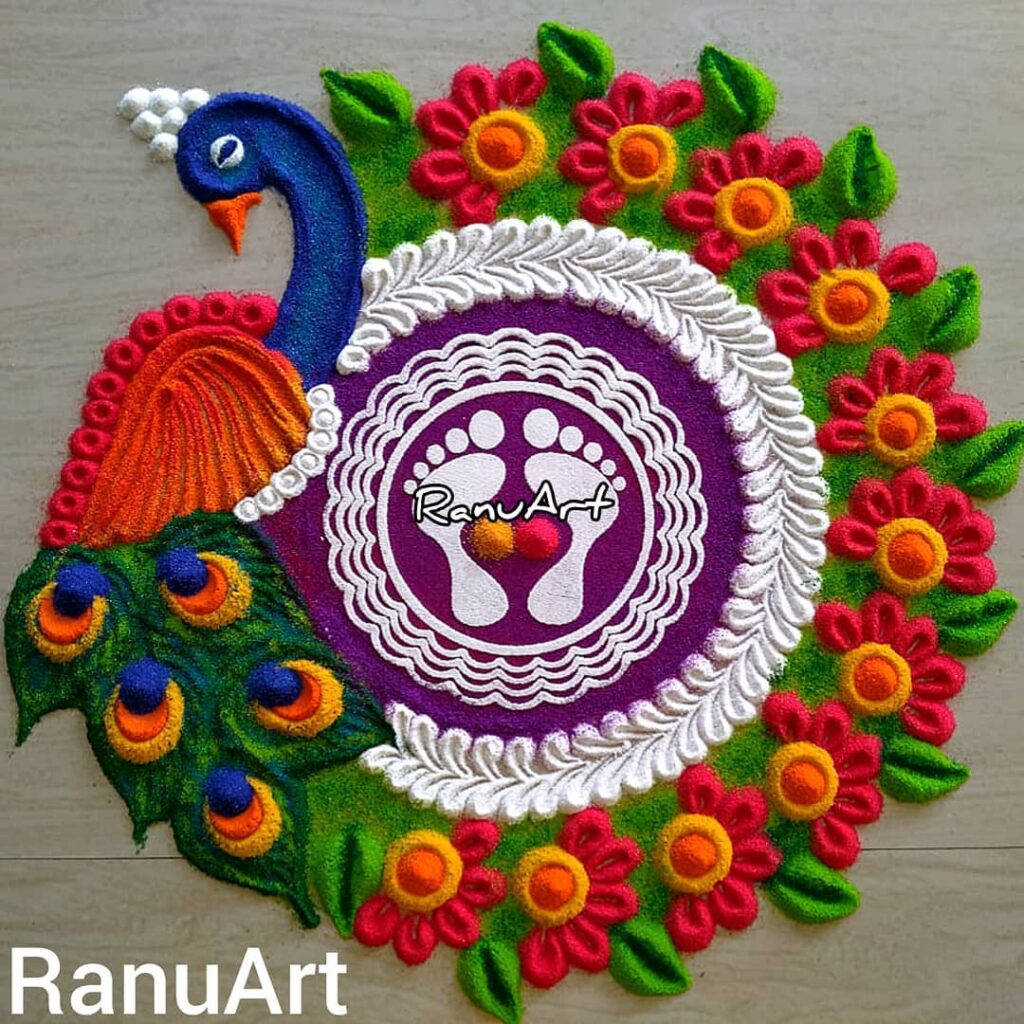 #3 Incorporating peacock and its beautiful colors, this peacock rangoli design is both unmatched and remarkable.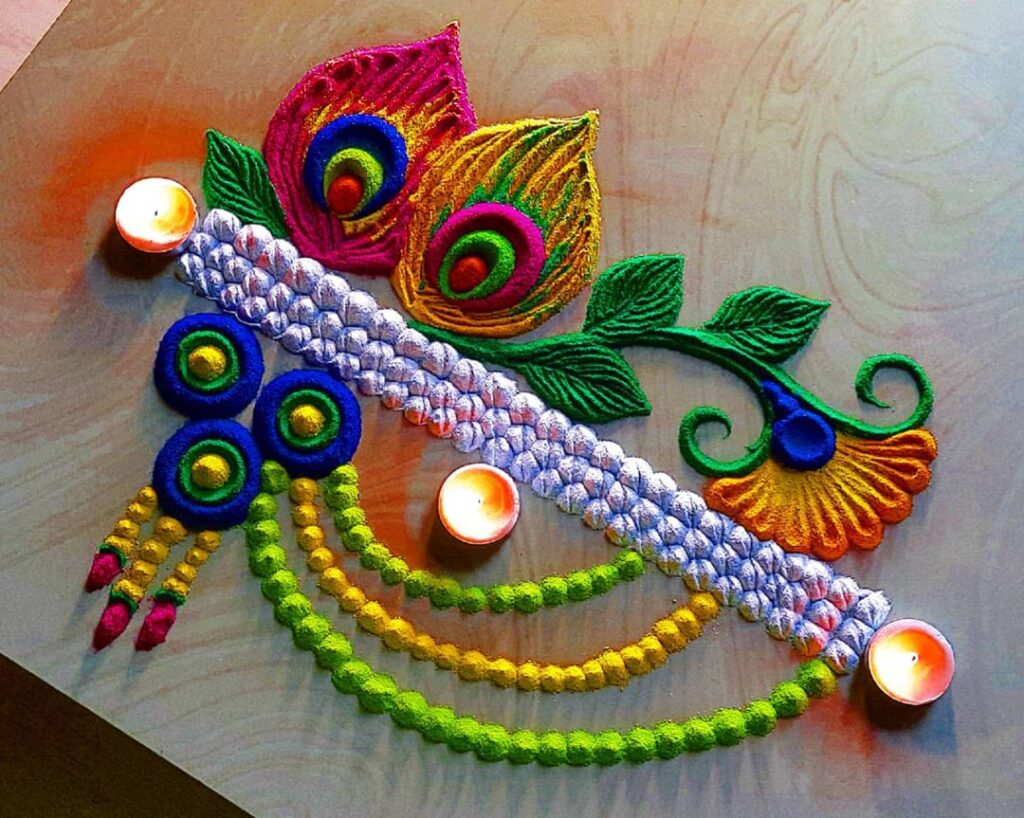 #4 This one of the peacock rangoli designs is a riot of colors and employs the beautiful magenta pink hue to justify the vividness of the peacock's natural hues. The subtle addition of yellow rangoli color and 3-D art on the side further enhanced the allure of this art. 
#5 By only painting the peacock feathers, this small rangoli design perfectly depicts the symbolism of the peacocks without having to draw the animal. This, however, isn't a beginner-level design as it requires trained hands to create the 3-D illusion, especially the one that's done in the center.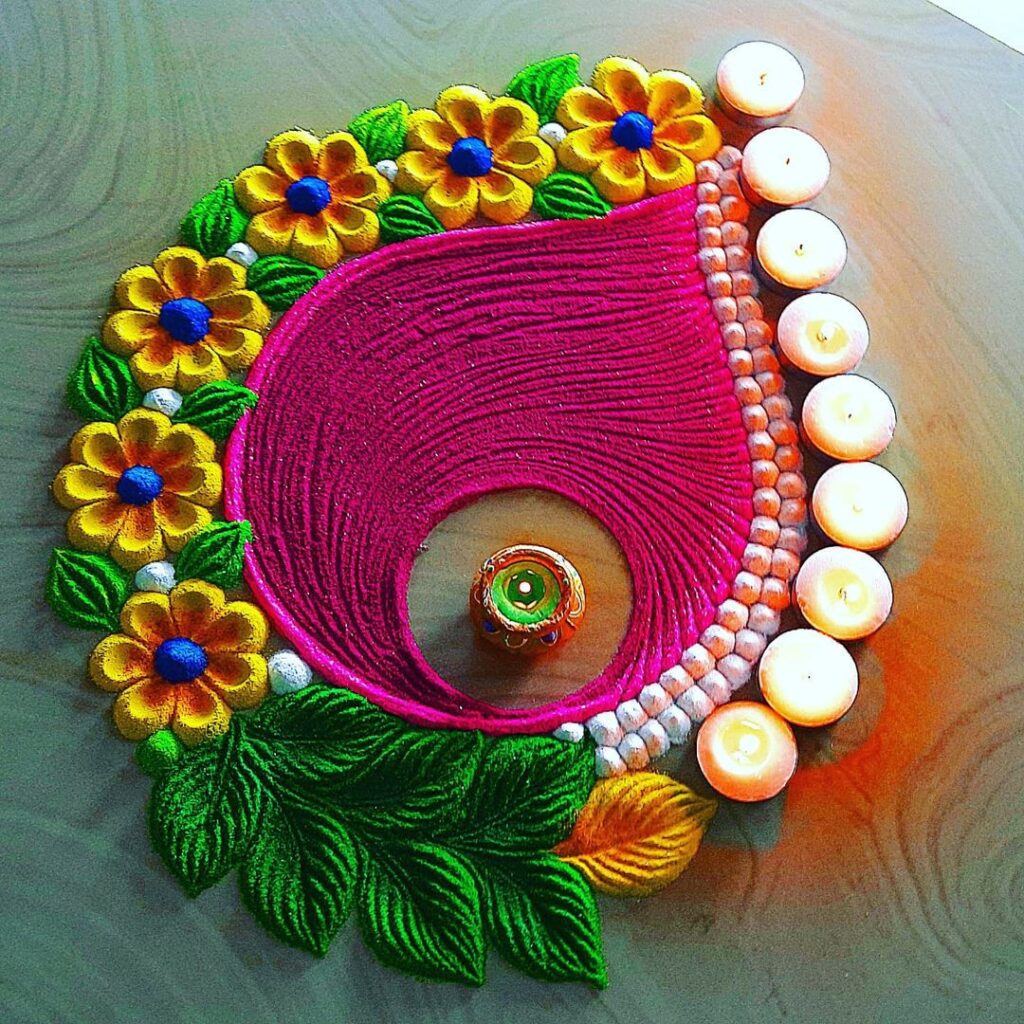 #6 This rangoli design drawing is easy to create as the neat and spacious lines can even be created by beginners. Once the outline is done, the filling can be done easily as well.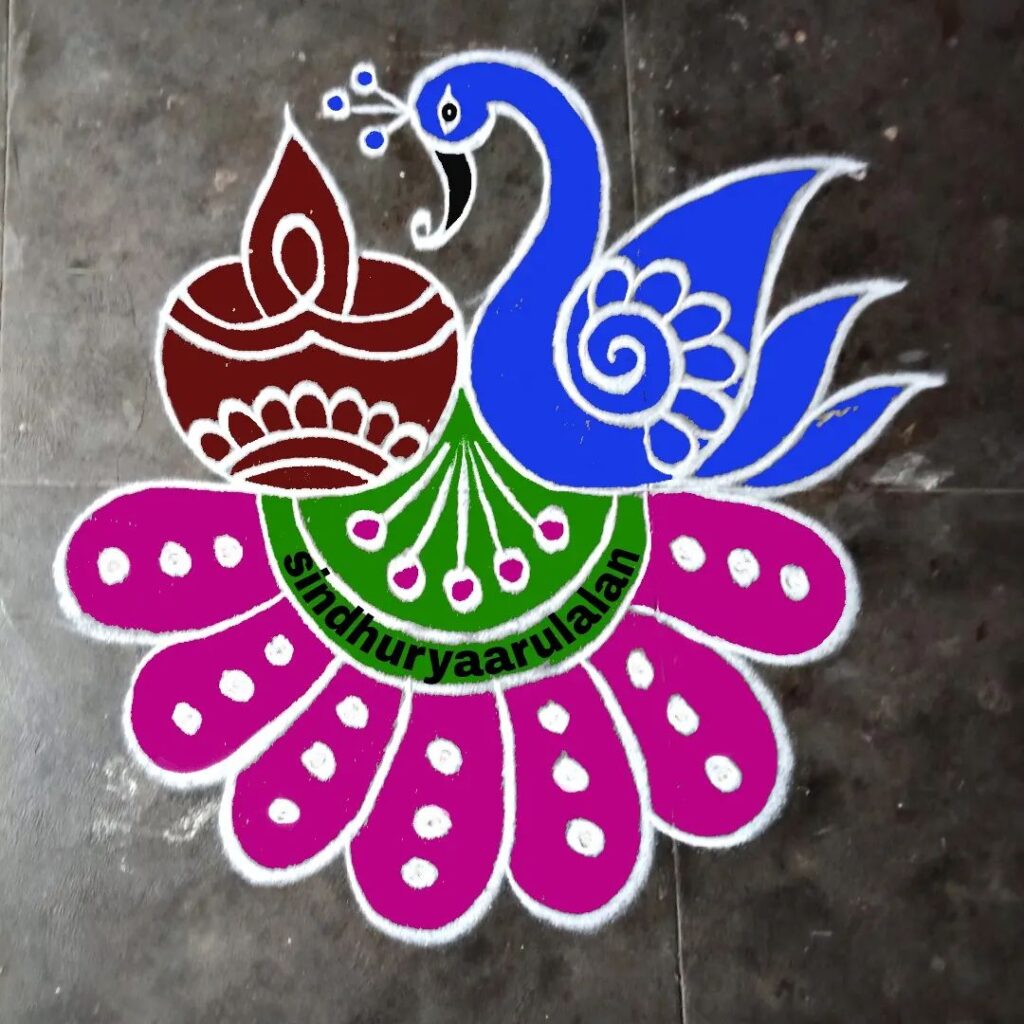 #7 Talk about a royal design. The plumage of the peacock is done vastly and covers an extensive portion while the rest is bedecked in common rangoli elements.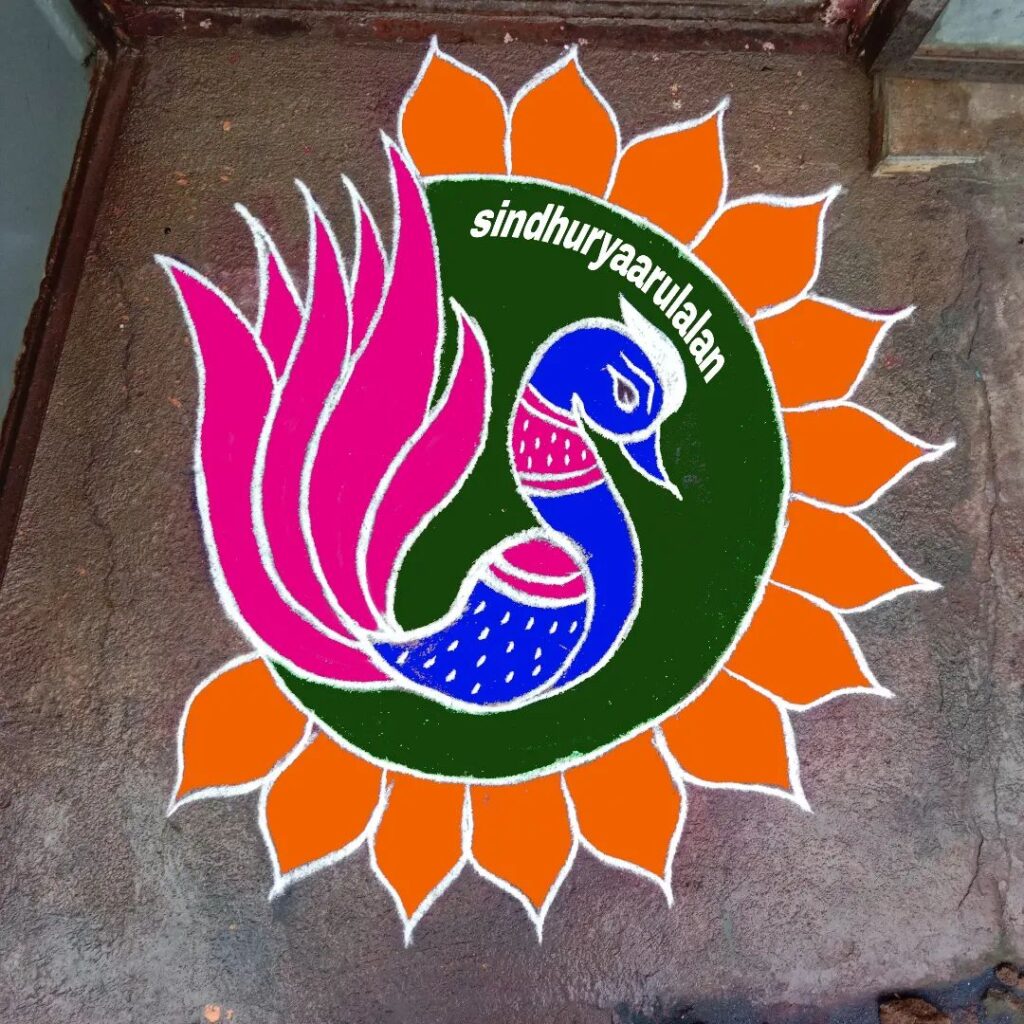 #8 This is also a simple peacock rangoli design with the filling done using dots so as to give it a unique touch over the uniform filling. If the colorful spiral lines seem a bit difficult, you can completely skip that part and the design will still look as gorgeous.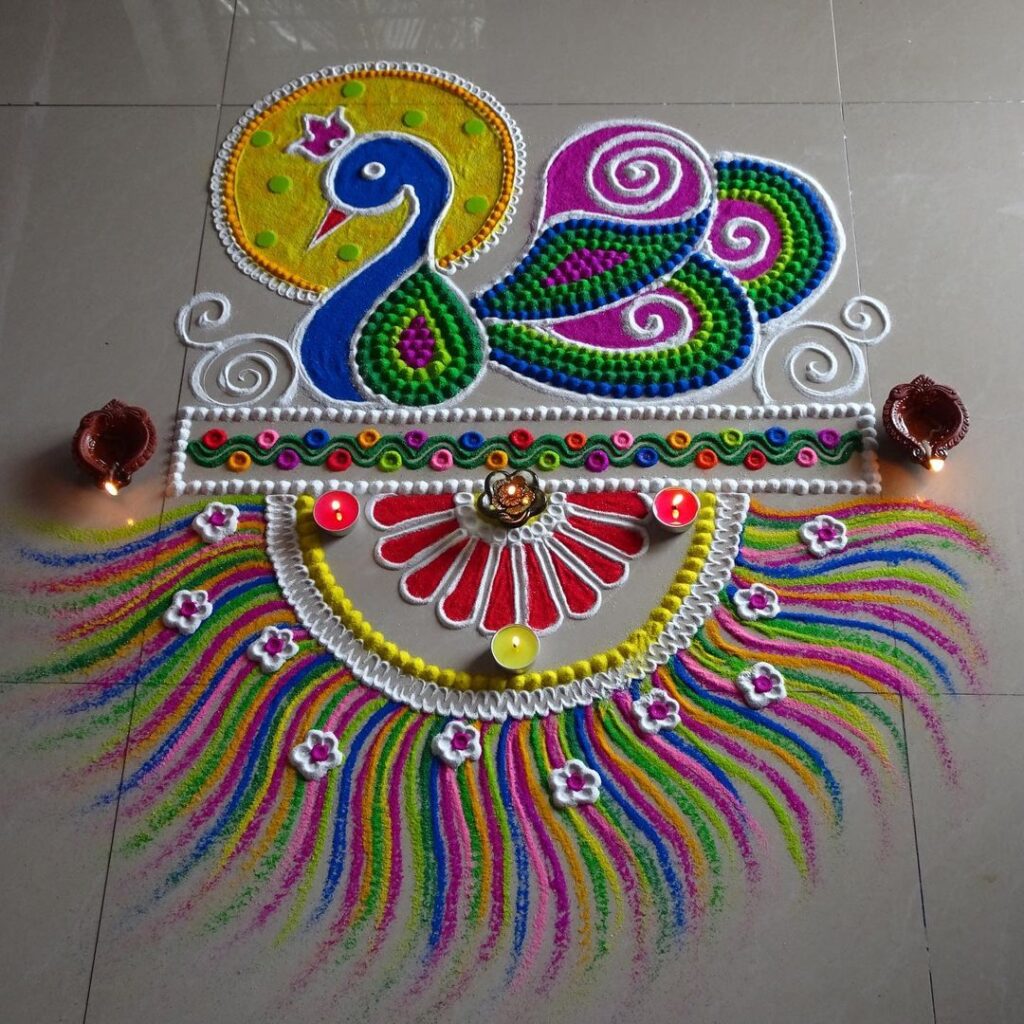 Unique Rangoli Designs For Diwali
#1 Complete Decor
This one of the rangoli designs for Diwali is best made at the entrance of your home. It depicts not just the stunning floral decorations that will mesmerize guests as soon as they enter but also gives us ideas for complementary adornments to include. The diyas and lamps surely exude the Diwali vibes needed for the occasion.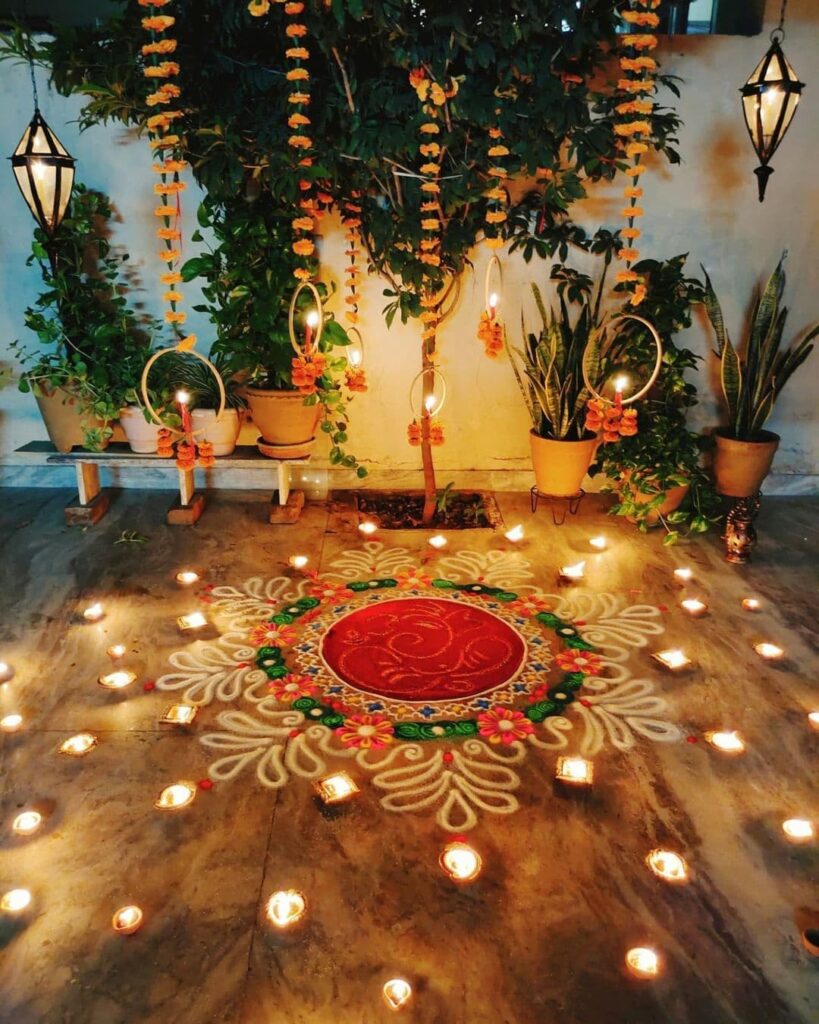 #2 Dazzling Yellow & White
The combination of yellow and white often looks appealing due to its contrast and simplicity. Yellow is a bright, cheerful color, while white is clean and neutral. Together, they create a visually pleasing balance of vibrancy and purity, making the combination aesthetically pleasing. Use this visually appealing combination for your rangoli this celebratory season. 
#3 Shades of Blue
The gorgeous shades of blue are contrasted by white which is used to depict Laxmi Ji's paer. They are often drawn in rangoli to invite Laxmi Ji into our home and with her wealth, success, and prosperity.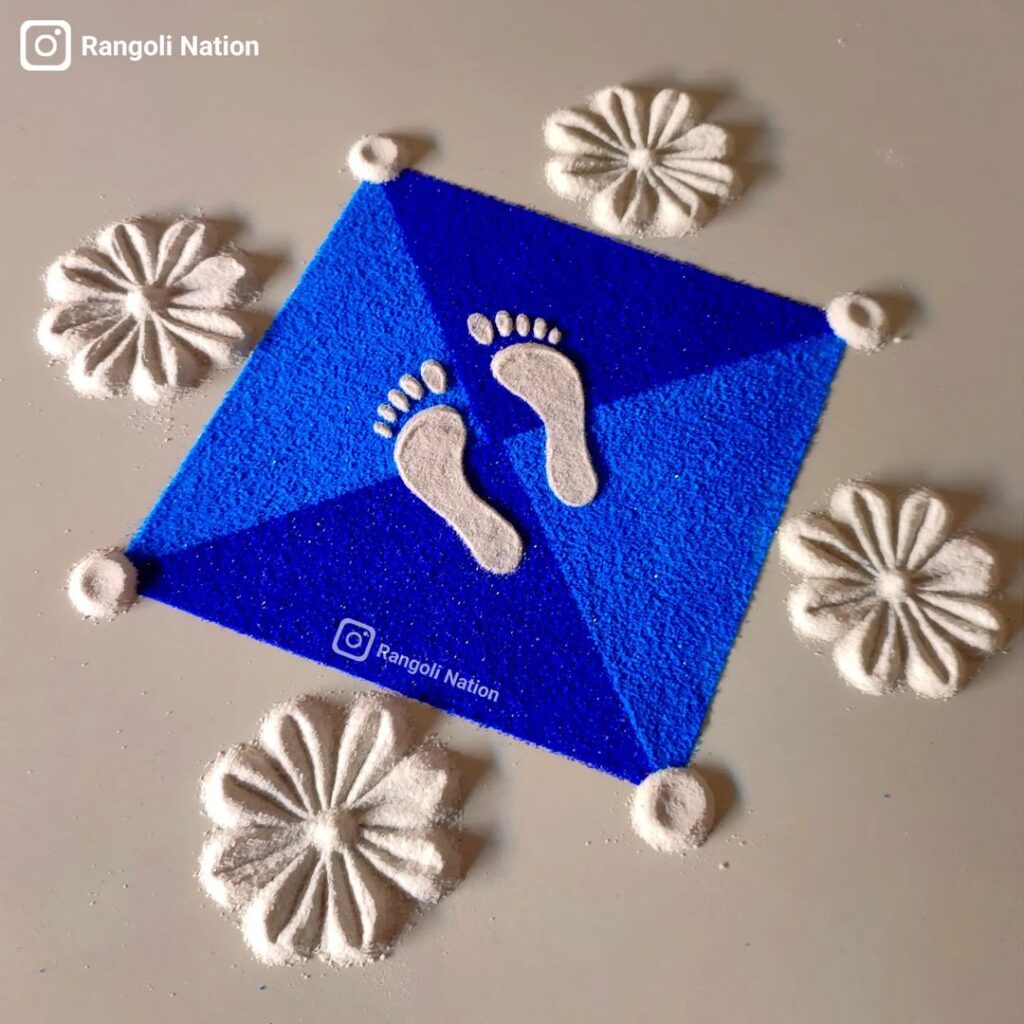 #4 Honoring Laxmi Ji
Laxmi Poojan is a big part of Diwali festivities. It is believed that invoking her blessings by lighting lamps and performing rituals on this auspicious day brings financial success, abundance, and overall well-being to one's home and life. Here's how you can honor her with a rangoli design as well.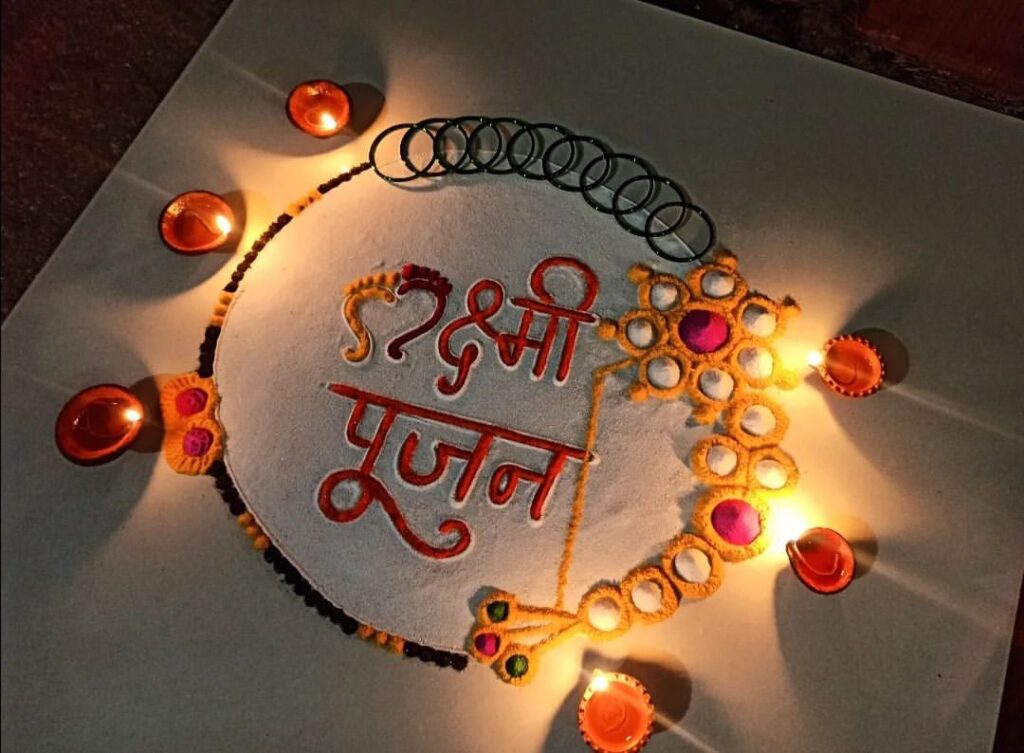 #5 Flower Rangoli Design For Diwali 
If you don't want to use colors this Diwali, don't hesitate by just make rangolis with Diwali. They are equally aesthetic and don't require as much effort as well. Another plus point? The intricacy can be assured easily with rangoli made with flowers. Here's an idea of how you can do a grand and elegant rangoli in your home.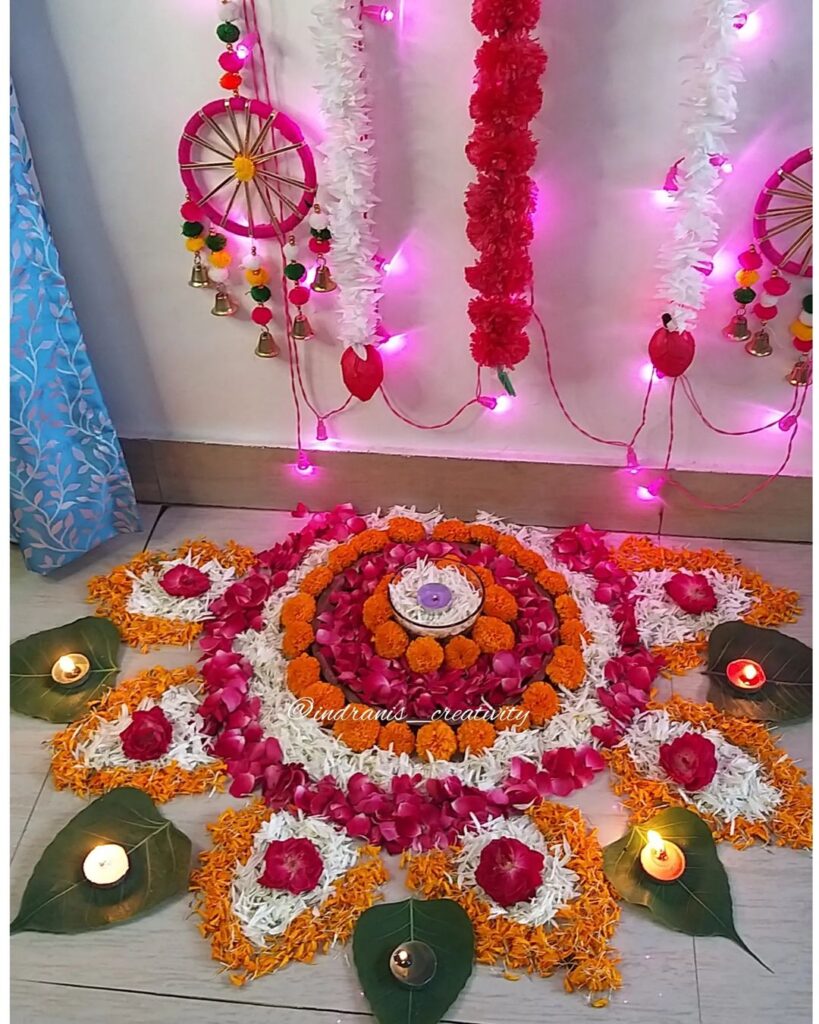 #6 Endearing Diya Decor
For those looking for a quick and easy DIY rangoli for Diwali 2023, here's a design that can be done in under 10 minutes. All you need is different-colored marigold flowers and mogra flowers. Create the outline and fill it in. You can place just one diya in the middle or create an outline like created in the rangoli design image below.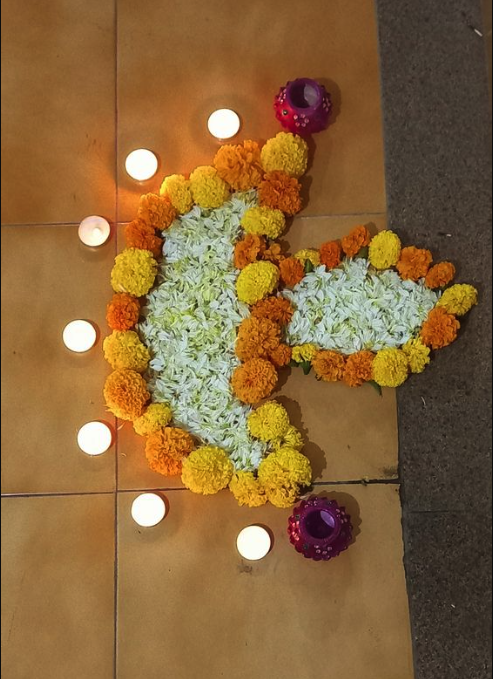 #7 Grand Yet Easy Rangoli Design
Another quick and easy DIY rangoli design done with flowers. With the help of another person, you can draw it within 10 minutes. Ensure the marigold flowers are fresh so the pattern looks fresh and delicate adorning the house.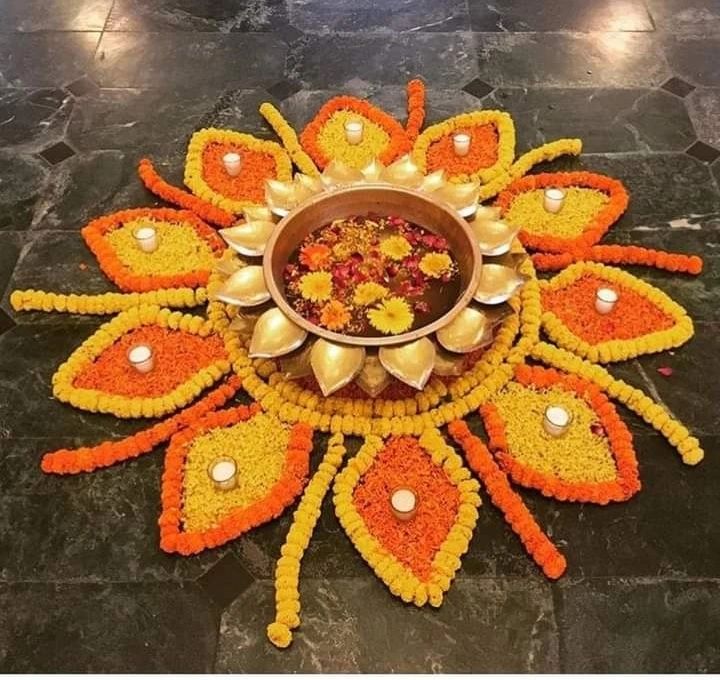 #8 Beautiful Shades 
For someone who has some experience drawing rangoli, this can be a unique rangoli design for Diwali to try. If you don't have the same shades for the pattern, tickle your brain for some other combination of hues.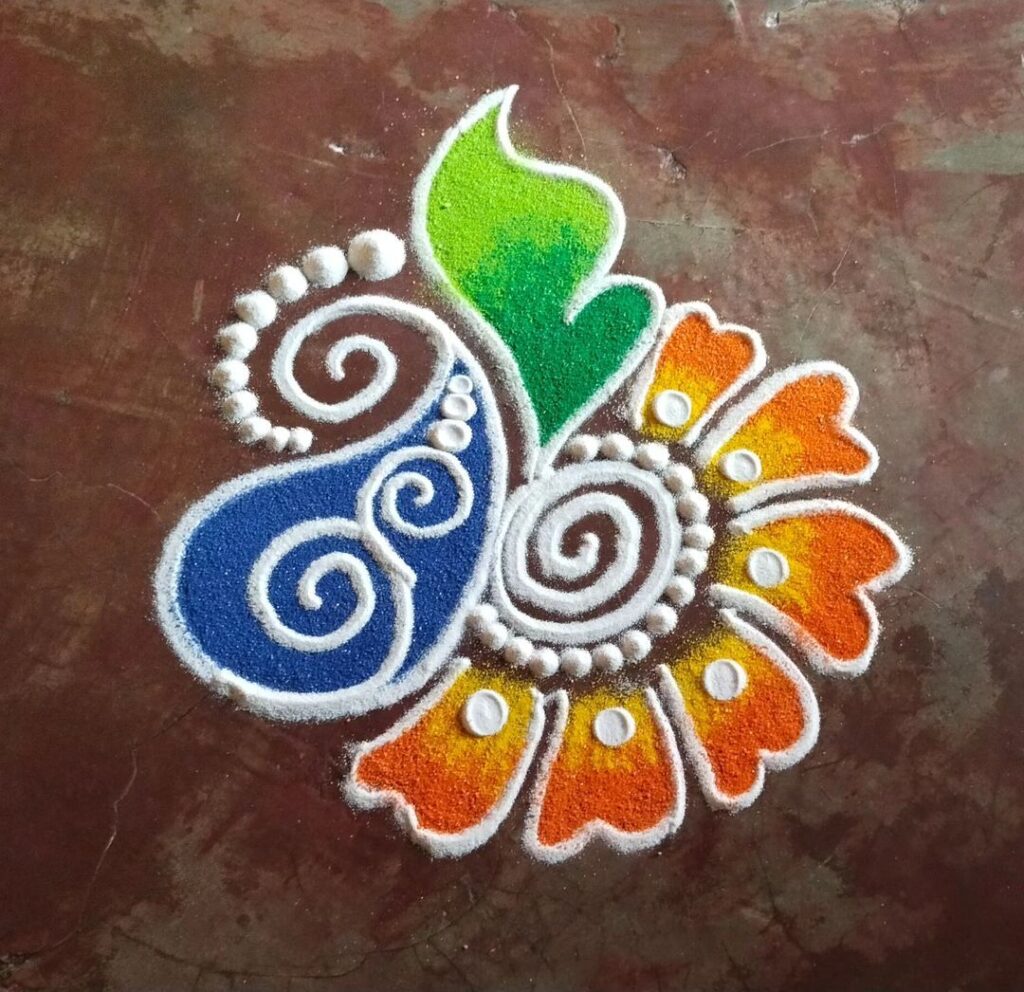 #9 Circle Rangoli Design
This multi-color rangoli design is a vibrant and intricate decorative design that can be created on the doorstep or the main area of the house as a display of celebration, unity, and creativity, adding a lively and joyous atmosphere to Diwali festivities.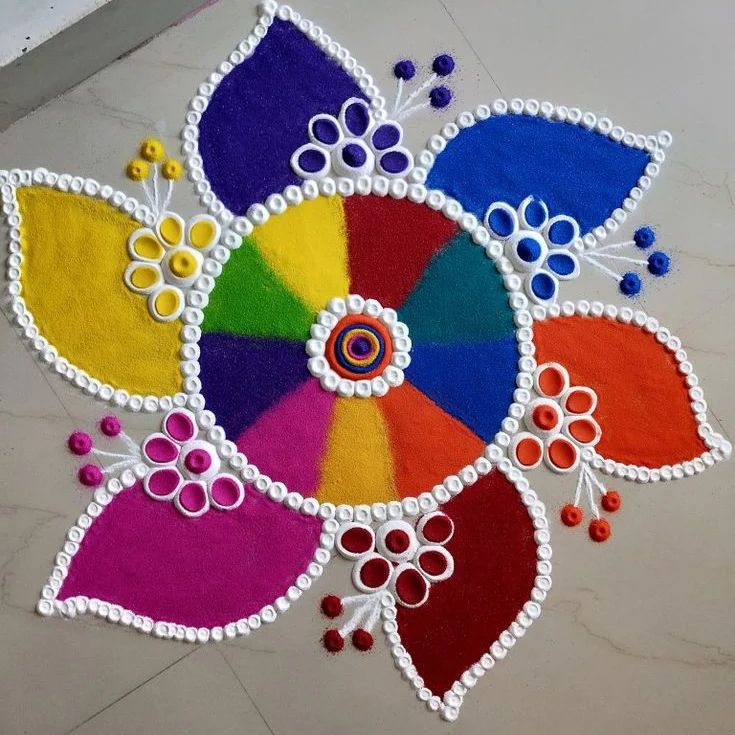 #10 Figure Rangoli Designs
Figures aren't just common in mehndi, but they can be created in rangoli designs too. This one perfectly demonstrated how ladies of the house deck up in their traditional best for the occasion and we love the intricacy and significance of this pattern.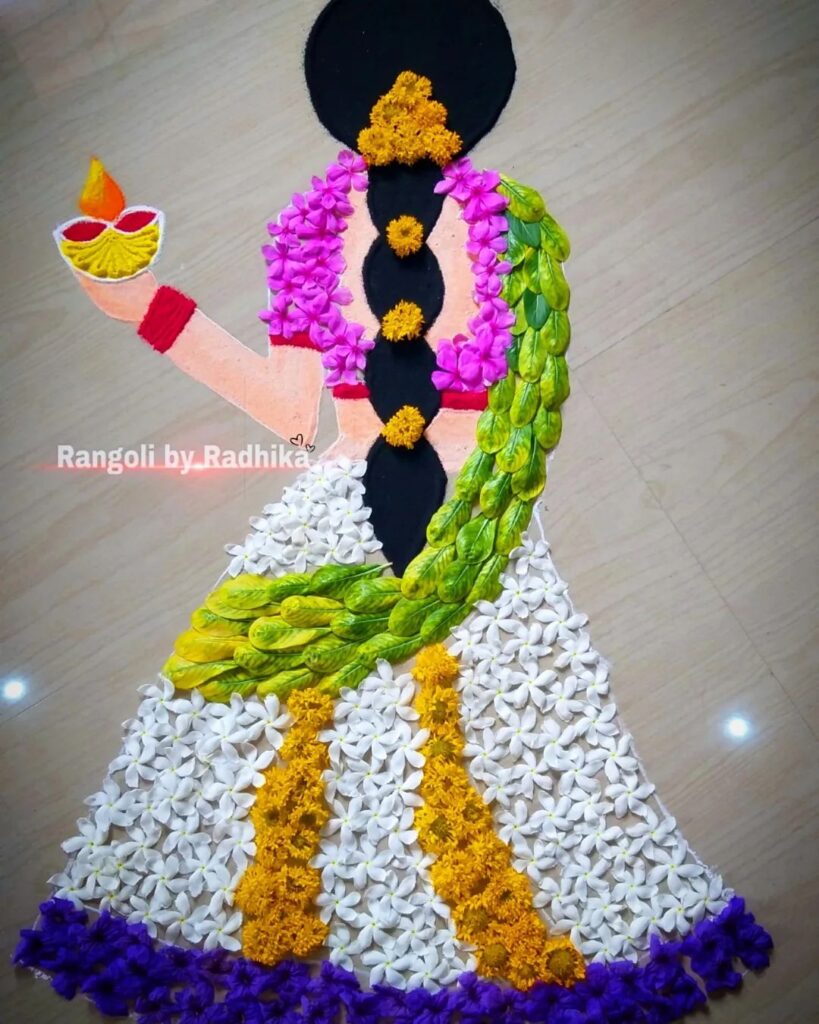 #11 Easy Rangoli Design For Diwali 
Swastik is considered to be lucky and auspicious in Hindu culture. Illustrated during all religious occasions, a Swastik rangoli design for Diwali will bring in prosperity and good luck to your home. Here's how you can easily create this religious symbol at home with step-by-step instructions.