The world of engagement rings has a vocabulary of its own. From different shapes, settings, and styles, they come in many variations and one of the most popular among them is the halo engagement ring. Besides solitaires, a halo diamond ring is common in celebrities as well. The style can be seen in the engagement rings of Kate Middleton, Cardi B, Natalie Portman, Jessica Beil, and Sofia Vergara, among others. If you're wondering exactly what the halo rings are, this blog answers some of the most common questions about them. As a bonus, find 67 gorgeous halo engagement ring styles to inspire your own special bauble. 
What Is A Halo Engagement Ring?
A halo engagement ring or a halo ring, in general, is defined by a set of smaller diamonds or other gemstones surrounding a bigger diamond or any other gemstone in the middle. The setting is most common in diamonds but can be done on other gemstones as well. Think of the sapphire engagement ring of Kate Middleton which has a halo setting in diamonds, but has a sapphire in the middle instead of a diamond. You can choose any gemstone for the halo diamond setting as well. 
The halo setting is typically done in a pave setting. Pave is a French word that translates to paved or paving. It's a setting wherein small diamonds are placed closely alongside each other so the setting resembles a pavement or a cobblestone road. Pave is quite common in diamond rings and diamond jewelry, in general. It adds an extra sparkle to the ring without adding much to the cost because smaller diamonds are generally used for the setting. The halo setting is typically done in pave, but not all halo settings are Pavé.
History & Significance Of Halo Engagement Rings: 
The history of halo engagement rings can be traced back to the early Georgian era from 1714 to 1837 when they were called cluster rings. It's demand remained constant throughout the Victorian era from 1837 to 1901, where colored gemstones were used in the center and the size of the halo diamonds was a little bigger than they are today. The next resurgence happened in 1920, during the Art Deco Era when the symmetry and geometric patterns began flourishing and concentric circles to enhance the designs became popular. 
The popularity of halo engagement rings was then challenged by socio-economic fluctuations. The glamorous halo setting lost its approval in the Great Economic Depression from 1929 to 1939, and then during the gleaming era of World War 2. The comeback then happened in the 1960s when the world economy got on track and the glam of halo rings surged to the popularity that they are today. Since then halo rings have become a favored choice by men to pop the question. They are available in many different styles and settings today. From a double halo engagement ring to a hidden halo ring, and used to accentuate any shape, the halo engagement ring stays a sought-after pick for women of every style preference.
Are Halo Engagement Rings Tacky?
"Tacky" is somewhat of a personal opinion when it comes to anything really! Halo engagement rings can be tacky for some and elegant for others. Some prefer a cleaner look for their bauble so they opt for solitaire or probably just a dainty halo engagement ring style, while others prefer a glamorous look so they opt for a double halo style instead. It's all about personal preference! 
Are Halo Engagement Rings Out Of Style?
Most definitely not! Halo engagement rings are one of the biggest trends in the engagement ring area, and their light isn't dimming anytime soon. When done in a minimal and tasteful manner, these rings make a great addition to family heirlooms and are quite timeless. Because of their ability to give the larger diamond a bigger appearance and brilliance, their popularity will continue to rise in the coming future. Rest a
What's The Difference Between Halo & Solitaire?
Solitaire engagement rings are one of the most popular choices for the couple's special day followed by a halo ring. A solitaire ring is one where the bigger diamond rests alone with no smaller diamonds surrounding it. There can be other bigger diamonds around, like the one in the three-stone engagement ring, as seen on Meghan Markle's engagement ring, or a two-stone engagement ring, popularised by Ariana Grande and Megan Fox, but they don't have any encircling around them with diamonds or any other gemstone. In halo, the bigger diamond is surrounded by smaller diamonds, typically in a pave setting, for a bigger, better appearance. 
What Is A Hidden Halo Ring?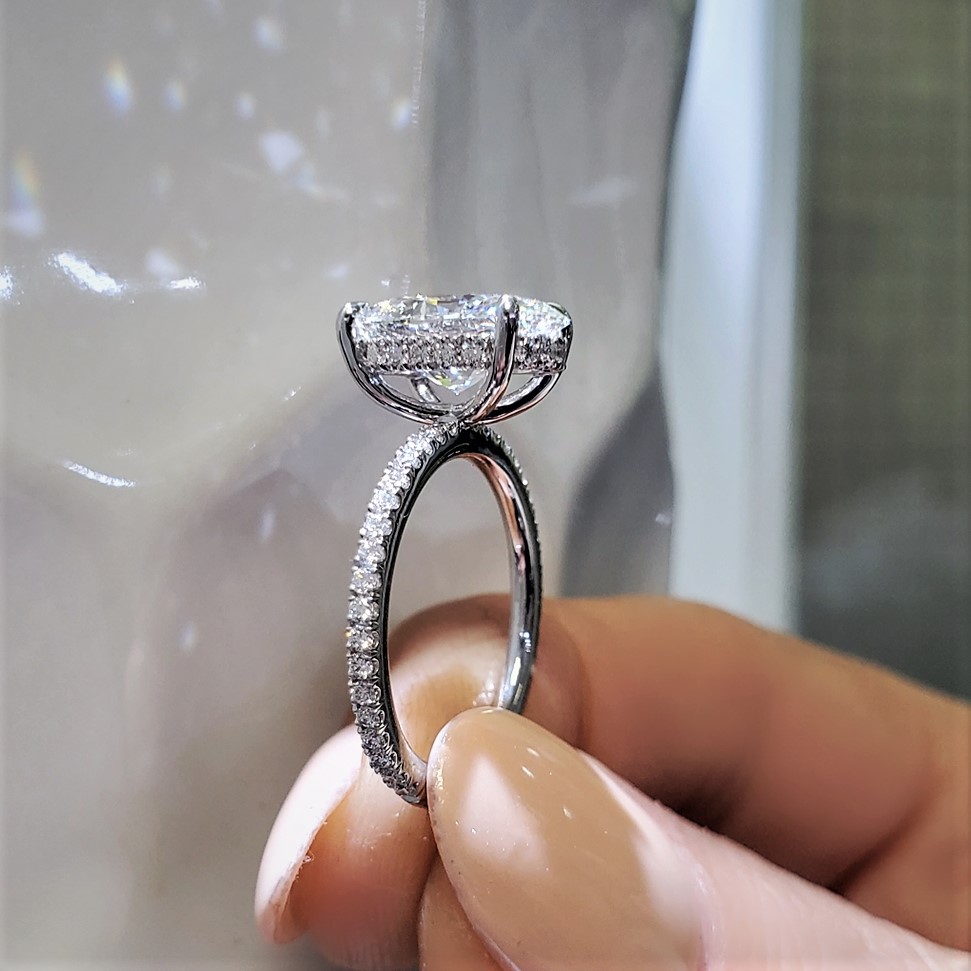 Via Diamond Mansion
A hidden halo engagement ring is growing in popularity in the engagement ring genre, and it's not hard to see why. But first, if you're wondering what's a hidden halo ring, then like its namesake, a hidden halo is when the halo is set underneath your huge diamond rather than on the sides generally. This can be a few millimeters below the main stone right at the base of the band or right below the ring to give it an uplifting appearance.
A hidden halo ring gives a unique dimension and a striking element to your engagement ring. From the bird's eye view, you may not see the halo, but from the side or any other angle, it will make your ring gleam stunningly. It's said that a hidden halo increases the size of the bigger diamond by 15%. So, it adds to the size of your solitaire without taking away any attention from it. Another benefit of a hidden halo engagement ring is that it can work on any ring shape or type and subtly accentuate the center stone. They are also very easier to resize or change in the future.
One of the cons of a hidden halo ring is the bulkier appearance. Because of the setting, a hidden halo often sits higher than usual. This can be a problem for women who prefer low-key and lower settings of diamonds. The higher setting also makes it difficult to pair the ring with your wedding ring, and you'd have to look harder to find a gorgeous stack for your wedding ring. Another con of the hidden halo is the maintenance. Hidden halos, when not done right, can rub on other diamonds in your ring and cause friction. Over time, this can loosen the setting and can make some gemstones on the ring fall off. The hidden setting also makes it easier for dirt and grime to stick to places where your hands can't reach. As such, you must stick to your cleaning schedule so the sparkle of your bling doesn't degrade. If you're planning to clean the ring at home, make sure you ask the jeweler which is the best method to clean your ring. 
Since hidden halo rings have recently become popular, most jewelers aren't that much of an expert in these settings, which can add more to the cons than the pros. And when made by an expert, the disadvantages of a hidden halo like friction or accumulation of dirt can all become negligible. So, if you're planning to go for a hidden halo on your special bauble, pick a jeweler who has some experience creating them and values durability in their product. 
Pros & Cons Of A Halo Engagement Ring: 
Pros: 
#1 Visual Appeal: A halo setting amps up the brilliance of the center diamond. It can make smaller carat diamonds more sparkly and big. Plus, if your bigger diamond is of lower brilliance then adding a halo is a great choice as it makes lower-quality diamonds appear to be of higher quality. 
#2 Budget Option: In terms of budget, numerous small diamonds are cheaper than one big diamond and so, adding halo increases the size of your ring without breaking the bank. This is one of the major reasons why couples opt for a halo setting.  
#3 Protects The Bigger Diamond: The halo of diamonds better protects your bigger diamond. It prevents it from accidental bumps and bangs. 
#4 Adds Dimension: A halo setting complements and accentuates many diamond shapes. Further, you can really use a halo to add more style to your ring. For example, opting for a rose gold setting to a white gold ring or going for a square-shaped halo for a round brilliant ring. You can also use different color gemstones to create a beautiful contrast with the centerpiece stone.  
Cons: 
#1 Takes Attention Away From Your Solitaire: If the halo diamonds are too sparkly, or even have the same sparkle as the center diamond, it can take away the attention from the bigger diamond. That being said, there are some settings like a dainty halo engagement ring that lets your bigger diamond take the majority of attention. Opt for this style if this is a concern for you. 
#2 Wear Issues: Most halo settings will get stuck in almost everything. From your jackets, sweaters, and tops, and in your pocket, which can be annoying to wear on a regular basis. 
#3 Maintenance: It's likely that you will lose the smaller diamonds in the halo setting many times. The prongs which hold the diamonds lose their grip over time and fall out. The more diamonds surrounding the ring, which is the case with a bigger center stone like an oval halo engagement ring or more halos like a double halo engagement ring, the more time you will spend going to the jeweler for the replacement. It doesn't cost much, but it will cost more than their worth. 
How To Clean A Halo Ring Setting?
Halo engagement rings have a complicated setting which makes them more prone to accumulate dust and grime. They need frequent cleaning, at home or at the jewelers. The best way to clean a diamond ring at home is to use warm water (almost hot!) solution with dish soap. Place your ring in the solution for about 30 minutes and then gently brush the stone with a toothbrush. Use an electric toothbrush with a sensitive head to do the job more quickly and efficiently. 
67 Halo Engagement Ring Styles:
#1 This brilliant-cut round halo engagement ring features a round diamond supported by 4 prongs to enhance the solitaire while the single halo with small diamonds goes perfectly with the entire setting. The band features additional diamonds to add to
the sparkle and woo you at first sight.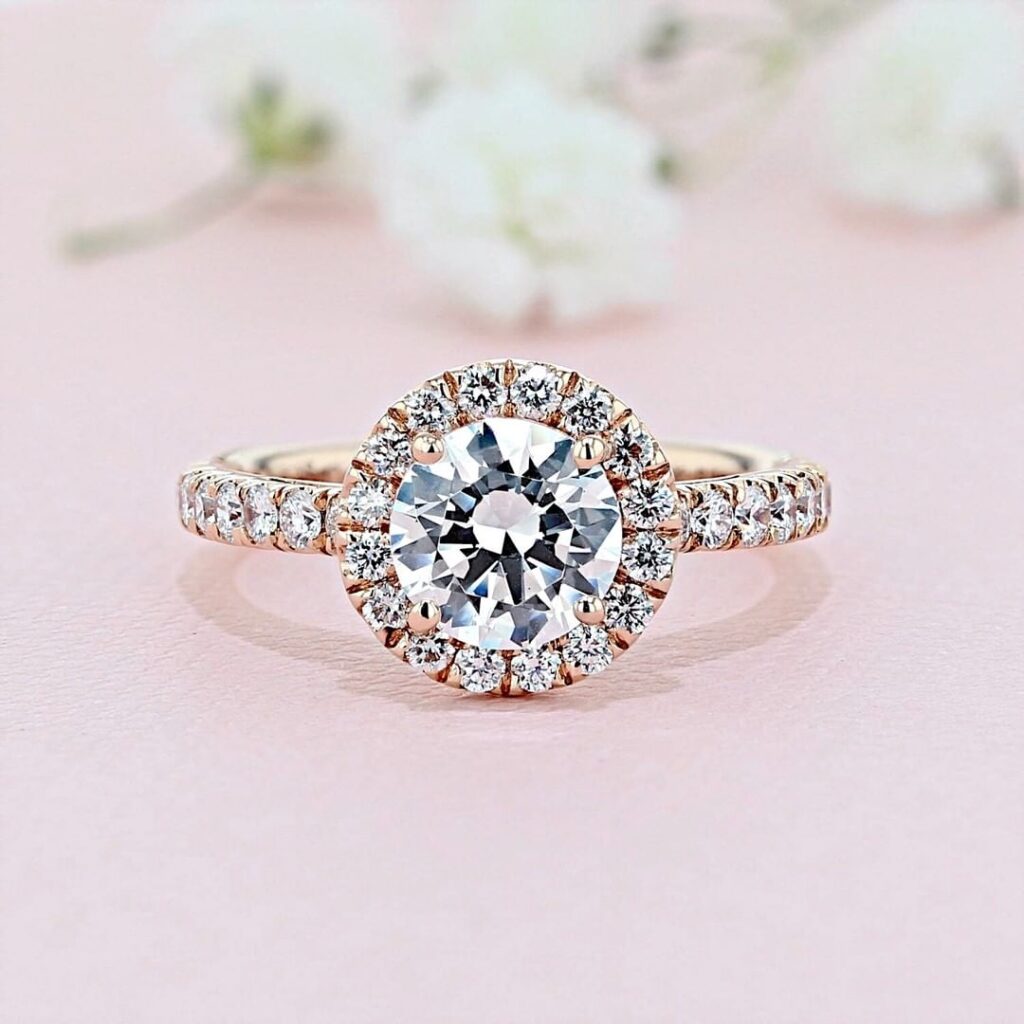 Courtesy: Icing On The Ring
#2 There's something so classic about a vintage engagement ring. Whether it's from a family heirloom or designed keeping vintage aesthetics in mind, this type of ring is unique and sure to turn heads whenever someone sees it. Here, the classic emerald cut halo engagement ring incorporates a distinctively designed pave diamond setting around the solitaire which is further amped up by the rose-gold double band encrusted with little diamonds.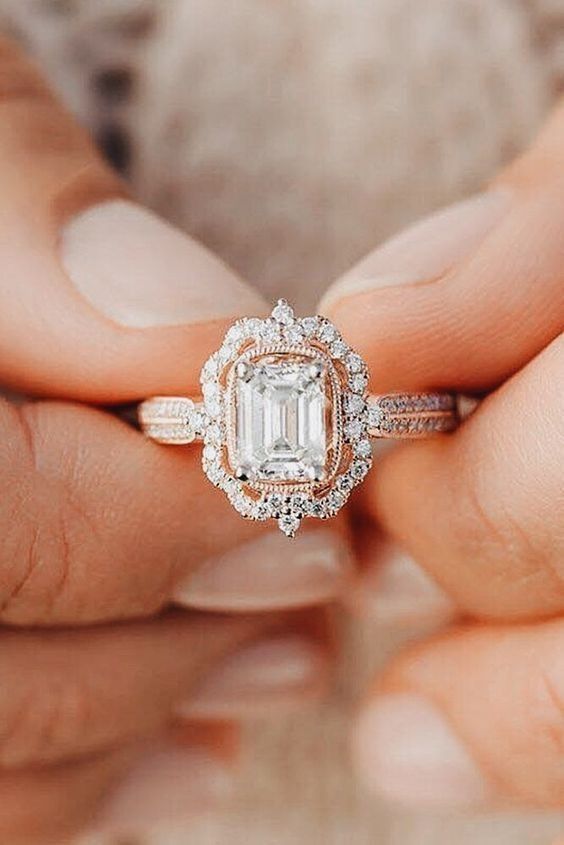 Courtesy: Pinterest
#3 Set in white gold and featuring a double halo caked in a marquise diamond, this ring looks super sparkly and feminine. Believe it or not, the marquise cut is one of the oldest diamond ring cuts and although it doesn't enjoy the same popularity as the round and cushion cut diamonds, it's the perfect pick for couples looking for something unique
yet timeless for their special day.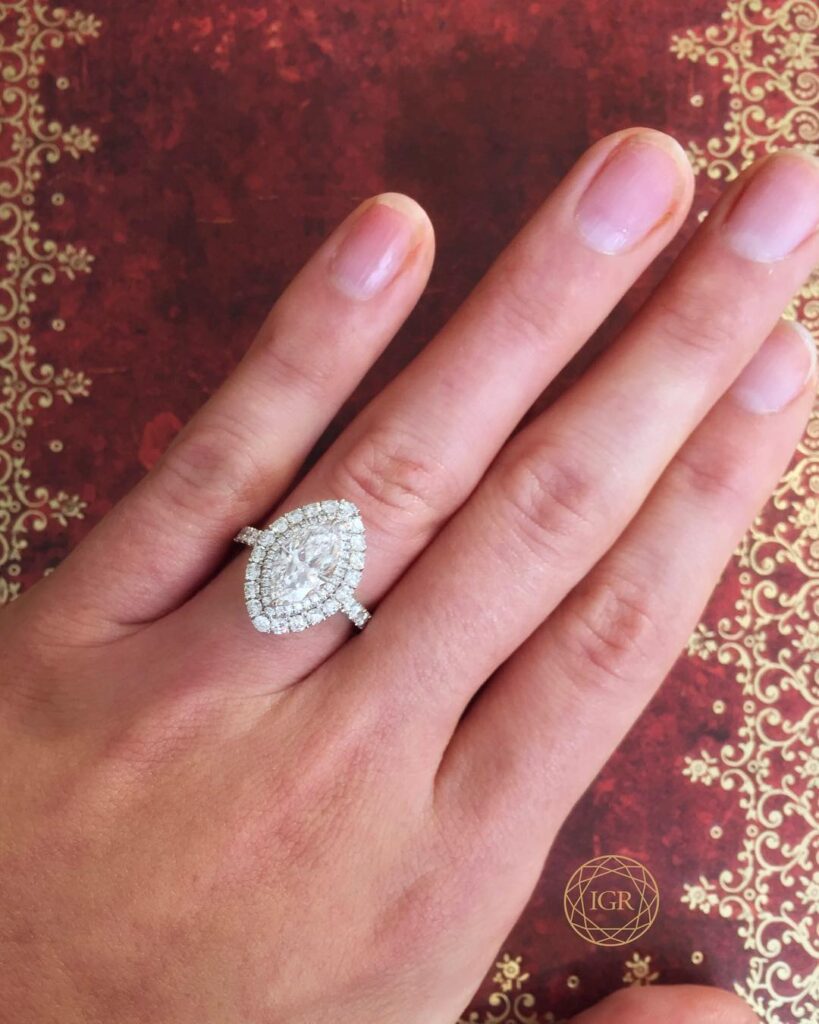 Courtesy: IGR London
#4 Featuring a pink tourmaline ring with a dash of diamonds, this halo diamond engagement ring is ideal for brides who'd enjoy a dash of color in their life. We especially love the bigger diamonds on the sides – such a delightfully unique touch.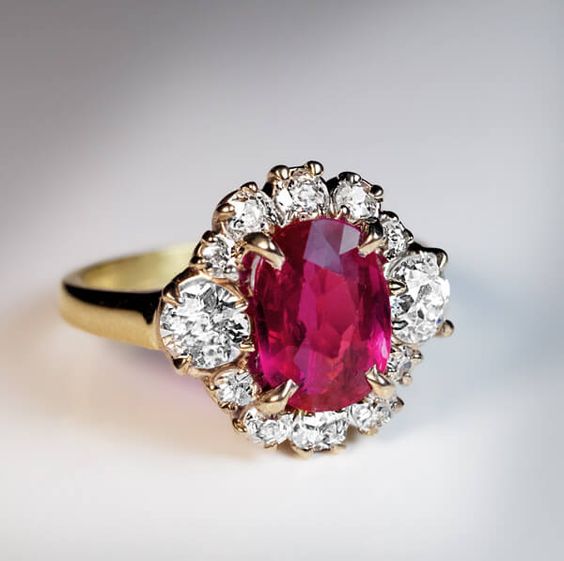 Courtesy: romanovrussia.com
#5 The next one is a double halo engagement ring which adds another halo by placing a circle using the triple band setting around. Multiple bands on engagement rings with pave diamonds is a huge trend and can easily make your solitaire pop out. Here, the combination of the double band and a double halo does the trick.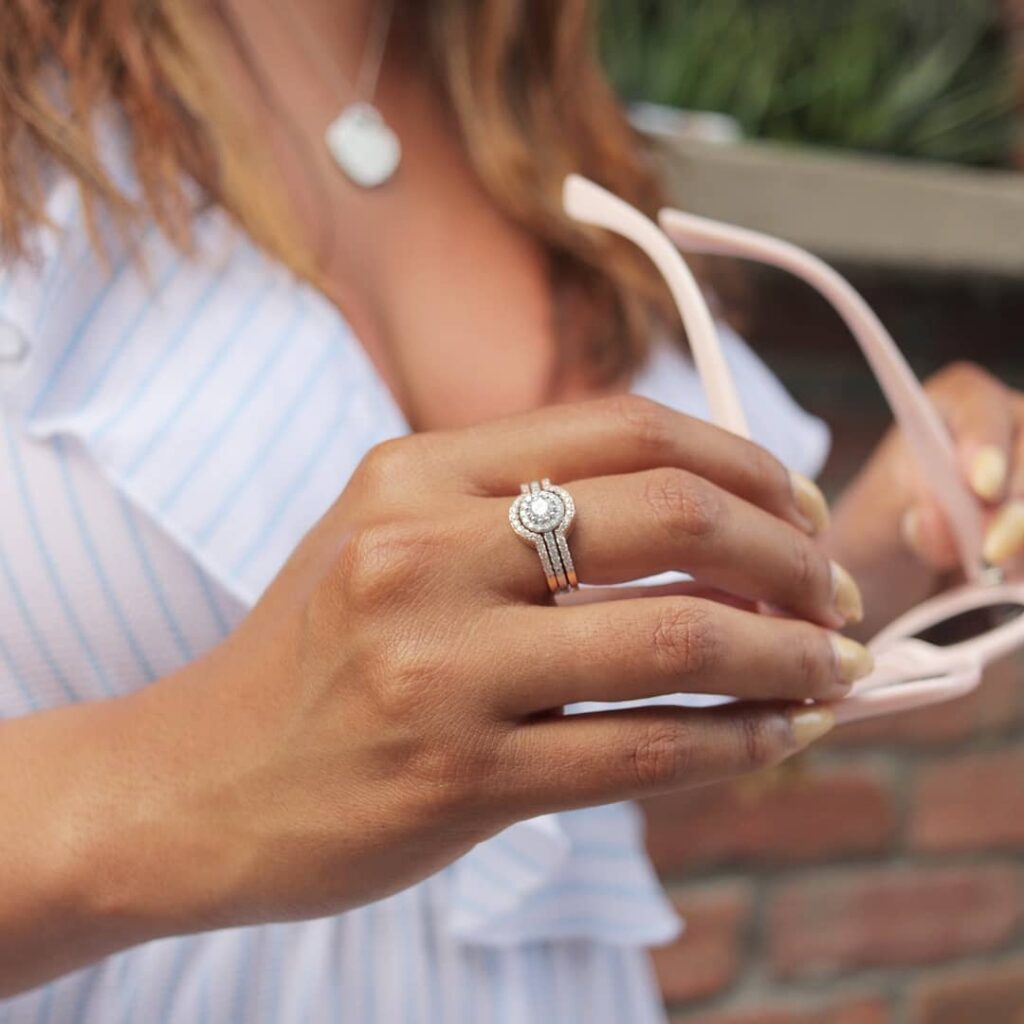 Courtesy: Global Diamond Montreal
#6 It's a halo engagement ring attack on all of you! Featuring round, cushion, and oval halo engagement rings, this aesthetic picture makes a strong case for the halo looking gorgeous on any type of diamond shape you love.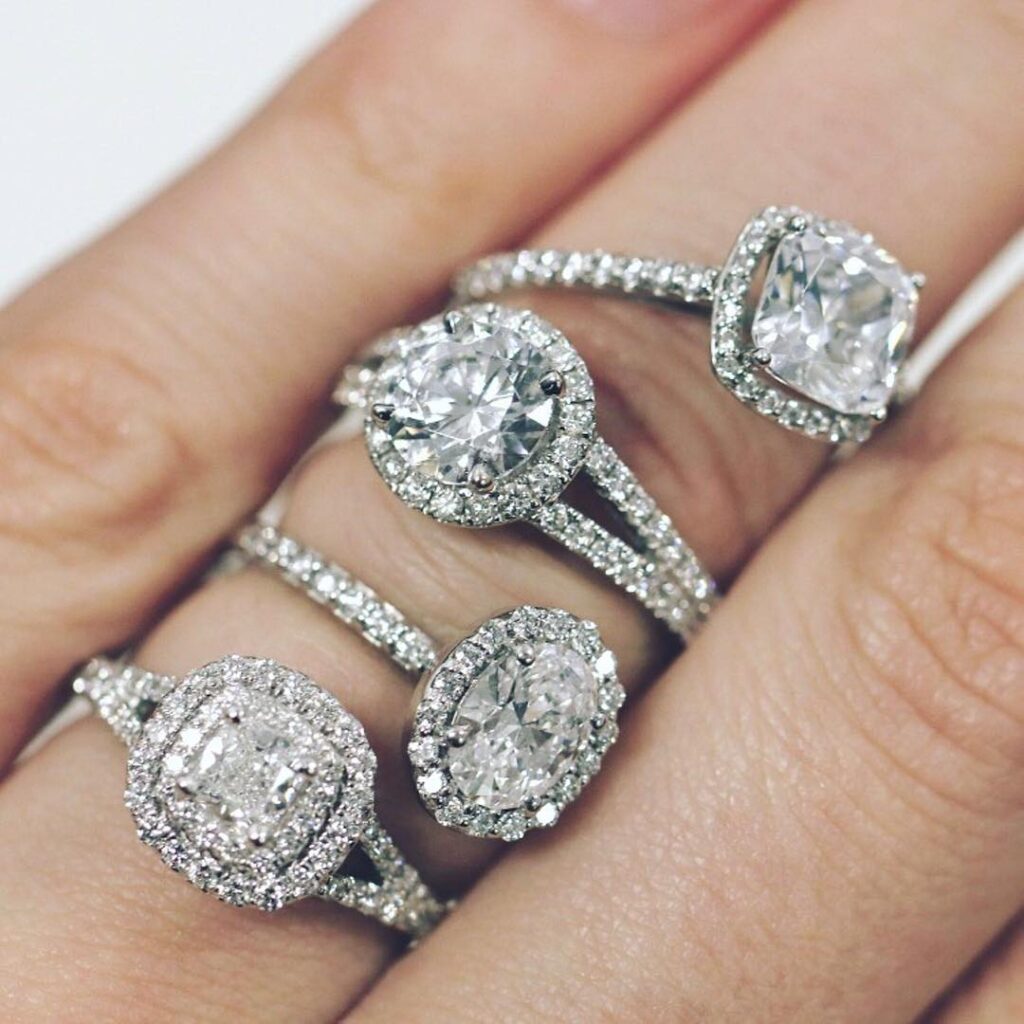 Courtesy: Australian Diamond Company
#7 A double halo engagement ring might seem like a bit much in your vision, but in reality, it can look stunning and can make your solitaire pop out well. Here, the oval stone lies perfectly tucked in a double halo ring further enhanced by a double band pave setting. We love the bigger diamonds on the outer halo adding a striking sparkle to the ring.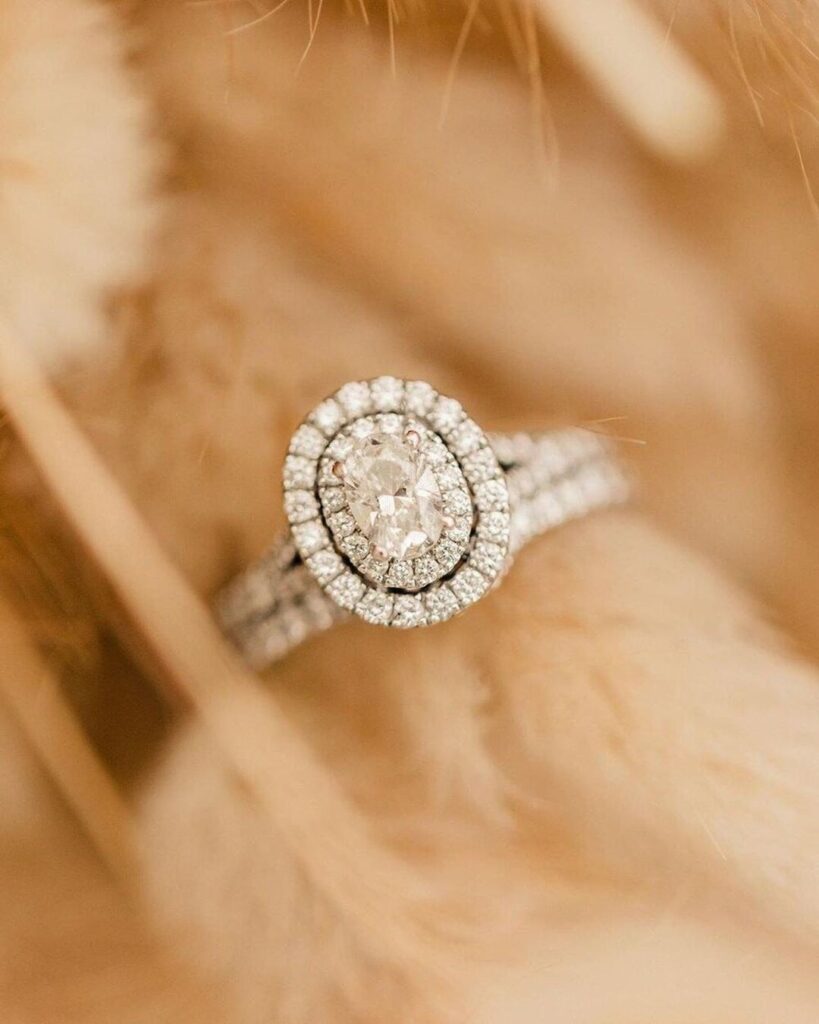 Courtesy: Kay Jewellers
#8 Kate Middleton's sapphire engagement ring is one of the most popular engagement rings in the world. It belonged to the late Princess Diana and has surely become one of the most recognized pieces of jewelry in history. The sapphire engagement ring with 14 solitaire diamonds around it has become an inspiration for many brides-to-be around the world. Even Katrina Kaif's engagement ring is a double-halo sapphire engagement ring from Tiffany's. Inspired by the same design is our next ring with an emerald-cut sapphire surrounded by a double halo with oblique edges.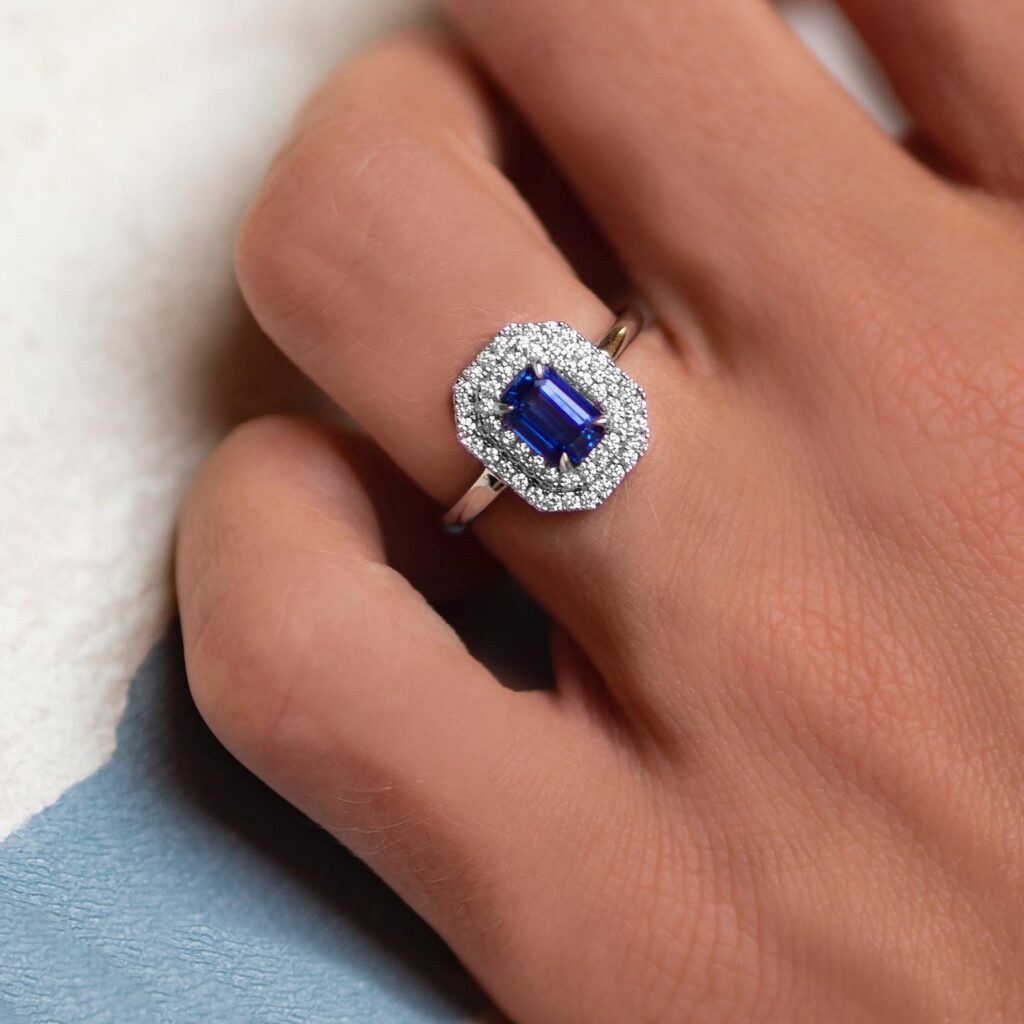 Courtesy: Fenton
#9 Surrounded by a double halo with bigger diamonds on the outer pave than the inner, this engagement ring's design is different from the usual because of the eye-catching spiral band design. The gorgeous nail design also catches the eye, and makes for perfect engagement nails, doesn't it?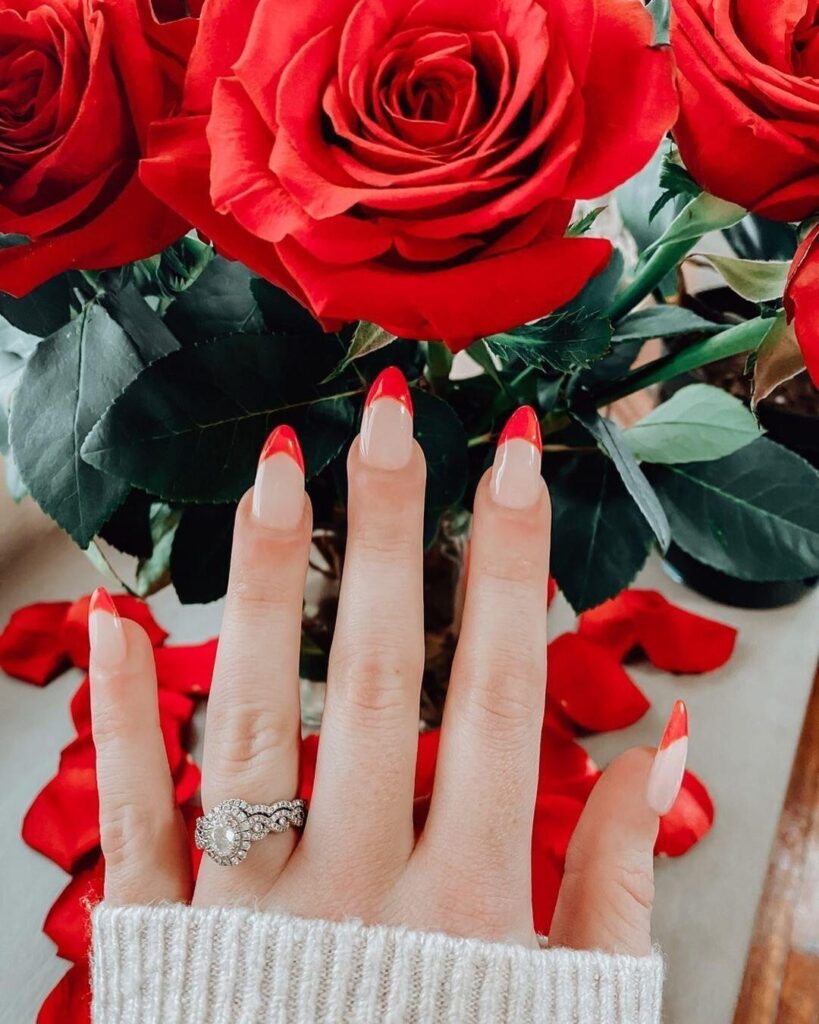 Courtesy: Neil Lane
#10 A cushion-cut halo engagement ring is quite popular, just like a cushion-cut diamond is. With their brilliance, timeless cut, and appealing design, cushion-cut rings are widely favored. They're also priced lower than the round-cut diamonds, further fueling their sales. If you're a fan of this diamond cut, here's a classic design to inspire you.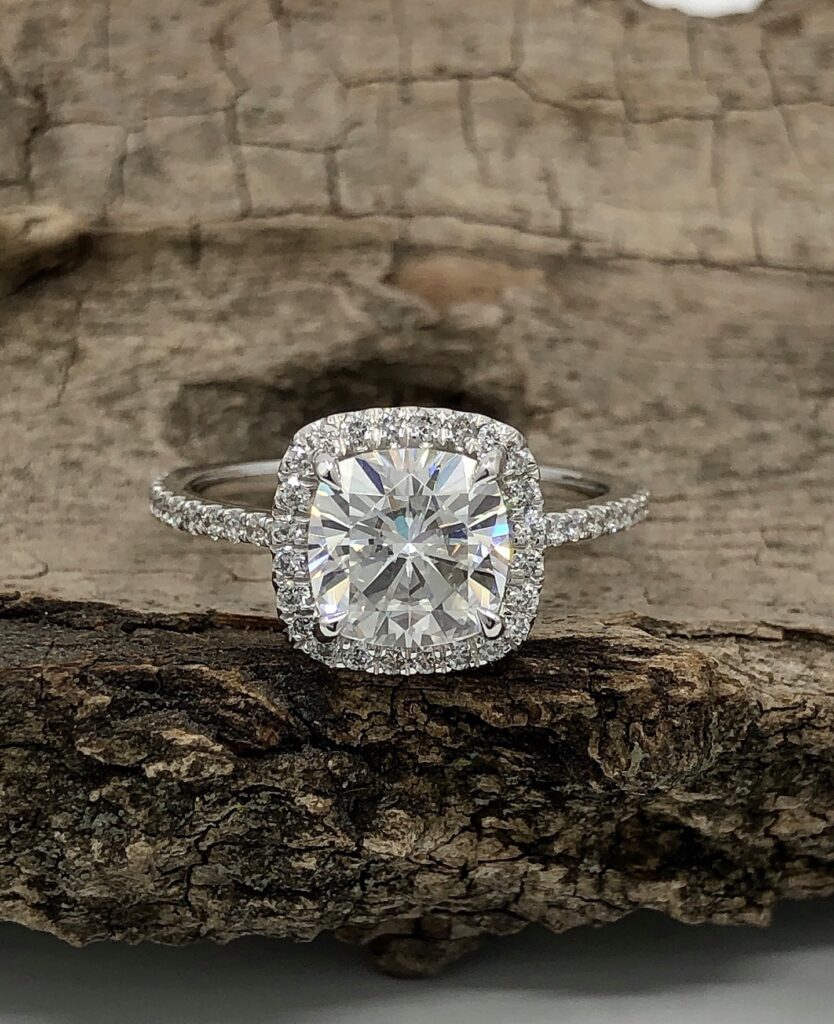 Courtesy: Isabella
#11 Who said the halo setting has to be the same shape as your solitaire? In fact, contrasting them can be a great idea for an artistic touch to your special piece of jewelry. In the next one of the halo engagement ring styles, a round diamond is paired with a square halo for a noteworthy appeal.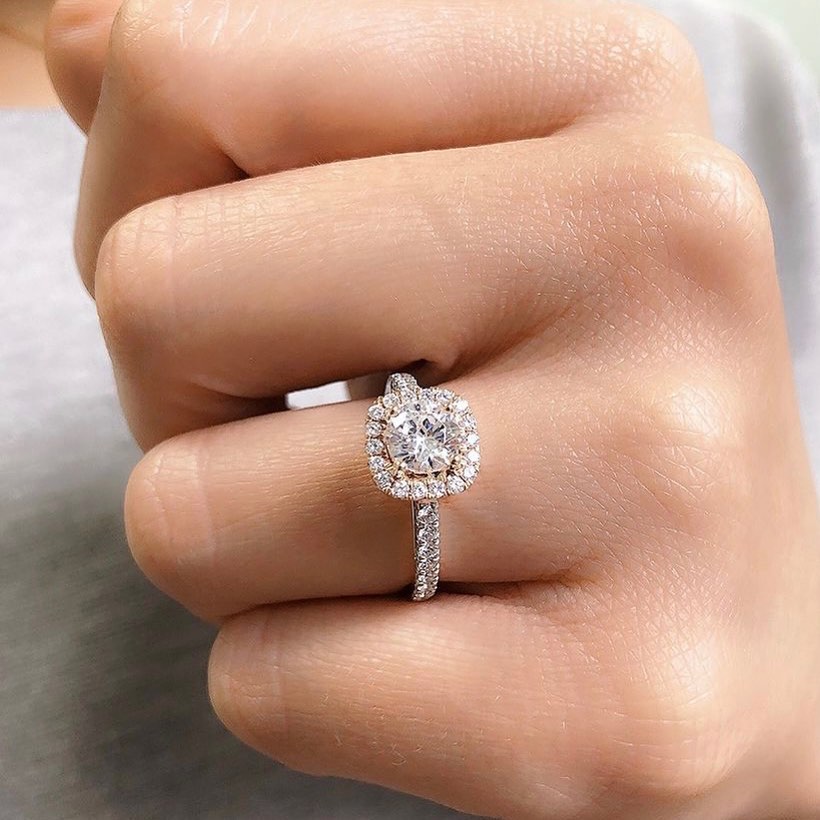 Courtesy: Scontsas Fine Jewelry
#12 A classic round halo engagement ring just never fails to impress! The pave diamonds are also added to the band for the extra sparkle that definitely catches the eye.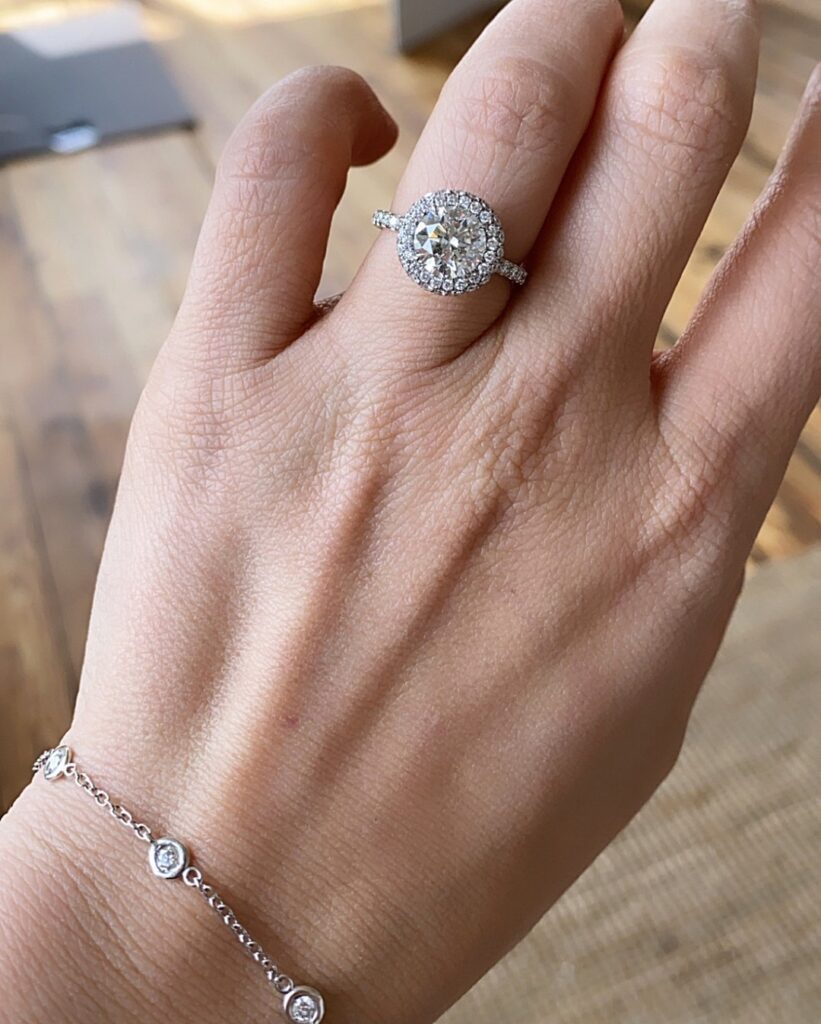 Courtesy: Jessica Namdar Jewelry
#13 Gemstone rings are widely worn these days! This double halo ring can be gifted to your lady-love as an engagement ring or even for any other special occasion like an anniversary or a birthday gift. It has a cluster halo first and a spiral halo with micro pave diamonds next for an extraordinary ring design. Besides pink, you can recreate this for any other of your favorite gemstone.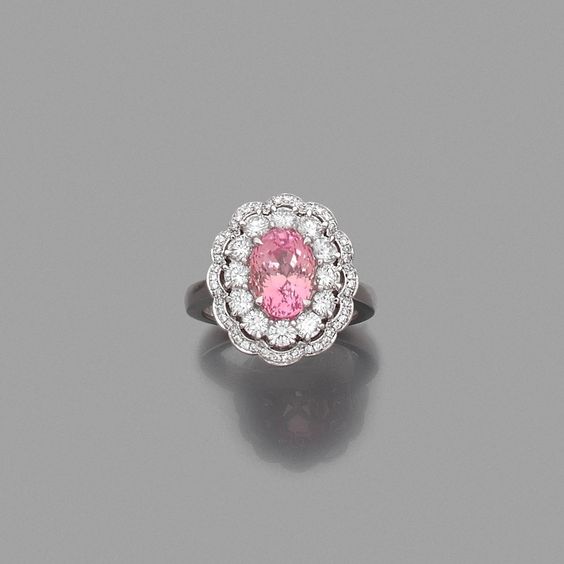 Courtesy: Pinterest
#14 The oval halo engagement ring is also a popular choice for those who want to stick to the basics for the most special jewelry piece in their wardrobe. It looks like a single halo, but when you look closely, there's another pave diamonds circle added close to the solitaire giving it an almost hidden halo engagement ring look. The split-shank band adds a delightful touch and completes the look.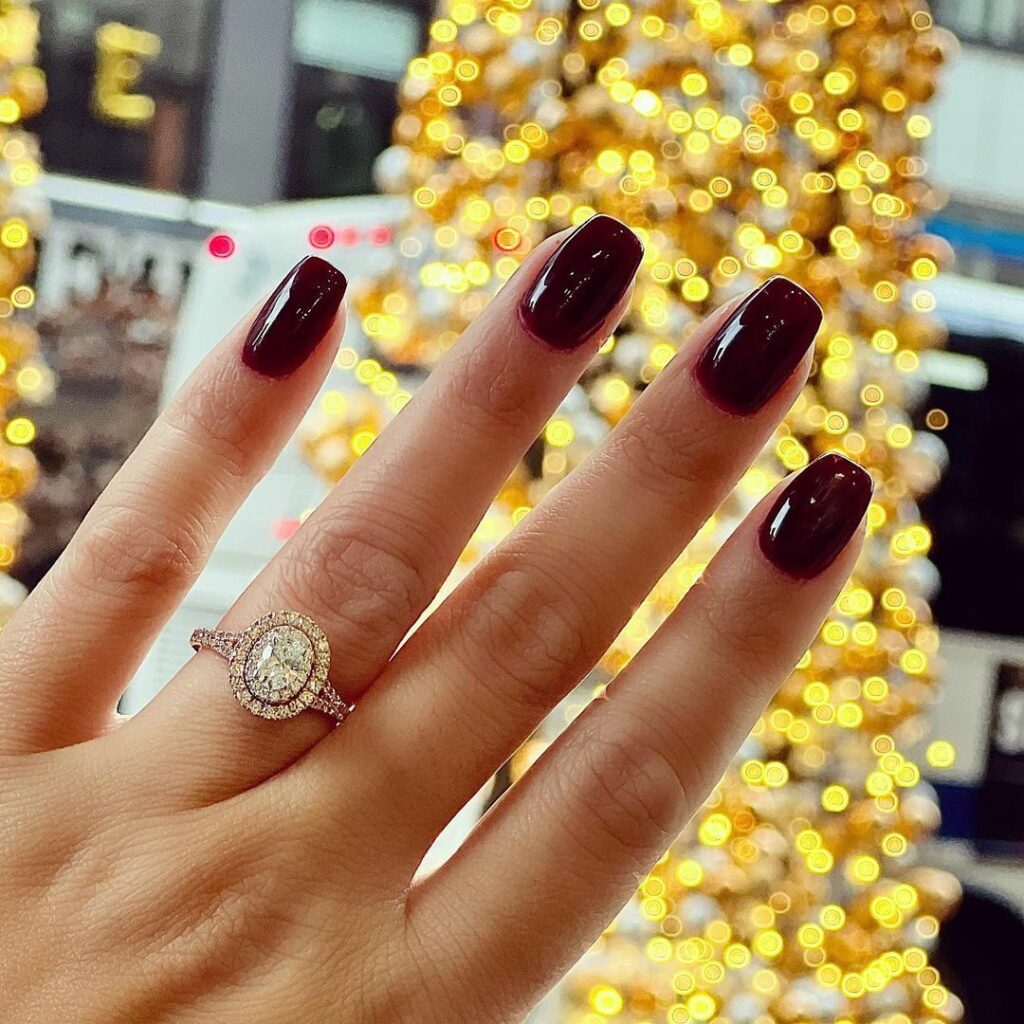 Courtesy: Neil Lane
#15 Three-stone engagement rings are pretty and have more diamonds (and what girl doesn't want more diamonds on their special ring) but also hold a lovely significance. The three-stone ring means the couple's past, present, and future, and also denotes the three basic elements of a strong marriage: friendship, love, and fidelity. Speaking of selecting your own three-stone bling, here's a halo 3-stone engagement ring style to inspire yours.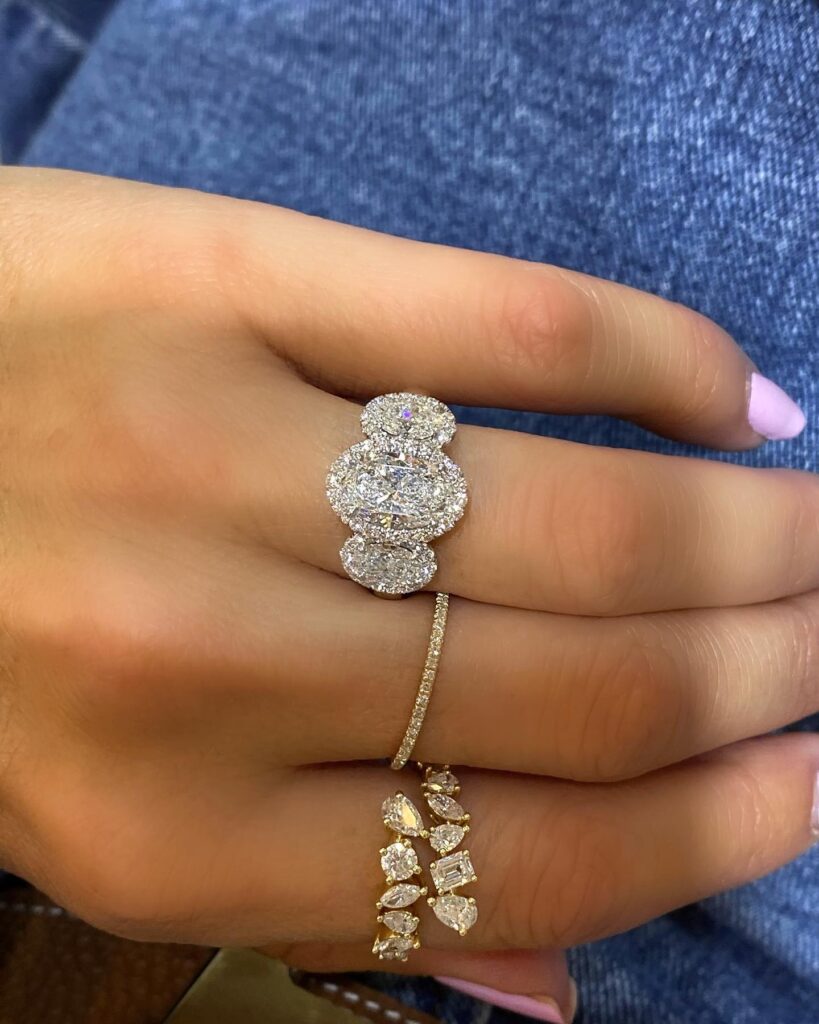 Courtesy: Michelle Demaree
#16 There's a pear-shaped ring for every aesthetic. And the one featured below is ideal for women who want a clean look with added sparkle for their bling. An added bonus of pear-shaped rings is they make your fingers look longer and it's just a plus we can't seem to ignore here!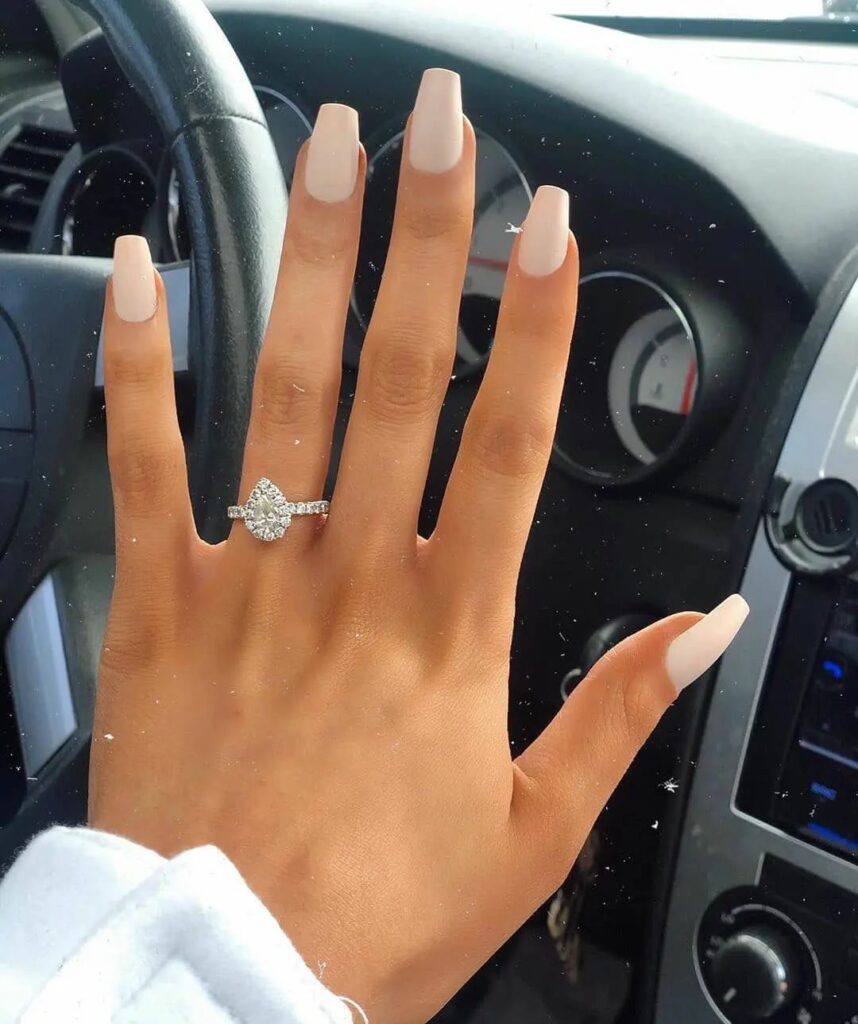 Courtesy: @ringszone
#17 The emerald-cut halo engagement ring is just stunning! If you're afraid of the halo taking attention from your solitaire, do what the next design portrays. Use prongs to accentuate the solitaire and the problem is solved! 
Courtesy: Sol's Diamonds
#18 One of the main benefits of the halo engagement rings is they can make your solitaire look bigger and this is one of the primary reasons why couples opt for them! Here, the spacious halo setting with split shank style enhances the solitaire and makes it more prominent.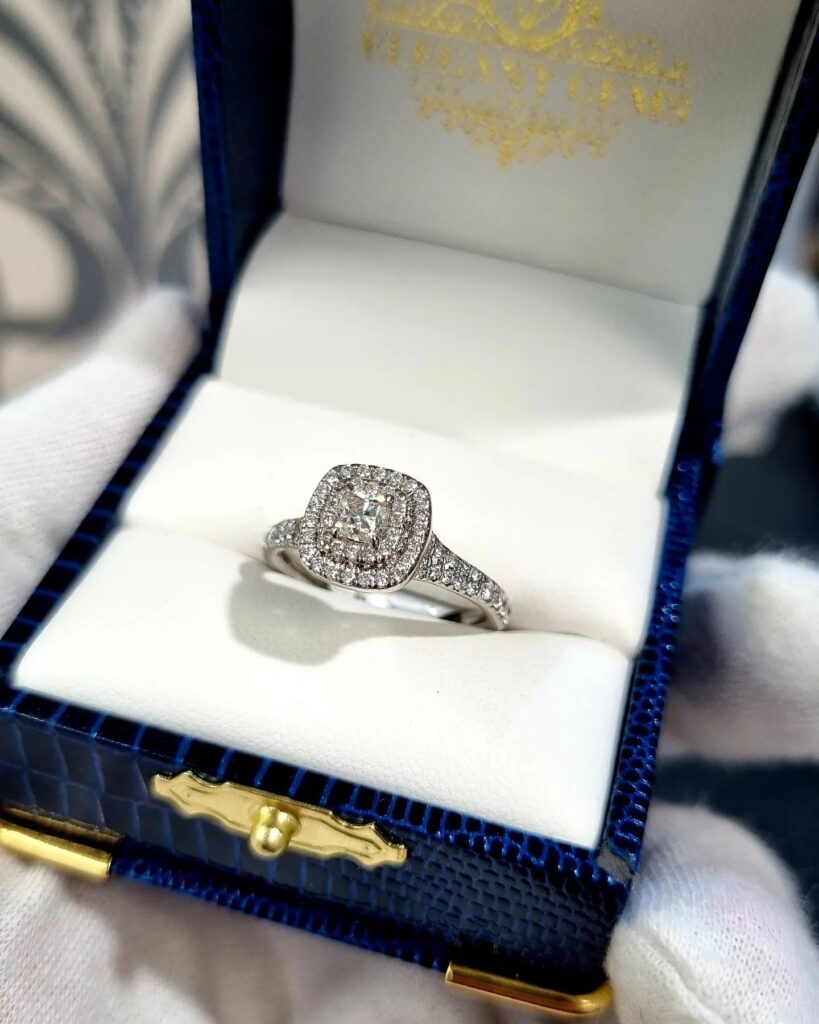 Courtesy: Elegant Gems
#19 This Tiffany's halo engagement ring is aesthetically pleasing and will look gorgeous on any woman's hands. Featuring an emerald-cut solitaire in a 4-prong setting surrounded by pave diamonds around the main stone and on the band, this ring is beautifully designed for an ultra-glam yet elegant look at the same time.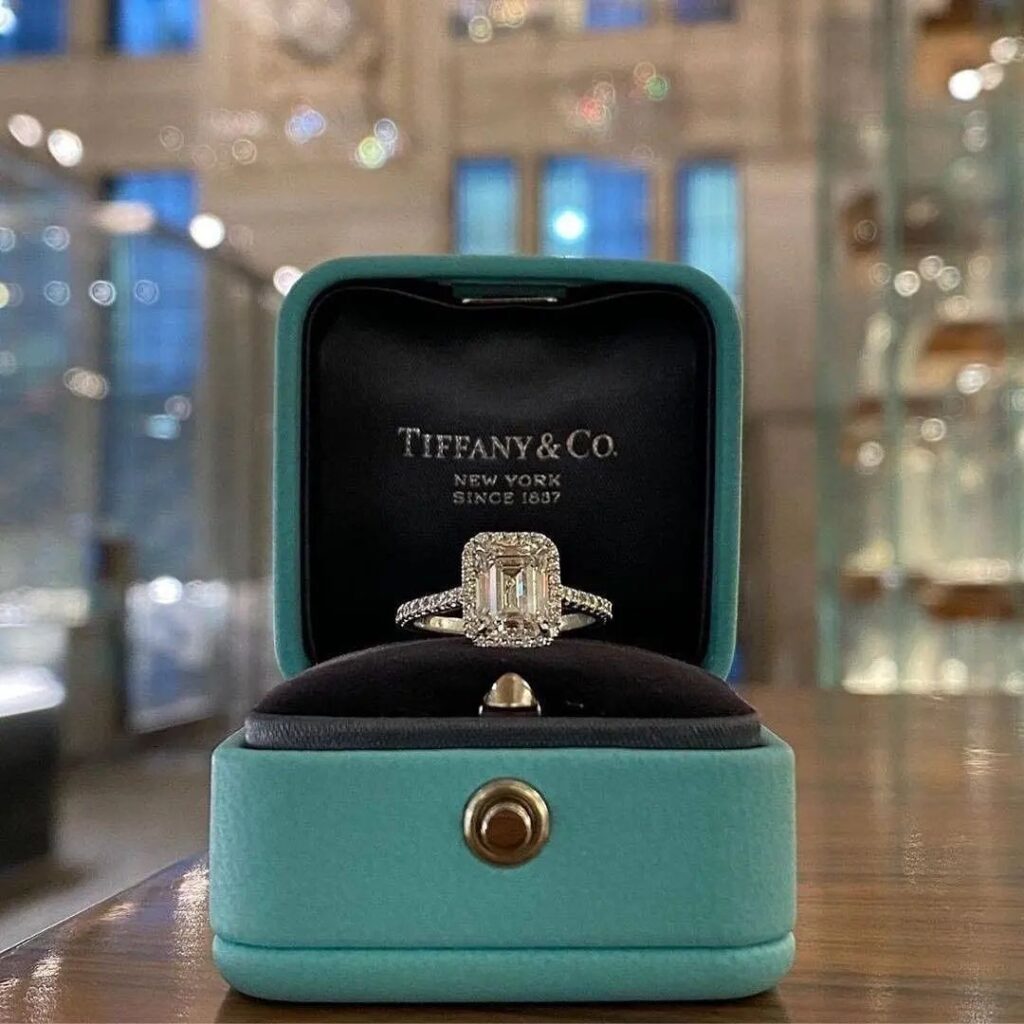 Courtesy: Tiffany
#20 A huge reason behind cushion-cut diamonds' popularity is their unmatched bling. And as you can see here, their sparkle is truly unequaled. Pair them with micro pave diamonds on halo and band, and you've got yourself a ring you won't be able to take your eyes off!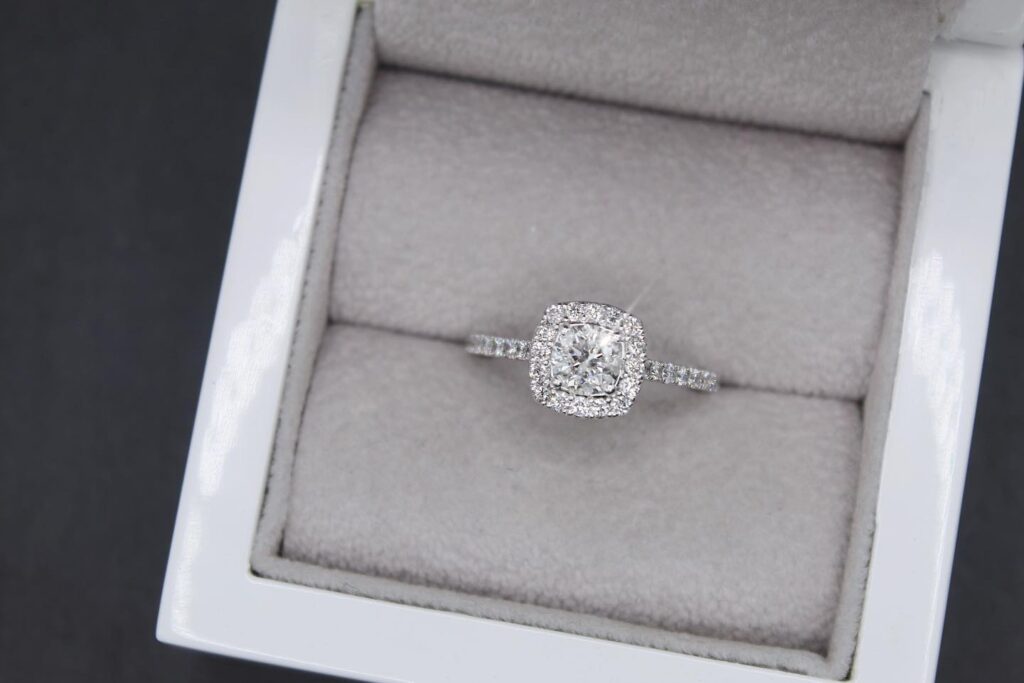 Courtesy: Timantti Jewellery
#21 This halo engagement ring with a plain band is different from others because the halo is often paired with pave diamond setting on the band as well. This one just shows that the halo's beauty can stand on its own as well – with or without the pave diamonds band.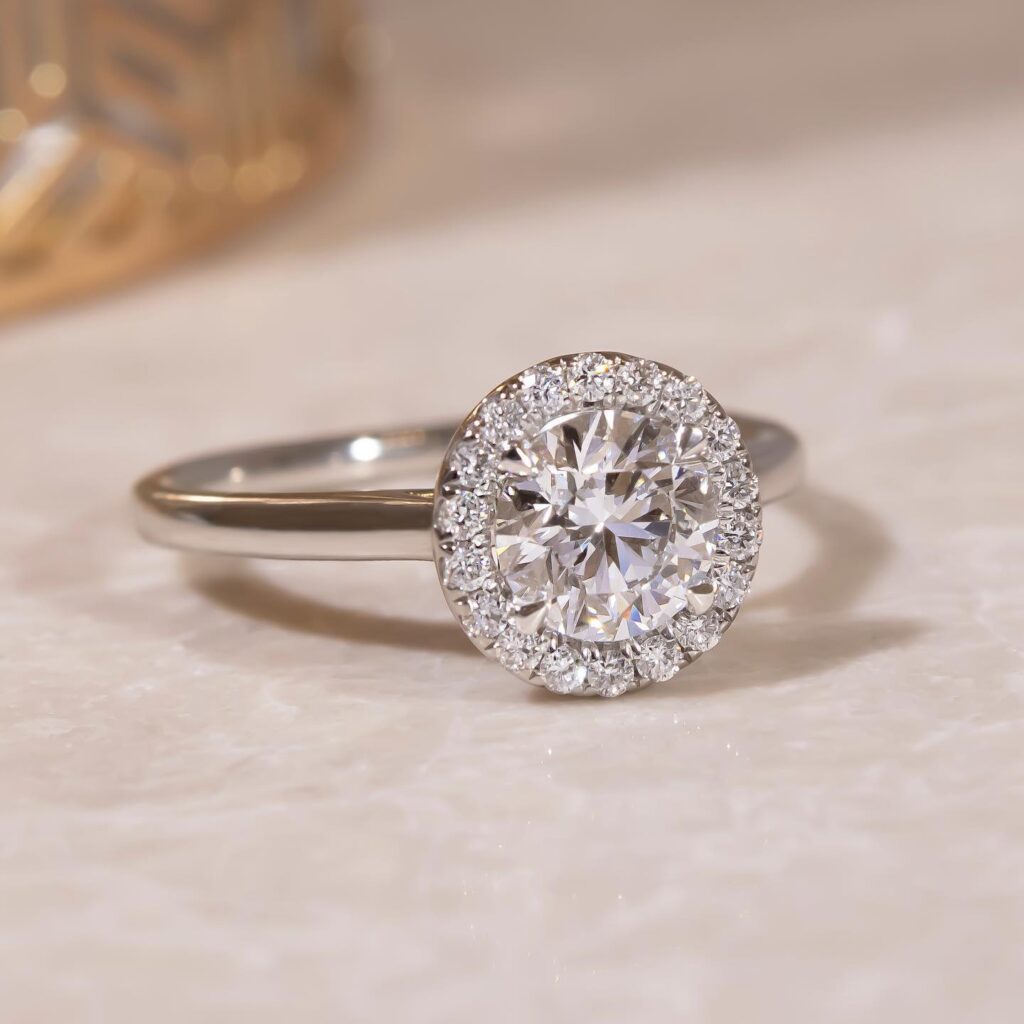 Courtesy: London Hatton Garden Jeweller
#22 Featuring a round-cut solitaire with a cushion-cut shape halo, this insanely gorgeous ring is a love-at-first-sight! It's classic and timeless and can be easily recreated by your favorite jeweler.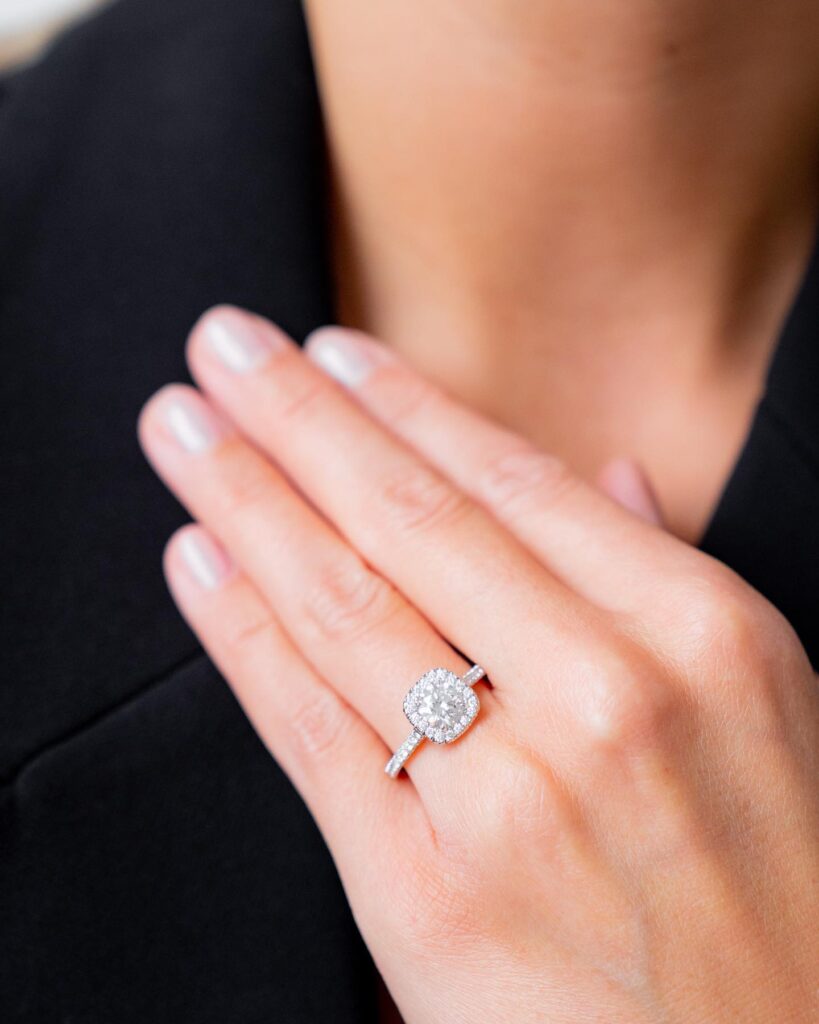 Courtesy: Dazibao Antwerp
#23 Go classic with this round halo engagement ring consisting of tiny diamonds in the halo and the band so that the solitaire takes the center stage in the whole design. For those who don't want their halo to take off any attention from their solitaire, opt for a smaller diamond size and you're good to go!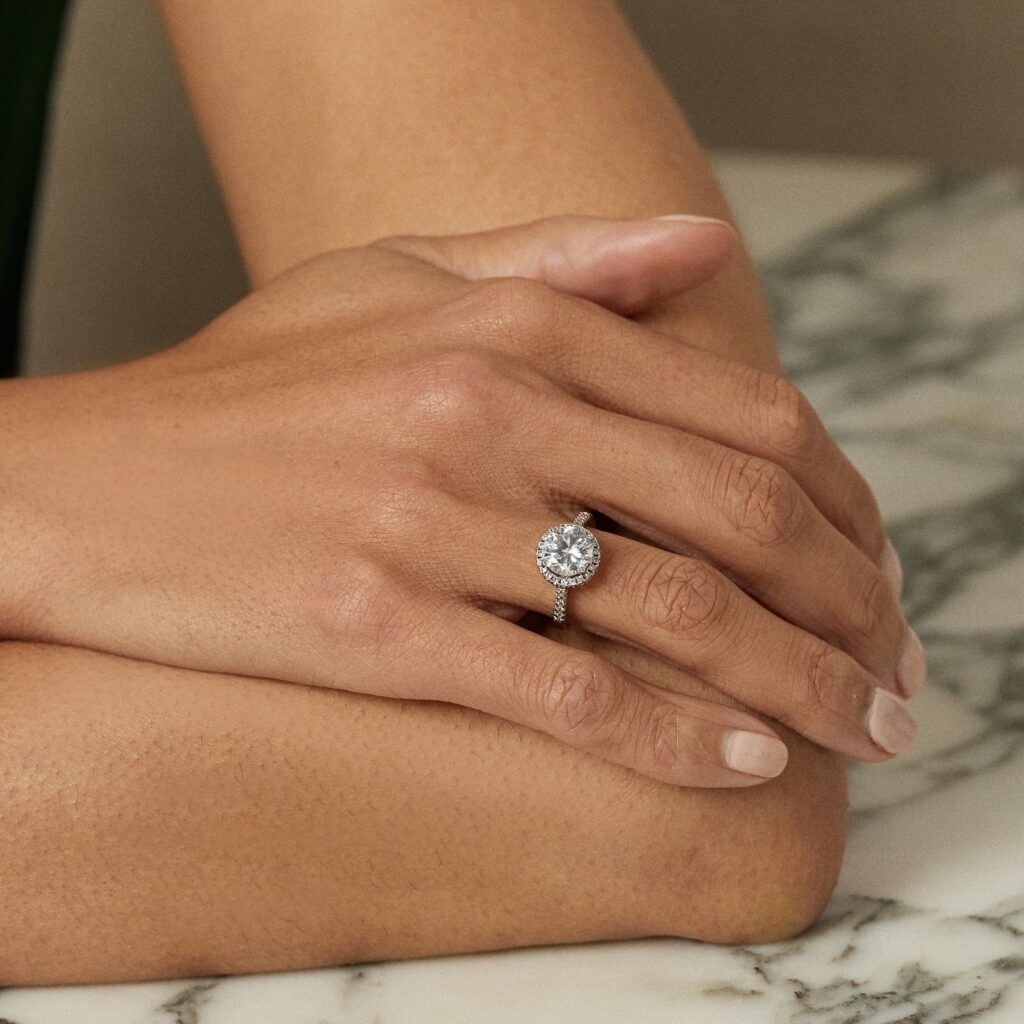 Courtesy: Brilliant Carbon
#24 This ruby and diamond double halo engagement ring is a perfect example of precious gemstones and quality craftsmanship. The impeccable attention-to-detail takes all the credit for the flawless aesthetic of this halo ring.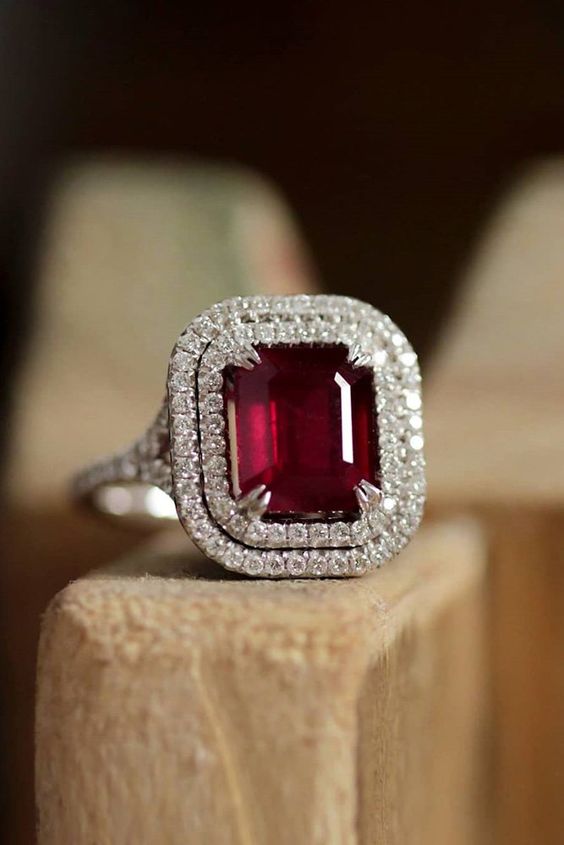 Courtesy: Pinterest
#25 In the celebrity world too, halo engagement rings are popular. Singer Cardi B wears a stunningly huge pear-cut diamond ring surrounded by a double-halo done in white diamonds and pink gemstones. She was given the ring by her husband Offset who she has been with for the last 6 years.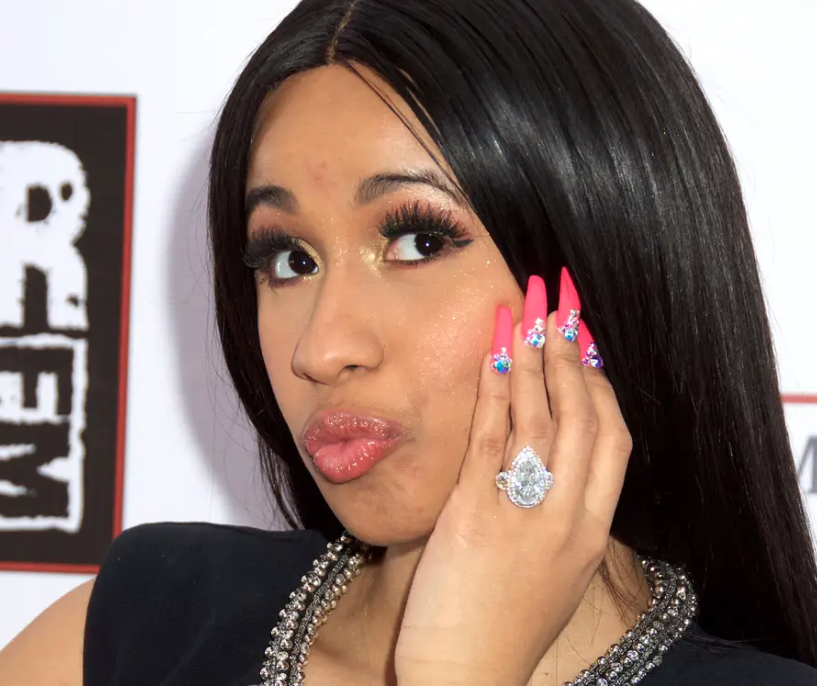 #26 Halo engagement rings are popular, but so are halo wedding bands. The next halo diamond ring style on our edit features a wedding band made with oval-shaped diamonds surrounded by a single halo setting.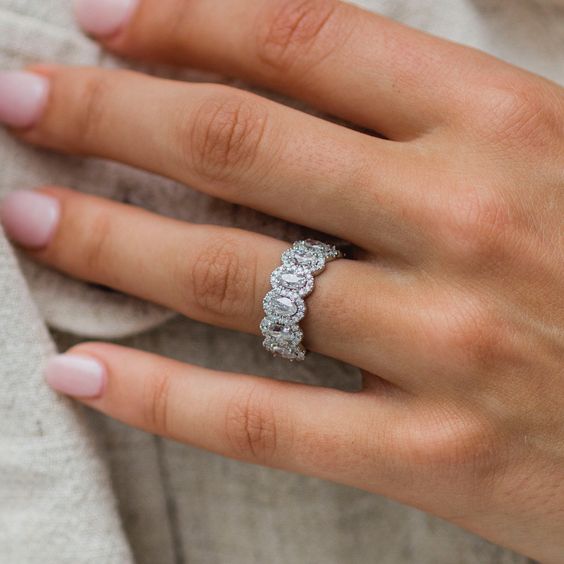 Courtesy: Etsy
#27 If you're looking for something unique for your halo setting, look no further than the next design on our list which is artistic, distinctive, and aesthetically pleasing. Featuring rich rose gold with brilliant diamonds arranged in a fantastic design, this is the kind of ring you will get tons of compliments on!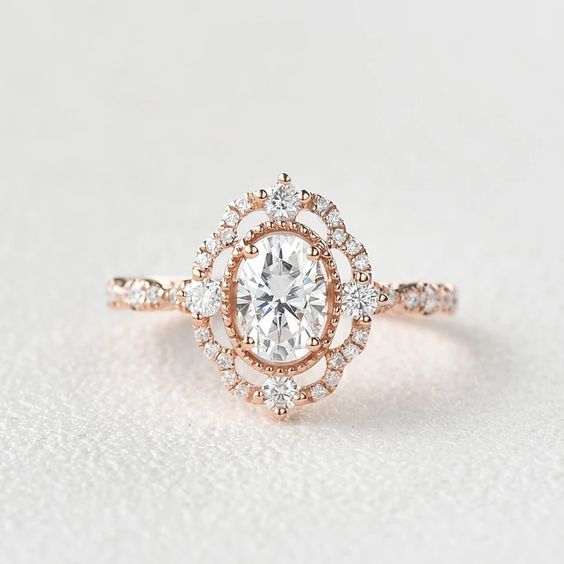 Courtesy: felicegals.com
#28 This James Allen ring in 14K white gold consists of a pear-cut solitaire features pave setting on the halo and the shank highlighting the center-stone and giving it a beautiful prominence.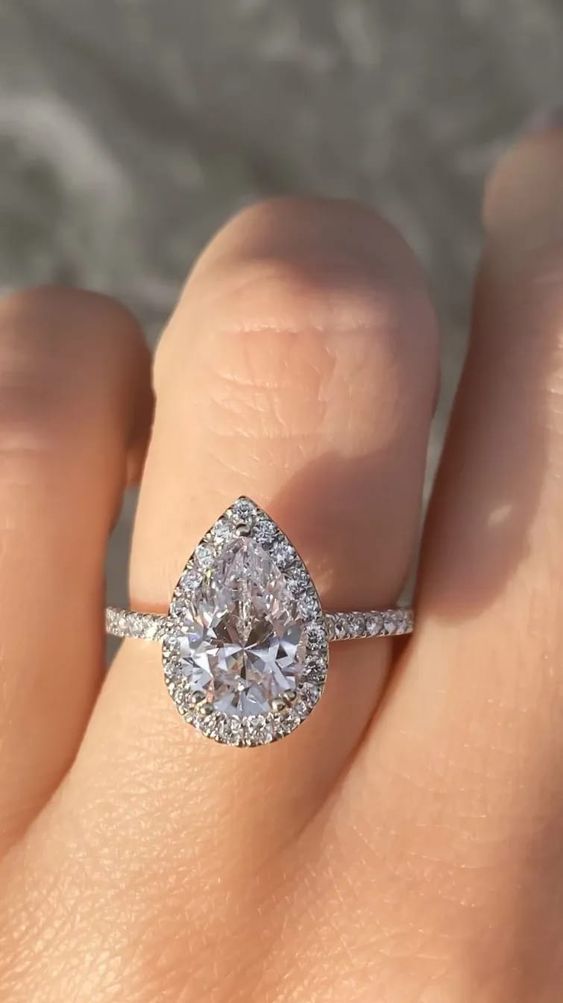 Courtesy: James Allen
#29 Justin Timberlake proposed to Jessica Beil in 2017 on a snowboarding slope in Jackson, Wyoming. To woo his lady love, he offered her a pristine (and huge!) cushion-cut diamond ring surrounded by a double halo setting. Ring experts estimate the price to be more than $100,000, however, no one is certain of the selling cost.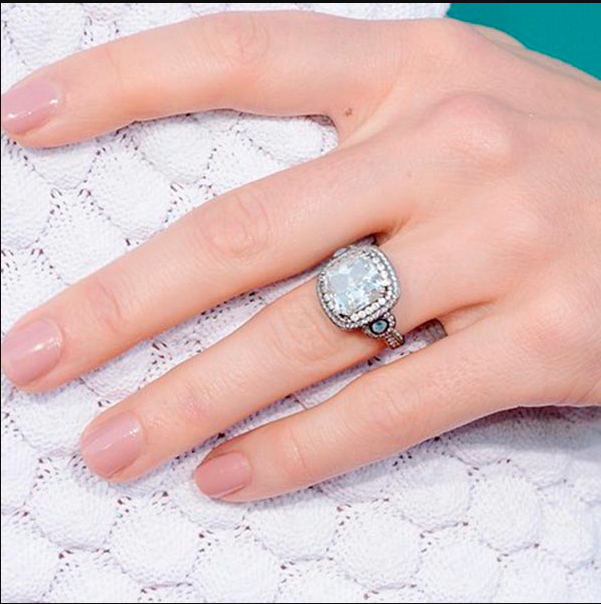 #30 Sofia Vergara's huge rock is a visual stunner and is the next one on our list of best halo engagement ring styles. The huge elongated cushion cut diamond (around 7 carats) is surrounded by micro-pave diamonds in a single halo and on the band. The smaller diamonds ensure the attention stays on the center stone, whose size impressed Vergara as soon as Joe popped the question and opened the ring box.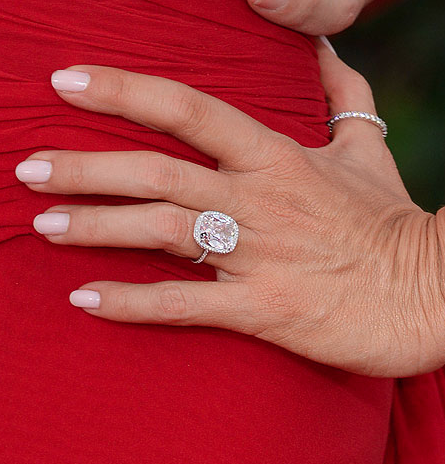 #31 The next halo diamond engagement ring on our list needs no introduction. It's the famed sapphire engagement ring of Princess Diana which was then passed on to her daughter-in-law Kate Middleton. One of the most popular pieces of jewelry, this ring's beauty deserves all the attention.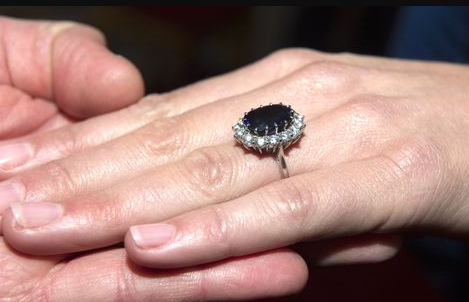 #32 Spaced-out double halo is the perfect way to increase the size of your solitaire. Here, the pear-cut solitaire in the middle is maximized in size, and sparkle, by the halo setting and intricately stacked pave diamonds on the band.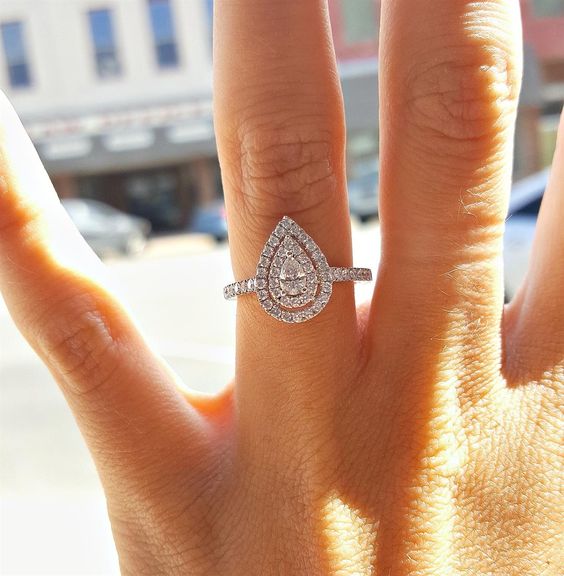 Courtesy: Rayward Jewelers
#33 Yet another celebrity who sports halo style on her engagement ring is Natalie Portman. Being one of the most eco-friendly actors in Hollywood, her ring consists of sustainably sourced diamonds and platinum and consists of a double halo of pave diamonds. It's estimated to cost around $35,000 to $90,000.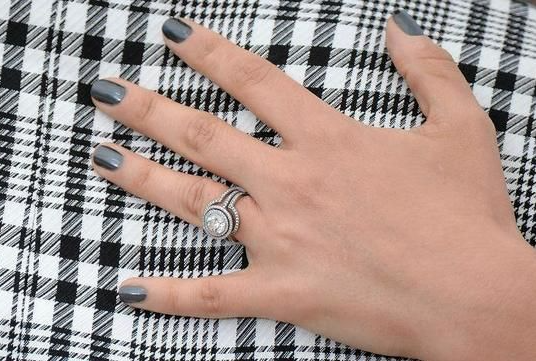 #34 This elongated cushion-cut diamond is a treat to the eyes and a bauble you won't be able to stop staring at! With a halo arranged so closely, it almost looks like a hidden halo engagement ring, the jewelry is timeless and effortless all at once.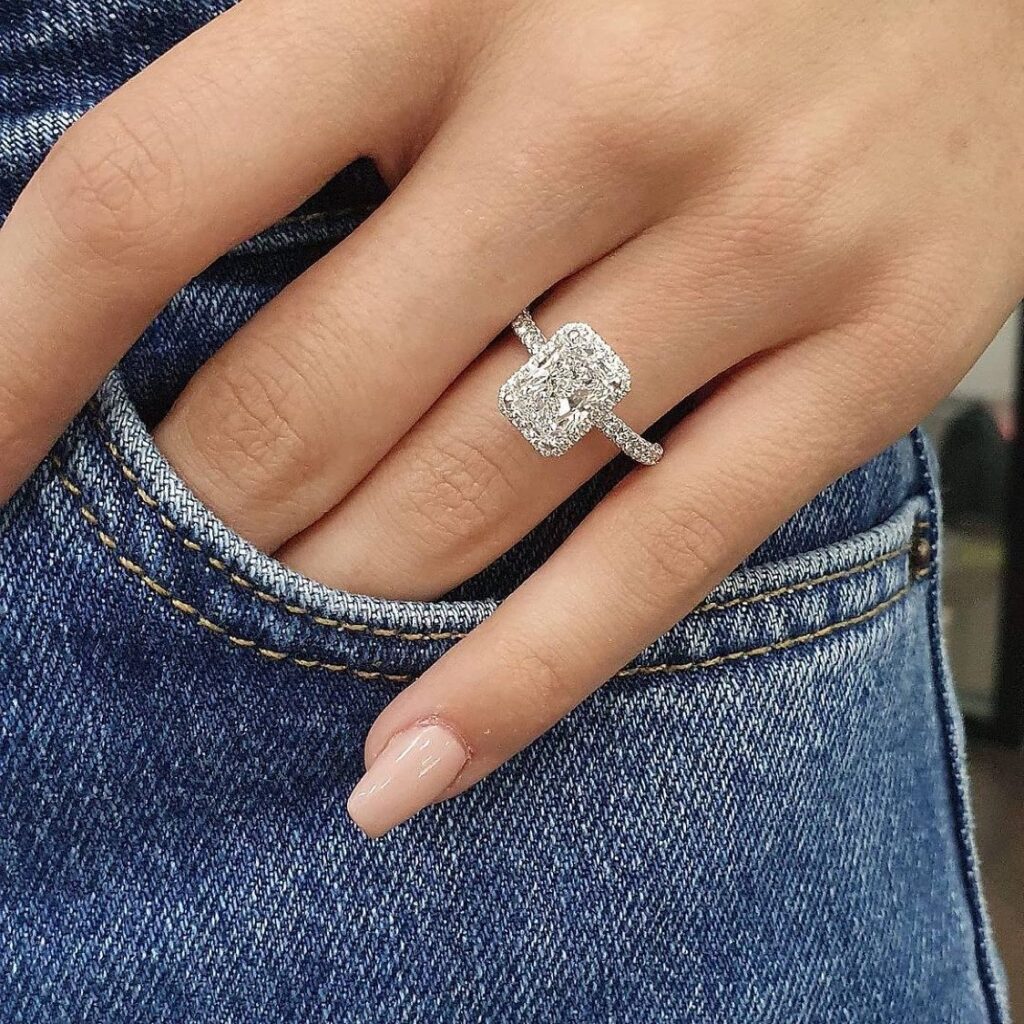 Courtesy: Pinterest
#35 Speaking of timeless, is there a diamond that beats the enduring element of a round-cut ring? We hardly think so! And when you want a halo without it disturbing the prominence of your center stone, you know what to do – choose smaller diamonds and a thinner circle and band. Problemo solved!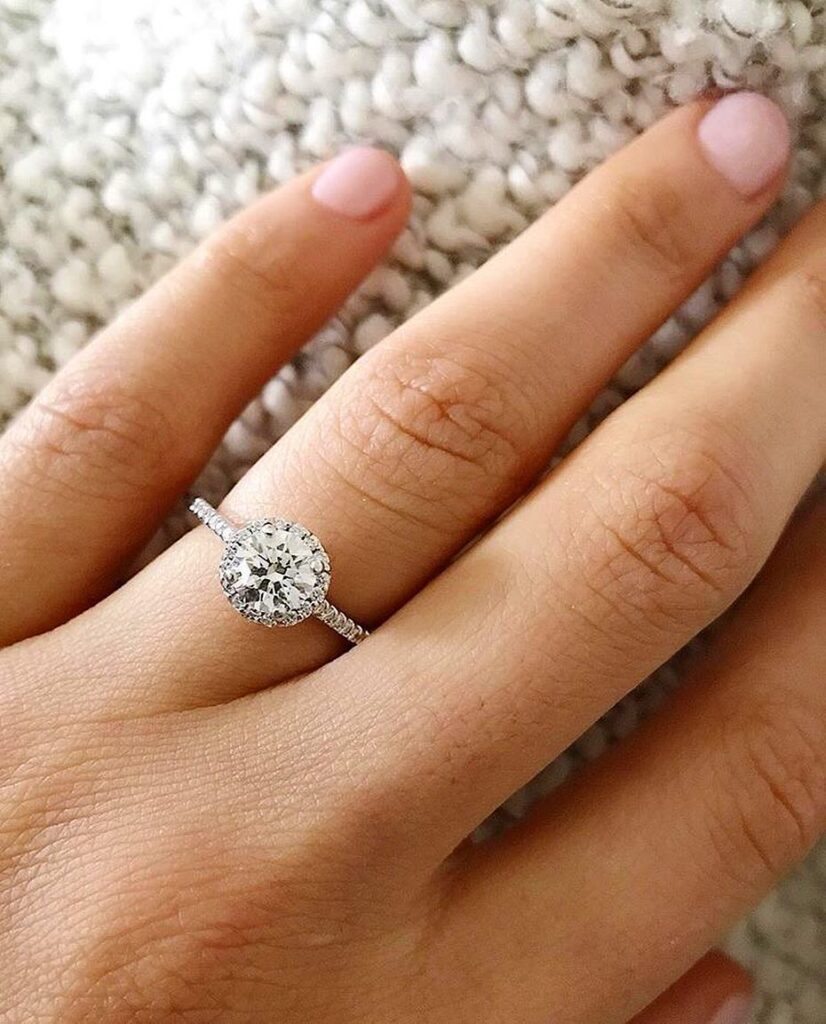 Courtesy: Madison Hughes
#36 Let your personality shine through this insanely gorgeous round halo engagement ring, which features a halo in a square shape to contrast with the round shape stone for a distinctive touch to an otherwise usual cut and setting. 
Courtesy: Jean Dousset
#37 No, it's not tacky (yet!) to announce your engagement with a mug like this on Instagram! Instead, it remains one of the fun ideas to make things Instagram official. There's just something about diamonds anyway! We love how they take all the attention in this picture despite the much-bigger size of the mug.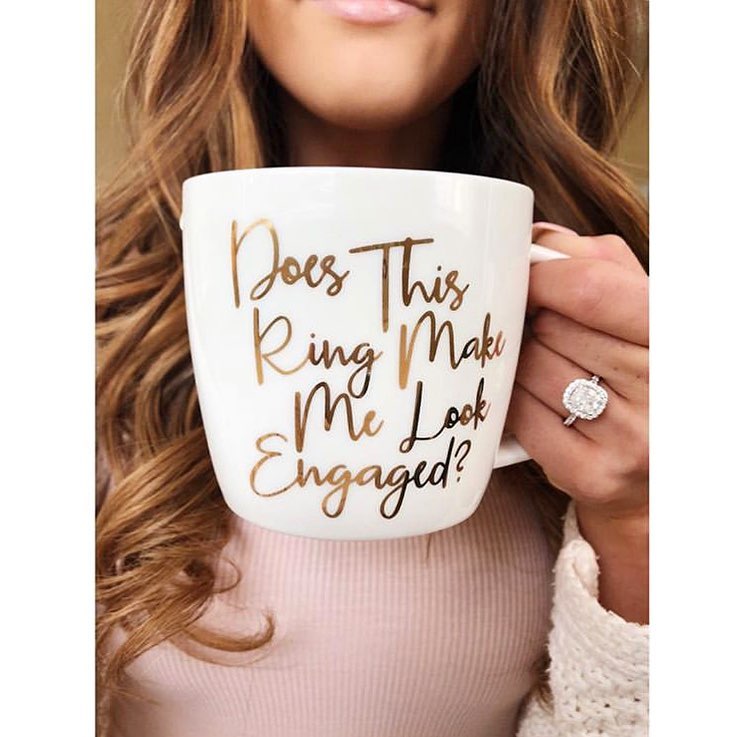 Courtesy: Alexa Arnold
#38 We don't really have many words to say for this halo engagement ring set other than the word woww. With a brilliant-cut round diamond enhanced by prong setting, small diamonds in pave setting on halo, and a band further stacked with sparkling stones, this diamond halo ring speaks for itself!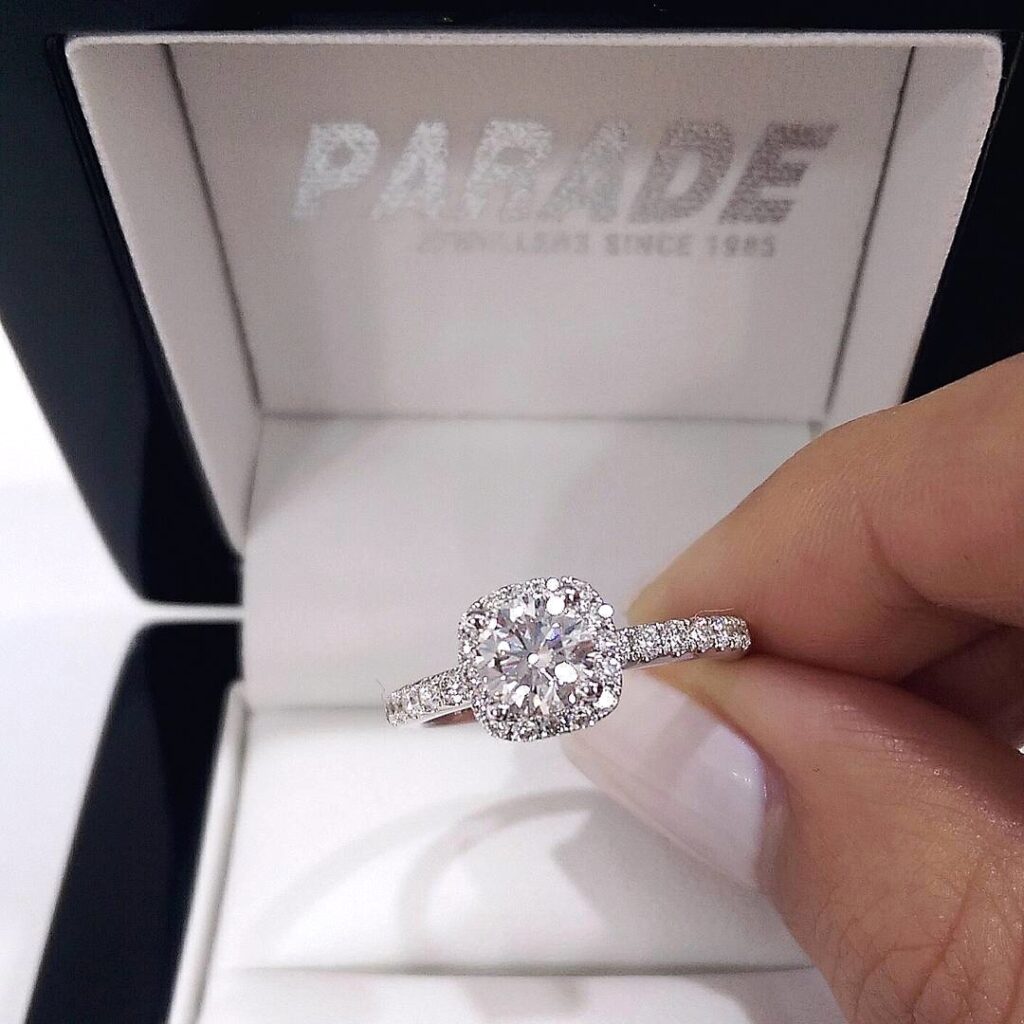 Courtesy: Parade Jewellers
#39 This oval halo engagement ring is stylish and elegant at the same time. Besides the double halo, the bauble also features a double band of micro pave diamonds for added sparkle and an elevated appearance. 
Courtesy: @keymelmack
#40 Yet another sapphire engagement ring in a halo setting because who doesn't want their special bauble to resemble the most popular piece of jewelry in the world? If your lady prefers the classic diamond rings for the engagement though, we'd suggest you gift her this on other celebrated occasions like her birthday or Valentine's Day!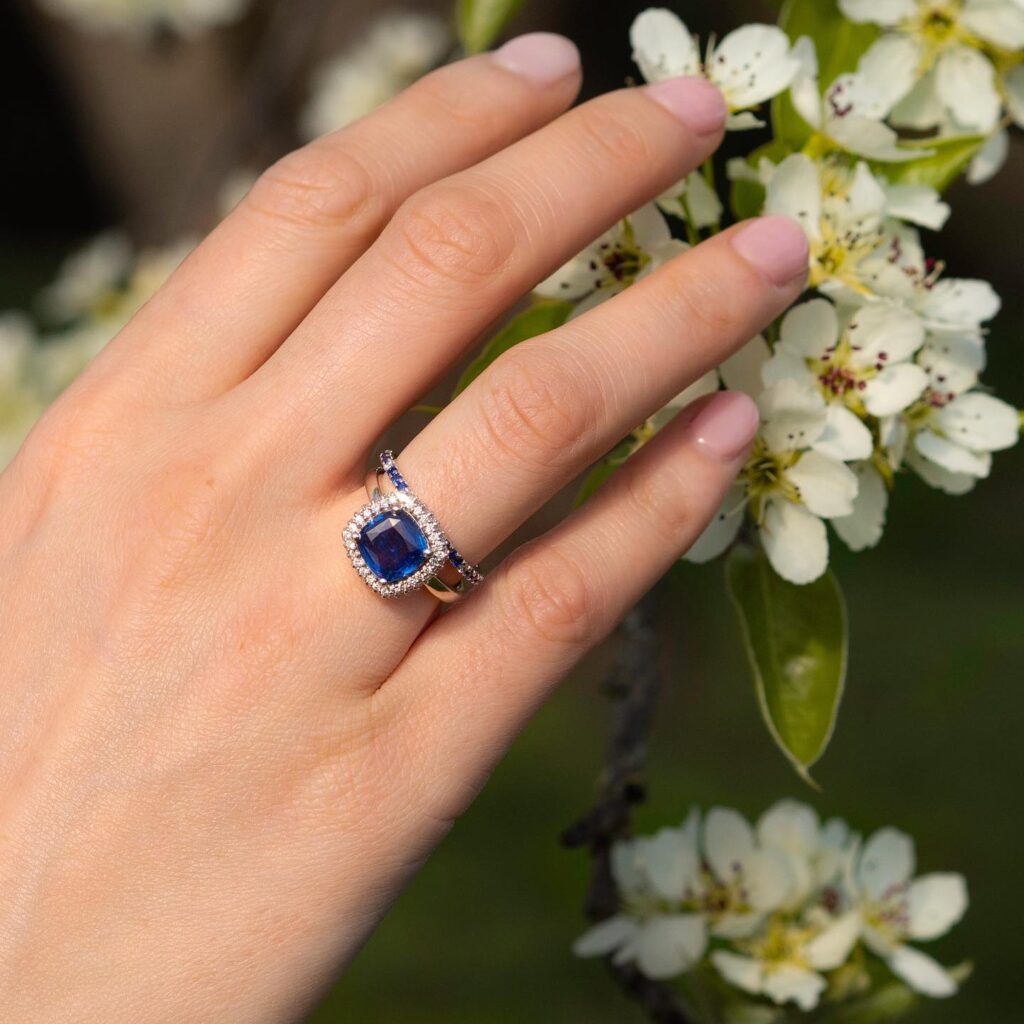 Courtesy: Fenton
#41 We love the intricate detailing and the minimal nature of the pave diamonds in the band and halo which seamlessly highlights and frames the center stone. A gorgeous ring for brides who wants to play it safe but want something unique in their diamond ring, like the less-opted-for pear cut.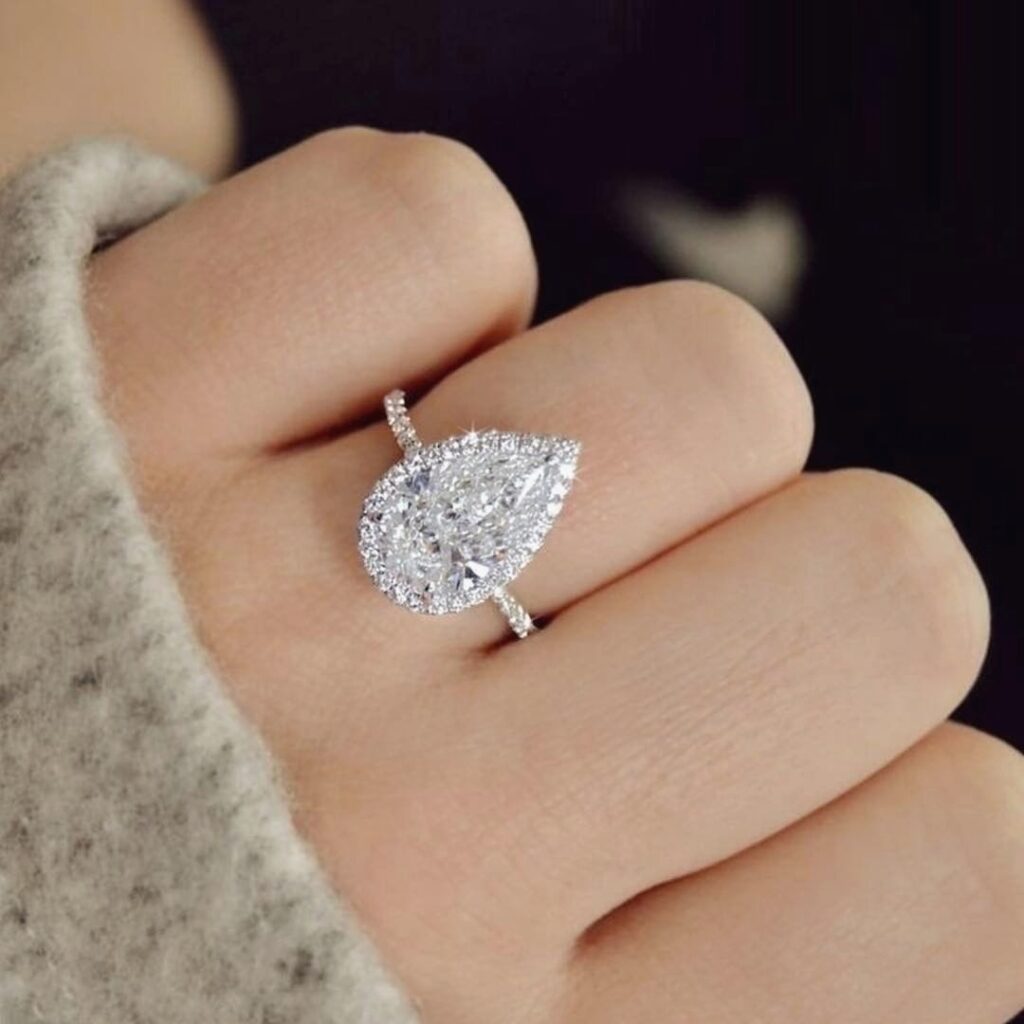 Courtesy: Ascot Diamonds Atlanta
#42 A picture that provides you with a stark contrast between a halo and a non-halo setting. Some brides like a cleaner look while others prefer a glamorous look. It all comes down to personal preference after all!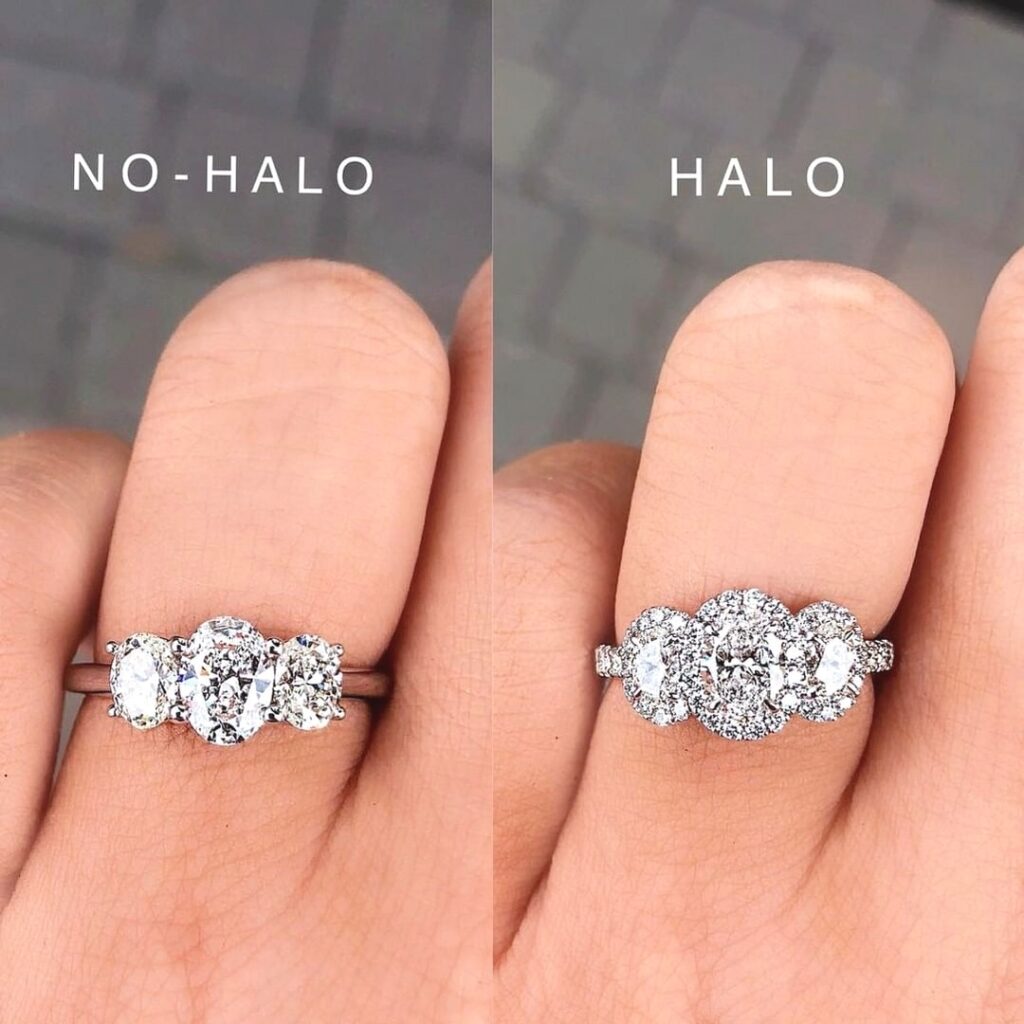 Courtesy: Beard's Diamonds
#43 Our eyes were stuck on the chunky solitaire as well, which was just subtly enhanced with a halo setting, but we also love this easy photo idea to make your engagement Instagram official or keep the picture saved for lifelong memories. Also, how pretty is this blue nail paint matching the blue of the seas! Everything came out aesthetically in sync for this picture, didn't it?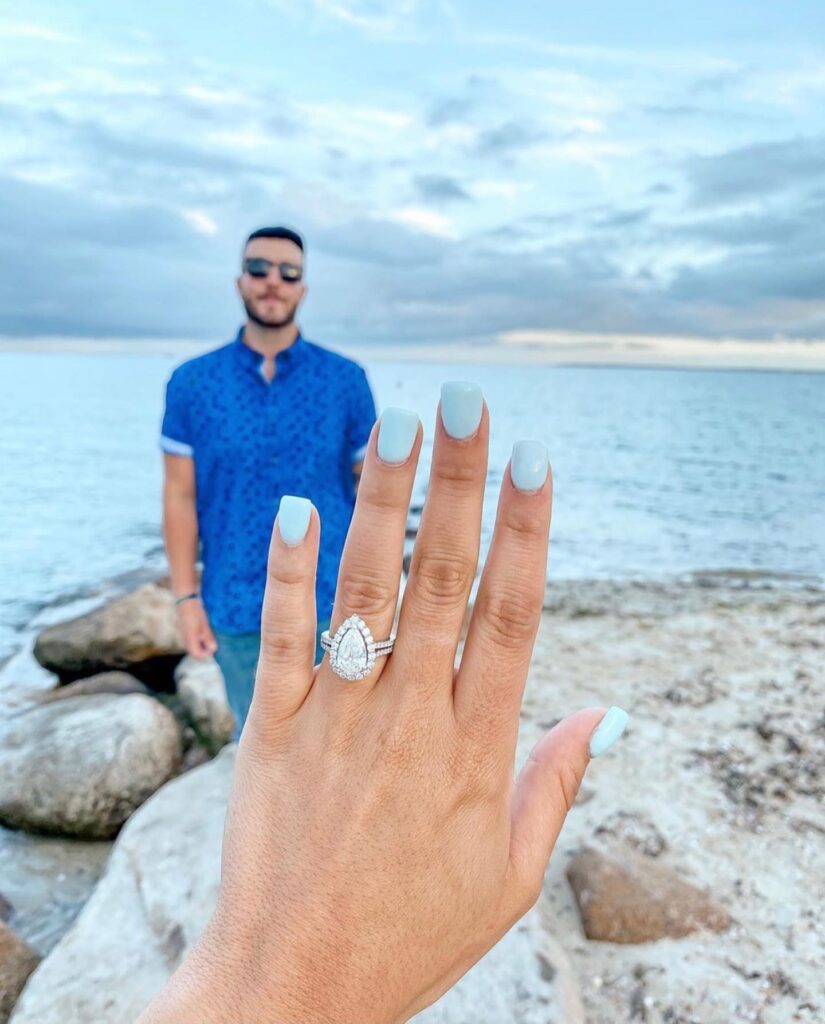 Courtesy: @sincerely_christa
#44 Yet another halo engagement ring that screams luxury is pictured on the BMW steering wheel. The sunlight further amps up the sparkle of the diamonds and gives them an extravagant look.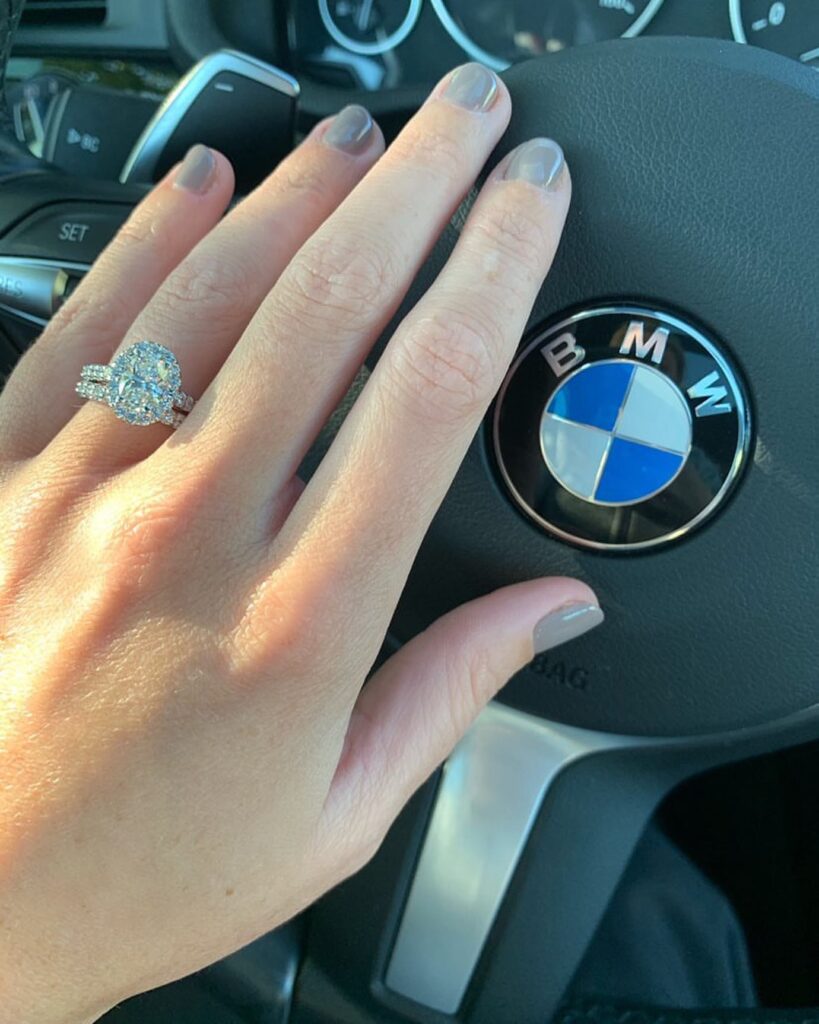 Courtesy: @shivylemire
#45 This dainty halo engagement ring is a fantastic design choice. The contrast in diamond and halo shape gives a beautiful artistic touch which isn't too much for brides who want to play safe with their ring design yet attract the eyes. This will be a ring that will catch your attention every time you look at it!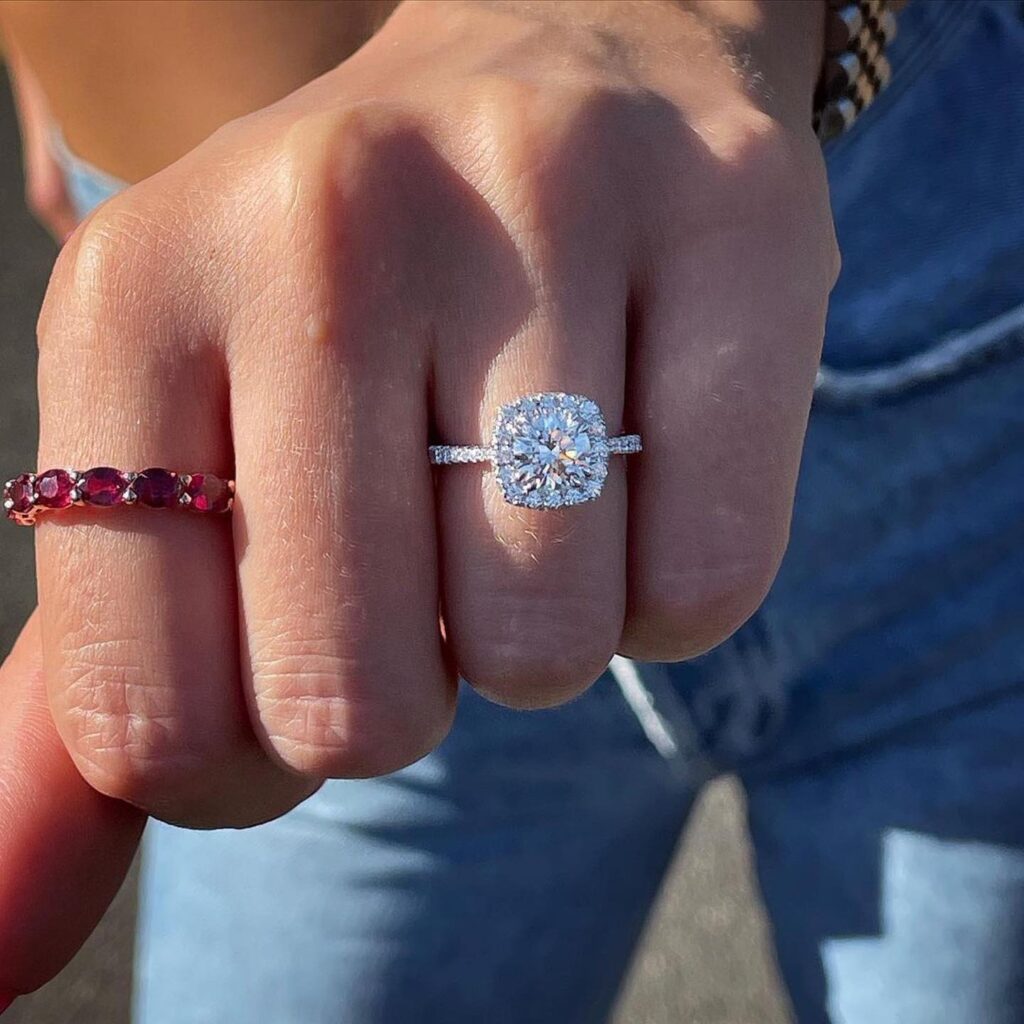 Courtesy: R F Collection
#46 We absolutely adore this oval-cut diamond ring surrounded by a cluster of diamonds giving it a unique halo look. Adding to the distinctive design is the texture band in rose gold which doesn't feature diamonds for a break! If you're all for halo engagement with a clean band, here's one you will love.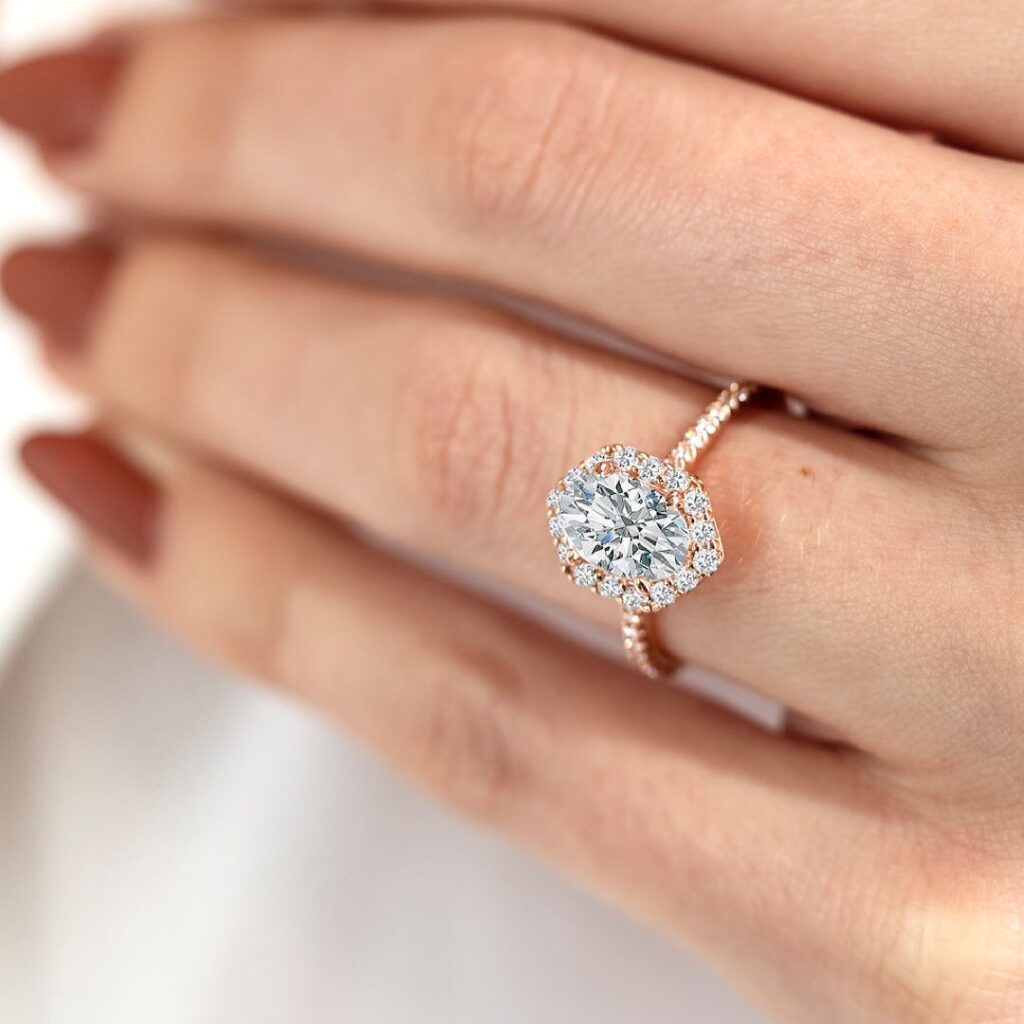 Courtesy: Robbins Brothers
#47 If a pink center stone is what your heart desires, then so be it! This flawlessly cut cushion gemstone is surrounded by a dainty halo setting and pave diamonds on the band. With prong enhancement on the center stone, there are so many magical details in this ring that instantly catches the eye.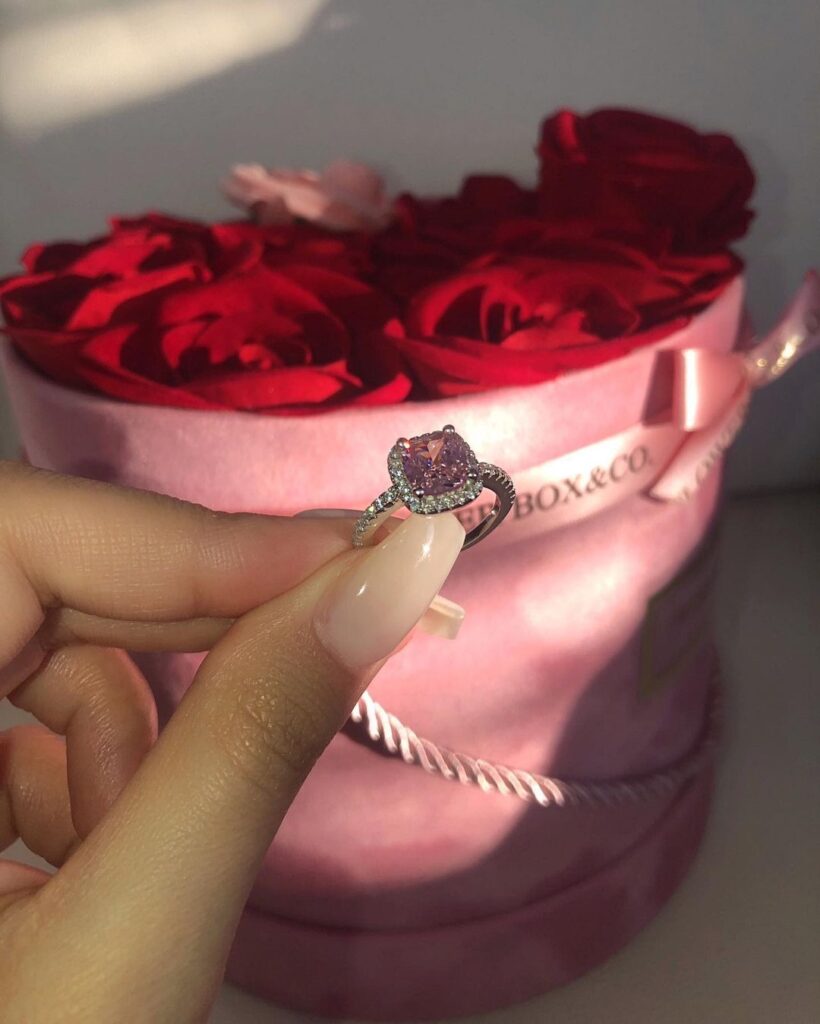 Courtesy: Phantom Jewels
#48 It's safe to say that we're obsessed with this gorgeous halo engagement ring set! It has a nestling wedding ring and on the band, it has more solitaires in different shapes giving it a jaw-dropping appearance and impressive details.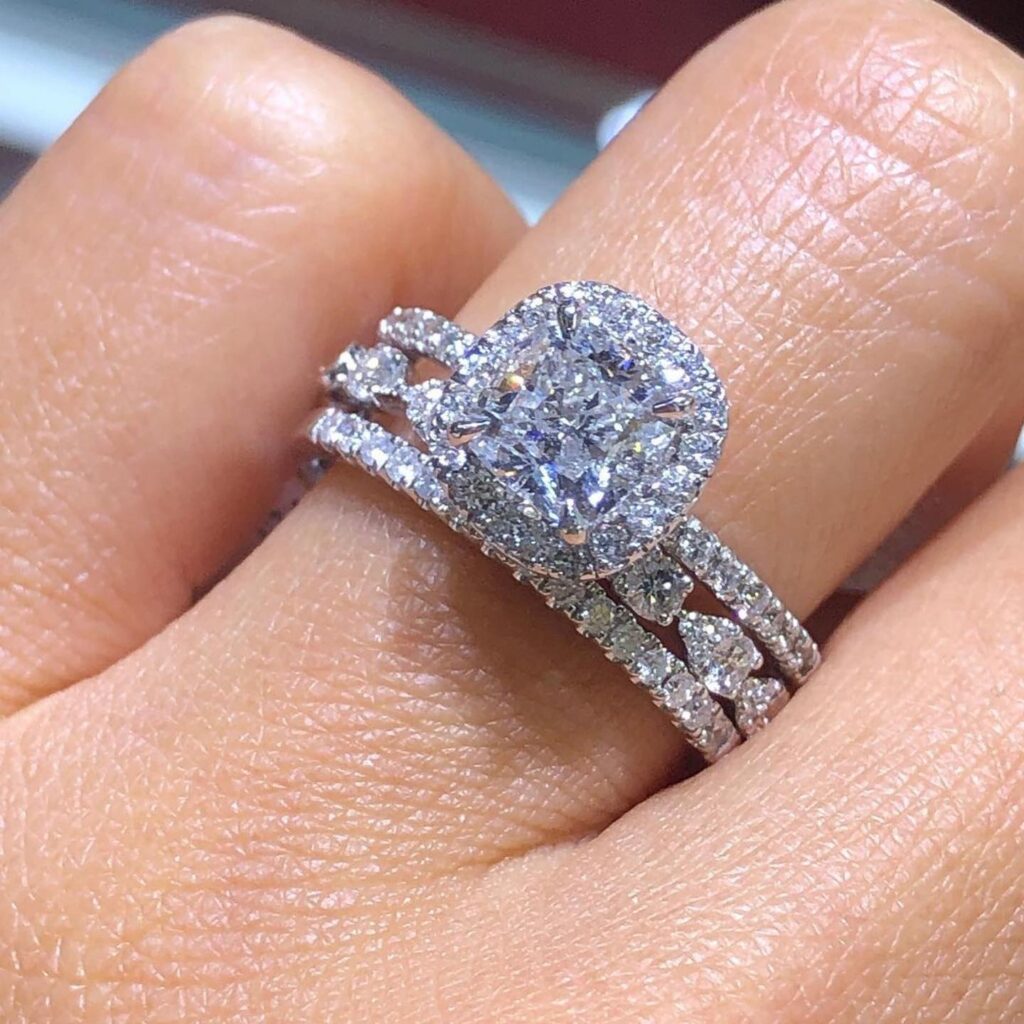 Courtesy: David's House Of Diamonds
#49 The beaming sunshine really does bring out the sparkle of this round halo engagement ring. With a cluster of diamonds around the main stone and the band, this ring is truly the epitome of feminine sophistication.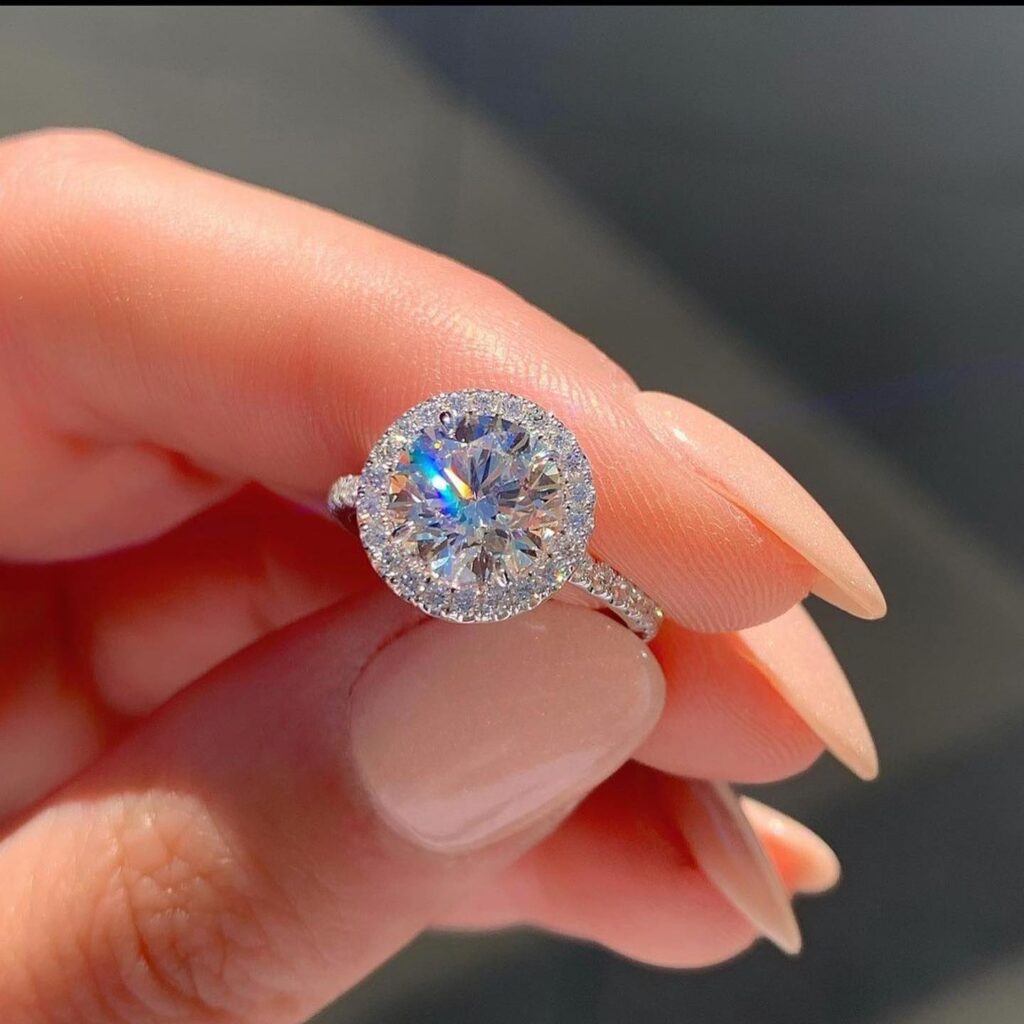 Courtesy: Michael Alan Jewellers
#50 A hidden halo engagement ring is also gaining traction lately. It's basically a style in which the halo is placed just below the stone so it gives an accentuated appearance to the center stone but also gives stunning views from other angles. To give you a better idea, here's what a hidden halo ring looks like.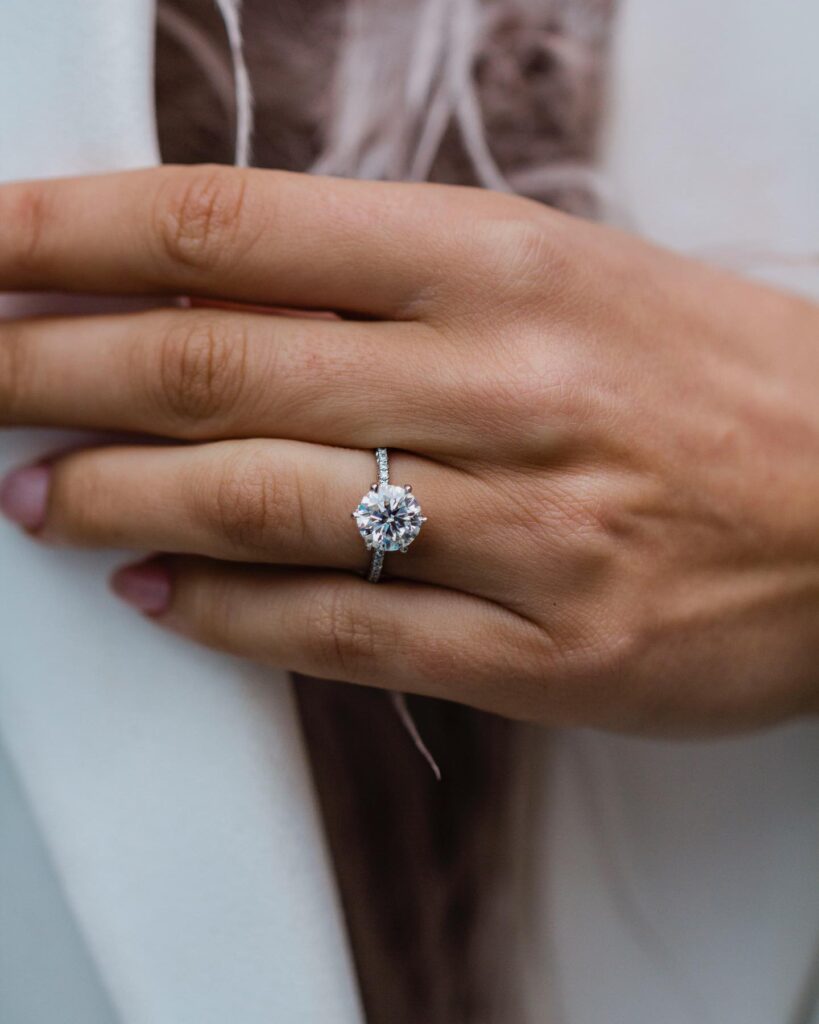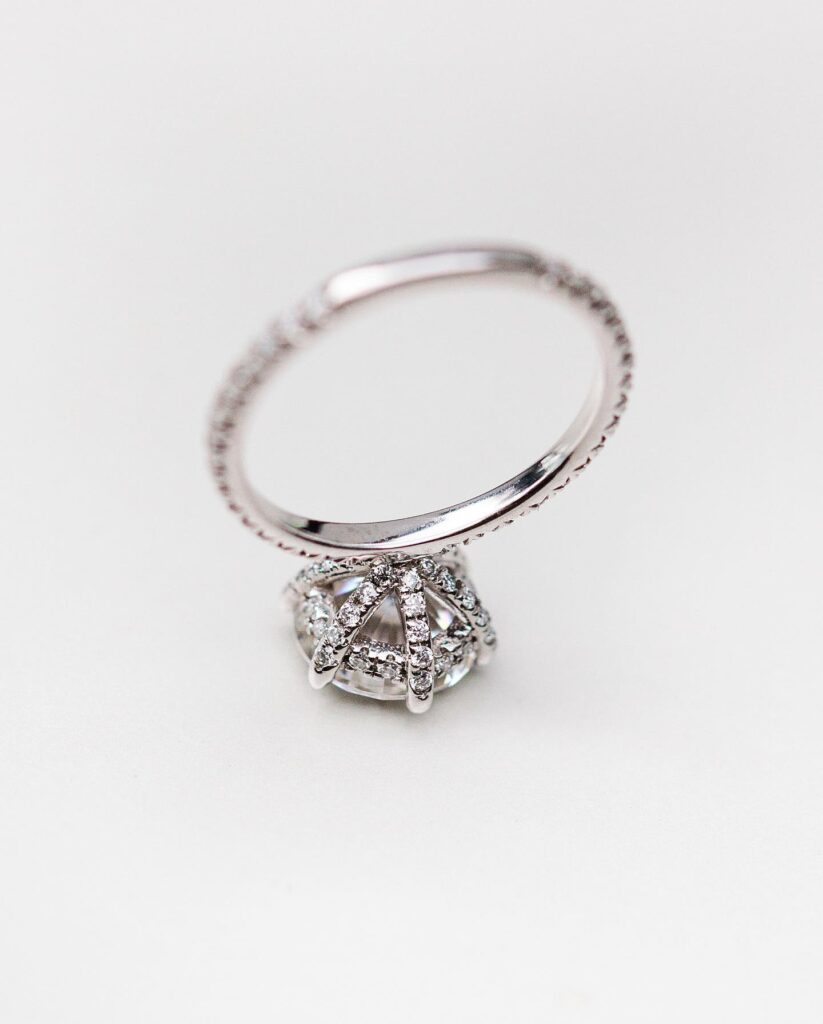 Courtesy: East West Gem Co.
#51 There's something so special about this charming cushion-cut halo diamond ring. Featuring an enhanced solitaire with prongs and a halo setting with substantially-sized diamonds, this beauty is set on a pave-set diamond band.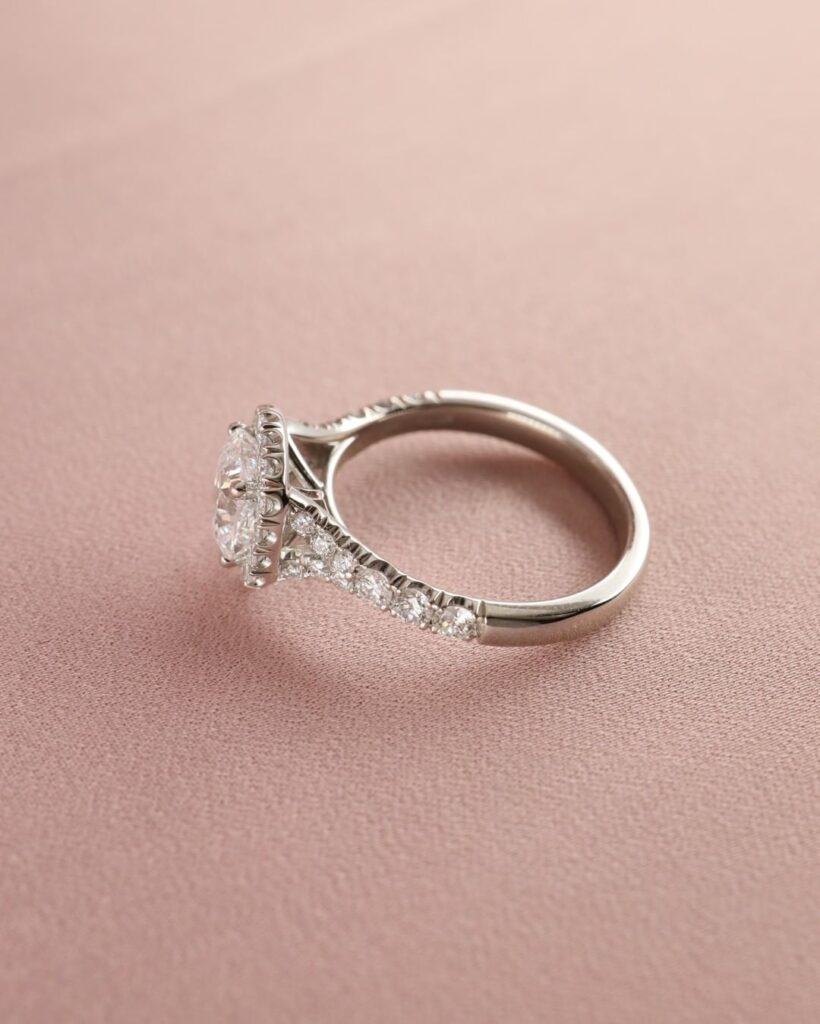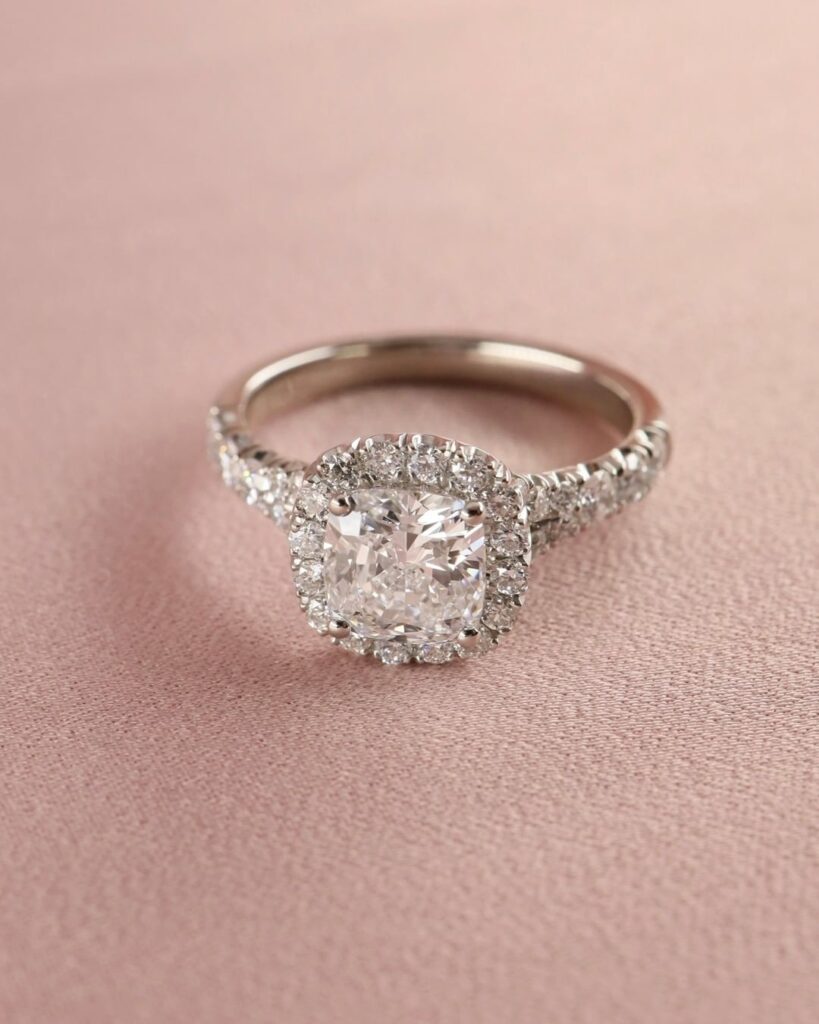 Courtesy: @harmonyjewelslondon
#52 This halo engagement ring in gold is a soothing deviation from other styles on the list. If you're someone who's bored of the white gold & platinum setting, choose the royal yellow gold for your ring instead. Paired with a simple wedding band, which can make for your or your beau's wedding ring, this halo engagement ring with a wedding band is a breath of fresh air.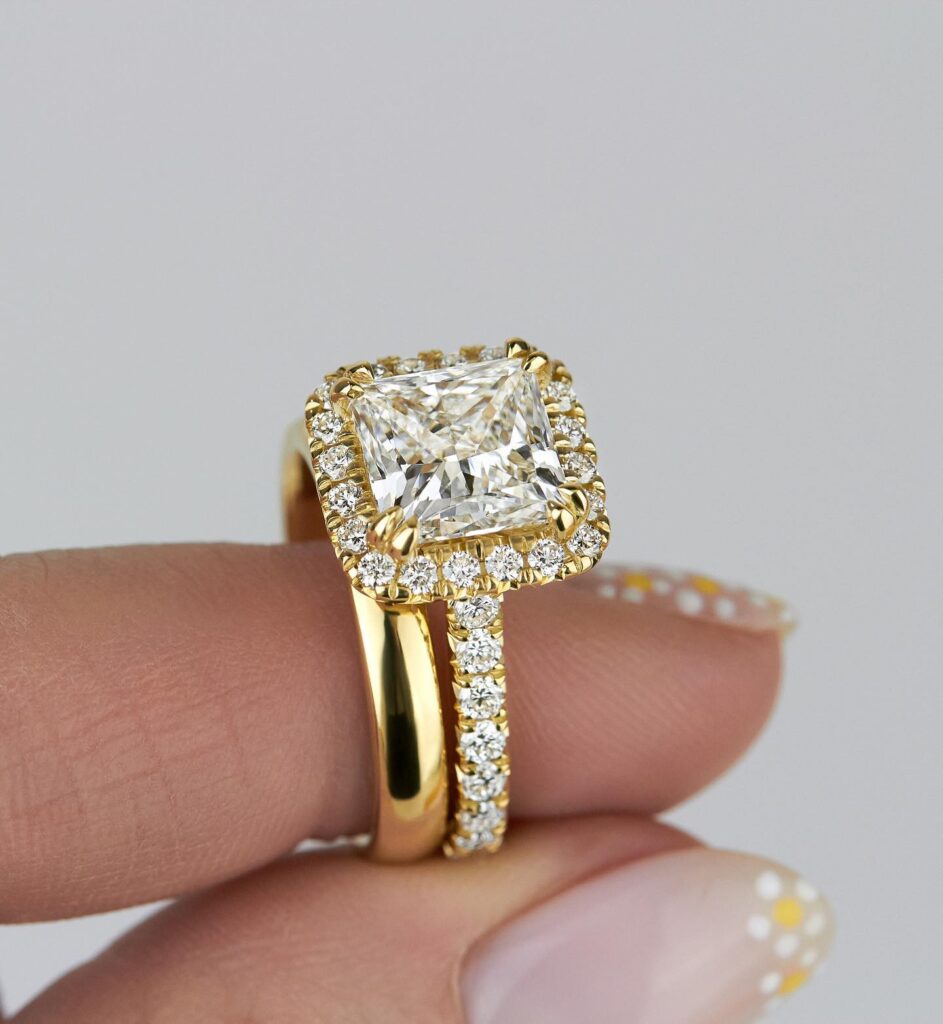 Courtesy: Brilliant Earth
#53 A spiral band style can look both modern and timeless, especially when it's incorporated with the ring subtly and on a thin band so as to let the solitaire stand out with the artistic style. This bauble represents elegant sophistication to the finest!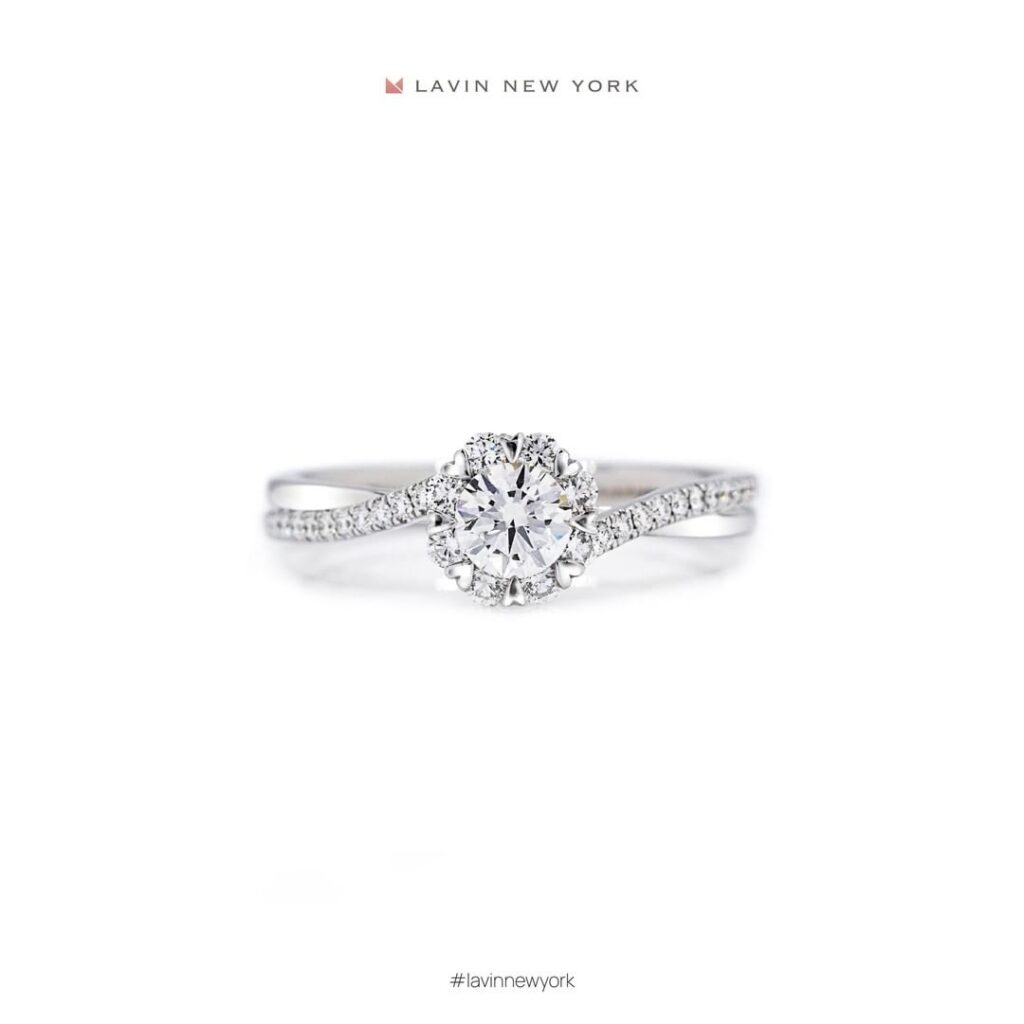 Courtesy: Lavin New York
#54 Convincing you further that a halo engagement ring style can go with any diamond shape, here's a picture that portrays the same on different diamond cuts. They're also the same carats to give you an idea of what the same carats look like – size-wise – on different diamond cuts.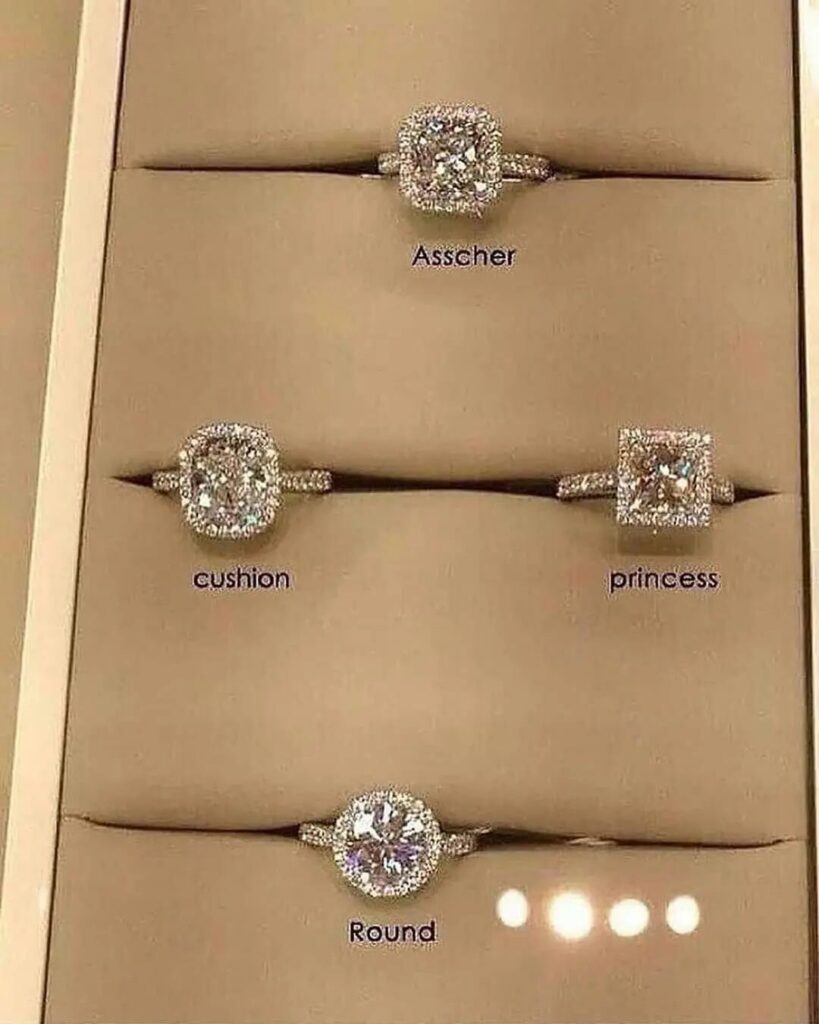 Courtesy: Jewel Corner
#55 A medley of gorgeous sapphire, a charming cut, sparkling diamonds, and an intricate setting – this ring really has it all! The combination of diamonds and sapphire surely is appealing and the same can be seen in the many blue diamond rings featured on this list.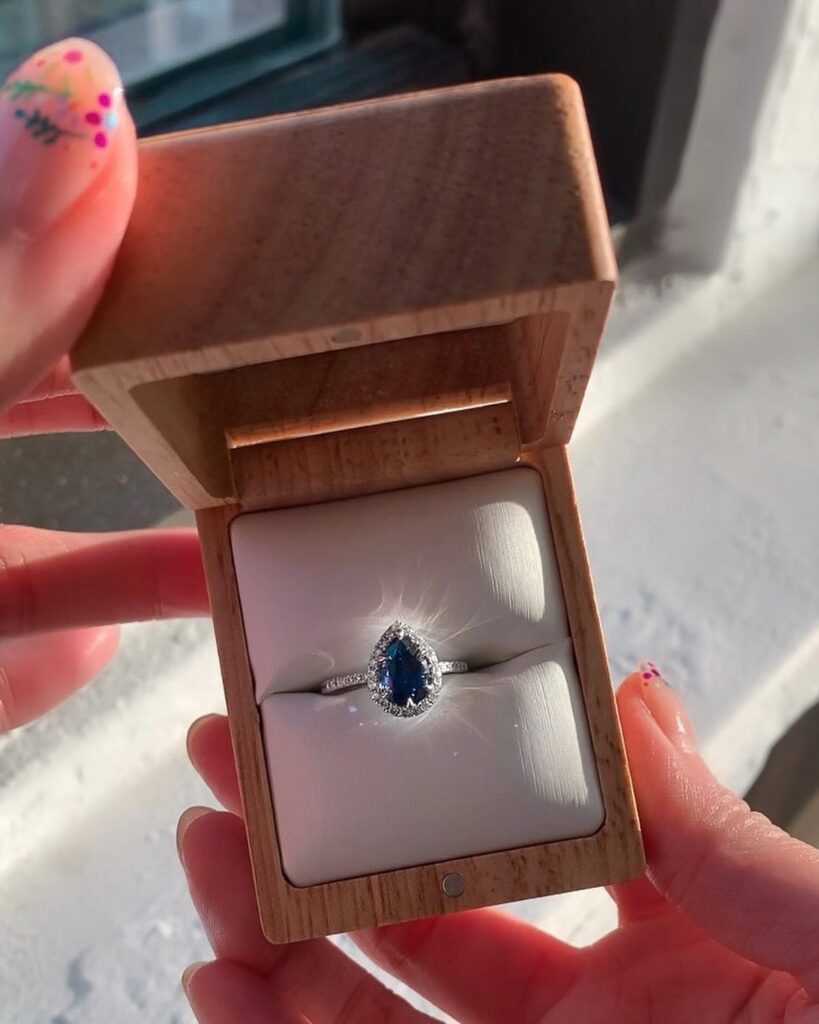 Courtesy: Brilliant Earth
#56 An elongated cushion-cut is ideal for couples who want a bigger bauble for their special occasion without splurging much. For those who don't know, cushion-cut diamonds cost 25% lesser than round-cut diamonds despite the same diamond brilliance. Now that you're privy to this new information, shop for your precious bauble smartly.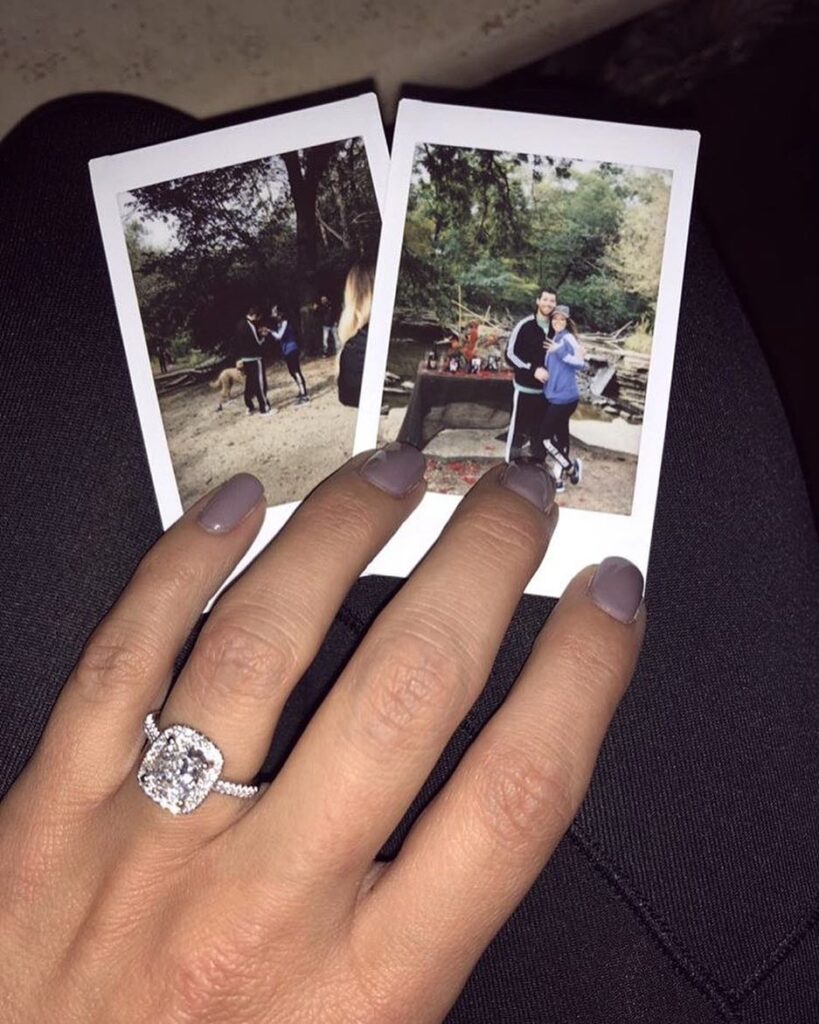 Courtesy: Lilly Patrice
#57 This cute halo engagement ring set caught our attention at first glance. The rose gold setting is one of them, but we absolutely love the engraved Mrs. on the wedding band with a small diamond encrusted on the side. You can get a matching wedding band for your beau with Mr. engraved as well!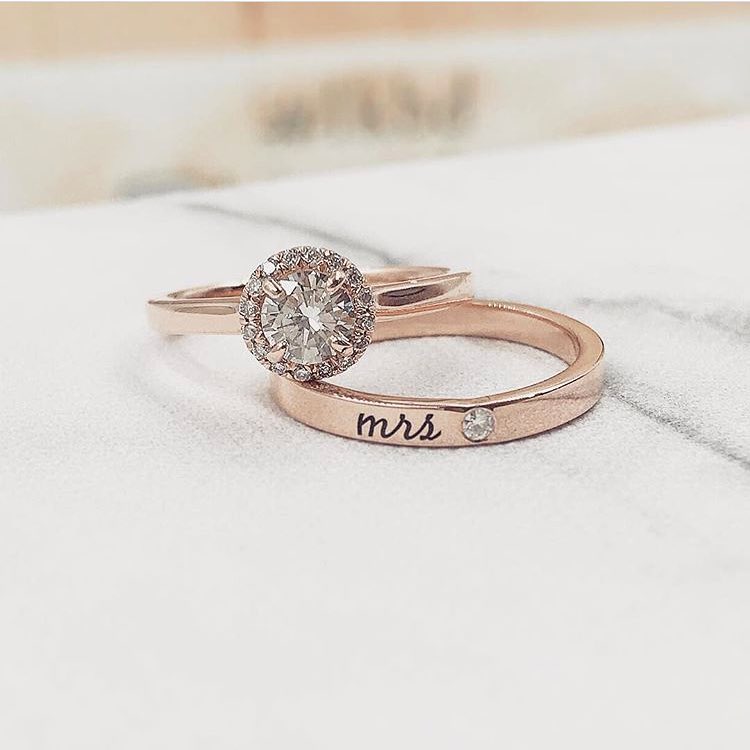 Courtesy: @lk_bridal_designs
#58 An oval halo engagement ring is a smart and elegant choice for your lady-love as well! It's elongated cut adorned with a dainty halo and pave setting on the band will make her look and feel like royalty.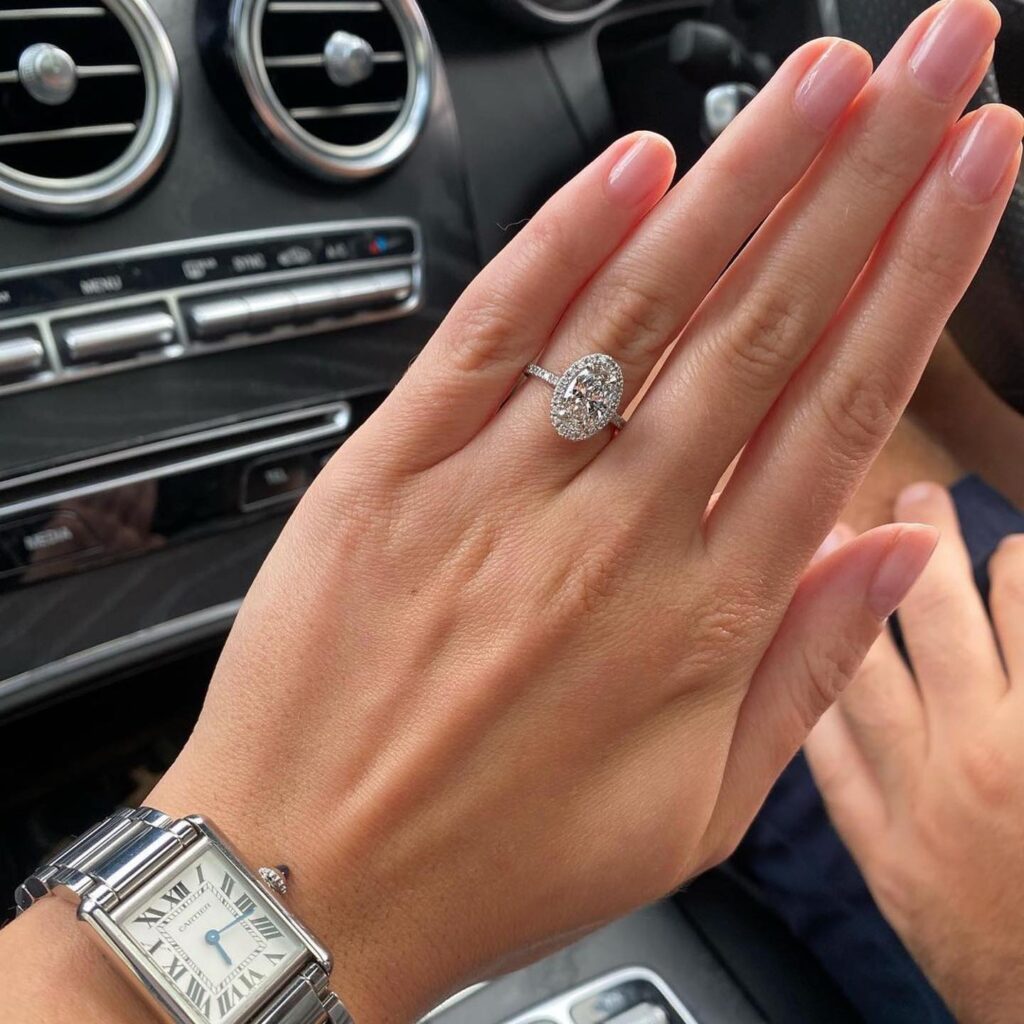 Courtesy: Saphira Diamonds
#59 If you're looking for an engagement ring that's timeless and elegant, an elongated cushion with a halo should be your straightforward choice. Set in a classic setting, this is a ring you're bound to love and adore for a lifetime.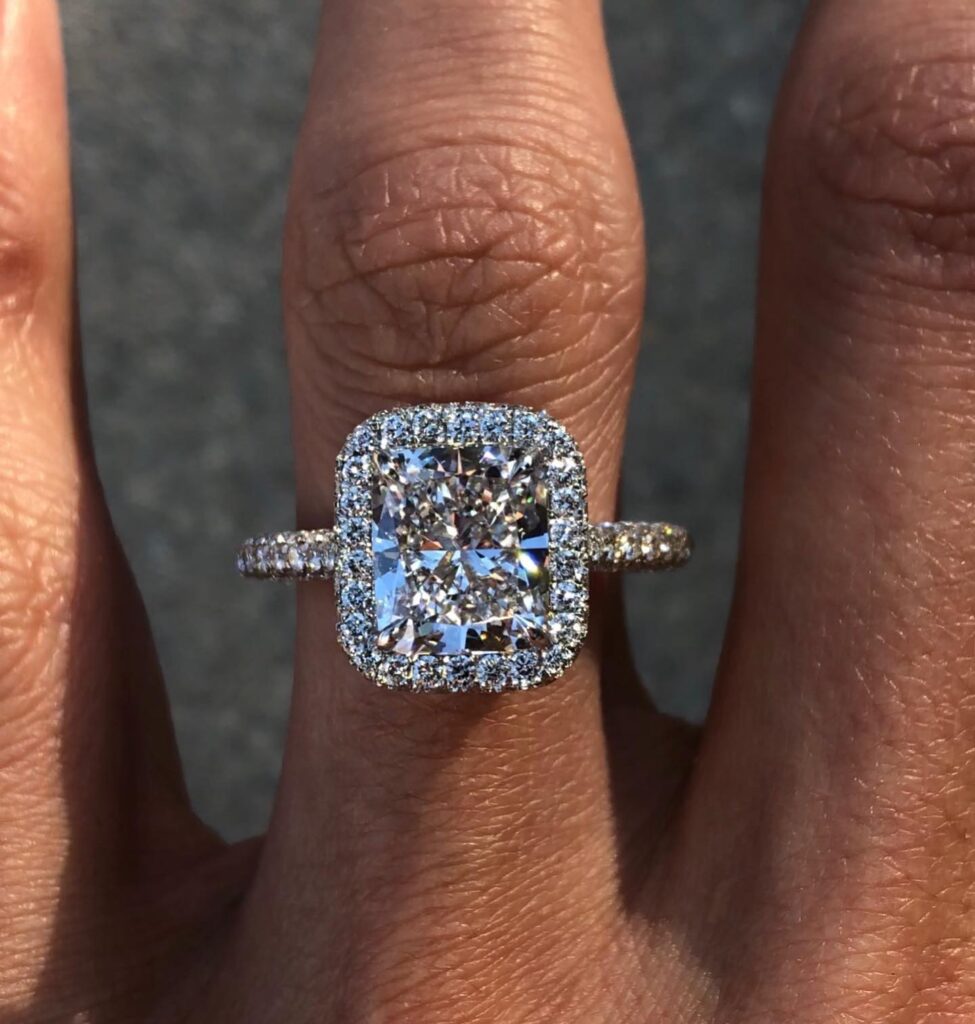 Courtesy: Raven Fine Jewelers
#60 Spellbound, are you? So were we when we first laid eyes on this ring! If your girl is someone who appreciates distinctive material aspects that makes her stand out from the rest, choose this uniquely designed halo diamond ring. Set in rose gold with different diamond shapes, this remarkable ring is striking yet delicate for your bride-to-be. 
Courtesy: Berlinger Fine Jewelry
#61 You can trust a Cartier engagement ring to be brilliant and one that will make its way into your family heirloom. This brilliant round-cut ring is eye-catching and timeless and is sure to woo any woman's heart at the first look.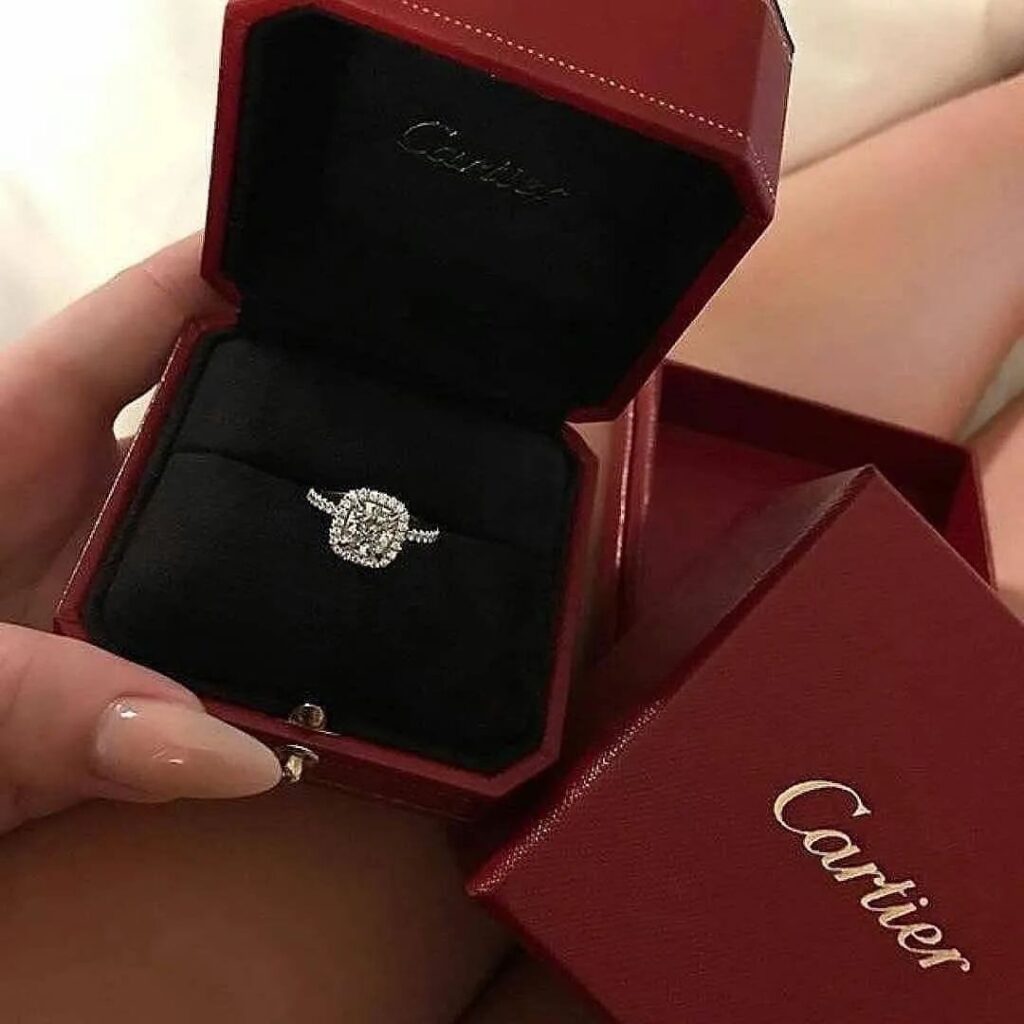 Courtesy: Cartier
#62 After the brilliant round cut, the princess cut is the most expensive diamond cut of them all. It's the precise shape and unmatched brilliance sure are elegant and timeless. What we further love is the matching wedding bands featured with the ring to further inspire couples for their own designs!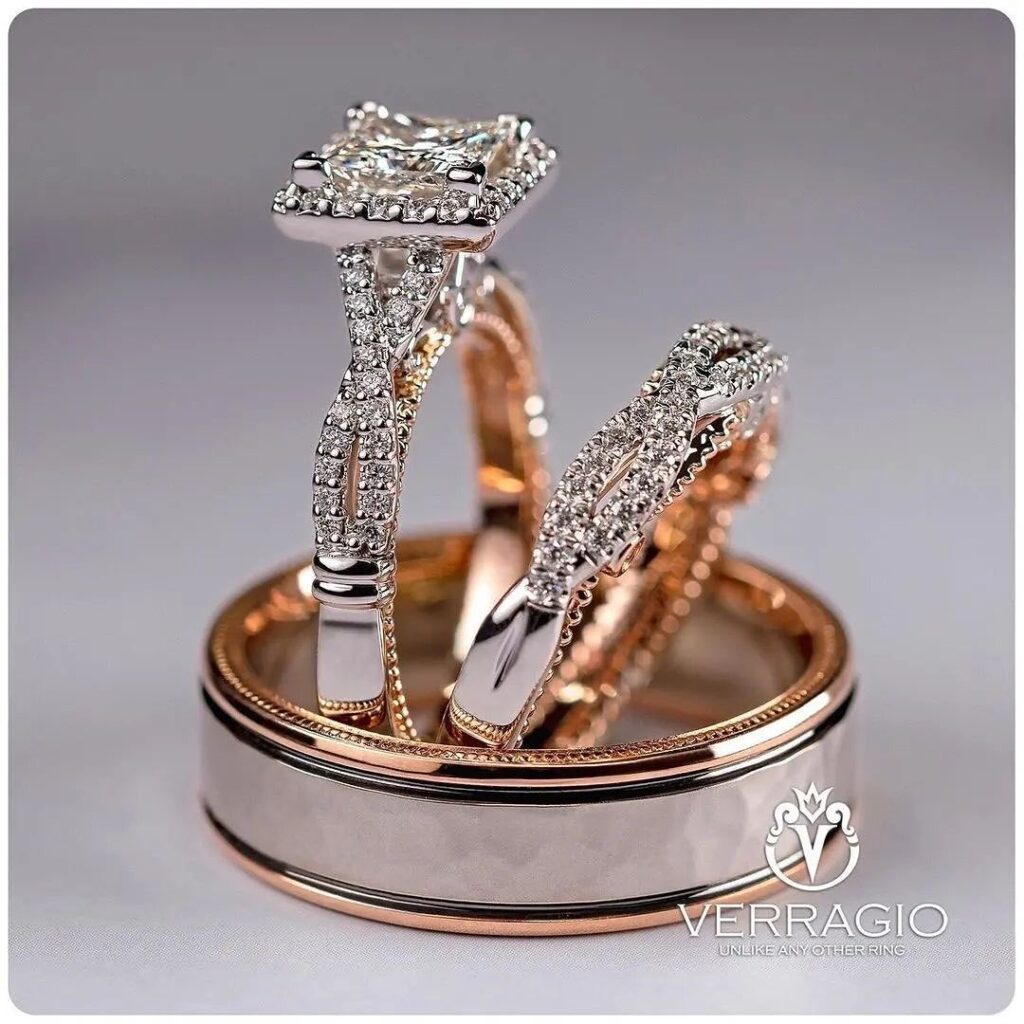 Courtesy: Verragio
#63 Just a visual treat for your eyes and an idea of how pave diamonds look- on both halo and the band – can change the appearance of your ring.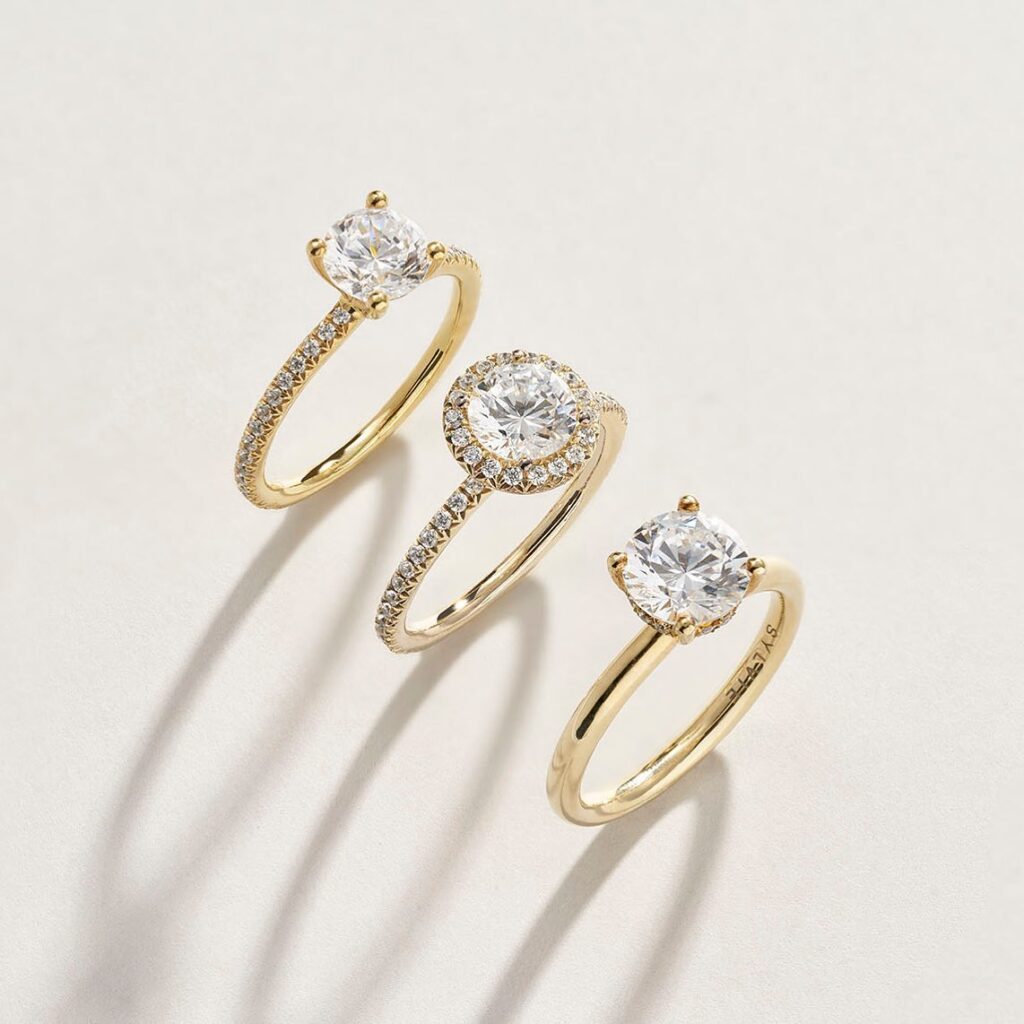 Courtesy: Sylvie
#64 This isn't your typical halo ring! It features the diamonds in clusters with the one on the edges a little bigger than the others. What's more striking is the yellow gold, which is a lovely touch to the otherwise silver hue settings for rings in white gold or platinum.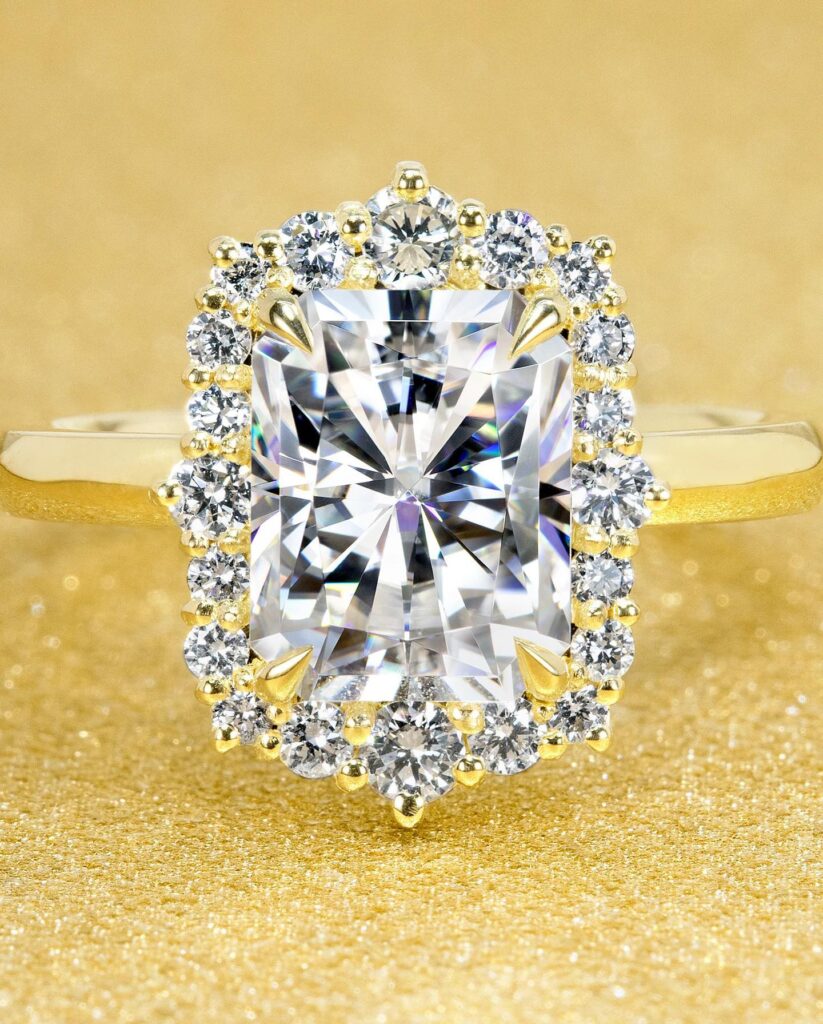 Courtesy: Earthena
#65 For brides looking for an utterly distinctive yet elegant touch in their rings, choose one of these designs as your pick and watch as people shower you with compliments for your unique choice.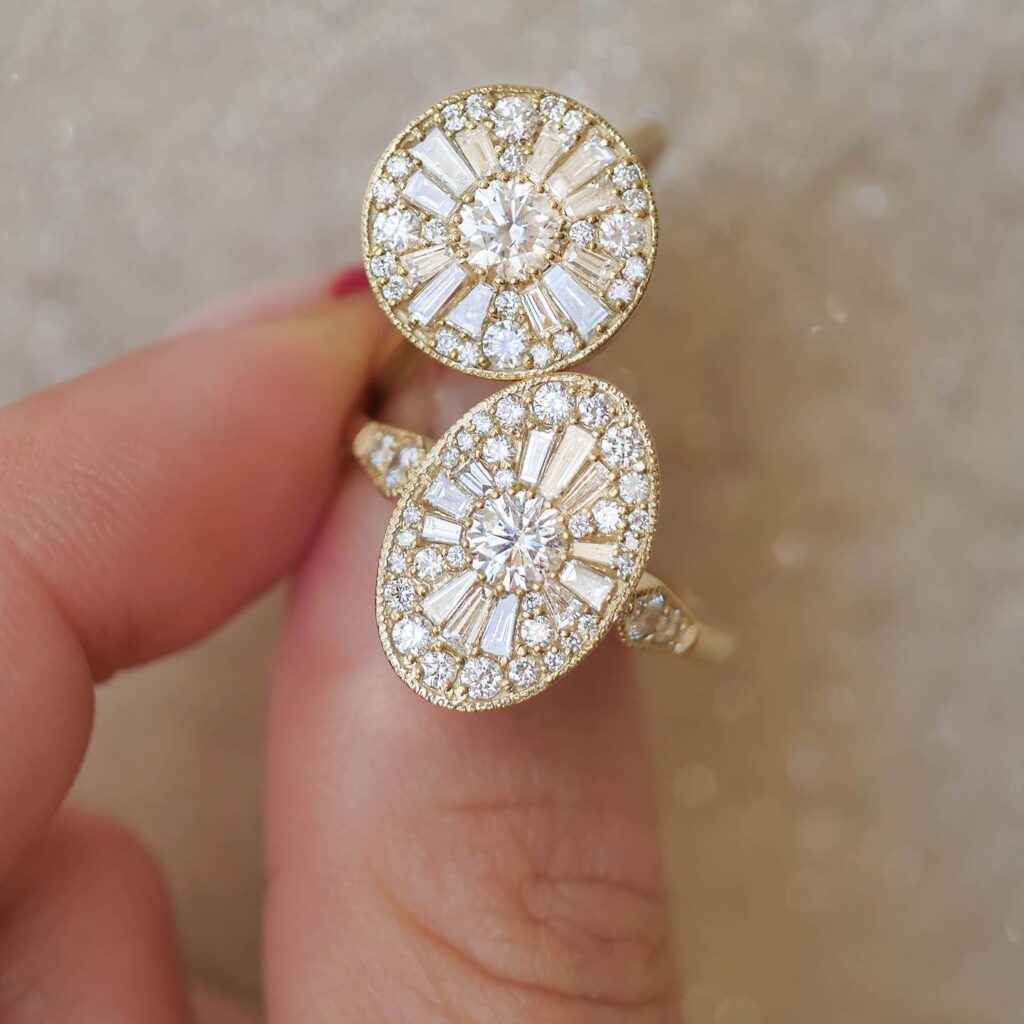 Courtesy: Berlinger Fine Jewelry
#66 Why have one halo diamond when you can have multiple in your wedding band? This is done in an oval shape setting, but it will also look good for other diamond shapes like round-cut and emerald-cut.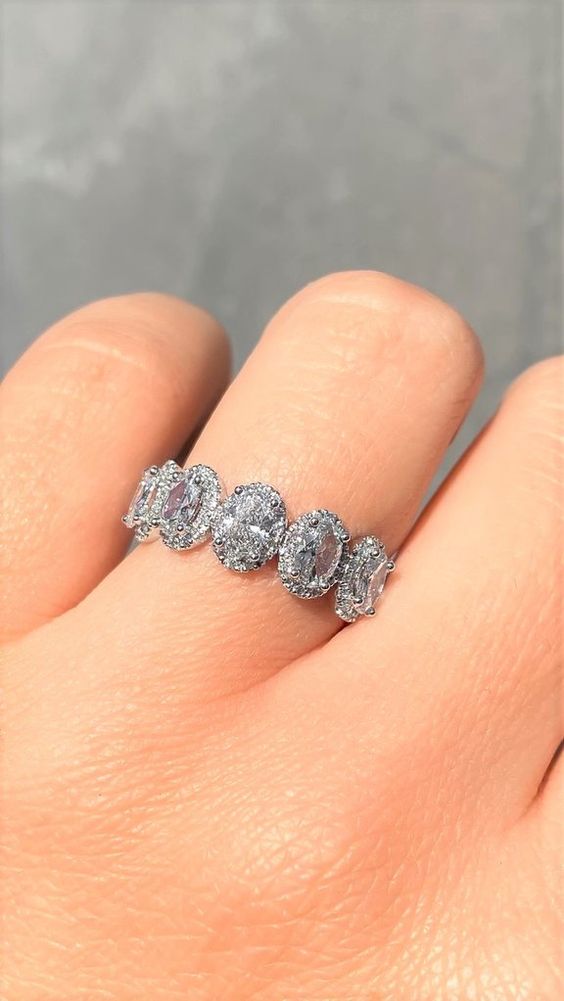 Courtesy: Justin's Jewelers
#67 For the bride seeking a piece that exudes timeless glamour, this one is for you. The spiral band with the halo diamond ring in pear-cut solitaire is further enhanced with a nestling diamond band, which can be attached to your ring base or built separately as a wedding ring.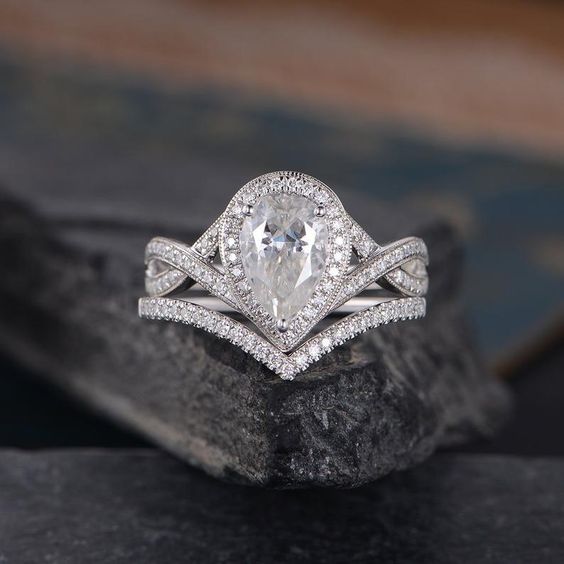 Courtesy: Etsy