Besides soaring Kanungo in popularity and establishing him as a successful singer, Baaki Baatei Peene Baad also introduced him to the love of his life – South African model Carla Dennis. The couple recently tied the knot at the Taj hotel in Mumbai, and the pictures are all kinds of gorgeous and endearing. Find all the details of Arjun Kanungo & Carla Dennis love story, and relationship timeline below and see all of their wedding pictures. 
2015: Met For The First Time
Arjun Kanungo & Carla Dennis love story started on the sets of Baaki Baatei Peene Baad, which was Carla's first collaboration in India and Arjun's first music single. "I thought he was incredibly sexy and there was definitely a special spark. I could see he was something special," said Carla in an interview. Arjun is a Hindu, born and raised in Mumbai, while Carla is a Christian, born and raised in South Africa. Talking about finding love despite their cultural differences, this is what Carla said, "It was challenging but we feel that love conquers all. We respect each other and each other's families. My family absolutely loves Arjun. They already call him their son. It's not only with their religion I guess, for a relationship to work in general, but you also have to meet each other halfway and accept each other completely."
Further talking about the importance of acceptance in a relationship, Carla added, "For me, love is acceptance. I knew I was in love with him the minute I realized he accepted me for who I am and how I am…the good and the bad."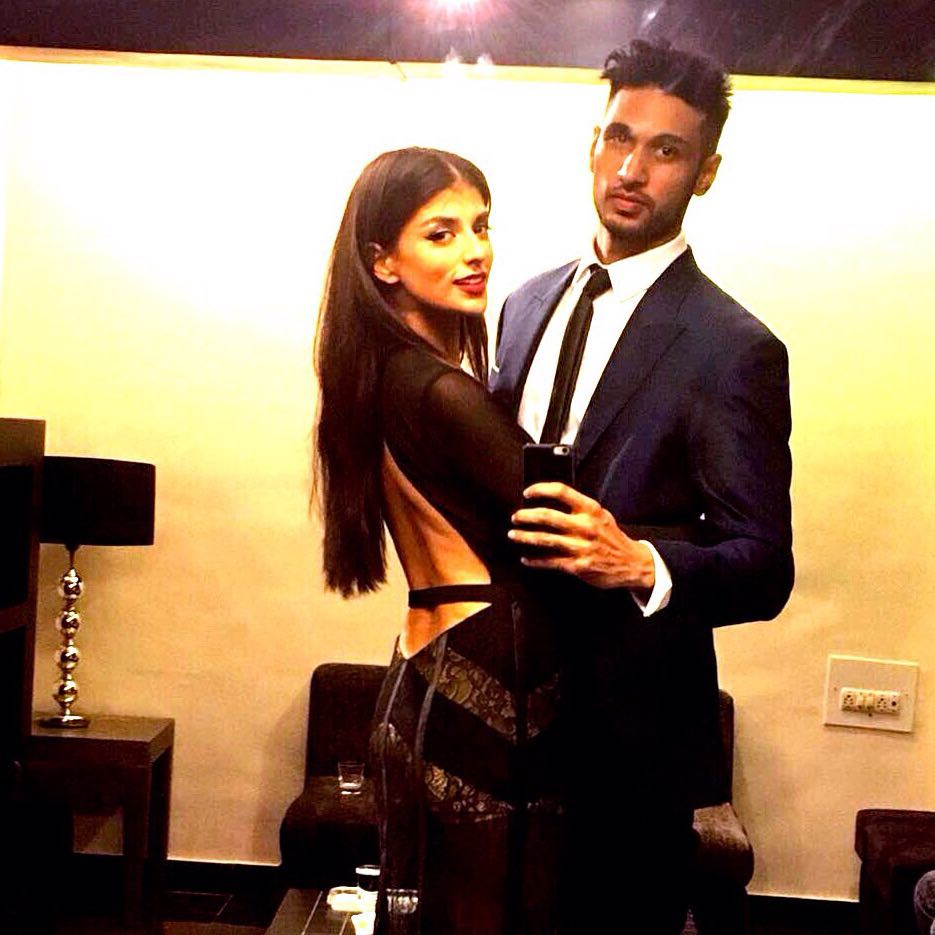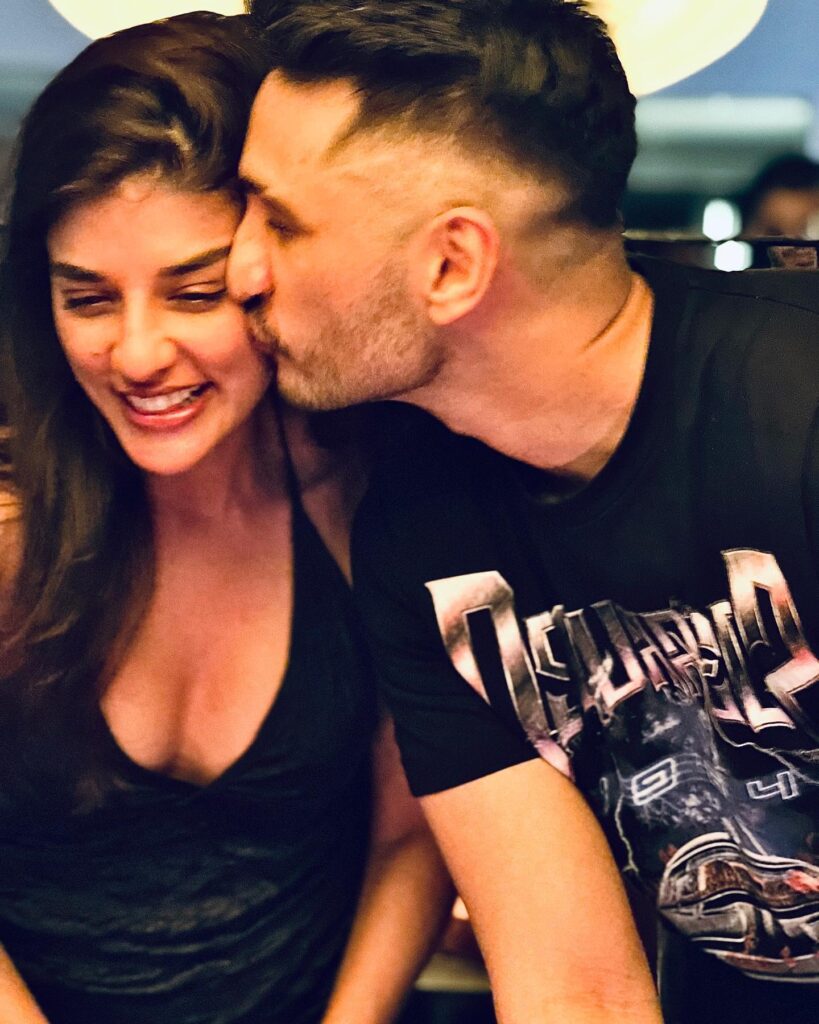 2017: Rekindled Love
Arjun & Carla hit patchy waters after dating for two years, but their love & understanding rekindled while on their trip to Japan. Couples who have been in long-term relationships with the same person since their 20s often go through turbulent times once in their relationship, which only makes their love stronger. The same happened with Arjun & Carla, and the tears in their eyes on their wedding day perfectly showed their hearty love for each other.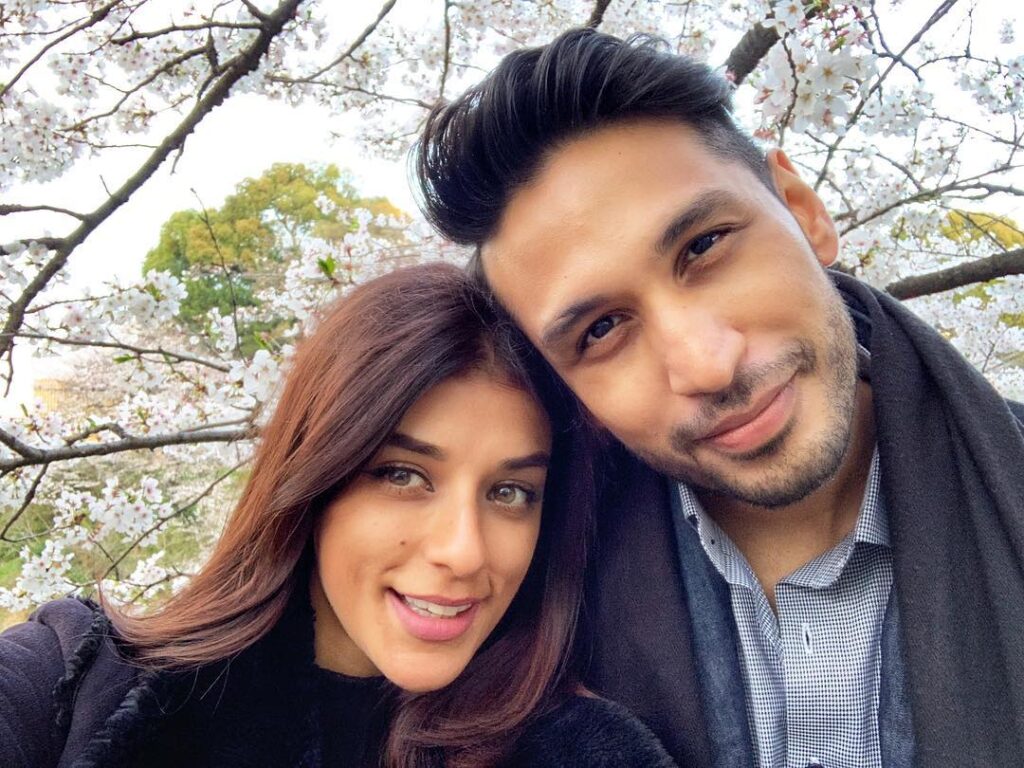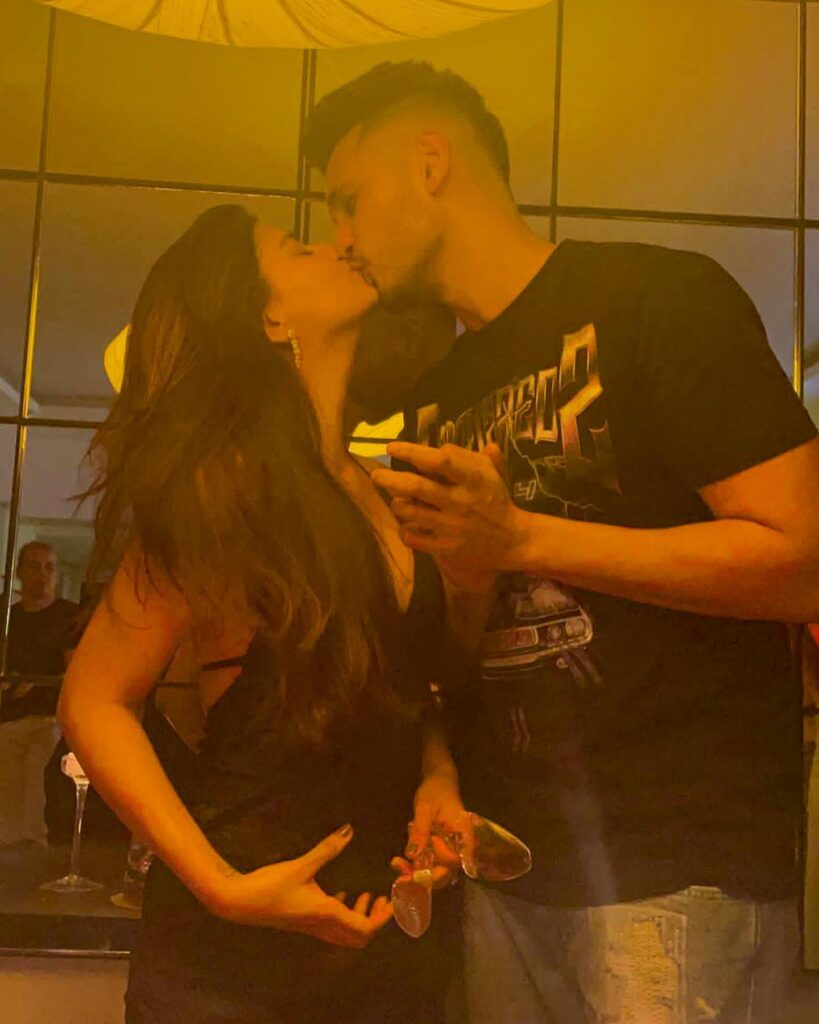 2020: Got Engaged
In 2020, Arjun proposed to Carla on a yacht in Dubai. Speaking of his proposal in an interview, Arjun said he wanted to propose to his lady for a while now, but wanted to make it special and the pandemic didn't allow it. So as soon as the borders opened, he could either take Carla to Dubai or Maldives. He zeroed in on Dubai as they didn't have a lot of time. "I got a beautiful yacht, we took it around sunset and that's when I popped the question. I had the ring ready," he says. Talking about Carla's reaction, he said she was quite surprised. "She cried a lot, and we both got very emotional. We then called our families and everybody on the video call; it was lovely," he added.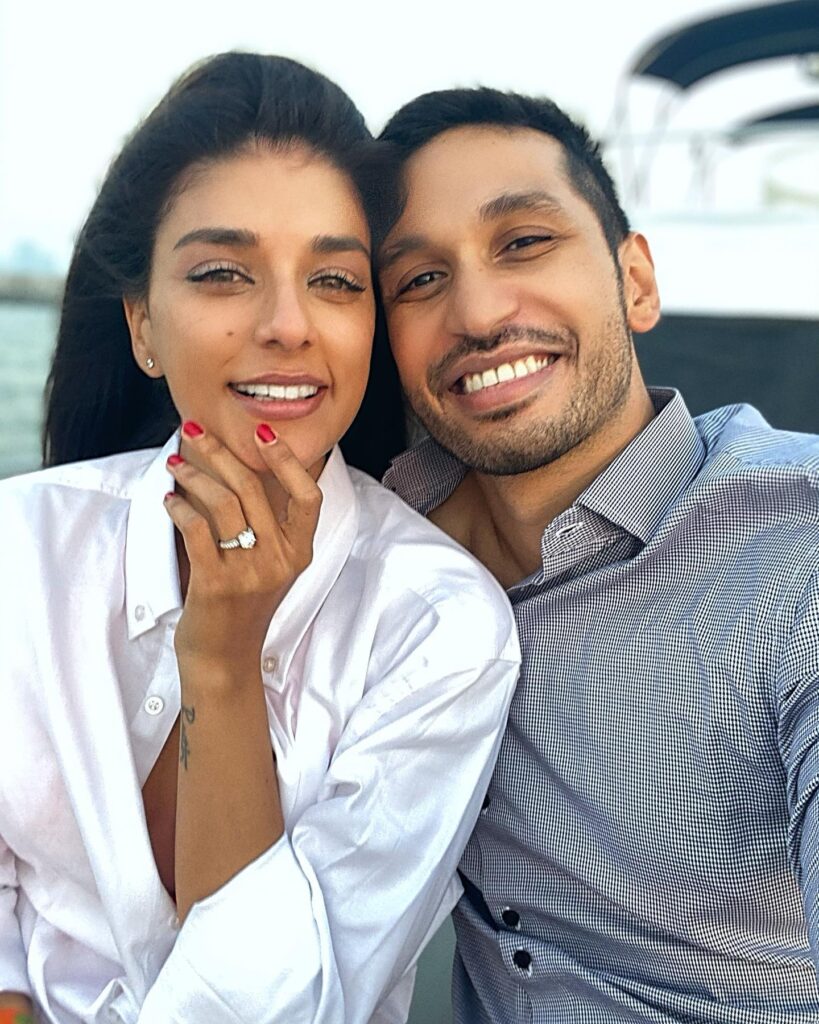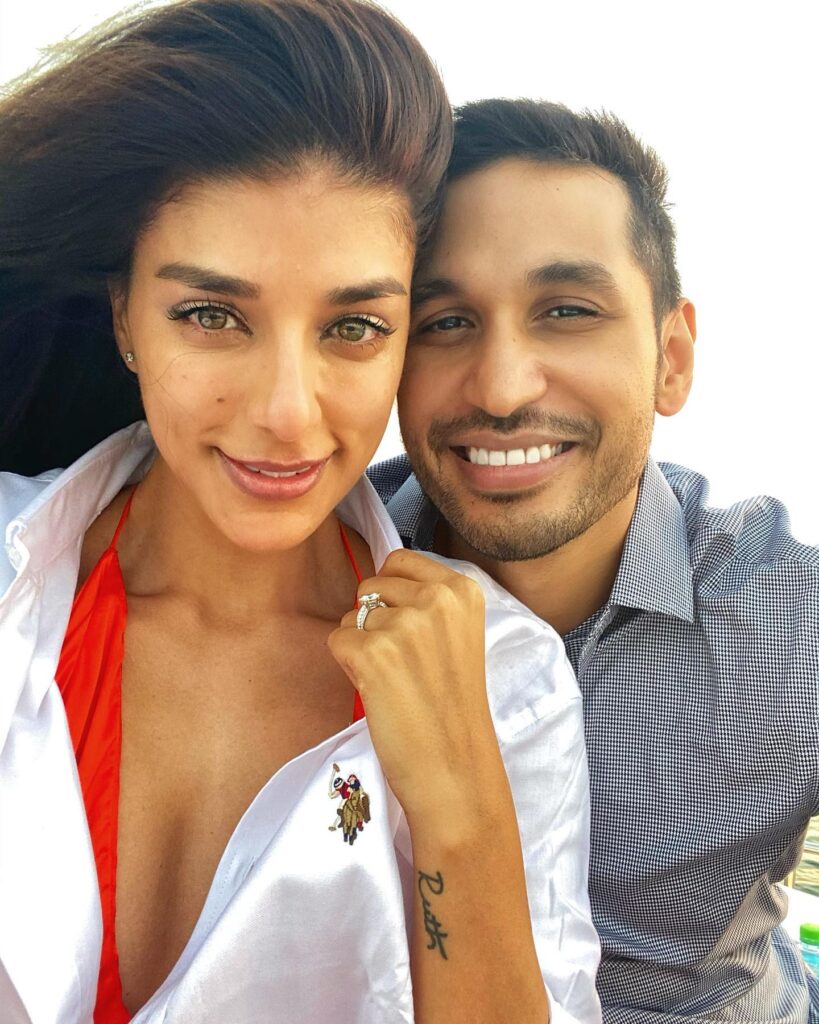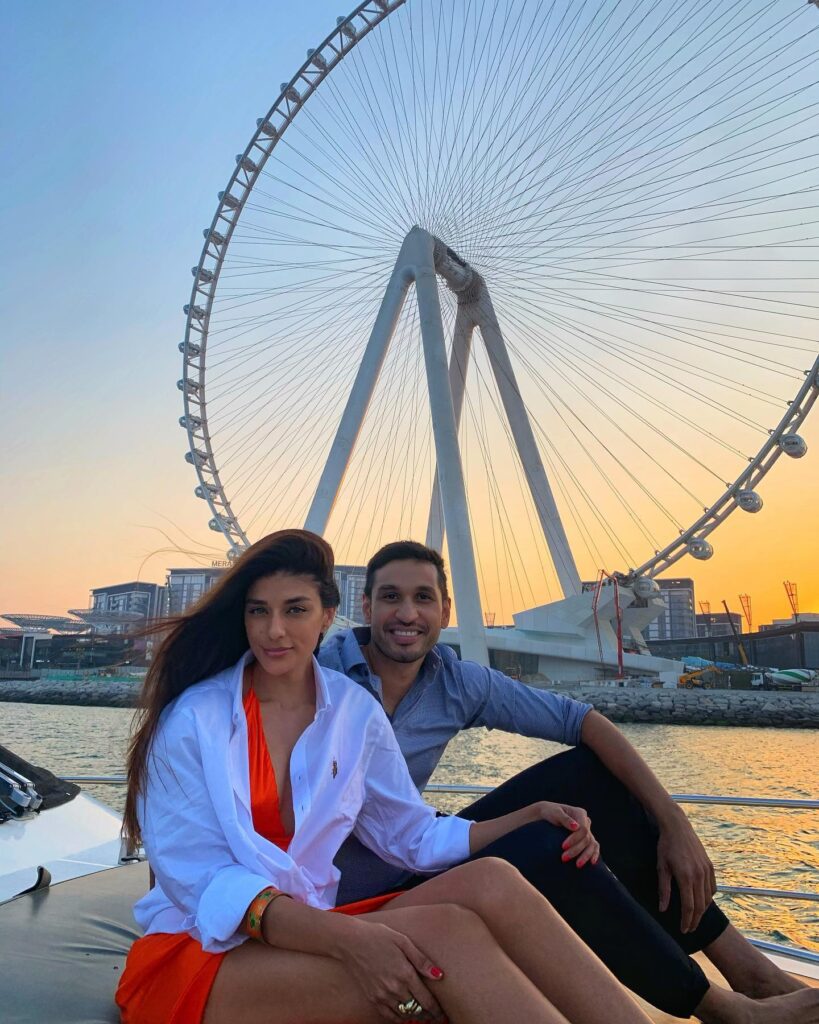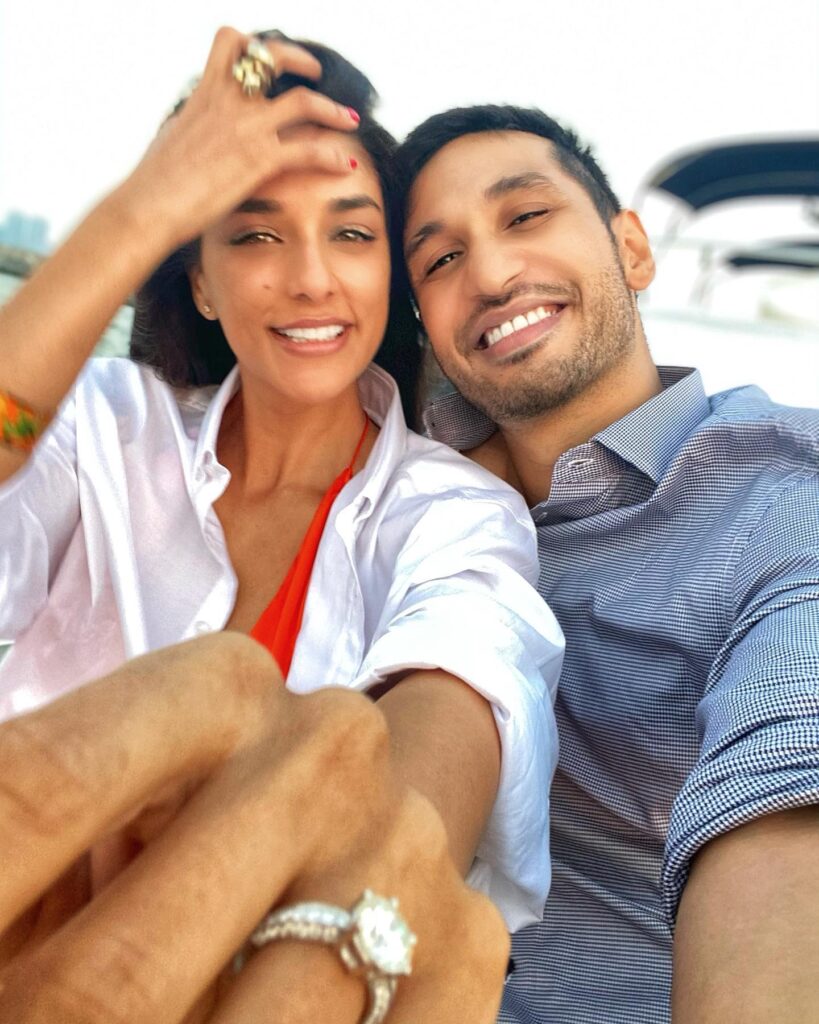 Further talking about taking his relationship to the next level and their bond, Arjun added, "It always comes with a certain amount of excitement. It took me a long time to come around to the idea of marriage because I don't believe in marriage traditionally. [However] in her case, if there is one person I would like to get married to in the whole world, [it] would be Carla."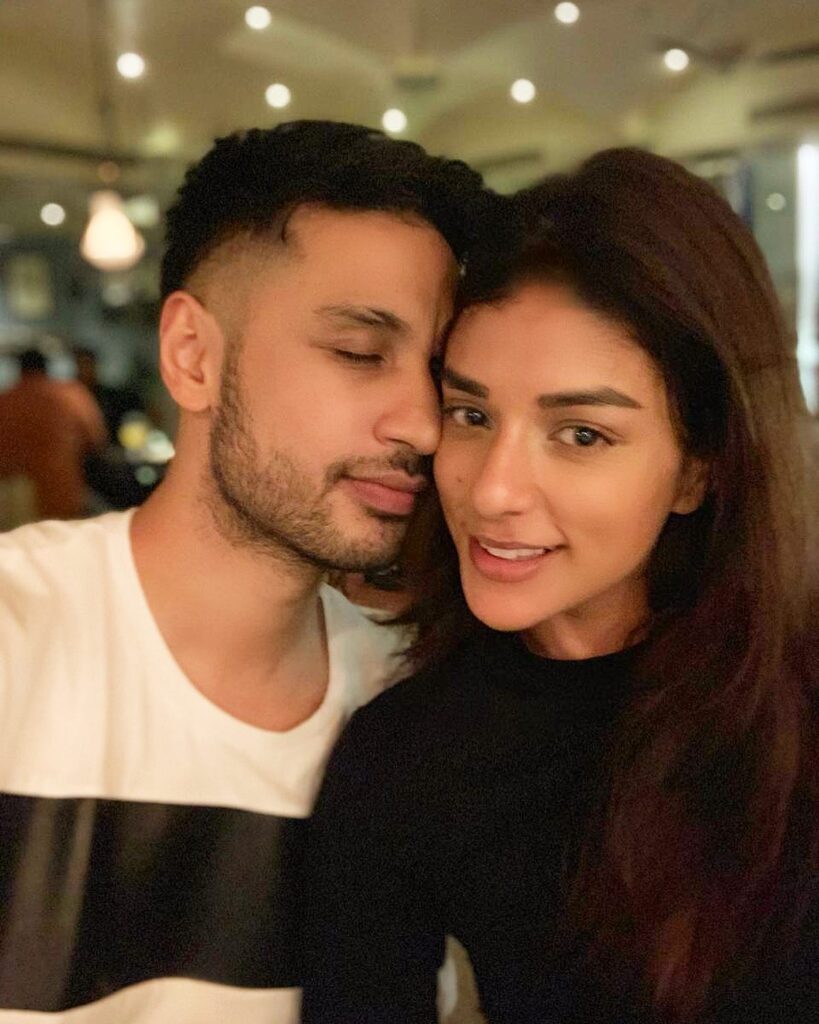 Arjun further said she and her wife are complete opposites in many things, yet complement each other perfectly, "She is very emotional, I am not. She is a foodie, I wasn't until I met her. She is conservative, I am not. What we have in common are our priorities. We are both family-oriented. She has always been my number one supporter and she has always been there for me work-wise, personally and that's why she is also my best friend."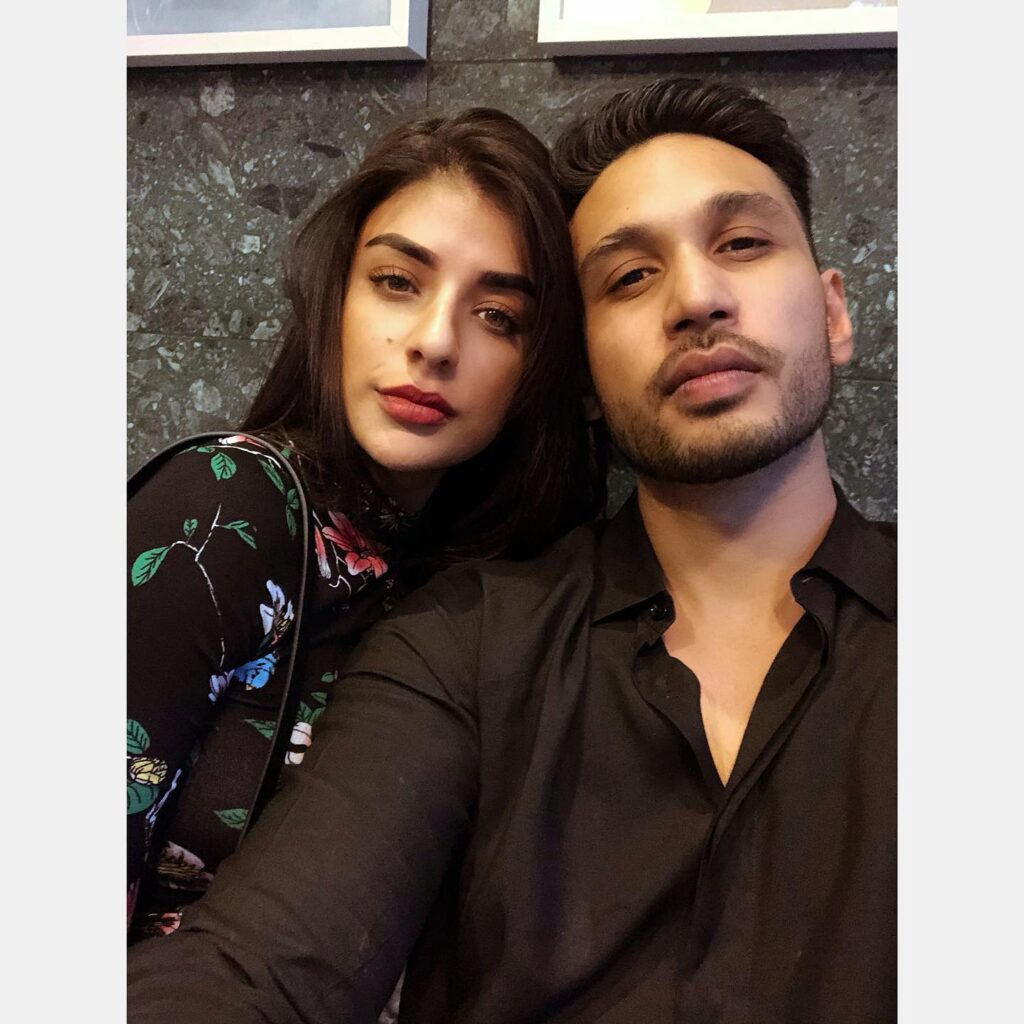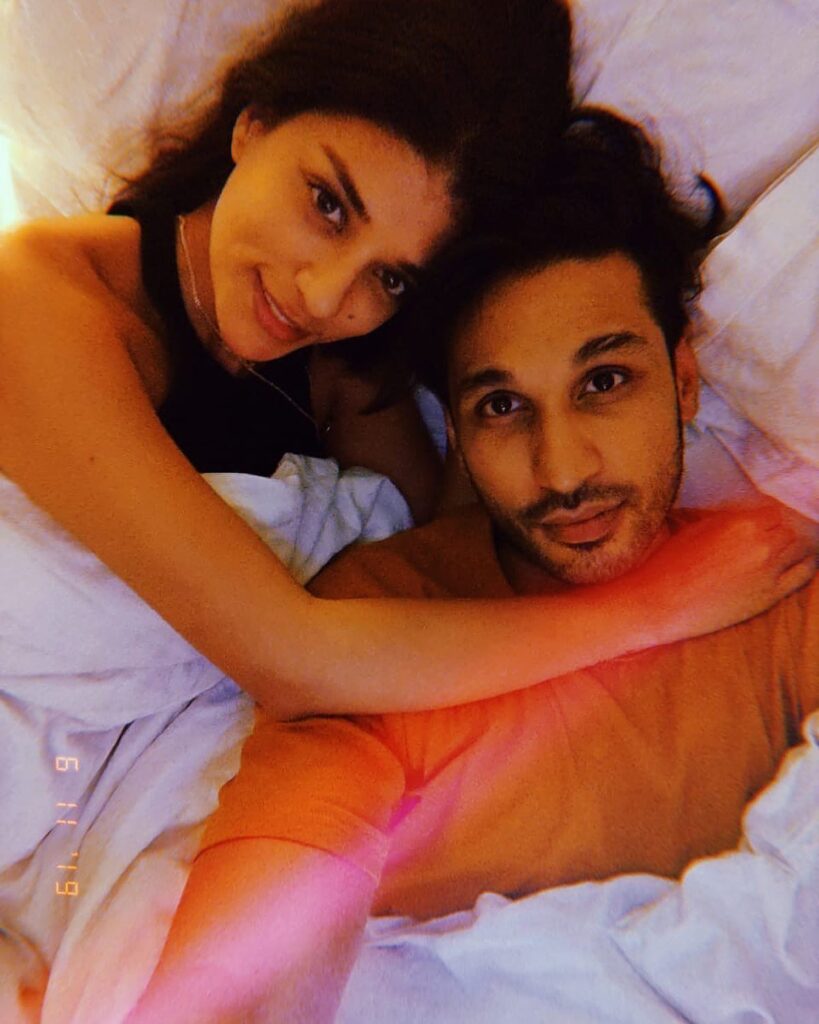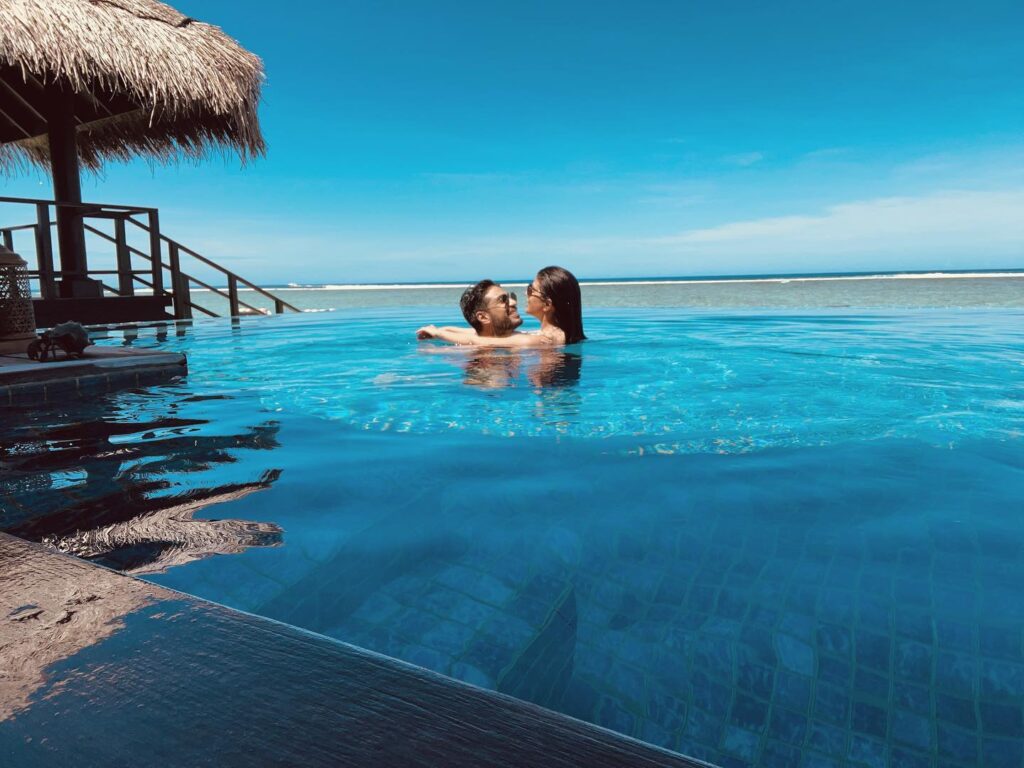 2022: Got Married
Arjun & Carla got married at the Taj hotel in Mumbai on August 10. Styled by celebrity stylist Anaita Shroff Adajania, Carla wore a stunning Sabyasachi red bridal lehenga in Matka silk adorned with hand-embroidered work in gota Patti, tilla, and zardozi. Her statement jewelry consisting of a necklace set, hathphool, mathapatti, and bangles was designed by Tyaani by Karan Johar. Beauty-wise, she kept things simple and went for an open bridal hairstyle (just like Alia Bhatt at her wedding) instead of the usual bridal bun, and bronze eyes, a soft natural base, and a coral red lip for the face makeup. 
Arjun, on the other hand, wore an Anita Dongre sherwani for his big day. Posting his solo wedding pictures on Instagram, he explained why he chose Anita Dongre for his wedding day – "I am an emotional person. I care about everything. The God in the details is my God. So I am happy I chose @anitadongre for the most emotional and special day of my life. Comfortable and elegant, I wanted something that brought out my personality and something that made me feel like I was deserving enough to be standing next to the beautiful woman standing next to me. It was a beautiful day. Love to the whole team."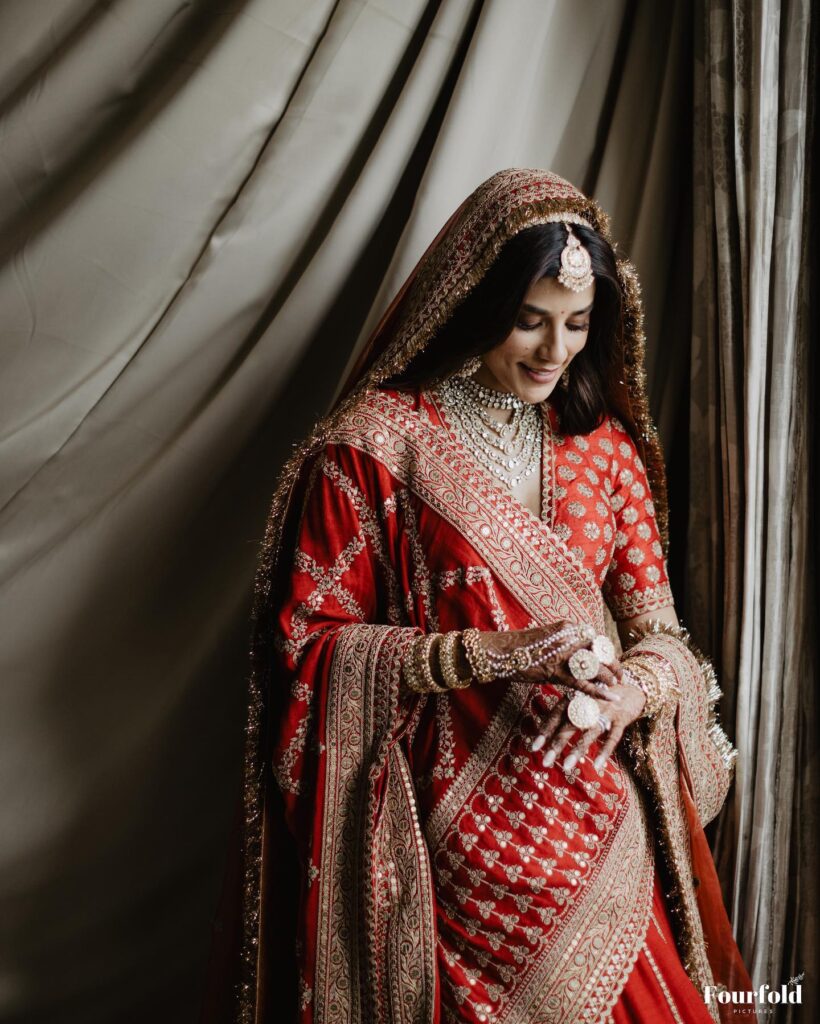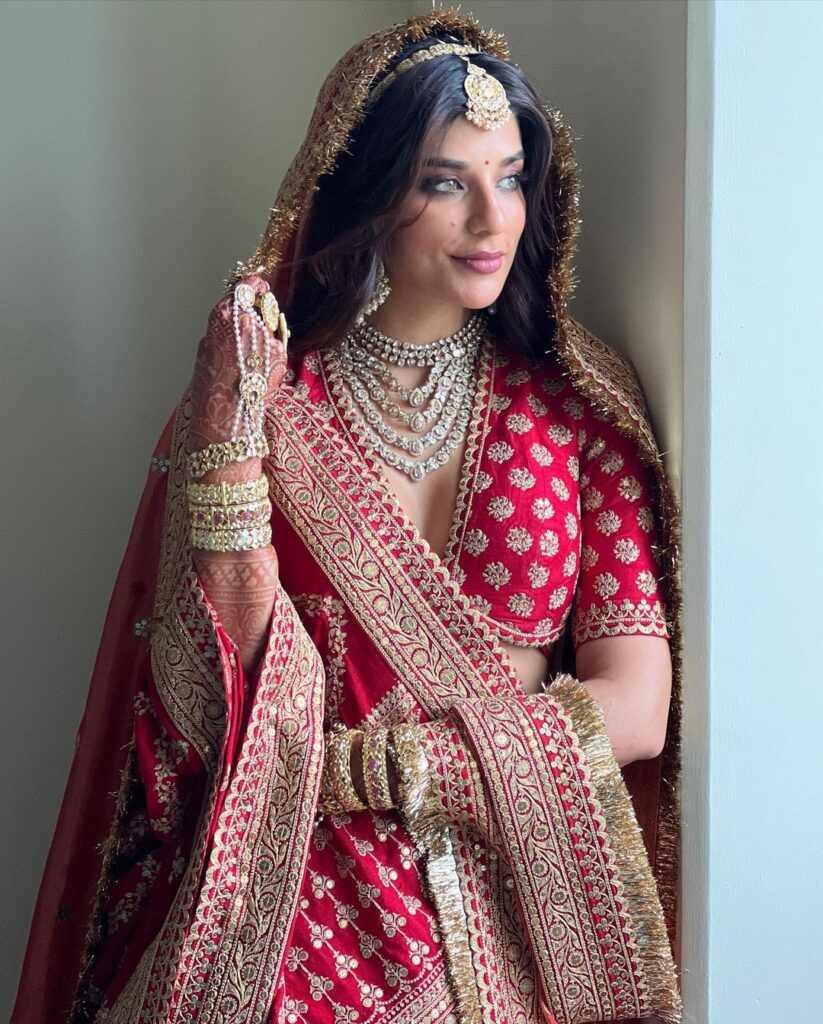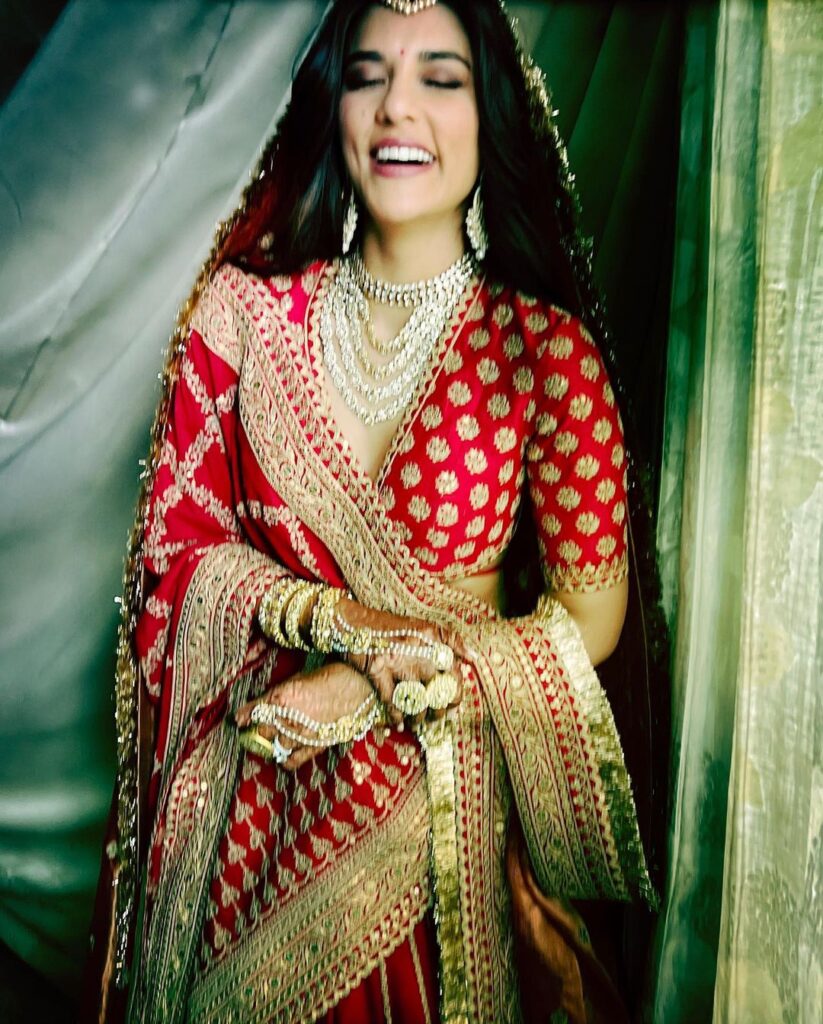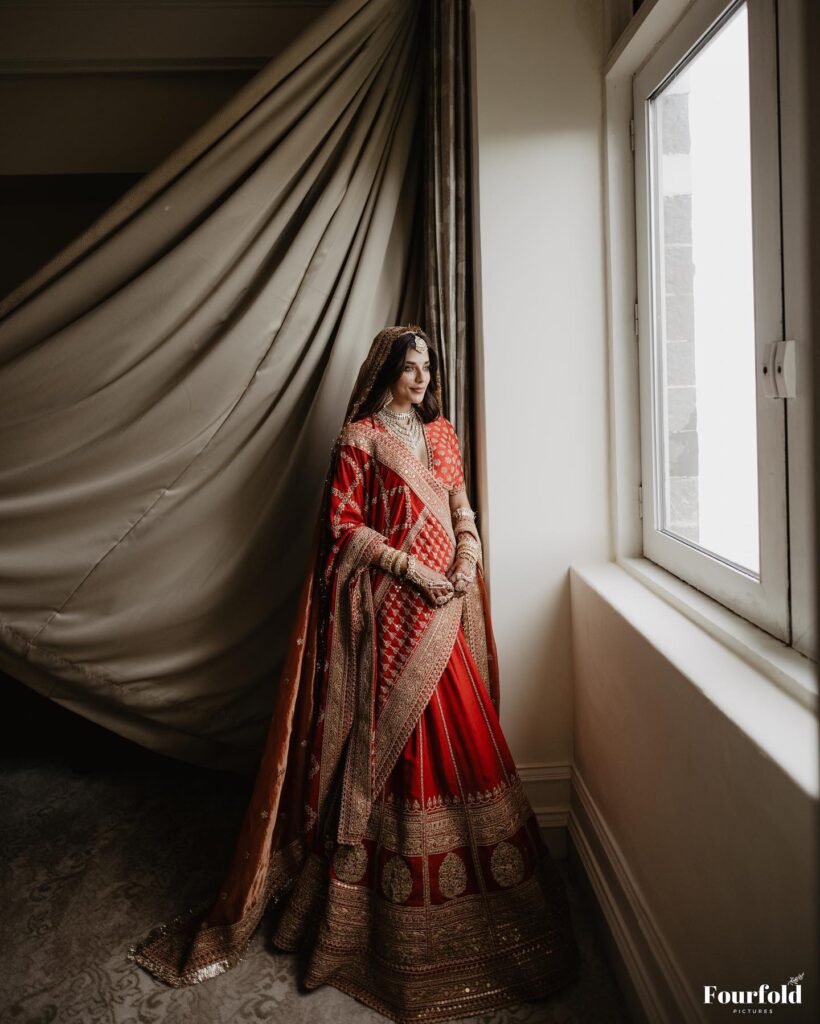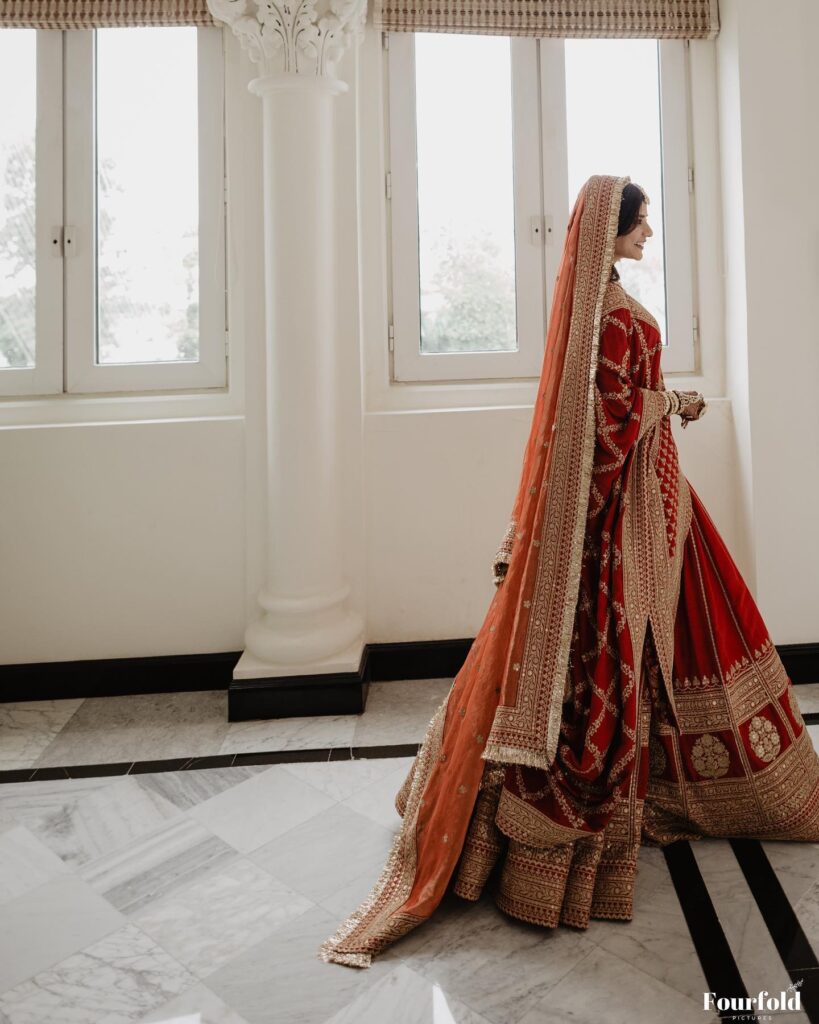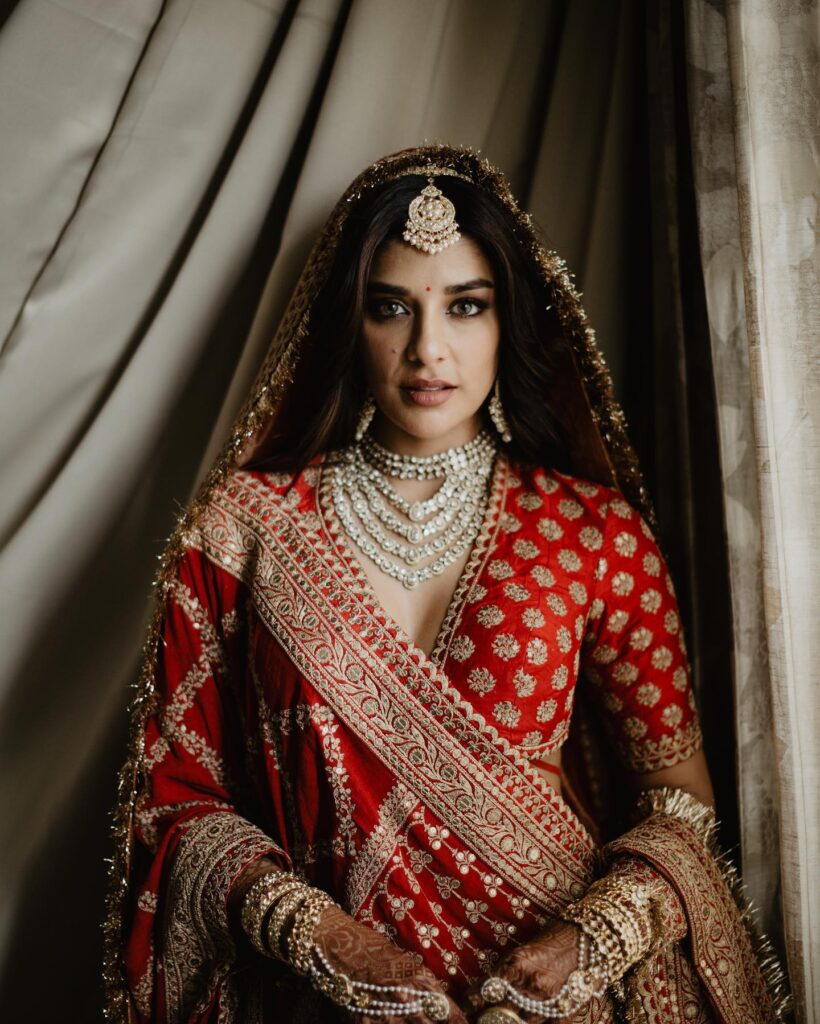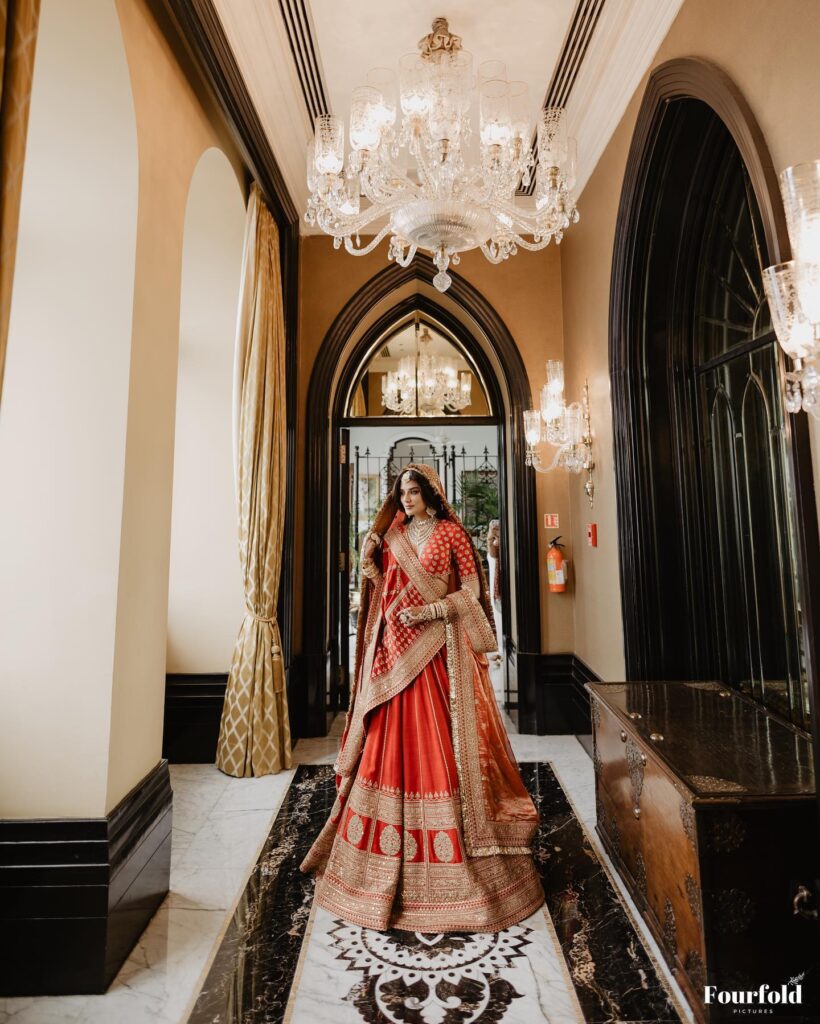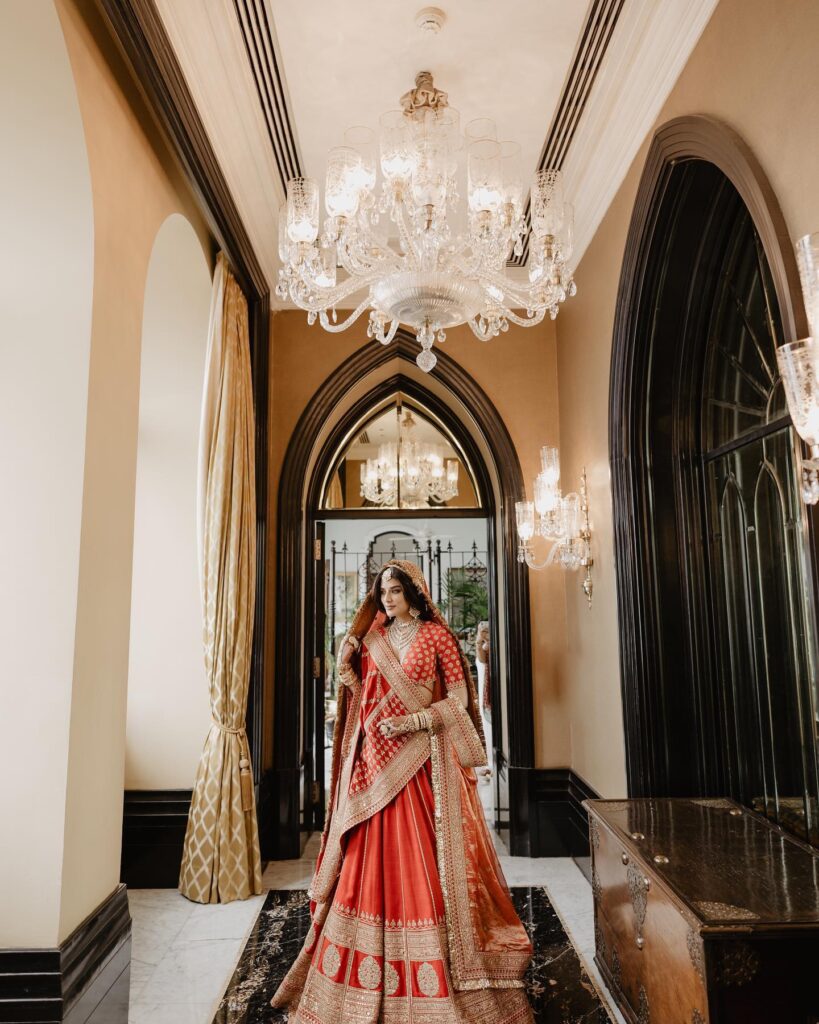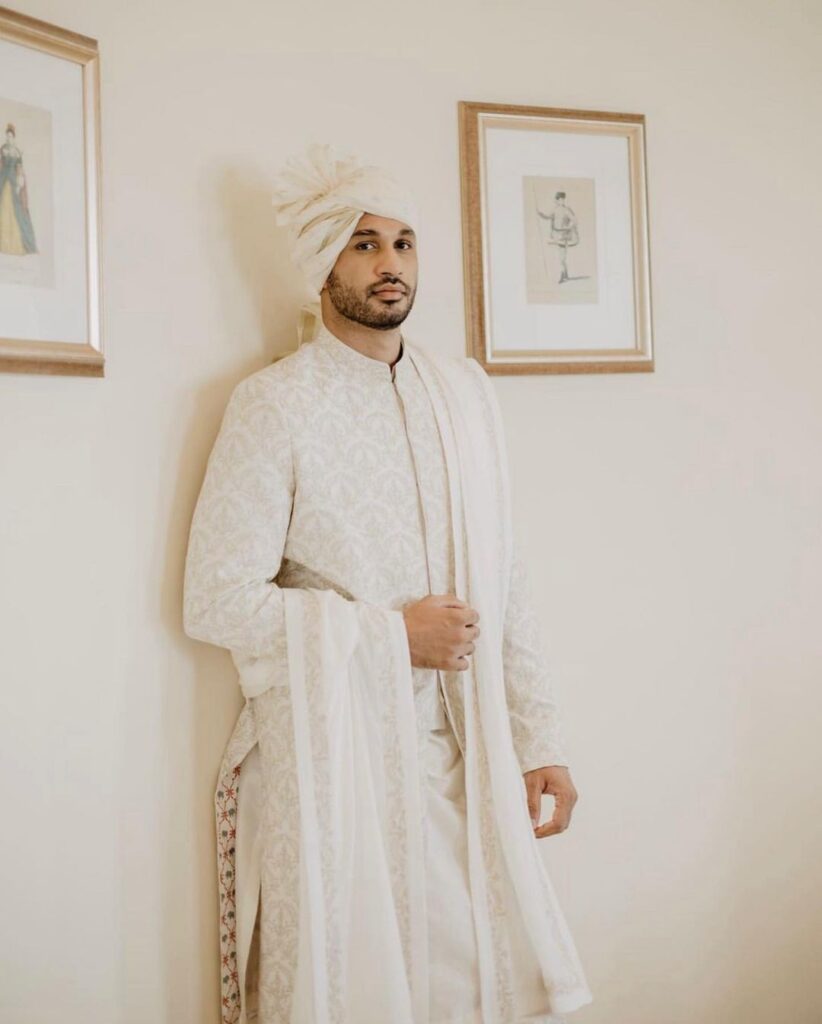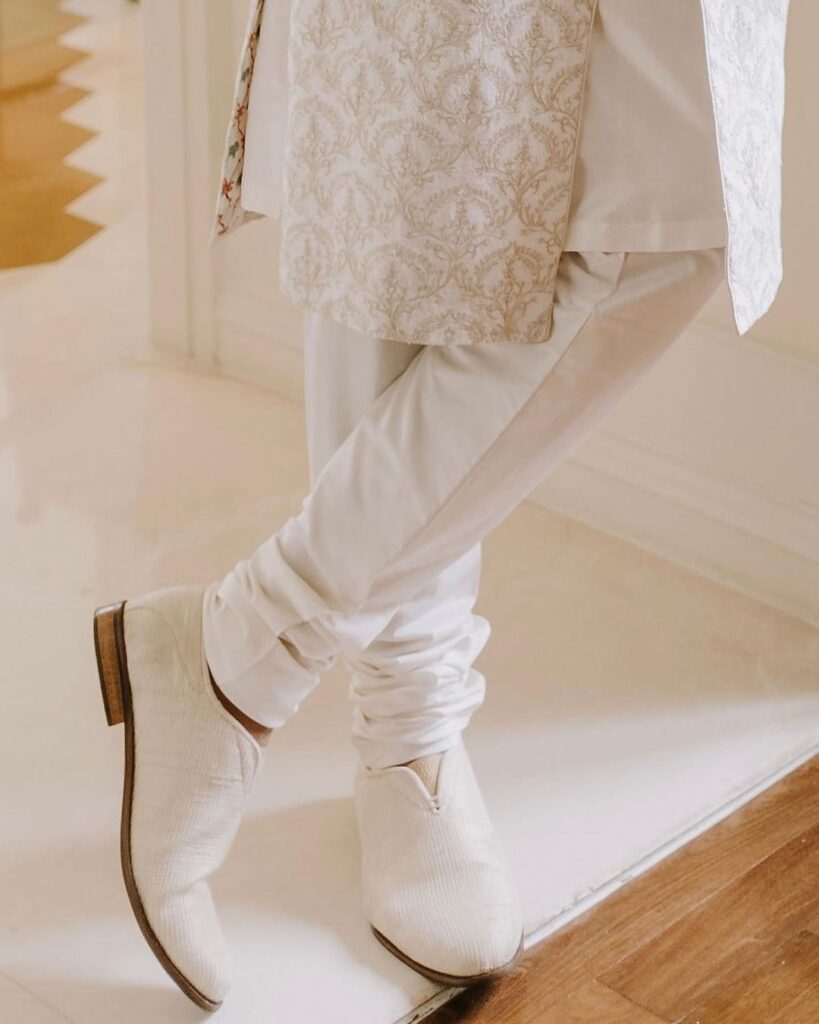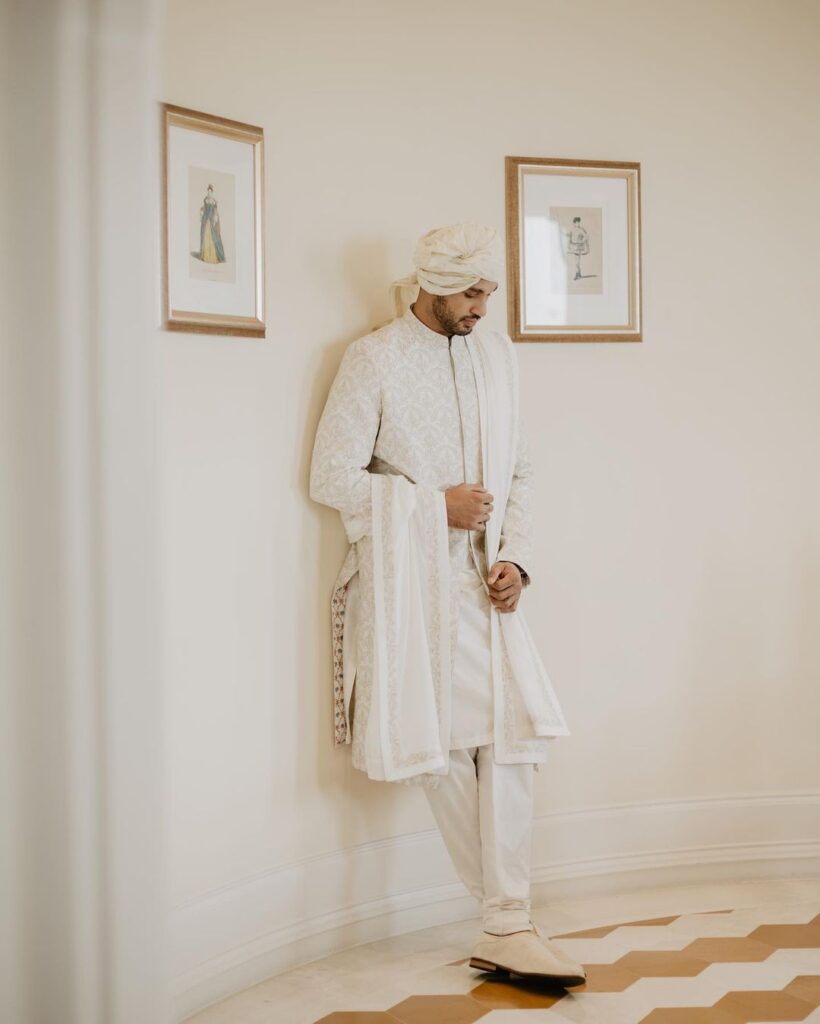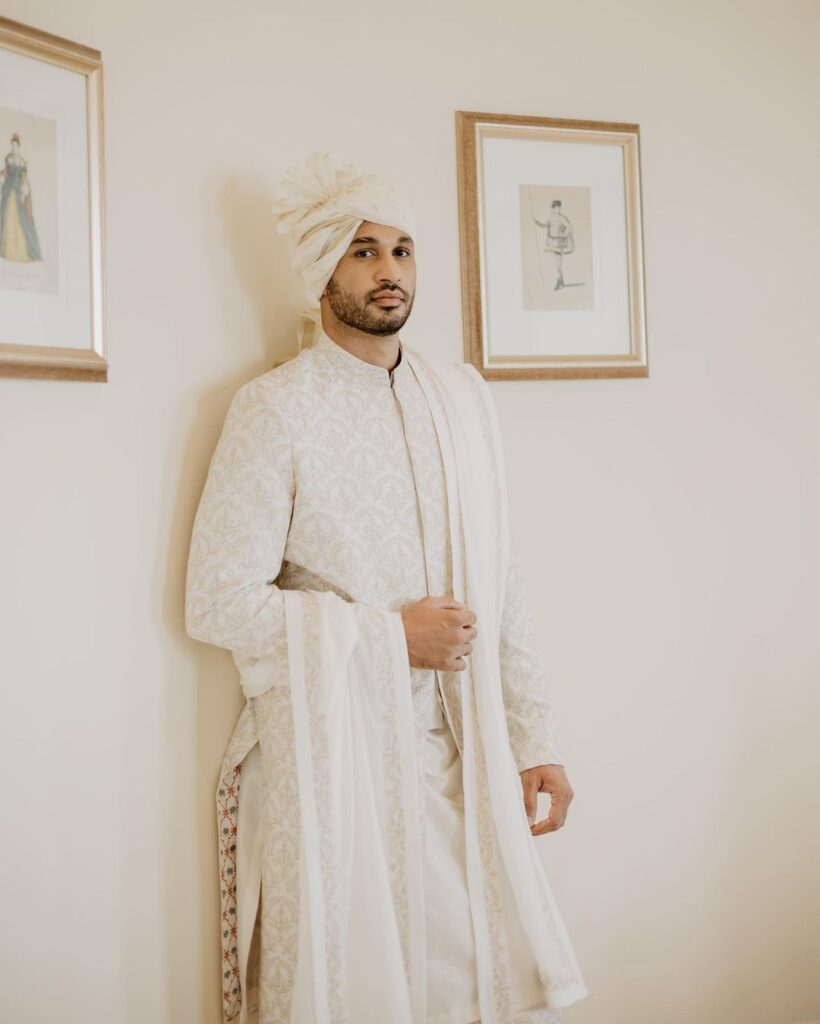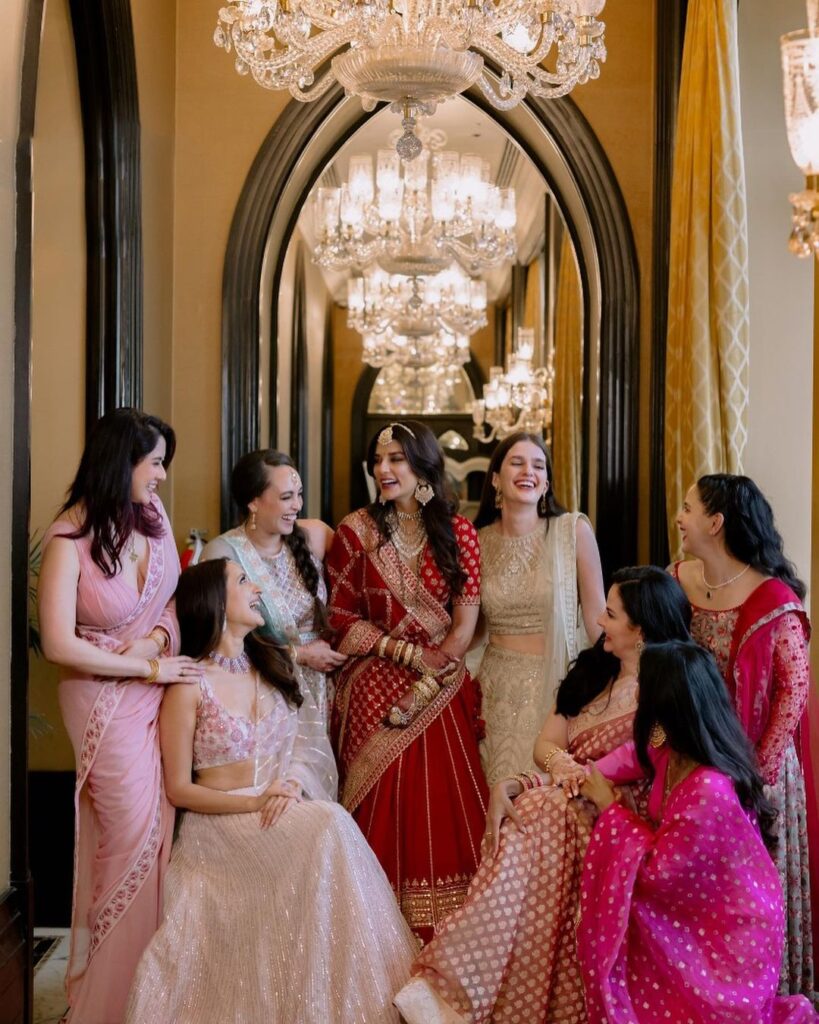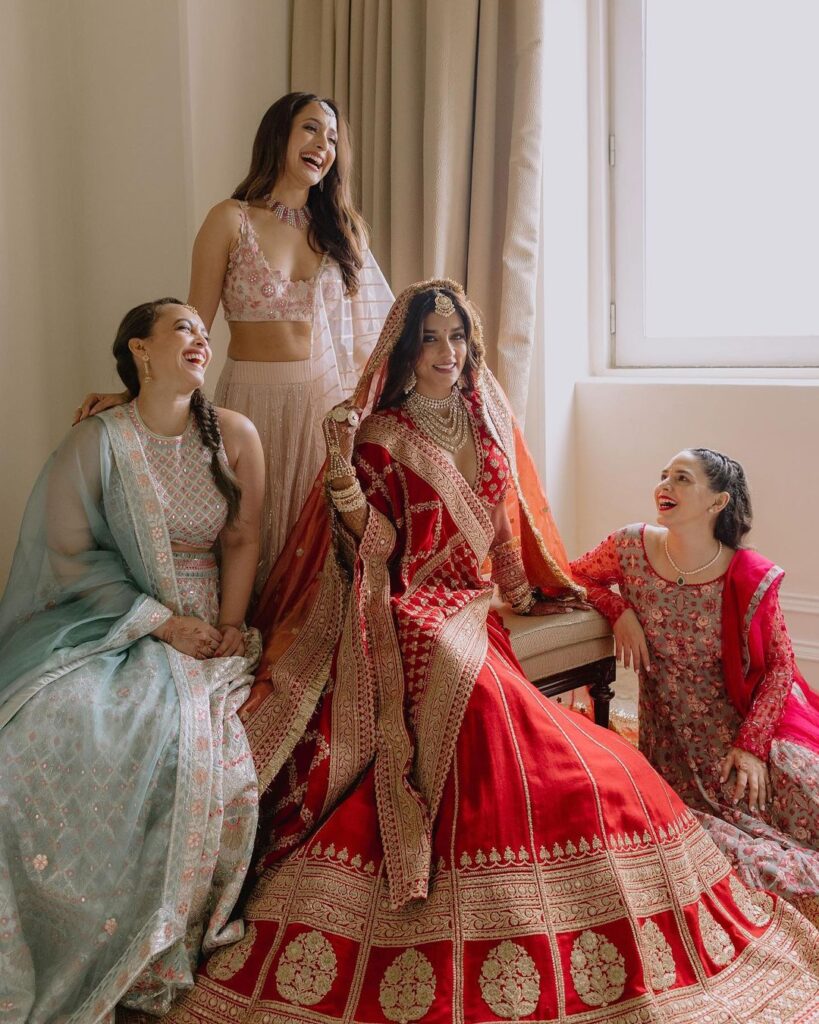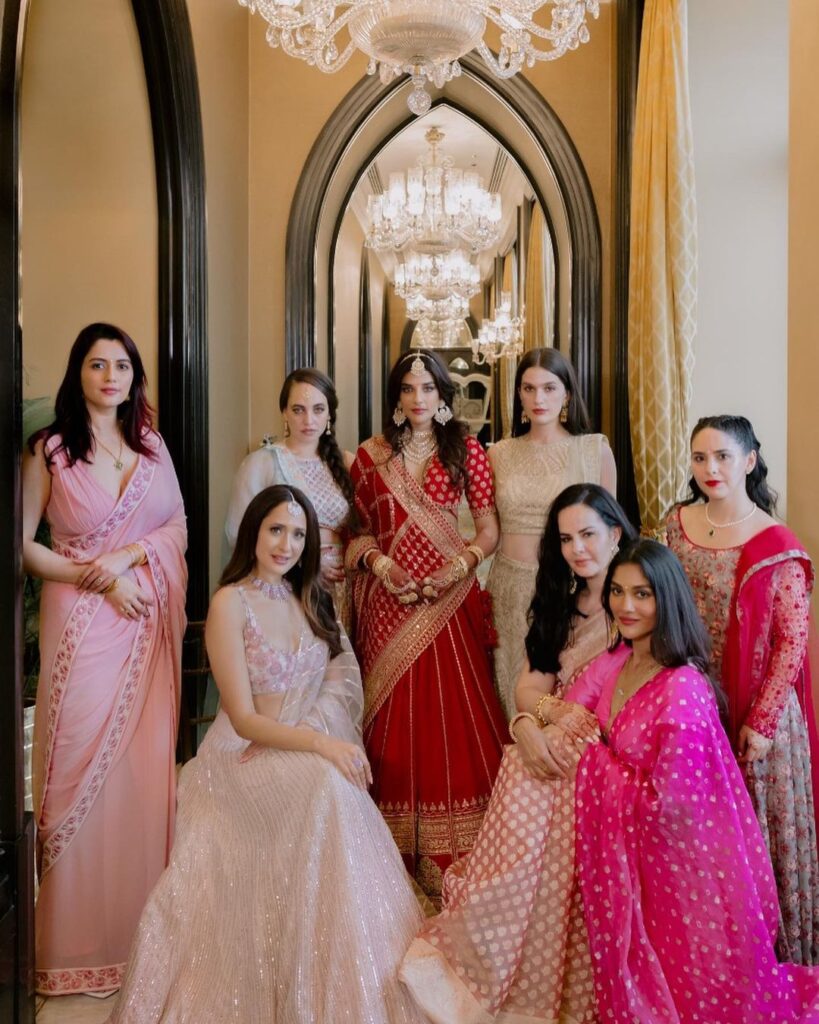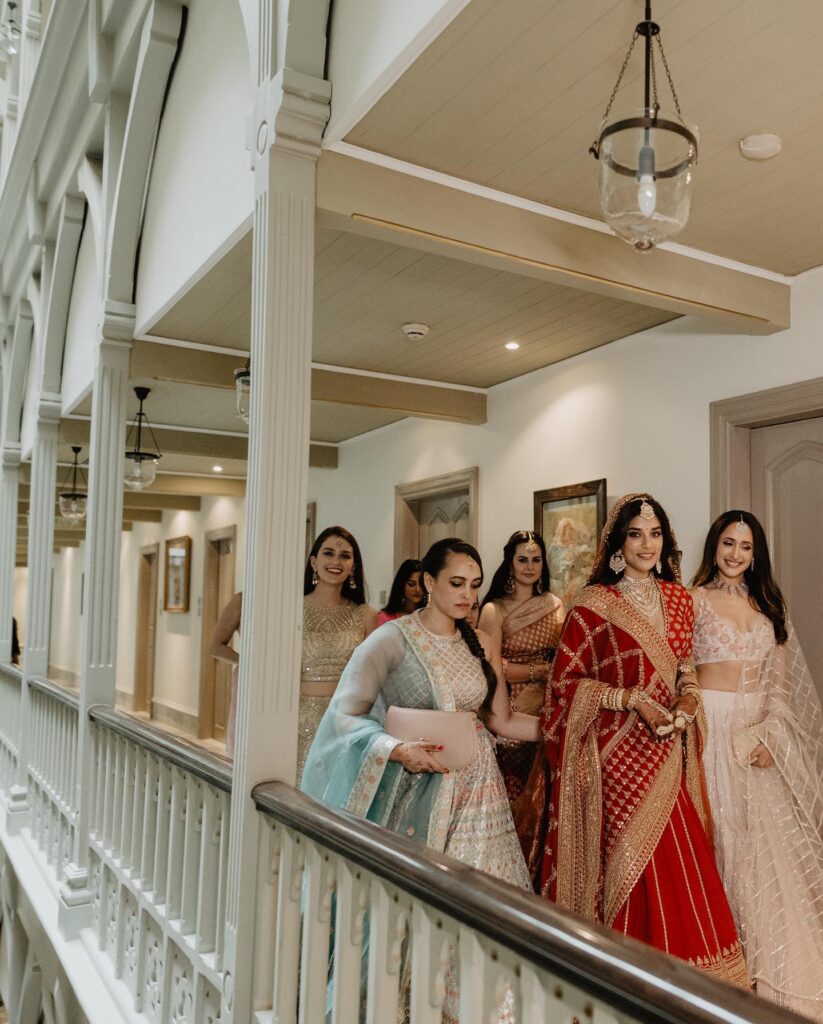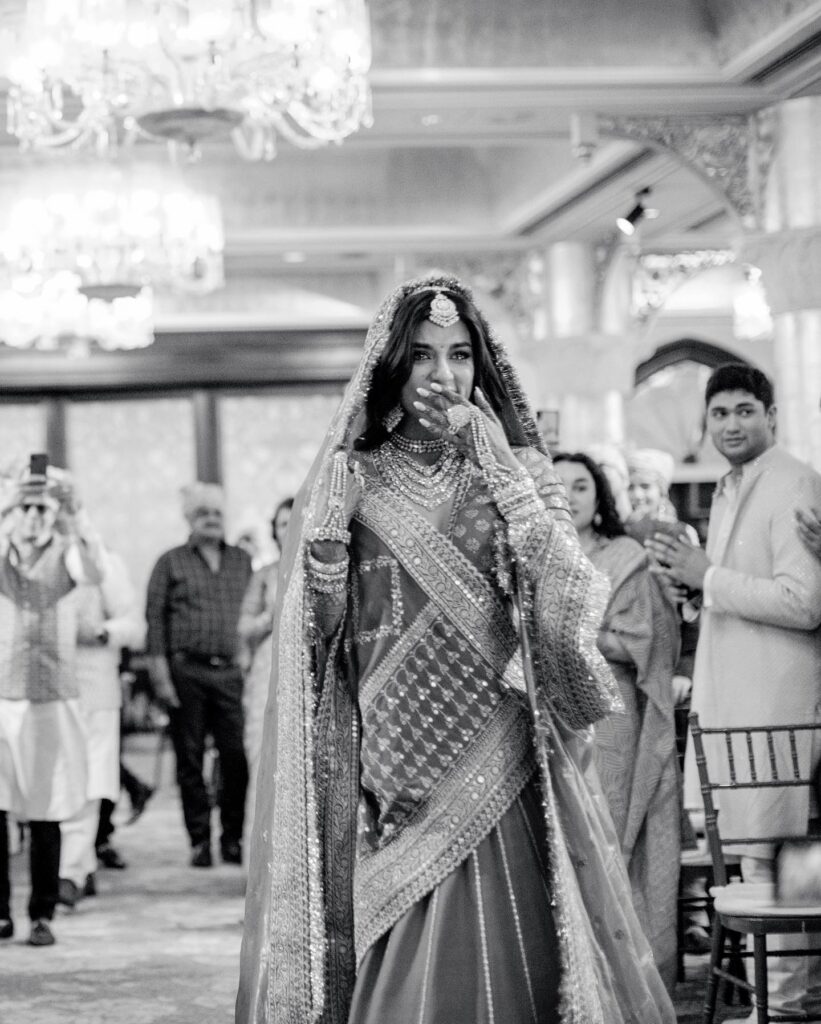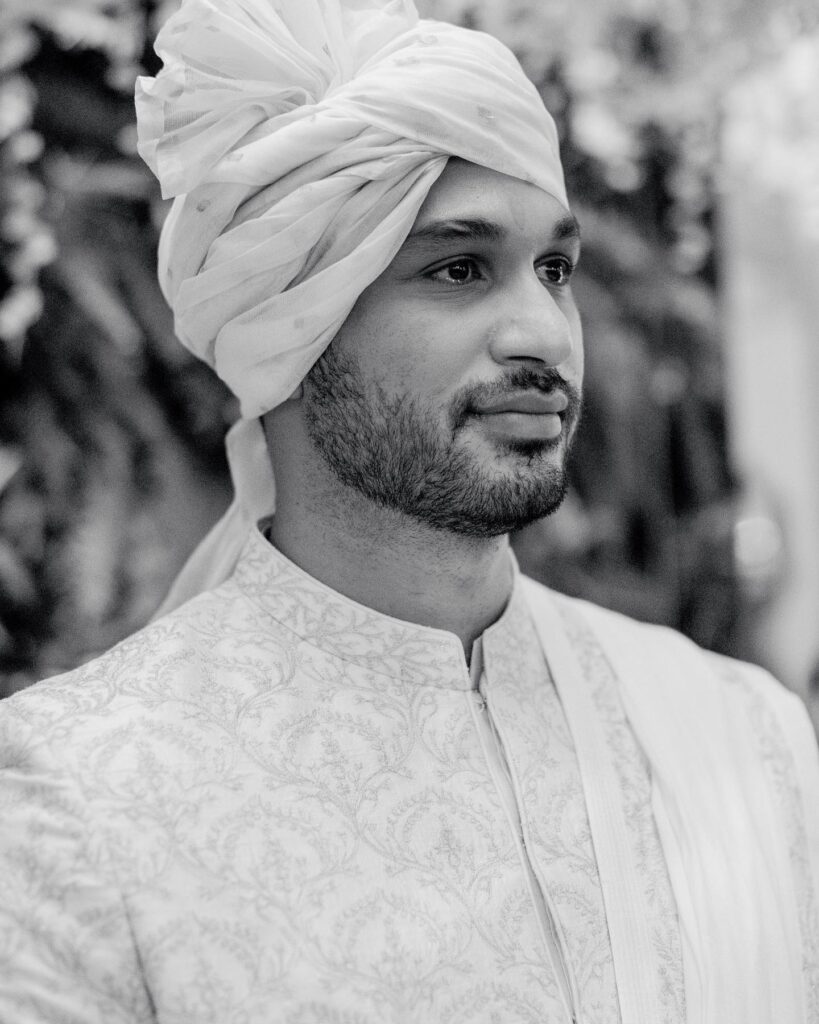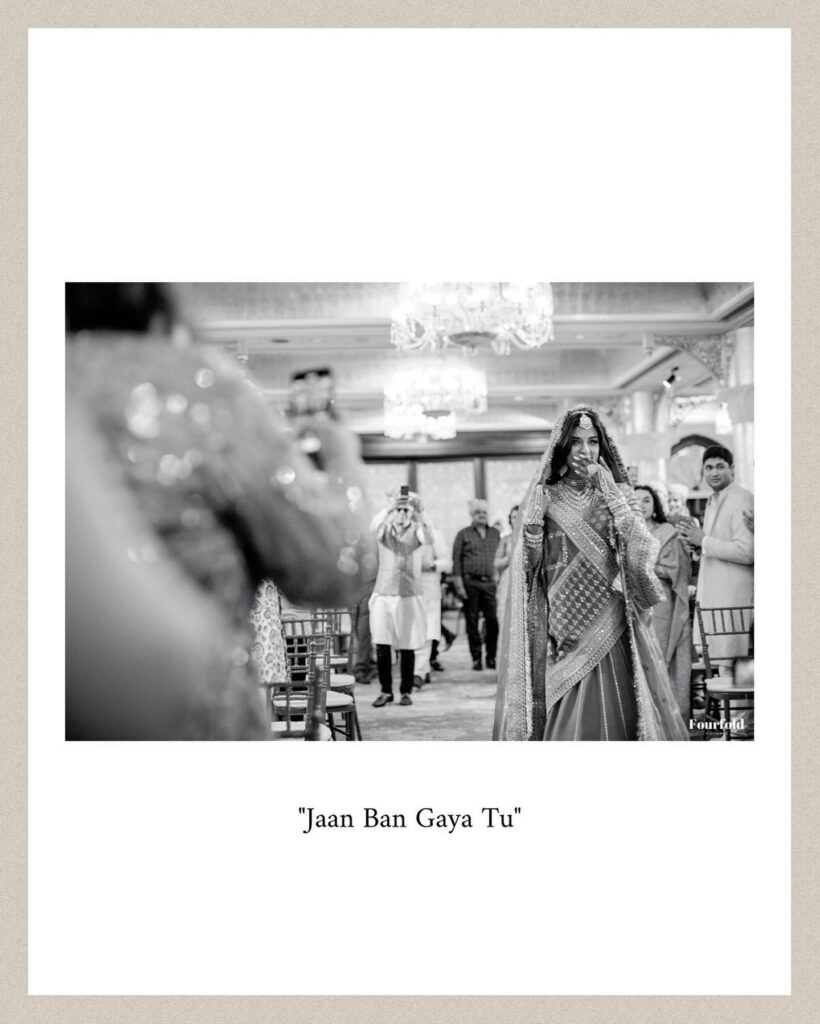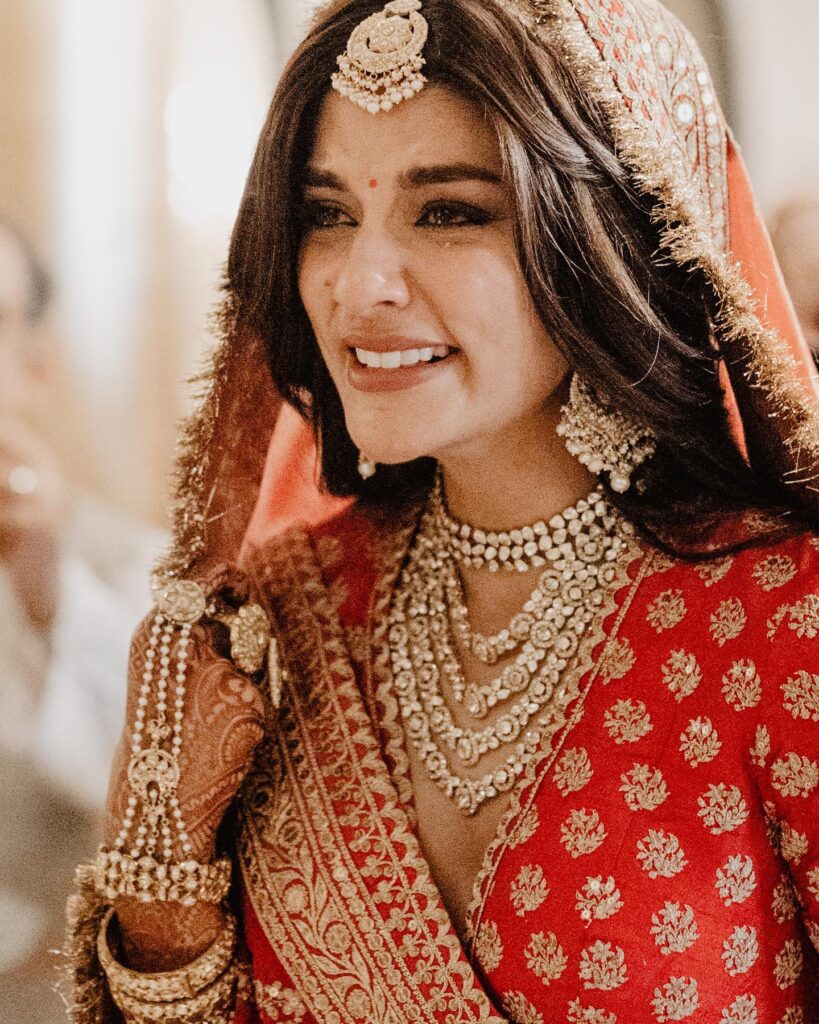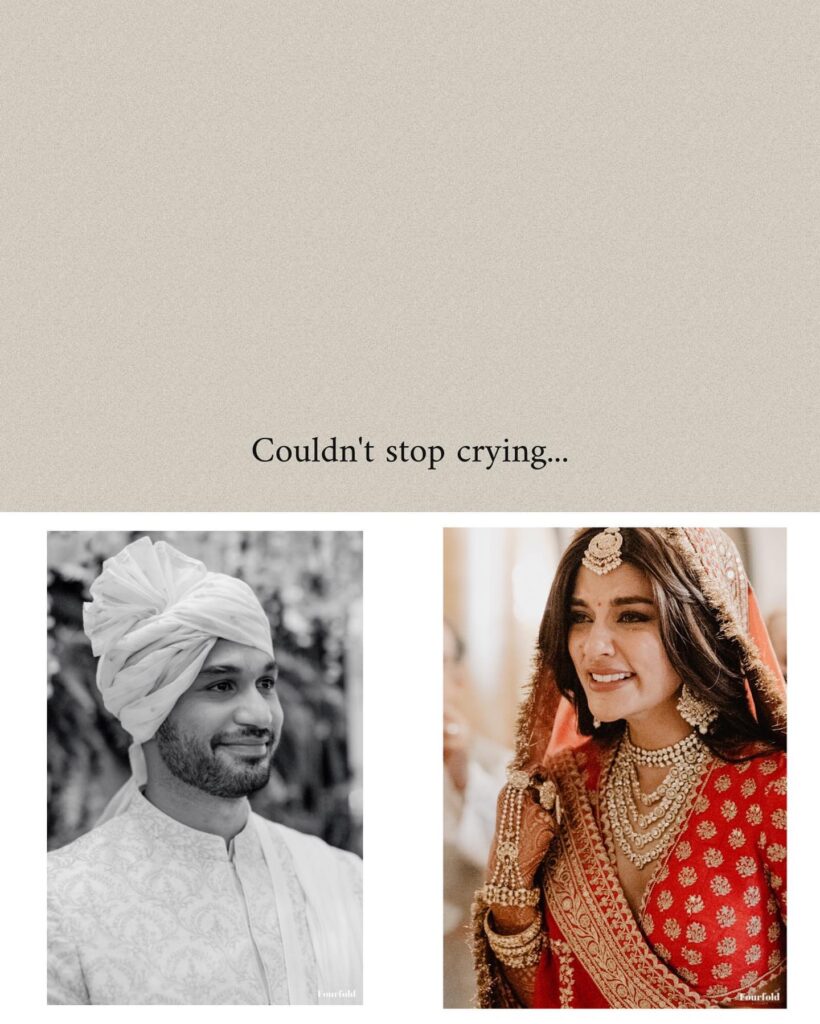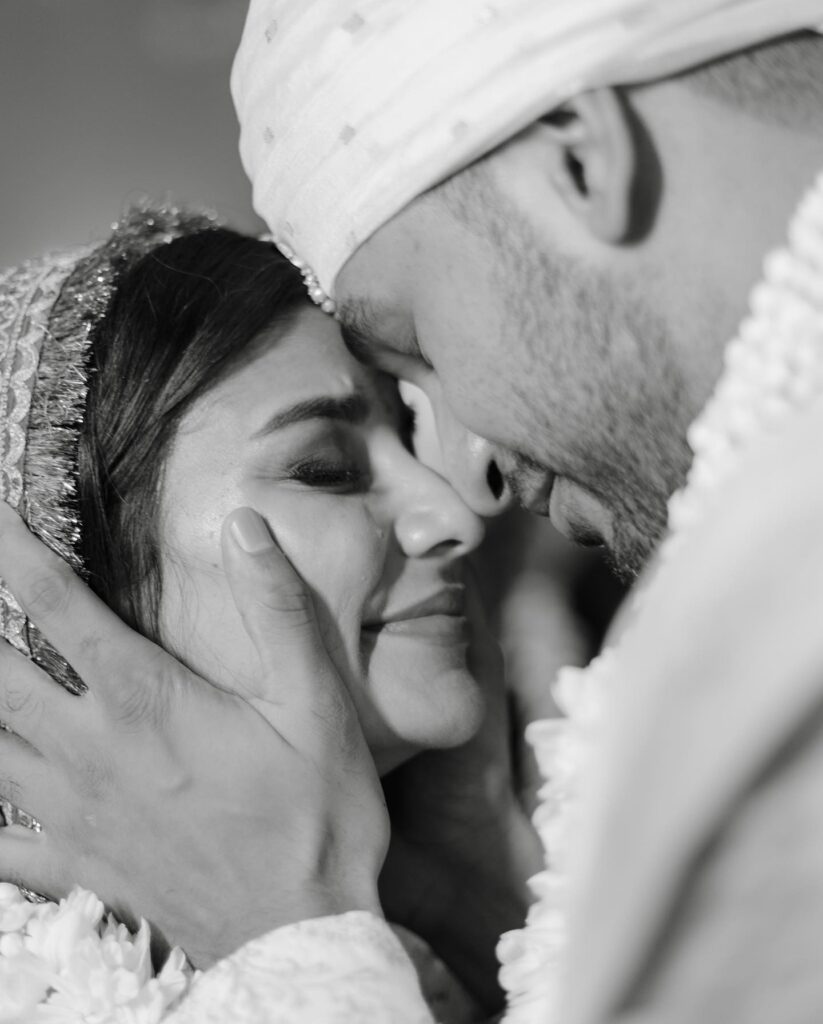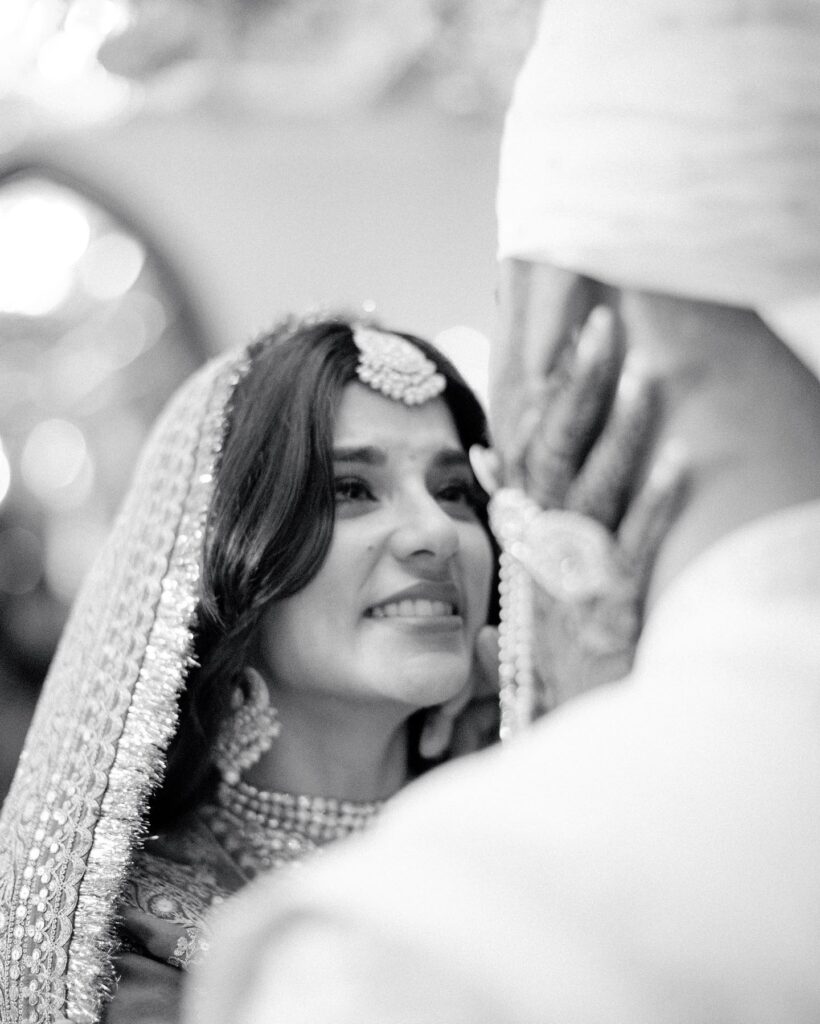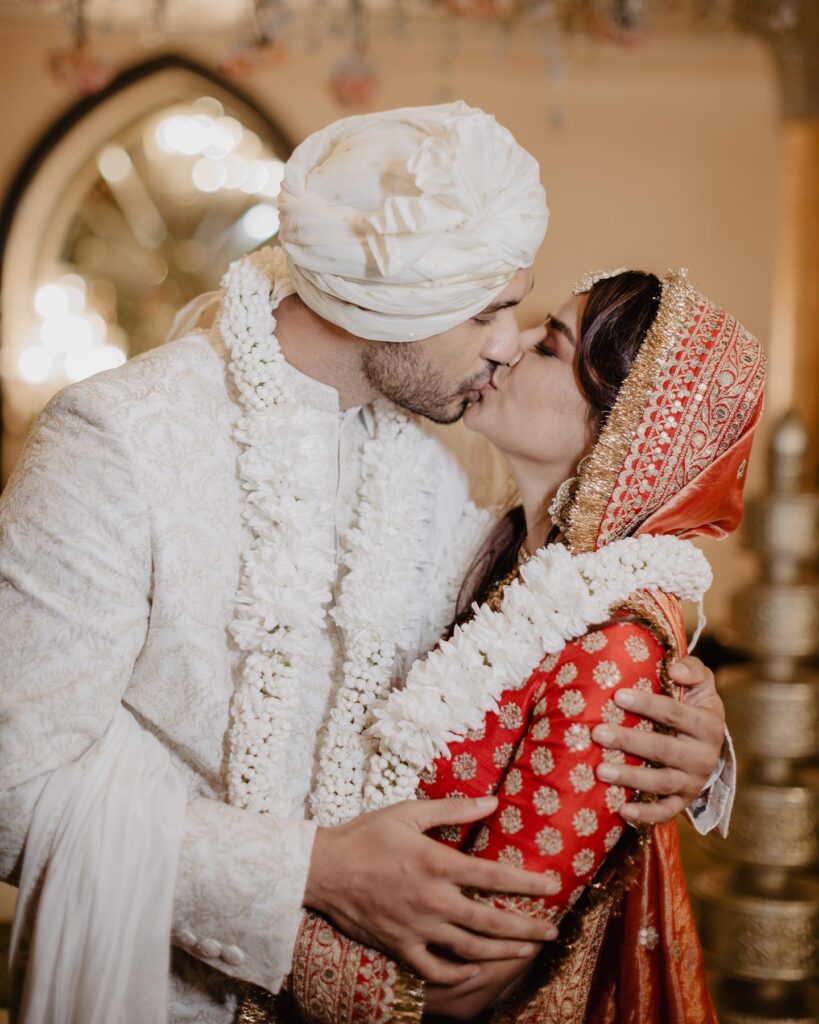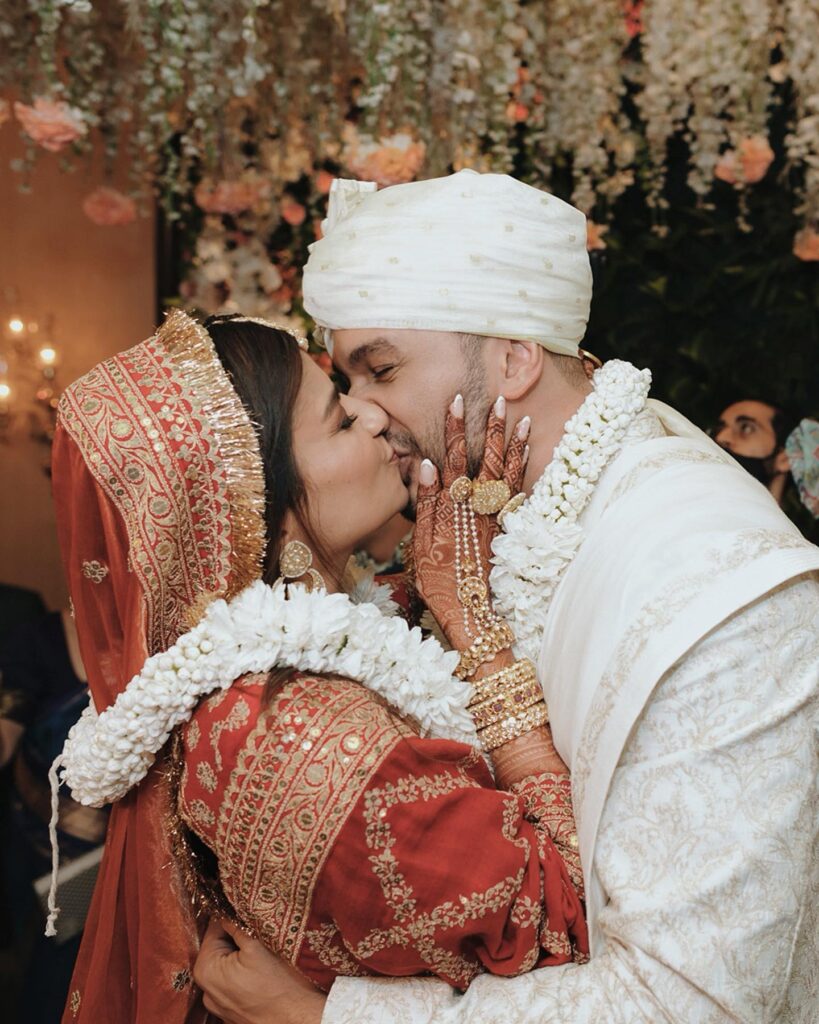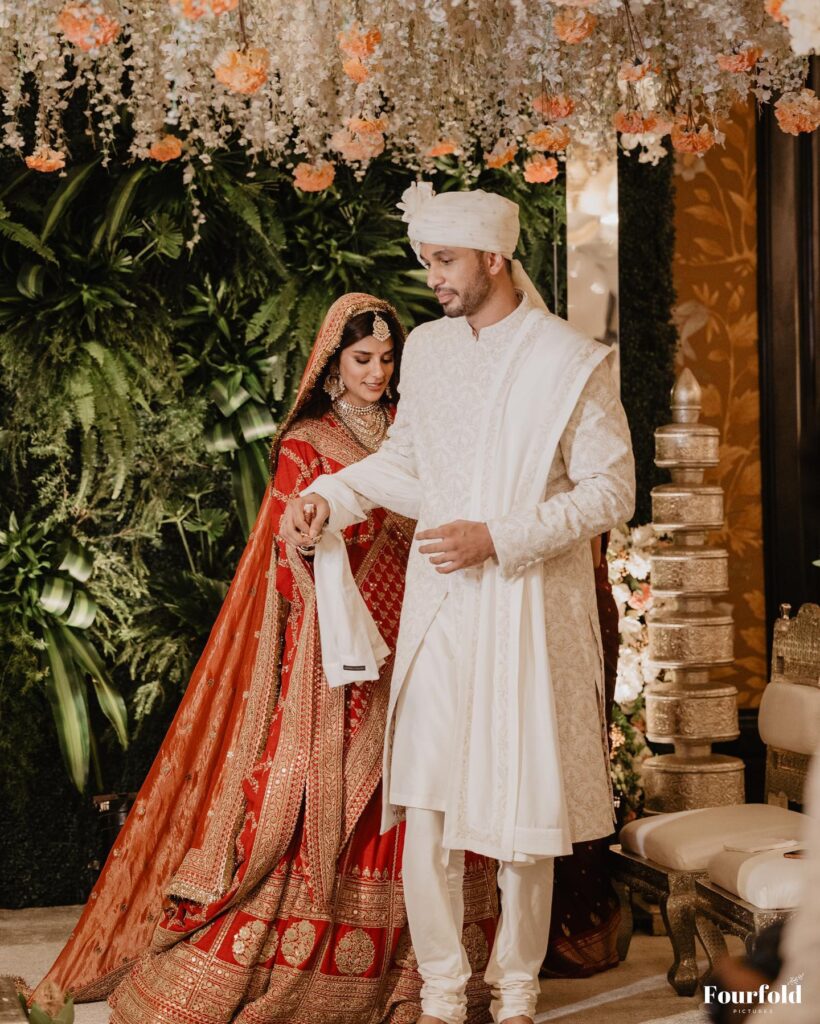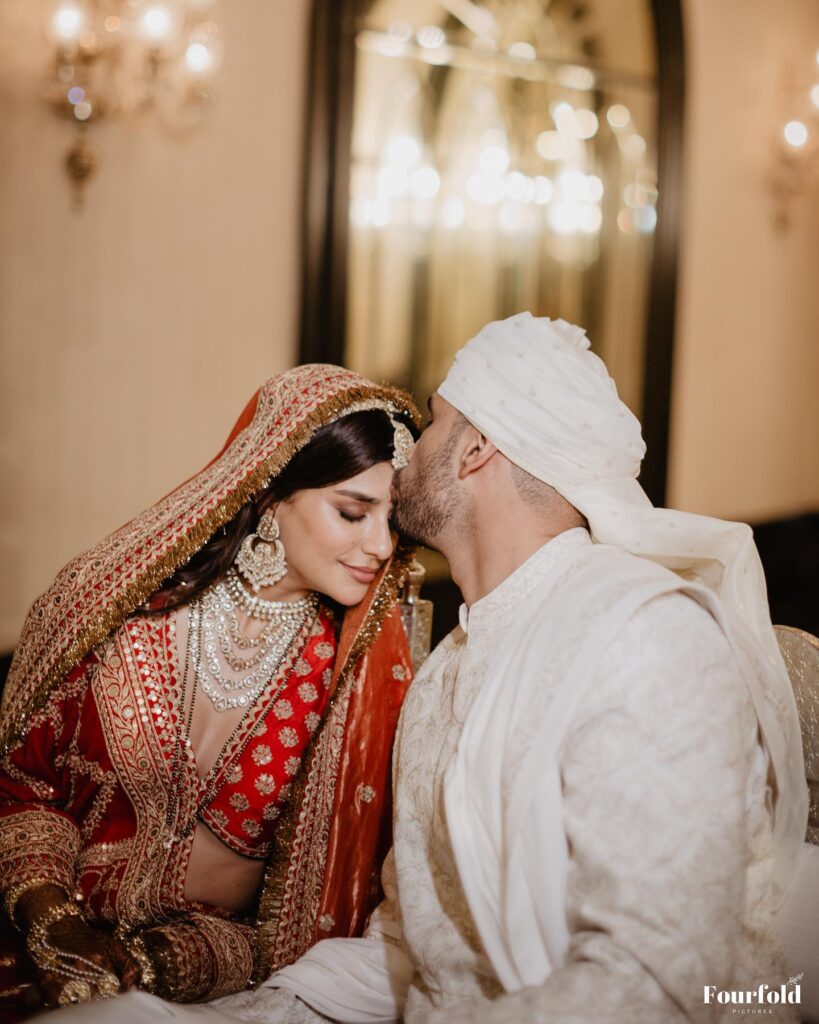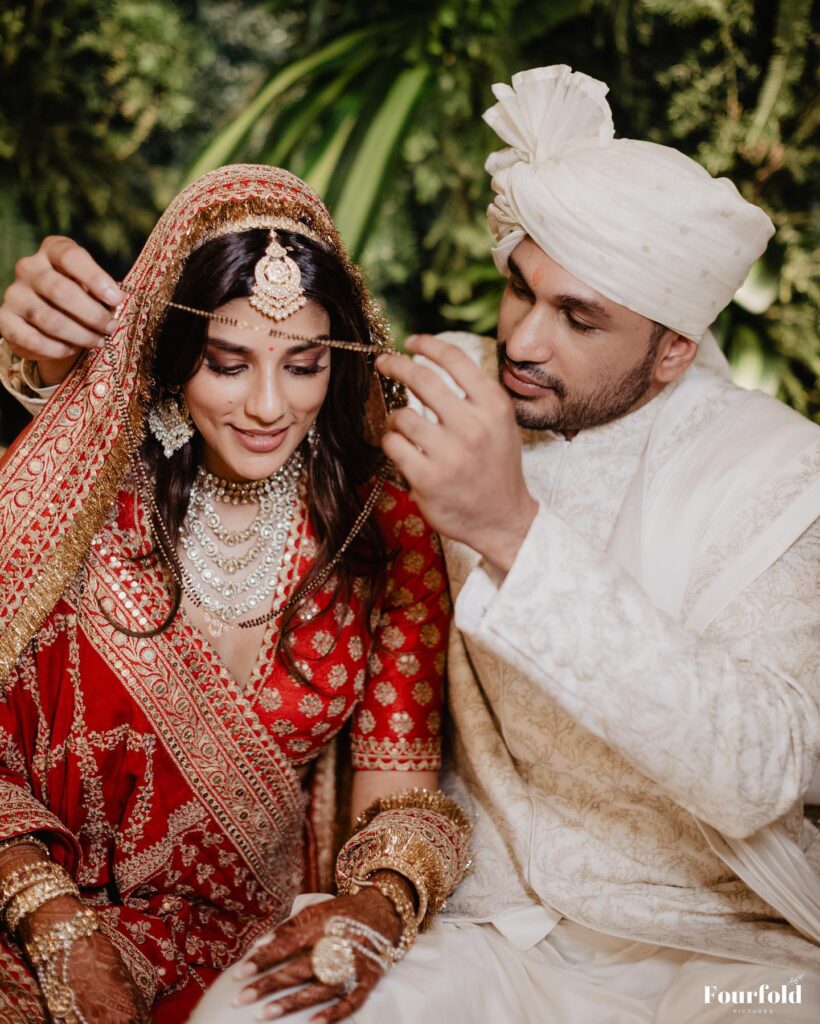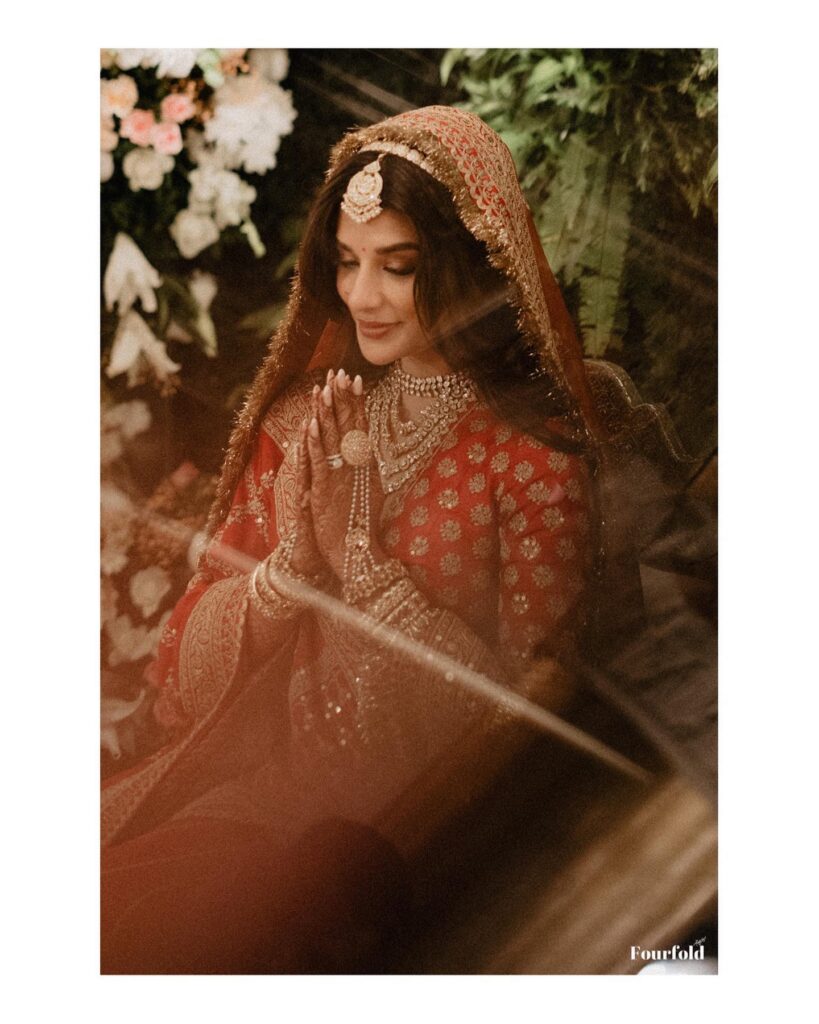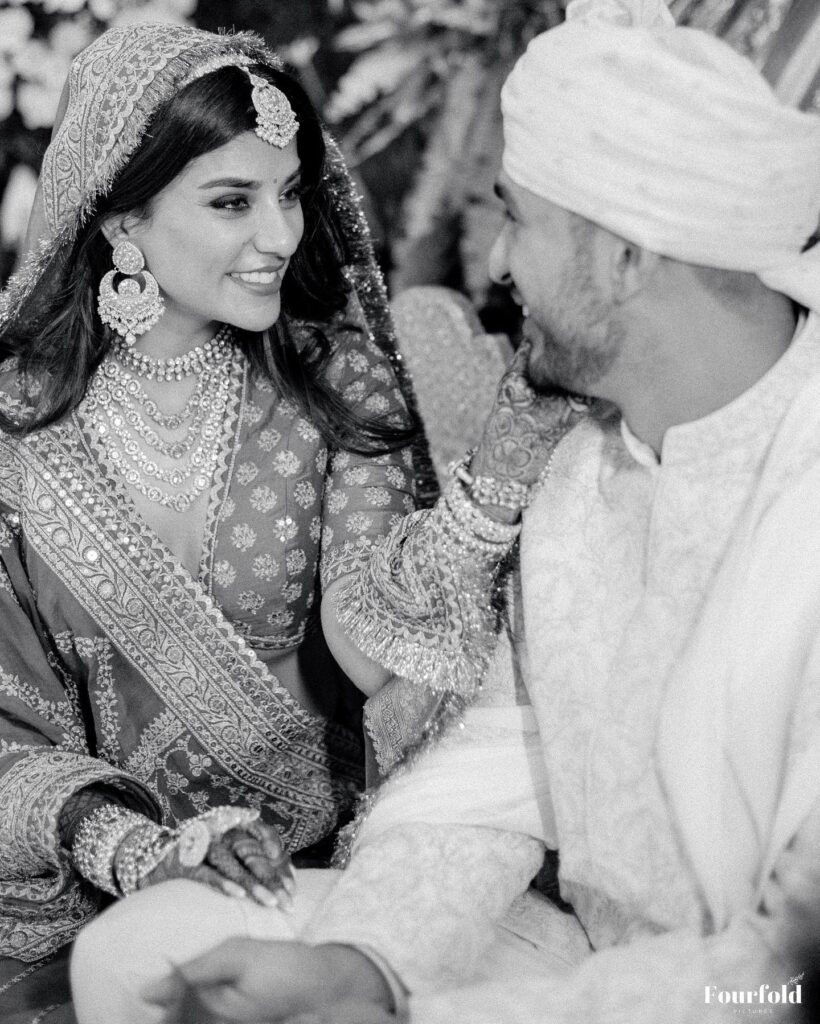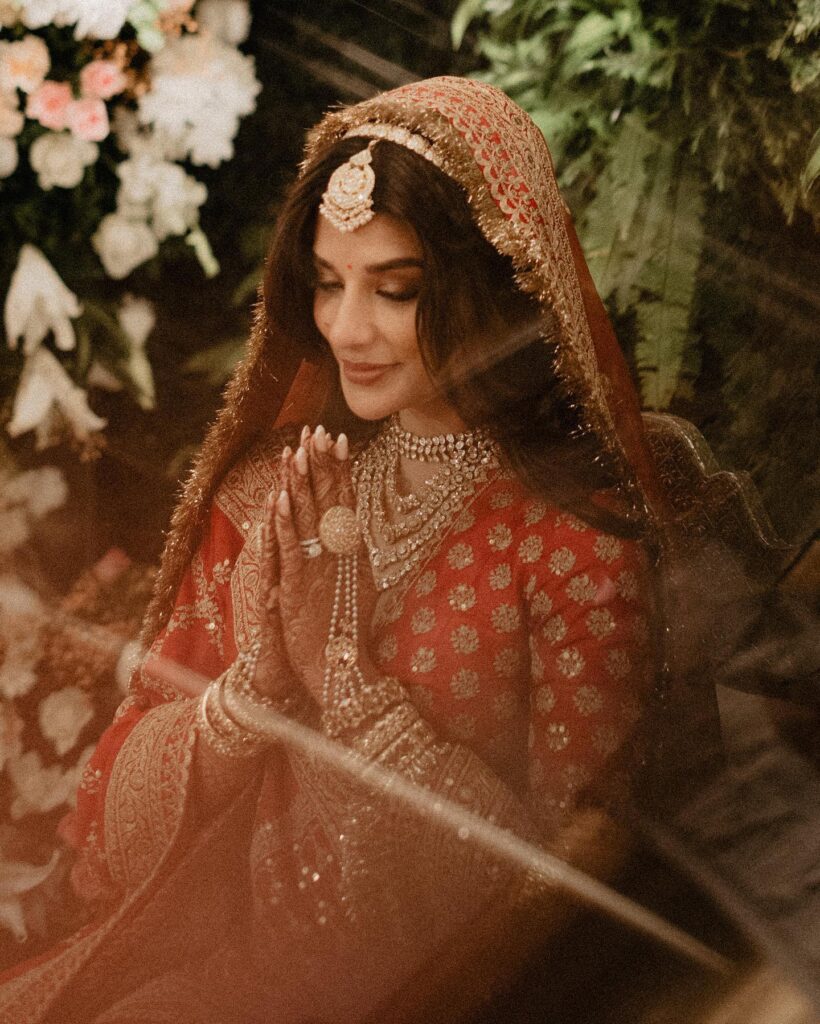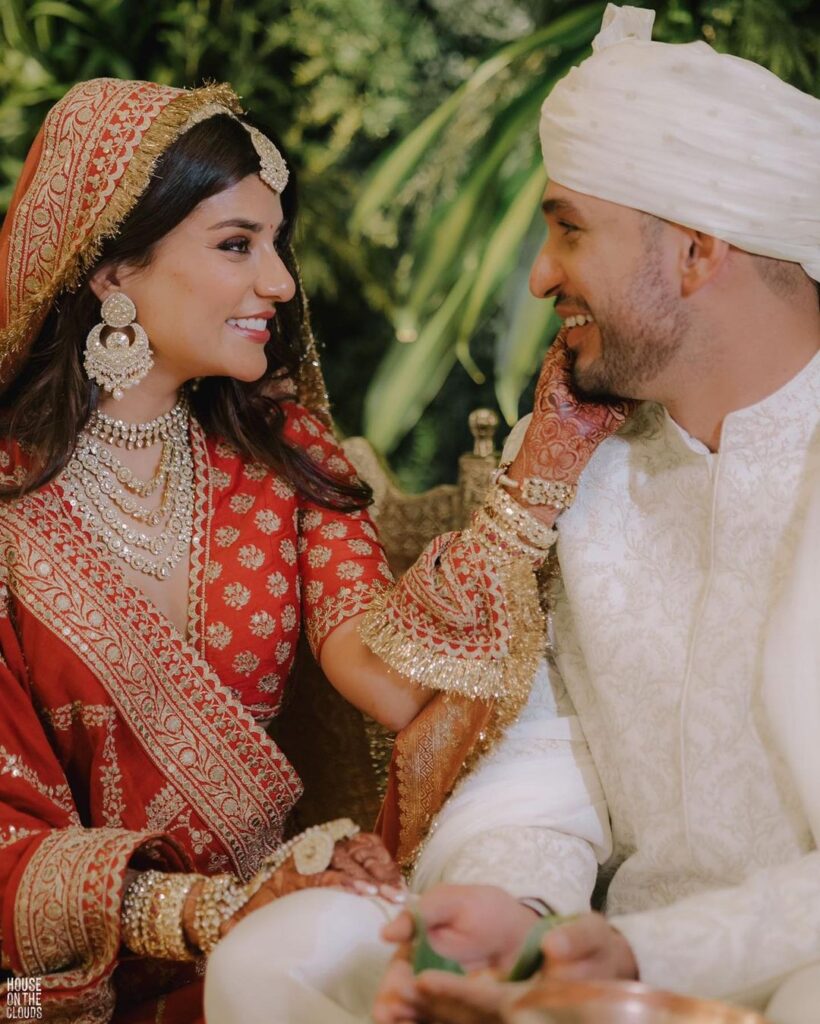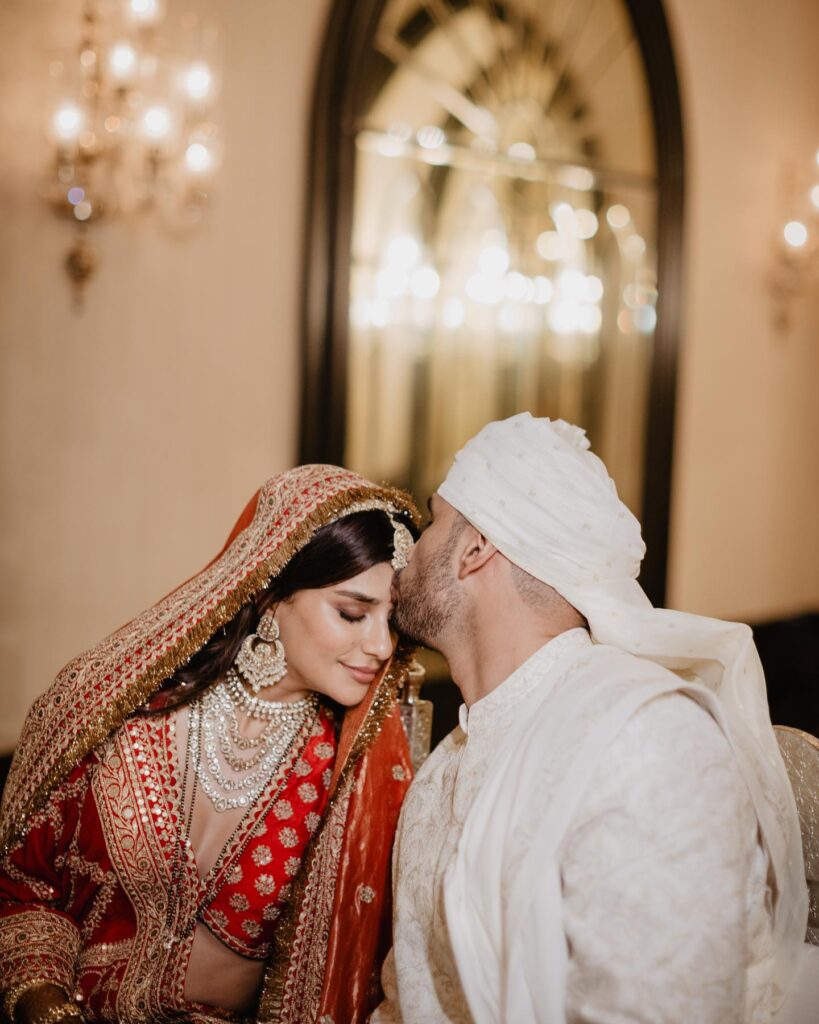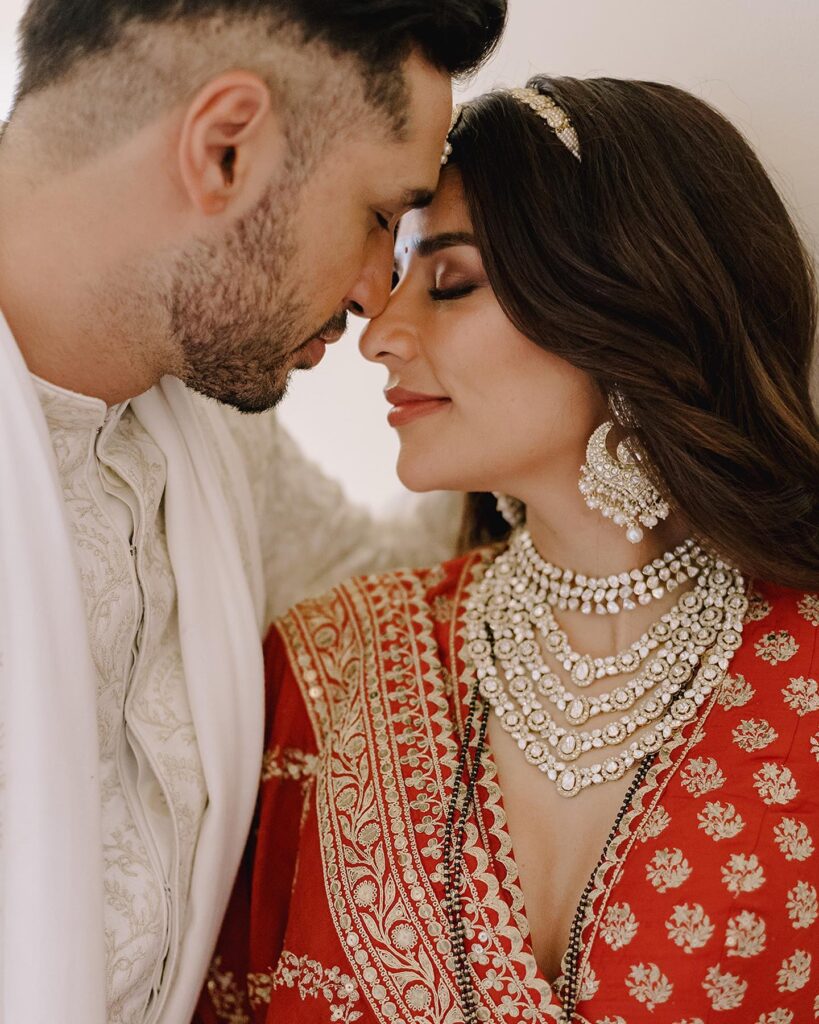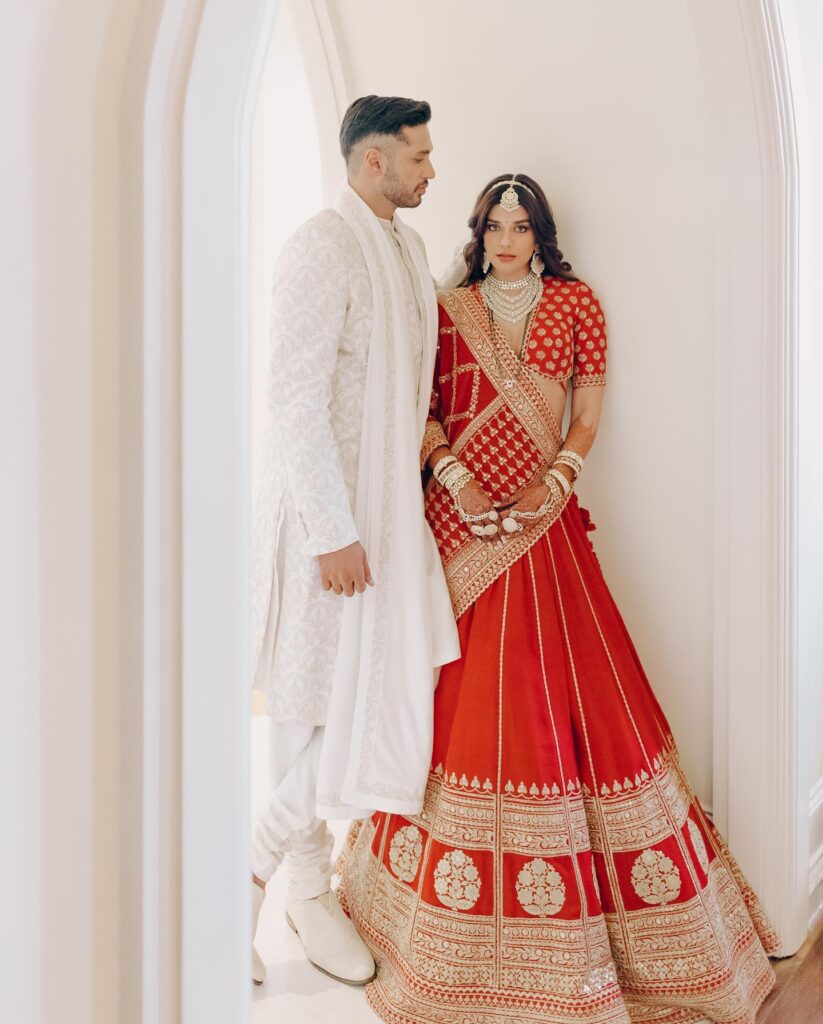 On their mehendi, Carla also opted for Anita Dongre's creation, and being her model for years, she wrote this about the designer on social media, "When choosing my wedding looks I knew immediately which designers I wanted to wear, one being @anitadongre. I have always admired Anita as a woman who inspires other women around her, who cares for the planet, for her compassion, and love for life. Being a model for her brand for years we had grown to become friends and she was one of the first people I told when I got engaged to Arjun. Anita's designs are playful, vibrant, and feminine and I knew the brand would be the perfect pick for my mehndi outfit. I chose a Fuschia pink lehenga, low-cut choli with matching dupatta and potli. The silver work and touch of turquoise made the outfit come to life and I loved it the minute I saw it. I felt like an absolute princess wearing it. Thank you @anitadongre for being a part of our special occasion. Love you forever."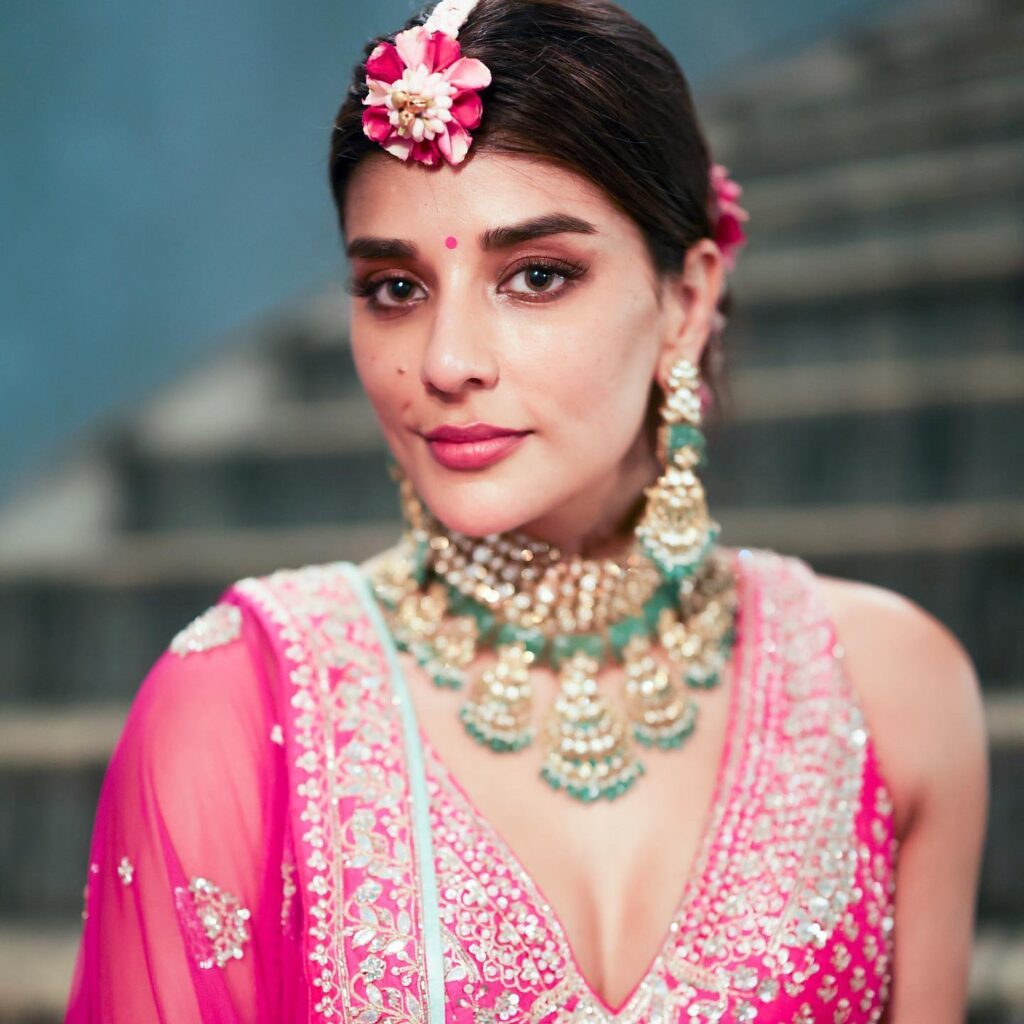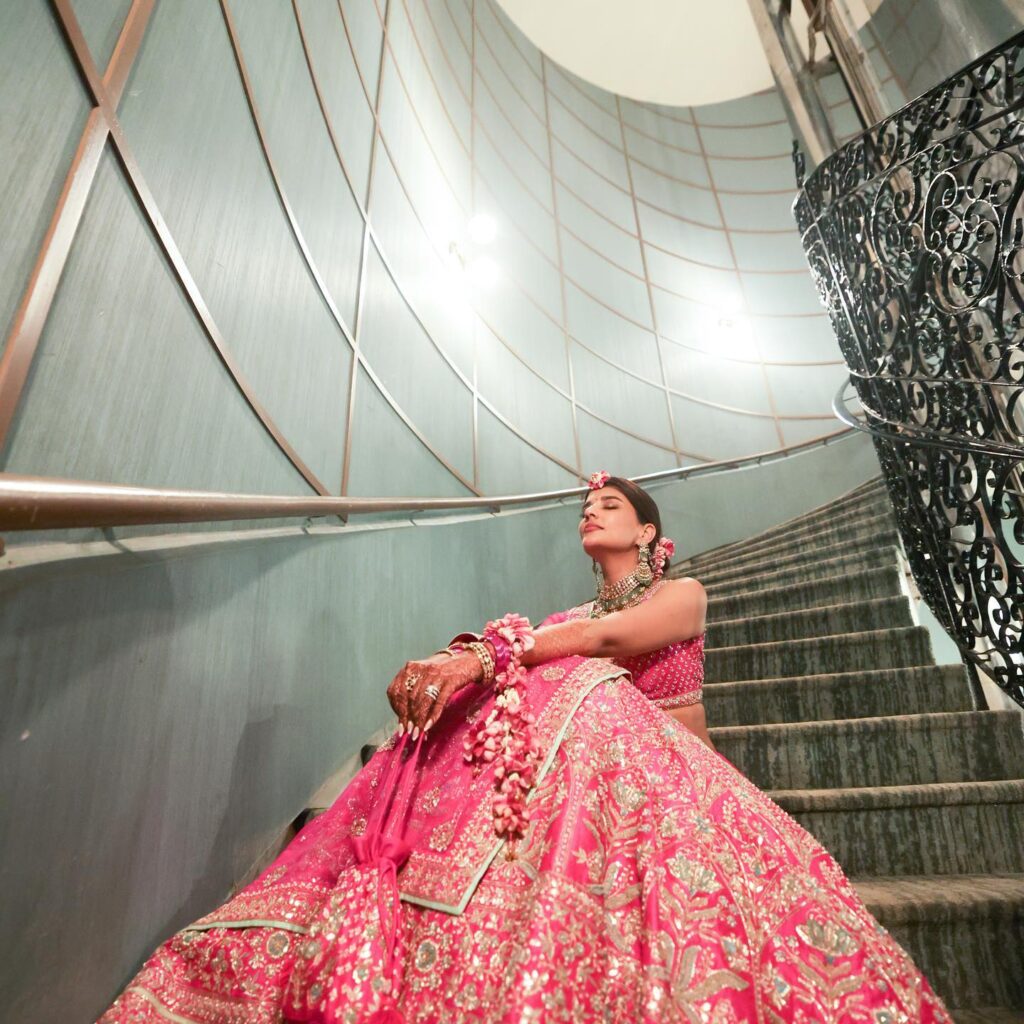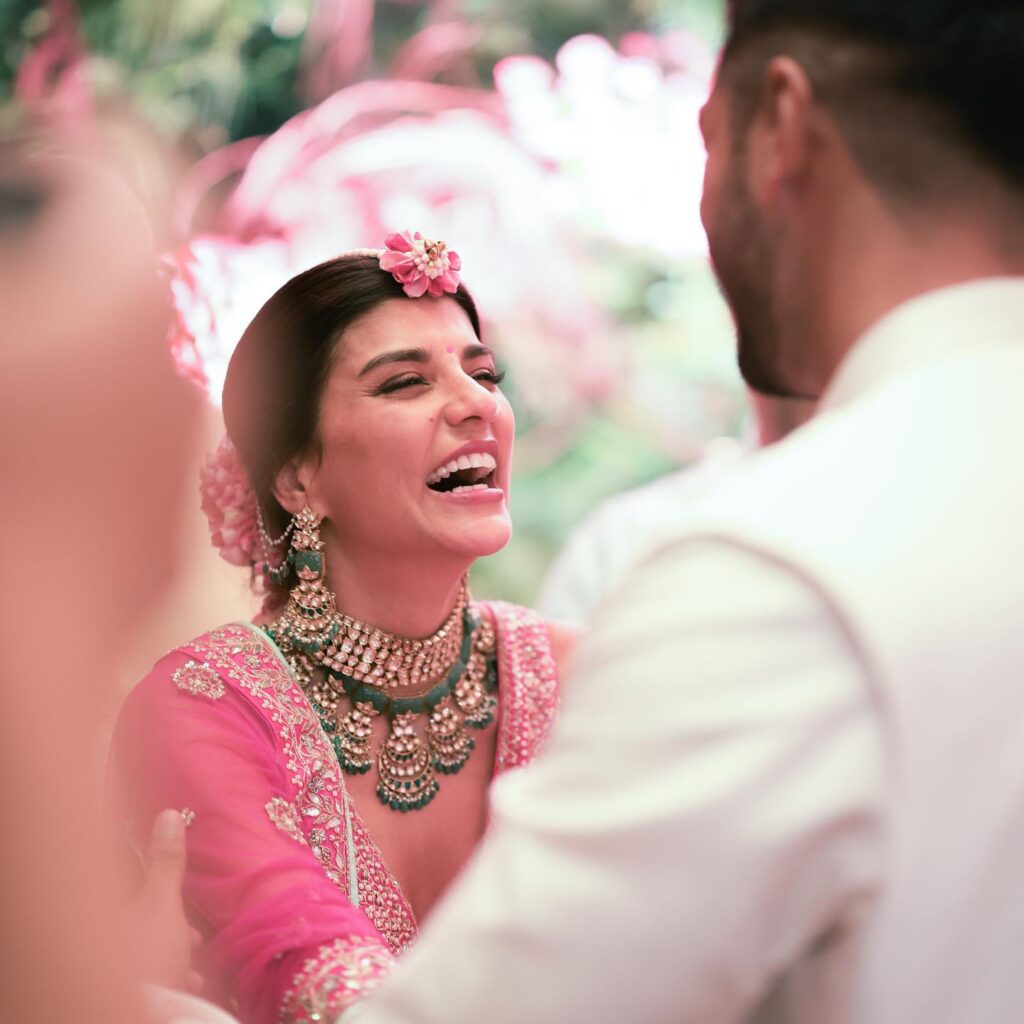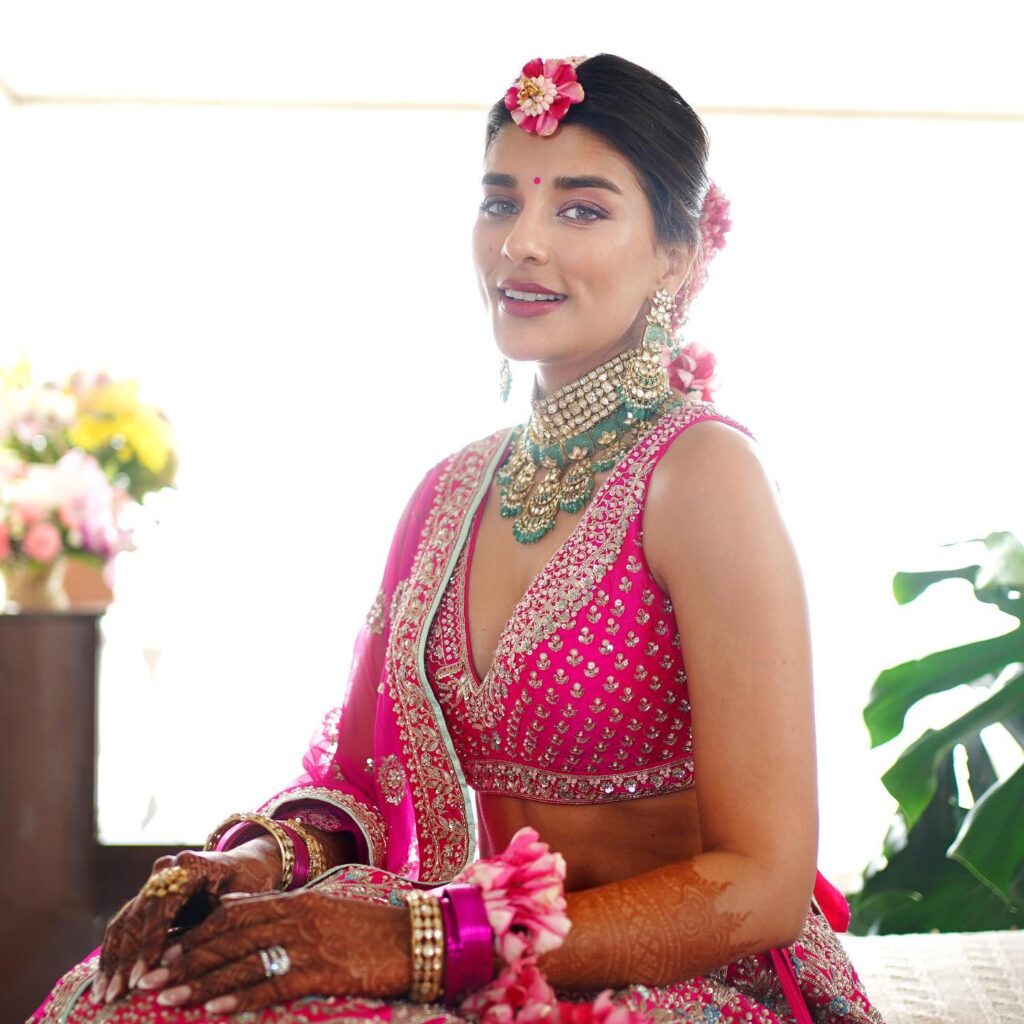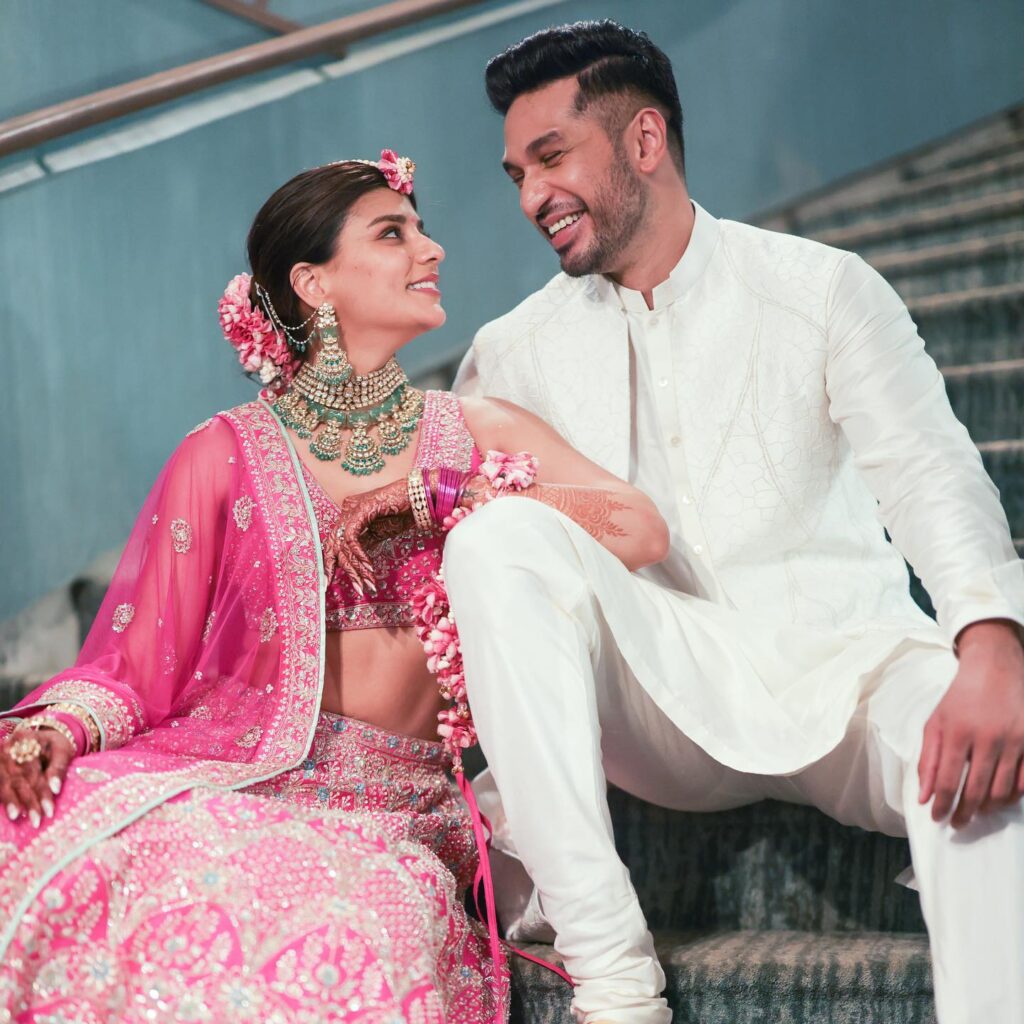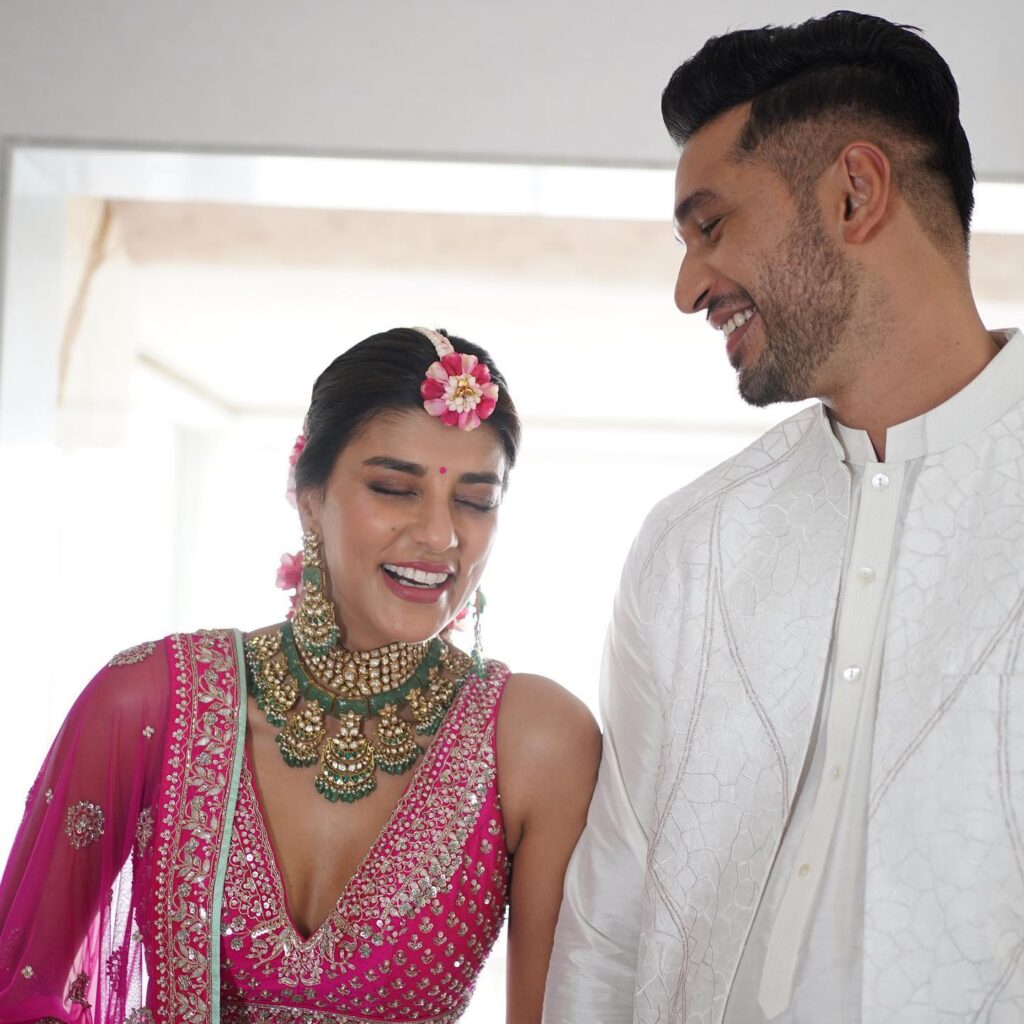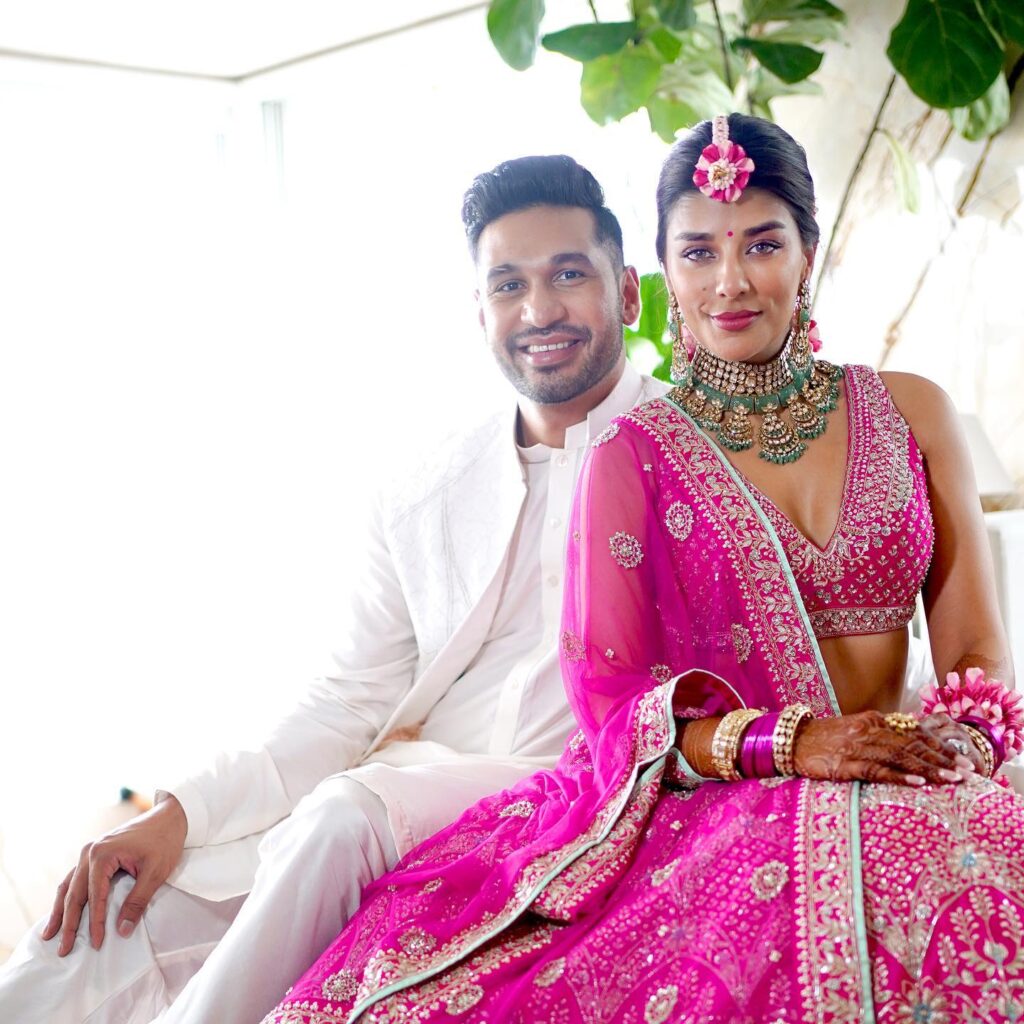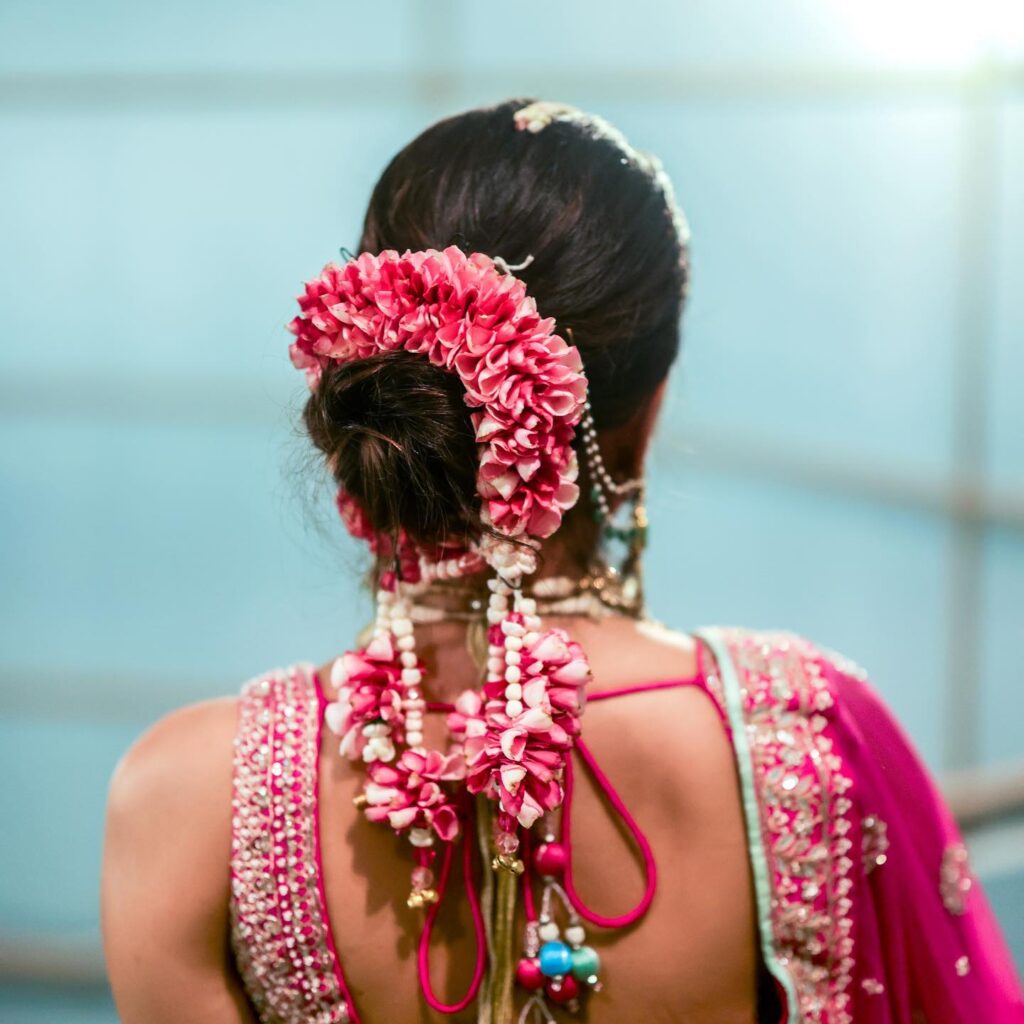 After gracing us with their stunning wedding pictures, the couple also gave us a glimpse into their first night out as Mr. & Mrs. Carla, being her graceful and elegant selves, donned a white sequinned saree by Falguni Shane Peacock. At the same time, Arjun wore a tux from couturiers Sarah & Sandeep for the occasion.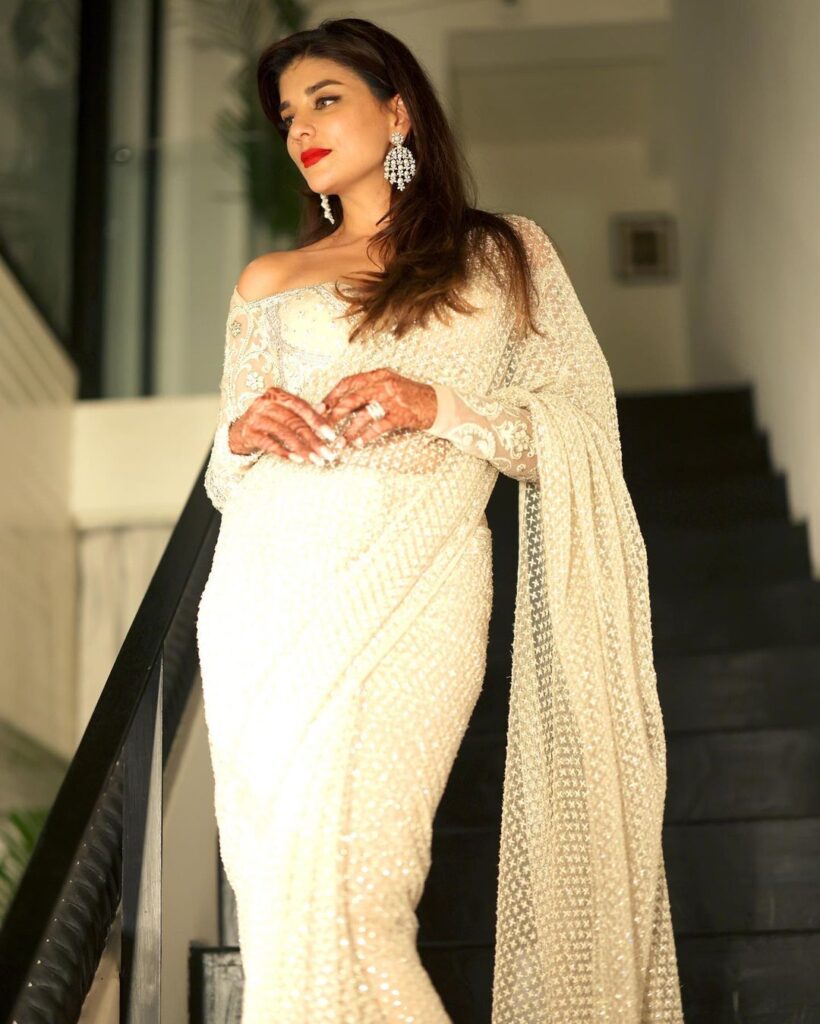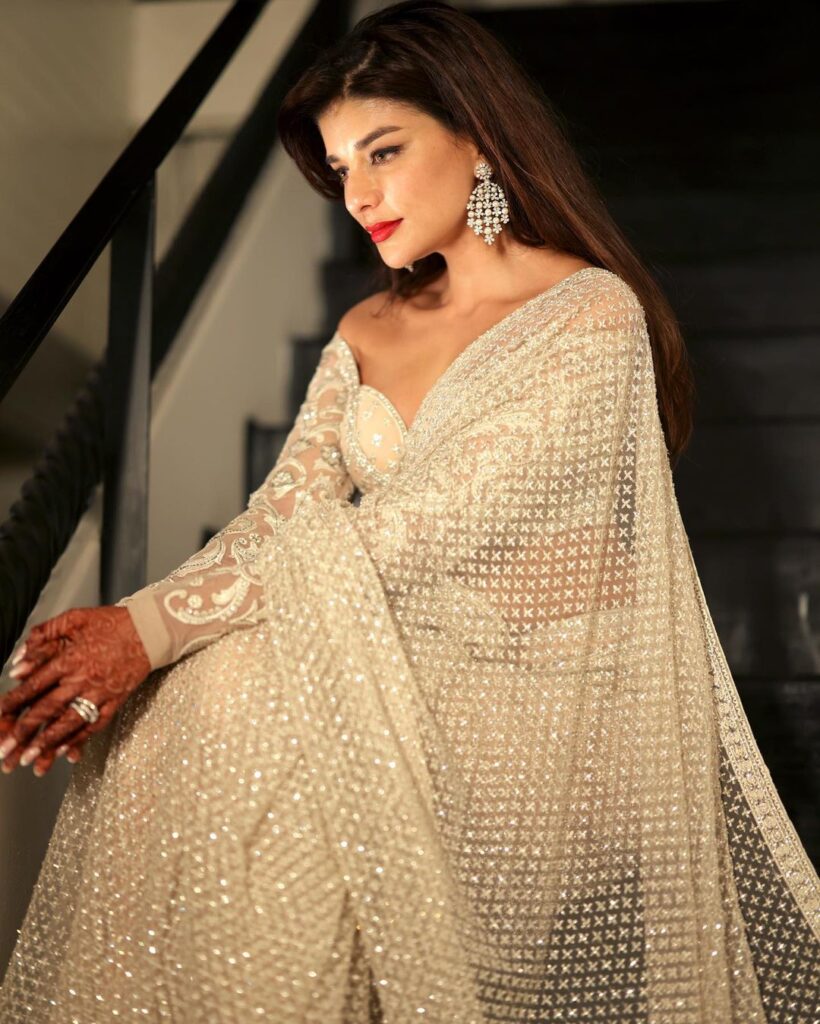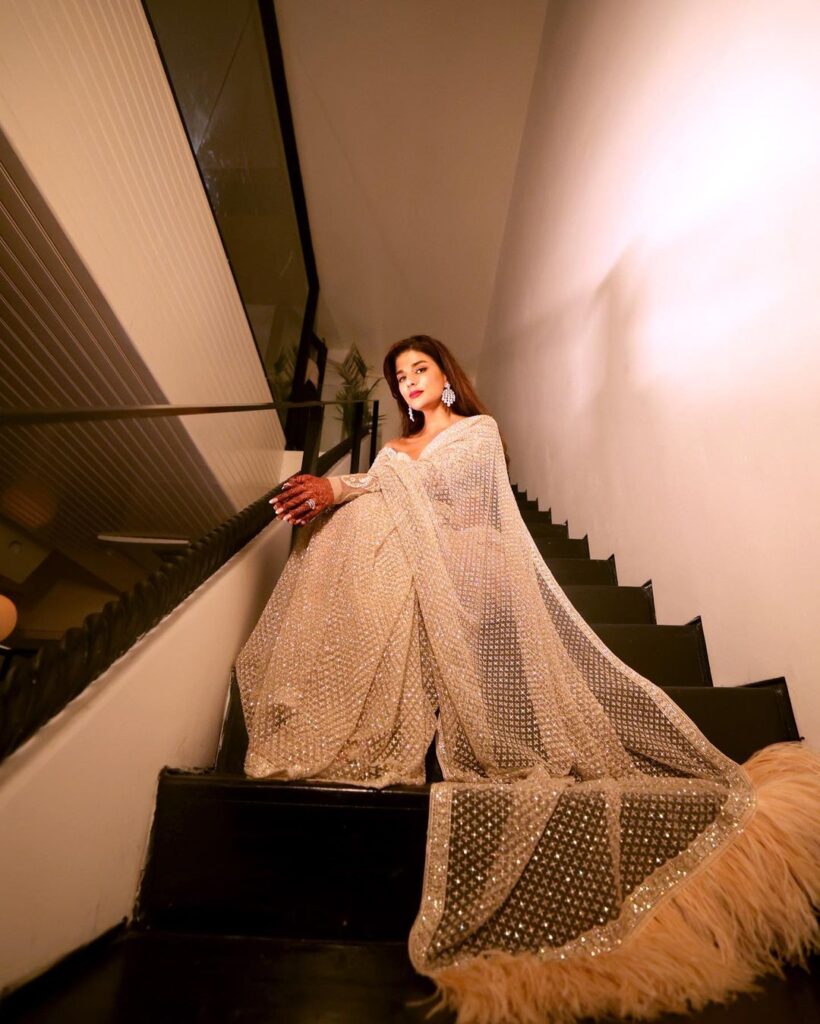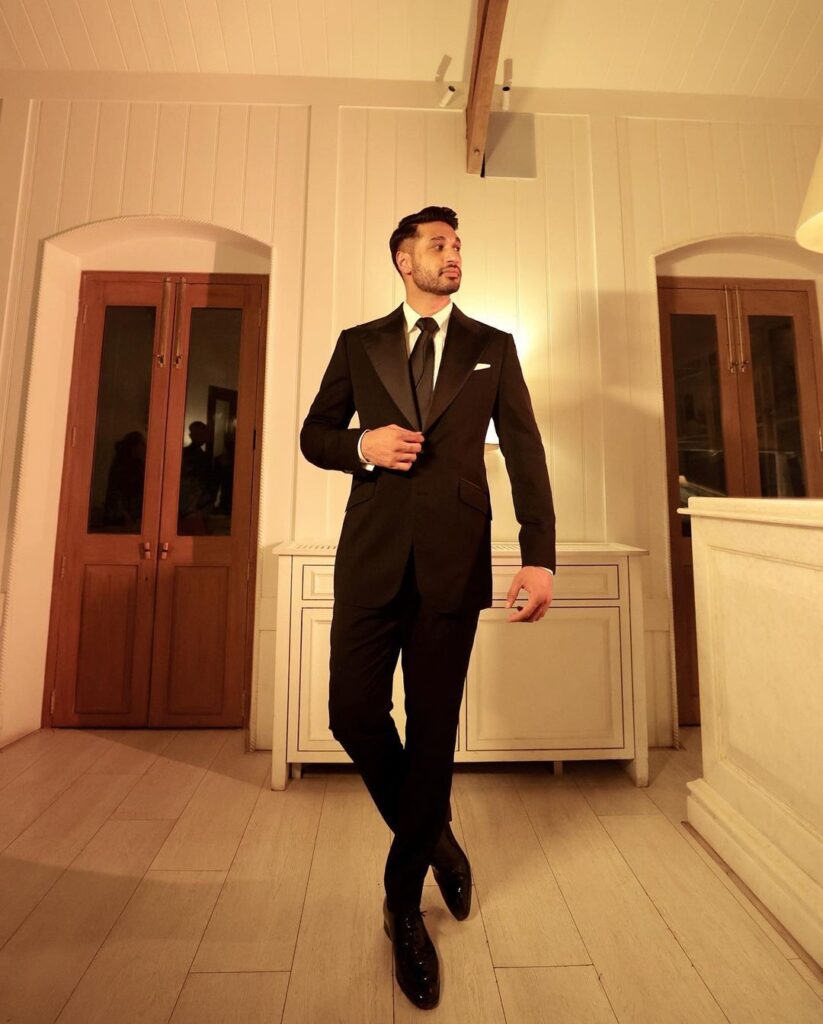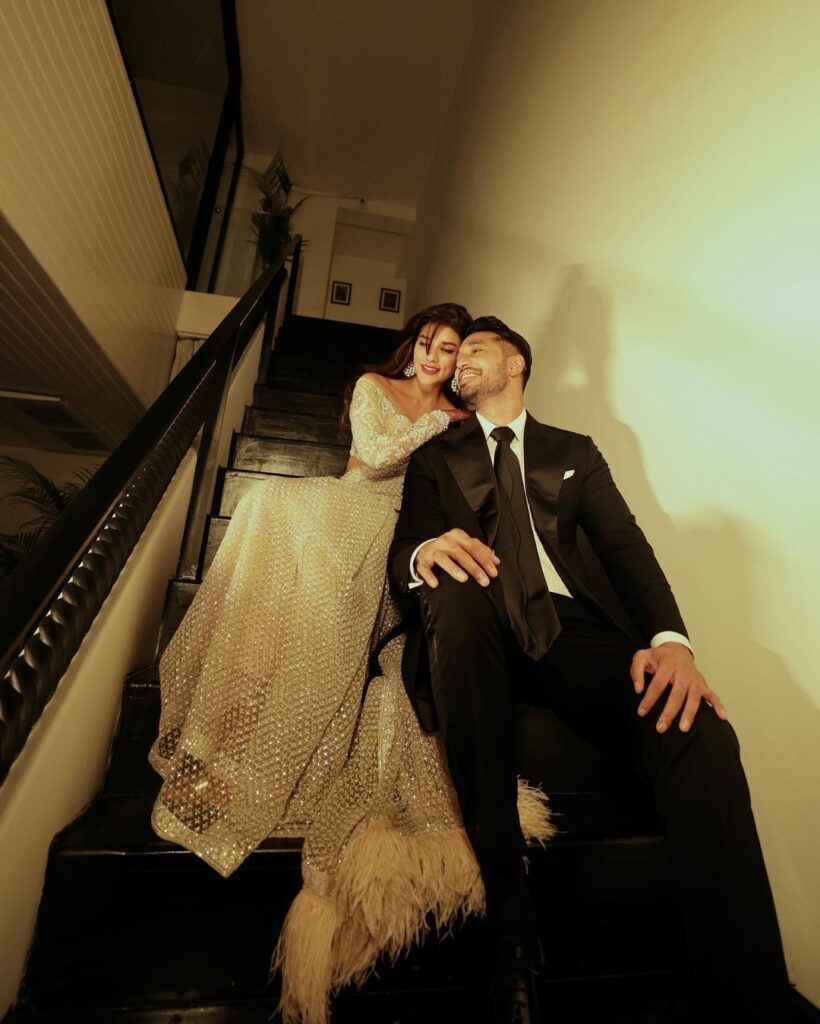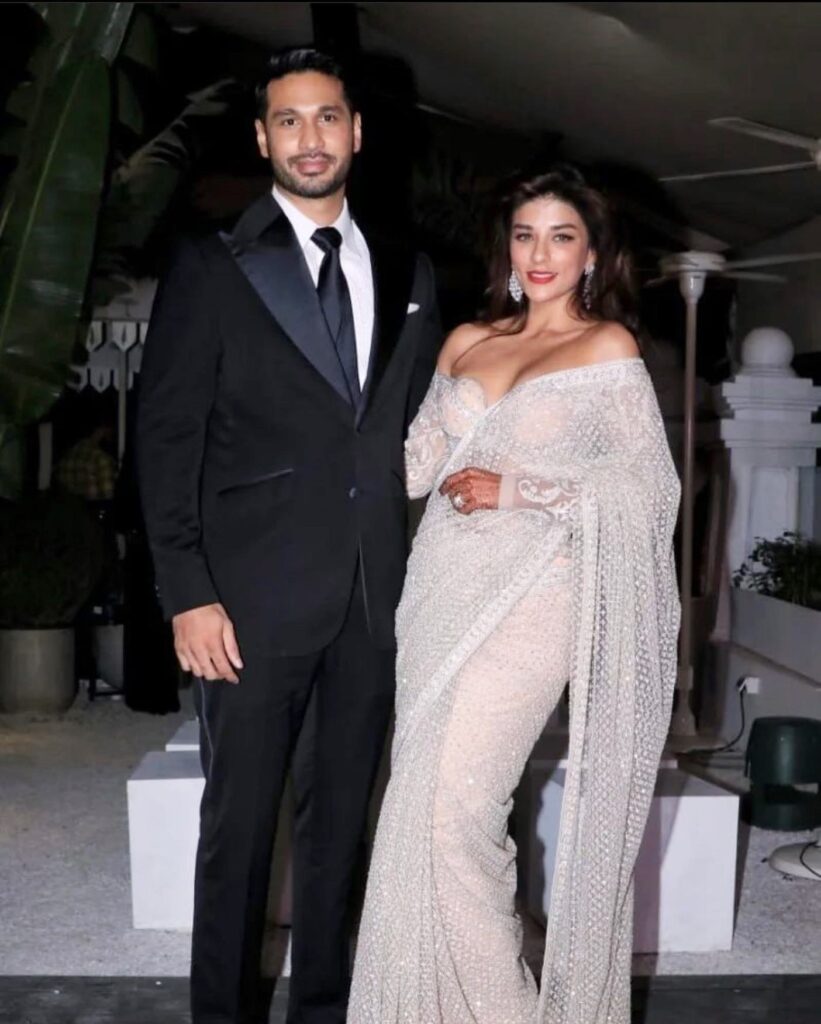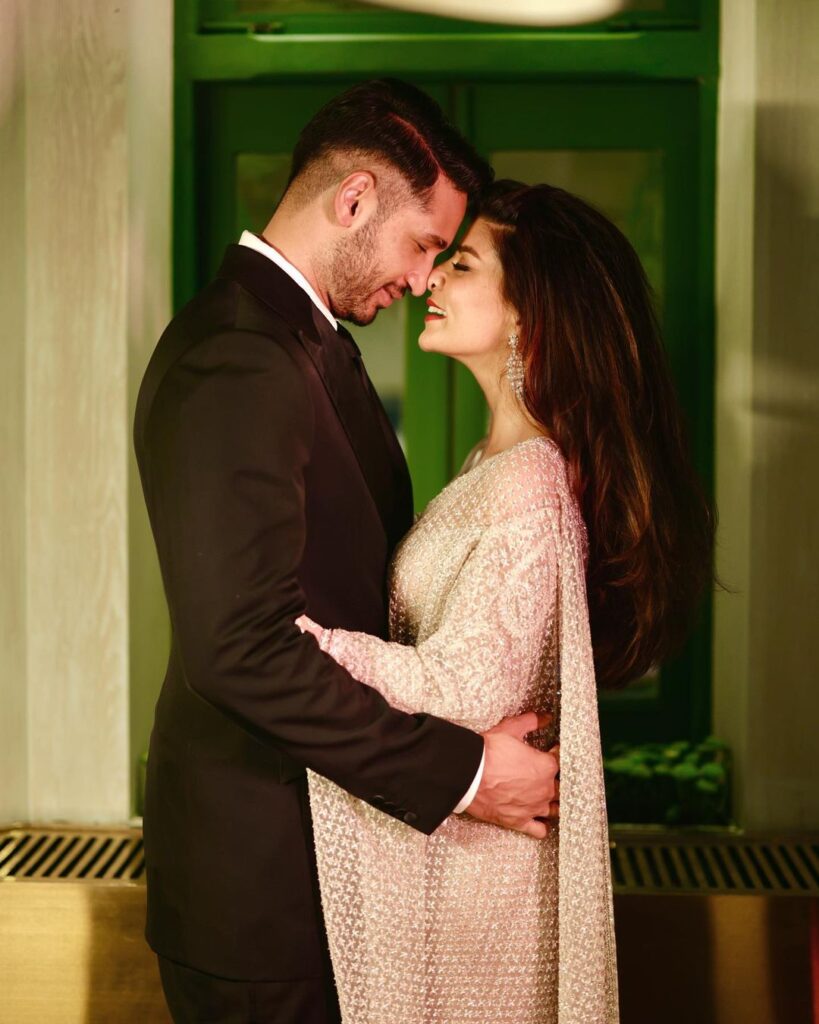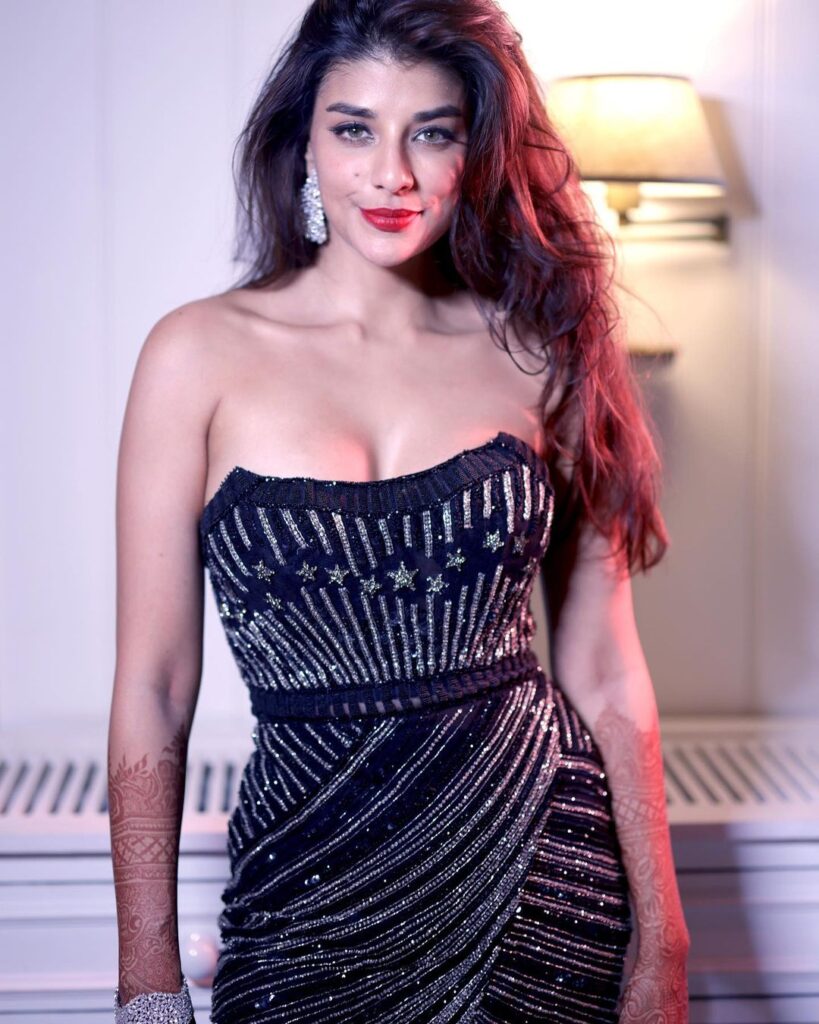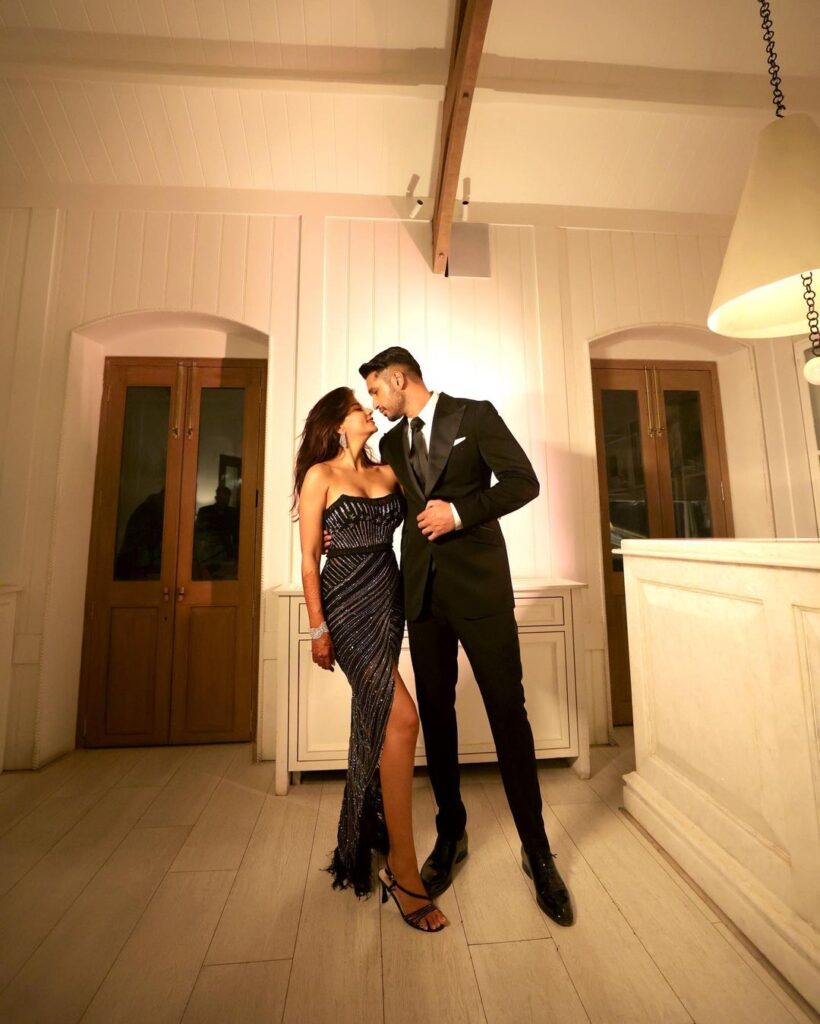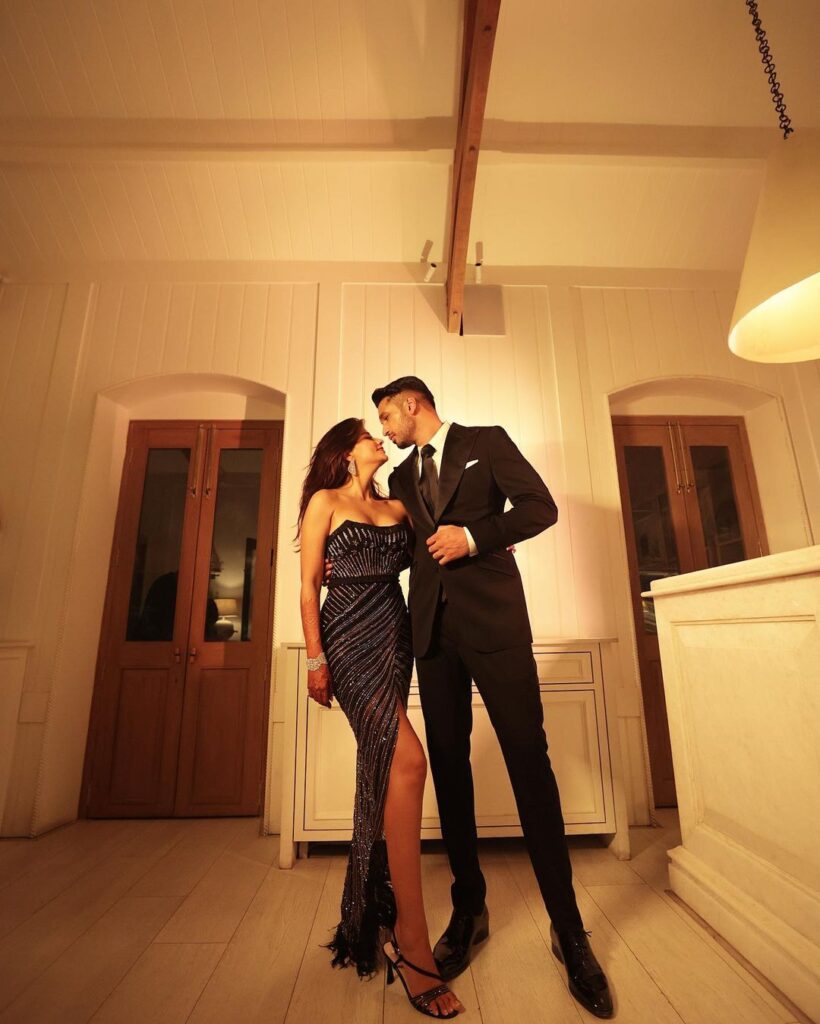 While posting her wedding pictures, Carla also announced her plans to be an Indian citizen soon in her post on Independence Day and called India her adopted country, "Happy Independence Day India, I am soon to be an Indian citizen and I am so proud to have you as my adopted country for your incomparable warmth, cultural diversity, and scrumptious food. Thank you for accepting me as one of your own."