There's nothing that will spice up your Indian outfit look like gorgeous sexy backless blouse designs! We've admired them as Bollywood divas for a long time. And now the raging trend has seeped into offscreen ladies as well. We're definitely all hearts for it!
A sexy backless blouse adds a charming appeal to your outfit – no wonder people say a blouse can make or break your Indian wear look. We've curated a backless blouse design catalog for all kinds of ladies – so whether you want to wear it on a saree or a lehenga or looking for blouses with a specific feature like a dori/ knot blouse back- this list has got'em all. 
Let's dig straight into it! 
Sexy Backless Blouse Designs For Your Indian Outfits!
The Classic U Shape With A Statement Accessory!
A completely bare-back hot backless blouse design with a U-shape cut is an ideal pick for anyone who doesn't like to experiment with their outfits. Benarasi saree, donut bun with gajras, and a statement blouse – the whole ensemble is an amazing inspiration for our newly-wed brides. 
Super Hot Sleeveless Backless Blouse
Set the temperatures soaring with your saree by pairing it with this sleeveless backless blouse design. If you're the shy kind, let your tresses hang loose instead of tying them in a bun.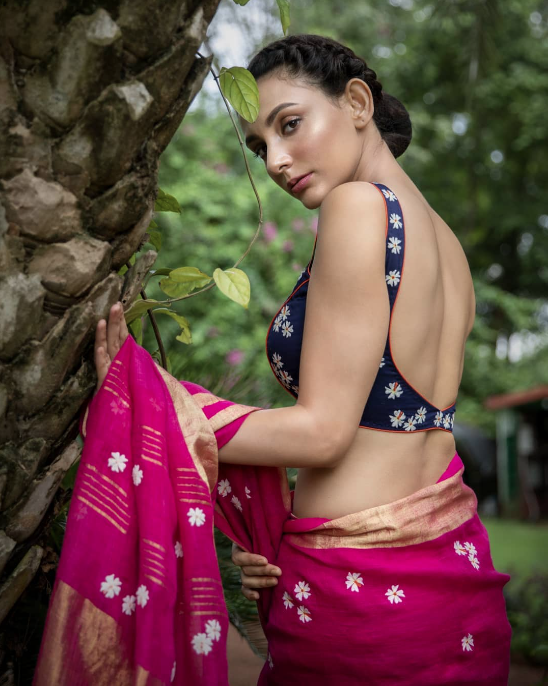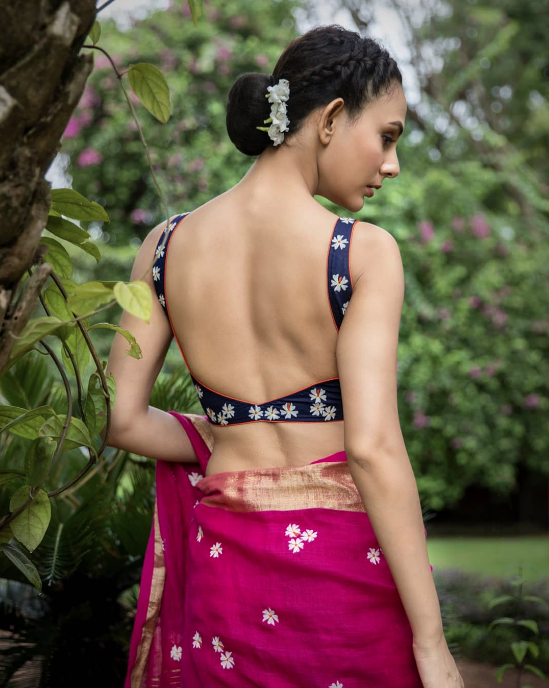 Deep Round Cut Backless Blouse Design! 
Bride Sonaakshi Raaj's wedding was admired on the Internet by all. The Mumbai-based designer created all her outfits for the wedding and they were all head-turners! For the big day, she teamed her pastel pink lehenga with a round-cut backless blouse with knot. Israni Photography captured the bridal details with such perfection, it was hard to take our eyes off any of the snaps. Doesn't it make for a superb pick for your bridal lehenga blouse? We think so!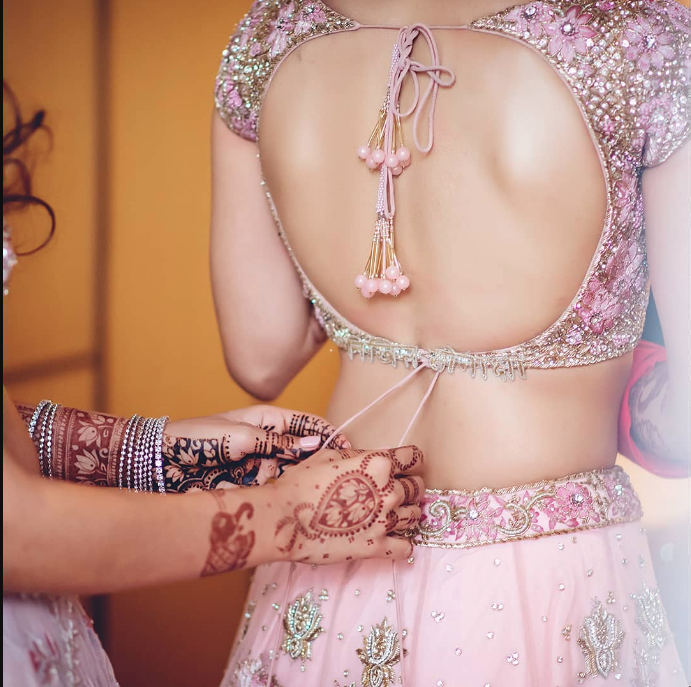 Subtle One With Statement Tassels
A straightforward and versatile sexy blouse design for lehenga, perfect for those who don't want to go extra on their D-Day. Adding statement tassels and accessories is a nice way to spruce up your sexy backless blouse designs and make full use of them!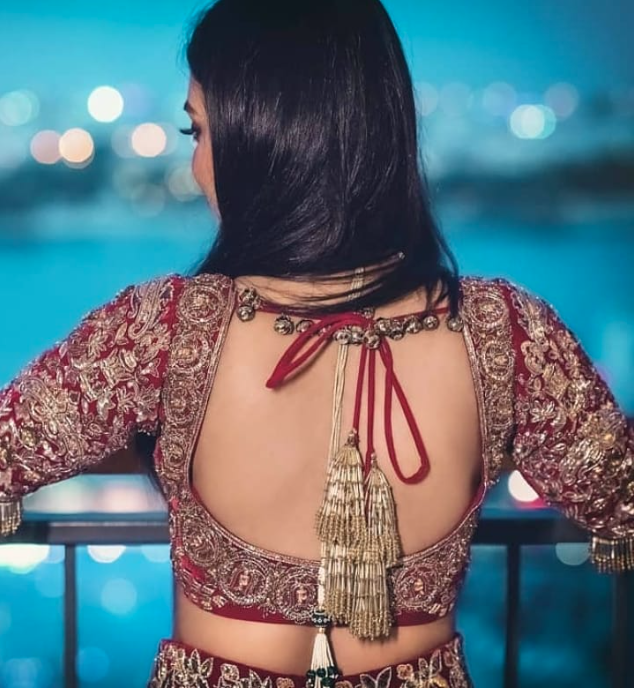 V-Shape Blouse Design
We're in awe of this deep backless blouse design with a V-cut! Team it up with a low bun to relish the utmost attention.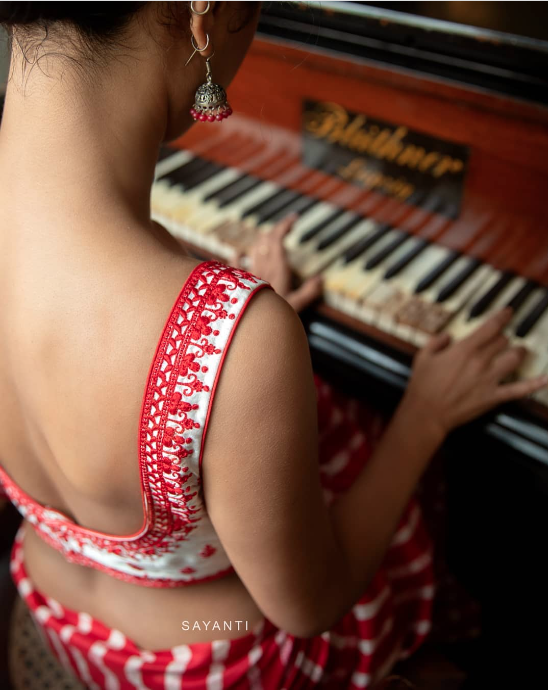 Backless Blouse Design With A Dori!
When we talk about backless blouse designs, it's hard to skip the charm of one with the doris. Love love love the way the bride amped up the blouse with mirror-work tassels. If you're apprehensive about going completely backless, just add these big tassels to cover up a little. For some additional drama, get some ruffle sleeves as well.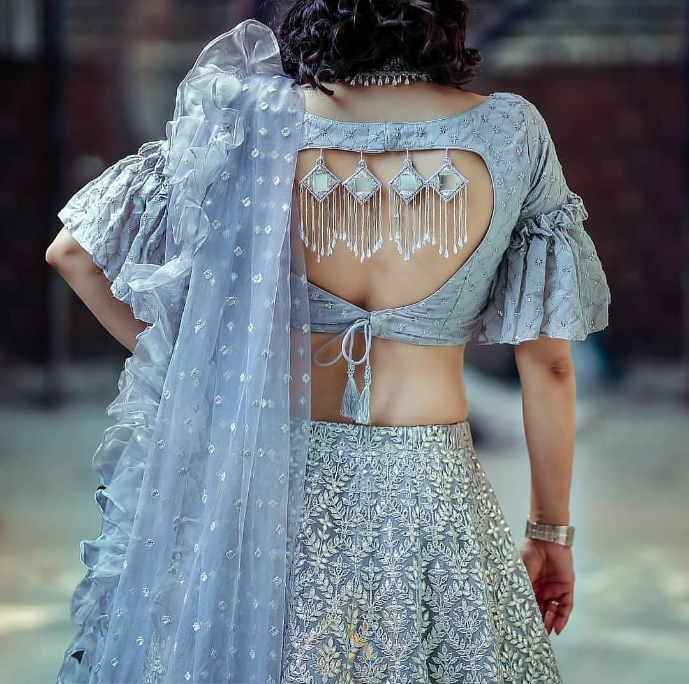 Sheer Net With Little Hearts!
While searching for unique backless blouses online, our eyes were stuck on this one! We've never seen such an unusual design. Not only does this have a noteworthy cut but the little hearts and the sheer cloth is making it the perfect piece to set a remarkable fashion statement! Bookmark right away.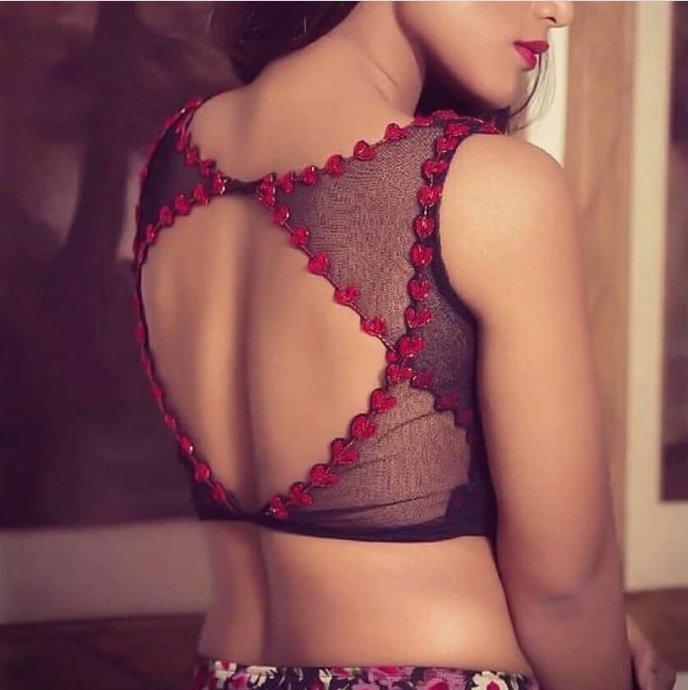 Such An Aesthetic Mix Of Colors
A modish pick for our millennial brides. The contrasting colors in this ensemble are everything. The way the pink flowers match the pink blouse and blue saree match the knot is so aesthetically pleasing. If you've got a floral saree, opt for a gorgeous blend of colors like this one in your blouse design and get set for some flattering compliments.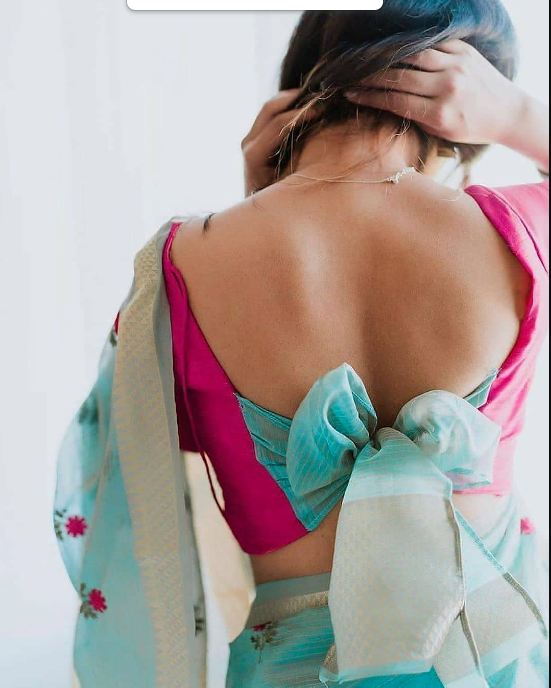 Simplicity is Elegance
If 'simple and elegant' is your fashion mantra, a basic backless design with a silk saree will surely impress you. Also, a great option if you are in a hurry to get your blouse stitched.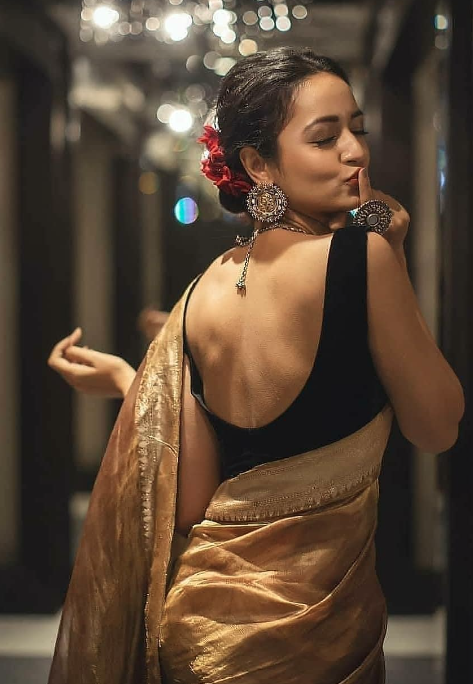 Bridal Goals? We Think So!
Being a bride requires immaculate planning of each one of your looks. For your chilled out mehendi function, why not opt for a spectacular backless blouse that will surely turn heads and look amazing in pictures as well! Throwing in some extra brownie points for the scalloped hem.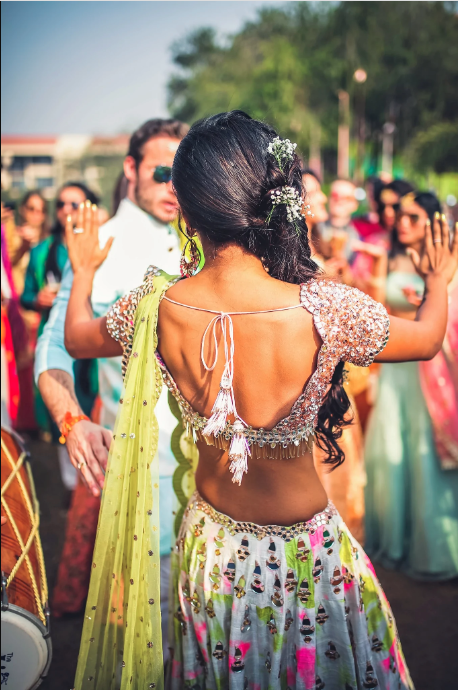 One Can Never Go Wrong With Customisation 
The viral blouse design took everyone by surprise! Customization always impresses us, especially when it looks this adorable.  We love how the bride didn't miss any chance to flaunt it and seal it in the memories forever.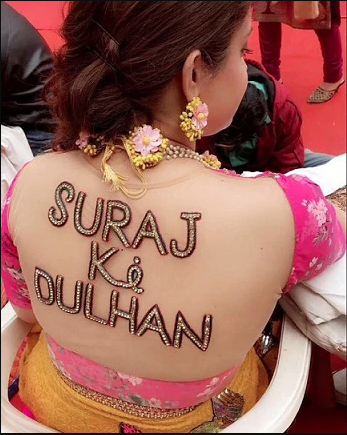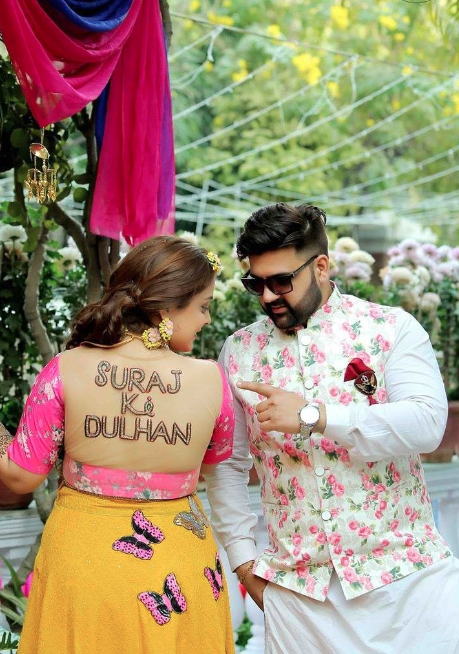 Oh Those Pretty Tassel Details
Tassels adds oodles of oomph to any part of Indian attire, whether it's a blouse or a dupatta. This saree backless blouse design, embellished with noteworthy tassel details, is one of the finest ones we've ever seen.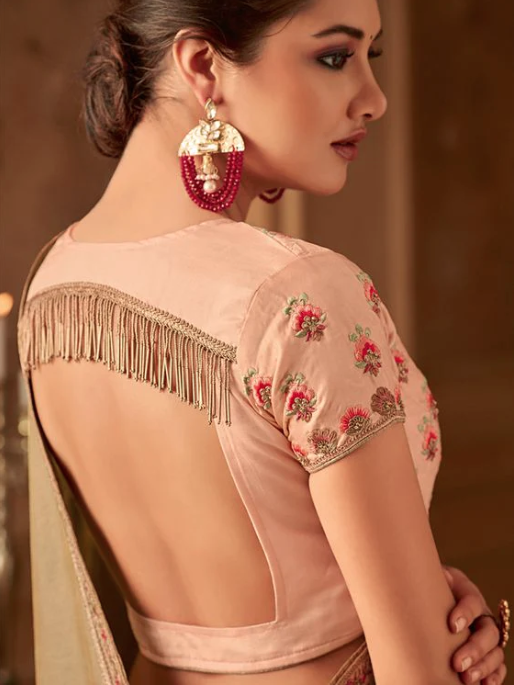 Manushi Chillar Showing Us How To Slay A Backless Blouse!
Manushi Chillar is a true beauty! She turned the maximum heads with her diva avatar in a satin blue saree, paired flawlessly with a saree blouse design.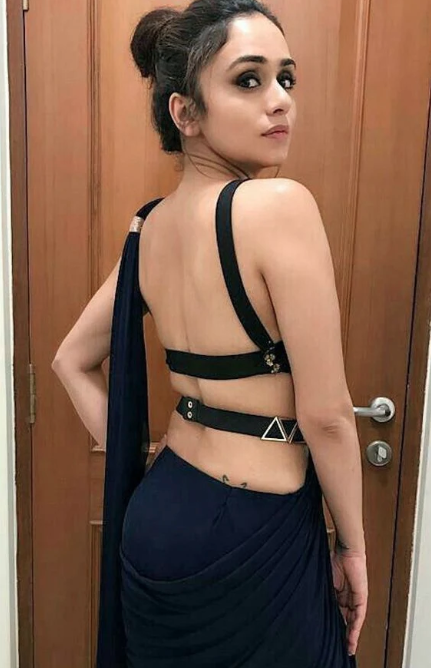 Superb Pick For Our Shy Girls!
Are you a little apprehensive about going completely bareback? Then pin this backless blouse design with full sleeves right away. Bedecked with tassels and a knot, we adore how remarkable it looks.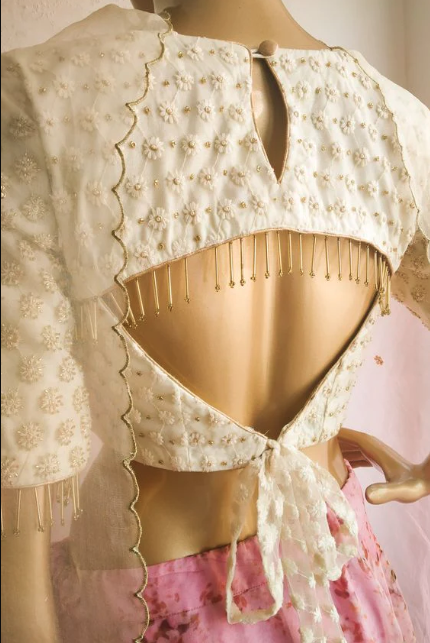 A Voguish Design For The Contemporary Brides
Want to add an ultra-modish touch to an otherwise simple saree? Opt for a blouse that's a complete head-turner. We sure haven't seen anything like it before. All women should have a super sexy backless blouse like this in their wardrobe.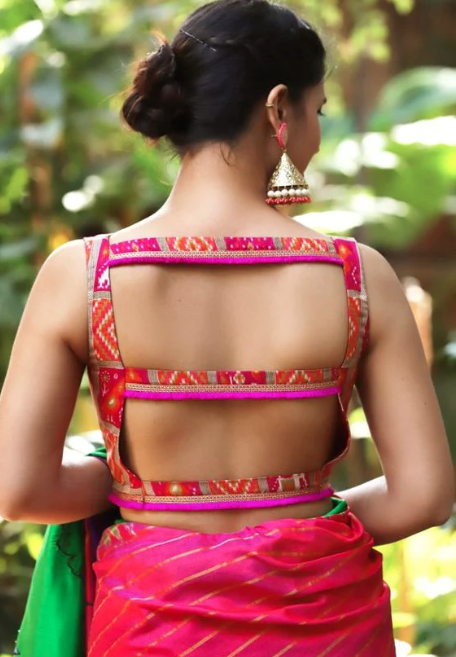 Ever-so-stunning Backless Blouse Back With Dori
A sexy backless blouse with a dori is an inescapable trend! It's sensual, stylish and can enhance your Indian wear look by multifold. Moreover, it's super-easy for any tailor to design, so you don't have to worry about your blouse design getting messed up.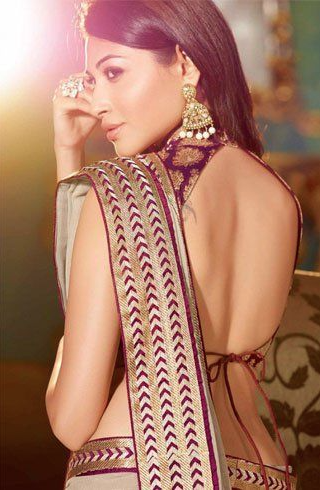 Bridesmaids, Where You At? 
This simplistic backless blouse design with full sleeves is perfect for bridesmaids or sisters of the bride/ groom who wish to go bold with their outfit. *Pinning straight to blouse designs board'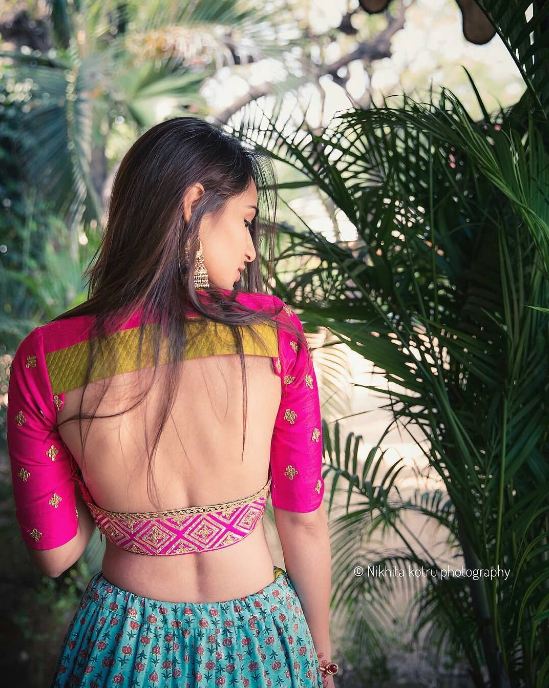 Approved By Fashion Influencer 💝
Fashion & beauty influencer Bhavdeep Kaur just got married and gave us some major wedding inspiration with her outfits. One of the noteworthy elements was her multiple dori blouse back bedecked with tassels, which she wore for her mehendi ceremony! Stunning, isn't it?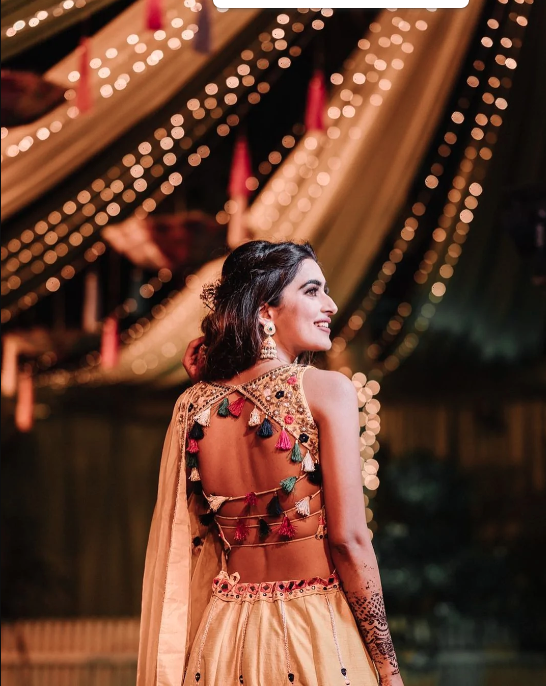 Sultry Backless Blouse With A Mesh Cut!
There's nothing more dazzling than a blouse back that's made so uniquely and is going viral on the Internet for all the right reasons! Another aspect of the photograph that deserves attention is the twisted bridal bun.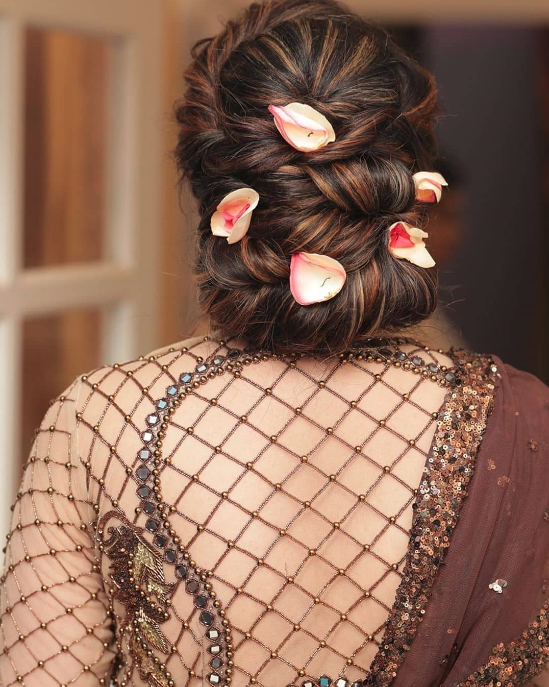 Basic One With Cute Detailing
The best way to amp up your basic blouse design is to add cute detailing to it. Take cues on how this bride enhanced her U-cut backless blouse with a knot and pretty tassels. It's such a cutesy blouse design, isn't it?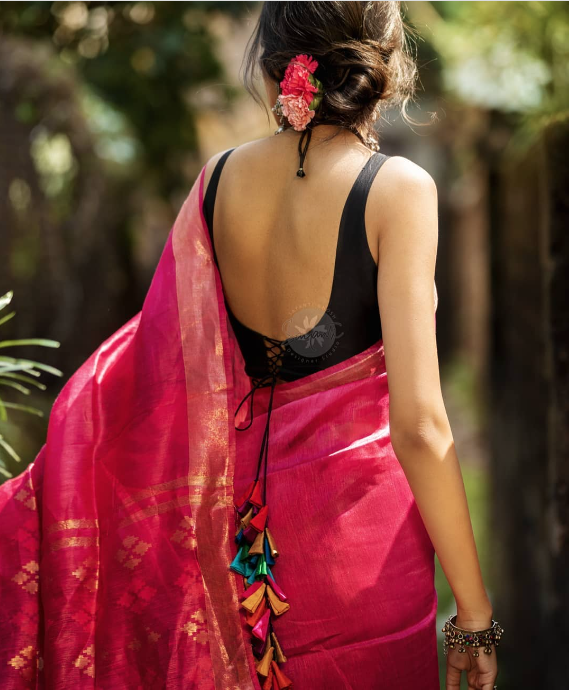 A Scintillating Back Blouse Cutting You Can't Miss!
One can never go wrong with a notable back cut and an embroidered blouse and this bride just shows us that. A remarkable saree backless blouse that grabs all the eyeballs needs to be in all brides-to-be trousseau!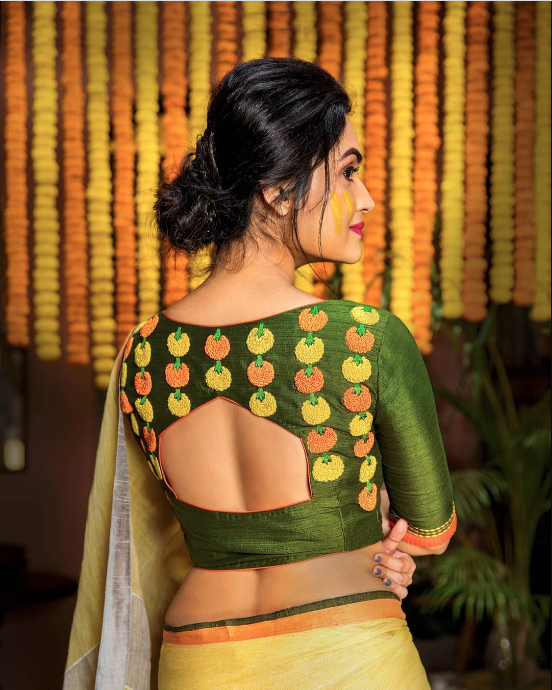 We're Feeling The Vintage Vibes
Puffy sleeves, frilled hem and elbow-length sleeve – this backless blouse design exudes vintage vibes at its finest! Featuring such endearing tassels and a donut bone, there's nothing to not love about this picture or this blouse.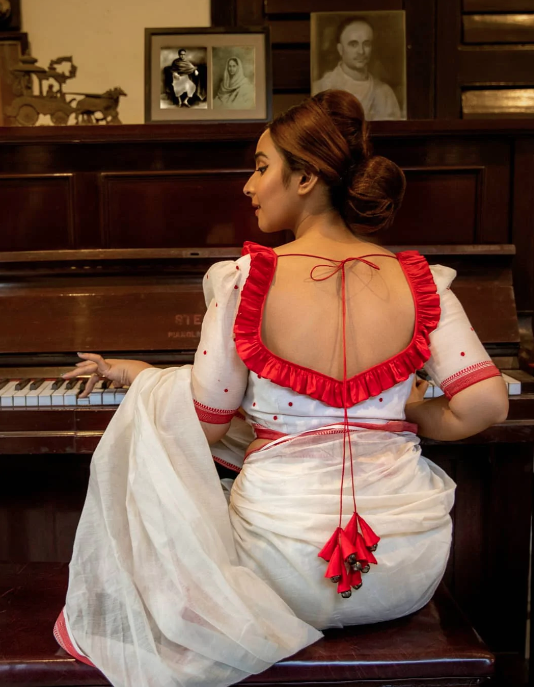 Stunning Bridal Backless Blouse Design
Are you in the mood to sport a backless blouse design for your big day? Then a simple yet classy blouse like the one on this bride is a great option. We are adoring the dainty adornments on the blouse, plus her idyllic bun looks pretty impressive too!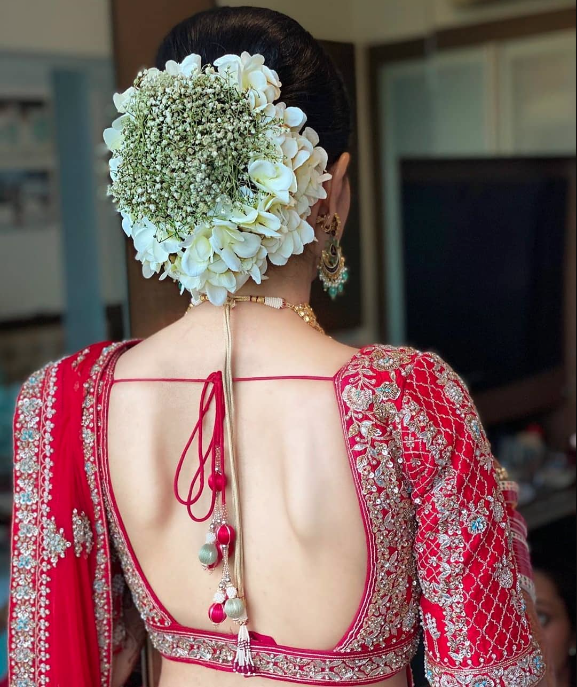 A Lust-Worthy Backless Blouse With Statement Tassels
Our backless blouse design catalog couldn't be complete without an Abhinav Mishra piece. The designer is popular for his impeccable mirror work, but the blouses he pairs the lehengas with are noteworthy as well. To make a strong fashion statement, opt for this svelte blouse with a deep cut and a statement tassel. Keep your hair open and flaunt away.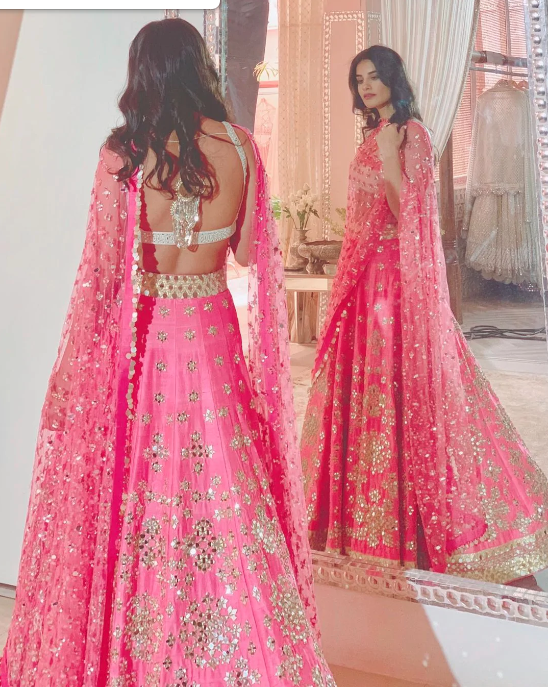 For The Bold Girls Out There!
This statement backless blouse with double dori will leave everyone mesmerized and make you the hit of the party. However, carry it with a lot of confidence, if you're not used to wearing backless blouses yet, pick a different design and then, slowly move towards it!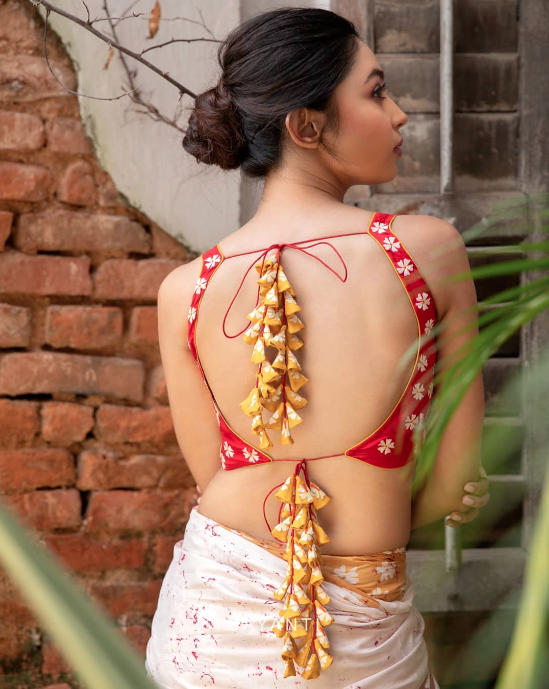 This is The Season Of Velvet
The first nip in the air of 2023 is here, which means the season of velvets is also here! A velvet blouse is a must in the winter bride's trousseau, and here's a sexy backless blouse designs to go with the material. The design is equal parts sexy and classy.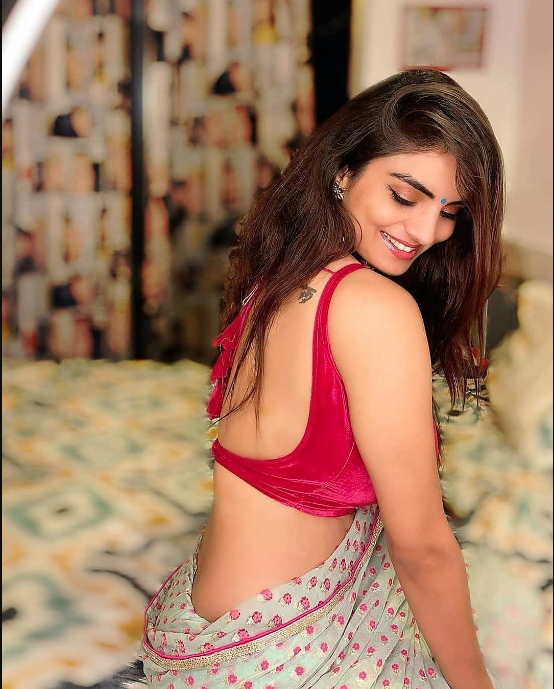 A Jaw-Droppingly Beautiful Backless Blouse With Knot
A gorgeously adorned blouse design with pretty embellishments and a big knot is so fresh and unique. We know it's a gown back, but wouldn't it look superb on a blouse too? We most definitely think so!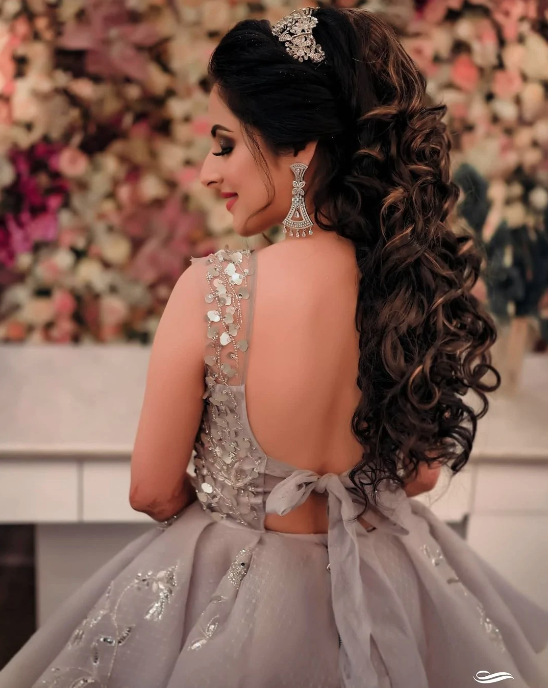 Take Inspiration From Bollywood's Fashion Queen
Sonam Kapoor's entire wardrobe was full of amazing bridal inspiration. For her mehendi, she wore a chikankari Abu Jani Sandeep Khosla outfit and styled it with a triangular cut blouse back, braid embellished with mogra, and jhumka earrings with pearl chains. So GORG!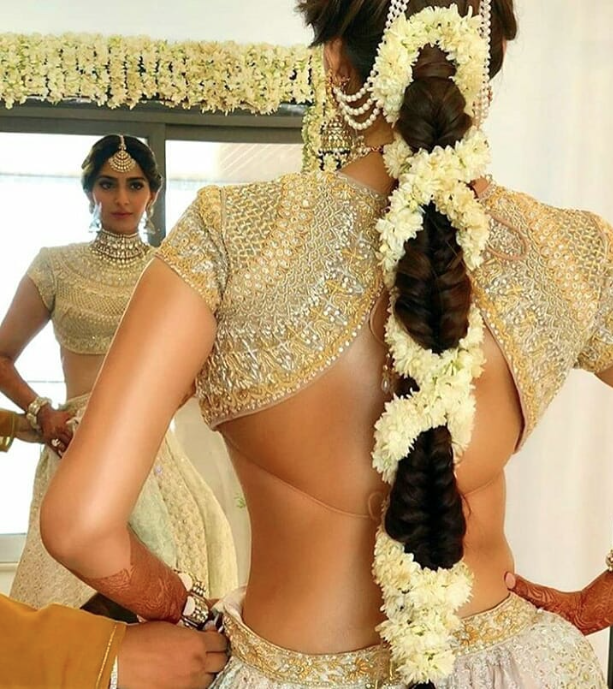 So Graceful!
We're in awe of the amazing bridal portrait and everything about it. The intricately embellished Manish Malhotra lehenga coupled with a designer backless blouse is just the way to radiate nothing but grace from your D-Day look! Don't you think?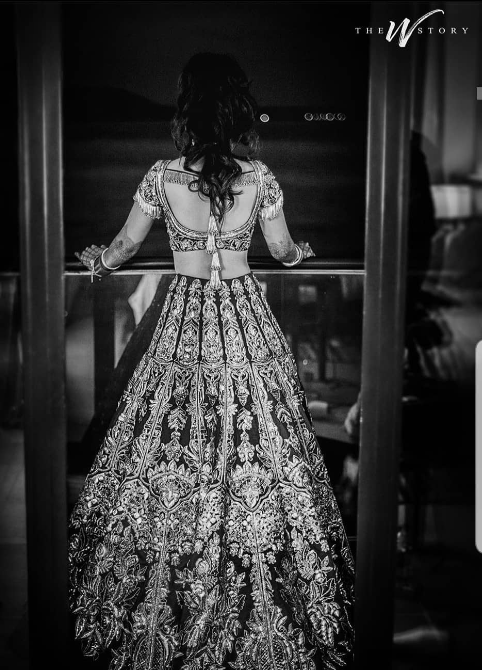 An Elegant Cut Out 
When you're opting for sexy backless blouse designs, don't forget to flaunt it in the best way! This bride shows you how to give a fab pose that shows off your henna as well as the blouse back.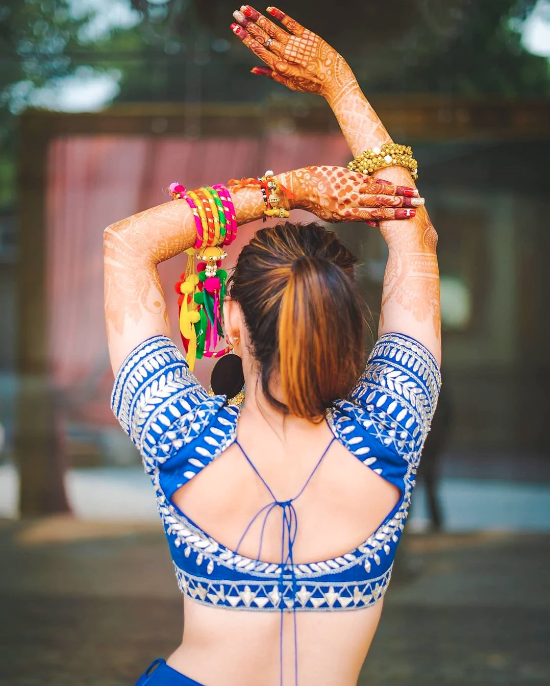 Halter Backless Blouse With A Knot
Nothing fancy here! Halter neck blouses have been around for a long time and they're a super cool option for a saree backless blouse. It adds the perfect glam to an otherwise simple outfit.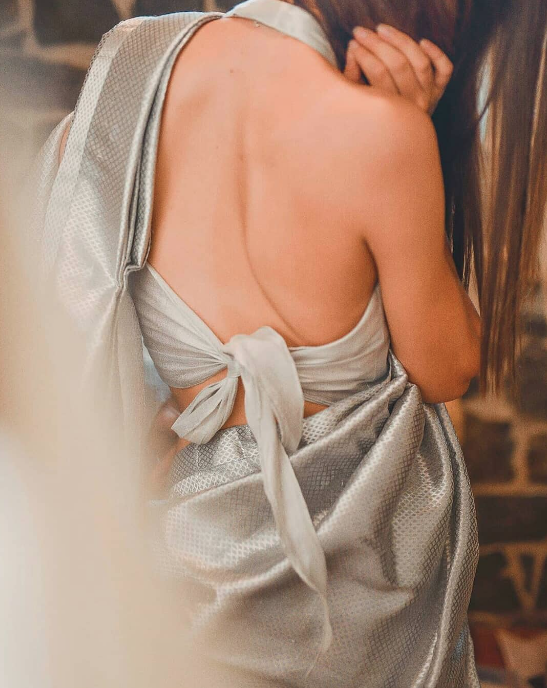 Just Can't Get Enough Of Sexy Backless Blouse Designs With Dori!
A viral look we're sure all of you remember! We're still not done obsessing over it. The couple gave the photographer, Little Big Weddings, just 20 minutes for this shoot and they did an amazing job! That's why it's important to hire a professional photographer for your wedding, who will jump up at any opportunity to give you the memories you'll cherish forever.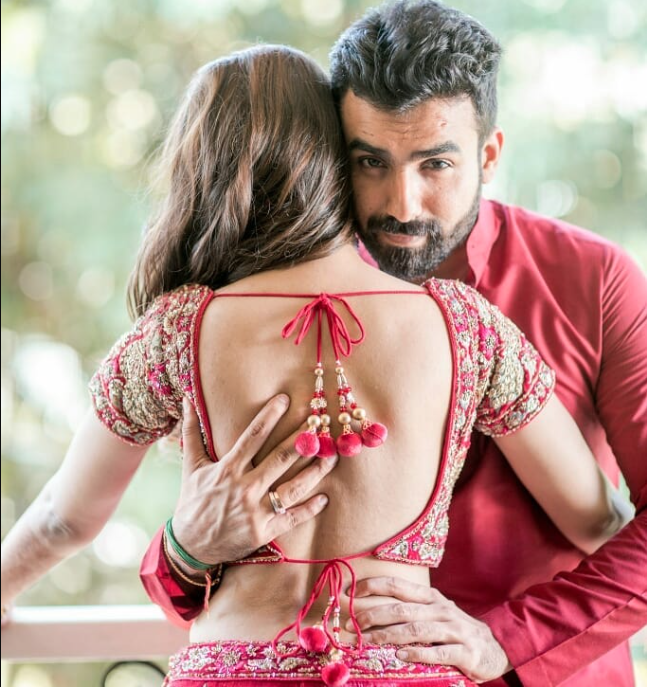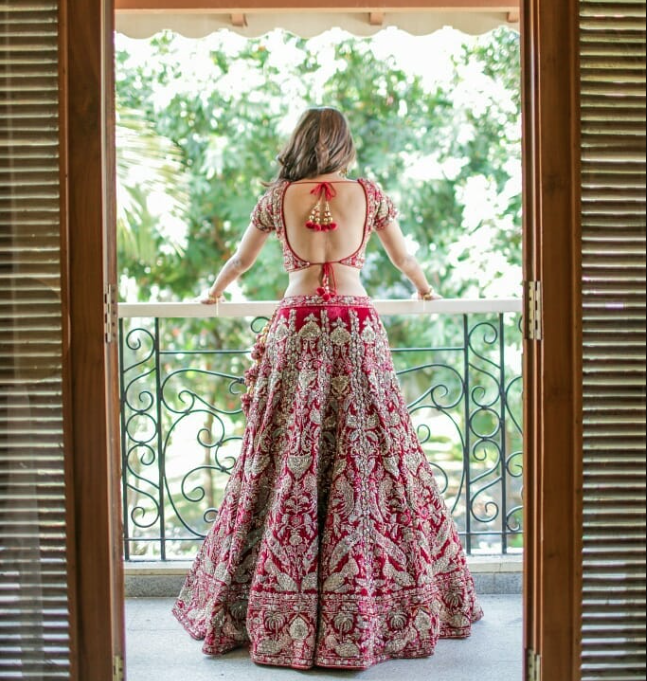 Designer Sexy Backless Blouse Designs For The Win!
The white net looks gorgeous with this one of the sexy backless blouse designs. What's so amazing about this blouse design is that the color white will go on many of your saree looks, and can pair up with many colors in your wardrobe.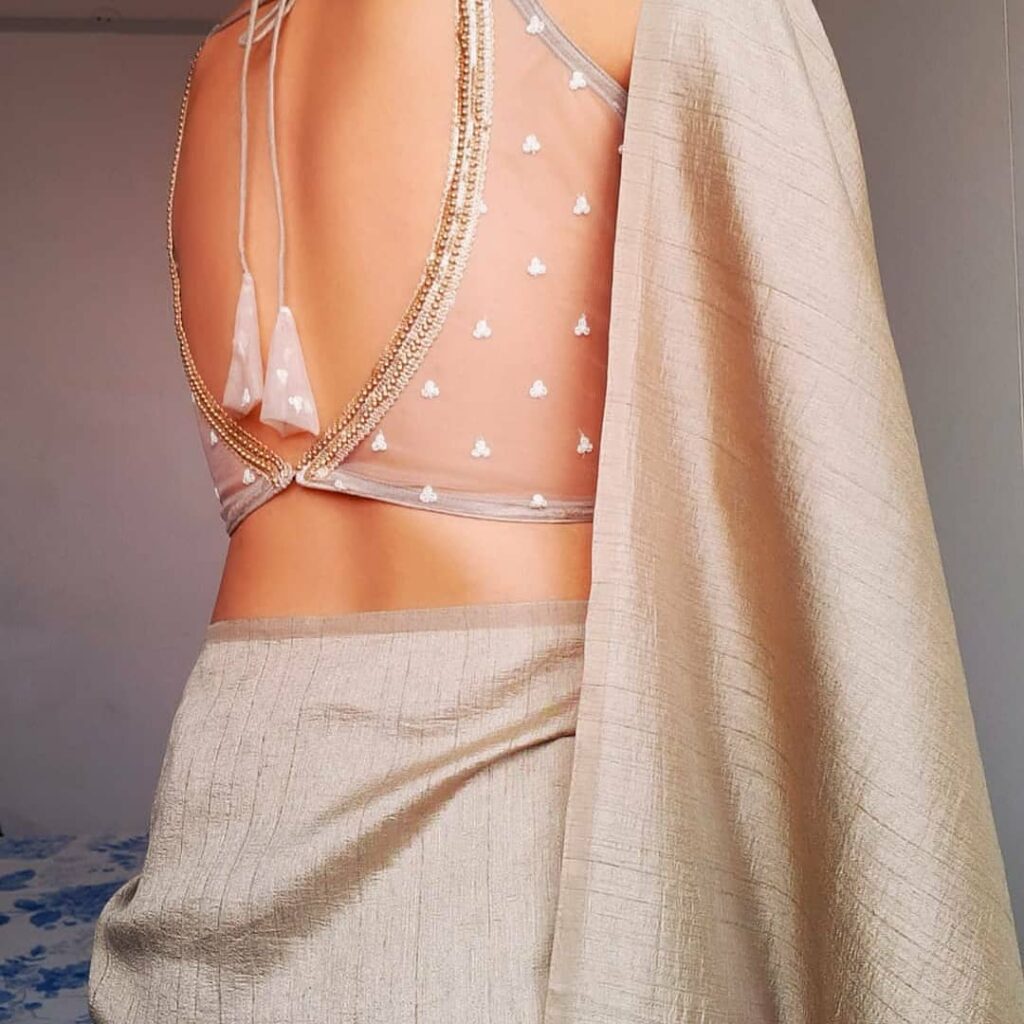 Sexiness Doesn't Always Mean Daring
Sexiness is how you define it! For some, it's a more subtle approach to the blouse design. Here, the net detail is embroidered for a ravishing look, and the dori adds the classic detail to the attire.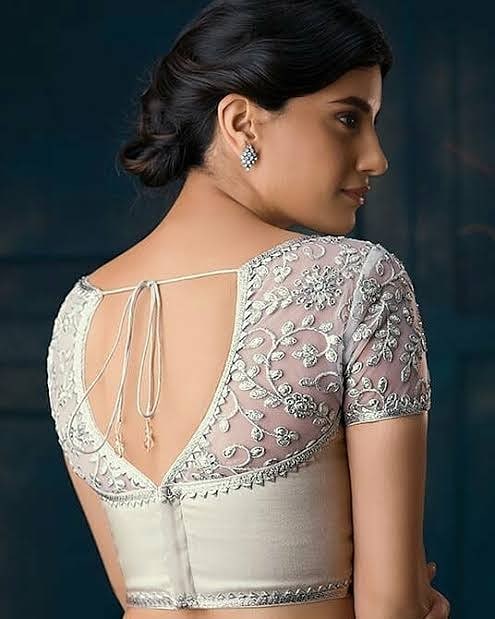 Backless Blouse Designs For Saree & Lehenga!
When you're looking for sleeveless backless blouse designs, you have come to the right place!  The knot detail on the front is what makes this blouse design stand out. But if you're looking for a basic one, you can omit the knot detailing.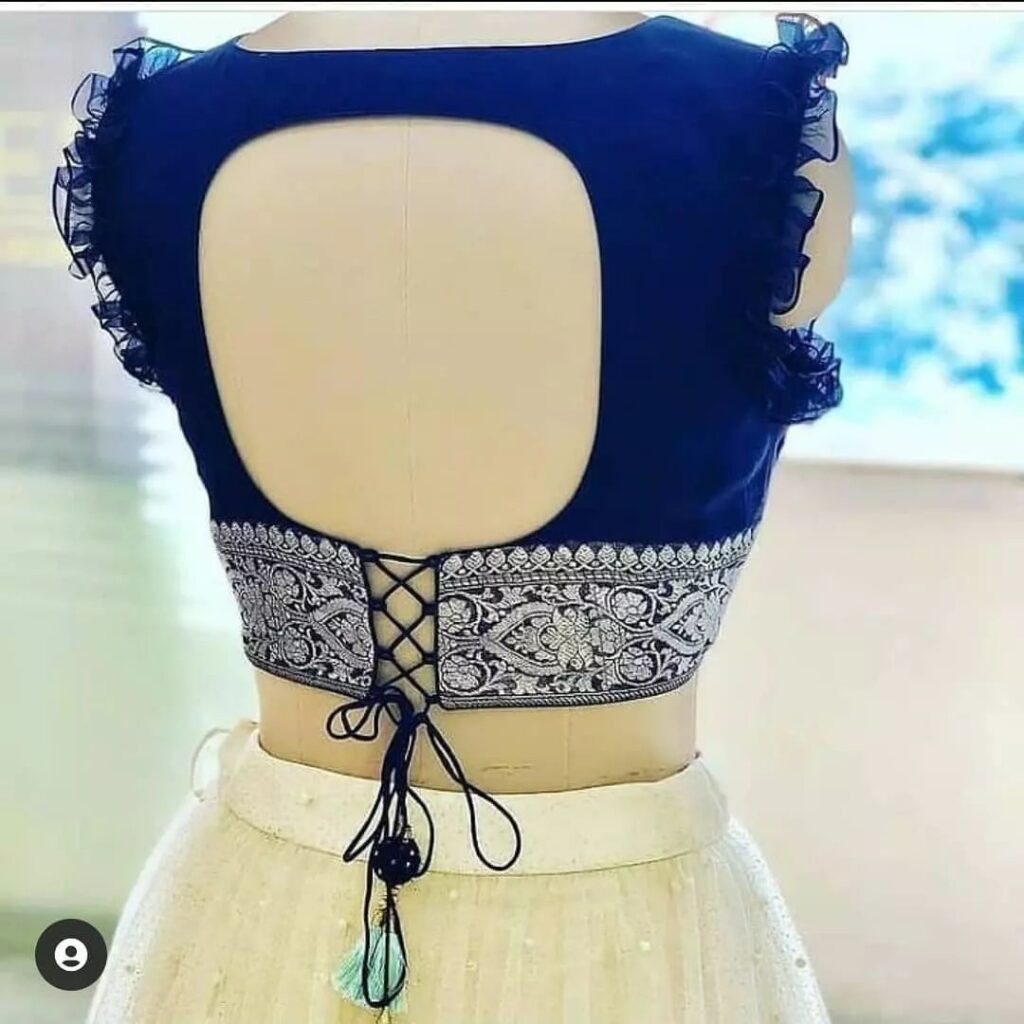 Deep Hot Blouse Designs For Back
There's just something about sexy backless blouse designs with a knot. They are always aesthetic, and here's proof why this timeless design will always reign as number one.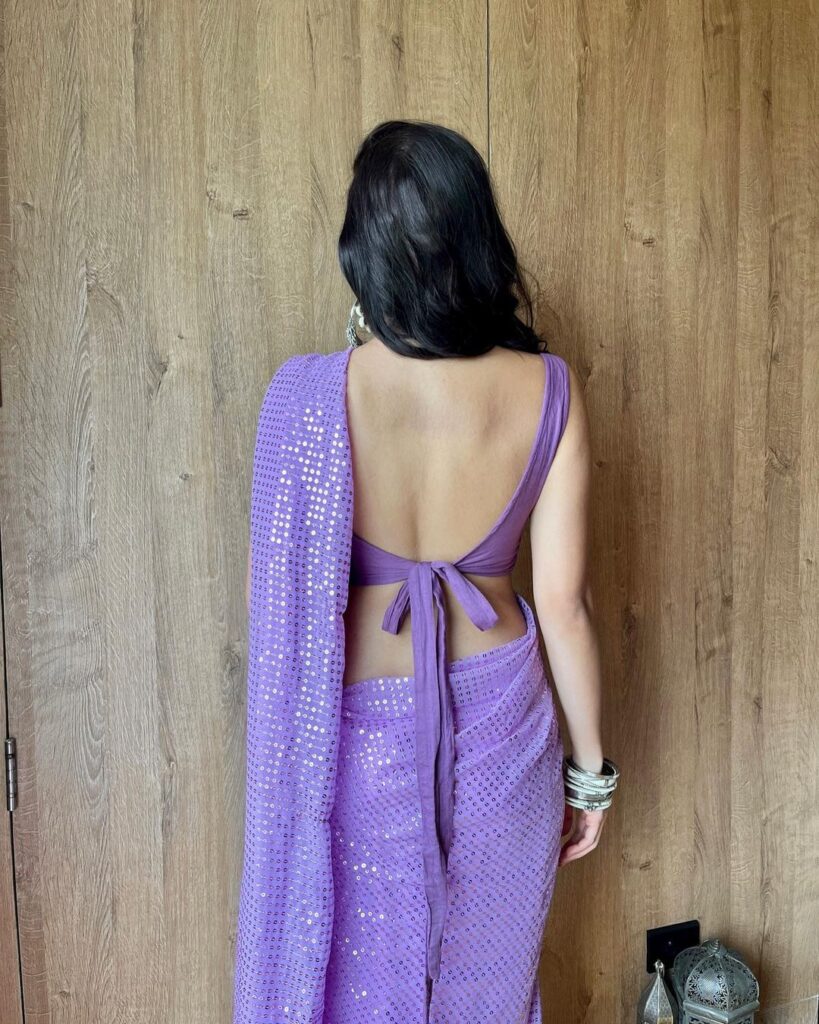 Latest Sexy Blouse Designs For The Win
Now, this is for women who want sexy blouse designs in their wardrobe, but also want a subtle look for their blouse. It defines both gorgeousness and feminity both.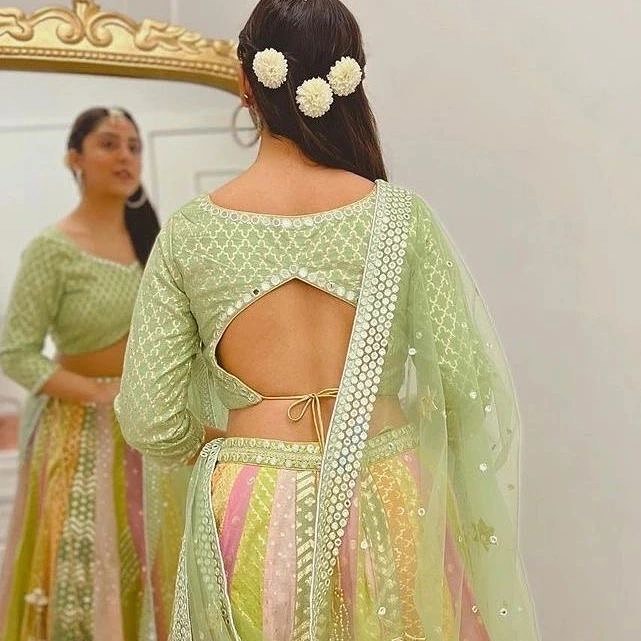 This One Has Our Heart
Doris on the top has become a usual style. But when you want a different blouse back, you can surely pair it with Doris on the bottom and a cloth attachment on the top. If you have mid-back length hair, you can definitely pair it with an open hairstyle as well.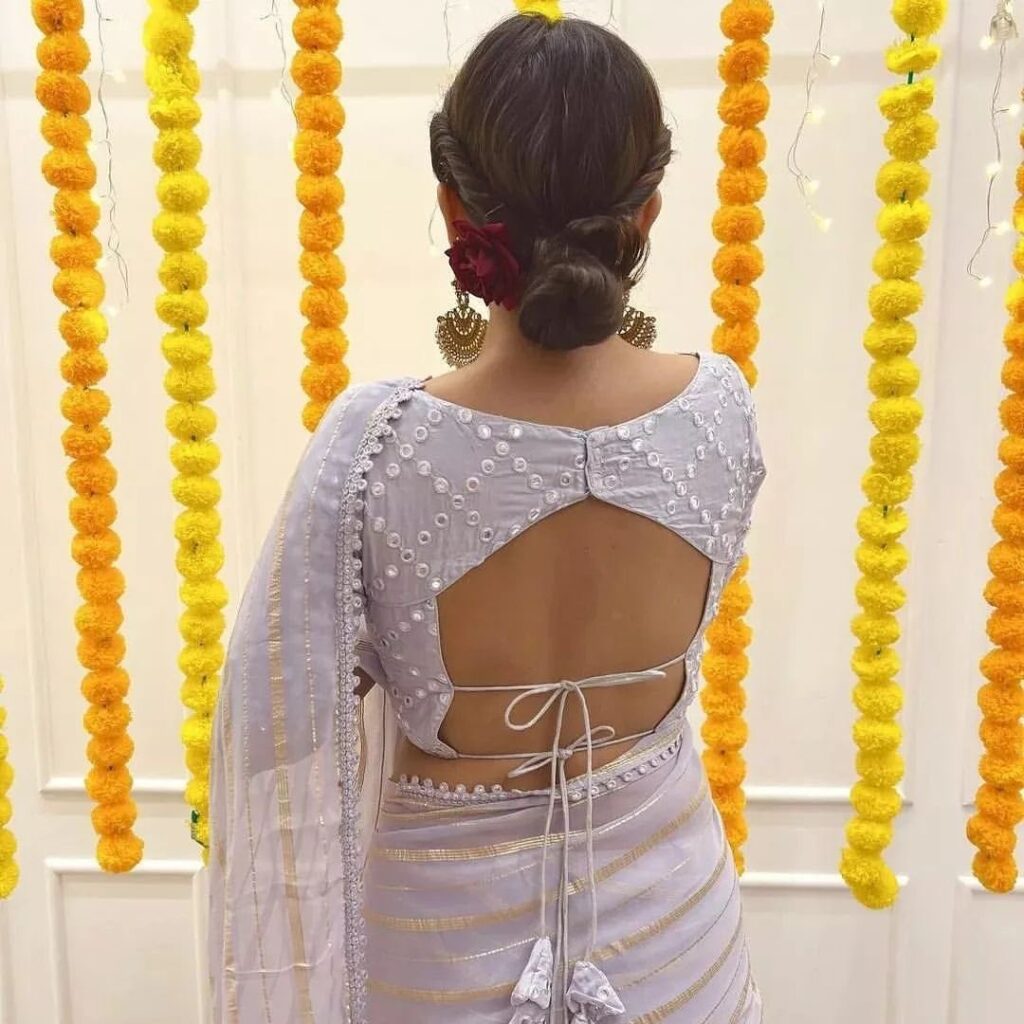 Daring & Sexy Backless Blouse Designs Are Always In! 
A blouse design can be made more interesting by adding a dori on the bottom and a touch on the top. It creates a playful and very alluring look. You can pair it with a V-neck hot blouse design on the front for a more daring look.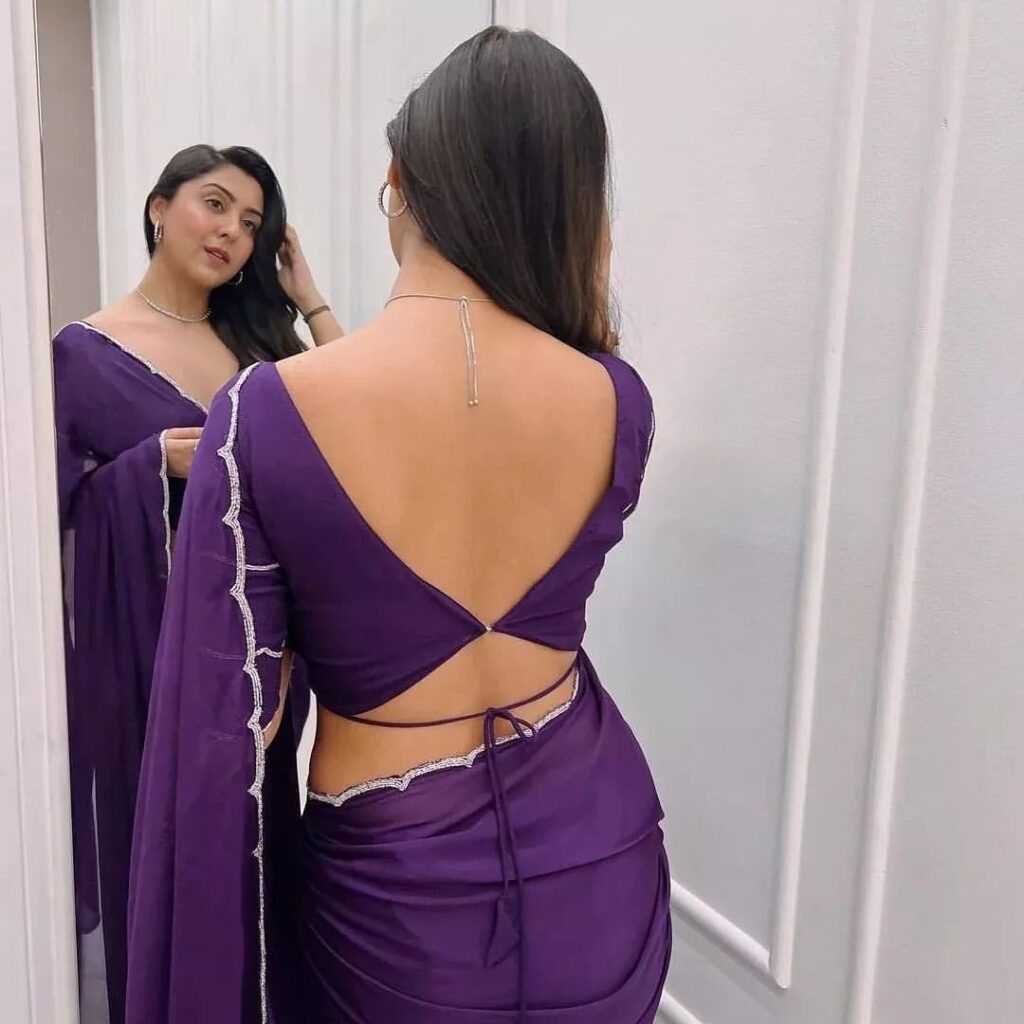 Confidence is the key when you wear these blouses! Carry loads of it when you sport these blouses. And if you're a little self-conscious kind, we did a blog on homemade face masks for back acne to help you get a flawless back in no time! These DIYs are quick and easy. Apply them consistently 2-3 times a week for a month to see the change.