Whether you're looking for sexy types of lingerie for your wedding night, your honeymoon, or just want to feel alluring by investing in some sensual undergarments, knowing what variety the market has just makes the purchase easier. The word "lingerie" is actually French and is used to denote more lightweight bras and panties. The term is derived from the French word "linge", meaning linen. Informal usage is now used to refer to erotic and sensual clothing. But, it wasn't till the 20th century that lingerie gained the tantalizing element and moved forward from the usual bras and panties. Now, there are quite different types of lingerie available to woo women, and here, we list down the 15 major types of lingerie types. 
#1 Bra
The most common type of lingerie is your normal everyday bra. With the need of various women, this quintessential lingerie has created a world of its own. There are full coverage bras, padded bras, non-padded bras, wired, soft-wired, lace, pretty prints, and almost any kind of variation you can possibly think of! This is the reason why most women invest in bras than any other type of lingerie. Not only do they add an alluring appeal to your wardrobe and dressing, but they can also be easily worn beneath any kind of clothing style for support and comfort. Once you're sorted with the bra, you can pair them with panties at your convenience.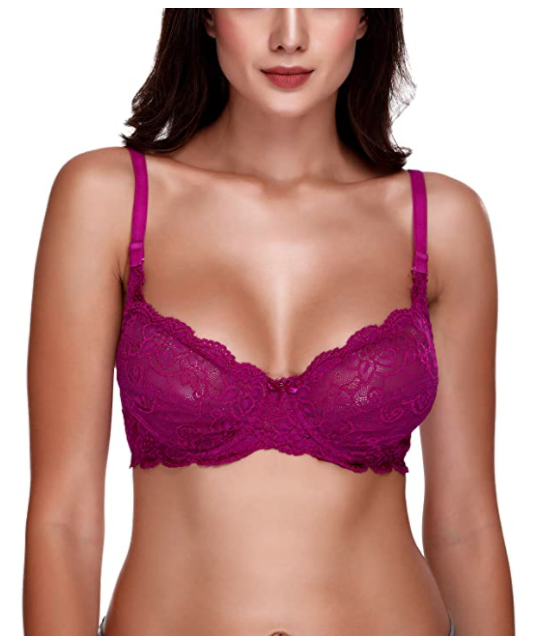 #2 Bralette
A bralette is a bra that offers no structural elements whatsoever. No padding and no underwire. Recently, they have been worn on their own as outerwear, by fashion influencers and celebrities alike. Deepika Padukone recently wore a Versace bralette with a set of leather pants for a day out in Mumbai recently. Other celebrities have also used the bralette as a top, like Kendall Jenner and Chrissy Teigen. Since they don't come with a lot of support, many women won't find it comfortable. The key is to try on different styles and stick to the one you're most comfortable wearing. Plus, these trending lingeries can go with so many clothing choices – like under a sheer top, inside a blazer or cardigan, as a crop top, or with a casual jumpsuit.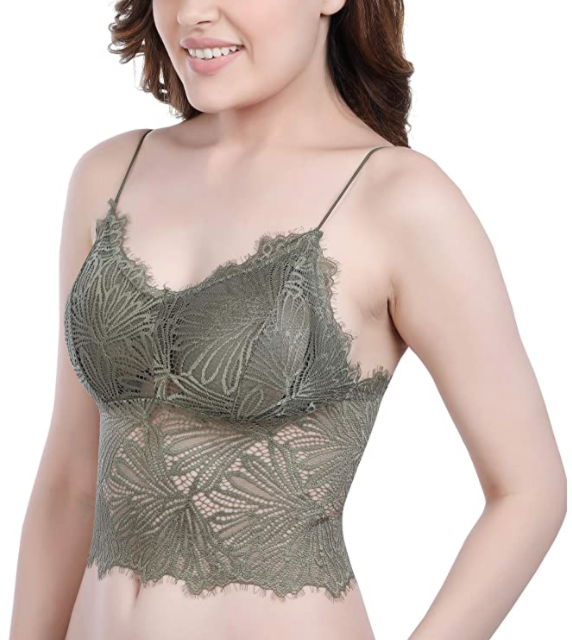 #3 Camisole
A camisole is a loose-fitting undergarment supported by spaghetti straps but often shorter than a chemise. They can be worn inside for covering any sheer or lace clothing. Alternatively, they can be worn on their own as a blouse. Camisoles are often confused with slips and chemise. Slips also called slip dresses, are generally longer than a camisole and can go up to the knees. They don't need to be paired up with anything else and can be worn as a nightdress or a party dress. Chemises, on the other hand, are also longer than a camisole, but shorter than slips. They are also accompanied by a bustier, supportive shape on the top, whereas, camisoles aren't. Because of their comfort and charm, camisole tops have become quite popular too. Camisoles come in satin, silk, cotton, and lace.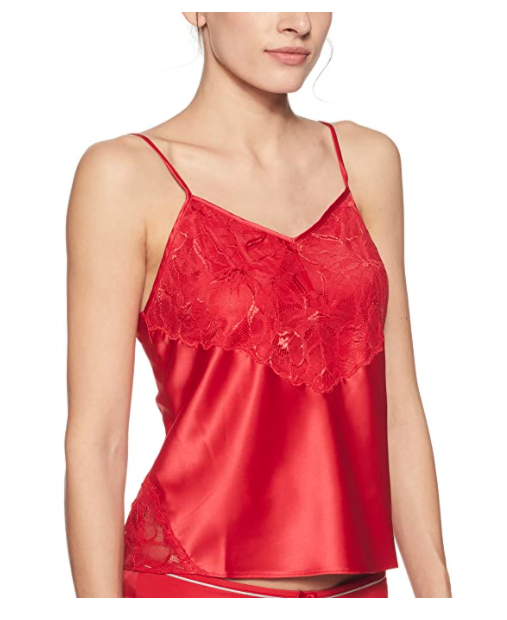 #4 Chemise
Chemises are longer than camisoles and often have support for breasts or a plunging neckline for an appealing look. They are used as an undergarment mostly and are rarely worn as outerwear. Chemises do make for comfortable and sexy types of lingerie to be included in your trousseau. You can easily pair them with lace or satin panties for a luring look on your special night. Earlier, the chemise was a loose, thin garment worn underneath to protect the clothes from sweat and body oils. It was only in the last century that chemise got a revealing, sexier upgrade and hasn't looked back since then.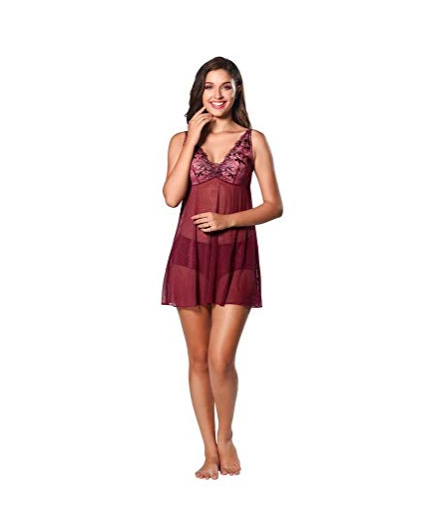 #5 Babydoll 
While babydolls are designed like chemise and slip dresses, they are different because they are generally not worn as an undergarment, and donned on their own as sexy lingerie for a special night. Babydolls are one of the most common additions to a bride's wedding trousseau for their first night and honeymoon shenanigans. Since they're loose yet sexy, they can be comfortable to wear while sleeping and can do the job of building the mood perfectly. The name babydoll became famous from a 1956 movie of the same name, featuring a 19-year old nymphet as the protagonist. Since then, the clothing went by several changes before coming out as an eroticized item. Now, they're a favored choice of brides worldwide to include in their lingerie.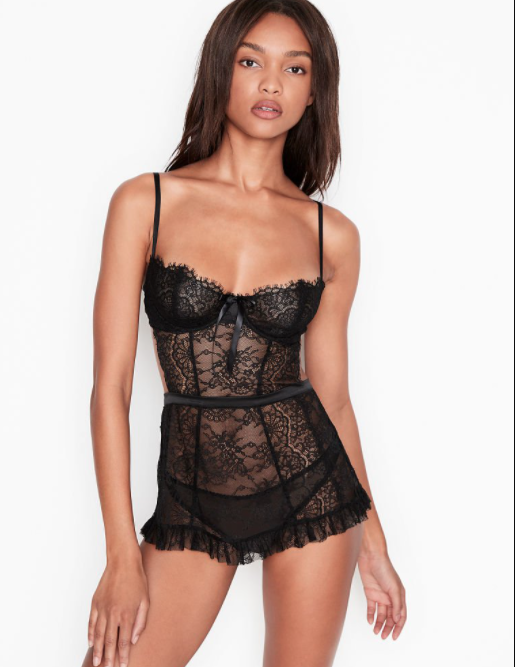 #6 Bodysuits & Teddy
Bodysuits and teddies are yet another common addition to types of lingerie sets for brides. Many lingerie brands advertise them as the sexiest clothing of their offering. From Triumph to Victoria's Secret and Amante, you can find bodysuits and teddy to soar the temperatures and lead the way to an amazing night. Crotchless, lace, plunging, bondage, there are all kinds of styles available. Bodysuits, little conservative ones, are now often worn with jeans as casual or party wear.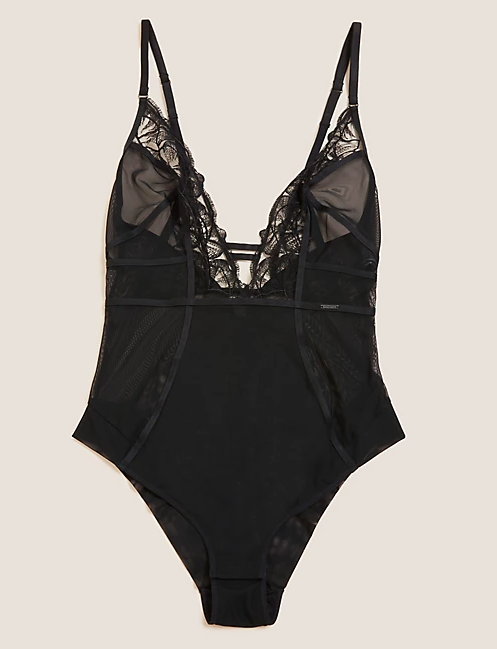 #7 Garter
Garters or suspended belts are worn on the waist and are used to hold stockings in place. Now, they are used as a sexy addition to the lingerie sets without necessarily attaching the lower hanging straps to the stockings. In Christian weddings, the brides wear a belt garter on their thighs, which the groom removes through his hands or teeth after the ceremony. This tradition is quite similar to the bouquet toss as the grooms throw the garter into the crowd and the bachelor who catches it first is believed to get married next. That's one use of the garter, but increasingly so, they are now part of women's sexy lingerie sets. When purchasing, make sure the belt goes comfortably on your waist, neither too tight nor loose.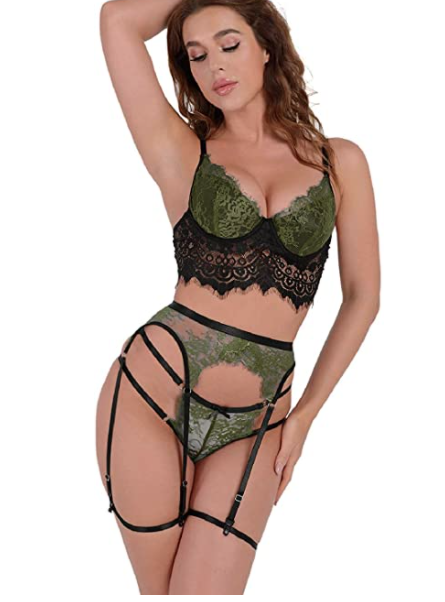 #8 Corsets & Bustiers
If you want to lift your bust, enhance your cleavage, and accentuate your curves, then a bustier is for you. These types of lingerie are bra-shaped but extended till the bottom to cover all or a part of your torso. Some bustiers come attached with a garter for an enhanced sex appeal. If you're looking for a more comfortable option, then opt for bustiers rather than corsets. Bustiers are less restrictive than the latter and yet do the job of elevating the breasts and shaping the waist. These lingerie styles are also perfect for when you want to enhance your upper body shape under a dress or a blouse.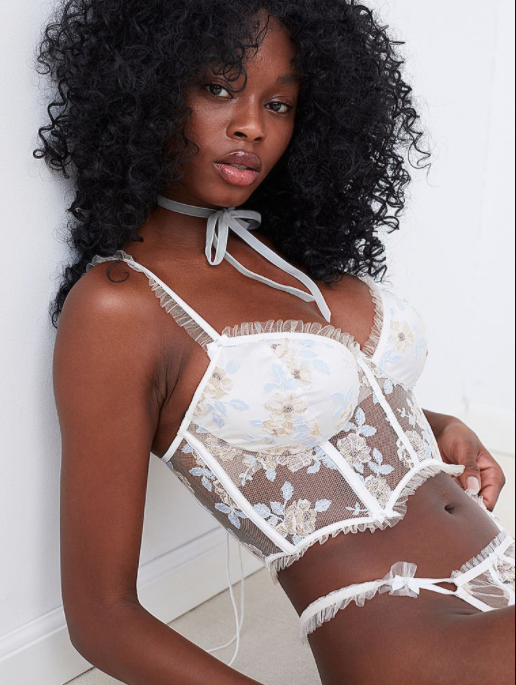 #9 Slips or Night Gowns
Comfort & erotic merged in one, slips dresses or nightgowns made of satin silk and spaghetti straps can be as effective in building the mood as a babydoll or a bodysuit. Plus, they are ideal to double up as relaxing nightwear and a smooth satin will help you two cozy up like never before. Slips can often be confused with a chemise that is also longer than camisoles and can be worn on its own. And although the line between the two is diminishing, there's still a difference and most women's lingerie brands will categorize them separately.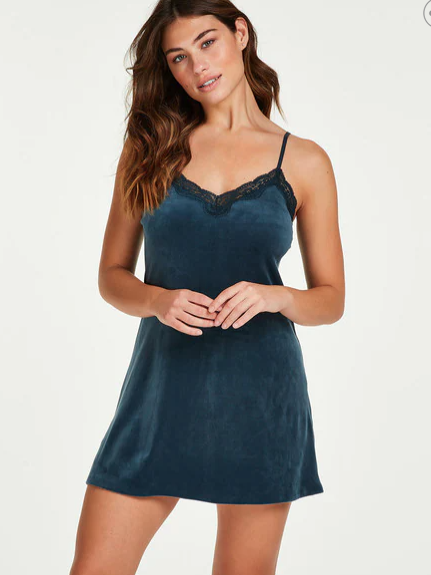 #10 Robes
A luxe satin robe can be worn while you're getting ready for the wedding. Later, on your honeymoon, it can be used to reveal the sexy lingerie worn underneath or nothing at all. Robes can be put to multiple uses and can be one of the most sensible purchases in your bridal trousseau. However, as with everything, we'd recommend you try on a robe before purchasing. These types of lingerie require a proper fit to keep their allure alive. A warm, cotton gown can also keep you warm while walking around the house. Some lingerie sets come accompanied with a matching robe, so you can look for that while shopping.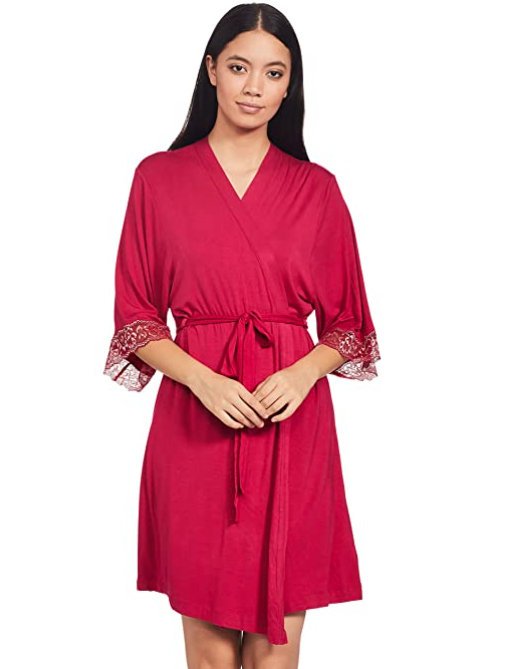 #11 Bikini 
A bikini set isn't just a swimsuit, but also can be used to denote a matching panty and bra set. Sometimes all you need to do to turn the heat on in the bedroom is to pair up a matching set of undergarments. Bikinis are also a flawless balance between comfort and sexy. The bra can be chosen depending on your preferences, while a panty is neither too low nor high and also covers some hips area looking flirty and elegant at the same time. Needless to say, bikini sets can easily be worn under outerwear for special occasions or just when you want to feel a bit sexy.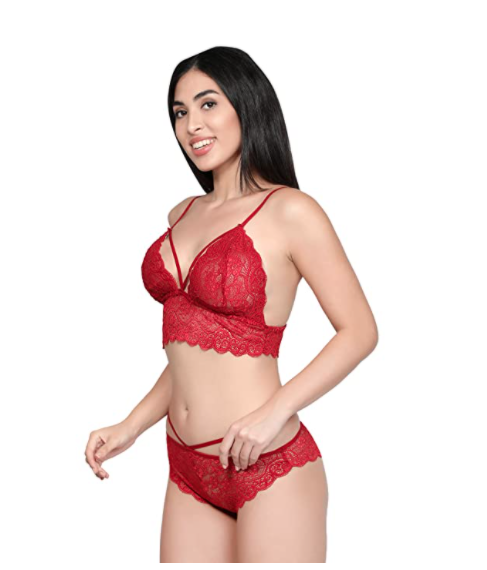 #12 Brazilian
While bras can be used to create a sensual appeal, panties aren't as far behind. There are many different kinds of lingerie sets available in panties. The one featured here is a Brazilian panty that sits high on the waist and has a high cut on the sides as well. It doesn't cover the whole hips but doesn't reveal as much as a thong either. You can say that they are an equal mix of revealing and covering the pelvis region. Brazilian panties can go well with any kind of bra or even baby dolls for a sexy wedding night look.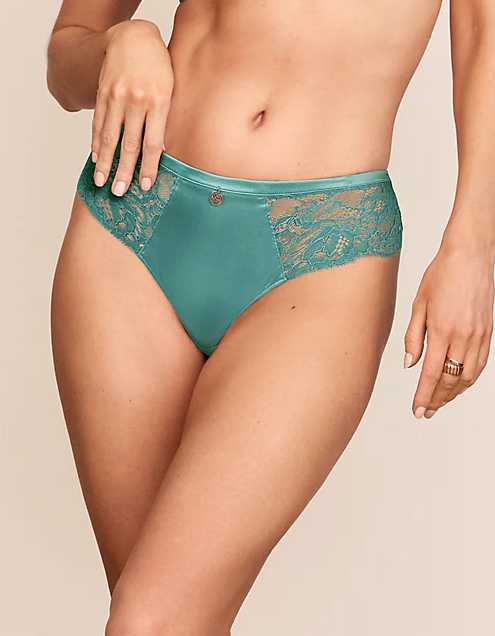 #13 Hipsters
Hipsters are comfortable, covering-style panties. They have a wide cloth on the sides, are high-waisted and cover a good area of the hips as well. While they aren't as revealing as you'd want your lingerie, but they can be gorgeously sensual as well. There are many styles available in hipsters, including laces and soft cotton materials. They also do not cover the navel and can easily make up for your everyday panties as well.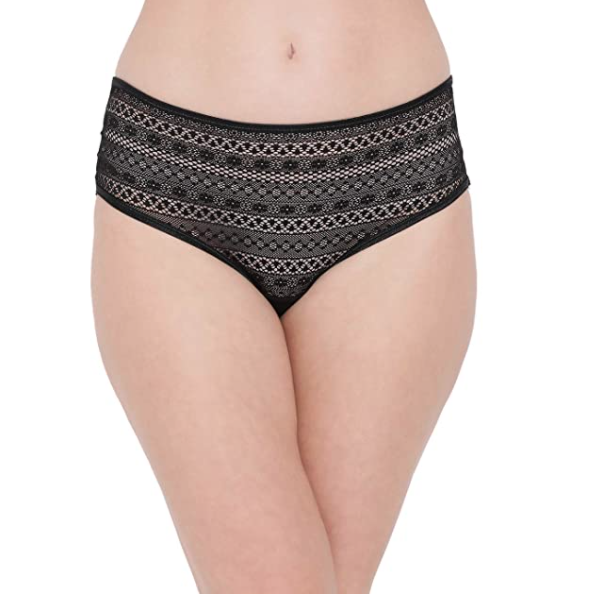 #14 G-String
G-strings are a kind of panty that has nothing but a strap down your butt crack and a V-shape cloth on the front. These parts are tied by straps on both sides. The purpose of the G-String is plain and simple – steam things up in the bedroom. They are a type of thong, and the sexiest one of the types of lingerie on the list.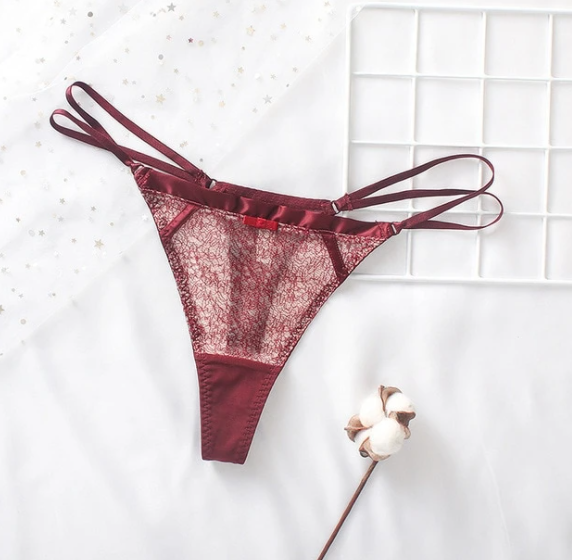 #15 Thong
A thong typically has more fabric than the G-string and besides the sexual appeal, thongs are preferred by women for everyday use so they can reduce the awkward panty lines on the jeans and pants. Moreover, thongs will typically have more material on the front, back, and sides.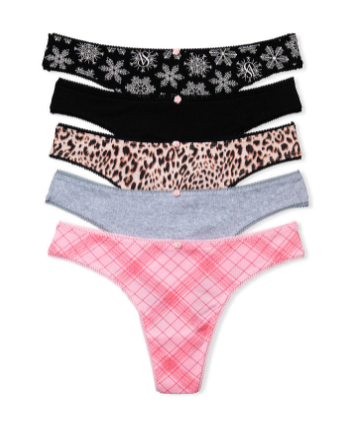 Further Read: