After their seemingly quiet Instagram on their 3rd anniversary, Deepika Padukone & Ranveer Singh shared pictures of their anniversary celebrations a few days later. Tucked away somewhere in the hills, their cozy holiday snaps included pictures of them basking in the Sun, strolling the forests, having tea, and reading books. If you're wondering where they spent their vacation, it's a gorgeous, scenic hill station in Uttarakhand called Almora. 
Almora is located a 6-hour drive away from the National capital New Delhi. The nearest airport is Pantnagar, a 4-hour drive away from Almora, and the nearest railway station is Kathgodam, a 2-hour drive away from the hill station. A quaint town with friendly people, spacious stays, and notable places to see, there's lots of serenity, beauty, and privacy, perfect for couples who're celebrating their anniversaries or a honeymoon. 
Including below 7 best places to stay and 7 tourist spots in Almora: 
7 Romantic Hotels & Stays In Almora
Vatsyayana Resorts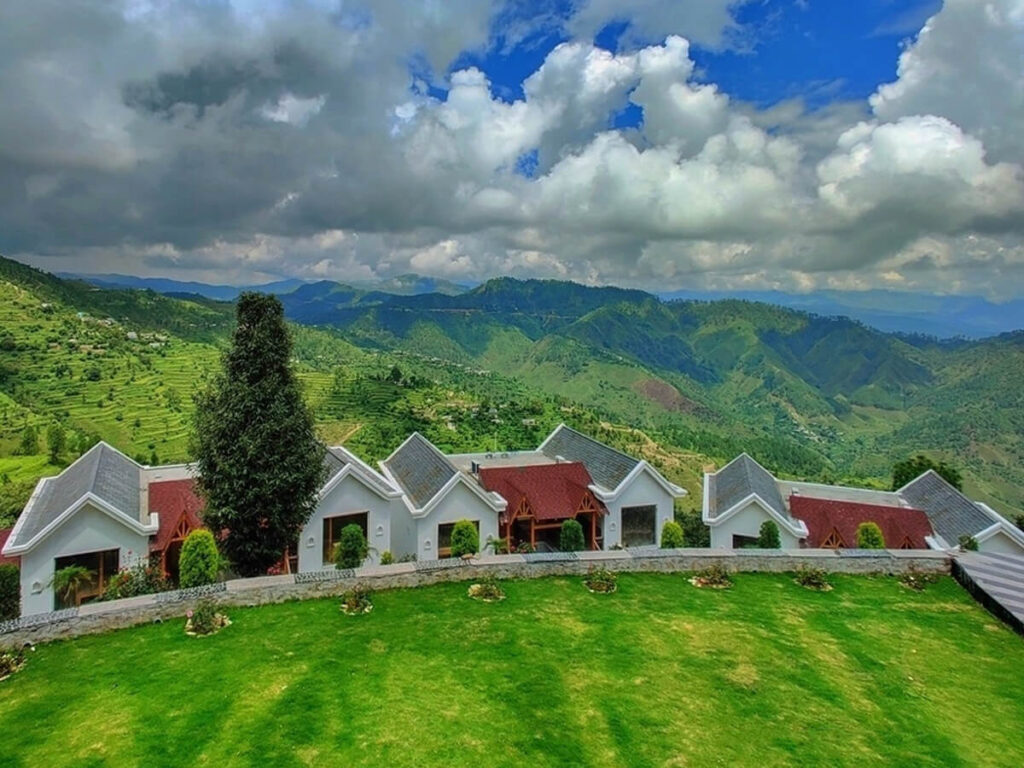 Nestled in the midst of Almora, Vatsyayana Resorts are built to give couples and honeymooners a lifetime experience to remember. Their luxurious suites and accommodation aura are inspired by Indian scriptural works of romance, love, and intimacy. On top of the comfortable rooms, the resort has a relaxing spa, delectable food, and personalized outdoor experiences for its guests. The room prices can go anywhere between 7000 to 13000. 
Check ratings & reviews here.
Deodar Homestay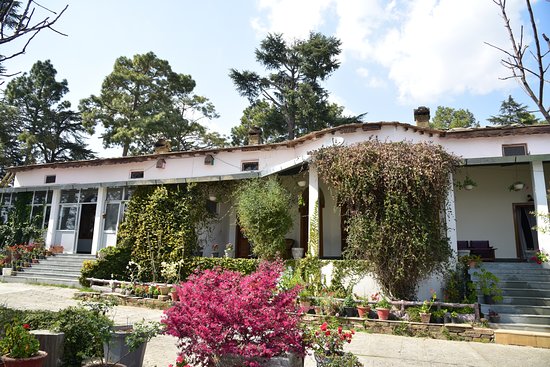 When Britishers ruled India, their preferred vacation spots were hill stations. This is how Shimla, Nainital, and many other hill stations gained their popularity. They also liked to explore different hill stations and Almora definitely was a part of their list. Naturally, they built their abodes for when they wanted to bask in the beauty of this location and the next honeymoon resort is one such accommodation. Deodar Homestay is a 100-year Indo-British bungalow converted into a well-known resort now. The five-room stay features wooden furnishings and an old-age regal aura sure to make your honeymoon special. The staff is quite accommodating of your requests. From food to a town excursion, they can fix you up to anything and everything. 
Check ratings & reviews here. 
Imperial Heights Binsar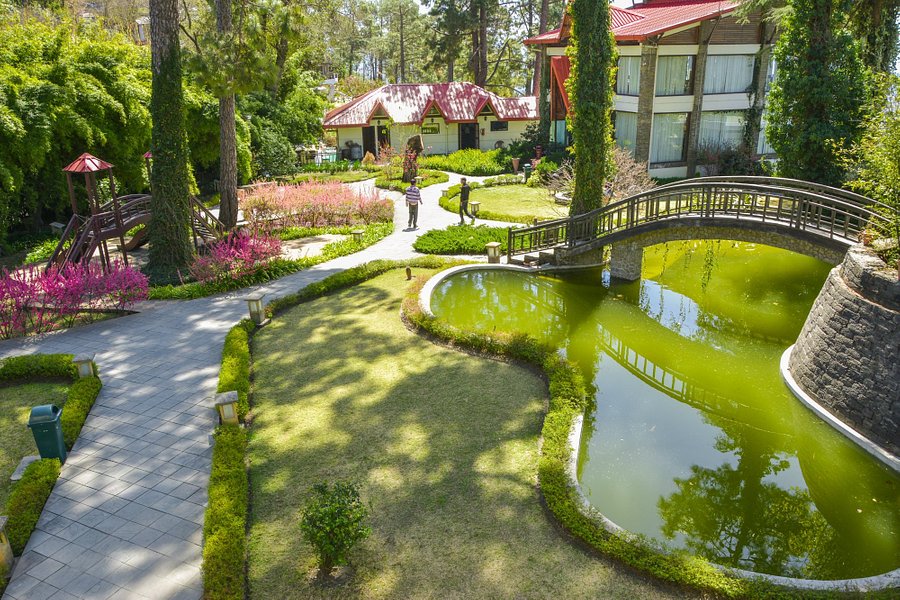 The entire design of Imperial Heights has been inspired by the breathtaking element of the Himalayan beauty in the surroundings. The 20 rooms on the property are all made with hand-finished stones and creative wood art from the region. When you go through the reviews, your trust in the hotel will be further encased. It has been rated high in cleanliness, comfort, serenity, and service. Prices can range anywhere between 5000 to 10,000. 
Check ratings & reviews here.
The Kumaon Hotel, Almora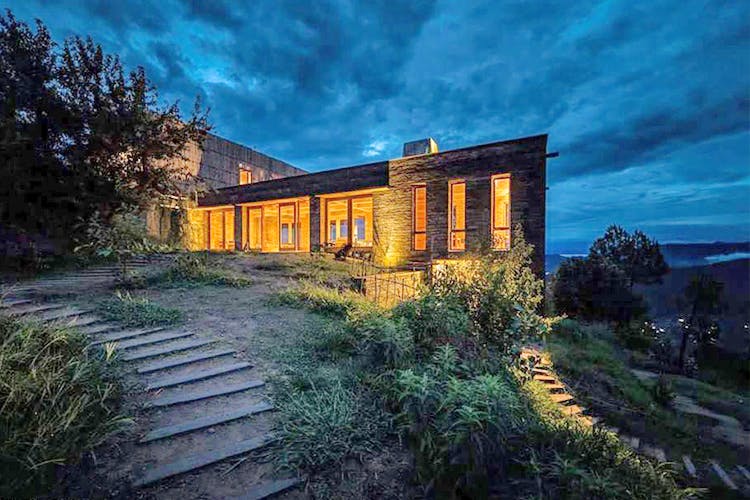 This hotel's services extend beyond the days you want to stay here. They can recommend you the stops and the right way from Delhi and even arrange accommodation so you land directly into their lap of luxury. Inside the property, there are 10 luxurious suites built with locally-quarried stones, bricks, and bamboo sticks. The services are all focused to bring to you the true Himalayan experience. The food is all locally-sourced and cooked in traditional style. Spend your days lounging in their opulent suites, going out for a romantic walk in the forest, or enjoying a local excursion to popular spots around you. 
Check ratings & reviews here.
Mountain Resort, Khali Estate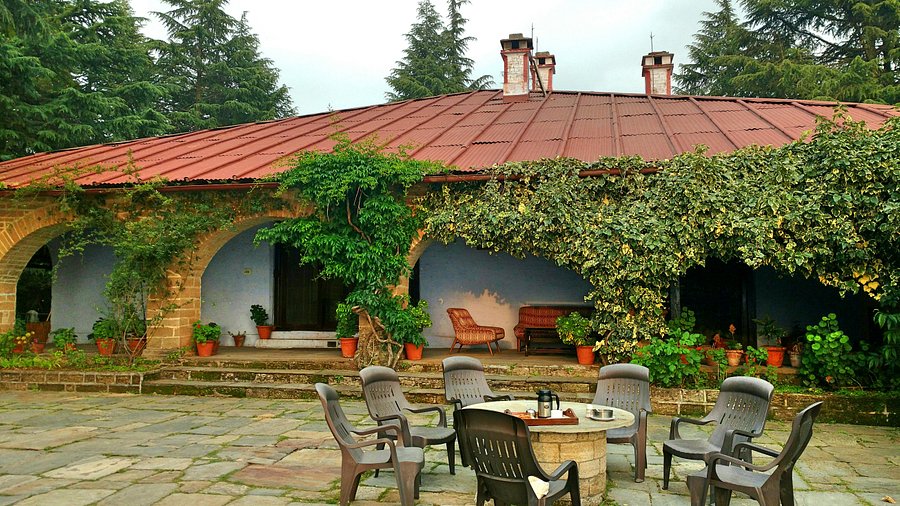 Offering magnificent views of the Himalayas and located in the serene area of Binsar, Mountain Resort Khali Estate is the perfect retreat for those looking for a quaint & gorgeous stay for their honeymoon. The resort has a shuttle service from the airport and train station to offer maximum convenience to their guests. Dome-shaped rooms with brick architecture and cozy feel as they have created in a small separate space themselves, there are only good memories to be expected to build here. 
Check ratings & reviews here.
Kasaar Jungle Resort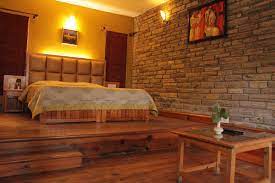 If you want to spend some quality time in the serenity of the jungle with your other half, then the Kasaar Jungle resort located near the famous Binsar life sanctuary has to be your ideal resort. Their rooms have an old-world charm yet are equipped with all modern amenities. There are 27 beautiful cottages and a restaurant offering world-class food.  
Check ratings & reviews here.
Kasar Himalaya Holiday Home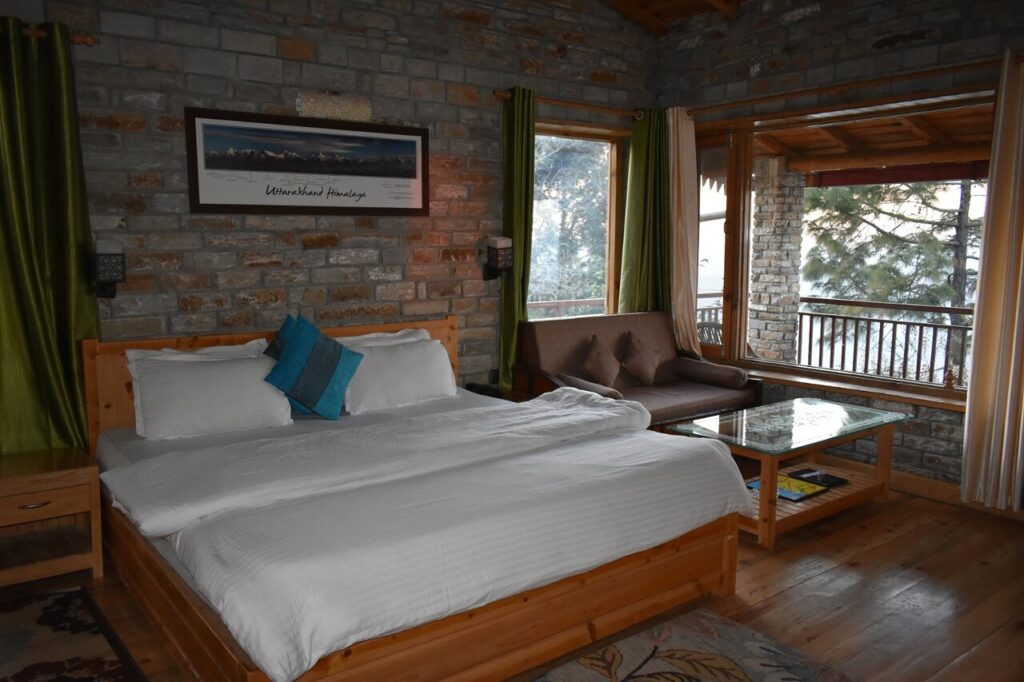 Overlooking the scenic Himalayas, Kasar Holiday Home is a 4-star accommodation with balconies in every room to give guests the pleasure to enjoy the beauty of the hill station from their comfortable spaces. The caretakers give personalized attention to each guest, as is clear from the reviews as well. There's continental, Asian, American, and Indian cuisine available on the resort's premises. 
Check ratings & reviews here.
7 Tourist Spots In Almora 
Kasar Devi
The Kasar Devi temple is located on a hillock and offers gorgeous views of Almora and Himalayas peaks. The surroundings are covered in pine and deodar trees and the aura itself is so peaceful, you'll instantly connect with your higher self here. This temple is also popular for meditation and was visited by Swami Vivekananda for meditation and quiet reflection. Here, you can seek blessings from the deity for your new journey as a married couple and also work to connect with your partner on a deeper level. 
Binsar Wildlife Century
Perched on the elevation of 2420 meters, Binsar National Park is popular for its rare combination of flora and fauna, adventurous nature walks, and a glimpse into the forest in its raw form. It's a popular area for trekkers but is also home to many temples and other local tourist spots. A walk here with your SO will definitely make your honeymoon memorable. 
Zero Point 
Located in the midst of the Binsar National Park, this point is known to offer a 360-degree view of the Himalayas and a look at some of the most popular peaks like Kedarnath, Trishul, Shivling, and the group of Nandi Devi peaks. It's about 12 kms from the main gate of Binsar National Park. From there, you can take a 10 km drive or trek, if you want to. For the last 2 kms, you'll have to walk, but the trek is comfortable. On your way, you can also visit another popular tourist spot – Binsar Mahadev temple believed to be over 8000 years old. 
Bright End Corner 
Bright End Corner is a scenic spot located 2 kms away from Almora and offers stunning panoramic views of the Himalayas. This location is especially popular for the utterly gorgeous sunrise and sunset views and you will find a good crowd of people during these times. There are also many good restaurants around to satisfy your taste buds while you submerge yourself in the exquisiteness of nature. 
Chitai Temple
Located around 8 kms away from Almora, Chitai Golu is one of the most popular temples in Uttarakhand. It is dedicated to the deity of Golu Ji, an incarnation of Lord Shiva in the form of Gaur Bhairav. The devotees truly believe that Golu Devta grants them with every wish when asked with a true conscience. Lord Golu is said to be the God of justice and every day hundreds of people visit and write their wishes on paper before offering in the temple. 
Martola 
If you want to experience more natural beauty, Martola is a scenic location just 10 kms away from Almora. This will be recommended to you by almost anyone who has been here or from the local guides who'd tell you this is the must-visit place if you are traveling to Almora. The spot is perched on top of the hills and is surrounded by lush woodlands and well-manicured gardens. This can prove to be an excellent escape from the bustling city life and enjoy some alone time with your partner. 
Kumaon Regimental Center Museum 
The Kumaon Regimental Center Museum is dedicated to valor stories of the Kumaon regiment, one of the highest decorated regiments of the Indian army. The museum depicts many awards, honors, weapons, uniforms, and stories of the regiment. These epic tales will give you a sense of pride and honor to belong to a country with such history and courage. You can find possessions dating back to the 18th century, when the regiment fought with Queen Jhansi, here.