Mitali & Aakash's joyous Delhi wedding will immerse you in their cheery shenanigans virtually. The couple enjoyed their wedding the most and didn't give in to the general expectation of the bride & groom being all coy and sophisticated during the wedding. Instead, they danced and laughed along with their guests. You'll surely feel those hearty vibes through the pictures. But, before anything, let's take a look back at their love story, wedding planning, and vendor feedback through the small conversation we had with bride Mitali. However, if you're just here for the pictures, use the table of contents section to jump straight to the album. 
Acquaintances For A While, Lovers For-Ever
Mitali & Aakash studied in the same college and had a few interactions before eventually officially going out! They didn't feel the spark in those earlier interactions, and the mad-in-love feelings took some time to develop. "He sent me a request on Facebook, just like any stranger, he was there in my friend list, also somehow he was there in my Snapchat account, I still can't recall how that happened. We briefly knew each other through a common friend but still never interacted. One fine day though, my friend met him and was telling me about him. That's when I got to know about his real-life existence, other than Facebook and Snapchat, you know. This was also the time he texted me on Snapchat and we started talking and planned to meet," says Mitali.
"It was really funny because we both didn't like each other at the time. It was an awkward meeting and we both didn't contact each other for some time after that," Mitali adds. Love comes at the right time, we guess. And for Mitali and Aakash that time struck during the summer break. 
"I was at my hometown during summers and he was at his and contacted me again. We started talking, but this time it was very different – maybe the vibe, but we actually connected somehow. We texted a lot and wanted to meet each other. He came 1 week early especially to meet me and we met! Again, the vibes were different this time. We somehow liked each other and started spending tons of time," says Mitali of the early butterflies of their relationship. 
"He told me that he was looking for something casual as he was going to the US for his master's in a couple of months. I told him I can't do something like that. We still met as friends for some days, then one day, he finally proposed and asked me to be his girlfriend, like a serious one and not a fling or something casual. I said Yes," she adds. "Then for another 4 months, before he was moving abroad, we were head over heels in love. He even decided to cancel his US plans for me. He even got a tattoo of my name just 2 months into dating. After lots of convincing from my side and his parents, he went. It was a tough time for our relationship, but we made it happen, and now we are married." 
Wedding Planning Was A Roller-Coaster, But Wedding Was Tonnes Of Fun 
Wedding postponement isn't new to couples planning their wedding after 2020. And wedding planning is surely a tough bet and comes with its own challenges during the pandemic. The original wedding date for Aakash & Mitali was 25th April 2021, but the second wave pushed their wedding date to August. "As if planning the wedding during the pandemic wasn't enough," Mitali says. "We finalized Devi Ratn in Jaipur earlier, but because of some coordination problem, later we finalized Taj Damdama. The planning was mostly done from the groom's side. On Sangeet, we finalized Bolly Jammers, who were awesome, everybody loved them and it was one crazy Sangeet! Like in all functions, the 2 most important things were music and alcohol," she adds. 
Continuing, "Nobody would believe that me and Aakash being the bride and groom have enjoyed our wedding like anything. I was very scared before the wedding that Aakash would be able to enjoy it but I wouldn't as Dulhan is supposed to be lowkey and things like that. But I swear I have enjoyed my wedding like anything, from dancing till the morning at every function to waking up with an awful hangover. The next day not knowing how to survive the next day, then again drinking. We somehow managed to enjoy every moment." 
"Now we look at the photos and decoration, absolutely stumped and wondering what was there. But when we think about it and compare, we always feel happy that no matter what we enjoyed our wedding and that's what matters. Even our friends and family called to post our wedding for almost 10 to 15 days, saying that they can't get over the wedding hangover. It was crazy," says our happy bride.  
The Wedding Outfit Shenanigans
"I did a lot of research for my wedding outfits. A lot. By the end, I was so thorough, I could tell by looking at the outfit, which brand it was! I got that good. LOL," says Mitali. 
Mehendi: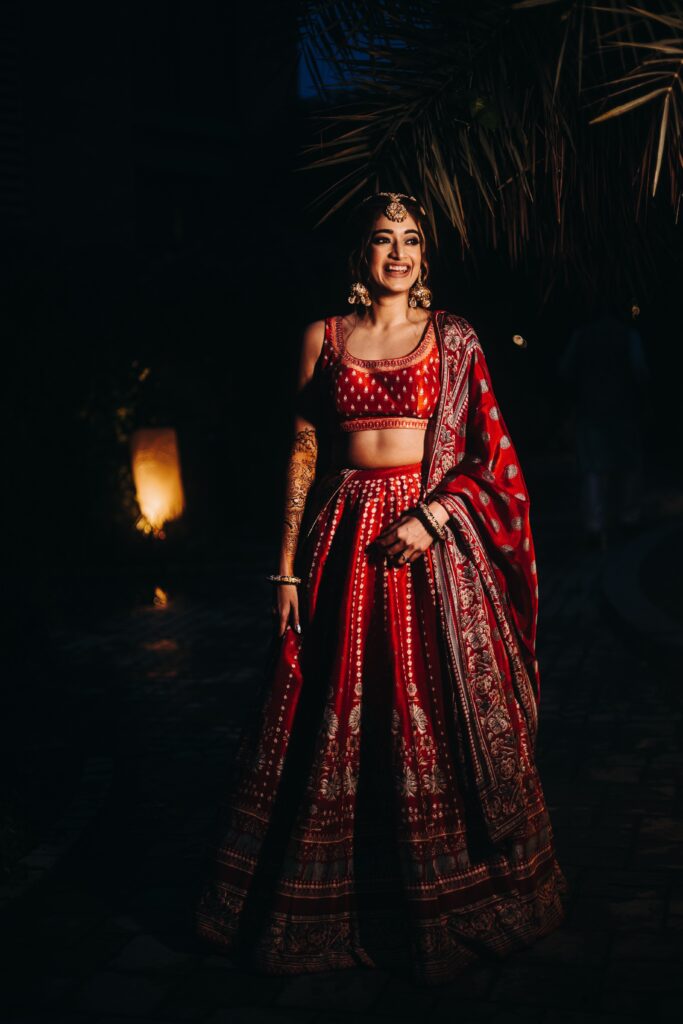 "For my mehendi, I did purchase an outfit earlier – a draped saree because I wanted to keep it light, but when my wedding was postponed, I looked into other things too. I came across a post where Isha Multani was wearing this red lehenga by Anita Dongre for her mehendi. I fell in love with the lehenga. I went to the Anita Dongre store in Mehrauli and ordered the same lehenga. For jewelry, I took 3 different options, including the one that Isha was wearing. I got that but somehow I didn't like it as much. I got one more floral piece of jewelry but finally wore another one I bought from Qbik. I customized it and changed the colors based on my outfit and it just went perfectly."
Haldi: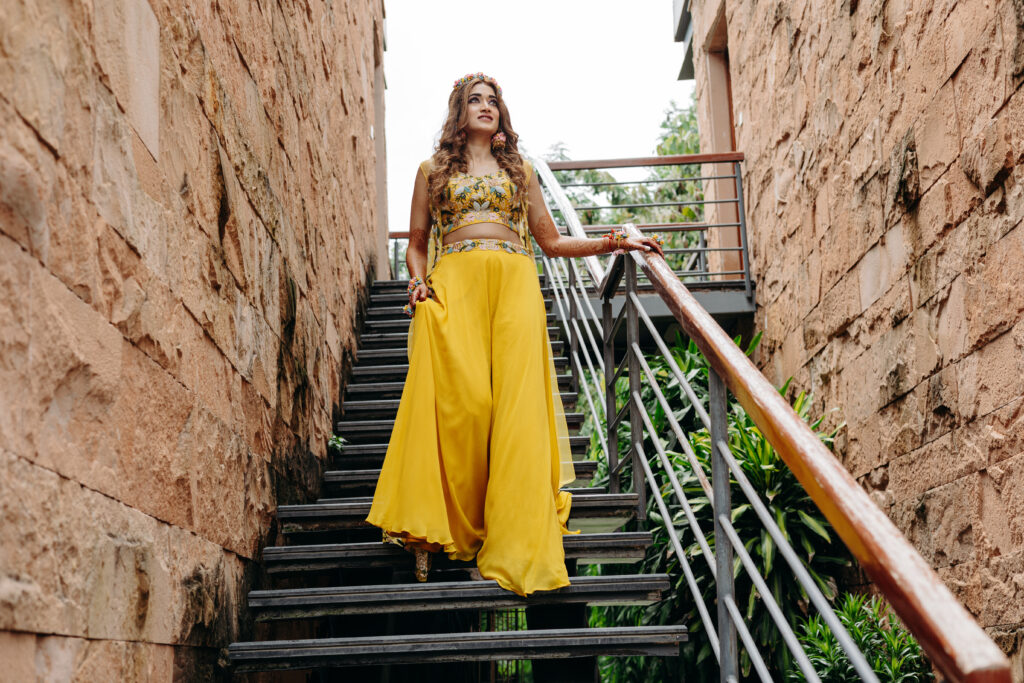 "So basically you're supposed to give away your haldi outfit once the ceremony is done, so I thought I'll wear some simple suit or something. I even got one suit from Aachho, but somehow I wasn't convinced of wearing it. So, I was strolling down Shahpur Jat Street and I went into a store, where there was this beautiful yet elegant suit from Kalki. I just loved it but didn't buy it at that time, as everybody was suggesting otherwise. But my heart was already convinced of that outfit. Later, I went alone and I kind of sneaked that outfit for my haldi. But again, I didn't want to give it away, so I changed that outfit before my haldi ceremony,"
Sangeet: Abhilasha Bharal (Shahpur Jat)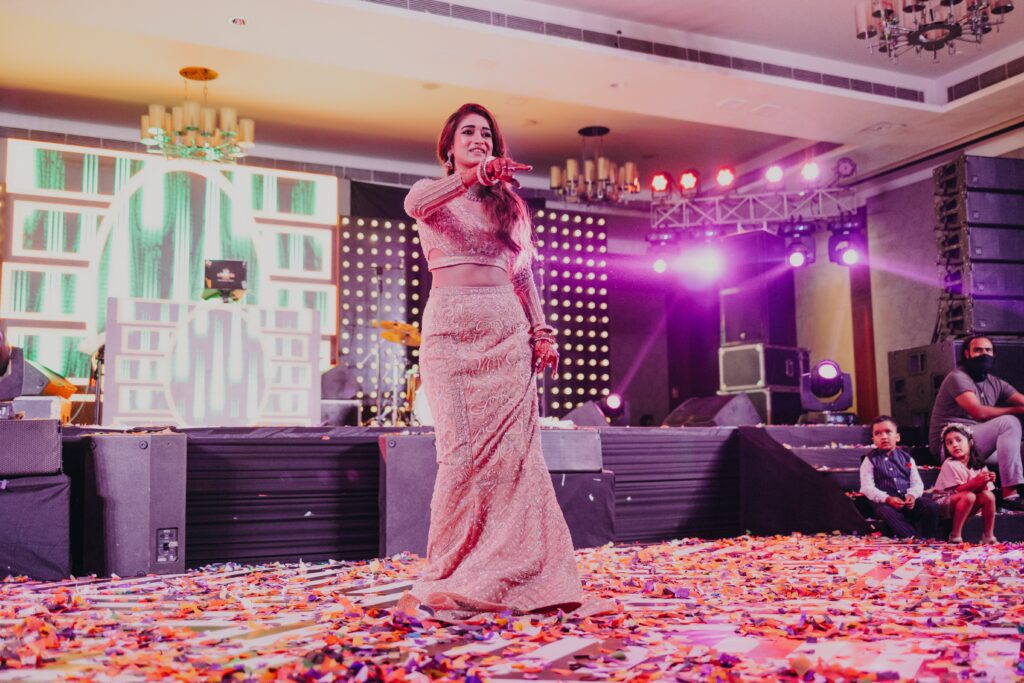 "So basically she can customize whatever you want. I just loved one outfit from Falguni Shane Peacock, but I wanted certain changes in the same design. So I went to her boutique just randomly while strolling through the streets of Shahpur Jatt. She showed me how well she designed outfits from reference pictures and I was so damn happy that I will actually get to wear that outfit. Like even now when I see the pictures I can't believe it, it was so beautiful, when I went for the trial, it was exactly the same thing which I wanted. I just fell in love with that outfit and it was just perfect."
Phera: Omprakash Jawaharlal & Sons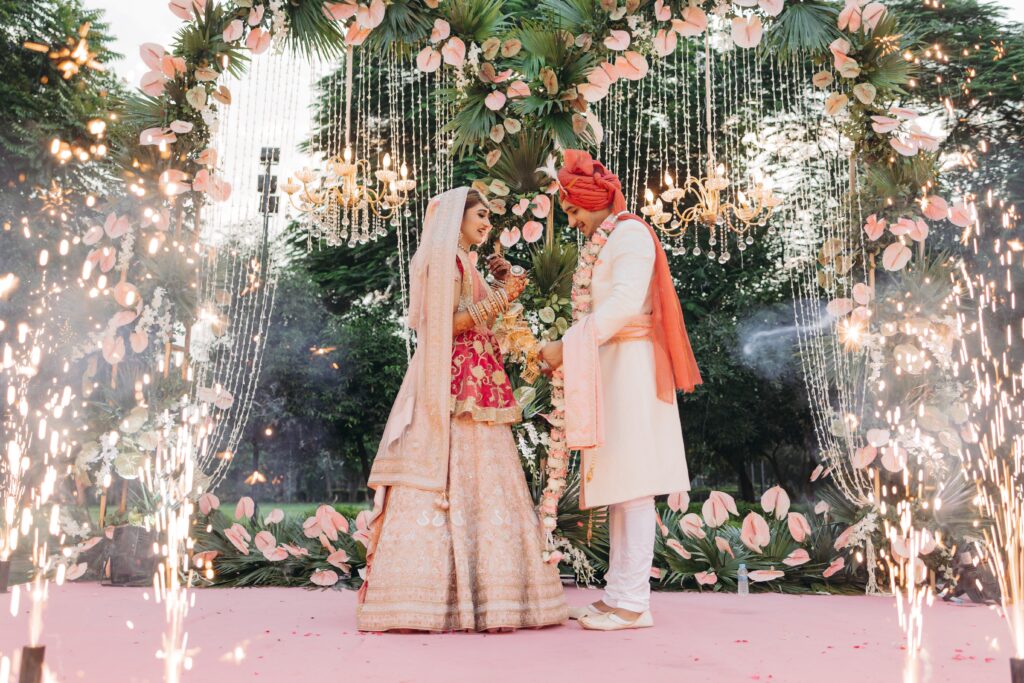 "So basically I went through all the stores, explored everything. I wanted to wear something which nobody has worn. Plus, I wanted something in pastel as it was my dream to get married in a pastel pink lehenga, but again, I didn't want to go light on my D-Day. I explored all the brands, and looked into everything, I liked some pieces, but they were already worn. My in-laws took me to the lehenga hub – Chandni Chowk and I saw this lehenga in ivory which I absolutely loved, but my heart was still shouting pink. So, I told them about the particular pink I wanted, and I told them to customize it in the very same shade," says Mitali. "When the wedding got delayed, my heart wandered again. I started exploring again. The second spree was a huge disappointment though. Finally, I decided I will wear the same lehenga only. I do like the color and the element of uniqueness can be added anyways. So, I saw this beautifully Fuschia-colored dupatta and decided to pair it with my ensemble. I got it customized from Ejaaz couture and I just can't emphasize how much I loved the final look. It was a proud moment to see me on D-Day. Thankful to all the people who wanted me to stick to the same lehenga," Mitali adds. 
Reception: Omprakash Jawaharlal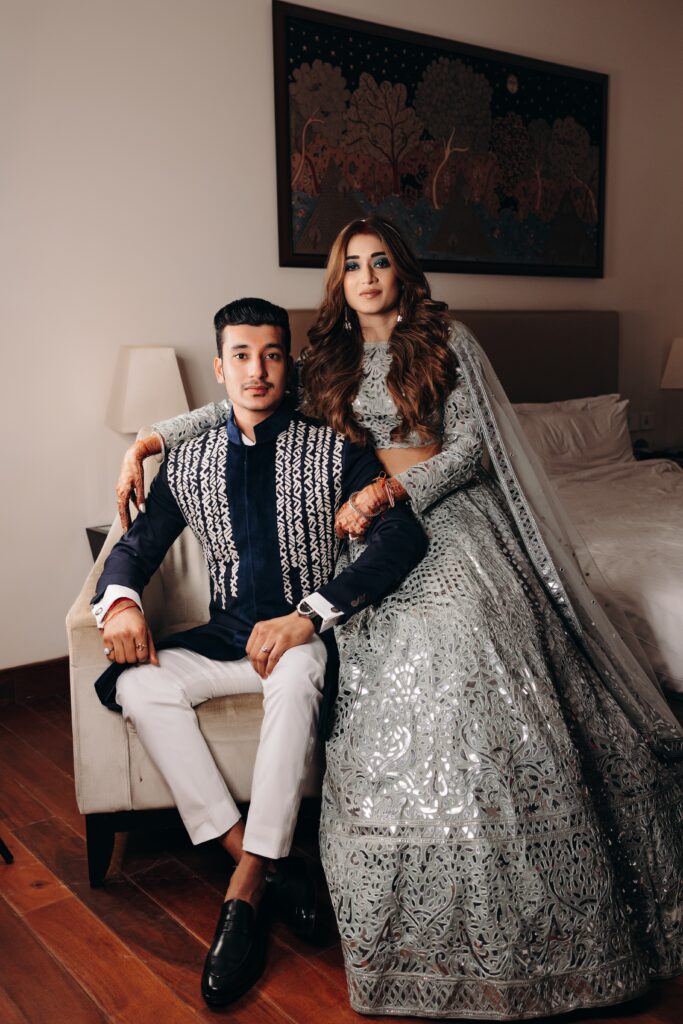 "I finalized my reception lehenga before finalizing the phera lehenga. I loved the lehenga in the first look and it was exactly what I wanted. I tried it and everyone also approved in one go, so not much of a story here LOL."
See the complete wedding album below:
Mehendi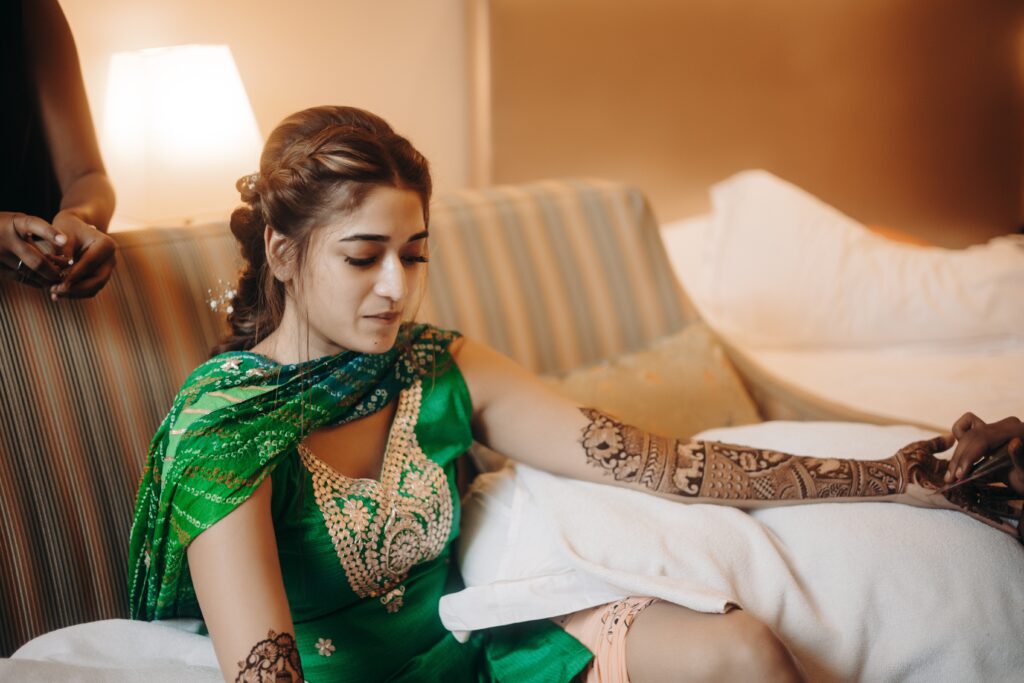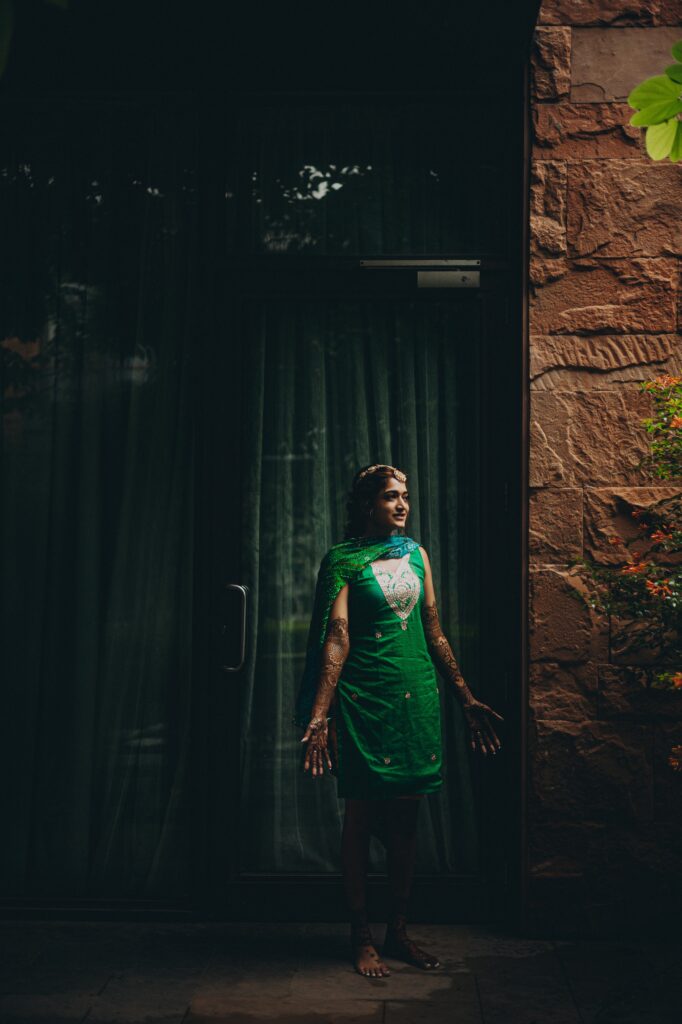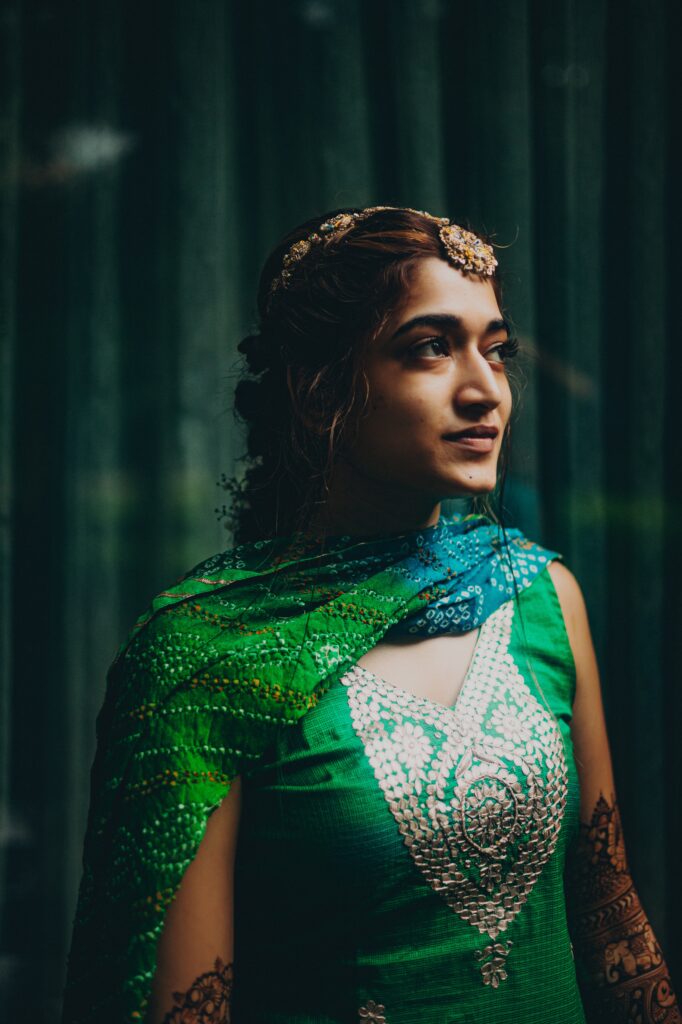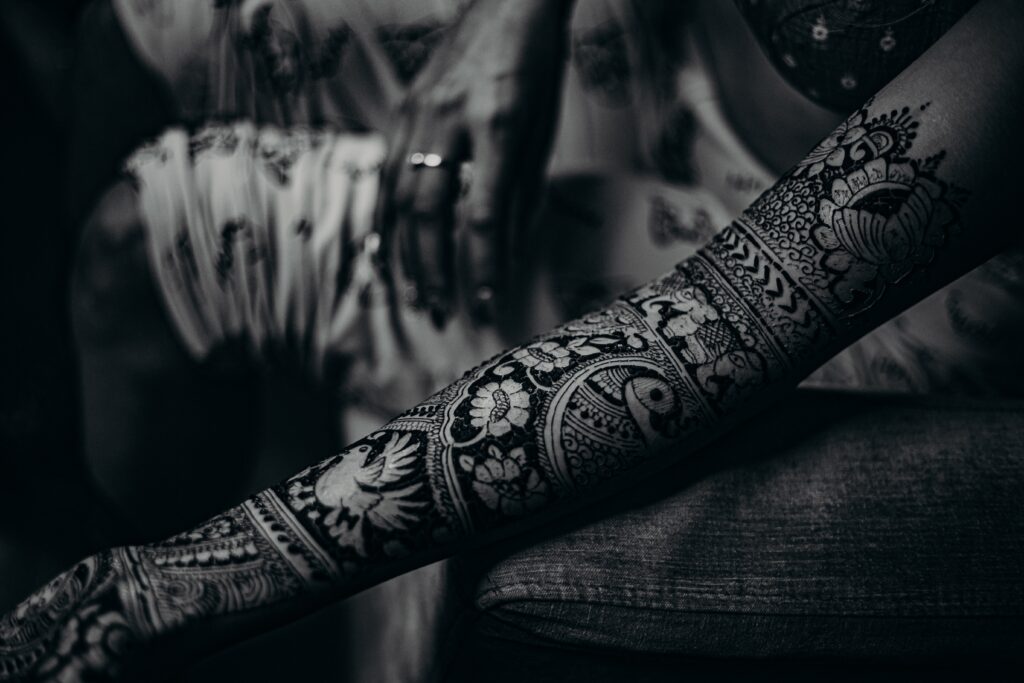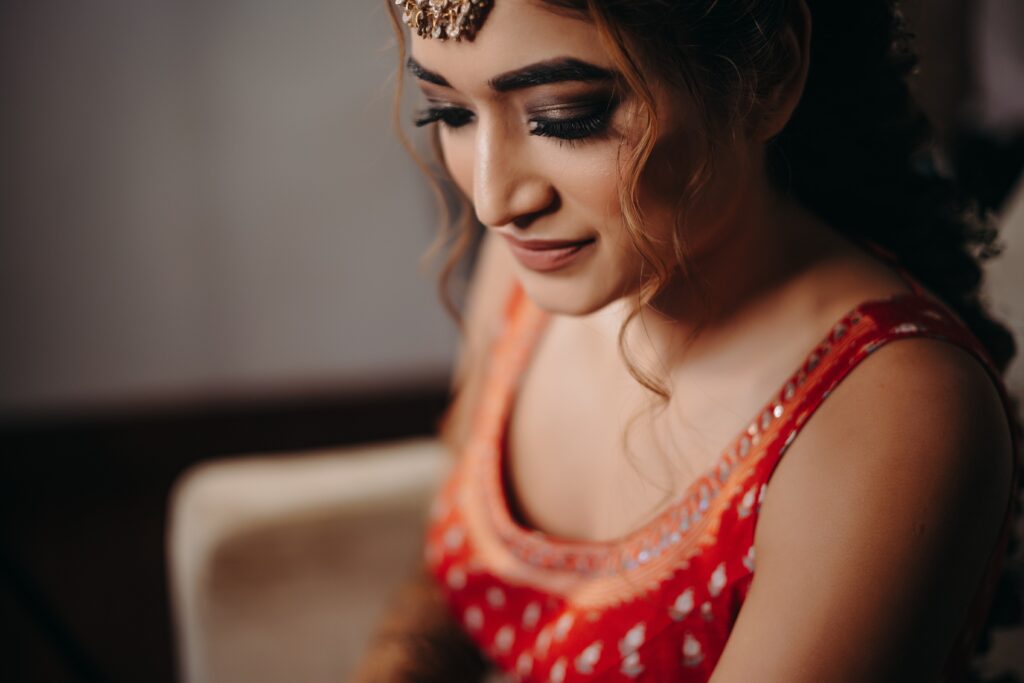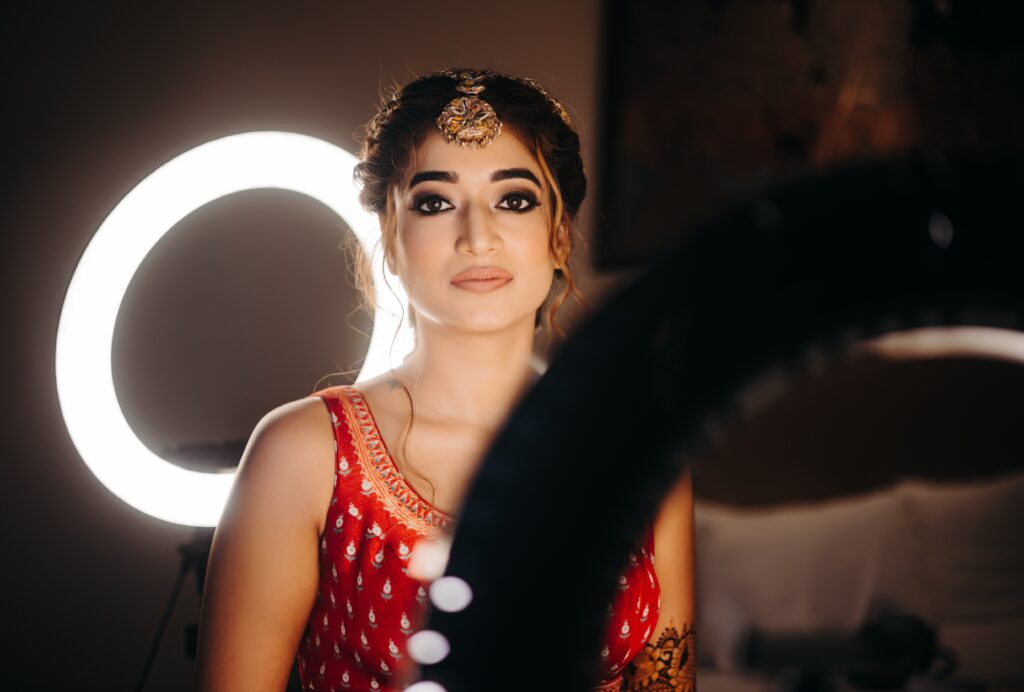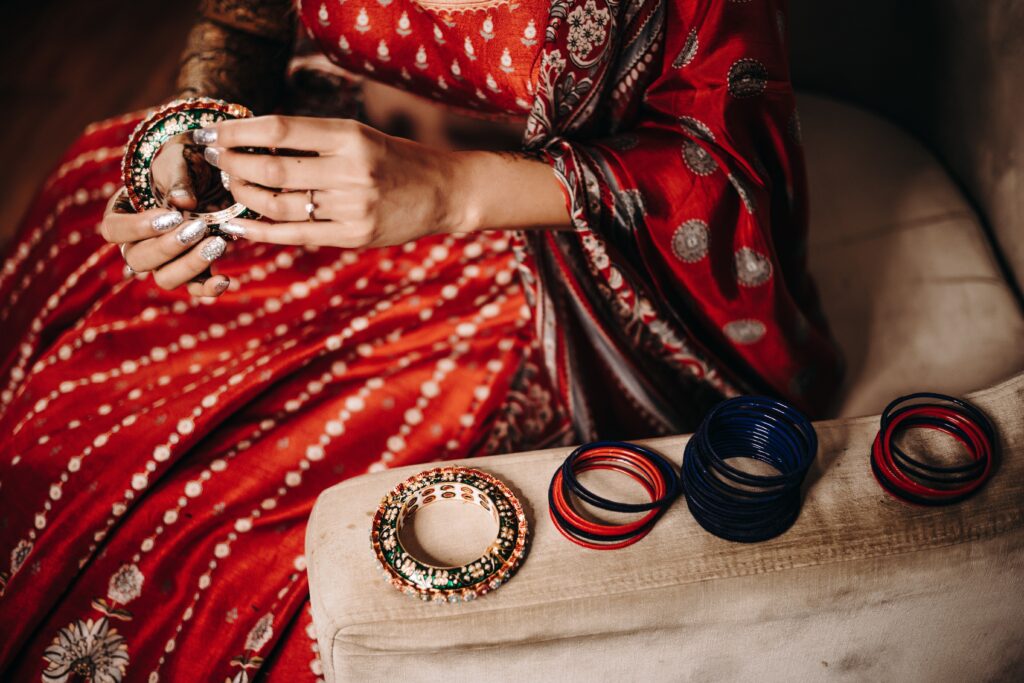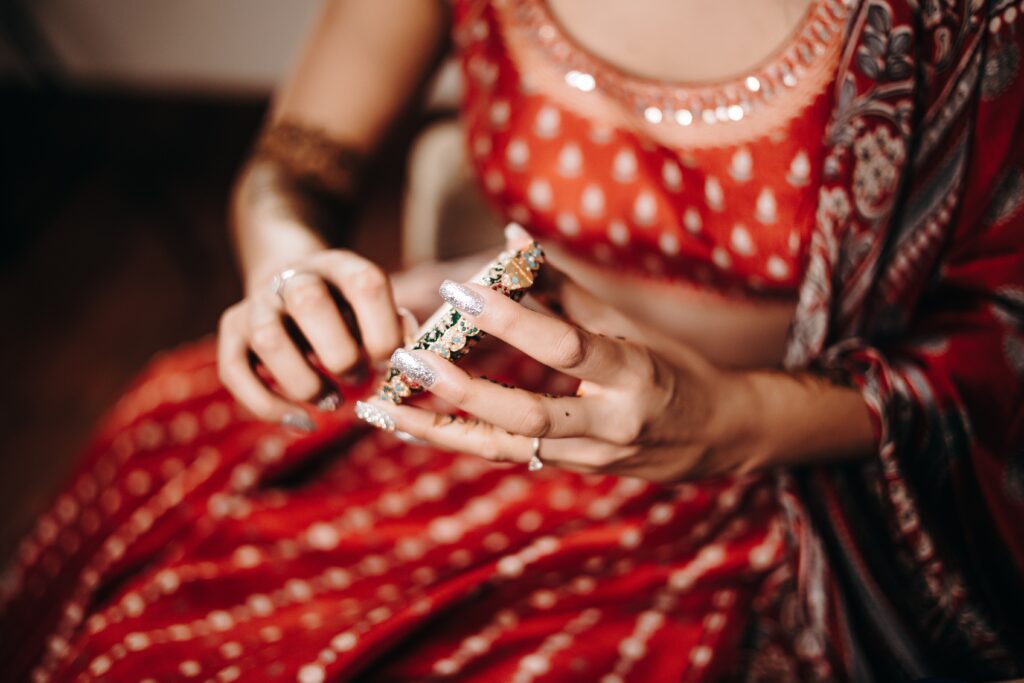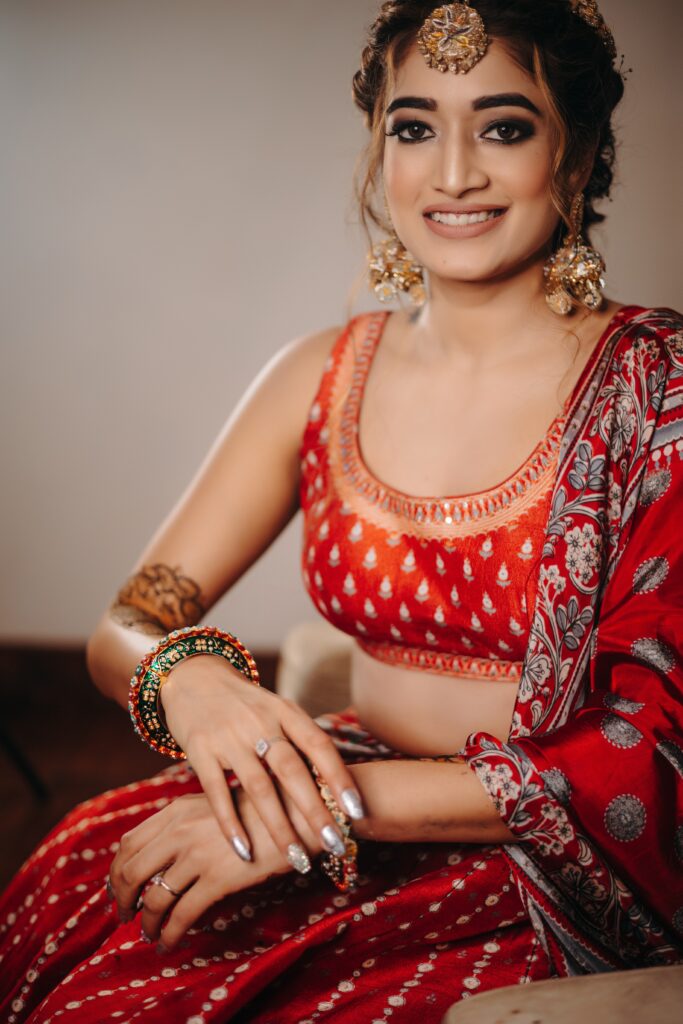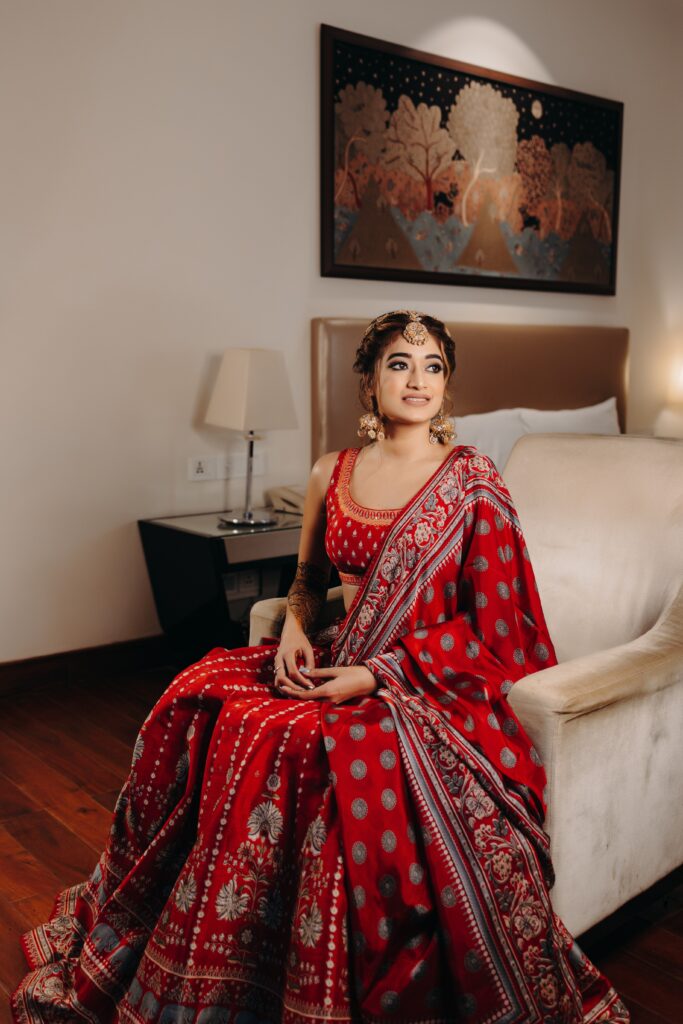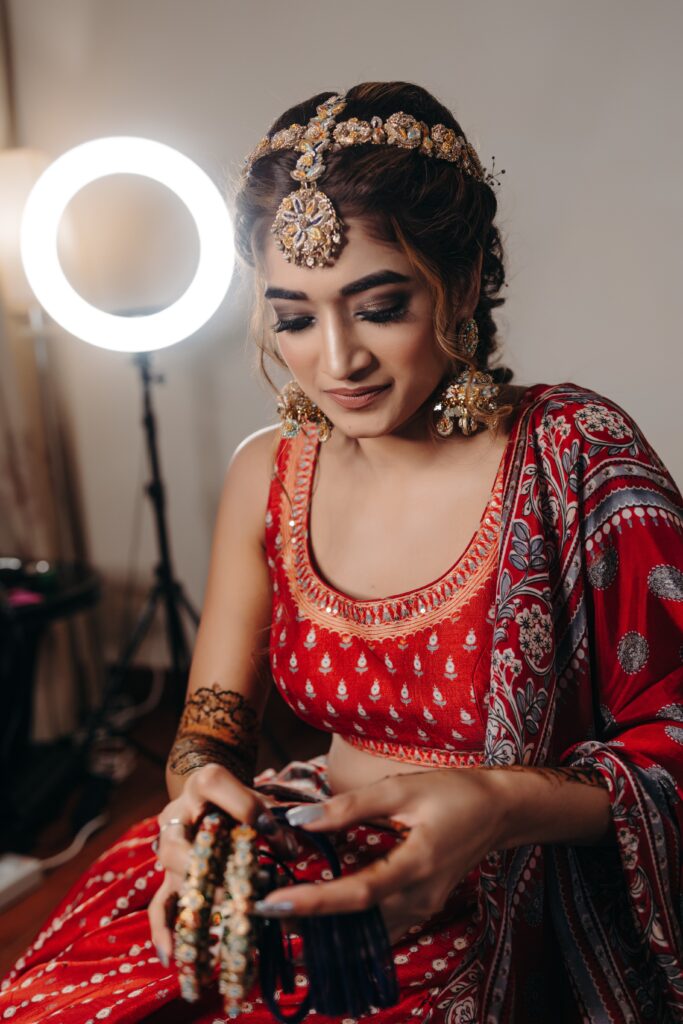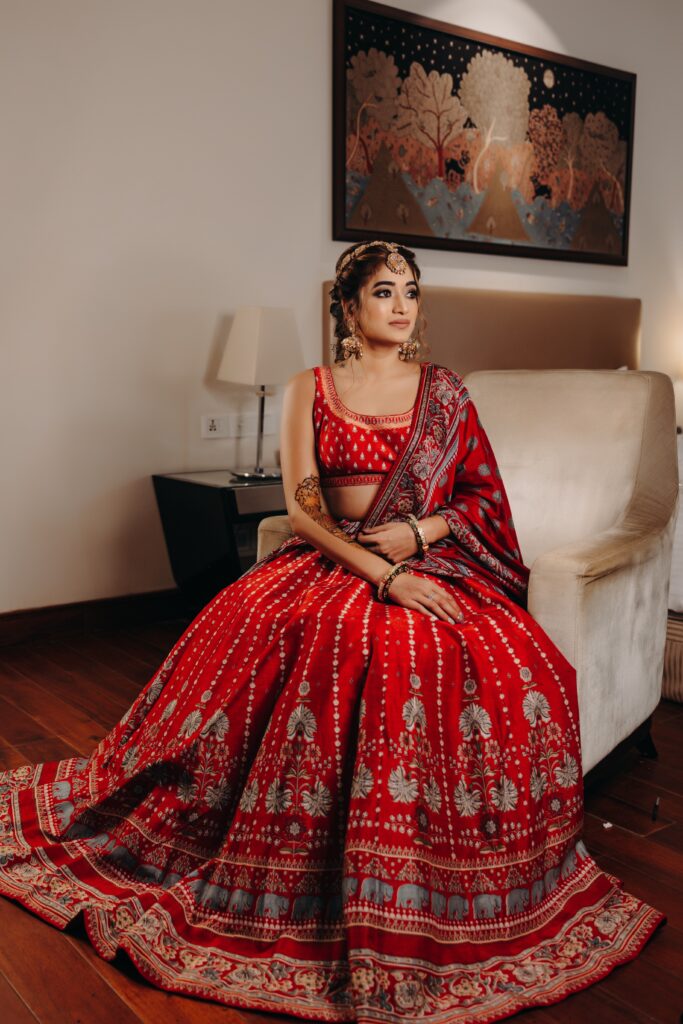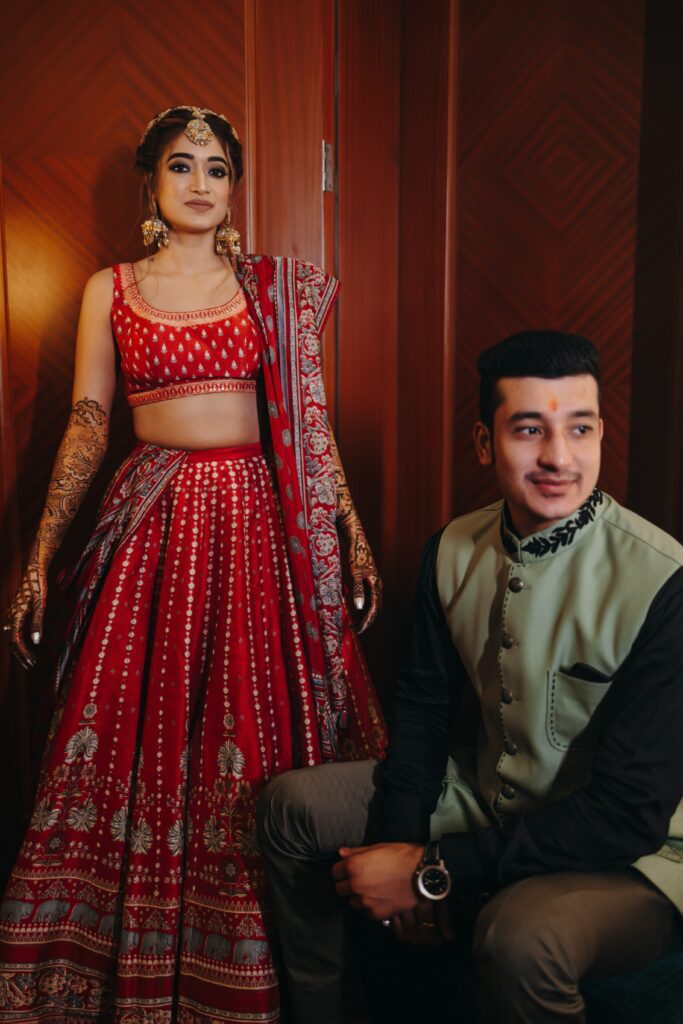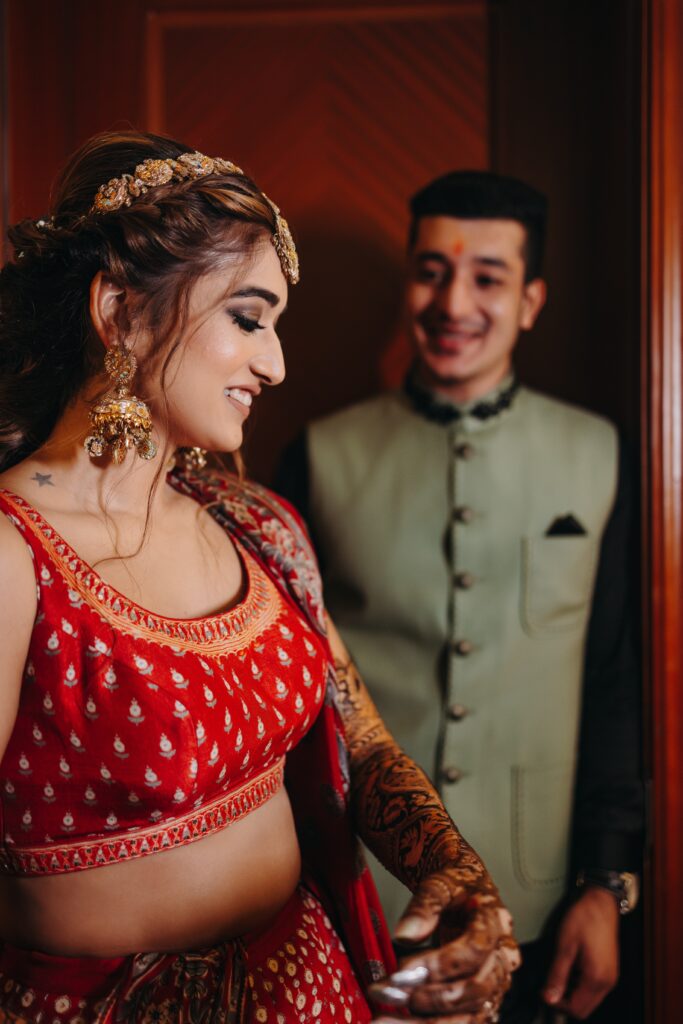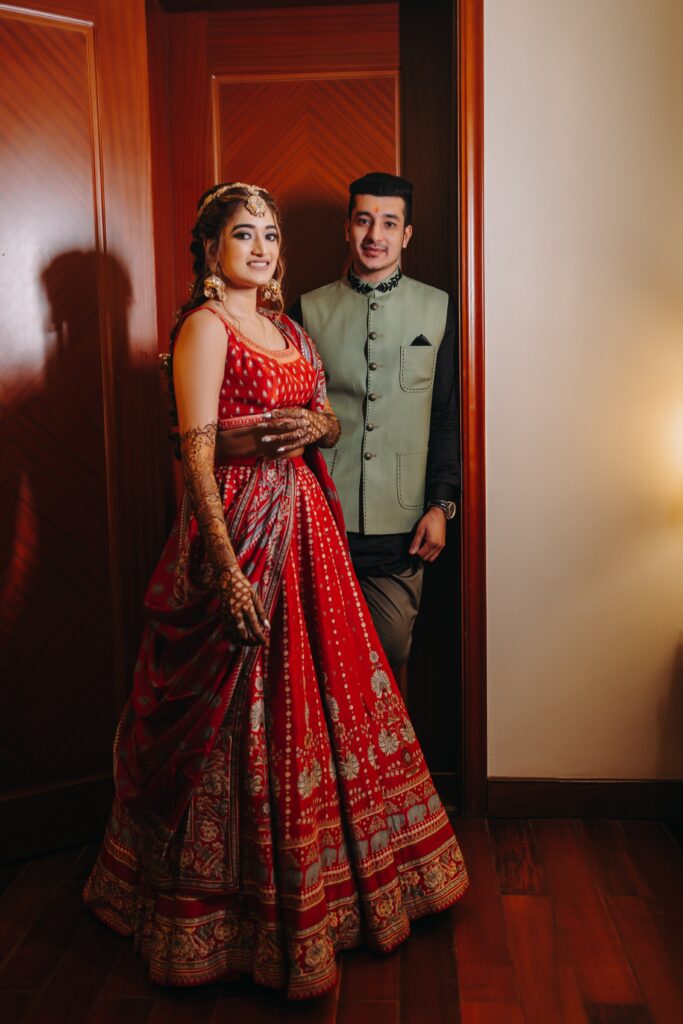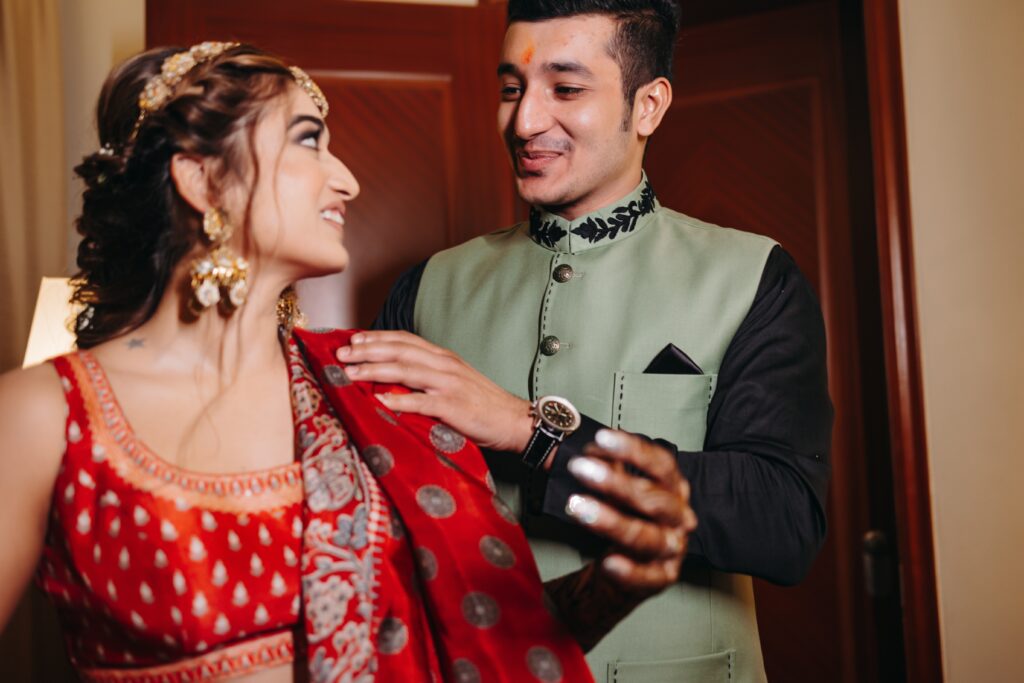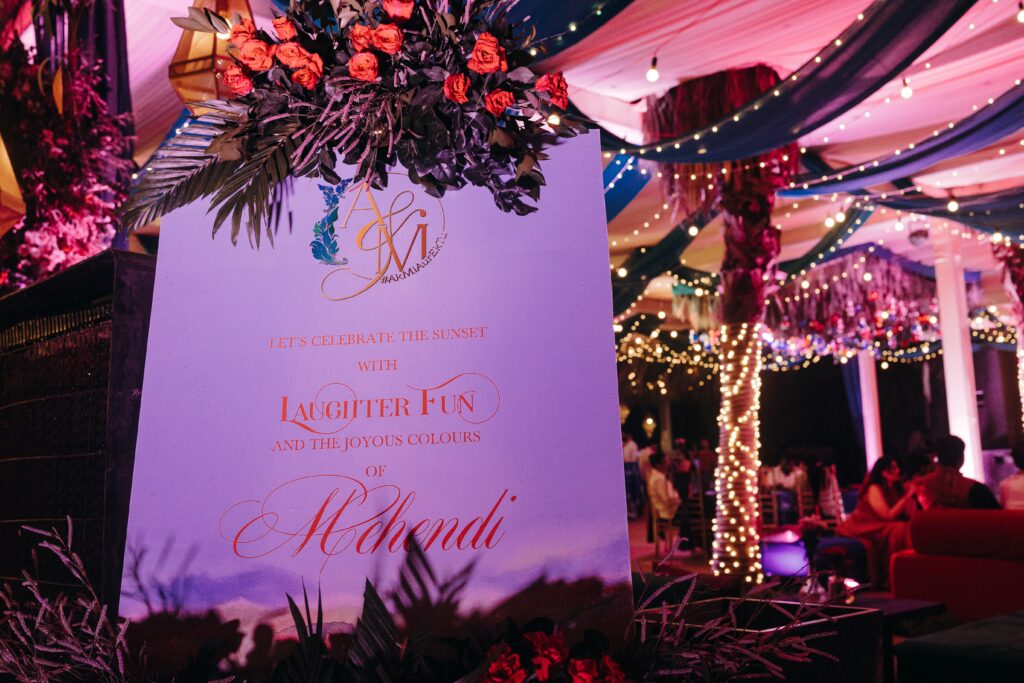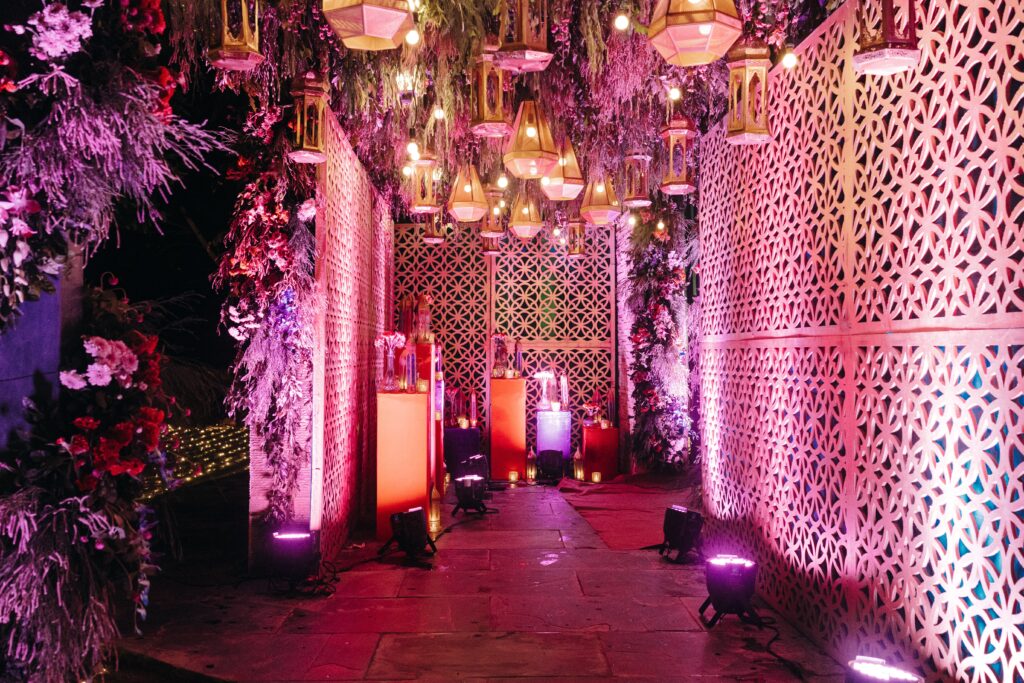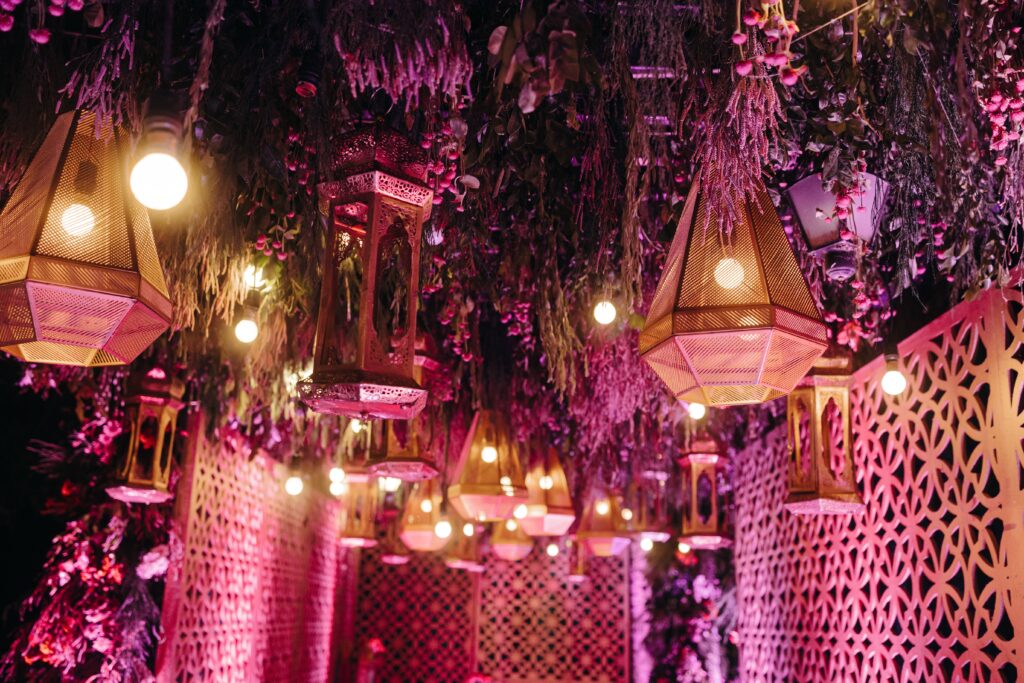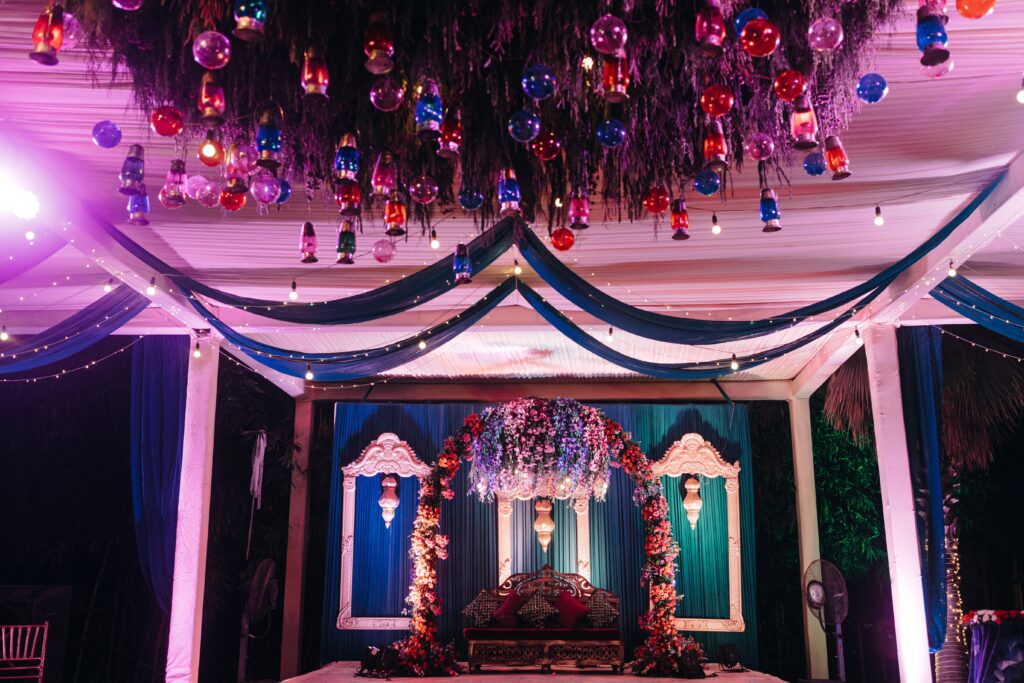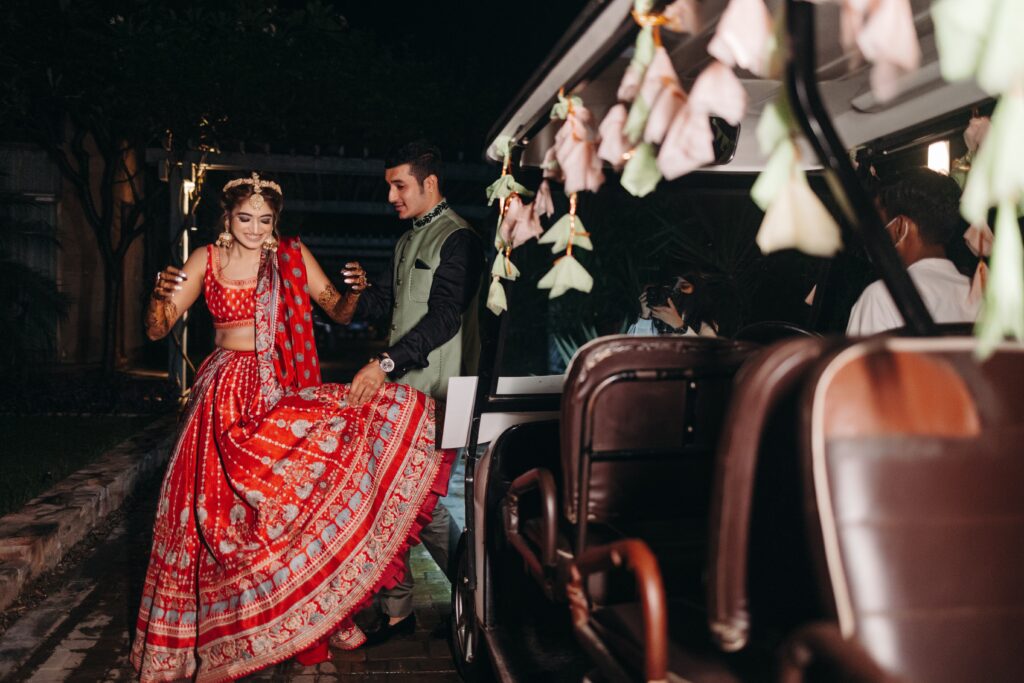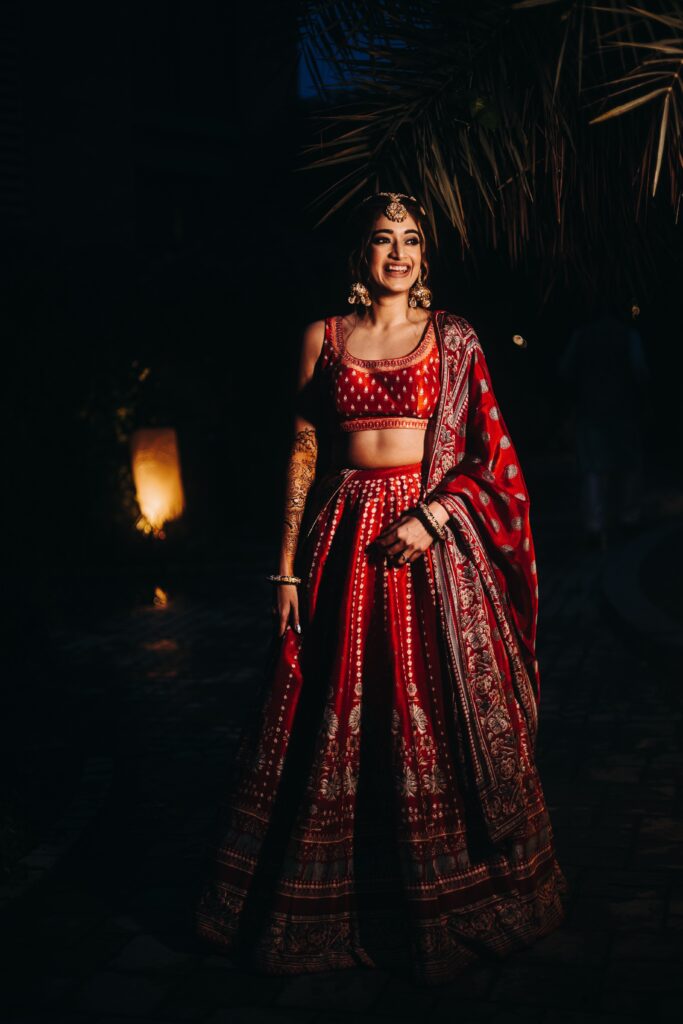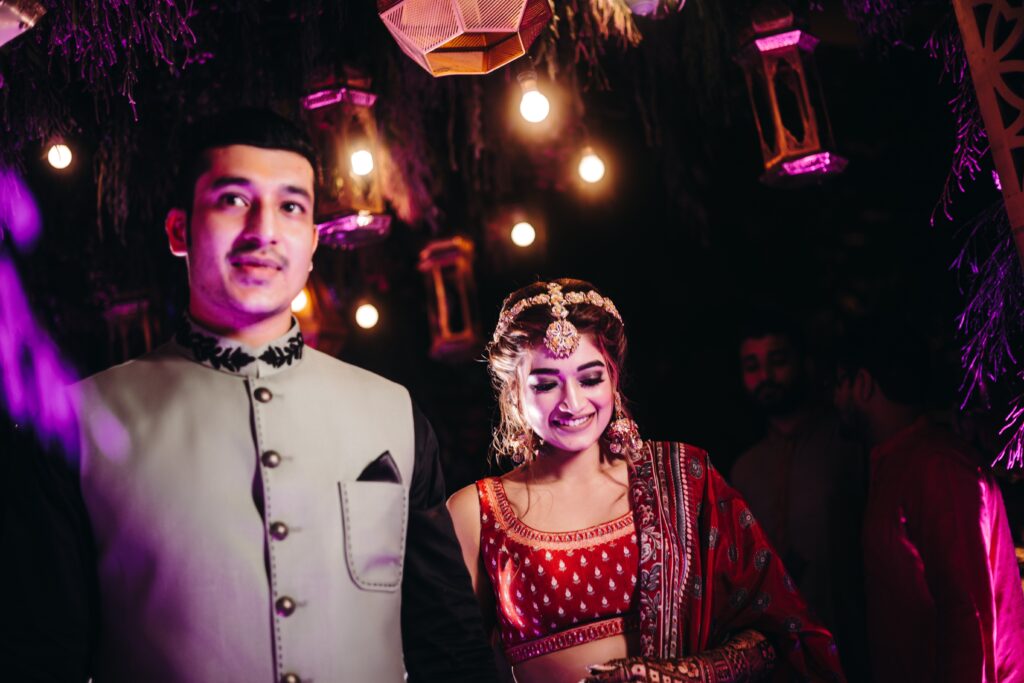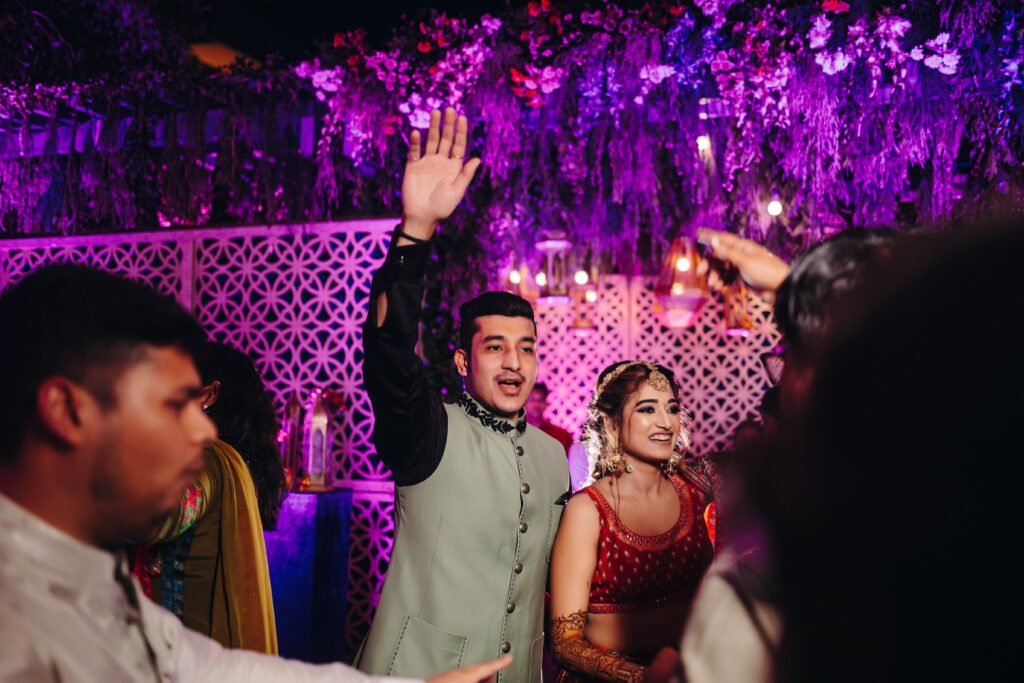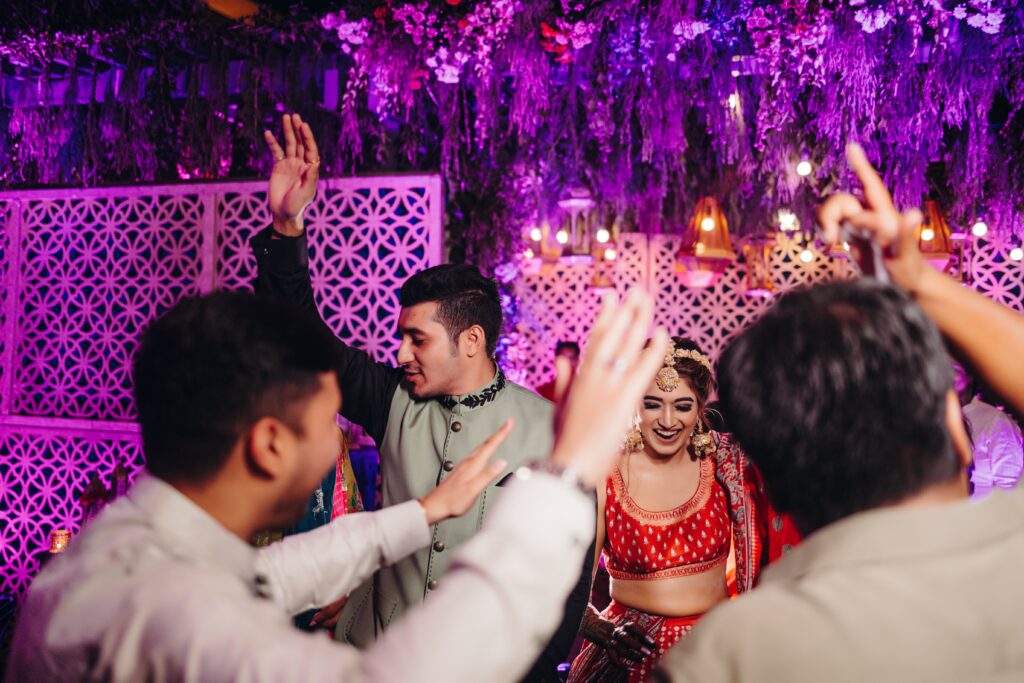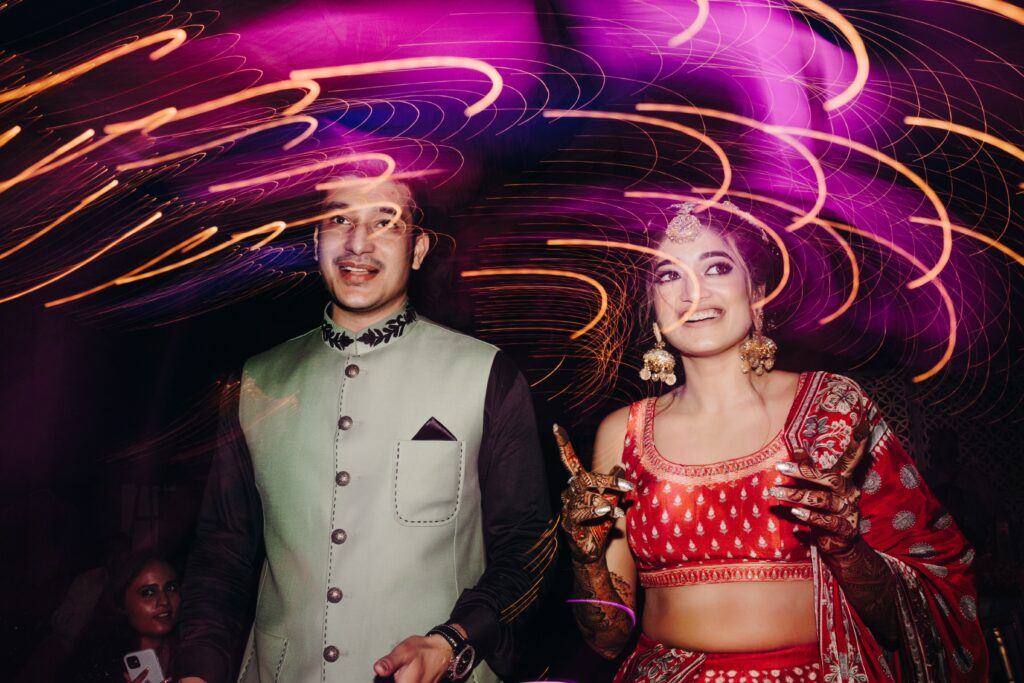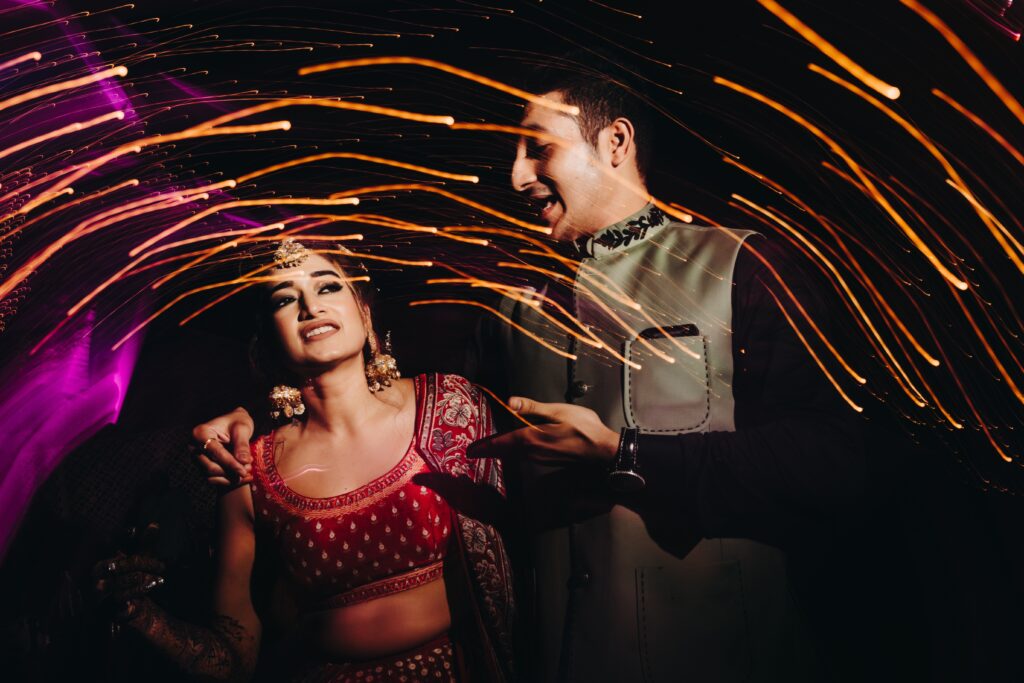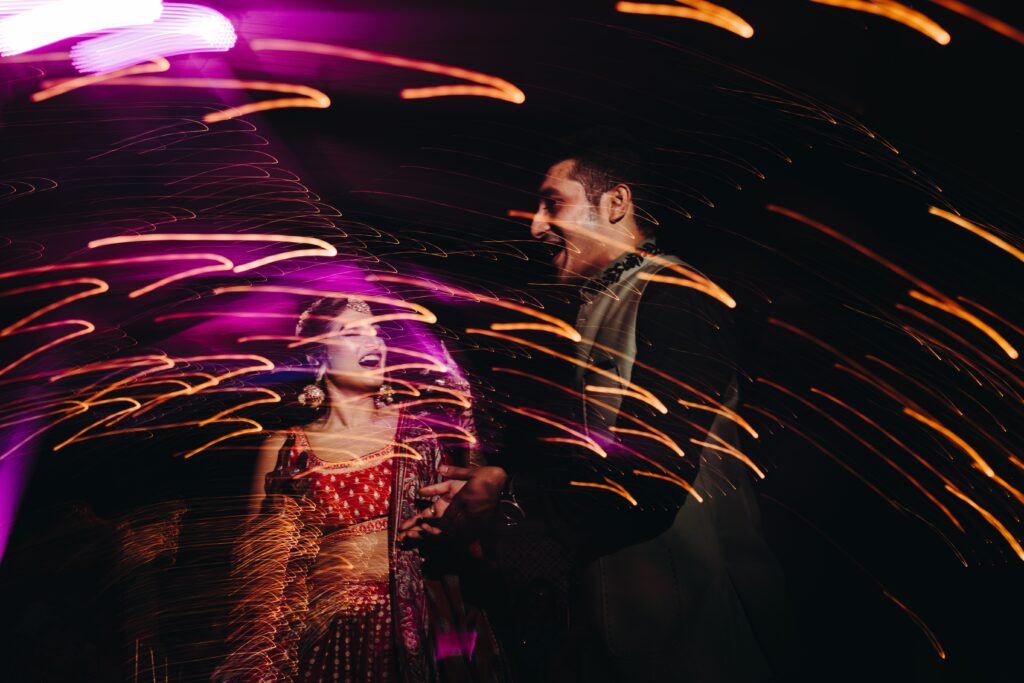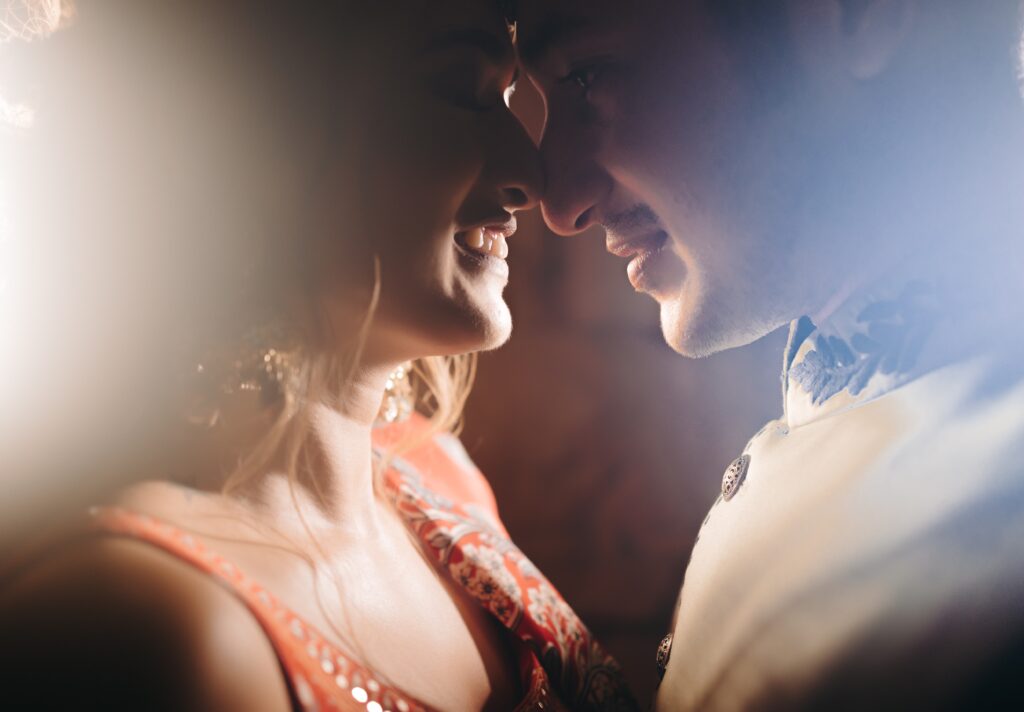 Sangeet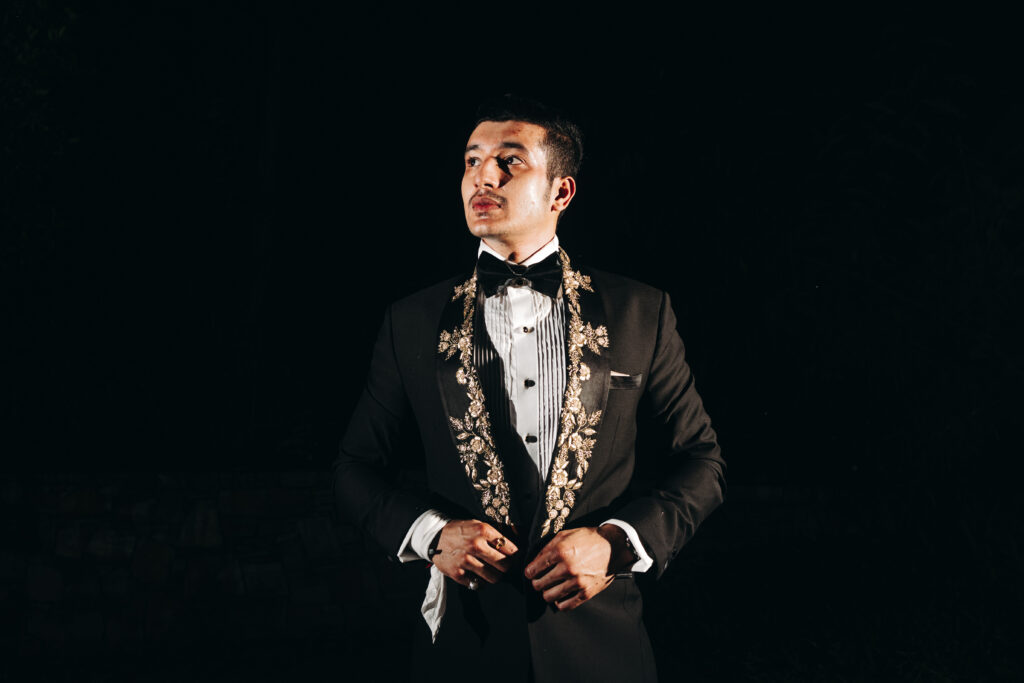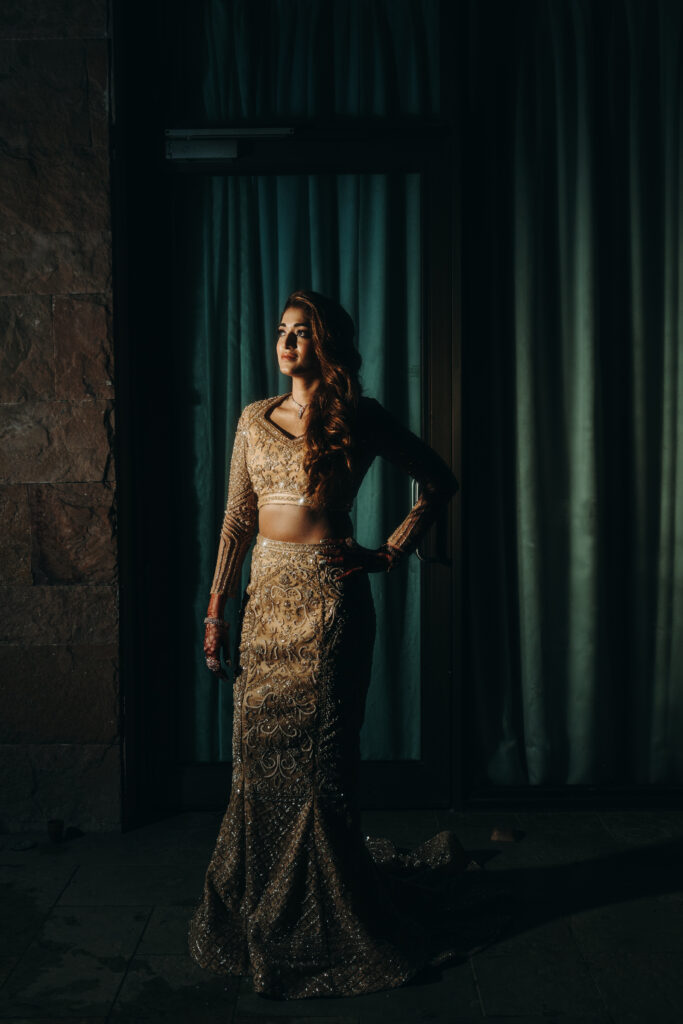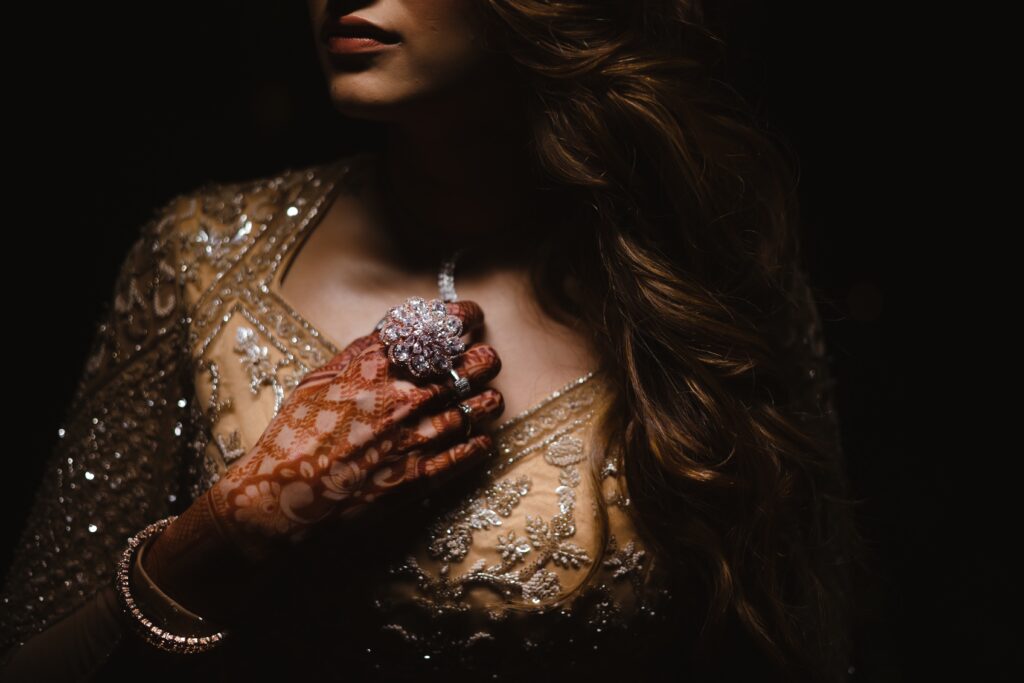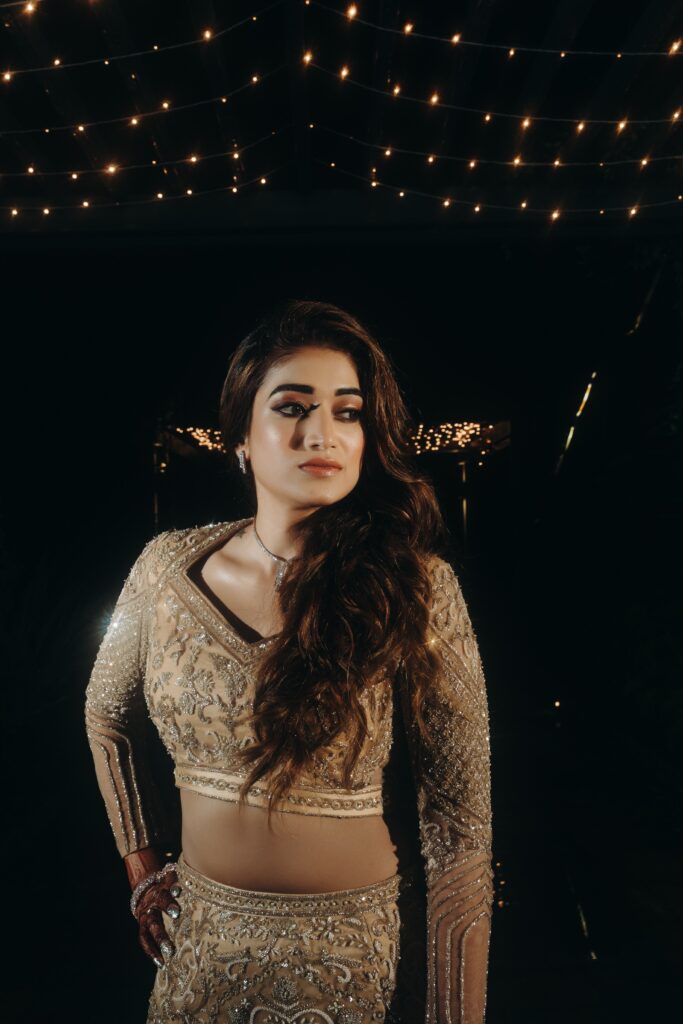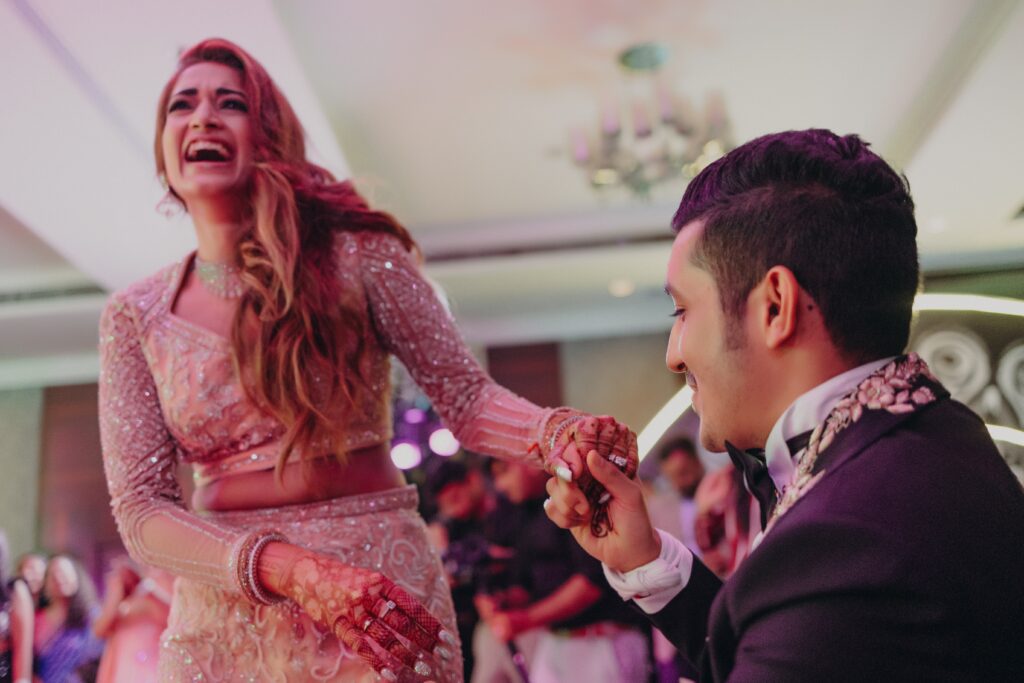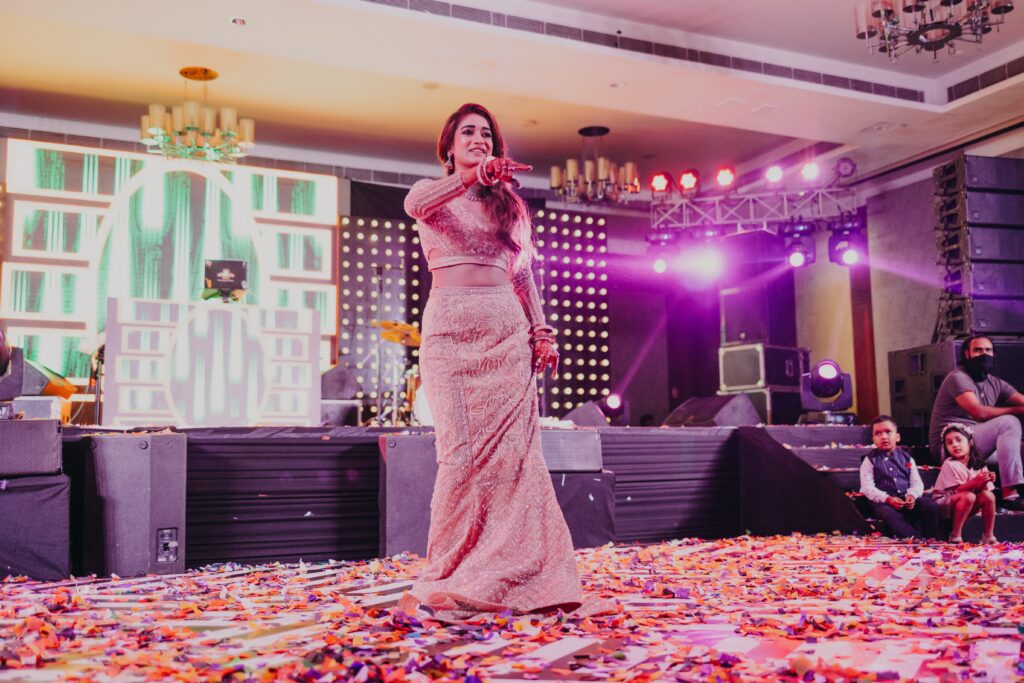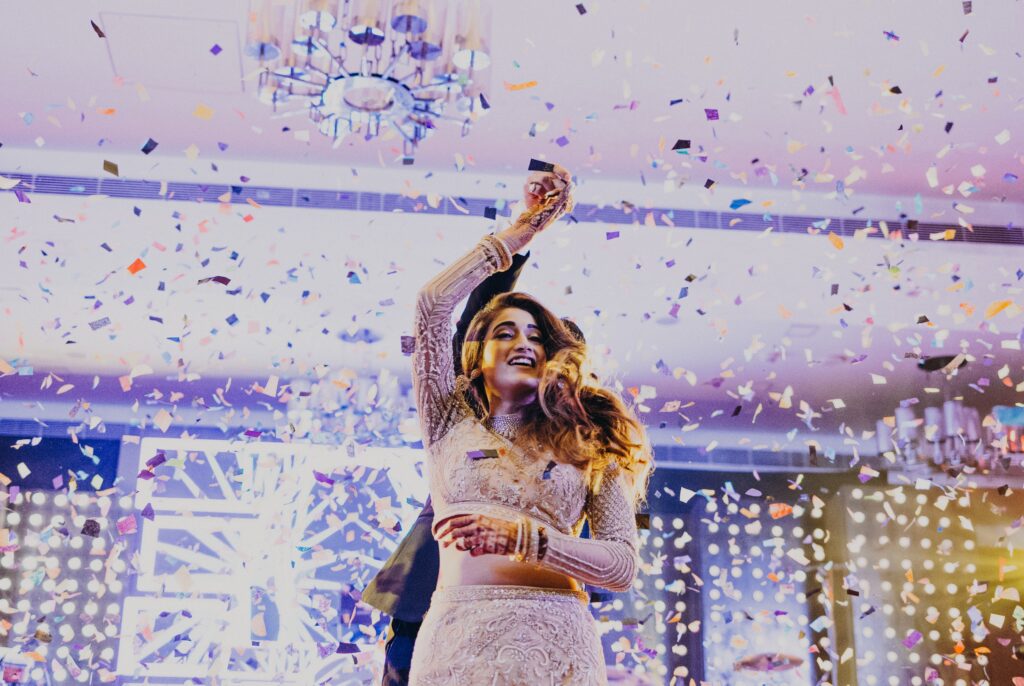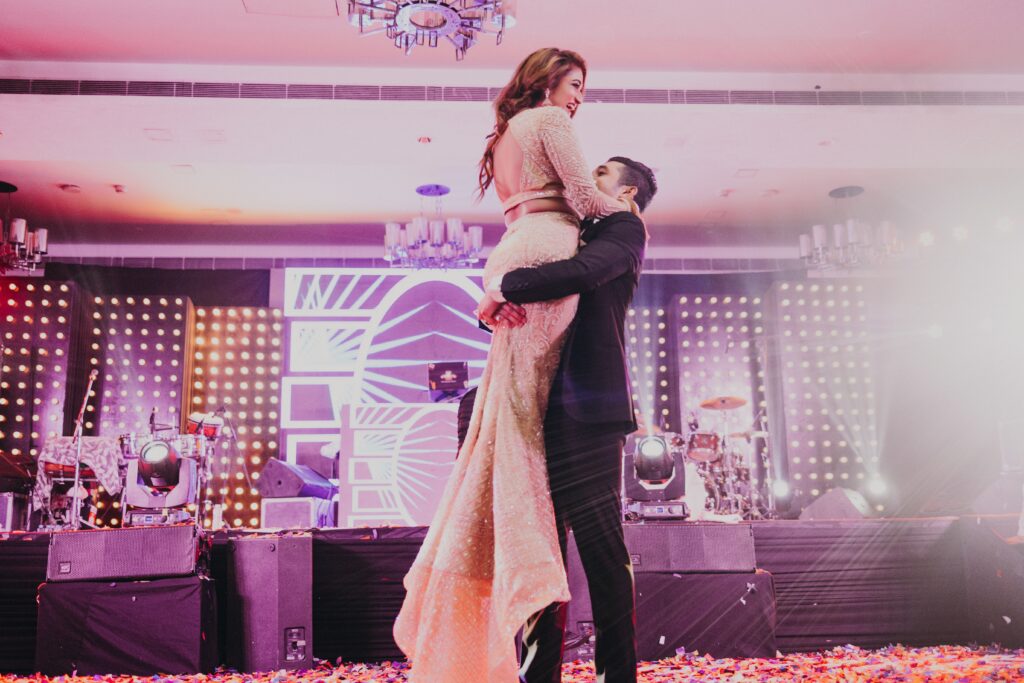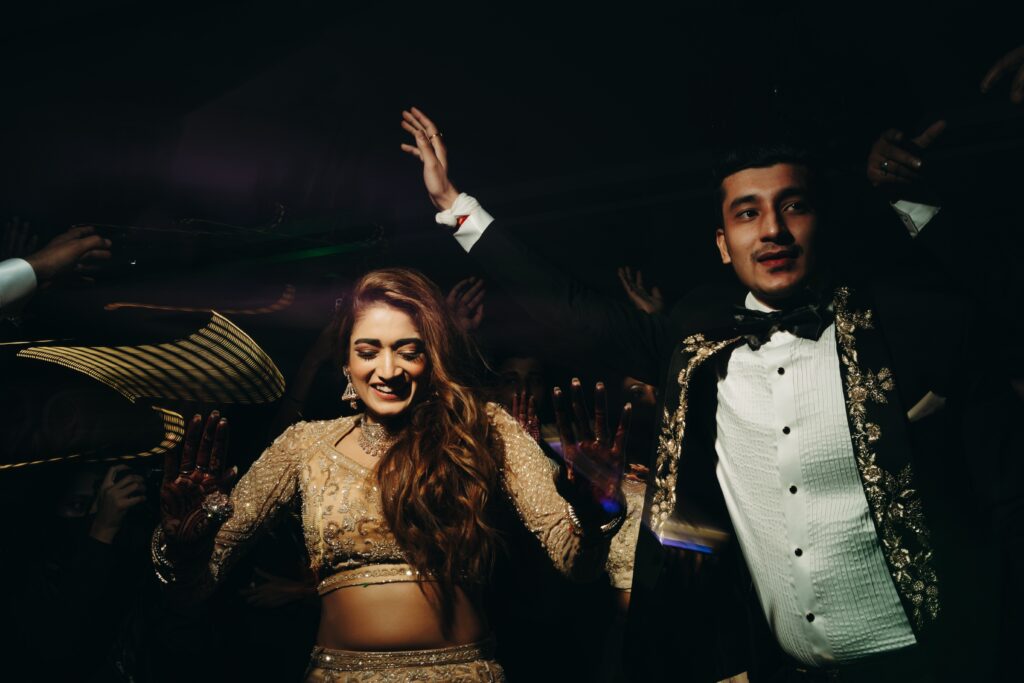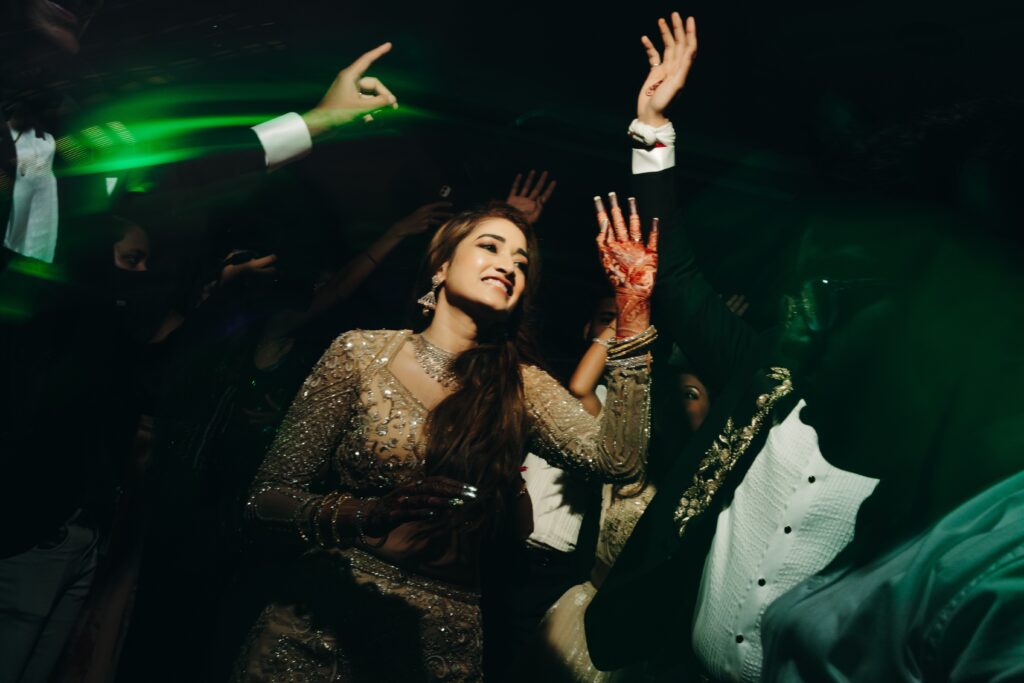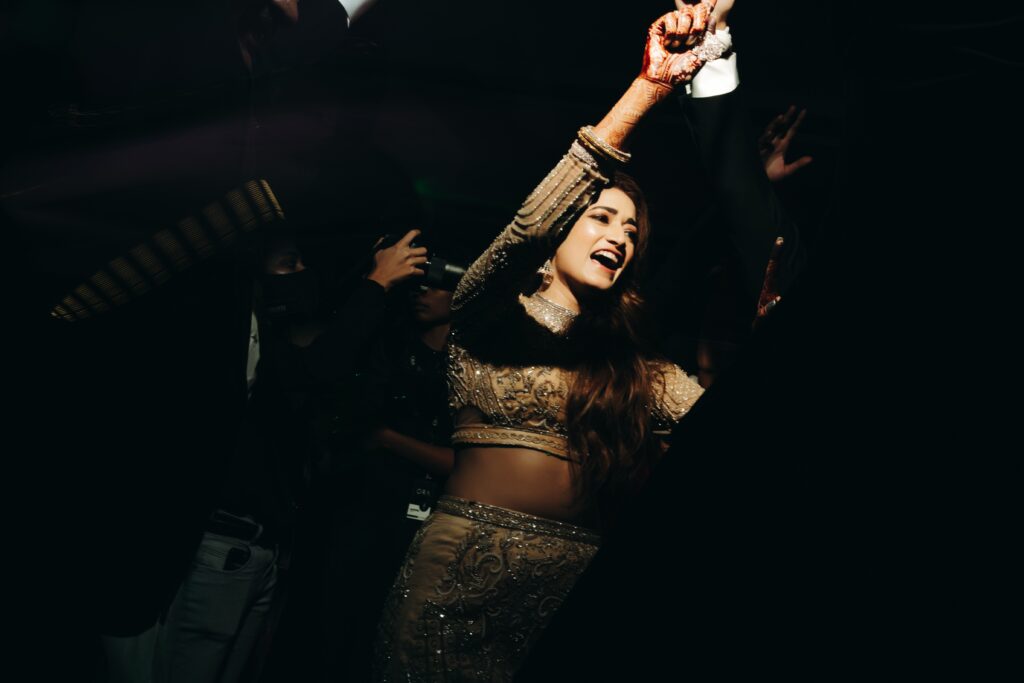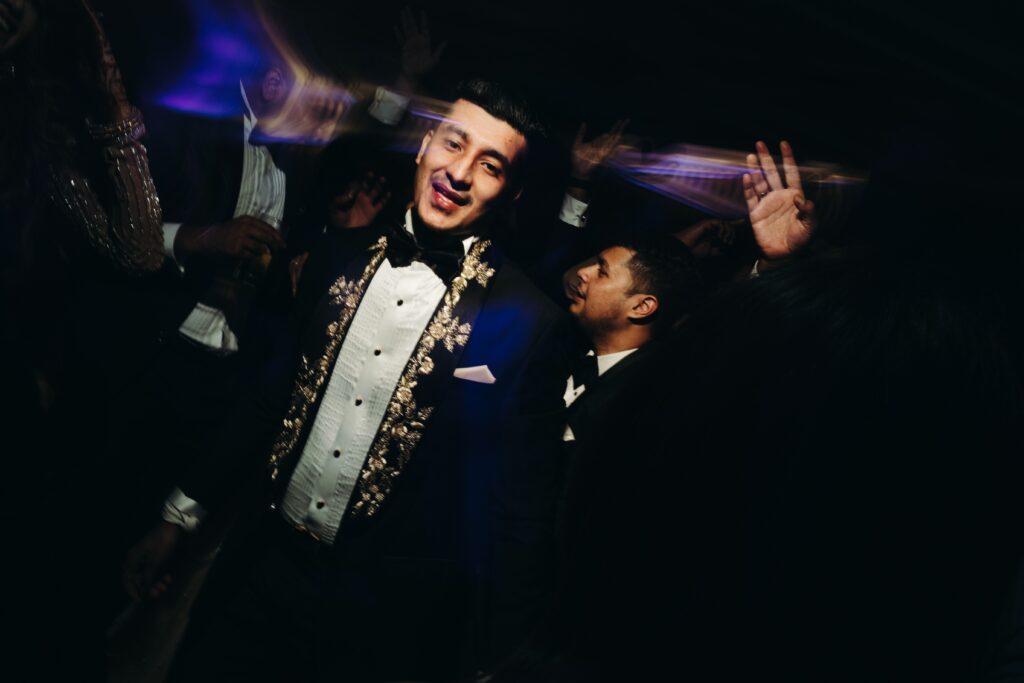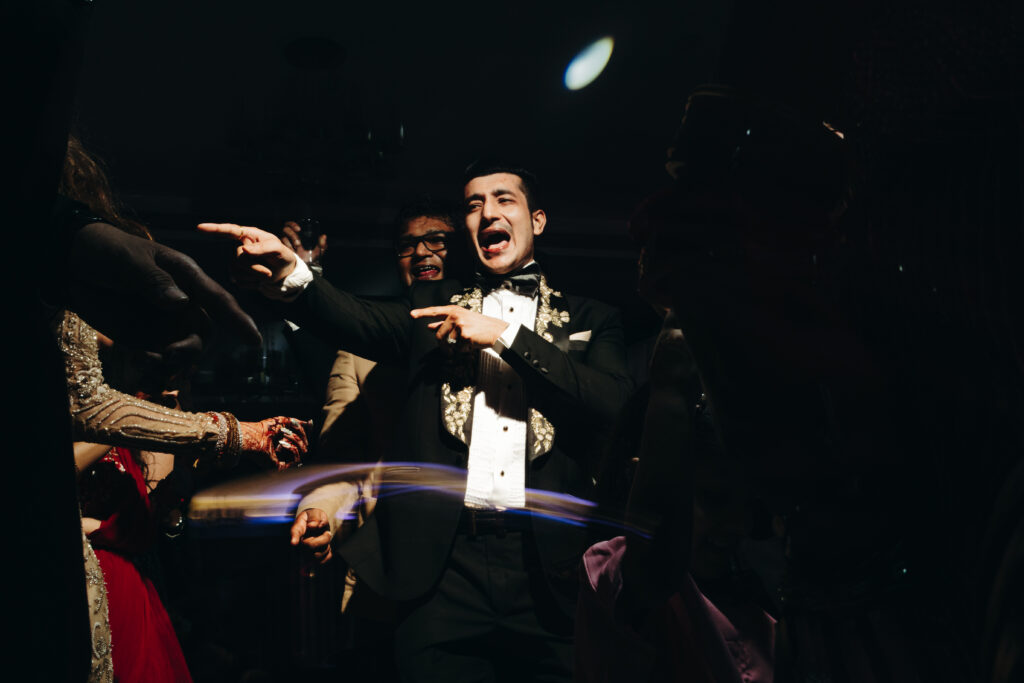 Haldi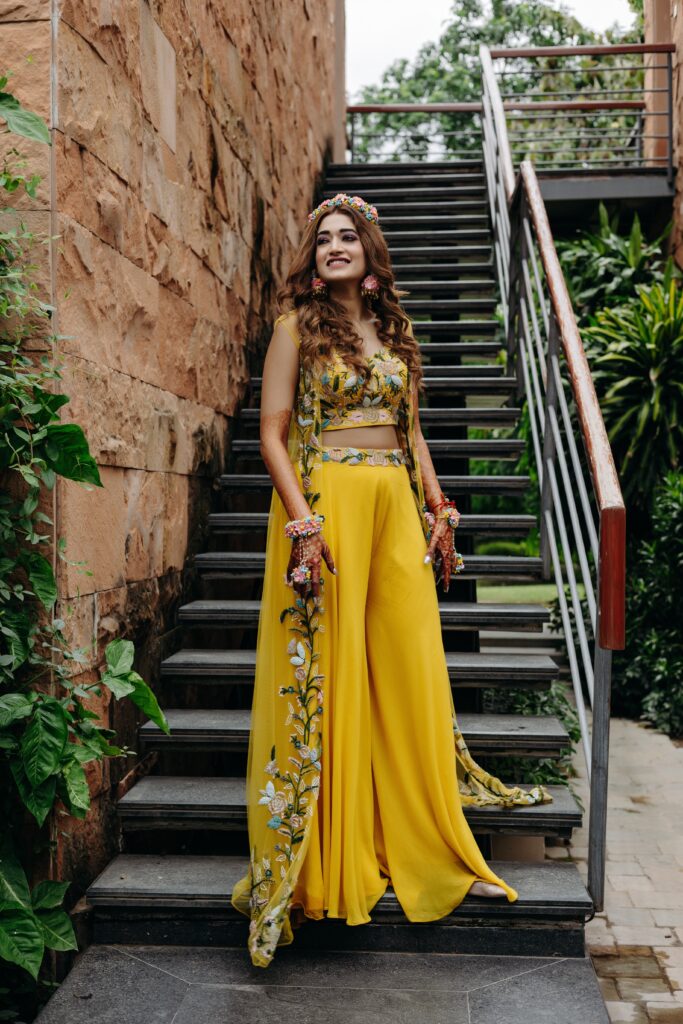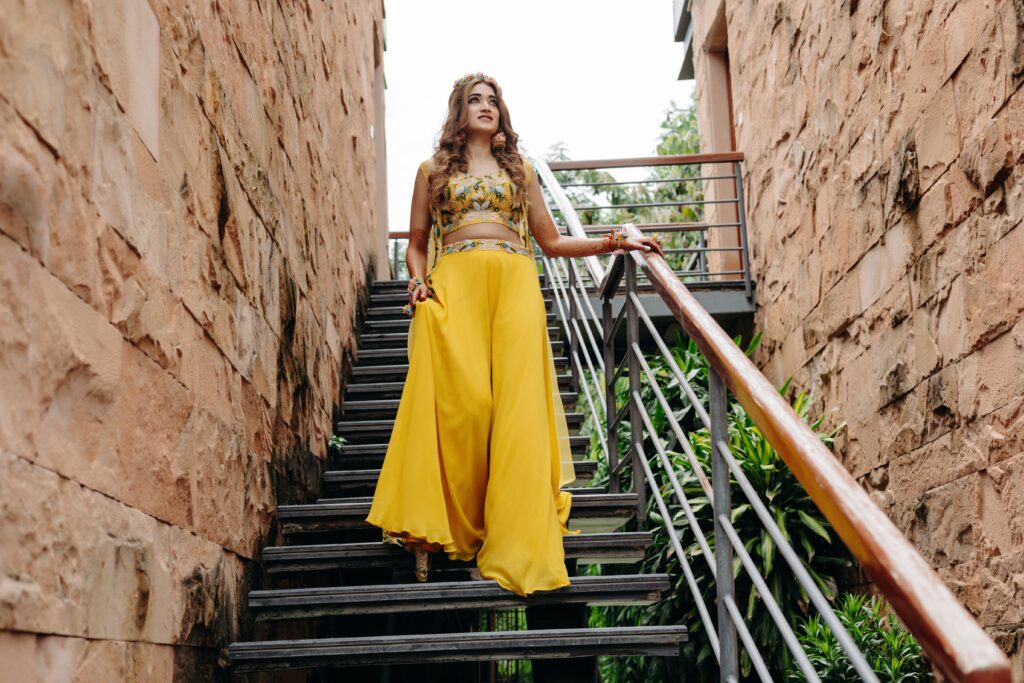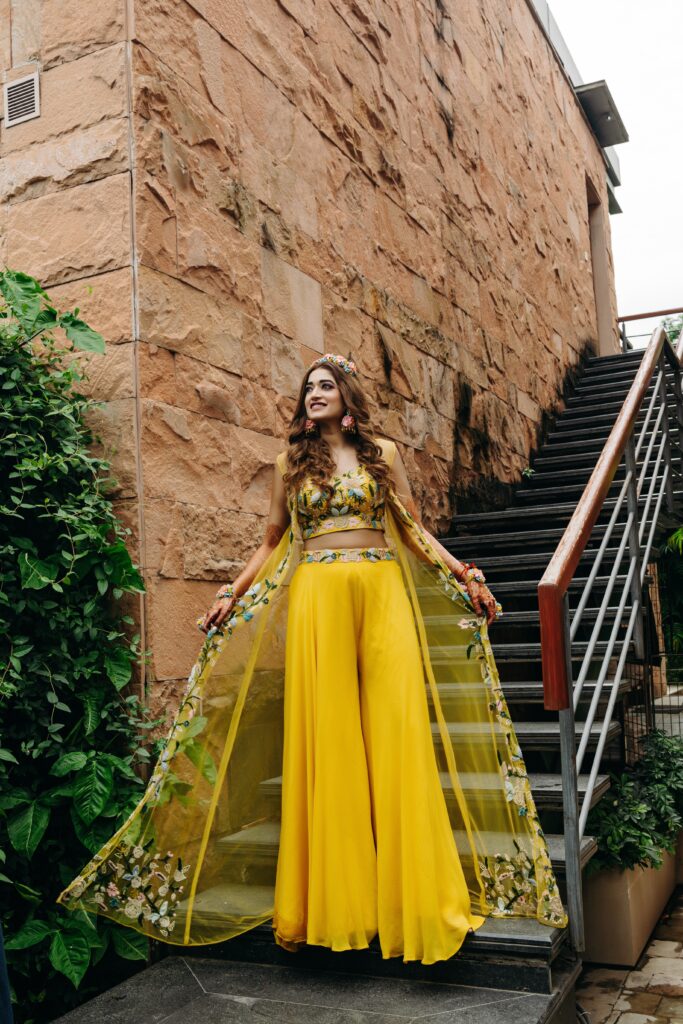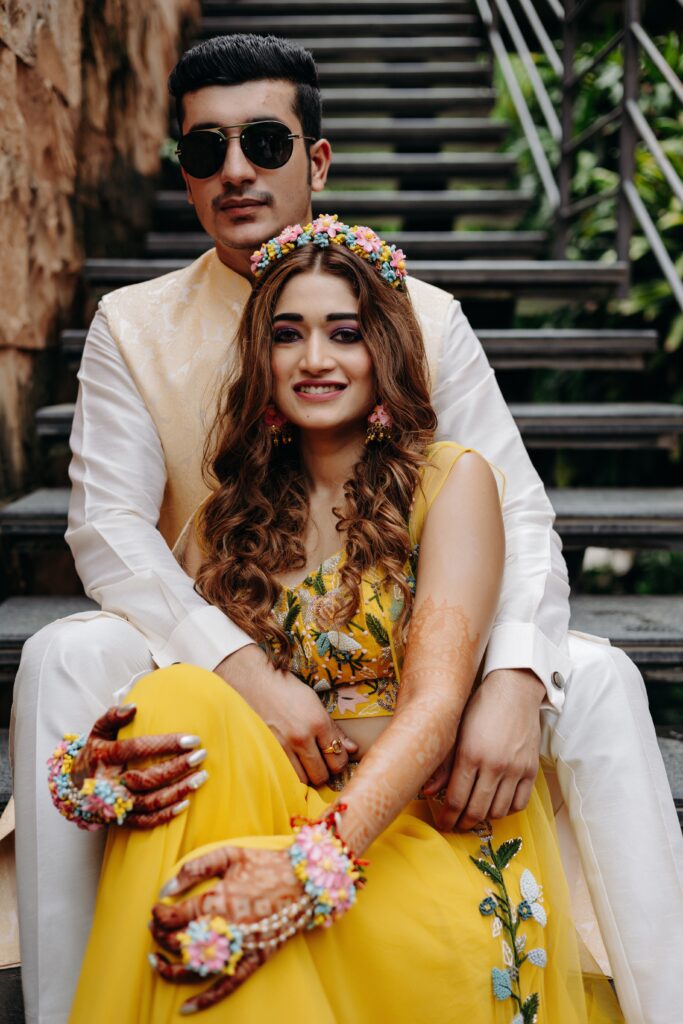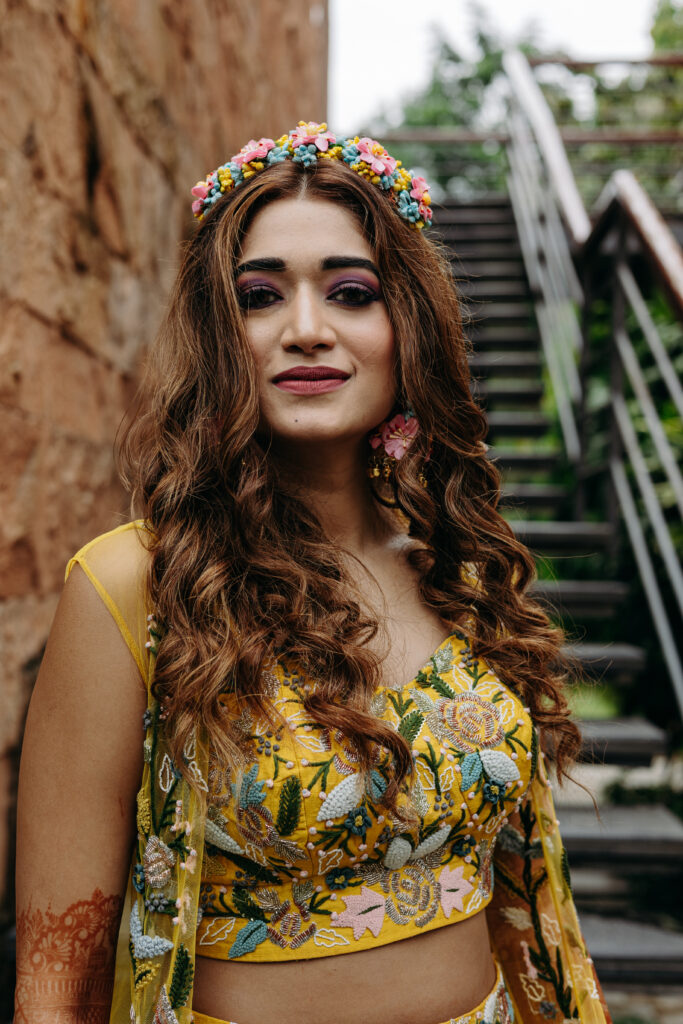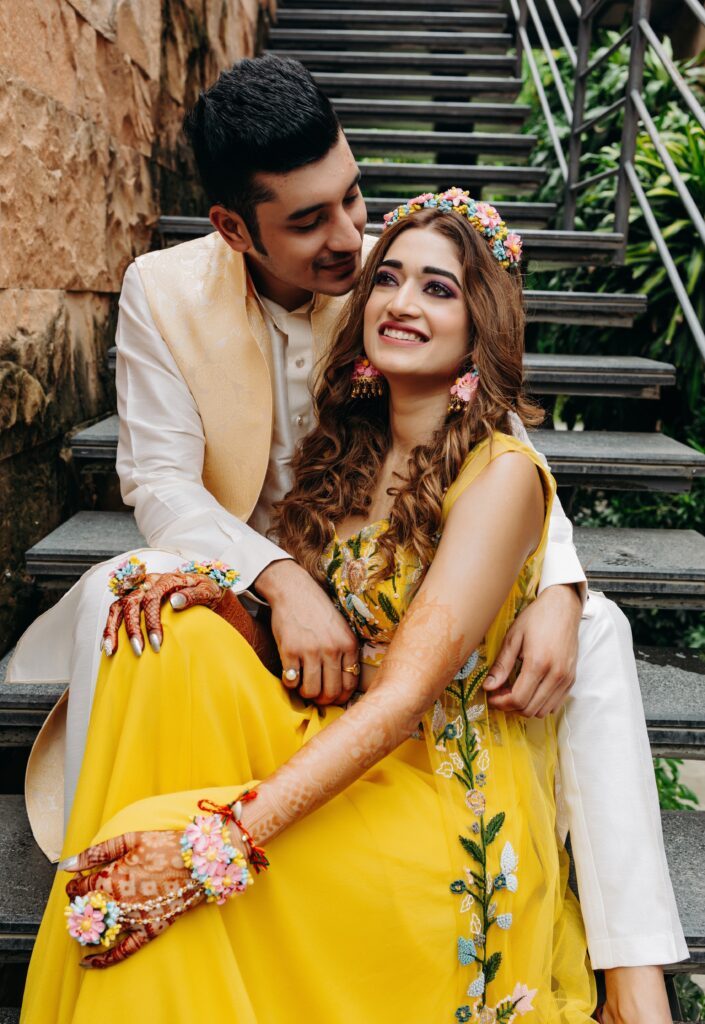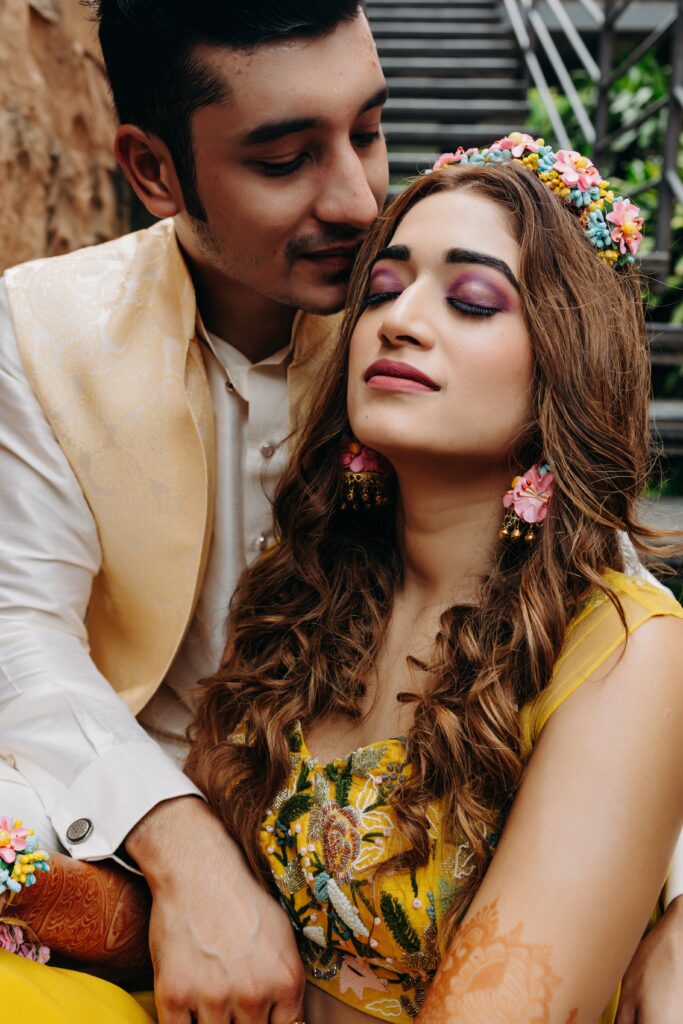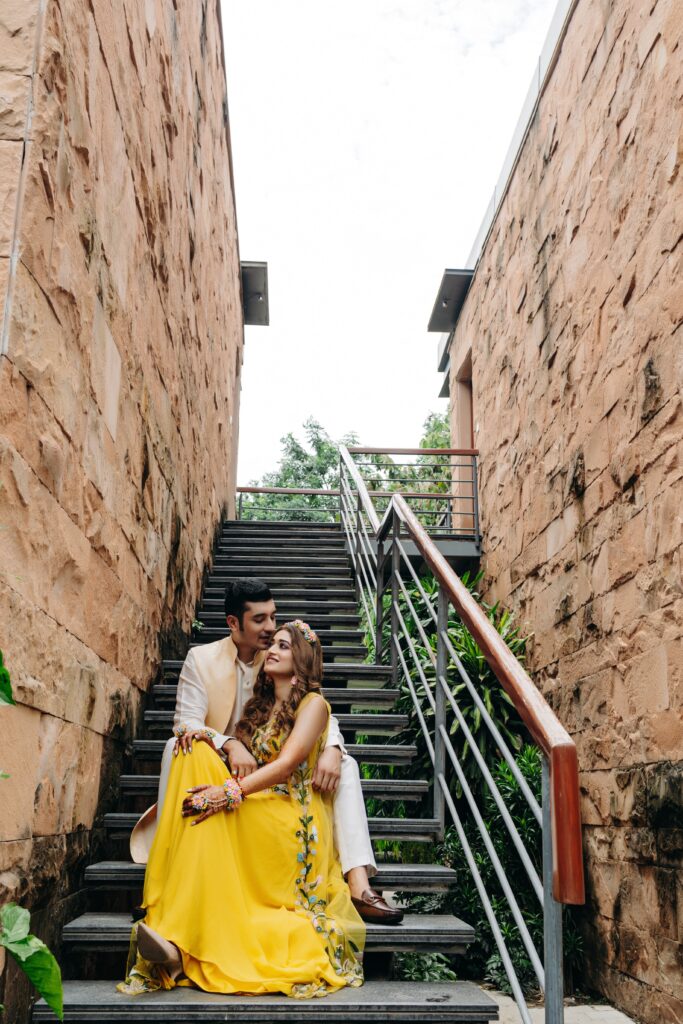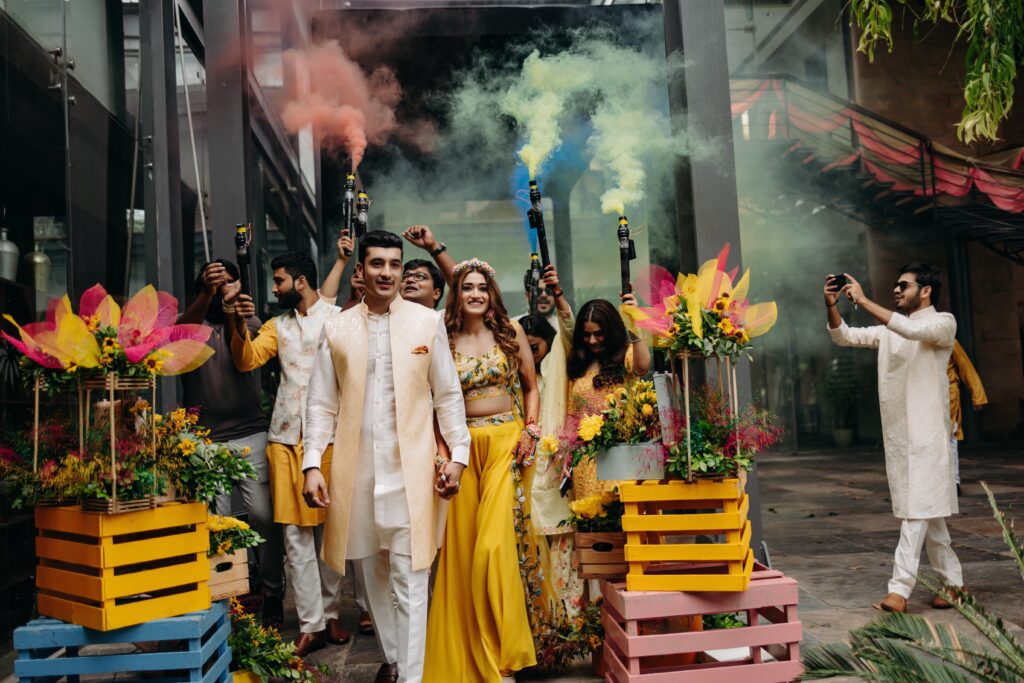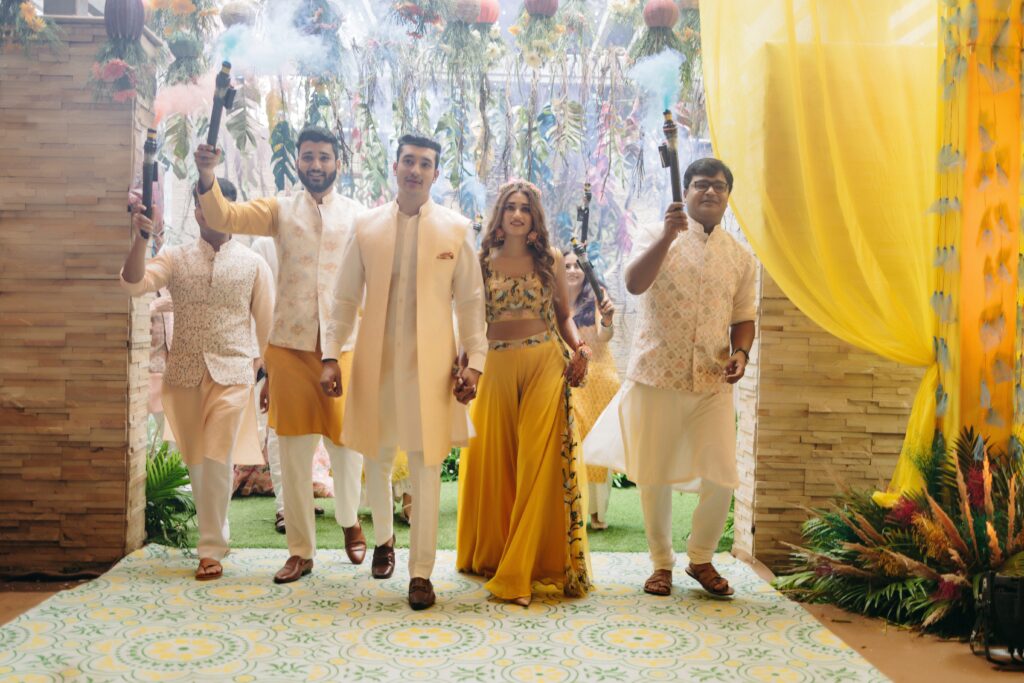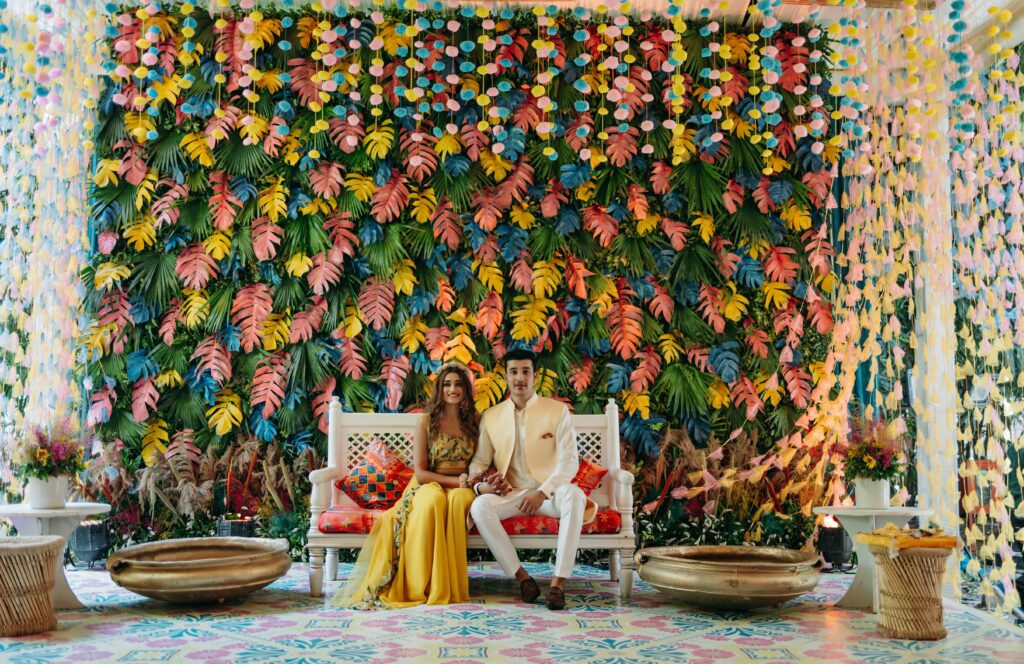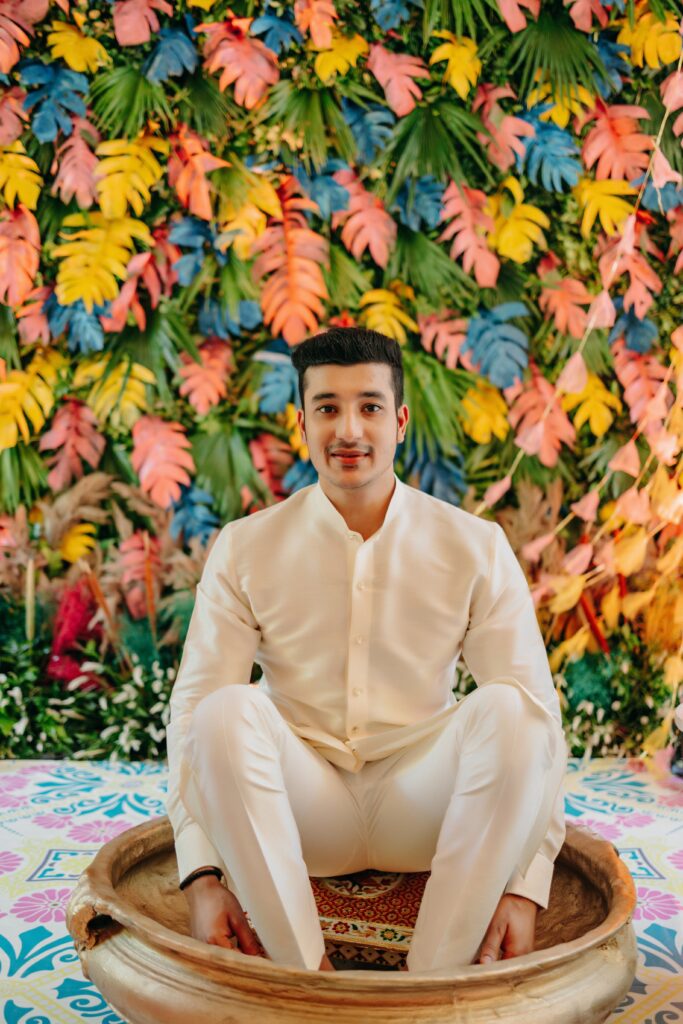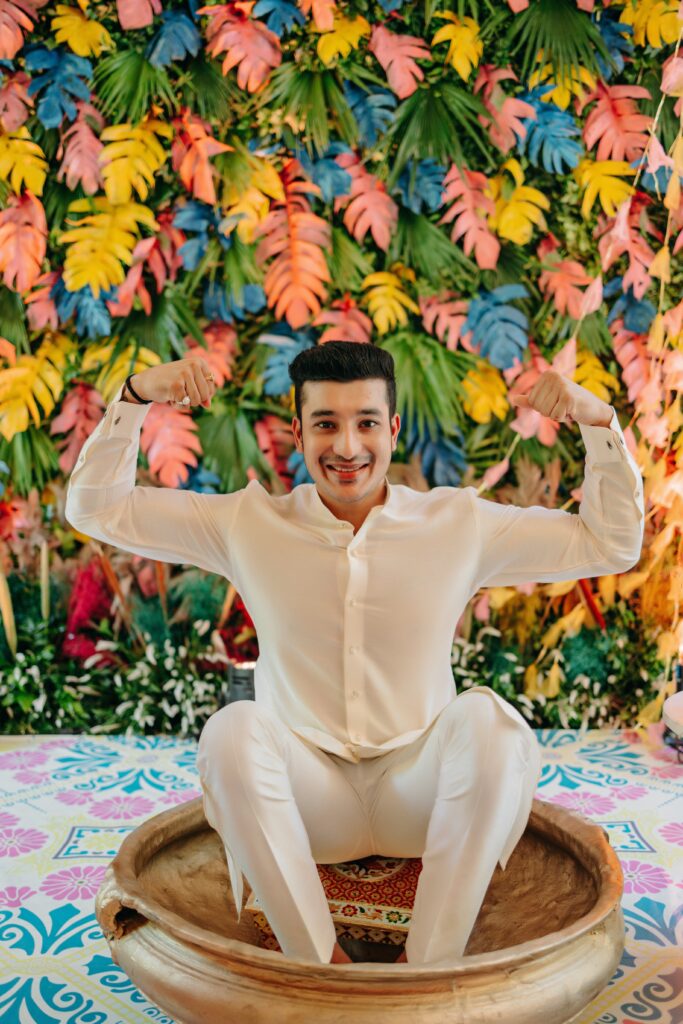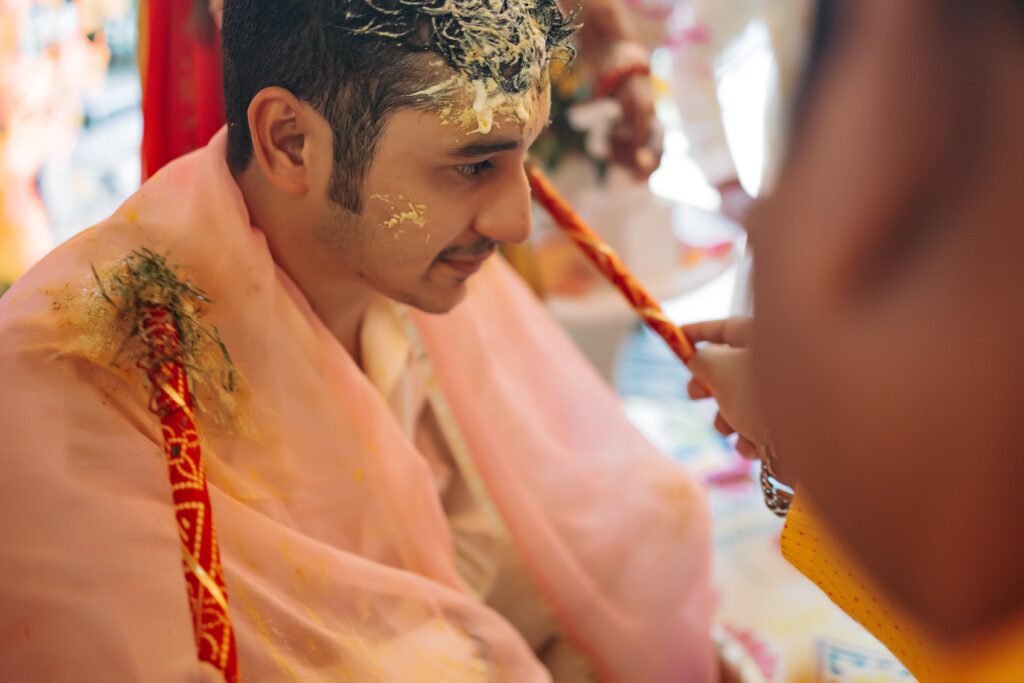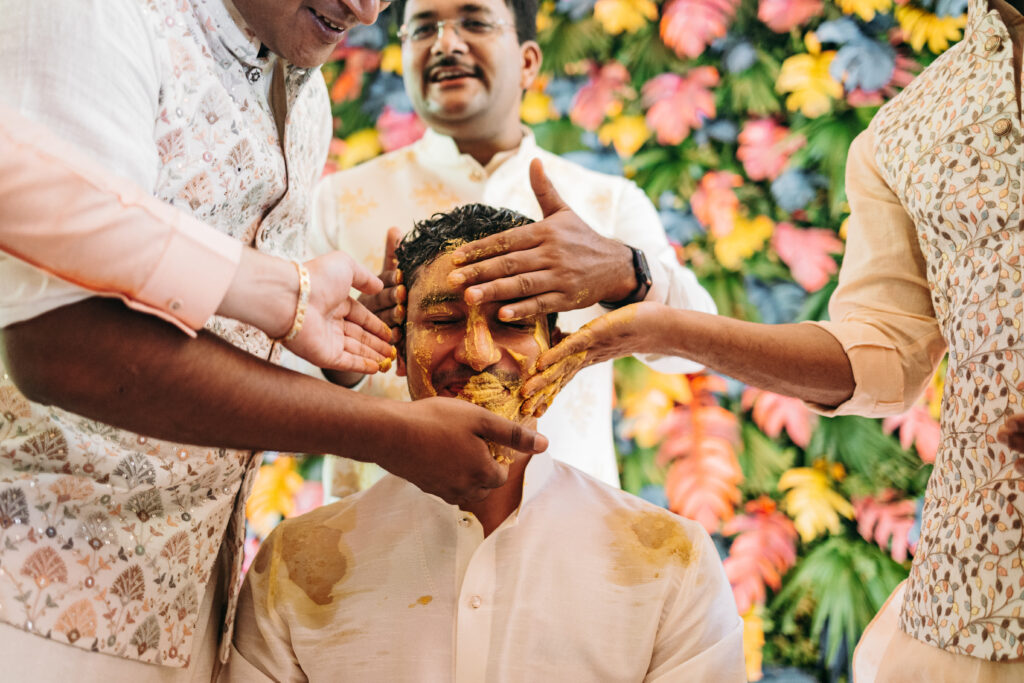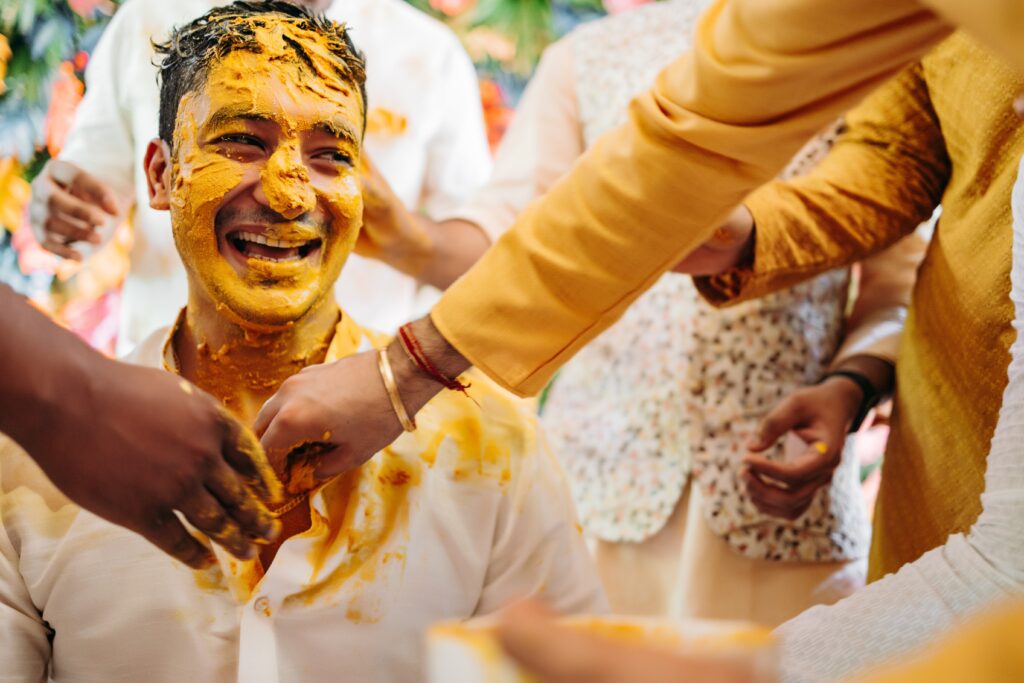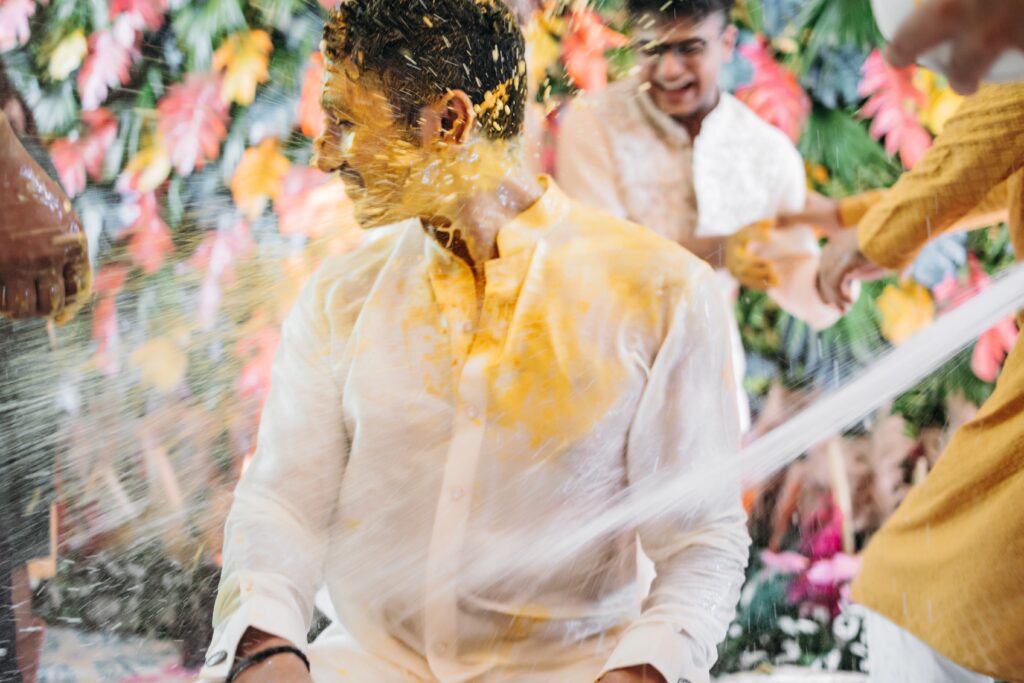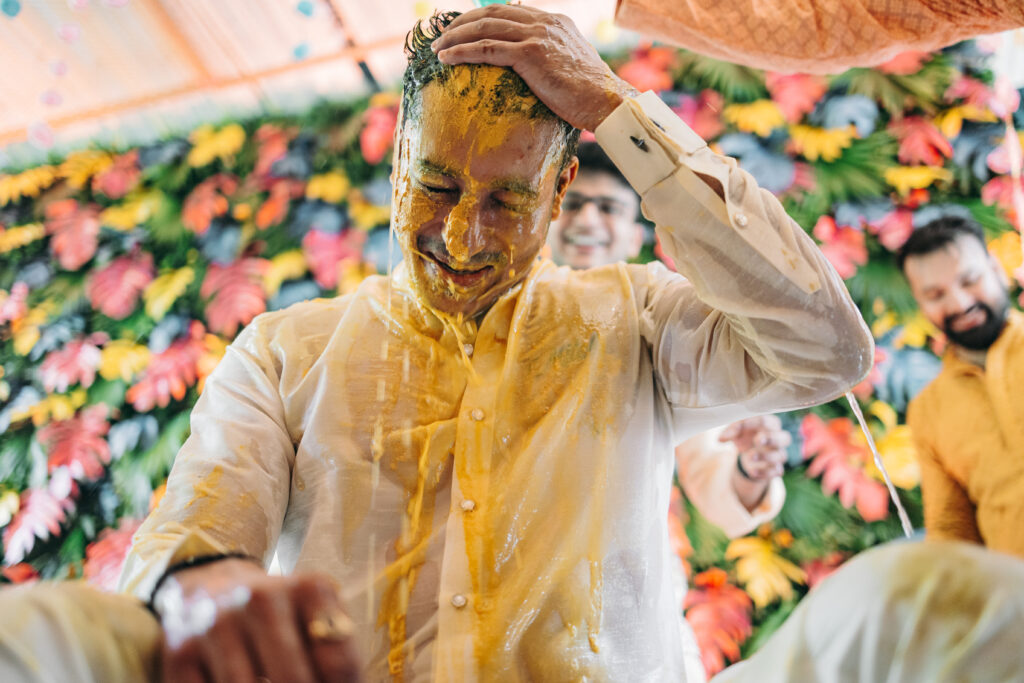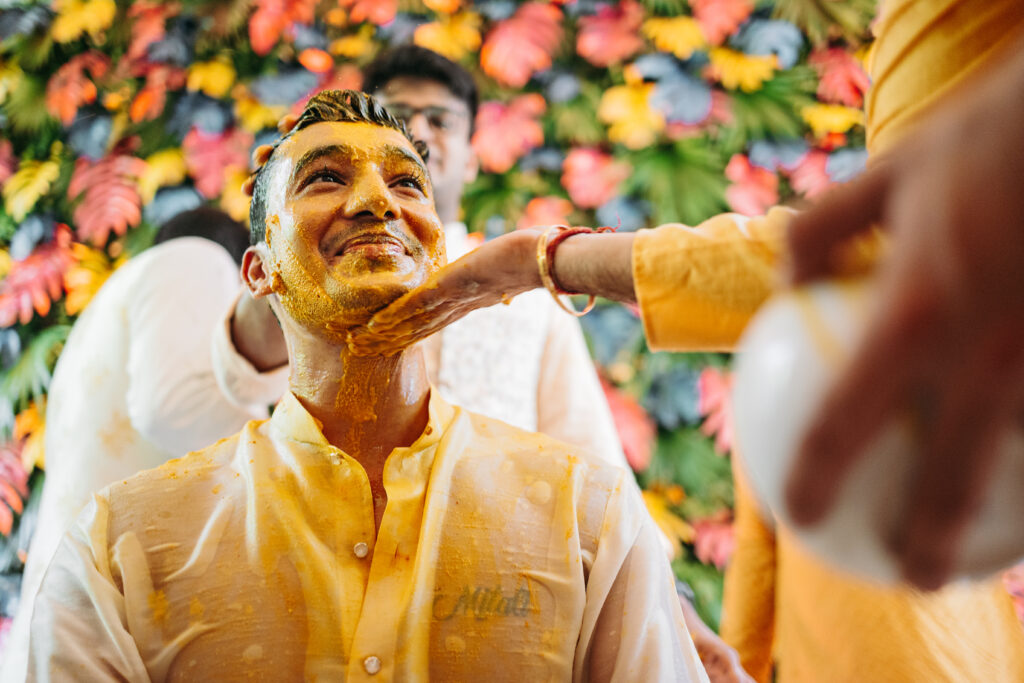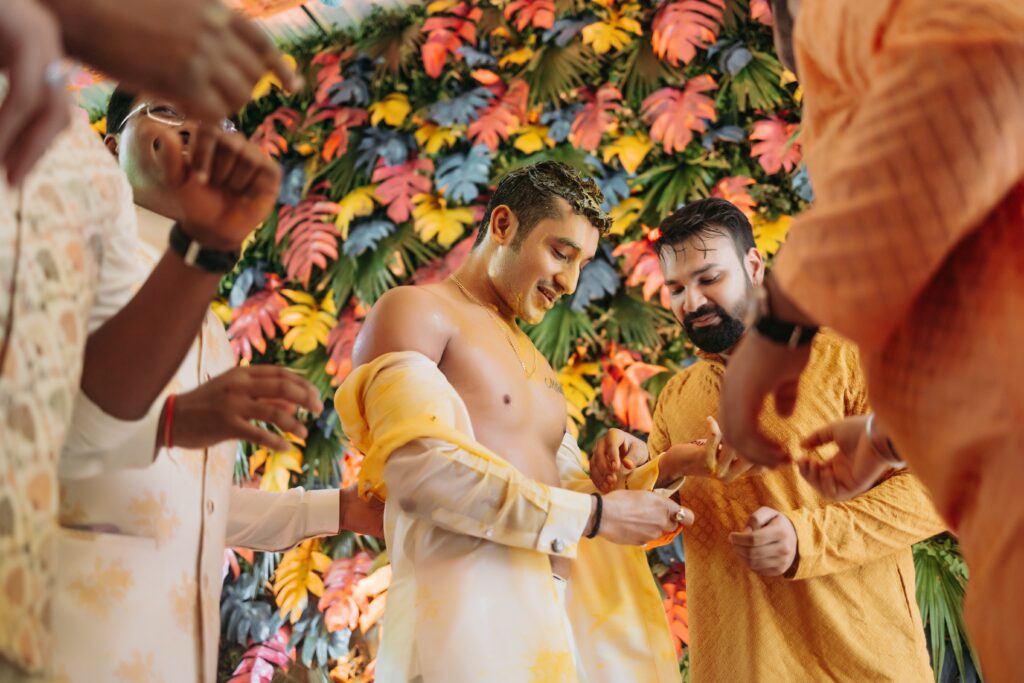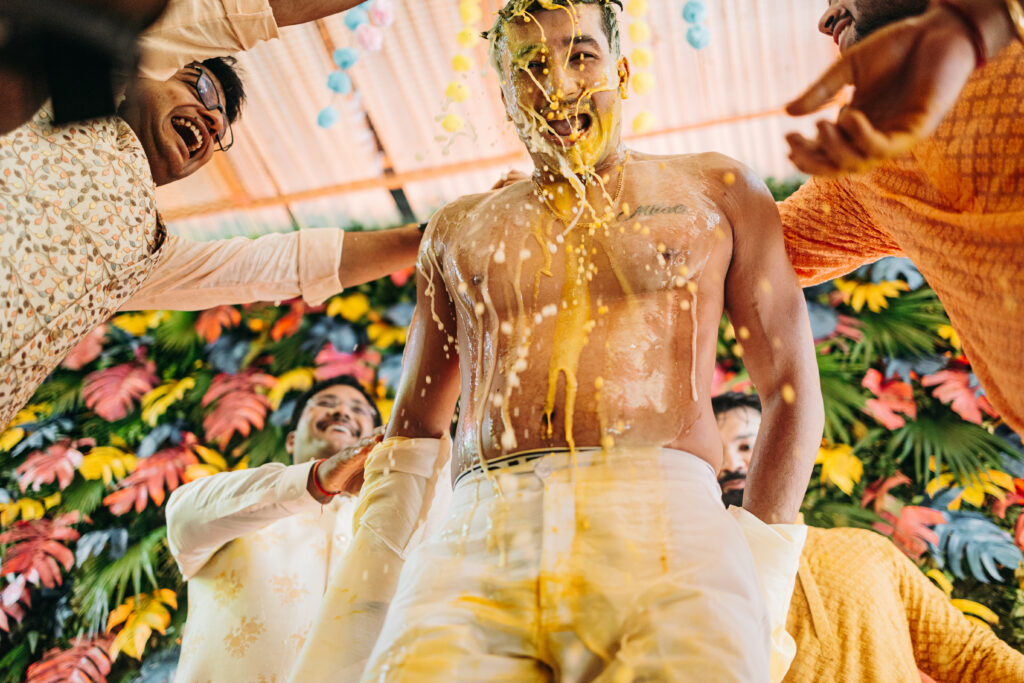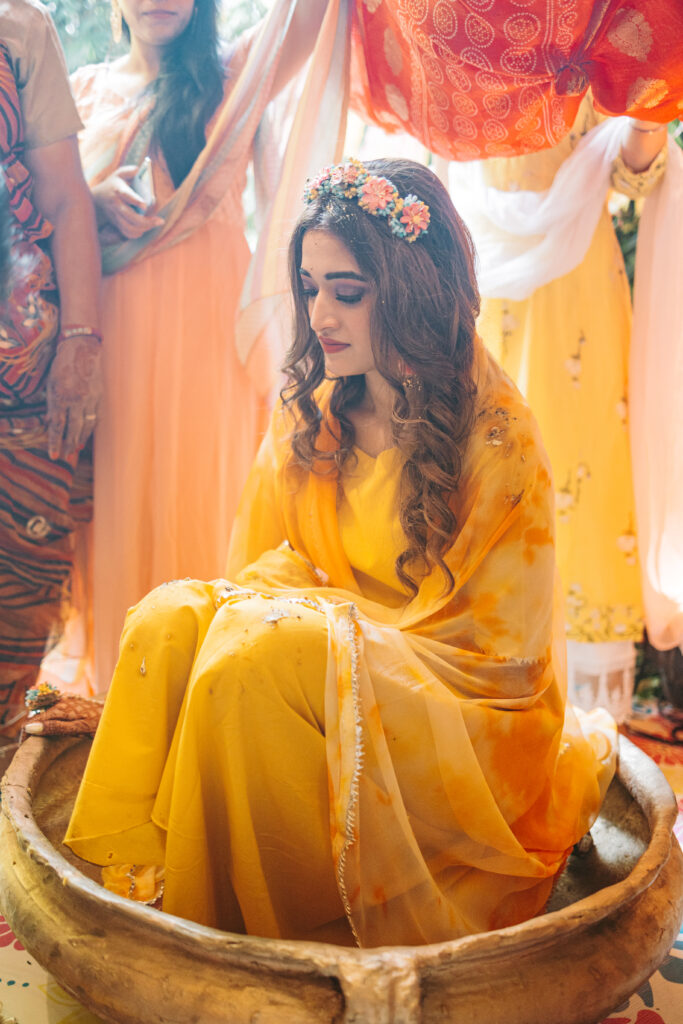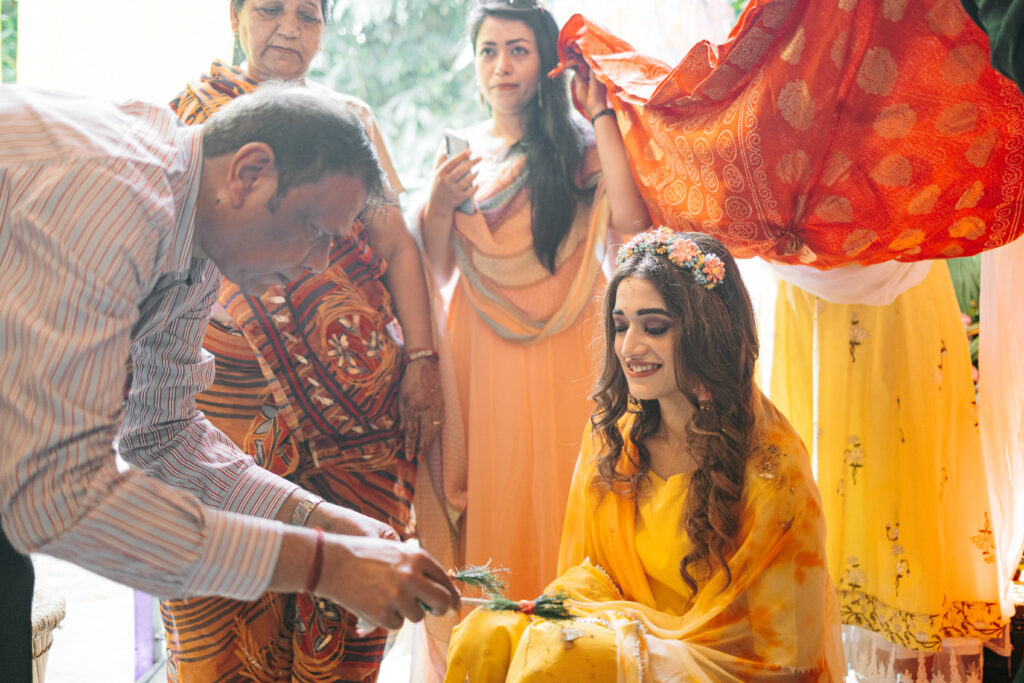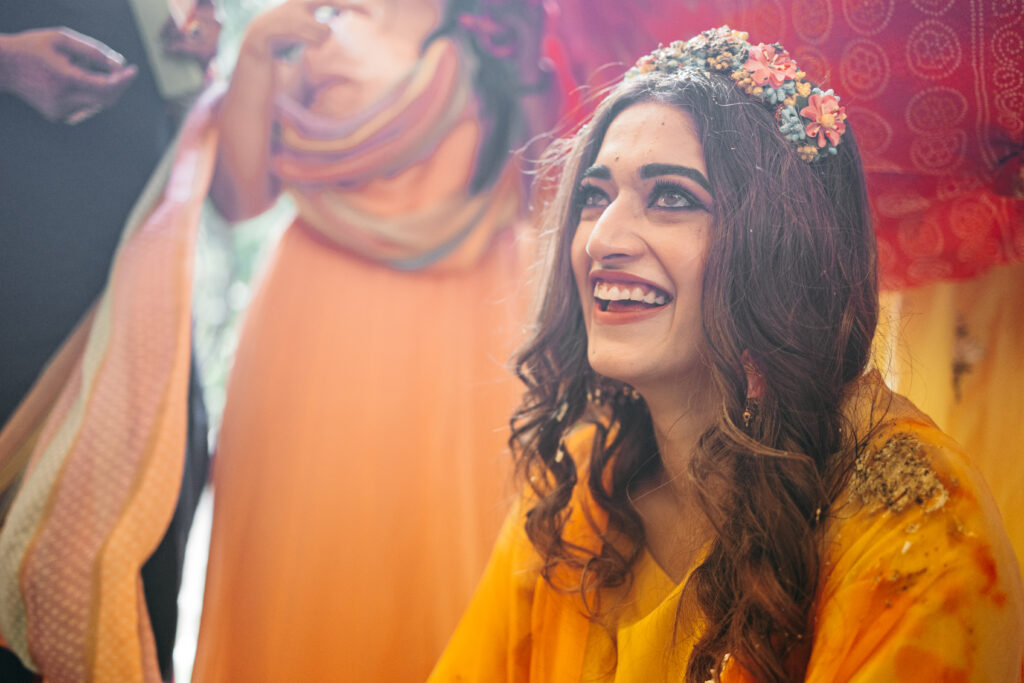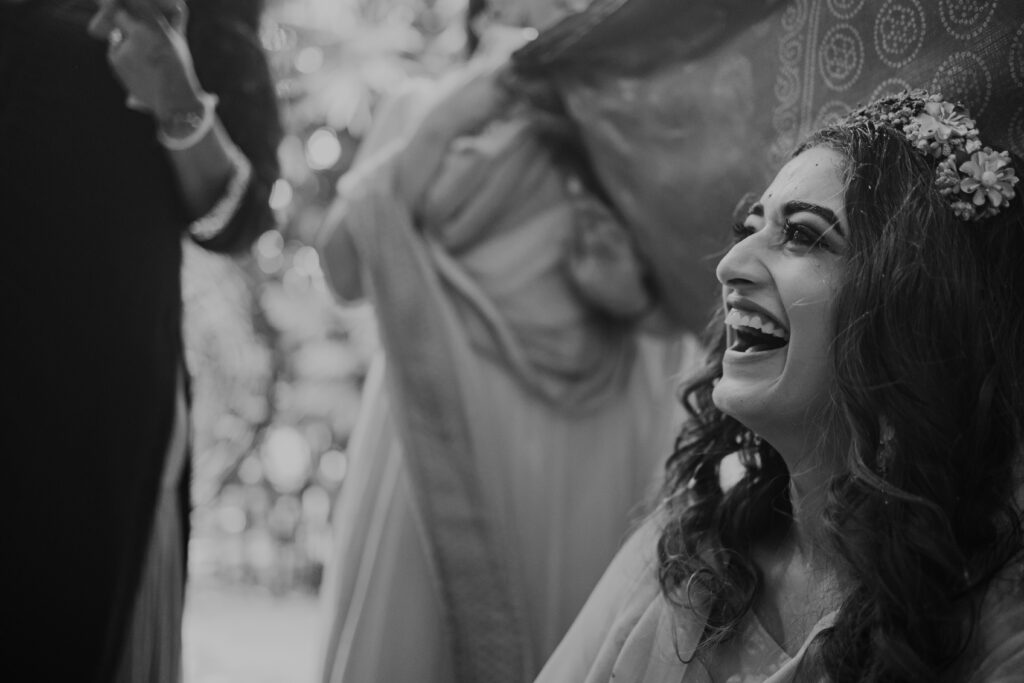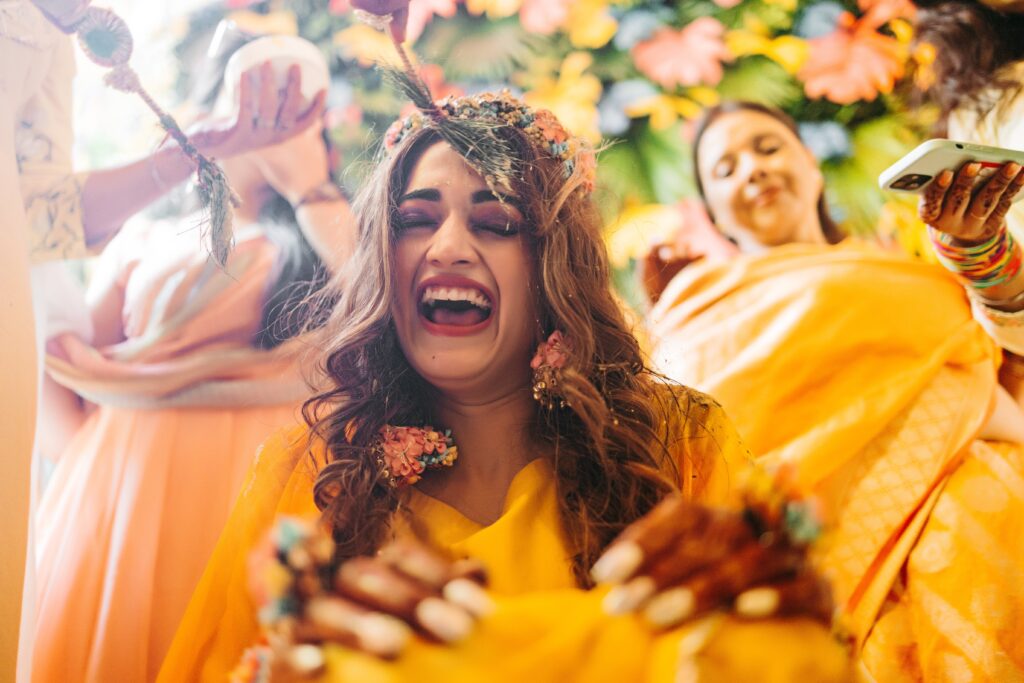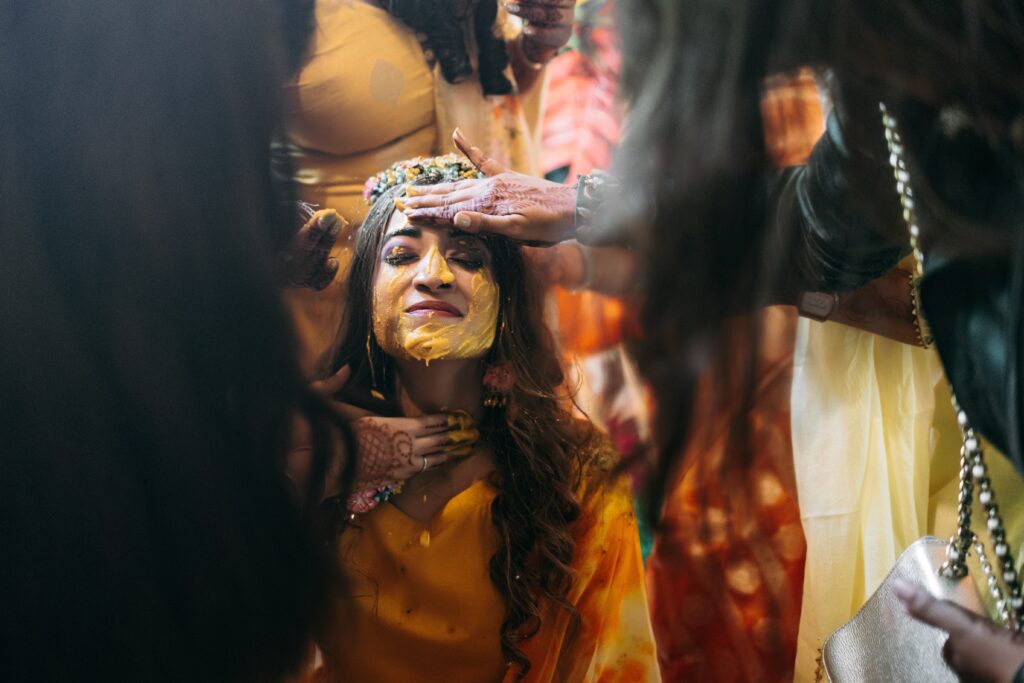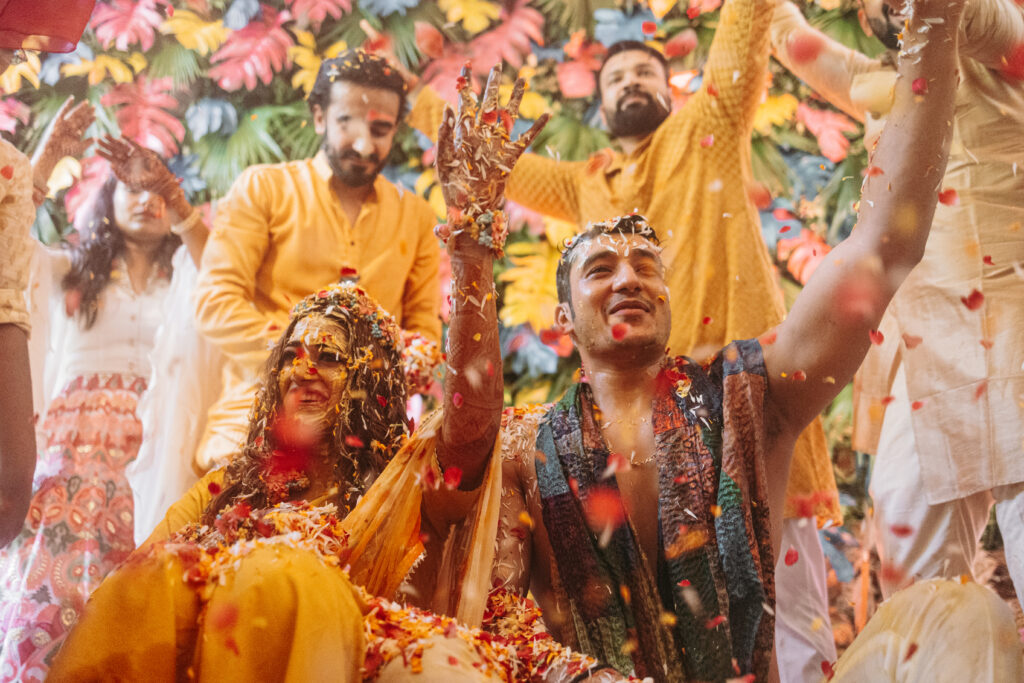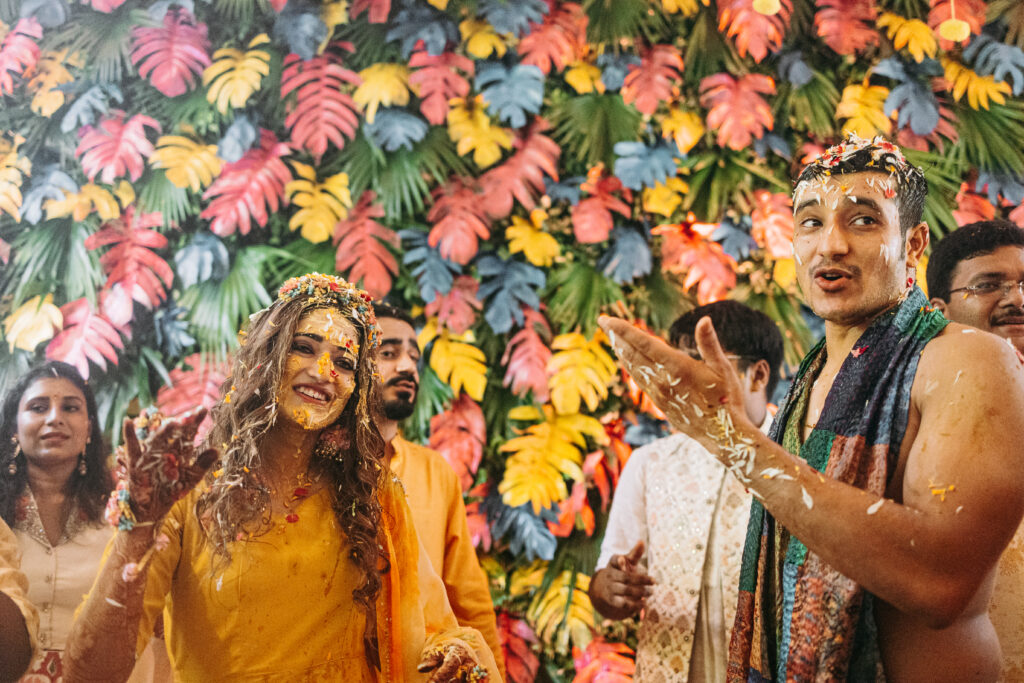 Wedding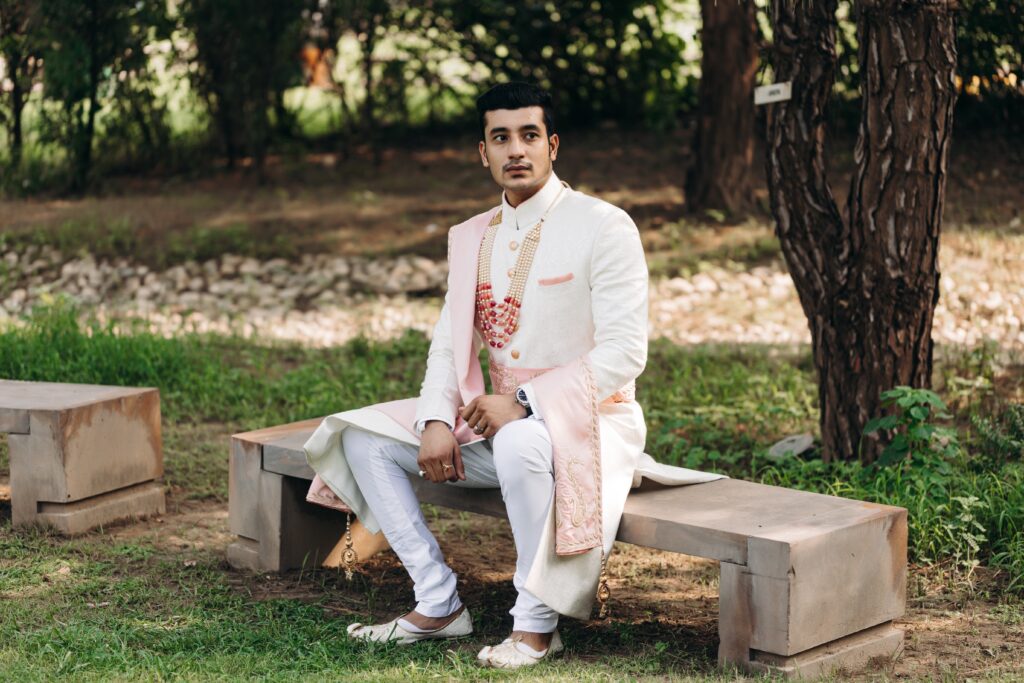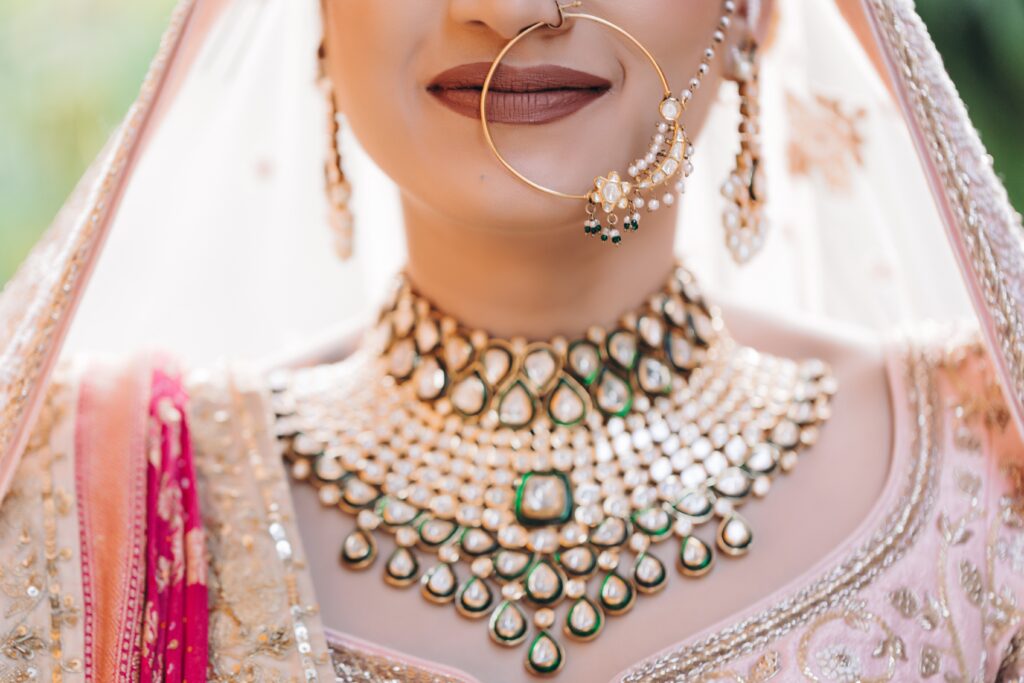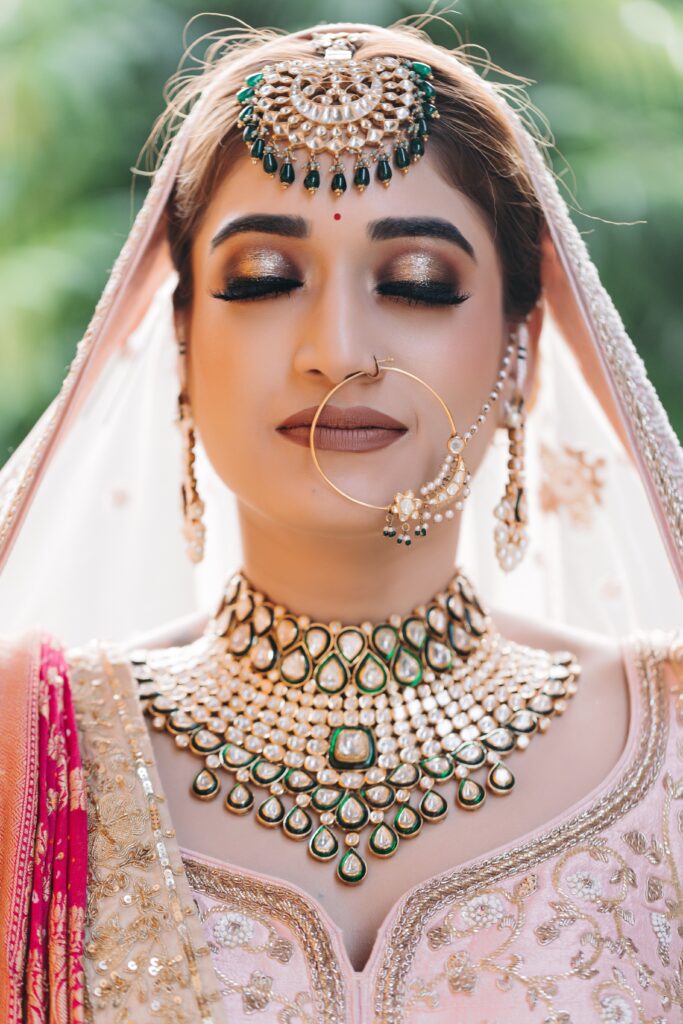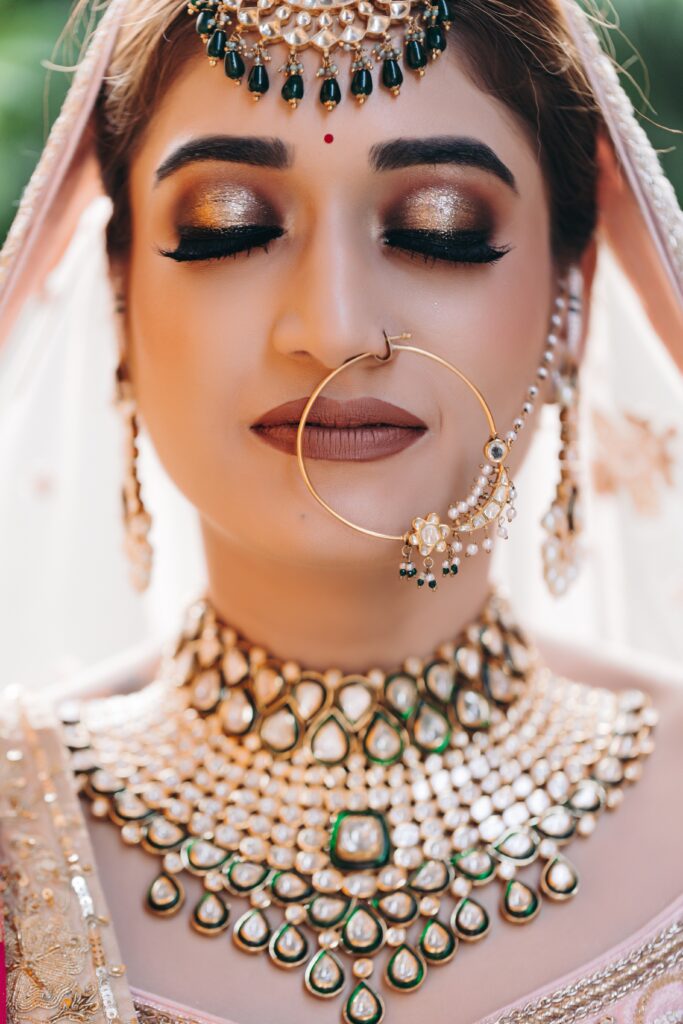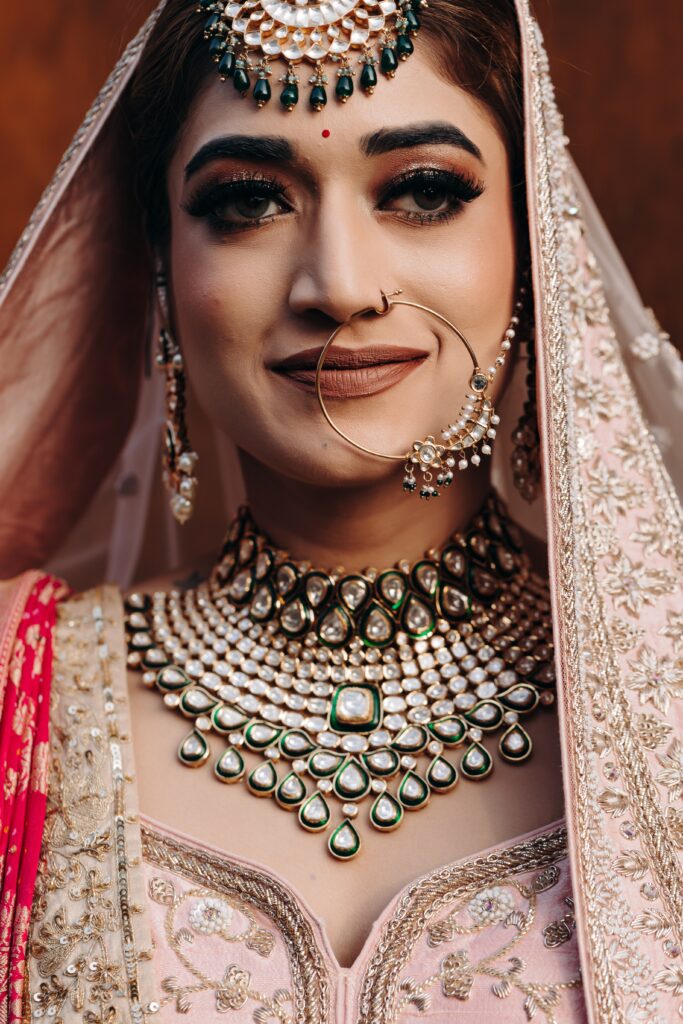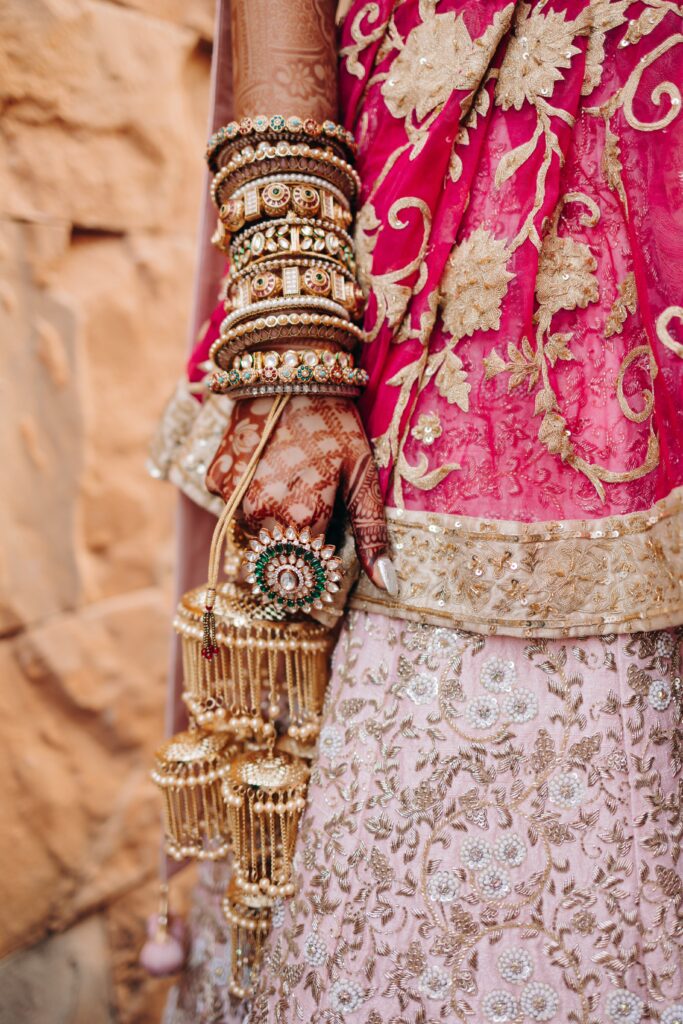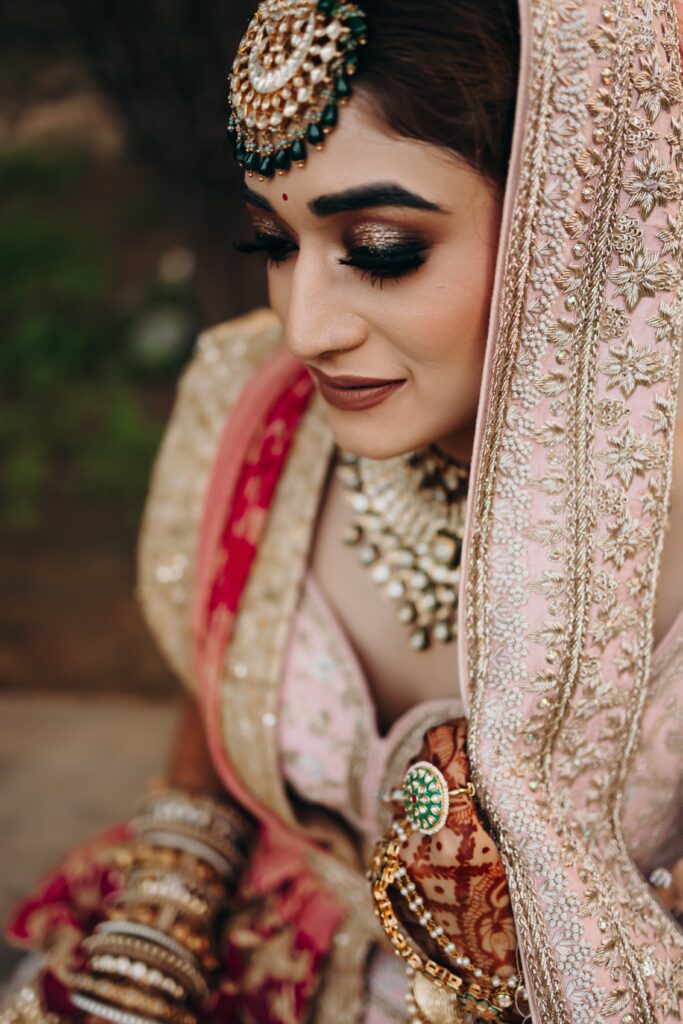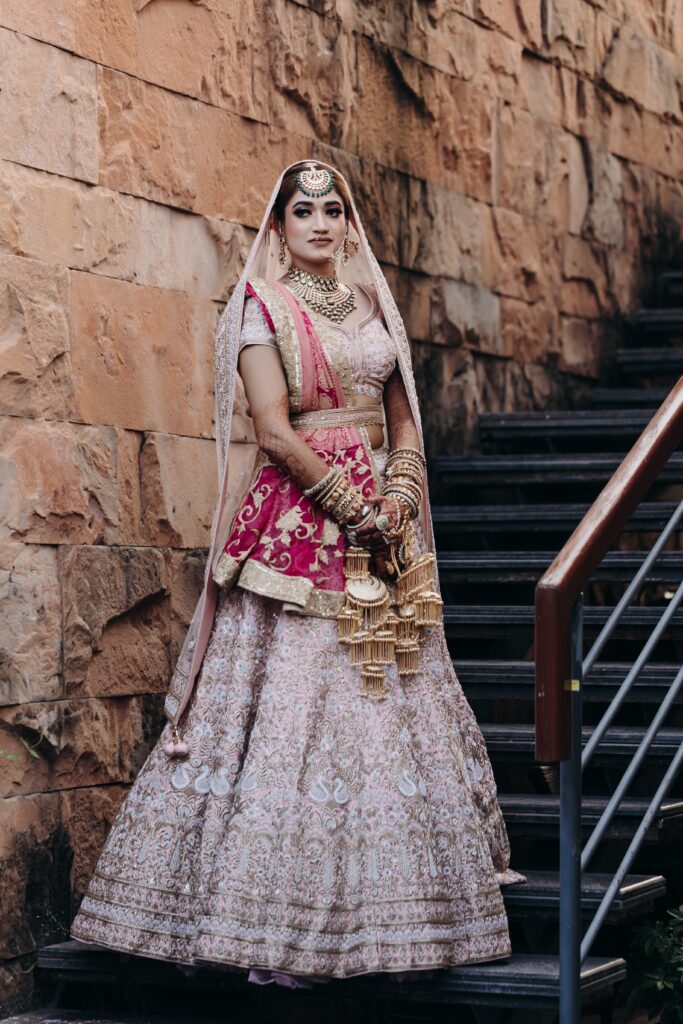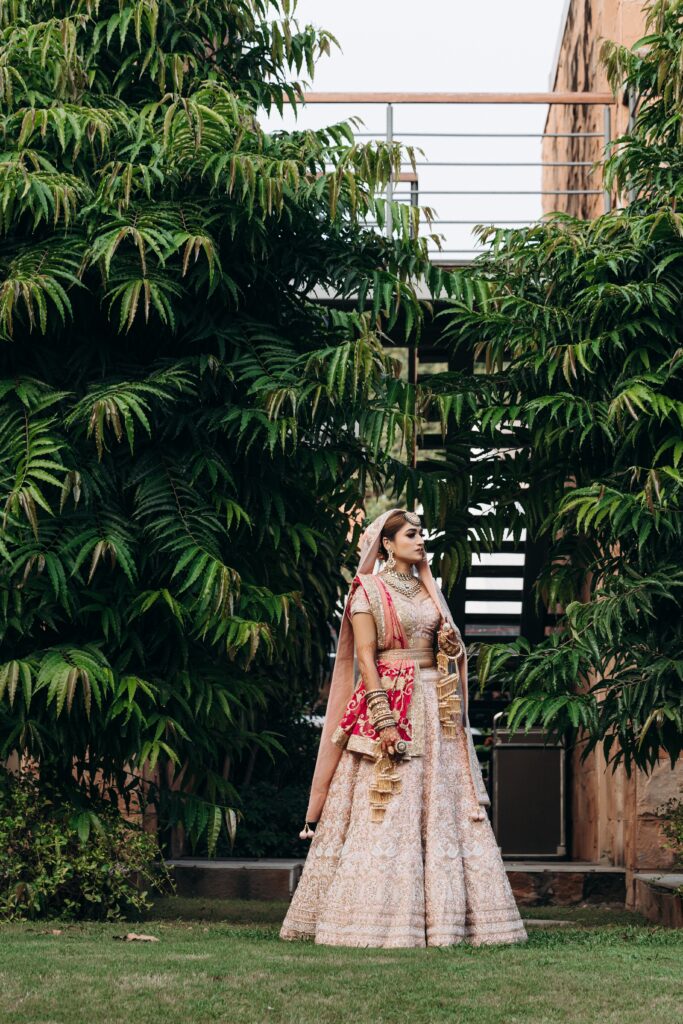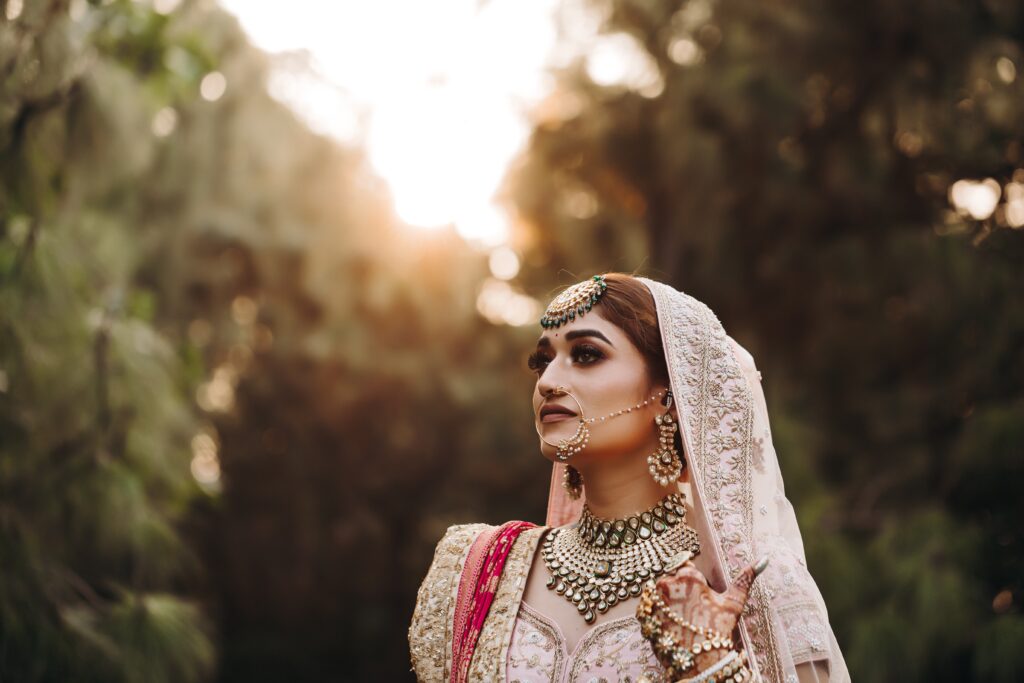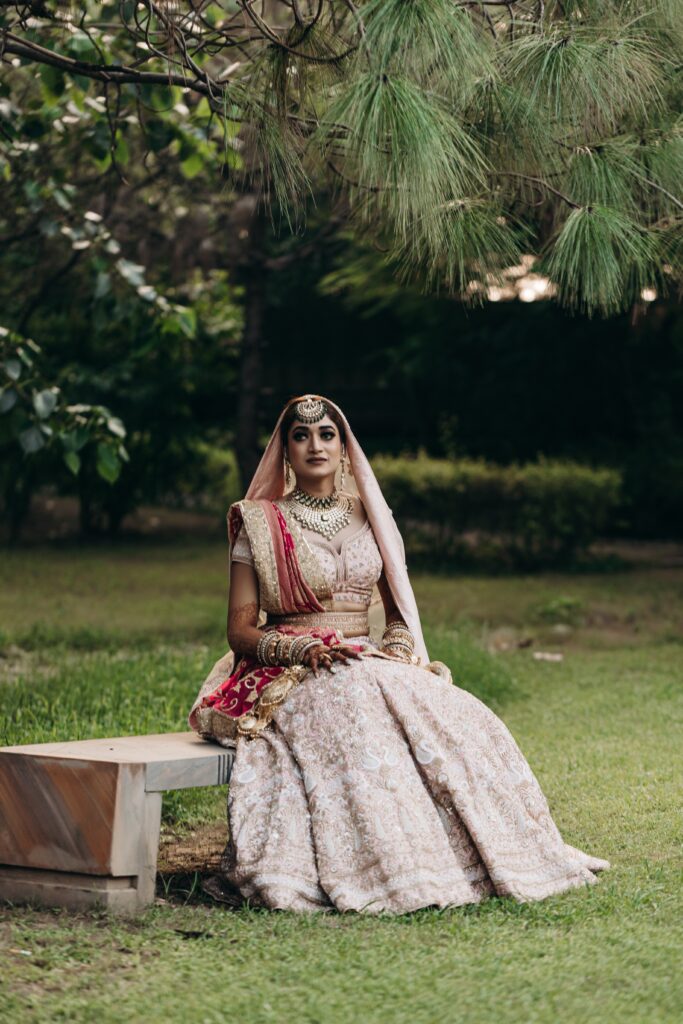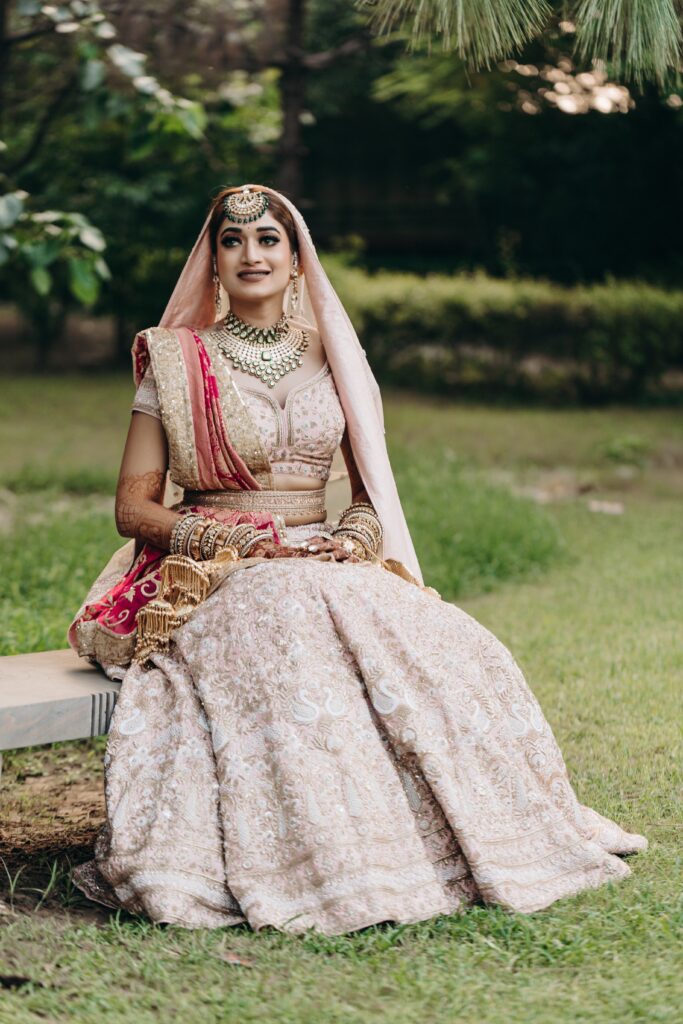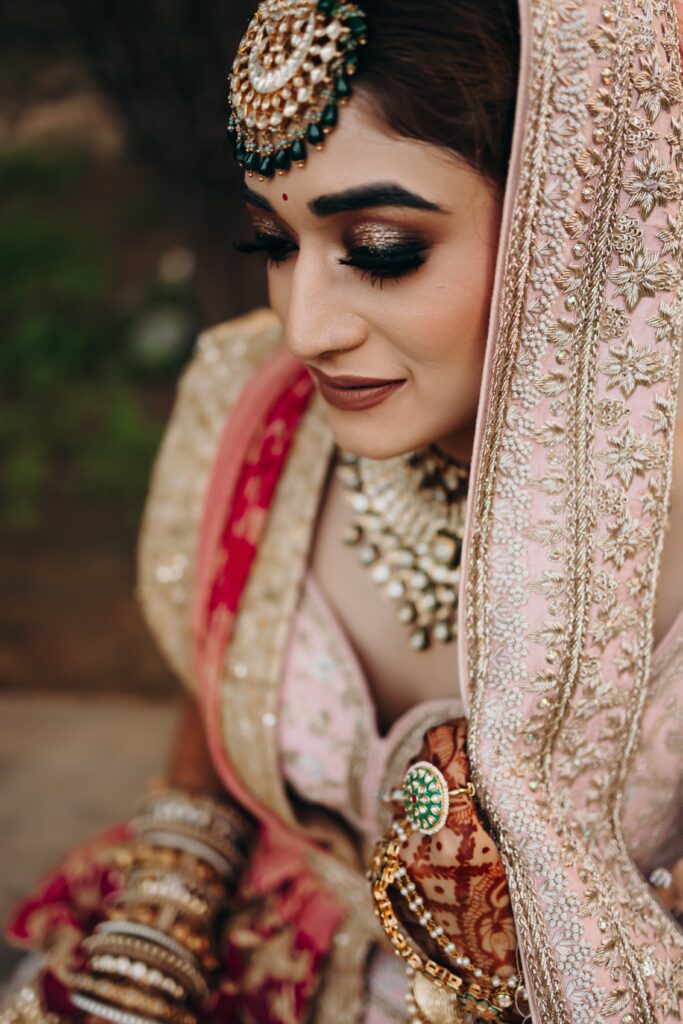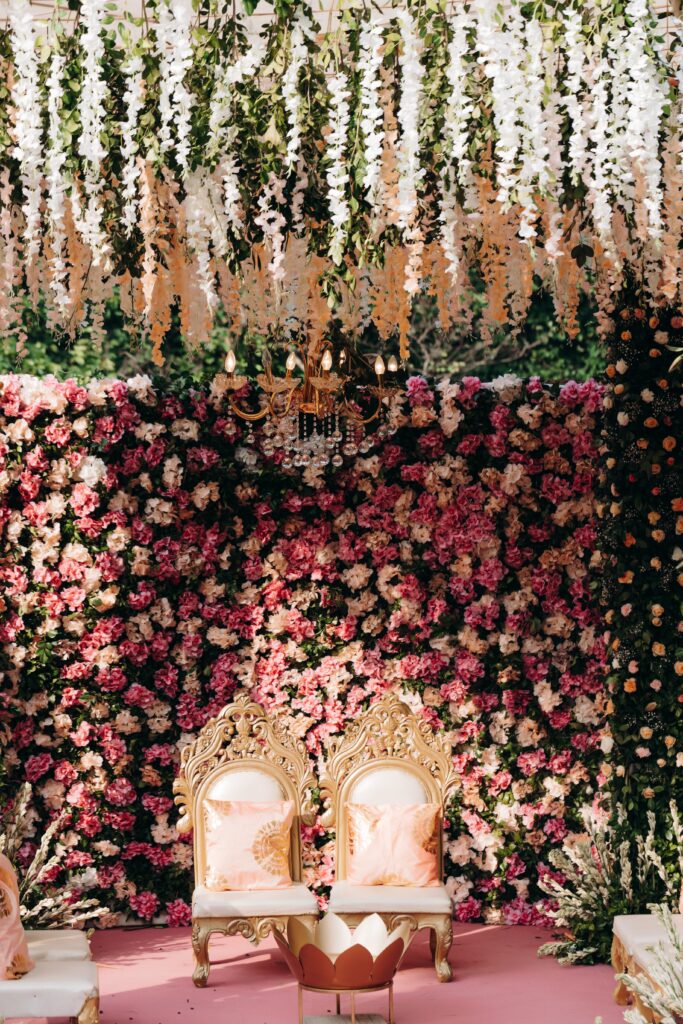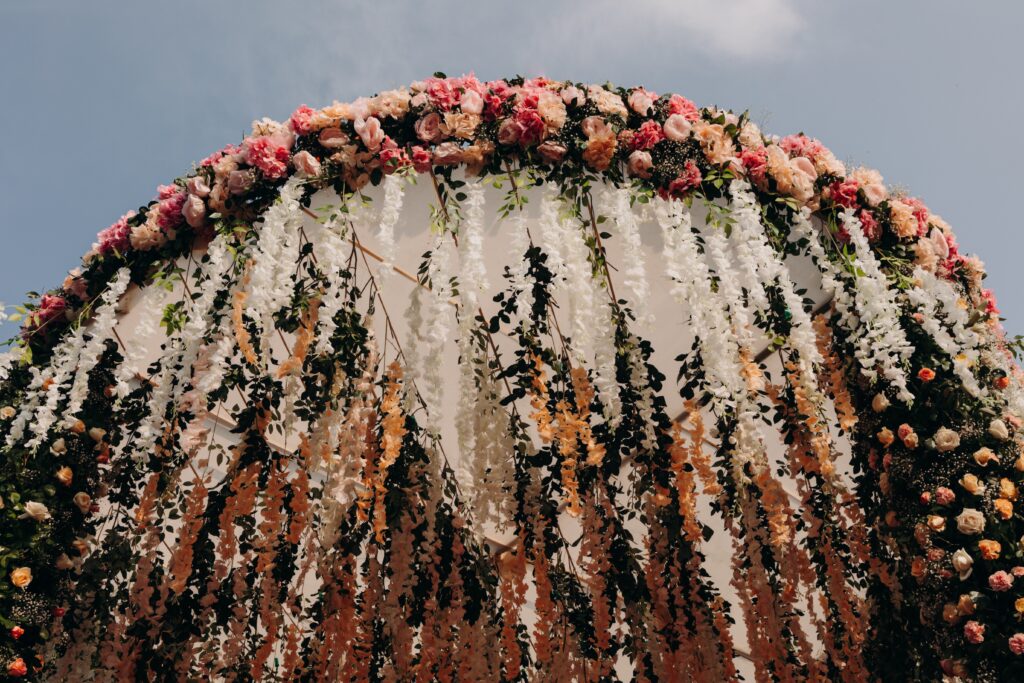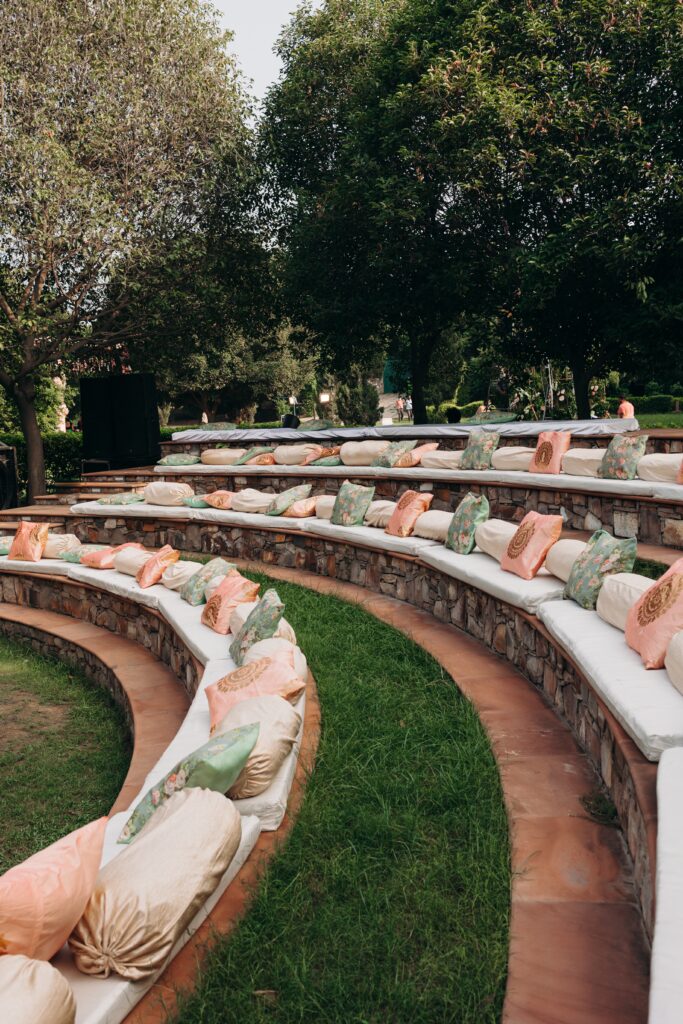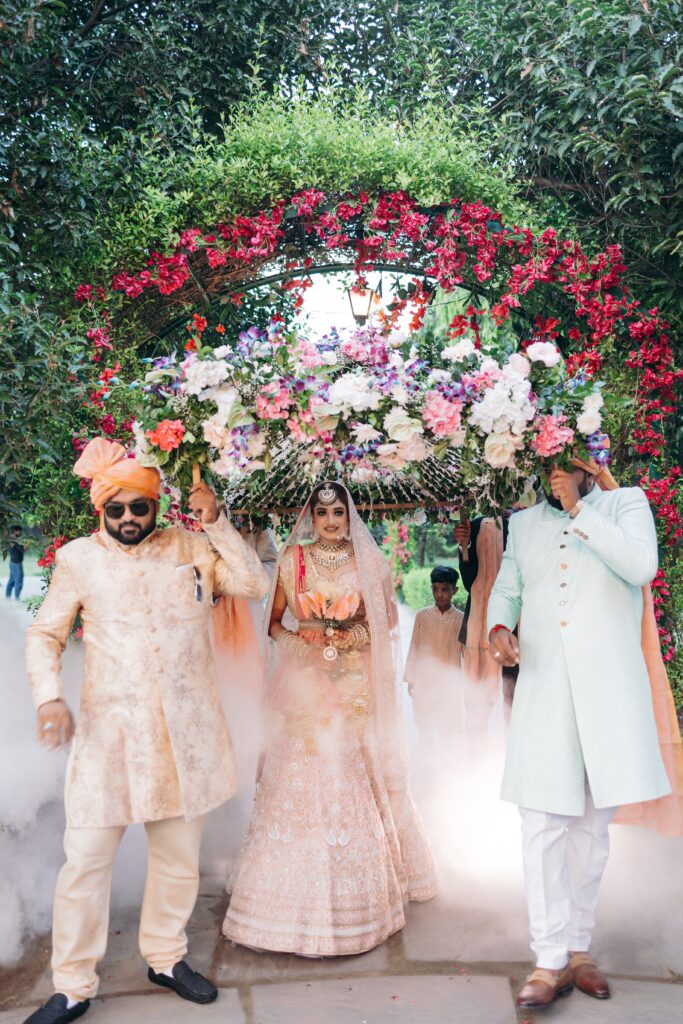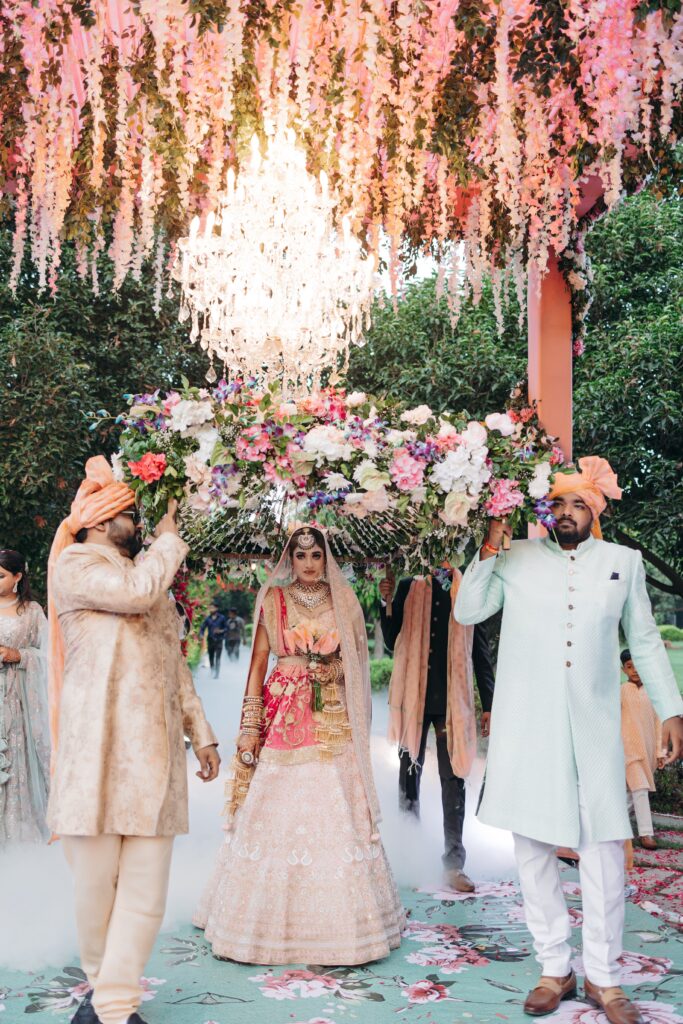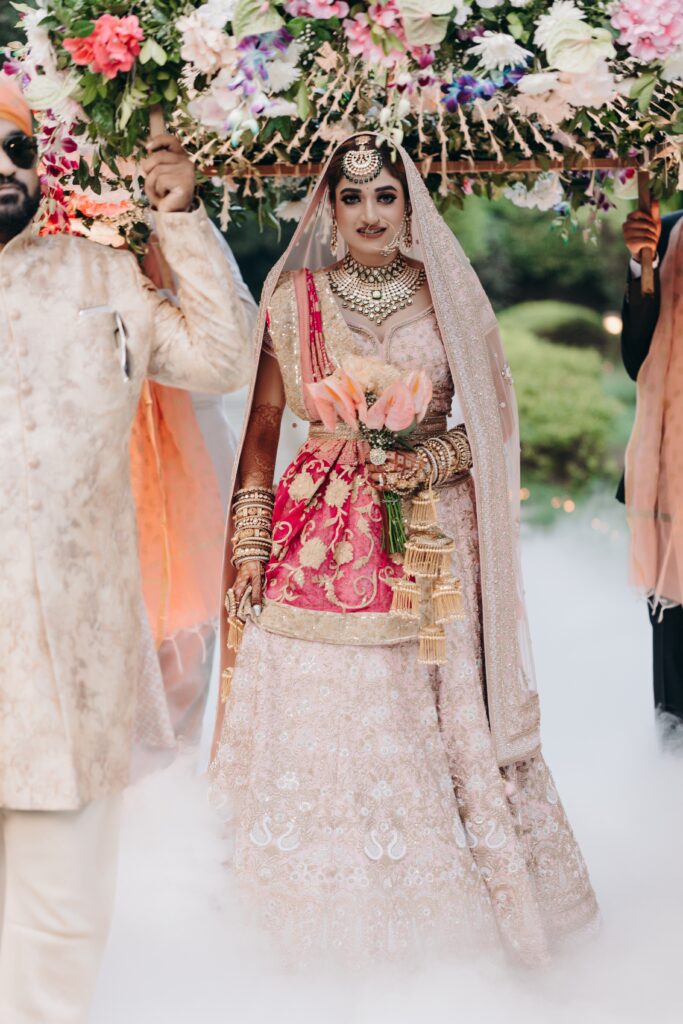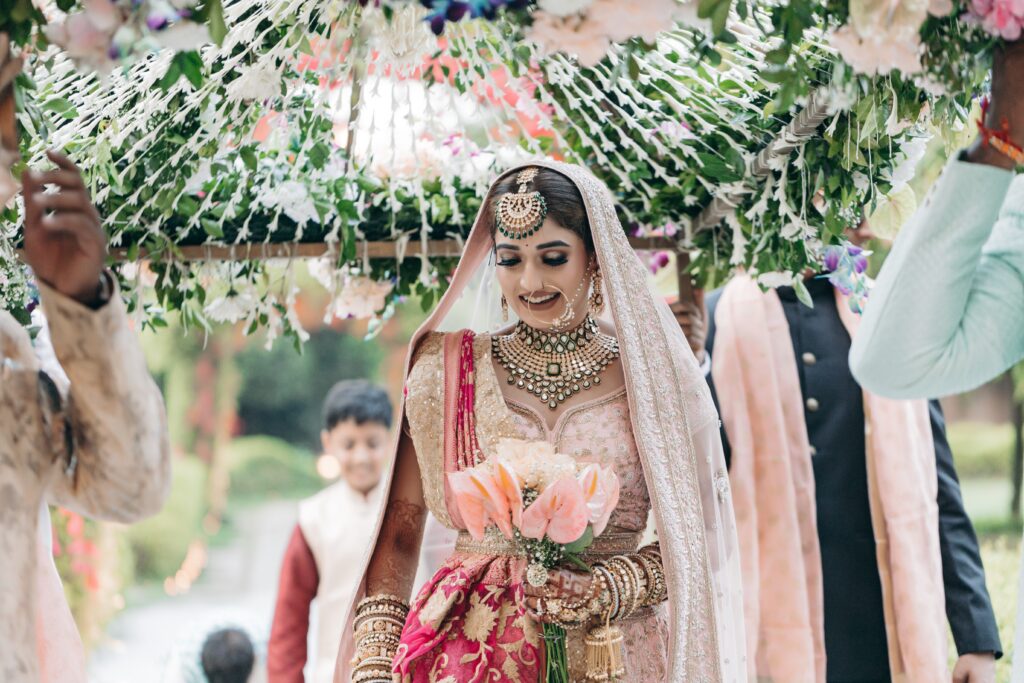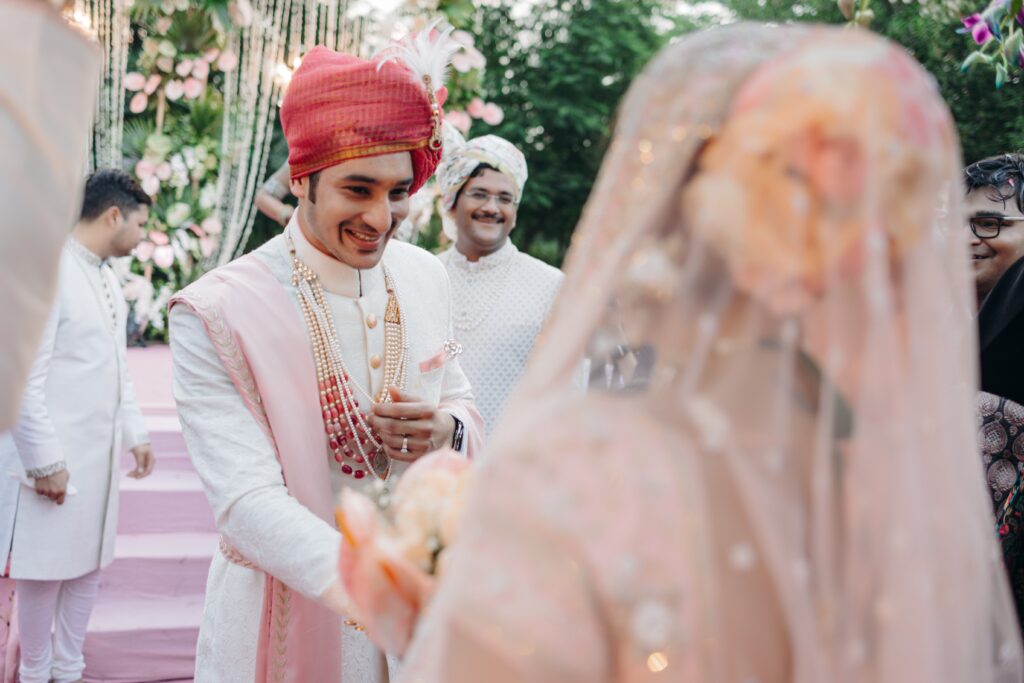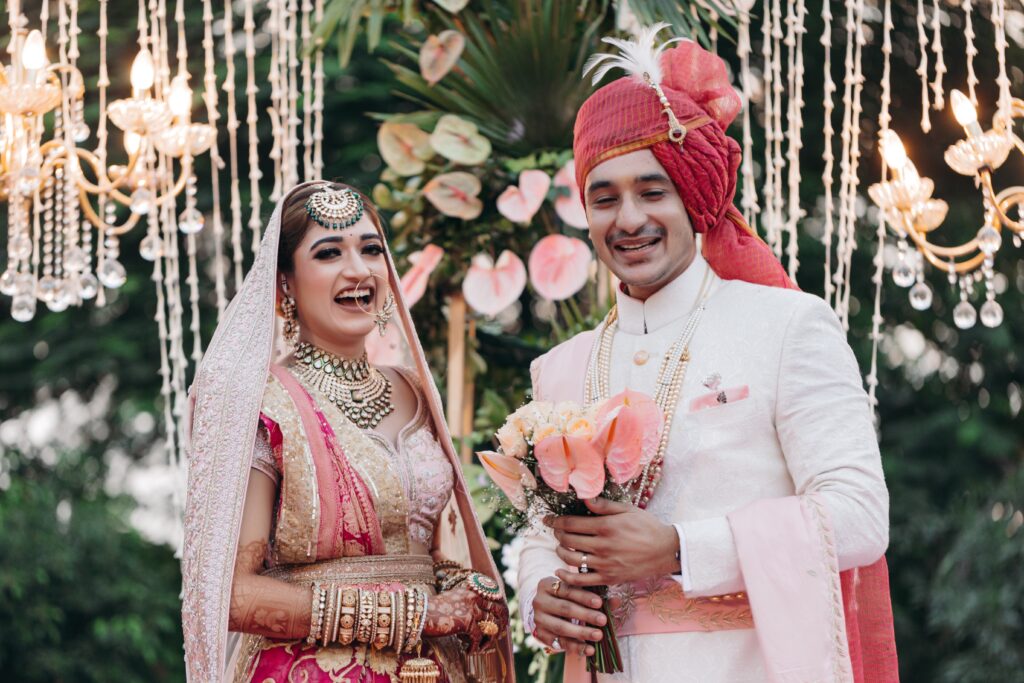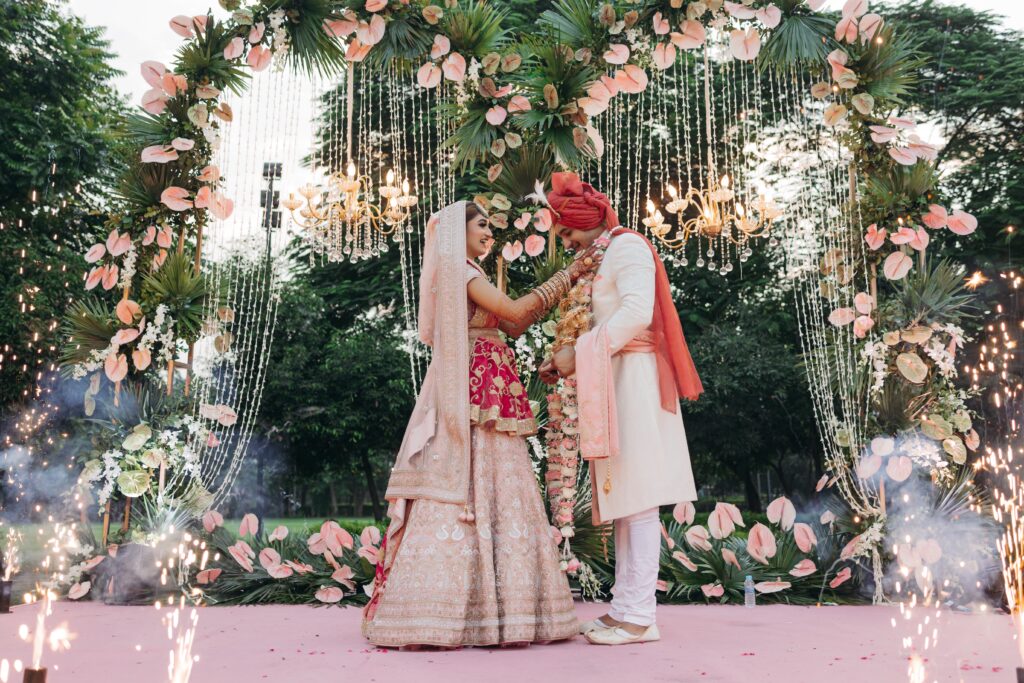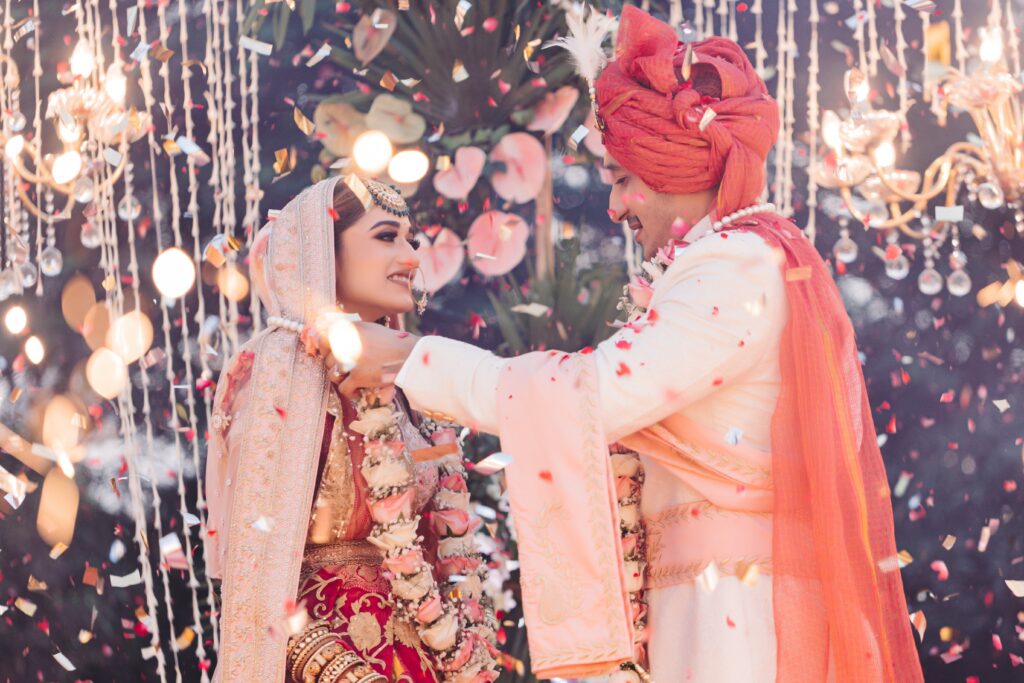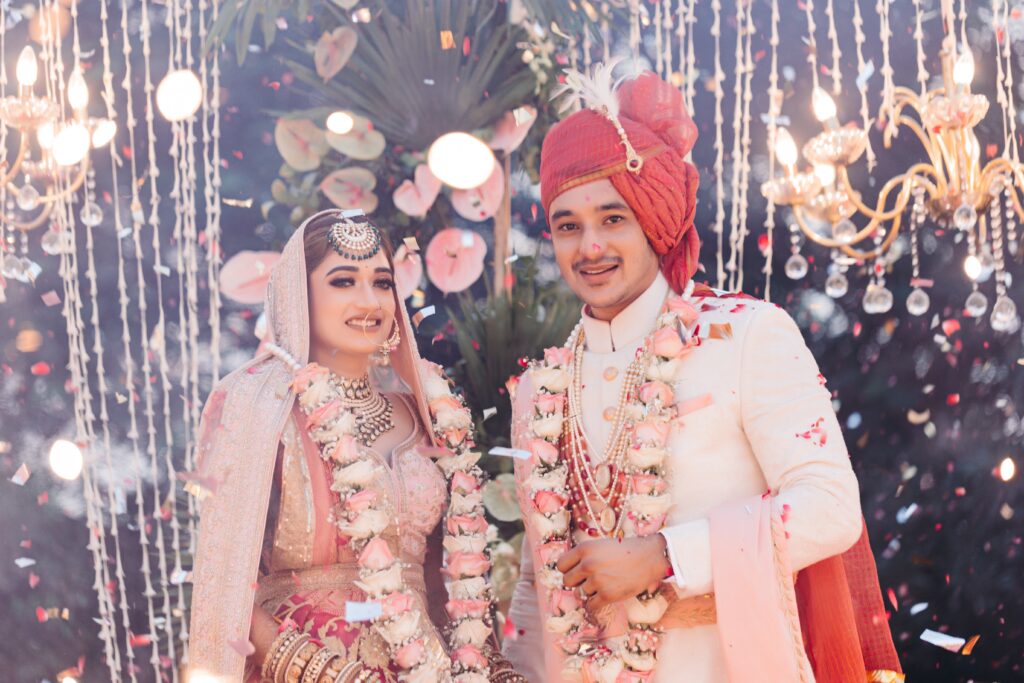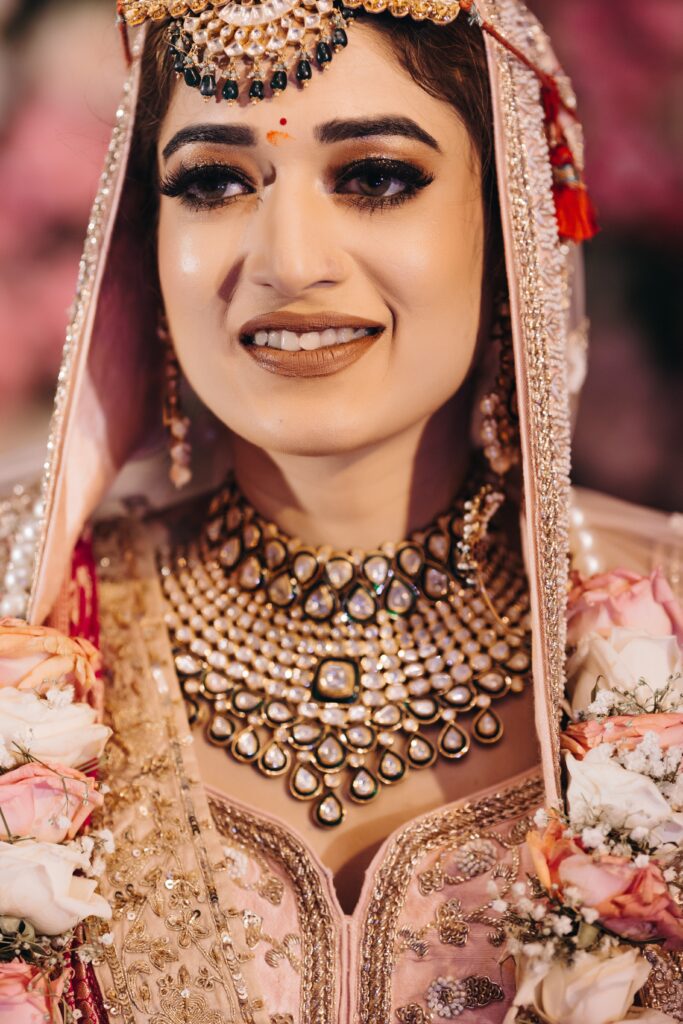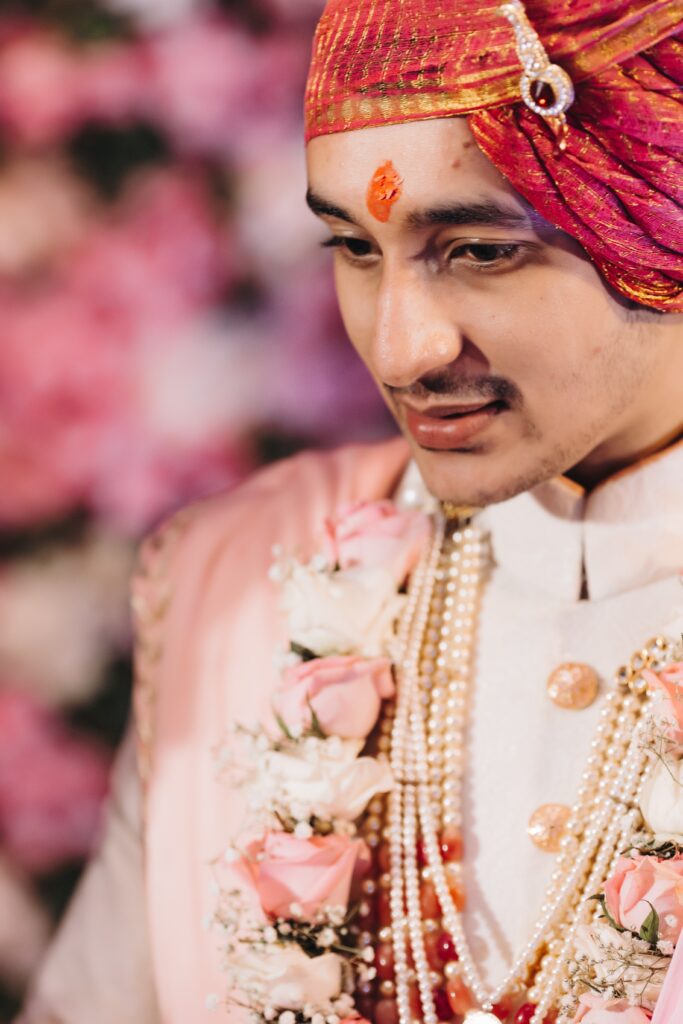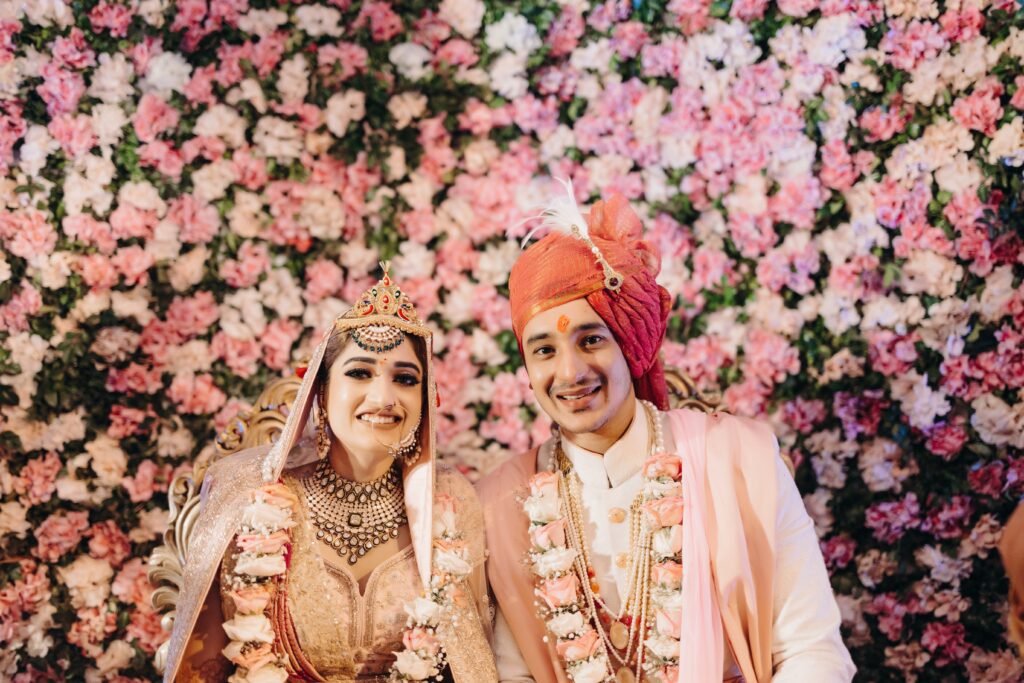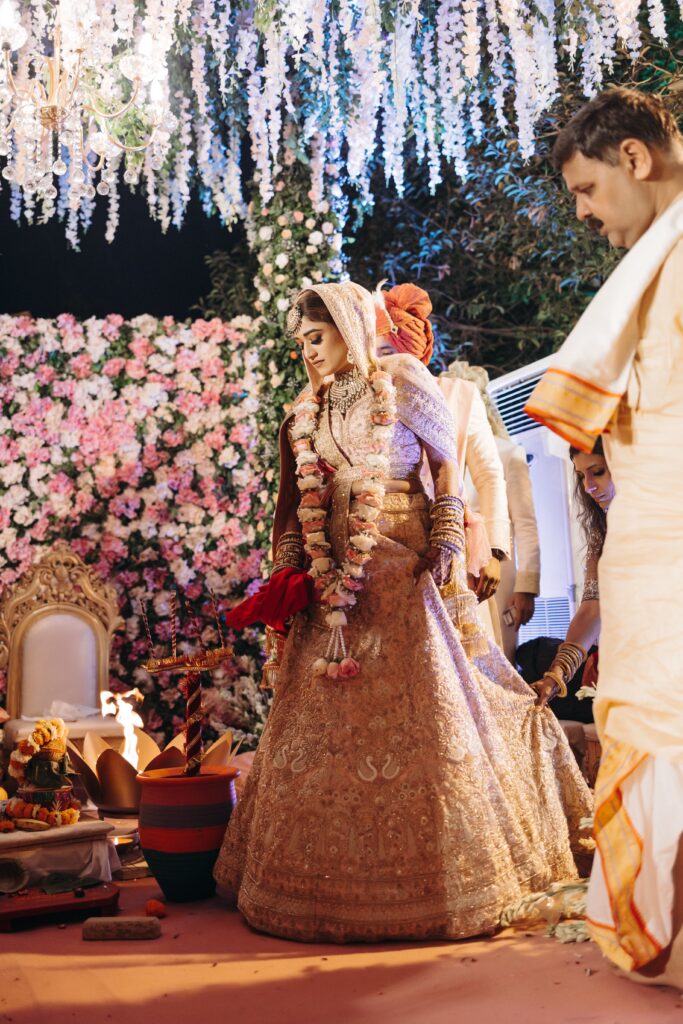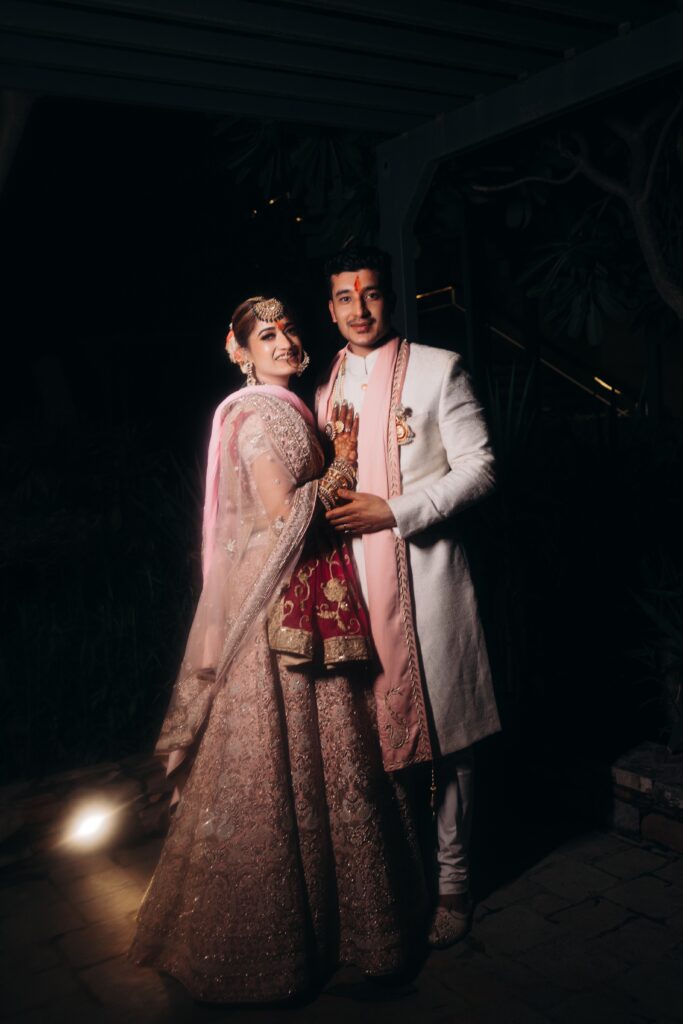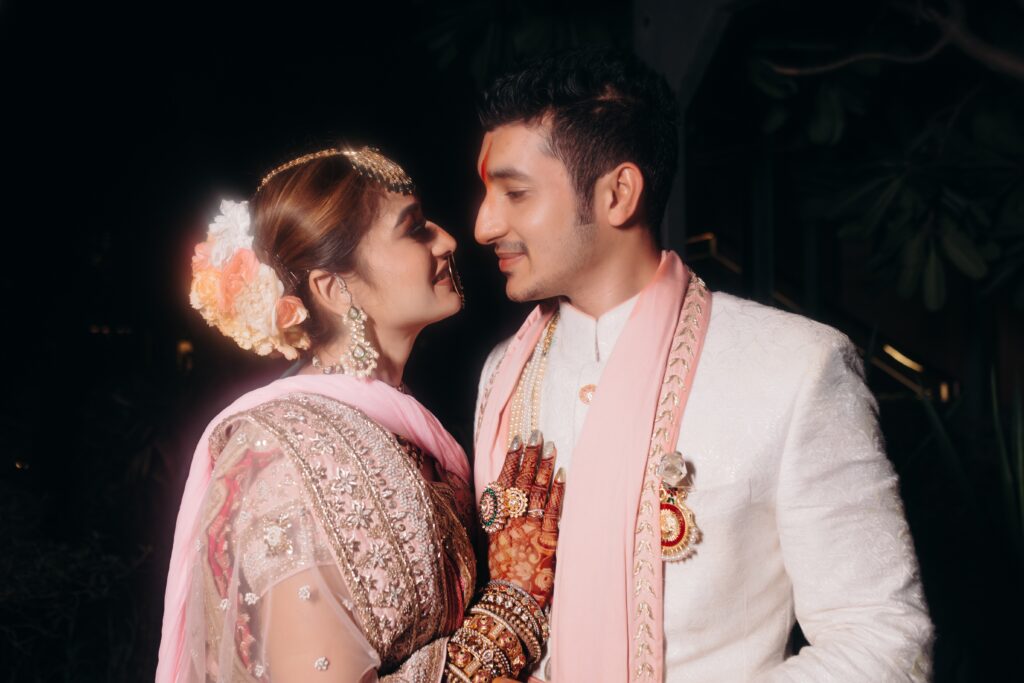 Reception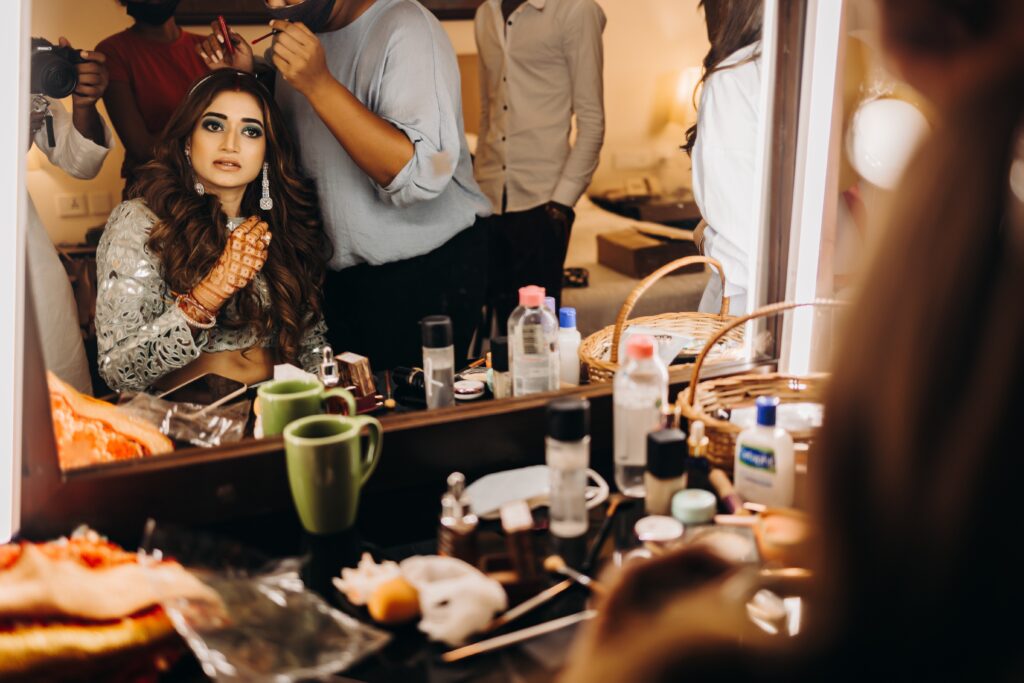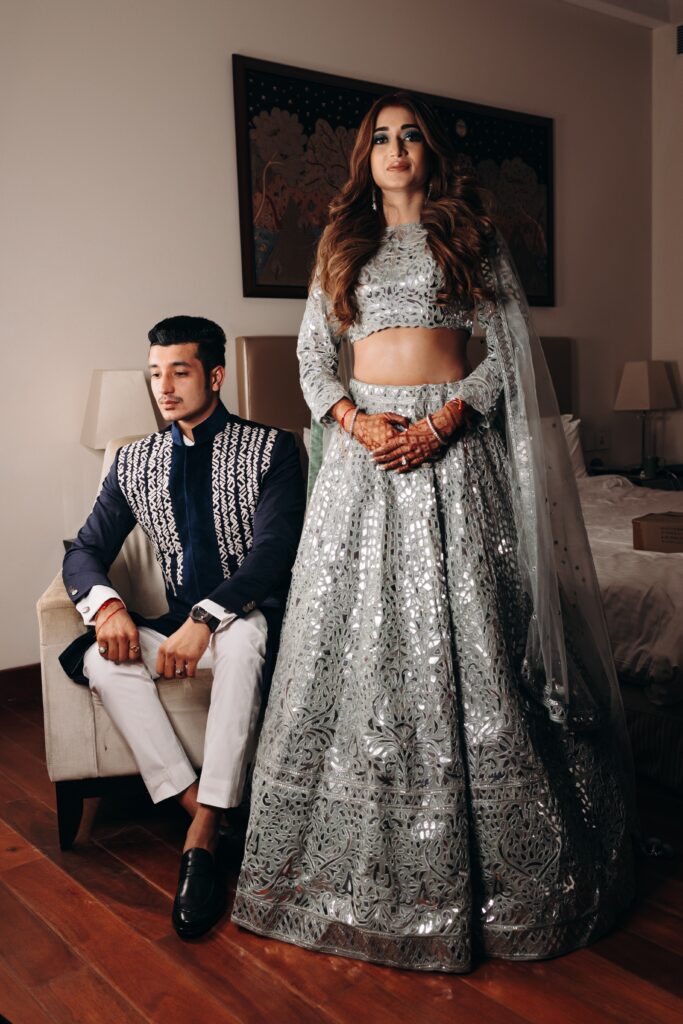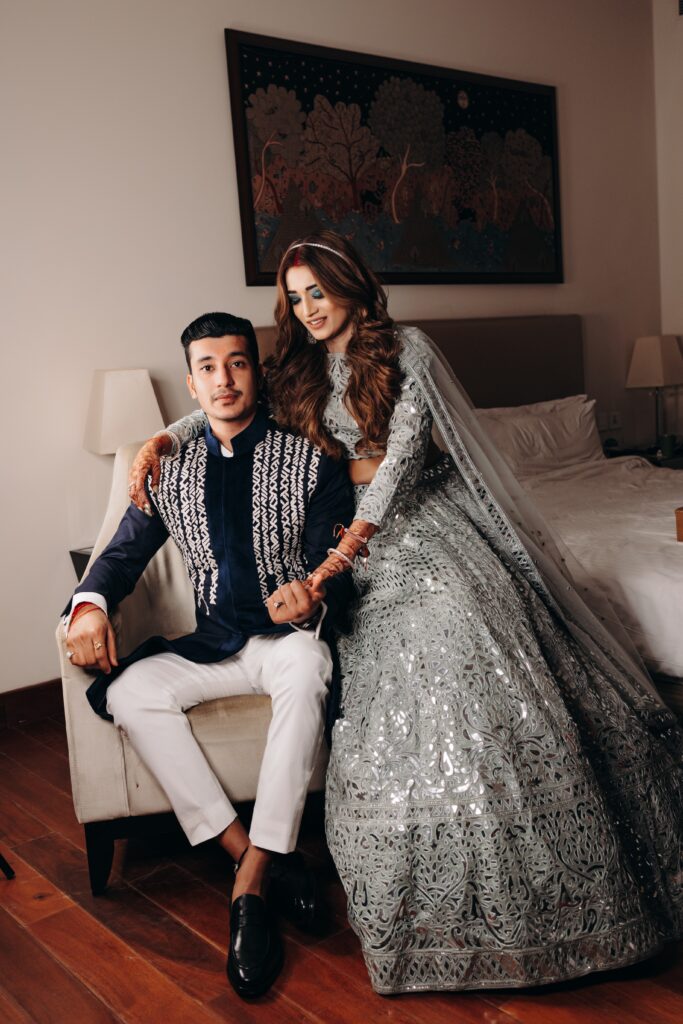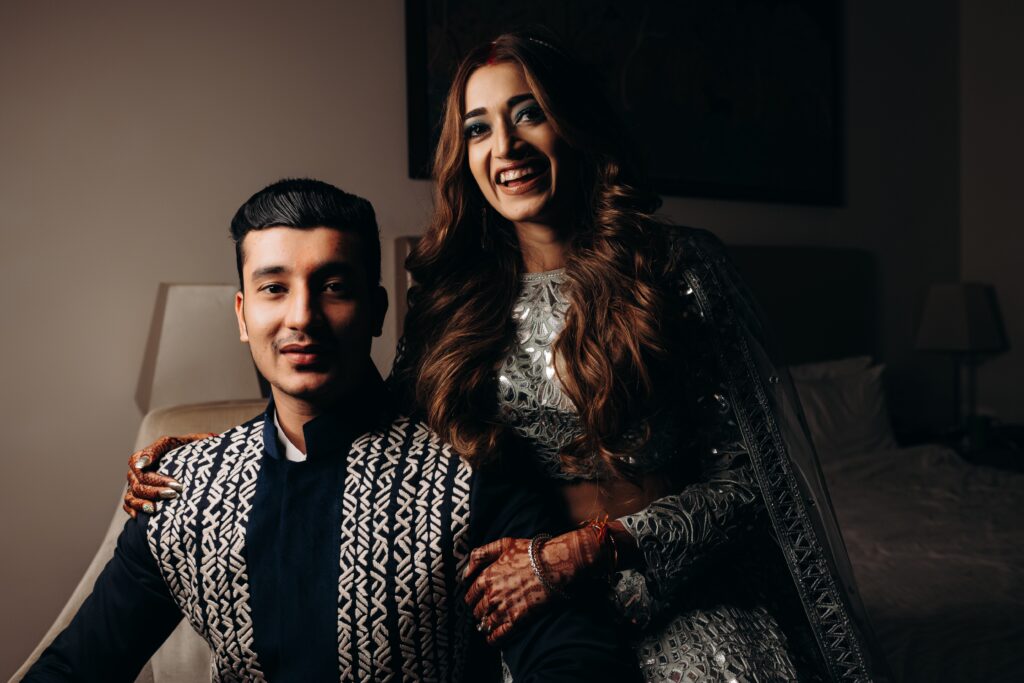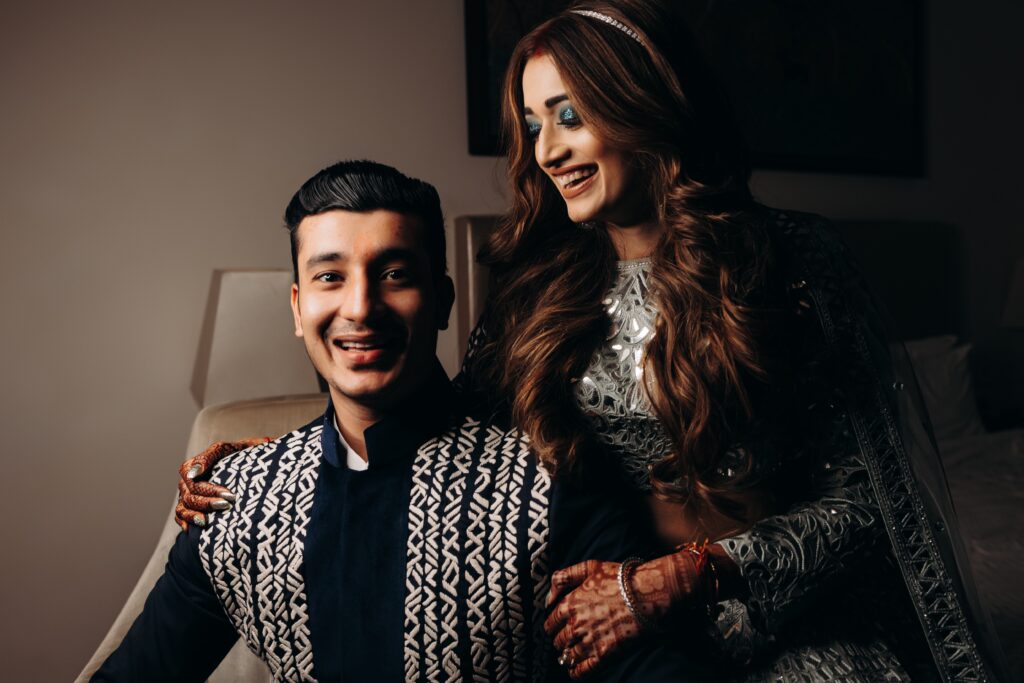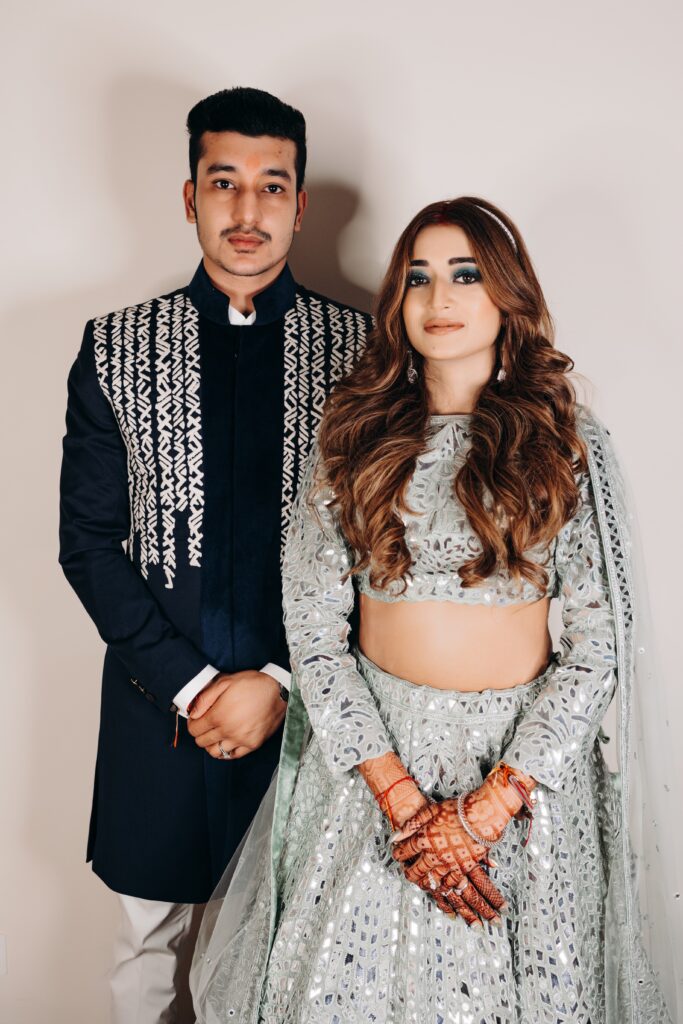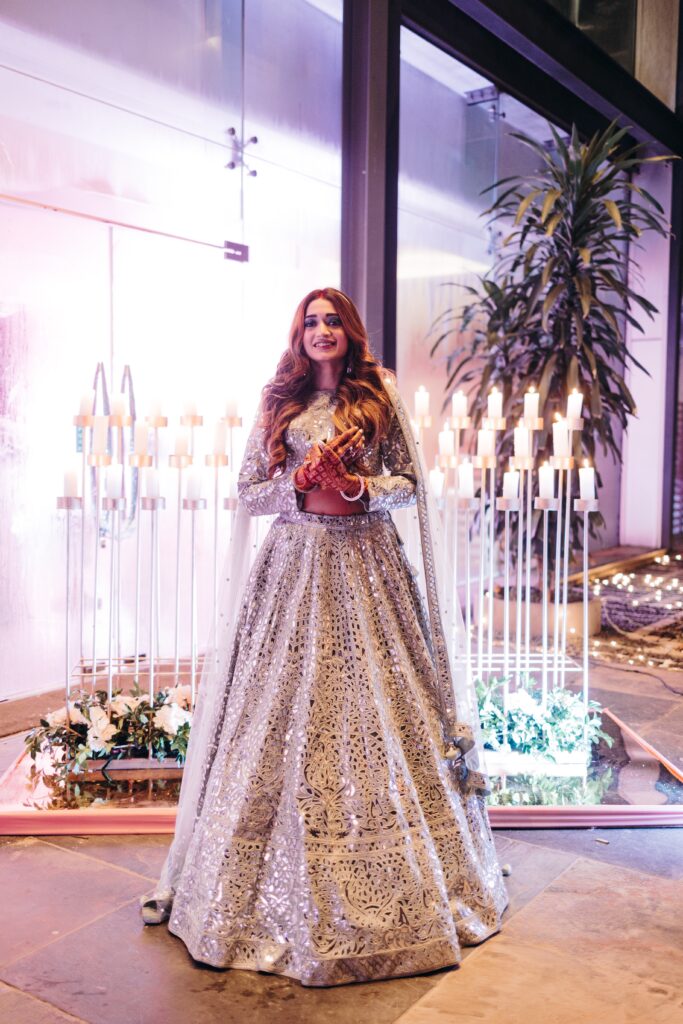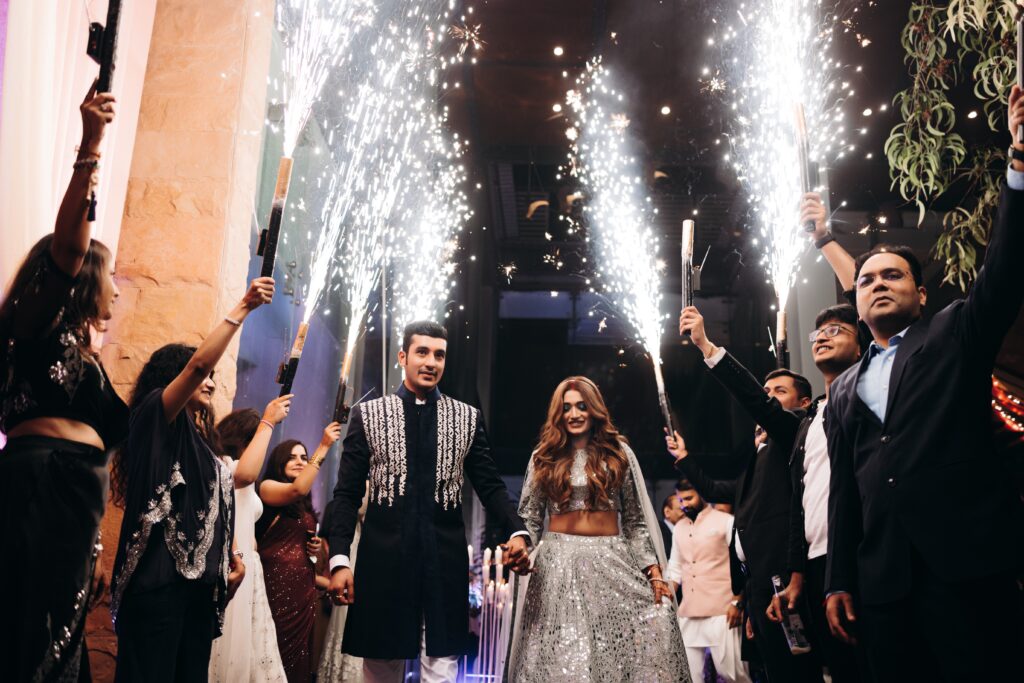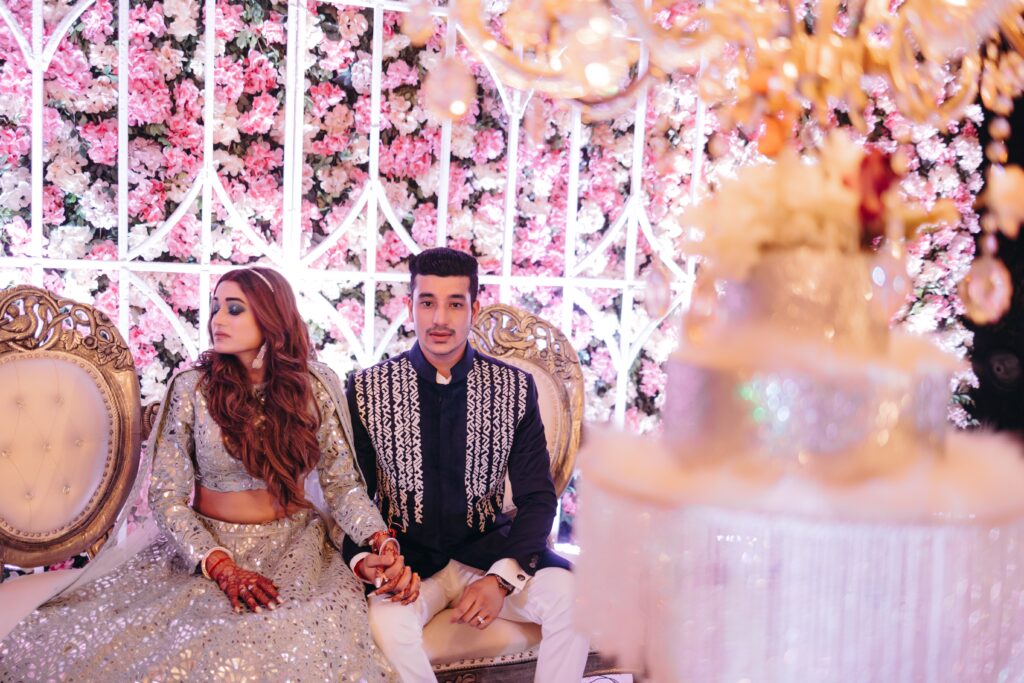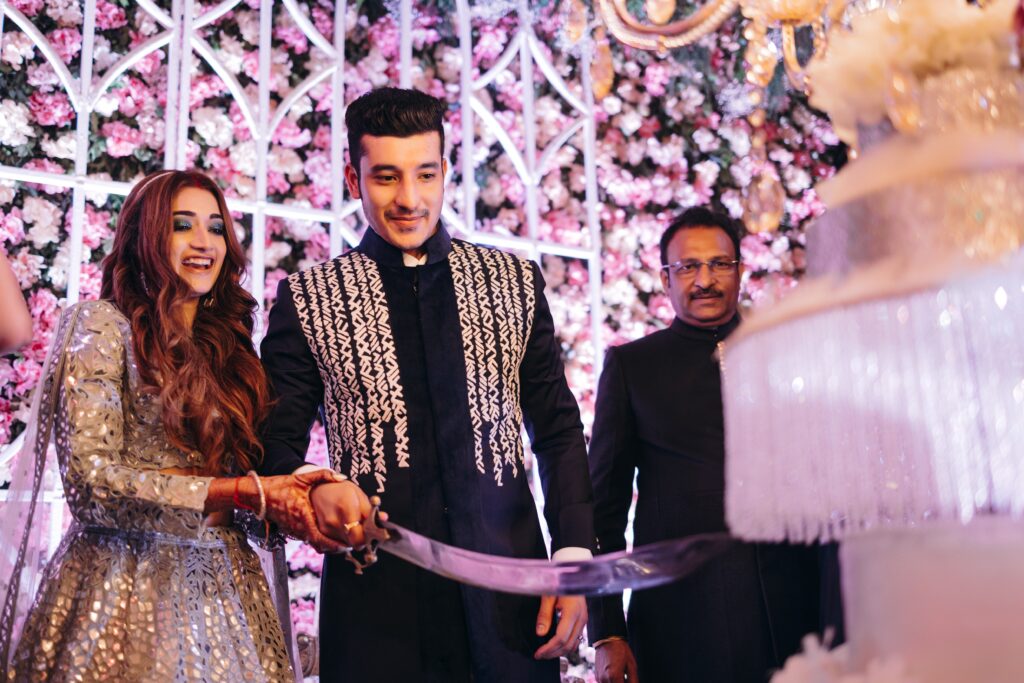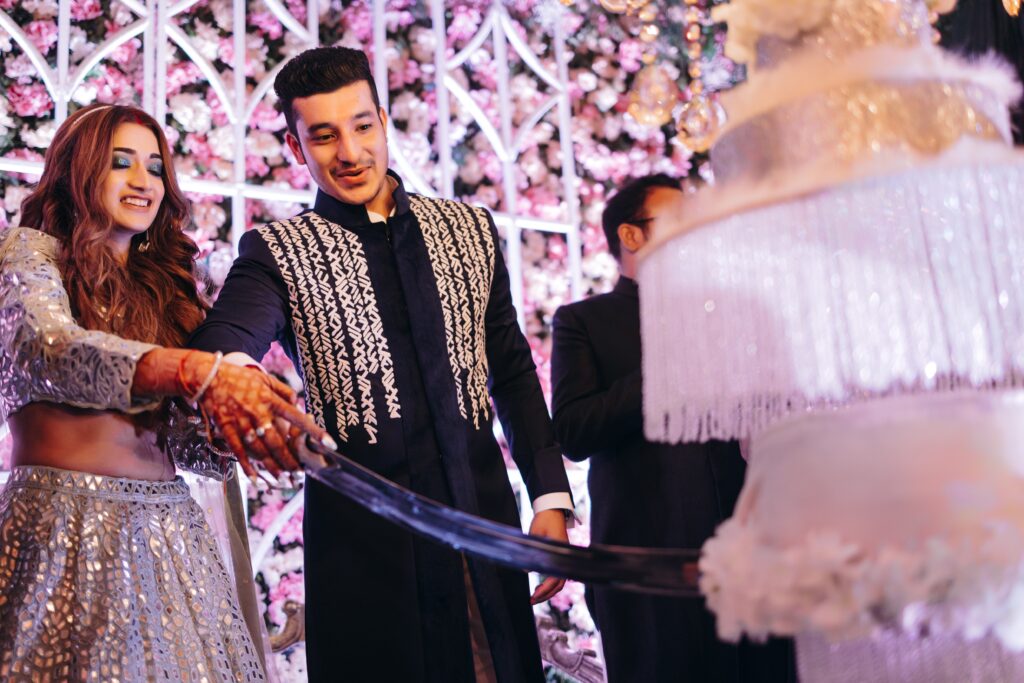 Tips From Mitali For Brides-To-Be
"To all the brides out there, I'd suggest them enjoy their wedding to the fullest. Have fun without worrying too much about what others will think and feel. It's your special day and you should be the one having the most fun no matter what. I'd say do whatever you think you actually want. Listen to your heart first and then, listen to others. Actually, listen to everybody but follow your heart at the end of the day. Because trust me, when you do that, you will feel the happiest in the end," she says. "Also, don't drink a lot. 😛 You'll end up having a very bad hangover the next day. I'd also advise keeping the overhead dupatta and bun light so it stays put and you won't feel heavy on the head," Mitali adds. 
Vendor Reviews:
Makeup Artist: Raveen Anand (Mehendi, Haldi, Sangeet, Reception)
"When the venue was Jaipur, I booked her then, a mutual referred her to me. I was not very sure to be very honest, but she did an amazing job, better than any great professional MUA would do. She adjusted based upon what I actually wanted, she listened to me before curating anything, she suggested me what I could do, spent time on my looks, and kept me fully satisfied throughout in all the functions. Everybody just loved her makeup and I couldn't have asked for more, I would say that she is one of the best MUA out there, like it just went really well, be it hairstyle – be it managing the time, makeup, she accommodated everything perfectly well.
I would suggest all the brides out there go with her and do your research, the brands don't focus that much on you and what you want and they do what they feel but the budding makeup artists are great, do your research before finalizing but this one did an amazing job."
Pheras Makeup: Parul Garg
"From the start, I just loved her makeup, I used to see her bridal getting ready videos and they just looked perfect. So when my venue changed, I automatically contacted her, as she doesn't travel, and I was getting married in Gurugram. It was just perfect and convenient for me to get my makeup done from her, and obviously, she did an amazing job, I loved the makeup. I had 3-4 looks in my mind, her team suggested me go ahead with one and we went ahead with that and it was impeccable. I loved myself that day more than I ever could."
Photographer: Oragraphy
"We saw their work in one of our friend's weddings in February and we just wanted them to do our shoot, but then again the previous dates were in April and they were not available. When the dates changed, I had to convince everybody to change the photographer and go ahead with them instead, though they are yet not happy with my decision 😅 But I had to do everything to make sure that the wedding should be perfect and also the pictures as they are the ones which are going to be with us all the time should be the best."
Venue: Taj Damdama
"I saw the venue at the time of wedding time only, as I said there were a lot of discussions on the wedding venue. It changed and I really didn't want to get involved in all the discussions as i knew whatever Aakash and my in-laws would decide would be the best. And it really was. The venue was a perfect one for a wedding, beautiful with different event spaces (though we had to change the spaces at the last moment because of rain). The property is beautiful the way it's designed – the venues, the distance from the rooms, the rooms are very spacious and pretty, so everything was awesome." 
Event: Big Bash Entertainment
"It was very smooth coordination with them. They are a great bunch of people, belong to this generation which makes it easier to explain what you want. Their coordination was great. I didn't really have to do a lot, just tell them what you want and it would be done, Aakash's side did most of the coordination, and they were more than happy with their services!"
Entertainment & Sound: Bolly Jammers- Sangeet
"Just book them without giving a second thought if you want one CRAZY night, I heard about them when I used to work for an event company that they did a great job for a wedding in Dubai, but they just outperformed as everybody danced like crazy. Nobody was in their senses in that function, and they just created an environment of masti and fun throughout the event."
Groom's outfit: Himmat Singh (Jaipur)
"He got all his outfits from one store, and he was very happy with all the outfits it matched perfectly with all my outfits, especially the safa of sherwani. He didn't know the color of my dupatta, and I didn't know the color of his safa, but when we met that day, OMG it was such an amazing surprise for both of us."