New York and Mumbai-based MUA Shailee Bharatia recently married her beau Bhavin Shah in the city of dreams close to 2 years of postponing their wedding. After 9 years of relationship, Bhavin proposed to Shailee in NY, and their dreamy engagement pictures went instantly viral on Instagram. Besides the photographs, one of their proposal videos where a friend of theirs screams "shailee mana karde" to tease the couple also went viral. The duo was all set to marry in 2020, but fate had other plans. Read all about their love story, wedding planning, and helpful tips in our latest edit:
It Was An Instant Connection
Shailee and Bhavin met through common friends 12 years ago in McDonald's. The now-wife and husband were 16 and 19 respectively. "We had an instant connection and we just knew we were made for each other. We started dating a month after meeting and we just knew we've made the right choice. We're literally soulmates," says Shailee. 5 years into the relationship, Bhavin moved to New York for higher education only to start the toughest part of any relationship – Long Distance. 
"I'd save up somehow back in the day and visit him and stay with him 6 months at a stretch in the US and he'd come to India whenever he got a chance. The distance never came between us. There were times when we'd meet halfway in London to ensure we spend some time, " Shailee tells us. 
"Then in 2019, at my favorite location in NYC, on a beautiful evening, he got down on his knee again on the 9th anniversary of our first kiss and popped the question. He had even got my favorite photographer and the best team and it was just perfect. I said yes instantaneously and it was the most special moment of my life. That evening I saw the most beautiful sunset I've ever seen in my life with a gorgeous New York skyline as the backdrop. I was under the impression we are out for a fancy dinner date which turned out to be my fairytale moment," she adds.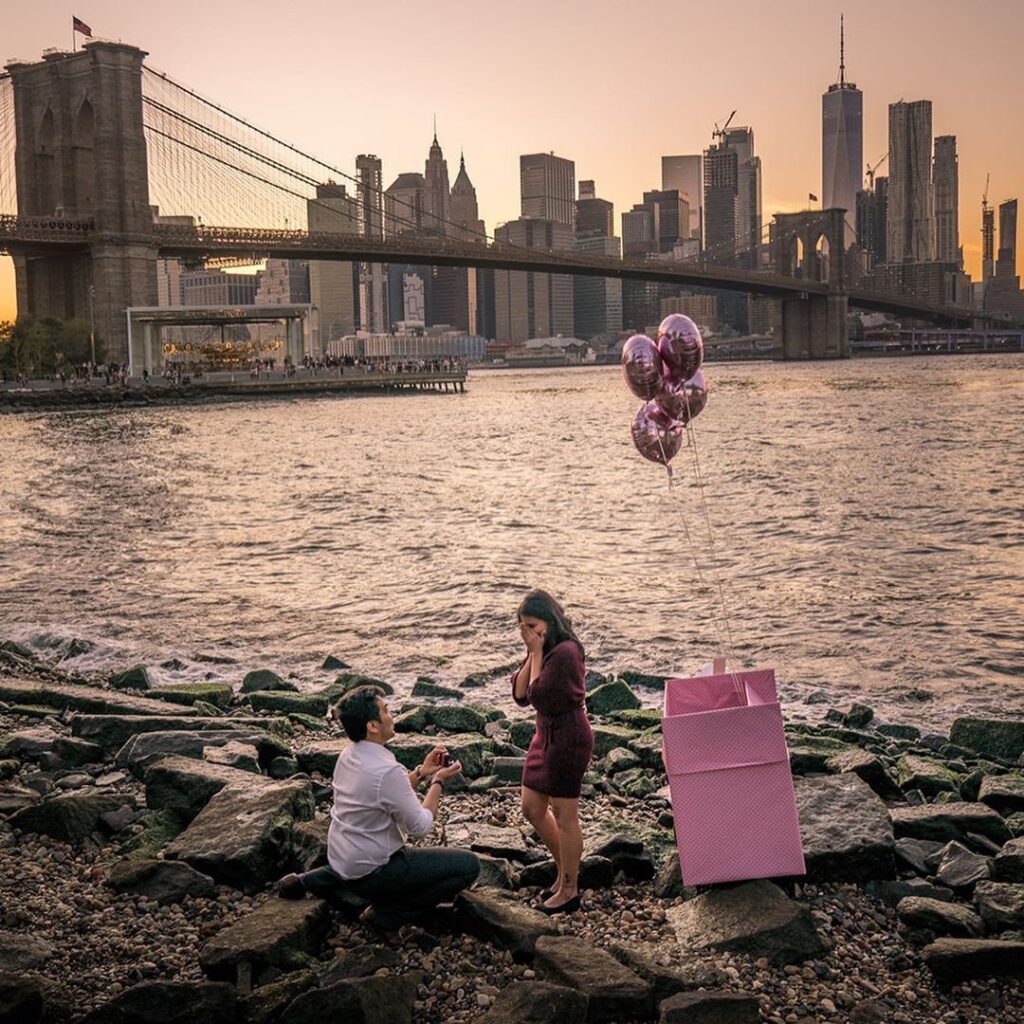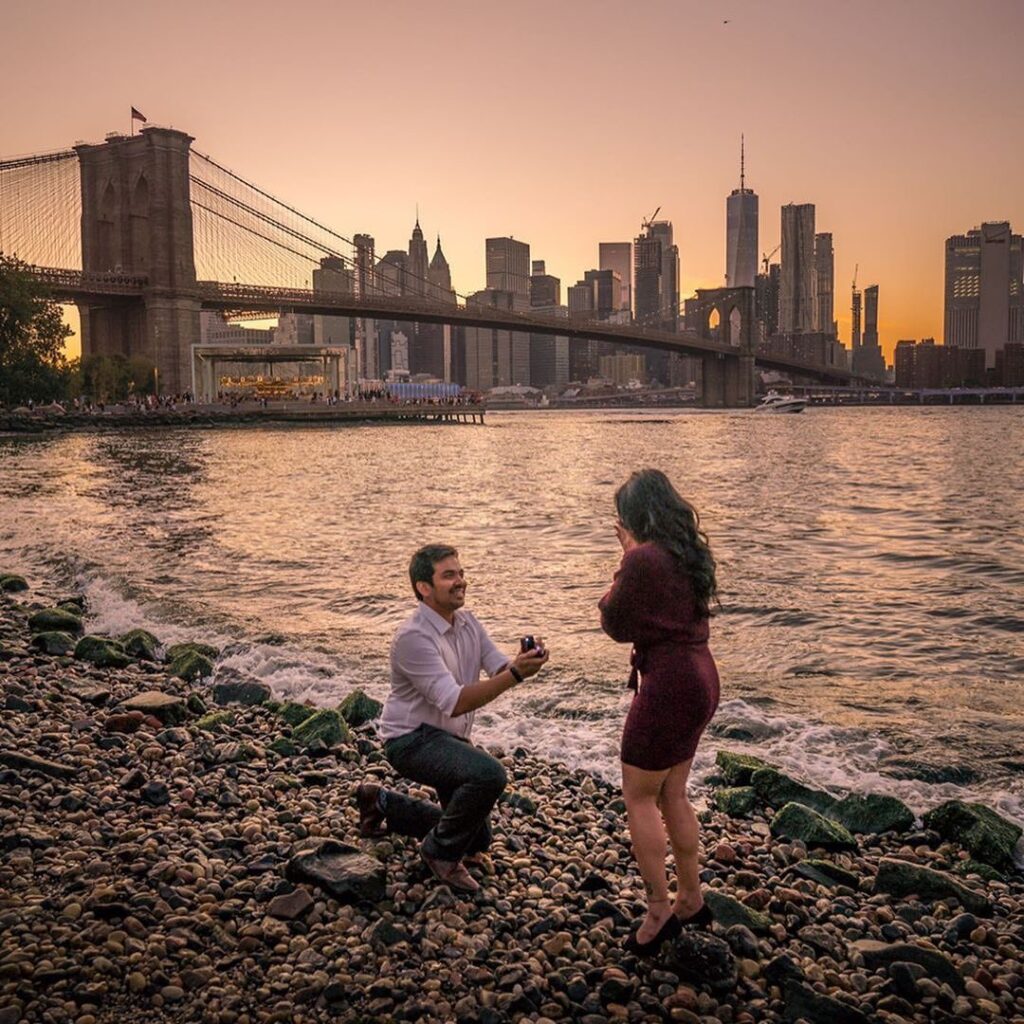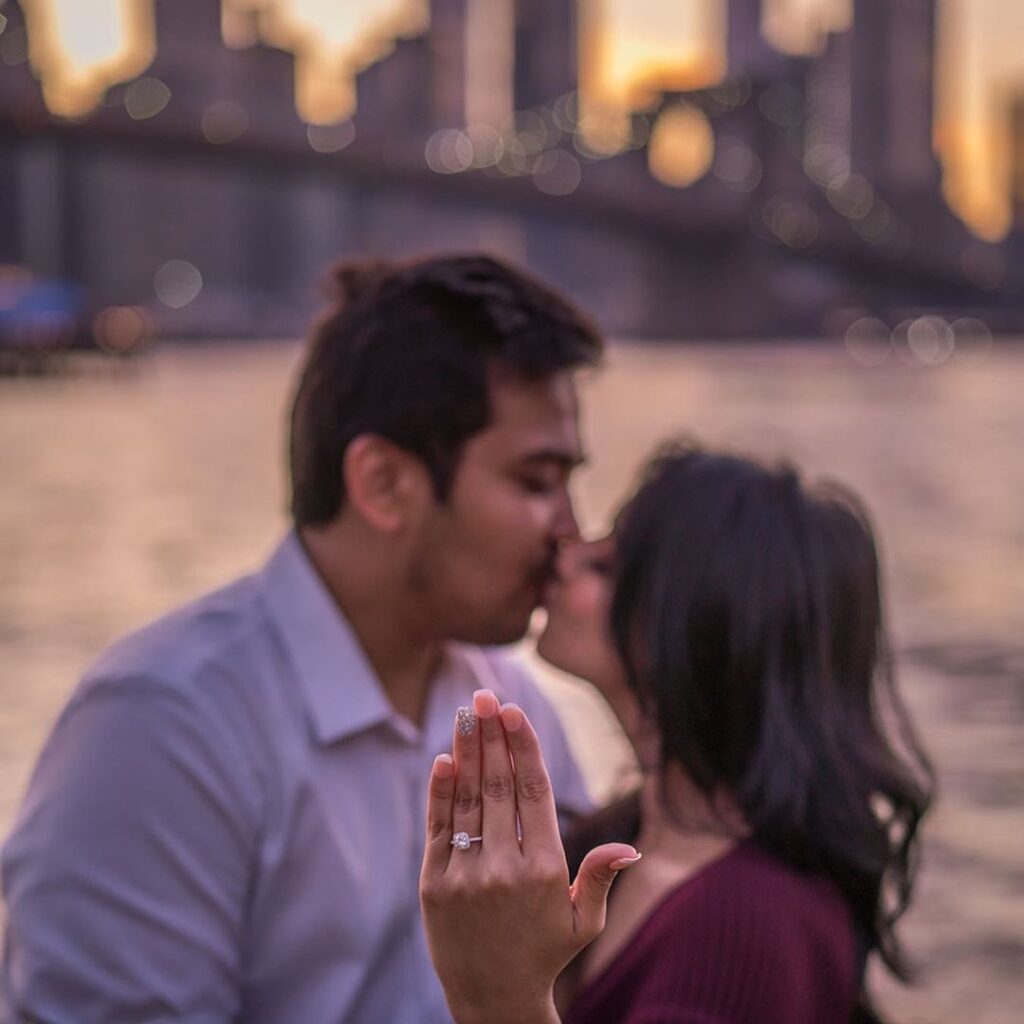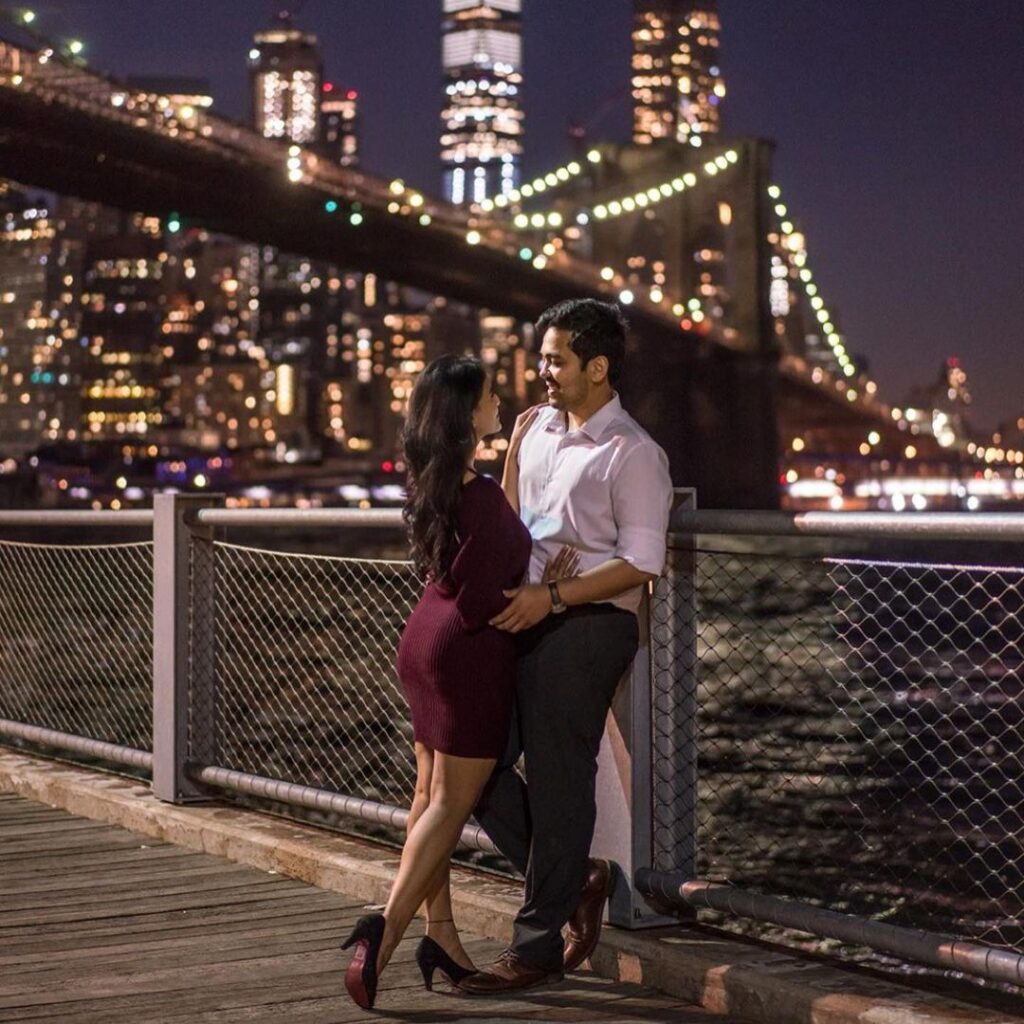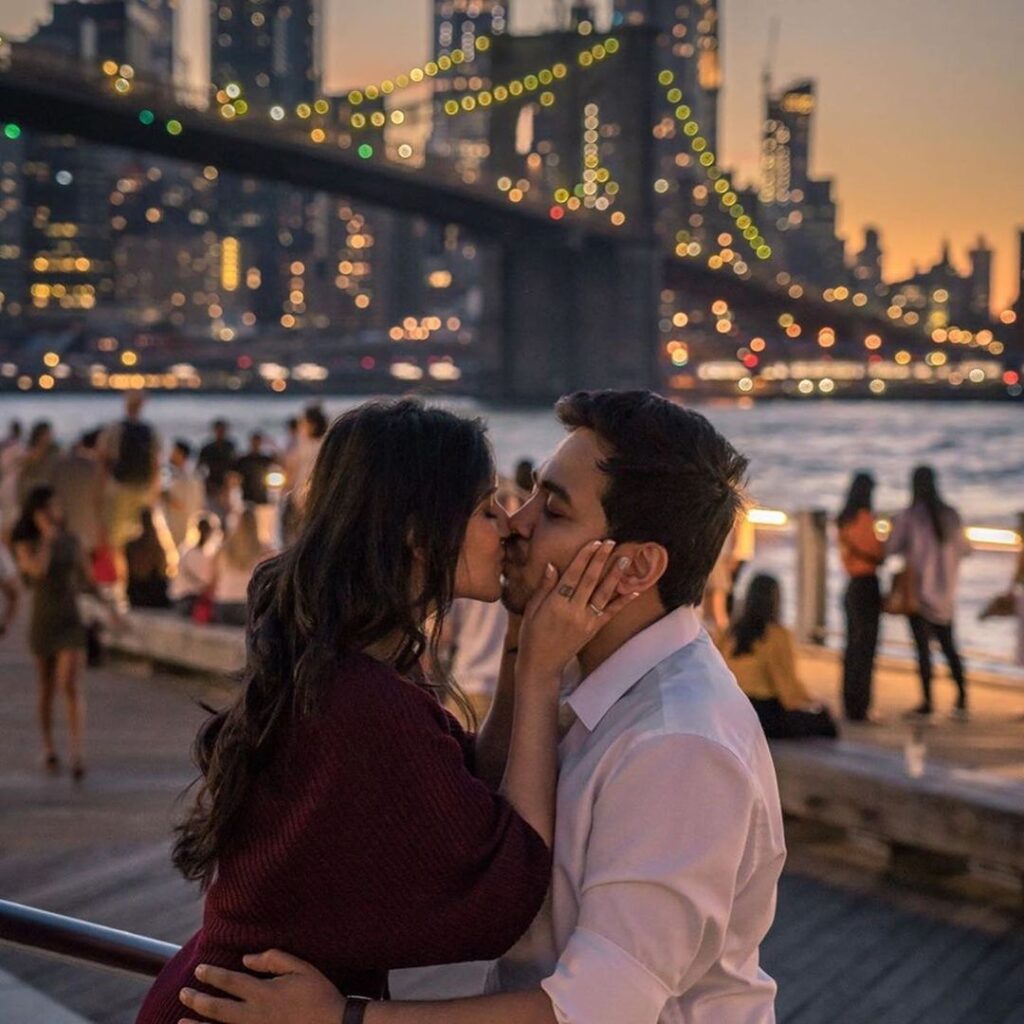 The Hustle Of Wedding Planning
The couple decided to get married in 2020 and just like everyone else, were shocked to see the pandemic situation escalate. "We were all set to get married. Since I'm a bridal makeup artist myself, I know the best vendors in the wedding industry. I hand-picked each vendor since I was in Mumbai and he was still in New York. Planning a wedding is no joke. It was a rough ride in itself," says Shailee. 
One month before the wedding, COVID struck and the wedding was postponed. "The hairstylist I had originally booked decided to stop reverting completely after locking in my new dates and also never returned the advance amount to this date (she is one of the biggest names in Mumbai, you probably already know who I'm talking about). That was very stressful. Then, there was another thing that stressed me out. My main wedding lehenga was already in the making as per my last fittings given and our wedding got pushed to more than a year later, which meant it had to reduce or maintain the weight I had lost for the wedding. I was really blessed to have chosen Sabyasachi though, their team took my fittings a total of 12 times (in person and virtually) to ensure the measurements were perfect. Every little detail and customization was done exactly how I wanted it," the bride says. 
Lastly, Shailee just wanted to be with Bhavin in this difficult time. "I was stranded in the Mumbai lockdown and he was stranded in NYC with no flights going either way. Then when rescue flights were announced from Mumbai to NYC, I booked the first flight out and reached NYC. We finally set the wedding date to November 2021. We had virtual meetings with all our vendors, we had a run-through of events with the wedding planner virtually and the photographers and due to time differences, we'd sometimes end up taking meetings in the middle of the night. We finally flew to Mumbai 1 and a half months prior to the wedding, and all my final measurements and for the decor, we held the meetings in person," says Shailee. 
Further talking about her vendor experiences, she added, "Overall every vendor is amazing to work with. Starting from my henna artist to the hairstylist I ended up booking, they were all so sweet and comforting throughout."
"The only thing that went horribly wrong I feel was the decor on the main day. We are highly disappointed because what we paid and asked for was completely different from what was delivered. Ladies, if you're reading this, make sure your event planner sends you the photos of the decor before the event starts so you can make changes. This was the biggest mistake I made, I didn't get to see what was done and the decor team made a blunder which came to my notice when I entered for my pheras. I got married at Novotel and they have a tie-up with a decor team due to which they don't allow clients to outsource their decor team. We were not happy with them at all," Shailee says. 
All About The Wedding Lehenga
"My lehenga is called the 'The Tree Of Life' by Sabyasachi and I genuinely feel that it's the most beautiful garment to be ever made. Would you believe me if I said that it was the first and probably the only lehenga I tried?? After I tried on, no other lehenga I saw at any other store made any sense," says Shailee. "My mom insisted on visiting the Sabya store the first thing when the wedding date was decided upon. She loves his designs and always dreamed of her daughter wearing the best of the best. The minute I entered the store, I fell in love. They have a separate section for bridal lehengas and the outfits are hung in a color-coordinated manner or sometimes, according to the collection," she adds. 
Further describing her experience of picking her perfect, dreamy lehenga, she continued, "I remember seeing this lehenga hung and everything else around it got blurred. The light fell perfectly, the handwork on the outfit was glimmering, and if you look closely, the blouse has tiny detailing of white and gold butterflies along with small white flowers embellished in gold stones paired with a heavy jaal dupatta. The color of the lehenga is something I could go on and on about, it's not too dark, not too bright! The perfect pale pink on raw silk which shines when the light hits! Another thing I kept in mind while selecting was the comfort level, I tried my outfit and walked around the store. I even twirled and the lehenga was so comfortable."
What Brides-To-Be Can Take Away From Shailee's Experience
"I have so many tips for future brides. Especially as a bridal MUA, I've met a lot of brides and have some amazing tips: 
Please opt for a flat closure nath or a screw closure. Ball closure nath often slide and are very difficult to keep in place on the nose.

Try on the head dupatta and ensure you can carry the weight, if you have a heavily embroidered dupatta like mine, ensure you can take that weight throughout. My hairstylist did an amazing job fixing it and I didn't have any problems carrying it around throughout. 

Please visit a dermatologist at least a month prior to the wedding. Get at least one hydra facial or any treatment recommended by your dermatologist to ensure you don't have the dry, dead skin on your special day, Makeup cannot change your skin texture, only skincare and skin treatments can. 

Get a separate room for yourself while getting ready. You want your artists to be able to focus on you without any disturbance and sit peacefully before the madness begins. Do the proper walk-through with your photographers so they know which is the best area/ lighting to get those portrait shots. 






Wedge heels over pointy heels any day. Your footwear isn't going to be seen underneath all those cancan layers. Get yourself a good comfortable pair of wedge heels. Mine were embellished to match my lehenga but they were extremely comfortable. 

Exfoliate your lips on the night before and the morning of the event and apply a heavy layer of lip balm to ensure the lipstick application goes smoothly. 

Check your decor prior to walking down the aisle. Please learn from my mistake." 
Find below the complete wedding album of Shailee & Bhavin: 
Mehendi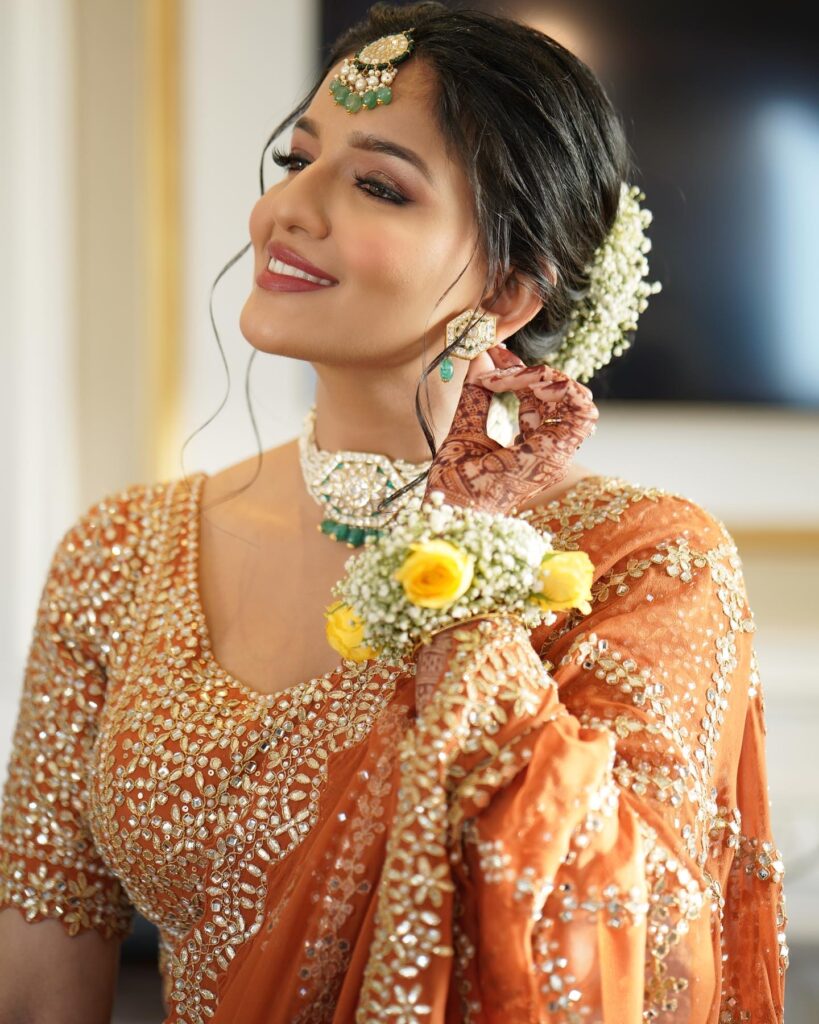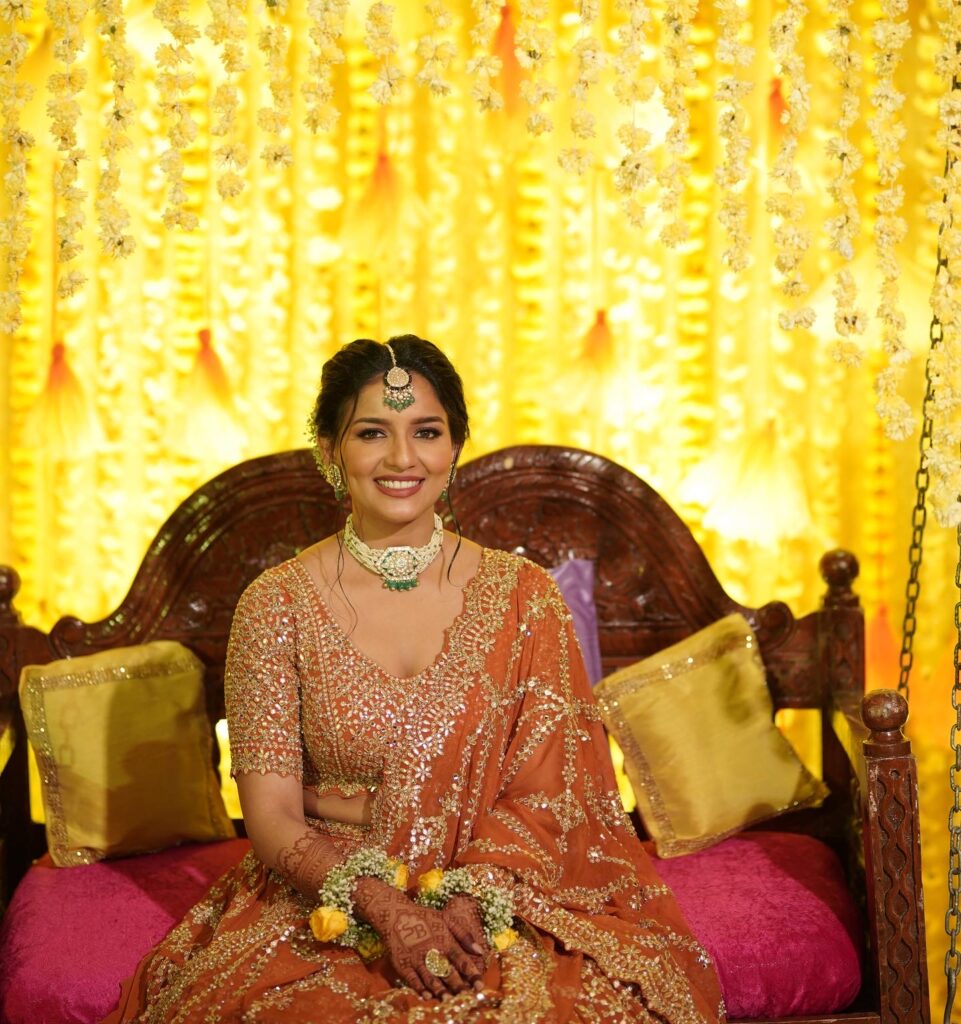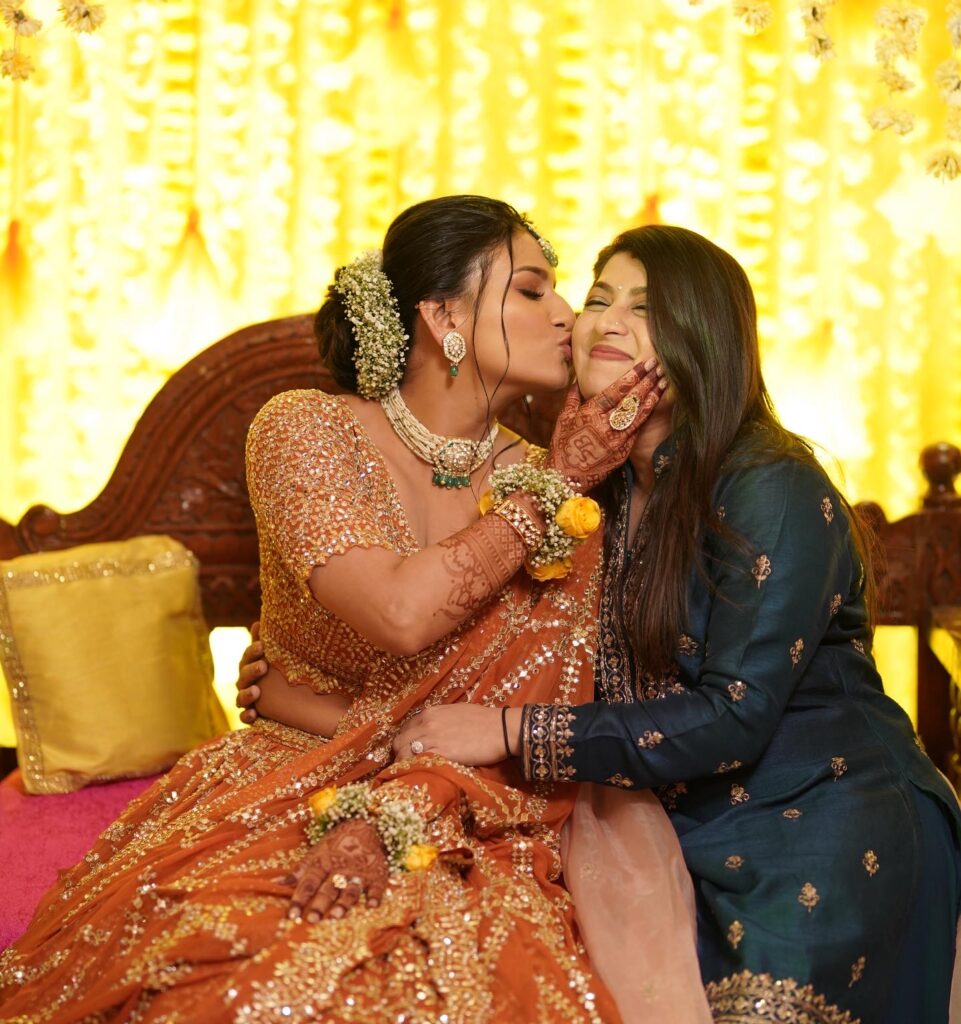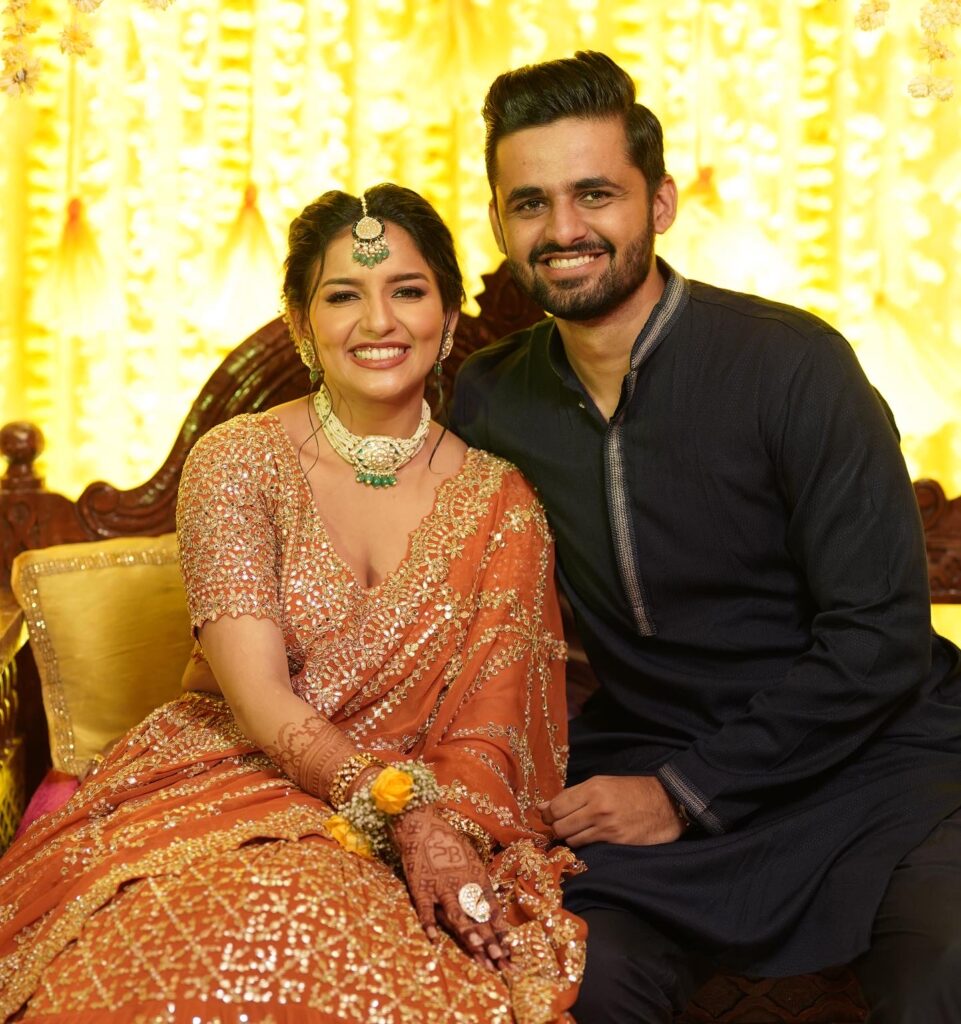 Sangeet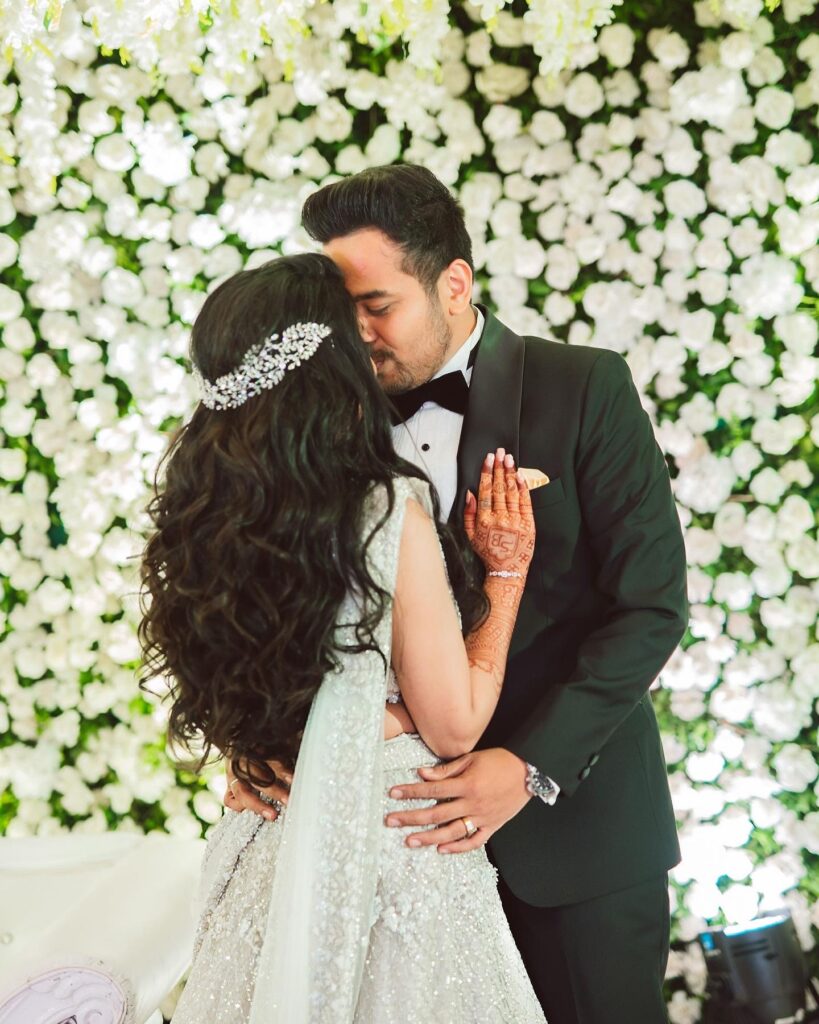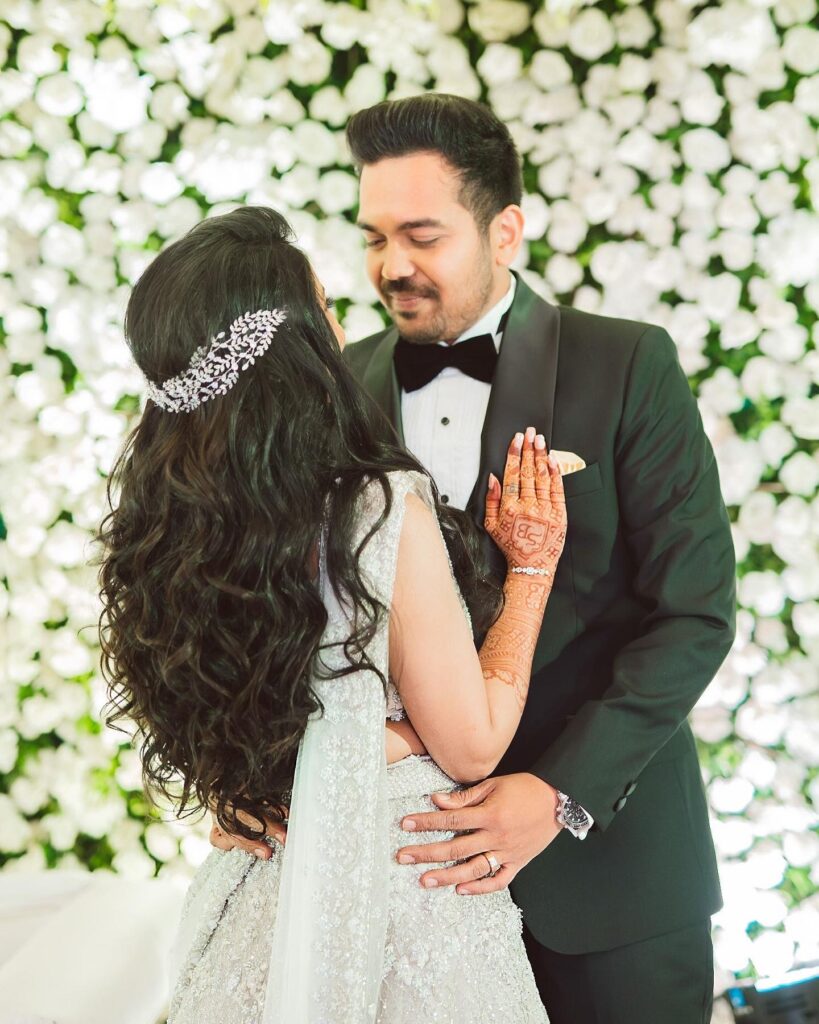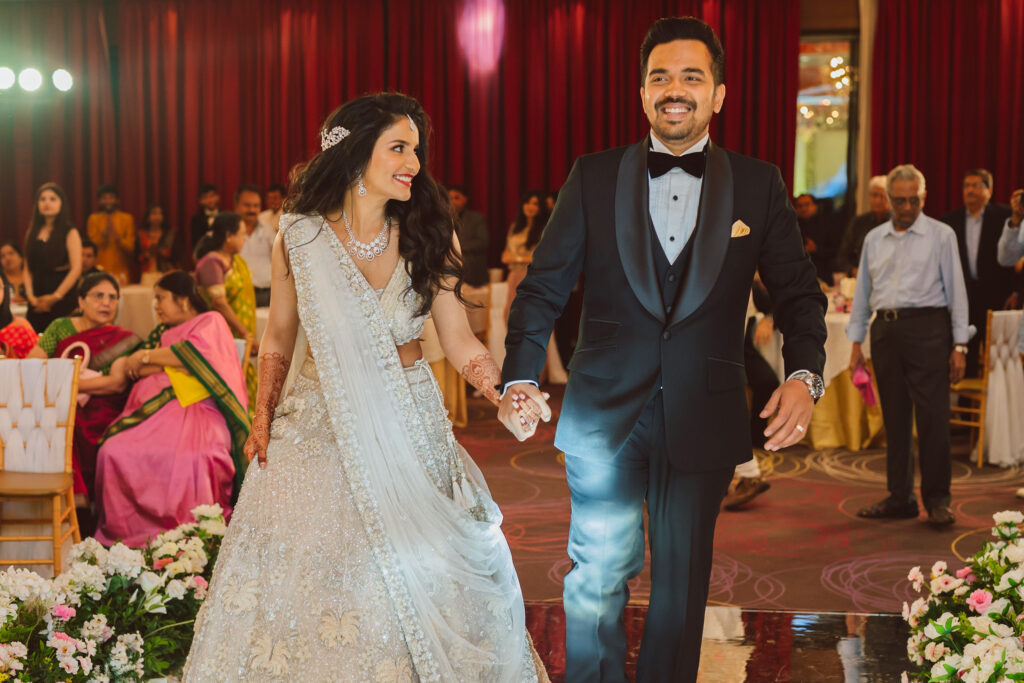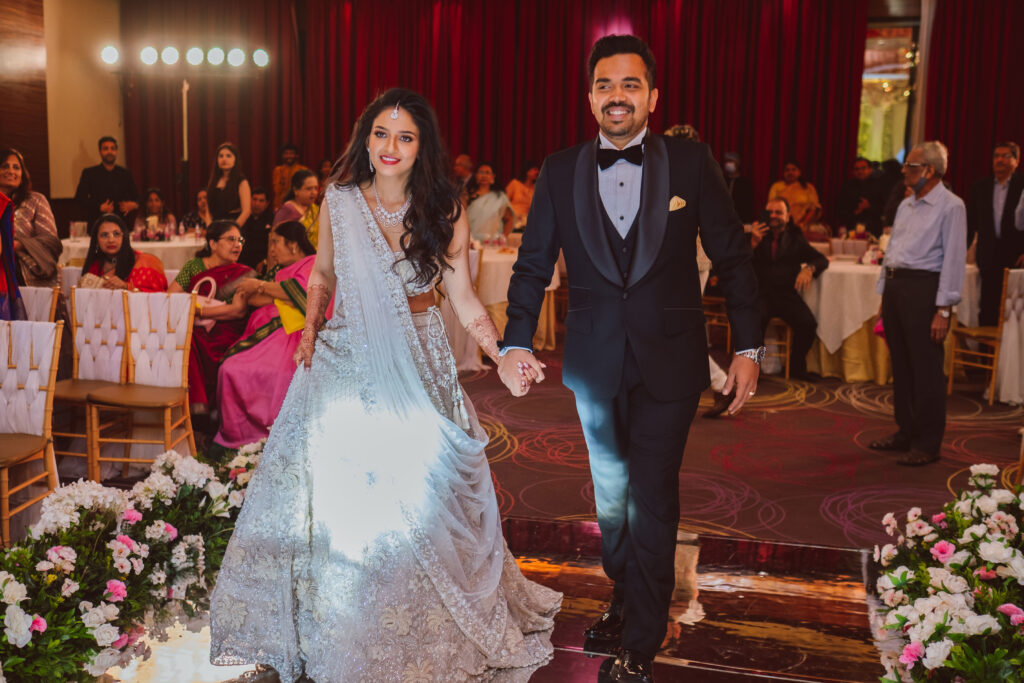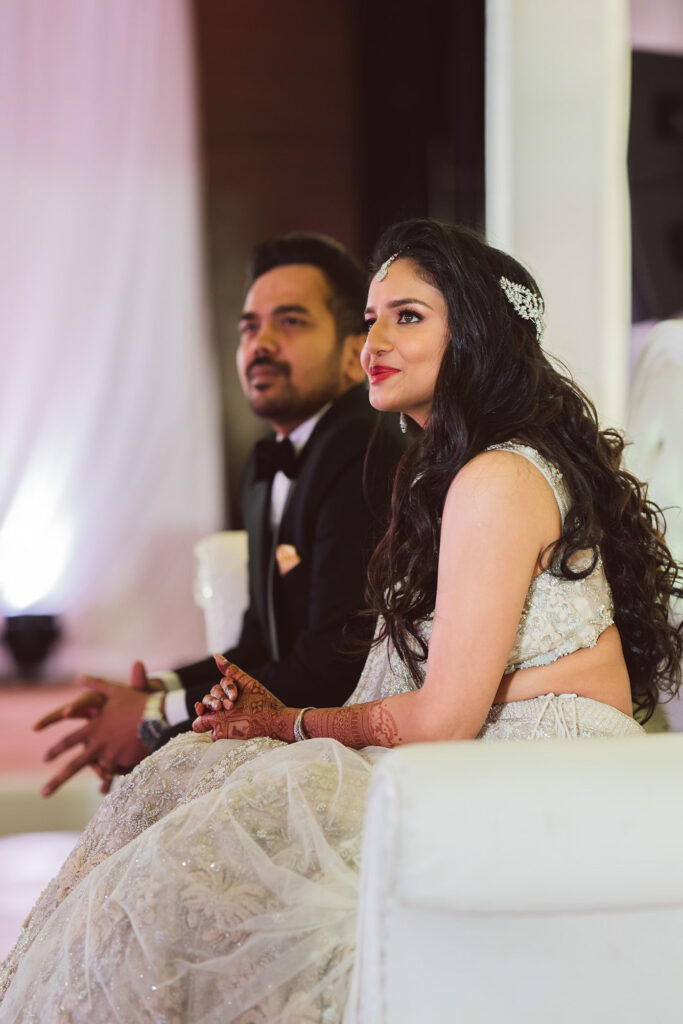 Haldi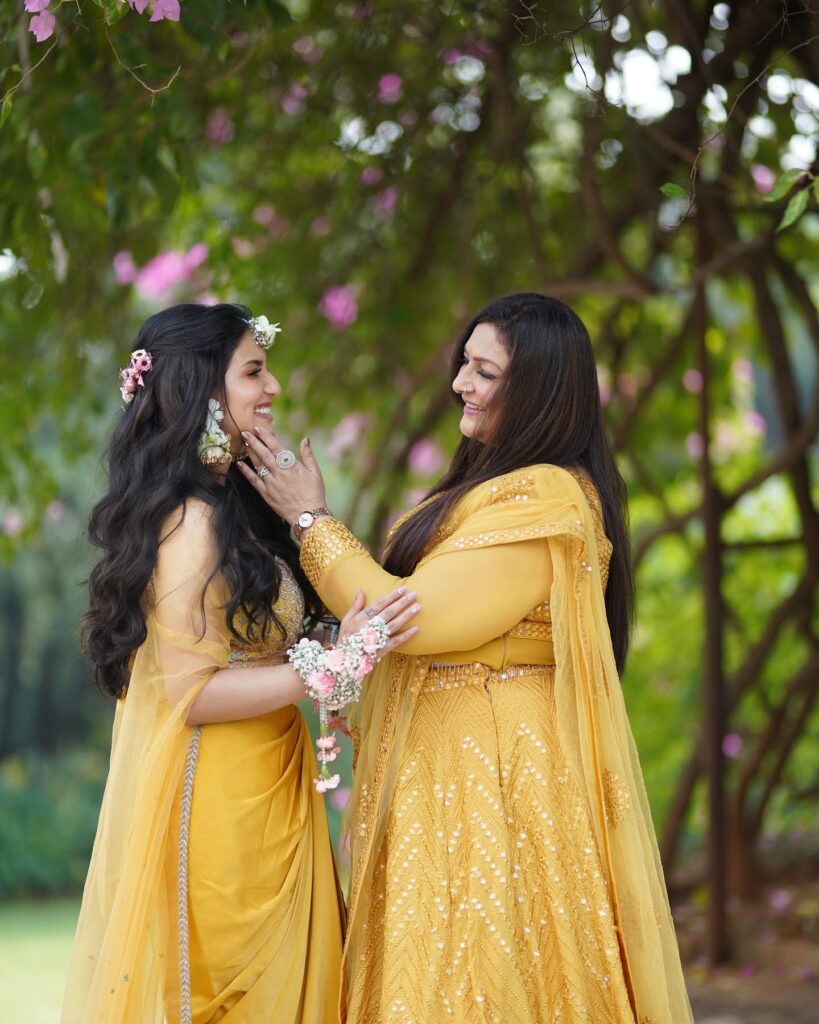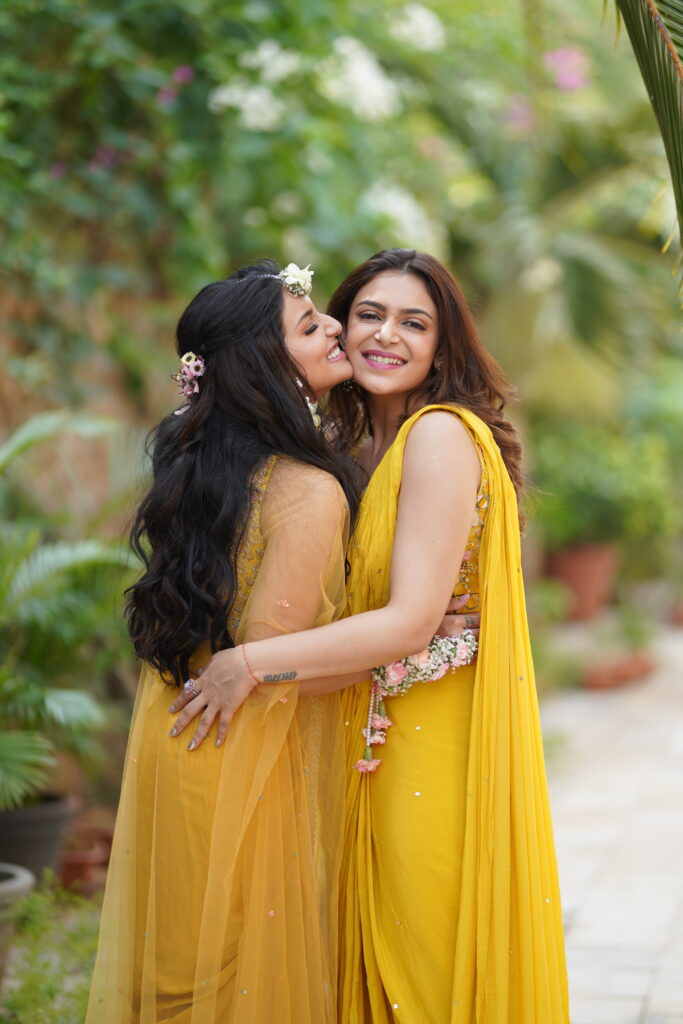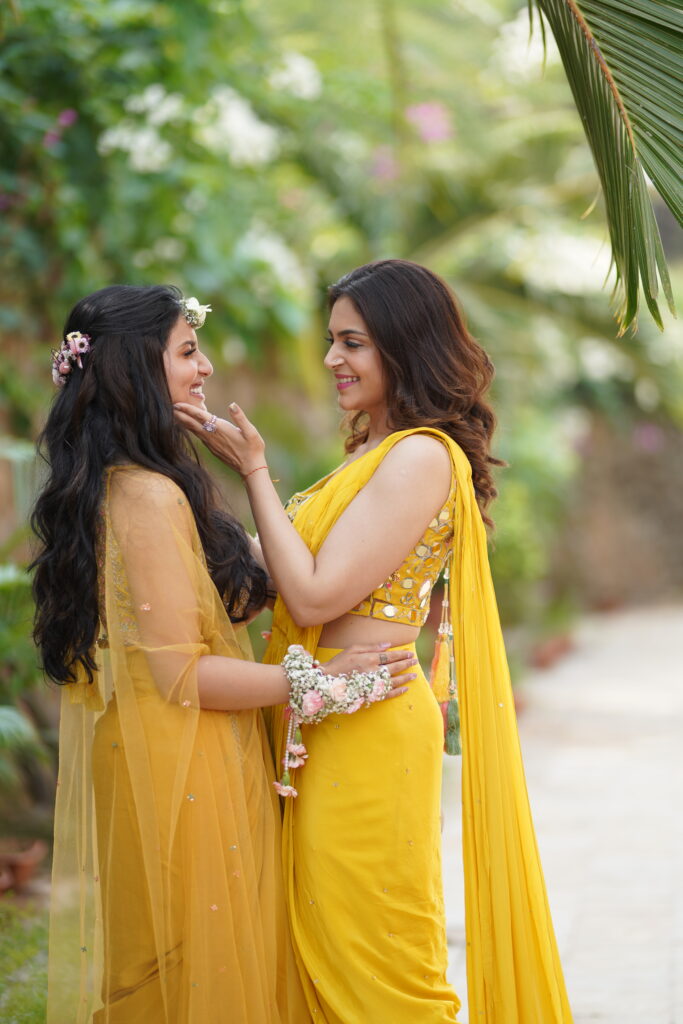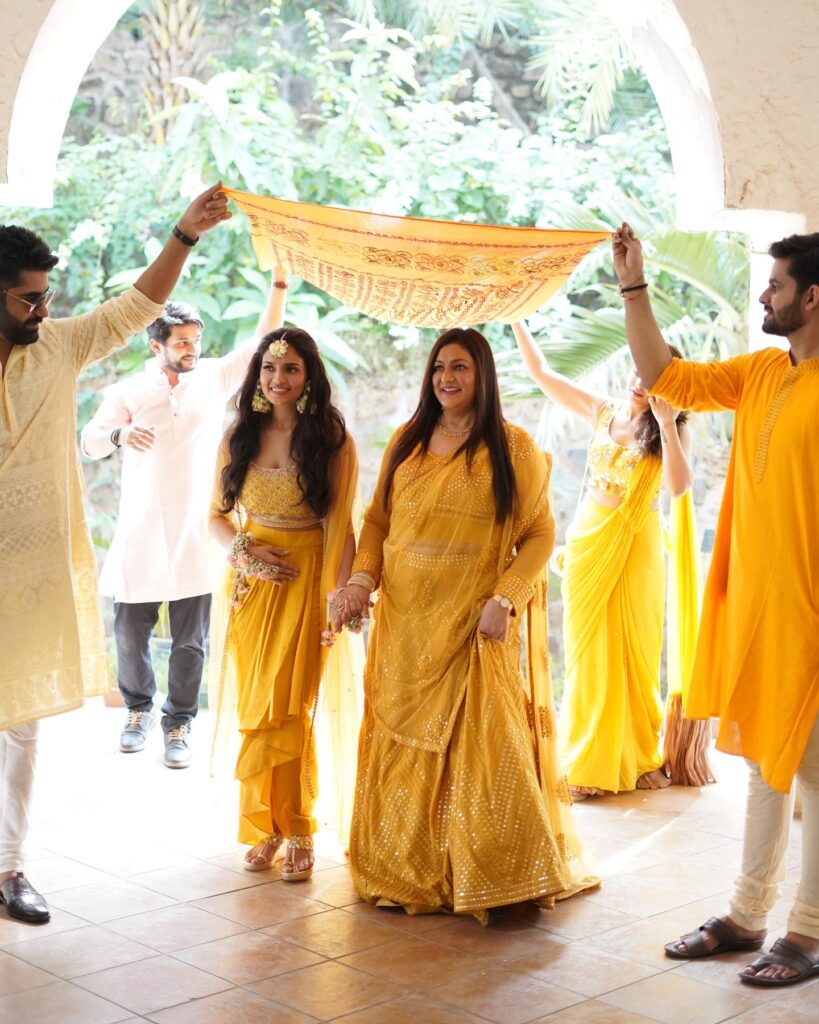 Wedding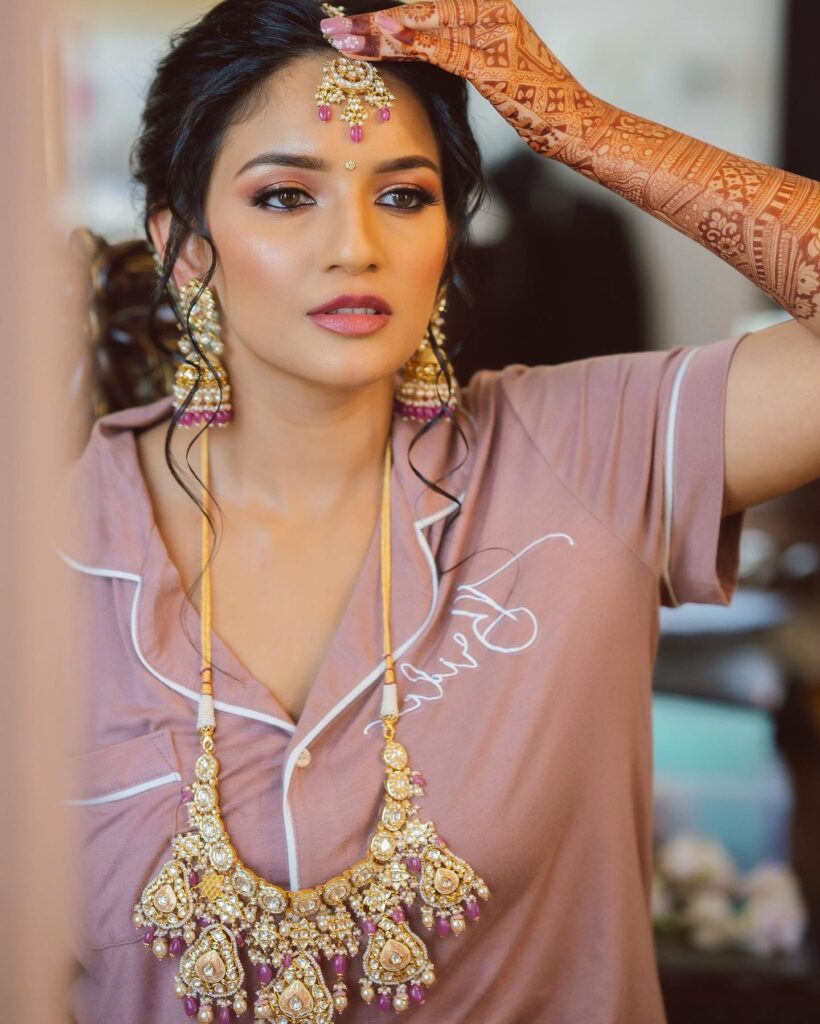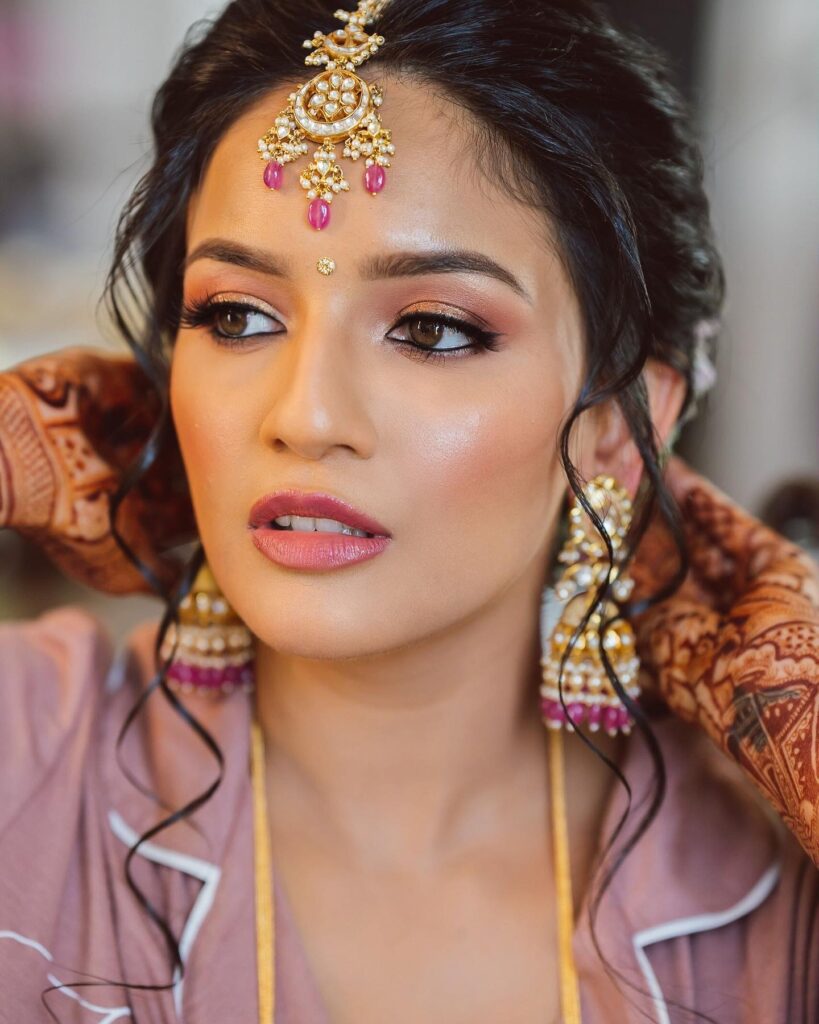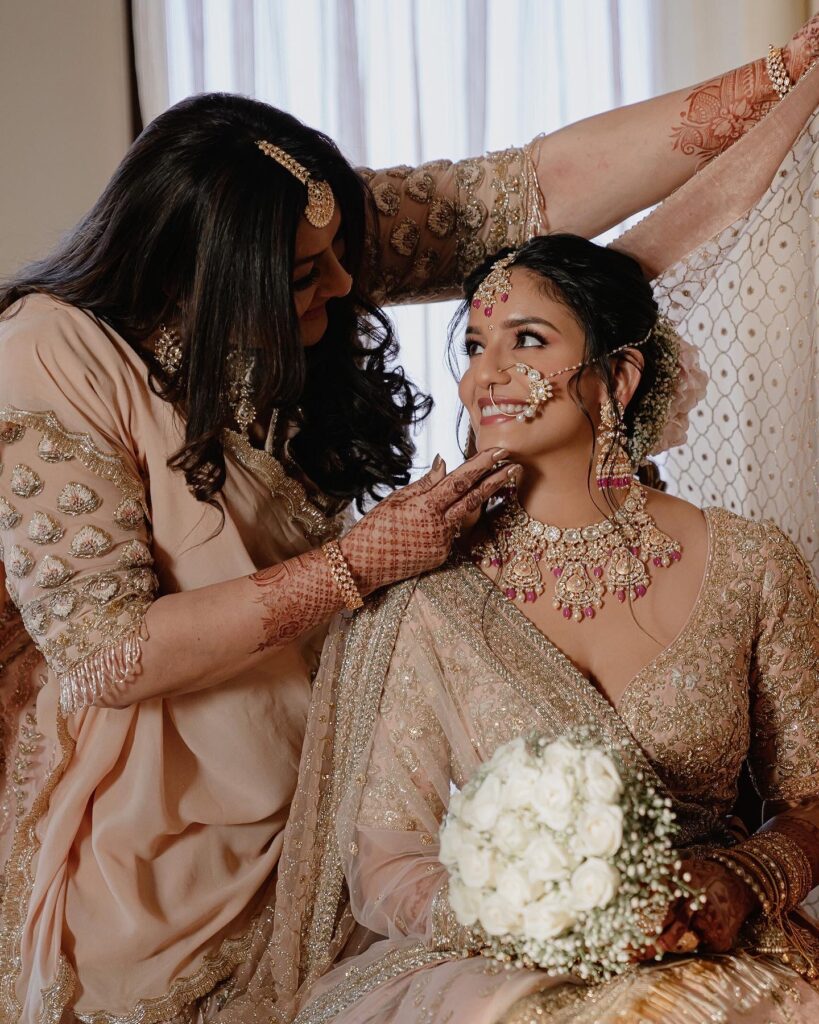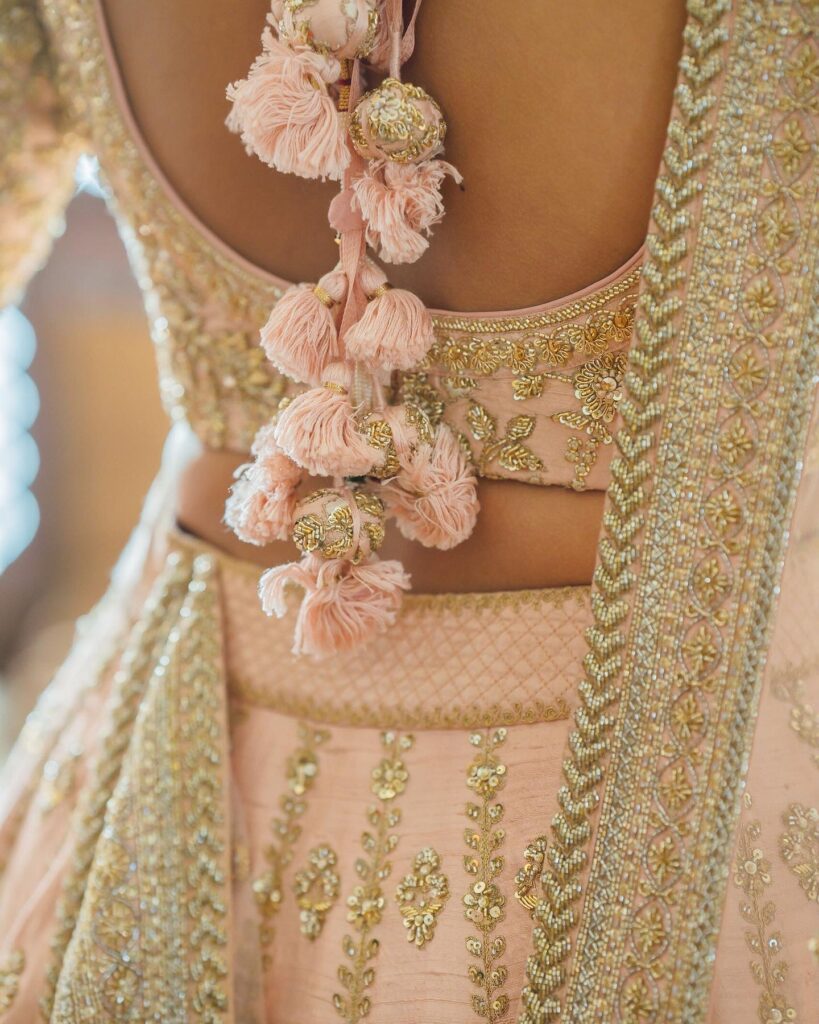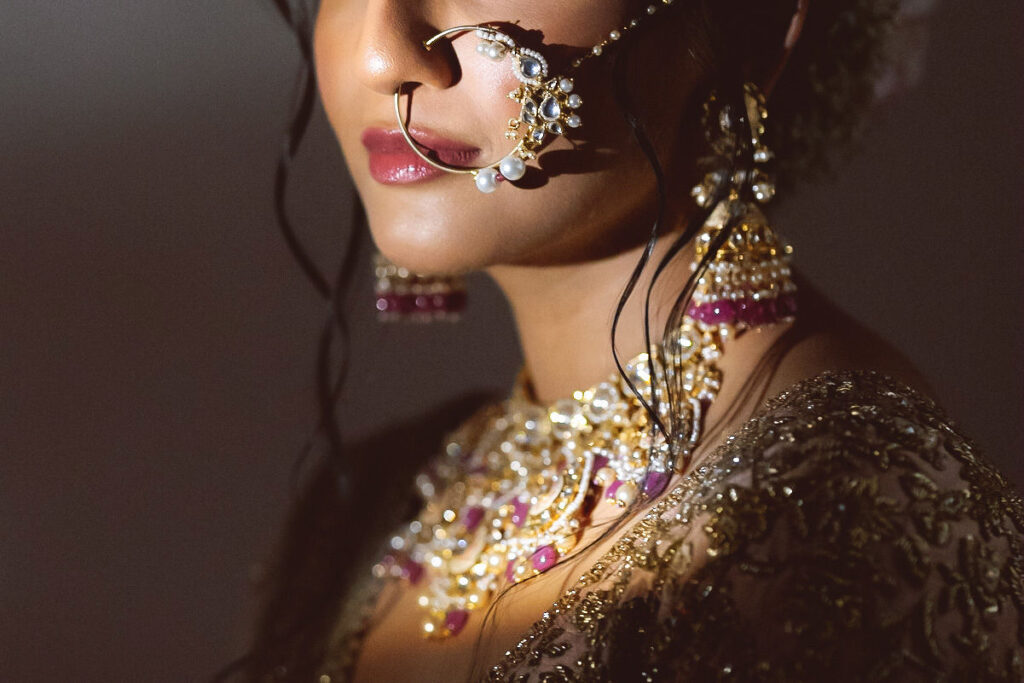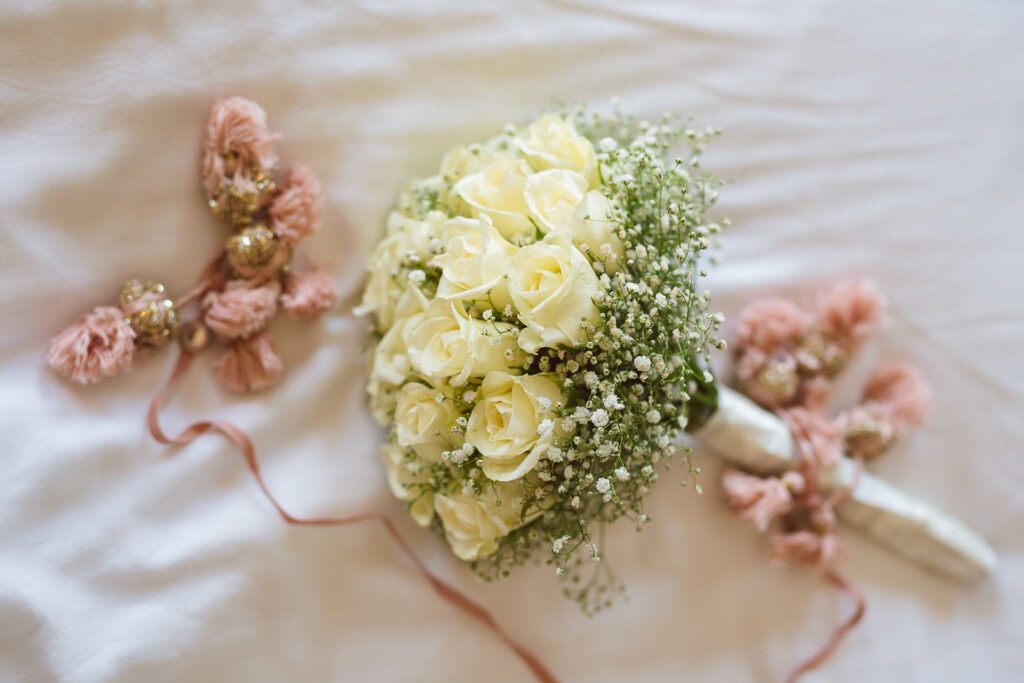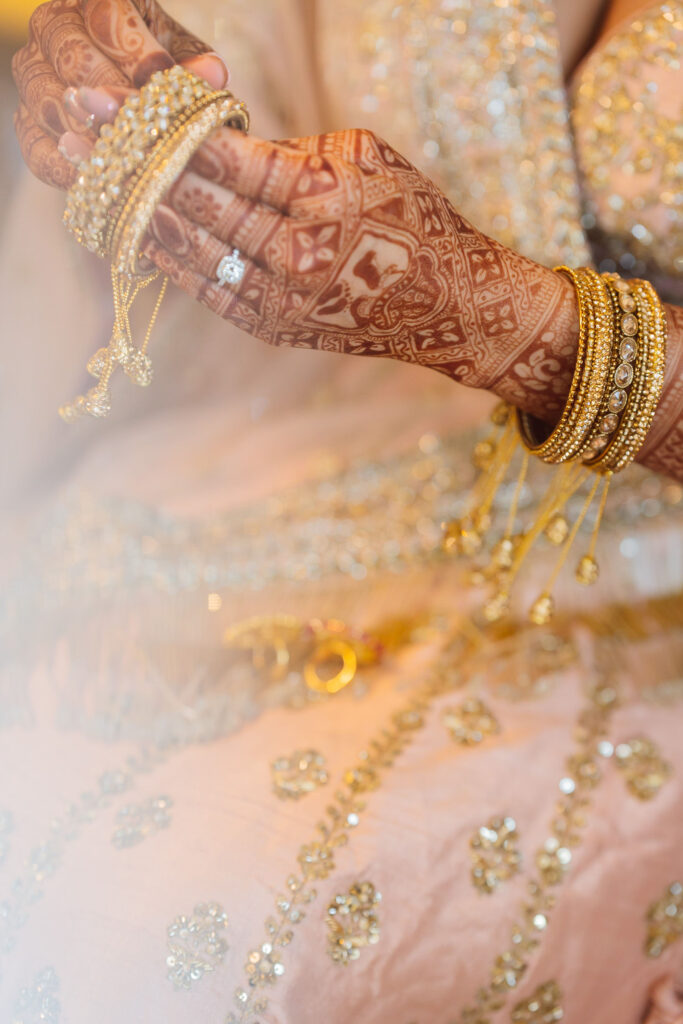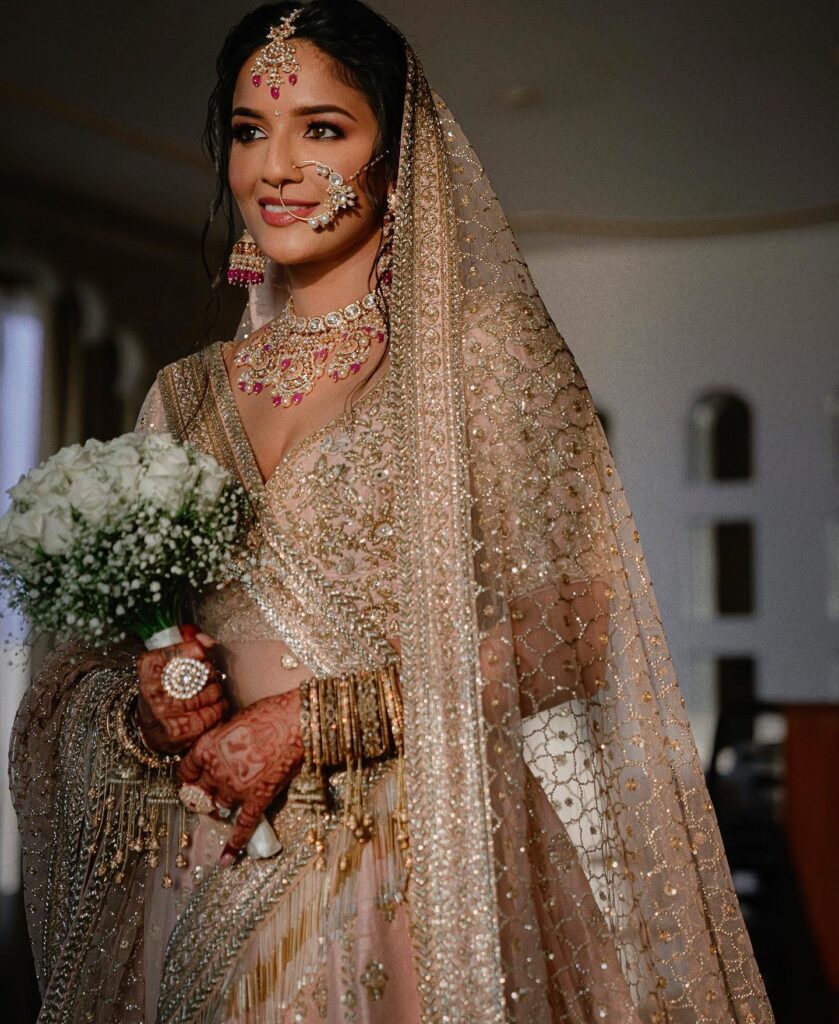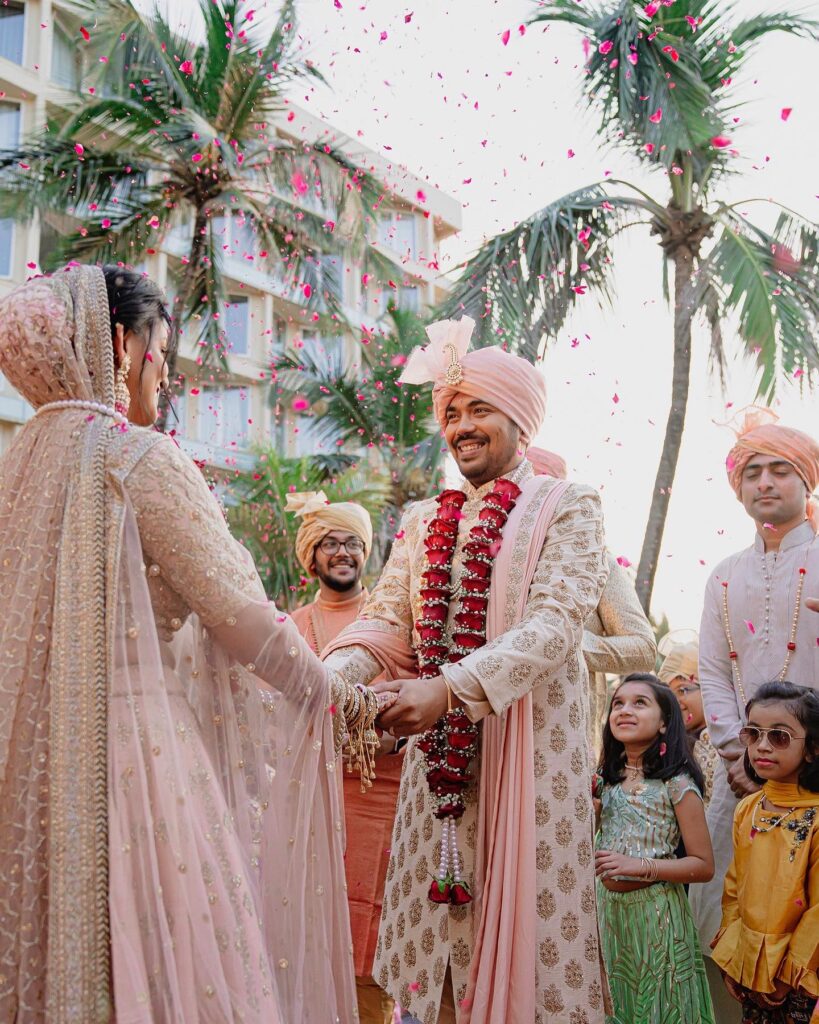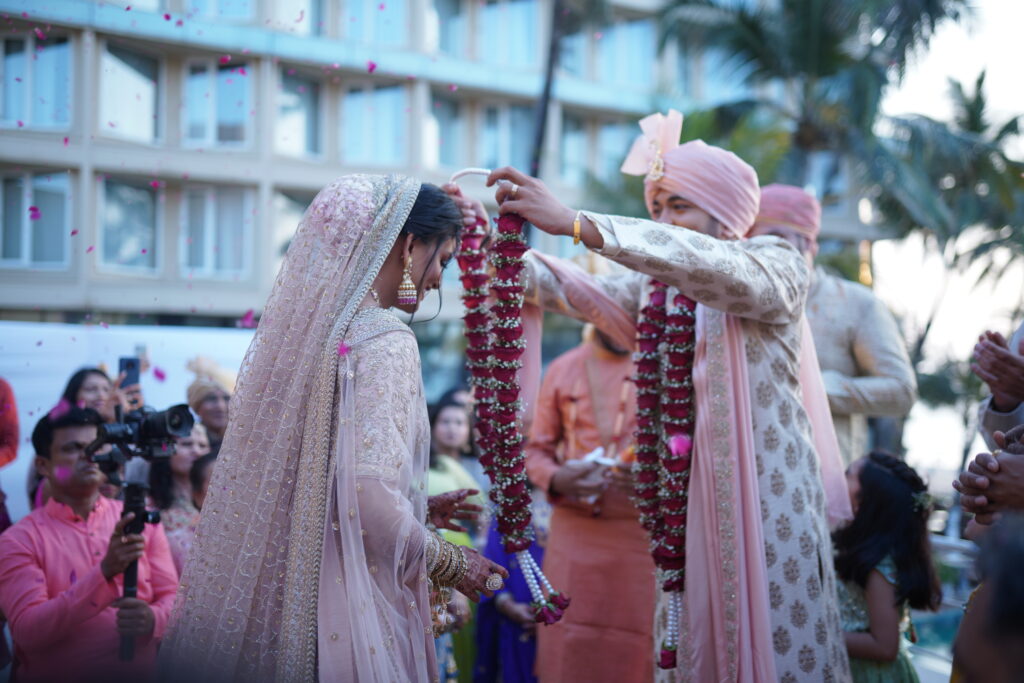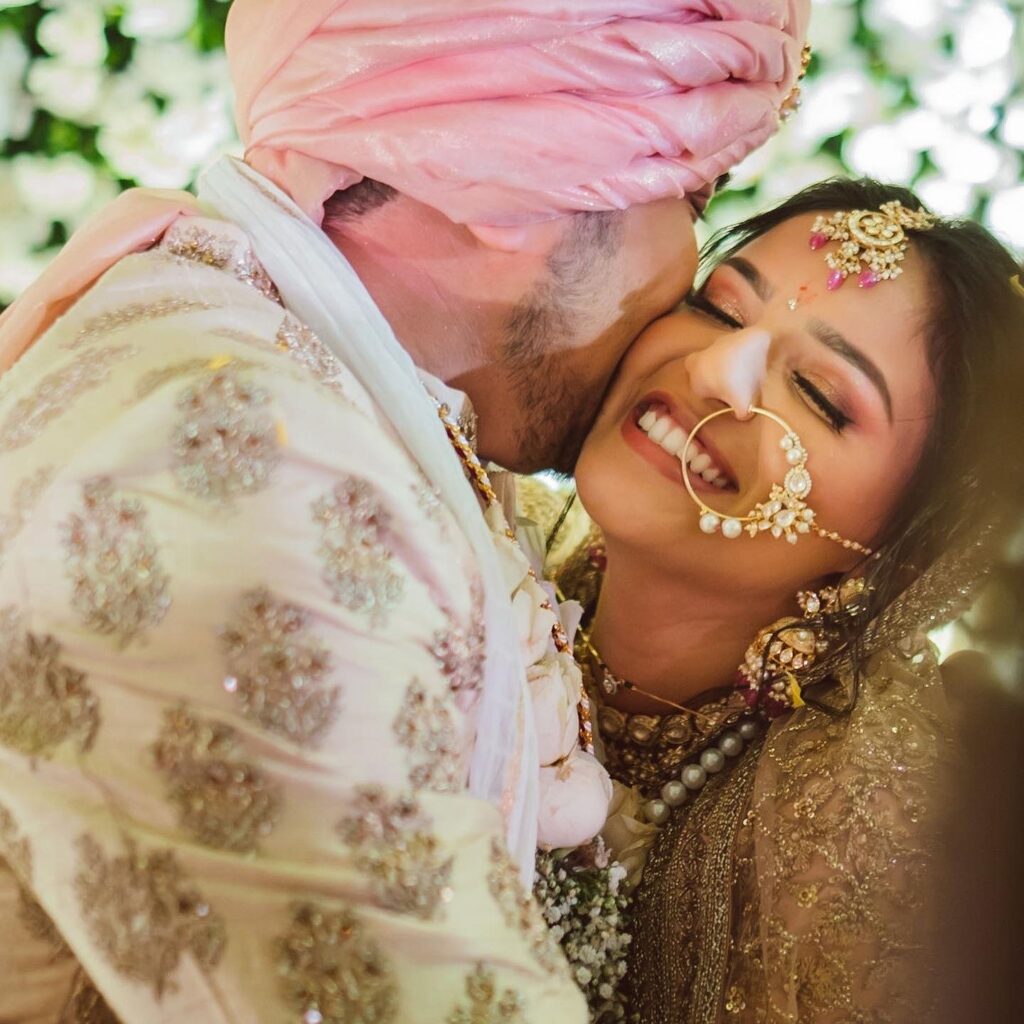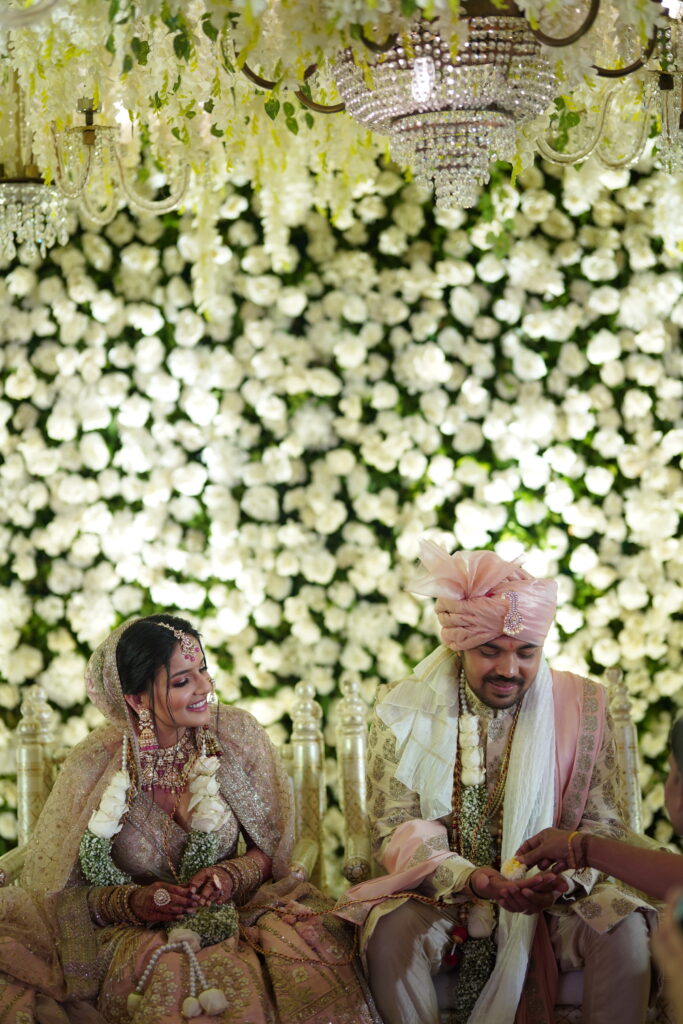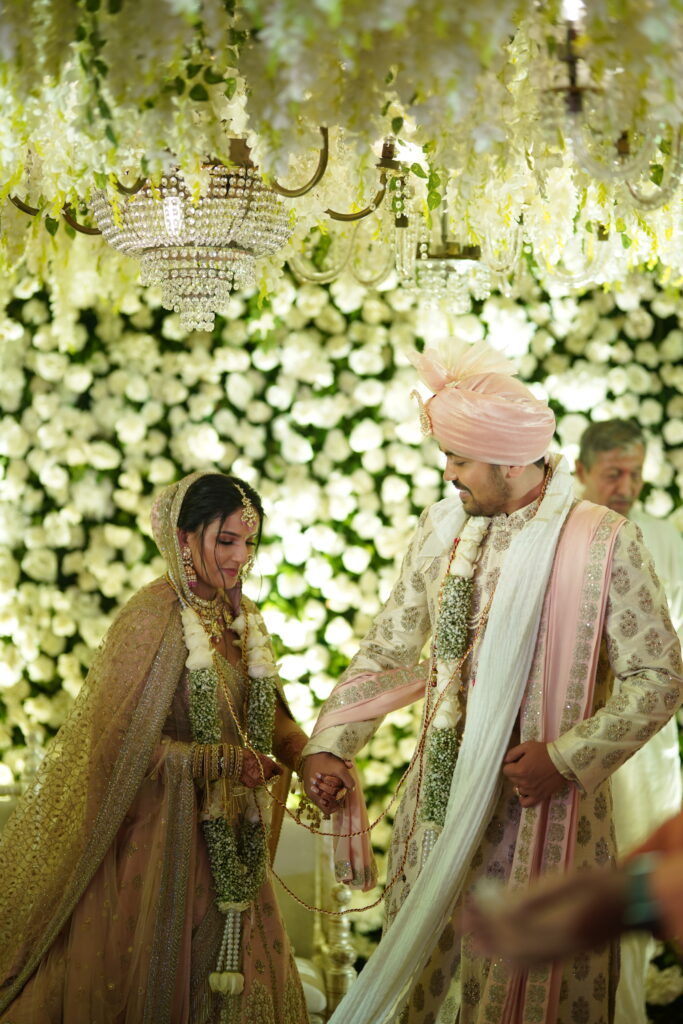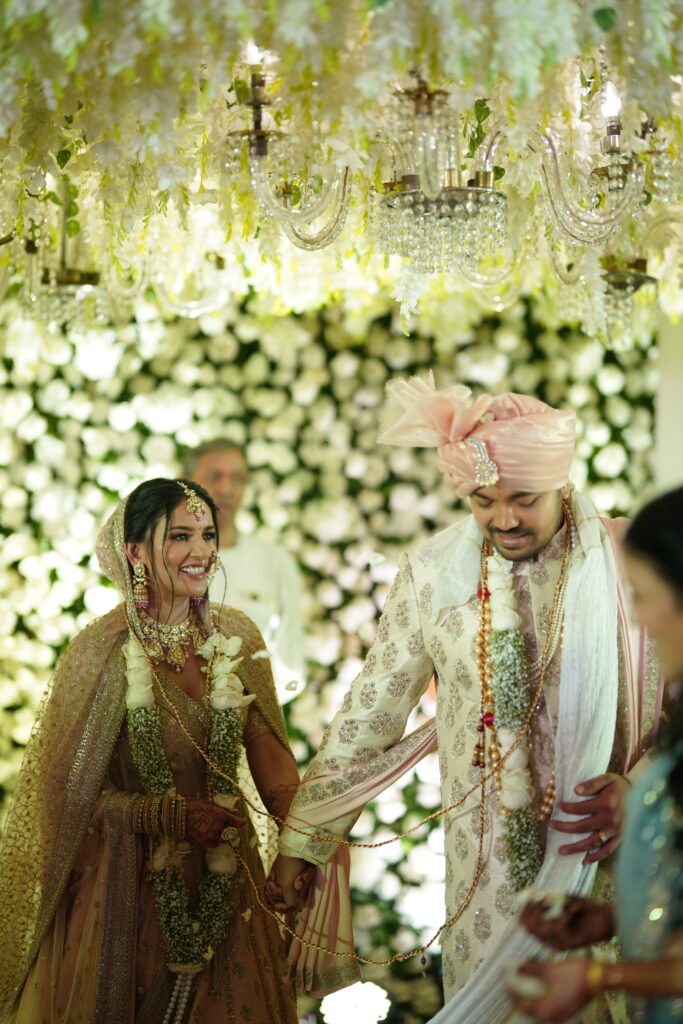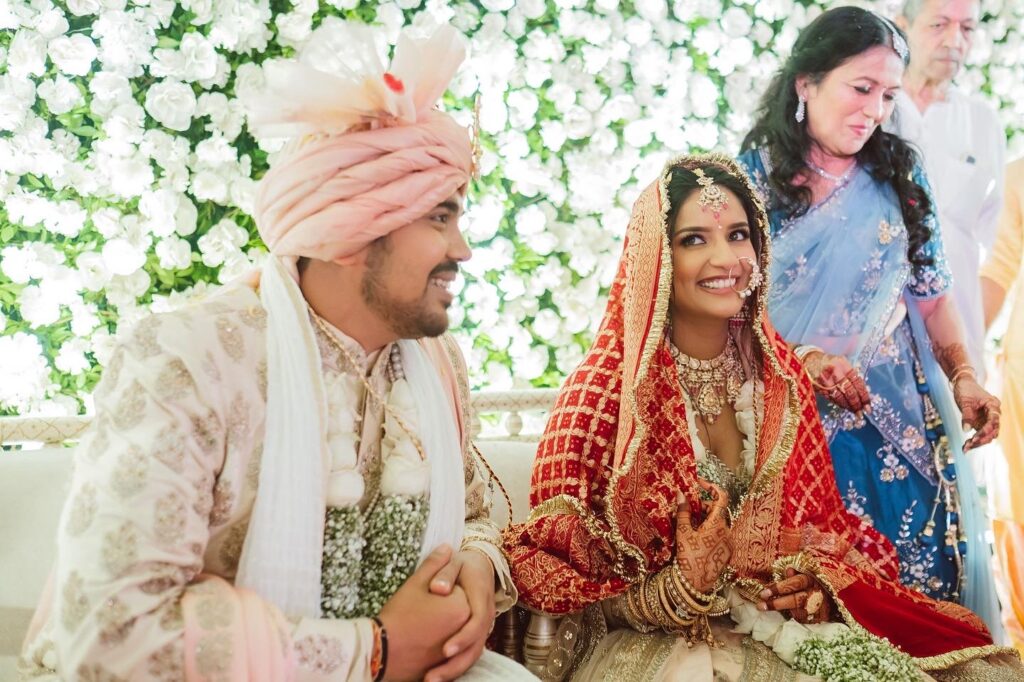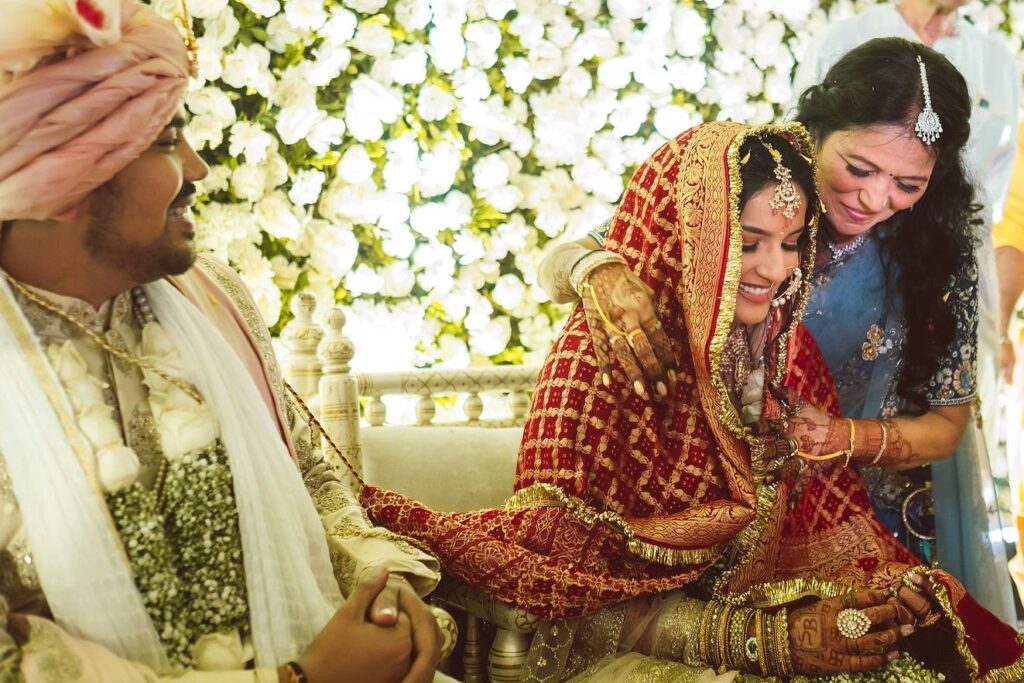 Bride: Shailee Bharatia || Outfits: Seema Gujral (Mehendi), Sabyasachi (Wedding) ||
Hair: Neelam Prasad || Photography: Recall Pictures