Ranthambore is the new Maldives. Alia Bhatt & Ranbir Kapoor spent their New Year's two times in a row here. Last year, they were accompanied by Ranveer Singh & Deepika Padukone and they all stayed in the luxurious glamping resort Aman-i-Khas or Amanbagh. This year, it hasn't yet been revealed where the couple stayed, but they did give us glimpses into their magical vacation. On 1st January 2022, Alia Bhatt shared some no-filter pictures of herself, Ranbir Kapoor, and the fauna of Ranthambore National Park. 
Alia, Ranbir Were Accompanied By Other B-Town Couples
Besides Ranbir-Alia, two other B-town couples – Sidharth Malhotra, Kiara Advani, and Ananya Panday, Ishaan Khatter – were vacationing in this quaint town of Rajasthan. While the former were seen leaving together for a vacation, and the latter was spotted after arriving together at the Mumbai airport, neither of them posted pictures together and just uploaded snaps of themselves and the animals at the park. 
Siddharth Malhotra and Kiara Advani's love story began in late 2018 when they were both cast for the movie Shershaah. Post the shoot, the duo were often seen together. But the first detail that cemented the relationship was when the two holidayed together for New Year's eve 2019 in Africa. They didn't post a picture together, but the common scenic snaps of their vacation confirmed they were with each other. In 2020, Akshay Kumar's cryptic revelation about Kiara's personal life also substantiated their relationship. Both Akshay and Kiara were promoting their movie Laxxmi at Kapil Sharma's show when Kapil asked Kiara about her relationship status, to which Kiara replied she will speak on it once the marriage date is set. To this, Akshay jumped in the conversation and said, "bade siddhanto vali ladki hay." To date, both have denied relationship rumors, which isn't something new to the Bollywood fraternity. 
On the other hand, our young Jodi Ishaan Khatter and Ananya Panday have been dating since 2020 when they both starred in the movie Khali Peeli. The duo was often spotted together in the same friends' group and ultimately realized they had feelings for each other and started dating. According to recent reports, the couple is quite serious about their relationship but wants to keep their dating scenario as low-key as possible. 
If you're planning to travel to Ranthambore anytime soon, we've put together the best hotels in Ranthambore and a mini-travel guide. 
Best Hotels In Ranthambore
Amanbagh Resort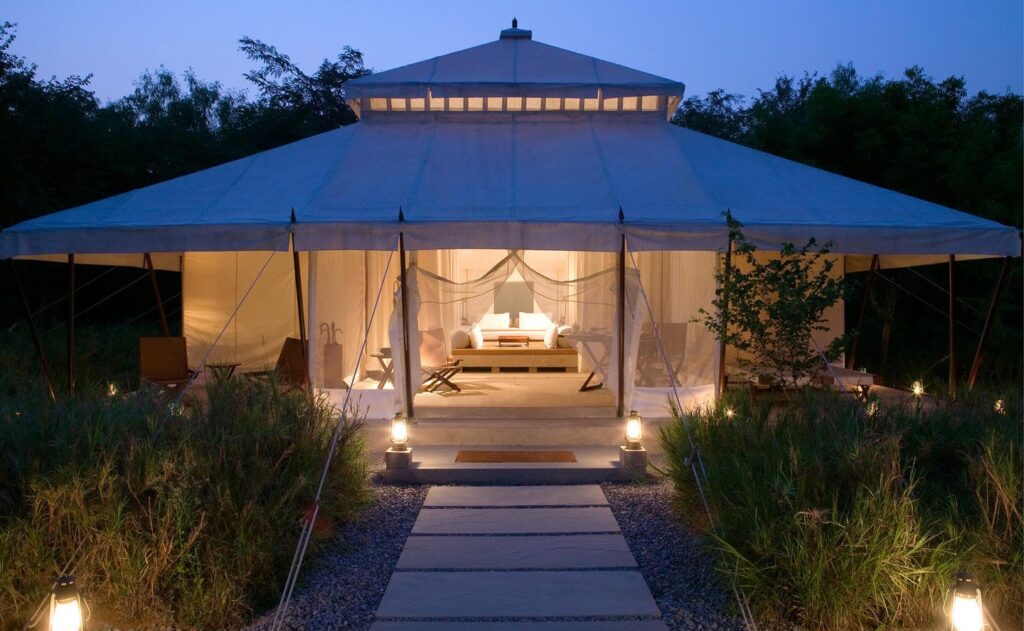 The resort where Ranbir-Alia and Ranveer-Deepika spent their New Year's 2020 redefines the glamping experience with their luxurious tents and personalized services. Operating from October to May each year, the resort has 10 tents with rising canopies and classic furnishings for an opulent and intimate experience. The tents lie just outside the reserve and the tariffs include guided excursions to Ranthambore National Park every day. There are 3 other tents for spa, dining, and relaxing. "There are hotels and then there is Aman. The service levels, the place, and the food were genuinely world-class. Having stayed across the word in all types of resorts/spas/hotels / Air BNBs I can easily say nothing comes close to this experience. Simply unreal – a real gold standard across hospitality. The service team will bring a tiger to your room if you probably ask them, so use your wishes wisely," writes one of the guests about the resort. 
Check ratings & reviews here.
The Oberoi Vanyavilas Resort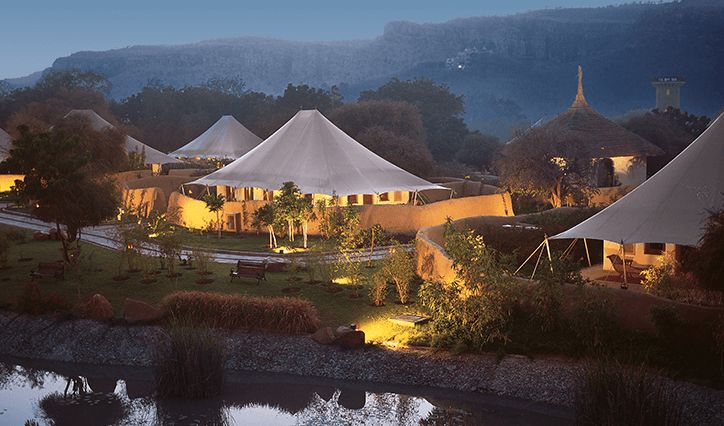 At all Oberoi-run retreats in Rajasthan, you can be assured of being treated like royals whilst immersing in the true heritage experience of the region. At their resort in Ranthambore, find yourself relaxing in their luxurious tent with clawfoot bathtubs, tiger-motif linen, and floors made of teak. On the 20-acre property centered around wellness and recreation, there's utmost privacy for your intimate time as the accommodation is spaced well and your personal garden outside is surrounded by traditional walls. Arriving guests can be greeted by elephants and then go for guided excursions to see other varied animals in the Ranthambore National Park. 
Check ratings & reviews here.
Sujan Sher Bagh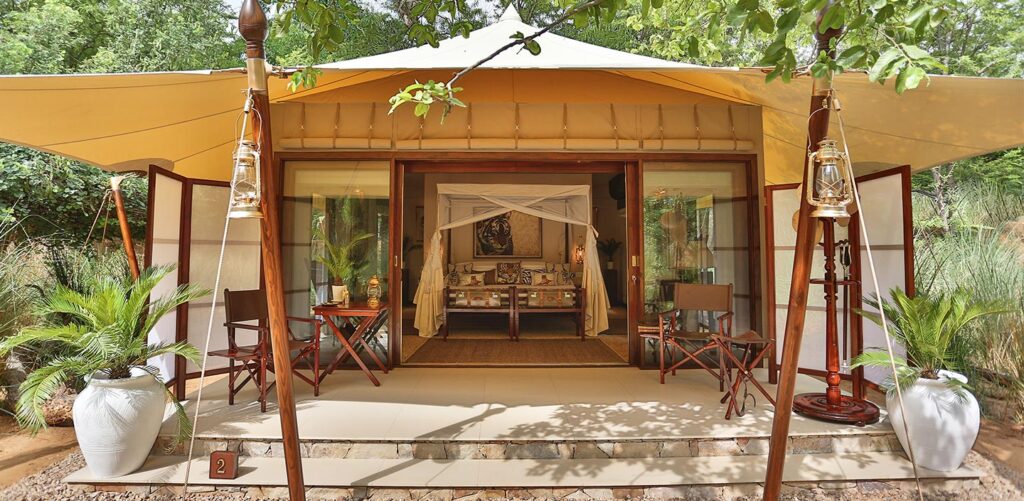 Winner of India's best safari lodge and several other acclaimed awards, Sujan Sher Bagh's colonial-inspired tents, and luxurious services is the retreat you deserve. Owners Jaisal Singh and Anjali Singh are deeply committed to wildlife conservation and have built an ace team by bringing in experts through Africa's safari camps. You can go on wildlife spotting with a wildlife connoisseur and enjoy some gripping stories about animals while witnessing them in their natural habitat. After a day of exploration, relish their delish meals prepared from farm-to-table ingredients and indulge in the spa treatments done under the years-old peepal trees.   
Check ratings & reviews here.
Six Senses Fort Barwara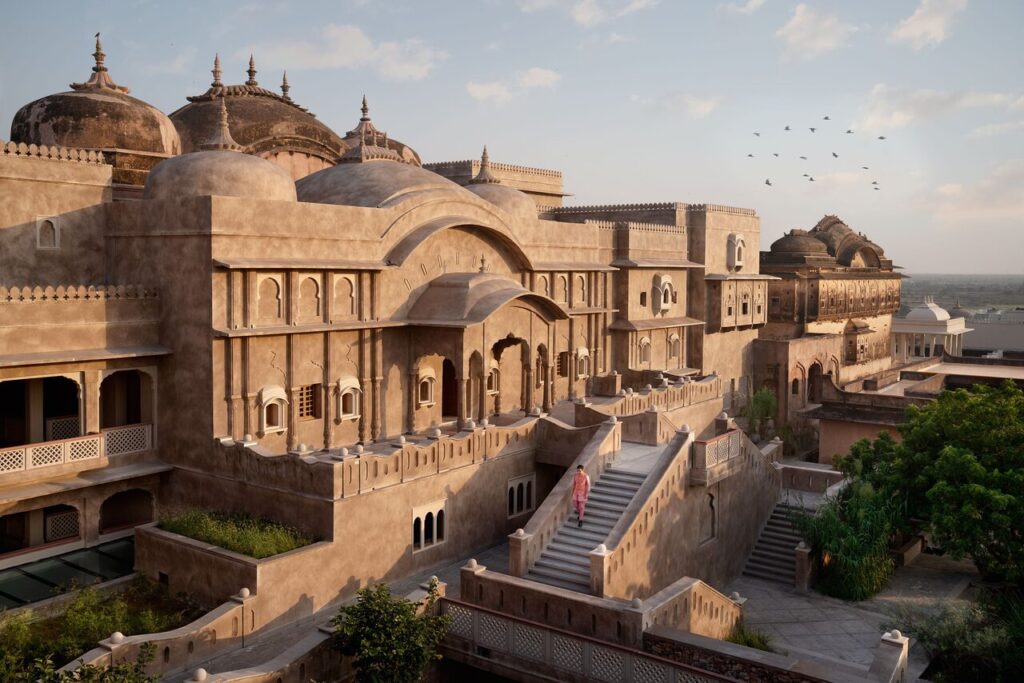 Located an hour from Ranthambore Tiger Reserve and National Park, Six Senses Fort Barwara can be an idealistic destination for those looking to nestle in accommodation far off from the city's hustle, yet offers the comfort to visit the nearby tourist spots. And yes, this is the same place where Katrina Kaif & Vicky Kaushal got married in December 2021. Six Senses have properties worldwide, but this is the first one they opened in India and just like others, this one's impeccable in everything they have to offer. The resort is actually a 700-year old palace and the resort chain restored the interiors with the utmost respect for the bygone architecture. You can feel the old-world charm right as you step into the palace. The hotel chain customizes experiences for their guests, including a guided safari to the Ranthambore National park. 
Check ratings & reviews here.
Vivanta Sawai Madhopur Lodge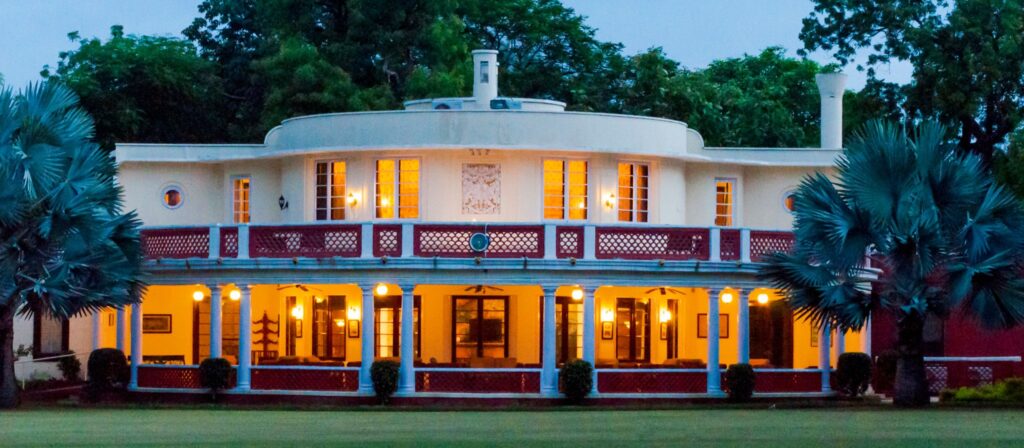 If you're an avid admirer of the Taj experience, Vivanta by Taj Sawai Madhopur Lodge – a heritage hotel just 20 mins away from Ranthambore National Park is your ideal getaway. A heritage hotel is any structure or location that holds cultural or historical significance in the place they're built. This property was originally a lodge built over 80 years ago. It was built for the Maharaja of Jaipur when he came here for hunting and other recreational purposes. The hotel has kept the veranda, dining, bar, and lounge area quite the same with minimal renovations, while the tents are converted to comfortable & classic suites and rooms. One of their restaurants even has a chef that used to cater to the royals of Rajasthan. Here, you're promised to indulge in modem luxury mixed with centuries-old tradition. 
Check ratings & reviews here.
Nahargarh Ranthambhore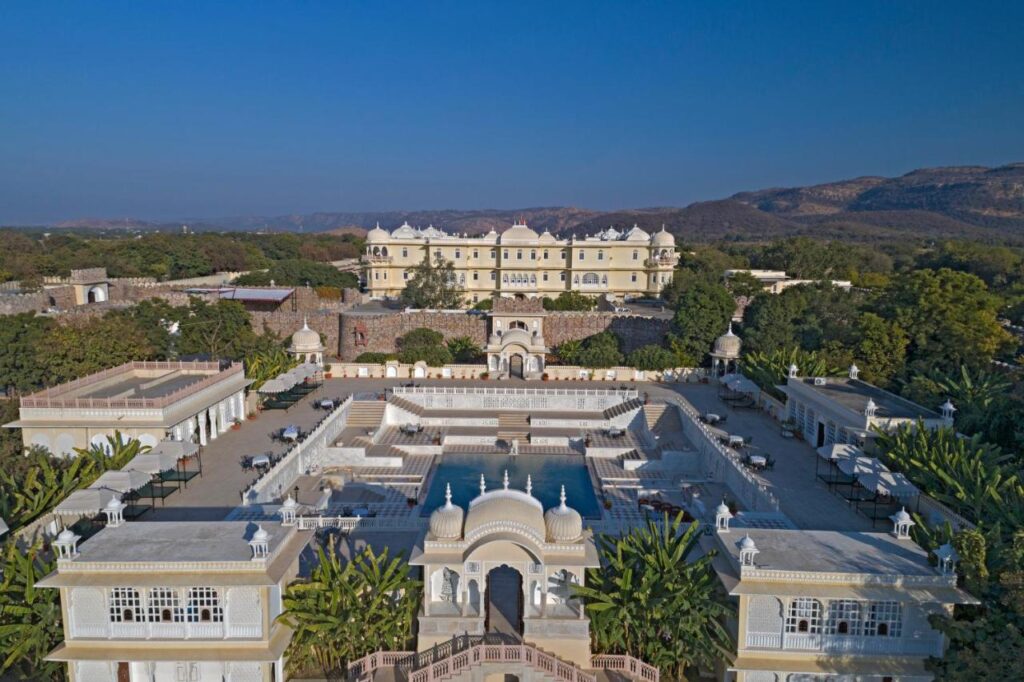 A budget option in the luxurious range of resorts in Ranthambore is Nahargarh. Spread across 10-acres of land and owned by the Alsisar Hotels group, the hotel has 99 suites created to assure utmost privacy and comfort to their guests. With sprawling lawns and outdoor pools, the property can also make for a great location for a destination wedding. Some rooms offer a picturesque, unobstructed view of the Aravalli hills and others look over directly at the National Park reserve. You can ask for your preference at the hotel. The authorities are very accommodating and cater to guests' whims & fancies to make them feel at home. 
Check ratings & reviews here.
Sawai Vilas, Ranthambore Hotel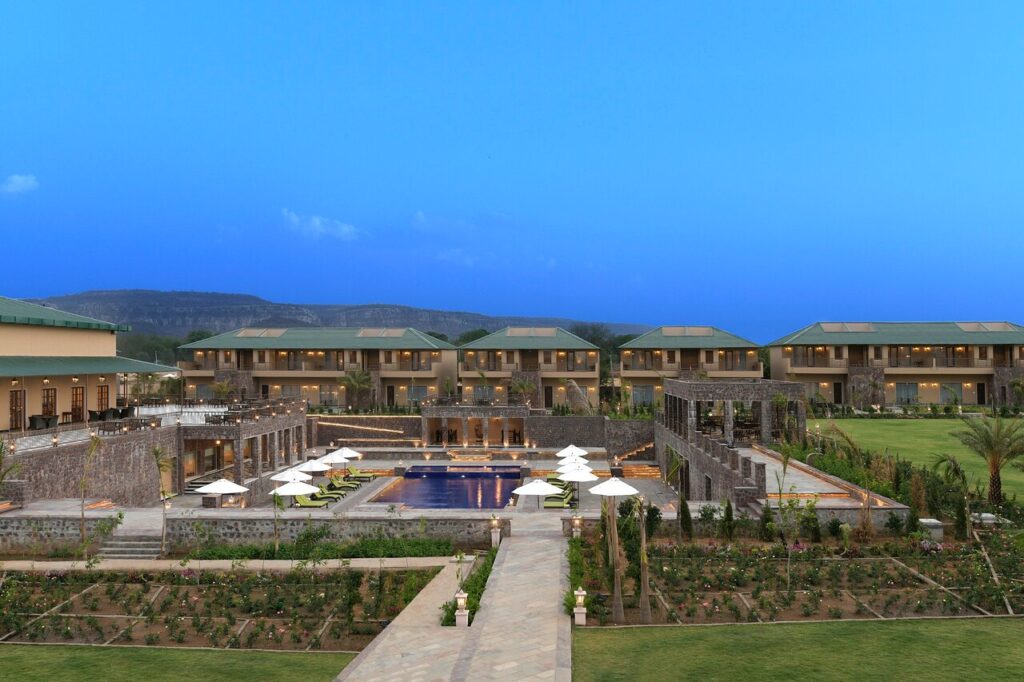 Located just a few minutes away from the Ranthambore National Park, the Sawai Vilas is tucked in the rustic woodlands of Ranthambore forests and hosts 60 villas with state-of-the-art facilities. The gray-brick exterior shines gorgeously in the Rajasthan Sun and makes you feel like immersing in the desert experience fully. For a personalised excursion through the city's main attractions, you can contact the hotel authorities prior, but they're helpful enough to meet any of your needs at the last minute too. In the evenings, immerse yourself in the everyday bonfire night accompanied by folk music, traditional dance, and local cuisine. 
Check ratings & reviews here.
The Fern Ranthambore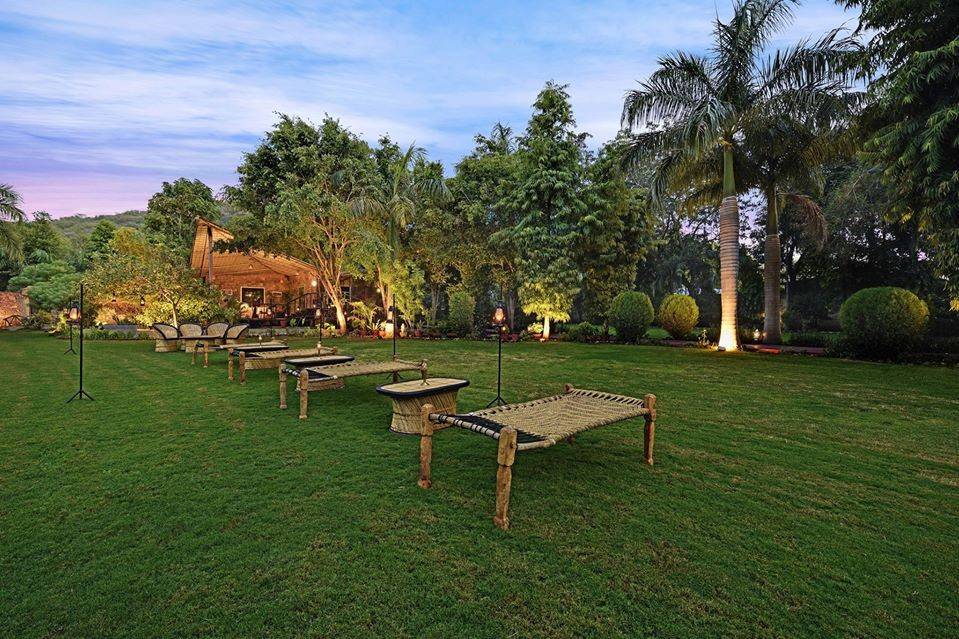 The Fern Ranthambore Forest resort is built in a village setting and has a landscape encompassing lush lawns, brick stone architecture, and cottage accommodations. Mountains span across the resort giving an aesthetic scenery for guests to enjoy and travelers sure are loving their stay here. "The property has ample space, rooms are big, there's tons of greenery and a small lotus pond. Any of our problems were resolved quickly and the food served was quite satisfactory. In the budget stay, we definitely think this is one of the best hotels in Ranthambore," writes one of the reviewers. 
Check ratings & reviews here.
Anuraga Palace, Luxury Ranthambore Resort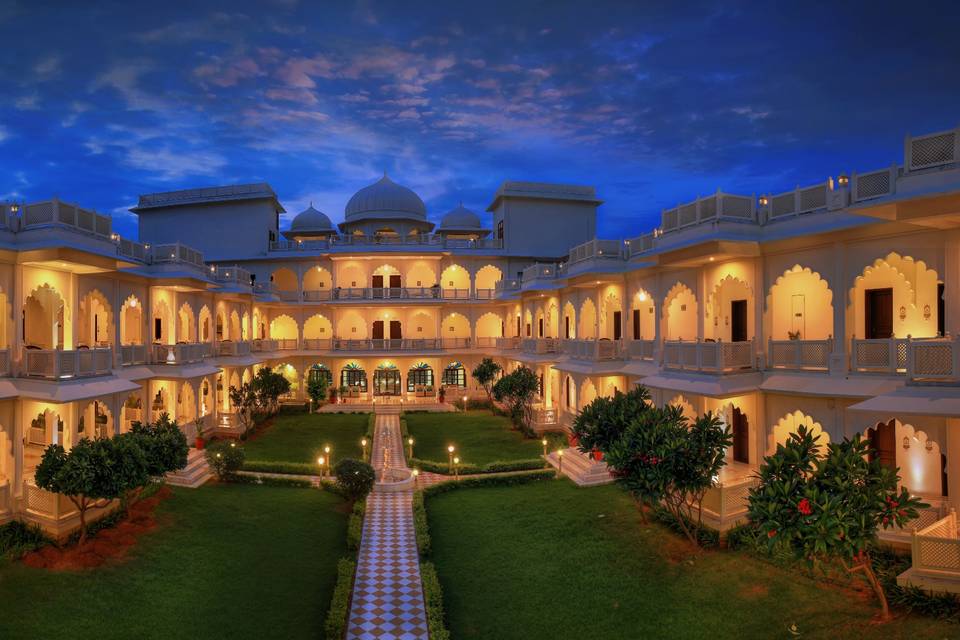 Inspired by the pristine white architectural style of the Rajasthani palaces, the Anuraga Palace oozes the royal feels of the kingly life combined with modern luxuries today's generation needs in their vacation. The generously spacious rooms, sprawling lawns, delectable food, and courteous staff will make your stay here a memorable one. If you want an opulent and grand experience, upgrade to their suites (the property has 2 junior suites and 4 plush thematic suites). Given their splendid banquets and plush gardens, this also makes for a superior location for destination weddings in Rajasthan. 
Check ratings & reviews here.
Hotel Dev Vilas, Ranthambore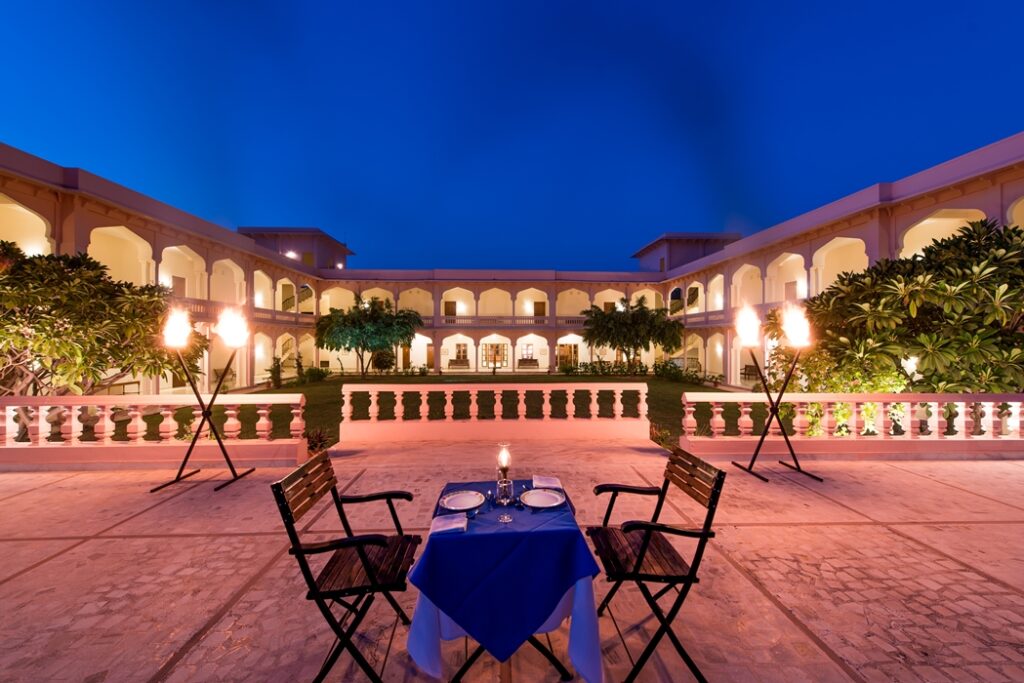 Set in 5 acres of area, just 1.5 kms away from the main gate of Ranthambore National Park, the 4-star hotel is built with Rajasthan's trademark Jharokha architecture in a light hue of pink. There are 21 suites in the property, alongside 7 tented bungalows, for a true wildlife experience. Besides the comfortable stay, visitors are all praises for the host and staff. "The ambiance is such a cozy setup for the environment around. The food is amazing, but what I liked the best is the politeness of the owner of the property and the hotel staff."
Check ratings & reviews here.
FAQ's 
Why is Ranthambore famous?
Ranthambore is a quaint town just 200 kms or a 3-hour drive from Jaipur. It's best known for wildlife sightings and is your best bet in India to spot a tiger. Besides the wildlife though, there are many other tourist attractions in Ranthambore like centuries-old forts and temples. What makes Ranthambore so famous among celebrities is the serenity of the area combined with the luxuries of a 5-star stay. It's also conveniently located from a major International airport and gives ease of travel. 
What is the best time to visit Ranthambore?
October to June are the best months to visit Ranthambore. October to March and May & June are the best months for tiger sightings. In the winter months, you can see the tigers basking in the Sun and during the summer months they can be seen visiting the watering hole when they get thirsty. Although, keep in mind that the summer months are quite hot with temperatures soaring to 40 degrees Celsius in the afternoon. You can also find low tariffs in hotels in Ranthambore during summers because fewer tourists schedule their trips during the summer seasons.
Where do celebrities stay in Ranthambore?
Most celebrities stay in the luxurious tents of Amanbagh, Oberoi Vanyavilas, and Sujan Sher Bagh in Ranthambore. Since Six Senses has also opened nearby, they might stay in this luxurious accommodation as well. 
What are the most luxurious hotels in Ranthambore?
Here are the 5 most luxurious hotels in Ranthambore
What are some other things to do in Ranthambore, besides Safari?
Here are some other places to visit in Ranthambore/ Sawai Madhopur: 
Trinetra Ganesh Temple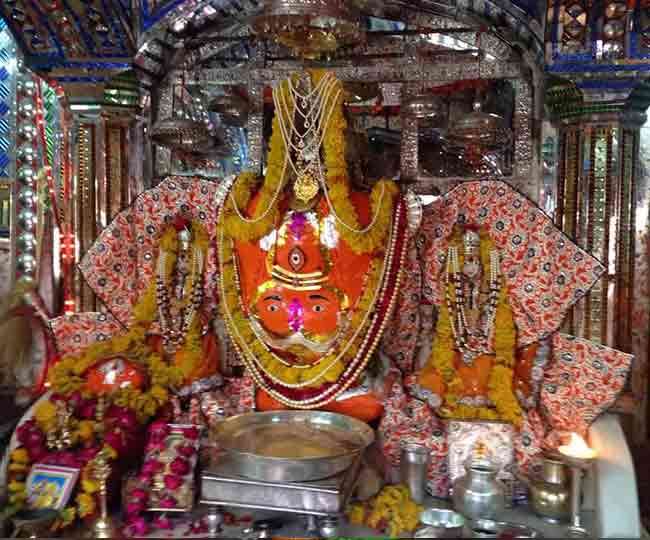 The only temple in the world where Ganesh Ji is portrayed with his entire family and three eyes. This temple is popular not only in Rajasthan but throughout India and devotees flock to the place at all times of the year. The history behind the temple is also very interesting. It was built in 1299 AD by King Hammeer, a doting devotee of Lord Ganesha. He was fighting a war with Alauddin Khilji and the godowns of supplies were running out. This is when Lord Ganesha appeared in his dreams and said all his worries will be taken care of by him! The next day, magically, a statue of Ganesha ji with three eyes appeared and the King also won the war just a while later. He then constructed the temple inside the fort to honor the deity. 
Ranthambore Fort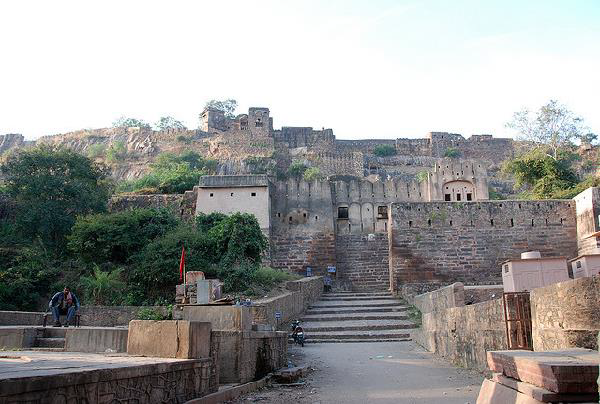 A UNESCO World Heritage Site, Ranthambore Fort was built in the 10th century by the Chauhan rulers until the Delhi Sultanate captured it in the 13th century. Perched over a 700 feet high hill, the fort offers majestic views of the Ranthambore National Park and many hotels (like Amanbagh) arrange personalized yoga sessions inside the terrain. 
Chauth Mata Temple, Sawai Madhopur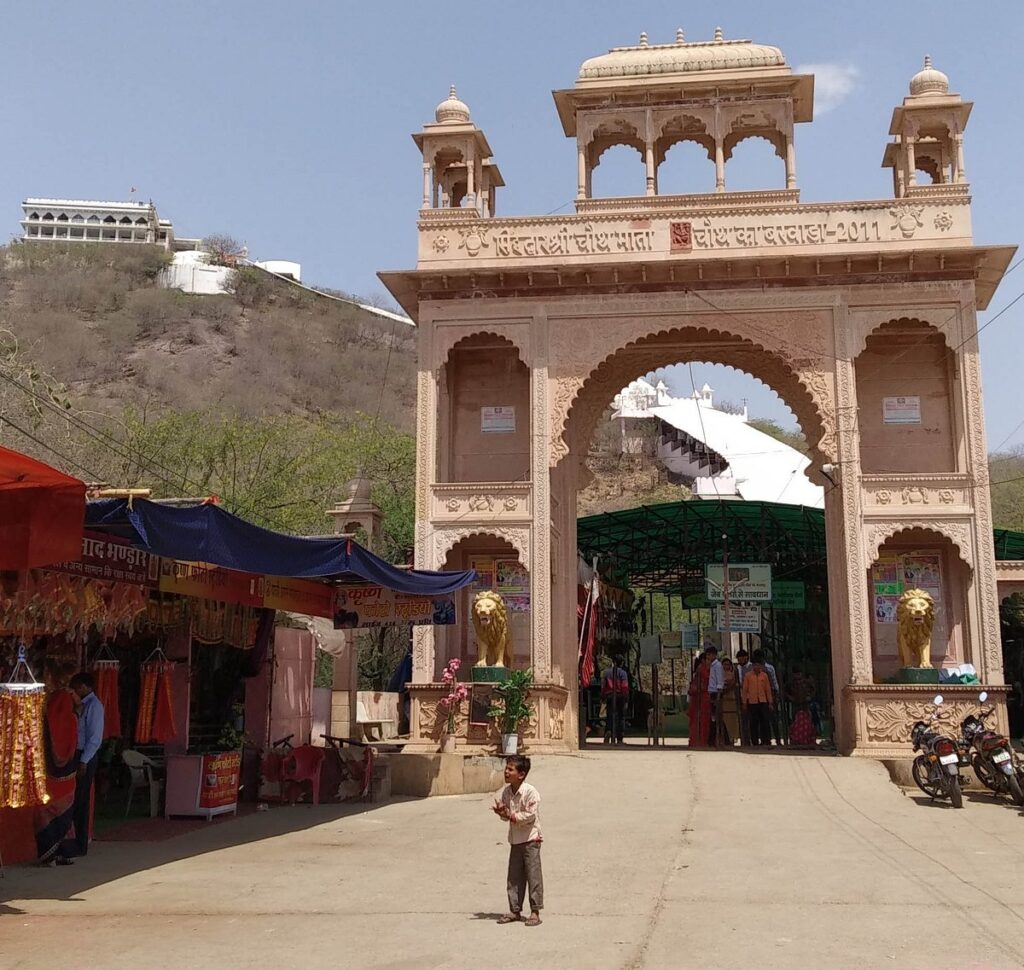 The 600-year-old Chauth Mata temple is located at a height of 1000 feet and you'll have to take 500 stairs to reach the temple. But we promise the peaceful aura and picturesque surroundings will be worth the effort. The temple is directly visible from the Six Senses Barwara hotel and also has deities of Ganesha and Bhairava. It was built by Maharaja Bhim Singh in traditional Rajputi style structure and architecture. 
Surwal Lake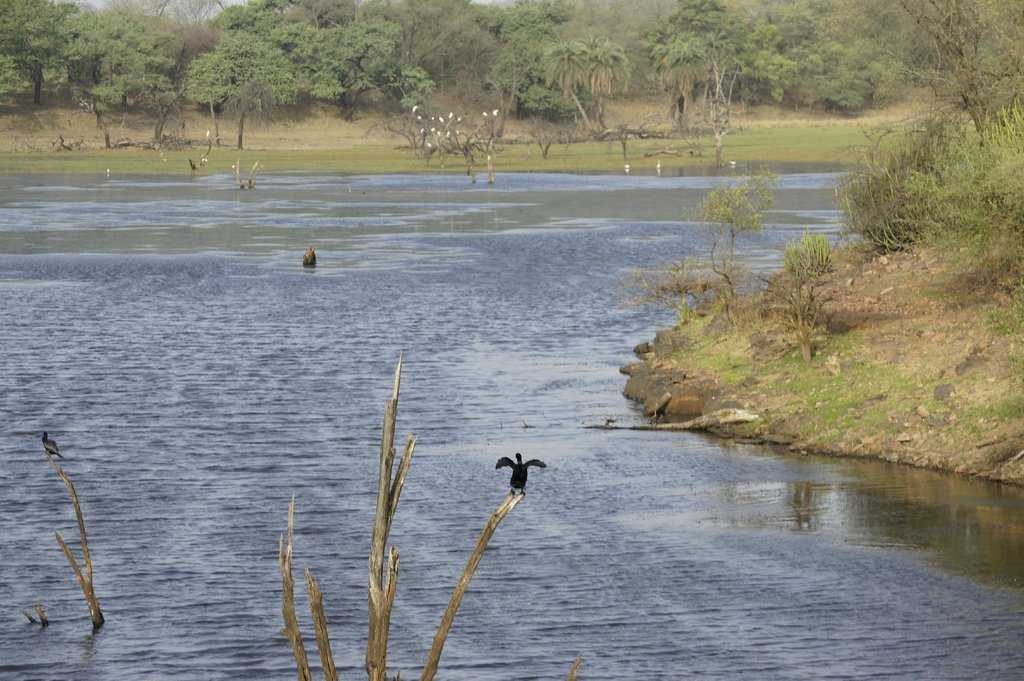 Immerse in nature's beauty in the bounty at Sarwal lake. The water body is home to more than 300 species of birds and is located around 25 kms away from Ranthambore. Although the birds only come during the months of November to March and the lake is also filled with water during this time only. So, if you're looking to spot some exotic birds, plan the trip accordingly. 
Khandar Fort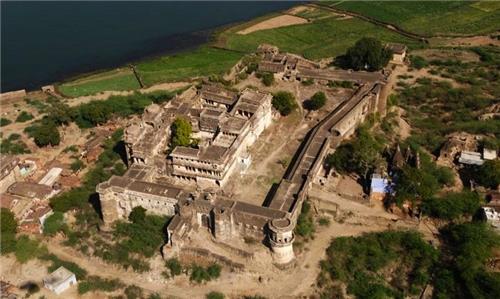 The word "Khandar" doesn't denote the wear & tear of the place, but rather the Tehsil Khandar in Sawai Madhopur district where the fort is located. Constructed strategically on a hill, it's said the Khandar Fort was never easy to attack and any king never lost a war whilst reigning this region. The damaging walls and gates tell the historic stories well. FYI: There are many monkeys around, so take care of your belongings and visit in a group. 
Hathi Bhata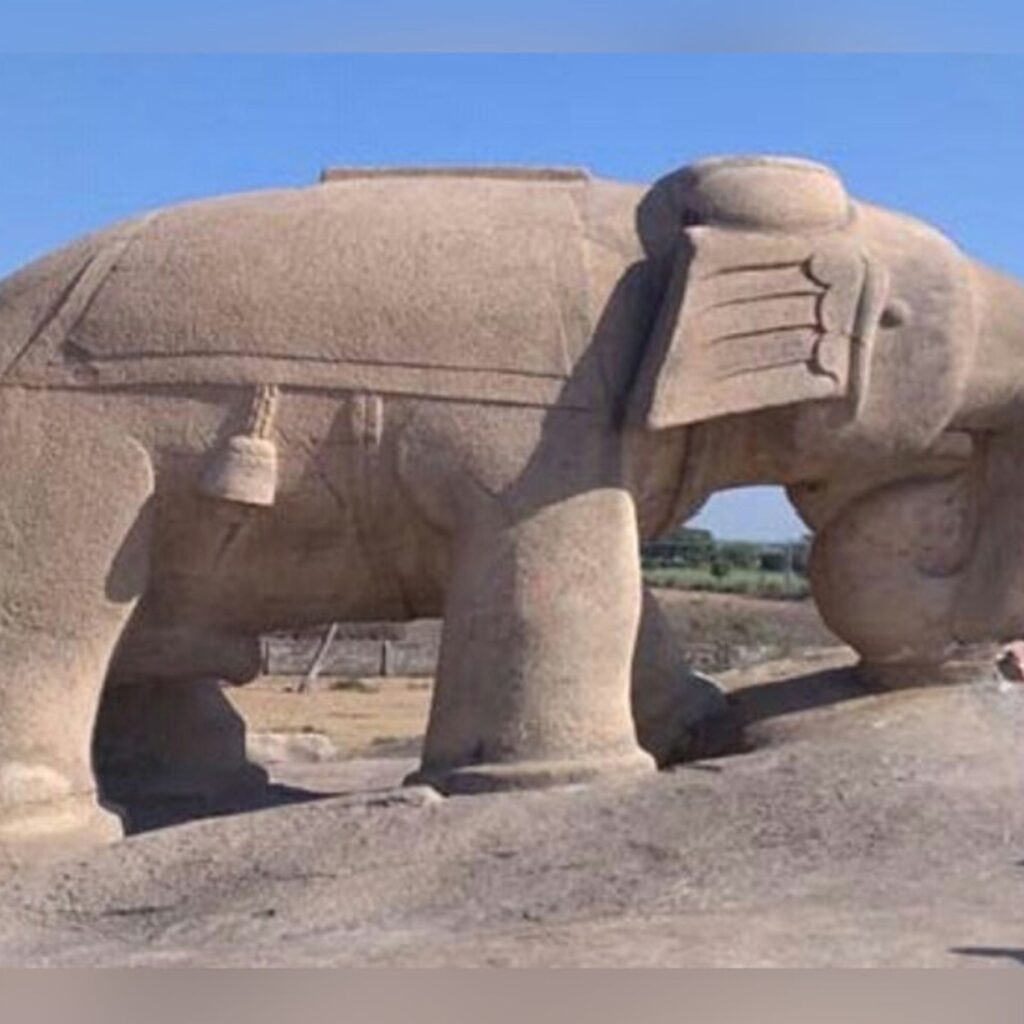 About 22 kms away from Sawai Madhopur, you will see a life-size structure of Hathi Bhata carved from a single stone in 1200 BC. It narrates the popular love story of King Nal and Damyanti, which is portrayed in Mahabharata. It's also said that Pandavas stayed around here during the last year of their exile. 
Raj Bagh Ruins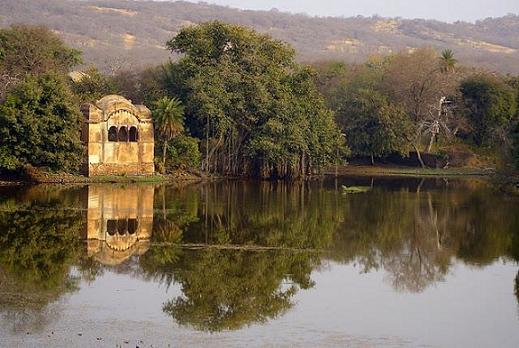 Nestled between Raj Bagh Talao and Padam Talao, Raj Bagh Ruins are ancient palaces and consist of structures like domes, steps, and arches. It's a very royal, dramatic, and beautiful place and you'll feel utter serenity in the region. Many herbivore animals of the area flock here as it's their source of food and water. So, there are chances this will be covered in your Ranthambore National Park safari (Raj Bagh Ruins is inside the park). 
Sawai Man Singh Sanctuary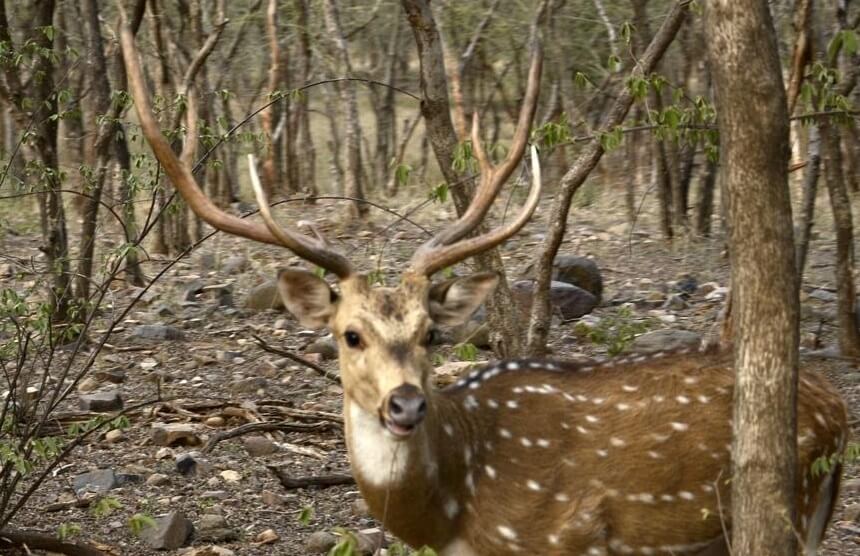 Located 9 km away from the city of Sawai Madhopur, the Sawai Mansingh Sanctuary was included in the tiger reserve of Ranthambore in 1991 and has been the home to many exotic animals since a long time. After touring the Ranthambore National Park, safari guides often take guests here for wildlife spotting. 
Chamatkar Temple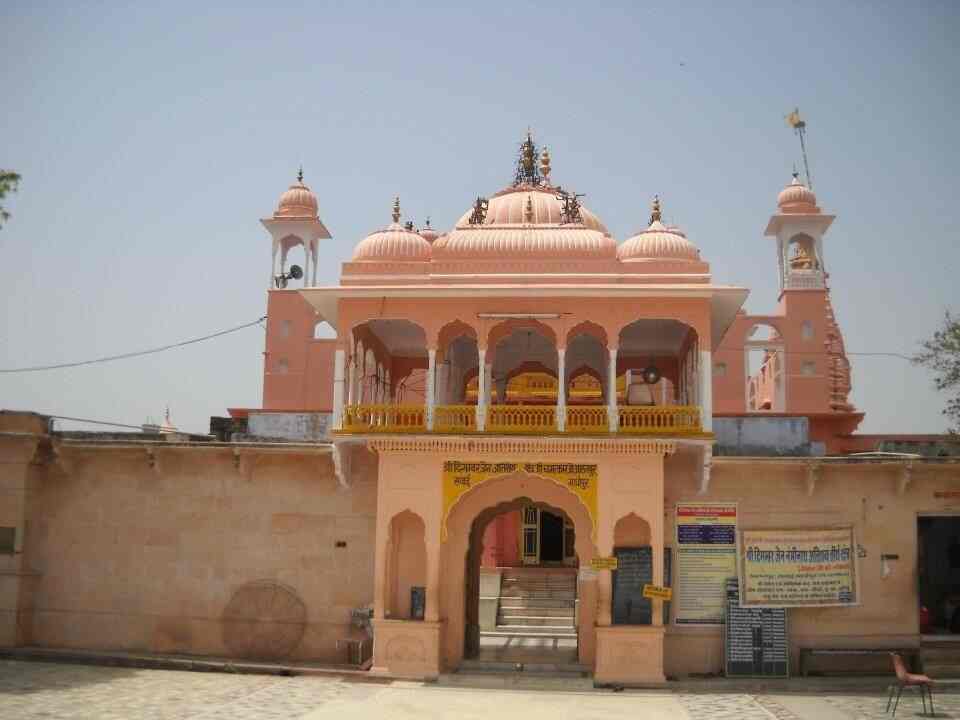 This temple is located in the main city of Sawai Madhopur, so you can easily reach here while exploring the traditional Rajasthani city area. It's a Jain mandir and mostly people following Jainism visit here. However, people from any religion or following can come to the temple and seek blessings. The name of the temple means miracles, which basically means you can ask for any wish and it will come true. So, make sure you visit this temple when you come to Ranthambore. 
Dastkar Ranthambore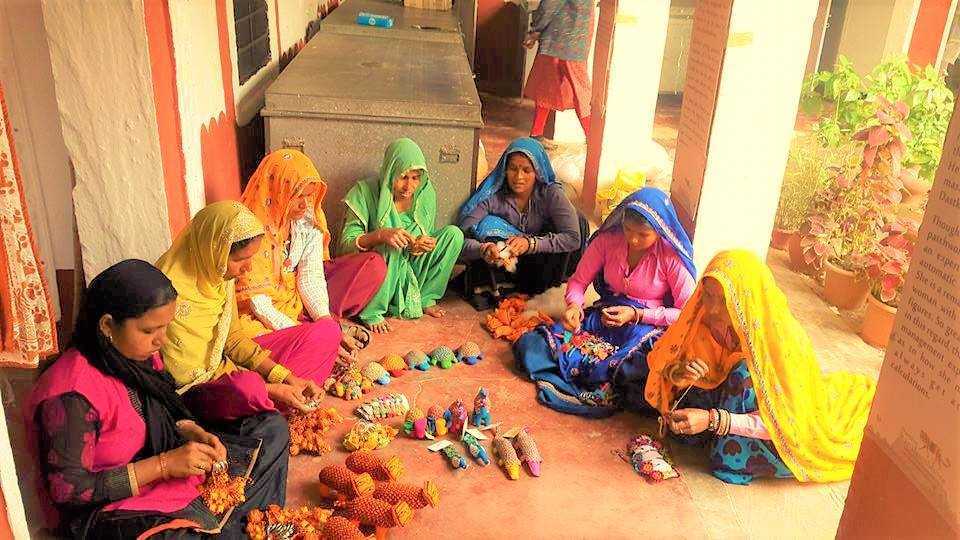 If you want to take a souvenir from the trip, then there's no better place than Dastkar Ranthambore. Dastkar is a non-profit organization working to revive traditional Indian crafts, especially in the rural region, and focusing on women. They set up their foundation for 20 years in Ranthambore to provide employment to local women and help them keep the Rajasthani artwork alive. Here you can find crafts like tie-dye, block-printing, and patchwork on different items to use on a daily basis. You can also shop for their collection here.