A wedding is the most special day of anyone's life. But for the bride, it's something she's been dreaming of since her childhood. The attire, the jewelry, the makeup, and the complete planning of the look have taken much time to plan, and to see it come to fruition is a different kind of excitement. Although, there are other parts to the palpable giddiness of the bride. Getting married to the love of her life, starting a new chapter, leaving behind a host of memories, being the center of attention, endowed with a host of new responsibilities, and a jittery excitement of what married life will be like to name a few. Naturally, it's hard to put into words what a bride must be feeling, but we have tried, using the words & phrases of some popular artists to describe that inexplicable emotion. Find below 50 bride quotes to use for your Instagram or just revel at their relatability while living this excitable part of your journey of life. 
1. "They will simply stop calling brides beautiful after today. You have set the standards too high."
2. "Happy is the bride the sun shines on."
3. "Every bride is beautiful. It's like newborn babies or puppies. They can't help it."
4. "Happiness and confidence are the prettiest things you can wear on your wedding day."
5. "Stop calling me Bridezilla. I just want what I want when I want it and I pity the fool that gets in my way."
6. "I thought angels don't walk on Earth, but then I saw you as a blushing bride walking down the aisle."
7. "Roses are red, my kurta is blue. Whenever I do Ardaas, I ask Guru Sahib Jee just for you."
8. "The true beauty of the bride lies in the eyes of the groom." 
9. "Everyone thought it was the bridal glow that made her radiate like a star on her wedding day, but it was his love and warmth instead."
10. "Bride: A woman with the fine prospect of happiness behind her."
11. "She may shine in red, have a glow in white. Gained earthly beauty in green, but she will stun you with a smile that fades everything behind."
12. "Today, all eyes will be on you. But you will have eyes only for him."
13. "There's no more pleasurable feeling than when a groom sees his bride and has tears, awe, and love in his eyes because she looks gorgeous as hell."
14. "The highest happiness on Earth is the happiness of marriage."
15. "No matter how close you're to the bride, remember, you mustn't upstage the bride."
16. "Today all the childhood dreams of playing dress up and imagining yourself as the bride will come alive. I know the reality will far surpass your dreams and you'll be the most gorgeous bride to ever walk down the aisle."
17. "A bride should feel happy in her choices. No matter if they're a little risque or a lot. The wedding day is her chance to feel like a queen – from her heart and soul. That will only happen when she makes sartorial decisions from her heart and soul." 
18. "Every bride is irresistibly beautiful. But you're my favorite."
19. "Today I choose to be the most beautiful version of myself. Inside and Out."
20. "It's that heart of gold and stardust soul that makes you beautiful."
21. "There's no better representation of beauty than a bride who unabashedly, unapologetically, and unequivocally is herself. That's the beauty you'll never forget once you experience it – with your own eyes."
22. "A bride will always be the belle of the ball at her own wedding."
23. "The best part of the day will be when You + Me becomes We."
24. "There's no one who carries more dreams in their eyes than a bride walking down the aisle."
25. "And that day… the angels watched on from heaven for they saw someone on Earth with more angelic attributes than theirs."
26. "I am my beloved's and my beloved is mine."
27. "Heed to every request of a bride. Don't question her. It's her special day only if people around make her feel special."
28. "When it's over, I want to say: this "indeed" was the most special day of my life."
29. "A bride's eyes twinkle with love, her aura warms the heart, and her grace charms everyone around her." 
30. "You are the most beautiful bride there ever could be. Don't let anyone else tell you otherwise."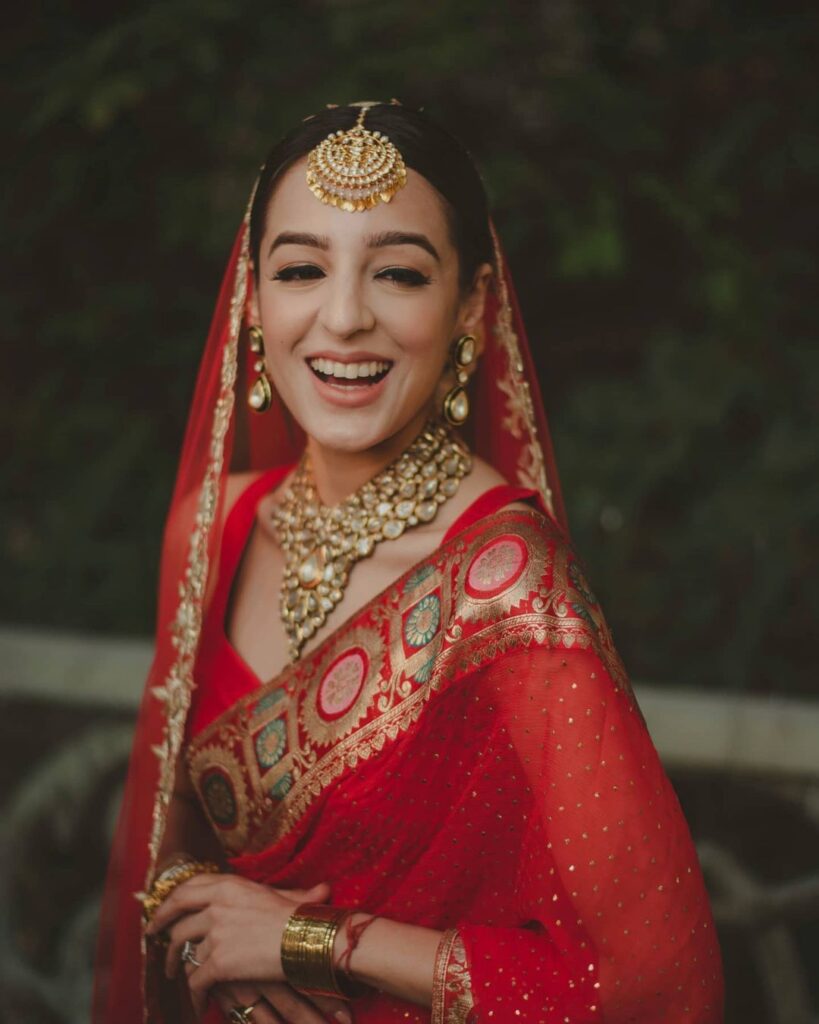 Via Dhanika Choksi Photography
Marriage Quotes For Brides
"31. And now here is my secret, a very simple secret. It is only with the heart that one can see rightly; what is essential is invisible to the eye."
32. "Love is a temporary madness, a raging storm that erupts like chaos and subsides in a little while. And when it subsides, you will have to figure out whether your roots are so entwined together that it's inconceivable to ever part. Because that's how love carries on forever."
33. "When pride loses, your marriage wins."
34. "Marriage is like music. Both are playing different parts, but as long as you're playing from the same sheet music, you're going to create something beautiful."
35. "Recipe for a happy marriage 
Ingredients:
4 cups of Love
2 cups of Loyalty
3 cups of Forgiveness
1 cup of Friendship
5 spoons of Hope
2 spoons of Tenderness
4 quarts of Faith
1 barrel of Laughter
Recipe
Take love and loyalty, mix them thoroughly with faith. Blend it with tenderness, kindness, and understanding. Add friendship and hope, sprinkle abundantly with laughter. Garish with hugs and kisses. Serve daily with generous helpings."
36. Most people get married believing a myth that marriage is a beautiful box full of things they've always longed for: companionship, intimacy, friendship, etc. The truth is that marriage in the start is an empty box. You must put something in before you take anything out. There's no love in marriage. There's love in people. And people put love in marriage. There's no romance in marriage. You have to infuse it in your marriage. A couple must learn the art, and form the habit of loving, giving, serving, praising, and keeping the box full. If you take more out than you put in, the box will be empty. 
37. "Husbands and wives are designed to complement each other. When the man is weak, his wide is strong; when the woman stumbles, he is there to pick her up. Life is easier when two hearts and minds are committed to working together to face the challenges of the day." 
38. "Marriage is meant to keep people together. Not just when things are good, but particularly when they are not. That's why you take marriage vows, not wishes."
39. "To my husband, meeting you was fate, becoming your wife was a choice, but falling in love with you was beyond my control. Thank you for being a great life partner through it's ups and downs. I promise I will love you in the moments we're together and in the times when we're apart. I've loved you since always and I will love you forever." 
40. "The most wonderful thing I decided to do was to share my life and heart with you."
41. "Two hearts that beat as one and two souls that are connected forever."
42. "I will stand in the pouring rain for you, even though I knew I could be dry. That's what happens when you love someone, your happiness doesn't mean as much without theirs." 
43. "If you've found a smile that's the sweetest one you've known. If you've heard, within a voice, the echoes of your own. If you have felt the touch that stirs the longings of your heart, and still can feel the closeness in the moments you're apart. If you have filled with wonder at the ways two lives can blend. To weave a perfect pattern, that's seamless, end to end. If you believe some things in life are simply meant to be, then you have found your soulmate, your heart's own destiny."
44. "It felt easy like God has put us two together deliberately."
45. "This is a sweet ending to a new beginning."
46. "Marry the guy who will play with your hair, won't mind holding your cold hands, will go on long walks with you, is serious but also knows how to have fun, makes you laugh, will join in on your random bursts of song, watches chick flicks just to spend time with you. Lets his inner child out sometimes, isn't afraid to be himself, will stand up for what he believes in, will stand up for you, and protect you. Makes you feel like a princess. You can be completely yourself around. You can talk to about anything. Loves you. But most importantly, marry the guy, who's your best friend." 
47. "Marriage is a mosaic you build with your spouse. Millions of tiny moments that create a love story."
48. "A strong marriage requires two people to love each other even on the day when they're unable to like each other."
49. "You're the only one I want with me on this journey of life. You have a way of making me feel so loved, so safe, and so protected. You're my love and you're my life. You make me feel complete. I am so blessed to have you in my world."
50. "If you want something to last forever, you treat it differently. You shield it and protect it. You never abuse it. You don't expose it to the elements. You don't make it common or ordinary. If it ever becomes tarnished, you lovingly polish it until it gleams like new. It becomes special because you have made it so, and it grows more beautiful and precious as time goes by."