Attending IIT coaching is a reality for many millennials. And while most part of it brings back the blue memories of the rat race and rote learning, for Mehak it was quite the opposite. She met the love of her life, her now-husband, Puneet Vashisht during their IIT coaching classes in 11th standard. And they have been together ever since. "We were introduced through a common friend, we became quite close friends and eventually entered a relationship," Mehak says. "But due to our respective career options, our months-long relationship turned into a long-distance one," she adds.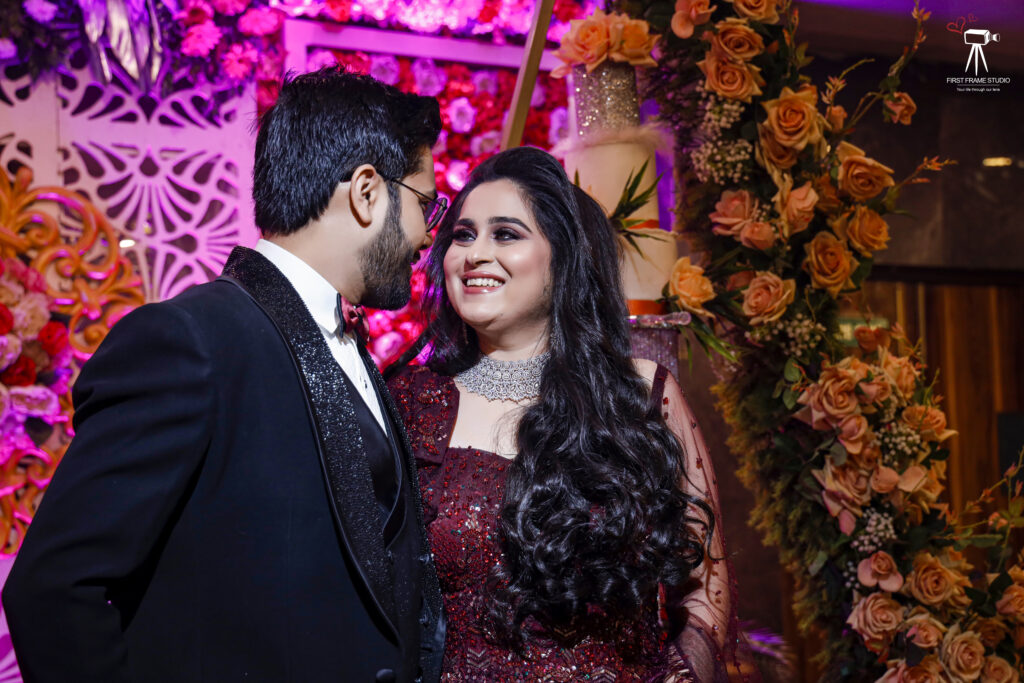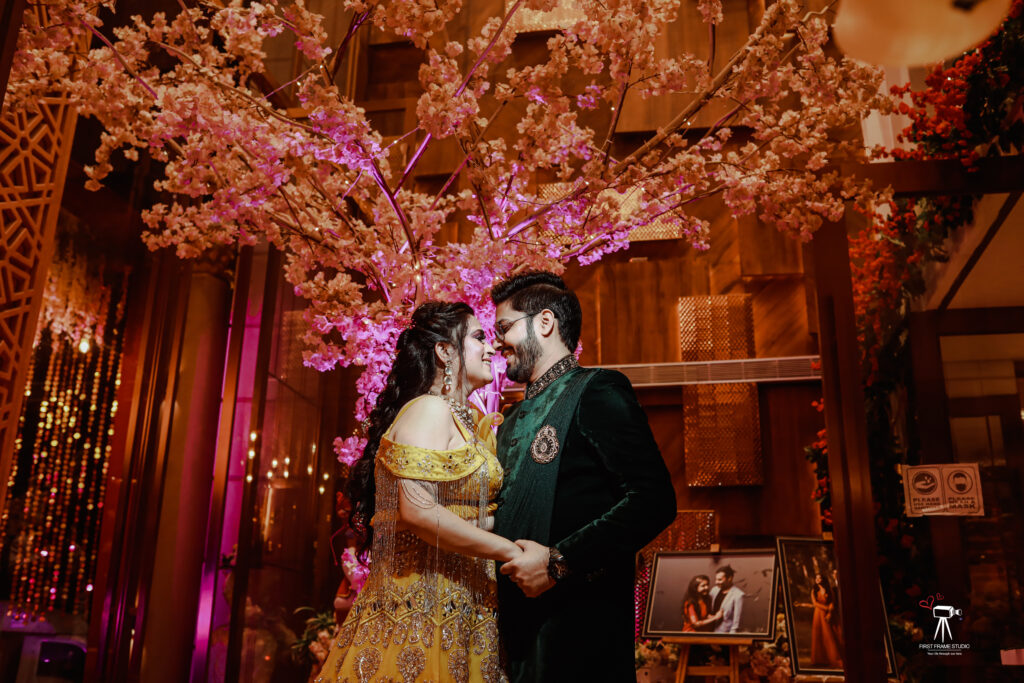 From there started 8-years of long-distance relationship for Mehak and Puneet. With the passage of time, their hearts only grew more fond of each other. "We have been with each other for so long, together for so long, that assurance of marriage was never really talked about. We knew it was going to happen. So, in 2019, we asked our parents for their blessing, and surprisingly, they agreed on the first go. It was shocking, but I guess it was written in the stars," says Mehak.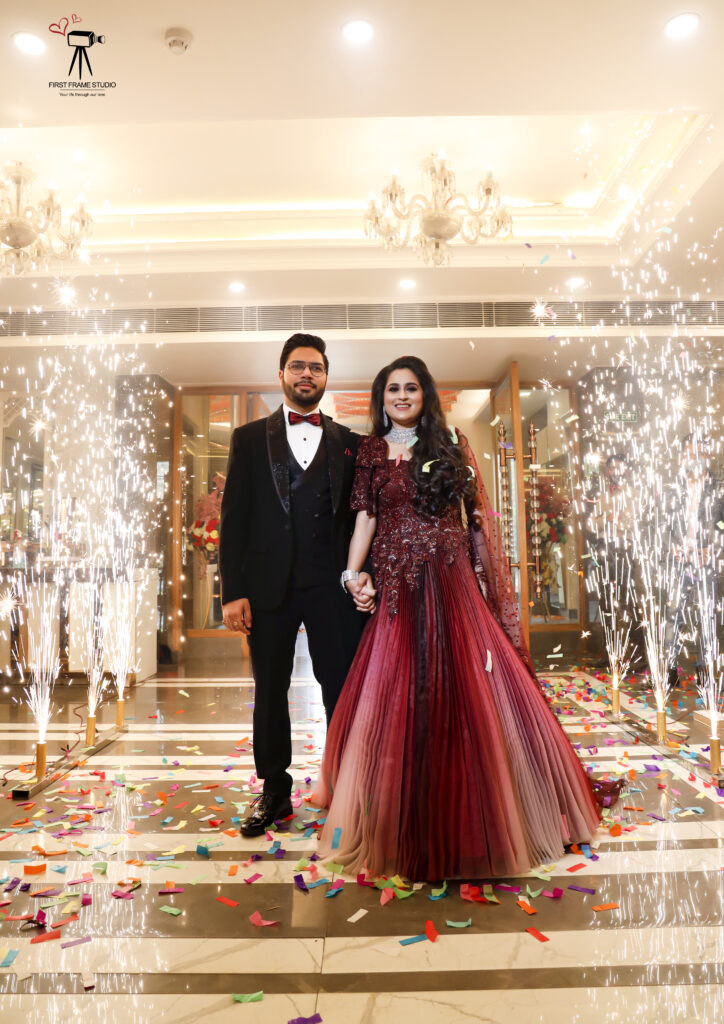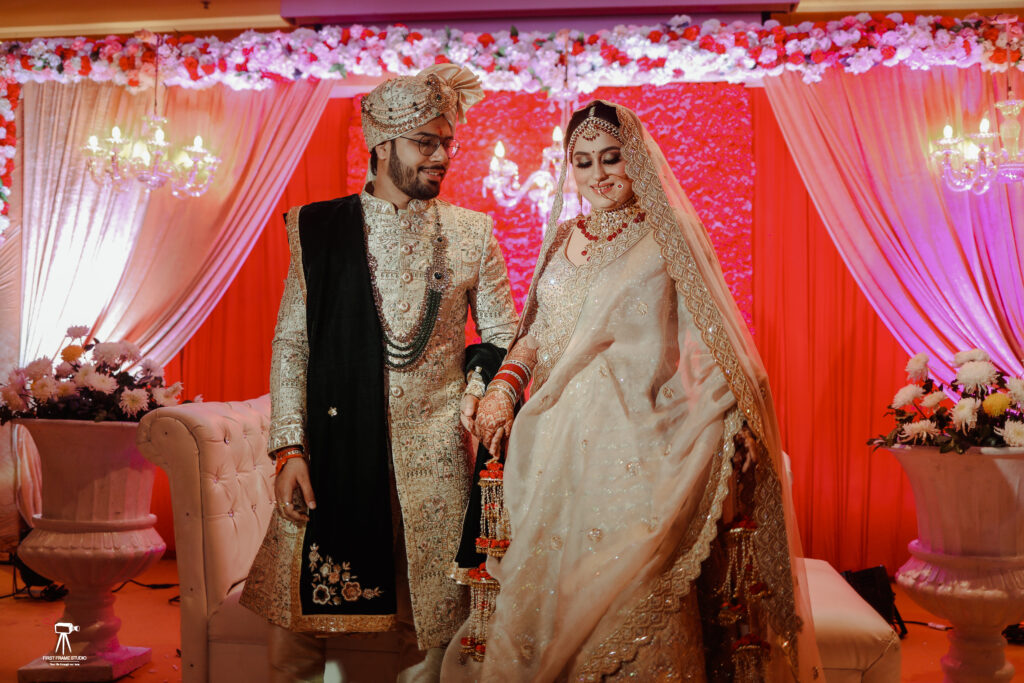 And then started the tiring yet fulfilling process of wedding planning for the couple. "We decided to plan everything on our own without the help of a wedding planner, which was a mistake. We made a guest list, event list, finalized the vendors, shops we had to visit for the wedding ensemble, etc." Mehak elaborates. As a piece of advice, she underlined the importance of a wedding planner and that just following Pinterest inspiration isn't enough to make your special day 'special'. "You need to put thought into the wedding details like decorations, favors, entry, etc. and you need an expert opinion on the same," she continues.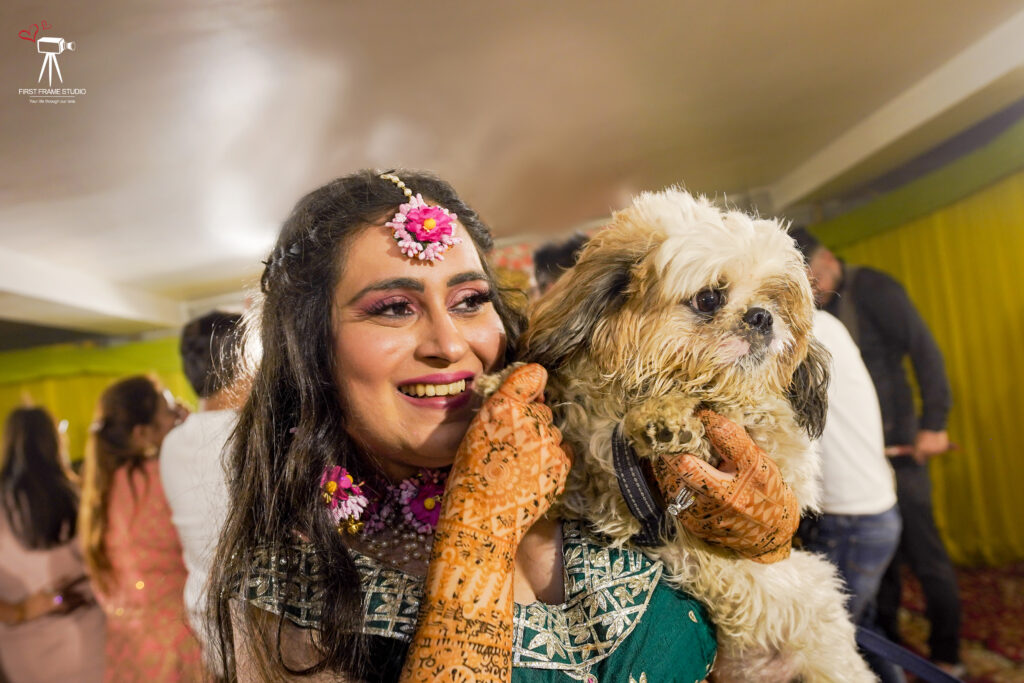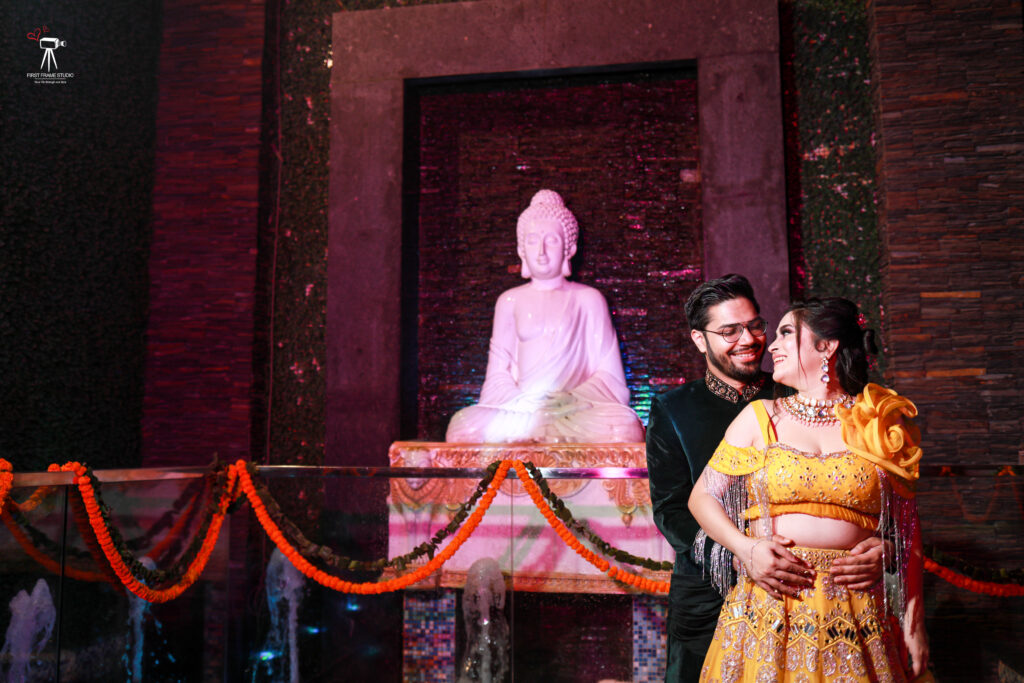 She also emphasized the importance of a pre-bridal routine. "I got it done from Isaac Luxe, Dr.Geetika, Vasant Vihar, that was the best decision I made. While skincare is one part of your bridal look, another one is booking the makeup artist. You should shortlist and book the makeup artist in advance. Before the event, try to meet them once so you can decide the look you want. Another word of advice, please ask your MUA to not be late at your wedding," Mehak says.
The bride also suggests looking out for the fun yet risky Haldi function. "You need to ask your doctor if you can apply haldi to your skin, you really don't want your skin to throw tantrums on your big day," she says.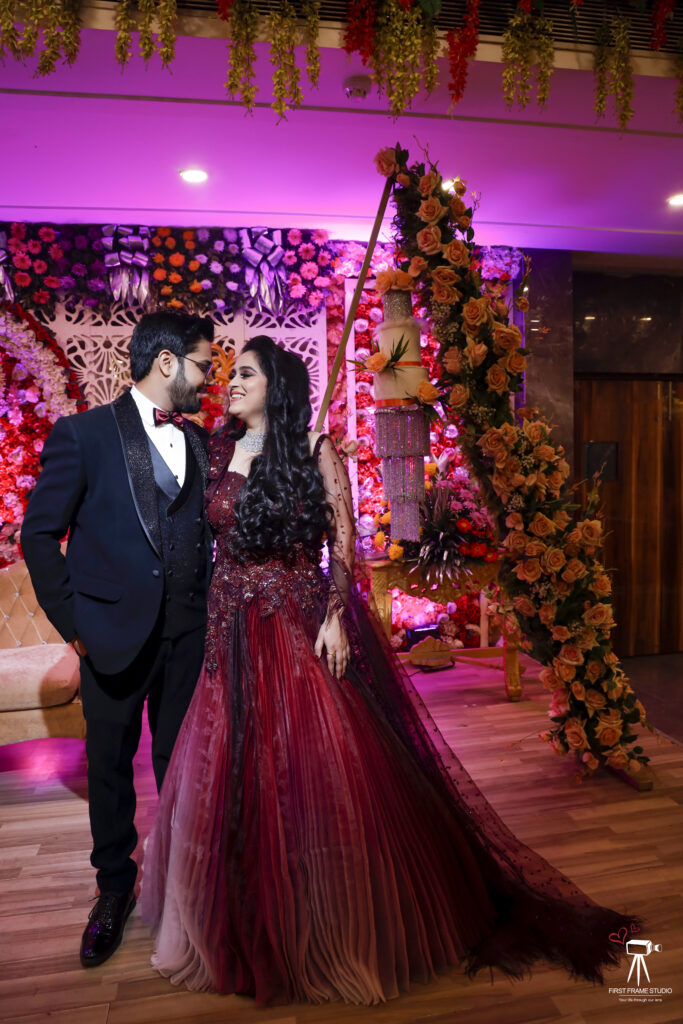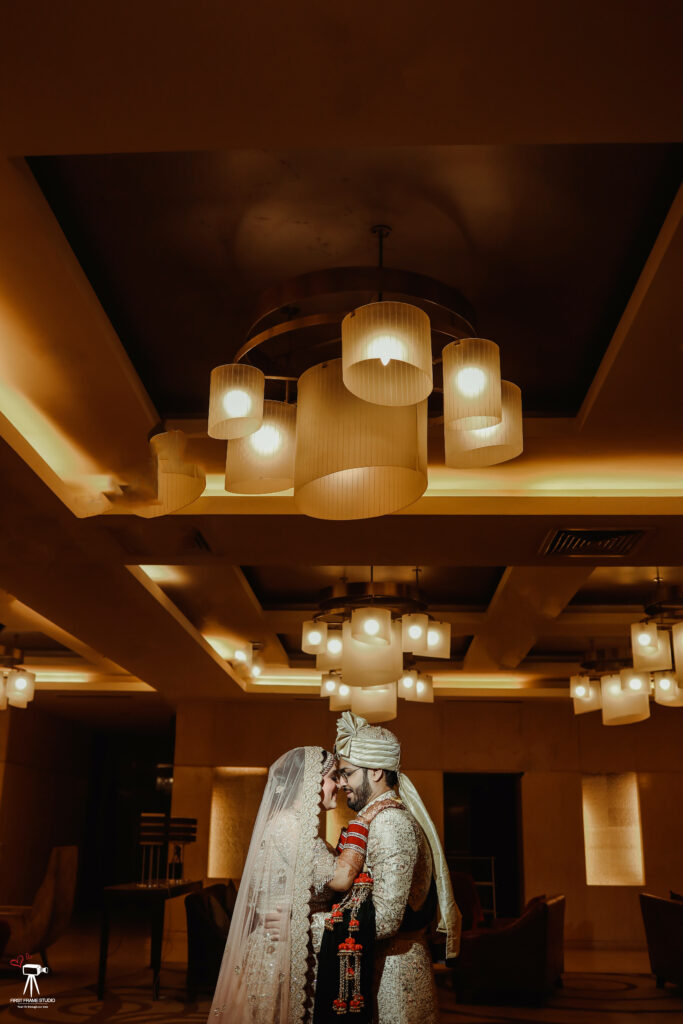 As if wedding planning isn't enough to stress out a bride, Mehak faced two more roadblocks on her journey to the big day. "Just one and a half months I underwent surgery and I was just recovering when I tested positive for Corona. Although, I'm blessed that I surpassed both just in time for my dream day. And I have a habit of leaving things for the last minute, which just resulted in bridezilla flashes at the end. So, brides reading this, please don't keep things for the last minute," Mehak tells us.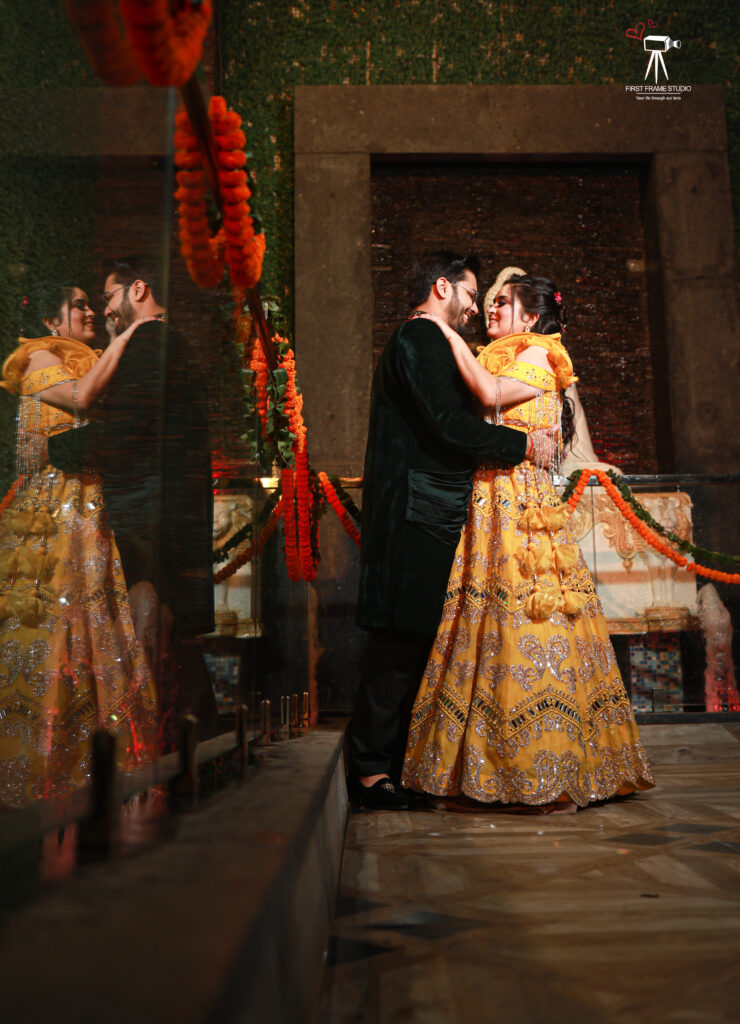 Bridal Trousseau & Wedding Pictures:
Mehendi:
Coming to the part all brides are keen to gather more information on, where did she get her outfits from? While most brides are confused on where to start finding an ethereal ensemble for their trousseau, Mehak was sorted. Although, if you're the former one, please check out our latest blog on '5 easy steps to find the perfect lehenga ensemble'. "Most of my outfits were custom-made by my friend and designer Drishti Malik. She understood my vision well and created the outfits accordingly. My mehendi outfit is designed by her, you can check out her Instagram at @lavaanphere. One of my pieces was from a designer store in Rajouri Garden called Akilak and other random shops in the same area. Except for the main events, I didn't get very heavy outfits, so I can re-wear them afterward," says Mehak of her wedding shopping.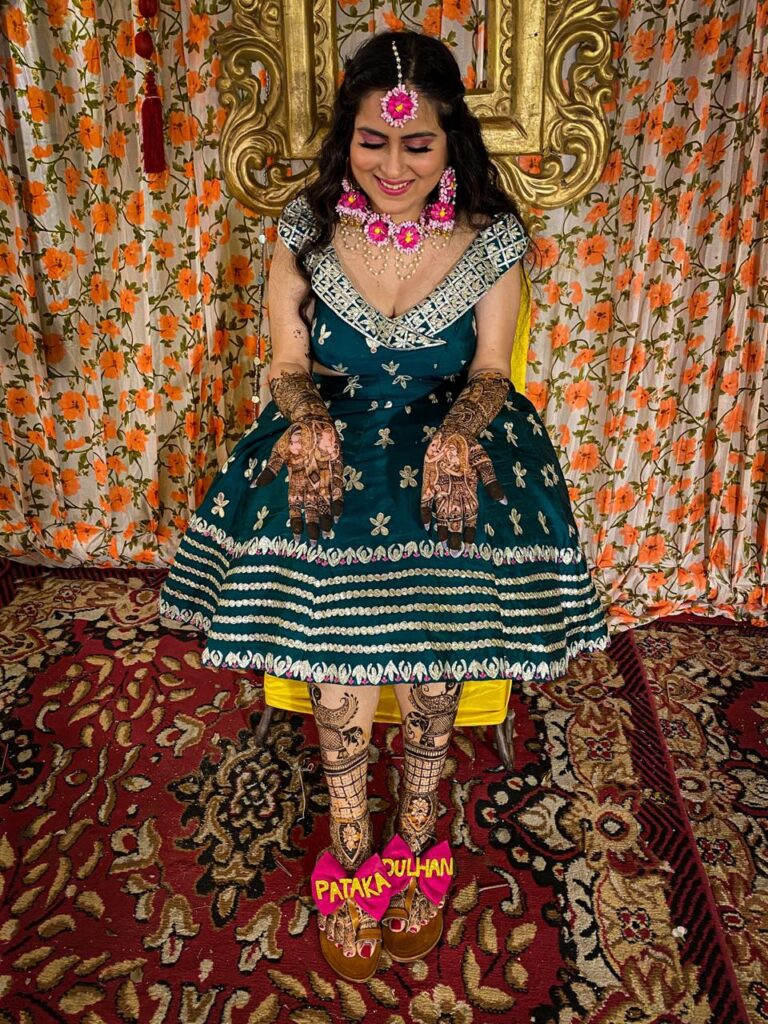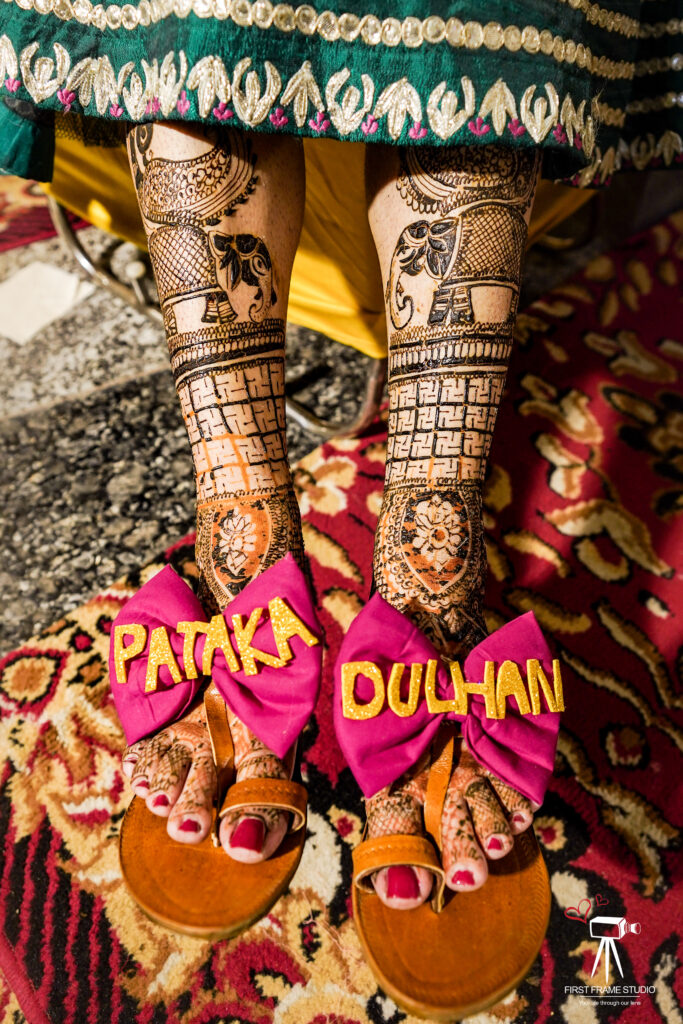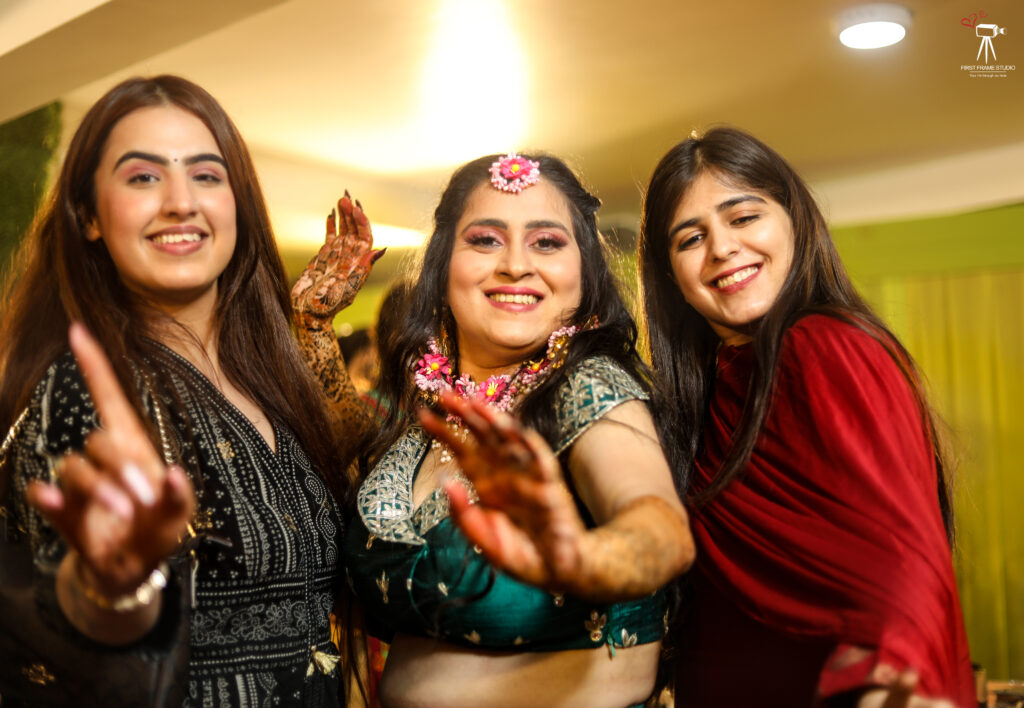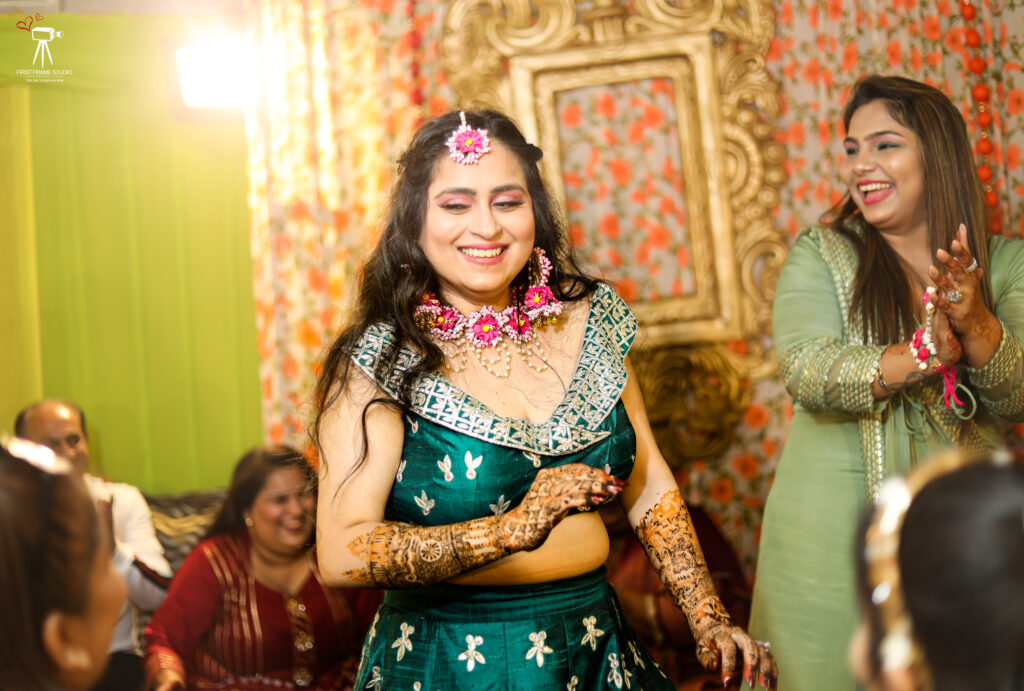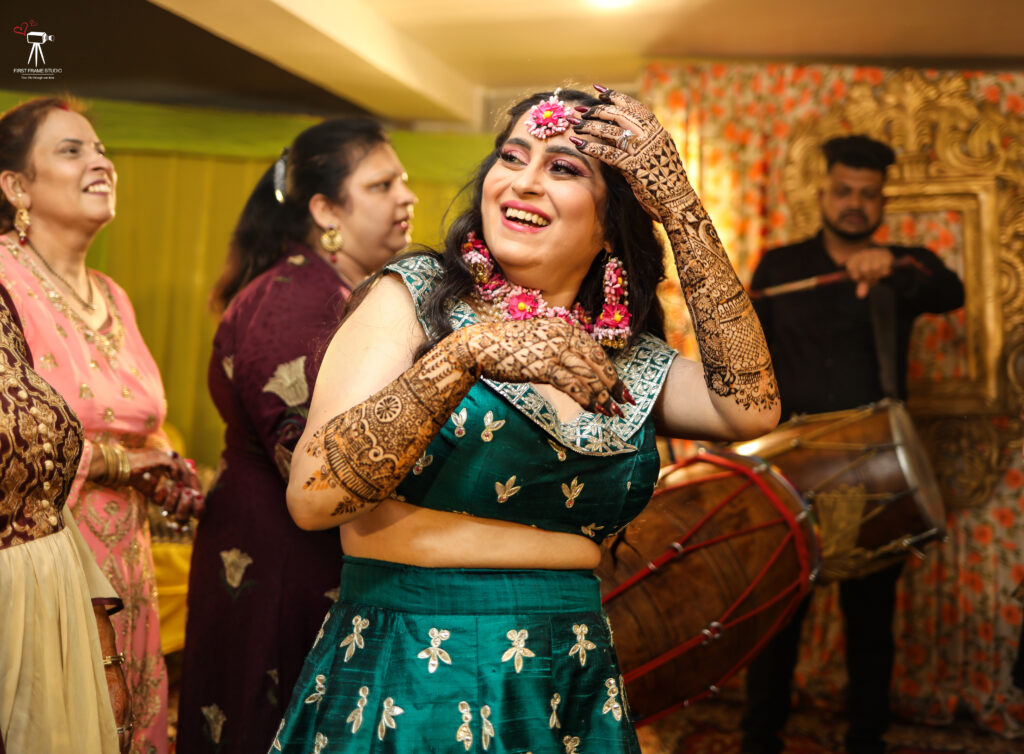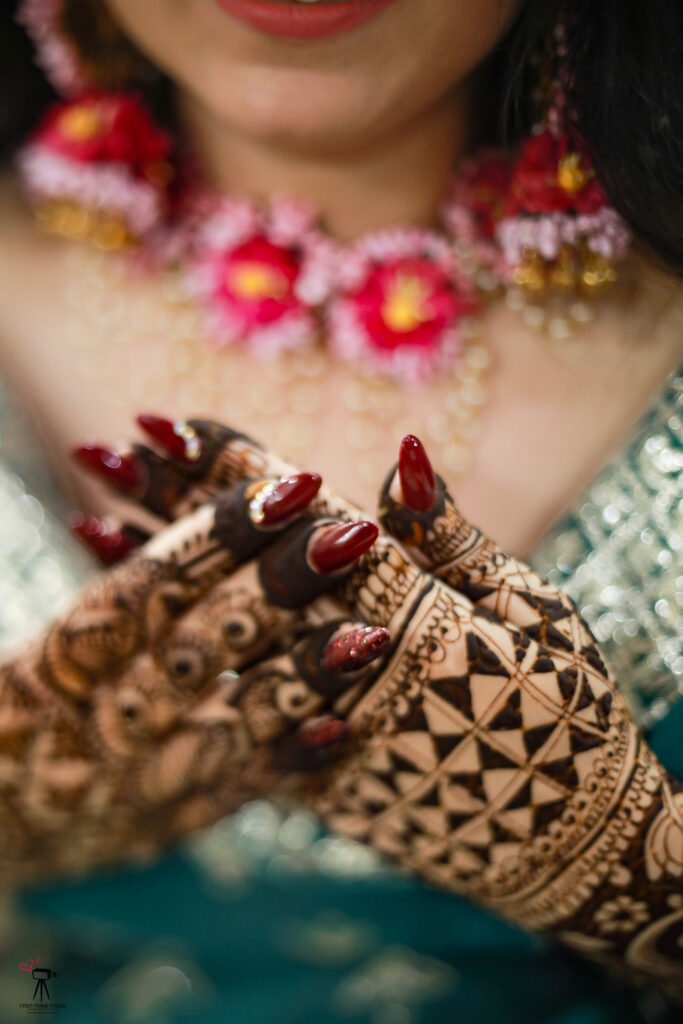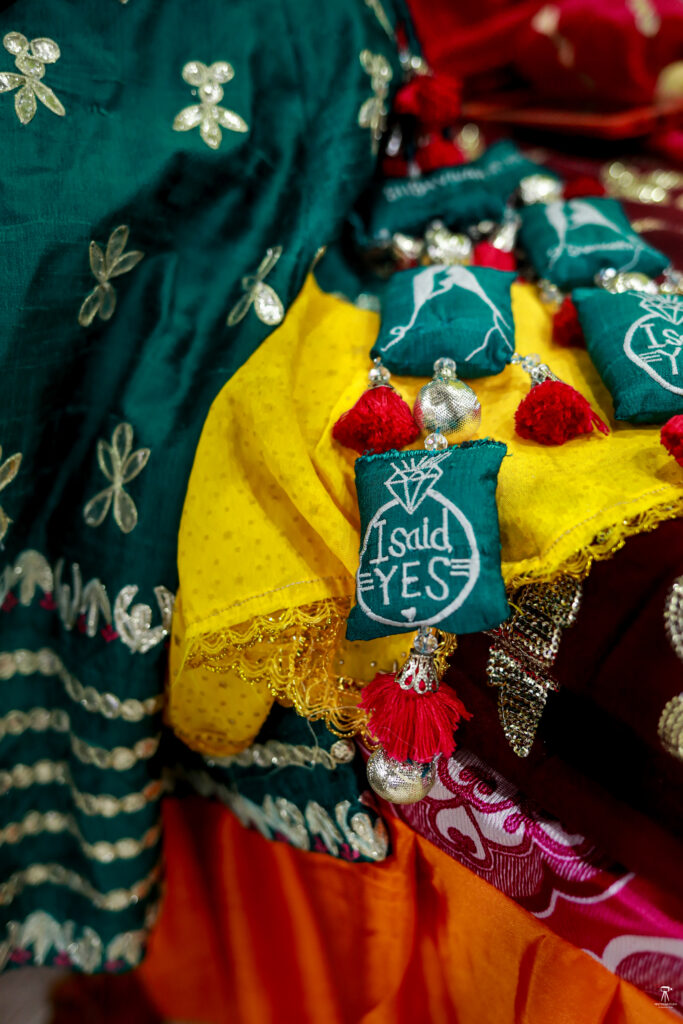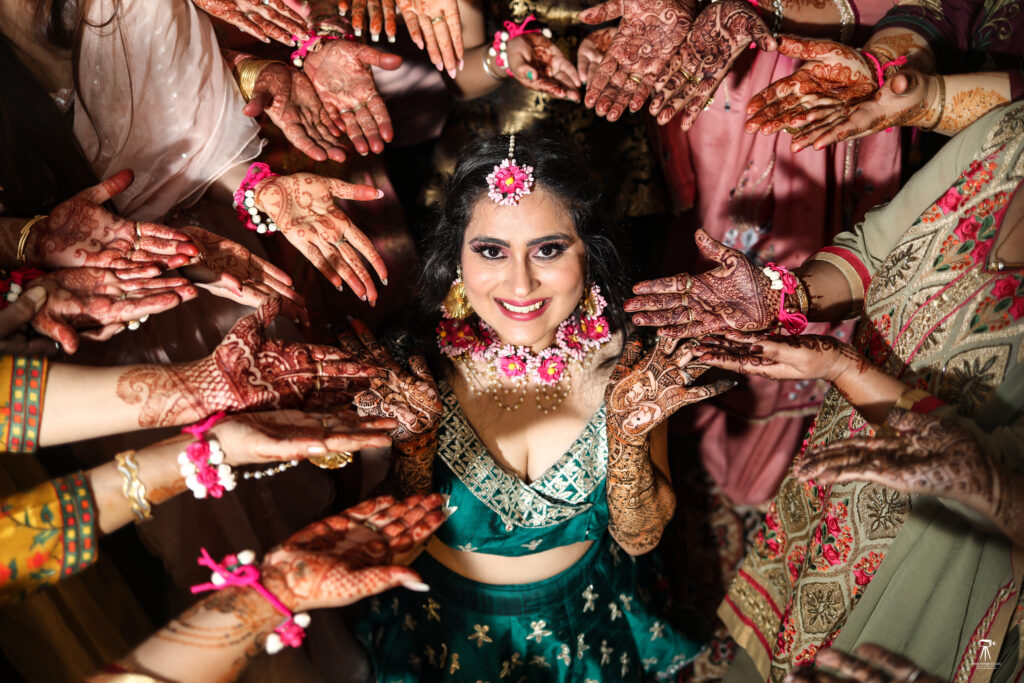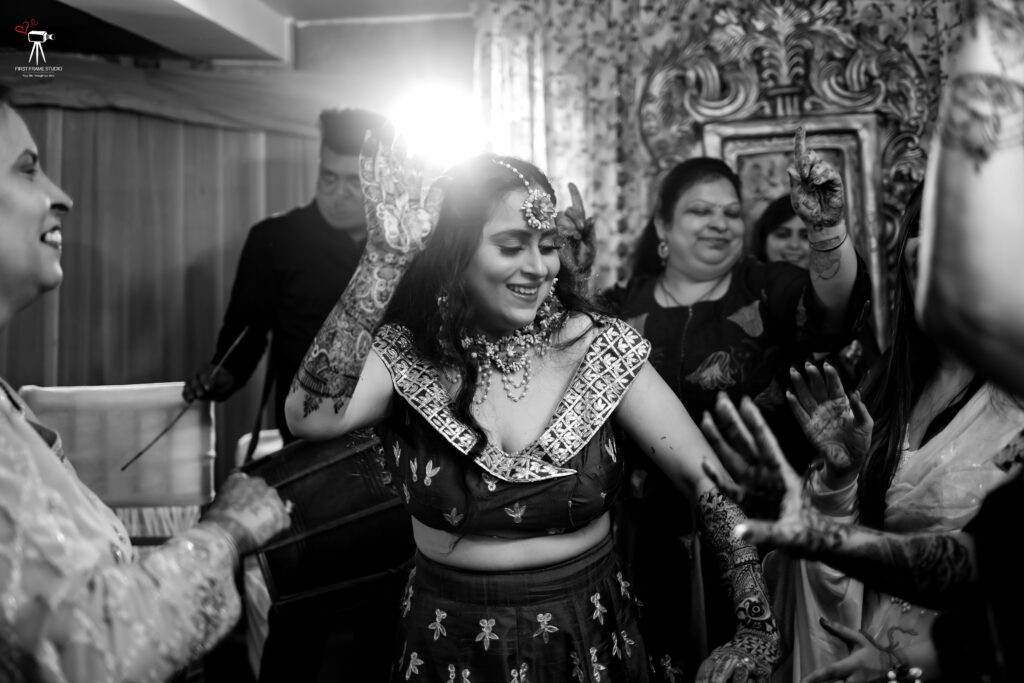 Wedding:
"For my bridal outfit, I was 90% sure that I wanted it from Payal Keyal. I did check a few places but finally decided to purchase a beautiful all-golden lehenga from her," says the bride on her wedding day lehenga pick. The attire also radiates a bit of blush pink in different lightning, making it a beautiful choice for an indoor evening wedding. Bhandari teamed her lehenga with quintessential kundan jewellery with red pearls and red choora, thus honoring the tradition of wearing red with her styling choice. Even the kaleeras have a touch of red in them. As for the makeup, Mehak was sure who she wanted to book as her wedding makeup artist. "I had no doubt I wanted Leena Bhushan's makeup and I'm so glad I booked her on time," she says.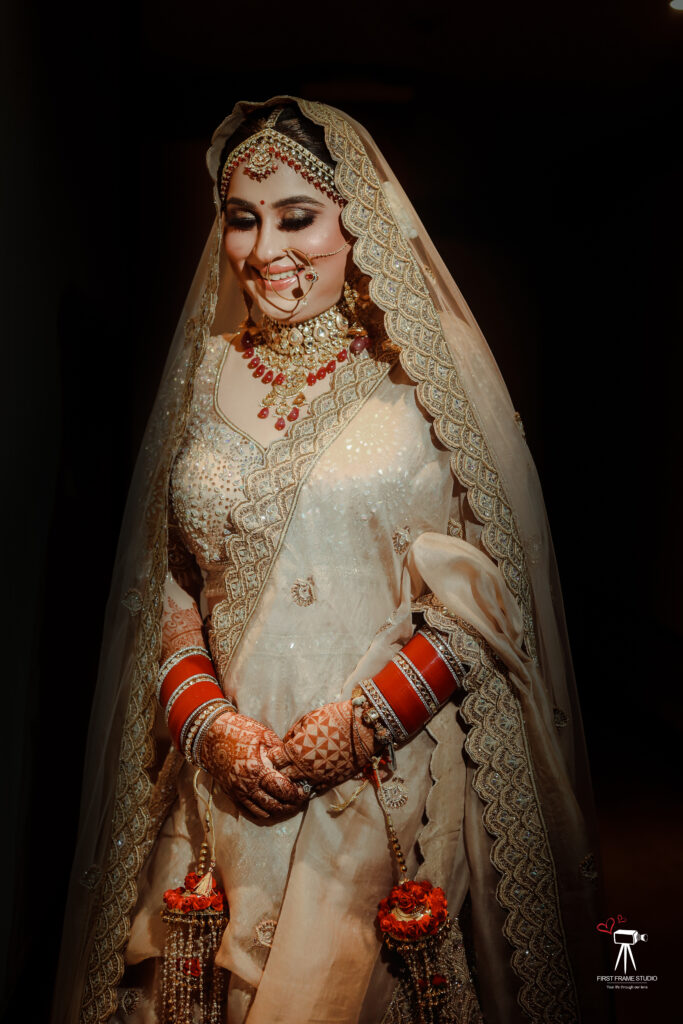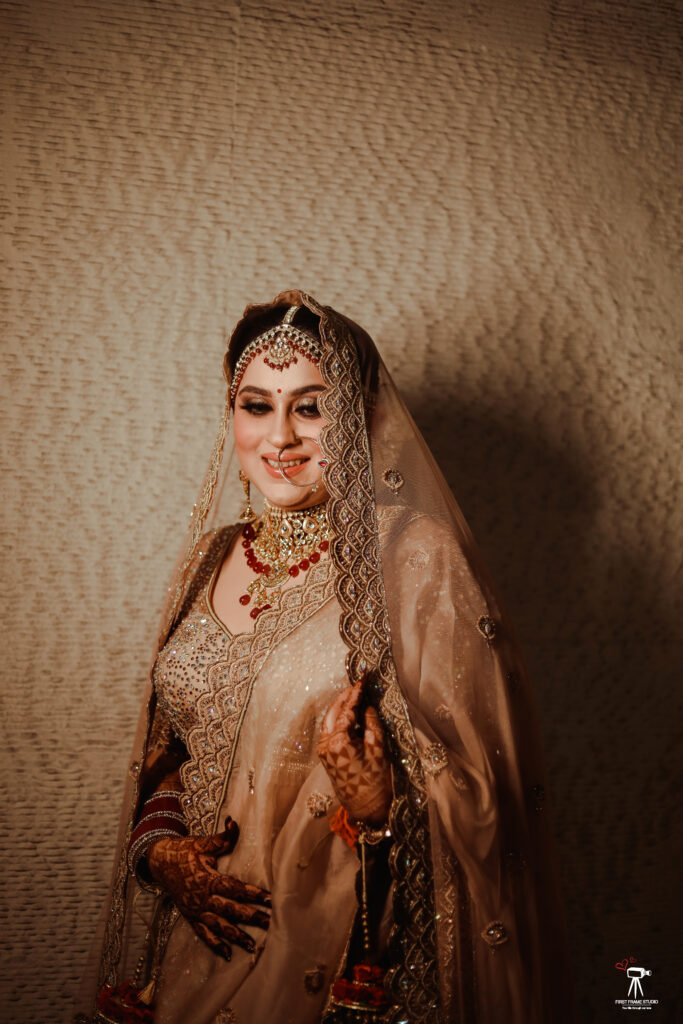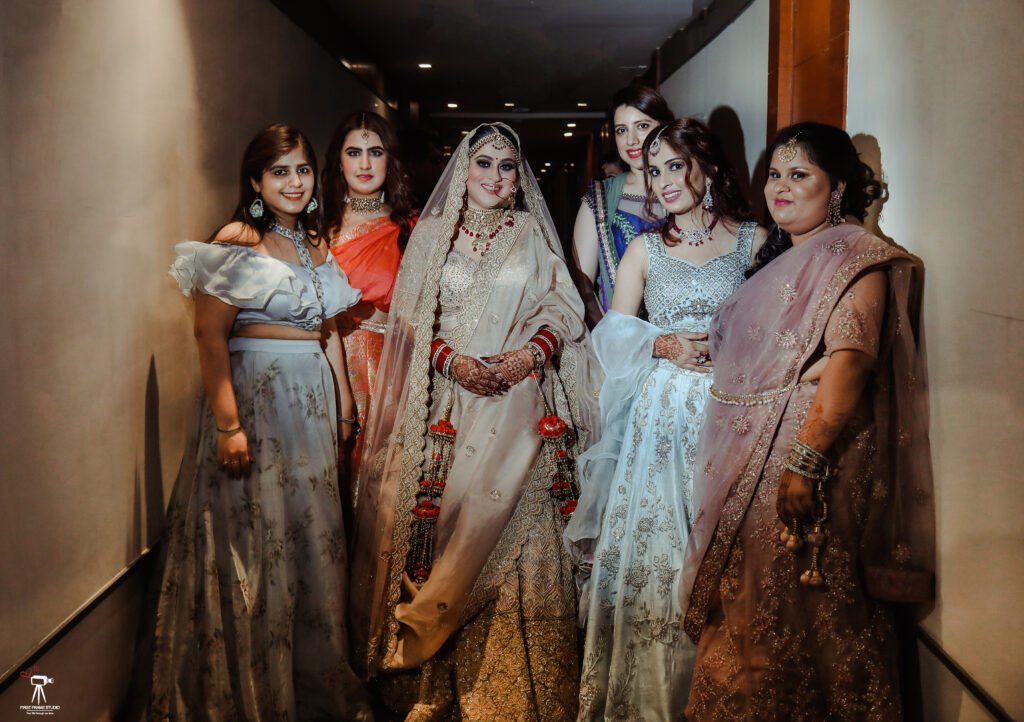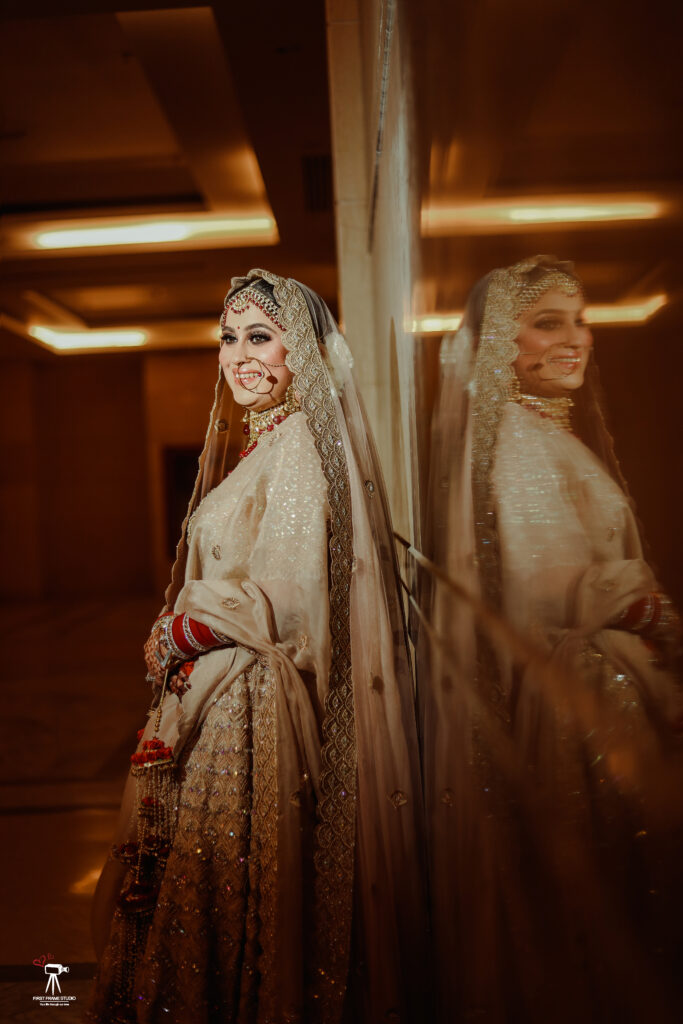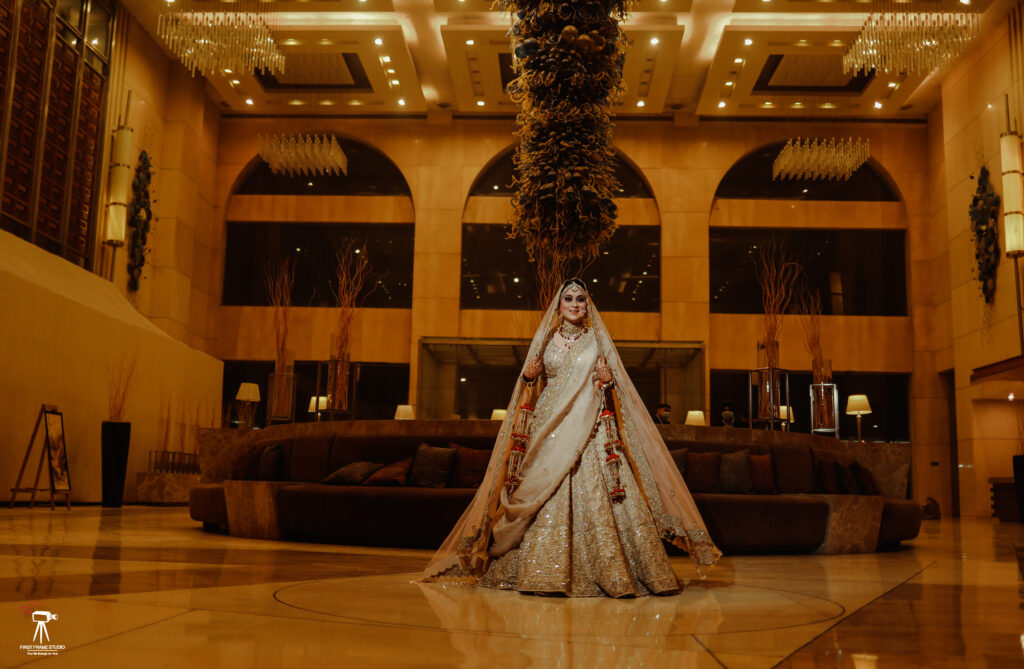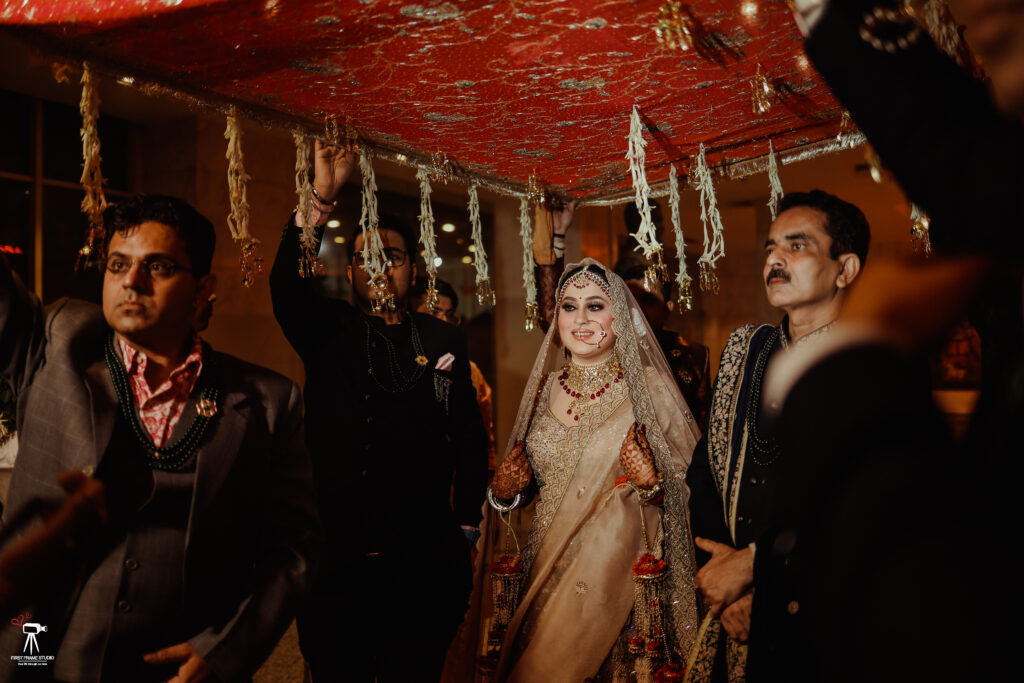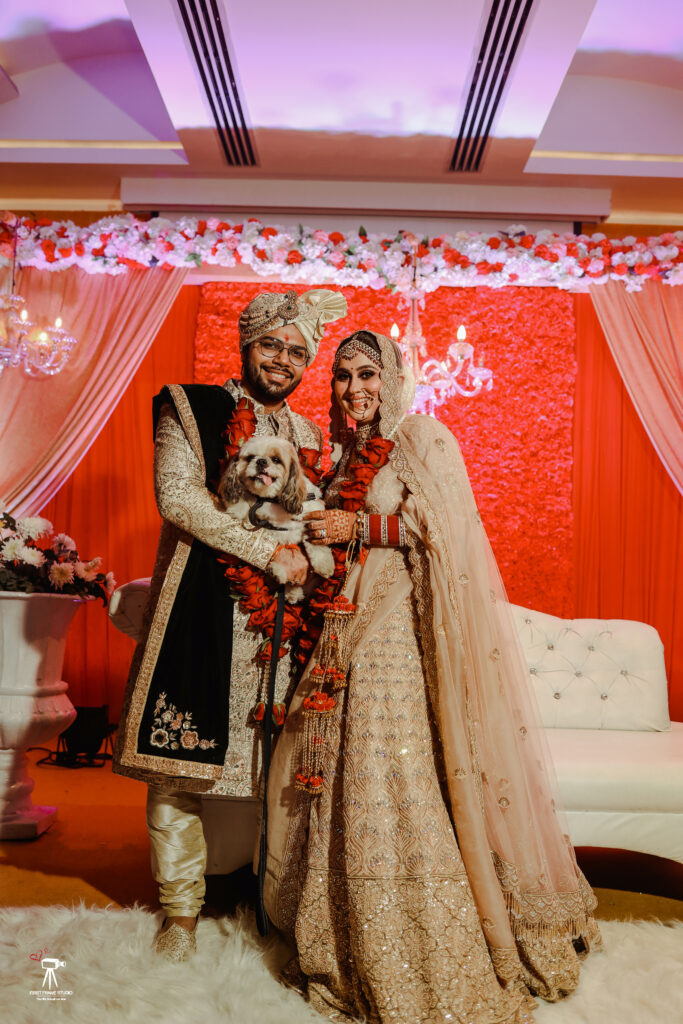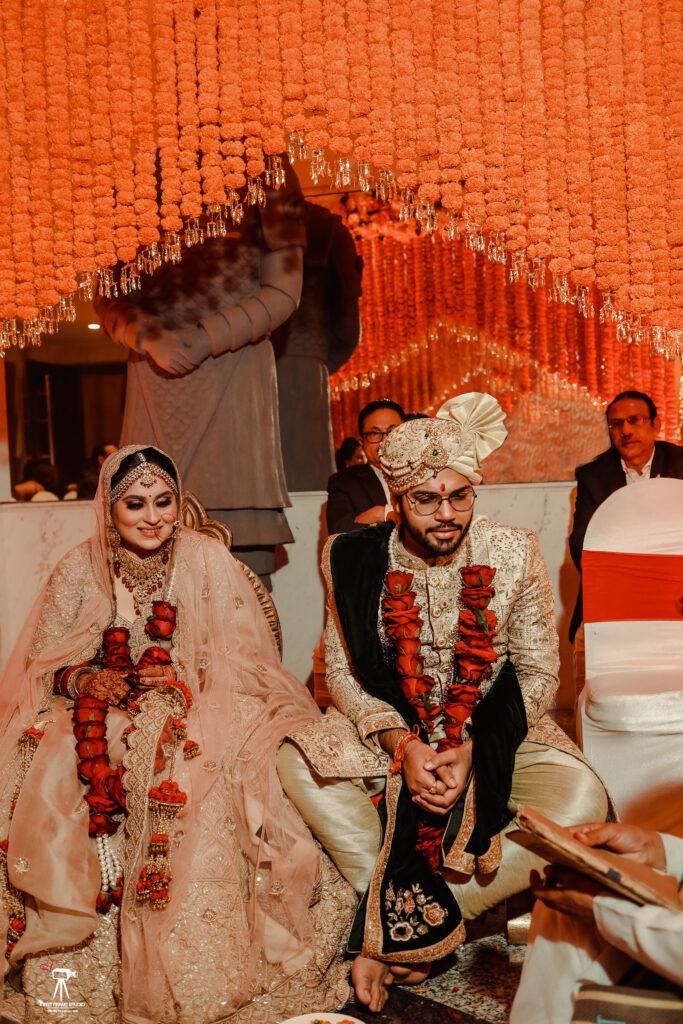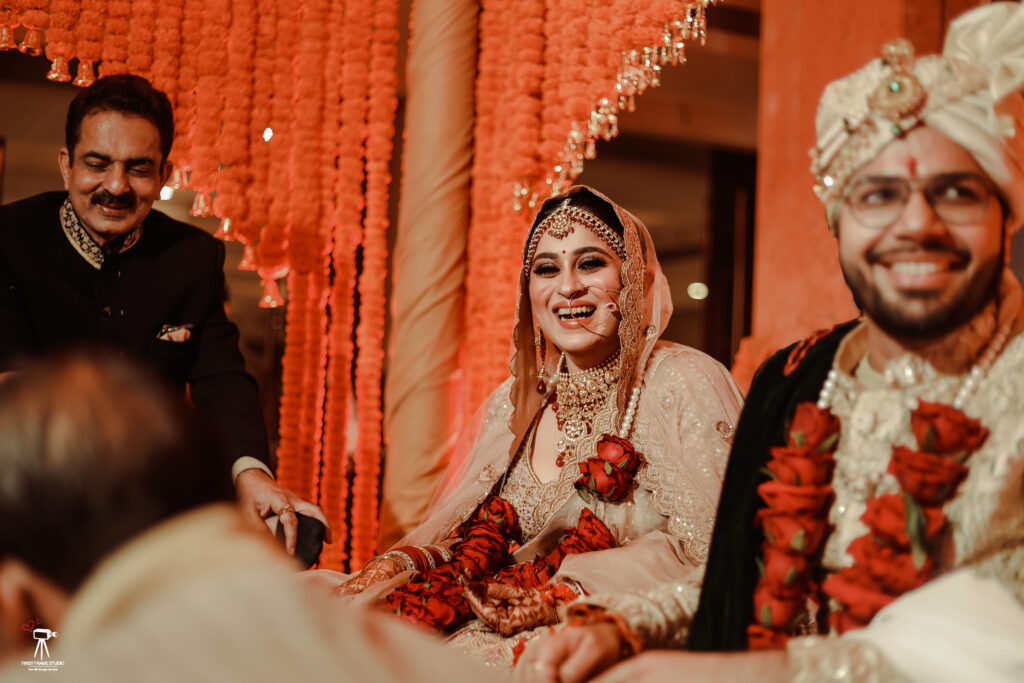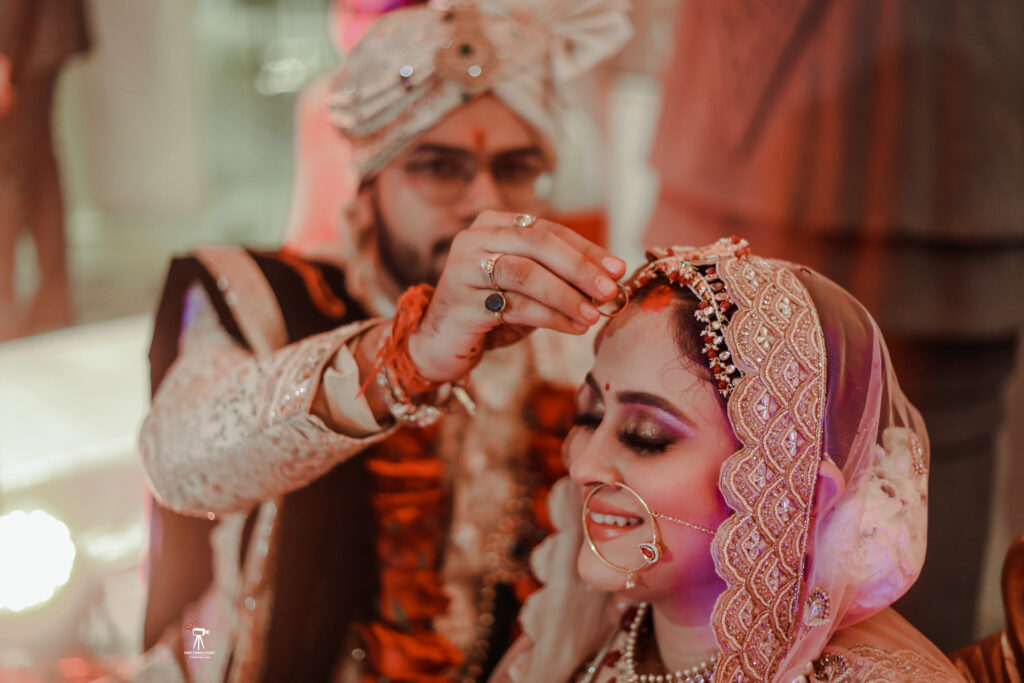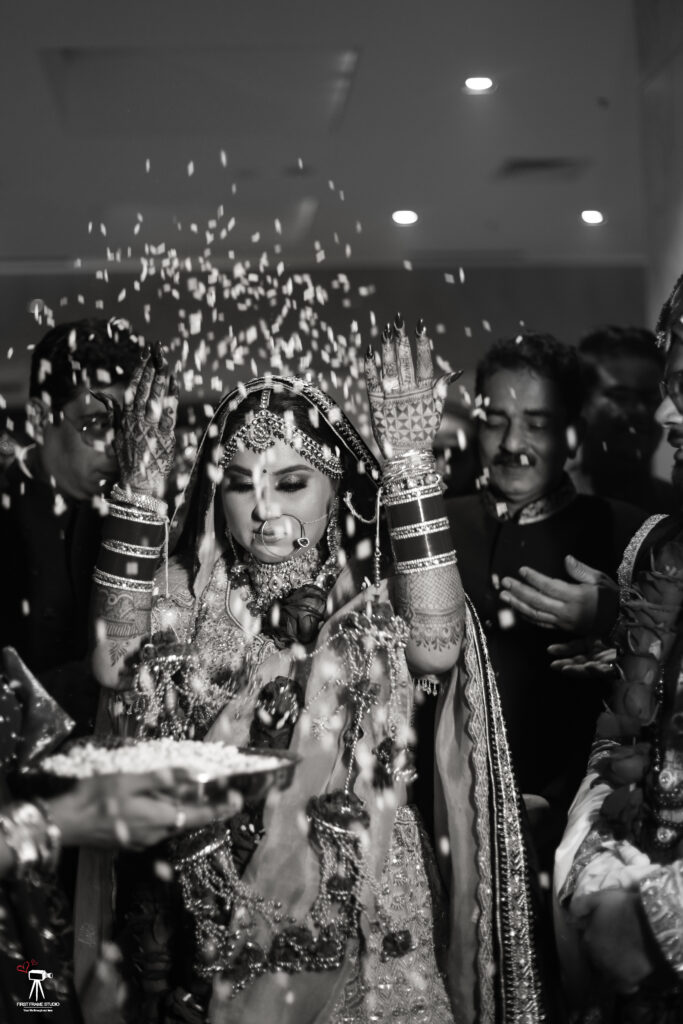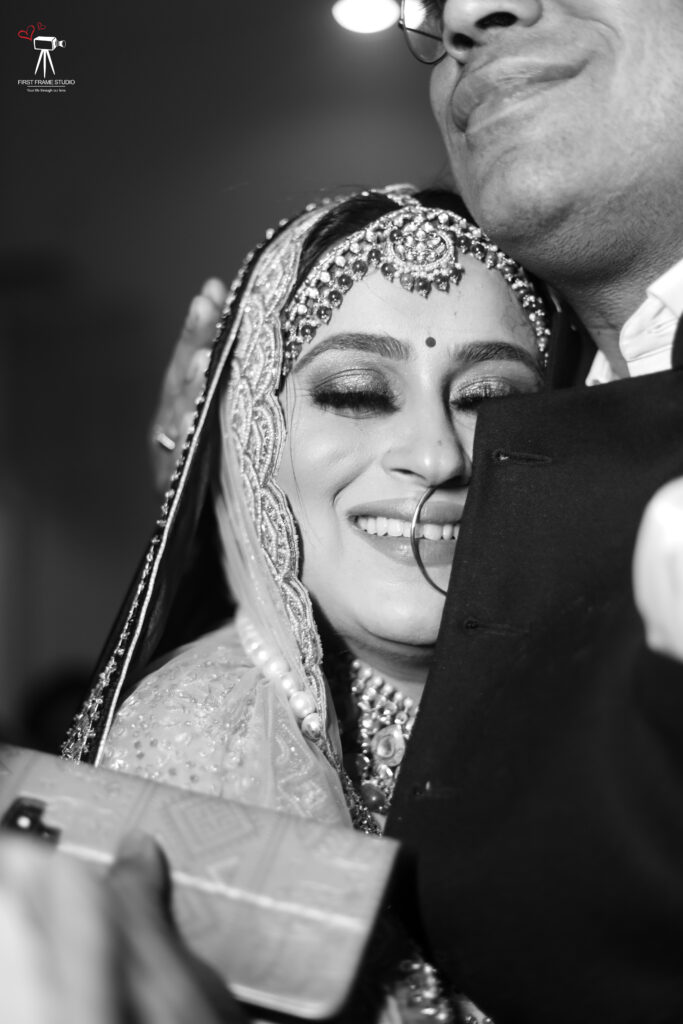 Engagement:
"For my engagement, I was sure I wanted to wear a gown from Dolly J Studio. I just adore her collection and picked my attire during the first visit itself," says Mehak. She paired her red ombre gown with exquisite diamond jewellery. The makeup was done by maestro Gomit Chopra. "I knew he could match the evening gown look I wanted to carry, so he was an obvious choice," she adds.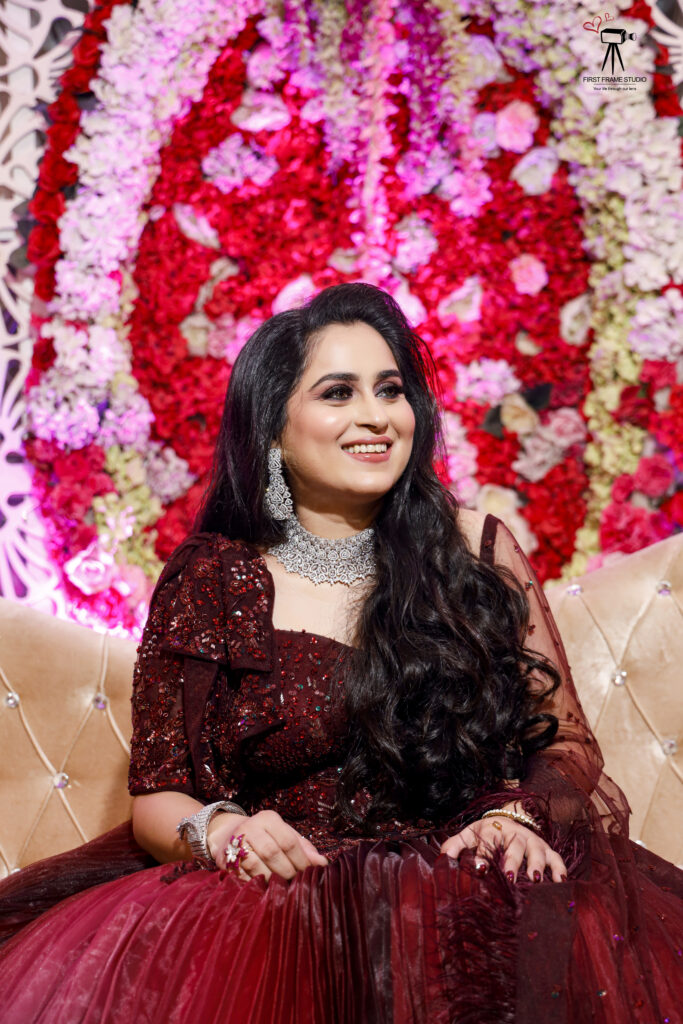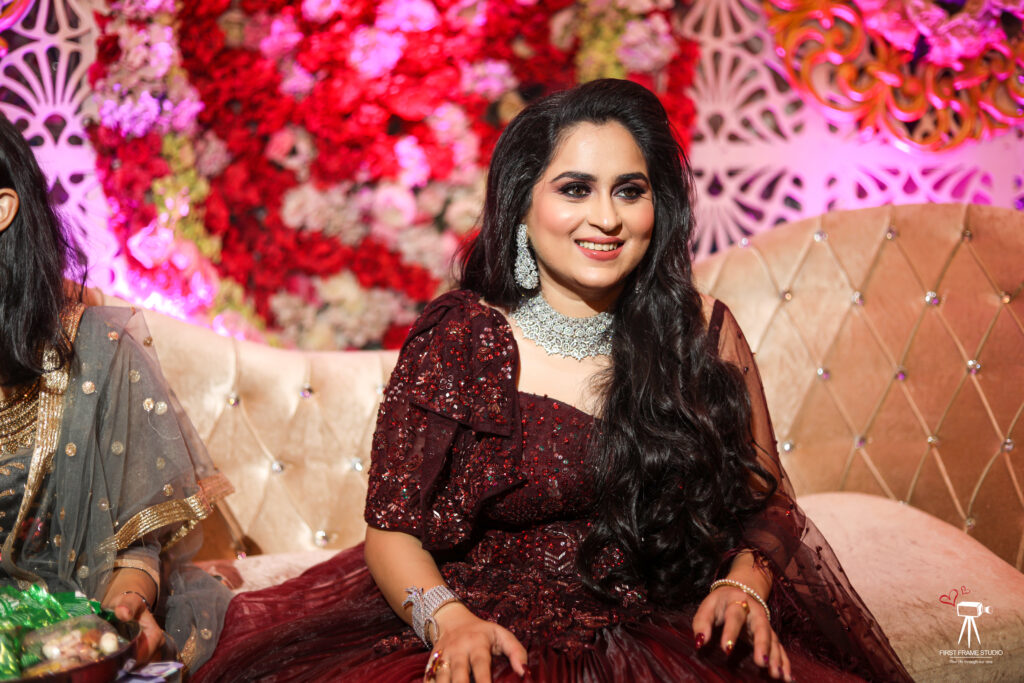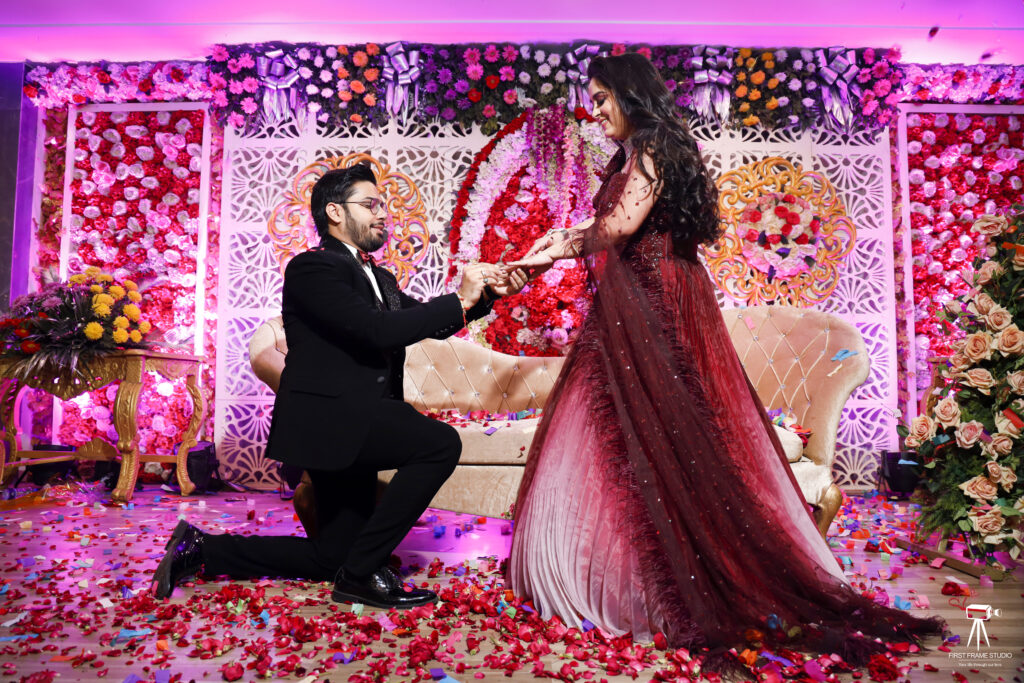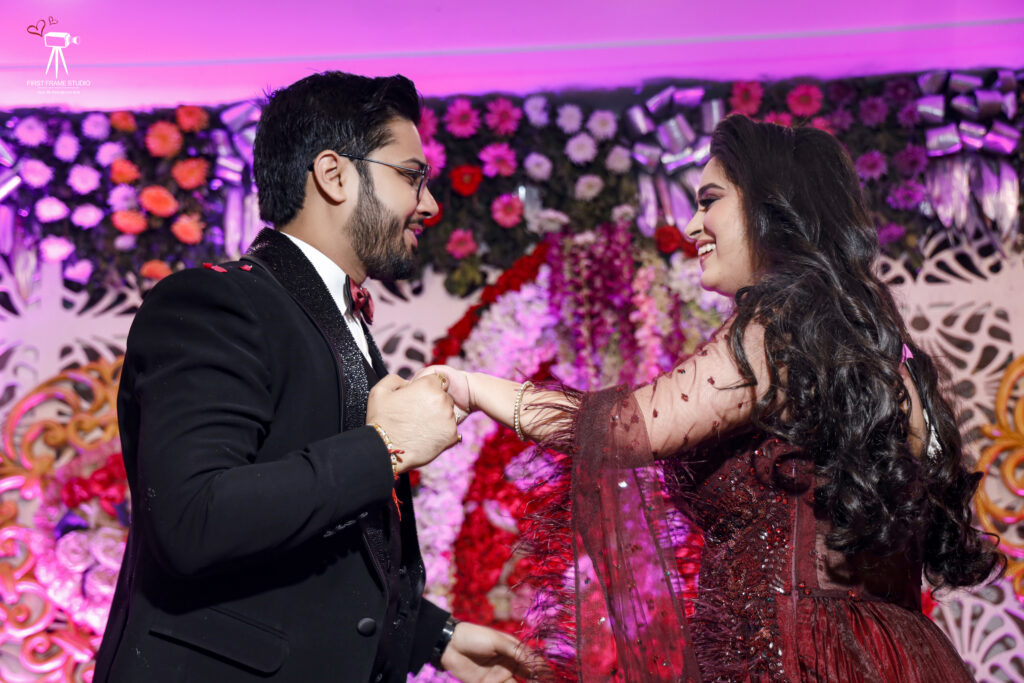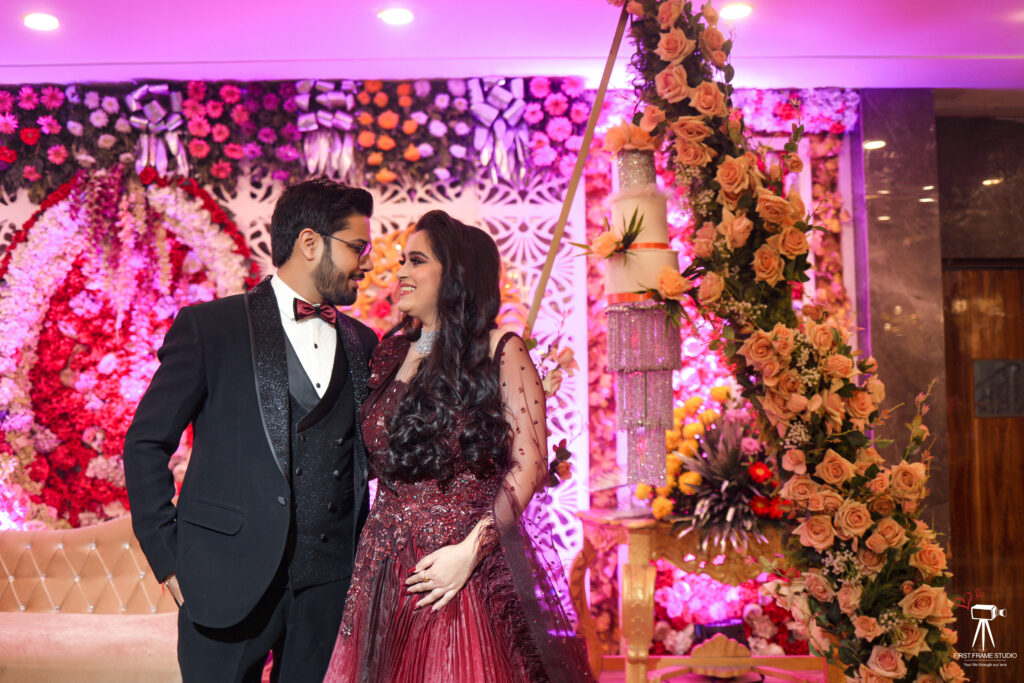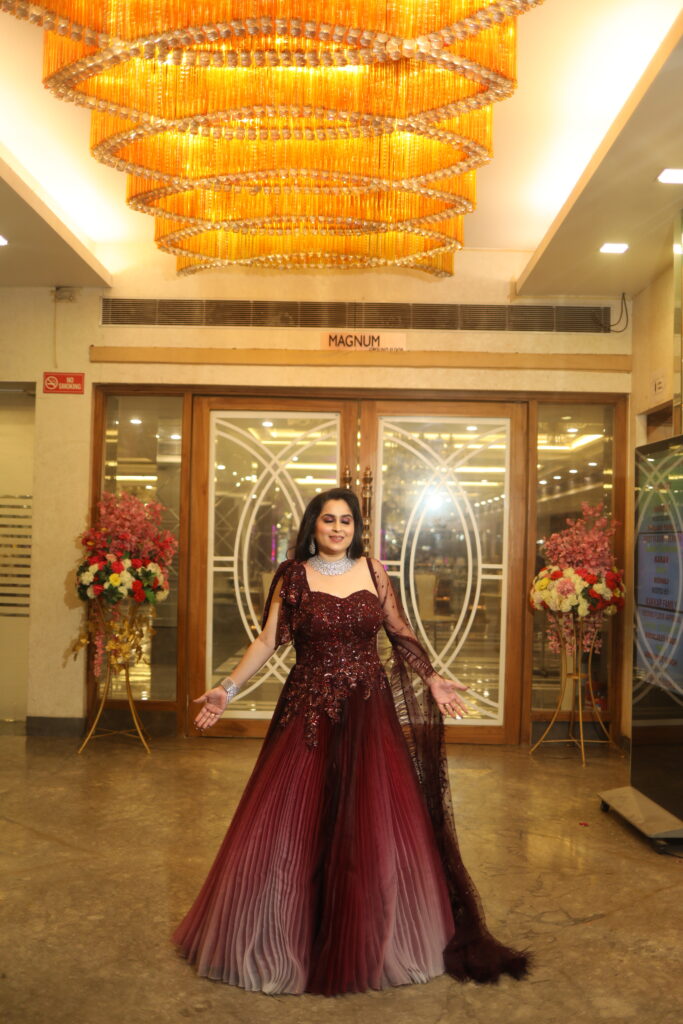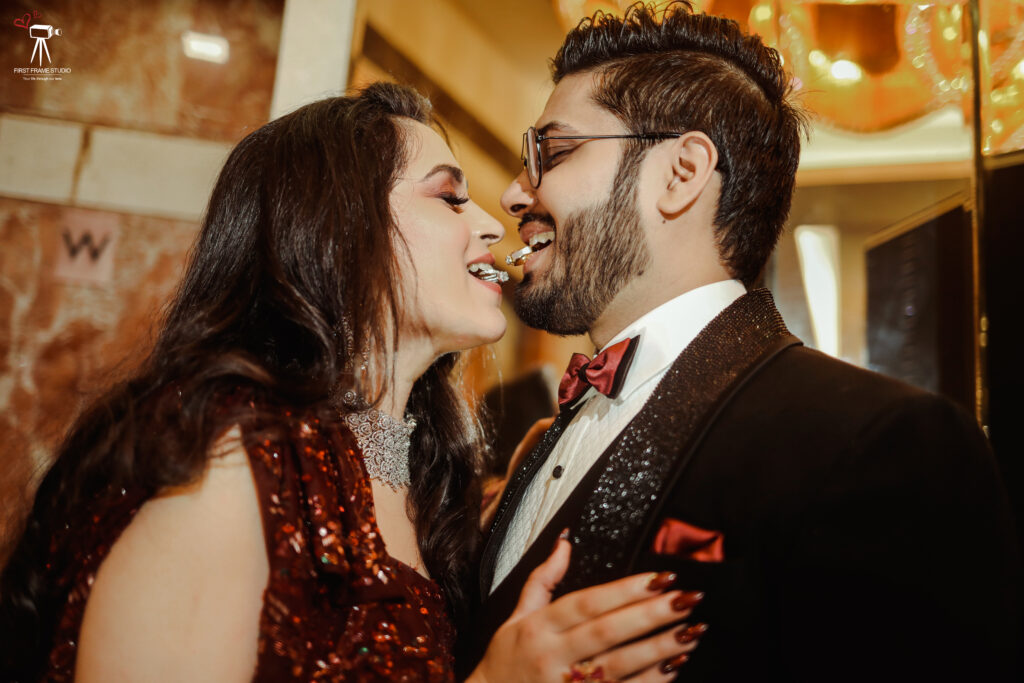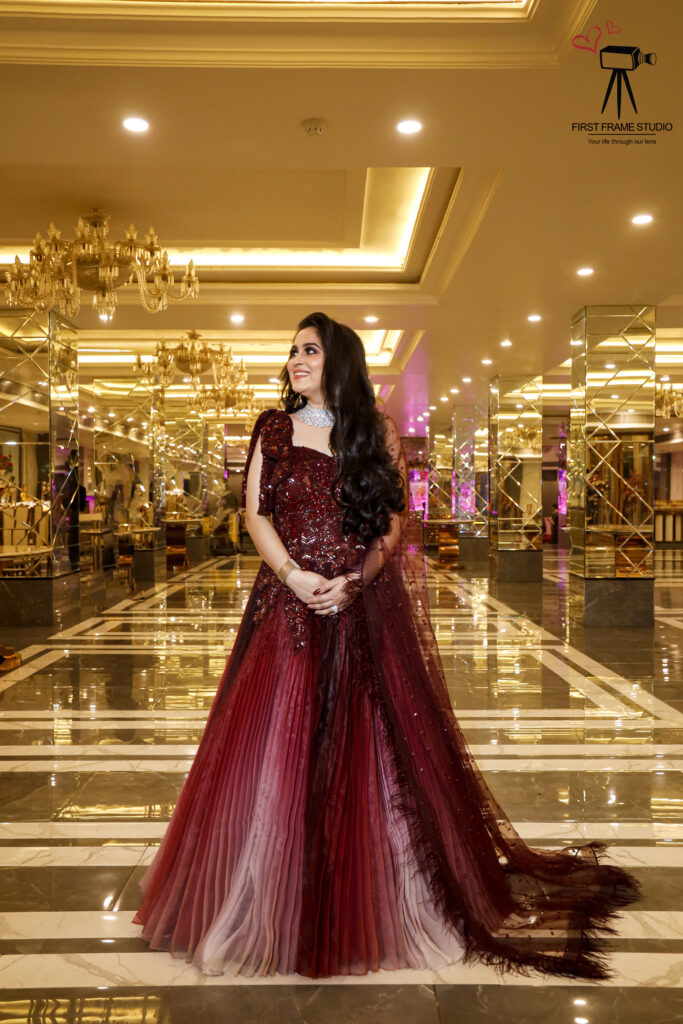 Sangeet & Mehendi Party:
"The mirror-work lehengas are all the rage these days, so I wanted to wear it for my mehendi," says Mehak. "But most designers were quite expensive but I finally found the one in my budget – Ayushi Bhasin. I purchased my yellow lehenga from there, and the green one from Drishti Malik. My floral jewellery for all events, including mehendi, is from Prune India," she adds. For her yellow-ensemble look, she booked Guneet Virdi as she loved her glam style of makeup, and wanted the same for her mehendi and sangeet events.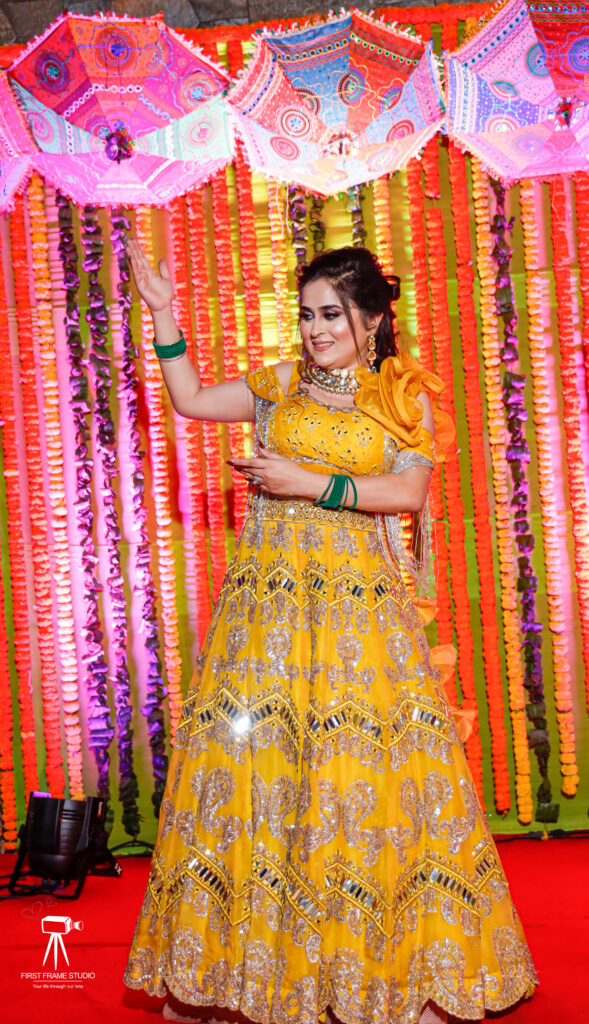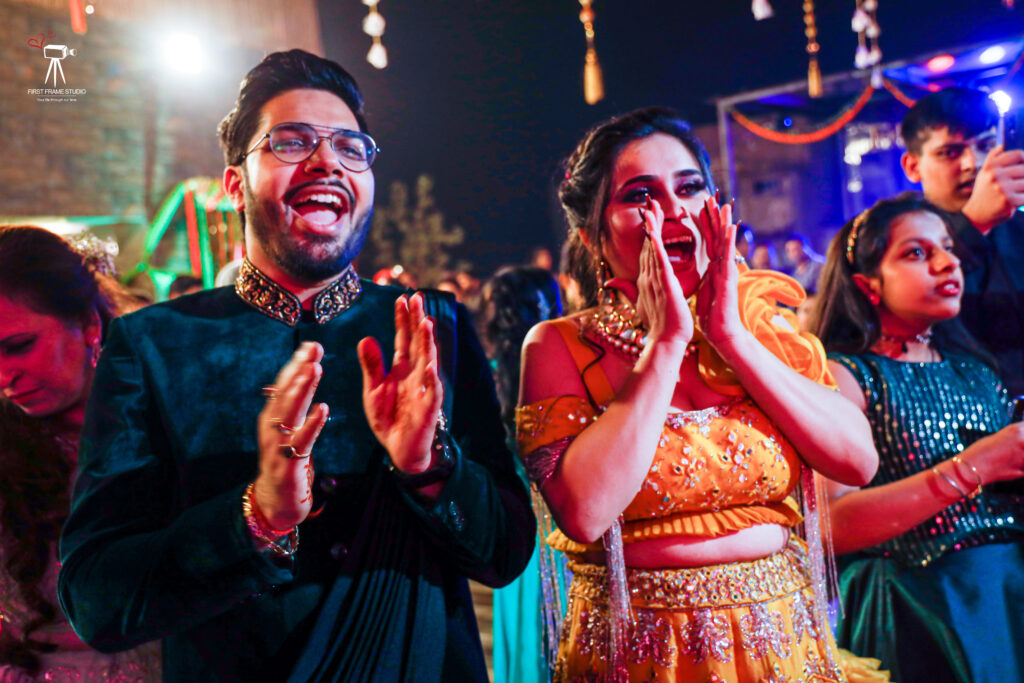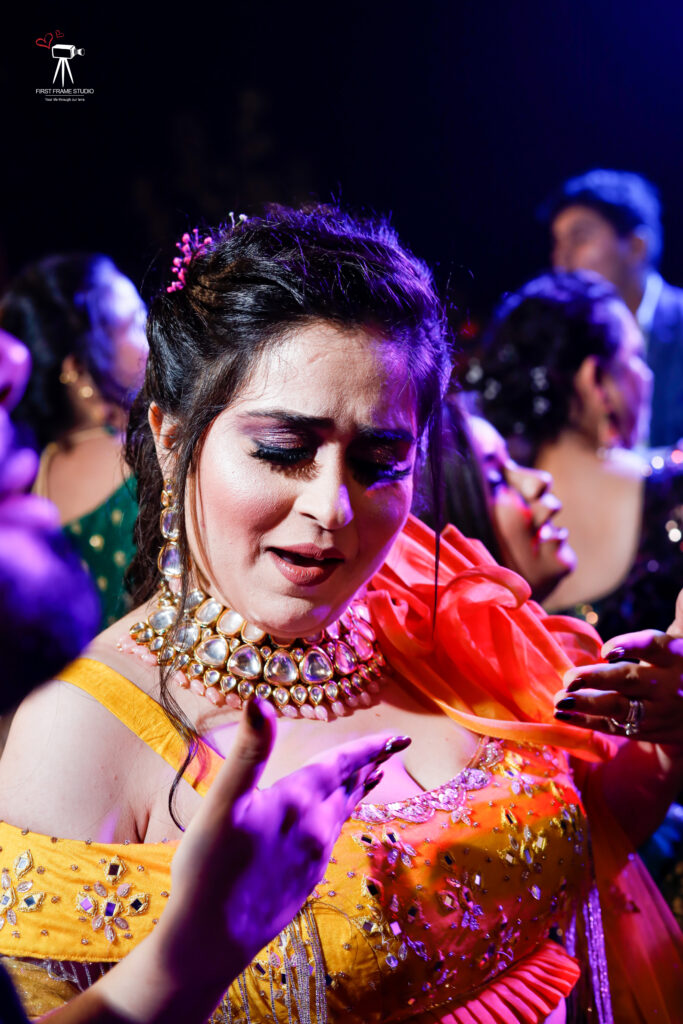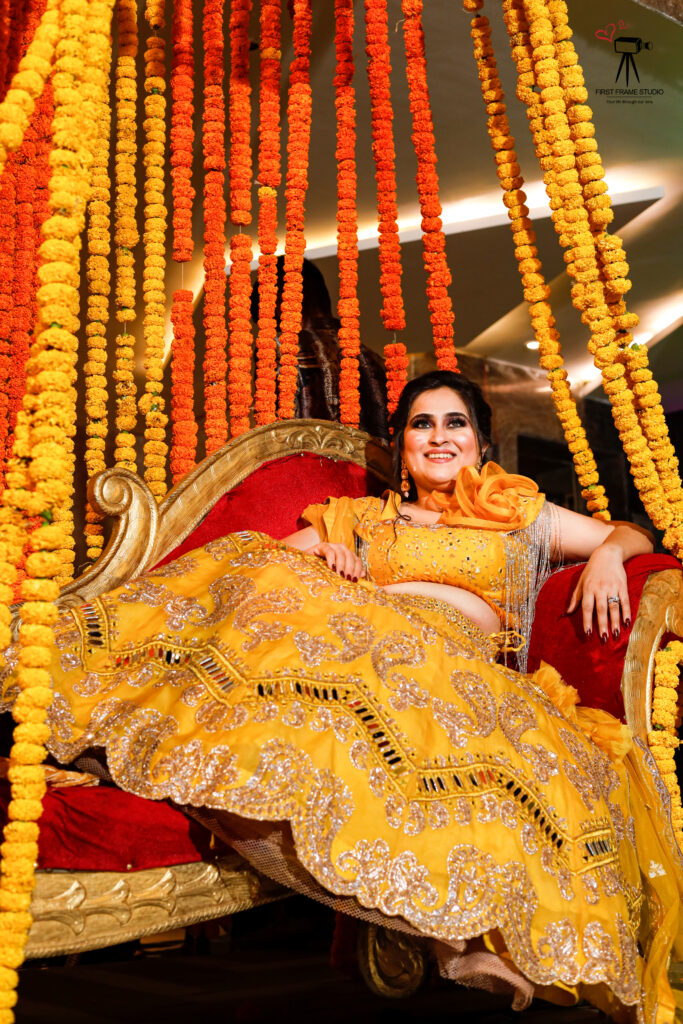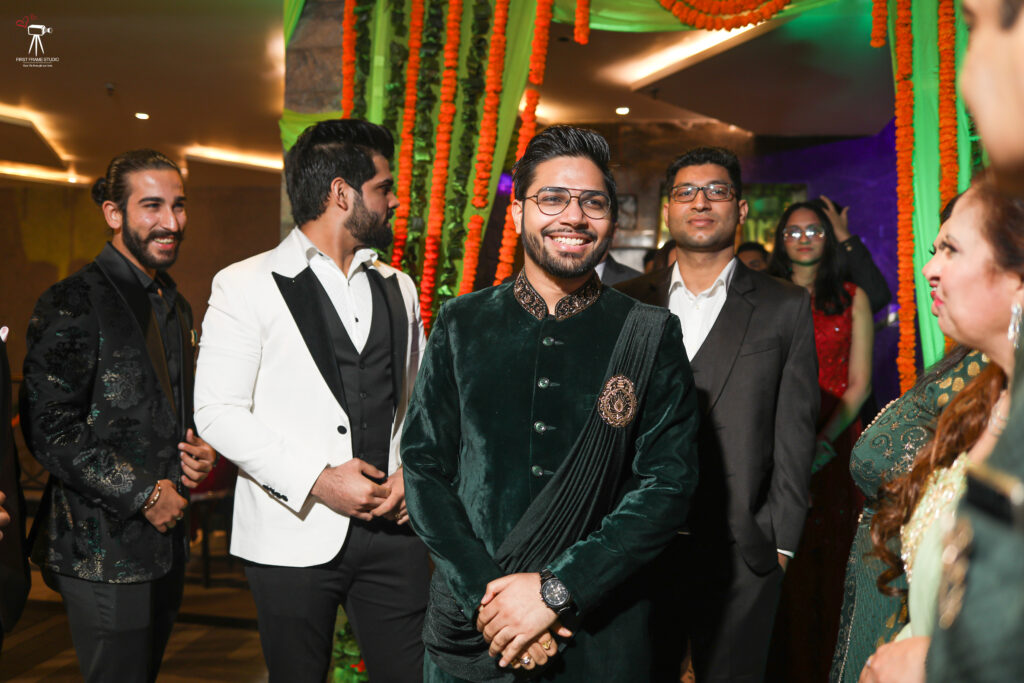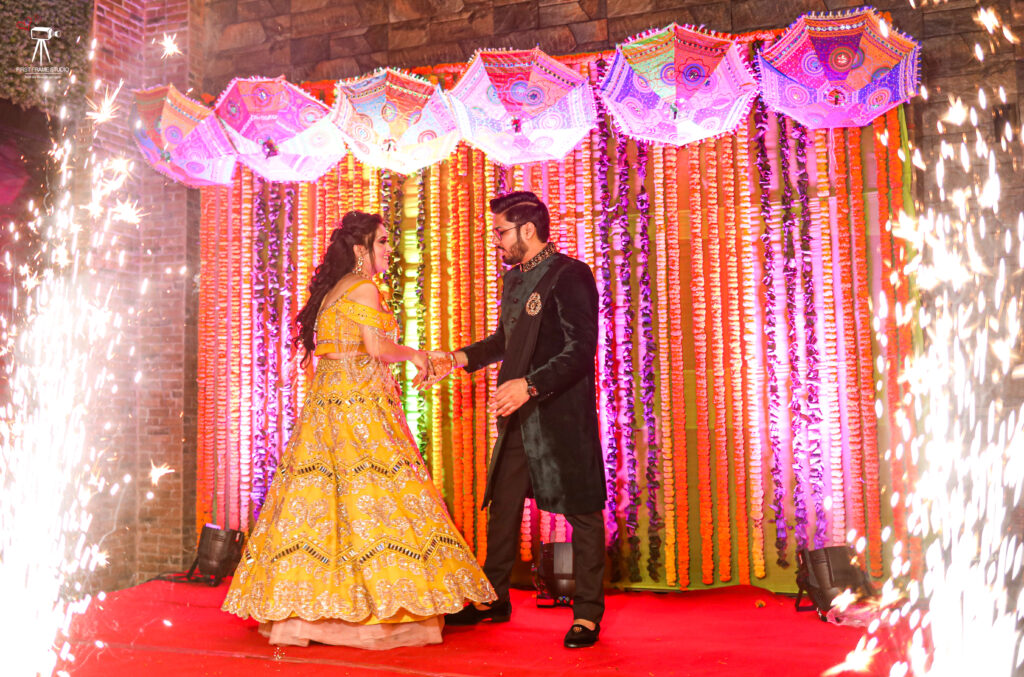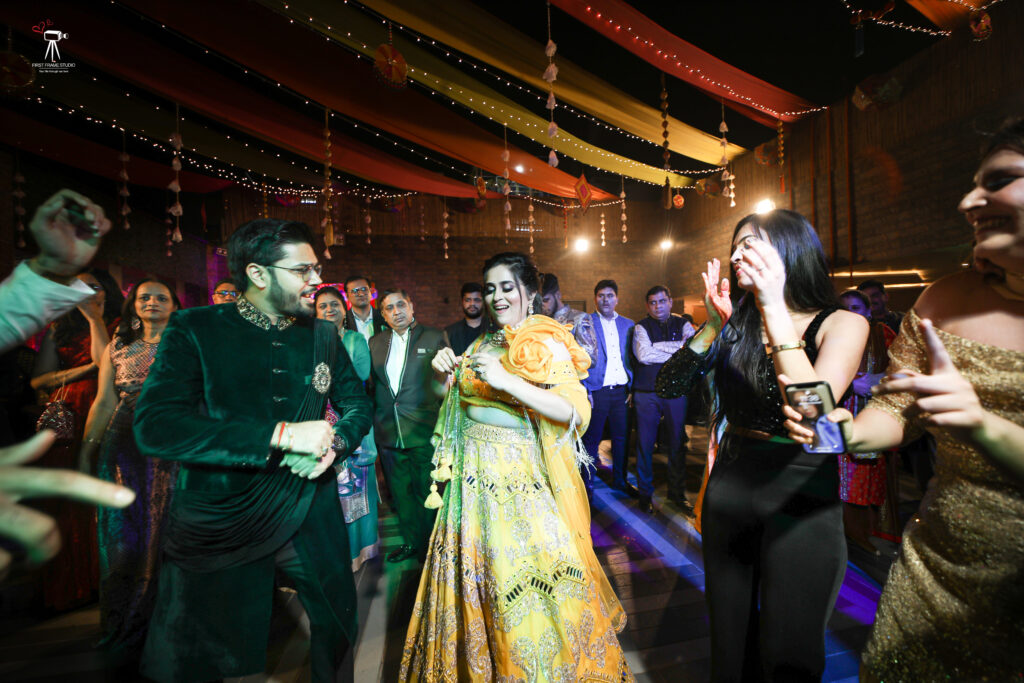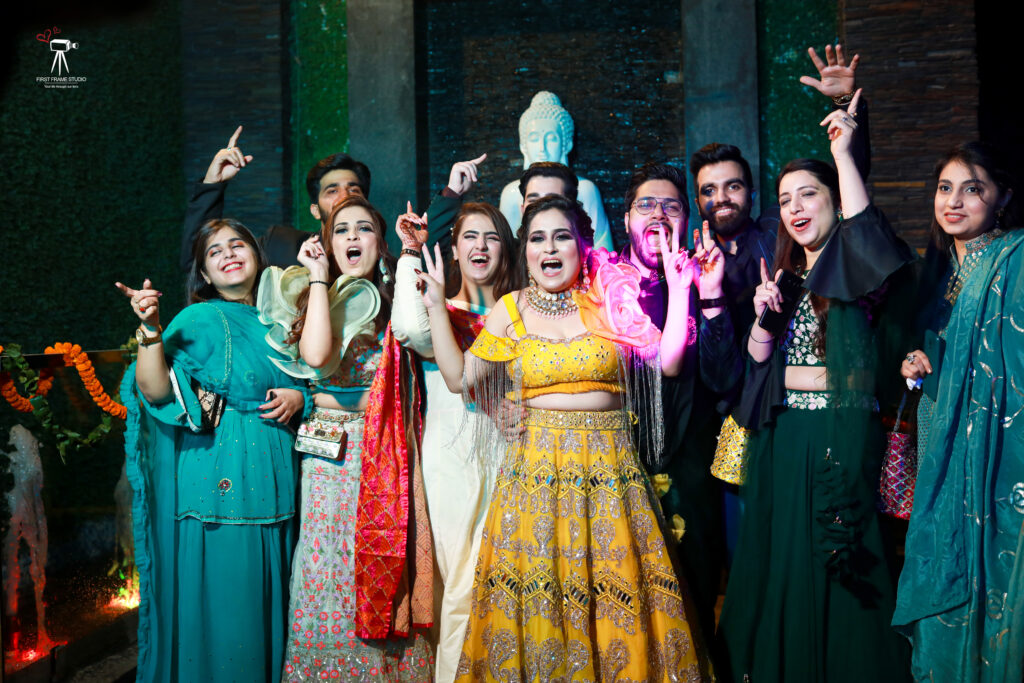 One last piece of advice from Mehak is "don't let anyone decide your course of the event, particularly venue and makeup artist. In the end, what matters are your particular moments, happiness, and wonderful memories you create. So savor in each moment of your wedding day."
Wedding Team:
Bride: Mehak Bhandari || Photographer: First Frame Studio || Makeup: Leena Bhushan (Wedding), Guneet Virdi (Mehendi), Gomit Chopra (Engagement) || Outfits: Payal Keyal (Wedding), Dolly J Studio (Engagement), Ayushi Bhasin (Sangeet), Drishti Malik (Mehendi)