For most of us, it isn't practical or affordable to hire our trusty makeup artist for each wedding event. For small wedding rituals, like Ganesh pooja or a home Haldi ceremony, DIY-ing your makeup might be a preferred option. And it goes without saying, the starting point of all great makeup looks begins with a glowing, dewy base.
There are many products out there that promise the same, but only a few can stand up to their claims. To help you pick the best out of the lot, we have got 5 expert MUA's onboard whose brides all have one thing in common – a radiant sheen on their big day. We asked them for tips for a glowing base and their preferred foundation for Indian brides and all the answers are unveiled in this blog.
Shradha Luthra's name has become synonymous with a bride radiating natural, youthful makeup magic on her wedding day. Her makeup mantra is simple, upping the bride's confidence by making her look like the best version of herself. And she follows the same in more than 800+ makeup looks showcased on her Instagram feed, from dramatic to demure.
As for how she starts creating a perfect canvas for her flawless makeup, she says, "The key is skin prep. I always say skin prep is more important than the makeup itself." A piece of advice most skillful makeup artists will have is this, your makeup is only as good as the skin itself. So focus on the skin prep. "Start with prepping your skin with the right sort of products. Creamy moisturizers and primers for dry skin and gel-based or spray products for oily skin are a good start. My favorite primers are The Guerlain Gold Radiance Primer and The YSL Touche Eclat Blur Primer."
Also, Luthra advises her brides to build hydration from within, "have 3 liters of water every day and build internal hydration with water-rich fruits and vegetables," she adds. Once the skin is all ready, she dabs her favorite foundations on the bride's facial skin. "My absolute favorite is Giorgio Armani Luminous Skin Foundation. It mimics the skin and has a natural, luminous effect to it, which is exactly what I want for my brides. Another favorite is the NARS Soft Matte Foundation for girls with oily skin." Luthra shares.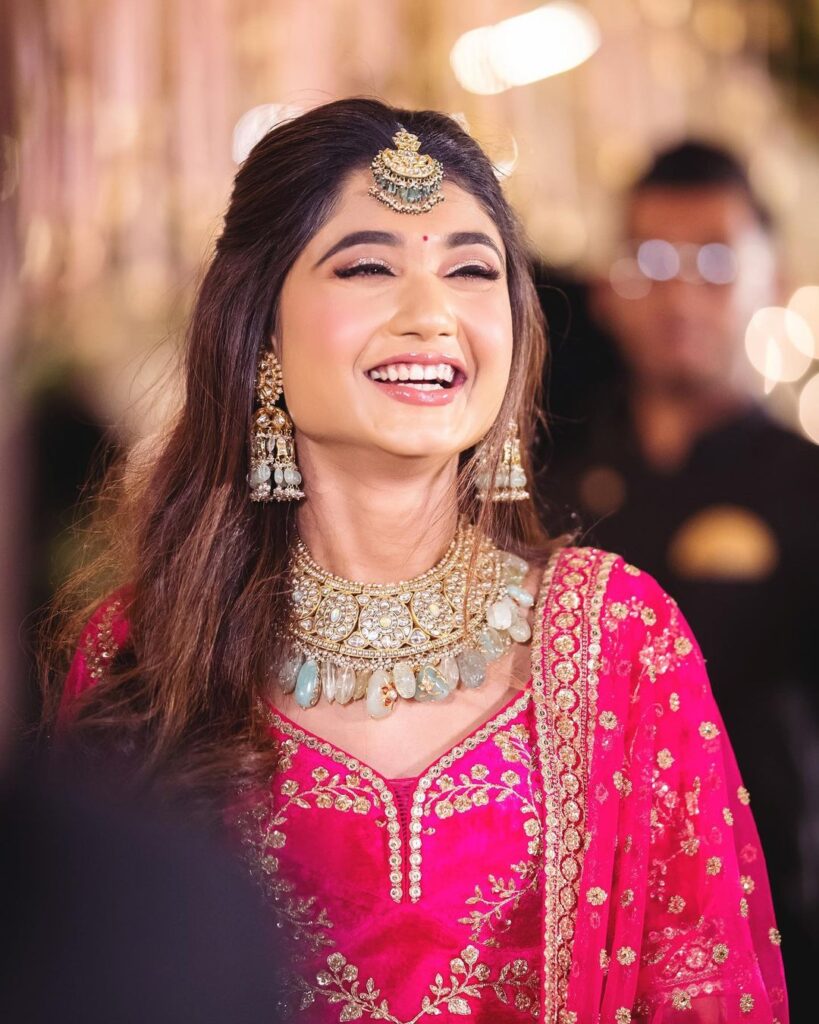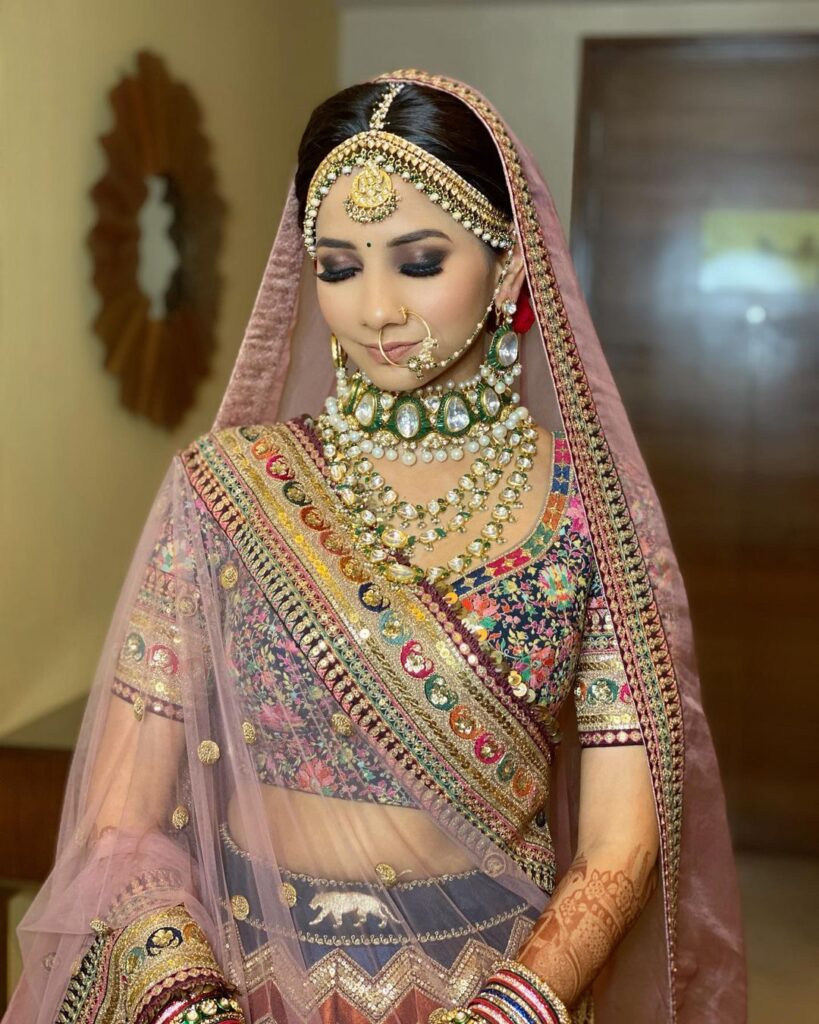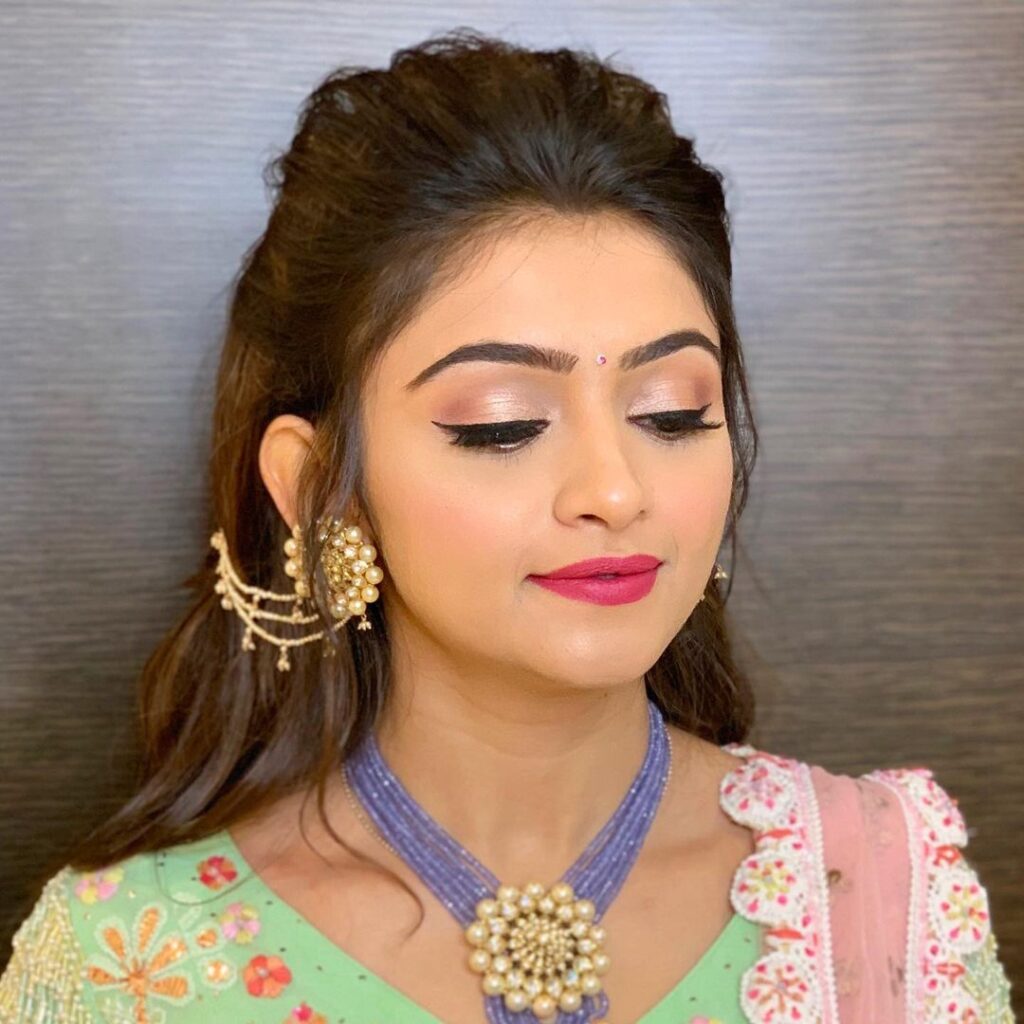 Over 5 years in the industry and close to 1500 gorgeous Instagram posts later, Gurgaon-based MUA Rashi Sehgal makes sure she adds one element to each of her bridal looks – Elegance. Think accentuated eyes, fresh base, classic nude lips, and a basic hairstyle. Sehgal has her own studio in Delhi but also travels to venues to cater to her brides.
When asked what her favorite foundation is for brides, she had one clear answer. "I love the Lancome foundation because of the velvety texture. Since most brides have dry skin, it helps impart a nice, glowy, dewy base. It doesn't matter if you prefer using foundation after concealer or before, it's very easily blendable," Rashi tells us. As for her second favorite, she quoted a popular high-end one – Estee Lauder Double Wear Foundation. "I favor it because it's easily buildable and can be easily layered," she says.
For a glowing base, she underlined by Luthra's suggestion of proper hydration. "A lot of people are missing out on proper hydration. After cleansing my bride's face, I hydrate her skin using the Estee Lauder Advanced Night Repair Cream and seal it with a moisturizer based on her skin type," Sehgal says. We all knew hydration was important for our skin, who knew it was as important for flawless makeup? I didn't. "If the hydration is done well, there's no way you won't get a dewy makeup," Rashi adds.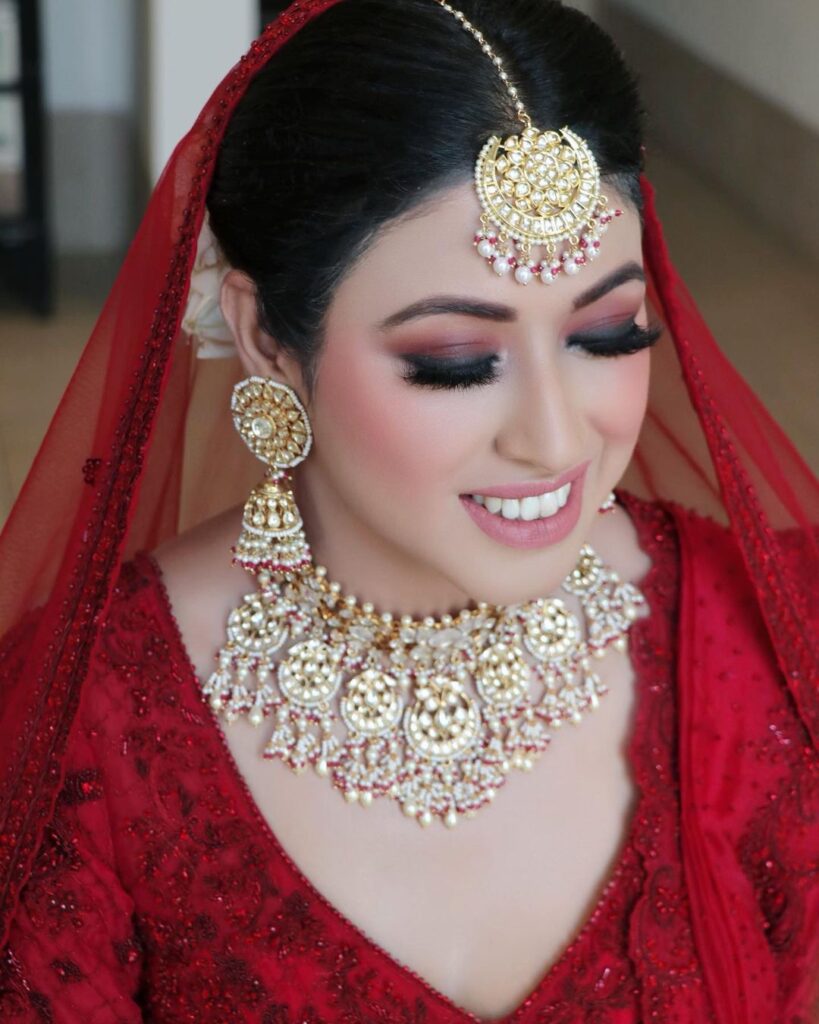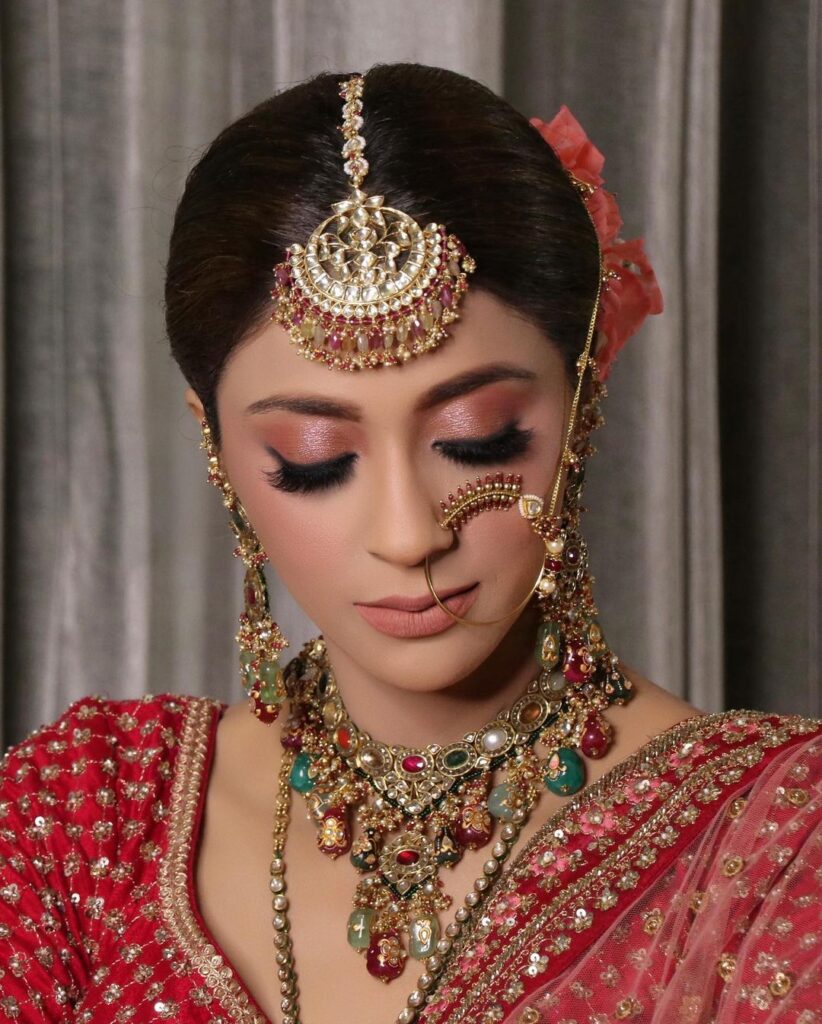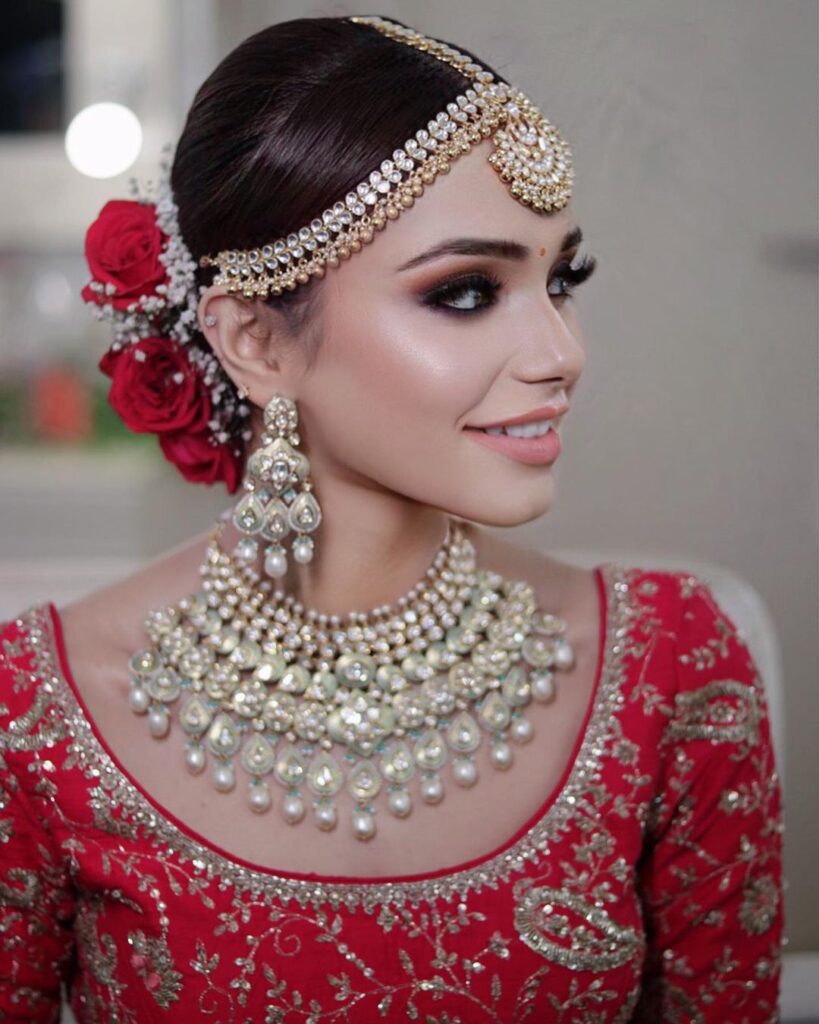 In the world full of makeup artists who'd want to conceal your skin tone and create a fair complexion illusion, Niharika is someone who'd work with it and make it better. On her Instagram page, you won't find any bride with extra fair skin (except the ones who possess it naturally), just dewy, fresh faces with statement eyes and lips. And that's what we adore about her. With many beautiful brides gracing her feed, it's a treat to scroll through her gram.
To create a flawless base, the foundation she recommends is the NARS Sheer Glow foundation for brides with relatively good skin. "This is my go-to foundation. But for brides whose skin demands a fuller coverage, HUDA Beauty Faux Filter works very well," says Niharika. Both of these foundations are rated high among women for their skin-like appearance and easy blend-ability. And for brides looking to add a foundation to their trousseau, take Niharika's advice and pick one of them depending on her suggestions for your celebrations.
Another impressive aspect of Niharika's makeup is the radiant sheen on her bride's skin. Of course, the highlighter helps, but she also recommends working from the base to create that healthy glow. "For a glowing look, I like to go for a luminous primer like a Becca backlight priming filter or a Charlotte Tilbury Flawless Filter. Apply them on your face, dab and wait for a few minutes before you apply the foundations," says Niharika.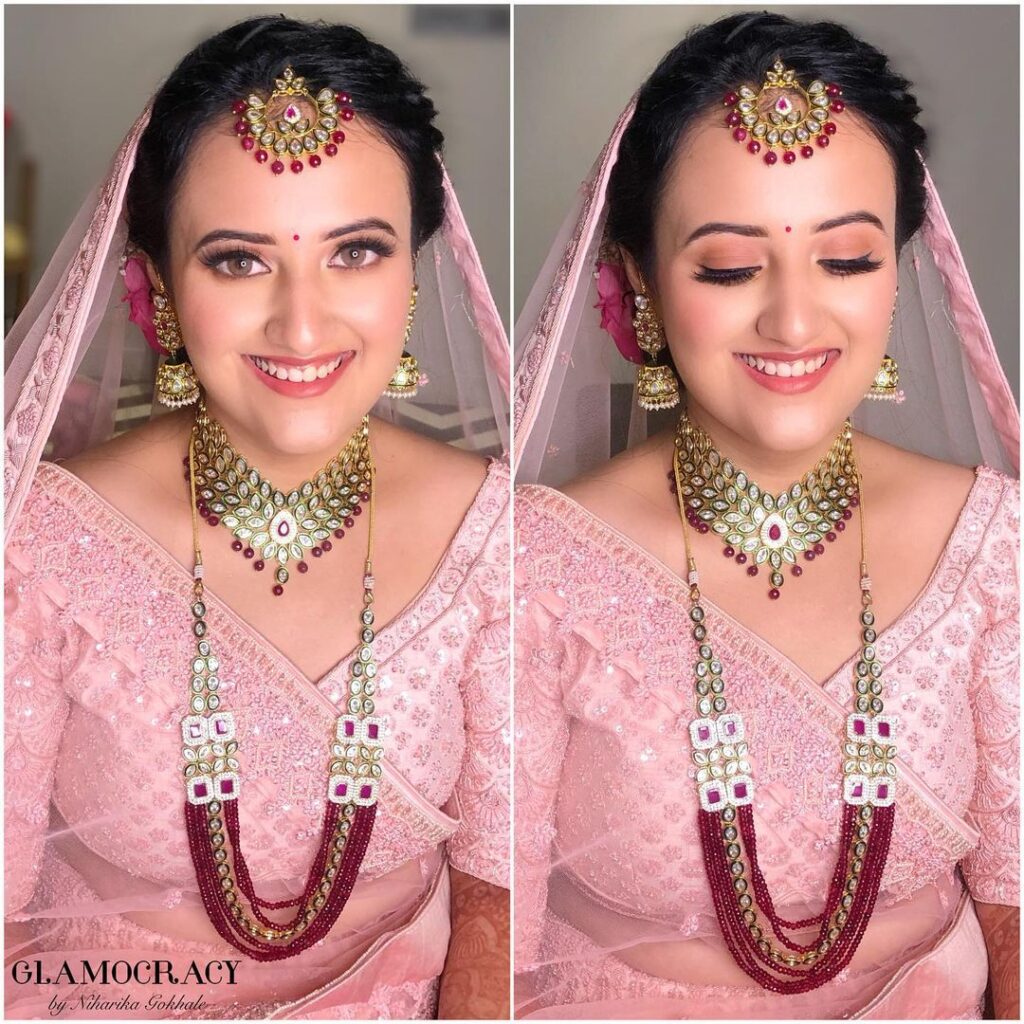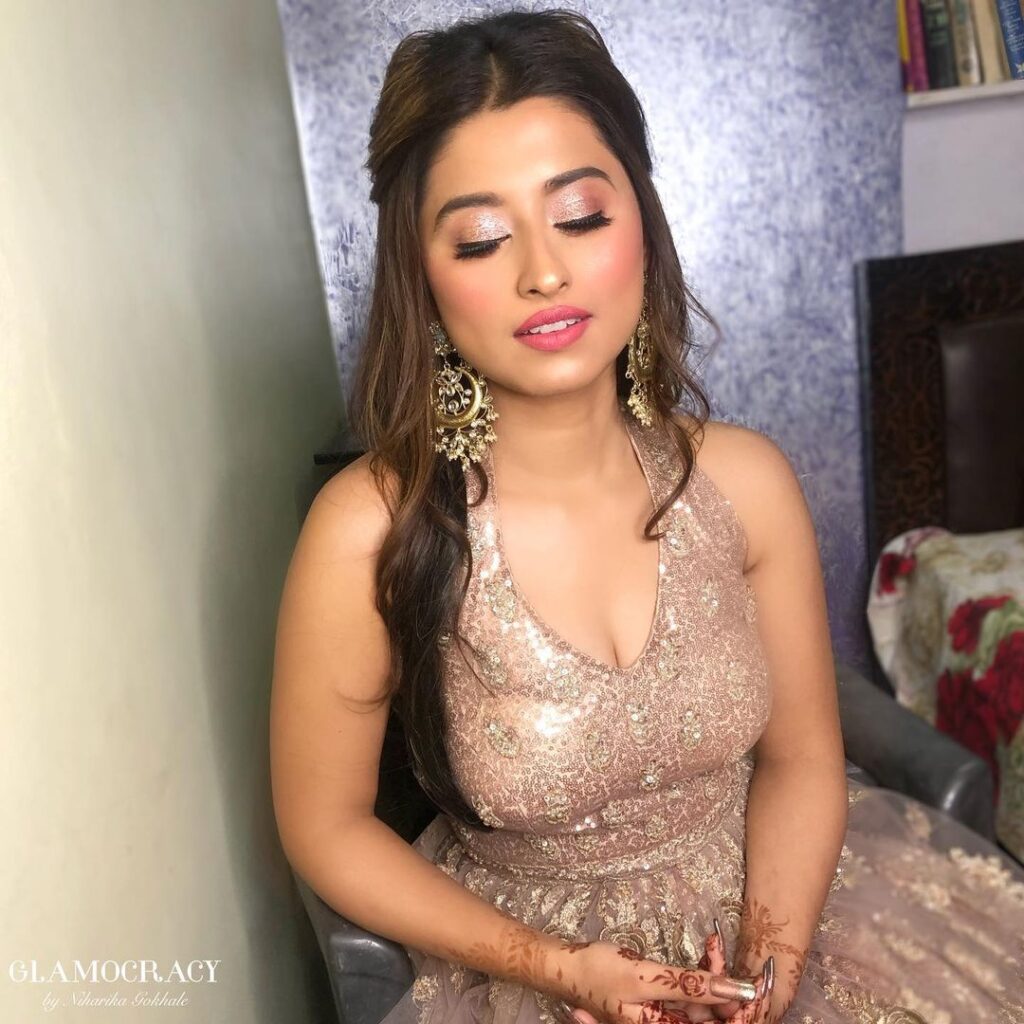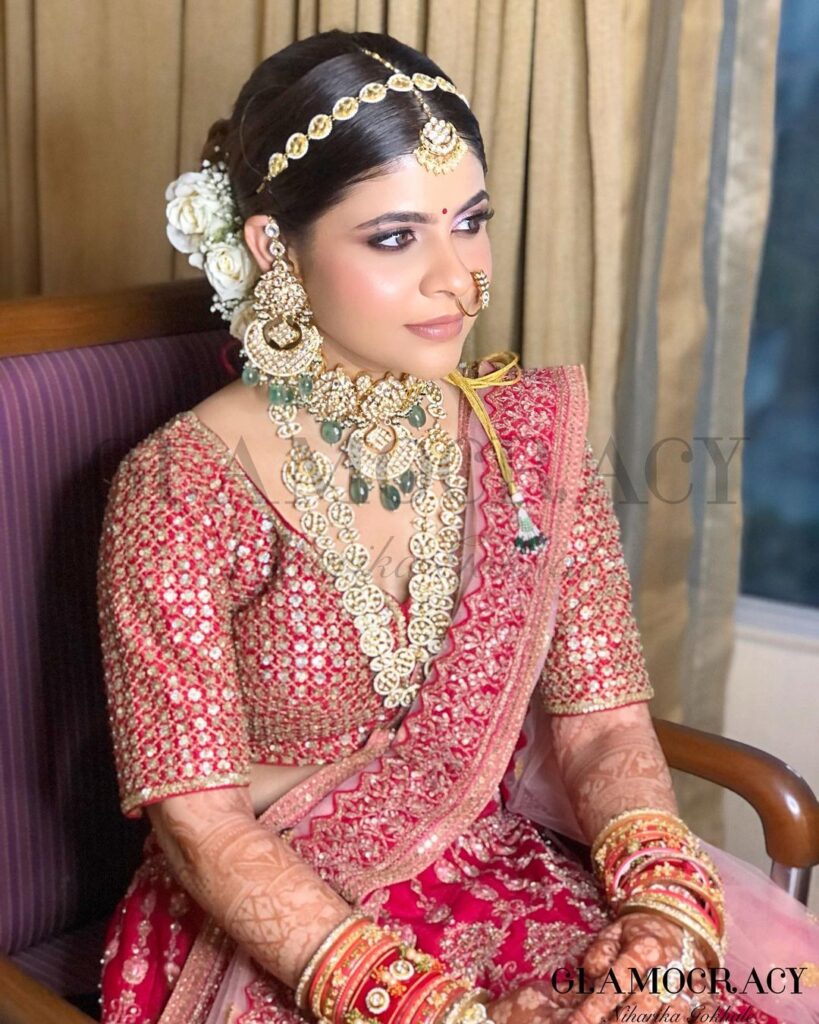 You know how brides want to be a little extra on their big day. But with this desire comes the panic of whether it would take away from your natural beauty. Indu is one of the very few artists we have come across who'd give you a glamorous look by making you look like yourself. A standalone trait she possesses apart from her on-point eye makeup, radiant base, and a fuller set of lips. We went to her with our query of her favorite foundation and what she does to get an immaculate base makeup always.
"Start taking care of your skin and prep the skin very very well," – that's her mantra for a glowing base. She also stays in touch with her brides till the wedding day to guide them well on healthy skin habits. "I recommend the usual, but insist on them so they don't forget the same. Drink lots of water, more coconut water, use good eye cream and moisturizers and apply a sheet mask, especially the night before your wedding day. For prepping the skin, my favorites are MAC cream and spray, Smashbox primer water, and a soothing moisturizer based on skin type," says Singh. She also recommends exfoliating just before makeup so the products go on smoothly on your face.
As for her favorite foundation to use, "I love a luminous lightweight foundation for my brides, and the best ones are Dior Backstage and Estee Lauder Long Wear. I use them after skin correction and follow them up with a cream contour and blush."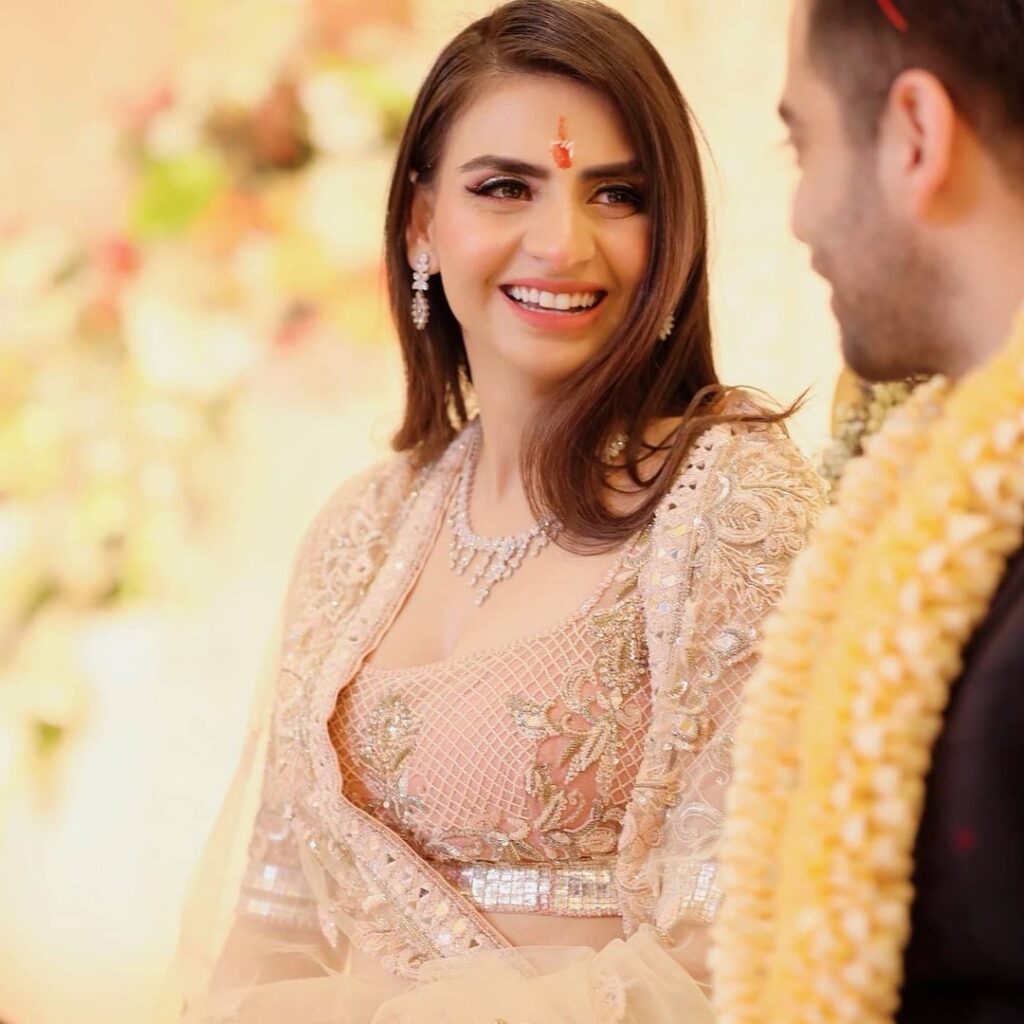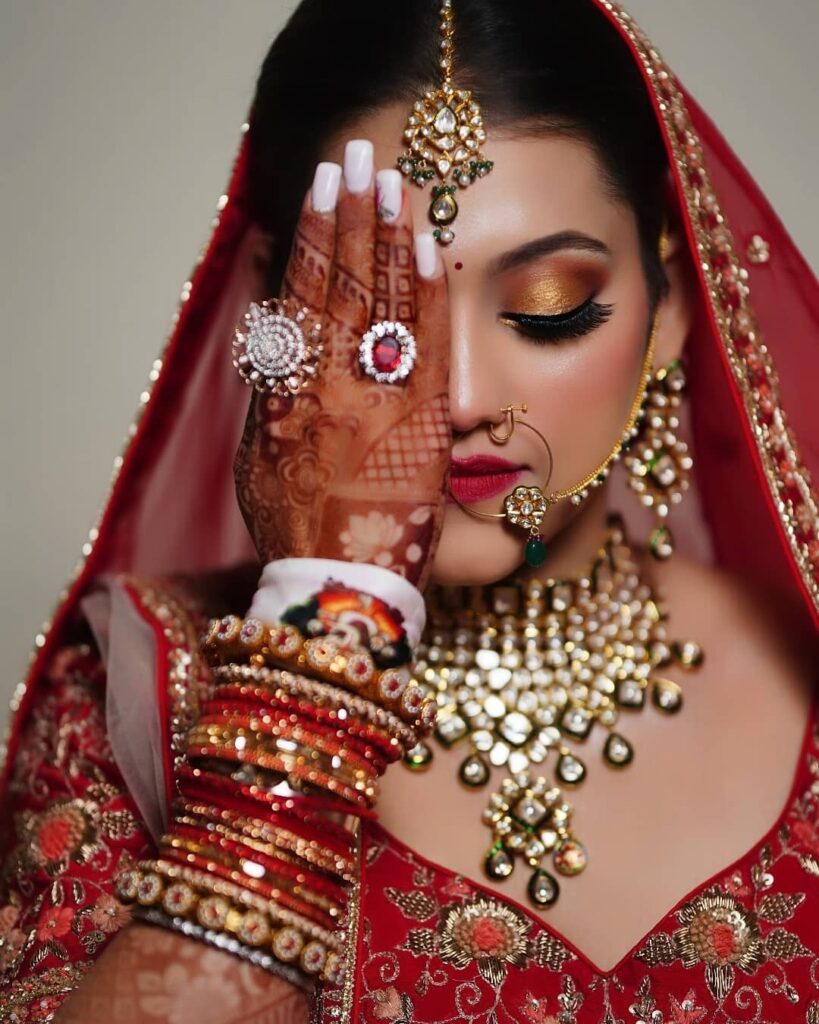 Wielding magic with her makeup brushes, Simran Mahajan from Delhi lends a dreamy appearance to each and every client of hers. Her 400+ posts on Instagram exemplify the glow-from-within base teamed well with impeccable eye looks, highlighters, and a perfectly defined lip. Scroll through her feed and you'll find close-up, no-filter shots of her brides to give you a clear peek into how her makeup looks in reality. To achieve the same, Simran Mahajan starts the makeup application with her trusty foundations.
"The ones I swear by are Dior Backstage and Makeup Forever. But for brides who want to include a budget-friendly option in their bridal trousseau, my suggestion for them is L'oreal Paris True Match," says Mahajan.
She also shared a few practical tips for a glowing, dewy base. "For a radiant base, squeeze the creamy foundation onto your beauty blender along with the moisturizer. Don't dab a lot of foundation on the first go. Take your time with blending and layering. Put a good Vitamin C serum underneath your base before the primer for an instant sheen. And follow your foundation base with creamy blush and highlighters to get flawless-looking makeup," Simran says. She also suggests using good hydrated products on your skin during the courtship period and a good SPF to prevent any pigmentation and tanning.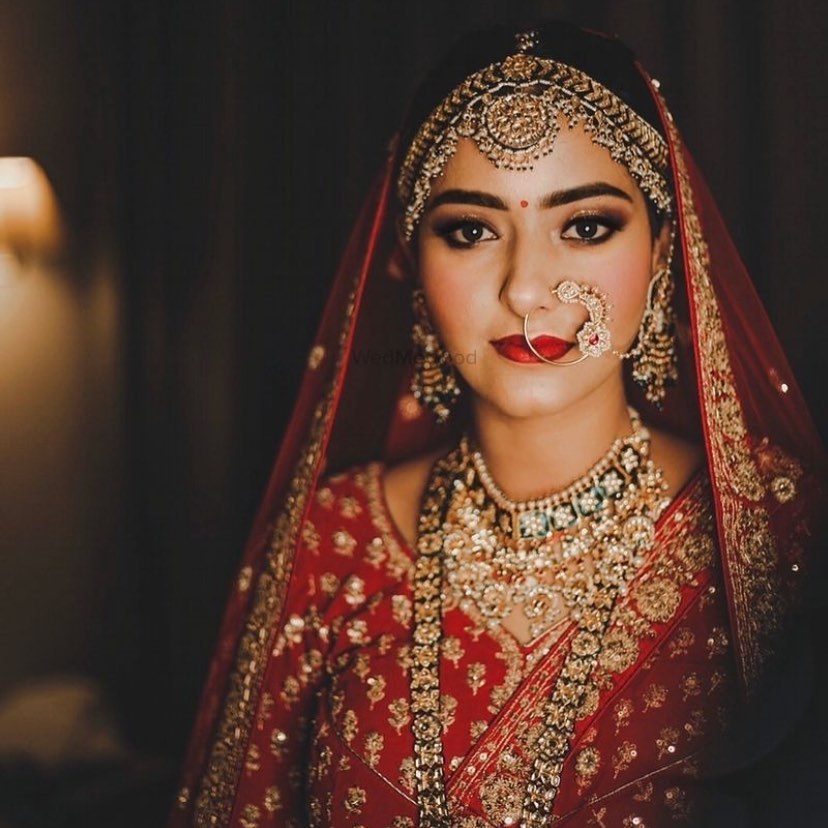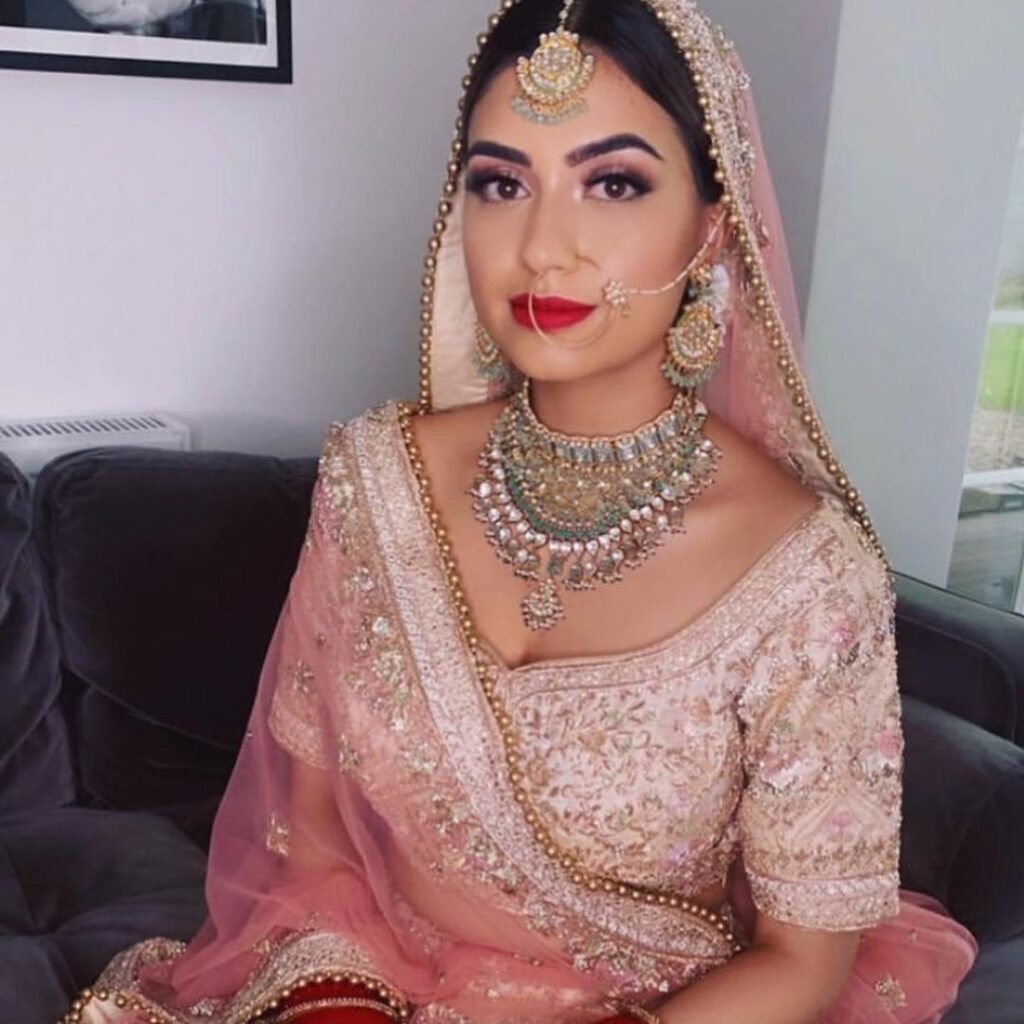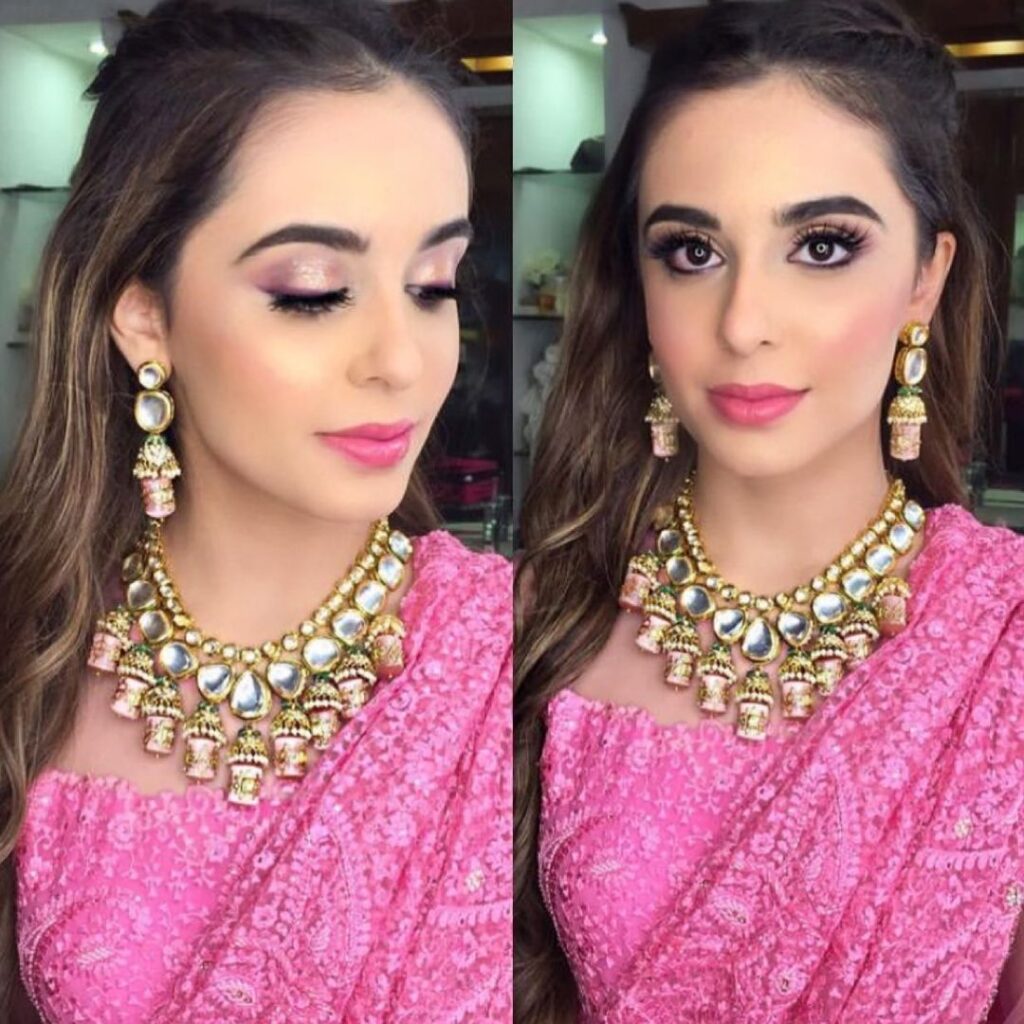 If not anything, a great plus of investing in makeup products and skills is that a glow-from-within makeup look always comes in handy, during your wedding celebrations and beyond. Plus, your wedding brings a perfect opportunity to splurge on a few high-end products. We hope this article gave you much-needed clarity and tips on how to achieve an impeccable base on your special day, and we know you'll nail it to perfection.