Life for someone 'curvy and gorgeous' isn't an ideal one. While the notion of inclusivity has gained momentum; the thoughts and actions on them often differ. There's a beauty standard that the convention dictates, and we're used to following. For instance, a bride should look slim and trim, with the belly in and defining curves. Wait, that's not all. There's also a pressure to have flawless, spotless skin, long mane alongside adhering to certain behavioral aspects as well. However, the convention often fails to realize that the beauty of humans is not how similar they are, but how uniquely they stand together as 'one'.
We have served the wedding industry for quite a long time, and feel incredibly happy whenever we spot someone who defies this convention. Some brides decide to don short hair on their big day, others go for a minimal makeup look flaunting their natural skin tone and then there are others who defy the ideal body goals. We never fail to bring those brides to you, and encourage you to just be happy in your own skin and enjoy your wedding day to the fullest. That's what our Sabyasachi bride, Bhagyashri Taktawala did.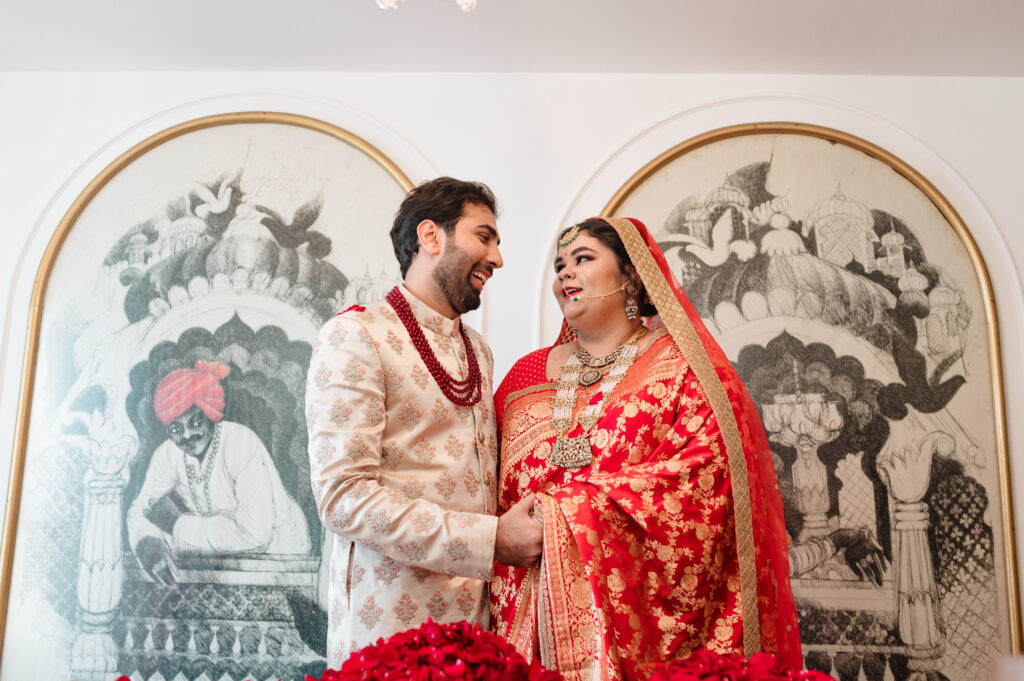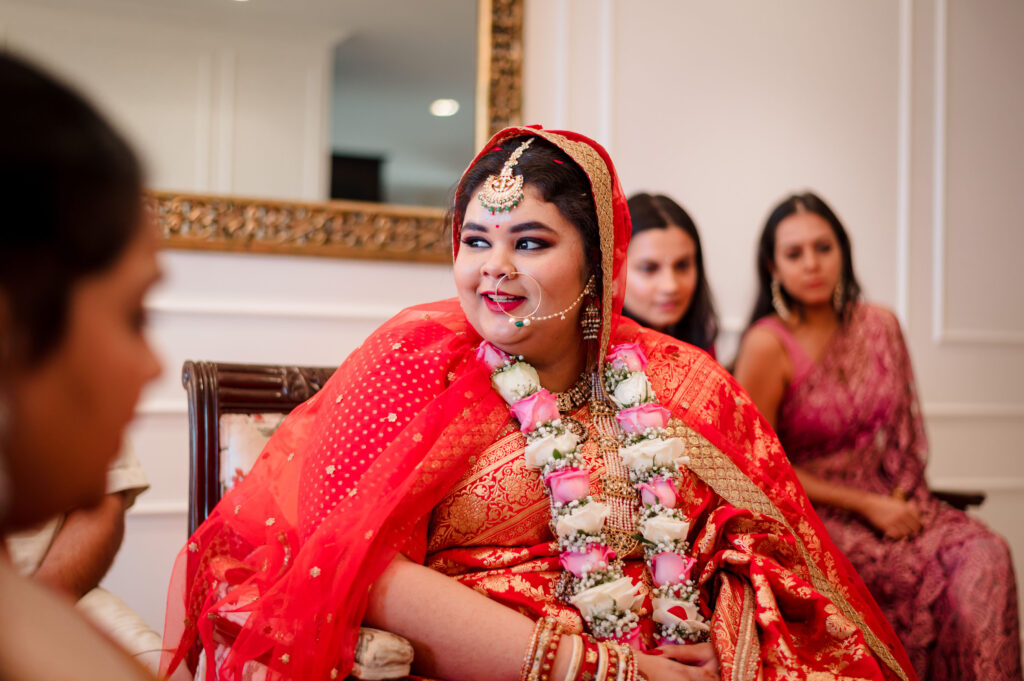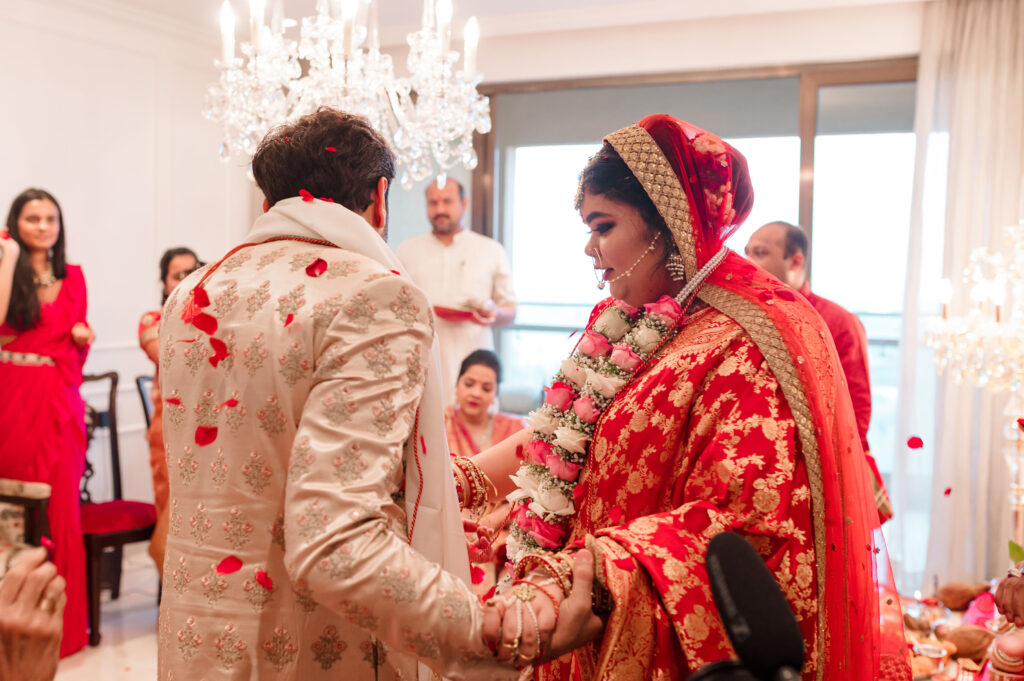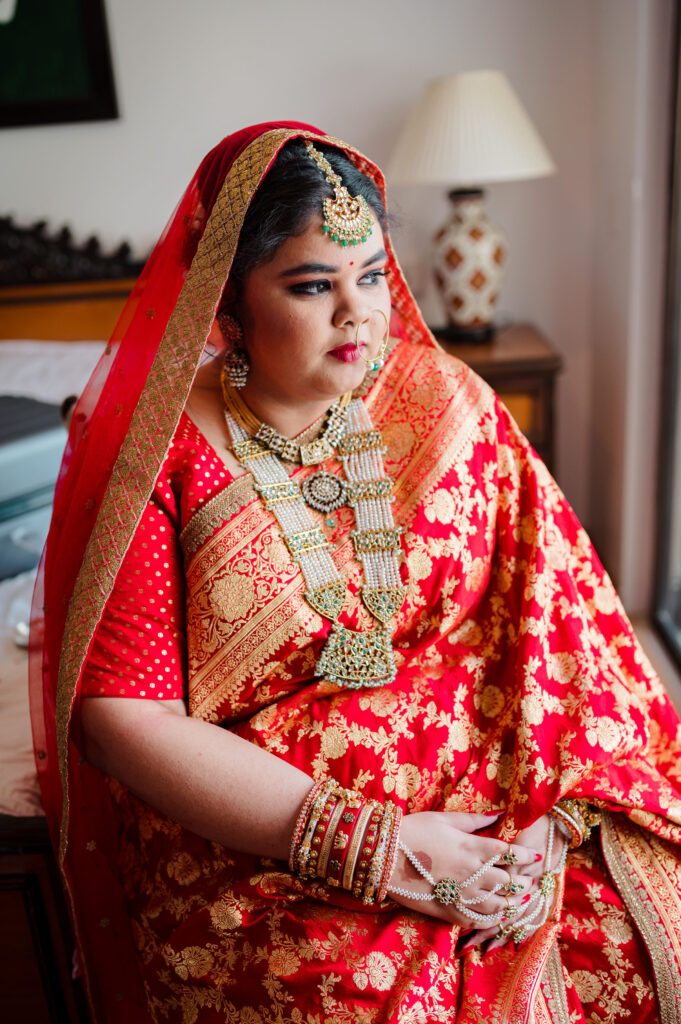 Bhagyashri wore an alluring red Benarasi saree by Sabyasachi, the one that Deepika wore for her first anniversary celebrations, on her wedding day and looked like an absolute star. Scroll to read her incredible story on confidence, body positivity, and breaking societal standards.
Let's start with her sweet, heart-melting love story. Bhagyashri is one of the lucky few who married her high-school sweetheart. "We were part of the same friend circle in the tenth grade, and then ended up in the same college together. The first time we met, we had an instant connection! And from there, in just a matter of a few months we became best friends and have been inseparable ever since," says Bhagyashri in an interview with Wedbook. Conversations with her now-husband Shainal were always comfortable and familiar, so the friendship was refreshingly easy. "It was almost like we had known each for our whole lives," she adds.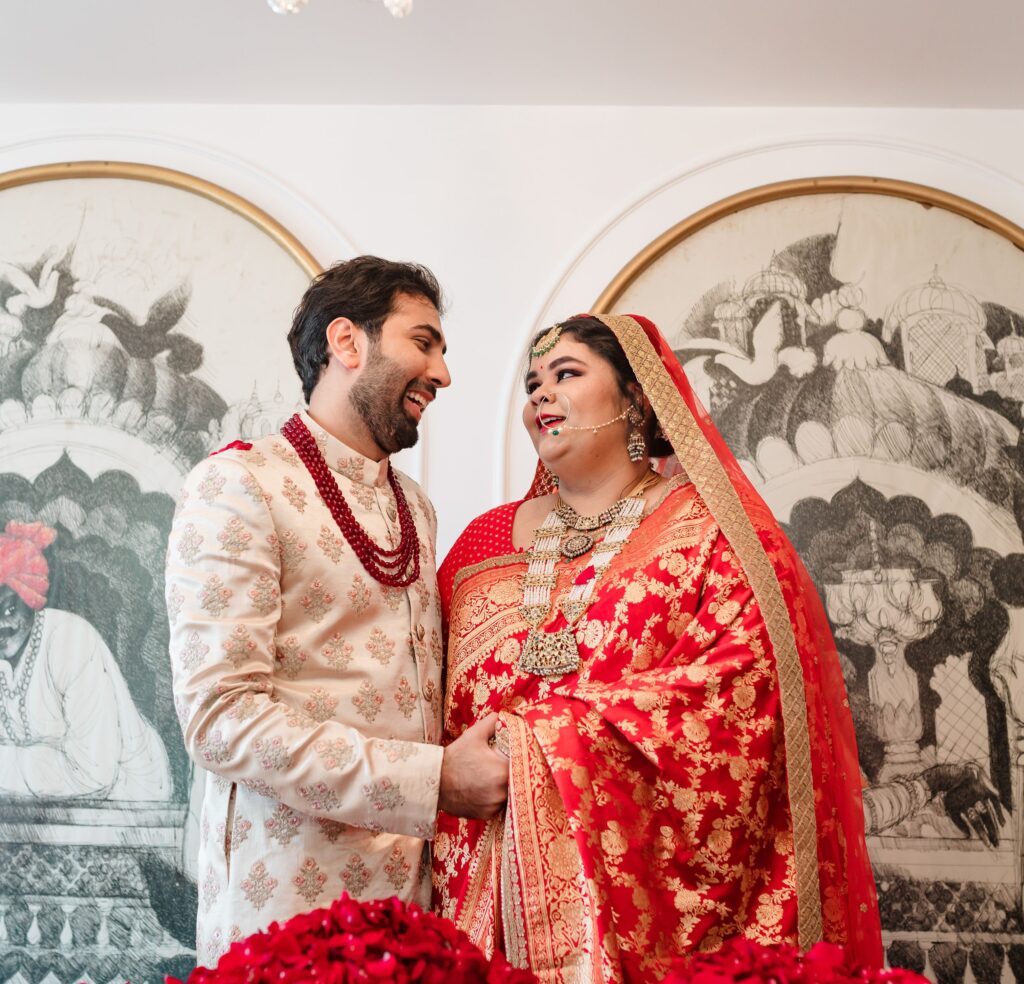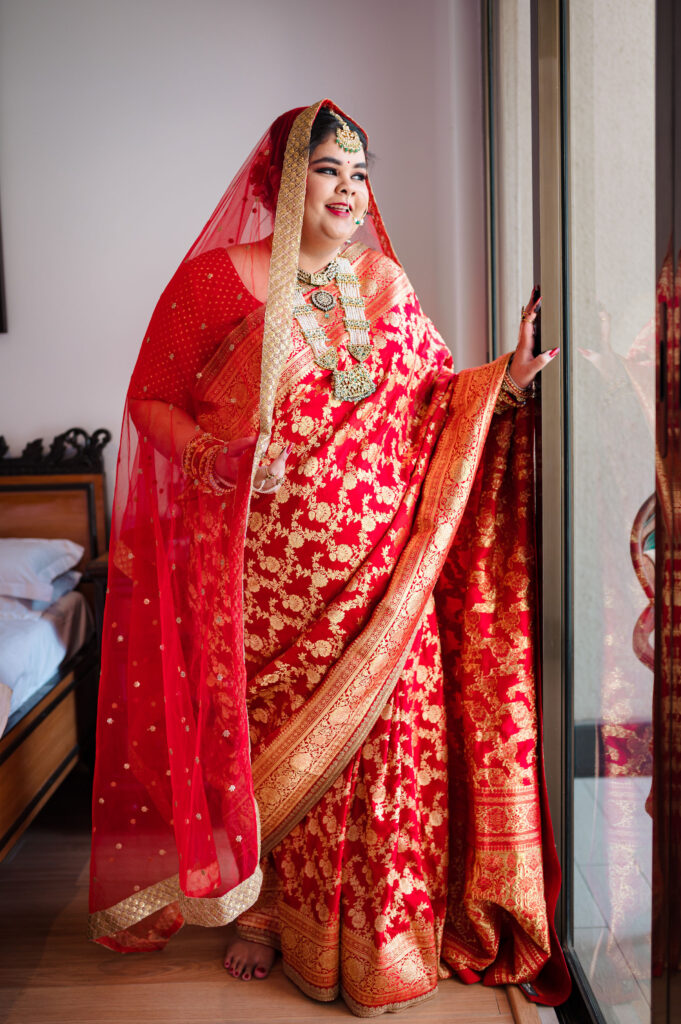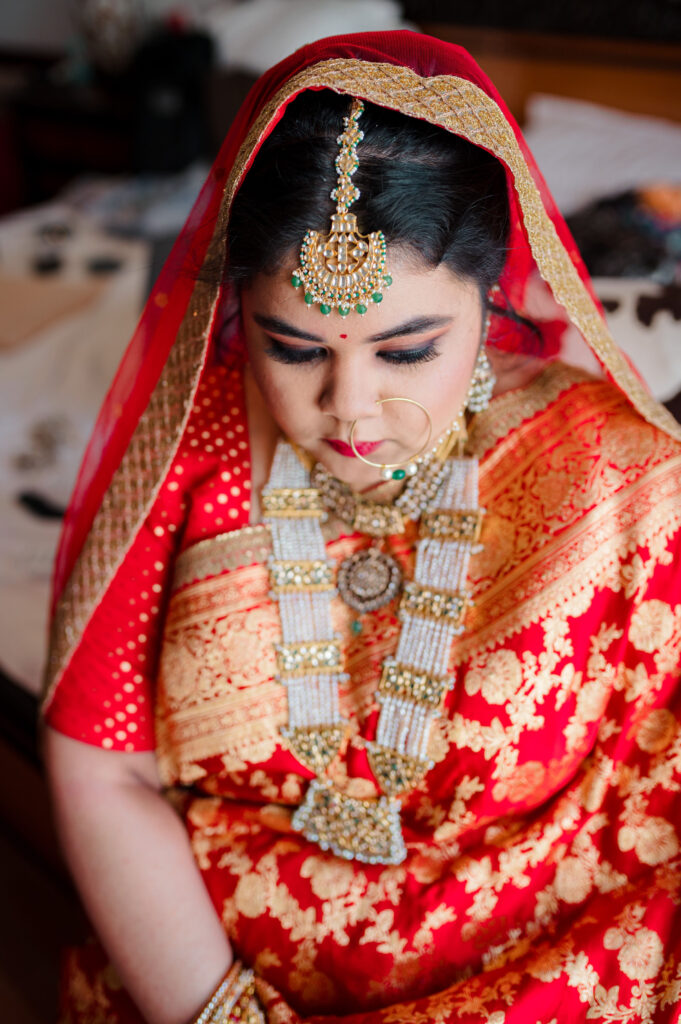 Although, there's a difference between falling in love and staying in love. The former comes easy, the latter comes with consistent efforts and choices. Bhagyashree and Shainal's love blossomed with time; all because they knew the special bond they've been blessed with had to be preserved and they were the few lucky ones to have the kind of love that makes your soul happy. "Even today, as a married couple, I can say with full conviction that our love is steadfastly rooted in where it blossomed from in the first place, friendship. I feel so blessed and grateful every day to get to call him my best friend, my soulmate, and my everything," says Taktawala.
Bhagyashri's big day look is the epitome of the eternally classic Indian bride, and it's hard to take eyes off her. When asked what made her choose Sabyasachi as her preferred designer, she outlined a few things we love him for too. "I believe that nobody understands and celebrates the Indian woman better than Sabyasachi. He's literally the patron saint of body positivity when it comes to bridal couture. Also his aesthetic really resonates with me; on a personal level I love bold, aggressively traditional, and opulent ensembles," she says.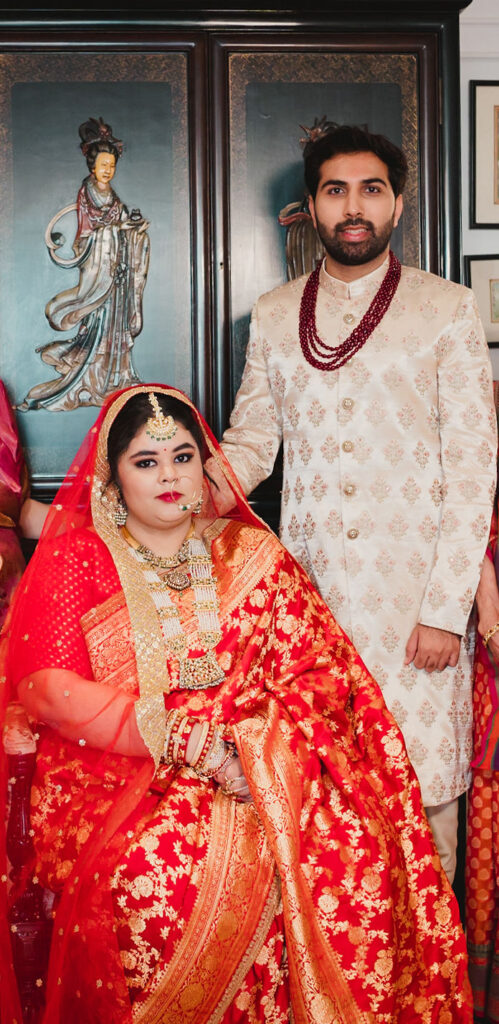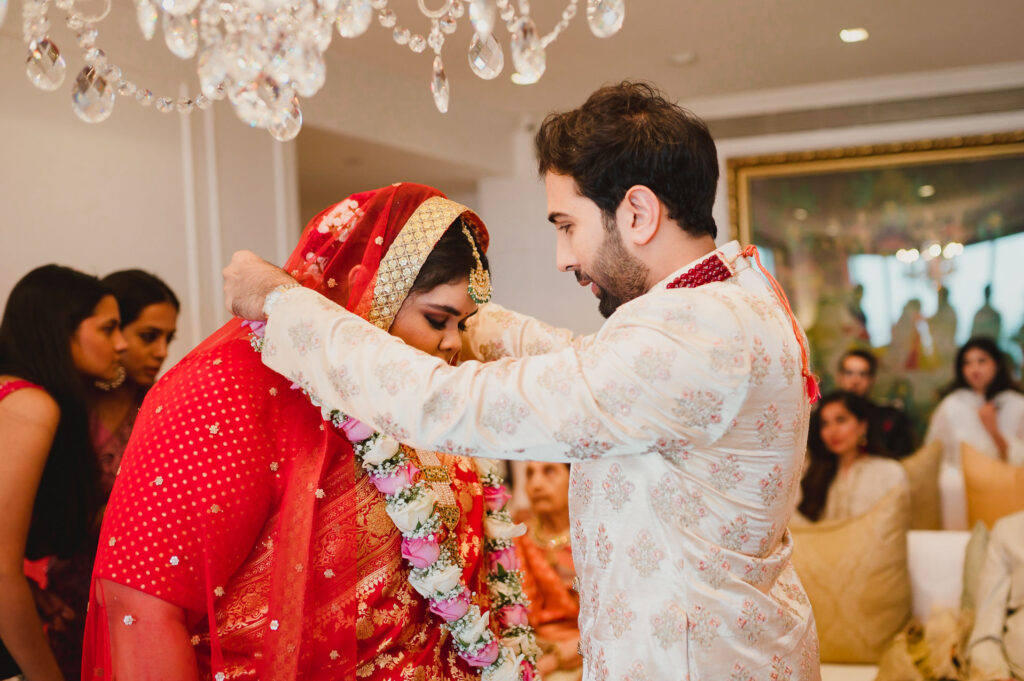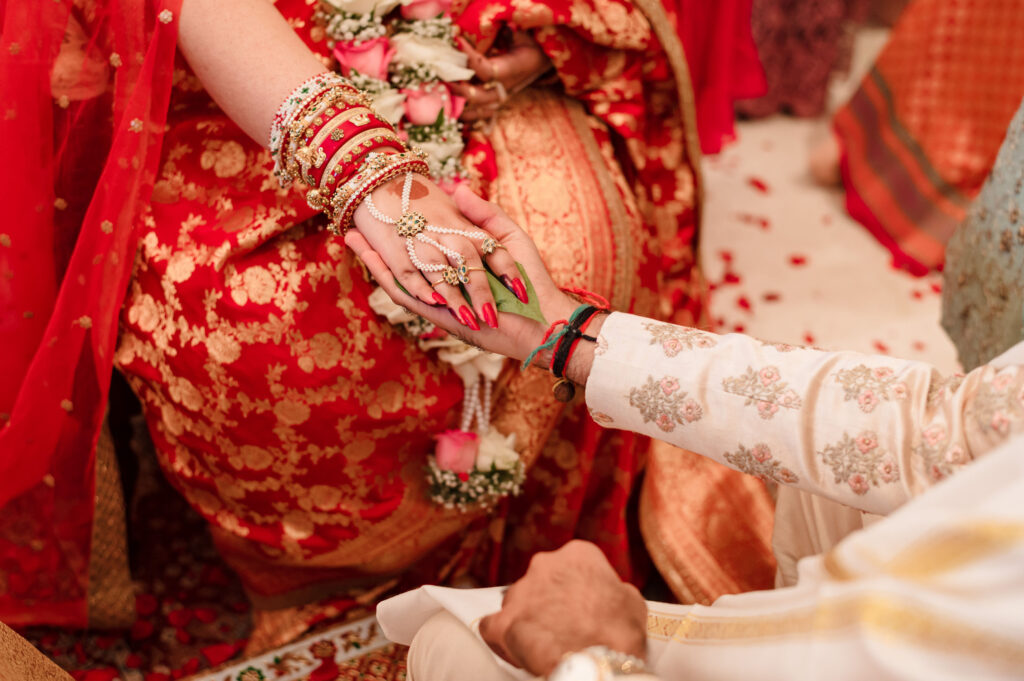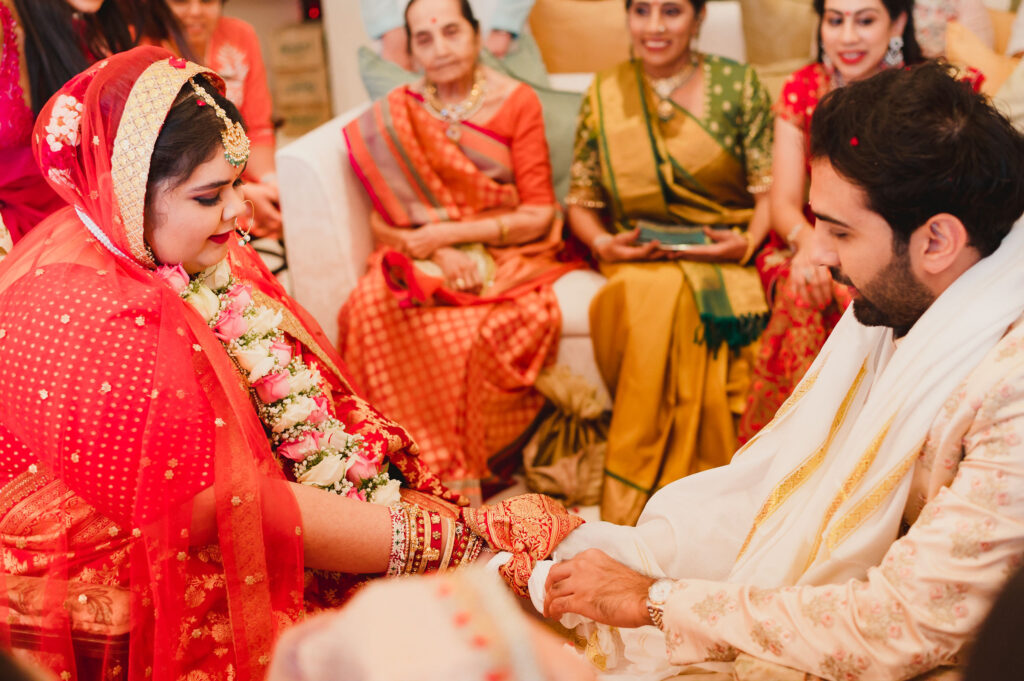 While for some brides, wedding ensemble shopping is the part that leaves them with utmost confusion and anxiety, Bhagyashri was quite clear with her choices. "It was easier than expected. I was sure about wearing a saree, and I was sure about going with Sabya, so it really wasn't challenging for me. I just put the two of them together," says the bride.
If you're thinking where you saw her winsome red ensemble before, Deepika Padukone wore it for her first anniversary celebrations. The beautiful bride paired her silk saree with layered necklaces, chunky maang tikka, and a minimal nath. Her bright red lipstick went well with the minimal makeup look; to say she looks drop-dead gorgeous seems like an understatement.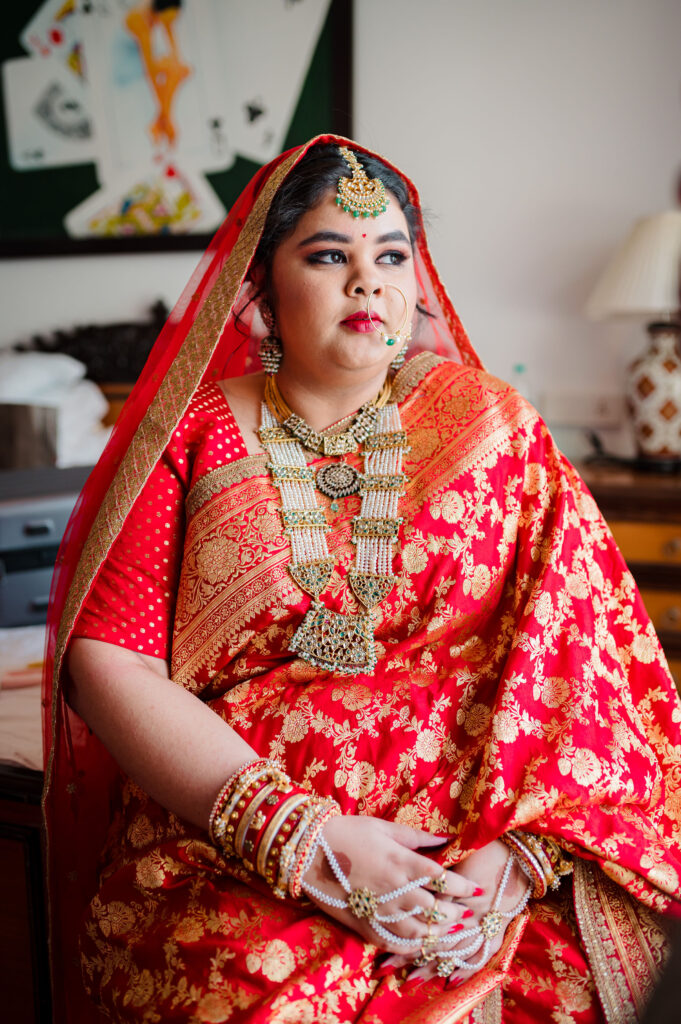 When asked what her journey as a plus-size woman was like, she had a pretty inspiring answer. "I don't know if I'd say I want anyone to "learn" anything from me, I'm not trying to prove any point, I'm just being me. And if that inspires people to also realize their own worth, then that's amazing! When it comes to my journey, one day I just decided that I was not going to be apologetic or ashamed about my body anymore," she says
"I decided that the word "fat was going to be nothing but a neutral descriptor and a harmless adjective to me and I decided that I would never be bothered by that word again.
I decided that I was going to willfully enjoy every meal I eat with gratitude and not guilt. Whether it was french fries or fruit.
I decided that I was never again going to feel inadequate because of my size. Clothes are meant to be made to fit me, I am not supposed to be made to fit clothes.
I decided that the only opinion of me that would matter to me was my own. And as long as I thought I was perfect the way I was, that would be my only truth.
I decided that I wasn't going to postpone life for "after I lost weight" or looked different. I was worthy now at this weight.
I decided that I was deserving of respect, of love, of equality, of opportunity, and of a happily ever after. And I decided that I would never again settle for anything less. And that's it," Bhagyashri adds
Beautiful, isn't it?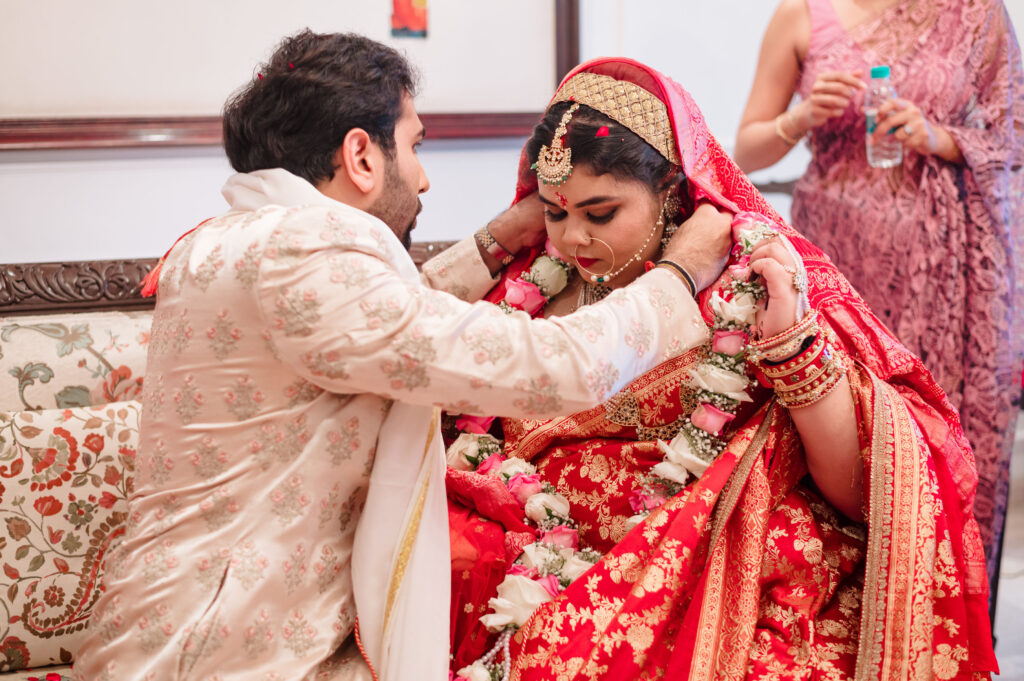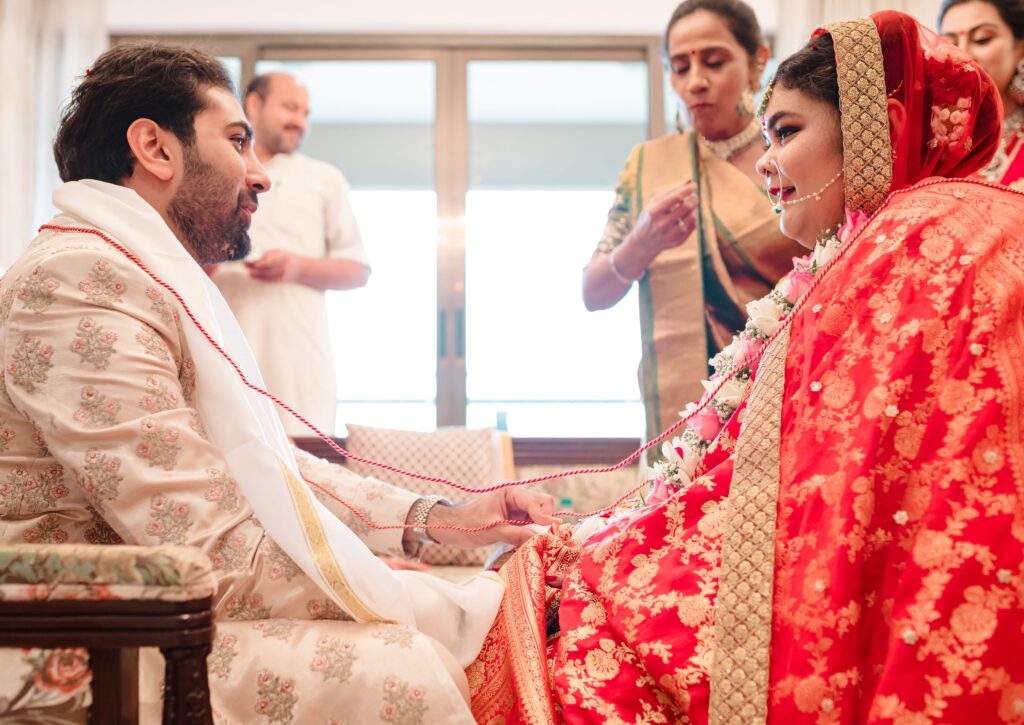 For all the plus-size brides or women out there, here are her two cents to lead your life to the fullest. She said, "I want to tell all the soon-to-be plus-size brides out there to remember to be true to who you are throughout this whole process! Don't try to fit yourself into any preconceived notions of how you think you should look and act, and definitely don't try to blindly impersonate any cookie-cutter Pinterest brides. You are unique and beautiful and your body is absolutely perfect the way it is, don't forget to celebrate that in all the choices you make. And most importantly, don't forget to carry your confidence and smile along with you through it all. It's your special day, and you deserve to enjoy every moment of it!"
During the conversation, we also addressed something we know a lot of you would be questioning about now. No, we aren't promoting obesity in any way. We all should focus on being a better version of ourselves, but that shouldn't stem out of hate for our bodies. The first step is to be happy with yourself, content in your own skin, and most importantly, not give in to the idealistic standards of society.