Mehndi or Henna is considered to be one of the most auspicious elements at a lot of festivals in India. At weddings, it's a central element of the revelries. The bride's hands and feet are painted with henna around 2 days before the wedding! And then everyone anxiously waits to see how dark of the color henna paste leaves on her hands and feet. According to traditional sayings, the darker the color, the more love the groom has for his future wife. And the same goes for the groom's henna too! It's still widely believed today.
See: Darken Your Bridal Mehndi With These 10 Easy Tips!
In Hindu weddings, a whole day is dedicated to the mehndi function. That's the kind of cultural importance henna holds in the culture. But it's not just Hindus, even Muslim weddings consider mehndi application an important tradition. They, too, have a separate day dedicated to the mehndi function.
For centuries, henna has been known to bring love, prosperity, fortune, and protection against evil. Apart from these beliefs, henna also has scientifically proven benefits. Mehndi has a very soothing effect. It cools down and calms the minds of brides & grooms of all the wedding stress and anxiety. Its healing powers also protect them against any viral infections or minor ailments like stress & headaches. Impressive, isn't it?
Henna grows in the drier parts of the country. The leaves are then crushed and made into a fine powder. It's then mixed with water, black tea, eucalyptus oil, and lemon juice and filled into plastic cones. These are used to create elaborate designs on hands and feet.
The art of mehndi application takes skill and patience to learn. But if you are a beginner or knows a little something about henna application, here are 100+ Simple Mehndi designs that you'll absolutely love!
Purchase herbal henna powder here, and oil to darken your mehendi here. 
Simple Mehndi Designs For Front Hands
1. Conventional Floral Arabic Trail
A gorgeous Arabic bel-art mehndi design just never goes out of style. We love how neatly it's drawn with petite strokes for the boundary and filling. Incorporating traditional elements, this indeed is a simple mehndi design!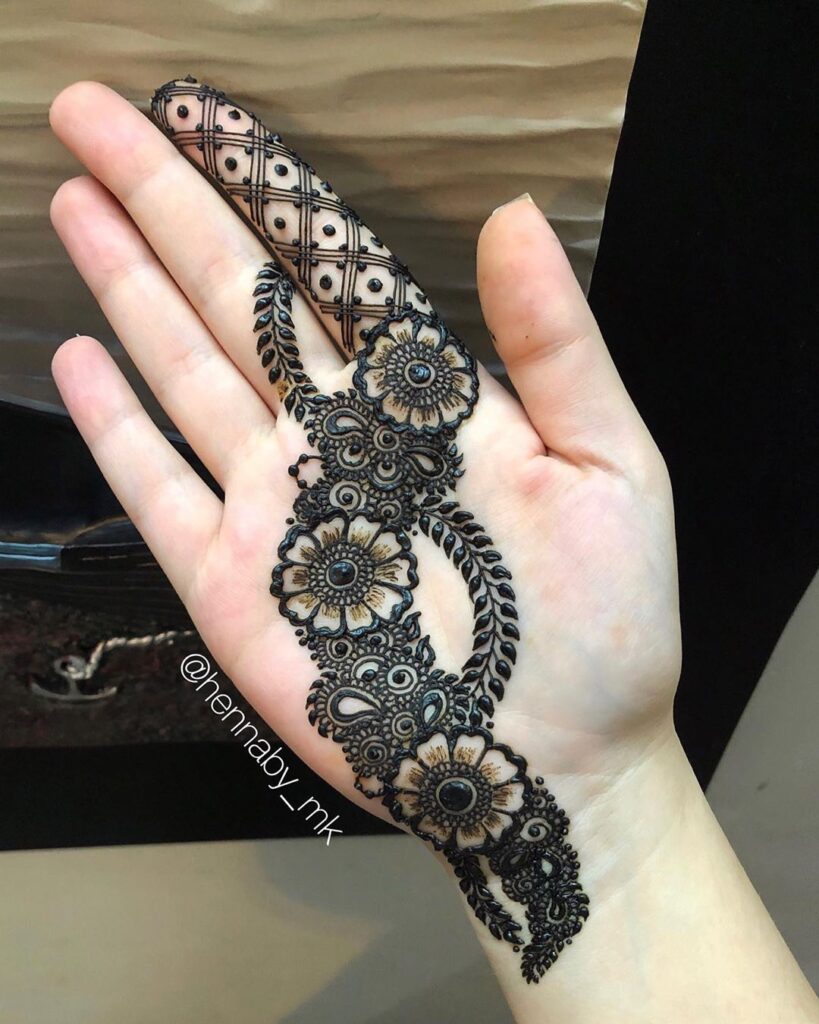 Via @hennaby_mk
2. Cascading Flower Power
Starting on the base with a full floral pattern and carrying it to the top with mid-sized florals is giving this front-hand mehendi design a jaw-dropping look! Look at that simple floral bel art drawn at the side, giving the already stunning design perfection it needs!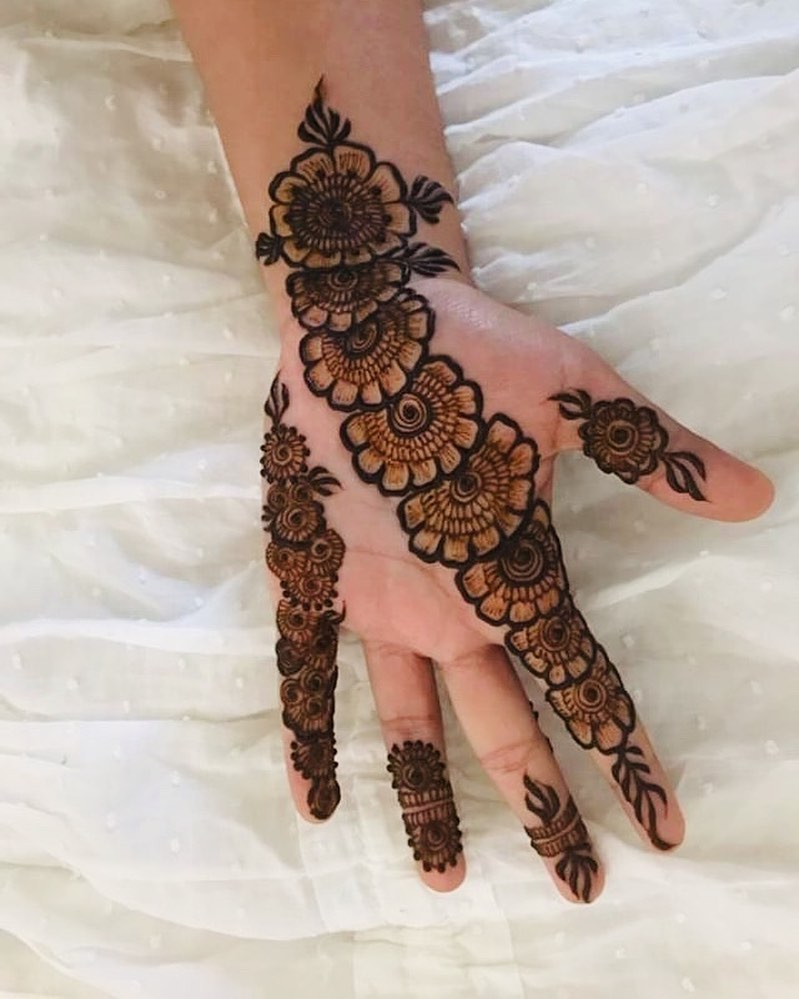 Via @hennatoronto10
3. Playing with the new age elements
A modern age simple mehndi design decorated with new-age mehendi elements like dropping pinjaras, designed fingertips etc. The notable spaces in the middle further add to how modish this design is.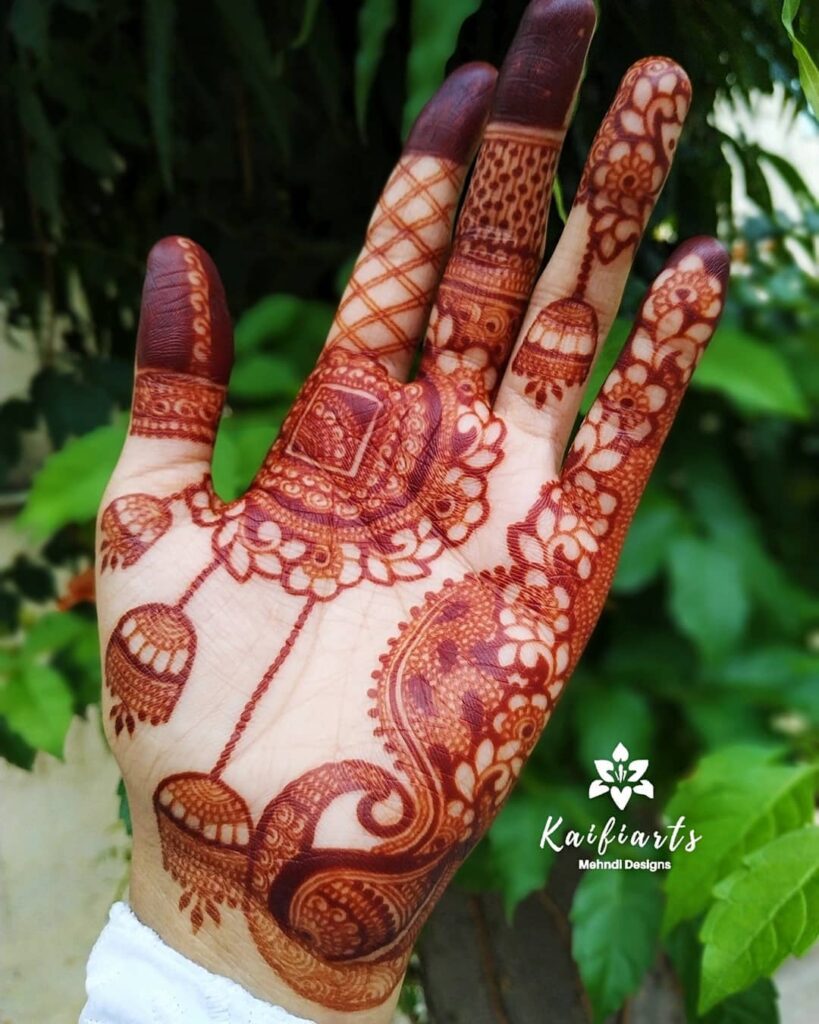 Via @kaifiarts
4. Peacocks & Flowers
Thick strokes for the boundary and petite for filling in the design look so appealing to the eyes. The overall pattern is so unique that it immediately caught our attention. Those exclusively patterned nails are yet another noteworthy element of this simple mehndi design.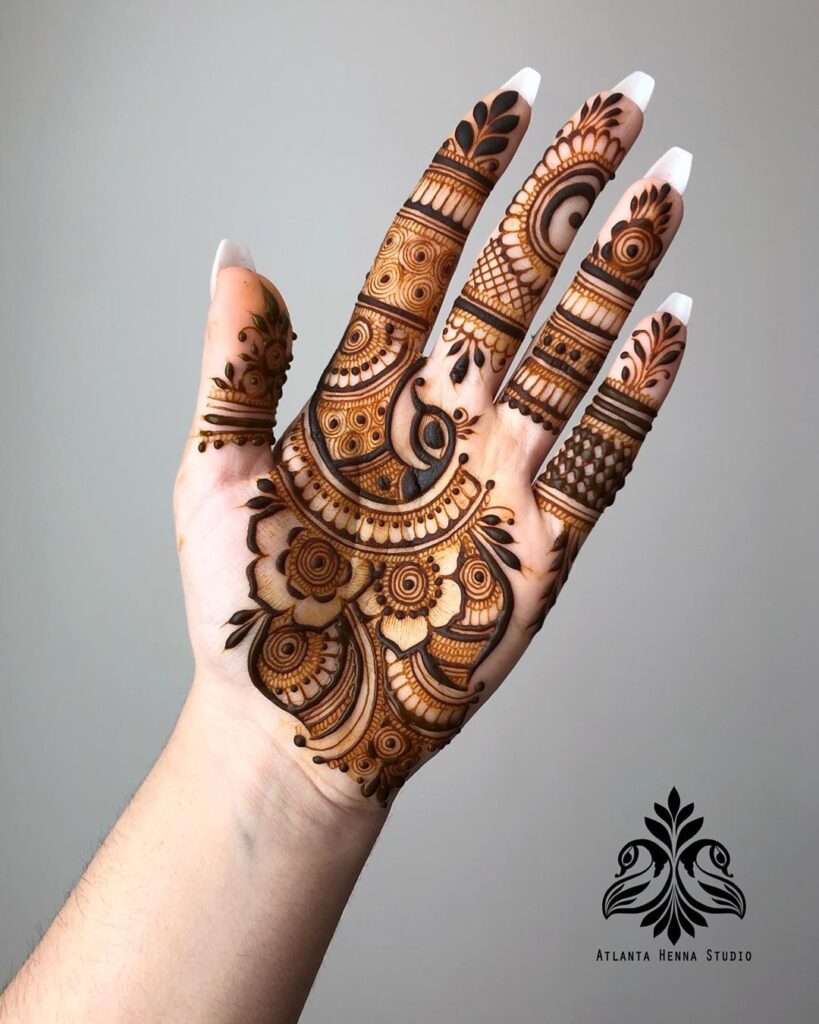 Via @atlantahennastudio
5. One-of-a-kind Mandala Design
Mandalas always look traditional and elegant in a mehndi design. And when it is a unique one drawn in the middle like this one, it surely catches attention.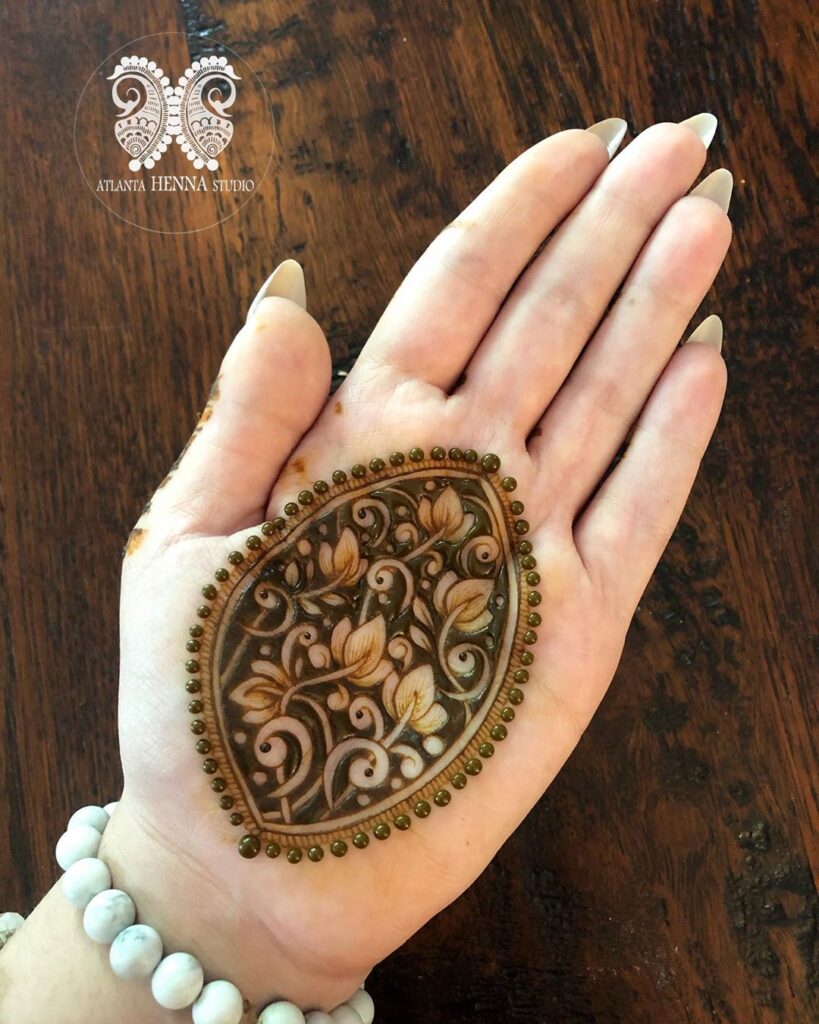 6. Intricacy at it's best
Move on from the traditional mehndi trails because we have got something impressive for you to try instead. Just as easy as a bel-art, this simple mehndi design is for anyone who wants to try something new for their henna application.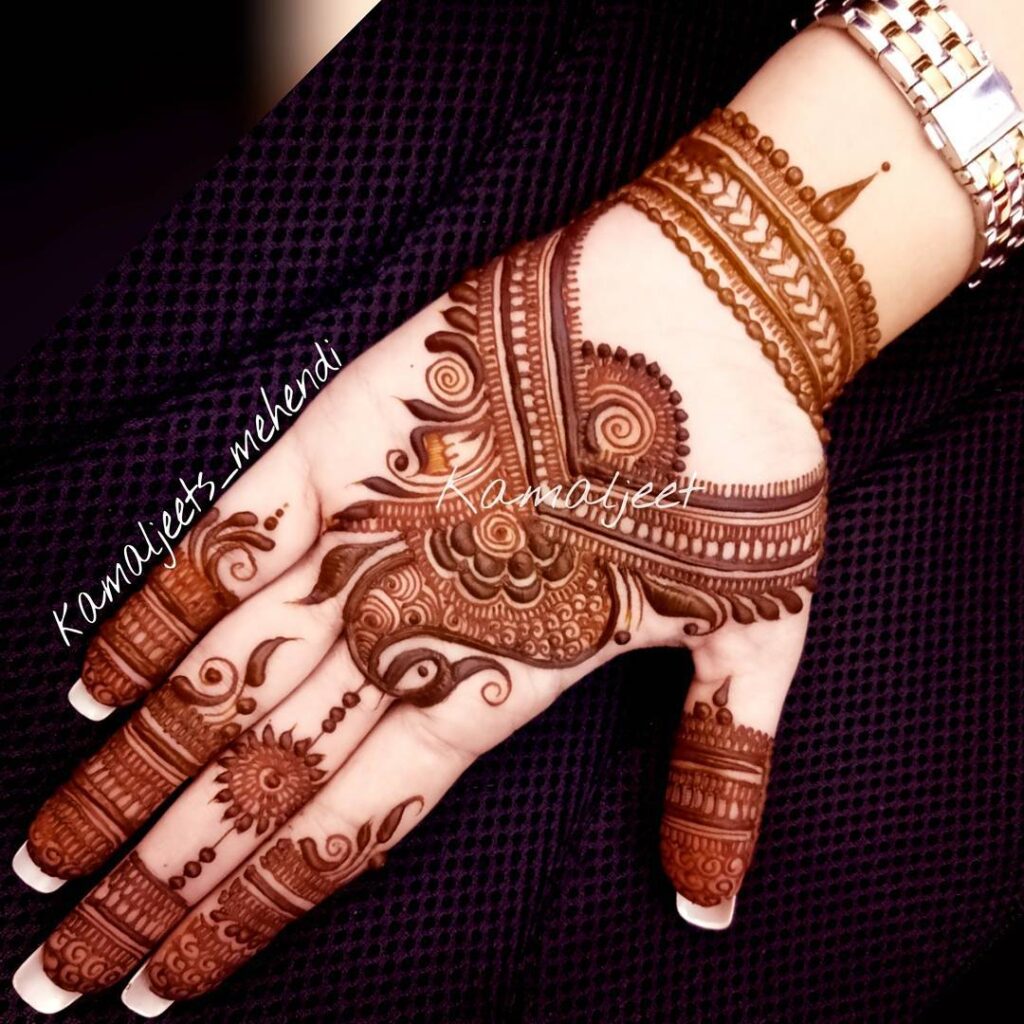 Via @kamaljeets_mehndi
7. An incredible pattern!
A coordinated mehndi design always soothes the eyes. This simple mehndi art is a perfect balance for any bride who doesn't want a minimalistic design but wouldn't want a full-blown bharwa design either.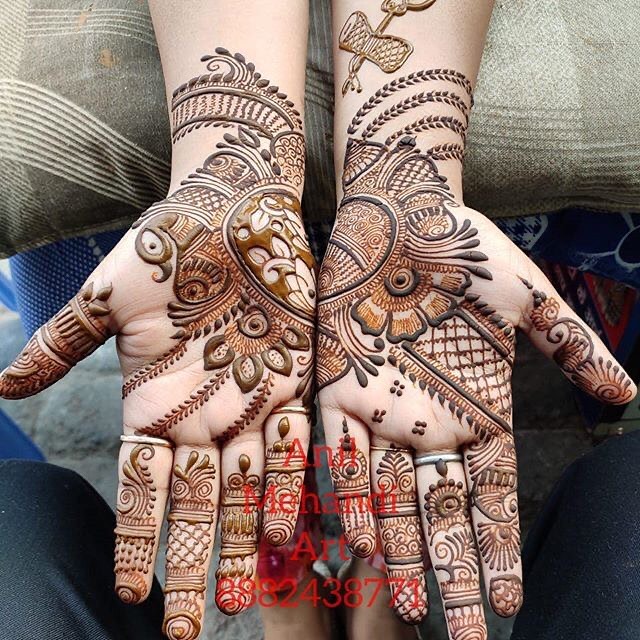 Via @anilmehandiart71
8. Effortless Yet Enchanting!
A simple mehndi design with florals, checked patterns and leaves is literally love at first sight! Bridesmaids, take note. This design is screaming for you. And while you are at it, don't forget to take a stunning selfie like this one.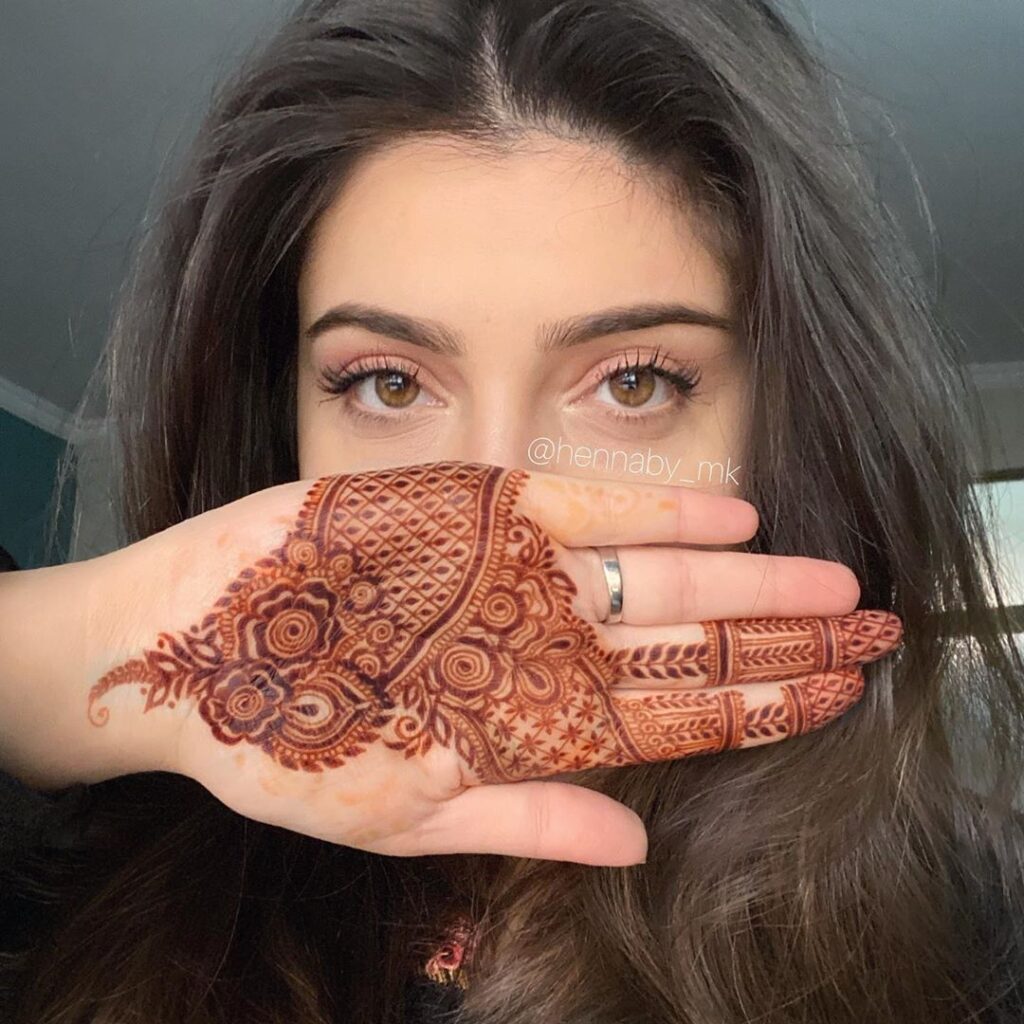 Via @hennaby_mk
9. Elegance at its best!
Want to paint your half-hands with henna while keeping it easy? These effortless circular strokes placed perfectly are a great option to try out!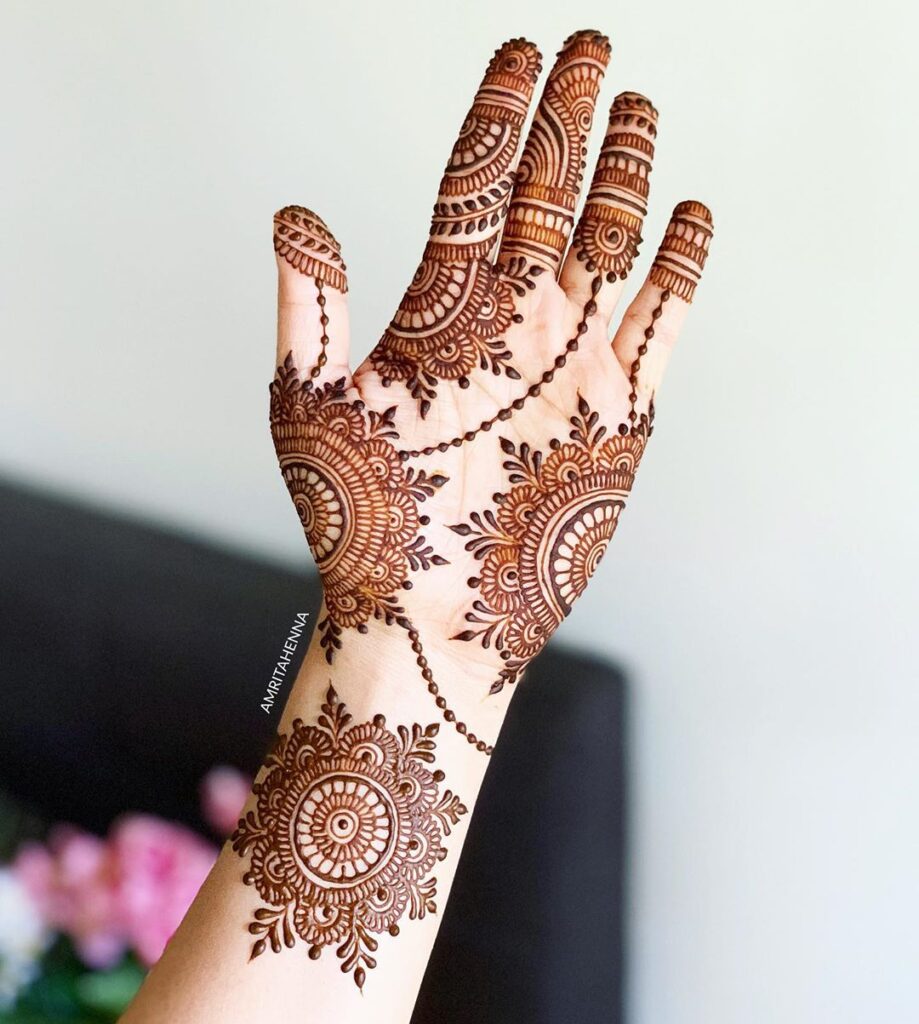 Via @amritahenna
10. Another mesmerizing design!
Drawing a simple mehndi design step by step is sometimes all about putting the traditional elements in a creative manner. This is such a beautiful design that even beginners can easily draw!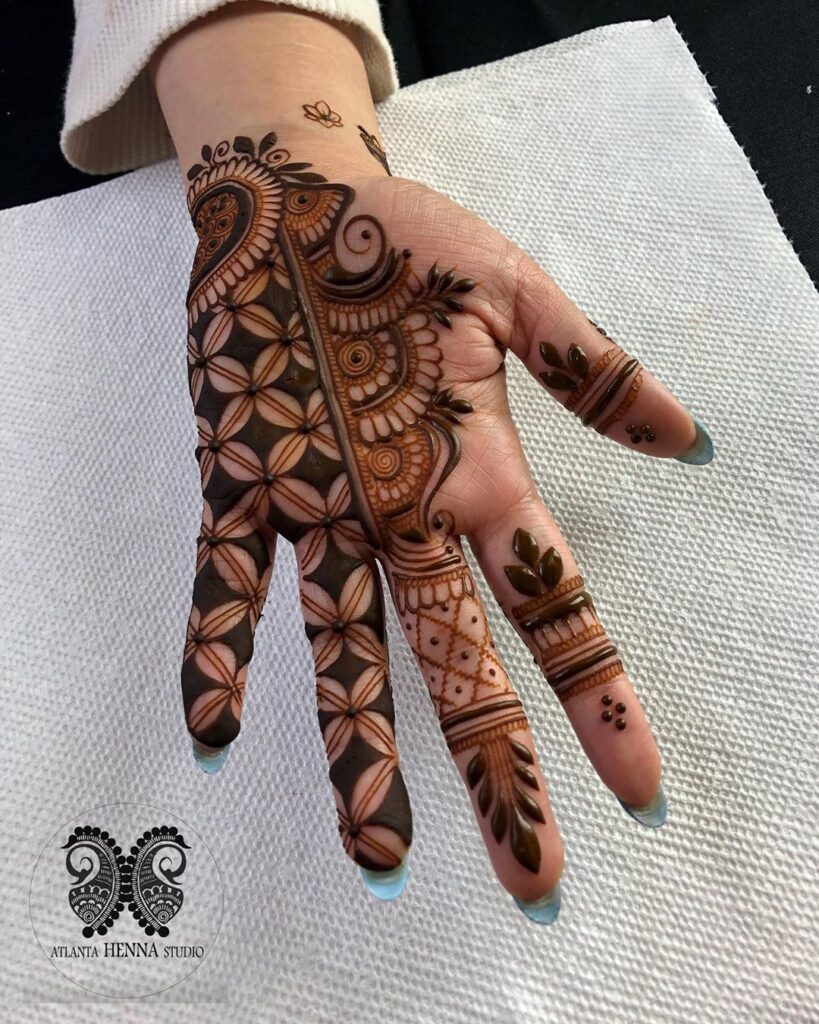 11. Take It Up A Notch!
Sometimes all it takes to create a chic pattern is to go the unusual way. Instead of drawing the bel-art diagonal style, keep it horizontal and sass it up with a quirky pattern like this. Don't forget to take it up a notch with those chequered fingertips!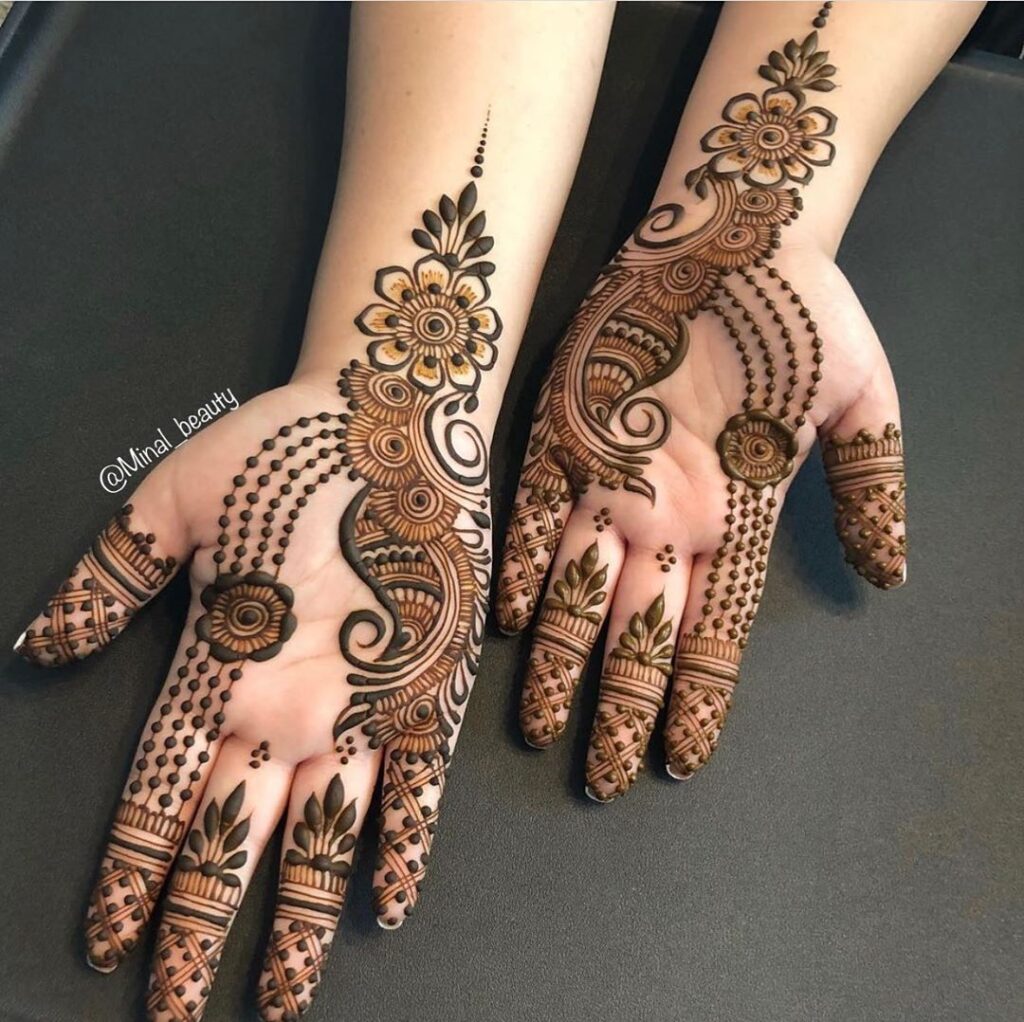 Via @minal_beauty
12. Intricate & Spacious
An elaborate mehndi design on the side with superbly done fingers is a perfect option for a minimalist bride. However, lack of neatness can definitely spoil this design. So don't try it if you are not good with petite strokes.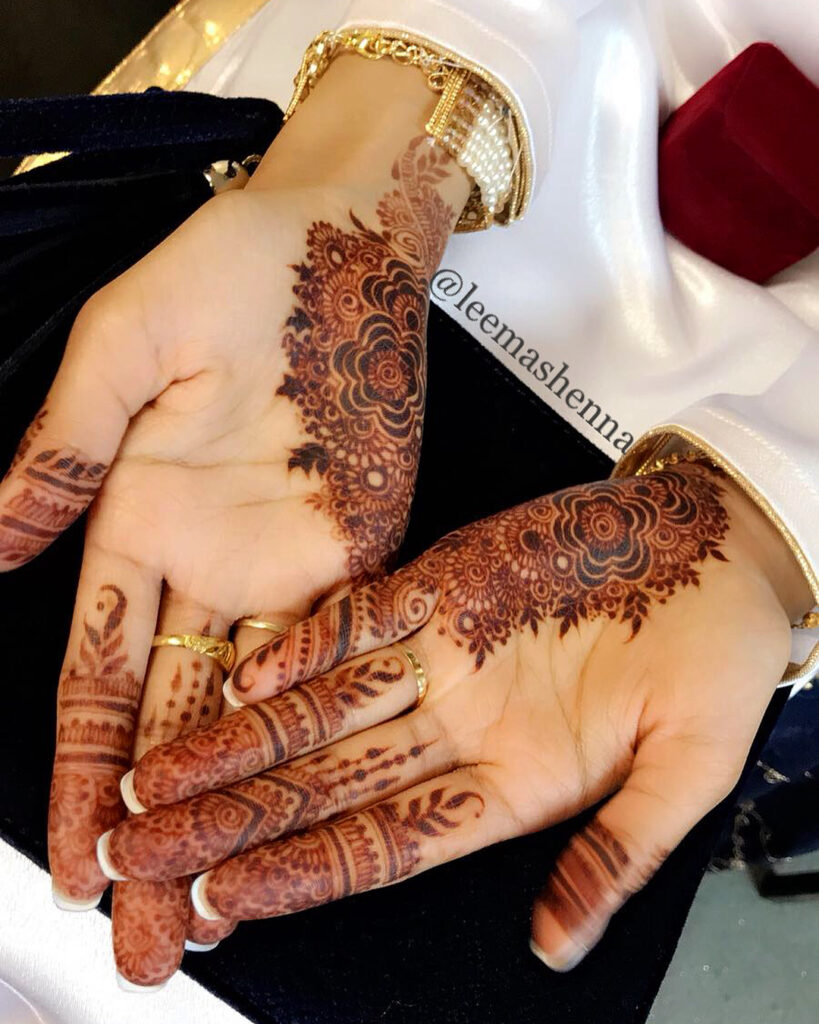 Via @leemashenna
13. So damn pretty!
This might look like the exact opposite of a simple mehndi design but look closely. The patterns drawn on both hands & fingers are similar and spacious. Such facile designs are definitely worth crushing over!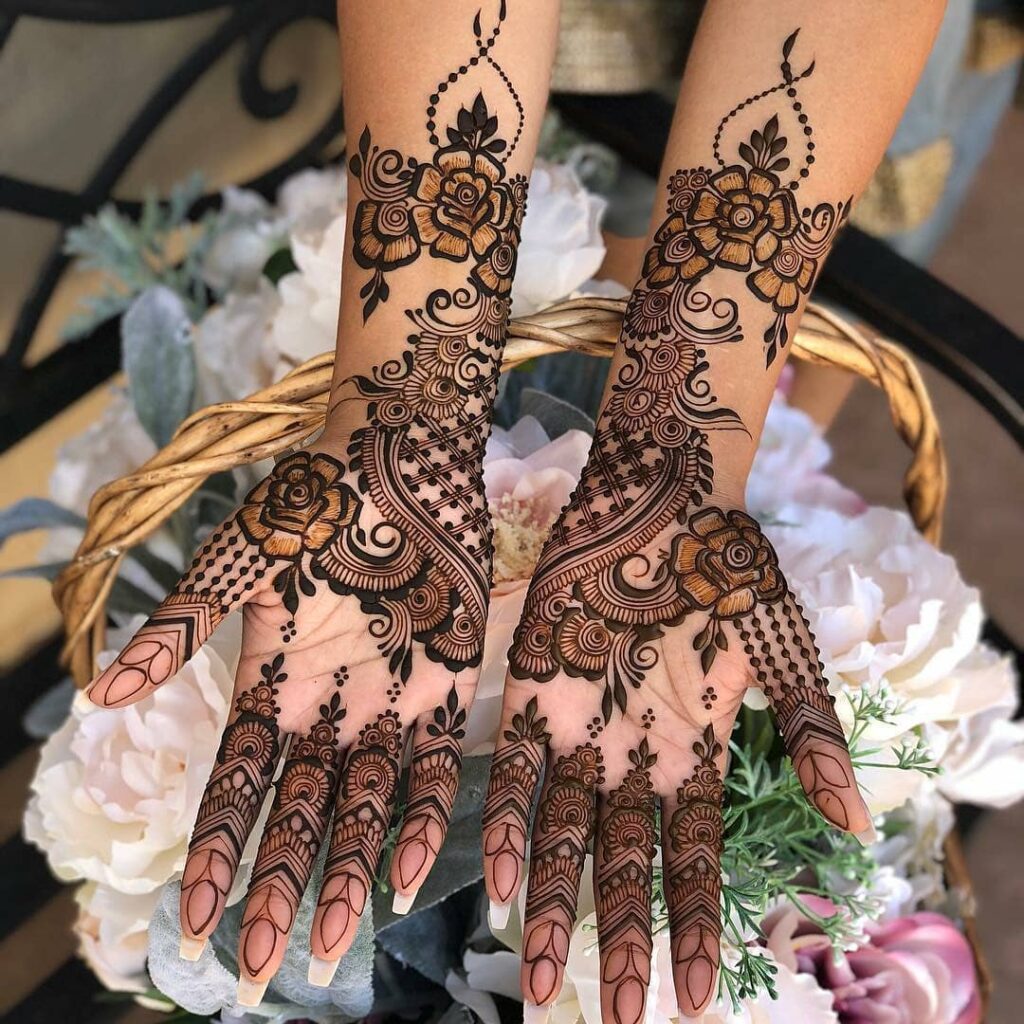 Via Instagram
14. This is a riveting one!
Keeping the charm of both bharwa and minimalism alive, this gorgeous mehndi design adorned with lotus flowers, symmetry, and evident bare space is worth drooling over!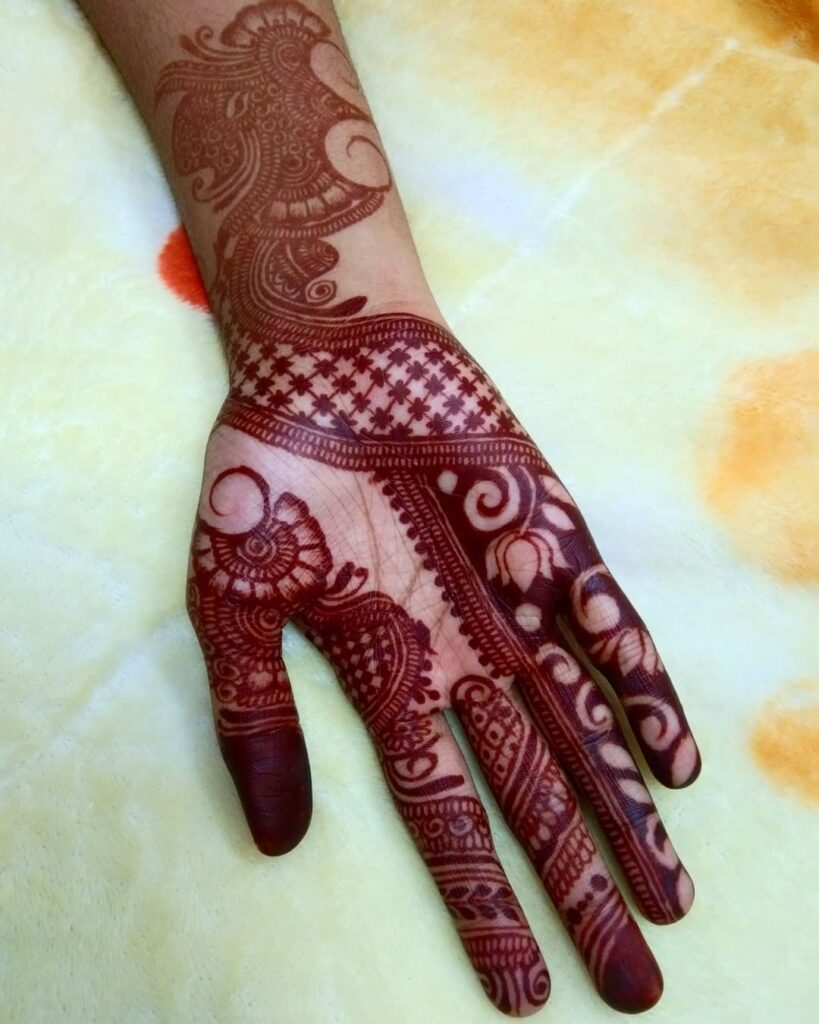 Via Instagram
15. What neat work!
This simple mehndi design bedecked with chequered boxes, adjoined elements and innovative patterns left us stunned! We think it's an easy design that anyone with basic skills in the henna application can nail down.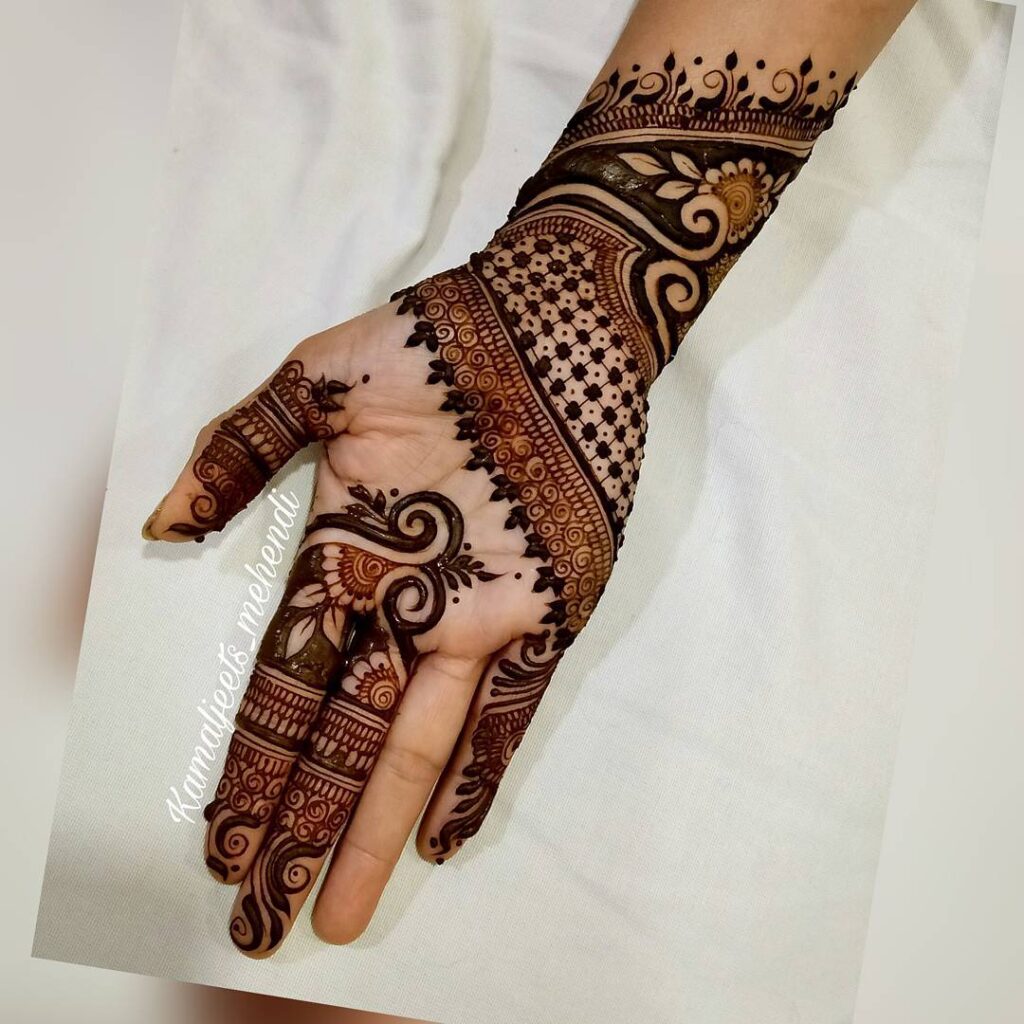 Via @kamaljeets_mehndi
16. Floral heaven!
This one might just be our favorite. Perfect for brides, wedding guests, and kids alike. You need to have the knack for drawing outlines though before trying this one. Once that's pinned down, just fill in the gaps and you're done!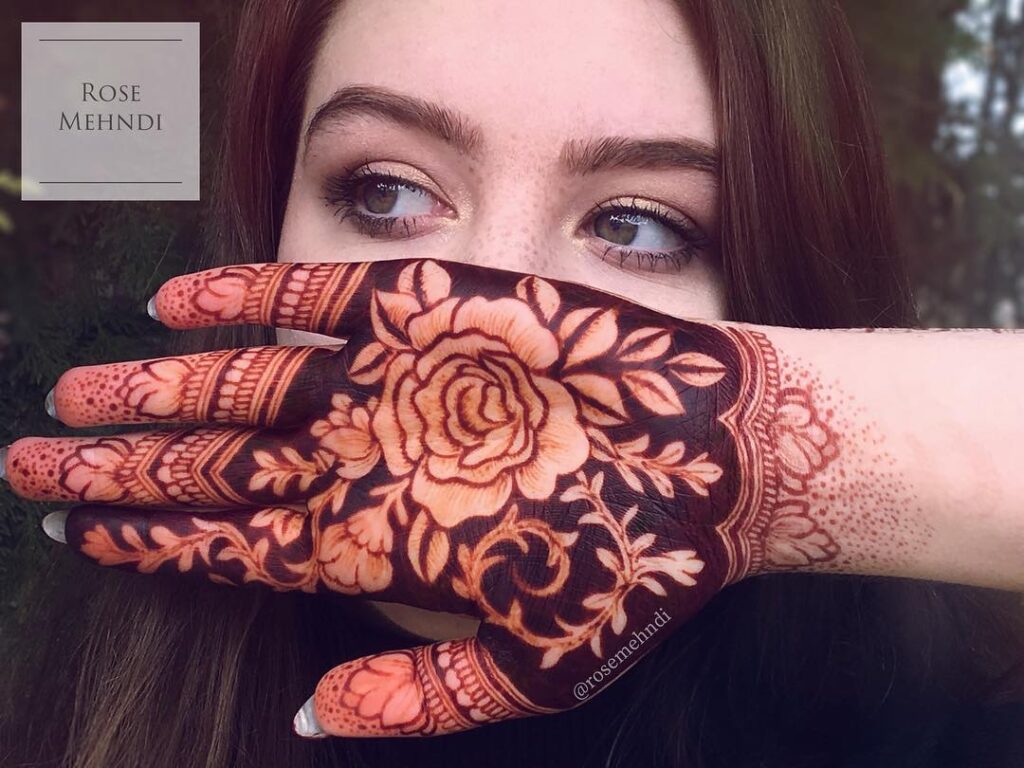 Via @rosemehndi
17. A traditional bel-art pattern!
Nothing new here! Just a very traditional Arabic design that most of our mothers already are well aware of. Anyone trying to go basic, this simple arabic mehndi design should have you weak in the knees!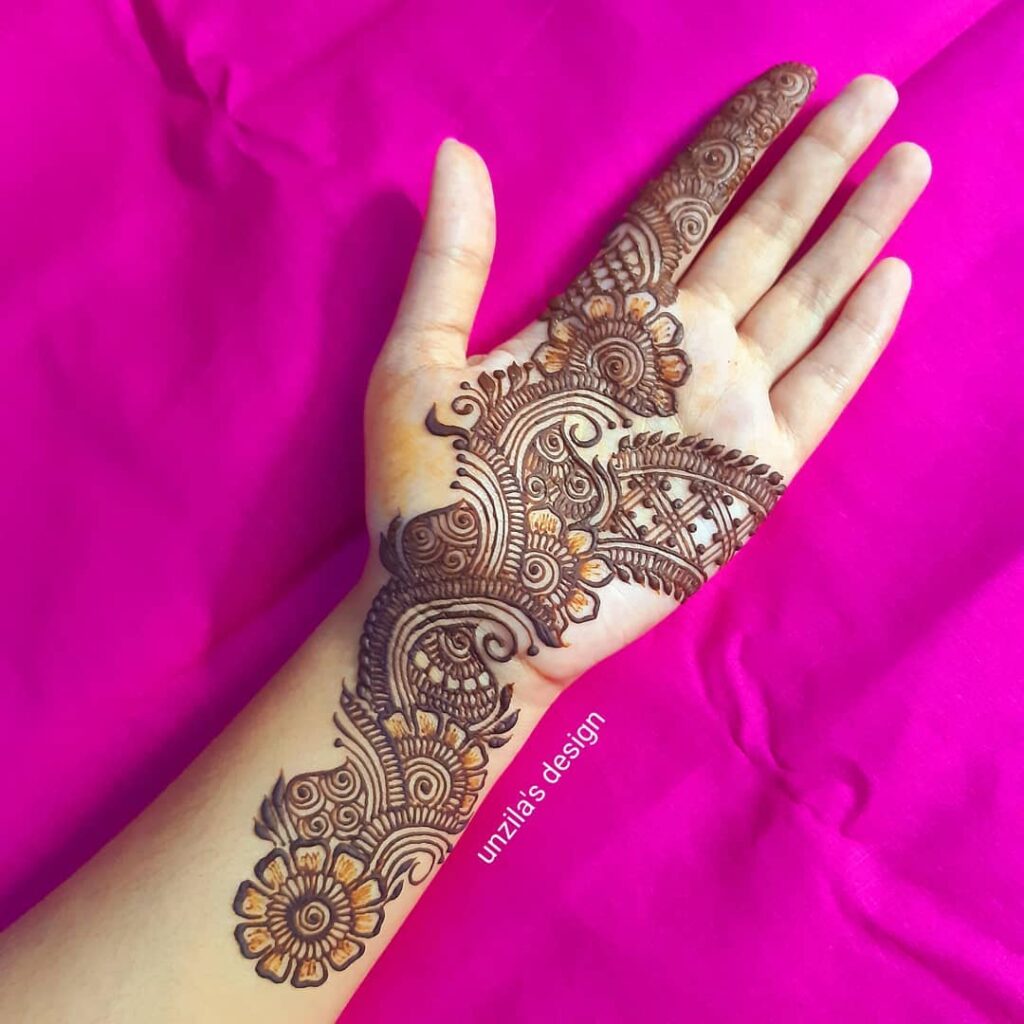 Via @mehedi_by_unzila
18. The one for the sister-of-the-groom!
Yes, we deliberately used the 'F.R.I.E.N.D.S' reference here. This gripping mehndi design with accentuated sayings, swirls, matka motifs, and cutesy bhaiya-bhabhi sketches is one of the best mehndi designs for the sister of the groom!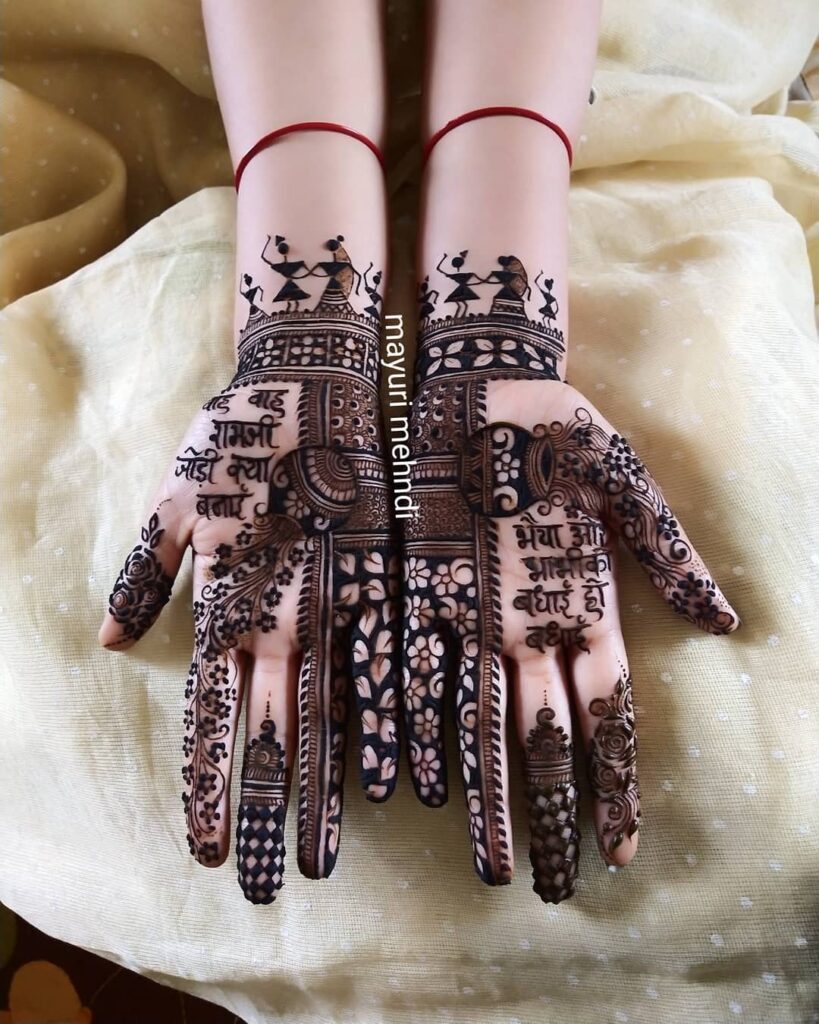 Via @mayuri_mehndi_artist
19. Edgy, Chic, and Minimal
Concentric swirls, leafy pattern, and ideal positioning – this simple mehndi design looks trendy and attractive.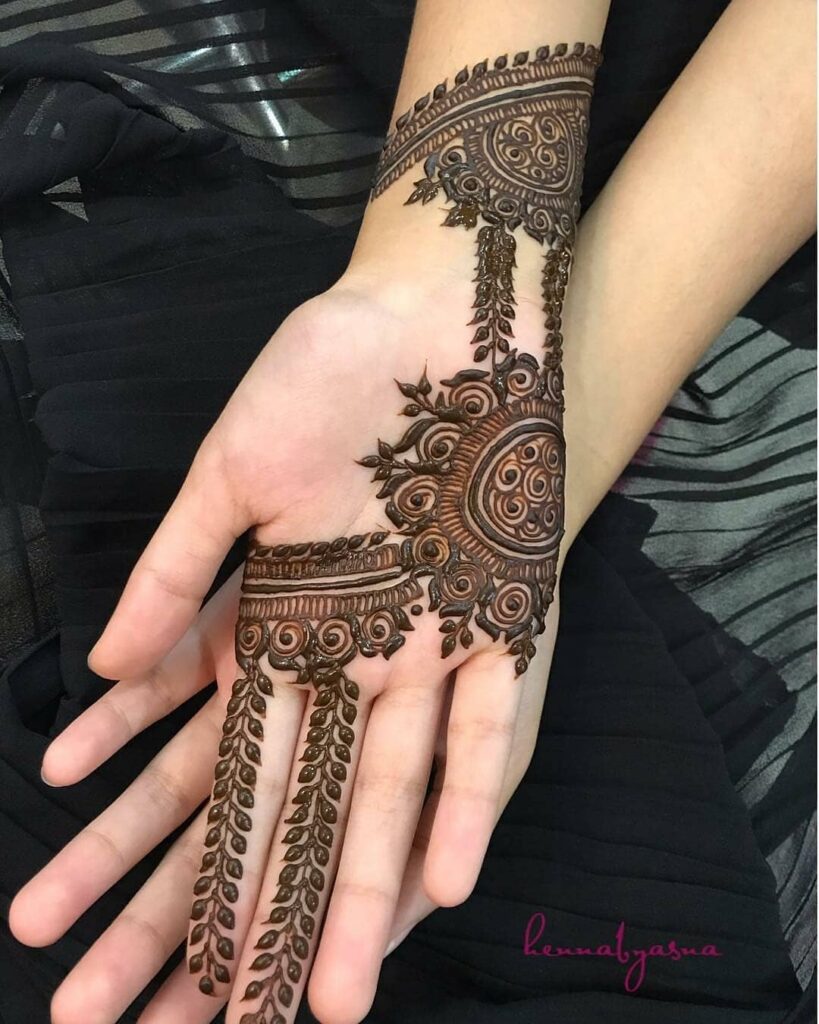 Via Instagram
20. Sophisticated & Modern!
This ultra-voguish easy-peasy mehndi design is already keeping you staring at your screens, isn't it? Well, you are not the only one. We did it too, so had to include it in the list!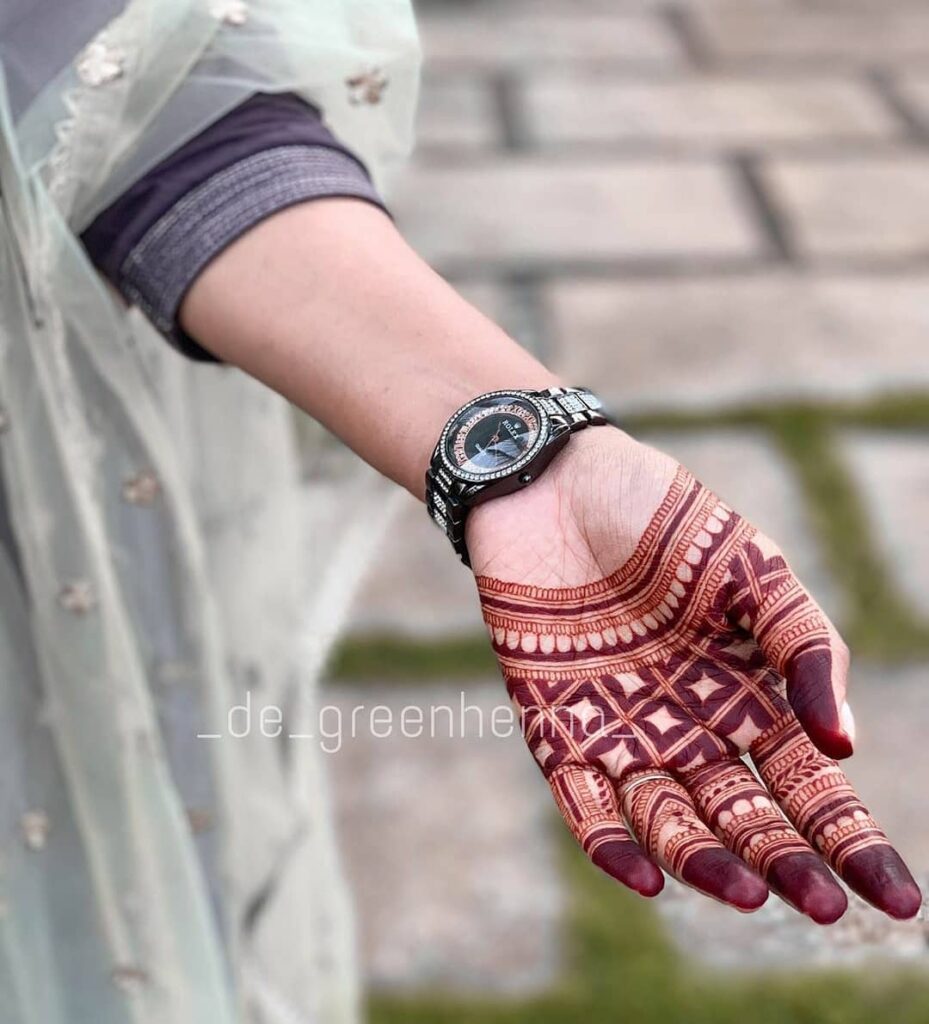 Via @_de_greenhenna
21. Not so simple!
Well, we will admit it. This one isn't a simple mehndi design, even if it looks like it. Only someone with a level above the beginner can make this design. But it's quite easy and doesn't take as much time! So, it's simple in that way. (Guilty, not guilty!)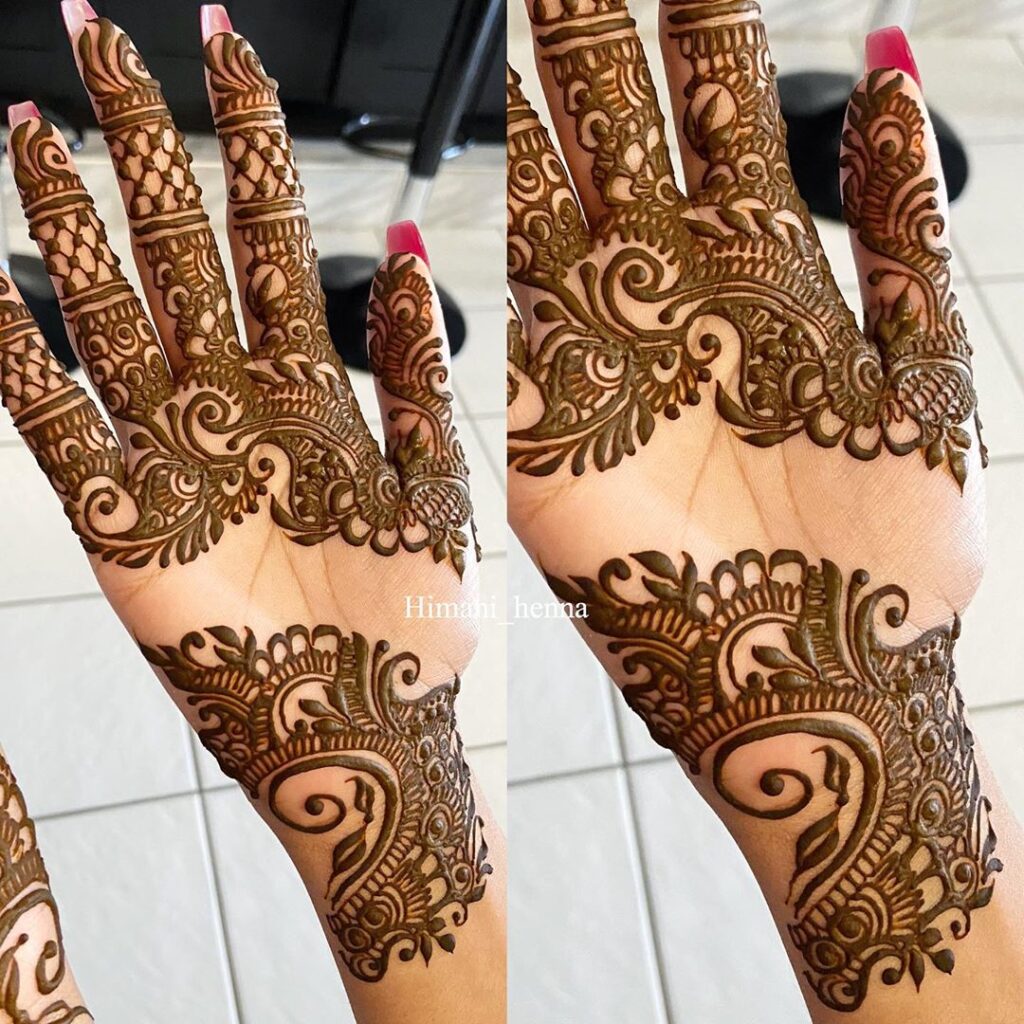 Via @himani_henna
22. Arresting One!
With bold outlines and catchy fillings, we absolutely adore this simple mehndi design decorated on just the palm of the hand!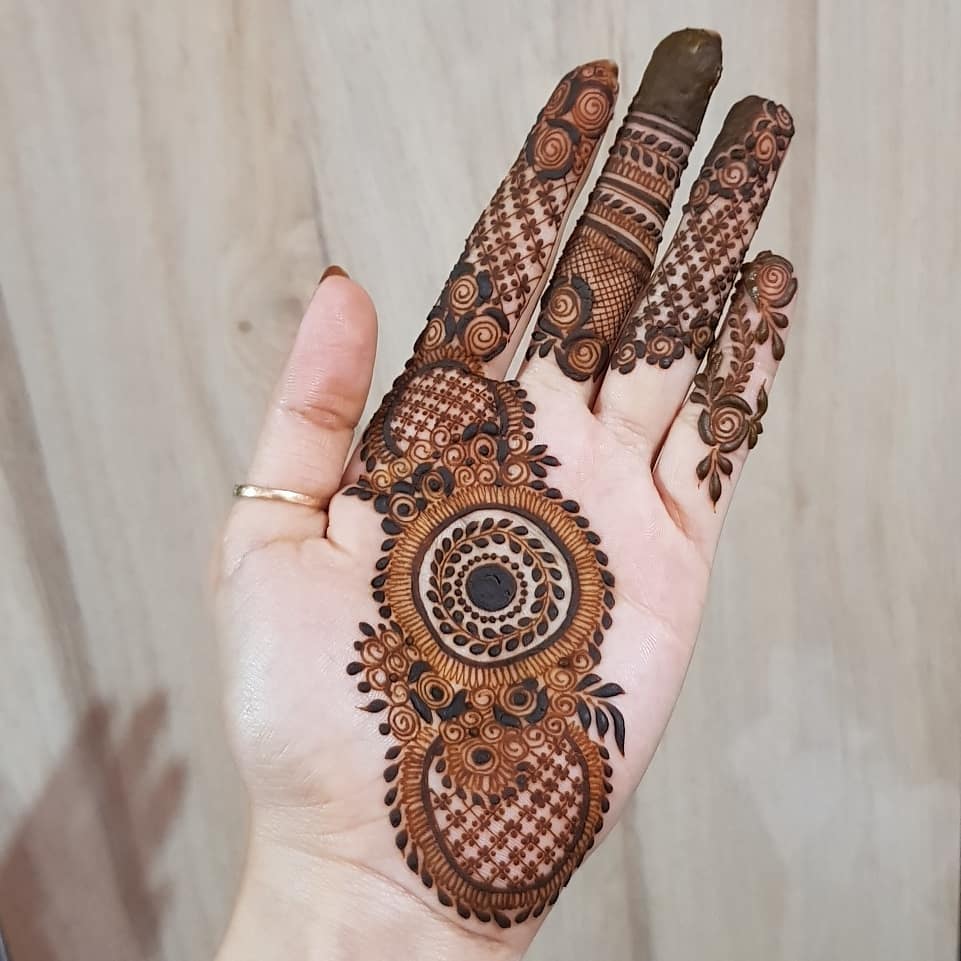 Via @hayats_henna
23. Peacock-y Charm!
Paisley in the form of peacock has been used as an element in mehndi design forever. All the beginners in mehndi start by drawing these traditional elements at first – which is all that comprises this gorgeous yet simple henna design.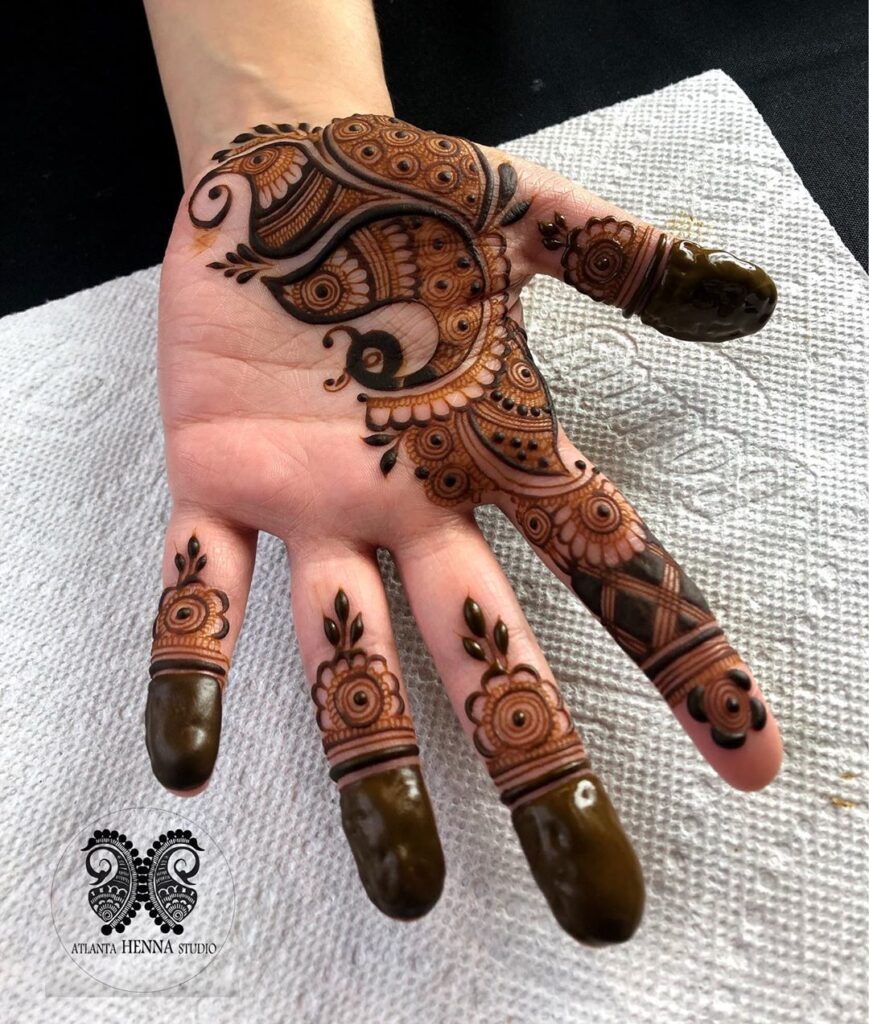 Via @atlantahennastudio
24. Embracing the New Age Trend – Jhumka Motifs!
Jhumka motifs in mehndi are the latest rage in henna designs. And they are so easy to map out. Look at this extraordinary henna design spreading charm only using these new-age motifs.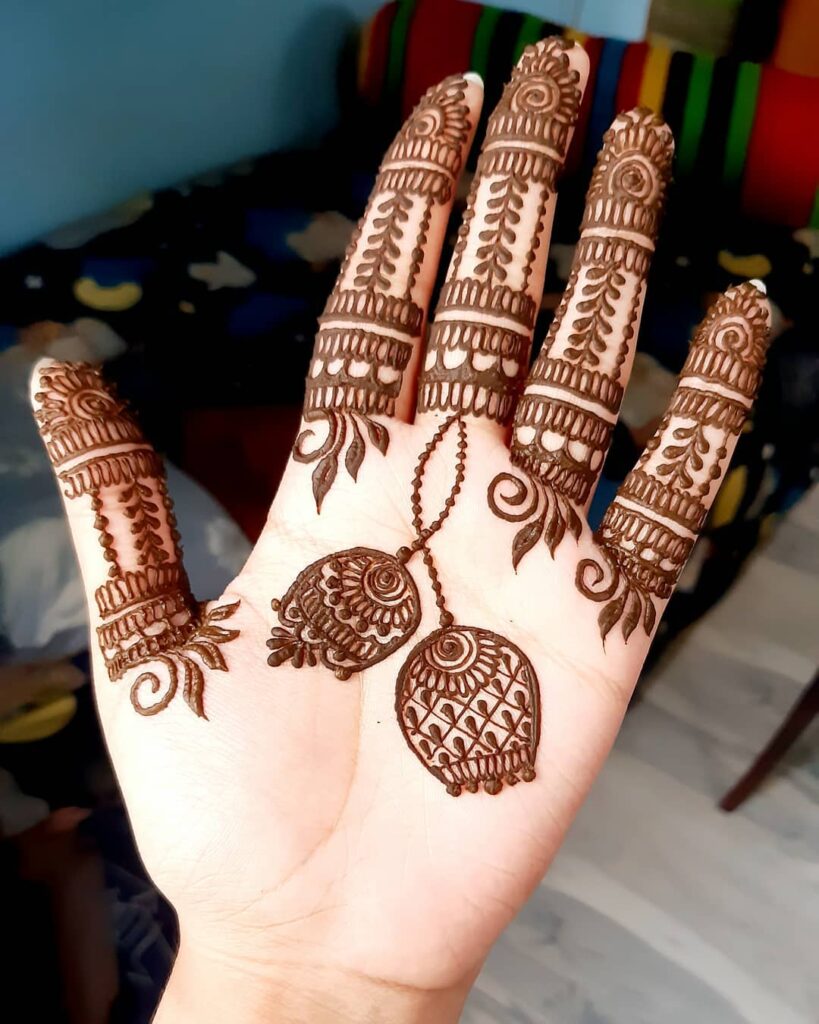 Via @mehedi_by_unzila
25. Neatly Done!
This concentric circle design neatly done with alluring fingers is probably the simplest mehndi design of them all!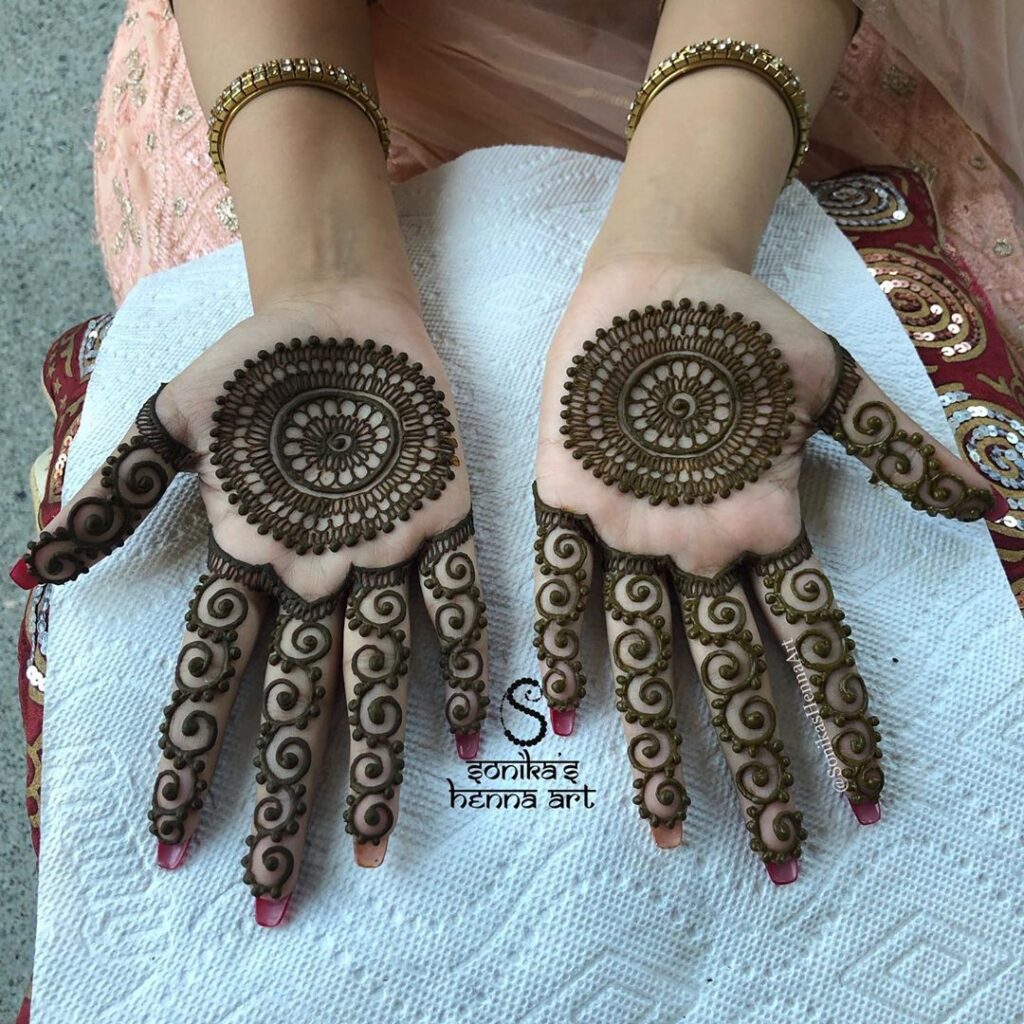 Via @sonikashennaart
26. Simply amazing!
The strokes in this simple mehndi design are an amazing combination of thick and thin. That's what makes it so appealing though.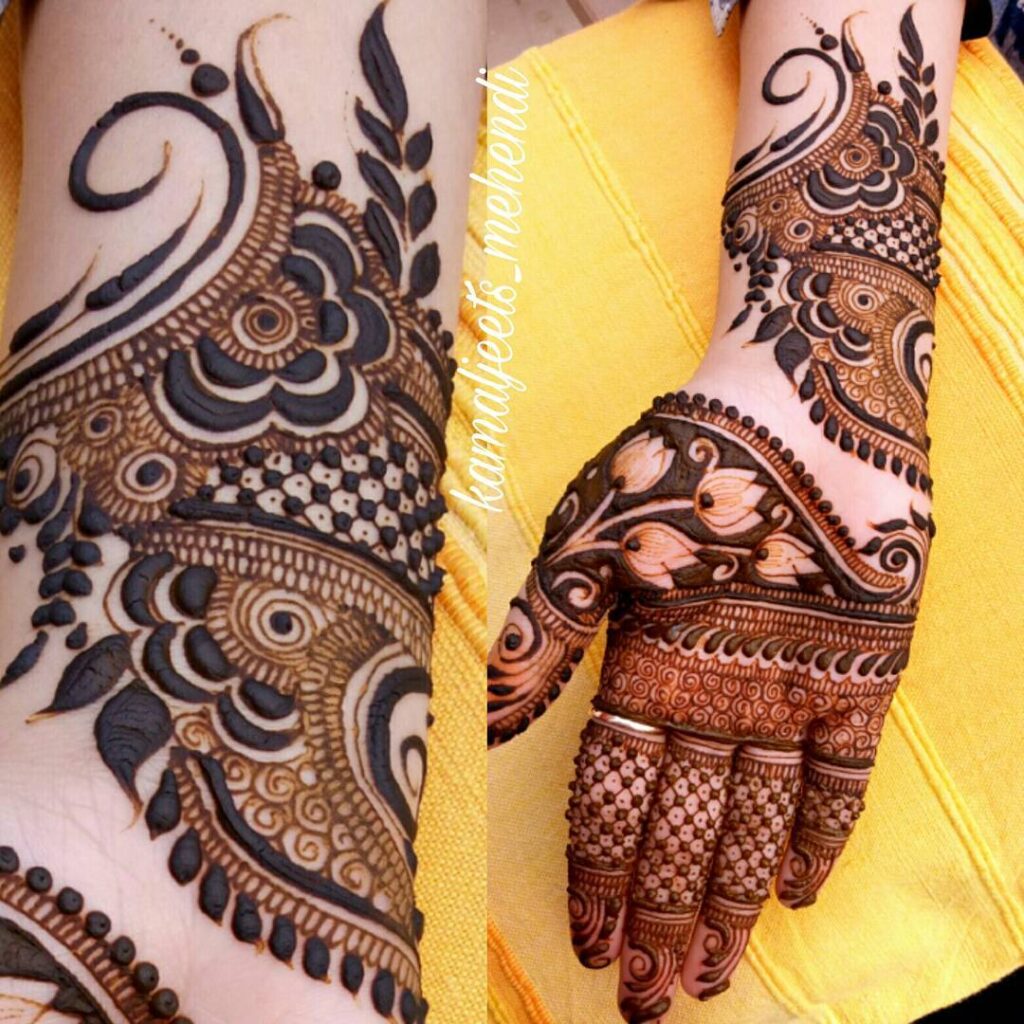 Via @kamaljeets_mehndi
27. Arabic Love
A beautiful arabic style simple mehndi design painted just on the sides of your hands. Keeping it as tidy as possible is the key here! For fingers, you can choose any of the simple finger mehndi designs depicted below!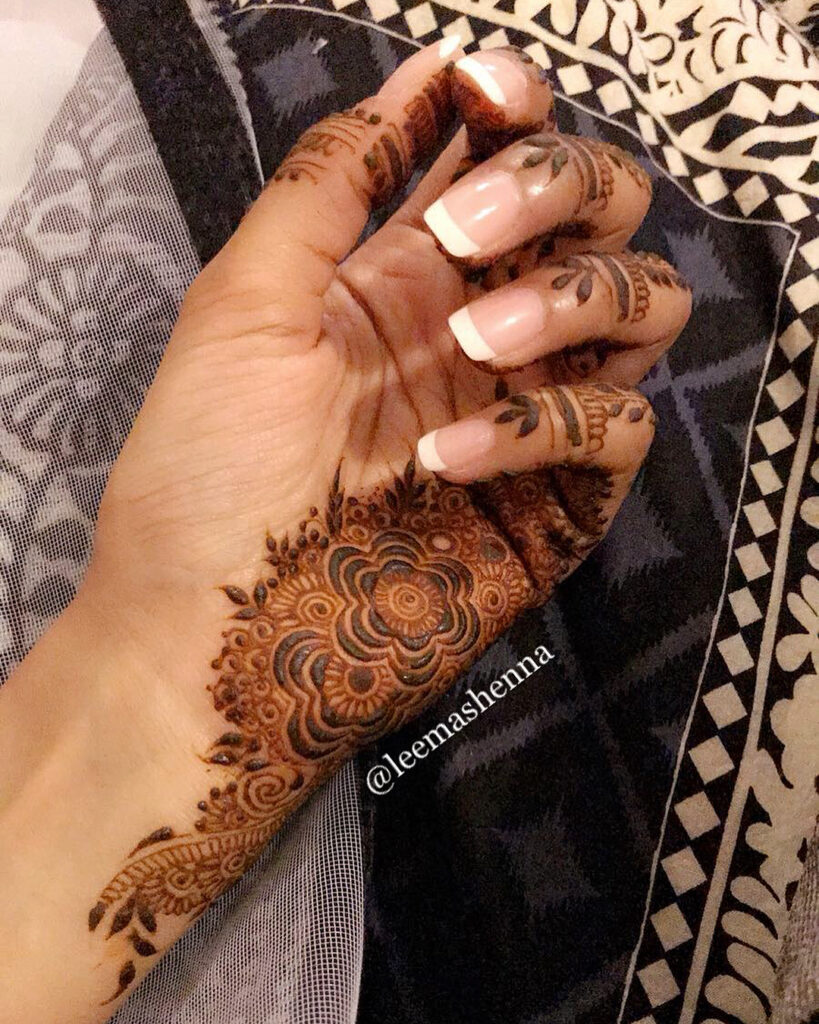 Via @leemashenna
28. Uniquely Patterned
Shift your circular mandala to a little left & create an exclusive design that's modish and elegant. The creative filling in this mehndi design is also what's making it so captivating.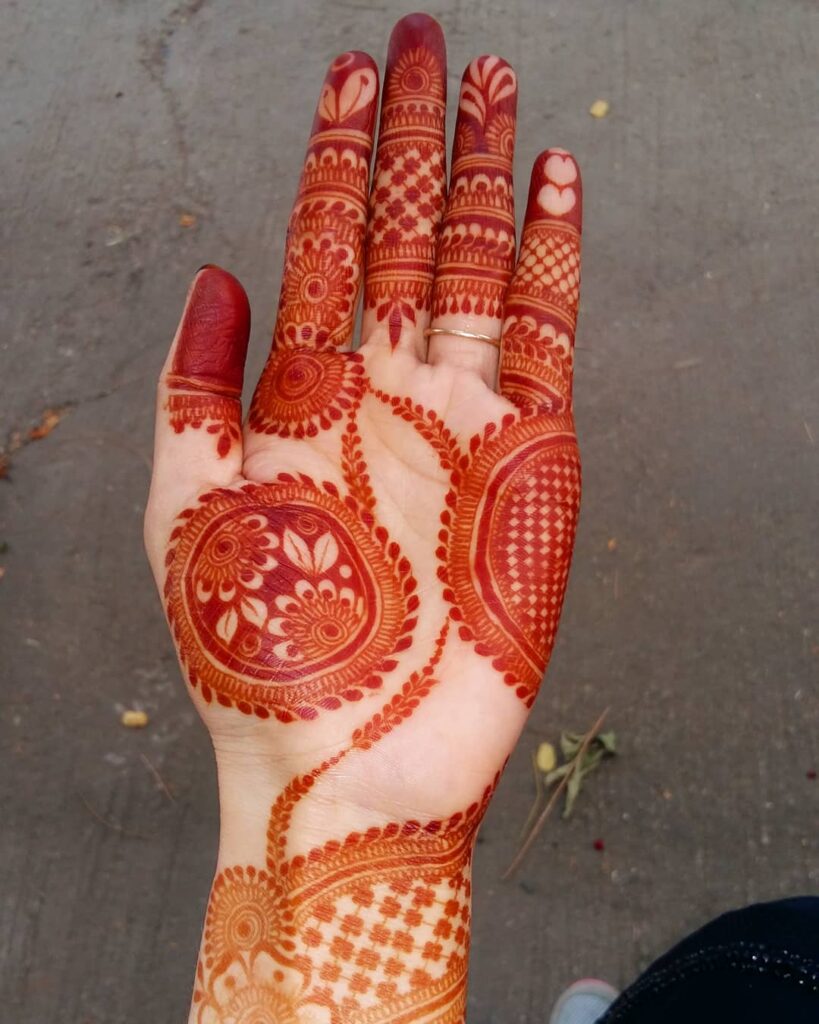 Via @hayats_henna
29. Karvachauth Special!
Well, the personalized lady motif in the middle takes work but those who possess mediocre levels of drawing skills can easily sketch it. Once that's done, the design becomes pretty simple to replicate.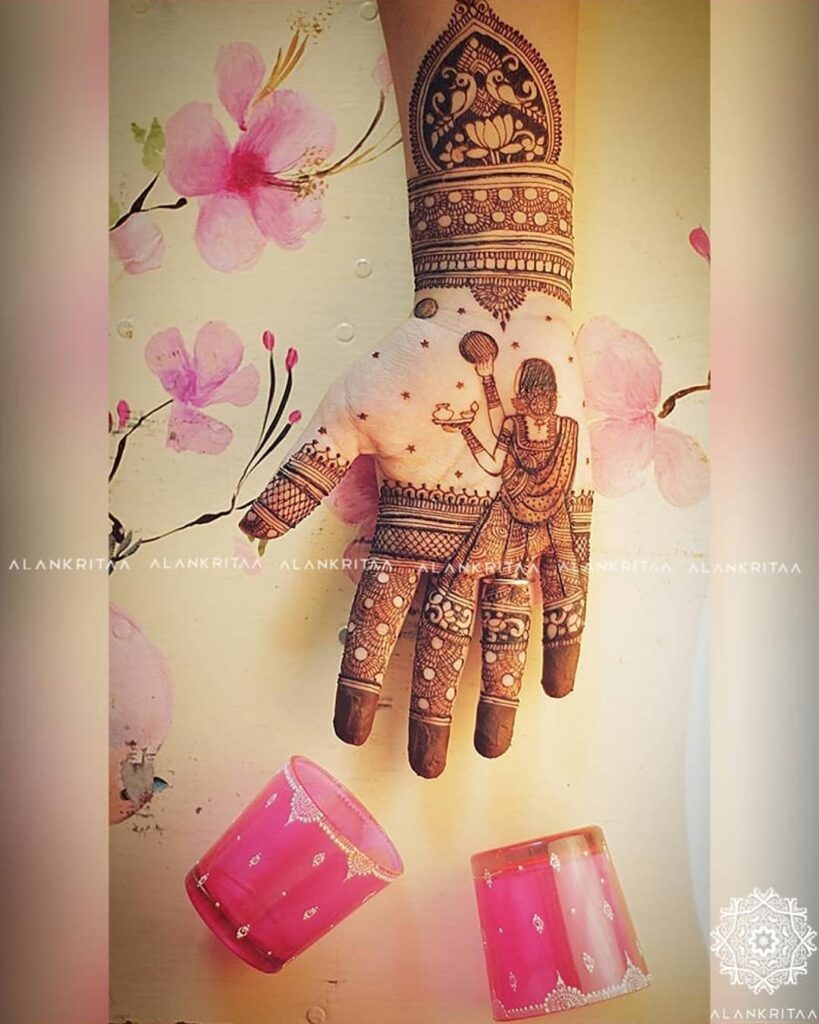 Via @alankritaabyrashi
30. Multi-patterned & Classy!
The repetitive filling in this mehndi design along with an easy outline is one of the best of these simple mehndi designs. The complementary nature makes it extra appealing to the eyes.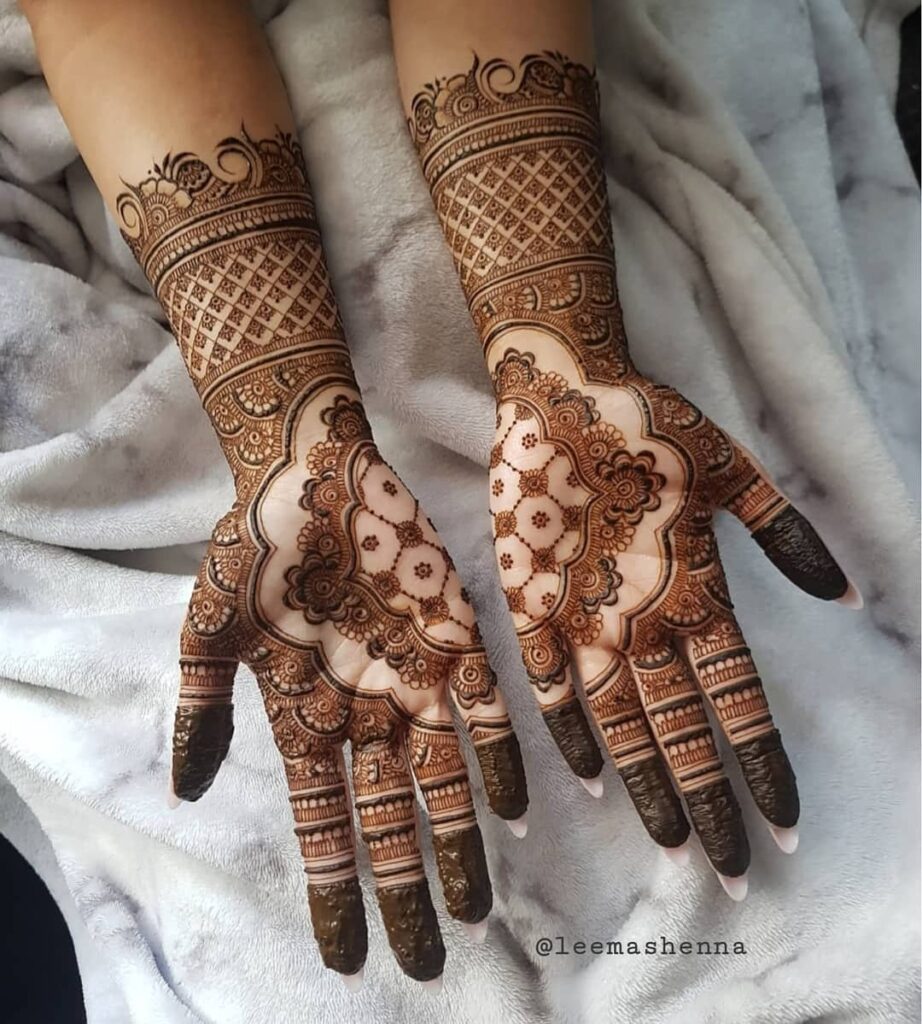 Via @leemashenna
31. Bold & Traditional
We are swooning over this immaculate mehndi design!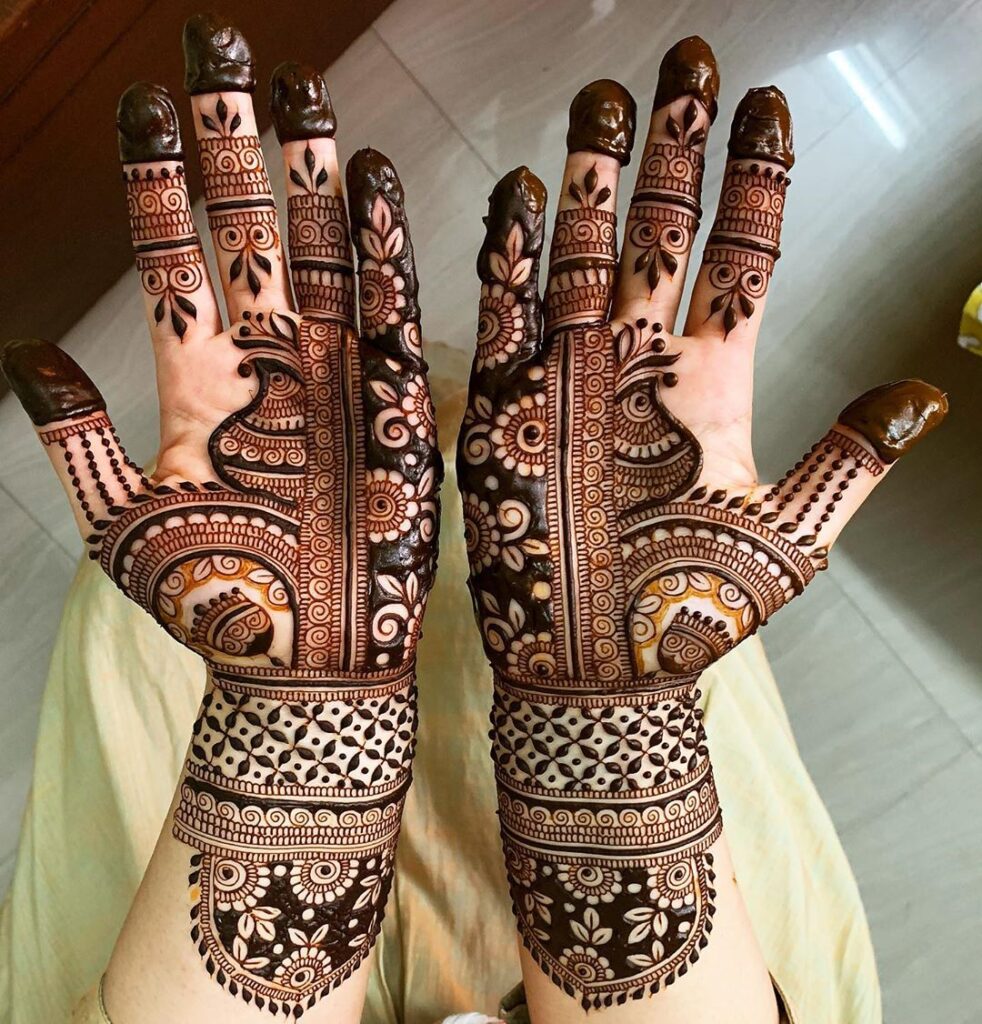 Via @creative_mehndi_design
32. Minimalist
Minimalist mehndi design lovers – here's something for you to fall in love with! When you call out for a very simple mehndi design for weddings, there are judgemental eyes on you. But these spacious & half-hand designs will be ideal for your & those critical aunties too!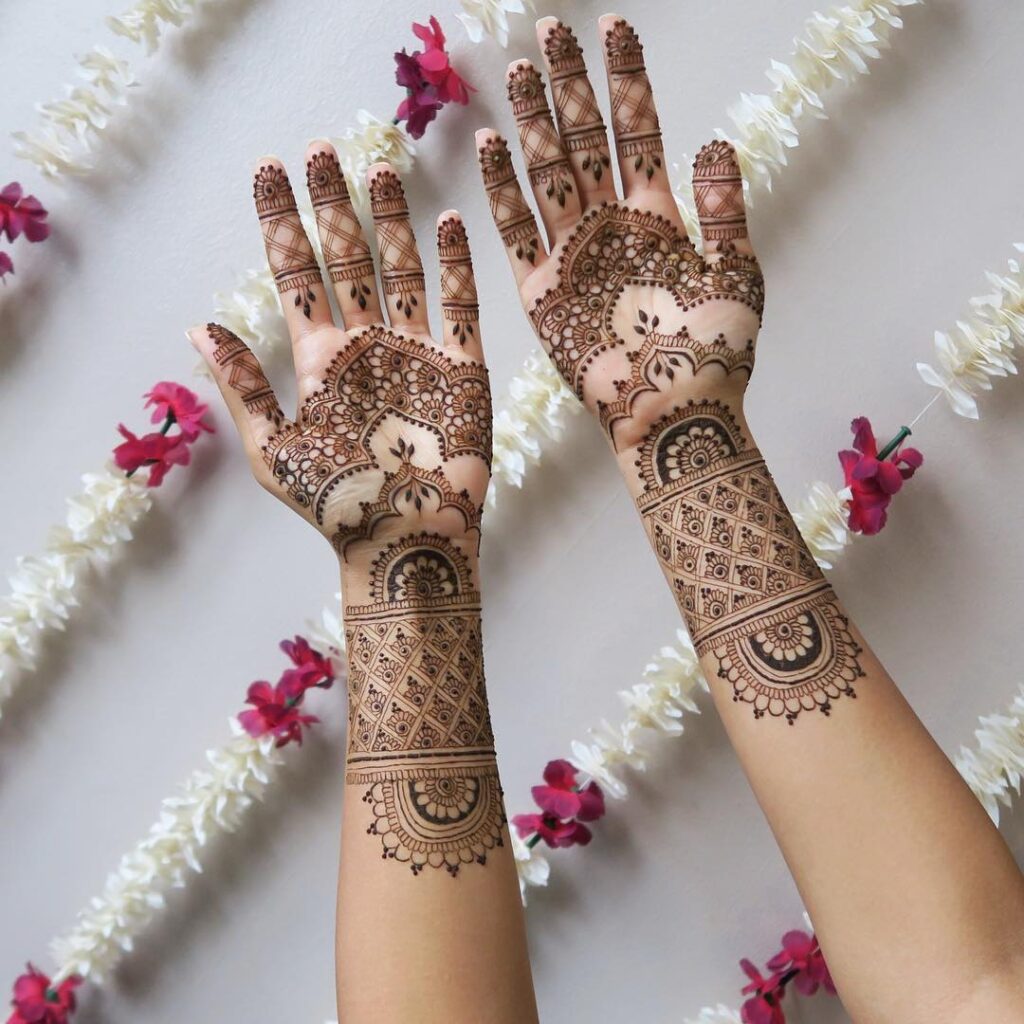 Via @mendhibymubina
Also See: 35+ Latest Bridal Mehndi Designs For Full Hands
33. Step-by-step Simple Mehndi Design
It becomes difficult to see a full-blown mehndi design & decide where to start, here's a step-by-step simple mehndi design tutorial to help!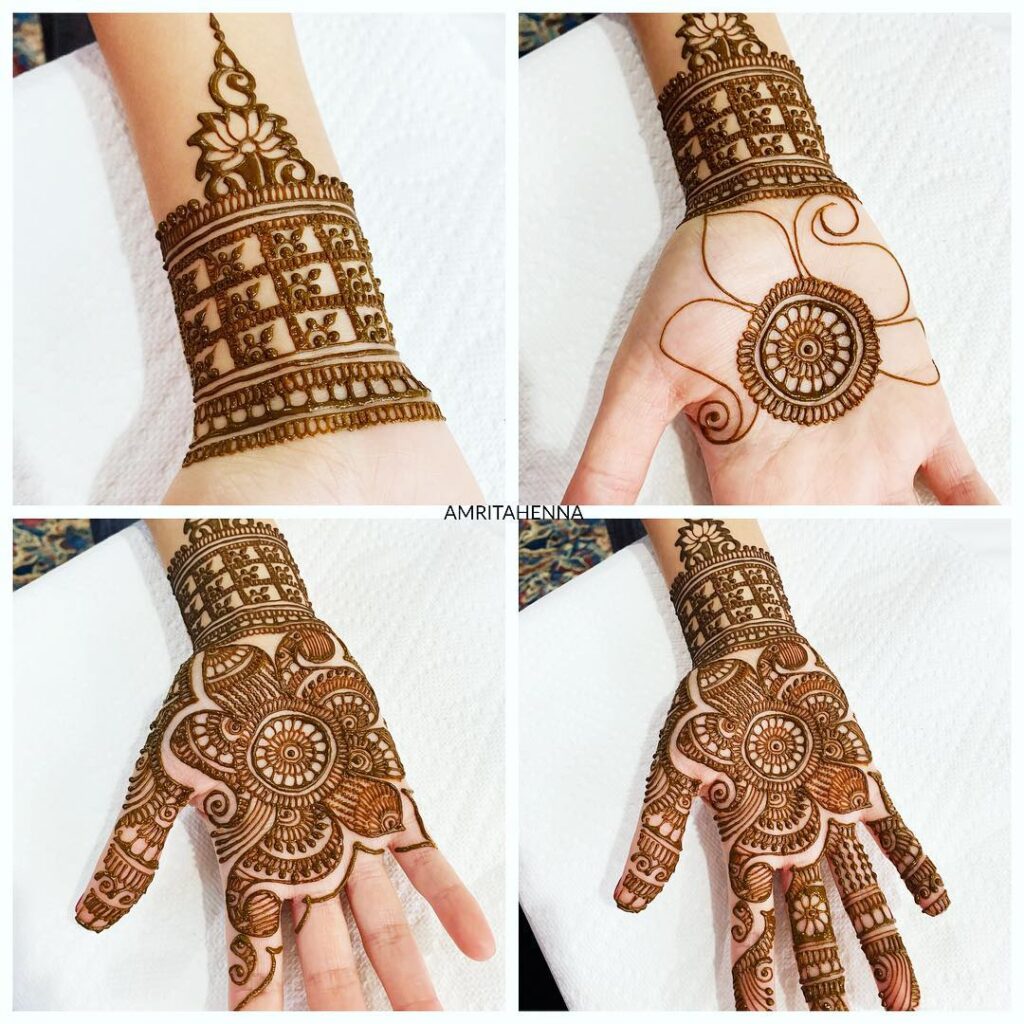 Via @amritahenna
34. Trending & Stylish
This henna will look even prettier when it will dry than it does wet. For a trained mehendi artist, this will take no longer than 10 to 15 minutes to complete. If you're a beginner though, ensure your hands are infused with the creative skills to draw before you try on this pattern. Even though it looks easy, there's certainly a lot of subtle creativity in this henna design.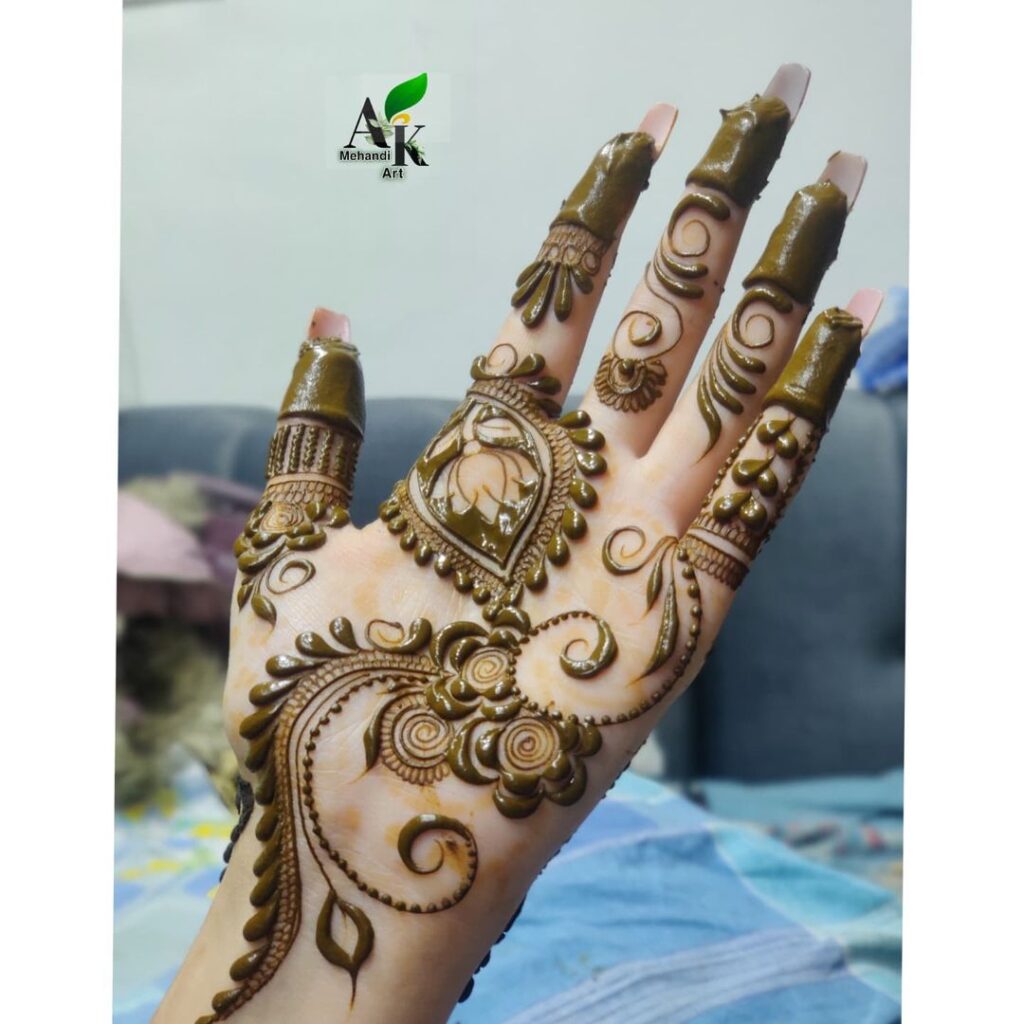 35. Just On One Side
This henna is so intricate. It smartly fills the lower part of the hand and keeps the palm minimal so as to give the aura of a simple mehndi pattern. If you find it a bit incomplete, you can totally add a small design on the finger right next to the thumb. It will give an illusion of a complete mehndi design without compromising the minimal attribute of the design.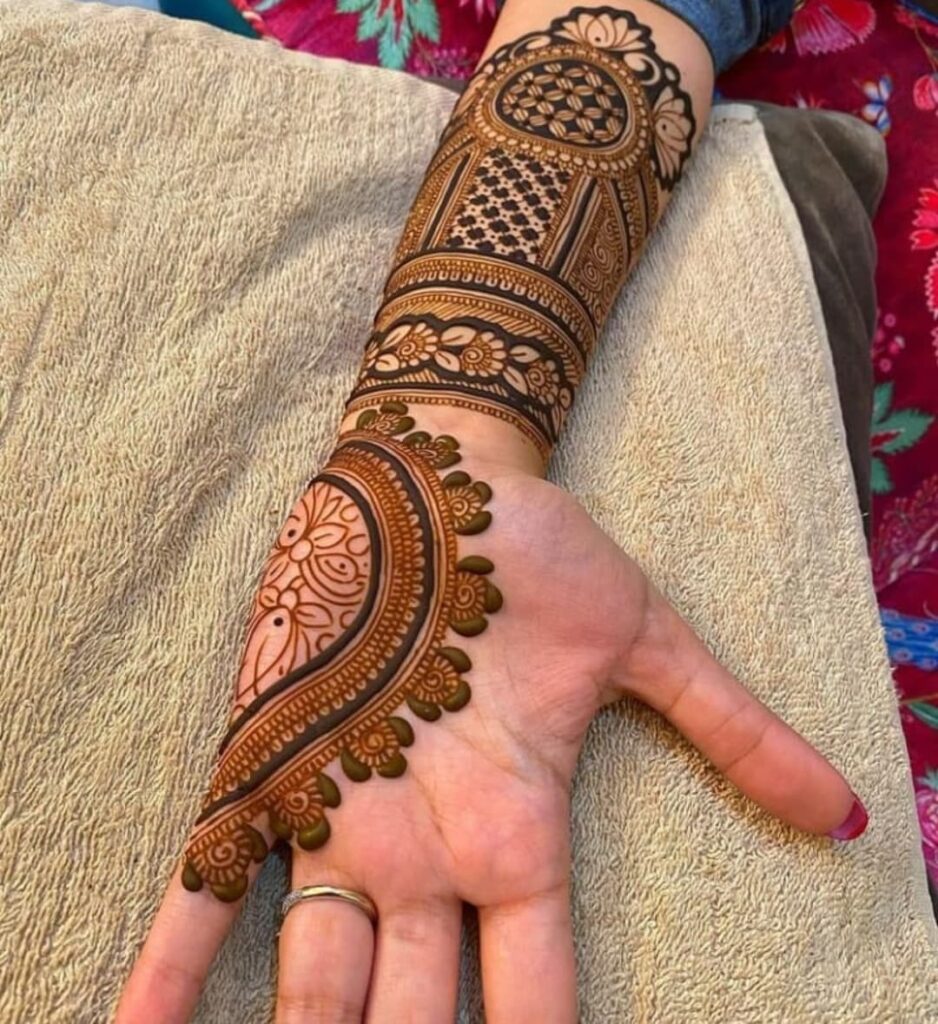 Simple Mehndi Designs For Back Hands
You know what elders say, it's bad luck to leave the back of your hands unpainted with henna. And drawing a line or dot isn't so fancy. So, here are some simple mehndi designs for backhands that will do the job.
1. Arabic Mehndi For The Win!
This traditional and simple mehndi design created by @himani_henna so beautifully is one of our favorite mehndi designs of all time!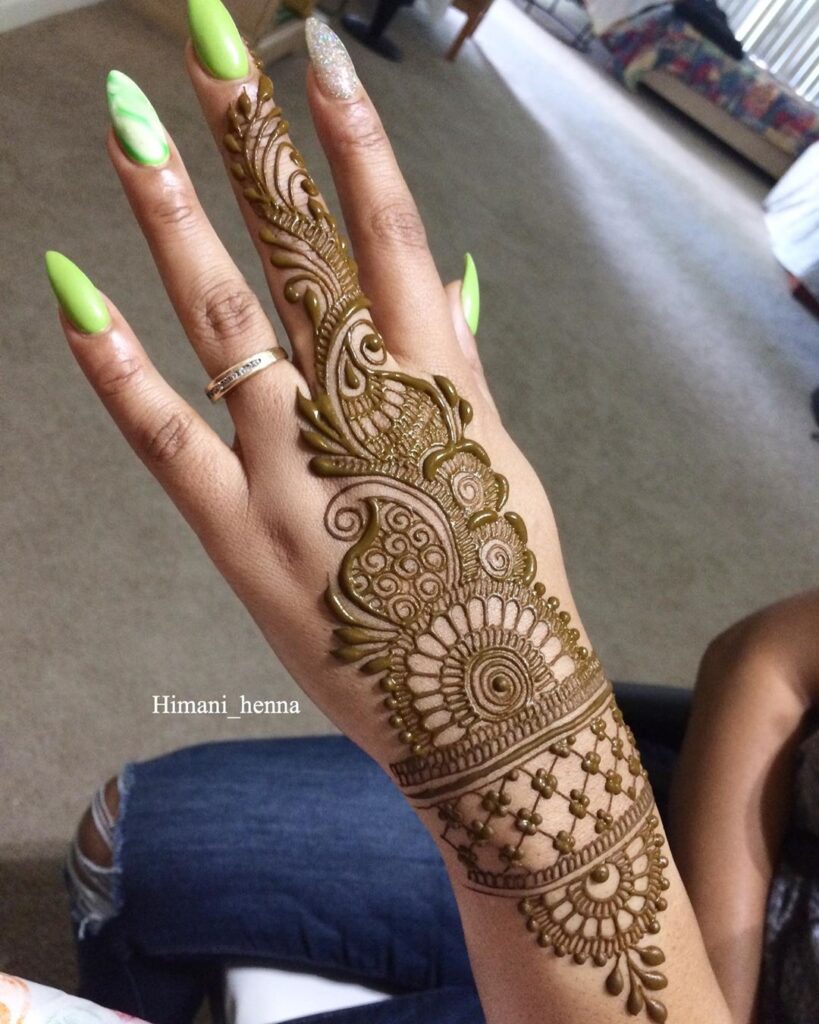 Via @himani_henna
2. Mandala Love!
Why stop at just one mandala when they look super pretty on a mehndi design? Take inspiration from this simple mehndi design & take the magic of mandalas up a notch.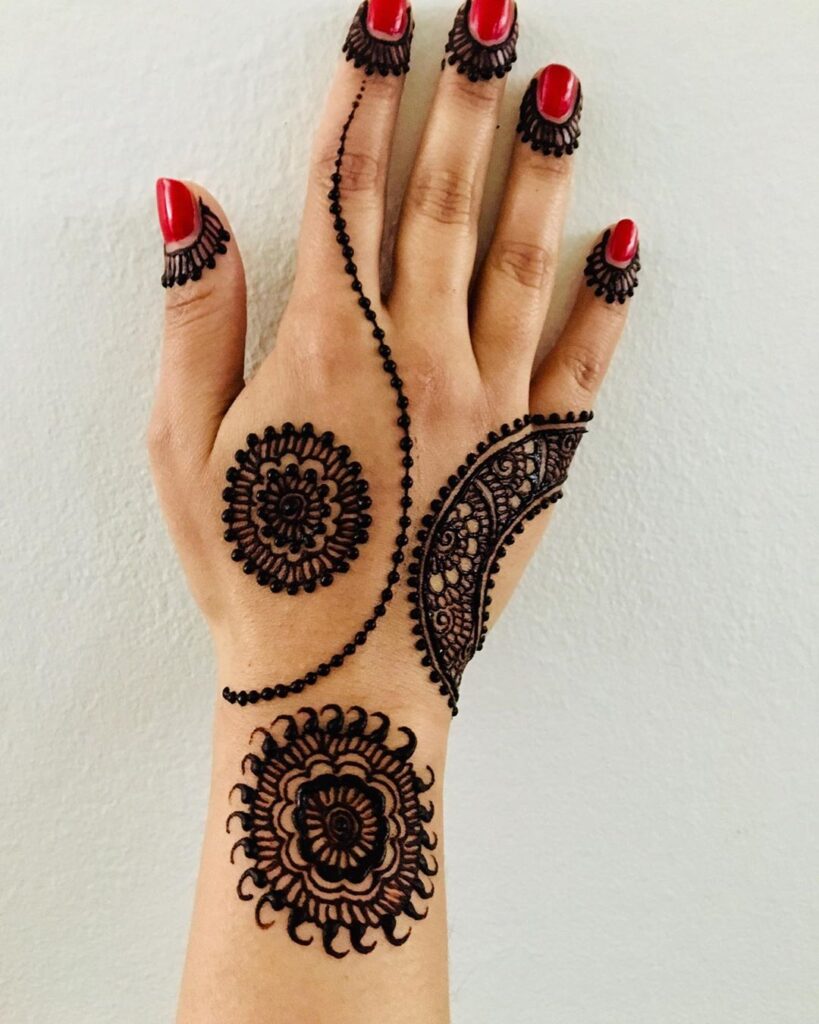 Via @hennaatoronto10
3. Simplicity is enchanting
'Simplicity is the ultimate sophistication and this simple mehndi design proves it!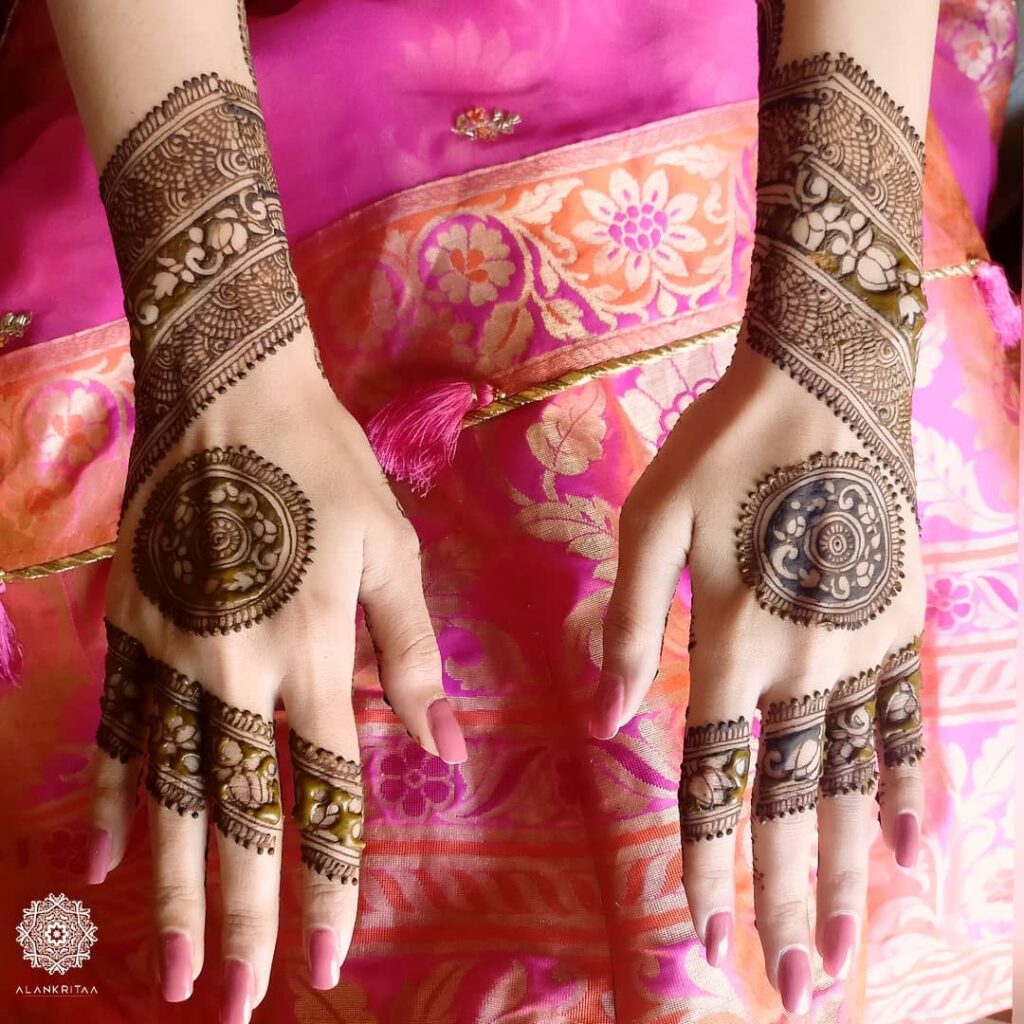 Via @alankritaabyrashi
4. Dazzling Florals
Shaded lotus flower motifs adjoined & placed so beautifully make this design so alluring!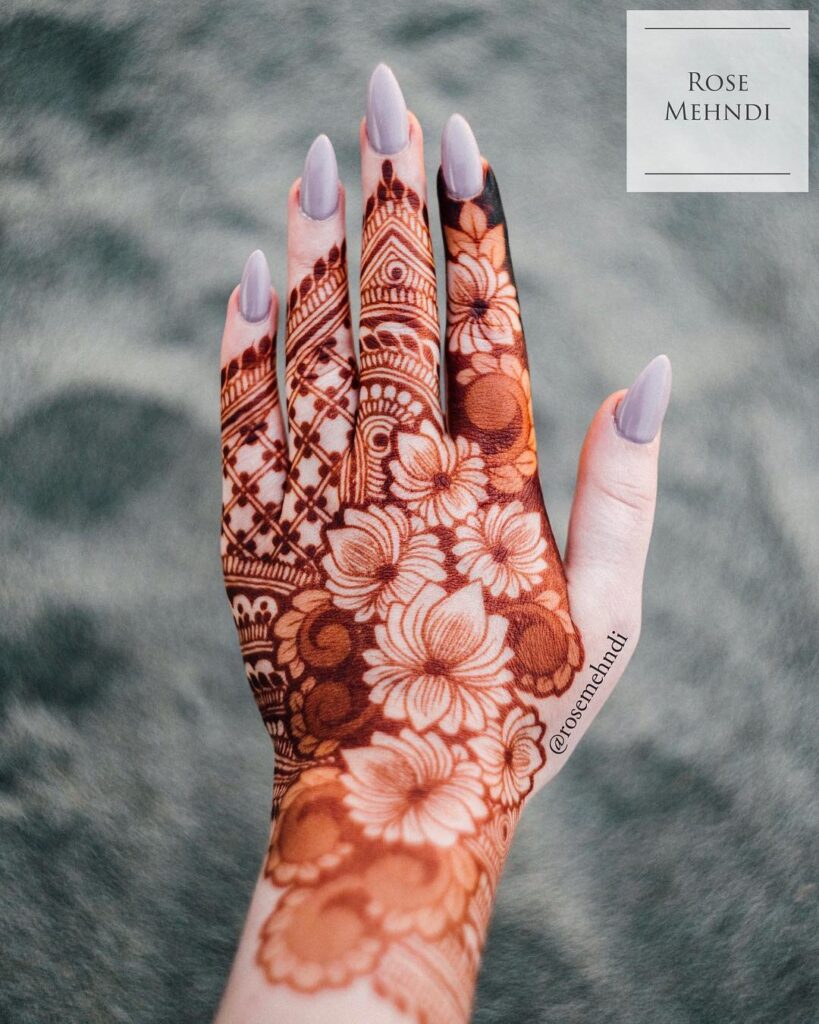 Via @rosemehndi
5. Effortless
This backhand mehndi design is so simple, that it shouldn't take more than 15 minutes to draw. It's spacious and the filling is minimal as well. This should be your pick if the festival is tomorrow & you have got no time!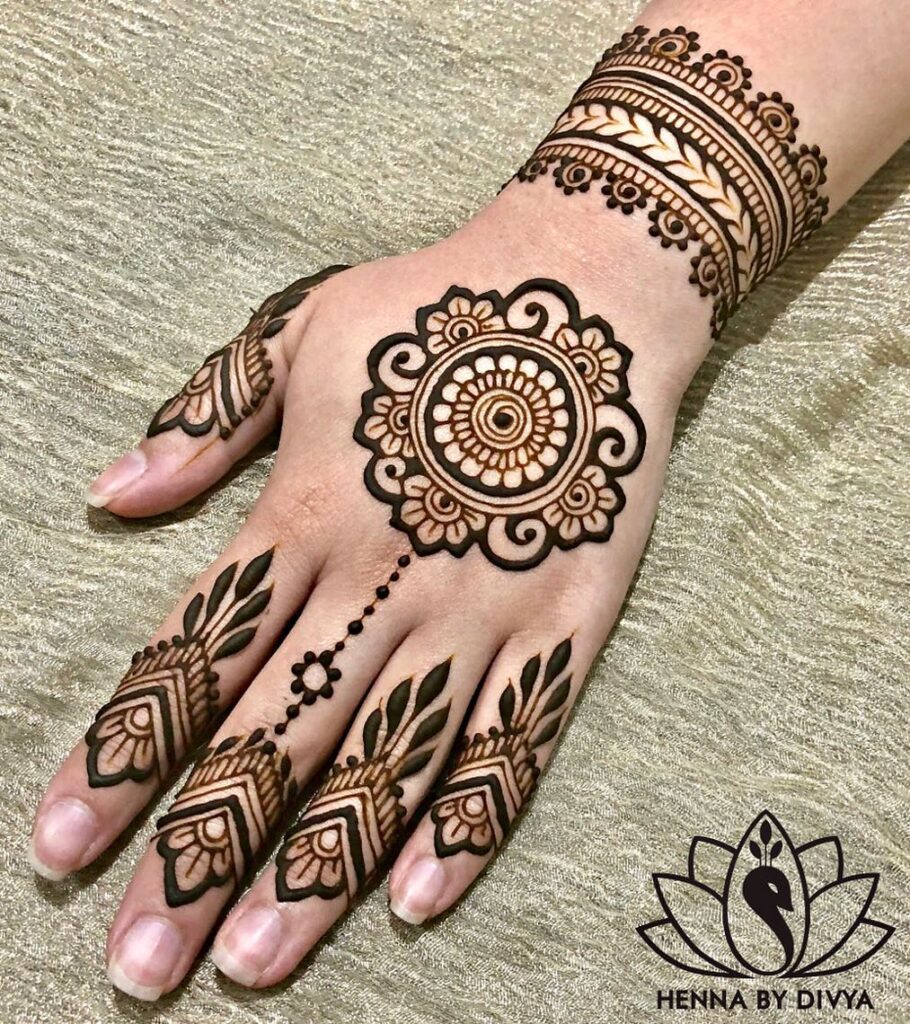 Via @hennabydivya
6. Just so pretty!
A chic and trendy mehndi design to decorate your hands. It's artistic yet roomy. And yes, we are a little distracted by the stunning wedding nail art too!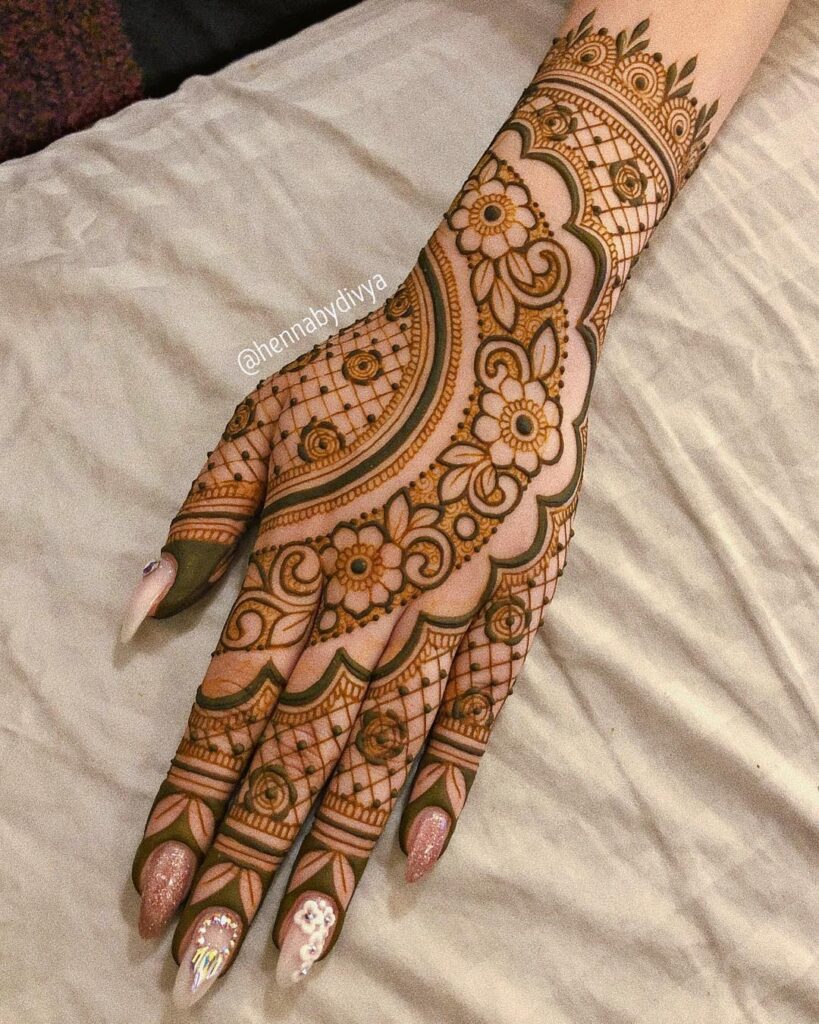 Via @hennabydivya
7. Less is More
Going by what's trending right now, less is always more. Just take care of the symmetry while drawing this design and it will turn out to be as appealing as in the picture.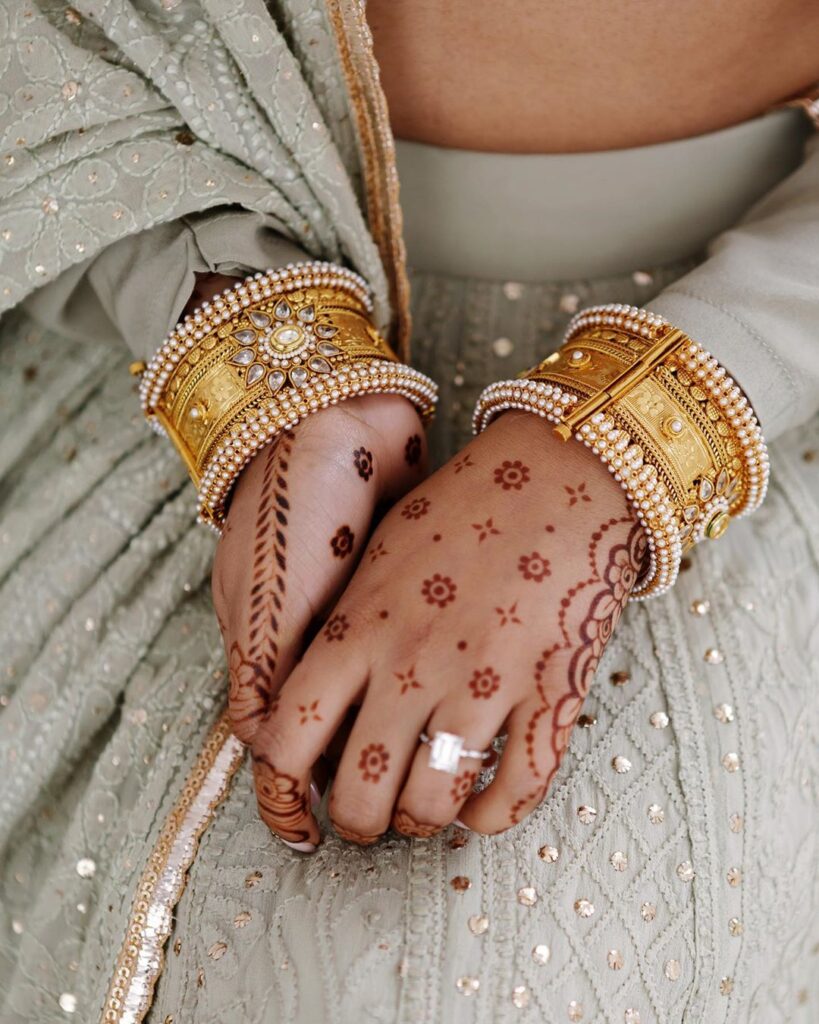 Via Instagram
8. A Modern Pattern
Jaal pattern outlined inside a curvy pattern is so eye-catchy!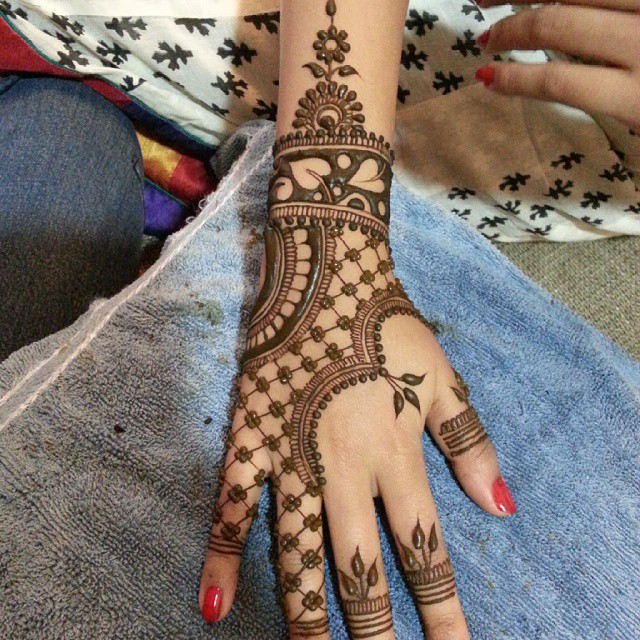 Via Instagram
9. Another Modish One
It's alluring and it's simple. Look closely and you'll realize that this design is probably the easiest back mehndi design to draw on this list.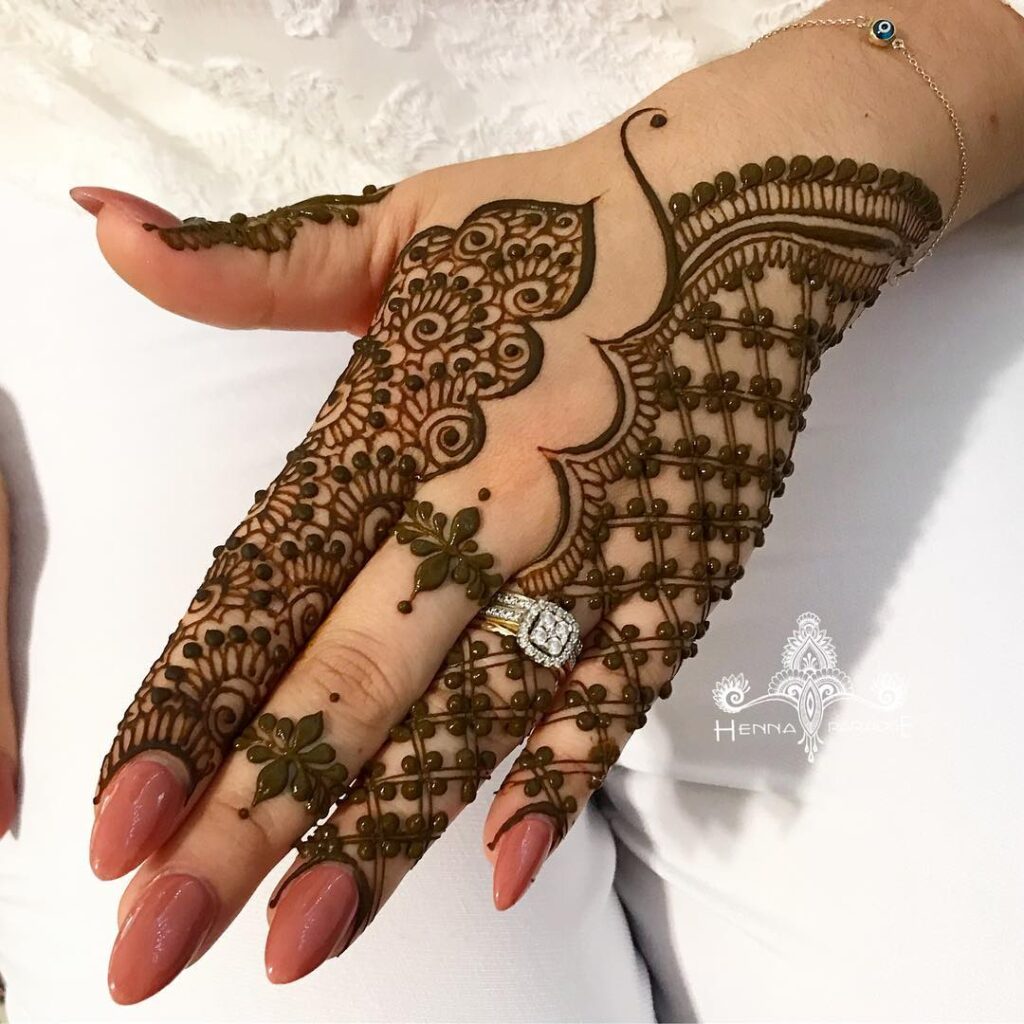 Via @henna_paradise
10. Jaal pattern with a twist!
A half-hand jaal pattern enhanced with flowers in the middle and swan motifs outside is easy to make and looks super cute at the same time. If the motif seems a little complex to draw, leave it. The design will still look as good.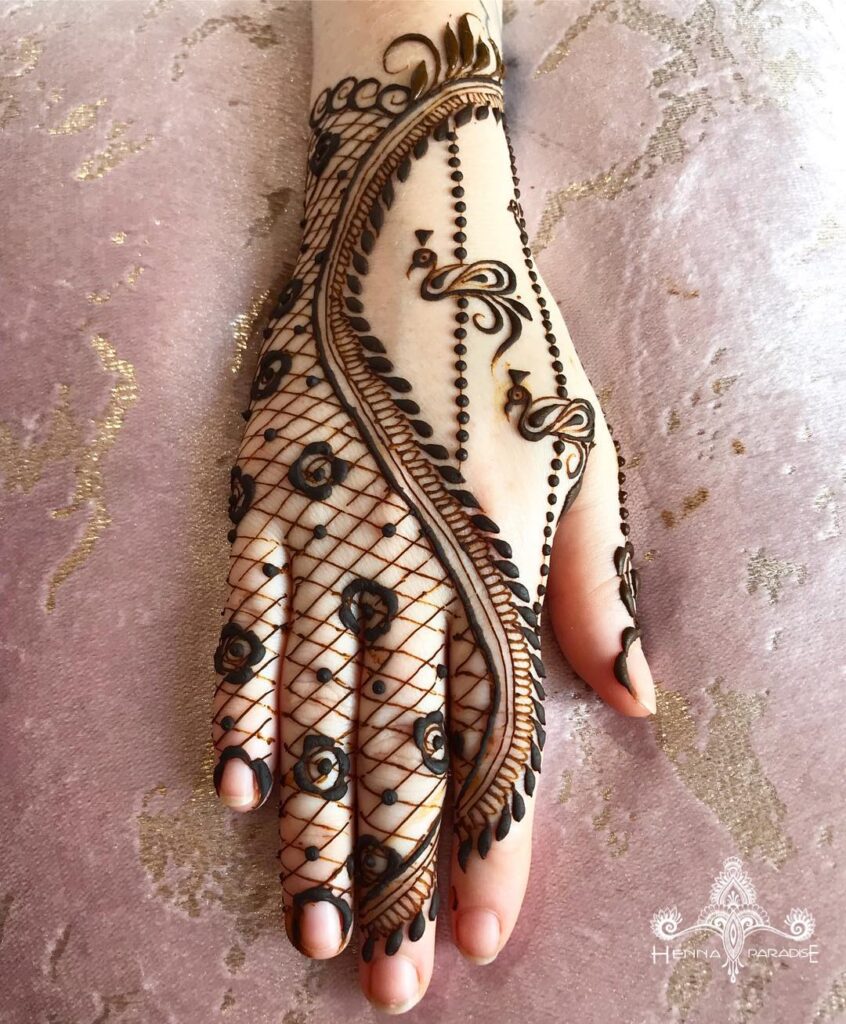 Via @henna_paradise
11. A treat to eyes!
This simple mehndi design requires intricacy & tidiness. We suggest someone who is above the beginner level to try this one.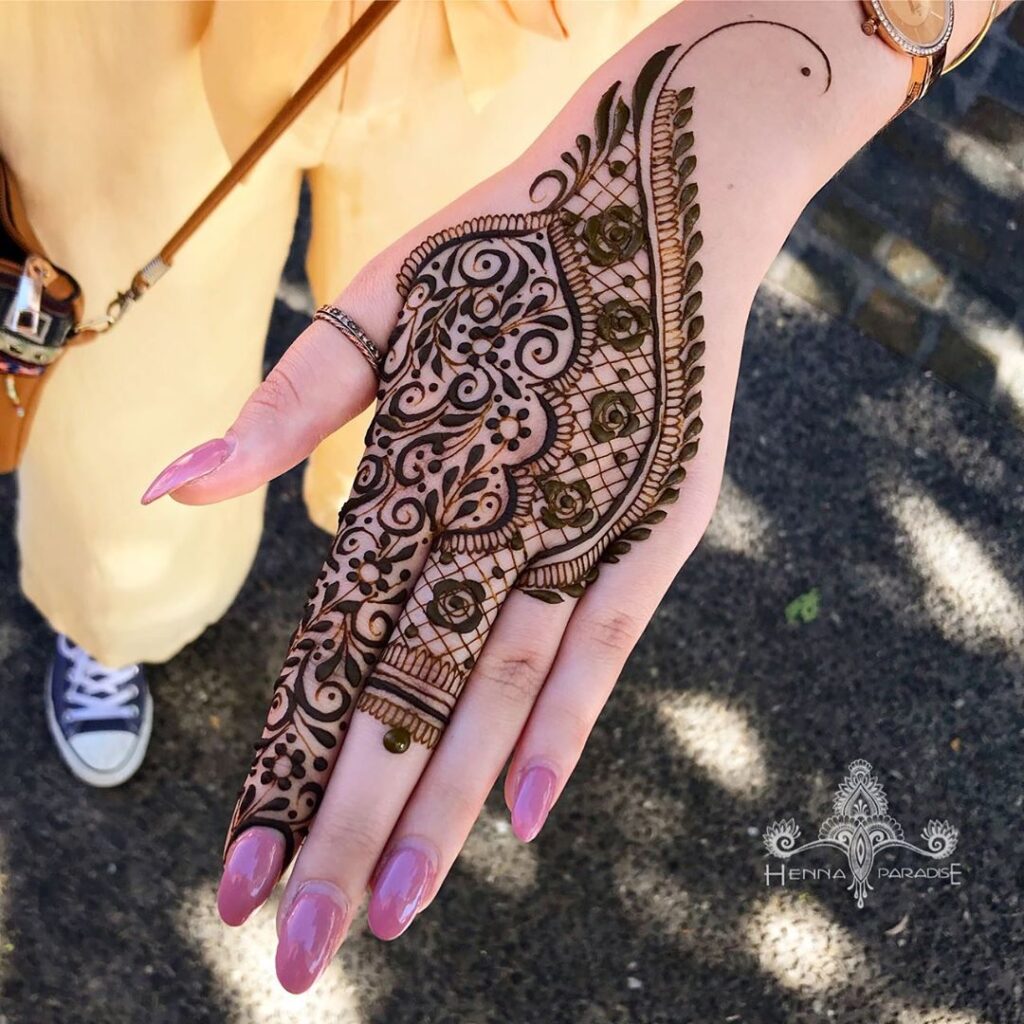 Via @henna_paradise
12. The Arabic Mehndi Charm
If you've drawn a half-hand mehndi design for your front & looking for something effortless for your back – this simple arabic mehndi design will work the best!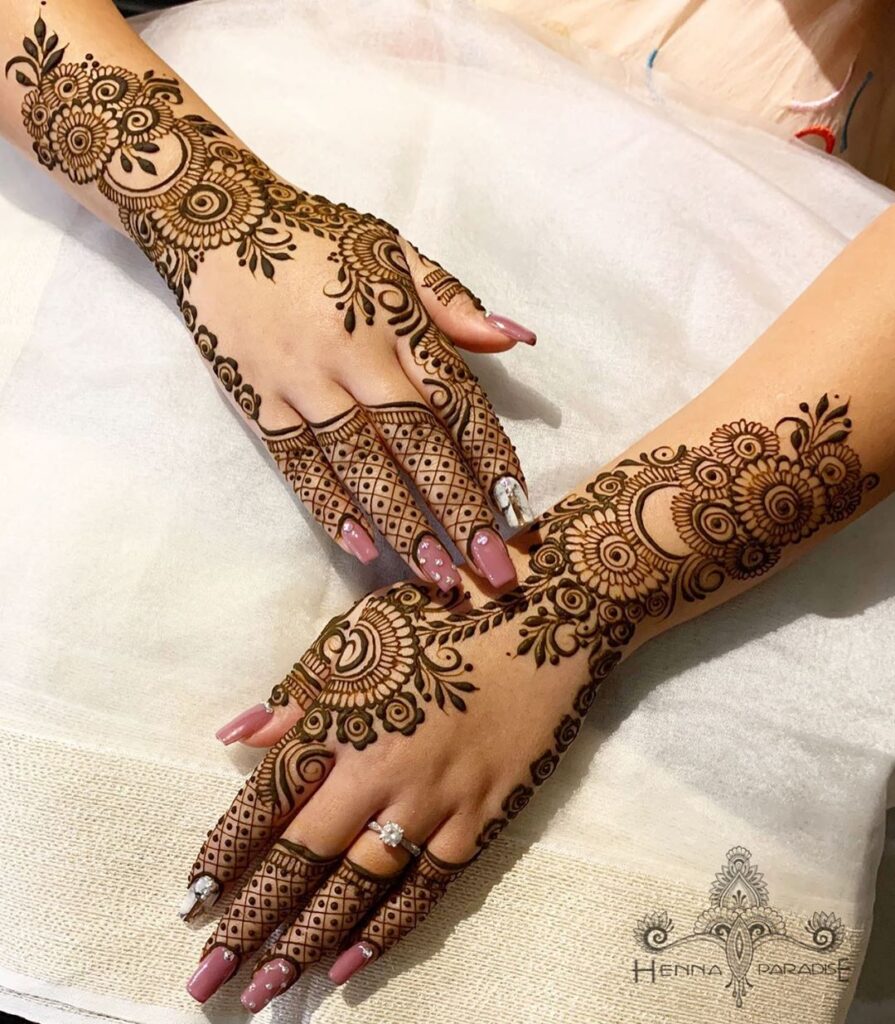 Via @henna_paradise
13. Traditional Trail
Embrace the traditional mehndi trail with this classic mehndi design.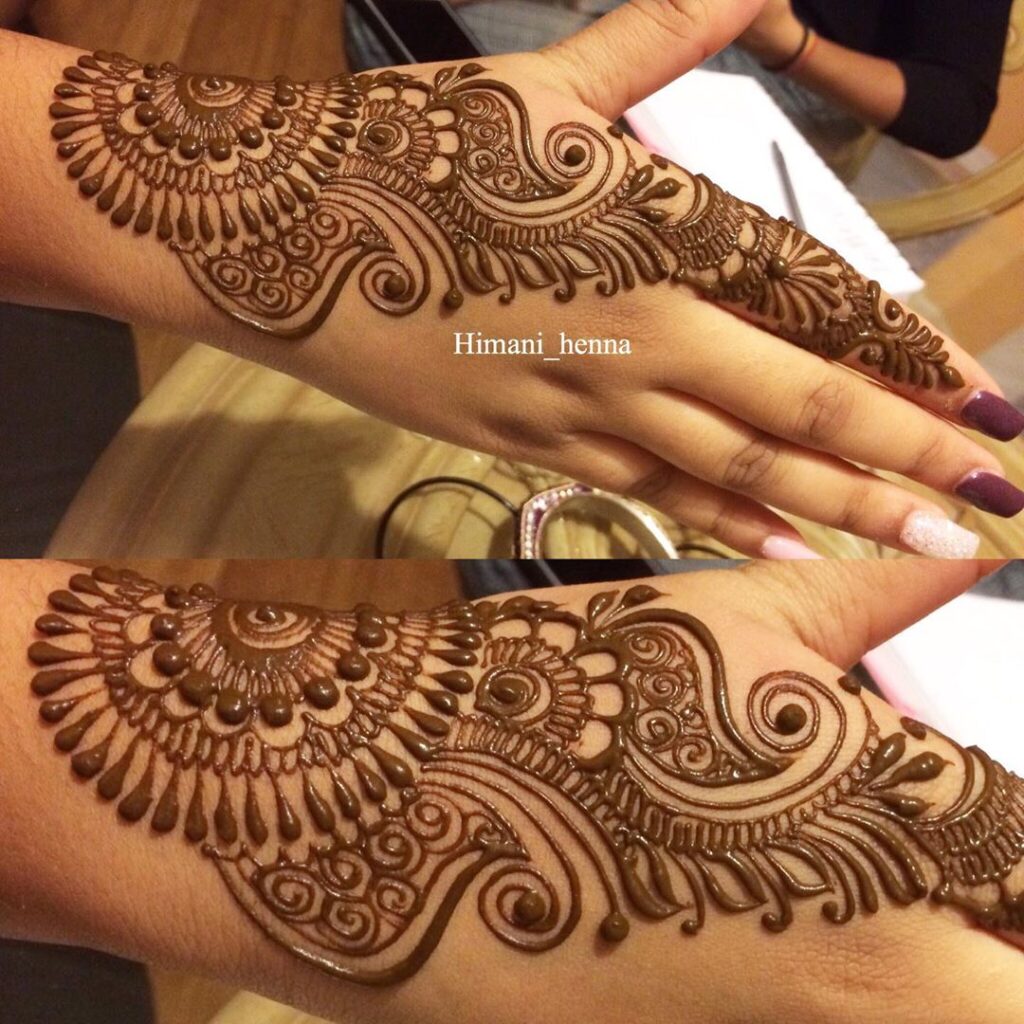 Via @himani_henna
14. Set A Statement
With jhumka motifs & new-age floral art – this is such a refreshing mehndi design! It will be a tedious job to draw those small half-circles in the fillings but just wait for the end result.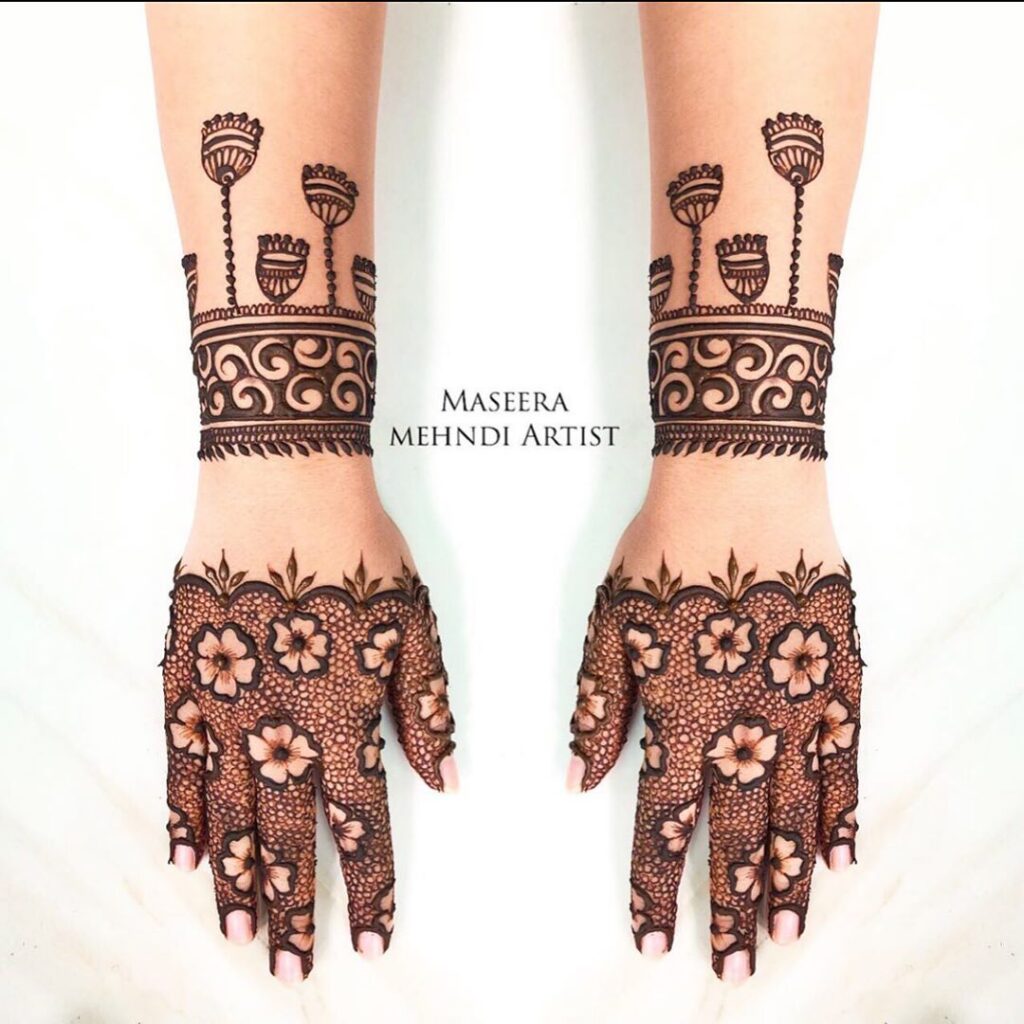 Via @maseeramehndi_artist
15. Simply Gorgeous
Dominated by common mehndi motifs, this design looks utterly gorgeous & classy.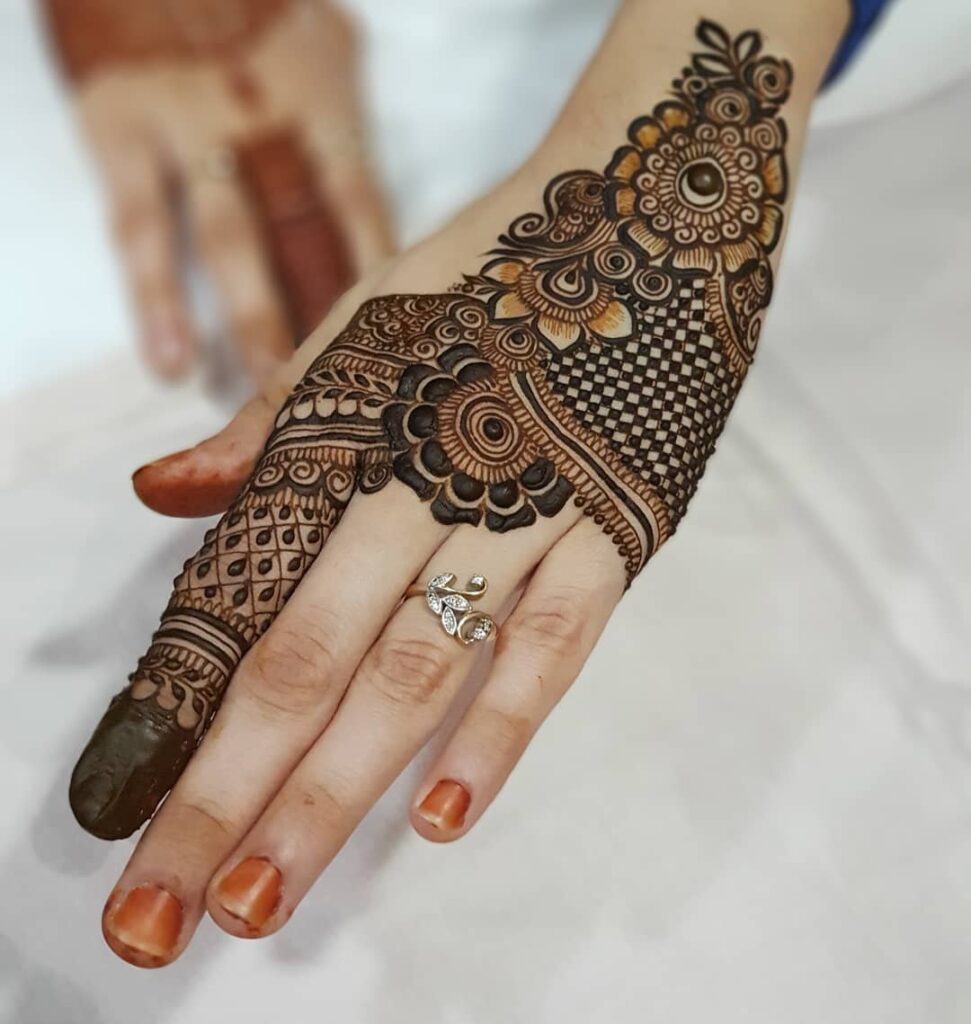 Via @arora_mehndi
16. A Floral Delight!
This one involves both hands complementing each other so perfectly!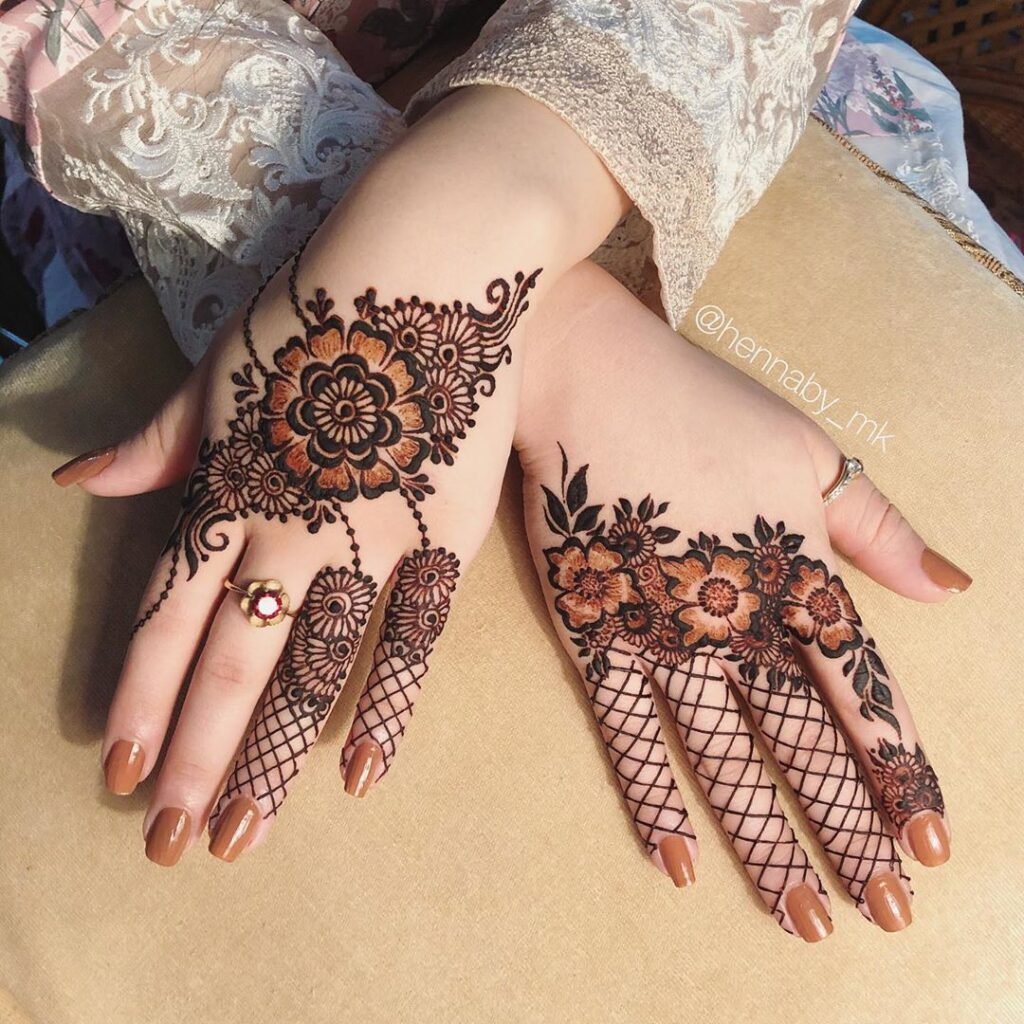 Via @hennaby_mk
17. Simple yet beautiful
Another simple back mehndi design that explores the magic of florals in henna! Easy to draw and spacious, this will awe our millennial brides.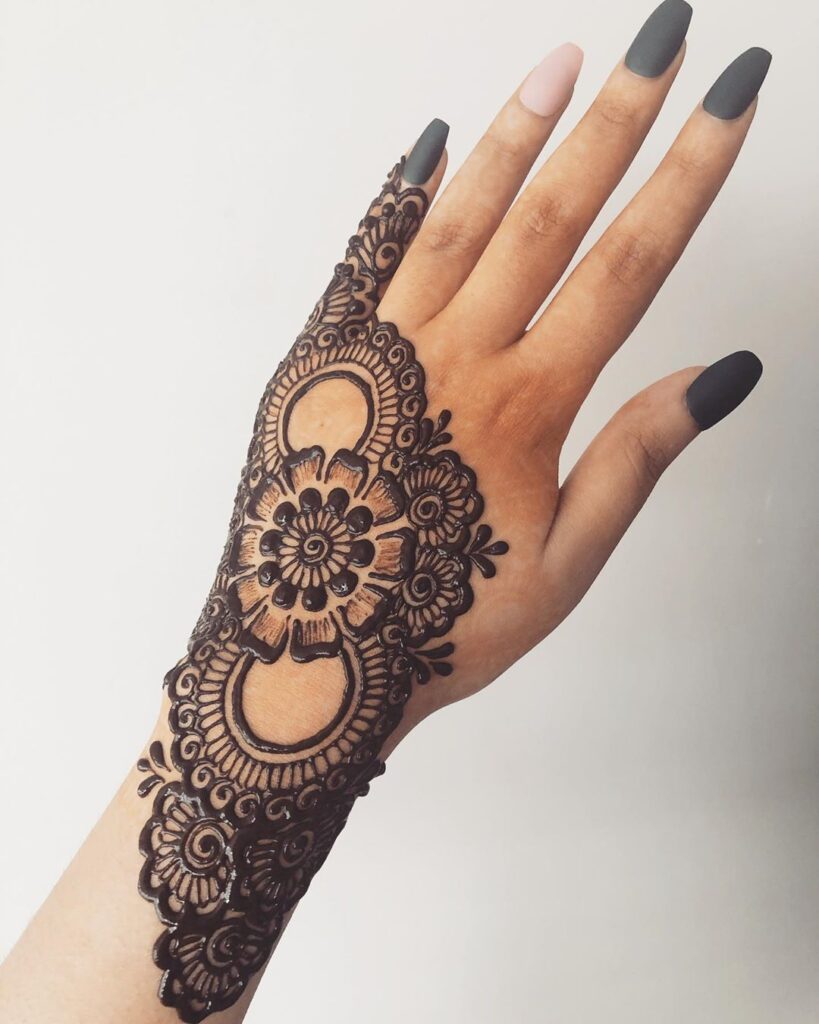 Via @mehndiartist_hira
18. Amp it up with a striking accessory!
We love how basic this design is – with just two short floral trails drawn on the sides and glamming it all up with a statement hand accessory.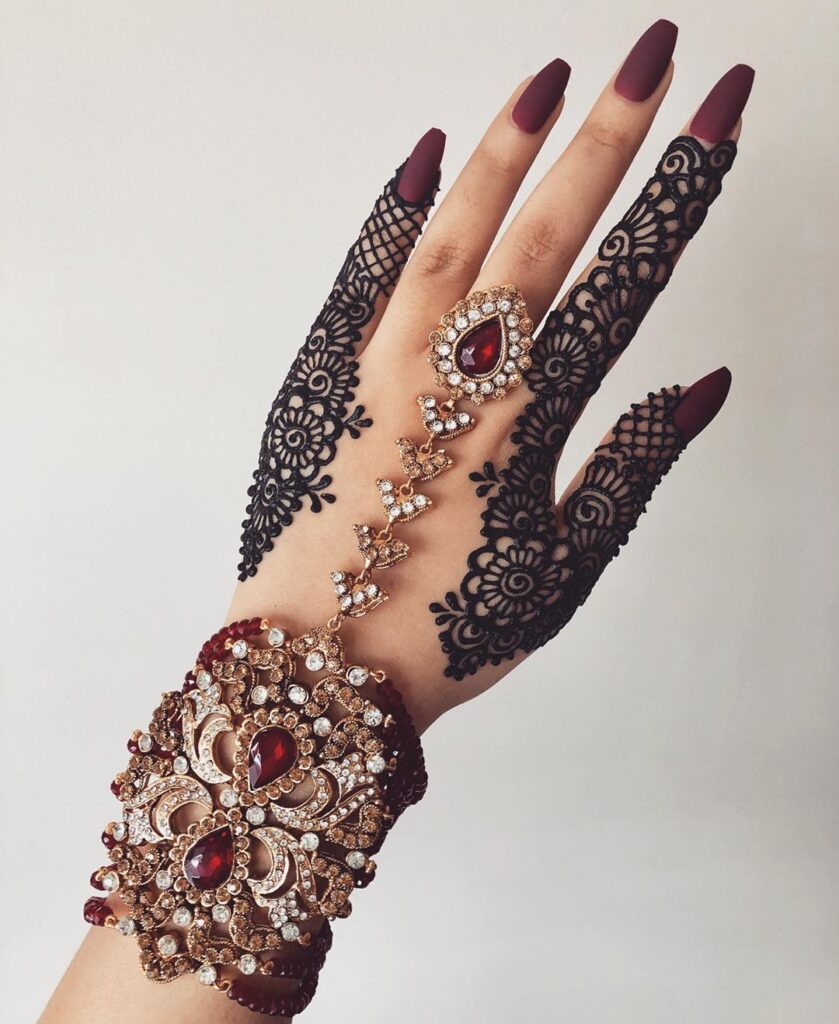 Via @mehndiartist_hira
19. A Pleasing Pattern
Spacious circles drawn at perfect distances from each other with identical external designs is worth gushing over!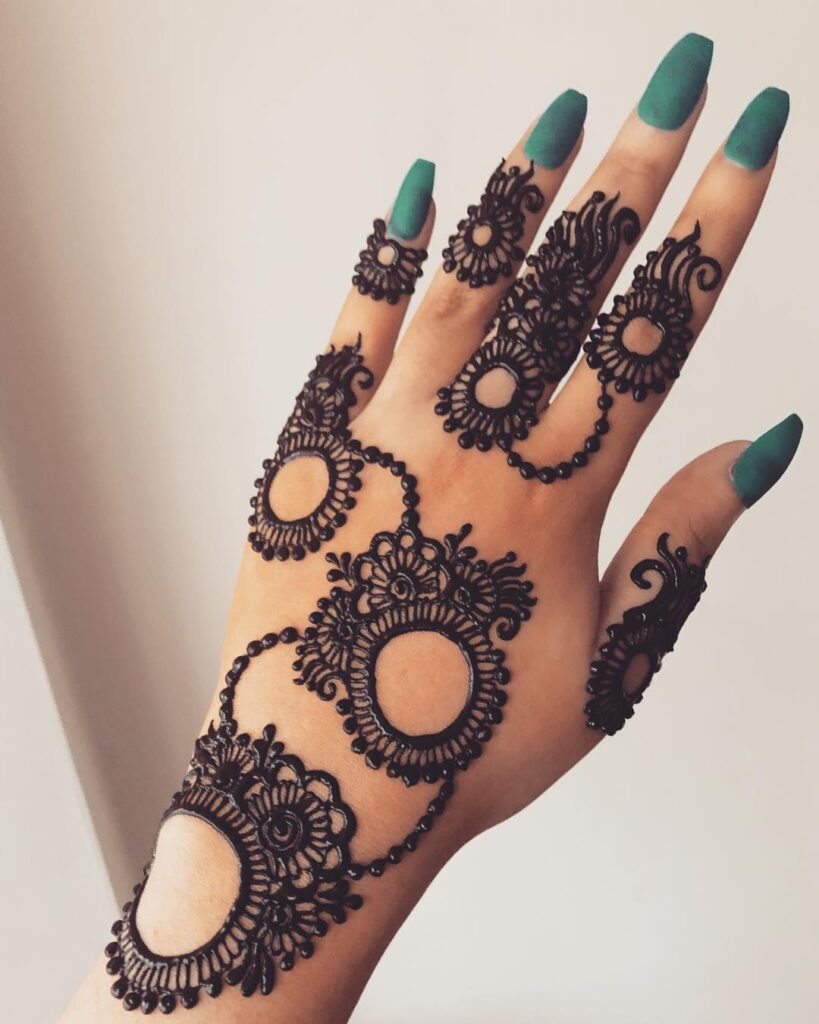 Via @mehndiartist_hira
20. A rather Contemporary One!
We are extremely impressed by this chic and contemporary design.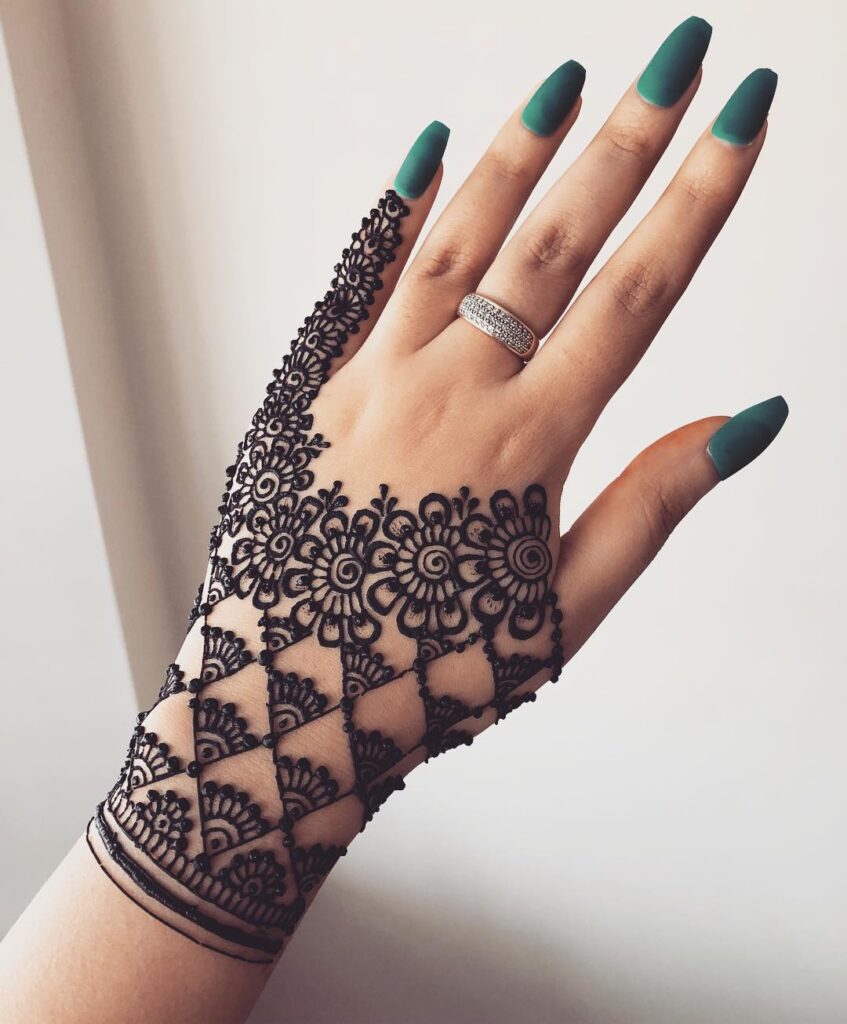 Via @mehndiartist_hira
21. Intricacy at its best
This design might look complicated but isn't. You can replace the lotus motif with a simple flower one if you want. It will still look great. Although this design will require patience and tidiness.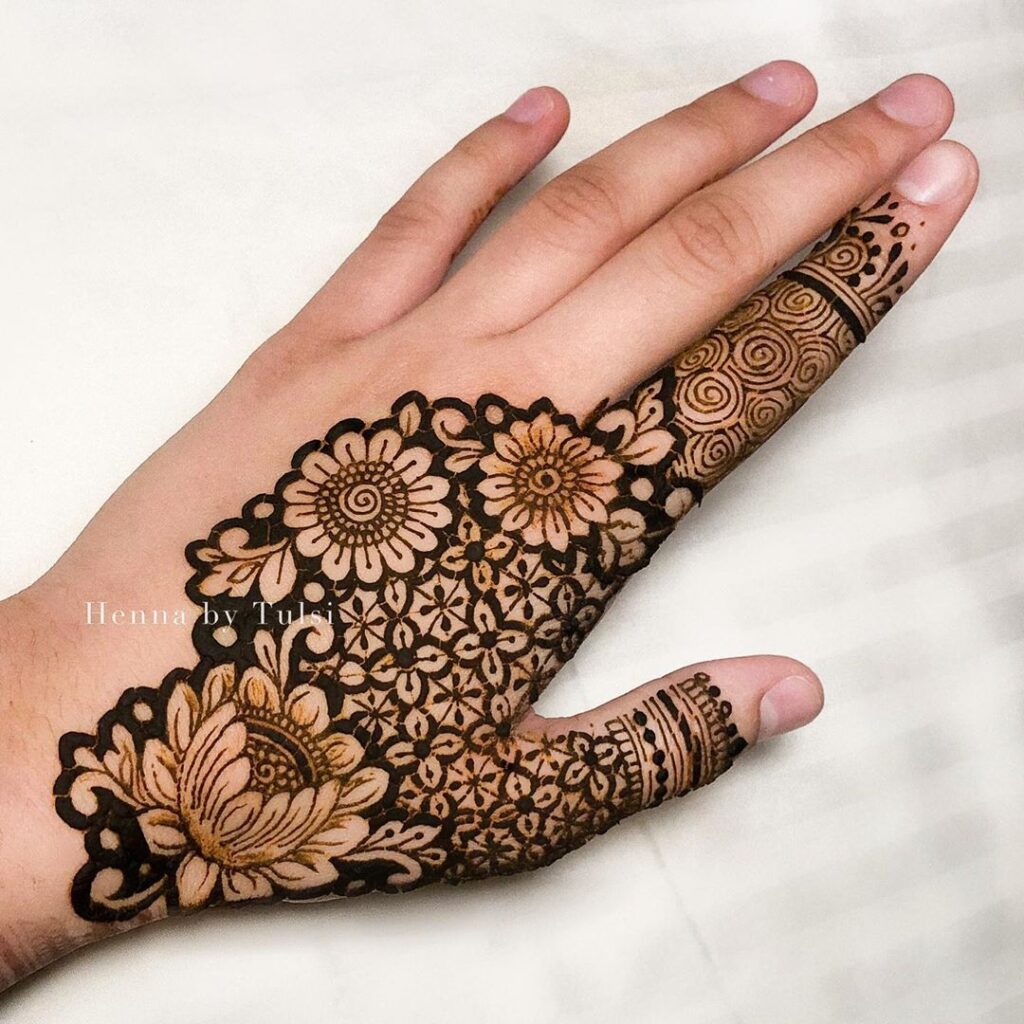 Via @hennabytulsi
22. So appealing!
While drawing this mehndi design just keep one thing in mind – petite strokes! The filling is pretty easy and so is the outline.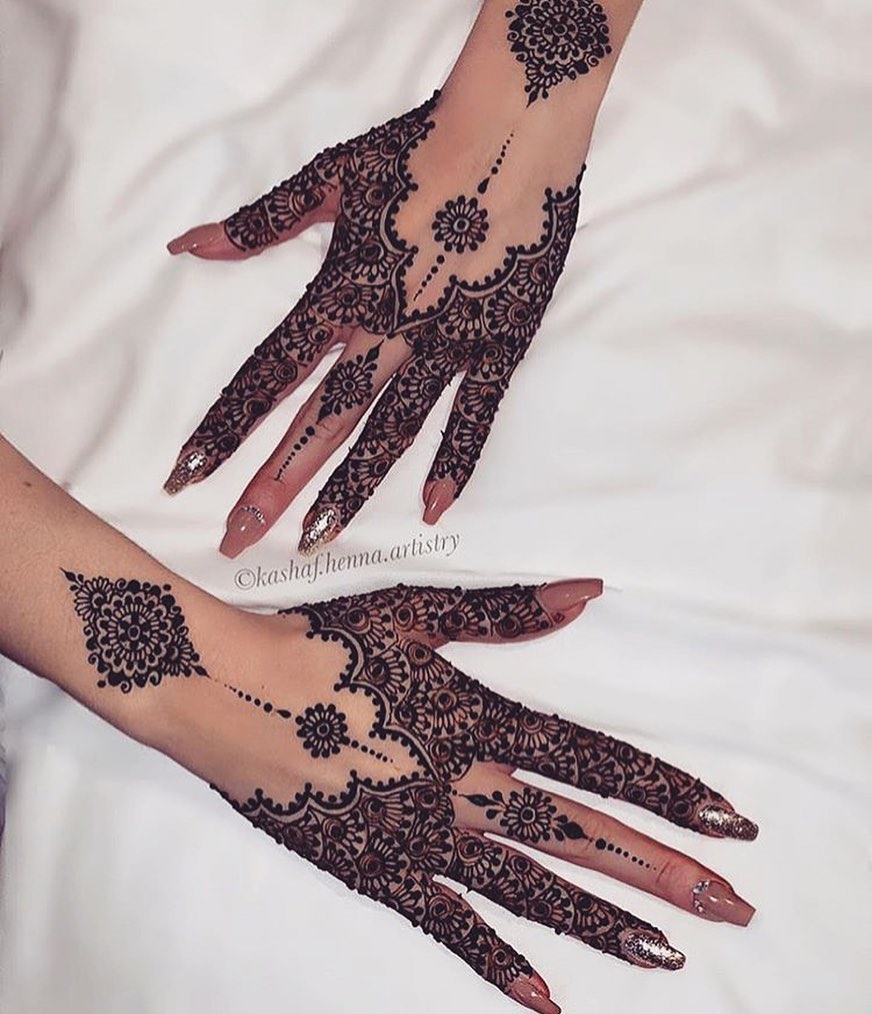 Via @kashafhennaartistry
23. A beautiful jaal pattern
This jaal mehndi design with leafy outlines and checkered designs on the border makes for a stunning full-coverage design.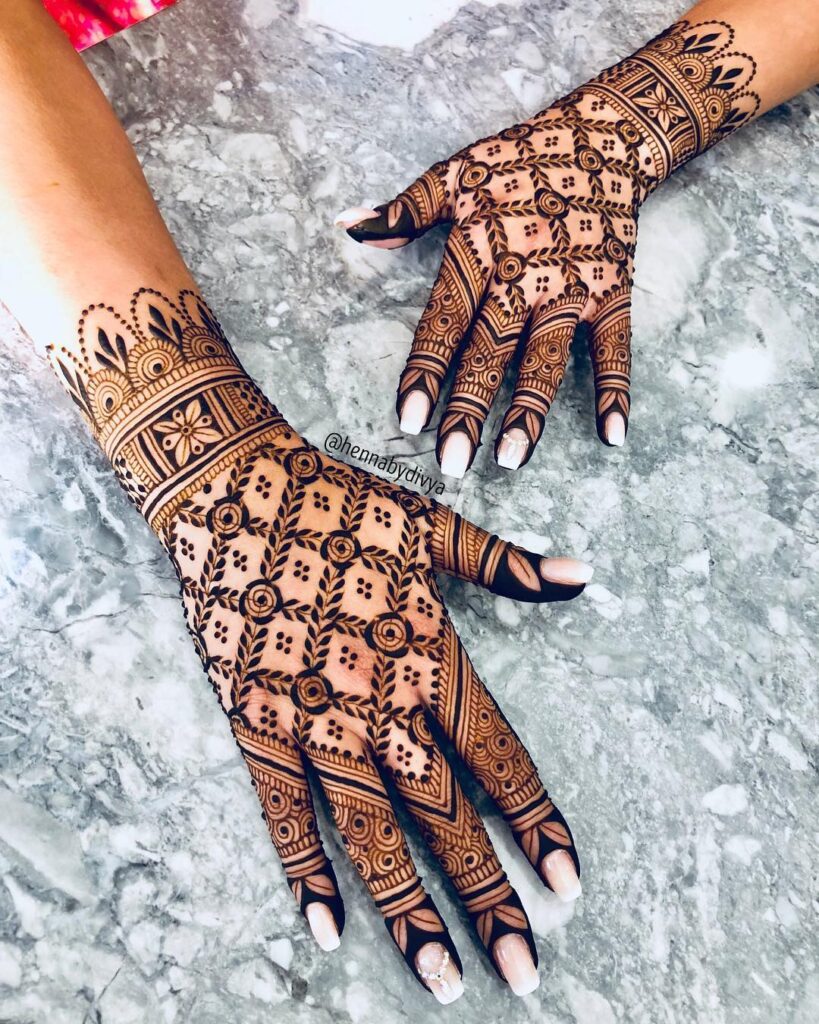 Via @hennabydivya
24. Mandalas never disappoint!
A roomy mandala design with just 3 to 4 concentric circles along with a choodi design on the bottom looks phenomenal.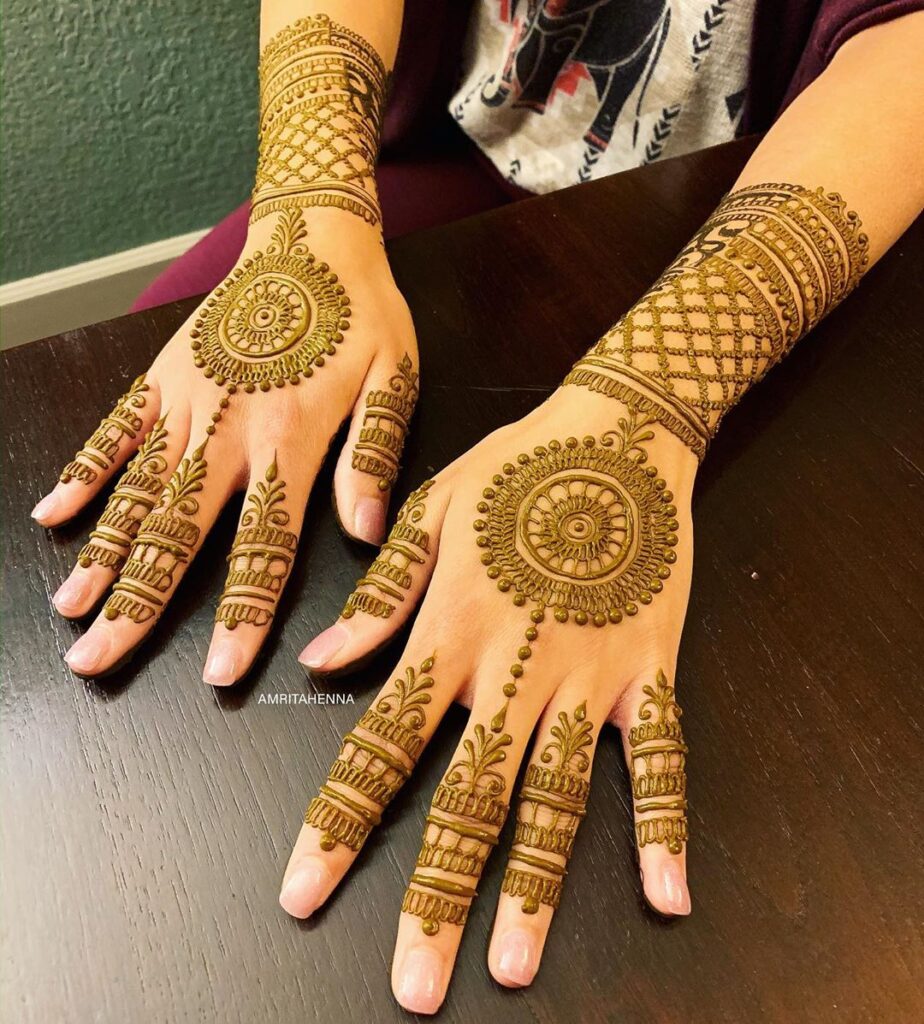 Via @amritahenna
25. Back Mehndi Design Covering Half Hands!
Another typical mandala design that will require a little more work and patience. The filling is easy but it requires petite strokes. This makes this design time-consuming but also beautiful.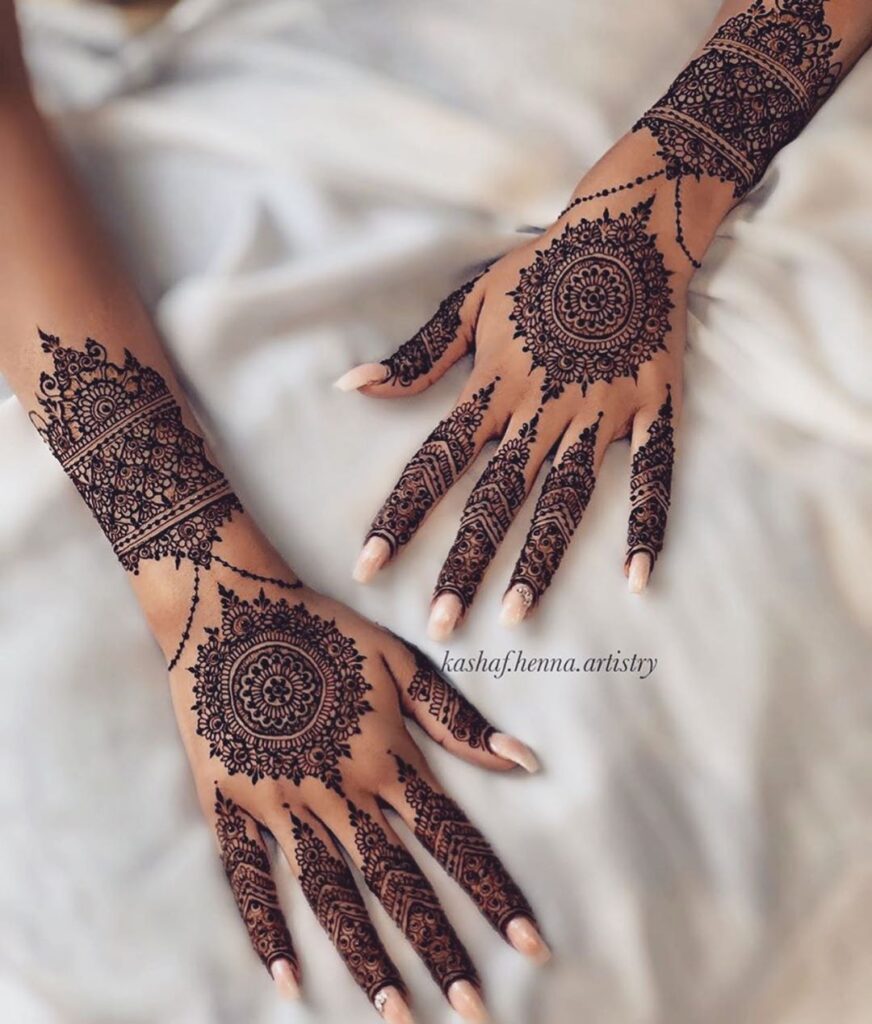 Via @kashaf.henna.artistry
26. The Charm Of Lotuses
If there's one element that has taken over the mehndi designs in the past few years, it has definitely been lotuses. Tucked with the 3-D pattern is the best way to enhance their allure and that's what the maximum of henna artists do when they include lotuses in their henna. For anyone well-equipped to draw lotuses in henna, this pattern will be so much easy to create. It will look amazing after staining as well.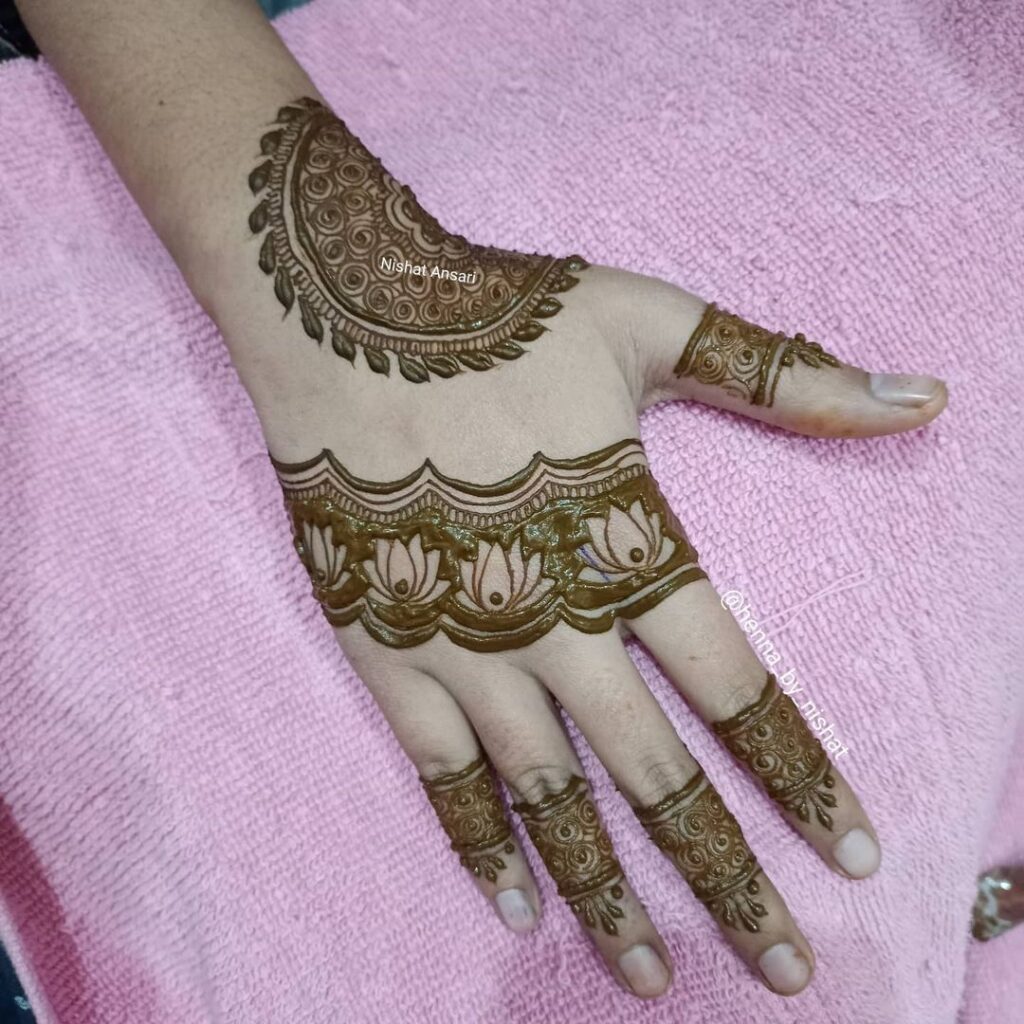 27. Florals & Jaals
A stunning culmination of florals and jaals mixed in with so much intricacy to give you a charming henna design. The bold lines and outlines make the motifs stand out better and make the entire pattern eye-catching.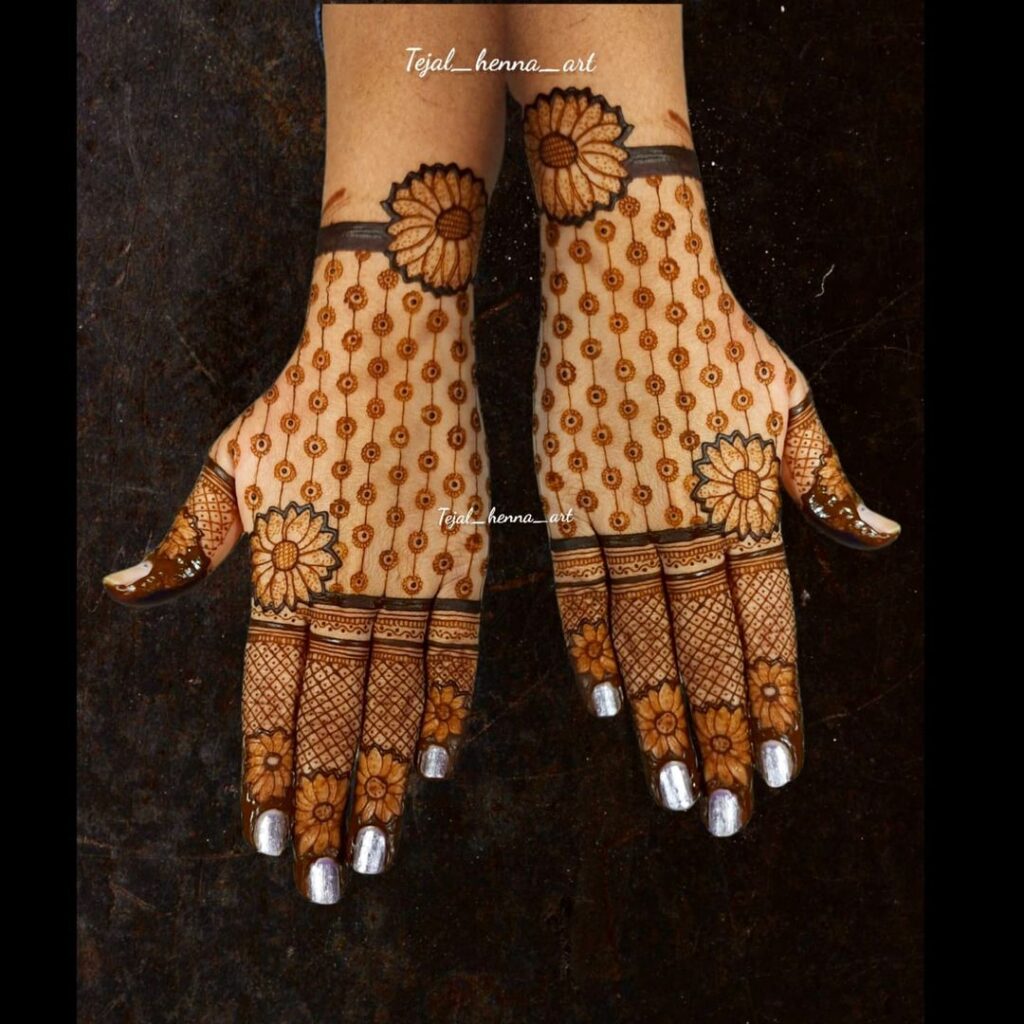 28. Step-By-Step Simple Mehndi Design
Now, if you're good with just simple lines and easy florals, this spacious easy backhand henna pattern is just what you need to save!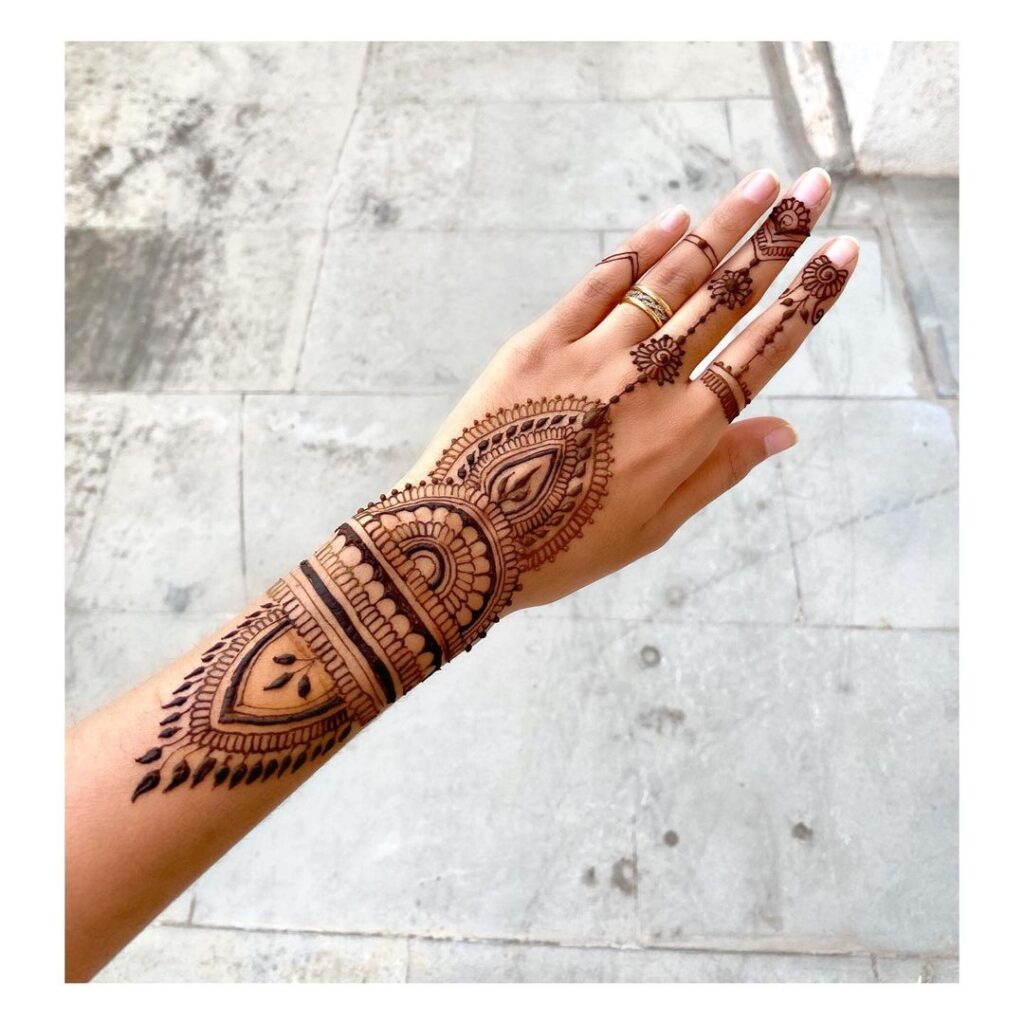 Simple Finger Mehndi Designs
Finger mehndi designs are helpful in case, you want to work a little more on your trail design or feel like the finger mehndi design in any of the above pictures isn't as appealing – you can choose one from these simple mehndi design options for your fingers!
1. Loaded With Prettiness
Done using just simple & traditional elements, this finger henna looks traditional and modish at the same time. While this can easily be paired with a simple mandala pattern for a complete look, it's necessary to redraw the pattern with ultimate intricacy to keep the charm alive. This is also a representation of how much a good nail art can elevate the aesthetic of your henna.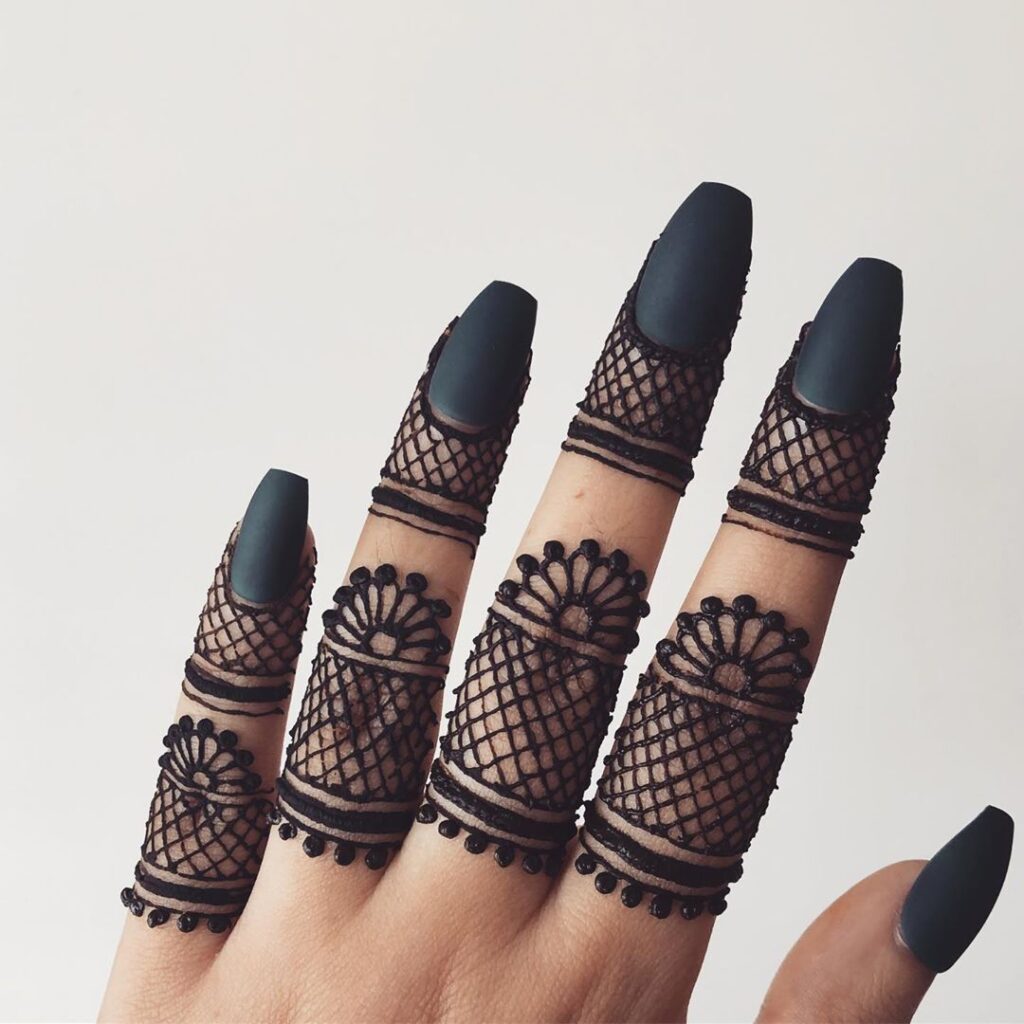 Via @mehndiartist_hira
2. Gripping One!
We love the absolute creativity of this simple finger mehndi design and the way it has been made so flawlessly. The play of thin & thick strokes always adds a beautiful 3-D effect to the mehendi and makes it look visually appealing to the eye.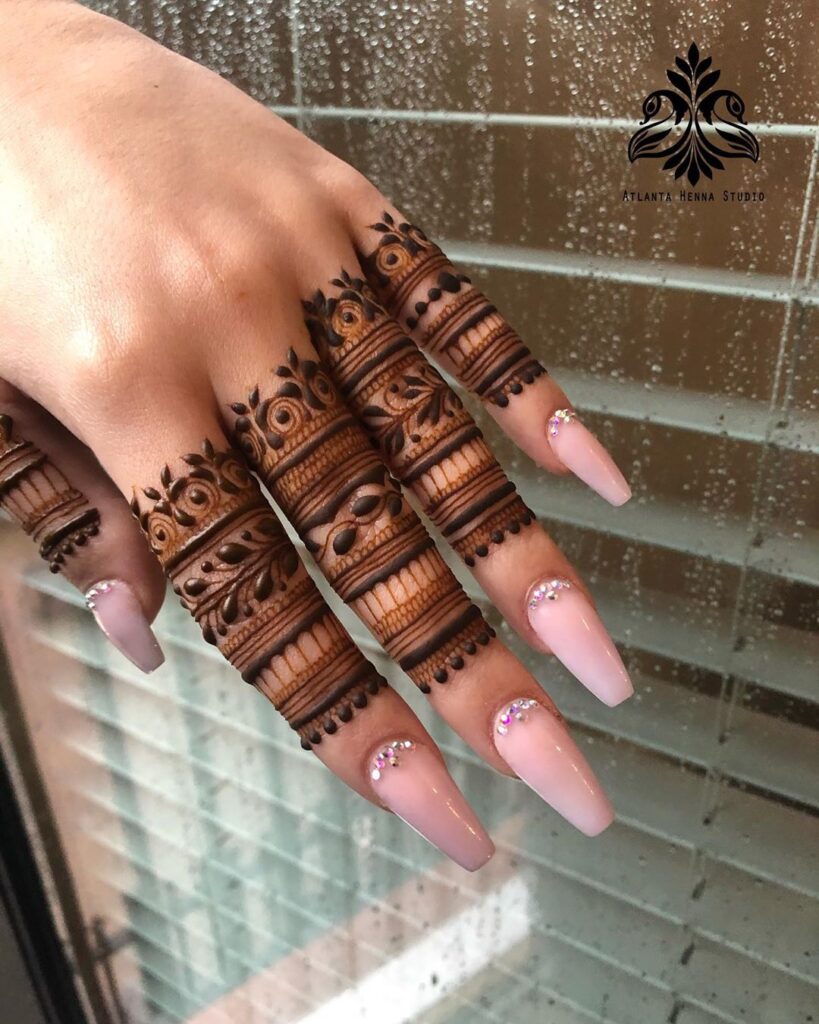 Via @atlantahennastudio
3. Lots Of Options
When you pick a bael mehndi design, a mandala, or a henna pattern, you sometimes have to pick finger henna or probably don't like the finger pattern with the design and want to include another one. Here's a picture you'd love to save because it consists of many of them – from traditional to stylish to give you versatility of designs to choose the best one at the point.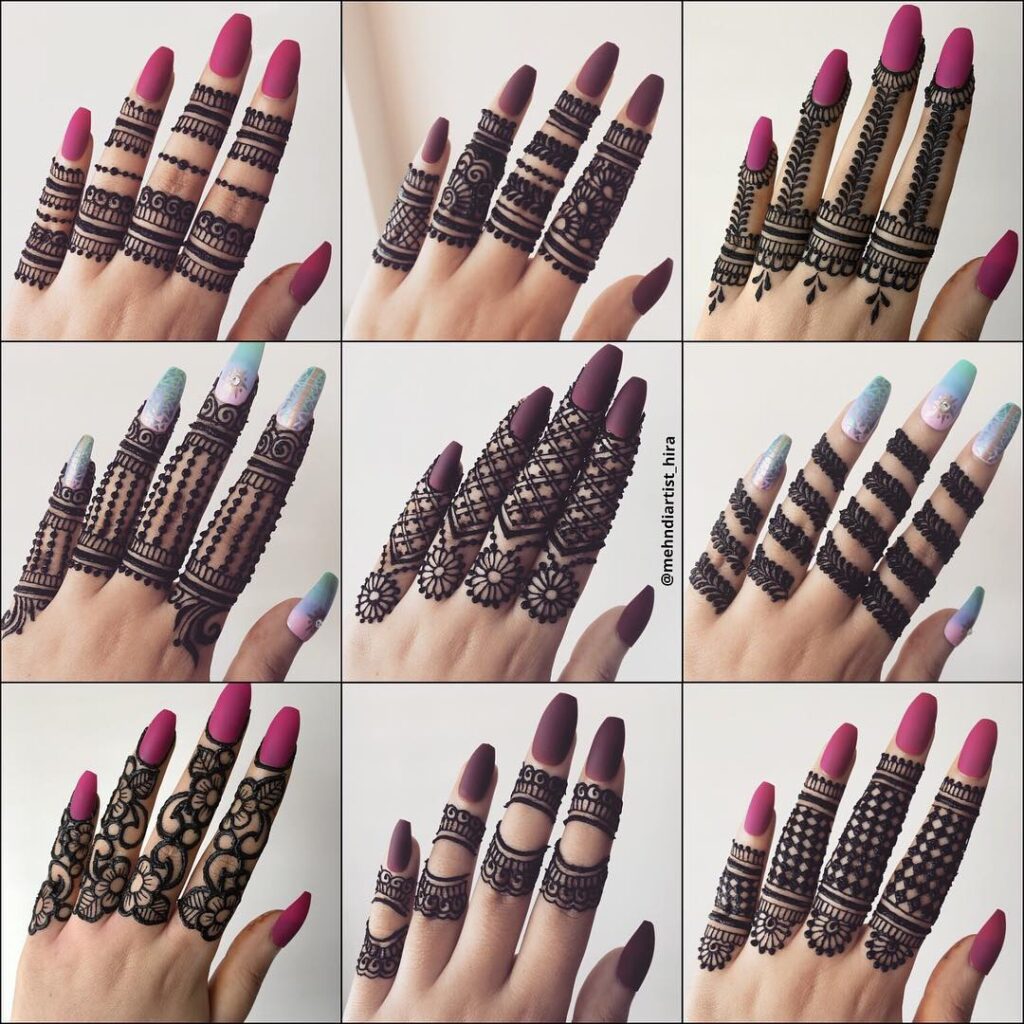 Via @mehndiartist_hira
4. Just Enthralling 
The last one on this sub-section of simple finger mehndi design is one that can also be used as a complete mehndi pattern for back hand mehndi design. It's stylish, minimal, and distinctive and can make for a perfect henna for many occassions.
Simple Mandala Mehndi Designs
We have included a lot of mandala designs on this list already but the ones pictured below are practically good to go solo!
1. Attractive Floral Simple Mandala Mehndi Design
This one has thick strokes! You know what that means, right? It will be done in no time at all.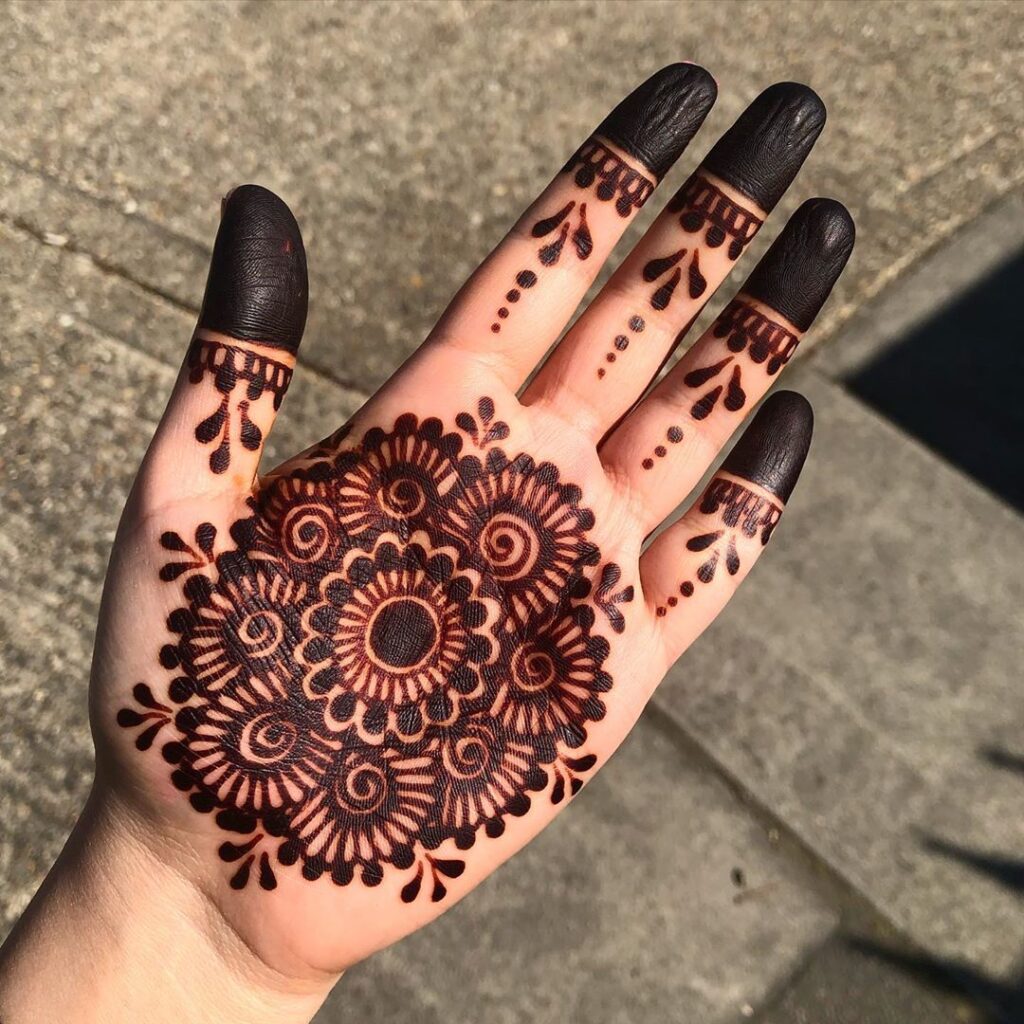 Via Instagram
2. Simple Back Hand Mandala!
We always crush hard on backhand designs that are simple, neat, and elegant! Like this one.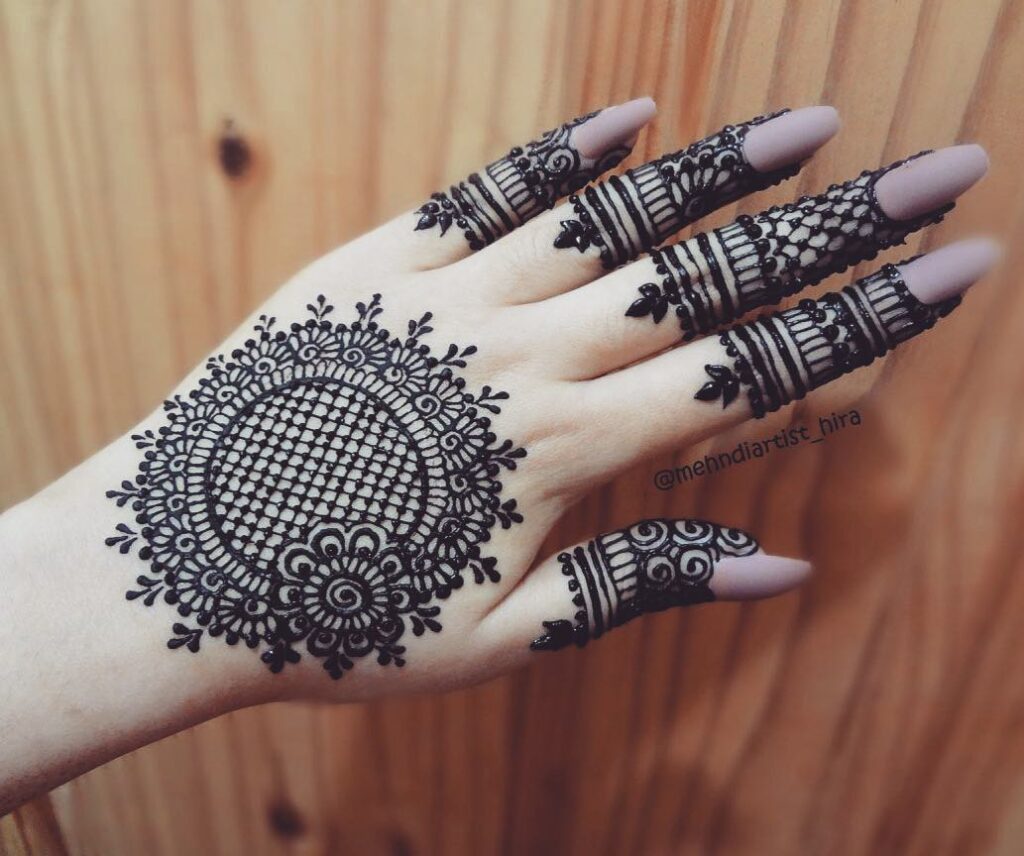 Via @mehndiartist_hira
3. Mandala With A Twist!
Bored of the usual mandala designs? These will help you draw something unusual and pretty!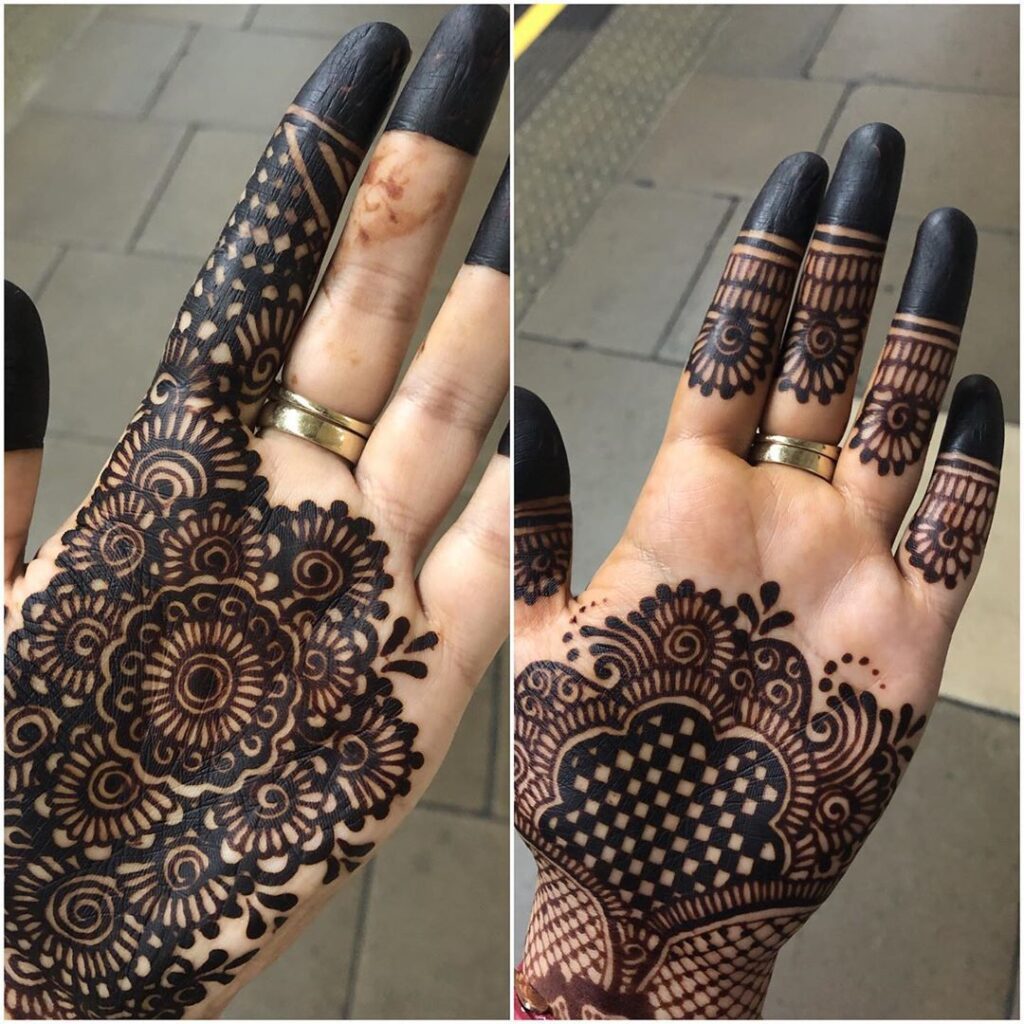 Via Instagram
4. A Hearty Square Mandala!
A perfect bridesmaids mehndi design to flaunt at your BFF's wedding.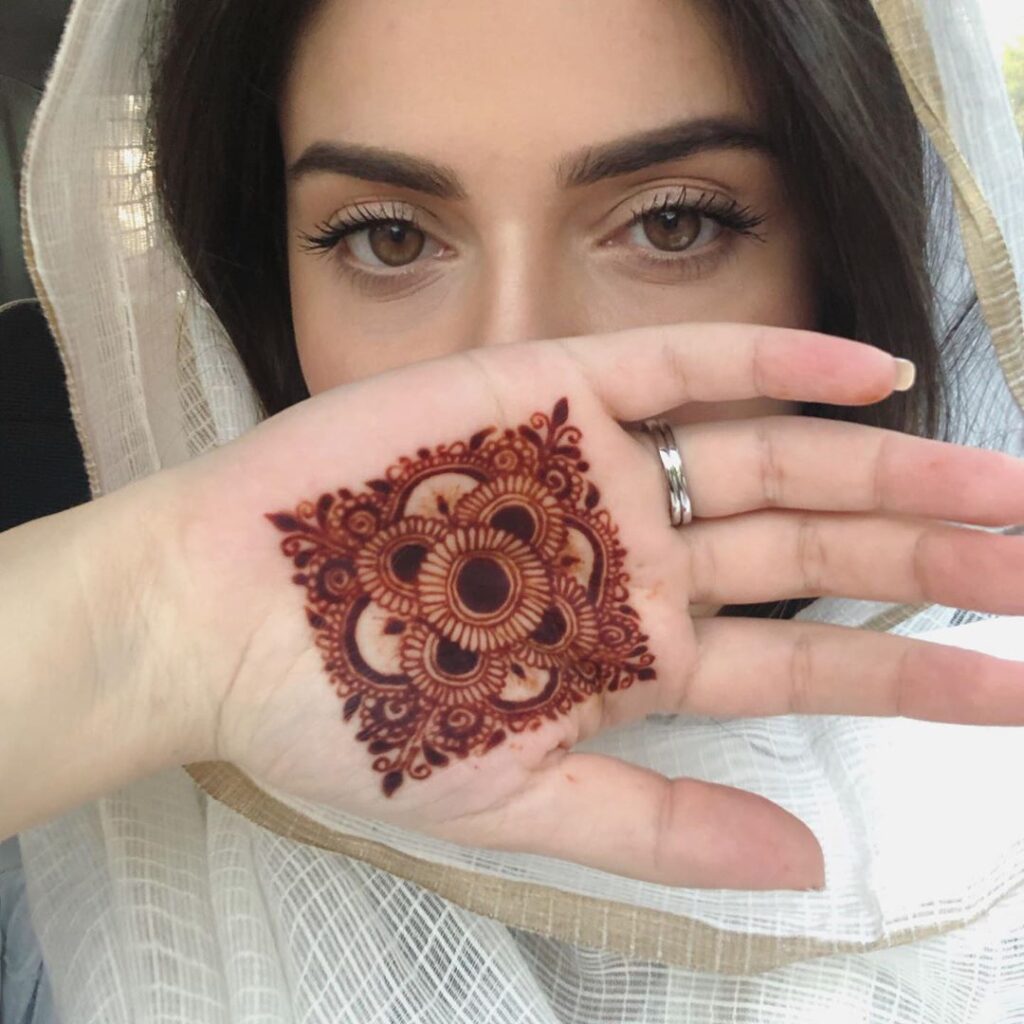 Via @hennaby_mk
5. It's All About Flowers
This one's super easy yet very attractive.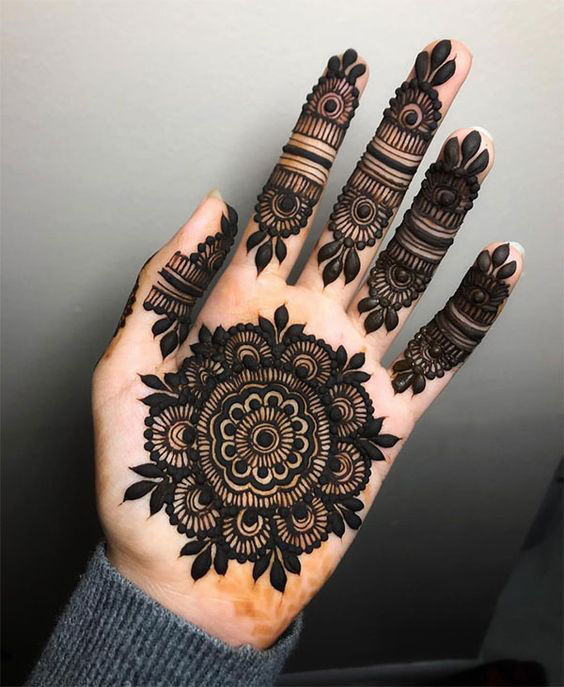 6. Dripping With Beauty
Mandala mehendi designs have their own charm and this design is proving exactly that!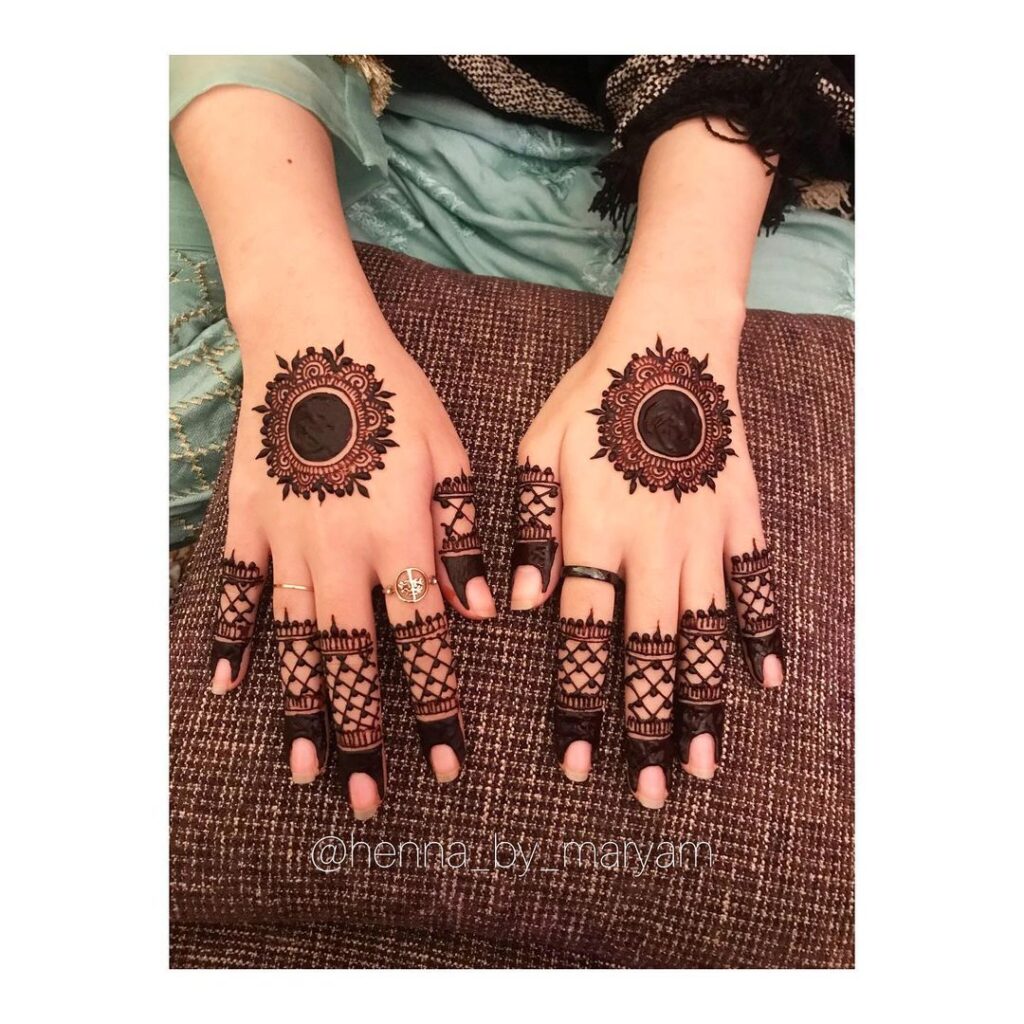 Simple Butterfly Mehndi Designs
This cutesy butterfly mehndi design deserved some attention of its own. If you're looking for a modish henna tattoo – this is the ones. Plus we think it will look amazing on kids' mehndi design as well!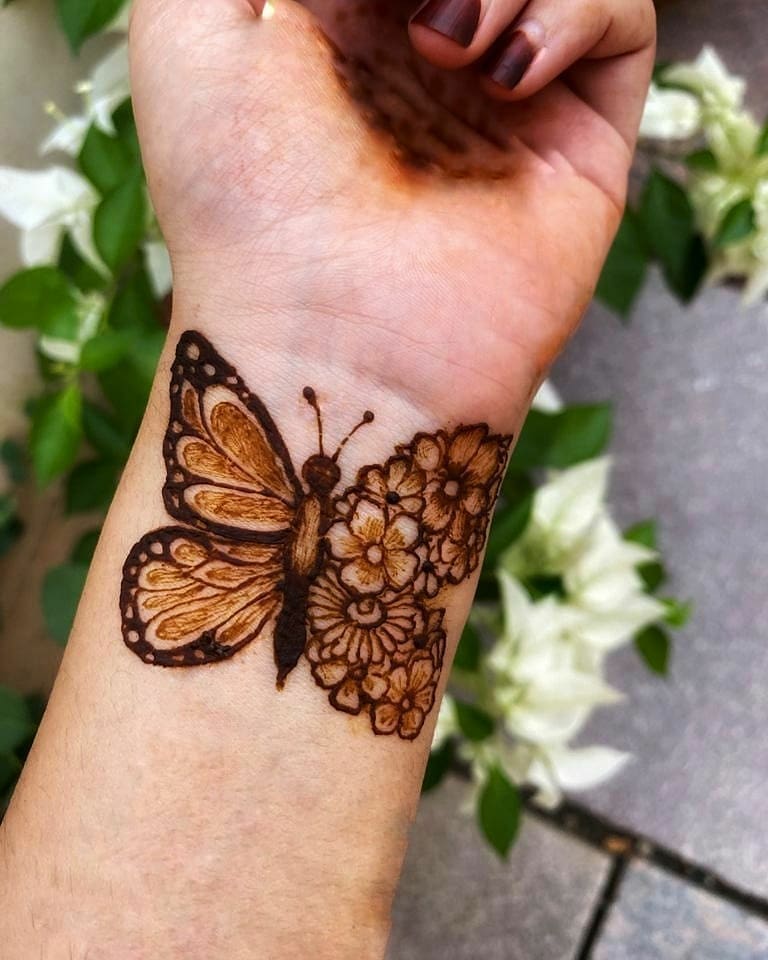 Via @mehsooq_henna
Simple Bharwa Mehndi Designs
In all honesty, a simple bharwa design is hard to find. Most of them will take time and can get complicated. Still, there can be some designs that are easier to make than others. And that's what simple in this list stands for. It's relative, not absolute.
1. Winsome One!
This spacious and attractive simple bharwa mehndi design is love at first sight for anyone looking to paint their half-hands with henna! It has easy elements and motifs absolutely anyone with slight experience in henna designing can nail down.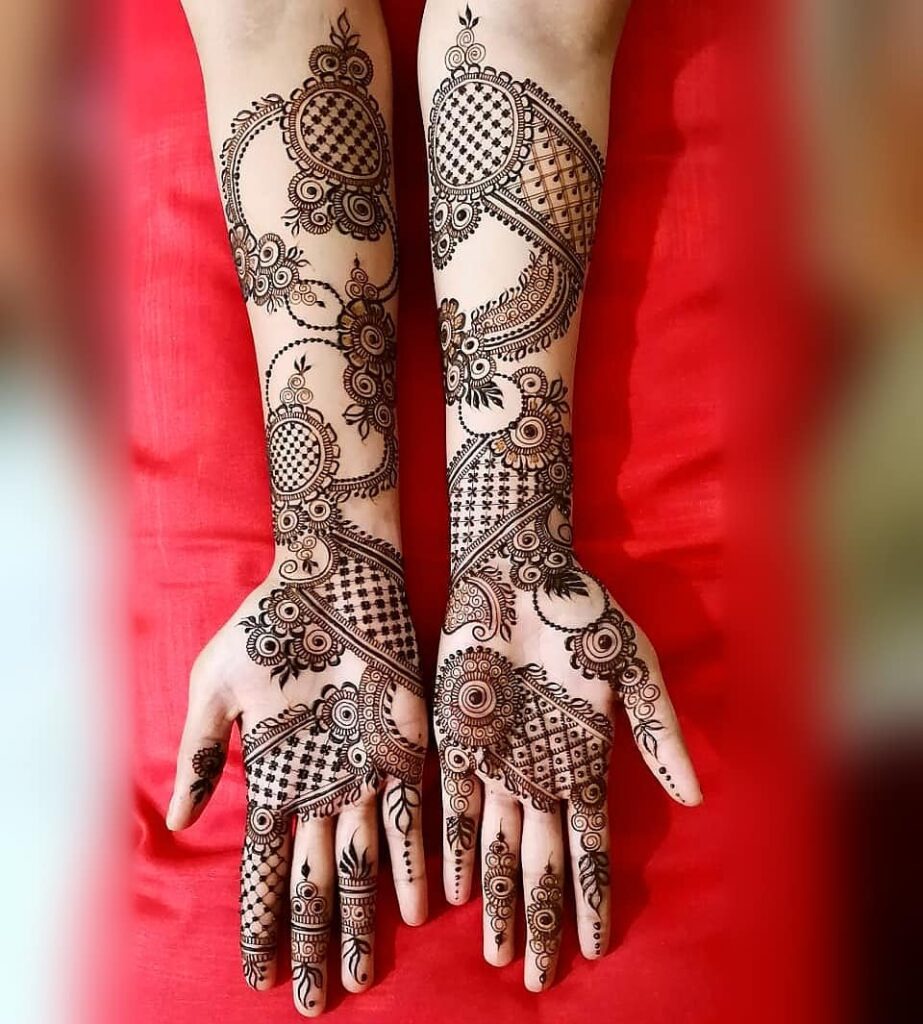 Via @creative_mehndi_design
2. Easy Outline & Trouble-free filling
A clear outline image does make even the most daunting mehndi design look easy! Of course, you can choose your own filling after the outline is done.

Via @amritahenna
3. Love Is All Around!
A simple mehndi design perfect for our newly married ladies. Flaunt your young love while keeping it appealing with this mehndi design.

Via @mendhibythamanna
4. Traditional Yet Chic
With an exquisite mandala design in the middle surrounded by easy filling, this sure is a simple mehndi design to rock on traditional festivals just after your marriage.

Via @sonikashennaart
5. Bold & Beautiful!
An intricate mehndi design with half-heart drawn on the palm of hands with easy classic designs done all over is surely bewitching!

Via @sonikashennaart
6. Another Step By Step Tutorial
This step by step simple mehndi design for bharwa hands that's every bit of GORG is making us save it into our phones right this second!

Via @sonikashennaart
7. A Hearty Design!
For the first festival that comes up after you get married, this one should surely make the top of your selected mehndi designs. Look at how beautifully the name of the partner is included. So cute!

Via @mehedi_by_unzila
8. Effortless
Have your beautiful hands adorned with this appealing mandala dominated bharwa design. Look how adorable it looks after the henna is stained.

Via @mehndibymubina
9. Heavy With Easy Strokes
A chooda style bharwa mehndi design with prominent leaf and swirl patterns with an intriguing design in the middle is so arresting! Look at those little hearts though.

Via @mehndibymubina
10. Full Coverage!
We are absolutely in love with this band style symmetrical mehndi design. Start from the bottom bold U-shaped work and cover your way up! This is a super easy bharwa mehndi design to paint on your hands.

Via @creative_mehendi_design
11. Heavy Work With Thick Strokes
You can already see how attractive this mehndi design will look after getting stained. Don't get intimidated. It has thick strokes, which means it won't take as much work. The silhouette play in this design is super important so make sure it turns out just like the picture.


Via @__my_wish__
Simple Bharwa Mehndi Designs For Back Hands
1. Those Lotus Motifs Though!
This bharwa mehndi design embellished with lotus motifs, silhouette play, tiny dots and half-flowers looks so modern and charming.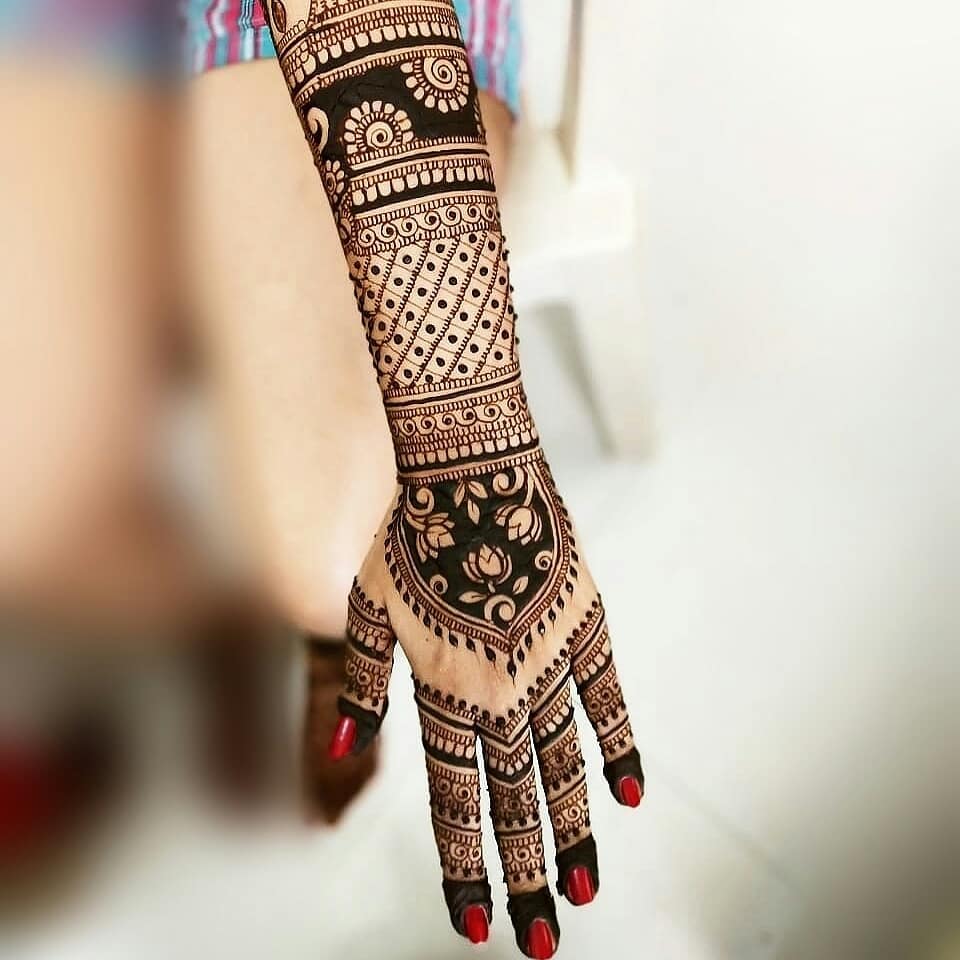 Via @creative_mehendi_design
2. Complimentary Hands
This bold and traditional simple mehndi design with bold highlighted strokes is edgy and worth swooning over!

Via @anilmehandiart71
3. Just Gorgeous!
This gripping mehndi portrait had us floored. We loved the mehndi design painted on her hands. Leafy patterns jazzing up her fingers with combination of sharp, chic patterns on the back of the palms looks so edgy and voguish.

Via Instagram
4. Easiest Bharwa Design Ever
We are not kidding. Aptly placed floral circles accentuated with a bold outline makes this one of our absolute favorite mehndi designs on the list.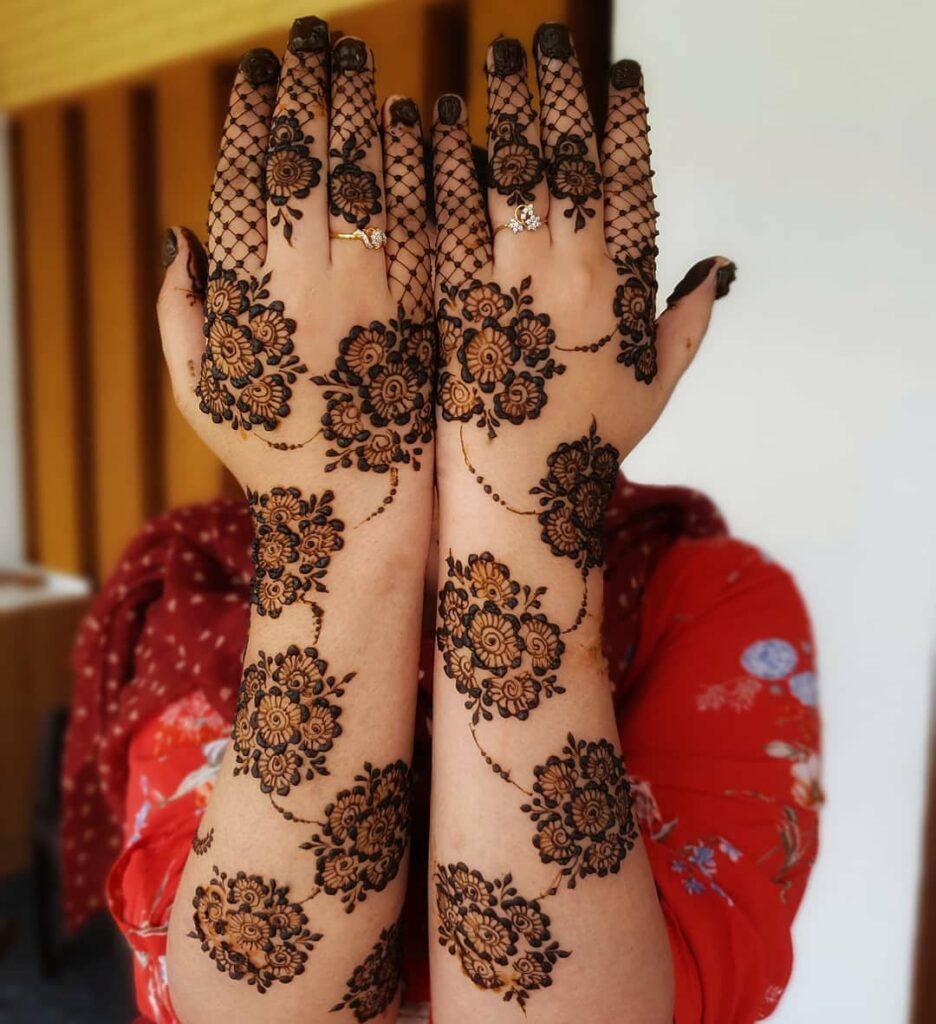 Via @mehsooq_henna
5. Jaal Mehendi Design For The Win!
Jaal patterns haven't been around for long. But their popularity has never dimmed down since they made an appearance. Considering how fabulous they look, no wonder they have become such a rage in mehndi designs.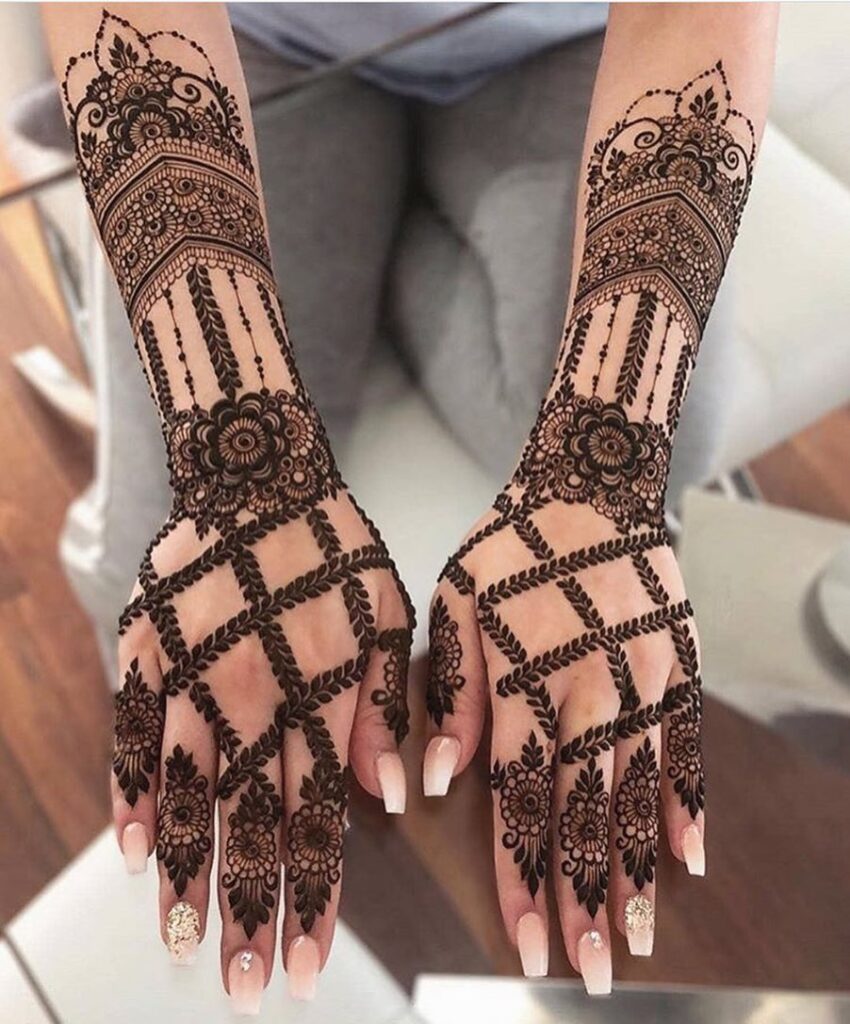 Via @arora_mehendi
6. Swirly Pattern
This unusual and captivating design is pretty captivating. The effortless pattern makes it a part of simple mehndi design as well!

Via @hennabydivya
7. Spacious & Easy
We love how the mehendi artist here has left ample negative spaces in the design without really compromising on the allure of the design. Infused with modernistic elements, this pattern is ideal for the brides/ bridesmaids who want a contemporary approach to their henna.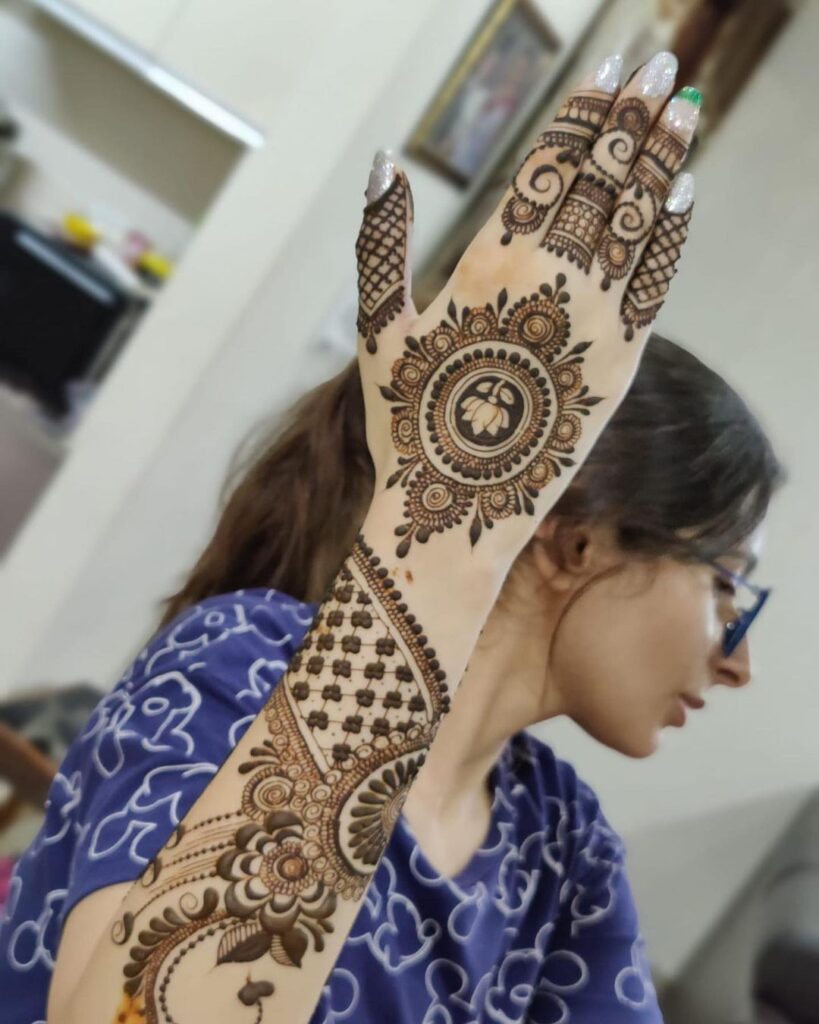 Simple Foot Mehndi Designs
1. Well-defined & Edgy
An intricate mandala design in the middle with checkered bootis and florals on the top and bottom looks so stylish.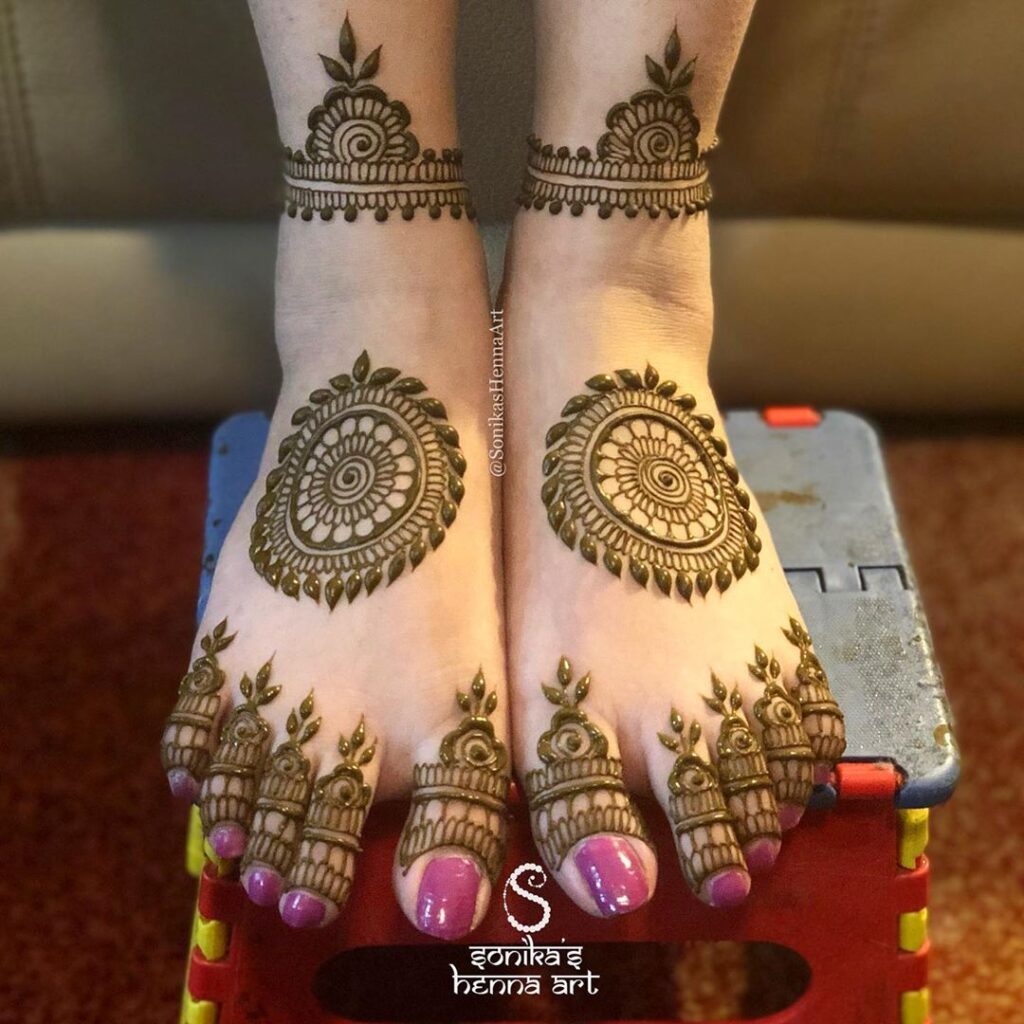 Via @sonikashennaart
2. Modern and Chic
These dwindling butterfly motifs well made on just the side of the feet looks so chic and elegant. If you are good at drawing, this one will be the easiest foot mehndi design for you to adorn your feet with.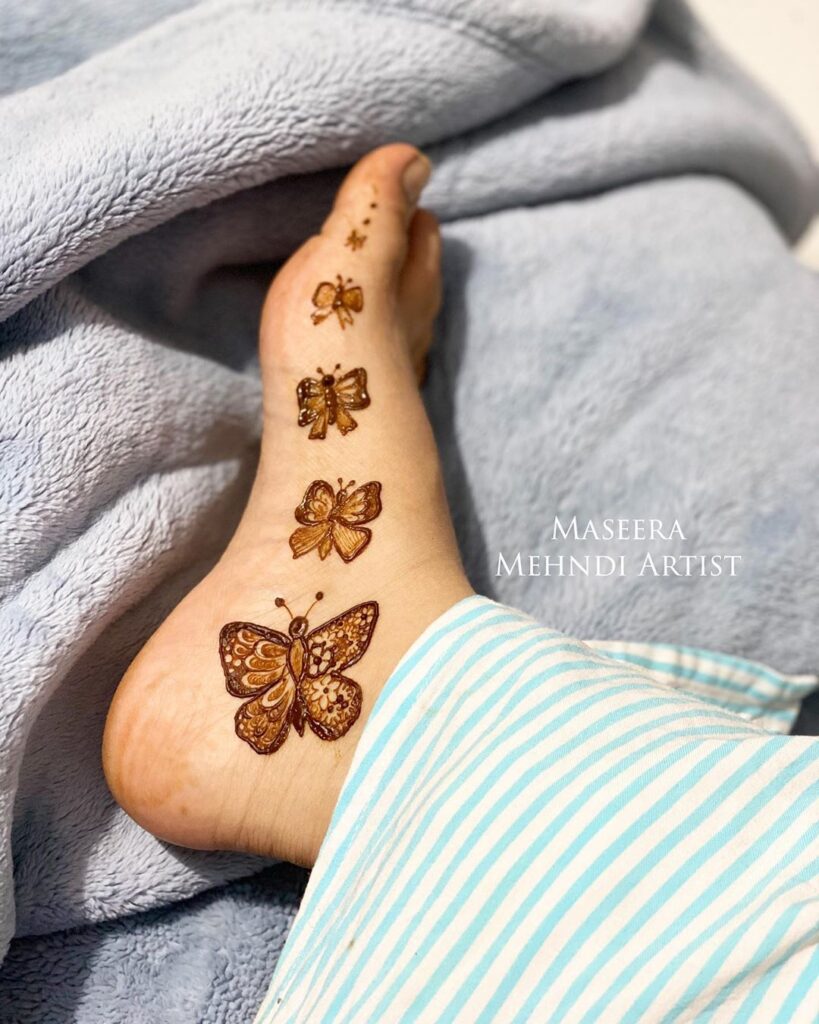 Via @maseeramehndi_artist
3. Taking full use of Jhumka Motifs
Another effortless foot mehndi design illustrated just on the sides of the feet. This one would be easy to draw as your hands can reach the side of the feet better than the front.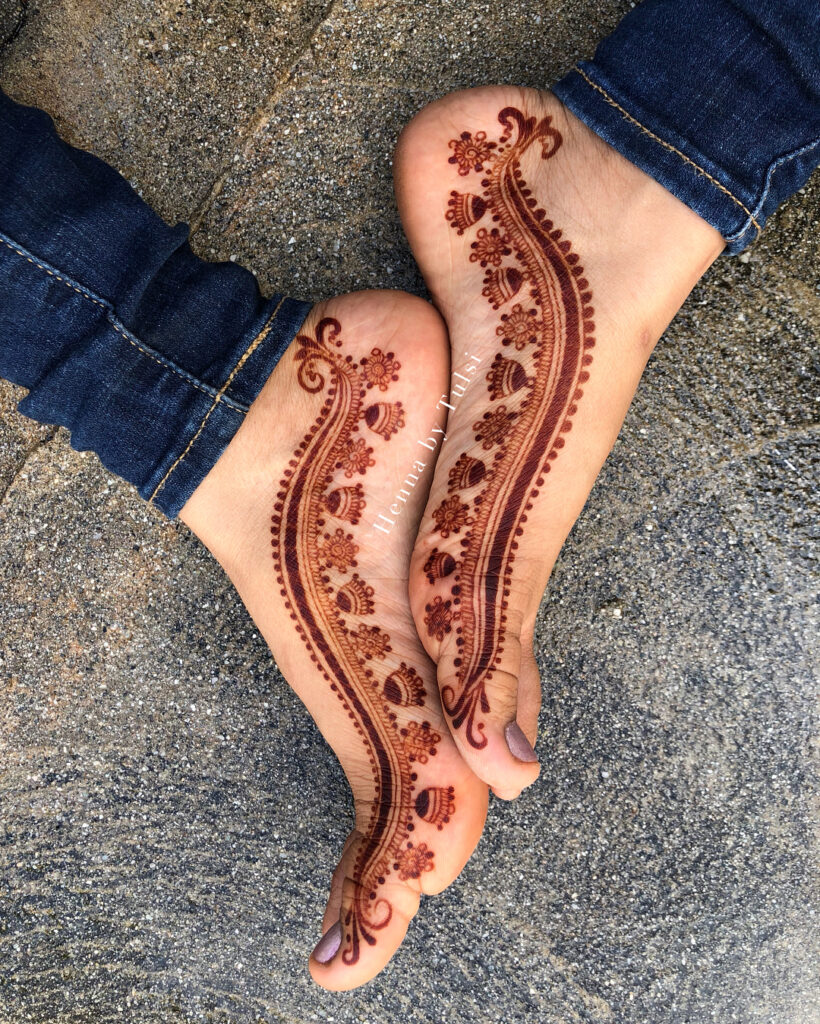 Via @hennabytulsi
4. Minimalism At It's Best
A simple mandala design in the middle with grids, circular patterns, and adjoining curves – this design is easy but requires neatness. We suggest letting someone else draw it for you.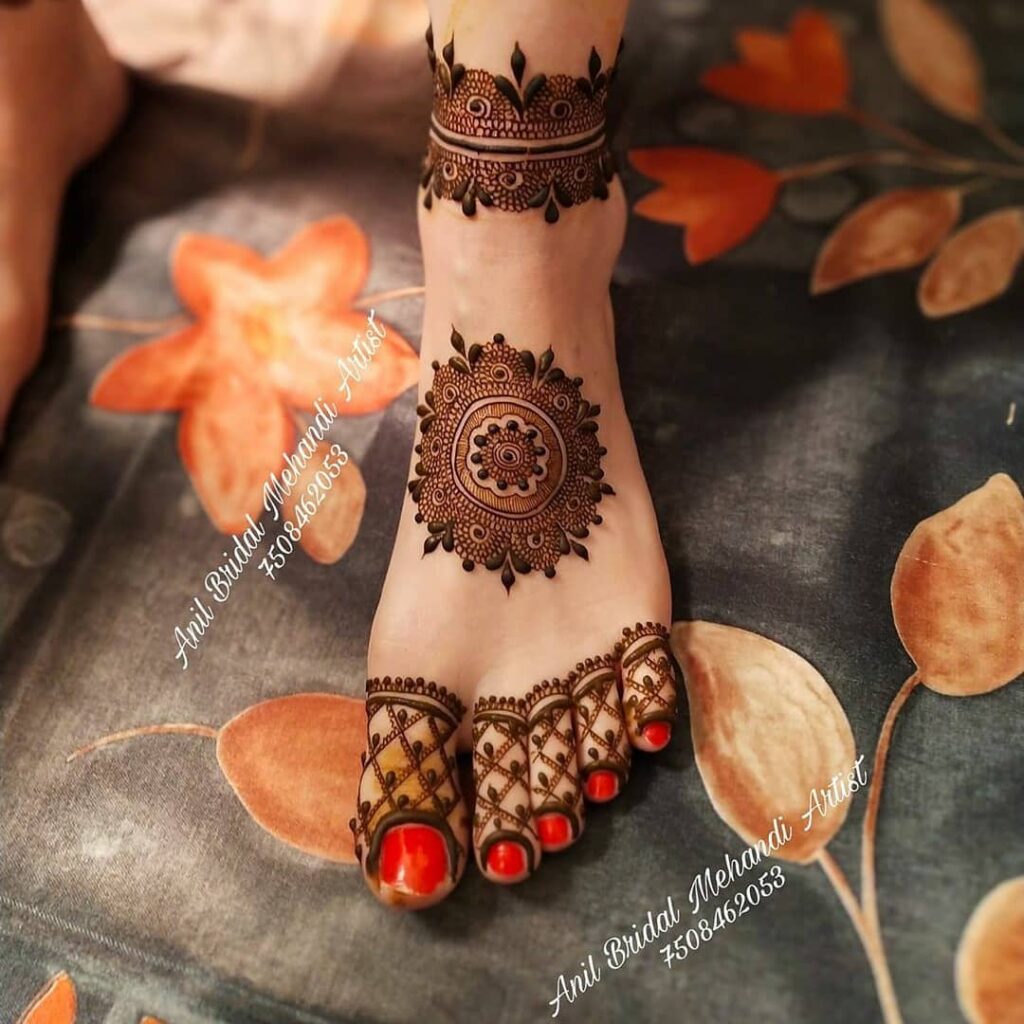 Via @anil_bridalmehndiartist
5. Looks Like A Beautiful Anklet
This simple mehndi design is done with a lot of creativity. A concentric floral motif in the middle with connected dots that looks like an anklet design makes it very aesthetically pleasing.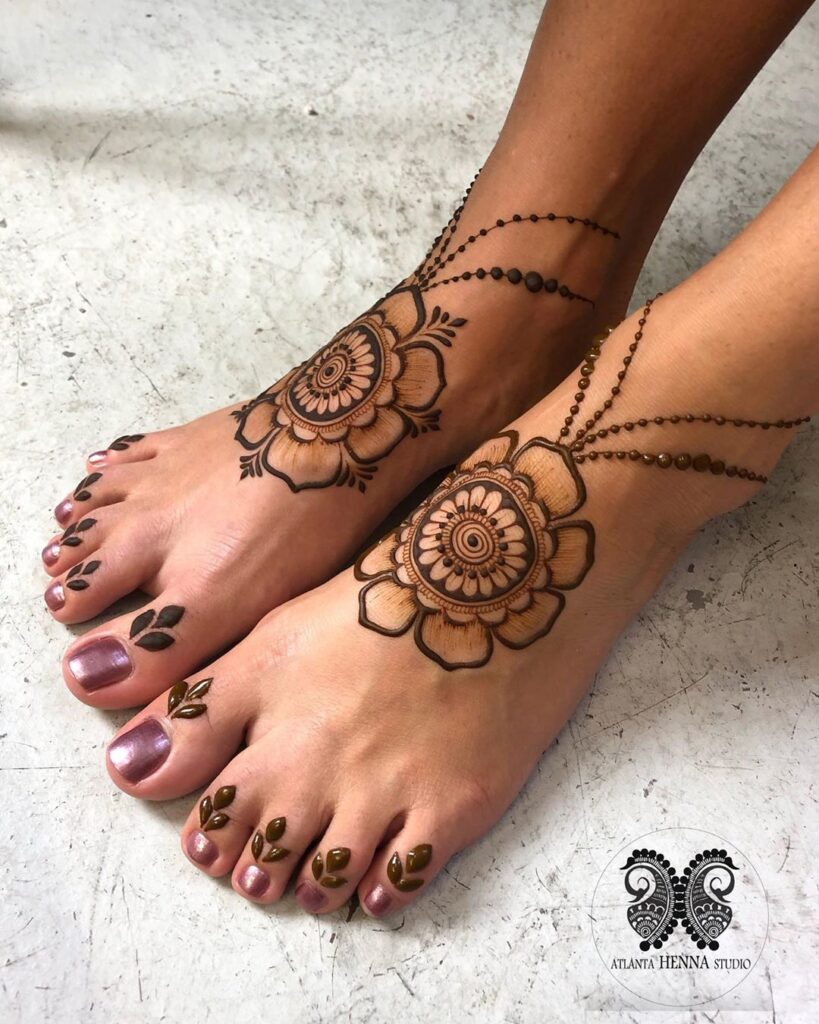 Via @atlantahennastudio
6. Tea/ Coffee Anyone?
For brides who love their cup of joe whether it's tea or coffee, this feet mehndi will have your attention instantly.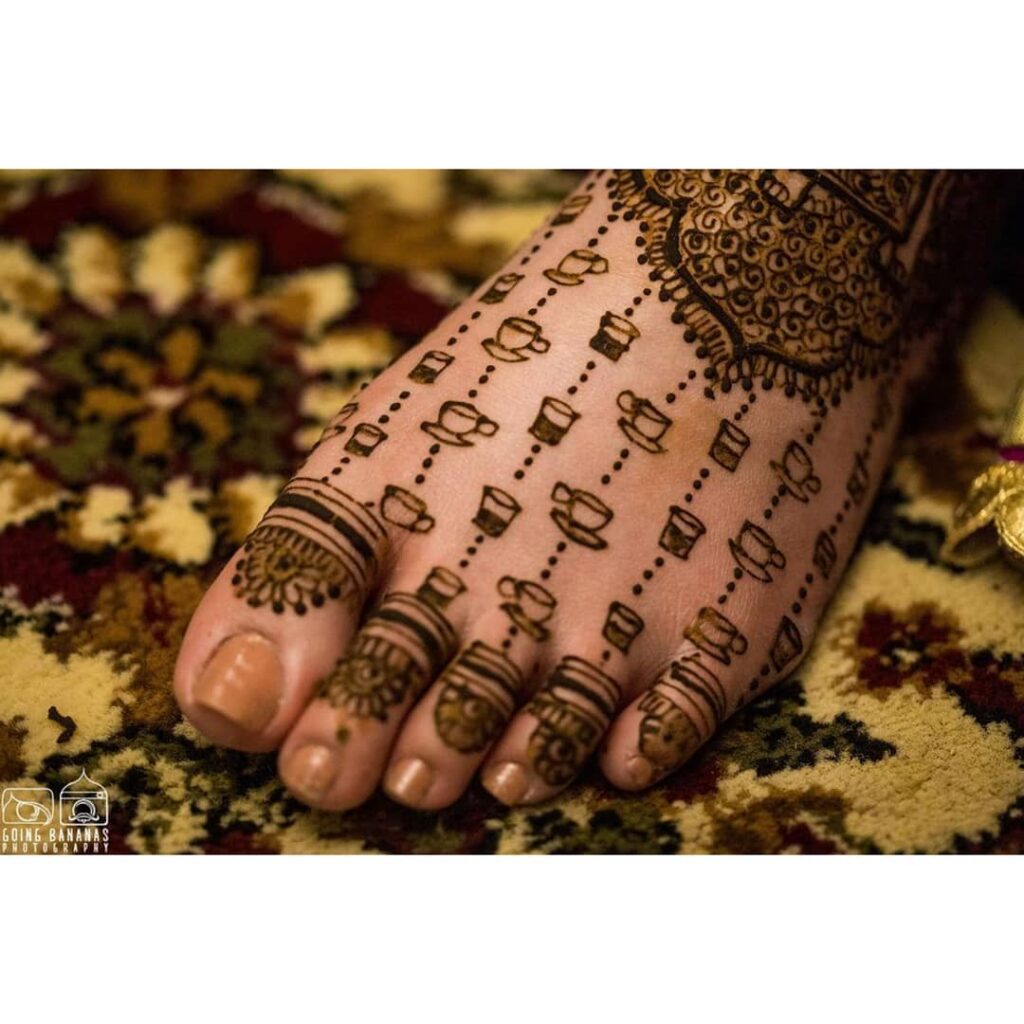 Via @alankritaabyraashi
7. Full Coverage!
An elephant motif on top followed by a big concentric circle, lotus motifs, and peppy lines – everything about this design is noteworthy.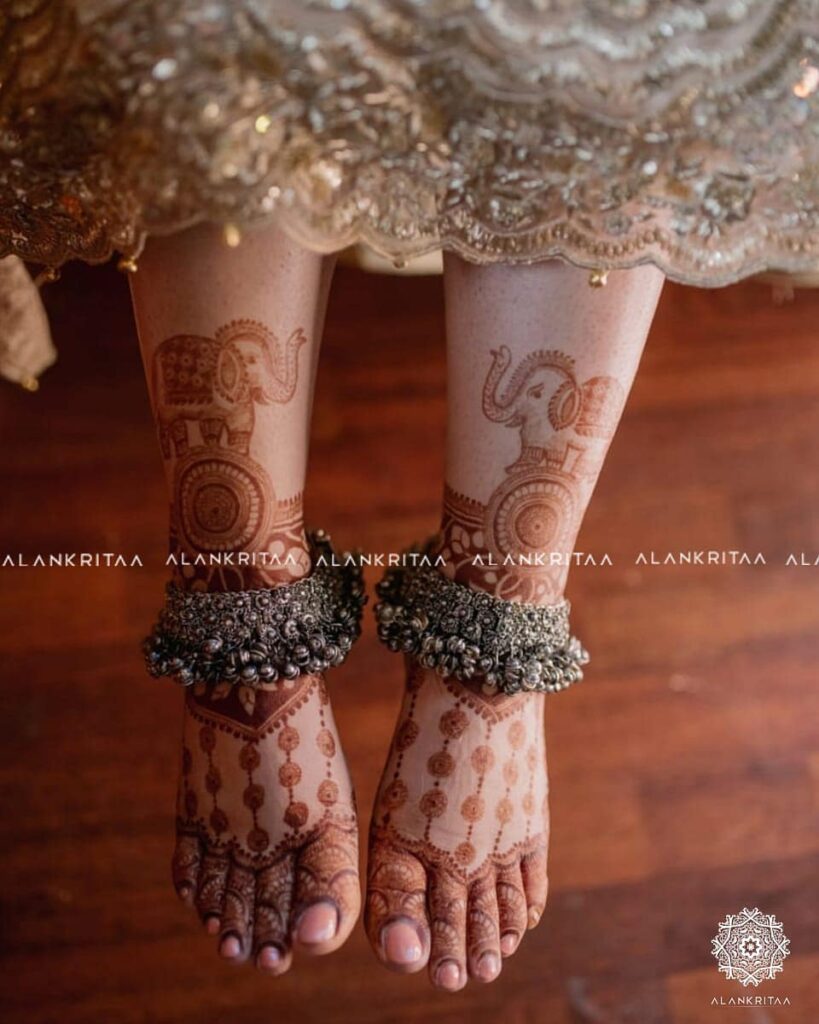 Via @alankritaabyraashi
8. Those details though
A remarkable grid with the rest of the design divided smartly and done with repetitive strokes looks effortlessly beautiful.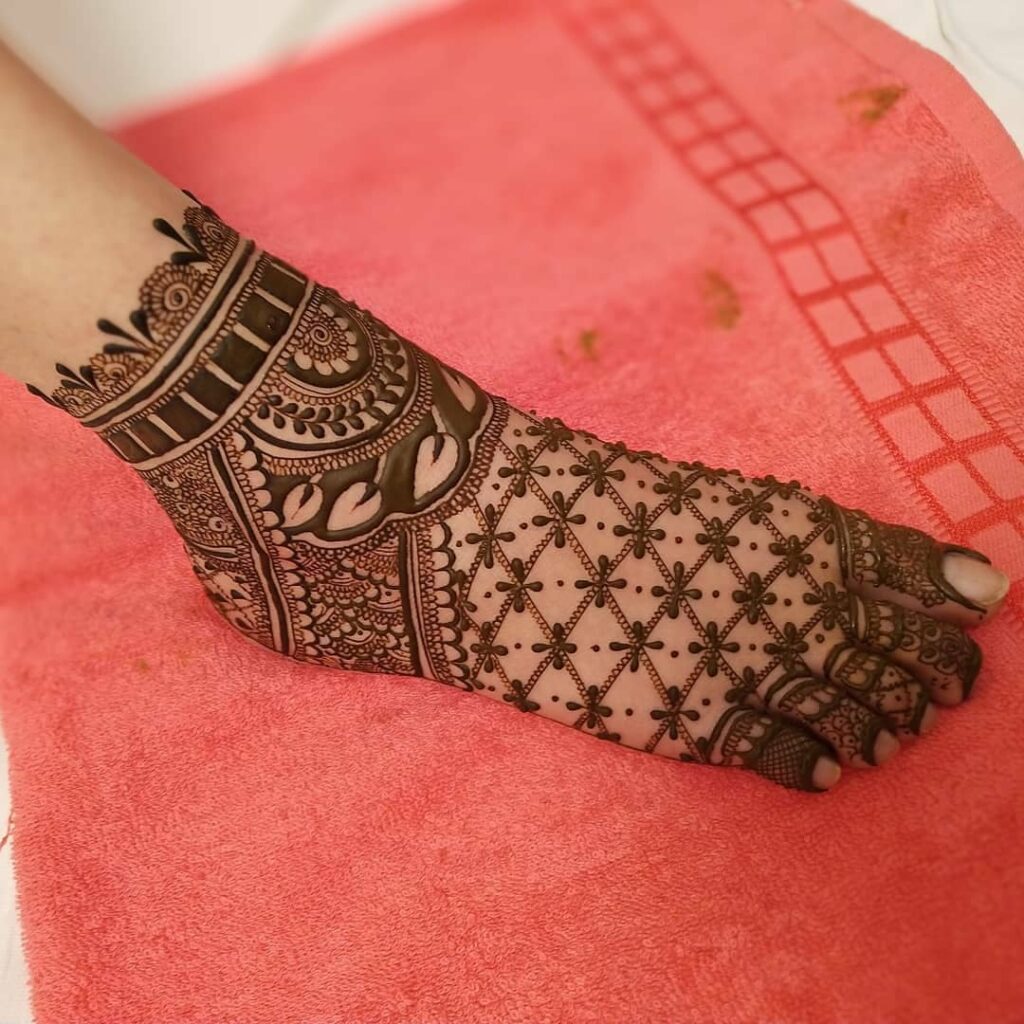 Via Instagram
9. Checks with peppy swirls
Yet one more checkered design that requires work to finish. But thick strokes with recurring patterns makes it easy to outline and complete.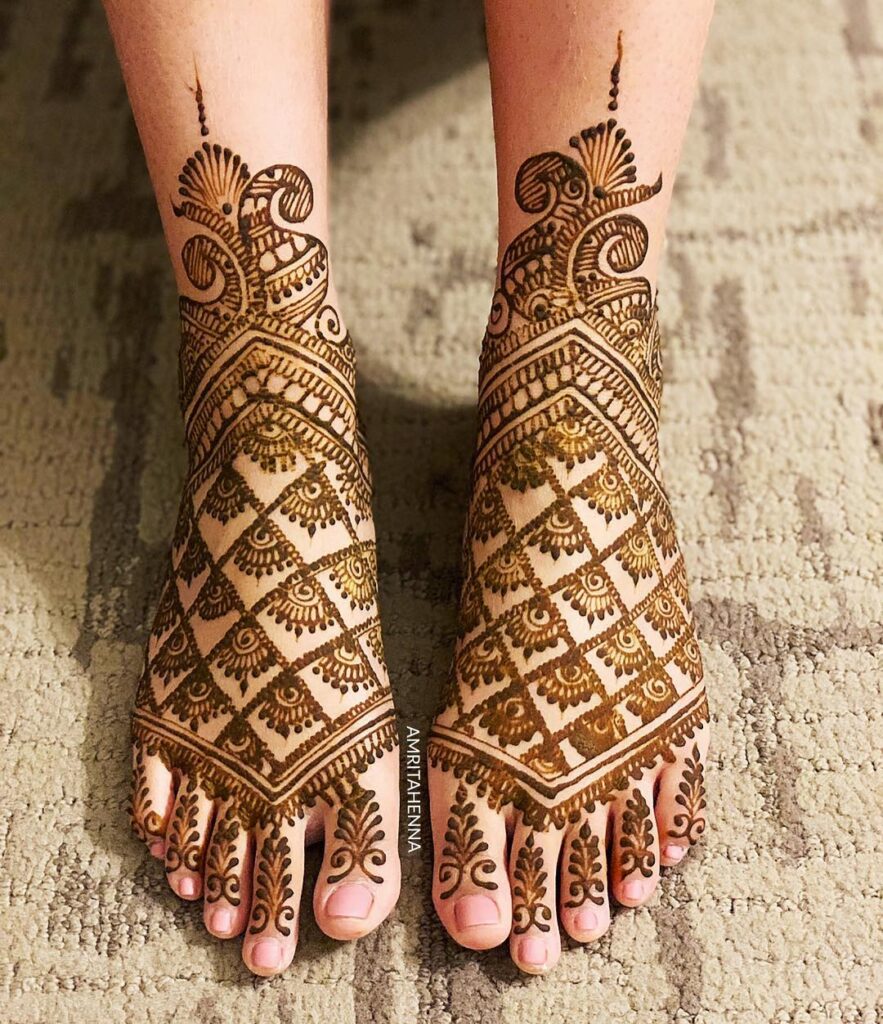 Via @amritahenna
10. A Catchy Pattern!
The highlight of this design is those garland shaped lines which are giving out on full-on wedding vibes. Brides who want a simple foot mehndi on their big day, this is it!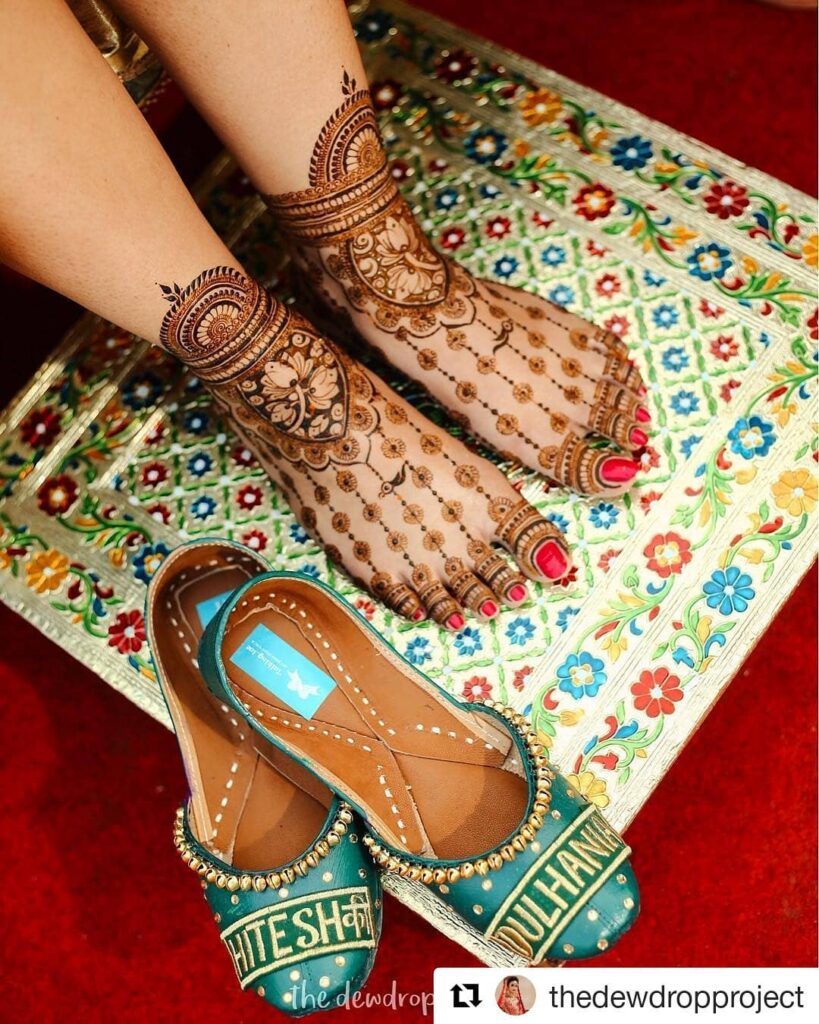 Via @thedewdropproject, @alankritaabyrashi
11. Gorgeousness Overloaded!
This design is such a perfect balance between traditional and contemporary. We love how the lines resemble a payal design & makes it look so damn pretty!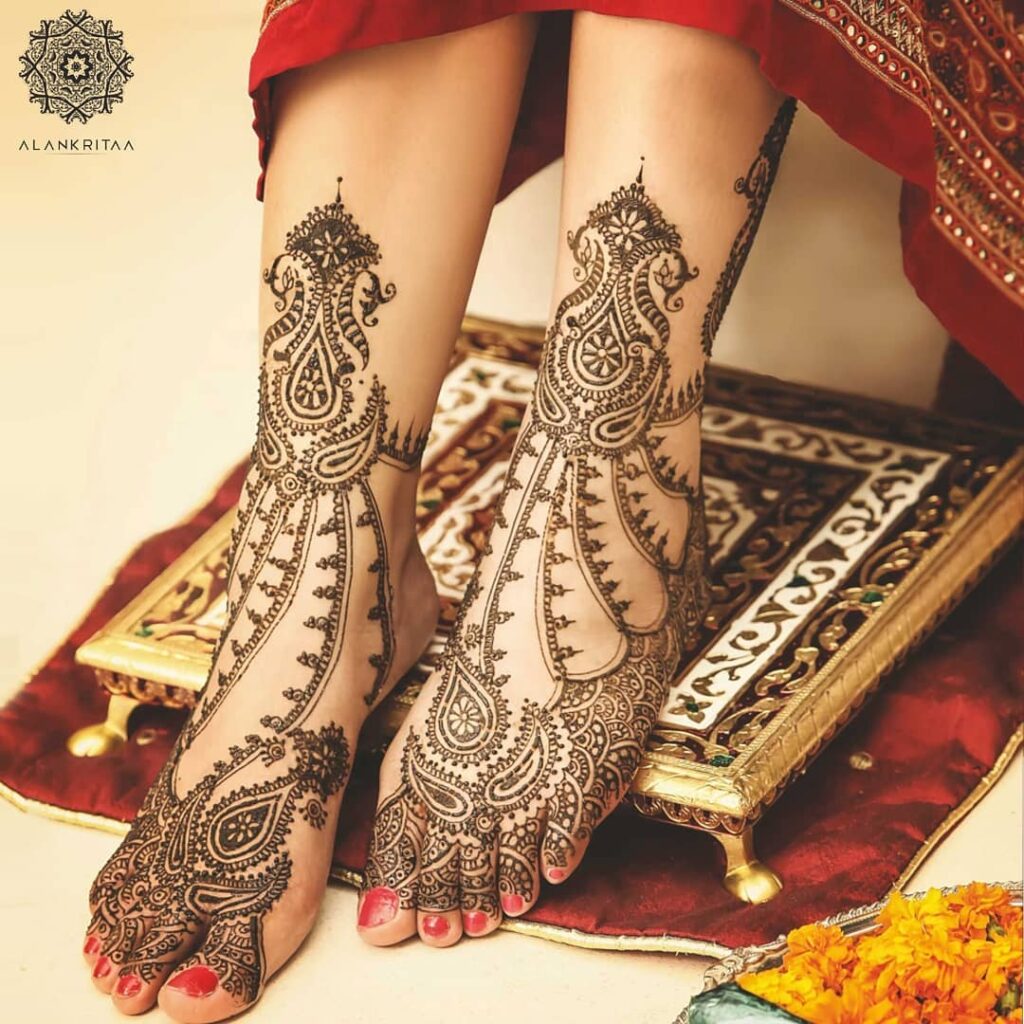 Via @alankritaabyrashi
12. Alluring & Easy Mehndi Design
With a mandala in the middle and simple lines surrounding the pattern, we're loving everything about this effortless and captivating foot mehendi design.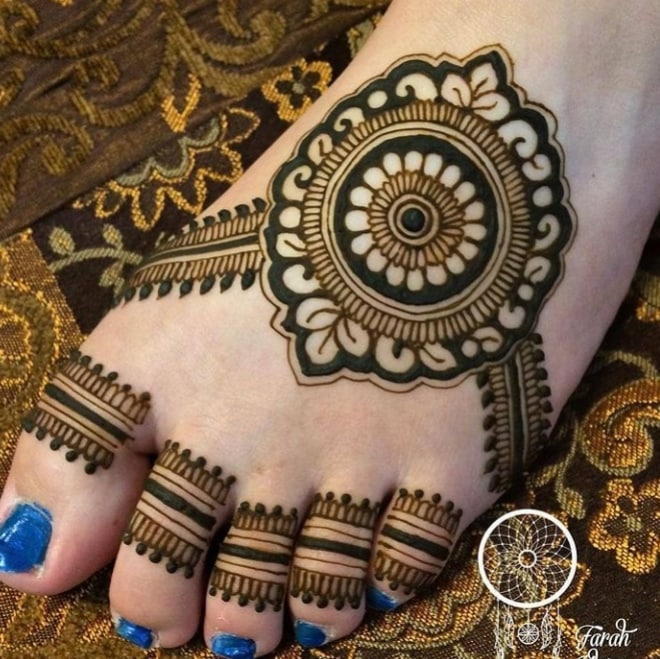 13. The Mesmerising Jaal Pattern
While this looks like an easy pattern, and it is, the intricacy and the fine lines do make it a time-consuming design. So, invest in recreating this pattern only if you have time.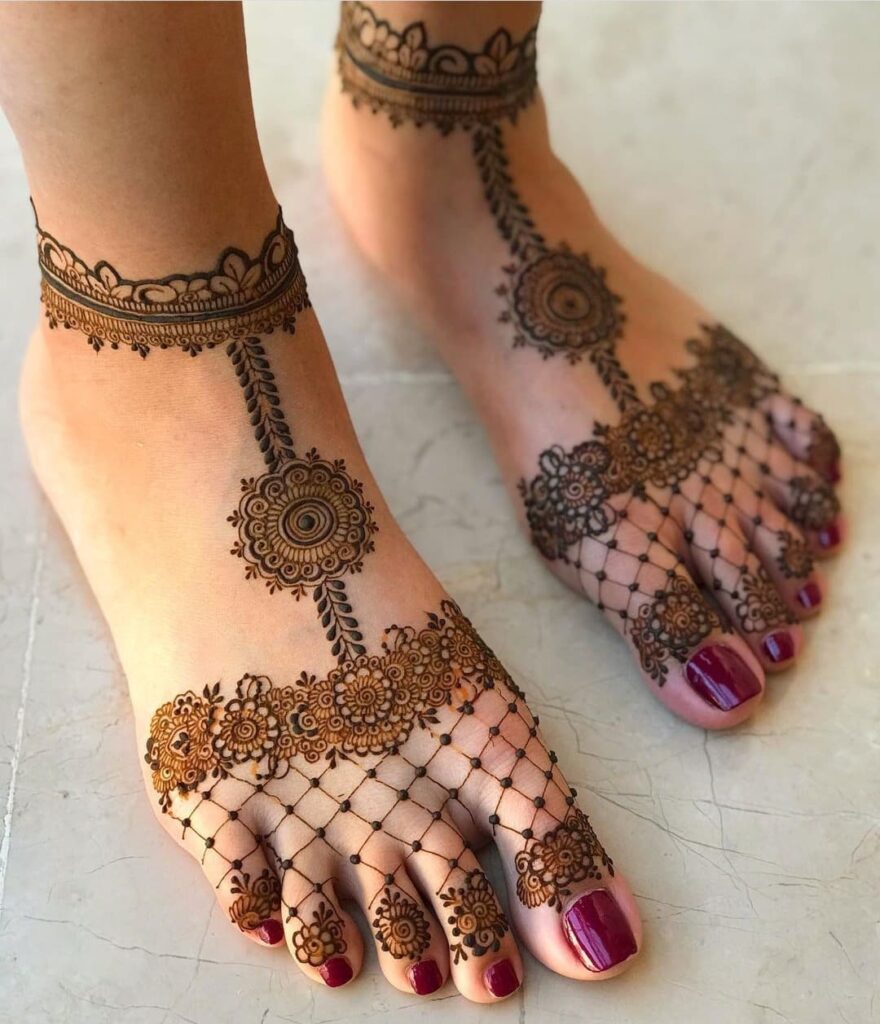 Simple Wrist Mehndi Designs
For anyone wanting to add to the length of their henna design, here are some easy wrist mehndi designs to the rescue.
1. Do It Step By Step
Another henna design made easy by a step-by-step tutorial!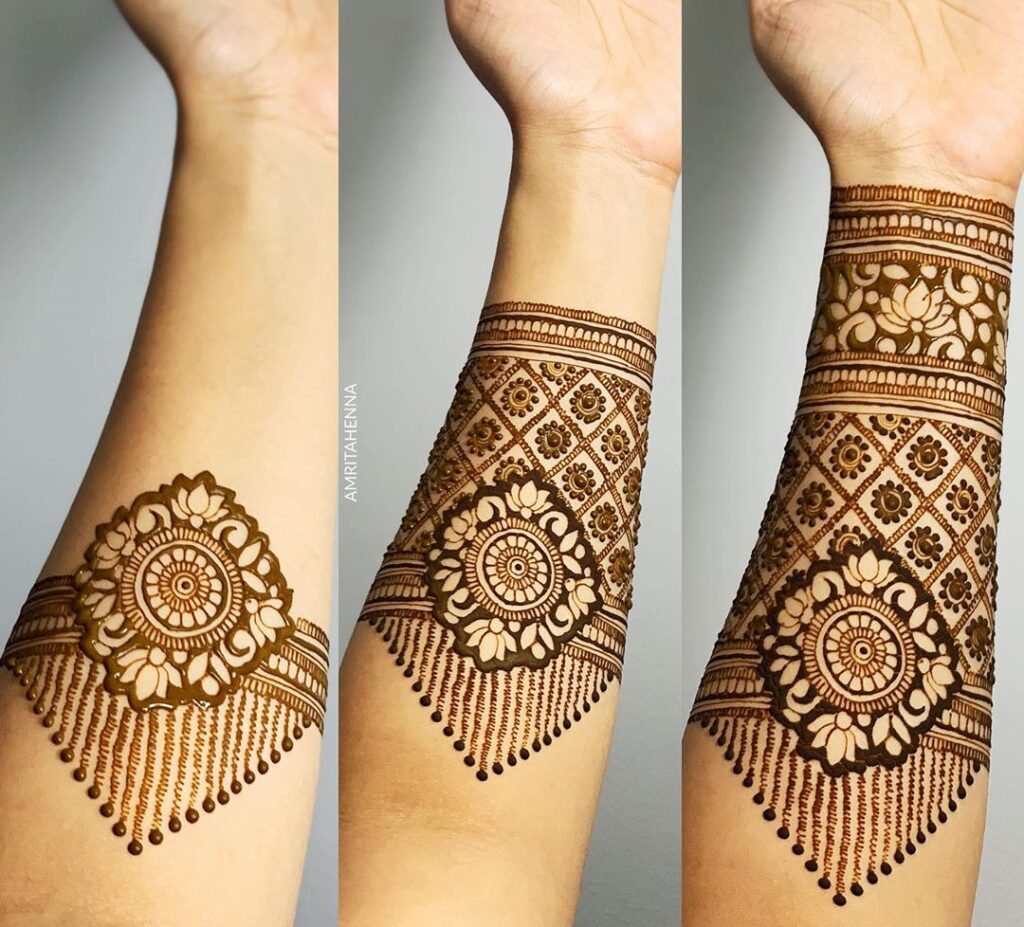 Via @amritahenna
2. Lotus Themed Design
Smartly pulling off the appeal of lotus-themed design! We have all been made to draw lotus in our school years – so this should be easy.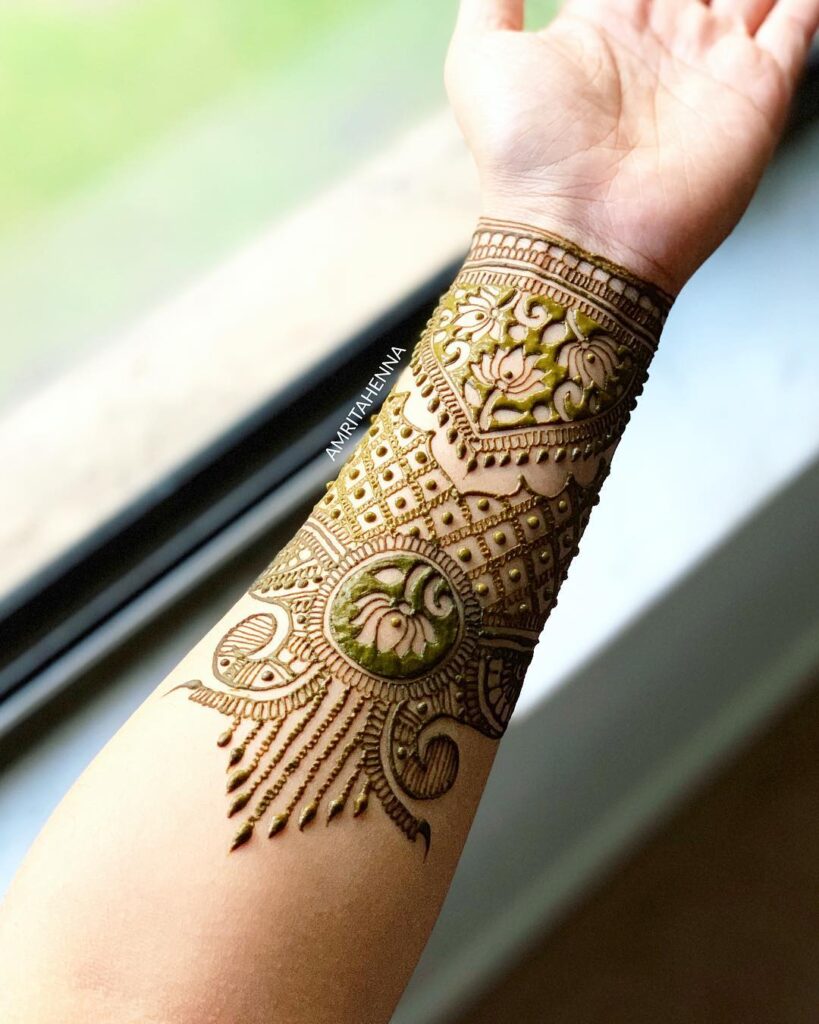 Via @amritahenna
3. Lovely Combination of Jaal & Florals
This intricately designed two-part mehndi design with jaal pattern and the floral silhouette looks pretty great, doesn't it?

Via @amritahenna
4. Arabic Appeal
A simple arabic pattern on the wrists will surely give a certain oomph factor to the henna design on your palms.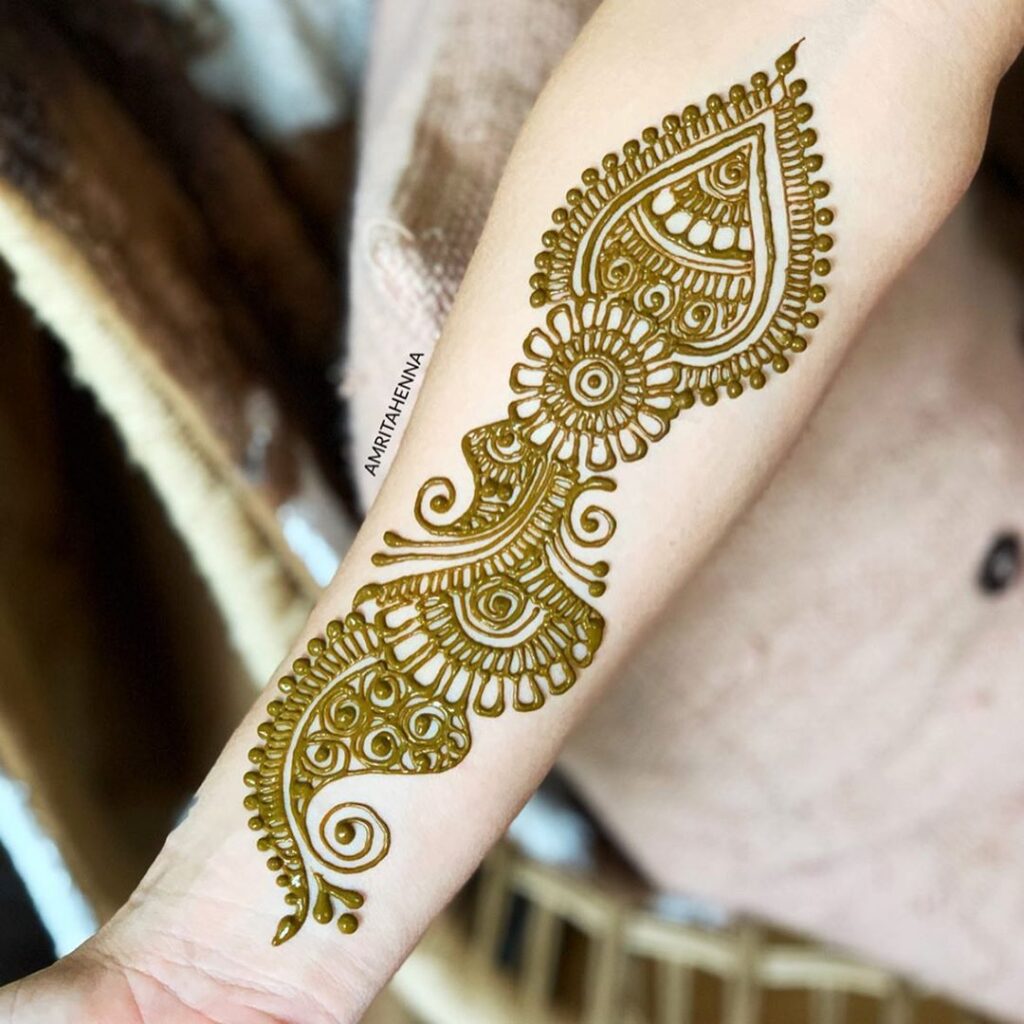 Via @amritahenna
5. Easy On The Eyes!
If the lotus design baffles you, go for repetitive swirl filling instead. Don't worry, the charm of this design will remain intact.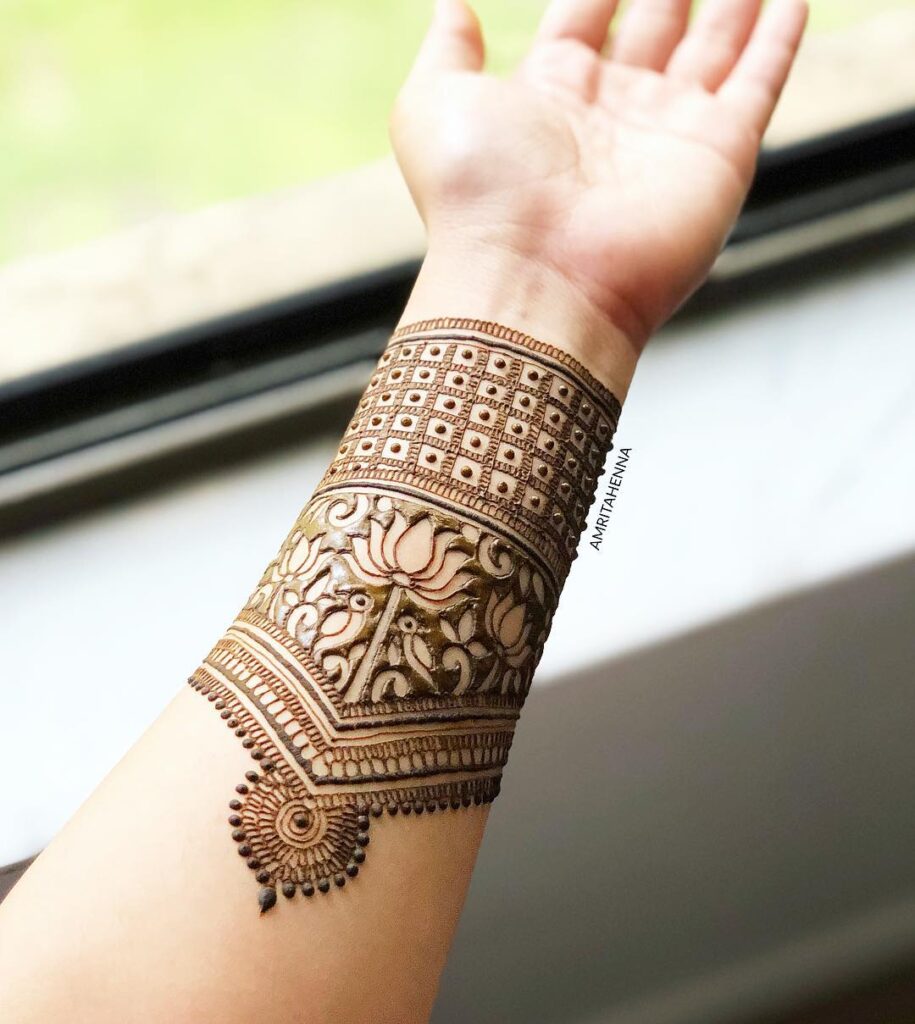 Via @amritahenna
6. Neat & Bold
This well-detailed simple mehndi design with mini curves looks amazing.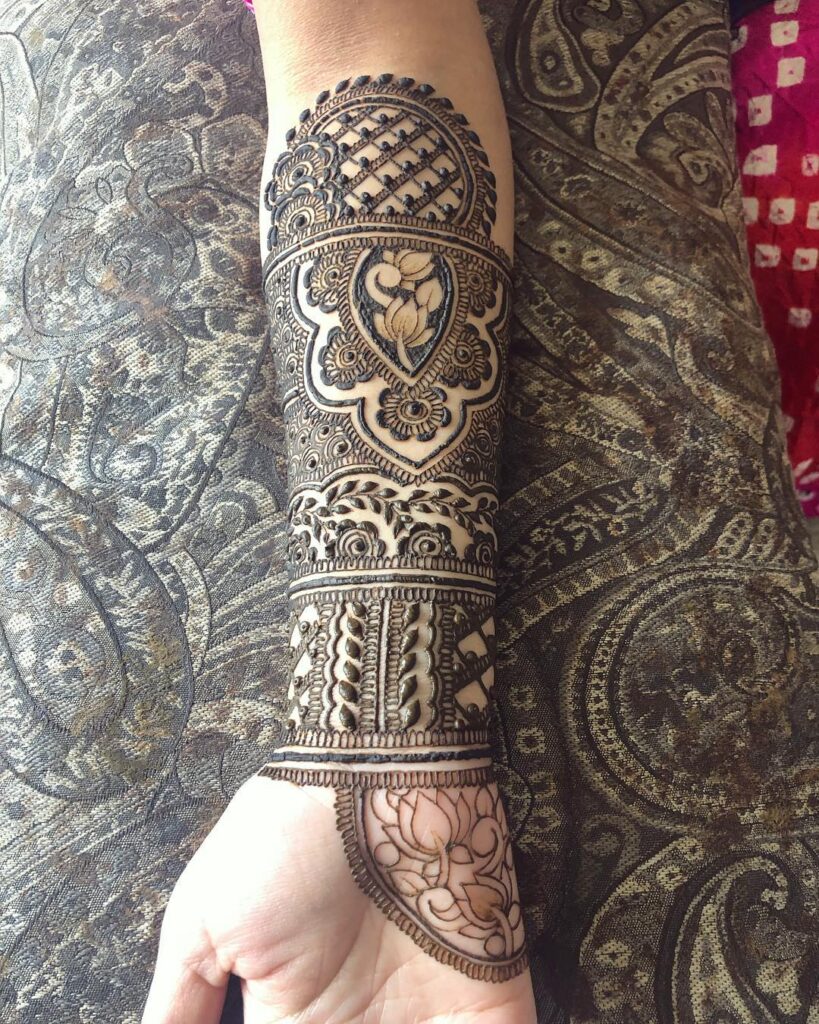 Via @mehedi_by_unzila
7. Appealing Peacock Motif
A full-fledged peacock design always looks stunning. It isn't as difficult to draw either. It's just a modified version of paisley and the recurrent filling on the feather looks simple too.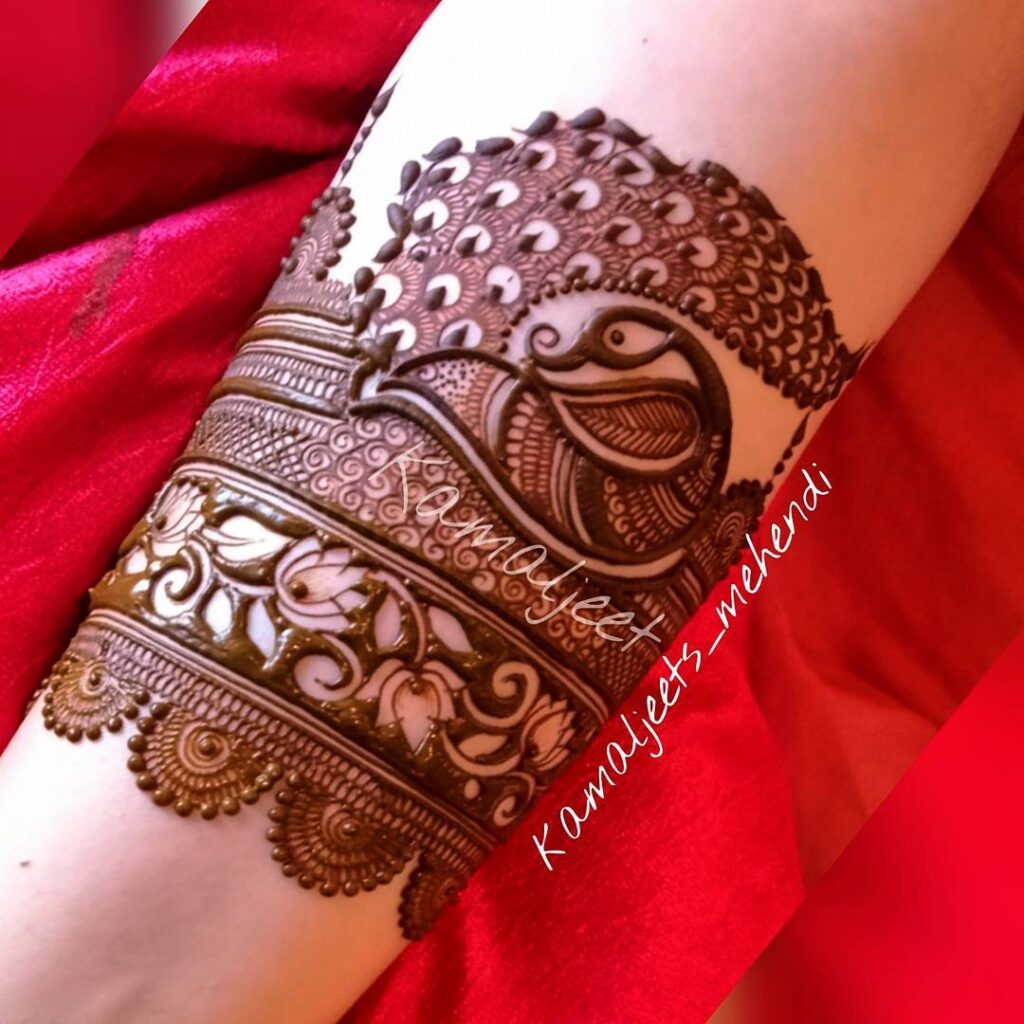 Via @kamaljeets_mehndi
8. Ultra-Modern Yet Simple
There's a certain kind of charm in simplicity. We love this design with a boldly outlined jhumka motif, prominent filled spaces, and catchy florals.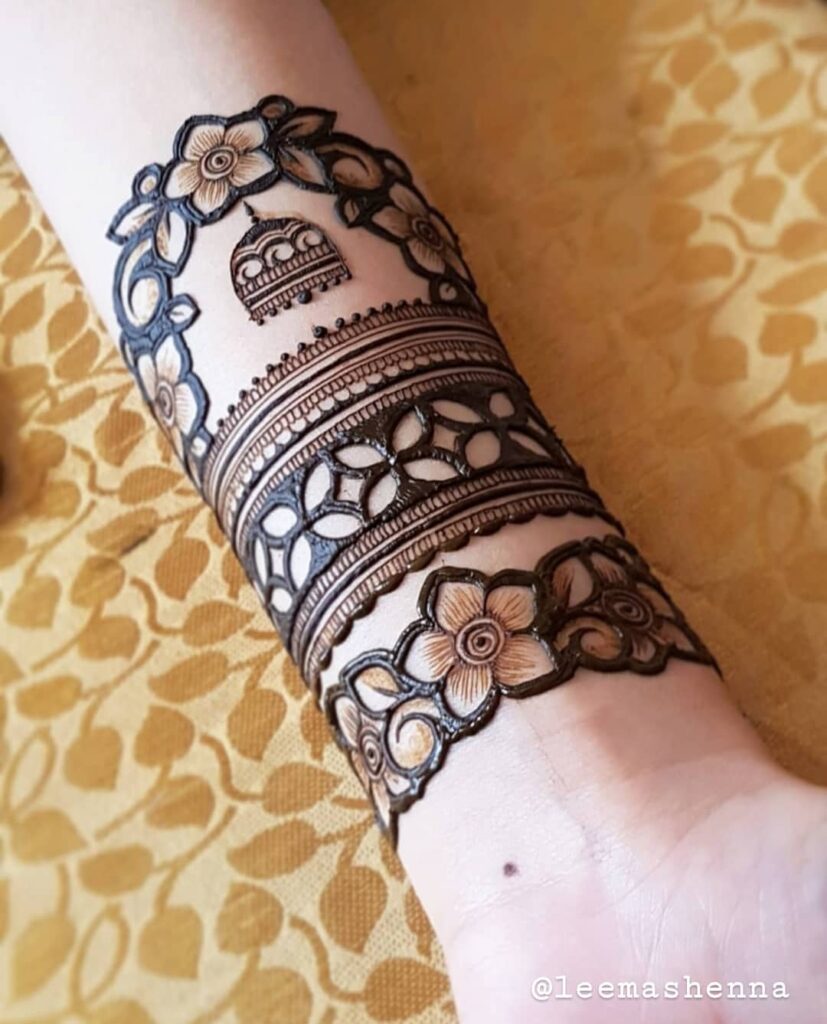 Via @leemashenna
9. For The Book Lover!
For our bookworms out there, here's a design you can get illustrated on your wrist to flaunt your identity with henna!

Via @alankritaabyraashi
Simple Arabic Mehndi Designs
1. Charming Paisleys
No Arabic pattern is ever complete without paisley & this one rightly uses it to etch a quick & simple mehndi design on your hand.

Via @amritahenna
2. A Rather Appealing One!
Another quintessential mehndi design loaded with arabic design elements that's easy to draw and beautiful to stare.

Via @amritahenna
3. Gorgeous & How!
Dominated by the charming paisleys, we're adoring this simple Arabic mehndi design that's spacious, easy to recreate, and plain gorgeous. Draw the outline a little bit thicker than the inside filling to have the same allure as this design in reality.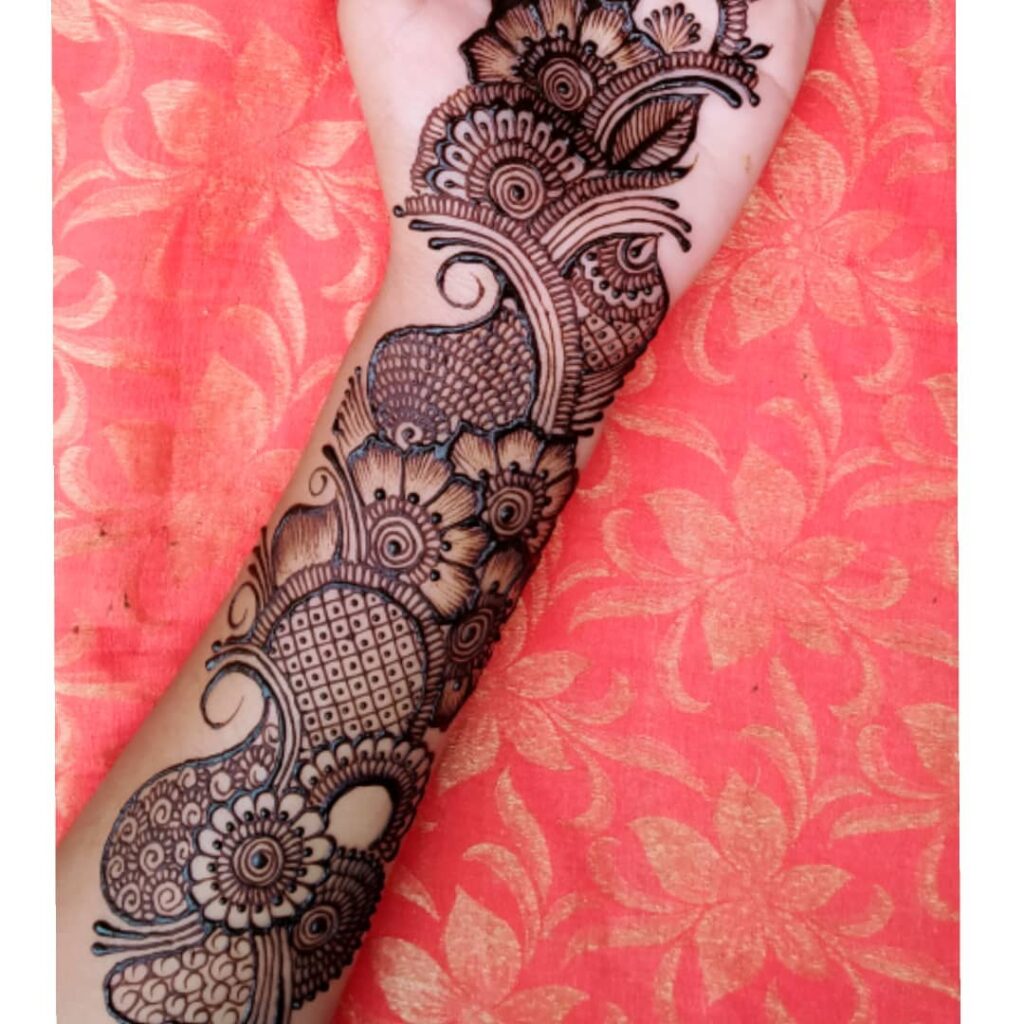 Simple Mehndi Designs For Kids!
#1 A basic trail design
An Arabic trail design that diagonally goes from one end to another covers the whole hands and looks stylish as well. This simple one is easy to make even for a beginner and thin strokes mean it will dry out easily, so the kids can get back to their fun in no time!
#2  Some uber-cute smiley chakras
We can't stop obsessing over this uber-cute smiley chakra mehndi design. It's so nice and neat with proper spacing. The concentric circles give it such a creative vibe. We are sure you're doting on it as much as we are!
#3 Oh Those Pretty Stars & Florals!
Looking for an endearing mehndi design for your baby girl? Your search ends here. This unique mehndi design with flowers drawn at a random distance and the blank space filled with little stars has our heart. We can already imagine how precious it would look on your sweet girl's hands
#4 Feminine And Pretty
Isn't this such a graceful mehndi design for your baby girl? We love that this design is neither too detailed nor too minimal. It has got pretty florals, jaal patterns, and such fancy dotted details.
#5 Minimalistic
Yet another full hand mehndi design for your munchkin. Go for this if you and your kid have the patience to complete it.
We hope you saved your favorite ones! What kind of mehndi designs would you like to see next? Let us know in the comments down below!