A pre wedding photoshoot is a time to spend some quality time with each other while celebrating your bond and getting some memorable photographs clicked in the process. But you ought to have a few pre wedding photoshoot ideas in mind before heading to the session so the process happens with ease. To help you, we have included 125 ideas below for inspiration!
#1 A pre wedding photoshoot outdoors isn't complete without a sunset picture. So grab your partner and kiss them gently as the photographer captures the golden light. If you're conscious of the relatives seeing this picture, take another one where you're just closely seeing each other to show everyone and let the former be just for your memories.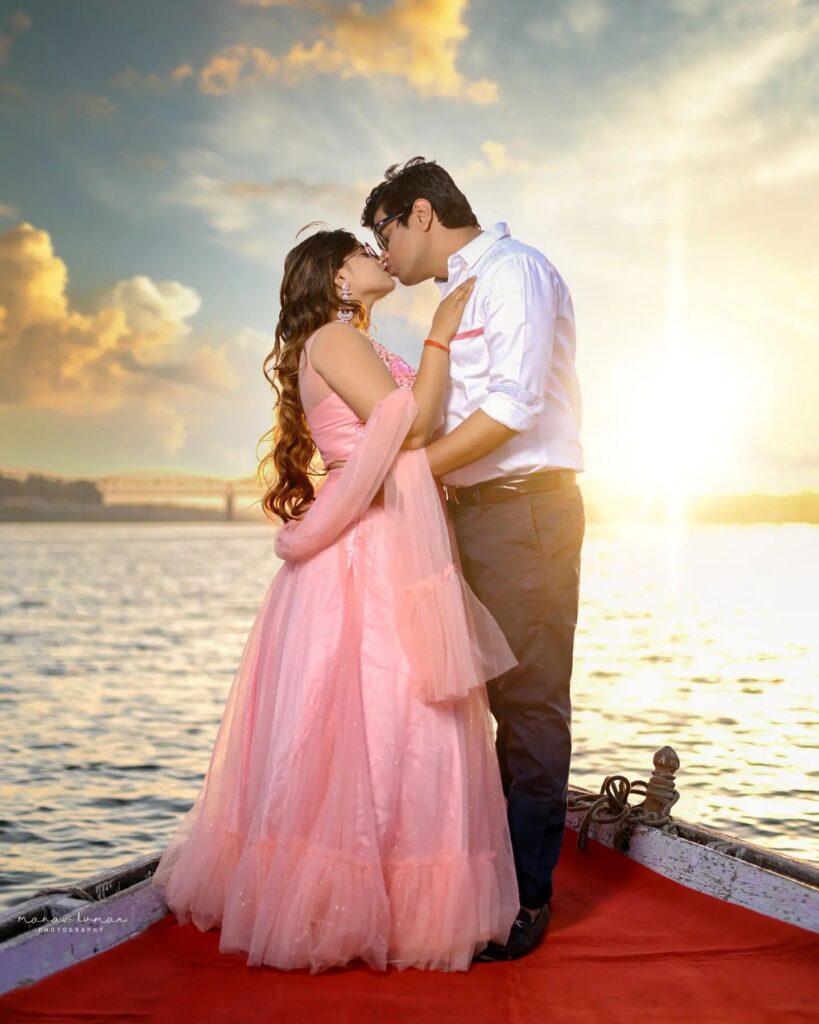 Courtesy: Instagram
#2 A casual wear jeans pre wedding photoshoot sounds like an offbeat idea considering the number of fancy pre wedding shoot dresses you see on social media. But casual works too! Take inspiration from this idea to wear breezy dresses during your photo session and how to pose in them.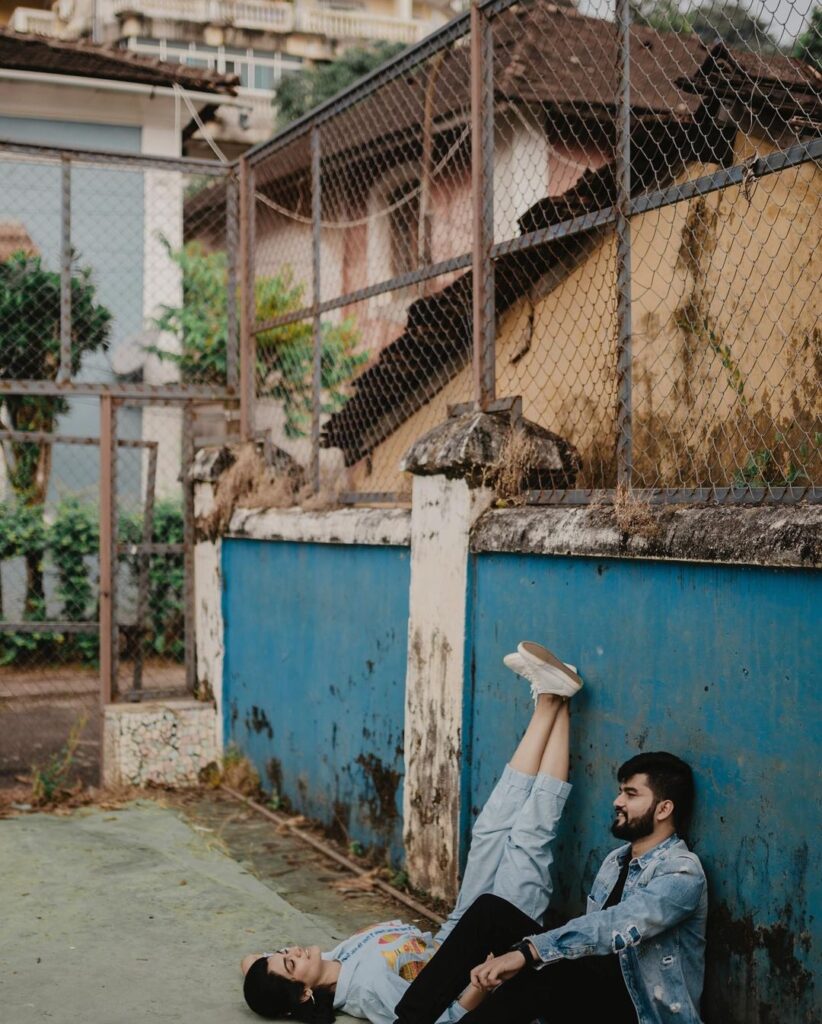 Courtesy: FrozenVibes by Nikhil
#3 With Atlantis Dubai as the backdrop and a yacht in focus, this couple gives a subtle kissing neck pose from far away. Another variation would be the same bending down but looking into each other's eyes. You can recreate this pose in India as well, like in Goa or Mumbai or the boats of Benaras for an authentic experience.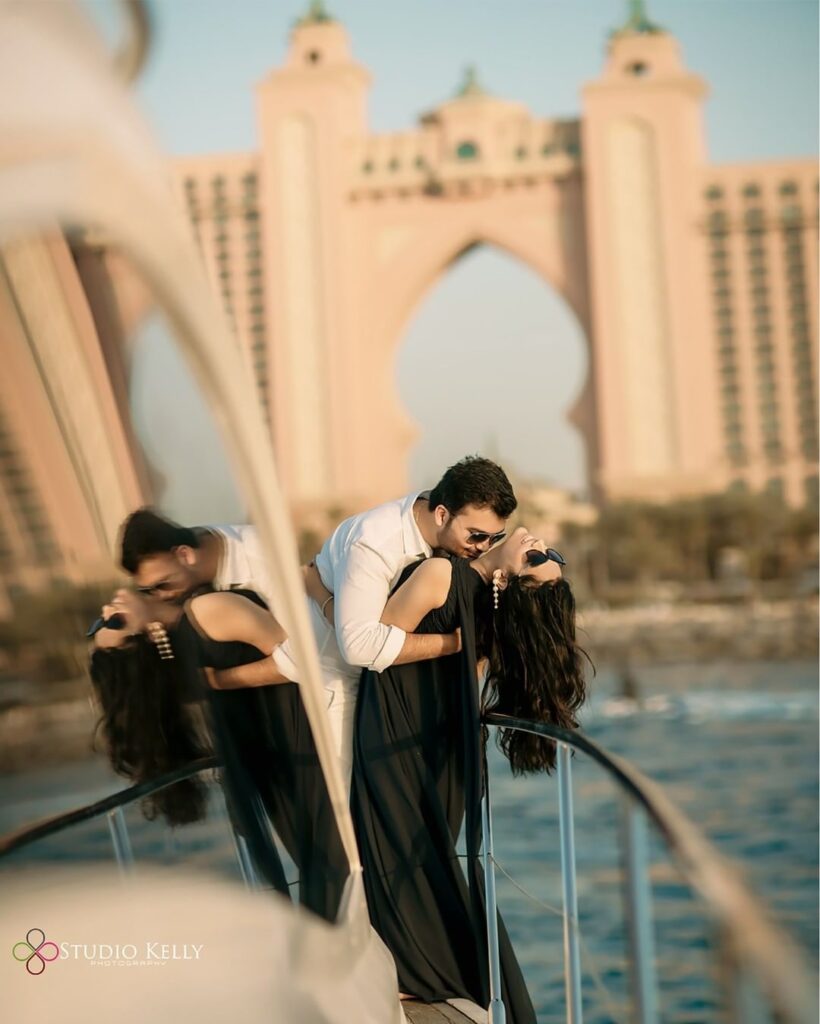 Courtesy: Studio Kelly Photography
#4 We will give you a lot of casual wear jeans pre wedding photoshoot ideas so you'd know you don't always have to wear fancy one-pieces to look charming in your shoot. Here's another one done in the comfort of their home. You can make it as sexy or as playful as you'd like.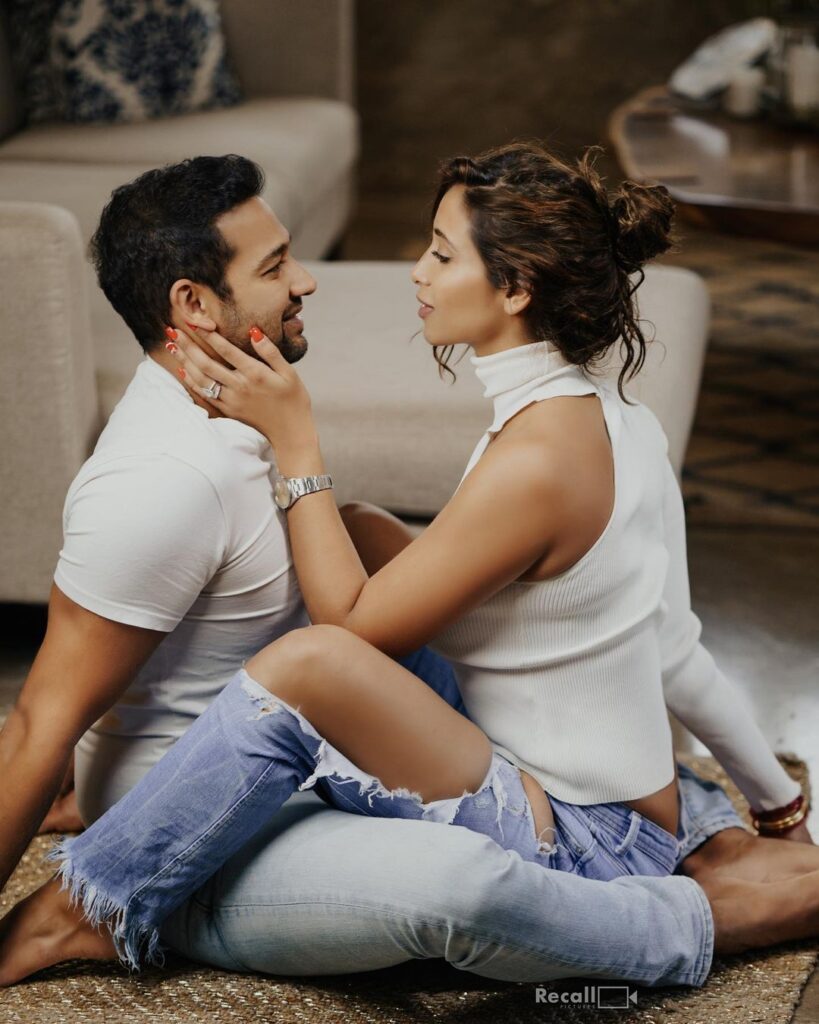 Courtesy: Recall Pictures
#5 Back hugs are always so nice and romantic. More so, they make for a great pre wedding photoshoot idea. There can be many variations to try – from the one where you both look at each other to the one where you both stare at a distance to this one where you're casually laughing and enjoying each other's company.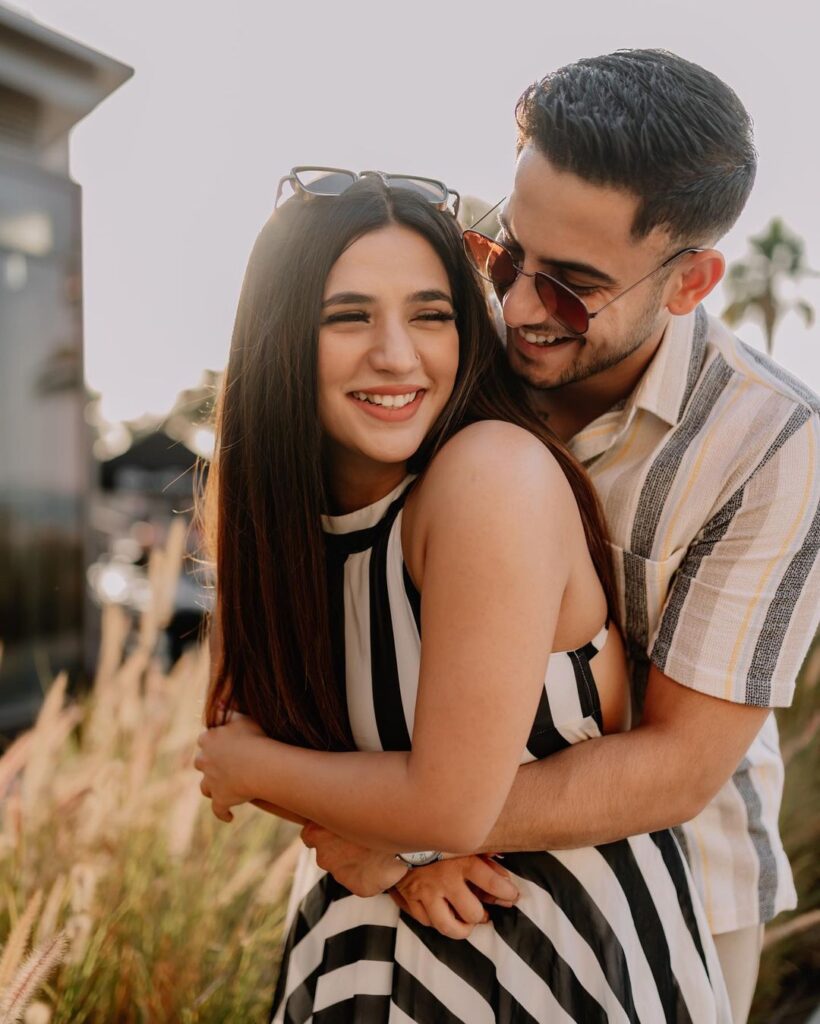 Courtesy: The Wedding Files
#6 If you dare to bare in the snow, get inspired by Silvy Mehta's pre wedding photoshoot in Shimla where she wore an off-shoulder pink gown with a thigh-high slit on the side. We have included her entire session pictures here, but this unique one is our favorite from the lot.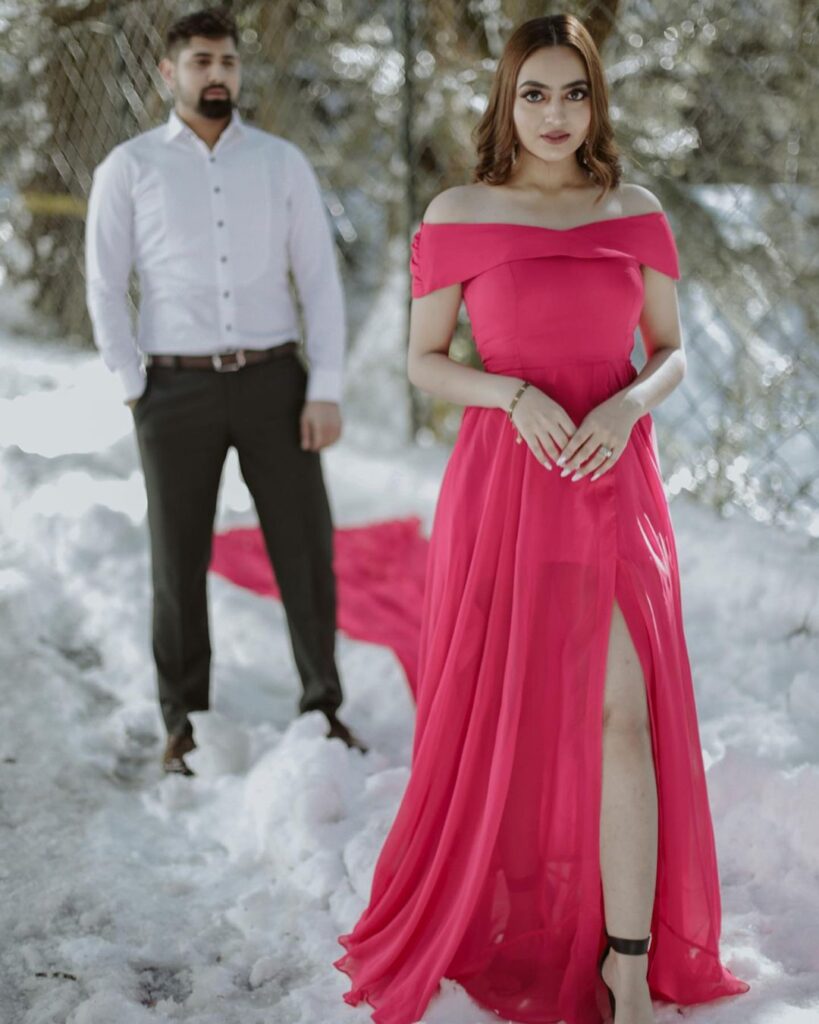 #7 When you want your kissing poses to be playful, this is what you should go for! Know that recreating such a pose will require appropriate focus & editing, and only a good photographer should be entrusted with the same.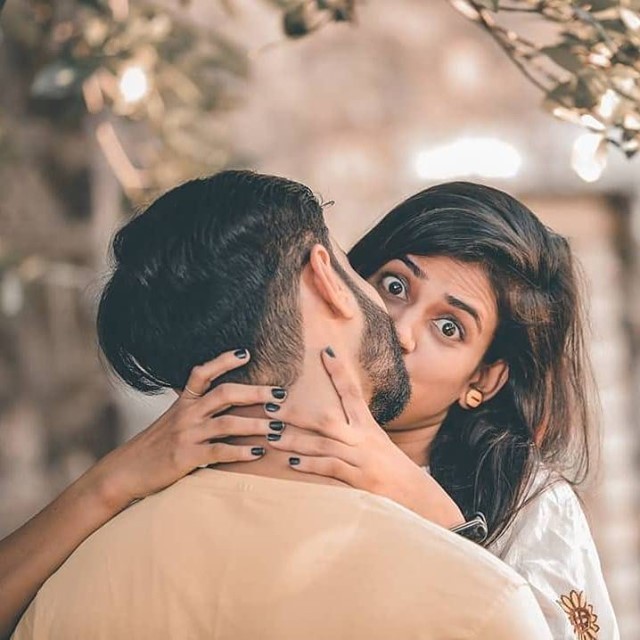 #8 The golden hour pictures are a must-have – no matter the occasion. Whether it's your pre wedding shoot or mehndi or wedding, take them when you get the time. Here, the saree's pallu creates a dramatic effect as the soft light shines on the couple for a perfect shadow photograph.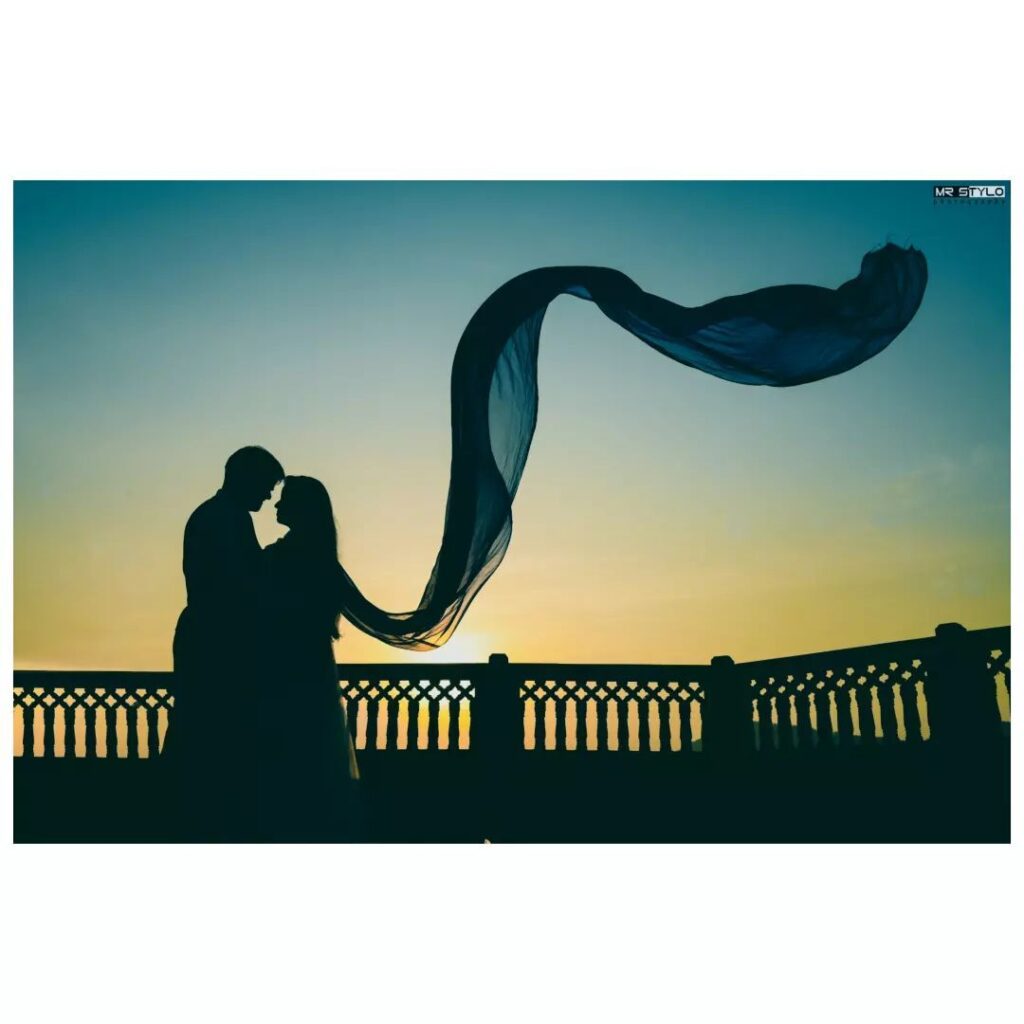 #9 When you've hired a professional MUA to get your pre wedding photoshoot makeup, you need to get a picture with your face in focus to flaunt your flawless makeup. Here's an idea of how you can do so whilst involving your beau in the plan as well.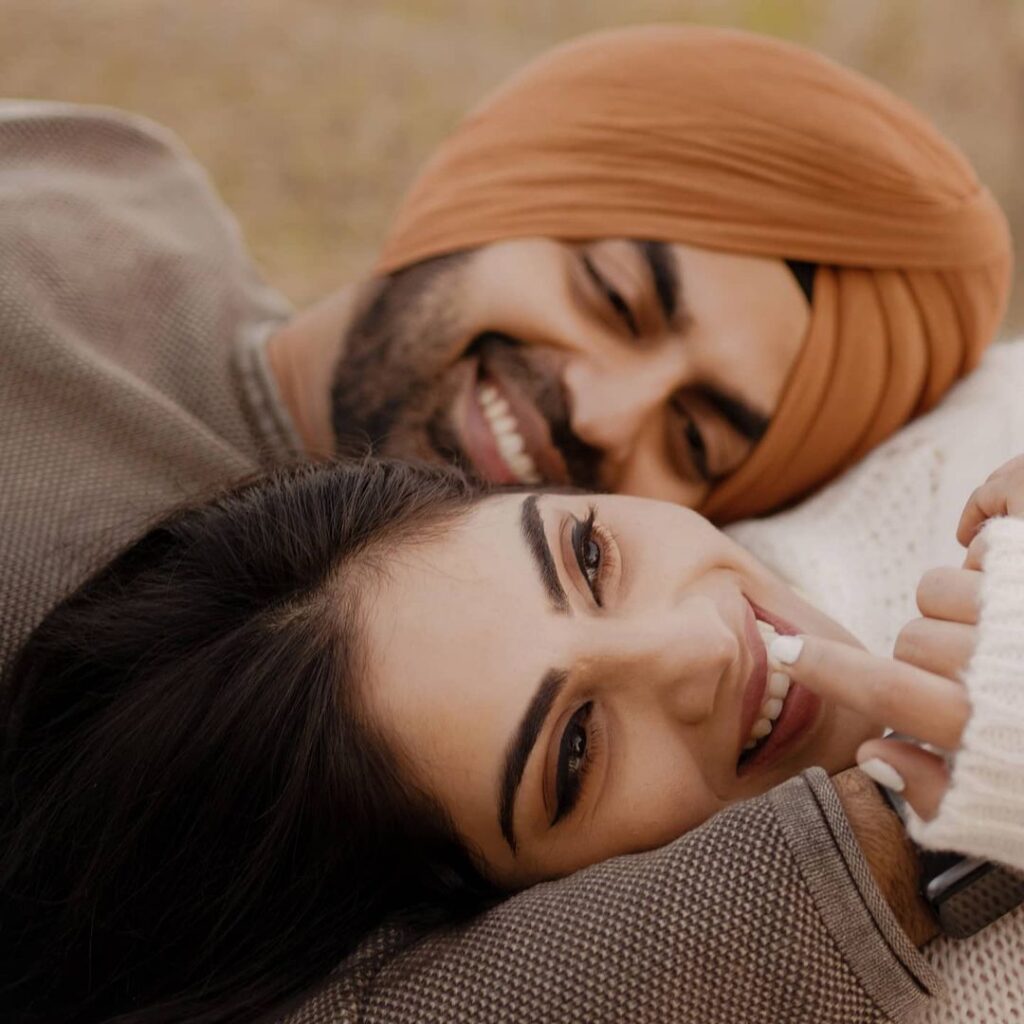 Shot by The Videowala
#10 Yet another pre wedding photoshoot by The Videowala that was shot a long time ago but yet goes viral every time we post it. Done in an indoor setting, it involves various playful poses and clearly, you can wear your casual clothes to the session with just color coordination with your beau.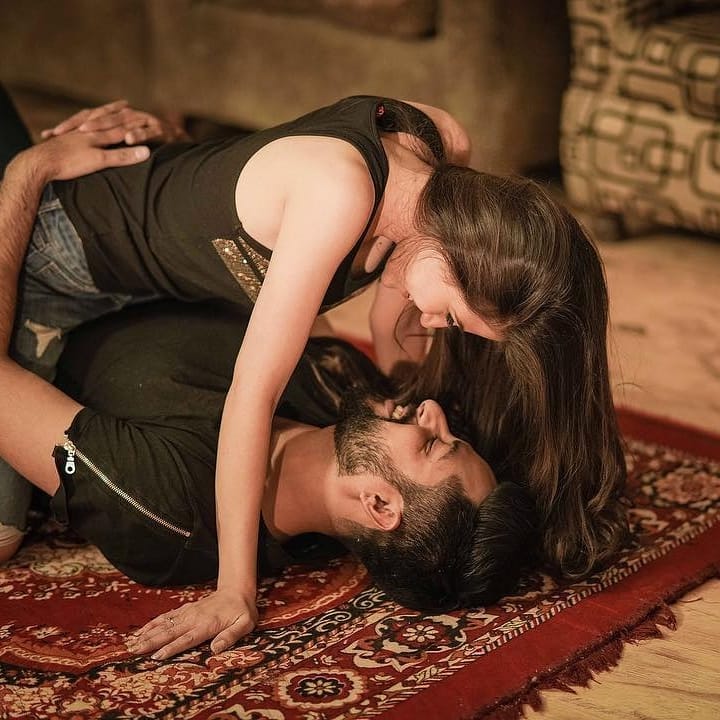 #11 If you have the budget and the time to travel to an exotic location for your pre wedding photoshoot, Cappadocia, Turkey with its hot balloons aesthetic and fairy chimneys architecture is the ideal place. The balloons fly during sunrise so make sure to place your bookings so you aren't jet-lagged during the opportune moment.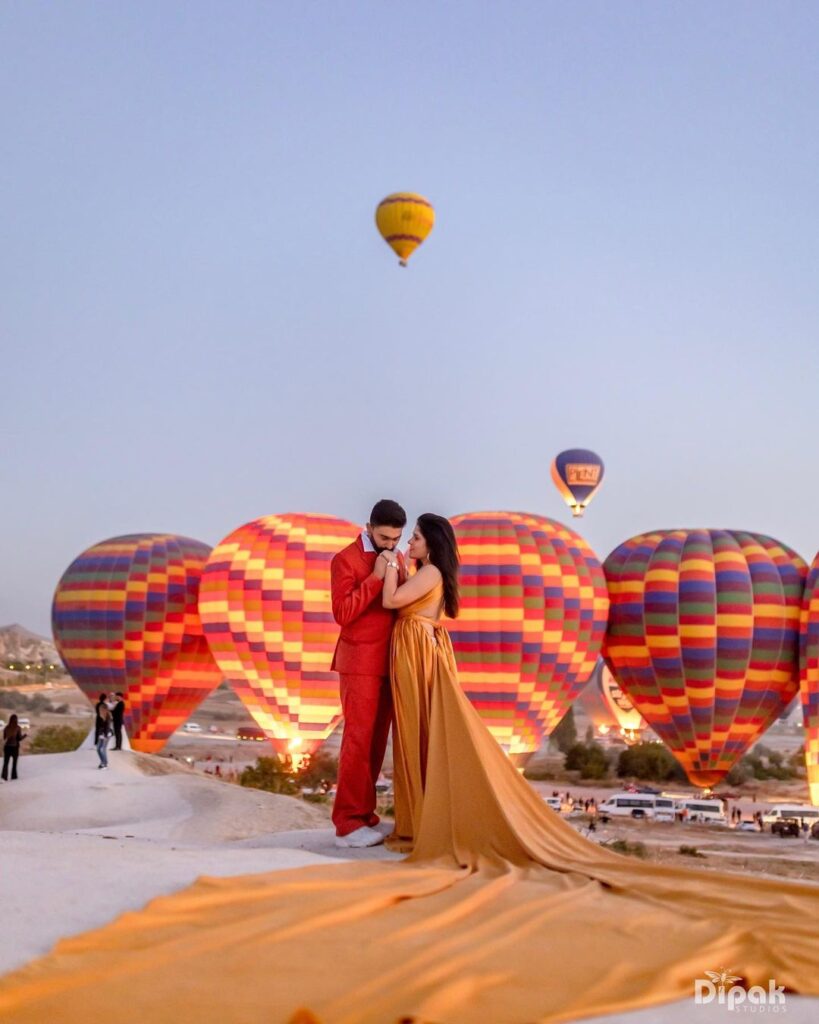 #12 We're sure you own many things that signify your bride's status. Include them in your prewedding by posing happily with them and choosing a picturesque background as the backdrop.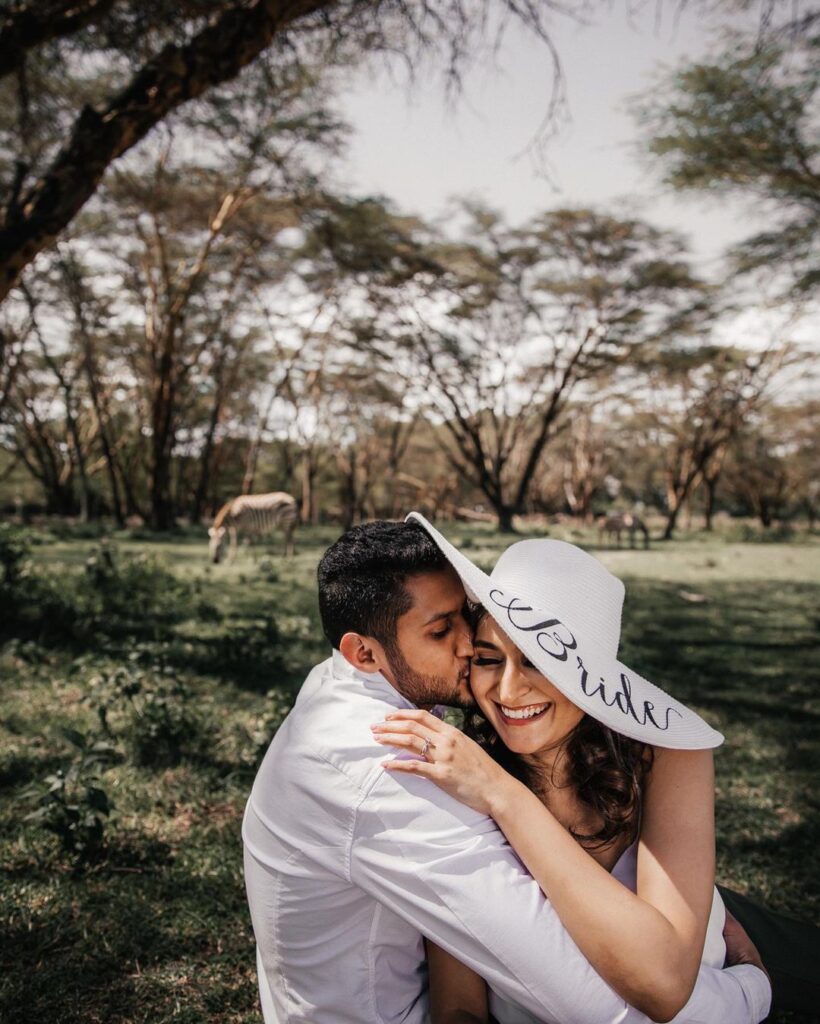 Captured by Shades Photography in Nairobi, Kenya
#13 When you're marrying someone serving in the Indian army, use their prestigious status in your prewedding by having them shoot in their uniform. A black saree goes amazing with the uniform. Some other colors to try are emerald green and beige for a complementary look.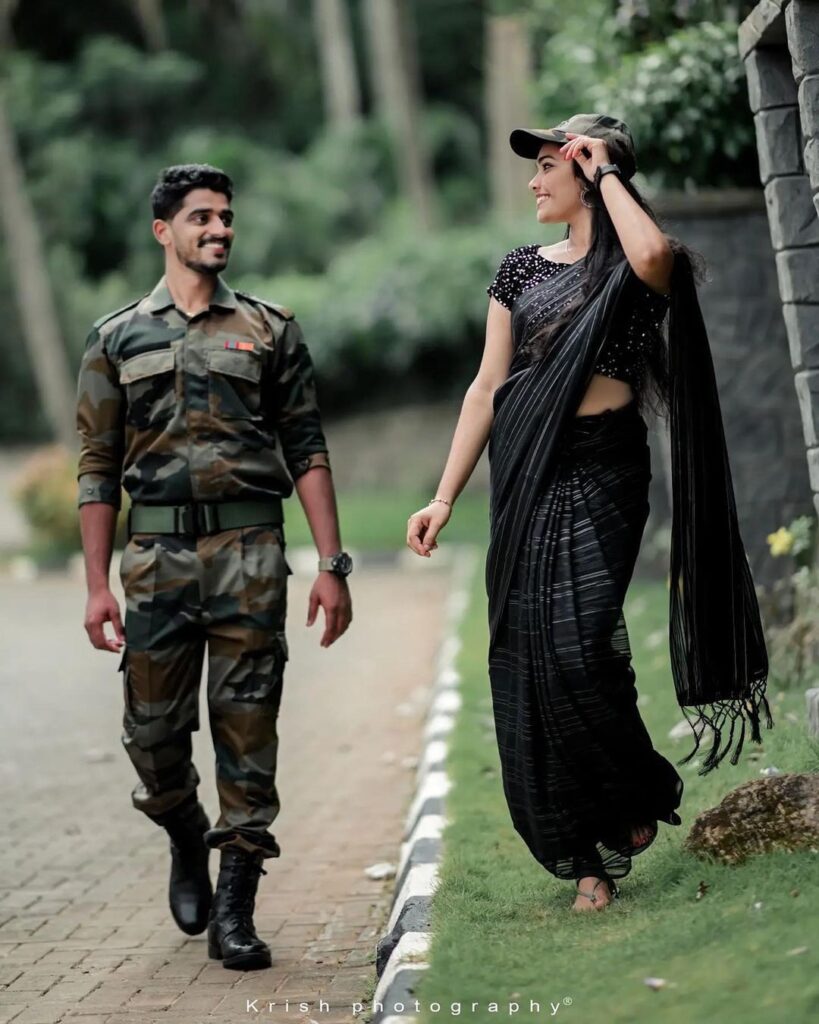 #14 When there's too much pollution in your city but you still want an outdoor pre wedding photoshoot, wearing a mask is the only option left. It's not just a quirky way to have your session but also draws attention to the problem so people can take steps to solve it.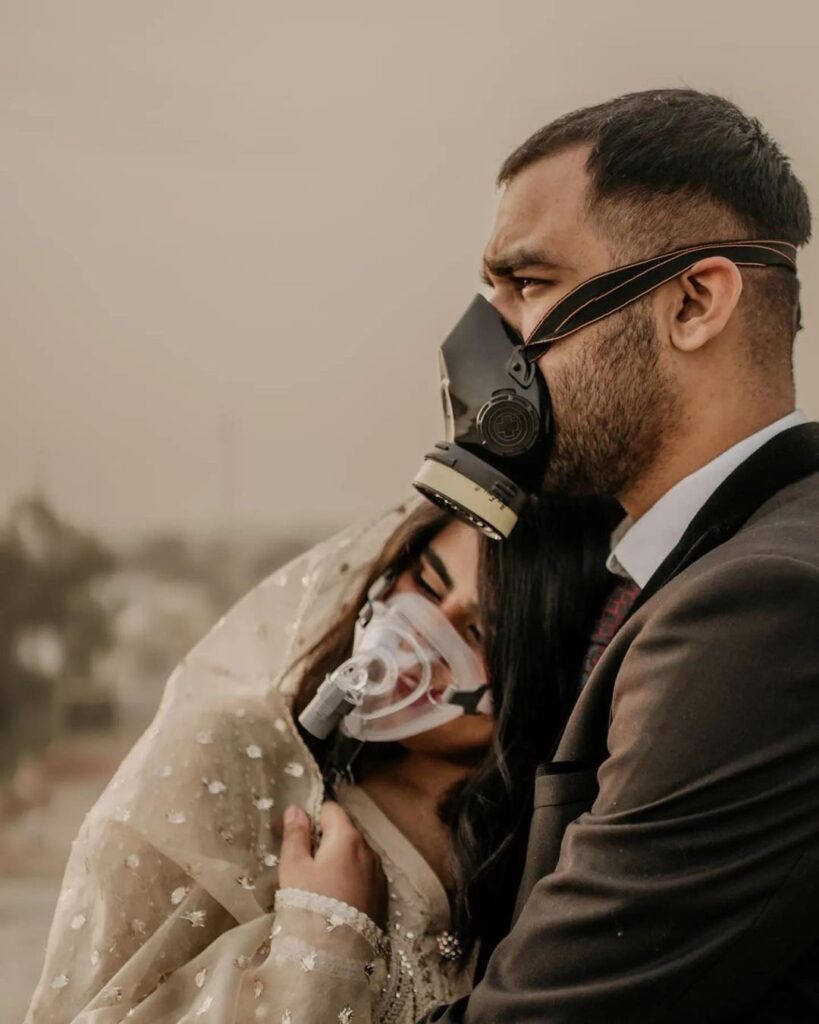 Shoot by Yratta Media
#15 As mentioned, you can never go wrong with back hugs as a romantic pose for your prewedding shoot. The hug itself will bring an instant smile to both of your faces – breaking the tension and paving way for some endearing candid shots.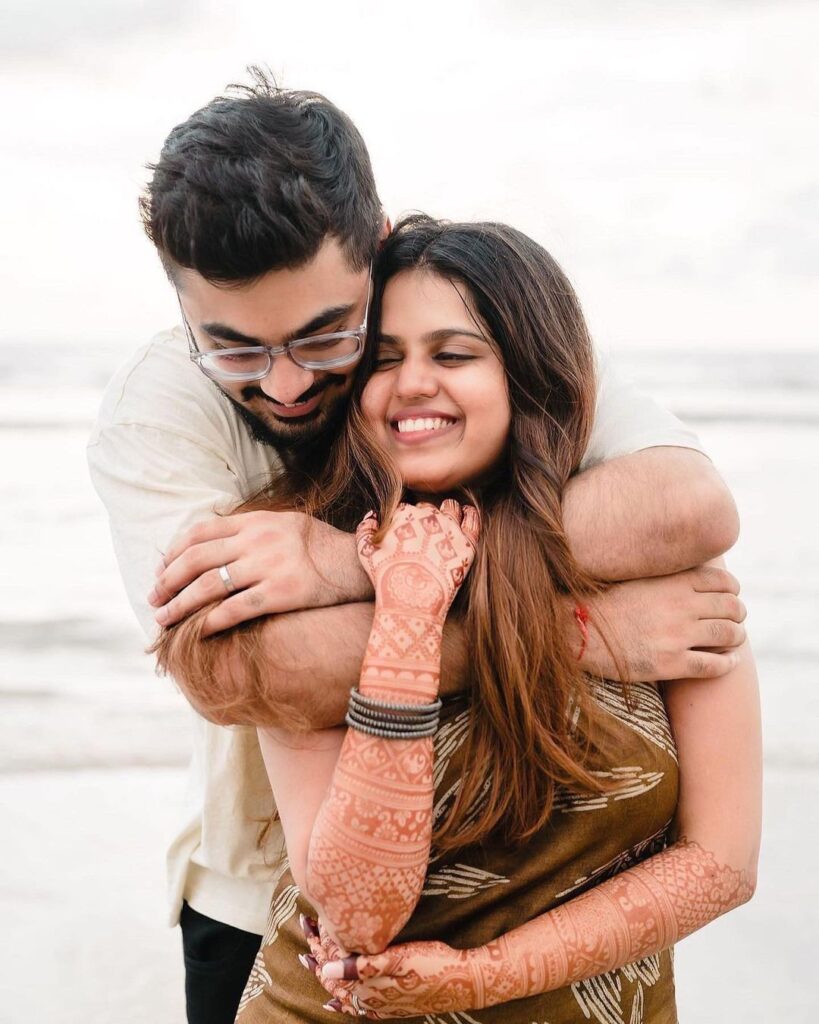 #16 Yet another pose that will bring all smiles to your faces for some candid shoots is when you pick her up in the air. It's playful, fun, and romantic, and is sure to make for one of the best shots in your entire album.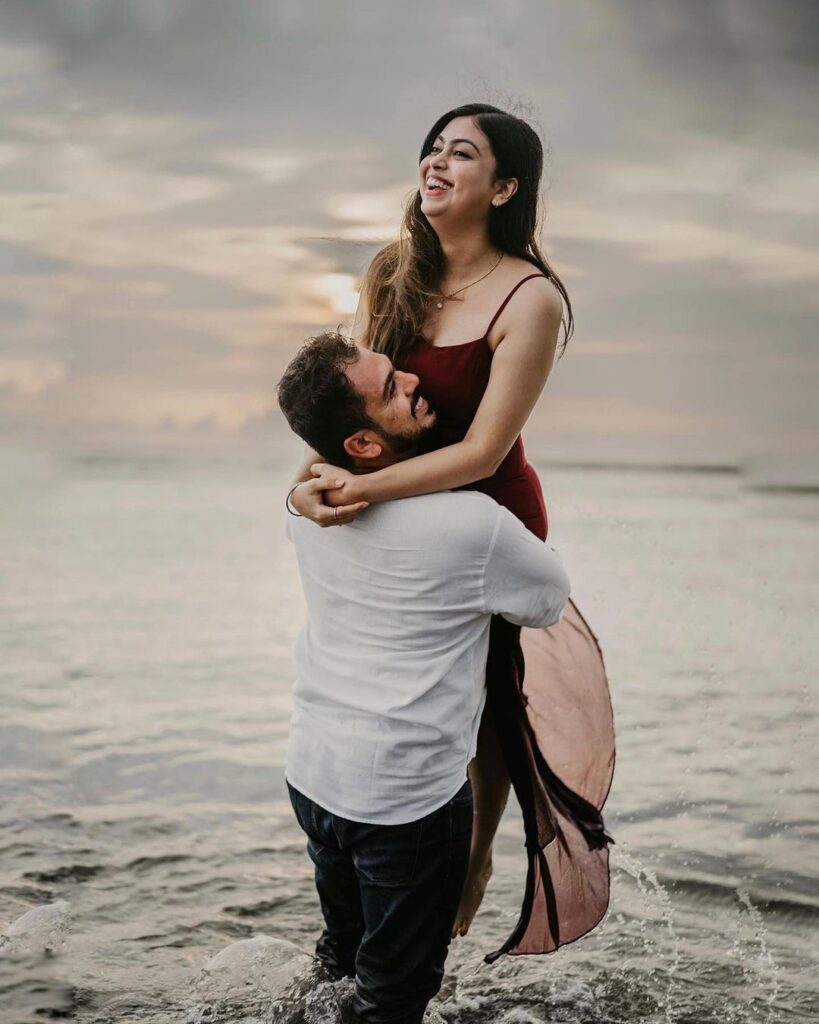 Via Abhijeet Chavan
#17 When you're stuck on what poses to try for your beach pre wedding photoshoot, here's a unique and endearing one to try. It's easy to pose, not that awkward if you get shy between people and makes for an amazing portrait to frame. Needless to say, it can be recreated for an indoor shoot as well.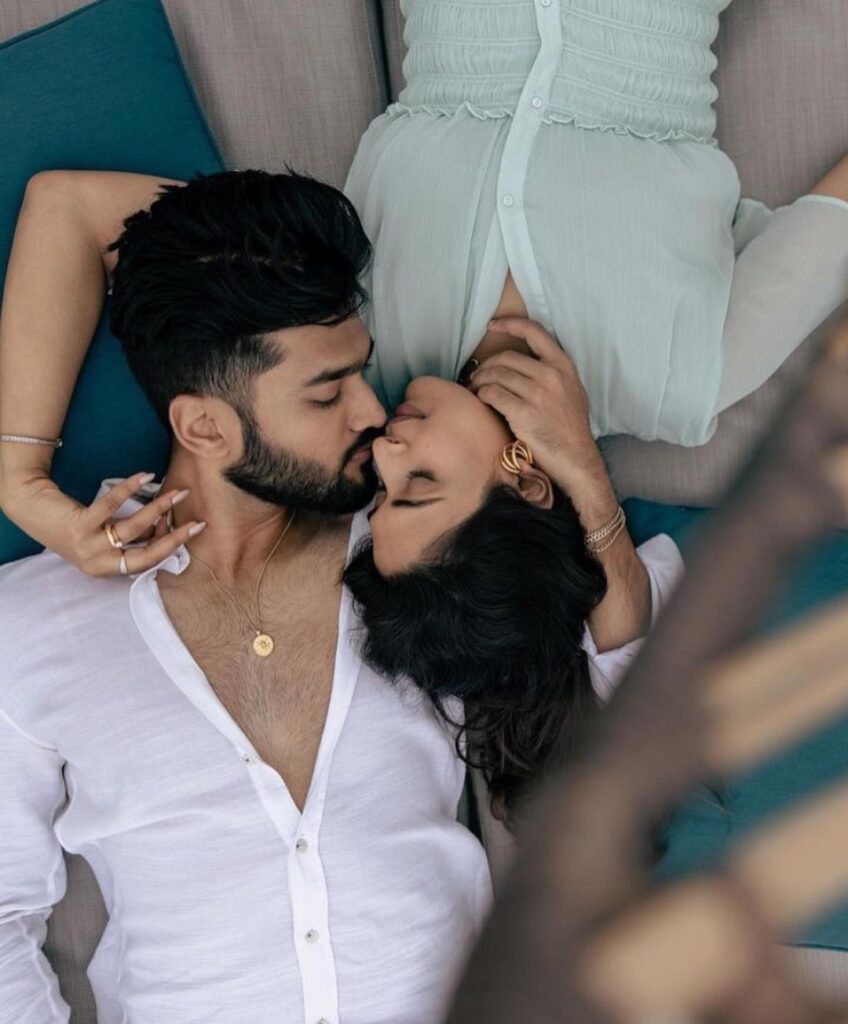 Courtesy: @odysseyoftwo
#18 When the kissing pictures become too awkward for you, try this pose with your engagement ring to save you the weirdness while lending the charm to your pose. Editing is a huge part to recreate the allure of this pose, so make sure your pre wedding photographer is comfortable with the same.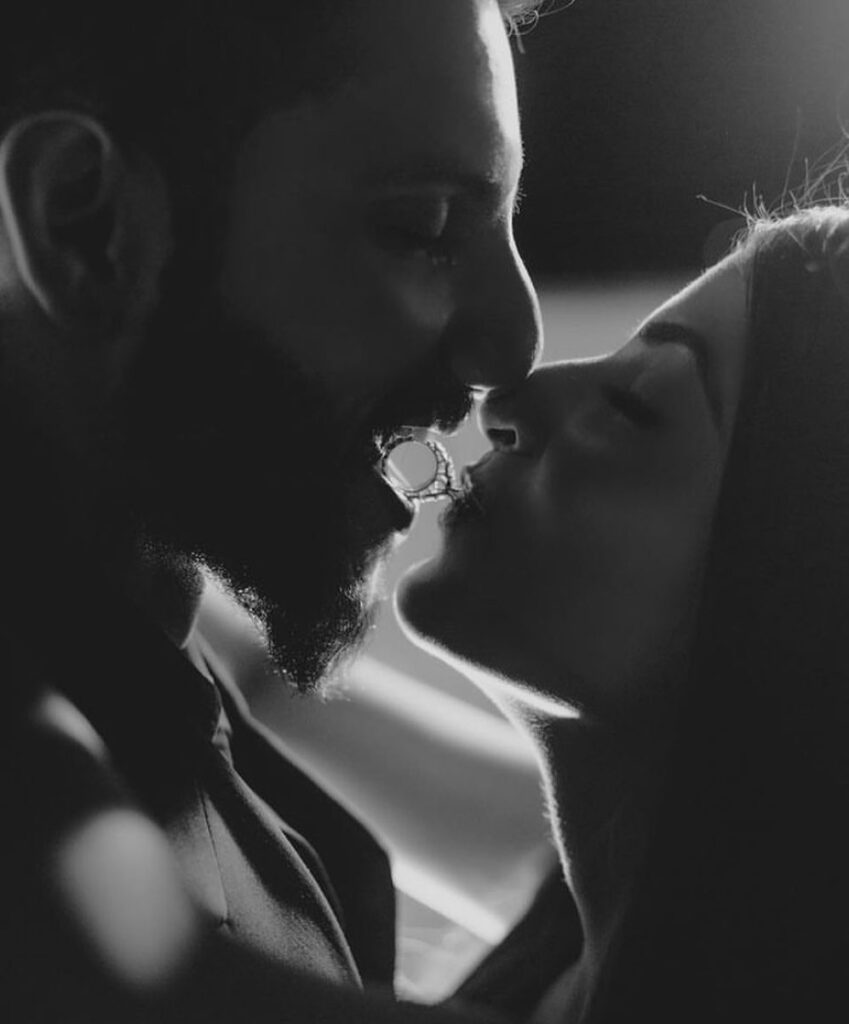 Courtesy: @red_veds
#19 Golden hour pictures always have us swooned. But this one with the Sun shining its perfect light right in the middle of their kiss is beyond gorgeous!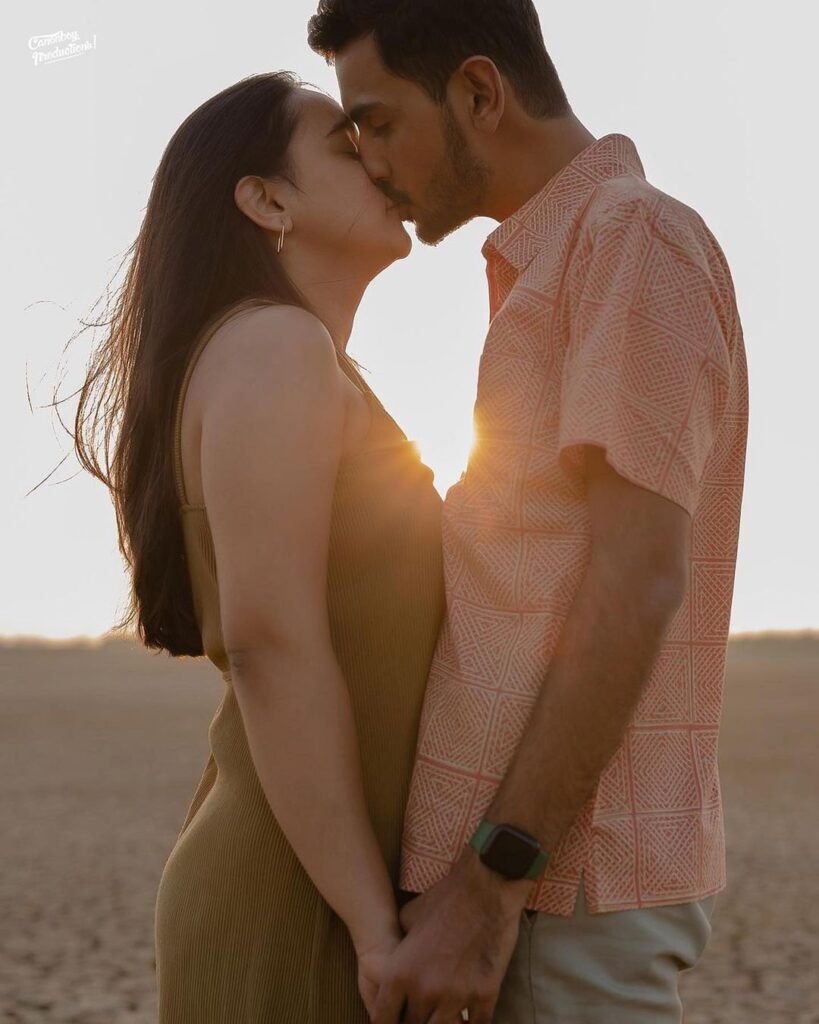 Courtesy: Canon Boy Productions
#20 Just the spellbinding creativity in this picture is enough to bookmark this for your pre wedding shoot inspiration. It always pays off to hire someone creative for your wedding. You will be left astounded by their artistic ability during the shoot and the final product you receive after editing!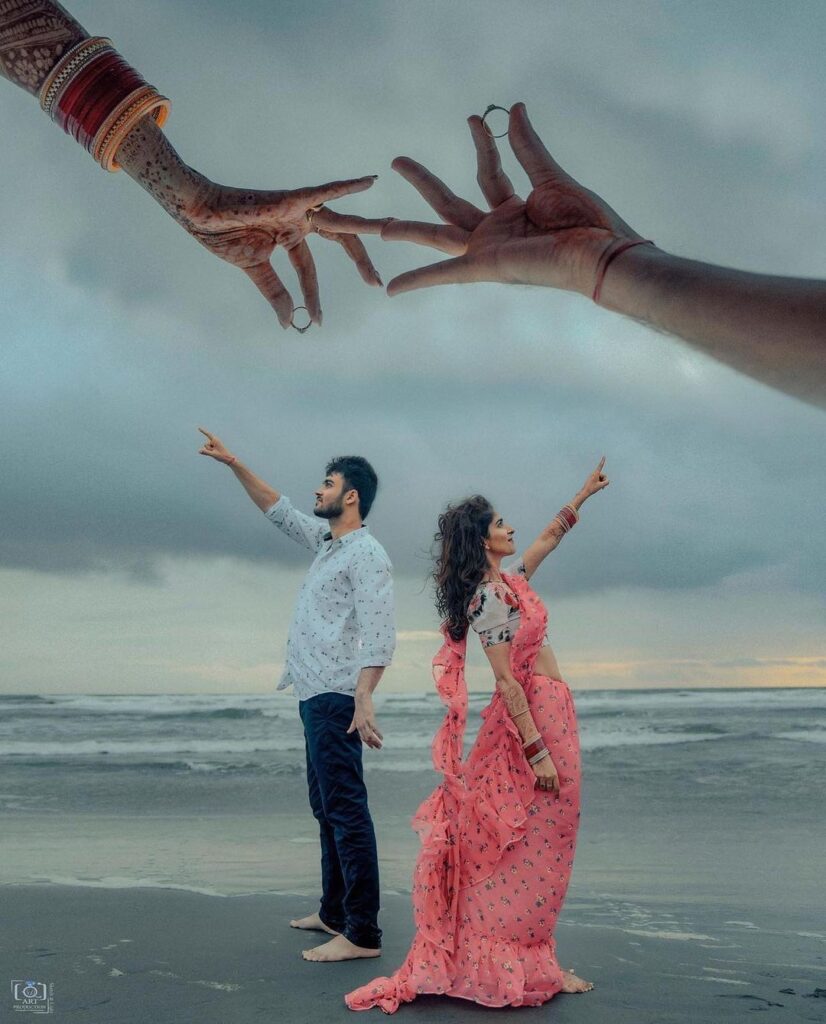 Courtesy: SL Art Production
#21 Never let any weather changes spoil any fun in your pre wedding photoshoot outdoors. See how the wind perfectly blows her hair for a romantic yet stunning portrait idea.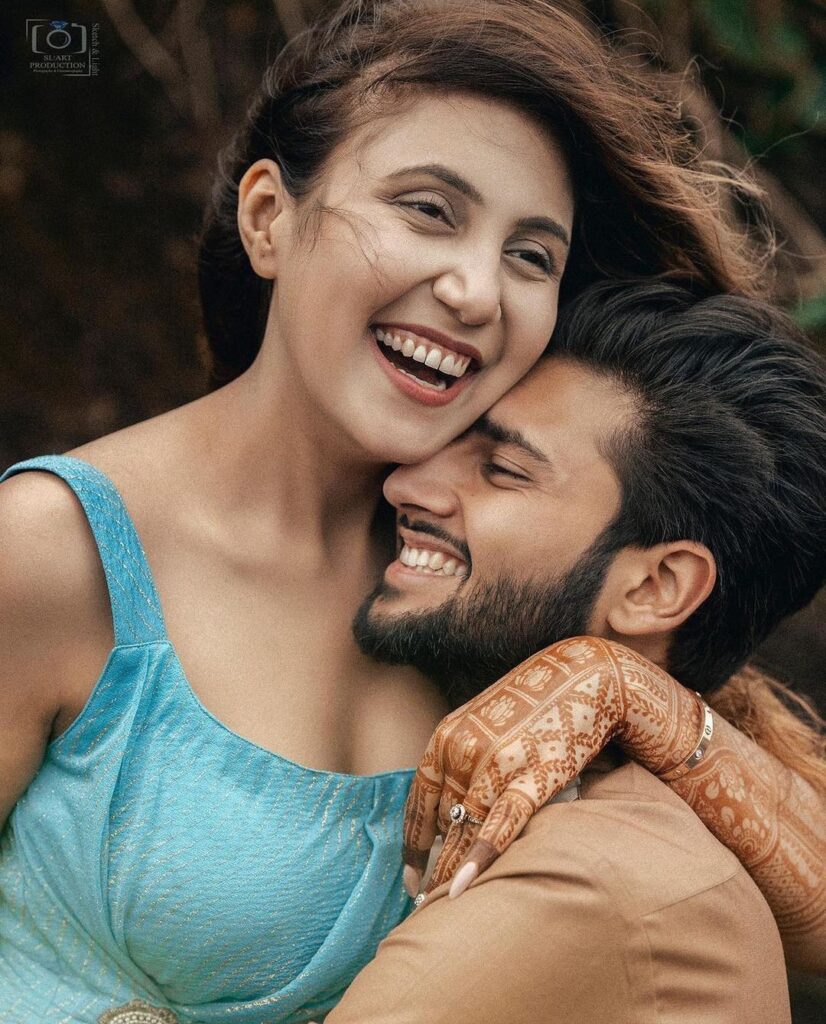 Courtesy: SL Art Production
#22 Add props to your pre wedding photoshoot for a playful and eye-catching pose idea. Smoke bombs are popular and they're used in preweddings as well as other day events like mehndi and haldi for couple portraits or couple entries. Choose the colors wisely though, so it complements your outfit and the aesthetic of the picture.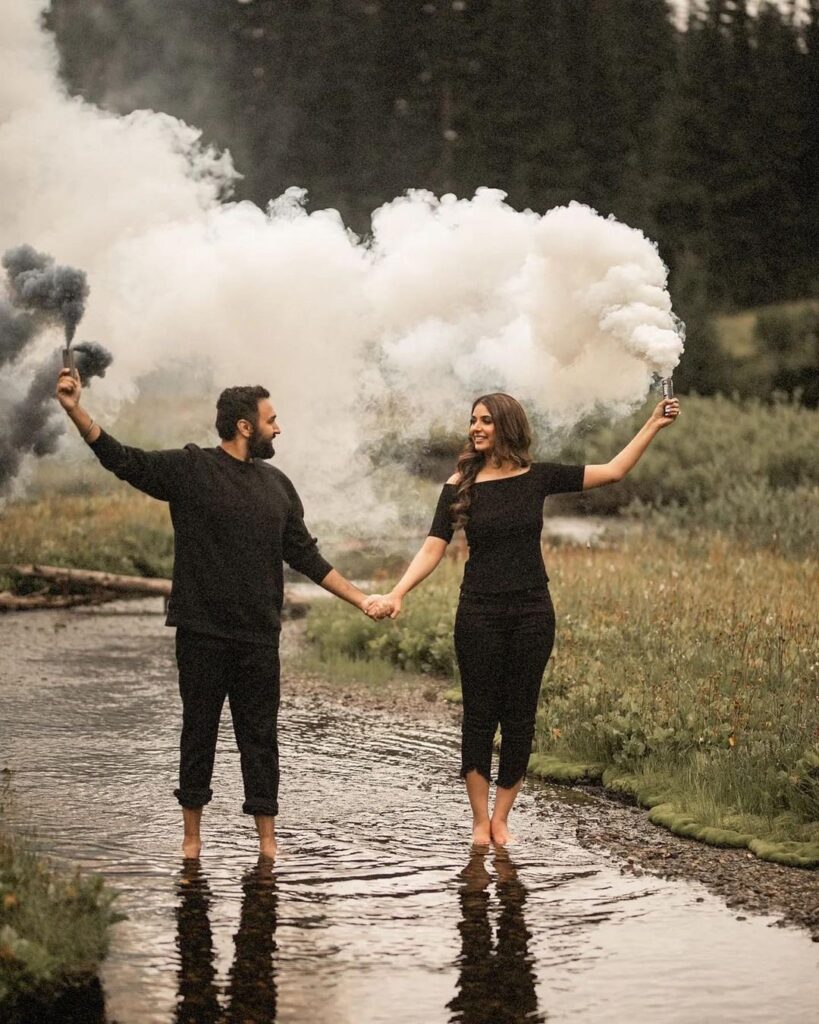 Courtesy: Sunshine Exposure
#23 A pose you'd love to recreate for your pre-wedding but for your other wedding revelries as well – like wedding, sangeet, and engagement. You can pick which portrait turned out the best because it would make one of the best pictures out of the lot to be framed and put on your bedstand.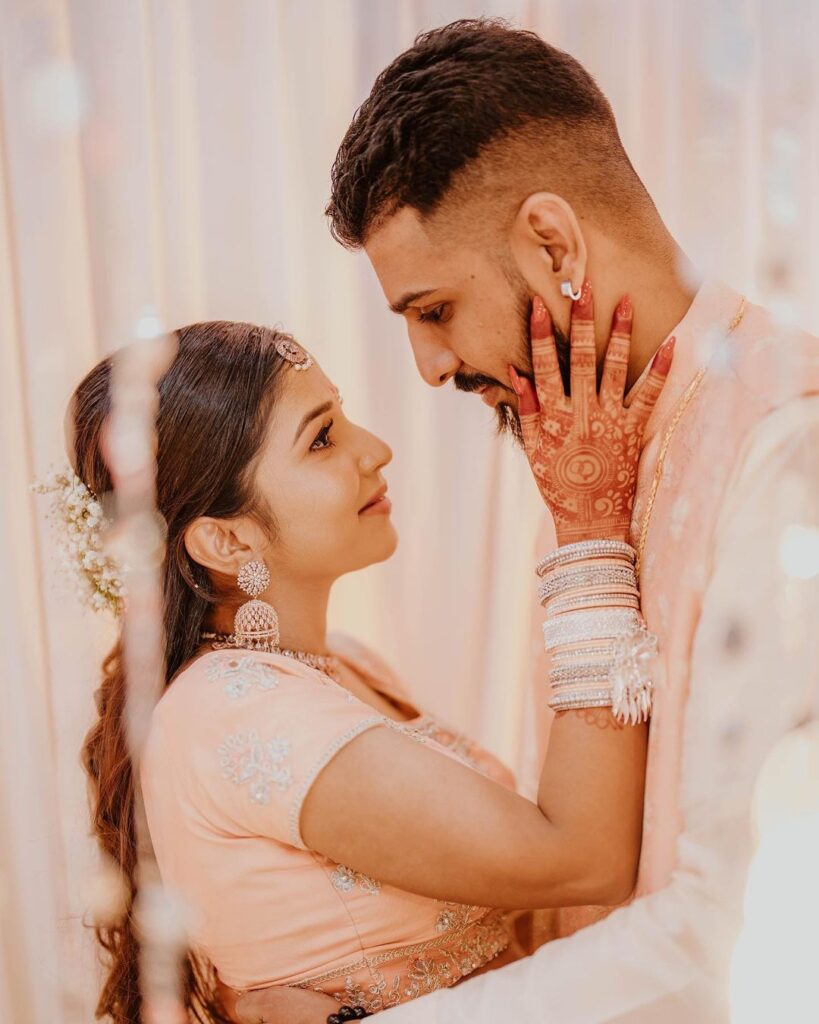 Courtesy: @jobeststudio
#24 When you own a fur baby and you're looking for ways to include them in your pre wedding photoshoot pose, here's an awesome one to consider. It also mentions your wedding date so you can use the picture for your e-invites as well.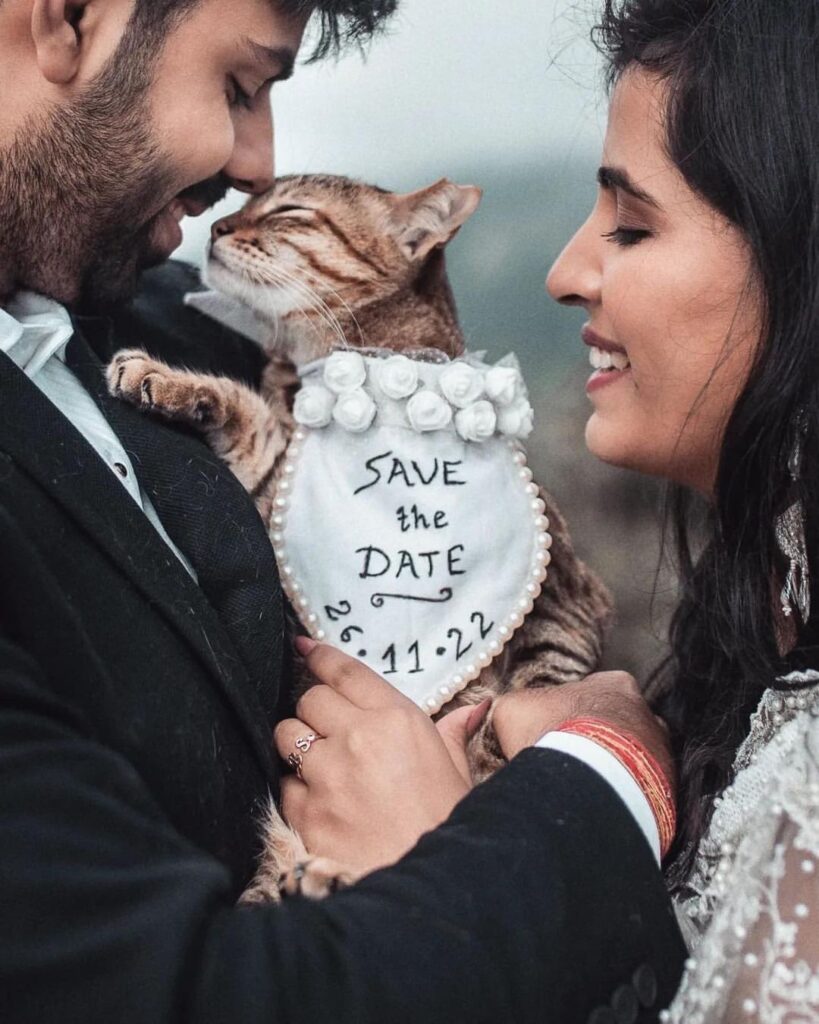 Courtesy: The Dark Room Photography
#25 This isn't our first back hug pre wedding shoot pose and this certainly isn't our last. As romantic as this pose is, there are also a number of variations of it to try. One is this one – sharing a hearty laugh, others can be looking at each other, a head kiss from behind, both you staring far away, etc. Let this be a moment to take some candid shots as well.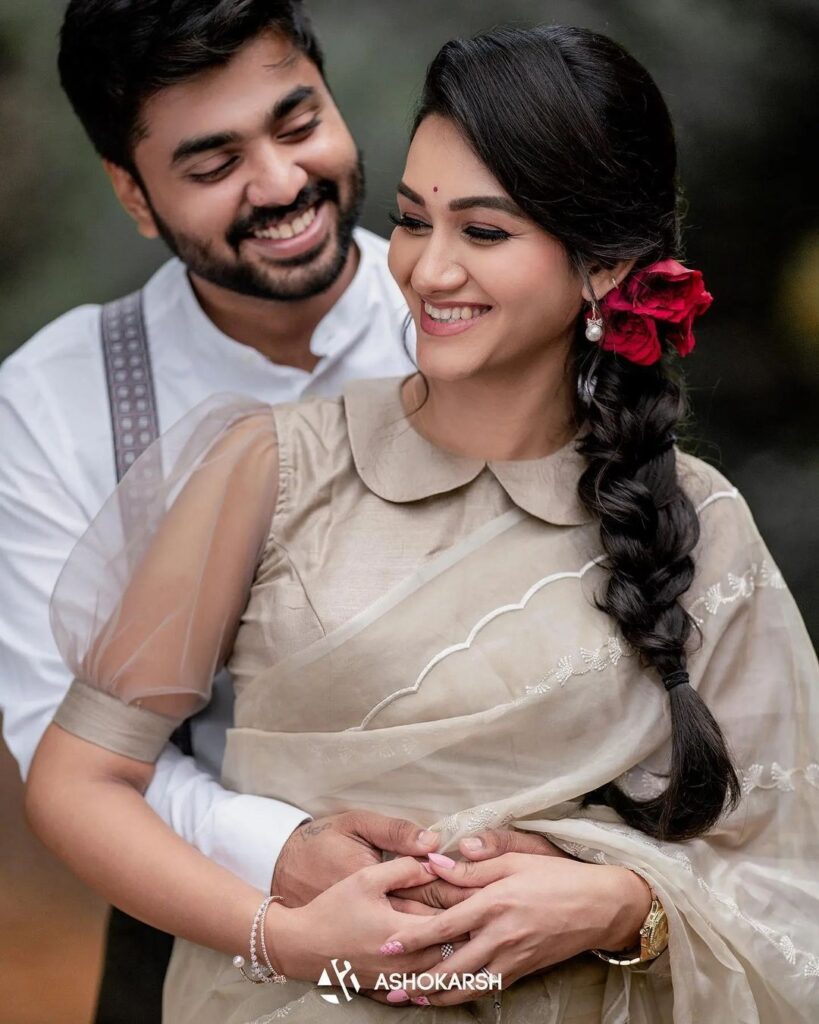 Courtesy: @ashokarsh
#26 With a scenic landscape as the background, this couple's pick-me-up picture becomes unique and charming despite the usual pose. If you live in Rajasthan, Kishangarh's dumping yard serves as the deal pre wedding photoshoot set for a similar landscape. 
Courtesy: @reispackers
#27 Where only your entwined hands make an appearance! We love this distinctive pre wedding photoshoot pose where only your curled-up hands make an appearance. It's different than others and yet captures the love & adoration you share better than many other portraits.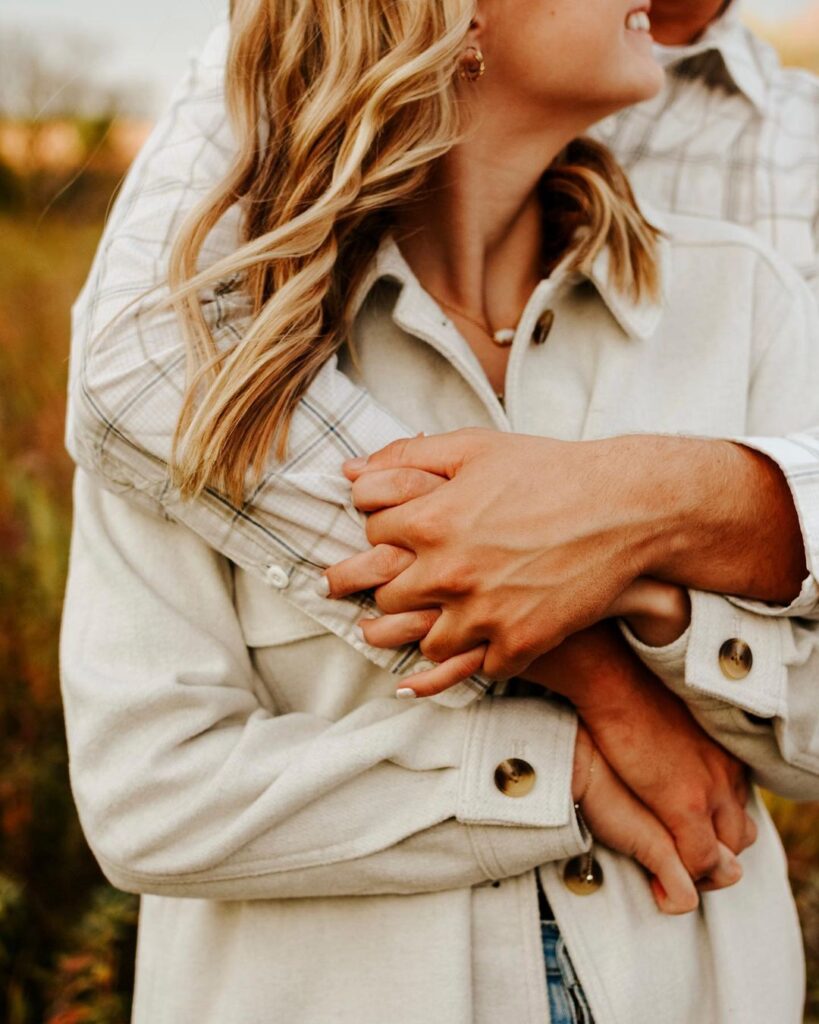 Courtesy: @tori.j.photography
#28 Stairs can make another great spot for your prewedding shoot. One of the poses is displayed here, while others can be the girl on a stair above and the boy holding her hand seemingly looking like helping her down the stairs. On your wedding revelries, stairs can be a great spot to showcase the trail of your wedding dress – so if they are around your wedding area, don't miss out on them.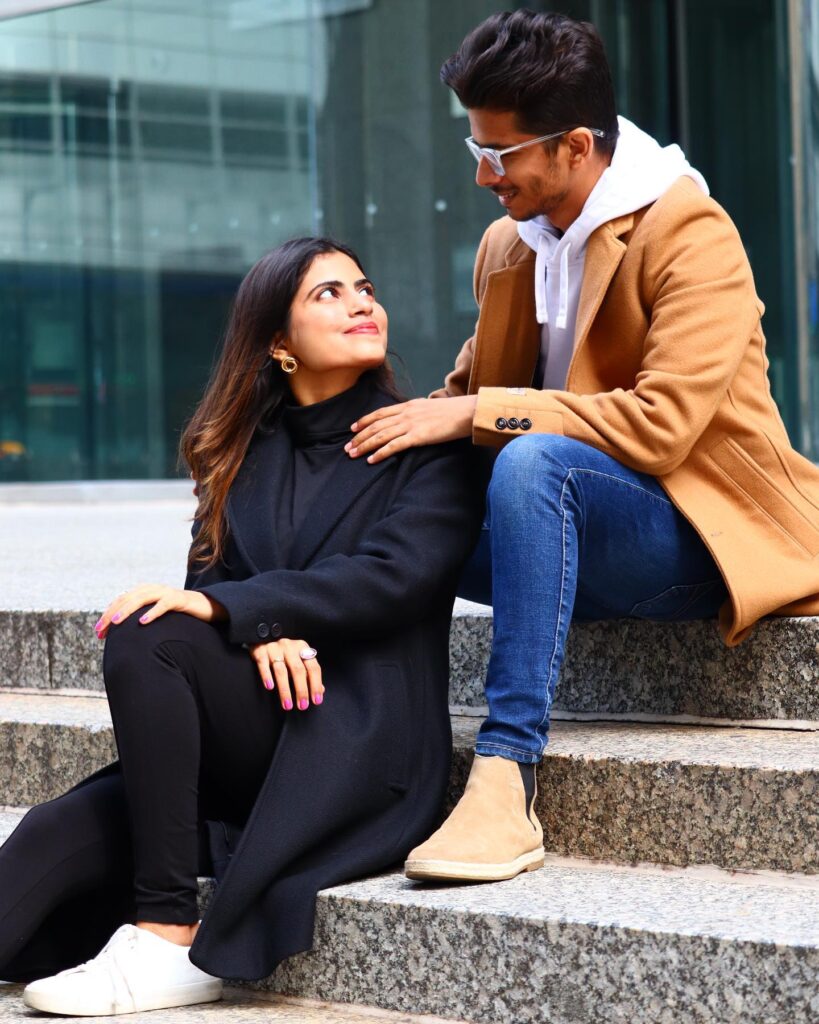 Courtesy: Saral Photoworld
#29 Pre wedding photoshoot in saree never disappoints. The elegance and charm of a saree with your beau dressed in a tuxedo next to you is undeniable. If your entire prewedding is taking place on the same day, then make the saree the first of the outfit so you don't have to waste any time changing into it later.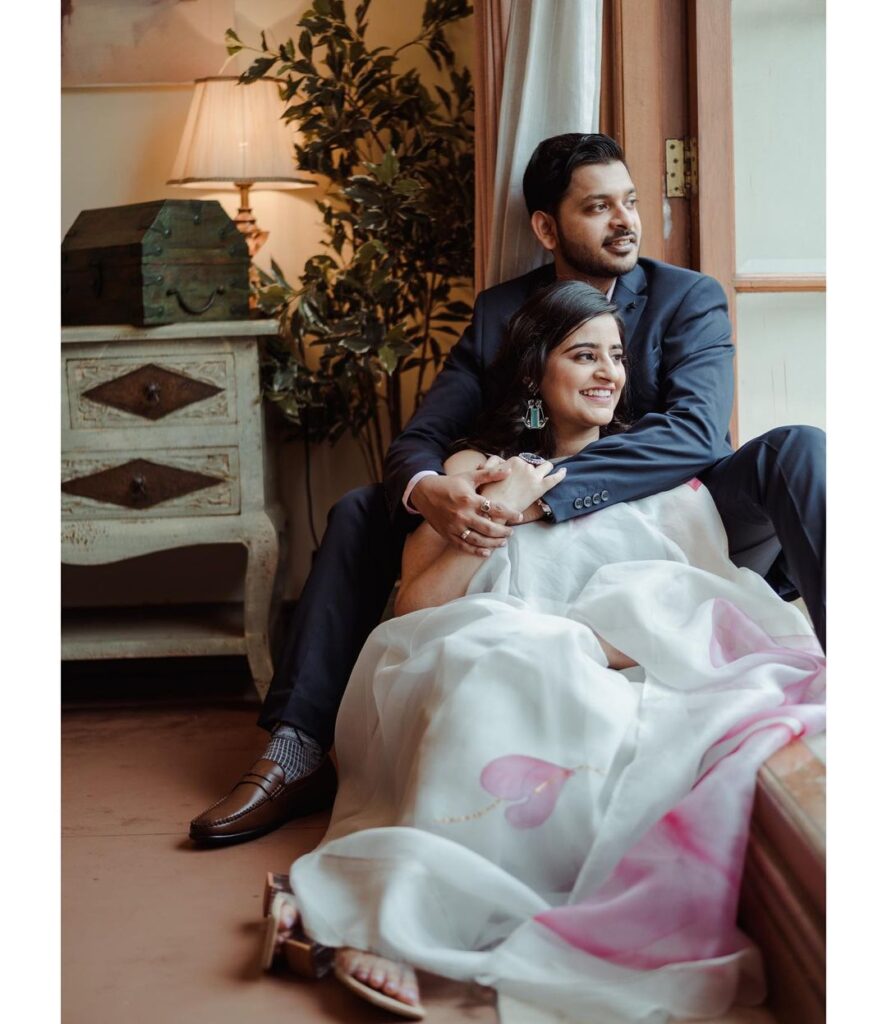 Courtesy: @shuttershades.in
#30 If you have a gondola ride nearby – often is the case when you have a hill station prewedding shoot, then don't forget to hop into it for some excursion and stunning poses for your prewedding.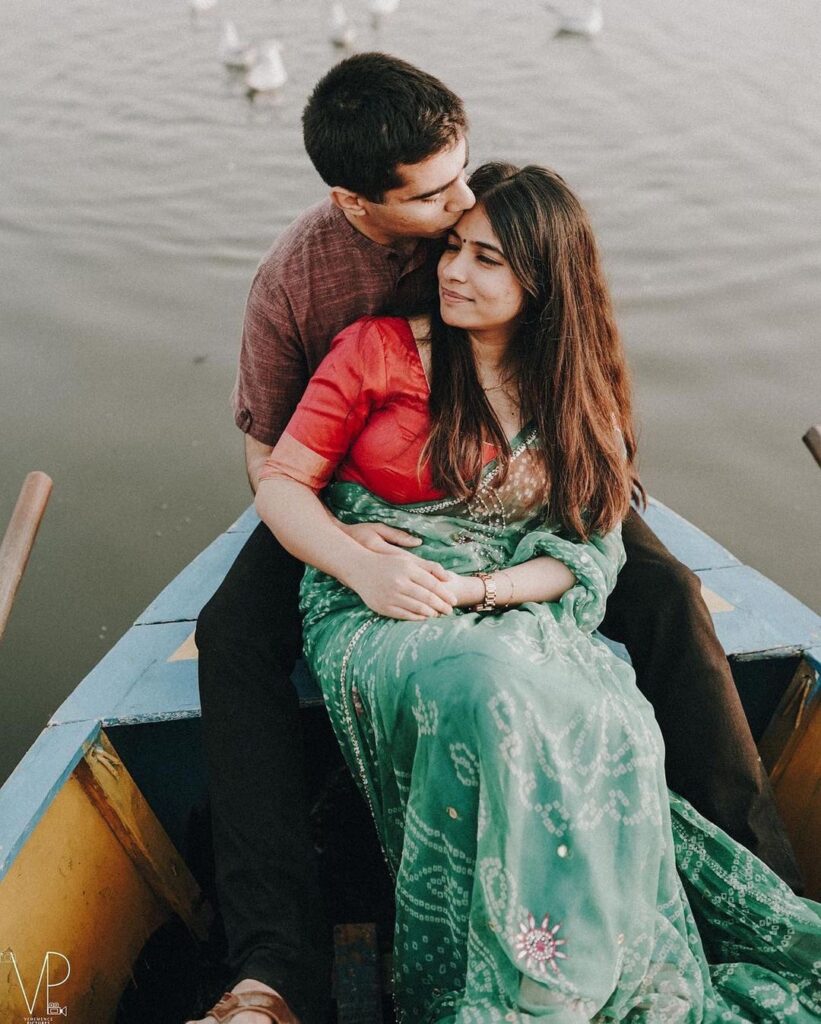 Courtesy: Vehemence Pictures 
#31 How utterly sweet is this! A guy tying his girl's shoelaces in public without being worried about what people will think not only makes for a beautiful gesture, but also makes for a beautiful pre wedding photoshoot idea. This pose can also be recreated with heels where the man helps her woman wear the heels or tie the strap on the sides.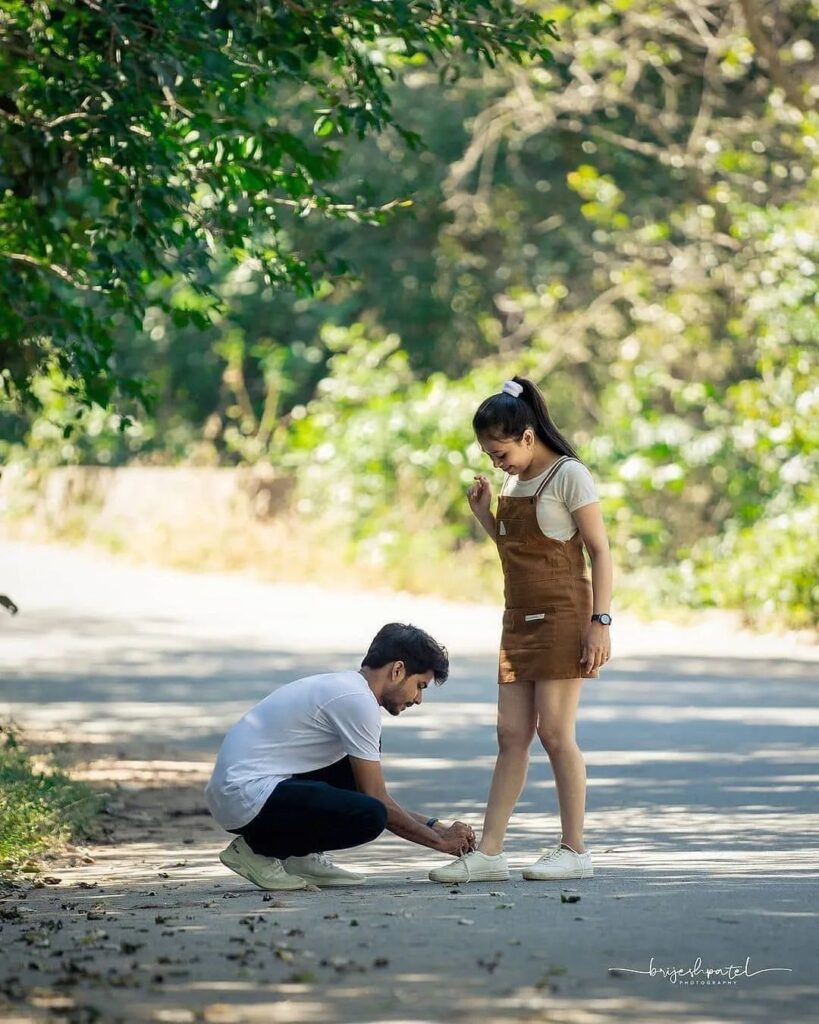 Courtesy: @brijeshpatelfotografi
#32 There's no better time to color coordinate for your pictures than your pre wedding photoshoot. Here, the couple casually complements each other in yellow and gives us a simple and bubby pose to get inspired by! Don't forget to put on the sunglasses when recreating this pose as it turns on the charm in the shoot.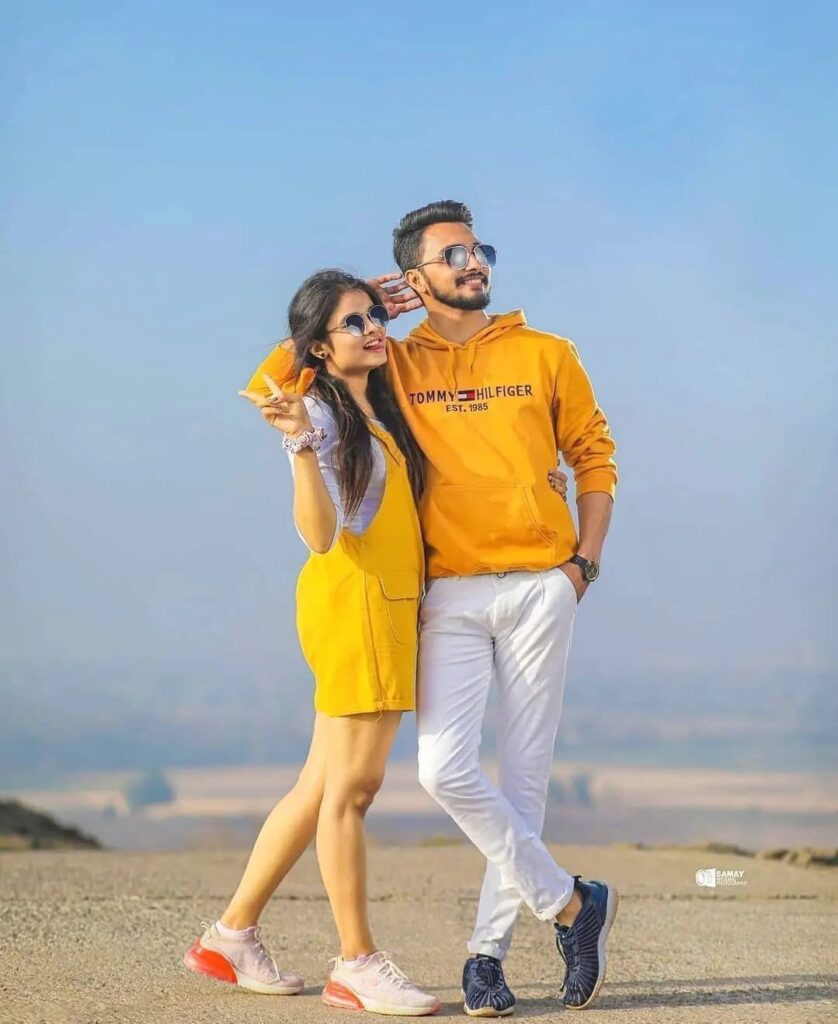 Courtesy: Instagram
#33 We bet you haven't seen anything like this pose displayed below. It's unique, it's gorgeous, and it's oh-so-romantic. It can also be done anywhere – not just on the beach but at any other pre wedding photoshoot studio you have chosen!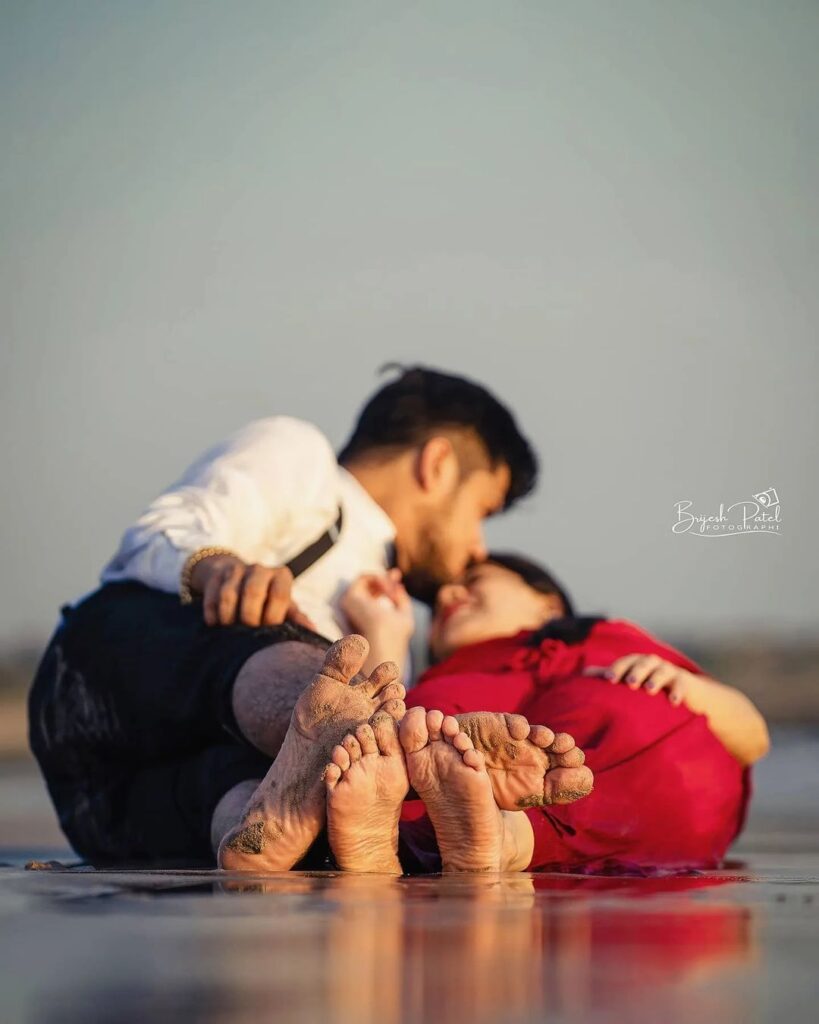 Courtesy: @brijeshpatelfotografi
#34 Joseph Radikh released some endearing pictures from Nayanthara + Vignesh Shivan's wedding on the birth of their twin sons. We loved the simple yet aesthetic shoot done with even simpler dresses to let you know you don't need fancy outfits to shine on your prewedding, sometimes the love you two share is enough!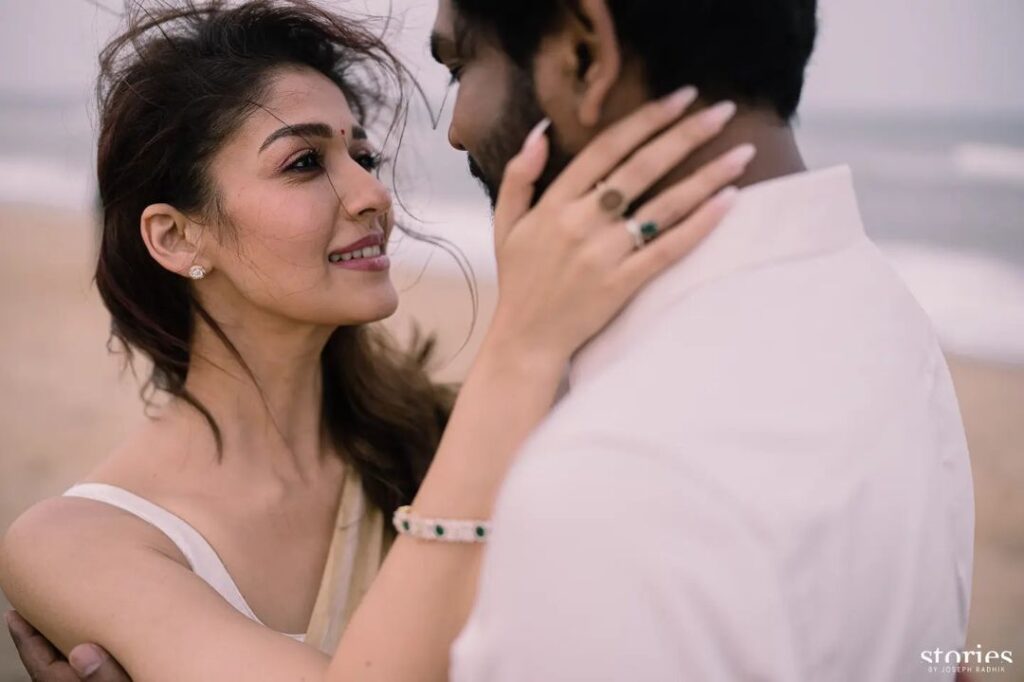 #35 This is just one of those pre-wedding shoots that went viral instantly. It's a beautiful pose that's captured strategically from the side and enhanced by amazing editing. Of course, it's done by one of the most prominent photographers in Mumbai – Shades, and its portraits like this where you feel that your pre wedding photoshoot cost is paid off!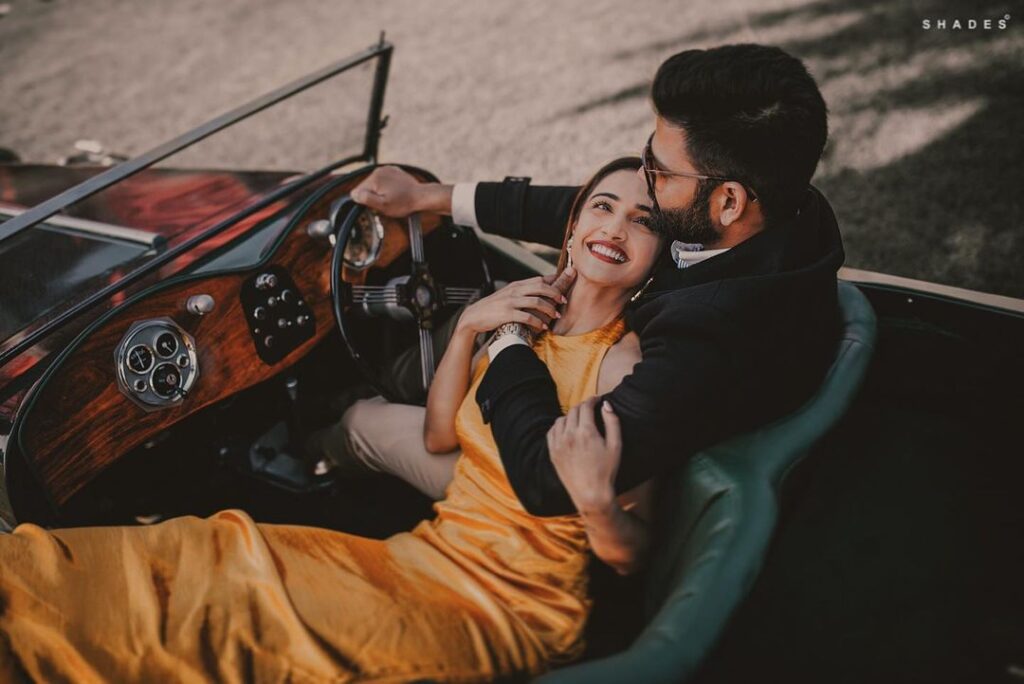 #36 Yet another beautiful capture by Shades in Ladakh, India. Ladakh is a spectacular place to do your pre-wedding. The city's breathtaking landscapes and crystal clear skies serve as the ideal backdrop for an aesthetic shoot. You will end up having some memorable shots no matter which spot you choose for your pre-wedding.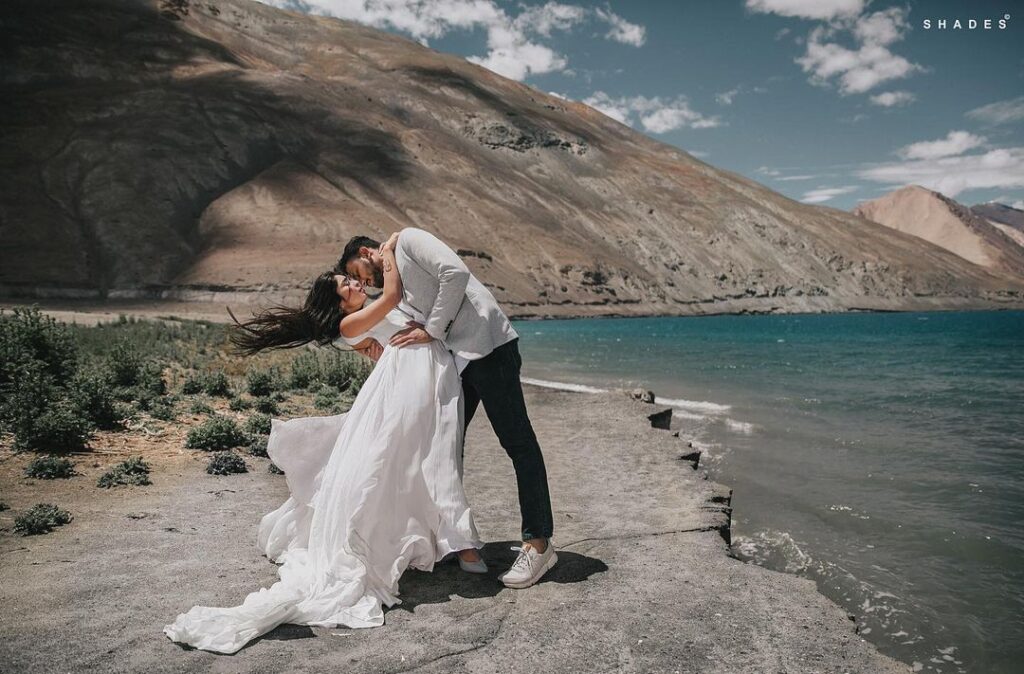 #37 When you & your beau are both pilots, I think it's safe to say that a pre wedding shoot in your pilot uniform is both eye-catching and amazing. Here's a pose to try as you are both decked up in your uniforms.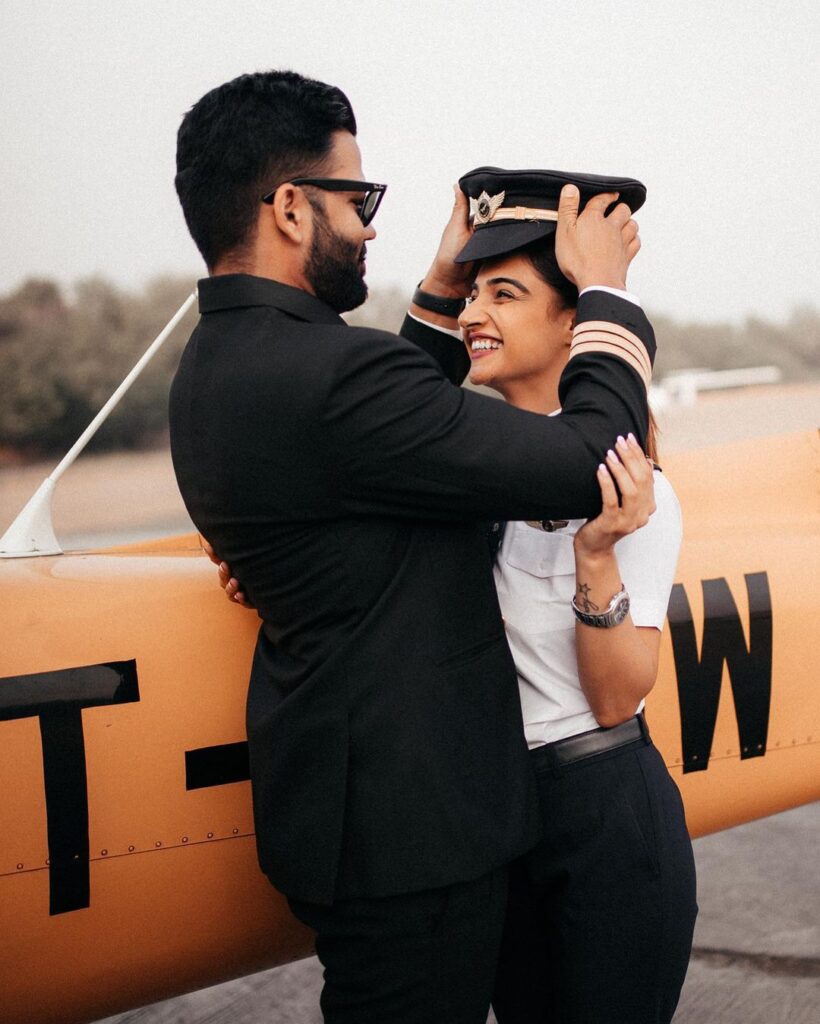 Courtesy: Shades
#38 If you're both wine lovers, visit your favorite vineyard in the city and have a photoshoot there. Vineyards provide picturesque scenery for the shoot and you're bound to have some fun leading to some candid shots as well.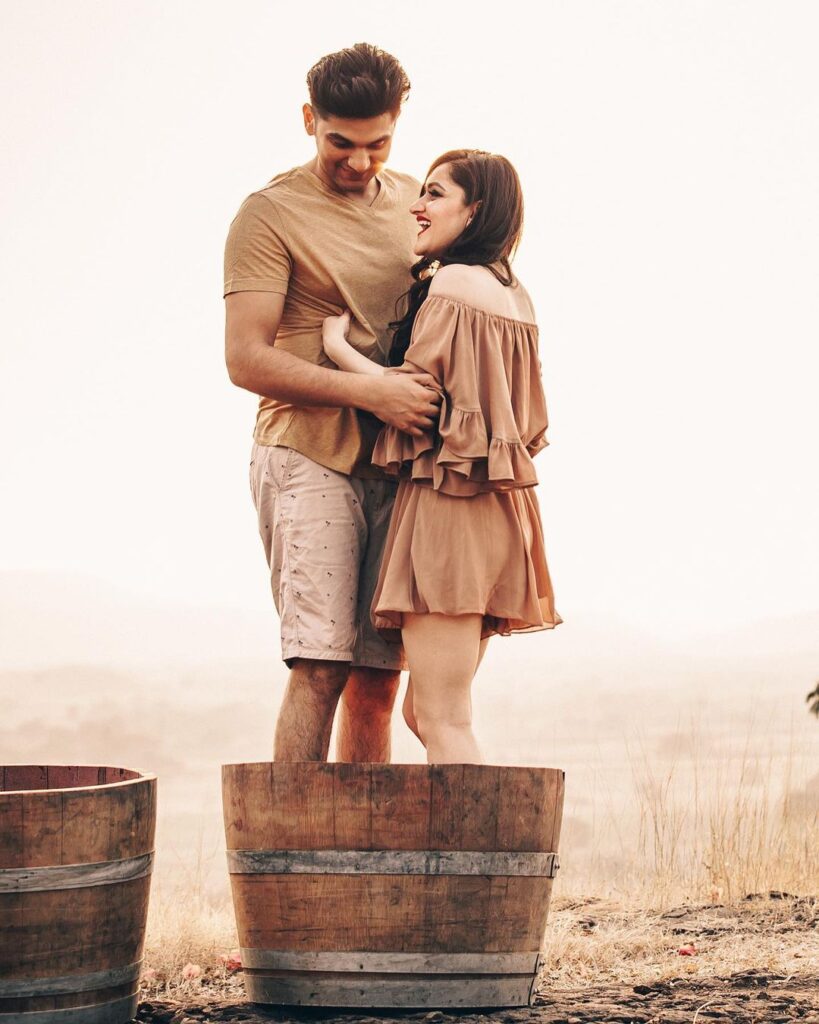 Courtesy: Shades
#39 A pre wedding photoshoot in a saree is always a great idea. Here's a striking pose you can recreate with your man in a saree. It's elegant, and classy, and makes for a great portrait to frame.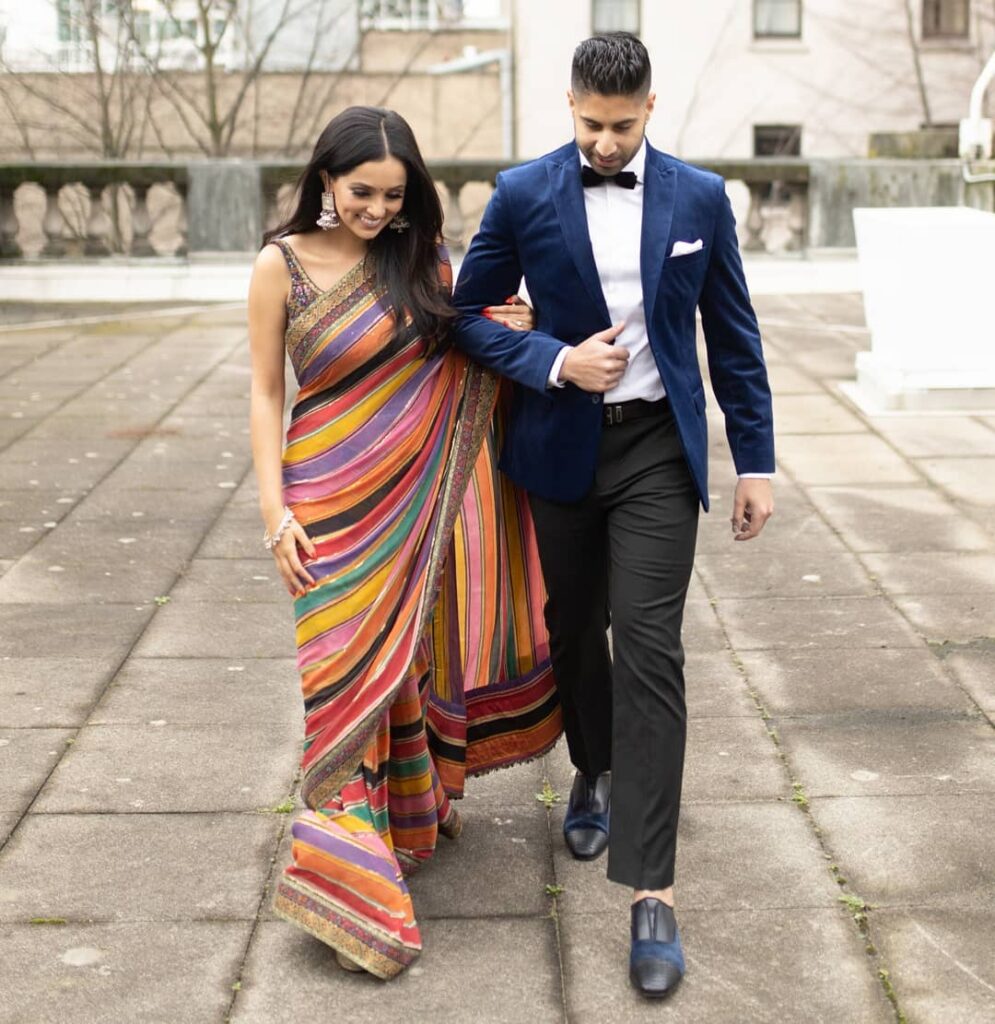 Courtesy: Varsola Visuals
#40 Now, this is one of those poses where it's easy for the couple to pose for, but it's not as easy for the photographer to recreate. The editing, light, and focus have to be done carefully to bring out the same allure as shown in the picture. This is where your pre wedding photoshoot cost will pay off!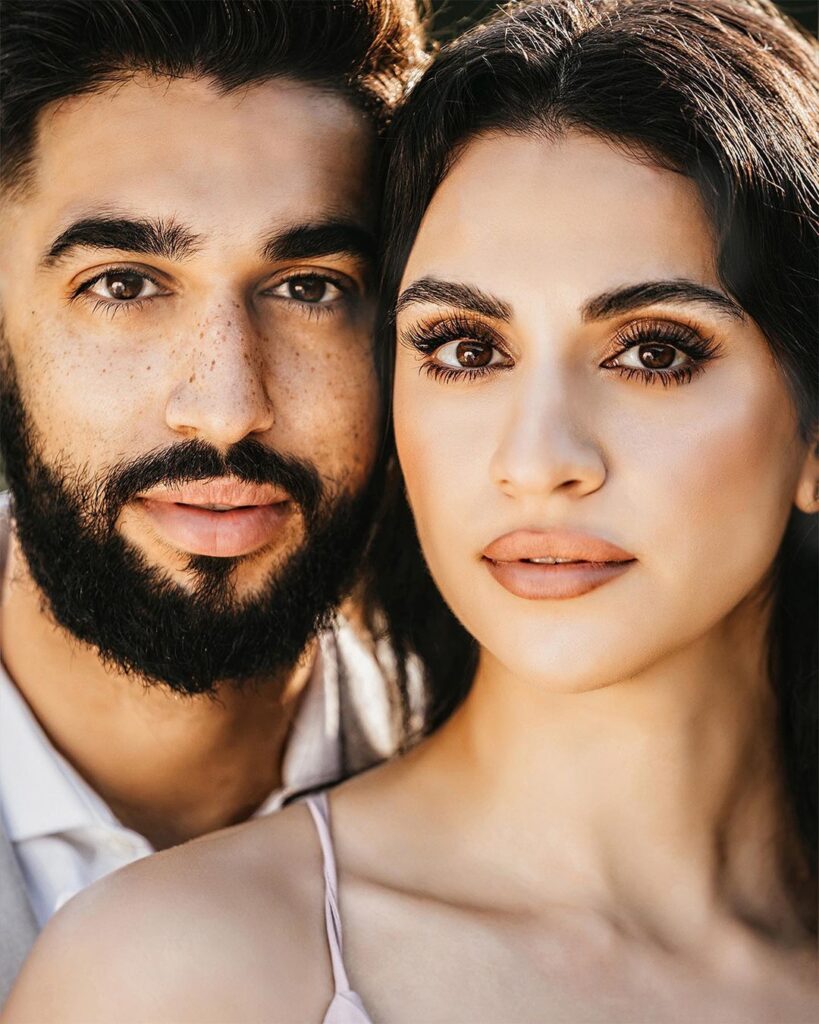 Courtesy: Amrit Photography
#41 When you're looking for a setup for your pre wedding shoot, there's nothing better than arranging a date and getting some gorgeous pictures clicked. You can DIY the setup or have your wedding planner create it. It can lead to some amazing poses for sure.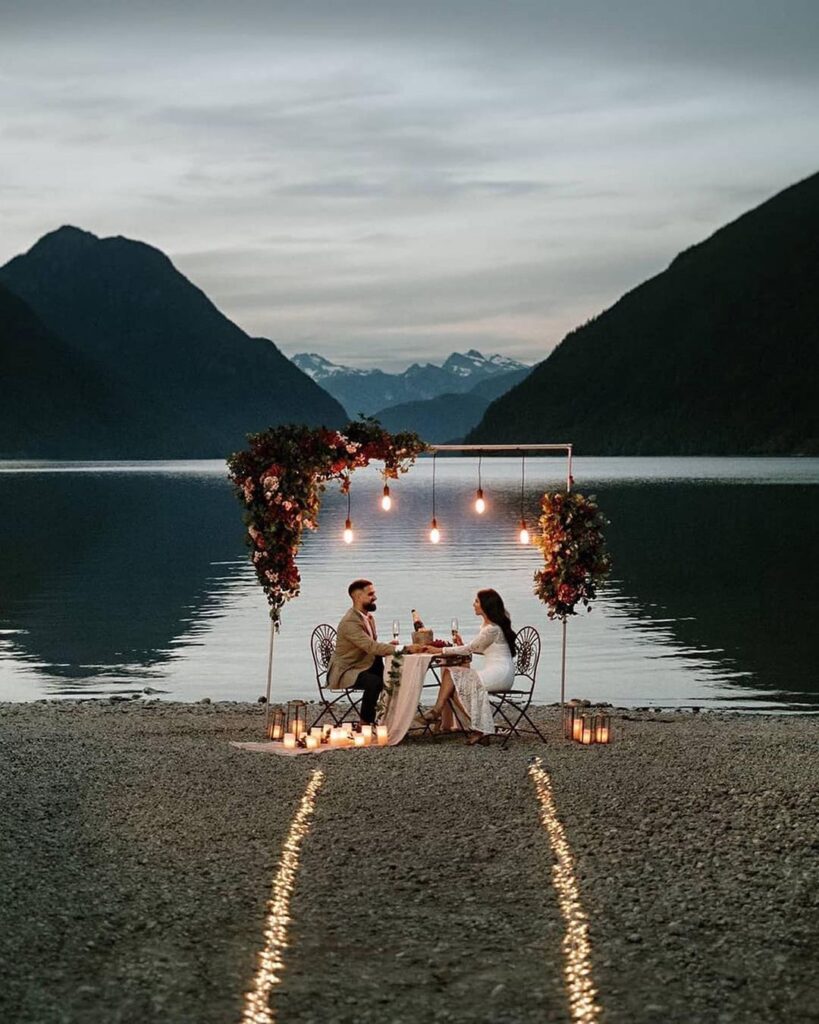 Courtesy: Amrit Photography
#42 A romantic pose like this with the perfect lighting is all you need to make your pre wedding shoot stand out. Again, this is an easy pose but it's the photographer's editing that brings the uniqueness of the pose alive. 
#43 Just how perfect! Only a vendor who has an immense passion for his work can get a click like this! He'd be able to guide you through places with the perfect lighting for an attractive portrait. This pre wedding photoshoot idea is another reason why you shouldn't miss the golden hour session at all!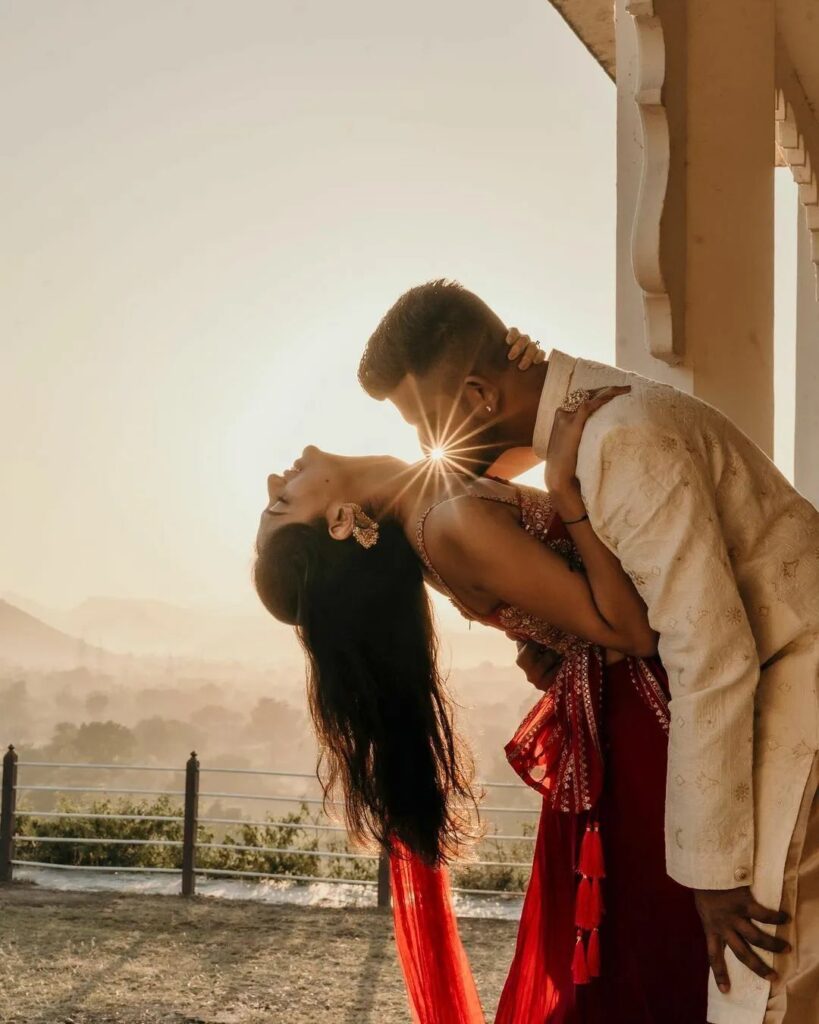 Courtesy: @bowledbydance
#44 Said it before, saying it again. Editing is a game-changer in your pre wedding photos and this is where the pre wedding photoshoot cost also pays for itself. Even though the shots portrayed in this image looked normal at the time, it was the final result that would have impressed the couple. So, choose your pre wedding photographer wisely.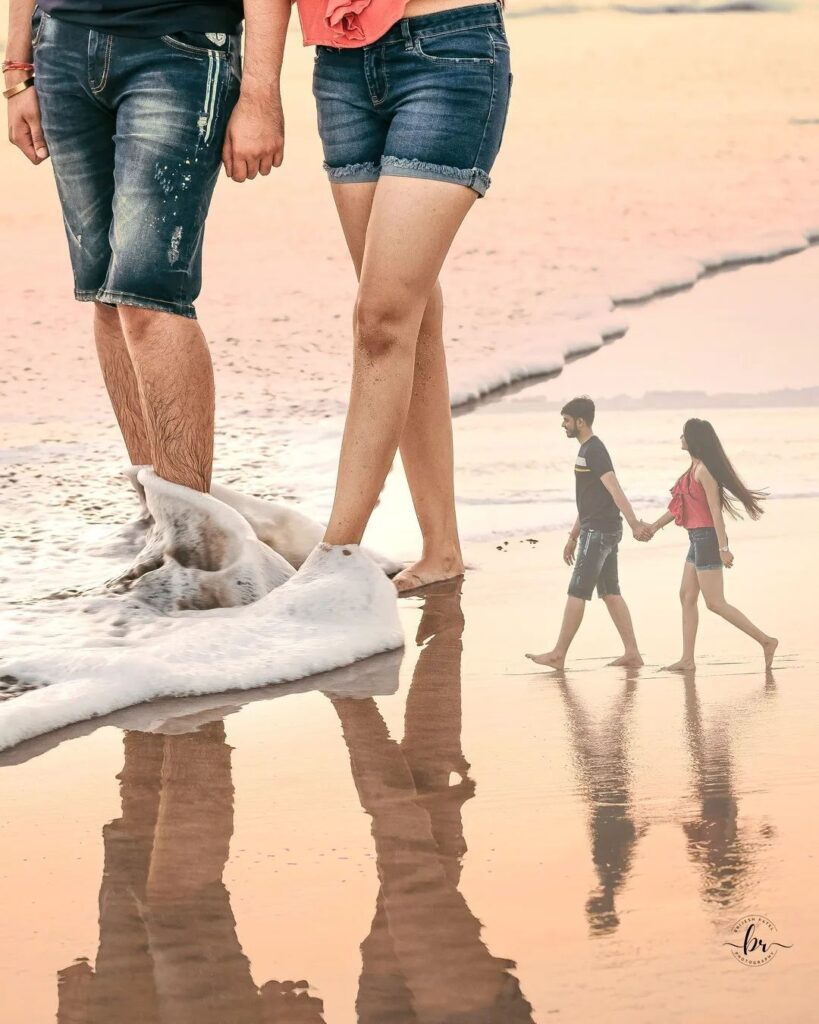 #45 This is such a pretty & decent shot – the one you show to your parents & grandparents when the prewedding pictures arrive!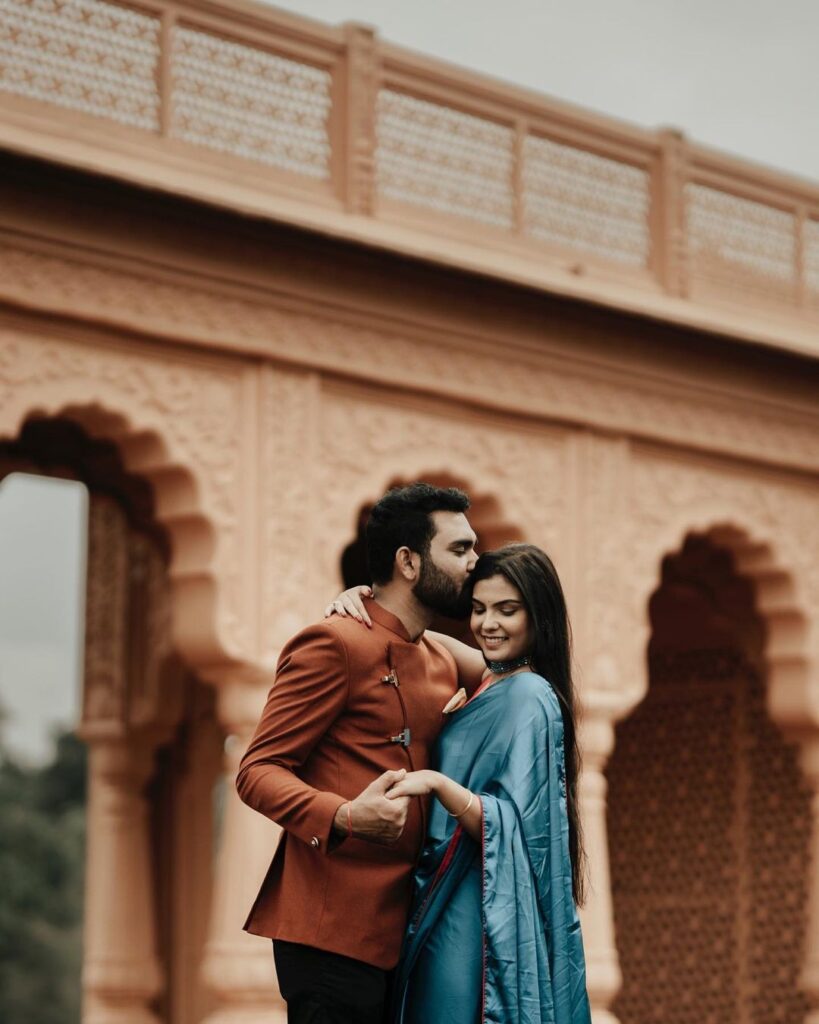 Courtesy: Pavan Soni Photography
#46 A casual wear jeans pre wedding photoshoot is trending and it always makes for a great pick when you want your shoot to be simple and not overtly fancy. Strike some normal poses through the shoot and we promise it will turn out to be a memorable shoot with minimal effort.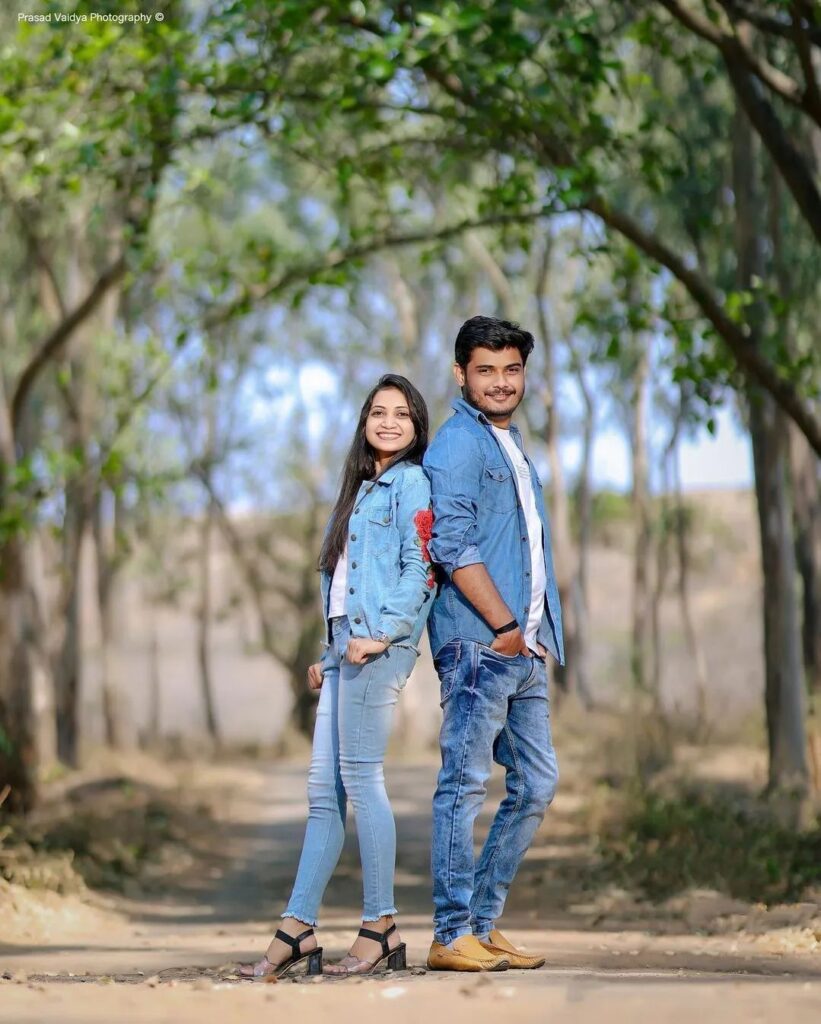 Courtesy: Prasad Vaidya Photography
#47 Having an underwater shoot is a superb way to make your photoshoot stand out from the rest! Whether it's jumping into an ocean or jumping underwater in a swimming pool, the underwater shoot is surely a creative pre wedding photoshoot idea to try. For inspiration, find a striking pose below to recreate.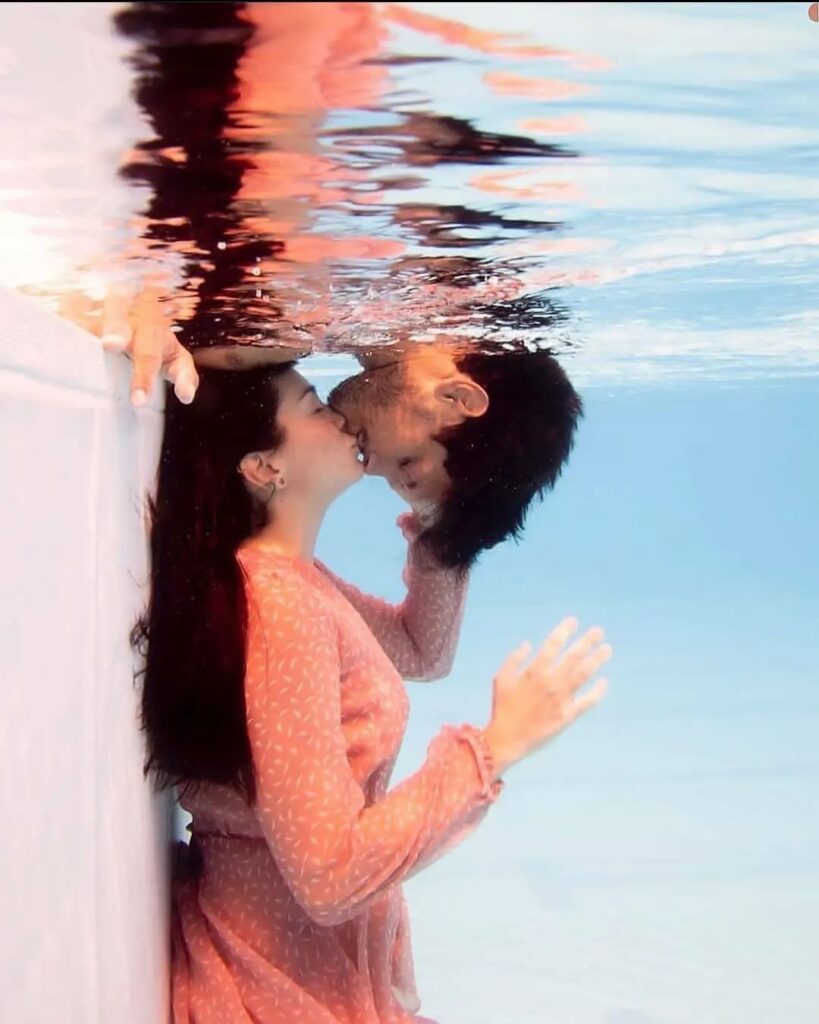 #48 Looking for a creative pre wedding photoshoot idea? The next one on the list will blow your mind. The photographer captured your photos from the midst of the circle of your engagement rings, and merged them all beautifully. While the beach surely enhances the aesthetic, you can choose some other picturesque landscape for this idea as well like mountains or a pre wedding photoshoot set.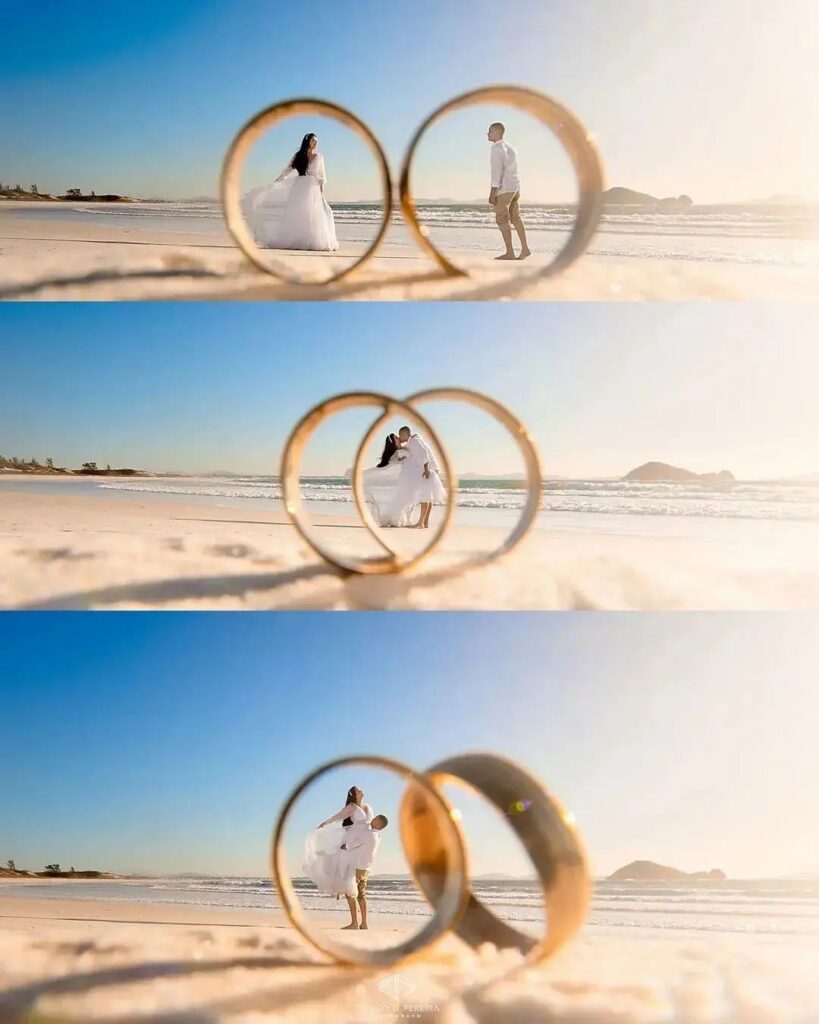 #49 Railways tracks don't come as the first in your mind for the pre wedding photoshoot places, but if you have one nearby where you are shooting, here's an idea to recreate there. You'd obviously also want to find a track that's cleaner so it looks good in the background.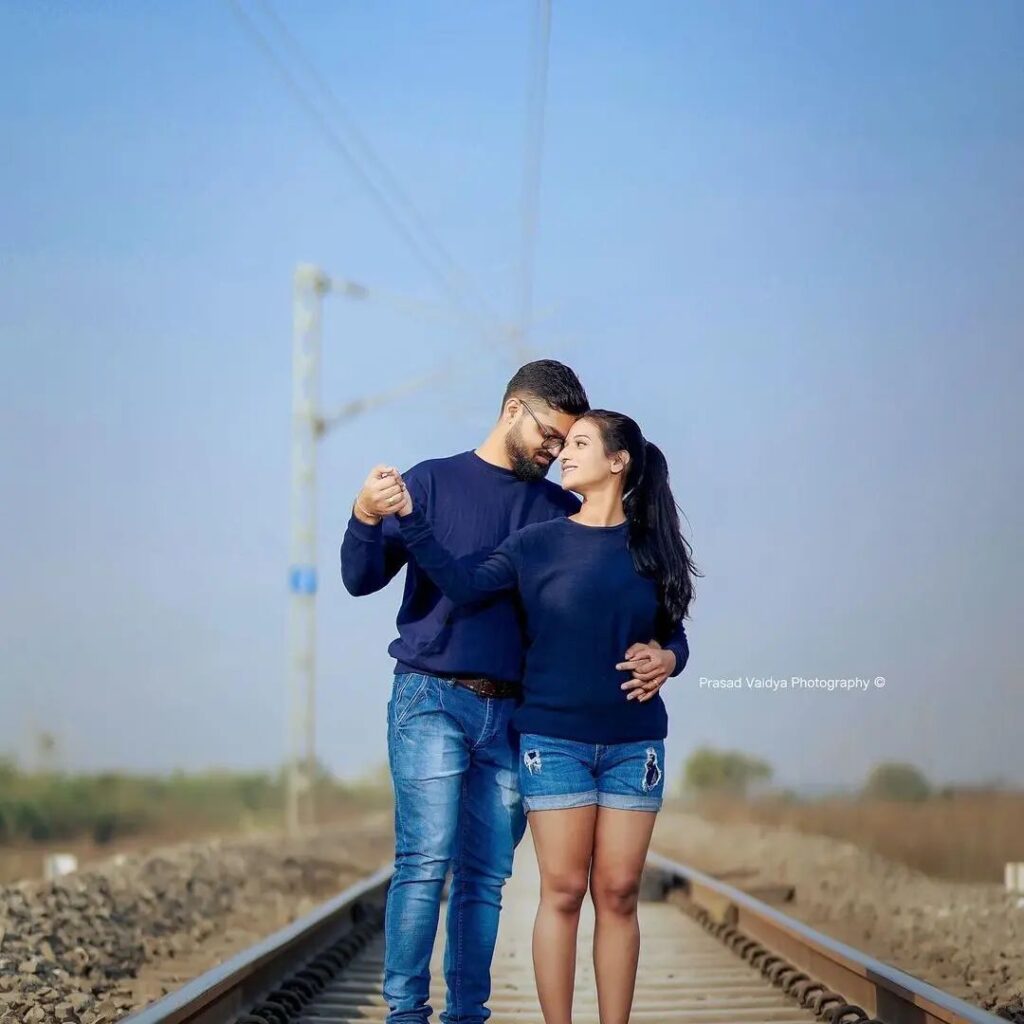 Courtesy: Prasad Vaidya Photography
#50 There's a reason why pre wedding photoshoot cost varies from one photographer to the next, even though it might look like they are clicking the same basic poses. Its because what happens after the shoot – the editing – which matters a ton in the final product. Most photographers, in fact, don't even show you raw images on the camera because that doesn't show the accurate representation of their work.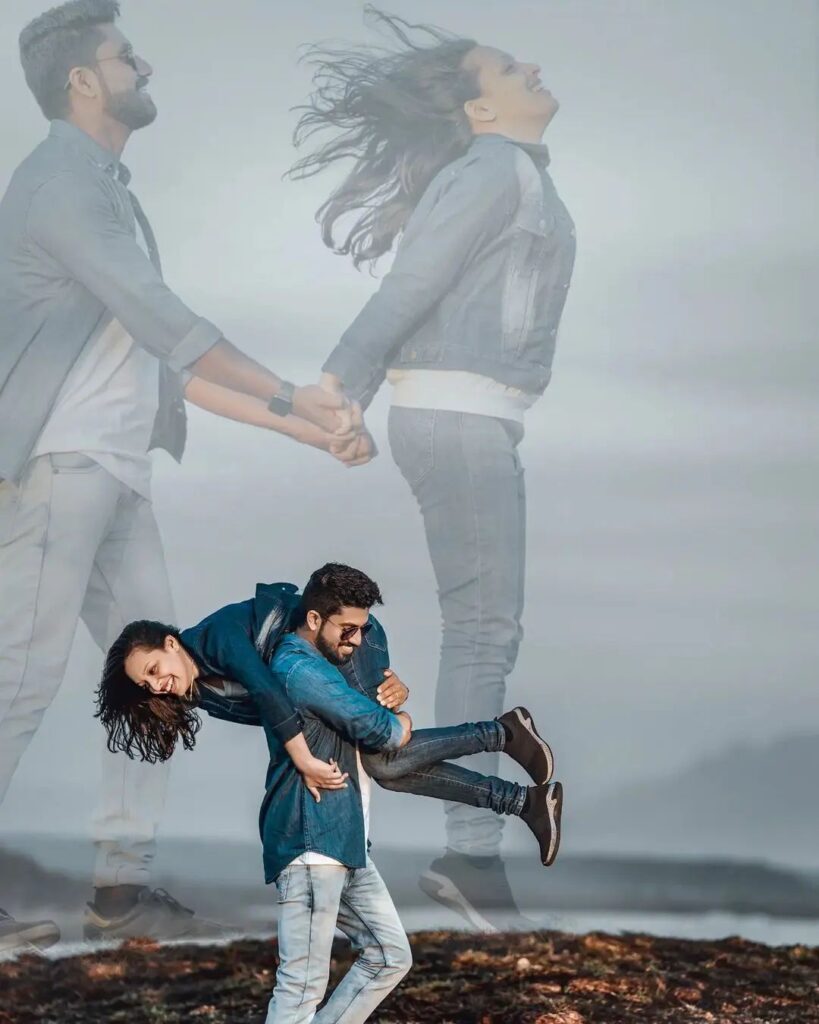 Courtesy: VidhuKannans Photography
#51 When you only see the pre wedding photoshoot ideas in long gowns with huge trails, it can seem far-fetched to think that normal outdoor pre wedding photoshoot dresses can also work. Your favorite denims can make for a fitting choice too! And this couple here proves why can rock them at your pre wedding with no hesitations whatsoever.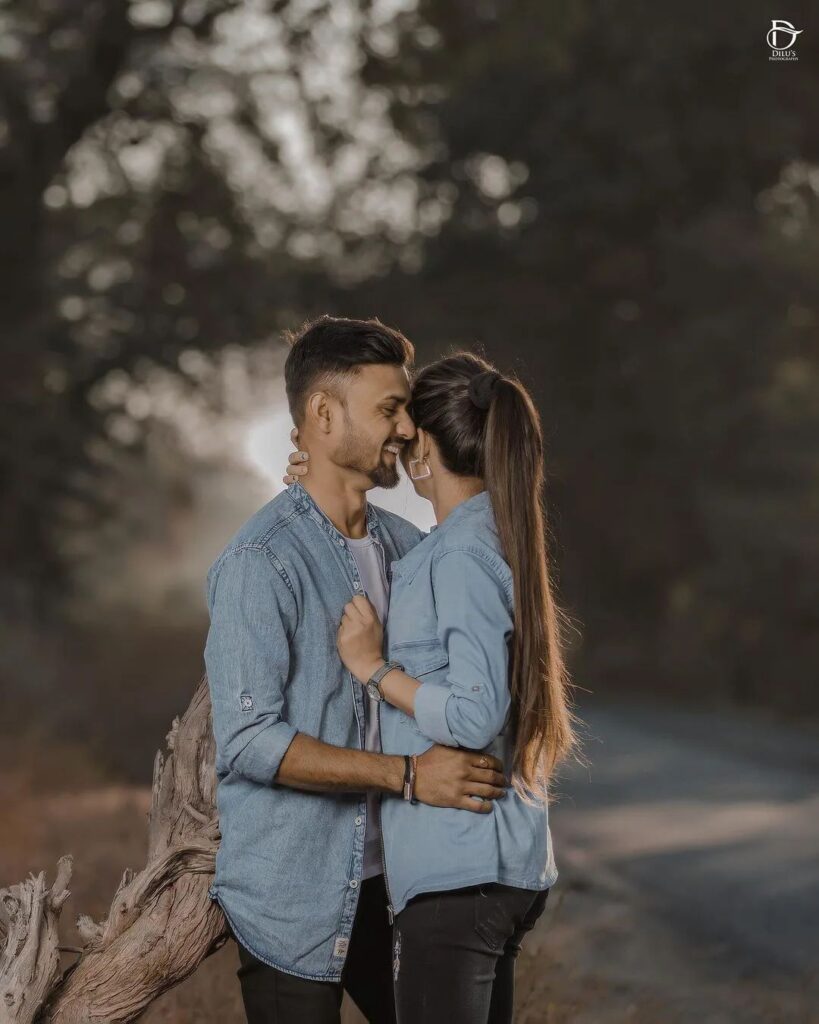 #52 And if you're still wondering about our above point, here's another couple proving denims makes for a fitting choice for your pre wedding photoshoot as well.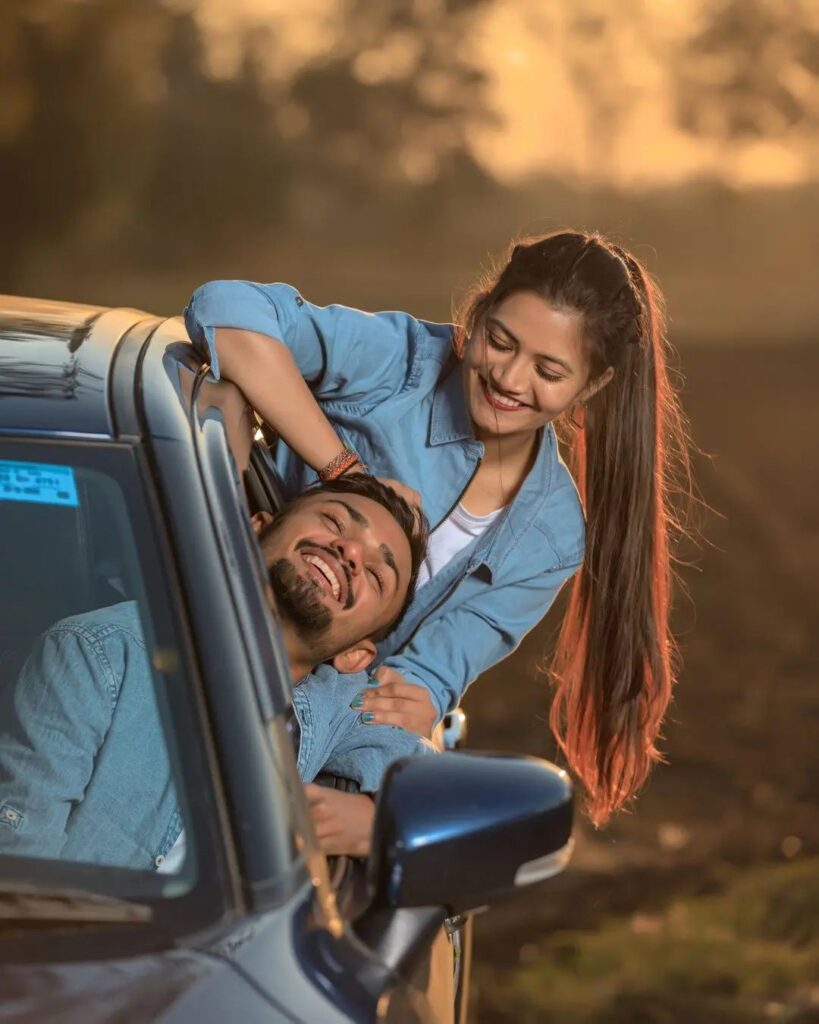 #53 We bet you didn't think painting and having fun can serve as an ideal setup for your prewedding. This beach outdoor pre wedding photoshoot had the couple painting playfully on a canvas as the photographer captured some candids. We'd suggest to keep it as the last idea of your shoot day because if the paint gets on your face, your makeup will be ruined for other outfit changes.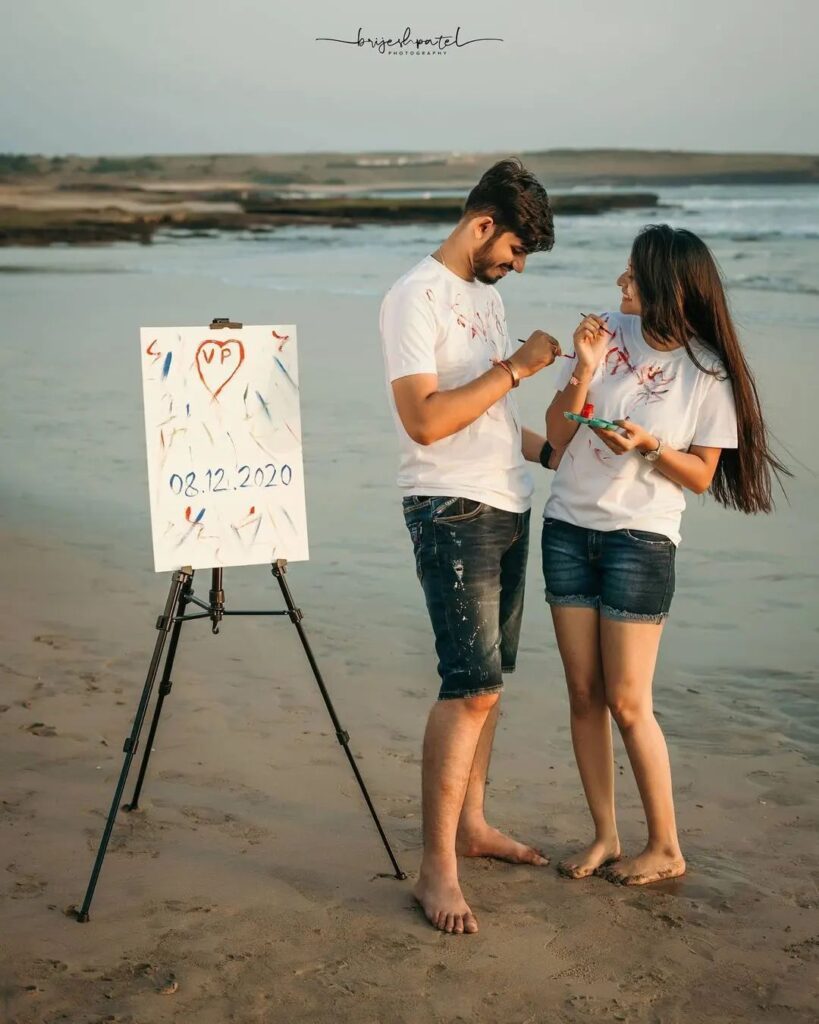 Courtesy: Brijesh Patel Footgrafi
#54 This is such a hearty pre wedding photoshoot pose to try on your own! Mind you, the angle matters to get the same allure of this pose alive in yours. Rest, I think it's fairly easy to recreate, no matter what occasion you want the couple portraits for!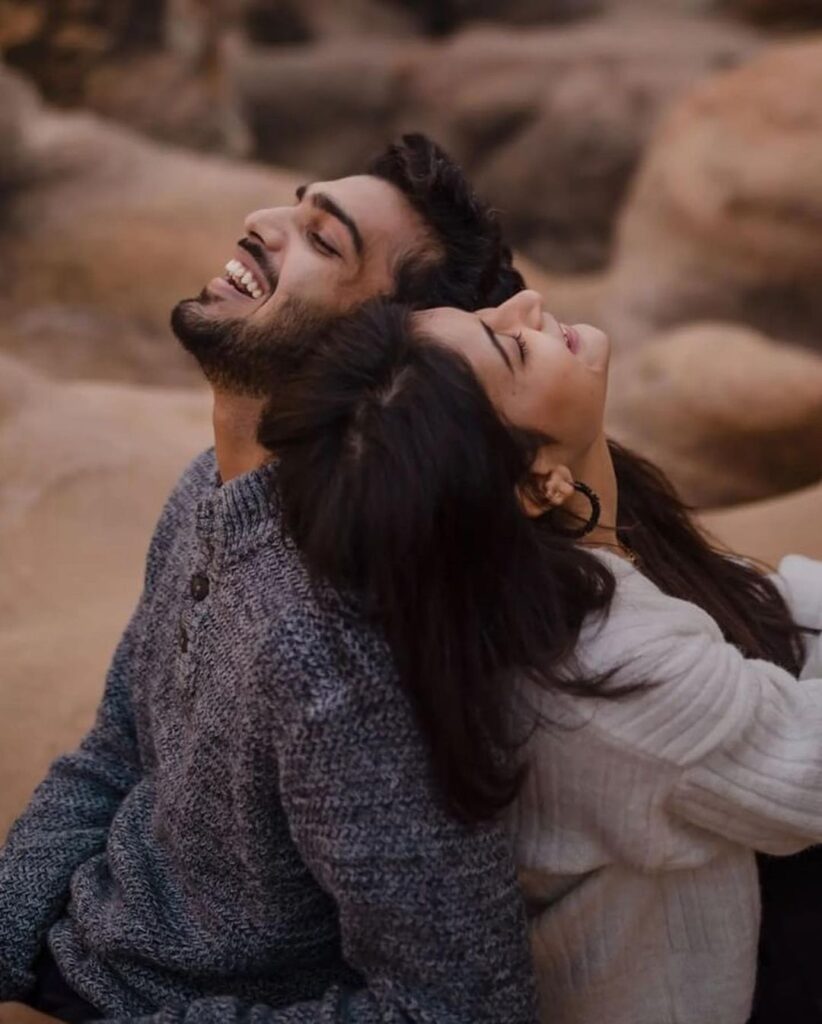 #55 Fairy lights have the tendency to make everything magical and idyllic. Use them as your creative pre wedding photoshoot prop to add this enchanting attribute to your pre wedding shoot. If you're having an indoor pre-wedding, then putting up some string lights is a great idea to add an idyllic backdrop for your poses.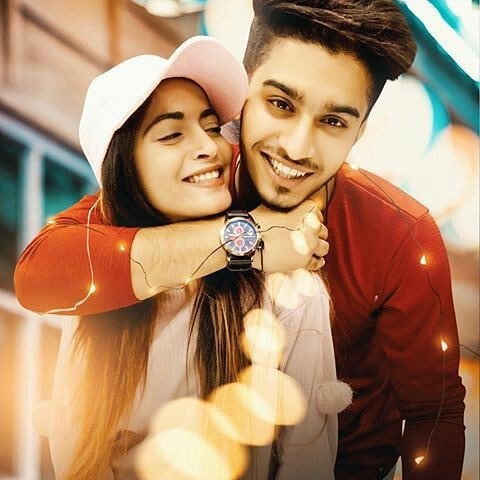 #56 If you're blessed with long hair, have some fun with them to pose for a creative pre wedding photoshoot idea. While romantic wedding poses have their own charm, playful ones show the fun side of your relationship – so make the shoot a mix of both!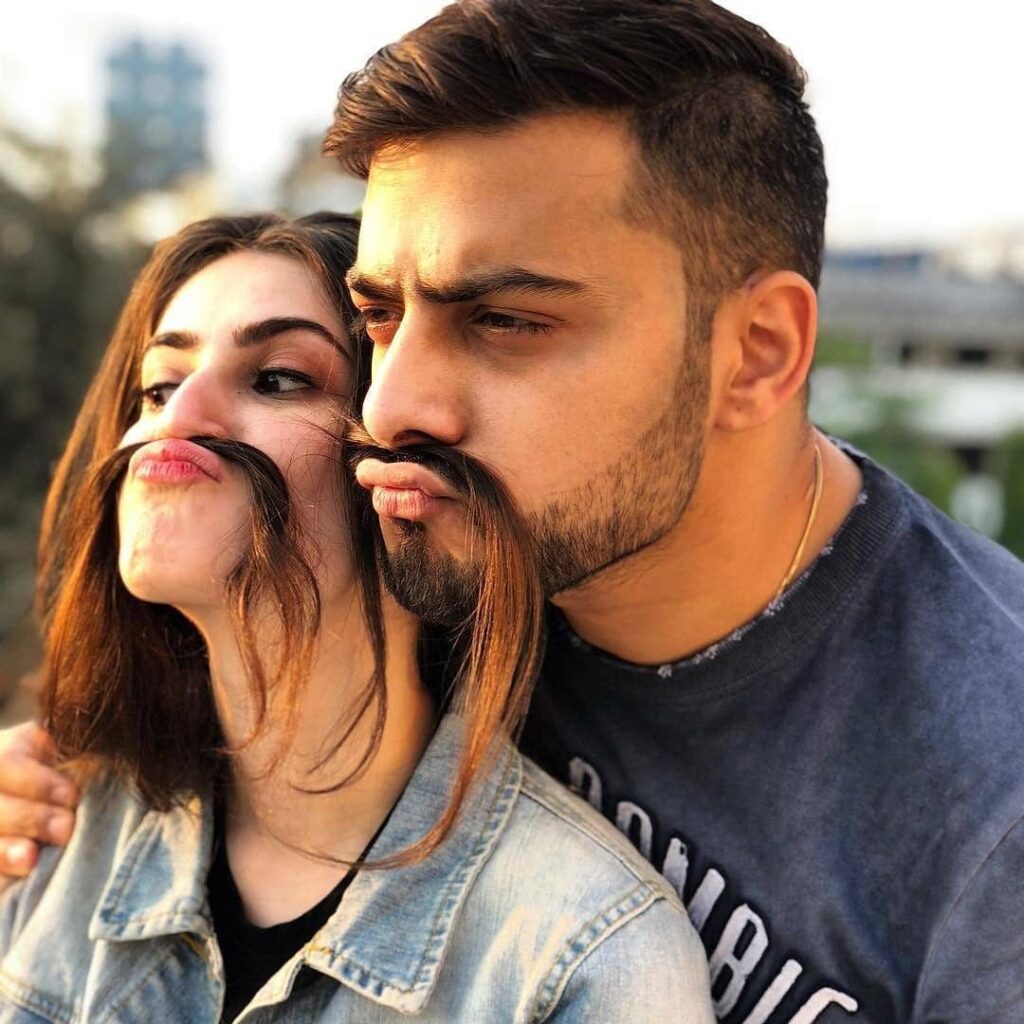 #57 When you want a classy pre wedding shoot dress, there's nothing that will fail you like a gown and a tuxedo. It will also make for an elegant setup for your pre wedding poses, and if that's something you'd want your shoot to exude, you'd surely want to try the gown + tuxedo combination as your pre wedding photoshoot dresses.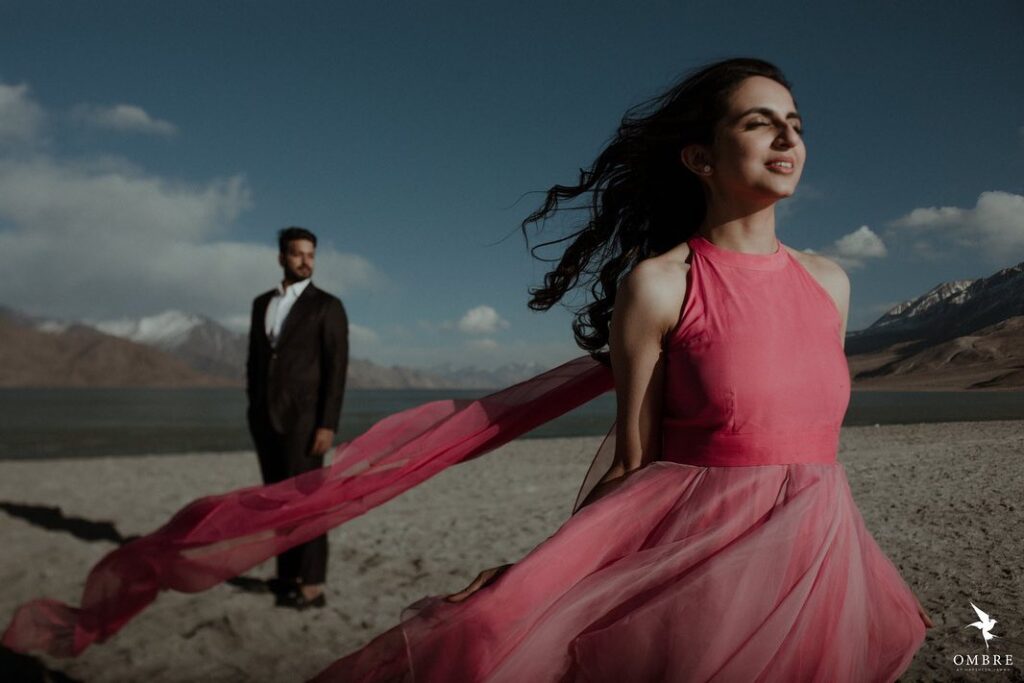 Courtesy: Ombre by Harsheen Jammu
#58 If you can bare the snow, there's nothing more idyllic and picturesque than having a prewedding shoot in the snow. Since winters are on the way, you will find plenty of snow in the hill stations. Pick one near to you and have a memorable time for your pre wedding shoot.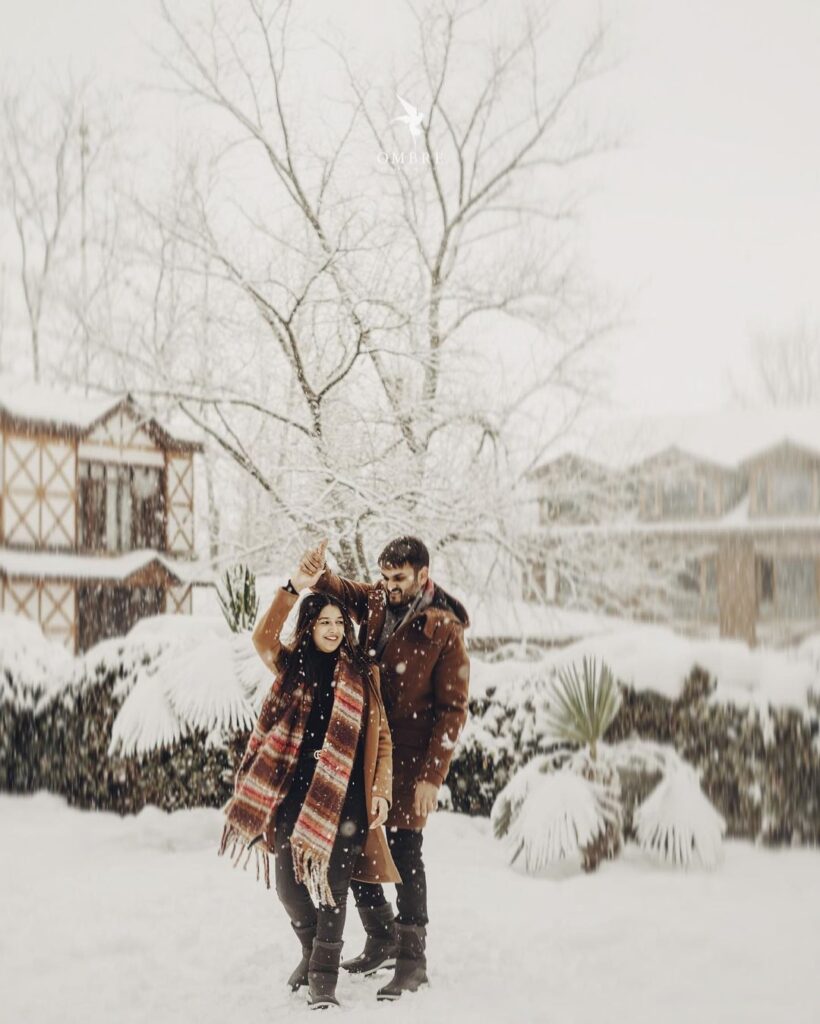 Courtesy: Ombre by Harsheen Jammu
#59 With just half of the face making the whole, this is a beautiful picture to add to your pre wedding photoshoot images inspiration, which can also be great inspiration for other events like mehendi or haldi!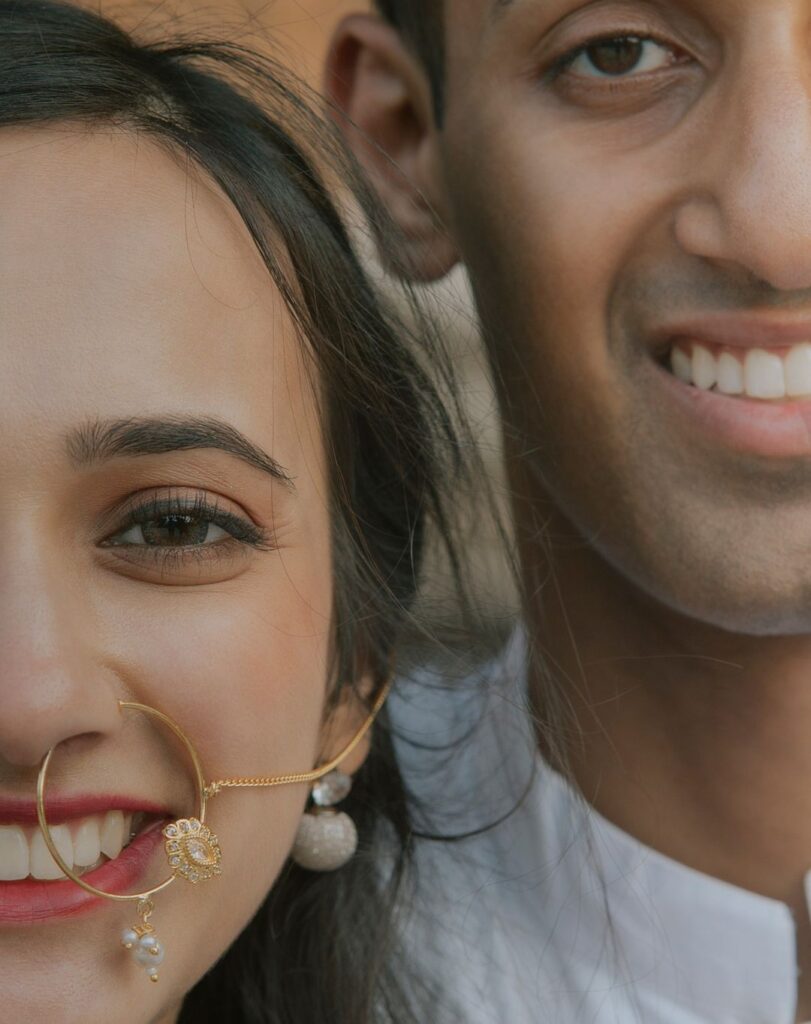 Courtesy: @prakash_creation
#60 Such an amorous pose to strike for your pre wedding photoshoot in a saree! The lighting is just perfect and the look in their eyes instills all the romance into the pose that you'd want to exude in your picture.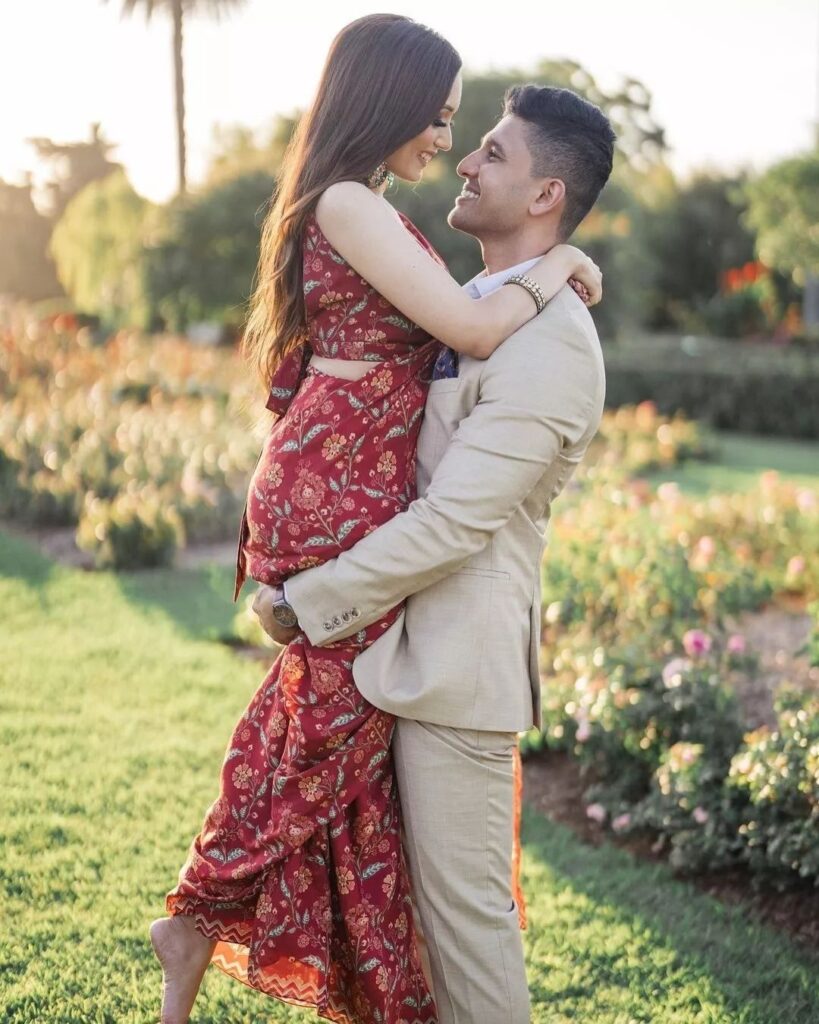 #61 When you want to be all decked up for your pre-wedding, a lehenga seems like a great option for the pre wedding photoshoot dress idea. When you wear a lehenga, there's one pose you surely can't miss – the twirl pose that perfectly shows off your lehenga and makes for a timeless pose idea.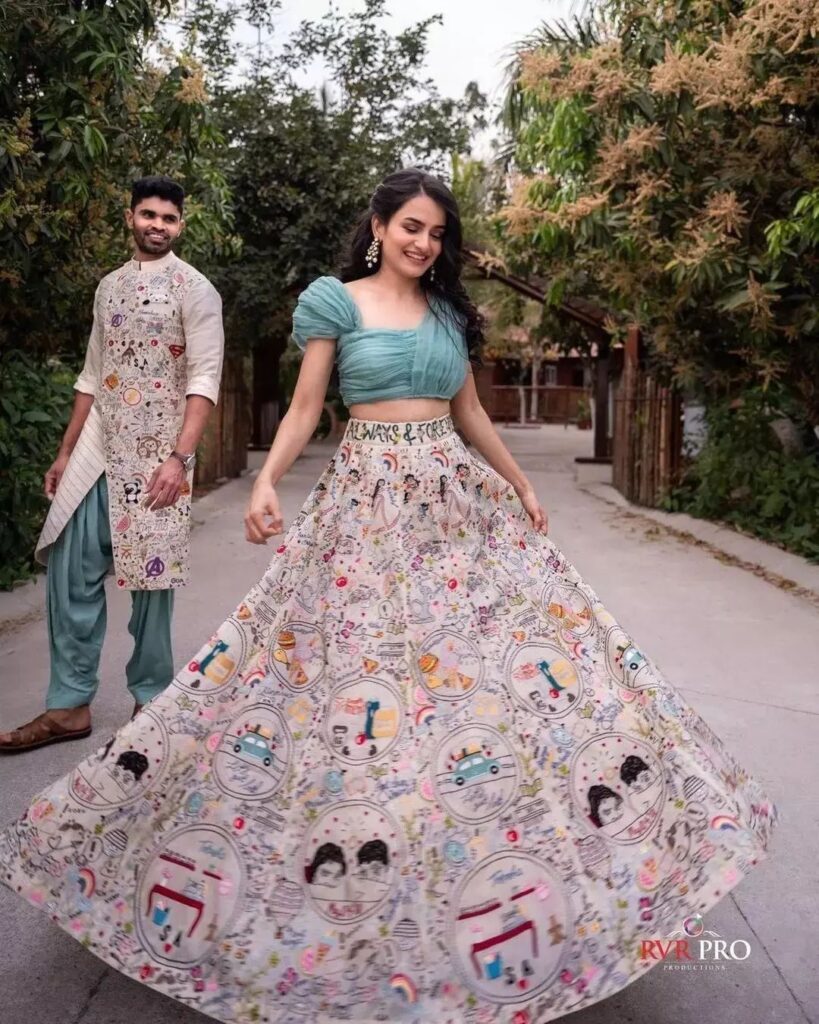 Courtesy: @anupellakuruofficial
#62 Self-care is important and now that you will be doing self-care sessions with your beau, you can also capture the fun of it during your pre wedding photoshoot images, as portrayed below.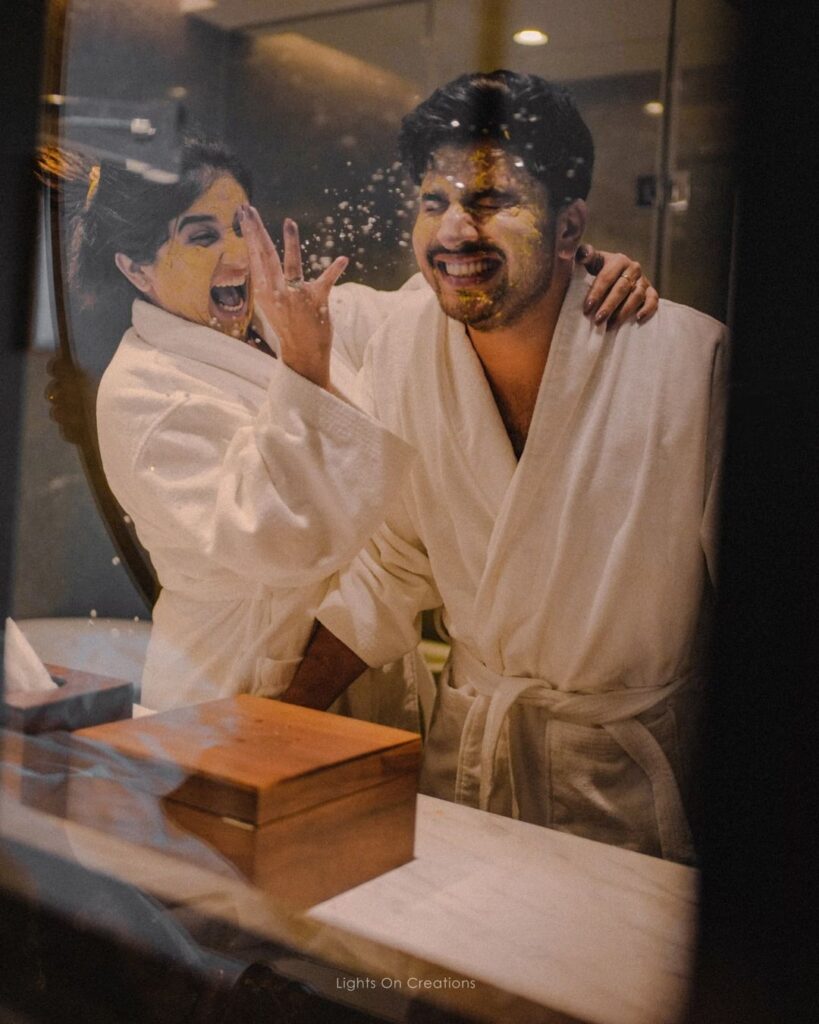 Courtesy: @lightsoncreations
#63 When you decide to have a cozy & romantic indoor pre wedding shoot and are looking for some ideas to bring your vision into reality, you will love this pre wedding photoshoot idea to draw inspiration from!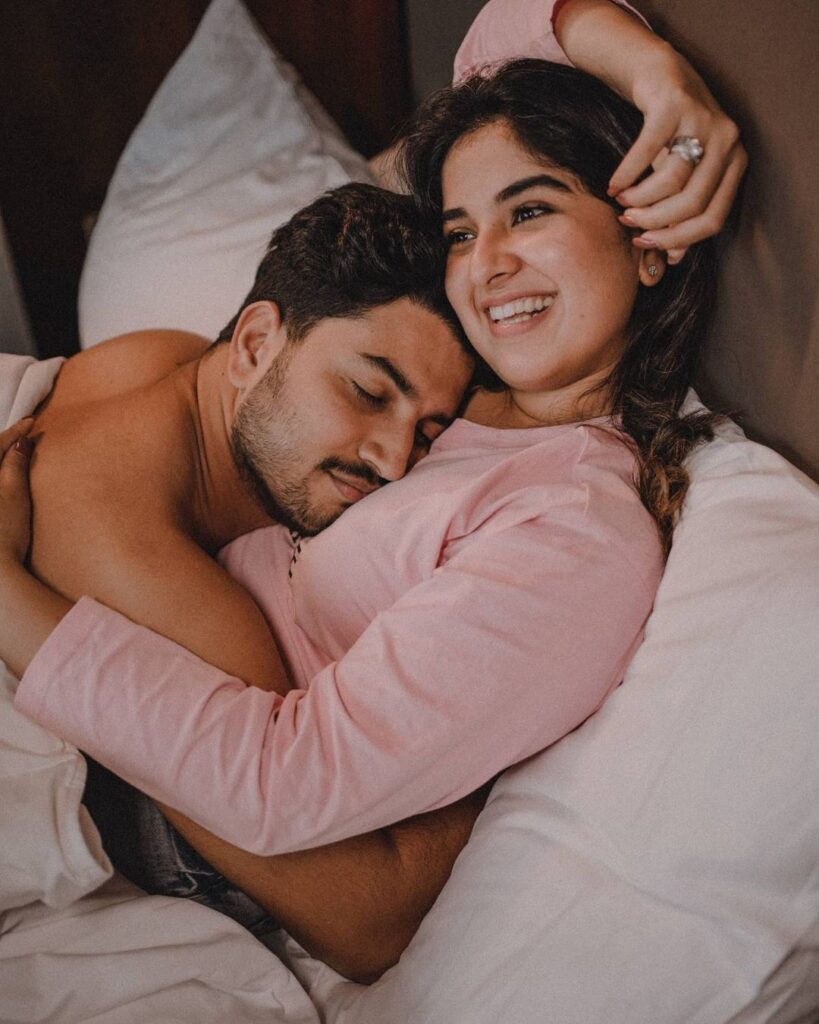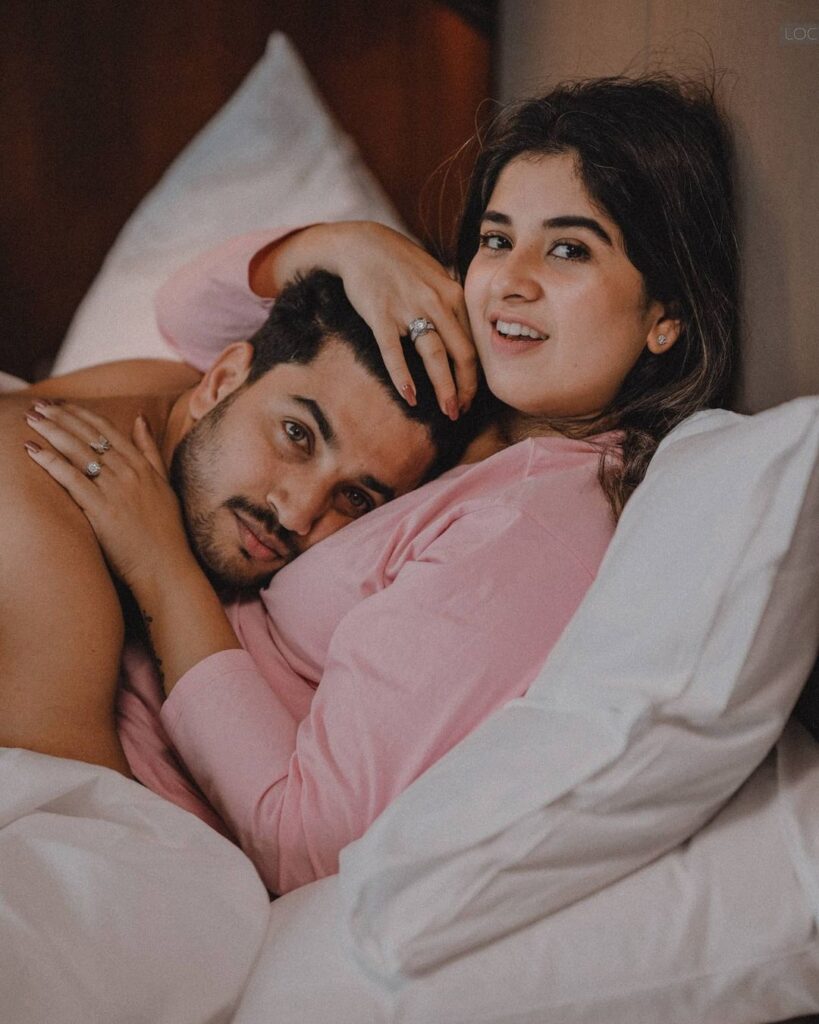 Courtesy: @lightsoncreations
#65 We bet there have been many moments where your beau would be trying to woo you, this could be an apt representation of one of those times whilst also giving you a striking pre wedding photoshoot idea.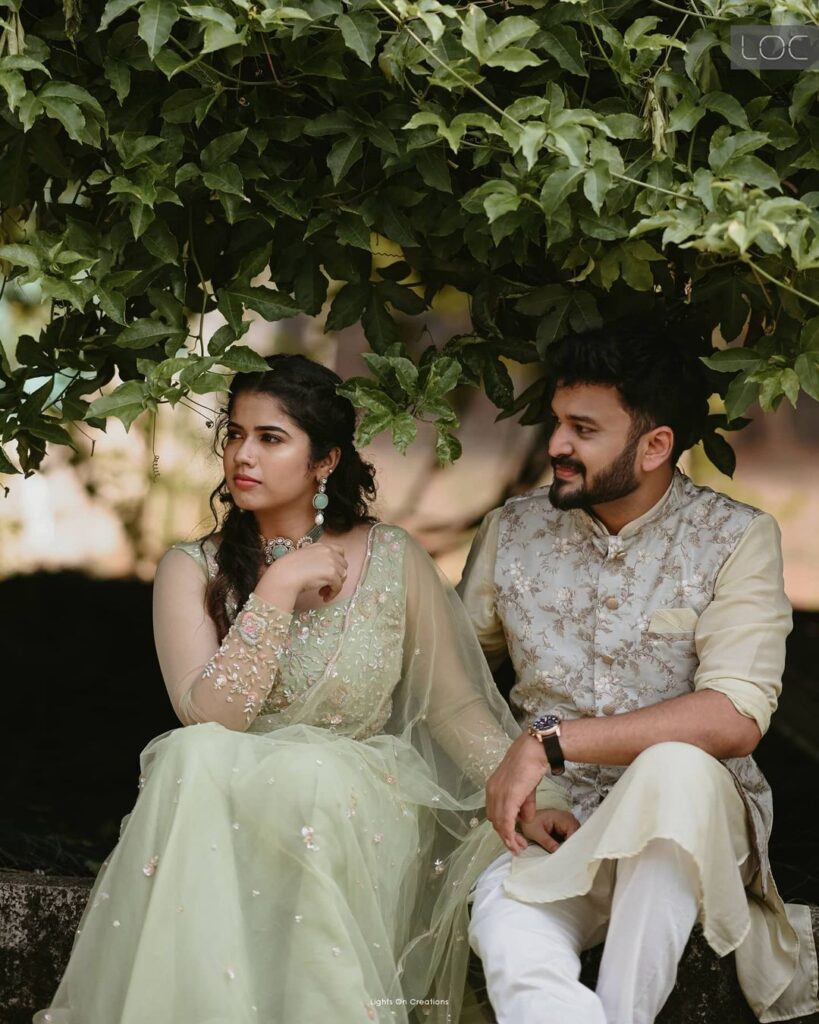 Courtesy: @lightsoncreations
#66 Wanting to capture a candid moment between you two? Prepare a date-like setup, share a glass of champagne, and it will automatically strike up some conversations for a candid & creative pre wedding photoshoot pose.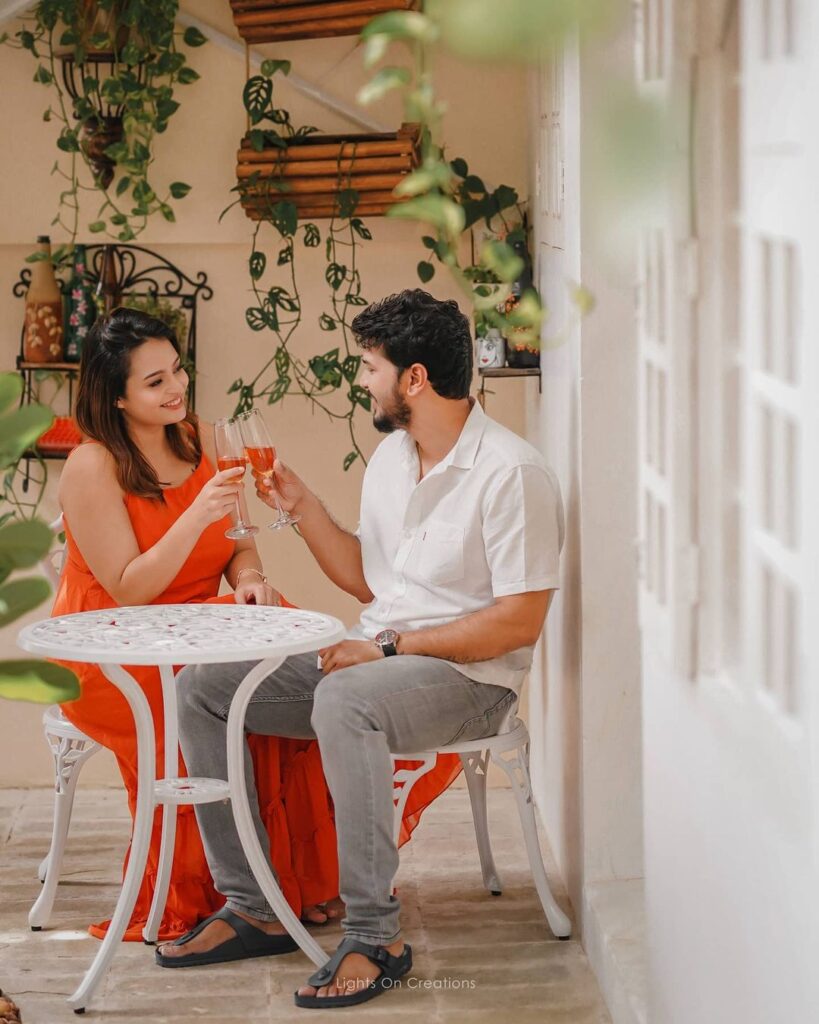 Courtesy: @lightsoncreations
#67 Striking a sexy pre wedding pose isn't everyone's cup of tea, but if you do dare to strike these bold poses, here's one to inspire. Captured in perfect lighting and via perfect angle, it surely captures the adoration between the couple.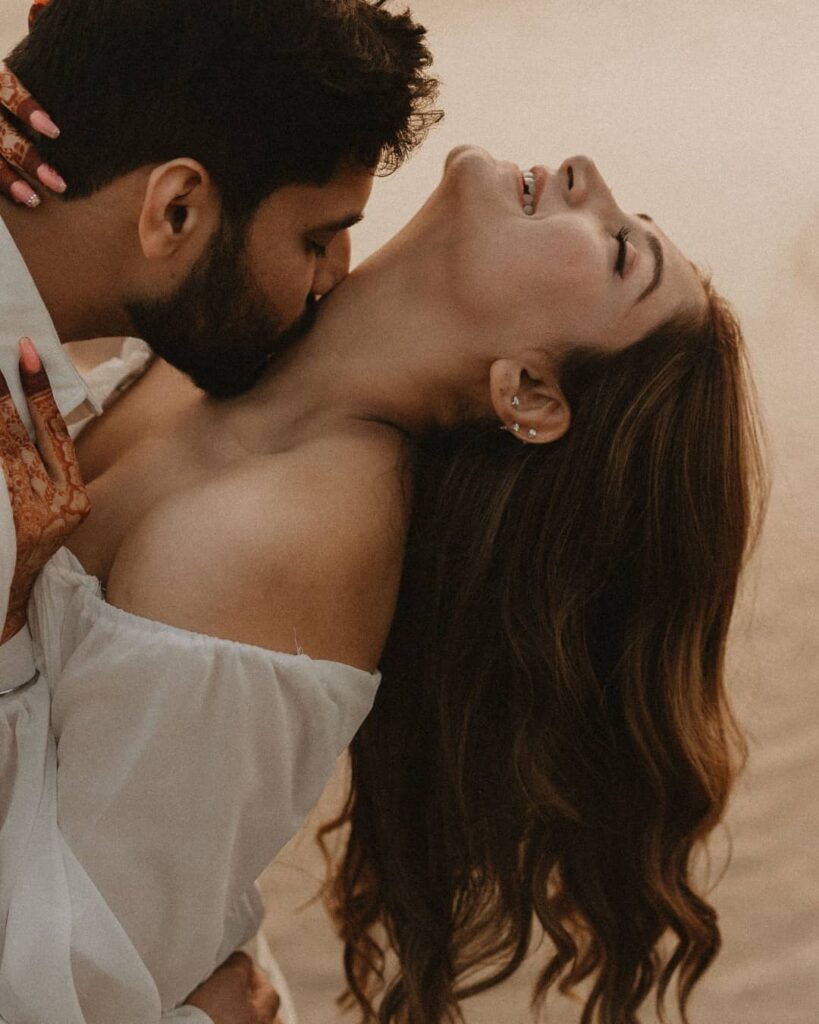 Courtesy: Gautam Khullar Photography
#68 Besides mountains and beaches, one of the best pre wedding photoshoot places to choose from is a desert. The picturesque landscape serves as an ideal backdrop and we can't even begin to describe how stunning the sunset would look – both in reality and in pictures – in the desert landscape. Here's a glimpse of what we're talking about!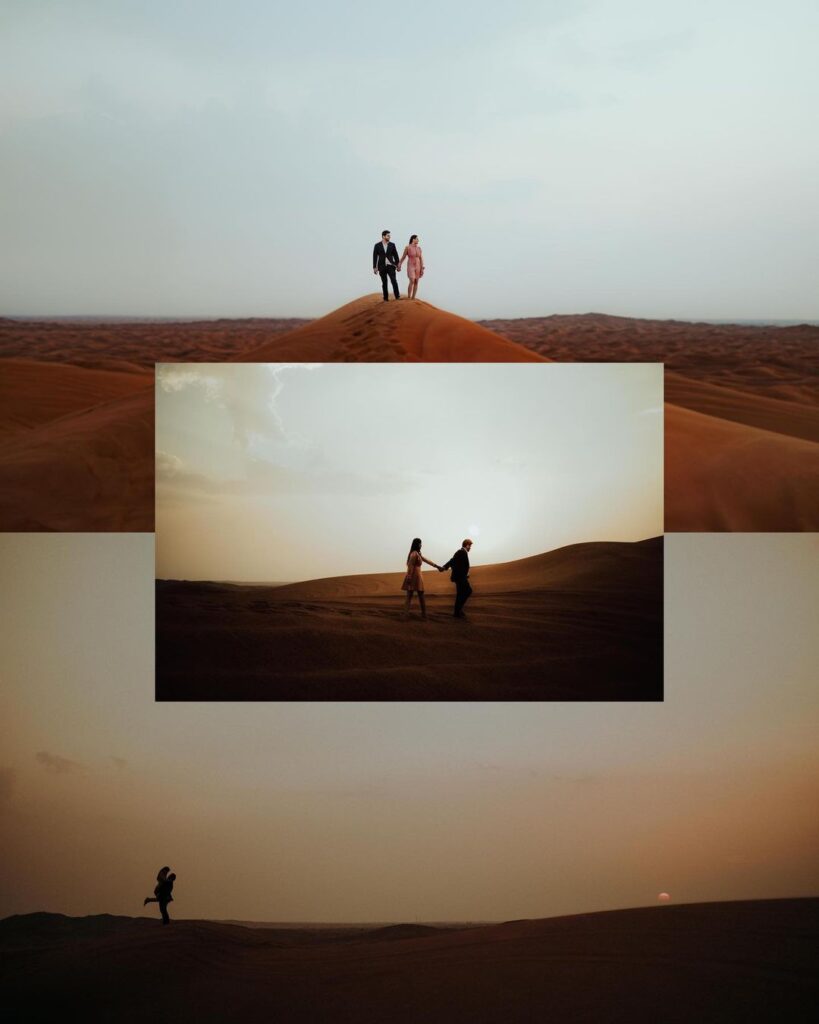 Courtesy: Gautam Khullar Photography
#69 When you're a big Bollywood fan and want to recreate "Dilwale Dulhaniya Le Jayenge" in your pre wedding photoshoot poses. We love how the photographer has negated the background so your picture doesn't get dimmed because of an unsuitable backdrop.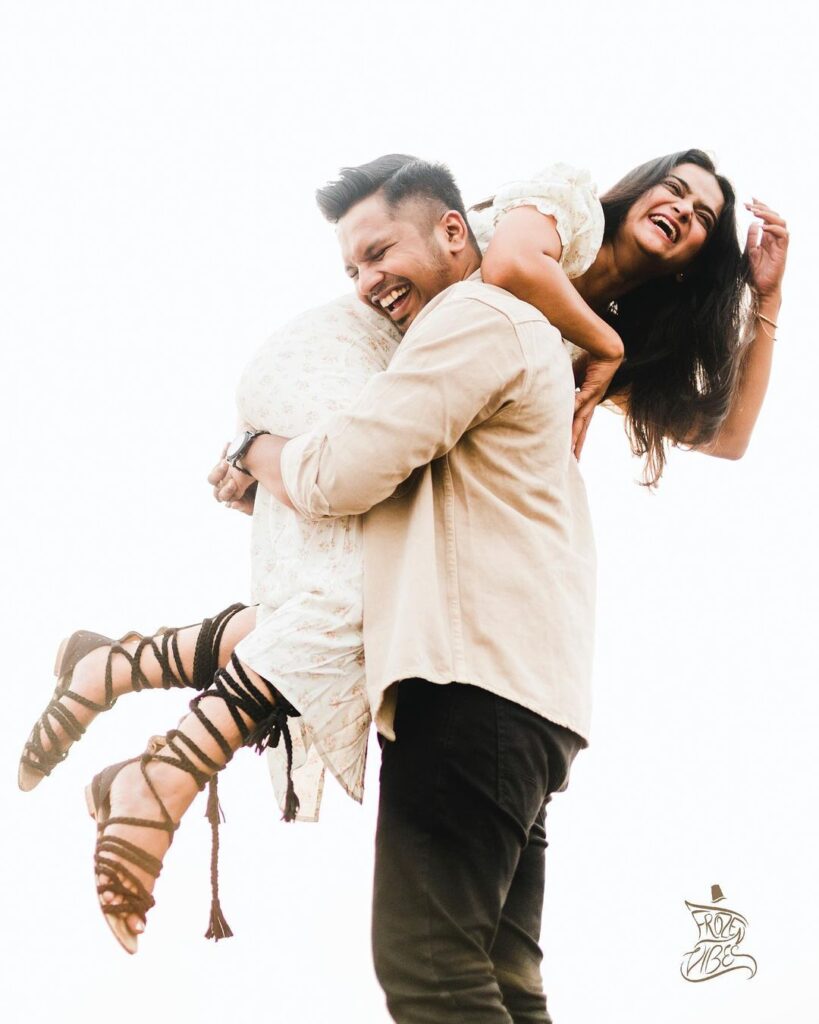 Courtesy: Frozen Vibes by Nikhil
#70 Uttarakhand is one of the popular destinations for outdoor pre wedding photoshoot. Home to cities like Rishikesh, Mussoorie, and Nainital, there are plenty of options to choose from for your scenic backdrop. To get you started on posing here's an easy idea to recreate and save to your pre wedding photoshoot images. 
Courtesy: Frozen Vibes by Nikhil
#71 When you want bold pre wedding photoshoot poses, try this one where the couple cozy up in the bathtub with twinkling heart-shaped fairy lights on the top.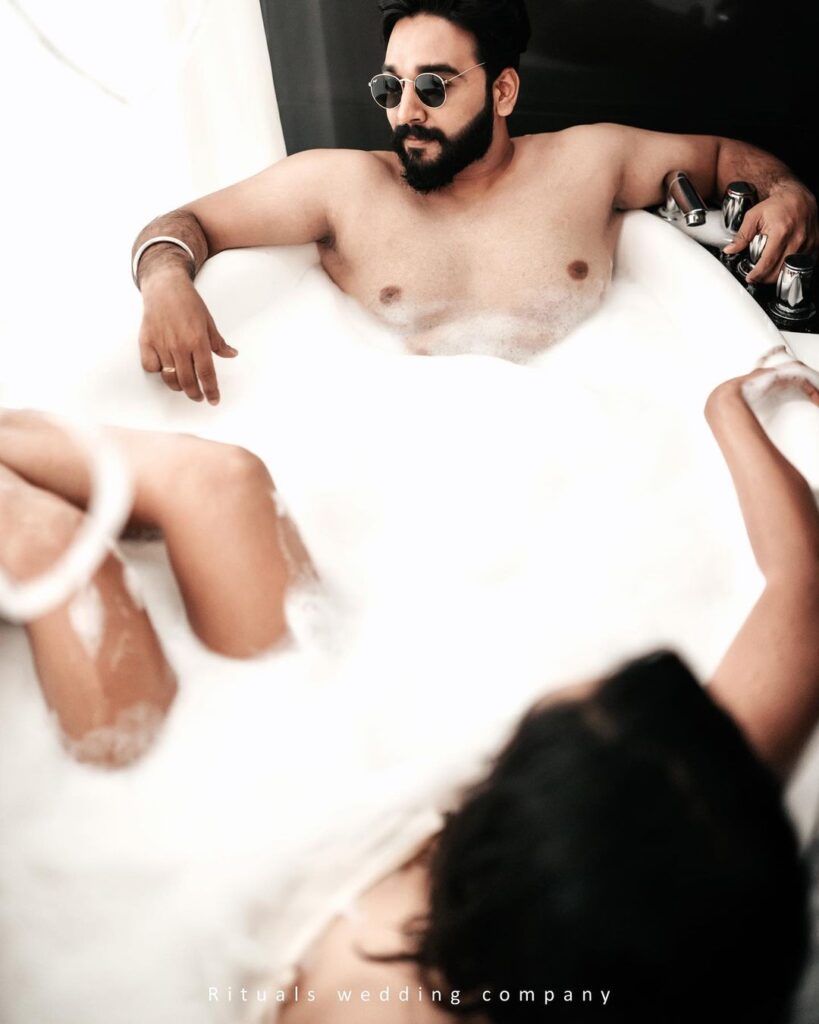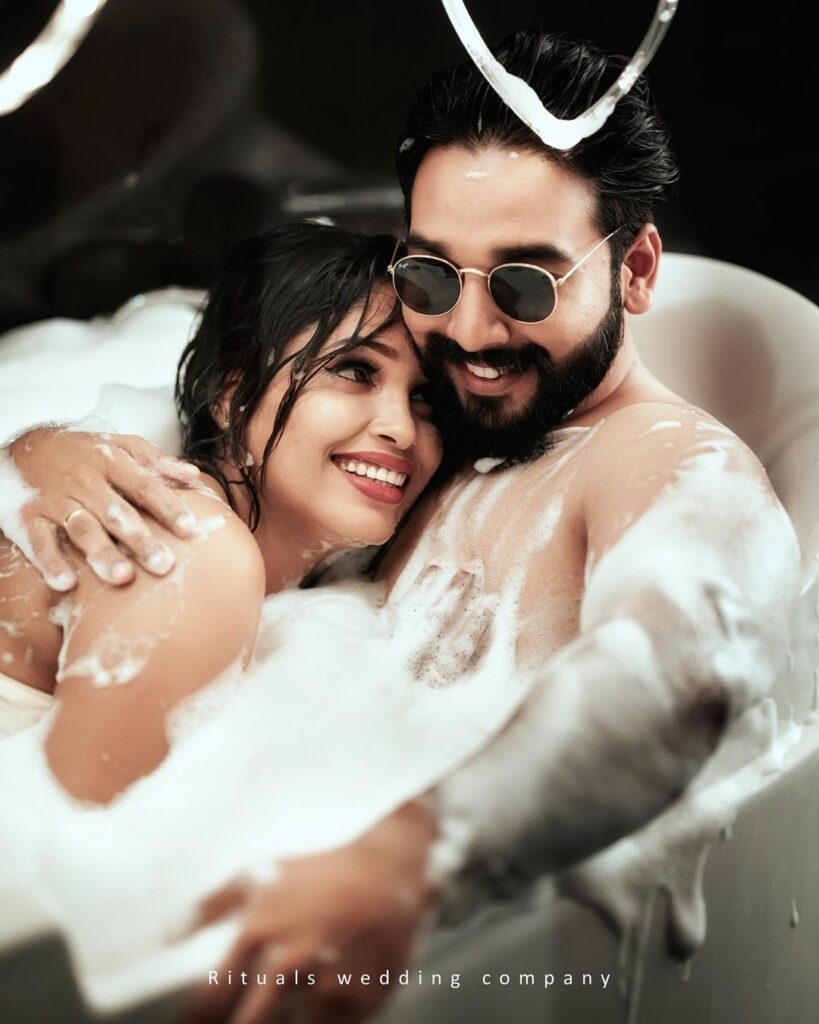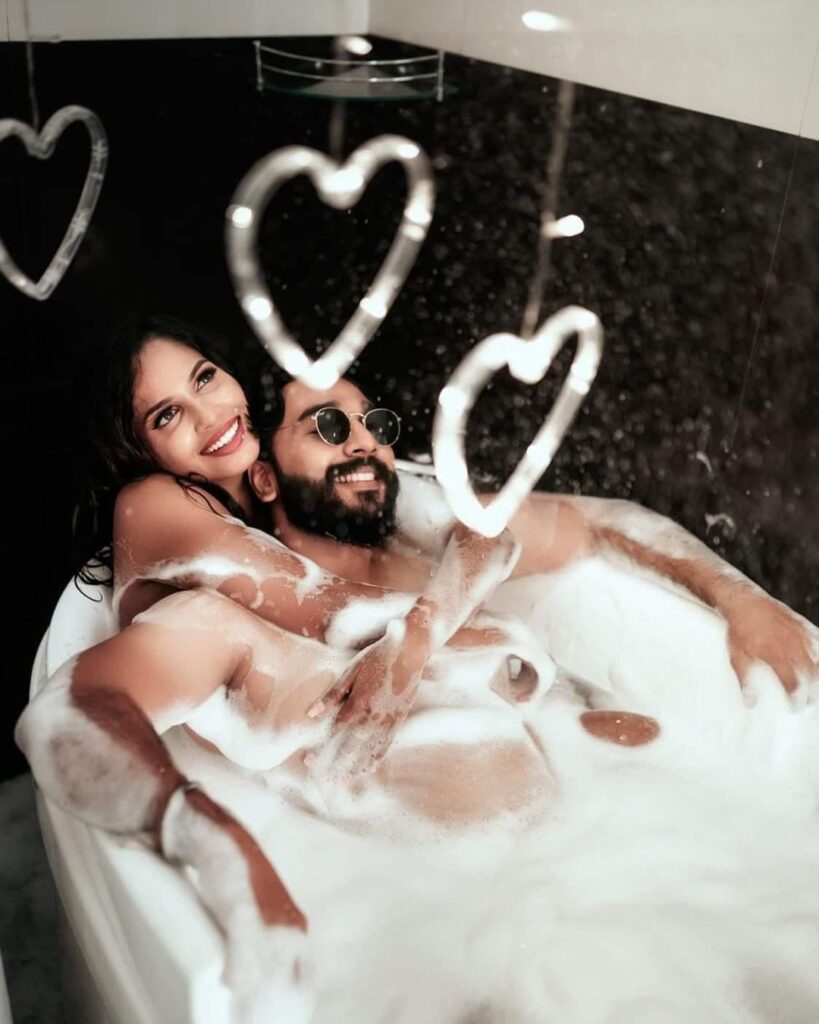 Courtesy: Rituals Wedding Company
#73 Hugging your partner is the best kind of therapy! Capturing the innocence, strength, and bond of hugs is this endearing picture that portrays the tranquility of this beautiful expression of love.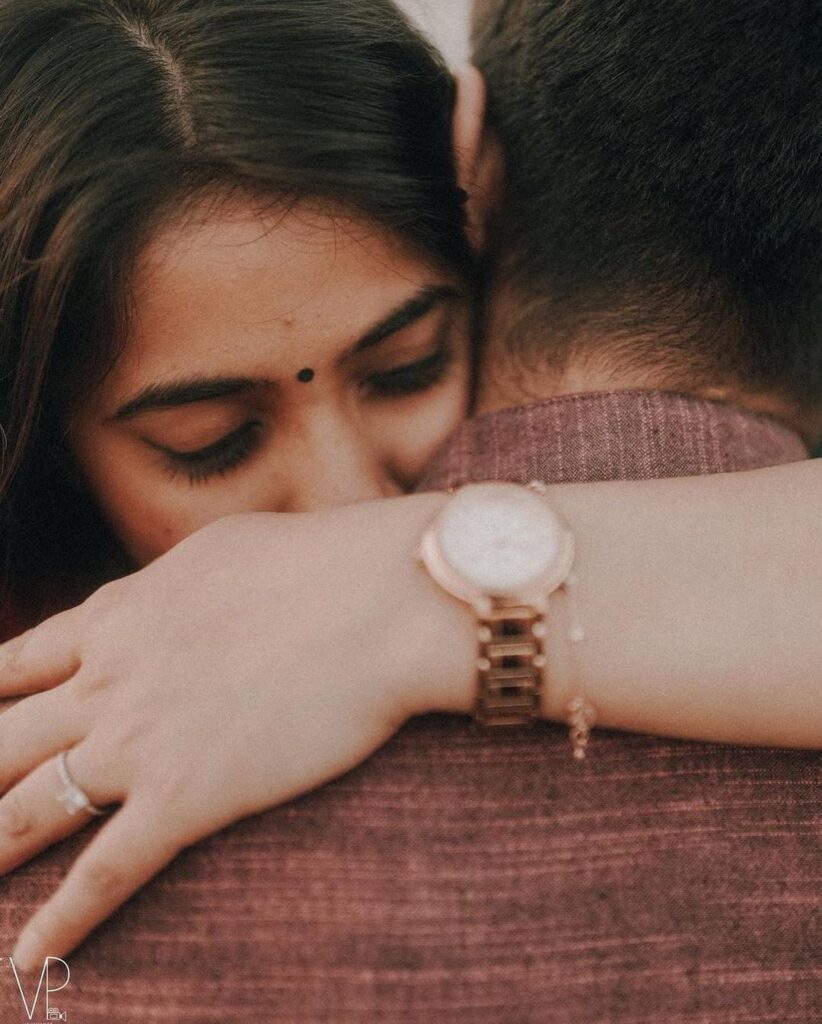 #74 This couple flew off to the gorgeous Ladakh for their pre wedding photoshoot set, and captured some hearty shots in the panoramic background of this beautiful region. Ladakh's temperatures remain low throughout the year with July being the warmest month. If you have chosen the region as your pre wedding photoshoot place, we'd recommend July for a comfortable experience.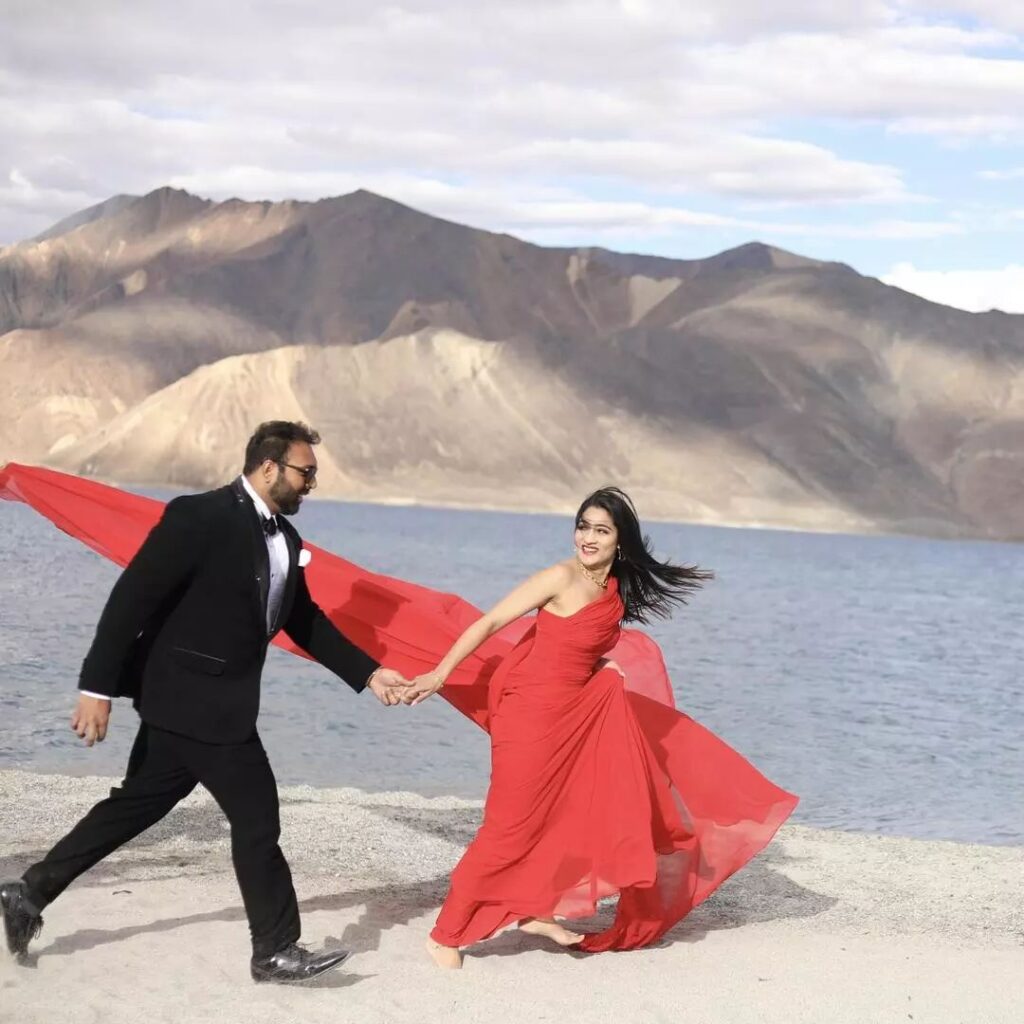 Courtesy: @priyanka.daima
#75 When you're both gym freaks, it's hardly a question of what your pre wedding photoshoot set should be! Just get into your gym gear and go to your favorite place. While this is just one pose, you can do a number of poses in the gym with gear available for a unique and personalized pre-wedding session.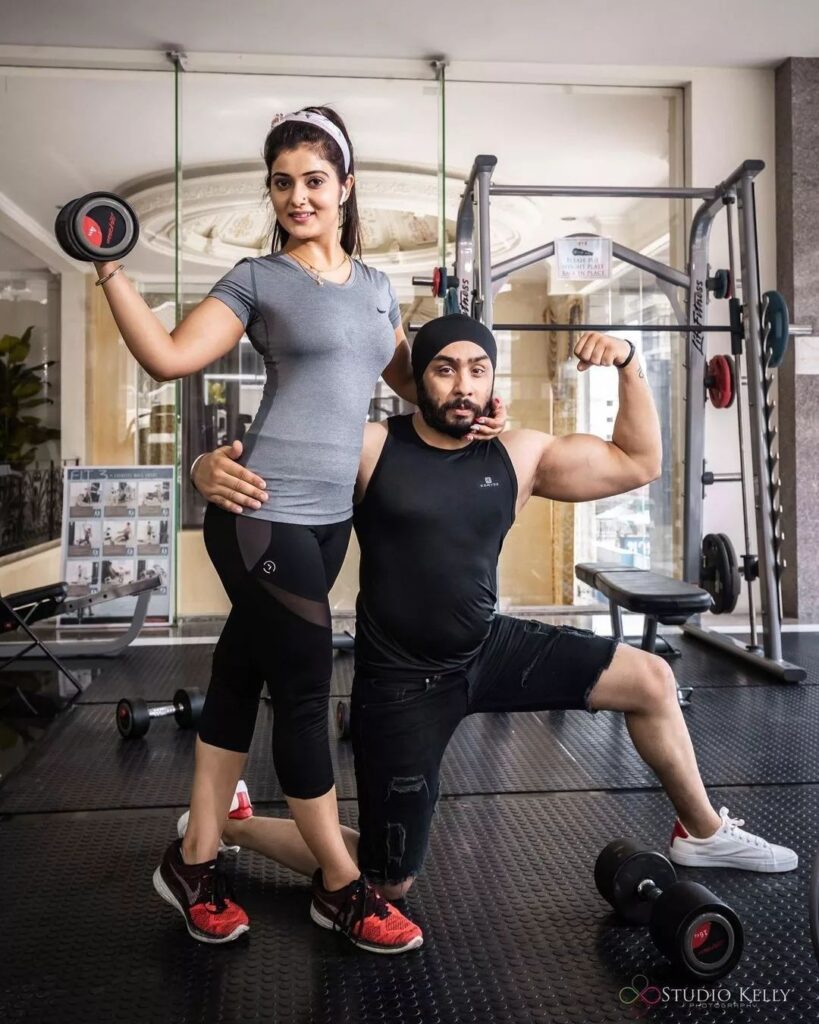 Courtesy: Studio Kelly Photography
#76 Having a pre-wedding in the snow is popular and with the winter season coming, you can easily find a snow-covered landscape in your nearest hill station. Take inspiration from these cheeky & playful poses to strike during your photo shoot, or recreate any other romantic pose you will find on the list. Let the snow add the magic to your snap, and do the rest of the work.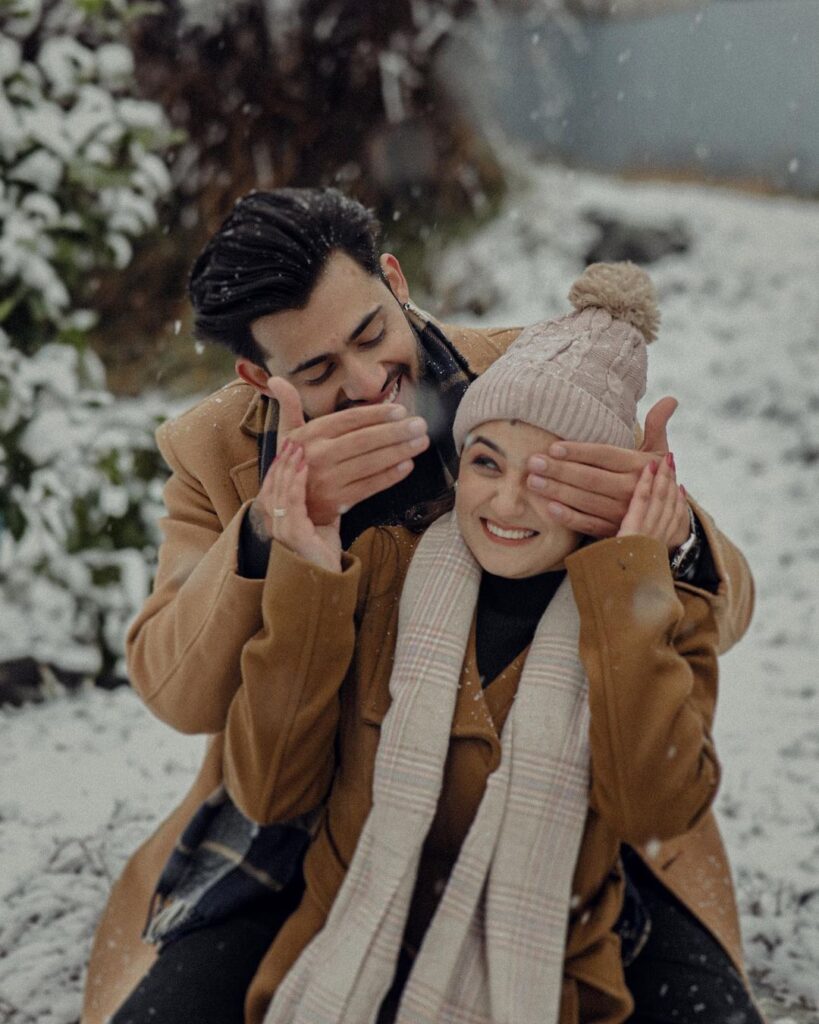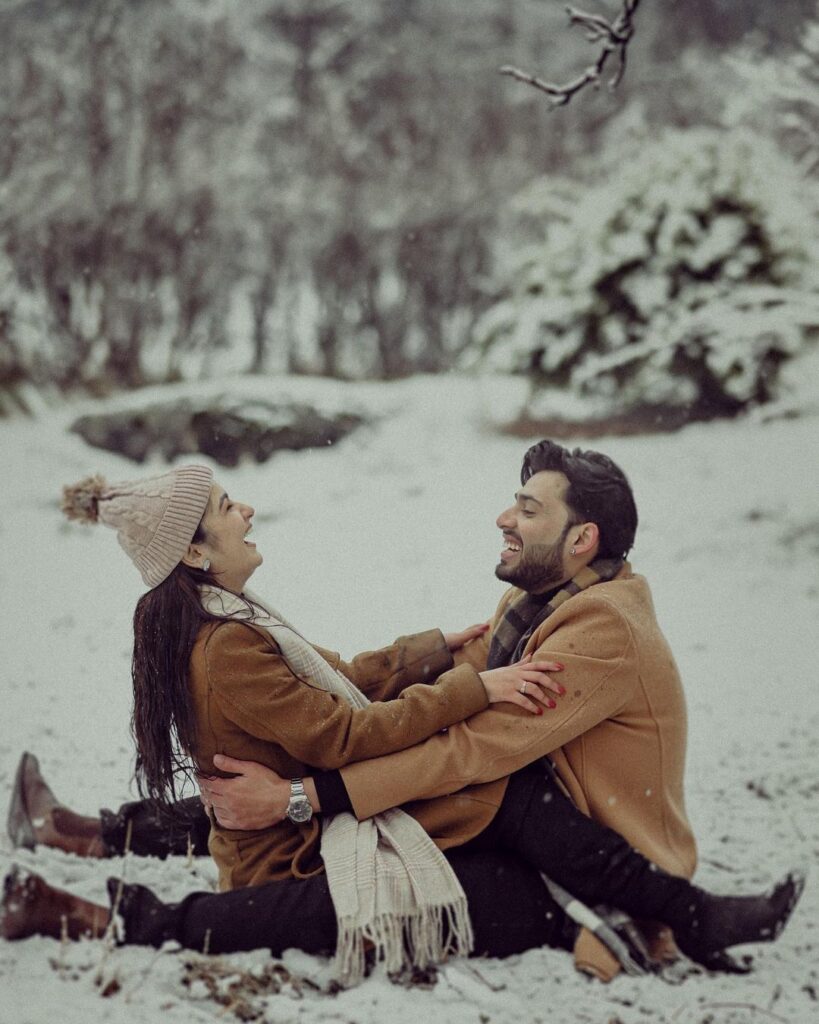 Courtesy: Shreya Wedding Photography
#78 This is one of the viral pre wedding photoshoot images. And why shouldn't it be? It has everything to make people draw its attention. Outfits, pose, editing, and chemistry!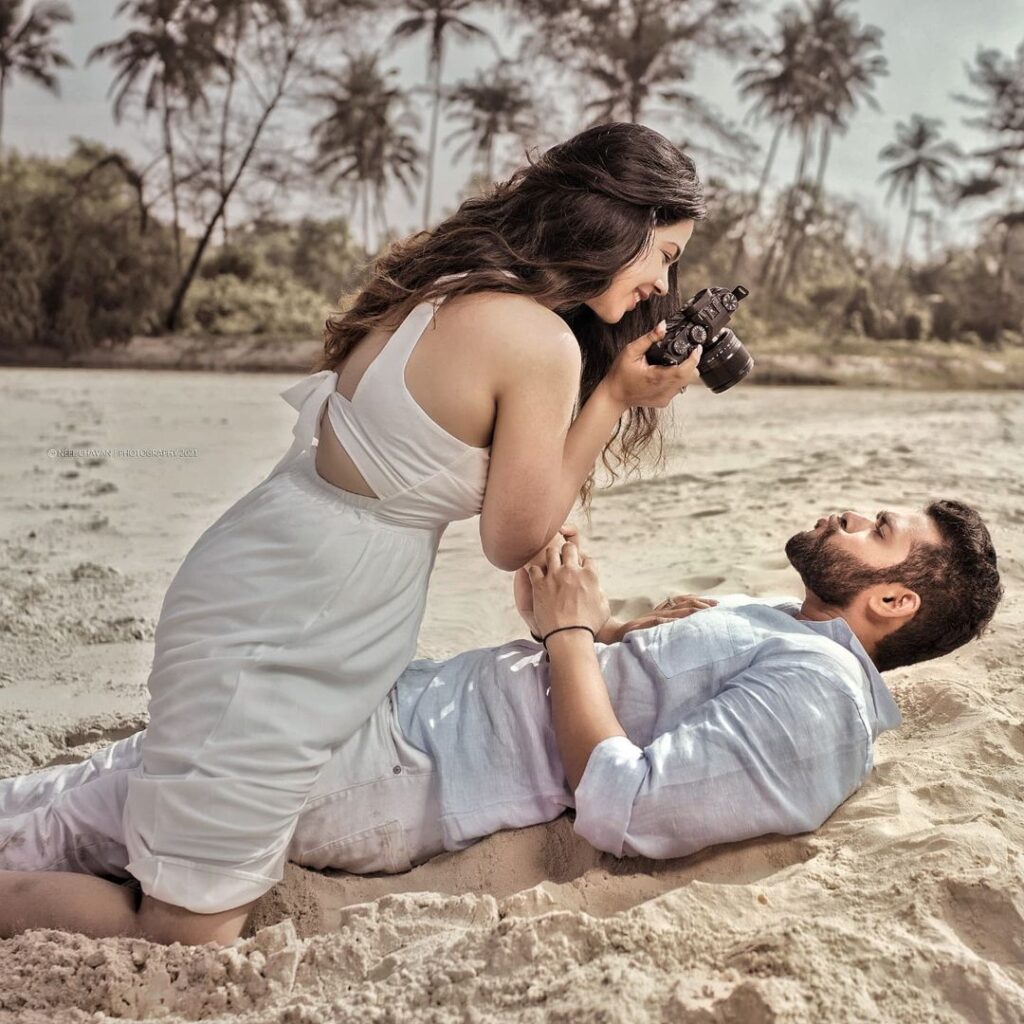 Courtesy: Neel Chavan Photography
#79 While this is an engagement pose, you can totally recreate the twirl pose anytime, anywhere. You just need an outfit that twirls – be it a lehenga, an anarkali, or an embellished gown. We love the play of Sun & shade in the picture, adding to the remarkable aesthetic of the snap.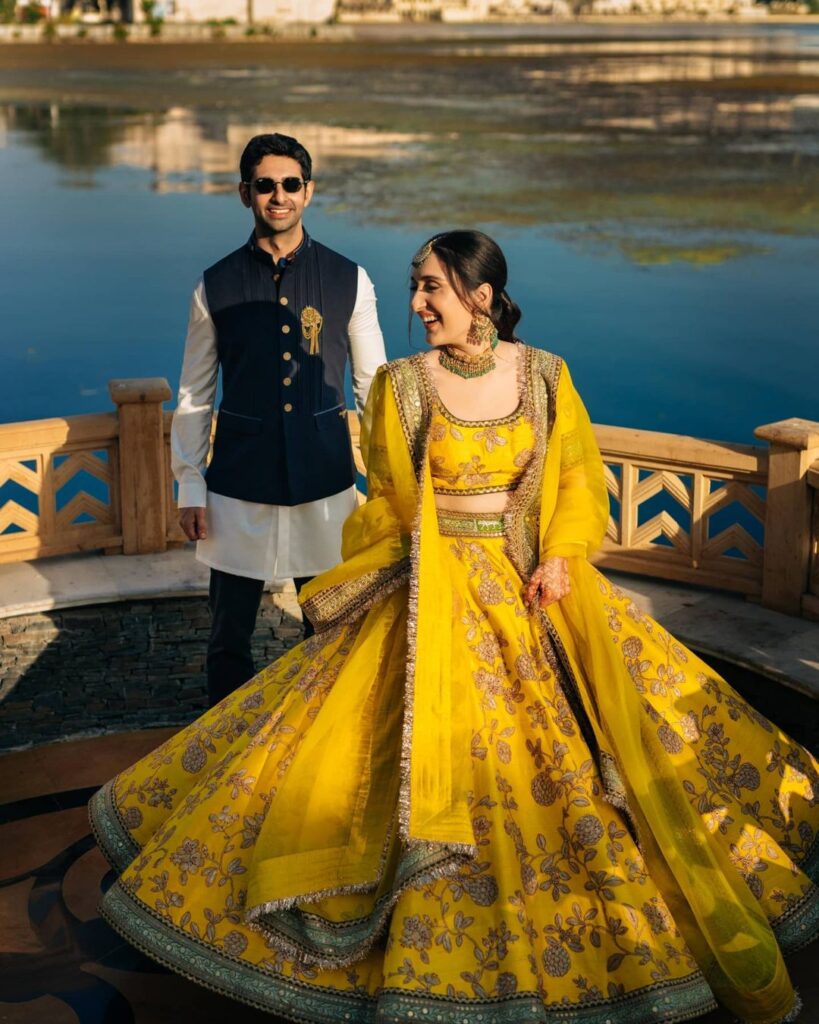 Courtesy: Gautam Khullar Photography
#80 When you decide to have your pre-wedding indoors, you can also decide that location to be your home. Think about how comfortable you'd be at home, breaking the walls of awkwardness during the session and paving way for some great shots. Here's one you can recreate in your abode.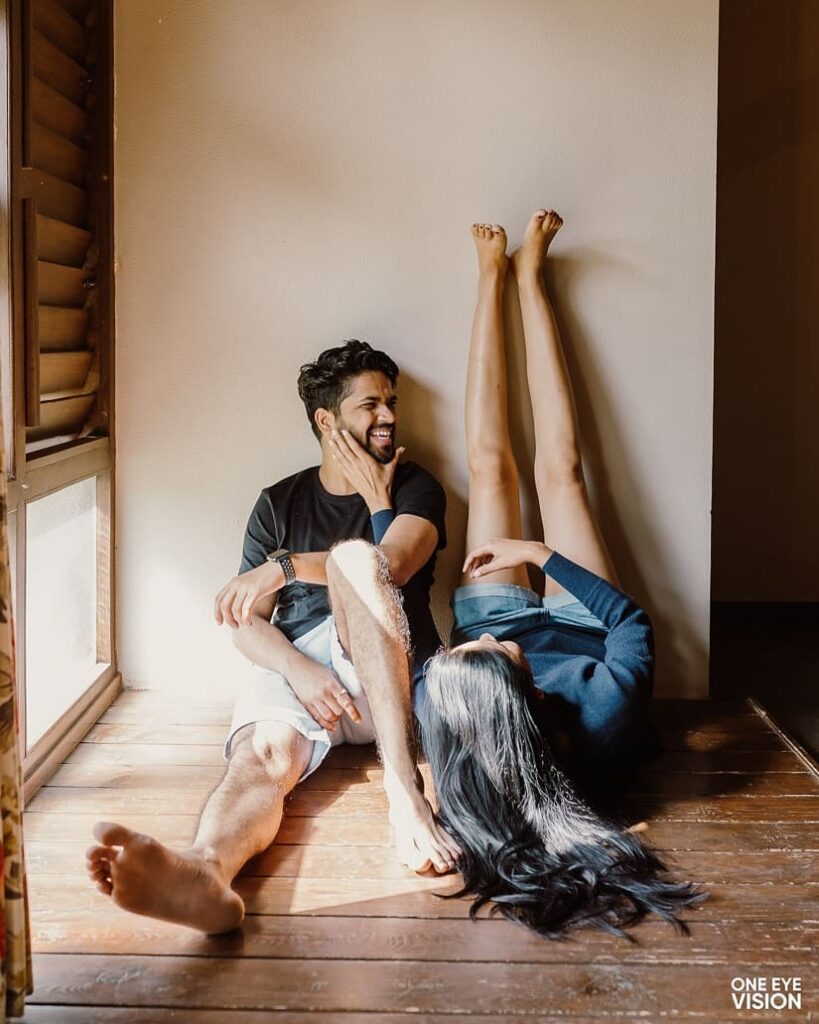 Courtesy: @oneeyevision.photography
#81 One of the best ways to have a meaningful pre wedding photoshoot is to have a theme-based session revolving around something that you both value and cherish. Here, the renowned photographer Sutej Pannu had a spirituality-themed pre-wedding to curate snaps that also has a deeper meaning to them.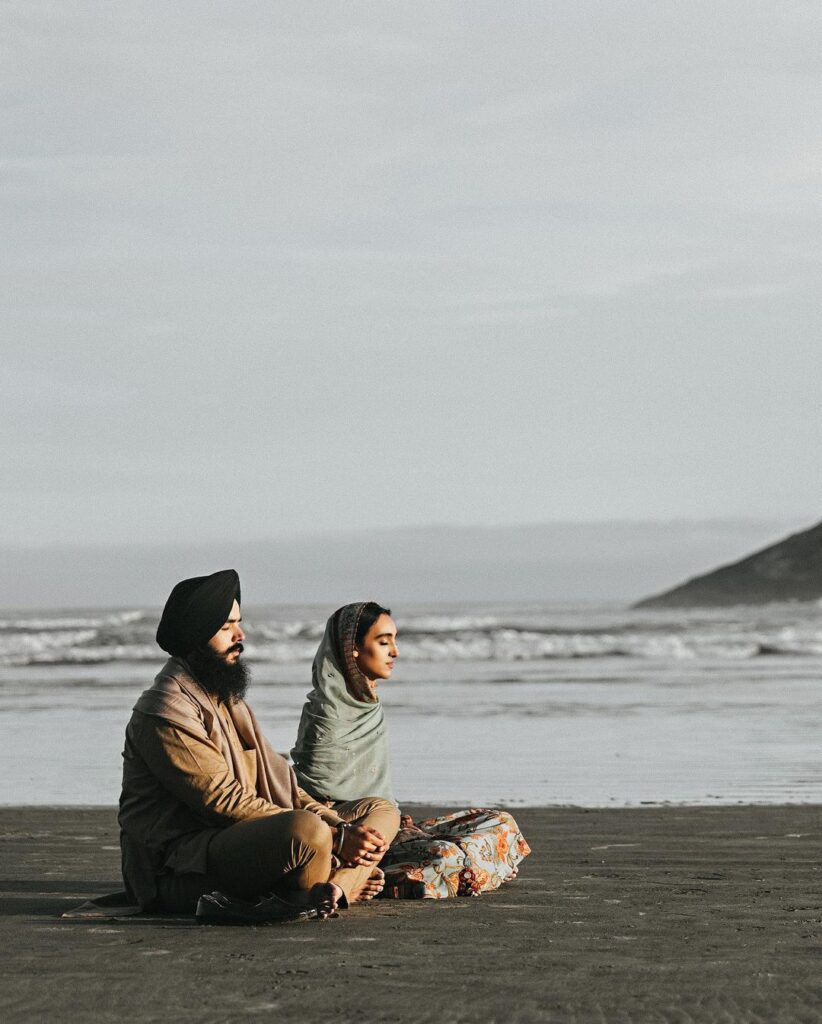 Courtesy: Sutej Pannu
#82 There's nothing more fun than having some wine and hearty conversations with your best friend. Capturing the essence of the same is this outdoor pre wedding shoot idea with some candid photos and your favorite wine!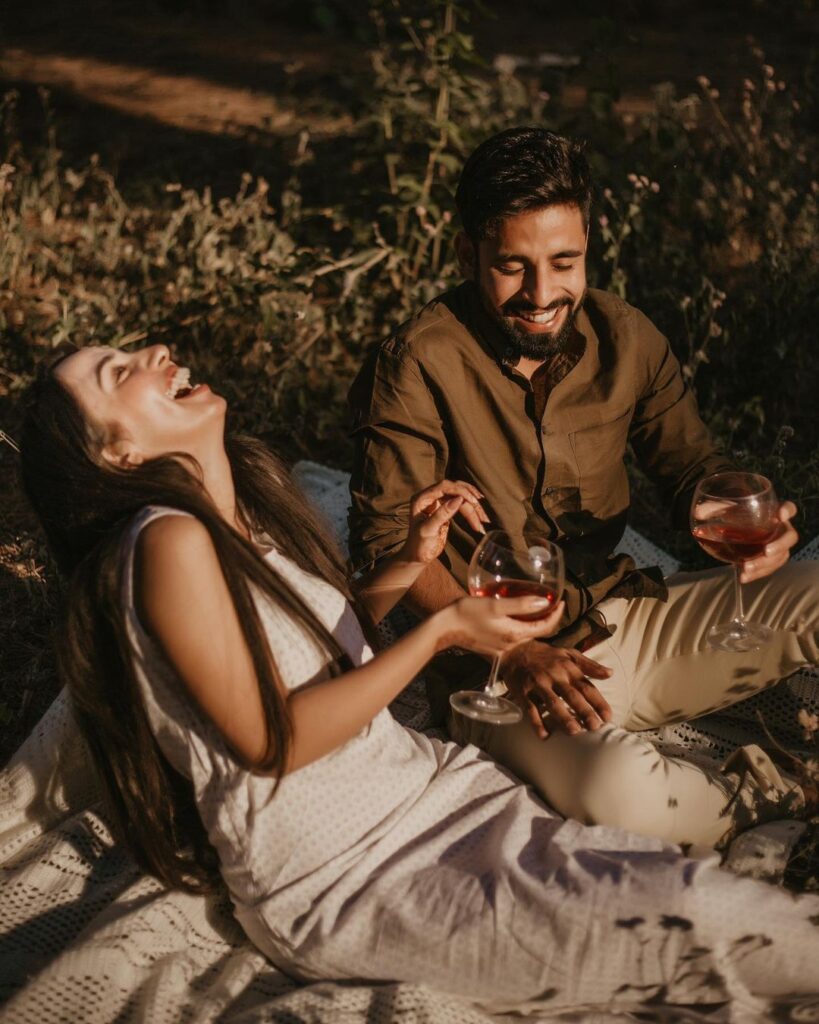 Courtesy: Stories by Jasnoor
#83 A pre wedding photoshoot studio is gaining momentum, mainly because you get so many sets in one location. If that seems like something you're interested in, here's an inspirational shot to get you started in the location.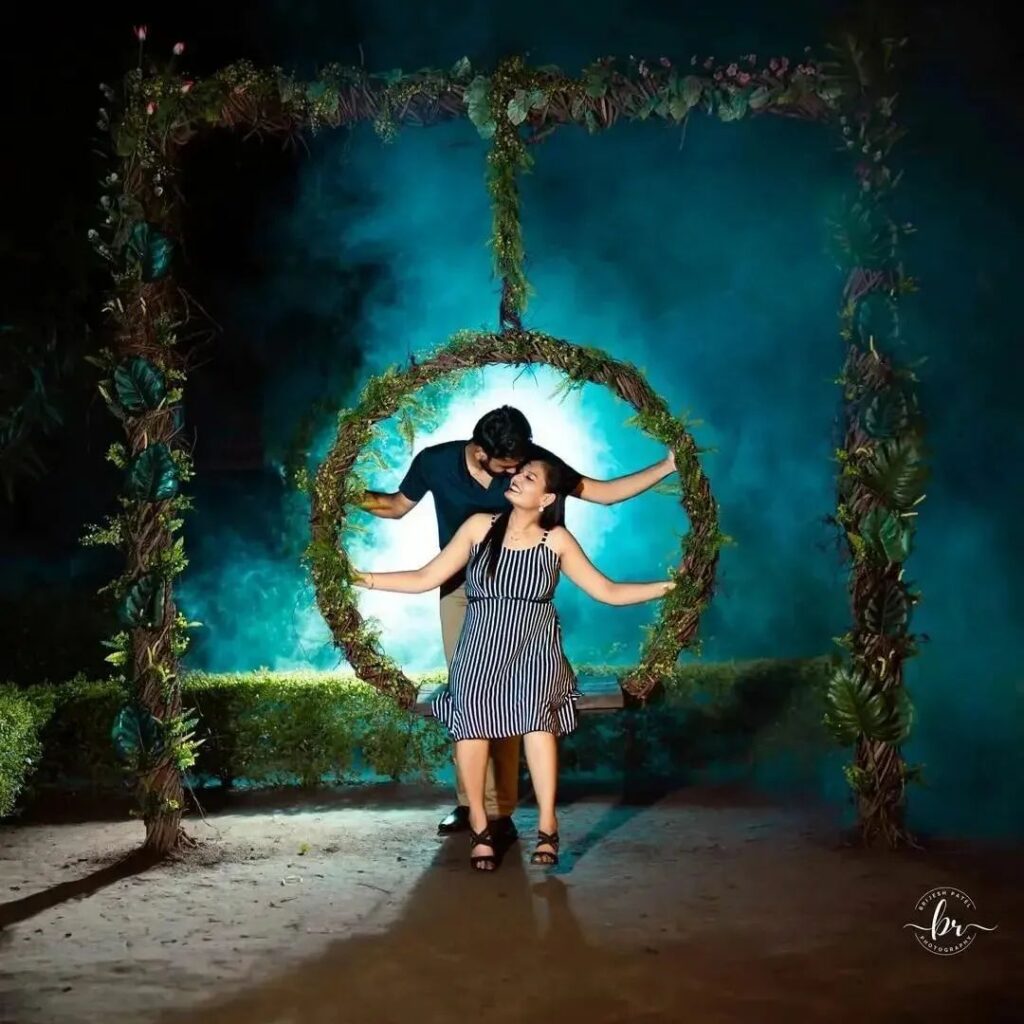 #84 Pre wedding photoshoot poses are all about showing that chemistry and love between the couple. While it might seem like a ton of work, it isn't. Even simple poses can do the trick. If you're camera-shy, we'd recommend starting with poses that involves looking into each other's eyes so it breaks the barrier of being infront of the camera and gives you some endearing shots.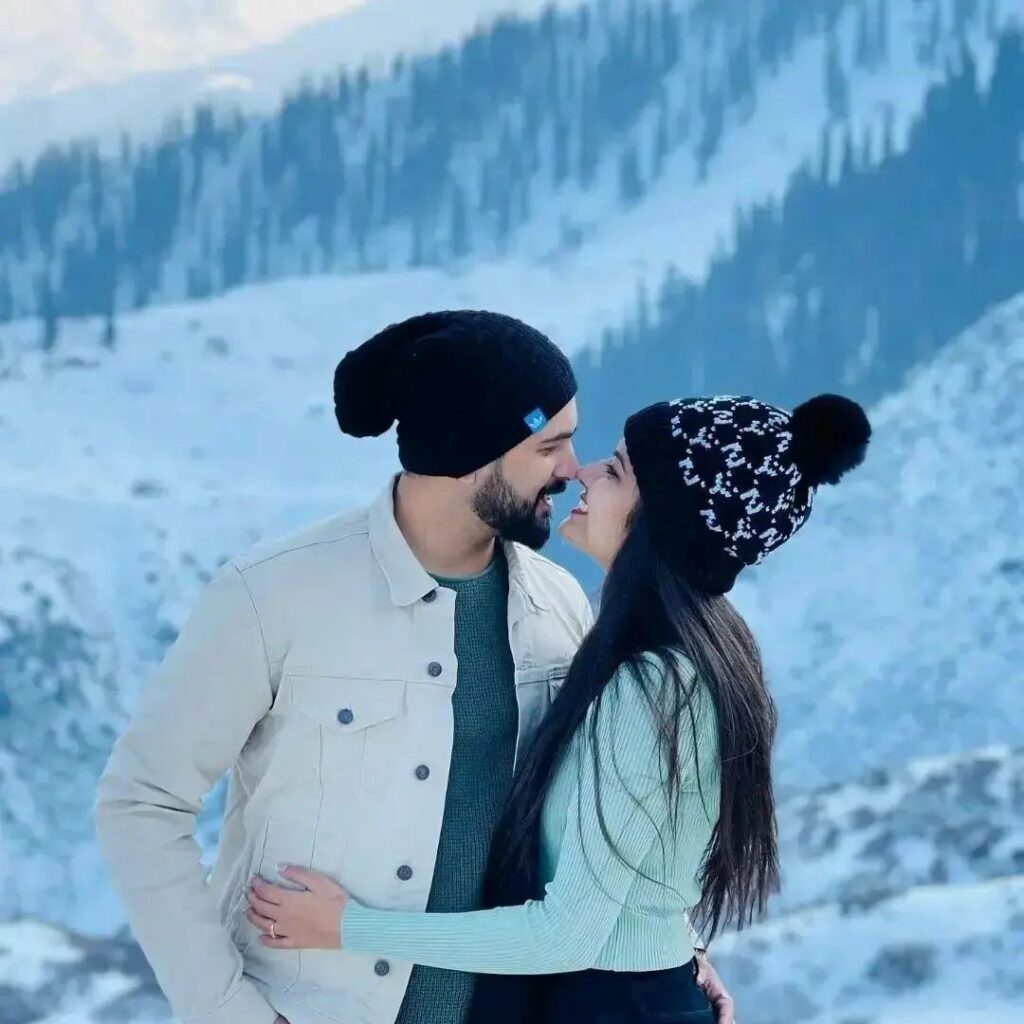 #85 One of the best pre wedding photoshoot places is the beach. You will find so many ideas on this pre wedding photoshoot images list, and here's another one to bookmark.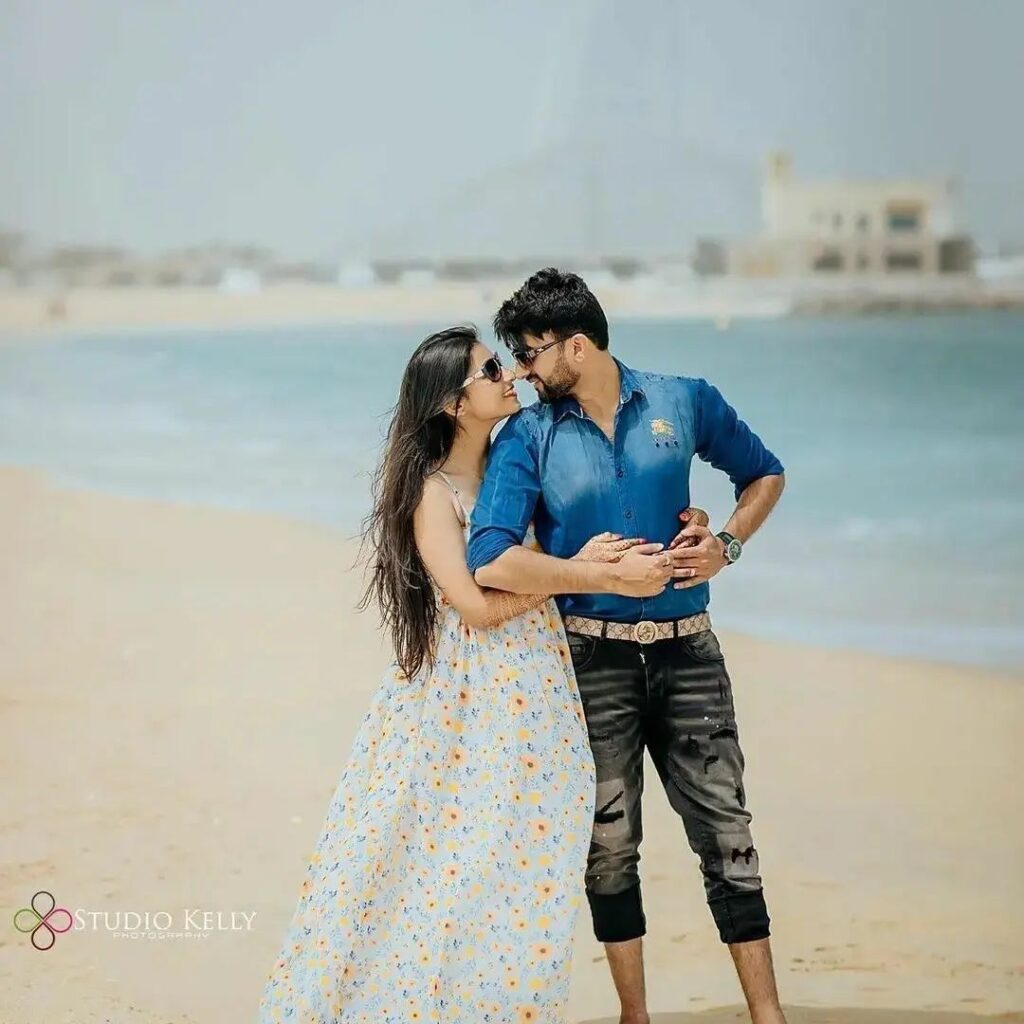 Courtesy: Studio Kelly Photography
#86 Including some playful shots into your pre wedding is often recommended. It adds a fun twist to the usual lovey-dovey shots and you'd love to look back at them through the years down the memory lane. If you're stuck on where to start with the cheeky snaps, here's one you can easily recreate on the scooter.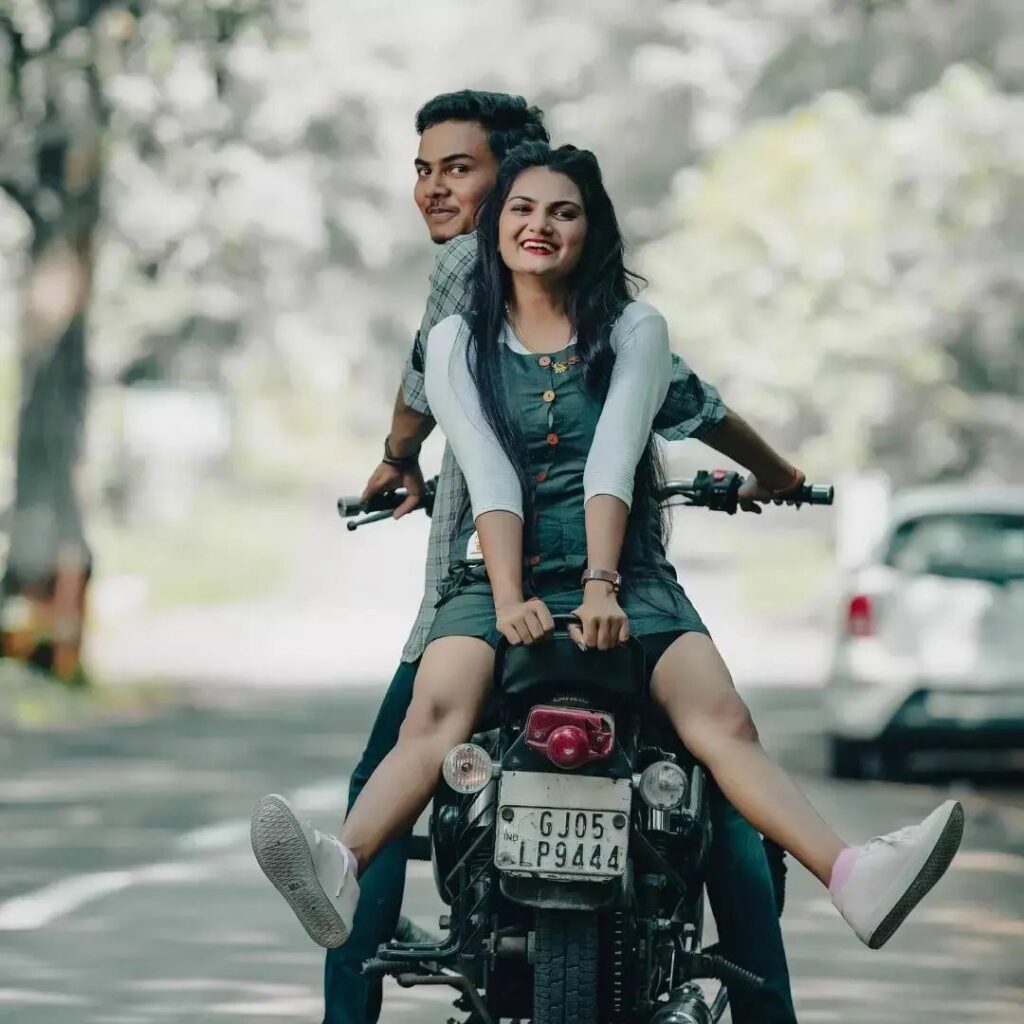 #87 Him tying your shoe laces can be a very sweet gesture – in real life as well in the pictures. It has become a ver popular pre wedding shoot idea and it's the second image like this on the list as well. Plus, the stunning photo, like many others, also gives you inspiration for pre wedding photoshoot dress ideas. Nothing fancy – just simple dresses from your wardrobe coordinated perfectly. 
#88 There's no better time to coordinate your outfits than your pre wedding. It might seem cheesy in real life, but when it comes to pre wedding photoshoot ideas, cheesy is what you need to bring out the romance!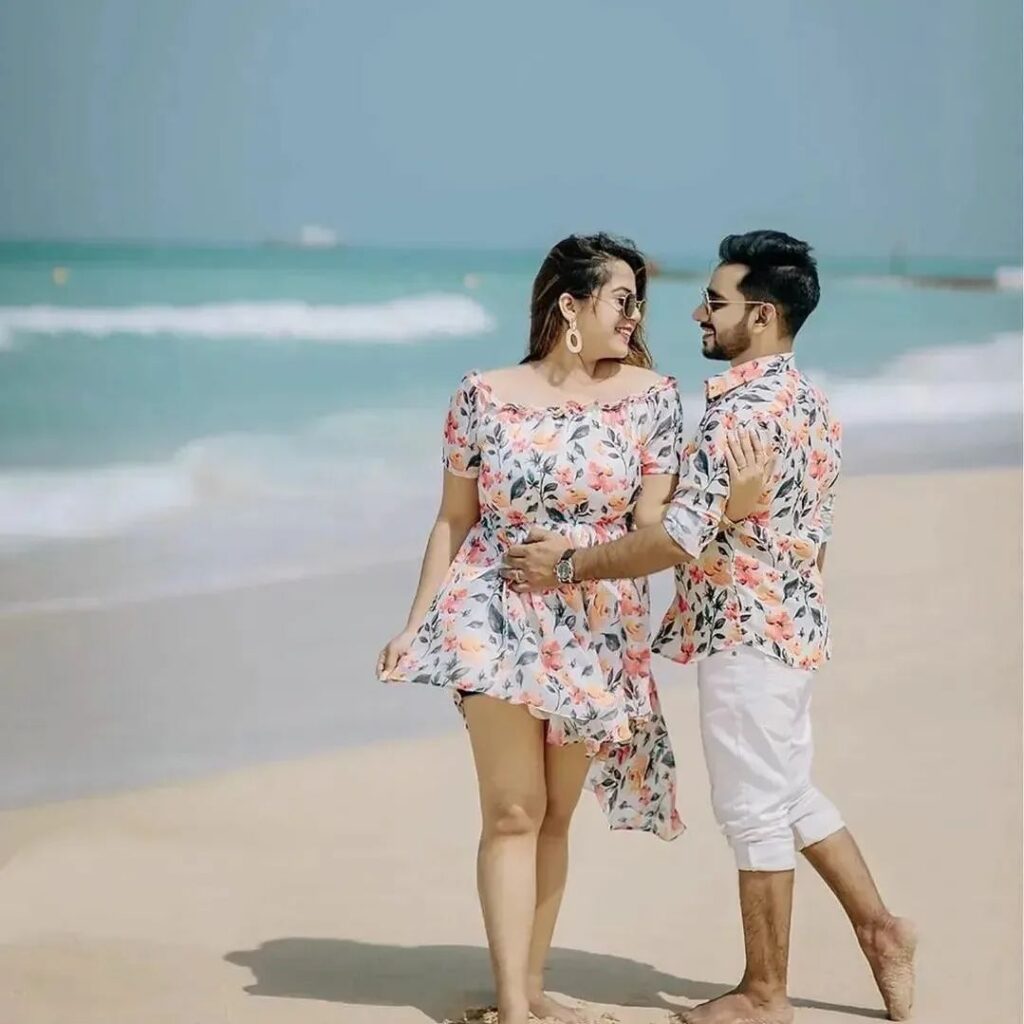 #89 If your friend or sister is coming with you to the pre wedding photoshoot studio, here's a jovial way to include them into your session. If kissing seems too bold for you, you can just pose with your lips fairly close to each other and it would still make for a great playful shot for your album.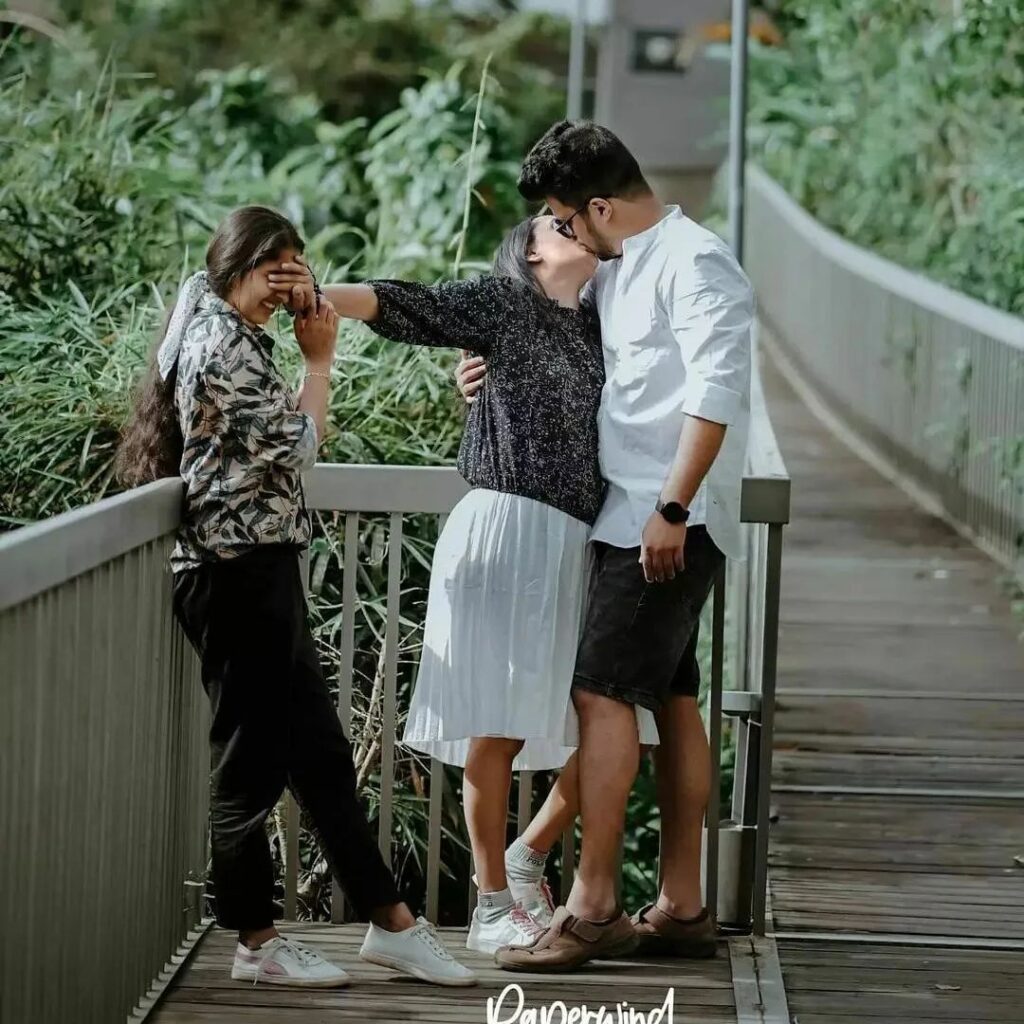 #90 When romantic and playful aren't your thing, classy & serious might do it for you! Besides the pose, we also loved the pre wedding photoshoot dress ideas in this snap. It protects you from the cold of the hill station while giving you elegant outfits for your pre-wedding shoot.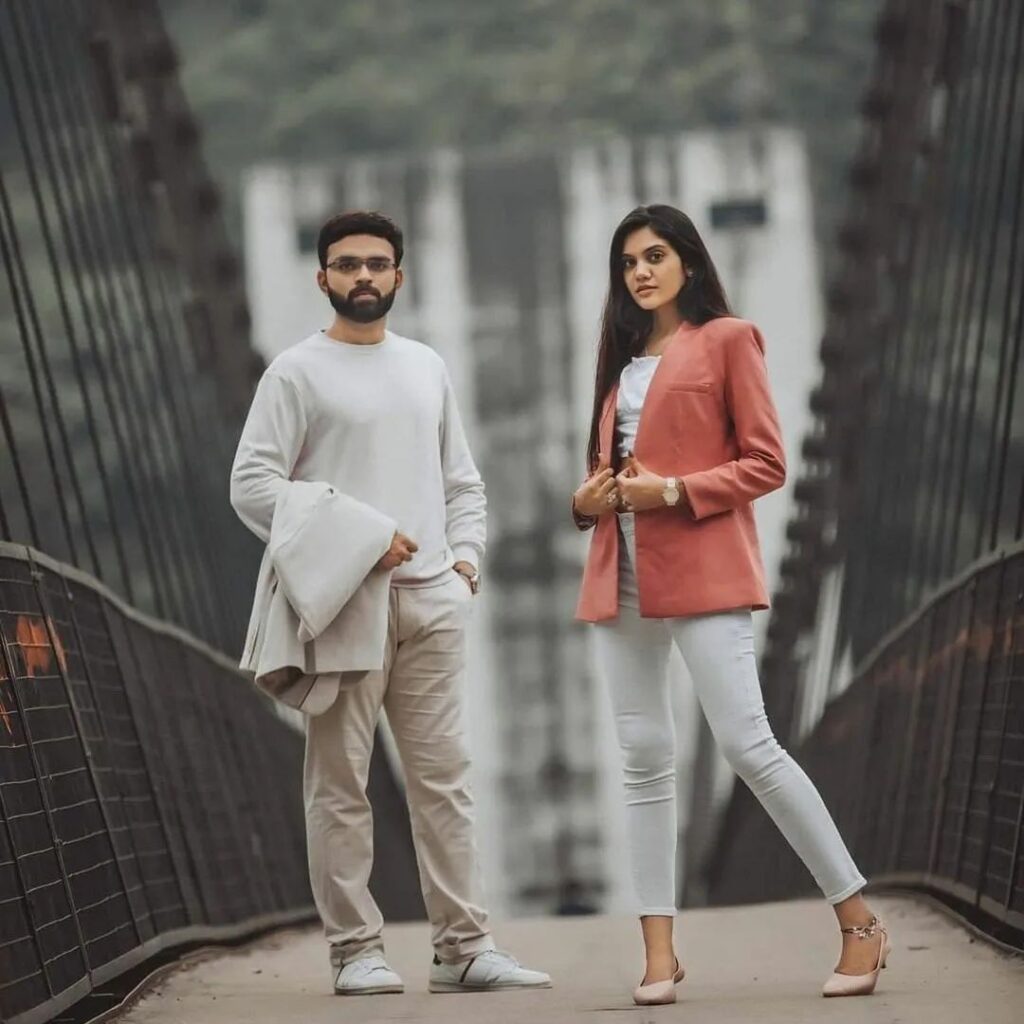 #91 A viral pre wedding shoot image you might have seen circulating around wedding pages far too many times (guilty as charged!). It's a timeless pose though, can be easily recreated, and gives us some major pre wedding shoot dress idea inspiration as well.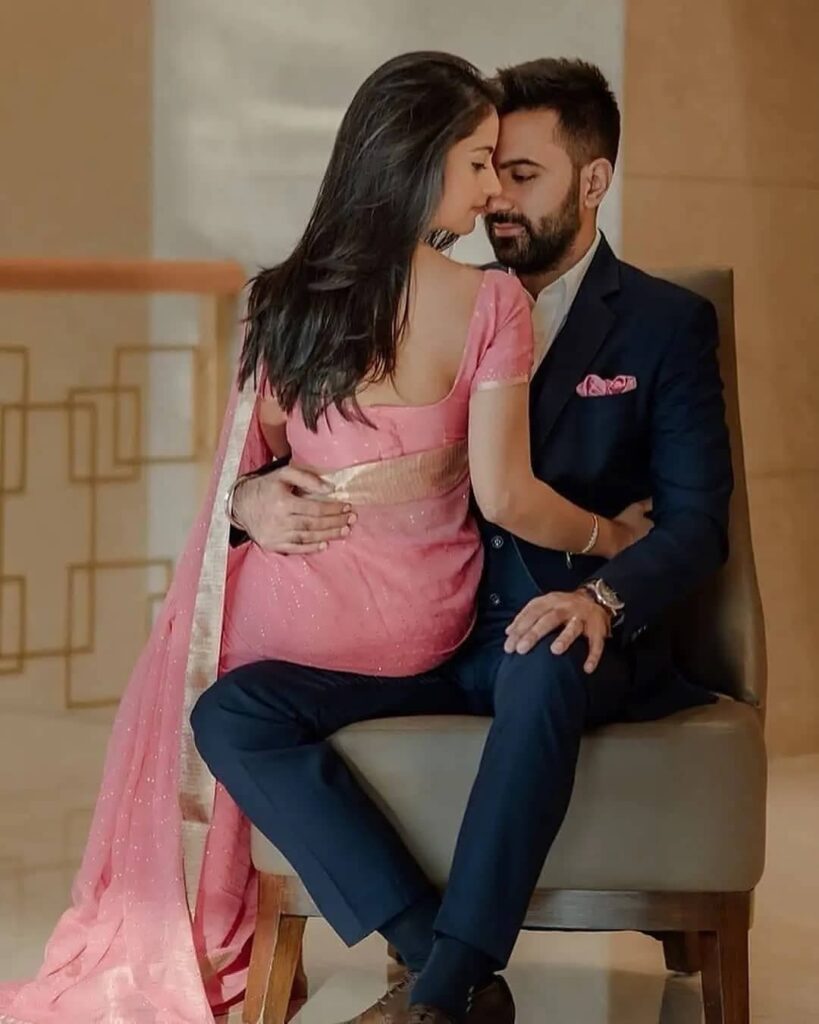 Courtesy: @avnish_dhoundhiyal
#92 Sometimes you don't need fancy dresses or props or editing to make the love come alive in your photograph. Looking into each other's eyes can be enough to bring out all the amorous feelings for each other. This picture is proof.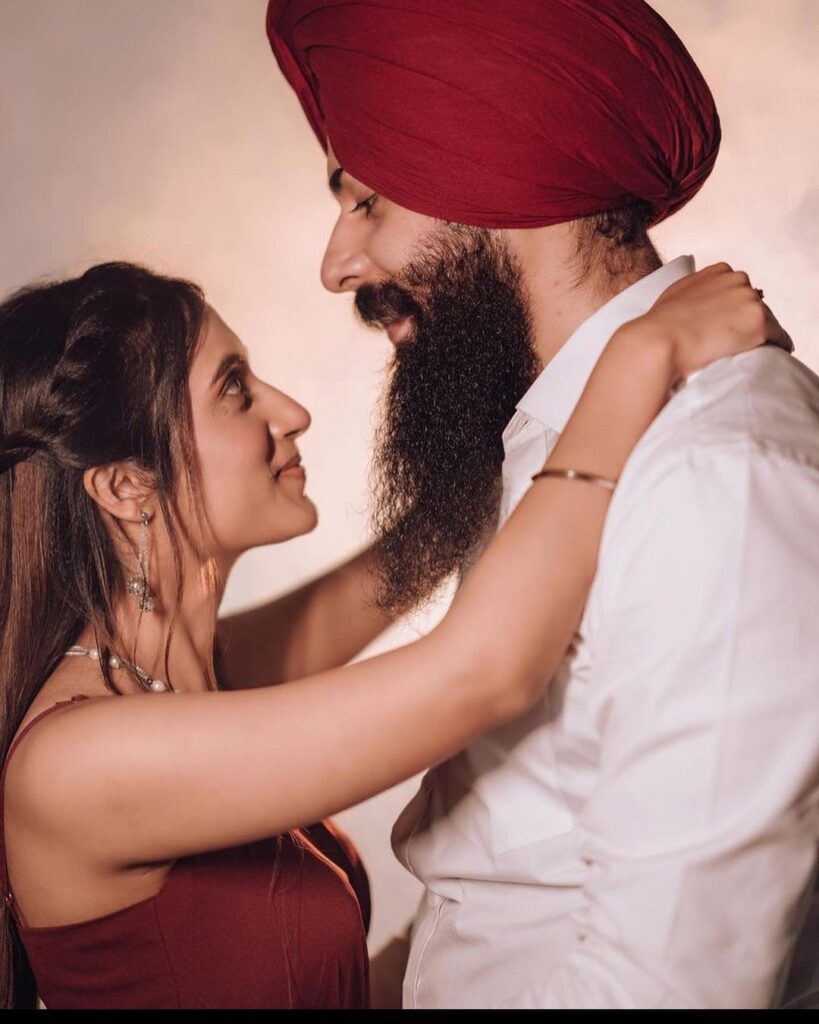 Courtesy: Instagram
#93 What a beautiful editing! We couldn't help but fall in love with this gorgeous pre wedding photoshoot idea and we bet the couple were quite thrilled when they received their images as well. The editing can make world of a difference in your shoot, so pick your pre wedding photographer wisely. 
Courtesy: @zerowattsphotography
#94 When you have your pre wedding photoshoot outdoors, there's one thing you don't have to worry about! The aesthetic backdrop. Nature will astound you with its beauty – in real life, and in pictures.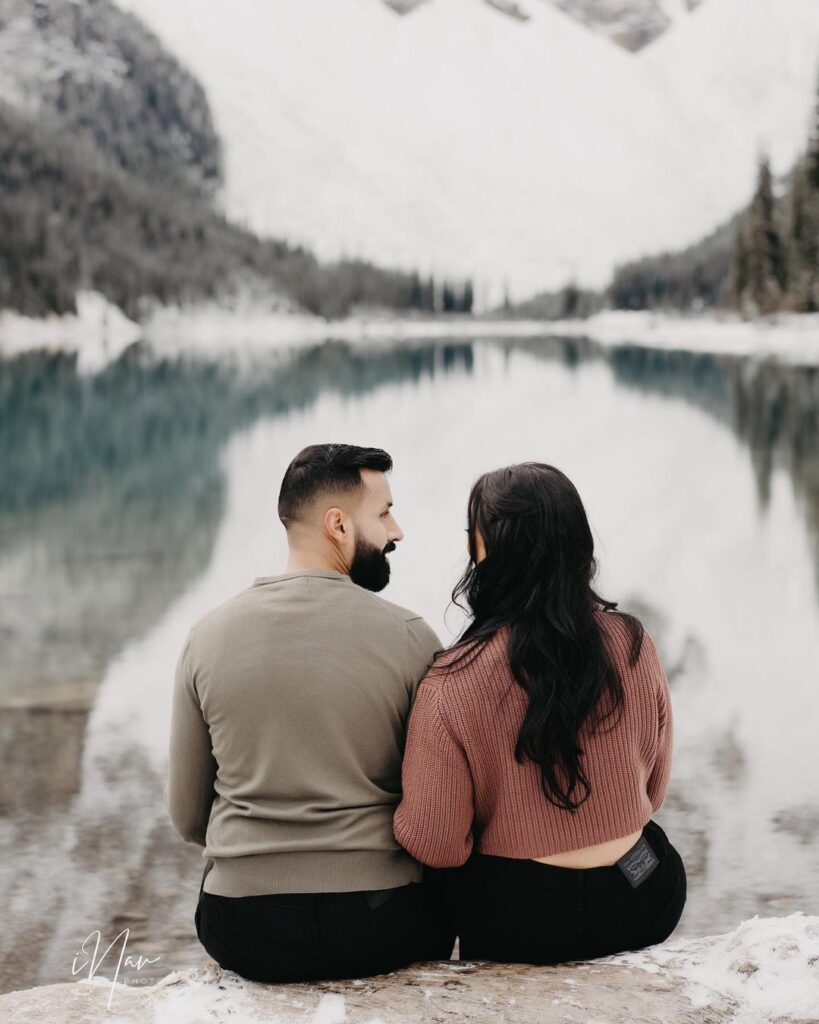 Courtesy: @inavphoto
#95 Never let any weather conditions stop you from having your dream pre wedding photoshoot. In fact, rains and wind can create the romantic and unique setup you're looking for in your shoot. Take advantage of mother nature and pose for some of the most memorable portraits of your life.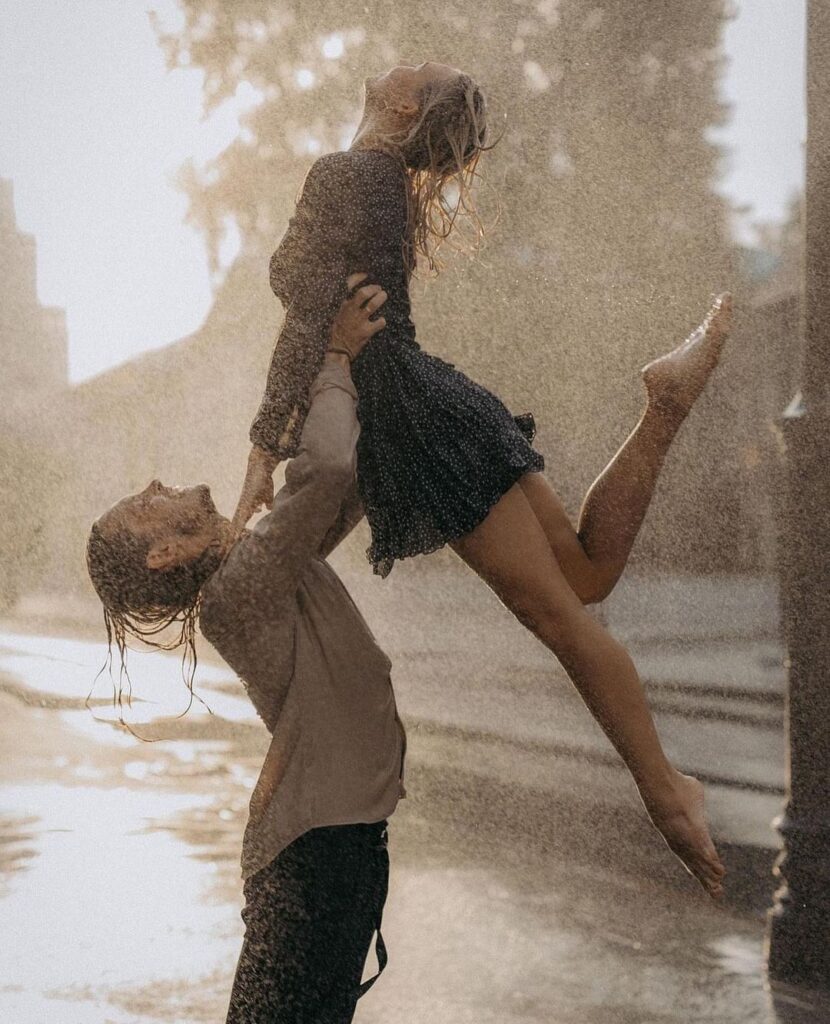 Courtesy: @yurina_photo
#96 Hand kissing and back hugs are just adorable! Combing the strength of these two gestures is this beautiful portrait where the bride-to-be hugs her partner from the back as her beau gently grabs and kisses her hands.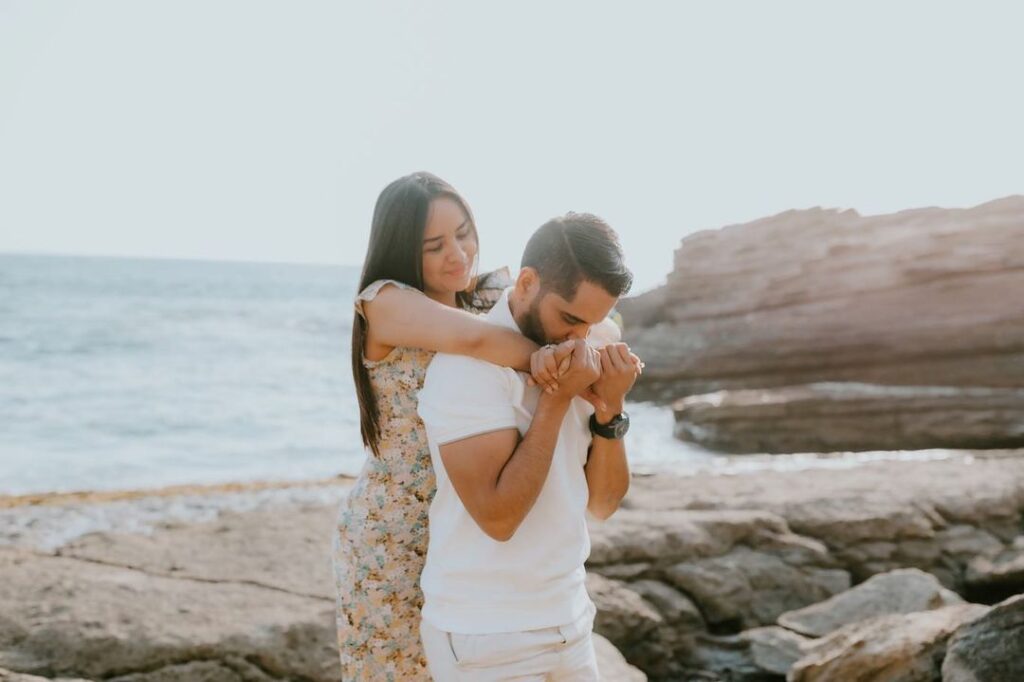 Courtesy: @jeanniher
#97 Or, you can only opt for one of these gestures and it would still add the same adoration and passion into your portrait. What we are further loving in this image is the after-sunset light giving an aesthetic orangish-grey backdrop for the couple's portrait.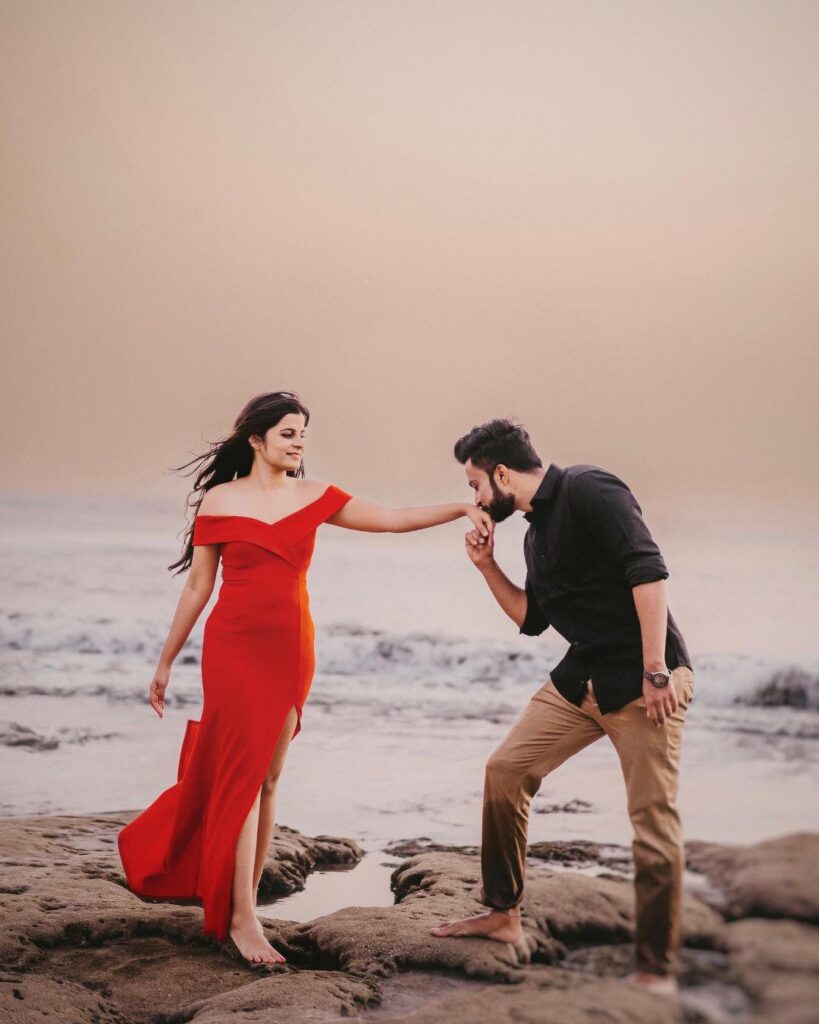 Courtesy: Abhijeet Chavan
#98 When it comes to zeroing in on pre wedding photoshoot dresses, you just can't go wrong with our traditional attire – lehenga and kurta-pyjama. Don them and your portraits will automatically have that timeless and personalised appeal to them.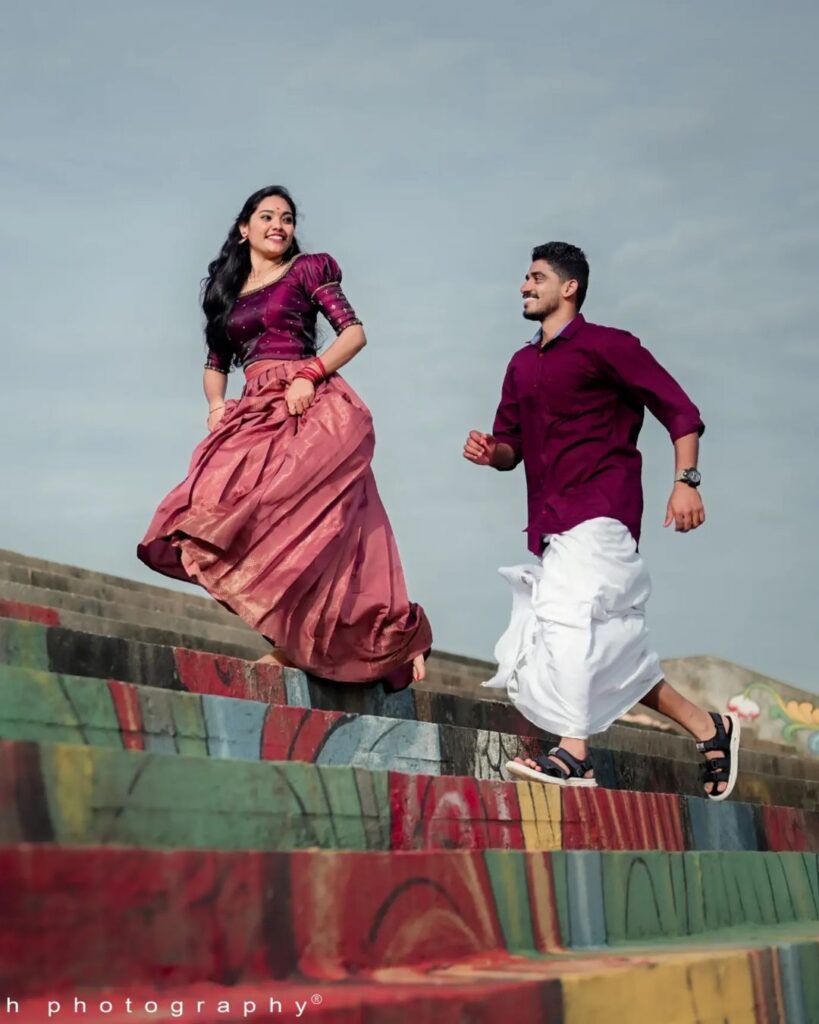 Courtesy: Krish Photography
#99 Jaipur is one of the popular pre wedding photoshoot places, mainly because the city's architecture is striking and can make for a great aesthetic for your pre-wedding. Here's one of those places. Other spots to try are Jal Mahal, Albert Hall, Hawa Mahal, and Patrika Gate.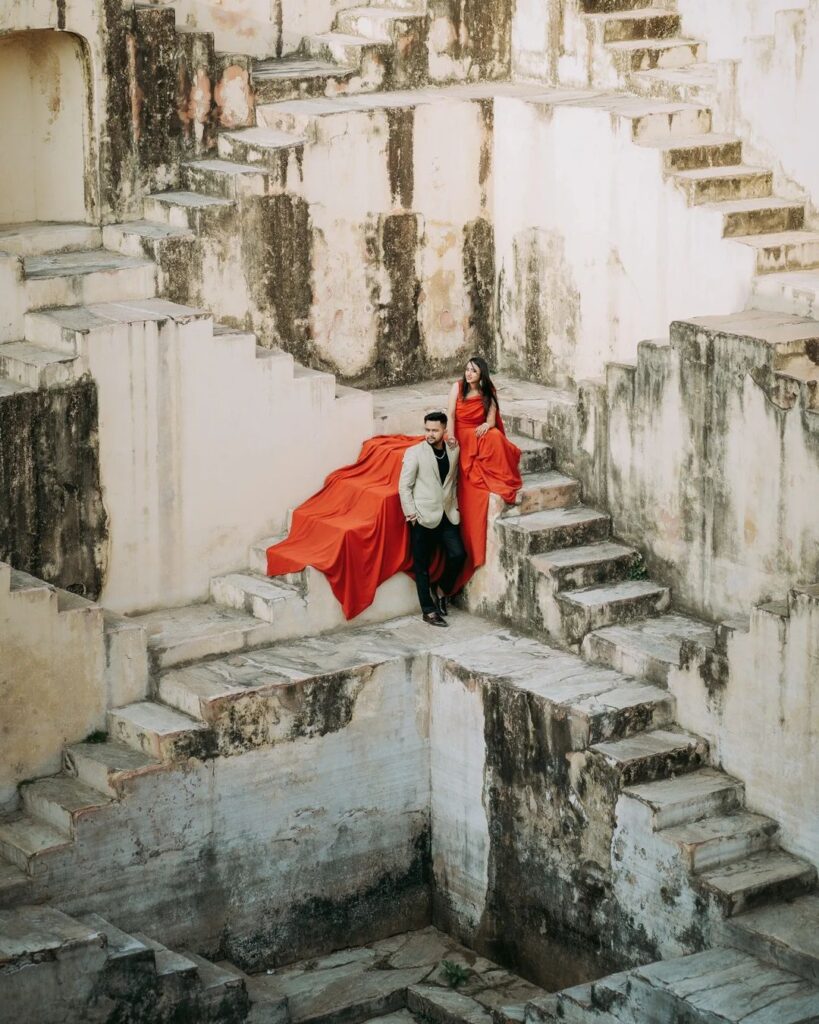 Courtesy: @weddingdiariesbyomp
#100 Got yourself matching T-shirts and wondering where you'd wear (and flaunt) them? Your pre wedding photoshoot can serve as the perfect time to show off the cheesiness. Just take a casual stroll and you will end up with a beautiful and romantic portrait to cherish down the memory lane.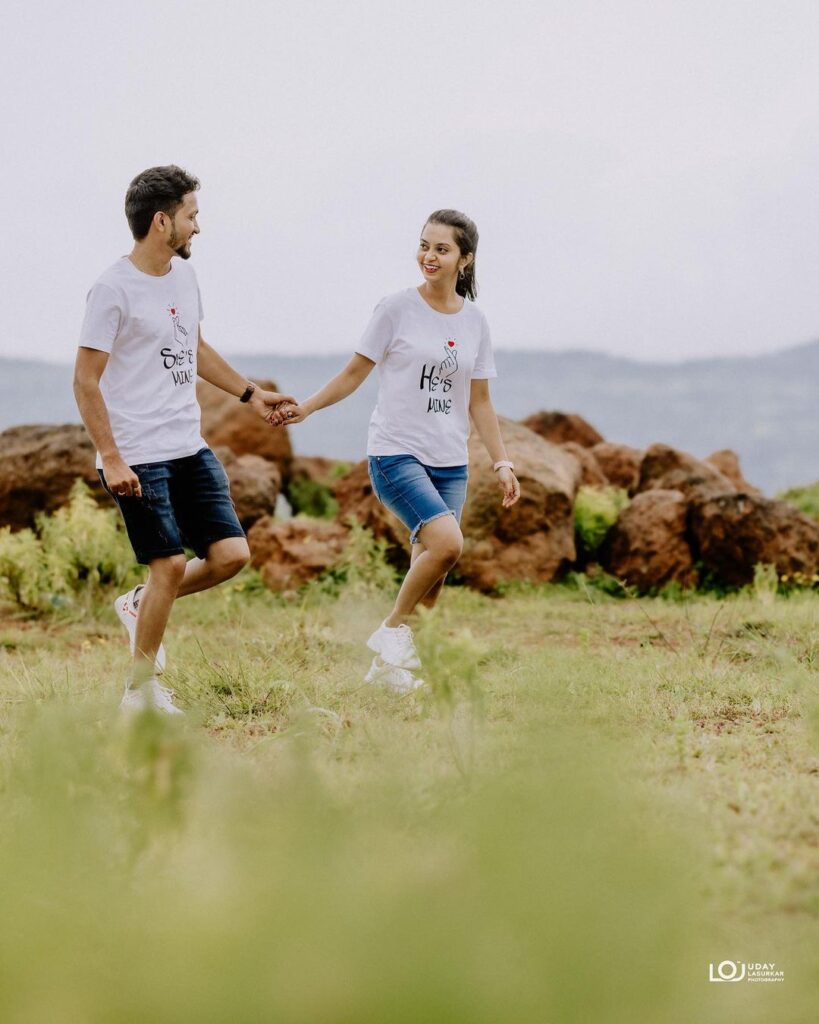 Courtesy: Uday Lasurkar
#101 This pose is cute, different, and quite easy to redo on your own shoot. It's ideas like these you'd want to save so you can pose without any break and reap the entire pre wedding photoshoot cost you paid!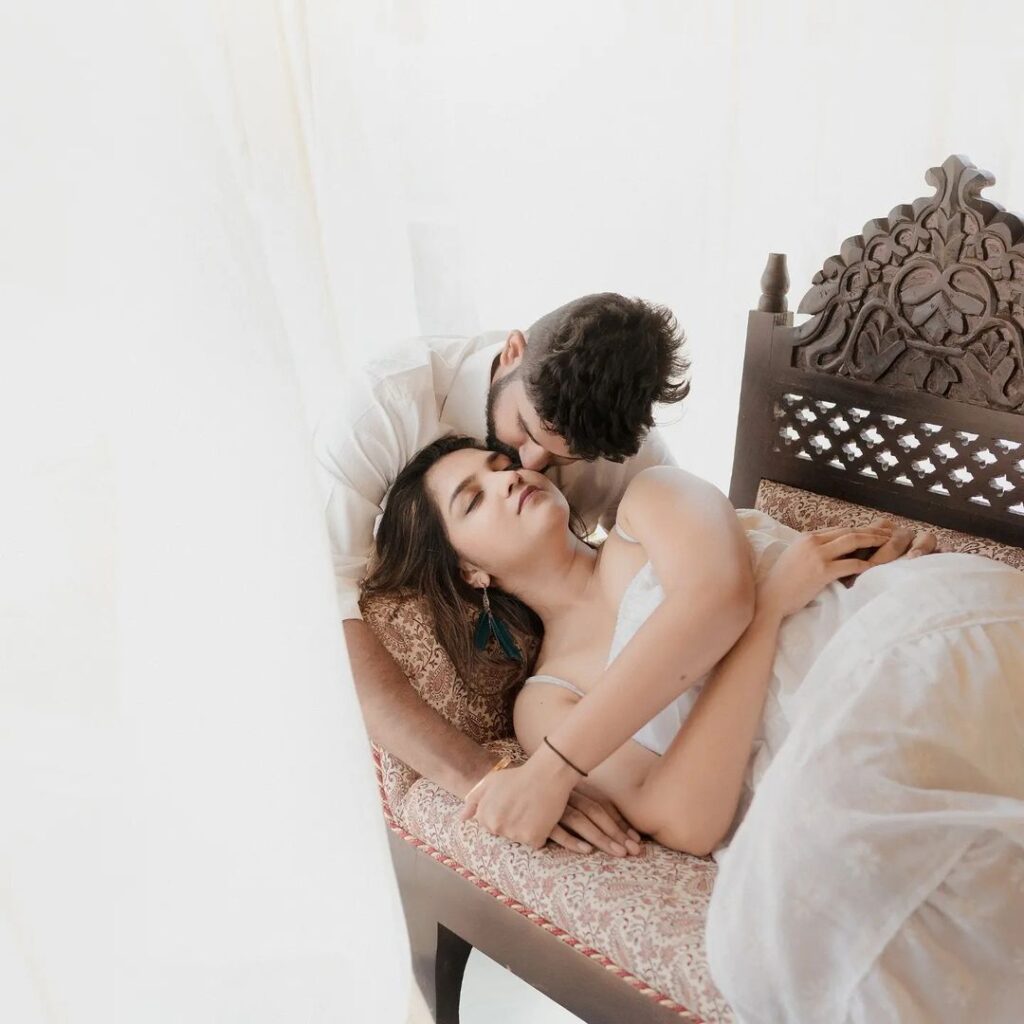 #102 Let the ring that joins you in this special bond serve as the center stage in some pre wedding photoshoot ideas. It's also a great way to flaunt your bauble and slyly post on social media alongside other pre wedding pictures.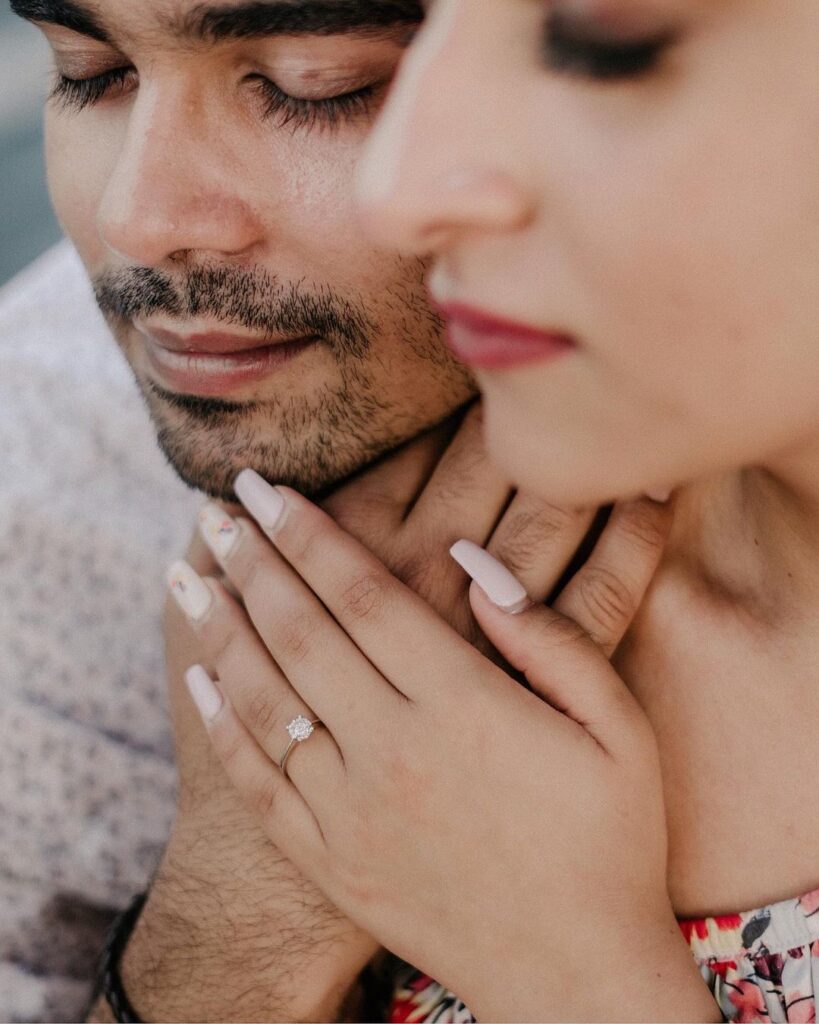 #103 Face it! You will be arranging the pallus on her saree for quite a while after the wedding. Practice it now and let it make for a candid portrait in your pre wedding album.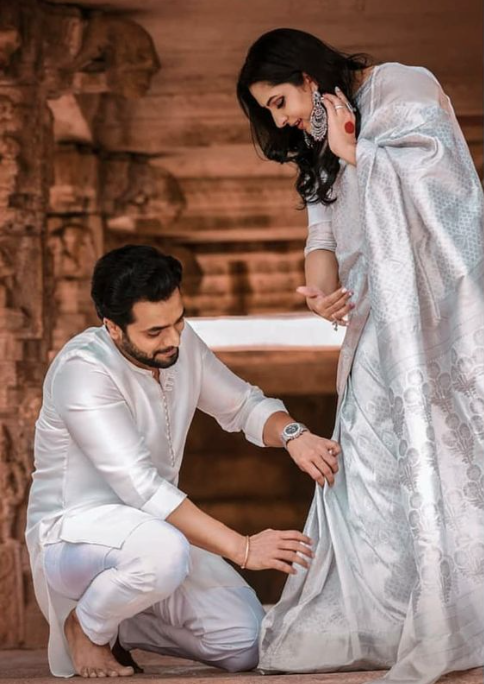 #104 When kissing on the lips is too bold for you, opt for kissing on the cheeks for a cheery shot in your pre wedding album.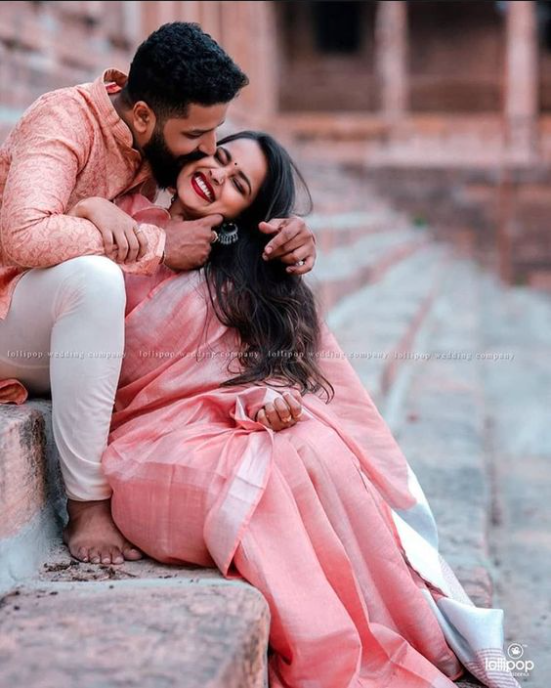 #105 Combine some of your favorite shots from your pre wedding to create an aesthetic photo like this. It's ideal to post on your social media or include in your e-invites as well.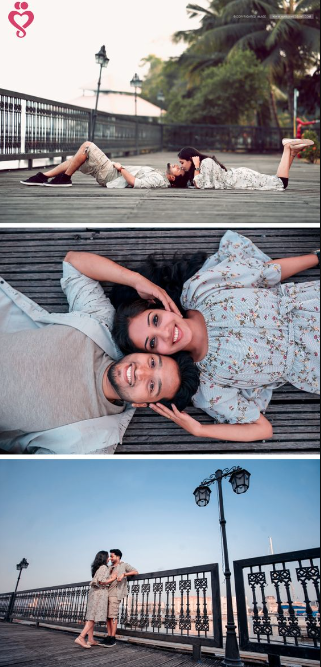 #106 This is one of the creative pre wedding photoshoot ideas. While the hand to cover the kiss is a usual pose, it's the date that adds a distinctive touch to this shoot.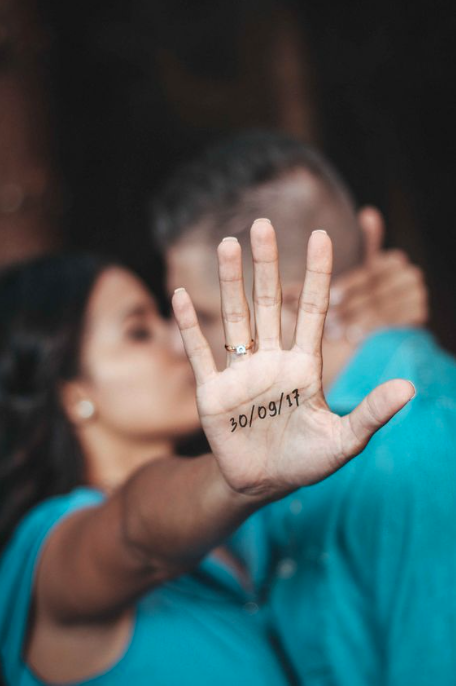 #107 When you have zeroed in on Jaipur as your pre wedding photoshoot place, a visit to Albert Hall early in the morning for snaps is a must!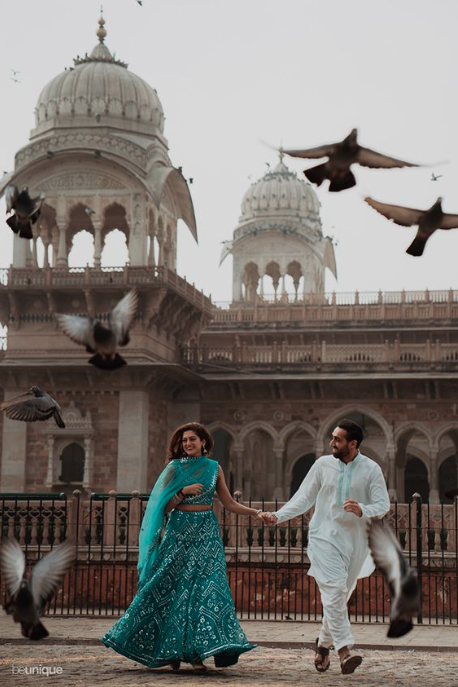 #108 A twirl shot but make it a bit different! We're also loving the color coordination between the couple and we think it's the wedding-related revelries when you can enjoy the color coordination the most.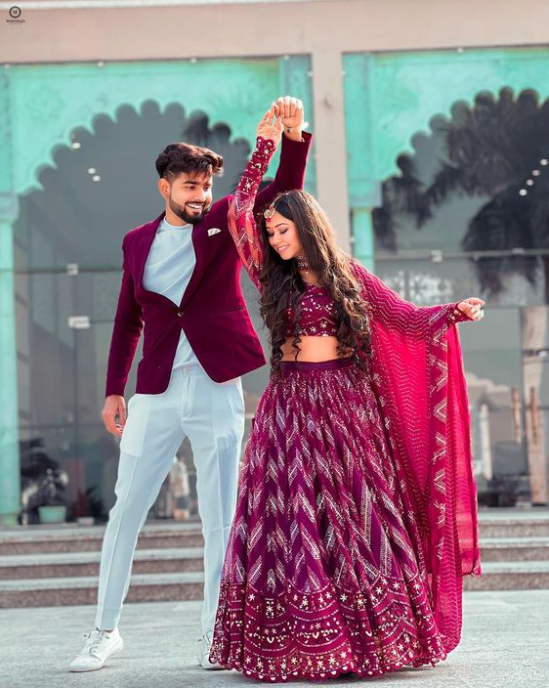 #109 When you're all decked up in traditional wear and thinking of a distinctive pose for the shoot, you'd want to bookmark the next idea on the list. It's different from others and yet exudes the same romantic vibes.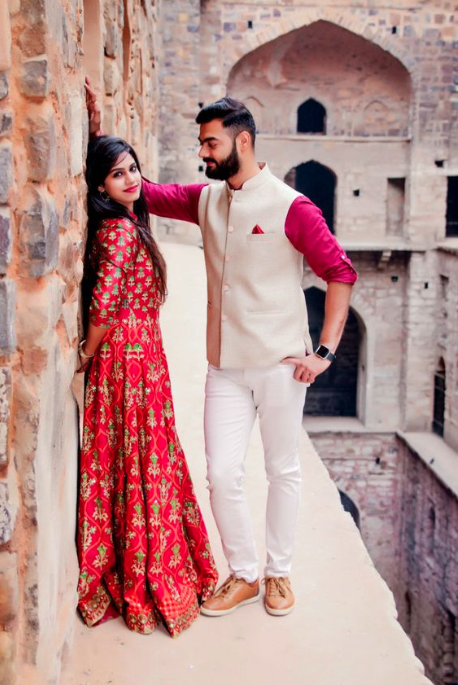 #110 For camera-shy couples, here's an idea where the camera won't be straight ahead of your face so you feel comfortable enough to enjoy each other's company for an endearing shot. This pose can be recreated anywhere – from a pre wedding photoshoot set to a picturesque place.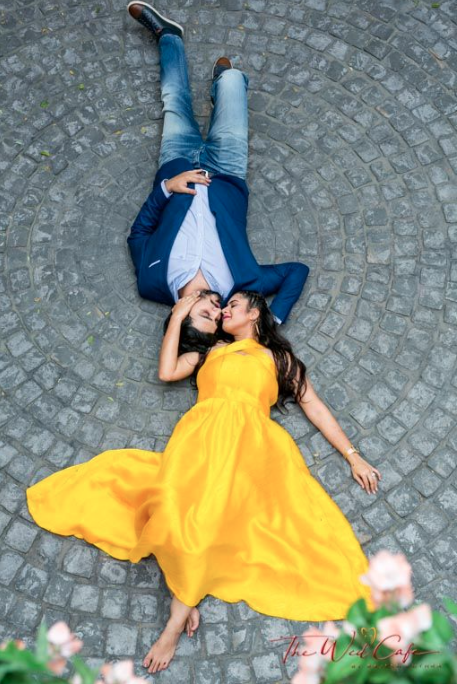 #111 When the king & queen are about to establish their kingdom, let the world know their status with the unique pose created using cards as a prop.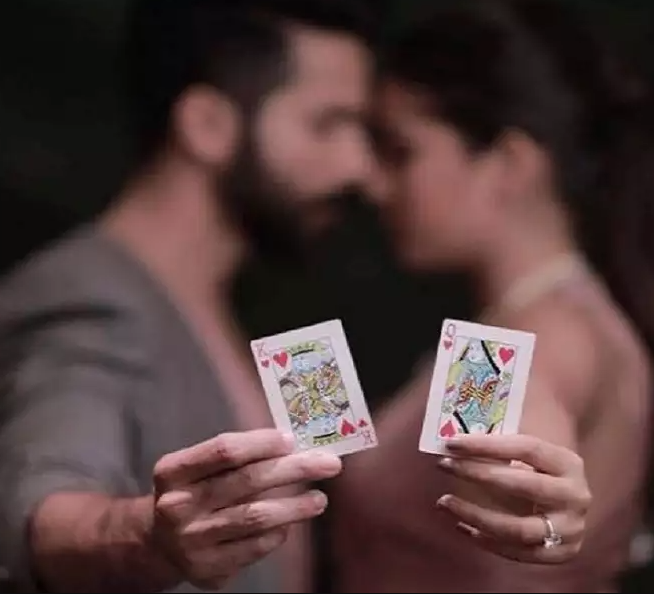 #111 You might think there are only so many pre wedding photoshoot ideas only to stumble upon another great one. With pre-wedding poses, you will be surprised to see how many amazing ideas are out there and there's no dearth of creative pre wedding photoshoot ideas. Presenting another adorable one below. 
#112 Sonam Kapoor & Fawad Khan shared amazing chemistry in Khoobsurat and the movie was a word-of-mouth success. It also gave us inspiration for the pre wedding photoshoot pose that's cute and simple at the same time. If you're looking for casual wear jeans pre wedding photoshoot, this is the idea you will love!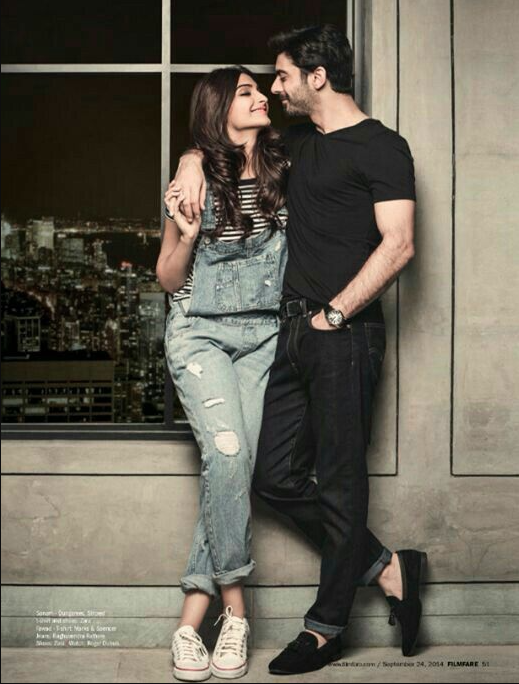 #113 Sometimes you need to look to celebrity couples to give you some creative pre wedding shoot ideas. Here, Rashmika Mandanna and Vijay Deverakonda give you a fun pose to recreate for your shoot. It's easy but does require your beau to have a lot of leg strength. Alternatively, you can add a stool below his calves and have the photographer photoshop it in the final editing.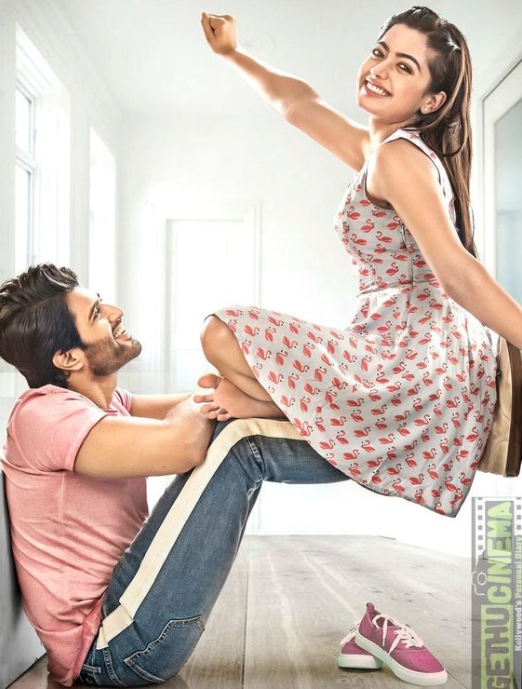 #114 Back hugs are always endearing and special! They signify trust and protection in a relationship and can serve as an impressive idea for your pre-wedding shoot.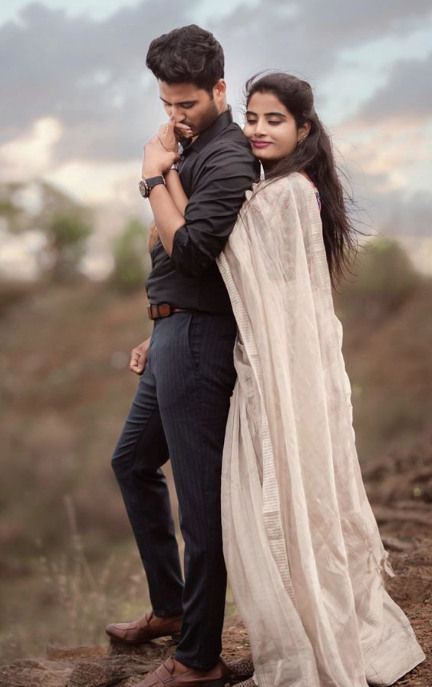 #115 Such a stunningly romantic pose! All you need is an elevated podium and the ideal angle to recreate the same amorous portrait. Bookmark it now if you are looking for pre wedding photoshoot ideas that are easy yet ooze a ton of love & chemistry.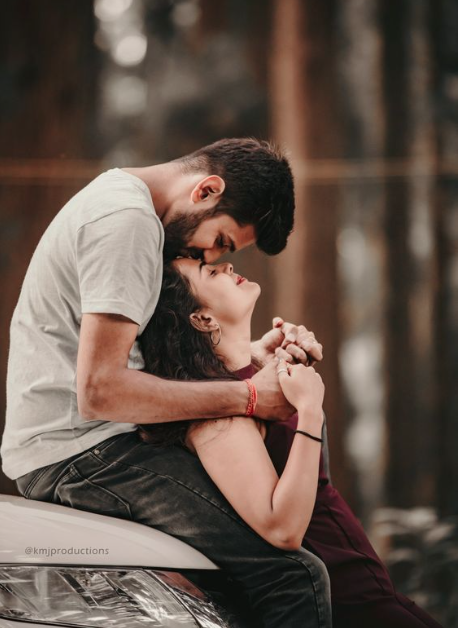 #116 Now that your man is bound to you – forever, here's a fun way to portray his commitment to you.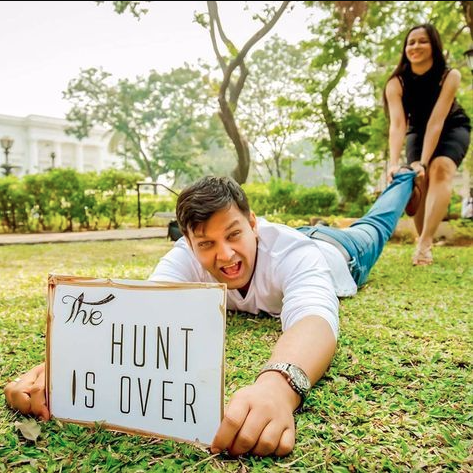 #117 A creative pre wedding shoot idea like this doesn't just give you a jovial snap for your pre-wedding album, but it also adds some fun to the shoot itself. Needless to say, you'd have to jump several times to get a shot like this that's perfectly in sync leading to some hearty laughs and fun banter.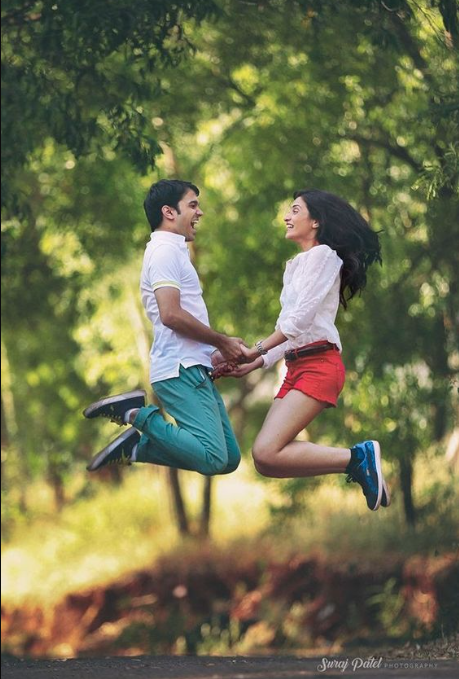 #118 Stairs can come as the last spot in your mind to click some snaps, but as some other portraits prove before, they can be an amazing choice. Here are some pose ideas to recreate on the stairs. Do make sure the stairs are only sparsely used by the public otherwise it can create some hindrance during the shoot.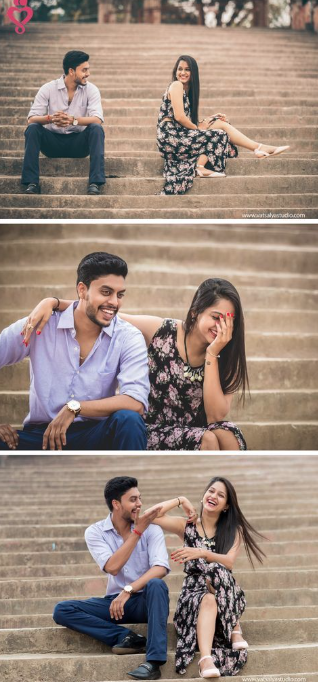 #119 Pre wedding shoot is the best time to take a break from your wedding diet and devour some burgers. It will make for some fun shots and your tummy will be happy with all those delicious junk food after a long time.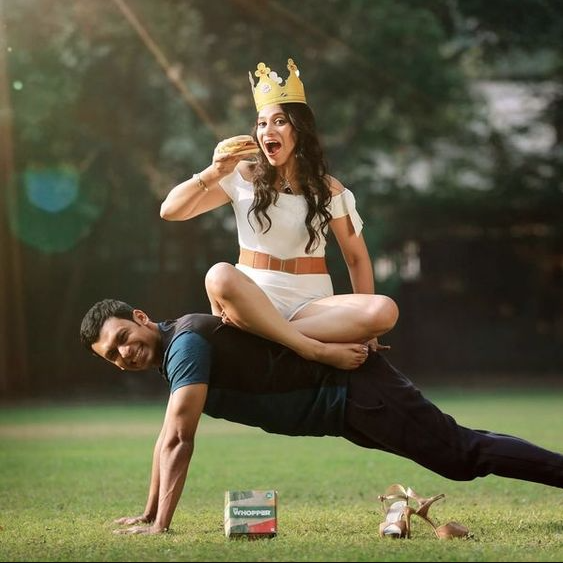 #120 Bringing out the playfulness of your relationship is the next creative pre wedding photoshoot snap. Amidst the romantic shots, don't forget to include some humorous ones to add some liveliness to your pre-wedding album.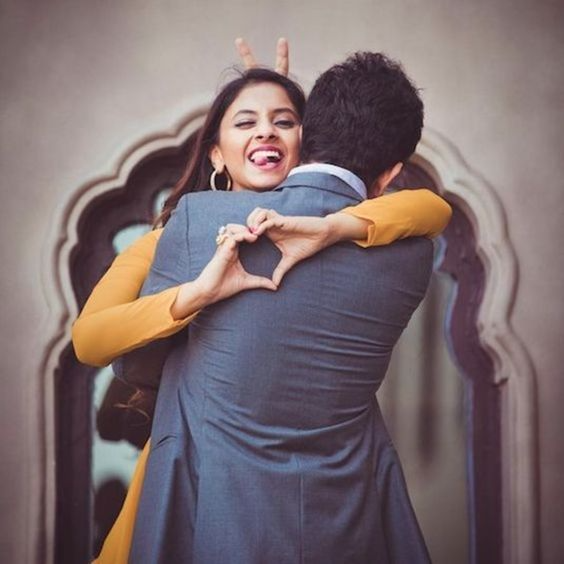 #121 The ring that binds you both in this beautiful bond serves as the center stage for this pre wedding as you recreate the moment when you presented her with it! We love this creative pre wedding photoshoot snap. Your photographer should be able to create the perfect focus though – to be able to create the same charm as this photo.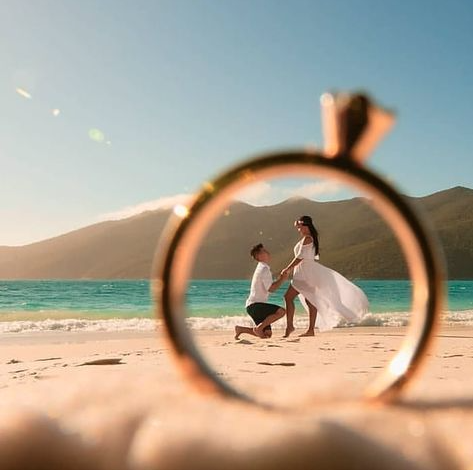 #122 When you're having a pre wedding photoshoot on the beach, the idea of the gown doesn't seem very practical because of the sand! But if you can bear it for the exquisite snaps it can give you, we can tell you the trouble will be totally worth it. You can see the result for yourself. 
#123 We know you are working hard to get in shape before the wedding but if you want an excuse to ditch your diet, use your pre-wedding theme to get a break from the strict diet plan. Get some burgers and fries, devour them, and let your photographer capture you in your playfulness for some candid shots.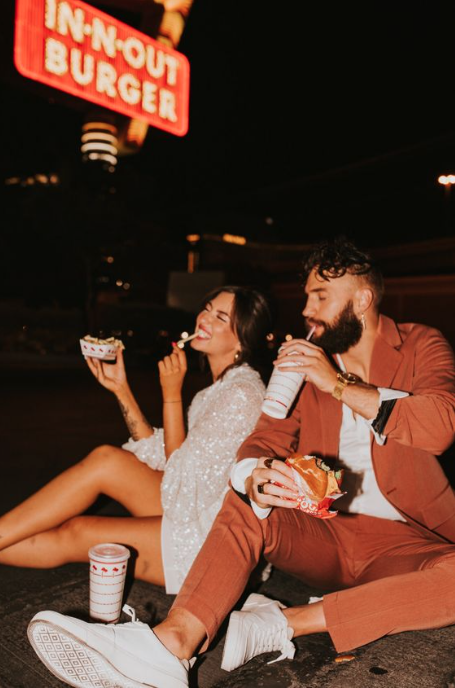 #124 Your beau picking you up is a common pre-wedding pose idea, but what's uncommon is the inclusion of the color bomb in the picture. You can coordinate the color bomb as per the colors of your dress for aesthetic appeal. Do arrange for the props in advance so there is no hustle on the shoot day.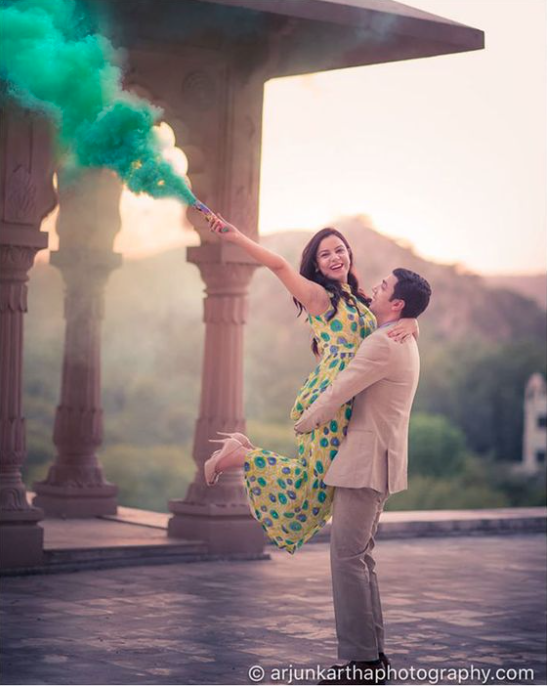 #125 Ending this list of pre wedding photoshoot ideas with this amazing shot snapped during sunset. It's easy to recreate but the timing matters. You don't get this natural lighting for more than 10 minutes, so if you want this specific shot, you will have to schedule things accordingly.