Talk about a beach destination wedding, and your mind immediately goes to a Goa destination wedding. Sugary beaches, coastal winds, fun atmosphere, and aesthetic resorts call for a memorable celebration hardly any other place in India can match! Having a mandap set up by the beach is the most gorgeous setting ever! With the sea as the backdrop, you'd hardly need any decorations. And the relaxed Goan vibe will be the ideal setting to unwind, celebrate, and get married. So, if you're already mesmerized by the idea of a Goa destination wedding, here's a complete guide to planning your magical celebrations. 
Best Time To Plan A Goa Wedding: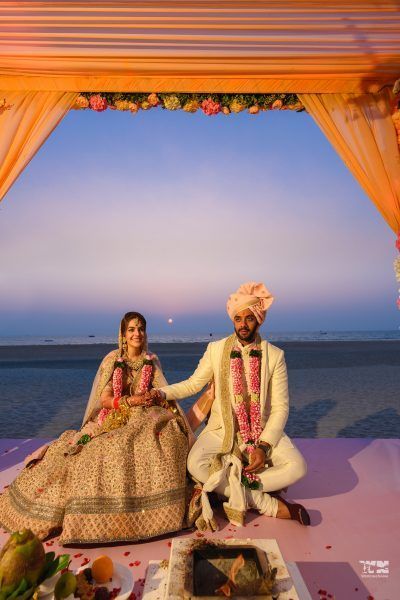 The best time to plan a Goa destination wedding is from October to March when the weather is pleasant, winds are pleasantly chilly, and there are fewer chances of rain. The state experiences heavy rainfall between the months of June to August. It's a given that you'd be planning an outdoor wedding here, so there's no point in planning a celebration during these months. Months of April and May are humid and hot. So, any day outdoor celebrations won't be as much fun. Although, to save the costs by planning an off-season wedding – these two months are the best. You can have the indoor ceremonies during the day and plan the pheras, sangeet, and all the night events after the sunset timings. During this time of the day, temperatures drop down and you can enjoy the balmy weather of Goa with a pleasant sea breeze flowing through. 
What's The Average Cost Of A Goa Destination Wedding?
For a 200-people destination wedding in a budget resort that charges around Rs.4,000/- per night, the Goa destination wedding can cost around 25 lakhs. This includes accommodation, food, wedding decor, wedding planner, and wedding photographers. It doesn't include the cost of makeup artists, your outfits, and any other additional wedding costs like gift items, etc. If you want to plan a Goa destination wedding under 15 lakhs, having a guest list of 100 people is your best bet! 
What To Wear To A Beach Wedding?
When planning an event on the beach, it's advised to go easy on the trails and the can-can because you don't want to drag the sand along with you! However, if you're stuck on the idea of these two clothing styles, ask your wedding planner to put an entry carpet for the bridal entry till the stage. Also, there's nothing that says a beach wedding like florals and light prints. As an added advantage, they will also lighten the baggage and make it easier to travel. For one or two events, like haldi or opening dinner, plan fuss-free outfits for convenience and functionality. Of course, pastels go well for a beach sunset wedding, but so will deep reds & maroons as they will merge well with the scarlet rays of the setting Sun. Rest assured, you can have an epic styling statement as almost every preference – minimal to OTT – goes well with a beach setting.
Best Wedding Venues In Goa
The wedding resorts in Goa are all highly-priced, given the influx of tourists and it stands as the most favored destination wedding location in India. All the lists below are mentioned for a 100-people wedding and a 2-day celebration. Tweaking these two can definitely vary the cost of your celebration. 
Resorts For Goa Destination Wedding In Under 15 Lakhs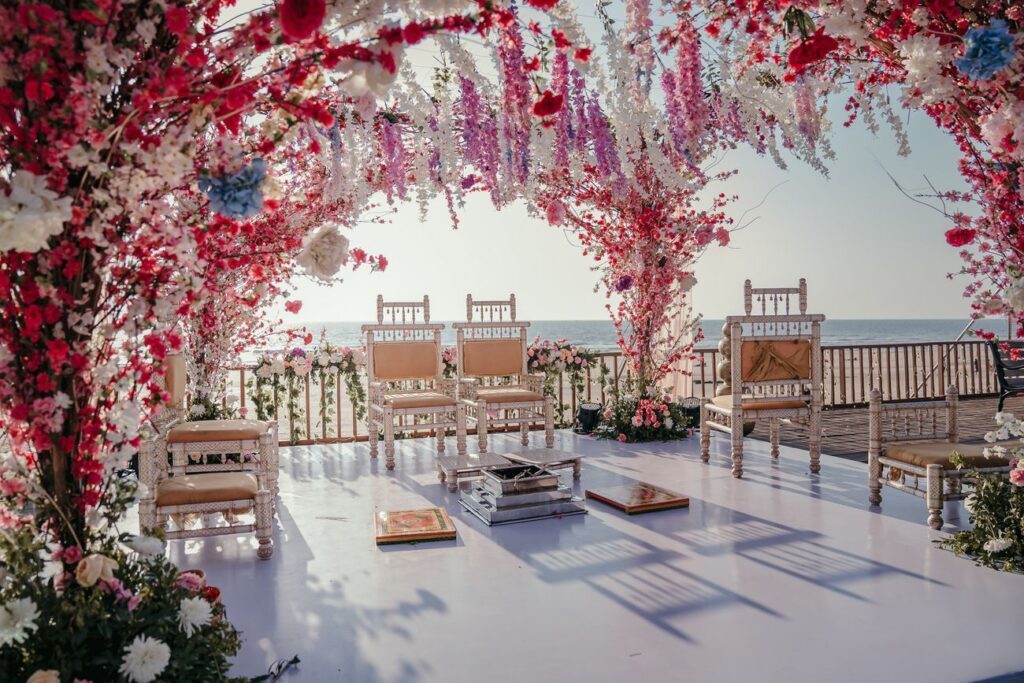 Tariff till ~ 5000/- per night
Riva Beach Resort – Check current ratings & reviews here
Located on the sugary sand beach of North Goa with spacious lawns and comfortable rooms, Riva Beach resort is ideal to plan a Goa destination wedding under 15 lakhs. Best part? The hotel offers curated wedding packages for their guests so you can just relax and enjoy your special day without worrying about the details. 
Karma Royal Palms – Check current ratings & reviews here
A serene and scenic property close to the popular Benaulim beach of Goa, this long-spanning resort has the amenities you need for a comfortable wedding and a relaxing Goan vibe to keep you and the guests entertained. The all-time reception services just make sure the wedding becomes a memorable one!
La Grace Resort – Check current ratings & reviews here
Grace Resort is another epic Goa destination wedding resort in the Southern region. There are modern rooms and villas for a comfortable stay and gardens to host your wedding revelries. The resort is also accommodative of your wedding planning and will make sure things go as smoothly for you as possible. 
Ginger, Goa – Check current ratings & reviews here
You can always trust Ginger hotel chain to bless you with the best amenities in a lovely city with charges within your budget. Ginger Goa has a banquet hall that can accommodate up to 150 guests. Although, if you want to have a beach wedding, you will have to book a different venue. 
Hotel Cosmique – Check current ratings & reviews here
Hotel Cosmique is yet another budget Goa destination wedding resort that has banquet halls to accommodate up to 150 guests and a restaurant as the dining area. With the spacious hall, you have the opportunity to decorate the venue as you want for a perfectly curated celebration. The hotel authorities pride themselves on hosting intimate events and you can't go wrong with them. 
Prainha Resort by the Sea – Check current ratings & reviews here
Don't you just love when you can taste the luxury without spending a lot of bucks? The Prainha resort is here to offer you this balanced experience with amenities for an ideal wedding celebration. They also have a seaside venue for those looking for a budget venue for their dreamy beach wedding. Besides, the property has had tonnes of weddings before and has the ideal experience for your magical day. 
La Cabana Beach & Spa – Check current ratings & reviews here
Spanned along the coastal line of Goa's serene Ashvem beach, La Cabana resort is the ideal budget Goa destination wedding resort for those looking for serene & peaceful celebrations. With their own beach venue, you can say the vows with the crashing waves of the Arabian sea or host some revelries in their lavish bathroom. With delectable food, first-class amenities, and an endearing setting, this resort is a superb match to your wedding vision. 
Treehouse Neptune, Goa – Check current ratings & reviews here
In the heart of bustling Panaji stands tall Treehouse Neptune Goa, known for its modern amenities, spacious stretches, and luxurious feels. If a truly opulent affair is on your mind, Treehouse Neptune Goa serves right for your needs. 
The Fern Kesarval Hotel – Check current ratings & reviews here
The Fern is yet another known hotel chain in India, just like Ginger, which you can trust wholeheartedly for a wonderful stay and modern convenience. Certainly, something your wedding day deserves – peace, quiet, and experienced professionals. 
Resorts For Goa Destination Wedding Between 15 to 30 Lakhs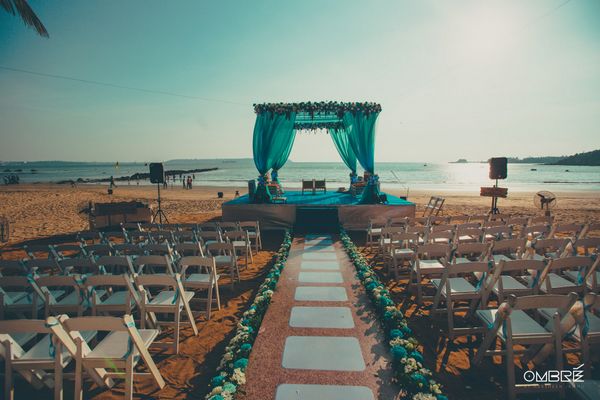 Tariff between ~ Rs.5000/- to Rs.15,000/- per night
Sterling Goa Varca – Check current ratings & reviews here
For a 200-250 people Goa wedding, Sterling Goa's luxurious indoor and outdoor venues win the prize for a memorable celebration. The award-winning hotel promises to offer an old-world charm with its Spanish architecture and world-class facilities for your celebrations. Now, that's a combination any couple planning their wedding are looking for, aren't they?
Radisson Blu Goa – Check current ratings & reviews here
Radisson Blu Goa is a gorgeous hotel located near Goa's busiest and most beautiful beach, Cavelossim. Despite the tourists flocking, the resort is built in a large space providing ample serenity to their guests. For your wedding, you can plan a celebration in their lush garden or a banquet hall with Portuguese-style architecture. Given the hotel's reputation in the world, you're guaranteed a fully personalized celebration catered to your needs. 
The Zuri White Sands Resort – Check current ratings & reviews here
Voted as one of the best beach resorts in Goa by several portals, you can't go wrong with selecting this popular Goan hotel for your special day! It forms an amazing spot to have your dreamy beach pheras surrounded by amazing hospitality. The place definitely tick marks all that you need for a Goa destination wedding. 
Club Mahindra Emerald Palms – Check current ratings & reviews here
If you're a Club Mahindra member, you'd be happy to know their Goa resort can be the ideal spot for your destination wedding here. The spacious ballrooms make for a stunning space for your revelries, so do the lush lawns. Given their reputation for modern amenities and luxurious feels, the wedding will surely be a perfect one here! 
Fortune Miramar – Check current ratings & reviews here
With the venue options that host a party of 100 up to 1000, Fortune Miramar is the Goa destination wedding hotel for your grand Indian wedding. The property is located right in the middle of the city so anything you need isn't far away. The friendly team here is just the cherry on the top. 
Bogmallo Beach Resort – Check current ratings & reviews here
This luxury 5-star resort in Goa offers the opulent feels, comfortable stay, and secluded white sands beach for your dream wedding. Even though it's not a private beach, the tourists generally don't flock to the area for a serene experience. There's also an option to host the celebrations in the banquet halls with a 400 capacity. With the experience of hosting weddings, you can leave it all on the resort's team to plan your curated celebration. 
Holiday Inn Resort & Spa – Check current ratings & reviews here
At Holiday Inn, you can plan your grand Goa destination wedding with utter ease and effortlessness. There's the option to plan the celebration on the beachside or the massive banquet hall with a capacity of 1000 people. The serenity combined with facilities makes for a guaranteed memorable wedding experience you'd reminisce with happiness forever. 
Kenilworth Beach Resort & Spa – Check current ratings & reviews here
The Kenilworth Hotel is located on one of the least crowded and peaceful beaches of Goa. So, for the perfect beach pheras surrounded by the calm, quiet, and modern amenities of a hotel, trust Kenilworth resort for your wedding. Spread over 17 acres of lush lawns, you can ensure an epic experience for you and your guests. 
Hyatt Centric Candolim Goa – Check current ratings & reviews here
With 2 elegant function spaces, this modern hotel with aesthetic settings can be a dream venue for your Goa wedding. The Hyatt is known to cater to big events including weddings, and have an idea of what couples want on their big day. This can definitely be another major plus-point for your celebration. 
Luxury Resorts For Goa Destination Wedding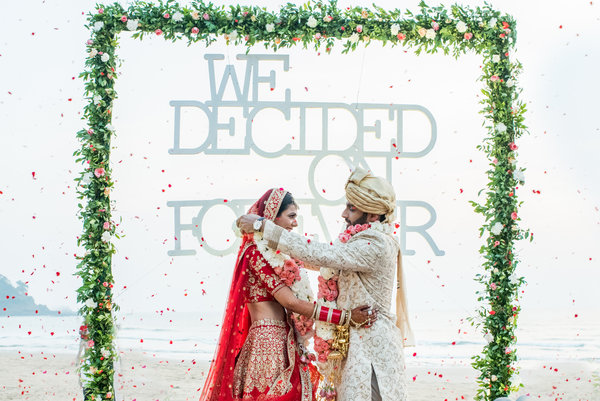 Tariff > Rs.15,000/- per night
Leela Goa – Check current ratings & reviews here
A Leela Goa destination wedding can easily cost you around a crore, but it would be money well spent. The luxurious property is spread across 75 acres with a beach on one side and a river on the other. All the rooms are maintained for a superb unwinding experience. The lush gardens and a private beach call for the perfect intimate celebration. Of course, the renowned Leela service will just make everything as magical as you ever wanted your big day to be! 
The Lalit Golf & Spa Resort – Check current ratings & reviews here
The Lalit Goa is yet another ultra-luxurious resort in Goa with amenities, services, and experiences you'll cherish forever. Nestled along the 85 acres of Goan coastline with a view of scenic Sahyadri mountain range on the other, so while you're in the middle of the city, you can very well feel transported. You have the option to arrange the revelries in the two ballrooms inside the hotel premises or the secluded lush garden with a beach right next to the area. Regardless, you can be assured of an opulent experience during the entire celebration. 
Alila Diwa Goa – Check current ratings & reviews here
The Alila Diwa Goa is built keeping modern architecture in mind and wooing couples who're looking to say their vows in the lap of luxury. Surrounded by lush paddy fields and a 15-minute walk from the beach, the hotel serves as the peaceful destination for the couples cherishing calm more than anything on their big day. With ballrooms, courtyard arena, and magnificently curated event arena called "Udeta", you will cherish the aesthetics of the place as each moment of the wedding become utter magic. 
Taj Exotica Resort & Spa – Check current ratings & reviews here
The hospitality and opulence of Taj are hard stuck in Indians' minds and for all the good reasons! This 56-acre property in Goa has an 800 meters beach frontage, spacious rooms, traditional architecture, and world-class services for a perfect start to your happily-ever-after. You can say your vows in their largest ballroom halls in Goa or outdoors with the lush greenery and beach elevating the scenic decor. If needed, the hotel would be more than happy to help you with planning and even contribute fairly to make the wedding day details are done right as per the preferences. 
Taj Holiday Village Resort & Spa – Check current ratings & reviews here
Cocooned in dense foliage consisting of towering palm trees, this property by Taj hotels has 142 terracotta-roof suits and villas – one of a kind in Goa. The entire resort resonates with Portuguese architecture and showcases pillared verandahs, central courtyards, and Romanesque arches. Considering the event spaces – there's two interior halls, one lush garden, and the best of all – a deck by the beach with remarkable views of the Arabian sea and crashing waves to make for a terrific match for your pheras. With different cuisine styles and helpful staff, there's no doubt you'd cherish the memories made here forever. 
Holiday Inn Resort – Check current ratings & reviews here
The Holiday Inn Resort is yet another comfortable and grand property to tie the knot. If you're planning a beach wedding, the resort can make splendid arrangements for your celebrations. But if you do plan to have some functions outdoors, their ballrooms will be an ideal match. Also, keeping the IHG hotels' impeccable service on the side at the wedding will just make everything smooth-flowing and in turn, an enjoyable experience.  
W Goa – Check current ratings & reviews here
At W Goa, you can say your vows by the beach or by the hills. The secluded resort has a scenic setting and has some exciting venue arenas for your events. There's the option to set the mandap in a lawn that overlooks the beach, have sangeet in the glamorous halls, and have Haldi by the pool. With signature dining and stunning landscape, prepare yourself for a truly catered wedding experience here. 
Local Vendors In Goa
Preferred Makeup Artists in Goa
Makeovers by Sukanya (Rs.42,000/- for bridal makeup)

Style Face by Dola (Rs.36,000/- for bridal makeup)

Goa Makeup Artist Hazira (Rs.15,000/- for bridal makeup)

Looks Unlocked by Sonam (Rs.15,000/- for bridal makeup)

Makeup Mistress (Rs.12,000/- for bridal makeup)
Preferred Photographers in Goa
Rahul De Cunha Pictures (Rs.1,90,000/- per day photo + video)

Jumping Souls (Rs.1,30,000/- per day photo + video)

Cam Catches (Rs.1,00,000/- per day photo + video)

Shammi Sayyed Photography (Rs.90,000/- per day photo + video)

Weddings by 49 The Studio (Rs.60,000/- per day photo + video)

Abhishek Marathe (Rs.55,000/- per day photo + video)
Preferred Wedding Planners in Goa
Crafting Memories (4 to 6 lakhs)

Golden Tree Wedding Planners (Starts from 4 lakhs)

Weddings N Dreams (2.5 to 4 lakhs)

Kabir Event Goa (2.5 to 6 lakhs)

Muhurat Creations (2 to 20 lakhs)