Planning a wedding is exciting, but also hectic. That's why couples prefer to escape to an exotic destination right after their big day to relax, connect, and cherish their newly-wed status. Some couples also plan a mini-moon after the wedding and a bigger vacation a few months after to make sure they're all caught up on the work and other commitments before taking another big break after the wedding. If you're wondering how long is a honeymoon usually, or even a mini-moon, experts suggest that it should be at least a week long or longer. 
The ideal time should be what makes you feel most relaxed. Some couples prefer shorter week-long vacations frequently in a few months, others like vacationing for around a month because that's when they feel the most de-stressed and recharged. Usually, the honeymoon's length is around 7 to 15 days. 
How To Start Planning A Honeymoon?
Start Early
If you're planning for a honeymoon in another country, then start planning at least six months prior to the time you want to depart for the trip. Some popular resorts get booked as early as one year, so we'd say the earlier you plan and book the accommodation and flights, the better. A few gorgeous destinations like Patagonia are only good to visit just a few months in the year, which means there are many people vying for accommodation and airline tickets. If you want to visit such locations, then start 8 to 12 months in advance. However, for those planning a trip nearby or for a shorter time, six months prior is a sufficient time to start planning the honeymoon. 
Take Into Account The Budget
Let's get over the realistic part before you start dreaming of the exotic locations that can tally up the cost of your honeymoon trip easily. Whilst deciding a budget, take into account everything, from transportation, visa, to food costs and any other activities you might want to indulge in. Take any emergencies or unexpected expenses into account as well. If you hire a travel agent, they will be able to give you a good estimation of the cost of the honeymoon trip at your preferred location. You can decide "how long is a honeymoon" depending on your financial blueprint later. 
Consider The Best Season To Visit The Destination
While you might be planning to go on your honeymoon right after the wedding, it might not be the best time to visit your dream destination. Like getting married in July and going to visit the Maldives in August when it's the peak wet season and there's a chance it will rain the majority of the time you're honeymooning. Before choosing a time to visit, see what are the best months to visit that destination and plan a honeymoon trip accordingly. 
Hire A Travel Agent
Hiring a travel agent makes honeymoon planning so much easier. They have first-hand knowledge about the destination, inside knowledge of deals and discounts, and a close relationship with accommodation owners and other services in the area like a touring guide or a restaurant. They can also help you suggest the best location based on your needs and what other activities to include so as to make the honeymoon magical and unforgettable in every way. 
Don't Copy Someone Else's Itinerary
Wedding planning can be so tiring that you don't want to plan anything else, ever, or at least for a while, making you jump headfirst into the idea of copying someone else's itinerary. Don't do it. While hopping from city to city and touring attractions will have worked for your best friends, it might tamp the laid-back holiday approach you want as a couple. While we'd recommend taking as much advice as you can from people around you (and not just online research), surely take everything with a grain of salt and give your preferences a priority. 
Think About What Relaxes You
Everyone has a different definition of relaxation. Some couples want to lounge back in their resort room, occasionally stepping out for romantic dinners and explorations. Others want to make adventure and exploring the priority. Sit together and devise a honeymoon plan that works for both of you. This also includes "how long is a honeymoon". Everyone takes a different time period to relax and unwind. It can happen in 3 to 4 days for some, while others take 10 days or so to finally feel like they've had an optimum time to destress and it's time to go back home. Your precious trip will only work if the vacation idea fits the preferences of both sides.
Be Aware Of Hidden Costs
When you are planning your honeymoon, be aware of the many hidden costs in the area. For example, if you're honeymooning in the Maldives, does the total package cover transportation costs from the airport to the hotel? This is true for any other island resort you might be going to. Visa costs, resort fees, and activities at the hotel can all turn out to be more expensive than you'd have thought. If you're planning to be at the hotel for most of the time, then book a package that includes lunch and dinner besides breakfast as well. Some hotels also offer discounts on pre-booked activities like spas, adventure sports, and touring the nearby area. Make sure you ask the same while booking reservations. 
Make Your "Honeymoon" Status Clear 
We aren't talking about Instagram official, we're talking about the airlines, accommodation authorities, and any restaurant reservations you've made in the area. Honeymoon upgrades are common and it can totally happen to you. When traveling on an airline, just tell the stewards on the special trip you're on or just straight up ask if that's a possibility (politely) and there's a chance you get upgraded to business or even first-class. For room upgrades, we'd suggest you call the hotel directly for reservations instead of an online booking. Whilst there, tag the hotel when uploading something on social media and write "honeymoon". Lastly, just "ask"; more often than not, it will work. Some hotels also treat honeymooners to a private dinner, free goodies, and special reservation status in their premises. Just a simple and unique way to make your honeymoon special on a budget. 
What Is A Mini-Moon?
A mini-moon is nothing but a smaller version of a honeymoon. It's usually shorter than a honeymoon, closer to home town, and less expensive. Some people prefer this shorter version of the honeymoon after the wedding and a longer vacation later on. While several others prefer to only take a few of these mini-moon trips in the first year of their wedding. This gives them a chance to explore several places and connect with each other on a regular basis. 
What's The Best Time To Have a Honeymoon? 
Most couples choose to leave for the honeymoon right after the wedding. It gives them the chance to decompress from the thrilling yet tiring wedding experience and continue the celebration privately in a wonderful place. A few others take a shorter trip nearby (mini-moon) and a bigger trip a few weeks down the road. These few want to enjoy the regular life as a married couple before taking the magical vacation together. 
What Are The Best Honeymoon Destinations?
These are the 10 most popular honeymoon destinations in the world: 
1. Bora Bora & Tahiti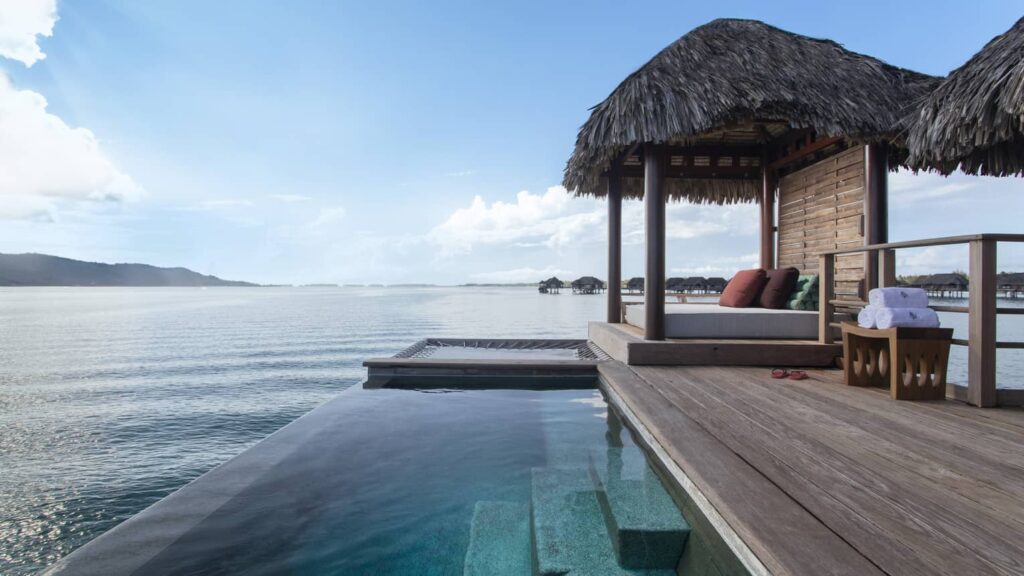 If you want to honeymoon in a far-away land with exceptional privacy, breathtaking beaches, and luxurious resorts, the island of French Polynesia is the one for you. Celebrities like Nicole Kidman, Jennifer Aniston, Megan Fox, Courtney Cox, Chelsea Handler, etc. have all been spotted vacationing in these gorgeous islands offering them much-needed privacy. Bora Bora and Tahiti are the birthplace of overwater bungalows and have a string of secluded private-island resorts for a memorable trip. 
Best Hotels In Bora Bora/ Tahiti: 
2. Bali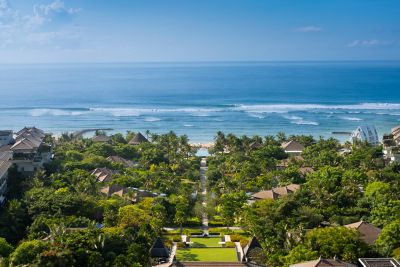 A luxurious, romantic, and wellness-centered honeymoon is what Bali will offer the drunk-in-love newlyweds. Whether your idea is to reconnect with yourself and hence, with each other, with Bali's popular yoga, meditation, and treatment centers (in resorts and outside). Or walking hand-in-hand through the city deeply rooted in cultural aspects, breathtaking beauty, and enviable environment. What's better are the thoughtfully designed resorts to give their guests a truly Balinese experience on their honeymoon.  
Best Hotels In Bali: 
3. Amalfi Coast, Italy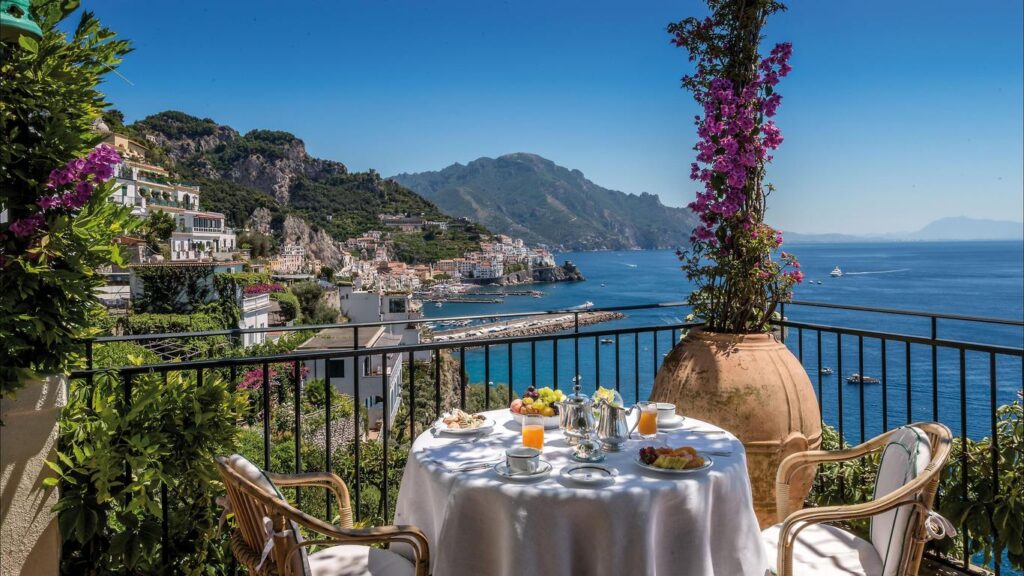 The Amalfi Coast is a 30-mile stretch of coastline around 35 miles South of Naples. Along this breathtaking strip of coastline, there are gorgeous boutique resorts fronted by azure blue water and backed by a scenic stretch of mountains. The relaxation, happiness, and lovely vibe of the area are just what you'd enjoy on your honeymoon. Pastel-colored villages, brightly colored boats, and sandy beaches are other more amazing reasons to plan a vacation here. Here, the question "how long is a honeymoon" will be rendered useless because you'd want to stay here forever. 
Best Hotels In Amalfi Coast: 
4. Hawaii & Maui: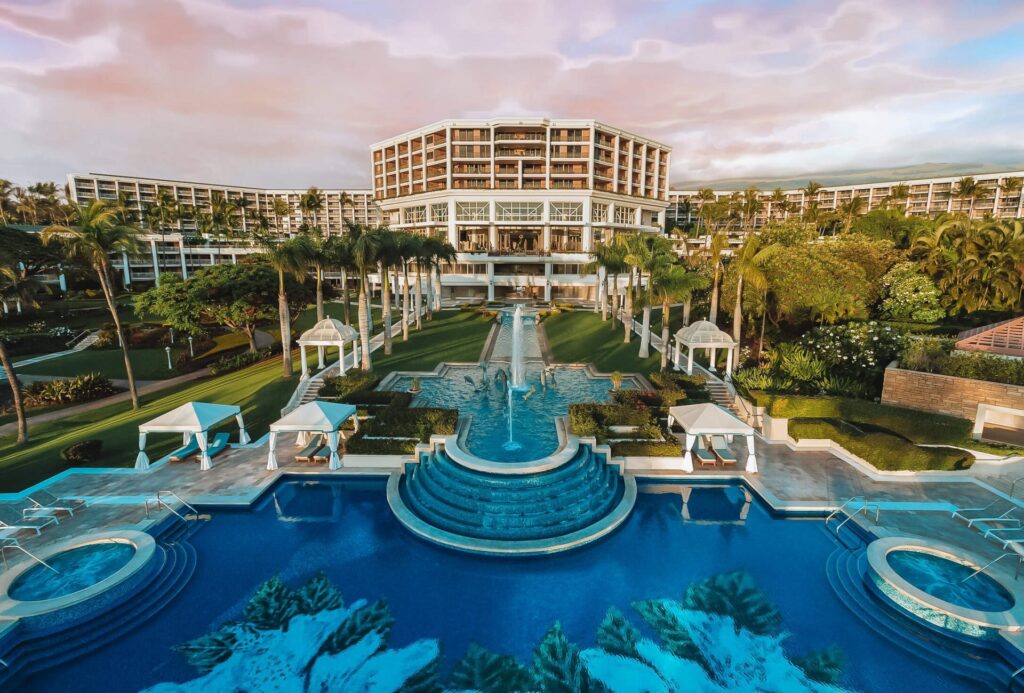 Laid-back beaches, powder-soft sands, delectable culinary experiences, panoramic landscapes, all-inclusive resorts, and exhilarating adventures, it's easy to see why Hawaii is one of the most sought-after honeymoon destinations. Comprising of 8 major islands, each island is unique in its own way. But for couples, Maui often wins the top spot because of its diverse mix of landscapes, serenity, and upscale resorts. Such is the beauty that you won't be bored even if you spend the entire 2 weeks of the length of your honeymoon here. See below some of the best stays in this honeymoon destination. 
Best Hotels In Hawaii/ Maui: 
5. France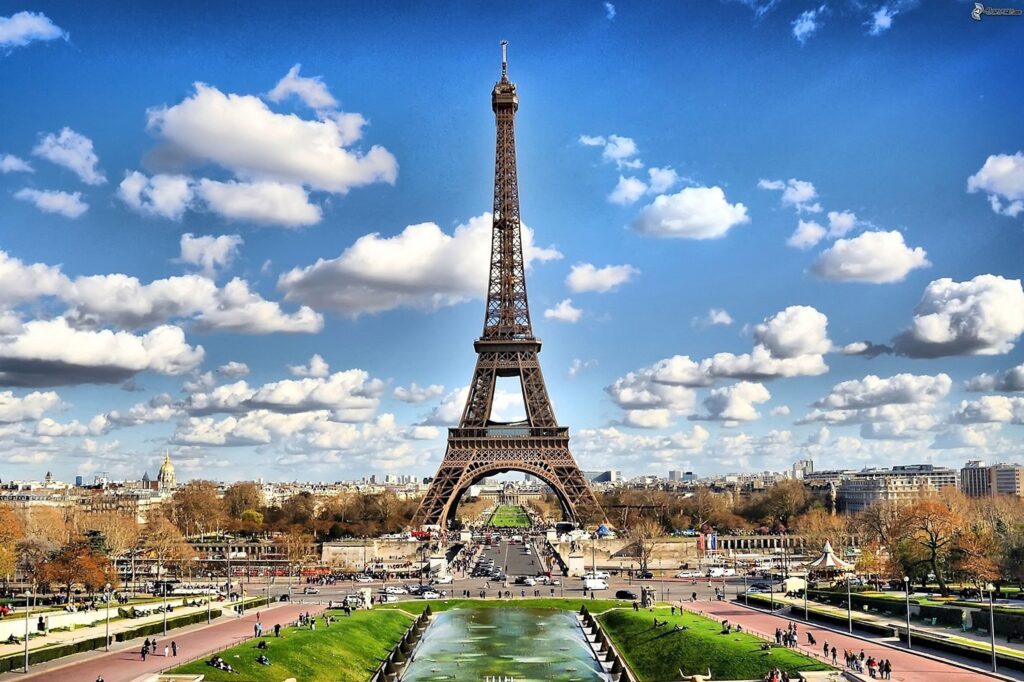 What says romance more than Paris? A Parisian honeymoon or a trip is a fantasy of many couples, but not just Paris, many places in France have the perfect-postcard like escapades for you to document on this special trip. Bordeaux, Cannes, St.Tropez, Loire Valley, Nice, and Lyon are just some more cities that can inculcate romance in your trip. Sunset dinners with wine and cheese, picnic at the Eiffel Tower, and adventures in the countryside are some of the best things to do on your romantic rendezvous. 
Best Hotels In France: 
6. Iceland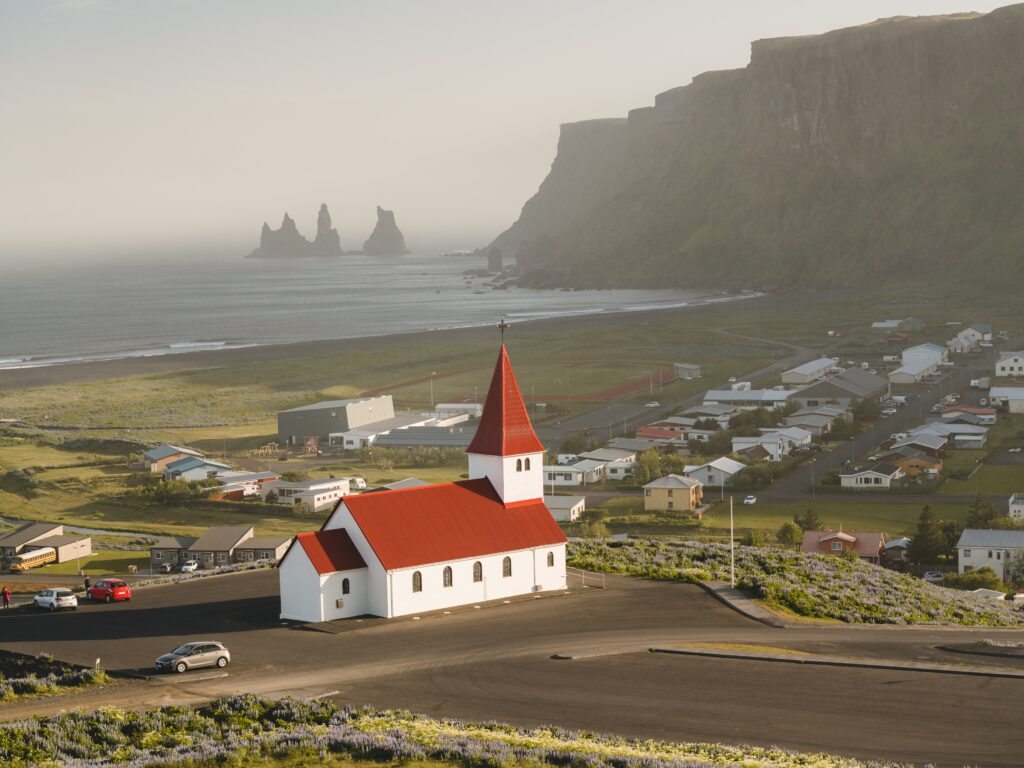 Iceland, the land of fire and ice, is popular for its remote landscapes, breathtaking not-seen-anywhere-else scenery, and quaint countryside accommodations. Explore the capital city of Reykjavik, hop on for a countryside horse-riding, visit the gorgeous city Seltjarnanes to see the dancing Northern lights, walk through the black sand beaches in East Fjords, and take a road trip through the Ring Road. This is still just the highlight of what you can do in this beautiful country. Plan an itinerary suited to your needs. One thing we recommend though is chasing the Northern lights. That experience is unmissable if you haven't yet seen them. 
Best Hotels In Iceland: 
7. Greece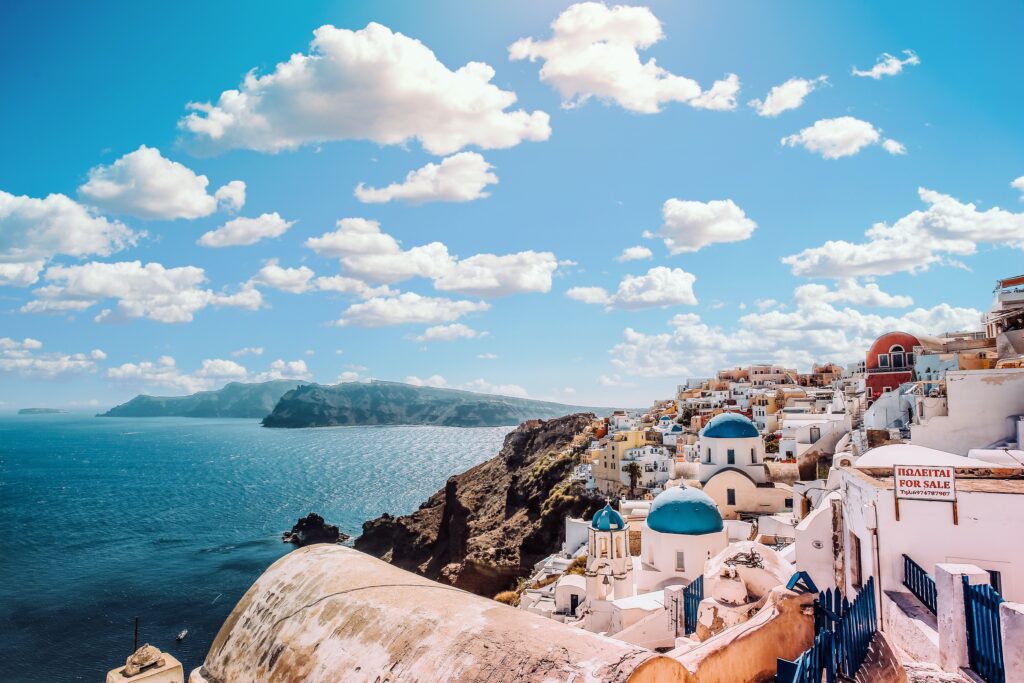 Beautiful cities rooted in culture, mind-blowing scenery, and hospitable people, there's romance and fondness in the air of Greece. There are 6000 islands in the country, the most popular among them are Santorini, Mykonos, Crete, Ithaca, and Rhodes. Island hopping will be fun as you will be exploring many gorgeous places in one unforgettable trip. A ferry or any kind of travel from one island to other and you will be treated with breathtaking scenery. Besides islands, you can explore the mainland area with cities like Athens. 
Best Hotels In Greece: 
8. The Maldives
If your idea of a honeymoon includes lounging back in a comfortable hotel room with all the amenities, a couple of thrilling activities, and just secluded on a beautiful island – Maldives is the place to be! With numerous resorts propping up on the country every now and then; each with its own unique way of pleasing and entertaining guests. Maldives' scenic pictures are always doing rounds on social media, and one look is enough to know why it's so popular among travelers and is considered the perfect tropical honeymoon destination. 
Best Hotels In The Maldives: 
9. Mexico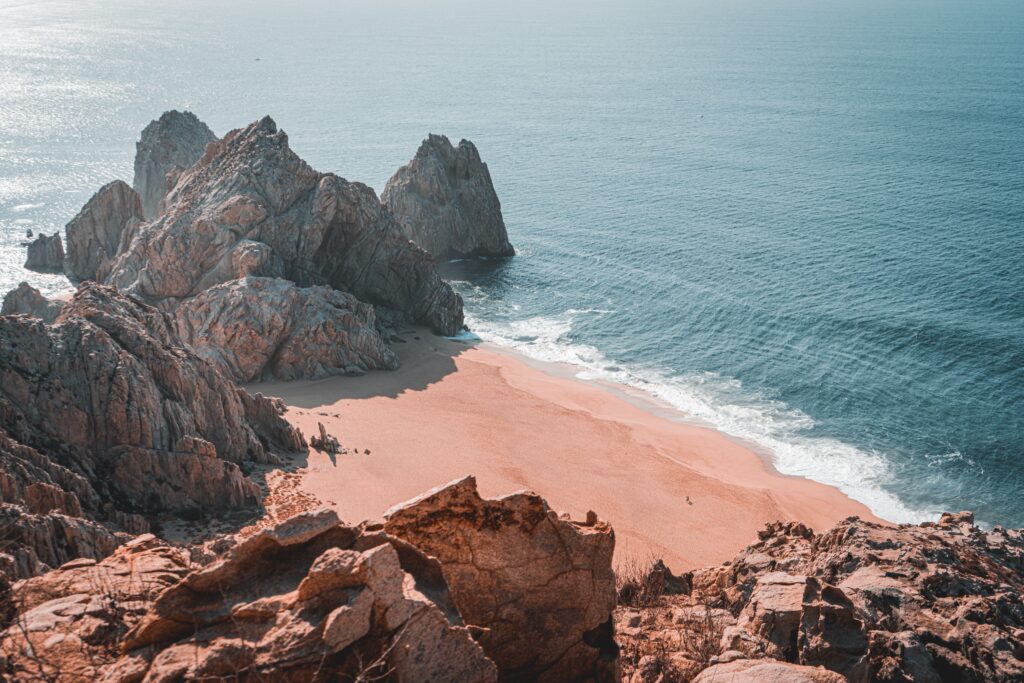 Beaches with azure waters, world-class resorts, and vibrant metropolitan cities with exceptional culture and deep history, a Mexican honeymoon is ideal for the drunk-in-love newly-weds. Enjoy the untouched wilderness of Tulum, the laid-back vibes of Las Cabos in the opulent resorts, or explore the cities' ancient buildings and history. Or pick the lesser-known but gorgeously scenic places like Xhu-Pa, Sayulita, and Todos Santos for an offbeat honeymoon. Get plenty of advice and feedback from friends/ family who've visited to know what each place offers, or have a travel agent. This helps you in narrowing the spots which fit your honeymoon goals well. 
Best Hotels In Mexico: 
10. California
California's landscape is breathtaking. You can experience the majestic mountains, white-sand beaches, untouched wilderness, and optimum privacy all in one place. The Golden State is also home to many 5-star hotels and resorts to make your honeymoon a luxurious and memorable experience. Some of the popular getaways in California include Santa Barbara, Big Sur, Napa Valley, Carmel by the Sea, Lake Tahoe, Half Moon Bay, Solvang, and Paso Robles.
Pro Tip: Don't try to do it all on just one honeymoon trip. California is a big state with innumerable experiences. Moreover, you don't want to jump from one experience to another only to feel more tired than you already were from the wedding. Decide on two or three locations to explore on a 2-week long trip. Adjust the locations depending on how long is a honeymoon. 
Best Hotels:
If your query meant how long does a honeymoon phase last in a relationship, here's an answer for the same:
A honeymoon phase in a relationship lasts for about 8 months to 2 and a half years. The thrill, excitement, and butterflies of the start of the relationship also have a research-backed reason. It's proven in a 2020 study that the early stages of relationships are associated with higher levels of dopamine (a hormone of well-being) in both partners. These accentuated levels can stay for as long as 30 months, which means a honeymoon phase can last for 2 and a half years in a relationship. 
While it may be disheartening to see those early butterflies wane away, the next phase of the relationship can be more rewarding and bring more stability to your life. Of course, that requires work, commitment, and tough conversations. And if you chose a good partner, they'd be more than willing to put in the effort.