If you are planning for a honeymoon in Dallas and don't know anything about 'BIG D's romantic suites, then you have come to the right place. We have rounded up some of the best honeymoon suites in Dallas that are sure to offer you a multitude of experiences. There are tons of resorts with dedicated best honeymoon suites in Dallas for newly wedded couples. These resorts offer honeymooning couples private outdoor tours, intimate dinner dates, speakeasy bars, romantic events, a tour of local museums, and so much more.
Dallas or the 'BIG D', is a commercial and cultural hub of Texas. It has a history of ranching and farming and hence you can expect to experience its cowboy culture in and around the city. The city is dotted with museums, aquariums, a zoo, a botanical garden, and a few art, science, and natural museums and centers. So certainly, there are plenty of activities for outdoorsy couples. So, book flights to Dallas and get overwhelmed by the city's charm.
In this article, we have laid out the best properties with impressive suites in Dallas for an immersive honeymoon vacation. Book flights to Texas and one of the hotels in advance.
Best Honeymoon Suites in Dallas
#1 Hotel ZaZa Dallas Uptown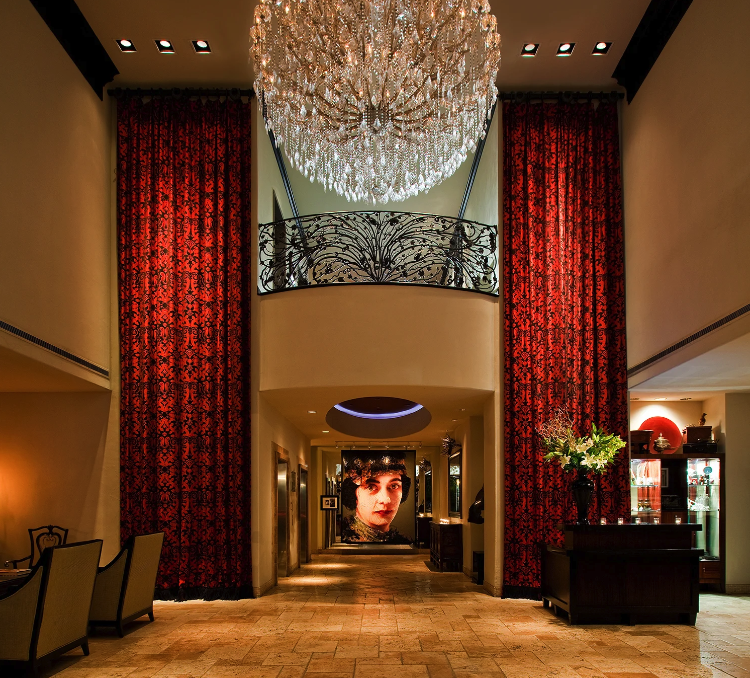 This luxury boutique hotel is one of the most recommended hotels for couples on their honeymoon. Located in an uptown neighborhood, it is loved by couples mostly because of its grand opulence and epicurean pleasure. The hotel flaunts a perfect accord between Mediterranean elegance and a comfortable stay. The suites are divided into two sections- Magnificent Seven Suites and Concept Suites.
The seven suites are given a touch of homely vibe with sophisticated decor. Inside the suite, the silk fabric, teak, bamboo, ebony, rattan, and rosewood surround you and let you experience the ultimate luxury and comfort. The spacious rooms are furnished with a king bed, sofa, kitchenette, and terrace. These suites provide world-class amenities for your utmost luxury. It features a fully stocked minibar, high-pressure shower, full-service spa, iron and board, resort-style outside pool, black-out drapes, etc.
ZaZa's Concept Suites are the preferred choice of honeymooners, thanks to theme-concept and diverse experiences. The 650 sq ft Erotica suite has a whirlpool soak bath, king-size bed, sofa, chair, a large mirror, bedside lamps, stocked minibar, etc. The tactile fabrics, velvets, furs, and silk touch create pure sensuality.
See ratings & reviews here.
#2 Rosewood Mansion, Turtle Creek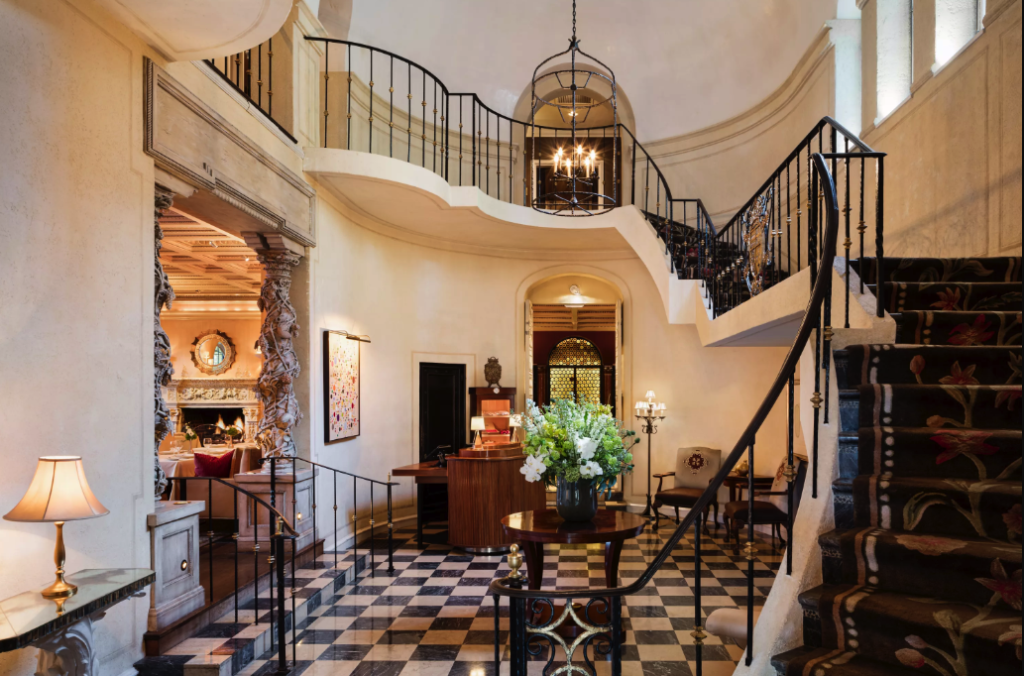 Rosewood Mansion in Turtle Creek brings a new level of glamor and whimsical soul. It is one of the best five-star hotels in Dallas. This renowned landmark in Texas is known for its unique elegance and sophistication. Originally a private palatial mansion, this Uptown hotel is situated in a privileged community at the center of Dallas.
You may not find any jacuzzi or whirlpool in Rosewood Mansion, but its suites are equipped with a soaking pool that has plenty of rooms for two. Romantic, eh! Apart from its 142 rooms, it features The Mansion Restaurant and The Mansion Bar, as well as a fitness studio, swimming pool, spa and wellness, sauna facilities, event venues, and top-notch service with a cozy residential feel.
From Manor Suite to Rosewood Suite, Mansion Suite, Turtle Creek Suite, and Estate Suite, each of them is loaded with luxury amenities. The suites with a foyer, king-size comfortable bed, petite balconies, kitchenette, dining areas, and salacious terraces make your stay comfortable. It features two in-house restaurants and a bar. Its Mansion Restaurant has a fireplace, where you can relish American cuisine with French touch amidst a sophisticated ambiance.
See ratings & reviews here.
#3 The Joule, Dallas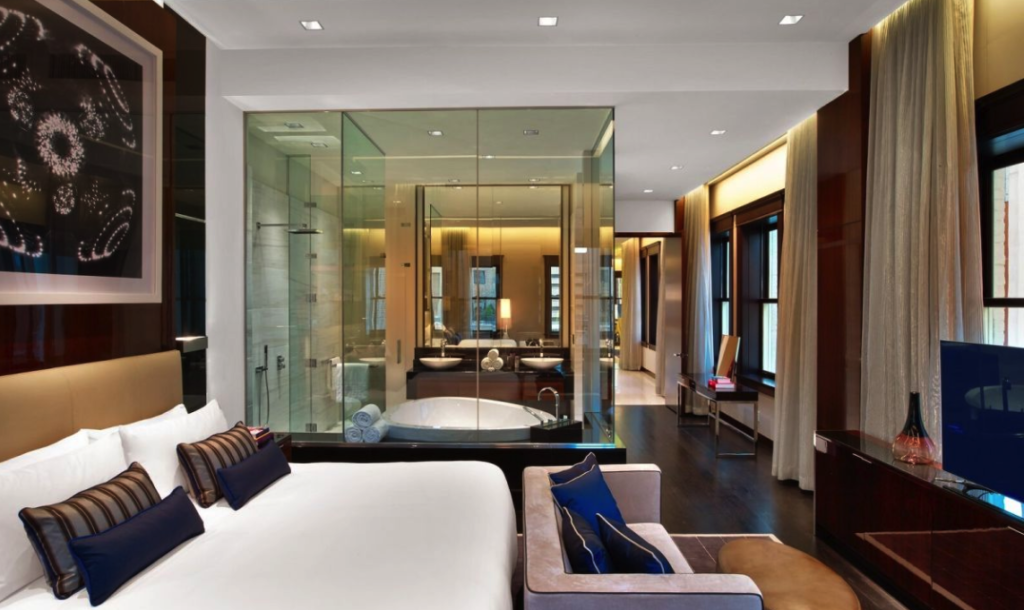 The Joule offers contemporary accommodations furnished with state-of-art amenities and round-the-clock concierge services. But what attracts visitors the most, is its Neo-Gothic architecture. This grand boutique hotel in the heart of Dallas is the city's cultural hub, and dining destination, where locals, as well as guests, meet up. But the exterior is just the tip of the iceberg. Once you step inside the hotel, it is a whole new world of elegance and creativity.
The Joule features five lavish suites, which surely feel like your own bedroom. The idea is to provide its guests a space, where they can unwind after a tiresome day. Each suite comes with a fully-stocked mini-bar, high-speed wifi, spa amenities, a rainfall shower, 300-thread count sheets, down pillows, and a comforter.
Among all five suites, couples prefer to stay in a 750 to 1000 sq ft cozy Deluxe suite. If you are planning to stay for several days, then these suites are ideal for longer stays. There is a king-size bed, a separate lounge area, a wide bathroom with double vanity, a large shower, and a deep soaking tub for two. The setting is perfect for couples on their first honeymoon!
See ratings & reviews here.
#4 The Adolphus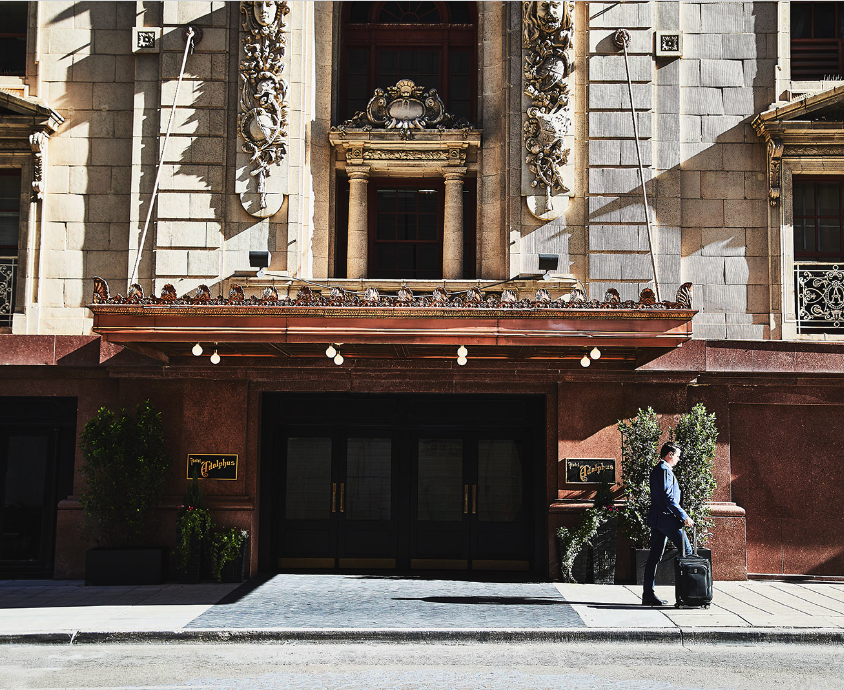 Experience the celebrated heritage of Dallas at The Adolphus, the first luxury hotel in the city. It features a destination spa with a terrace overlooking downtown, a rooftop pool with cabanas, spacious suite layouts, and a high-end dining experience. It is one of the best honeymoon suites in downtown Dallas, Texas. Its honeymoon suites with chic decor, large beds, and modern convenience, are sure to delight you and your significant other.
While its suites are equipped with everything to make your honeymoon as romantic as you want, its in-house restaurant The French Room with marble flooring and candy-colored twin Italian Murano Glass chandeliers is a perfect hideaway for a honeymoon nightcap. So, while Dallas has several romantic dinner date options, nothing can match the elegance of Adolphus' The French Room. 
The Adolphus is an ideal destination for a romantic honeymoon, offering unique experiences. Its luxurious rooms and suites have a refined European estate vibe while still showcasing Dallas-style design. With 10-foot ceilings, guests can unwind and escape the city's hustle and bustle. Reserve your stay here to experience its classic yet contemporary elegance.
See ratings & reviews here.
#5 Omni Dallas Hotel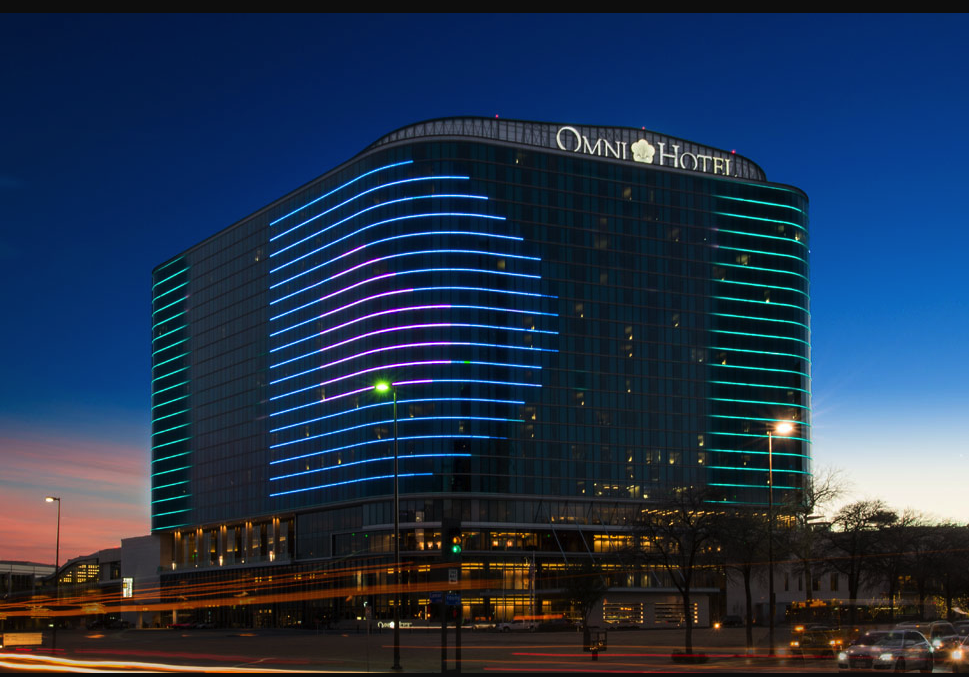 Reserve this one of the best honeymoon suites in Dallas that offer the perfect blend of luxury and romance. Experience a memorable stay in one of its exquisite accommodations, designed to provide couples with the ultimate comfort and privacy. Located at 555 S Lamar St., Omni Dallas is one of the best options if you are visiting the city for a few days.
It is less than a mile from the Sixth Floor Museum at Dealey Plaza and can be a great base for exploring the city's top tourist attractions. It connects to the Dallas Convention Center via a sky bridge. Previous guests have raved about the trendy decor and the comfort it provides. The suites are decorated with bright artwork that complements the neutral tone.
Its suites offer plush bedding and floor-to-ceiling windows with skyline views. You will notice the shimmer of grandeur once you step inside your suite. This unique and upscale accommodation features modern innovative amenities, which certainly makes staying as cozy and comfortable as you want. The spacious rooms come with contemporary designs, luxurious linens, and sleek furniture.
See ratings & reviews here.
#6 Hilton Dallas / Rockwall Lakefront Hotel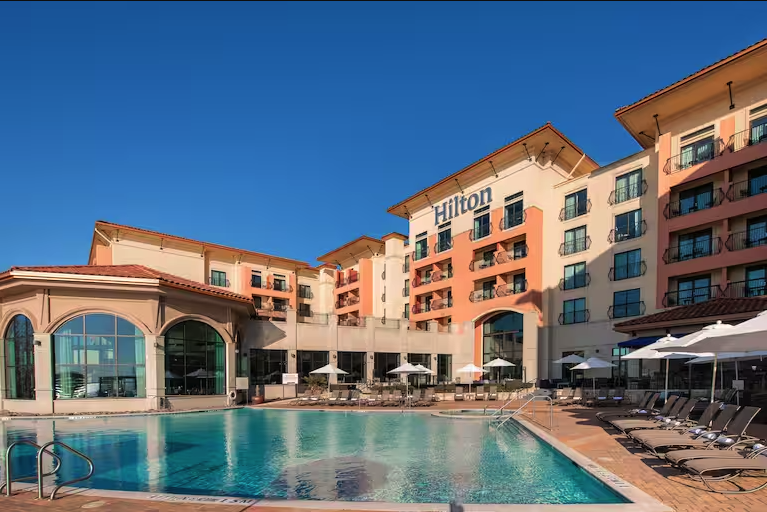 This lakefront hotel, overlooking Lake Hubbard is a great place to stay if you want to be close to the city's top attractions. At the Hilton Dallas / Rockwall Lakefront Hotel, couples can relish in lakeview windows, an open-air courtyard, and a classic ballroom for their wedding. With various spaces available, you are sure to find a square foot preference that suits your needs. This property is located approximately 25 minutes from downtown, offering a serene natural setting with all the luxurious amenities of the best honeymoon suites in downtown Dallas Texas two nights.
Additionally, its 740 sq ft premiere suites feature two balconies, a separate living area, a sectional couch, a side chair, a built-in wet bar, a mini refrigerator, and picturesque views of the lake. The master bedroom is designed to make couples feel cozy and comfortable, where they can unwind and spend some quality time together. It has a king-serenity bed, two oversized robes, premiere bedding, a deep soaking claw tub, and a separate area.
Among all the luxury and comfort in your suite, what stands out is the picturesque views of the lakefront from your balcony. Spend the afternoon admiring the sunset views from your room at Hilton Dallas / Rockwall Lakefront Hotel and head out for an evening stroll by the lake.
See ratings & reviews here.
#7 The Highland Dallas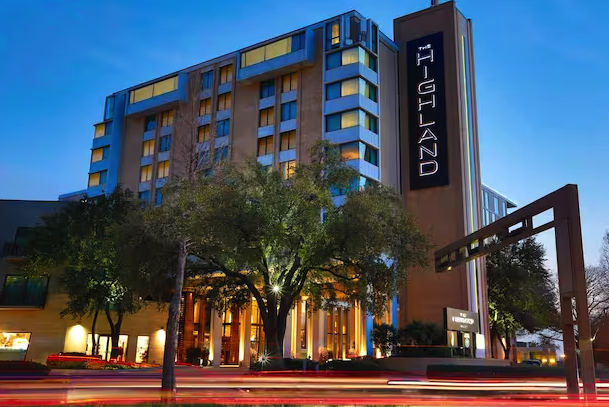 The Highland Dallas, a Curio Collection by Hilton, is one of the best honeymoon suites in Dallas, Texas. At The Highland Dallas, you can indulge in luxurious accommodations and exceptional services and amenities, all while enjoying the convenience of being surrounded by the best shops and restaurants in Dallas.
Its bedroom suite and superior bedroom suites are equipped with a spacious bedroom, a large and comfy bed with luxury linens, a designer headboard, a separate living room, a coffee maker, 55 inch HDTV, a chaise lounge, etc. Each of its suits is designed to make staying comfortable and plush. There is a Deep Soaking jetted tub in the bathroom area, where both of you can get refreshed after a hectic day out while sipping the state's finest wine. Moreover, there is a heated outdoor pool, where you can swim or relax in a cabana near the pool.
At The Highland Dallas, you have the option to either enjoy your meal in your room or visit their in-house restaurant, Knife, which is renowned for its delectable steaks. The cozy and warm atmosphere of Knife makes it an ideal spot for a romantic date night, where you can indulge in mouth-watering dishes skillfully crafted by expert chefs.
See ratings & reviews here.
#8 Ritz Carlton Dallas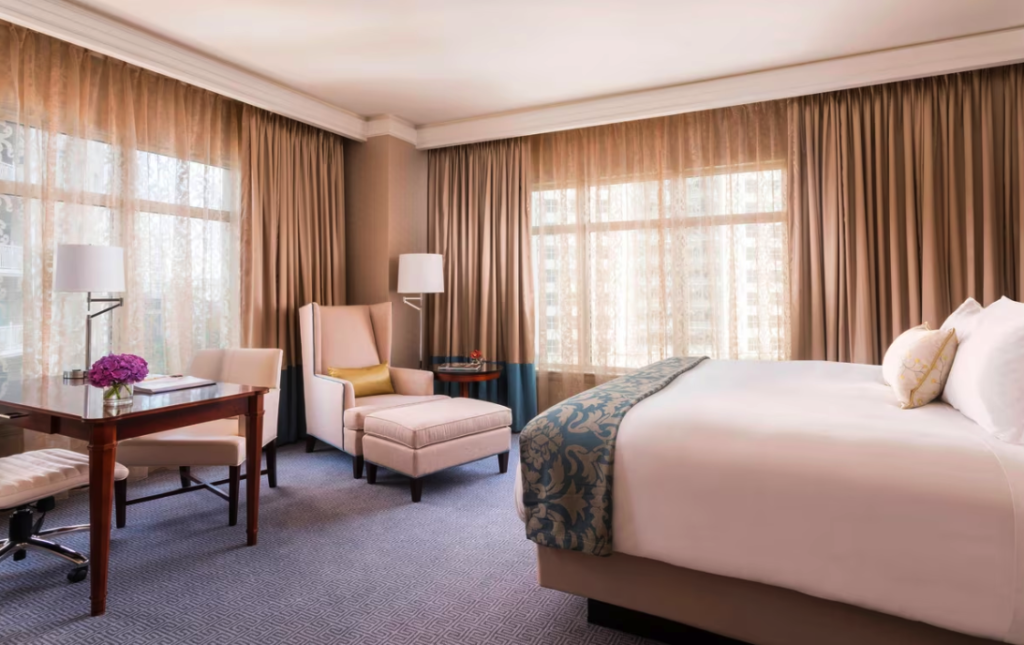 Experience luxury and romance at Ritz Carlton Dallas, where you can enjoy stylish, contemporary, and luxury accommodations. Its extra-gorgeous suites, overlooking the iconic Dallas skyline, ensures complete privacy. Its location McKinney Ave, Dallas, puts guests near the city's top attractions. So, if you are seeking a romantic escape, it lets you enjoy an unforgettable experience. Although there are tons of means to unwind in Dallas, you shouldn't overlook Ritz Carloton's spa center, where you can rejuvenate your spirit and nourish your body.
Experience opulence in the guest rooms and suites at The Ritz-Carlton, Dallas. The suites are the embodiment of extravagance, with spacious living areas adorned with custom-made furniture and picturesque views of the city. Additionally, Club Lounge patrons receive personalized assistance from a devoted concierge and delectable culinary selections throughout the day.
The Ritz Carlton offers suites that consist of a living area, a master bedroom with a king bed, a featherbed, a duvet, and Fretter luxury linens to ensure ultimate comfort and luxury. These suites are 1000 sq ft in size and come with air-conditioning, marble bathrooms, bathtub, shower, double vanities, and mirror. Additionally, there is a chair with an ottoman and a sofa for added comfort.
See ratings & reviews here.
#9 Warwick Melrose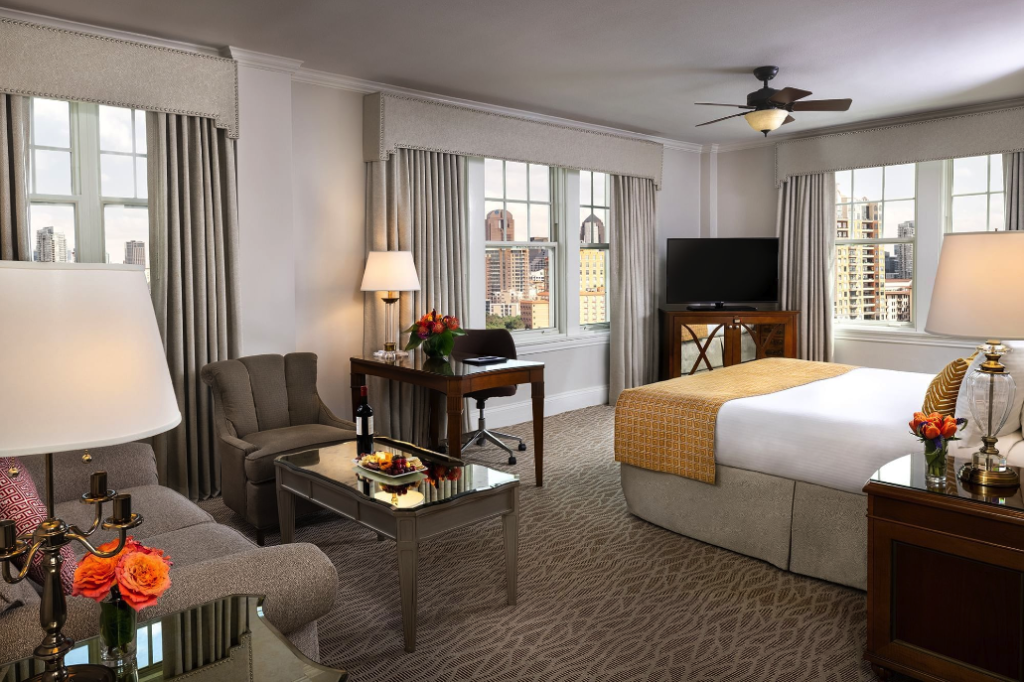 This historic hotel in uptown Dallas is the epitome of luxury, elegance, sophistication, and comfort. For newly wed couples exploring Dallas can make Warwick Melrose their abode. The structure of the hotel is inspired by the Sullivanesque style. There are numerous business and leisure activities surrounding the hotel, including State Fair Highland Park village, museums, and high-end dining options. Additionally, its suites have a touch of intimacy and grandeur. 
As you step inside, you will realize it is more like a home away from home than a hotel. The spacious suites with crown-canopied king-size beds, a separate living area with chandeliers, a plush sofa, a coffee table, a dining table, a refrigerator, and a wet bar compliment its extensive 800 square feet suites. And the grand view of the city from large windows is a cherry on top. As you put off the lights at night, sit beside the window to take in the city's glittering skyline. If you want to keep your honeymoon memories alive, then it is one of the best honeymoon hotels in Dallas.
See ratings & reviews here.
#10 Hyatt Regency Downtown, Dallas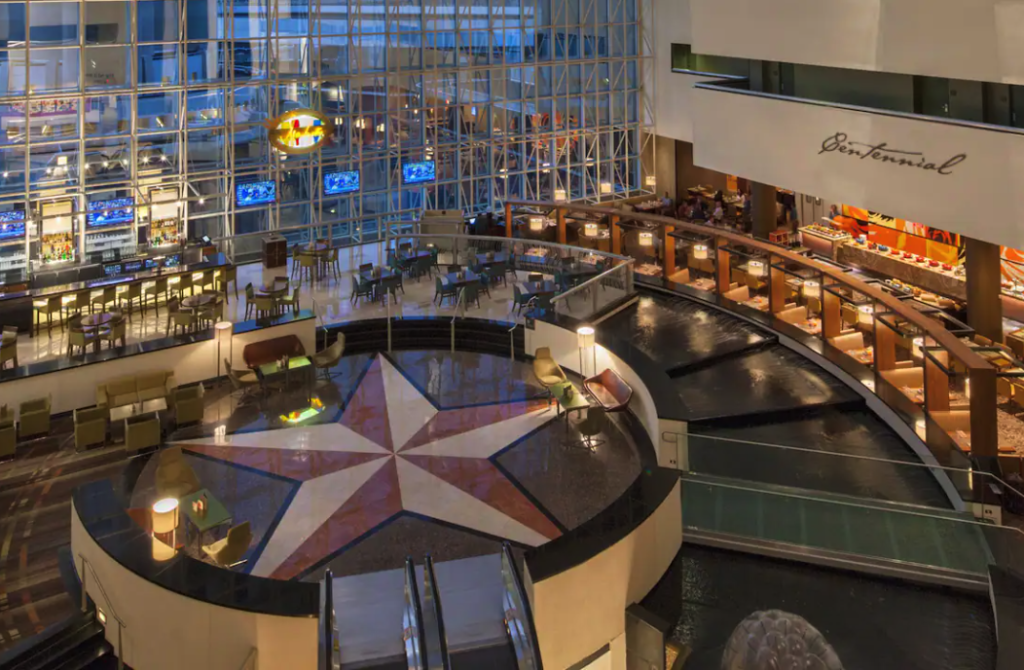 Located next to the city's iconic landmark the Reunion Tower, Hyatt Regency Downtown is considered one of the best honeymoon suites in Dallas, TX. It is within walking distance of many tourist attractions, which makes it an ideal place to stay. Its inviting, contemporary rooms are ideal for couples on their honeymoon, who appreciate minimal decor and ultimate comfort.
With seven suites, each offering impressive views of downtown Dallas, Hyatt Regency ensures your honeymoon to be an intimate and romantic affair. Indulge in luxury while staying in this bi-level suite that spans over 1,455 square feet. The suite is equipped with a king-sized bed, floor-to-ceiling windows that offer breathtaking views, an entertainment center, and a kitchenette. It's a premium suite, and you can check the World of Hyatt program terms to see if you're eligible for an upgrade.
Not just your suite, it's top-notch service and upscale dining experience, make it equally popular among the locals as well. It offers a variety of dining experiences, so if you want to plan for a romantic dinner date, just hint the hotel staff and they will arrange it for you.
See ratings & reviews here.
#11 Hall Arts Hotel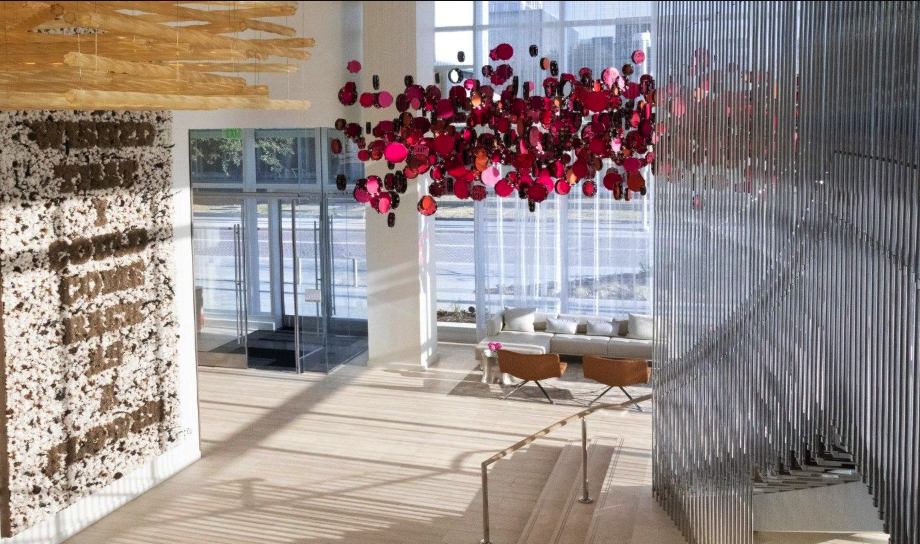 Nestled in the heart of the Dallas Art District, just across the AT&T Performing Arts Center, Halls Arts Hotel is an ideal choice for honeymoon couples, who appreciate their privacy and convenience to explore the outdoor sights. Staying at this 5-star luxury hotel promises you an elevated experience filled with warmth, hospitality, and attentiveness. Being one of the best honeymoon suites in Dallas, Hall Arts Hotel only ensures luxury and comfort, where newlywed couples can truly spend some private moments alone, surrounded by art and creation.
Hall Arts features three suites. If you are looking for all things lavish, comfortable, and intimate, select its Specialty Suite. Experience opulence, comfort, and contemporary elegance in this suite. As you enter, you'll find a spacious living area complete with a functional desk and a Nespresso coffee maker. The master ensuite boasts a king-sized bed adorned with luxurious Frette linens, a cozy seating area, and a plush duvet. To make you feel right at home, it provides soft robes and slippers, individual steamers to keep your clothes looking sharp, and in-room safes for your peace of mind. All of this and more await you at the Hall Arts Hotel.
Additionally, when you stay here, you are only a few minutes away from the Dallas Aquarium, Holocaust Museum, and AT&T Performing Arts Center.
See ratings & reviews here.
Best Honeymoon Activities in Dallas
#1 Take A Romantic Stroll at Arboretum
If both of you are art aficionados, then spend your afternoon at the Dallas Arboretum. It has well-manicured gardens, good restaurants, and art galleries. This 66-acre botanical garden was established to promote the various exotic plants and art. It organizes several events and interactive sessions to educate people about horticulture.
#2 Hike The Arbor Hills Nature Preserve
Wake up early in the morning and take a hike to the Arbor Hills Nature Preserve, a 200-acre park in Plano. It features 3 miles of paved trailers, 3 miles of unpaved trails, and a 2.8 miles off-road bike trail. Each trail takes you through a scenic route. There are restrooms, a playground, and a covered pavilion for special events. Climb the observation tower that provides a bird's eye view of the park.
#3 Catch The Sunset At 470 Feet Above The Reunion Tower
Watching the sunset together is undoubtedly the most romantic thing to do. In Dallas, you can do it at the city's most recognizable landmark- The Reunion Tower. Experience a bunch of activities separately or buy a whole date night package for a romantic getaway in Dallas. However, reserve the package at least 48 hours before you plan to have a date with your significant other.
#4 Go Horseback Riding at Southfork Ranch
You can't return back to your hometown without experiencing the cowboy culture of Texas. At Southfork Ranch, go horse riding like a pro through the trail and admire the surrounding vistas. Take a trip to the original mansion and learn how to care for livestock. After a tiresome day at the Ranch, relish a good dinner here.
#5 Go For Margarita Mile
This self-guided tour of the best margaritas of Dallas is for those couples, who love their classic margarita. It is so popular that it has its own app to guide you. So, whether you want a classic margarita or you want to relish it the way you want, you can do it all. If both of you are a margarita fan, visiting Margarita Miles is one of the must-do activities in Dallas.
#6 A Dinner Date At Delta Charlie To Get Literally High
How about a dinner date at an upscale airport restaurant that offers a three-course meal with enticing flight packages? Tempting, right? It is located at Grand Prairie Municipal Airport. Relish their delicious food before taking off to enjoy the bird's eye views of Dallas. Reserve a date and pair it up with a flight package to elevate your romantic dinner date with a romantic aerial tour.
#7 Take A Hike At Oak Cliff Nature Preserve
Taking a hike through hundreds of acres of rolling wilderness and paved trails offers you a chance to reconnect with nature. When you traverse through the groomed trails, you will come across woodlands and wildflower meadows. Hiking and biking both are equally popular among visitors. Combine your trip with a visit to Trinity Forest Adventure Park, which is ladened with high-flying ziplines, and other aerial obstacle adventures.
#8 Jump Out Of A Plane, Without Actually Jumping Out Of A Plane
For thrill-seeker couples, iFly in Dallas offers a skydiving experience. iFly Indoor Skydiving venue in Dallas provides the ultimate skydiving experience. If you and your better half are adventurous then gear up to experience the sensation of flying in their giant wind tunnel. It makes for a great photo-op and proves that you are ready to jump off a real plane.
FAQ's
What is the average cost of a Dallas honeymoon?
An average cost of a honeymoon in Dallas could be both budget-friendly and expensive. The total expense of a honeymoon trip in Dallas depends on various factors, including the type of accommodation and the kind of vacation you are looking for. It also depends on the days you want to stay in Dallas. If you purchase a package that includes your flight, lodging facilities, transportation, sightseeing, and activities, then it may cost you around US$ 850 to US$ 1,200 for three nights and four days. Additionally, if you stay in a luxury hotel or resort
Domestic return trip flights to Dallas from other US cities may cost you between $ 400 to $ 600. Among all American Airlines, Southwest and JetBlue are the most recommended to get affordable airfares. There is, however, a significant cost difference if you are flying internationally. A return ticket may cost approximately between $ 800 to $ 1,700 depending on the distance. 
Hotels and resorts with honeymoon suites tend to have high prices, especially during the state's peak tourist season. A honeymoon suite in hotels like Hyatt Regency in Dallas starts around $ 480 a night. Dallas also has some affordable lodging facilities for couples too.
Additionally, from dining to sightseeing, local transport, shopping, and activities may cost you between $300 to $500.
What's the best time to visit Dallas for a honeymoon?
Dallas experiences a humid subtropical climate. Its summers are hot and humid and winters are mild. Thunderstorms occur throughout the year. The best months to plan your honeymoon in Dallas are between September and November when the temperature isn't overwhelmingly hot and there are only a few tourists left in the city. Avoid inflated prices by visiting Dallas during off or shoulder season.
However, honeymoon couples, who appreciate spring, should plan their trip between March and May, when the weather is pleasant and blooming flowers elevate the experience of romance even more. You may want to avoid summer due to the high humidity and huge tourist crowds. During summer, hotel prices climb higher. For good deals, visit Dallas between December and February.
However, spring (March-May) and fall (September-November), are the ideal seasons to plan your honeymoon in Dallas. During these seasons, the average highs are not more than 25℃ and the lowest doesn't dip lower than 15℃. Spring in Dallas encourages visitors to come outside and enjoy the sun. From the jaw-dropping sight of blooming tulips in the Arboretum to kayaking on the Trinity River, there are plenty of activities here for the two of you. If you are planning to visit this Texas city in spring, book flights, and accommodation in advance before prices hike up.
What are some nearby cities to visit on a Dallas honeymoon?
Dripping Springs, a small town, just a three-hour drive from Dallas is an ideal place to escape the urban chaos. This charming and peaceful town, located away from the busy city life, is an ideal destination for couples in search of privacy. Be sure to take part in the Texas Olive Industry Orchard tour to witness the olive orchard and Italian-style mill. In addition, there are wineries and breweries to keep you entertained.
Flower Mound is just 30 minutes away from  Dallas and is a must-visit. Although it offers diverse experiences, couples might be more interested in visiting the Twin Cove Park and campground. It offers both tent camping and RV camping. Apart from camping, it features well-paved hike/bike trails, a four-hole disc golf course, a boat launch, kayak rentals, etc. Perfect for an outdoorsy couple on their honeymoon.
Fort Worth, the neighborhood city of Dallas is just 30 minutes drive away from Dallas. From Hyena's Comedy Night to club to going on a trampoline park, or visiting Bass Performance Hall to catch musicals, opera performances, and a ballet show, there are tons of activities to enjoy with your better half. If you want to make her extra special, make your way to the Hulen Mall. It has hundred different stores to enjoy a diverse shopping session.
About Author
Dhriti appreciates the little details of each place she visits and pens down her experiences for her readers. She likes her coffee and can recommend you the best cafes in town!