After paying for your dream wedding, it might be difficult for couples to spend a lot on their honeymoon. The good news is the best honeymoon experiences don't always have to break the bank. In fact, you can find a whole lot of affordable honeymoon destinations in US – from beach locations to adventure lovers to those who just want to relax in serene, beautiful surroundings – there's something for every kind of couple on this list. Find below a list of 15 cheap places to honeymoon in the US. 
#1 Montana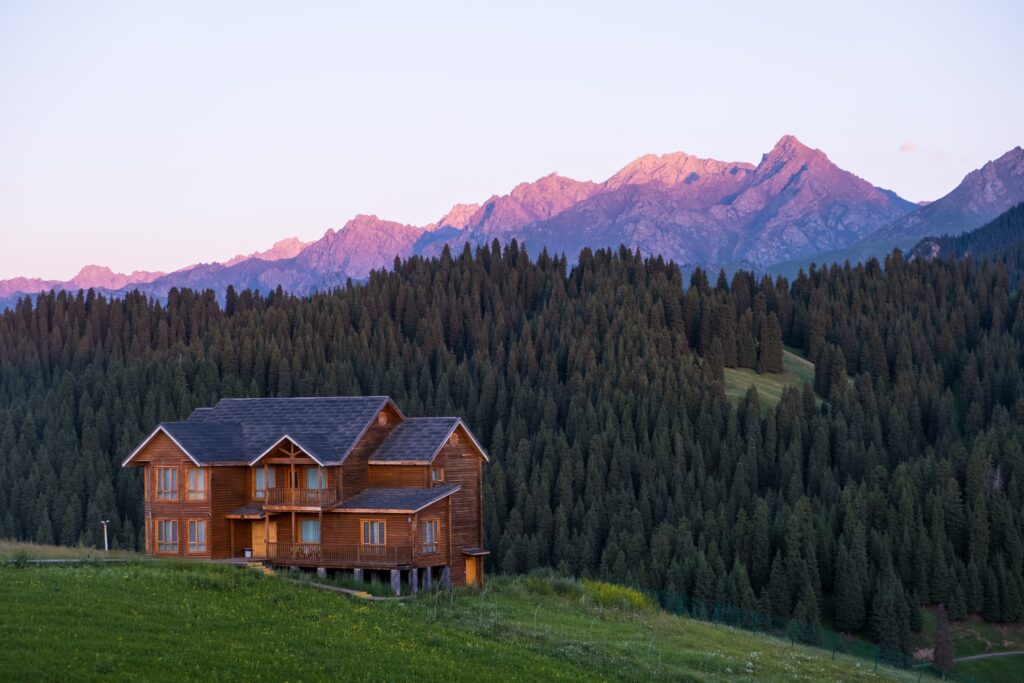 The wide open spaces with lush forests as far as the eyes can see, rolling hills, striking landscape, and comfortable, cozy accommodations make this fourth largest state in the country a stunning romantic vacation spot and one of the most affordable honeymoon destinations in US. No matter which city you choose, Montana's every region has something different to offer but all have one commonality – to give their guests a break from the city's grind and a hospitable atmosphere backed with the natural beauty for a memorable stay. While every season has something to offer, July and August are the most popular for the comfortable temperatures so you can explore the beautiful outdoor beauty. Find below some of the charming stays in the stay:
Romantic Things-To-Do In Montana:
Soak in the gorgeous outdoors. You can just book a table for two in a scenic location (which is essentially everywhere you see) or you can enjoy a wide variety of outdoor activities to get an adrenaline rush as you enjoy the beauty of the surrounding landscape. 

Plan a visit to two of the most famous national parks in Montana: Yellowstone National Park and Glacier National Park. Both parks have incredible natural beauty and you can pick any one of them that's closest to you. 

Explore the many ranches and farms around and learn about the state's strong ranching and agricultural heritage. 

Schedule a visit to a local town around you. Montana is known for its rich Native American history, and visitors can explore numerous cultural sites and museums throughout the state. The Little Bighorn Battlefield National Monument is also located in Montana and is an important site for learning about the history of the American West.

Relish some delectable beers in one of the many breweries in the state. Craft brewery is a big business in Montana, and the state is only second to Vermont in its number of breweries per capita. You can also book a microbrewery tour so you can cover a number of breweries in a day! 
#2 Savannah, Georgia
From Brides to The Knot, the biggest wedding blogs think that Savannah is one of the lesser-popular and best affordable honeymoon destinations in US, and we couldn't agree more. The oldest city in the US state of Georgia, Savannah is all about beauty and mystery. Lined with picturesque garden squares, Southern architecture, live oak trees with Spanish oak moss, and a thriving arts and music scene, there's something very unique about this US honeymoon destination that you can't find anywhere. A honeymoon here will be forever cherished and can be a very immersive and authentic experience. Below, find some of the best stays in Savannah, Georgia, because we all know accommodation is the backbone of any charming stay:
Romantic Things-To-Do In Savannah, Georgia:
Sign up for a walking tour and explore the charming and interesting history of the city. A guided walking tour will take you along some of the city's old lanes and square. For those interested and who aren't afraid, Savannah is known for its haunted history, and there are many ghost tours available for those who are interested in learning more about the city's paranormal activity.

Stroll through the city's many gorgeous manicured parks, like Forsyth Park, which is known for its iconic fountain, and Bonaventure Cemetery, which is a popular tourist attraction. Also stop by the city market, home to many art galleries and popular dining establishments. 

Go for a romantic horse-drawn carriage ride taking you to Savannah's many popular squares and buildings. Some of them include tour guides so you can also learn about the history of this charming Southern town. 

Enjoy some delectable Southern cuisine including seafood, fried chicken, and barbecue. Some popular restaurants include The Olde Pink House, The Grey, and Mrs.Wilkes Dining Room. 
#3 Lake Tahoe, California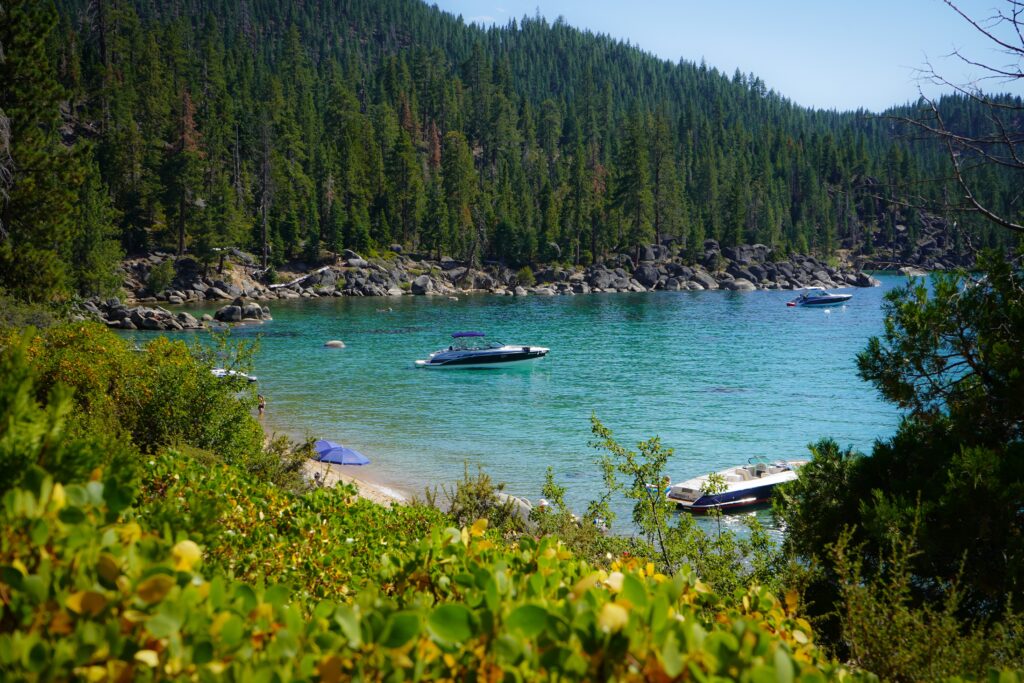 Lake Tahoe is a large, freshwater lake located in the Sierra Nevada Mountains on the border of California and Nevada. It is a popular year-round destination and affordable honeymoon destinations in US, offering a wide range of outdoor activities and natural beauty. During the summers, the area is popular for activities like boating, kayaking, paddle boarding, and fishing on the lake, as well as hiking and mountain biking. In the winter, tourists enjoy numerous winter sports like skiing, snowboarding, snowshoeing, and a sleigh ride. The North side of the area is less crowded and more laid back, making it ideal for honeymooners and couples. With spectacular mountain views, mouth-watering food at the many lakeside restaurants, and cozy stays, it's not hard to see why Lake Tahoe makes for one of the popular affordable honeymoon destinations in US. Here are some accommodations to consider in the area:
Romantic Things-To-Do In Lake Tahoe, California:
Start your marriage with an adrenaline rush by including many outdoor activities in the area like mountain biking, river rafting, rock climbing, and parachuting, or snowboarding, skiing, and ice climbing in winter. 

Visit the hot springs for a relaxing and romantic activity with your loved one. Pick the one closest to you and some of the recommended options in the area are Carson Hot Springs, Grover Hot Springs State Park, and Brockway Hot Springs.

Have a romantic dinner around the lake. The scenic beauty of the mountains and lake attracts many tourists to enjoy a delicious meal around the water body. There are also many excellent restaurants around the lake, offering a range of cuisine and atmospheres. For a romantic dinner, consider a lakefront restaurant, such as The Boathouse on the Pier or The Beacon Bar & Grill.

Plan a visit to the local historic towns such as Tahoe City, Incline Village, and Truckee, each with its own unique attractions, shops, and restaurants.
#4 Asheville, North Carolina
When you want a peaceful, romantic location for your first getaway as husband and wife, Asheville in North Carolina's Blue Ridge Mountains can be a perfect spot. If you want a more peaceful and private experience, visit during the spring and summer months and avoid the months of September and October. The place offers a mix of privacy, natural beauty, cultural attractions, and outdoor activities. You can literally visit during any time of the year, even winters – when the weather is cold but not unbearable like other cities in America and you can enjoy brisk waterfall hikes, cozy mountain cabins, and immerse in the beauty of winter lights throughout the city. Here are some of the best places to stay in Asheville, North Carolina:
Romantic Things-To-Do In Asheville, North Carolina:
Take a day trip to the Biltmore Estate, the largest private home in America, built by George Vanderbilt. The property is known for its gorgeous manicured gardens, a vineyard with wine tasting, and outdoor adventures like horseback riding and biking. 

Explore the city on foot. Small and very walkable, this North Carolina city is known for its vibrant art scene, with a number of galleries, museums, and theaters showcasing local artists and performers, pretty coffee shops, and breweries. But if you want to go for a walk in nature, the city is perfect for that too. You can hike hand-in-hand in the endless trails of the Blue Ridge Mountains. 

Spend some time in the luxurious and cozy mountain cottages of the region. There's nothing that will elevate your honeymoon experience more than a romantic stay in the mountains with nothing but nature's beauty and the arms of your beloved around you.

Sip some crafted beers at the city's many tours and tastings. You can also schedule a visit to the Asheville Pinball Museum, where you can enjoy beers and try hands at dozens of pinball machines, many dating back decades. 
#5 St.Augustine, Florida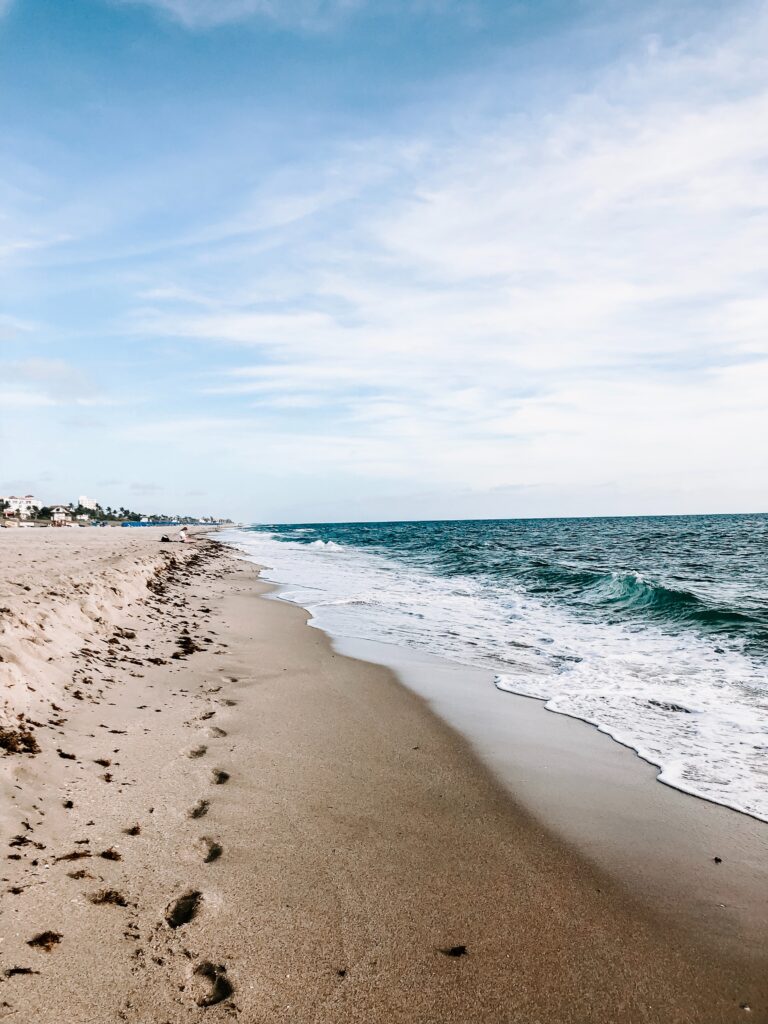 The oldest city in the US is also one of the most affordable honeymoon destinations in US. St.Augustine, Florida is located on the northeast coast of the state and is known for its Spanish colonial architecture, charming cobblestone streets, and pristine beaches. Some of the most popular ones are sandy St.Augustine beach and peaceful Crescent beach, with the former consistently being ranked as one of the best beaches in America by TripAdvisor. For beach lovers, it's also one of the best affordable beach honeymoon destinations in the US as it has many stays that can be economical for budget honeymooners.
Romantic Things-To-Do In St.Augustine, Florida:
Take a romantic sunset stroll along the shore, go for a swim or paddleboard in the ocean, or even take a sunset sailboat cruise. St. Augustine is situated along the Atlantic coast, with miles of beautiful beaches and sparkling waters to explore.

Visit the Old City, one of the top attractions in St.Augustine. Couples can take a leisurely stroll along the cobblestone streets, explore the historic fort, visit the iconic lighthouse, and take a horse-drawn carriage ride to soak up the city's unique atmosphere.

Enjoy a peaceful day at Washington Oaks Garden State Park, comprising of gorgeous rose gardens, scenic hiking or biking trails, and reflection ponds. The park also preserves the original habitat of a Northeast Florida Barrier Island. 

Wine and dine at the city's vibrant dining establishments, known for delectable yet economical food, cozy atmosphere, and a relaxed vibe. Some options include

Raintree restaurant

, serving contemporary cuisine in a historic 1879 Victorian home, and

Columbia Restaurant

, serving Spanish-Cuban cuisine for more than 117 years. 
#6 Wine Country, California
For wine lovers, Wine Country can be one of the most stunning places in the US to visit. Comprising regions like Napa Valley, Sonoma, Mendocino, and Lake County, Wine Country is considered the heart of the California wine industry and is also one of the best affordable honeymoon destinations in US. The region is famous for its wineries (there are over 1700 of them), Michelin-starred restaurants, comfortable accommodations with the world's best amenities, historic architecture, and the breathtaking beauty of lush vineyards. The stay at Wine Country, California can be as luxurious and as economical as you want. As this is a blog about affordable honeymoon destinations in US, we are including some economical stays in Wine Country. 
Romantic Things-To-Do In Wine Country, California:
Go wine-tasting (that's a no-brainer). Wineries in wine country offer tasting experiences catered to the couple's special vacation and will arrange the activity in intimate settings, such as outdoor patios, gardens, or cozy tasting rooms, which can provide a romantic atmosphere. 

Dine in some of the finest restaurants in all of America. Turn the romance up by booking a reservation in any of the best award-winning dining establishments in Wine Country like La Gare French Restaurant, Cordeiro's Steakhouse, and Celadon.

Plan a picture-perfect picnic in Wine Country's one of the gorgeous vineyards. It's also a common activity offered by hotels to their guests where they also pack all that you'd need for an ideal picnic – from food to picnic blanket and napkins – they will do it all! 

Explore the vibrant small towns of the area like Yountville, St.Helena, and Calistoga. These towns are relatively close to each other so you can hop from town to town easily, and soak in the historic architecture of the area. 
#7 Sedona, Arizona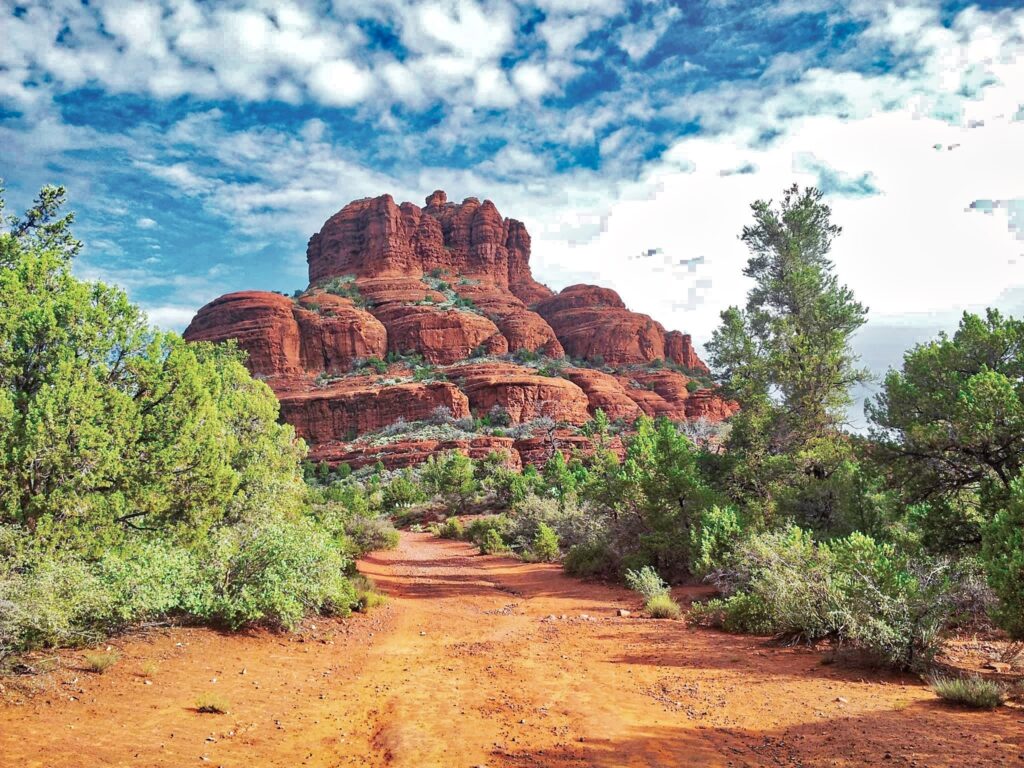 Another one of the affordable honeymoon destinations in US is Sedona in the state of Arizona. The desert town is known for its stark red rock formations, pine forests, and steep canyon walls. The place is just perfect for outdoorsy couples who'd want to enjoy their honeymoon in a quaint yet gorgeous setting without breaking the bank. This most affordable honeymoon destination in the US is also a suggested mini-moon location for an adventurous and decadent stay. Many hiking and biking trails take you closer to nature or you can also opt for an aerial route through a helicopter or a hot-air balloon ride and get a bird's-eye-view of the gorgeous and rugged landscape. Here are some of the best stays in this Southwestern gem:
Romantic Things-To-Do In Sedona, Arizona:
Jeep tours are popular among honeymooners in Sedona. There is no shortage of companies who'd arrange a tour for you through Sedona's most stunning rock formations and rugged landscape. 

Go for stargazing in one of the many incredible

stargazing locations in Sedona

like Two Trees Observing Area and Crescent Moon Picnic Site. Sedona is home to some of the darkest skies in the United States, making it a great place for this romantic activity with your partner.

Soak in nature at the Red Rock State Park, which isn't that long and you can enjoy a one-way 13-mile scenic loop consisting of stunning red rock formations and postcard-worthy stops. 

Book a hot air balloon ride and enjoy the gorgeous vistas of the city from the top. Many of these hot air balloon rides happen in the morning so you can catch the sunrise over the red rock formations.
#8 Tucson, Arizona
Tucson is one of the most affordable honeymoon destinations in US, and one of the most interesting too! Why? Because it's not popular for its beach or mountain, but rather for the breathtaking Sonorona desert. The vibrant city is also known for its amazing Southwestern cuisine, distinctive culture, and some of the cleanest air of any of the major cities in the entire world. Know that Arizona gets incredibly hot from June to August and the best time to consider a vacation in this affordable honeymoon destination in US is April to May and from September to October. You will find many amazing accommodations here offering breathtaking views of the mountains and dessert straight from your suite. Here are some options to consider:
Romantic Things-To-Do In Tucson, Arizona:
Explore the city's art and culture scene by visiting the region's many museums, art galleries, and theaters. You can visit the Tucson Museum of Art, the Arizona-Sonora Desert Museum, or the Fox Tucson Theatre, among others.

Indulge in one of the many romantic experiences offered by the city like stargazing in the desert, taking a horse-drawn carriage ride, or enjoying a couples massage at a spa. 

Go for a guided food tour and relish some of the mouth-watering Southwestern cuisine in the city's many renowned restaurants. 

Spend a day hiking and picnicking around the Sabino Canyon, a popular year-round spot with scenic trails and majestic surrounding views. 

Book a trip to the Tucson Botanical Gardens, set in the heart of the city and popular for its winding pathways, diverse floral exhibits, and large greenhouses. The gardens have regular events, so you can book on the day with an event that you find interesting. 
#9 Oahu, Hawaii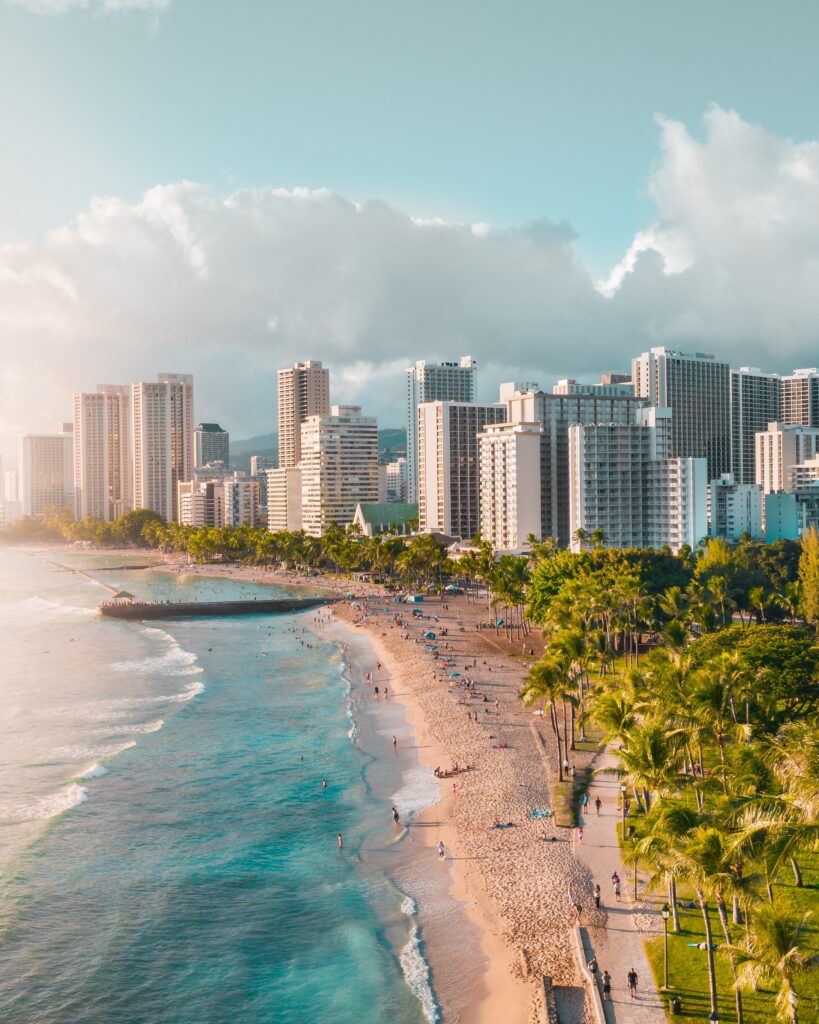 If a Hawaiian honeymoon has been on your mind, you'd be happy to know Oahu, a part of the Hawaiian island chain and home to the state capital, Honolulu is one of the best affordable honeymoon destinations in US. Also called the "Gathering Place", Oahu is a representation of the true beauty of Hawaii and is home to many stunning beaches like the Waikiki beach, historic Pearl Harbor, and is also considered a surfing mecca by those who enjoy this sport. To save, we'd recommend booking a package deal that includes a combination of airfare, accommodation, and a range of romantic activities. Also, booking between mid-April and June or September can help you save on room booking and airfare. It's also less crowded during these months. Find below hotel recommendations for Oahu:
Romantic Things-To-Do In Oahu, Hawaii:
Oahu is home to many beautiful beaches that offers amazing water activities depending on the type of adventure you're looking for! Do visit Waikiki beach, the most famous beach in Oahu, known for its turquoise blue water and backdrop of Diamond Head. 

Book an extravagant dinner at La Mer, one of the two AAA Five Diamond Restaurants in Oahu. Enjoy opulent air dining with pleasant ocean breezes and a fixed-course French menu. 

Enjoy a romantic sunset cruise along the coast of Oahu, taking in the stunning views and enjoying a glass of wine or champagne. You can also book a specialty cruise catering to the experience you'd like to enjoy. 

Get a relaxing couple's at the Moana Lani Spa, recognized as one of the best spas in Hawaii with 18,000 square feet of spa space and two suites specially designed for couples with private lanai and whirlpool. 
#10 Puerto Rico 
Puerto Rico is a Caribbean island and an unincorporated territory of the United States, meaning it's controlled by the US government but is separate from the US mainland. This means you don't need a VISA to travel to this tropical island and can also spend your honeymoon in the Caribbean on a budget. The island nation is popular for its historic charm, pristine beaches, delectable seafood, and stunning waterfalls. It's definitely one of the most underrated and affordable honeymoon destinations in US. You can travel between April to July for comfortable weather, but avoid December through February for price hikes – though the weather is pleasant this time around too! Here are some of the best stays in Puerto Rico:
Romantic Things-To-Do In Puerto Rico:
Romantic horseback rides are very popular in Puerto Rico and you will love to enjoy a sunset horseback ride along the gorgeous coastline with your new spouse. 

Hike in the beautiful El Yunque National Rainforest, home to some breathtaking waterfalls and wildlife. You can sign up for a private walking tour that will take you to the best places in the rainforest at your own pace. 

Tour the old town of San Juan lined with pastel-hue townhouses, and cobblestone streets, and stop at some of the iconic old forts like

Castillo de San Cristóbal

and La Fortaleza. 

Take a day trip to the tiny island of Culebra, just 17 nautical miles away from the mainland. Culebra is home to Flamenco beach, a beach consistently ranked as one of the best beaches in the world. 

Enroll yourself in a salsa class and enjoy a fun time learning this traditional Latin dance. 
#11 Rocky Mountain National Park, Colorado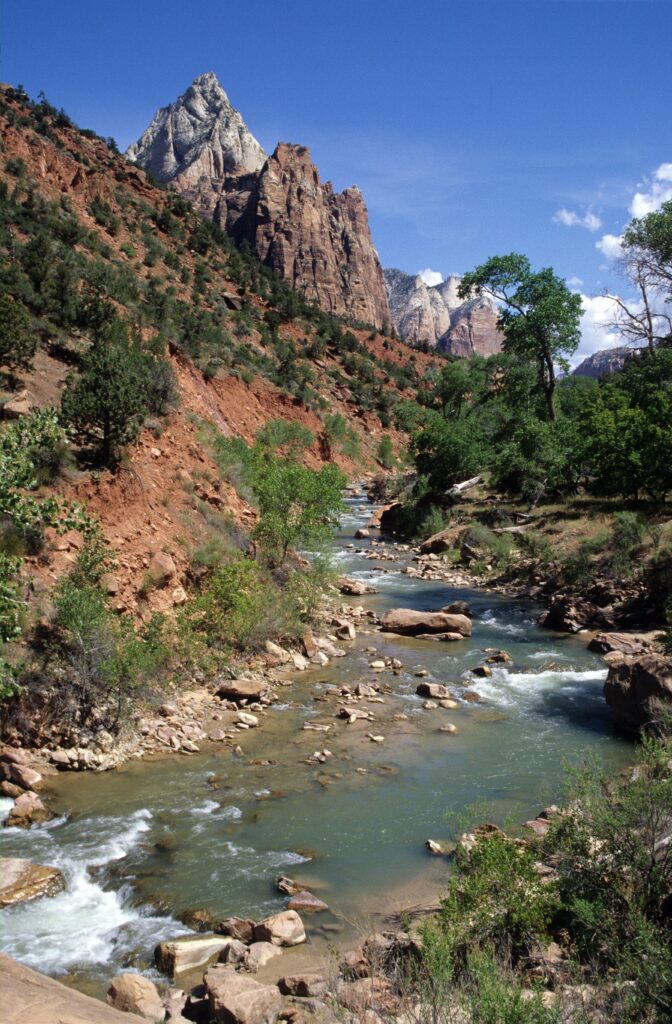 Some people are beach people and some are mountain lovers. For the latter, the affordable honeymoon destination in US can be the Rocky Mountain National Park, Colorado replete with postcard-worthy peaking mountains, forested alpine regions, and scenic rivers. The place is beautiful all year round with spring and summer offering activities like hiking, fishing, and river rafting, while winters are popular for skiing, snowboarding, and sledding. With majestic scenery and ample activities around, you will never have a dull moment in Rocky Mountain National Park. The region is also lined with many affordable hotels and romantic B&Bs. Here are some of our favorites.
Romantic Things-To-Do In Rocky Mountain National Park, Colorado:
Spend some time on stunning and scenic drives like the Trail Ridge Road, the highest continuous paved road in the US, Bear Lake Road, and the Old Fall River Road

Sit beside the many majestic lakes of the national park, many offering activities of their own like brunch-for-two, boating, canoeing, etc. Some of the best lakes for activities are bear lake, nymph lake, and emerald lake. 

Spend an evening at the Rocky Mountain Repertory Theatre, where popular actors like David Arquette worked as young thespians. You can find stage performances of popular plays like Les Miserables and The Addams Family. 

Stroll through the town for a romantic evening and stop at some of the popular eateries like Twin Owls Steakhouse offering USDA-grade steaks and chops, Ed's Cantina & Gill which specializes in traditional Mexican cuisine, and Dunraven which offers home-made Italian food and breathtaking views of the National Park. 
#12 Charleston, South Carolina
With delectable food that will impress even the hardcore foodies, a charming Southern culture, a vibrant neighborhood, and peaceful beaches, Charleston is one of the best affordable honeymoon destinations in US, but even if you have the budget to expand, we'd still recommend this port city for your romantic getaway. The cobblestone streets, rich history, pastel antebellum houses, and horse-drawn carriages scream romance and will leave you with cherishable memories on your honeymoon. You can find many honeymoon packages in Charleston which will design a holiday catered to your expectations with an economical stay too! Here are some we recommend:
Romantic Things-To-Do In Charleston, South Carolina:
Sign up for a walking tour in Charleston and dive deep into the 300-year-old history of the city marked by prominent sites and notable historic locations. From small-group walking tours that take you around hidden alleys to ones that take you around the best eateries in the city, there's something for everyone.

Enjoy a leisure-filled horse-carriage ride in downtown Charleston. Is there anything more romantic than a horse-carriage ride? The rides generally last for an hour and costs around 50 USD for adults.

Plan a picnic in the city's many properly-maintained parks like Waterfront Park, White Point Garden, and Hampton Park. 

Embark on a sunset sailing excursion. There are many different types of cruises, from private cruises to dinner cruises and dolphin cruises, and you can choose one that fits your budget and preference. 

Explore the nation's oldest public market, the Charleston City Market. Built in the 1790s, the place is buzzing with architectural marvels, artists, and craftspeople selling wonderful artwork, and sample regional cuisine. 
#13 Gulf Shores, Alabama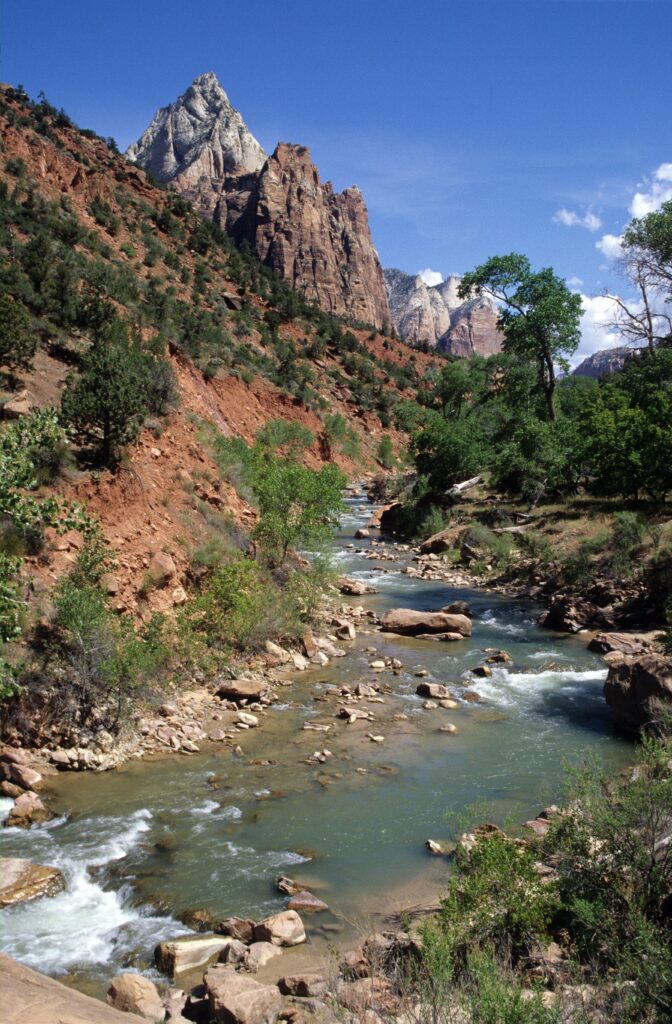 If you're looking for an affordable beach honeymoon destination in the US, Gulf Shores on Alabama's Gulf coast can be your ideal pick. The area is known for the best white beaches in all of America and the place is thriving with plenty of flora and fauna to make your stay truly magical and exciting. To silvery dolphins, migratory seabirds, and sea turtles, you will have many thrilling animals encounters here. Overall, Gulf Shores can be a beautiful and peaceful destination for a honeymoon. The area offers plenty of opportunities for outdoor activities, relaxation, and romantic dining experiences. Here are some places to stay in the region, followed by romantic experiences in the city. 
Romantic Things-To-Do In Gulf Shores:
Take a beach walk. Gulf Shores is known for its pristine beaches with azure blue waters and fluffy white sand. Take a walk on the beach, soak in the Sun, or enjoy a romantic picnic with the crashing sound of waves as music.

Hop on a dolphin cruise in the Gulf Shores' many ocean vessels and spend a day watching these endearing creatures splashing in the water as the Sun sets on the horizon.

Get an adrenaline rush by booking a jet ski ride. There are many jet ski rentals in the region that also offer other adventurous water activities like parasailing and waterskiing. 

Book a helicopter tour that takes you around some of the best scenic beaches and sparkling waters so you get a bird's-eye-view of the area.

Shop and dine at The Wharf, a dedicated area in the region for shopping, dining, and entertainment. You can find endless activities to do here which you can experience at your own pace. 
#14 Finger Lakes, New York
Located around 5 hours away from New York City, Finger Lakes is a 9000-square-mile area (about the size of New Jersey) and is located in upstate New York. The region is a lesser-known and best affordable honeymoon destinations in US for a peaceful and romantic honeymoon. The area is known for its relaxing activities (popular among hard-working New Yorkers to chill after a long week), outdoor activities, and wine. There are over 100 wineries in the Finger Lakes region. The place is also popular for its many glamping sites but has other comfortable stays too like vineyard villas, spacious hotels, and lake houses. Here are some of the best places to stay in Finger Lakes, New York:
Romantic Things-To-Do In Finger Lakes:
Go for a scenic boat ride. You can opt for canoeing, kayaking, or even dinner cruises with sunset views on some of the most scenic lakes in the area. Cayuga lake is the biggest and considered the best boat in the region. 

Explore the many wineries of the region and indulge in the beauty of the winery whilst tasting some delicious wines. Popular ones are Keuka Spring Vineyards and Hosmer Winery. 

Take a hike and spend some private time with your new spouse on some of the awesome Finger Lakes hiking trails like North Country Trail, Finger Lakes National Forest, and Seneca Lake State Park.

Honeymooners can enjoy a hot air balloon ride over the beautiful Finger Lakes region, enjoying the stunning views of the lakes, vineyards, and countryside
#15 Gatlinburg, Tennessee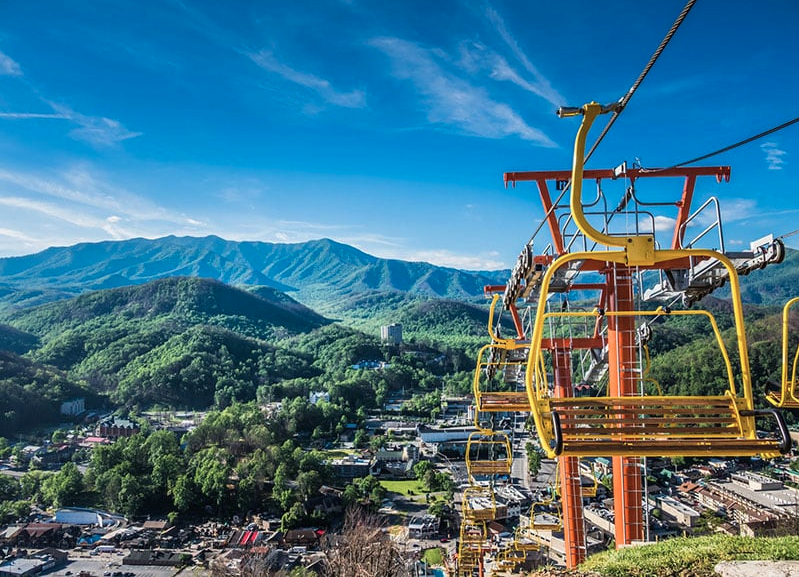 Courtesy: gatlinburgskylift.com
Gatlinburg is one of the most popular and affordable honeymoon destinations in US. It's also one of the best cabin honeymoon places in the US as it provides an authentic experience to soak in the surrounding beauty of this charming city. With many cabins lining the city's outdoors, you can easily find one that fits your needs and preferences. There are cabins that offer you an outdoor whirlpool tub and ones that offer a gas fireplace with wooden flooring for a cozy and spacious living area. Some of the cabins we recommend are Briar's Hollow and Above It All. 
However, if cabins aren't your thing, and you'd want a comfortable hotel suite, you'd be elated to know that Gatlinburg's best hotels average 100 USD a night. The hotels are also located in scenic locations, so you don't have to worry about missing the striking views by not renting out the cabins. Some of the best hotels to consider for your honeymoon in Gatlinburg are:
Romantic Things-To-Do In Gatlinburg:
Hike the great Smoky Mountains National Park, known to have gorgeous cascading waterfalls and also has the famous Appalachian trail

Ride the Gatlinburg sky bridge, one of the longest pedestrian cable bridge in North America which takes you over breathtaking views of the city, including the Smoky Mountains. 

Visit the Ober Gatlinburg Ski Area & Amusement park where you can enjoy skiing, snowboarding, ice skating, and other winter activities, as well as a wildlife exhibit and an aerial tramway.

Visit the Smoky Mountains Llama treks and spend some time with these cute, cuddly animals in their own space and home.

Zorb at the Outdoor Gravity Park. Gatlinburg is home to the only zorbing park in the USA and you can choose from zig-zag to straight paths for this fun-filled and adrenalin-fueled activity. 
FAQ's 
What's The Average Spend On A Honeymoon In The US?
The average spend on a honeymoon in the United States can vary widely depending on the location, length of stay, type of accommodations, and activities planned. According to a survey conducted by The Knot in 2021 of over 15000 couples, the average cost of a honeymoon in the United States was $4,600. However, this is just an average, and honeymoon costs can range anywhere from a few thousand dollars to tens of thousands of dollars depending on the couple's preferences and budget.
The cost of a honeymoon can be broken down into several categories, including transportation, accommodations, food and drinks, activities, and any other expenses. Airfare or car rentals, hotel or vacation rental costs, dining out or buying groceries, and any additional expenses such as spa treatments or sightseeing tours can all contribute to the overall cost of a honeymoon.
Couples can choose to spend more or less on their honeymoon, depending on their preferences and budget. Some may prefer a more luxurious honeymoon with high-end accommodations and expensive activities, while others may opt for a more budget-friendly option with affordable accommodations and simpler activities. It ultimately depends on the couple's preferences and what they want to get out of their honeymoon experience.
How To Save Money On A Honeymoon?
When you're looking for affordable honeymoon destinations in US, it also makes sense to apply some other money-saving tips for the holiday. Here are some of them:
#1 Book Through A Travel Agent: An agent has expert knowledge of the places you want to visit and will be able to give you cheaper options for the same experiences. They also have exclusive deals with resorts and will be able to get you a room rate much lesser than those available online.
#2 Be Smart With Meals: You don't need to have extravagant meals all the time. Instead, you should take advantage of free food and meals at your hotel. Many room bookings come with free breakfast, but you can also include some other meals for a fraction of the cost. When dining outside, think like a local and eat at places where you can enjoy the local cuisine for much cheaper prices. 
#3 Choose A Location Closer To You: Air travels to far-off locations can cost you around $1500 per person. But if you choose a location closer, you can travel in just about half the price. Also, consider using travel rewards and credit card points to pay for flights. Many credit cards offer travel rewards or points that can be redeemed for travel expenses. 
#4 Travel Off-Season: Prices can be slashed to half the amount during the off-season, which can help you save significantly on travel and accommodation charges, the two aspects which take up most of your budget. 
#5 Take Advantage Of Free Activities: Research free activities in your destination, such as hiking, visiting local museums or art galleries or attending free events. This can help save money on activities and entertainment.
What's The Most Popular Destination For a Honeymoon In The US?
The most popular honeymoon destination in the US is Hawaii, according to many surveys, particularly Maui. Hawaii offers a romantic and exotic setting with beautiful beaches, crystal-clear waters, and stunning natural scenery. It also offers a wide range of activities, from hiking and water sports to dining and cultural experiences. Hawaii has several islands to choose from, each offering unique experiences and settings. Another great part about the island is it can be as extravagant and as budget-friendly as you'd like! So couples with all budgets can choose to vacation here! Other popular honeymoon destinations in the United States include the Caribbean islands, Florida, California, New York City, and Las Vegas. 
Who Pays For The Honeymoon Traditionally? 
Traditionally, the groom and his parents are responsible for paying for the honeymoon because the bride and her family paid for the wedding. These rules don't apply now though as the bride's family alone doesn't bear the expenses alone. Now, many couples split the cost of the honeymoon or contribute to it together. Some couples may choose to include the cost of the honeymoon in their wedding budget and plan accordingly. Others may opt to have guests contribute to the cost of the honeymoon through a honeymoon registry. Ultimately, who pays for the honeymoon can vary depending on the couple's preferences and financial situation. It's important to have a conversation with your partner and determine what works best for you as a couple. This can involve discussing budget, preferences, and any other factors that may influence the decision.