Sandy beaches, ice-blue waters, luxurious resorts – all nestled in their own private island, and plenty of water activities makes Maldives one of the most favored honeymoon destinations by newlyweds. It tickmarks all the boxes you're looking for for an ideal honeymoon. Besides, the proximity and no-VISA hassles are another great reason Indians are frolicking to the Maldives in huge numbers. And if you're planning to be one of them pretty soon, here are 7 couples who share their Maldives honeymoon experience so you have an idea on how to plan and what to look forward to in the dreamy destination.
Shraddha & Manav: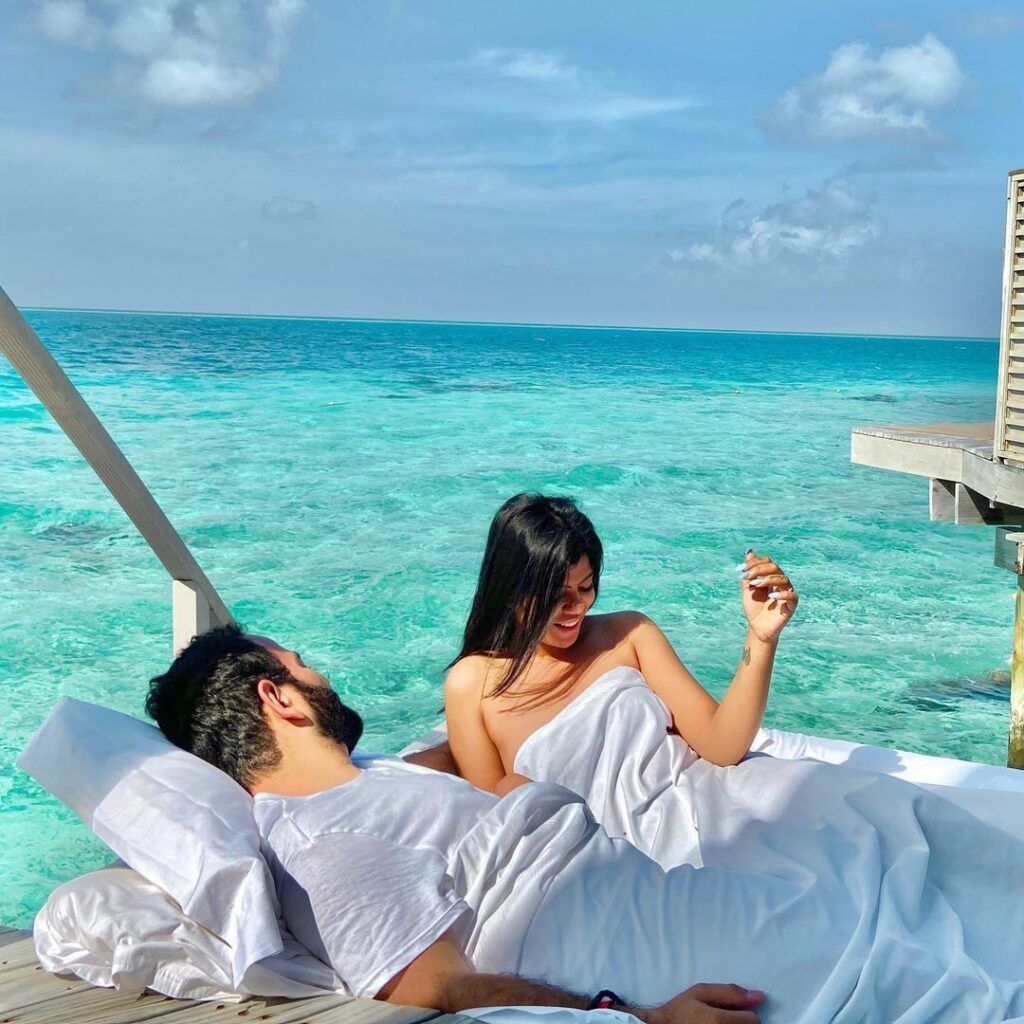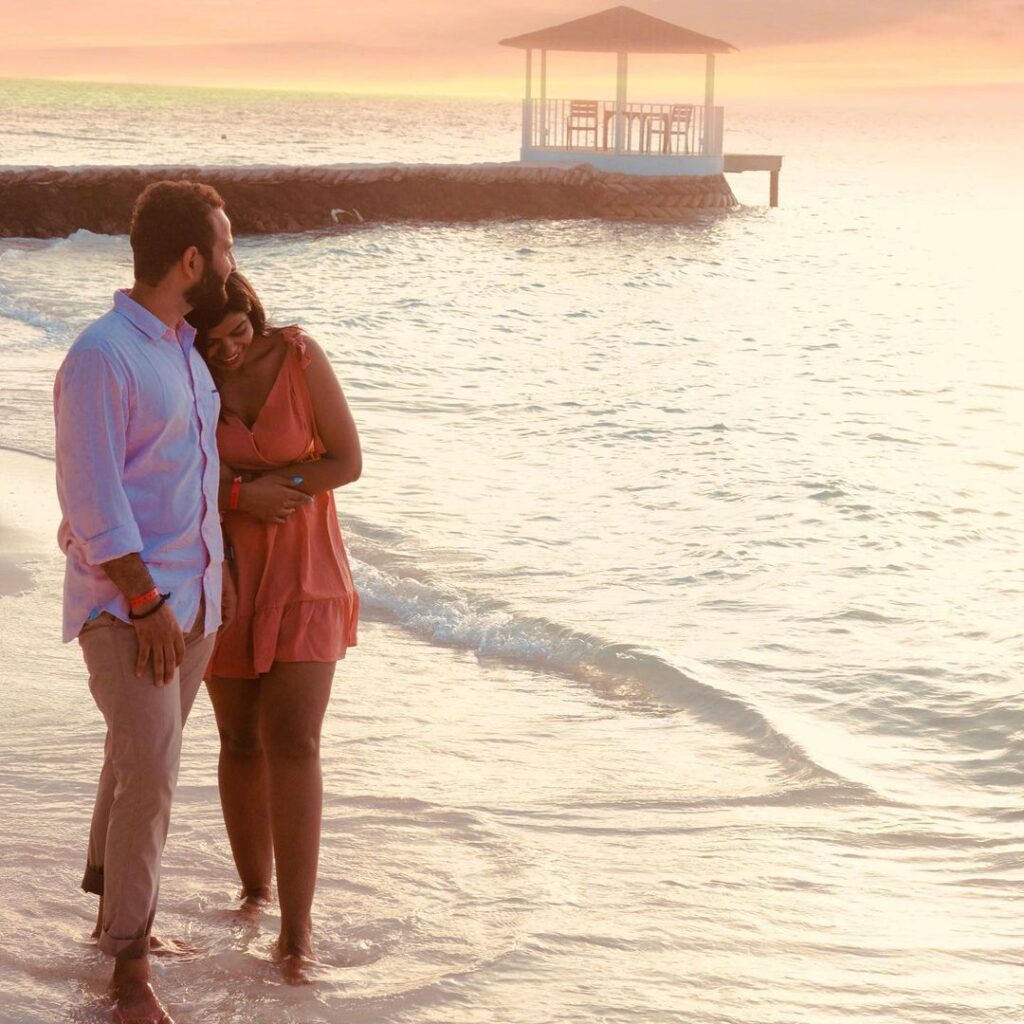 Shraddha & Manav stayed at the Centara Ras Fushi Resort during the Maldives travel and a lot went into their trip planning. "We actually did a lot of research on resorts and islands. Our basic necessity was 100% Jain food (no onion, no garlic, no potatoes). After looking at a number of resorts, we found Centara Ras Fushi to have an Indian chef. Usually, we pay the same price at any hotel we travel to and have to compromise with the food. But at Centara Ras, we definitely didn't compromise. We weren't really expecting such great Indian cuisine on an island that's popular for seafood," says Shradha. 
Giving us more details on her resort experience and the photoshoot that made her viral, Shraddha was pleasantly surprised with a complimentary beach dinner date, with beautiful decor and complimentary champagne. "Also, the photoshoots are comparatively cheap here. It's 100 USD for 1 hour (2 outfit changes, 10 edited photos, and all raw photos), 200 USD (3-4 outfit changes, 30 edited photos, and the rest of all raw photos), and 400 USD (drone shoot and everything else). We got the basic package but the photographer was kind enough to extend our shoot," says Shraddha. 
As for the price, it cost the couple 1.8 lakhs for a 4N/ 5D stay in the resort. The charges include food/ cocktails/ mocktails and airport pick up to drop. "It would have been cheaper if we booked it around a month or two in advance, but we booked just 10 days before the traveling date. To save more, you can divide the stay into a 2-night beach villa and a 2-night water villa. Another piece of advice is to check the cost of food in your package. Since food products are imported from India, it's a bit costly. December/ January/ February are the best months to visit! It's neither too hot nor too cold – ideal weather to enjoy with your beloved," Shradha tells us. "Overall the experience was very good.
See current ratings & reviews for Centara Ras Fushi resort here. 
Mehak & Puneet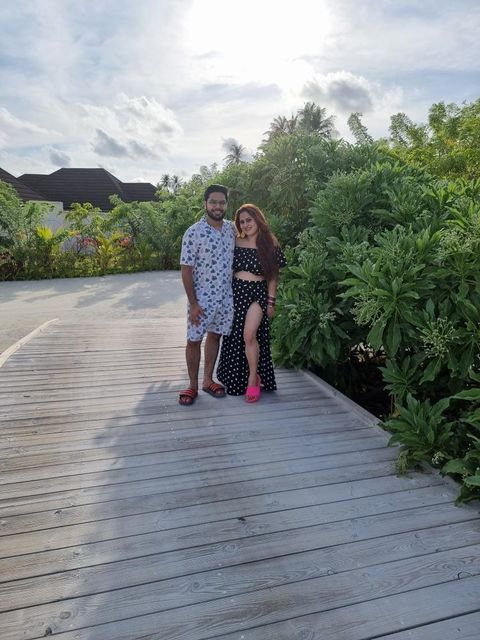 One of our featured brides (see her wedding blog here), Mehak recently visited the Maldives with her husband and stayed at Sun Siyam Olhuveli. "Our basic criteria was to find a resort that has a private pool in an over-water villa. Hence, we decided to go for Sun Siyam Olhuveli which had a ton of positive reviews. We loved our stay. If you're on the Maldives honeymoon, they will give you a bottle of red wine and a three-course meal at one of their restaurants. And if you have your birthday, they provide a celebratory cake and a bottle of wine. Also, I'd advise couples to be aware of what they're paying for! We went for a full board package, instead of an all-inclusive one because we aren't much of the drinkers," says Mehak. 
Speaking of what she didn't like about her experience, "We didn't like the food especially if you're a vegetarian. You have to wait really long for the cart to arrive and the walking distance is a lot in the scorching heat. Also, they don't serve drinks in the room, only bars or restaurants. The pool also has those steel stairs which are slippery, and we've seen other resorts have comfortable stairs to enter the pool." For those looking to indulge in water activities, they're really expensive in the Maldives, no matter where you stay, Mehak tells us. "Given the ongoing pandemic, it took us 3 hours to get the RT PCR test done due to overcrowding and no scheduling of appointments," she adds. 
Adding to her advice for the couples planning a Maldives honeymoon, this is what she recommended, "Don't visit during monsoon – from May till September end. 5 to 7 days are enough for a vacation in the Maldives. Try keeping your flight early, so you have the day and night to explore. To save, divide your stay between the beach villa and the overwater villa. Honestly, once you have the pool in your room – you won't be utilizing much. So, it's better to save some money by switching to a beach villa for few days. Take snacks with you, especially if you're a vegetarian. And pack hassle-free, comfortable clothes. Lastly, clear your bill a night before departure just to ensure you don't delay on your flight."
See current ratings & reviews for Sun Siyam Olhuveli Maldives here. 
Hansita & Janit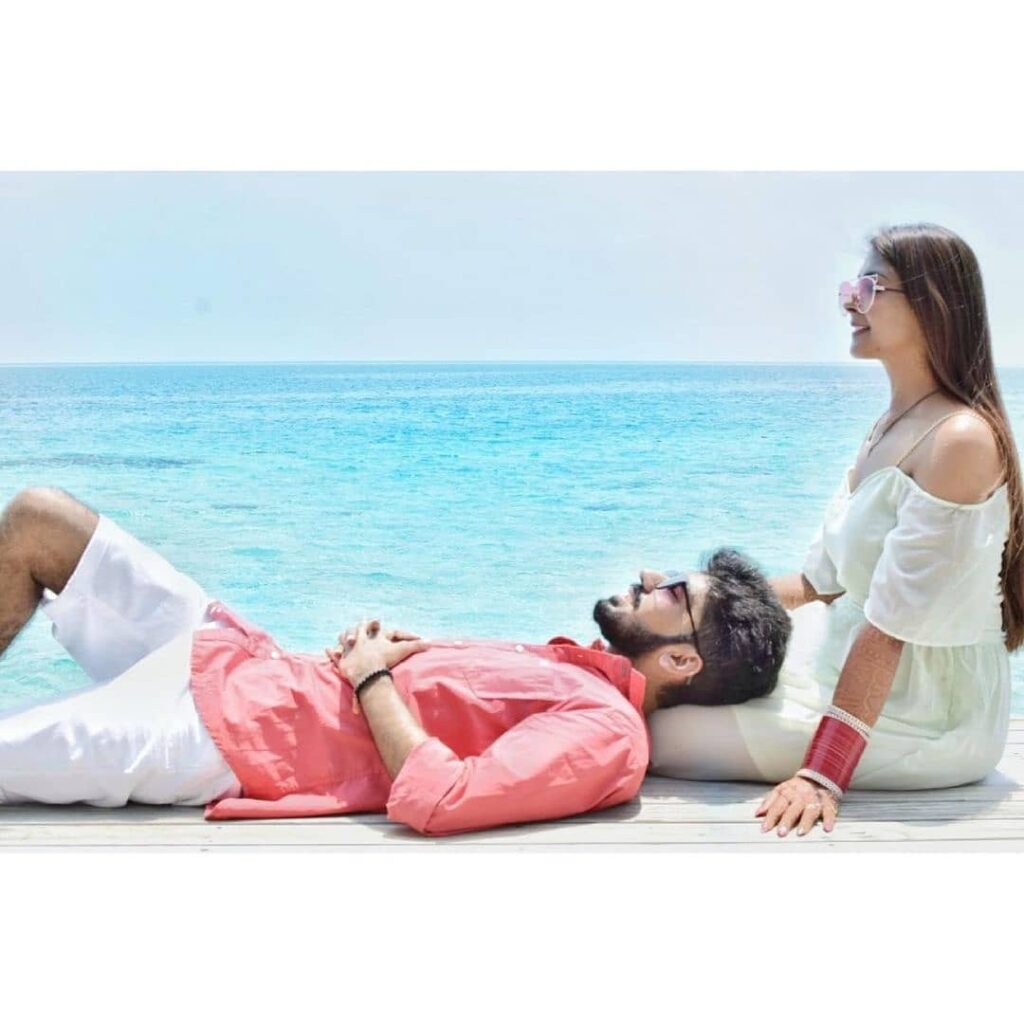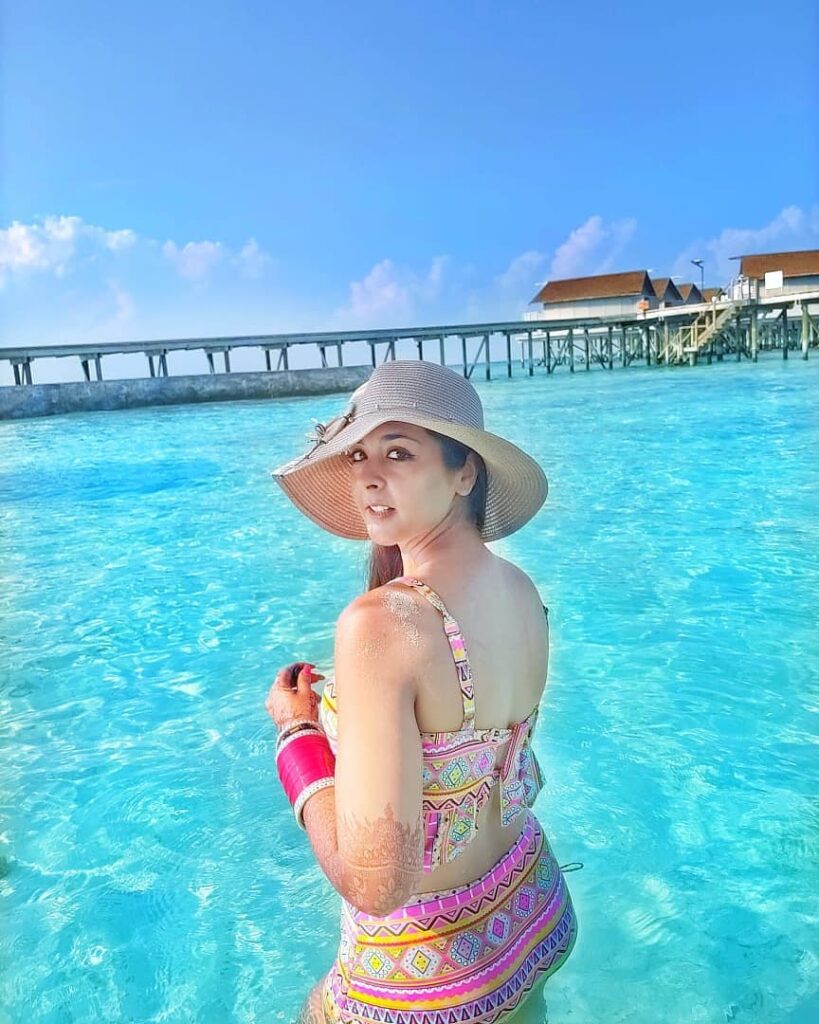 "The Maldives really is soaked in luxury and you can feel like you're living a dream the moment you step out of the plane," says our next couple Hansita and Janit. "We booked a honeymoon package for 4 nights 5 days, took a flight from Delhi to Male and taken to our hotel Centara Ras Fushi via speedboat. Right before our eyes was the most magnificent turquoise water. It was so clear you could see your reflection," says Hansita. She was also all praises for the staff, "The team at Centara Ras Fushi were so friendly and helpful. Our room was decorated, as customary for newlyweds, and was given complimentary sparkling wine and some chocolates. One of the most memorable experiences was the water villa which had scenic beauty beyond our imagination as we could see our ocean bed from our room and outdoor jacuzzi where we could spend our relaxing day."
"The food was amazing at Centara. There were all kinds of cuisines and there was a poolside dinner with live music organized to entertain guests. We used to wake up really early to catch the sunrise and my husband surprised me with a candlelit dinner, a specialty of the resort. They laid the table by the beach in a classy cabana-style and served the best food & wine, winning our hearts. Stargazing was fun and a long romantic walk on the beach was memorable," says Hansita. 
"November to April is the best time to visit the Maldives. Definitely book a stay in an overwater villa – it truly is as dreamy as it looks virtually. Overall, the Maldives is definitely worth it," Hansita adds her final advice. 
See current ratings & reviews for Centara Ras Fushi resort here. 
Sanjula & Gaurav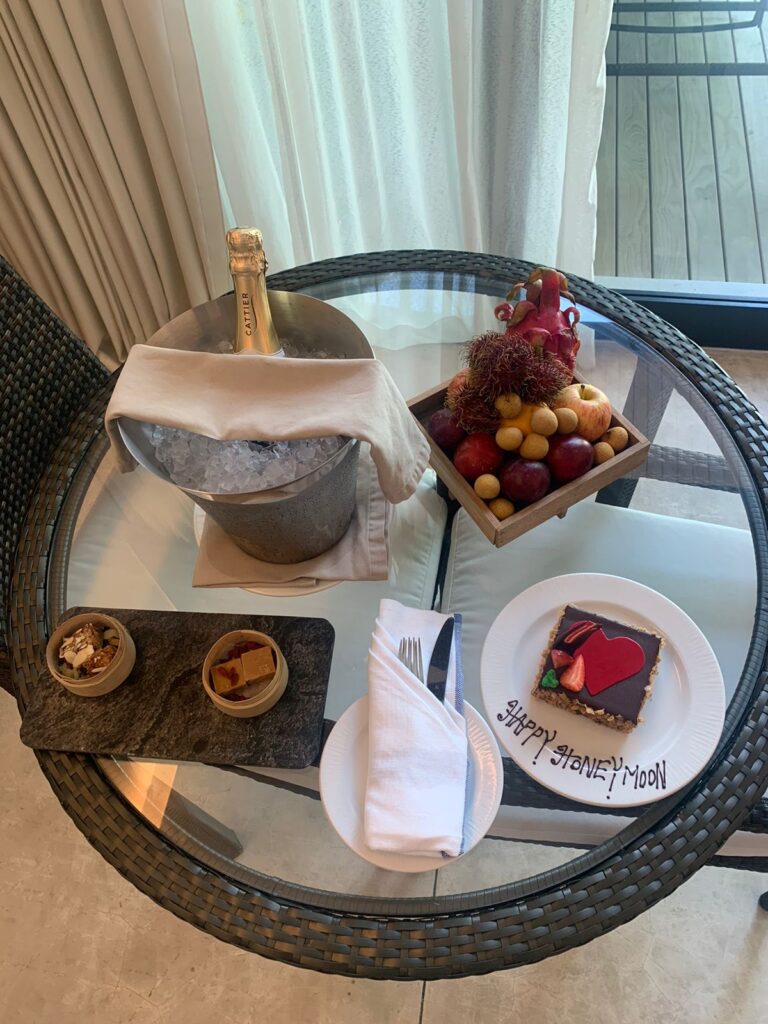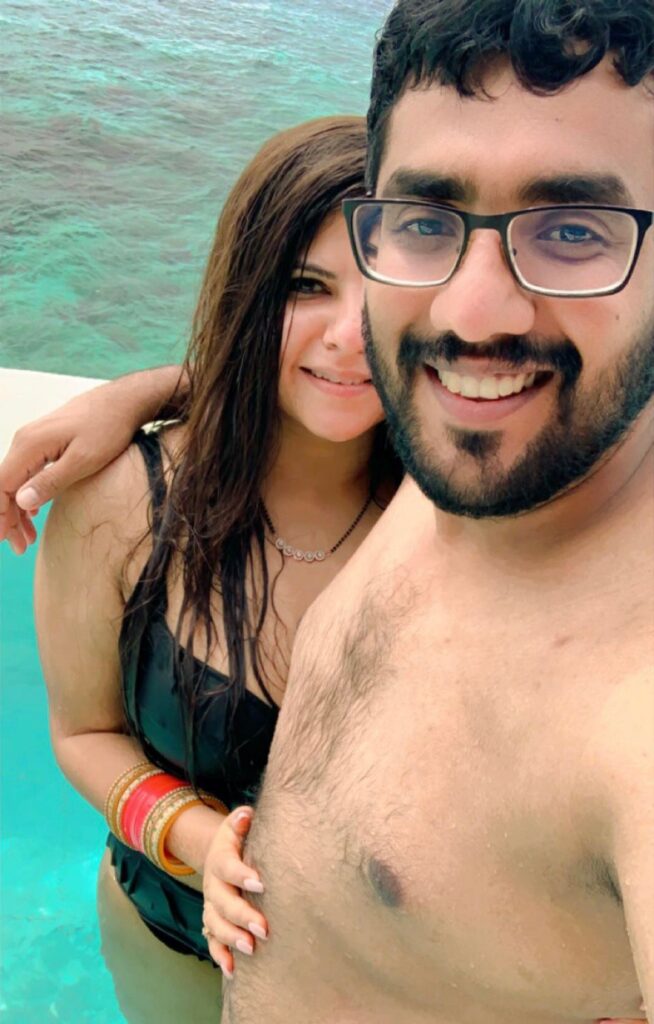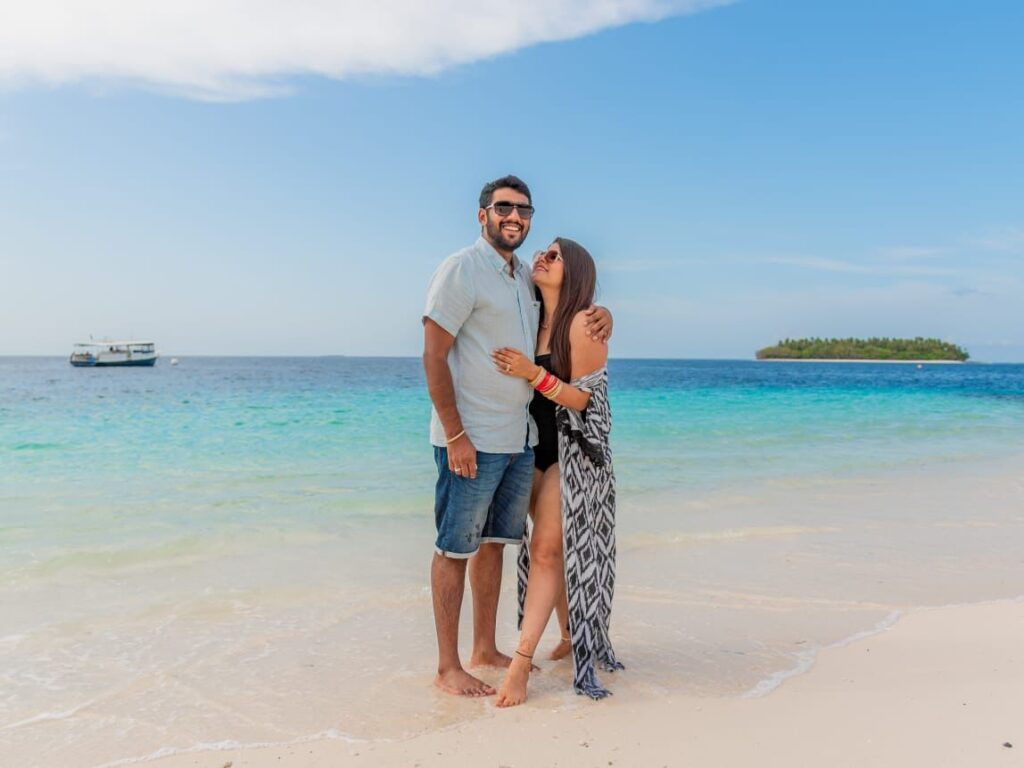 Sanjula & Gaurav had the utmost luxurious Maldives honeymoon experience at the Westin, Maldives. "My husband likes vacations to be ultra-grand, so choosing the resort is a very big deal. I usually like exploring, but that isn't an option in the Maldives since you're on a private island. So, it's very very important that you choose the resort carefully. We had narrowed resorts based on our preferences, which was to relax. We came across Hard Rock, but that had more of a party vibe. Ultimately, we chose Westin because they are known for their wellness and relaxing space. Absolutely perfect for honeymooners," says Sanjula. 
She goes on about her impeccable experience at the resort and the Maldives, "It was absolutely phenomenal. Everything was just perfect, right from the start. We reached and waited at the Westin lounge – ready to be picked up by a seaplane. We were served cookies, coffee, croissants at the lounge. The seaplane ride was BREATHTAKING. We had an all-inclusive package so everything was included, and drinks were unlimited. Lol. We were surprised with a decorated room, cake, and champagne. Also, a photoshoot, which is complimentary for honeymoon couples. The staff was polite and friendly, we got personalized attention from all of them. By day 3, they knew exactly how we like our coffee and our usual order.😂 "
"There's nothing that we didn't love about the island or the entire trip. I definitely recommend the overwater villa. Also, please opt-in for an all-inclusive package because even beer is expensive there. One good meal with a couple of drinks can set you back by INR 40,000. The one thing I don't recommend is the sunset dolphin quest, where we didn't see any dolphins," concludes Sanjula. 
See current ratings & reviews for W Maldives resort here. 
Amrita & Manan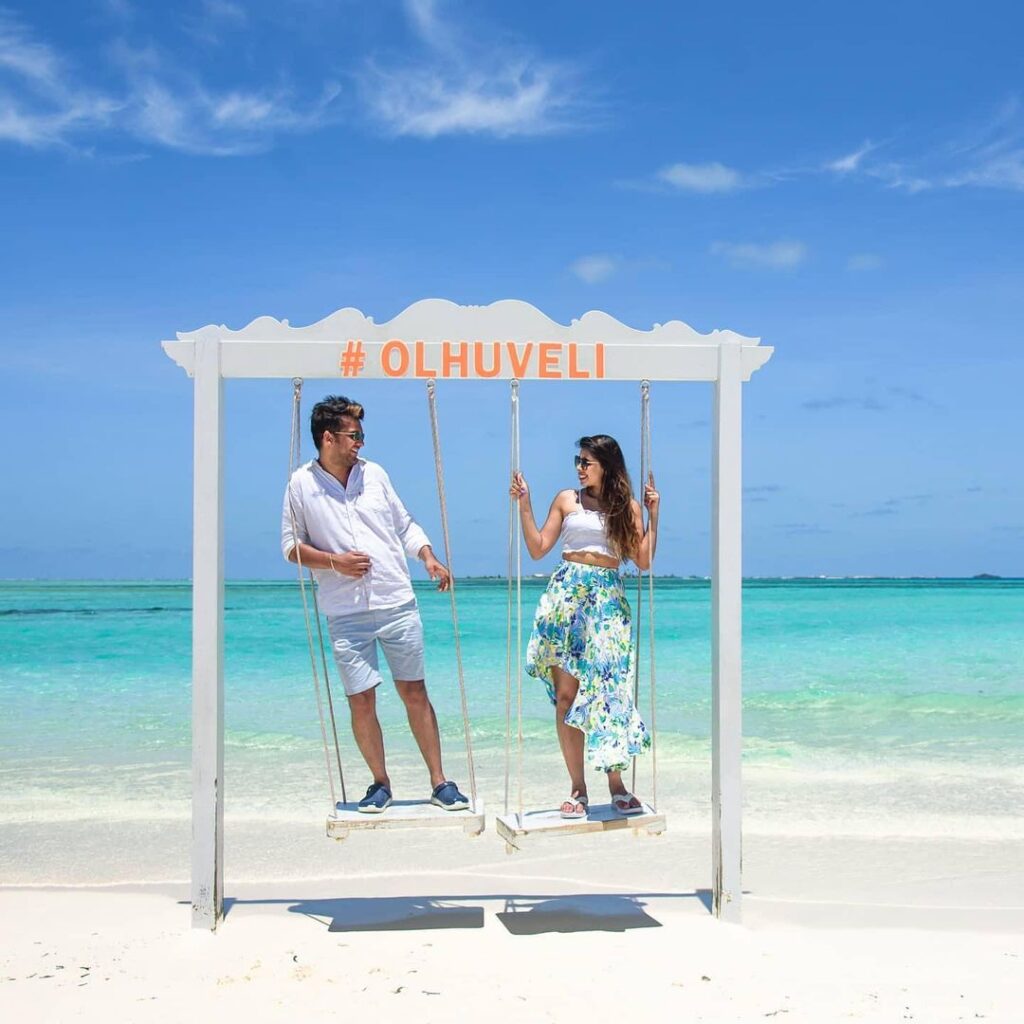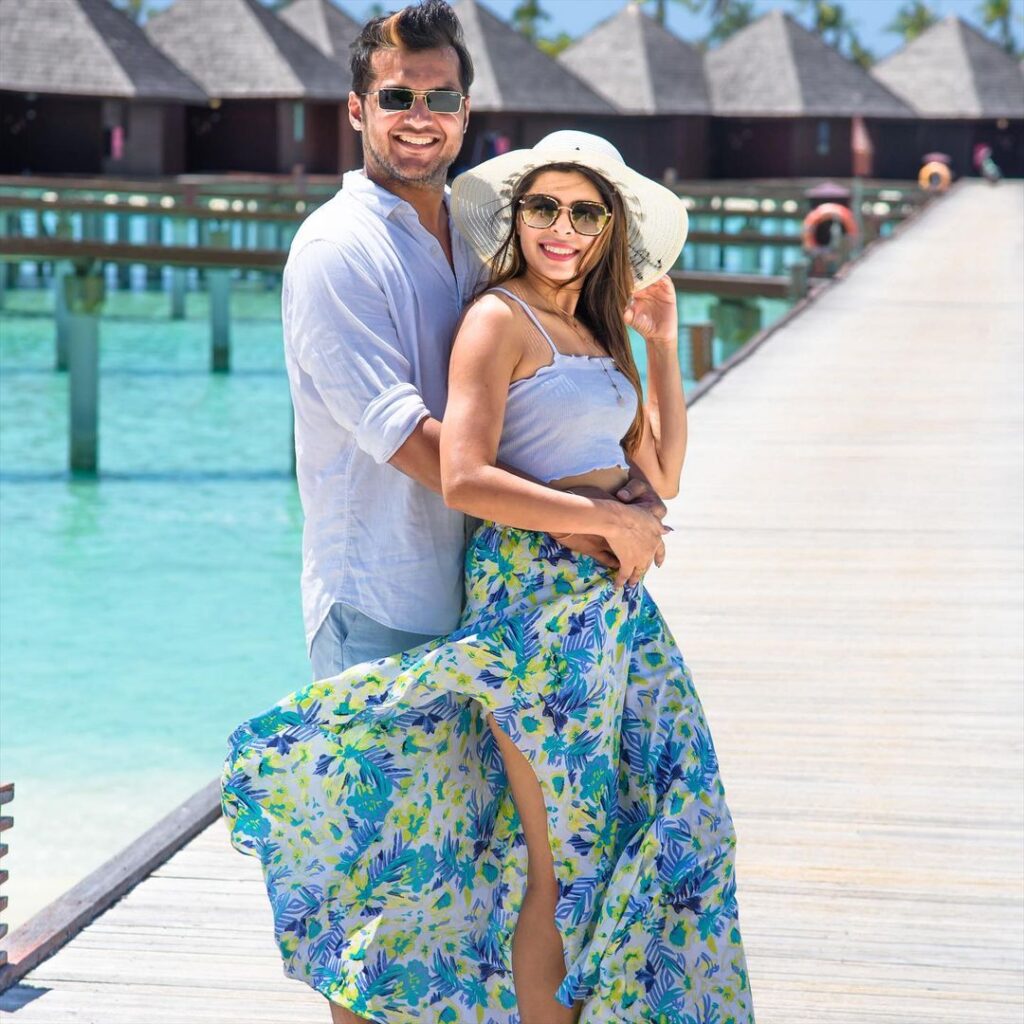 "After having our wedding during the pandemic, we were planning our honeymoon and couldn't think of a better destination than the Maldives as there were many restrictions in other countries. We were going in April, which was a good time because the monsoon hits the country after May and the best time to travel is from October till April," says our next couple Amrita and Manan.
"Our Maldives honeymoon planning begins by looking for resorts. We shortlisted based on prices, room size, customer reviews, resort property, etc. We also checked people's vlogs on YT for a better view of property and finally booked Sun Siyam Olhuveli. And honestly, it was more beautiful in real life than in pictures. We had an all-inclusive package, which we will advise for every couple as it saves the bucks for extra food, drinks, and water activities. There was never a dull moment in our 4N/ 5D stay. We booked the overwater villa with a jacuzzi for 2 days and a beach pool villa for the other 2 days. For honeymooners, they provide freebies like bed decoration, a bottle of champagne, and a dinner date," Amrita narrates her experience. 
"One thing I didn't like was we ordered floating breakfast and it was charged extra even though we had paid for all our meals. Rest everything went great. The resort was accessible and you could sit in any restaurant for drinks. We really enjoyed our stay and had a great time," Amrita concludes of her experience.  
See current ratings & reviews for Sun Siyam Olhuveli Maldives here. 
Pooja & Akshay
This couple has been featured on our blog for their gorgeous Mumbai wedding, and just recently went on a romantic vacation in the Maldives. They stayed at the ultra-luxurious W Maldives. "After doing our survey of the top 10 resorts in the country, we zeroed down on our destination hotel. And we're so glad we chose this property. The experience was phenomenal. From food, ambiance, comfort – all the experiences are top-notch," says Pooja. 
"The best part was definitely the massive water villa with a private pool. Also, our seaplane landed right outside our water villa which was splendid. The best part was our check-in was done at the private W lounge at the airport so we had a smooth time going to the villa from the Male airport. We were surprised by the decor and sweet hampers in the room. We'd suggest couples planning their Maldives honeymoon to book for at least 6 nights and 7 days where you could totally enjoy the breathtaking sunset, complete privacy, and come back with a lifetime of memories," says Pooja. 
See current ratings & reviews for W Maldives resort here. 
Shikha & Keshav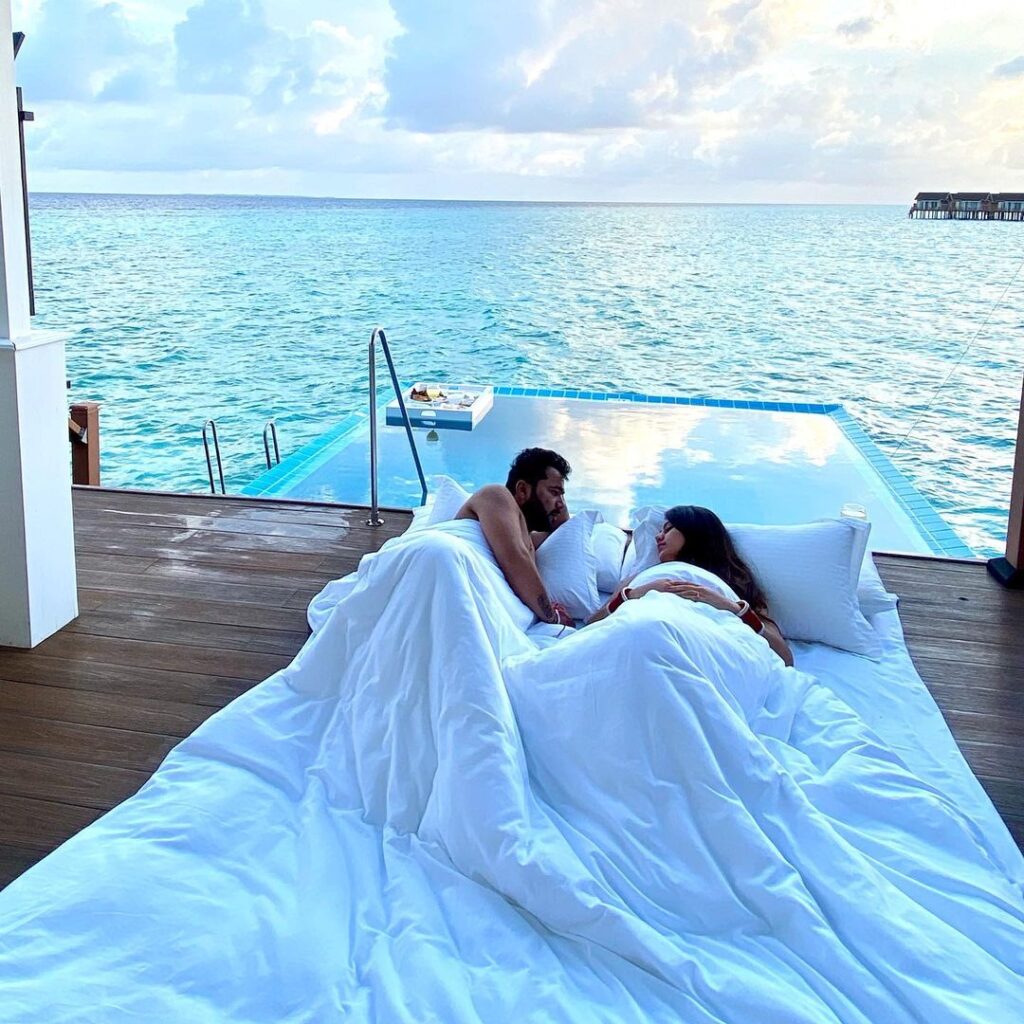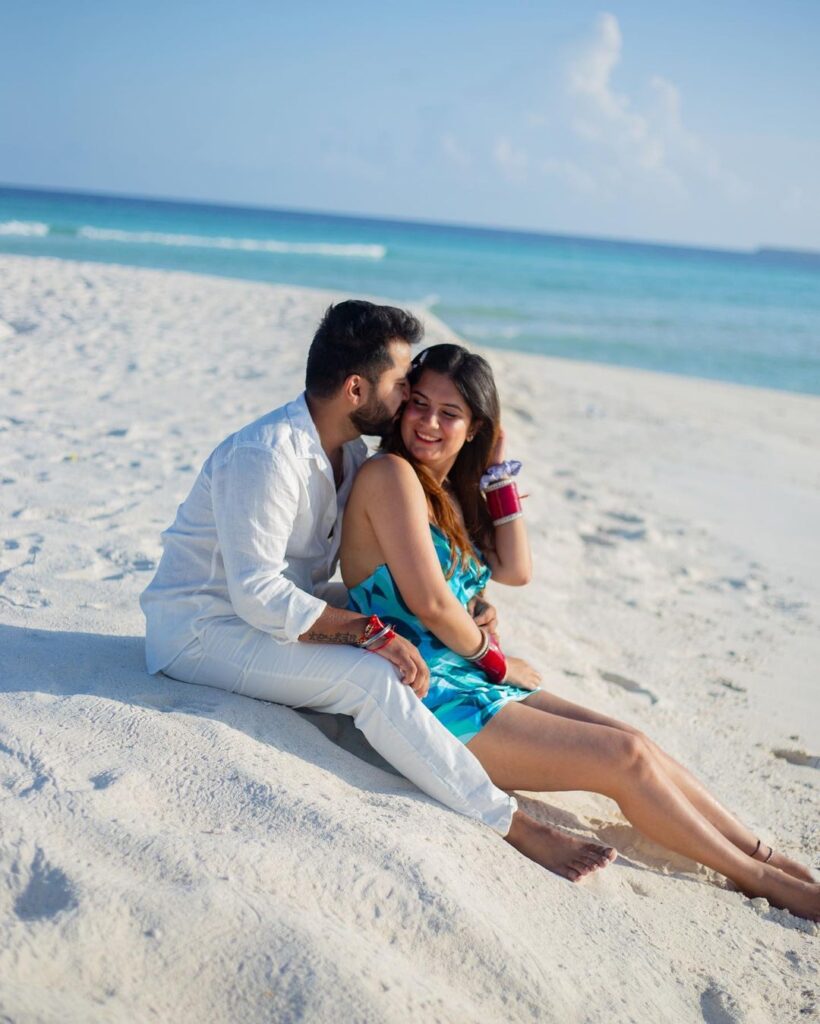 "Maldives was no doubt one of the best vacations ever. The best thing about Dhigufaru island is the beach and its private pool water villa. We loved it! With an over-water villa, you can jump right into the water and snorkel or swim," says our final couple on the list – Shikha and Keshav. Adding to their experience, they underscore a point lots of couples on this list already have – "Choose for all-inclusive packages that include food and alcohol – because they can be really expensive in the Maldives. Best experiences to try here are floating breakfast, sandbank dining, and wine cellar meal," they conclude. 
See current ratings & reviews for Centara Ras Fushi resort here.