Protein bars are a convenient, portable way to meet your protein needs and prevent unhealthy snacking. With so many varieties and delicious flavors, they satisfy your taste buds too. But are all protein bars made the same? Unfortunately, no. The truth is most of these bars are high in sugar, fats, and some don't even have enough protein to be called a protein bar (lesser than 2 grams). However, if you're on the lookout for the best protein bars in India, this list solves your buyer problems and gives you the healthiest options in the market. But, first, let's talk about what makes protein bars healthy. 
Criteria For a Good Protein Bar: 
7 Grams or Higher Protein Content:

If you're having a protein bar snack, it should at least fulfill 7 grams or higher of your protein needs. Depending on how much protein you're getting from other sources, aim for an amount that fits your nutrient need. 

Less than 10 grams Sugar:

Protein bar manufacturers add sugar in the form of honey, cane sugar, and fruit sugars. These sugars aren't bad for your health but should be restricted to no more than 10 grams. 

3 grams minimum Fiber Content:

A good protein bar should have a healthy nutrient balance, which includes fiber that's 3 grams or higher. 

Good quality protein sources:

The best sources for protein to check for is whey protein, nuts, seeds, multi-grains, and seeds. 

No Artificial Sweeteners, including sugar alcohols:

Say no to all artificial sweeteners and sugar alcohols like mannitol, sorbitol, lactitol, isomalt, and xylitol. 

Healthy Fats:

Fats nourish your body, boost nutrient absorption, and keeps you full longer. Aim for protein bars that have good fat content from nuts and seeds rather than from vegetable oil. 
You don't have to go out and research for the best protein bars in India, because we have done it! Please find below 11 high-protein, low-sugar bars that deserve a spot in your pantry. 
Full List:
(Please skip directly to the review of your favorite protein bar using the table of contents section. This is a lengthy blog.)
P.S.: Some of the links included in this blog might be affiliate. This means we may earn a commission on sales made from them. All the products are selected independently by our editors, keeping in mind reviews, popularity, and efficacy of the brand. Thank you for your constant support and love. We appreciate each and every one of you.
1. Yogabar Protein Bars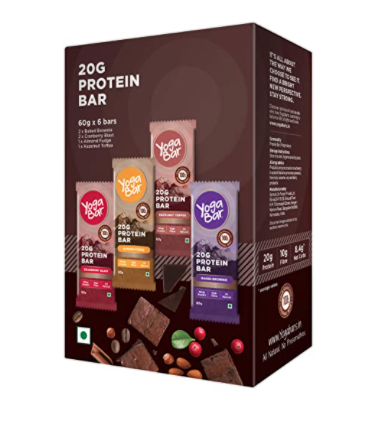 If you are searching for a company that has a protein bar for your every mood, Yogabar might be it! With so many delectable flavors – vanilla almond, chocolate brownie, apple cinnamon, yogurt berry, peanut butter, etc. – your favorite one is there somewhere, I promise. The company's philosophy is simple – making nutrition simple and easily accessible. All the ingredients added are of high quality and don't harm the body in any way. 
Physical Attributes & Quantitative Measurements:
The bars come in little packets weighing 50-60 grams. One box has 6, 10, or 12 bars packed, and they can all be of one flavor or you can purchase one of their assorted varieties – which offers numerous flavors in one box. 
The protein is derived from natural sources like nuts, seeds, and whole grains like oats, millets, quinoa, and brown rice. They also have whey protein bars which derive their protein from whey protein concentrate. While the former ones can have a protein content of around 8 grams, the whey protein ones have a whopping 20 grams of protein in one bar. 
Please note that the prices also differ depending on the protein content – the bars with 5-12 grams of protein are priced around Rs.250 for 6 pieces and those with 20 grams are priced Rs.600/- for the same quantity. 
The packaging offers all the information for your perusal. 
Main Features & Benefits:
All the Yogabars have an amazing nutrition balance, meaning a good ratio of protein, fiber, and carbohydrates. A balanced nutrient level ensures proper absorption in the body and a wholesome meal. 
Next, all their protein bars don't have any added white sugar, and the sugar content doesn't exceed 10 grams in any of the bars. Ensuring they aren't candy bars in disguise. 
An amazing unique attribute of their product is the addition of prebiotic fiber as an ingredient. Prebiotic fiber feeds the *friendly* bacteria in your gut and helps them produce nutrients that enhance the digestive process. This aids in the assimilation of protein into the body. 
Overall, there's no drawback to the product. With so many varieties and amazing nutritive components, these protein bars in India are a must-try. Just pick one and you won't regret it. My favorites are their breakfast apricot fig and chocolate brownie flavors. 
Here are some of their user reviews: 
"Great taste. I use them as my breakfast meal. Keeps me full, energetic, and satiated for a longer time." 
"So yummy. Came across these chocolate brownie bars while exploring Amazon and love the taste. This fulfills my sweet tooth craving without being unhealthy – what more do you want!" 
2. The Whole Truth Protein Bars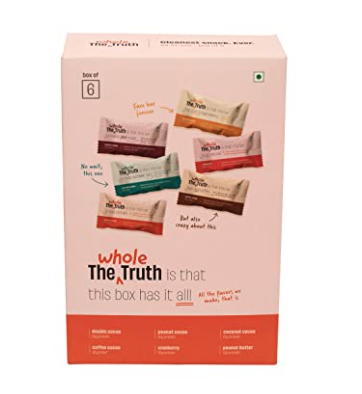 So being a coffee lover, I couldn't resist myself from The Whole Truth's Coffee Cocoa flavored protein bars, and OMG! YUM! The bar packs 13 grams of protein – derived from cashews, almonds, and whey protein. Plus, there's no added sugar. The sweet taste is because of dates – a common addition as a sweetener in all their protein bars. With effortless ingredient declaration and high protein content – this company can become your go-to protein bar in India. 
Physical Attributes & Quantitative Measurements
The bars come in two sizes – mini versions (27 grams) and normal sizes (53 grams). They generally come in packets of 6, 8, 10, and 24. The packaging is simple yet impactful. It catches your attention (not in a flashy way) and gives you all the information you need to assess the product. The price range starts from Rs.396/- where you can purchase their mini-bars pack of 8. Then, there's an Rs.500/- range offering regular versions in a pack of 6. The bigger packages with high product quantities can go till Rs.1100/-. 
Main Features & Benefits
I love that they offer mini versions of the bars. A unique attribute none other protein bars in India have. If you don't like a flavor, it will be finished soon and you don't have to worry about gulping down the whole just because you spent your money on it. Besides, the mini packets can fit right into your pocket, making it a nice portable snack you won't forget in your bag. 
I also adore the endearing branding of their products. Transparency on-point!  
Additionally, they add the goody ingredient date as a sweetener. Dates, in appropriate amounts, are extremely nutritious and have loads of benefits like promoting brain health, nervous system well-being, improving hair thickness, and boosting the antioxidant levels in the body.
Another great feature of this product line is the presence of whey protein. There are some health scientists who claim that getting your whey protein from a bar is better than getting it from a shake. And the amount isn't much to make you ponder if high whey protein content is good for you or not. It makes for just 17% of the product – the rest of protein is derived from nuts (cashews, almonds, and peanuts). 
A drawback can be the higher price range. Even though the cost is justified – given the handmade bars, it can be a pricier option for those on a budget. 
See what one reviewer wrote: 
"Great taste, healthy, and very clean. Doesn't feel heavy on the stomach but rather filling, unlike most other protein bars in the market."
3. Rite Bite Protein Bars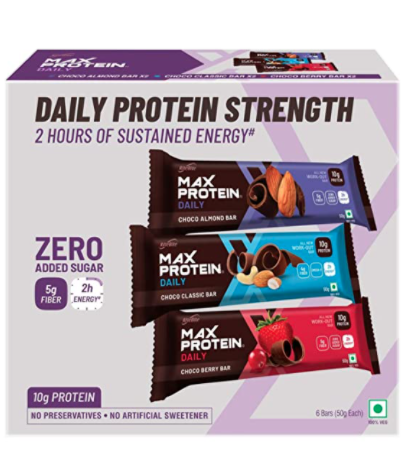 If you're on the lookout for protein bars in India with the highest protein content – your search ends with Rite Bite Max Protein bars with 30 grams of protein each serving. They procure their protein from concentrates, like whey protein concentrate, soy concentrate, soy nuggets, calcium caseinate, etc. Besides the protein bars, they've other healthy, protein-rich snacks like cookies, chips in different flavors – Peri-Peri is my absolute favorite, I'm on my 20th box I think. (smiley) Keep reading for a detailed review. 
Physical Attributes & Quantitative Measurements
Rite Bars come in a variety of flavors – choco almond, choco fudge, green coffee beans, peanut butter, fruits & nuts, etc. You can buy packs of 6, 10, 12, and 24. The bars in these packs weigh differently too – 35, 50, 75, or 100 grams. The ones on the higher end have more protein content – 20 to 30 grams, and those on the lower end have 10 grams or lower protein content. With so many assorted varieties and boxes, a careful reading of the label is recommended. 
The price range starts from Rs.300/- for boxes containing 6 bars containing 10 grams of protein each. Their assorted nutrition bar range has 3-4 grams protein per bar – so please take that into consideration before purchase. The prices increase with the number of bars and protein content, reaching as high as Rs.1248/- for some packages. 
Main Features & Benefits
The Rite Bite Protein bars make for a complete, nutritious meal because apart from protein and fiber, it packs in 21 essential vitamins and minerals like Vitamin A, C, D, E, B groups, zinc, magnesium, potassium, biotin, Omega-3, and the list goes on. That's why it's recommended alongside a light breakfast, evening snack, or binge on while traveling. 
These protein bars also pack in a good quantity of fiber, 30 grams protein with 10 grams of fiber (33% of DAV). Combining protein and fiber together has many benefits – it keeps you full for longer, promotes fat loss, and is a great way to feed your muscles. 
Moreover, the bars come packed with many healthy ingredients like flaxseeds, cashews, almonds, raisins, and consciously sourced dark chocolate. So, you can indulge in them without any guilt trip. 
A drawback could be a long list of ingredients that can be deterring to some buyers. 
Read some of their product reviews: 
"Have been consuming these bars as evening snack replacement for 15 days and they're working quite well. Will be purchasing more for long-term usage."
"The protein bars in India have the highest protein content, which is great! I have tried many flavors, but don't like the chocolate flavors at all. My favorites are berry ones." 
4. HYP Sugarfree Protein Bar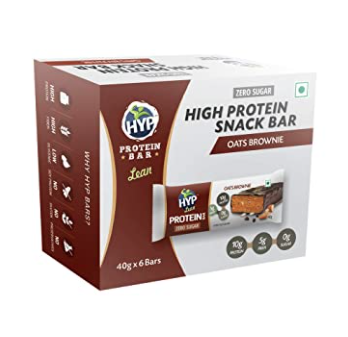 The company Hyprote is the latest addition to protein snacks in India. Their main product is the sugar-free protein bars, which the company claims can also be used as a meal replacement. We can attest that with naturally sourced ingredients, high protein and fiber, low carbs, and no additives – they can become a go-to snack for the health-conscious Indian. 
Physical Attributes & Quantitative Measurements
The HYP protein bars come in two varieties – a regular version and the whey protein meal replacement bars. The former boasts of 10 grams protein with 40 grams bars and the latter offers 20 grams of protein with a weight of 60 grams. The bars come in a pack of 6, with 10g protein version costing ~ Rs.250/- and 20g versions costing ~ Rs.550/-.
They have many exciting and new flavors in the market like mint chocolate, cookies and cream, espresso, coconut almond, berry burst, and oats brownie. I haven't had a chance to try any yet but I know my first pick will be cookies and cream. 
Main Features & Benefits
The first main feature is their *meal replacement*. We're often worried if the protein bars consumption is a wholesome snack in itself, and this one promises to be one! 
Their protein blend is derived from high-quality milk and whey protein. Further, these bars also contain prebiotic fiber which enhances gut health and boosts protein absorption in the body. 
Lastly, I love their unique flavors which none other protein bars in India are offering. 
Please note that due to the company's no-preservative policy, the bar's shelf life is 60 days, 90 if you refrigerate the bars. Don't buy quantities that you can't consume in this set number of days. 
A drawback of HYP protein bars is their low popularity. Even though the products are good, other companies are able to pump more into the marketing. Since the reviews are sparse too, the buyer might not be able to do an absolute perusal of the product. 
"I love the Salted Caramel n Cookies & Cream version of their bars. Seems like good quality, nice taste, and filling. For nutrition freaks like me, there's no better option out there." – says one reviewer. 
#5 Muscleblaze Protein Bar

Muscleblaze is an Indian company founded in 2012 and headquartered in Haryana, India. MuscleBlaze's products are designed to support muscle building, recovery, and athletic performance. The brand claims to use high-quality ingredients and advanced manufacturing techniques to ensure the purity and potency of its supplements. Their best-selling product is a protein powder, but their protein bars are also ranked highly among nutritionists and health enthusiasts. Find a review of their protein bar below: 
Physical Attributes & Quantitative Measurements:
The Muscleblaze protein bars come in a pack of 6, with 20 grams of protein in every bar. It's a given that these are the best protein bars for weight gain in India with a high amount of protein. These bars come in three flavors: Choco Almond, Cookies & Cream, and Choco Cranberry. The Choco Almond one has the best reviews and is the most popular. The Muscleblaze also has other varieties for those looking for the best protein bars in India for weight loss, like 10 grams of protein and 8 grams of protein. The product with 20 grams of protein and 6 bars is priced at Rs.650/- at the time of upload of this article. 
Main Features & Benefits:
The Muscleblaze protein bar in India comes with soy protein and whey protein. Soy is a great protein source because it lowers cholesterol levels, helps support the environment, and is one of the plant-based proteins that offer enough of all essential amino acids to support muscle growth. It also contains 5 grams of fiber and it's an established fact that protein and fiber together help initiate weight loss by attacking the fat stores in your body and dissolving them. The fiber comes from the presence of raw almonds and oats in the product. 
One drawback of the product can be it contains sucralose. Well, it can be a drawback for some and not others. Sucralose is a controversial product and the only sweetener that's made from sugar by altering its biochemistry. It makes sucralose 600 times sweeter so you need just a small amount for the same sweetness as table sugar. While it's generally considered safe, sucralose can cause digestive issues and headaches in some people. 
"To begin with, I never leave reviews for anything but this protein bar brand deserves one! I am fighting my sugar cravings but I definitely need something sweet right after dinner. I was used to having sugar candies, but then I thought of replacing them with protein bars in India and found this one. It's a decadent flavor – not too sweet. I don't eat the complete bar just half because I don't need 20 grams of protein and that's how much I need to suppress my sugar cravings as well. I order at least twice a month. It's just perfect!" writes a reviewer on Amazon. 
#6 Phab Protein Bar

Phab was formed in 2019 in India by Ankit Chona and Vivek Chopra. The company is headquartered in Mumbai, Maharashtra, and believes in revolutionizing the protein market by addressing the protein-deficient urban market (76% of the urban population in India isn't meeting their daily protein needs). So besides protein powder, they have curated a number of protein products like protein bars, protein shakes, and one-of-a-kind protein bombs to make the nutrition appealing to the taste buds and easily accessible for the busy population. Find a review of their 21-gram protein bar below: 
Physical Attributes & Quantitative Measurements:
The Phab Protein bar contains 21 grams of protein in each bar and comes in packs of 6 with each bar weighing 65 grams. You can get protein bars in a lower quantity of protein too like 11 grams and 4 grams. The flavors in the 21 grams protein bar are chocolate brownie, mocha nut fudge, and strawberries & greek yogurt. You can also purchase a variety pack that consists of all three flavors. The price of the product at the time of the upload of this article is Rs.626/-. 
Main Features & Benefits:
The Phab protein bar derives its protein from whey protein and soy protein isolate. Combining whey protein and soy protein can be a good strategy for increasing protein intake and supporting muscle growth and maintenance. The fast-digesting whey protein can provide an immediate supply of amino acids to support muscle recovery after exercise, while the slower-digesting soy protein can provide a sustained release of amino acids to help maintain muscle mass over time. It's a smart strategy to add these two for those looking to gain muscle mass with protein bars in India. 
Other notable attributes of the product are using honey as a sweetener (and staying away from any artificial sweetener), adding prebiotic fiber (fibers that help good bacteria to grow in your gut and makes digestion easier), and inclusion of sugar-free Belgian chocolate (cocoa is known to contain many antioxidants that reduces inflammation in the body and protects you from diseases like heart disease, cancer, and diabetes). 
"These are yummy and their strawberries and greek yogurt flavor is by far my favorite flavor in the protein bars in India. They can be quite sweet for some people – especially those who don't eat sugar in their beverages, but it's delicious. It has a slightly tangy taste which adds tartness to the flavor. If you have ever had a Strawberry frappuccino at Starbucks, it's flavor is something like that. If you're looking for a less sweet and nutty option, their mocha nut fudge is a great option. Be careful to split them in half beforehand if you don't want to eat the full bar. It will be difficult to stop in the middle," writes a reviewer on Amazon. 
#7 Voll Pro Plant Protein Powder

Voll Sante is a natural-healthcare company founded in 2017 and headquartered in Mumbai, India. They are the first protein bars in India offering herbal protein bars with plant-based protein combined with a super green ayurvedic blend of spirulina, moringa powder, amla, spinach, and alfalfa. The company is focused on providing functional solutions to its customers by offering beverages and food products that are nutritious, tasty, healthy, and most importantly, convenient. Voll Sante emphasizes the use of natural and holistic approaches to health and wellness, and their products are designed to support the body's natural processes and promote overall well-being. Find a review of their unique protein bar below: 
Physical Attributes & Quantitative Measurements:
The Voll Pro plant protein powder comes in a box of 8 X 30 grams bars with 12 grams of protein in each bar. The packaging depicts many plants and fresh produce to further emphasize the natural approach of the company in its products. They are available in 4 flavors: orange, strawberry, coffee, and mint. The bar contains zero sugar, and zero trans-fat, and is non-GMO and gluten-free. The price of the product at the time of upload of this article is Rs.465/-. 
Main Features & Benefits:
The Voll Pro protein bar derives its protein from pea protein and rice protein. While both have all essential amino acids, rice protein is a plant-based protein source that is low in lysine but high in cysteine and methionine, while pea protein is a plant-based protein source that is high in lysine but low in cysteine and methionine. By combining these two protein sources, individuals can benefit from the complementary properties of each, resulting in a more complete amino acid profile. This can help support muscle growth and recovery, as well as overall health and wellness.
This protein bar also contains a super green blend of amla, alfalfa, moringa, spinach, and wheat grass powder. This blend is unique to this product and enhances its health benefits by multifold. This one of the protein bars for weight loss in India also contains a sugar-free chocolate compound for those who want to enjoy the taste of chocolate without the added sugars and calories. It does contain soy and peanuts, and those who are allergic to these ingredients should be wary of their presence! Besides, it's a completely safe and natural protein bar with a range of benefits to boost your personal health. 
"For years I have consumed protein bars as a replacement for my protein shake – I sometimes find the former convenient to consume on-the-go! Some are good but did have some controversial ingredients. Others don't taste that good and are either too sweet or grittier. Voll Pro Protein bars in India surpass all those drawbacks and give a nutritious and tastier protein bar for all! They don't disintegrate and are easy to chew. I highly recommend them to use as a health supplement or to have as a snack!" writes a reviewer on Amazon. 
#8 Wingreens Monsoon Harvest Nuts & Seeds Energy Bar

Based in Coimbatore, Tamil Nadu, Wingreens Harvest was formed in 2015. It's a family-run business that believes in offering traditional Indian foods like millet, whole grains, and palmyra sugar in contemporary ways. Some of the products offered by Monsoon Harvest include granolas and mueslis made with ingredients such as oats, nuts, seeds, and dried fruits, as well as snack bars made with ingredients such as dates, nuts, and dark chocolate. They also offer nut butter made with almonds and cashews, which are free from added sugars and oils. Their protein bar in India derives the protein from natural ingredients like nuts and seeds and doesn't include any protein isolates. Find a review of the product below: 
Physical Attributes & Quantitative Measurements:
The Wingreens Monsoon Harvest Nuts & Seeds Energy bar comes in a pack of 6 X 30 grams of each bar. There are two flavors available in this product: cranberry-almond and dark chocolate with sea salt. The packaging is dark green with various imprints of fresh produce and grains for a refreshing take on the visual appeal. You can buy it for one-time or also subscribe to the product where you can select the number of deliveries you want in a month. The product's price at the time of uploading this article is Rs.427/-. 
Main Features & Benefits:
The Wingreen protein bars are handmade, all-natural, non-GMO, and contain no artificial preservatives or flavors. Every bar has 60% whole nuts like almonds, walnuts, cashew nuts, pumpkin seeds, flaxseeds, and more! For sweetness, the product contains fructooligosaccharides, a plant sugar that occurs in many fruits and vegetables. These compounds don't just act as a sweetener though, but also have a prebiotic effect and help in mineral absorption. 
Because of whole ingredients like nuts and seeds, the protein bar is also rich in fiber. It also contains tocopherol – a type of vitamin E that is often used as a natural preservative in protein bars and other food products. Tocopherol is a powerful antioxidant that helps to prevent oxidation and spoilage of the fats in the protein bar, thereby extending its shelf life. Because of their delicious and healthy nature, they can be a great addition to your handbag whether you're going from the office to home and want something to chew on during the travel or want to enjoy a snack right after a workout! 
"I have been looking for a natural protein bar, one that doesn't have any protein powder or anything, and only gives you protein with natural ingredients. That's when I found this company. I was impressed by the short list of ingredients which didn't confuse me. The bars are delicious and a great evening snack when cravings just peak! They are small though and can be costly for those who want to consume them regularly. For those wanting to build muscle, this can be a good addition but not an alternative to your protein shakes though! Overall, a good product." writes one of the reviewers on Amazon. 
#9 Gatorade Whey Protein Bars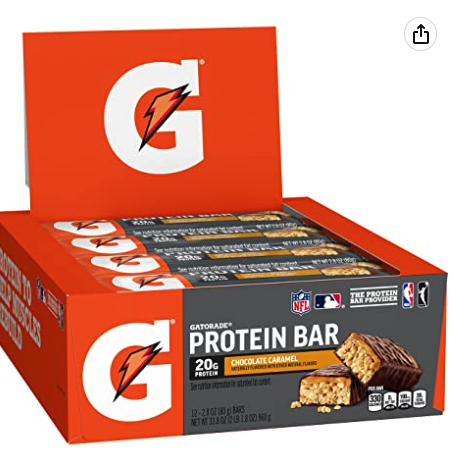 Gatorade was founded in 1965 by a team of scientists at the University of Florida who were seeking a way to help athletes stay hydrated during hot and humid conditions. Today, it has become a global company with distribution in over 80 countries and has become an iconic brand in the world of sports and fitness. Besides sports drinks, Gatorade also offers a wide range of products like protein powder and protein bars. Both of them are highly rated among consumers as well! Find a review of the latter below: 
Physical Attributes & Quantitative Measurements:
The Gatorade whey protein bar comes in a pack of 12 and in just one flavor of chocolate caramel. It comes in its distinctive orange packaging and has 20 grams of protein each. Other flavors are also available, but they aren't available to purchase on Amazon India yet and we won't recommend purchasing from other sites as the product can get stuck at customs. The price of the 12-count whey protein bars at the time of the upload of this article is Rs.5395/-. 
Main Features & Benefits:
Gatorade bars' protein comes from high-quality whey protein to help support muscle gain and provide energy. They are a quick substitute for whey protein shakes and can be taken on the go for those who have no time to whip up a shake right after the workout – which is especially true in the mornings. The chocolate caramel taste has been praised by the customers and they're quite impressed by the delicious flavor of the bar. It contains all safe ingredients and the products are all formulated and tested at the Gatorade Sports Science Institute. 
The protein bar comes with a natural flavor and you should know it's not sugar-free. Just like other products by Gatorade, this one also uses natural sugar instead of a sugar substitute. While natural sugar isn't good for those who are watching their calorie intake or have insulin sensitivity, for others, it can be a better option than substitutes which have been shown to cause some negative side effects in some people. Most of the sugar in the bar comes from the naturally added flavoring of chocolate and caramel anyway! 
"We are absolutely in love with this protein bar. We were looking for a quick meal replacement in the morning because both I and my husband have to leave for work early. My husband is very picky and we couldn't find the one suited to his taste for a long time. He didn't have any complaints about these though! They taste delicious and are also relatively healthier than the packed breakfasts we used to have! They hold us up till lunch. Worth the investment for us!" writes one of the reviewers on Amazon. 
#10 Mojobar Choco Almond & Protein Snack Bars

Mojobars was formed in 2014 in Mumbai, Maharashtra to meet the growing demand of the urban population for healthy snacking. Their snack bars come in a variety of combinations and are all designed and curated in their facility to meet the needs of their customers. When you will search for Mojobar on Amazon, you will see a ton of products and combinations to suit every taste and preference. They have also recently come up with protein bombs which are small balls packed with 7 grams of protein and wholesome ingredients. Below, find a review of their protein bar. 
Physical Attributes & Quantitative Measurements:
Mojobar comes in packs of 6 and 12 and has four flavors: nutty apricot, choco almond, orange dark chocolate, and yogurt berry. The design and brand color of the packaging change with the flavor and the weight of one bar is 32 grams. You can buy it as a one-time purchase or can even subscribe to the bars to get them delivered on a regular basis. The price of a box of 6 at the time of the upload of this article is Rs.270/-. 
Main Features & Benefits:
The Mojobar is ranked as one of the best protein bars in India because it contains only whole grains, nuts, and fruits, and doesn't have any added gluten, preservatives, or artificial sugar. All the ingredients are smartly sourced from the place where they have the best quality. Like the almonds are sourced from California, peanuts from Gujarat, rolled oats from Australia, and cranberries from America to only give you the best of the ingredients in this best-selling nutrition bar in India. The flavors added are also all-natural and don't come from artificial additional of ingredients.  
We also love how the company takes care of the caloric requirements of health-conscious individuals and makes each bar to be around 160 to 180 calories. It's also tested by the nutritionists to contain the right proportion of protein, carbohydrates, fats, and sugar to also meet the macro requirements. Because of the presence of wholesome ingredients, the bar doesn't cause any digestive issues like bloating or indigestion, which is a problem when you consume protein from these sources. 
"I think I have been a Mojobar fan since the time they launched. Their bars were yummy then but I think the quality has become much better now. Kudos to their team for constantly innovating the products to meet customers' needs. All the flavors are delicious and they are just so easy to chew (some protein bars just stick to the teeth). I don't see any doubtful ingredients whatsoever, so there's no point in questioning the product. Price is also lower as compared to other protein bar brands in India so you can get addicted without burning a hole in your pocket," writes a reviewer on Amazon. 
11. Monkey Bar – 10 grams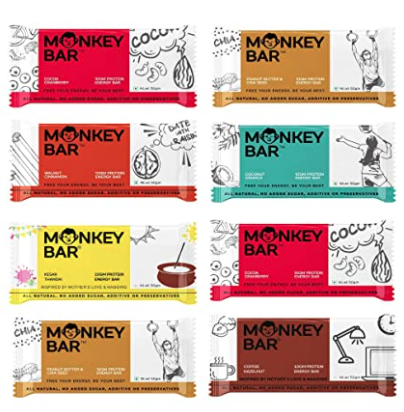 A couple decided to DIY their protein bars at home to satiate their work hunger pangs, and their colleagues loved them too. Soon, they decided to make them full-time and that's how Monkey Bar was born. Handmade, protein-rich, and consciously sourced ingredients are at the core of the brand, and you can definitely feel the quality with each bite. Here's a complete review: 
Physical Attributes & Quantitative Measurements
Monkey Bars come in packets of 6 and 8, each bar weighs 50 grams. There are a total of 8 flavors – Kesar thandhai, pistachio cardamom, coffee hazelnut, coconut crunch, peanut butter chia seed, walnut cinnamon, and cocoa cranberry. The price range for a bunch of 6 or 8 starts from Rs.400/- and goes till Rs.500/-. 
Main Features & Benefits
Well, I guess one of the best standalone features is they are hand-made and customized as per Indian flavors. There's a flavor called Kesar Thandai where one of the ingredients is Thandhai mix. For this hot, humid weather, there's nothing like savoring a thandhai with a side of protein. 
The packaging is just too adorable and transparent. There is a maximum of 5 or 6 ingredients in each bar. No sugar, additive, or preservatives are added, so consume them within a month or two. They derive the sweetness in the product using dates – an amazing substitute for white sugar. And the protein is derived from nuts, oats, seeds, and natural whey protein.  
We also love the budget price tag on this one! For Rs.500/-, you can purchase 8 protein bars with 10 grams protein each and 50 grams of weight. 
A drawback of this product is its low protein quantity. For those looking to bulk up and wanting a good protein amount from their snack, this might not be the best option. Rest, there are no cons to these amazing curated bars. 
"Simple ingredients, awesome taste, and awesome packing. Loved it." – writes one reviewer. 
FAQ's About Protein Bars In India
What is the average price of protein bars in India?
Most protein bars in India come in a pack of 6 and are priced between Rs.250 to Rs.800. The ones in the higher price range often have a higher protein content, like Yoga Bar Baked Brownie with 20 grams protein, priced at Rs.600/- and Rite Bite Choco Almond with 30 grams protein priced at Rs.800/-. 
Are protein bars healthy?
YES! When chosen consciously, you can pick a healthy protein bar that fits into your dietary needs well. The ones we have listed above meet the health criteria – high in protein, low sugar, good fiber, no artificial sweeteners, and healthy fat content. If you want to try any other of your favorites, just check for the nutrient list and follow the standard mentioned at the start of the blog. 
Protein has plenty of benefits. It helps transport molecules throughout the body, builds and repairs cells, ensures proper growth and development, builds immunity, supports weight loss, and reduces cravings. 
Can we eat a protein bar every day? If yes, how many?
You can certainly snack on a protein bar every day. We'd recommend chewing on 1, but you can chomp on 2-3 if you want. On days when you feel you've had enough protein through dietary sources, skip on them completely! And during those busy days, when meal planning seems tough, snacking on a protein bar can help you keep your nutrient needs on track. The crux is it all depends on your physical activity, dietary requirements, and body goals. Let's say if you're trying to build muscles, a good protein bar is a perfect way to feed those muscles. On the other hand, if you aren't physically active, having a protein bar daily isn't necessary. You can easily get all the protein from your diet, and consider the bar as a portable snack to savor from time to time. Check how much protein you need here. 
Which protein bars in India are highest in protein?
Here are 4 protein bars in India with the highest amount of protein: 
Do bodybuilders eat protein bars?
Everyone can benefit from a protein bar, especially bodybuilders. They've higher than usual protein needs, and what's better than a portable snack to feed the muscle mass. If your meal planning lacks a few grams of protein, rely on a good high-protein bar to meet your daily protein needs. However, keep in mind that bodybuilding requires a strict diet plan, and not all protein bars are made equal. We'd suggest picking one that has low fat, low carbs, and a high source of protein. Like 
Can women have protein bars?
Gender has nothing to do with your love and preference for protein bars. Both men and women can benefit equally from them. We all have busy lives, and sometimes getting enough protein from 3 meals feels impossible. This is where the quick and convenient option of having a protein bar pops in as a savior. Depending on your physical activity levels and body weight, you can snack on a protein bar every day or a few times a week. All the protein bars in India are made to suit women's bodies and dietary needs as well. So, don't ponder before picking any of the options from above. 
Conclusion & Our Best Picks For Protein Bars In India
Protein bars are the best, on-the-go snack to keep in your bag. They are the answer to your nutritional needs on those busy days and a great portable snack for traveling. While there are benefits to each bar lifted above, if we had to pick our favorites – it would be Yogabars and Rite Bite and for all-natural options (although low-protein) – The Whole Truth and Monkey Bars are great picks!
If you have any other questions about protein bars, please let us know in the comments section. We'd answer them sooner than you think. 
Other Review Blogs To Check Out