In a perfect world, we'd eat a healthy, balanced diet in each meal and include 10 fruits & vegetables daily, and have our macros on-point. But in our daily life, such optimization isn't a real deal. Life comes in between. You tend to skip your meals or rely on takeouts for quick gratification. This is why multivitamin tablets in India have seen a surge and the vitamin market is valued at 281 million US dollars, as of 2020. Not to say that multivitamins should take the place of whole foods or a nutritious diet. It should only be regarded as an addition to your healthy dietary regimen and not as a replacement. When used this say, best multivitamin tablets can help meet the gap between any nutritional deficiencies you might have. 
Once you've decided to settle on taking a multivitamin, you need to find the right brand. Here are our top picks based on the company's trust, user reviews, and ingredients quality, to help you pick the best multivitamins in India for men and women. 
Price Comparison Table:
Best Multivitamin Tablets For Both Genders
1. Carbamide Forte Multivitamin Tablets For Men & Women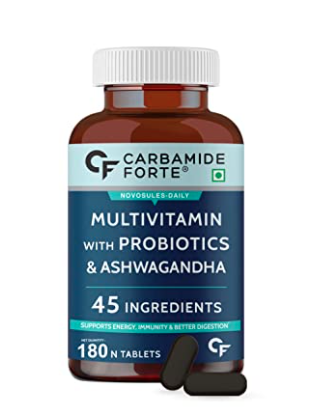 Carbamide Forte is one of the affordable multivitamin tablets in India. Their economical price shouldn't be misconstrued as compromised quality though. With more than 2500+ positive reviews on Amazon and countless people praising the effectiveness, it's hard to not get your hands on their affordable variety of vitamins. They're also an Indian brand, so if you're looking to support local brands, it's a plus for this brand as well. Read on for full review and details of Carbamide Forte Multivitamin For Men and Women. 
Physical Attributes & Quantitative Measurements
The Carbamide Forte Multivitamin Tablets in India come in a brown color bottle with slight visibility of the tablets inside. Outside, the label cover is in shades of blue and a white cap. All the information about the product is mentioned on the outer packaging as well as the bottle so you don't have to worry about not having the information on hand even if you misplace the outer package. The tablet inside is dark brown in color and has a capsule shape. Because of the sturdy plastic exterior, it's very easy to carry the bottle anywhere – whether to work or on a vacation so you never miss your supplements. 
Benefits & How It Compares To Others
This multivitamin tablet has 100% RDA of most of the vital vitamins your body needs like Vitamin A, Vitamin D, Vitamin C, Vitamin K, and all types of B vitamins, minerals like zinc, manganese, boron, chromium, molybdenum, etc. It has a 50% of iron requirement because as researchers also recommend, iron is best to be consumed from natural sources than a supplement. A supplement is only recommended if you have a severe deficiency or have to restrict certain types of food for a while. 
Besides the vitamins, this one of the multivitamin tablets in India has a strong probiotic and prebiotic blend. Probiotics are good bacteria and these bacteria play an important role in maintaining your gut health, which further controls inflammation in the body and plays an important role in boosting immunity. Prebiotics can be considered as food for good bacteria and help them flourish. Besides vitamins and minerals, your body needs a good dose of probiotics & prebiotics to boost immunity and maintain outer beauty. 
This multivitamin tablet also contains a super antioxidant blend of lycopene and grape seed extract. Antioxidants help neutralize free radicals in the body and reduce the formation of many diseases. A good dose of antioxidants can also help brighten the skin and reduce any acne-related inflammation. There's also a vitality blend of ginseng and ashwagandha extracts to help maintain energy levels throughout the day. 
P.S.: Since ginseng enhances energy levels, don't take this or any other vitamin with ginseng during bedtime as it can hamper your sleep cycle. 
Customer Review: "It is such an amazing combination of vitamins and minerals at such a cheap price for multivitamin tablets in India. I have definitely seen an improvement health-wise. Truly value for money. I highly recommend this one." 
Purchase here. 
2. Himalayan Organic Ayurvedic Multivitamins For Men & Women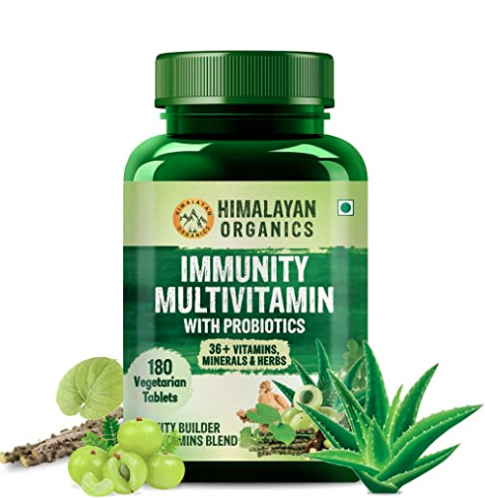 The Himalayan Organics Multivitamin tablets in India for immunity is an all-natural multivitamin and a great low-cost option for those who want to support their health externally. Produced and manufactured in India, the brand aims on supporting holistic wellness by using each ingredient of quality and thoughtfully curating the supplements so they are absorbed and mimic the naturalness of the particular vitamin inside the body. Founded in 2018, the brand has already made a strong mark in the Indian supplement industry for its excellent and effective products.  
Physical Attributes & Quantitative Measurements
The Himalayan Organics multivitamins come in their signature green packaging with a green cap and a label that has all the information about the product – from ingredients to nutrient information, manufacturing date, and customer care number. The capsules come in a dark brown color, but from my personal experience, the Himalayan Organics can change the color of their product. I order hair vitamins from them and the first time, it arrived in brown color and the other time in white. But you can easily confirm the authenticity of the product by sending them the product code on customer care (contact details mentioned on the box itself). 
Benefits & How It Compares To Others
The Himalayan Organic multivitamin in India contains 100% DA of many essential minerals which are hard to get from our everyday diet like manganese, molybdenum, iodine, Vitamin E, Vitamin B5, Vitamin B3, and selenium. It also contains a very high DA of other vitamins important for immunity, skin health, and hair health, like folic acid, Vitamin B12, Vitamin D, and Vitamin C. There's also 30 mcg biotin – an essential vitamin to support healthy hair growth. 
In this multivitamin, you will also find some impressive ingredients like probiotics and prebiotic blends. Both of them are quite important to support the growth of good bacteria inside the intestine, and also support this good bacteria in a few other parts of the body like the vagina, lungs, and mouth. Good bacteria are essential to fight bad bacteria, prevent you from infection, reduce inflammation (related to skin conditions like rosacea and psoriasis), and build healthy immunity. 
That's not all. In this supplement, you also have a unique super anti-oxidant blend and a vigor & vitality blend with ayurvedic ingredients. Ayurveda follows a very simple strategy – "Prevention is better than cure." and has easy-to-use lifestyle rules and herbs to help you achieve the same. This multivitamin tablet with ayurvedic herbs like aloe vera, amla, giloy, moringa, etc. boosts overall health and helps improve the body's health from within.  
Customer Review: "I have been taking this multivitamin because I felt really weak after having Covid another time during Covid. I also experienced increased hair fall. This definitely works and I see the results within a month. More energy, less hair fall, and fewer health issues. Also, cost-effective." 
Purchase here. 
3. NutriJet Multivitamin With Probiotics, 43 Vitamins, Biotin For Hair Growth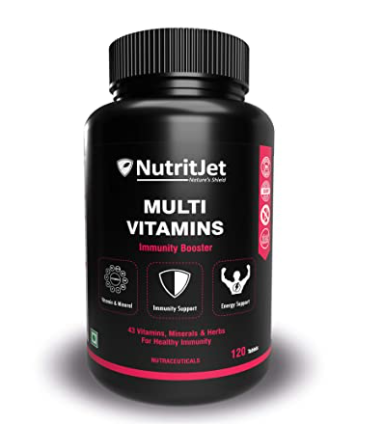 Nutrijet started around a year back and already has many trusted and continued users in the market. Their aim is to provide a high-quality nutrition boost to people by research-backed ingredients formed into one effective, highly absorbed supplement. All the formulas are crafted by revered nutritionists and scientists, and that's the reason why they work like a charm, as also stated in the review. The Nutrijet Multivitamin with Probiotics is a great booster for immunity, energy, and general health. Read on to see a mini-review of the product. 
Physical Attributes & Quantitative Measurements
The Nutrijet multivitamin for men and women comes in a black bottle that's just slightly transparent. The cap as well as the labeling is also black and all the details about the product are mentioned in white and pink on the label. You can find all the information on the box so you can easily discard the outer packaging without any hesitations. Inside, the supplement is in a dark brown color and has a capsule form – a shape quite common in multivitamin tablets in India.
Benefits & How It Compares To Others
NutriJet company is not even a year old and their supplements have already gained quite recognition on Amazon. They are coming on the first page for quite a lot of supplement keywords (not sponsored) which says a lot about their quality since Amazon reviews are mostly genuine and people don't hesitate when criticizing a product. All their products are 100% vegetarian, made in a WHO-GMP, HACCP compliant, and fully licensed FSSAI facility so you can be assured of the quality of the ingredients and the product. 
This multivitamin tablet provides 100% RDA of many essential vitamins, like all the 7 B vitamins, Vitamin A, Vitamin C, zinc, manganese, copper, chromium, iodine, molybdenum, Vitamin K, Vitamin D, and selenium. It provides 50% RDA of folic acid and iron, and 16.67% RDA of Calcium, which researchers have proved is best to be taken by diet rather than supplements. Plus, any supplements for these products should be taken after consulting with a doctor only. 
In addition to the strong vitamin & mineral profile, this multivitamin also has a good probiotic + prebiotic blend, herbs, super antioxidants, and vitality blend. This includes some impressive extracts like grape seed, green tea, turmeric, giloy, ashwagandha, lutein, and lycopene as antioxidants, and amla, neem, moringa, Ginkgo Biloba, and aloe vera for energy levels. Because of the unique blend, no wonders this multivitamin supplement in India stands out among the rest. 
Customer Review: "I love this multivitamin. I was looking for a good vitamin because I was losing a lot of hair. After just a week of using this supplement, my hair fall reduced a bit and I noticed a drastic reduction after 1 month. Some new hair starting to grow as well. I don't know which vitamin I was lacking but whatever it was this multivitamin was able to help me. Highly recommend!" 
Purchase here. 
#4 Wellbeing Nutrition Melts Plant-Based Vitamin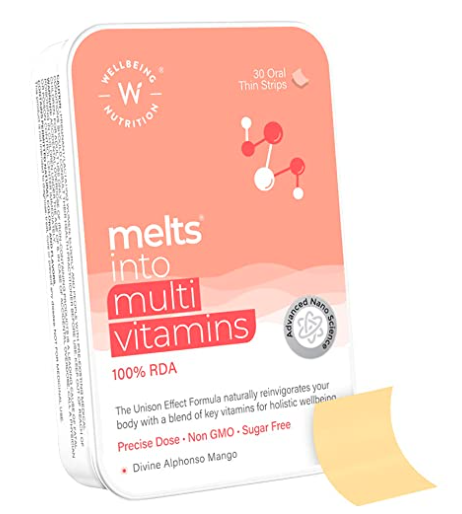 Wellbeing Nutrition, a whole-food nutrition company that uses non-genetically modified, chemical-free, and organic ingredients to deliver wellness to individuals is popular because of their great formula and supplements in strip form so they can be easily taken by the individual and absorbed by the body faster. Their multivitamin melts with 100% RDA of many essential vitamins and minerals is quite well-received by customers. Read on for a full review. 
Physical Attributes & Quantitative Measurements
The Wellbeing Nutrition Melts Plant-Based Vitamin comes in a stunning design. The outer packaging is in steel and the top slides to open the strips of the supplements. There's also a foldable manual that has all the information about the product, like the benefits, nutrients, and USP of the product. The product manufacturing and expiry information is mentioned on the outer box. The supplements come in a strip form and each is packed in a separate sachet so you can easily carry them anywhere, further ensuring you never miss a supplement even when you're busy. 
Benefits & How It Compares To Others
The Wellbeing Nutrition Melts Plant-Based Vitamins are sugar-free, non-GMO, and completely plant-based. The patented nanotechnology converts plant extracts into nanoparticles and the quick delivery system directly releases the supplements into the bloodstream ensuring they're completely and easily absorbed by the body even in the lower doses. Each strip provides 100% RDA of many essential vitamins like Vitamin A, 7 major B vitamins (B1, B2, B5, B6, B7, B9, and B12), Vitamin C, Vitamin D, Vitamin K, and iodine. This promotes holistic well-being and bridges any nutritional gap for a healthy, active lifestyle. 
All the ingredients and nutrients in this multivitamin are derived from plant sources. Plant-based vitamins are absorbed better by the body than synthetic ones because they work in absolute synergy with the body. So, if your body doesn't react well to supplements, try plant-based ones because they will be better assimilated by the body. 
Besides vitamins, the supplement also has potent ingredients like ashwagandha and ginseng. Ashwagandha has many health benefits like reducing inflammation, improving mood, lowering strength, boosting muscle strength, and sharpening memory. Ginseng, on the other hand, helps in improving immunity, regulating blood sugar, improving focus, and protecting your heart. 
Another element I admire about this vitamin is its packaging. It's plastic-free and uses only steel and paper for boxing the vitamins. The sturdy exterior and sleek design make it easier to carry and is a fresh and innovative alternative to the usual capsule in box packaging. 
Customer Review: "Instead of having the traditional multivitamins in tablets and capsules, have these strip form in a delectable mango flavor. The product seems genuine (all the certifications are mentioned on the website), absorbs well, and I've had no side effects. I am quite satisfied with the purchase." 
Purchase here. 
#5 Setu Plant-Based Multivitamin Tablets In India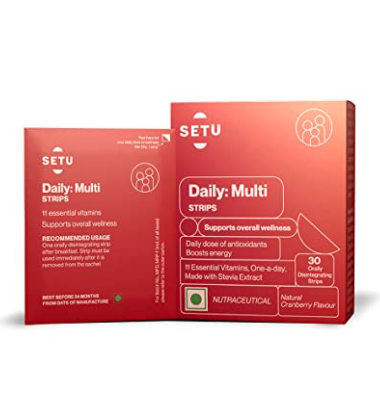 If the concept of strip-form vitamins interests you, then here's another one on the market to satisfy your consumer needs. Setu is one of the leading supplements and nutrition brands in India and have gained recognition owing to their plant-based ingredients, research-backed supplements, and competitive pricing. I haven't yet used their multivitamin supplements, but their melatonin 5mg strips have been my go-to for months and I've already purchased like 10 times. They're effective and completely safe, so I can vouch that their other supplements would be safe and effective as well. 
Physical Attributes & Quantitative Measurements
The Setu Multivitamin strips come in a cardboard packaging box sealed with a plastic cover. Inside, there's a foldable paper manual inclusive of details like ingredients, benefits, how to use, and other common details. Manufacturing information is present in the outer box. The supplement strips come in sachets and the strips dissolve directly into your mouth. It's advised to consume the strip right after you use it. The packaging is in a monochrome red color, classic Setu packaging style – monotone color and white color font. For a price of Rs.500/-, you will get 30 strips. 
Benefits & How It Compares To Others
The Setu Multivitamin supplements in India for men and women come in an easily dissolvable form and contain all 11 essential nutrients – Vitamin A, D, C, E, D3, and B complex. The strips come in a natural cranberry flavor and also have stevia to make it naturally palpable. Many user reviews list the delicious palate as one of the key reasons for their liking of this vitamin, so they don't miss their supplement even for a day, hence ensuring the purchase does what it's meant to do – promote healthy and holistic well-being. 
The nutrients added are all plant-based so as to facilitate better absorption. Like the Vitamin B-12 added in the form of methylcobalamin, rather than the readily available synthetic form, cyanocobalamin. The natural ingredients and dissolvable delivery systems ensure the best absorption of ingredients inside your body by directly delivering the supplement to your bloodstream. It also gives the relief of no side effects on the body because sometimes the non-absorbing supplement can cause digestive distress and inflammation. 
Customer Review: "It's such a tasty alternative to medicines and pills. I generally have a problem taking the latter and have to crush the tablets and mix them with honey even when I'm sick. Lol. But these multivitamins have to be taken daily and there isn't much time to do all the work. When I found these amazing strip forms, I ordered them immediately and they're great. I do notice an improvement in my health and I think this is a genuine product." Review 2: "After having quite a lot of weakness and low vitamins due to some months of stress, my doctor advised me to take a good diet and also take a good vitamin afterward. This one has really helped me gain my health and I will be continuing for sure." 
Purchase here. 
Best Multivitamin Tablets For Men
#6 GNC Daily Multivitamin Tablets For Immunity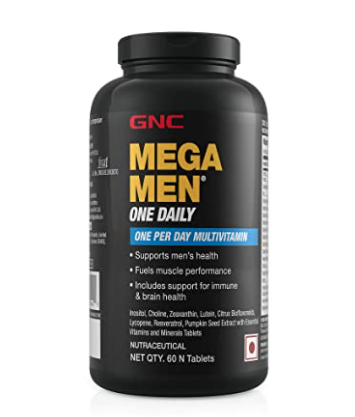 In general, men and women have similar nutritional needs and can take the same multivitamin. Although, if you're looking for one specifically designed for men to fuel their muscles and improve immunity, the GNC daily multivitamin tablets in India for men can be your pick. GNC is an 87-year old company specializing in health and nutrition products. Headquartered in Pittsburgh, Pennsylvania, the brand opened its retail chain and distribution in India just a few years back. Their office also has a store on Amazon, and we would recommend buying their supplements from this storefront only so you receive an authentic product. 
Physical Attributes & Quantitative Measurements
The GNC Mega Men multivitamin comes in a black opaque bottle and has all the necessary information like ingredients, nutrients, manufacturing information, etc. Inside these multivitamin tablets for men are in white color and have an elongated shape. The recommended dosage is one of these tablets daily in the morning or afternoon time. All the information is mentioned on the box so you can throw the outer packaging after arrival. The price for these multivitamin tablets in India is Rs.1299/- for 60 tablets. 
Benefits & How It Compares To Others
The GNC daily multivitamin supplements for men for immunity and muscle strength has 100% RDA of many vitamins like Vitamin C, B1, B2, B3, B6, B12, and zinc. It also has 60% RDA of folic acid, 40% RDA of iron (since it's recommended to have these two nutrients by food rather than by supplements), 30% to 40% of calcium, Vitamin A, and magnesium. A good nutrient profile is important when you pick a multivitamin supplement. Keeping the same in mind, GNC has devised an all-in-one vitamin to support immunity, skin, hair, eyes, brain, fertility, and all over men's health and metabolism. 
The multivitamin supplement also has many additional ingredients like strong antioxidants namely lycopene, resveratrol, pumpkin seed meal extract, citrus bioflavonoids, and lutein. It also contains boron, a powerful supplement to build strong bones (hence support muscle mass), increase testosterone levels, and improve thinking skills and muscle coordination. The presence of electrolytes is also an advantage for men who exercise or generally sweat a lot as it can help reduce fatigue due to electrolyte loss and maintain good energy levels throughout the day.
Customer Review: "I have been using this supplement for the past 4 weeks and for someone like me who is into fitness and work for long hours, I would say this is the best multivitamin, I started feeling more energetic, more focused after consuming for only a week. Though I waited to write the review. Everything comes down to ingredients and science. It has zinc and boron that increase testosterone levels, boron improves bone health, and resveratrol keeps estrogen levels in check. All essential vitamins and minerals are included. This is 100% recommended for gym-goers."
Purchase here. 
#7 Swisse Men's Multivitamin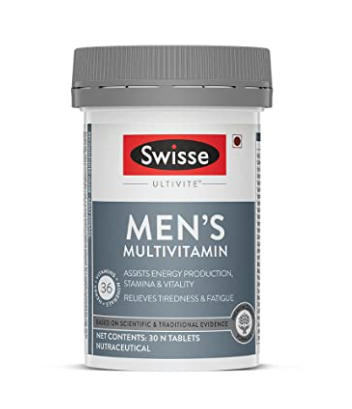 Yet another men's multivitamin for immunity, vitality, and energy is Swisse men's multivitamin. Swisse is an Australian brand and is currently the number 1 Australian multivitamin brand in terms of sales. The company's aim is to provide the most nutrient-rich ingredients in their supplements that are backed by scientific and traditional evidence. Their supplements are sold in many countries like the USA, China, Hong Kong, Switzerland, Netherlands, and France. The company launched in India in 2020 and actors Kirti Kharbanda and Nushrat Bharucha supported and endorsed the launch. In Hollywood, actors Chris Hemsworth, Elsa Pataky, and Nicole Kidman have been global ambassadors of the brand. 
Physical Attributes & Quantitative Measurements
The Swisse Multivitamin for men comes in opaque white packaging with a silver lid and printed packaging with all the details mentioned on the box itself instead of a label. All the ingredients, nutrients, and manufacturing information are clearly written on the product and can be referred to anytime you want to. The cap comes with a seal so you don't have to worry about the bottle opening during transit and having a defective or leaked product. For a price of ~ Rs.800/-, you will get 30 tablets and it's recommended to take one tablet daily for usage. 
Benefits & How It Compares To Others
The Swisse Ultivite men's multivitamin tablets in India have 36 vitamins, nutrients, and herb blends to support overall men's health and immunity. It has a 100% RDA of many essential vitamins and a percentage of other elements, depending on how much the body needs, how much a man can take in their diet, and what will be a safe limit for supplement consumption. All the ingredients are of the highest quality and everything is scientifically assessed in Australian laboratories before being added to the product. The overall product has been proven to support the immunity, brain, skin, hair, and overall health of an individual. 
There are several other health benefits to this supplement. Korean ginseng helps with vitality, energy levels, and keeps the person mentally alert. (P.S.: Since ginseng ups energy levels, this, or any other supplement that contains ginseng should be taken in the morning or afternoon to prevent any sleep disturbances.) The citrus bioflavonoids protect cells from any potential free radical damage and adaptogens help the body to function normally during periods of stress. It also has bilberry extract that improves blood circulation and reduces cell damage to clear out the skin and give it a smooth glow. 
Customer Review: "Because of WFH, I was too sleepy in the mornings and also during the day. It's also because of reduced activity and the same environment. I found these multivitamin tablets in India for energy and decided to give them a try. I was a little hesitant at first because of the price but after a week I noticed improved vitality levels and the money spent was completely worth it. If it can show results in one week, I think the supplement is really effective and no matter what you're purchasing it for, it will definitely show results." 
Purchase here. 
Best Multivitamin Tablets For Women
#8 Carbamide Forte Multivitamin Tablets For Women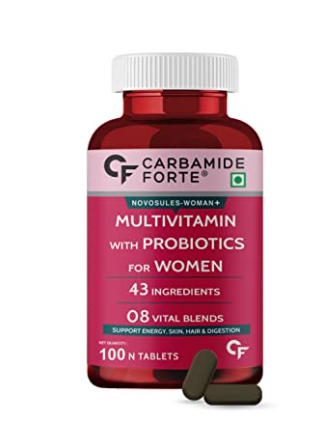 Carbamide Forte is present on almost all of our nutrition supplements blogs, sometimes twice. All thanks to their affordable, effective, and safe products that have won the trust of many consumers in the Indian market. With more than 1400+ reviews and 4.5-star ratings, there are women vouching for this supplement all over the Internet. With probiotics, strong antioxidant extracts, and metabolism boosters, this is one of the best multivitamin tablets in India for skin, hair, and weight management. Read on for a full review. 
Physical Attributes & Quantitative Measurements
The Carbamide Forte multivitamin tablets for women come in pink packaging in a slightly opaque bottle so you can see how many medicines you've got left so you can restock at the right time. All the information about the product is mentioned on the label and you can throw the outer carton without any hesitations. Inside the product is in a capsule-shape tablet form and has a dark green color. It's recommended to take this multivitamin right after breakfast or lunch for enhanced absorption. You get 100 tablets for Rs.499/-. 
Benefits & How It Compares To Others
The Carbamide Forte Multivitamin tablet for women gives 100% RDA of Vitamin A, all 7 B Vitamins, Vitamin C, E, K, D zinc, manganese, copper, iodine, and chromium. Having the minimum daily requirement of all vitamins is essential for the everyday health and holistic well-being of women. They help in building immunity, make sure all bodily functions are conducted properly, and prevent any external stressors. 
Besides these essential vitamins and minerals, this supplement also contains a weight management blend that includes green tea and green coffee bean. Both have been research-backed to help lose fat, weight, and maintain a healthy body mass index. It also has a prebiotic and probiotic blend to help maintain and flourish good bacteria in the body. This good bacteria is found majorly in the gut, but also is a part of other parts of the body like the mouth, vagina, and lungs. In women, an imbalanced bacterial balance in the vagina can lead to infections. Moreover, poor gut health has a strong correlation with hormonal imbalance and can lead to conditions like PCOS, endometriosis, and breast cancer. 
The Carbamide Forte Multivitamin also has a super antioxidant blend and skin & hair blend that contains extracts and ingredients like lutein, lycopene, amla, selenium, aloe vera, and grape seed. Antioxidants help in reducing cell damage, moisturize and brighten the skin, reduce wrinkles, and alleviate inflammation-related skin conditions like rosacea and psoriasis. For hair, these nutritive additions can improve hair growth, strengthen hair by boosting the production of keratin, and supports blood circulation in the scalp. 
Reviews: "I have had pretty stressful weeks for a while and I felt anxious, gained weight, and started losing hair. I started taking these supplements and within a month felt better emotionally, went back to my normal weight, and my hair has stopped falling too. Can't wait to see the results after I finish this bottle." 
Purchase here. 
#9 Swisse Multivitamin Tablets In India For Women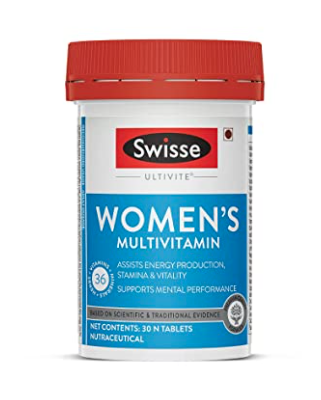 Launching in 2020 in India, Swisse is the number 1 supplement brand in Australia and sells its products in many countries like the USA, France, Netherlands, China, Hong Kong, etc. They have been backed by many celebrities and have garnered four stars in many categories like pricing, effectiveness, and overall satisfaction. Read on to see the full review of the Swisse Multivitamin tablets in India for women. 
Physical Attributes & Quantitative Measurements
These multivitamin tablets in India come in opaque packaging and have all the information about ingredients, nutrients, and manufacturing printed on the product. The box has a white color and a red cap sealed so you know it's an authentic product. Inside, the tablets are either red or white in color. The color of any multivitamin supplement can change from batch to batch. It's not a big deal. Although, you should be assured that it's an original product. You can contact the customer service team and tell them the product number for quick verification. You get 60 tablets for a price of Rs.1599/-. 
Benefits & How It Compares To Others
The Swisse multivitamin for women contains 36 herbs, vitamins, and minerals for the holistic well-being of women. It has 100% RDA of some essential vitamins and an appropriate percentage of RDA for others. Developed in Australian labs, the amount of every vitamin is added in proper proportions so they don't exceed the levels necessary and cause any distress or side effects. Plus, vitamins are absorbed only till a small quantity by supplements and only that percentage is beneficial in the supplements and tablets. 
Besides the essential nutrients, there are some impressive ingredients added to this multivitamin supplement. This includes a strong herb blend containing chamomile, ginger, ginseng, green tea, grape seed, bilberry, etc. Chamomile extracts are excellent natural supplements for anxiety, stress, and hormonal imbalance. Ginseng alleviates any tiredness and promotes healthy energy levels. Green tea extracts, on the other hand, helps in boosting metabolism and prevent any oxidative damage. 
Review: "It works amazingly well for me. Most multivitamin tablets in India don't suit me as I feel heavy and it also causes some digestive distress. But this one's a good surprise. I feel energetic, less stressed, and my skin is also glowing. I've been using them for a couple of weeks and will definitely recommend further." Another reviewer says, "I generally buy many vitamins, but this one seemed good and included all that I needed and more. The price is a little high but since all vitamins are included in one, I definitely feel that it's worth the cost and effectiveness" 
Purchase here. 
FAQ's 
How to make your vitamins absorb better?
If you're investing the money, time, and effort into consuming your supplements, then making sure the vitamins get absorbed into the body is also important. There are some easy ways to ensure the same. 
#1 Take Them With Food
It's generally recommended to take your supplements right after having your food and there's a simple reason behind it. Having your food kickstarts the natural digestive process inside the stomach and this optimizes the absorption of vitamins and minerals. Another reason why taking supplements on a full stomach is recommended is because it helps prevent nausea, a common problem many experiences after ingesting supplements. There is one exception to this rule though – and it's iron. It's better absorbed an hour or two after meals and with a Vitamin C-rich source like orange juice or any other fruit. 
#2 Take Fat-Soluble Vitamins With Oils Or Fat
Vitamin A, D, E, and K are fat-soluble vitamins, which means they will be absorbed better when consumed with a food source that contains ample fat. If you're having a multivitamin and it primarily has any of these vitamins, make sure you consume it with some kind of fat sources like ghee, nuts, coconut, or avocado. Fat-soluble vitamins also accumulate in the body and are released when needed by the body (in case you don't have an adequate amount through dietary sources). B vitamins are all water-soluble vitamins which means any excess is removed from the body by urine – also the reason why urine is brightly colored when you consume supplements. 
#3 Spice It Up
Spicy foods are thermogenic and when you eat them, the digestive process works faster facilitating better nutrient absorption. This thermogenic effect also increases the number of calories you burn and hence, spicy foods are widely regarded as boosting metabolism. Some good thermogenic foods to eat before you take your supplements are pepper, hot sauce, chili, lean meat, cottage cheese, legumes, green tea, and ginger. 
#4 Look For Digestive Enzymes or Probiotics
Probiotics and digestive enzymes help facilitate the digestive process and break down food in our gut. When you take supplements they break down in the stomach and then pass along the intestines where the essential nutrient are absorbed into the bloodstream. These digestive enzymes/ probiotics also strengthen the digestive system over time as they help balance the good & bad bacteria in the gut. A good bacterial balance not only helps strengthen the digestive problems but also plays a major role in regulating mood, boosting immunity, and maintaining healthy heart health and brain health. 
#5 Store Supplements Properly 
Supplements should be at a proper temperature away from light as they can lose their potency and become inactive when stored in inappropriate conditions. For most vitamins, the suitable storage conditions are away from heat, light, and between the temperature of 15 to 30 degrees Celsius. Fish oil, one of the popular supplements, degrades quickly in light, moisture, and heat, and should be kept in a cold, dark spot. 
#6 Take Them At An Appropriate Time
A multivitamin should be taken during the morning right after breakfast or during the afternoon right after you have lunch. Your digestive power is at the highest during noon and that's why it's also recommended to have your biggest meal during noon. The only exception is iron which should not be taken right after meals and you should wait for around an hour or two to take the iron supplement and pair it with a Vitamin C source for better absorption. 
Do multivitamin tablets help skin and hair?
They sure do! More often than not, the hair fall and skin changes are related to what's going on inside than the external factors. Sure, you need to protect the hair and skin from external stressors like pollution, sun and take care of them by moisturizing, cleansing, and protecting them, but the first priority should be to make sure you have no nutritional deficiencies. Here are some of the required nutrients for hair and skin health:
B-complex:

The wonders of

biotin for hair growth

are known by many. But other B-vitamins are necessary for healthy hair as well because they play a key role in producing red blood cells, which carry oxygen to the hair follicles so they generate new hair.  For skin, Vitamin B helps in the production of new cells, tightens the skin to remove signs of aging, brings a natural glow to the skin, and balances skin's oil levels. Vitamin B3, or

niacin, is especially known for curing acne

and related conditions like psoriasis, dermatitis, acne vulgaris, hyperpigmentation, etc. 

Vitamin A:

All cells need Vitamin A for growth. It helps to stimulate their proper functioning and supports their development. Hair is the fastest growing tissue in the human body and needs Vitamin A for proper development. Vitamin A also helps in the production of sebum and keeps the skin healthy, moisturized, and properly hydrated. It assists and supports the dermis and epidermis; the top two layers of the skin. 

Vitamin D:

Vitamin D is one of the main

vitamin deficiencies that cause hair loss

. This nutrient plays an important role in natural follicle formation – stimulating new follicles to grow and maintain existing follicles. Researchers say Vitamin D is also the main vitamin that determines the hair thickness of each strand because it also helps in the dimensional growth of hair follicles. For skin, Vitamin D is an essential vitamin for skin cell growth, repair, and metabolism. It enhances the skin's immune system and prevents any premature aging. 

Vitamin E:

Vitamin E is a strong antioxidant that reduces oxidative stress and protects the outer lipid layer of the skin and scalp. This layer is important to prevent dandruff and support healthy hair follicles, furthering thick and lustrous mane. For skin, Vitamin E prevents damage caused by external stressors and maintains the outer layer of the skin (dermis) intact. 






Vitamin K:

Vitamin K spurs collagen and keratin production and speeds up the skin's healing process. Since hair is made of keratin, consuming appropriate levels of this vitamin makes sure your hair stays strong and doesn't break easily. For skin, Vitamin K protects the collagen and stimulates the production. Collagen breakdown is one of the main reasons for premature aging and wrinkles. 
How to know if your multivitamin is working?
It's hard to know if your multivitamin is working. The only solid way to know is if you get some vitamins checked and get the blood tests again after 30 days to know if the vitamin levels have risen up. Another way to know is to notice if you see any noticeable changes like an increase in energy levels, better stamina, on-time periods (for women), healthy hair, better skin, and a good mental state.
Conclusion & Winner
Multivitamins are a great way to fill any nutritional gaps in your profile. When purchasing focus on the one that includes a variety of vitamins and minerals in their natural form so as to facilitate better absorption. The winners of the best multivitamin tablets in India are the Wellbeing Nutrition Melts and Setu Multi Strips, which have plant-based ingredients in an easily dissolvable form.