Planning a wedding comes with planning not just your wedding day, but several other events that lead up to it or come after it, like your engagement party, reception dinner, or rehearsal dinner. The last one has become optional, but many couples do choose to arrange for the event either formally or informally. If you want to indulge in tradition and want a foolproof guide to planning a rehearsal dinner, we have got you. Below, find 10 steps to planning an unforgettable wedding rehearsal dinner and general FAQ's surrounding the event. 
#1 Plan In Advance 
As soon as you can start planning a rehearsal dinner, do it. But ideally, you should start planning the rehearsal dinner at least 3 months to 6 months in advance. A rehearsal dinner is like a run-through of the actual ceremony and gives their closest friends & family members a chance to mingle and celebrate the couple-of-the-hour & the beautiful journey they'd be embarking on soon! It also gives couples a chance to interact with their nearest & dearest as they might or might not have the time to do so on the main day. 
Six to five months in advance you should become comfortable with the idea of a rehearsal dinner and discuss it with the main parties involved in the wedding planning. This includes your partner, your maid-of-honor, your parents, and your wedding planner (if you're getting any help from them for planning a rehearsal dinner as well). Right about this time, you should start making the bookings for the venue, decor, and caterer. Reserving any other vendors that might not be available closer to the rehearsal day like a DJ or a florist is also recommended. 
By about three months in advance, you should be all prepped with these major attributes of the rehearsal dinner planning, and smaller details like recreational activities, icebreakers, etc. should be discussed in detail. Around a month or two in advance, you should decide what you'd be wearing, decide on a theme for the guest outfits, include it in your invites, and roll them out. 
#2 Decide Who's Paying
Traditionally, the groom's family pays for the rehearsal dinner. That's under the assumption that the bride's family is taking care of the wedding costs. However, the modern setup allows the budget to be distributed among different parties – it can be a division between the couple's families or a division between the families and the couple paying a portion of their wedding themselves. When the parents pay for the wedding, many couples pay for their rehearsal dinner as a thank-you gesture for their parents. This also allows them to make the many key decisions of the event and curate a celebration that feels more intimate and personalized than D-Day. 
You should also nail down the budget before making a decision on who pays for the rehearsal dinner. A good rule of thumb is to spend a bit lower than the price per person you're paying for the wedding ceremony and reception. According to The Knot's Real Weddings Study, couples spend an average of $2300 on their rehearsal dinner in 2021, which is up from an average of $1900 in 2019. The price includes everything from the venue to food to entertainment and decor. The same study also reported that rehearsal dinners were one of the popular pre-wedding events, taking over both bridal showers and bachelorette parties. Some ways to save on the rehearsal dinner are to pick a family home for the event, turn dinner into cocktails & hors d'oeuvres, and narrow down the guest list to just the closest people. 
#3 Book A Venue In Advance
You can consider many venue options when you're planning a rehearsal dinner. Couples tend to be very creative with their venues as it also paves the way towards the decided theme of their celebration. Some couples choose a venue that's traditional so it blends with the traditional theme of their wedding, while others contrast the rehearsal dinner vibe with that of their wedding so as to enjoy a mix of both for this special moment of their life. An example of a rehearsal dinner venue is your family home. This can be your own home, a cozy abode your family owns, or can be owned by a close friend/ family who'd be willing to open the gates of their house as a sweet gesture. Hosting a rehearsal dinner at a home definitely allows a cozy, comfortable setup while saving $$$ you'd spend while booking the venue. 
Another option for a rehearsal dinner venue is a smaller spot in the hotel where you're getting married. Many hotels have different venues to accommodate both smaller and bigger events. Or you can pick a large guest suite with a view, the bar, or the pool for the pre-wedding revelry. Hosting the rehearsal dinner in the same place as your wedding venue also allows you to negotiate on the costs and is also convenient for guests to reach. Another venue idea is to pick a meaningful location for your relationship – like a restaurant where you had your first date or where he popped the question. A scenic location nearby can also be a great option as it allows for a picturesque setup, cutting the price of decor without compromising on the vibe. 
#4 Send Out Invites 
Before picking out the invites, narrow down the guest list for the rehearsal dinner. On average, the rehearsal dinner size is anywhere between 15 people to 50 people, excluding the couple, of course. The guest list includes parents, siblings, wedding parties, grandparents, and any other close friends or family members. Also, you might want to include your officiant or any other important ceremony participant you want for the rehearsal or want to include in the party as a thank-you gesture. A wedding planner who has carried their responsibilities well can also be another addition.
After the guest list is decided, pick a preferred date. Typically, rehearsal dinners take place a night before the wedding. So if you have your wedding on a Sunday, the rehearsal dinner will traditionally be scheduled for Saturday night. However, there are no set rules for the date. You can have the event on a Friday if you need a day in between to relax before the special occasion. Similarly, if most of your guests are coming from out of town, you might want to give them a day to relax in the middle.
Once the date is decided, you can start working on the invites. Some of the basic information to include on your rehearsal dinner invites are the date and time, the host's name, the couple's name, the location, and an RSVP card. Some additional things to include are meal options and dress code. Since the rehearsal dinner invites are lesser in number, you can also choose to personalize the invites by writing them all yourself or getting some help from the wedding party. As with other invitations, you should send out the invites at least 4 to 6 weeks in advance. 
#5 Choose A Theme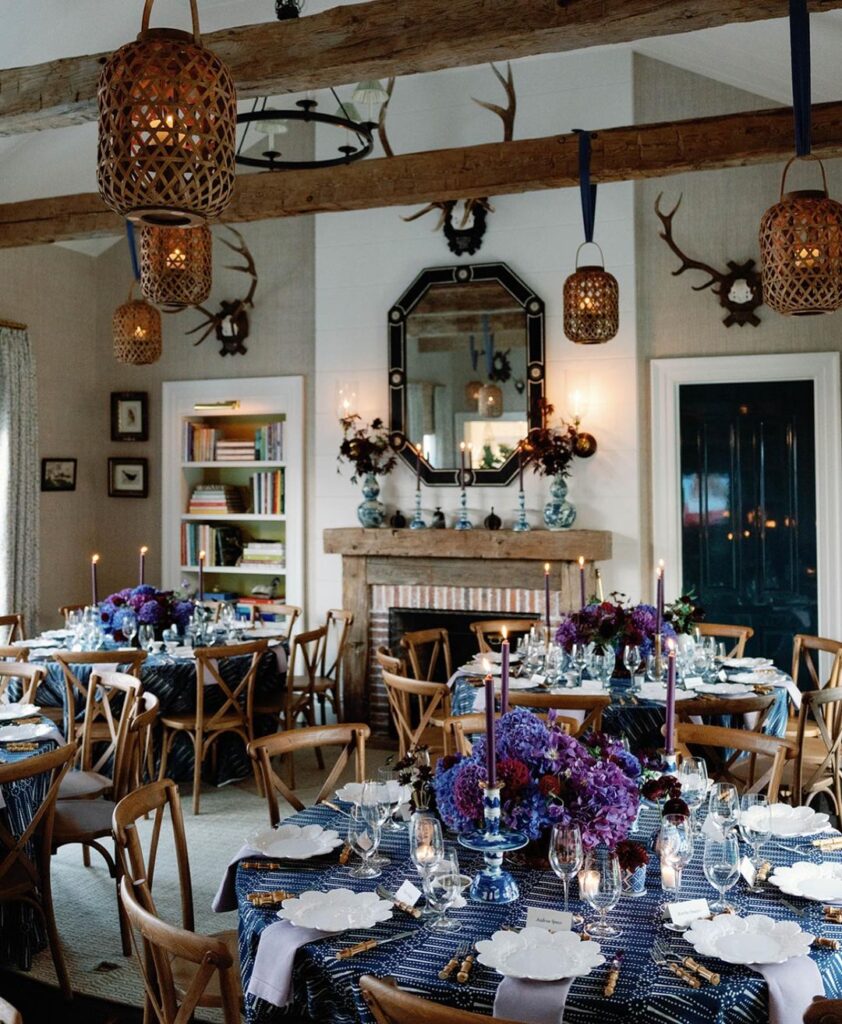 Courtesy: Christopher Spitzmiller
One of the main attributes of planning a rehearsal dinner is picking a theme. You can make your rehearsal dinner as formal or informal as you like. Some couples like this pre-wedding revelry to be in alignment with the vibe of their wedding. So they pick a garden-themed setup for a garden wedding or a classic sit-down dinner when they are having a formal ballroom affair. But you can also mix & match your themes so you get to enjoy two different kinds of celebrations as a part of your wedding. 
For those who like to stick to the traditions, an elegant setup with longer bedecked tables for dinner, round tables for ceremony rehearsal, and a formal dress theme might seem like a good option. If you want a relaxed theme though, we'd advise going for a picnic-like setup with vibrant colors, homey feels, and a sit-down table to top it all. A cozy vibe can also be infused into your rehearsal dinner with a bonfire-like setup where the guests sit around the bonfire after the ceremony to enjoy their cocktails and hors d'oeuvres before moving to a relaxed space for dinner. 
Still struggling to pick a theme? Find a personalized theme to curate a celebration that truly represents you. Love the Southern charm? Plan a revelry that represents the charming, eclectic feels of the South which can be infused in your decor as well as catering. Love unique experiences? Find an interesting aspect of your location and make it the center point of your event. Say your wedding location is near a water body, then plan the celebrations on a yacht! Have an affability towards the Bohemian vibe? Include a colorful palette in your decor and food. The choices are endless. Take help from your planner on curating an event you'd love and cherish for years. 
#6 Make A Schedule
The rehearsal dinner lasts for about two to three hours with around 30 to 45 minutes dedicated to the ceremony rehearsal. This is followed by hors d'oeuvres and cocktails served. Now, you can also have a grazing table at the event rather than waiters serving the starters. If you're not familiar with the idea of grazing tables, they are becoming a preferred option at receptions and include a variety of sweets & snacks. This way the guests can enjoy the starters as they please without having the waiter serve them. Coming to planning a rehearsal dinner schedule, after the ceremony rehearsal, the starters are served and this is the point where you also include any fun games or activities. 
Now, if you are limiting the rehearsal dinner to just the drinks & snacks, the quantity should be done appropriately and they should be served for a longer time. However, if you are doing proper dinner meals as well, it's recommended to stop the hors d'oeuvres around half an hour before the dinner is served and only serve the drinks in the middle. After around an hour or so after the ceremony rehearsal and all the ice-breaker activities, you can have dinner and at the end of the revelry is when the toasts are scheduled. The best way to end the rehearsal dinner is when the bride, groom, or any other close friends or family gives a heartfelt speech and thanks everyone to join them in the momentous time of the couple's life. 
P.S.: Do advise your wedding party to arrive strictly on time so the ceremony rehearsal can be started on the schedule and you don't have to delay the further proceedings of the ceremony. 
#7 Plan For Some Activities & Entertainment
From speeches to fun activities and awesome music, there are many ways to enhance your rehearsal dinner setup to make it more memorable for your guests. First is the music. This is your chance to curate a playlist that specifically contains songs of your choice and which you won't have a chance to show off on an actual day. When you're planning a rehearsal dinner, you can also include some fun games or ice-breaker activities like asking the guests to share a short story about the couple. Not everyone has to do that, just some fun stories can help everyone mingle with each other. 
You can also plan for a trivia game when you're planning a rehearsal dinner. You & your partner can come up with a list of 10 to 15 trivia questions and make small teams of your guests. The host asks the questions and whoever gives the most correct answers wins the game. You can give prizes to the members of the winning team. They don't have to cost much. A bottle of wine, assorted snacks, and journal sets can make for some inexpensive gift items. 
Yet another great way to involve guests and walk away with a great memento including everyone closest to you is to make the guests sign a memento where they write a note of congrats, some piece of wedding advice, or anything they cherish about you! On the wedding day, everyone will be busy so the rehearsal dinner makes for the perfect relaxed setting to get this thoughtful memento ready. 
#8 Plan The Menu
Just like any other event, you should make sure the menu complements the event when you're planning a rehearsal dinner. As a rule of thumb, make the rehearsal dinner menu simple so the guests enjoy a simple yet delicious meal before the wedding. You can add creative items to the snack options, but for the dinner, we'd suggest keeping things straightforward and usual. However, that doesn't mean you can't experiment with the visual representation of your meals. A beautiful representation of the basic meals can spark some conversations on the dinner table and make your rehearsal dinner menu stand out without experimenting too much. 
Further, we'd recommend the local and seasonal approach when planning a rehearsal dinner menu. For example, if you're getting married in the winter, there's no need to push a tomato, basil, and burrata crostini just because it's one of your favorites. Chances are, when this fresh produce isn't in season, the dish won't even serve out to be that great. Instead, let your caterers guide you to the ideal seasonal produce and together build the menu that nods to the season and the place. Moreover, serving local dishes can be an amazing idea for when you're having a wedding & rehearsal dinner in a different location and want to include local delicacies in your menu to give the guests a taste of the area's cherished cuisine. 
Further personalize the menu by including a special family recipe as the main cuisine or the dessert, like your grandma's apple pie. You can also include some special menu items which are a nod to the bride or groom's traditional roots, like a beer sourced from their renowned brewery back home. Lastly, don't forget to add a sweet treat(s) as a finishing touch to your dinner. 
#9 Record The Toasts
Rehearsal dinners are for the less informal toasts and make for the perfect setup to have your parents or friends do a speech that's super personal and informal. Traditionally, the father of the bride and the groom give speeches during dinner. Things can get emotional, so keep some tissues handy. Other members of your family or bridal party can also choose to share some special memories right about now and participate in the storytelling. The wedding reception is reserved for the maid of honor and the best man, but it's the night before when the other attendees have a chance to toast the couple. As a good gesture, the bride or groom can thank the guests and give a final cheer to everyone for coming and for their continued love and support in their lives. 
Right between the speeches is also the time when you can schedule the cutting of the groom's cake. This can be a surprise from the bride. According to tradition and etiquette, the bride is supposed to bring the groom's cake and the flavor & design reflect her knowledge of her partner and his passion. This is a fun way to get the guests thrilled as the groom's cake is generally not cut at weddings at all! The cake can be served along with the other desserts and can make for an additional sweet treat at your rehearsal dinner. 
#10 Have Fun 
After you and your partner have worked so hard on the wedding planning and planning a rehearsal dinner, it's time to enjoy the moment rather than stressing about the details and worrying about things that didn't happen. When everyone comes together, there will be some friction and a few things might not go as planned. Remember those small details will mean nothing in the long run, it will be the joyous moments that you'd miss later and would want to enjoy right now. So immerse in them, cherish them, and enjoy them while it lasts. That's our key takeaway for all your pre-wedding revelries and of course, the wedding day. 
FAQ's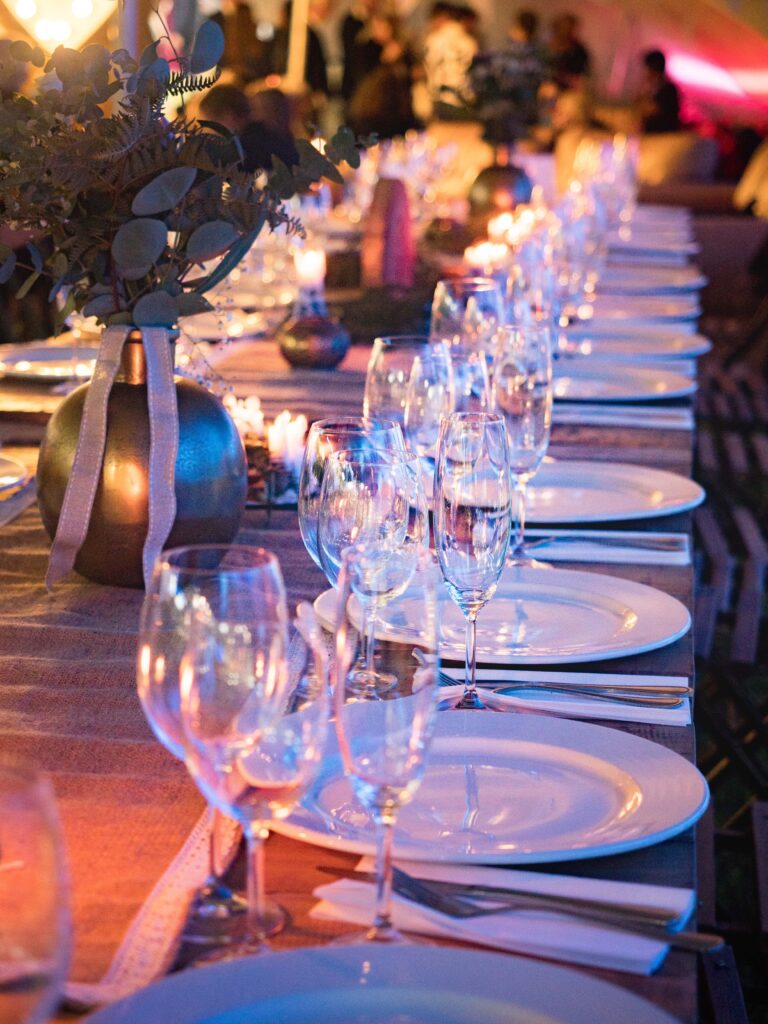 What Is Expected At A Rehearsal Dinner?
Rehearsal dinners are expected to be relaxed, cozy, and fun. They are a chance to bring your closest friends & family together, giving them a chance to get to know each other, and have a leisure-filled evening before the wedding day. Despite the name though, the rehearsal dinners can also be arranged during lunch and when the couples decide to serve only snacks & drinks, it happens somewhere after the afternoon and ends up before the evening. The guests aren't expecting a formal event at this pre-wedding revelry as well. Just the run-through of the ceremony followed by some food and toasts. You can also include ice-breaker activities though – to help everyone mingle up!
In terms of dress code and vibe, guests are again not expecting anything in particular. But they would like to be informed of any specific dress code and theme of the event beforehand. It's advised to include the same in your wedding invites. Rehearsal dinners are common, but every couple designs a celebration best suited to them, and your attendees, who are your nearest & dearest, would be more than happy to be a part of this celebration that's all about celebrating you. 
What Is The History Of A Rehearsal Dinner?
The exact history and origins of a rehearsal dinner are not known. But it's believed rehearsal dinners started hundreds of years when the relatives of the couples would come from distant places and days of travel. It became necessary to feed them on their arrival and take care of them after they arrived. The tradition evolved and it was believed that rehearsal dinners were done as a mass feeding for wedding attendees so as to chase away any evil spirits. It was believed that if the attendees of the event were too loud and cheery, the evil spirit would be scared away and it would prevent any chances of having a happy life together. 
In the most recent decades, by around the 1950s, rehearsal dinners started gaining popularity for being the mellow version of the growing industry for lavish, ornate weddings. With the bigger weddings, there was no option left but to have a rehearsal ceremony to make sure everything goes smoothly in front of a bigger gathering. As a result, the couple also got more time to spend with their closest family & friends before D-Day when they probably won't have time to give them so much attention. 
What Are Some Dos & Don'ts For Planning A Rehearsal Dinner?
Do's Of Planning A Rehearsal Dinner
Do use the opportunity to connect with your family & friends you won't get a chance to talk to on the wedding day. 

Do take into account the schedule of the guests, especially out-of-the-town guests and those who have to work, when planning a rehearsal dinner.

Do include speeches and toasts in the itinerary. While the wedding reception only allows for a few toasts, the rehearsal dinner can include toasts from your parents and other close family members or friends. You don't have to have a strict schedule, anyone who wants to toast the happy couple can do it informally. 

Do have a photographer! The rehearsal dinner will have plenty of memorable moments with your nearest & dearest ones, and you will want to capture all of them professionally. 
Dont's of Planning A Rehearsal Dinner
Don't forget to let the guests know what they can expect from the rehearsal dinner. Inform them of the dress code and whether it will be a proper meal or only snacks & drinks on the menu. Write this all down subtly in your menu. 

Don't forget to keep it short & sweet. Don't stuff too many activities into the rehearsal dinner and make it a 3-hour event tops. You'd also want to wake up refreshed and relaxed at your wedding rather than tired from the sleep hangover. 

Don't have the rehearsal dinner the night before if that doesn't work for you. You can keep it two nights before the wedding too so you & your guests get a day to relax. This can work well if you're having a destination wedding or have many out-of-town guests who'd want a day to relax before the festivities begin. 

Don't overspend. Rehearsal dinners are supposed to be an informal and relaxed event. So you don't have to spend much and do not worry about small particulars. It shouldn't overshadow your reception and you can tone down the details a little bit. 
Who Pays For The Rehearsal Dinner Traditionally?
Traditionally, the groom's family pays for the rehearsal dinner, given that the bride's family is handling the wedding expenses. Today, the budget is handled more equally with some clear discussions as soon as the couple gets engaged and decides on planning a wedding and planning a rehearsal dinner. In general, the burden of wedding expenses doesn't fall on the bride's family in entirety, so the rehearsal dinner expenses are also divided. Sometimes the couple decides to pay for both the wedding and any other pre-wedding revelries. Alternatively, it's divided among the bride's family, the groom's family, and the couple. Some couples planning a rehearsal decide to pay for the entire event as a thank-you gesture for their parents who might be paying for all the wedding expenses. 
How Do You Arrange Seats While Planning A Rehearsal Dinner?
The rehearsal dinner generally doesn't require a seating plan as strict as the wedding reception itself. Since the guest list is just around 30 to 50 people, attendees have the freedom to choose their own seats at the tables. But if you are having a more formal affair or are someone who loves organization in their event, it helps to have a seating chart. Moreover, the guests might also be expecting a seating chart so they aren't at a loss for where to be seated for the rehearsal or the dinner. Moreover, creating seating arrangements for the rehearsal dinner where each table has some members from each side of the family encourages conversation and helps them become acquainted with each other. 
What Is The Average Size Of A Rehearsal Dinner?
When you're planning a rehearsal dinner, keep your guest list short. Anywhere from 15 people to 50 people are an ideal number of guests for your rehearsal dinner. It includes your wedding party, your parents, and any other close friends or family you'd want to include in your revelry. If you're including out-of-town guests, make sure they arrive at the location on the day you plan the event. Sometimes, couples choose to have this event 2 days before the wedding so as to have the day before to relax and wind down. In this case, you'd have to consider the limitations of any out-of-town guests invited and curate a plan accordingly. 
Do You Give Favors At A Rehearsal Dinner?
At the rehearsal dinner, it's a nice gesture to hand out your guests a wedding favor. If you don't want to cover the entire guest list, just leaving your wedding party as a token of appreciation is recommended. Don't worry, you don't have to break the bank to make your guest feel special. Things like customised box of home-baked treats, succulents, journals, or personalised stationery can work just as well. You can also bestow on them some welcome presents curated around the theme of the rehearsal dinner. 
Who Speaks At The Rehearsal Dinner? 
Rehearsal dinner toasts are informal, recommended, and don't have to follow a strict schedule. While the wedding reception are limited to maid of honor, best man, and parents with only a short time to dedicate their toast, the rehearsal dinner speeches can be inclusive of other close friends or family, and there's no strict schedule of how long a toast should be! Traditionally, it's customary for the groom's parents to speak at the rehearsal dinner first. But you can start with the parents & grandparents, followed by other people who'd want to dedicate a toast to the couple-of-the-hour.