Choosing the right kind of flowers for your wedding will be key in bringing your dream vision board to life. But as important as it is to choose the right blooms, it's all the more important to choose the right florist to do the job. That's why you need to put a lot of thought into who you pick for the occasion and the fitting set of questions to ask your wedding florist so you know they're the best for you! Here are all the essential questions you must ask your florist before booking them. 
1) Are You Available On My Wedding Day?
This seems like an obvious question but when you meet your dream wedding vendor and want to discuss your special day, there are chances of getting carried away and missing the most important questions to ask your wedding florist – are you available on my wedding day? Let this be the first question because no other question to ask your florist will make sense if they aren't even available on your special day! 
While you're on this, ask them how far in advance you have to book them for their services since you might be in touch with other florists and want to wait till you have had a conversation with them before making a decision! Also, ask them if they hold the booking for a day or two if you want to take some time before giving them the deposit. 
2) Do You Have Any Other Weddings On The Same Day? Or, Do You Take Multiple Bookings On The Same Day?
This is a very important one of the questions to ask your wedding florist because you don't want them to rush through your decor only because they have another wedding to get to on the same day! Having said that, some florists do have a dedicated team of experts who are deployed at different venues simultaneously. If you're hiring a well-established company then there are chances of them handling more than one wedding in a day. 
However, if you have hired a solo contractor it might be a red flag if they say they can take another wedding on the same day, especially if your arrangements are a bit more complex than usual. Always discuss how they are planning to manage another wedding in a day and see if they do have a proper, authentic plan in place that can work. Otherwise, just tell them directly you'd be more comfortable if they had just your wedding and see how it plays. 
3) How Many Years Of Experience Do You Have? 
The experience of a wedding florist can be an important factor when choosing a florist for your wedding. Experienced wedding florists have worked on many weddings and have a better understanding of what works and what doesn't. They have experience working with various venues, wedding styles, and floral arrangements, and can offer valuable insights and suggestions to help make your wedding day beautiful and stress-free. 
Ideally, the florist should have at least 2 years of experience and should have handled around 15 weddings minimum to make them a valuable addition to your team. Besides looking for the experience, see the vendor also has positive reviews and recommendations and has a portfolio of their work that showcases their skills and style. This can help ensure that you choose a trustworthy wedding florist who can deliver the beautiful and memorable floral arrangements that you envision for your wedding day. 
4) Have You Worked At My Venue Before? 
If your florist has only been primarily working in your city and you have chosen a popular venue, then there are chances that they have already worked at your venue before. In case they have worked at your venue, it can work in your favor because they'd already know the spaces that need to be enhanced and would also be aware of any venue restrictions when it comes to decor storage or arrangements. 
In case they haven't, it's okay too! This isn't one of those questions to ask your wedding florist that's a deal-breaker. It's just a bonus point! Most florists will like to visit your venue before they decide on your arrangements. A virtual call or pictures can help too. Having a good idea of the venue can help them design arrangements that enhance the space and makes it look just the right kind of whimsical for your special day! 
5) How Would You Define Your Design Style? 
All florists have a different design style. Some are more skilled at creating a warm and whimsical atmosphere with colored fusions while others are more an expert at creating elegant, clean lines of floral arrangements for an elegant and formal atmosphere. You will get an idea of their style when you go through their portfolio but it's also a smart idea to ask them to get more idea of their niche. 
Before you go ahead and ask the florist of their design style, it's also important that you're aware of how you want your wedding to look as well! Don't worry if you don't know the exact style – that's what the professionals are for! But knowing the color schemes, what your wedding should feel like, and how elaborate arrangements you want can help you judge quickly if the florist you're meeting is the one for you! 
6) Can You Recreate This Design? 
You have been planning your wedding on Pinterest for a while and there will be some pictures that you are desperate to bring to life! This is the point where you can show some examples of specific designs you'd want to recreate. Allow them to provide some valuable insight on how that's possible and if you need to expand your budget to accommodate your vision for the wedding. 
Know that having realistic expectations at this point is also important. Even though a professional florist will be able to recreate your dream floral arrangement on your budget, it might not look just the same as you're seeing in the picture. A lot of factors can come into play here – like economics, availability, the overall theme of the event, etc. Therefore, it's best to be realistic and open, and trust that your vendor will just do the best for you! After all, that's why you hired them.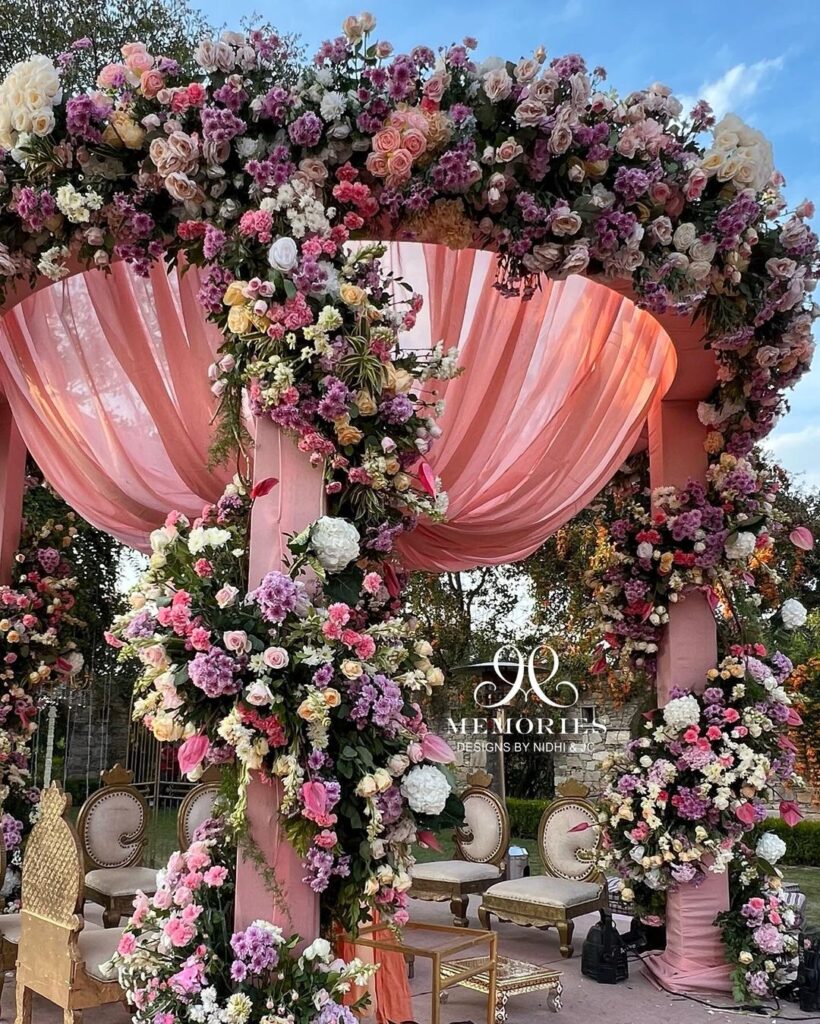 7) Can You Work On My Budget?
During the initial consultation with a wedding florist, it's important to be upfront about your budget and any cost constraints you may have. While most florists would be able to work within your budget and suggest possible arrangements and flower options within the money constraint, some might not be able to do that! Therefore, it's important to have an idea of your decor vision so you can work out in the first meeting if the florist would be a good fit to bring that vision to life. 
Understand that while not all wedding florists may be able to work within your specific budget, a good florist will be willing to work with you to find options that fit within your means and still meet your wedding day vision. Communication and honesty about your budget from the beginning can help ensure that you and your wedding florist are on the same page and can work together effectively
8) What Sort Of Flowers/ Arrangements Would You Recommend For My Wedding Vision?
This is a hard-hitting reality question because sometimes the flowers you're eyeing might not even fit into your budget. Let's say you're eyeing those full-bloom garden roses for the floral arch, thinking roses are a cheaper wedding flower when in reality, garden roses are the most expensive of floral arrangements and sit right there with hydrangeas, peonies, and gardenias. In that case, you need to find an alternative that fits your budget. 
This is where the task of a talented wedding florist comes in! They will be able to recommend the florals and arrangements that fit into your budget without compromising on the style of wedding you want. An ideal florist will work with you actively to decide on each one of the arrangements and suggest appropriate options of flowers to recreate every one of them. 
9) Are The Flowers You're Recommending In Season?
This is one of the questions to ask your wedding florist which will also shed light on their expertise. The reason why you'd want in-season flowers is not just because they are economical but also because of their freshness and full bloom which will add a surreal beauty to your wedding. A good wedding florist will typically recommend flowers that are in season and readily available.
A wedding florist who is knowledgeable and experienced will be able to provide you with guidance and recommendations on which flowers will best complement your overall wedding theme and color scheme. They may also be able to suggest alternative blooms or greenery that can help create a similar look and feel to more expensive flowers. By doing so, you can ensure that you get the most beautiful and cost-effective floral arrangements for your special day.
10) Are Smaller Floral Arrangements Like Bridal Bouquet, Boutonnieres, Etc. Included In The Cost?
Besides the bigger floral arrangements like arches, aisles, and centerpieces, there are many smaller floral arrangements to plan for your weddings like the bridal bouquet, boutonnière, bridesmaid corsages, flower girl basket, etc. Most florists do help you plan them, but a select few don't include them in the package and can charge extra. It's best to ask this question to your wedding florist before the contract is signed so no confusion is involved and you can also let go of the worry about these smaller floral arrangements.  
In addition to planning for these arrangements, you also need to talk about how these arrangements will be delivered on time and who will deliver them. You will need these arrangements at different places prior to the ceremony so having a clear-cut plan in place will help you avoid any misunderstanding and running around later! 
P.S.: If you want flower decorations on your cake, this is the time to ask that as well!
11) How Do You Think We Should Maximize Our Budget?
A good florist would be able to suggest to you the best possible ways to maximize your budget. Let's say there's a flower color theme, then they will be able to suggest the best flowers in your budget to fit the arrangements. They can also propose some alternative arrangements if there's a centerpiece arrangement with expensive flowers that you like then they may propose substituting some flowers with greenery or candles to make them more affordable. 
Other possible recommendations to look for when you ask this question to your wedding florist are repurposing flowers from your wedding to your reception, prioritizing key areas to allocate the budget efficiently, and providing DIY options to add a personal touch to your special day! Overall, a good wedding florist should be able to work with you to create beautiful and memorable floral arrangements that fit within your budget.
12) Can I See A Portfolio Of Your Work?
You have probably booked a consultation with a florist because you already like their work online but it never hurts to ask to see some more examples. Moreover, a portfolio of their work will give you an idea of their style and the themes they most often work with! Seeing that you have already discussed the overall theme you want for your wedding, it's best to ask them to see some pictures that align with their best work of your vision. 
Besides asking for their work, it's also recommended to ask for references you can directly contact for feedback. You can also read the review of past couples online and see what they're saying online. Even if there's a negative review, it never hurts to ask more of the backstory on it so you can get clarity on the situation and their work ethics. 
13) When Will You Show Me The Sample Arrangements?
Sample arrangements can give you a sneak peek into what your final-day decor would look like! Instead of asking your florist if they can show you the sample arrangements, just ask them to show them to you so they don't have the option to say no. Some florists might charge an extra fee for these arrangements, especially if you have chosen flowers that are exotic or expensive. 
Mock-ups of wedding arches, centerpieces, bouquets, and other arrangements are provided by the wedding florist. Don't hesitate to make any changes at this time. Your vendors are more than happy to accommodate your needs and make sure your wedding day is as beautiful as you have imagined. 
14) Will You Be There When The Arrangements Are Set Up?
The florists are generally present at the wedding during the time of arrangements. But some – like those who handle multiple weddings in a day – might not be there for the entire time. They will only come at the end to oversee everything or at the start to make sure everything's starting right on time! 
Normally, it doesn't matter if the florist is present at the venue if they have a dedicated team who'd do the work with the same precision and commitment as they'd do themselves. But it's important for you to know who'd be there and who'd supervise it all so you can be in touch with them in case something goes wrong. Ask the florist for the contact of the supervisor on your wedding day well in advance to avoid any rush later! 
15) What Other Decor Elements Do You Provide?
Some florists provide decor elements at rent like arches, table runners, mirrors, aisle runners, vases, votives, mirrors, etc. Many florists do provide rental items of some kind with their contracts. For example, floral arrangements on the table often require vases, so the florist will provide both. But sometimes you also need additional decor elements like let's say votives for the table, in that case, this one of the questions to ask your wedding florist can help!
Some of these items are free with the services, but others might be provided at an additional cost. See many of the florists have tie-ups with rental services and get these delivered to you at a lower price. Plus, you've worked with them closely on your wedding vision and they have an idea of what you all need. It's a smart option to give them the task of getting these rental items. As for the ones that are included in the cost, make sure they're mentioned in your contract as well so there's no confusion later! 
16) How Will You Transport & Store The Flowers? Do You Charge Any Delivery Or Storage Fees?
Will your florist charge for any transportation to your venue? Are they going to handle the storage after the flowers reach the venue? Will they have a representative attending the delivery of flowers? It's important to get these questions sorted so you don't have to deal with them later. Ideally, you'd want your florist to handle everything from delivering the flowers to handling and storage so you don't have any more tasks to handle on the wedding day. 
Many florists do have a representative to take care of the delivering and storage, although you might need to assign a bridesmaid or any other close member from your bride clan to oversee the flowers are stored nicely and safely. 
17) Will You Work With My Venue On Any Restrictions?
Almost all wedding venues have a set of restrictions in place, some have more restrictions, and others have lesser of them! Albeit beautiful, your wedding venue can be difficult to work with and have some tough restrictions in place. Having a florist on board who is ready to go above and beyond to collaborate with your wedding venue and make them go easy on rules will make your planning easier and give you the special day of your dream with fewer headaches!
It's an important one of the questions to ask your wedding florist because not all of them will be willing to go this extra mile for you and if you're confused between 2 or 3 florists, a positive response to this question to ask your florist before the wedding can be a turning point! 
18) How Many Consultations Do You Provide?
This is another one of the important questions to ask your wedding florist because though the initial 2 to 3 consultations are free, some florists might charge a fee for any additional consultations you might need! During the initial consultation, the wedding florist will typically discuss the couple's vision for their wedding, including color schemes, flower preferences, and overall style. 
After the initial consultation, the rest of the additional consultations involve finalizing the details of the floral arrangements. This may include reviewing sample arrangements, making changes to the floral design, and discussing any concerns or questions that the couple may have. The time and number of consultations also depend on the complexity of the arrangements. Nonetheless, it's important to understand the number of consultations included in the florist's services and ensure that there is adequate time to make any necessary adjustments before the wedding day. 
19) How Much Time Will You Need To Set Up Floral Arrangements At The Wedding & Reception?
The amount of time a wedding florist needs to set up at a wedding can vary depending on the size and complexity of the floral arrangements, as well as the logistics of the wedding venue. However, as a general guideline, a wedding florist typically needs several hours to set up for a wedding and that's why many start working in the early morning. Many will start making some arrangements a few days before the wedding and store them properly, while others have to be done on the same day. 
The florist will need to transport the floral arrangements to the wedding venue, unpack and prepare the flowers, and then arrange them in their designated locations. This can include setting up ceremony flowers, reception centerpieces, and other floral decorations throughout the venue. You also need to tell your venue to remain open at the time required by the florist which makes this question important as you'd need to work with different people to make sure the ceremony starts on time! 
20) Will You Move The Flowers From The Wedding Area To Reception Area?
Some couples do choose to repurpose their flowers from the wedding to the reception area as it helps them save on the decor and is also a smarter choice for the environment! But you do need to have some time between the wedding and the reception to make this happen, especially if your reception area is far away from the wedding location. 
If this is something on your mind, it's best to ask this question to your wedding florist well in advance so they're aware of the logistics. See not all florists are present at the venue, but if you want your arrangements to be moved, they or their team members have to be there. You also need to discuss what arrangements can be carried as the decor can be different depending on the theme. It's also important to understand you might be charged an additional fee to transport and install the decor in a rush! 
21) What If I Change My Mind?
Obviously, no one wants to change the decision 10 days before the wedding, but sometimes these things happen and it's best to have a final date in mind so as to know by when you need to make your final decision on everything. This is one of those questions to ask your wedding florist that might not be that obvious at first, but of course, important as it also helps you give a final date on when everything will be settled. 
Sometimes, you can also change your mind about the vendor themselves – in case, they fail to deliver what you're expecting. This question to ask your florist before the wedding also helps you in knowing when can you let them go without having to lose a chunk of booking fees. Also, put the same in the wedding contract to sort through any legalities. 
22) Will You Handle The Breakdown At Night?
After your wedding, your venue will want the area to look exactly as before, so it's important to discuss the breakdown services (wherein the florist and their team come to the venue after the reception and dismantle the floral arrangements, decor, and other rental items) as not all florists will offer them as part of their package. Some might ask for an additional fee. 
Needless to say, having a florist take down arrangements is a great way to ensure everything is taken down properly and handled right. Some florists may offer to repurpose or donate any unused flowers or arrangements from the wedding, while others may not. Therefore, it's not just important to discuss the breakdown cost in this one of the questions to ask your wedding florist, but it's also important to discuss the process associated with it!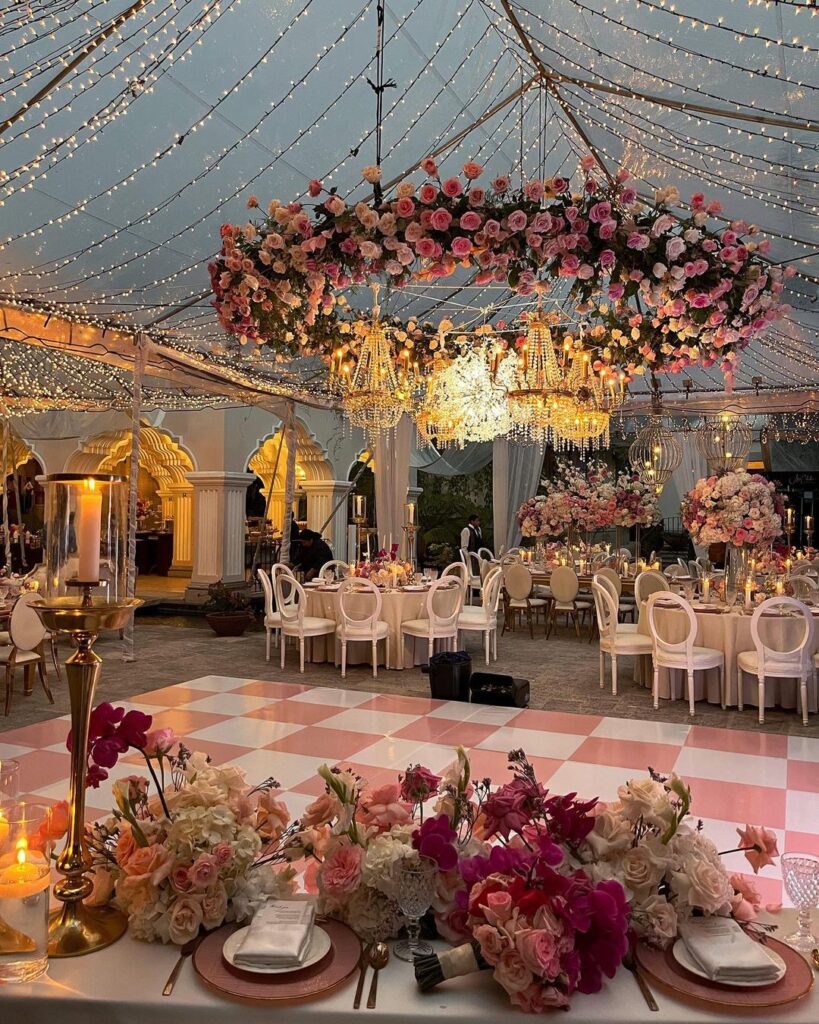 Photo Via Flor Morena
23) Are There Any Additional Fees I Should Know About?
When you're discussing the package with your wedding florist, it's important to ask for any additional fees that might be added when the final bill comes. The package generally includes the cost for floral arrangements and setup, but it can often not include any sales tax associated with the florals (if you're choosing exotic flowers, customs tax can also be included later depending on the conversion rate).
Other hidden fees in a wedding florist contract include delivery and storage fees for flowers, breakdown fees, service charges (for demos, consultations, etc.), and rental fees for items that aren't florals like vases, aisle runners, etc. It's important to discuss all fees and charges with your wedding florist in advance so that you are aware of the total cost of their services and can budget accordingly. Be sure to ask for a detailed contract or invoice that outlines all costs and fees, so that there are no surprises on your wedding day. 
24) How Are The Payments Scheduled?
Getting into the payment nitty-gritty details is important so you can budget accordingly. Some florists only require two payments – one's a deposit to secure their services for the wedding and is usually less than half the percentage of the total amount, and the next is the final payment done after the wedding and includes the rest of the payment as well as any additional fees mentioned in the contract. 
Some florists also require a midpoint payment usually done several weeks before the wedding and can be a percentage of the total cost or a set amount agreed upon in advance. The purpose of the midpoint payment is to ensure that the florist has the necessary funds to purchase and prepare the flowers for your wedding. Be sure to get a detailed contract or invoice that outlines all costs and fees, as well as the payment schedule. 
25) What's Your Cancellation Policy?
No one wants to cancel their vendors or postpone the wedding but these unforeseeable circumstances happen (like the pandemic) and it's better to be prepared for them in advance. This is an important one of the questions to ask your wedding florist and it's best to have a detailed discussion on this. Some florists refund the entire deposit if you cancel a good amount of time before, like let's say 30 days, others have a non-refundable deposit with no exceptions. In some cases, the deposit may be applied to a future date if you choose to reschedule your wedding with the same florist.  
It's important to review and understand the cancellation policy for your wedding florist before signing a contract or agreement. Be sure to ask any questions you may have and clarify any details about refunds or rescheduling. If you anticipate the possibility of having to cancel or reschedule your wedding, consider purchasing wedding insurance to protect your investment in case of unexpected events.