Rimple & Harpreet's work has been admired by brides over the years. Their unique designs, intricate work, and extraordinary details make every piece of their clothing a work of art. No wonder they have made their way into bridal trousseau – sometimes as the wedding day outfit, and sometimes for other events. But this bride – who is a designer herself (@mannatsandhuu) and a popular social media influencer – decided to take her love for the designer to a whole other level, and donned only RAH outfits for all her 6 events. "Being a designer, I really admire the creativity and detail-oriented approach of Rimple & Harpreet. I wanted to style their outfits for all the events," says Mannat. 
She and her husband, Shahbeer Singh Randhawa, put a lot of effort into styling their outfits and designing their luxurious, intimate wedding setup. Here's all you need to know about their wedding, in their own words. 
Event 1: Path
Mannat & Shahbeer's wedding started with a Path for which the former wore a red Rimple & Harpreet sharara suit with multi-color accents. "For the styling, I wore a Punjabi jutti from Needle Dust. To incorporate modish touch into my ethical look, I went for bouncy curls with braids. The jewelry had emerald green and ruby hues to match the subtle colors in my outfit. Lastly, for makeup, I went ahead with my favorite eyeliner and clean nude lips with a little shimmer on the lids," says Mannat.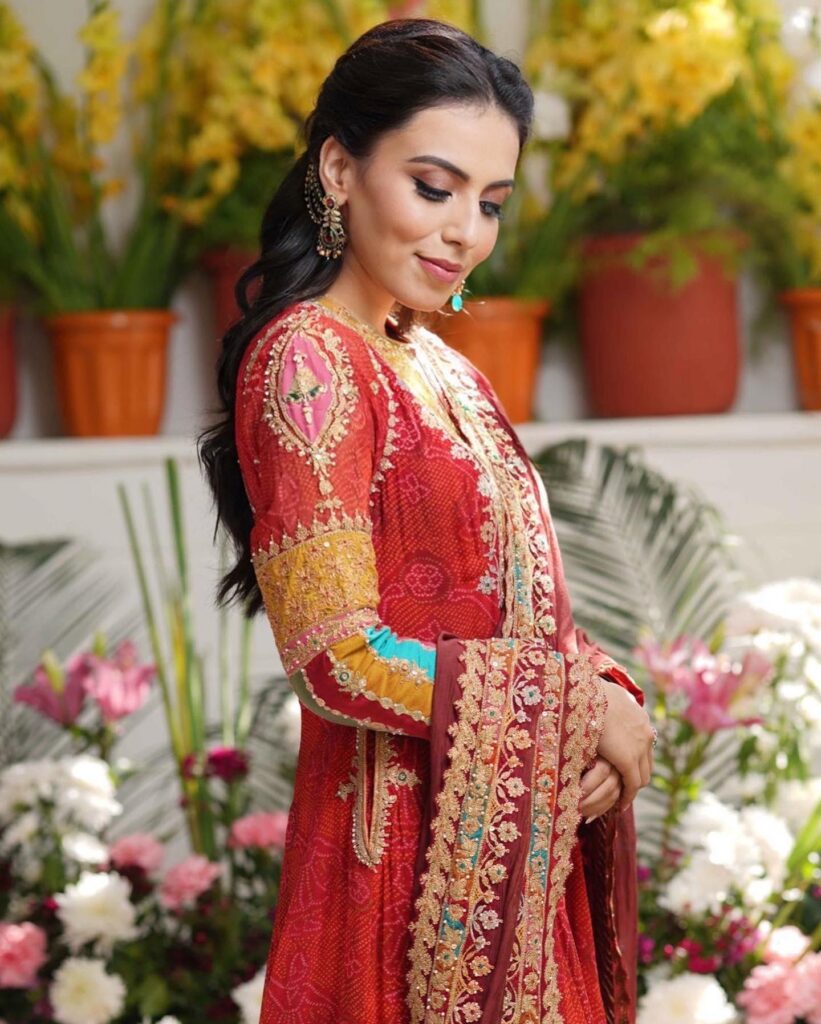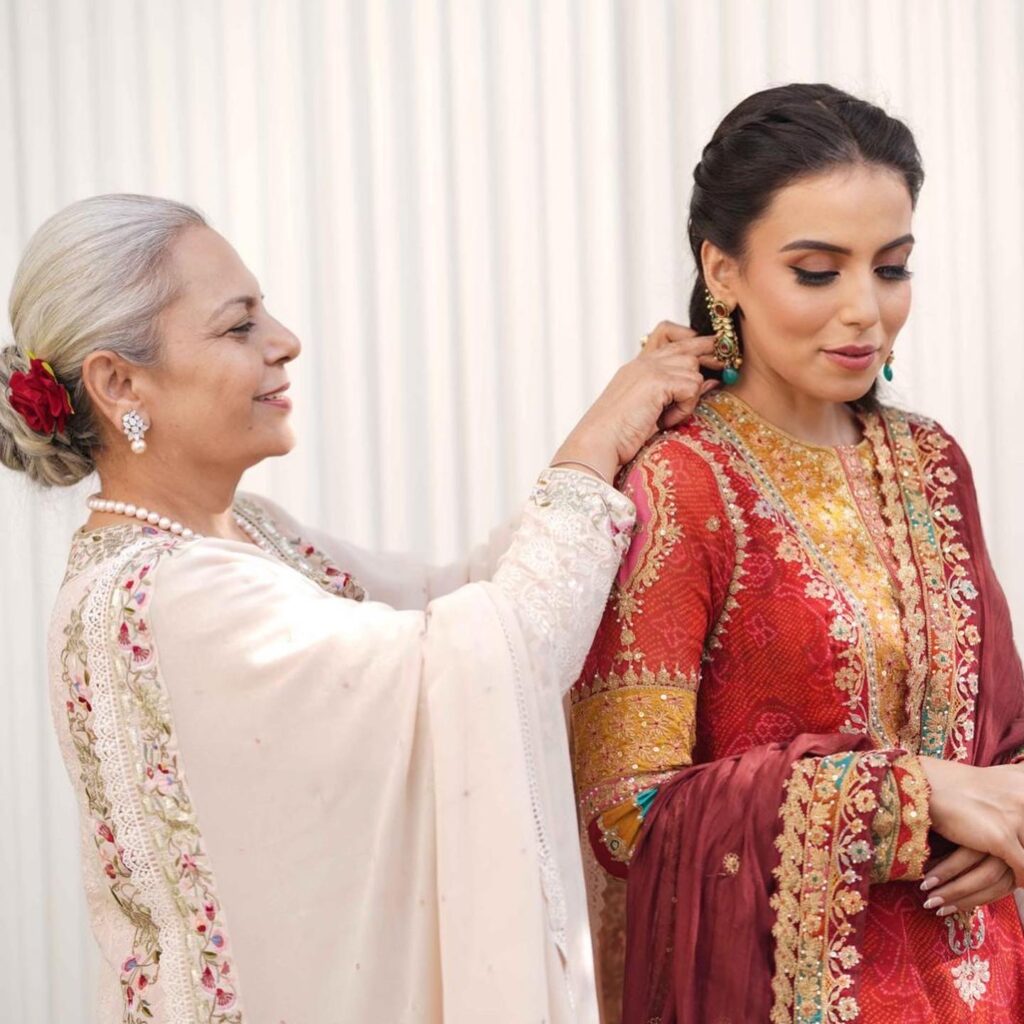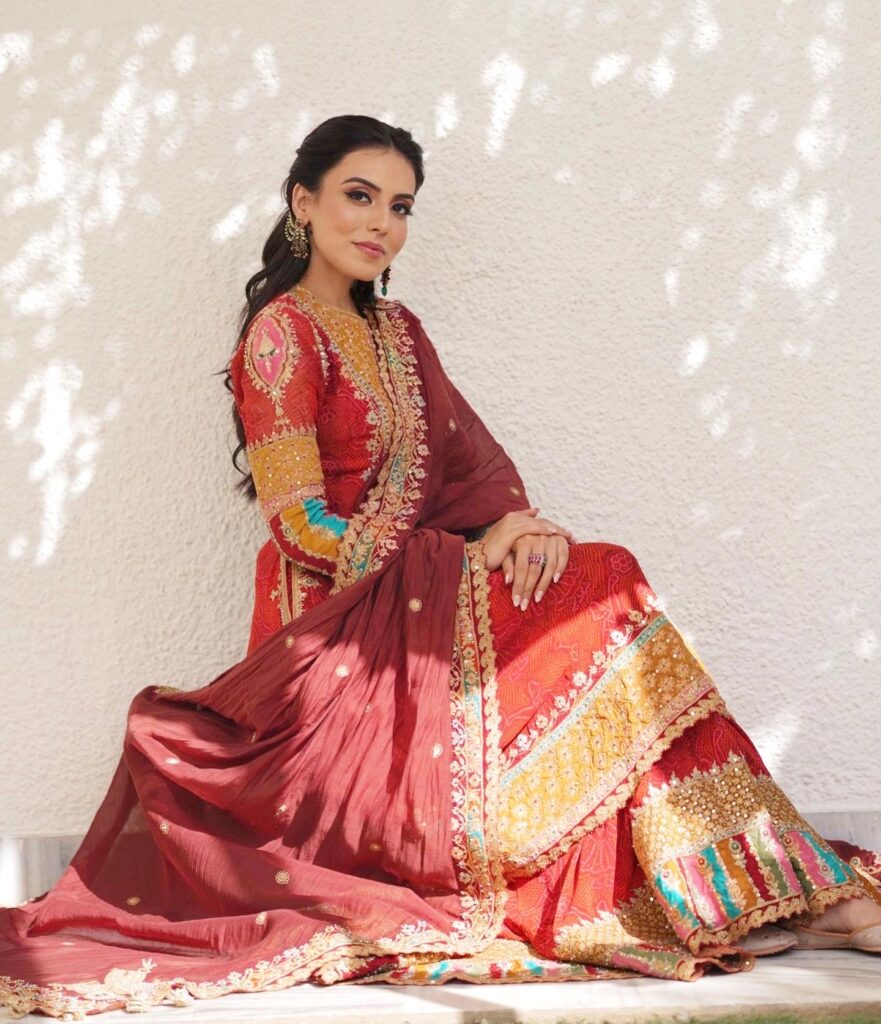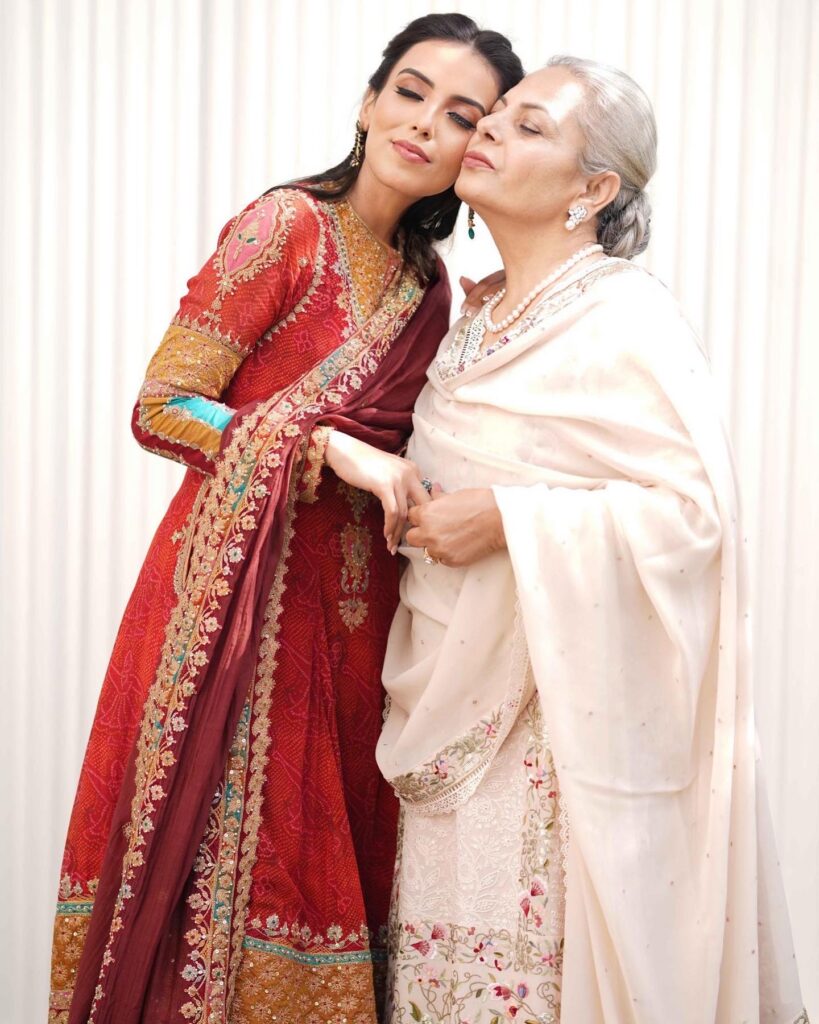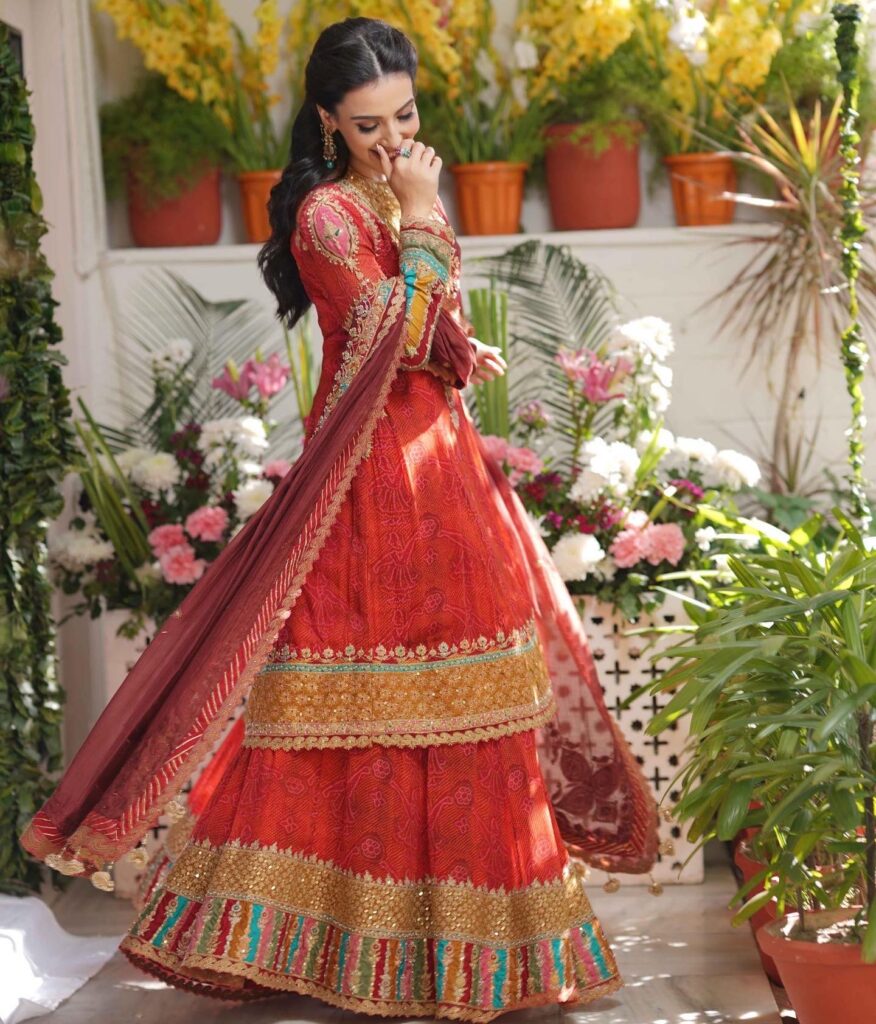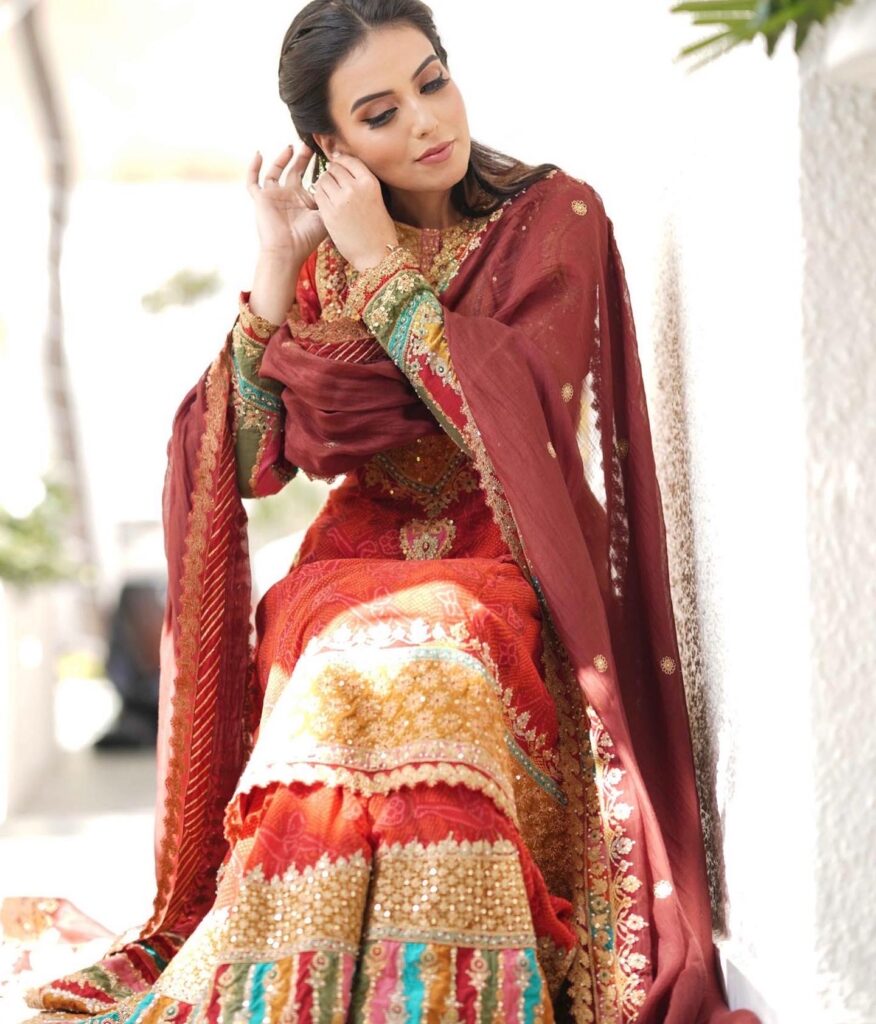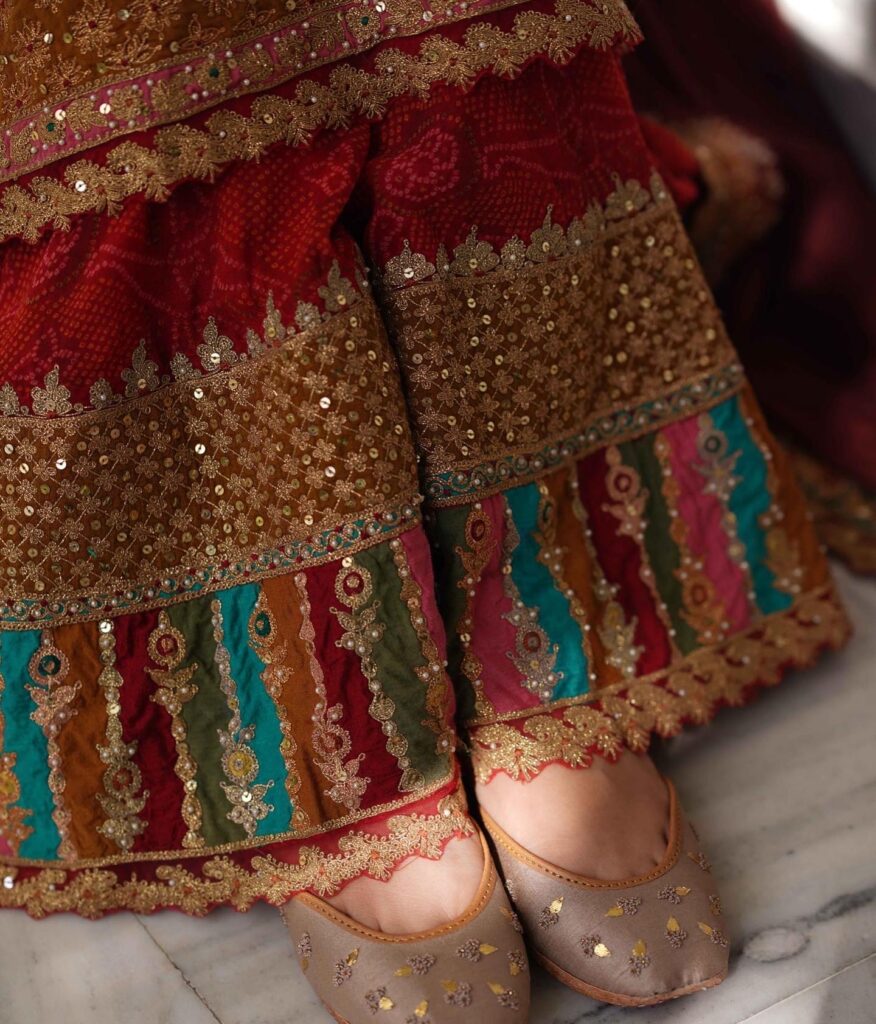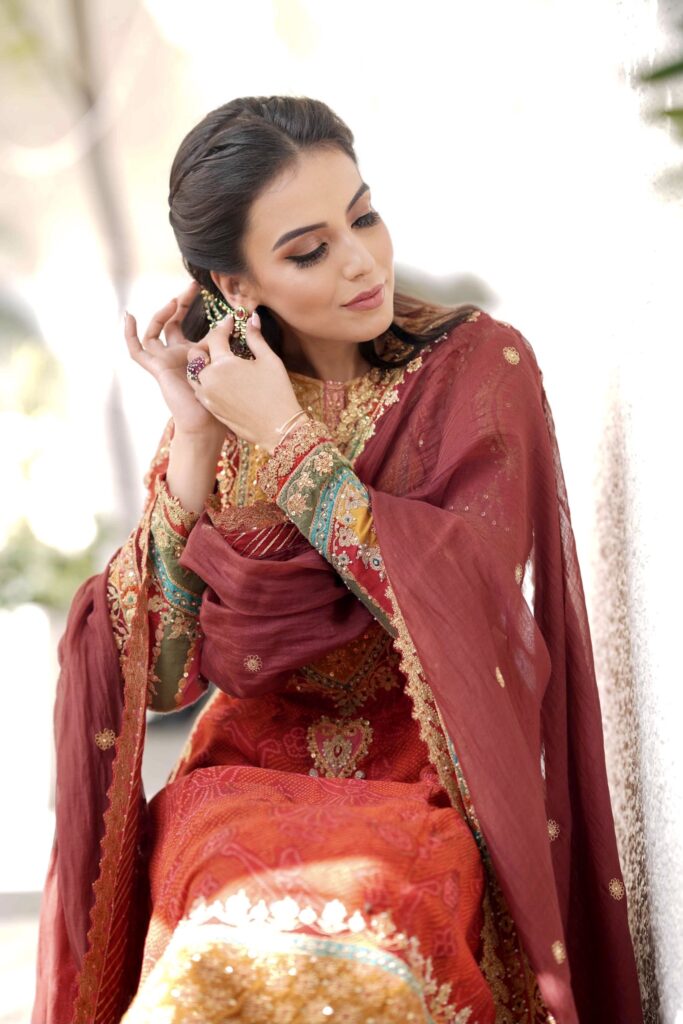 Event 2: Dhol Night
For the Dhol Night, Mannat opted for a contemporary look that was different in style but reflected the traditional touches by carrying the handloom Bandhani print and handwork embroidery on the neck. "I wanted to wear something light & breezy, and not the typical outfit as it has been done many times now," says the bride. "Kaftans are also very easy to style because the outfit itself makes you stand out and you don't have to worry much about other elements," she adds. To complement her outfit, she wore a half-half hairstyle with a bun and antique studs in yellow stone.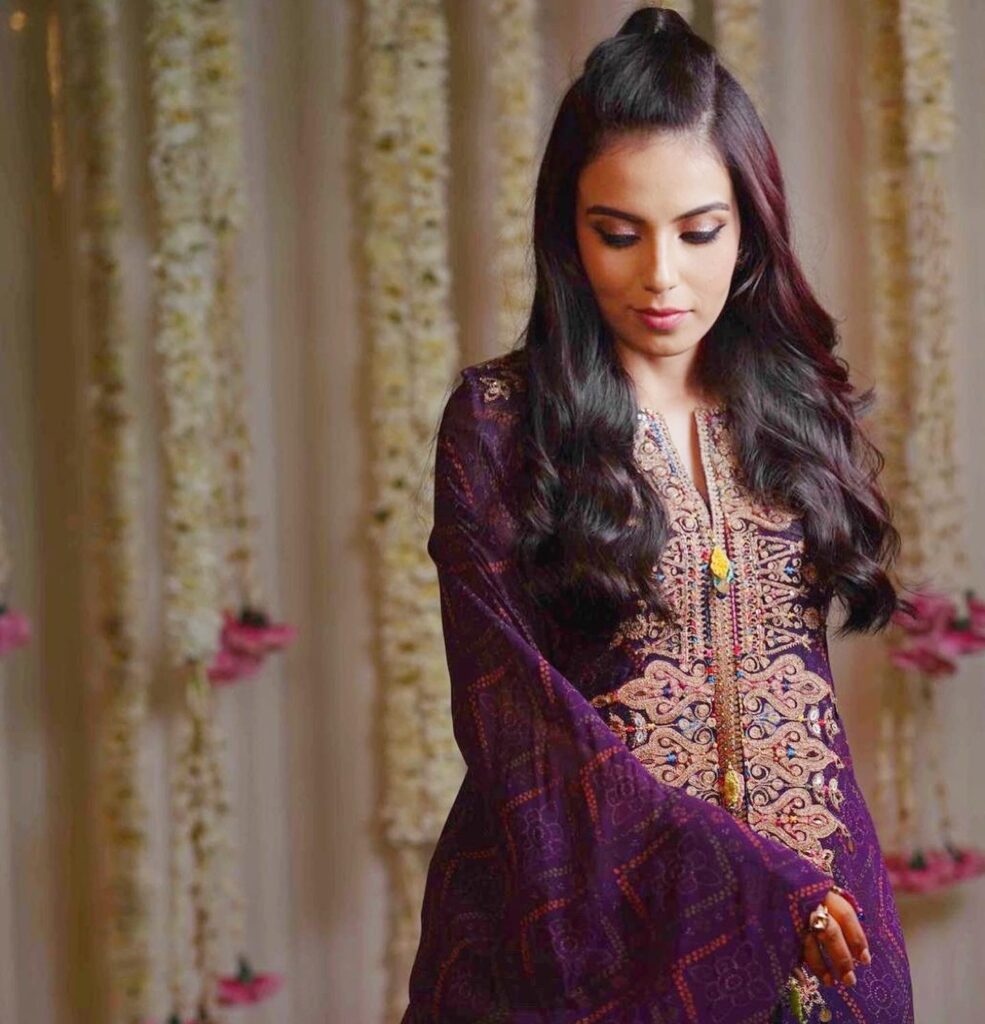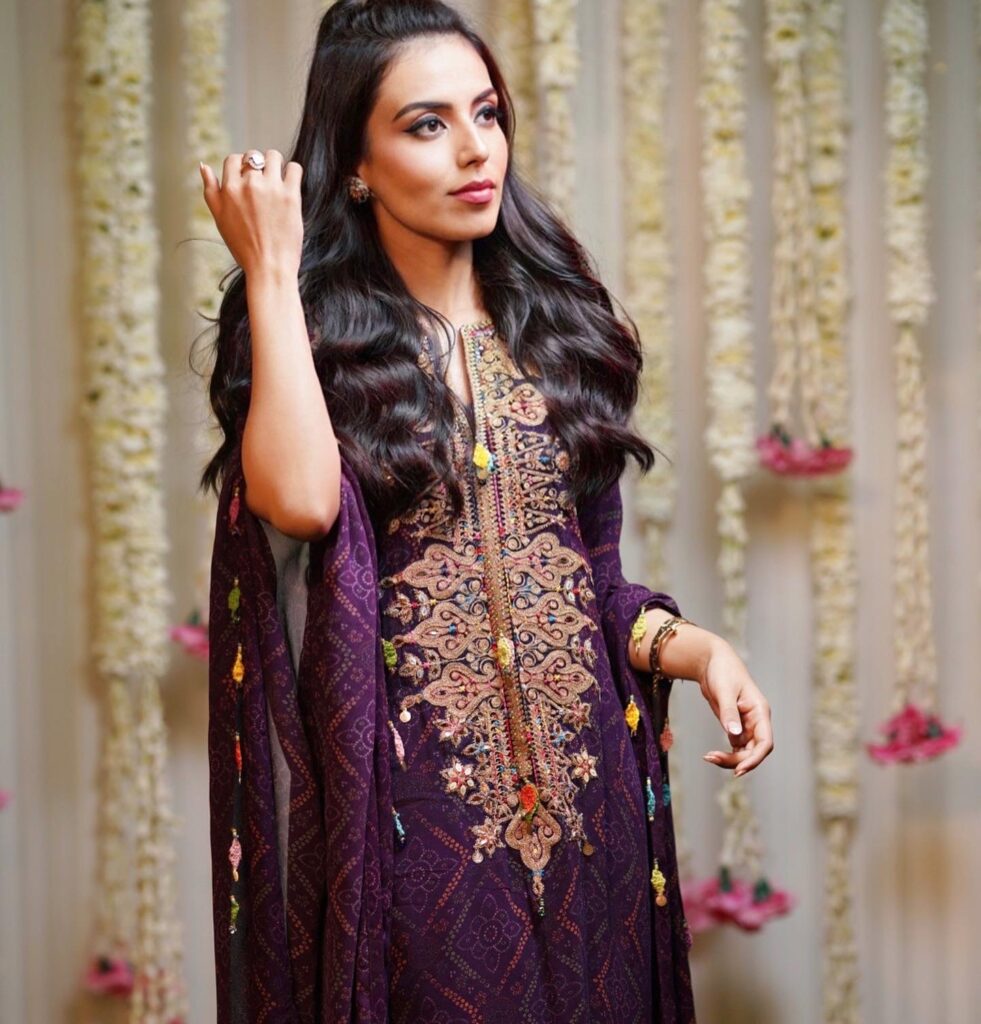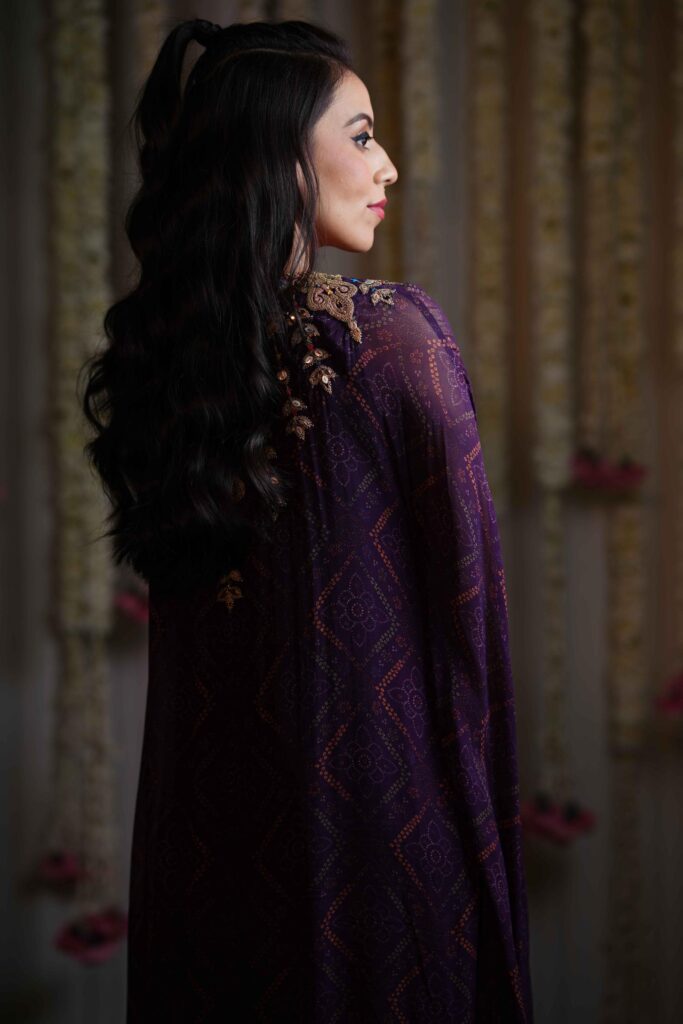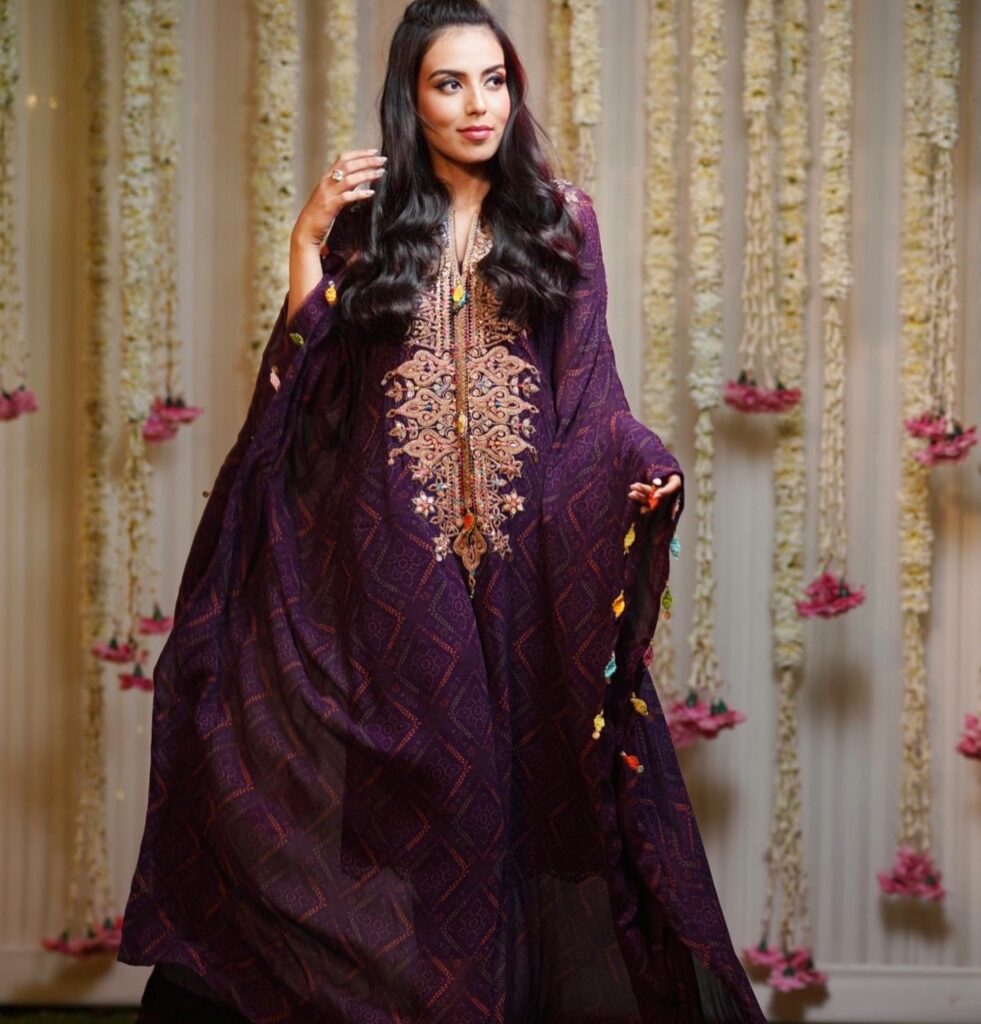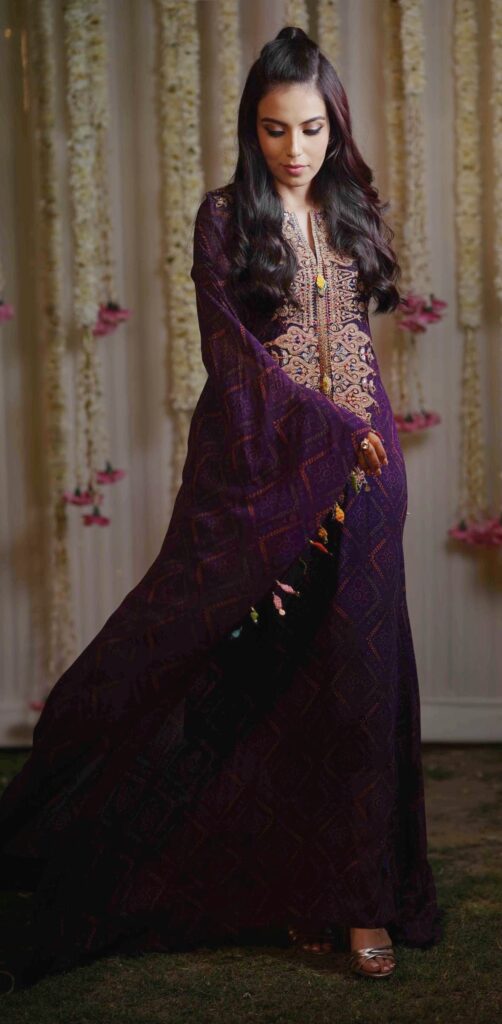 Event 3: Engagement
For the engagement party, Mannat wore a pastel blue lehenga set with elaborate accents in golden, orange, and green. To complement her gorgeous attire, she put her hair in a ponytail hairstyle, went subtle glam with her makeup, and wore striking diamond jewelry in emerald stones (which her in-laws gifted her from Orra jewelry). "My husband also designed a beautiful ring for me. It took him a lot of time to get the perfect design right. The ring was from Talwar jewelry house," says Mannat. For the night, groom Shahbeer wore a royal blue sherwani, which he designed himself, and paired it with a pashmina men's shawl to match Mannat's outfit.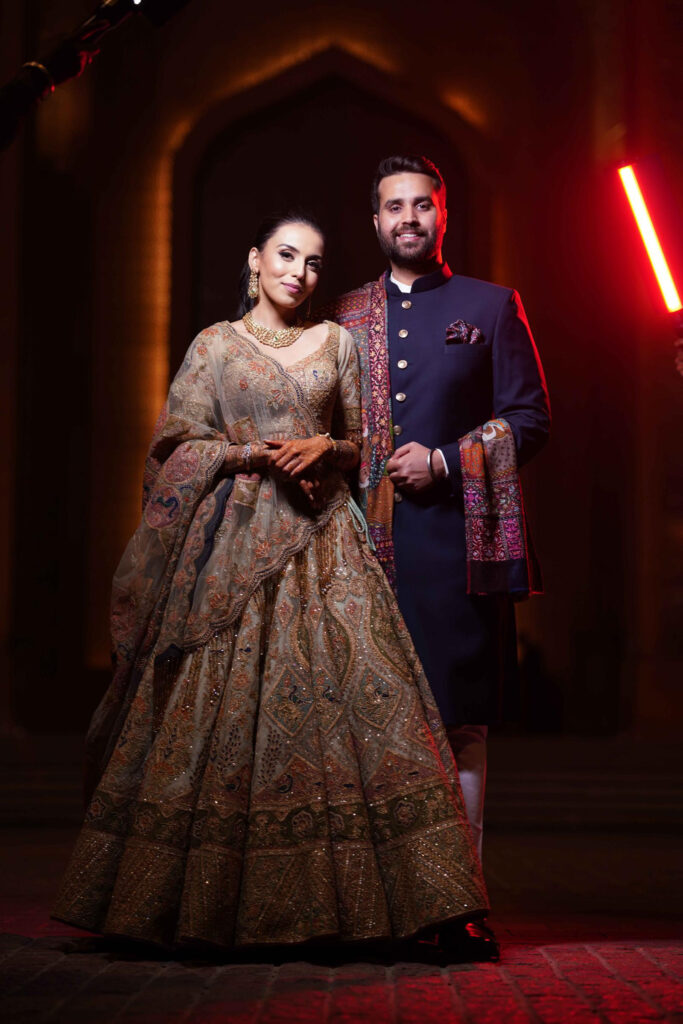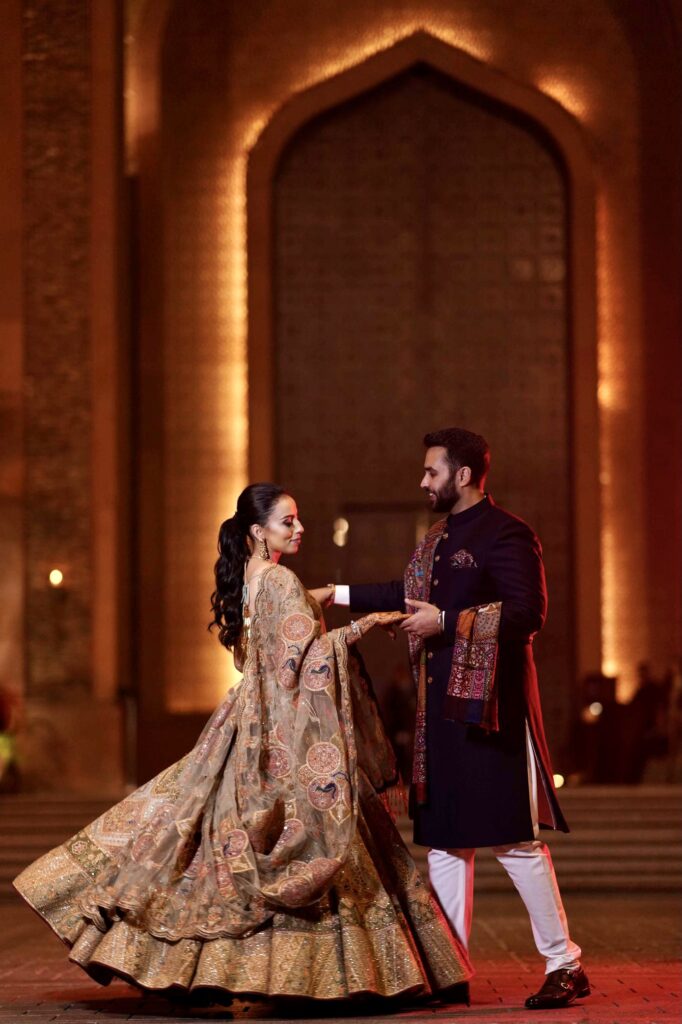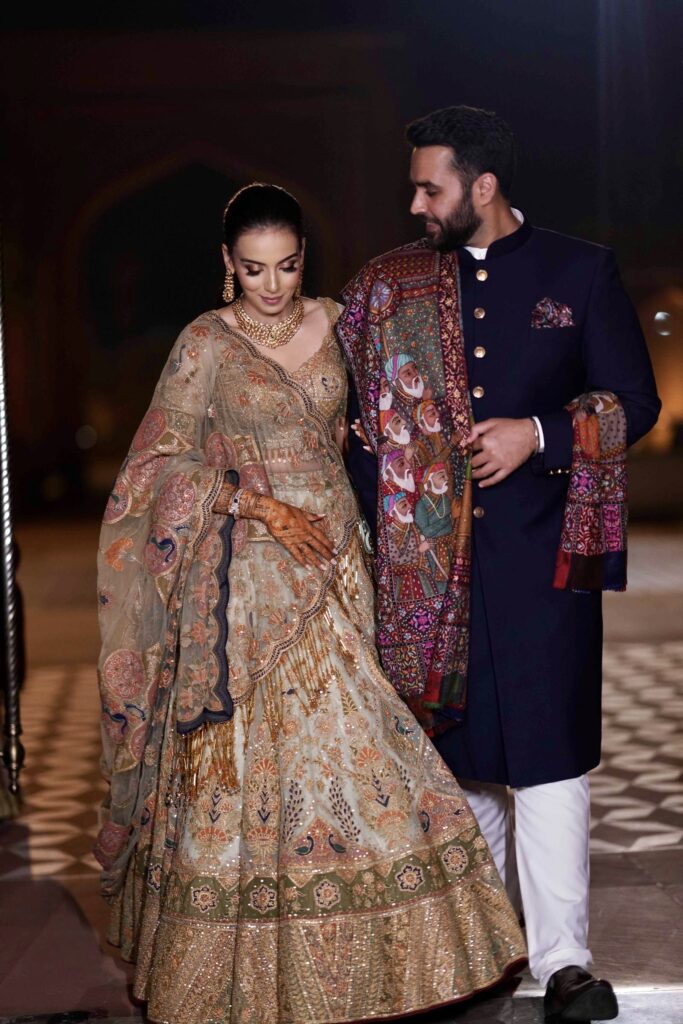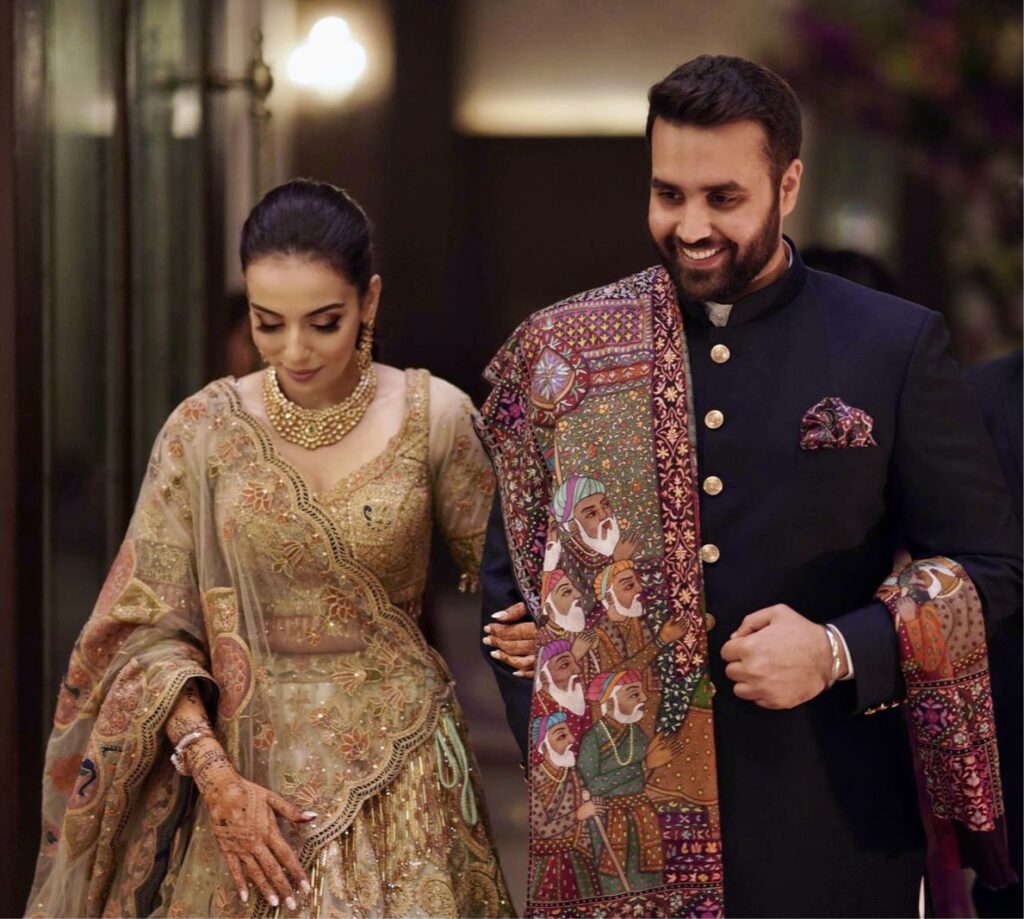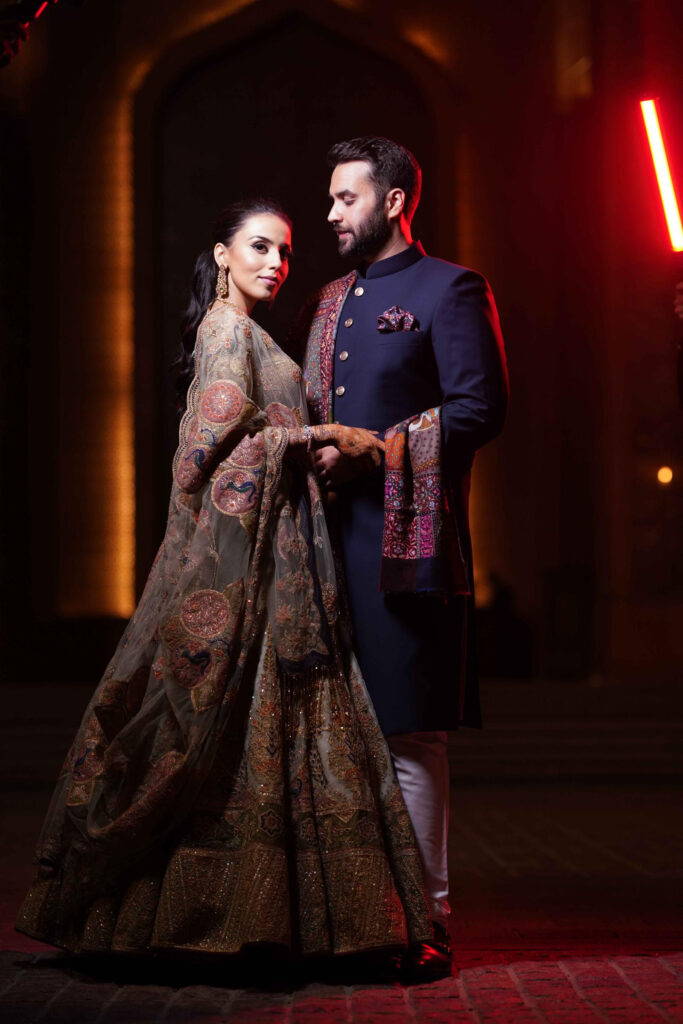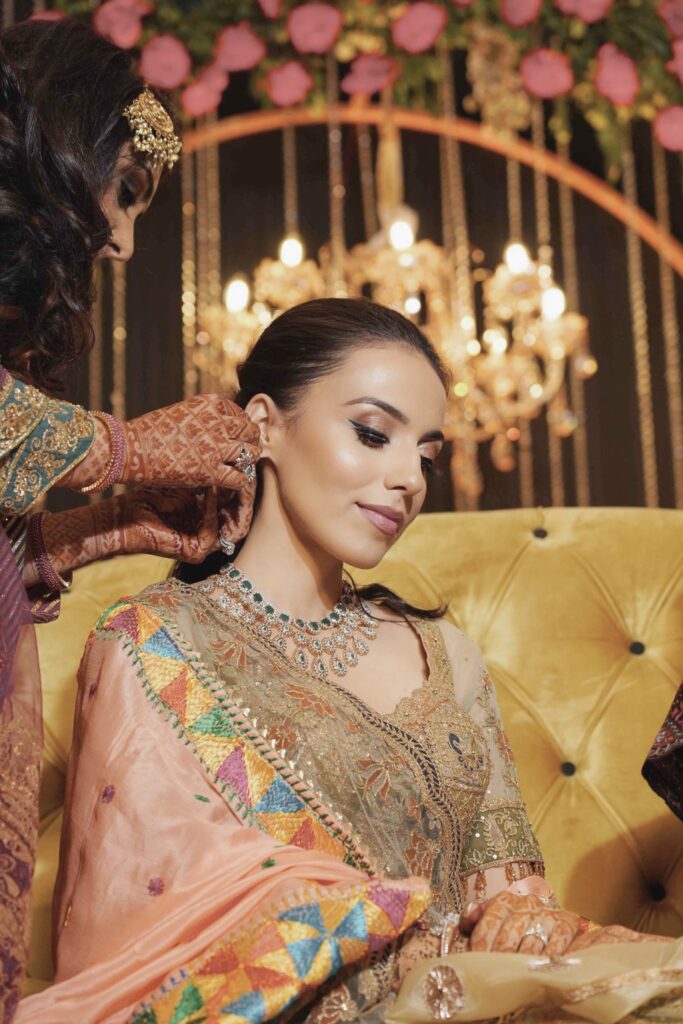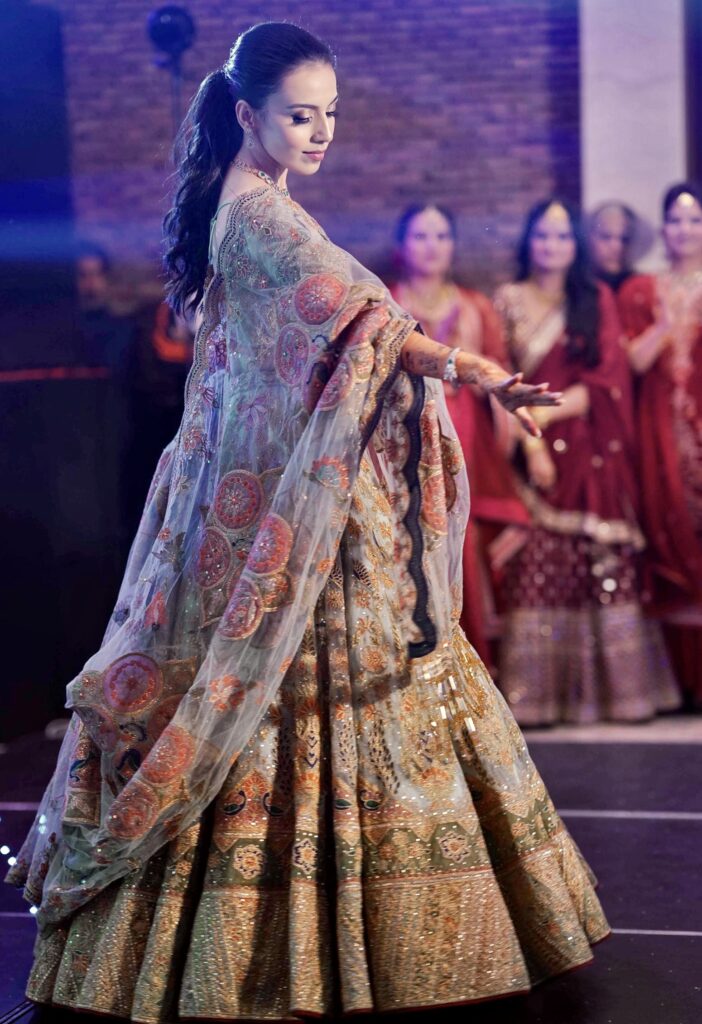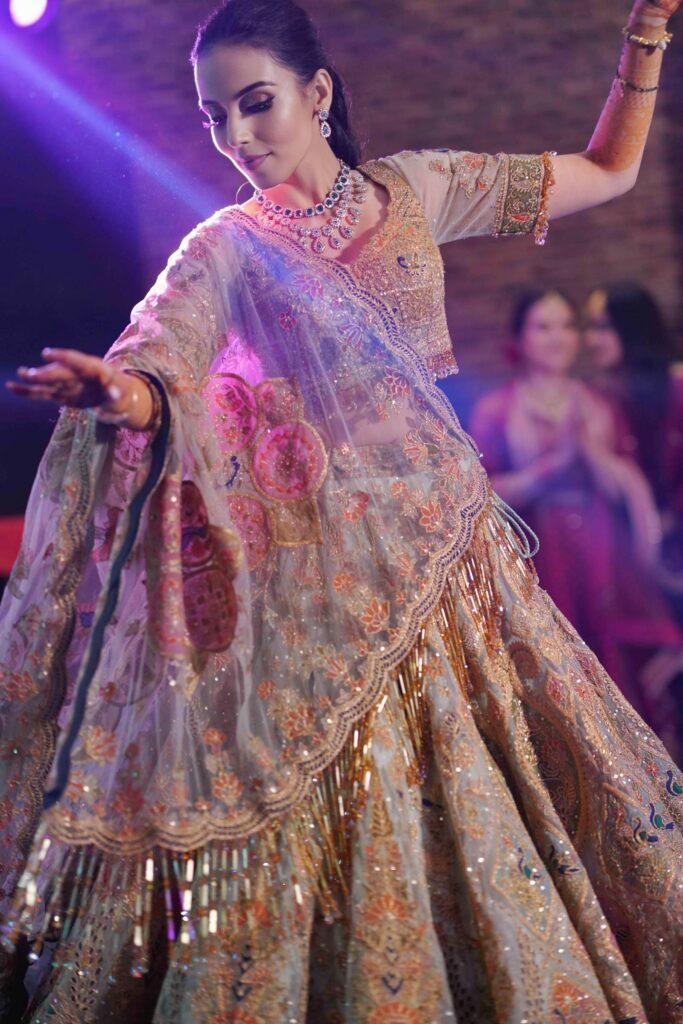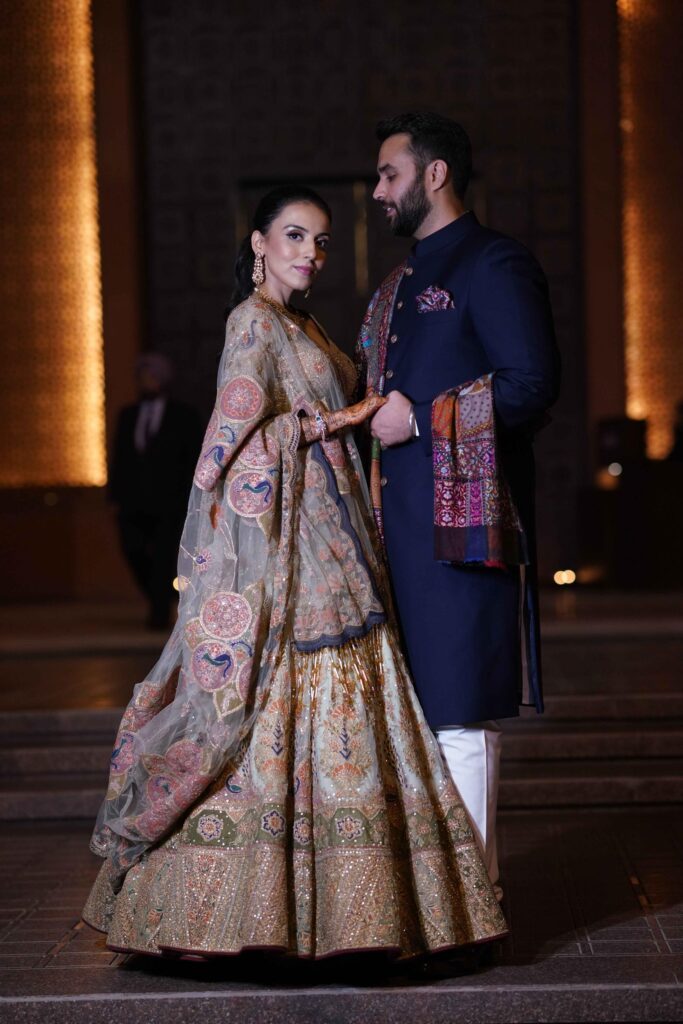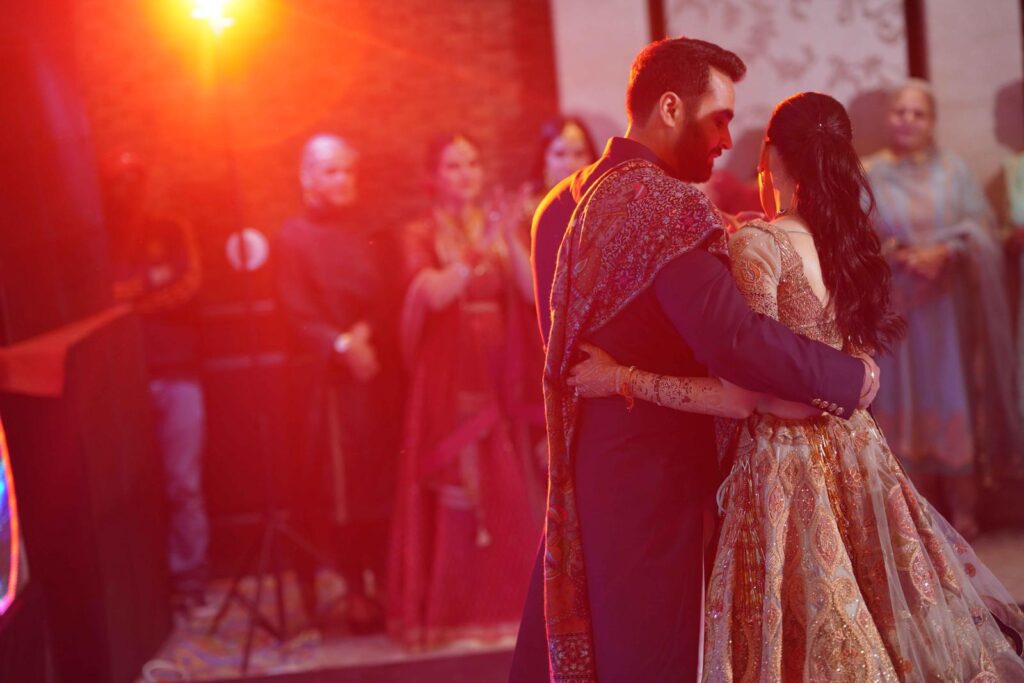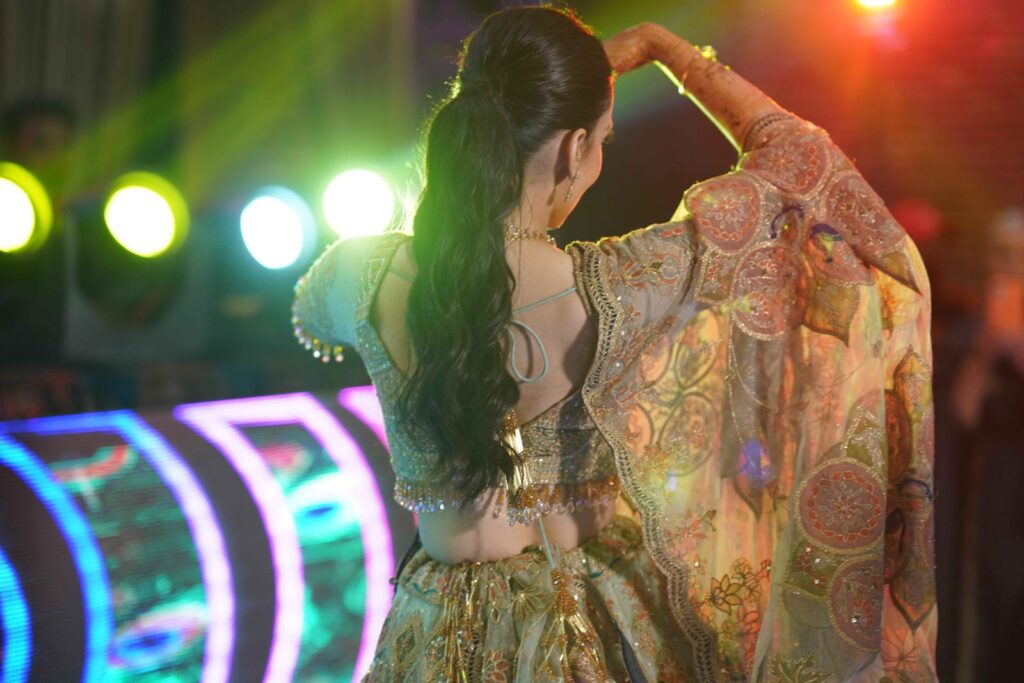 Event 4: Mehendi
For the mehendi ceremony, the outdoor lawn was bedecked in blooming florals, predominantly marigolds, followed by roses, chrysanthemums, and lilies. To complement the luxurious decor, the bride wore a yellow lehenga by Rimple & Harpreet and donned a simple polki set for her jewelry. Beauty-wise, she kept everything simple & elegant and opted for soft smokey eyes, a clean base, and a half-half bridal hairstyle. 
Just like for engagement, Shahbeer also designed his mehendi outfit to match the theme of mehendi. He wore an ivory kurta-pajama and paired it with a mint-green achkan in intricate embroidery. His right choice of colors beautifully complemented the bride's subtle sea-green accents on an otherwise yellow lehenga.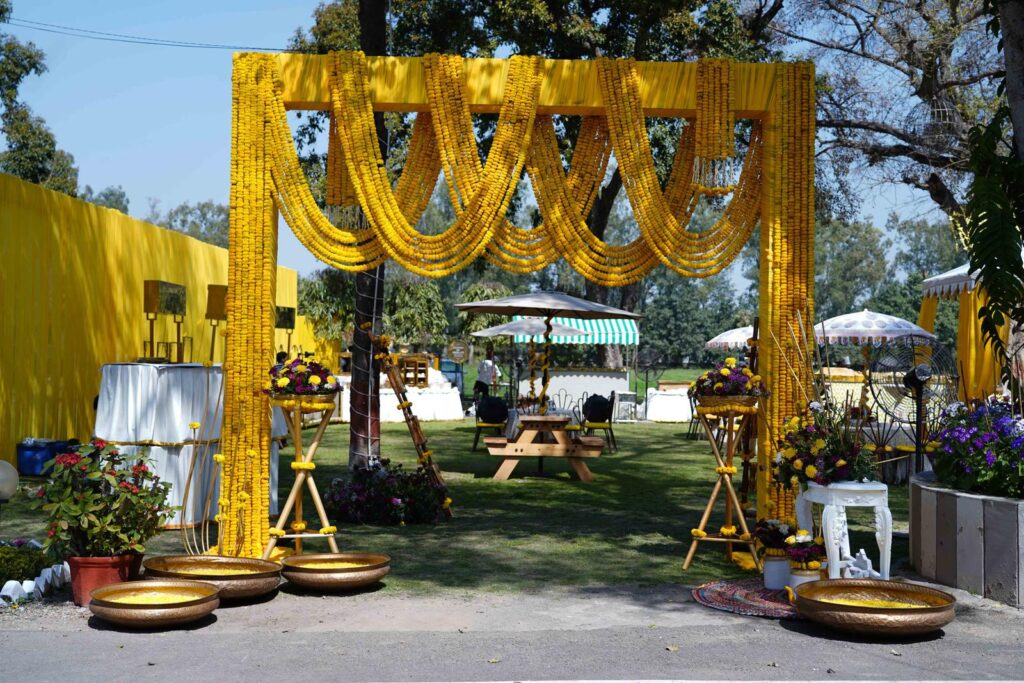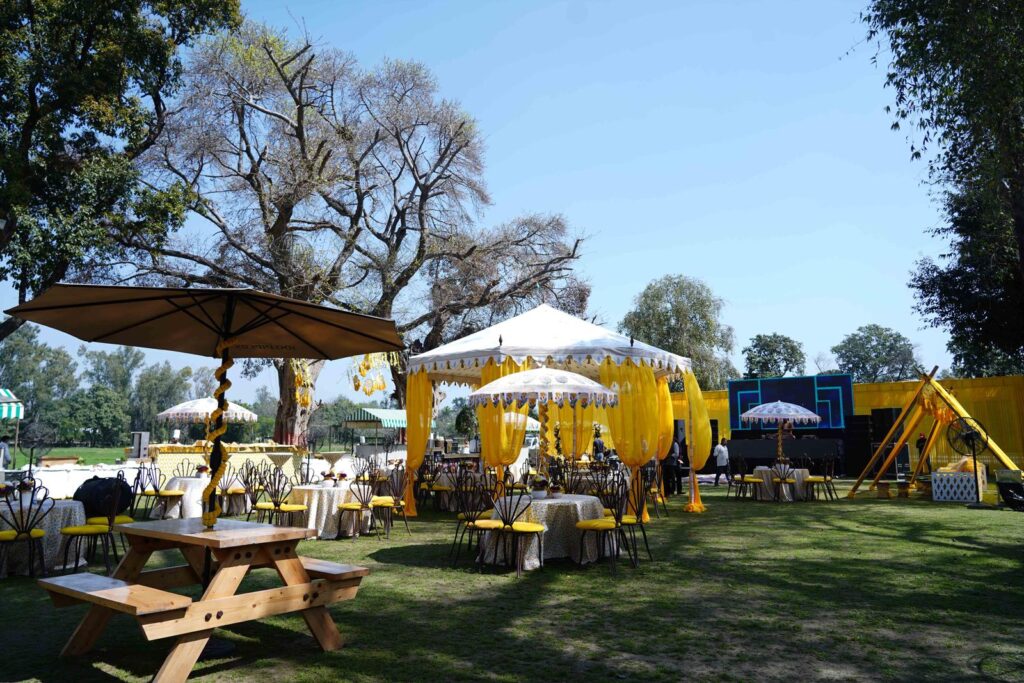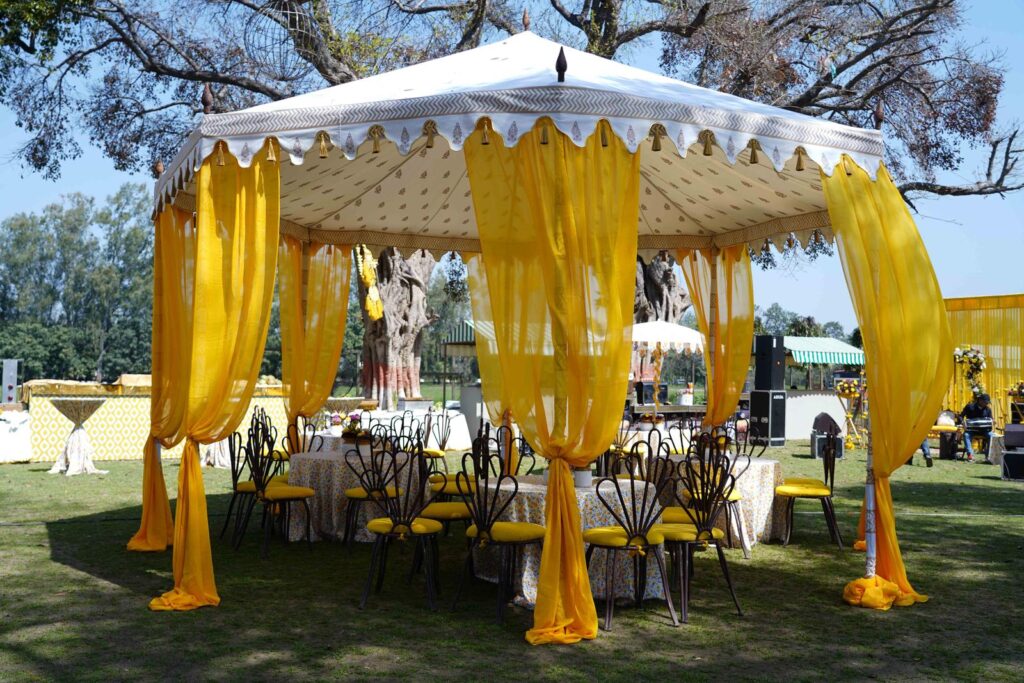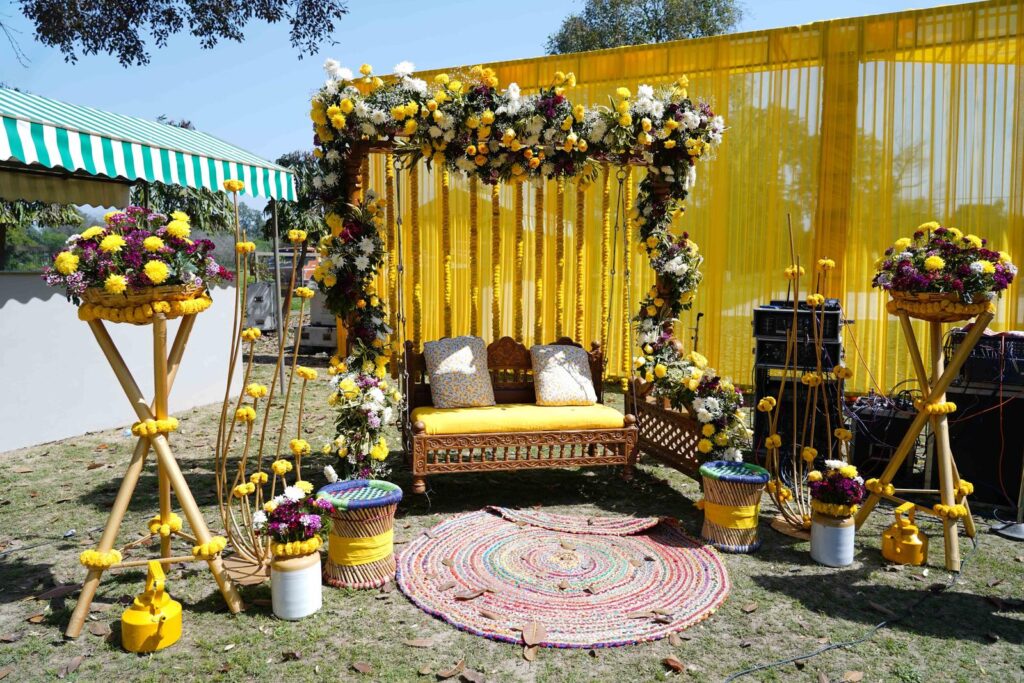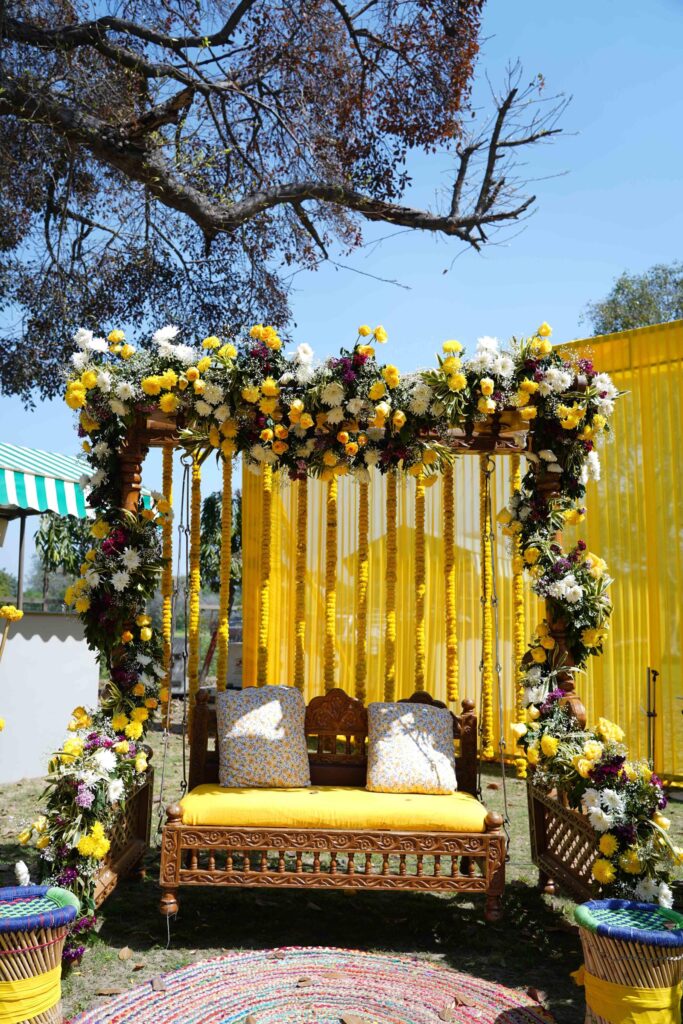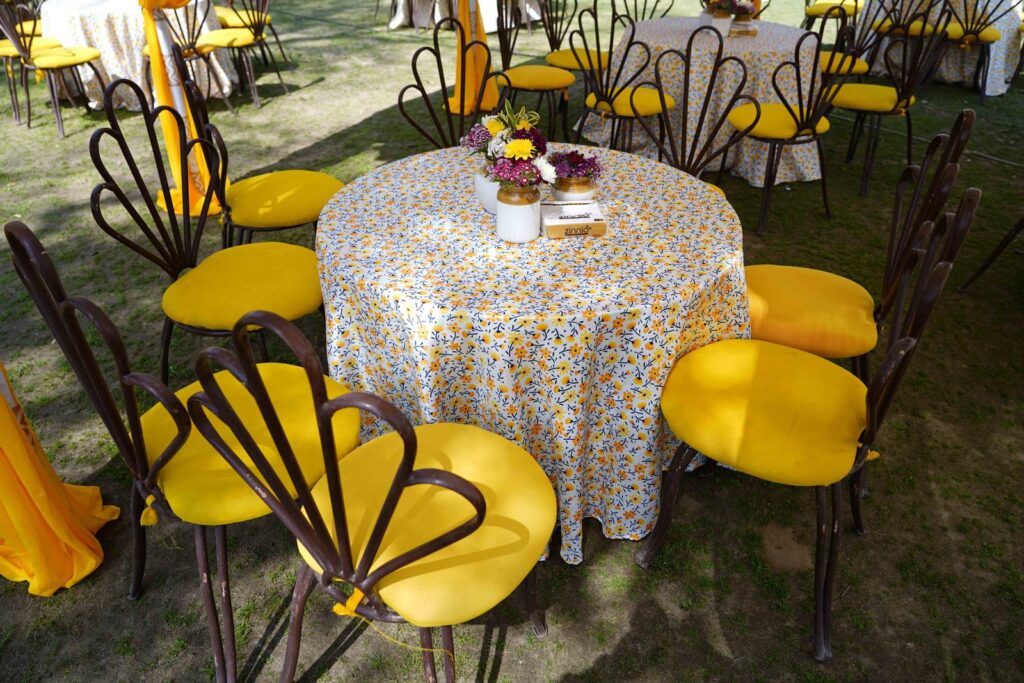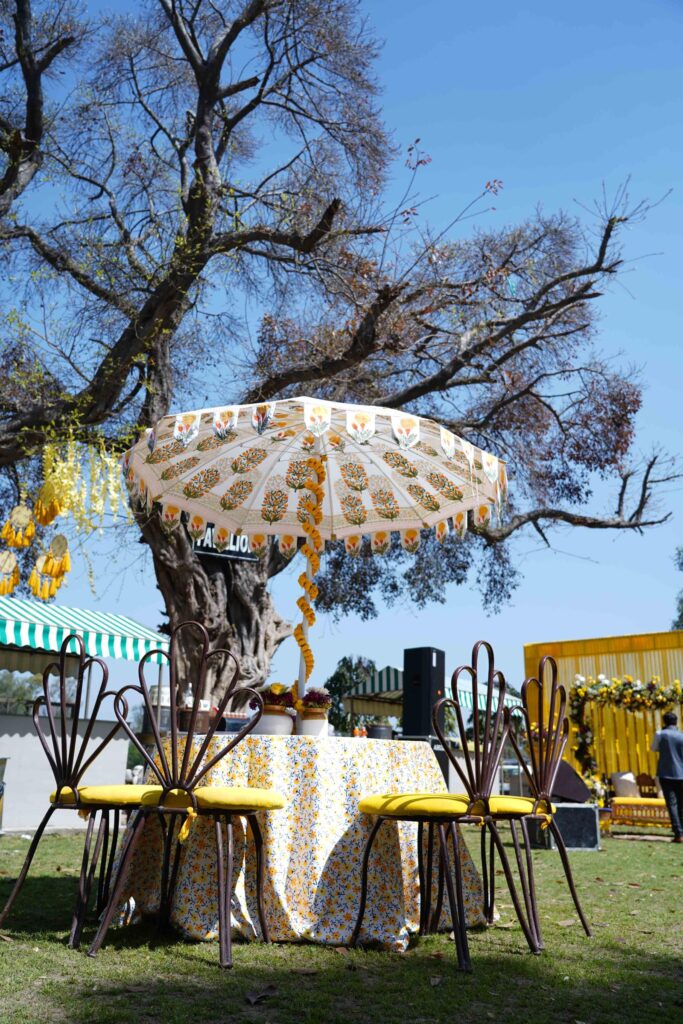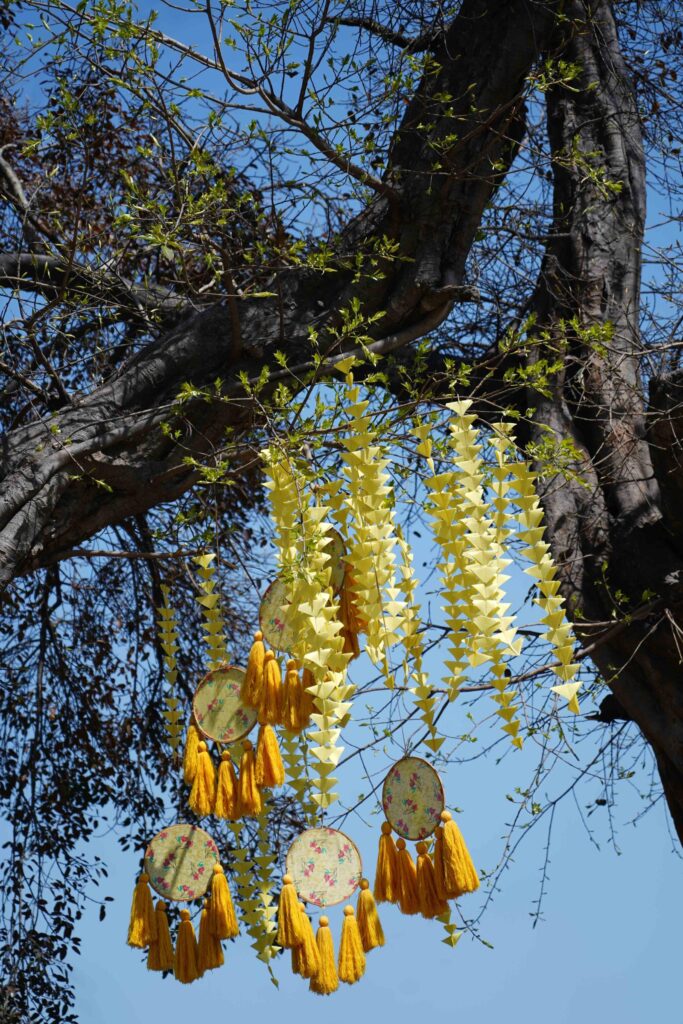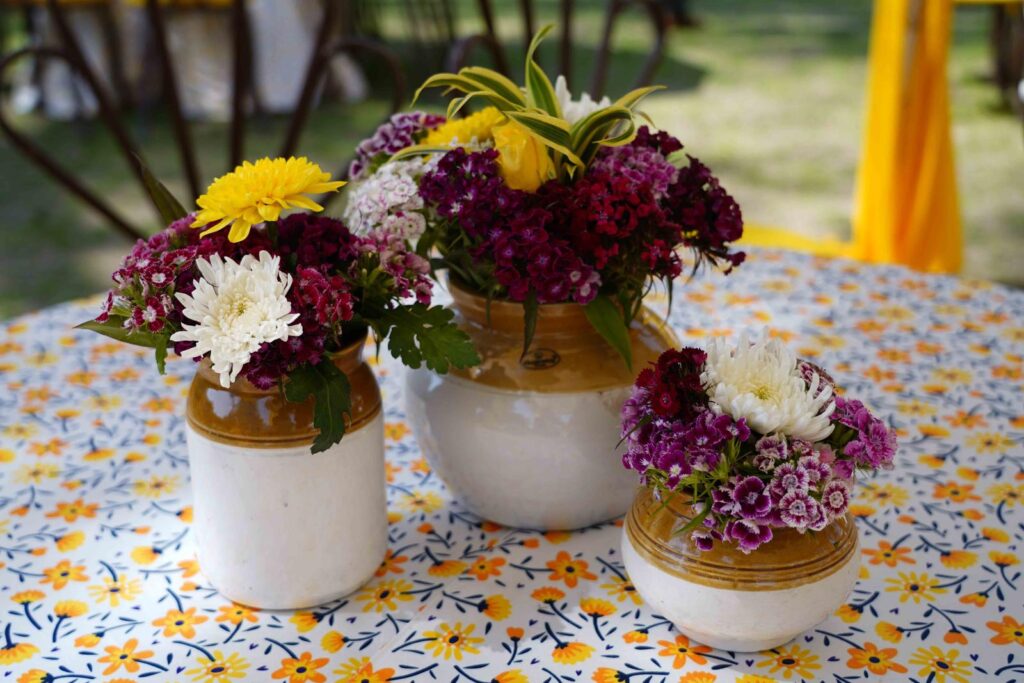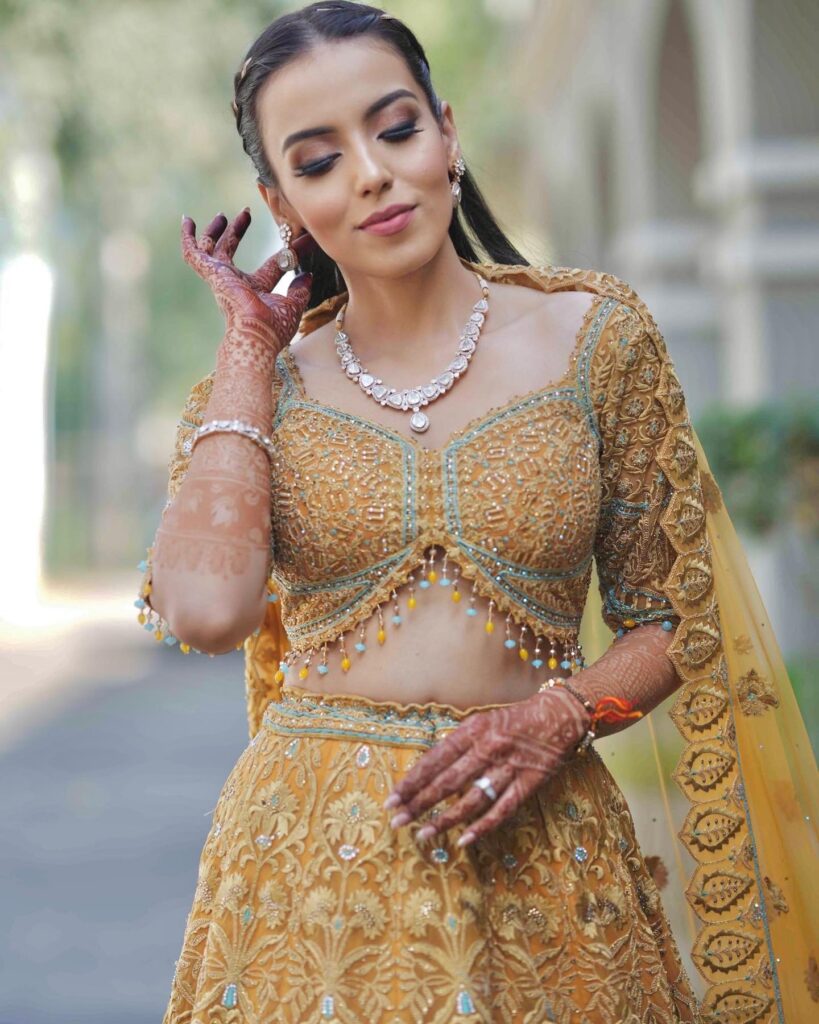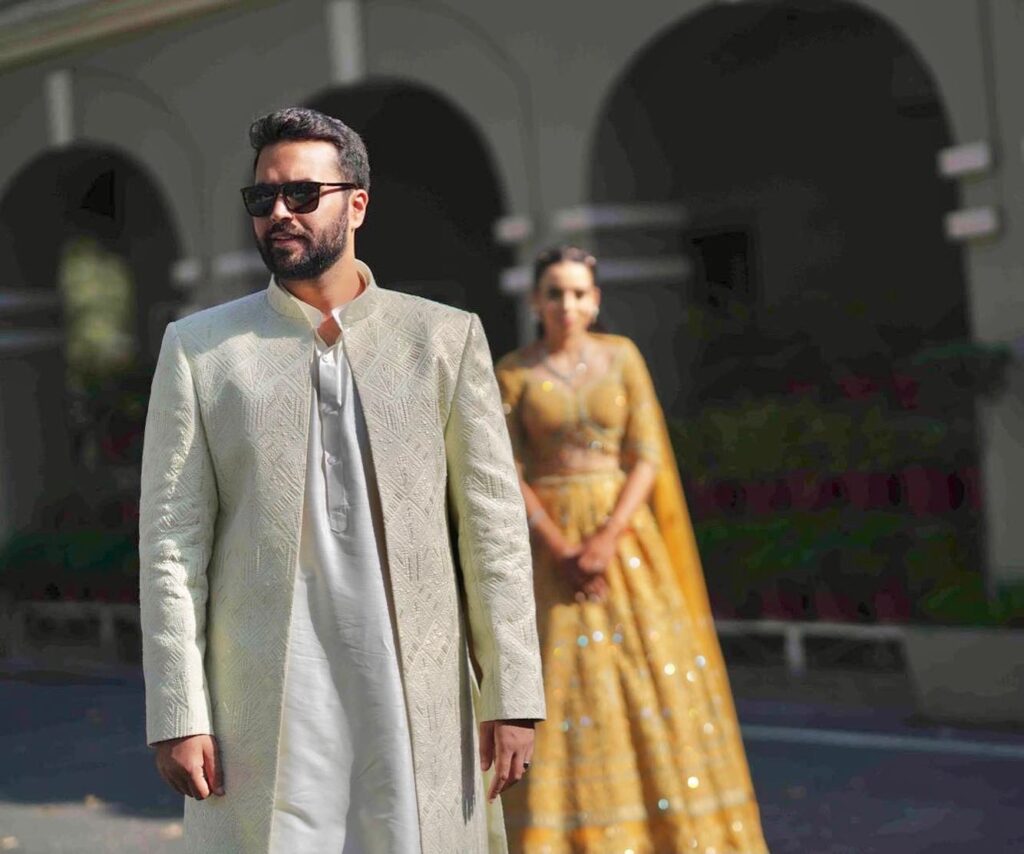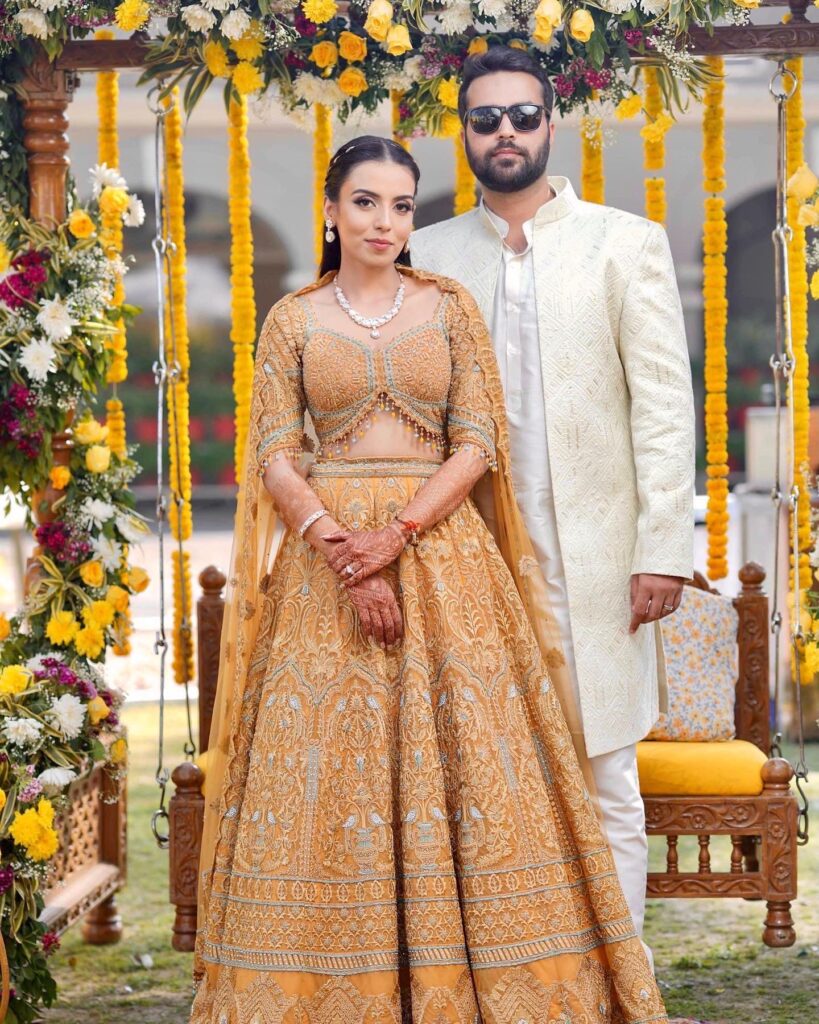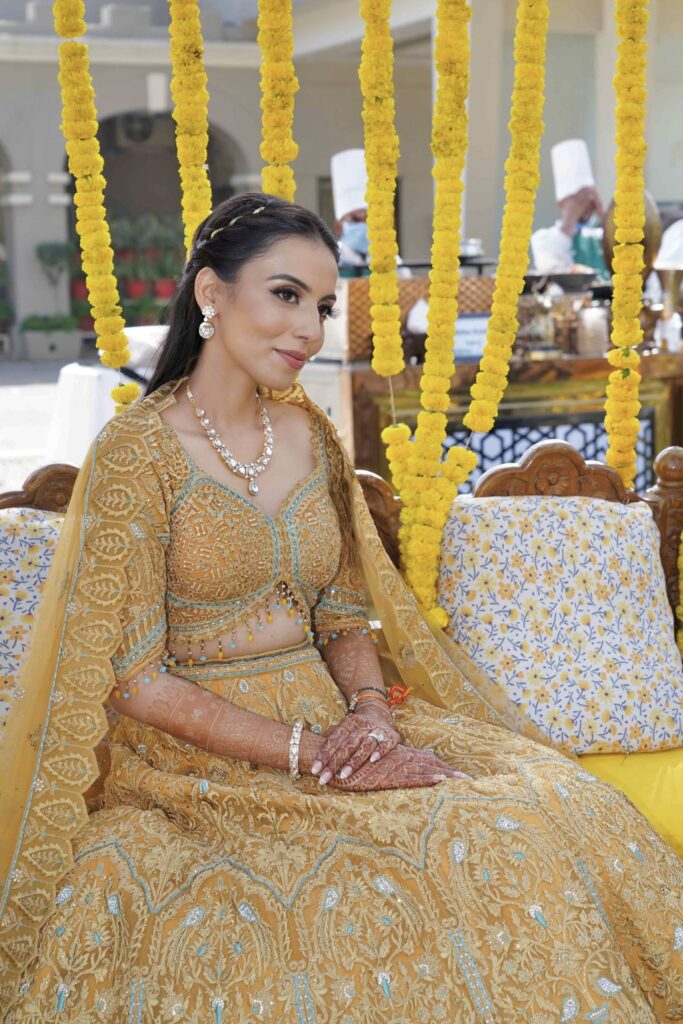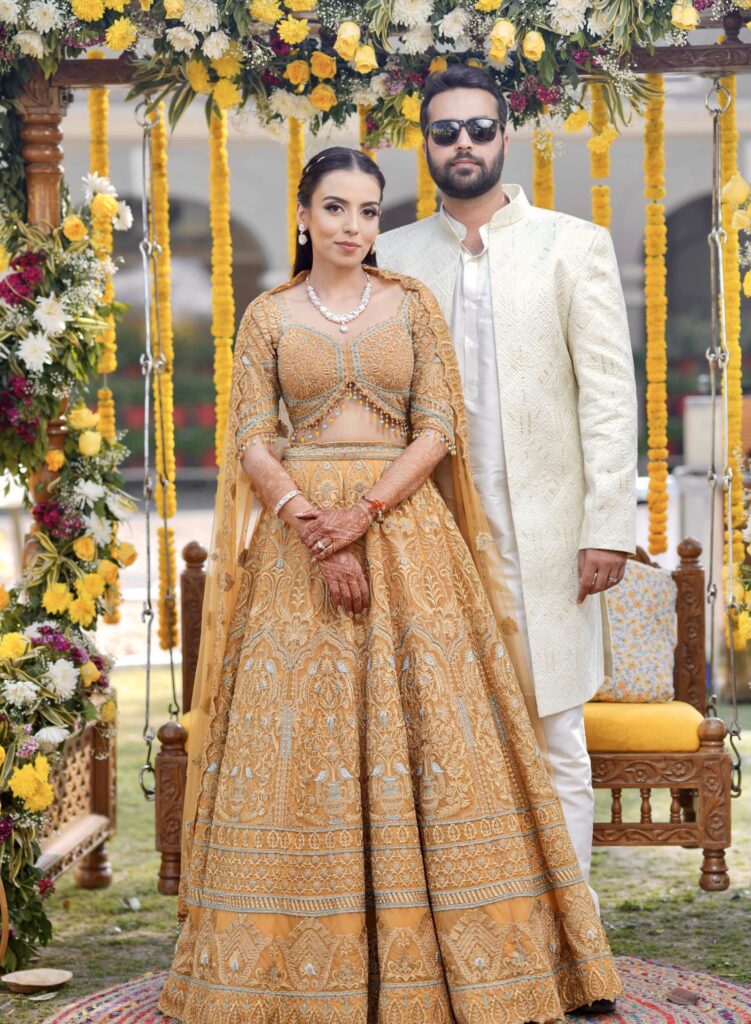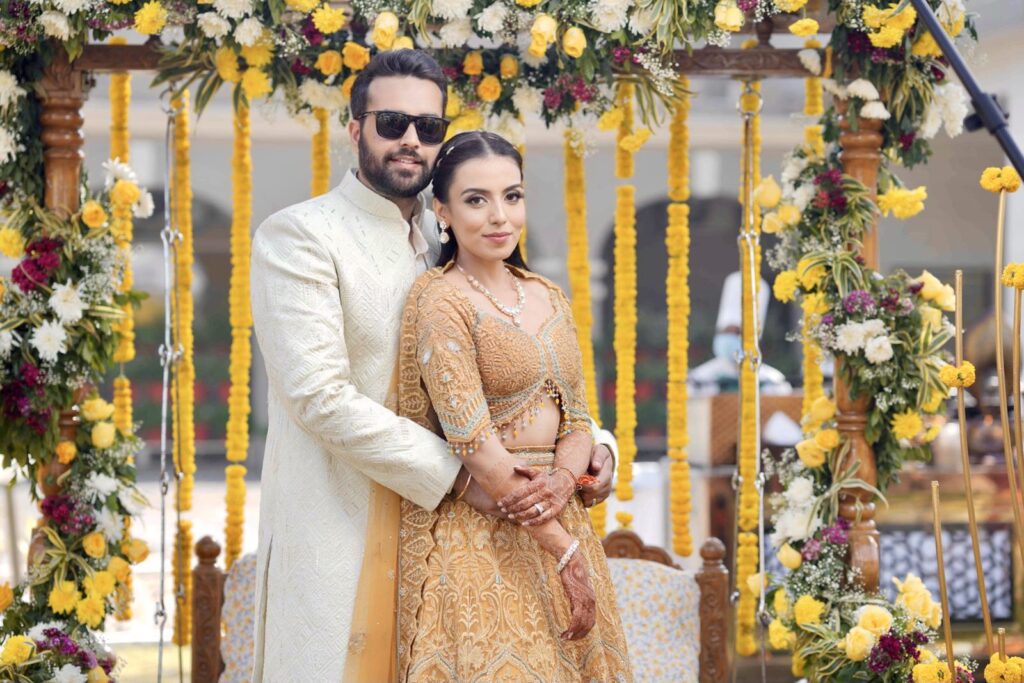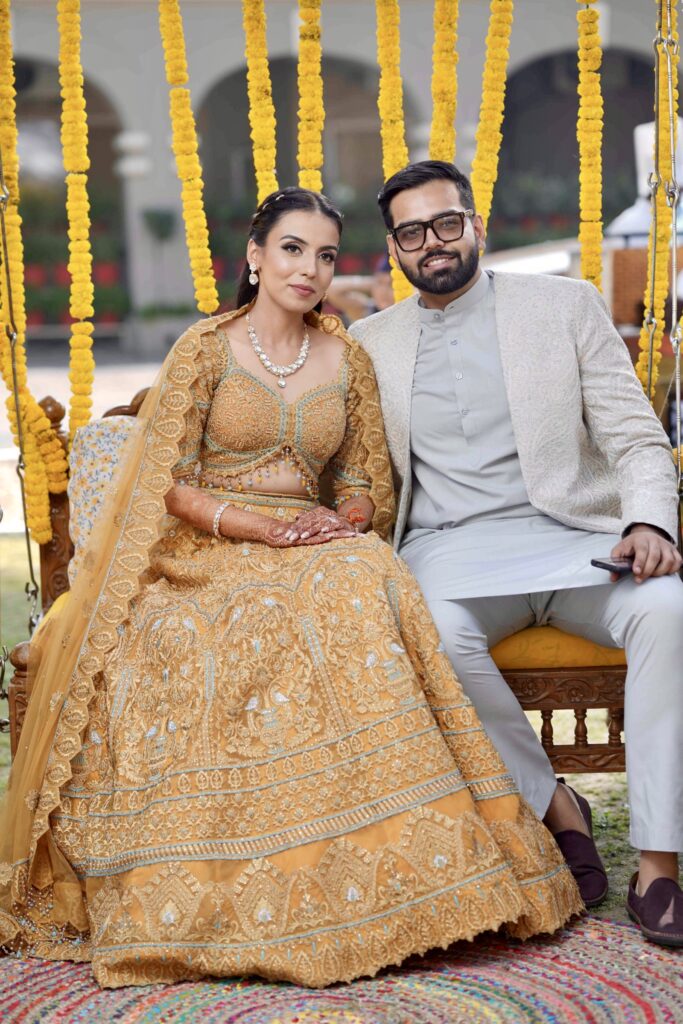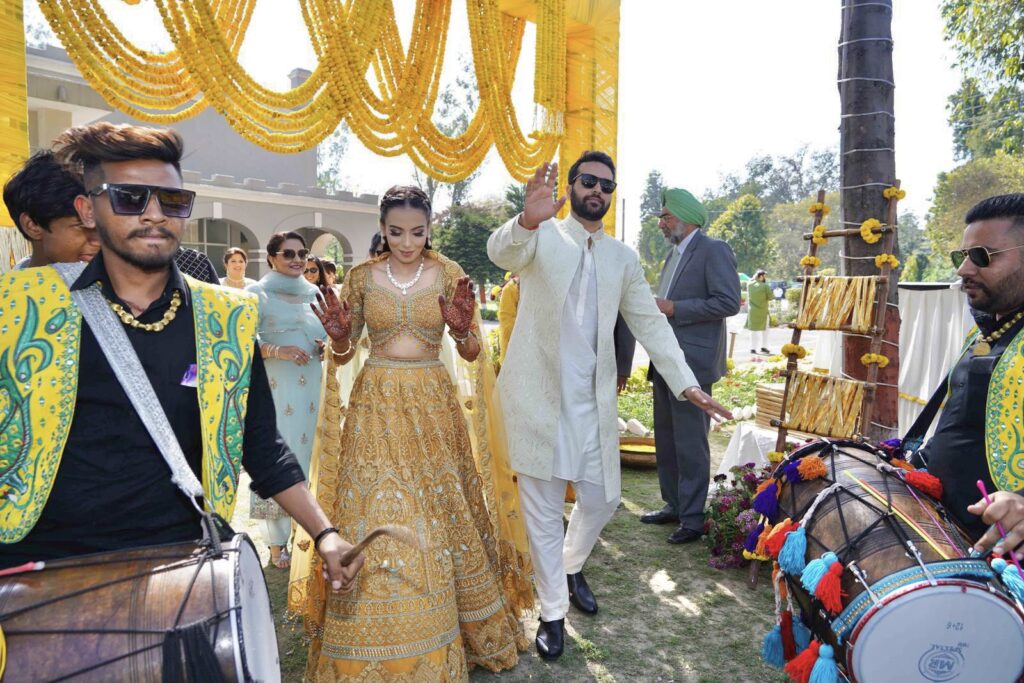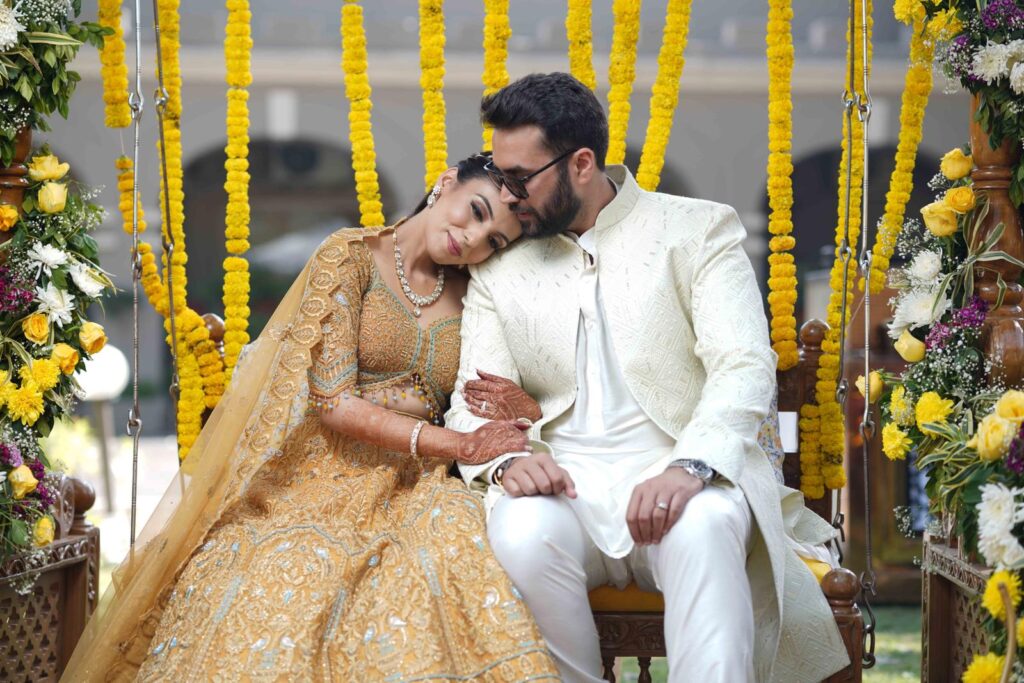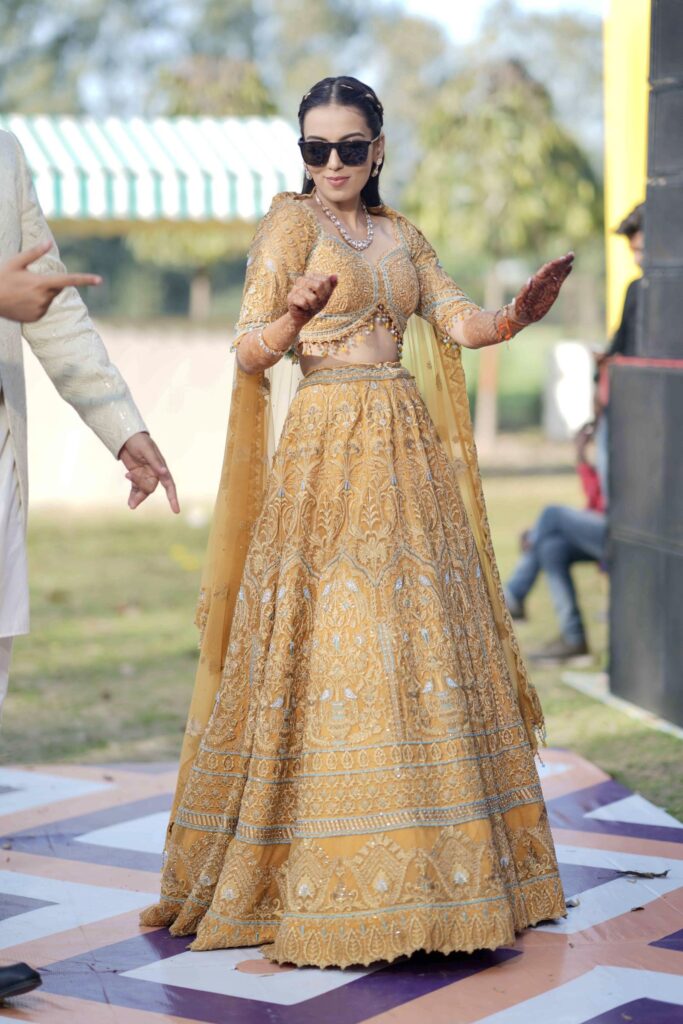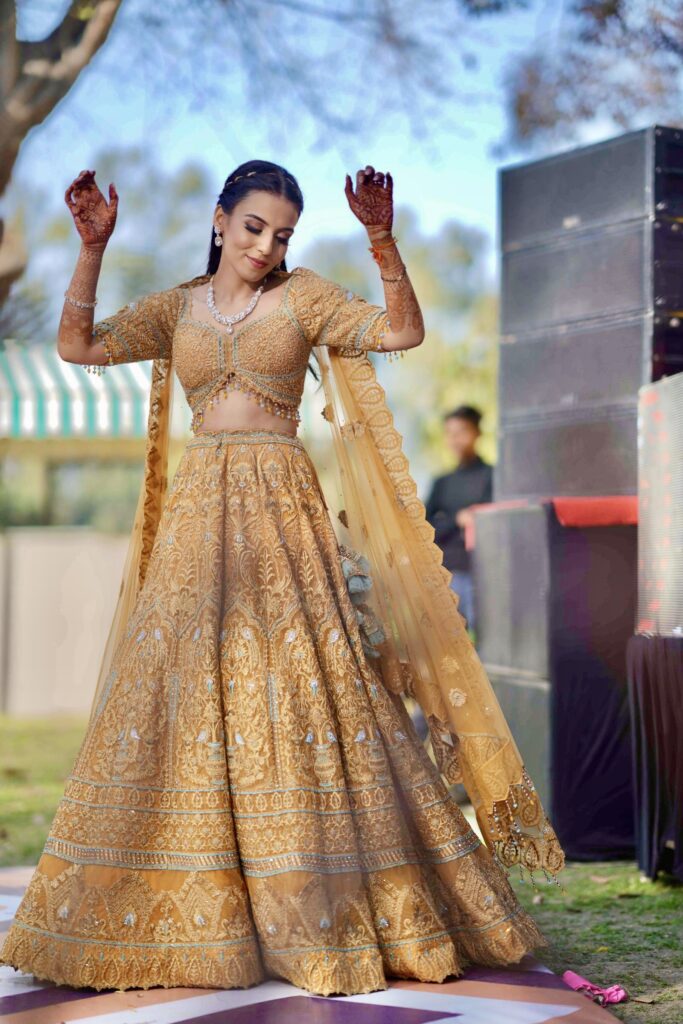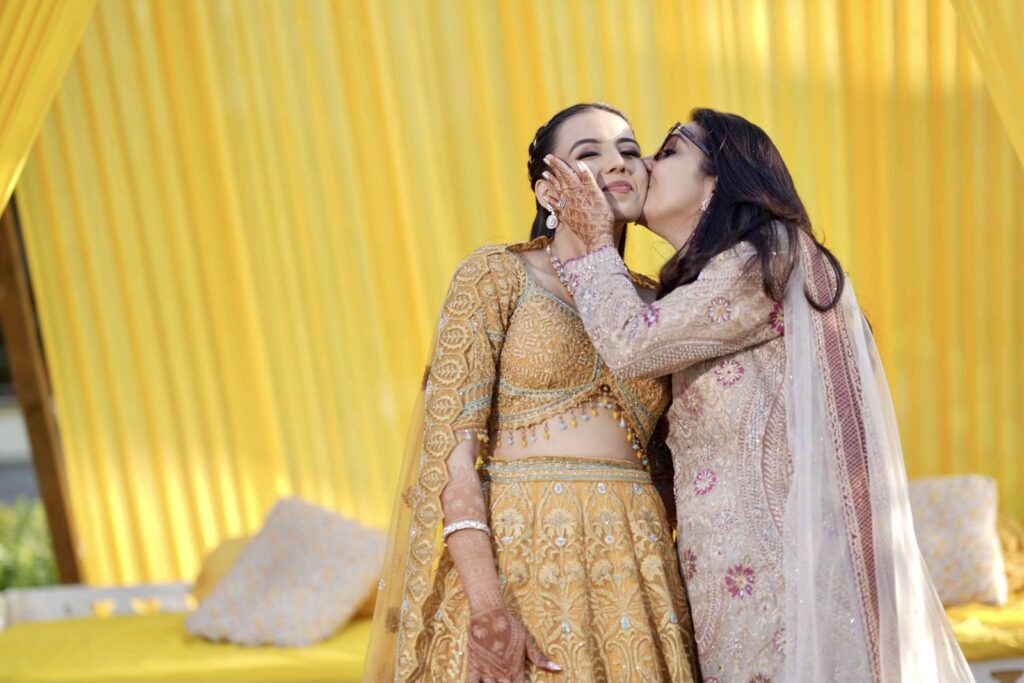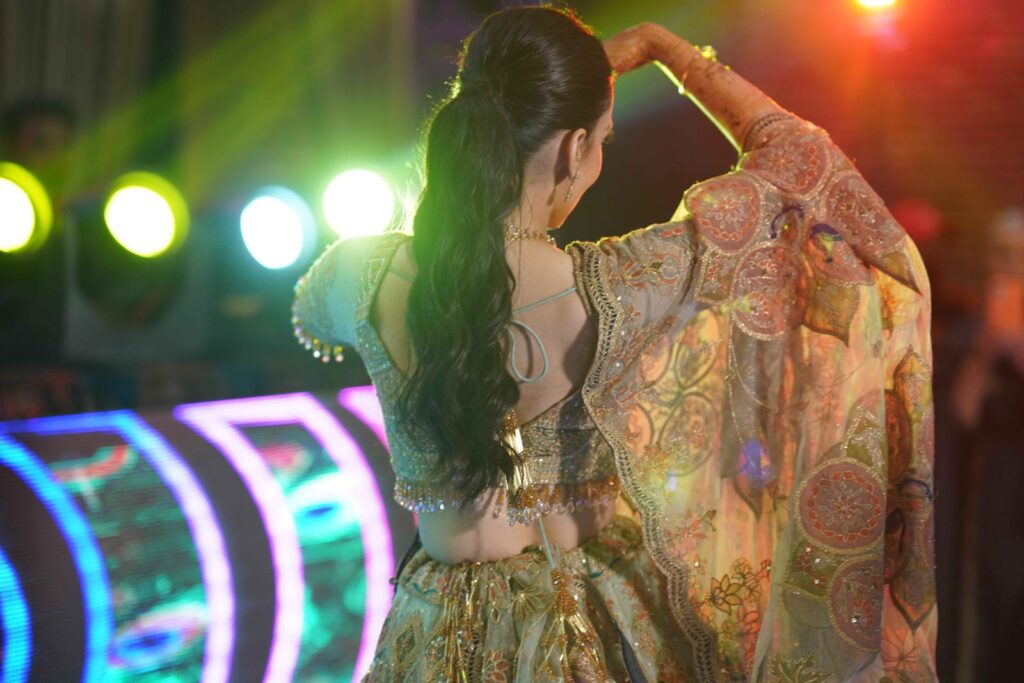 Event 5: Chura Ceremony
For the Chura ceremony, the bride went all traditional in a signature Rimple & Harpreet suit and one-of-a-kind shawl dupatta. "The event was the last event before the wedding so I kept the styling simple with minimal makeup and straight hair," Mannat tells us.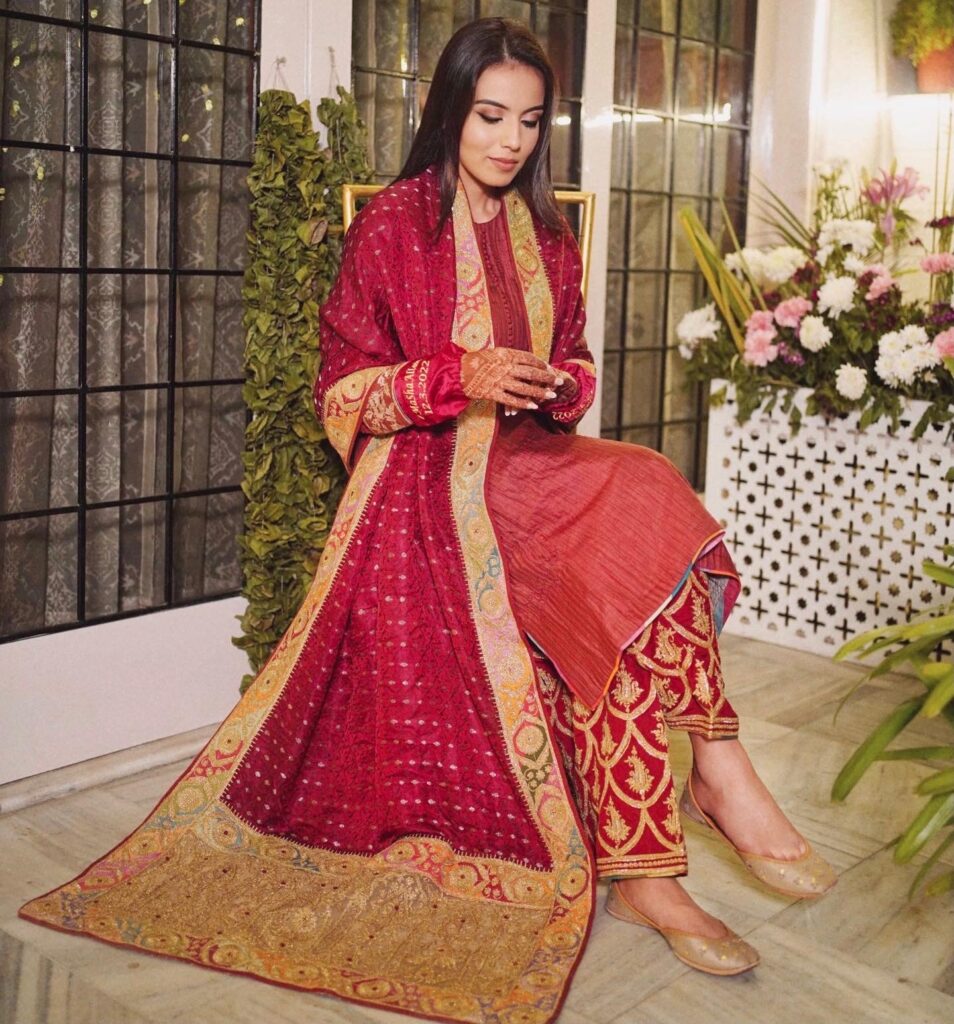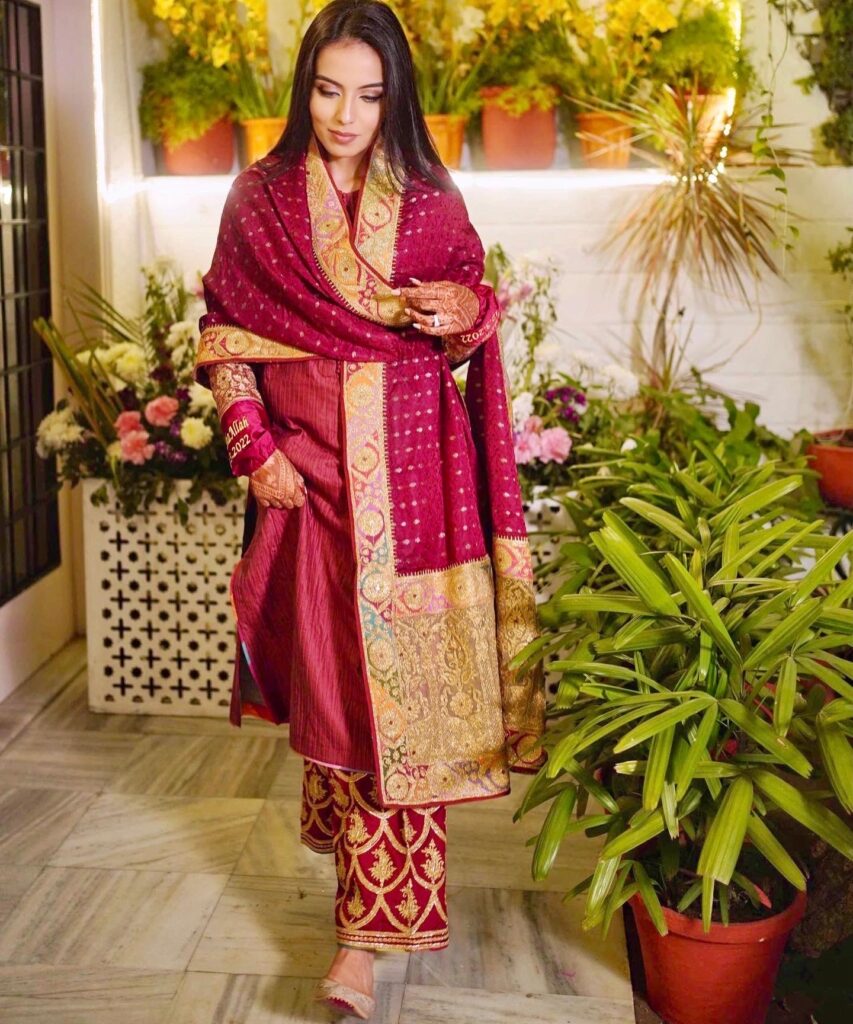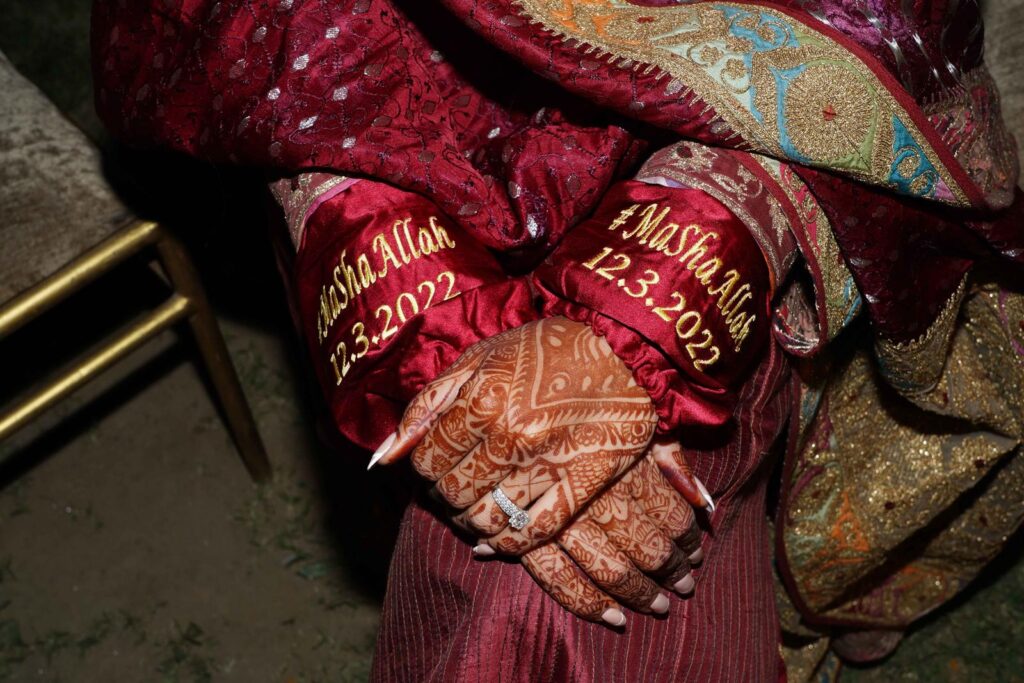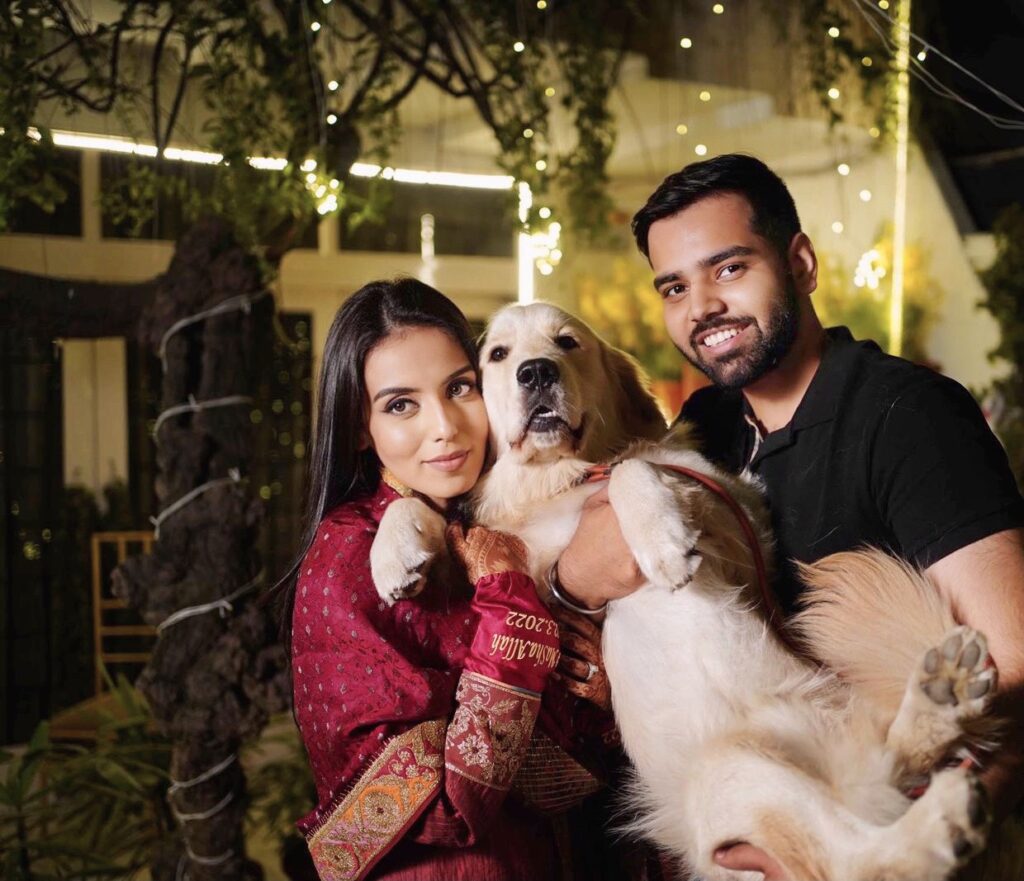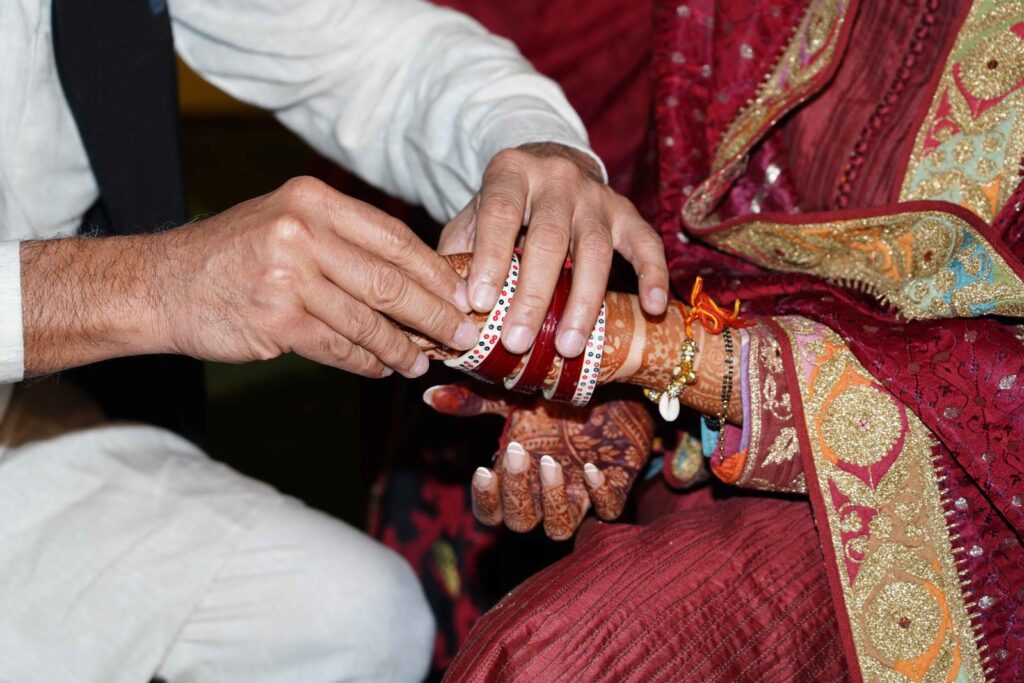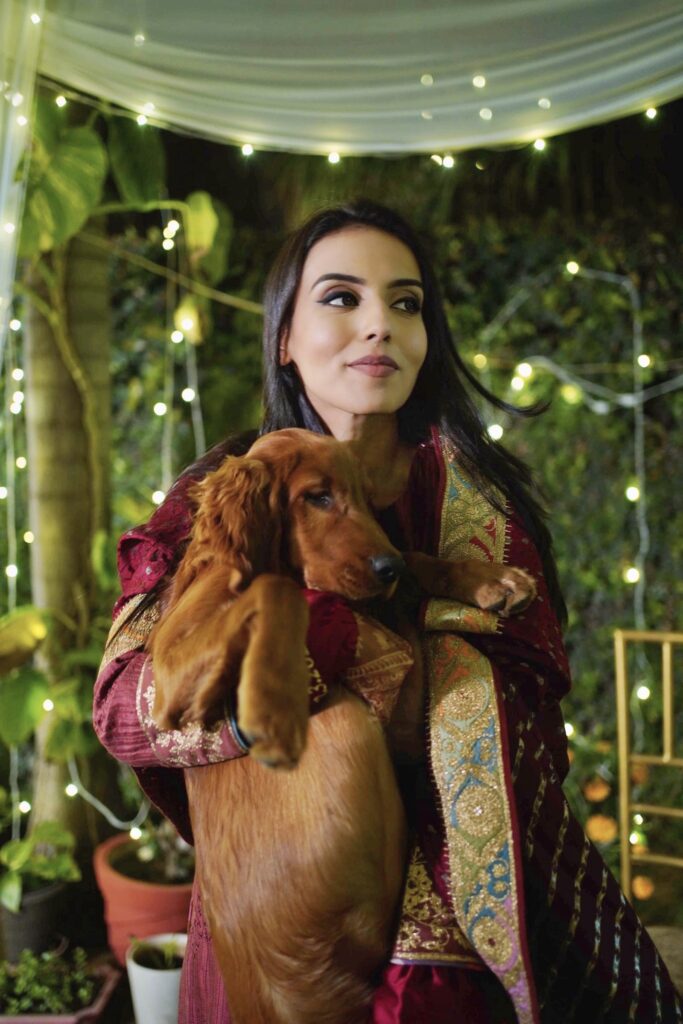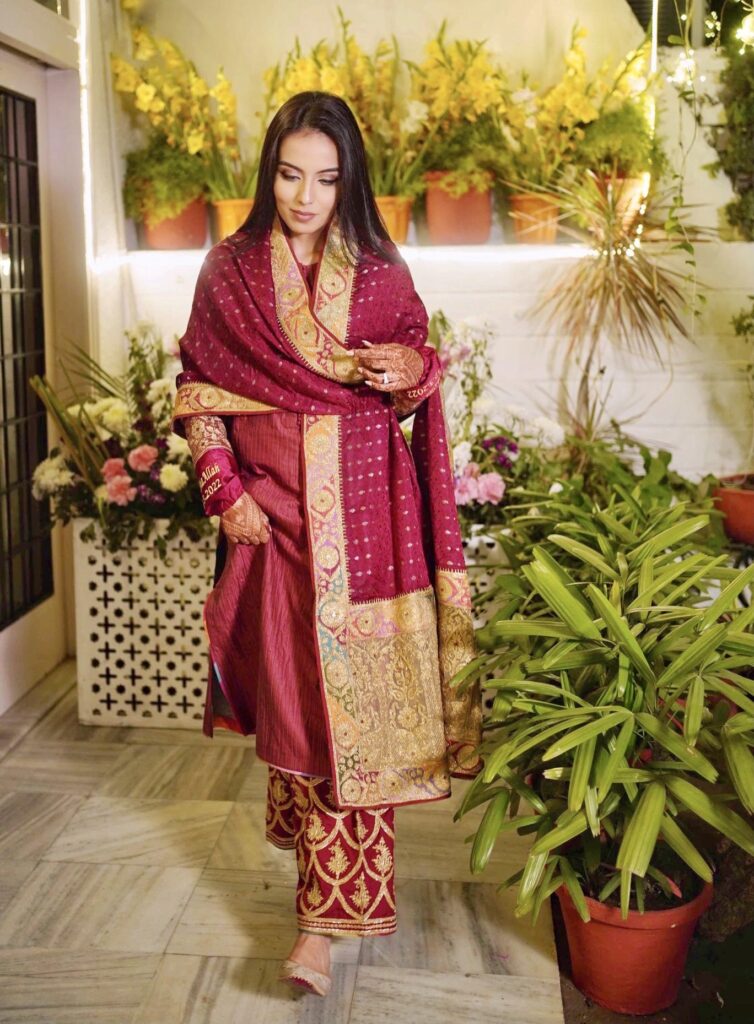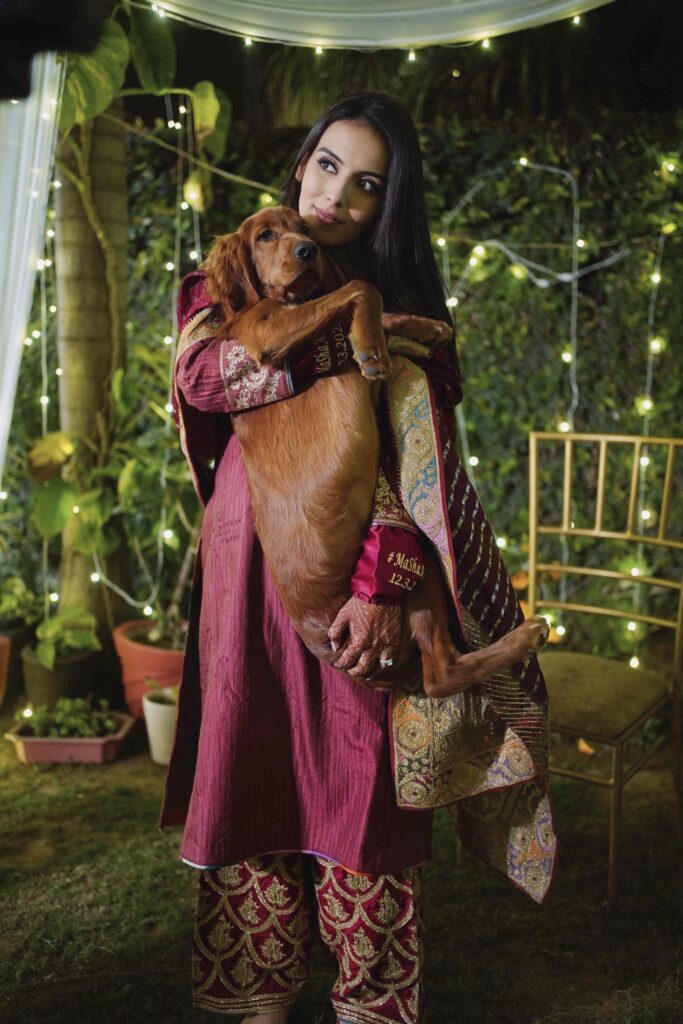 Event 6: Wedding
For the wedding day, Mannat wore a stunning RAH creation in pastel pink doused in their signature sequin work on the net. The bride picked gorgeous jewelry set with chunky Russian emeralds to add refreshing colors to her bridal look. The jewelry was picked from Khurana Jewelry house who has been awarded the winner of Bridal Precious Colored Gemstone Jewelry Of The Year. Jahnvi Kapoor also wore the same necklace set for a photo shoot for the brand. 
Needless to say, the necklace was just the perfect pick for Mannat's royal bridal look. But there was one more reason why it meant so much to her! 
"I picked up the jewelry on my father's birthday so it had an impact on me emotionally to have his blessings," says Mannat. "I also carried his picture inside the Gurudwara with me," she adds.
To match Mannat's regality, Shahbeer wore a mauve pink sherwani with pink safa to subtly complement his bride. The decor was done in a lot of pampas filled with greens. "We wanted the venue to not look like Punjab so a lot of thought had gone behind the decor," says the bride. Scroll to see their wedding pictures.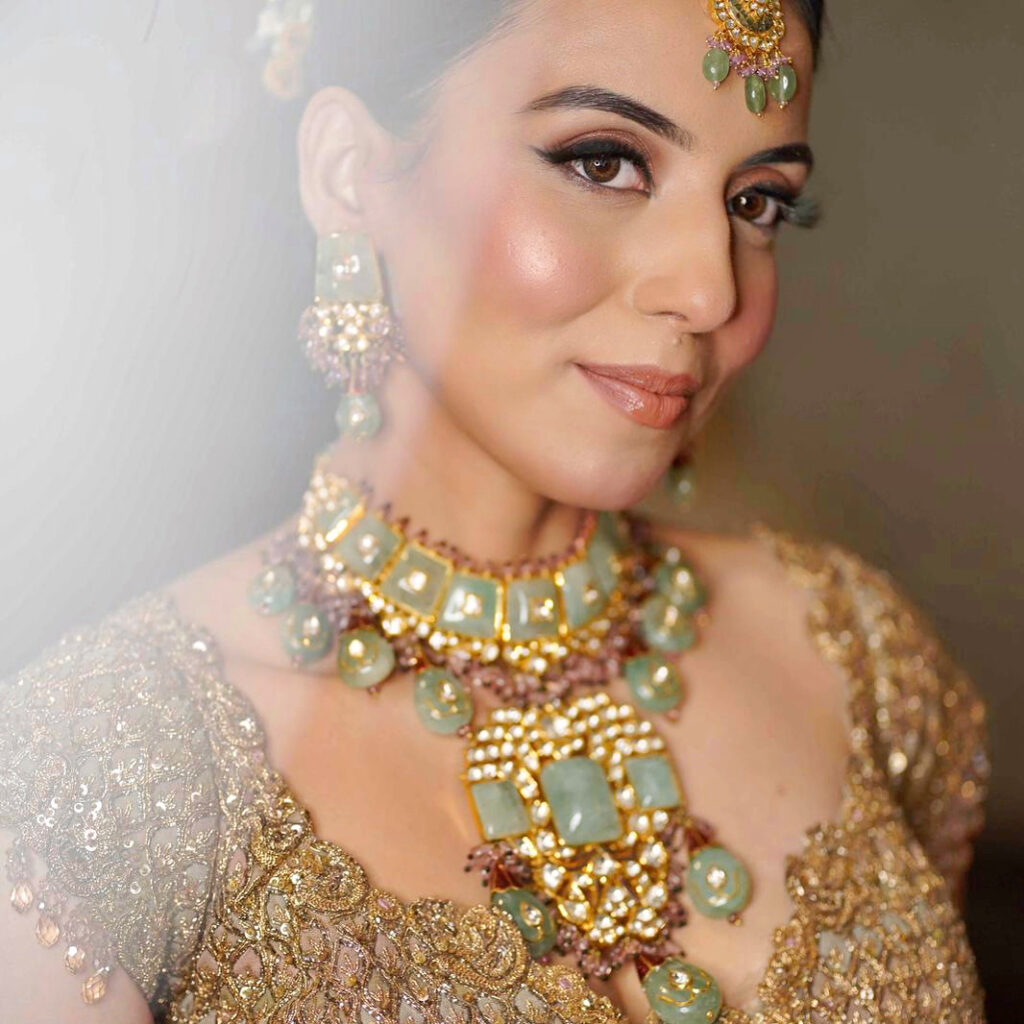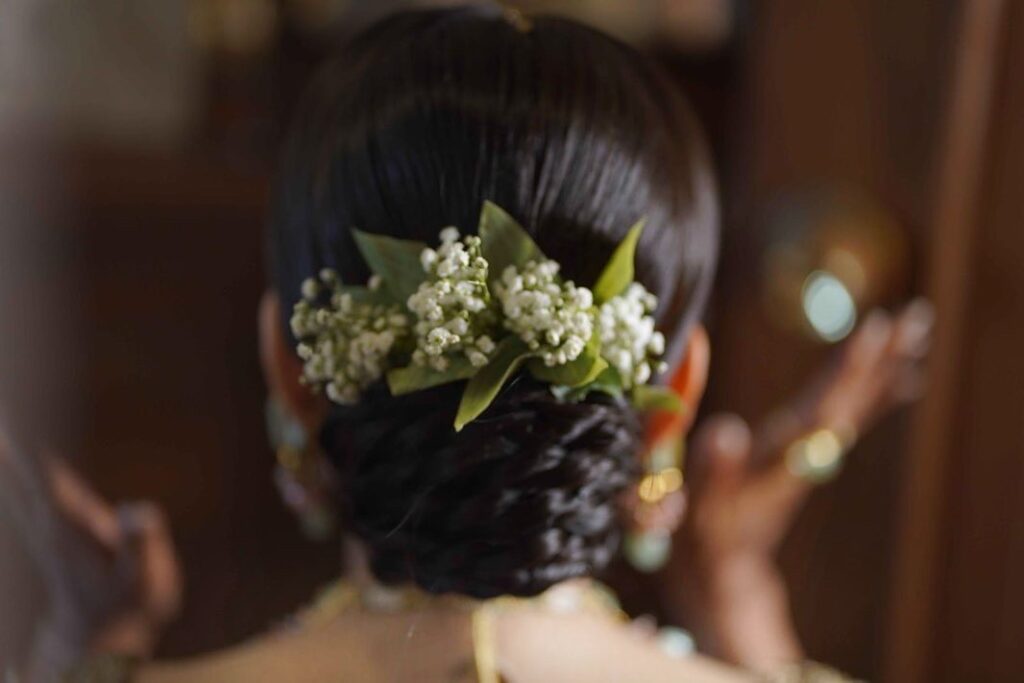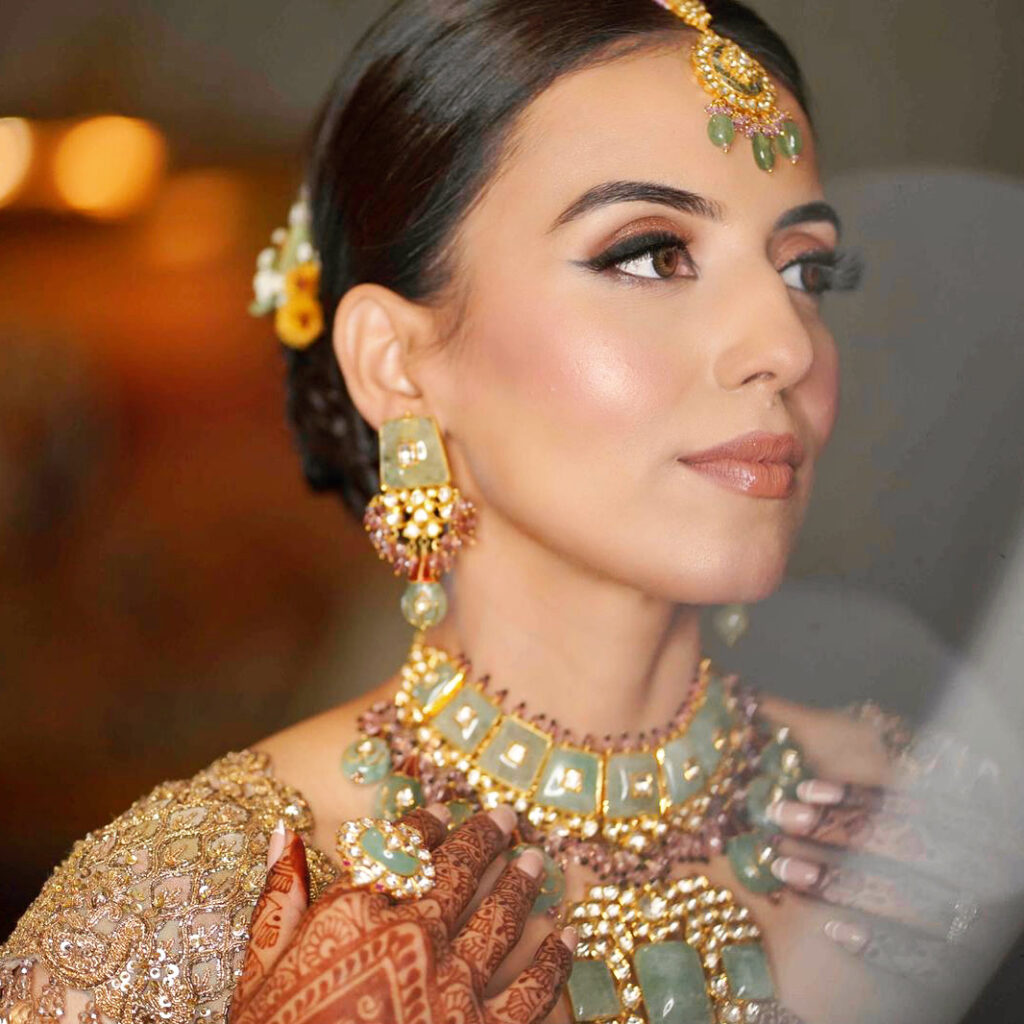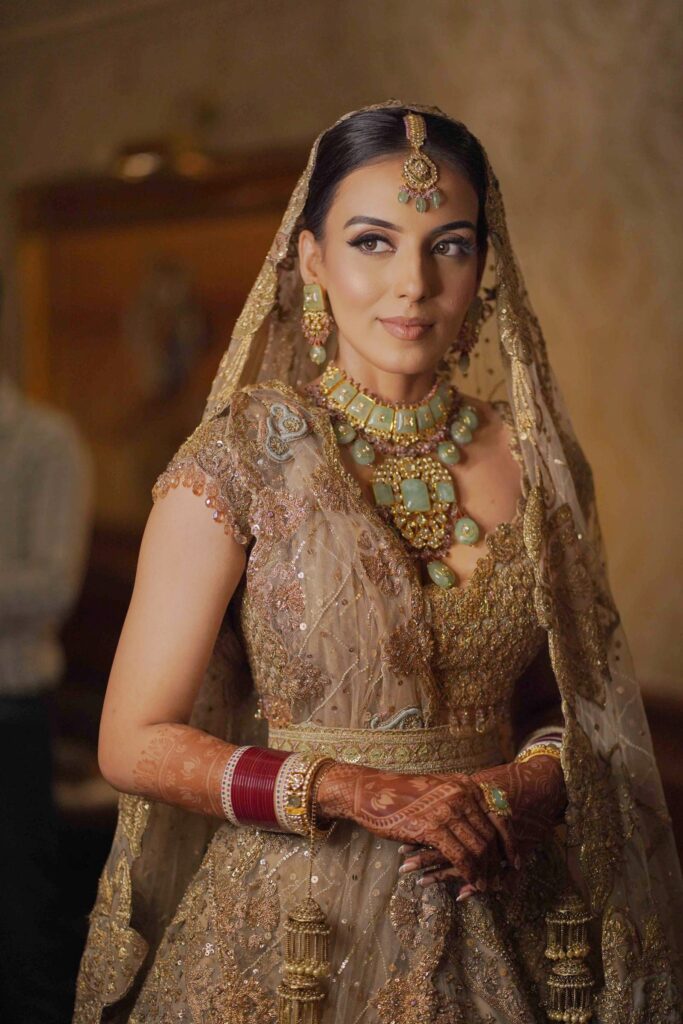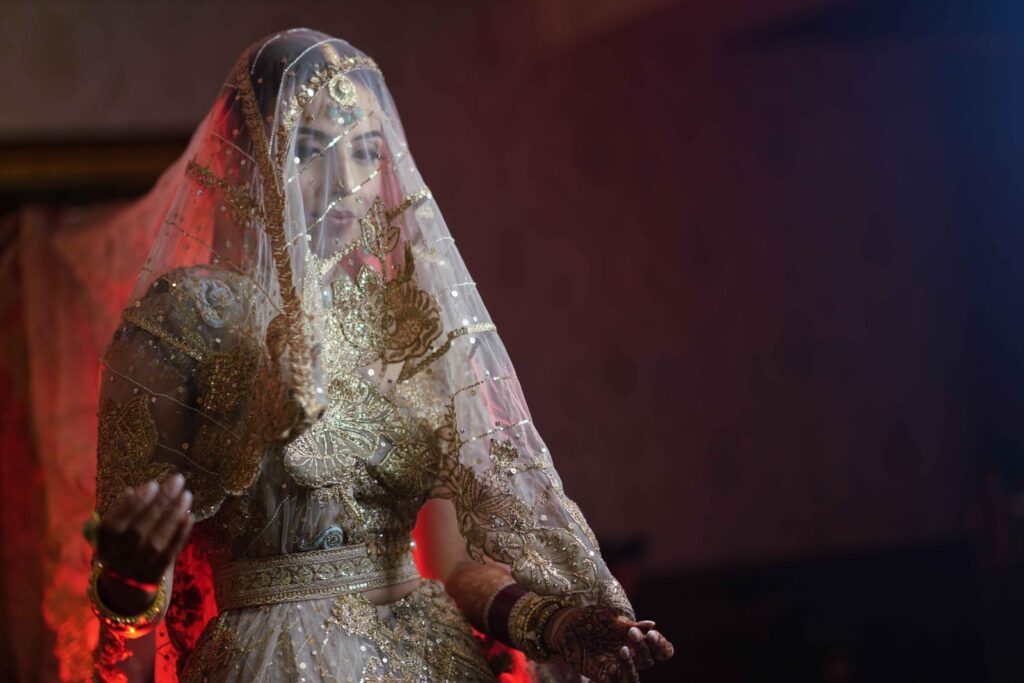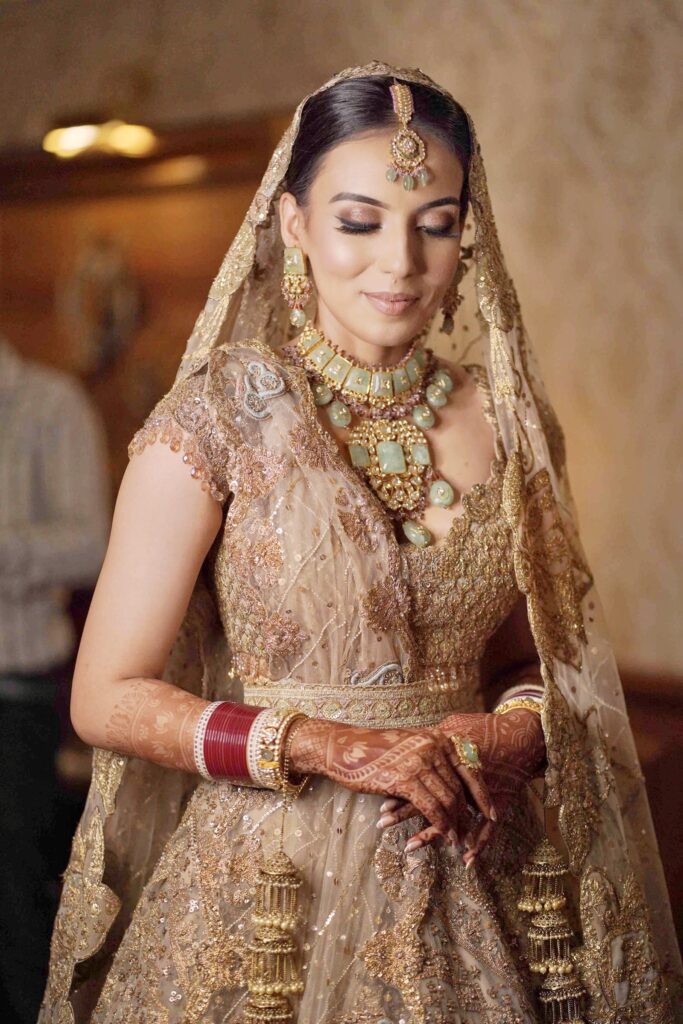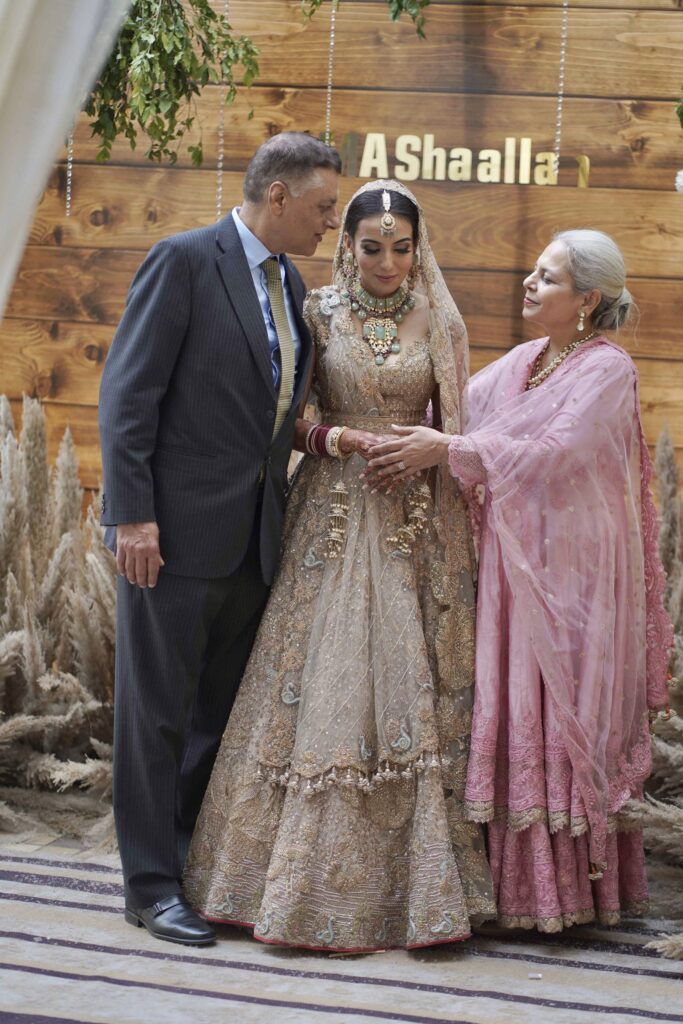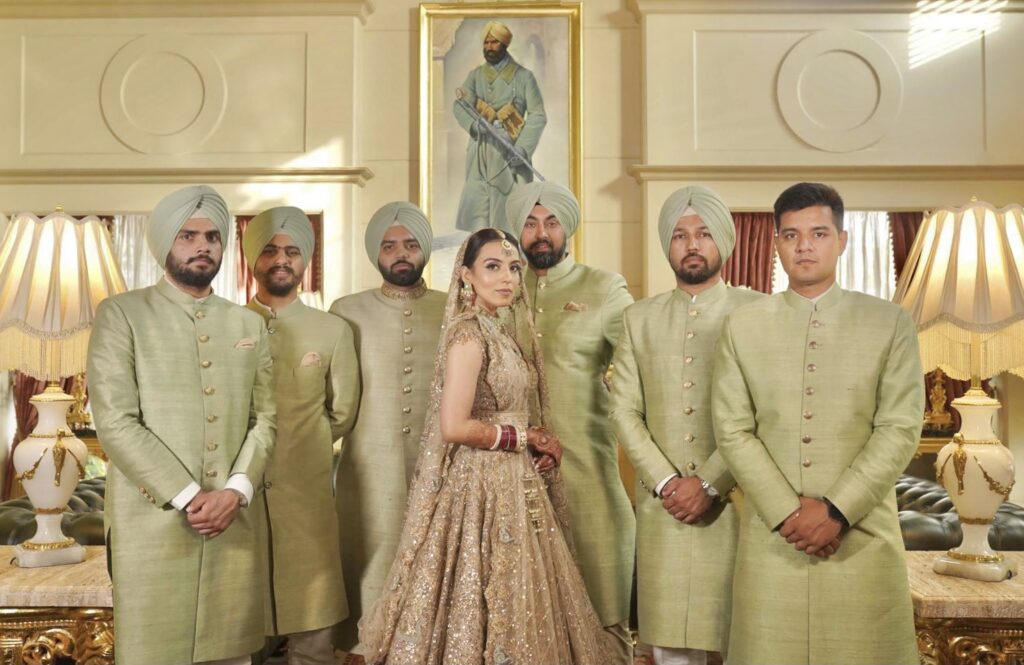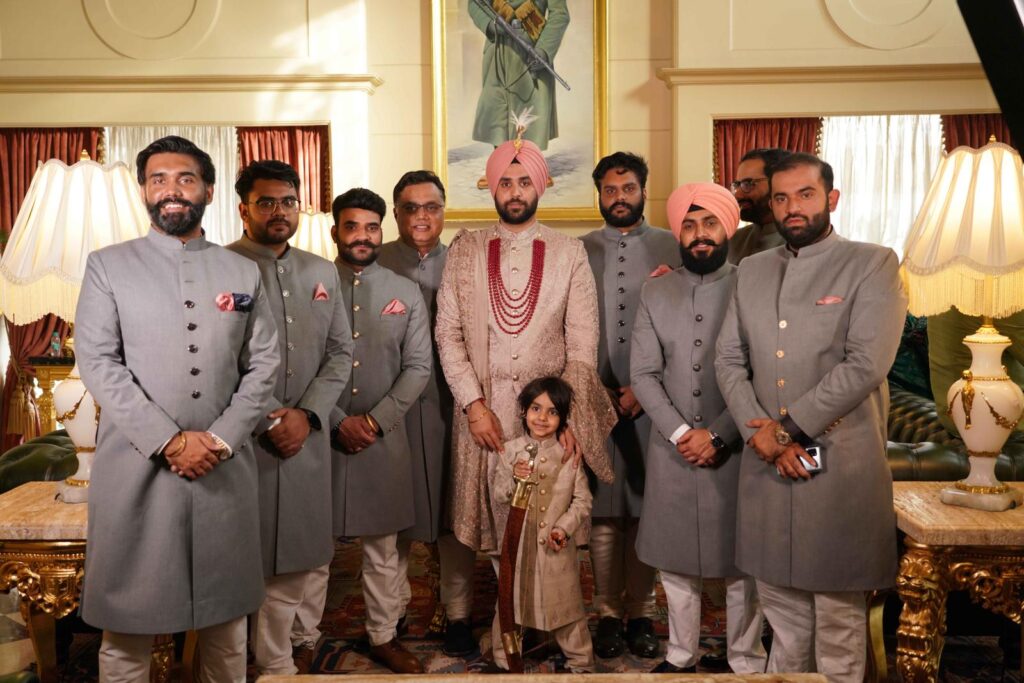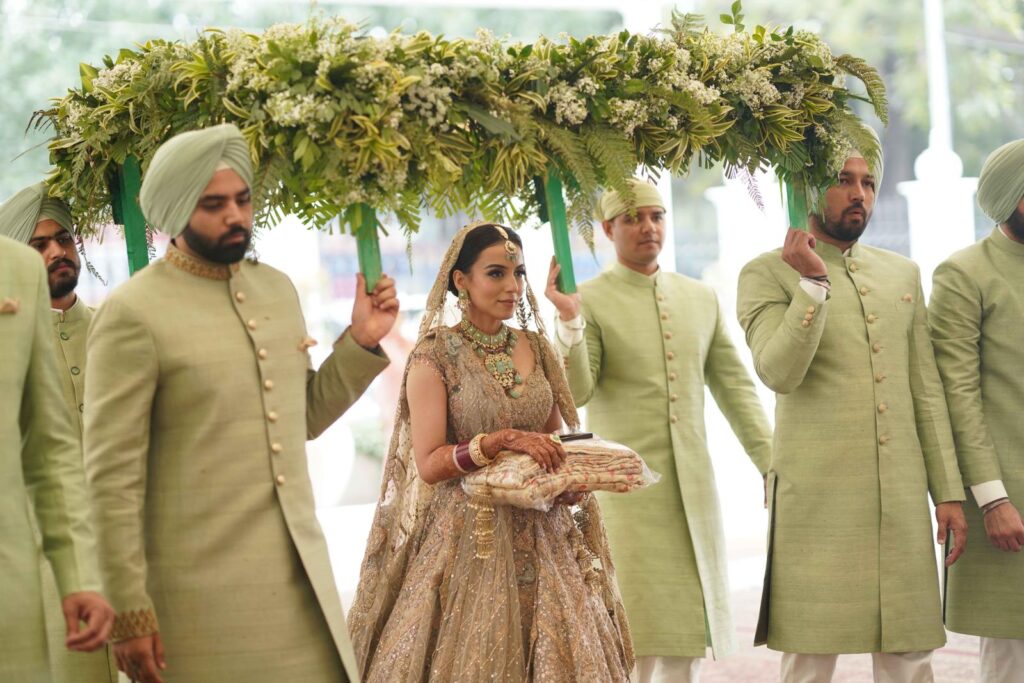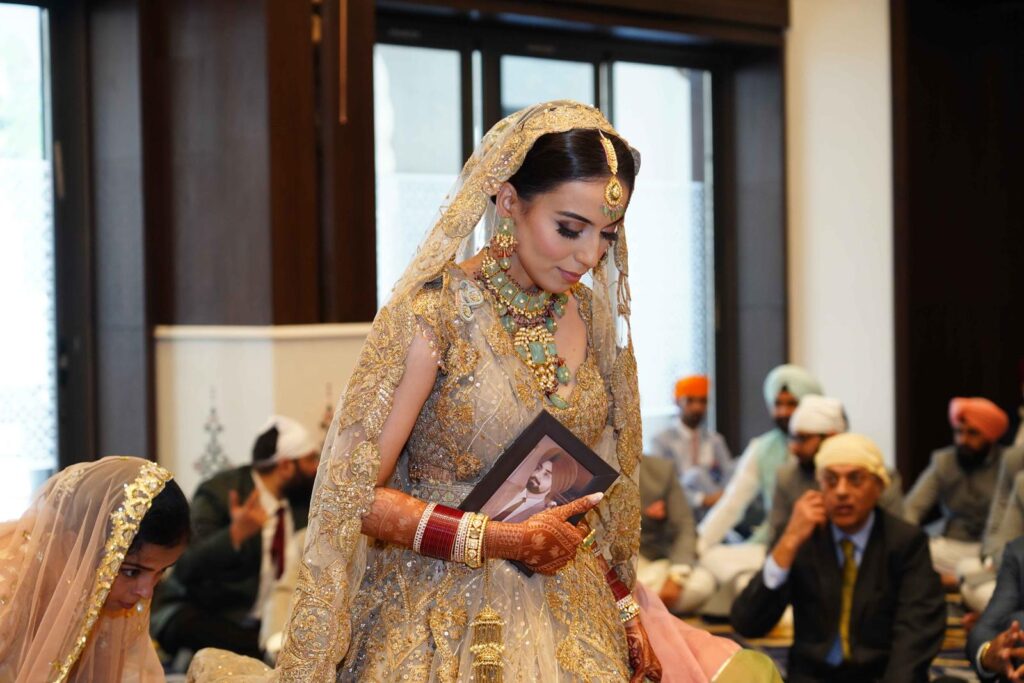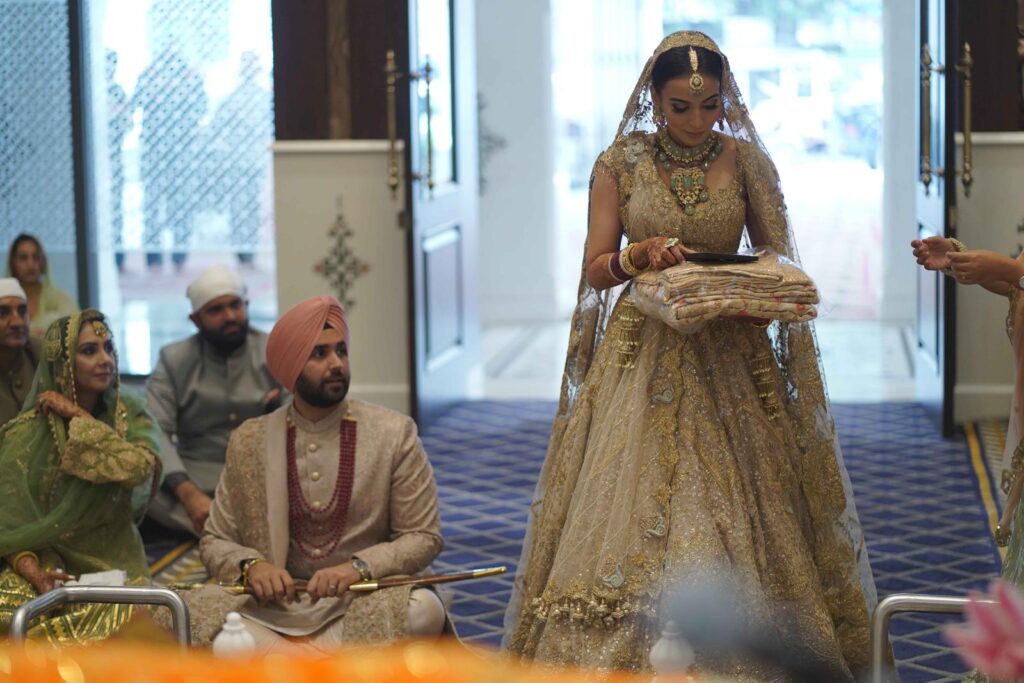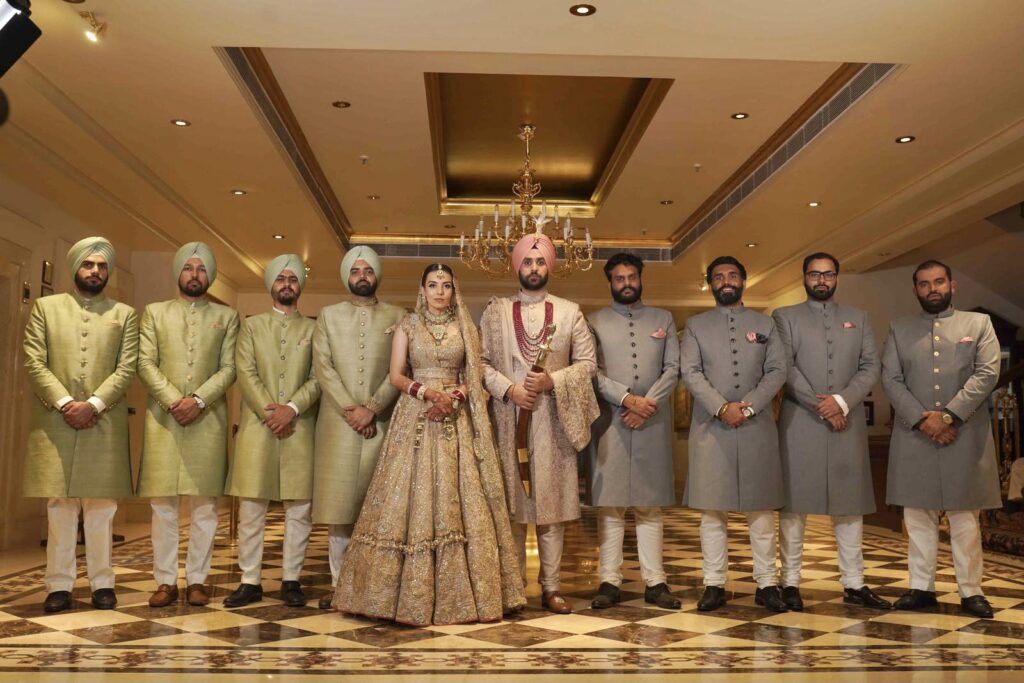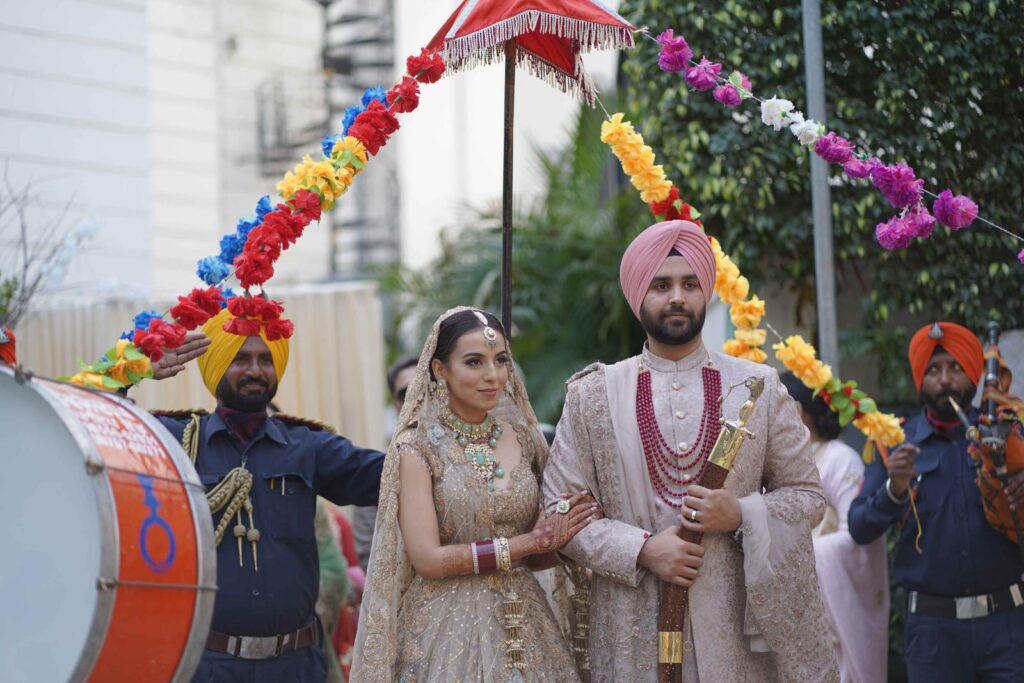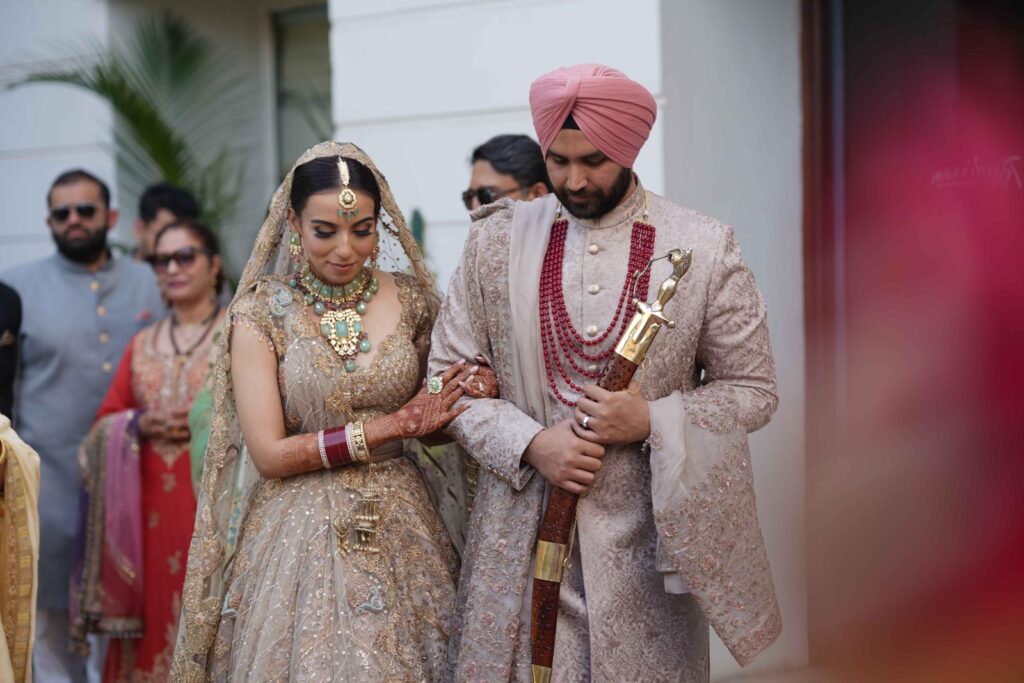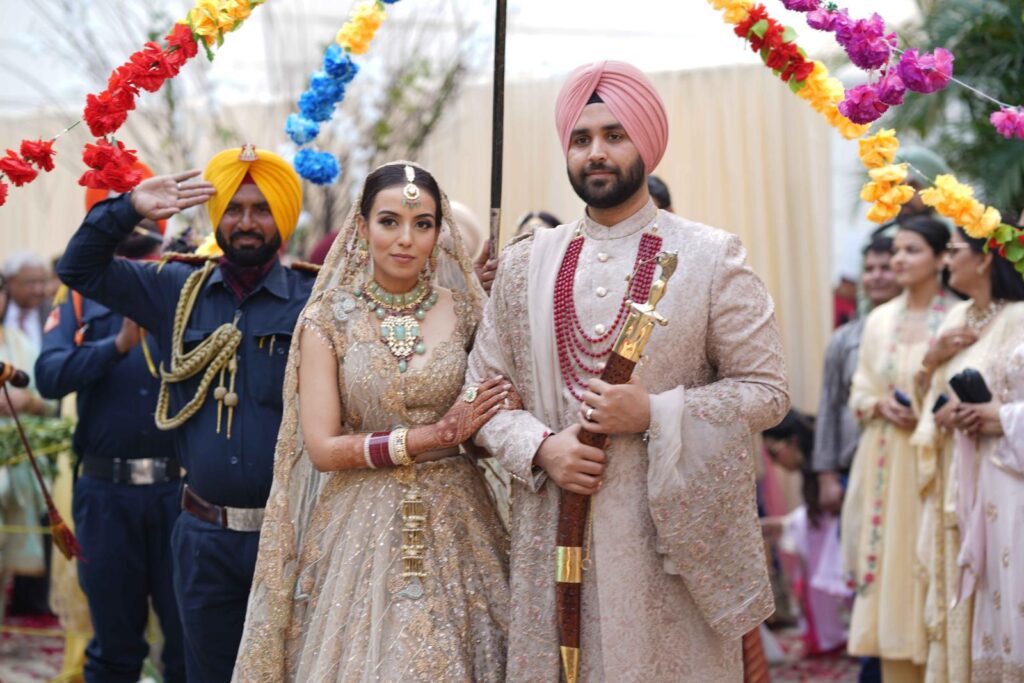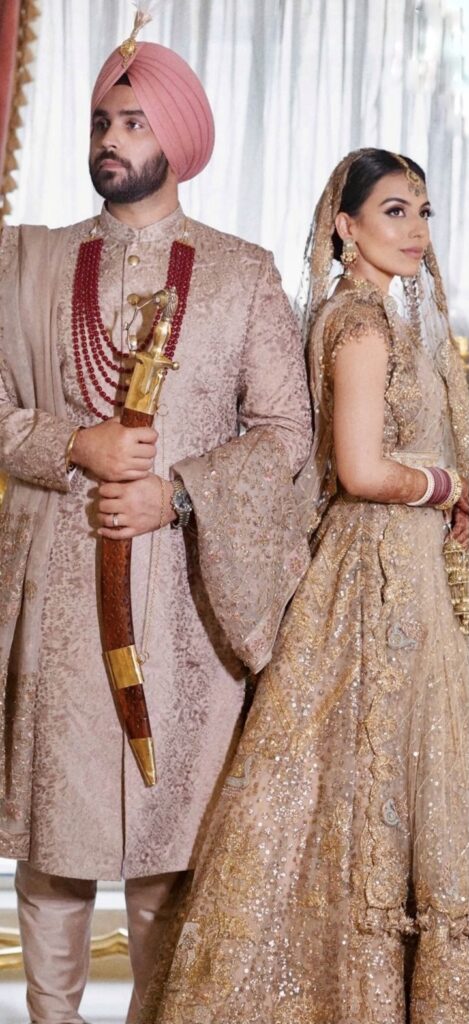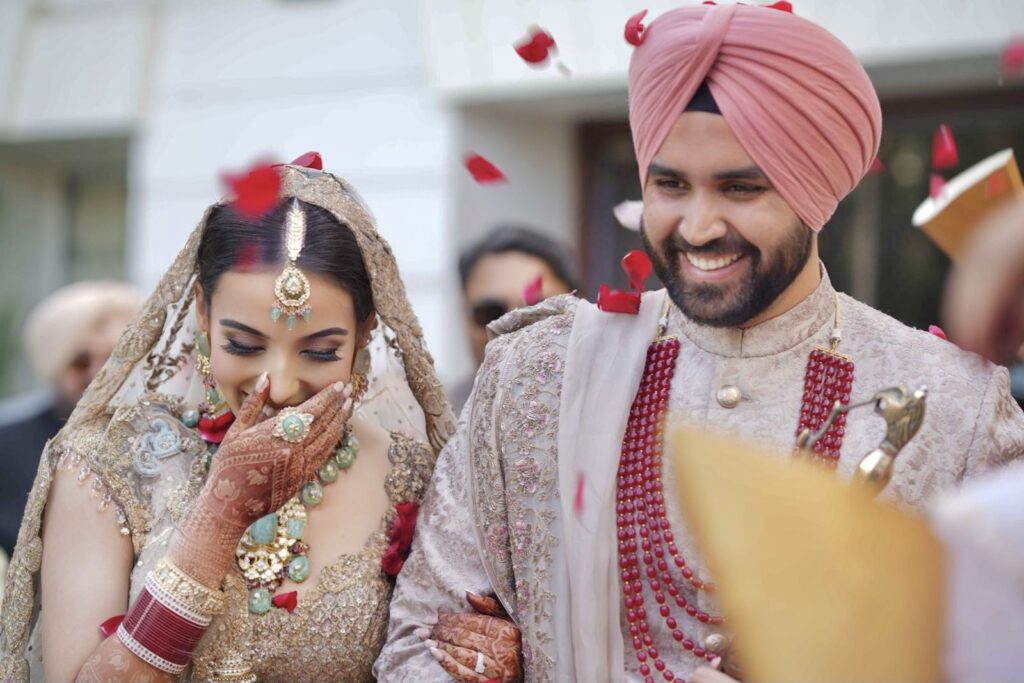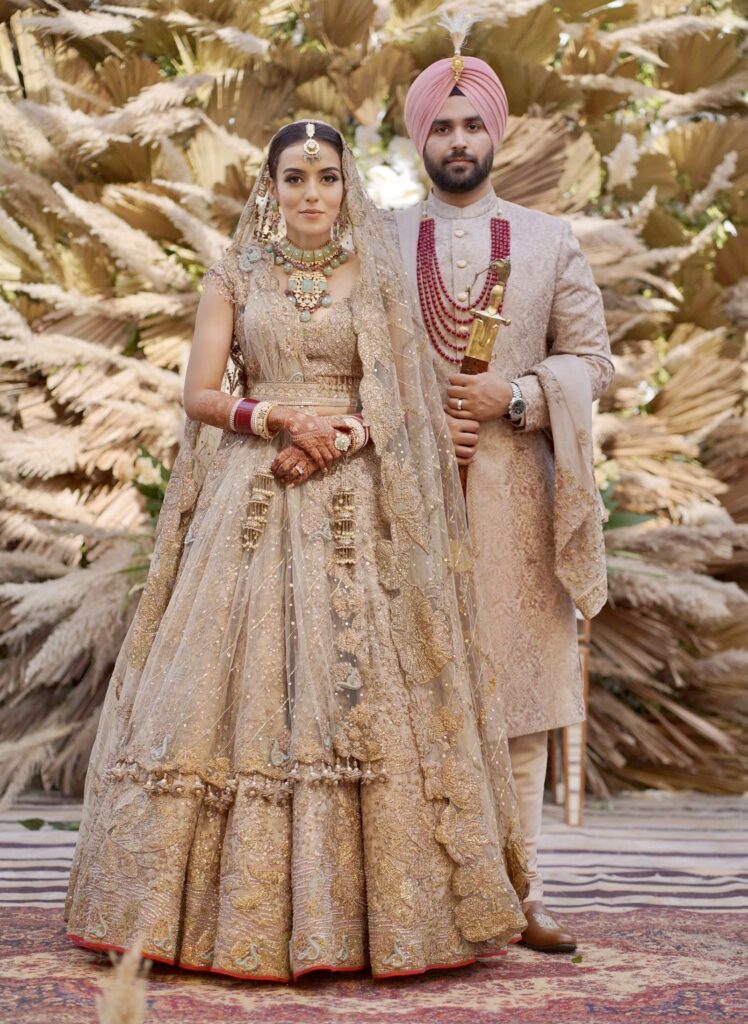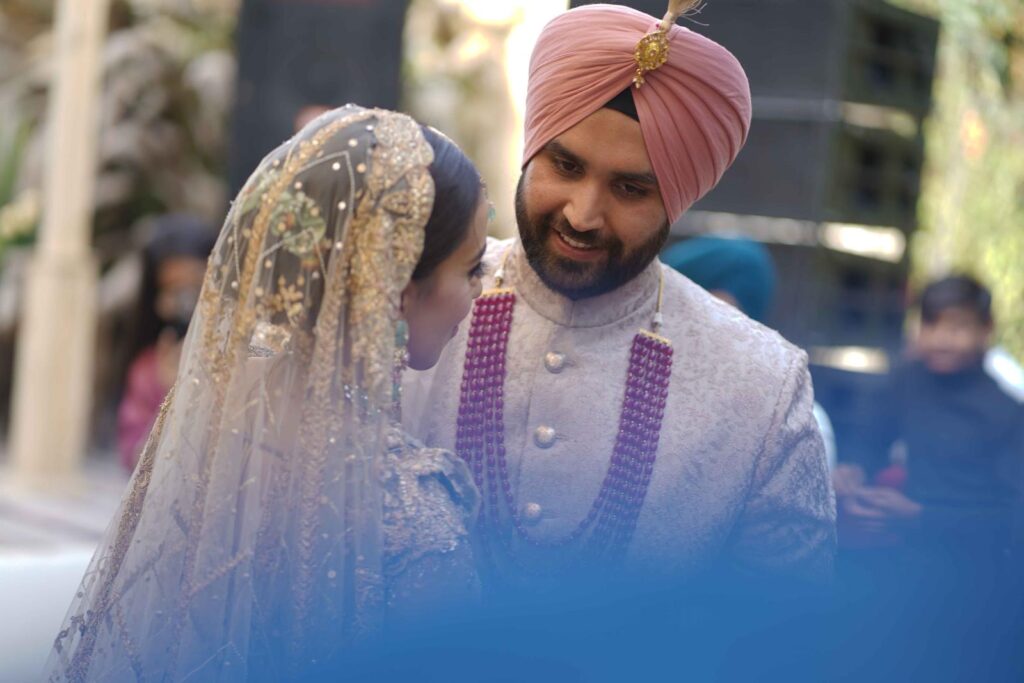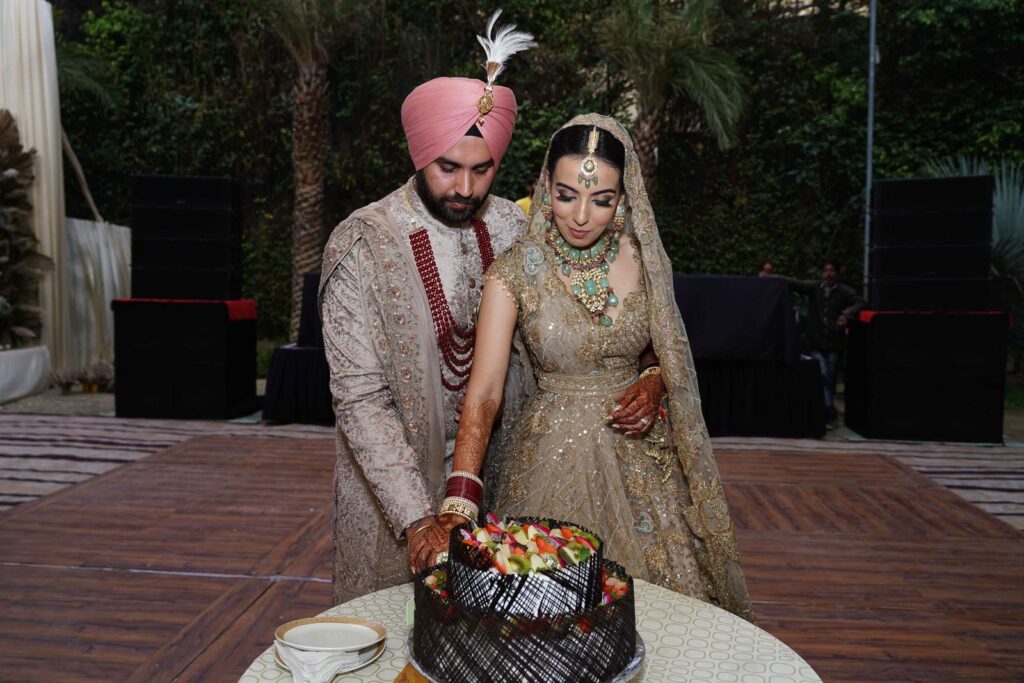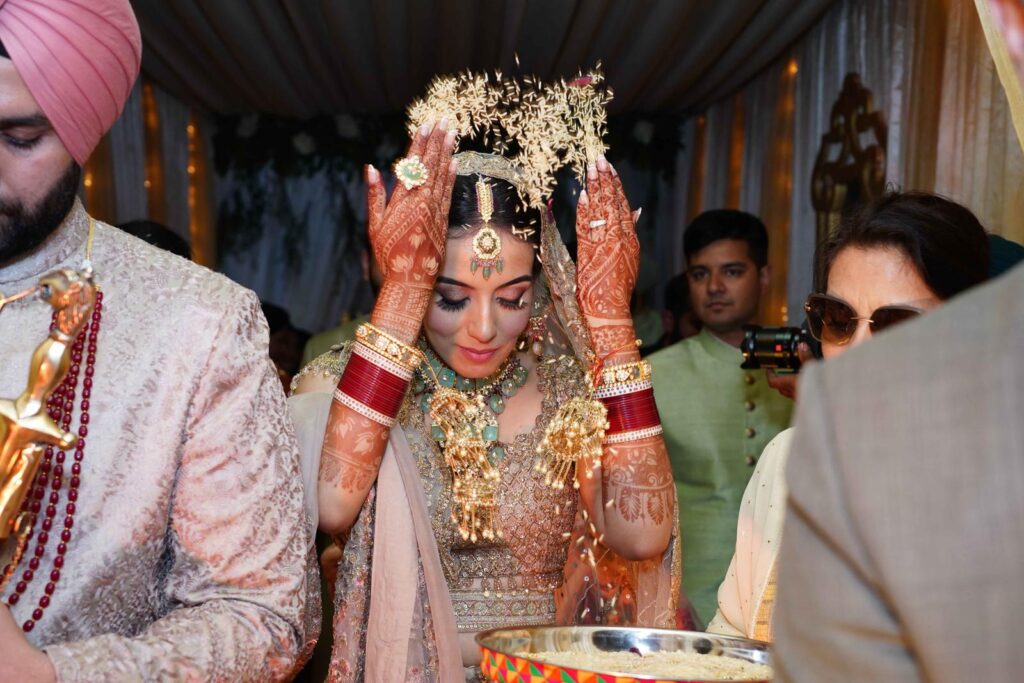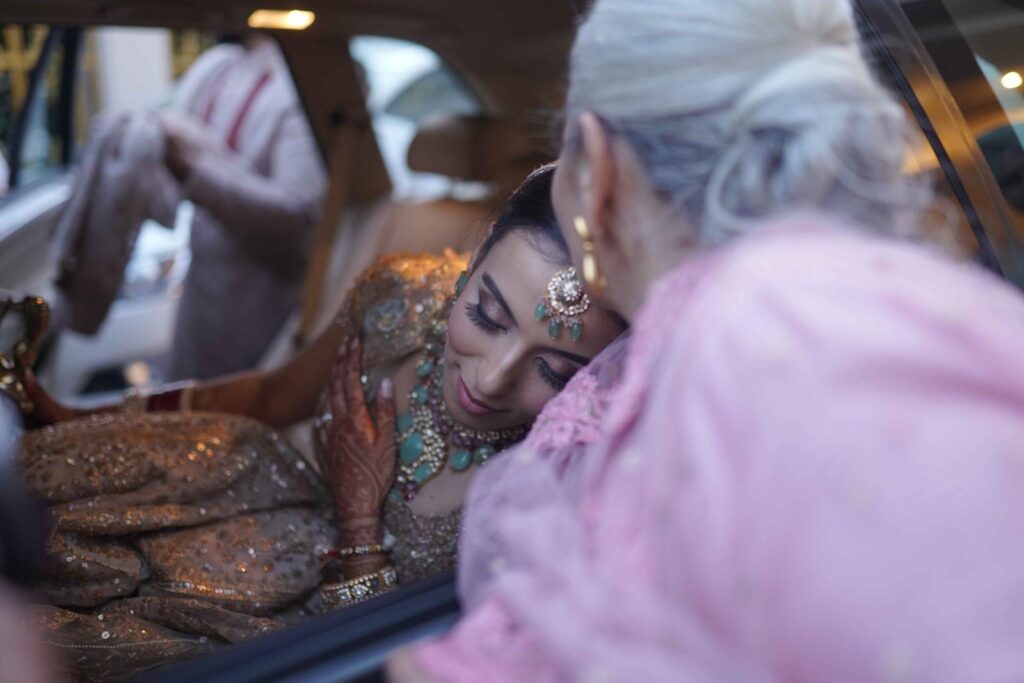 Bride: Mannat Sandhu || Groom: Shahbeer Randhawa || Outfit: Rimple & Harpreet || Makeup: Mannat Gill (Engagement, Mehendi, Chura, Wedding), Jazz Bedi (Path, Dhol Night)|| Jewelry: Khurana Jewelry House (Wedding, Engagement, Dhol Night, Path, Mehendi), Talwar Jewellery House, Orra Jewellery (Engagement) || Photography: Click Arts || Decor: Jashan by Swati & Sumit || Groom's Wedding Outfit: Punit Arora