Paris is often considered to be one of the most romantic cities on Earth. So, planning a Paris honeymoon seems quite about right. With stunning hotels, relishing food, some of the best architectural monuments, the world's best-tasting wine and champagne, and historic art, Paris will leave you with some of the best memories of a lifetime. If you're planning a vacation here as newlyweds, here are some of the best Paris honeymoon hotel, romantic things to do, and practical tips for visiting the "City of Lights". 
Most Romantic Paris Honeymoon Hotels
#1 Four Seasons George V Paris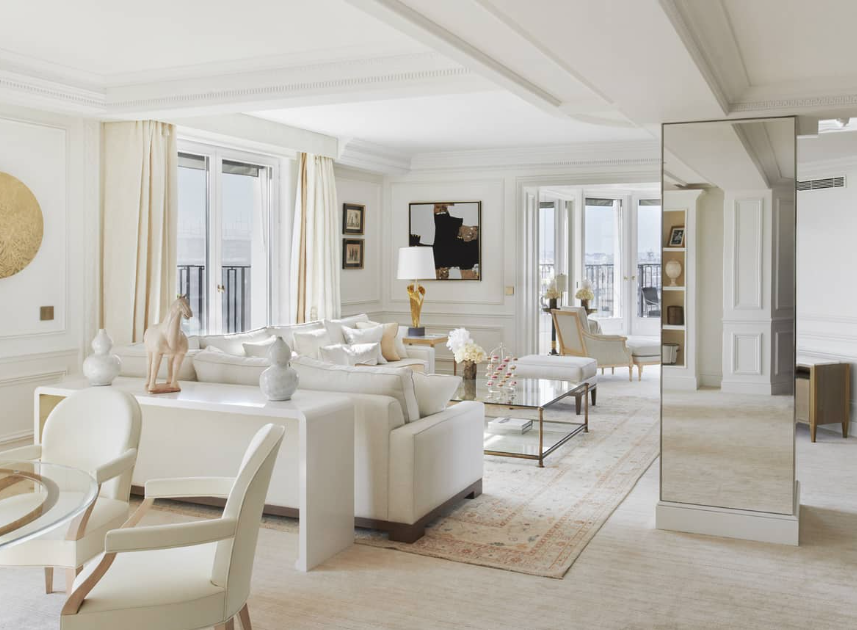 To experience ultimate luxury and unmatched services, pick Four Seasons George V Paris as your accommodation in Paris. The name Four Seasons is synonymous with luxury and the hotel on George V street in Paris stays true to the brand name. Built in 1928, the hotel is situated just 1.6 kms from the Eiffel Tower, and just off the historic Champs-Elysees – an avenue lined with the best luxury fashion boutiques. 
The hotel rooms and the hotel itself are designed in an art-deco style and feature the Four Seasons' signature modern furnishings in neutral colors. It's the only luxury hotel in Europe to house three Michelin-starred restaurants. Other amenities include a 720 square meters spa, airport transportation, and a vitality pool with a hydro-massage water experience. 
Estimated Cost: $1500/ day
Check ratings & reviews here. 
#2 Ritz Paris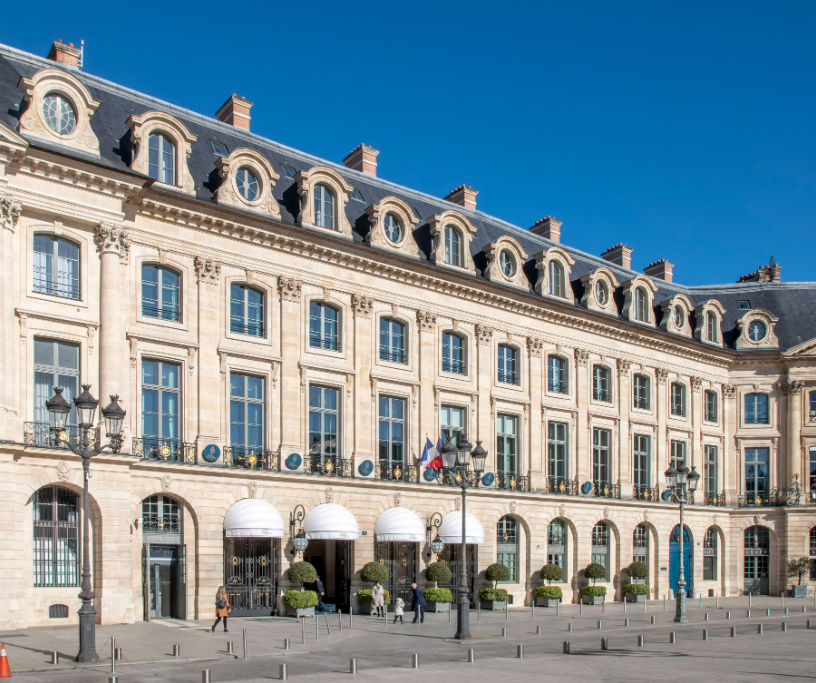 Ritz Paris is another luxury accommodation in Paris which has earned its reputation by hosting a number of known film stars, royalty, politicians, and singers. Their guest list includes Princess Diana, Coco Chanel, Audrey Hepburn, etc. Coco Chanel stayed at the hotel for 34 years in suite No.302 until her death in 1971. The hotel has named that suite after her and it features the timeless decor she created for herself at the time. Besides the Coco Chanel suite, the hotel has 158 other spacious rooms & suites recently renovated in 2016. 
There's also concierge service, a marvelous azure-tiled pool, and an airport shuttle available for the guests. Other interesting facilities include cooking classes where you can learn to cook authentic French cuisine and a gourmet boutique where you get authentic French pastries and other baked goods to savor or take home with you. 
Estimated Cost: $1600 per night
Check ratings & reviews here. 
#3 Interconintental Paris – Le Grand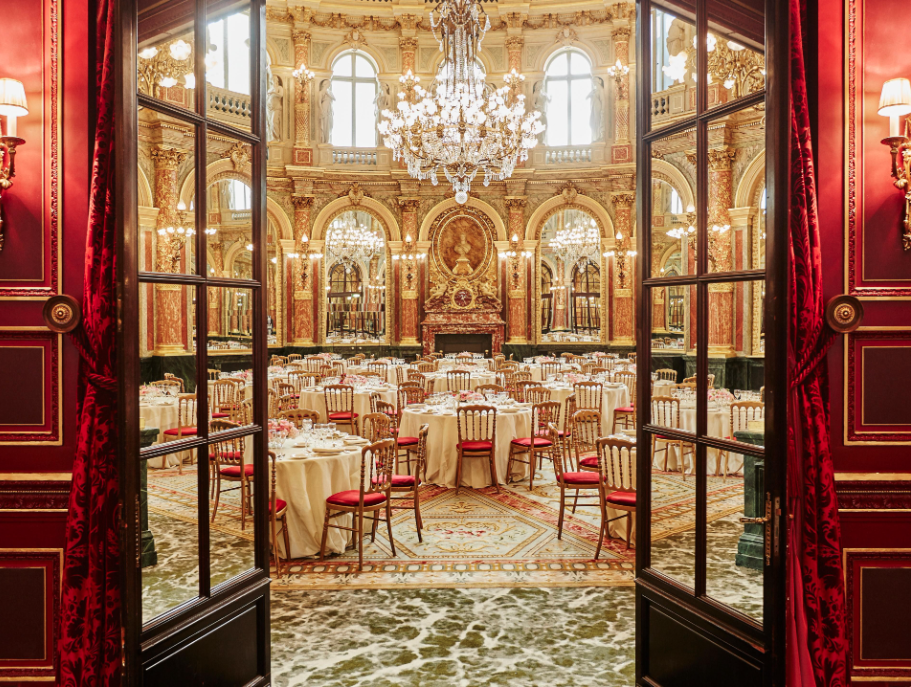 Boasting modern Parisina furnishing reminiscing of the timeless French architecture, the Intercontinental Paris Le Grand was inaugurated in 1862 under the realm of Napolean III. It is located in the heart of the city and offers magnificent views of the Opera Garnier. The hotel contains 570 rooms and suites, and for honeymooners willing to splurge a bit more, we'd recommend staying in their La Parisienne Suite offering floor-to-ceiling windows, a walk-in closet, and private balconies offering gorgeous views of the Eiffel Tower and the city of Paris. Culinary experiences of the premises include Cafe De La Paix and La Verriere. The hotel concierge is also there for you when you want to curate a personalized experience to explore Paris or need any help roaming around. They will also offer insider tips on exploration to improve your experience. 
Estimated Cost: $400 per night
Check ratings & reviews here. 
#4 The Westin Paris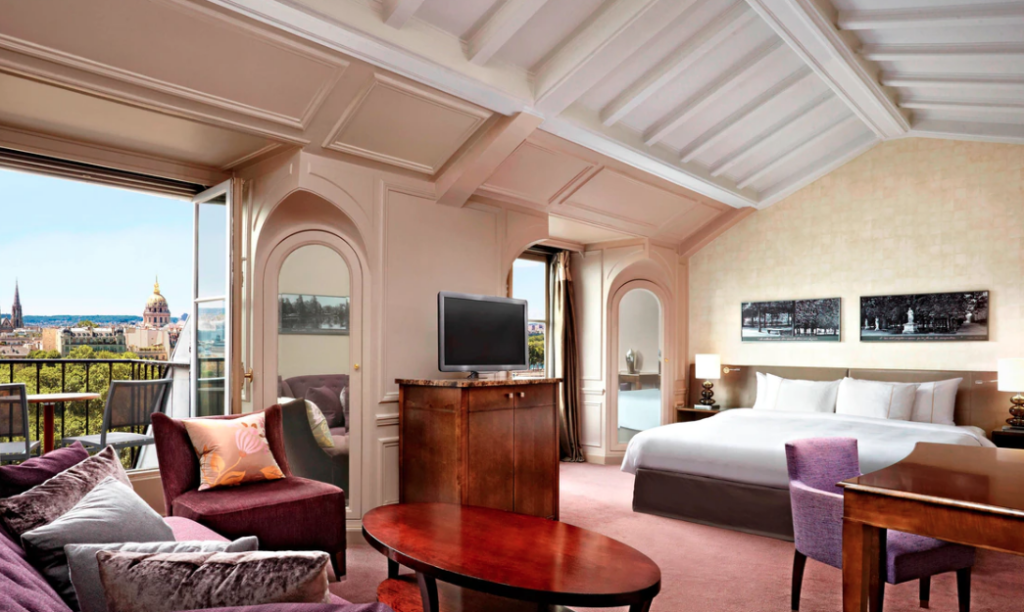 Establishes in 1878, The Westin Paris faces the Tuileries Garden and is located just 3 kms away from the Eiffel Tower. The establishment has 428 rooms, including 80 suites decorated by Sybille de Margerie. Some rooms and suites offer a majestic view of the Eiffel Tower and the Louvre Museum from your own private balcony. 
The Westin Paris offers an all-inclusive Paris honeymoon hotel package with breakfast and drinks. Their breakfast is specifically praised by guests and not to be missed. Other amenities include a 24X7 free fitness center, extended check-outs, and laundry. The hotel is also working towards its sustainability. They have also just opened The Summer Terrace – a new restaurant and bar in a historic courtyard. Couples have rated the location a whopping 9.7, according to Booking.com. 
Estimated Cost: $500 per night
Check ratings & reviews here. 
#5 Hotel Montalembert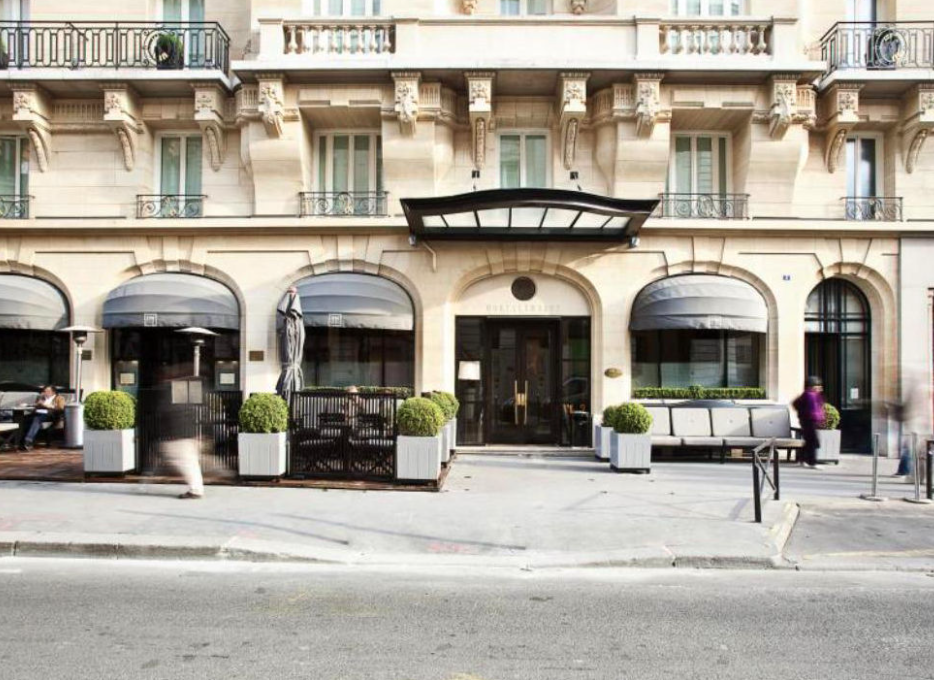 If you're looking for 5-star boutique accommodation as your Paris honeymoon hotel, then Hotel Montalembert is your ideal destination. The posh stay is built in a stylishly renovated 1920s building preserving the art deco touches while redesigning for the modern taste. It's the first boutique hotel on the Left Bank and is just a few minutes walks away from the Louvre and the Eiffel Tower. Many rooms and suites in the hotel offer views of these monuments and the Seine River from your own private balcony. There are a total of 50 rooms for a truly private and personal experience for each guest. 
What's more, is the hotel runs many discounts if you stay for 2 or more nights. This can range from a 15% discount, complimentary breakfast, one night free after 3 nights, etc. "We had a great stay at Hotel Montalembert. It's at an amazing location. The hotel staff was supportive, the room was comfortable, and the complimentary breakfast was delicious. There are some nice restaurants and attractions around the hotel itself. It's certainly worth every penny!" writes one of the reviewers.  
Estimated Cost: $400 per night
Check ratings & reviews here. 
#6 Hotel Splendid Etoile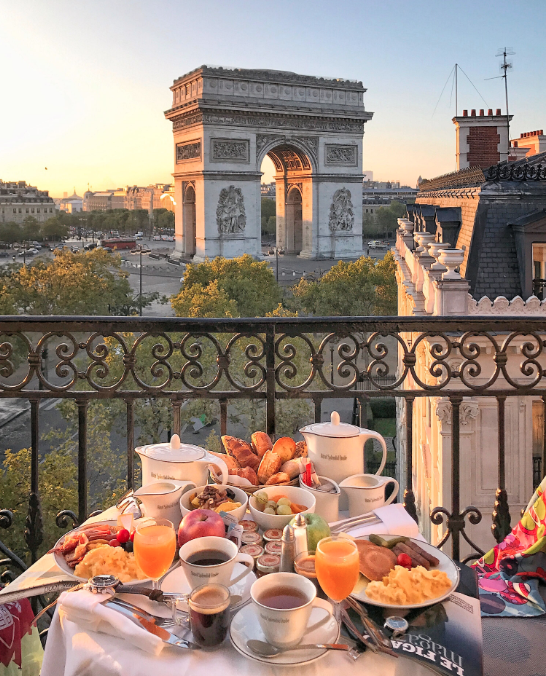 Wondering which hotel are those Instagram pictures from where the couple dines on the balcony with the gorgeous Arc de Triomphe clear in the view? Then there are chances you were seeing a picture of the privileged room or suite of Hotel Splendid Etoile. With a total of 57 rooms and suites just above the famous Champs-Elysees avenue, the hotel offers a private and luxurious experience to its guests. For those looking for an opulent experience in their Paris honeymoon hotel though, opt for the privilege room or the suite where the bathroom also boasts of a marble tub and a balcony that also gives gorgeous Arc de Triomphe views. 
The hotel also has an on-site restaurant, a breakfast buffet that's served until 12:30 PM (included only when you opt for an all-inclusive Paris honeymoon hotel package), and a bar. More facilities include taxi service, babysitting, and free high-speed Wi-Fi. If you're wondering if the hotel will be able to provide you with an authentic French experience, then we are happy to tell you that it's built in a mansion dating back to 1880 and retains the purest Haussmann style. 
Estimated Cost: $250 per night
Check ratings & reviews here. 
#7 Mandarin Oriental Paris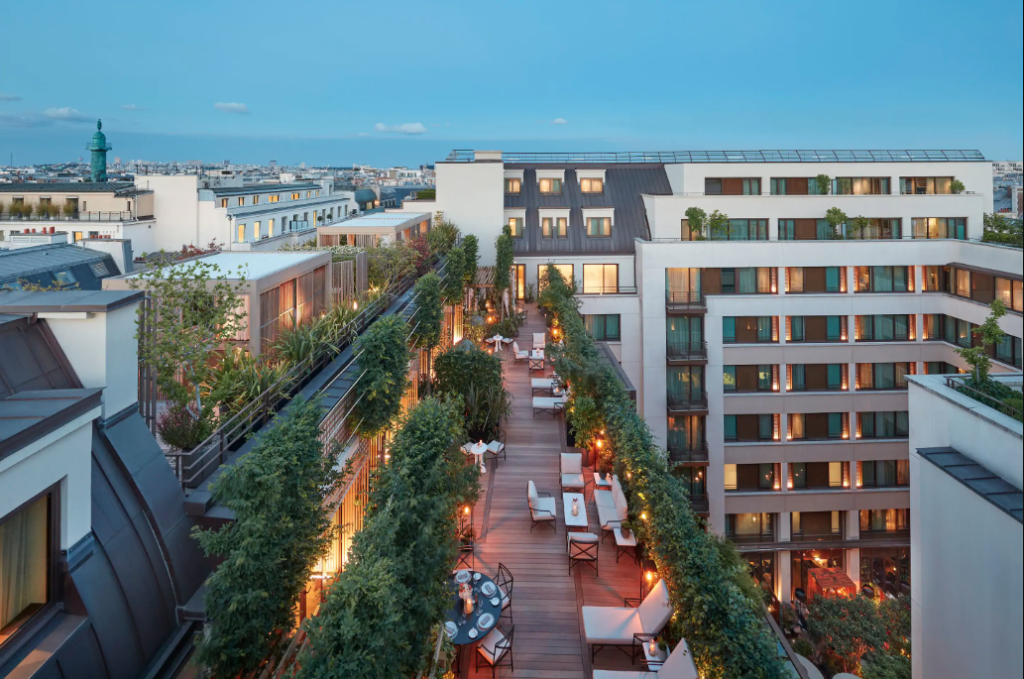 A 1930's palatial hotel, Mandarin Hotel Paris is a perfect 5-star Paris honeymoon hotel for newlyweds. The hotel chain is anyways known for its distinctive design, immersive experience, and world-class hospitality, and their hotel in Paris stays true to the brand. With 138 spacious rooms and suites, the luxurious hotel's basic rooms are also ideal for couples, but their suites are recommended for those seeking an opulent way of vacationing. 
Besides gorgeous rooms, the hotel houses two Michelin-starred restaurants, a bakery (their pastries are a must-try), a bar, and in-room dining. Other facilities include a 900-meter square spa featuring Guerlain face and body treatments, a fitness center, an indoor landscaped garden, and one swimming pool. The hotel is highly rated by couples at 9.5 and will surely make for a memorable stay as your Paris honeymoon hotel.
Estimated Cost: $1200 per night
Check ratings & reviews here. 
#8 Grand Hotel Du Palais Royal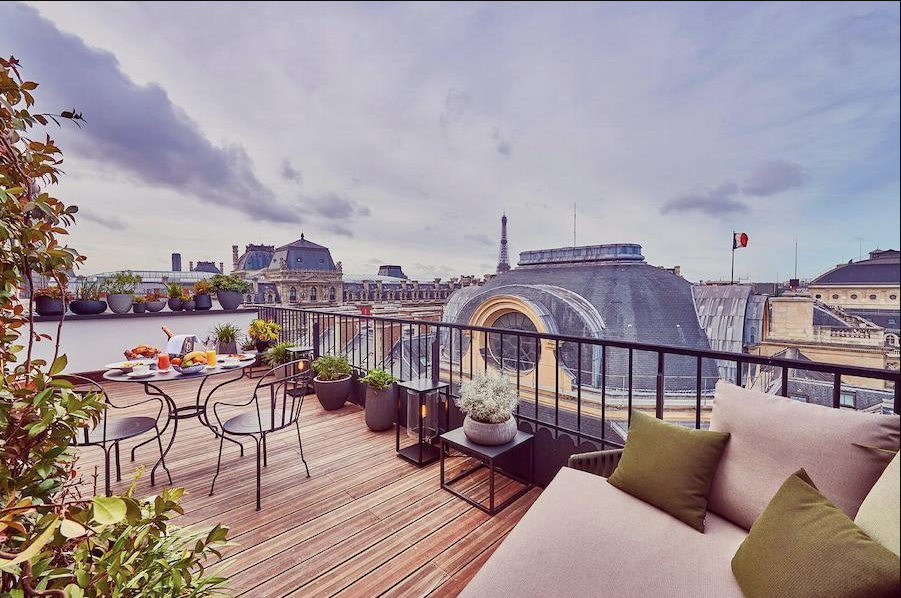 Another mid-budget, 5-star hotel in Paris, Grand Hotel Du Palais Royal is set within an 18th-century building and is 200 meters away from the Louvre Museum and the Tuileries Garden. Rated at 9.8 for a two-person trip, the hotel offers 68 rooms and suites with some offering balconies with majestic Paris views. Another unique element is Cafe 52 restaurant which offers a selection of organic, seasonal, and balanced dishes from 7 AM to midnight every day. There's also a spa offering expert facial and body treatments, and a gym with the most efficient equipment and coaching program. 
To woo you further, if you're a fan of the Netflix TV series Emily in Paris, the scenic place where Agence Savoir is located is right in front of the hotel! In fact, the hotel offers a curated package for Emily in Paris fans in which they can explore the locations as seen in the show. A guided tour is available for the same. 
Estimated Cost: $550 per night
Check ratings & reviews here. 
#9 Hotel Saint-Marc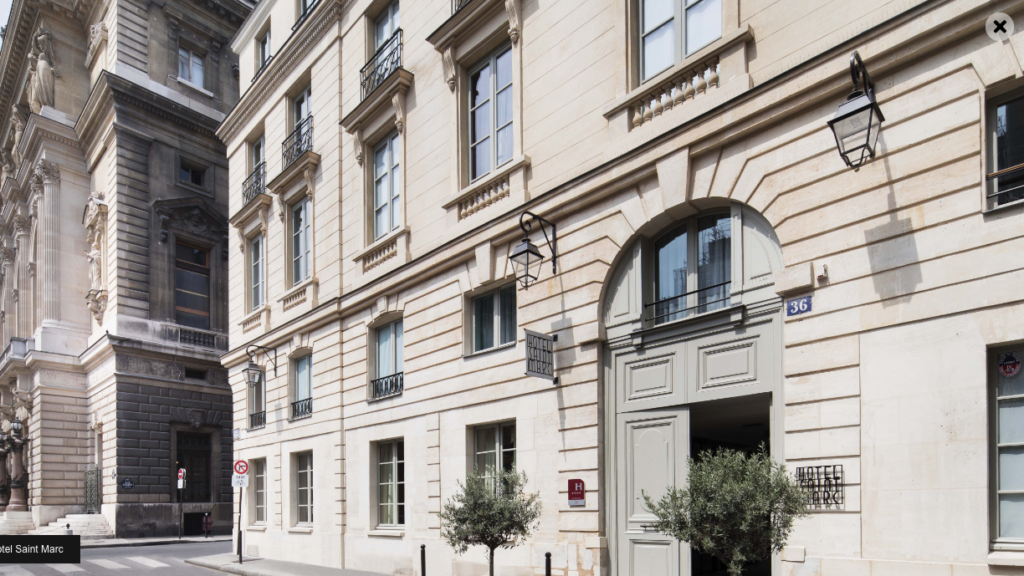 With a 5/5 rating (712 reviews) on TripAdvisor and 4.8 ratings (270 reviews) on Google, this chic accommodation for your Paris honeymoon is ideal for couples and is located in the heart of Paris, just 1.1 kms from The Louvre & The Tuileries Garden. The hotel is actually an 18th-century mansion that was transformed into a 26-room hotel over 2 years by Italian duo DIMORESTUDIO. 
There's a spa center and a bar, and a 24-hour front desk for any help you need in exploring and touring the city. There's complimentary breakfast with the stay and most room types on the upper end come with marble bathrooms and a tub for a romantic experience for couples. You can order from an organic and fresh menu in the garden, pool, or in the comfort of your room any time of the day. 
Estimated Cost: $300 per night
Check ratings & reviews here. 
#10 Pullman Paris Tour Eiffel
Located at the foot of the Eiffel tower, the Pullman Paris hotel has 430 rooms built in Pullman's signature contemporary design and useful facilities. Many room types offer Eiffel tower views with some even having a balcony so you enjoy unobstructed views and have a date on the balcony as well. Sounds like the perfect activity in your Paris honeymoon hotel, doesn't it? The hotel also has a 24-hour gym, FRAME – a brasserie that serves delectable dishes made from farm-fresh produce, some sourced from the hotel's vegetable garden, beehives, and hen house. 
All the major attractions are near to the hotel. Eiffel Tower is just 600 meters away. Louvre, Champs-Elysees, Arc De Triomphe, and Tuileries Garden are at a few minutes' distances as well. Several types of breakfast are available each morning and you can choose from many types of cuisines like Asian, American, vegetarian, and gluten-free options. 
Estimated Cost: $400 per night
Check ratings & reviews here. 
#11 Hyatt Regency Paris Etoile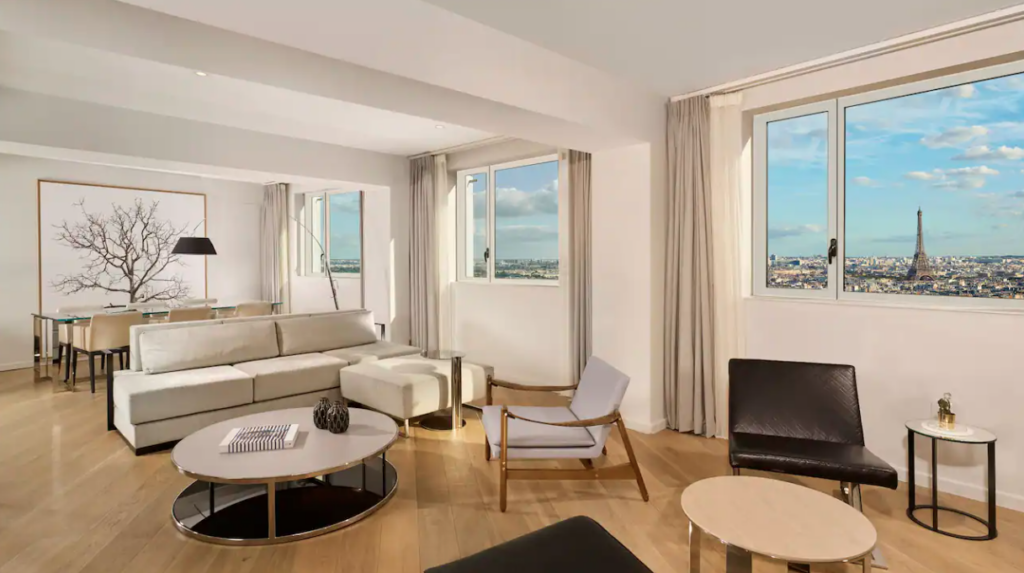 The 34-story high Hyatt Regency is the only skyscraper hotel in Paris. It is a newly-renovated building in 2017, and has 995 rooms and suites to choose from! There are many types of rooms and suites available in this Paris honeymoon hotel, but for your special trip, we will recommend a suite with the Eiffel tower view. Although, most of their rooms are known to offer a stunning view of the Parisian skyline. Opt for their Club rooms & suites to get access to their exclusive lounge with a panoramic view of the city and delectable food & drinks. 
Other notable elements include Windo Skybar, the highest bar in the French capital that has a selection of inventive cocktails, and a grab & go corner called Mayo Market offering selected products prepared by the chef. A 24-hour concierge service and fitness center are other amenities in the hotel. 
Estimated Cost: $300 per night
Check ratings & reviews here.
#12 Waldorf Astoria Versailles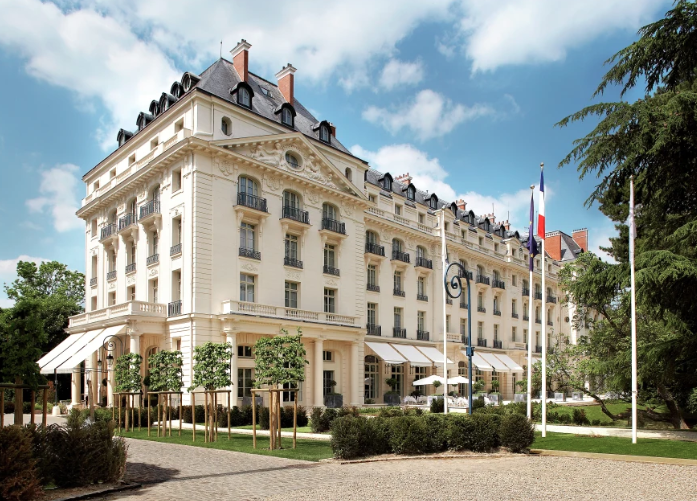 If you're looking for a Paris honeymoon hotel that's away from the hustle & bustle of the city yet nearby to the gorgeous city, then Waldorf Astoria Versailles is an ideal pick for you. Set in an ornate 1907 building right beside the Parc de Versailles. The hotel is divided into two buildings – the 5-star Trianon Palace and the contemporary four-star Pavillon du Trianon situated in an 8-acre park. Although, you can access the amenities of the entire hotel chain no matter where you stay. This includes an indoor heated swimming pool, a Guerlain spa, fitness room, yoga studio, and tennis rooms. 
The hotel is conveniently situated just 30 minutes from Paris. You can choose this hotel while exploring Versailles, and shift to a hotel in the main city when you want to explore the main city. Many high-level rooms of this hotel and suites have a marble bathtub that opens to a balcony, a fireplace, and a flat-screen TV with many satellite channels. Dining options in this Paris honeymoon hotel include a Michelin-starred French restaurant by Gordon Ramsay, continental cuisine in modernly designed La Veranda, and a gourmet takeaway called the Summer Chalet on the edge of the gardens of the hotel. 
Estimated Cost: $300 per night
Check ratings & reviews here.
#13 Fraser Suites Le Claridge Champs-Elysees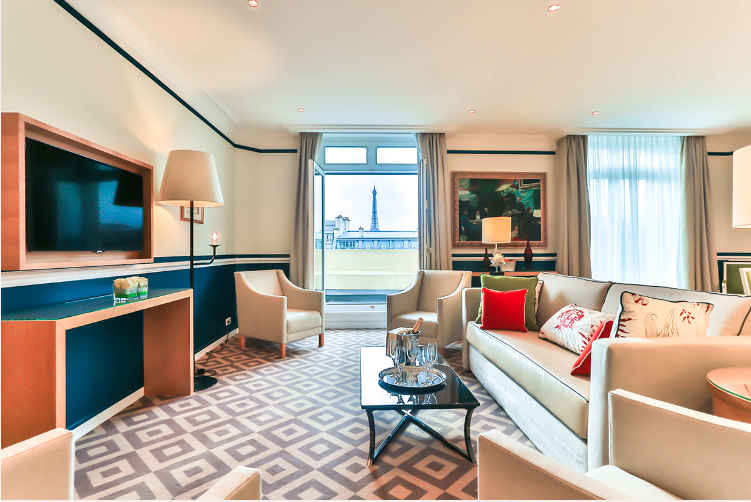 Experience the ultimate luxury and comfort in your Paris honeymoon hotel by picking Fraser Suites Le Claridge Champs-Elysees as your accommodation option. These luxury five-star apartment suites are built into a 1900s conserved heritage building and every room has a separate patio, living area, kitchen, dining area, and an elegant bathroom. For couples, we'd recommend picking the one-bedroom executive suite with a Champs-Elysees view for the ultimate opulence on their first trip as a married couple. 
The beautiful Paris honeymoon hotel also provides airport shuttle services to their guests and a buffet breakfast which is often included in an all-inclusive Paris honeymoon package. "I absolutely loved our stay at the hotel," writes one of the guests. "Room was very clean and the staff was professional. We received welcome chocolate packages with personalized letters on our welcome. The location is perfect for first-time visitors as the majority of tourist spots are nearby," they add. 
Estimated Cost: $400 per night
Check ratings & reviews here.
#14 Shangri-La Paris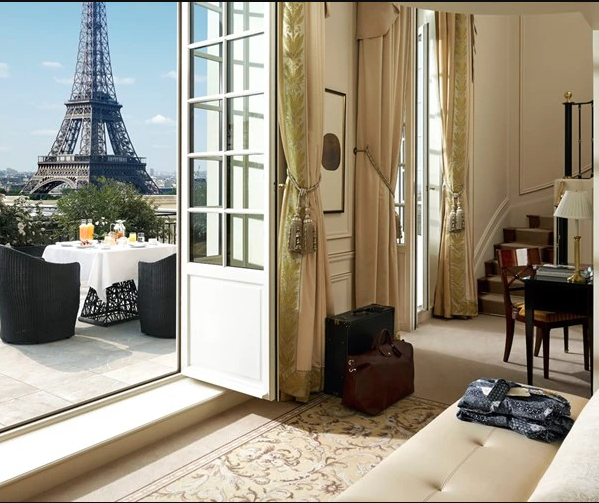 A luxury resort in Paris, Shangri-La is known for its sheer opulence, exquisite rooms, delectable cuisine, and courteous services, and their Paris honeymoon hotel matches all their core traits well. Built in the Paris home of Prince Roland Bonaparte, the property was renovated with Shangri-La's contemporary touches whilst keeping the original French architecture alive. It opened in 2010 with 100 rooms and suites – many of them offering striking views of the Eiffel Tower and the River Seine. All of them have a separate living room, marble bathroom with heated flooring, rainfall shower, and Guerlain toiletries. 
Inside, there are two restaurants overseen by Michelin-starred chef Christophe Moret, including France's only Chinese Michelin-star restaurant Shang Palace. Leisure activities include an indoor swimming pool, spa, and fitness room. An airport shuttle is available for guests and the major tourist attractions are all conveniently located near this Paris honeymoon hotel.
Estimated Cost: $1500 per night
Check ratings & reviews here.
#15 Hotel Plaza Athenee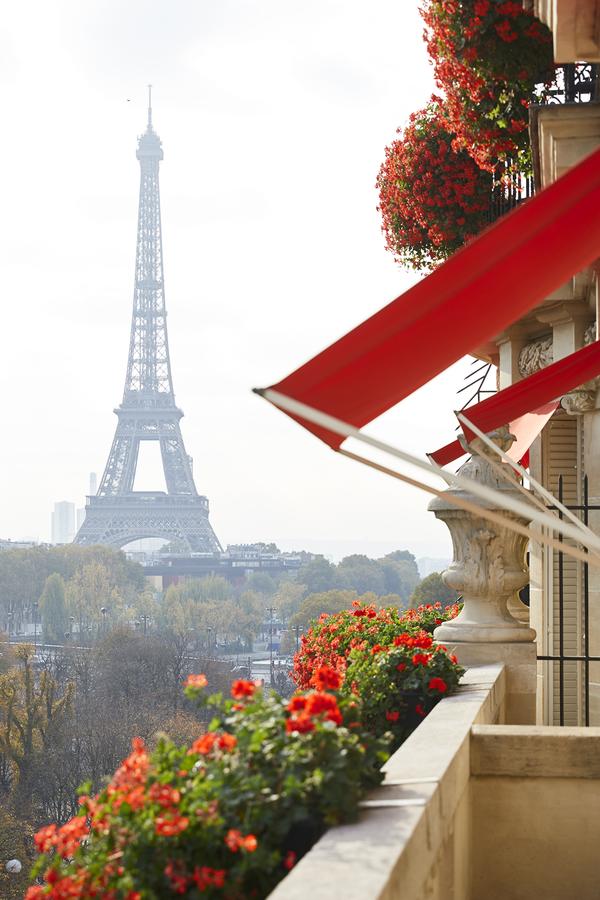 Despite the $1200 per night price range, the hotel has more than 1,800+ reviews on Google with a 4.7 rating. This alone says a lot about the opulent experience of this Paris honeymoon hotel where each penny is worth spending. Hotel Plaza Athenee opened in 1913 and underwent a 200 million euros expansion and renovation in 2014. It's one of the 24 hotels in France to hold the "Palace distinction", the highest achievement for luxury hotels in France. Other Paris honeymoon hotels earning this distinction include Shangri-La, Mandarin Oriental, and Four Seasons. 
There are several restaurants in the hotel, like Le Relais Plaza offering authentic French cuisine, La Cour Jardin with summer garden-inspired menu, and Michelin-starred restaurant Jean Imbert. There's also a Dior spa in the hotel along with a fitness studio. Couples highly rate the location at 9.8 – which is based on independent reviews. 
Estimated Cost: $1500 per night
Check ratings & reviews here.
15 Romantic Things To Do On Your Paris Honeymoon
#1 Book A Dinner At The Top Of The Eiffel Tower
Having dinner at the top of the Eiffel is certainly one of the most romantic experiences for honeymooners to indulge in. There are three restaurants on top of the Eiffel tower- 58 Tour Eiffel, Le Jules Verne restaurant, and Champagne Bar. Though expensive, it's an experience you will never forget and certainly worth spending on when on your honeymoon. Jules Verne is also 
#2 Visit The Louvre
Louvre is one of the most iconic museums in the world with artwork and artifacts representative of more than 11,000 years of human civilization and culture. It's the world's most-visited museum and houses some of the best-known works of art like the Mona Lisa, Coronation of Napoleon, Venus De Milo, etc. It will be fun to explore this museum with your spouse. If possible, click some pictures outside during sunset to capture a memorable day from the trip. 
#3 Explore The Covered Passages Of Paris
Built in the 19th century, the covered passages of Paris were built as shortcuts from one street to another and are now one of the highlights in the "City Of Light". They represent the typical Parisian architecture and are lined with shops and dining establishments today. You just can't miss them on your Paris honeymoon. 
#4 Visit The Wall Of Love
The Wall Of Love spans 416 square feet and has "I Love You" written in over 250 languages. It's crafted by two French artists as a rendezvous location for lovers and a lasting moment of eternal adoration. What could be more romantic than coming here on your all-inclusive Paris Honeymoon? The wall is open from Monday to Friday from 8 AM to 9:30 PM. 
#5 Take A Sunset Cruise Along The Seine River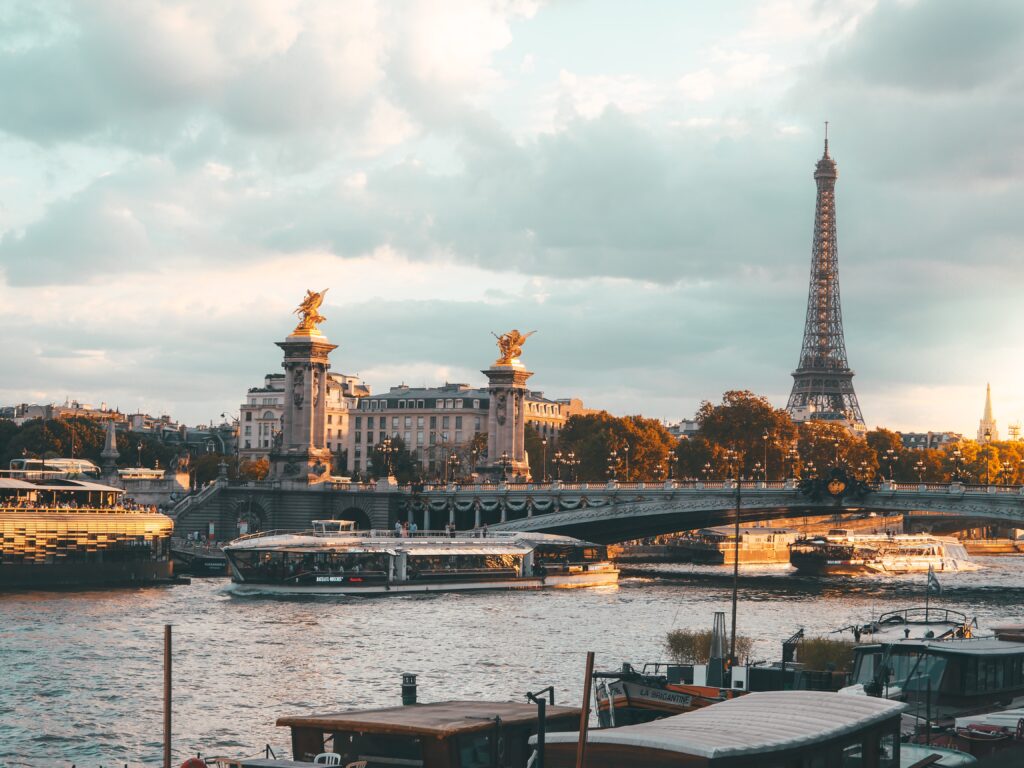 A sunset cruise along the Seine river is one of the most romantic ways to see Paris. Many cruises also offer meals and drinks to enhance the experience. You will come across many tourist spots on your Seine River cruise like Eiffel Tower, Louvre museum, Notre Dame Cathedral, Love Lock bridge, etc. 
#6 Picnic In Some Romantic Spots
Luxembourg gardens or Tuileries gardens are some of the common, iconic spots for picnics. But they are often crowded. Though you can find a private spot on weekdays. Besides these two, there are many other romantic and quaint spots for picnics in Paris like Canal Saint-Martin, Trocadero Gardens, Jardin Du Palais Royal, etc. 
#7 Do A Bakery Hop
You simply can't go to Paris and try their indulgent bakeries. However, skip the bakeries in tourist locations because they often don't sell authentic French cuisine and you won't see locals dining there as well. The prices will also be high. Instead, trust local guides and hotel managers to guide you to the best bakery in town. Also, look for the word "artisan Boulanger" to know that the bakery is selling fresh goods and not frozen. 
#8 Catch Some Beautiful Views Of Arc De Triomphe
The Arc De Triomphe honors those who fought and died for France during the French revolution and the Napoleonic wars. Names of many generals and victories are inscribed on the inner and outer surfaces. No doubt it's one of the best commemorative monuments in the world and is a famous tourist attraction in the city. Many hotels offer a majestic view of the monument from the room, and besides the Eiffel tower, it's a treat to see this monument from your accommodation. One of the best things for couples to do here is to go to the top of the tower during sunset. Pre-book your tickets here to skip the line.  
#9 Explore The Charm Of Notre-Dame Cathedral
While Paris houses many beautiful cathedrals, none compares to the striking charm of the Notre Dame Cathedral. One of the most famous Gothic cathedrals, the tourist spot is distinguished by the architectural specifics, size, and antiquity. A visit here as part of your Paris honeymoon package will be quite a memorable experience. 
#10 Visit The Happiest Place On Earth – Disneyland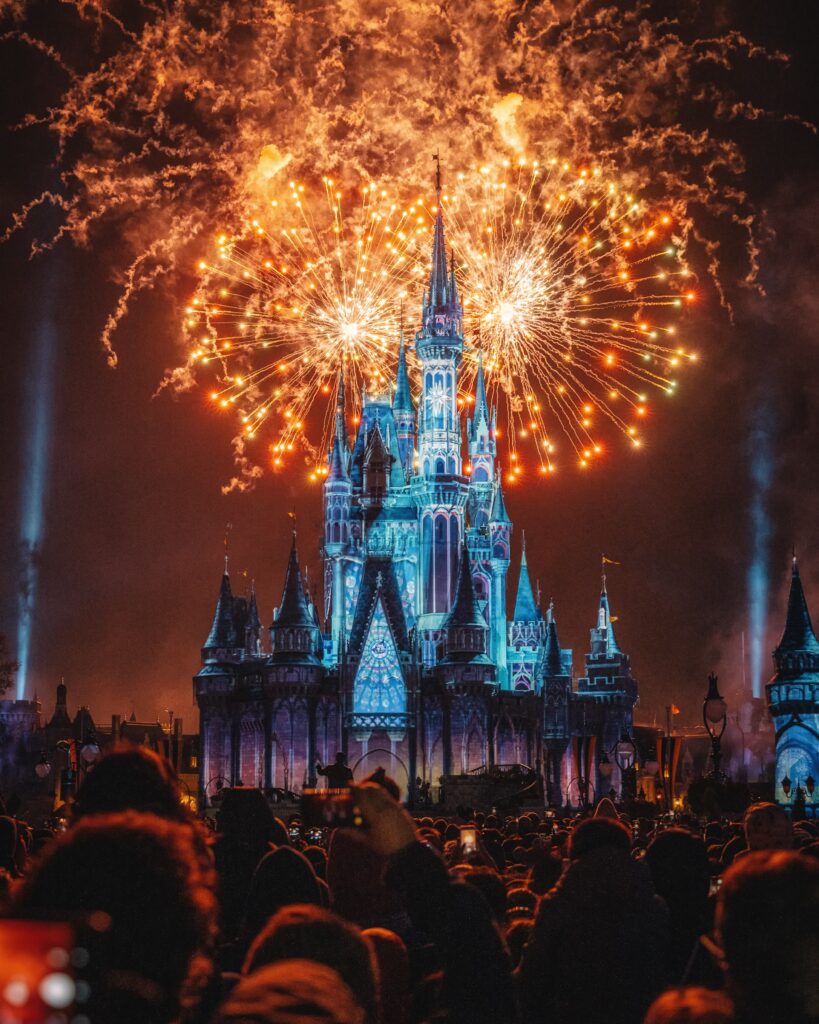 A Disneyland visit should be on your Paris honeymoon itinerary and here's why! It has a fairytale aura, thrilling activities, and interesting spots like Place de Remy where you see the magical Paris as seen in the movie Ratatouille. Pre-book the tickets for some extra discounts and skip the long queues. Also, avoid weekends and Wednesdays (Paris schools only run till the afternoon on Wednesdays so many parents bring their kids to the park on this day). 
#11 Wine Tours
When it comes to world-class wines, people usually think of Paris, so it's obvious the city has some of the best wineries where you can enjoy fresh wine on your Paris honeymoon. You can also take day trips to some of the nearby regions famous for champagne & wines like Bordeaux, Alsace, Loire Valley, etc. for a peaceful day in the lush wineries and exploring these tranquil areas. 
#12 Splurge On Shopping
If you're planning to buy luxury brands, there's no better place than Paris. Most luxury houses debut their collection in the city and also sell their products at a lesser price than other chains. You can find almost all luxury chains at Champs-Élysées avenue. Other places to shop are the Louvres district, Grand Boulevards, The Marais, and the Paris Flea Market. 
#13 Take A Day Trip To Versailles
Versailles is around an hour away from Paris and houses the famous Palace of Versailles. A luxury palace built by Louis XIII during the French revolution. Unlike the bustling tourist attractions in Paris, Versailles is quaint and offers impressive architectural views. With an area of 63,154 m2, 2300 rooms, and many scenic spots inside like the Hall of Mirrors, Royal Opera, etc., it will take a few hours to explore the palace completely. You can also choose to explore Versailles' market for fresh range of freshly baked French food and organic produce.
#14 Hike Through Montmartre
Located in the 18th Arrondissement of Paris, this historic neighborhood is part of a large hill and is full of cobbled streets, stunning archaic architecture, and a relaxed market. This area is best explored by foot and whilst here, don't forget to watch the sunset from the Basilica of the Sacred Heart which will also give you some majestic views of the city of lights from the ground above.  
#15 Wander The Picturesque Canal Saint-Martin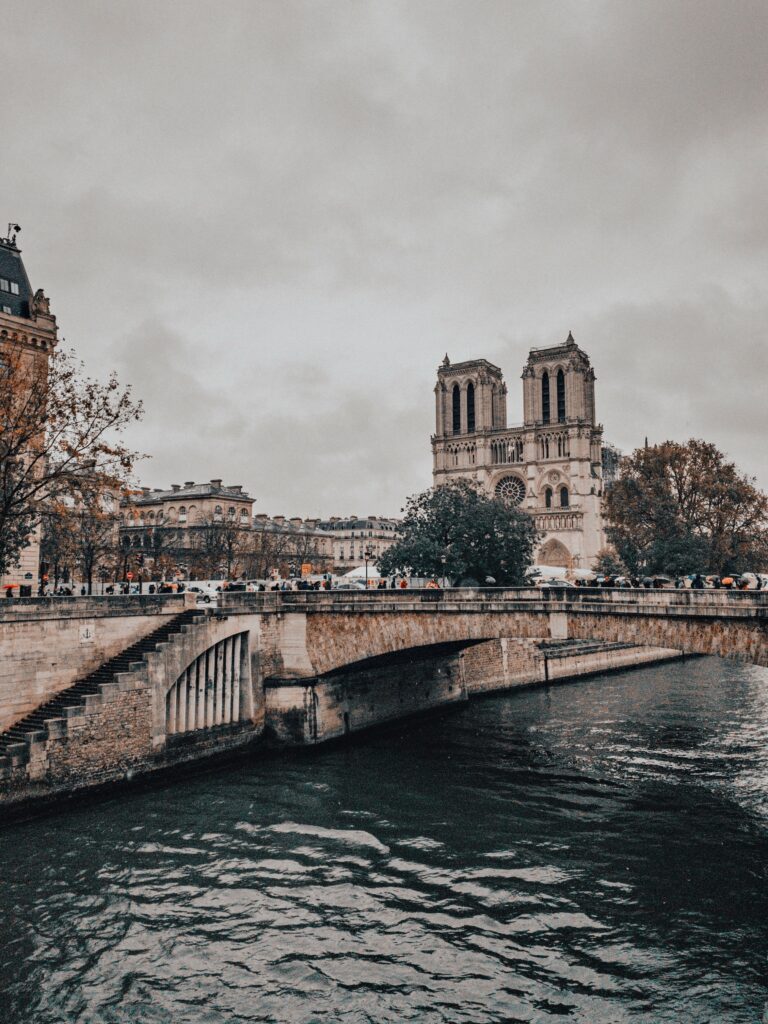 Canal Saint-Martin is a 4.5 kms long canal connecting Canal de l'Ourcq and river Seine. It's lively, scenic, and one of the most romantic spots in Paris. You will see couples and friends enjoying fun time alongside the banks of the river and on the travel boats. There are also some great cafes lined so you can stop for some coffee and cake. 
23 Practical Tips For Visiting Paris
#1 Visit Right After or Before The Peak Season
The best months to visit Paris to avoid crowds and higher rates are April (which is also the cherry blossom season) and October & November. The climate is perfect and you will find lower prices for accommodation as well. 
#2 Take Self-Guided Or Free Walking Tours
There are many free walking tours in Paris where independent guides show you the leading places in the city. They do expect a tip at the end, and it's also recommended. Many paid tours also focus on a certain themes like exploring the hilly Montmarte, discovering the best art on the streets of Paris, or heading to some of the best-lit areas at night. 
#3 Buy Skip-The-Line Tickets To Major Tourist Attractions
If you don't want to wait in the long queues at major tourist attractions Eiffel Tower, Louvre, Versailles, etc, then buy a skip-the-line ticket where you select the day and the time slot of visiting. This is our numero uno tip for your Paris honeymoon. 
#4 Find Authentic Bread & Croissants Using This Keyword
French people take their bread, bakery items, cheese, and wine very seriously, and so they never shop from stores located in popular tourist regions. They know the authenticity lies somewhere else. Most Parisians will shop for breads and baguettes in local patisseries and boulangeries. To determine if the bakery is selling fresh, look for the word "artisan Boulanger" on the front window. This means the goods are made fresh inside and are not frozen. 
#5 Learn Some French Words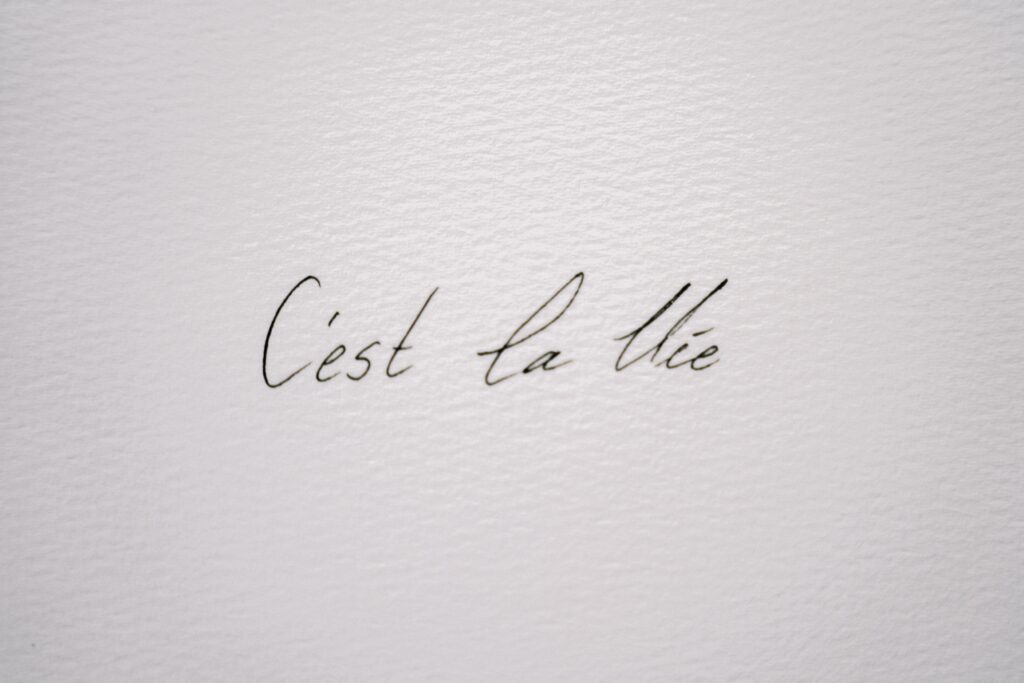 While not necessary as most French people speak English, learning a few French words like Bonjour (Hello or Good Morning), Bonsoir (Good Evening), Merci (Thank you), s'il Vous plait (Please), etc. is polite and will help you to connect to the locals for any information as well. 
#6 Always Greet The Shopkeepers When You Enter A Shop
Greeting the shopkeepers is considered polite and you'll see a number of Parisians doing the same. You can greet them with "Bonjour" (Good Morning or Hello) or "Bonsoir" (Good Evening) or "Salut" (Hello). 
#7 Wi-Fi Is Quite Common
When in Paris, you don't have to worry about Internet connection that much as most restaurants, cafes, and bars offer free Wi-Fi. Hotels also provide free Wi-Fi services to their guests. 
#8 Get A Universal Adapter
Every country uses different types of plugs for charging. So while this tip is valid for every county, it's just a reminder for those planning a Paris honeymoon. We'd recommend buying a universal adapter 
#9 Bathrooms Are Rarely Free
Public bathrooms are all paid for! It's best to keep some change in your pocket so you can quickly avail the services. Expect to pay anywhere around 50 cents to avail of the bathroom services per person. 
#10 Many Things Are Closed On Sunday – And In August
Most tourist attractions remain open on Sunday, but many restaurants, bars, and shopping venues remain closed or function only for limited hours. August also sees many dining & shopping establishments closed. This is mainly because of the hectic July month which sees a ton of visitors and many Parisians go on the holiday themselves. 
#11 Don't Overstuff Your Itinerary
In your quest to explore the whole city, you should know there are a lot of places and each place will take time to experience in full. Like if you're planning to visit Versailles, then it will take your whole day. Similarly, you can only complete 3 to 5 monuments in one day – only if all of them are close by. You'd also want some moments of peace on your Paris honeymoon, so don't overstuff your itinerary. 
#12 Book A Day Trip To Nearby Locations
You might want to use all your time exploring the charm of Paris, but there are many great locations around Paris that are an hour or two away and can be explored in a day. This includes the historic town of Versailles, wine tasting in Bordeaux, Mont Saint-Michel, Normandy beaches, or the densely populated and richest region of Belgium, Brussels. Here are the best 30+ day trips to Paris ideas. 
#13 Paris Is Best Explored By Foot
The city of Paris is lined with beautiful & spacious sidewalks, making it easy for Parisians and tourists to travel the city on foot. Just like many other European cities, Paris is the place best explored by foot. Plus, walking hand-in-hand with your spouse and exploring the hidden gems & aesthetic locations should make a definite part of your Paris honeymoon. 
#14 Food Can Be Expensive In Restaurants
Eating and fine-dining is an expensive experience in Paris. That's because you're not just paying for what you eat, but also for exploring the culture better. Paris is home to many Micheline star restaurants which can leave you with one of your most memorable date nights. 
#15 Make Reservations In Your Favorite Restaurant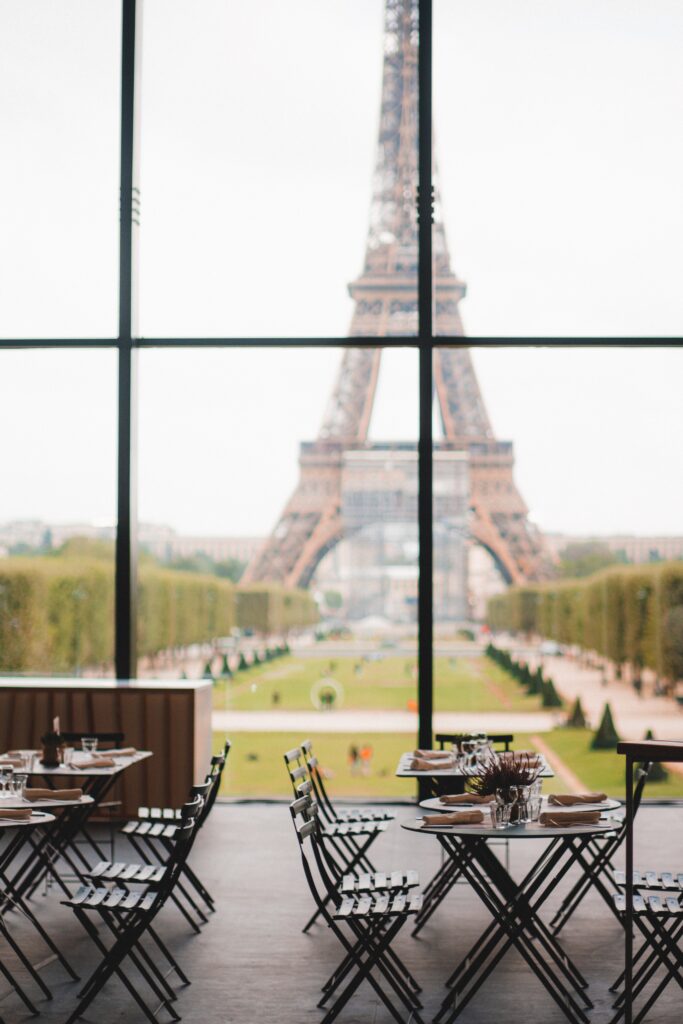 The most popular places in the city get booked way well in advance. If you're in Paris, you might want to experience fine dining, and don't want to miss a good restaurant. Book in advance especially if you want to dine there on the weekend. See here the list of 50 best restaurants and bars in Paris. 
#16 Avoid Restaurants In Very Tourist Places
There are many restaurants and cafes in tourist places, but they charge 2 to 3 times the normal price and don't represent authentic French cuisines. You also won't see any French people dining in these restaurants because they know the real taste of France is elsewhere. Choose small cafes and restaurants. Do your research on authentic French cuisine restaurants online and trust travel guides to recommend good places. 
Also, know that some cafes and restaurants charge for sitting at a table. This is common for restaurants and cafes in tourist places. 
#17 Cabs To & From Airport Are Expensive
Cabs are great when you want to travel inside Paris city, but they can be expensive when you want to go to the airport, costing anywhere above 50 bucks for a one-way trip. It's recommended to take a bus or taxi instead.
#18 Eiffel Tower Isn't As Romantic (Lower Your Expectations)
The Eiffel Tower is a symbol of love and romance, and many couples plan to go there for the same reason. Some also plan proposals or romantic shoots in the vicinity of the tower. The historic monument is beautiful, but it's extremely overcrowded every time and has a ton of noise. Don't expect to find privacy here unless you've booked a sumptuous dinner at one of the restaurants at the top of the tower. 
#19 Avoid Disneyland on Weekends & Wednesdays
Disneyland Paris is on the bucket list of many Paris Honeymoon itineraries, and it should be. The place is fun, magical, and dreamy. It's smaller than the one in the US, but there's plenty to do here. Disneyland Paris is approximately 1 hour from Paris city and it will take a whole day for you to explore the park. 
If you're planning to take a day out from the itinerary to visit Disneyland, then avoid weekends because the parks and rides are crowded. Also, avoid Wednesdays because public schools in France finish off at noon, so some parents take advantage of the free afternoon and bring their children to Disneyland. Try to book your tickets in advance because at times, you can find good discounts. 
#20 The City Has Many Awesome Museums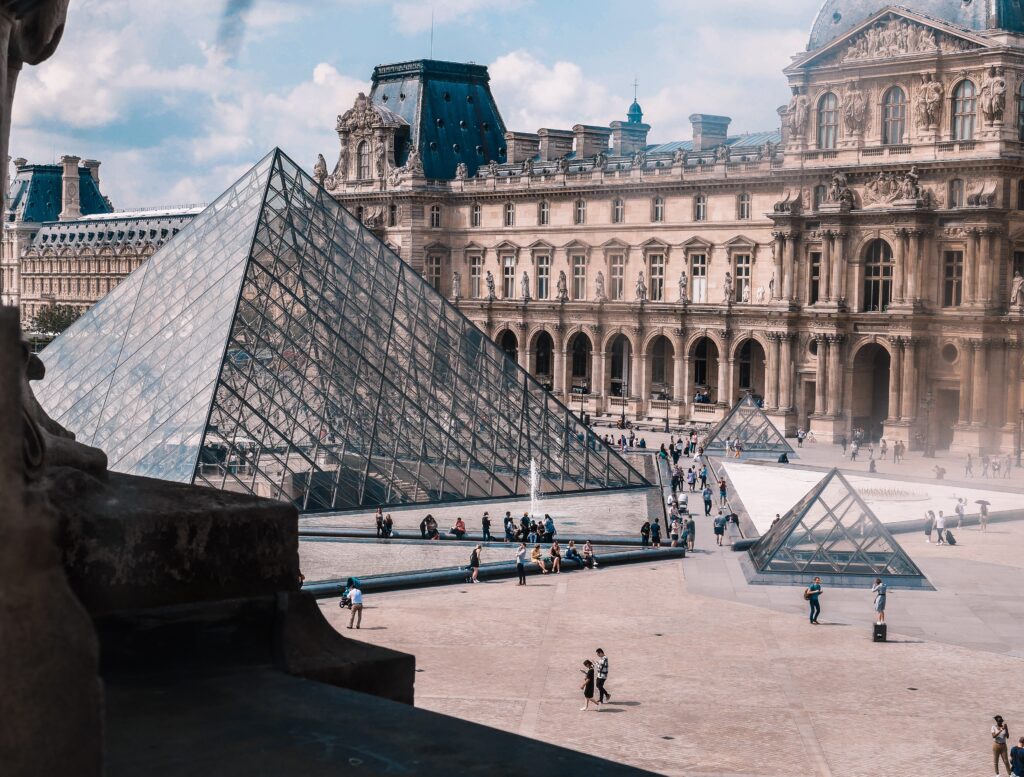 Besides Louvre, France is home to many other awesome museums. While these museums can be explored on foot when you're on a guided tour, you can separately try to visit a few that are closer to any tourist attraction you're visiting as well. Find a guide to visit some of the most interesting museums in Paris here.  
#21 Beware Of The Most Common Scams (Many Happens On The Streets)
Now that we have convinced you to explore the city of romance on the streets, you should be aware of some of the most common scams in the city. When you're walking, try to avoid trying to sell things like sunglasses, keychains, etc. A common scam is for someone to tie a bracelet on your hand in name of a friendship band, then follow you for money. Many of these sellers will stop you when you're exploring on foot, try to ignore them as much as you can. 
Another common problem is pickpocketing, which is again a problem in tourist areas and metros. Always keep an eye on all your belongings. Use a bag with a zip and keep a close eye on your backpack. If you do keep your wallet in your backpack, make sure it's not at the top of your bag. 
#22 Internet Information Isn't Always Correct
From the running hours of the restaurant to where to eat, it's best to not rely too much on the Internet information. Sometimes the shop can be declared open on the Internet, when in fact, it's closed when you reach the location. It's not that common, but don't be surprised if it happens to you. 
#23 Smoking Is Quite Common
Smoking is very common in France. You will find men & women smoking profusely anywhere you go. While smoking is illegal in France inside, it's allowed outside. So, if you're sitting in an outdoor cafe or restaurant, expect people to light up smoke around you. Some restaurants might allow smoking on the terrace, but we'd advise you to ask the same before lighting up a smoke. To give you an idea of how common is smoking in the city, Paris produces 350 million tons of cigarette butts every year, according to Reuters.