Shivani and Anirudh met in college and took their 7 pheras in their 7th year together! And what a celebration it was. Every event was meticulously planned and was designed around a theme. "I just feel I am very particular about little details and I've been planning my wedding in my head for a long time even if it's as small as a fragrance. Also, I never visited India during the planning so it was all done virtually. A lot of sleepless nights, discussions, and extensive online search made my dream wedding come true," says Shivani. Know more about their Rajasthan destination wedding, and love story, plus see the entire wedding album in our latest edit. 
Best Friends To Lovers
Shivani and Anirudh met during the first year of college and their paths intertwined because they had the same major. The connection was instant and they became good friends soon after meeting. "We started attending classes together and one fine day, Ani asked me out. I was a little hesitant because I didn't want to ruin our friendship but eventually said yes," says Shivani. After a month of dating though, she called it off and Anirudh respected her decision. However, just a few months after, Anirudh asked her out again and she said yes (again!). "Since then there has been no time apart and we have been together for almost 7 years now," she adds. 
What Went Behind Each Event
Mehendi 
The first event was mehendi and the theme was something colorful and a mix of cultures from both sides: Gujarati and Rajasthani. The idea was to give guests a chance to mingle with each other, get comfortable in the new space, and create hype around the upcoming revelries. Shivani's idea of a vibrant theme is reflected in many elements like the bride and groom seating created with a custom-made backdrop and colorful patches of fabric that reminded people of the cozy blanket we all used in childhood. There were flowers in empty Coke bottles and pickle jars along with vivid dreamcatchers and colorful baskets bedecking the space. Further, the stalls also had many fun activities like balloon shooting, live bangles, puppet shows, etc. To keep the environment lively, traditional folk dancers, dhol, and engaging anchor were present at all times!
Sangeet
You will be absolutely mesmerized by Shivani & Anirudh's sangeet pictures. Just like we were! The theme for the night-time sangeet was "Ranthambore forest". Since Ranthambore was the chosen location for the couple's wedding, they wanted to give guests a glimpse into the rich flora and fauna of the surrounding area inside their comfort zone. "We planted animal statues everywhere. There was this aesthetic walkway with flambeaus and tons of greenery on the side. There were also animal noises in the background to make it feel like a real jungle and the simulated fragrance created using incense sticks, flowers, muds, and herbs just added to the authentic touch," says Shivani. 
Haldi 
Next up was the wedding day and a haldi ceremony marked the start of Shivani & Anirudh's special day. "Haldi was a laid-back event with softer colors and a Keralaa temple wedding theme. The idea was to give Haldi a simple vibe so the upcoming nuptials took everyone by surprise. We had a floral holi and tons of Garba! Once again, the smell of incense sticks was used to enhance the olfactory aspect of the event," says the bride! 
Wedding
"Our wedding was highly anticipated for me because I had been planning this day for over 2 years! I wanted an elegant Benarasi to feel for the decor and wanted the guests to experience a wedding that they had never seen before! The theme was white and gold. The decor and lighting were strategically planned to match the theme and the fragrance of Tulsi, jasmine, and notes of patchouli with some earthy tones just elevated the experience. Many of my friends and family still talk about our wedding and it feels amazing to hear such amazing things!" says Shivani. 
A Dreamy Wedding Couture!
Just like the wedding theme, Shivani planned her outfits perfectly too! "For mehendi, I didn't want anything colorful so as to not clash with the decor. So I opted for a custom blue velvet lehenga with peacocks and spade motifs. All thanks to Radhika for her excellent craftsmanship and for curating the attire of my dreams! Regarding sangeet, I always had my eyes on Arpita Mehta's collection because it's so Gujju. I picked a pink lehenga with floral work from her collection and I think it was the perfect pick for my jungle-themed sangeet," says Shivani. 
On her Haldi, Shivani wore red and got the outfit custom-made from one of my trusted studios, Prima Designer Studio. "I just told them what I wanted – royal with a Rajwadi princess vibe – and I loved the outfit they designed. I also draped my mom's wedding saree as an heirloom on one of my shoulders for the Haldi look!" she adds. 
Finally, for her wedding, Shivani looked like a Queen clad in white! "I knew I never wanted to be a typical bride and always wanted a white lehenga for my wedding since I was a kid and before it became popular among Indian brides. My mother also wanted to see me in a white lehenga. Serendipitously, the trend also caught on the year I got married. My lehenga was designed by Manish Malhotra's team. They were the only luxury brand who were open to customizations and the team was so polite and kind throughout the process. 10/10 recommend!" the bride tells us. 
"Overall, I wanted an elegant and royal look and the entire team spent hours with me to keep every aspect of my dream wedding look in mind. I think it's important to trust a reliable couturier for your wedding lehenga. You will spend a fortune on them and they are such an important aspect of your special day. All the brands I trusted were extremely understanding and attentive. I surely can't thank them enough for their hard work and dedication!" says Shivani. 
And as a final word of advice, Shivani adds," Plan ahead if you are particular about details but don't put too much of your headspace into them. Know that mess is inevitable and focusing your energy on being happy is important! You're marrying the love of your life and trust me, the small things are just in your head. So smile, be in the moment, and get the happiness snapped for years to come." 
Mehendi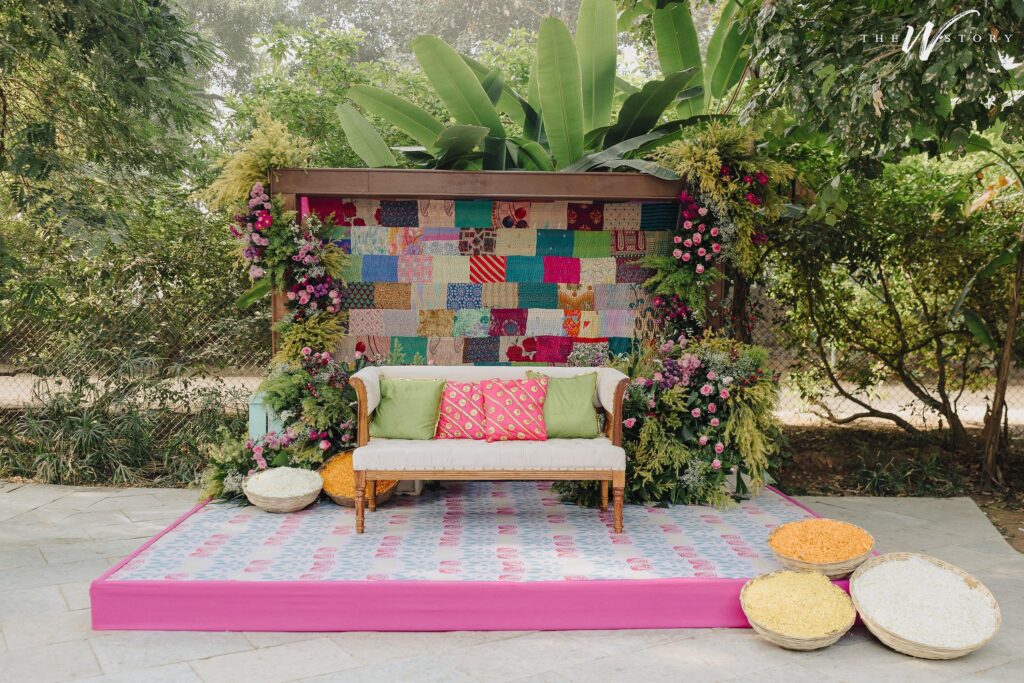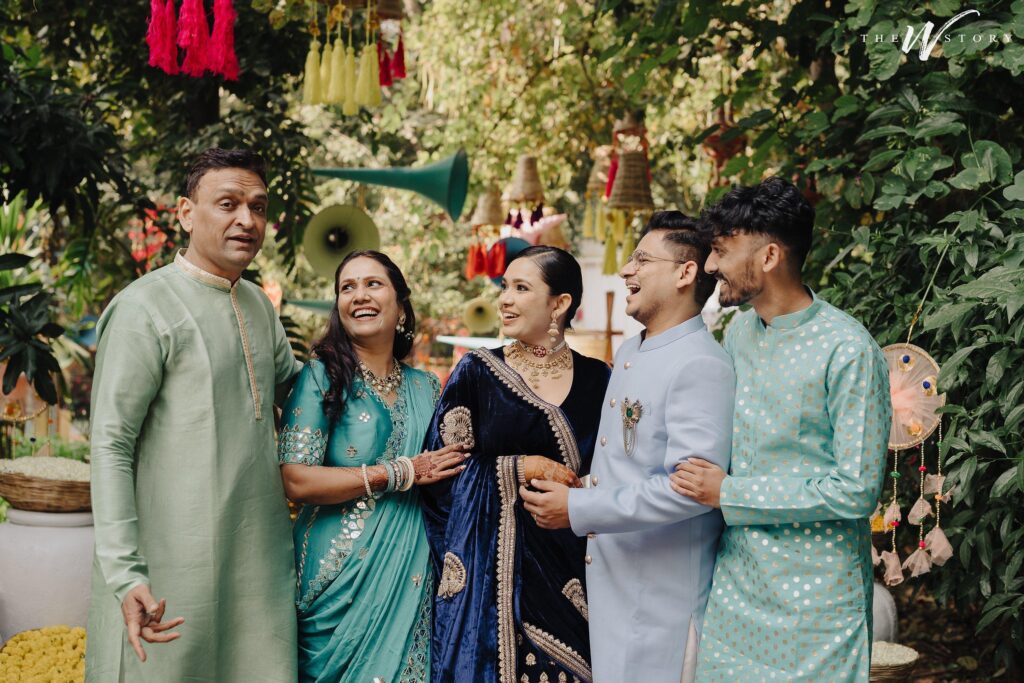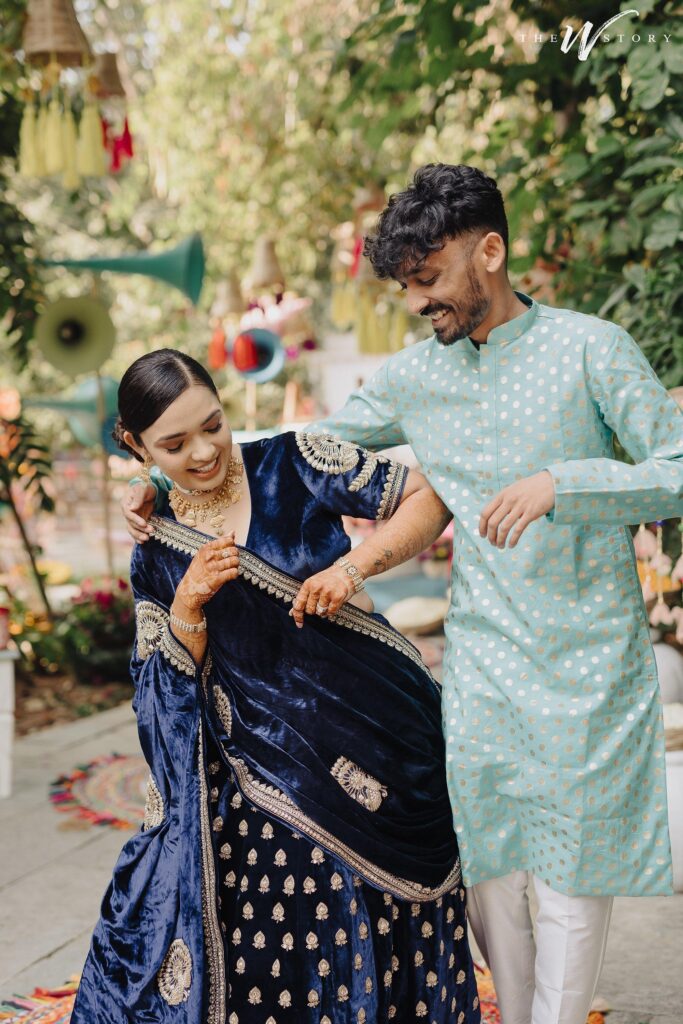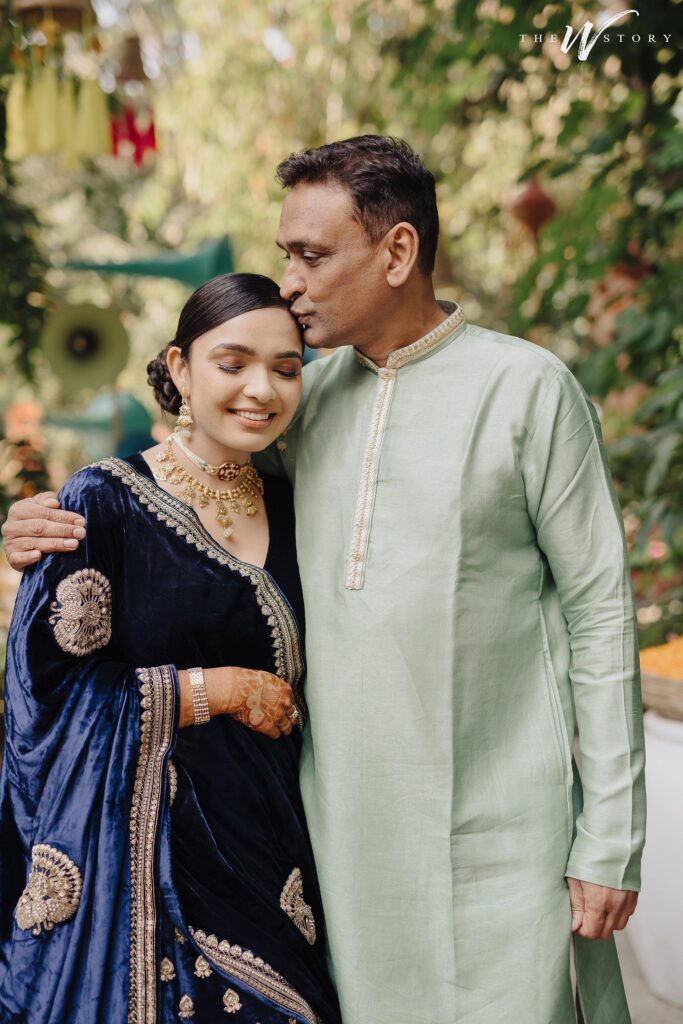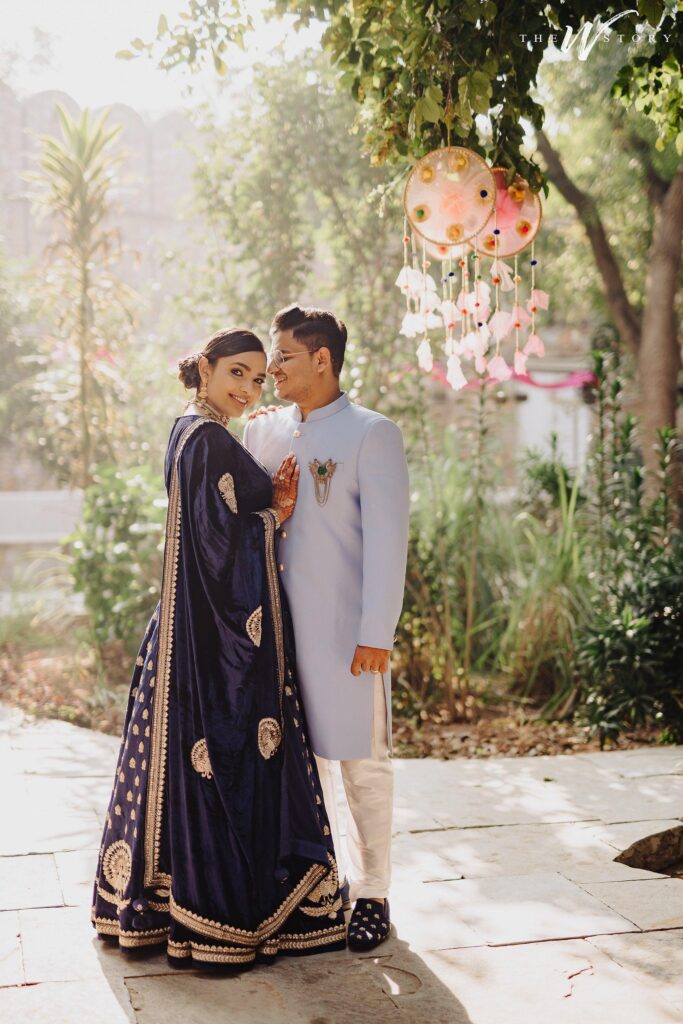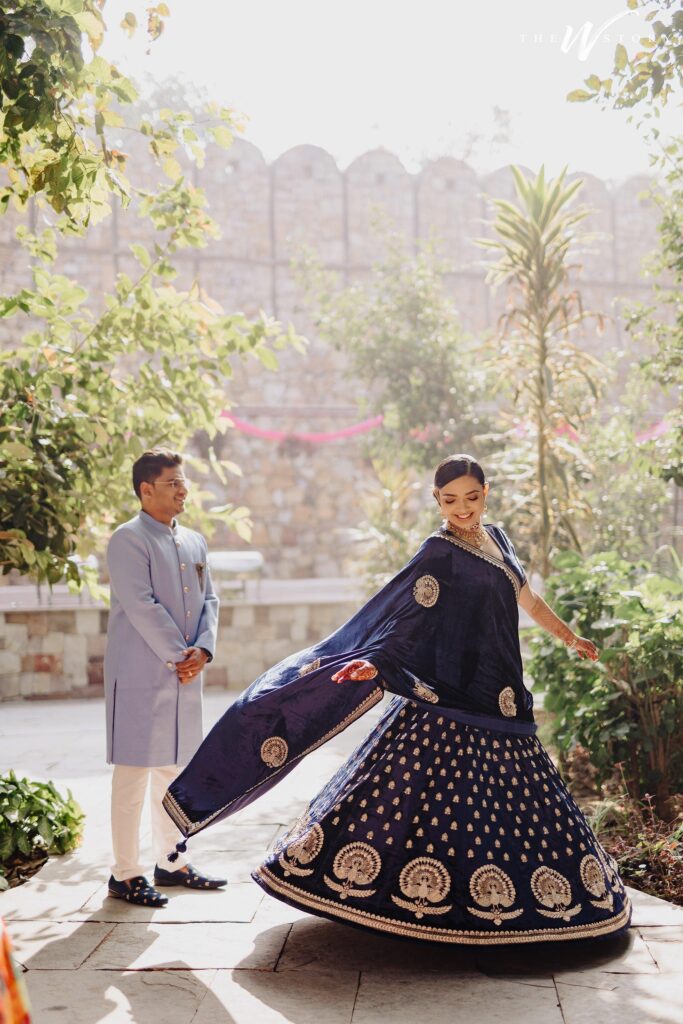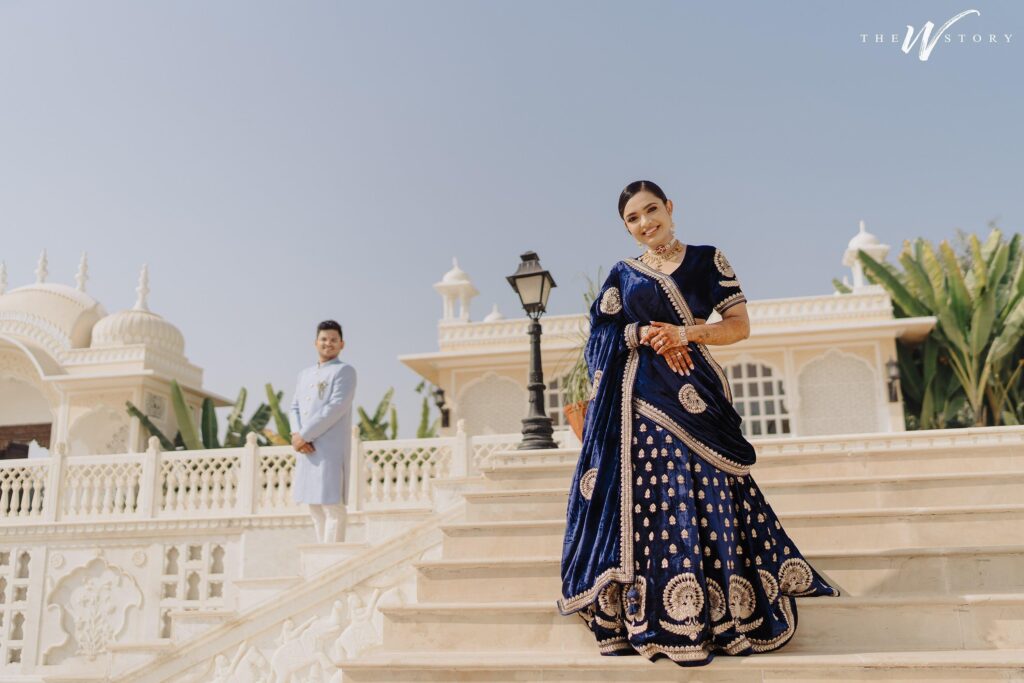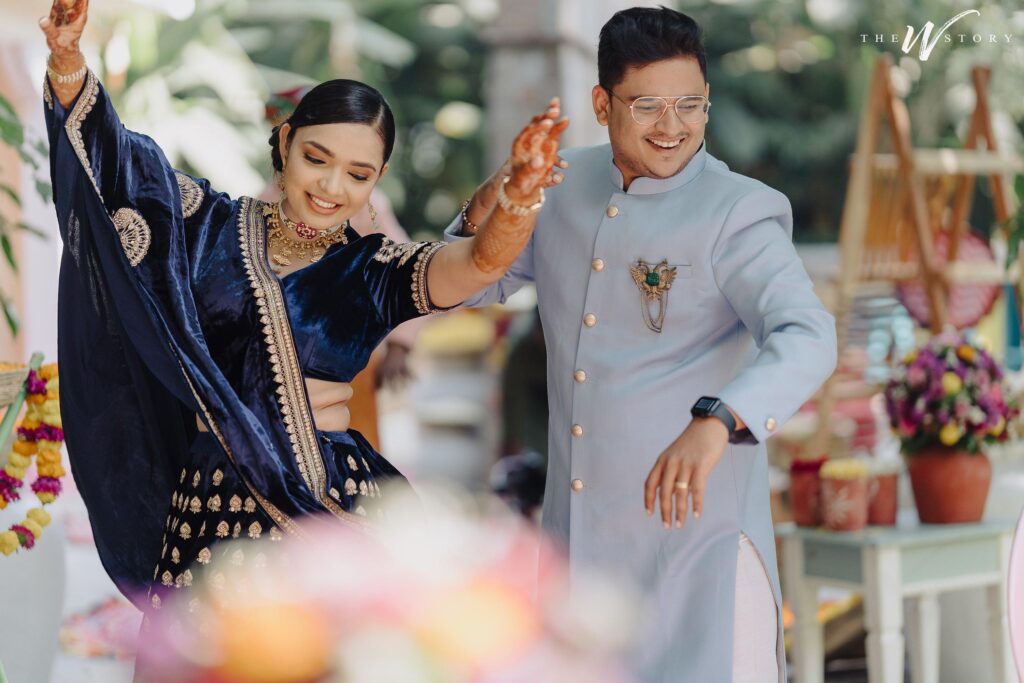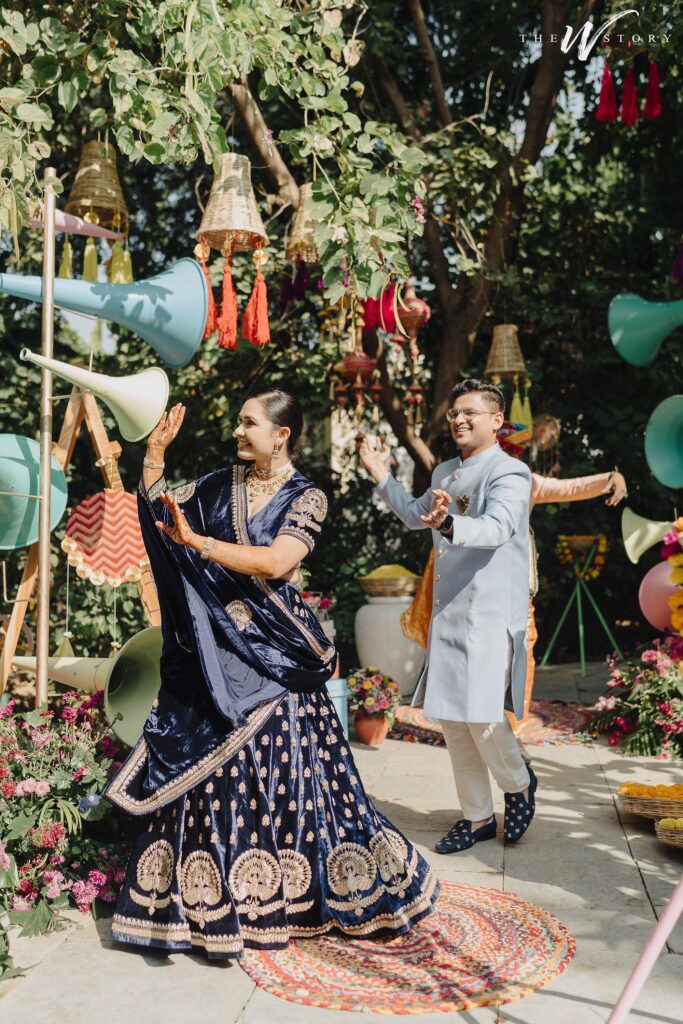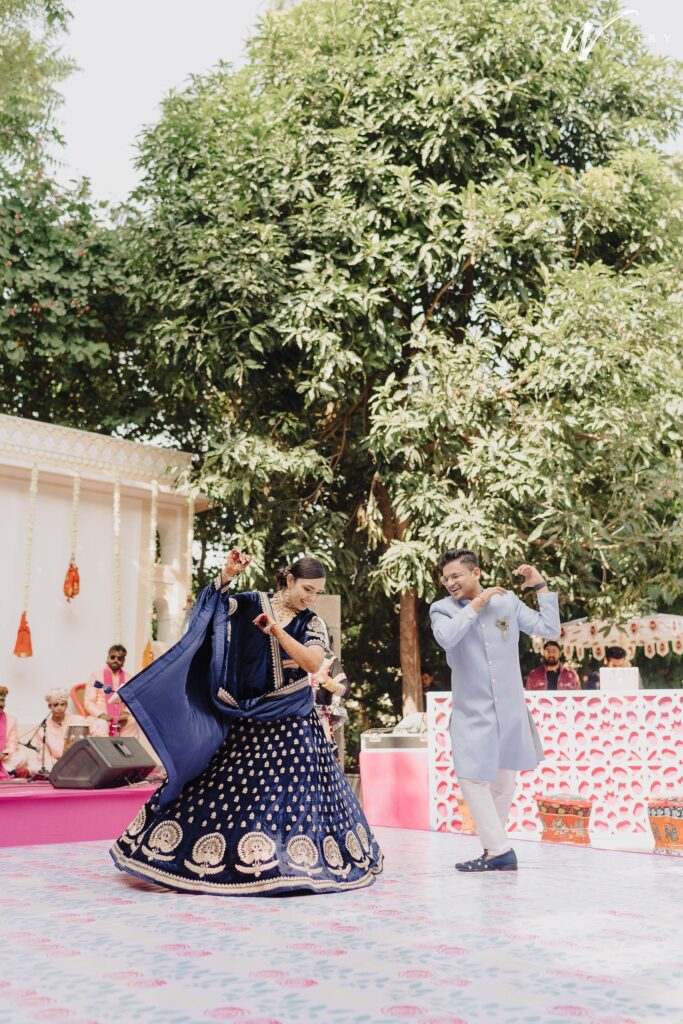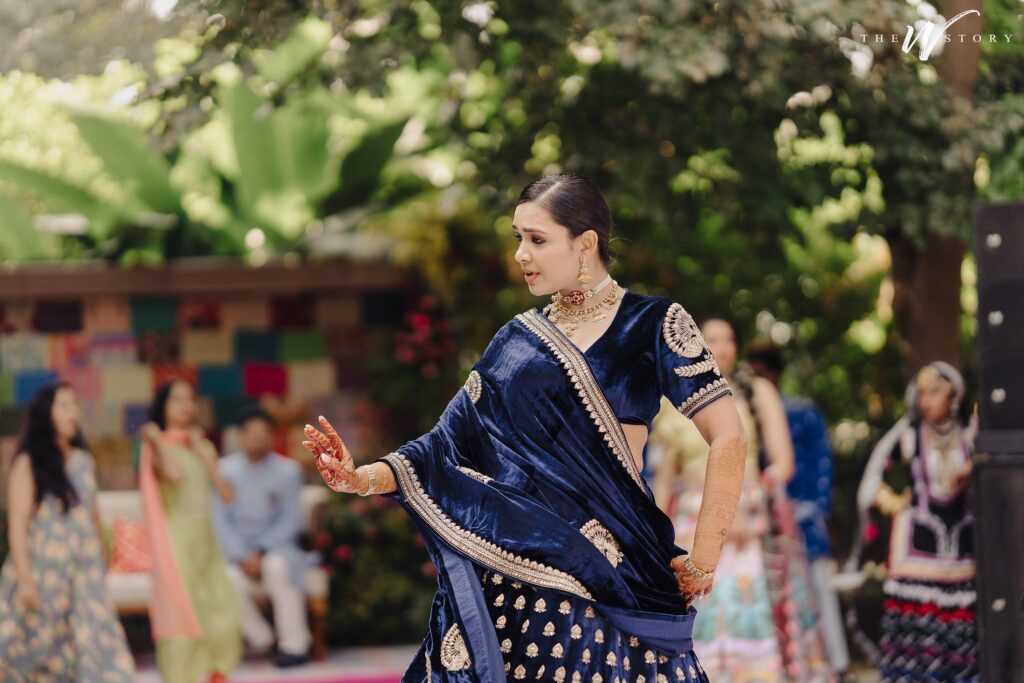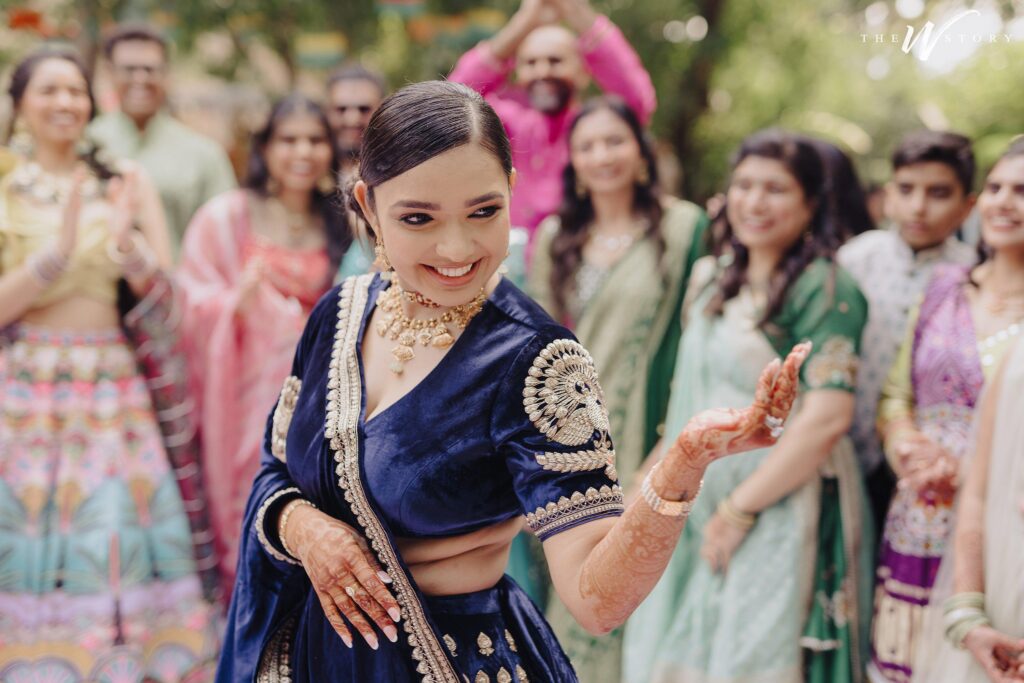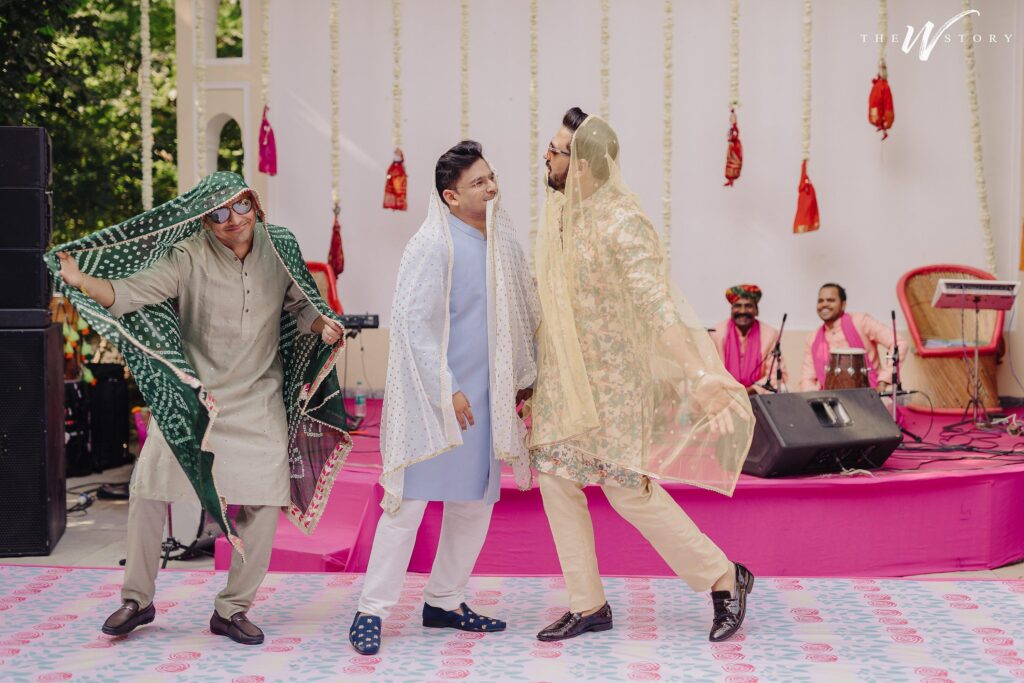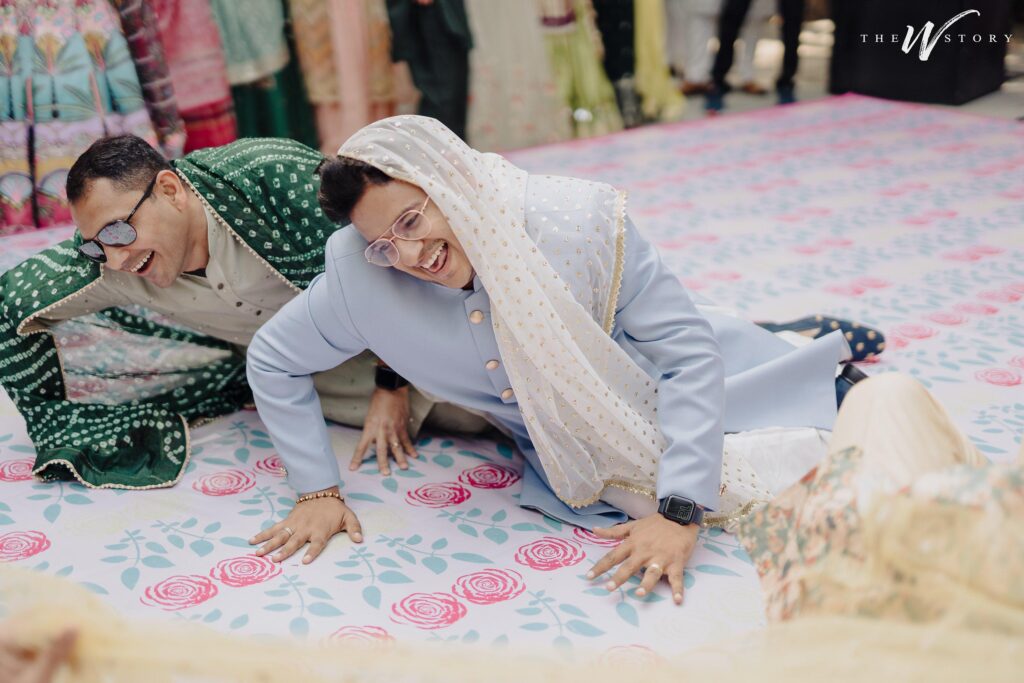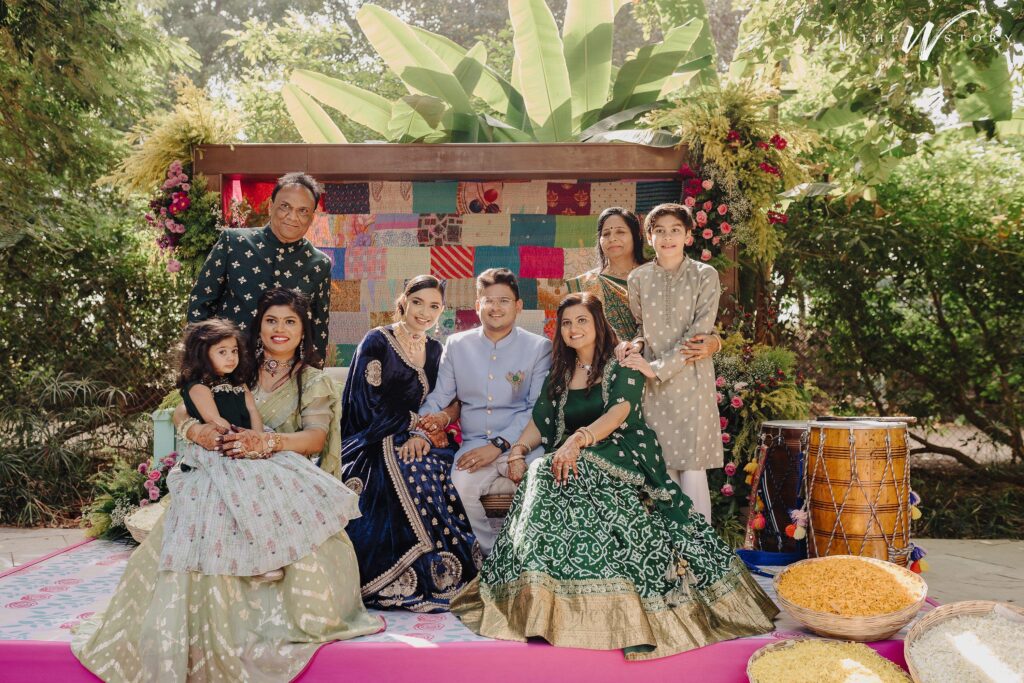 Sangeet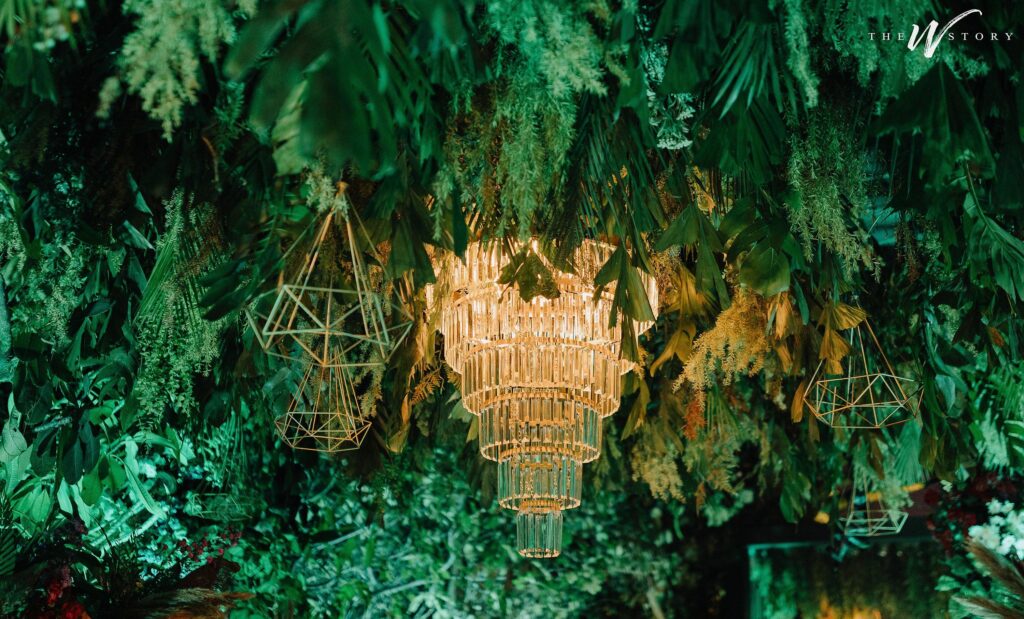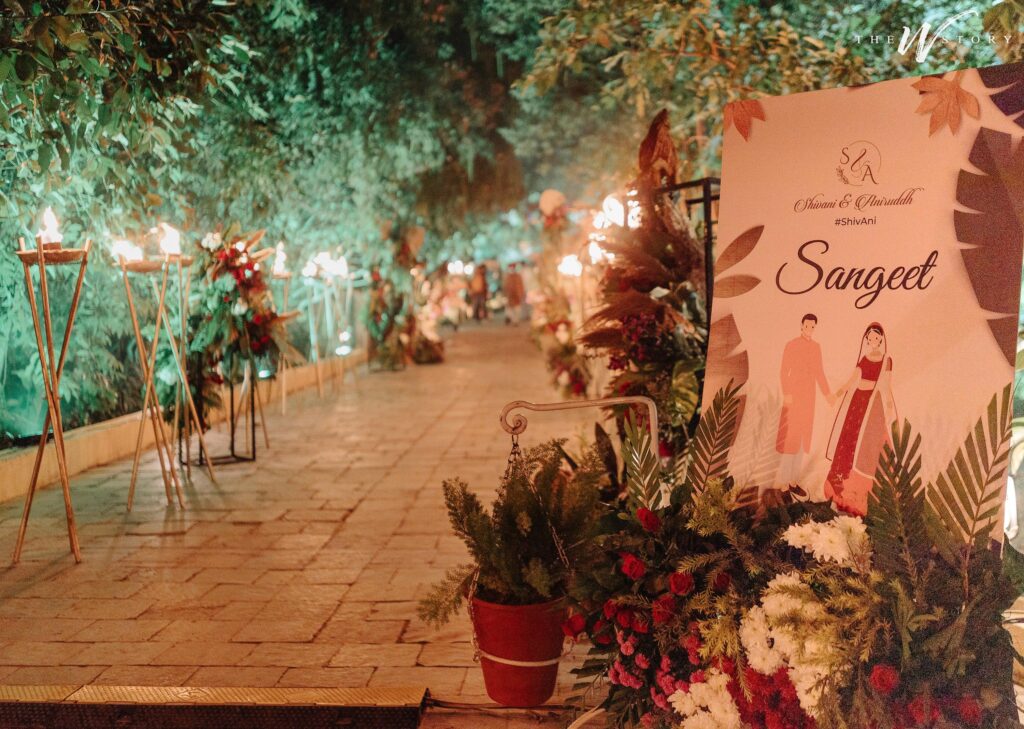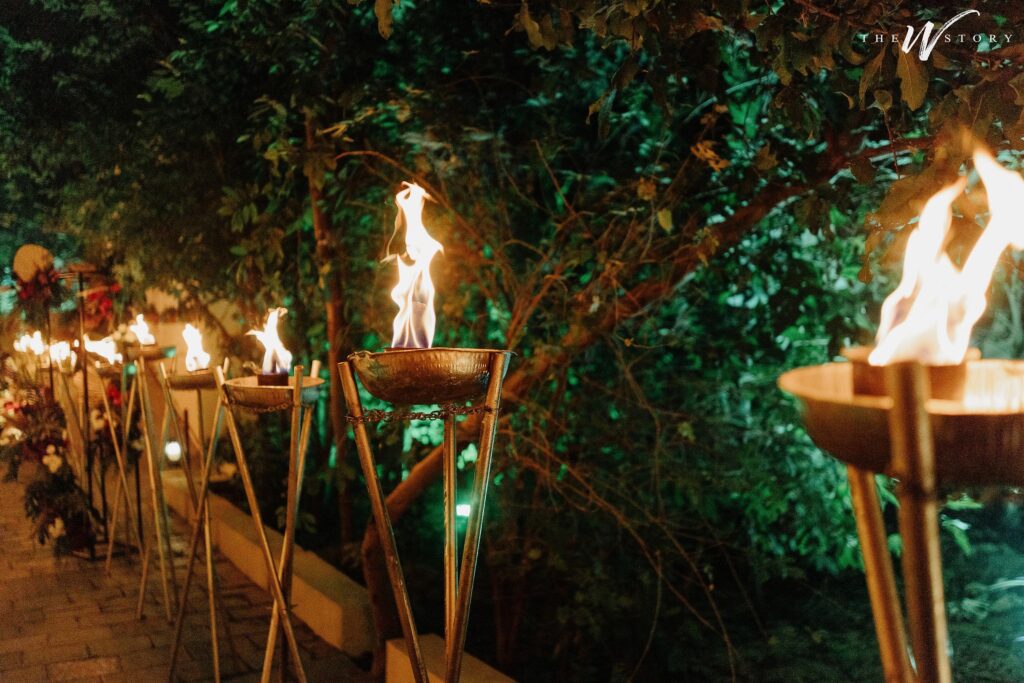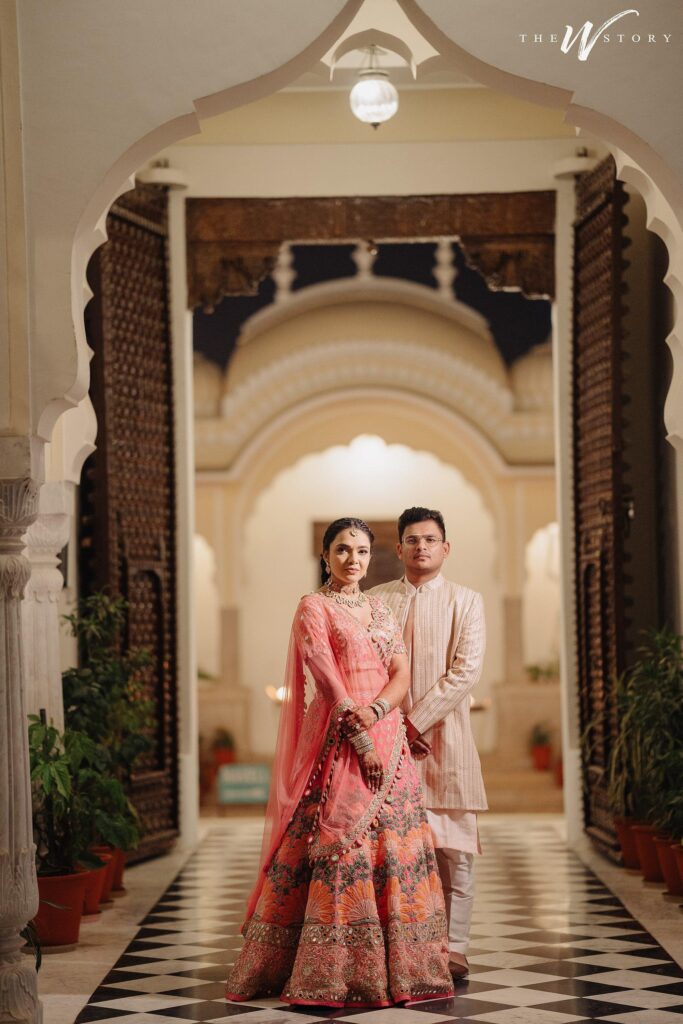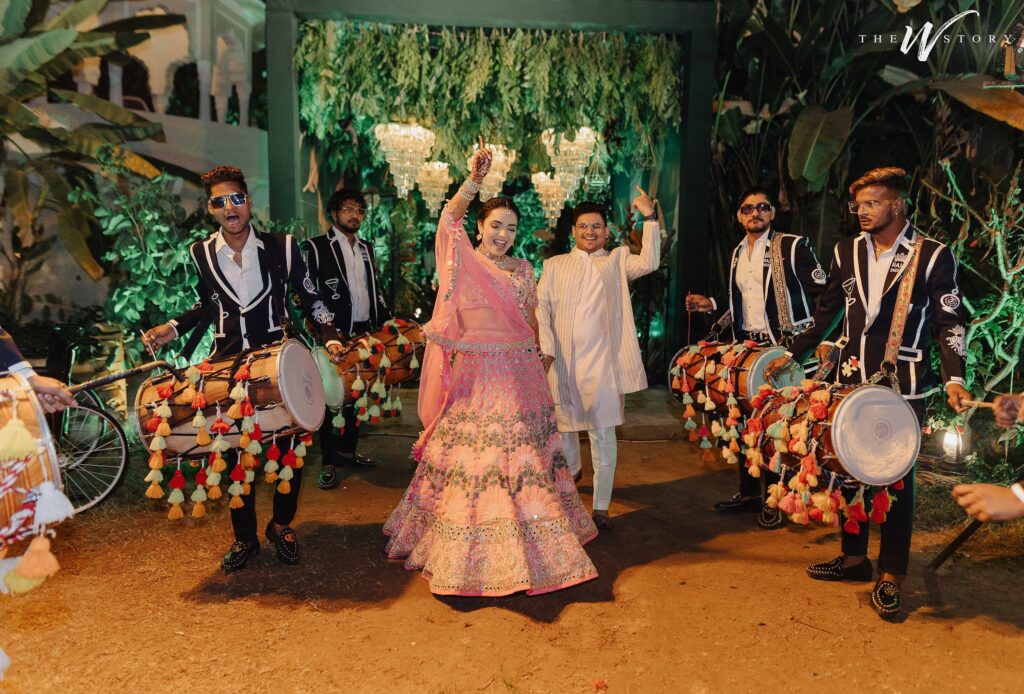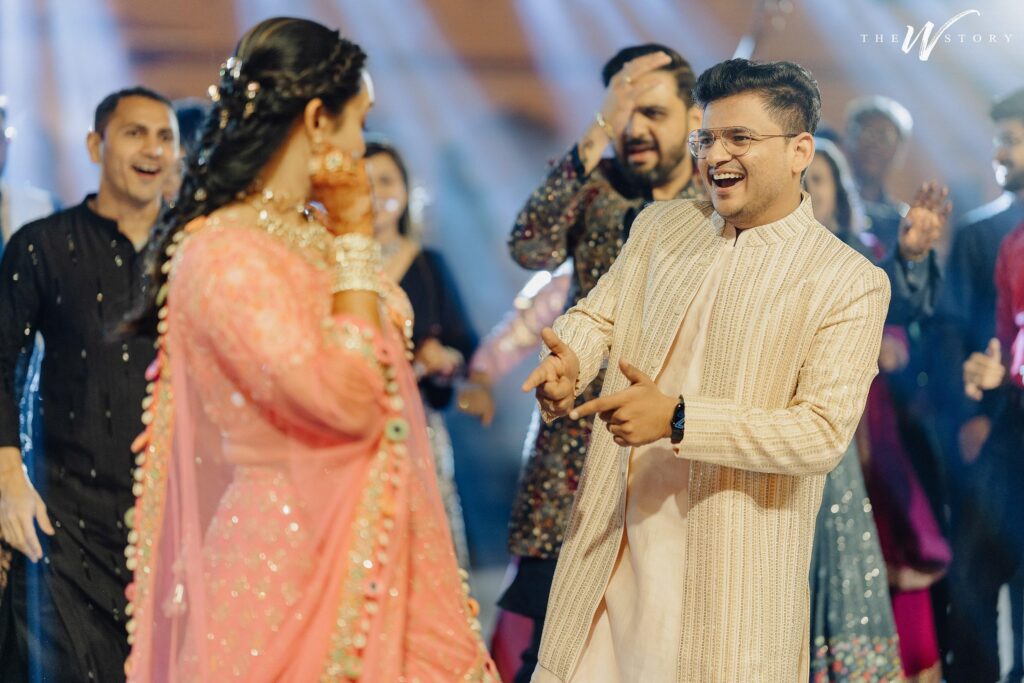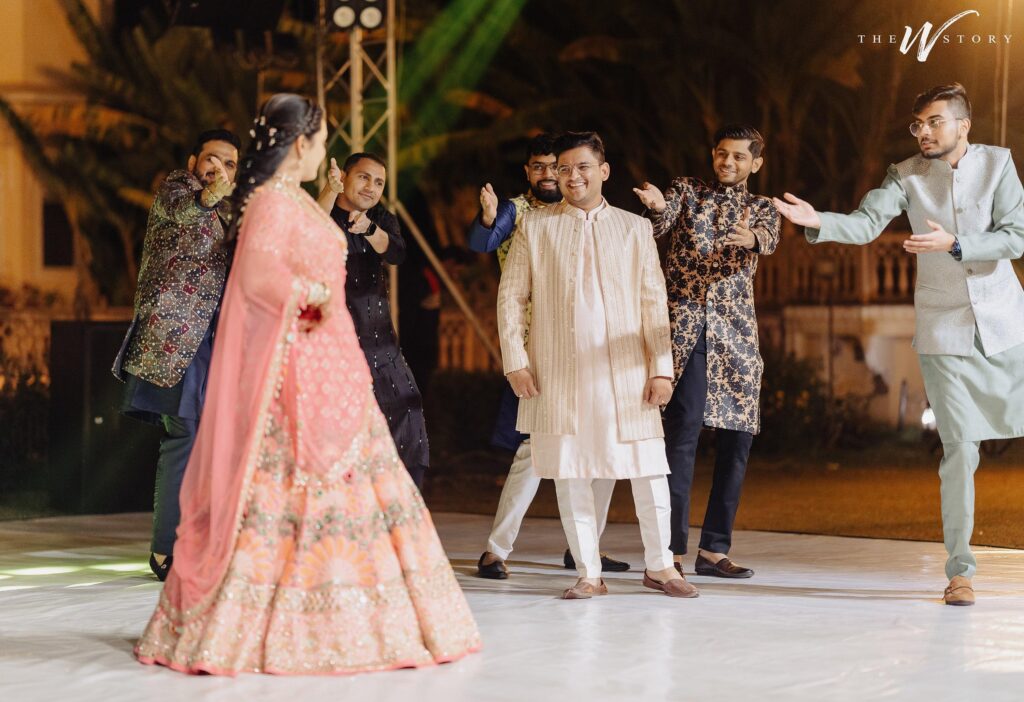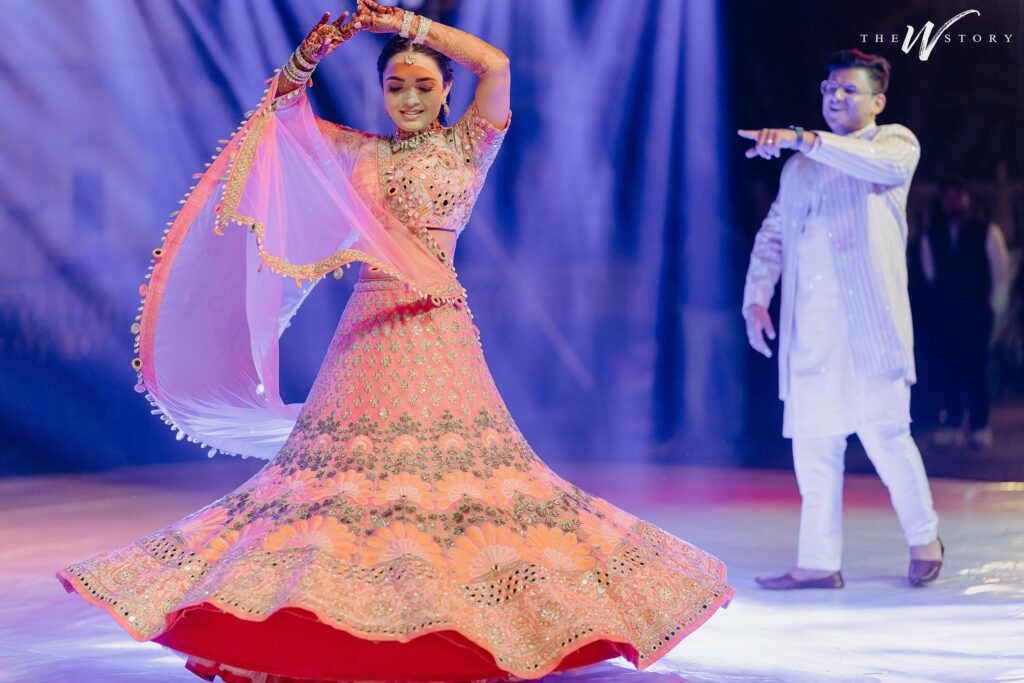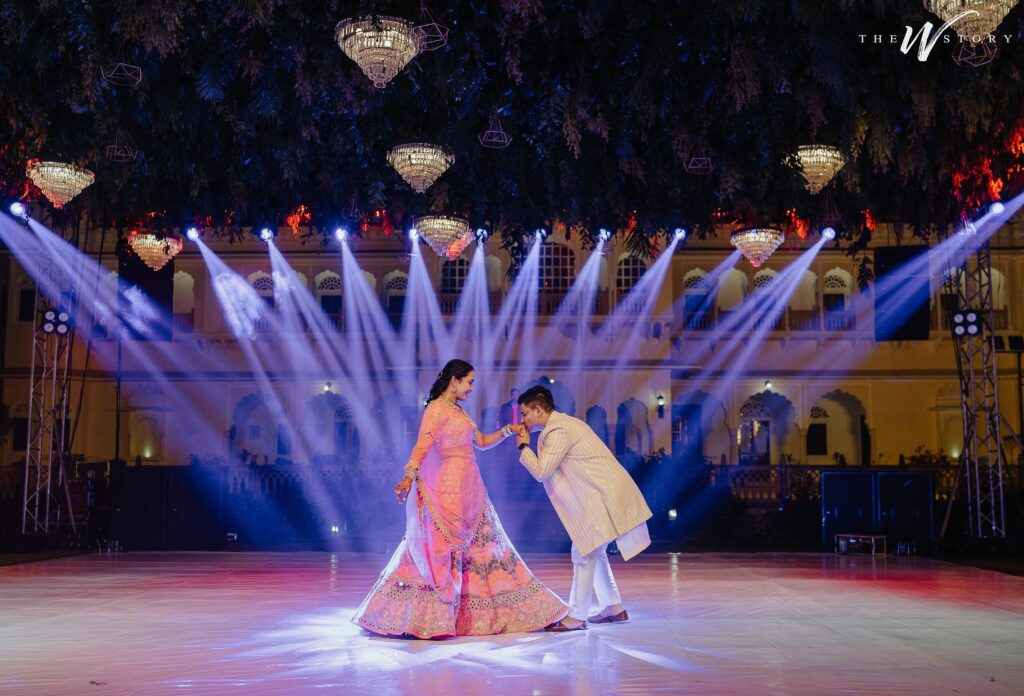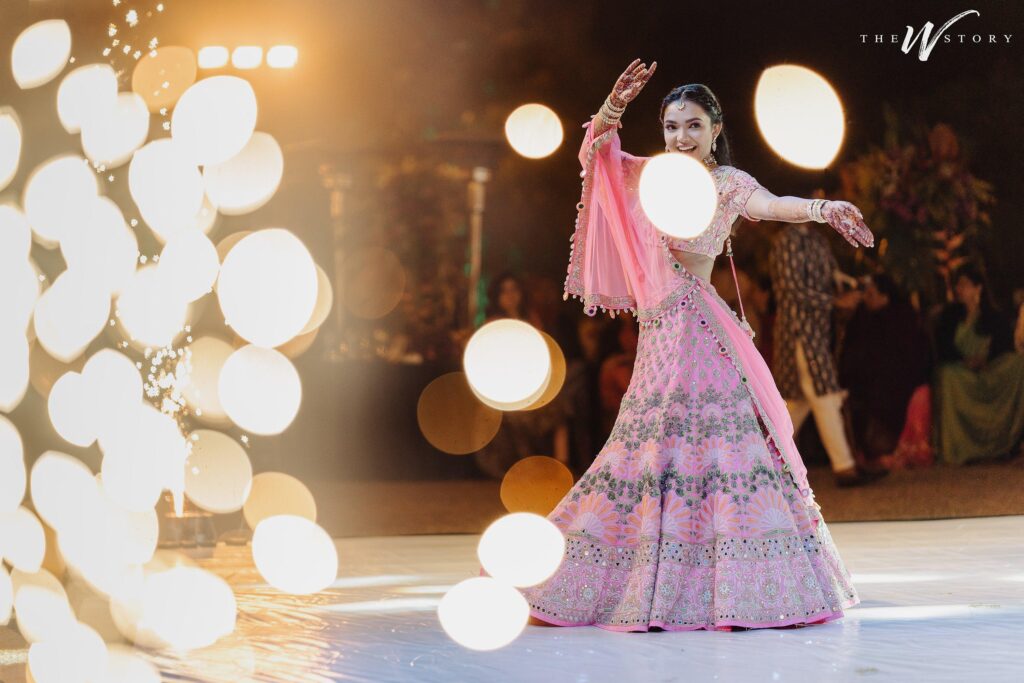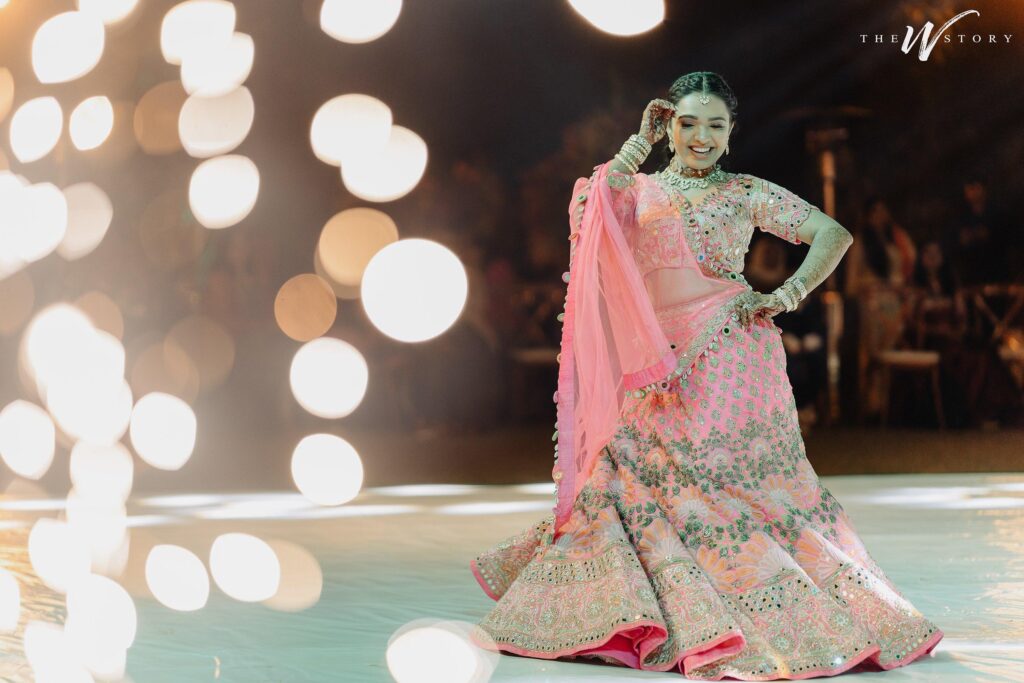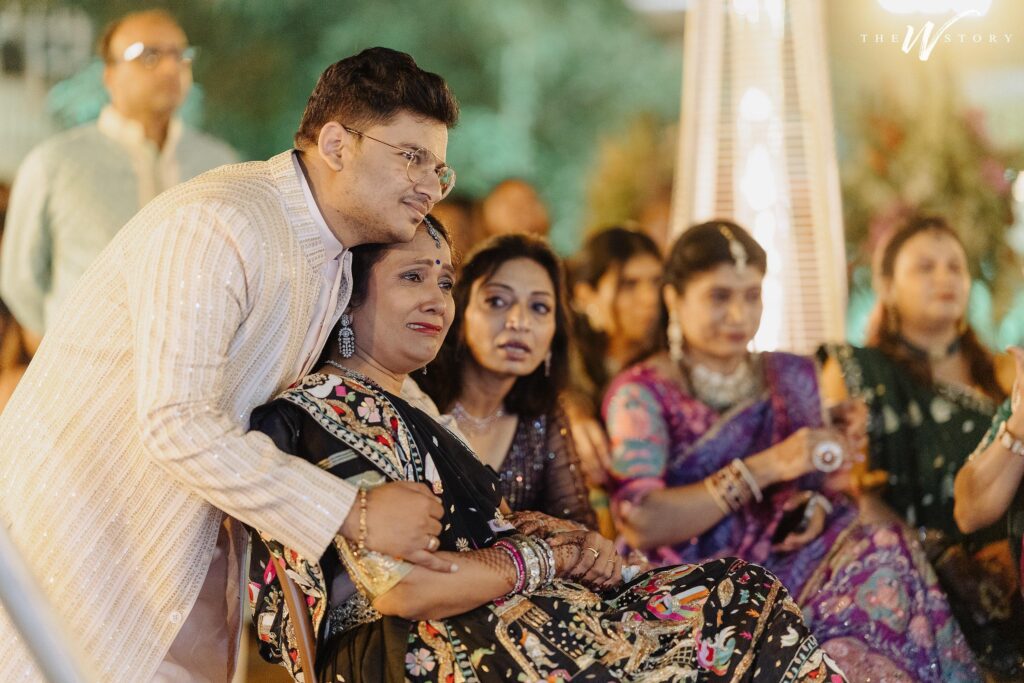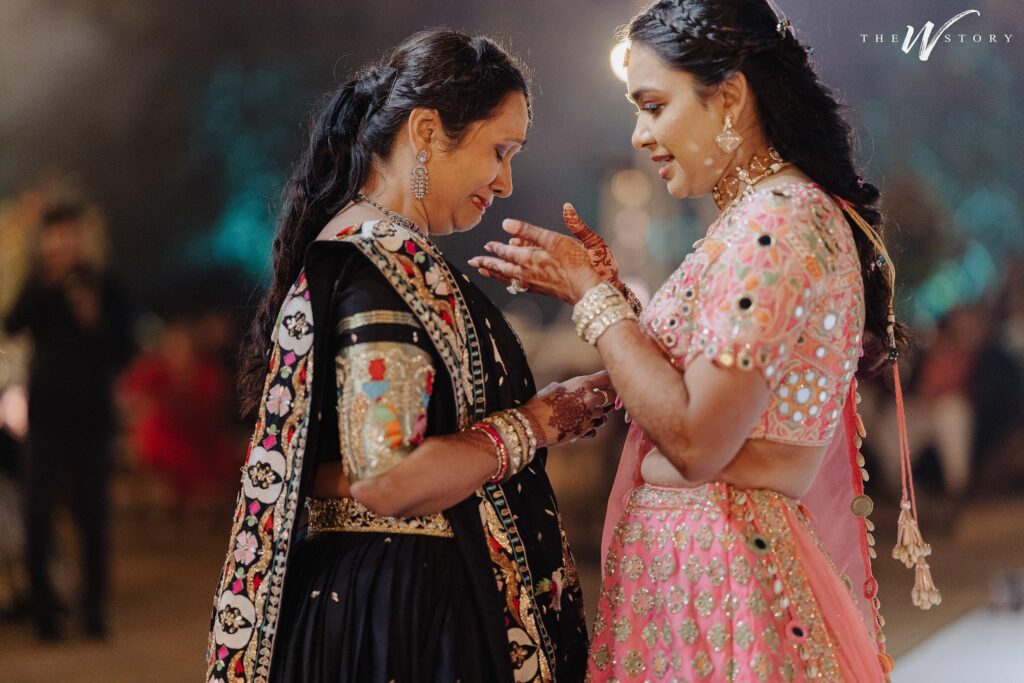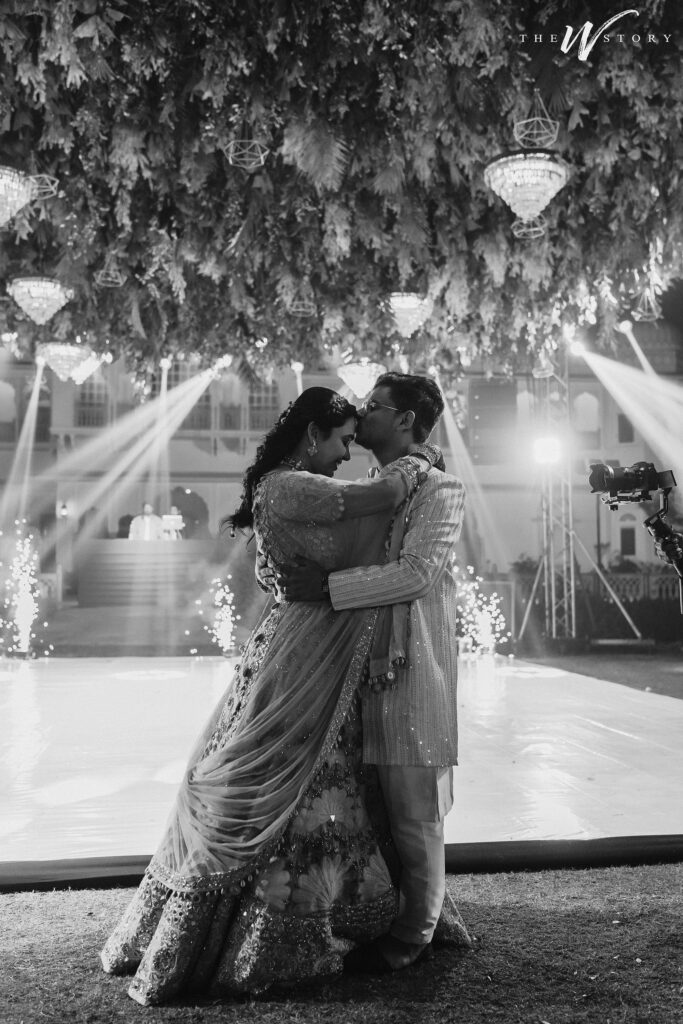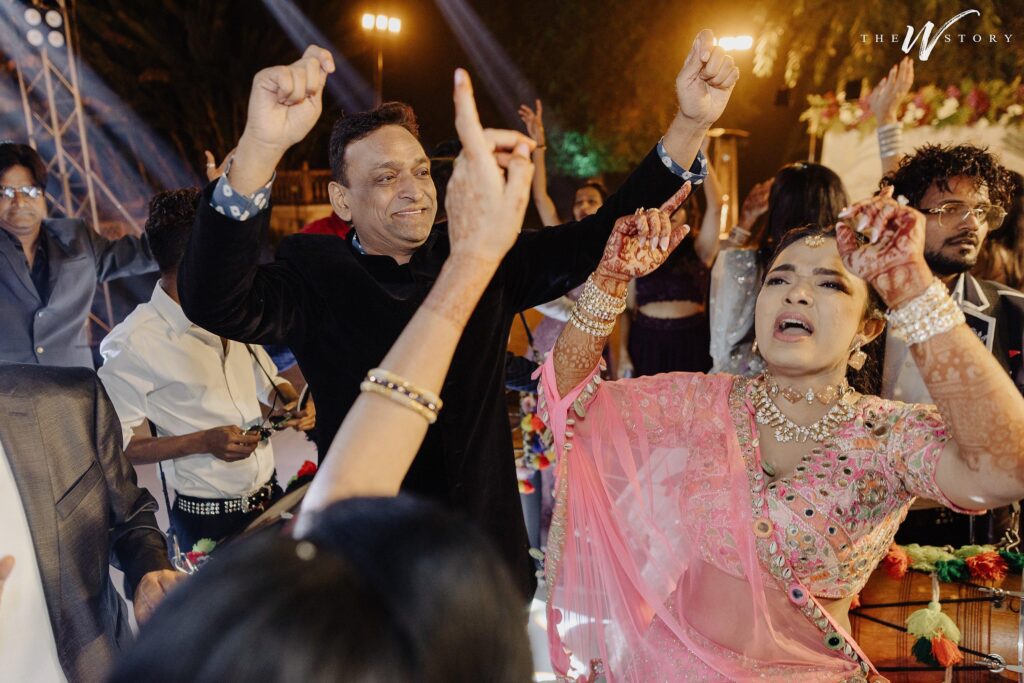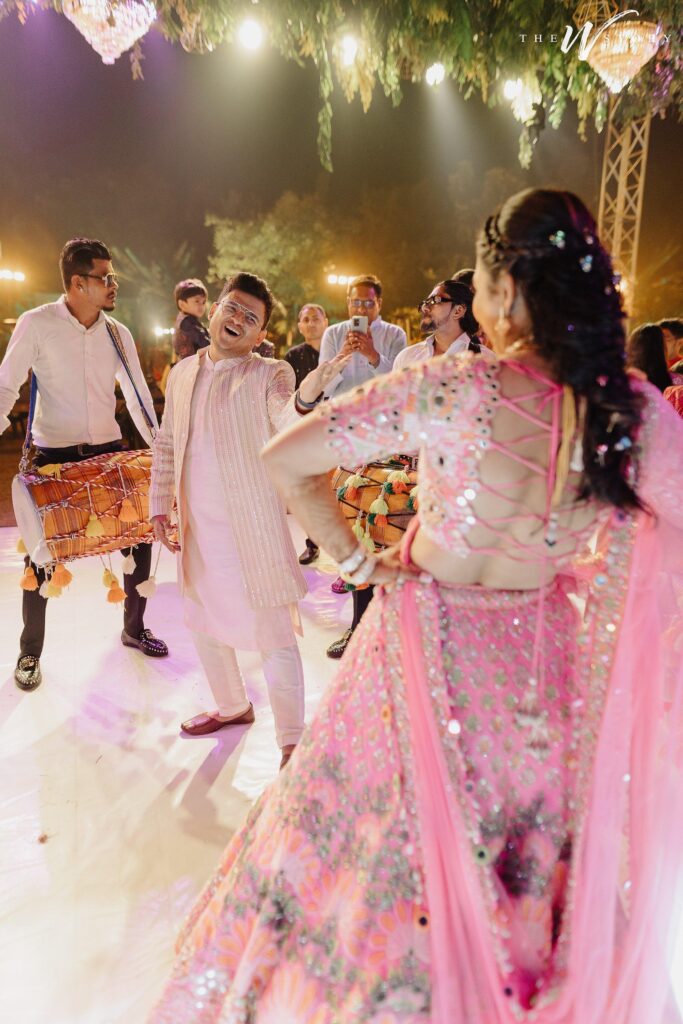 Haldi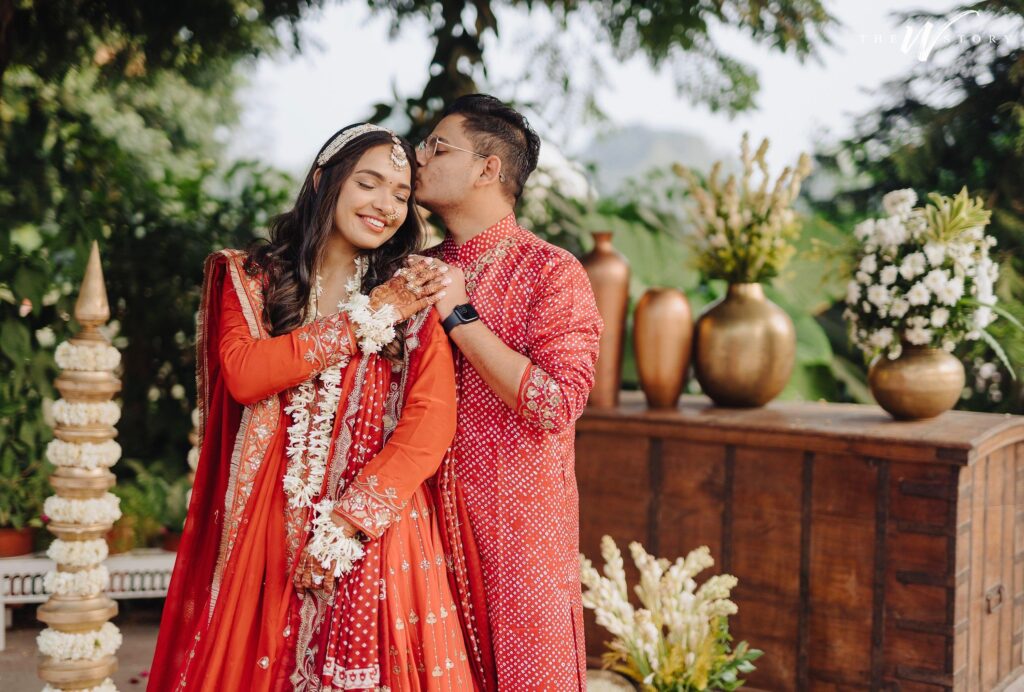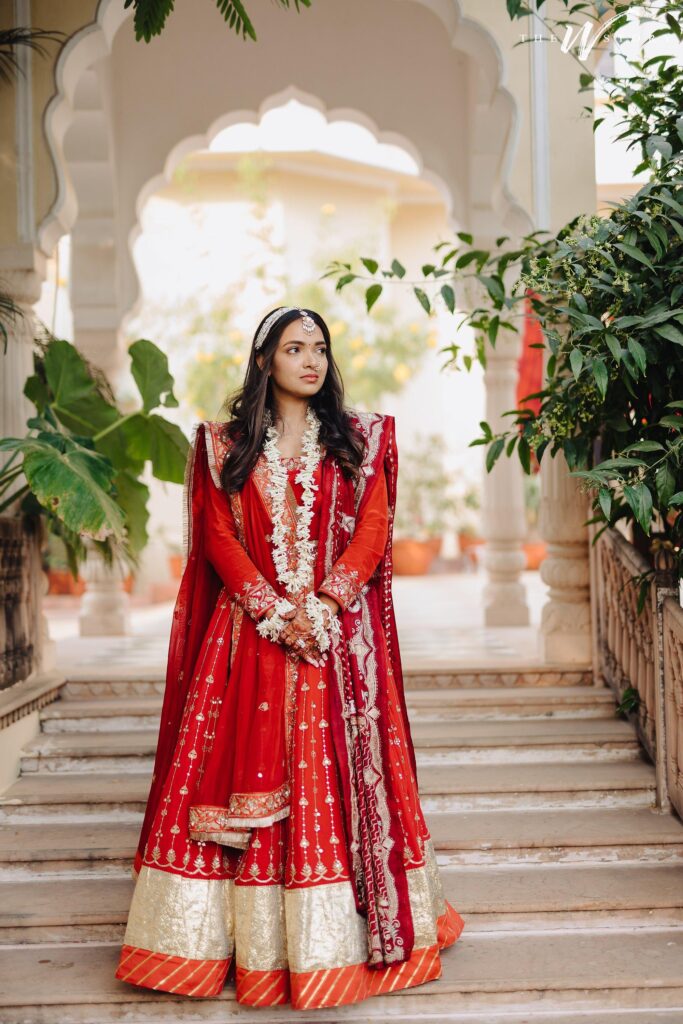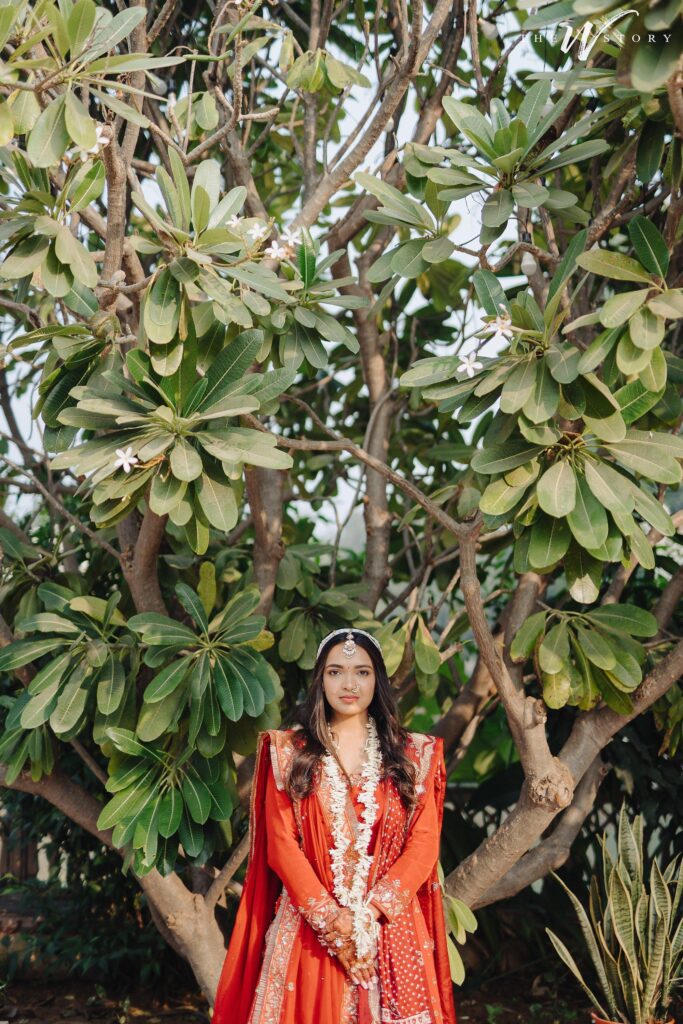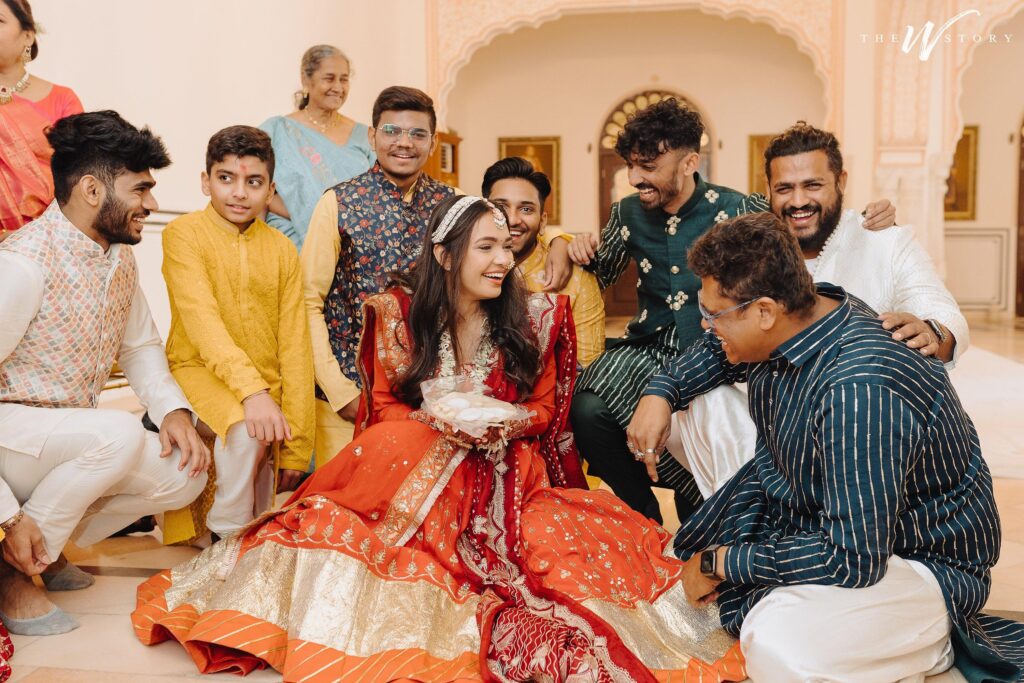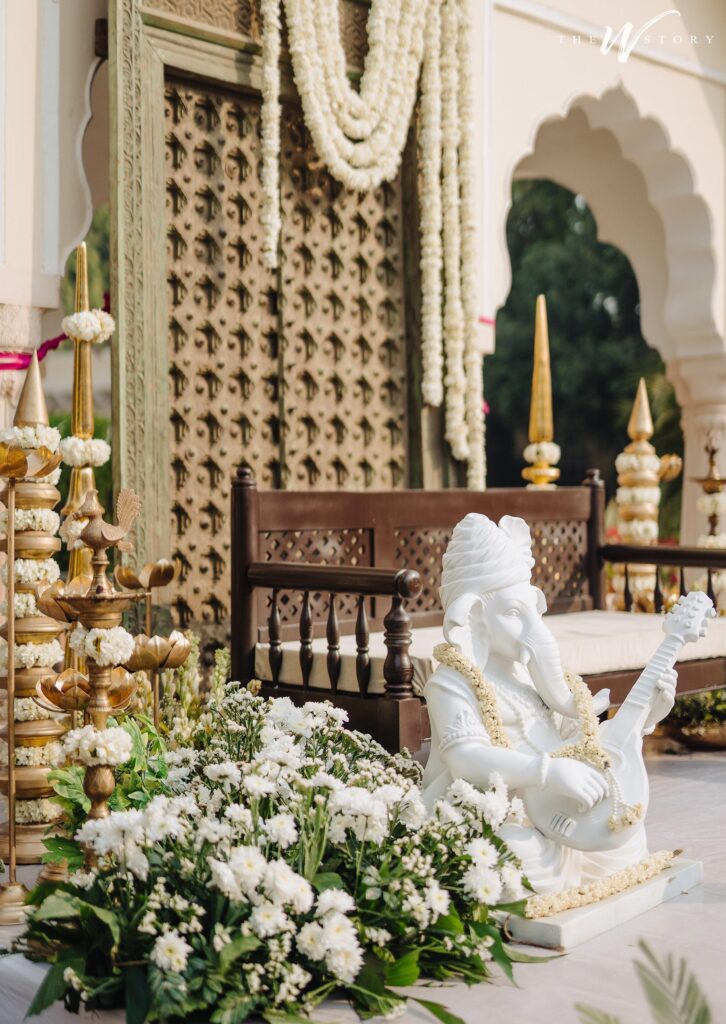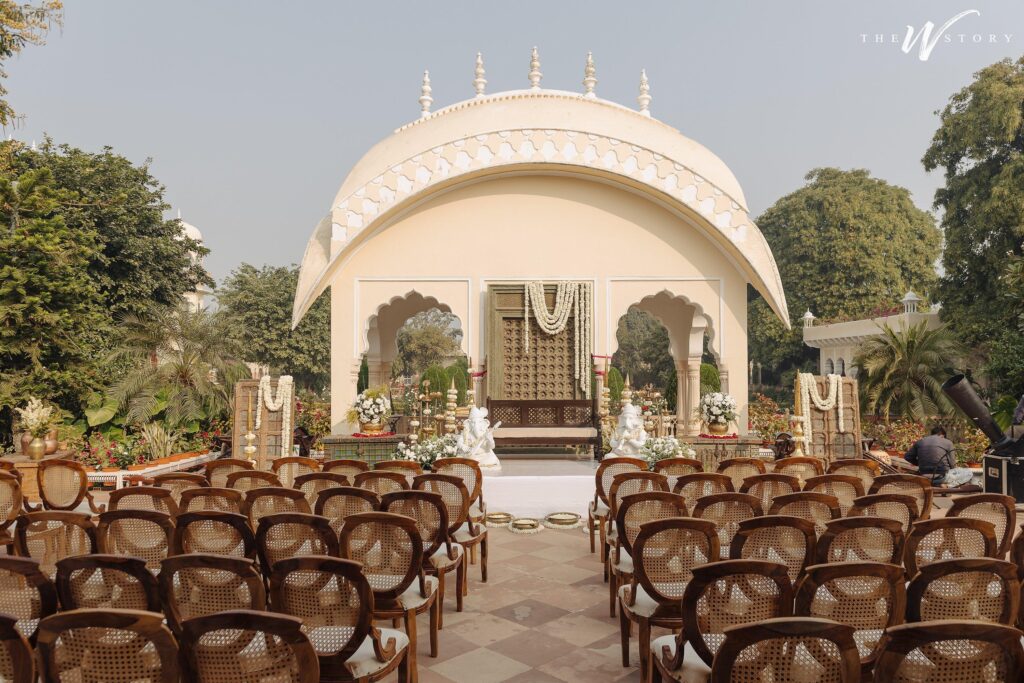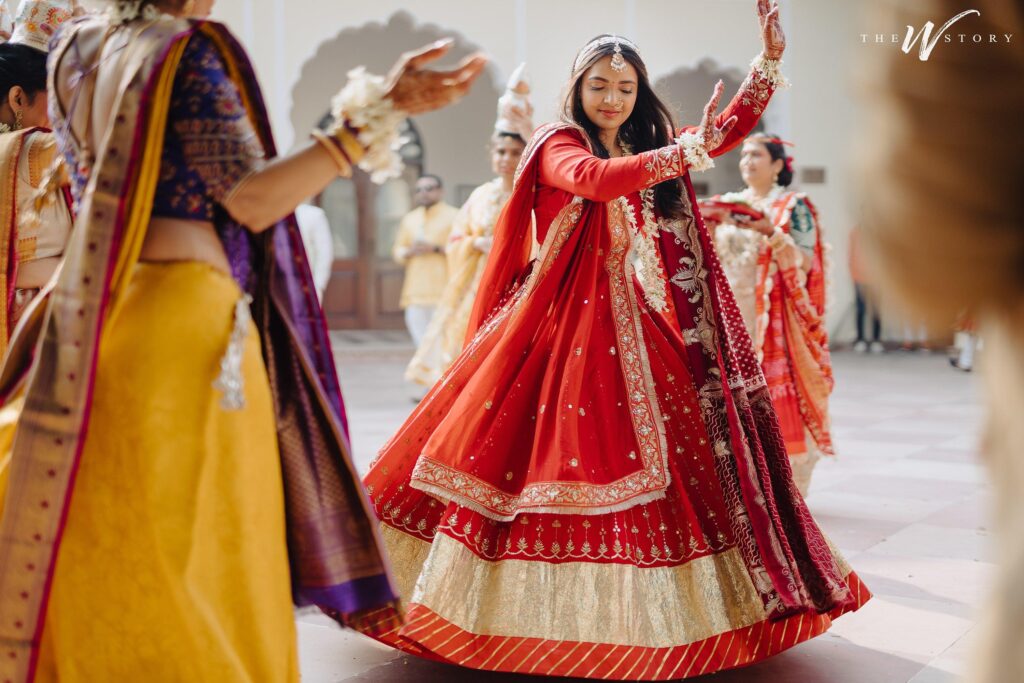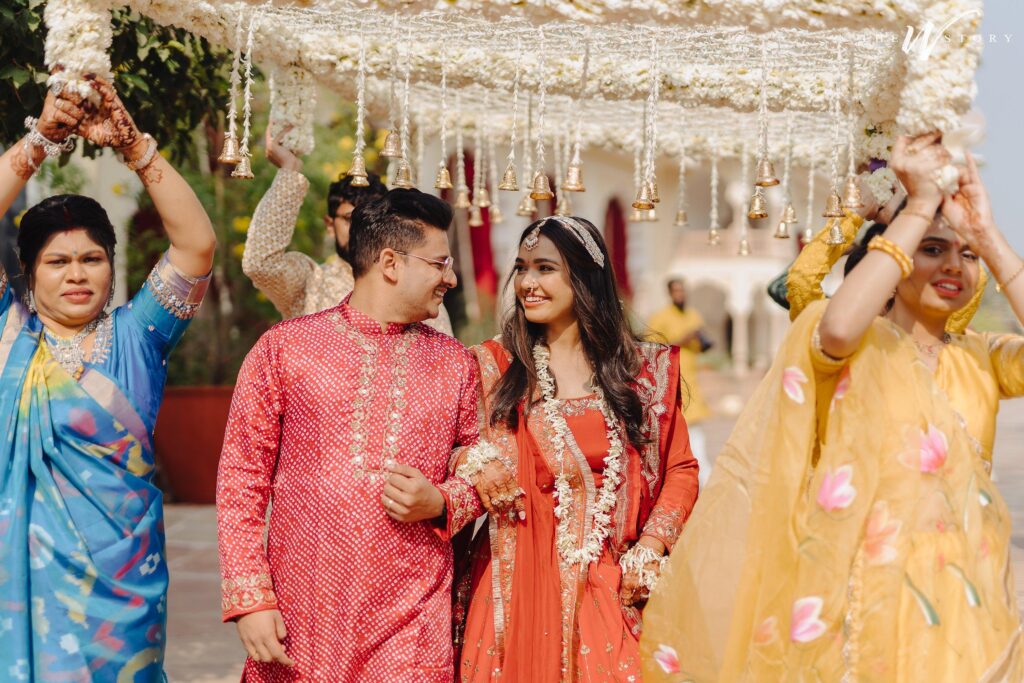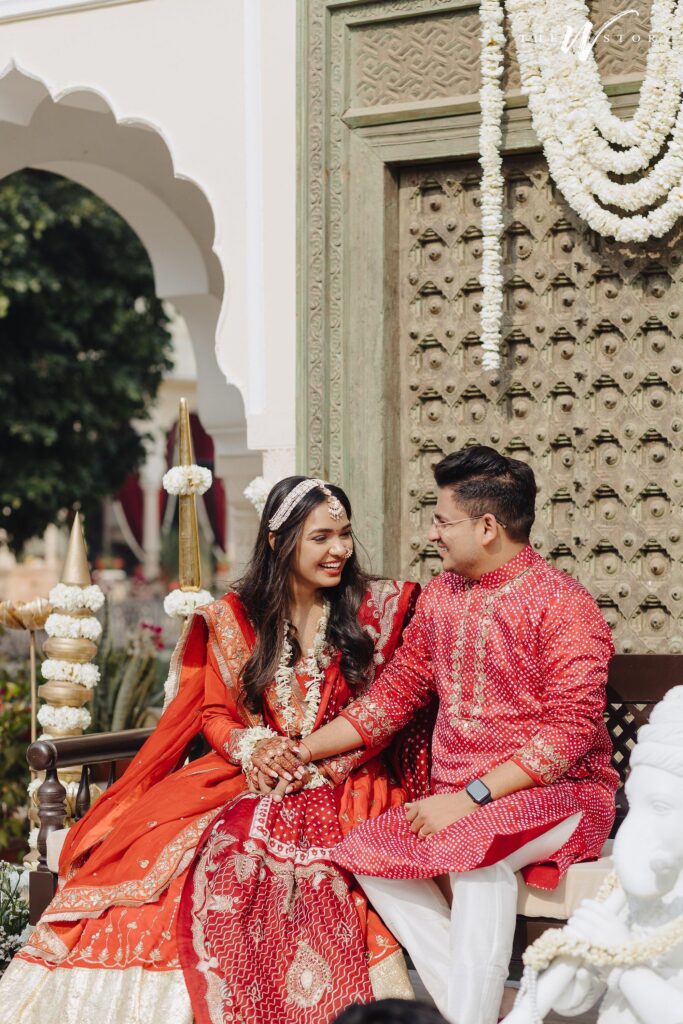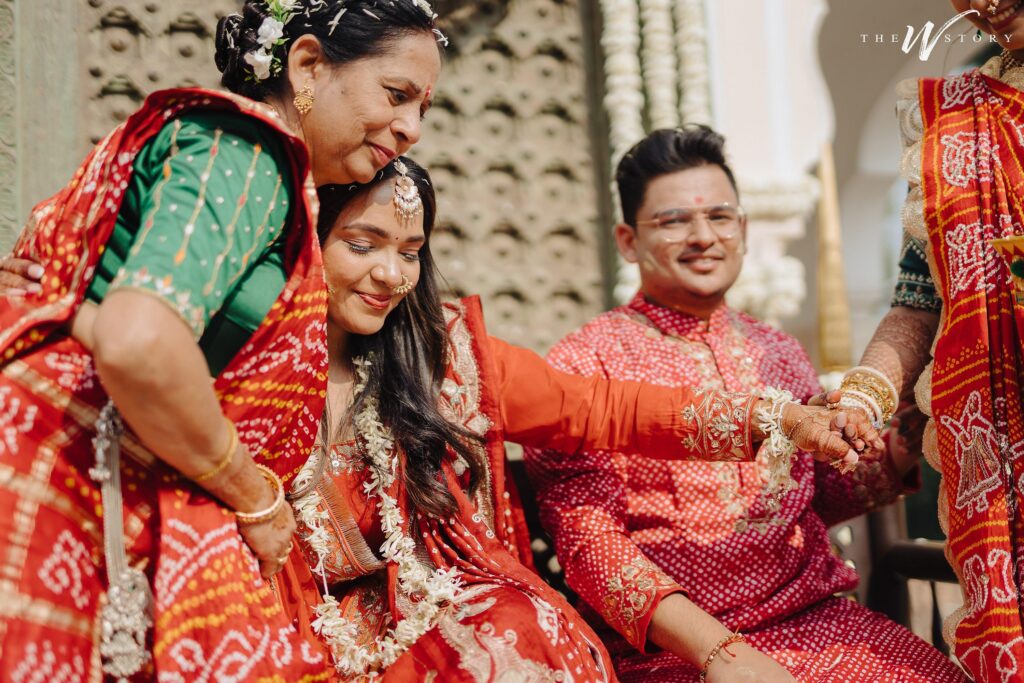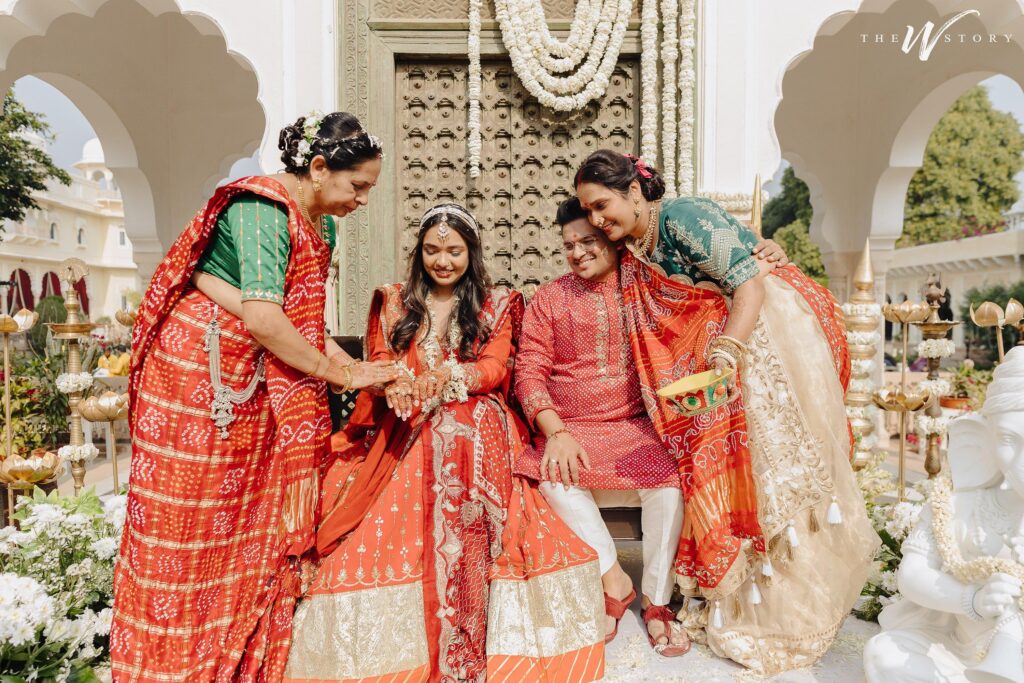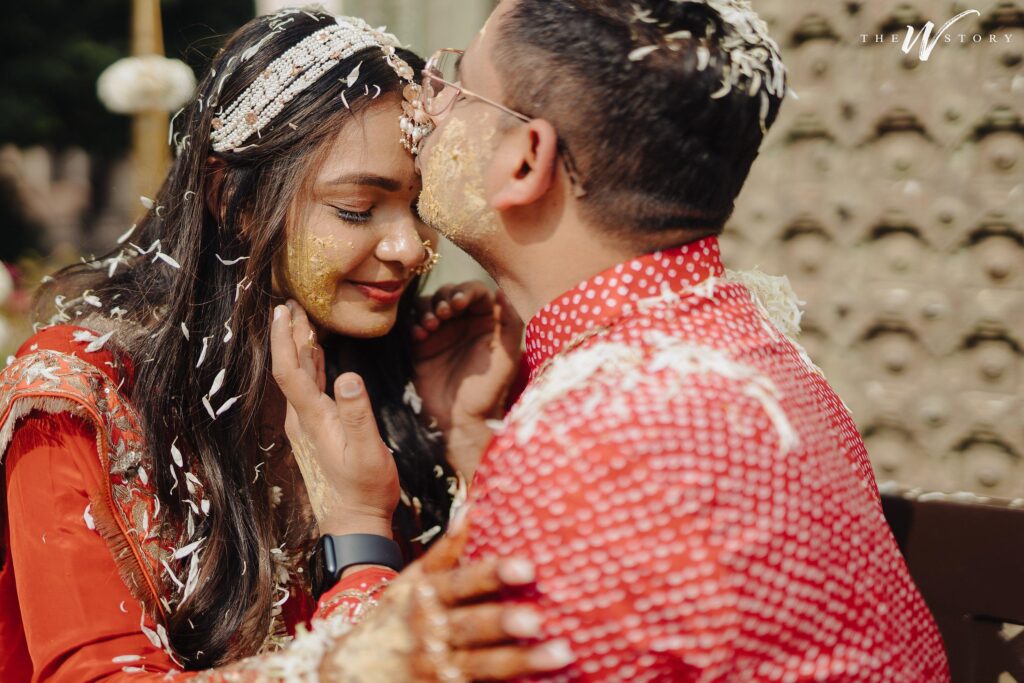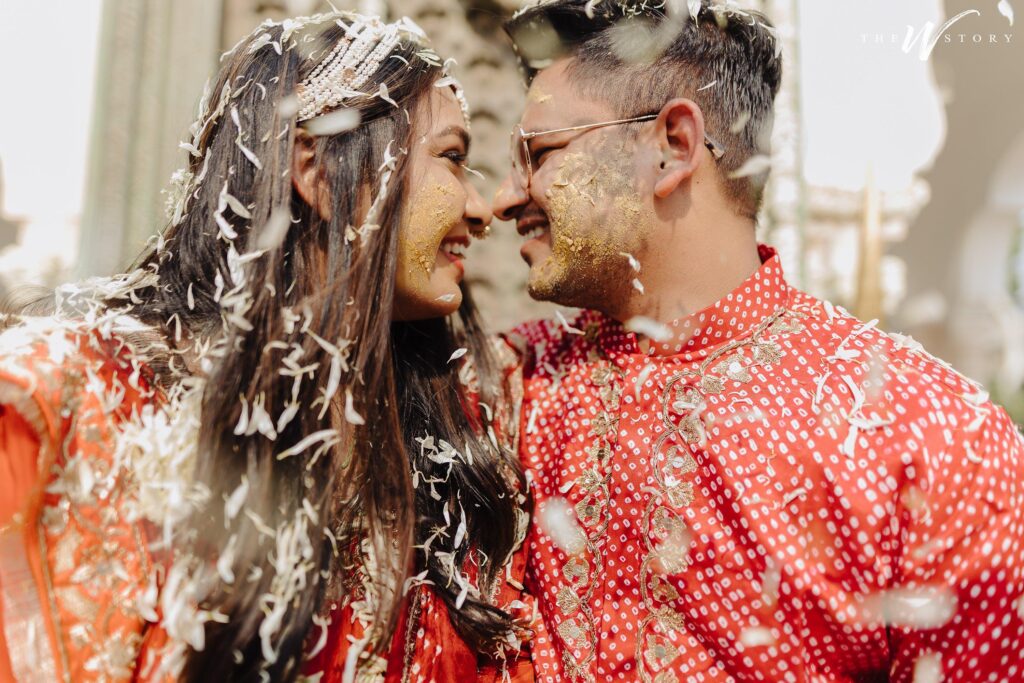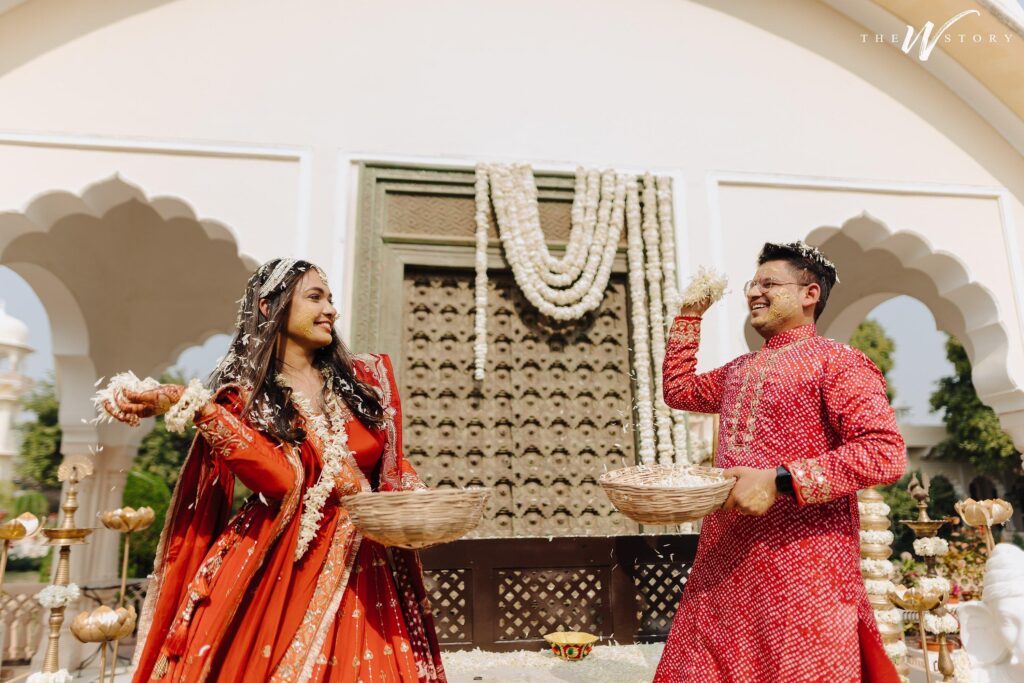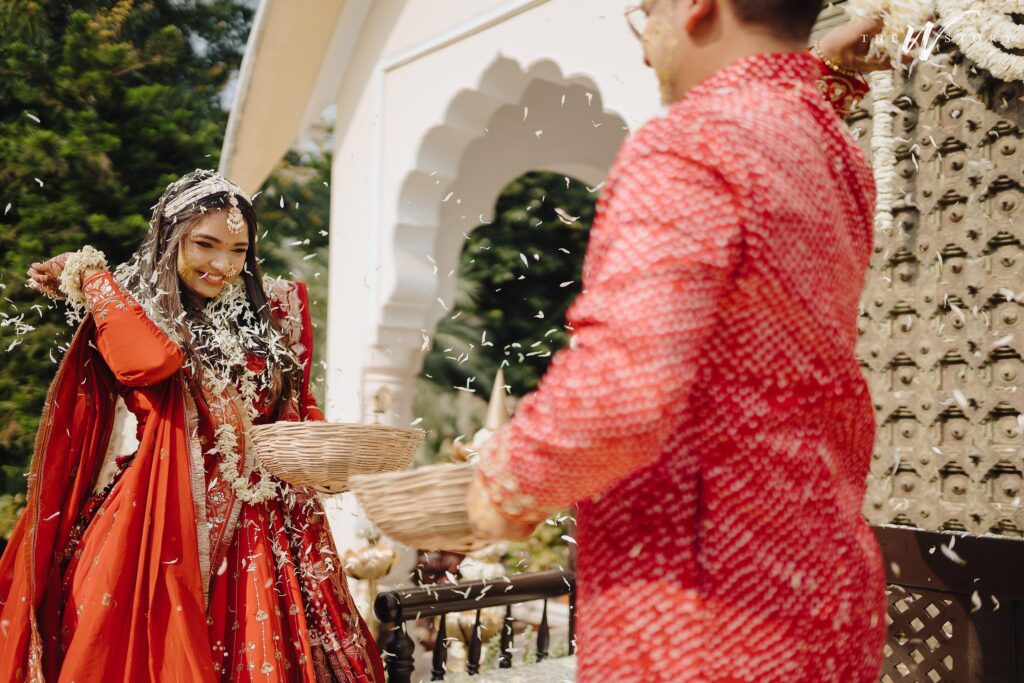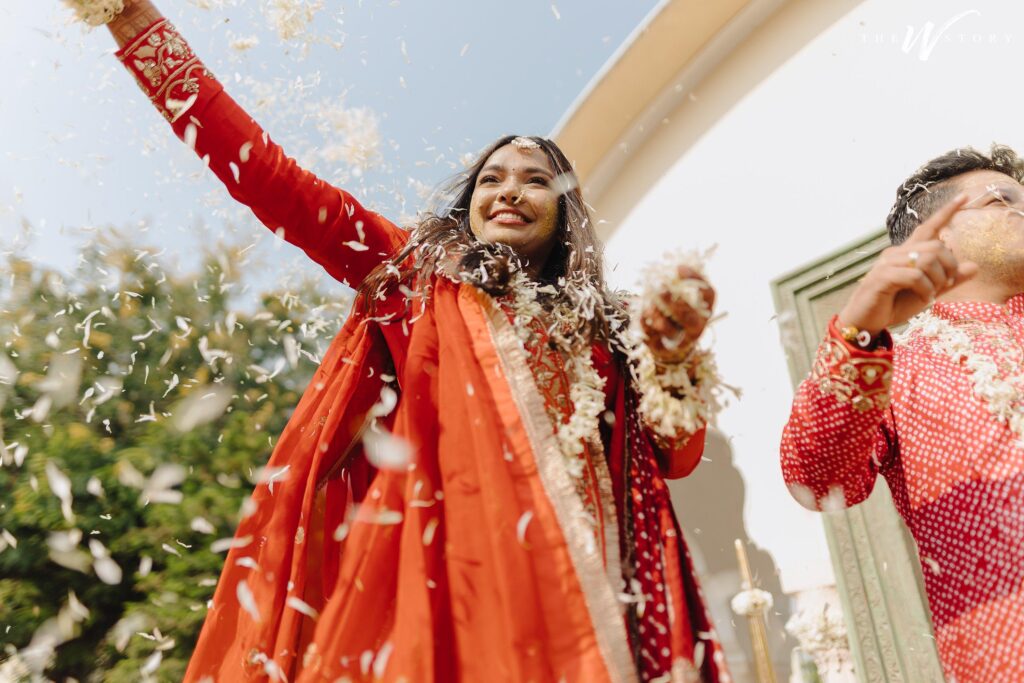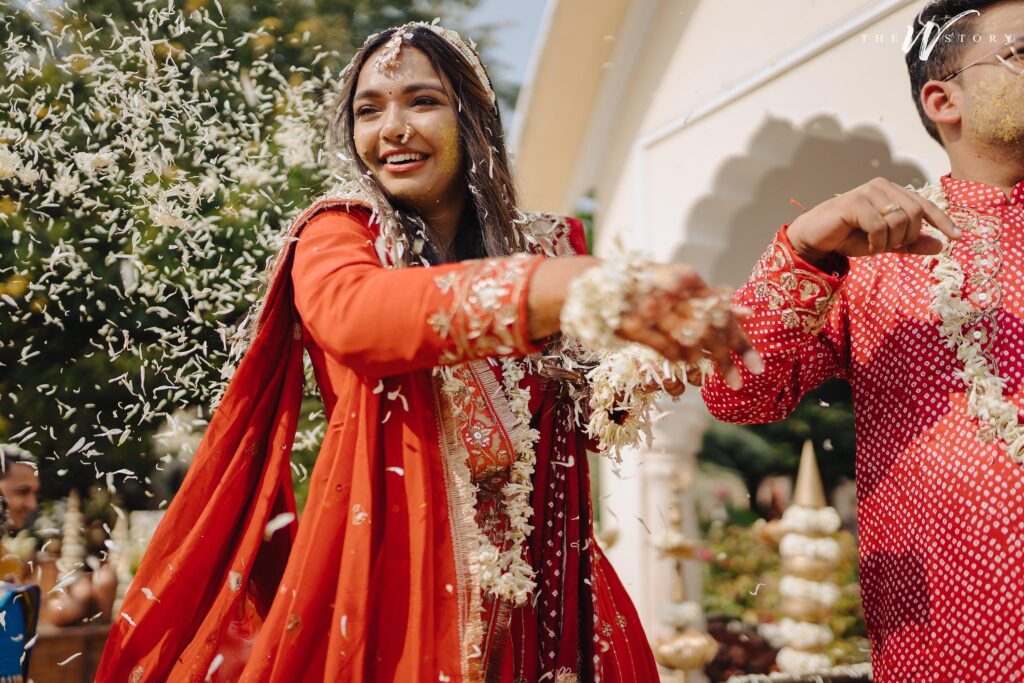 Wedding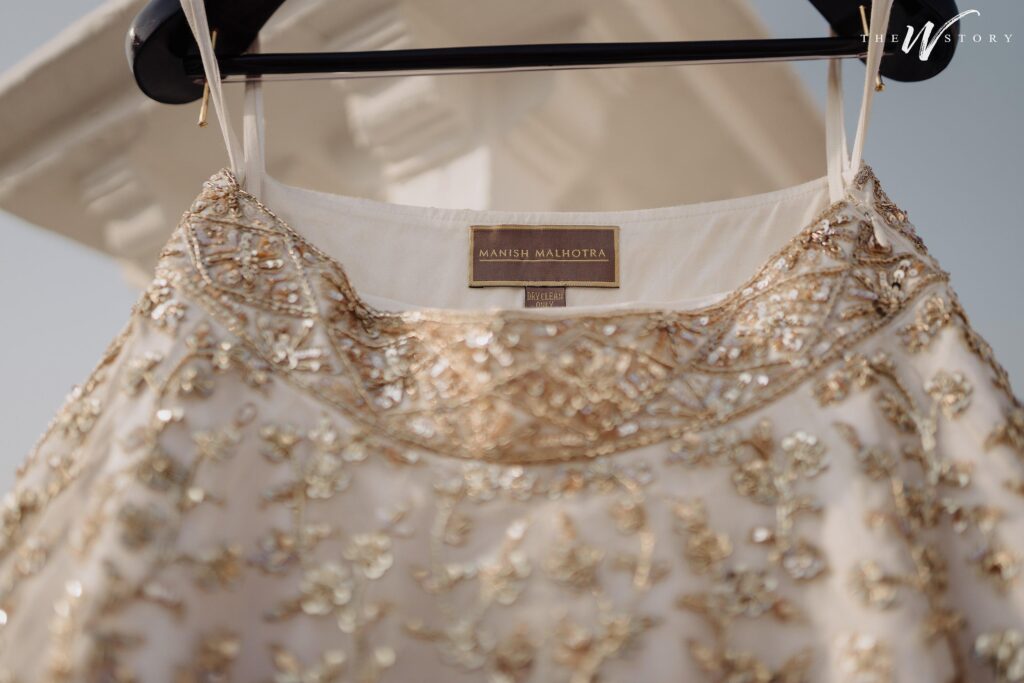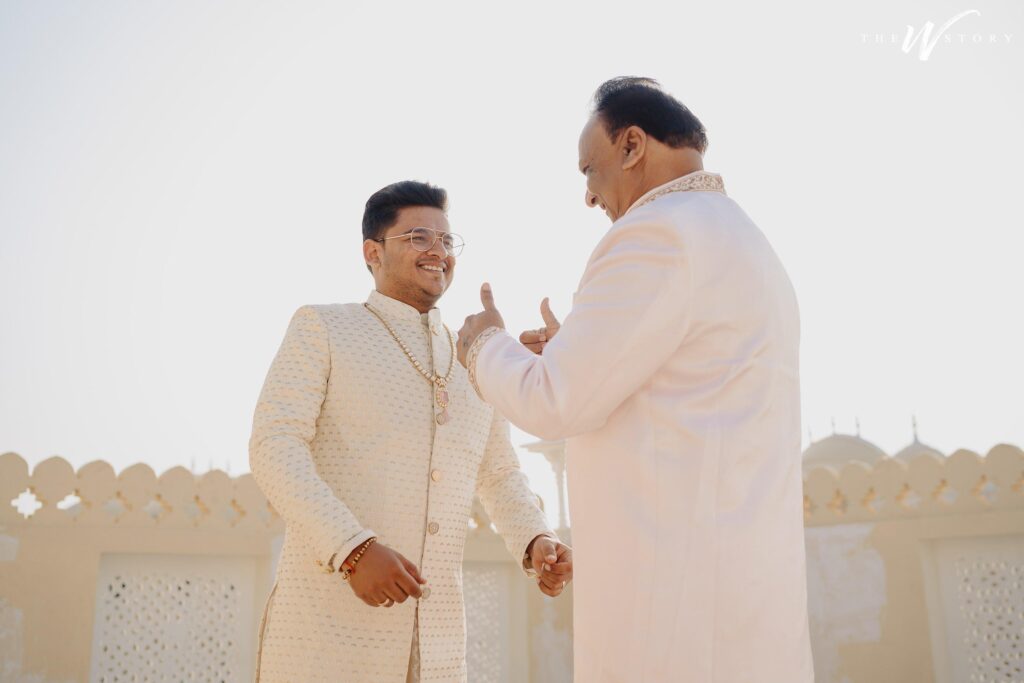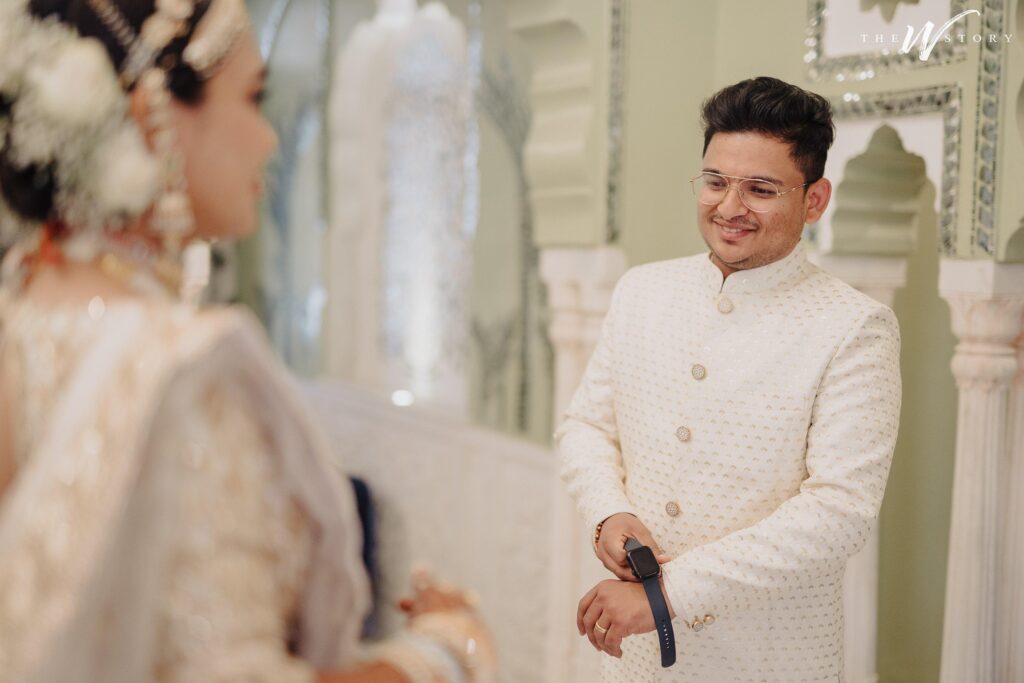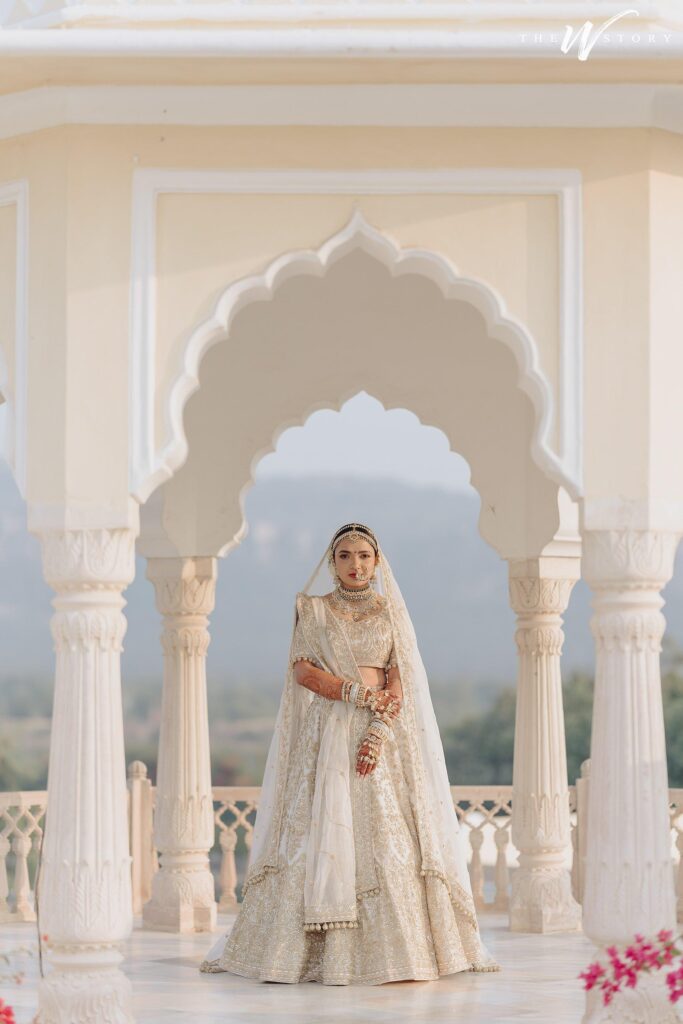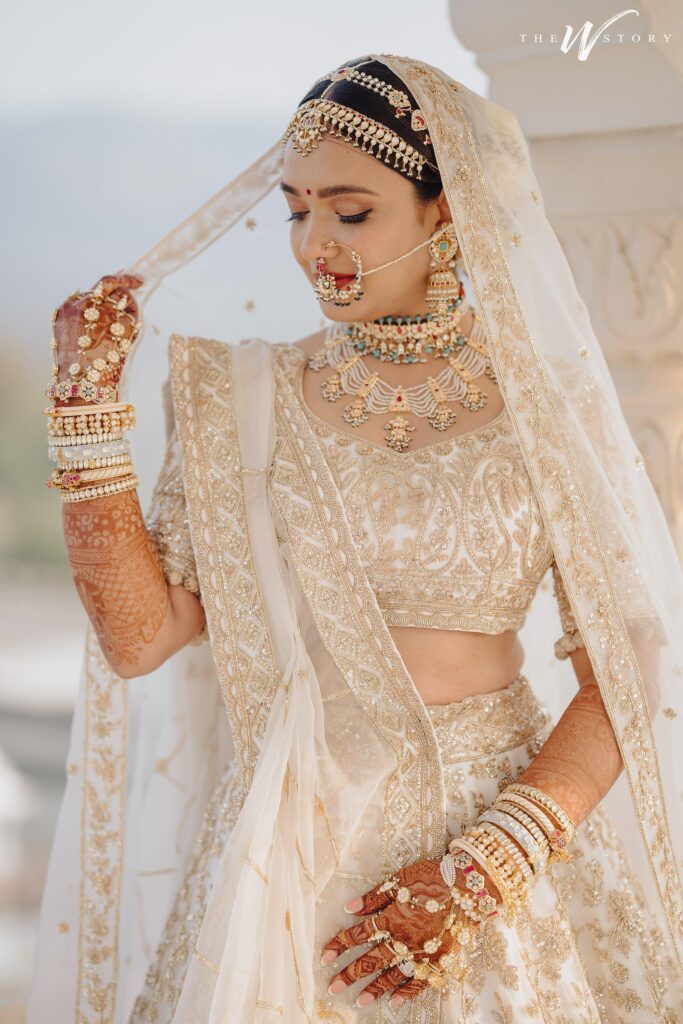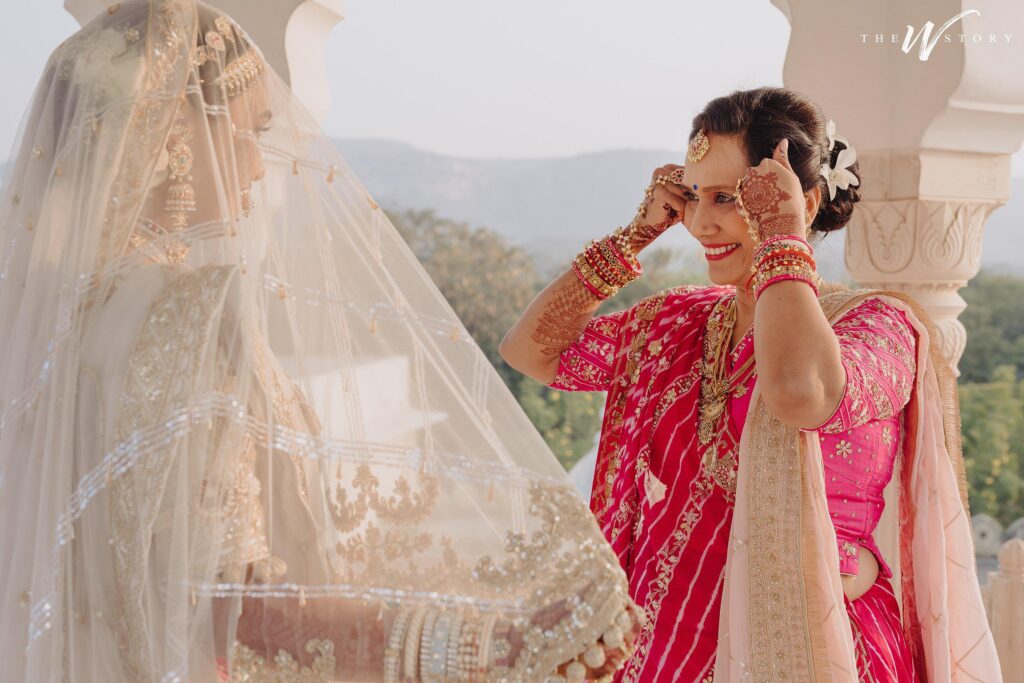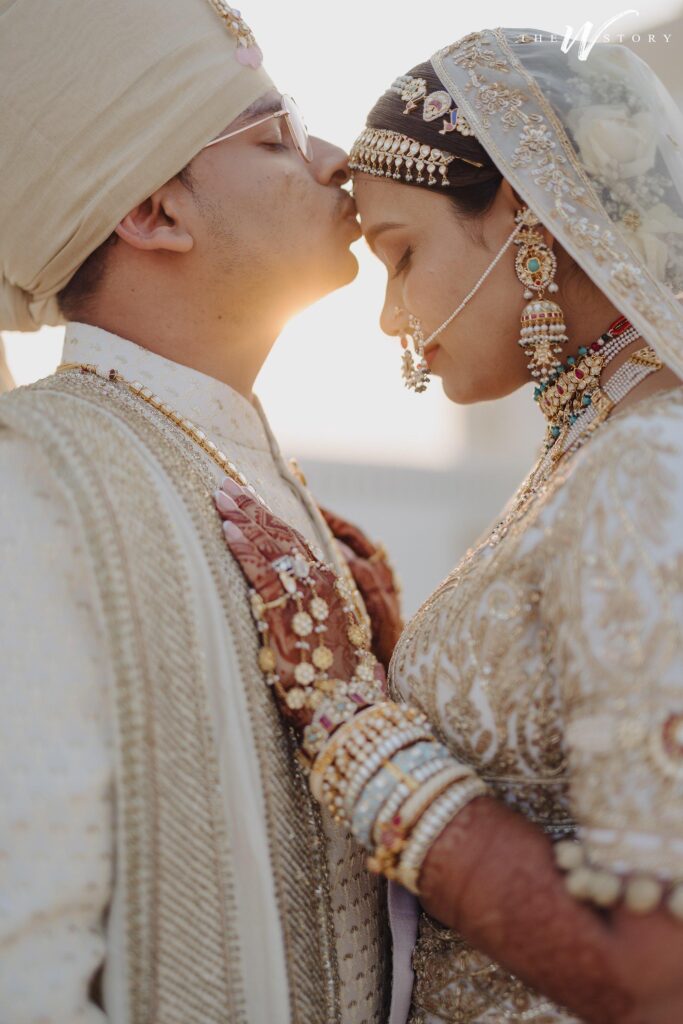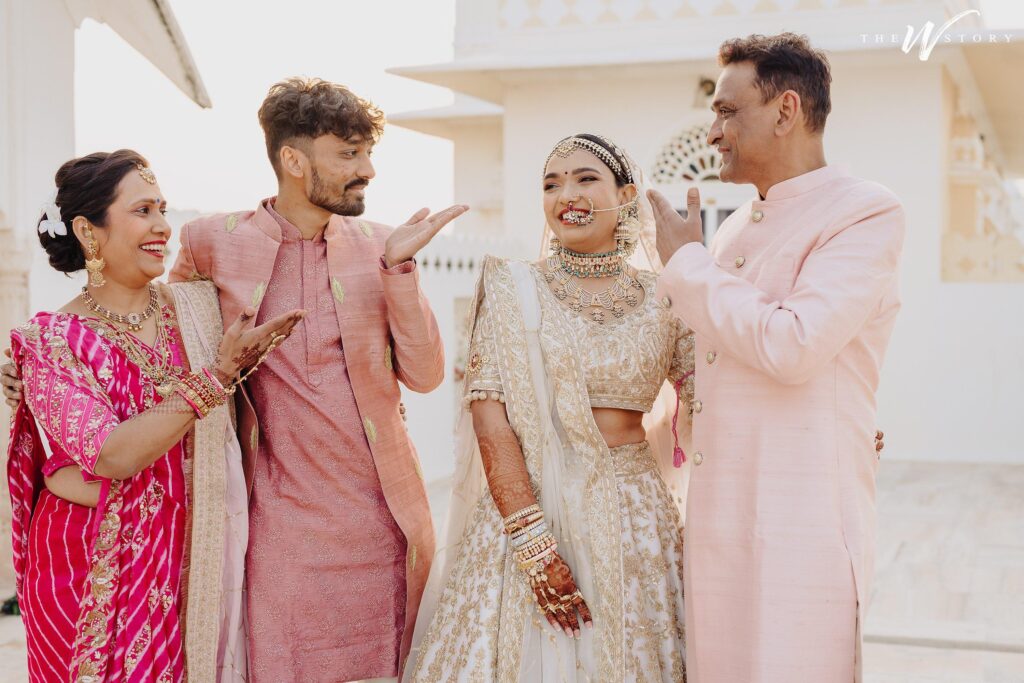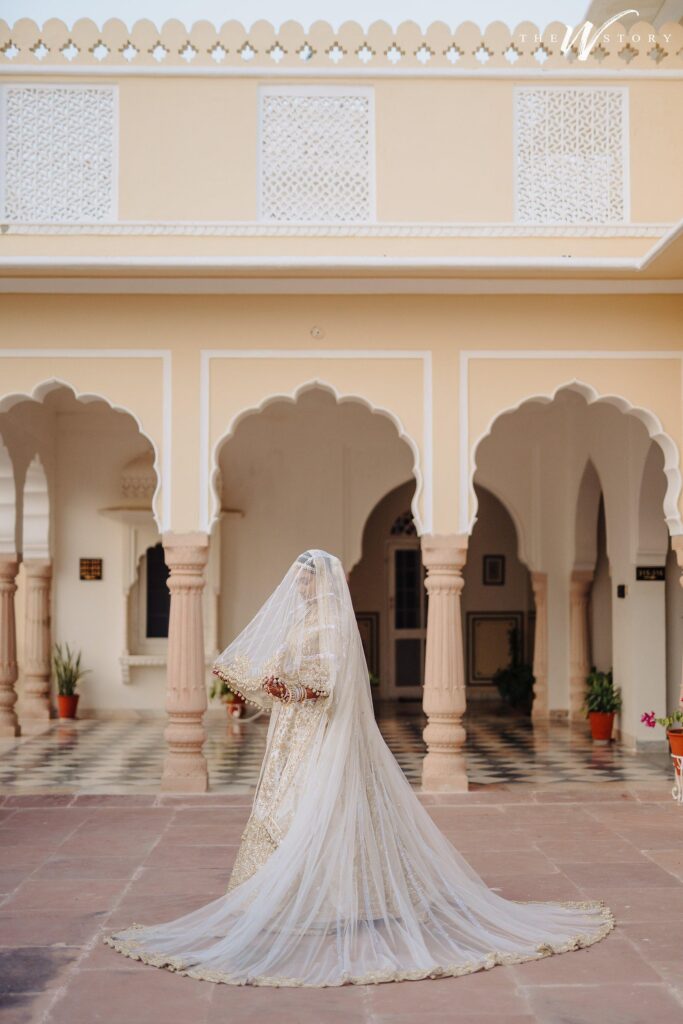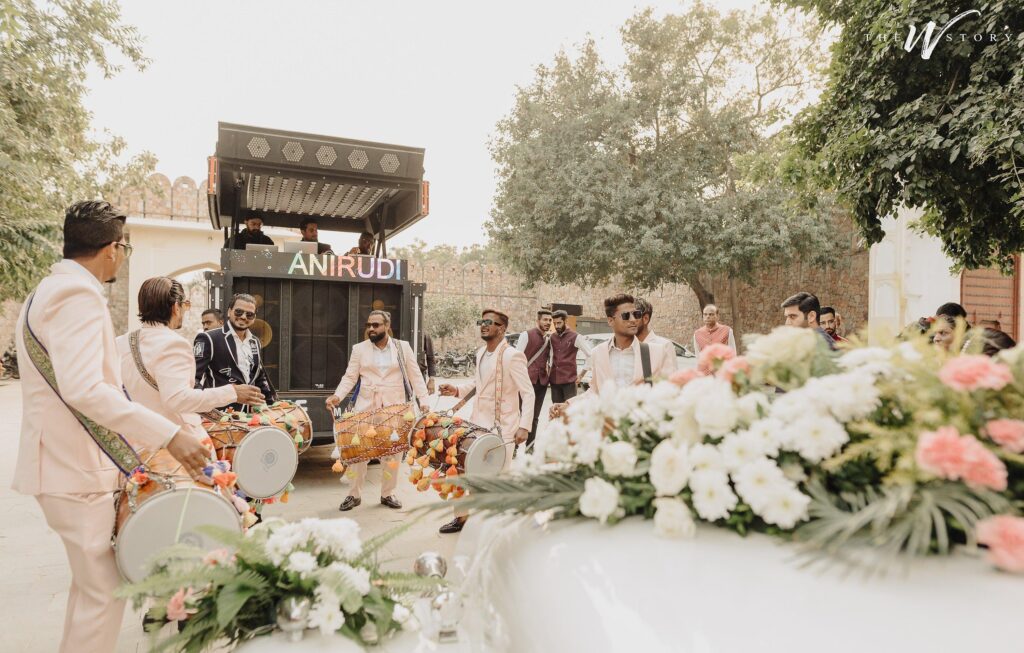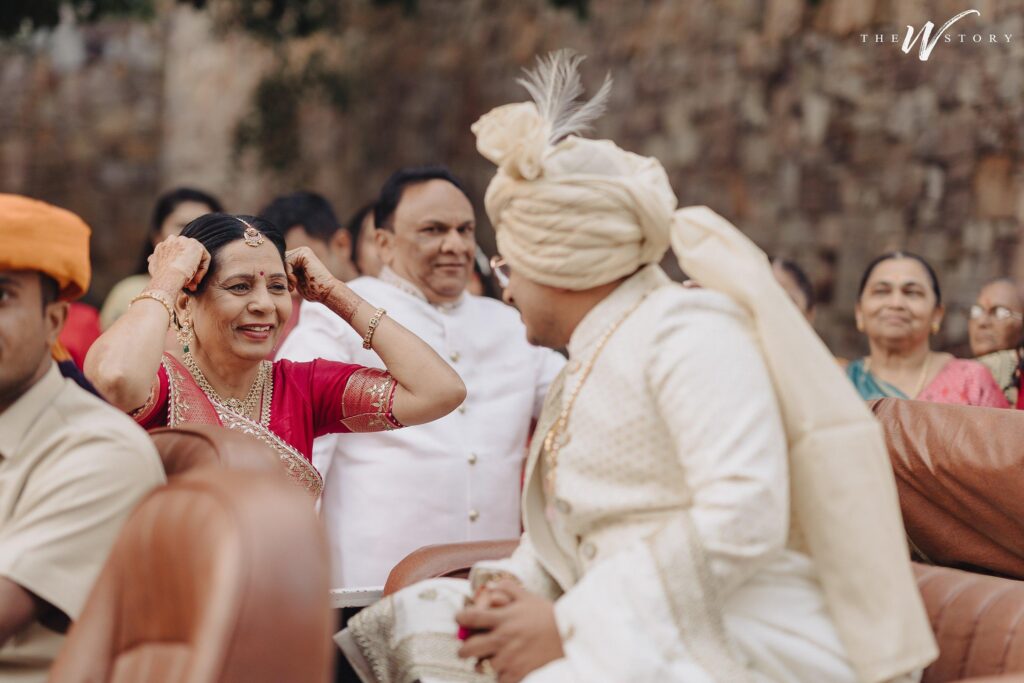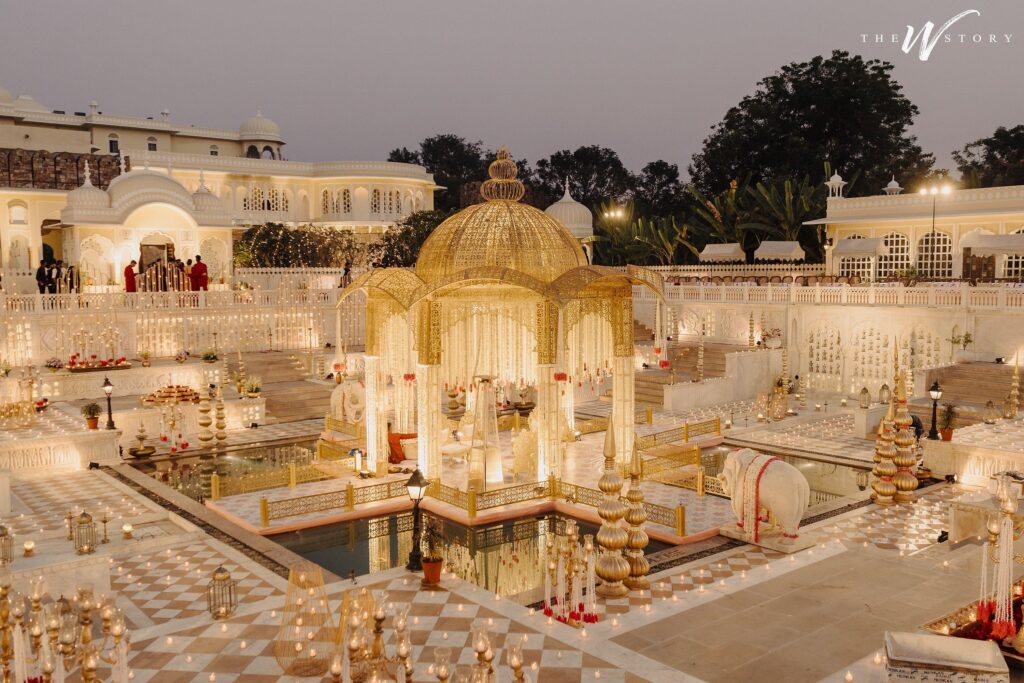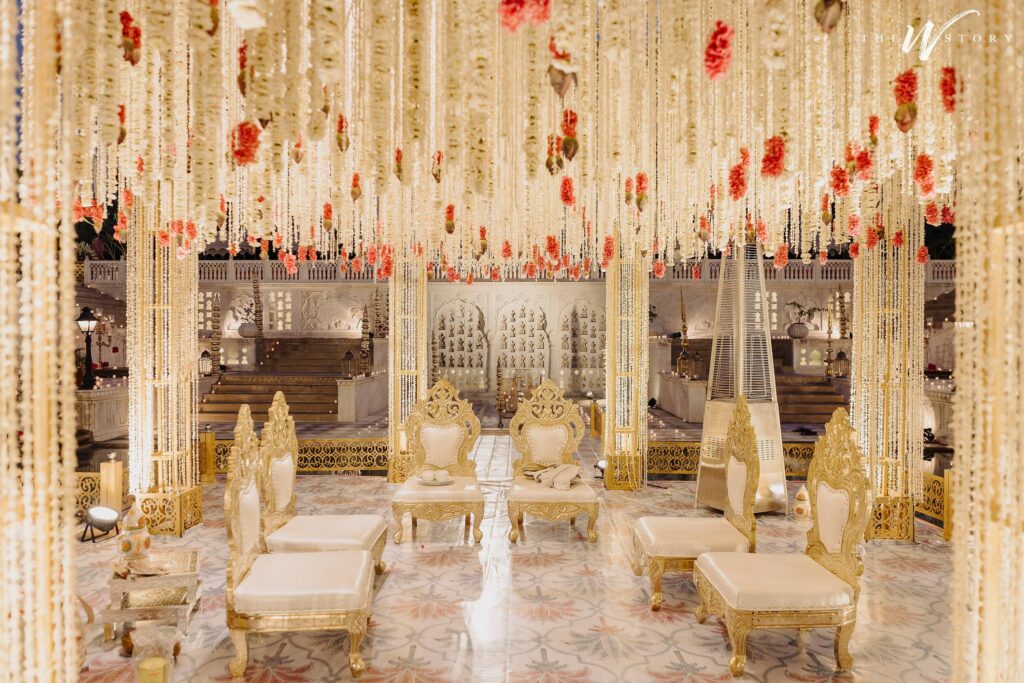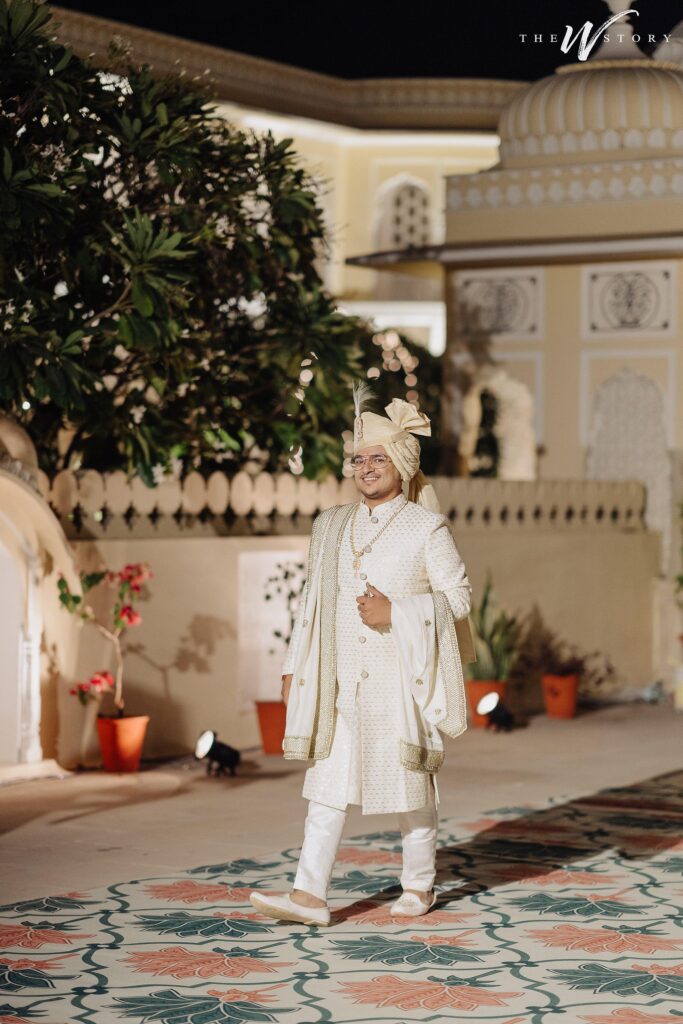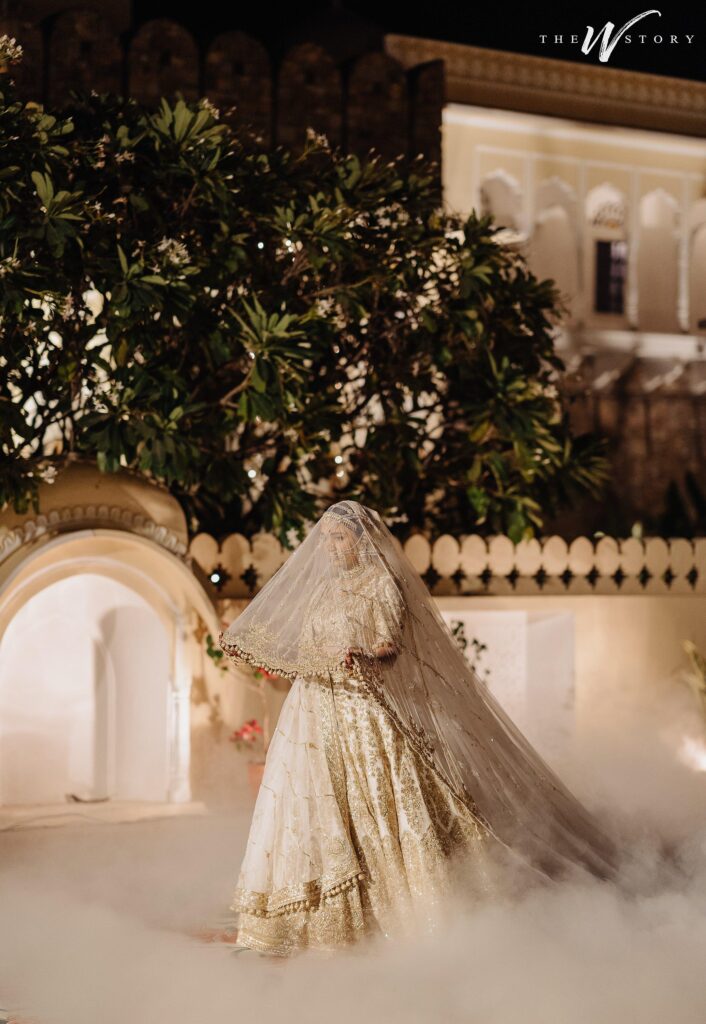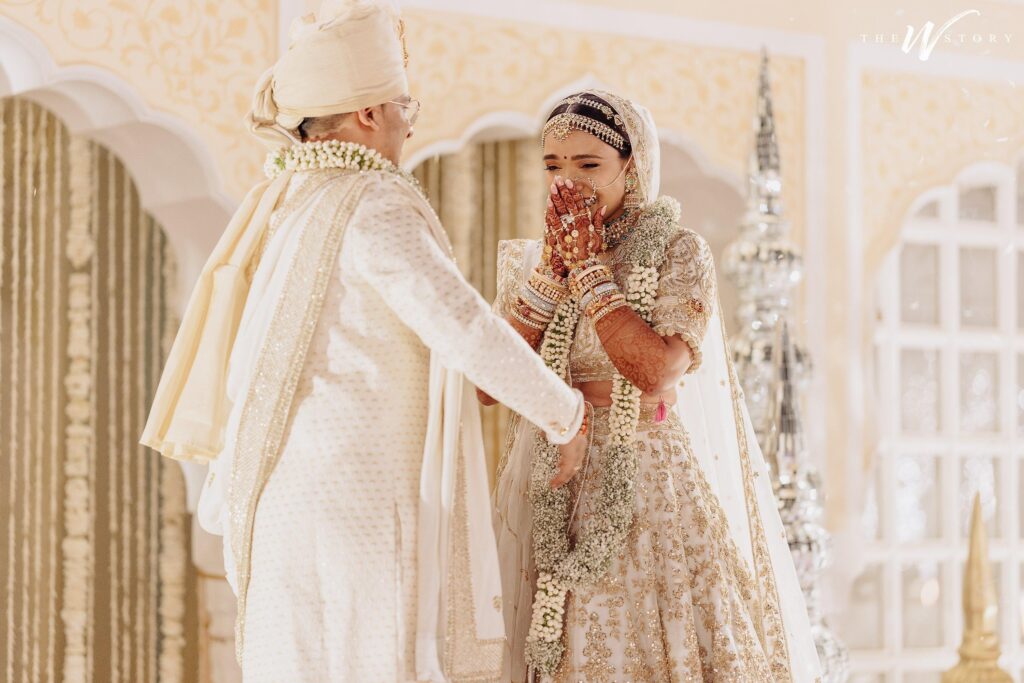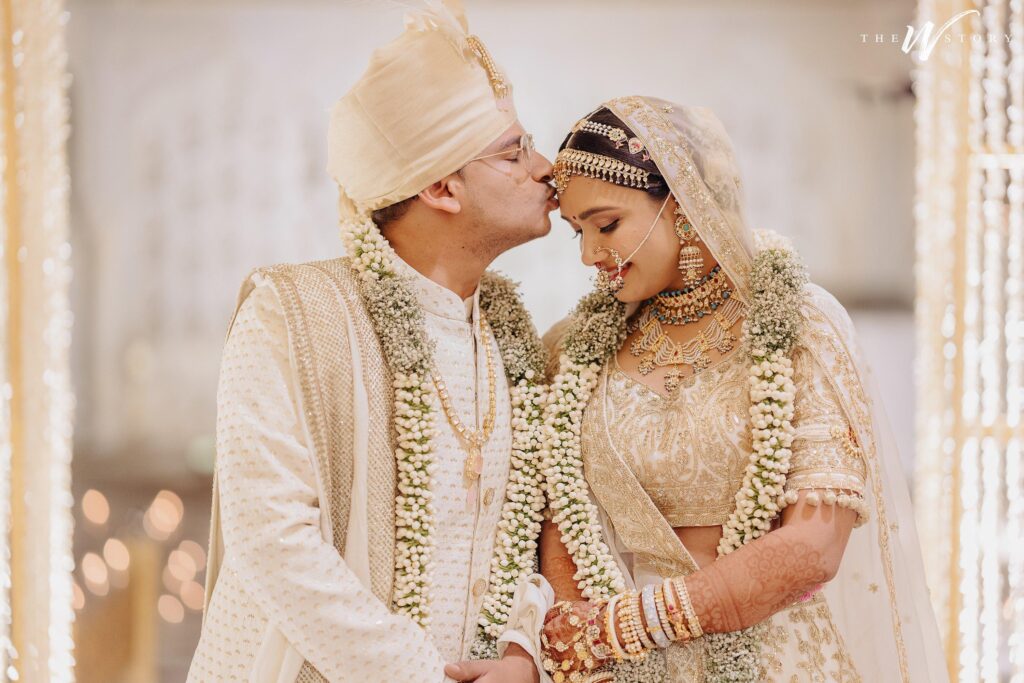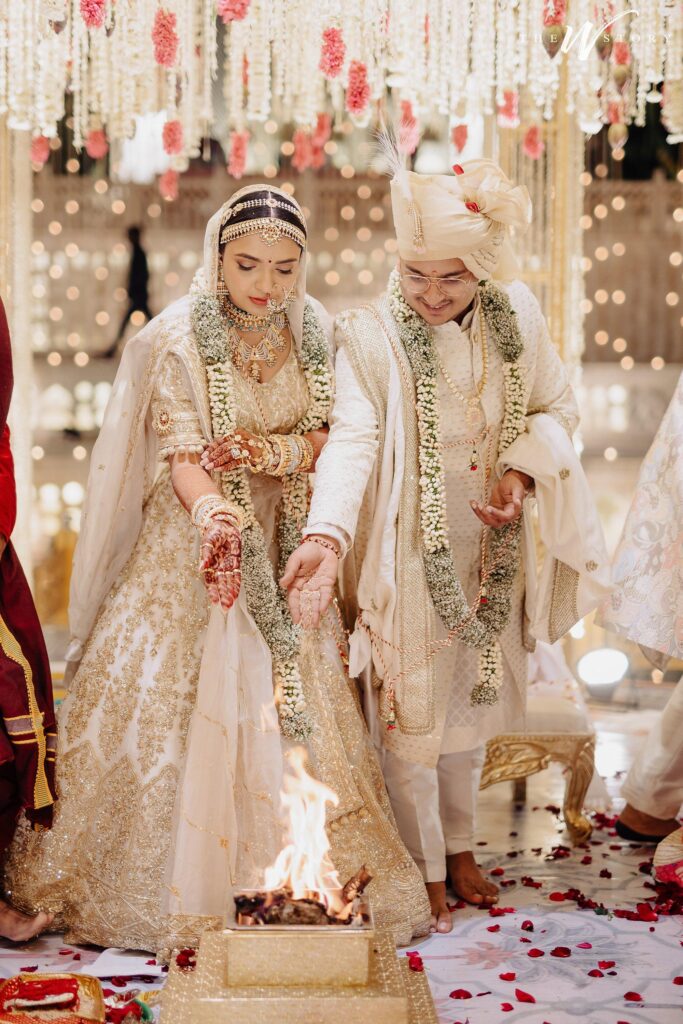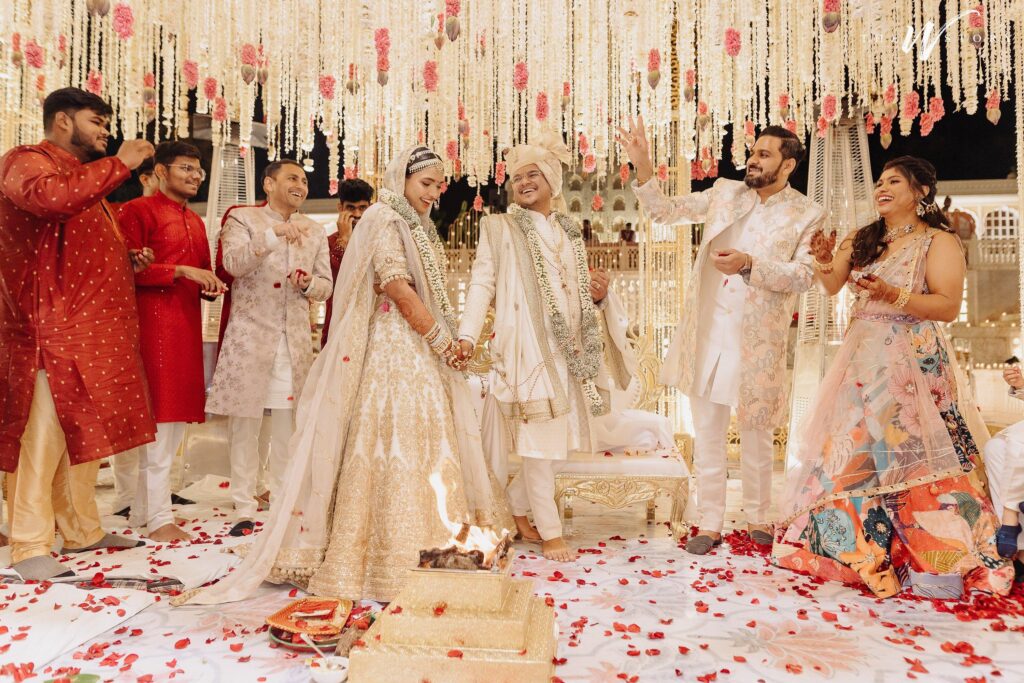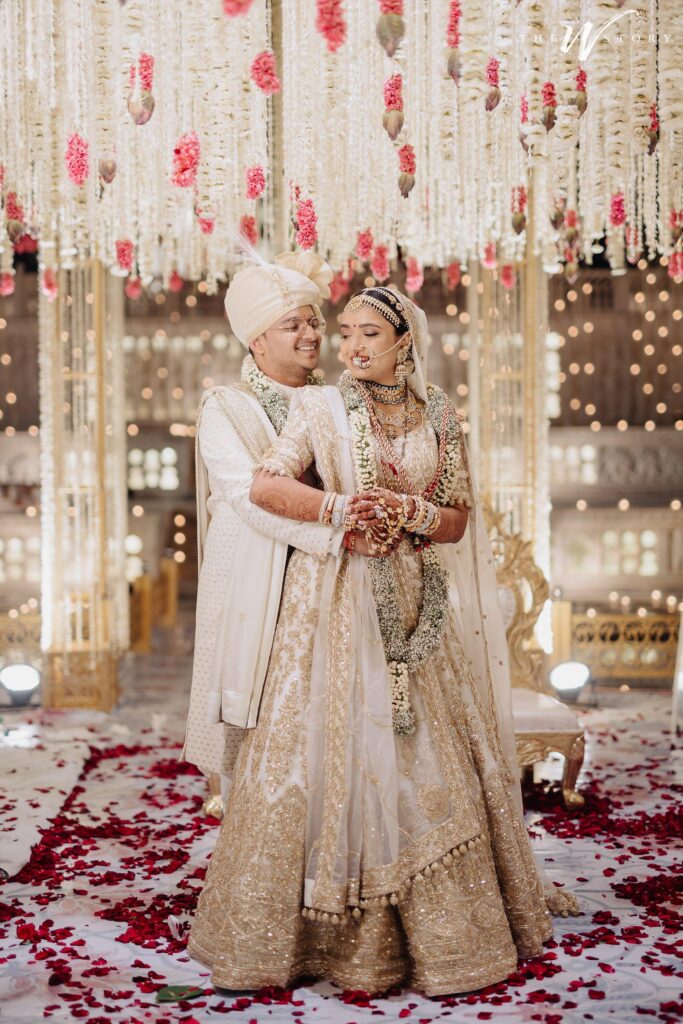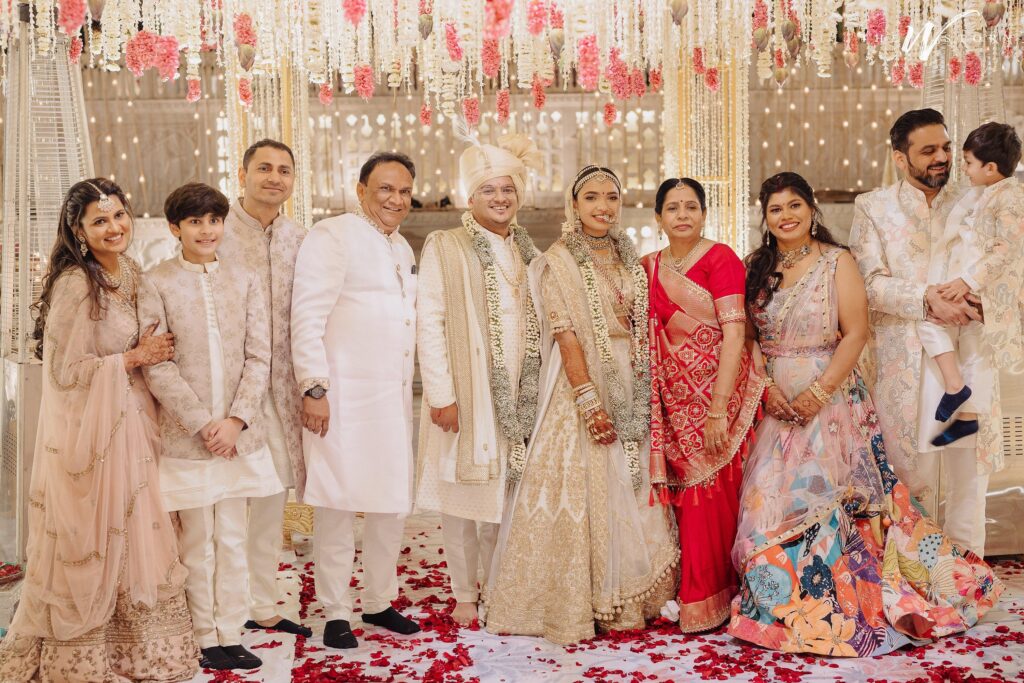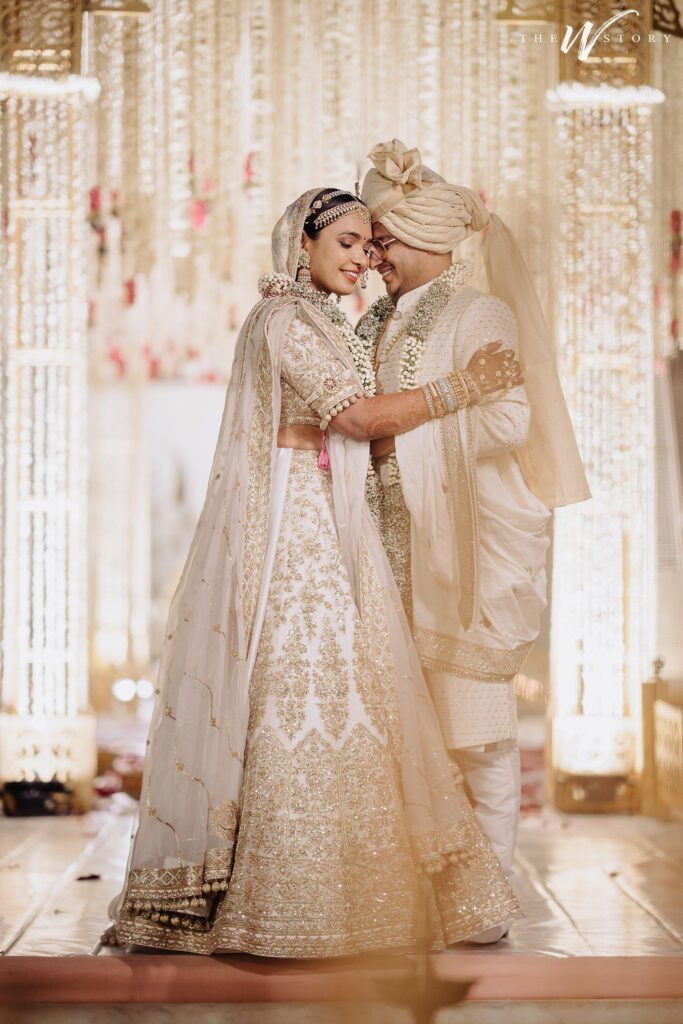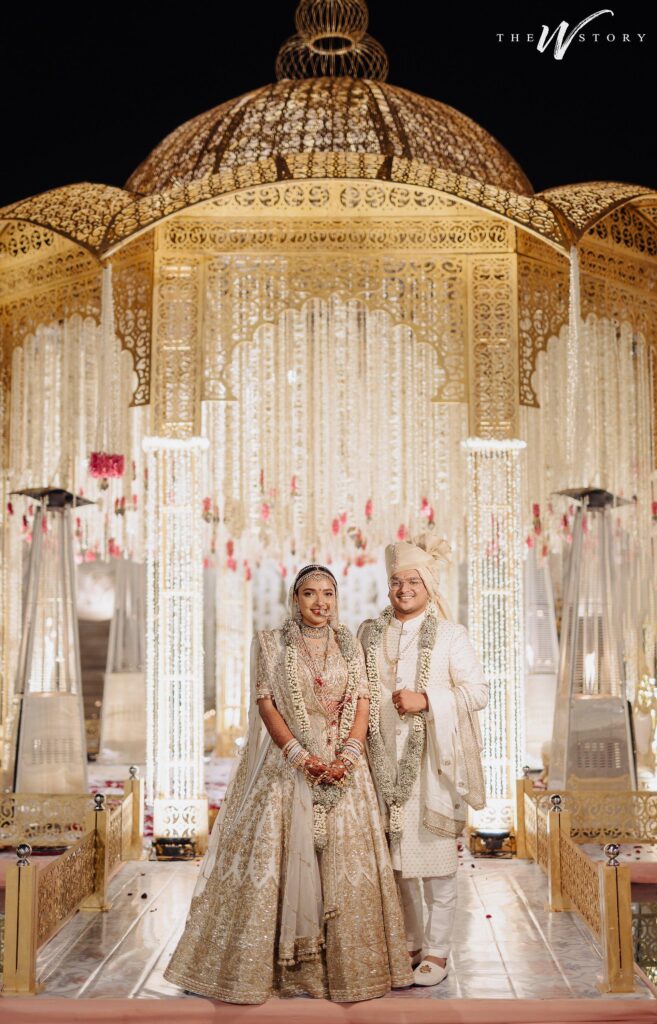 Bride: Shivani Patel || Groom: Aniruddh Patel || Photographer: The Wedding Story || Venue: The Alsisar Nahargarh || Makeup: Niharika Gokhale || Hair: Shivani Patel || Outfit: Manish Malhotra (Wedding), Prima Designer Studio (Haldi), Arpita Mehta (Sangeet), Radhika Airi (Mehendi) || Decor & Planning: Wedding by Ishwar || Mehendi: Santosh Kanwar || Dhol: Raja Dhol Team || Anchor: Chirag Vithalani