When we came across Shivangi's eye-catching wedding pictures, we were awe-struck. The beauty she radiated through her personality, outfits, and styling was mind-blowing and unique. But the fact that she self-designed all her outfits to match her preferences is what amazed us even more! As a bride, you'd want to look and feel your best on the wedding day. And what better way to make sure of it than to design your own bridal outfits. That's exactly what Shivangi did and if you're wonderstruck by her designs as well, she'd be more than happy to style & curate a bridal trousseau for you too. Here's her Instagram to get directly in touch:
https://instagram.com/richie.4.rich?igshid=YmMyMTA2M2Y=
For now, let's dig into the details of her wedding, her love story, and any helpful tips she might have for future brides. 
If you're here for the pictures, please use our "table of contents" section to jump straight to the wedding album. 
It Was Love At First Sight!
"We met through a matrimony site. What caught my eye was his simplicity and pleasant personality. He is a genuine and extremely mannered man that any girl would want as a life partner. When we first met, I knew there was something different and more attractive in him than other guys, so I was the one who proposed to him for marriage. Trust me, it was hard to propose to a guy because I am a girl who's used to receiving proposals and rejecting them. But then as I said I felt something different about him that I was so confident to marry him undoubtedly. So, basically, it was an arrange-cum-love marriage," says Shivangi about her fairytale love story. "Oh! Did I forget to tell you that his smile is the first thing that stole my heart?" she gushes. 
Five Months Of Wedding Planning To The Perfect Day
Shivangi and her beau Siddharth started wedding planning 5 months before the big day. "I started searching for dress inspiration, photographers, makeup artists, and jewelry stores through different apps like Pinterest, Instagram, and wedding planning websites. There were hours of discussions about each event with my friends and family, The wedding took place at Fagun, Indore. All the arrangements were taken care of by the Fagun team and Bigshot Entertainment. I wanted to go theme-wise for all the functions. So themes, followed by dresses, and then colors were my main concerns," Shivangi tells us. 
Every Event Had Its Own Theme
Engagement: Rajputi theme and included colors and decorations that remind us of Rajasthan. Kathputaliyaan, colorful drapes, dreamcatchers, a royal rajbhog setup for all baraatis, Rajasthani food, dholi, etc were the main attractions. Everyone was wearing Rajasthani poshak and the engagement was done on a bright sunny day. 
Haldi & Ganesh Poojan: South Indian theme. The whole haldi setup was made up of banana leaves and marigolds in front of a big fountain. Since the theme was South Indian, many wore South Indian sarees apart from Rajasthani poshak. 
Sangeet: Disco theme. I was so fascinated by the disco theme that I was planning it way before even the wedding date was finalized. Disco balls, mirror tassels, and glittery outfits were the soul of the night. Everyone was asked to prepare performances only on disco songs. The same night we launched our pre-wedding video on a big LED screen. Not less than a Yashraj movie song. 😉 Wow! What a night it was! The whole family gave me a beautiful surprise at the end of all the performances. It was a poem written by my elder brother about me growing up in the family and leaving everyone behind and starting a new life. A beautiful farewell with tears in everyone's eyes. 
Phere: Modern Rajwadi theme. I was sure about my bridal entry for my phera day. Walking alone to the aisle with a background mantra-chanting music "Mangalma Bhagwaan Vishnu" and the color bombs with every step making the ambiance so colorful. I was confident yet nervous. The phera mandap was in a big swimming pool. The pool was filled with sparkling blue water and beautiful ducks. It was looking like a lotus in the swimming pool and we were sitting in the middle of it taking vows for being together for a lifetime. 
Reception: Classy theme. In my family, usually, people wear traditional Rajasthani poshak at reception, but I was totally in favor of a classy and modern kinda reception where the female guests were asked to wear elegant and decent saree and tuxedo for male guests. Red roses and candles were the main elements of the decor. Our entry with pyros and fog was so dreamy that after my wedding some of the attendees tried the same entry at their wedding. The entry song was "Perfect by Ed Shereen" which played till we stepped up to the stage and sat on the couch. I will never forget that day 13th December 2021. I got married to a beautiful man and found a beautiful soul. 
The Extensive Dress Designing By The Bride Herself
Shivangi designed all her wedding outfits herself. Here's her narrating all that went down behind the scenes. "For engagement, we decided to go for a Rajputi theme. We all wore our cultural Rajputi Poshaak. I was inspired by the movie "Padmaavat" wherein in one scene I saw Deepika wearing a turquoise and pink color Rajputi poshak and pink & blue gradient color for the chunari. Heavy looms and Rajwani jewelry with a simple big nath and a bun of colorful baby breath flowers finished my royal look".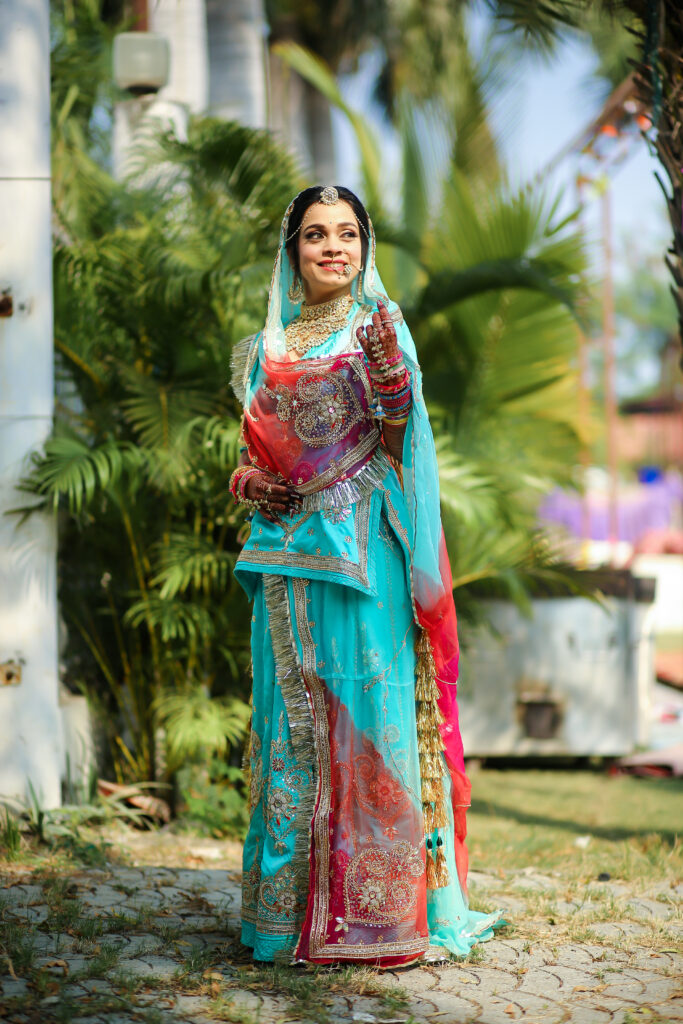 "For Haldi, I wanted a frilled blouse and fluffy skirt. Since it was Haldi, I went with a yellow color. Floral jewelry was my choice from the start because why not?  After all, brides look beautiful and fresh when they wear floral jewelry. The haldi theme was South Indian so I bought a golden border silk saree and got it stitched in a skirt and blouse pattern. The haldi yellow color and the golden border with fluffy skirt and frill blouse made me look like a sunflower. Lol!"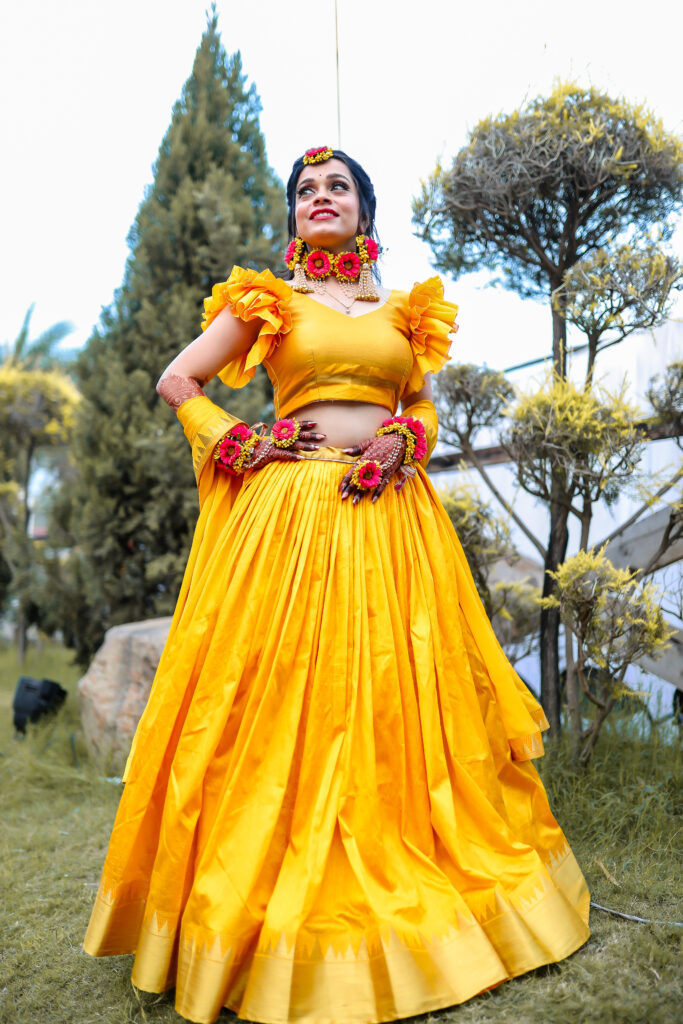 "For Ganesh Poojan, what would have looked better than a benarasi saree for a South Indian theme? I wore a carrot pink in my Ganesh pooja. A braid with South Indian jewelry and gajra. I think this one is my favorite look so far. So serene and beautiful."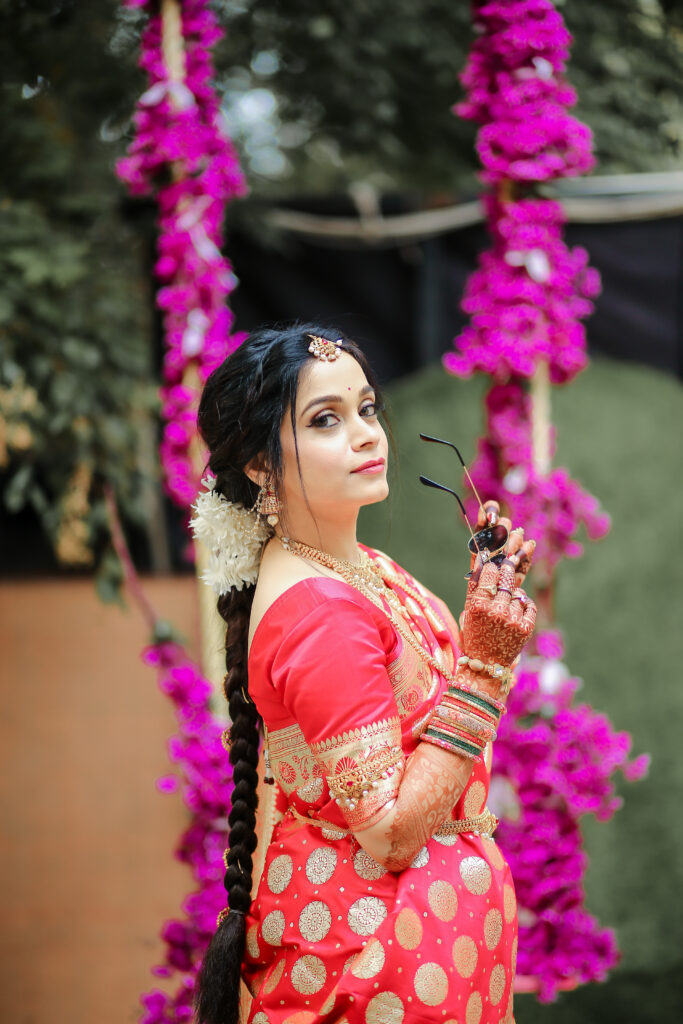 "For my Sangeet, I decided to go for a disco theme. And to do justice to the disco theme, I wore a sparkling sequin ball gown. The color combination and the pattern was already in my mind. It was a combination of royal blue and golden color which was going so well with the decoration of the event. Since the gown was already too glittery, I chose simple jewelry for the occasion. A simple row of diamond necklaces with silver earrings and bracelets. Last but not the least, I wore disco shoes for the night! The Sangeet night was awesome and the disco theme took everyone's heart away."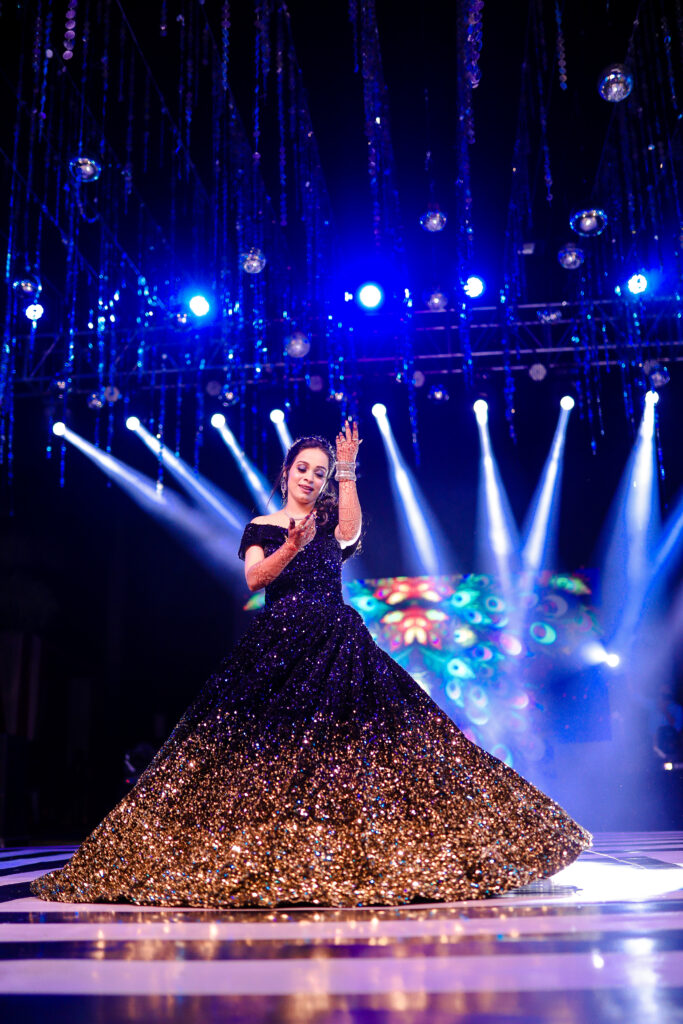 "For my phere, my wedding attire was a combination of 4 lehenga designs. My phere theme was Modern Rajwadi. So I designed 'Aliye' and 'Toruń' on my lehenga and the same design was followed on pallu. A heavily embroidered blouse and a delicate border on the head dupatta. The color I chose was a fine red. Instead of a bun, I decided to go for a braid with heavy-hanging jewelry on it. Since everything was too heavy and embroidered, I went for a delicate and simple look. I decided to go for nude makeup because it was a daylight ceremony. It was a bold move for me because I have seen brides going for a full heavy makeup look on their D-day."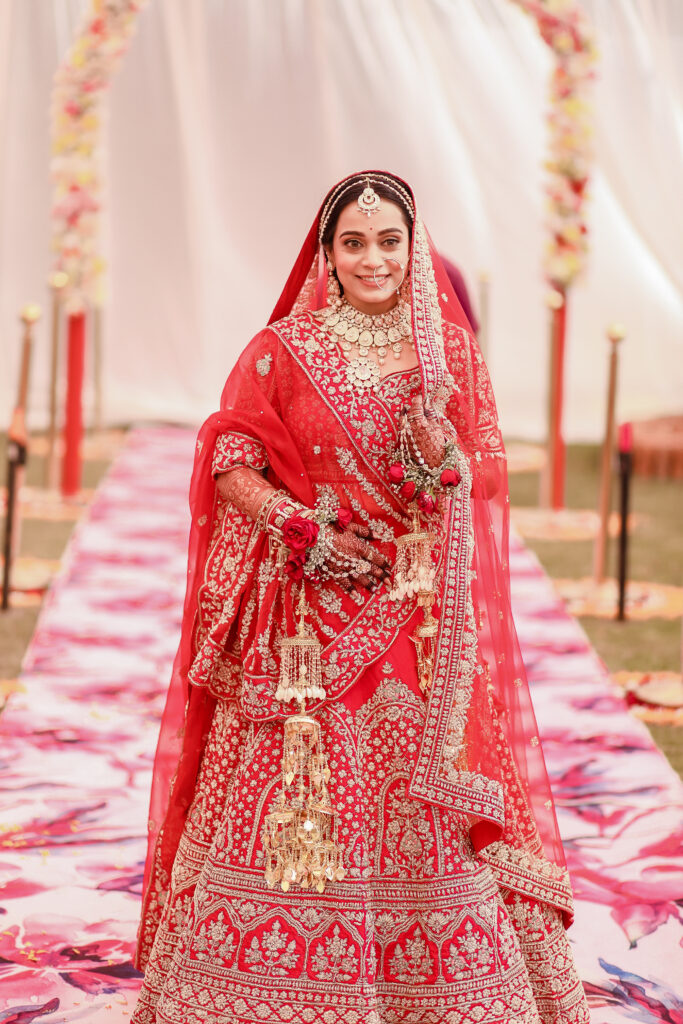 Reception Saree Was A Hit (& Our Favorite!)
"Finally comes the reception, I think this saree has taken eyes from all over the wedding profiles on Instagram. Honestly, when I gave the design to a showroom in Delhi, they ruined it! Yes! That's true! There was a peacock and a few butterflies, but not what you have seen in the final outfit. Just before 10 days after my wedding, I went to Mumbai to buy another saree for my reception, but couldn't find one. I came back to my home town Indore and started searching for sarees here. After visiting all the showrooms, I finally decided to redo the saree. Luckily, I found a 'Karigar' who is a master in creating magic on outfits. I went to his workshop and explained everything to him. It was a tough job as we only had 5 days left for the wedding. He worked day and night to finish the project. Finally, I wore it to my reception and the rest is history. I have seen brides wearing red and golden outfits on their reception day and I was so bored of watching the monotony. So silver was the option after gold. I was not sure if the color will look exactly the same as I want or will it look white. My brothers used to tease me with the name 'Titli Raani'. So I wanted to surprise them with butterflies and a peacock on the outfit. The hues of royal blue were used to make butterflies and a peacock that went perfectly well with my groom's outfit and the décor," says Shivangi.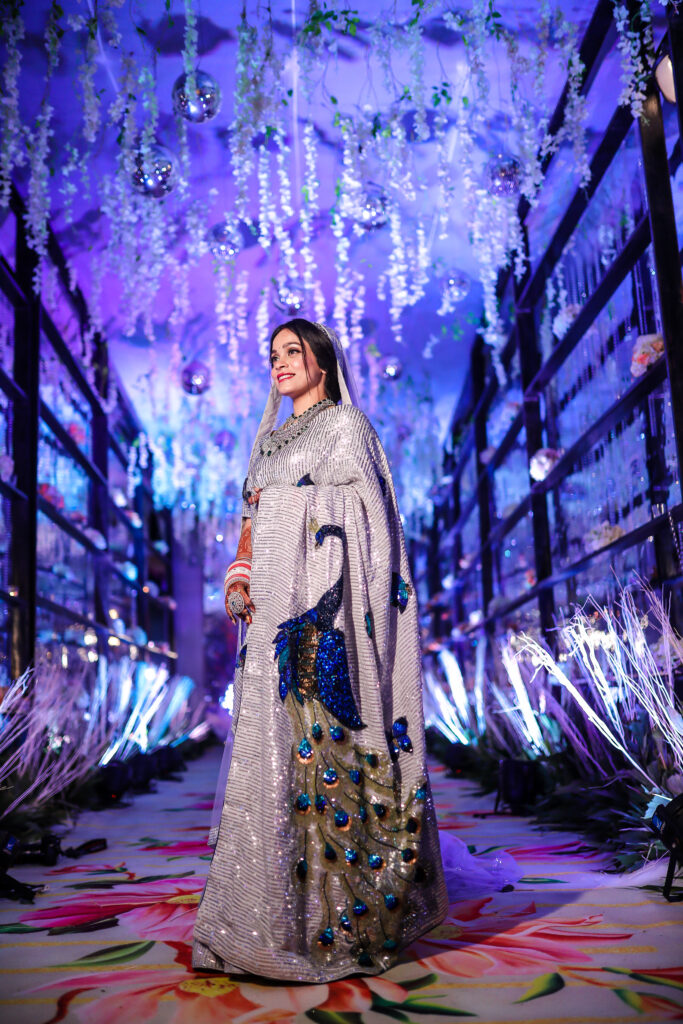 For Brides-To-Be, This Is Shivangi's Advice 
"To all future brides-to-be, if you have got 3-5 months before your big day, just utilize this time in planning, discussions, and searching. I finalized a wedding planner from one of the wedding planning websites. It included all the necessary checkpoints that a bride would really need to do. First of all, check which weather your wedding is happening. For example, I wanted a winter wedding because in winter you have the choice to go for an indoor as well as an outdoor wedding. Once suitable weather is decided, zero in on the decoration according to it. It will help you a lot in terms of deciding menu, sitting arrangements and of course, outfits. Believe me, I even chose the muhurat for my wedding. Daylight ceremonies look beautiful and colorful that's why I took the decision for the day pheras."
"Now the next thing is to decide on the themes. Start your search event-wise. What theme would you want for your wedding ceremonies, then search for outfit inspiration from the internet, and then finally go for colors. At my wedding, I took care of traditional functions while deciding on the theme as well as outfits. That's why I chose a South Indian theme for Haldi and Ganesh Poojan, a Rajasthani theme for engagement because we are Rajputs."
"The major thing that every bride should do is financial planning. Just create sections like cosmetics, outfits, makeup, mehendi, footwear, etc, and on every purchase write down the expenses you did on each section. This will help you in managing your accounts and will control your expenses. Make a list of your daily routine essentials that you will need in your sasural. This way you will not even forget a pin. Pre-prepare your document folder for the marriage certificate. Because after the wedding everything looks so chaotic that there are higher chances of memory loss. Lol!"  
"Lastly, it's just not only about pre-wedding and wedding preparations but also, about after-wedding life. If you have already decided where you are going for your honeymoon then do your honeymoon shopping according to the destination. Apart from all the decoration, shopping, and financial planning things, what about you? You will be the queen at your wedding. So, a queen should look like a queen. My suggestions to all upcoming queens are – Take care of your skin and health. Make a diet plan and follow it religiously. Do meditation because this helps in staying peacefully and making the right decisions. Book appointments with dermatologists, gynecologists, makeup artists, etc. The better you take care of yourself naturally and organically, the more you will glow at your wedding. Go for detoxification week and please sleep for 8-10 hours a day. It helps a lot in recovering from a tired and stressful day. Don't be so doubtful about your outfit choices, just wear them confidently and the world is waiting to appreciate you. If it is too much for you to finalize what to wear on your D-day then don't stress about your wedding outfits. I'm here to design all your dresses."
Wedding Album
Engagement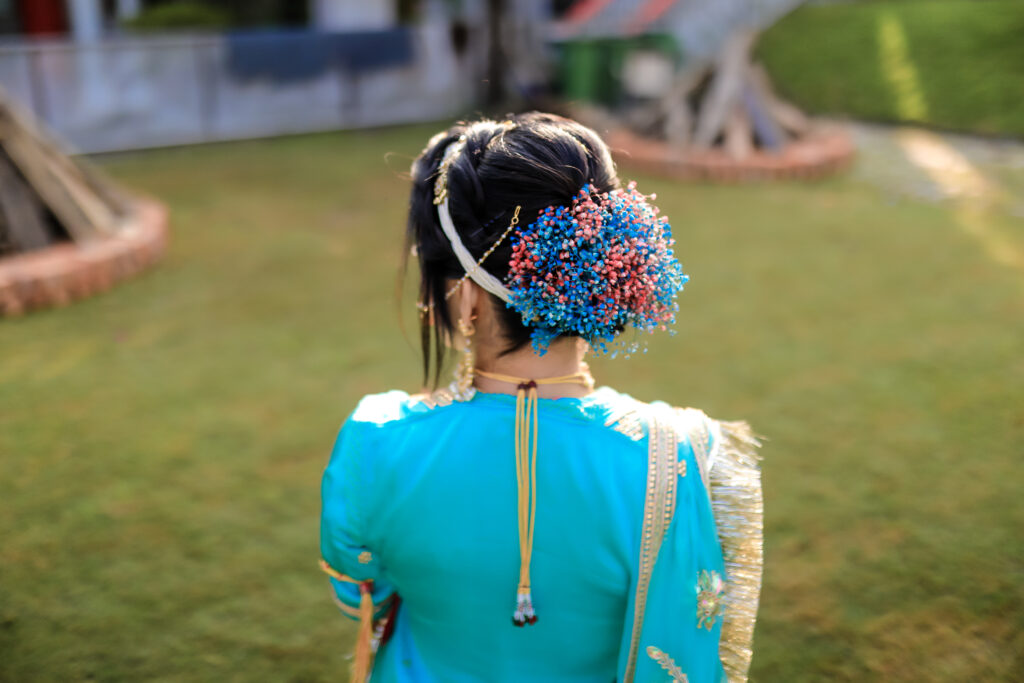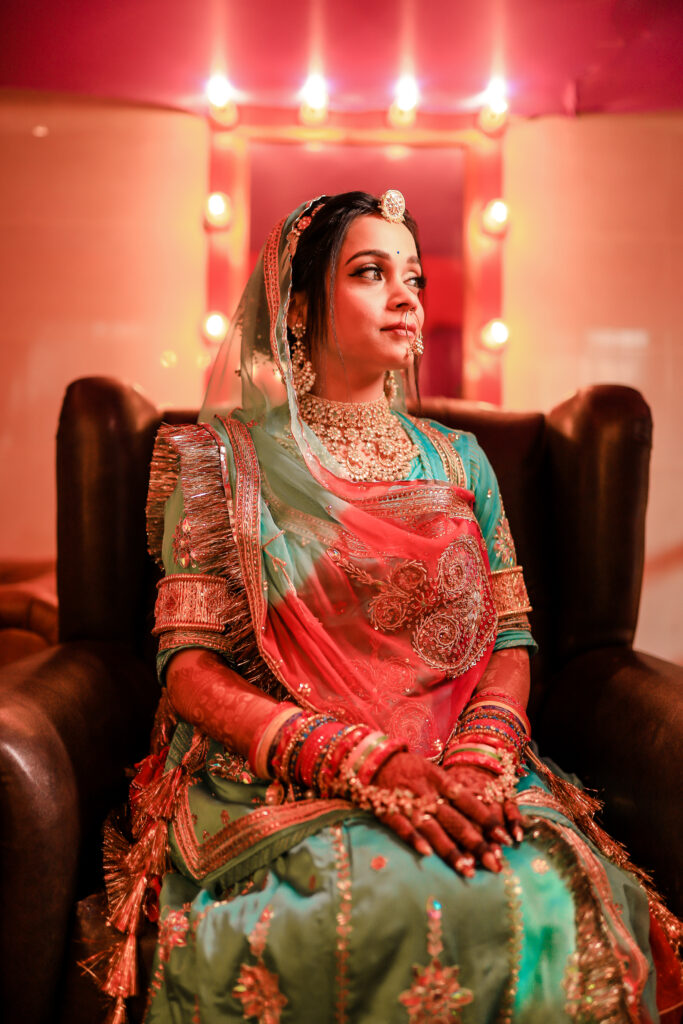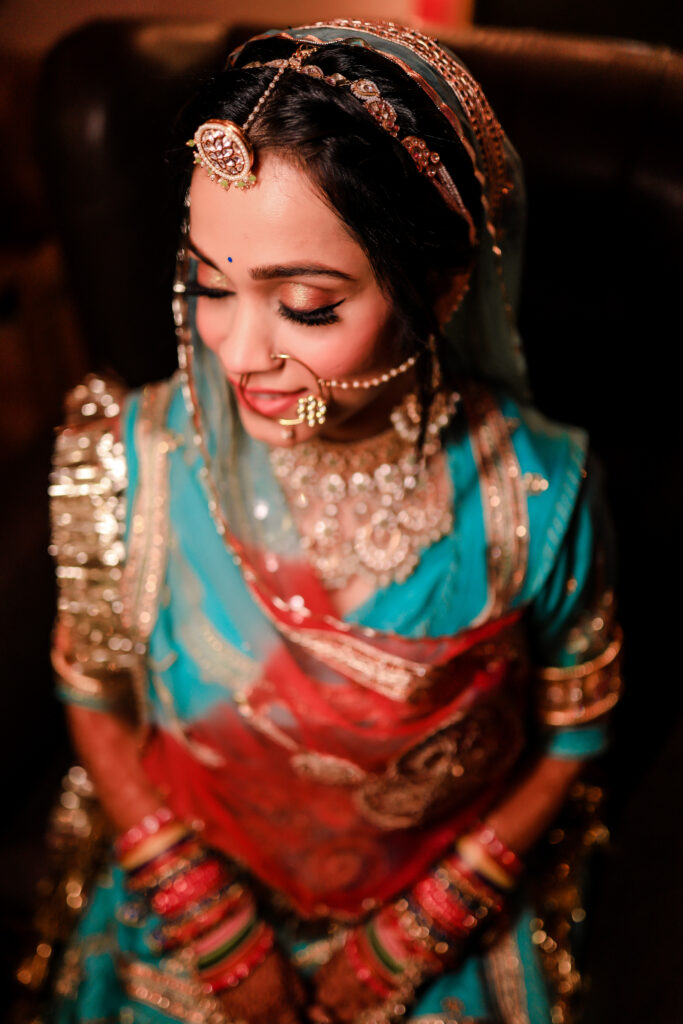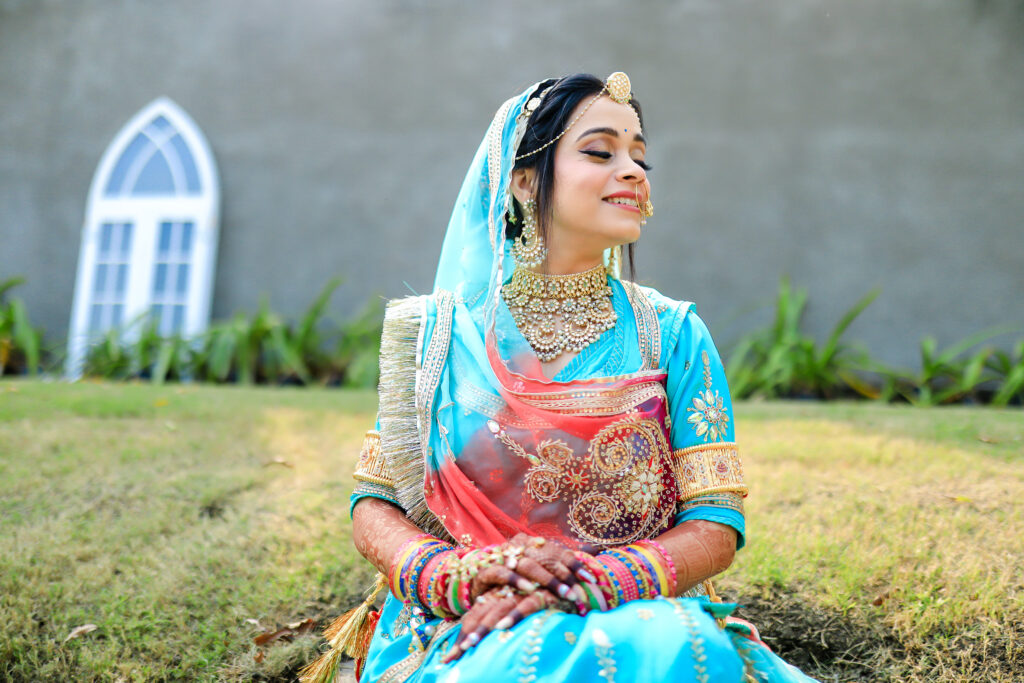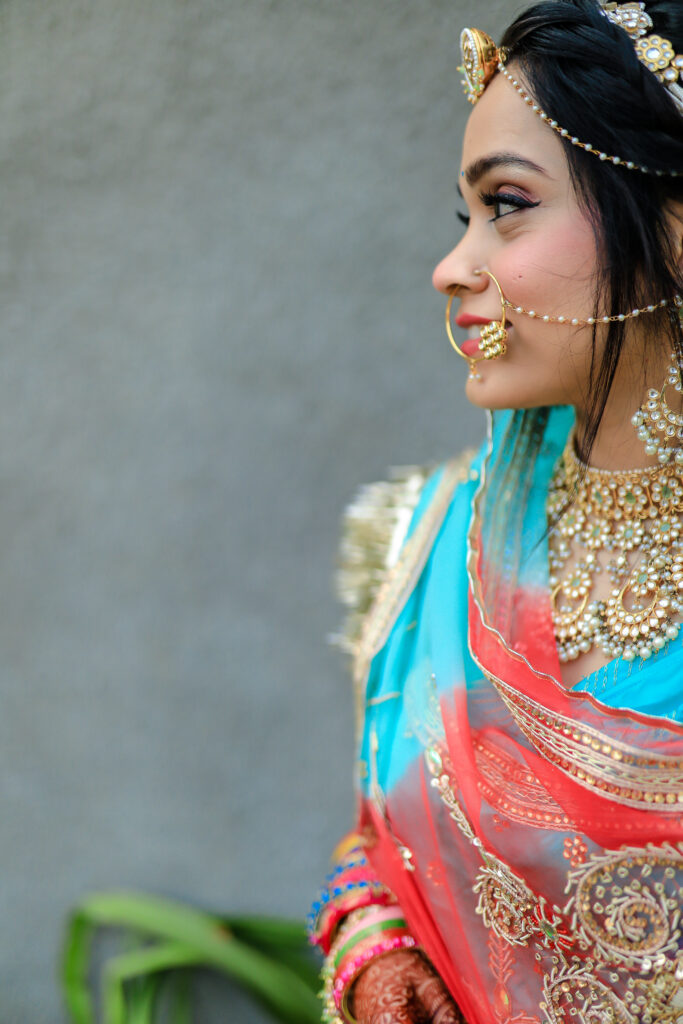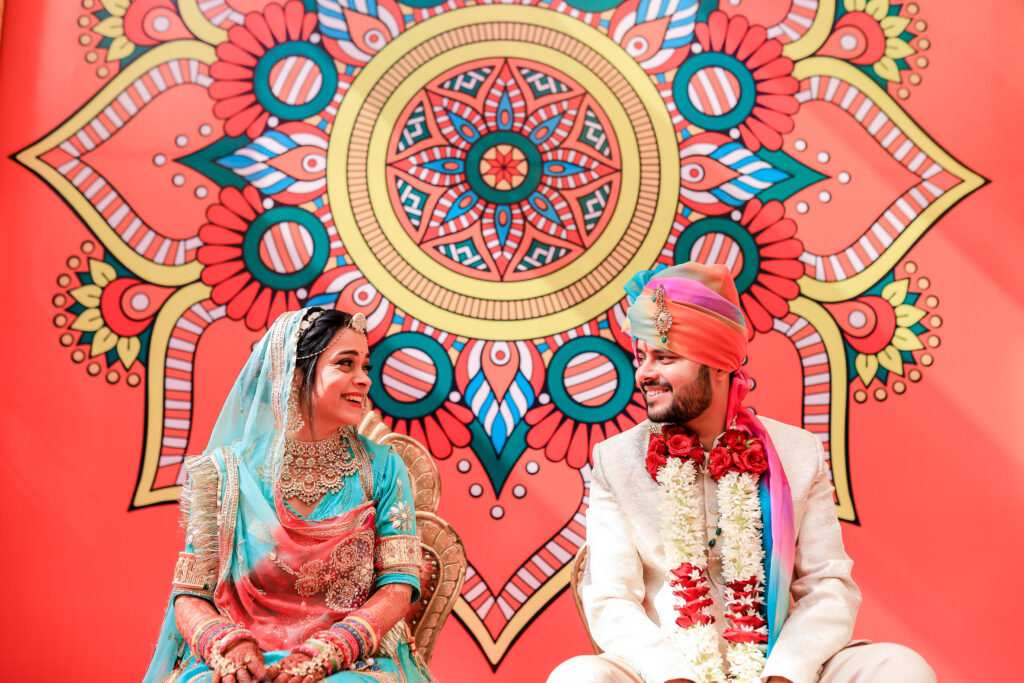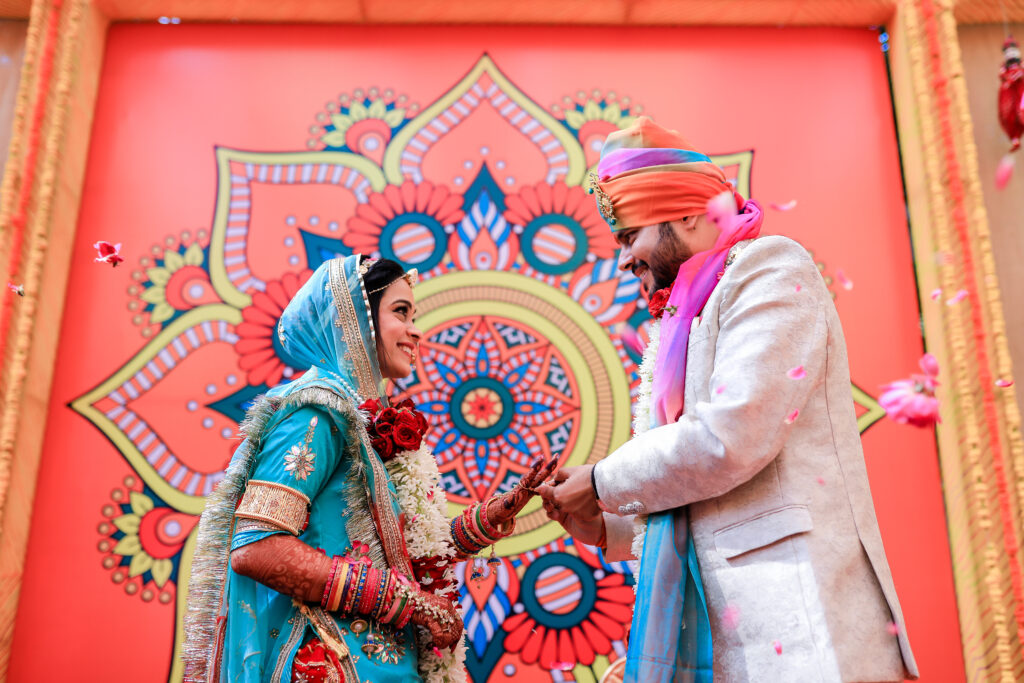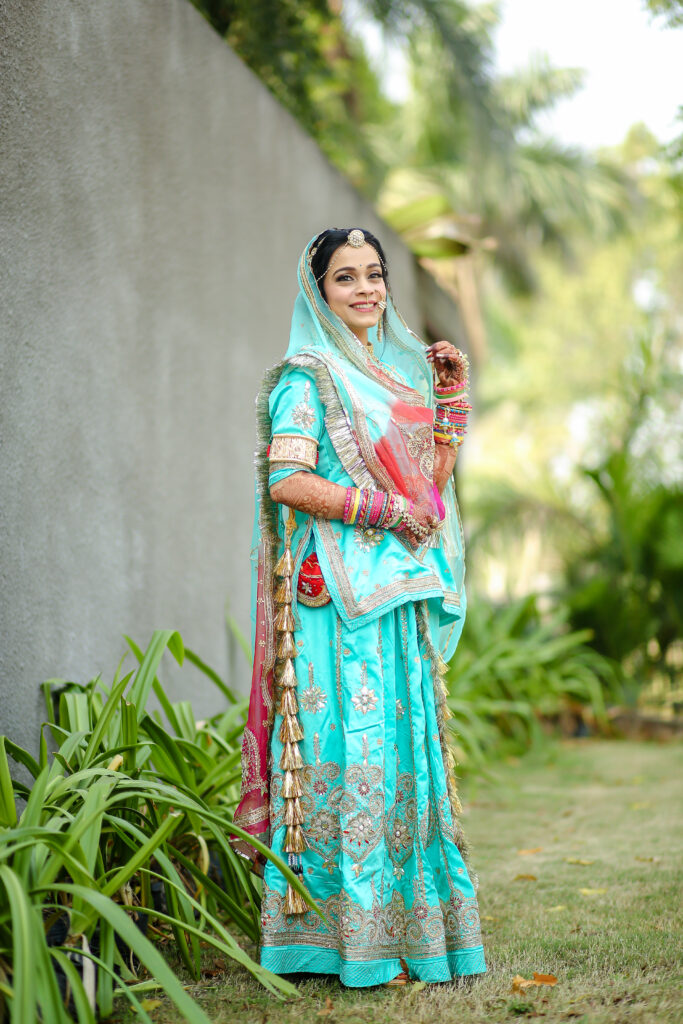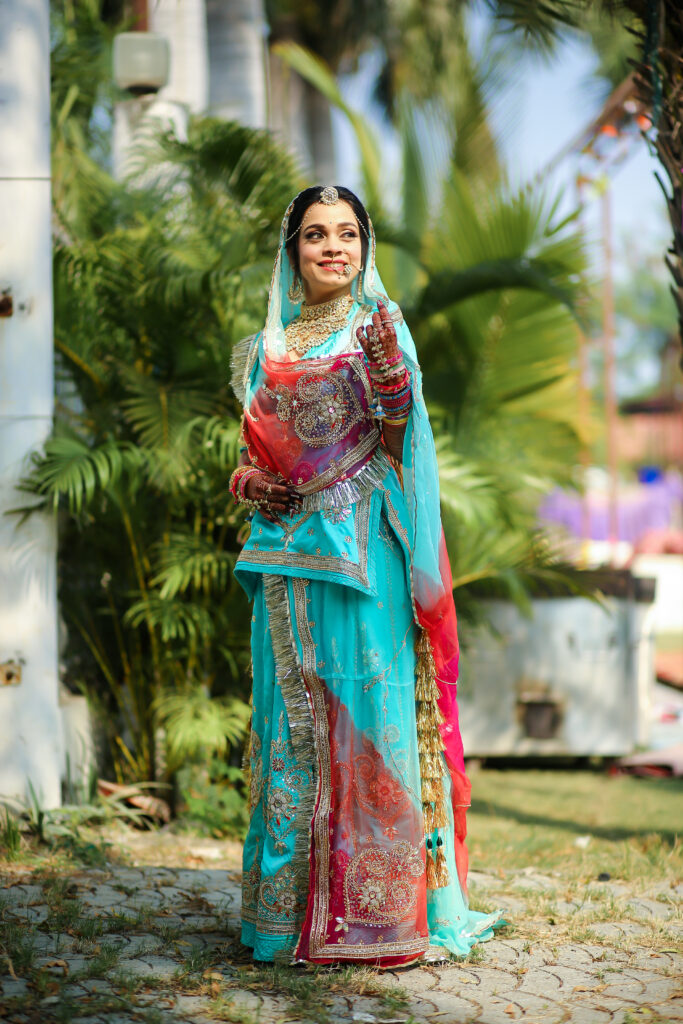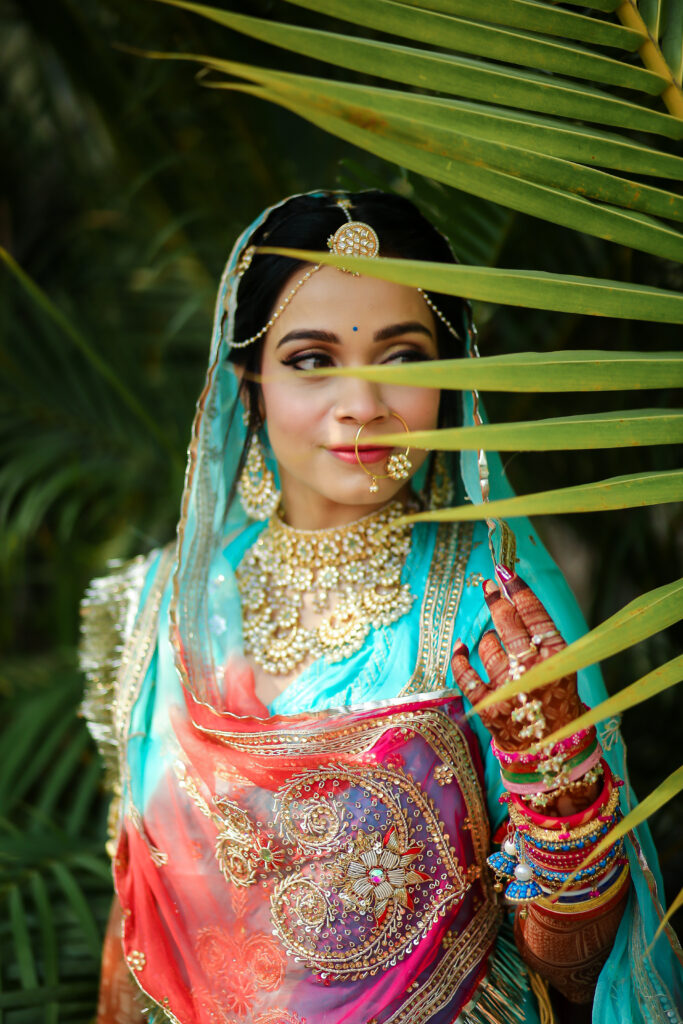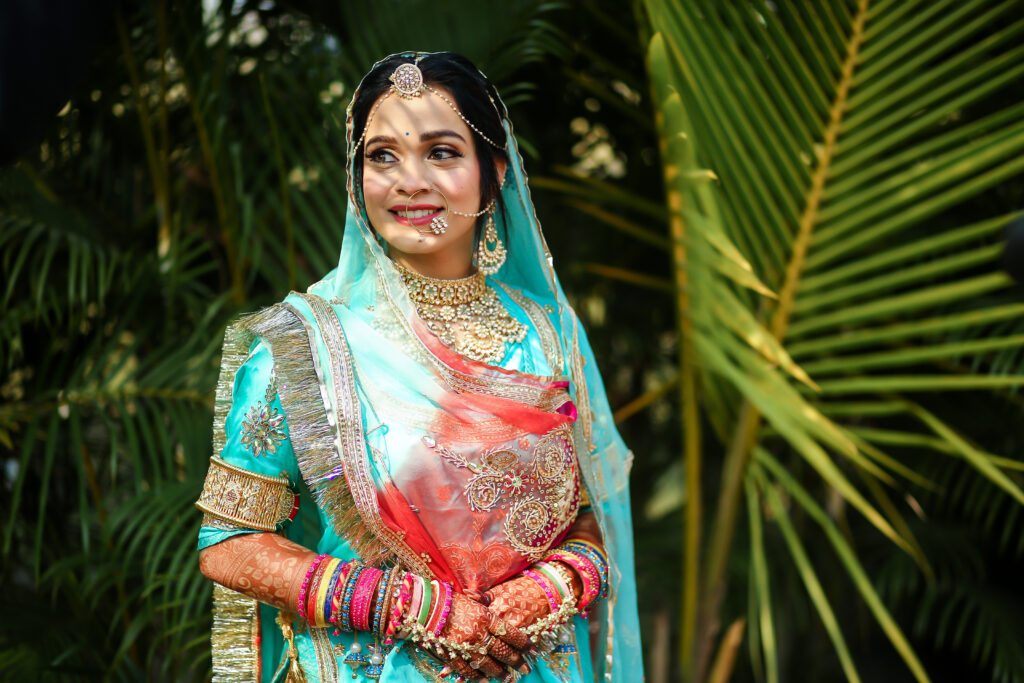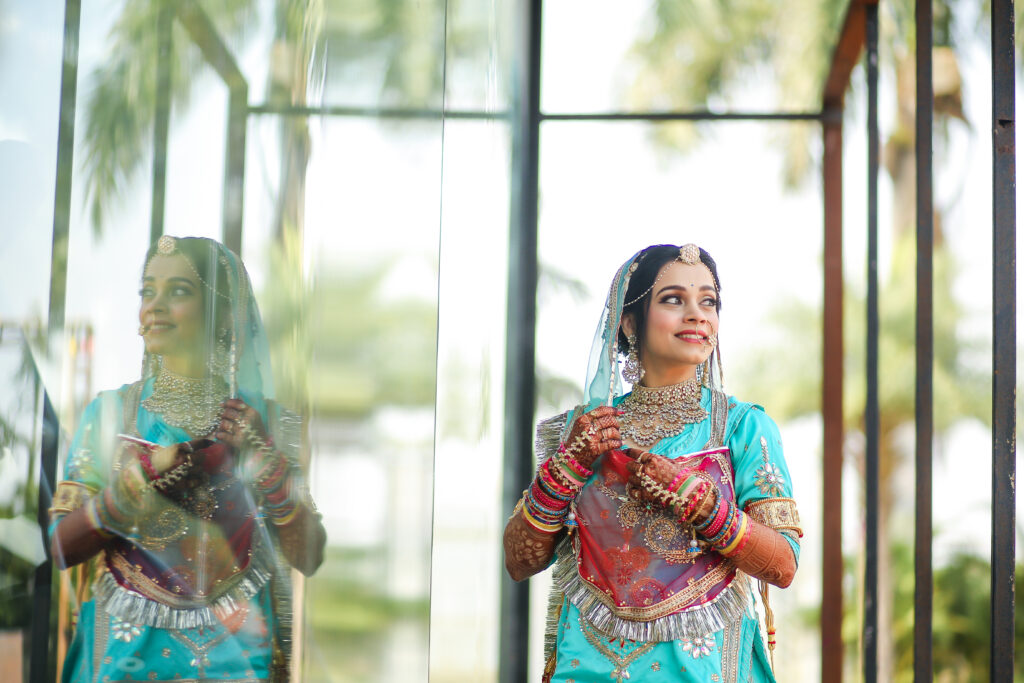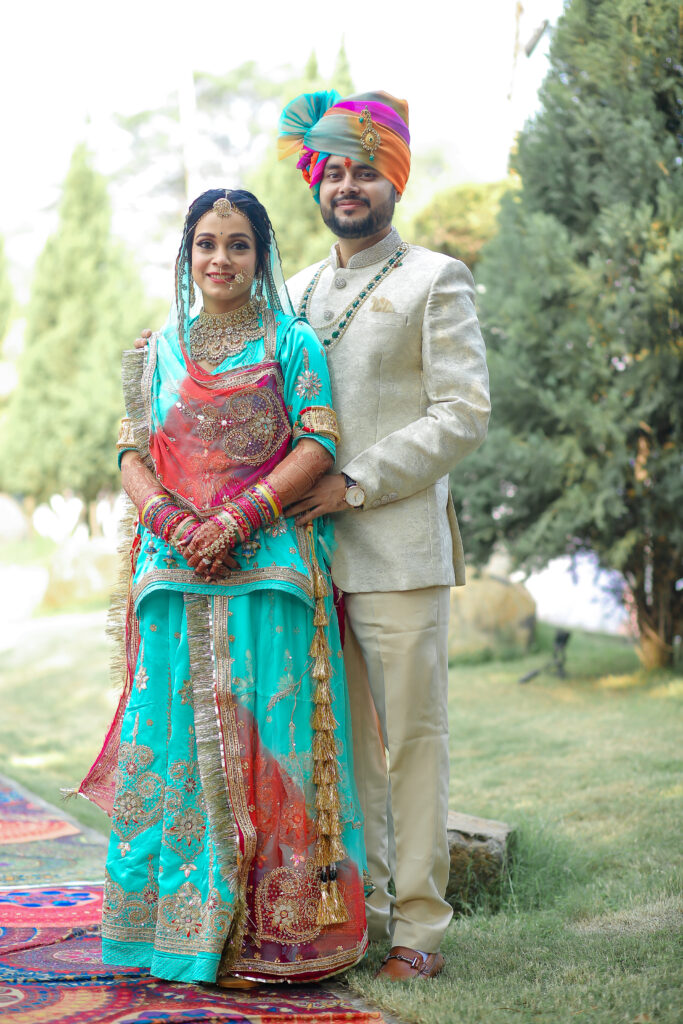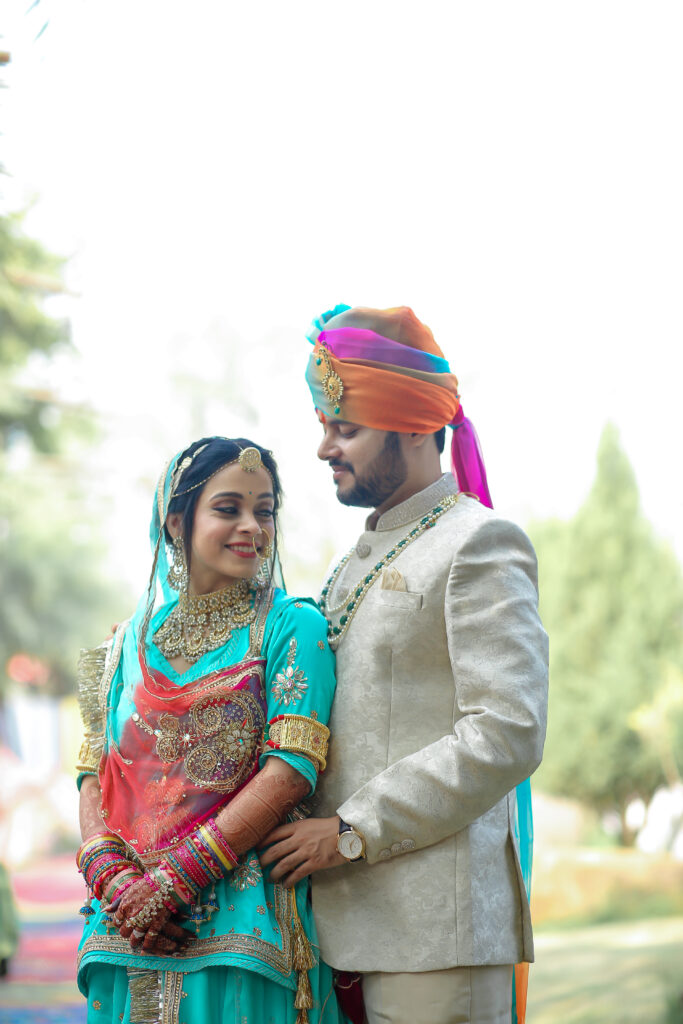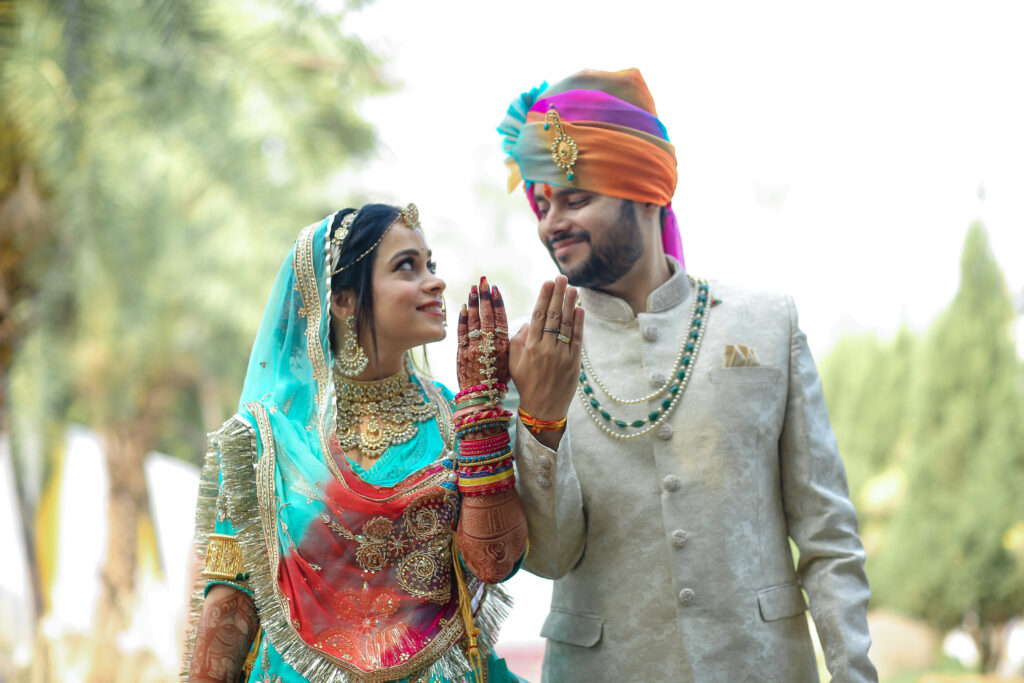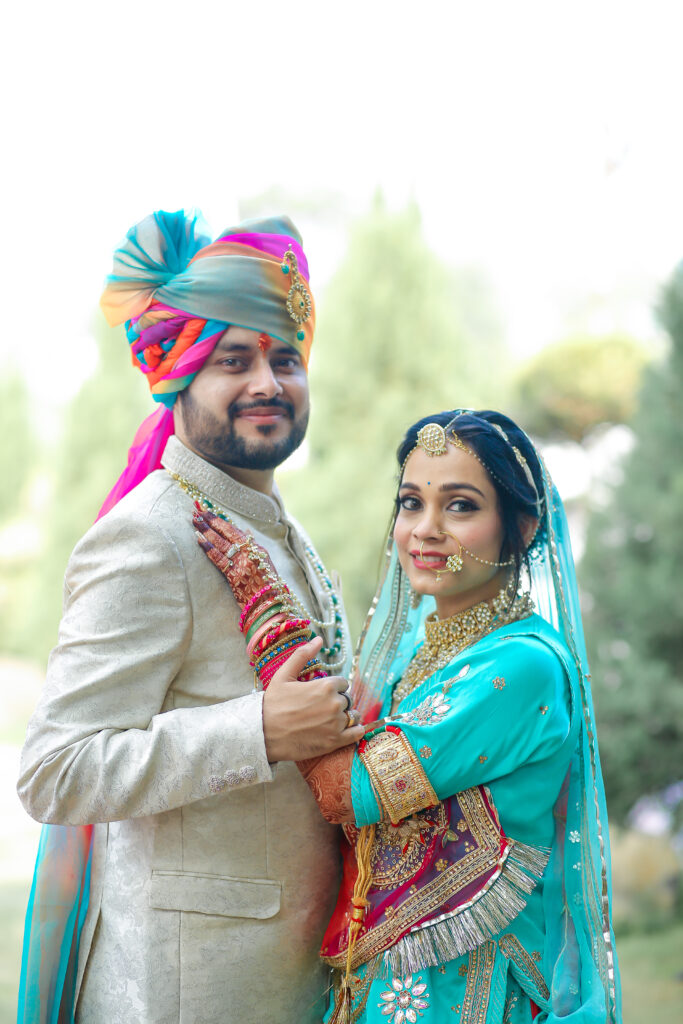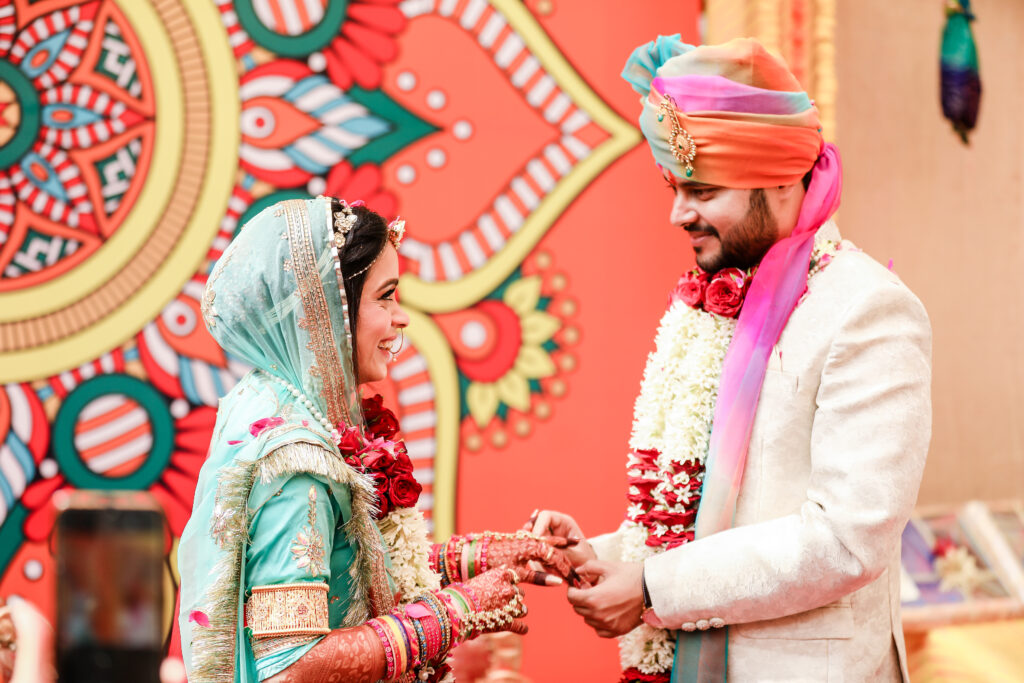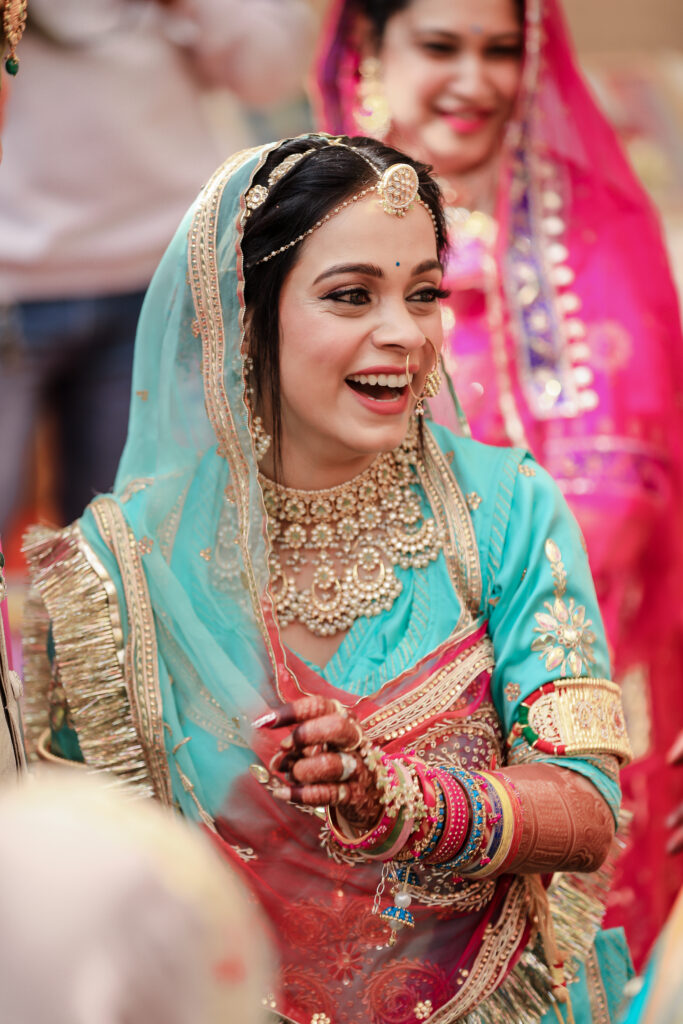 Haldi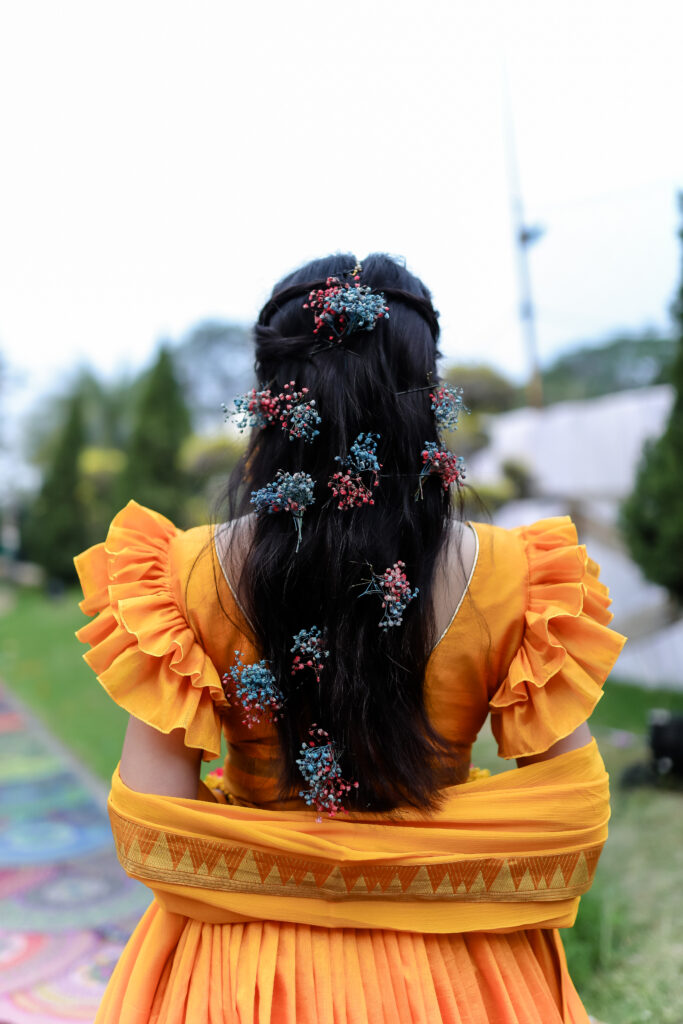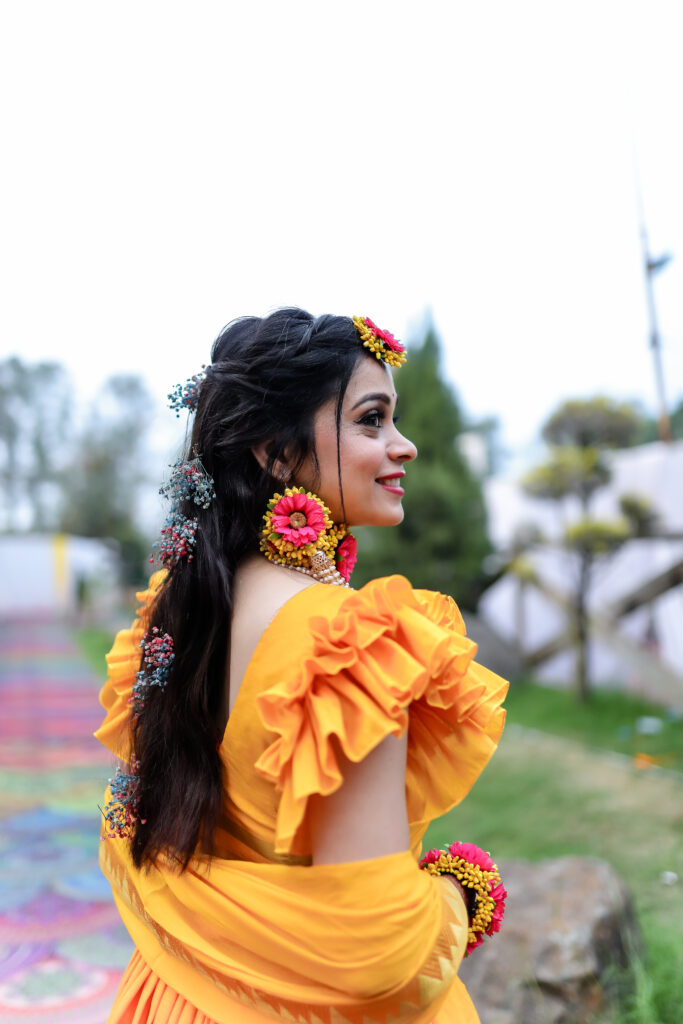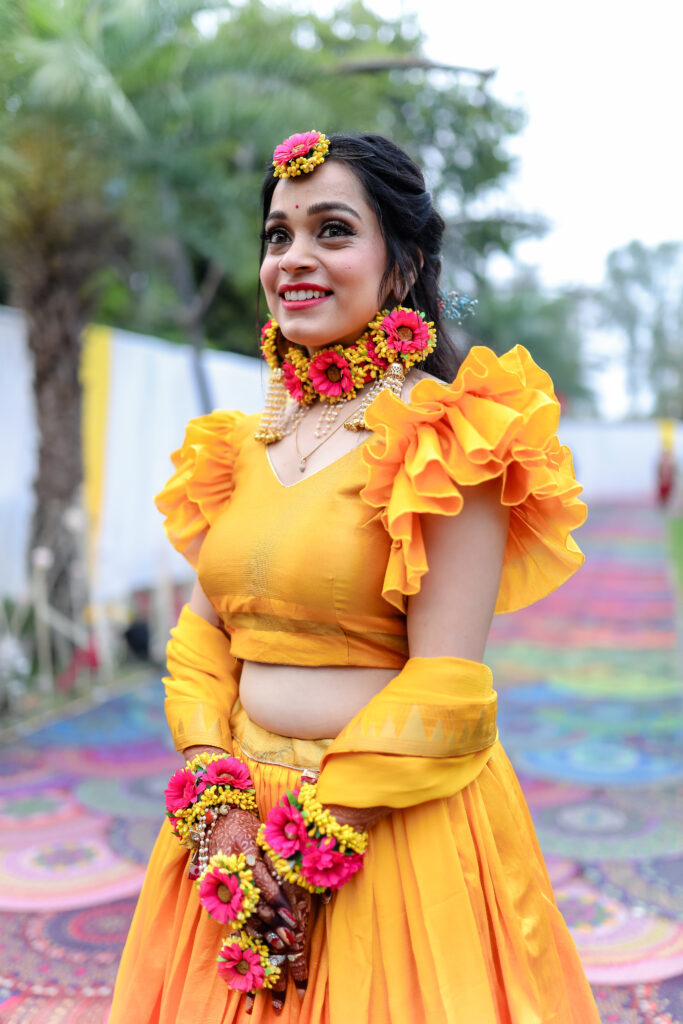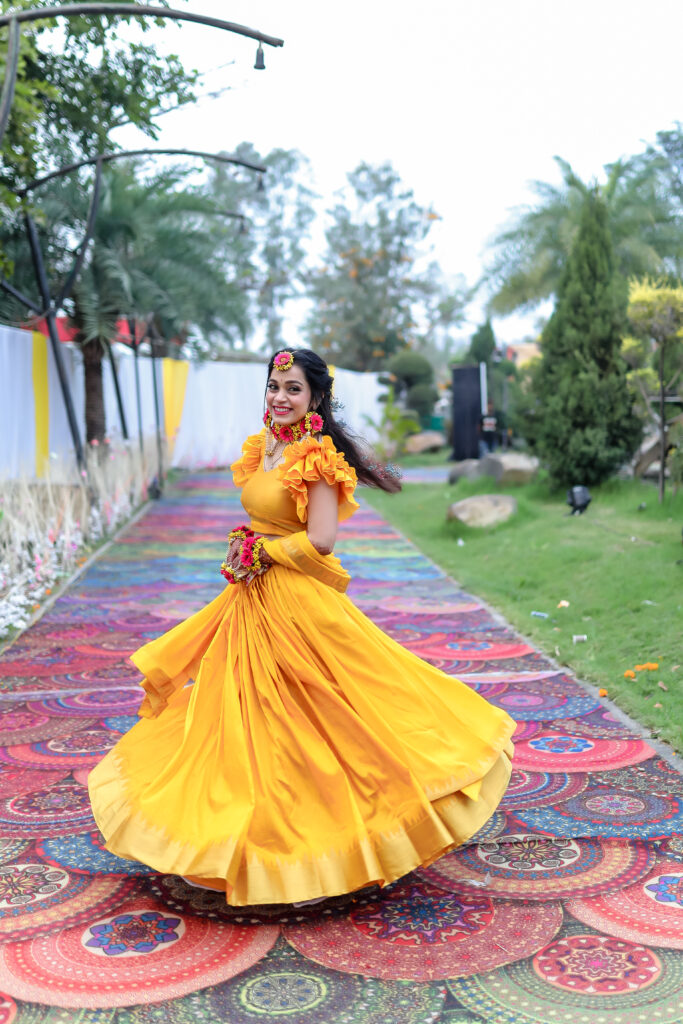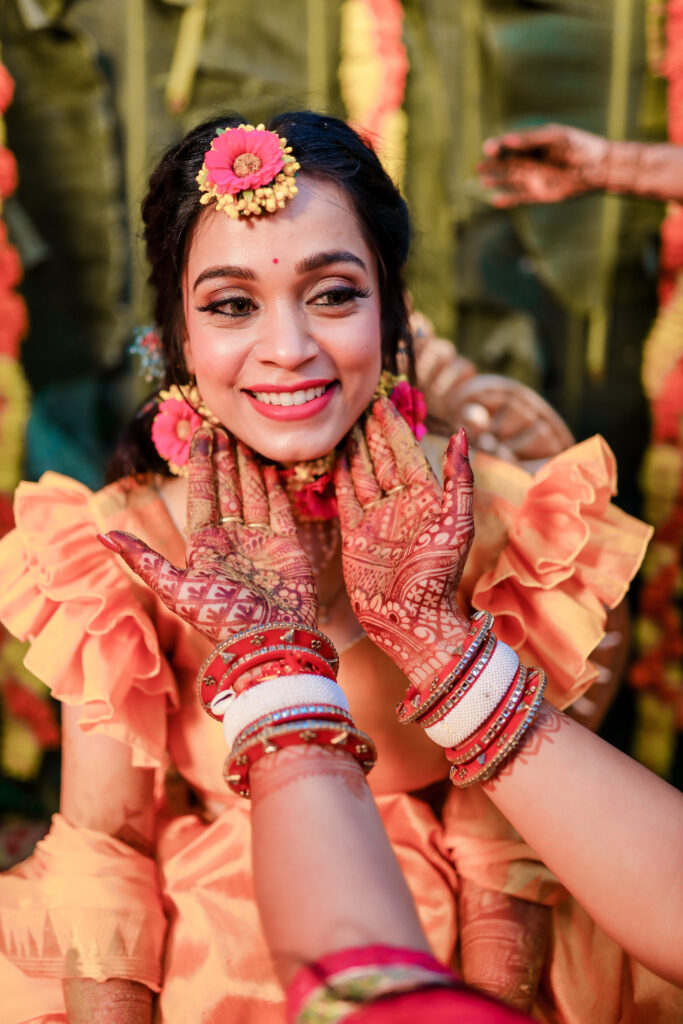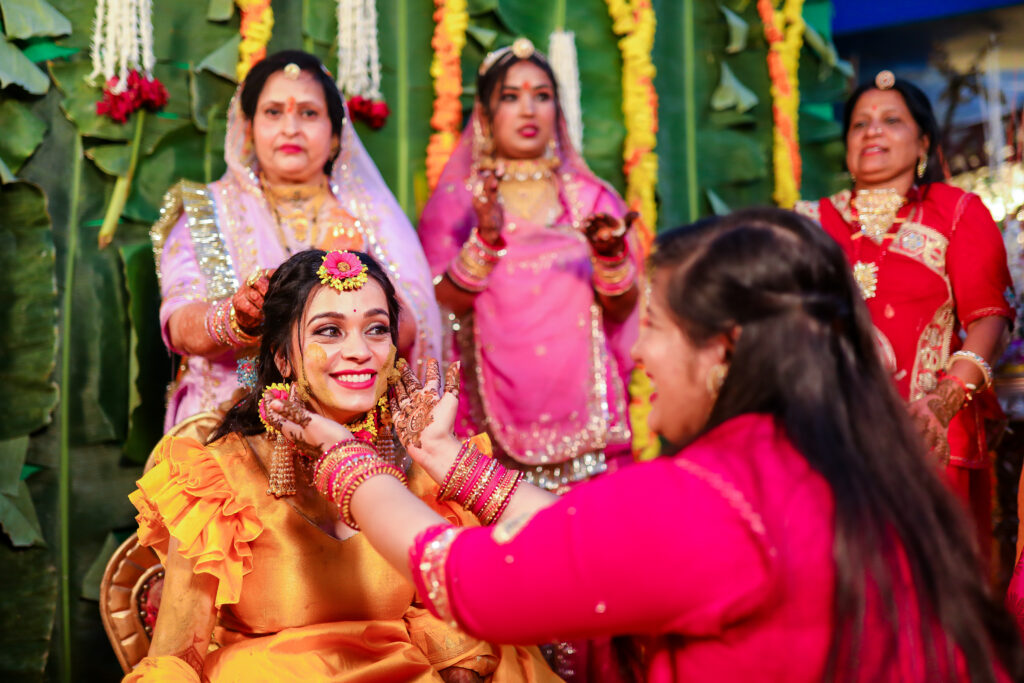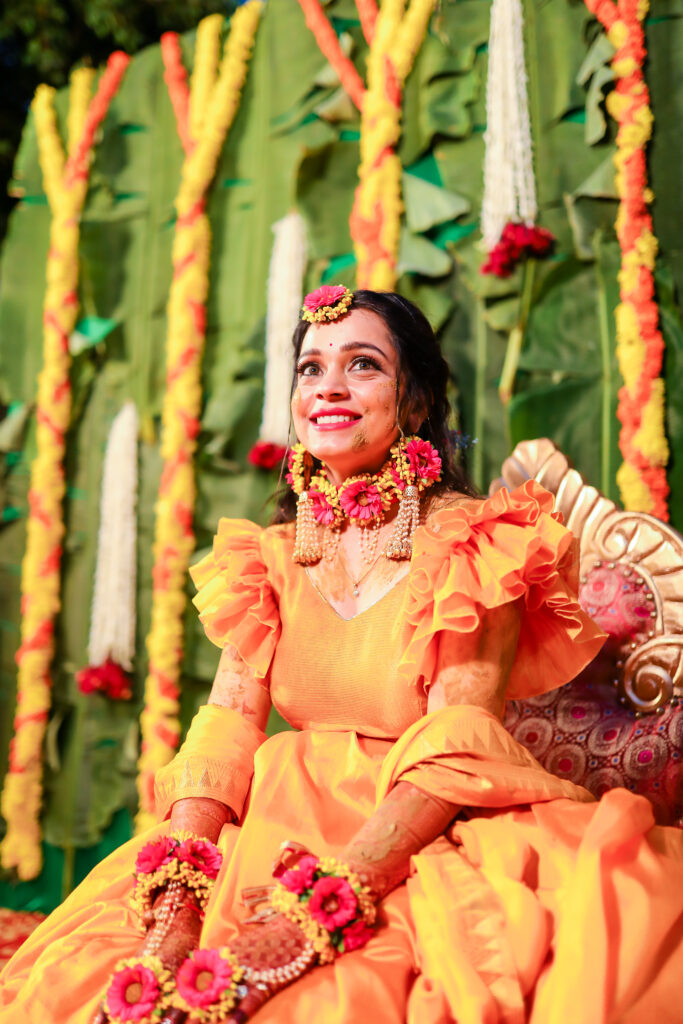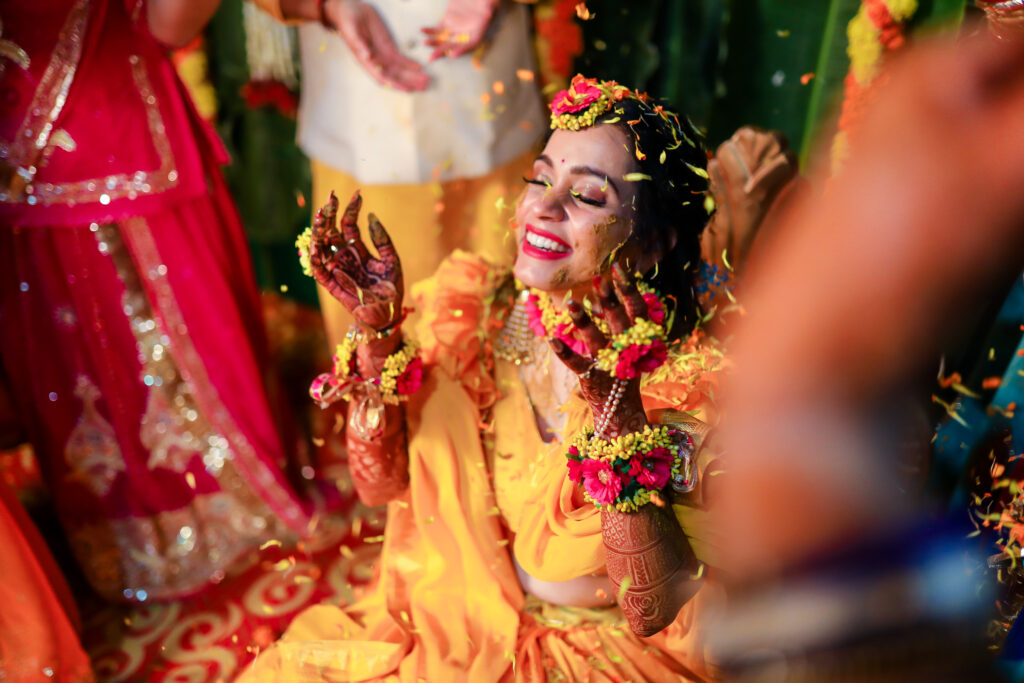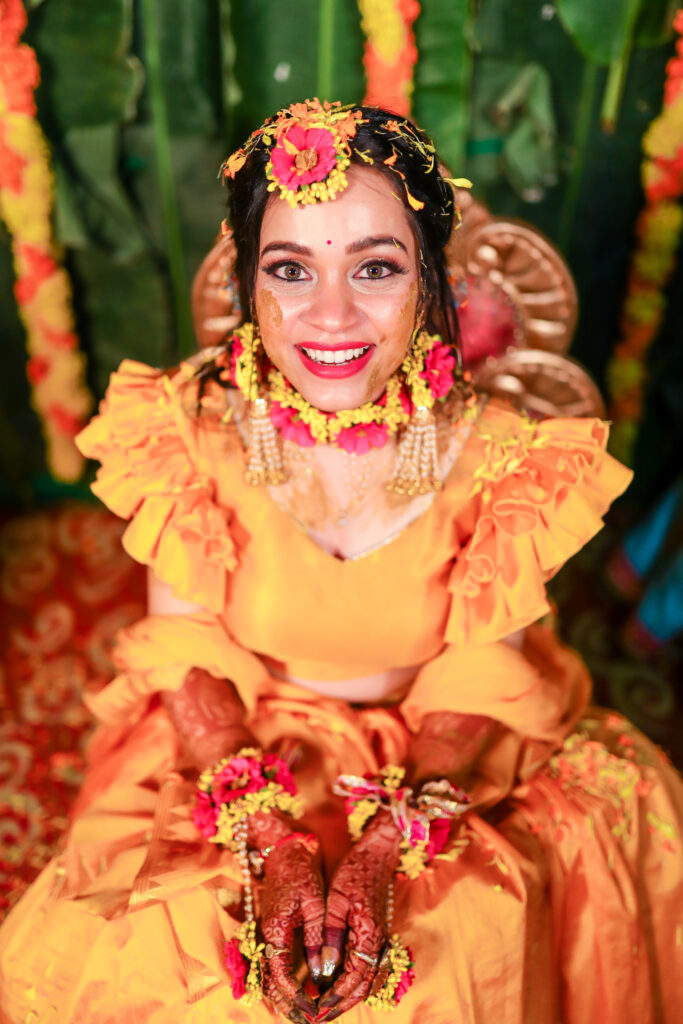 Ganesh Poojan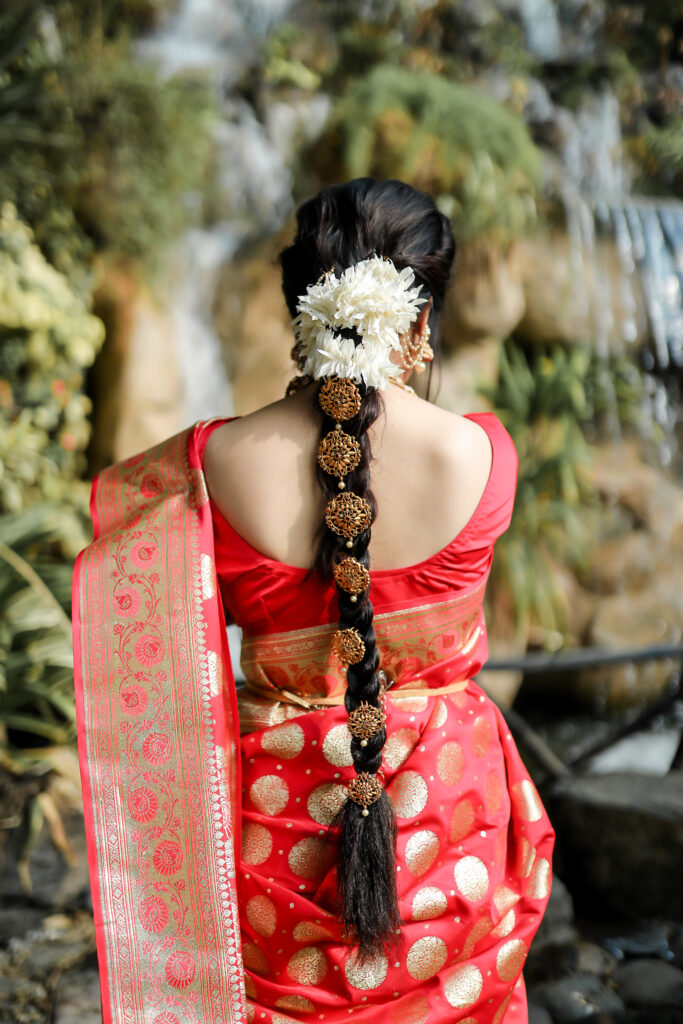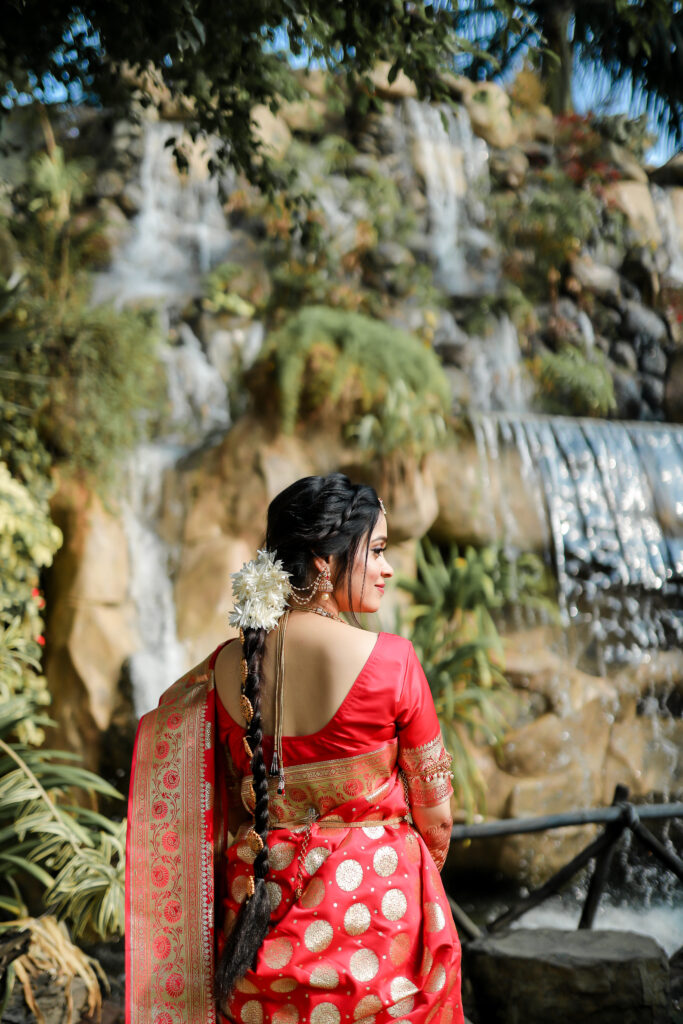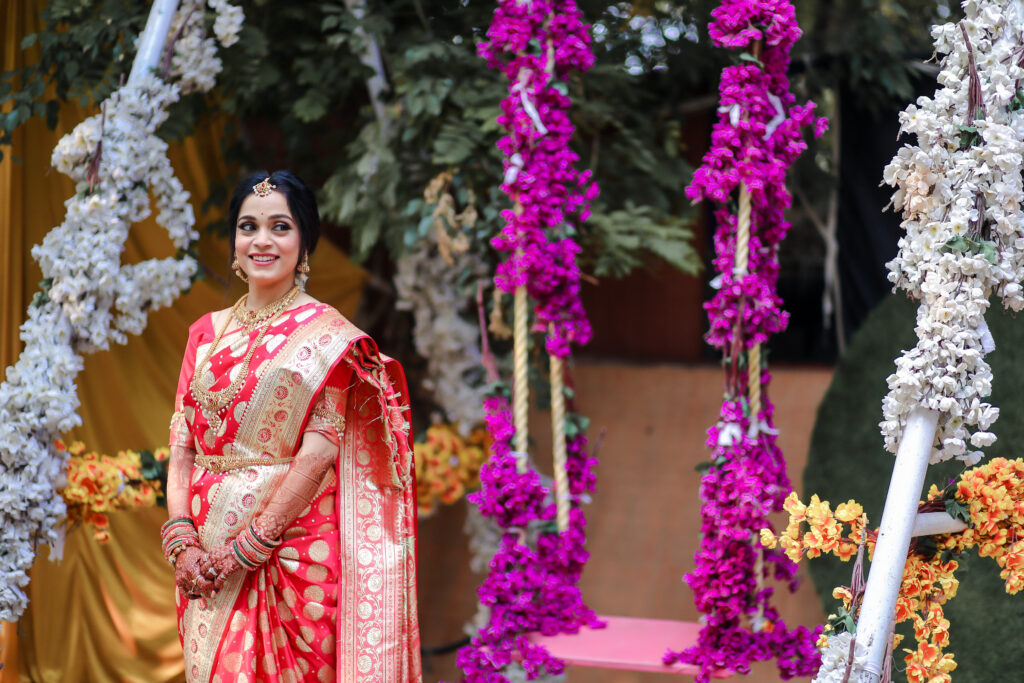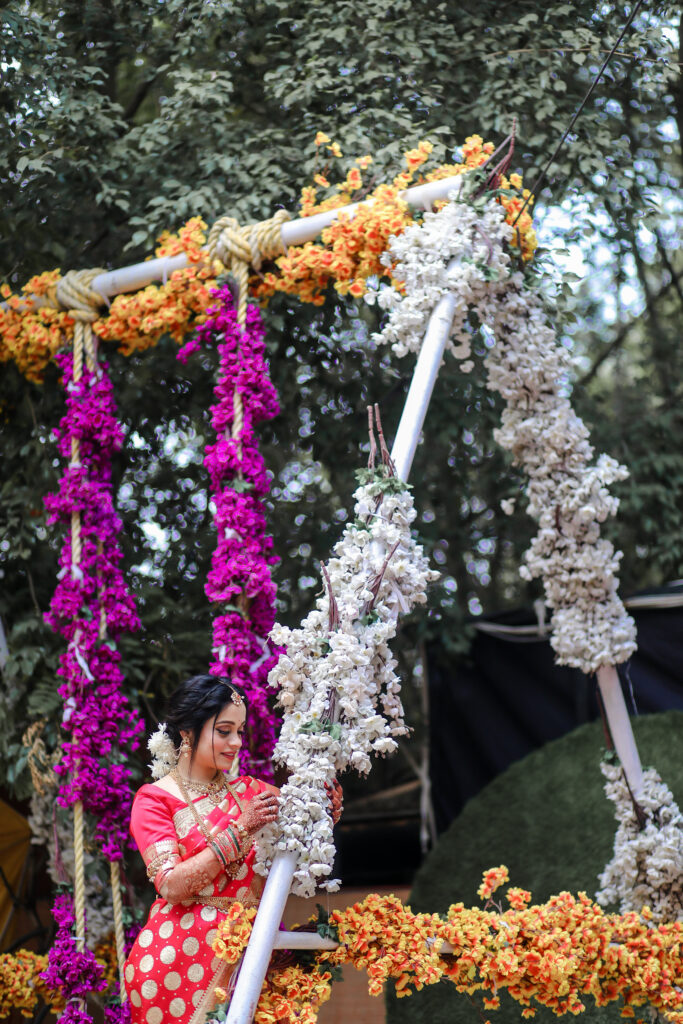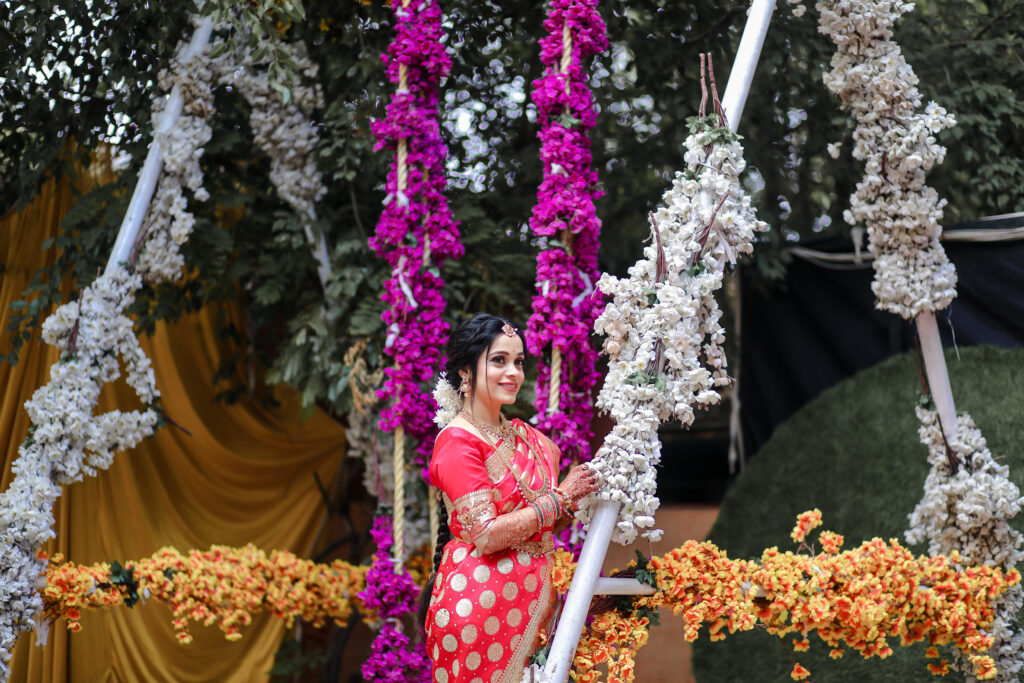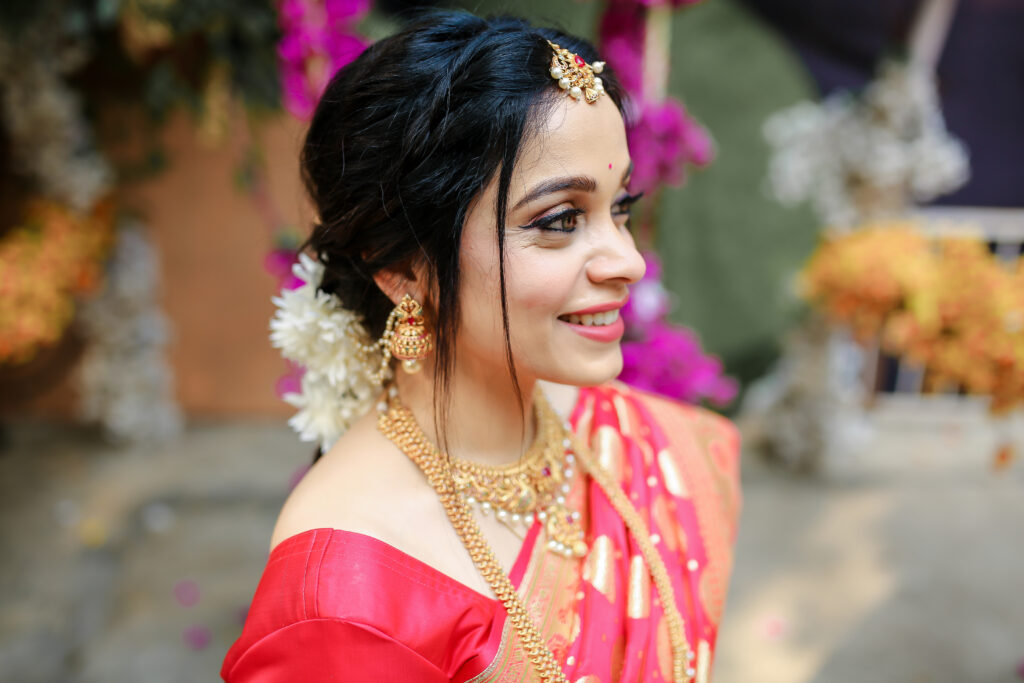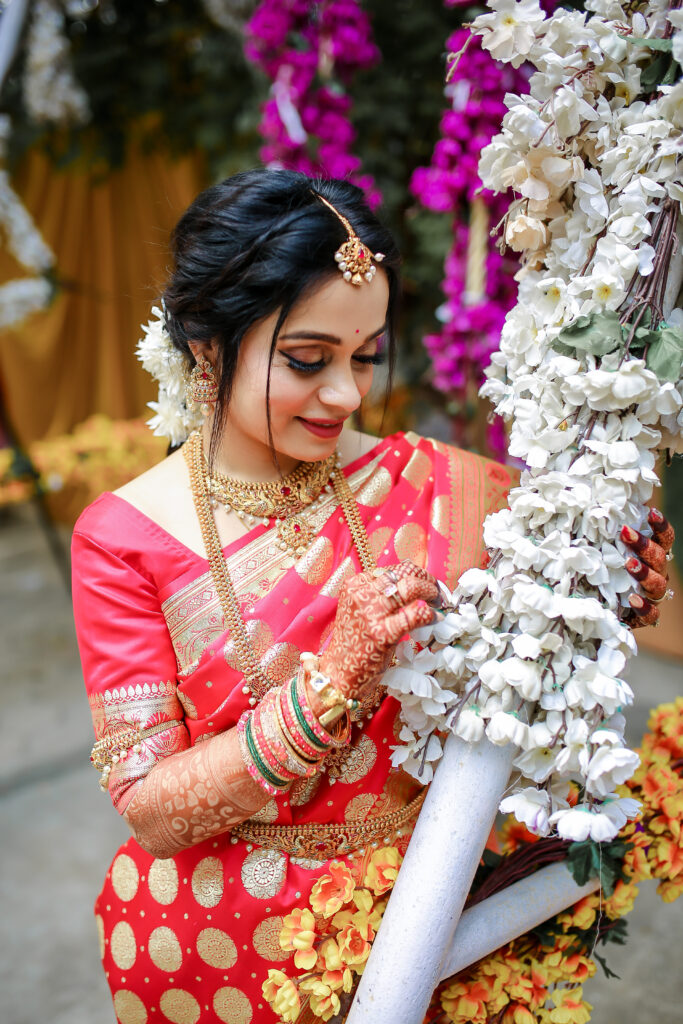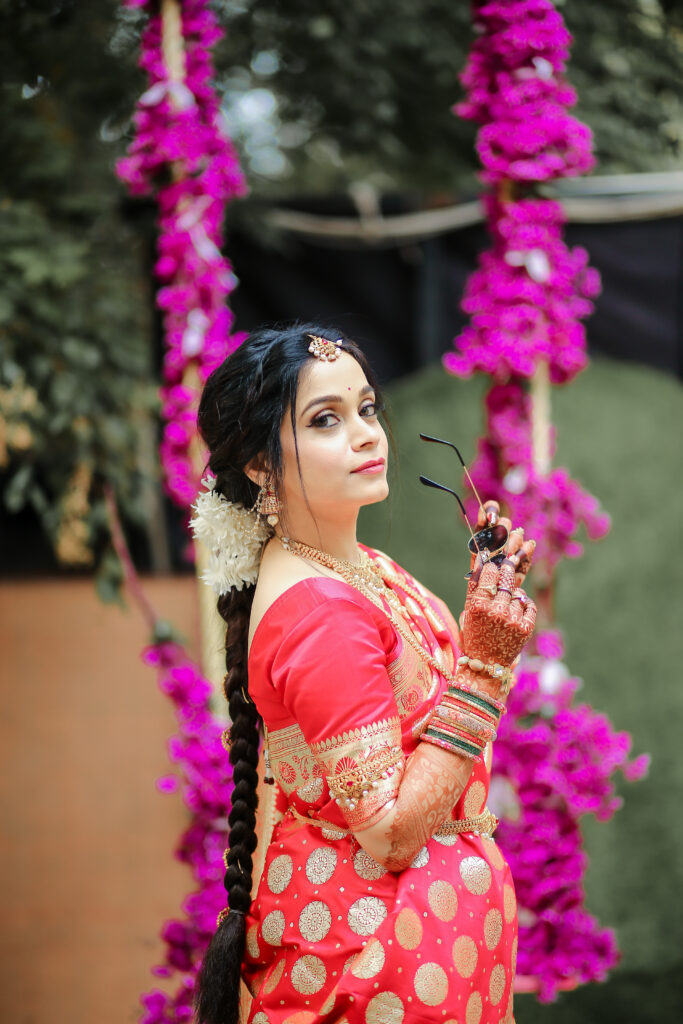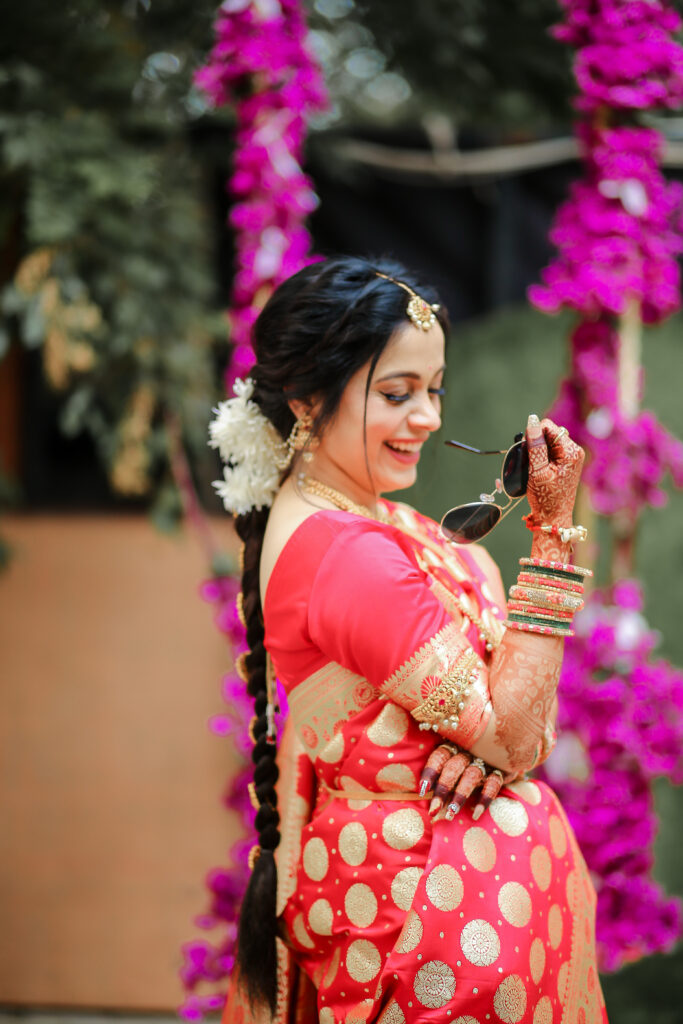 Sangeet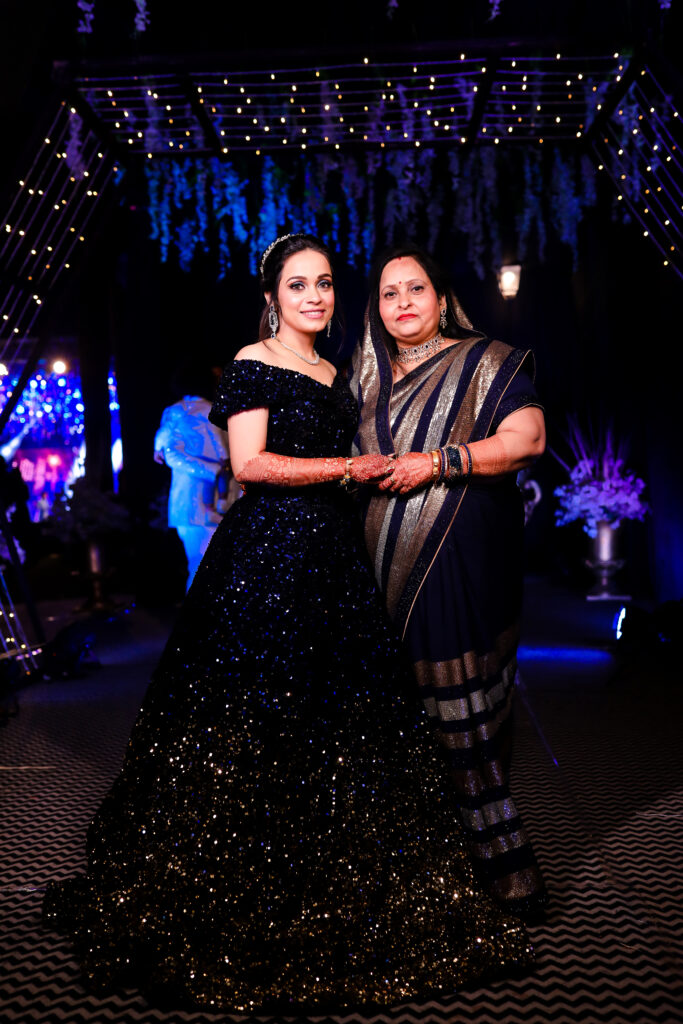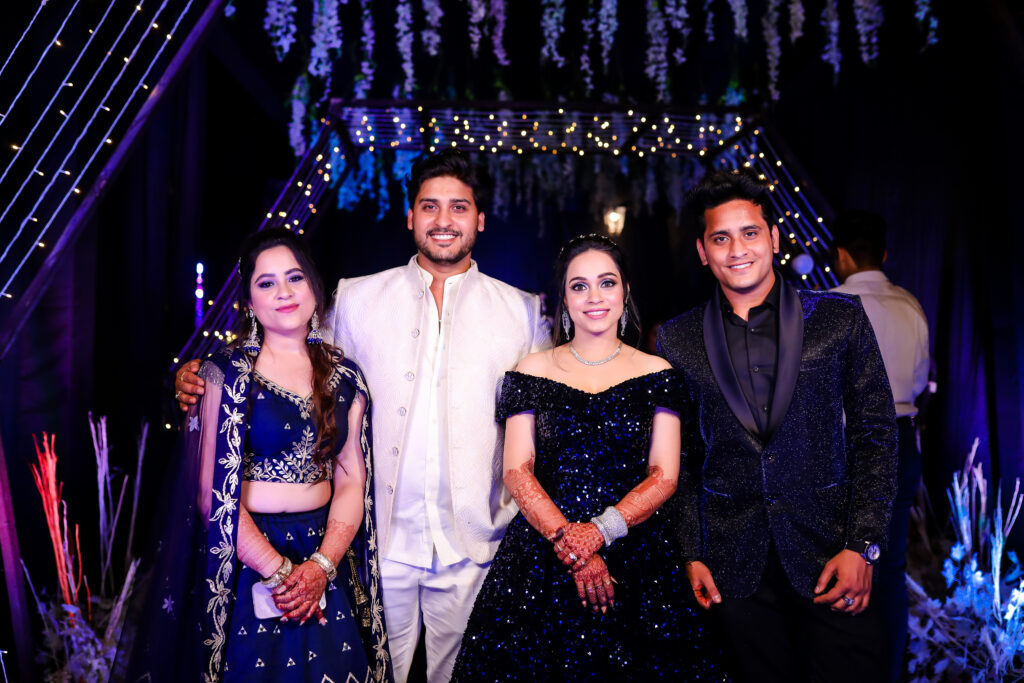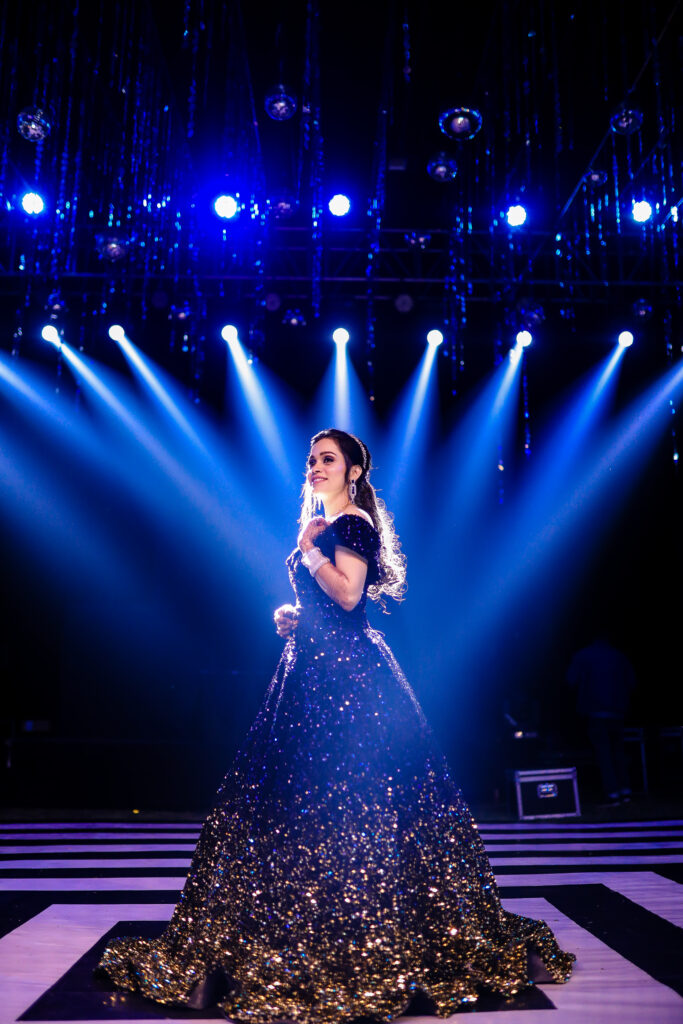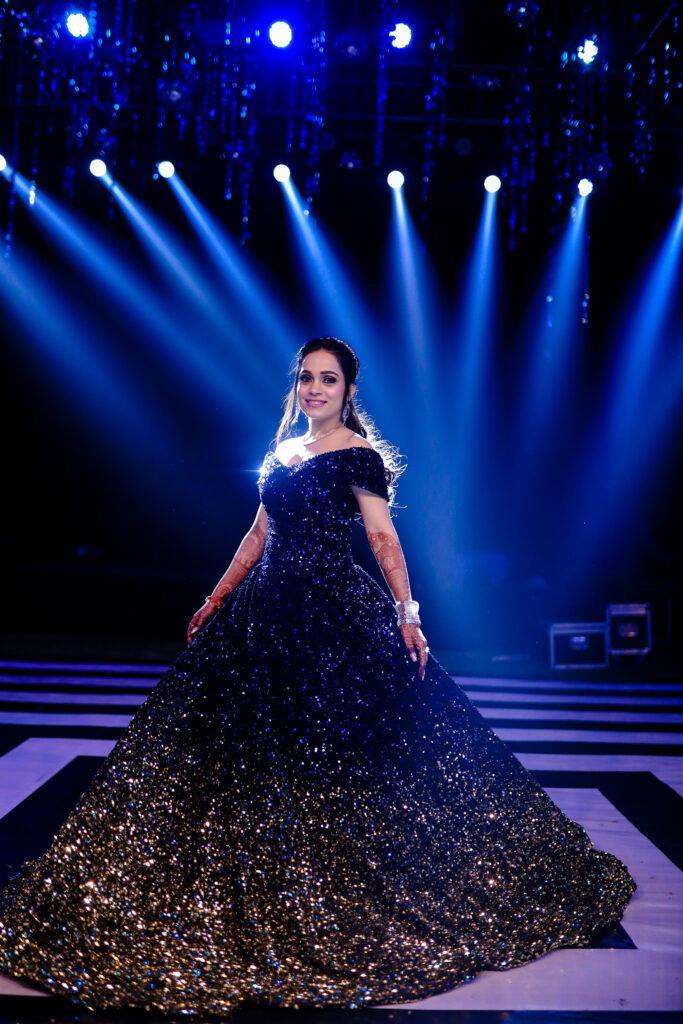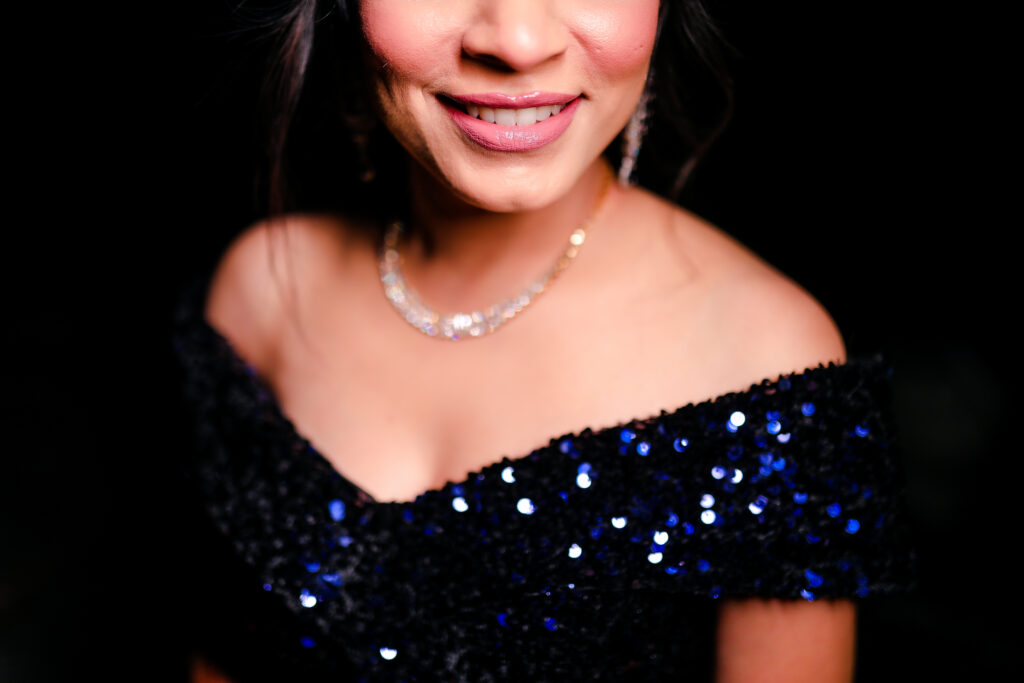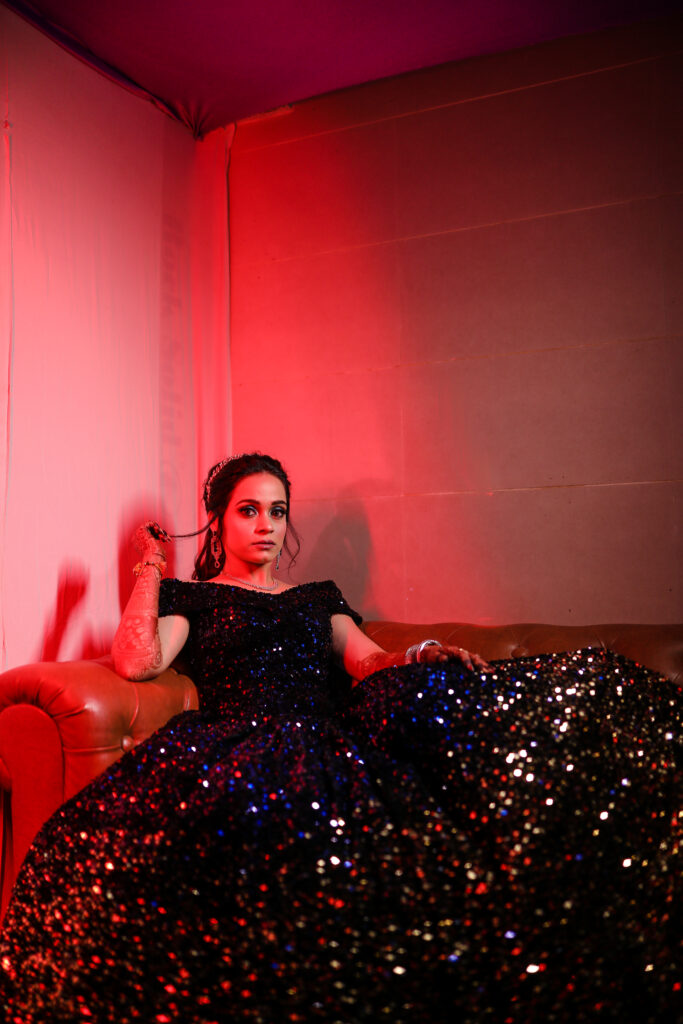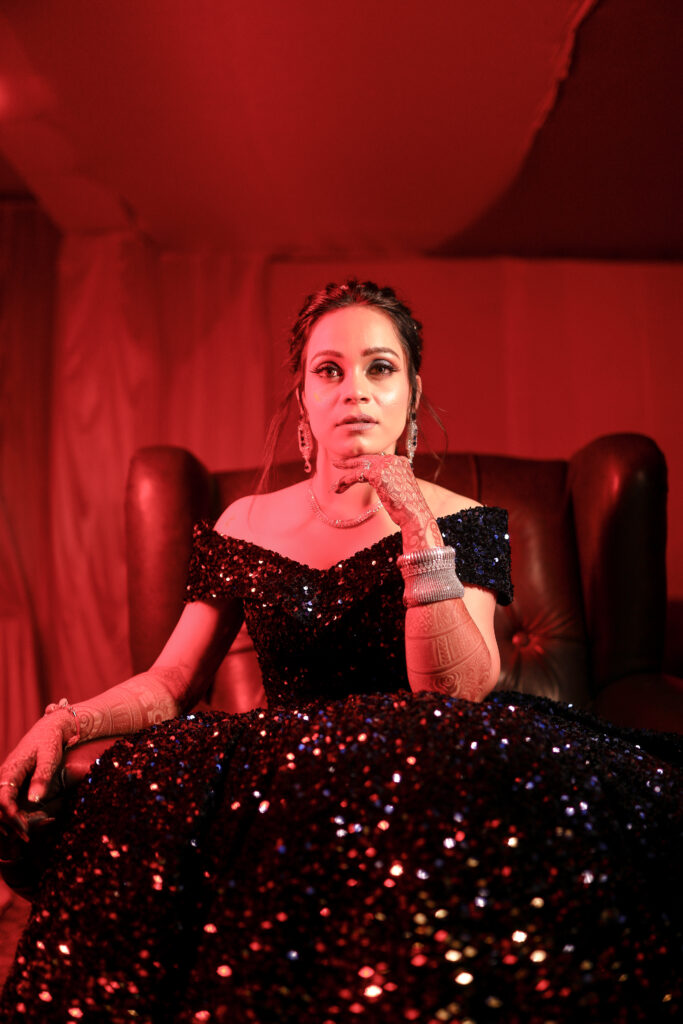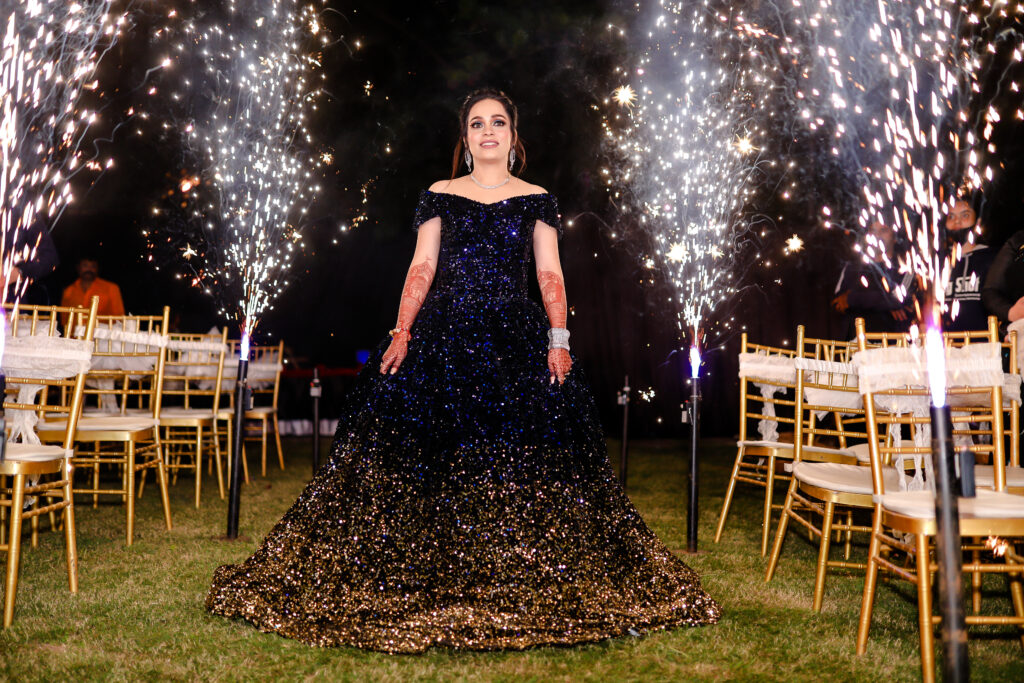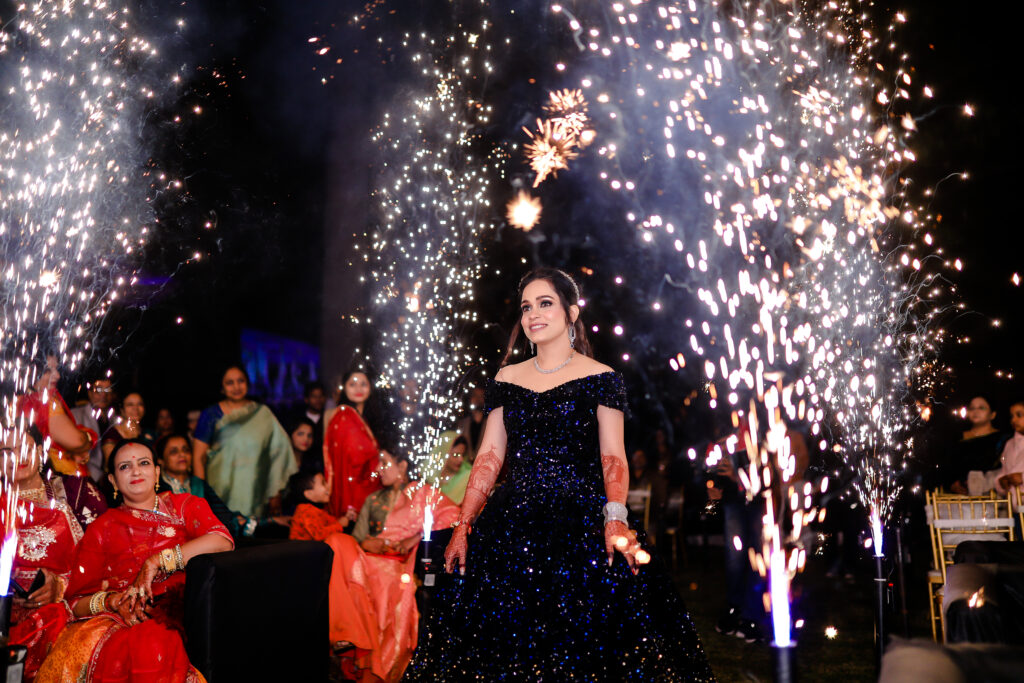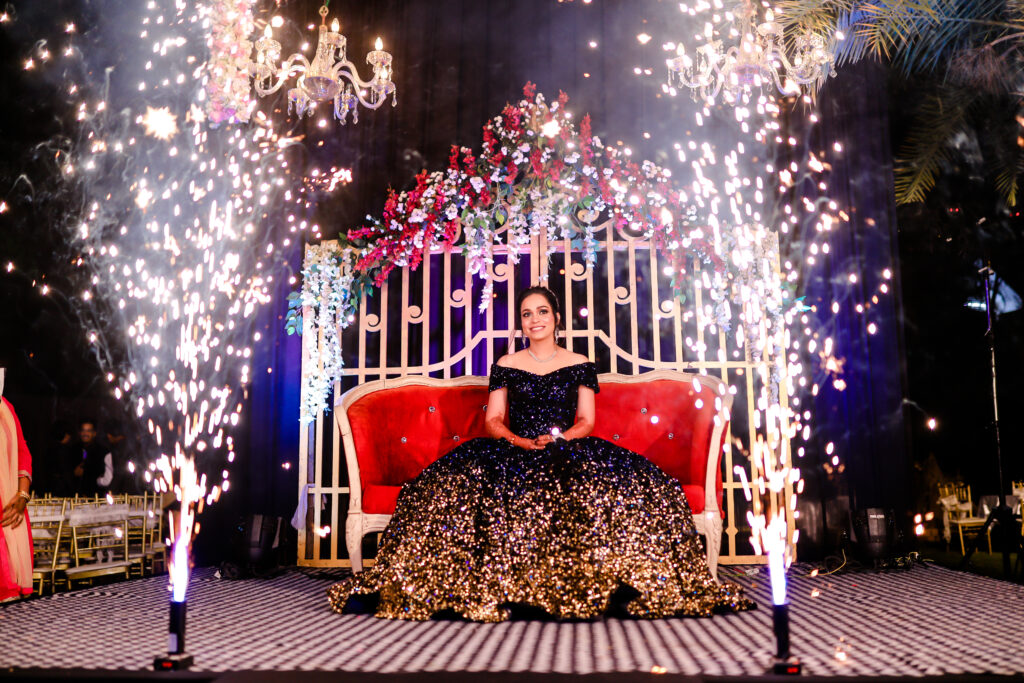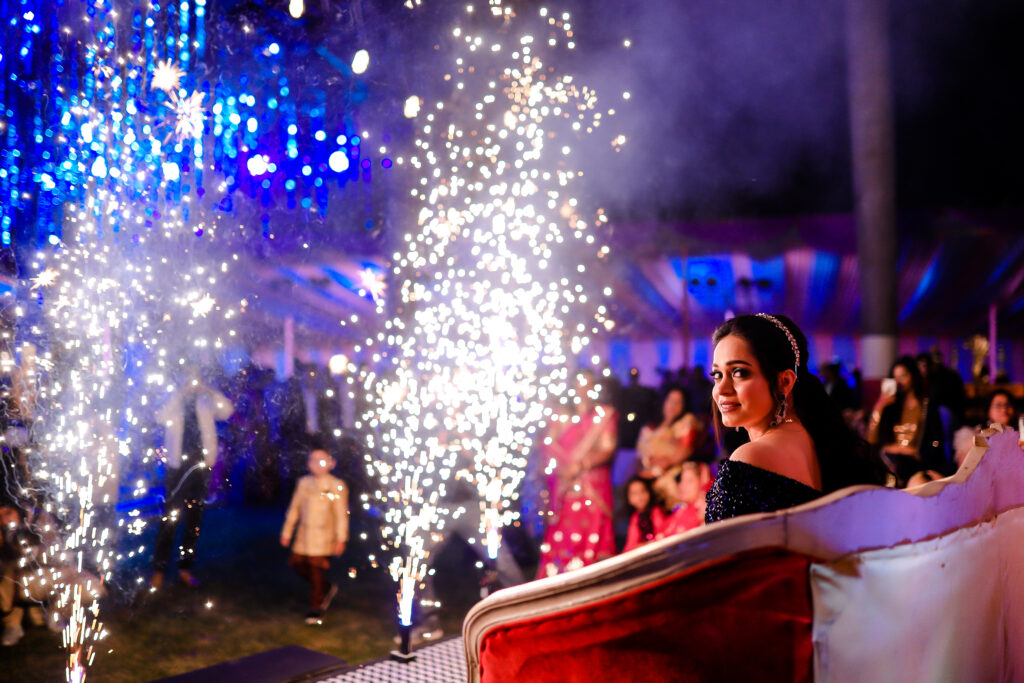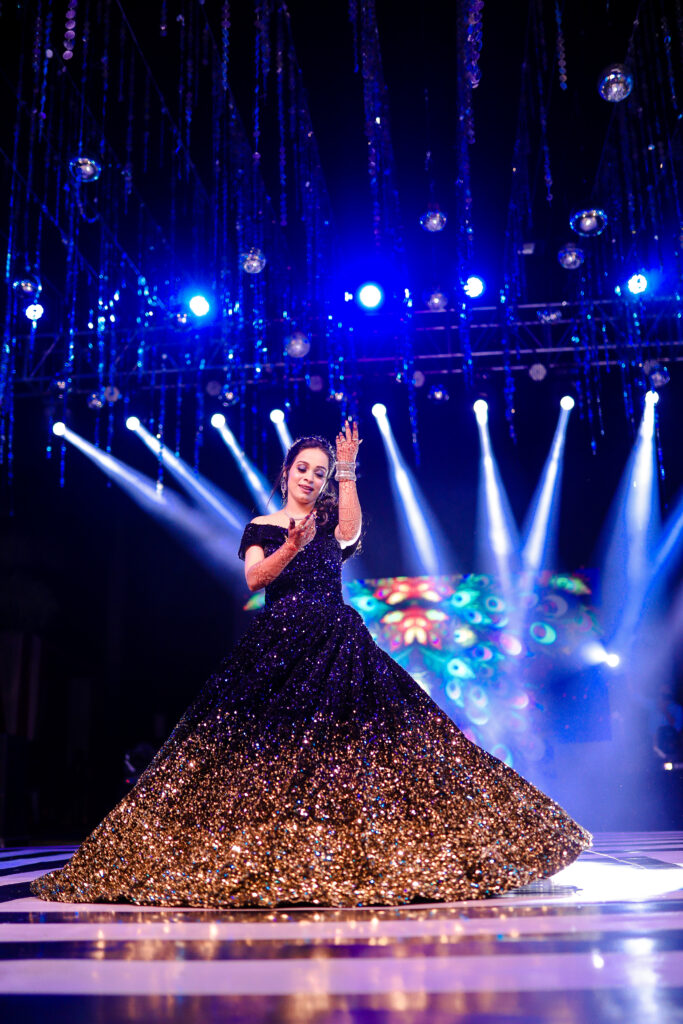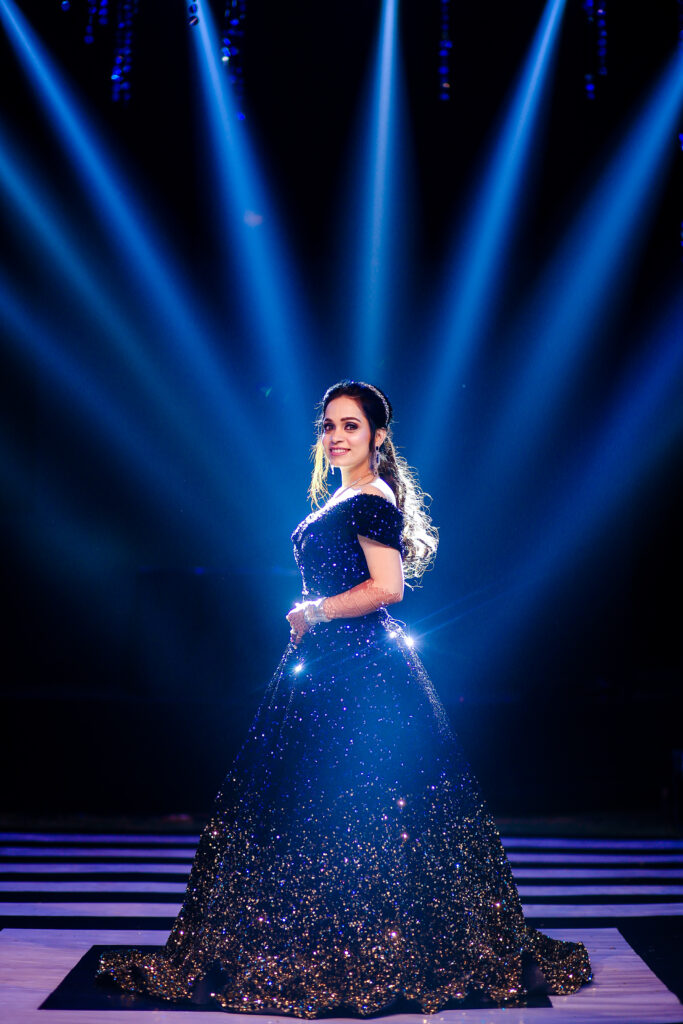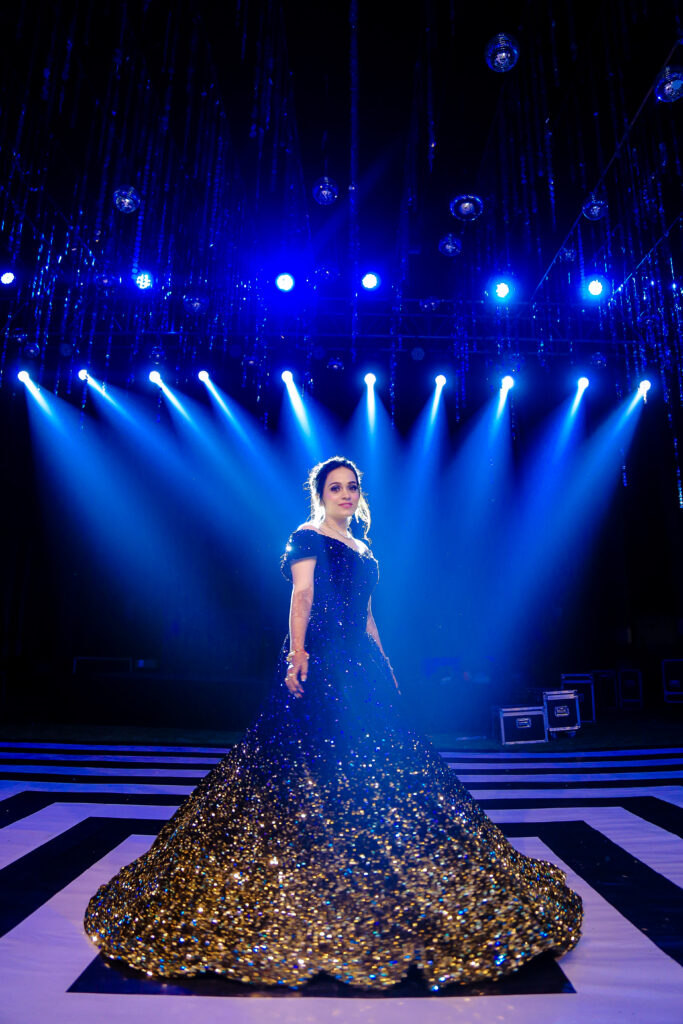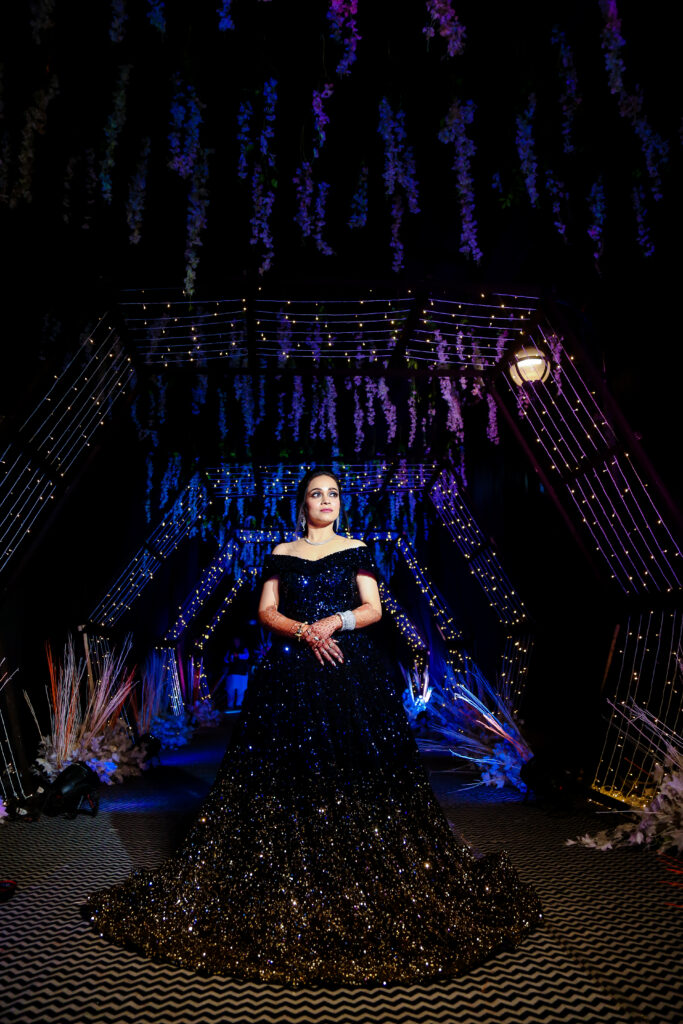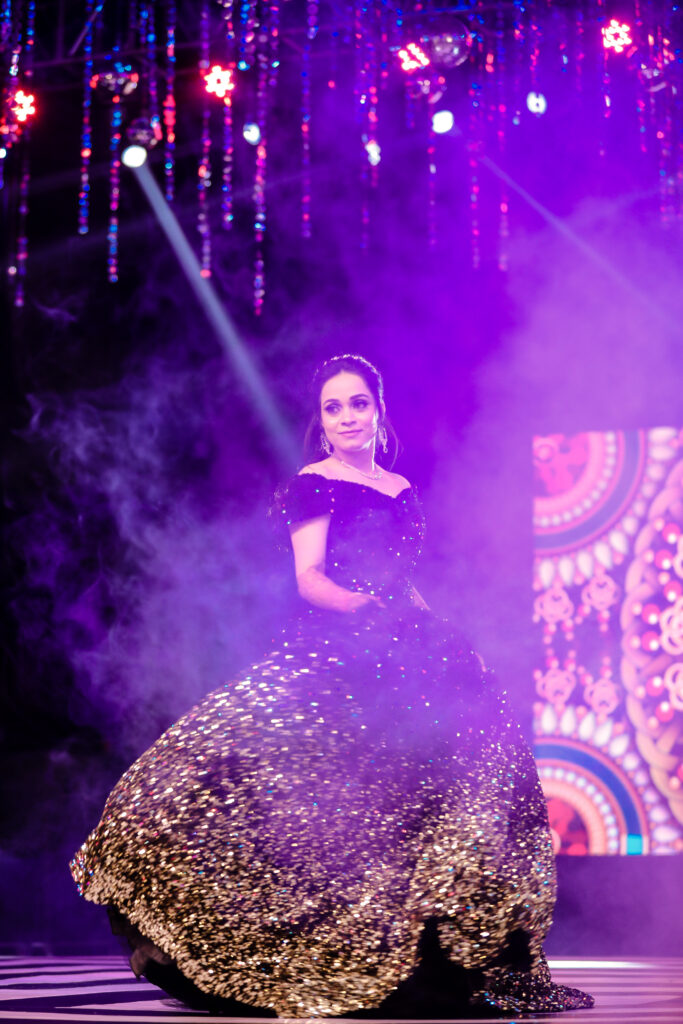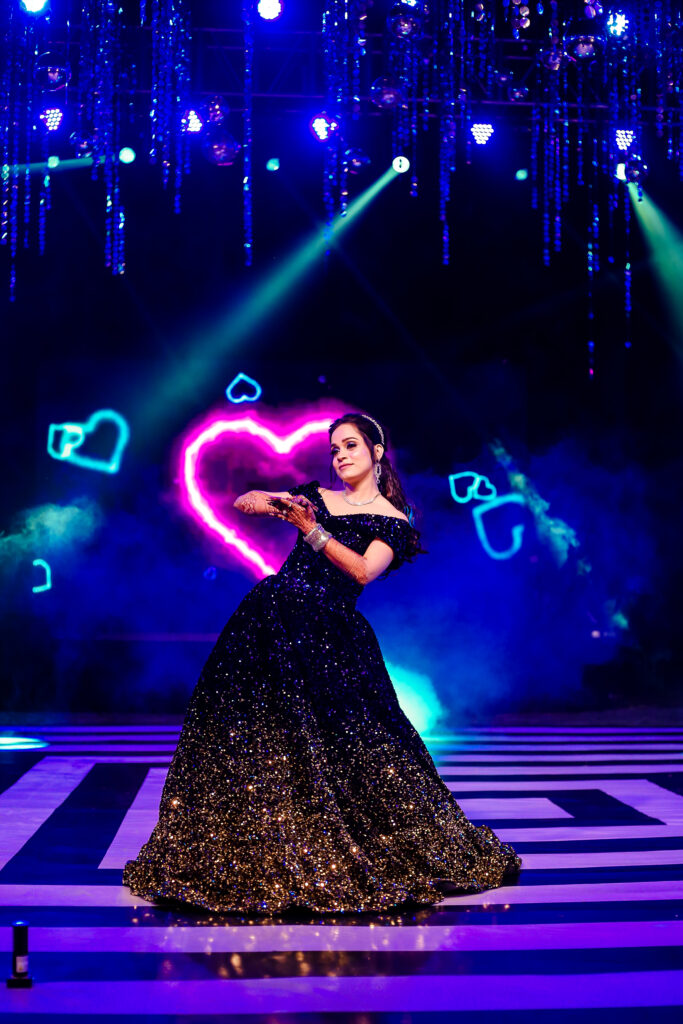 Phere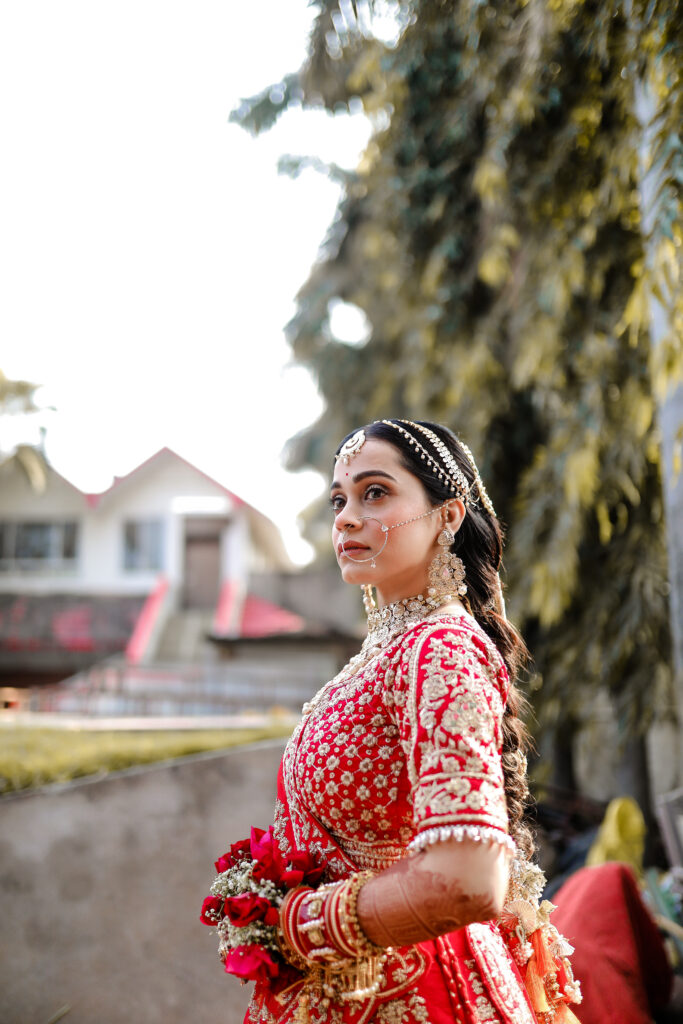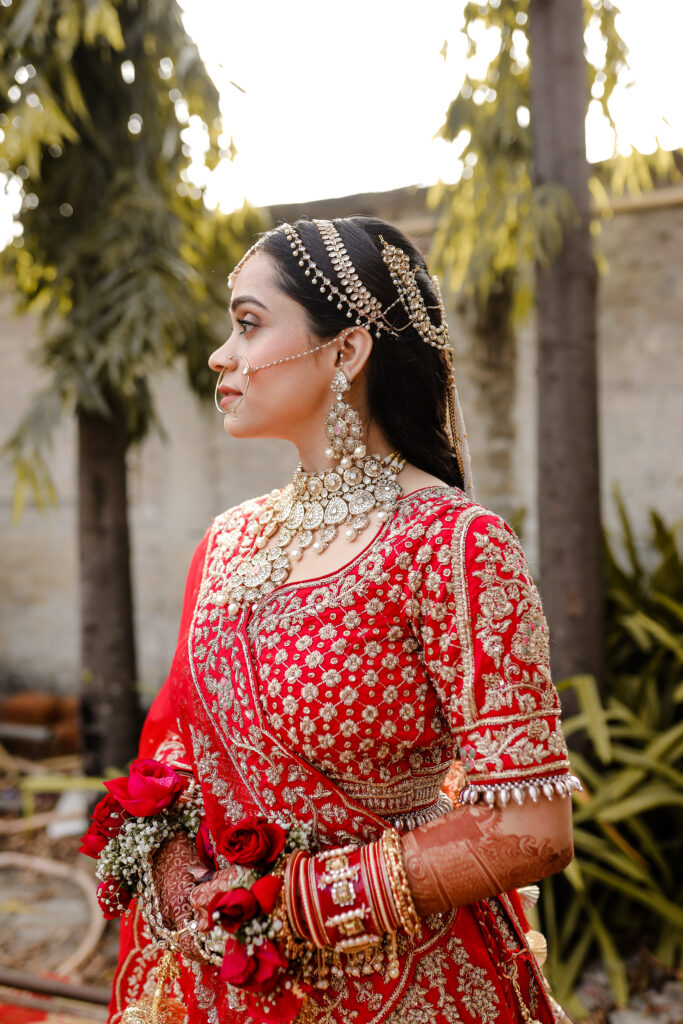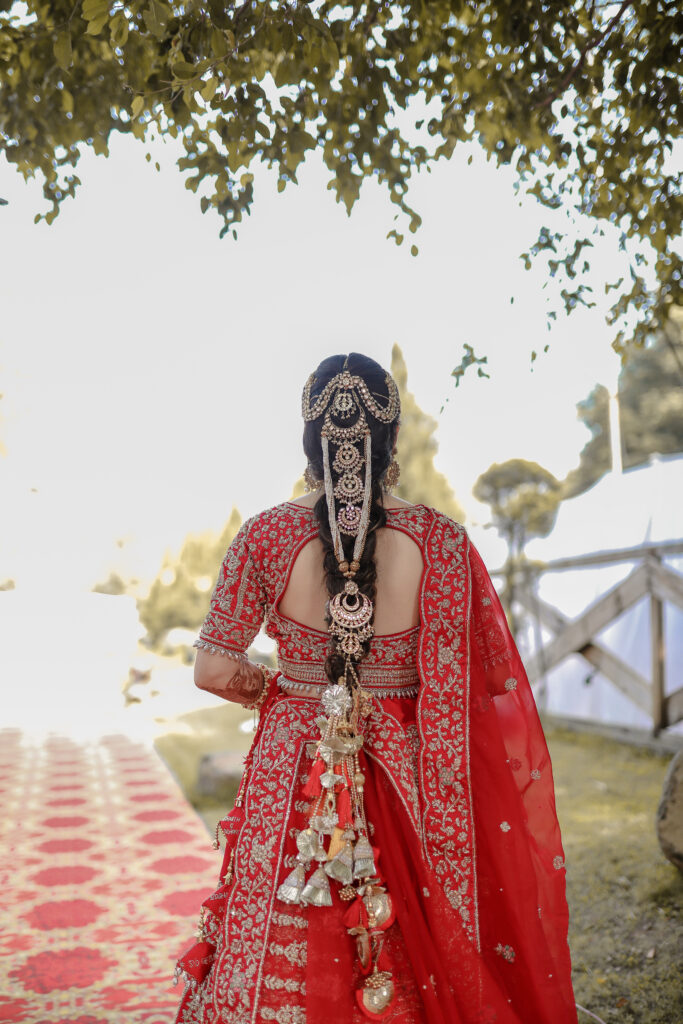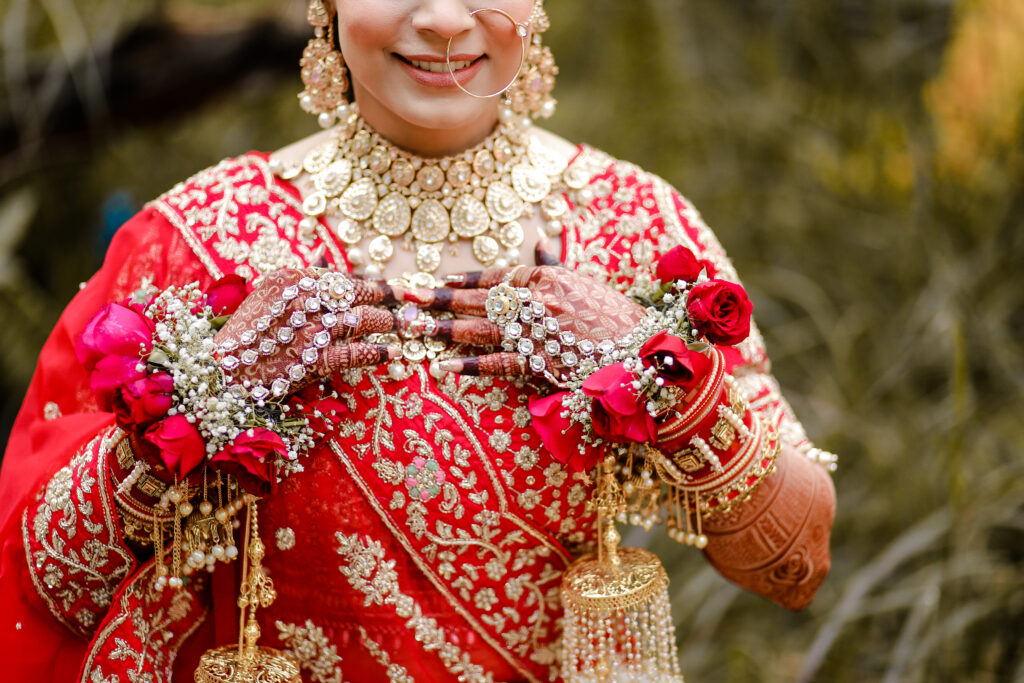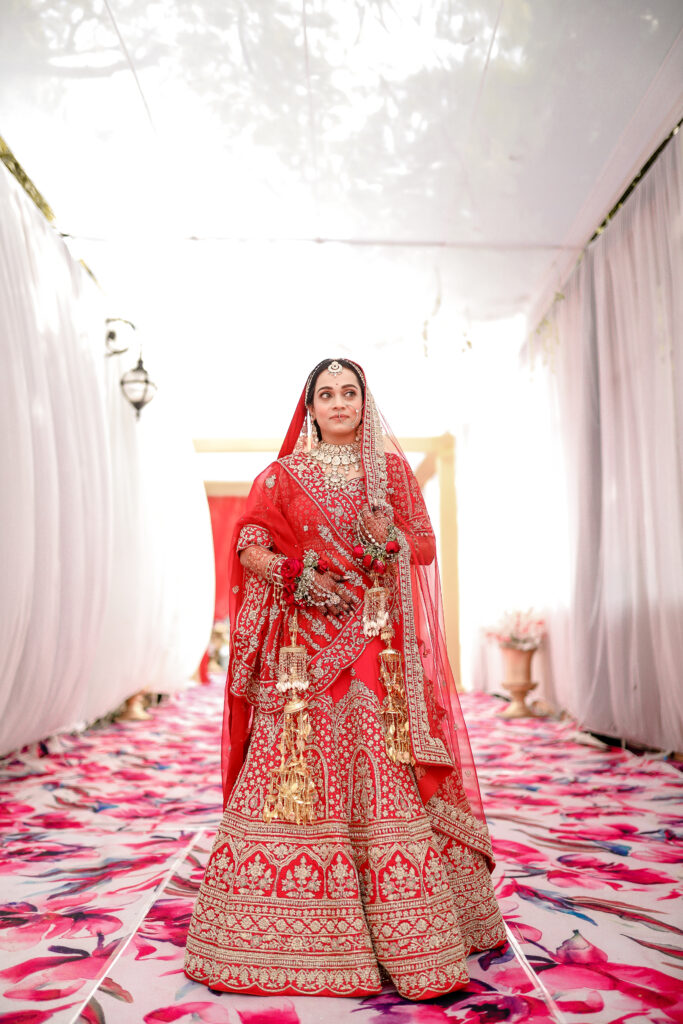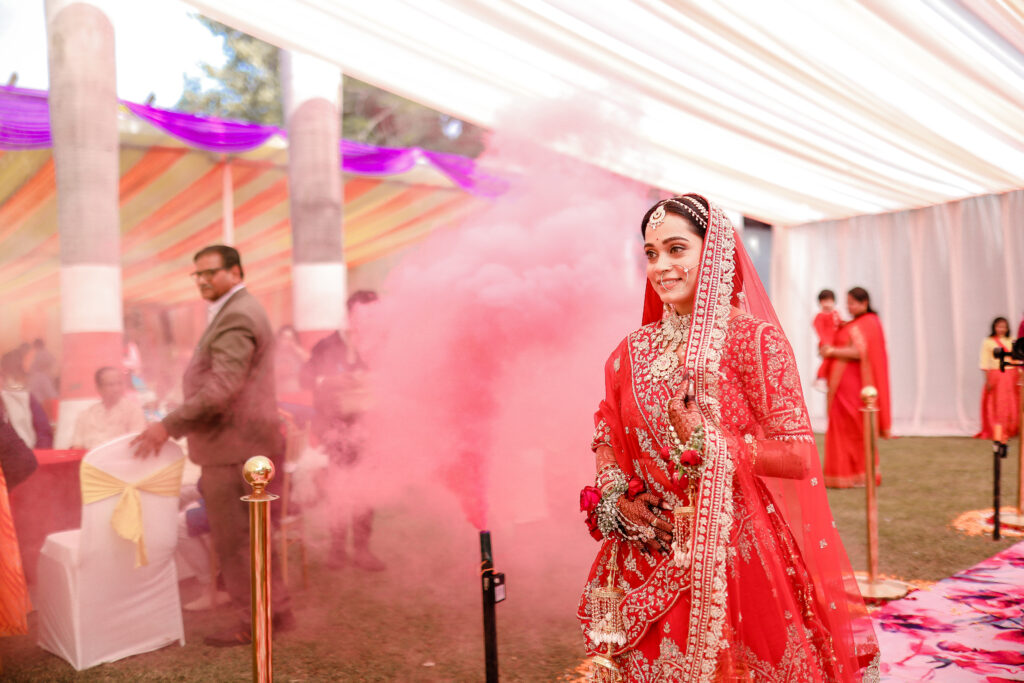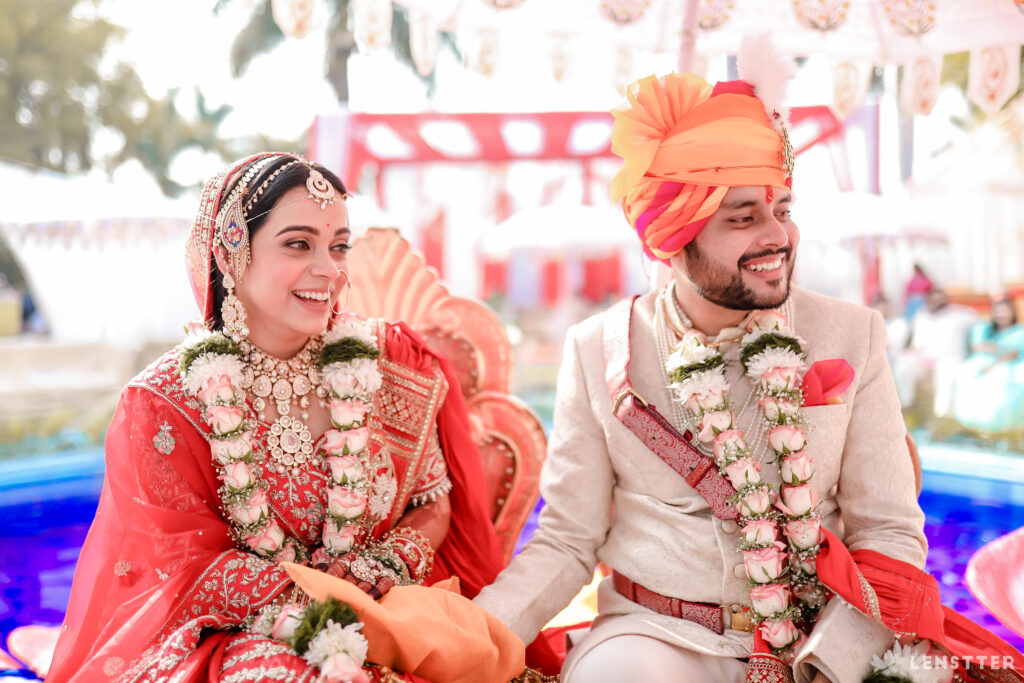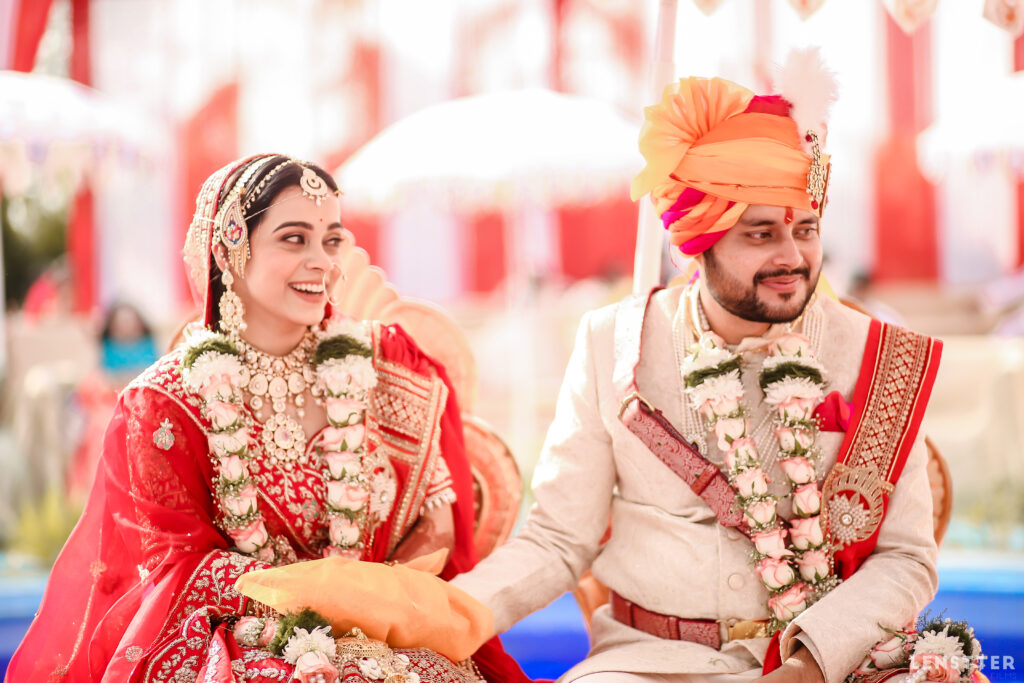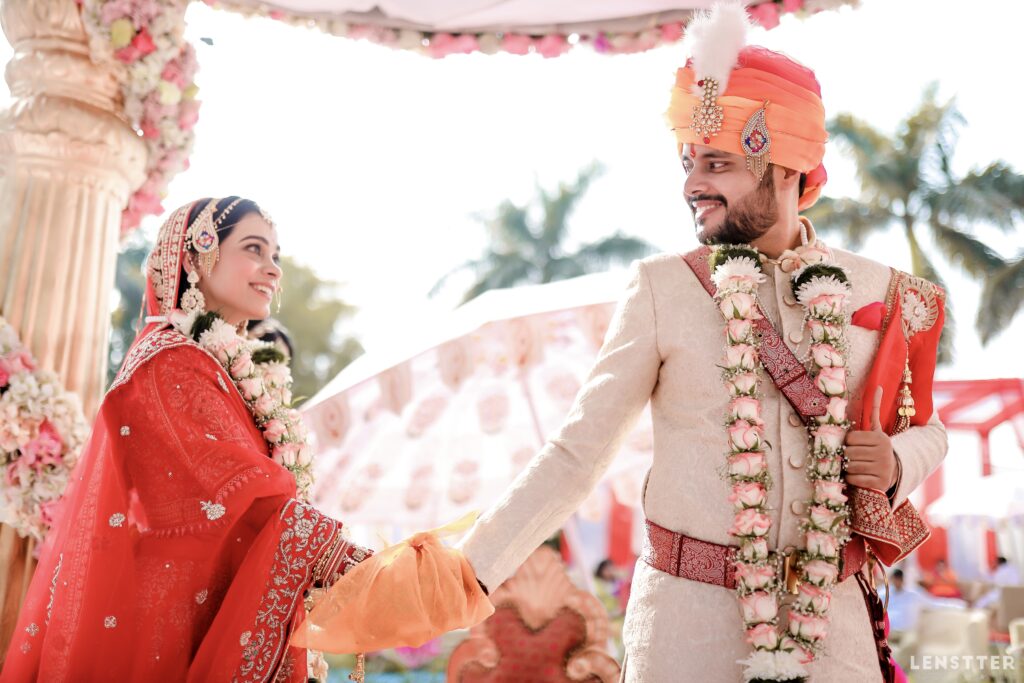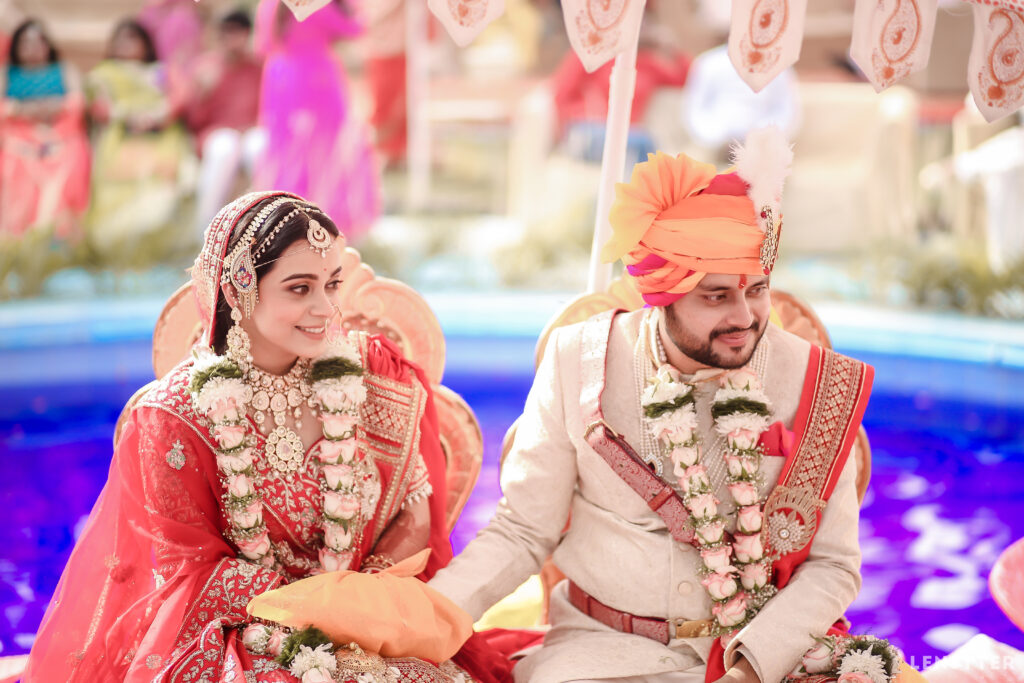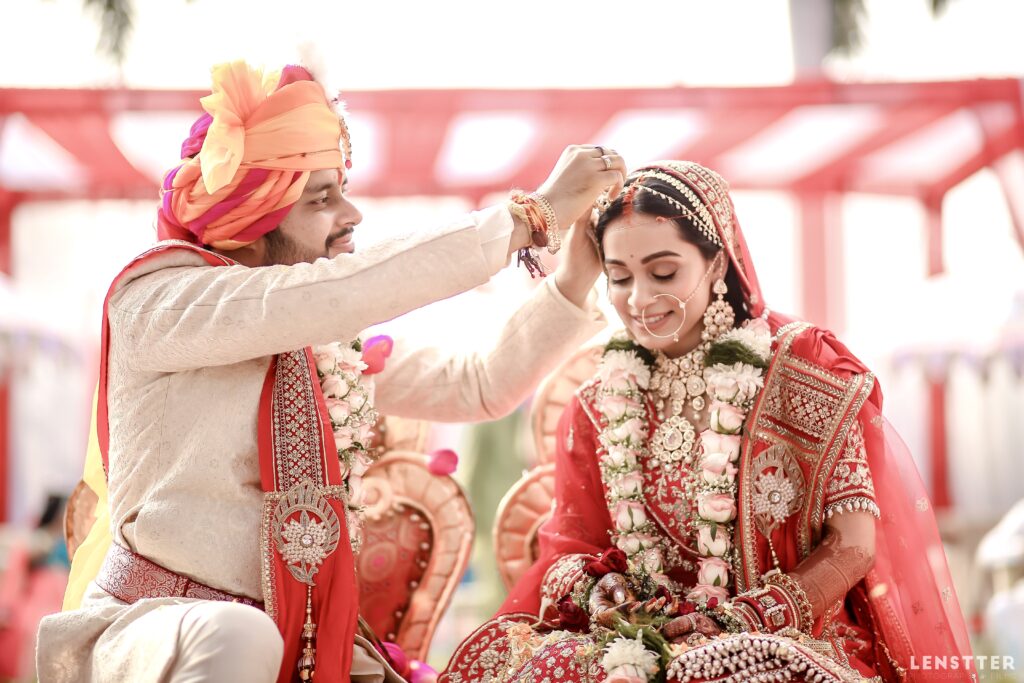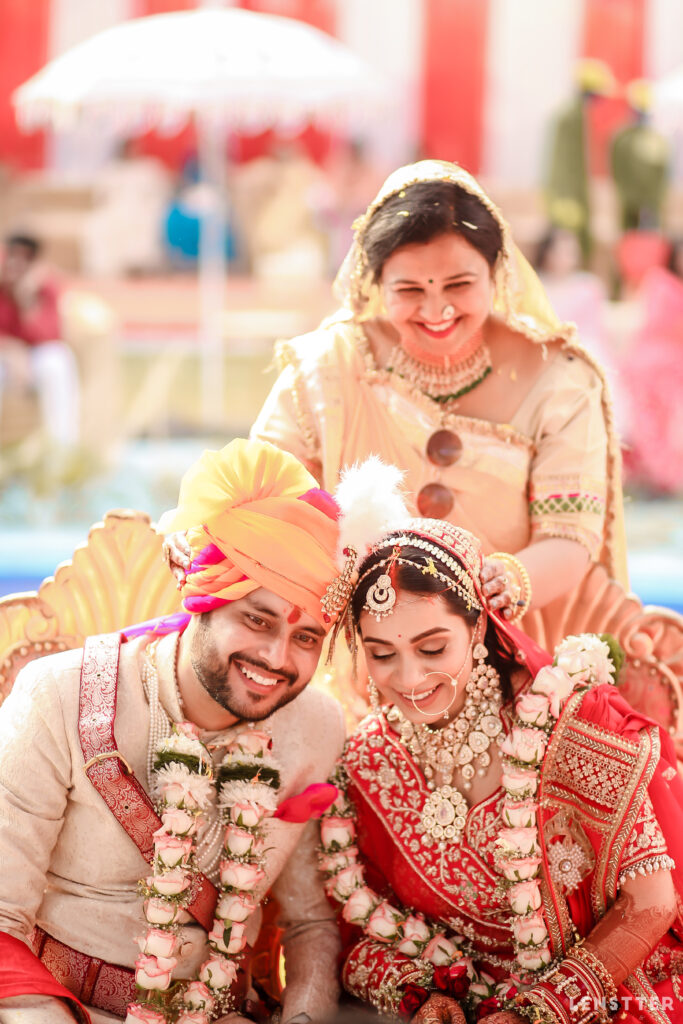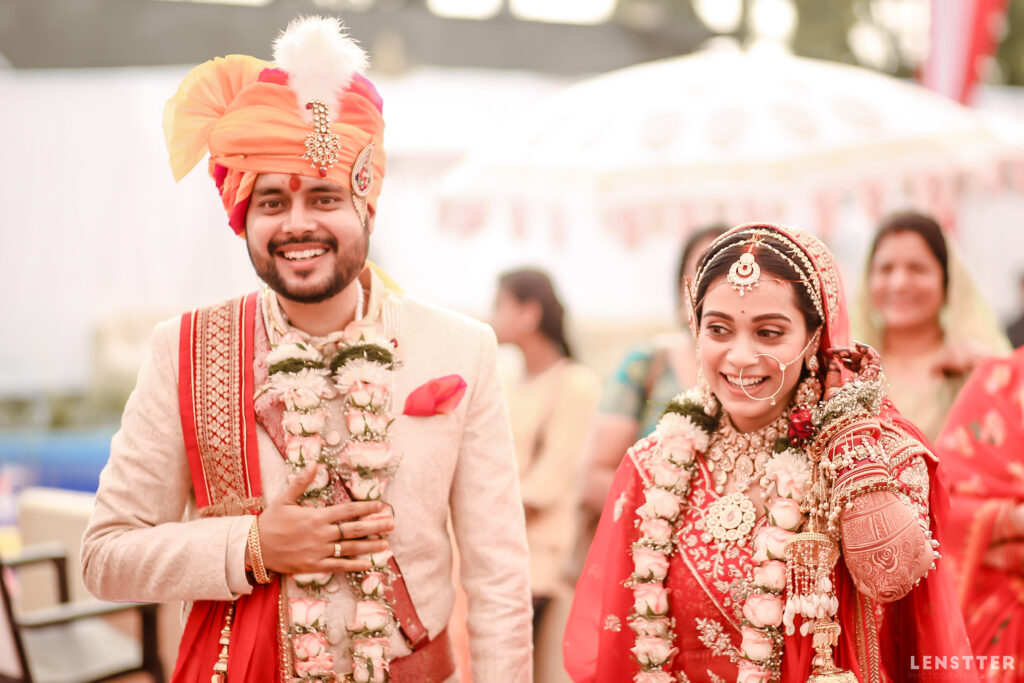 Reception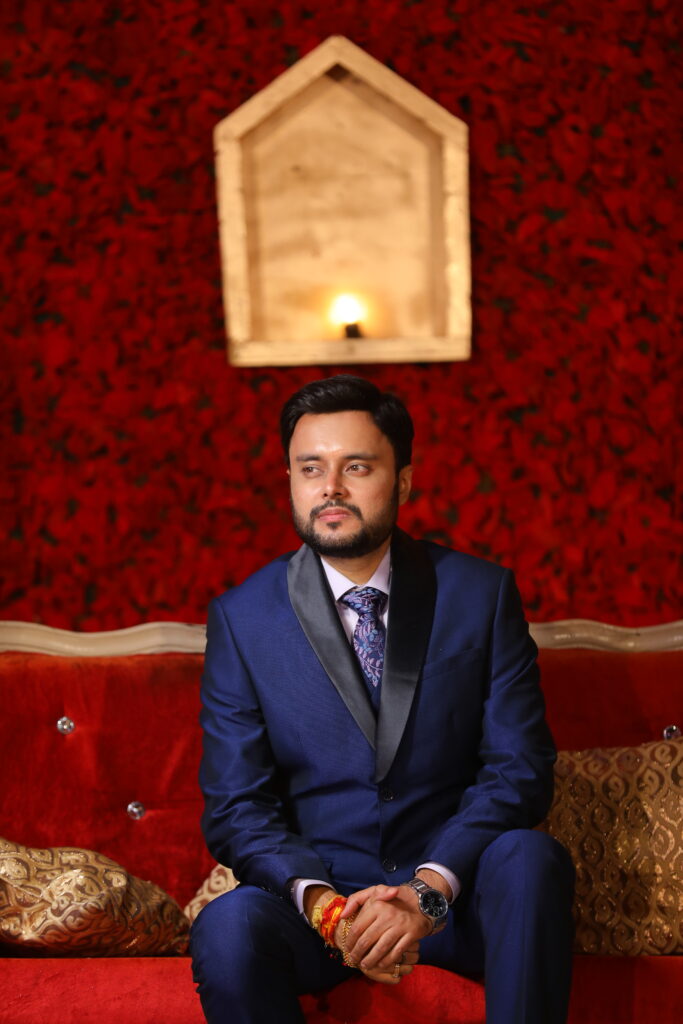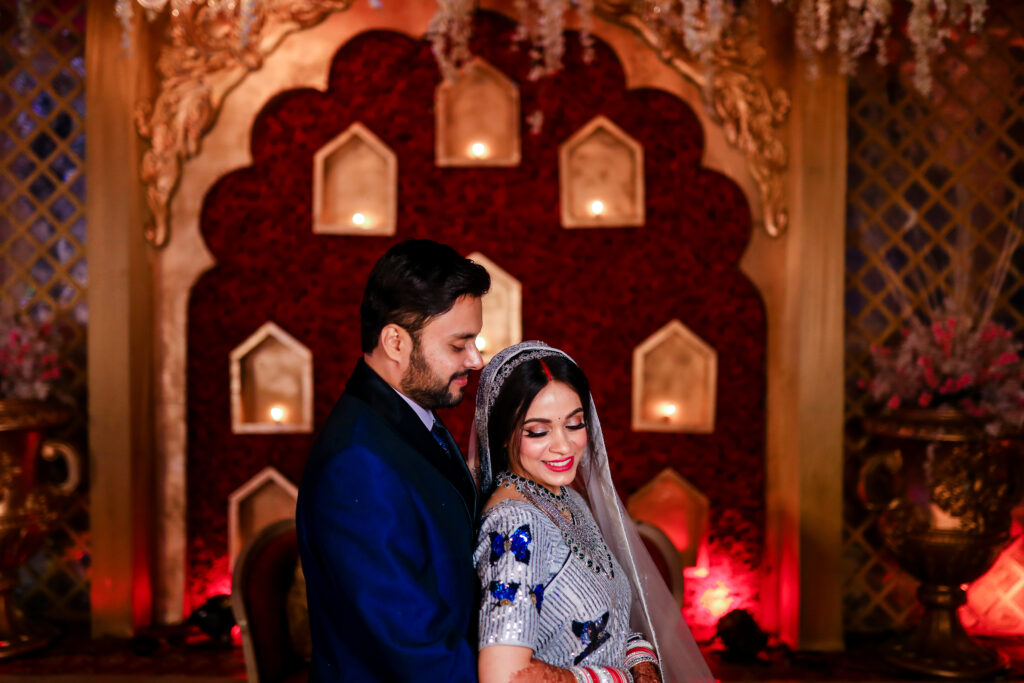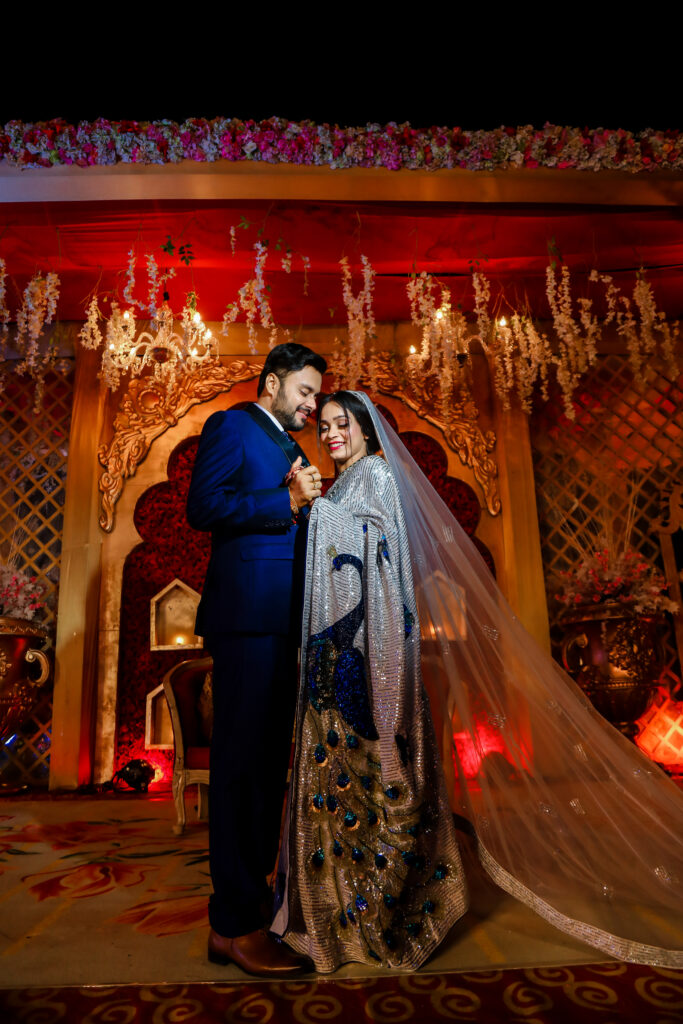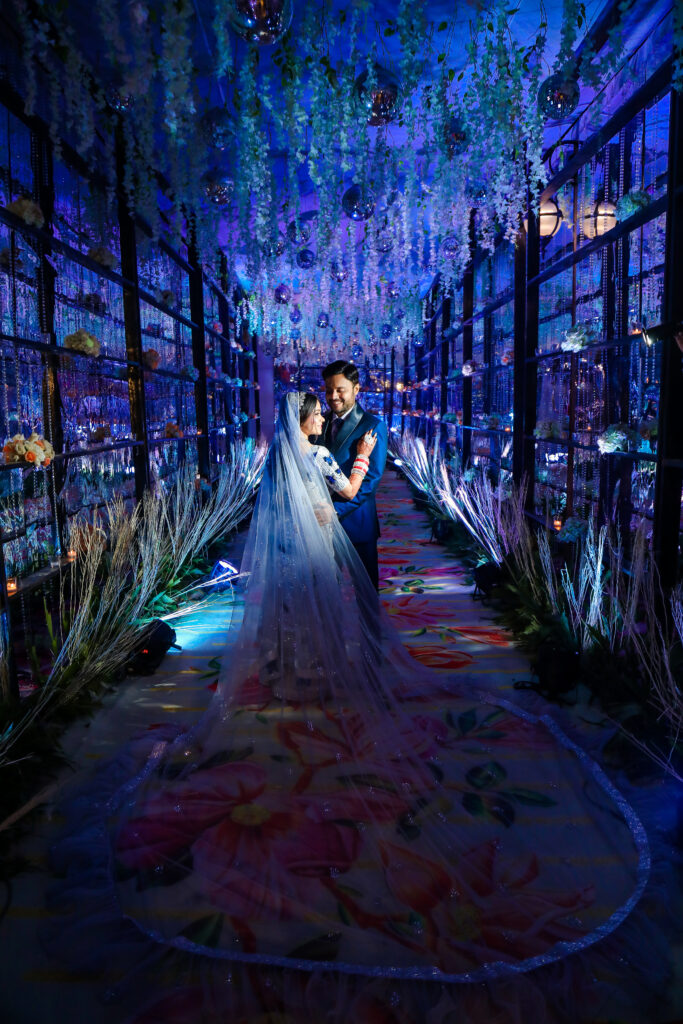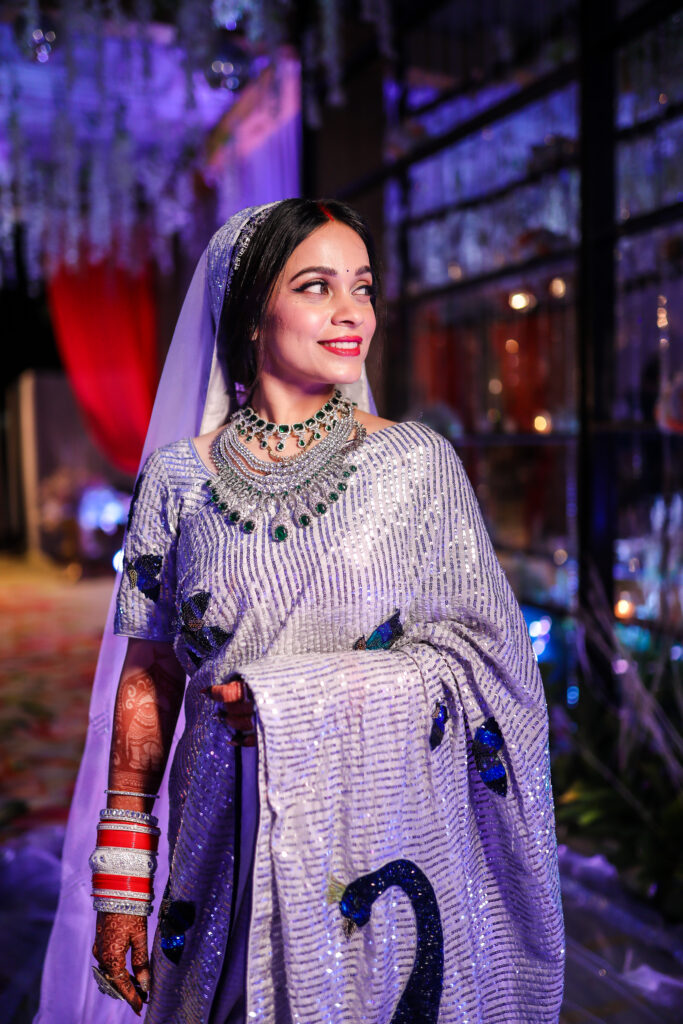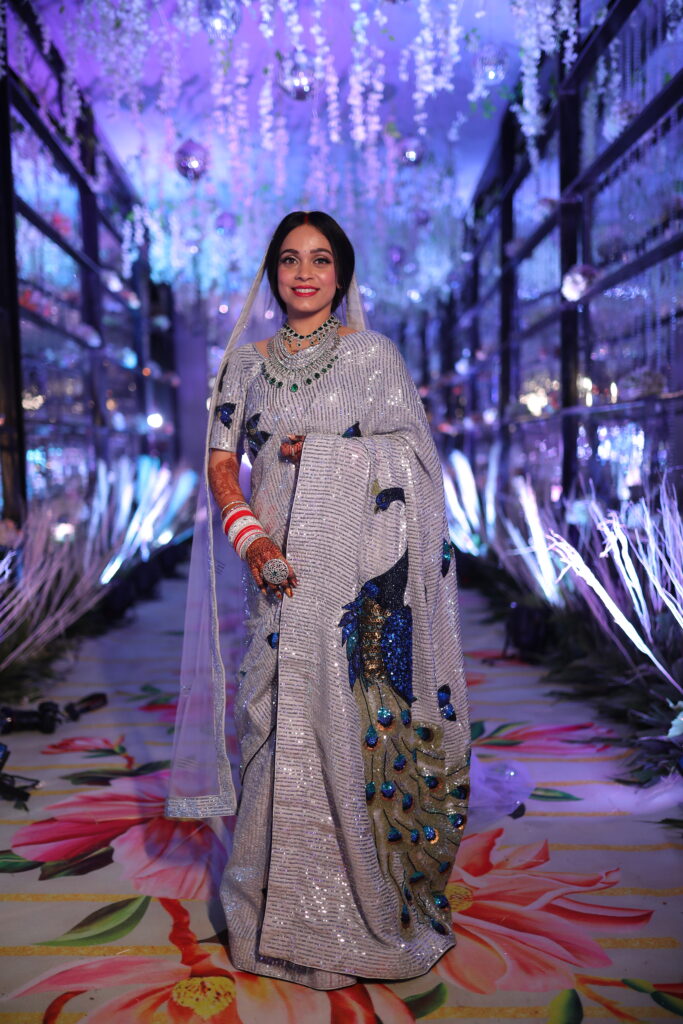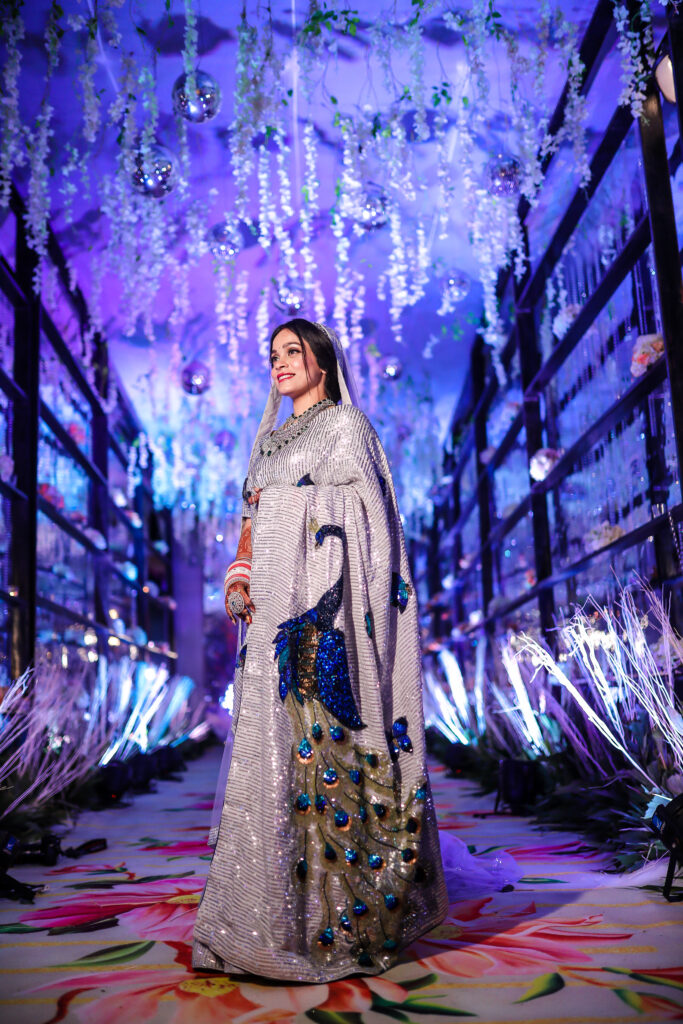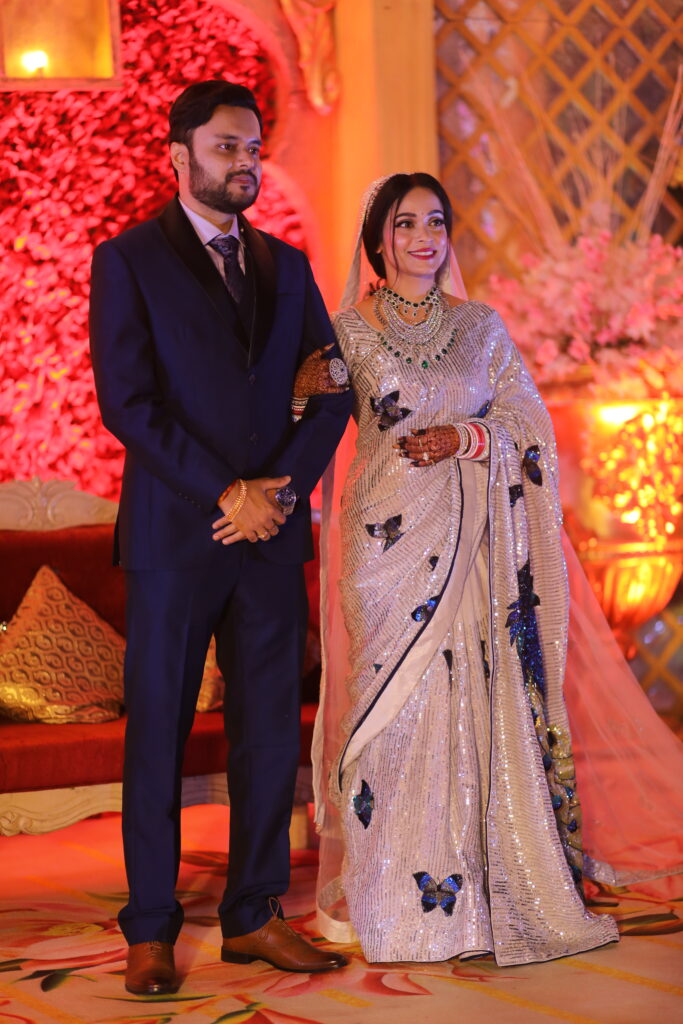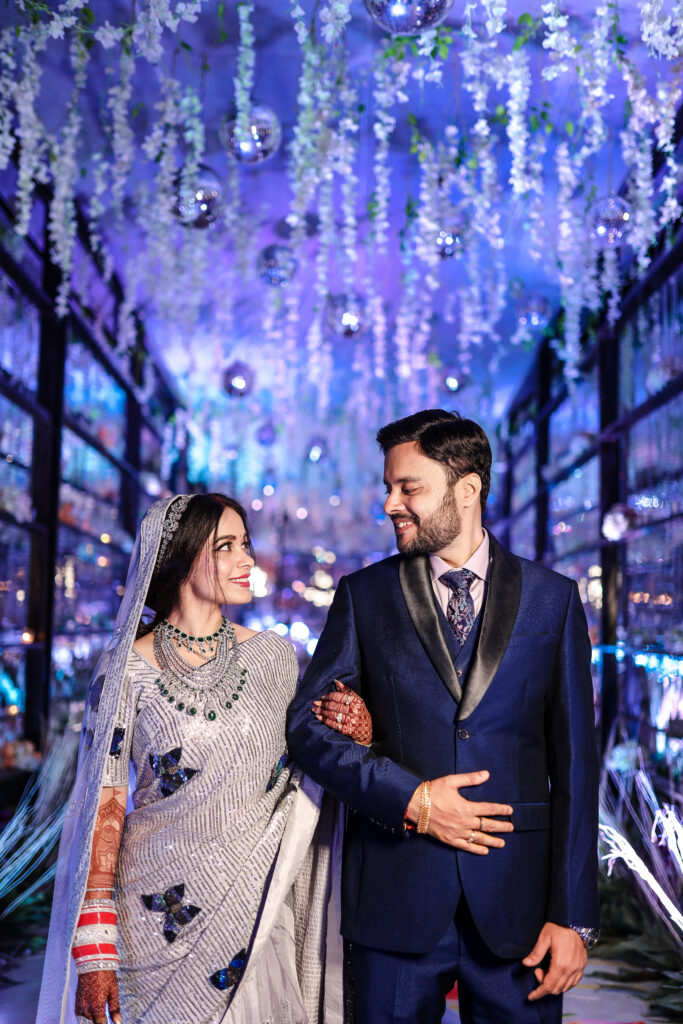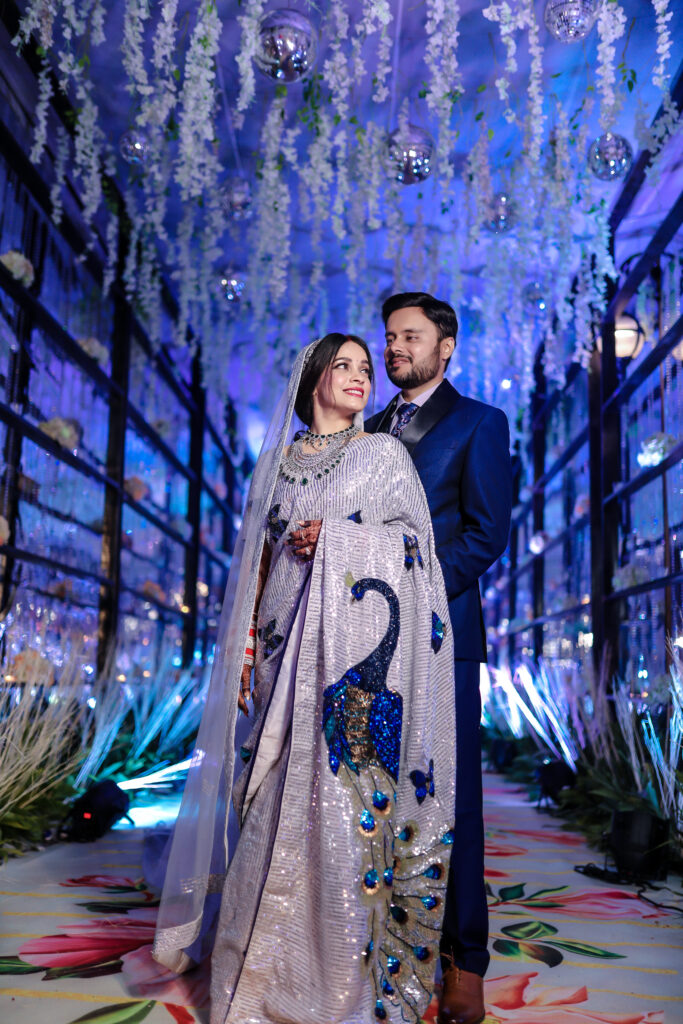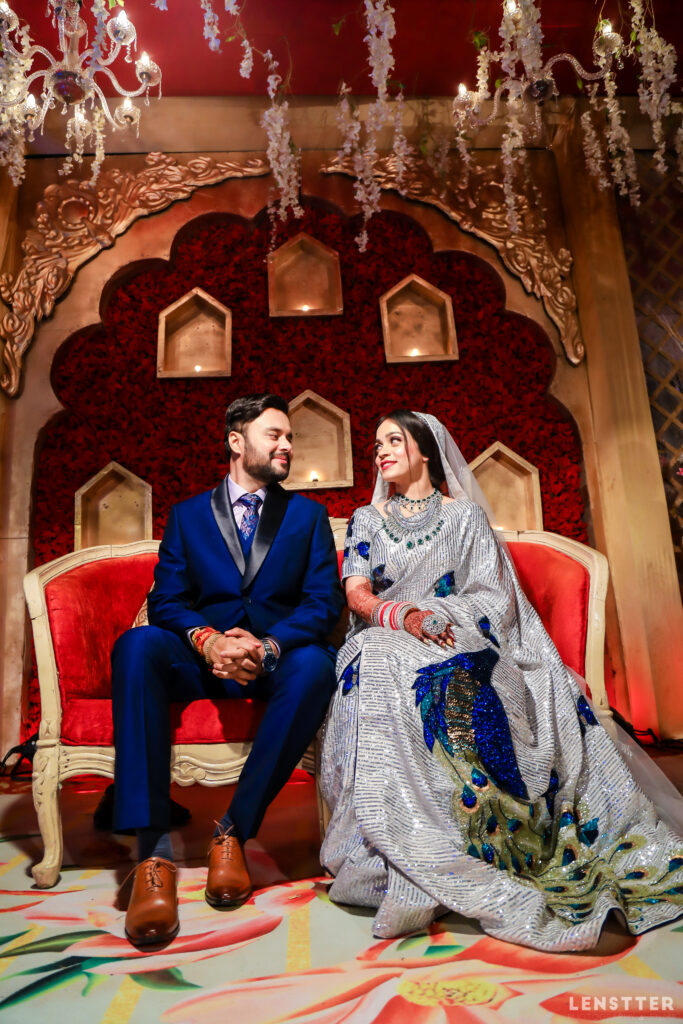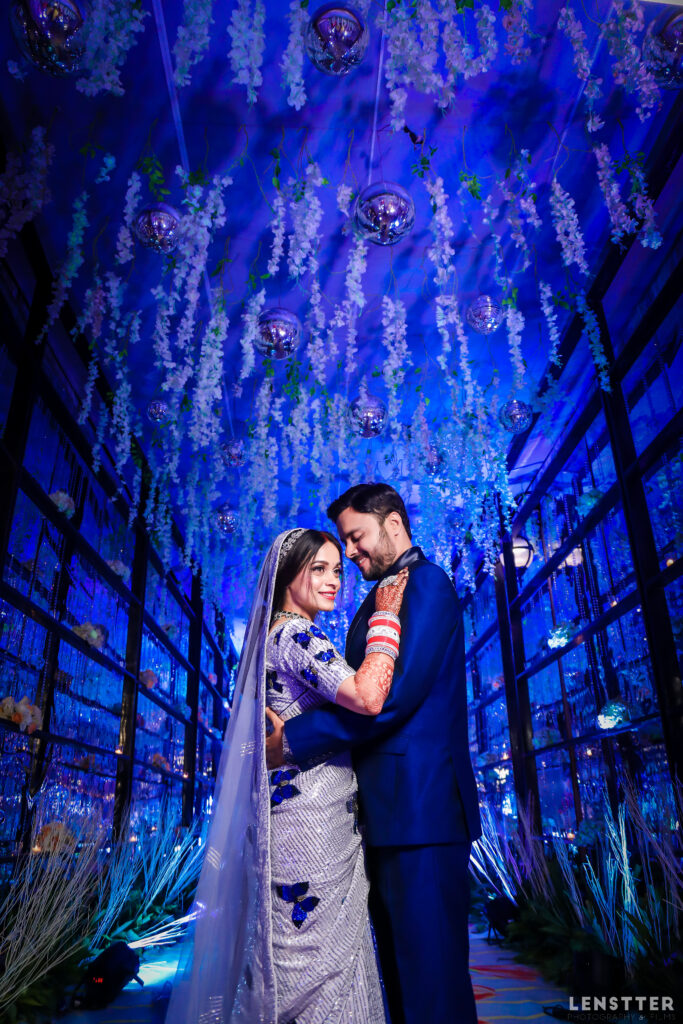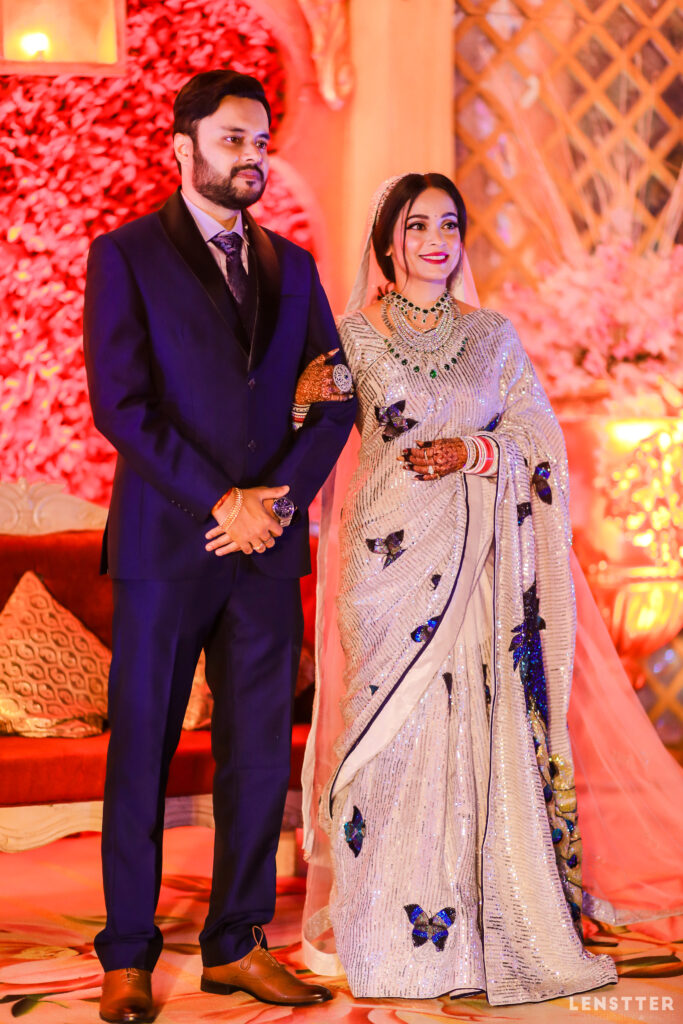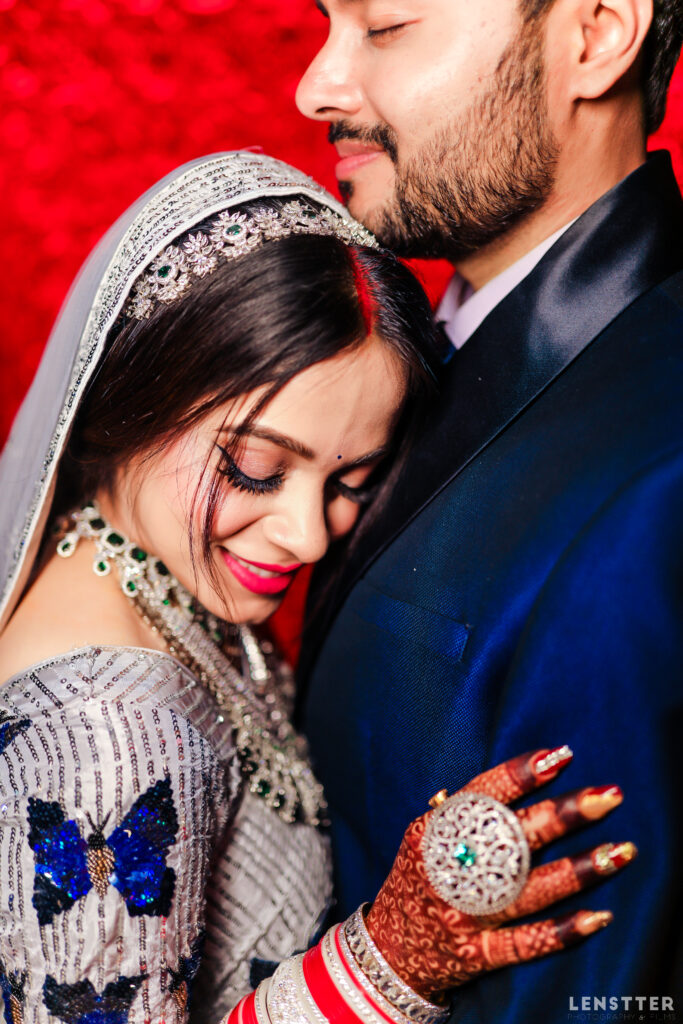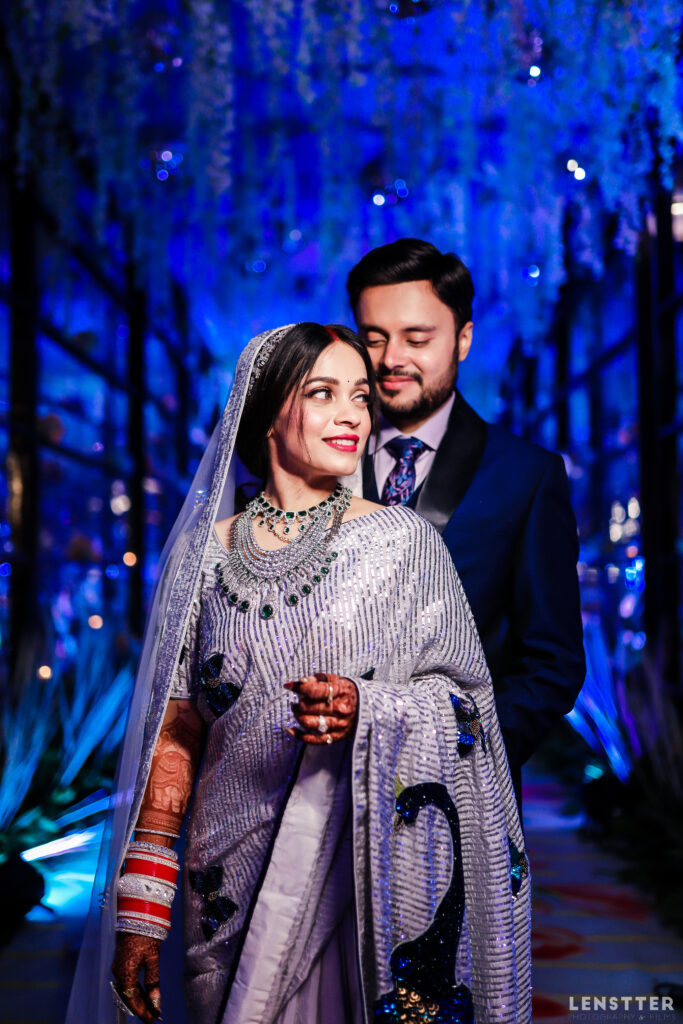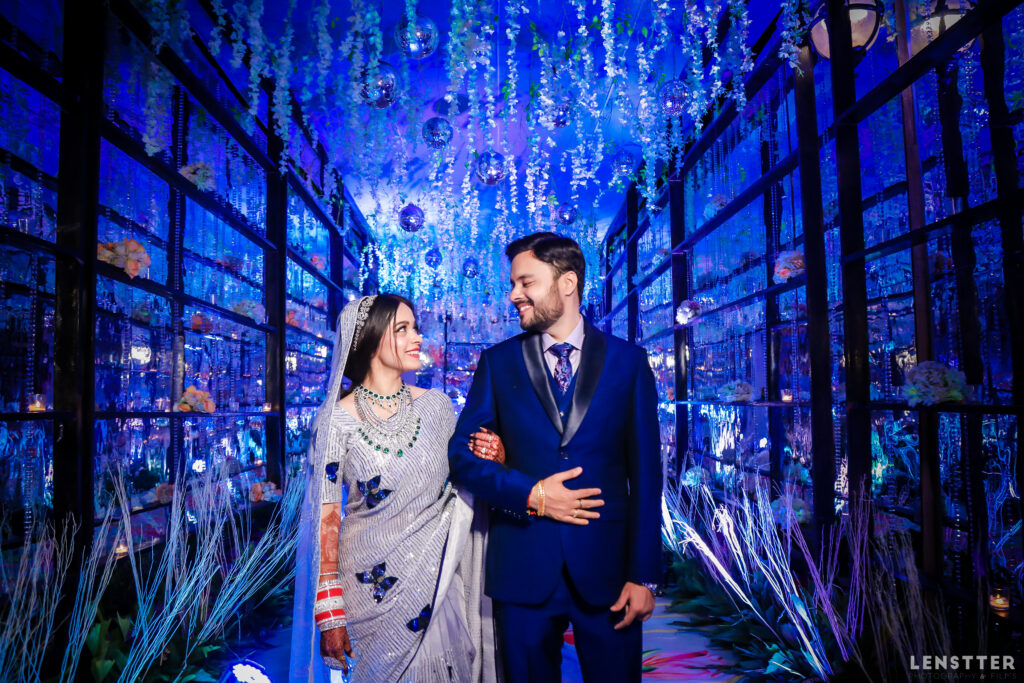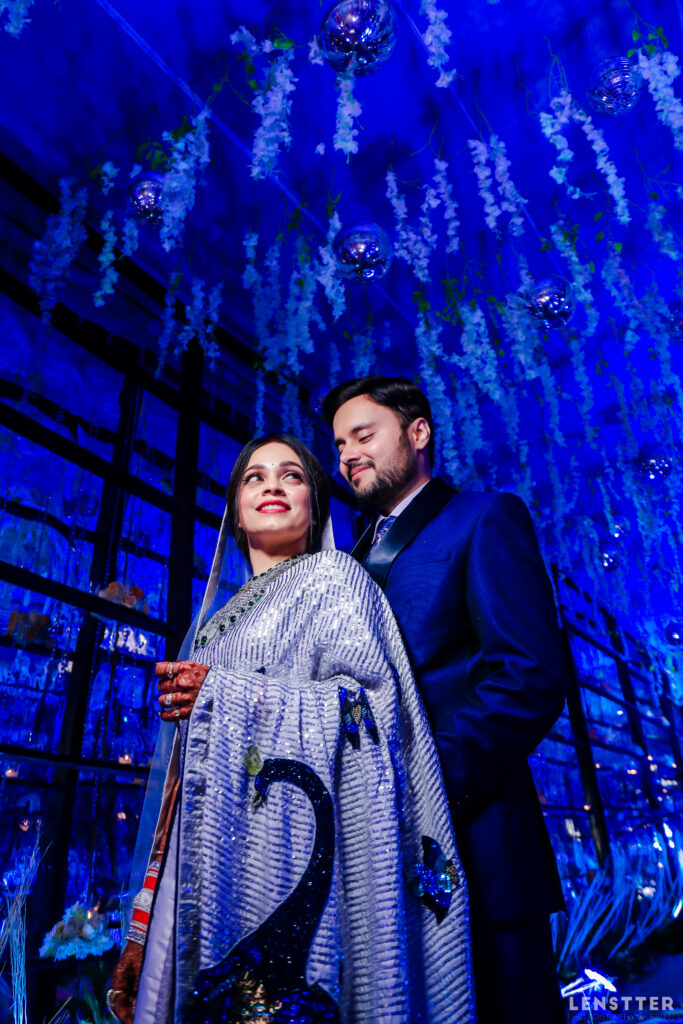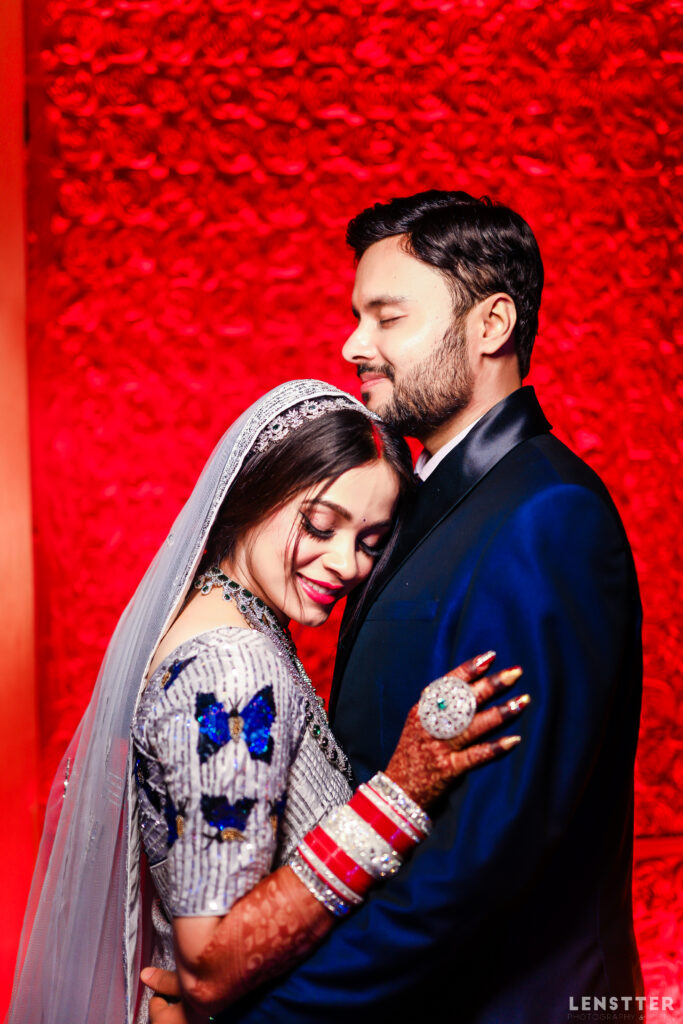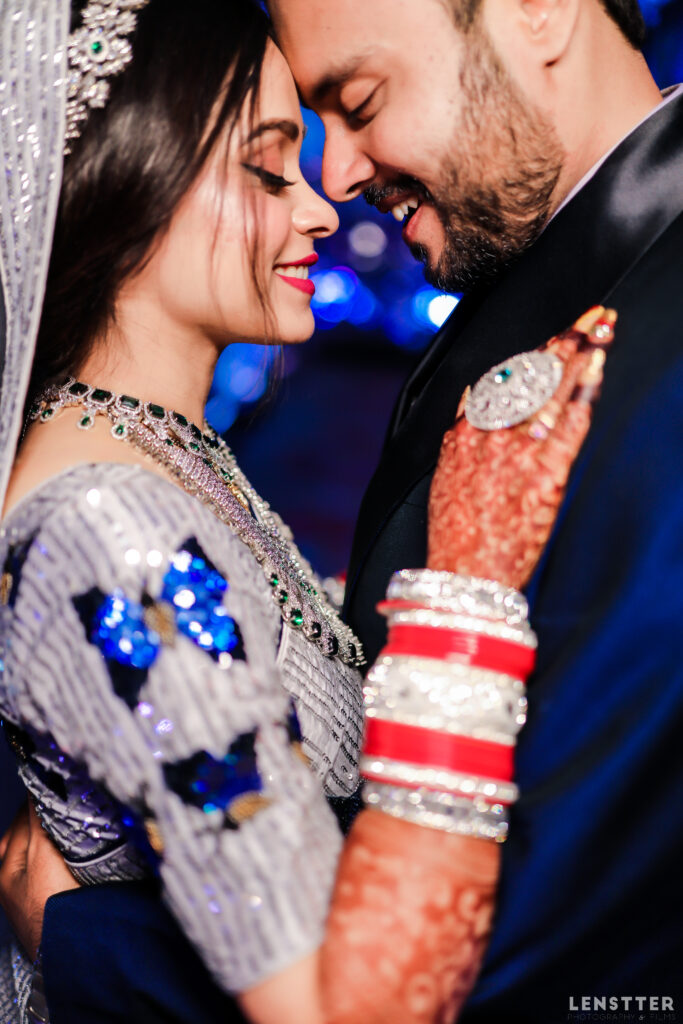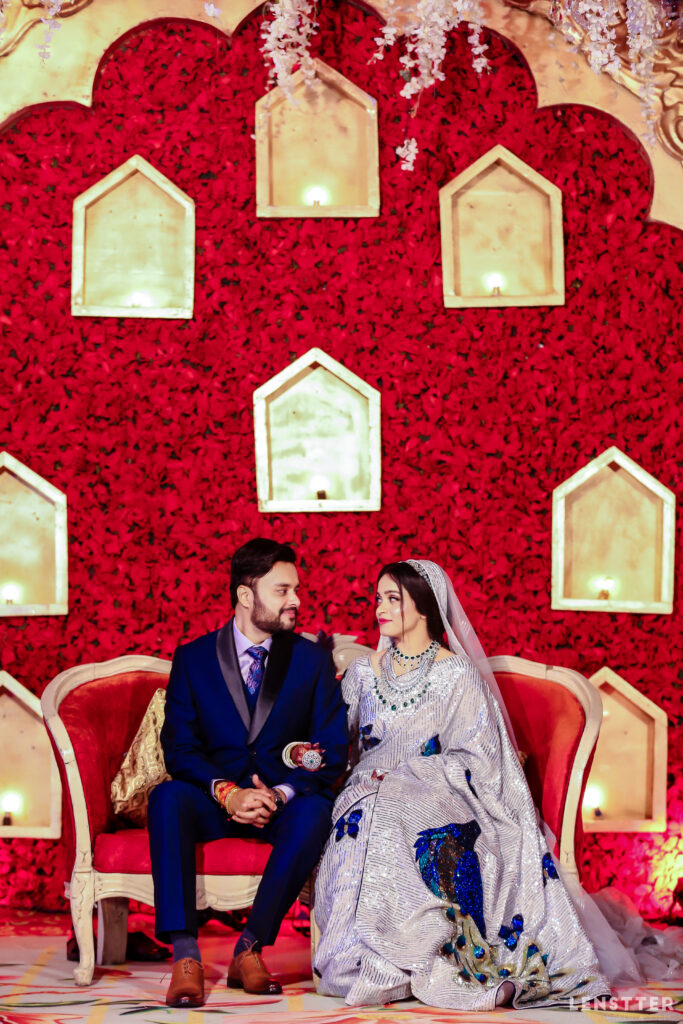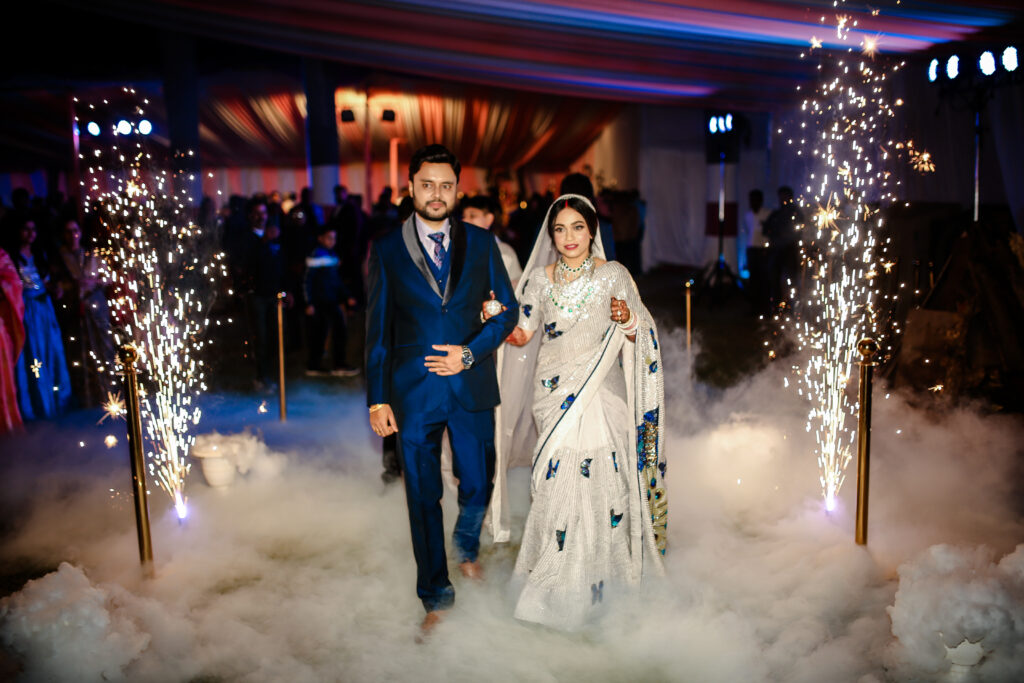 Vendors
Venue: Fagun, Indore || Makeup Artist: Farzana Khusro || Hair Artist: Neha Hirau || Mehendi: Tasneem Dulhan Mehendi artist || Outfits: By the bride || Photographer: Lenstter || Jewellery: Jahnvi jewellery || Event Co-Ordinator:  Bigshot Entertainments