Minimalism in bridal look isn't one of the strongest suits for Indian brides. Brides want to be decked up in lehenga, heavy jewelry, and gorgeous full hand mehndi designs. Although some celebrity brides and real brides are changing the game and infusing minimalism through their bridal look, it isn't always reflected in all their elements. Let's take Alia Bhatt's bridal look as an example. Even though she practiced a minimalistic look with her organza saree and minimal makeup (just to inform you a no-makeup makeup look takes more effort than a full face makeup, so don't think a simplistic, natural makeup means fewer efforts), she did opt for an oversized choker set and big sheeshpatti as her jewelry. Her hands were also bedecked with a set of polki bangles, which in no way reflected the minimalism of the other elements in her bridal look. 
So, the point is, if you're an Indian bride, there's hardly any running away from the maximalist style. And if you're someone who wants to practice this maximalism through a full hand mehndi, then here are 55 full hand mehndi designs for you to bookmark and get inspired from!
#1 Starting off with this gorgeous 3-D mehendi design that's equal parts traditional and modern. 3-D has been the raging trend in the henna and one of the best ways to infuse some modish touch into a traditional henna design. This one's perfect for brides or bridesmaids or even mothers of the bride. As you can see, there are no figures or difficult elements in this henna. Just the play of lines, geometry, and paisleys makes this design eye-catching.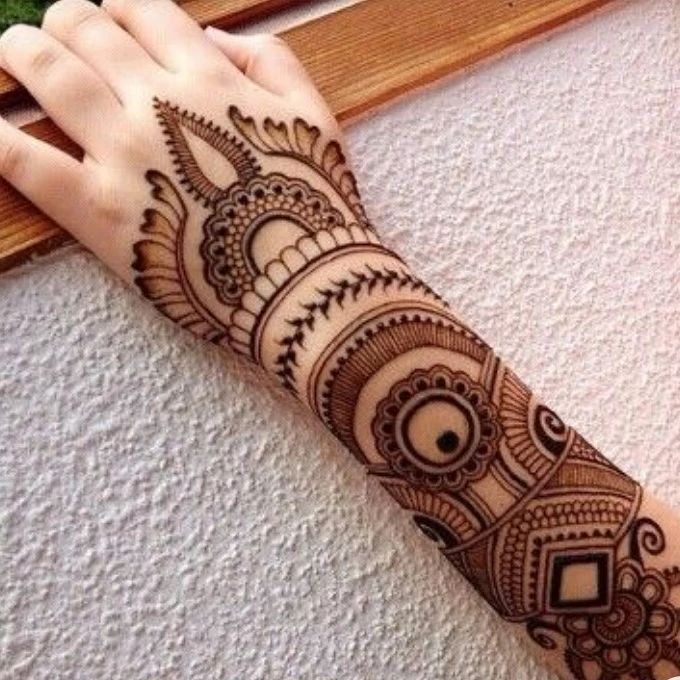 #2 Not a fan of the usual choodi style wrist mehndi design? Then try this diagonally-divided wrist mehndi that goes all the way to your elbow. The best part is you can easily reduce the length of the design by opting to omit the last jaal division. This doesn't alter the beauty of the henna and gives you the same allure as the entire design. Again, there are no figures or difficult elements in this design, which is great if you want your henna to be done quickly and yet want to make it look beautiful.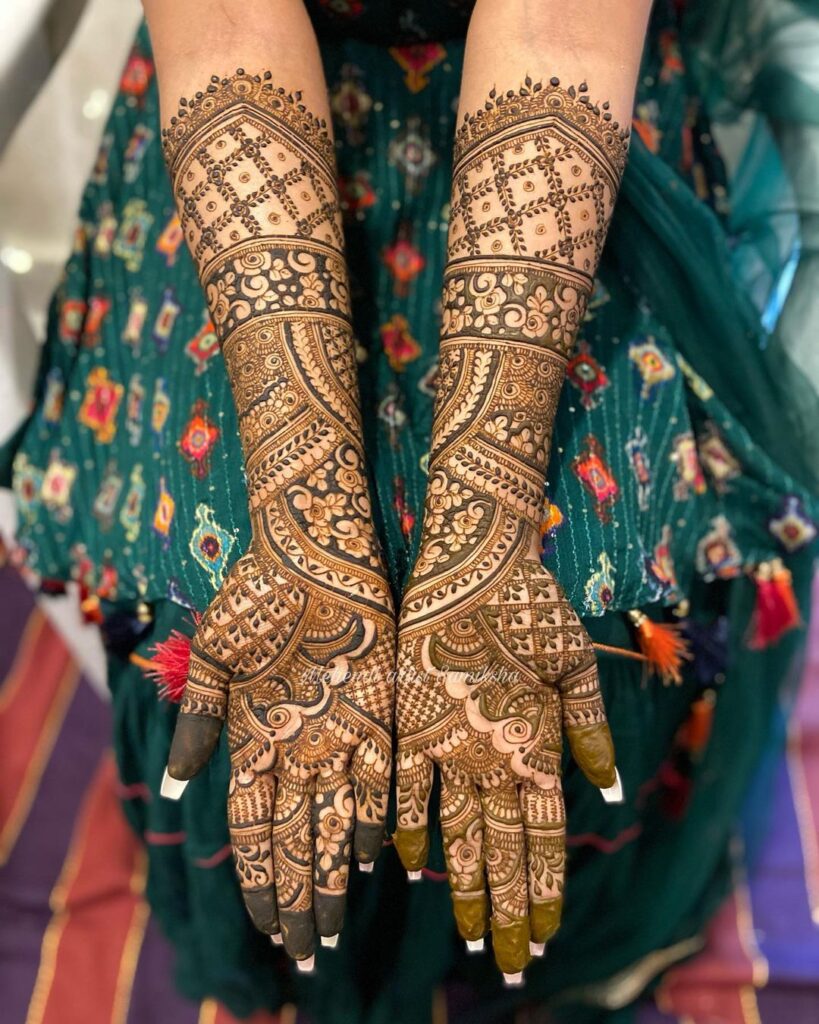 #3 Now this is for all the brides whose strongest suit isn't minimalism, especially when it comes to their bridal mehndi design. Featuring many gorgeous bride & groom figures, this henna is certainly our favorite because we love the maximalism element in mehndi design as well. Those cute elephants really have our hearts. Elephants are a common part of Indian weddings anyway. They're considered sacred and are a symbol of prosperity and luck.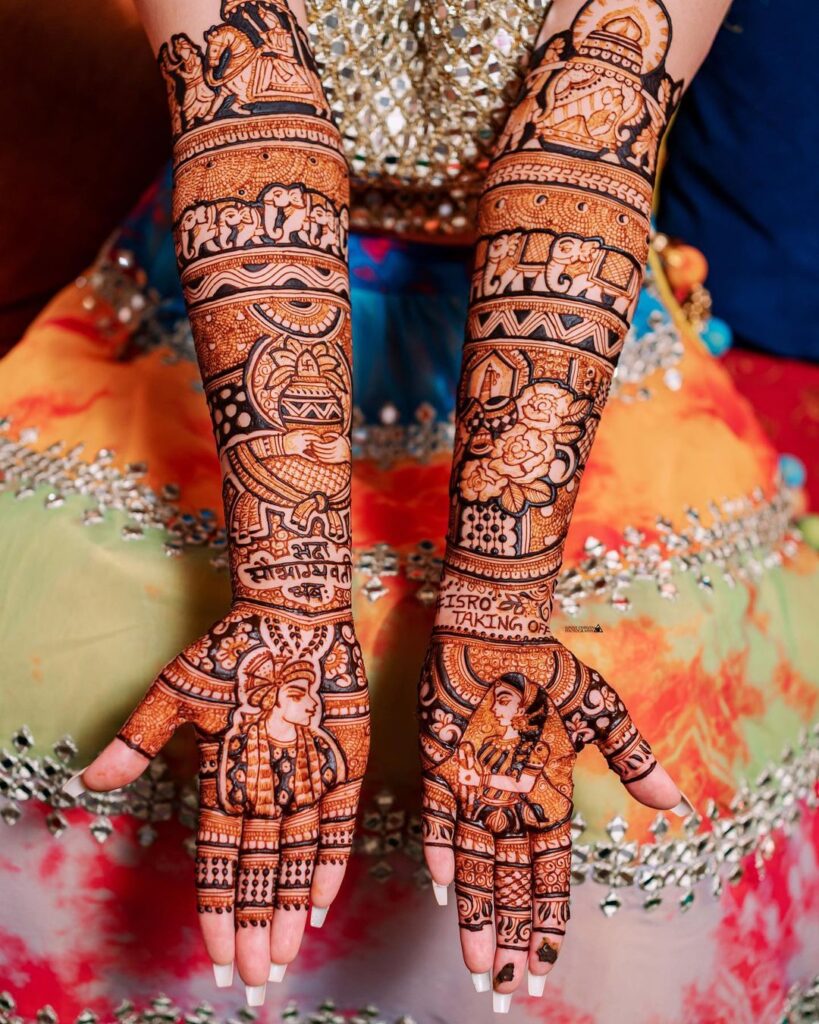 #4 The use of thin strokes with 3-D detailing isn't the strongest creative suite of many henna artists. But this henna artist doesn't disappoint. I love how the thick outline is complemented with the thin filling and a few 3-D detailing here & there just makes this one of the modern full hand mehndi designs a treat for the eyes. This can make for a beautiful henna art for a bride or even the wedding guests who want a stylish and new full hand mehndi design for themselves.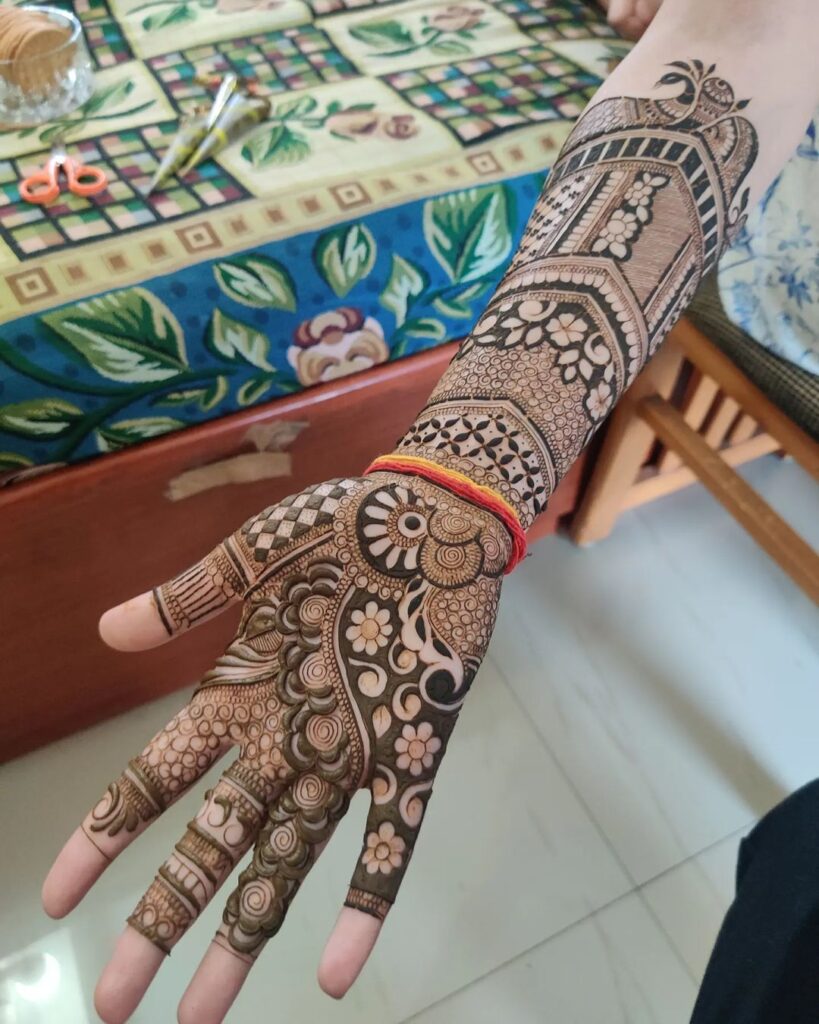 #5 If you're not a fan of bharwa full hand mehndi designs, then this henna design with lots of open spaces and spacious lines is a perfect one for you to bookmark! Sometimes the elders in your family won't prefer for you to have minimalistic henna, this one will be your savior at that time. It practices minimalism so subtly that they will love the design and you will get your way too. Sometimes, even you won't want to let go of the opportunity to get a full hand mehndi design and still don't want your hand to look full. This mehndi pattern is an ideal one to choose if that's you! 
#6 We are totally in love with the sheer allure of this traditional full hand mehndi design for front hands. The traditional florals and paisleys dominate the design and some modish elements in the pattern like lotus and thick strokes for a 3-D pattern add the voguish touch to the bridal mehndi. For sisters-of-the-bride who're looking for a balance between traditional and modern henna for her sister's wedding, this can make an ideal pick for you as well.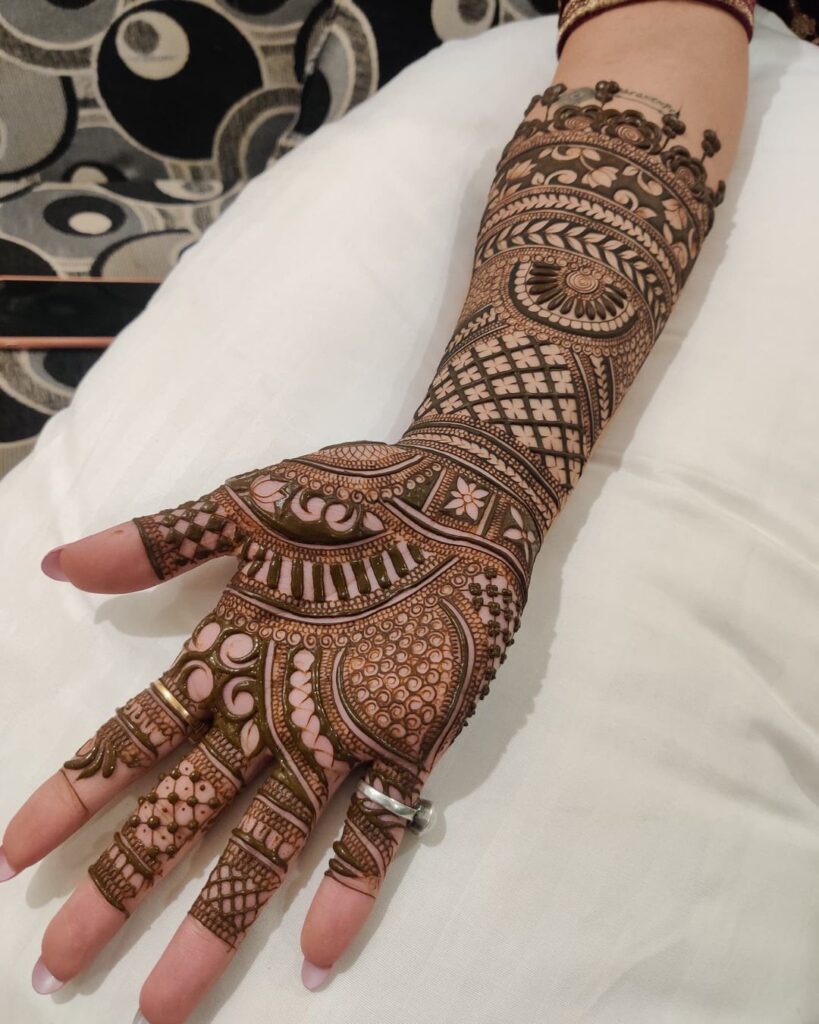 #7 Paisleys still form a quintessential part of many mehendi designs and here's bridal henna dominated by this common mehendi motif. The Paisley pattern can be traced to ancient Persia and was popularised throughout the world by the East India Company in the 18th and 19th centuries. Since then it has ruled the textile industry, especially in the summer dresses, and also, has been an important part of henna patterns in countries where mehendi makes a conventional part of the celebrations. Paisleys signify freshness, fertility, and strength; given their utter beauty, no wonder they continue to dominate the henna patterns even today.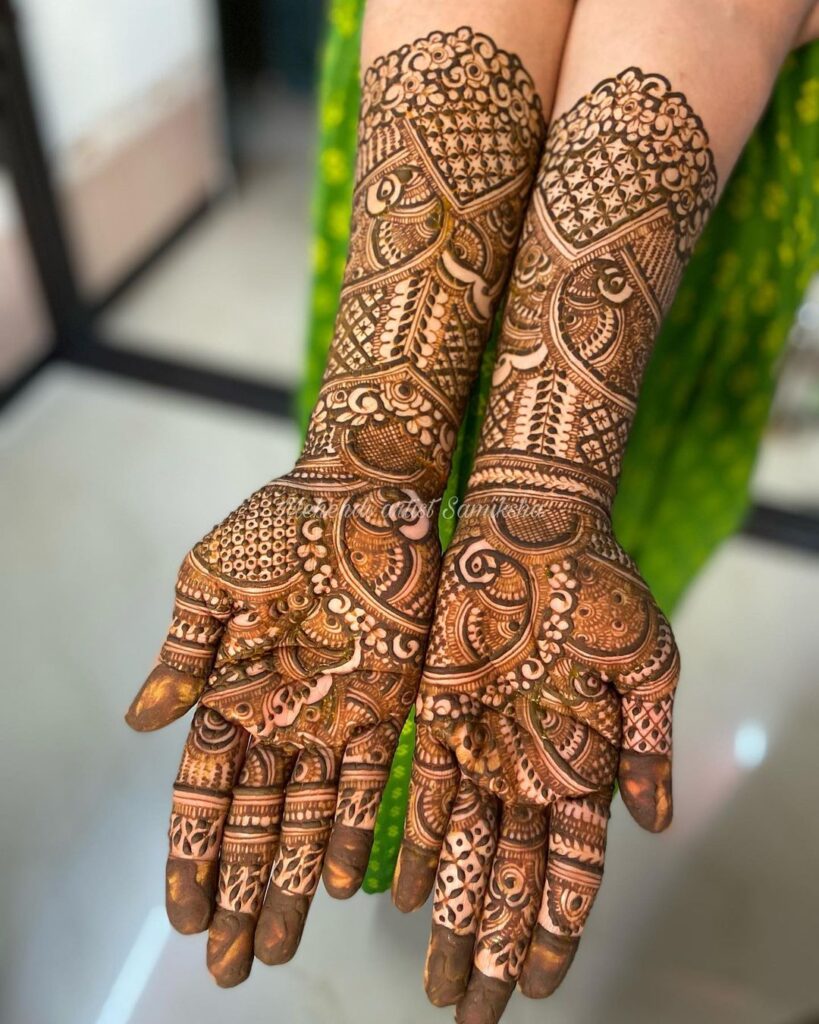 #8 The simplicity, the beauty, the elegance, we're absolutely loving all these attributes radiating through this mehendi pattern. Featuring 3-D lotus motifs, and thick strokes, with just a few thin strokes here & there, we're swooning over how the mehendi artist makes this henna exquisite and gorgeous. For brides looking for some grace, freshness, and easiness in their mehendi, this henna pattern can make for an ideal choice to add to your ensemble.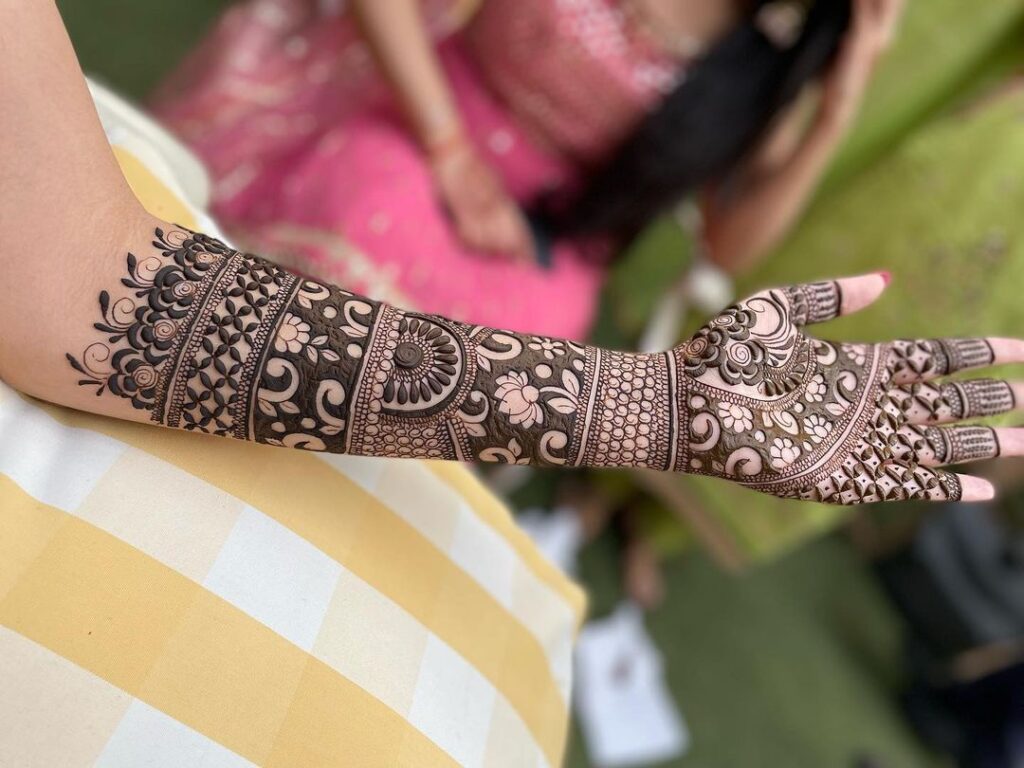 #9 Katrina Kaif married Vicky Kaushal in a royal yet intimate wedding in Rajasthan, and it became the talk of the town. The actors gave a glimpse of their nuptials on social media, and Kaif also shared a picture of her intricate mehendi design with the sea and sand as the background – probably from their honeymoon reported to be in the Maldives. Keeping in line with her traditional look, the Sooryavanshi actress opted for a bharwa henna and also sweetly mentioned Vicky Kaushal's name on her hand. The letters are mentioned in circles separately on ring fingers, and we think it's an endearing way to mention your partner's name, don't you think?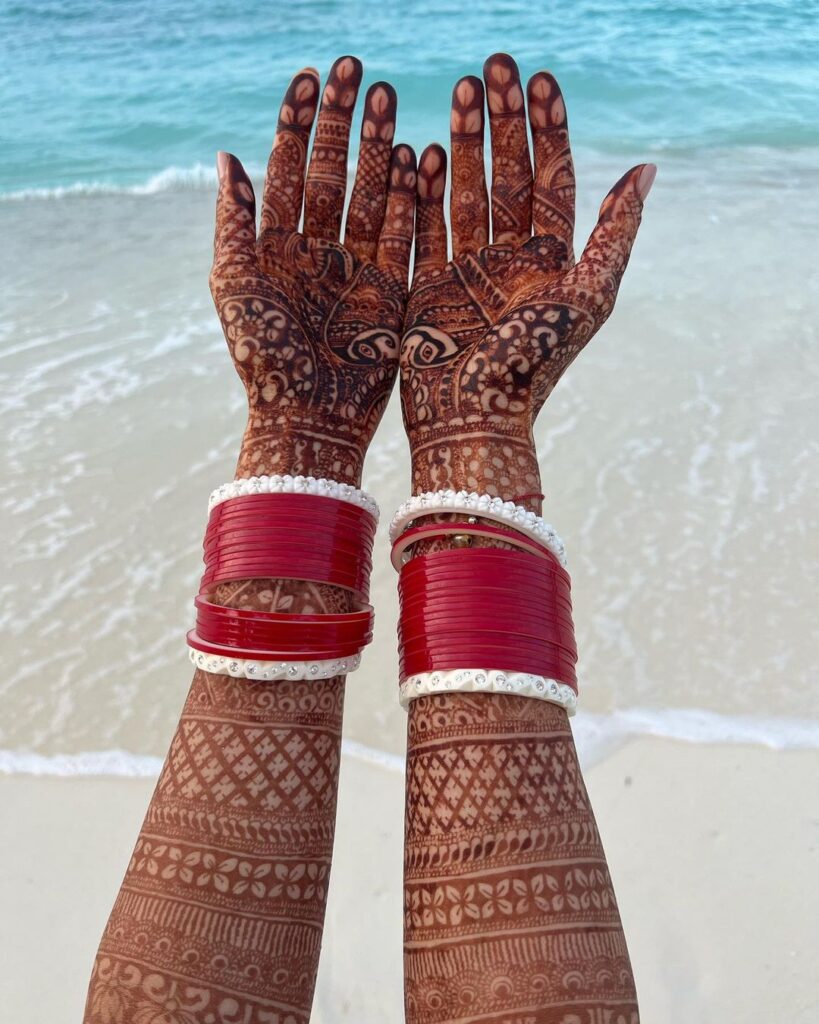 #10 A spacious and unique full hand mehndi design doesn't get better than this. There are clusters of designs so you can have lots of empty spaces in the mehendi. We also admire how the artist used the same outline in both hands and yet, made it look complementary without copying the same design. The use of neat thick strokes for the outline and thin strokes for the filling is also a thing to admire about this pattern. The latest full mehndi design like this will certainly draw complements towards you.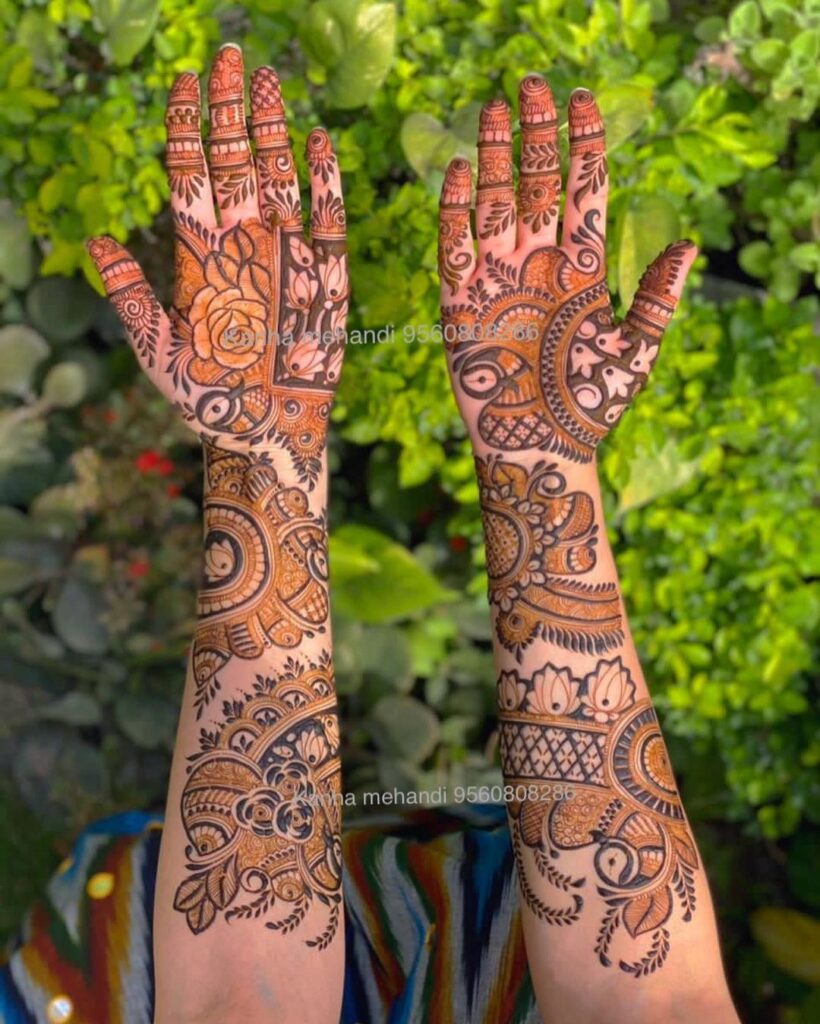 #11 Brides who want to keep their henna pattern spacious yet ethereal can opt for this gorgeous traditional full hand mehndi design. While most of the pattern features traditional elements like choodi-style wrist design, lines, leaves, geometrical patterns, dots, etc., the smart inclusion of lotus on the sides and on the bottom of the design adds a touch of contemporary to the otherwise conventional henna. Rest assured, the empty spaces would surely enhance the pattern after staining. So your bridal portraits would look stunning.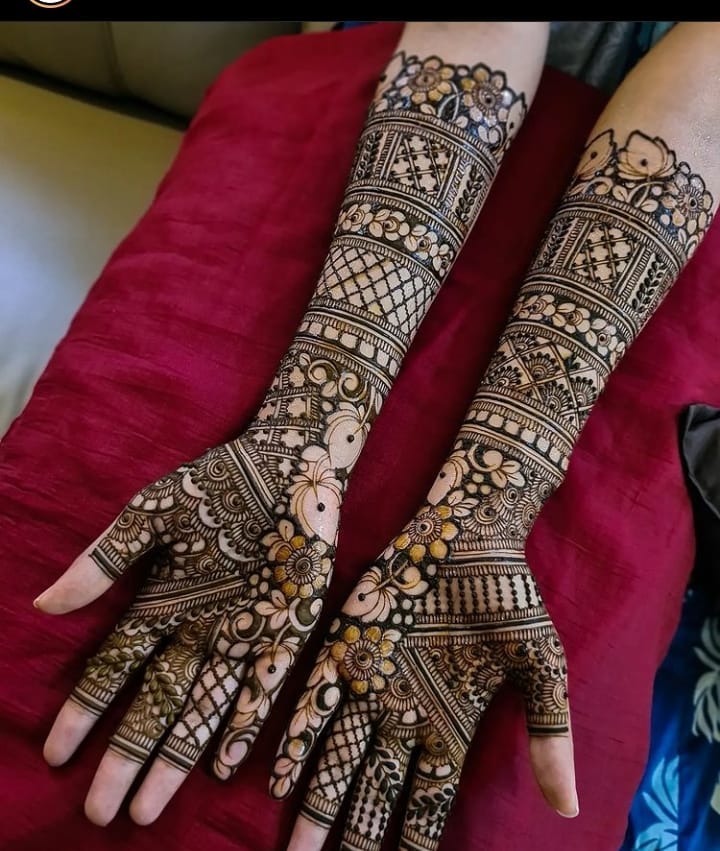 #12 Here's yet another traditional full-hand mehndi design with a few touches of chic elements for the millennial brides-to-be. However, this pattern requires utter intricacy and neatness and you should only get it done by an artist who has that kind of attribute infused in her designs. It will also take time to draw this pattern, so only choose it when you have got the time and the energy. Nevertheless, this is another full hand mehndi design that will look utterly gorgeous after staining and you won't regret choosing it even for a moment.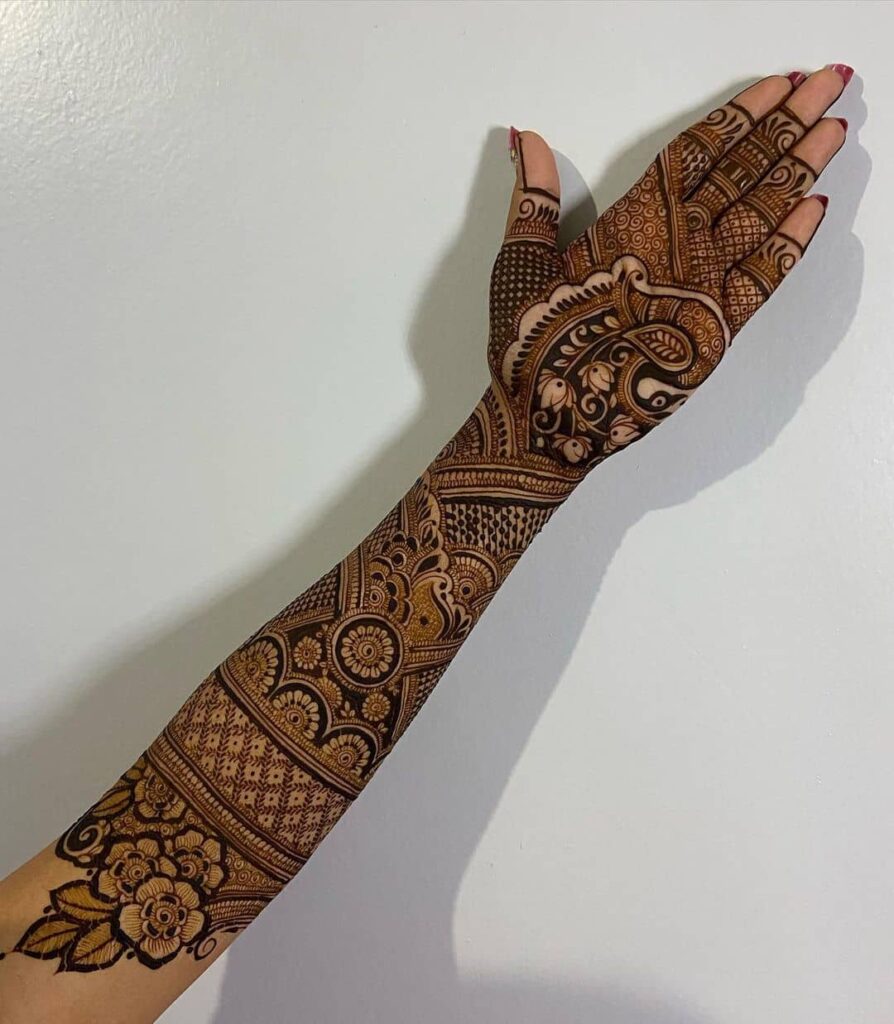 #13 It's always hard to create something creative using just one type of element, and so naturally, we'd admire someone who does this in their art. Here, the artist draws a henna design using primarily the semi-circle geometric pattern stacked closely together. She used it to cover the majority of the palm of the hands and some considerable part of the wrists. It's really a treat to the eyes. One of the full hand mehndi designs that is meant not just for the brides but also for the wedding guests.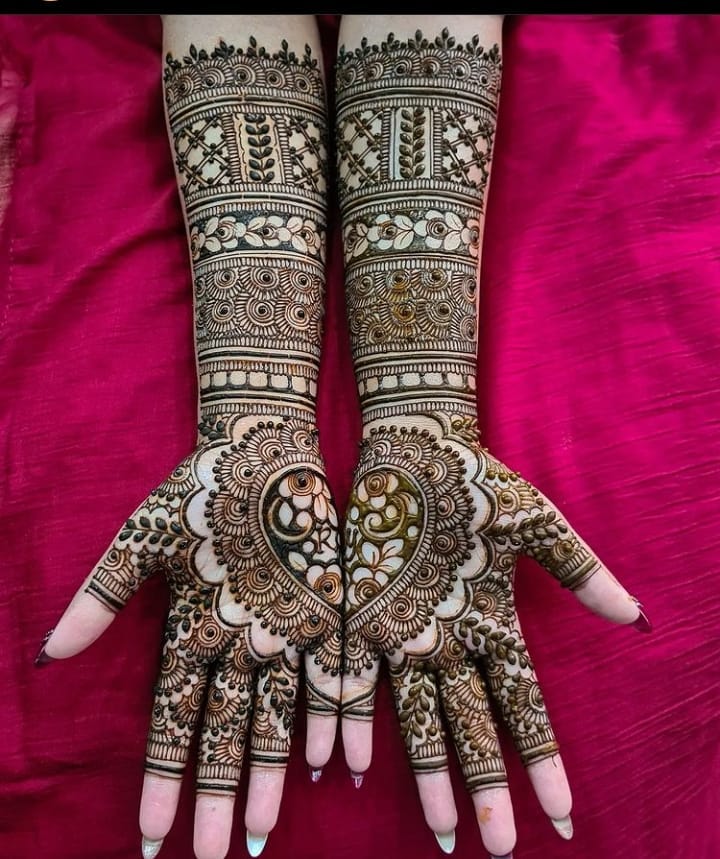 #14 Now a bridal full hand mehndi design is trending and if you want to hop in on the trend, here's some inspiration to do it right. There's an eye-catching motif of the bride on one hand and the groom on the other holding varmalas to depict the varmala moment – the first ceremony bride & groom perform together as part of their wedding rituals. This is followed by a Sanskrit chant, a peacock, and a Ganesh deity – who is considered the Lord of Obstacles, and worshipping him before starting something new prevents you from any obstacles in the path.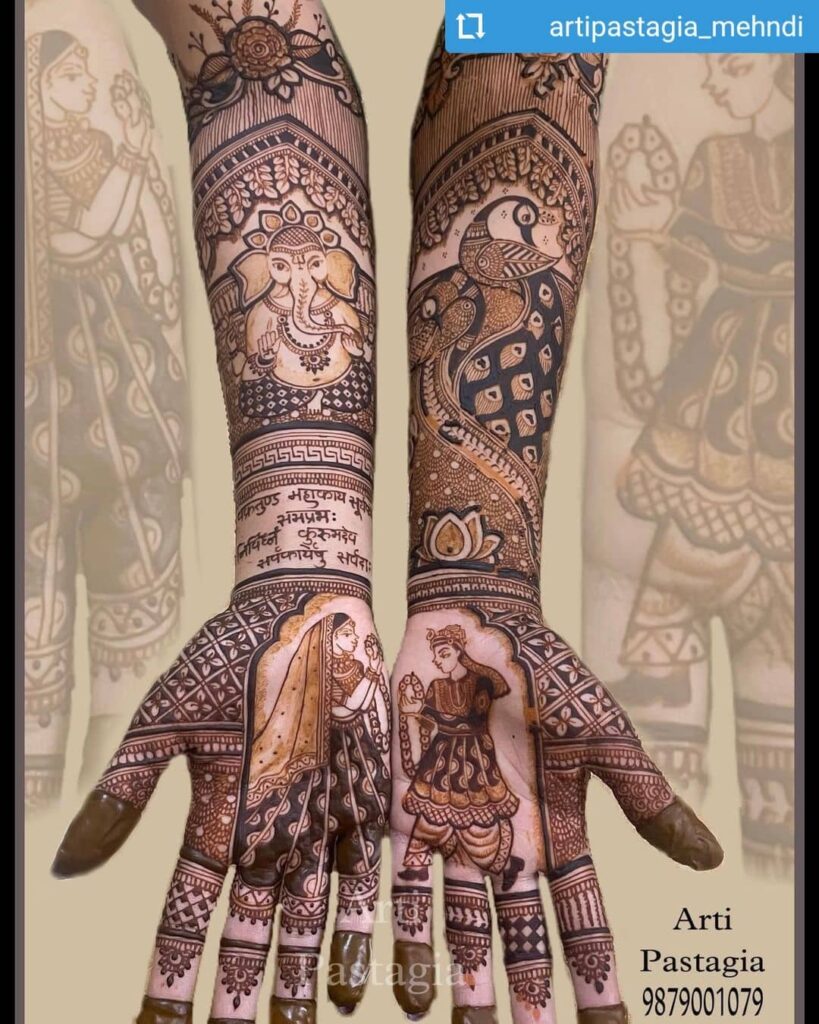 #15 While the henna design in one hand is undone in this one, we absolutely loved the pattern in one hand and couldn't help ourselves from including this design anyway. You can even draw the same design with both hands and this full hand henna would look downright attractive. One thing that makes this design stand out is how the artist didn't use straight lines to create the usual choodi-style wrist pattern but instead divided it differently and uniquely to make an artistic pattern.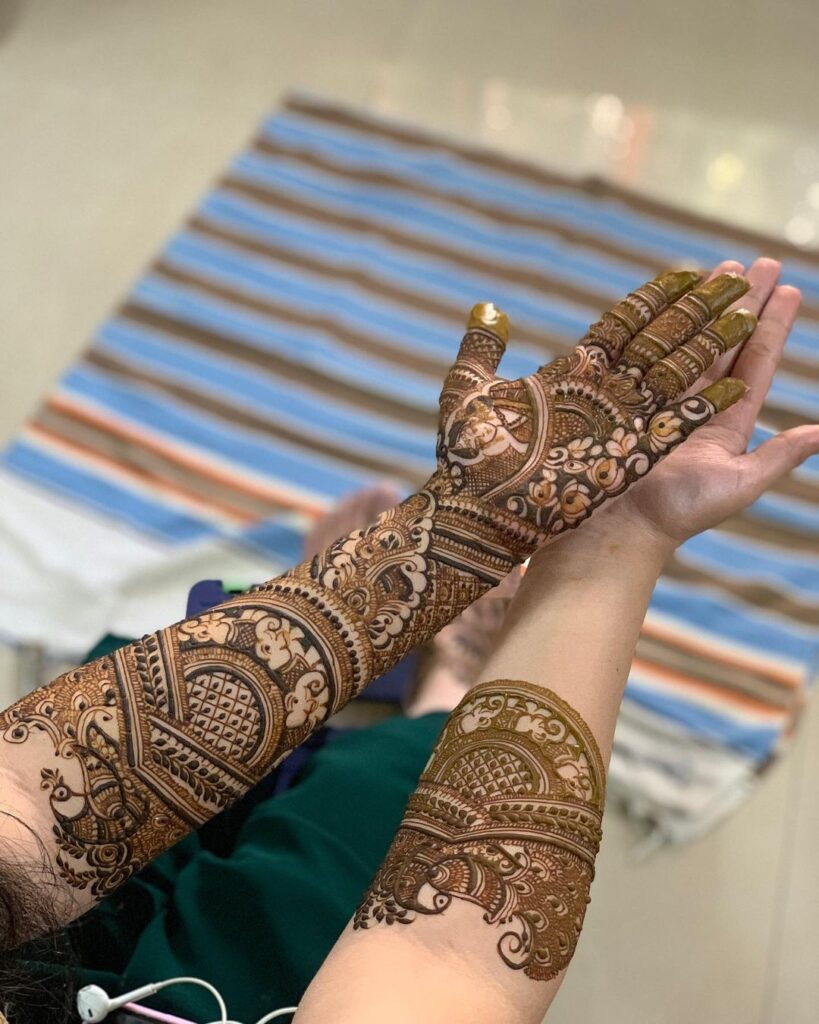 #16 A simple full hand mehndi design is something we see a lot of users are searching for and I think their search ends here. This unique full-hand mehndi is innovative and makes use of creative patterns and a discerning outline to curate truly spectacular henna. The sizeable floral and paisley elements just make everything even more aesthetic. A truly perfect pick for wedding guests when they want full hand henna for the celebrations without having to go for the usual bharwa patterns.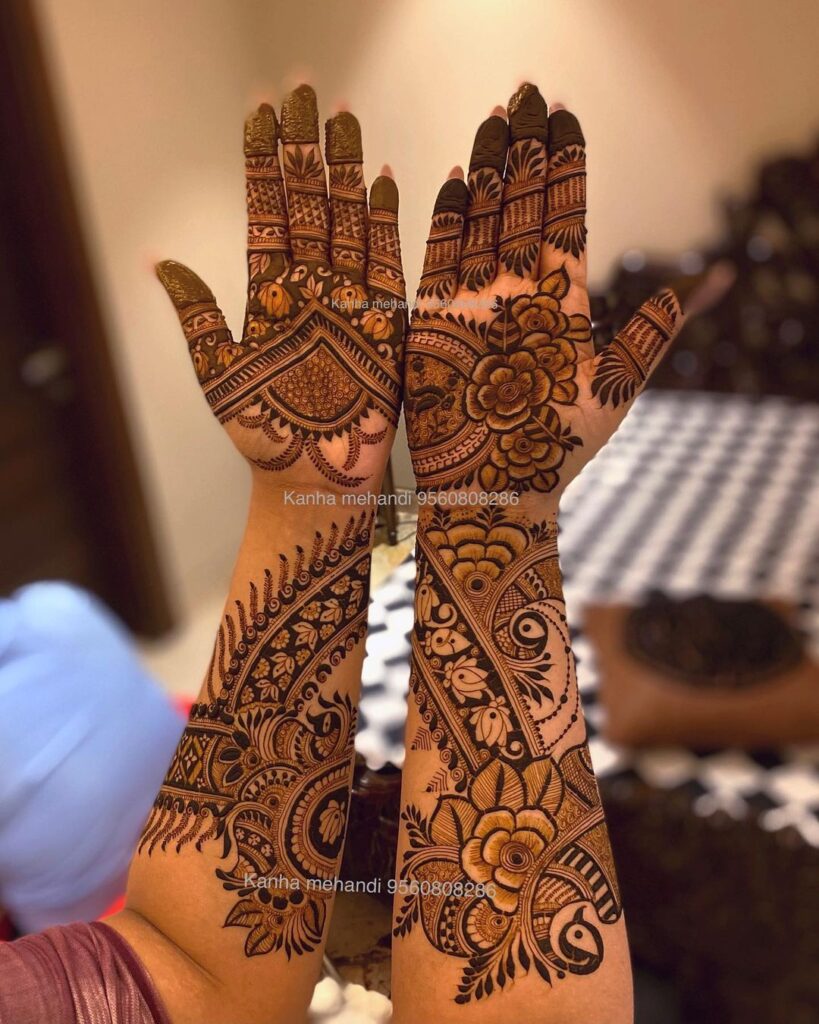 #17 Yet another spacious and unique full hand mehndi design 2022 for brides, wedding guests, and bridesmaids. Not only would it make a perfect pick for the wedding day, but it will also make for an ideal choice for the first year of traditional festivals like Karvachauth or Teej. Those who're a bit artistic themselves can easily curate this mehendi by themselves. The elements are easy and it doesn't even have many twists and turns – so bookmark this DIY full hand henna right away!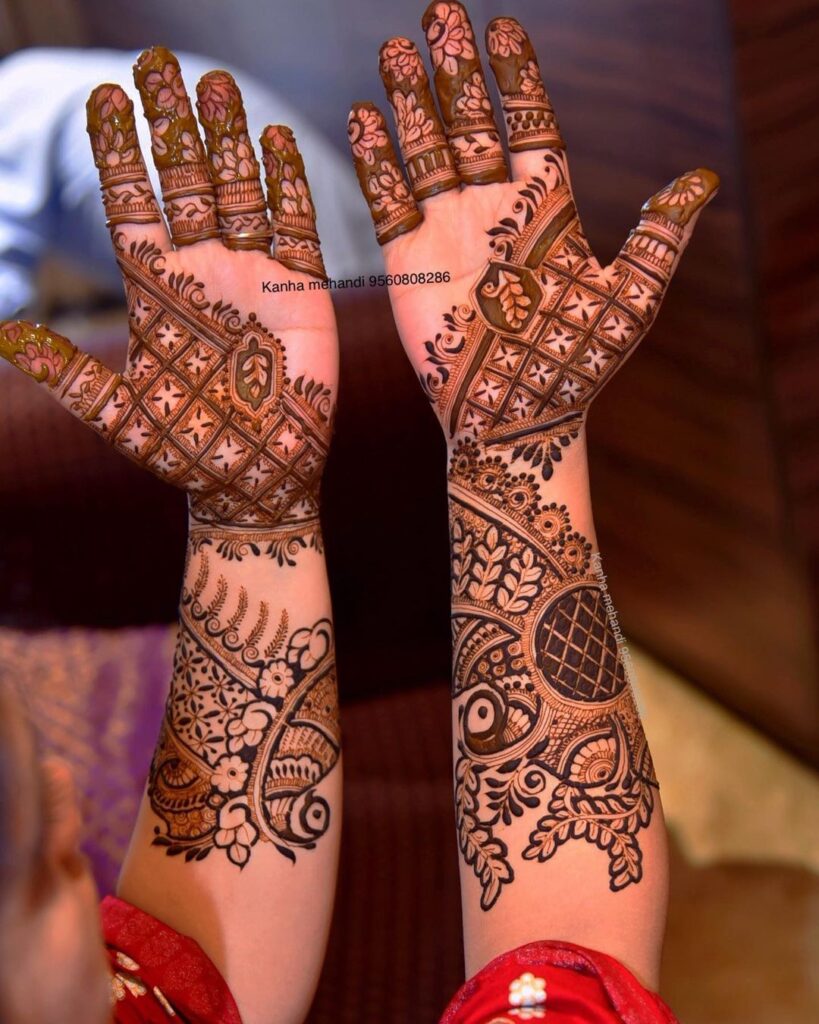 #18 Since around 2016, lotuses have been seen predominantly in every bridal henna design, especially in their classic 3-D pattern. Lotuses are emblematic of faith within ourselves, purity, strength, resilience, and divinity. It's only right to include a symbol suggestive of such positive attributes in some way in your wedding, so why not do it in your bridal henna? This full hand mehndi design is quite spacious and uses lotuses beautifully for you to take into consideration.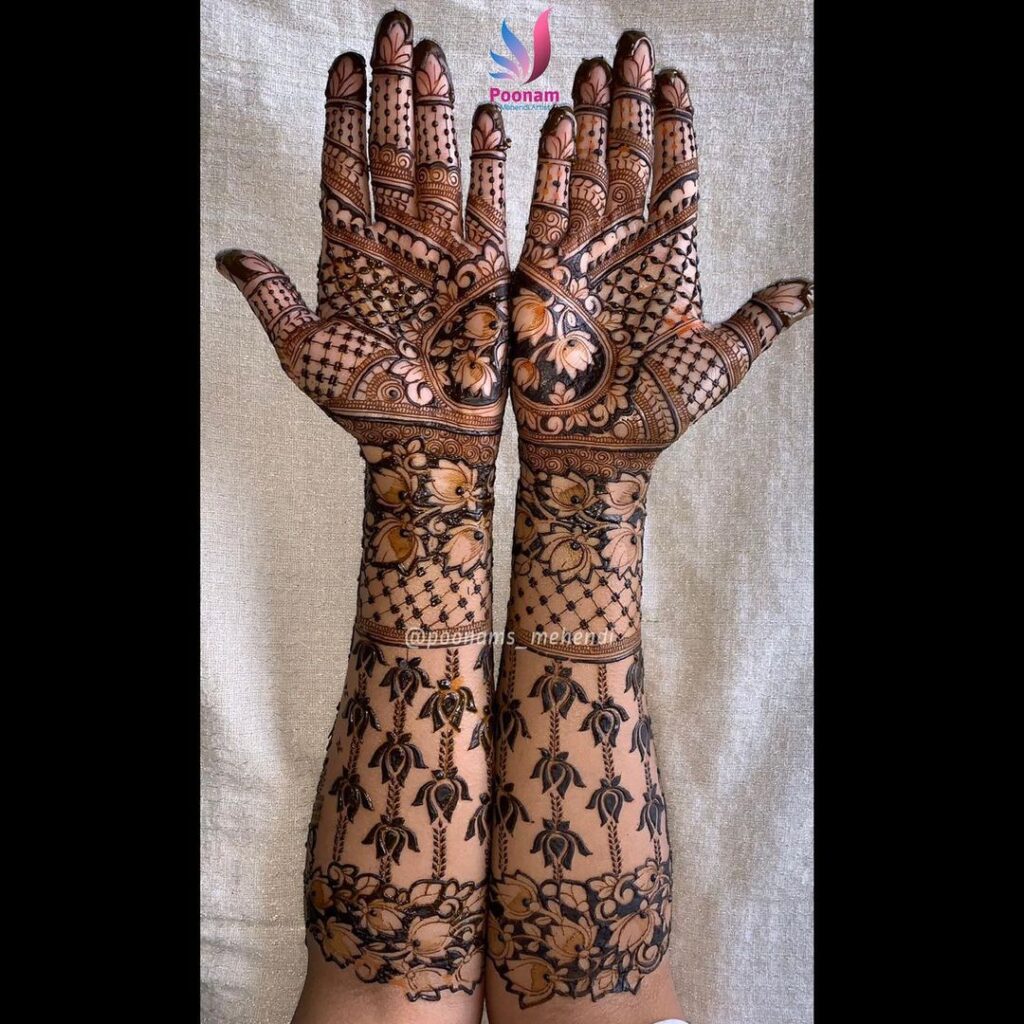 #19 On the wedding day, most brides want to resonate with heritage and traditionalism through their ensemble. In fact, the whole wedding is an ode to the beautiful Indian culture and how it has shaped who you are! If you're someone wanting to radiate culture and conventionalism through their henna, choose a mehendi that's replete with elements symbolic of the age. Featuring paisleys, concentric circles, leaves, and the choodi-style outline, we love the aesthetic yet simplistic element of the henna featured below.  
#20 Brides who're opting for minimalism in their bridal look often want to opt for henna that resonates along the same lines as well. The full hand mehndi design featured below can definitely fit the purpose well. Starting from big concentric circles on the elbow, the wrist design goes similar in both hands before things take a complementary turn on the palms. With the play of florals on one hand and paisleys on the other, the mehendi artist certainly added a fresh touch to the bride's full hand mehndi design.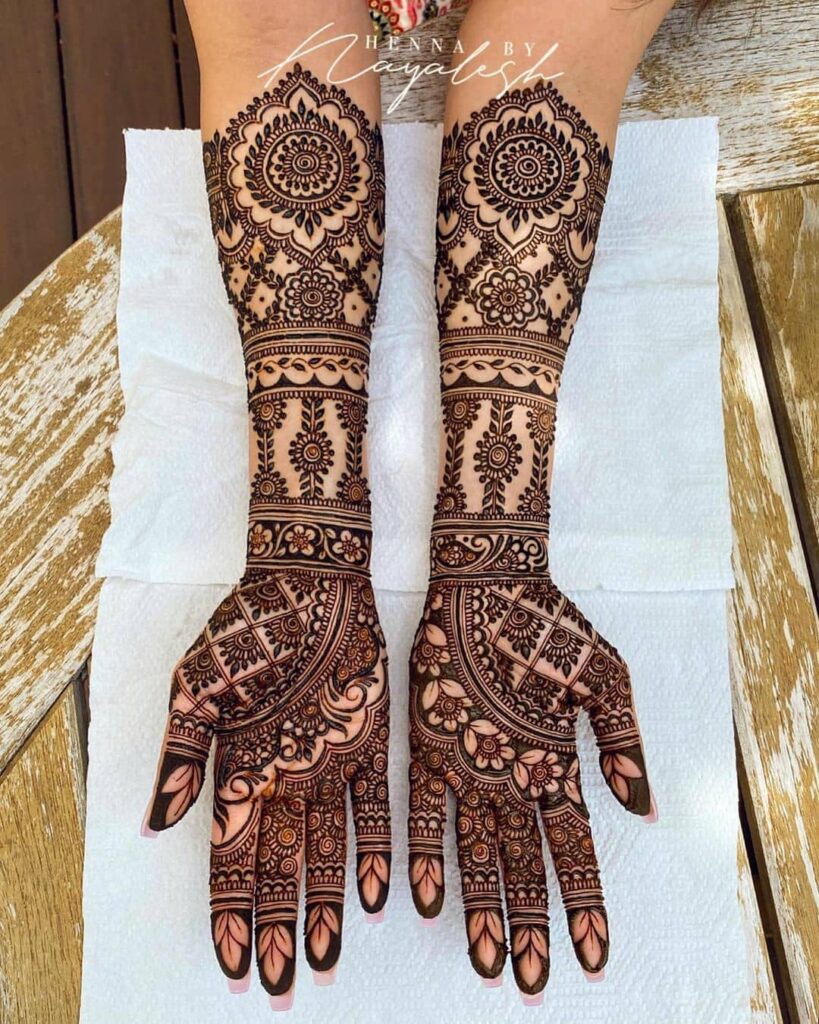 #21 When women opt for full hand mehndi designs, they generally want them to be spacious and reflect traditionalism. If you're someone who wants henna along those same lines, then here's another design fitting those preferences. It starts with an adjoining semi-circle so as to make both the hands look complementary and then fills the rest of the palm with concentric circles and jaal patterns. There are also bands on the wrist infused with the same patterns to subtly harmonize with the palm patterns and create an aesthetic henna design.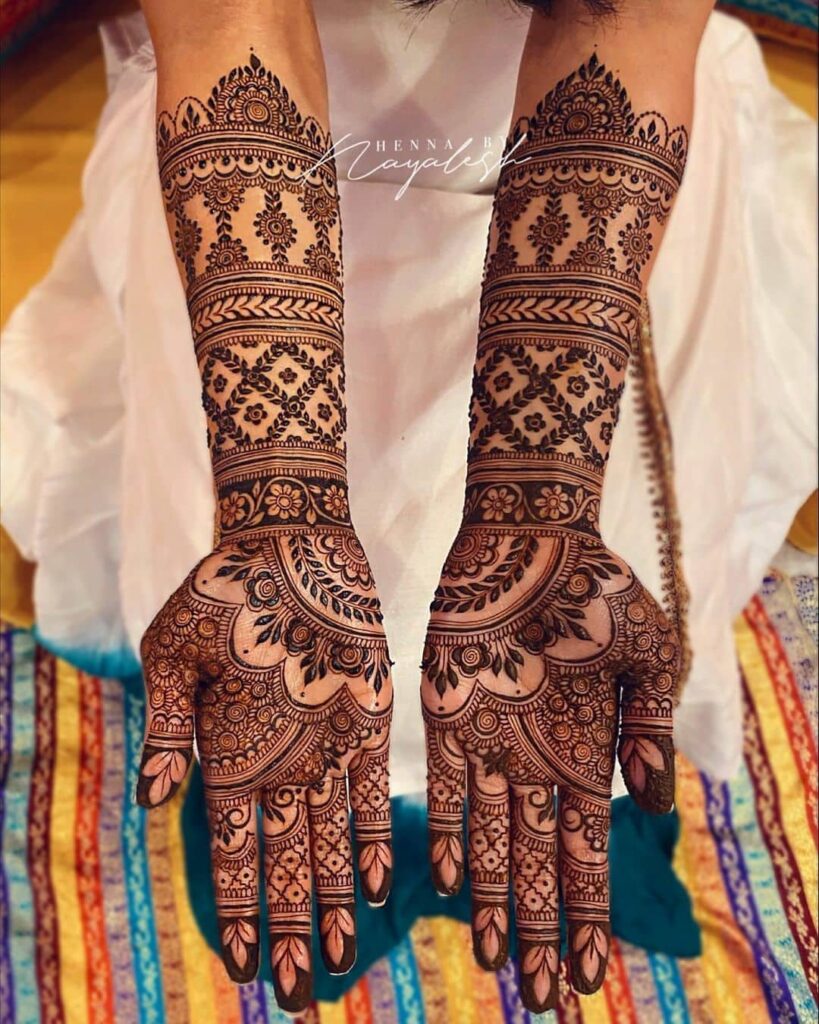 #22 When opting for full hand mehndi design, or any other henna pattern for that matter, we tend to divert towards thin strokes because we think they'd look more intricate. But that's not always the case. A good example is featured right below. The henna artist uses bold strokes for not just the outlines but also for the filling to curate a simply outstanding design.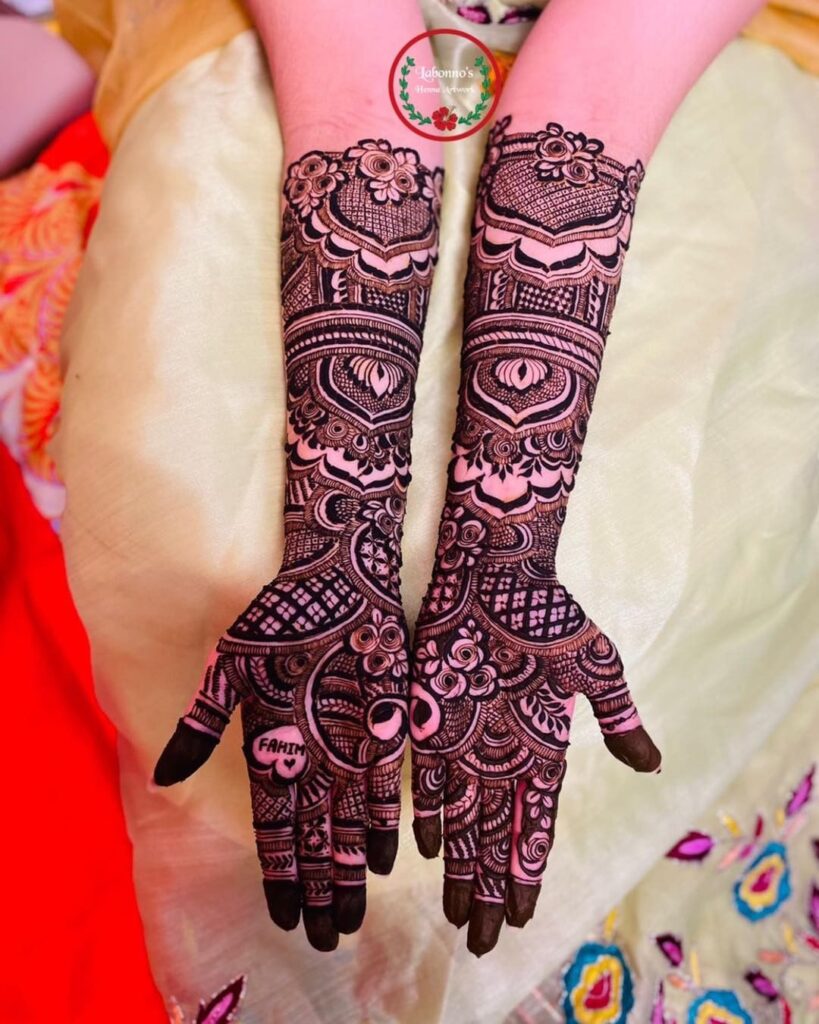 #23 But then again there are always women who just can't let go of the allure of those bold outlines and intricate fillings. And this henna artist makes a strong case for the pattern. We love how she not only included bold strokes in some of the outlines but also made it a part of just a few of the fillings gently enhancing the whole pattern. However, know that such artistic ability requires hiring a vendor who truly is passionate about her art. Because of the detailing, this mehendi will surely take time so be prepared for the same.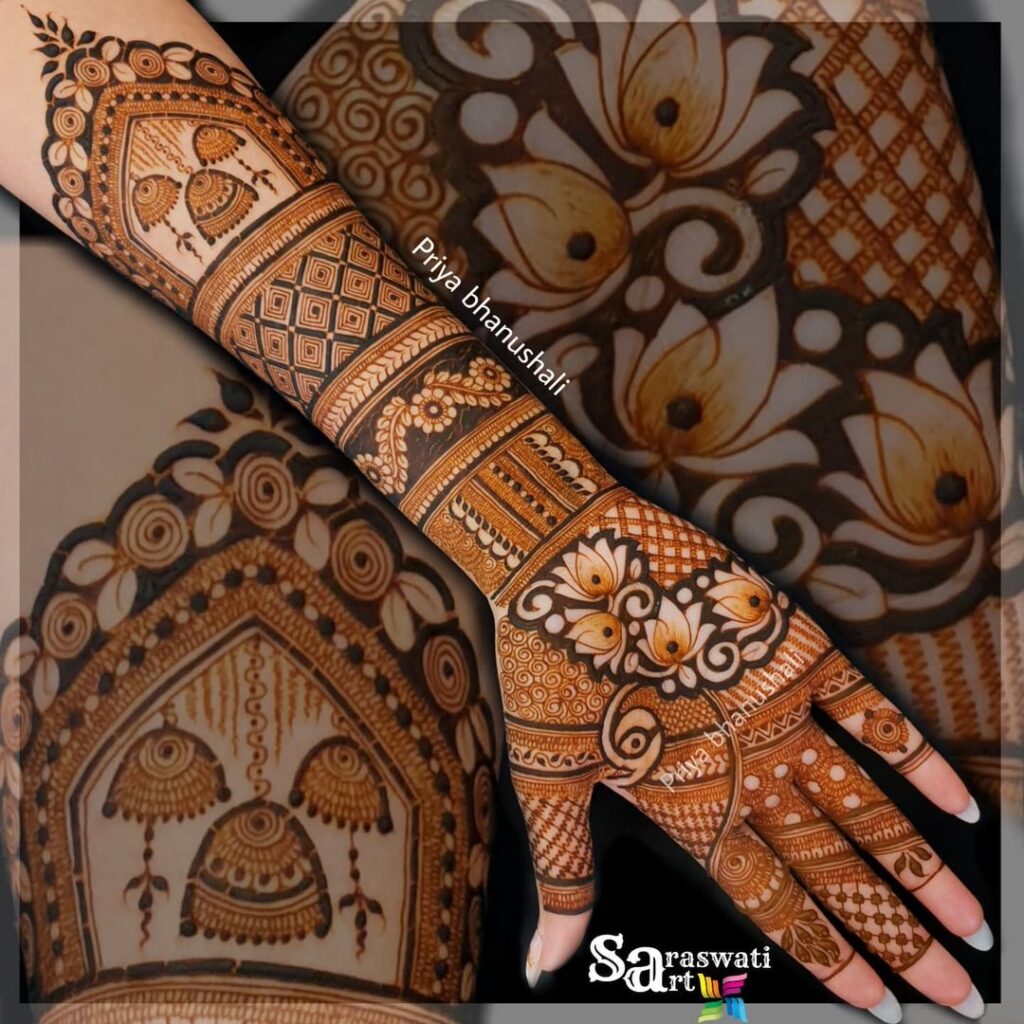 #24 Peacocks are another common and symbolic element often a common part of Indian weddings. These beautiful birds are symbolic of royalty, respect, integrity, rebirth, and renewal. Given their beauty and meaningful representation, they can make an integral part of weddings – from lehengas to decor and even in the bridal mehendi. Here, the henna artist uses the winsome element flawlessly in the design and the results are just ravishing. 
#25 For brides who want a quick yet ethereal bridal mehndi design for their wedding day, opt for this spacious and modern full hand mehndi design dominated by jaal patterns, bold strokes, and florals. Despite keeping everything simple, the bride did opt for elephant caricatures on the top to add a bit of fancy element to her mehendi. We also love how she wrote hers & her beau's initials in a cute heart which certainly is the main point of attraction in this full hand mehndi design.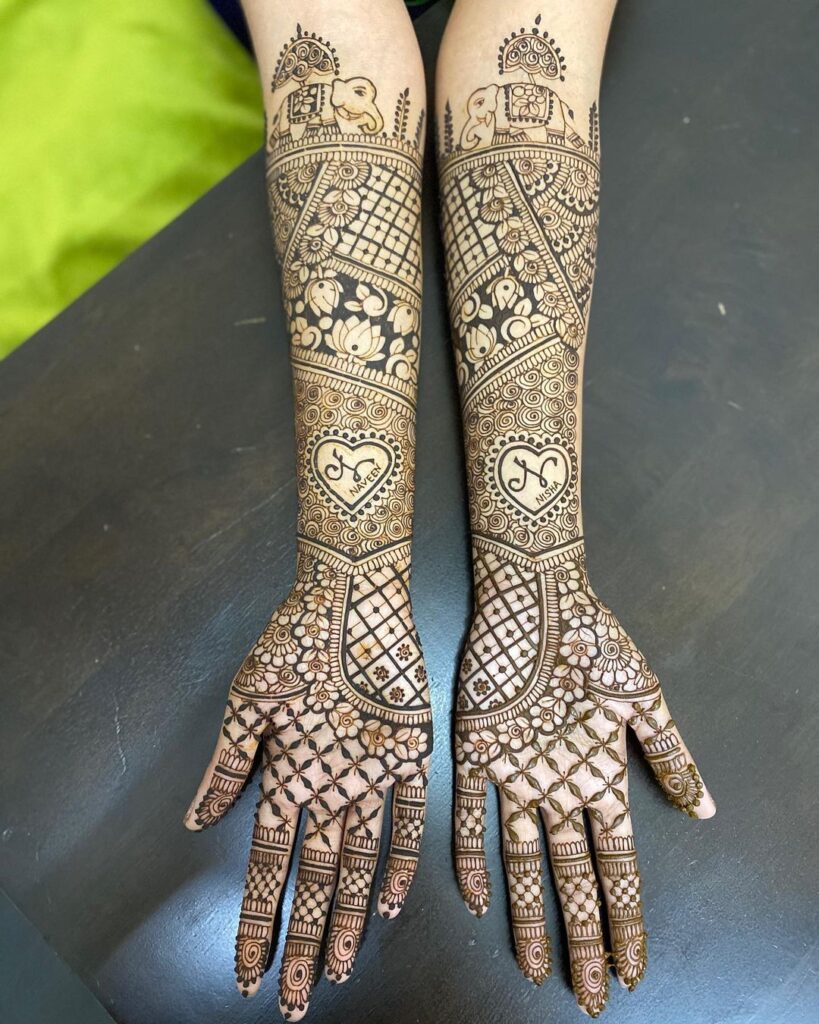 #26 We know what caught your attention in this henna pattern because it caught our attention as well. The endearing peacock motif with the feathers is grabbing all the eyeballs. Certainly, the play of bold and thin strokes is also notable and it's also admirable how it's not done in the customary bold outlines and thin filling way, but some of the fillings is also made bold for a unique effect. 
#27 Bold strokes do make the mehndi design come alive and here's some more proof for our declaration. Starting from a mandala design in the middle, the mehndi design continues on the wrist and the fingers in zig-zag bands filled with intricate elements. In the middle of the mandala, the bride etched her beau's name which is also such a beautiful way to write his name in your mehendi.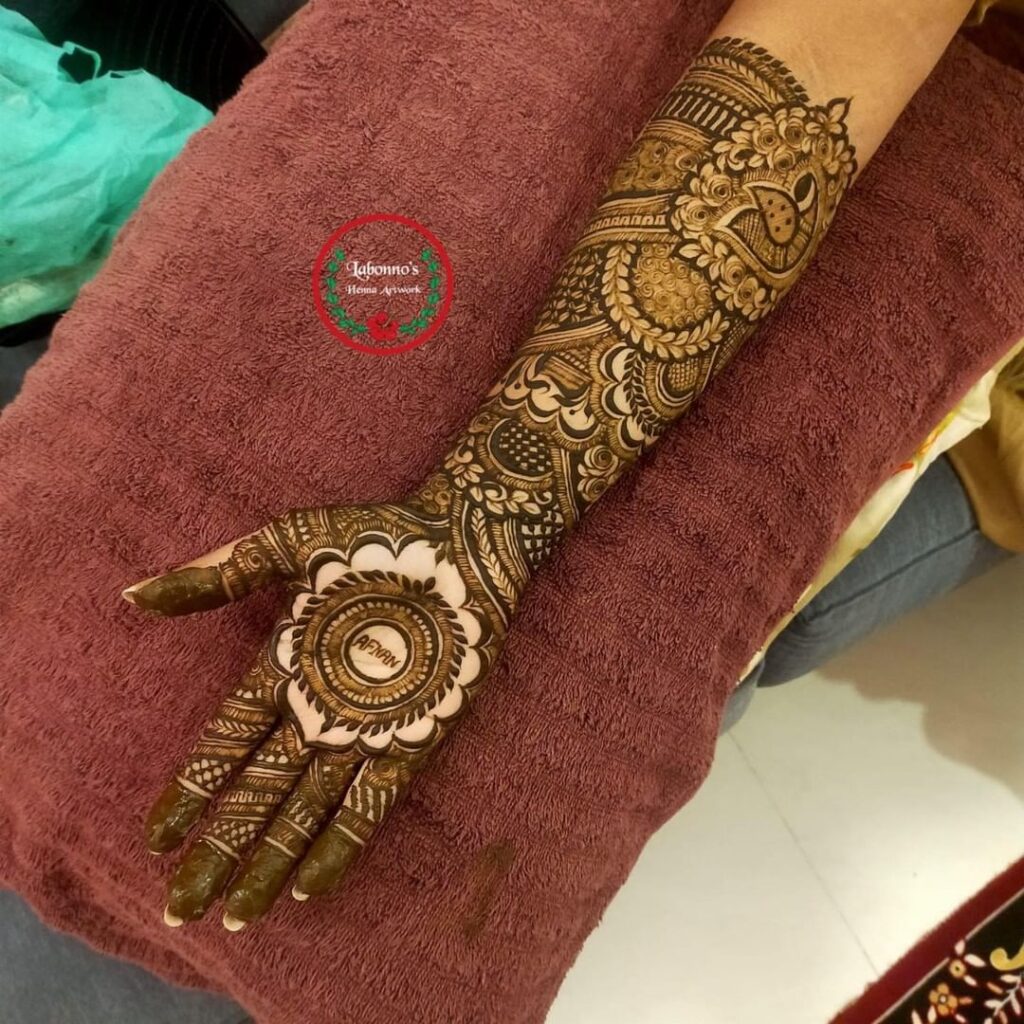 #28 Minimalism has been reigning the Indian weddings and brides have been practicing the trend through many attributes of their bridal look. From a simple lehenga to understated jewelry to breathable henna art, there are many ways to infuse this style into your bridal look. We're here to help you with the last one. Surely love the florals and leaves in the mehendi design and the spacious wrist patterns for a breathable pattern with subtle minimalism.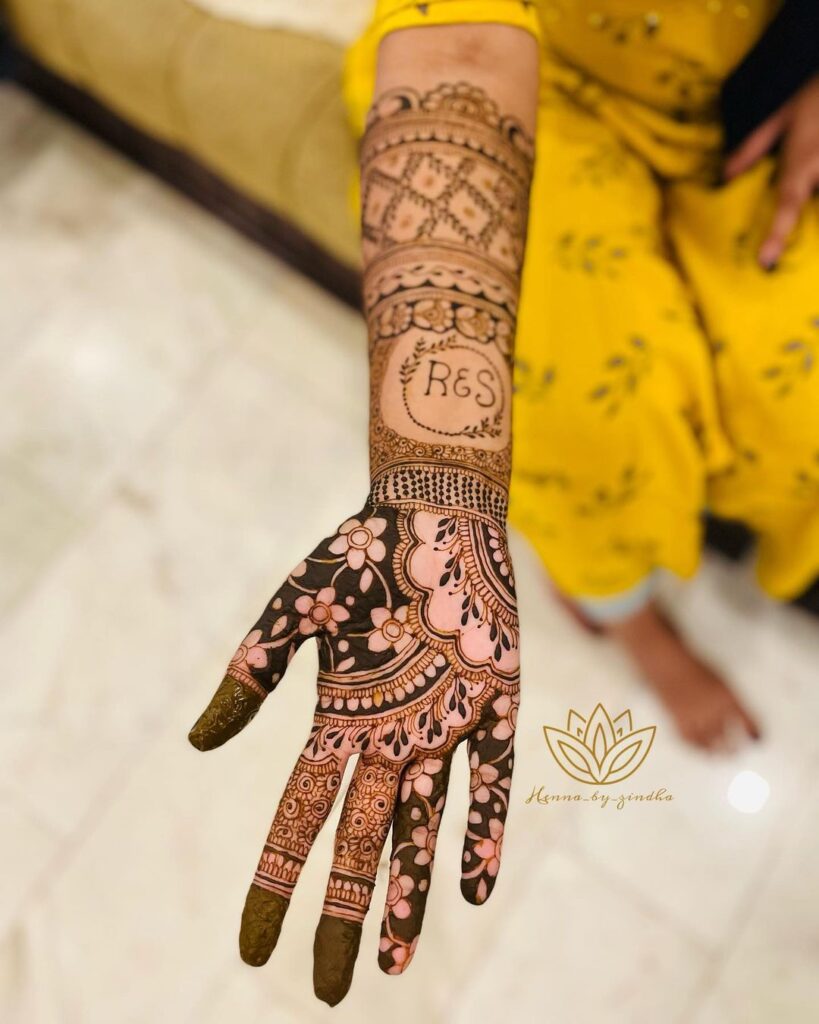 #29 Can we take a moment to admire this lovely full-hand mehndi design? Not just perfect for the brides, but also for bridesmaids, mother-of-the-bride, and other wedding guests, this henna pattern features chunky florals, leaves, and charming jaal patterns. This is ideal for the brides who believe in radiating extravagance at their wedding and don't want to shy away from it. Although if you want a bridal mehndi with caricatures, then probably opt for this gorgeous one on a traditional festival like the first Karvachauth.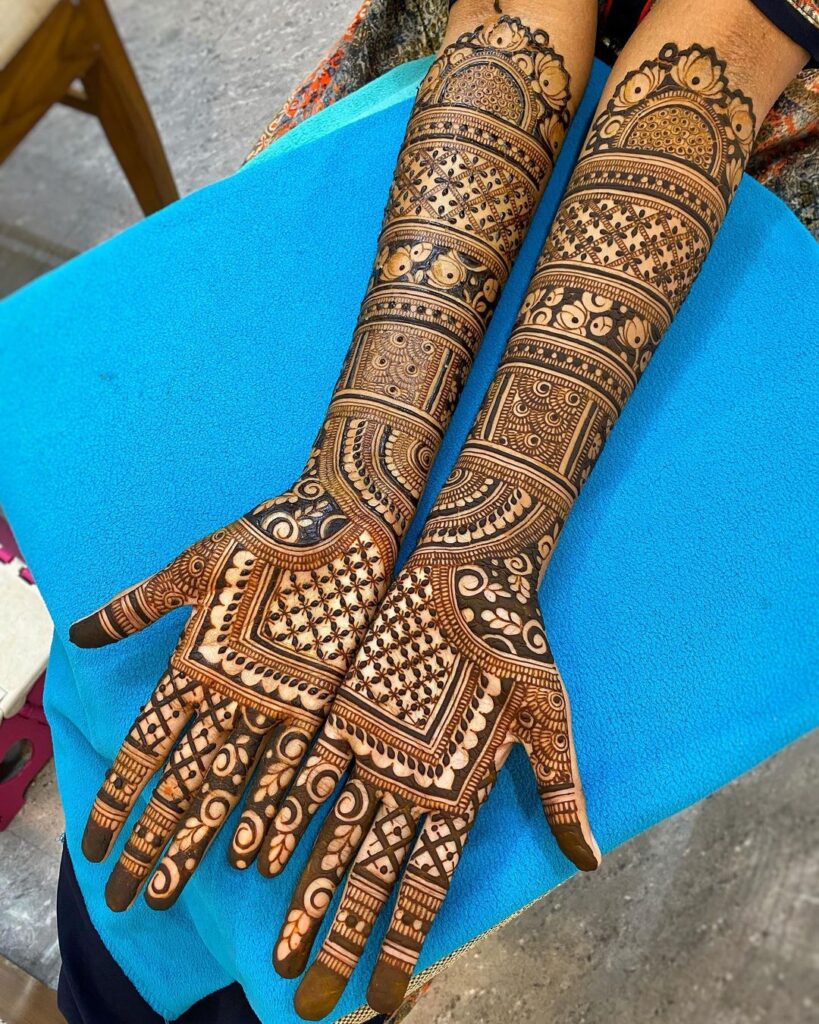 #30 Traditional, neat, and absolutely exquisite. This henna design for full hands complements each other through mirror image and we love how both the hands are done so perfectly well to match with each other. There are 3-D leaf patterns, lotus, jaal designs, and concentric circles beautifully bunched together for an aesthetic design.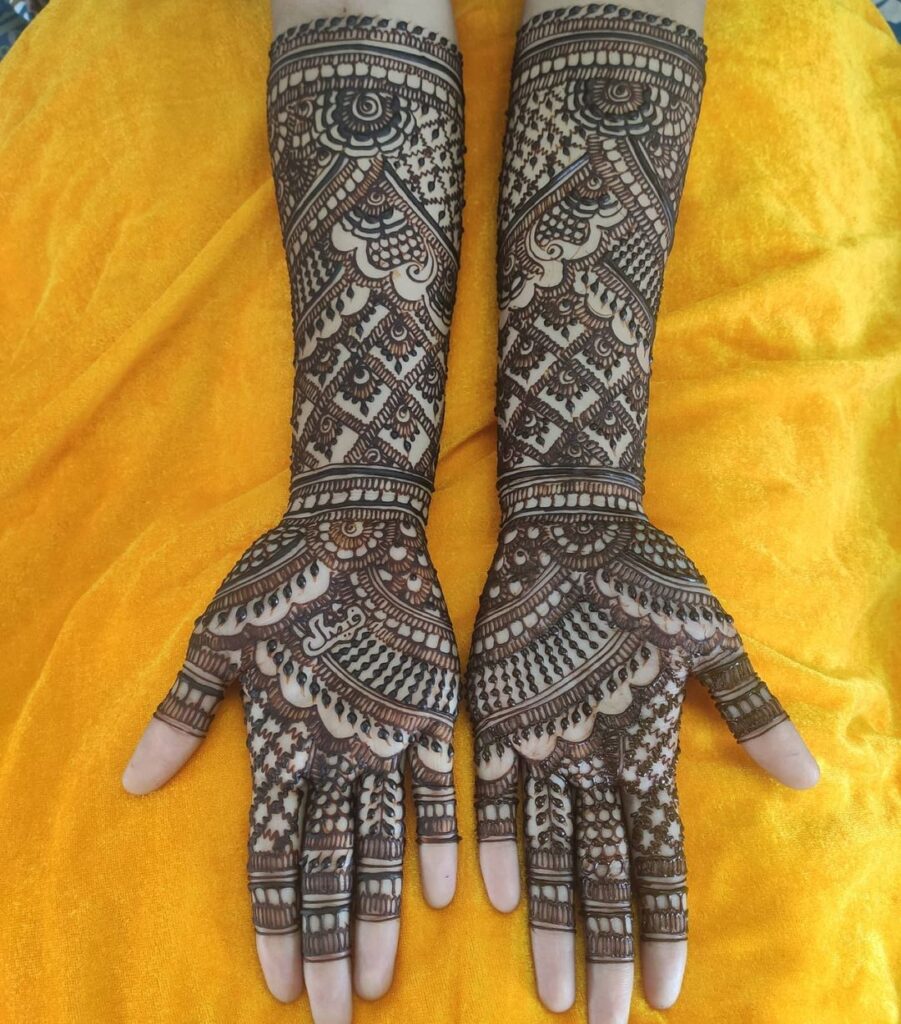 #31 We simply can't get enough of the beauty that is this simple full hand mehndi design. We call it simple because there are no figures involved or difficult lines or intricate fillings. Anyone who has a good hold of the henna cone can recreate this mehendi design easily. You can certainly make some changes if you want to! Don't worry it won't compromise the allure of the design. Also, if you want the design only till half-wrist, then draw a band and fill it with jaal mehndi, and don't extend further.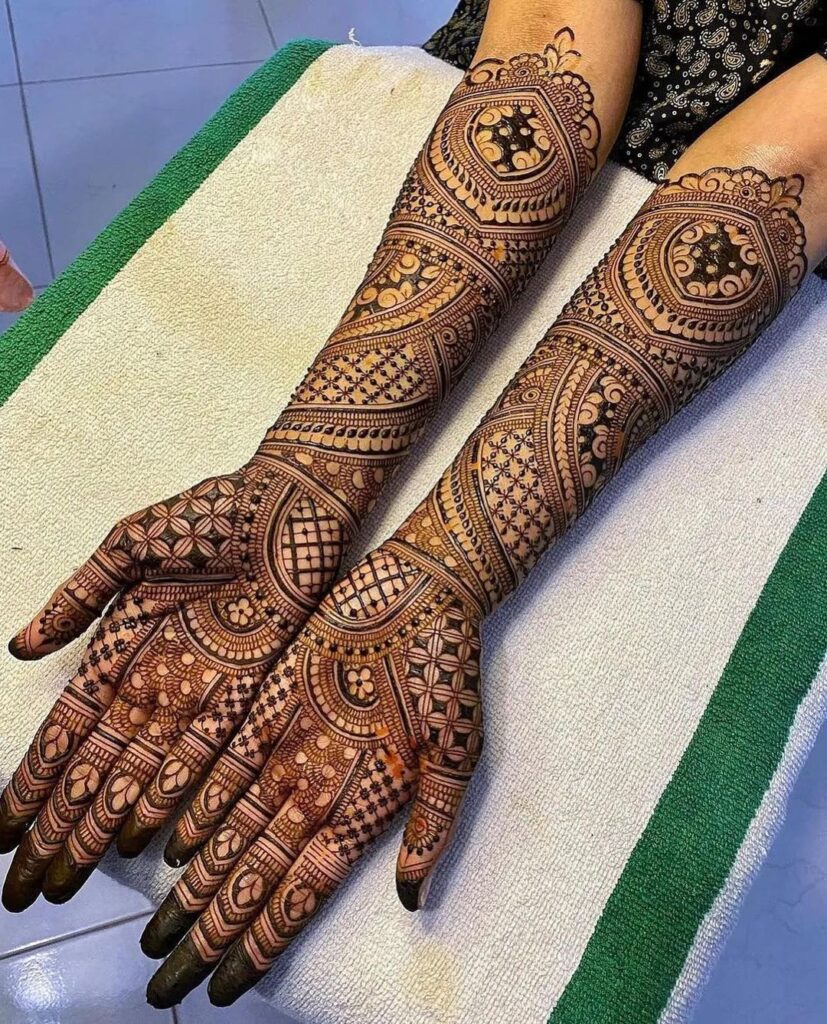 #32 Ending this series of full hand mehndi designs for the front hand that's curated with such intricacy and I'm sure, tons of patience. While this henna uses all of the common and easy elements, the neatness is surely laudable. What's more impressive is the diagonal bands on the wrist instead of the common horizontal ones to add some twist to the otherwise conventional pattern.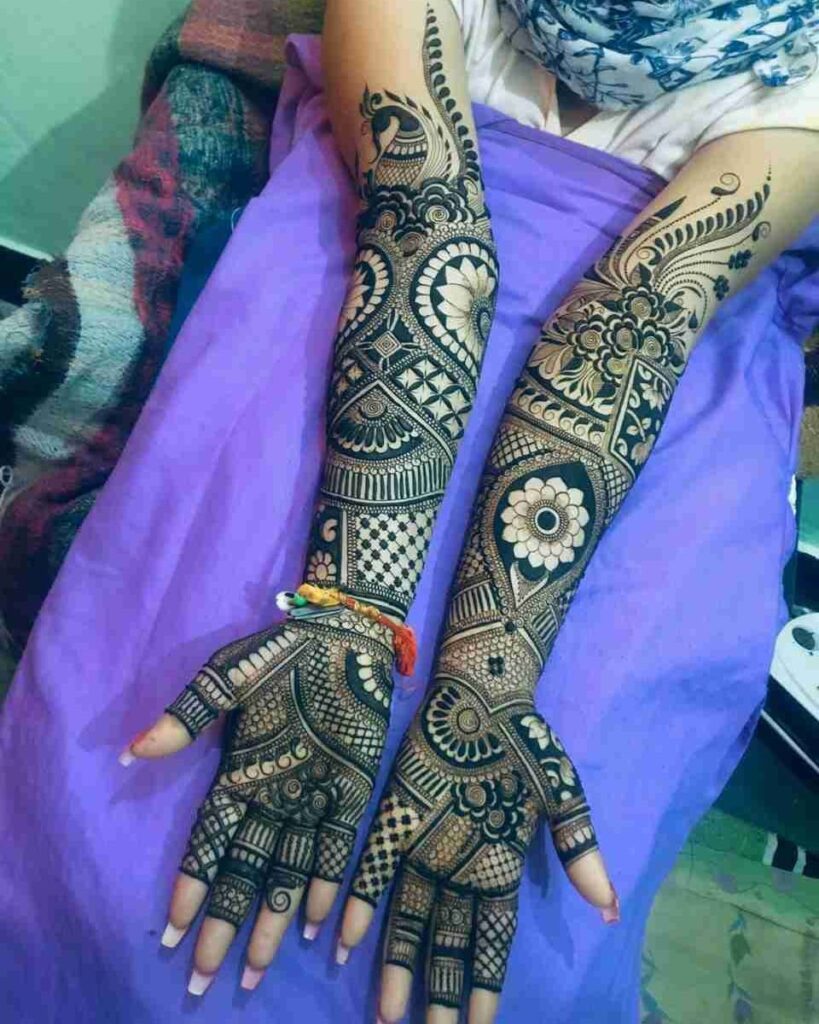 #33 Starting the section of full hand mehendi designs for the back with this utterly stunning bridal henna. Ditching the usual jaal designs, this bride's back of the palm is bedecked with exquisite lotus motifs and a 3-D effect. The 3-D has become very popular in henna because it looks absolutely ethereal when the henna stains. And as a bride, your hands will be photographed quite a lot – especially the back part. So, it's important that you pick eye-catching full hand henna for backhands – like this one.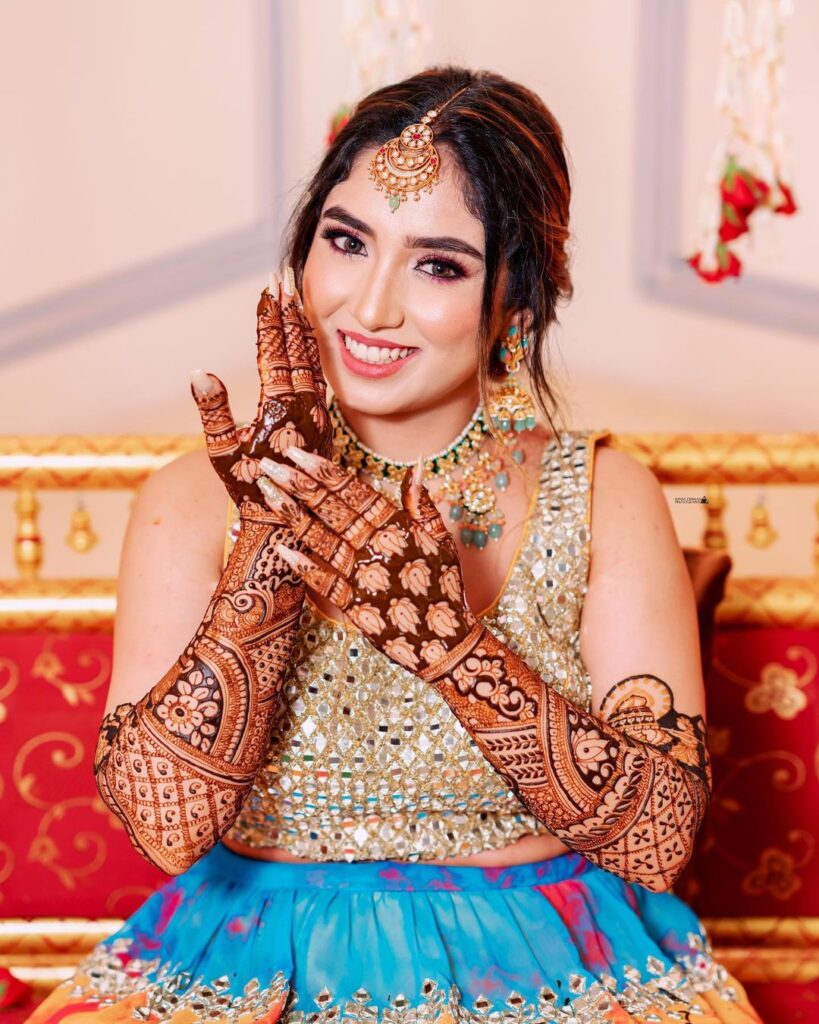 #34 See 3-D patterns are a favorite of brides because of their sheer spectacular effect when the mehndi is stained. For her latest full hand mehndi design, the bride chose to alternate the 3-D effect with traditional patterns like jaal designs and concentric circles. The kalash motif in the middle and initials in a box are certainly some of the highlights of this beautiful full hand mehndi design 2022.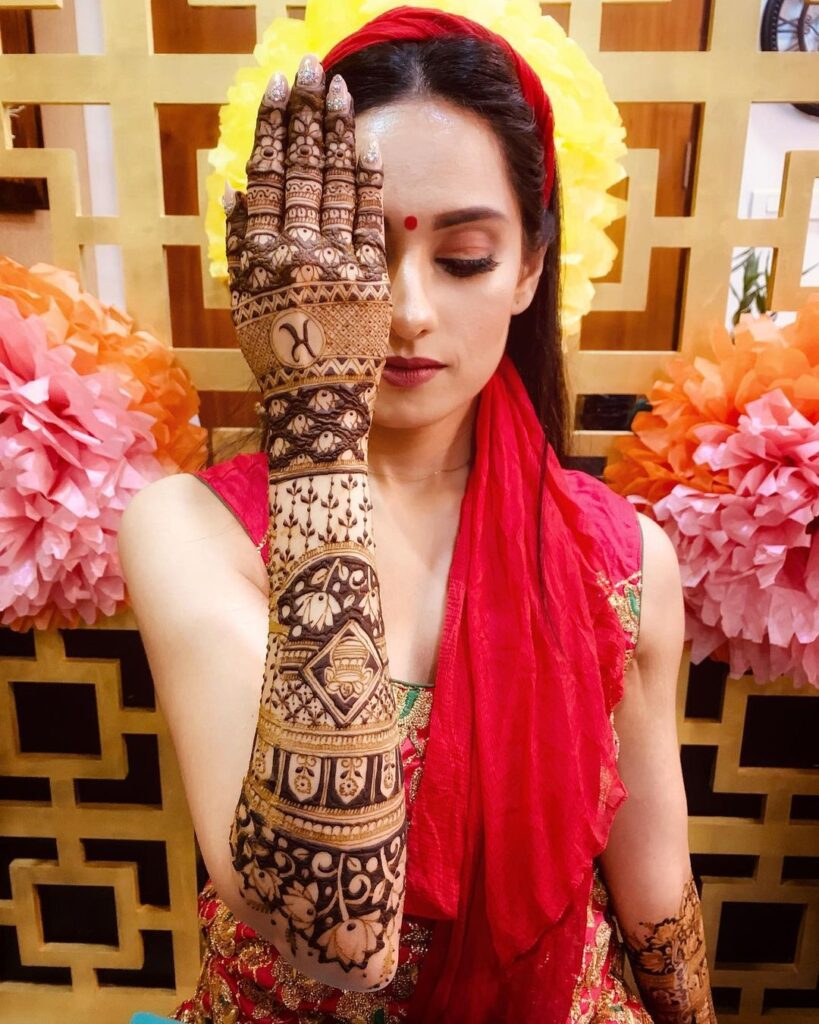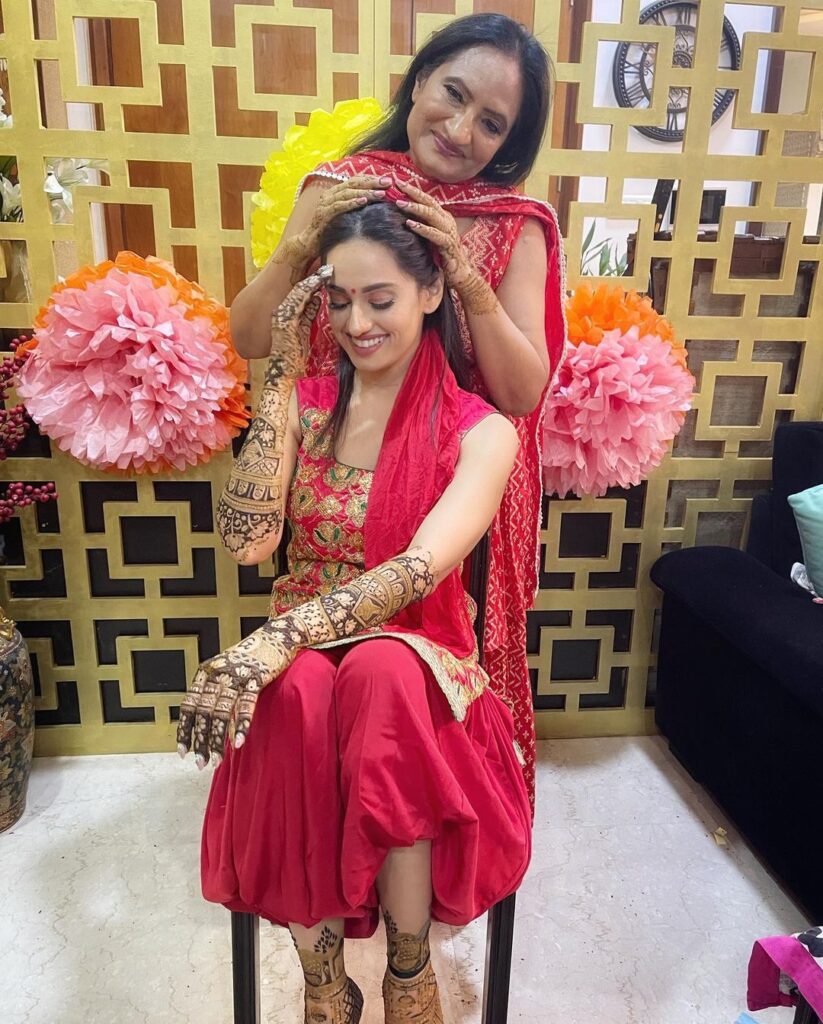 #35 An image that shows both the front and back of the full hand mehndi so you don't have to struggle to find a suitable counterpart for one or the other. Dominated by the ethereal charm of florals and semi-circle concentric patterns, it's amazing how the many elements are bunched together to curate an ethereal design.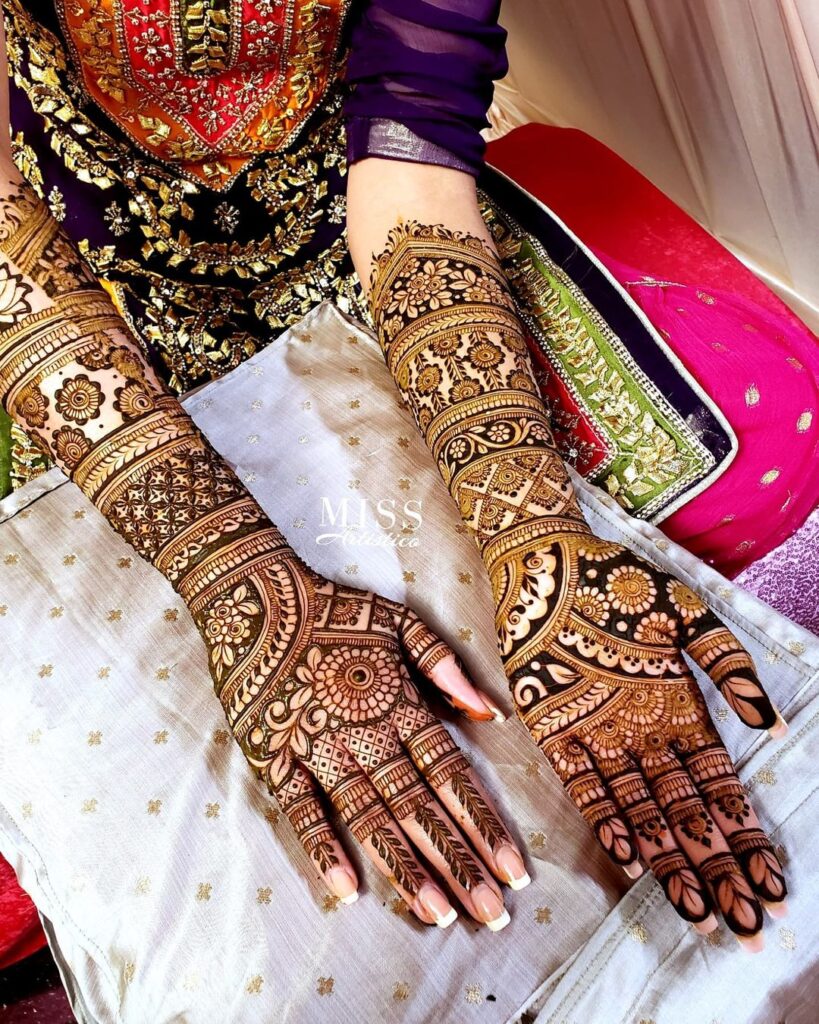 #36 Jaal patterns are very popular for bharwa backhand mehndi and make for a quintessential part of Indian brides' mehendi design. If you want to hop on the trend and play safe on your wedding day, then here's a design to help you with some inspiration. Even though it's not the classic one of the full hand mehndi designs, we absolutely adored the little hearts in her jaal patterns and had to include them in the list for inspiration.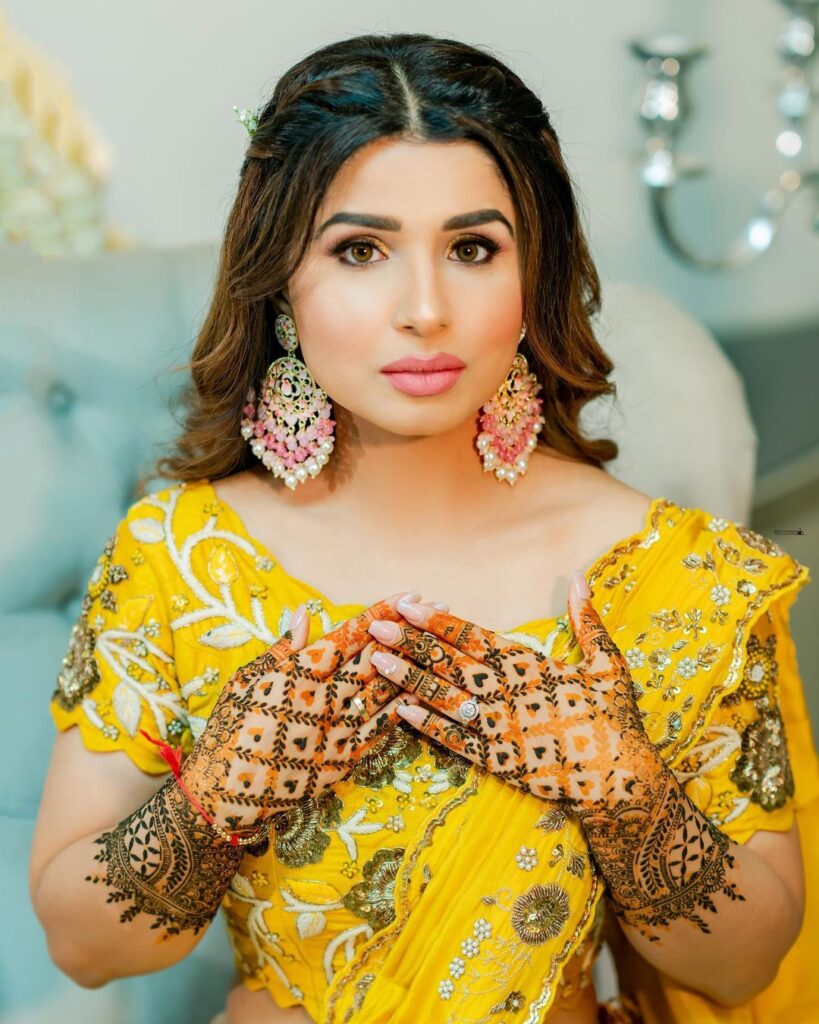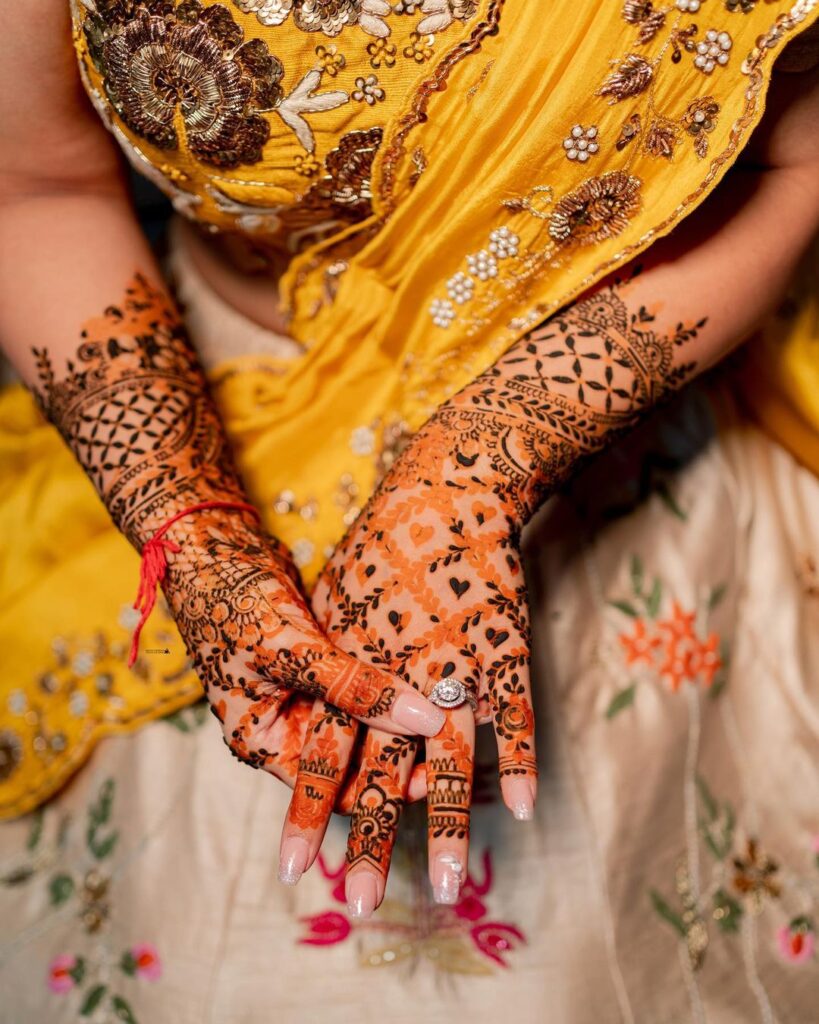 #37 The semi-circle concentric circles make for the filling but this henna artist decided to take another route and make them the dominating part of the mehendi design instead. While the palms are covered with them, the lower part of the wrist has elephants and lotuses to add some modish elements into an otherwise traditional design. Overall, we think it's a perfect pick for brides or wedding guests for the special day.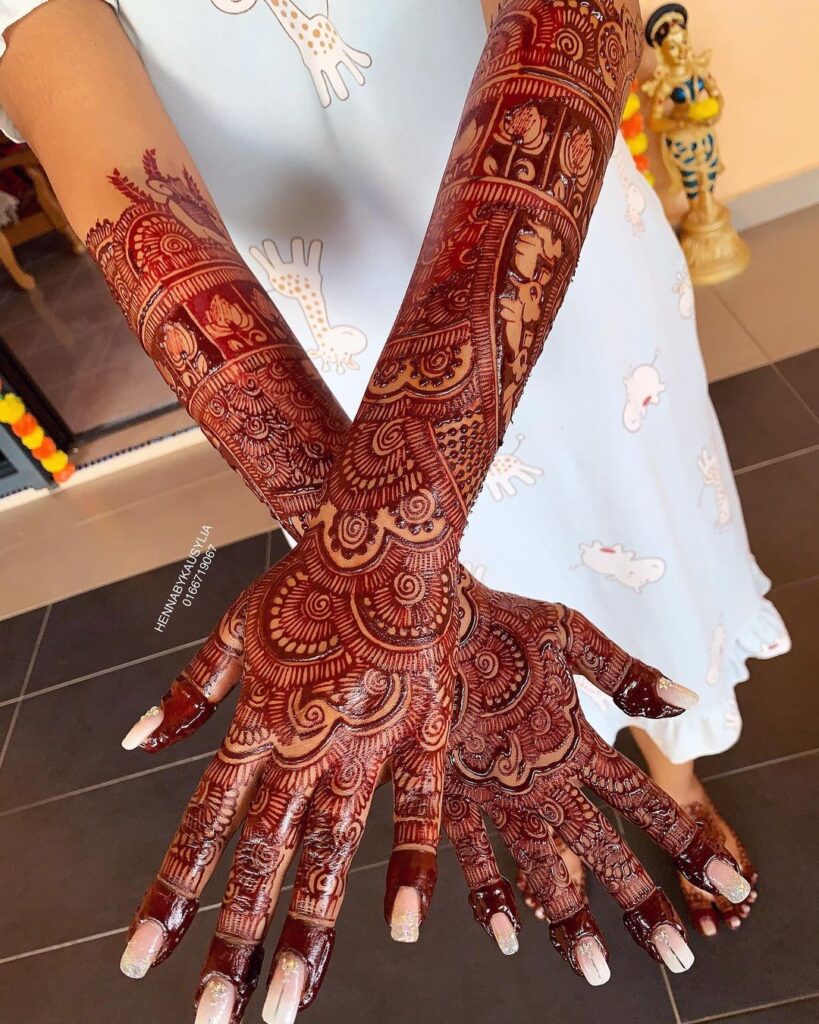 #38 Some brides like figures on their henna, others prefer sayings. For those who belong to the latter, here's a full hand mehndi design for backhands that includes the common proposal lines 'he asked' and 'I said yes'. This can actually be an ideal henna design pick for your roka event. While the artist has only extended the pattern to half-hand, you can surely extend it more to your elbow and it will still look wonderful.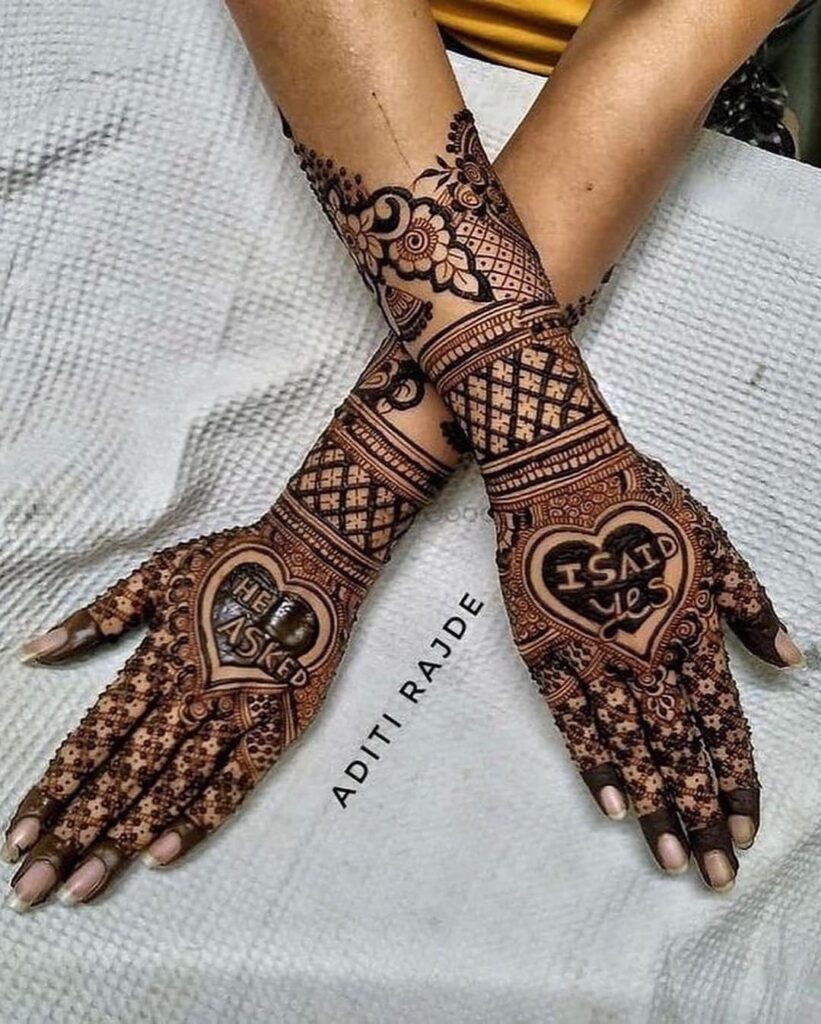 #39 Jaal pattern, but with a twist! The common jaal patterns use straight diagonal lines but this one uses zig-zag ones for a subtle enhancement to the henna pattern while the insides are filled with leaves. Another notable part of the henna is the sizeable floral stack on the bottom which will look nothing less than amazing after staining.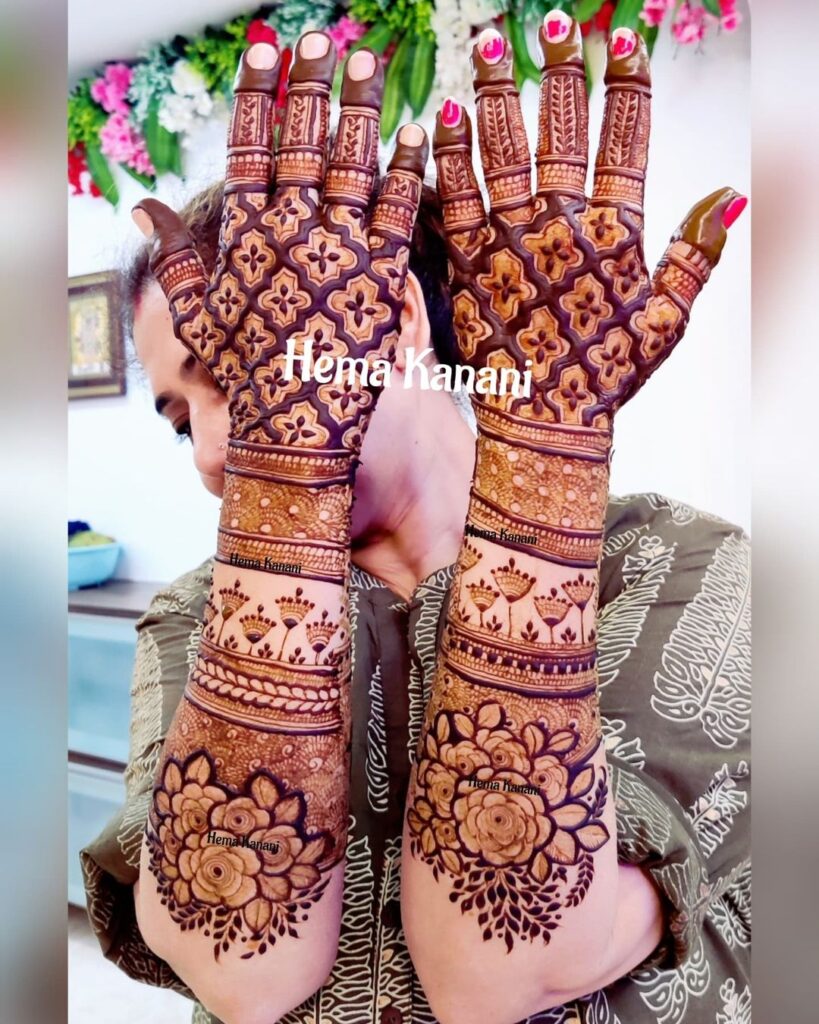 #40 Now this one is a unique pattern because it vertically divides the section on the back of the palm rather than horizontally. The neatness with which each section is filled is another beauteous trait of this mehendi design. Definitely a perfect pick for brides or sisters-of-the-bride as well.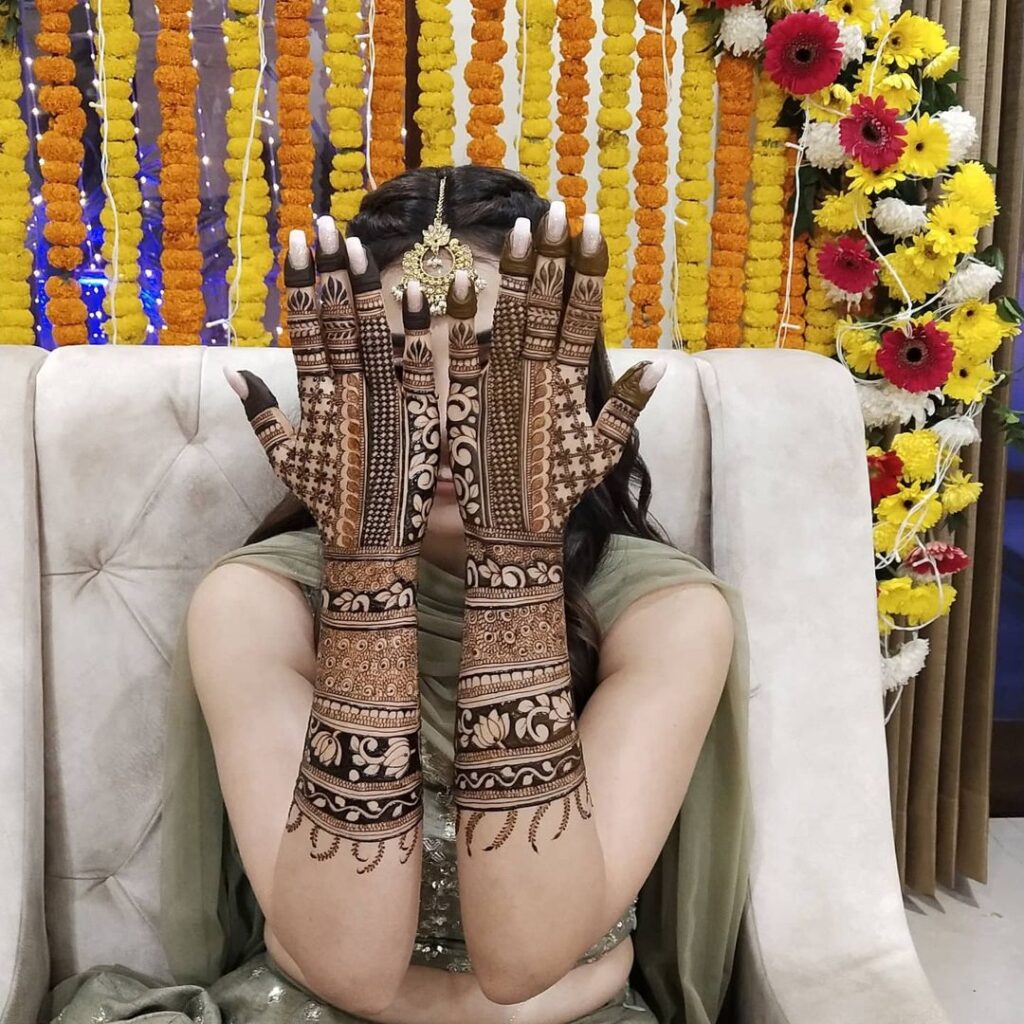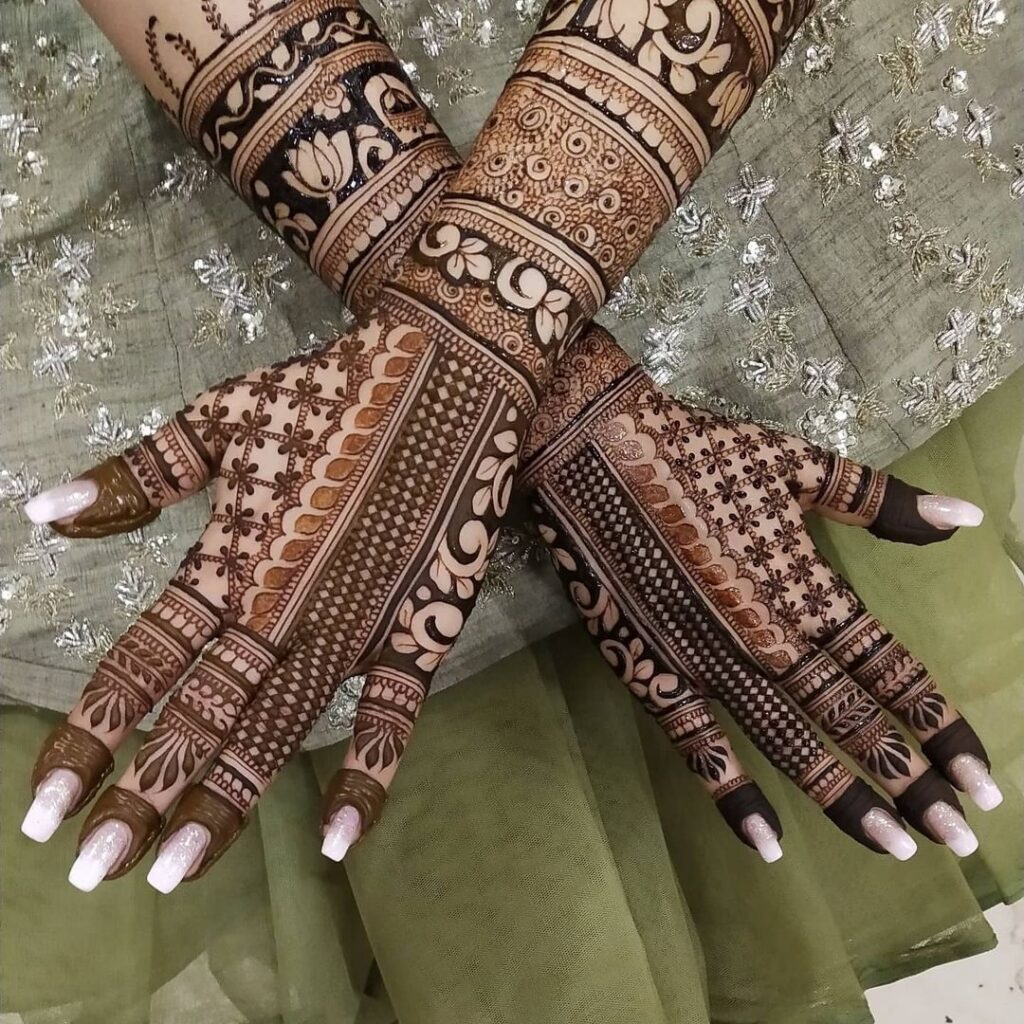 #41 Yet another great full mehndi design for backhands for the bride that offers a neo-traditional vibe to her ensemble. It's admirable how the artist opted for the traditional elements but combined them uniquely for a stylish full hand mehndi design. If you don't want a lot of figures on your mehendi day, then a design like this would serve you well.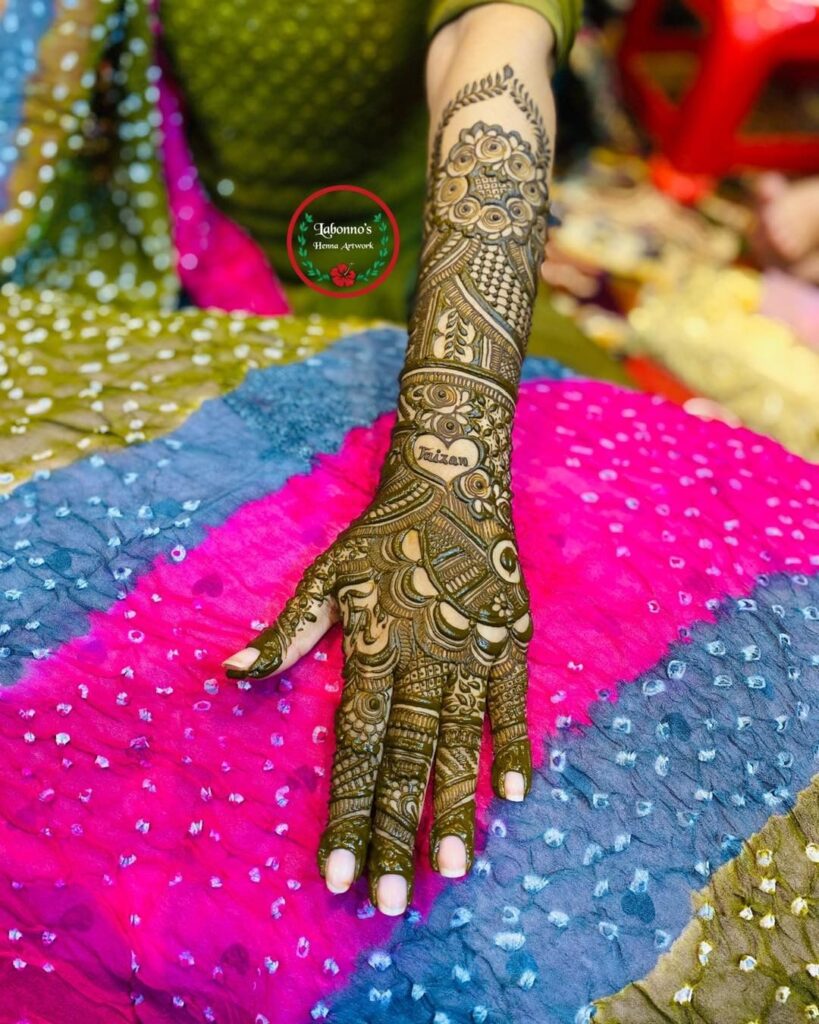 #42 Simple and elegant. If that's your style mantra for the D-Day, then this mehendi design will make a great part of your ensemble. Packed with conventional and trending elements, the design makes use of the jaal pattern and choodi-style to curate a truly admirable mehendi for brides.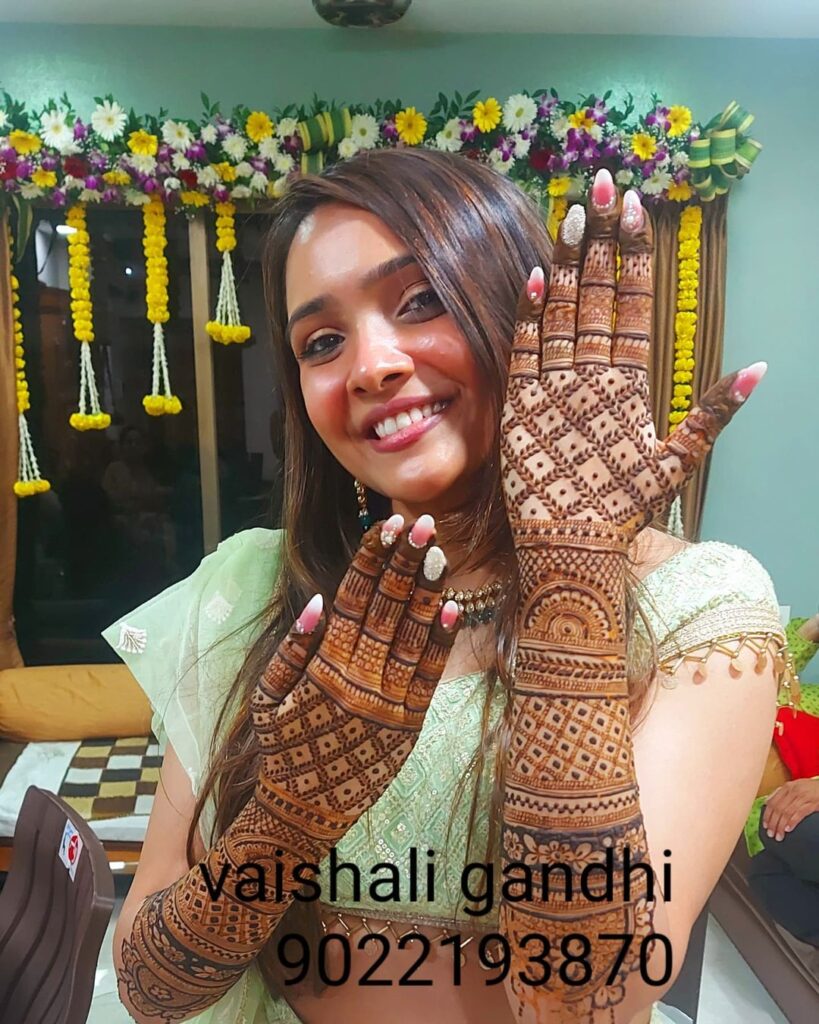 #43 Clearly, the choodi-style wrist design is ruling the full hand mehndi design list. Mainly because it's a safe option to choose and looks quite captivating in pictures and RL. Here's another idea for the choodi-style wrist design. The bold strokes and peacocks on the backside of the palm act as the icing on the cake.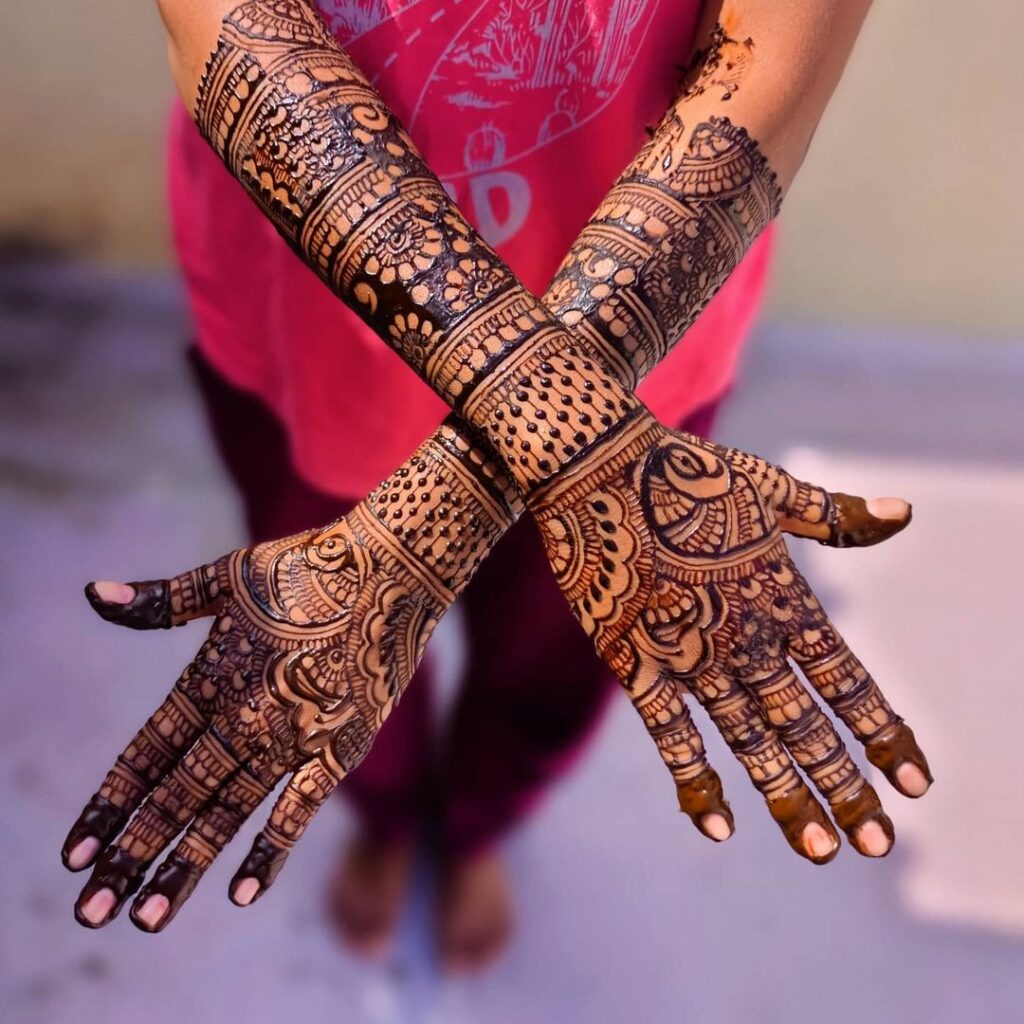 #44 Here's a full hand mehndi design for front and back for someone who's looking for inspiration for both in one picture. The pattern is a perfect demonstration of why full hand mehndi designs don't have to be full all the time. The spacious florals, jaals, and lines give the design a lot of empty spaces and make it look subtle and stylish.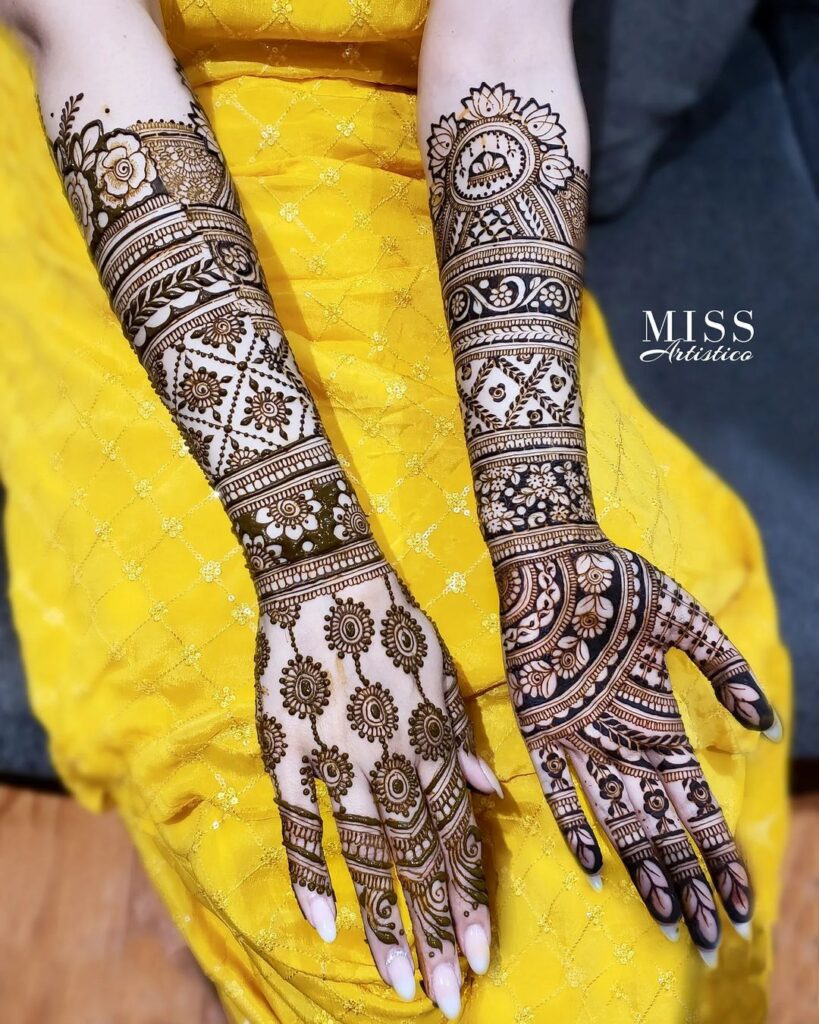 #45 Another design which uses empty spaces beautifully to create a modish backhand mehndi. The simplicity makes it a perfect pick for brides, bridesmaids, or any other wedding guests looking for modest henna for the big day.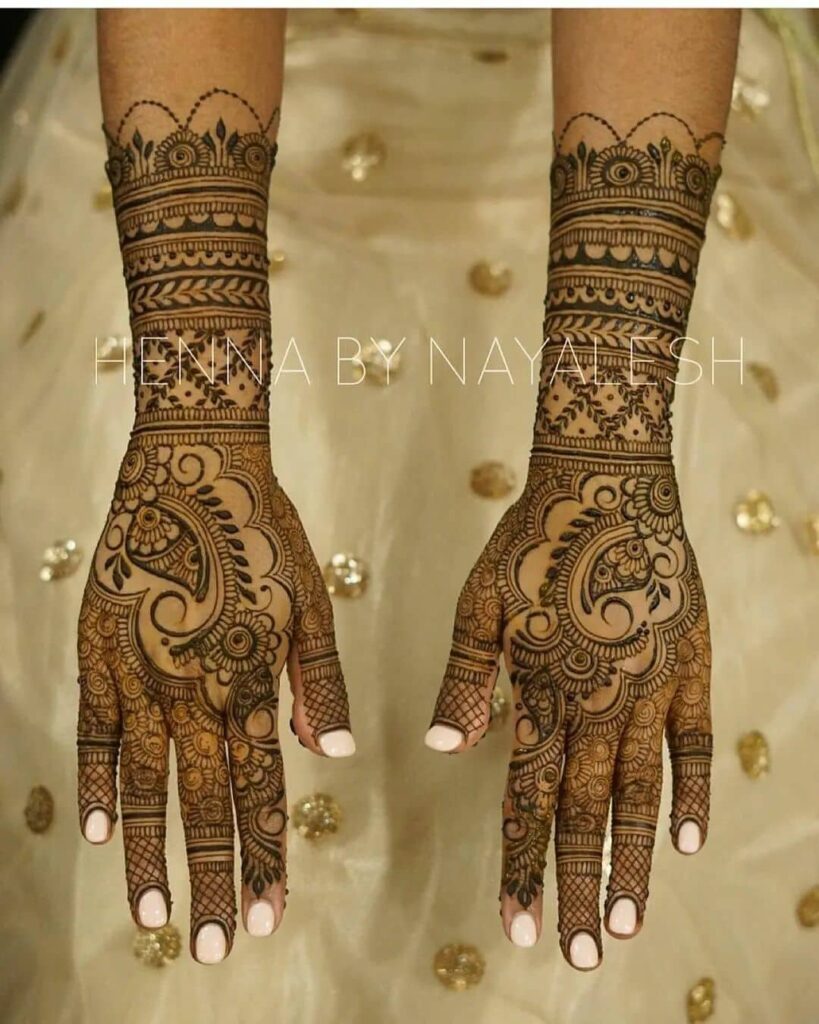 #46 A spacious jaal followed by the choodi-style mehendi on the wrist is a usual one on this full hand mehndi designs 2022 list but one that never fails to impress. We love the intricacy of the pattern and how the artist has used bold strokes to define the separate bands and some thin strokes for a clear definition. The filling is also a very smart play of thin and bold strokes.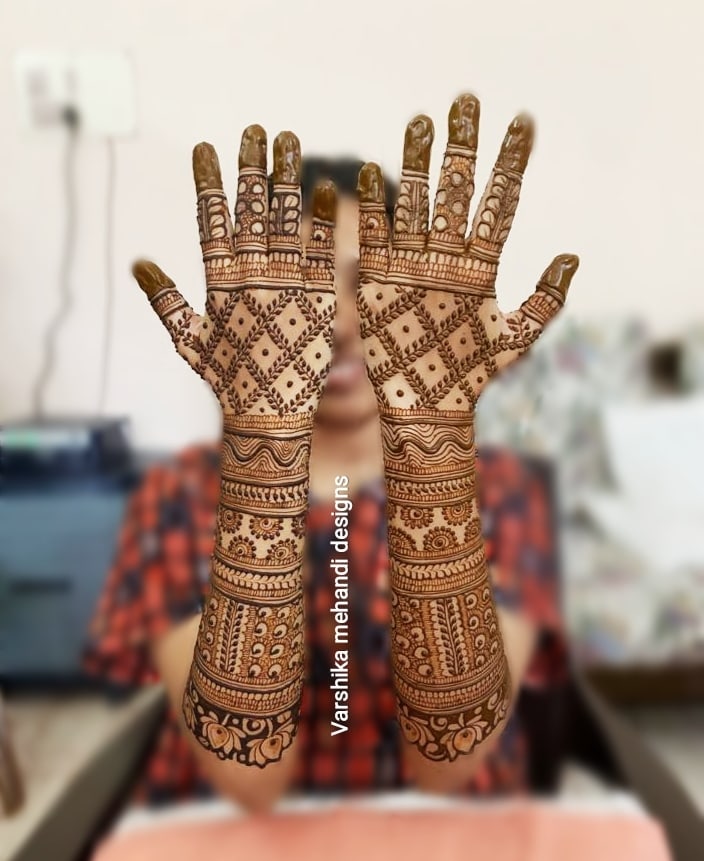 #47 A mandala in the middle and jaal patterns dominating the rest of the design is certainly appealing and exquisite. We love how all the fingers are done the same – giving a very eye-pleasing symmetry to fingers and both hands. The 3-D play in the elephant band and around the lotus band on the end further enhances the entire layout.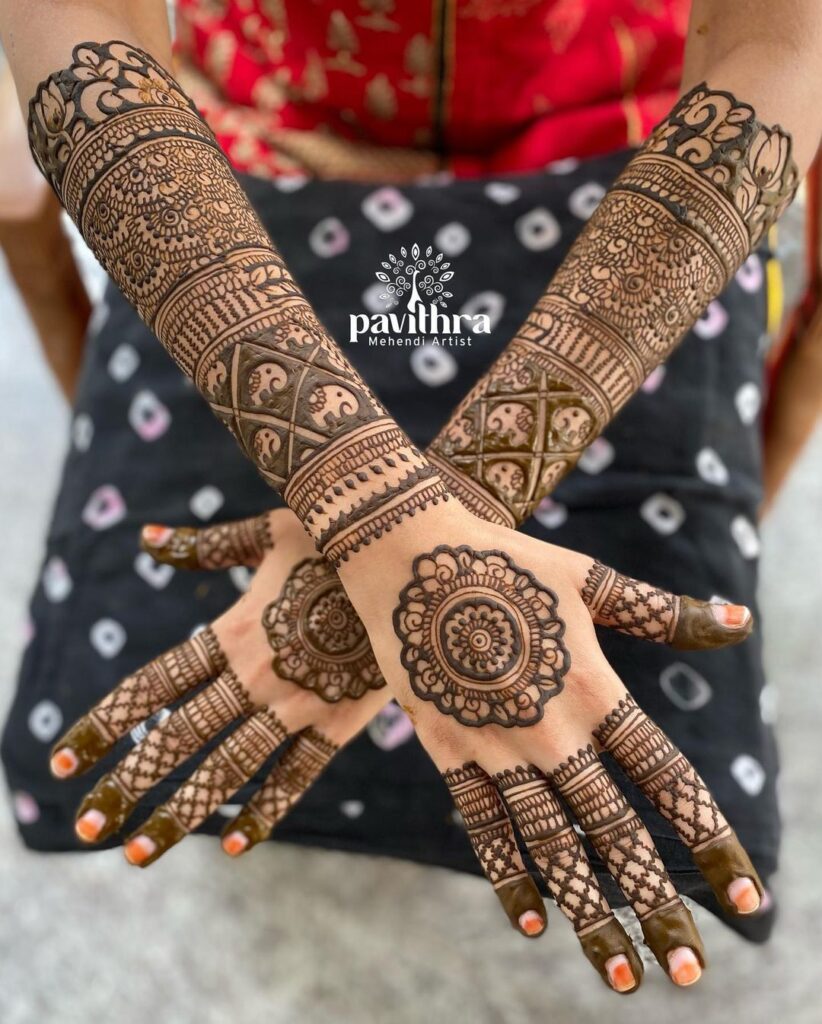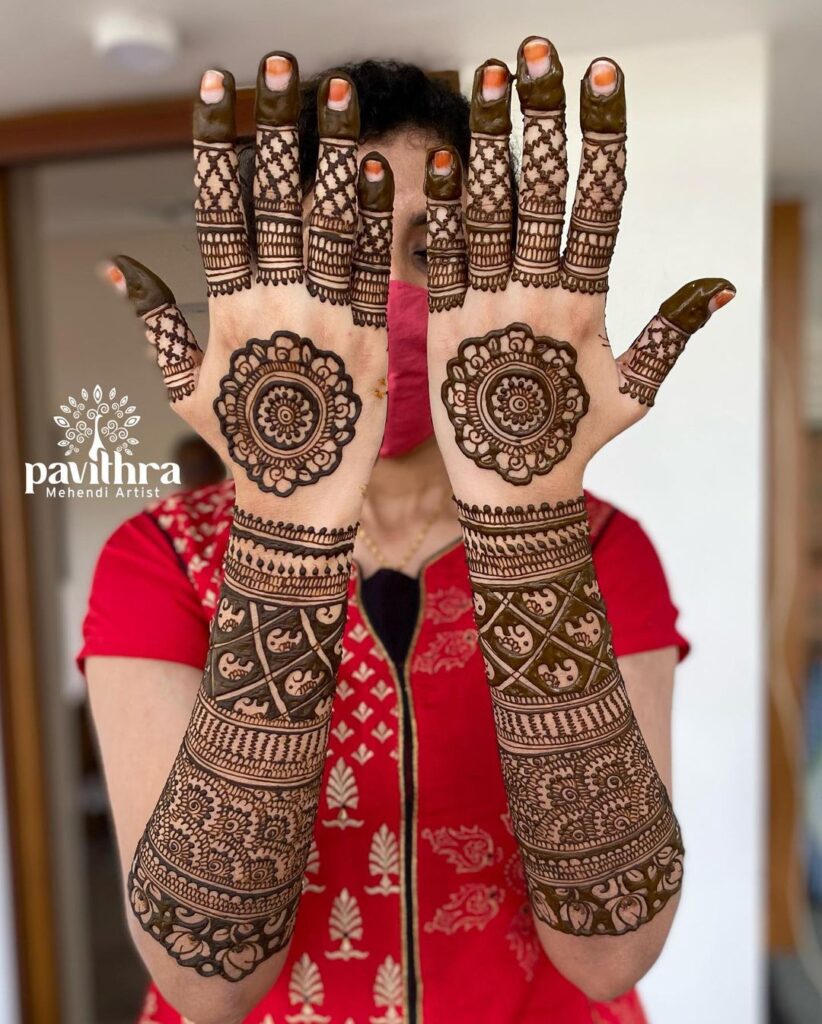 #48 Looking for a stylish full hand mehndi design for backhands? Then, here's one which is unlike any other on this list.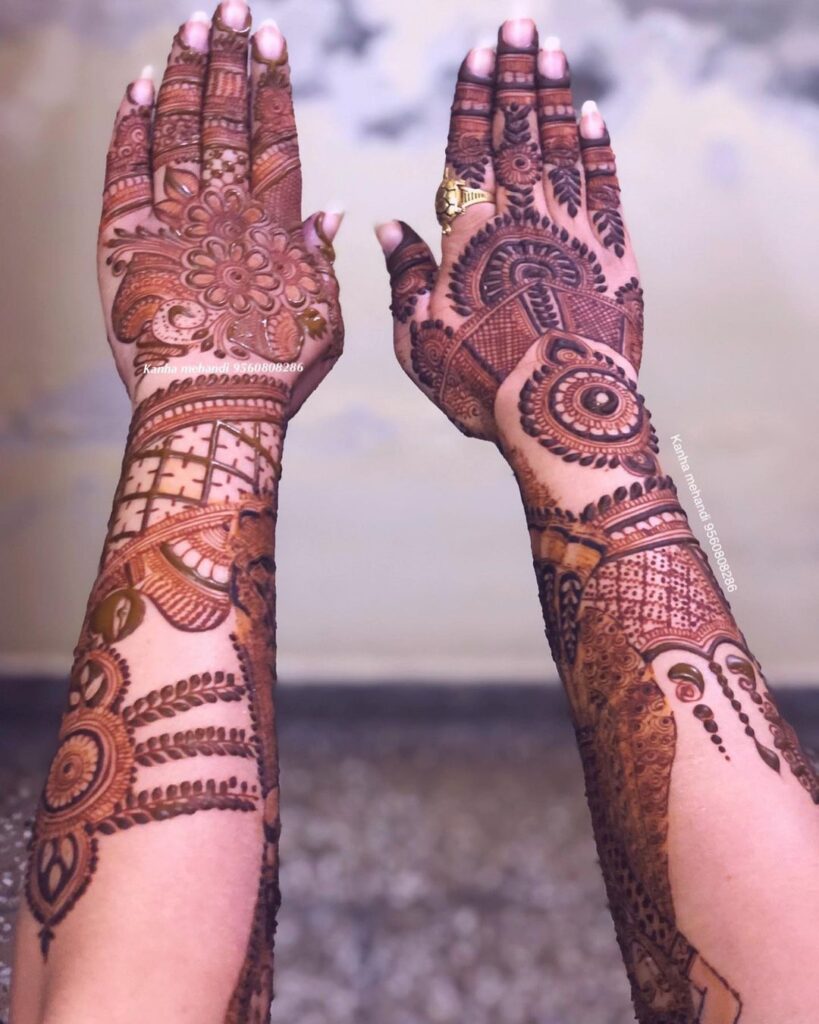 #50 Oh those little birds have our hearts too! Bird symbolism is popular across all cultures and they're considered to be a harbinger of peace, blessings, and good luck. Include them in your bridal mehndi in an endearing way like here! Surely, it will make for Instagram-worthy pictures, but would also look alluring in reality.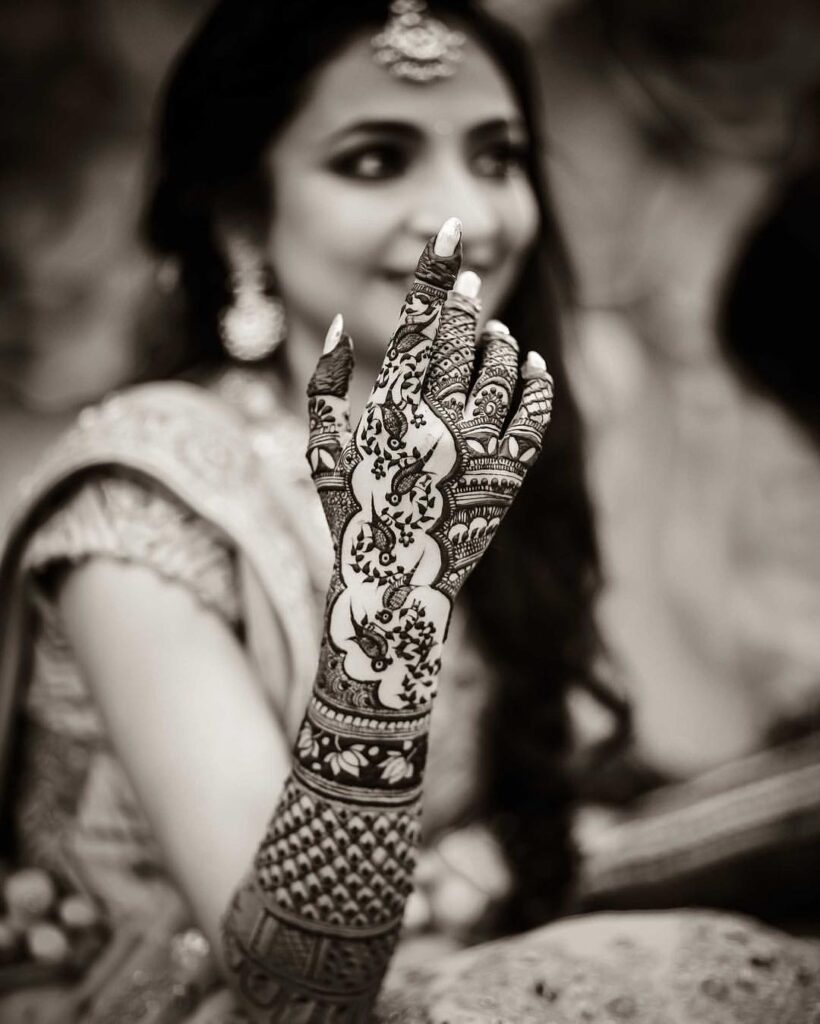 #51 Well, we're guilty of showing extra attention and favor to this mehndi design. But even after years of its debut, this full hand mehndi design still receives the same praise from our readers and followers, and it's timeless beauty sure can't be denied. So, here we are, including it in another one on our list, in case you needed a classic mehendi design inspiration for your wedding and beyond.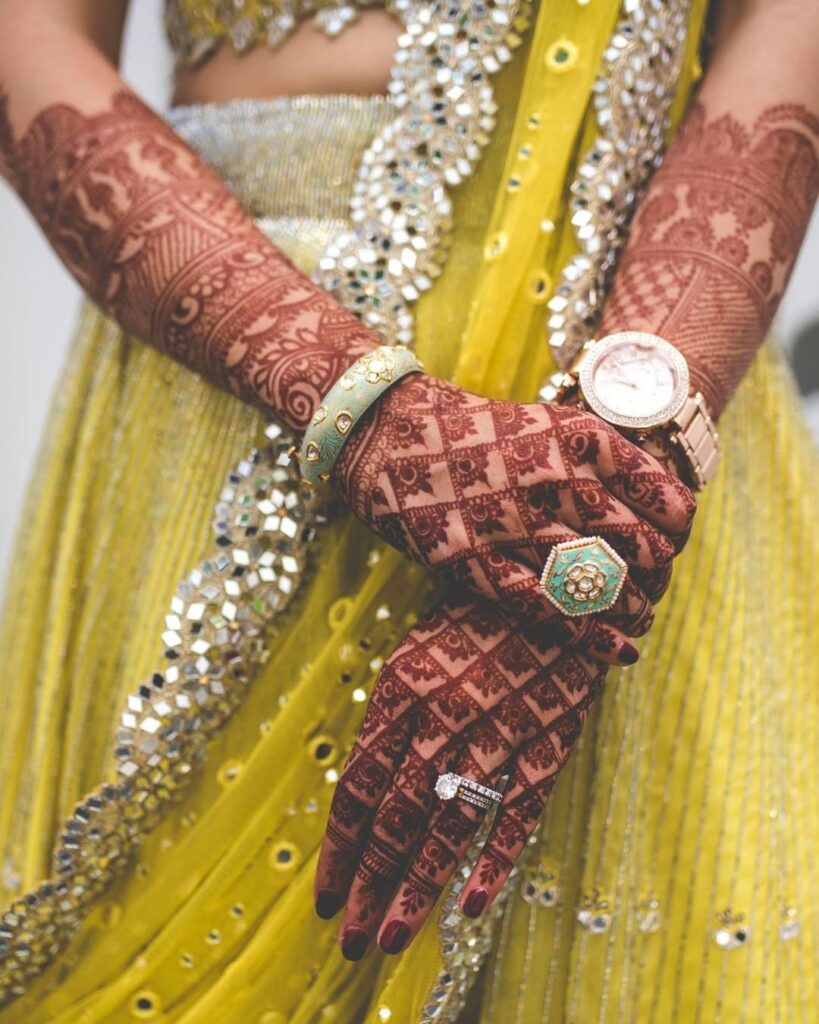 #52 Dominated by the auspicious lotus motifs and combined with jaal, lines, and a sizeable paisley motif in the middle, we absolutely adore this bridal full hand mehndi design. If you want a non-figure mehendi on the D-Day, then this one surely is a good option.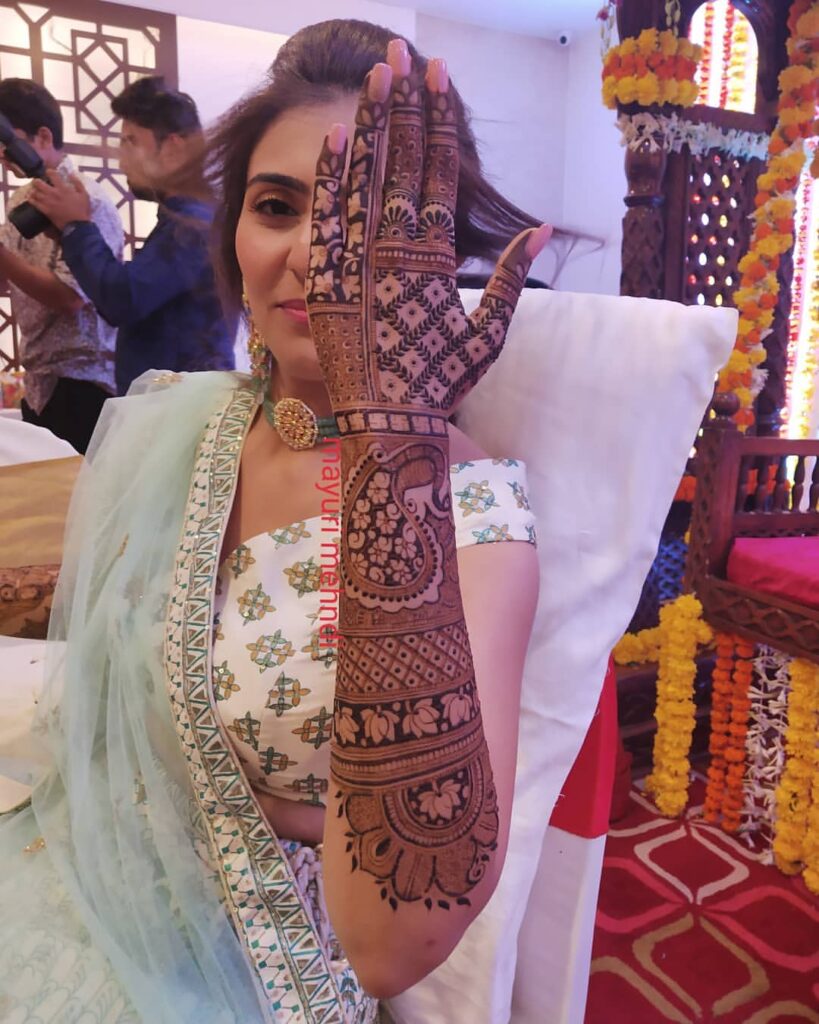 #53 Yet another classic mehndi design for brides. This one has already circulated on social media many times and still doesn't fail to garner the love. We swoon over it every time and we're sure, so are you!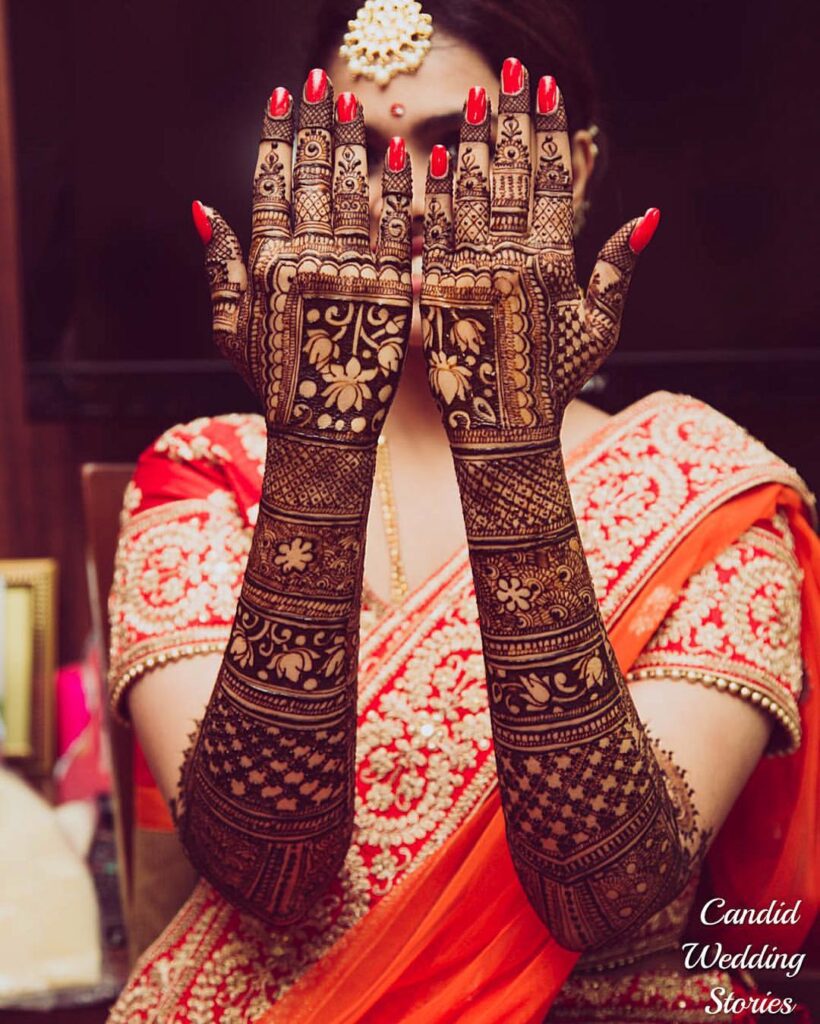 #54 For the RL king & queen, a henna design that demonstrates the same is an ideal fit. Right?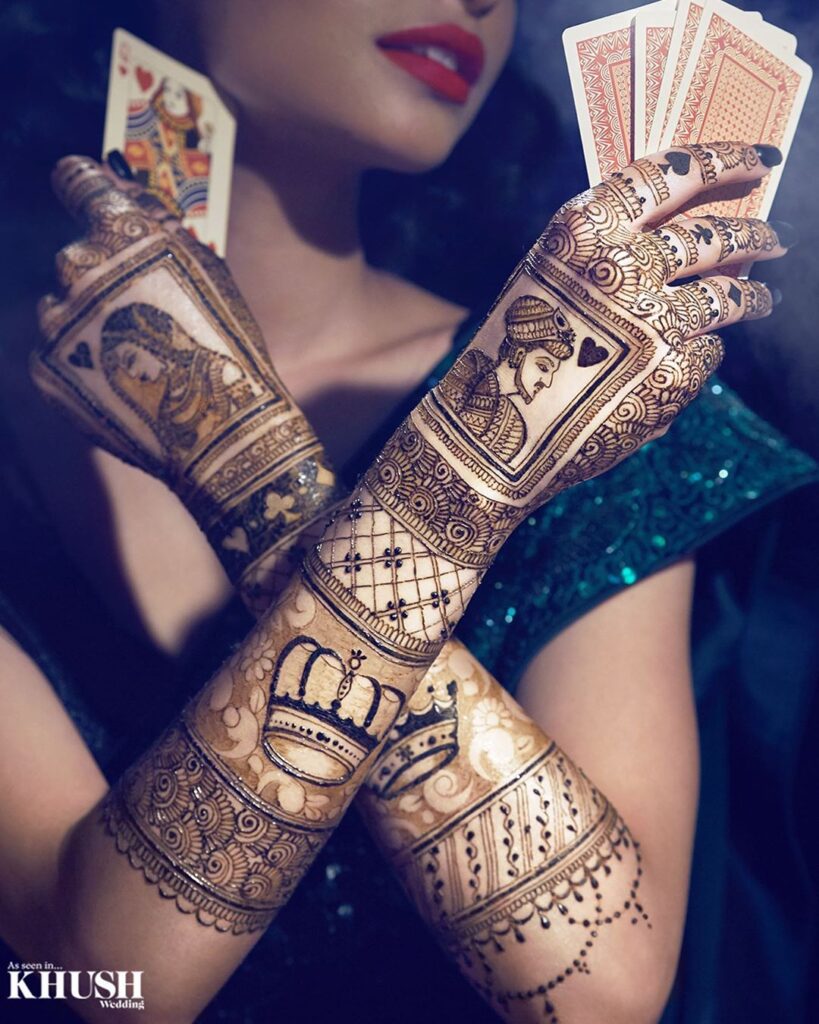 #55 Ending our full hand mehndi designs 2022 list with this easy full hand mehndi design that can be drawn by anyone who is even a bit skilled at the art of mehendi. You can complete the pattern with an easy finger mehndi design for a beautiful curated pattern.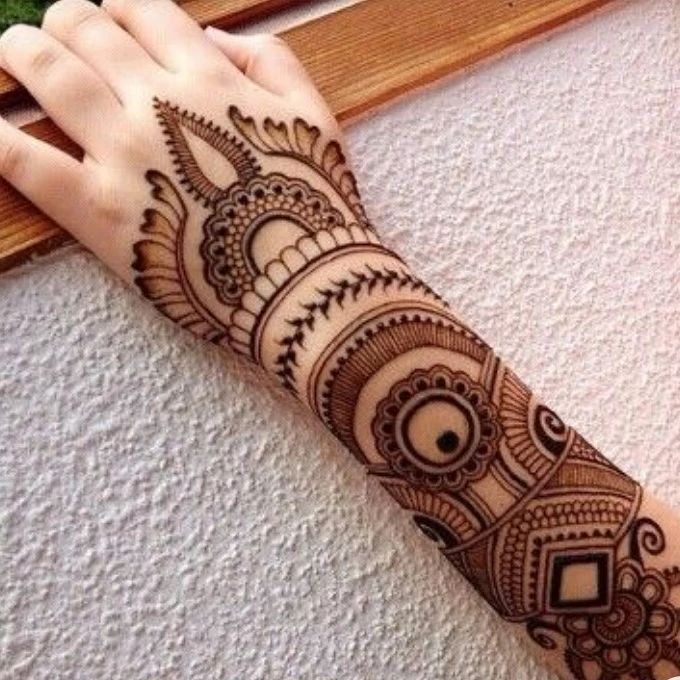 #56 This modern full-hand mehndi design is done using traditional elements featuring intricate, detailed patterns that cover the entire hand. The design is replete with jaal patterns in many sections with some floral patterns scattered here & there. The design extends all the way to the wrist, where it becomes more sparse and open, allowing the skin to show through.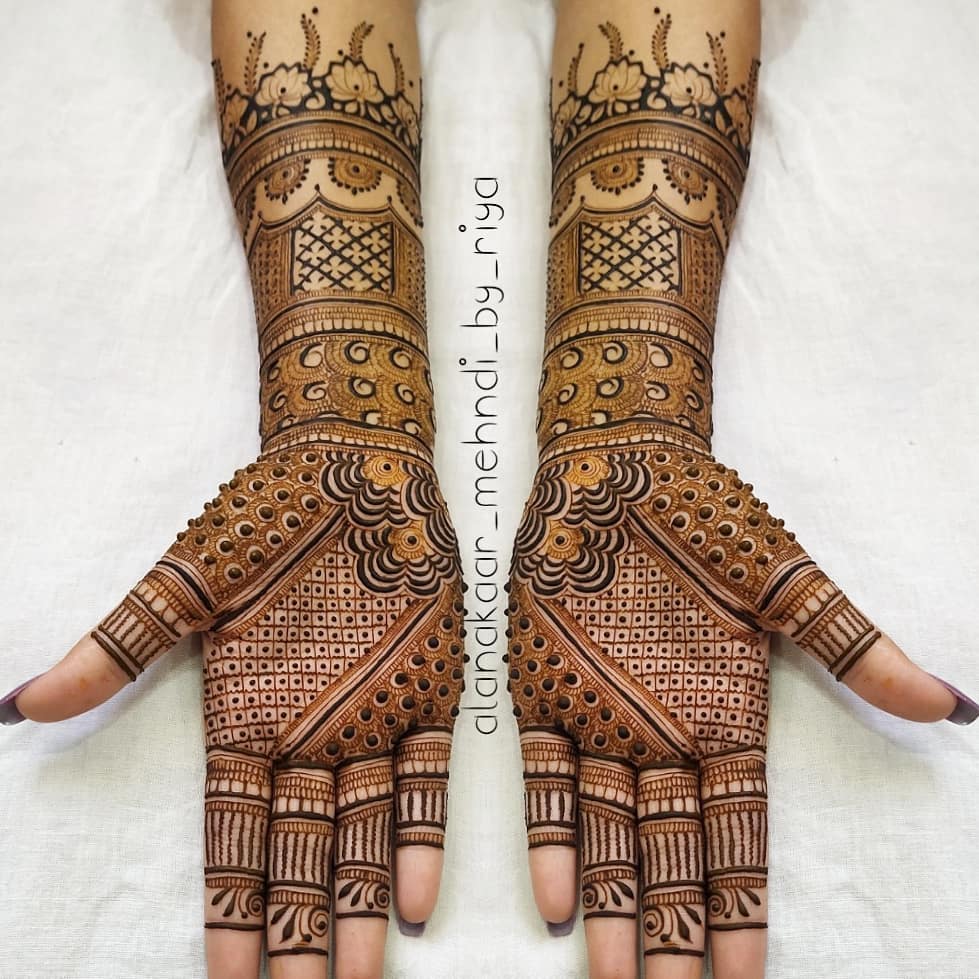 #57 This stylish full hand mehndi design is just perfect for brides! It features a gatbandhan (a nuptial knot that signifies the coming together of two individuals and holds significant importance in Hindu weddings) followed by elephant and peacock motifs for a truly spectacular bridal mehndi that looks exquisite and timeless.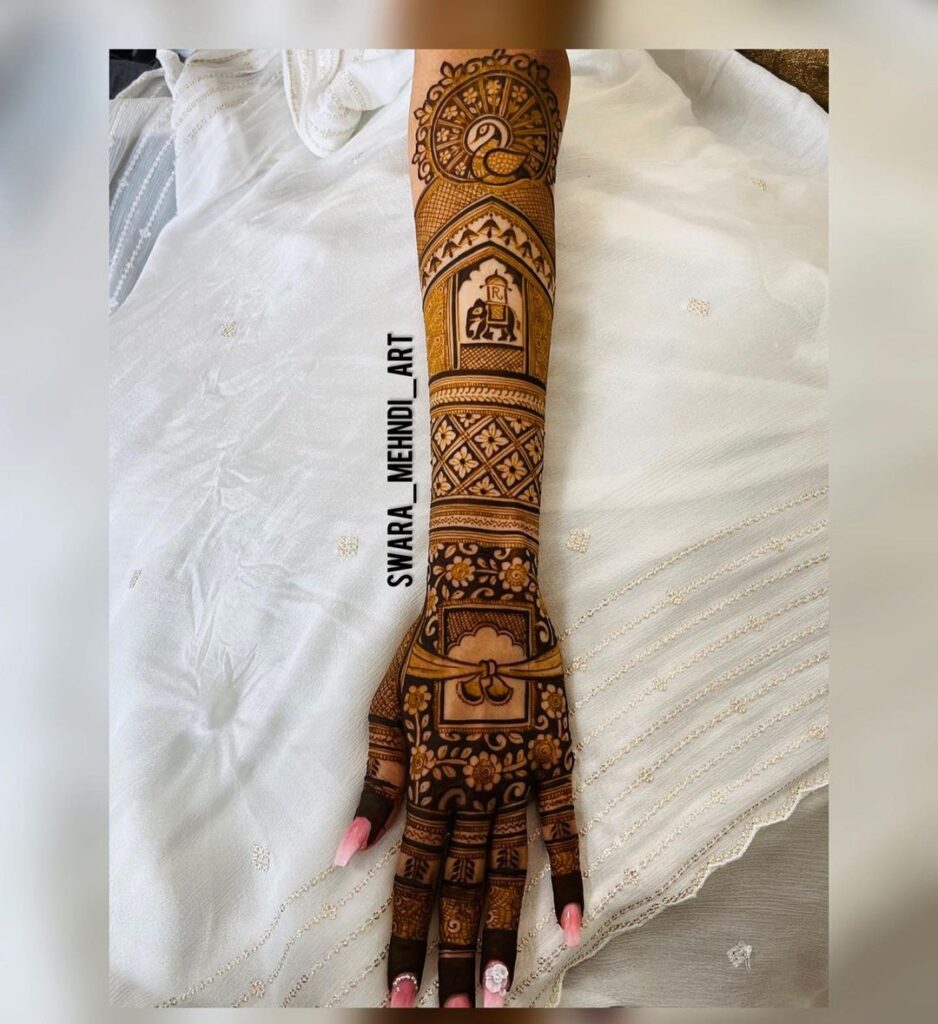 #58 A full hand mehndi design for a baby shower is a beautiful and intricate form of body art that involves decorating the hands and arms with henna. This type of design typically features a range of intricate patterns and symbols that are believed to bring good luck and blessings to the expectant mother and her unborn child. The design can cover the entire hand and extend up the arm, creating a stunning and ornate display of art and symbolism. The use of mehndi, or henna, is a traditional practice in many cultures and is often incorporated into baby showers as a way to celebrate and honor the expectant mother.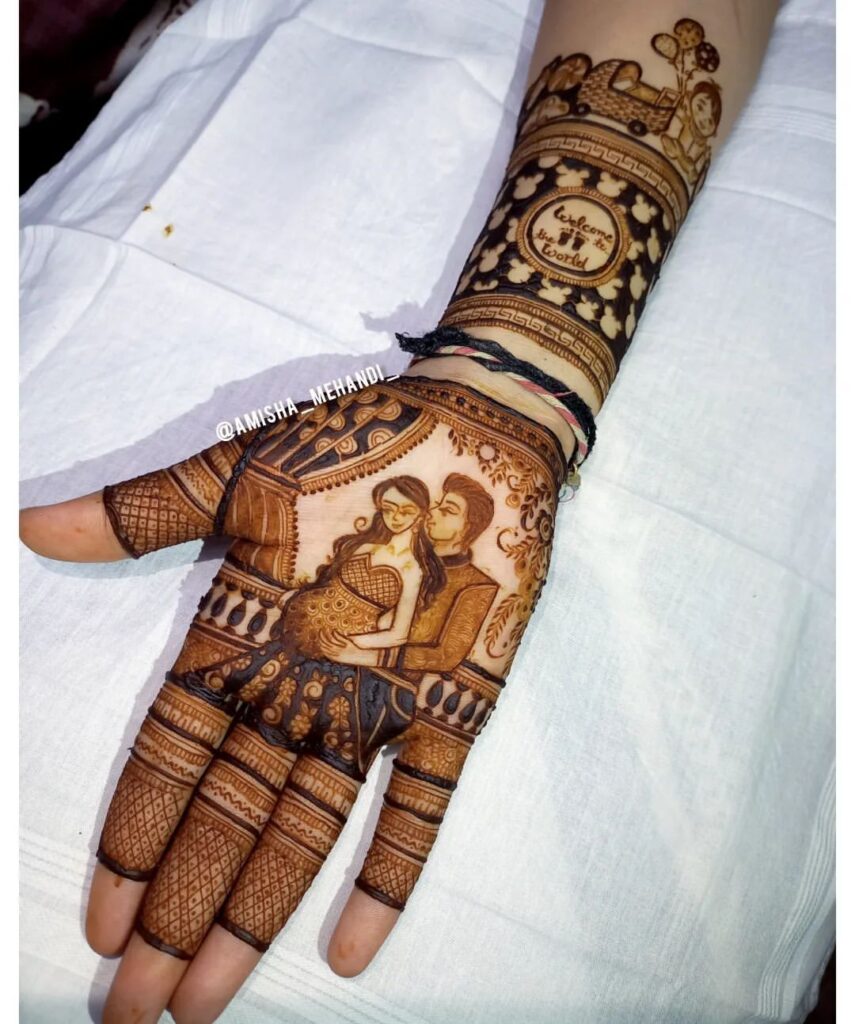 #59 This bridal mehndi design for full hands features the many customs & practices of an Indian wedding – from kanyadaan, devar-bhabhi neem jhada to jawaai kajal and sirguthi, it features them all beautifully and surely wins heart with the beautiful intricacy. Know that such delicate motifs take time and you might have to sit for longer than usual to get a full-hand henna like this done!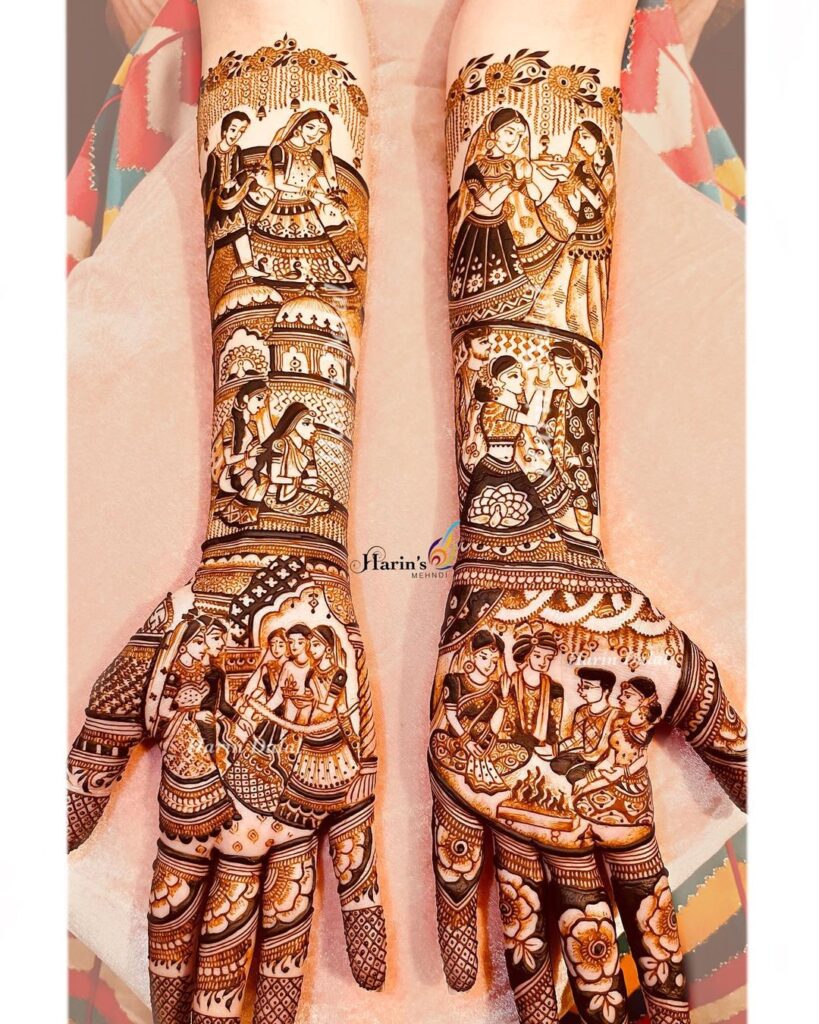 #60 This front full-hand henna is another great pick for brides who want motifs on their hand, but would also prefer to get it done quickly. Since these are bigger-sized motifs, they won't take as much time as the smaller ones that require more intricacy. The design extends all the way to the wrists and features some of the best traditional henna elements for an elegant pattern. 
#61 An eye-pleasing front hand full hand mehndi design with bridal motifs and peacocks is just plain gorgeous. Peacocks are another common creature in mehndi designs in India, mainly because of their association with Goddess Lakshmi and which signifies luck, prosperity, and marital satisfaction.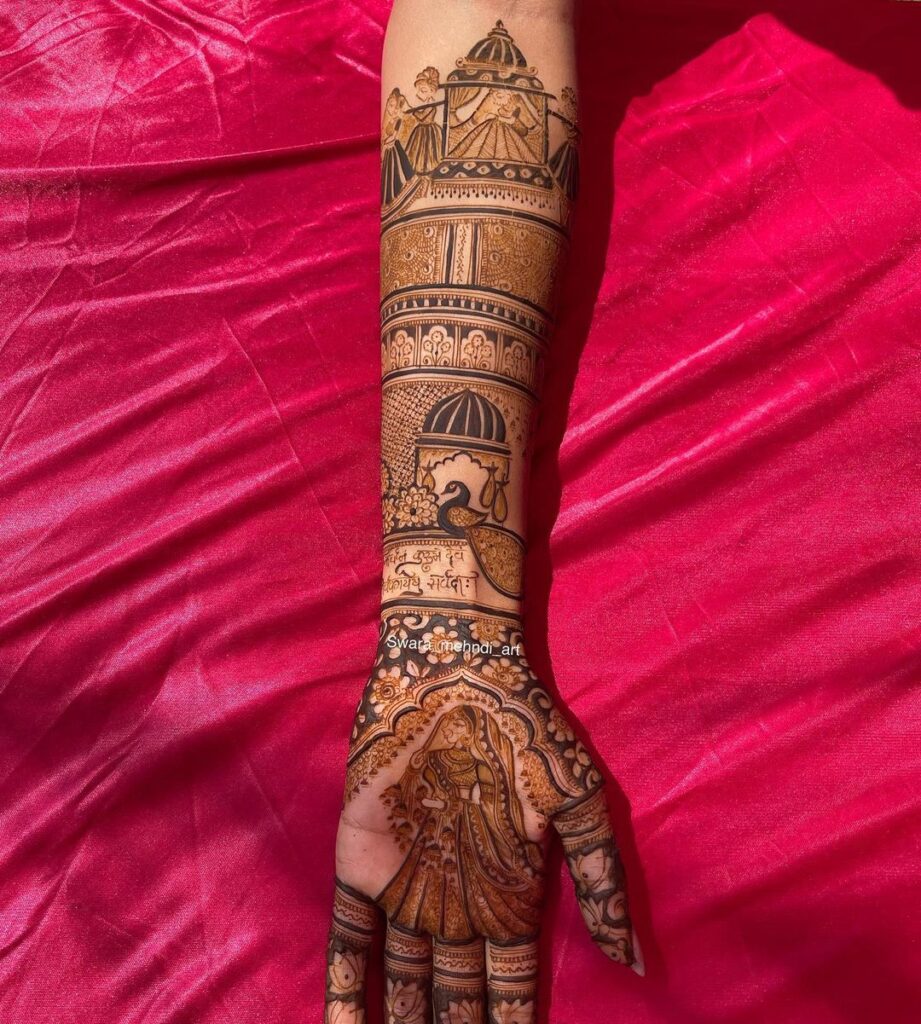 #62 The next one of the full hand mehndi designs is ideal for engagement. It features a boy down on one knee holding the ring along with two pigeons on the top. Pigeons have long symbolized love (known to be associated with Aphrodite, the goddess of love, and have been said to be honored as sacred messengers from God) and are a great figurine to include in your henna.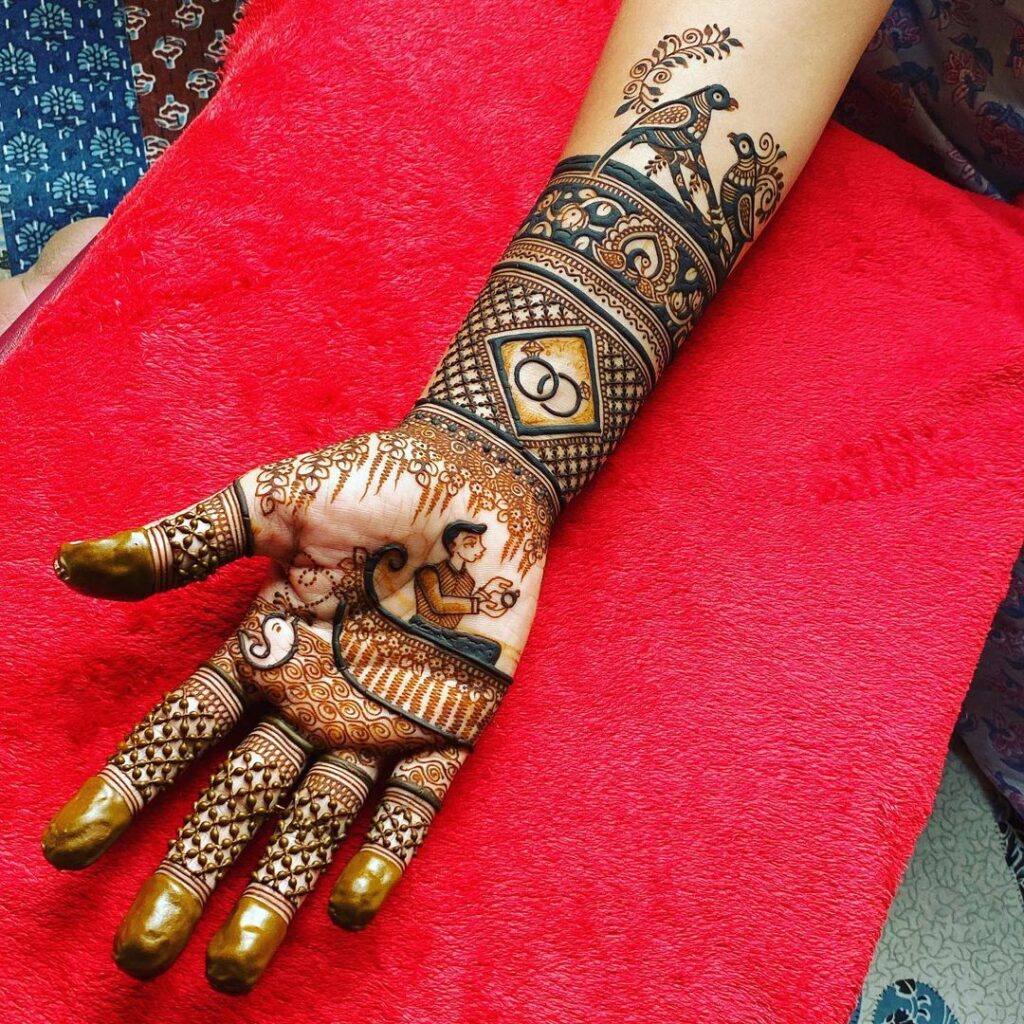 #63 We absolutely love how this bride opted for personalized elements for her henna that depicts the references to her & groom's relationship and incorporates them beautifully with the traditional elements of the bridal henna. Know that not all henna artists (this one's curated by @bridalmehndiqueen) have it in them to draw the motifs you'd want, so if you want a personalized design like this, hire an artist that has both experiences and the required skill set to achieve them.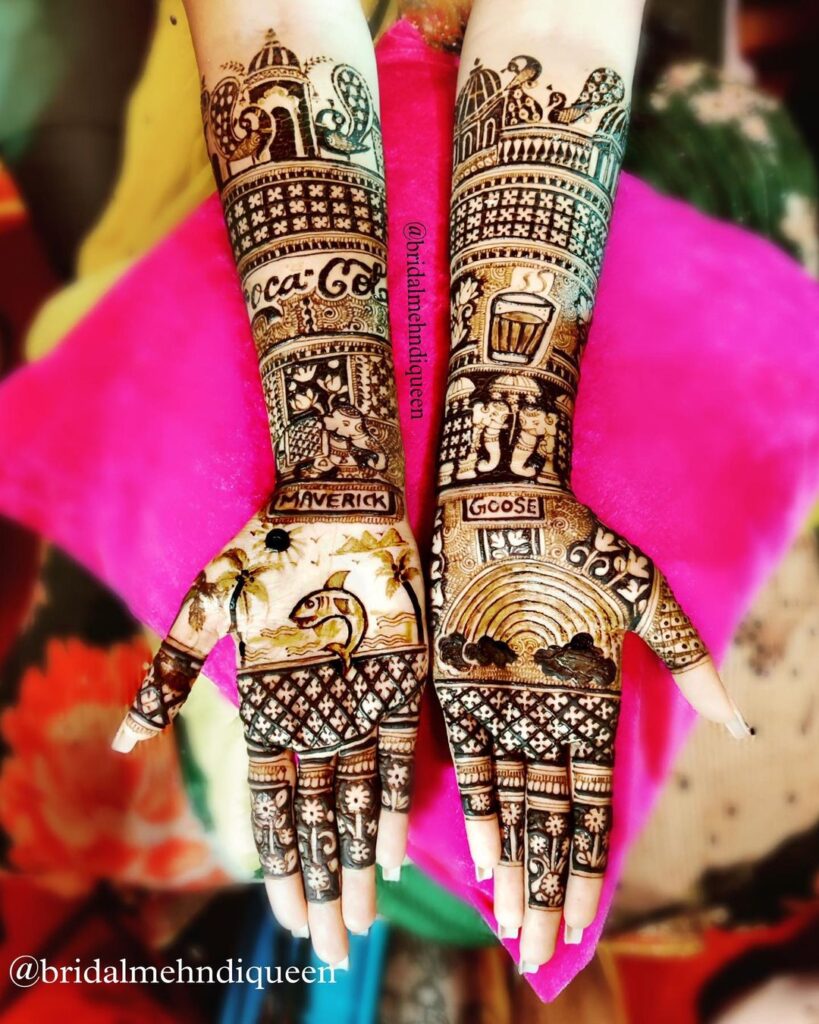 #64 The next one is a back full hand bridal mehndi design that skips the motifs and figurines altogether to make the popular jaal mehndi pattern center of attention. The jaal mehndi has become popular because of how gorgeous it looks after staining, and you certainly want a henna for brides that looks good in the pictures.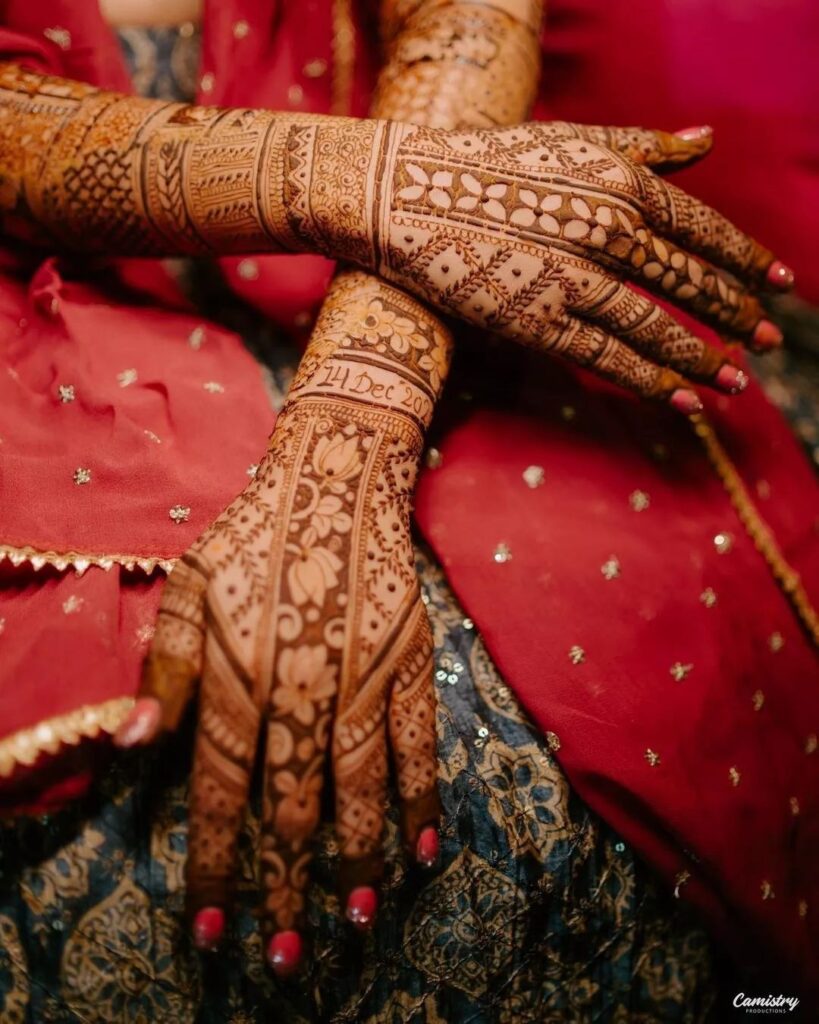 #65 We are absolutely loving these Arabic full hand mehndi designs replete with traditional elements and a stylish aesthetic. For brides who want a modern approach to their henna and yet want a full hand design for their special day, this can be a great option to opt for!