Social media has gained a bad rep lately, due to the wide circulation of fake news, fake trolls, and a general negative environment. But the crux is that's just a part of social media. The yang to the yin, one might say. Social media can offer you valuable tips, tricks, and advice to sort out your life. From getting started on a Yoga challenge to sorting out your next feast in the kitchen and providing you with ample wardrobe inspiration for the next outing – social media has a lot of good to offer. And the one thing we and our readers love equally is wedding inspiration. So that's what we're turning to social media for today; one person in particular – Kompal Matta Kapoor.
Boston-based Indian influencer Kompal posts fashion content regularly on the gram. Her feed is a mix of Indian-wear, western-wear, and cozy couple pictures, all set against an aesthetic background. One look and you'll fall in love with her picturesque feed and tap that 'follow' button right away. Owing to her fervent interest in fashion and a degree in fashion styling, she is able to stand out and consistently deliver content that inspires and awes her followers. Digging a bit into her sartorial journey today, here are some of the coveted Indian-wear she has showcased on Instagram.
Feminine, with a touch of whimsical, is her preferred style in lehengas:
The endearing lehengas can find a special spot in every woman's wardrobe, including Kompal's. The content creator's lehenga style reflects femininity, flirty with a touch of whimsy. She has a natural inclination towards comfortable/ traditional silhouettes with little room for experimentation. For instance, one of her picks includes a plain, cement grey voluminous lehenga with a heavier blouse piece. A safe yet trendsetter pick for a bride or a bridesmaid. Another choice of hers was a chikankari lehenga set paired with a traditional boatneck blouse and a dupatta.
Pink, especially happy, lively pinks, is her personal favorite. You can often spot the hue on her feed as well. To further put a seal on her choice, she wore an alluring pink lehenga Sulakshana Monga on her wedding day. Her striking ensemble consisted of an off-shoulder blouse and double dupattas – all drenched in the same hue.
While she loves her soothing, mellow palettes, at times, she does gravitate towards refreshing, beaming palettes like yellow. She can be seen wearing a monochrome mustard yellow lehenga in the last image. Scroll through to check out Kapoor's spectacular lehenga gallery.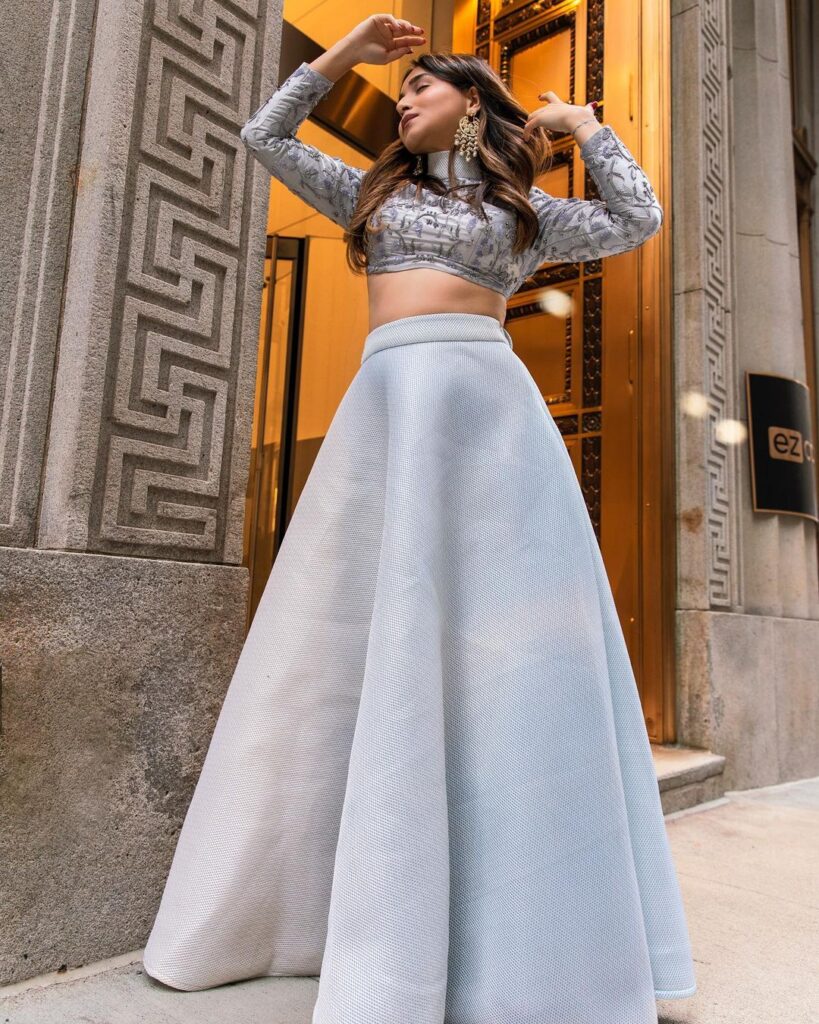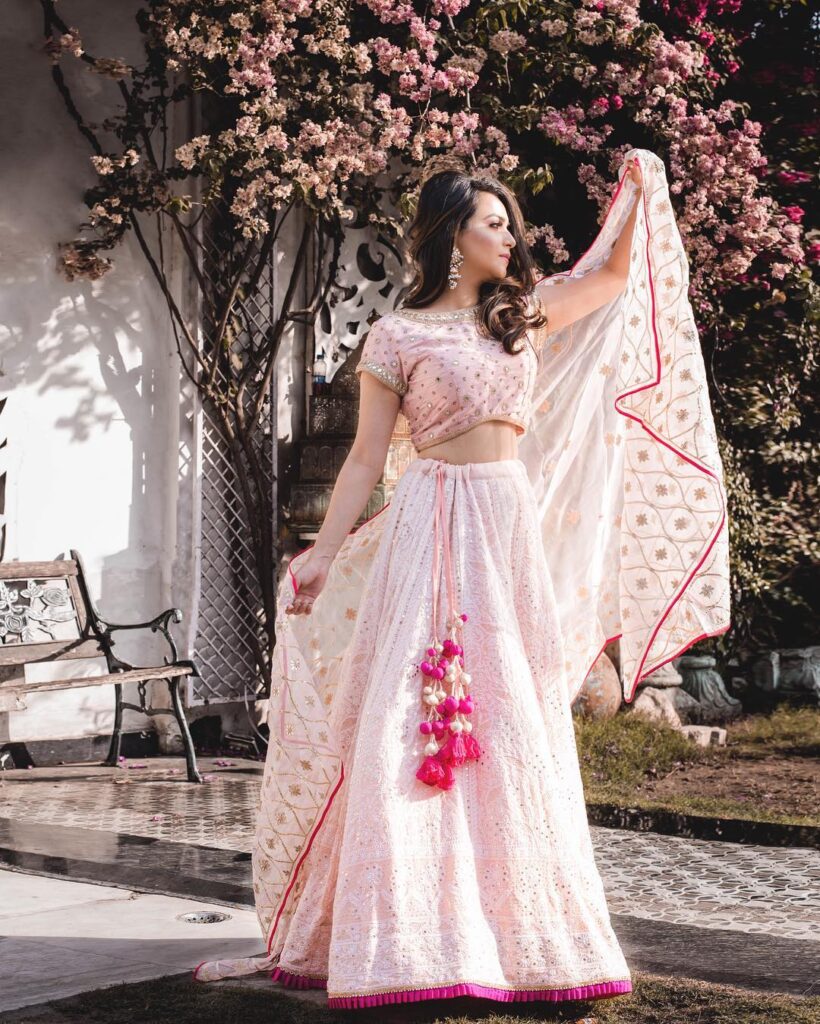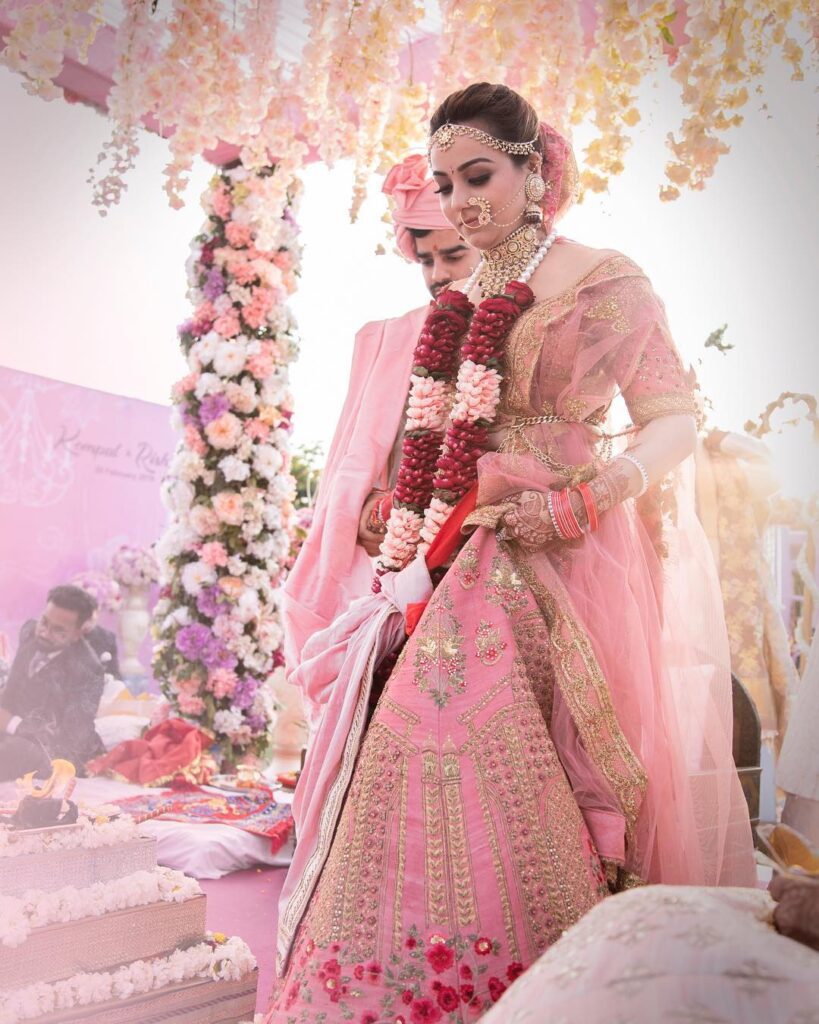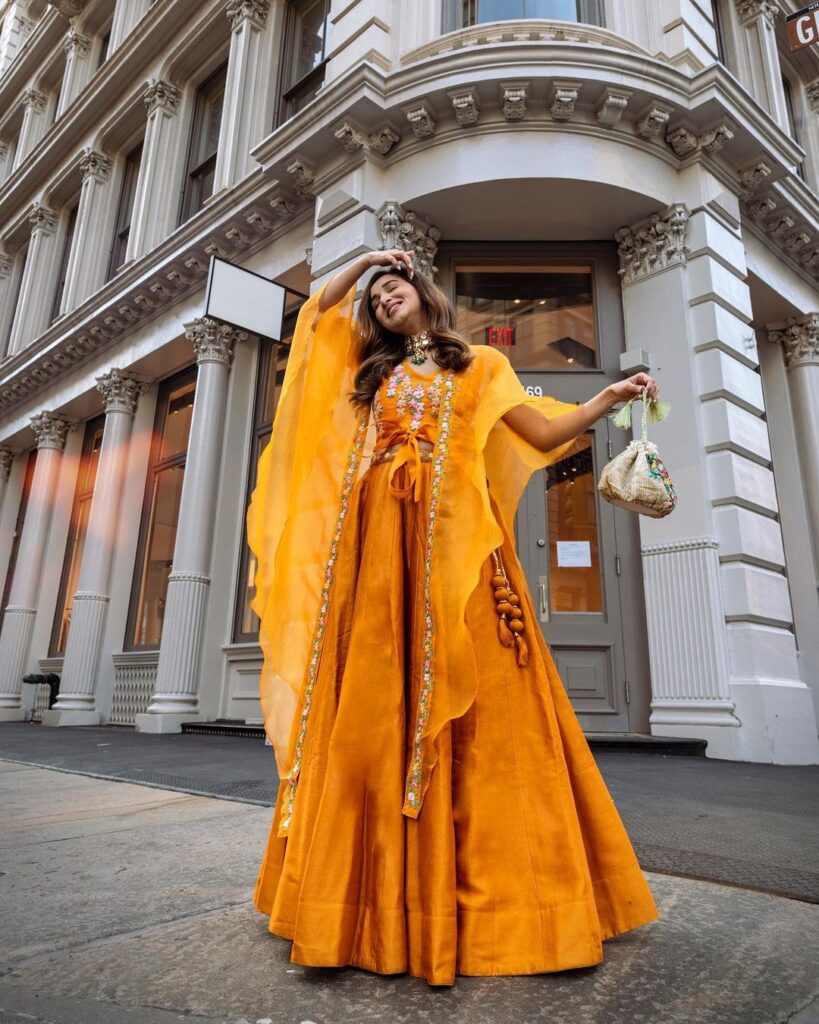 Timeless, heritage handloom sarees are her go-to ethnic wear look
Kompal's saree looks are traditional, timeless, and heritage-bound. For brides/ bridesmaids whose style aligns with the same, Kapoor's sari wardrobe is meant to be in your bookmarks collection. At her wedding reception, for example, she picked a handwoven Sabyasachi benarasi weave. Styling it with a low gajra bun, gold jewellery and dewy makeup, she exuded major Anushka Sharma vibes that day, Yet another occasion she picked a red benarasi saree was Karvachauth 2020. Well. that's not all. The influencer also owns a purple banarasi weave, the color, and design of which instantly stands out.
For a millennial touch to his classic weaves, she often opts for a sexy blouse to pair with her handloom sarees. Take for example the chikankari, organza, and georgette six-yards she's sporting in the last snaps. No matter what her pick is though, she complements it well. A statement necklace and luscious waves being her favorite. Scroll through to see her unvarying, graceful saree collection.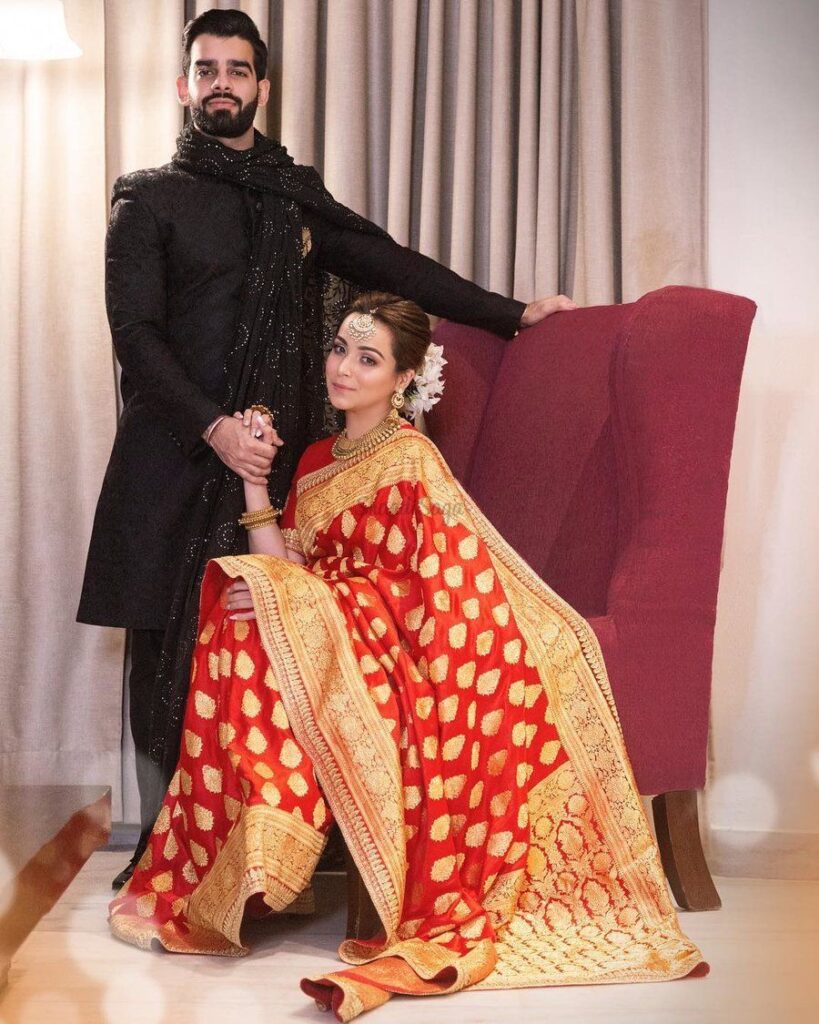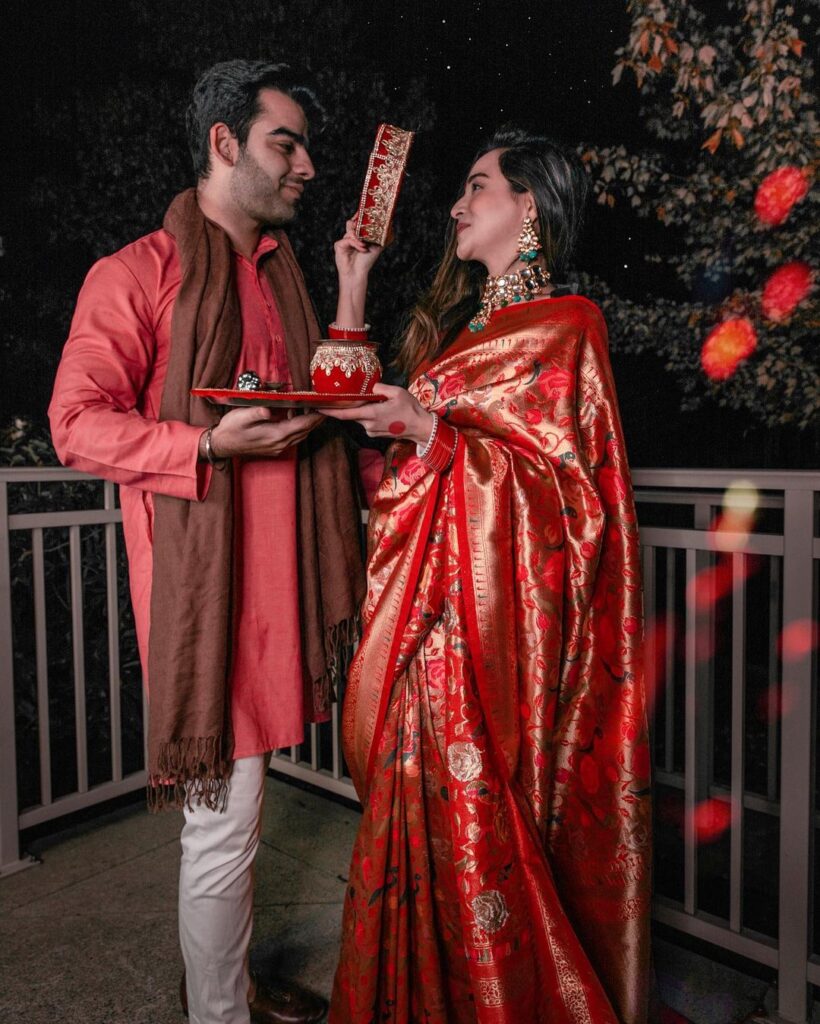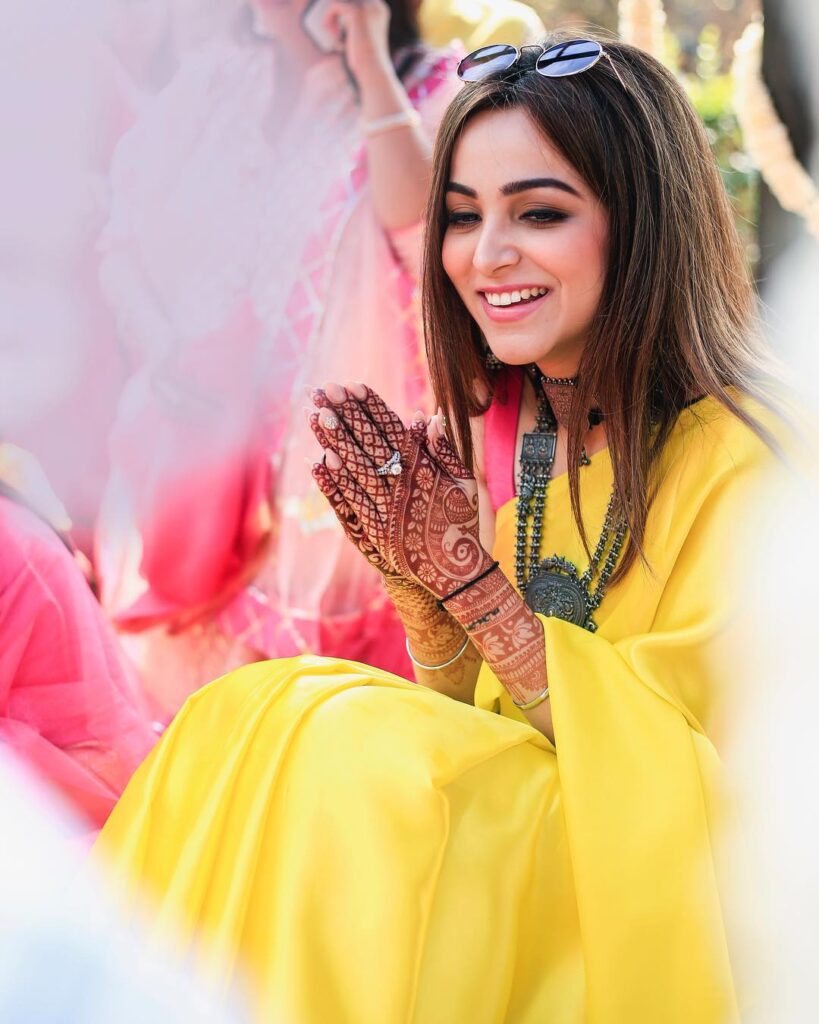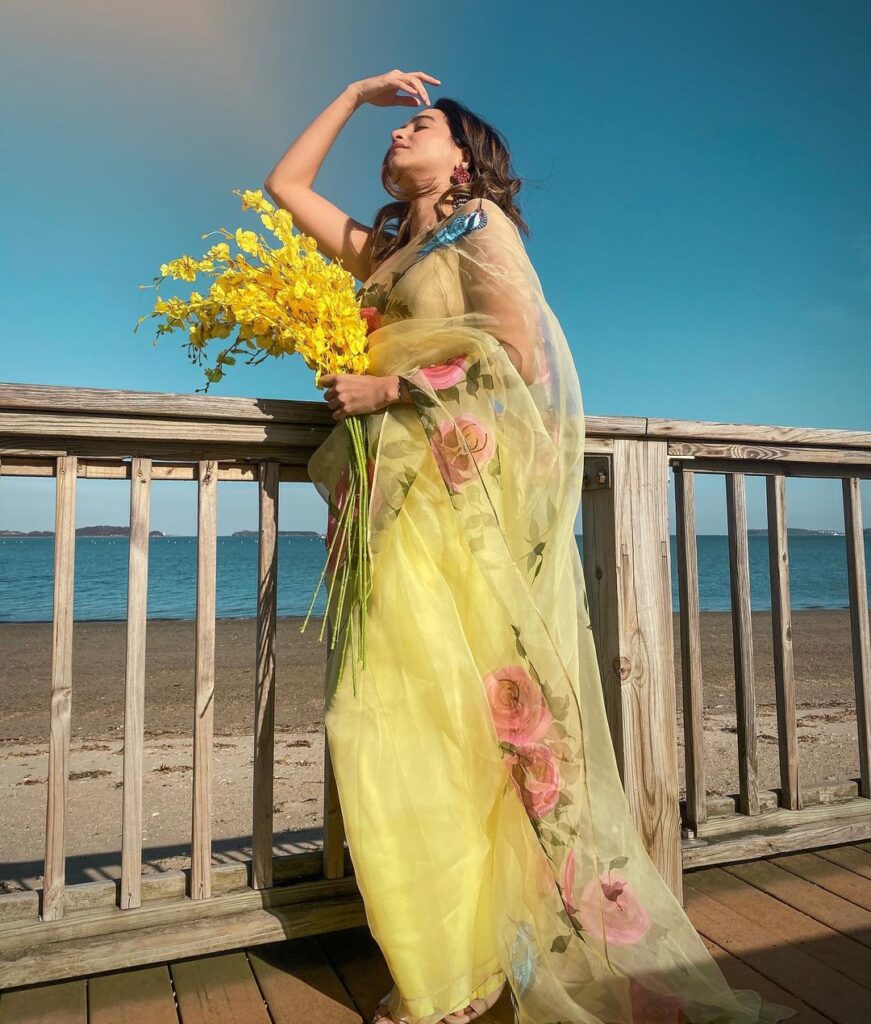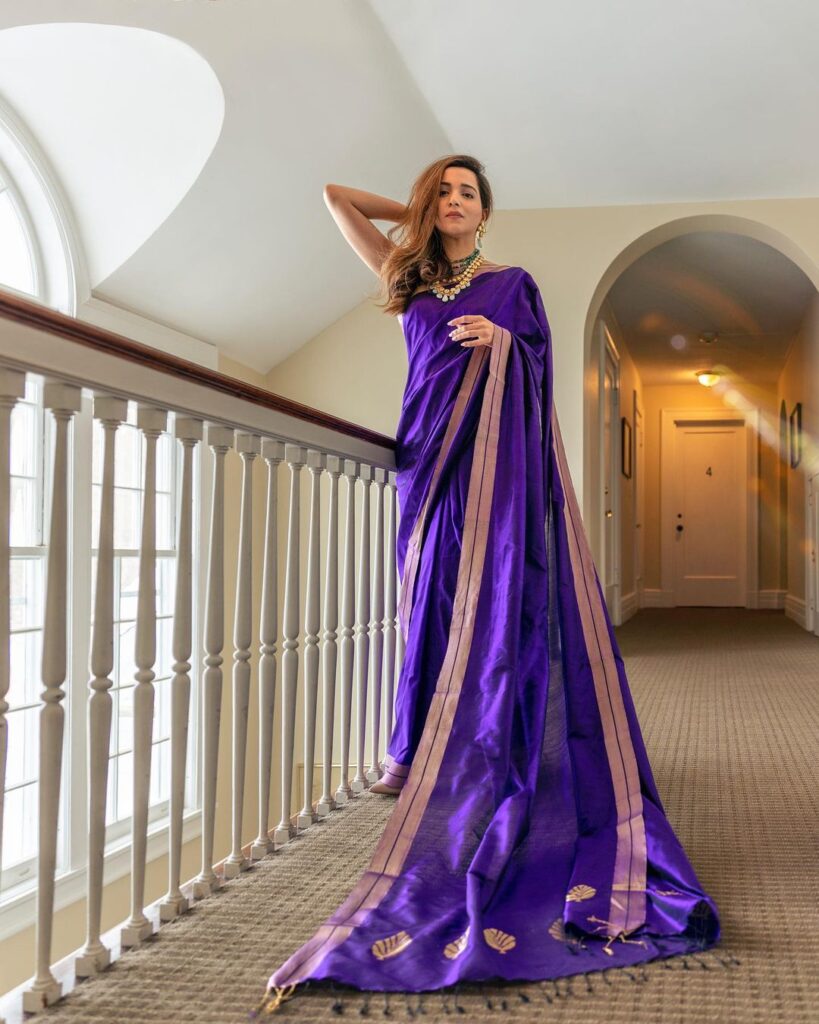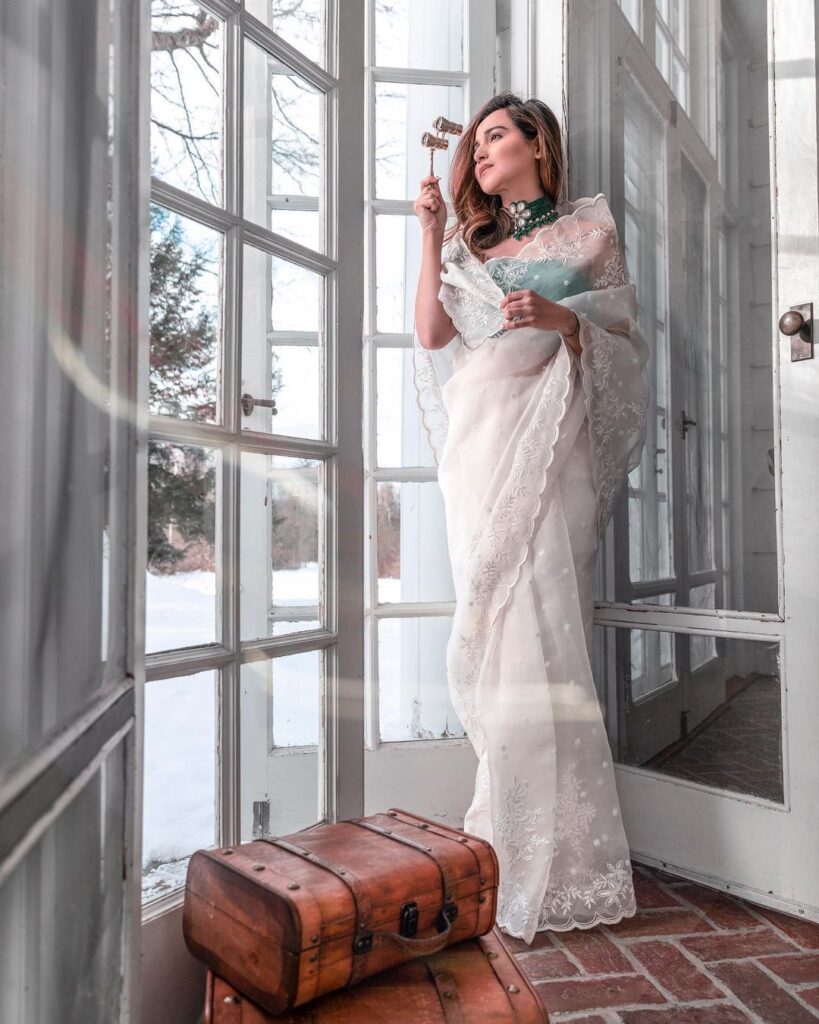 She picks comfortable, appealing suit sets for everyday and occasion wear
Now, who can let go of the comfort and appeal of the suit sets? No girl (obviously)…Kompal's suit collection boasts of many coordinated sets and anarkali suits. She is also a big fan of printed kurta sets, both shararas and pant style, and the same can be seen on her many times. If you're a new bride and a dinner date with in-laws is on the list, Kapoor's red kurta with golden zari work paired with a fancy choker set is an amazing pick. And when a small puja function needs attendance, her breezy yellow sharara set is your option from the lot. Even the red printed one with a white sharara makes for a great occasion-wear choice and also for a cozy romantic date with your beau in a palatial setting. No matter what the event is though, you can find 'the one' in Kompal's wardrobe. Scroll to take a look.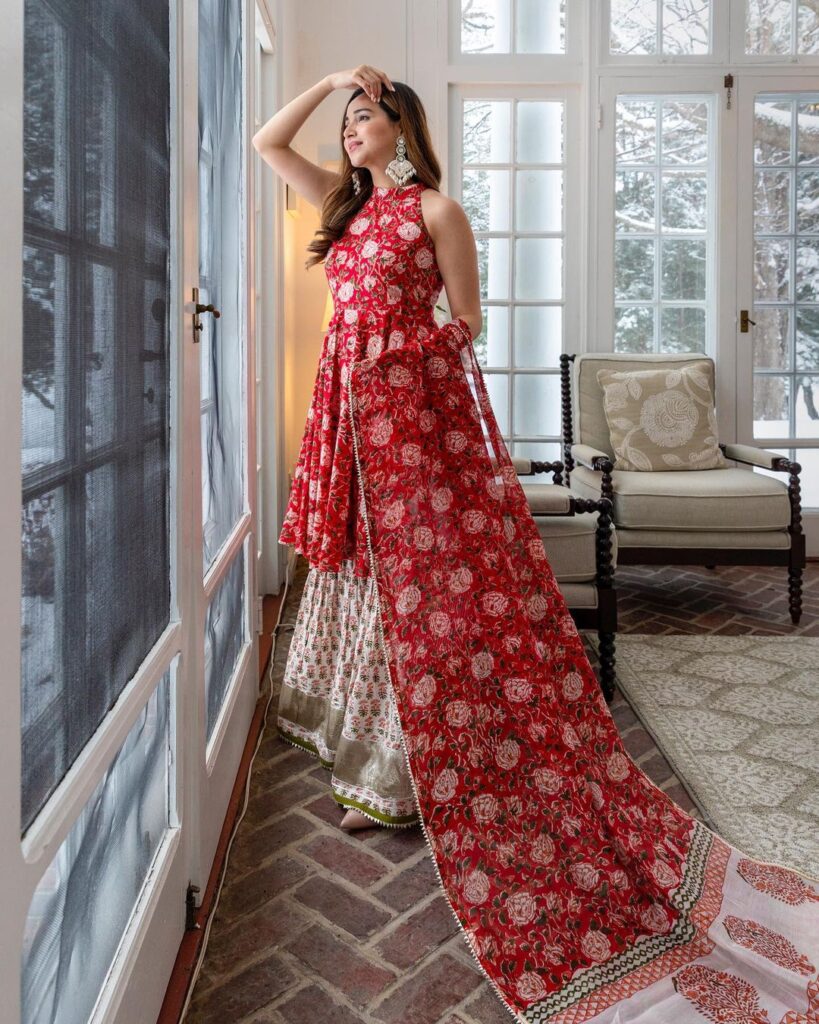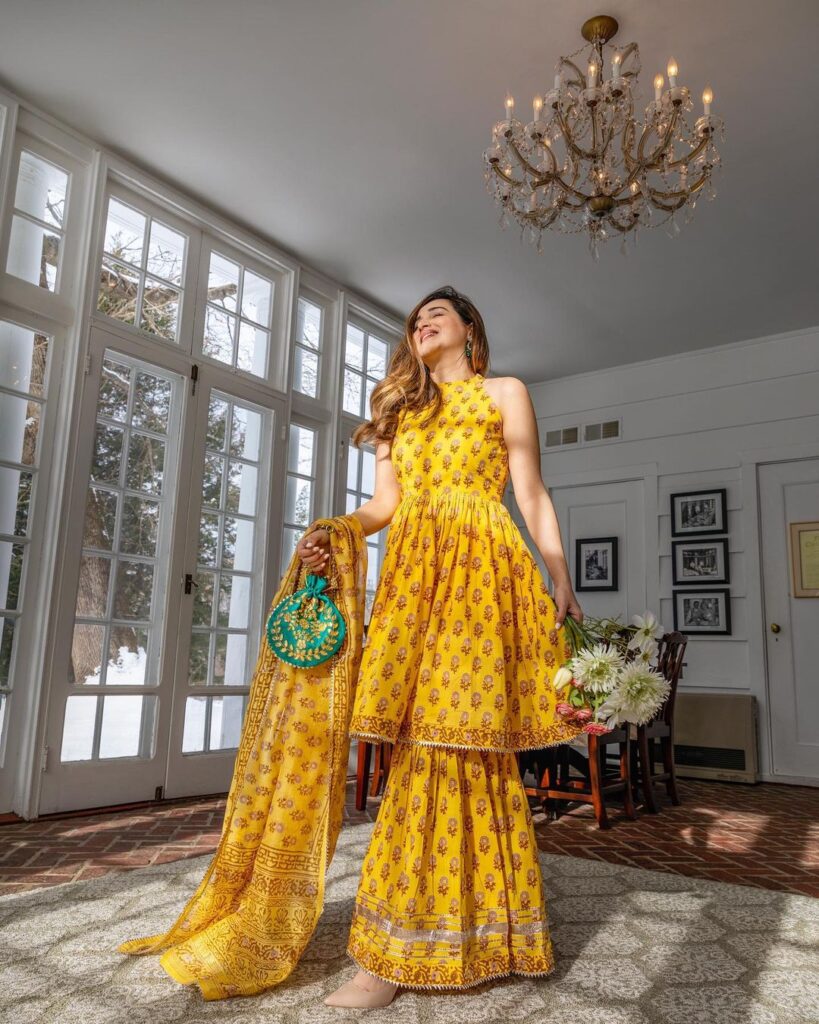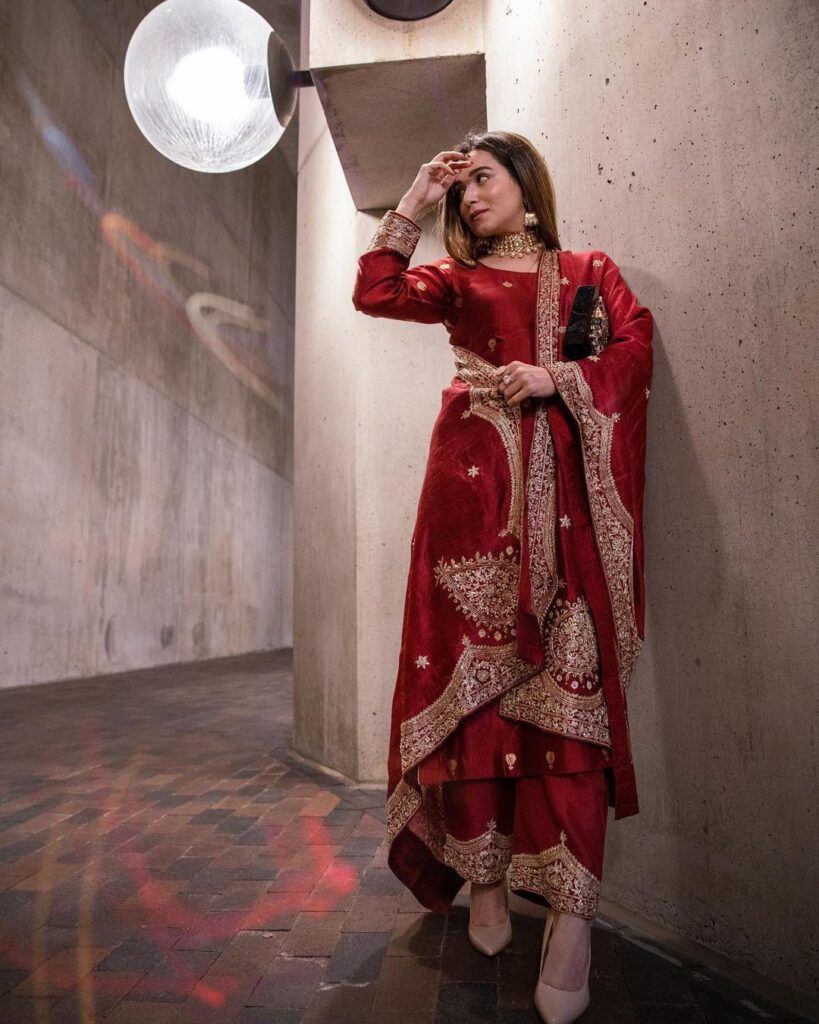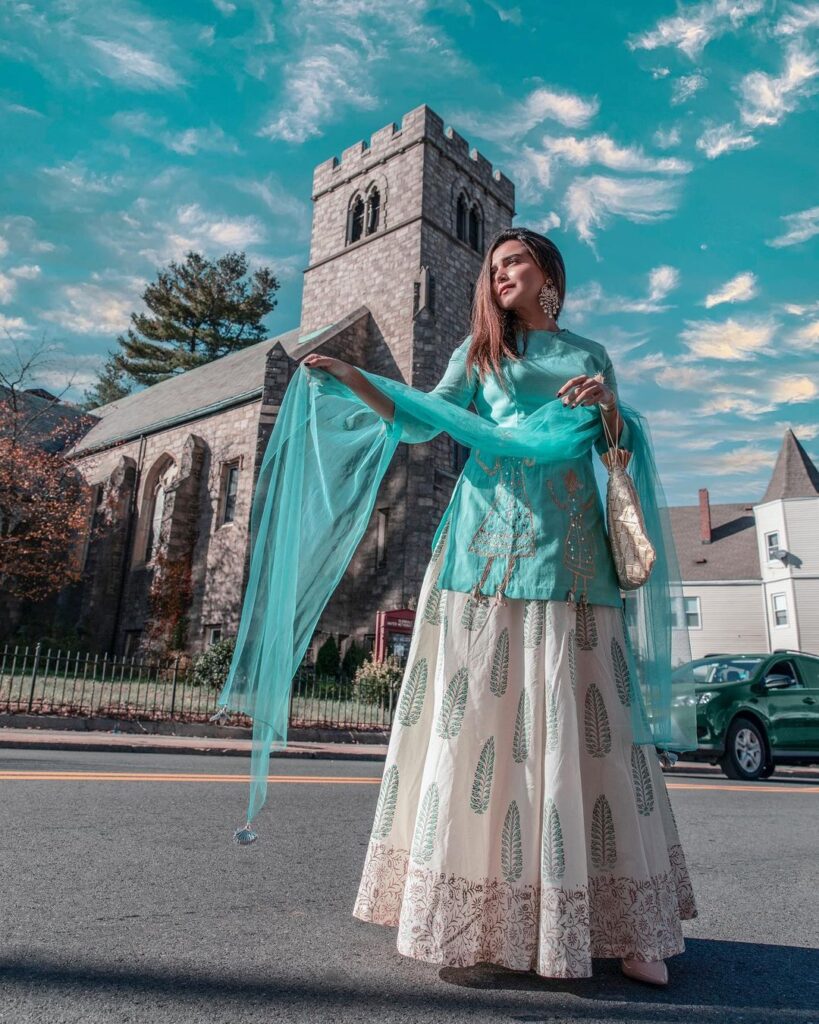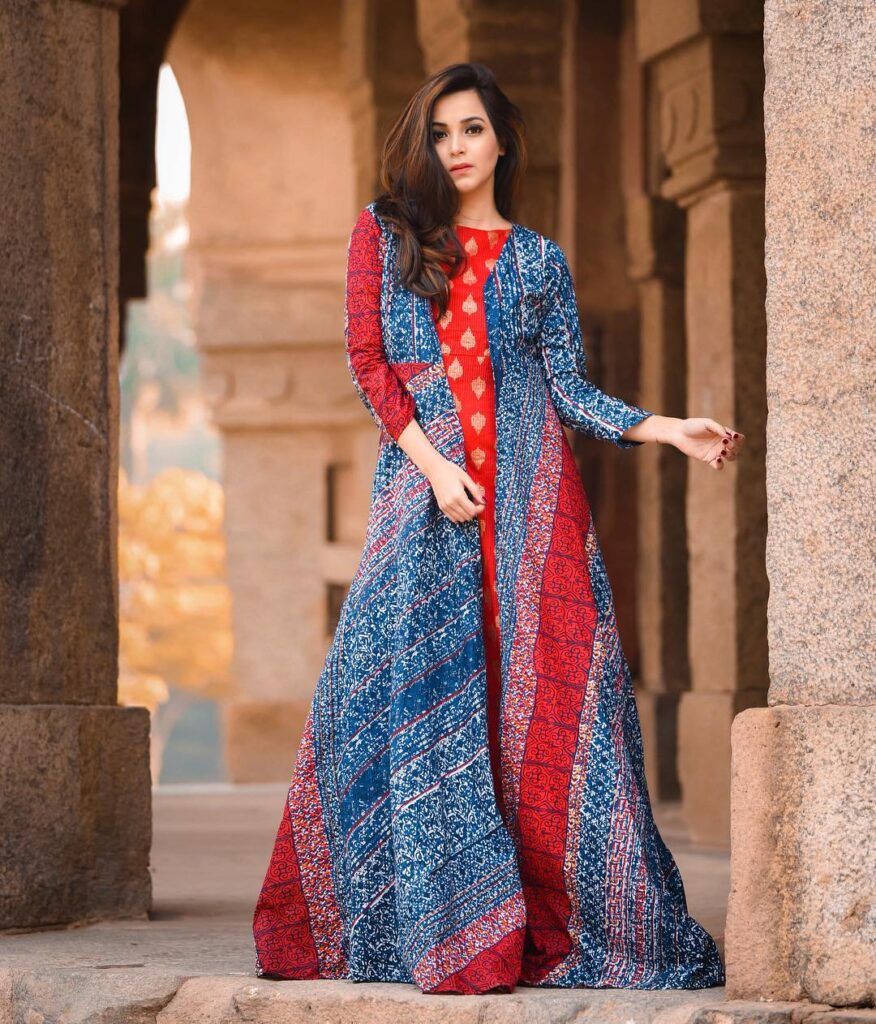 Influencers are certainly ruling the gram right now and the business world too. Their advice seems like the one coming from a close friend and we tend to take it with utter faith. From fashion to cooking, you can find a trusted influencer in every arena. As for Indian fashion, we will keep you sorted. What influencer would you like us to cover next? Comment down below.