When you need an oven mainly for baking, toasting, and grilling purposes, then an OTG oven might be a suitable choice. Built to heat using coils rather than electromagnetic waves, an OTG oven mimics the traditional charcoal ovens and gives an authentic cooking experience to the user. OTGs are also easier to use, straightforward devices, consume less electricity, and are more economical than microwave ovens. So, if you're on a hunt for some of the best OTG oven in India, you don't have to spend hours analyzing reviews or looking at various devices. We've already done the work for you and fished 7 of the best OTG oven in India to make your buying decision easier. 
We've also done a blog on the best microwave ovens which you can find here. 
Price Comparison List For Best OTG Oven In India:
#1 Philips 36-liters Oven Toaster Grill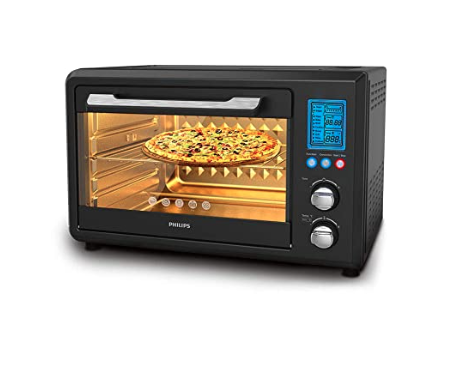 Philips – a name synonymous with electrical appliances in India, has a few OTG ovens in the market, and the best one (based on product specifications and user reviews) is the Philips 36-liters Oven toaster grill. It has a digital screen, convection heating, and optimal space to cook good volumes of food with better quality. In terms of how the brand will perform, it's safe to say that this OTG brand in India can be trusted for its quality and customer service. Almost all households in India have one Philips electrical appliance that has been gracing their home and providing convenience for years. Their OTG can be another great addition. See below for a full review: 
Physical Features & Attributes:
This Philips OTG has 36 liters of capacity and has 2000 Watts power. It comes with a 2-year warranty as well. In terms of exterior, the product has a sleek black color, 2 manually controllable knobs, a digital screen, 3 buttons for additional controls, and a mention of the different cooking functions so as to give the user convenience of not referring to the manual. Inside, there's a mesh tray to hold the food items. The oven opens down ways so you have an appropriate space to take out and put in the food items. This product is currently priced at Rs.10,499/-. 
Benefits & How It Compares To Others:
The Philips 36-liters OTG oven in India has multi-functional modes and pre-set menus for all the basic things we cook in the oven like cakes, muffins, pizzas, bread, buns, bagels, and cookies. These pre-designed modes make the entire cooking process easier by setting the heating levels to an ideal temperature where the end product is evenly cooked and has a fine consistency. There's also a 90-minute auto cut-off and chamber light for easy monitoring of food while cooking. The oven comes accompanied with accessories like tongs, rotisserie, grilling rack, baking & dripping tray, etc. to give you a versatile cuisine using the appliance. 
To ensure authentic oven cooking and even cooking at the same time, the oven comes with a unique Opti-Temp technology which allows even distribution of heat around the food products for consistent cooking all over the food. What we further like about the product is it has more than 90% recycled materials for packaging and the user manual is made with 100% recycled paper. This assures you are opting for a sustainable option when you're opting for this product. 
Here's what one of the reviewers say, "After deliberating much on if I should purchase an OTG or a microwave, I stuck to OTG because that's what I mostly needed the appliance for and zeroed on this! It's a good OTG oven and is very easy to use and clean. The 2000 Watts power ensures the cooking happens quickly and with minimal supervision. I've been using it for over a month and there have been no issues yet. My whole family loves the product and we're a big fan of homemade foods, so we're sure we will get full use of it." 
Purchase here. 
#2 Borosil OTG Oven – 30 Liters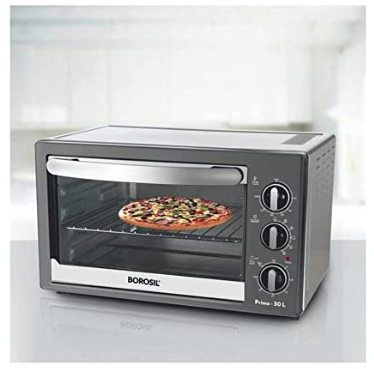 Known primarily for its glassware, Borosil has swiftly navigated its way to the electronics industry and made a solid presence in that sphere as well. From OTGs to induction cooktops, mixer-grinders, and egg boilers – they have come up with a range of electrical equipment to deliver convenience straight to the customer's door. They only have a total of 7 OTG variations in the market and after careful research, we found the Borosil Prima 30 Liters OTG to be one of their best-selling among all. It's salient features, sleek design, and the known brand has garnered the attention of many buyers – online and offline. See a full review included below:
Physical Features & Attributes:
The Borosil OTG has a very simple design that delivers professional cooking with minimal input from the consumers. It has a chrome grey color with hints of black in the mix. Inside there are many sections where you can place trays or rotisserie for cooking. Outside, there are three knobs where you can put the settings. One is for temperature, the other is for heating mode, and the third one is for setting the timer. The capacity of the OTG is 30 liters and it has a power of 1500 Watts. Inside the box, you will find the OTG, 1 rotisserie rod set, 1 cooking tray and handle, 1 grill rack, 1 removable crumb tray, 1 rotisserie handle, 1 user manual, and 1 cookbook. The price for the entire product is Rs.6694/-. 
Benefits & How It Compares To Others:
Scroll down to the reviews on Amazon and you'll find people praising this OTG oven in India and including some satisfying real-life pictures of the product. One of the clear advantages of the product is the volume. You can fit multiple trays at once and given the width, you can cook large volumes in one go. This means you can cook 2 large pizzas or 4 small pizzas at once. There's also a place on the top for a rotisserie handle which you can use to grill meats and pizzas. Inside, there's an in-built light, which dimly lits up the interiors of the OTG when you're cooking so you can witness all your preparations come alive. 
Another thing we love about the product is the easy operation. The temperature and temperature control knobs are very basic. Additionally, in the middle, you will find a heating mode knob that has 6 varied cooking settings to choose from and includes settings for grilling, baking, rotisserie, toast, etc. To get you started, the OTG comes with many accessories like a crumb tray, grill rack, etc., and a recipe book with a selection of over 25 dishes to create some wholesome meals and delectable cuisine. 
This OTG oven brand in India has also taken care of the energy efficiency in the design. By maintaining dryness in the chamber, the cooking happens faster and consumes less energy, hence saving electricity and giving the world the sustainability factor it needs desperately at the moment. 
Here's what one of the reviewers says, "Such an excellent OTG with absolute perfect cooking every time! This was my first major appliance purchase so I was a bit hesitant – there was no need! I received this product damage-free, well-packed, and in perfect working condition. It looks elegant and sleek and doesn't take much space in the kitchen despite the good capacity. The Borosil customer service also provided me with a demo. Coming to the cooking, it's ideal, powerful, and even. I've made cake, pizza, grilled chicken, and made chili cheese bread, and they have all cooked nicely. Do order oven mitts simultaneously though if you're a first-time OTG user like me!" 
Purchase here.
#3 Croma Oven Toaster Grill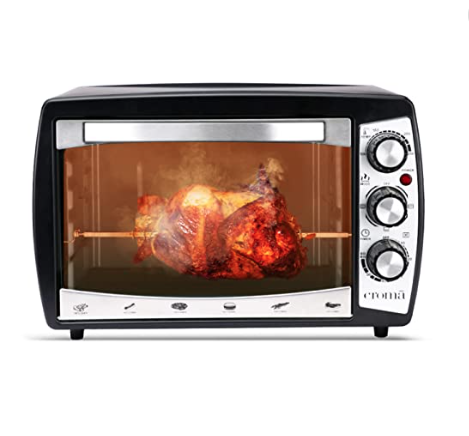 Croma is an Indian retail chain of consumer electronics, run by Infiniti Retail, a subsidiary of Tata Group. It has more than 300 stores in the country. Recently, they have come up with their electronic range of products. With over a decade of consumer experience through their offline stores, the company has carefully understood the needs and preferences of Indian customers and curated products embedded with features that satisfy them. One of those products includes their OTG oven in India, which has some impressive attributes and an economical price. Find the full review of the product below:
Physical Features & Attributes:
The Croma OTG has a capacity of 10 liters, a wattage of 2000 Watts, and a voltage of 220 to 240 VAC. The exterior of the product has a modish gray and black color, and three manual knobs, which are a characteristic of many OTG ovens having an easy & modest design for convenient usage. Inside, there are various sections to hold multiple trays at a time and the packaging comes accompanied by a baking tray, crumb tray, grill rack, rotisserie, rotisserie handle, and a tray handle. The weight of the product is 5.75 kg and it comes with a 2-year onsite warranty. The cost of the product at the time this article is uploaded is Rs.4590/-. 
Benefits & How It Compares To Others:
The Croma OTG 18 liters is designed with diligent consumer research. Being in the electronic appliance industry for over a decade, they have followed the consumer lifestyle changes and created an OTG to match those aspirations. And the features resonate the same. From the varied accessories to an inexpensive price and easy usage, there are a lot of factors that make this one of the best OTG oven in India. The appliance has a very compact size to fit into the average kitchen size of the Indian household without any hassles. 
Some notable elements of this OTG oven in India is that it includes the multiple trays feature so you can cook bigger batches of food at once. The temperature is adjustable from 100 to 250 degrees Celsius, so you have the versatility to bake, toast, and grill at various temperatures with perfection. The baking tray included in the OTG has an enamel body which prevents the food from sticking to the tray and makes cleaning easier afterward. To prevent the product from rusting and ensuring durability, the inner cavity is made rust-resistant. 
"A microwave you should not pass up! Worth the money!" writes one of the reviewers. "The size is compact and the cooking is powerful. It doesn't make much noise while cooking – which is ideal when you have a newborn baby in the home. The cleaning is easy and the crumbs or sauces don't stick to the surface at all! I didn't want to spend a lot of money on OTG and still wanted a quality product, this balances out both of them. There are 2 years additional warranty for Rs.384/- only. The customer service is also great. I do recommend this option for anyone looking for a good OTG oven in India." 
Purchase here.
#4 Agaro Grand OTG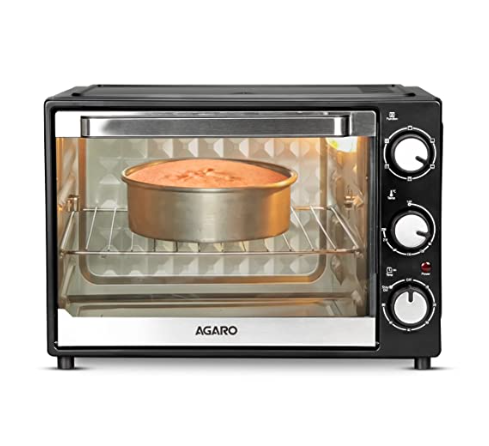 A relatively newer brand in the market, but the one that has grown quite popular in the electrical appliances section. We came across their brand while doing our research for the best OTG oven in India, and were stumped by their popularity. With a range of products, ranging from juicers, sandwich makers, air fryers, geysers, air purifiers, massagers, garment steamers, etc. there's a wide range of products for the consumers to choose from! You can choose from their collection here. 
They also have quite an extensive range of OTGs in various price sections and different attributes. Although the one that fared the best in the consumer's eyes is the AGARO Grand OTG with a capacity of 40 liters. Find the entire review of the product below: 
Physical Features & Attributes:
The AGARO Grand OTG comes in modern silver and black color. It has dimensions of 48 X 41 X 33 cm, and a weight of 10.5 kgs. Given the capacity of 40 liters, the dimensions are compact. Although, we'd recommend having an optimum countertop space for the product. Outside, there are 3 manually controlled knobs – representing function, temperature, and time respectively from top to bottom. A 1-year warranty is provided by the manufacturer from the 1 year of the purchase of the product. The components include one main unit, crumb tray, little fork, grill rack, food tray, rotisserie handle, and rotisserie fork. The price of the appliance is Rs.6999/- at the time of the upload of the article. 
Benefits & How It Compares To Others:
With 40 liters capacity, 6 heating modes, convection heating, and rotisserie function – there are hardly any specifications of an OTG oven this appliance misses. The temperature can be varied from 90 to 230 degrees Celsius and the timer can be set to 60 minutes to give you the versatility of cooking different types of dishes. You also have an option to choose from 6 heating modes – top heating, bottom heating, top & bottom heating, top heating with rotisserie, top heating with convection, and top & bottom heating with convection to suit all your baking, grilling, and toasting needs. All these functions are clearly displayed visually on the knob to allow you to choose the setting of your choice. 
Given the convection technology and in-built heating elements (rods) in the appliance, the cooking is even – no matter what kind of food you want to prepare. There's also a motorized rotisserie rod included with the unit which moves the rod in circular motions for uniform cooking on all ends. Yet another noteworthy element of the product is the automatic shut-off of the oven. The device will cook as per the selected settings, the ready bell will ring, and the appliance switches off automatically. 
"A great product at a pocket-friendly price. During the pandemic, I think all of us became cooks and developed a liking for homemade food. I bought this OTG to satiate the chef inside me and it doesn't disappoint. The oven has a good capacity to prepare large batches of product. The accessories are useful and the user manual dictates all the dos and donts. Please read it all before you start using the OTG. We have baked and grilled many items and it all came out good just as I expected. Overall, a good purchase and you can go for it!" writes one of the reviewers online. 
Purchase here.
#5 Usha Calypso Oven Toaster Grill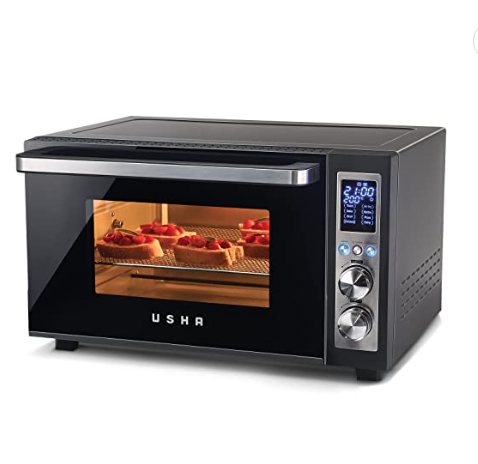 Usha International Limited is one of the leading consumer durable manufacturing and marketing companies in India. Established in 1934, the group has expanded into many verticals including home appliances. Their sewing machines are quite popular, and so are the ceiling fans. Recently, their OTG ovens have also fared well in the Indian market and are quite popular online and offline. The USHA Calypso OTG with 30 liters capacity comes among the top choices when you search for OTG ovens online and for all the right reasons. It's contemporary design, turbo convection, and ergonomic knobs make it an ideal choice for your kitchen. For an honest review of this highly-rated OTG oven in India, see below: 
Physical Features & Attributes:
The USHA Calypso Turbo Convection Digital OTG comes in a sleek gray and black color and has a digital screen along with 2 manual knobs to control temperature and cooking settings. There's a 2 years product warranty – which is quite good for the oven as most on this list have only 1 year of warranty. The product dimensions are 53.5 X 43.5 X 32 cms and the product weight is 10.7 kg. Inside the product packaging, the components include the main unit, skewers, rotisserie forks, grill rack, bake tray, crumb tray, rotisserie tong, grill & bake tong, 360 degrees convection tray, and a user manual. The total price of the product is Rs.11,800/- at the time of the upload of the article. 
Benefits & How It Compares To Others:
The USHA Calypso OTG 30 liters has a turbo convection feature that circulates the heat at 1.5 m/s and rotates at a speed of 2600 rpm. In normal convection, the speed is 0.3 m/s. The fan is also strategically placed on the sidewalls of the oven so as to create the high-speed circulation of hot air inside. Further, the oven has double glass doors that result in better heat insulation inside the appliance. All these features amount to faster and uniform cooking due to even lower heat dissipation. The double glass doors also prevent the handle on the outside to heat up and make it safer to use around children.
Along with the oven, you get many accessories to make the cooking process easier. This includes a 360 degrees convection tray with a mesh design to allow even heating from all sides and even crisping of all the surfaces. A rotisserie, grill rack, and skewers ensure you can cook kebabs and tikkas anytime with minimal supervision. For further convenience in cooking, the USHA Calypso comes with a digital panel wherein you can select the settings from 8 cooking modes which include toasting, air-fry, baking, broil, chicken, rotisserie, pizza, and dehydration. 
Here's what one of the reviewers write, "I had been searching for a good OTG oven for quite some time now. After multiple recommendations and market research, I decided to give this a chance. I was surprised at how classy it looks – just the perfect product to blend with my modern kitchen furnishings. It isn't very loud at all and cooks anything you want perfectly. Till now, I have tried muffins, bread, pizza, and chicken tikka. That's what I mainly use it for as well. No complaints in the last 6 months. I absolutely love this OTG oven in India!"
Purchase here.
#6 Inalsa OTG 30 Litres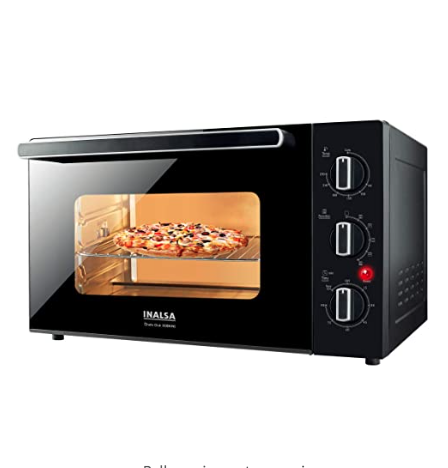 Established in 1962 and headquartered in Spain, Inalsa is one of the most popular brands in Europe and has an innovative product range of appliances. It launched in India around 30 years ago and its product range has extended to over 30 appliances in the kitchen and home care categories. All their products comply with stringent GS, CE, RoHS, and ISI test standards and are manufactured under ISI quality systems. This is a favorable attribute in electronic appliances as it assures safety and durability for the considerable investment. One of their popular products in the Indian market is the 30 liters, 1500 Watt OTG. Find the full review of the product below. 
Physical Features & Attributes:
The Inalsa OTG oven comes in a jet black color with silver interiors. There's a dim light inside which lights up the food so you see your recipe come alive in real-time. Outside, there are three manually controllable knobs with function, temperature, and time settings respectively. There's also a power off/ on button in red on the right side of the device. The OTG has a size of 53.5 X 43.5 X 32 cm and a weight of 10.7 kgs. Inside the components in the packaging include the main unit, baking pan, grill tray, crumb tray, rotisserie fork set, rotisserie handle, instruction manual cum warranty card with a recipe book. The total price of the product at the time of the upload of the article is Rs.7994/-. 
Benefits & How It Compares To Others:
A wattage of 1500 W, double glass door, and convection cooking ensures there's faster and even cooking in the oven. These features also save electricity in the long run and save time. To further give you a professional level of cooking, the oven is accompanied by many other features. This includes 5 cooking modes to choose from – there are options for baking, grilling, toasting, and rotisserie, and variable temperature and timer selection so you can sit and relax as the oven gives you a professional level of cooking done with minimal supervision. With a capacity of 30 liters, you have the option to cook meals in larger volumes – perfect for big families and larger gatherings. 
Other admirable attributes include enameled baking sliding grill tray which is safe to use with food products, is heat-resistant, and doesn't let the food crumbs stick for easier cleaning. All the accessories and units are rust-free for durability. The product also contains a recipe book to get even a beginner started with delectable meals in the oven. 
"I'd recommend this OTG oven in India to anyone who wants a quicker, economical, and compact oven in their kitchen. It's very convenient and easy to use. The 1500 Wattage cooks the food so fast and the technology-efficient design makes the cooking uniform and even. The door has double glass so the outer handle isn't heated in the process. It's a good benefit for those who have small kids in their homes. The recipe book comes in handy as I don't like researching recipes a lot. All in all, very happy with the purchase," writes one of the reviewers. 
Purchase here.
#7 Wonderchef Oven Toaster Grill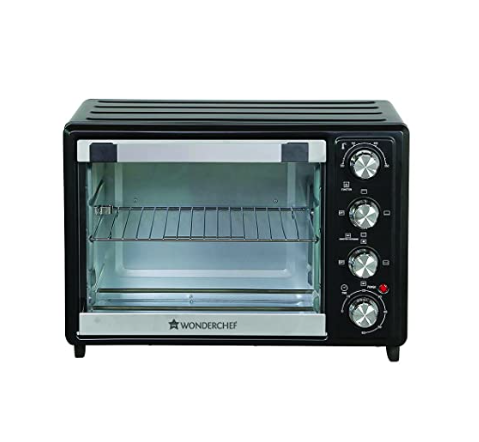 Founded by celebrity chef Sanjeev Kapoor, Wonderchef appliances are designed to please the chef in you and make cooking at home easier on every level. With a revenue of more than 300 crores, the brand has clearly met the expectations of Indian customers and given them a seamless cooking experience in the convenience of their own homes. From appliances to cooktops and cookware, there are many products to choose from for your kitchen from their range, but the one we're focusing on today is their amazing Oven Toaster Grill that's praised for its smooth functioning, high-level cooking, and strong durability. Find the full review below.  
Physical Features & Attributes:
The Wonderchef 32 liters OTG comes in black color with silver accents. There are 4 knobs on the sides for time, temperature, power off/ on button, and cooking mode selection. The specifications of the product are 35 X 36 X 49 cm and the weight is 7.52 kg. There's a warranty of 2 years with the product. Inside, the components include one main unit, 1 baking tray, 1 grilling tray, 1 chromed wire rack, 1 rotisserie set, and 1 tray handle. The price of the product at the time we upload this article is Rs.6999/-. 
Benefits & How It Compares To Others:
The Wonderchef OTG comes with easy control functions and rotatory knobs to allow you the set time, temperature, convection setting, and heat direction. There's an auto power-off button with a bell – so you know when the cooking is done no matter where you are in the house. It also saves your food from over-cooking and electricity. There are a good number of accessories with the oven so as to ensure you cook a variety of food products with the oven, without having to shell the money separately. 
A unique attribute of this OTG oven in India is the compactness of the design. As you can see from the image, the oven has a very slim and sleek body so it acquires less space on the countertop without compromising the capacity. Wonderchef sources its materials from many different countries like the UK, France, Germany, Italy, Canada, and our home country India to ensure they use the best parts for their product. This offers the durability of the product and the same efficiency as the first few weeks of the product for a longer time. 
"Stunning and easy to use!" writes one of the reviewers as the heading of the review of the product. "I never wanted an OTG, but my husband who works from a home and is a complete foodie really wanted one. So, I ordered this one by a relative's recommendation and it's been a few months and it's still functioning as strongly as it first arrived. The cooking is quick and even. There have been zero problems with the working, but it's still nice to know it has a 2-year warranty, just in case. I have already recommended this to some of my friends. It's a great product," they further add in the review. 
Purchase here.
FAQ's
What is an OTG oven?
An OTG oven is a smaller, electric form of the traditional oven that is portable and doesn't take much time to install. They use heated coils placed on the interior of the oven to heat the food inside. In advanced versions, you can control the temperature and the settings of the simulated version of the oven to achieve a professional level of cooking. With the advent of microwave ovens, OTGs have also gained quite a momentum in the Indian market. Both microwave ovens and OTG ovens in India are best-sellers in electronic kitchen appliances. People choose which one to buy depending on their preferences and needs. 
What's the difference between a microwave and an OTG oven?
There are many differences between an OTG and a microwave oven:
Heating Method:
An OTG heats the food using electrical coils (which are generally made of nickel and chromium), then circulates the air using a fan that heats up the food to an optimum temperature. A microwave oven, on the other hand, uses electromagnetic waves to oscillate the water molecules inside the food so they heat on their own. The oven simulates a traditional charcoal oven and thus, gives you the taste of traditional baking.  
Time:
OTGs generally take more time to cook than a microwave oven. That's because it also takes time to preheat the coils before the actual cooking takes place. In a microwave oven, the cooking time is slower for both preheating and cooking. However, some higher-end OTGs can give a strong competition to microwave ovens because they have been built with better-quality materials and a strong working system. 
Heating Distribution:
Some lower-end models of OTGs can cause uneven heat distribution in the oven. That's mainly because of the placing of the coils. Those OTG brands in India use either lower quality of coils or place lesser coils that don't produce an even amount of heat from all sides. This gives OTG ovens in India a reputation for uneven heat distribution. In some of the best OTG ovens in India, that's not the case though. They place fans to distribute the heat or use coils that uniformly dispense the heat. In microwaves though, no matter the model, the cooking is even. That's because they use the water molecules in the food product itself for cooking, which causes even cooking automatically.  
Price: 
The price of OTG ovens in India is lower than the microwave ovens in India. OTGs are generally priced lower and even the higher-end models are cheaper than the middle range of models microwave ovens. OTGs also consume less electricity than microwave ovens and will save money in the long run as well. 
Usability:
An OTG oven can be used only for normal baking, toasting, and grilling purposes and can be used to make food products like cakes, pizzas, tikkas, kebabs, biscuits, etc. A microwave can do much more though. Some models can prepare full dishes like dals, paneer, rice, etc. As the name suggests, OTG can do the functions stated in the name and do them efficiently and authentically. So, if that's what you're looking for, then an OTG is a perfect option for you. 
Capacity: 
Most OTGs offer a very good capacity of 30 liters, which can go up to 60 liters. However, even the best microwave ovens don't offer a capacity of 12 liters. OTGs also have racks where you can put multiple pizzas or any other product at once, while the microwave only has one turntable – so you can bake only a minimum amount of product at once. 
What are the best OTG ovens in India under 5000?
Features To Look For In Best OTG Ovens In India
Size: As OTG ovens tend to have a better capacity than microwave ovens, most will be bigger in size and can take up quite a lot of space on your countertop. Though they are portable and easy to move, they will take up space, so move things around to accommodate your OTG oven.
Capacity: OTG ovens all have a good capacity and none of the good ones come below 15 liters. Most we have mentioned in the list are 30 liters, which means you can volume of food inside the oven. Some basic, cheap models of OTG can have a capacity of 10 liters, but even that's good enough for a family of 4 people. 
Usage: Although all OTG ovens come with the basic functions of its namesake baking, toasting, and grilling, some come with other functions like "keep warm" or "adjustable timer", which can be some extra advantages when you purchase a product that's higher on the price tag and might prove useful to you for frequent usage. 
Accessories: OTG ovens come with many different accessories. One of the coveted ones to look for is a skewer rod which can be used to make tikkas and kebabs. A rotisserie tray is also a desirable accessory. It comes with a rotisserie rod that automatically rotates when any food item like paneer or meat is put through it. This ensures proper grilling and even cooking. Other accessories to look for in an OTG oven are a baking tray, crumb tray, oven rack, etc. 
Warranty: When a product is in warranty you can easily replace any damaged parts free of cost and get any customer servicing done without any charges. In general, 1 year of warranty is given with OTG ovens. But, some brands offer 2 years of warranty on the appliance as well. 
Some other features to look for are rotisserie (used to grill paneer, meat, etc. or tikkas and kebabs), keep warm function (where the food stays warm or at the same temperature even when you don't take it out immediately), control buttons (extra functions for easier control), etc. 
Advantages Of An OTG Oven:
Economical:
OTG ovens are much cheaper than microwave ovens. Even the basic models offer more capacity than higher-end microwave ovens. Not just for a one-time purchase, but OTGs also consume lesser electricity than microwave ovens. Although that also depends on the usage. If you have a larger family and bake/ toast/ grill higher volumes in the oven frequently, it will consume more electricity, but still lesser than a microwave oven for the same volume of food. 
Portable:
OTG ovens are easily portable. They are very lightweight and can be used anywhere in the home. From single families to couples to large families, an OTG oven is a versatile and compact device to use in the kitchen. Their portability and easy manageability give them an edge over microwave ovens and conventional ovens. 
Easy To Use:
An OTG oven comes with very basic functions. There's a temperature knob to control the temperature, a timer, and a power switch – which can be easily used via a manual knob. Unlike microwave ovens, OTG ovens don't require an extensive user manual. They can be easily operated and you can cook with ease – no matter what you want to cook. You can cook multiple dishes like cake, pizzas, tikkas, kebabs, French fries, cookies, kebabs, etc. in an OTG oven using the same basic functions. 
Consumes Less Electricity: 
OTGs consume much less electricity than microwave ovens. Due to their heating mechanism and basic functions, OTGs are known to use less electricity than microwave ovens. So, an OTG doesn't even cost cheaper, but it will be cheaper in the long term as well. 
Bigger In Size: 
If you want to cook volumes of food, then an OTG is a better option. Most basic OTGs come with a capacity of 10 liters and can go upto 60 liters. Even the ones with a higher capacity don't cost as much. This means you can get a better volume at a good budget. For those who have bigger families or host people, then an OTG is better suited for your needs. The size of the appliance also increases when you increase the capacity though, so keep that in mind. 
Are OTG Ovens good for health?
Yes, OTG ovens are good for health. They used metal coils to heat the insides of the device, which in turn, leads to the heating of the food. When strategically placed, these coils produce uniform heat in the oven and produce evenly cooked food. OTGs mimic the traditional charcoal oven that has been used to bake and grill food for decades. They're absolutely safe for health and to use in common households. 
So are microwaves though. 
It has been a common misconception that microwaves can cause cancer or change the nutrient makeup of the food in an unhealthy manner. This can't be further from the truth. The radiation in microwaves isn't strong enough to alter the DNA of humans, like X-rays or gamma rays. This radiation is only meant to oscillate the water molecules in the food to heat it. Thus, microwaves can't cause cancer. And regarding if they change the nutrient makeup of the food, they do, but so do other methods of cooking like boiling or steaming or cooking gas stove. It won't rob your meals of nutrition values though, you can be assured of that. 
Which is better for pizza/ cake – OTG or microwave oven?
It depends. Some high-end microwave ovens are built with a change in interior heating so as to mimic the oven and give you an authentic baking/ grilling experience. But they're not economical then. OTGs, on the other hand, offers the authentic baking/ grilling/ toasting experience at an economical price. If you're buying the OTG oven in India only to be used for these three functions or primarily to be used for these three uses, then it's a smart choice to stick to it. For pizzas/ cakes, an OTG oven can give the same quality of cooking for a lower price. 
Including a pizza recipe so you can get started with OTG right as it's delivered:
Safety & Maintenance Tips For OTG oven:
Don't use the OTG when the door is open.

Make sure children use the OTG safely. If possible, make sure they use the oven under adult supervision.

Use only OTG-safe utensils for baking, grilling, and toasting.

If you observe any signs of overheating, stop the appliance immediately and if the problem persists, get professional help immediately. 

Don't use scrubbing agents or harsh soaps to clean the OTG on a regular basis. You can use a mixture of vinegar and hot water to clean the stubborn stains in the interior every once in a while. 

If you observe any signs of rusting, then get the OTG rectified immediately. 
Can We Heat Food In OTG Oven?
Yes, you can heat food in an OTG (oven, toaster, grill) oven. An OTG oven is a type of electric oven that is designed for cooking and baking, and it can be used to heat a wide variety of foods.
To heat food in an OTG oven, you will need to set the temperature and time according to the specific instructions for the food you are heating. Many foods can be heated at a moderate temperature (around 350-375°F) for a short period of time, while others may require a higher or lower temperature or a longer cooking time.
It is important to pay attention to the instructions for the specific food you are heating and to use caution when handling hot food and dishes. Use oven mitts or pot holders to handle hot dishes and be sure to follow any other safety precautions recommended by the manufacturer of your OTG oven.
Does Foil Burn In OTG?
It is generally not recommended to use foil in an oven, especially an OTG (oven, toaster, grill) oven, as it can cause a fire or other problems.
When foil is placed in any one of the best OTG oven in India, it can heat up very quickly and may cause a fire if it comes into contact with any heating elements or other ignition sources. Additionally, the heat from the oven can cause the foil to become very hot, which can be dangerous to handle.
If you do need to use foil in an oven, it is important to use caution and follow the manufacturer's instructions. Avoid placing the foil directly on heating elements or near the top of the oven where it may come into contact with the heating elements. It is also a good idea to keep an eye on the foil while it is in the oven and to remove it as soon as it is no longer needed.
Conclusion & Winner
OTG ovens can make for a great choice for your kitchen and everyday usage. They are versatile, economical, portable, and easy to use. For beginners or professionals, the oven can prove to be of good use. While all the products that we have listed here are great on their own, if we have to make the hard choice of picking one, it has to be the Usha Calypso Digital OTG 30 liters. It's a digital panel, turbo convection heating, free home service, 2-years warranty, and sleek design make it an informed choice for an OTG oven in India.