When Deepika Padukone debuted her wedding looks, we were feeling a flush of empathy for her earlobes. The long, dangler earrings enhance your bridal avatar but can cause a lot of pain and stretching in the ears. This is especially true for real gold, diamond, and kundan/ polki jewelry, which were found in abundance in Deepika's wedding wardrobe. If you're a bit worried about how to wear heavy earrings without pain & stretching, we are including 10 hacks below to navigate these fashion statement trinkets without enduring any pain! 
#1 Use A Surgical Tape Or Earlobe Support Patches 
When you search for ways how to wear heavy earrings without pain & stretching, one of the first ways you will read on every blog or video is to use earrings patches or earlobe patches. These patches have been used for years to support long earrings as it supports the earlobes, reduce the weight of the earring through additional stability, and prevent any pulling, stretching, or tearing apart. You can buy this surgical tape or earlobe patches easily. 
Alternatively, if you're a bride-to-be, it's advised that you keep these patches in your bridal makeup kit as they are very helpful and will ease your pain with heavy earrings and make them quite comfortable to wear them. Do check for adhesives in the tape or patches, as poor adhesive can reduce the time the patch stays on your ear. We'd advise them to buy online and check for reviews, or let your MUA suggest a good brand that's trustable and long-lasting. 
Don't worry about wearing these invisible patches as they won't be visible and you can easily wear them for any of your events, including sangeet or mehendi when you won't be donning an over-the-head dupatta. Besides invisible patches, we would advise that you go for a bigger plastic earring hole closer as it also provides additional support and reduces any pain or stretching due to heavy earrings. 
#2 Go For Ear Chain In The Heavy Earrings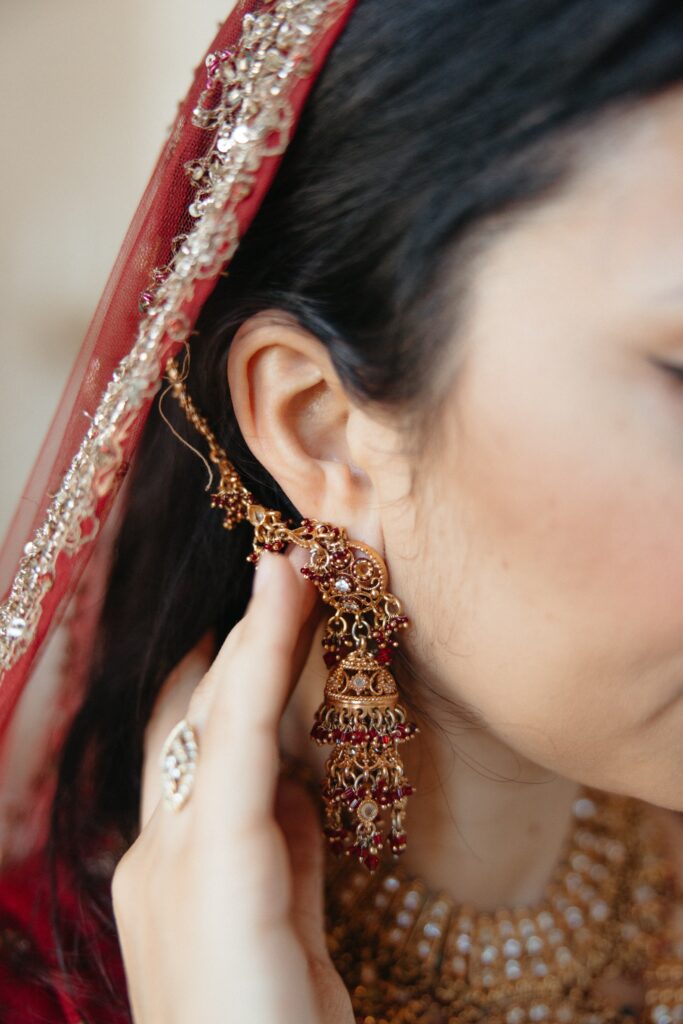 When you're wondering how to wear heavy earrings without pain & stretching, you might also be thinking about the problem of why heavy earrings are such a pain. The thing is the heaviness is concentrated on just the earlobe which puts it under unnecessary pressure, pain and stretching. A simple solution, in this case, is to distribute the weight of the earrings. One way to do this is to use an ear chain – either the one that goes back to your hair or the one that goes around your ear to add some additional support. This chain is also called kaan ser in Hindi and is a popular attachment in precious earrings. You might have spotted one in your mother's heirloom jewelry pieces. 
Kaan ser is equally stylish today and goes with all your traditional wear. Sonam Kapoor – the fashion icon of Bollywood – wears them many times and even sported one at her wedding. So if you think the ear chain will be a negative attribute to your modish look, think again! When using the ear chain, make sure the pinning goes higher and it's as taut as it can be so it doesn't loosen during the festivities. 
#3 Apply A Numbing Cream
If you wear heavy earrings every now and then, you might be familiar with numbing creams. This over-the-counter medication is applied on the earlobe to numb the area so you feel almost no pain when the earring is put through the earlobe or for the entire time it's on your ear. These numbing creams contain lidocaine, which belongs to the family of medicines called local anesthetics. These creams prevent pain by blocking the signals at the nerve endings of the skin. Unlike other anesthetics, these medicines don't cause unconsciousness and can be purchased at many e-commerce and online stores without a prescription.
Many makeup artists already have numbing creams in their kit because they know brides will be needing them and a few don't know about them altogether. Still, we'd recommend you keep one in your bridal makeup kit, so you can use it for any smaller functions where you haven't hired the services of the makeup artist. You should know that numbing creams are only temporary and you might need to re-apply every few hours to reduce the pain. Also, don't apply a numbing cream if you have an open sore. 
Buy Numbing Cream Here: Amazon.com
#4 Take A Break!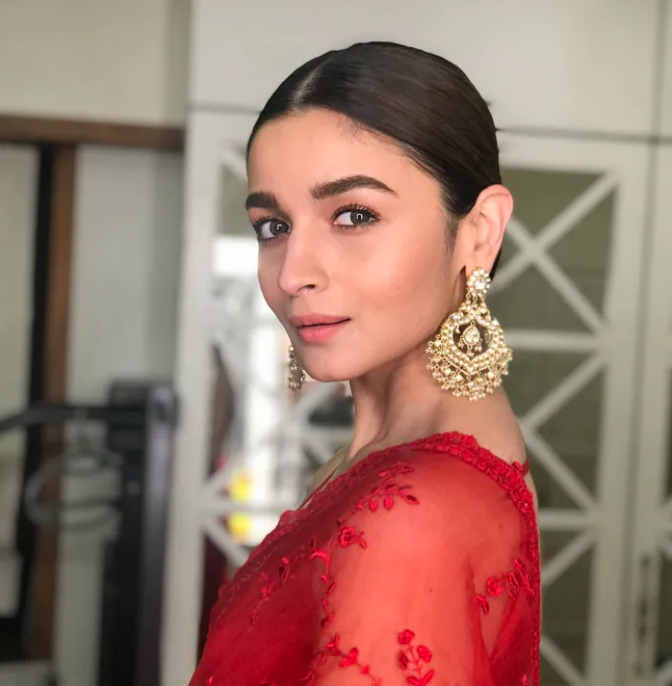 On your wedding day, you might not have a chance to take a break from the heavy earrings. But for your other celebrations that don't involve quite a lot of ceremonial obligations, you can choose to wear normal earrings or remove the heavy earrings when you have time. For example, during the mehendi, you can remove the earrings during application and only put them on when the photographer is clicking the pictures. For the sangeet, because of all the dancing, we'd recommend opting for smaller earrings on the lighter side because they will cause less friction on your earlobe. You can also change into a lighter pair during the sangeet after-party as the photography will be done and you prevent any unnecessary weight to the earlobes, which will be bearing a much-heavier weight the next day. 
If you're wearing heavy earrings as a bridesmaid or to a fun party, taking a break is a must! It will give your earlobes the much-needed rest. Carry a small pouch with you where you can safely put them and take them out whenever needed. Also, we know you might feel tired to take out your makeup and jewelry after a late party or wedding, but it's imperative you do so! The earrings can get caught in pillowcases, which further increases the risk of pulling in the earlobe. 
#5 Put A Lubricant
The heavy earrings don't just pose difficulty when they are on, but they also pose a difficulty when you're putting them on! Many heavy earrings, especially the ones that are made of precious metals like gold or platinum, often have a bigger line to put them through the earlobes. You might also have seen brides suffering in pain when the earrings are put as part of their trousseau. To prevent this unnecessary pain, a good way is to apply some lubricant on the lobes so the earrings can easily glide through! Just start by putting some petroleum jelly or coconut oil on the earlobes before putting on your earrings. You can also apply some on the line of the earrings. Once applied, the earrings glide through and it also protects the ears from any unnecessary reaction due to pain like redness or swelling. 
The oil or jelly also protects the earlobes from any allergic reaction or infection. Many brides do prefer imitation jewelry because of the lower price, lower maintenance, and re-wearability factor. Imitation jewelry metals can cause allergic reactions in many women, but not when you have a lubricant on as it creates a barrier between your skin and the earring. Plus, in case of an allergic reaction, the oil or jelly can help speed up the healing process. 
#6 Do Some Damage Control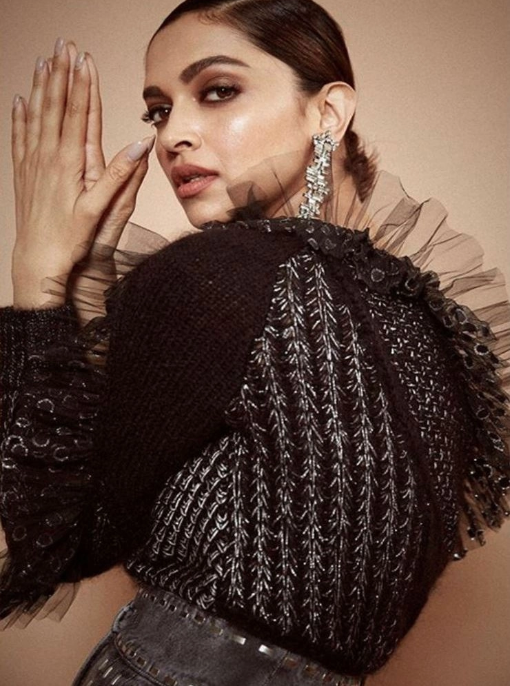 If your earlobes are already severely damaged, we'd advise you to not wear heavy earrings before you get the elongated earlobe fixed by surgery. While there are a few non-surgical methods available to fix the earlobe, surgery can prove to be a safe and invaluable technique to repair the earlobe and wear the earrings in the same spot again. As some non-surgical procedures do fill the earlobe but they don't allow you to pierce the earlobe in the same spot again. 
The surgery takes around an hour. It involves making an incision and closing them using sutures, which are removed after around a week or two. You might suffer from some redness and swelling for a few days but that's completely normal. Know that deeper tissue healing takes more time and you might have to wait for a total of around 2 months or so before you can get your earring pierced again. The piercing should only be done after your doctor's approval. If you're a bride-to-be, we'd say think ahead of time and get this surgery done as far in advance as you can. 
#7 Use A Thread & Bobby Pin To Distribute The Weight
One of the major problems with heavy earrings is that they put a lot of weight on one portion of the ear. So, your direct answer to how to wear heavy earrings without pain & stretching is to distribute the weight of the earring. An ideal way to do so is to use a thread and a bobby pin to hook the back portion of the earring and connect it to the top portion of your head for some extra support. Let us explain. First, cut off a small string of thread and loop it through the bobby pin, Now cut off any excess and tie the knot. Do keep the straight lines at least 2 inches long before tying the knot. Next, place the string through the back of your earring and attach the bobby pin on the top of your head. Make sure it's high enough so it doesn't slip and come down after. With this method, the earrings' weight is distributed and it's not just pulling on the earlobe. 
To make this method foolproof, you might have to use a thread that matches your hair color. During weddings, events that require you to put a pallu on the top of your head provide you with a perfect mask to use this trick. The wedding day itself has an over-the-head dupatta so this hack can be easily used on your special day. Just make sure the bobby pin is securely attached so it doesn't loosen anytime in the middle of the ceremony. 
#8 Shop Smartly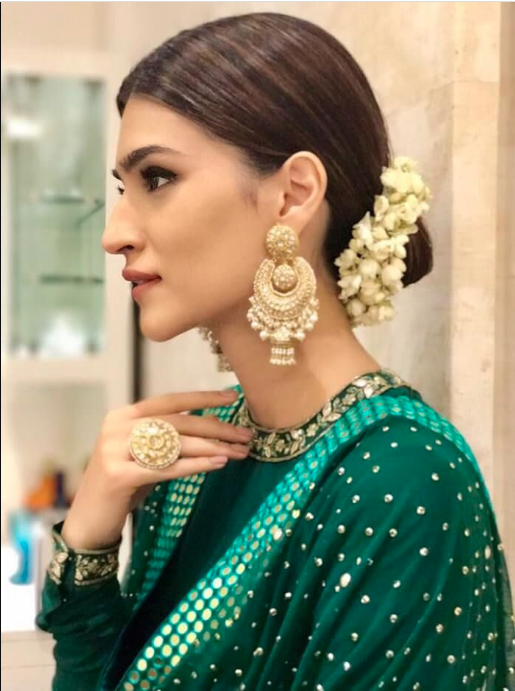 When you're shopping for earrings, especially those that would make a part of your bridal trousseau, it's imperative to try the earrings in real and see how much they weigh! Sometimes earrings that look bigger in appearance have less weight than the ones that look smaller. It's all about the cutting and the stone used. Therefore, we'd always suggest you try on the earrings before purchasing them. When in confusion, ask the jeweler about the stones, metal, or karigari that will reduce the weight of the earrings in their entirety. They have more professional knowledge on the subject and would be able to guide you better with earrings that are lighter and more comfortable to wear. 
Another point to note when buying precious jewelry for your bridal events is that gold is heavier than diamonds. Sure, diamond jewelry uses white gold that can up the weight but the diamonds themselves are much lighter than gold. Diamonds are pure carbon and gold is considered to be one of the heaviest elements. Although, if you're getting your diamond jewelry made in platinum, we should point out that platinum is 60% denser than gold, and platinum earrings with studded diamonds will weigh substantially more than that made in white gold. Bridal earrings, especially ones chosen for longer events, like sangeet and wedding, should be thoughtfully purchased as you'd have to bear their weight for a longer time.  
#9 Consider Your Situation
There are some people who can tolerate heavy earrings better than others. You might know a friend whose earlobes are taut and just minorly stretched, even though she wears heavy earrings with the same frequency as you do! The strength of the earlobes and their structure is dependent on genetics and you can't really do anything about it. All you can do is navigate the strength of your earlobe by wearing earrings that are well-suited for you and don't stress your earlobes. Things like opting for less heavy sets whenever possible, alternating them with lighter earrings for different functions, taking them out when you're going to bed, shopping smartly for precious jewelry, etc. can all help to keep your earlobe safe and secure! 
Similarly, you need to consider your situation whilst wondering how to wear heavy earrings without pain when you are involved in some activity like a long walk or going to be dancing on high energy or have a kid who'd likely pull on the earrings. You should also know that certain clothes have a tendency to catch on the earrings and this can cause some undue stress on your earlobes and an uncomfortable situation for you from time to time. Be mindful of your situation when you're wearing heavy earrings. If you're on the go, it's better to keep a small pouch so you can remove the earrings when you don't have to wear them. 
#10 Don't Overdo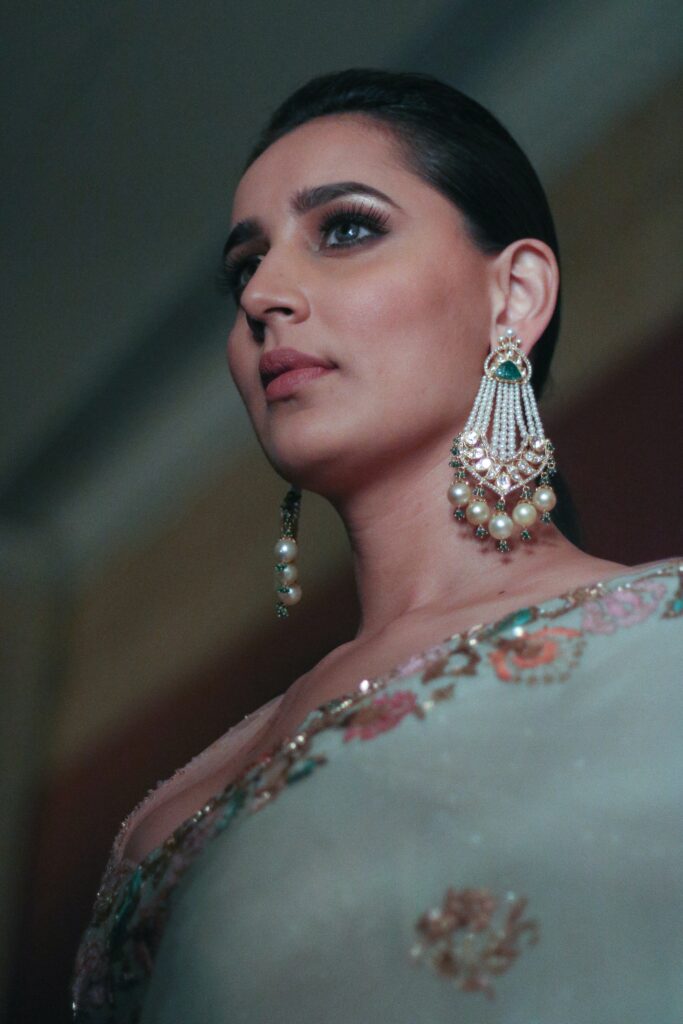 Even when you're a fan of heavy earrings (their allure & charm, and how quickly they can turn an outfit can certainly not be debated) and want to wear them daily so as to take advantage of their appeal, you shouldn't. We'd also recommend you don't buy them to wear on a daily basis. Because if you'd spend your hard-earned money, you might feel obligated to wear them more and hence, cause more damage to your earlobes, in general, and cause you to spend more money if they get stretched to the point where you require medical attention. It's best that you save these heavy earrings for special occasions only and for your daily wear, you choose lighter-weight earrings. 
As our final point, we'd like to advise you to opt for real jewelry for your heavy earrings as opposed to imitation ones. The latter has a thinner line to go through your earlobe, which can cause more extension of the earlobes, but the real ones have a thicker so they have fewer chances of stretching. The imitation ones can also cause irritation in the earlobes causing you to have symptoms like itchiness or crusty ears. For everyday wear, we'd always recommend precious earrings as they don't lead to irritation. 
Conclusion:
These 11 hacks can serve as some easy & practical solutions to how to wear heavy earrings without pain & stretching! You can pick one or a combination of a few next time you have an event coming up where your jewelry includes a set of heavy pair of earrings. Know that even though your earlobes can bear the weight of this jewelry piece, when you don't offer a lot of support, they can also cause a headache. Heavy earrings (just like tight ponytails) pull on the connective tissue of the scalp and cause headaches. Therefore, it's a wise idea to use these additional support hacks to not relieve the earlobe from any undue pressure.