It's a cruel fact of life: fried food is great for your taste buds and uncontrollable cravings, but when it comes to the rest of you, the benefits far outweigh the disadvantages. Sure, you can do baking or grilling, but there's a separate taste of frying that has a special place in our stomachs, and in our hearts. This is where the air fryers step in. The best air fryers in India give your food the crispiness of frying excluding all the calories and negative health elements. Here is a list of the best air fryers available in India with honest reviews and buying guide. 
Price Comparison List For Best Air Fryers In India with Price
#1 SOLARA Large Digital Air Fryer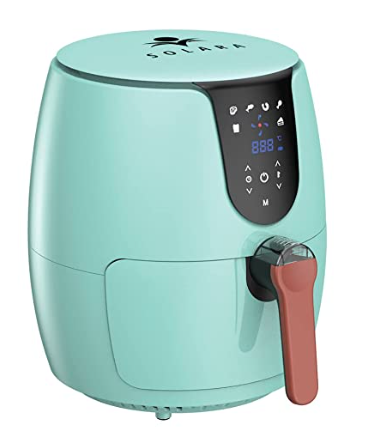 Solara is an Indian brand based in Chennai, Tamil Nadu with roots in Silicon Valley. Founded in 2017, the company has been ranked as Amazon's Fastest Growing Startup 2021 and YourStory's Top 100 D2C brands. The company's motto is to help customers live a happy & healthy life in their homes. And they have been living up to it by designing products that are technologically driven, economical, and serve the purpose. One of their best-selling products is the SOLARA Digital Air Fryer, which is also ranked among one the best air fryer brands in India. Read below for a full review of the product:
Physical Features & Attributes:
The SOLARA large digital air fryer comes in two sizes: 3.5 liters (large) and 5.5 liters (extra large). It comes in a stunning mint green color – which is a nice deviation from the usual black & grey color of the air fryers bought in India. It has a sturdy brown color handle on the bottom and a digital black screen on the top where you can set the time and temperature. The product dimensions are 30 X 30 X 30 cm and the weight of the product is 2 kgs. Included components inside the air fryer are one air fryer and the cost of the product at the time of the upload of this article is Rs.5,799/-, making it one of the best air fryer in India under 10,000. 
Benefits & How It Compares To Others:
The SOLARA air fryer which is one of the top air fryer companies in India is designed for Indian cooking. Its advanced touch-screen menu comes with 6 preset cooking modes which curate the most common dishes in an Indian household. This includes fries/ chips, paneer, chicken, steak, shrimp, cake, fish, and pizza. There's a wide temperature range from 180 to 400 degrees Fahrenheit in 10 degrees gap and a timer of up to 30 minutes. Besides the preset menu, the air fryer comes with a 100-page recipe ebook that includes written text and video so you can immediately get started with your healthier, oil-free air fryer cooking. 
Among these air fryer reviews in India, you will also find people praising the sleek & modern look of the machine, and how it gives a contemporary look to their kitchen. Besides the exterior appearance, inside there's a 360° air circulation to cook your food quickly and with 85% lesser oil than traditional cooking. The non-stick pan ensures no food sticks to the surface during cooking and hence, makes cleaning very easy. The cool-touch handle also allows you to flip the contents in the middle of the cooking program.  
Here's what one of the reviewers wrote, "I was searching for the best air fryers in India when I came across Solara's option. Because of the good reviews, I decided to purchase the machine. The air fryer is compact, sleek, and modish. The food comes cooked perfectly once you get hold of the recipes. I love the preset option because it makes the job so much easier for me & my kids. The machine runs quietly and we haven't faced any issues in the past two months of usage. Amazon delivery was quick & we definitely recommend purchasing from this air fryer brand in India." 
Purchase Here. 
#2 Philips Air Fryer With Rapid Air Technology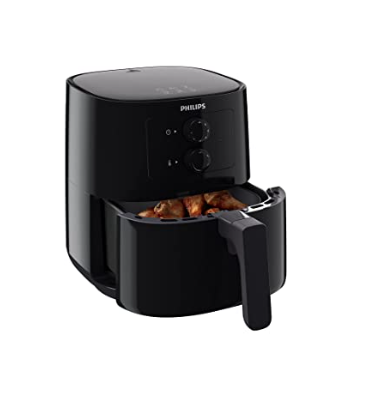 The Philips air fryer in India is so popular that there's a separate keyword that exists for it on Google and on Amazon. A company that's over 130 years old and employs 80,000 people in over 100 countries has a strong brand presence in India for its electronic goods. Their advanced technology and durability are some of the best elements that have retained loyal customers over time. So, if you're someone who values the brand name when purchasing electronic equipment, you can certainly trust the Philips air fryer for its smooth functioning and effectiveness. Read on to see the full review below: 
Physical Features & Attributes:
The Philips Air Fryer in India has a capacity of 4.1 liters and a wattage of 1400 Watts. It has a sleek black color with a balanced matte & gloss finish, which is a common element among many Philips electronic devices. Only black color is available in the Philips air fryers in India. This air fryer has two manual knobs to control the time & temperature.  The dimensions of the product are 33.8 X 33.8 X 35.5 cms, and the weight of the product is 4.54 kgs, which is quite heavy when compared to other best air fryers available in India. Inside, the components include 1 air fryer and 1 user manual. There's a warranty available for 2 years, and the price of this product at the time of upload of this article is Rs.7337/-. 
Benefits & How It Compares To Others:
This Philips air fryer comes with a large capacity of 4.1 liters to help you cook a larger batch of dishes in one go. You can also cook bigger pizzas and cakes in the holder. The cool-touch handle allows you to easily take out the dishes after they are done. This air fryer brand in India comes with a unique Twin TurboStar technology, where the hot air swirls like a powerful tornado – throughout the entire cooking basket. It's a patented technology by Philips to evenly fry the food without having to flip the food. The result is crispy and juicy food within a few minutes. 
The machine comes with an adjustable time & temperature knob. The timer goes up to 60 minutes, and the temperature can be set to 200 degrees. After the cooking is done, the auto-off function beeps a "ready" sound indicator, which alerts you that the cooking is finished no matter where you are in the house. A recipe book is included with this top air fryer in India, which gives you an idea of the versatility of the appliance. 
"I never write reviews and this is my first one. I just wanted people to know how amazing this machine is! No words really! I have created some amazing dishes in this fryer like samosas, fries, and onion bhajis, and all of them came out just perfectly. The taste was a bit different, but given the 90% less oil, I think I can handle it. The cooking process is literally cut in half and it's worth every penny spent," writes one of the reviewers. 
Purchase Here. 
The Philips Air Fryer HD 9252/ 90 has all the same specifications as the HD 9200/ 90 but has the advantage of 7 preset cooking options with the most common dishes. It's priced at Rs.8979/-, and you can purchase that product here. 
#3 Varada Max Pro Air Fryer Oven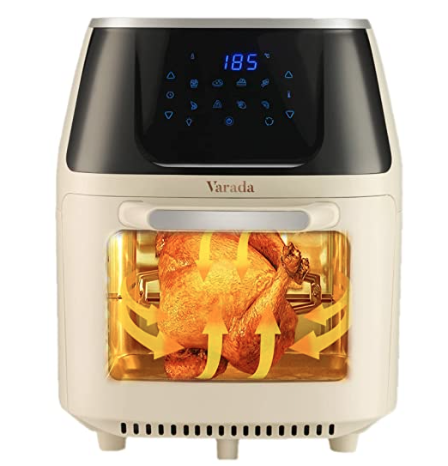 If you're on the lookout for a large air fryer so as to fry your entire chicken in one go or cook large batches of food, then the Varada Max Pro air fryer oven is ranked among the best of the air fryers in India. It's a bigger machine as compared to other best air fryers listed here, in terms of both dimensions and weight, but for people who want volumes in their air fryers, then this one's just ideal. Below, find the complete review of this air fryer in India. 
Physical Features & Attributes:
The Varada Max Pro Air Fryer Oven has a capacity of 8 liters and wattage of 1500 Watts. It has a milky white color and a black digital screen on the top. The digital screen offers easy touch to control time, temperature, and 8 preset cooking menus. The handle opens downwards but you will have to use the padded gloves (included with the product) to take out the cooked food item. Unlike the box where the food comes out when you pull the handle like with other air fryers, this one offers a different handling system. 
It has dimensions of 24 X 24 X 36 cms and a weight of 7.96 kilograms. Inside the package, you will find an air fryer machine, rotisserie chicken shaft rod, iron drip tray, fan protection steel mesh, rotisserie basket, recipe book, user manual, heat-resistance glove, and 2 steel mesh trays. There's a 1-year warranty with the product and the price is Rs.6,999/- at the time of upload of this article. 
Benefits & How It Compares To Others:
The Varada Max Pro Air Fryer Oven has quite a good capacity. One of the disadvantages of air fryers as we have also listed below is that it only supports smaller volumes of food. The Varada Max Pro air fryer oven is an exception though! It has 8 liters capacity and comes with many accessories like a rotisserie shaft, rotisserie basket, drip tray, fetches rack, and steel mesh racks for a hands-on cooking experience. There's also a rotating basket where you can place the food you want to cook and it rotates automatically for an even finish. 
Another unique element of this best air fryer brand in India is the transparent closing door so you can see your dishes come alive. There's a digital screen on the top where you can manage the temperature (65 to 200 degrees) and time (1 to 60 minutes) along with 8 preset cooking menu which includes chips, steak, fish, shrimp, chicken, and cake, rotisserie, and dehydrator. 
Under warranty, the company offers pickup and drop service. Although, this is not applicable to outer city areas, remote areas, and rural areas. You get a 1-year warranty with the product and lifetime support from dedicated Varada customer experts. 
"A pleasant surprise! I've been debating for over a year to get an air fryer and just never did it! After looking at reviews and online ratings, I purchased this one and got it delivered in under a week. This is easy to use with see-through glass and an easy touchpad on the top. Till now, I've used it mostly for chicken and fries and they have both turned out to be crispy and delicious. I'm really happy with the purchase and absolutely love this appliance," writes one of the reviewers. 
Purchase Here. 
#4 Instant Vortex 6-in-1 Air Fryer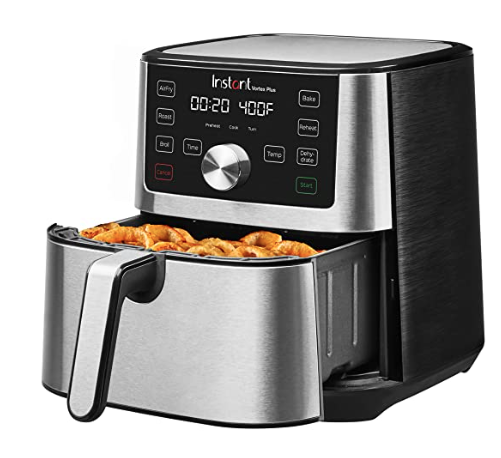 The Instant Vortex 6-in-1 air fryer is manufactured by Instant Pot, a brand of multicookers manufactured by Instant Brands. Instant Brands is a Canadian company that primarily manufactures electronically-controlled products. Established 12 years ago, the company primarily sells products in the United States and Canada, and just recently launched its collection in India, which also includes its 6-in-1 air fryer. Its quality and durability have been admired by many customers, so here's the entire review of the product below:
Physical Features & Attributes:
The Instant Vortex 6-in-1 air fryer machine in India comes in a modish gray and black color with a manual knob to adjust temperature and time among other settings. The inner cooking basket has a comfortable, cool-touch handle, and has a capacity of 5.7 liters. The handle opens to the front, just like it commonly does in many other air fryers. The dimensions of this machine are 37.9 X 31.39 X 32.59 cm and it weighs 7.14 kg. Inside, the packet includes an air fryer, and the company offers a 1-year warranty with the product. This air fryer price in India at the time of upload of this article is Rs.9,999/-.  
Benefits & How It Compares To Others:
The Instant Vortex air fryer supports 6 functions: air-fry, broil, roast, dehydrate, bake, and reheat. All of these functions are clearly mentioned on the air fryer's digital panel, which also allows you to set the time and temperature as per your needs. If you need help with the cooking, then the Instant Brand Connects App offers 1500+ recipes on the app and is available to download on both iOS and Android. There are multiple things you can cook in this air fryer like french fries, kebabs, baby corn fingers, banana chips, spring rolls, chicken nuggets, falafel, prawns, etc. Since it's a US company, it's also one of the best air fryer for Indian cooking in USA. 
This air fryer gives your food 95% less oil, which is a great attribute as some air fryers only offer 85% to 90% less oil as compared to traditional cooking. This means the Instant Vortex 6-in-1 air fryer offers a much healthier take on deep-frying without changing the crispiness, taste, and crunch of the fried foods. The appliance is also made of a food-grade stainless steel body (ss304) further adding to the health benefits of the appliance. 
The term "Vortex" in the name of the air fryer suggests the strong vortex created of high heat inside during cooking. This results in uniform cooking. Because of the good capacity, you can cook 2 pounds of fries and 4 pounds of chicken in one go. Both the basket and the appliance is designed for easier cleaning and fingerprint-resistant body so the quality finish remains over time. 
"Easy to operate & excellent results," writes one of the reviewers. "After reading reviews and having an amazing experience with our Instant Pot, we ordered this item. I started using it after reading the manual carefully. Nothing could be easier to use despite the number of program settings. But the real joy is the results. Airflow is excellent, so the cooking is even and the overheating is minimal. Really enjoying more healthy cooking for the entire family!" they add. 
Purchase Here. 
#5 Havells Prolife Grande Air Fryer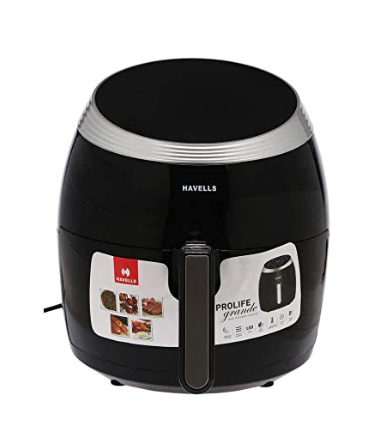 Havells is an Indian MNC company based in Noida, India, and is known for its electrical appliances. It is ranked 125th among 1200 of India's most trusted brands according to Brand Trust Report 2014, a study conducted by Trust Research Advisory. As of today, it has 11 manufacturing plants in India and has over 6000 workers in over 50 countries. Given their advanced technology and durable quality, it's no wonder that Havells appliance makes part of the best air fryers in India list! Check out the review of the Havells air fryer below:
Physical Features & Attributes:
The Havells Prolife Grande Air Fryer comes in a sleek and modern style with a digital panel on the top and a pan with an easy-hold handle on the bottom. The capacity of the air fryer is 5 liters and the wattage of the appliance is 1700 Watts. The dimensions of the product are 38.1 X 38.1 X 43.2 cm and have a weight of 7 kilograms. Inside, the components in the product packaging include 1 main unit, 1 6.5 liters pan, 1 5-liter food basket, 1 instruction manual, and 1 recipe book. The Havells air fryer comes with 2 years of warranty and is currently priced at Rs.9599/-. 
Benefits & How It Compares To Others:
The Havells Prolife Grande Air Fryer comes with Aero Crisp technology which allows for 360 degrees of air circulation and even, crisp cooking imitating the traditional frying experience with 85% less oil. Besides frying, the appliance is also meant to do baking, toasting, roasting, and grilling. It also comes with 10 auto-preset options for cooking some common dishes. With the 6.5 liters capacity of the pan and 5 liters capacity in the food basket, there's a lot of volume in the air fryer to entertain large families and host someone for dinner as well. 
Havells air fryer comes with an integrated timer and has an auto-off function when the cooking is done. There's also overheating protection function and safety lock to give further security to the users. Besides the strong heat circulation, the air fryer also includes a patented round basket with slots at the side wall for better air circulation and even cooking. Additionally, you also have 2 years warranty on the product to replace any damages on the product for free that might take place within this time frame. 
"The Havells air fryer is compact, sleek, and quite easy to use. I am impressed with how little space it takes despite the good capacity it offers. We have used it almost every day since we purchased it and the crispiness & cooking is uniform and crunchy. It's also very easy to clean and maintain. We had a little issue with the digital panel, but Havells customer care resolved it immediately. Just give it a try, you will love it!" 
Purchase Here. 
#6 Ibell 1400W Digital Air Fryer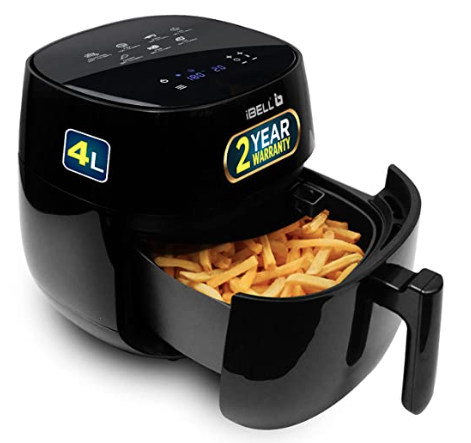 Ibell is yet another popular electronics company in India and manufactures a wide range of home appliances like chimneys, fans, mixers, ice cream makers, juicers, flasks, egg boilers, flashlights, toasters, sandwich makers, and much more. Their air fryers in India are priced economically and offer the features of the best of the air fryers in India like good wattage, capacity, advanced time & temperature function, digital display, and much more. With more than 4.5 ratings online, the air fryer is worth considering when you want some of the best air fryers in India for under 5000. Find the honest review of the product below: 
Physical Features & Attributes:
The Ibell AF40BH air fryer has a very small and compact appearance with product dimensions 25 X 32 X 29.5 cm and 4.5 kgs of weight. It has a capacity of 4 liters and a wattage of 1400 Watts. On the top, there's a digital panel where you can control the time and temperature, and also select any preset cooking items in the air fryer. Below, there's the cooking basket with the black color handle for easy entering and removal of food items. You get 2 years of warranty with the product, 1 year on purchase and the other 1 is available after free registration. Inside the product packaging, the components include an air fryer, and a detachable basket & holder. The product is priced at Rs.5099/- at the time of the upload of this article. 
Benefits & How It Compares To Others:
The iBell air fryer comes with innovative rapid air technology which circulates hot air around a metal mesh which gives you an even and crisp cooking. This fast circulation of hot air mimics traditional frying where the food is surrounded by hot oil. In air frying though, the hot oil is replaced by hot air giving us the same end result without all the extra calories and carcinogens. The air fryer also has a good capacity of 4 liters, which is lesser when compared to other best air fryers in India, but an ideal option for couples who want to use it for fewer members or don't want to cook larger volumes. 
Another notable attribute of this air fryer brand in India is the 7 pre-set menu options. While this is also available in other appliances mentioned on the list, some with prices lower than the higher don't have this option. The iBell air fryer though is priced low and still has this incredible feature. And it's very easy to use. Just put the raw food item inside, select the option, and relax as your dish gets ready. The cooking basket is made of non-stick material and so is the outer body to prevent any fingerprints and facilitate easier removal of stains. More so, the pricing makes it best for those looking for an air fryer in India under 5000. 
"Great air fryer! What I love about this air fryer is that it's very compact and fits so well into our small kitchen which has very limited counter space, but is still large enough for more than two people. It's also easy to use and quite lightweight. The 2-year warranty is a plus and the cooking is just like I imagined. I highly recommend this air-fryer as it doesn't break the bank and still does all that an air-fryer is meant to do!" writes one of the reviewers. 
Purchase Here. 
#7 Proscenic T22 Air Fryer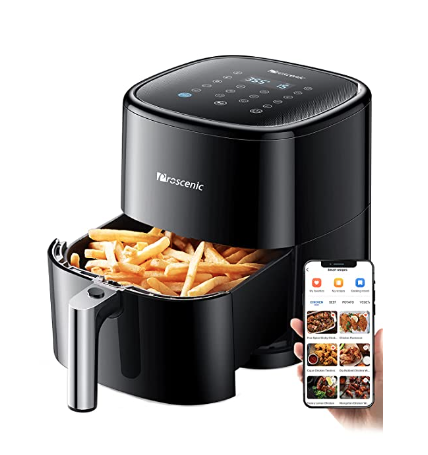 Proscenic was founded in 2013 and has its global R & D headquarters in Shenzhen, China's Silicon Valley, with branches in Germany, Japan, Britain, and France, and business in over 60 countries and regions. Proscenic is dedicated to independent innovation & technology to solve user problems through precise and in-depth analysis of big data and user needs. Till now, they have successfully launched & marketed a series of robot cleaners, cordless vacuums, air fryers, and air purifiers. They have recently launched their air fryers in India, and it has fared quite well in the market. Find below the complete review of the product below: 
Physical Features & Attributes:
The Proscenic T22 air fryer comes in a voguish black color that looks perfect to go with your contemporary kitchen. There's a digital panel on the top with 13 presets and temperature and timer control. The capacity of the air fryer is 5 liters and it has a wattage of 1700 Watts. Coming to the dimensions of the air fryer, it's 40.4 X 37.6 X 32.8 cms, and the weight of the product is 5.36 kgs. Inside, the components of the product packaging include an air fryer and one user manual. The price of the product is Rs.10,990/- at the time of the upload of the article. 
Benefits & How It Compares To Others:
The Proscenic T22 air fryer has 13 cooking functions which include 11 presets (fries, chicken, steak, vegetable, fish, shrimp, pizza, bacon, onion rings, cake, and toast), preheat, and keep warm function. All of them are quite easy to use and besides these cooking functions, you have over 100 detailed, step-by-step recipes, both in the Proscenic app and recipe book, to make cooking fun and simple. For a more professional cooking experience, there's also a "shake" reminder to flip the food to the other side when needed so there's even cooking on all sides.
This one of the air fryers in India also has TurboAir technology with 7X air circulation speed which increases the cooking efficiency by 30% and makes the food crispy and juicy with 90% less fat. Although the fan is strong, the air fryer runs at a very low noise – which is 20% less than the common noise of the air fryers. It also has the certification of energy class A+++, which means it will consume less energy and will save you money in the long term. It also links to Alexa for an easier voice-control function. 
"I want to say I love my air fryer, it cooks really well and does that in lesser time. I know it because I've seen other air fryers in some of my friend's and relatives' houses. There's also a smart control app so you can link the device to the app and control it from there. I really love this feature! Schedules are also very handy and so is cleaning the device. The material doesn't let food stick to it so only one swipe is enough for cleaning. Overall, I love it! It was worth every penny," writes one of the reviewers. 
Purchase Here. 
FAQ's 
How Does An Air Fryer Work?
The top section of the air fryer holds a fan and a heating mechanism. You apply some oil to the foods you want to cook (this isn't necessary for all recipes though) and put it in a basket, and then set the time and temperature. The heating element creates hot air, which is then circulated at a high speed that cooks and browns the food with very little to no oil. The food sits on a perforated basket so the hot, circulated air touches all sides of the food, which creates an even cooking on all sides. An air fryer, in theory, imitates the deep fry as the high heat surrounds the food from all sides. This creates crispy food, quickly.  
Can You Put Aluminium Foil In An Air Fryer?
Air fryers are generally very easy to clean, but you might want to simplify the process by popping a piece of aluminum foil under the food. And in your air fryer, you can do that without any worries of it catching fire. Unlike microwave ovens, where the foil can catch fire and shouldn't be used, air fryers give you the convenience to use aluminum foil. The reason is simple, air fryers use hot air to cook the food while microwaves use electromagnetic radiation causing sparks to fly. 
Having said that, aluminum foil isn't recommended for all air fryer models. The reason is seldom safety and has to do with diminished cooking performance. For instance, the Philips Air Fryer in India doesn't advise the users to use aluminum foil because it can reduce the airflow inside the air fryer and affect the cooking quality. So, before using the aluminum foil, just check the instruction manual of your air fryer. 
The right way to use the aluminum foil inside the air fryer:
Only place the foil in the bottom of the cooking basket.

Make sure it doesn't extend out of the area of the food and is safely secured. 

Don't cover the entire basket with foil. Your fryer needs to circulate the hot air to cook the food, and blocking the air can result in compromised cooking quality.

Keep the foil small and only let it extend to the periphery of the food. 
A WORD OF CAUTION FOR USING ALUMINIUM FOIL IN AIR FRYER
The last thing you want to do is put an aluminum foil with no food above it to keep it secure. If there's nothing to weight the foil down, it can get blown with the hot air and get stuck inside. Worst, it can overheat and potentially start a fire. 
Besides aluminum foil, you can also use parchment paper. Some acidic foods like tomatoes can react with the aluminum foil, and break it down. Some other foods can also stick to the foil making the process of taking them off the foil difficult. Parchment paper is a good option in these cases as it's a non-reactive material and doesn't let food stick to it as well. 
Benefits of using an aluminum foil in the air fryer:
It aids in placing the food effectively into the air fryer and then taking it out easily. This allows the spices or the coating of the food to not stick to your hands which creates more flavor in the food.

It helps to prevent the food from sticking to the basket. 

It makes for easier clean-up. The food doesn't stick to the basket. There are also no crumbs. So you won't have to spend much time cleaning the basket especially if you're cooking large quantities of food. 
Is It Worth Spending On An Air Fryer?
It really depends on what you're comparing them against and what are your eating preferences on a daily basis. For example, if you're comparing it with a microwave oven and you already like the baking/ grilling function & taste of the oven, then air fryers might not be of that much worth to you. Although, if you already do a lot of deep-frying or in general, love deep-frying foods, then an air-fryer will save you a big calorie hit. 
When compared with traditional deep-frying, air-frying will save you a lot of trouble, and ensure the health benefits while retaining the taste of the food. Deep-frying used about 50 times more oil than air-frying. Not all of it is absorbed in your food, but the air-frying does reduce the oil percentage of the food by 80% to 90%. Some of the foods don't require any oil at all for air-frying and you can completely skip the oil calories when air-frying these foods. 
Another advantage of air-frying over traditional air-frying is the latter produces acrylamide, a compound linked to cancer development. Air-frying reduces the amount of this compound in your food, although it won't reduce the other harmful compounds produced in the food because of cooking at higher temperatures. 
Air frying is also much less terrifying than putting the food in the hot oil that always has the risk of splattering and burning you. Many people are just skeptical of deep frying and still want to make & enjoy delicious deep frying food anyway. Picking an air fryer machine just ensures they are able to do that. 
When compared with a microwave oven though, there are no additional health advantages of an air fryer. But since air fryers are meant to accomplish only one function, they can generally do the cooking faster and more efficiently than a microwave oven. This means you will be able to save up on both cooking time and energy. 
If it's worth spending on an air frying machine also depends on your economical capability and space in your kitchen. Air fryers are expensive and come under the general price range of Rs.5000/- to Rs.10,000/-. They're not as big as a microwave oven, but do have dimensions of a mixer-grinder, and can take up considerable space in your kitchen. So, take into account these two factors as well before purchasing an air fryer. 
What Are The Disadvantages Of An Air Fryer?
While air fryers are a great addition to your kitchen, there are a few drawbacks. Here are 7 of them:
#1 They Take Up Considerable Space
Air fryers, even small ones, take up considerable space on the countertop and storage. They're bulky and may not always fit into the cabinets. So, before you buy an air fryer, make sure there's enough space on the countertop or any one of your cabinets to keep the machine. Also, know that there should be enough space around the air fryer to make the air fryer function properly. An enclosed space can make the air fryer to overheat, and can possibly damage the parts and cause sparks. 
#2 You Can't Cook Everything In Them
While you can cook almost about everything in the air fryer, there are some things that you can't cook in an air fryer. These include fresh greens, cheese, wet battered foods, raw grains, popcorn, hamburgers, whole roasts, and olive oil (because it has a low smoke point and can give a very weird after taste). 
#3 Lots Of Testing & Trying
Air frying food is going to be a task, only in the former stages though. In the beginning, don't expect to get crispy fries almost immediately – no matter how carefully you follow the instruction manual or Youtube video. Air fryers heat pretty quickly and in the first few times, getting your food perfectly ready is going to be trial and error. It will be really annoying when your dish fails, but it's worth the effort when in the end you will get the hold of the crispy, delicious recipe which is also healthy. 
#4 There's A Difference In The Taste
When you will read the reviews of the best air fryers, you will see many people mentioning they didn't think that the taste would be different – but it is. A few also didn't enjoy the taste much. So, you will have to first try and see. Maybe try the air-fried food at your friend's or relatives' house before making the purchase. This will ensure you don't waste your money on a product you will use only seldomly. 
#5 Limited Cooking Capacity
Even the large air fryers are too small for a nuclear family. If you make starters, then you might have a meal for 4 people in one go, but for a whole meal, one batch will only fill 2 or 3 people. So, don't expect to host someone and serve them air-fried food quickly.  
#6 They Are Expensive
Even the most basic air fryers in India can cost ~ Rs.5000/-, and the best ones cost ~ Rs.10,000/-. This averages out the price to around 7.5k. In short, most models of air fryers in India are an investment and don't fit the economic power of someone on a tight budget. 
#7 They Are Difficult To Clean 
Although air fryers require less cleaning efforts than a traditional air fry because of all the oil spillage, it does require elaborate cleaning because you have to clean from the inside and there are various parts that require separate cleaning too. 
Does Air Fryer Use A Lot Of Electricity?
No, they don't. The air fryer's wattage and run-time are much lesser than other electric equipment in your kitchen, like microwave oven, OTG, or a mixer-grinder. However, they can consume more electricity than a microwave oven when you cook larger batches of food. The reason being ovens maintain the temperature of the inside using a thermostat after reaching a particular temperature. On the other hand, air fryers push hot air around for cooking and constantly use energy in the process. How much energy an air fryer uses also depends on the wattage of the product, which generally averages out between 1400 to 1700 Watts of electricity. 
Can An Air Fryer Make Food Crispy?
Yes, an air fryer can make food crispy. An air fryer works by circulating hot air around the food, which can create a crispy exterior while keeping the inside moist. The food is placed in a basket that is suspended above a drip tray. The hot air is generated by a heating element, which is typically located at the top of the appliance. The food is cooked by the hot air that is circulated by a fan, this creates a crispy exterior while keeping the inside juicy.
The food is exposed to high-speed hot air which creates a crisp and golden crust on the outside, similar to that of deep-fried food. This is achieved without the use of large amounts of oil, making it a healthier cooking option. Some of the most common foods that can be made crispy with an air fryer include french fries, chicken wings, onion rings, and many others.
However, some foods may not get as crispy as deep-frying, because the air fryer is not able to reach the high temperatures that deep frying can. But still, the food will be crispy, juicy and healthier.
Is Air Fryer Good For Indian Cooking?
All the best air fryers available in India can be used for Indian cooking, but it may require some experimentation and adjustments to achieve the desired results. Air fryers work well for dishes that are traditionally fried, such as samosas, pakoras, and tikki. These dishes can be cooked with less oil and still achieve a crispy exterior.
Additionally, Air Fryers can be used to make a variety of Indian snacks and appetizers such as papad, mathri, mathri, and other similar items. Some Indian dishes like Tandoori chicken, Tandoori Paneer, Tandoori fish and other tandoori dishes can also be made in Air Fryer with a little bit of adjustments.
However, traditional Indian dishes that require slow cooking and simmering, such as curries, biryani, and dal, may not be as successful in an air fryer because of the lack of liquids and the high heat. It may be possible to adapt these dishes to the air fryer by using a smaller quantity of liquids and cooking them for a shorter period of time.
Overall, an air fryer can be a useful tool for Indian cooking, but it may require some experimentation and adjustments to achieve the desired results. It's a good idea to try different recipes and techniques to find what works best for your specific air fryer and for the dishes you want to prepare.
Can You Cook Eggs In An Air Fryer?
Yes, you can make eggs in an air fryer. Included below are videos of fried eggs and boiled eggs in an air fryer machine respectively. 
Conclusion & Winner: 
Air fryers certainly make life easier by satisfying your taste buds yet maintaining the health attribute of your food. They can be a fantastic addition to your kitchen and make daily cooking easy. Certainly, if you're looking for the best air fryers in India, then this list can serve you well. We've carefully reviewed the features and user ratings of some of the best air fryers to narrow down the list to 7, but if we have to pick one that will be the Instant Vortex Plus 6-in-1 Air Fryer. Its salient features, quality, and reviews all work in its favor to point towards why it's chosen as the winner of the best air fryers in India. Buy here.