There are many gorgeous hairstyles for girls on the Internet, but did you ever want a curated list that featured the best of them? Well, aren't you in luck today? We have fished out some of the best hairstyles for girls on the Internet and included them in this blog. From short hairstyles, long hairstyles, braid ones, and simple hairdos, you can find them all here! 
For easy navigation, use the *table of contents* section below and to come back to this list whenever you want, save it by tapping the *your bookmarks* button on the upper right corner. Find it later in *your bookmarks* section. No need to login, just a tap would do!
Simple Hairstyles For Girls
#1 The puff in the middle section of the hair with soft curls is one of the classic hairstyles for girls. The sophisticated hairdo takes a puff, some backcombing, curler, and hairspray to fit right into place. You can put the back of the puff into a floral bun style for elevated elegance. But, it's all up to you though. This style would look gorgeous nonetheless.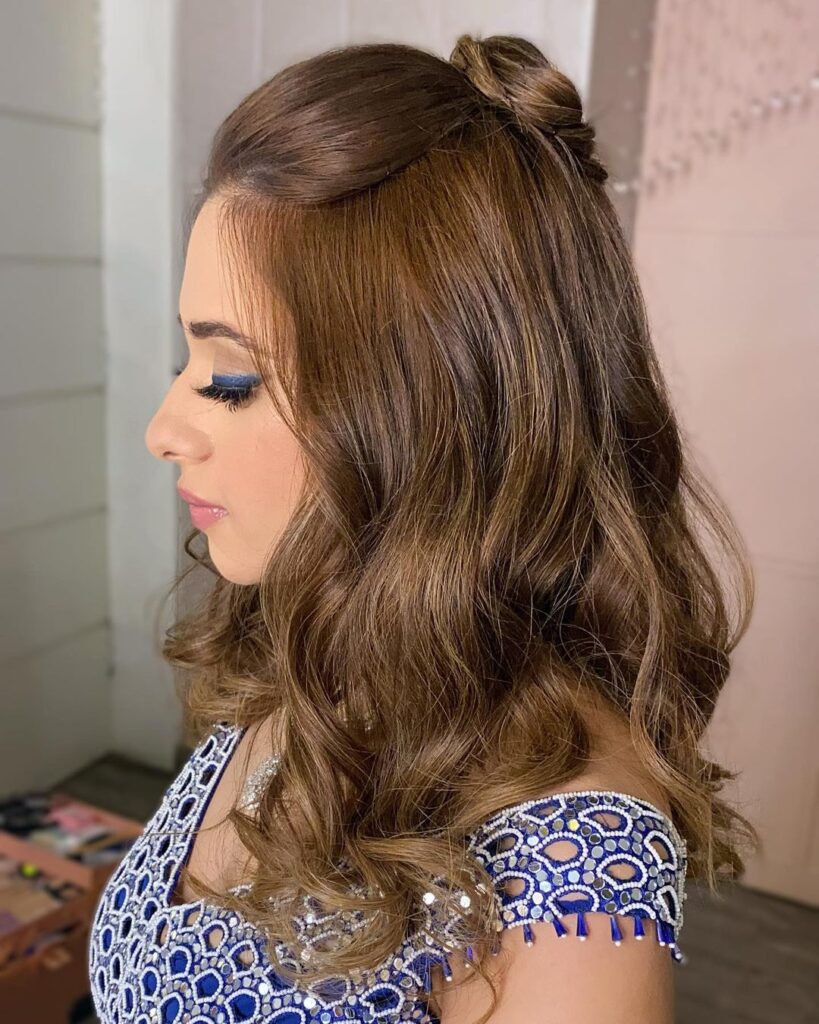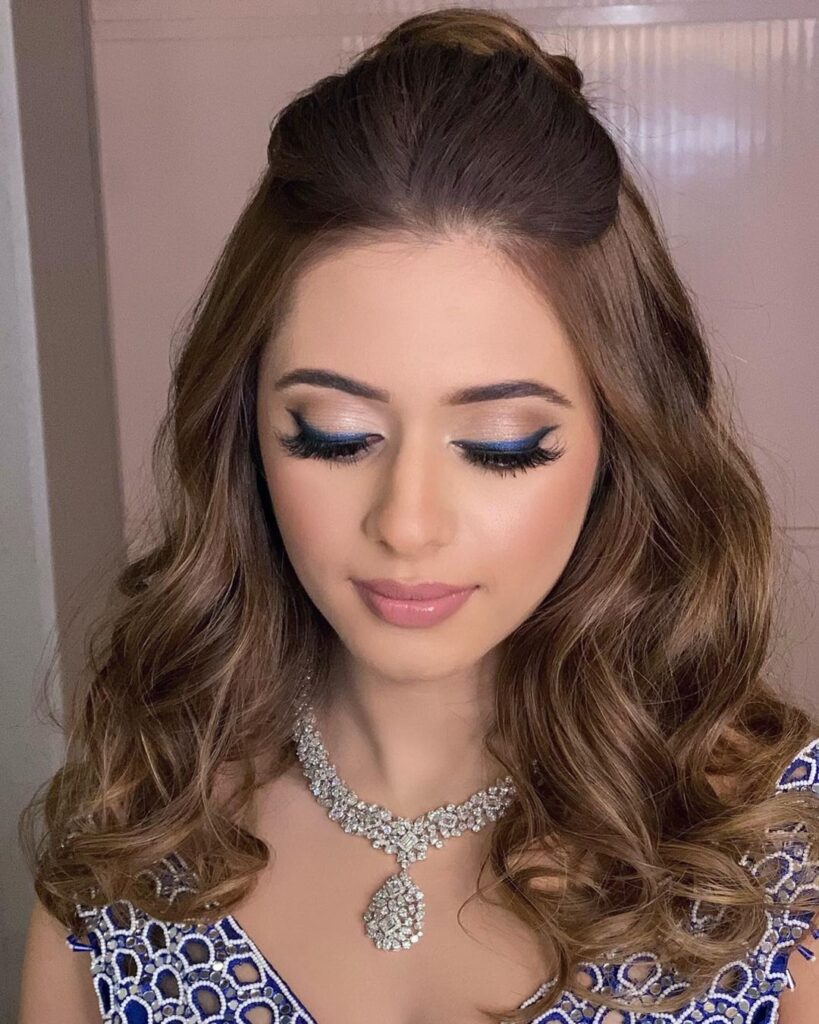 Courtesy: Archana Rautela
#2 If you have short hair and are on a hunt for a sophisticated hairstyle for short hair, then here's an easy one to try! Before starting, add some texture to your hair. You can do that by making the most of your blow-dry, adding mousse/ sea salt spray, or putting wet hair into a bun for a no-heat treatment. Seal the texture with a good dose of hair spray. Next, start twisting two strands of your hair from either side and lock them on the crown with a bobby pin. Finish off with a cute hair accessory.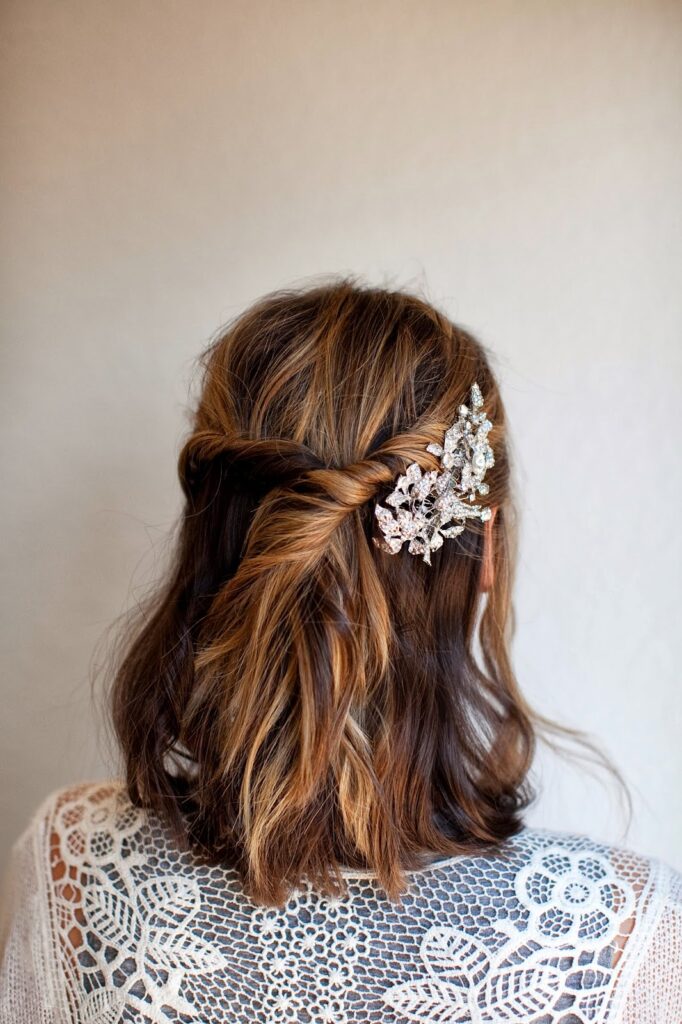 Courtesy: Tessa Rayne
#3 Tight curls with each section of hair separated well is an easy done process with a good curler and setting spray. If you have thin hair, you can totally add extensions to get the maximum volume. Once the curling is all done, take the mid-half section from the crown of your hair and tie them with bobby pins. For further enhancements, add a pearl hair accessory or drop-down flowers down the lengths of your hair.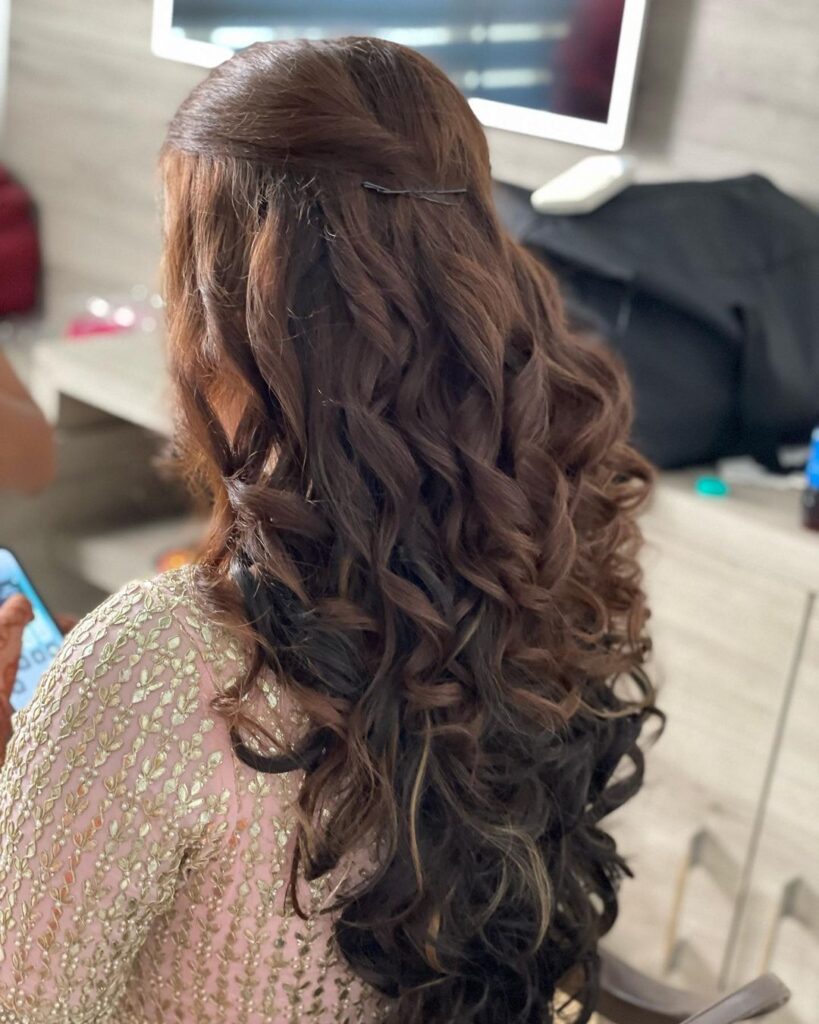 Courtesy: Amit Kumar Hairstylist
#4 Yet another simple hairstyle for girls that requires some strategic job with curling the lengths of hair, so it turns out to be a mix of messy and soft brushed waves. This is one of the best hairstyles for girls with long hair. A floral pin on the side adds a neat structure to the otherwise flowing tendrils.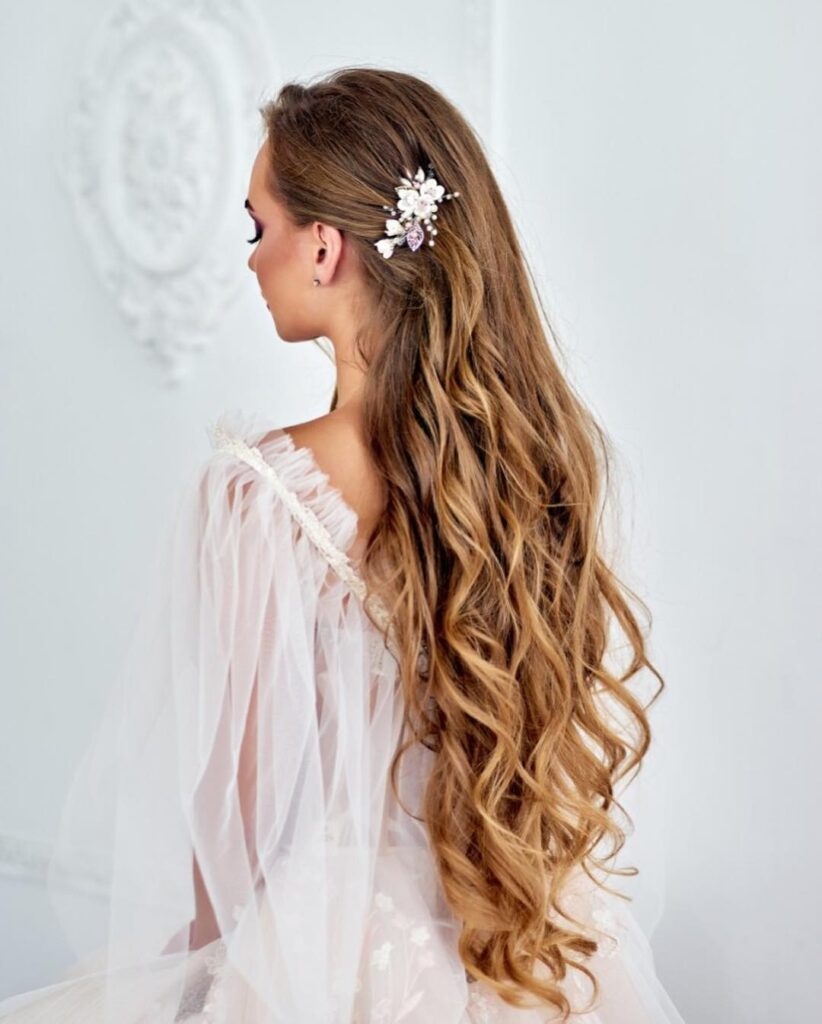 Courtesy: Svitlana Mutsa
#5 When it comes to hairstyles for girls with short hair, we seldom think there'd be many options to explore. But, boy, aren't you wrong? Short hair, in fact, not only gives room to experiment because of their ability to quickly finish a hairstyle and start over if you want to but they can also be amped up with gorgeous embellishments in a nick of a time. Here, find beautifully textured hair fastened up in a half up half down hairstyle and elevated with a fine adornment to complete the look.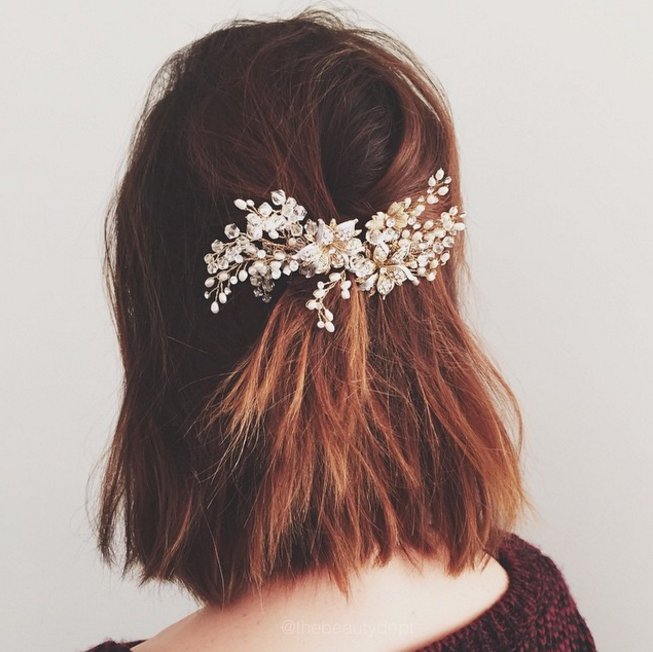 Courtesy: Pinterest
#6 Now, here's something that will roll your eyes instantly. Who'd have thought that to create a statement with a hairdo, you just have to curl the lower section of your hair and leave the rest just be! For girls with long hair looking for a quick style to amp up their outfit, we have found a unique one to try for your next event. Just make sure you straighten the top of your hair as well to ensure the exact crisp of the hair look as featured in the images below.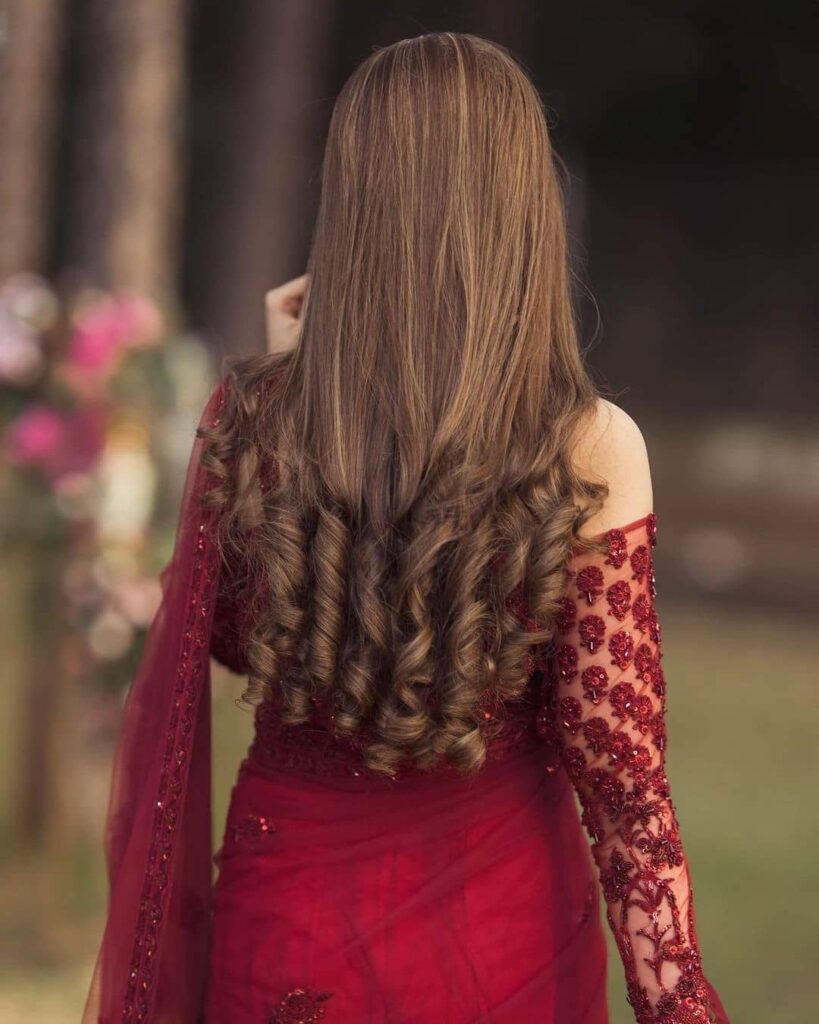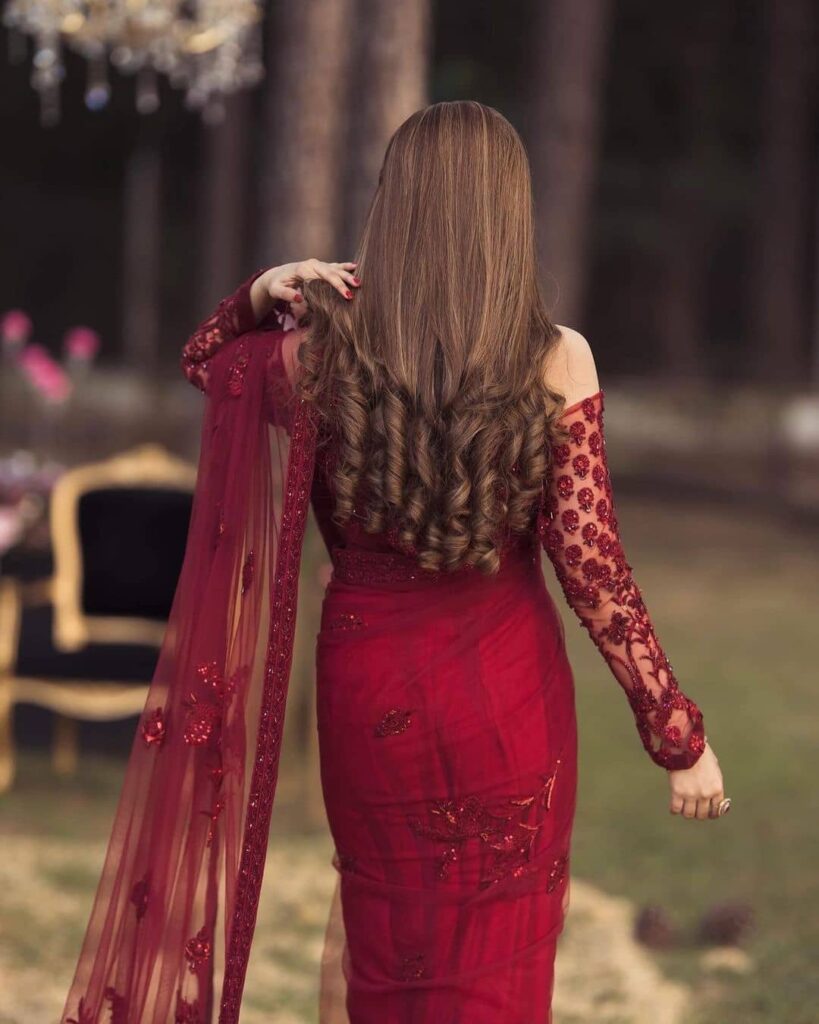 Courtesy: Mahas Photography
#7 When it comes to trying out new hairstyles for girls, curls can make a huge difference. This bride went for vintage Hollywood waves on her wedding day and elevated the look with a bobby pin with huge pearls on the side. While this is an easy DIY hairstyle for girls, it is time-consuming and you'll need a helper to do this for you. Adding a tutorial below to help you understand the process better.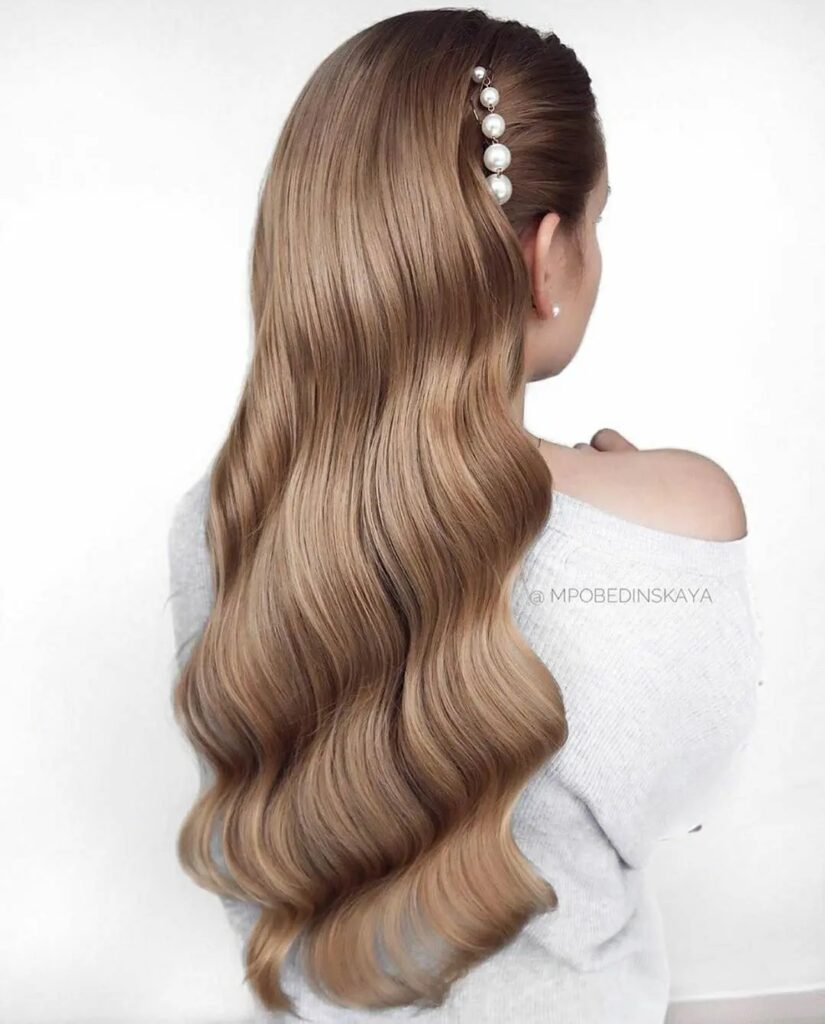 Courtesy: @mpobedinskaya
#8 A side fishtail braid is one of the easiest hairstyles for girls. Sure, it will take you around 3 to 4 takes to master, but once you're a pro, you'll be unstoppable. Whenever your hair isn't behaving, just put them in a fishtail braid, add some volume with backcombing and voluminous spray on the crown, and walk in style out of your home. Find a tutorial below to master your fishtail braid.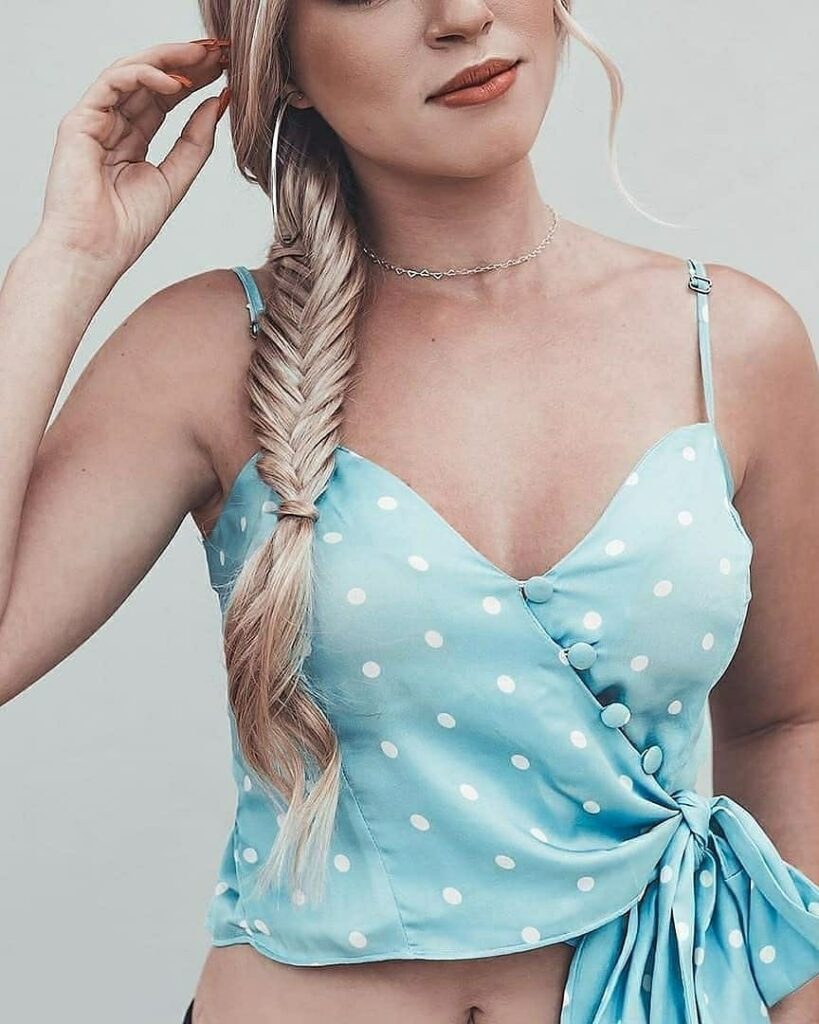 Courtesy: Naiara Sales
#9 Rope braids hairstyles for girls are one of the simplest hairdos out there! They help keep the hair out of your face, make for a gracious style, and literally go with any kind of ensemble choice. Since this rope braid goes further back than down to the side, it's best that someone else does them for you! Also, instead of adding hair from near your ear, you'll have to add leave a section there and add hair from 2 inches above the hairline to create a hair look with the same charming effect.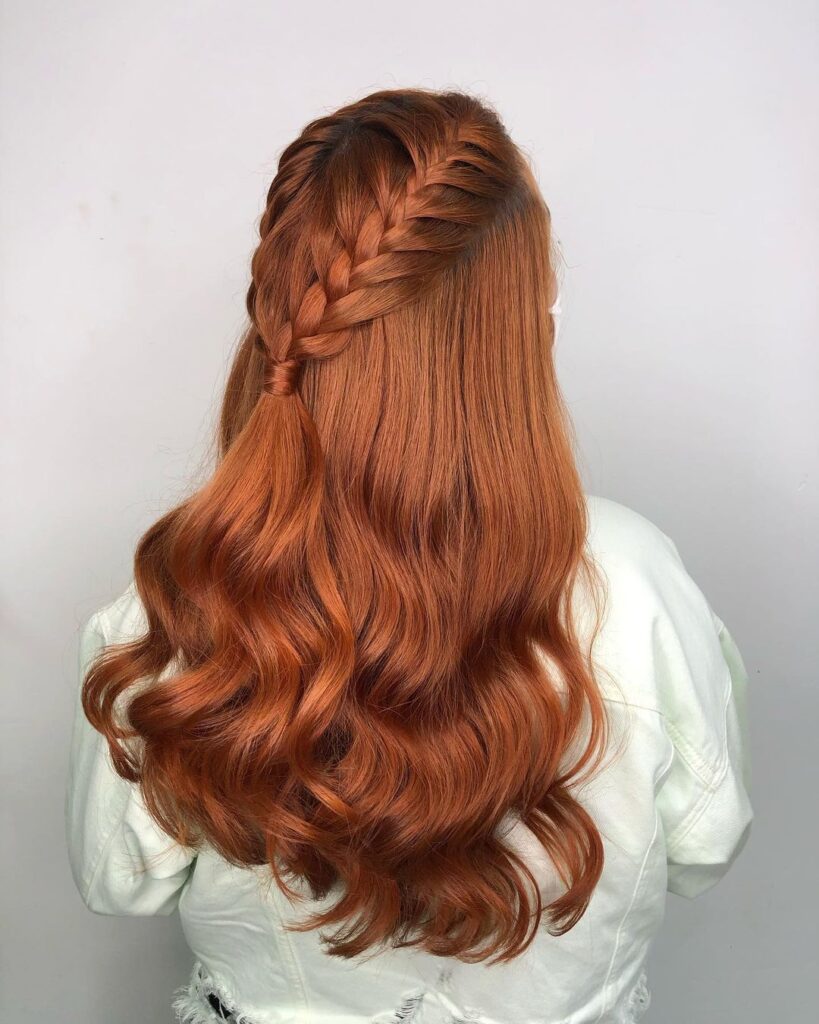 Courtesy: @danielequintinopenteados
#10 By far, one of the most outstanding hairstyles for girls on the list is this one! Although it gives the illusion of difficulty, it's actually pretty simple. The accessory does most of the job of adding the ravishing element. Start by adding small puffs on the lower side of the crown and setting them with a texturizing hair spray, Let some flicks out on the sides and straighten the lengths of the hair. Tie them in a ponytail and then, add the accessory with care to complete the look.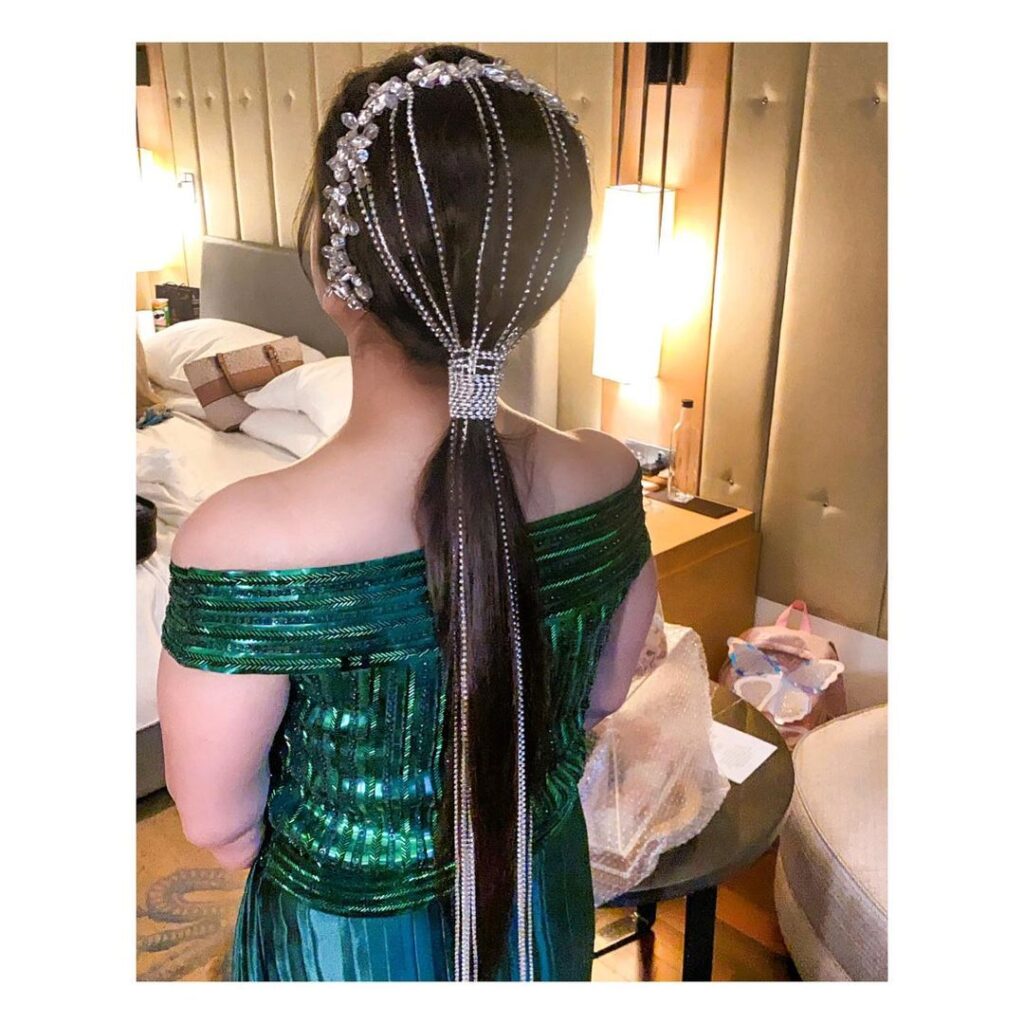 Courtesy: Amit Bhardwaj
#11 Braid hairstyles for girls are a classic. From weddings to parties to a Sunday brunch, they work for them all! Begin by adding a puff on the crown section of the hair just above where you plan to pin the two side braids. Now, create voluminous fishtail braids on both sides and attach them to the back. Create loose waves and add embellishments to finish the look.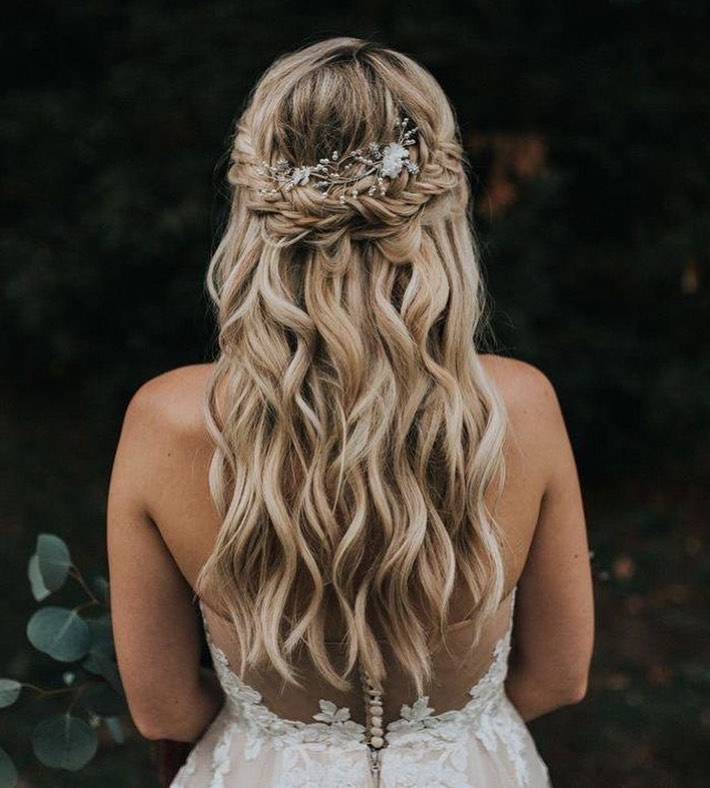 Courtesy: @mariatsvetkova_beauty
#12 Whether you're going to run or for a night out, this cute open hairstyle with a side braid is a fun one to curate.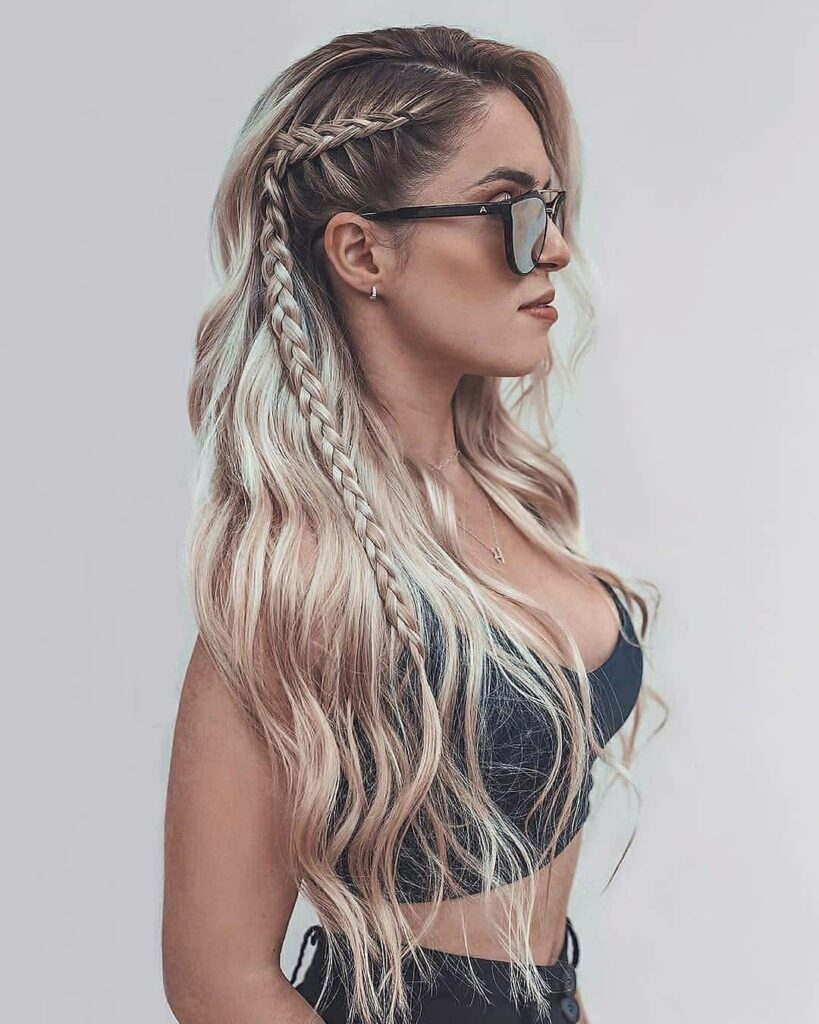 Courtesy: Naiara Sales
#13 Rolling your hair in a bun of the simplest hairstyle for girls and an elegant one to rock no matter the occasion! Start by keeping some loose bangs on the sides and add some puffs on the crown and add sections of hair one by one. Spray each section separately for a neat look. Tie the lengths in a bun by rolling them. Finish off by adding a satin ribbon in a color that matches your outfit.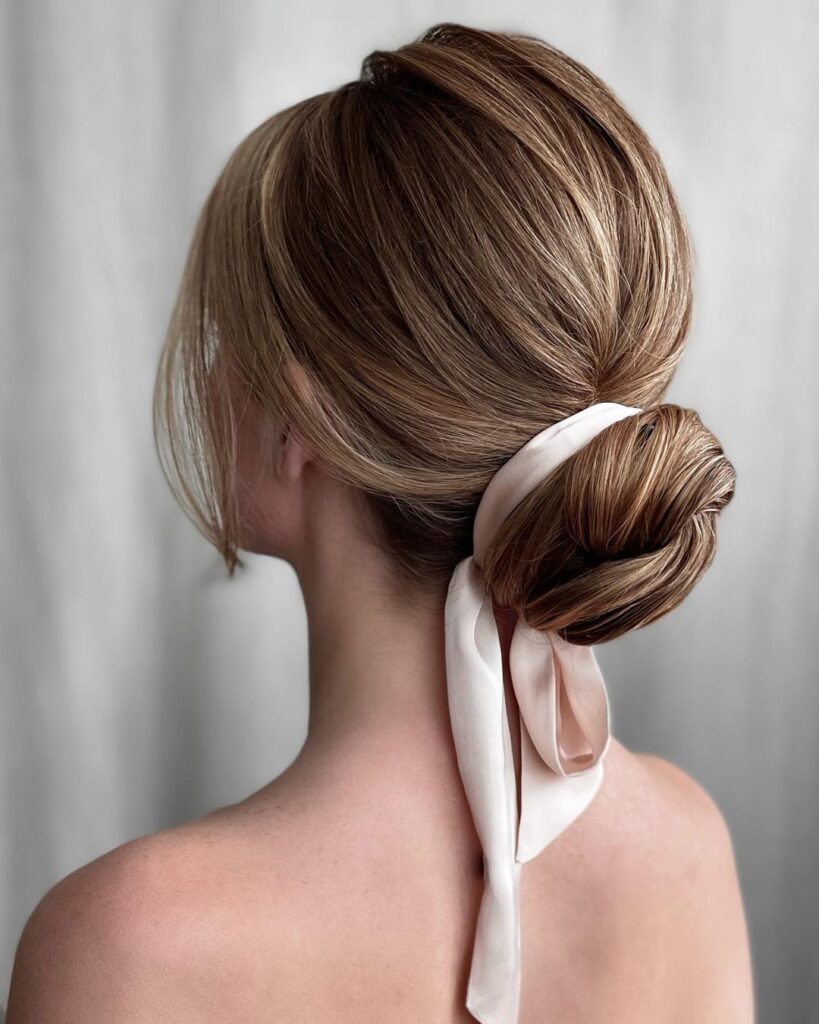 Courtesy: Kasia Fortuna
#14 For fun & flirty version of the side braids, create them in neat sections from the top and tug them with every twist for added volume. Keep the lengths of the hair straight so the braids can have their attention and stand out in the hairdo. The look will stay put all day and you can don it for a long day of shopping, traveling, or just hanging out.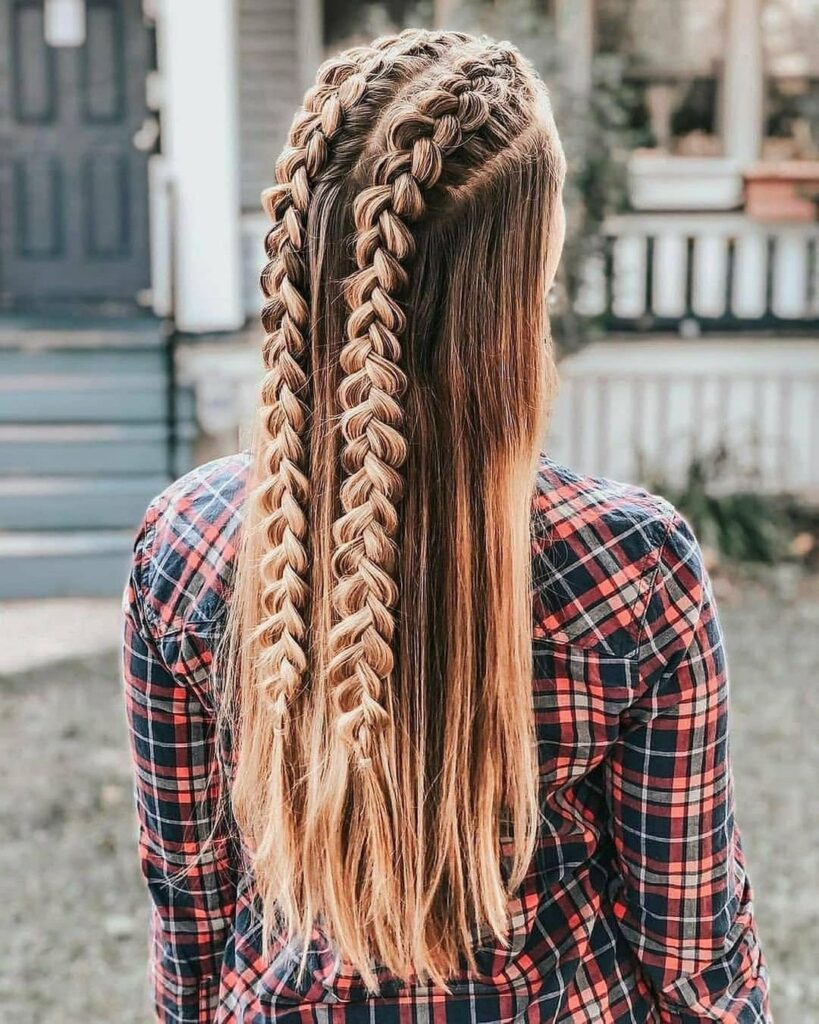 Courtesy: @hairs.diy
#15 This 'do is super romantic and fun, making the style perfect for going to the gym, meeting some friends, or just casually strolling out of the house wanting to look cute. To create part your hair down the middle, and start creating crown braid by adding sections of hair as you go! Add volume by tugging the twists and adding some spray. If your hair isn't naturally wavy, curl some loose waves into the loose lengths of the ponytail to finish.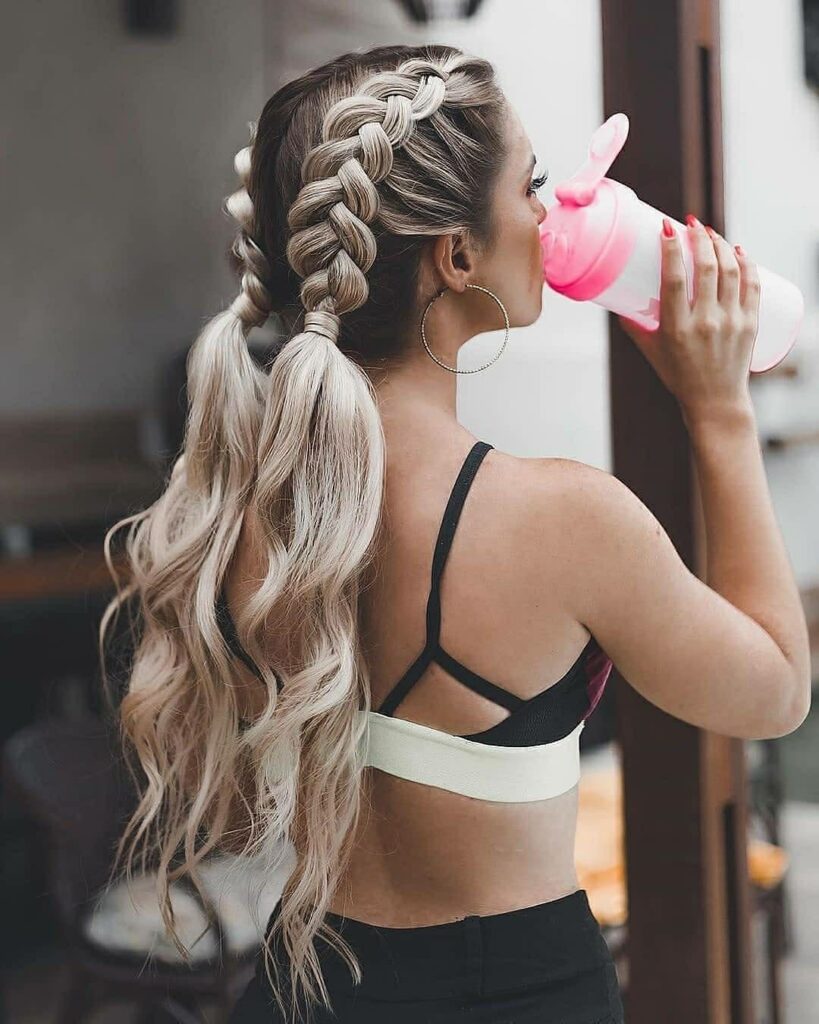 Courtesy: Naiara Sales
#16 This Pinterest-worthy hairstyle is such an easy one to create and will look good for a formal gathering or a club party. Begin by injecting tonnes of volume into the hair. You can do that without teasing the roots by referring to the video embedded below. Next take a section from the right side of the hair, twist, and fix it on the far left. Do it on the opposite side so this section overtakes the first one. Repeat another cycle for a finished look!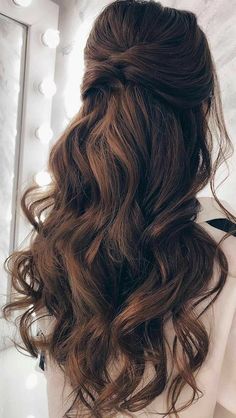 Courtesy: Pinterest
#17 Another one of the simple hairstyles for girls requires nothing but two textured braids from either side of the forehead to come and join horizontally. We love how the waves align with the pretty of the braids and come together to give to cohesive, completed look.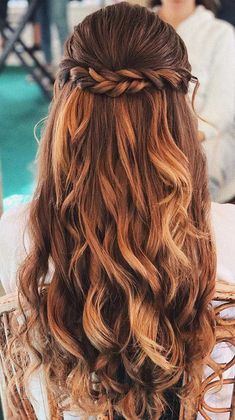 Courtesy: Pinterest
Beautiful Hairstyles For Girls 2022
#18 There's so much beauty in this elaborate hairstyle. To create, leave about three inches of hair section on the forehead and part it on the side. Stuff the crown of the forehead with puff for added volume and back comb them so they are properly fixed. Next, wave the loose ends and tie the flicks on the nape of the neck. Add the accessory as a cherry on the top for the head-turning hairstyle.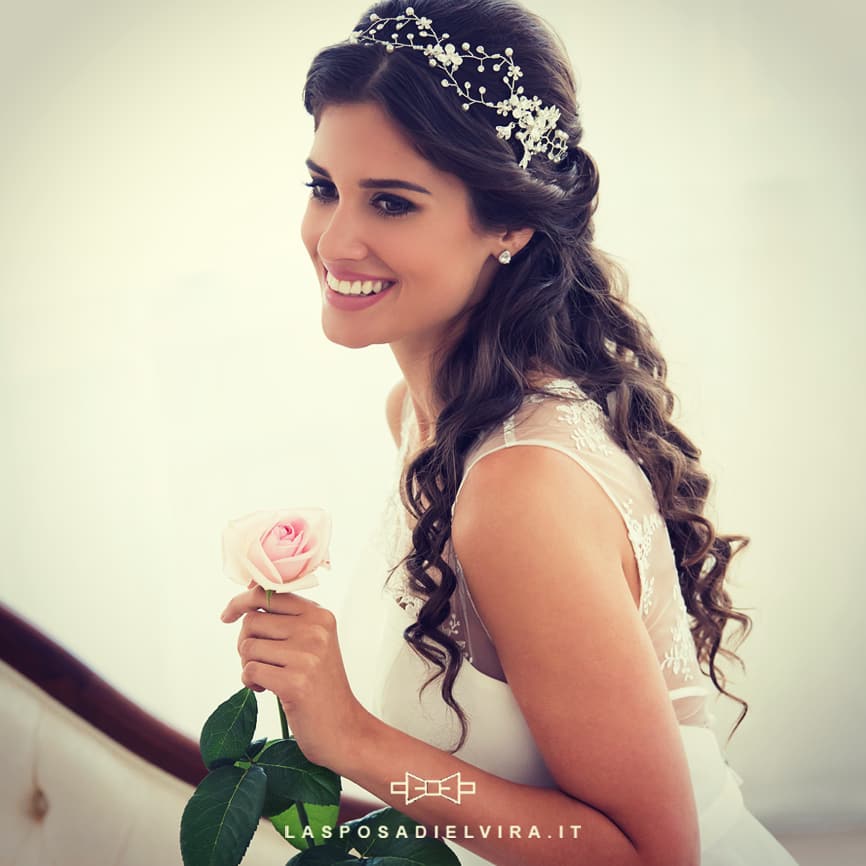 Courtesy: @lasposadielvira
#19 On your wedding day, there are scores of beautiful hairstyles available to draw inspiration from, but nothing beats the charm & poise of a chignon. The braided chignon graced with white florals creates a classic hairdo for her opulent nuptials.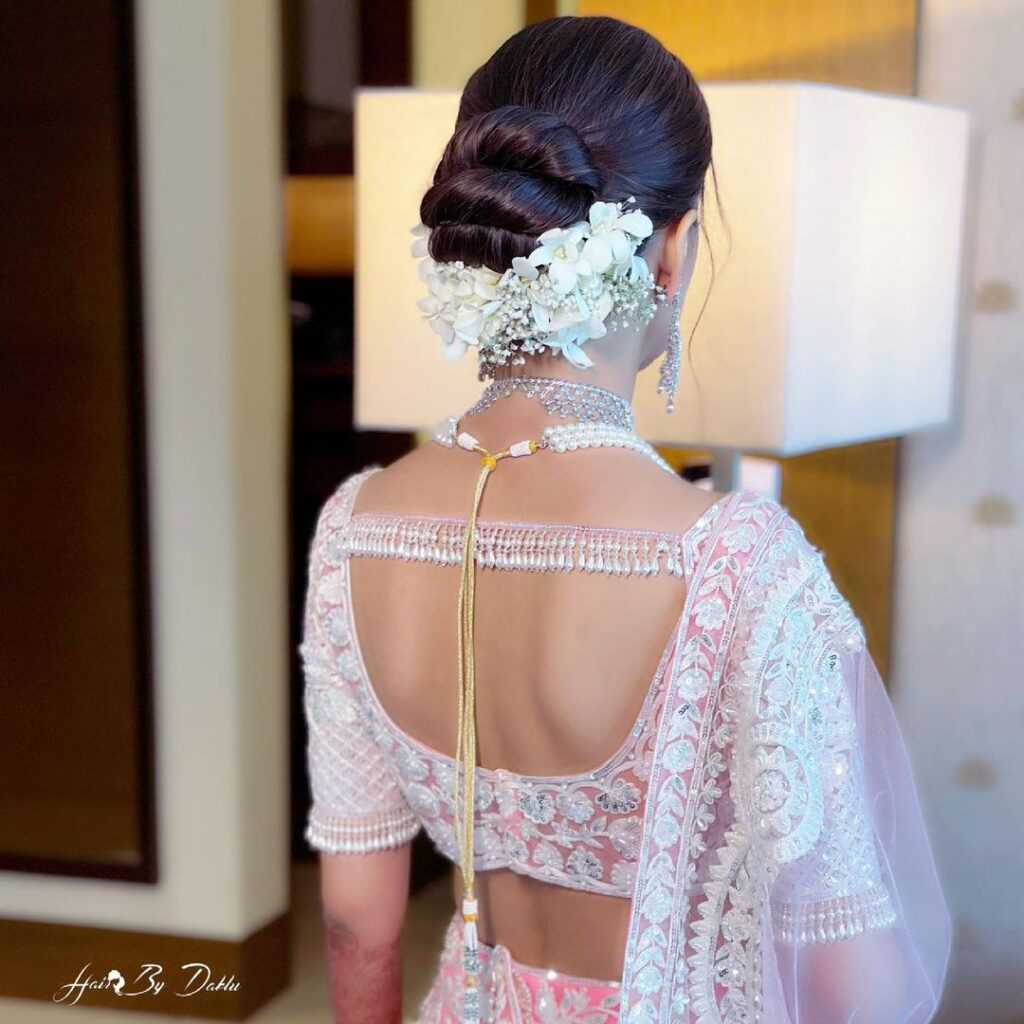 Courtesy: Meera Sakhrani
#20 A voluminous ponytail adorned with dainty pearls creates for such a beautiful hairstyle to wear as a bride, bridesmaids, or a special night out. Ponytails add femininity to your look and brings attention to your face with a fuss-free style. However, adding volume to the pony isn't everyone's cup of tea and you might need a professional for the same. An expert touch will make your ponytail updo a memorable one!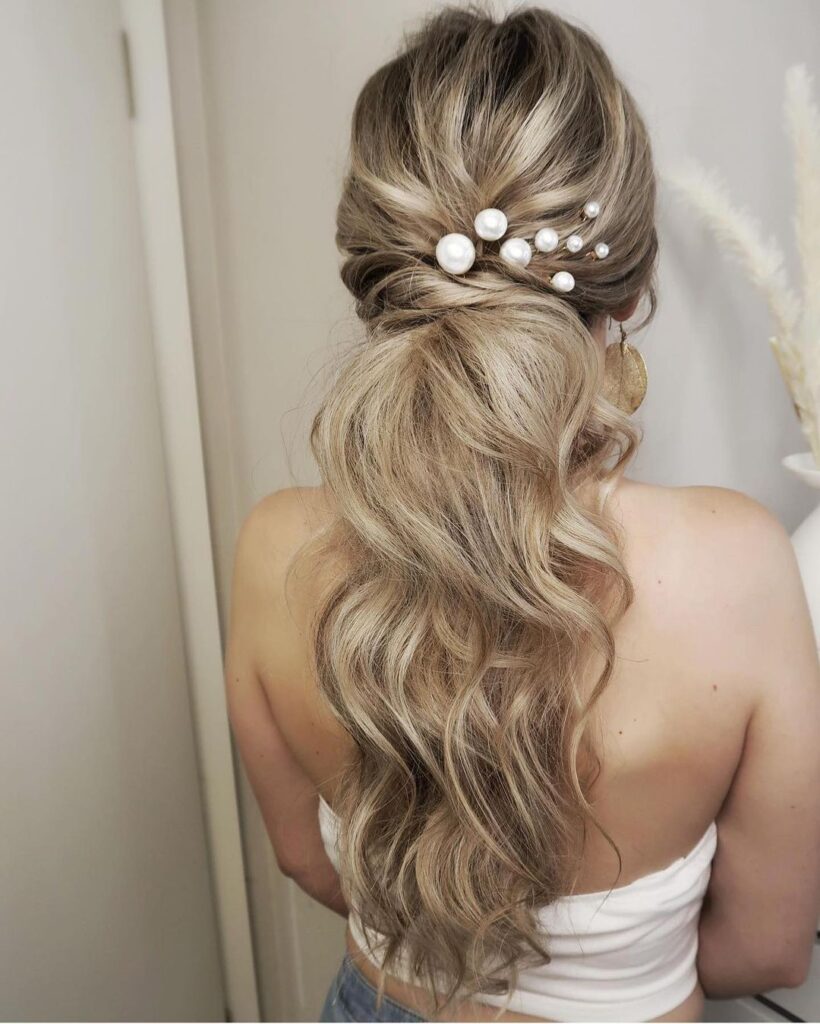 Courtesy: Conny Braut Styling
#21 Have you got a work party to attend? Or perhaps, a formal dinner? The bread & butter of a superb look lies in your hairstyle and we've fished a perfect one for your outing. This sleek ponytail with a braid on the crown looks whimsical and adds an unexpected feminine touch.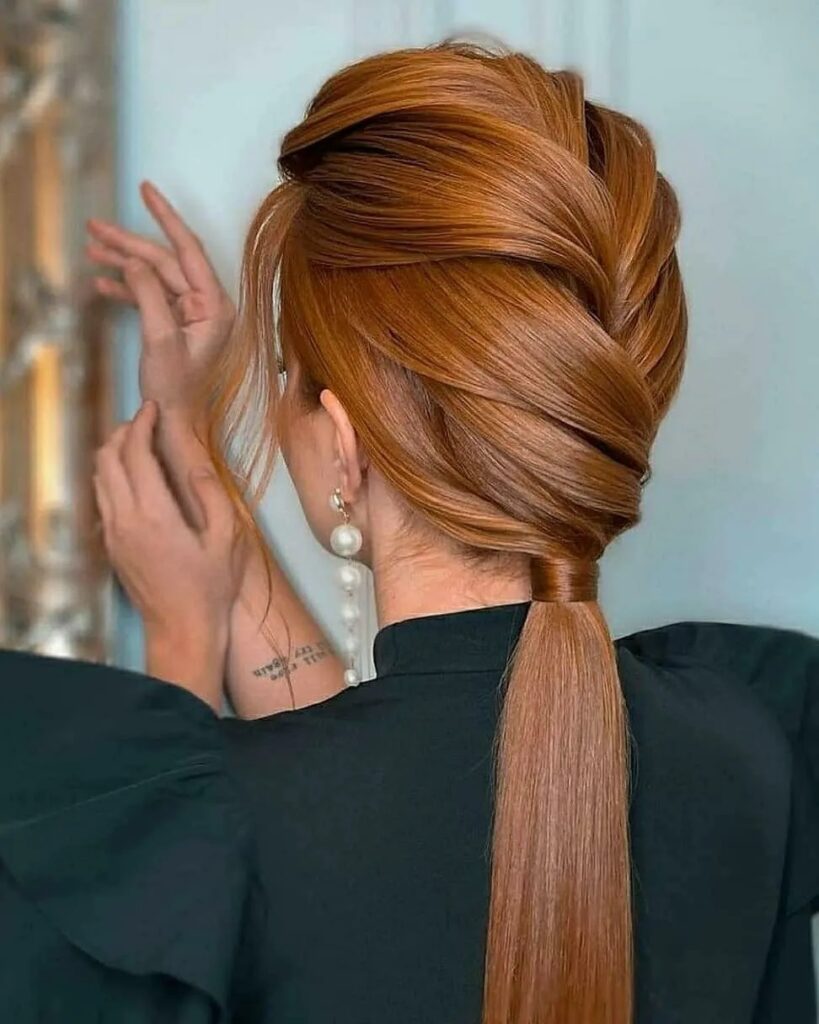 Courtesy: @ojoaquim
#22 This braided chignon adds unmatched sophistication to your look. It's perfect for that day when you have to go out and have no time to wash your hair and dry shampoo becomes your bestie. You can totally DIY it, but just remember to add the puff on the crown and backcomb the hair for a neat texture.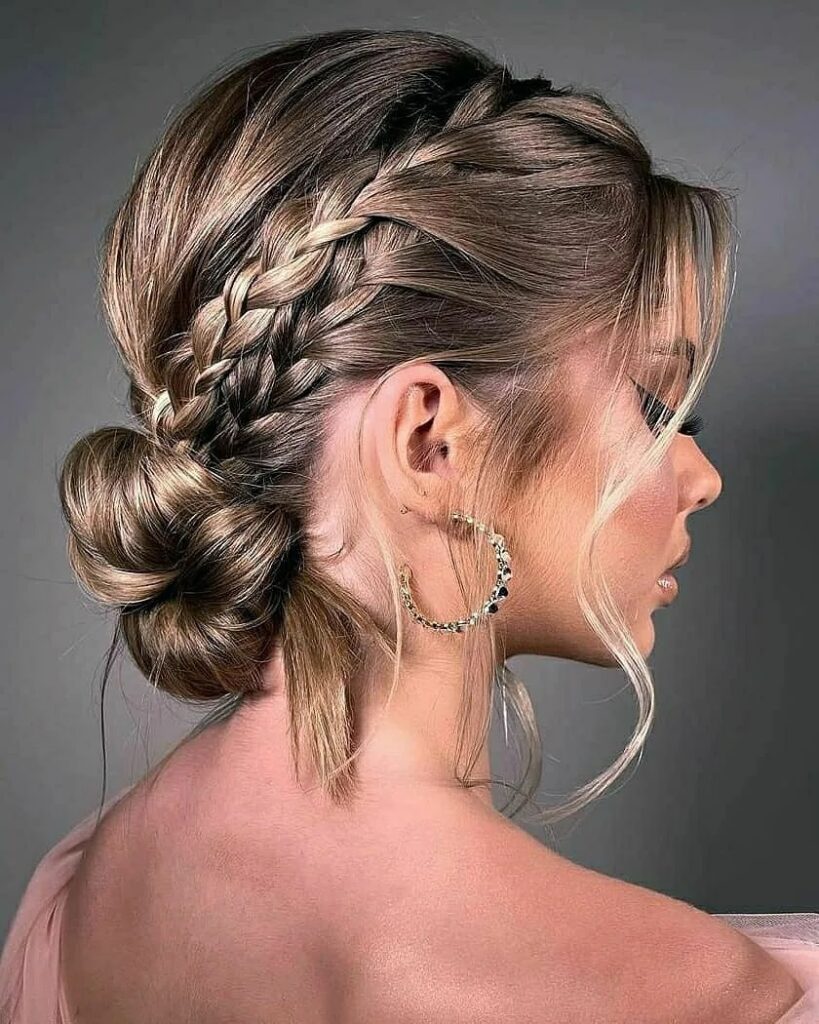 Courtesy: @ojoaquim
#23 This is one of the most beautiful hairstyles for girls and our absolute favorite. It can serve the style inspiration for any of your events – from weddings, informal parties, or a special day like birthday or anniversary. But, you'd definitely need a professional to do this hairdo for you. Even though it looks easy, strategically creating and twisting braids requires an expert touch. An amateur can ruin the grace & allure of this look.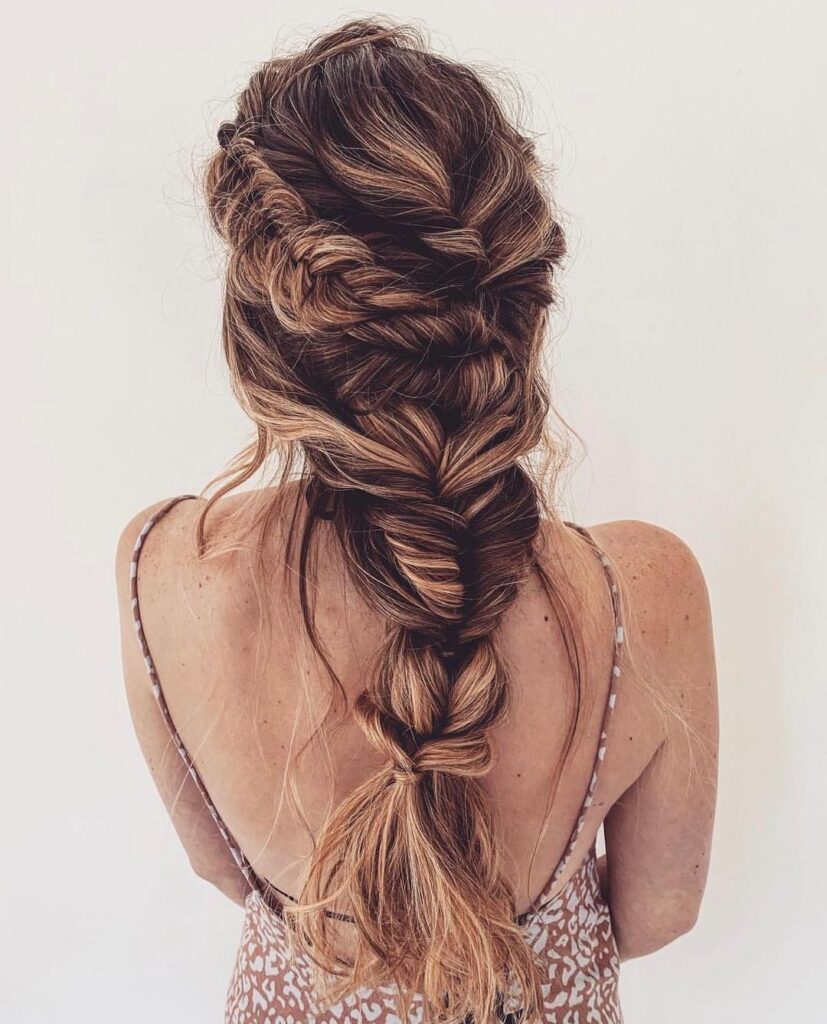 Courtesy: Liz Boho Bridal Hair Stylist
#24 Another gorgeous hairstyle for women to wear on their wedding day or a special event. The twisted, voluminous braids are adorned with beautiful baby's breath flowers to bring out the romantic in you! The texture breaks the linear look of the face and makes for an eye-catching hairdo.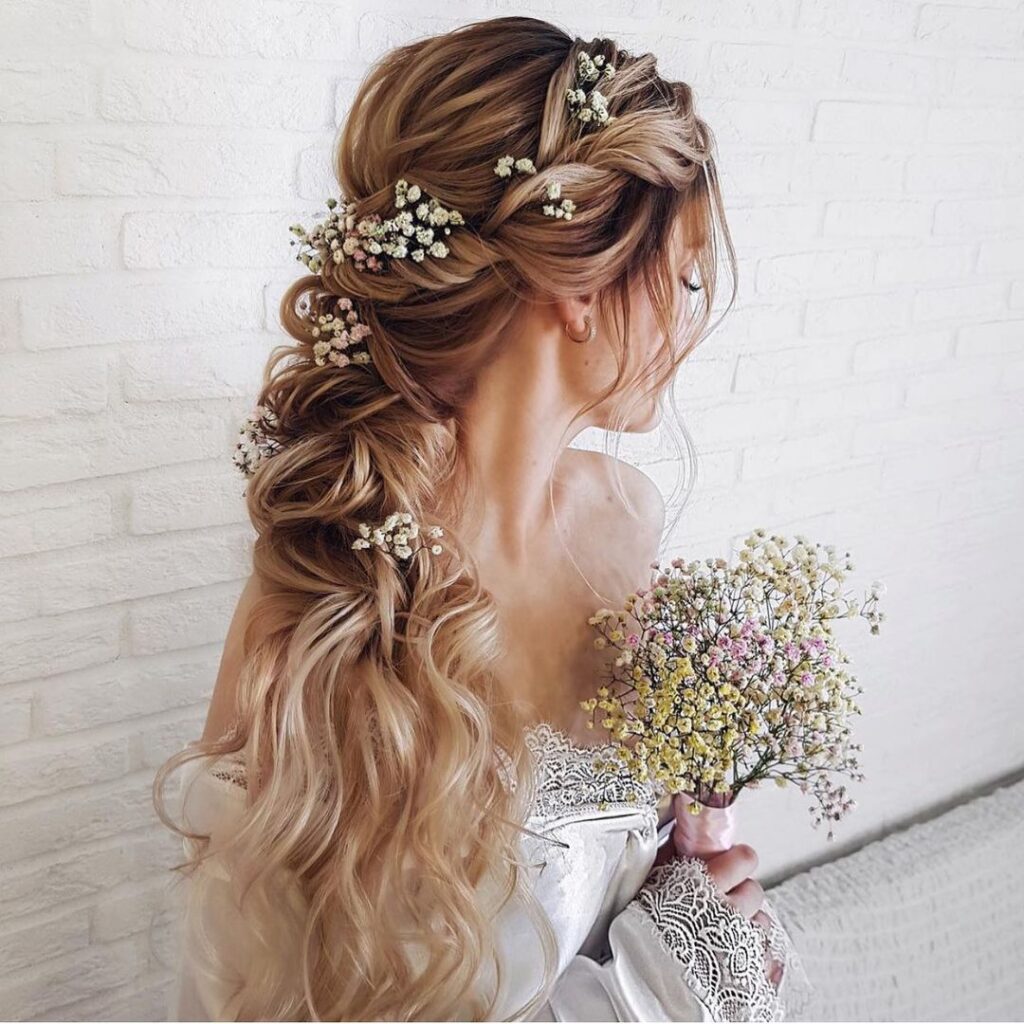 Courtesy: @ekaterina_martsikh_
#25 We are as stunned as you! Embellished with just pearls and a headband, this gorgeous hairstyle is a subtle balance between a ponytail hairdo and a half-up, half-down style. Again, this is best done by an expert, but if you have a friend who's quite confident with hair styling, then you can surely give it a go!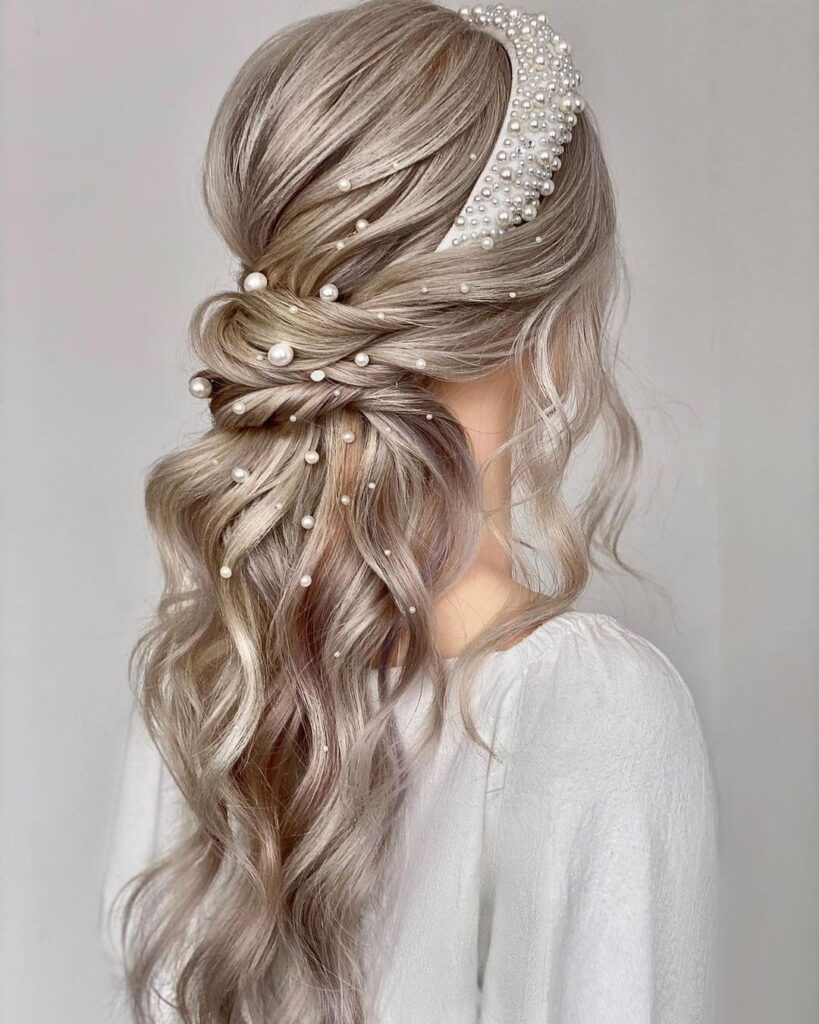 Courtesy: Kasia Fortuna
#26 Move away from chignons, this high bun is proof that this vintage Hollywood trend can make heads turn at the party and draw everyone's attention to you! We're absolutely living for those fresh blooms to enhance her bun hairstyle and the wavy flicks to add the finishing flirty touch.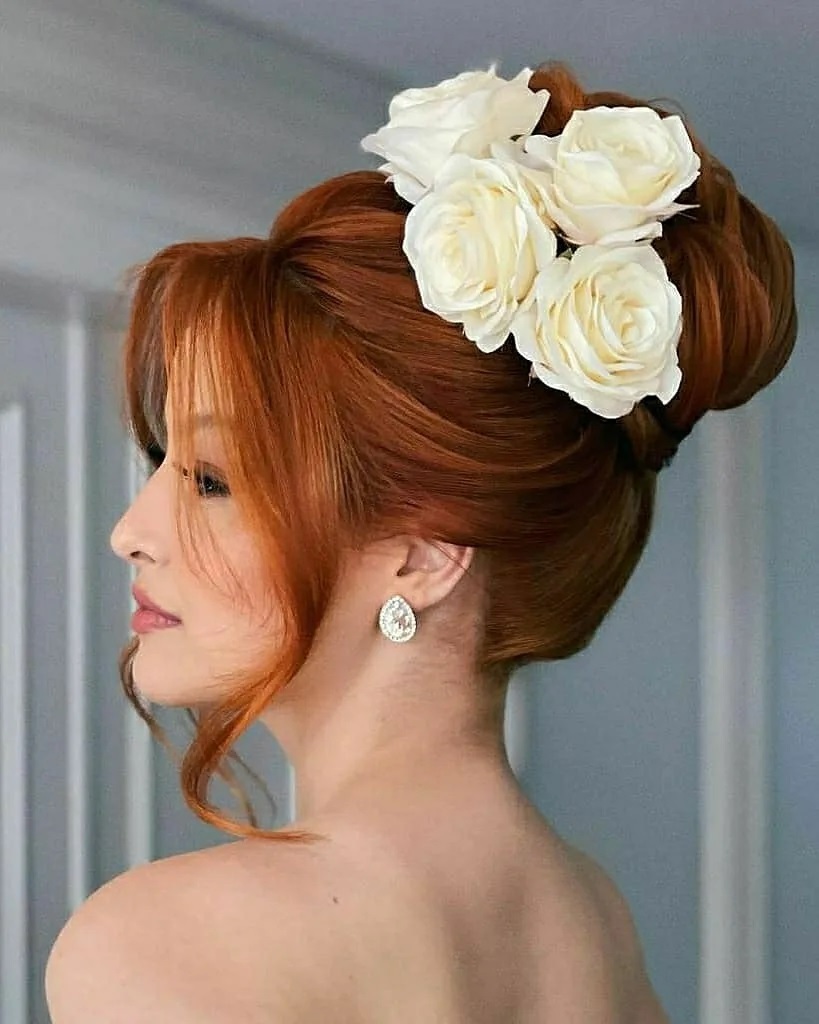 Courtesy: @ojoaquim
#27 A ponytail hairstyle looks easy but is definitely one of the most difficult to set and enhance without the hands of a professional. Creating a voluminous ponytail requires the stylist to first add waves to your hair, then add texture with sprays, followed by working on the crown to add volume and fasten the ponytail with great precision. So, the hairstyle will take time, but of course, the end result will be utterly gorgeous and make you & others obsess with the hairstyle.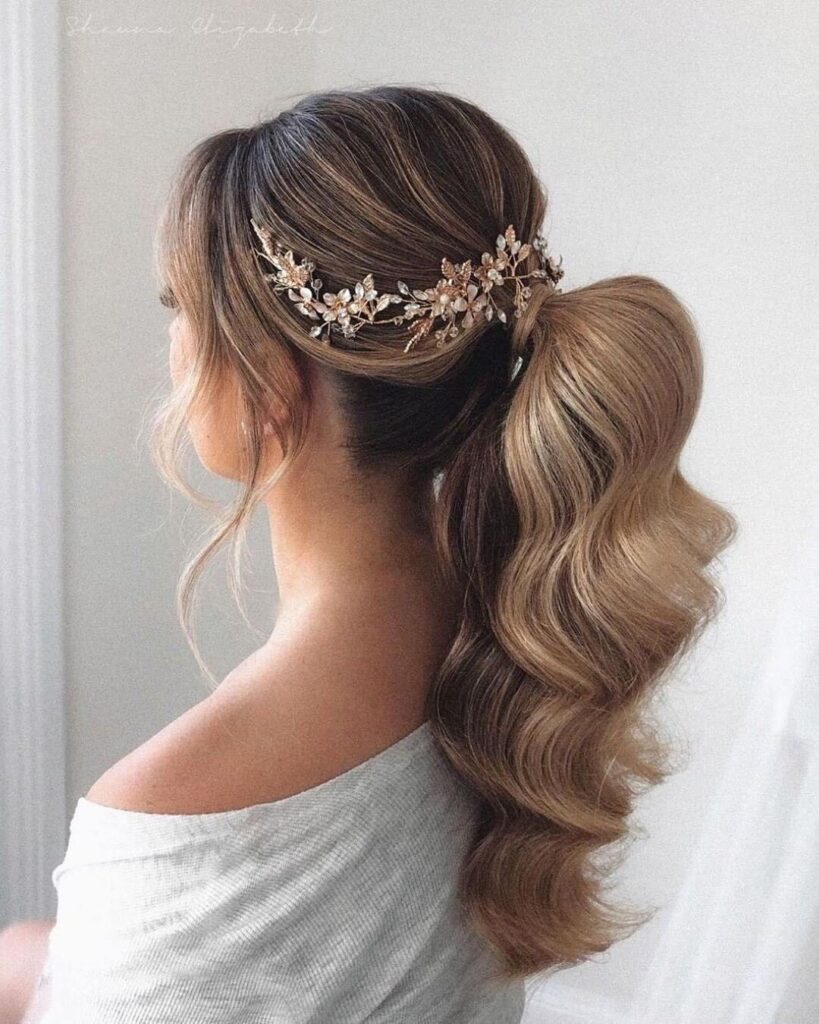 Courtesy: Shauna Elizabeth
Hairstyles For Girls Short Hair
#28 Let no one fool you by saying there are limited options of hairstyles for short hair.  Even if you have short hair, you can revel in many styles like chignon, braids, half-up half-down, and all other kinds of beautiful 'dos you see on the Internet. Plus, any hairstyle will take much lesser time for you to complete. Take, for example, this braided chignon bun that doesn't require much twisting that your hands start to pain, and yet, the result is ravishing!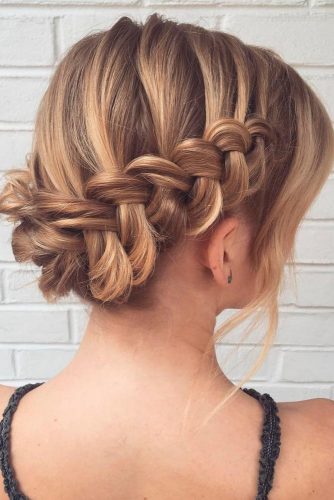 Courtesy: Pinterest
#29 For the wedding day and beyond, you can trust this romantic twisted hairdo to add prettiness to your ensemble. Elevate with the fuss-free baby's breath flowers for further whimsy elements in your hair. Secure the twisted section of your hair well because they tend to loosen up with time. Add tonnes of spray and texture and you're good to go!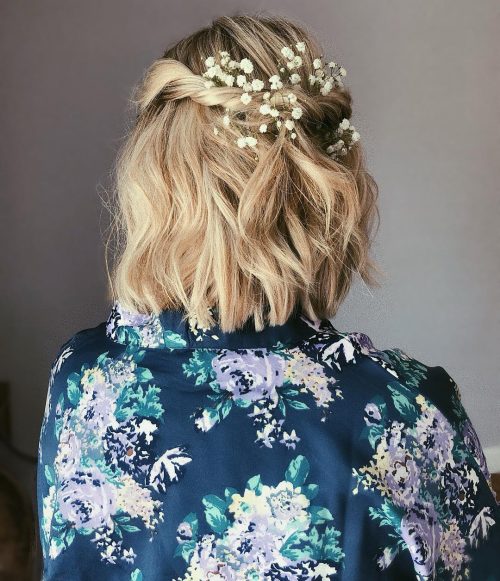 Courtesy: Kristin Brett
#30 Half-tied is the best & simple hairstyles for girls with short hair. Here, you can find twisted sections of hair tied together on the crown and formed into a little bow in the end. Two strands of customary braided hair elevate the entire style and look ultra-feminine.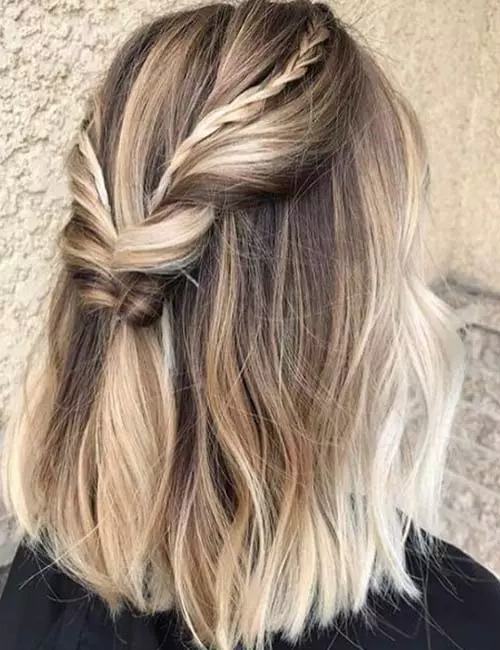 Courtesy: Pinterest
#31 A small ponytail looks endearing, to say the least! Add further allure to your short hair ponytail by adding a puffy braid on the crown of the head and letting some flicks out for a delicate touch. Some of the tendrils are further attached to the ponytail for a distinctive touch.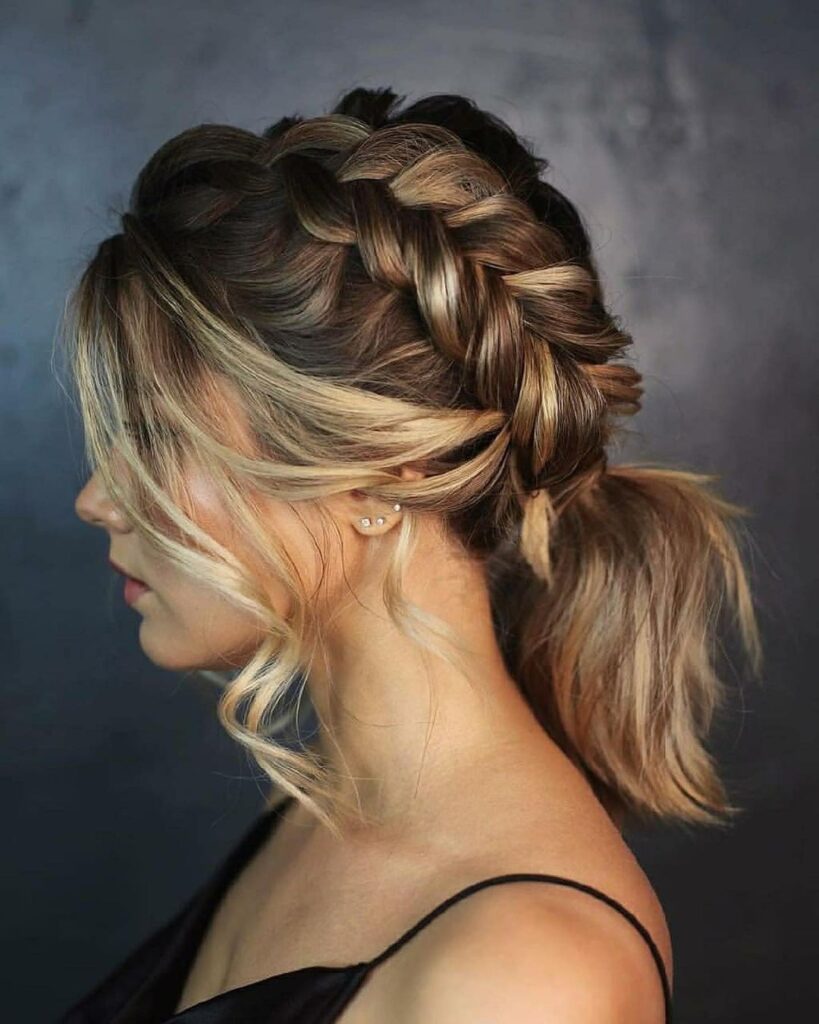 Courtesy: @kiramaslik
#32 Have you seen an elegant style with such modernistic touch before? We sure haven't! Even though it looks easy to re-create, the utter tidy flicks and twists in braids require expert guidance. The chignon bun below creates a beautiful hairstyle for girls with short hair to carry for a formal event, night party, or just a date night with their other half.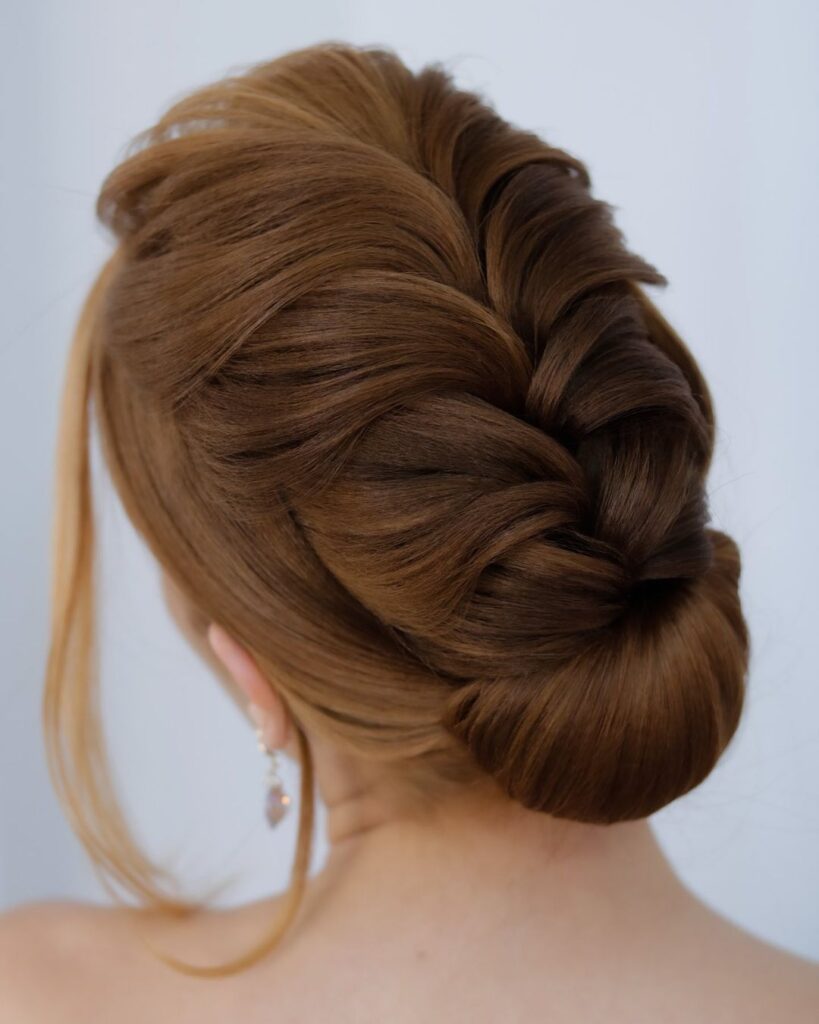 Courtesy: @paulozzani
#33 A beautiful version of the above chignon bun hairstyle is this one with a few thin strands in braids and a statement accessory on the sides to amplify the gorgeousness of the complete style. Attaching some of the romantic flicks to the bun is a foolproof way to add a distinctive style to your hairdo.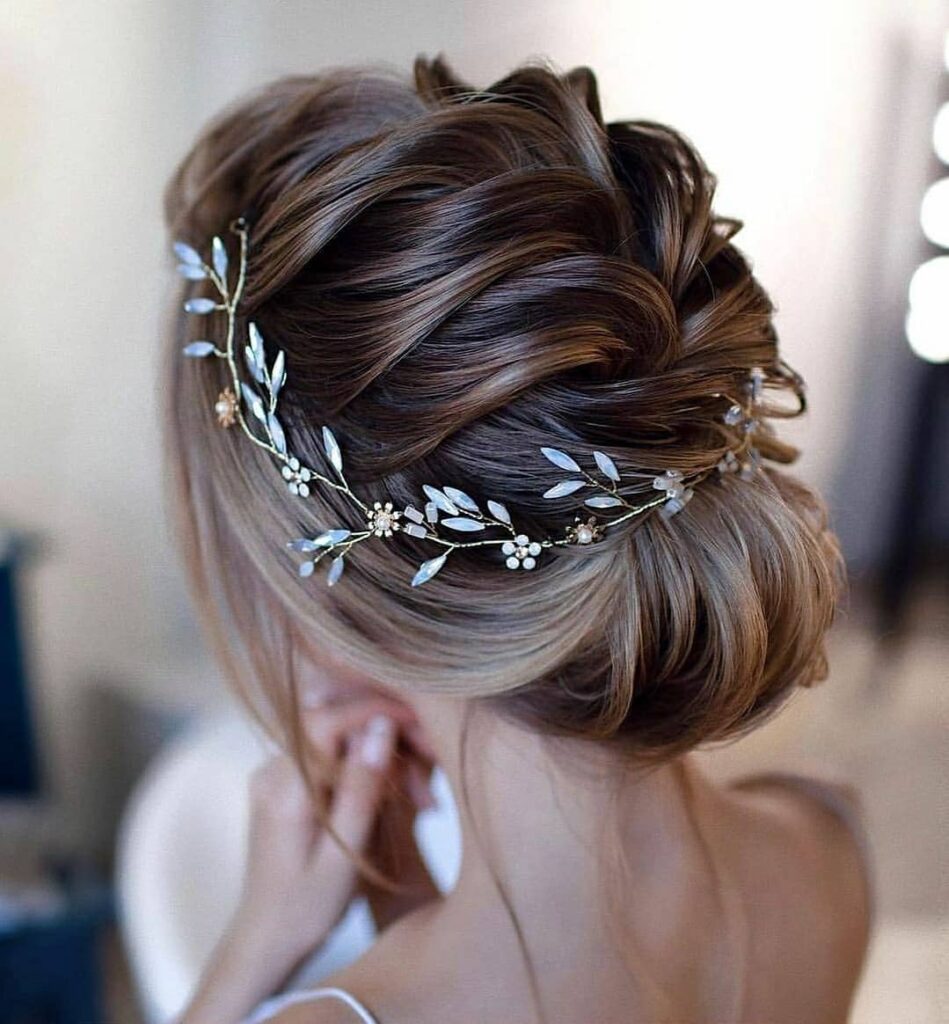 Courtesy: @tonyastylist
#34 Clearly, chignons will never go out of style. They're classic, chic, and so simple to do. If you have short hair, this is really the easiest way to throw your hair into a feminine 'do without much fuss. Start by adding texture to your hair. Blow-dry, create beachy waves and spray some texturizing spray. Add a puff on the crown to create an illusion of volume. For the rest of the strands, you can either braid them and tie together or just simply suffix them with some pins.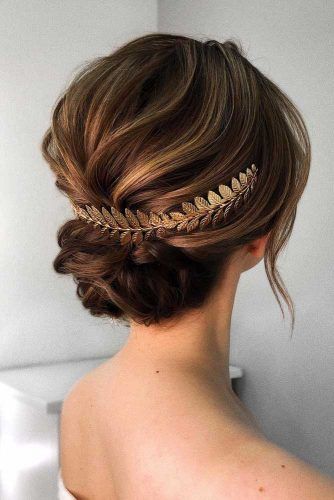 Courtesy: Pinterest
#35 For all our short-hair beauties looking for a 5-minute DIY hairstyle to run through their morning routine, here's a twisted bun style idea for you! Before starting, we'd recommend curling the hair and adding a setting spray as the twisted hair tend to loosen up over time. Once you reach the end, just secure the rest of the hair with a bobby pin. If you've got a wedding to attend, add some baby's breath flowers or a pearl accessory for the extra allure.  
Courtesy: momtastic.com
#36 Yet another quick & easy hairstyle for girls with short hair. For this one, all you need to do is add two braids on the sides and secure them together on the mid-section of the hair. Add a statement accessory on the spot to add a whimsical charm to your overall style. 
Courtesy: Pinterest
#37 A quick, everyday bun hairstyle for short hair doesn't get any better than this. Begin with freshly blow-dried hair or add some sea salt spray to make loose, beachy waves. Leave two sections of hair on either side and tie the rest in the normal round bun. Now, make braids of the sections and attach them over one another. You have yourself an ideal hairdo for a feminine, chic look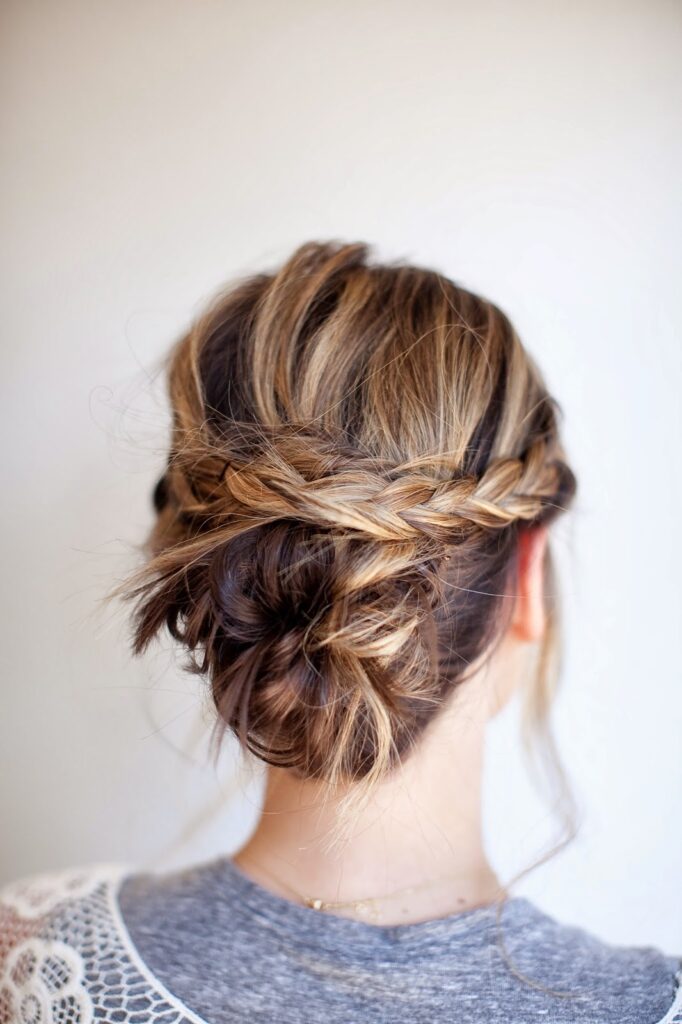 Courtesy: Tessa Rayne
#38 This might be the most low-maintenance hairstyle on here! A puffy braid starting from the side-parting of the hair and ending at the ear takes as little as 5 minutes and doesn't require tonnes of hair spray or base preparation to create. You can wear it to a Sunday brunch or a wedding or a day out with your girl gang.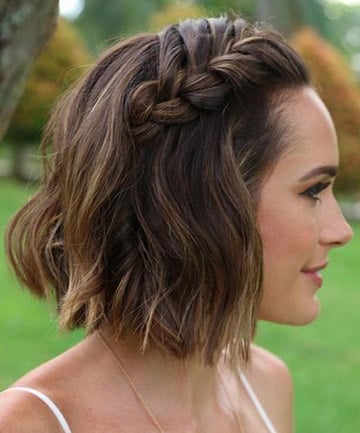 Courtesy: Pinterest
#39 A waterfall braid is one of the prettiest hairstyles out there and you can't go wrong with its allure at any point in time! It looks complicated, but honestly, all braids are just some simple, basic steps blended to curate a whimsical hairstyle. If you aren't confident though, rely on an expert or a friend who's swift at hairdos to do this for you. A waterfall braid retains the glamour only when it's neatly done.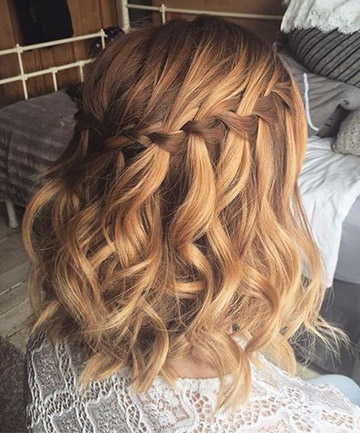 Courtesy: Pinterest
#40 There was a time when Anne Hathaway had short hair and her go-to style at the time was a voluminous blow-out with a side part. You know you can't go wrong with a hairstyle when you take inspiration from someone whose personal style has always been about femininity, class, and poise. So for hairstyle for girls with short hair, surely a wavy polished look serves quite well.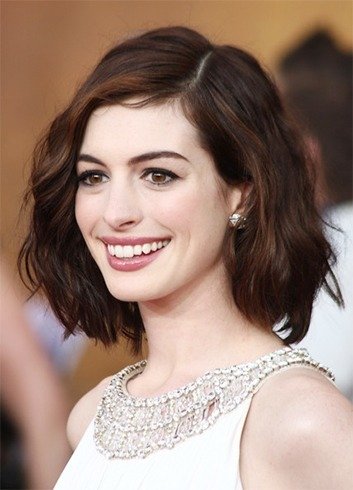 Courtesy: Anne Hathaway
#41 When you're a bride with short hair, it can seem like to go against the convention of women dolling up on their big day with long hair. But, turns out, even short hair can add bridal glam to your wedding look as well as long hair. Featured here is a bride in a half-up half-down hairstyle curated using wavy hair, voluminous braids, and the customary mogra venis.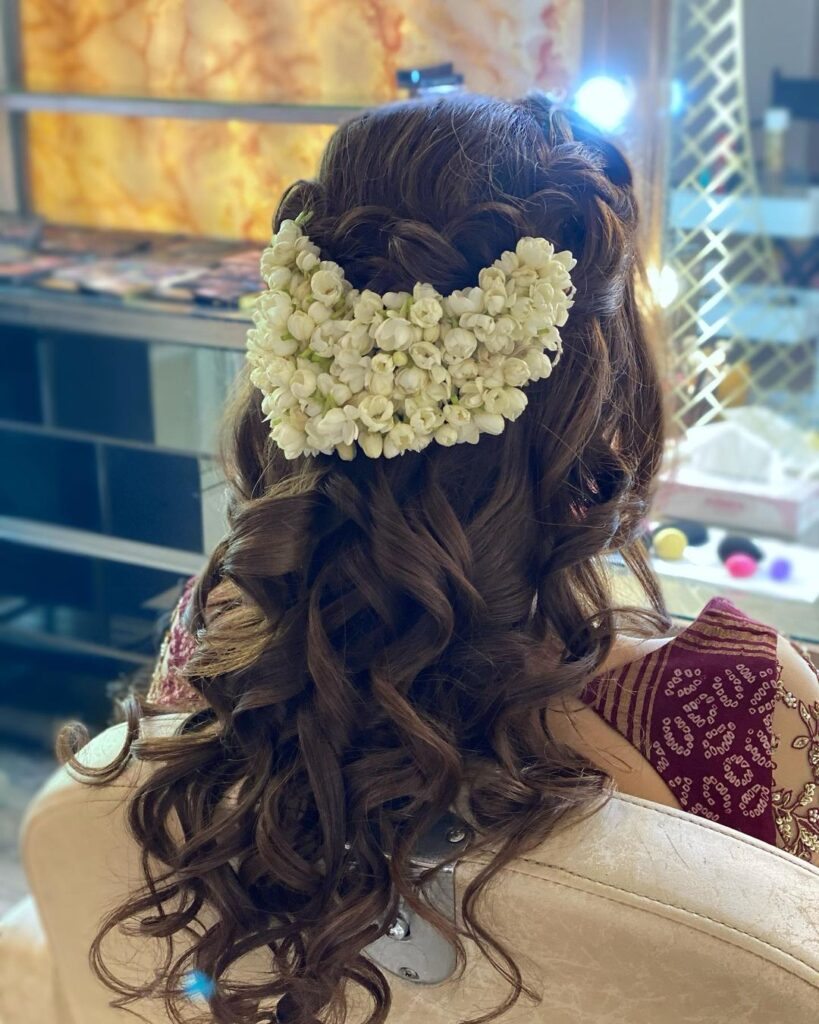 Courtesy: Pinterest
#42 To curate hairstyles for girls with bob hair, the popular half-up half-down hairdo is a popular choice, and rightfully so. To achieve the look, start by creating loose waves in your hair. Then, add a puff to the crown of your hair and backcomb the hair a bit to add the desired flow. Next, take a strand from each side of the front so that one of the loose flicks stays in front. Fasten it using bobby pins and add some baby's breath flowers for a romantic touch.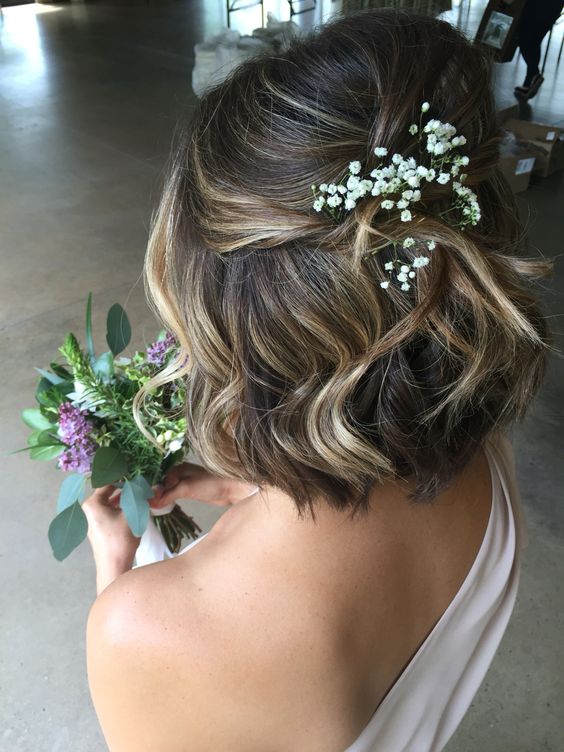 Courtesy: essensedesigns.com
#43 Bring the glamour to your usual low ponytail with a satin ribbon. To recreate the style, add a puff on the crown of the hair, tie the ponytail usual style and flip it inside out for the featured style. In the end, tie a soft ribbon complementing your dress and let some tendrils loose for an elegant and stylish look.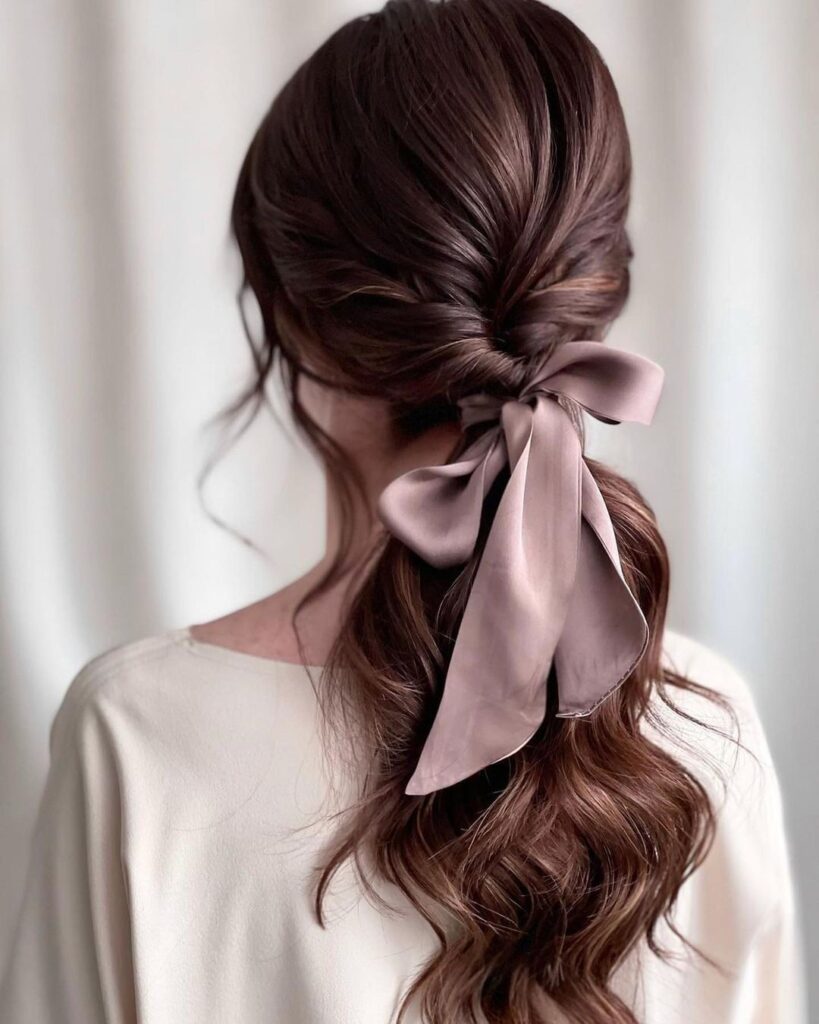 Courtesy: Kasia Fortuna
#44 Ending this section of hairstyles for girls' short hair with this classic chignon bun. The messy bun adds a disheveled charm to an otherwise soft and romantic style. Plus, the accessory encircles hairdo well for an effortlessly elegant hairdo.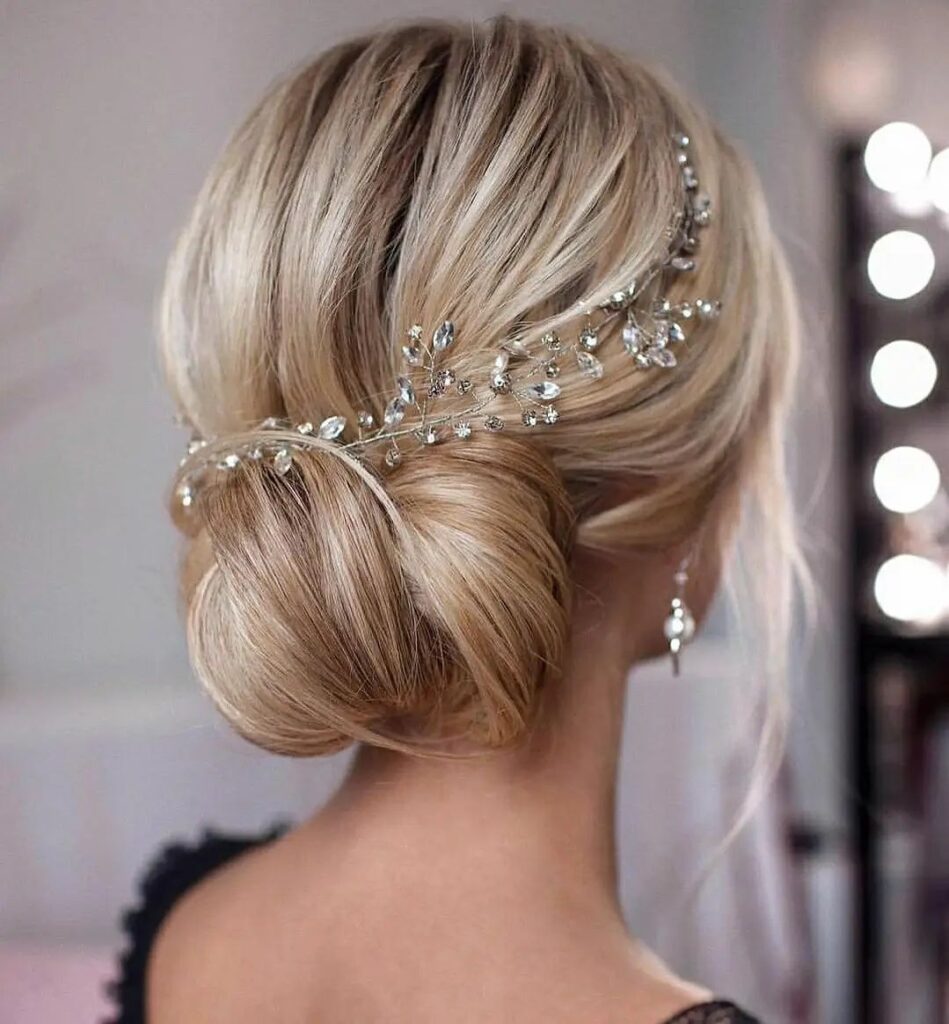 Courtesy: @tonyastylist
Hairstyles For Girls Long Hair
#45 When you're deciding on hairstyles for your wedding, you'd want to have a 'do that's as glam as your look and matches your bridal elegance. And if you have long hair, there's no better time to flaunt them than on your big day. To add further volume, extensions are always an option. This ravishing hairstyle comprises braids, sultry waves, floral buns, chain earrings, and cascading blooms. Blending all these elements requires the work of a true hair artist, and we'd also recommend you trust an expert to create a recreation of this style.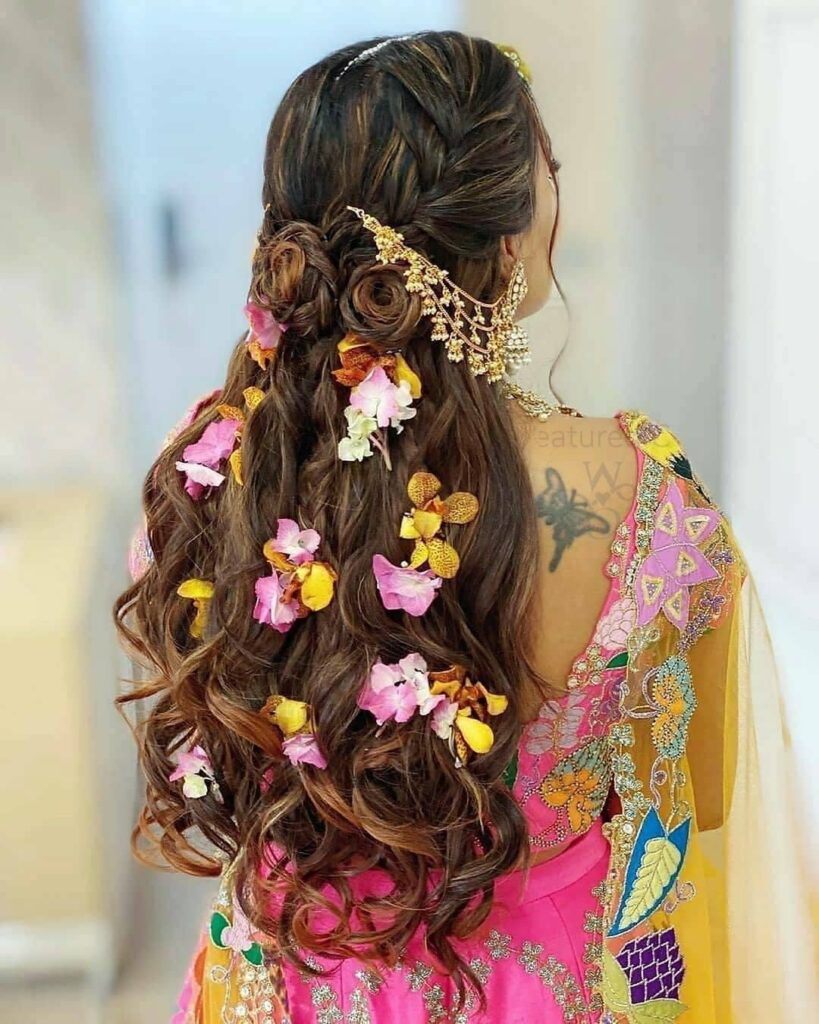 Courtesy: Orange The Salon
#46 Move away puffy ponytails, sleek ponytails are the "it" trend now. Seen oftentimes on celebrities like Kim Kardashian, Chrissy Teigen, and Selena Gomez, a pony hairstyle can make you look polished to attend a wedding, formal event, or just a regular day at work. It doesn't take much work on the tresses, just some texture and volume work on the crown though, which you can easily get done with puff and backcombing. For added glamorous, enhance the style using a hair accessory or a satin ribbon.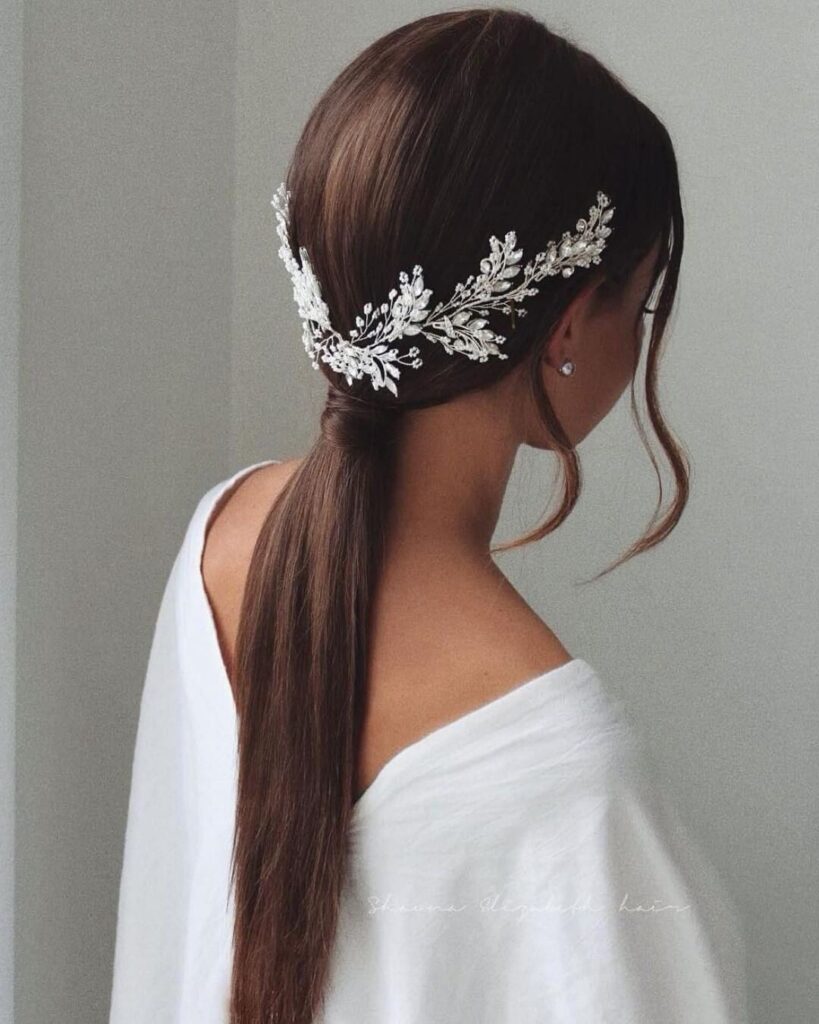 Courtesy: Shauna Elizabeth
#47 When it comes to hairstyles for girls' long hair, a bun is seldom considered an option. Mainly because you'd want to flaunt the luscious mane. But ask those lucky girls and they'd tell you it's sometimes a hassle to manage long tresses especially when kept open! For days like these, tying a voluminous bun and adorning them using fresh blooms seems like the perfect option. Take ideas from this bride on how to rock this look with elegance and ease.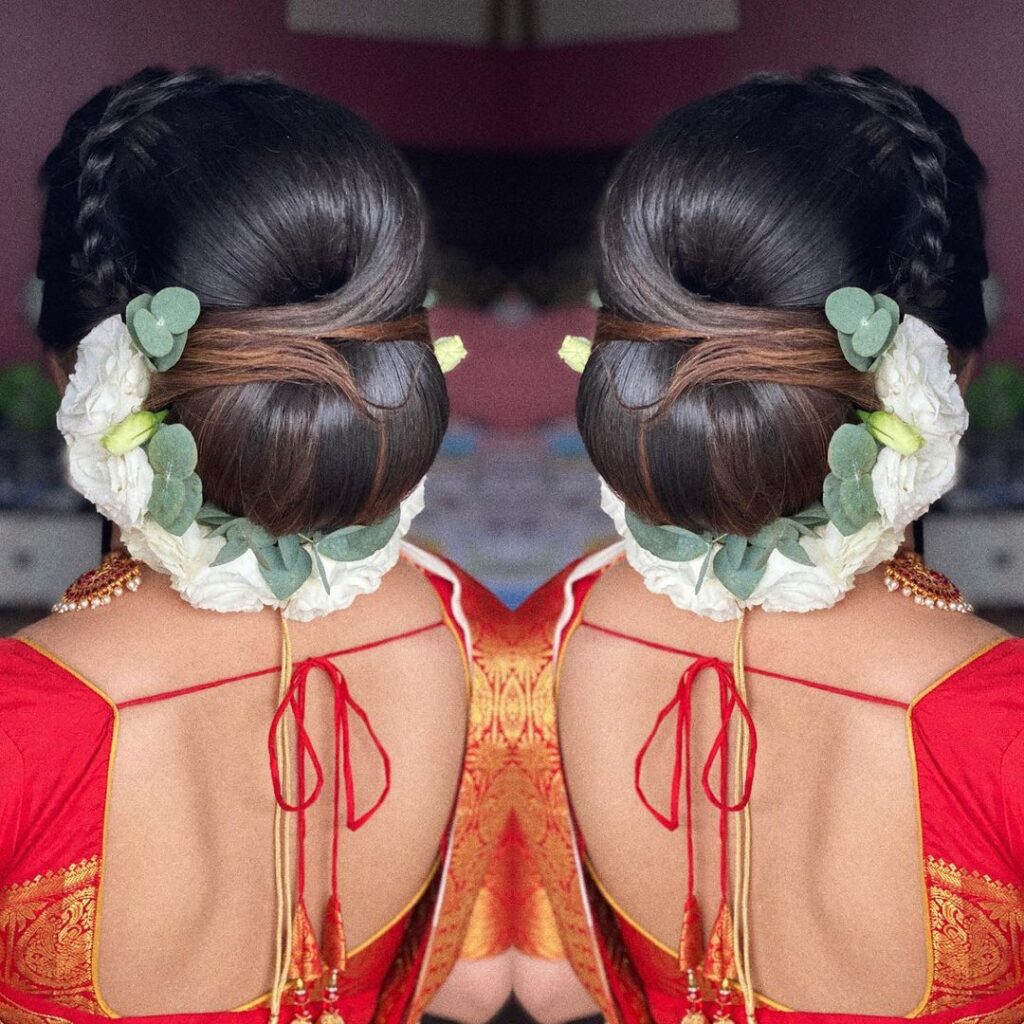 Courtesy: Khain Signature Touch
#48 The vintage Hollywood waves ponytail is the ultimate chic and romantic long hairdo to wear to your next event. The gorgeous, sultry waves are a statement in themselves and can grab eyeballs at any party, but when tied in a ponytail, they make for an ideal fuss-free style comfortable to wear for long days ahead. Pin them and let this hairdo inspire you for the next gathering coming your way. 
Courtesy: @nikolaeva_liliua
#49 If you're looking for a tiara hairstyle, here is one that looks stylish and elegant. Oftentimes, women are worried that a tiara will make them look juvenile, but with a proper hairdo, they can channel their inner princess in the most adult way possible. To make this hairstyle, prep the hair by blow-drying and making soft waves in the hair length. Part your hair on the front and fix the tiara about two inches away. Then, braid two small sections from the front, leaving some tendrils for added romantic element, and tie them at the back! And you're done.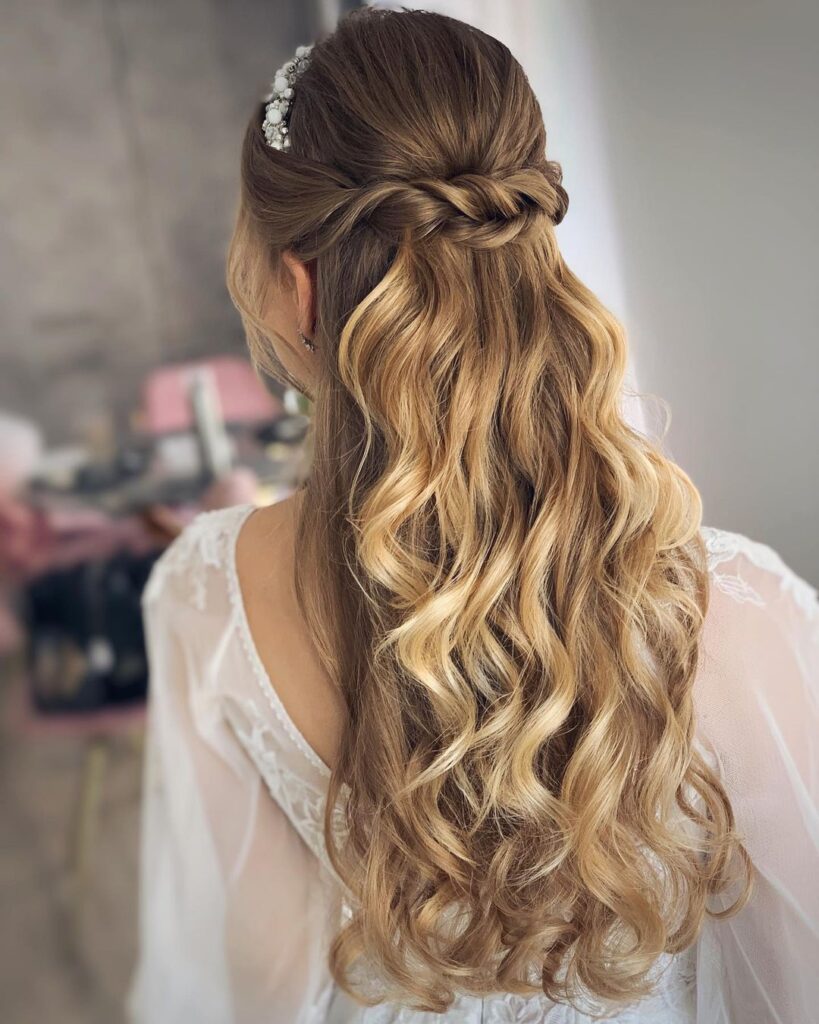 Courtesy: Olga || Hampshire Wedding Hair
#50 We can't help but envy this bride's ample plait. As the main girl, you've got to pick a hairdo that makes heads turn on your wedding, and this voluminous braid will surely do that! We suggest trusting a hair expert to curate this hairstyle because such neat sections are a work of a professional only. Bedeck the 'do with baby's breath or any other blooms available to complement your attire.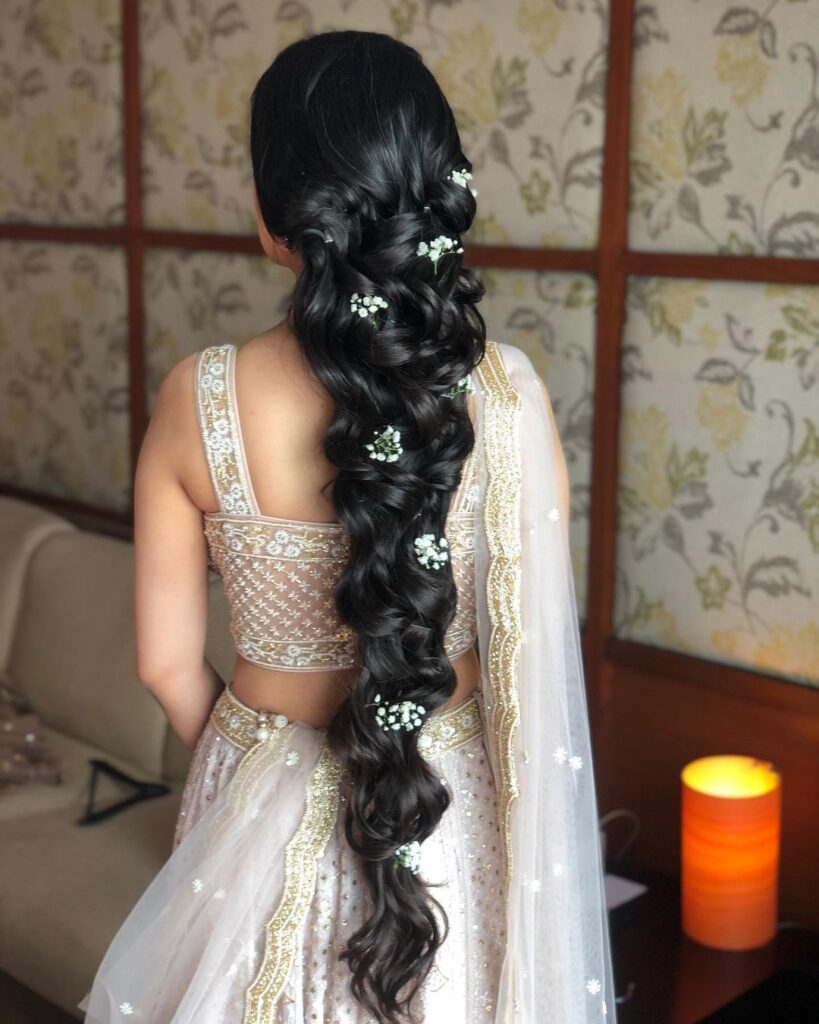 Courtesy: Pinterest
#51 A boho-chic wedding calls for a hairstyle that aligns with the entire wedding vision. How about this half-up half-down hairdo adorned with theme-appropriate florets for your special day? Mesmerizing, simple, chic, and elegant – qualities brides are aiming for in their wedding hairstyle.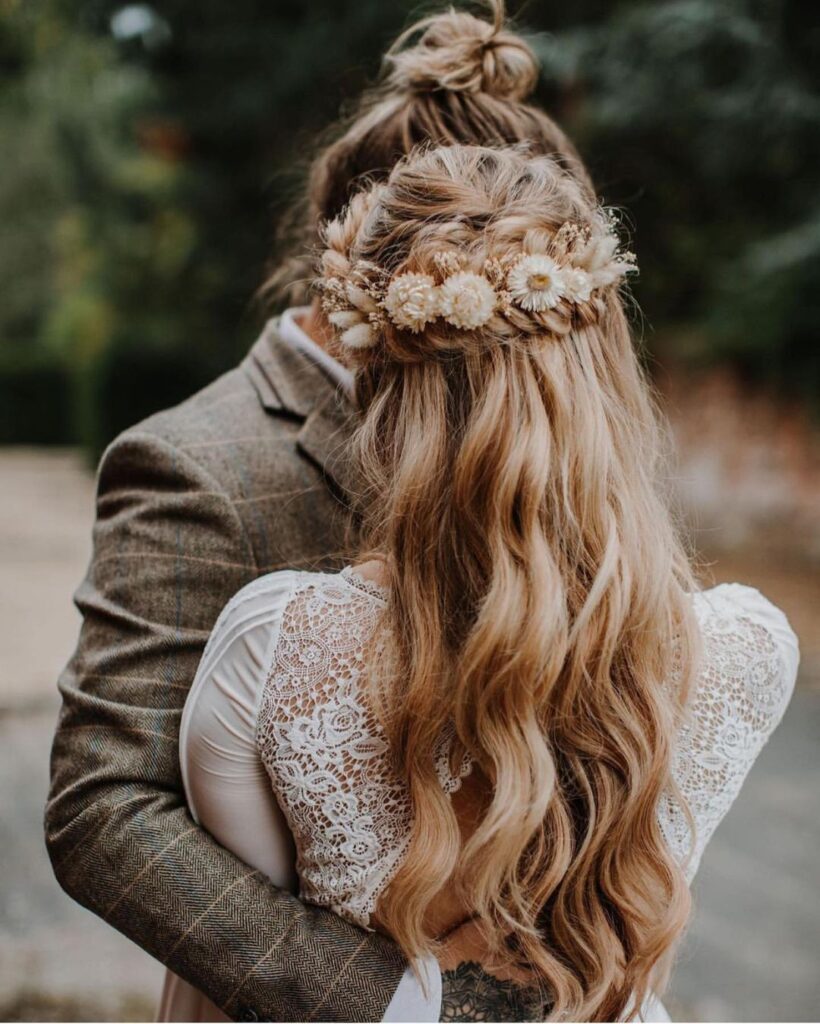 Courtesy: Liz Boho Bridal Hair Stylist
#52 For hairstyles for girls' long hair, or any other length/ preference for that matter, sometimes a statement-worthy look only requires a statement-worthy accessory. To curate, this ravishing 'do, work well on the tight curls. Then, take the top section of the hair to the ear region and tie them well using bobby pins. Add the accessory in the end and suffix it well so it doesn't loosen up amidst all the dancing of a wedding.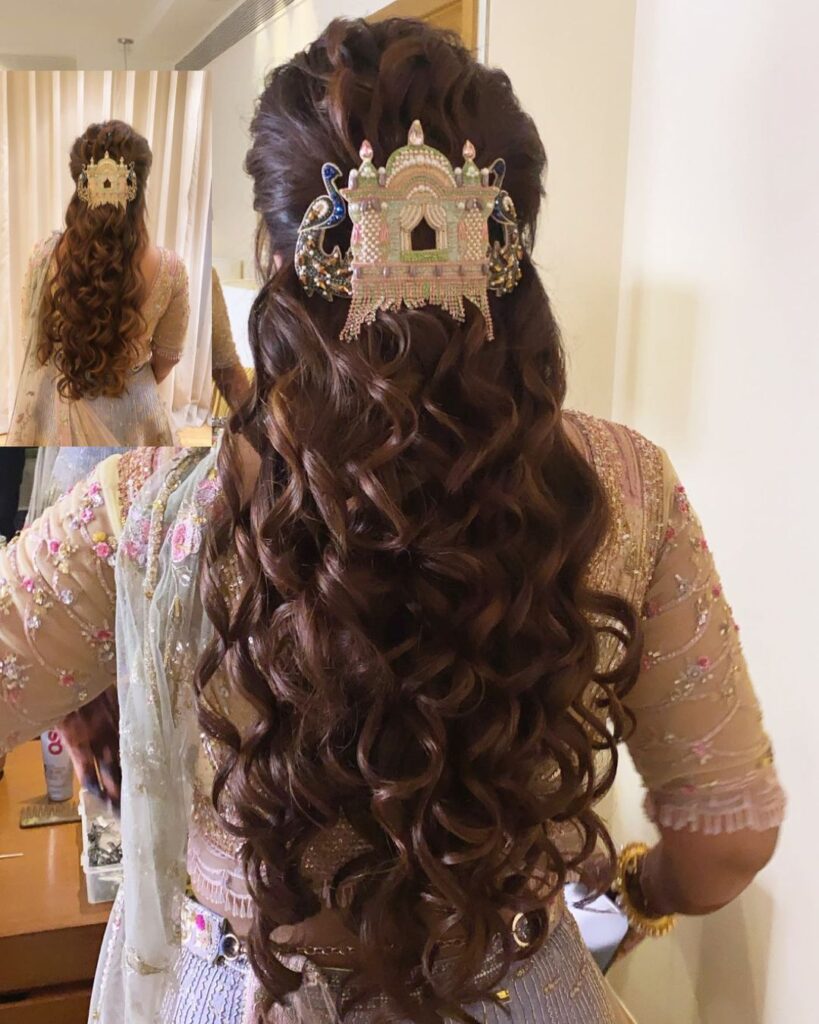 Courtesy: Amit Bhardwaj
#53 A voluminous updo is an easy game when it's about hairstyles for girls' long hair. You don't need any extra extensions, just a professional who knows how to wrap the hair around a bun with an alluring effect. Throw in some accessories to add instant glam to this classic hairdo.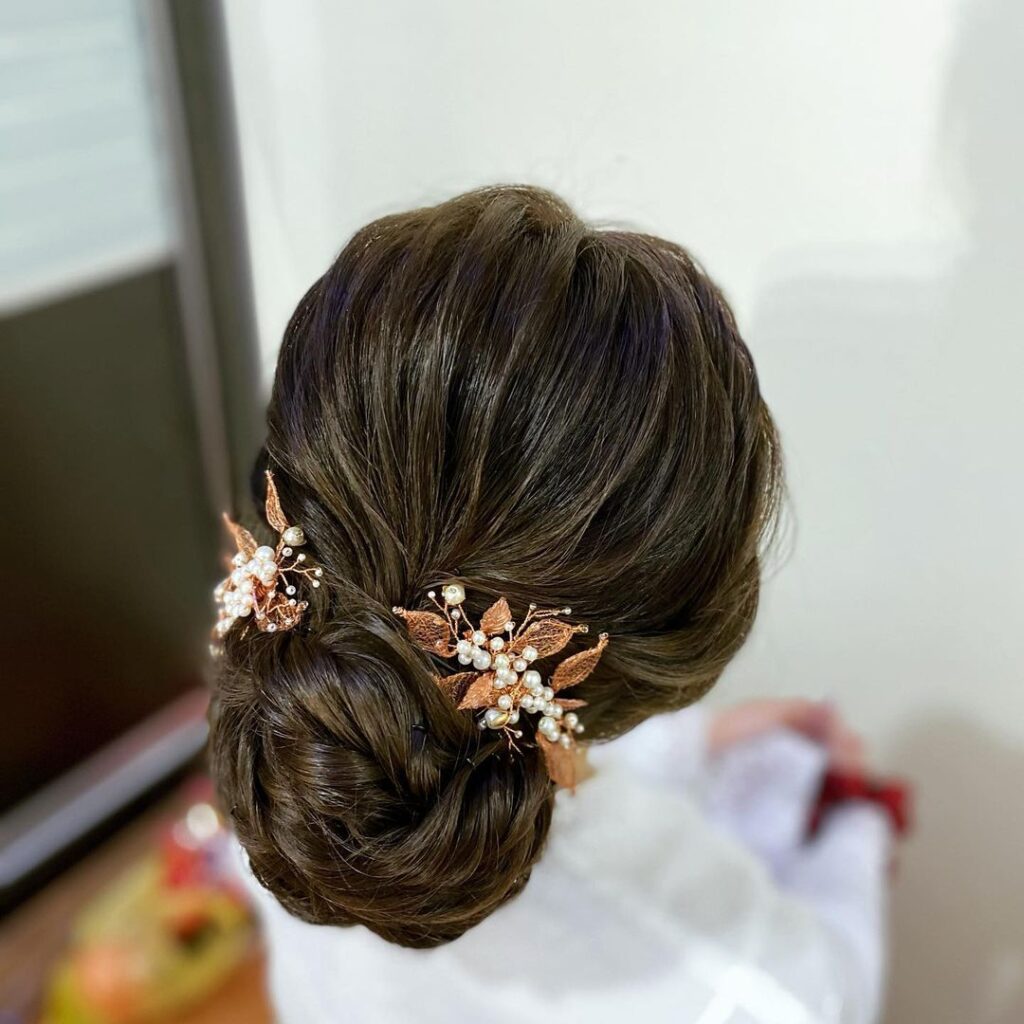 Courtesy: @hairstylingbytanny
#54 Braid hairstyles for girls are one of the most versatile hairdos out there. From the classic three-strand braids to dutch braids and messy side-swept styles, there's one for every occasion. If you're looking for a gorgeous one for your wedding day, here's a voluminous fishtail braid bedecked with blooms & foliage to go well with a beach, garden, or a boho-chic themed celebration.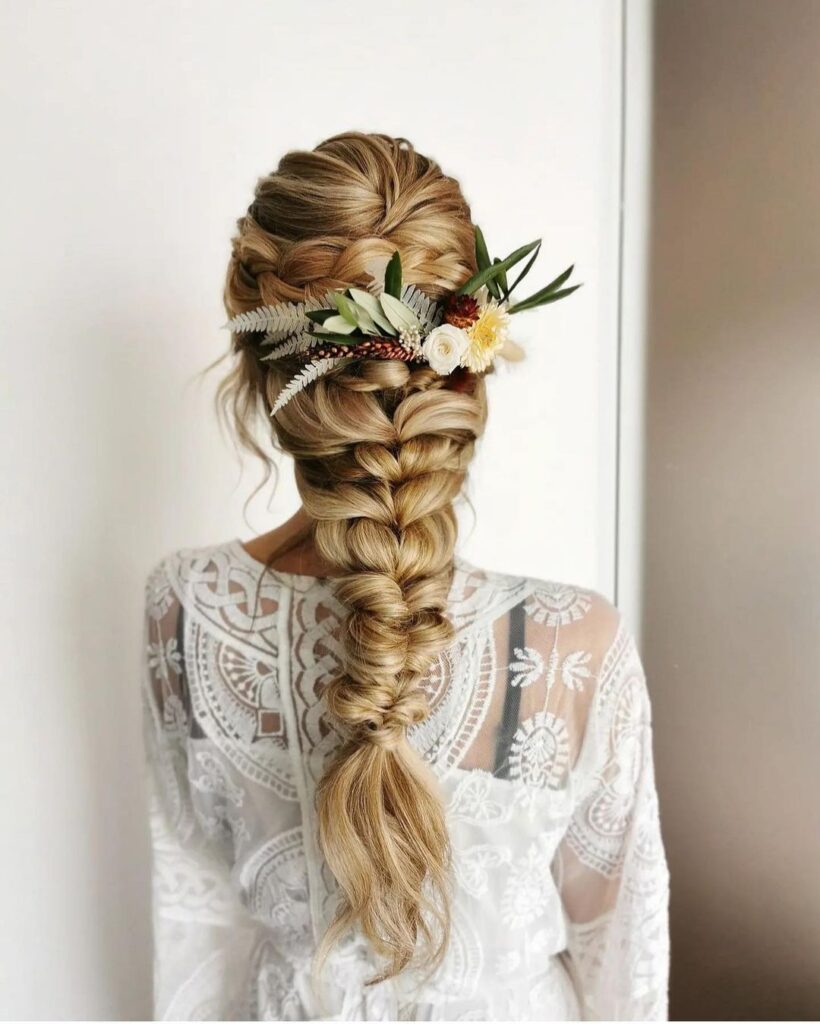 Courtesy: Naomi Makeup
Wedding Hairstyles For Girls 
#55 To match the embellishments of your bridal veil, add some pearls to your bridal hairstyle for a beautiful complimentary wedding look. In the ongoing trend of floral hairstyles and statement headpieces, pearls can make you stand out among the crowd without much drama addition into the ensemble though.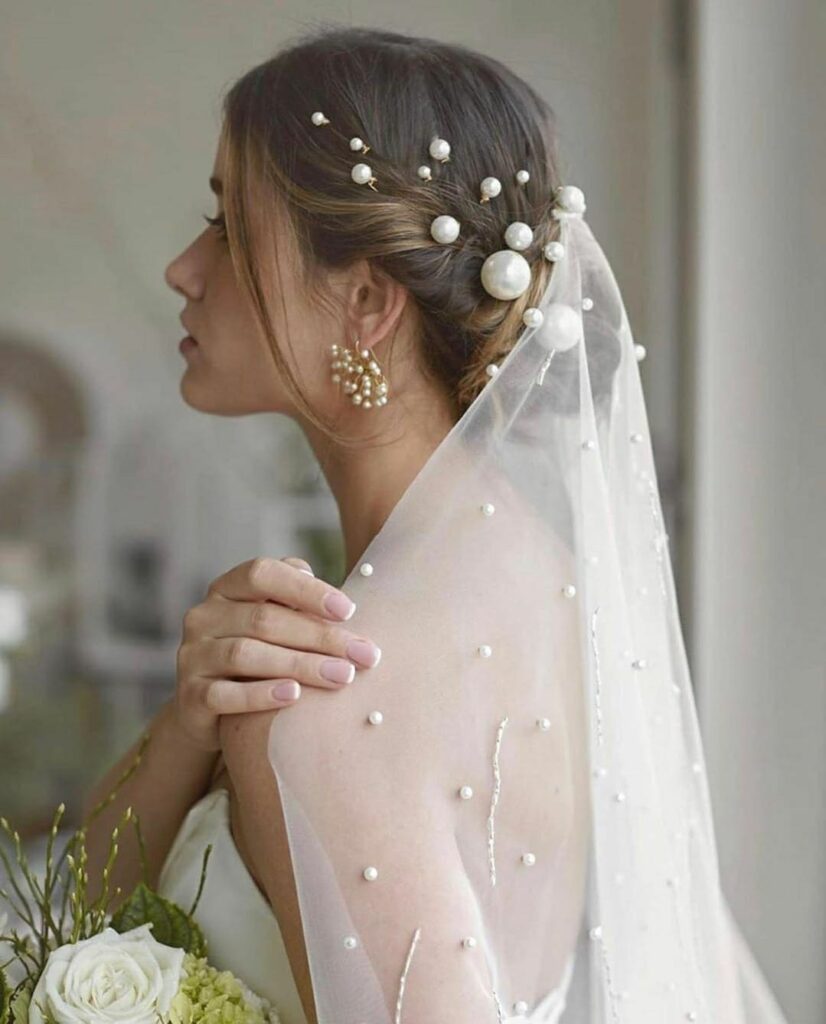 Courtesy: @hairs.diy
#56 Show off the beautiful length of your hair whilst keeping it away from your hair by braiding them in a voluminous, chic updo! The floral headband further adds an elegant element to the hairstyle that's hard not to love. Although, we'd recommend asking your hairstylist to properly affix the headband in position because the circular ones have a tendency to loosen up with movement. 
Courtesy: Agus Faita Estudio
#57 Braids on braids on braids. Despite the intertwining, interlocked braids, this wedding hairdo looks far from messy or extra. They have been smartly juxtaposed to create a feminine, chic look and topped off with dainty floral accessories for an elegant touch.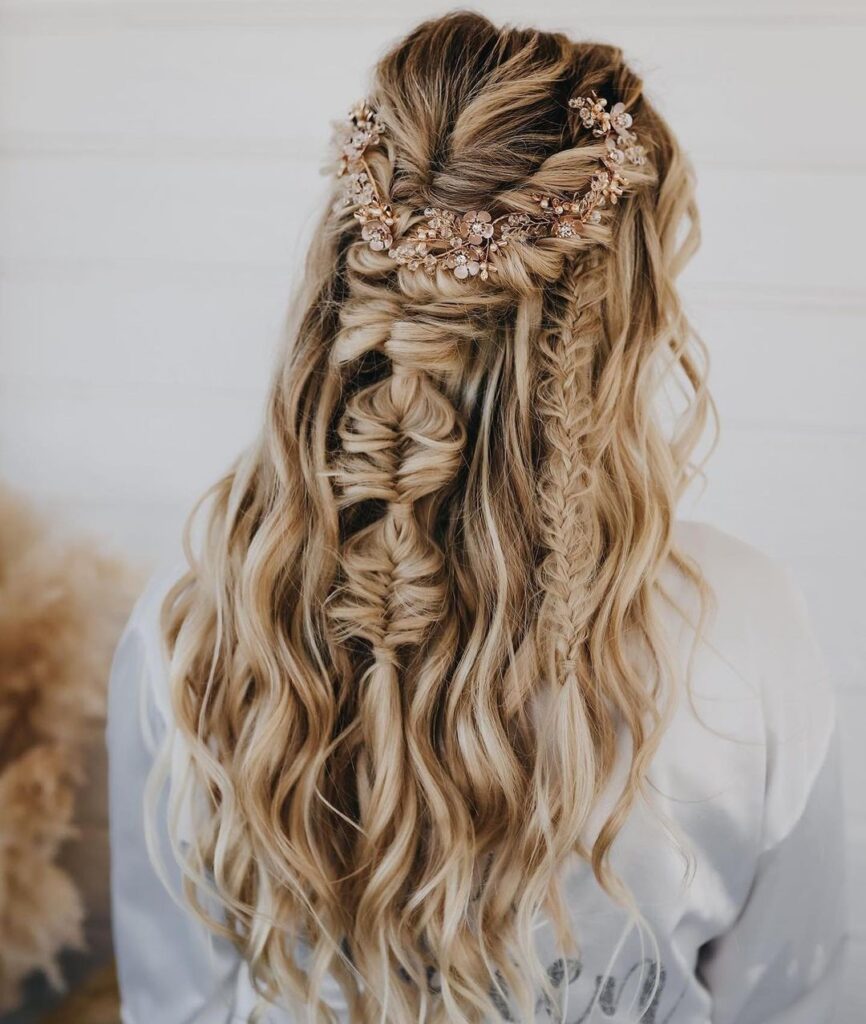 Courtesy: Rebecca Murphy
#58 In the realm of wedding hairstyles, ponytails hold their own sweet spot. The 'do allow you to show off your luscious tresses and beaming face with a low maintenance style. And there are so many options to bedeck them. Like here, the bride chose to adorn her puffy ponytail with baby's breath and white blooms for a romantic effect.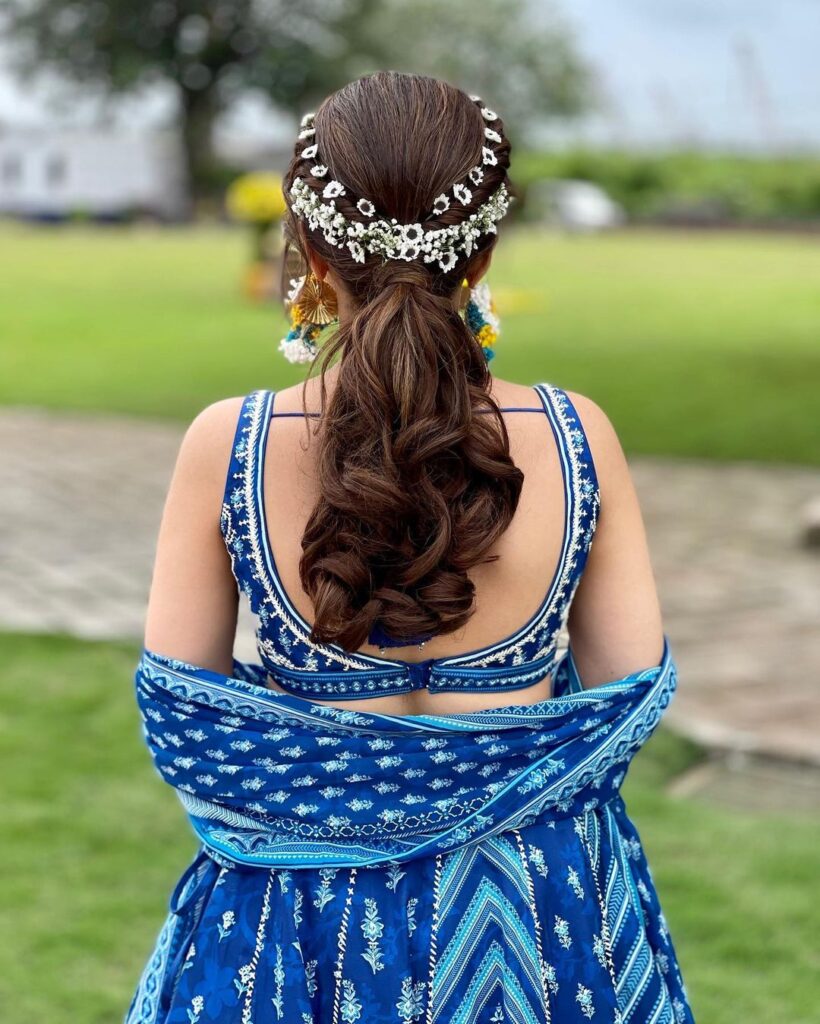 Courtesy: Ritika Kadam
#59 These unique butterfly adornments are enough to draw attention to this hairstyle. But what we love more is how well it's secured with puffs to give an illusion of volume. The tight curls further add an utter allure to the hairstyle and in turn, her modernistic dress.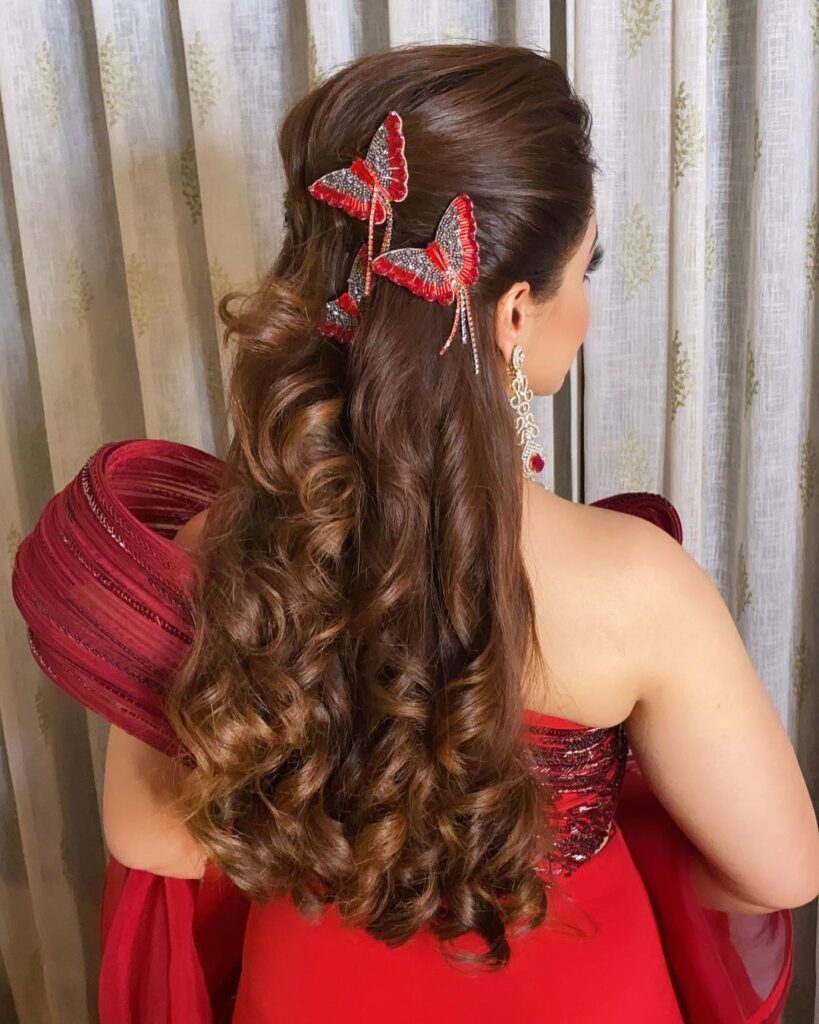 Courtesy: Amit Bhardwaj
#60 Now, this is why you need to carefully select an expert hair artist for your wedding day. With the right vendor on board, you can relax while they work their creative magic on your hair. We love this bun wedding hairstyle to the tee! And if you're planning to recreate this romantic updo, we'd suggest only trusting an expert to do this for you.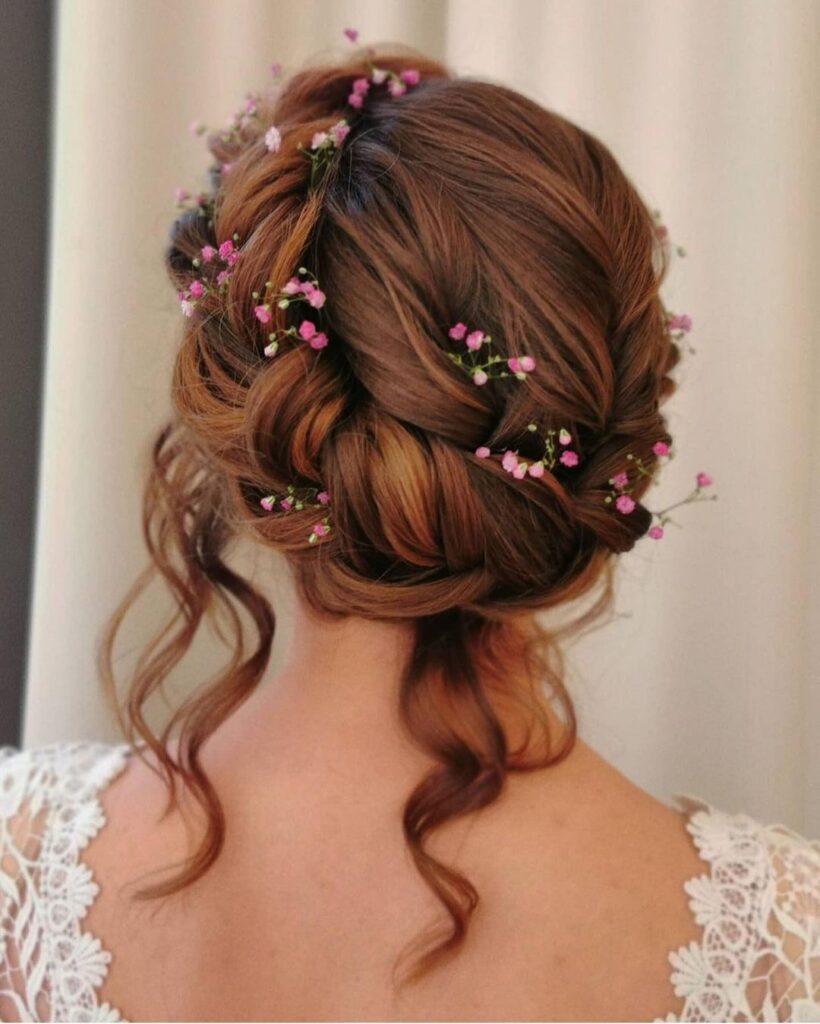 Courtesy: Naomi Makeup & Hair
#61 A twisted chignon bun can make for a wedding hairstyle for the bride, bridesmaids, or the mother of the bride/ groom. The elegance is such that you can wear it with any kind of dress style and it will beautifully complement the outfit. To add volume though, we'd recommend adding a puff and spending a good amount of time blow drying your hair and then, spraying a setting spray to keep the 'do in place for the long wedding hours.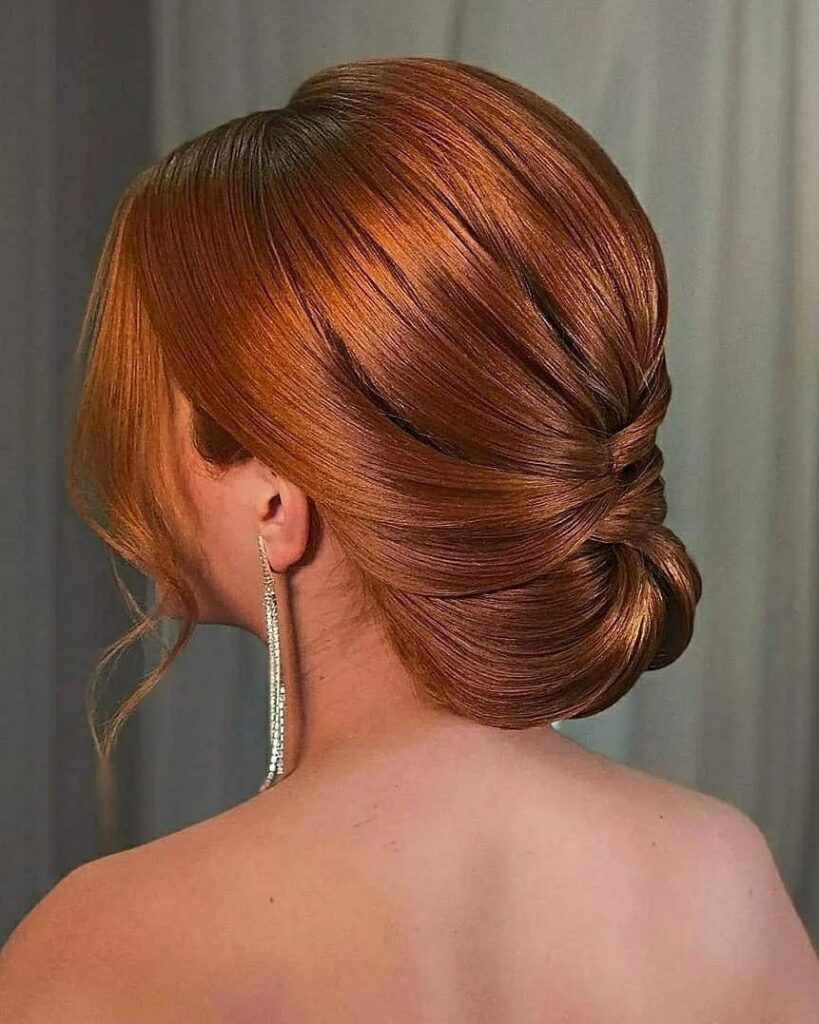 Courtesy: @ojoaquim
#62 The key to creating this vintage romantic hairstyle is to work hard on creating perfect waves. If you want to conquer this coif yourself, use a 2" curling wand on small sections of your hair, hold each curl to your head until it cools. Once cooled, use a wide-toothed comb to loosen the locks a bit and then, use a setting spray to hold the curl. If you have low volume on the top section of your hair, you can backcomb and add puffs. Finish with a statement accessory and veil.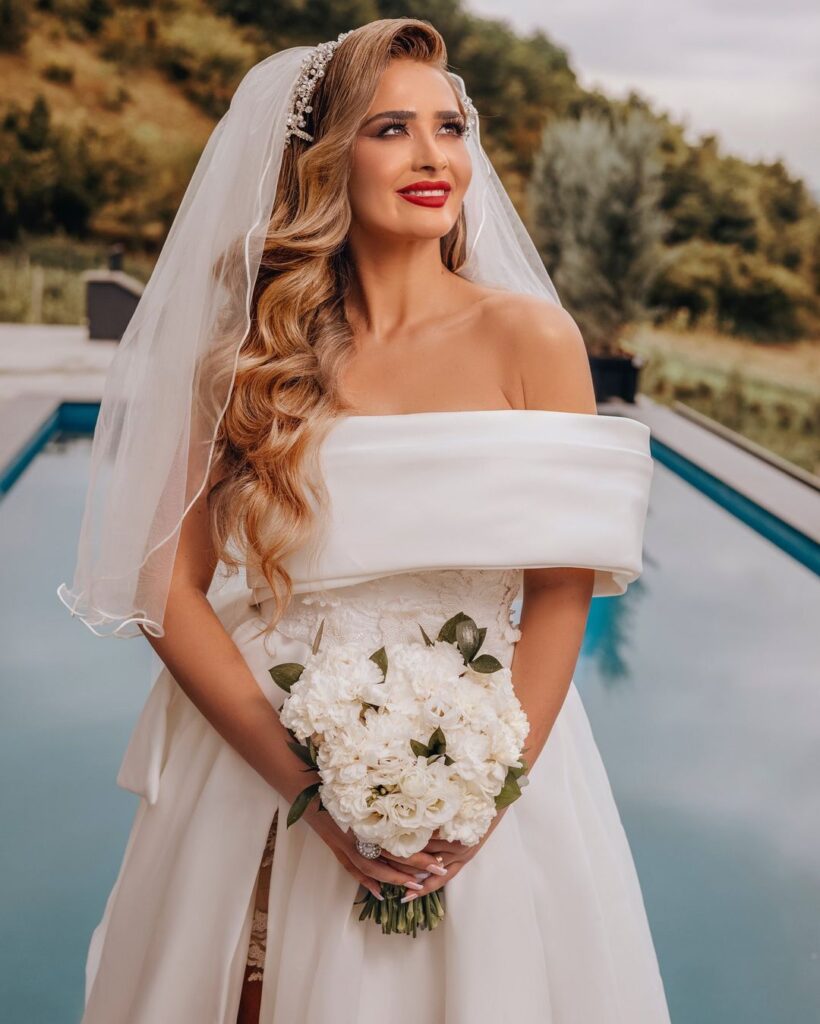 Courtesy: Norik Uka
#63 Tradition-loving brides, this one is for you! Long hair plus a voluminous braid equals a mermaid emitting vibes. We love the floral details in her braids and the jadau ornaments to add tradition to her otherwise voguish hairstyle. Of course, if you get a hairstyle done like this on the wedding day, we'd recommend getting as many pictures clicked as you can of it! The admiring reminisce of memories will make them really special.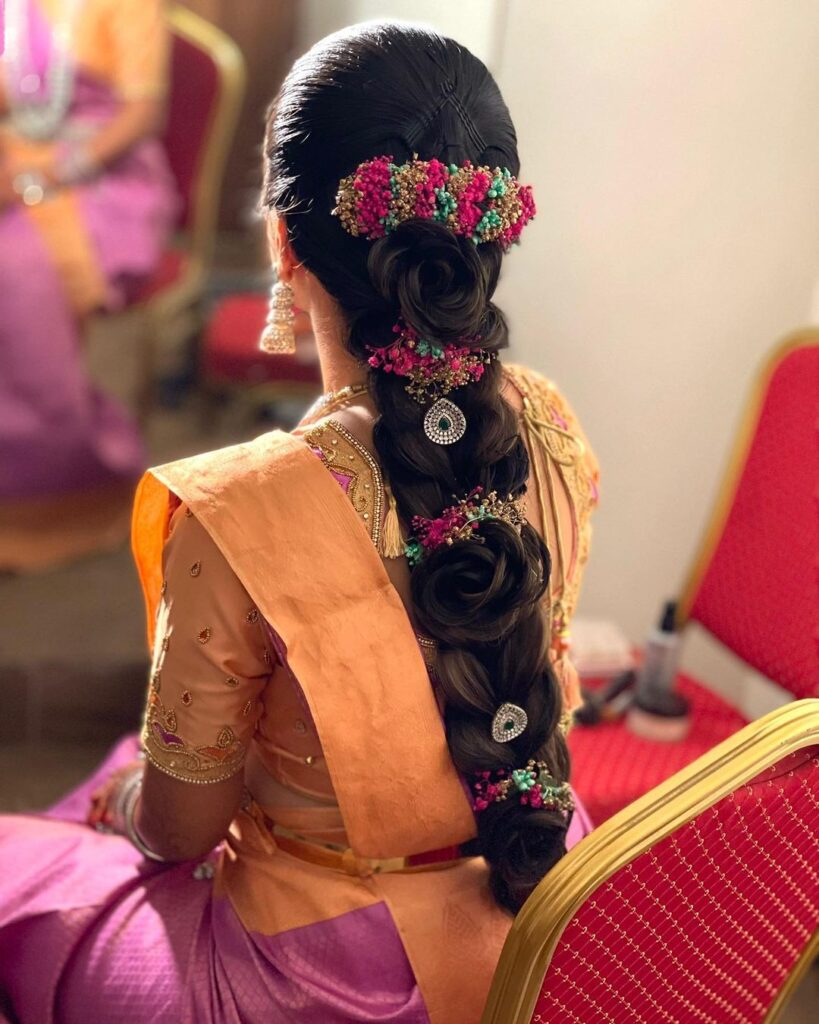 Courtesy: @artistrybyfathi
#64 A hair bun adorned with such fresh blooms strategically to give a refreshing vibe to her bridal aura. For brides wanting to add florals to their bun, we'd suggest asking your hairstylist to arrange the floret arrangements because they're aware of the best stores in the area and can also get deals at a good price.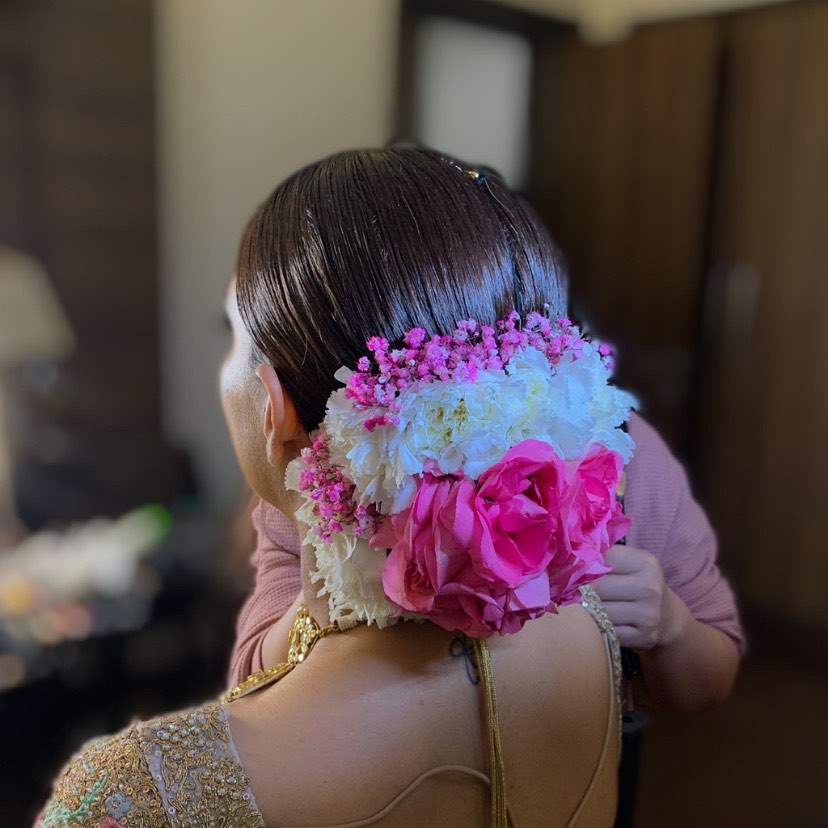 Courtesy: Pinterest
#65 Half-up half-down hairstyles for girls have so many variations and can literally be modified to suit any occasion. This half-up half-down hairdo can make for an amazing pick for your wedding day, but also for a fun party or a black-tie event. Such is the versatility! And you'd not go wrong by saving it on your Pinterest board right away!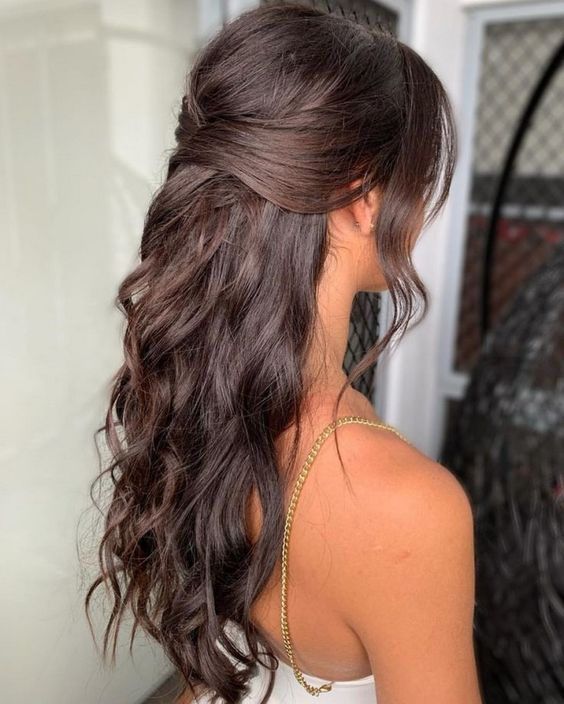 Courtesy: Pinterest
#66 Who knew that the customary ponytail which we use to keep our hair off at the gym would make such a grand entry into the wedding world? Now that it has, we're loving seeing it everywhere and brides exploring its versatility. The vintage waves and floral crown makes for an epic combination to sport a glam ponytail hairstyle. 
Courtesy: Shauna Elizabeth
#67 With layers of braids and textures stuck here & there, this bridal updo boasts easy-going elegance. Just be sure to tuck in a few extra bobby pins to keep the styling intact as the night wears on!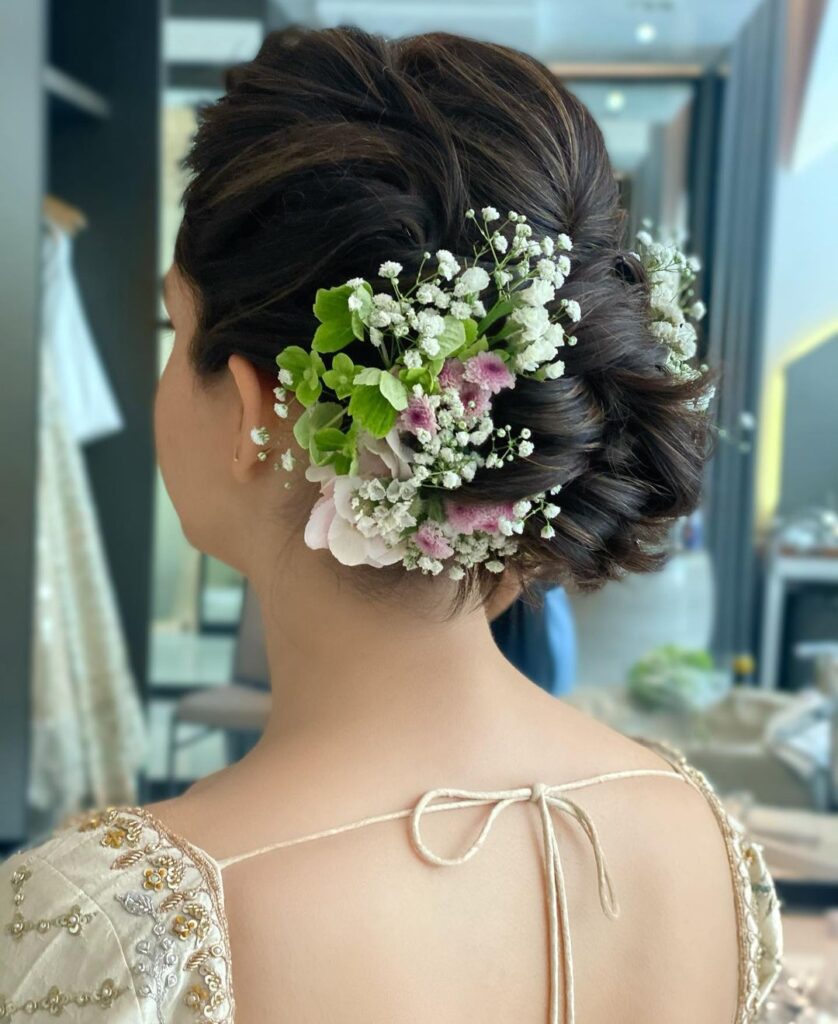 Courtesy: Pinterest
Braid Hairstyles For Girls
#68 The elegance of a braid meets the glam of a puffy ponytail in this stunning hairstyle idea for women. With all the twists of the braids done equally and the length of hair arranged so neatly, this is definitely a work of an expert. If you want to recreate this, we'd suggest hiring a hair stylish too!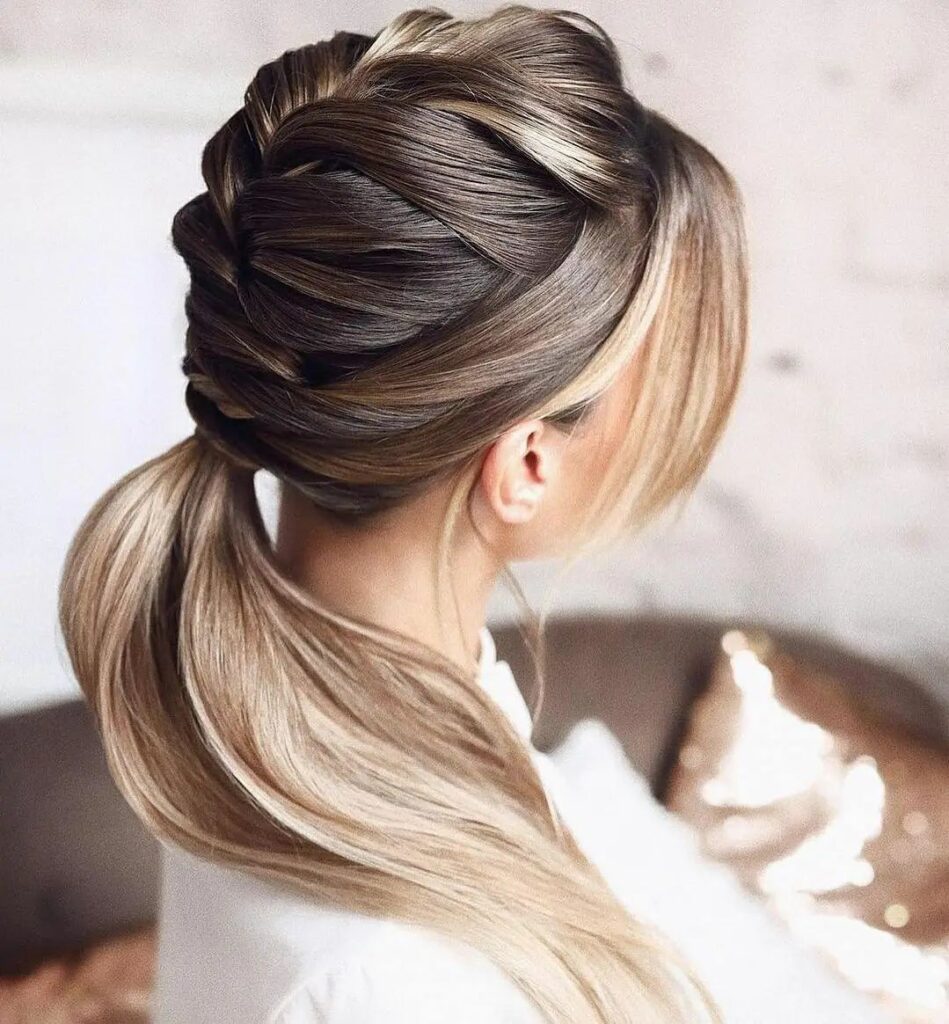 Courtesy: @tonyastylist
#69 This updo is formal, elegant, and super romantic. There's not a shred of messy hairdo in this style and that's why it stands out on the list and will give you a polished look at the wedding. Plus, a bridal updo is a perfect pick for when you want to show off the back of your wedding dress.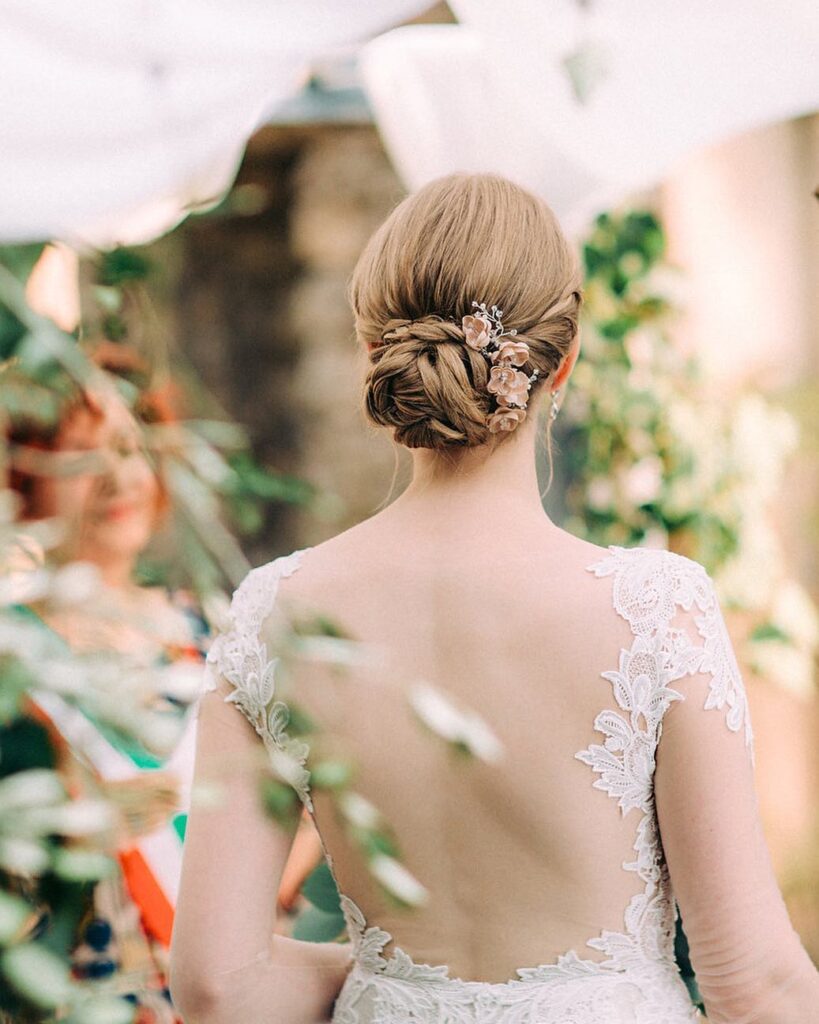 Courtesy: Yasmin Makeup Artist
#70 Got an important party to attend? Amp up the allure of your dress with this chic and feminine hairstyle. The voluminous braid blends with the ponytail style beautifully for a classic, poised look.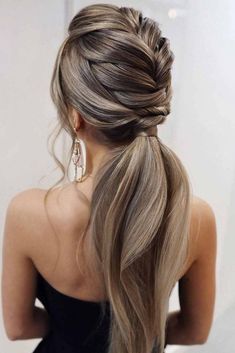 Courtesy: Pinterest
#71 Imagine walking down the aisle donning your dream dress with this utterly gorgeous updo! A sight to behold, right? Bookmark instantly to your wedding inspiration board.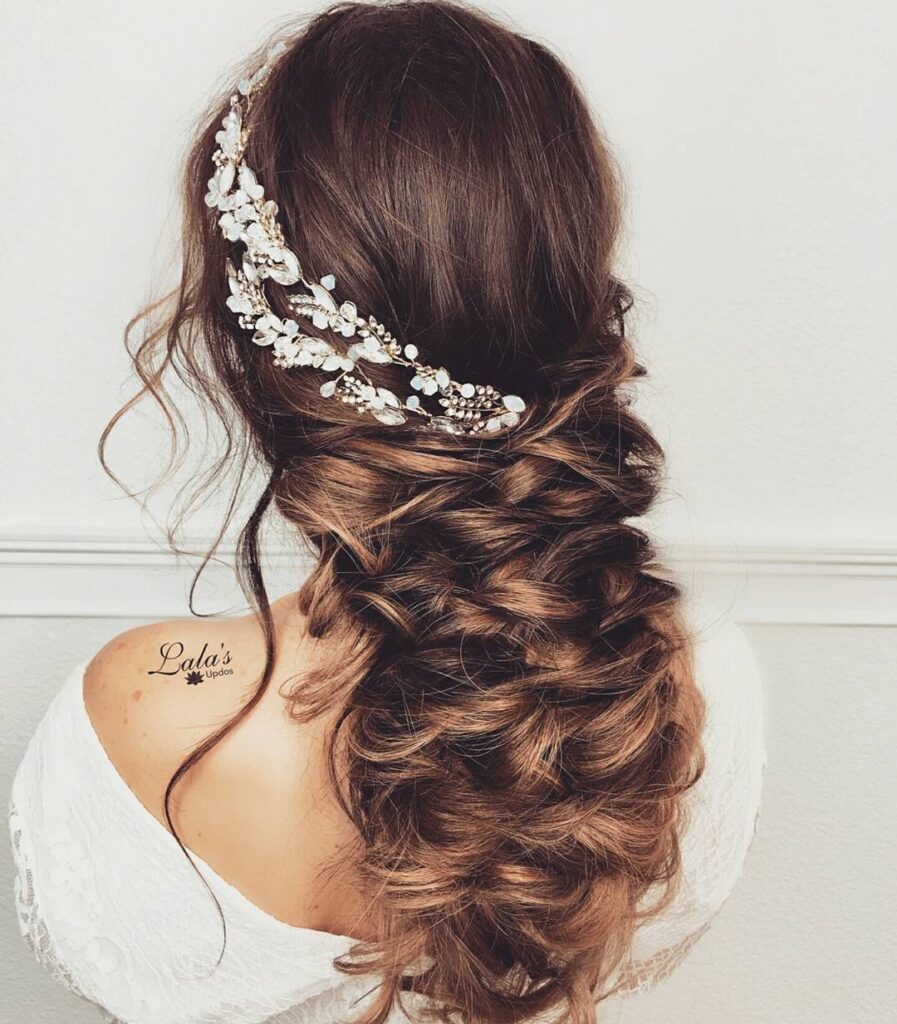 Courtesy: @lalasupdos
#72 A voluminous braid is the ideal option for women who want a glamorous hairstyle but want their hair to be tapered away from their face. Enhance the style with butterfly accessories to add a princess charm to your bridal look and feel like one too!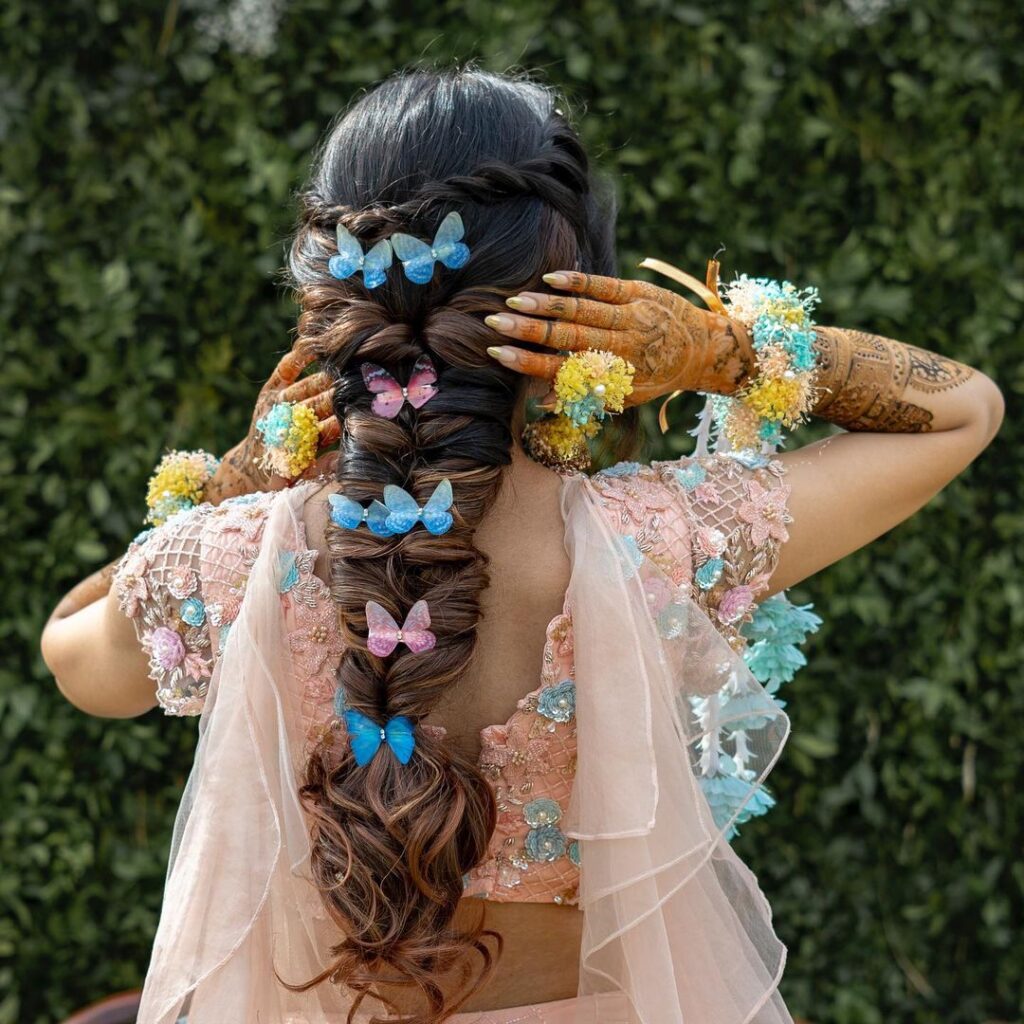 Courtesy: Ritika Kadam
#73 Beachy waves meet the allure of the braids in this boho-chic hairstyle. Although this hairstyle would look great for a beach wedding, when paired with a voguish dress, it can make for a great style statement for a night reception as well.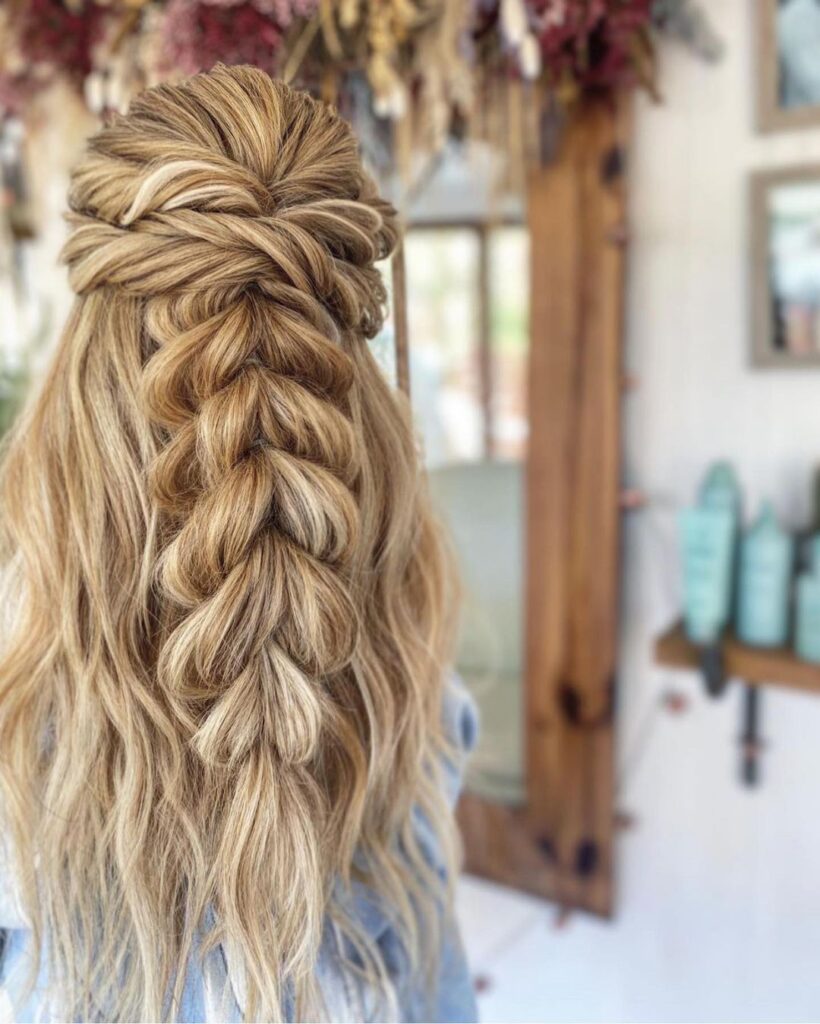 Courtesy: Liz Boho Bridal Hair Stylist
#74 We don't think any words can do justice to this hairstyle. So, we will just let it be.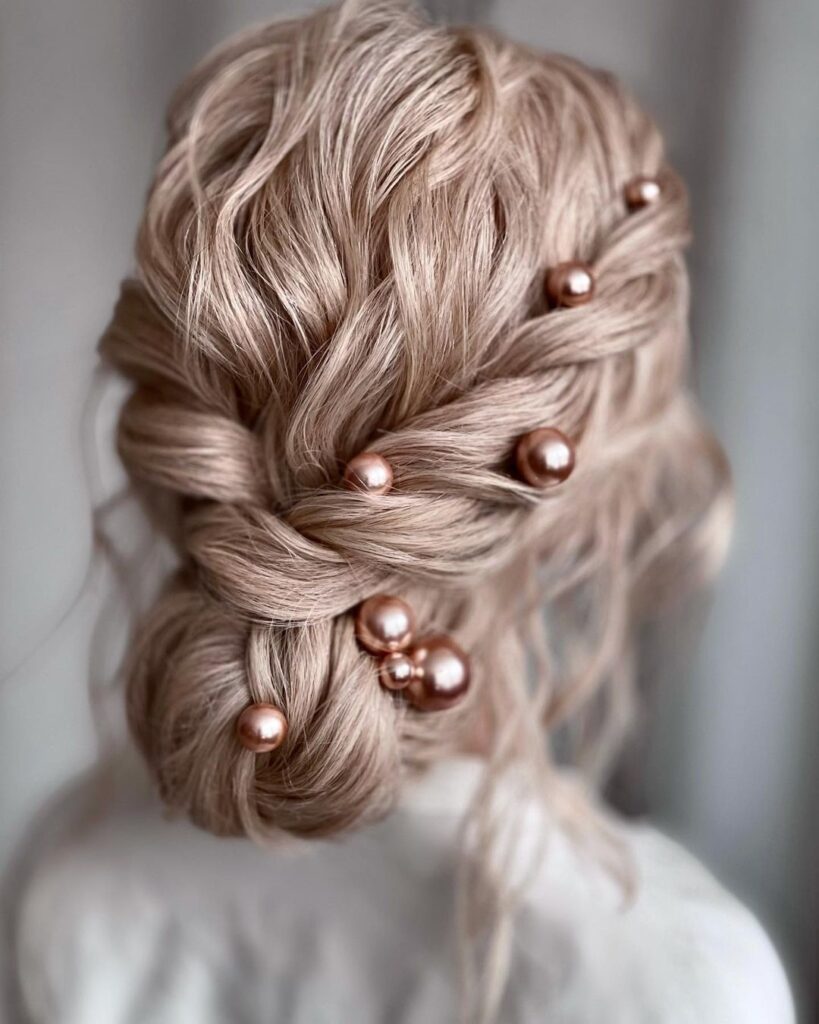 Courtesy: Kasia Fortuna
#75 Ending this list with an easy DIY braid hairstyle for girls. To create your own version, begin with adding soft waves to your hair and fixing them with a texturizing spray. Take a small section of your hair from the front, leaving some flicks, and attach them to the back. Then, take a section right behind the section you attached and braid them by gently tugging each twist. Voila! Your stunning and feminine hairstyle is ready!