As a bride, you'd love to have your bridesmaids look their best on the wedding day and complement your ensemble and wedding theme. And as a bridesmaid, you'd want to stay put with the bride's expectations while also finding a style that suits you and makes you feel like the best version of yourself. One of the important elements of a bridesmaids' overall look is a hairstyle. But picking bridesmaid hairstyles is seldom an easy task. The Internet is loaded with a ton of different dos and it can feel slightly overwhelming to go through them all. Plus, there's a FOMO feeling when you're scrolling and wondering if you've covered all the different types of versions there are to bridesmaid hairstyles currently. As your online bridesmaid, it's our duty to make your wedding planning easier. Ahead, find 51 different bridesmaid hairstyles and save the ones your bridal party will appreciate the most.  
Latest Bridesmaid Hairstyles 2022
#1 Soft and Sweet
Half-up, half-down bridesmaid hairstyles are still trending, but you can go a step ahead and infuse the appeal of braids into the raging hairstyle. This is one of those chic bridesmaid hairstyles for long hair that gets the hair out of your face, makes the tresses manageable, and looks gorgeously stunning. Since the tresses are slightly waved out (neatly too) and fixed through the hair spray, it also gives an opportunity to flaunt your hair.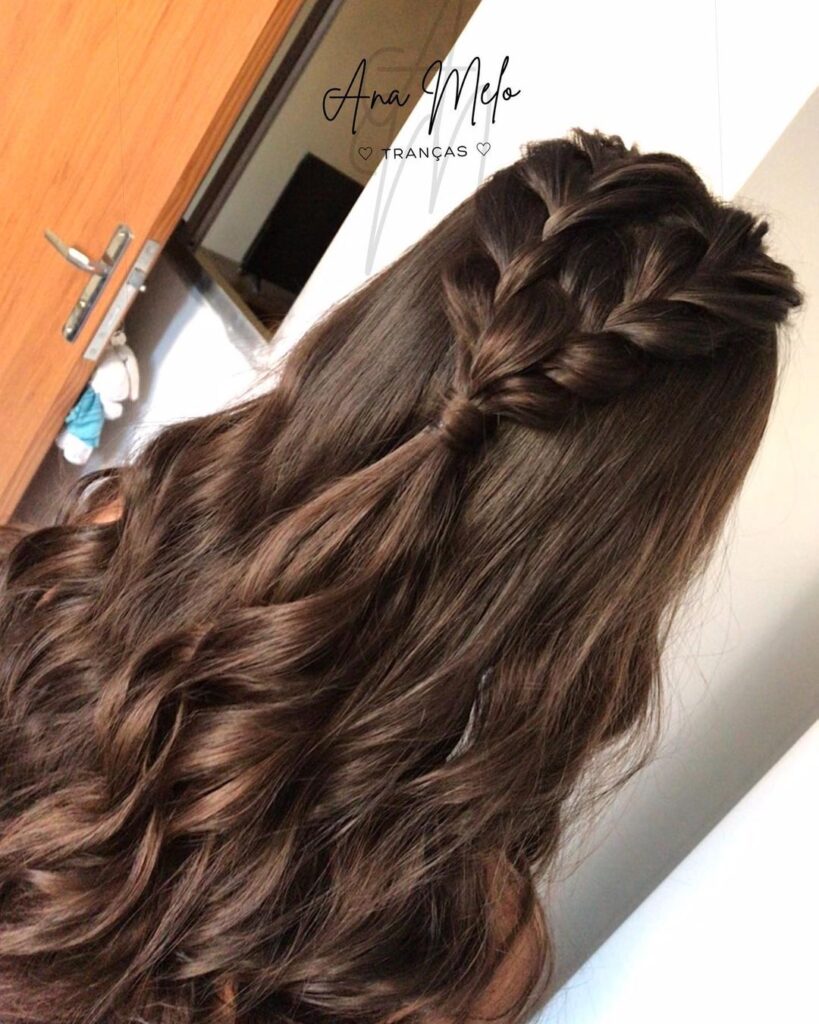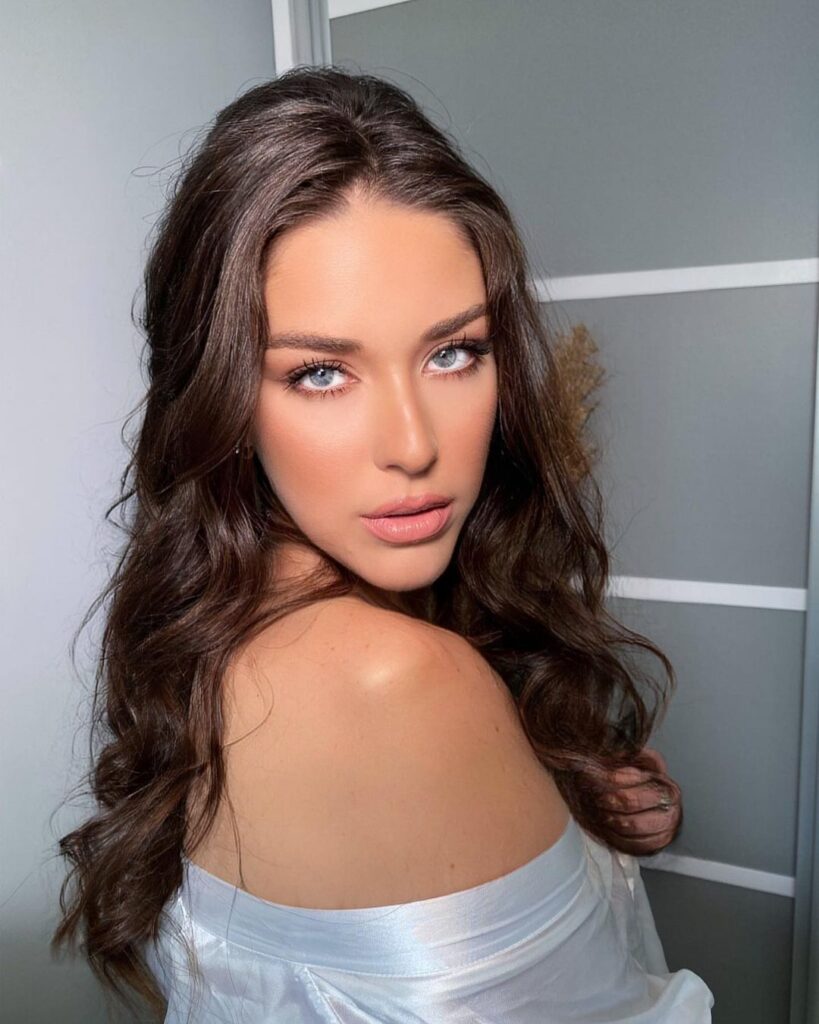 Courtesy: @anatraancas
#2 A Half-Ponytail & Varied Styles
Incorporating many versions of hairdos in one and still making it look cohesive is only a work of a professional hairstylist. There's the femininity of the ponytail, the charm of waves, and the ethereal element of the half-up, half-down 'do all mixed in one. This hairstyle can surely take time to create, but the end result, as you can see, is a breathtaking affair. Plus, the style goes with any kind of bridesmaid theme you have planned – formal to boho-chic, this has an attribute to look gorgeous with any dress type.
Courtesy: @zhanna_syniavska
#3 Waves Topped With A Headband
Bombshell curls are the way to go if you're in love with the idea of extravagance, glamorous, and peppy. Do make sure that these characteristics are also reflected in the wedding theme though. A casual, garden affair and bombshell curls are definitely not a good match. Add a minimal headband to accessorize the glamorous look with some romantic drama.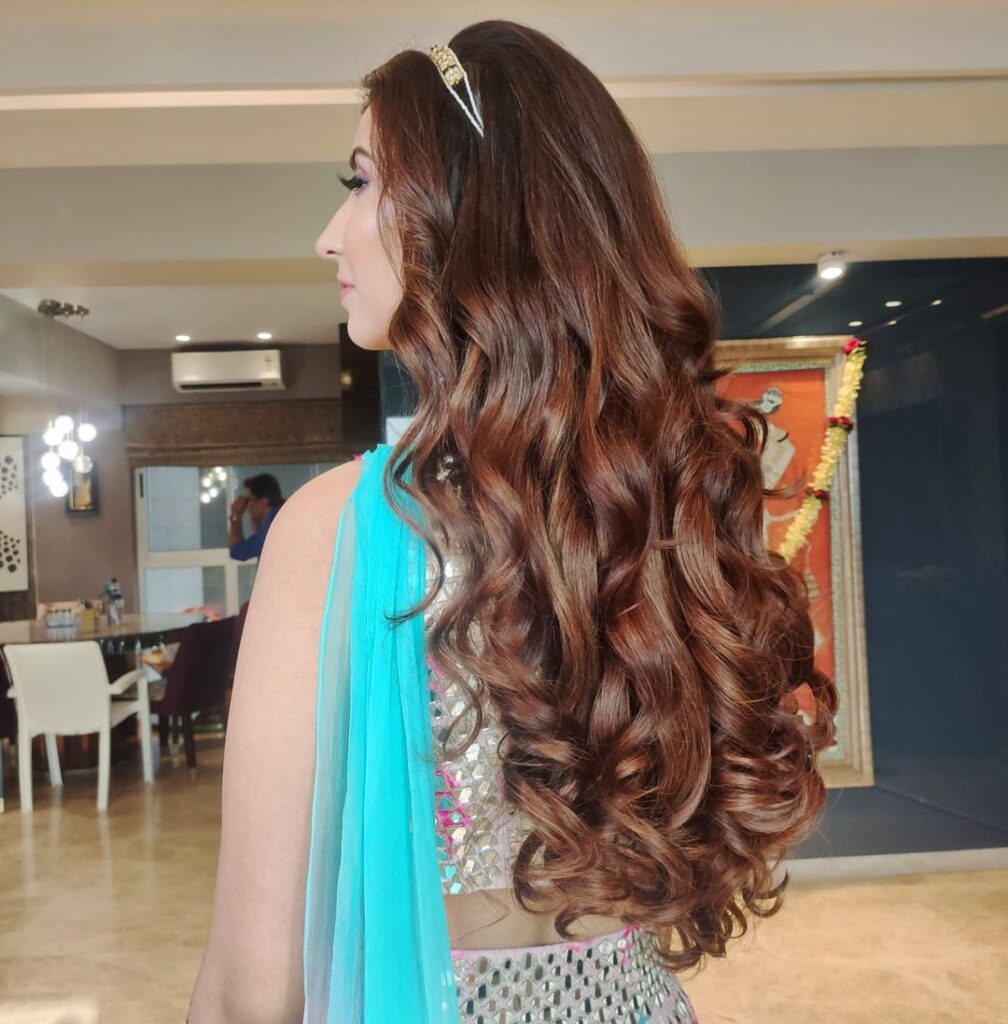 Courtesy: @prneelamhairstylist
#4 Simple, Relaxed, And Elegant
Simple waves that are just enhanced with some volume and tucked in place using hair spray are a perfect hairstyle idea for the bride and her bridesmaid. It might seem like upstaging a bride trying to match with her hairstyle, but if she's okay with it, why question the idea? Clearly, it looks gorgeous and the portraits will turn out to be quite dreamy as well.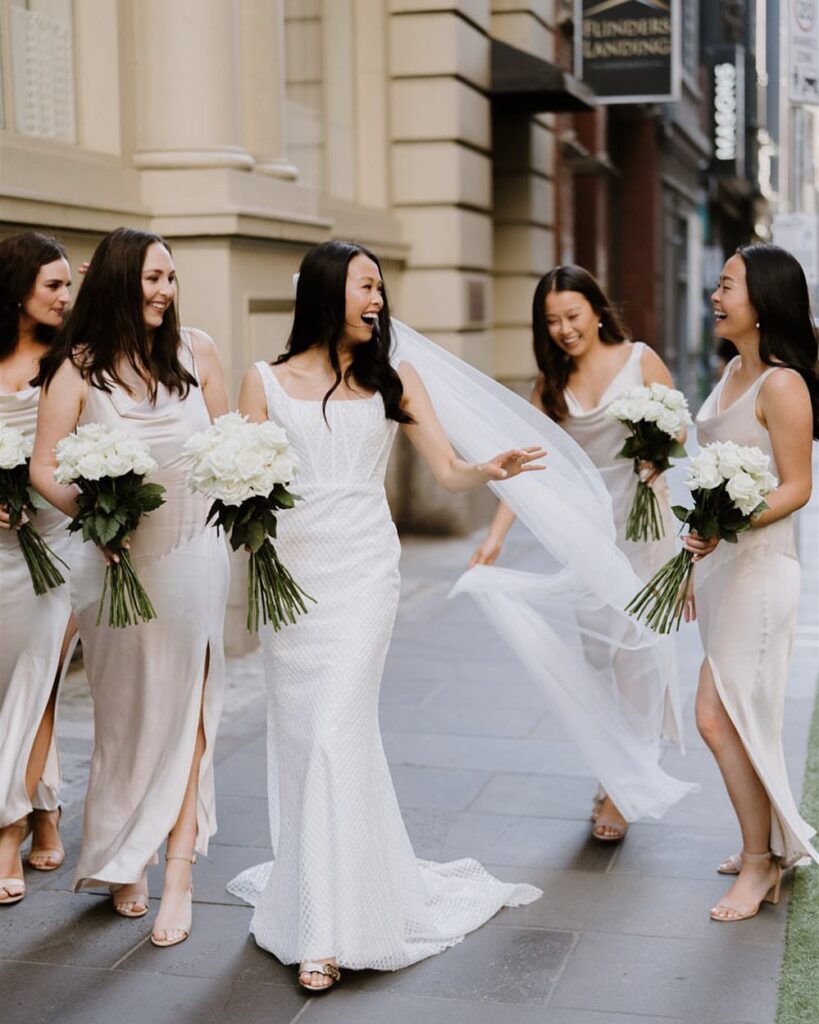 Courtesy: @ivorytribe
#5 Braids For The Win! 
There are really so many numerous ways to experiment with a braid and if you're splurging on a professional hairstylist, prepare to be surprised by their inherent creativity. Here, the hairstylist starts the braid right from the crown and takes it to the bottom for a beautiful, artistic effect. The classic waves enhance the entire style and keep it simple yet unique – a combination hard to come by.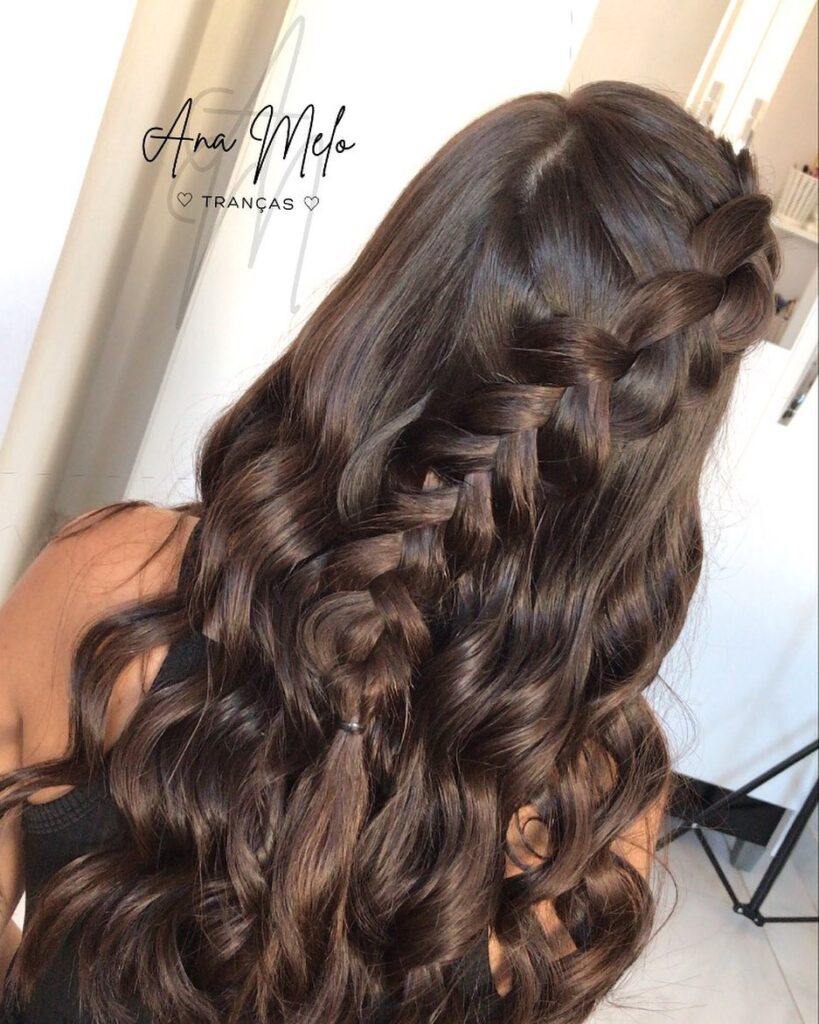 Courtesy: @anatraancas
#6 Choose One Theme
Bridesmaids don't need to have the same hairstyle. By which we mean, not the same exact hairdo, but instead one that complements each other. That can side braids, or a romantic updo, or waves, or as portrayed here, crown braids meeting waves. This is a quick hairdo as well and the hairstylist will be done fairly quickly (meaning paying less hourly rates). You can each choose the braid style depending on what flatters the face shape the most. 
Courtesy: Amanda Fiorita
#7 Roses For The Whimsical Charm
A half-up, half-down hairdo that pushes the entire hair back from ear-to-ear neatly so as to create a sophisticated look is a great bridesmaid hairstyle idea for a formal event or a wedding theme where the dresses need to look neat. Further adding the whimsical charm are the fresh roses pinned flawlessly with the leaves on the backside and tresses done into smooth waves. This is also a quick hairdo, especially helpful if you're paying by the hour.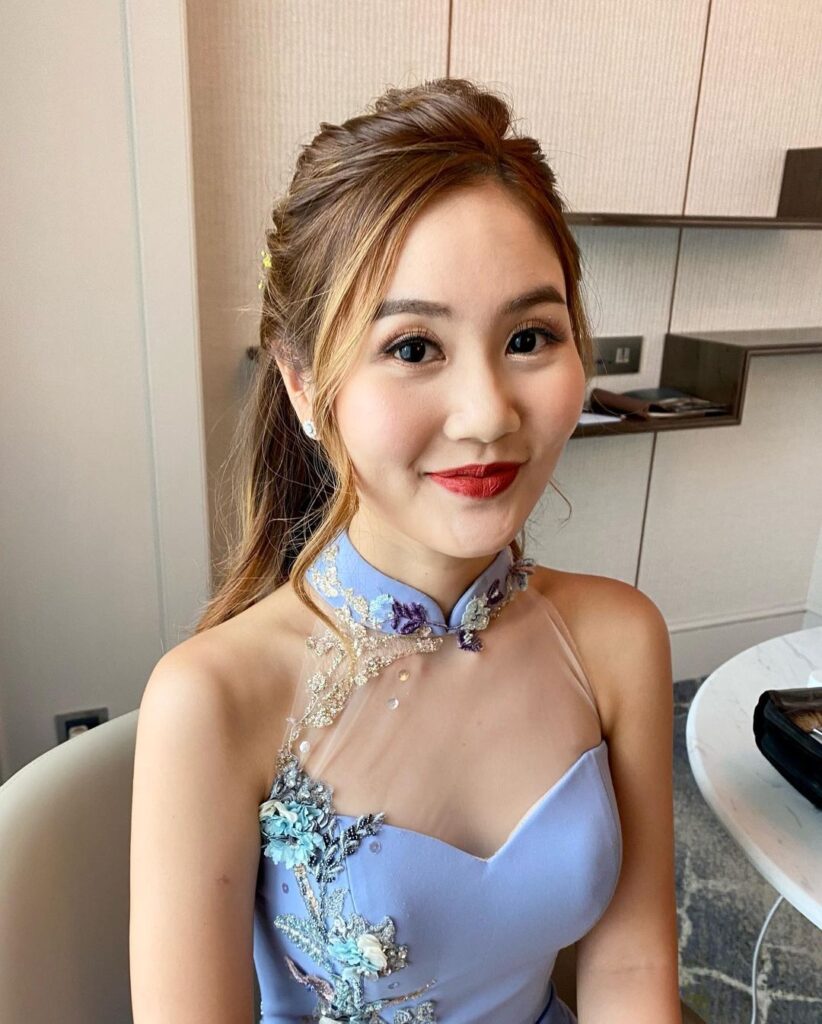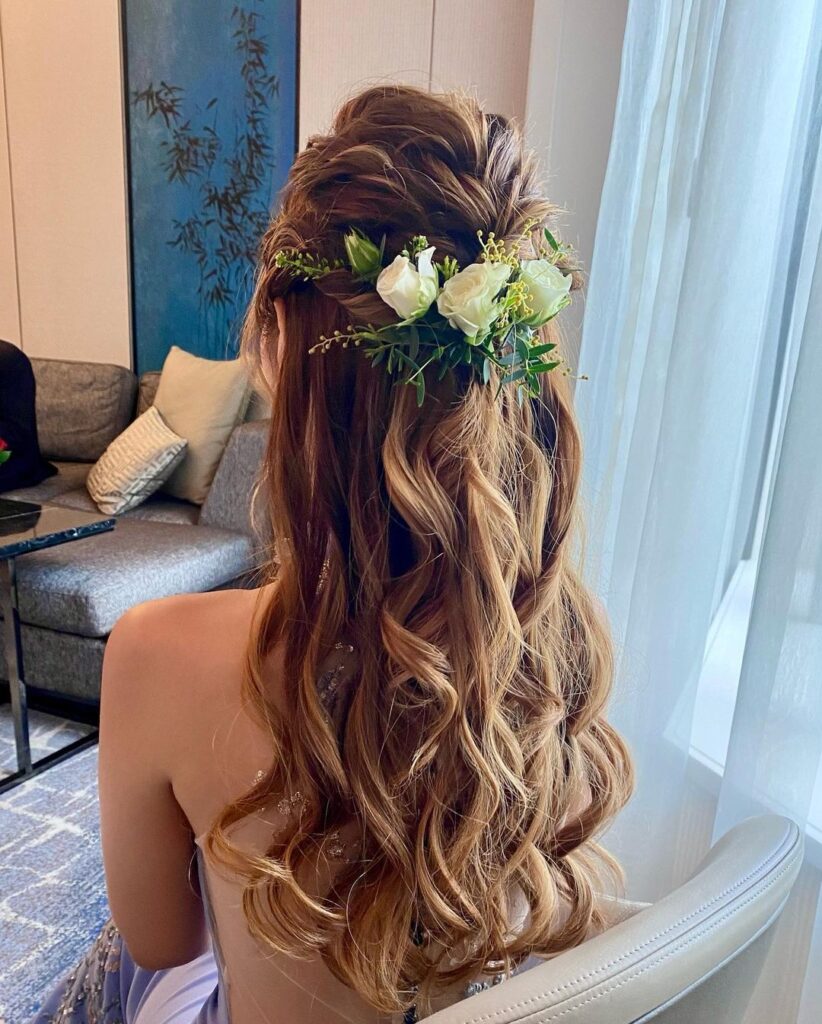 Courtesy: Joyce Ler Makeup Artist
#8 The Stunning Waves!
Waves can be created in a number of waves and each one has a unique charm that it adds to the tresses. The hairstylist here kept the upper portion of the hair straight and curled up the lower sections into big, bouncy curls. The hairstyle is a classic half-up, a half-down hairstylist with braids from both sides of the forehead attached firmly on the lower midsection of the crown. To further add the voluminous effect, the braid is tugged on each segment neatly so as to compliment the bouncy waves and make the entire hairstyle come together beautifully.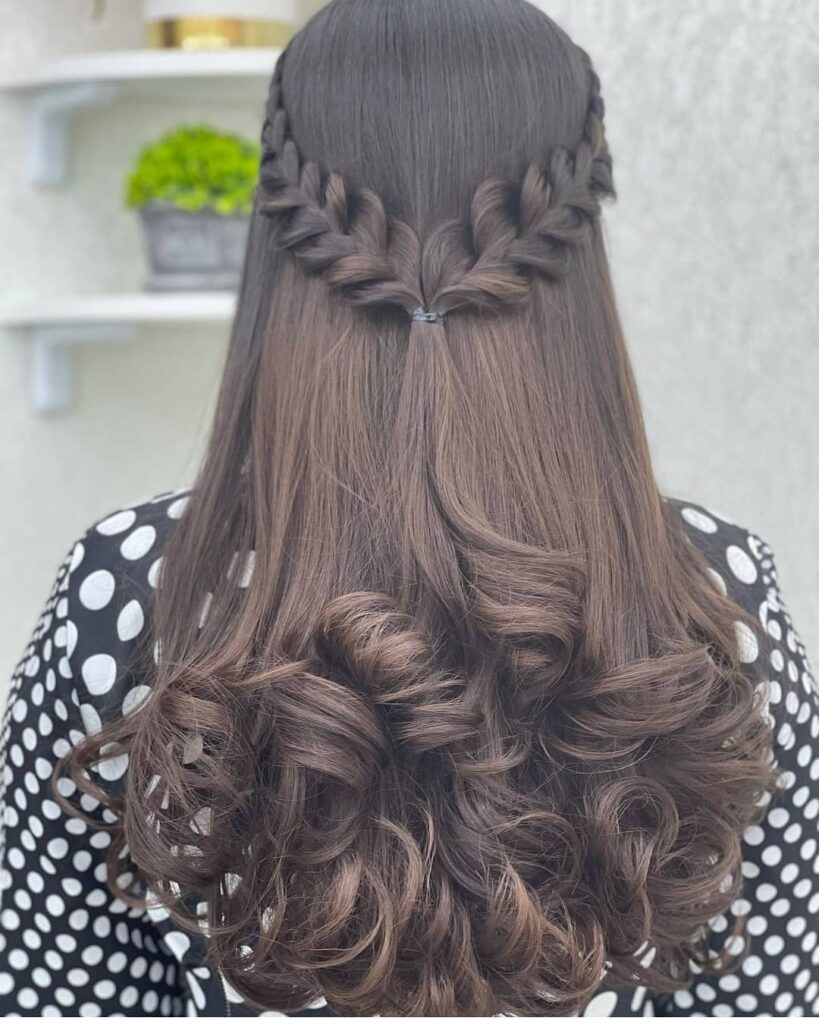 Courtesy: @shinion.hairstyle
#9 Accessories Can Make All The Difference
Side-parted hair strands meet the back of the crown in the mid neatly while the top section is puffed out for a voluminous effect. The hair artist could have left it there, but she knew a small accessory can make a big difference and would make heads turn to this simple yet gorgeous hair look.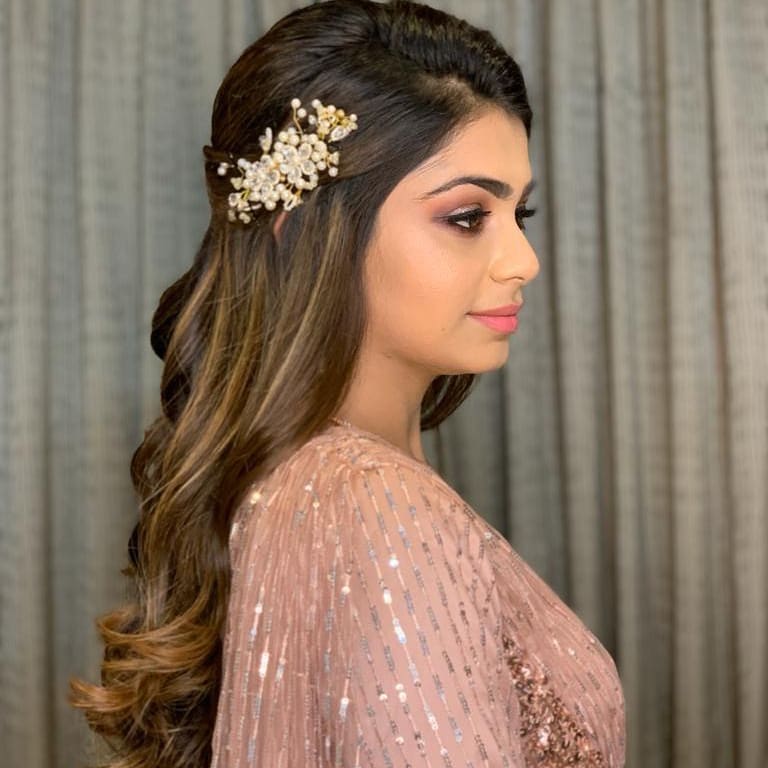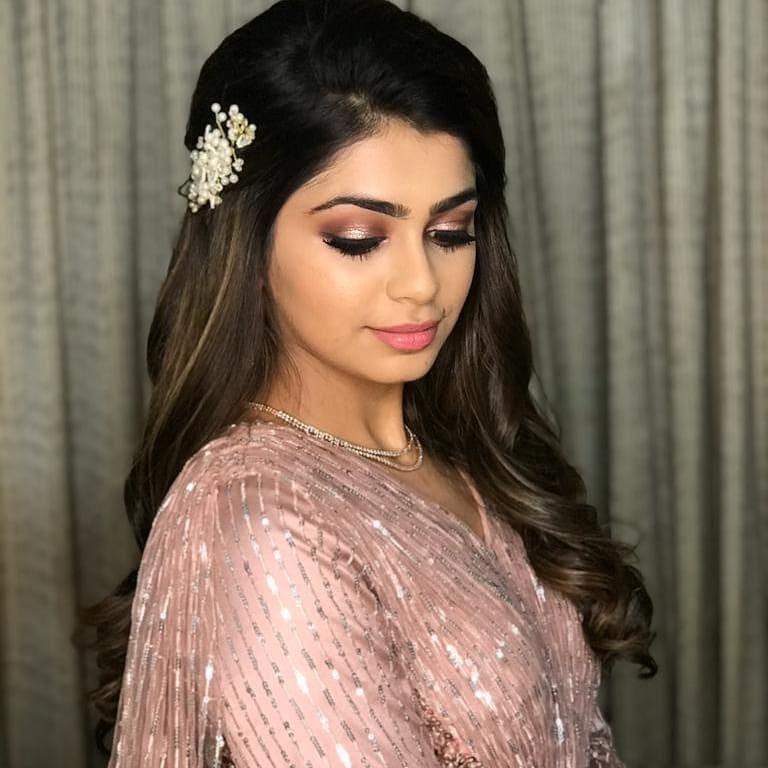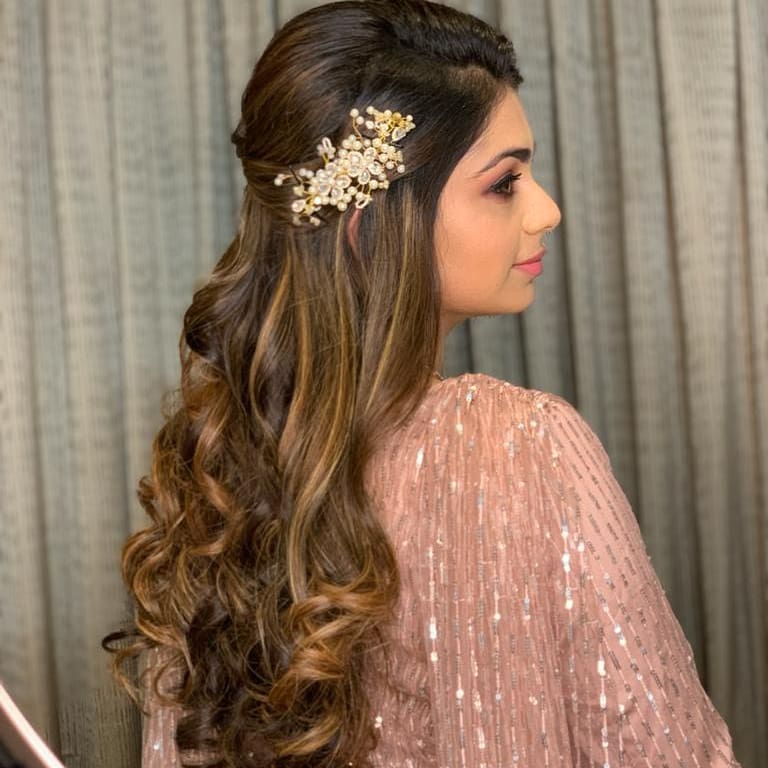 Courtesy: Vidya Hairstylist
#10 The Right Accessory To The Rescue
This open bridesmaid hairstyle is beautiful in itself, but add the right accessory and it becomes spectacular, to say the least. However, if the accessories are going to be a part of your hair look, don't wait till the last minute to say that to your hairstylist. The professional hair artists come prepped with what they'd need on the wedding day (given the tight schedule), they also have creative visions in the mind depending on what you tell them about how you want the hairstyle to look. Giving them the hint that an accessorized hairstyle is on your mind will make things smoother for both of you.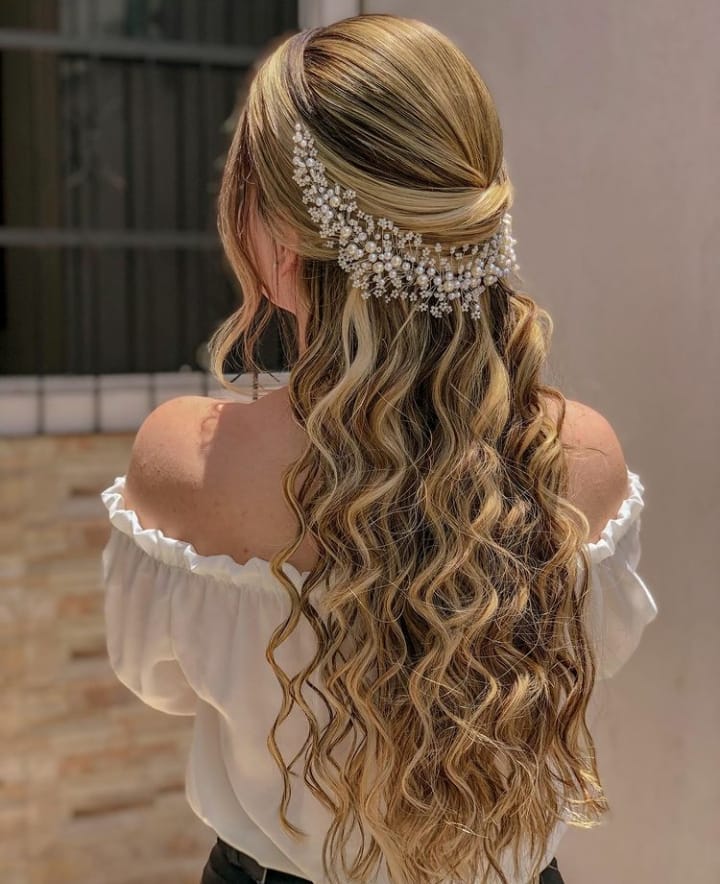 Courtesy: @behnaz.accesoris
#11 Waves For Days
If you're tight on the budget or just don't want to unnecessarily spend on professional hair when the waves can very well into the bridesmaid look, take inspiration from the next bridesmaid on the list. For this hairstyle, all you need to invest is in a good curling iron and a quality hairspray. Take small sections of the hair, and curl the hair around the iron for a few seconds. Repeat on the lengths and add hair spray in the end. Add volume on the crown by backcombing the hair.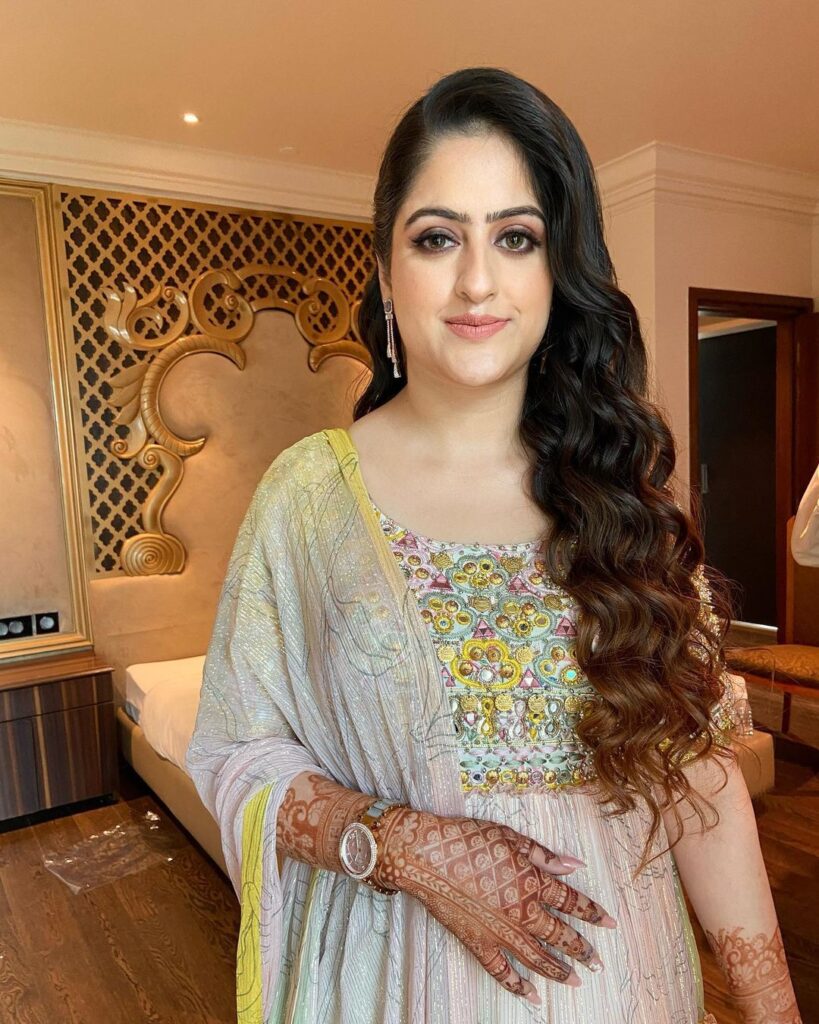 Courtesy: Khushi Hairstylist
#12 Go Ahead, Rock That Volume! 
Voluminous curls are always a good idea but mind you, they won't always go with every kind of wedding theme. These curls are off-limits for romantic, formal, and boho-themed affairs, and ideal for peppy, vintage, and garden/ casual themes. Depending on the entire mood palette of the wedding, you can make the decision whether this style will work well for bridesmaids. If you're still confused take help from a wedding expert, like a wedding planner or HMUA.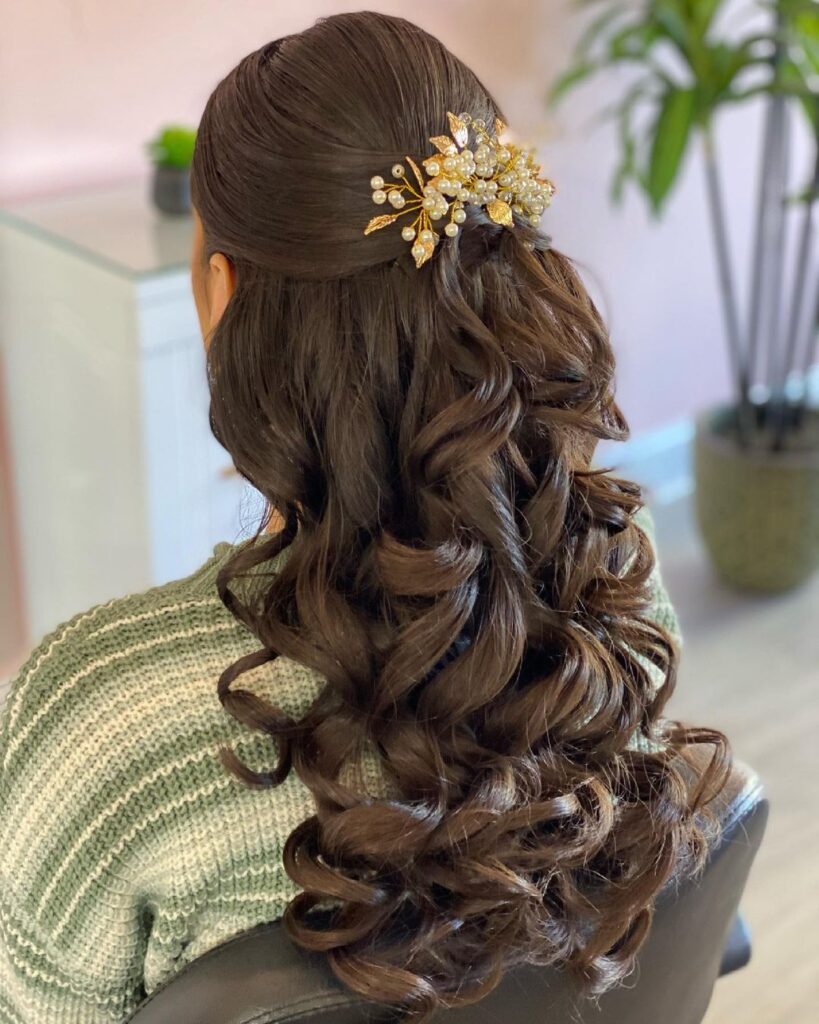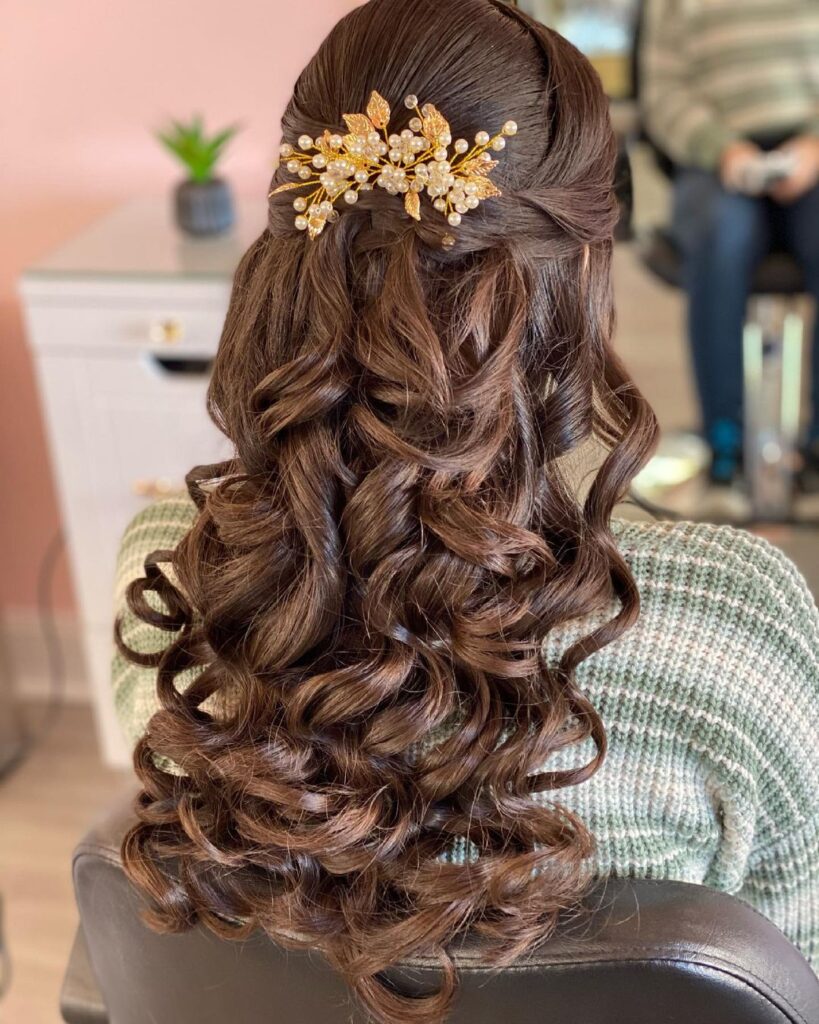 Courtesy: Diva Glam Studio
#13 Braid Are Always In! 
It's true! Braids are always (always) in. Braided hairstyles can be infused in any type of hairdo whether it's a bun or a ponytail, doesn't matter. They're also a great way to protect your tresses from tangling and make hair management easier through any event. This is just the icing on the cake when it comes to the benefits of the braids. Another major perk is their unmatched charm. If you want to rock some sultry waves as a bridesmaid hairdo and add an oomph, use braids to achieve that factor.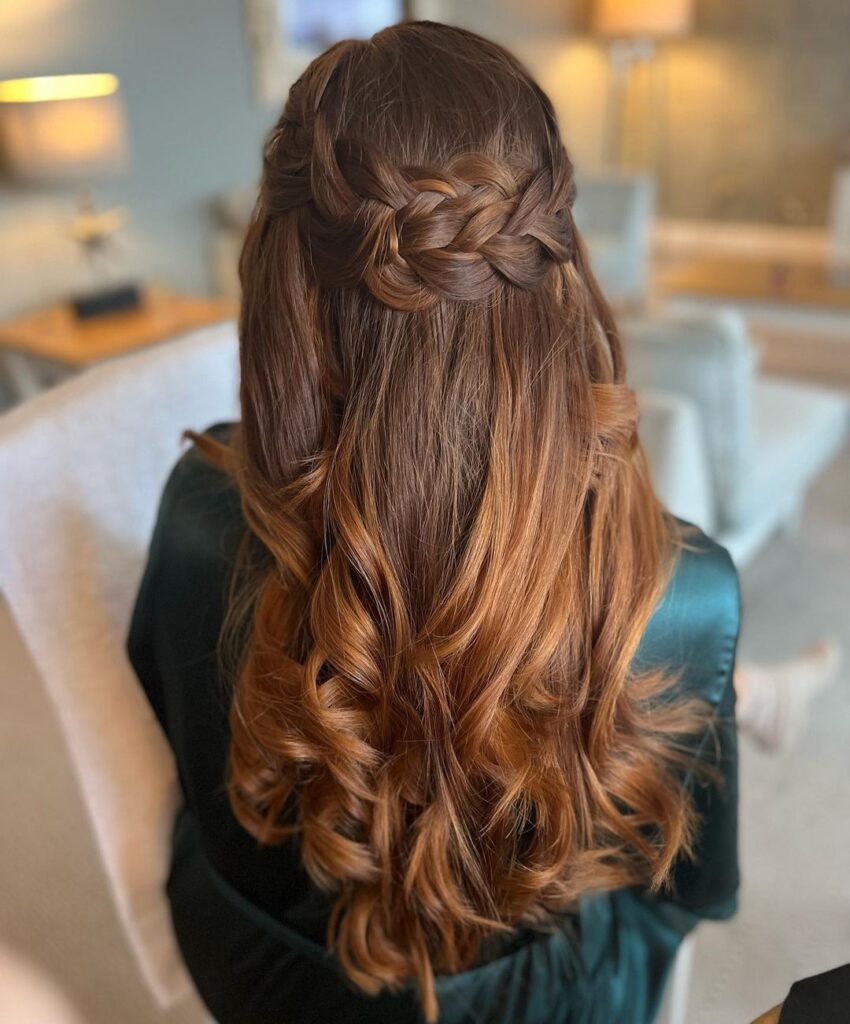 Courtesy: Stephanie Dorelli 
#14 Just Some Volume & Glam
If there's one thing the entire women fraternity equally desires it's an increase in the volume of the hair. And rightfully so! Thick hair makes any hairstyle possible and looks good. Thankfully though, the hairstylist today knows how to add this coveted volume in the hair using extensions, backcombing, and slightly tugging on the braids. An example of the same is presented right below. The voluminous braid bridesmaid hairstyle meets its counterpart big curls to create a truly eye-catching hairstyle.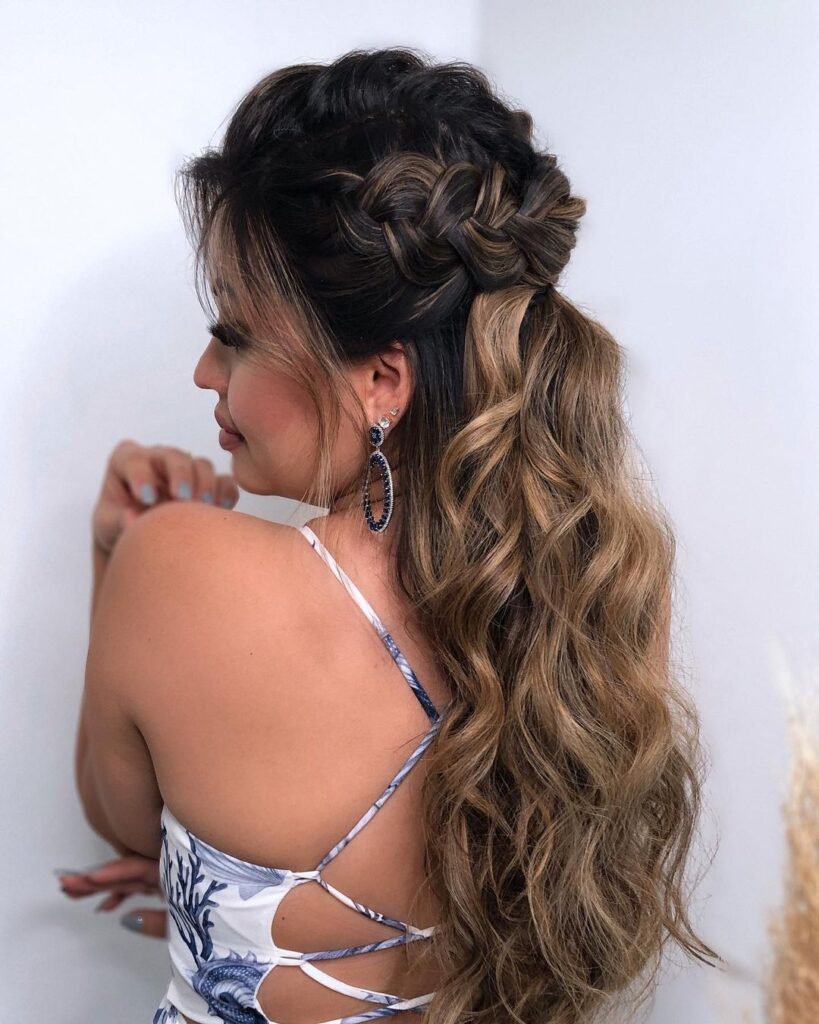 Courtesy: Mateus Gibertone
#15 Bombshell Curls In Waterfall Style
Curls mixed in with the soft waves is the best kind of bridesmaid hairstyle where you can experience the best of both worlds. While curls are a little glam, waves are casual, a combination of two – featured here – is the right amount of sophistication you need in a bridesmaid's wedding look. Not to forget the attractive waterfall style is always a no-brainer 'do for a perfect touch to any dress or look you're carrying. Again, let all bridesmaids' hair match in the waterfall braid style for a picturesque bridesmaids' look.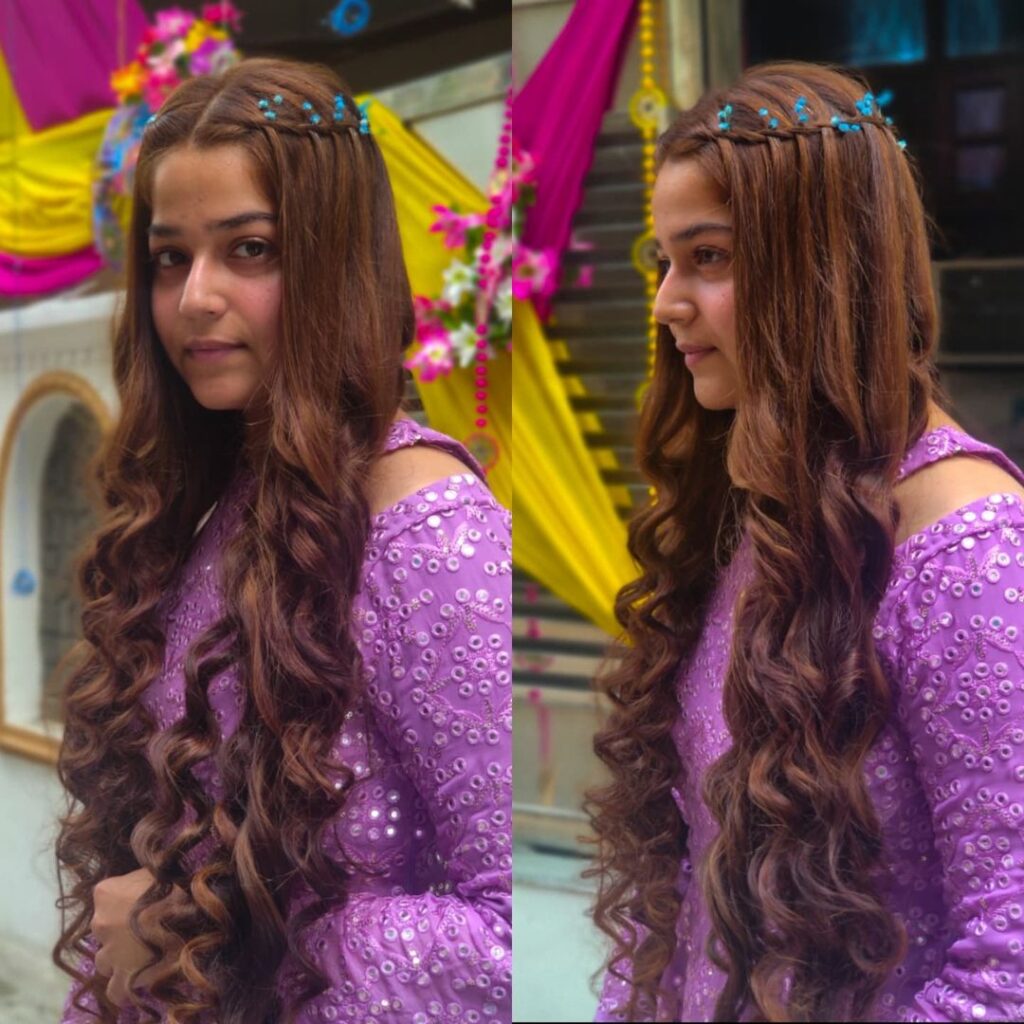 Courtesy: Manish Hair
#16 One Of The Simple Bridesmaid Hairstyles
For bridesmaid hairstyles, sometimes simplistic elegance is the way to go! Especially if the bride is going for the same style statement as well. You can all opt for the same hairstyle like this one, or some bridesmaids can choose other kinds of braids with straight hair, like a waterfall braid or a rope braid – the one that subtly complements a basic style. You can all add the baby's breath to the hairdo and the bride can go for other types of white flowers like orchids, carnations, or roses.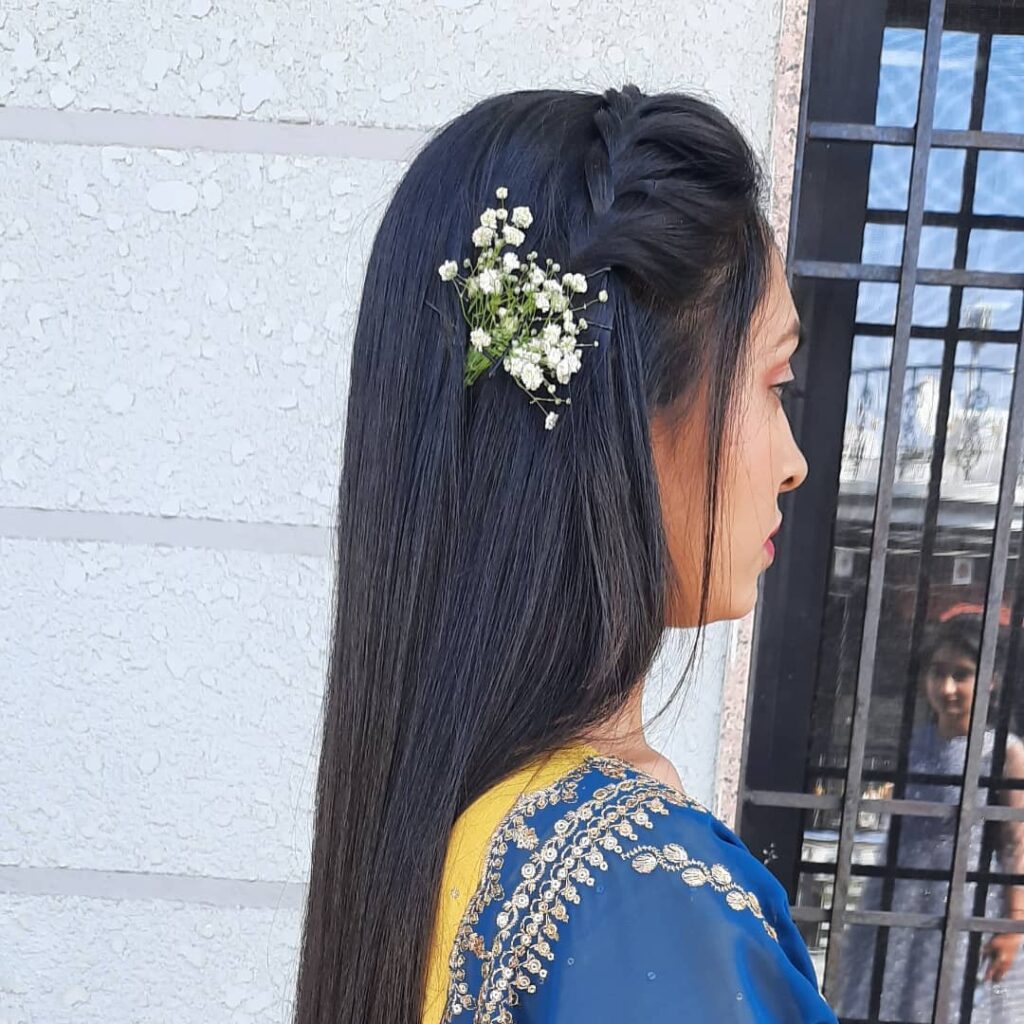 Courtesy: Manali Beauty Saloon
#17 Ponytail + Braids + Waves = Breathtaking 'Do
If you're bored of the normal updos, braids, and half-up hairstyles and want something statement setting for your BFF's wedding, try this one of the latest bridesmaid hairstyles 2022 for the special day. It has a smooth braid on one side, some tendrils for a romantic touch, puffs on the crown for some volume, followed by ponytail, and smooth waves to give those tresses a picture-perfect touch. Needless to say, let a professional hairstylist recreate this for you. It's not the work of the novice or even someone who just does hairdos for fun. It will take some time to achieve, but the results will be worth it.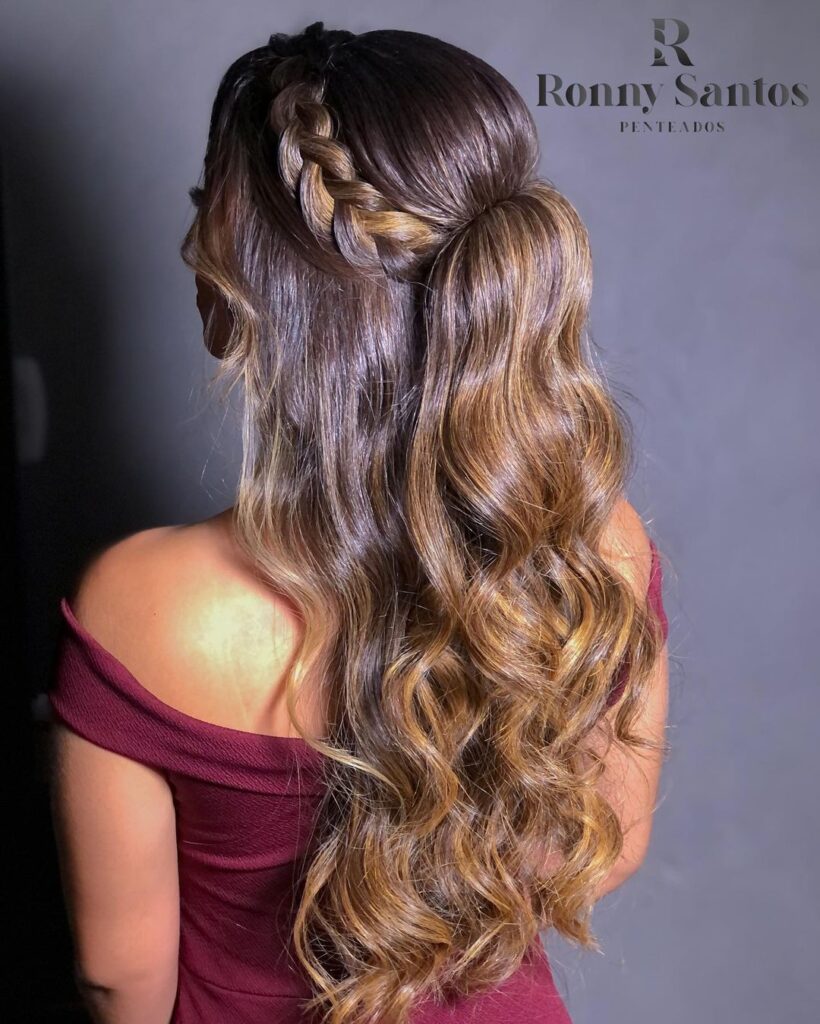 Courtesy: Ronny Santos
#18 A Catchy Accessory Is All You Need! 
A single statement accessory on your hair is exactly what you need for a catchy and down bridesmaid hairstyle idea! To make sure all bridesmaids are looking coherent, the accessory should be the same or look the same – think of similar colors or embellishments used. You can vary the hairstyle by playing with the partition, but keeping them the same on all the bridesmaids can turn out to be amazing ideas as well.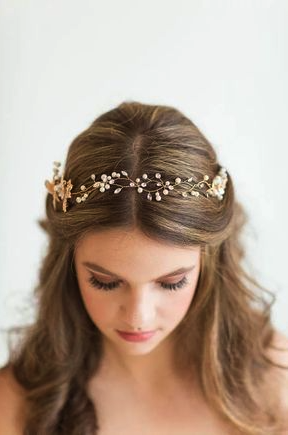 #19 The Perfect Bridesmaid Hairstyles For Long Hair! 
When you have got it, flaunt it! Bigger hair allows for gorgeous curls just sweeping down the back and mesmerizing everyone who lays eyes on them. A half-up, half-down is just an ideal pick for that. But even if other bridesmaids don't have long hair, this style looks good on all lengths, so you don't have to worry about the coherency in the bridesmaid hair. The tendrils further add to the elegance of the hairdo!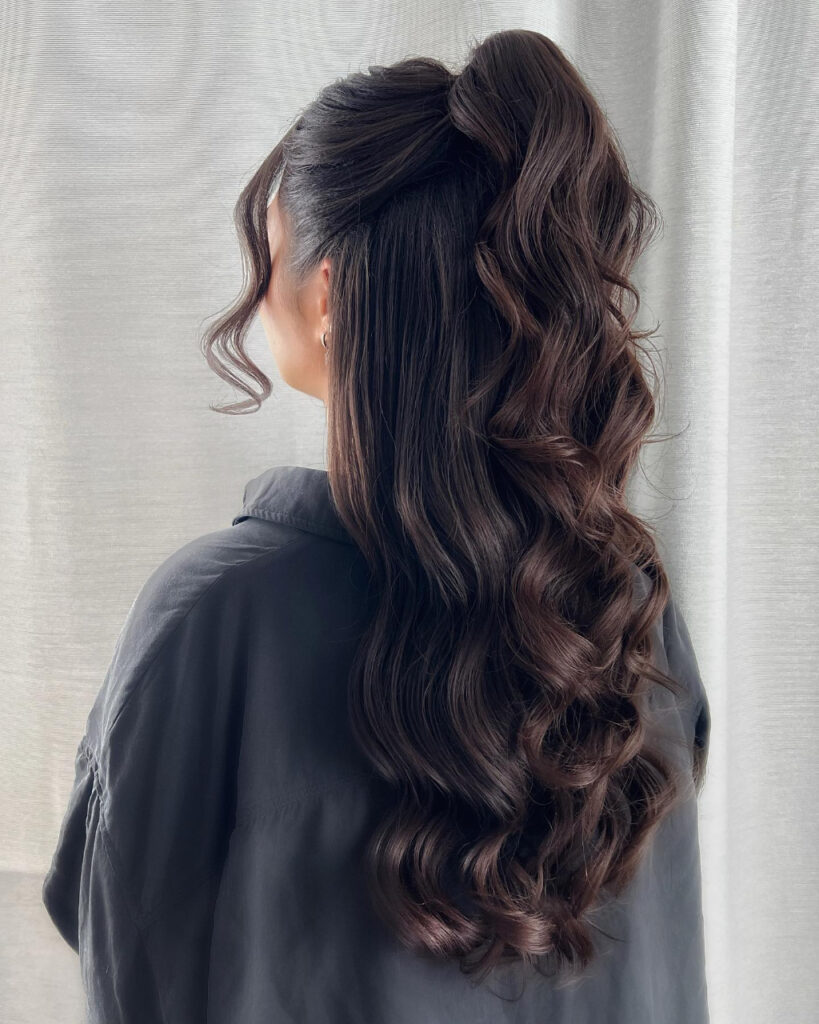 Courtesy: Galvina Hairstylist
Bridesmaid Hairstyles For Short Hair
#20 The Classic Bun
A messy chignon that has a braid from the crown, a few tendrils on the sides, tonnes of volume using back-combing, sprays, and tugging the braids followed by a neat yet messy bun on the side is a go-to style for bridesmaids with short hair. In fact, all the bridesmaids can go for the chignon bun in a braided style for a complimentary and gorgeous matching bridesmaid hairstyle look. When sporting a bun though, make sure that the earrings are dazzling because they somehow make the entire look come together impeccably.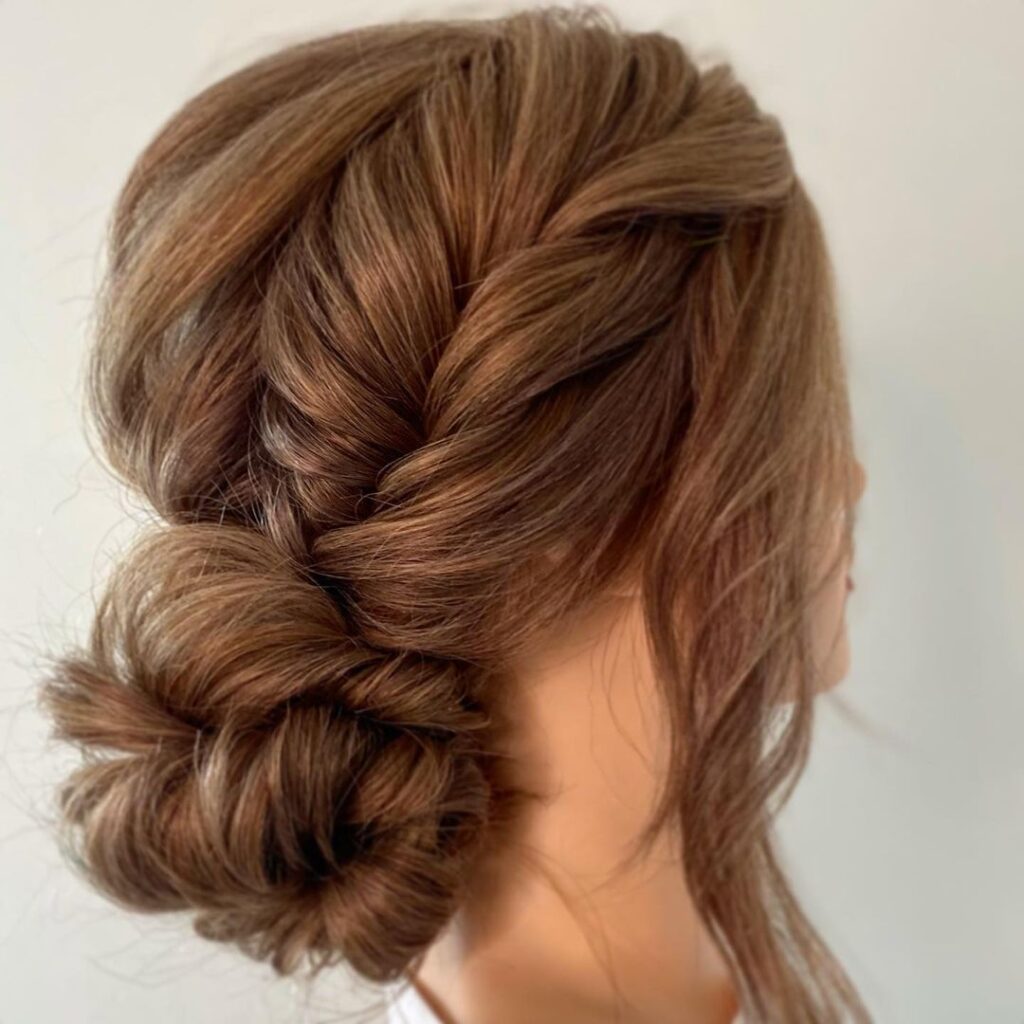 Courtesy: Devon Bridal Hair
#21 Neat Waves Are Sophisticated & Elegant
Glamorous shiny waves are an excellent choice for any type of hair length or as a matter of fact, wedding theme. From a gardenia affair to boho-chic nuptials or a formal ballroom event, the waves can make for a good choice for all the themes. And there are multiple ways to style them. Of course, you can leave them as the same. But if you want to elevate the look, there are multiple choices. You can infuse a couple of braids, make a half-bun, accessorize with florals or metal adornments or go forward with a ponytail. All bridesmaids can opt for different styles in the same basic waves so as to contrast each other in a complementary way. 
Courtesy: Pinterest
#22 Chunky Braid & A Cool Accessory
This one of the bridesmaid hairstyles had our heart in the first look. It's the right touch of whimsical and romantic. Plus, has the right amount of creativity so that re-creating becomes easy and the result will be just as breath-taking as portrayed. This would look good on any type of hair as well because the maximum play of hairstyles comes on the crown. Surely, also, one of the best black wedding hairstyles for bridesmaids. The twisted braids on both sides conjoin and are affixed with a winsome accessory for a perfect dash of romance in the hairdo.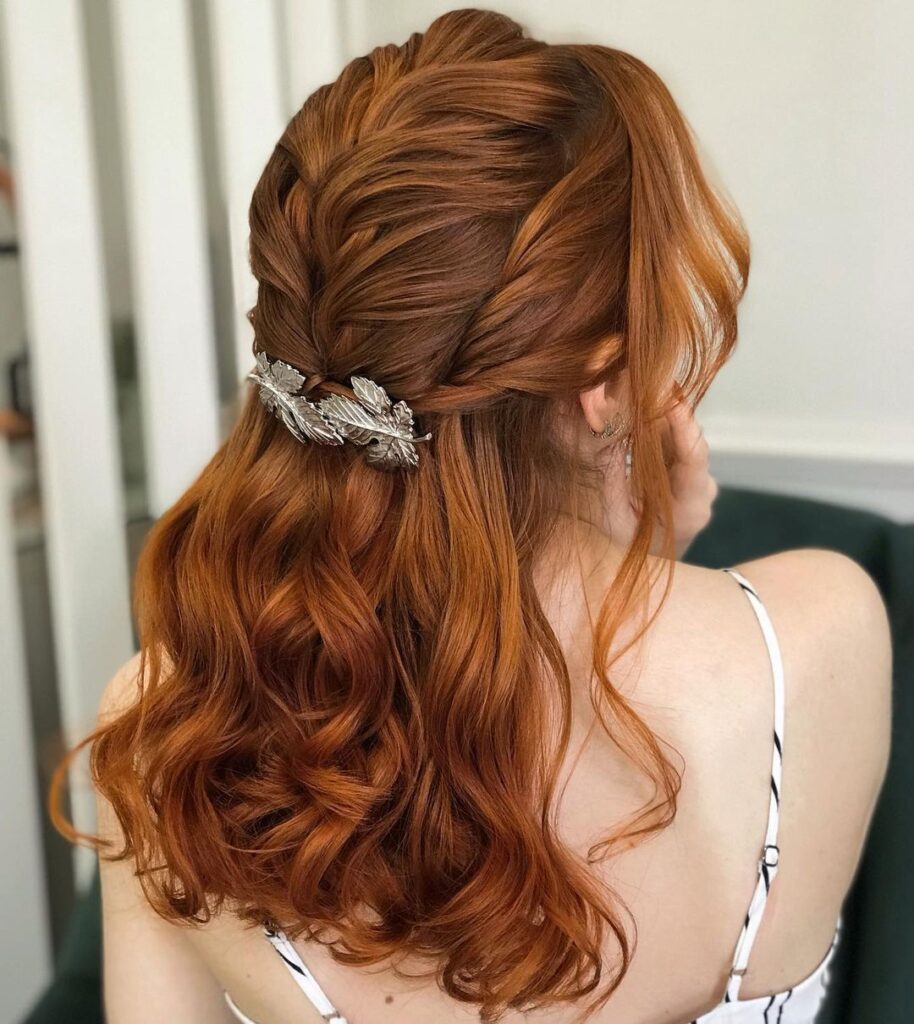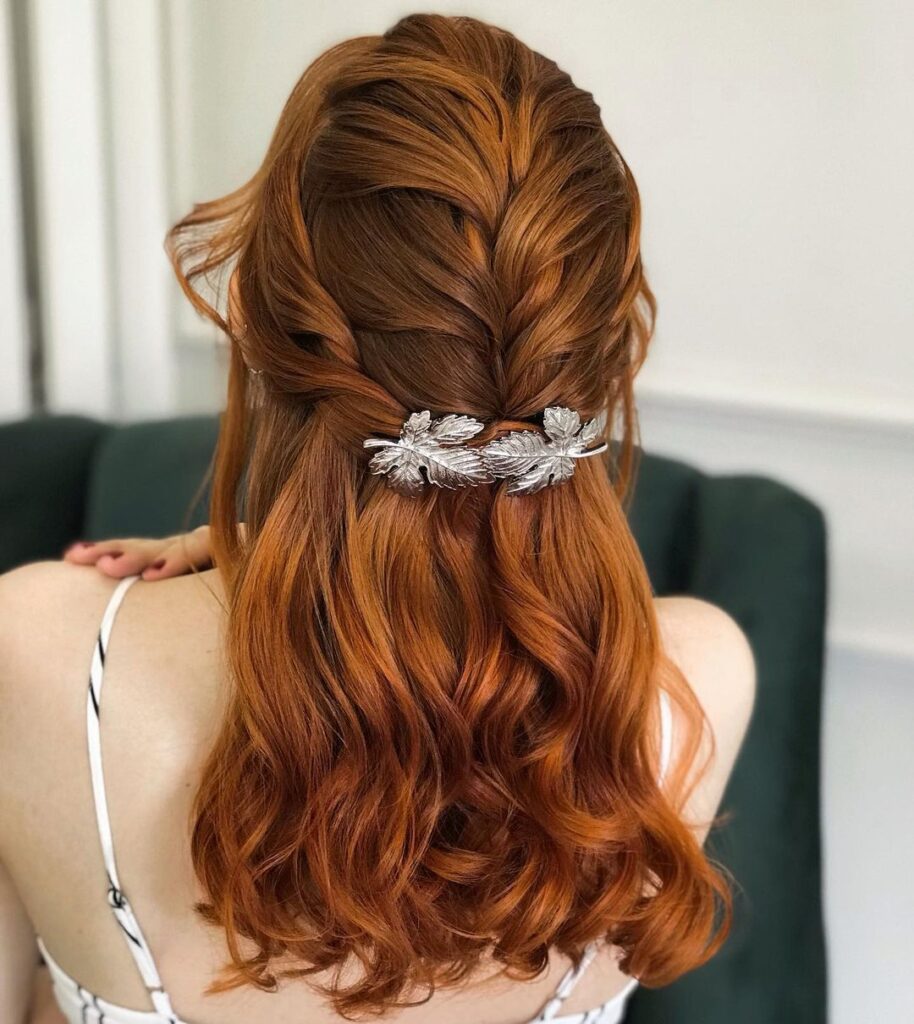 Courtesy: @giselleserafimm
#24 Swoon-Worthy Style
In the world of messy, opt for a neat, taut braid, ponytail, and elegant waves to stand out in the crowd. Messy bridesmaid hairdos have their own charm, no doubt. But the tidy, groomed look have their own place in the realm of elegance as well. For half-up bridesmaid hairstyles, this hairdo can make for a great option. It's sophisticated, poised, and also, makes sure to stay in place all the way through the wedding dance party.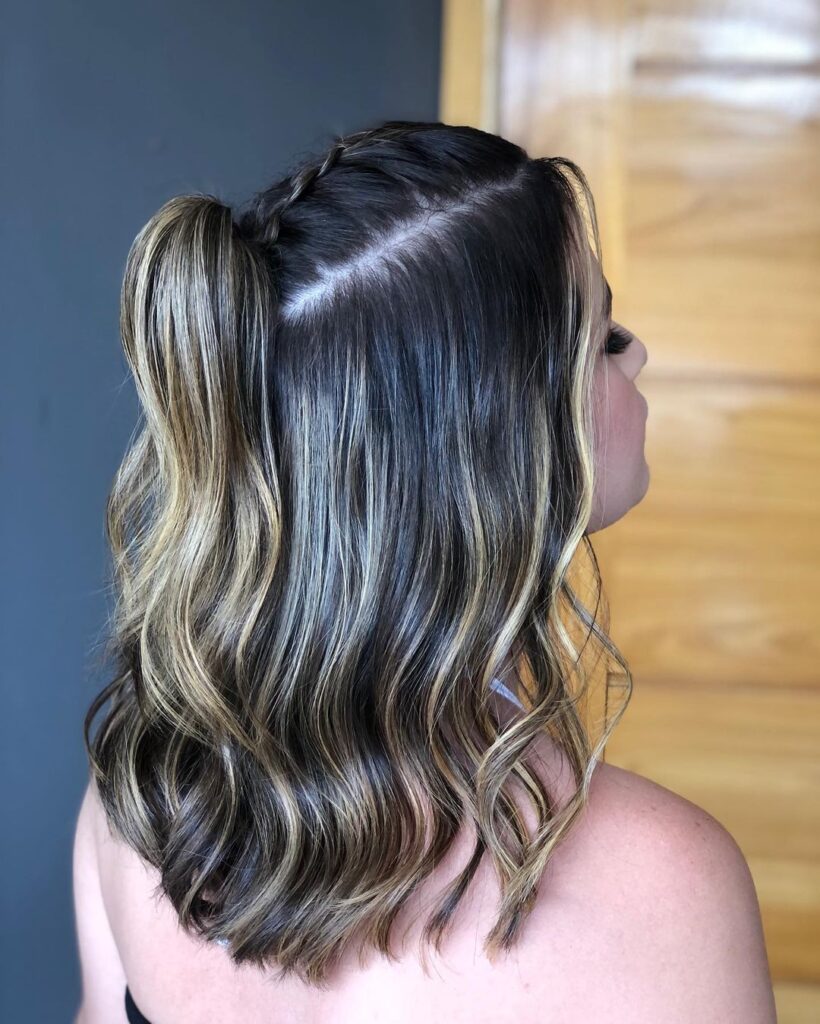 Courtesy: @euronnysantos
#25 A Tiara Headpiece Attached Impressively
This is one of the easy, DIY bridesmaid hairstyles and requires you to first, but the hair into beautiful waves, take two strands and conjoin them in a twisted way on the back while leaving a few bangs on the front, and top off the 'do with a statement adornment neatly and effortlessly. Anyone who has a knack for hairstyles can easily re-create this and it would certainly make for a good pick for a black bridesmaid hairstyle as well.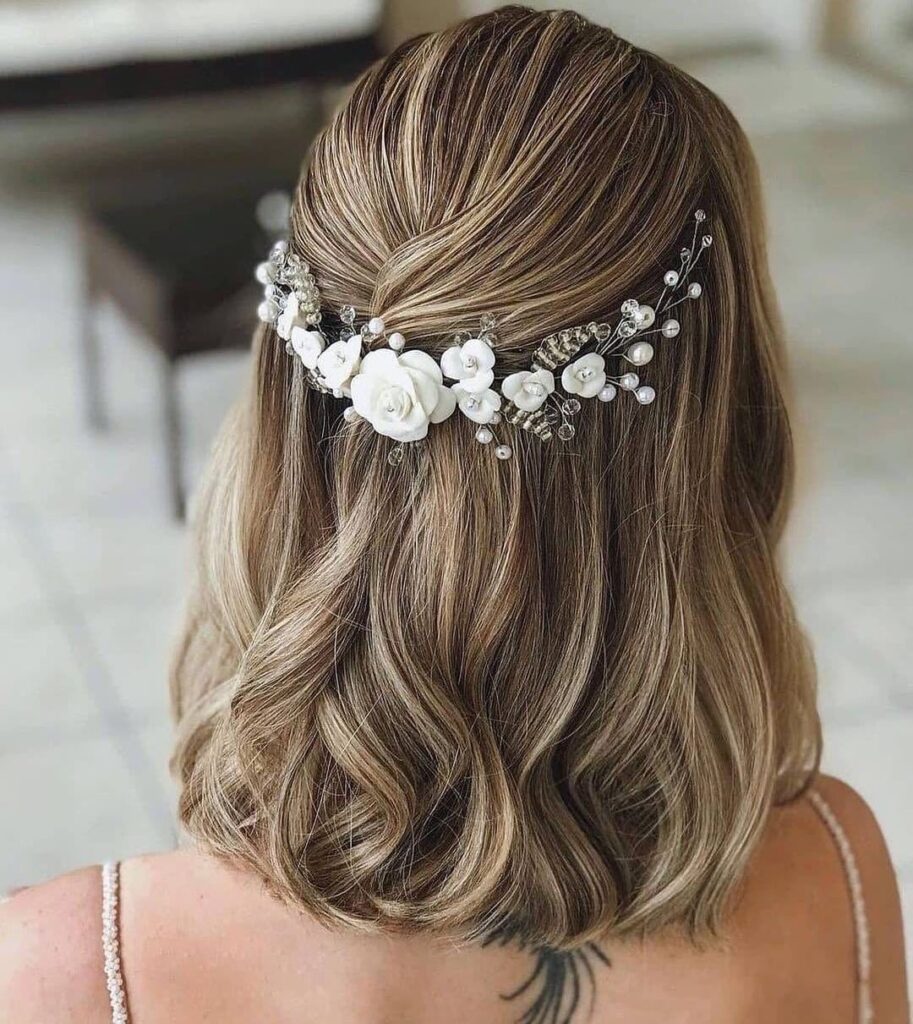 Courtesy: @boutiquedagrinalda
#26 Bridesmaid Hairstyle For Short Hair Are Cute, Right?
Bridesmaid hairstyles for lobs don't get any better than this! Lobs are a flattering style and they can certainly make for a flawless haircut to whip up into any kind of hairstyle. Celebrities on the red carpet have proven that a lob can be easily made into a flattering bun, a whimsical braid, or a classy ponytail. If you're a bridesmaid with a lob haircut, don't worry about matching your hair with other bridesmaids. Your haircut will certainly not hold you back.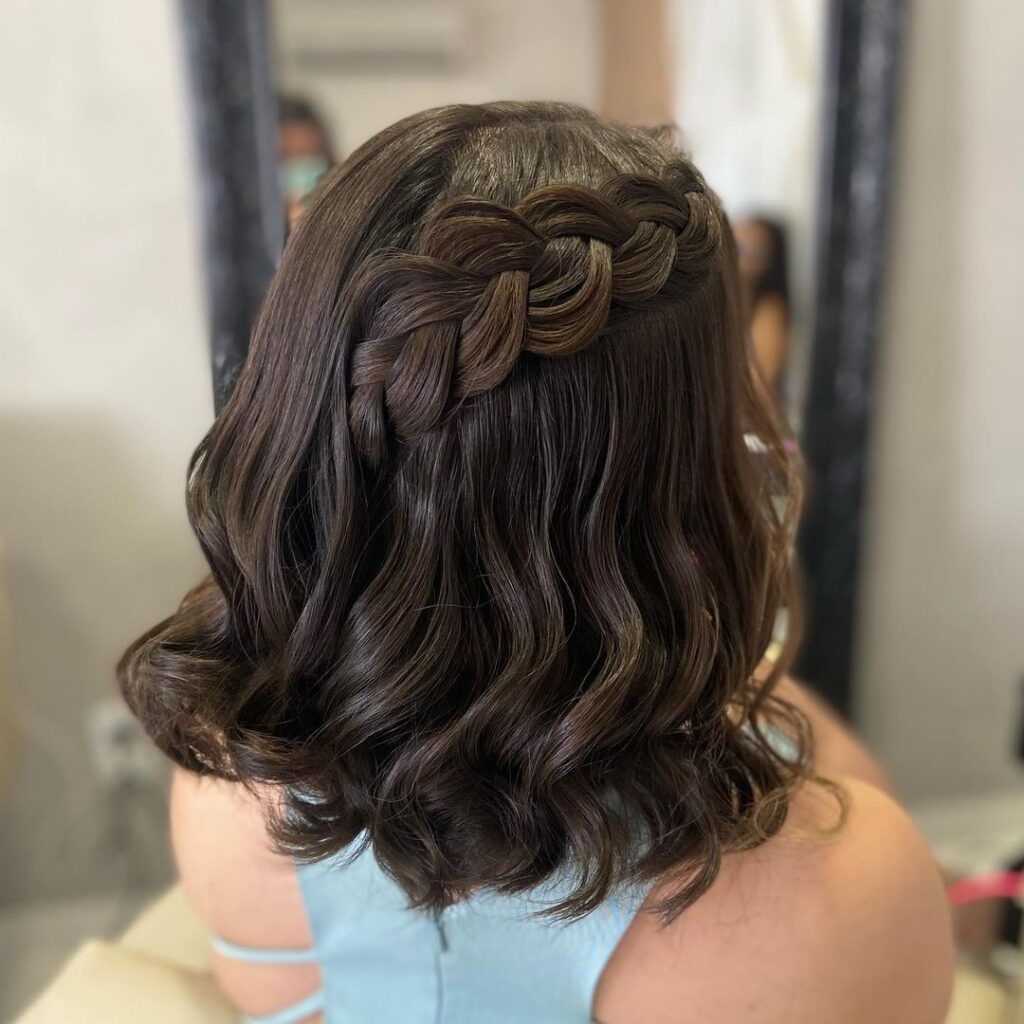 Courtesy: @izabellahairstylist_
#27 A Gorgeous Braided Bun! 
Braided buns are one of the versatile looks which work for the wedding day, but also as an office hairstyle, casual hairdo, or a laid-back party look. Try these side chignon bridesmaid hairstyles for a gorgeous hairdo to go with your beautiful dress and complement the bride beautifully.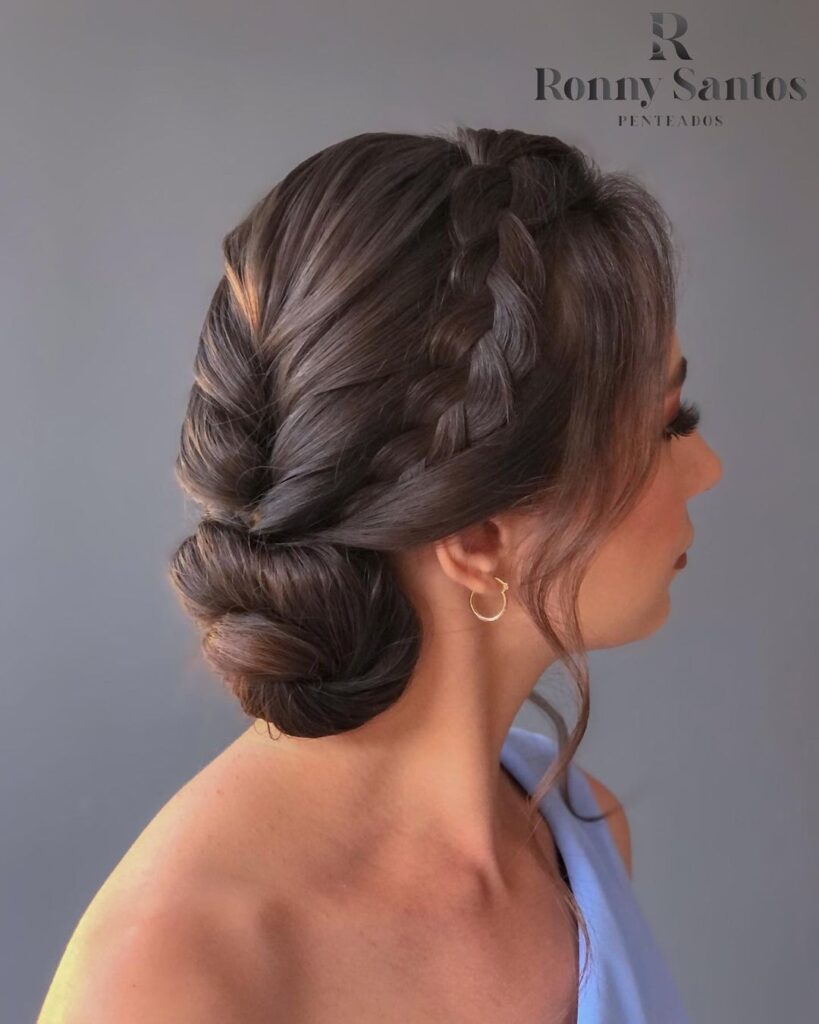 Courtesy: Ronny Santos
Bridesmaid Hairstyles For Medium-Length Hair
#28 An Illusion Of Ponytail
For medium-length bridesmaid hairstyle, there are ample options to play with! Consider this gorgeous hairdo, for example, there's the allure of braids and waves combined impeccable for a whimsical outcome. The tendrils further add an ethereal touch to the ensemble.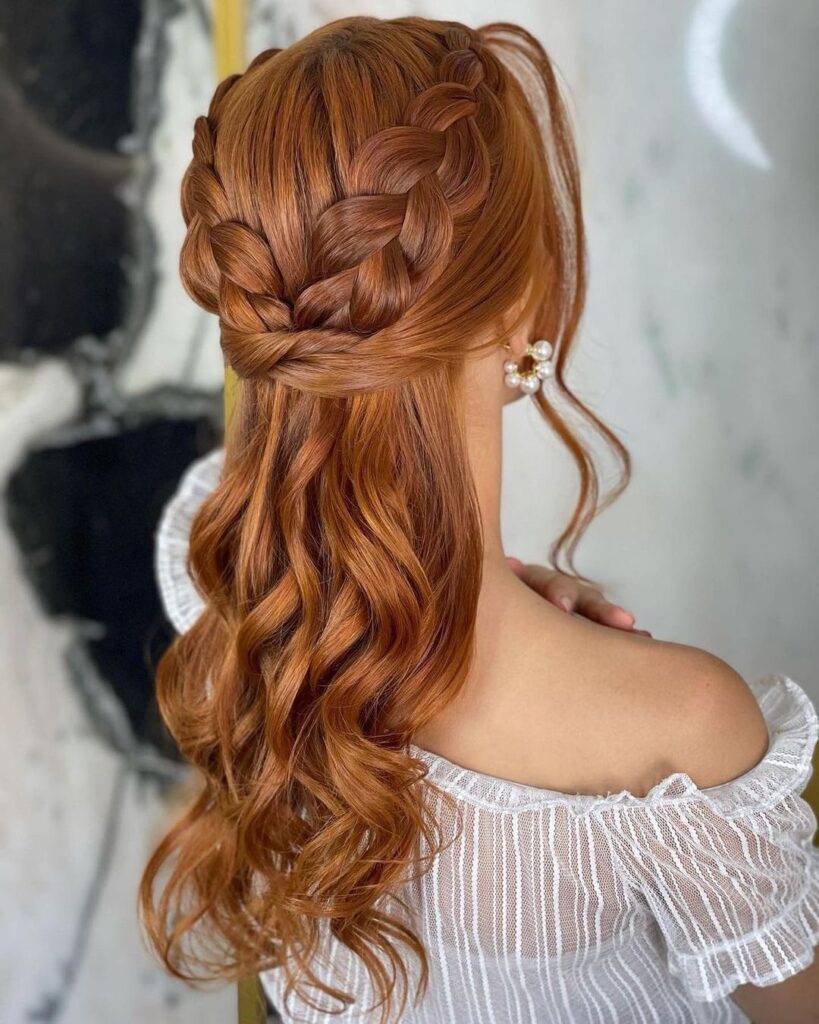 #29 Easy & Gorgeous With A Hint Of An Accessory
The easiest way to accentuate the charm of any hairstyle is to add an accessory that doesn't understate the hairdo but subtly complements the entire style. Also, when it comes to bridesmaid hairstyles, it's recommended if one bridesmaid is using any sort of hair adornments, the other bridesmaid follows suit. And the same sort of hair accessory works as well like everyone wears fresh flowers or a metal accessory with beads or pearls, etc. for matching bridesmaid hairstyle look.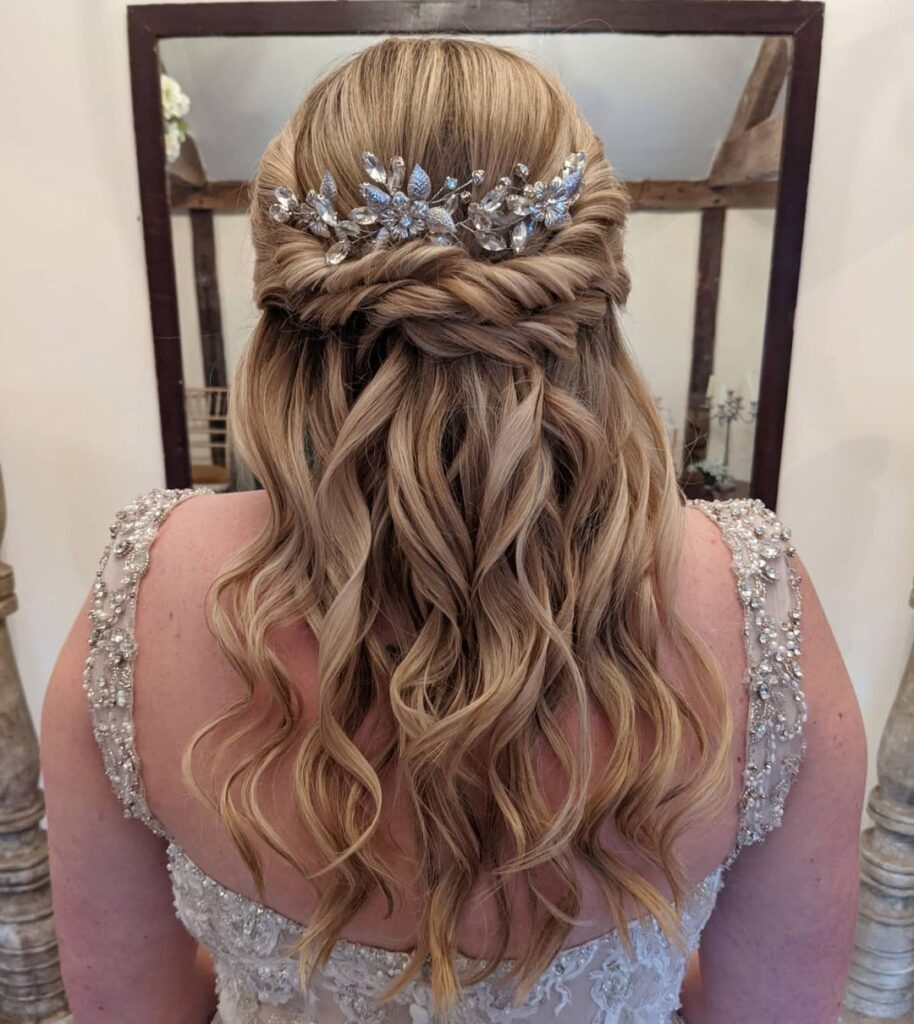 Courtesy: October Hair
#30 Neat Braids With Alluring Voluminous Tresses 
A chic, endearing hairstyle is seldom without a braid. Instead, these elements are generally what the braids are all about. If you want your bridesmaid look to infuse these traits as well, do think about incorporating braids in the hairstyle. And if messy isn't something you're impressed by, try these neat braids on either side meeting the sultry waves of the tresses on the back for a beautiful medium-length bridesmaid hairdo look.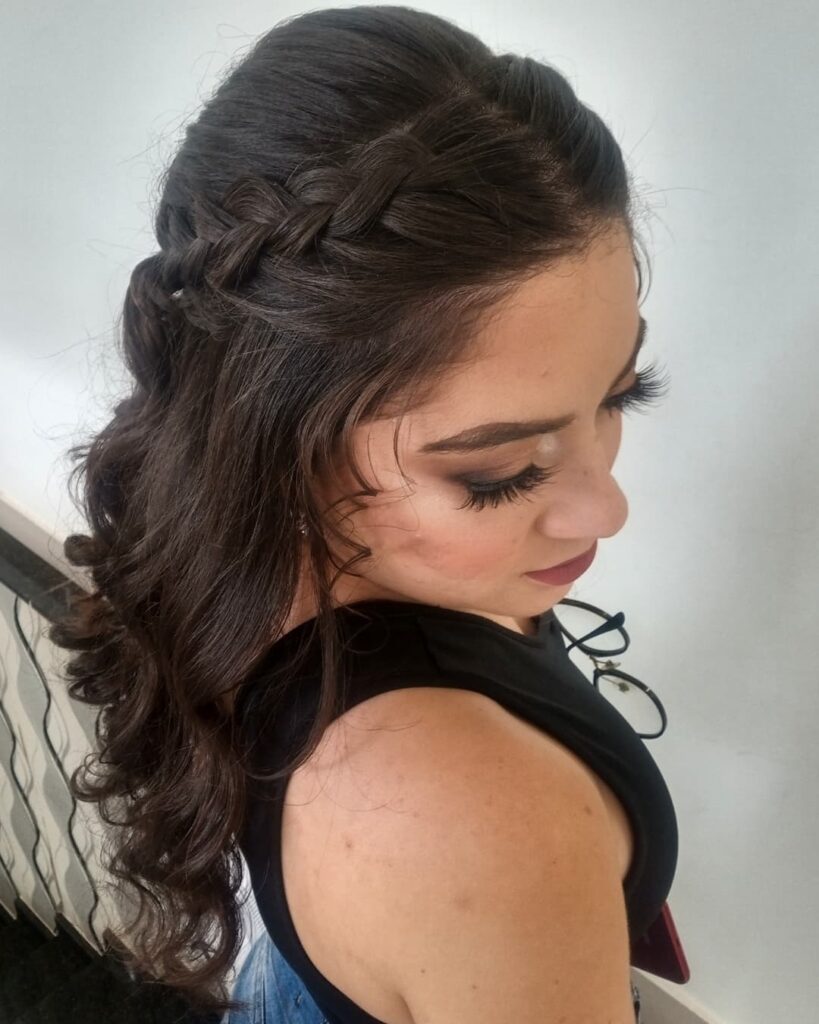 Courtesy: Silvia Penteados
#31 Easy, DIY Bridesmaid Hairstyles 
This simple, do-it-yourself bridesmaid hairstyle requires the skills of just creating bouncy, beach waves which you can learn here. Next, if your hair tends to lay flat and decrease in volume on the crown, add a sponge (buy here) and fix it using bobby pins. Lastly, take two sections from either side of the crown and twist them before attaching them to the back. Fix everything with a hair spray and that's it! Your DIY bridesmaid hairstyle for medium-length hair is done!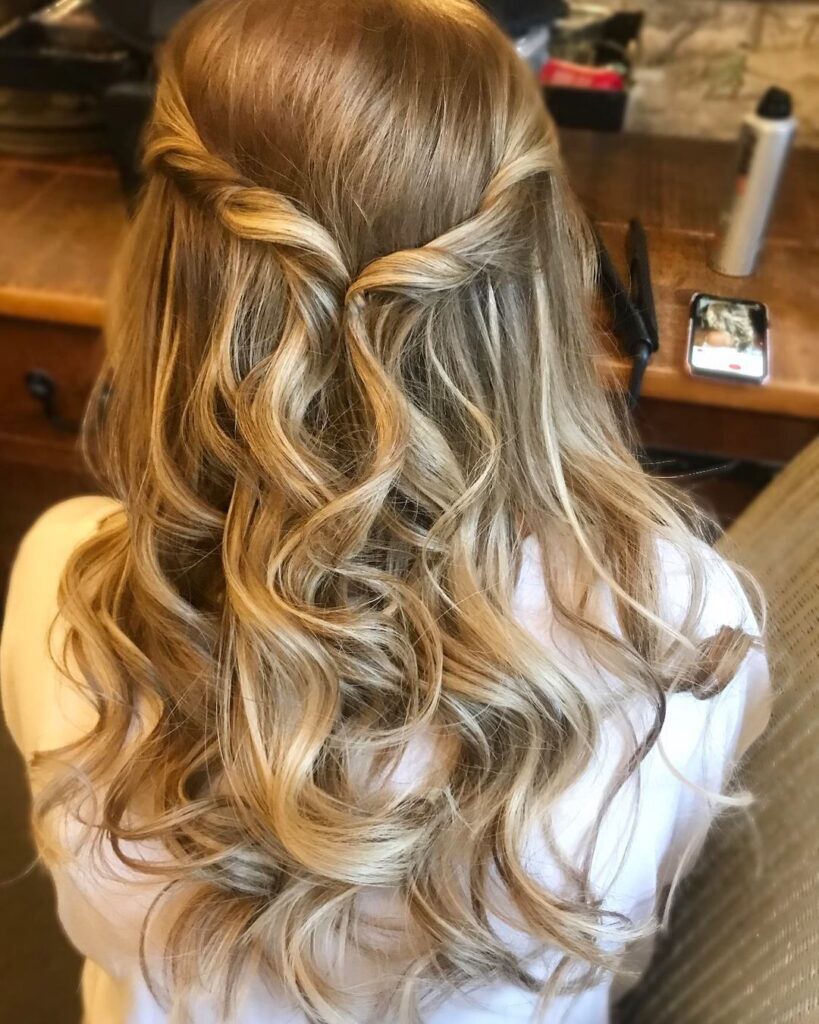 Courtesy: Nala & Knot
#32 Neatly Tucked To The Back 
A number of braids come together to be twisted and tucked in neatly for a beautiful, neat hairstyle. While all bridesmaids can play with different braids in the half-up, half-down bridesmaid hairstyles, those with a bigger forehead should opt for a braid that adds volume to the top of the crown. Instead, they should opt for side braids with bangs so as to flatter their face shape while complementing the other bridesmaids.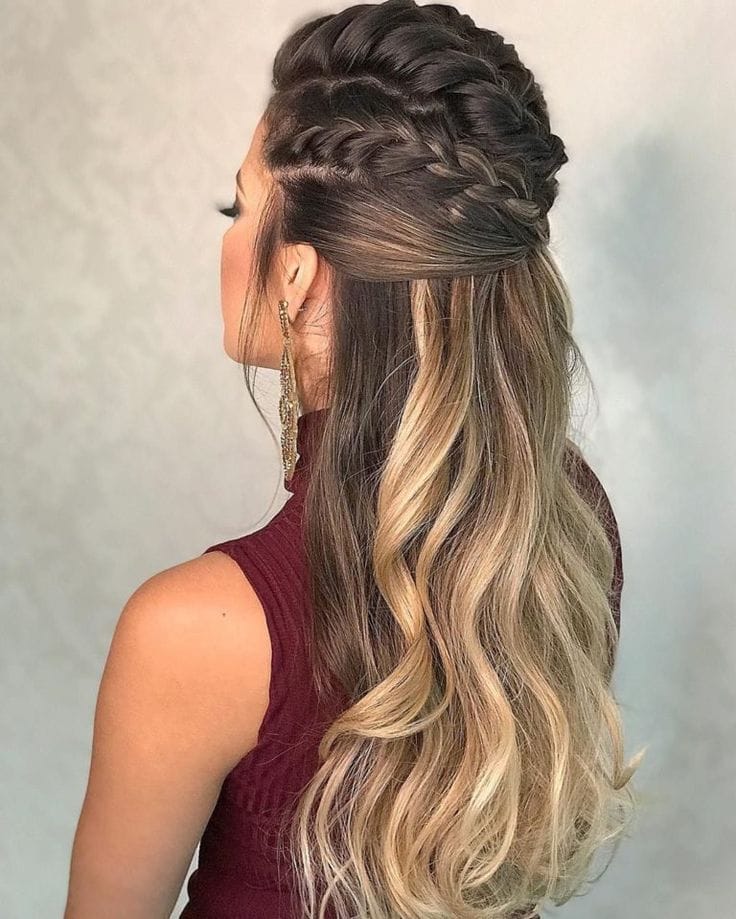 Courtesy: @penteadohebertmelo
#33 Oh-So-Gorgeous Bouncy, Vintage Waves 
A Hollywood wave is the best way to infuse retro, elegant waves into your bridesmaid ensemble. Possibly the ideal go-to wave if the bride is also sporting something on the vintage, classic lines, and the entire wedding event also has hints of this timeless style. Although, keep in mind that Hollywood waves work well only if the bridesmaids have an equal length along with their hair. If someone has layered hair, the look will be a bit messy and chic and not exactly elegant. So, see if all bridesmaids, and the bride, are comfortable with the idea.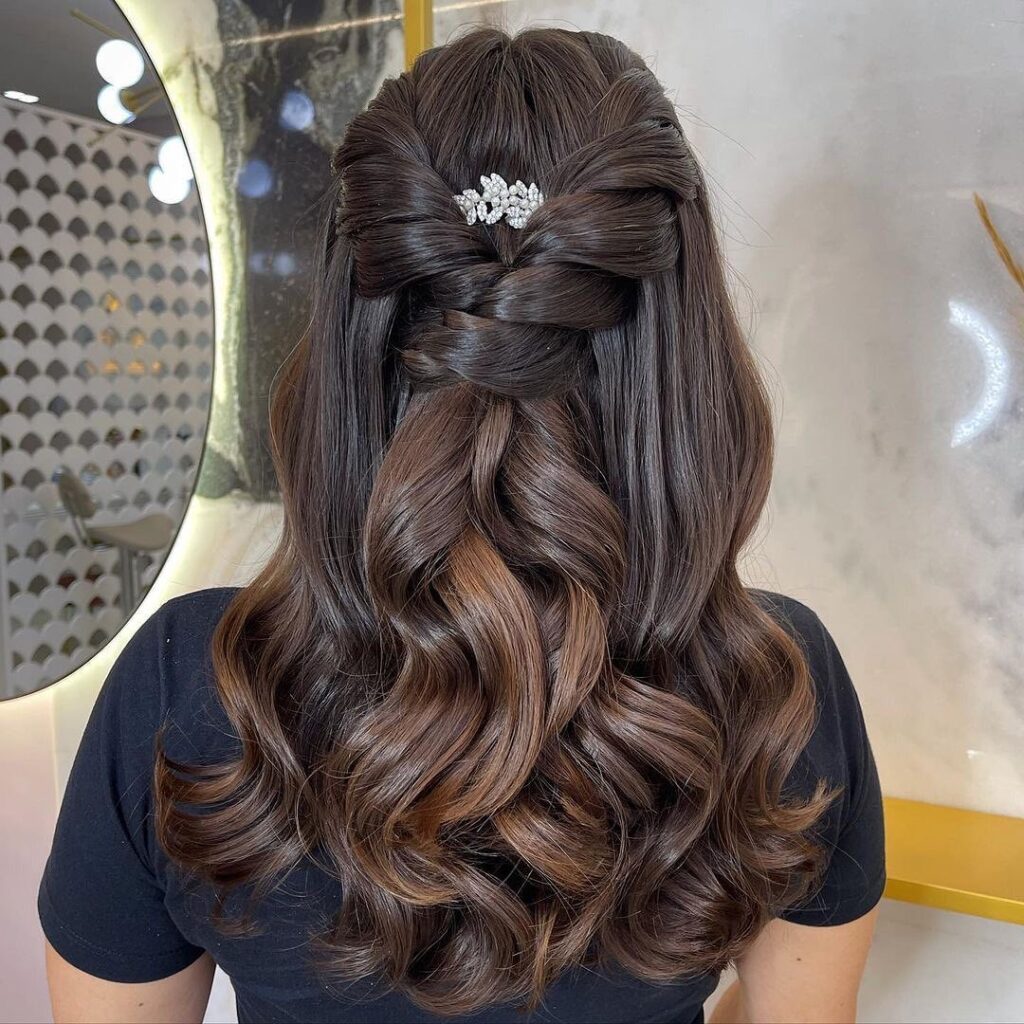 Courtesy: Adno Moreira
Updo/ Bun Bridesmaid Hairstyles
#34 The Classic Chignon
Braids and buns are a match made in heaven. There's a magnetic appeal of these hairstyles created with the combination of these two that's just hard to ignore. In the next bridesmaid bun hairstyle idea, find the fusion of the classic and fishtail braid combined with a bun and topped off with a floral headpiece to woo you. It's going straight to your Pinterest wedding board, isn't it?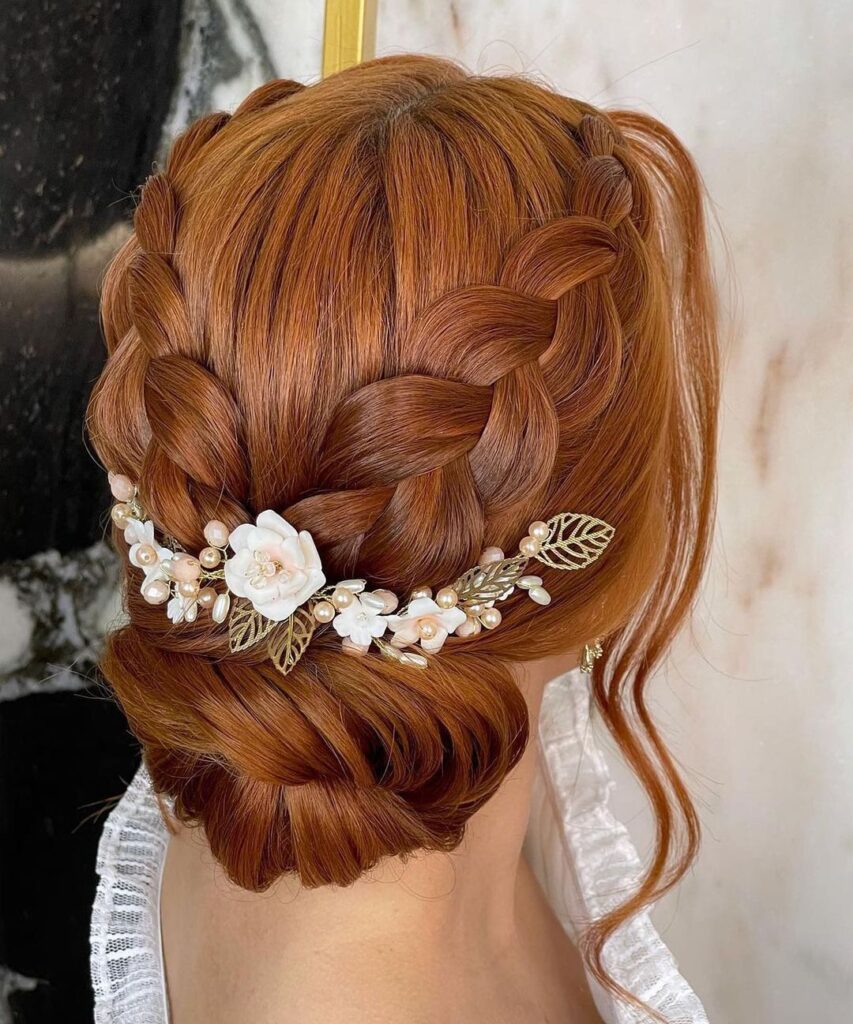 Courtesy: @boutiquedagrinalda
#35 DIY Bun Bridesmaid Hairstyle – Part I
In the next three sub-sections, we have included a bun bridesmaid hairstyle pictorial so you can DIY beautiful 'dos without splurging on a professional. Here's a rope braided bun, accessorized in the end, for a glamorous effect.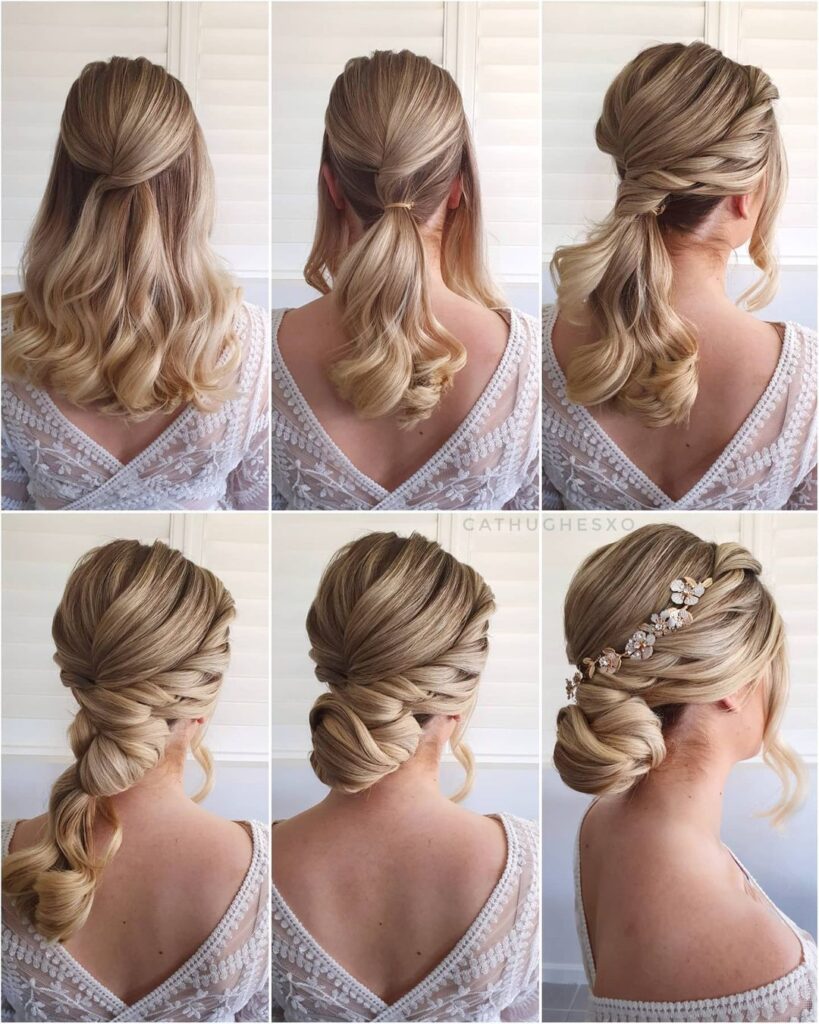 Courtesy: Ulyana Aster
#36 DIY Bun Bridesmaid Hairstyle – Part II
Yes, doing those Pinterest-worthy bridesmaid hairstyles is that easy!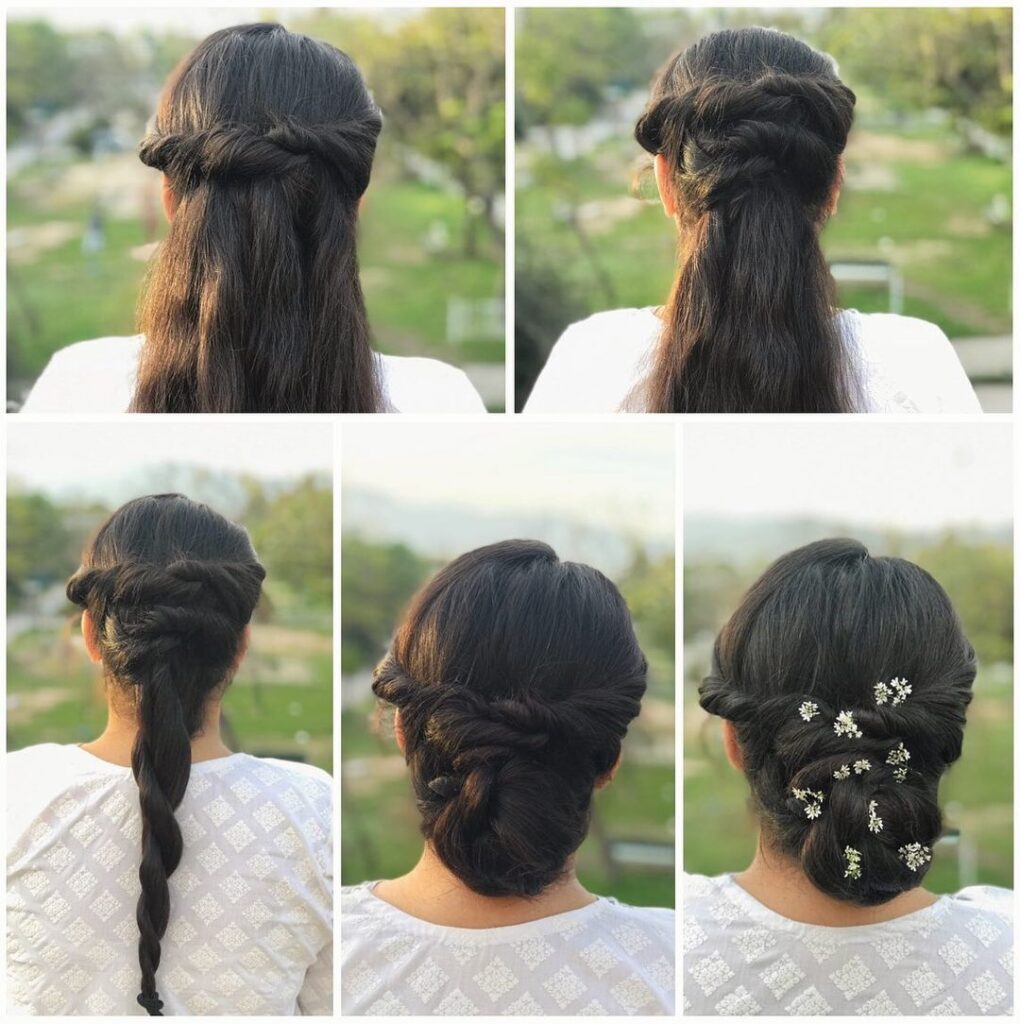 Courtesy: Sahila Ali Phulpoto
#37 DIY Bun Bridesmaid Hairstyle – Part III
An easy and quick bun bridesmaid hairstyle. For added volume on the crown, use a sponge base and affix it using tonnes of bobby pins and finally, a hair spray.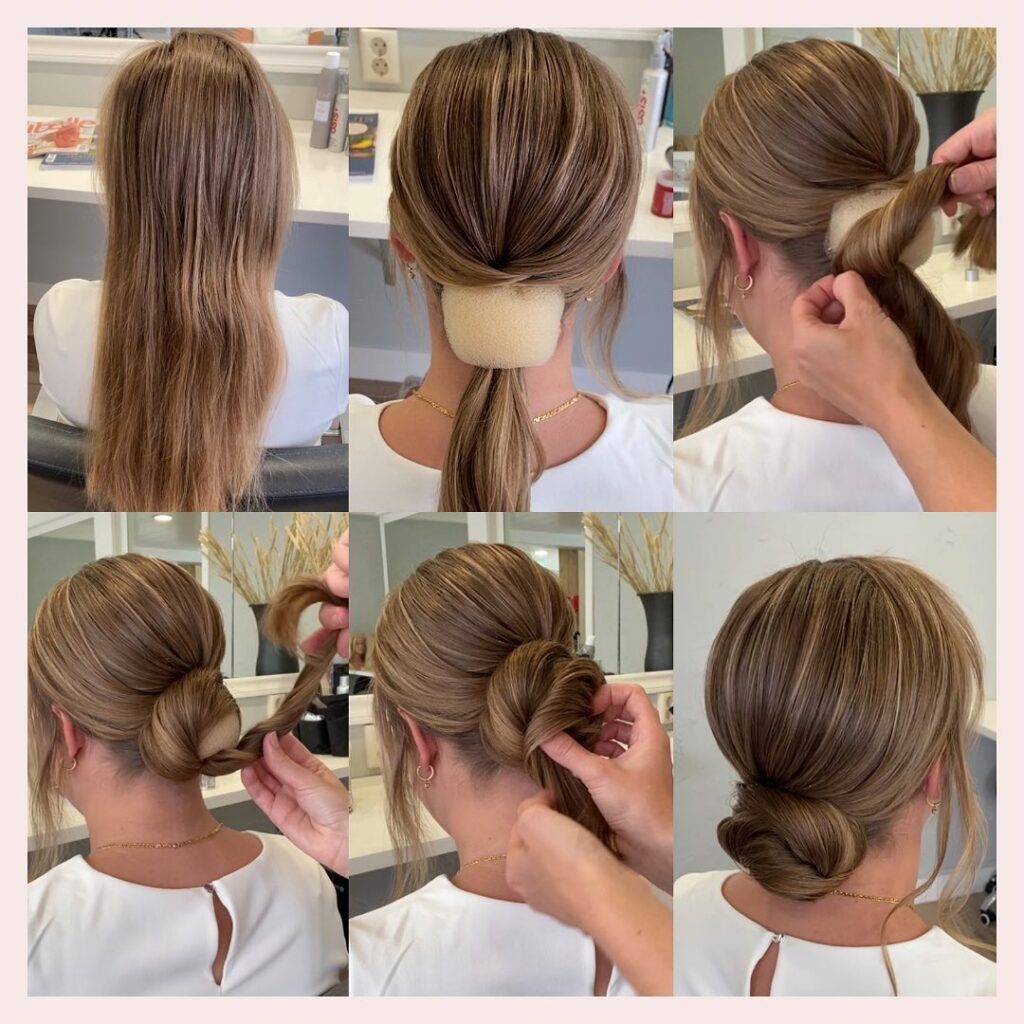 Courtesy: @alicekapitein_hairstyling
#38 In The World Of Messy, Be A Neat 
Messy buns have their own charm – sure, but neat buns still hold their elegant element in the realm of wedding hairstyles as well. This bride's hair includes two braids from either side meeting the wrapped-around chignon delicately on the bottom. Neat hairstyles do take time to complete but the results are just breathtaking. We'd suggest you'd trust a professional to re-create this hairdo because such impeccability is only a work of a true professional in the wedding vendor industry. Start early before the ceremonial hours as well, because creating a neat bun on all bridesmaids is a time-consuming task.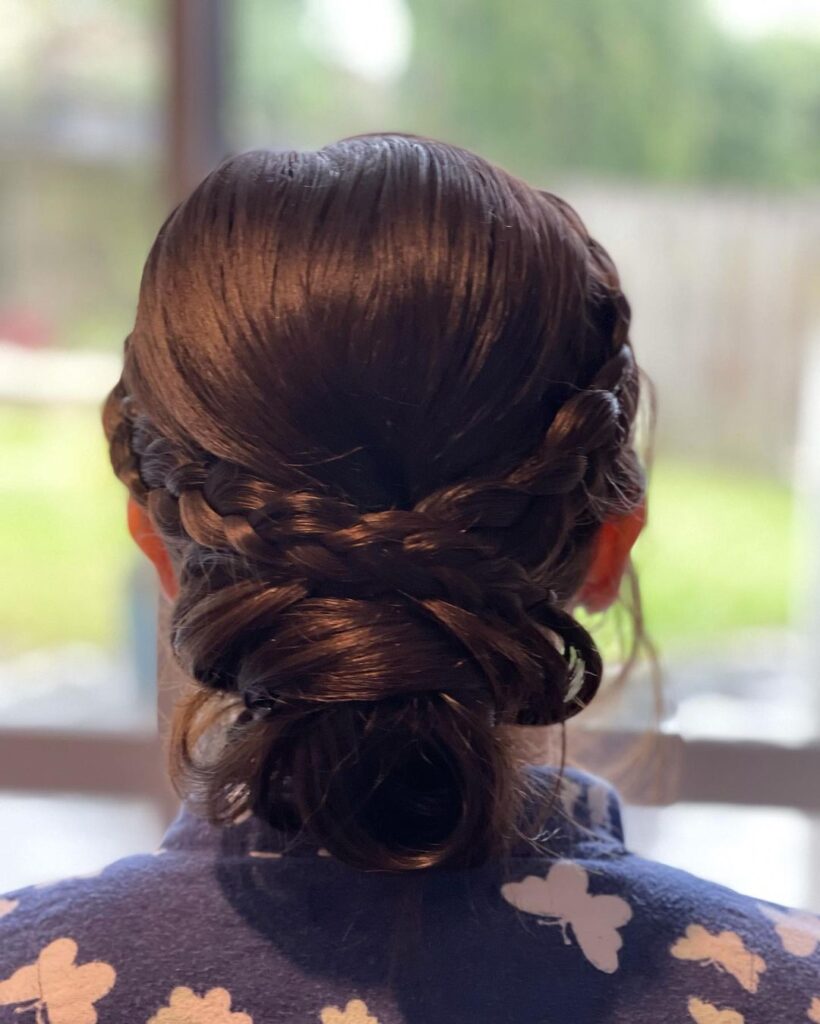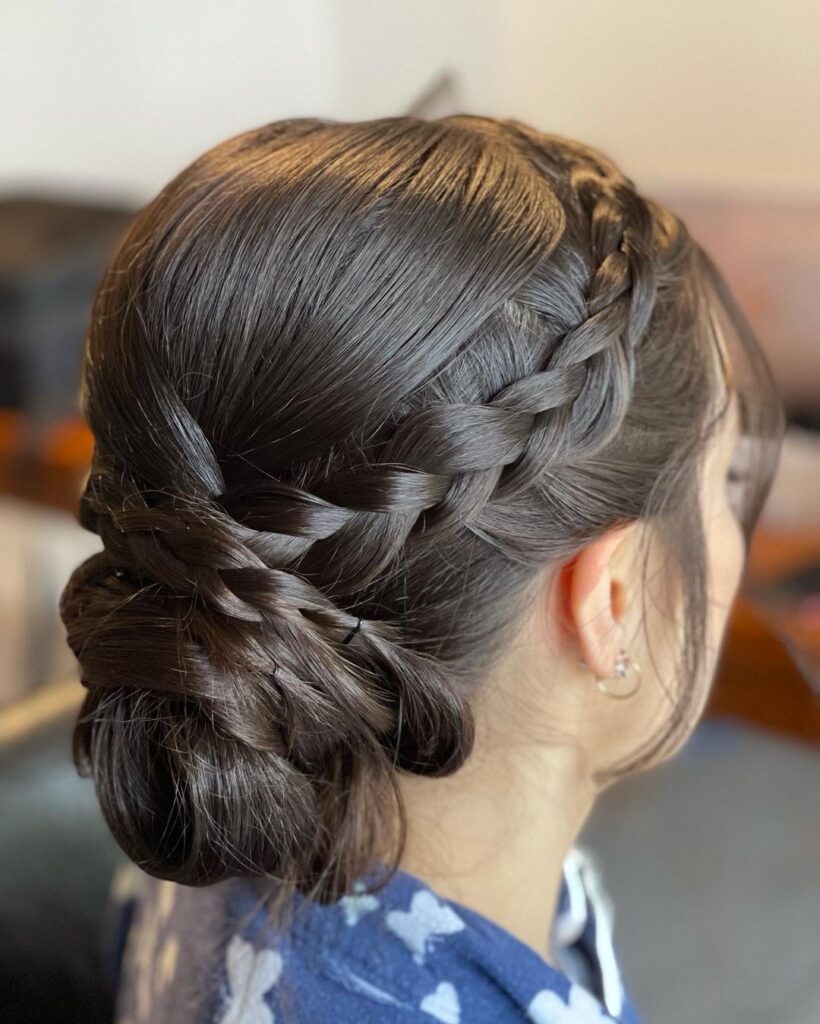 Courtesy: Claudia Samaniego
#39 Romantic, Vintage Vibes
We love a neat bun. We just do! For weddings, there's nothing that spells elegance and suave better than a low, crisp bun. Add on that the allure of the flowers and foliage strategically placed into a hairstyle – just like for this bridesmaid bun hairstyle.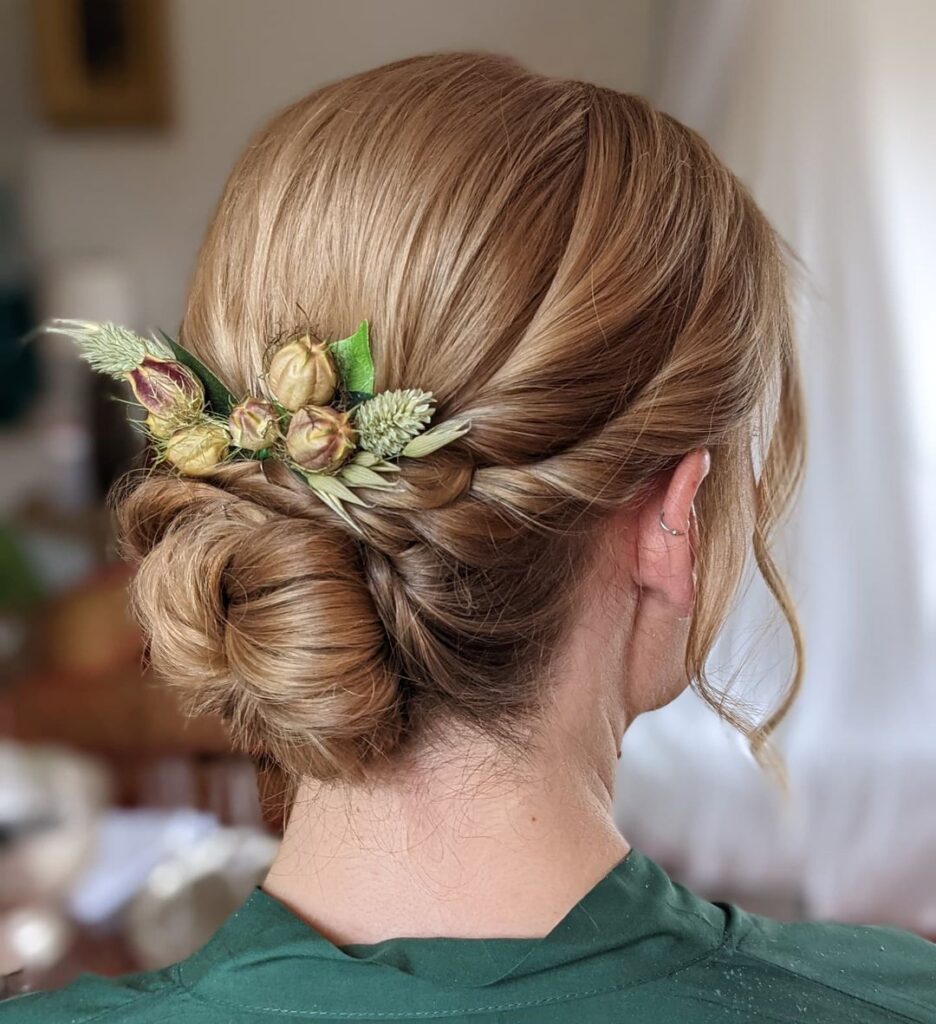 Courtesy: October Hair
#40 Embrace Asymmetry 
A low bun, but on the side, please. A side bun is a unique hairstyle that flatters almost all women and all types of face shapes and haircut looks. It's chic, feminine, and graceful making them the ultimate hairdo for the wedding party. And braids are the ultimate BFF of a side bun, elevating their look and adding a touch of glam to this alluring style. Take cues from the next bridesmaid on how to rock this beautiful hairstyle with utmost flair.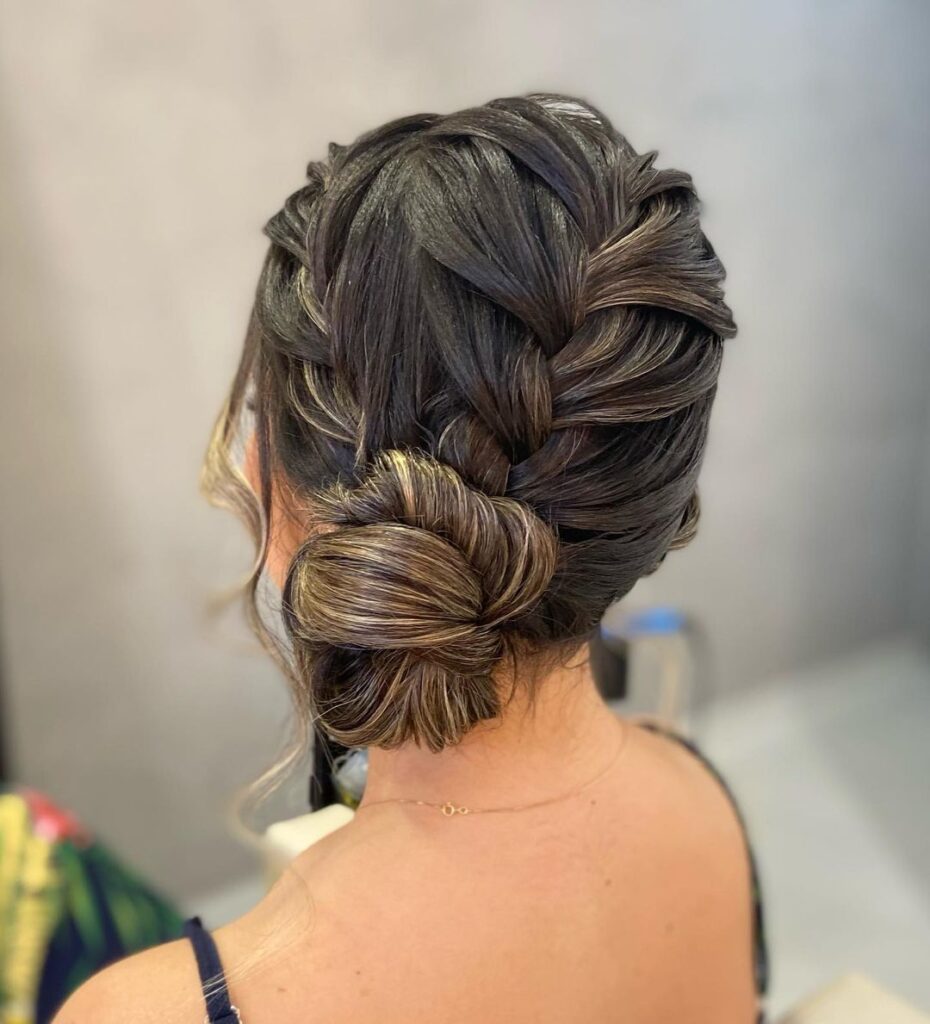 #41 A Chunky Braid With Your Chignon
A sleek chignon has its own fan club in the bridal hairdo realm, but so do the messy ones. This one of the bridesmaid hairstyles relies on messiness to define elegance and we can't argue with the sophistication it will lend to the wearer. The bride can opt for a braid hairstyle so as to complement her bridesmaids in this hairdo.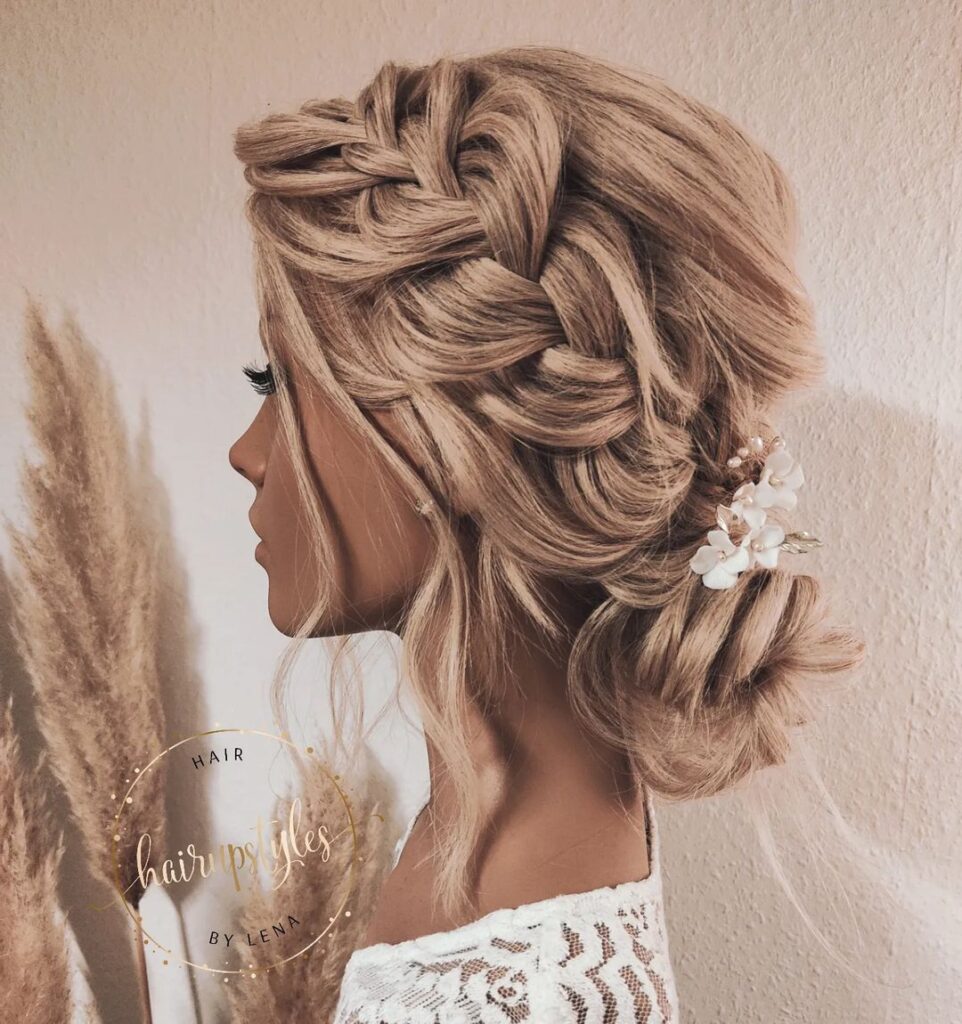 Courtesy: @hairupstylesbylena
#42 Ideal Medium Length Bridesmaid Hairstyle
When you're looking for medium-length bridesmaid hairstyles, a bun can never fail you. This one involves many braids coming from the top and sides merging beautifully on the bottom. The 'do is enhanced by some flowers but you can opt for other accessories too like pearl pins, rhinestone holder, etc.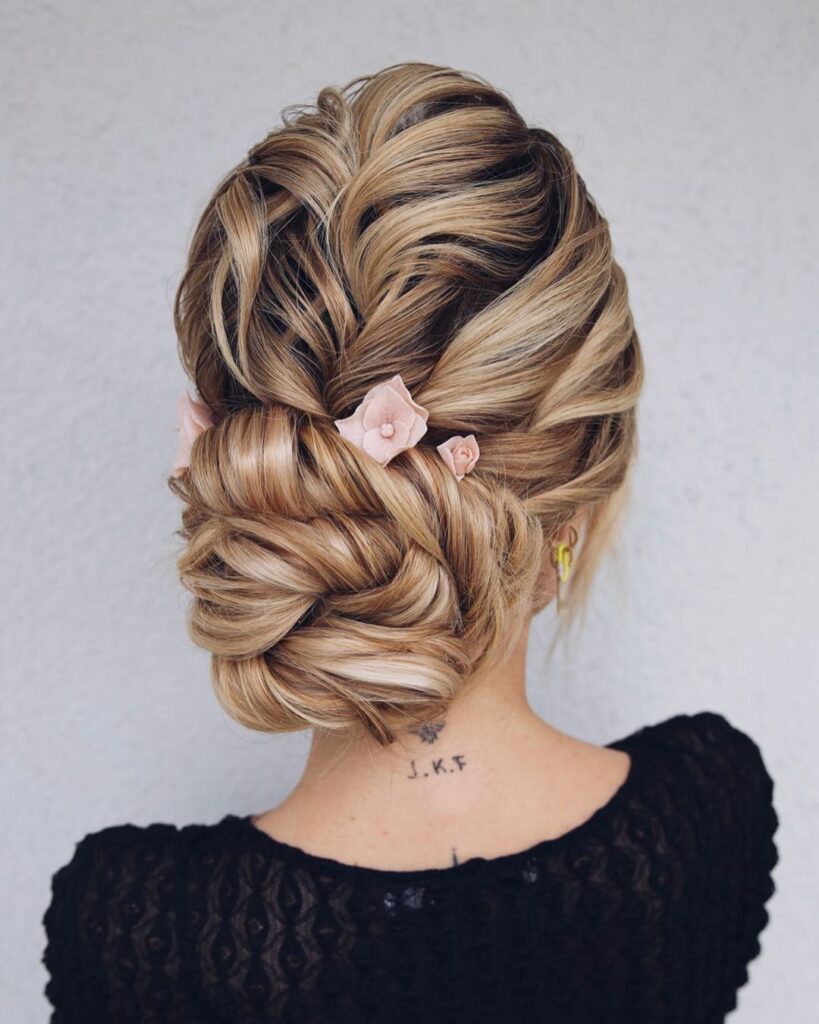 Courtesy: Alexandra
#43 If Fall Hairdo Was Manifested
Those little flower embellishments tell us it's a fall wedding and we love how the hairdo smartly nods to the season and the entire wedding theme. Fall weddings also tend to be more relaxed so this messy hairdo with lots of volumes seems fitting for the occasion.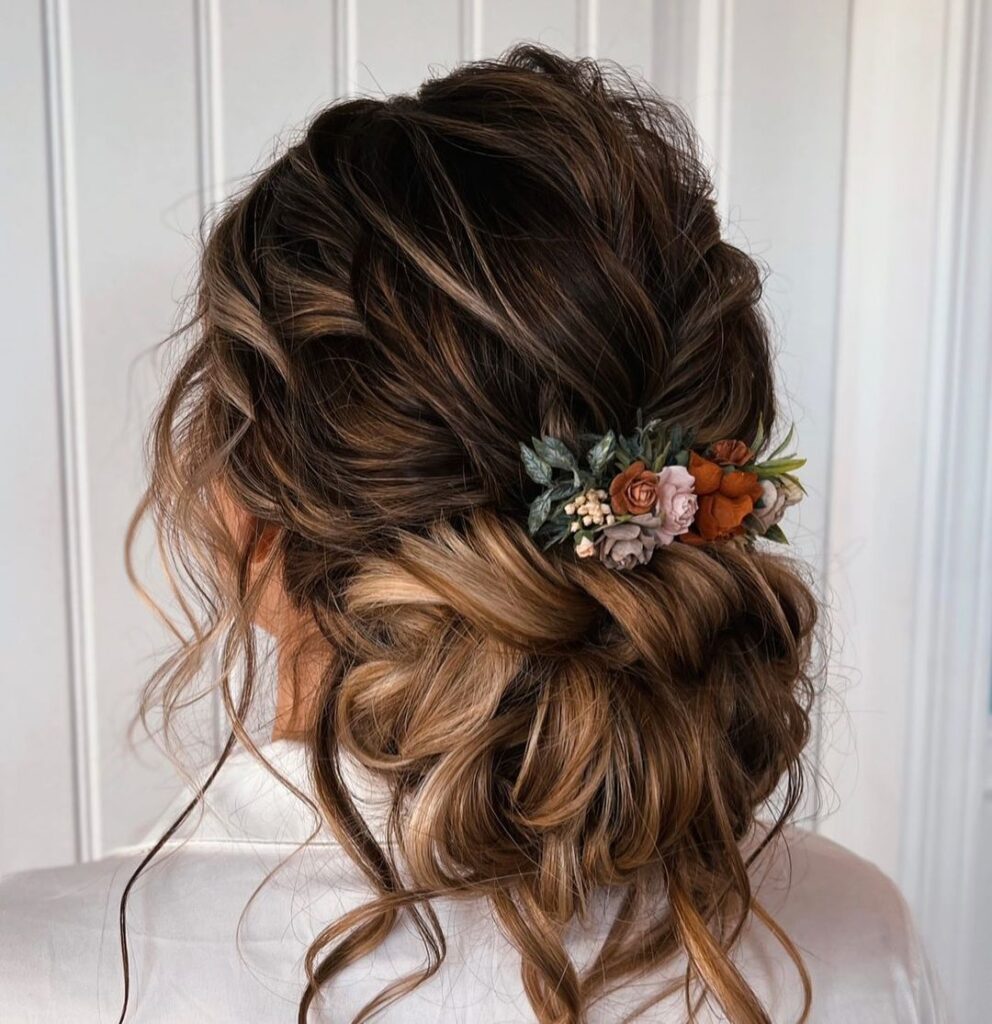 Courtesy: Jocelyn Emerson
#44 Best Of Tight & Messy Updo 
Somewhere in the middle! This bun pulls some attributes of the messy and some of the neat bun to give you the best of both worlds. This type of hairstyle will take a little time to do, so make sure the bridesmaid's hair and makeup start on time you also have a hairstylist on board who can achieve this 'do with as much style as pictured below.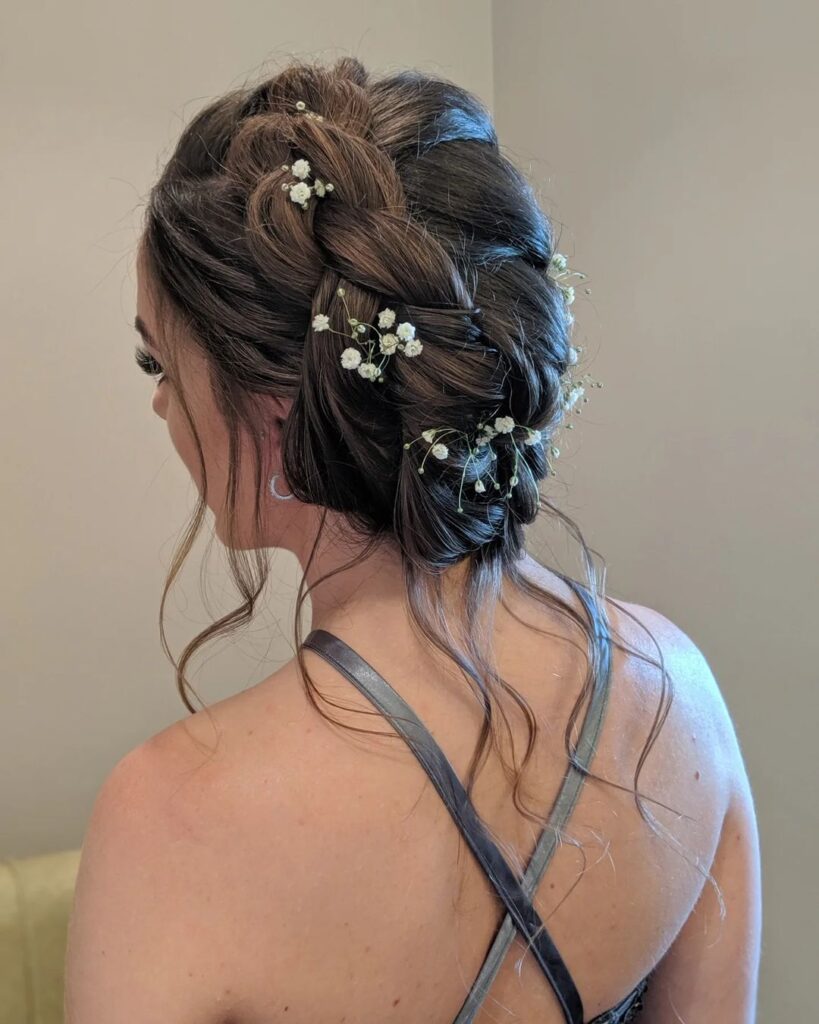 Courtesy: Mandy Hair Ups
Ponytail Bridesmaid Hairstyles
#45 No-Fuss Bridesmaid Hair Idea
Side-swept hair suits most face shapes and flatter any outfit. Here's a bridesmaid wearing a low ponytail with tight waves and perm hair on the crown for a soft and romantic look. The two twisted strands on the sides add an ethereal effect to this effortlessly gorgeous bridesmaid hair idea.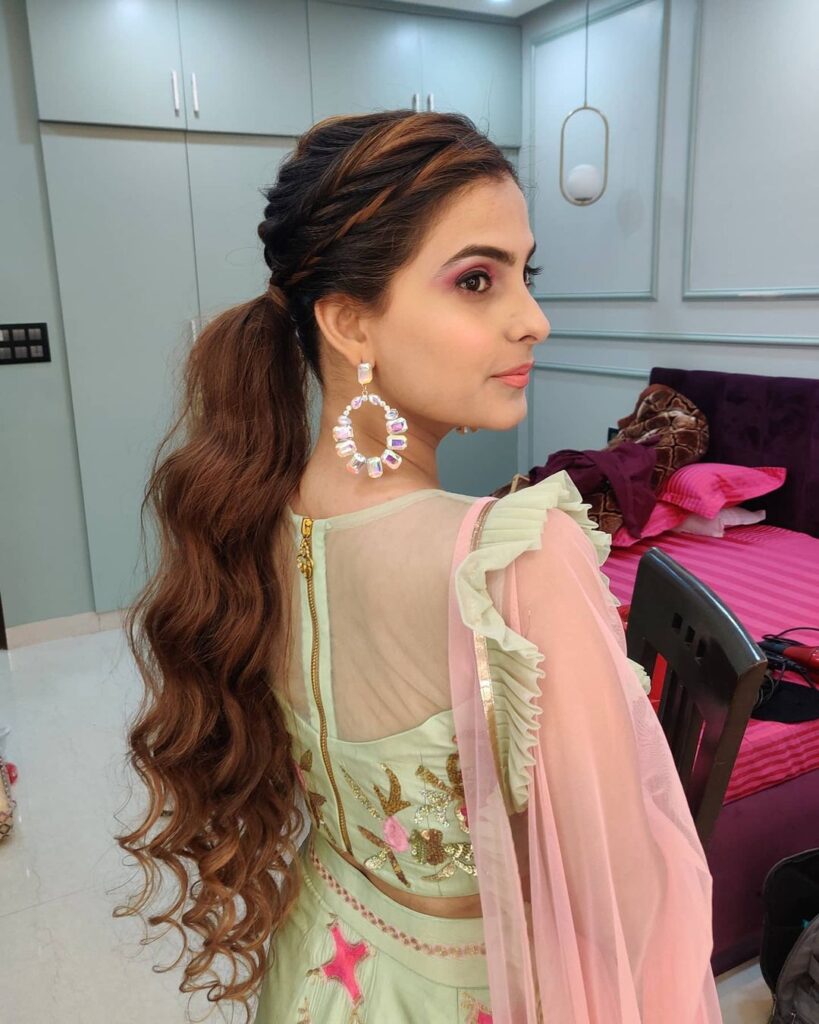 Courtesy: Manish Hair
#46 The Fabulous Voluminous Bridesmaid Ponytail Hair
If the bridesmaids are wearing a V-neck or a V-back dress or any other outfit that has mesmerizing details or a flattering cut, then a bodylicious ponytail will sure accentuate the aesthetic element of the entire look. If you're not a fan of excess volume though, just remove the puff from the crown of the head, and instead, backcomb for an added texture.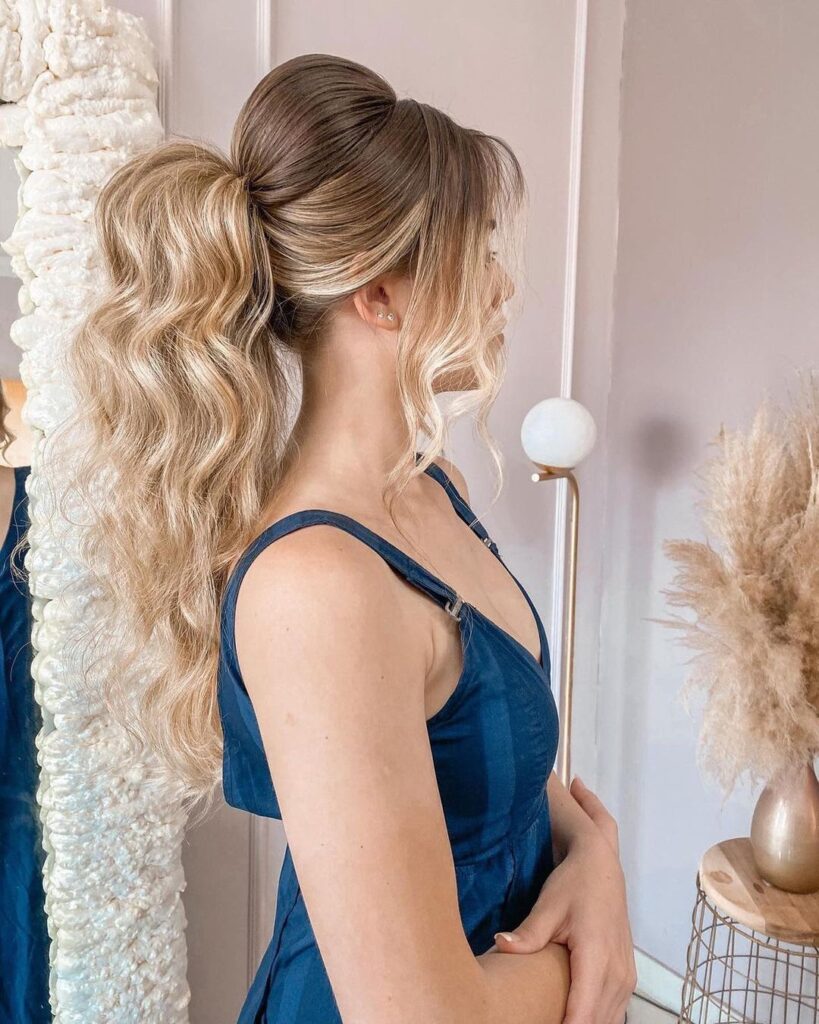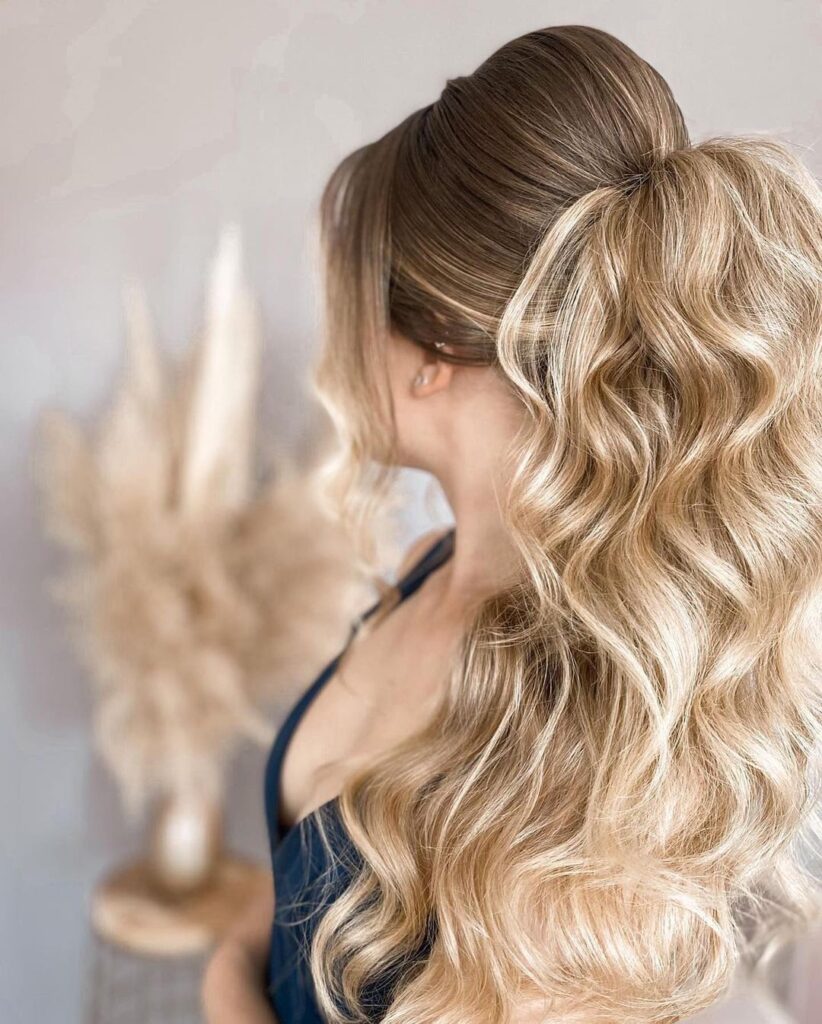 Courtesy: @penteados
#47 Vintage Curls Charm In A Ponytail
Add timelessness to your wedding look with vintage curls. Only a few wedding hairstyles can compete with the retro, classic, and refined charm of the vintage waves. Combine them into a chic ponytail and you've got a bridesmaid hairdo that's a perfect mix of the modern and old school.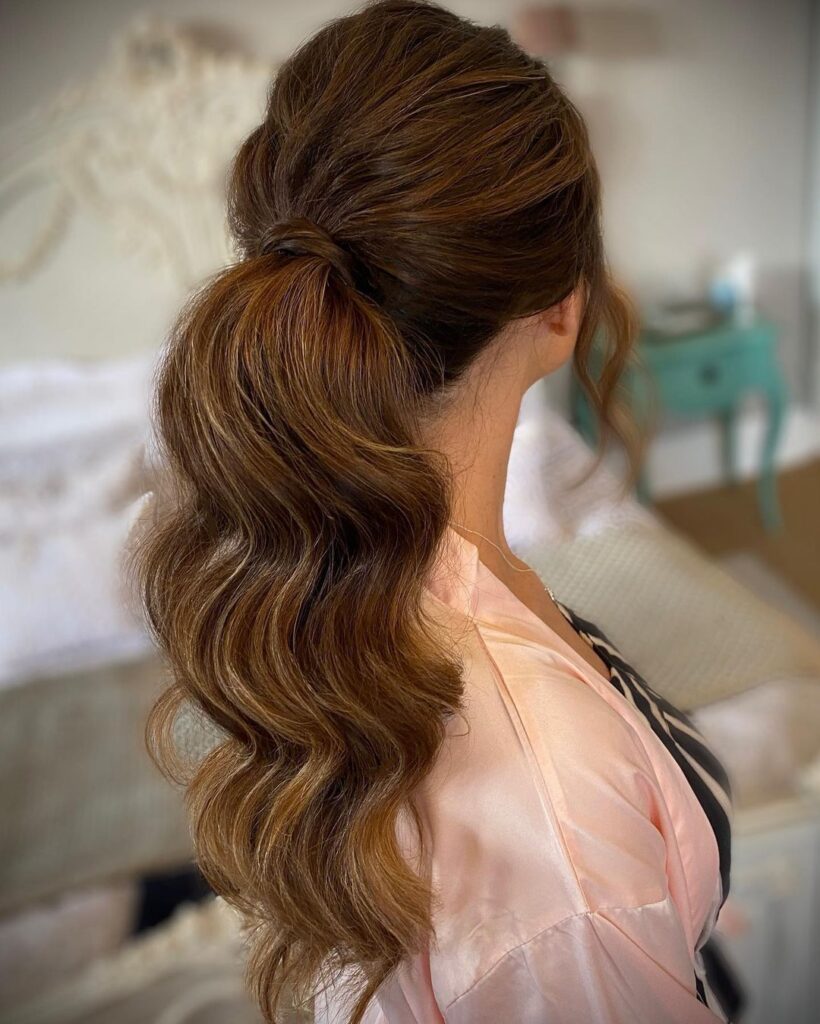 Courtesy: @kellyhankshairdesign
#48 Ponytail Illusion
This is not exactly a ponytail, but a gorgeous illusion, and version of this awesome bridesmaid hair idea. It infuses a lot of texture into the tresses so as to give the romantic texture of the beachy waves and braids with tonnes of back-combing and tugging on the braid for chunky volume. Some strands are tied while the others are left loose for a unique yet feminine hairstyle all the bridesmaids can easily match for the D-Day!
Courtesy: Mateus Gibertone
#49 Twisted Braids Meet Chunky Pony
Ponytails, in general, are a complicated hairstyle and can't be easily DIY-ed on any occasion, especially a wedding, when everything has to be closer to perfection. It's a task to keep everything in place especially with all the hassle that will be the D-Day, and the following reception party. Having said that, if you're investing in a professional hair artist, you might as well reap the benefits by getting a gorgeous hairstyle like this done. With the chunky volume and multiple twists, this will surely add a bewitching appeal to the bridesmaid look.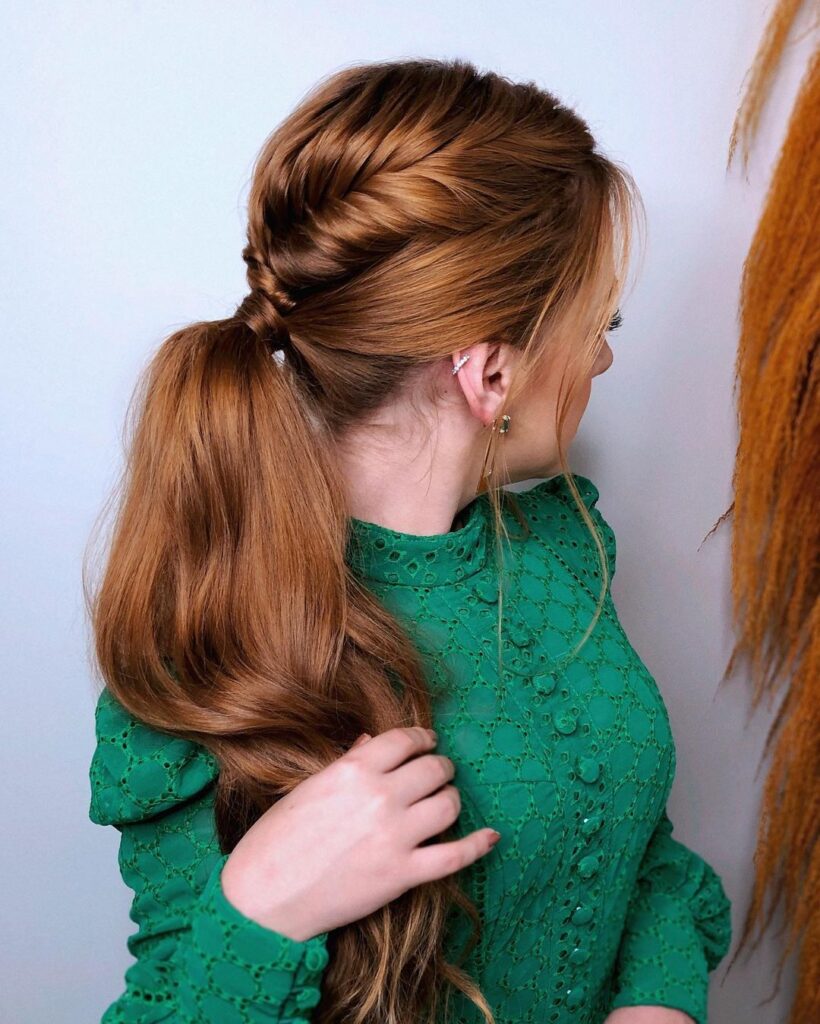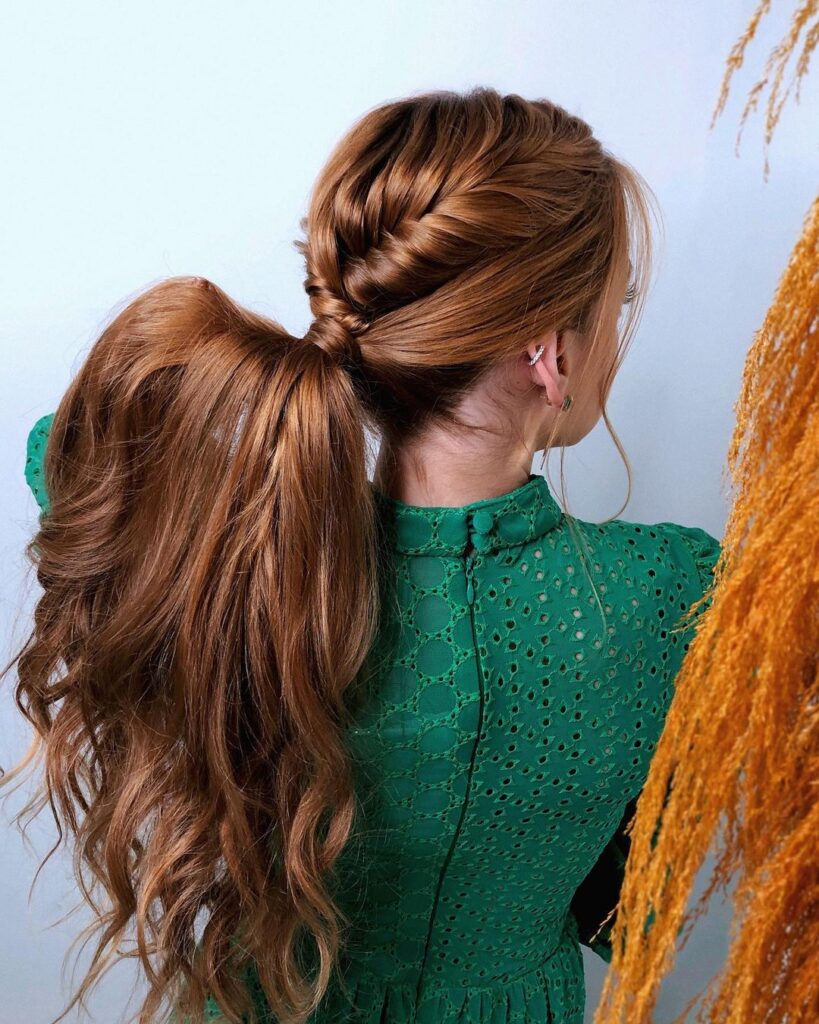 Courtesy: Mateus Gibertone
#50 Tonnes Of Texture!
Such is the creativity and artistic ability of some hairstylists that you won't get where the hairstyle is going or what the end result will be like unless it's done. Although, they have envisioned it in their headway before it becomes a reality. Seeing the twists, turns, and texture in this hairstyle, it will be hard for a novice to understand the look of this hairstyle in the end. But this hairdo sure makes for a romantic and chic pick, not just for the bridesmaids, but for the brides too.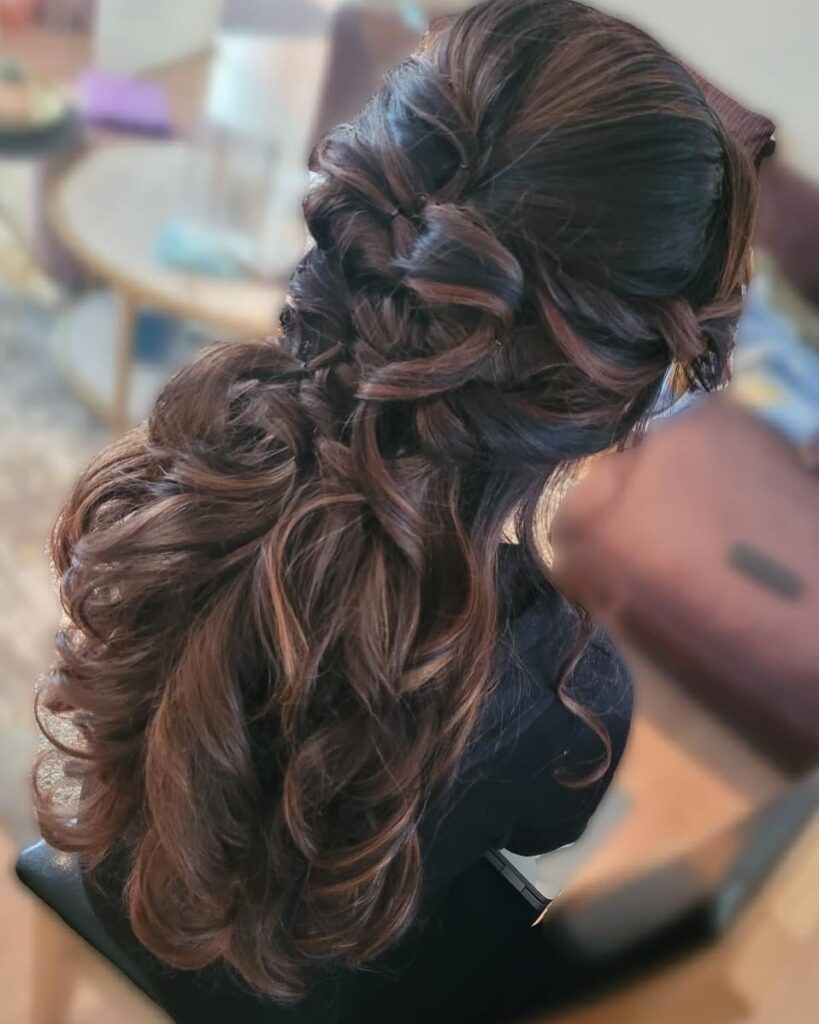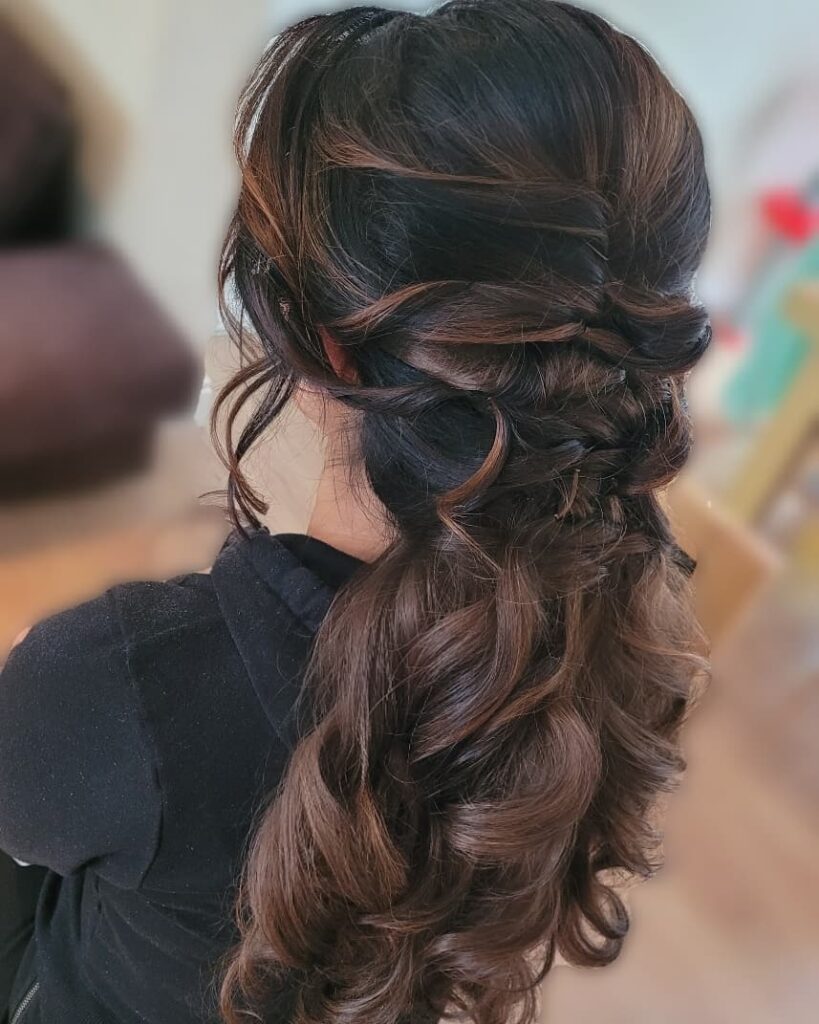 Courtesy: HT Hair
#51 Braids Can Be Added Anywhere!
They literally can be! Not only are they gorgeous, stunning hairdos in themselves, but they can also be added to your bun hairstyle, ponytail, or even an open hairdo as bridesmaid hairstyles for long hair. Here, the low ponytail is bedecked by braids on both sides with lush blooms added as an accessory for a finishing touch.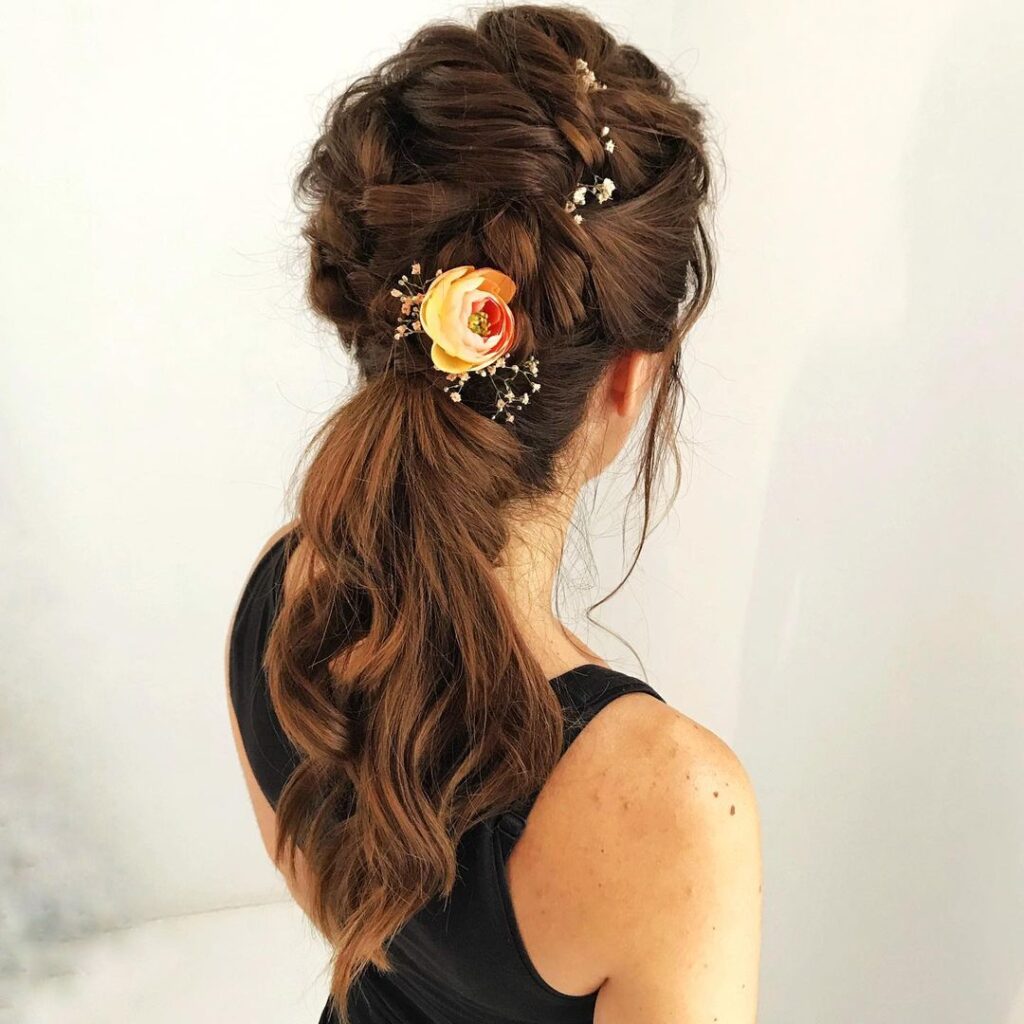 Courtesy: @beautybyellada
#52 Comfort & Elegance
Aren't these two traits just what you want with all of your fashion choices? Because we think we have found a bridesmaid hairstyle that speaks both of them in equal proportions. A chunky ponytail with a few tendrils on the side lends comfort and is ideal for an outdoor wedding when the wind has a chance of ruining your hairdo.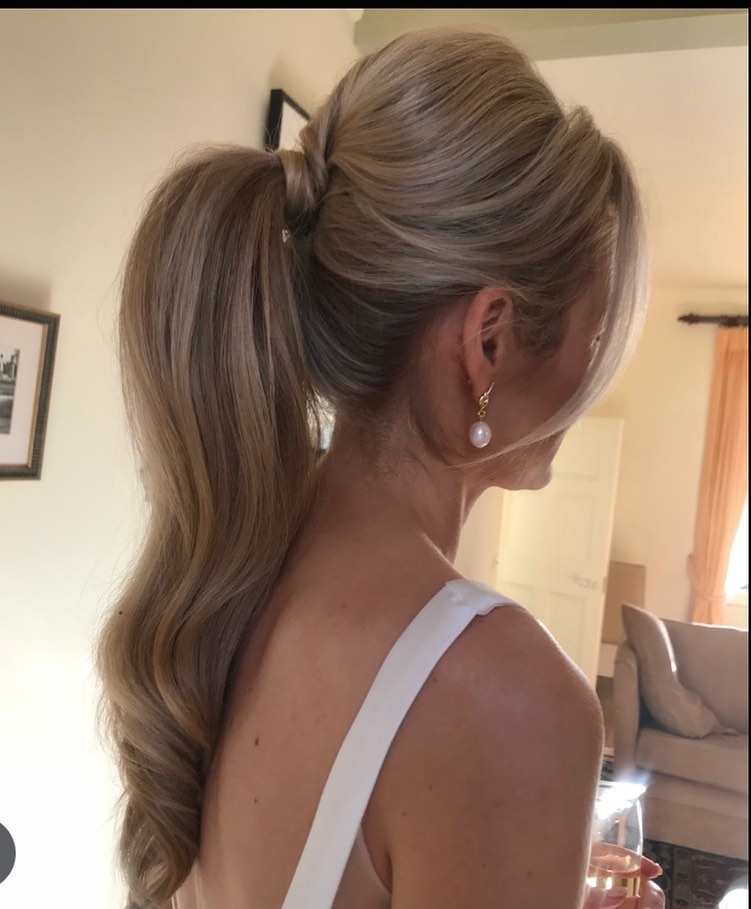 Courtesy: Marie Hickey
Braids Bridesmaid Hairstyles
#53 A fishtail bridesmaid braid hairstyle that meets a number of braids sweeping from the crown. Result? An ethereal hairdo that mesmerises and charms at its best. All the bridesmaids can go for different braid hairstyles to complement each other yet mismatch subtly.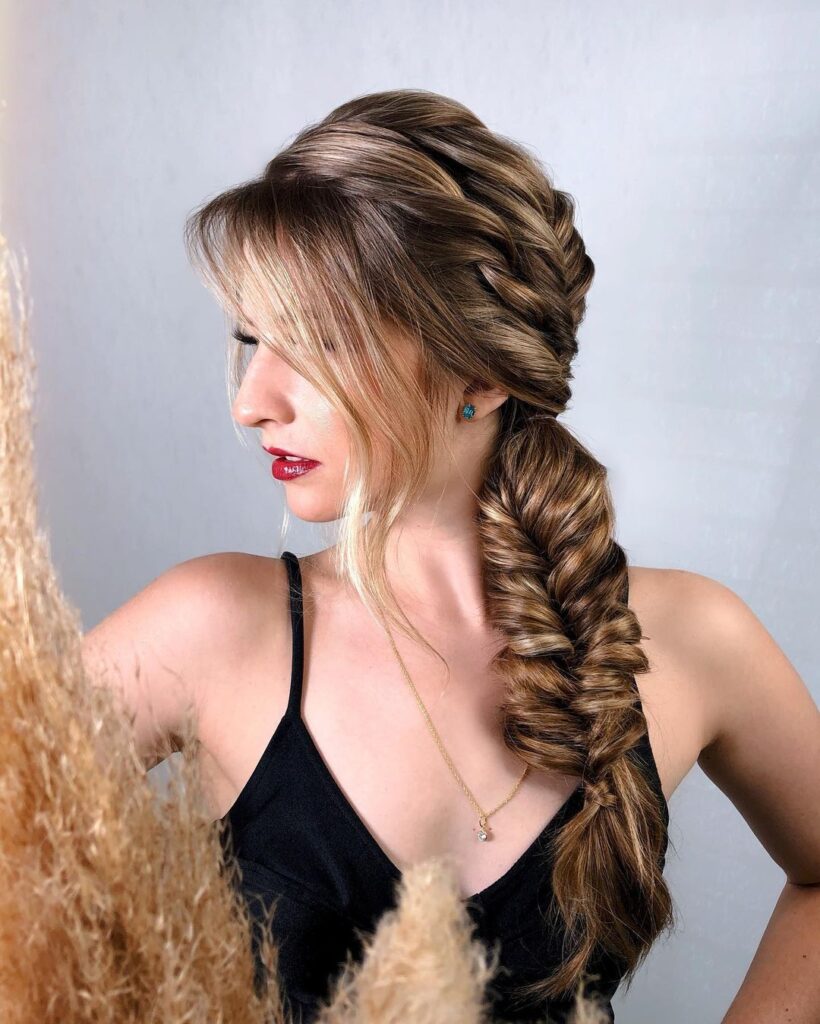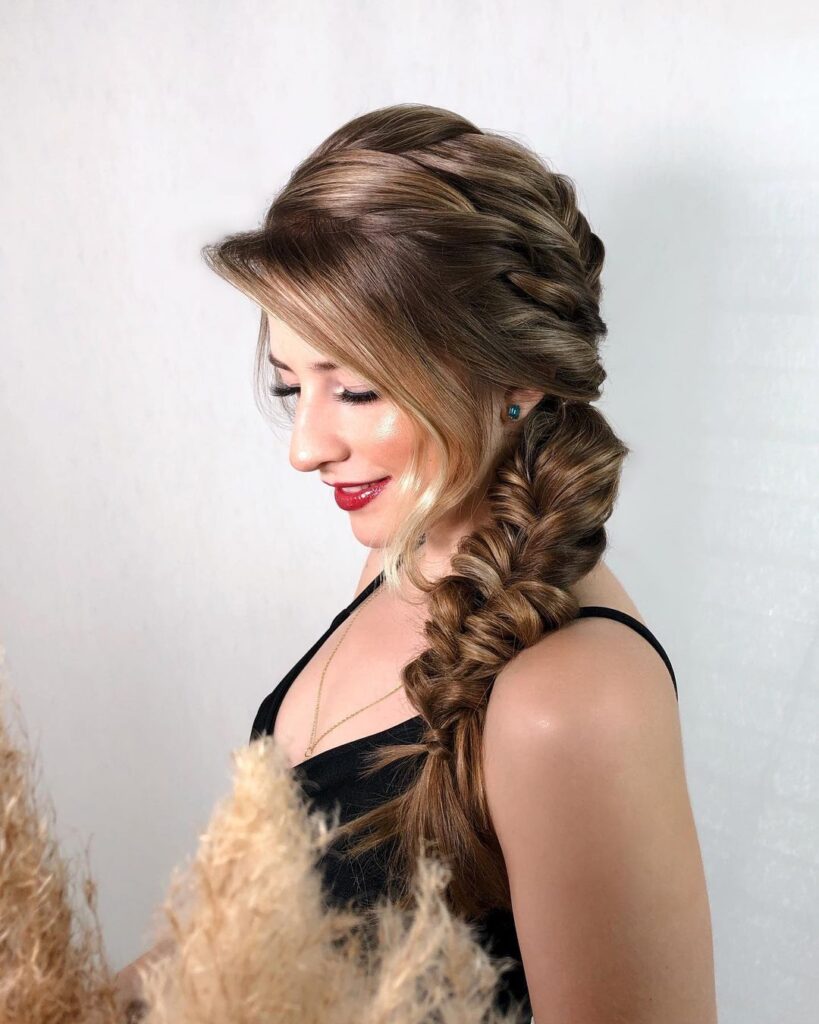 Courtesy: Mateus Gibertone 
#54 A french braid hairstyle but with a twist. The hairstylist takes chunky sections to create just 4 to 5 twists from the crown, stops in the middle, and leaves the rest of the hair-free for a gorgeous half up bridesmaid hairstyle.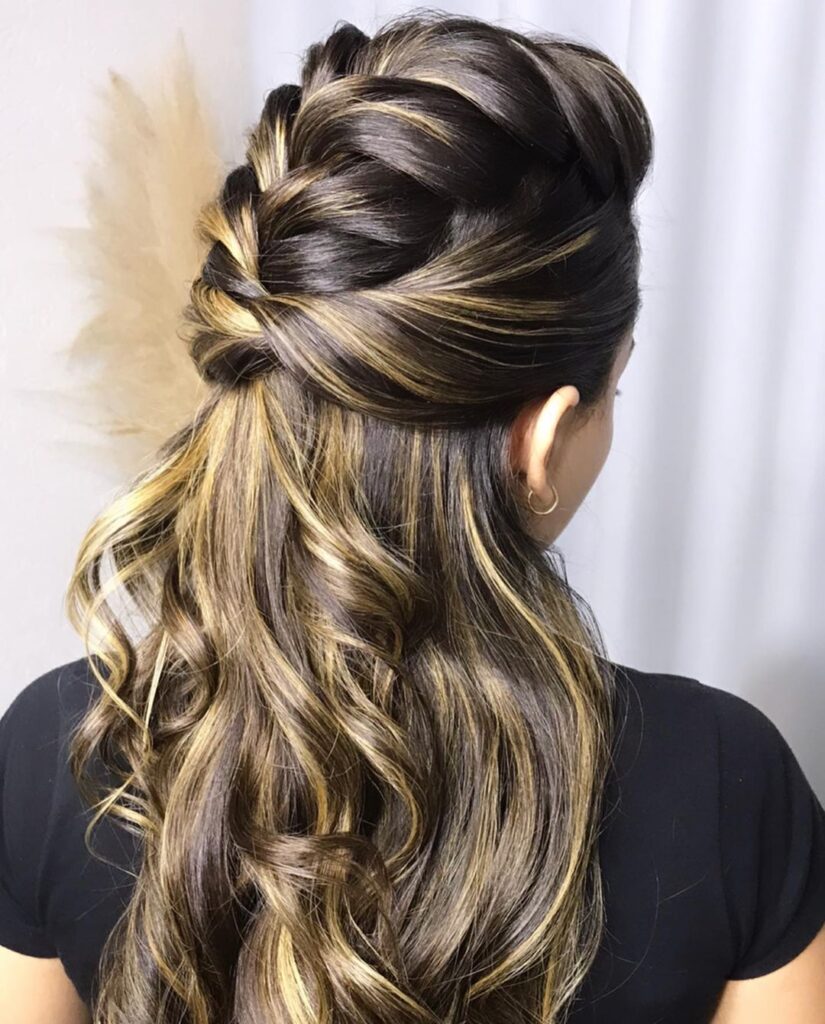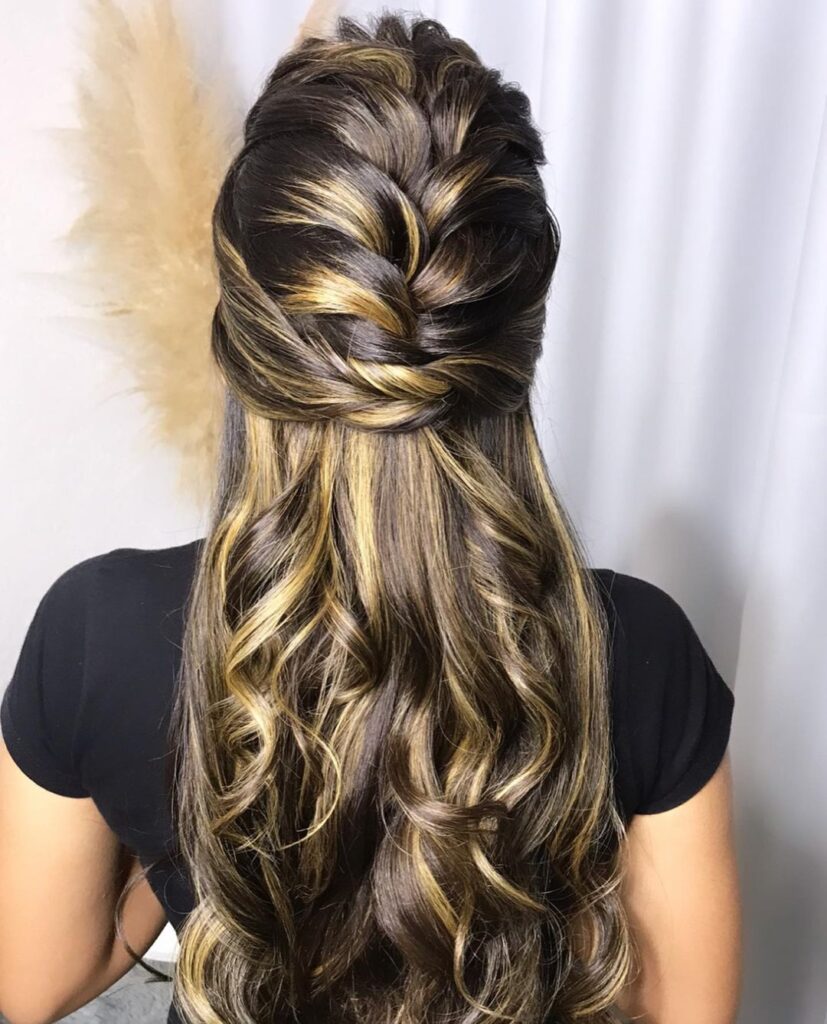 Courtesy: Giovanna Penteados
#55 Just another gorgeous version of the above braid bridesmaid hairstyle for medium length hair where the artist creates fishtail braid using thin sections of the hair strands and wraps it gently using the normal 3-strand braids from either side. This is one of the DIY wedding hairstyles which you can easily create.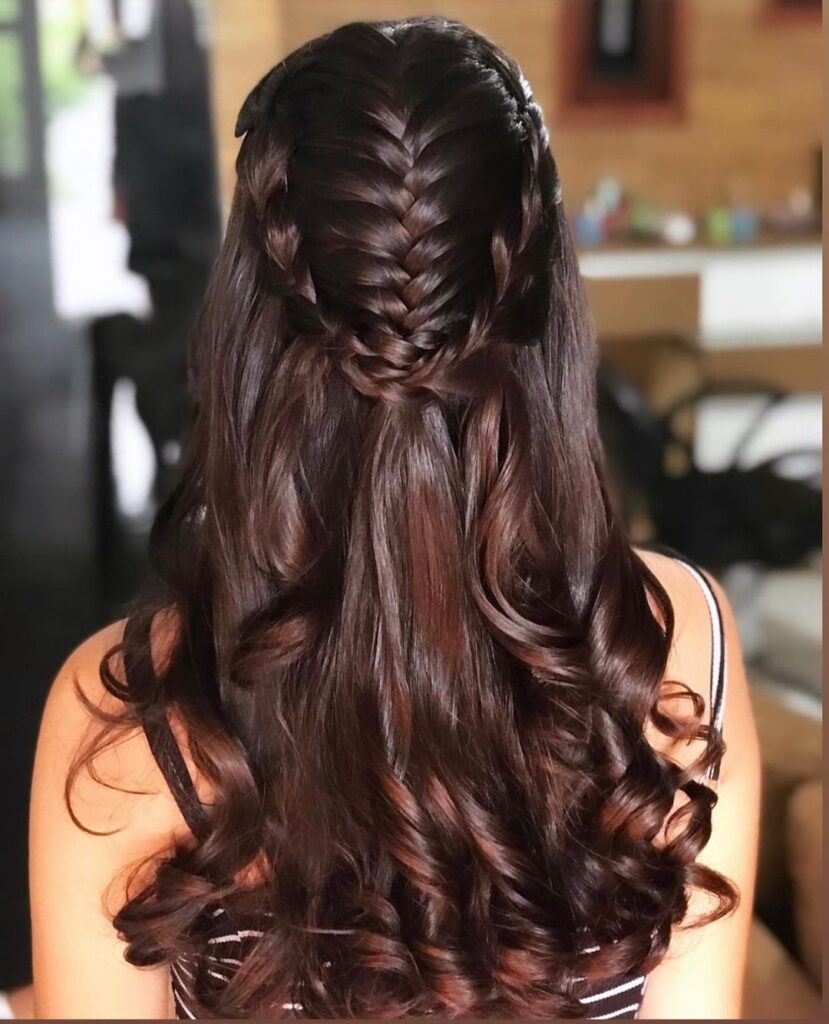 Courtesy: @raquellimapenteadista
#56 A puffy, messy braid never fails to impress. And as a bridesmaid setting a statement is important for you and the bride! If the wedding theme is around boho-chic or if it's a casual beach affair, then this hairstyle will be a perfect addition to the bridesmaid ensemble.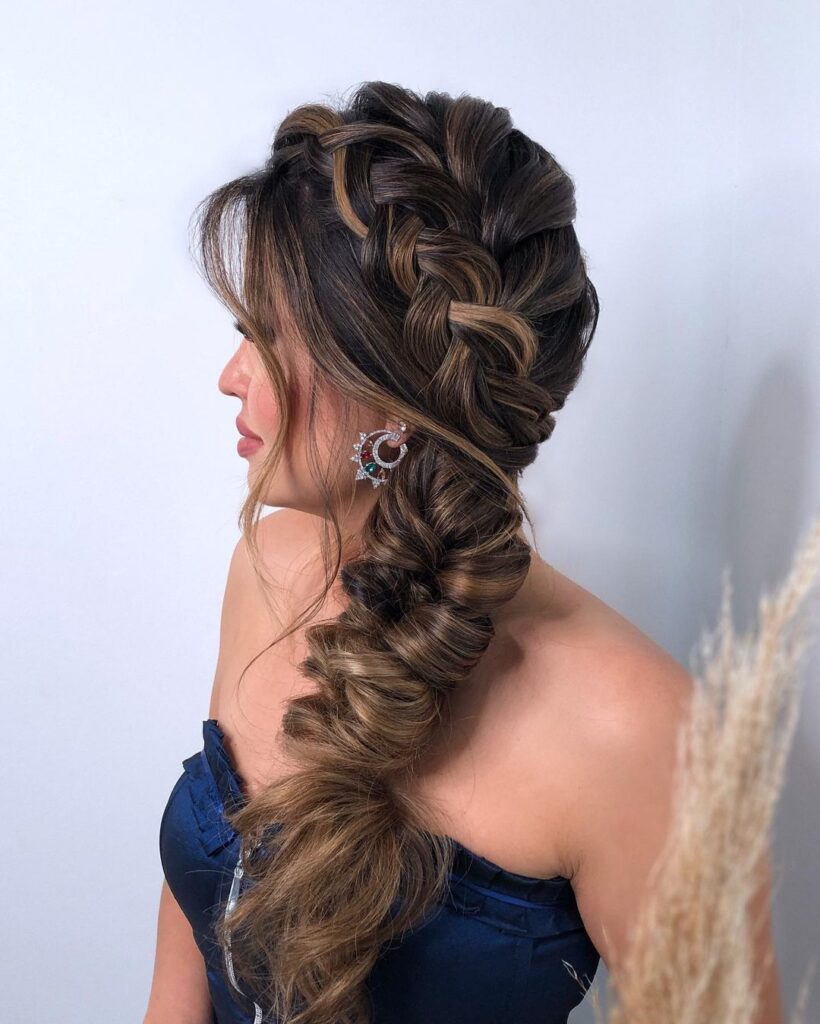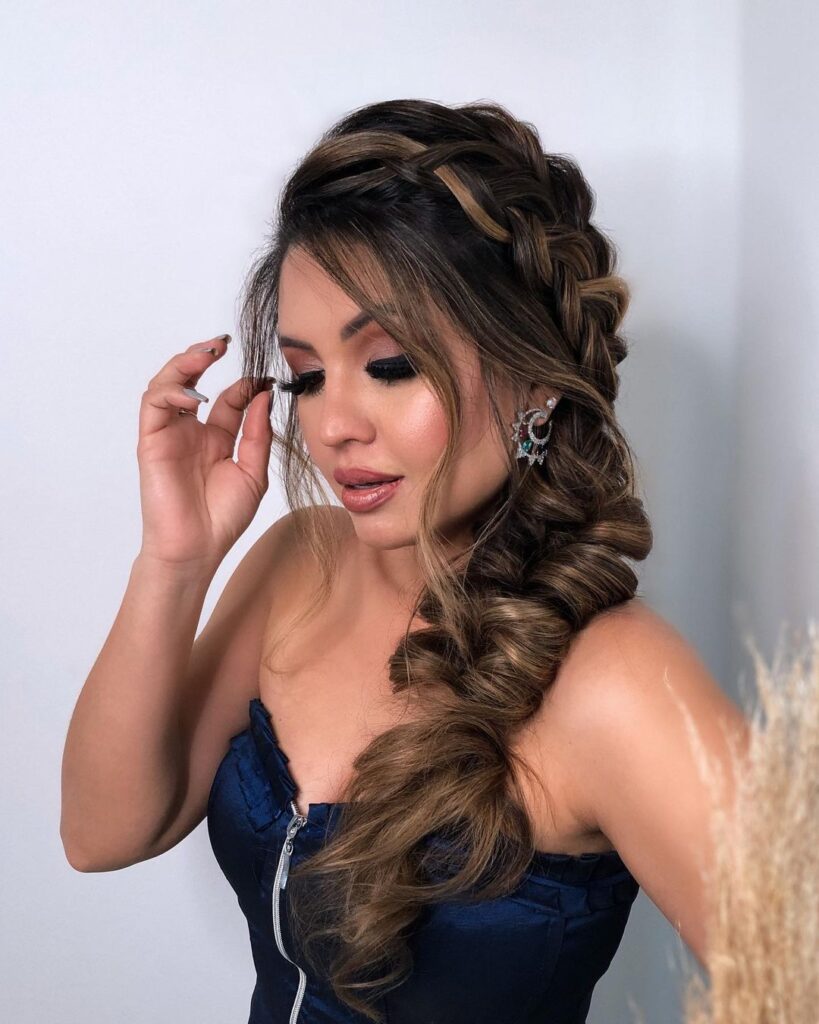 Courtesy: Mateus Gibertone 
#57 While messy braids have their own charm, so do a classic, neat braid that makes a serious statement. We love how the hairstyle takes out a side parting and then, goes on sweeping to front for a beautiful look. Further, the addition of baby's breath adds the perfect floral charm to the entire hairdo.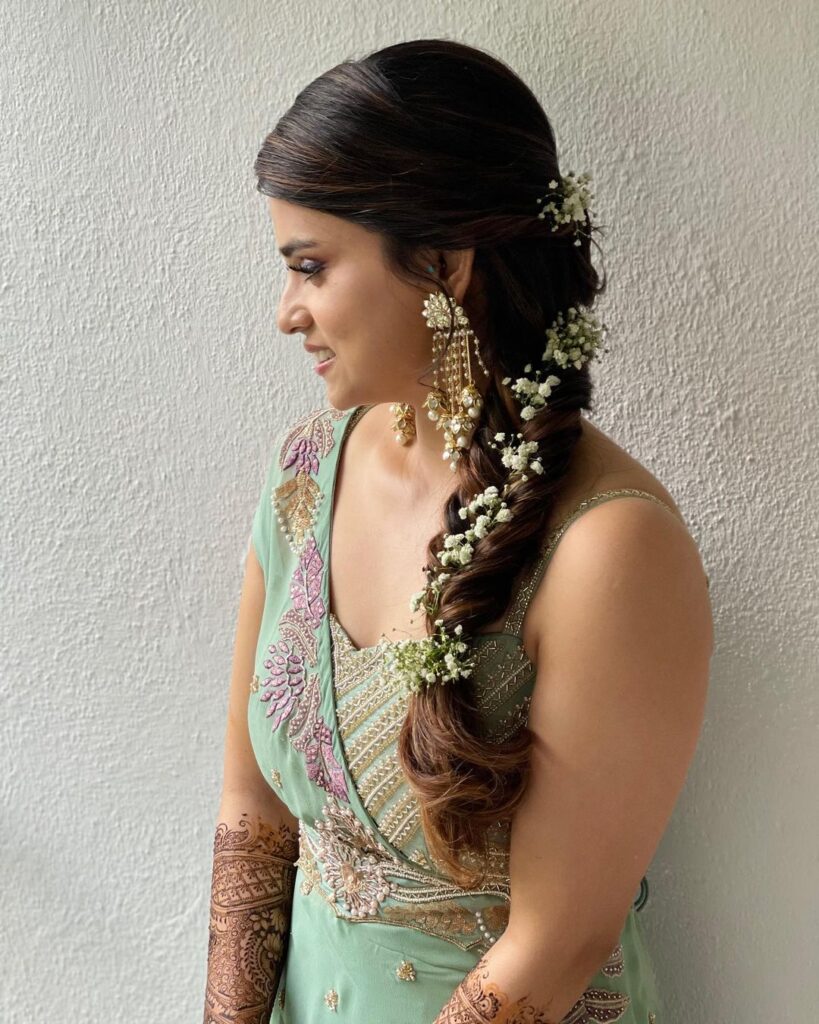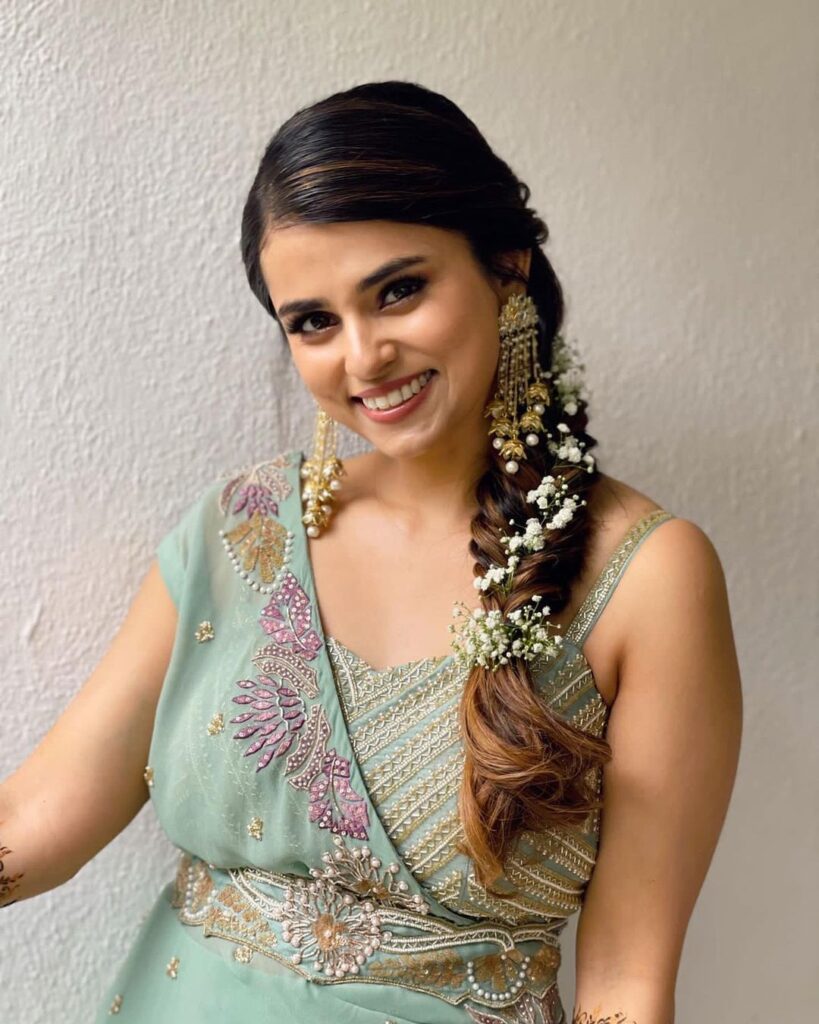 Courtesy: Chandni Rajput
#58 A quick and easy bridesmaid hairstyle idea is right here! The messy style is so popular that most professional hair artists are swift to create them and the wider sections in the braid makes the 'do further easier to whip up.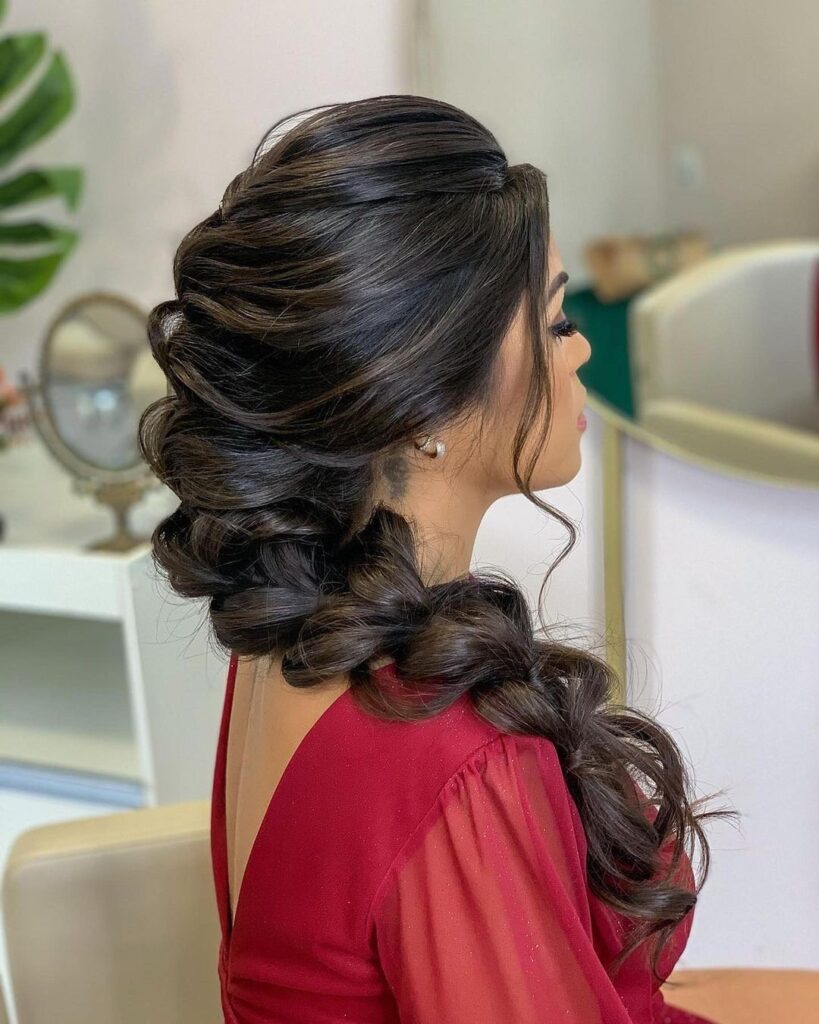 Courtesy: Mateus Gibertone 
#59 Keeping in line with the easy, messy, and gorgeous braid bridesmaid hair idea, here's another one for you to bookmark for reference.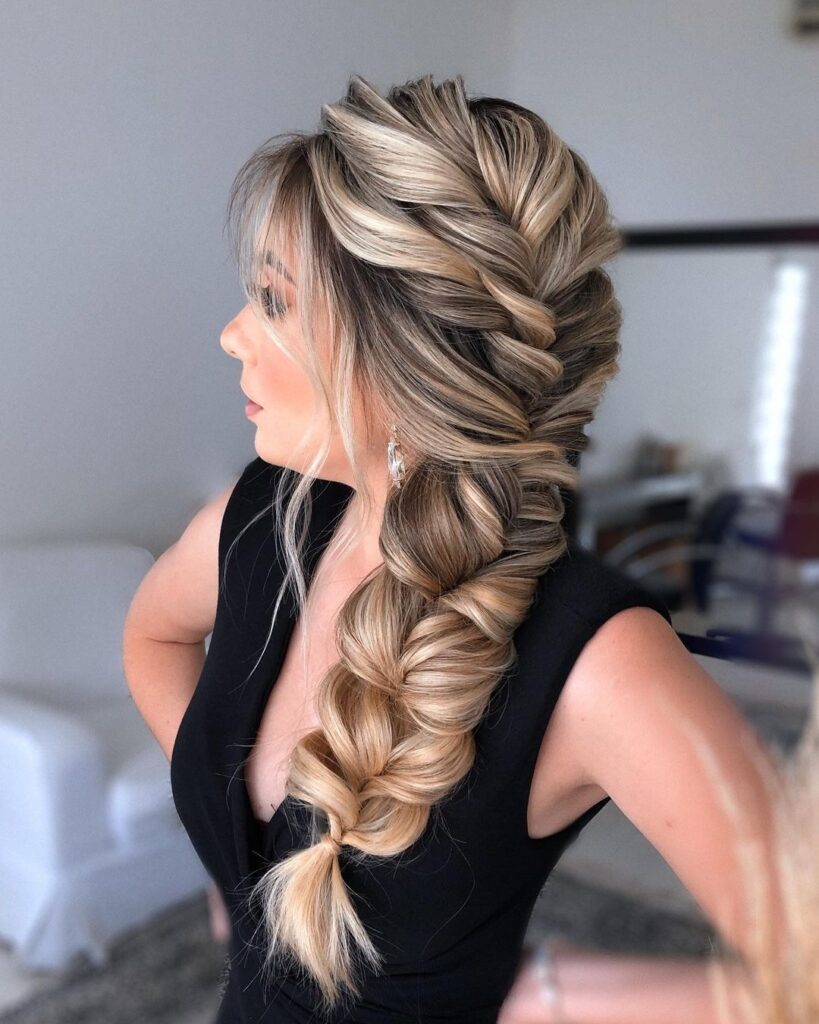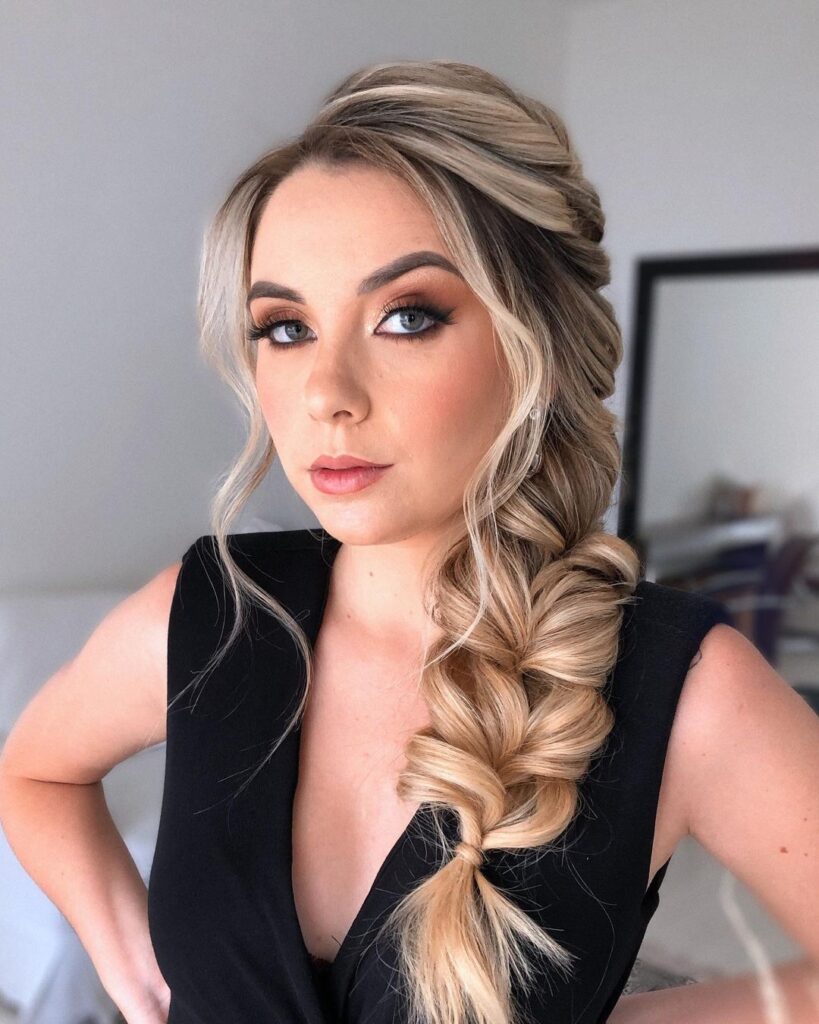 Courtesy: Mateus Gibertone 
#60 Ending this bridesmaid hairstyles list with this soft, romantic hairdo creating with soft waves and no extra volume for our minimalistic women out there!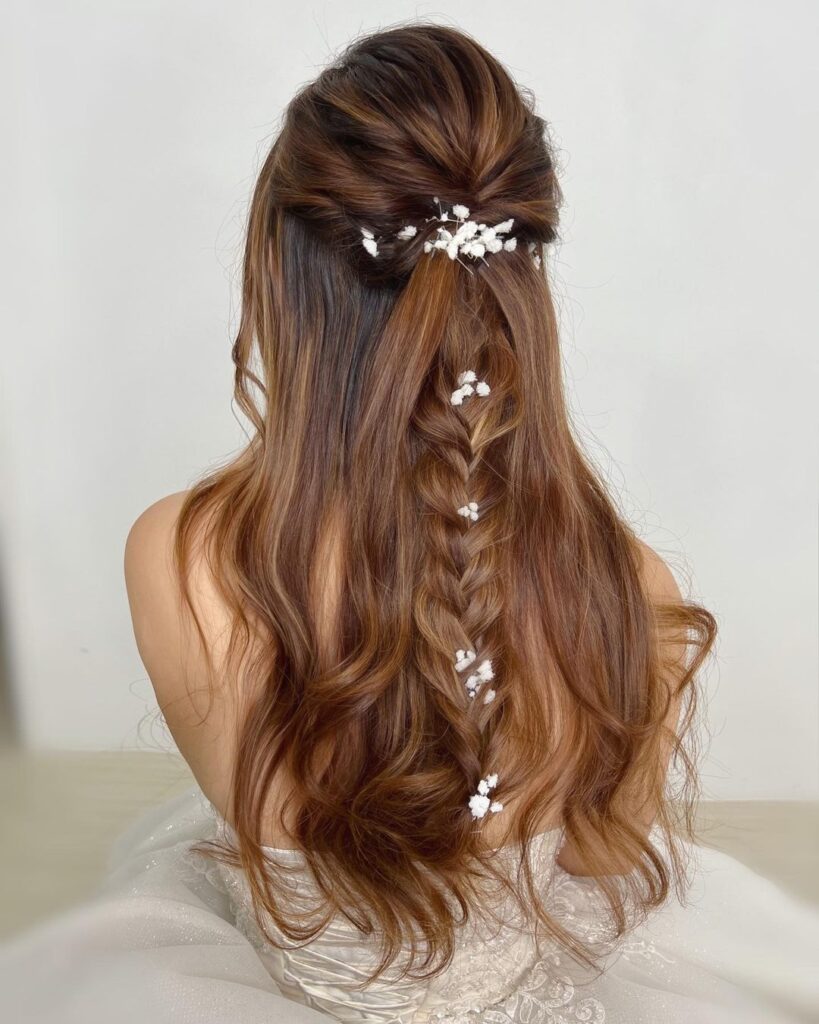 Courtesy: Elson Foong
#
#61 Embellish That Braid! Braids can be another one of the bridesmaid hairstyles that can be done in so many styles and variations. You can opt for a down bridesmaid hairstyle with a braid on top or you can make a messy braid to impress. Elevate the look with flowers matching the theme of your event. For a fall wedding, you choose orchids and chrysanthemums, and for a spring wedding, roses in full blooms can be a great option.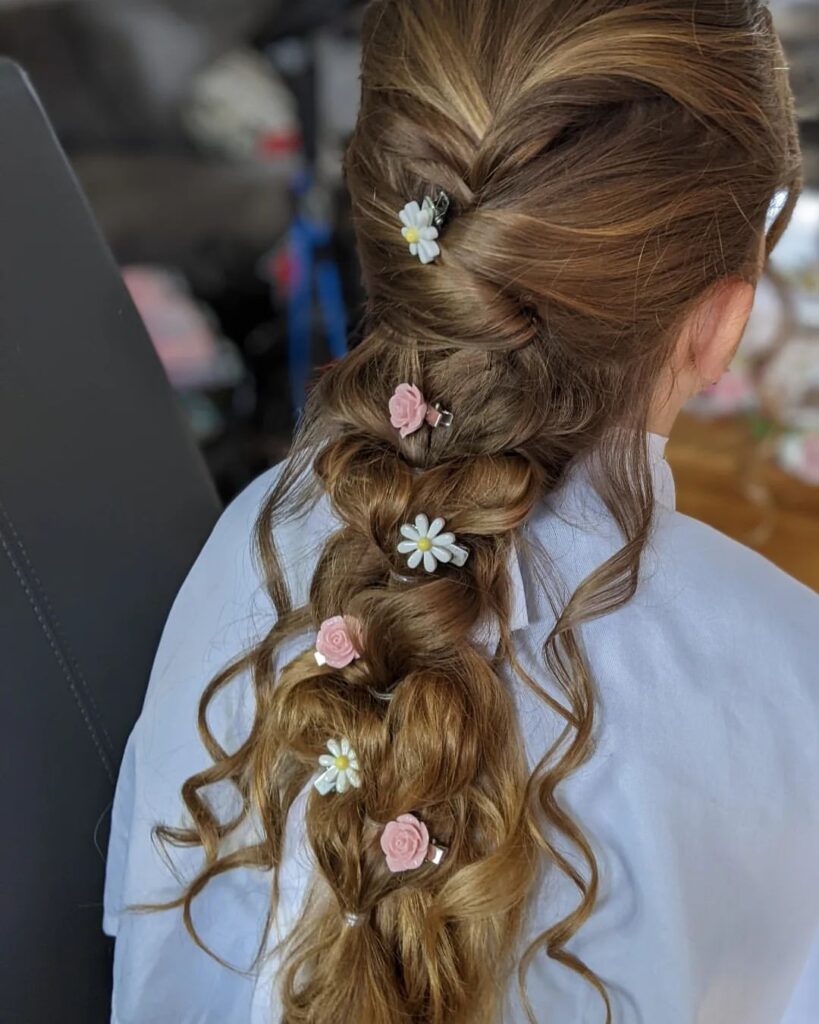 Courtesy: Gemma McNeill
Simple, DIY Bridesmaid Hair Tutorial
If you're planning to DIY the bridesmaid hair, we have included some of the best hair tutorials on Youtube for reference. 
#62 Easy Wedding Hairstyle Idea
#63 Lace Braid Updo
#64 Easy Braided Ponytail Hairstyle
#65 Boho Wedding Hairstyle 
FAQ's 
How Should Bridesmaids Wear Their Hair?
Bridesmaids should wear their hair depending on the wedding theme, their bridesmaid dresses, and what the bride's style will be on the big day. After sorting out these factors, the bridesmaids can choose what type of hairdo suits their personal style, face shape, and what they have envisioned their bridesmaid hair to be like. So, for example, you all decide that a classic updo – no messiness, only neat elegance – is the ideal choice for the bridesmaids. Once the base is set, you can choose if you want to add a braid, accessories, or tendrils to enhance the picked bridesmaid hair idea. Pick & sort hairstyles on Pinterest, save the board, and make a collective decision on what the final look will be like.
Should Bridesmaids Match Their Hairstyle?
Not necessarily. The bridesmaid hairstyles can match each other or not – it's completely your choice. However, if you do decide to go for the individual hairdo, make sure they complement each other though. It would be weird for one bridesmaid to be in vintage waves and another one in a messy beachy waves half-up style. Pick a basic theme for the hairstyles and everyone should stick to this theme. If a vintage look is a theme, one bridesmaid can go for an open vintage waves hairstyle, others can opt for a side-swept retro look, etc.
Do Bridesmaids Pay For Their Own Hair & Makeup?
That is another decision that completely depends on the wedding party. If the bridesmaids have been very generous till now – by paying for their own dresses, arranging a heck of a bridal shower, helping the bride wherever necessary, paying for their own lodging costs, etc. – the bride can offer to pay for the hair and makeup as a thoughtful gesture. Another case where a bride should bear the cost is when she is quite specific about how bridesmaids' hair should look on the wedding day. The bridesmaids can bear the cost if they think it's best to not overbear the bride on the big day since she's already paying for so much. Or, both parties can divide the cost. The bride can pay for makeup and bridesmaids can pay for hair. In any case, though, it's best to decide these specifics outright and at the beginning of the wedding planning period.
Should Bridesmaid Hair Be Same As Bride?
No, a bridesmaid's hair shouldn't be the same as the bride's, unless she's okay with the idea and suggests the same herself. In some photos, you will find the bride sporting the same waves as the bridesmaids. But in most cases, the bridesmaid's hair only complements the bride and that should be the case as well.
Also, See: Top 75 Hairstyles For Girls 2022 || Short Hair, Long Hair, & Easy