Before De Beers popularised diamonds as the ultimate stone for engagement rings with it's popular marketing campaign "A Diamond Is Forever", diamonds weren't the center of the engagement rings, it was generally other precious metals and colored stones which was the main attraction in these significant baubles. And these colored stones are making a comeback – including the yellow diamond engagement rings. Below, find all the details of these gorgeous colored diamonds and 65 styles to inspire your own. 
What Does A Yellow Diamond Engagement Ring Mean?
A yellow diamond engagement ring means exactly what it states. The biggest center stone is yellow rather than colorless, and the colorless diamonds can be used on the halo or the shank to add appeal. These yellow diamond engagement rings don't necessarily have to be made from yellow diamonds, but other stones are used as well like citrine, sapphire, topaz, and tourmaline. The other stones do reduce the price of the yellow diamond ring further but the clarity and beauty of the stone stay the same without the extra bucks. 
The GIA rates colored diamonds in one of the six color grades: Fancy Light, Fancy Yellow, Fancy Dark, Fancy Deep, Fancy Intense, and Fancy Vivid. Around 1 in 10,000 diamonds mined are in fancy color. Not all of them have vivid colors though. Larger and more vivid diamonds are extremely rare and quite valuable. The value scale is judged on the strength and purity of the color. 
Are Yellow Diamonds More Expensive Than Clear Diamonds?
Not necessarily. Some yellow diamonds are cheaper than colorless diamonds, while some with a deep tint can cost more than the colorless diamonds. Among colored diamonds, yellow diamonds are the most common ones and make up for over half of the market of colored diamonds. The yellow color in diamonds is owed to traces of nitrogen found in the diamonds, which absorbs blue light in the diamonds and gives it a stunning yellow color. The most expensive and sought-after yellow diamonds are the canary yellow diamond engagement rings which can also be found in the collection of many celebrities like Jennifer Lopez & Heidi Klum. 
What Is The Rarest Diamond Color?
Red is the rarest diamond color in the world and only 20 to 30 natural red diamonds exist in the entire world. They are created when a gem undergoes a rare process called plastic deformation. During this process, tremendous forces push some of the outer atoms to come out of the lattice and slide to a different row where they reattach themselves, causing deformations that reflect light to manifest red. Due to their rarity, they are much more expensive than other colored diamonds and are sold for as much as 1 million dollars per carat. 
The second rarest diamond color is blue. They owe their color to the presence of the element boron, which replaces carbon in the natural diamond structure. Blue diamond colors can range from a slight blue tint to a deep blue color that catches the eye at first look. The cost also depends on the vividness of the hue, with the medium tint selling for around $200,000 per carat. The world's most impressive blue diamond yet is the Hope Diamond, weighing 45.2 carats and costing $250 million dollars. 
What Stone Cut/ Metal Looks Best With Yellow Diamonds?
The most popular cut with yellow diamonds is the cushion cut and emerald cut. Both of these cuts have a clarity and shape which maximizes the sparkle of the yellow color and gives you the best brilliance you'd want for your diamond ring. As for the metal to use with the yellow diamonds, there are a variety of styles available. While many women prefer white gold for their engagement rings, yellow gold is a popular option for yellow diamond engagement rings. 
How Durable Are Yellow Diamonds?
Yellow diamonds are diamonds so they are as durable as diamonds. Diamonds rate highest on the Mohs hardness scale at number 10, so they are the hardest naturally occurring substance on Earth. Since they are hard to break, diamonds are really forever and are naturally favored by women for their shine, brilliance, and durability. This means your yellow diamond engagement ring will have no problem withstanding the test of time. 
65 Yellow Diamond Engagement Rings Styles:
#1 This stand-out yellow diamond ring with a double halo features a brilliant-cut cushion diamond in the middle followed by lines of pave diamonds on the halo and on the split shank. What makes it stand out is the use of yellow gold on the inner halo to add a touch of brightness and uniqueness to the design.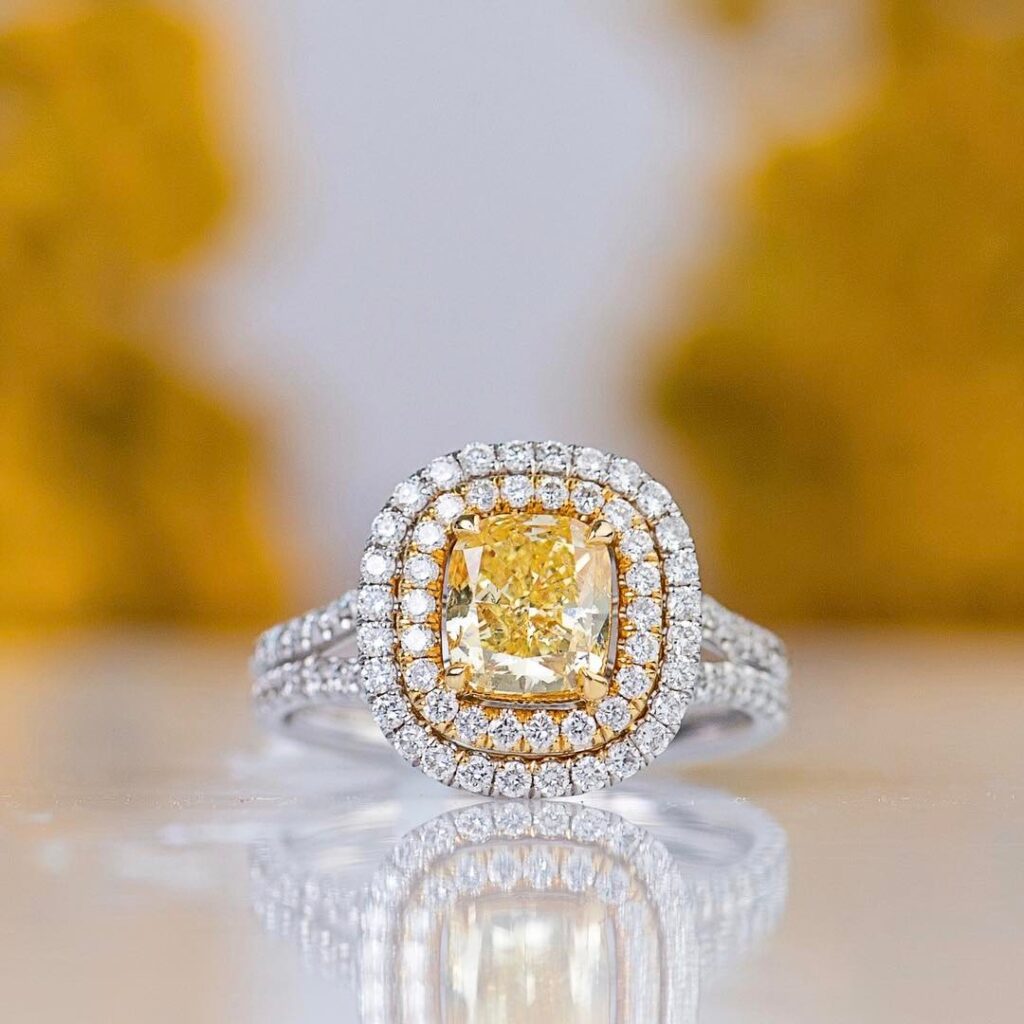 Courtesy: Marks Diamonds
#2 Take your love for yellow diamonds to the next level with this one of the minimal yet eye-catching yellow diamond engagement rings. Set in yellow gold, the ring has a cushion-cut stone in the middle with 4 prongs and no halo, followed by yellow band lines with smaller-sized yellow diamonds. While yellow diamonds cost more, you can choose other yellow stones like sapphire or tourmaline to reduce the price of your precious bauble.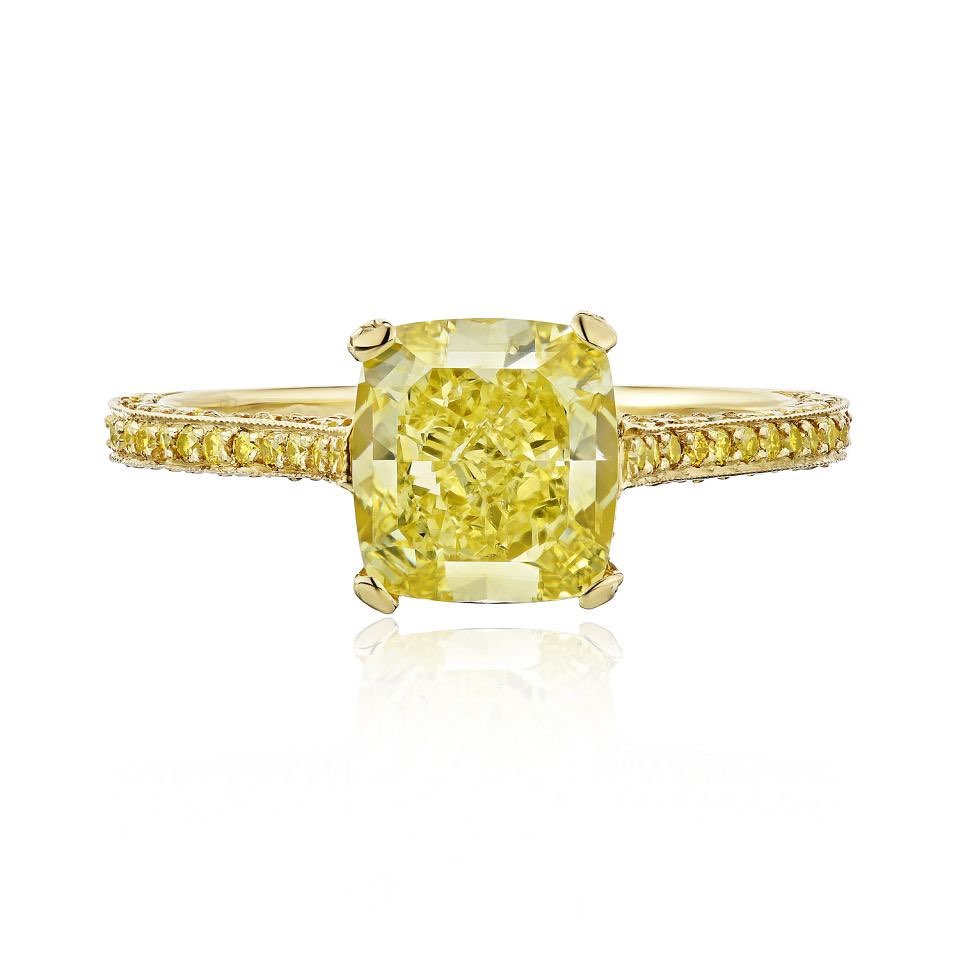 Courtesy: Pinterest
#3 Brilliant-cut is popular among colored gemstones because it enhances the vividness of the hue and elevates the brightness of the diamond. The dazzling attribute of the yellow diamond is enhanced by the yellow-gold prongs followed by a line-up of glistening diamonds on the halo and the split shank. It's a smart move to use yellow-gold for prongs rather than white gold or platinum because it blends in with the hue of the stone without obstructing its majestic view with a different color.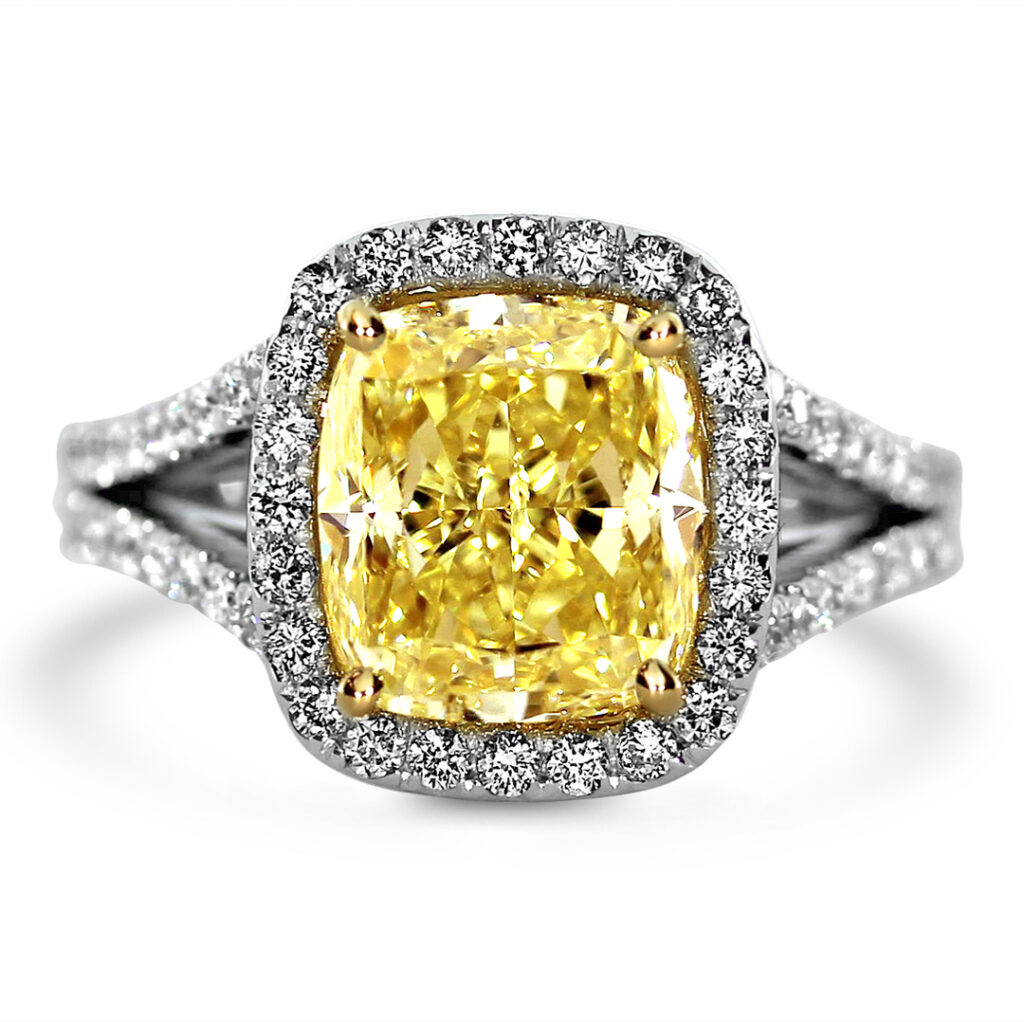 Courtesy: David Weisz & Sons
#4 When it comes to diamonds, there's no such thing as too big of a diamond stone. Here, the emerald-cult yellow diamond engagement ring takes all the attention as the center stone is enhanced by two trillion-cut diamonds on the sides. To match your chunky bauble, a statement necklace with an equally big diamond center stone doesn't hurt! You can even get matching earrings in yellow for a statement necklace set. A diamond line necklace is always a good choice. It's timeless, elegant, and goes with any & every style – from formal to elegant to party.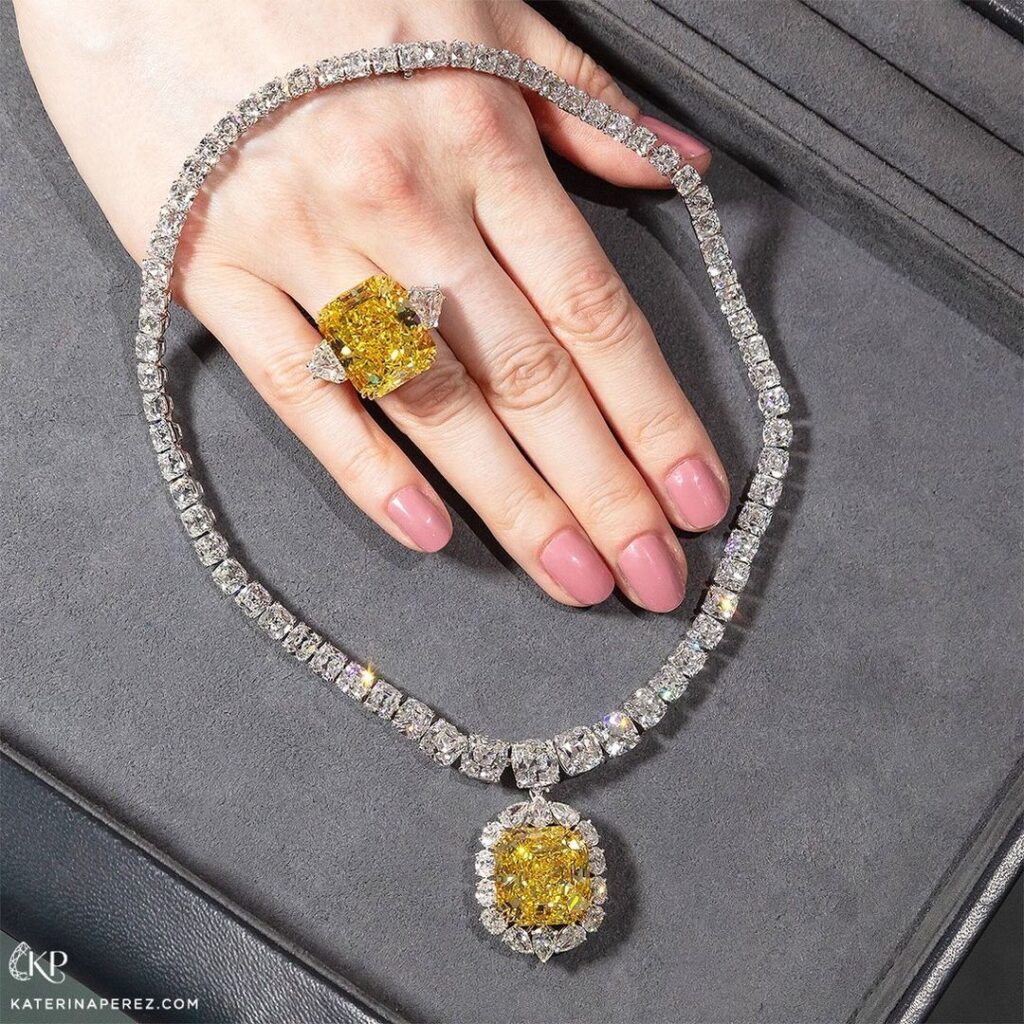 Courtesy: Katerina Perez
#5 This is just another example of why you should opt for yellow gold in your yellow diamond engagement rings. They blend with the hue well – highlighting it without taking away the attention. With yellow gold prongs, this brilliant-cut center stone is elevated for a crowning look. The halo is not just mounted with yellow gold but also has yellow diamonds to add to the size of the stone and make it look bigger. The shank, however, is decorated with colorless diamonds for a complimentary appeal.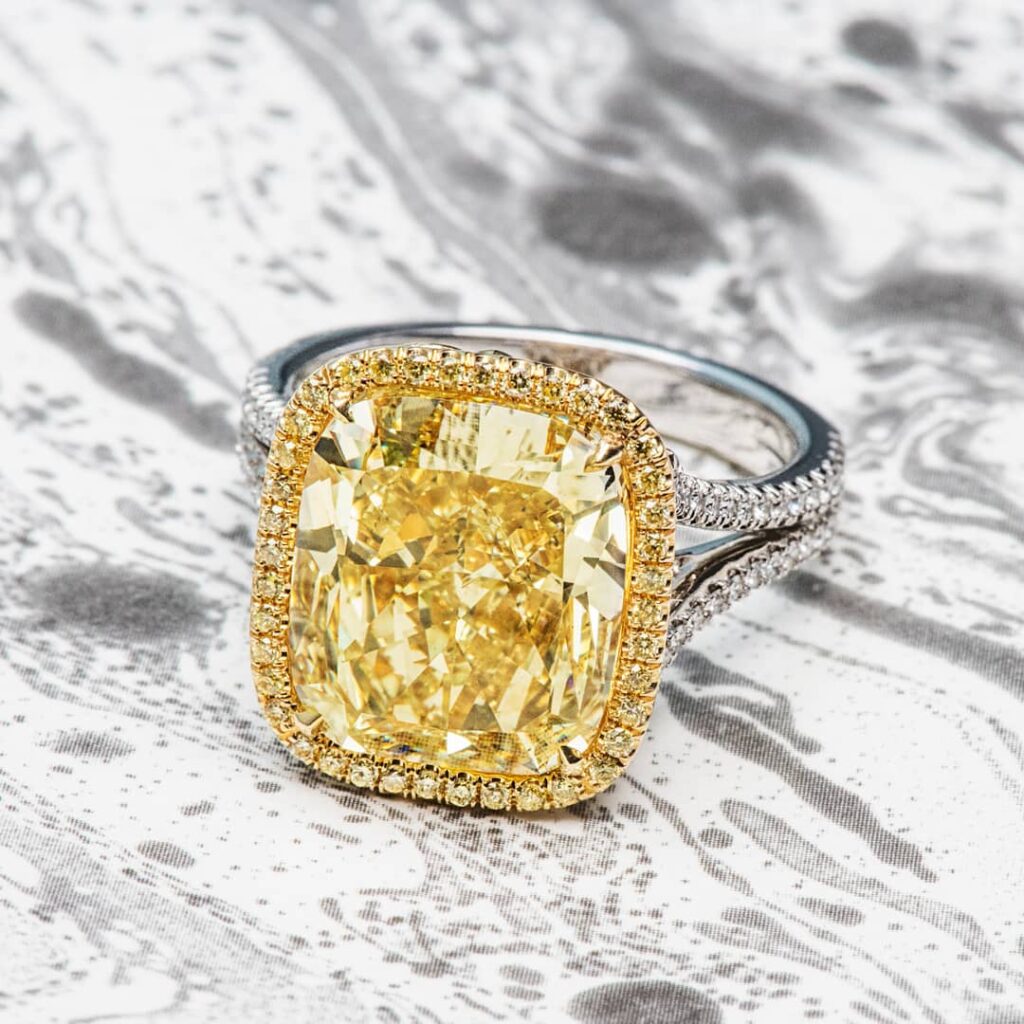 Courtesy: Universal Diamonds
#6 This canary yellow diamond engagement ring is just plain gorgeous and proves that sometimes, less is more. If you're not a fan of deep sunshine hue in your bauble, then opt for this subtle shade from the palette instead. This tint is also celebrity-approved as most celebrity yellow diamond engagement rings are canary yellow as opposed to a deeper tint from the same palette. A minimal setting is a great idea for the bride who'd want a delicate ring to wear on a daily basis and whose personality resonates with this style choice as well.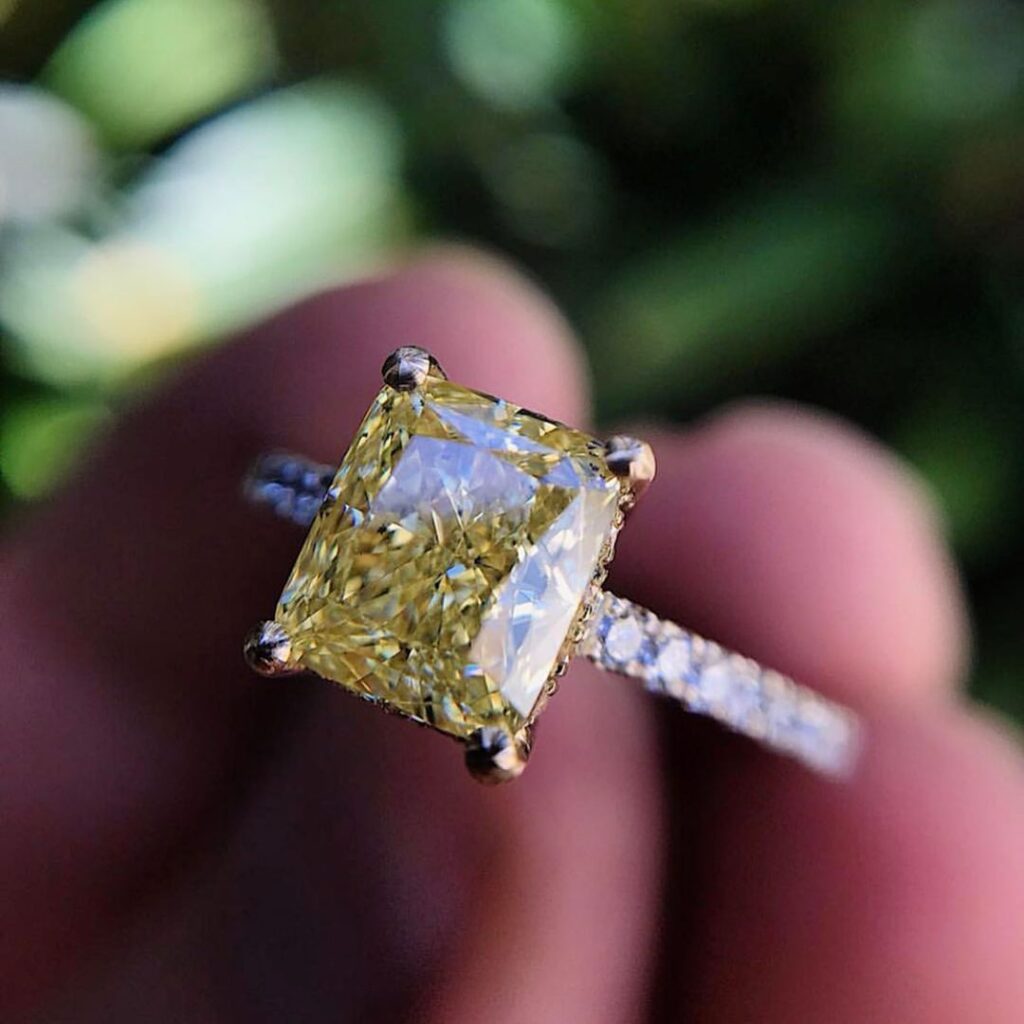 Courtesy: Cerrone Jewellers
#7 This emerald-cut yellow diamond engagement ring is gorgeous in so many ways! First, it's perfect for those who'd want a muted shine in their bauble as the emerald cut is popular to reduce the glint of the diamonds which some people don't find attractive. Plus, emerald gives such a time-honored yet modish vibe, which is hard to be replicated by any other shape. The emerald cut is further accented by baguette side stones – a popular choice to include on the sides of the solitaire.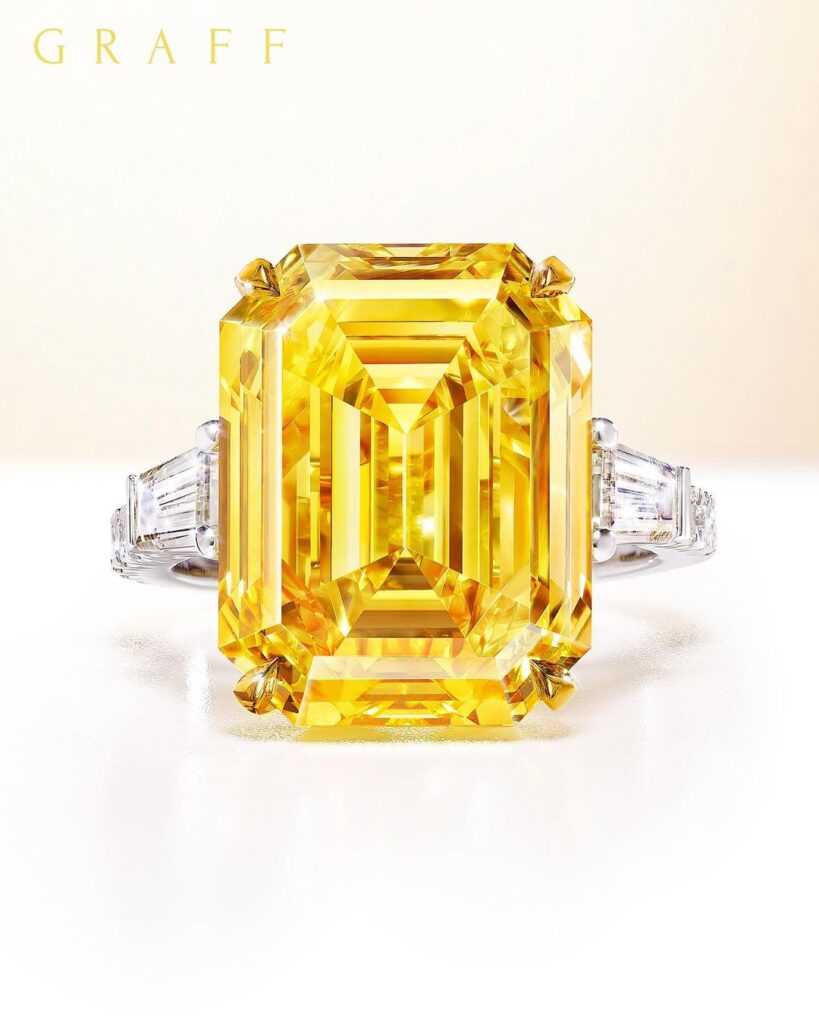 Courtesy: Graff
#8 While yellow diamonds are rare than colorless diamonds, they are less expensive than them primarily because of two reasons. First, there's less demand for them and more demand for colorless diamonds. Second, they are available more than any other colored diamonds. Therefore, opting for them as the center stone of your engagement ring will be a budget option and when it comes to the aesthetic, a yellow diamond ring doesn't disappoint either. To include colorless diamonds, you can opt for a halo and pave setting on the shank for a complete look.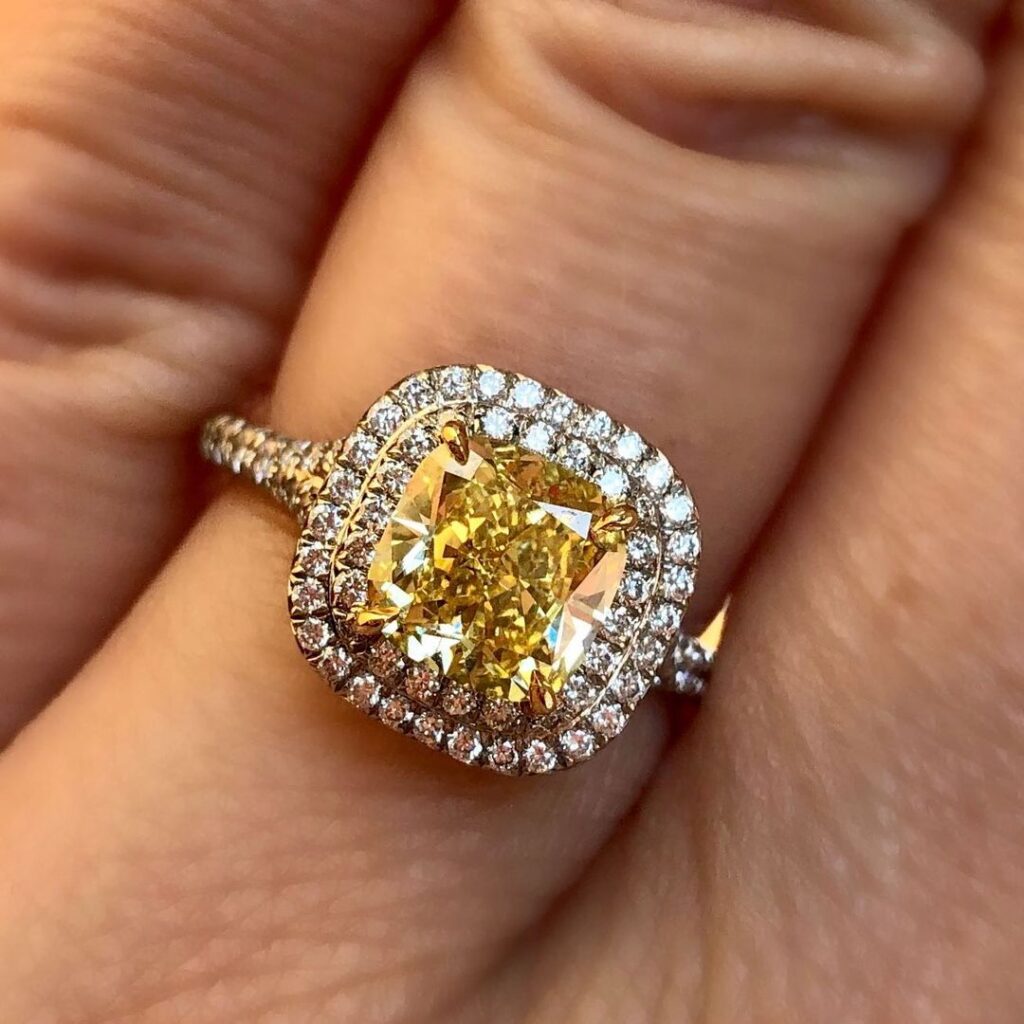 Courtesy: Caroline Ervin
#9 A three-stone ring, symbolizing your past, present, and future as a couple is a favored option among couples especially after it was also seen as Meghan Markle's engagement ring when the royals announced their engagement in 2017. So when it comes to yellow diamond engagement rings, the style is quite popular as well. We love this three-stone yellow diamond ring which has a halo on all three stones for a distinctive yet stunning aesthetic appeal.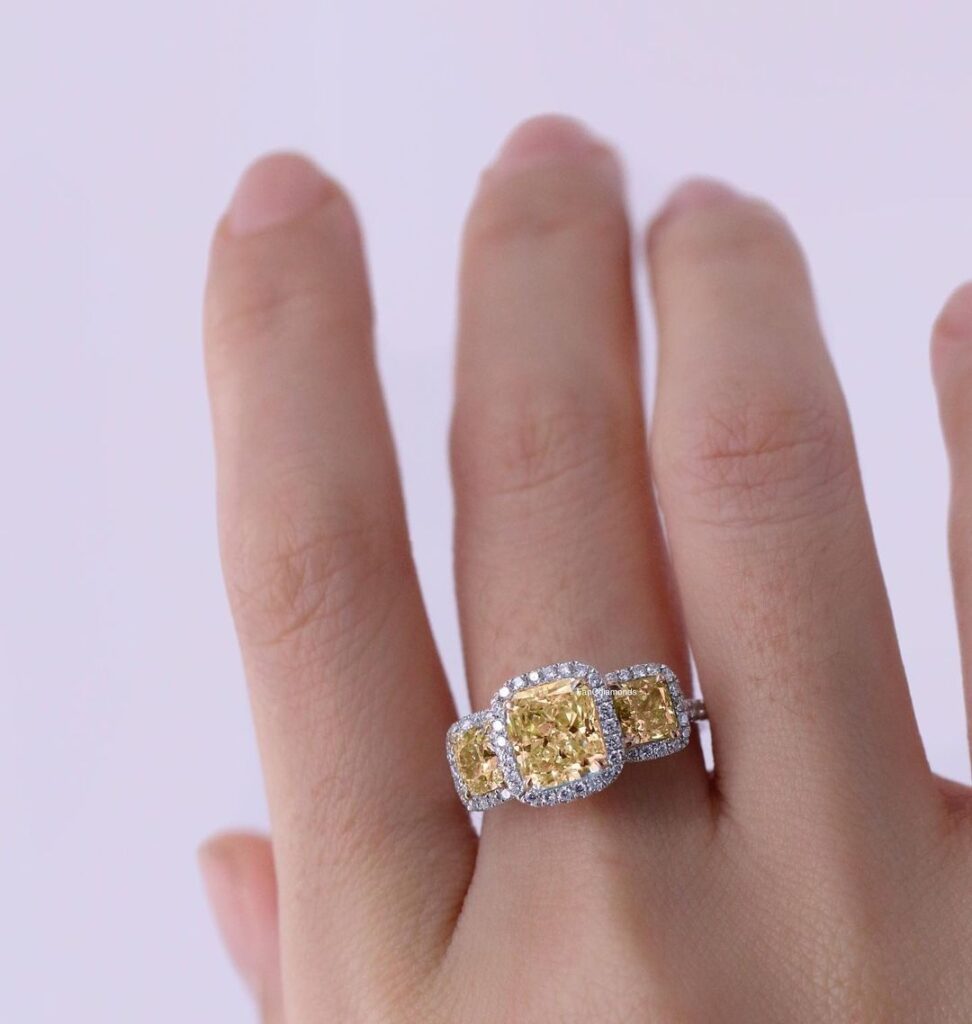 Courtesy: @fanCdiamonds
#10 A heart-shaped diamond ring signifies eternal love and is popular for its brilliant shine, romantic appeal, and romantic charm. Having said that, heart-shaped diamonds are only a work of an expert since the shape takes precise perfection. Though, they still cost 15% to 20% less than round-cut diamonds because of the latter's higher diamond. We absolutely adore this heart-shaped yellow diamond ring lined by a halo of yellow diamonds and white diamonds as well. It is both exceptionally gorgeous and exceptionally unique.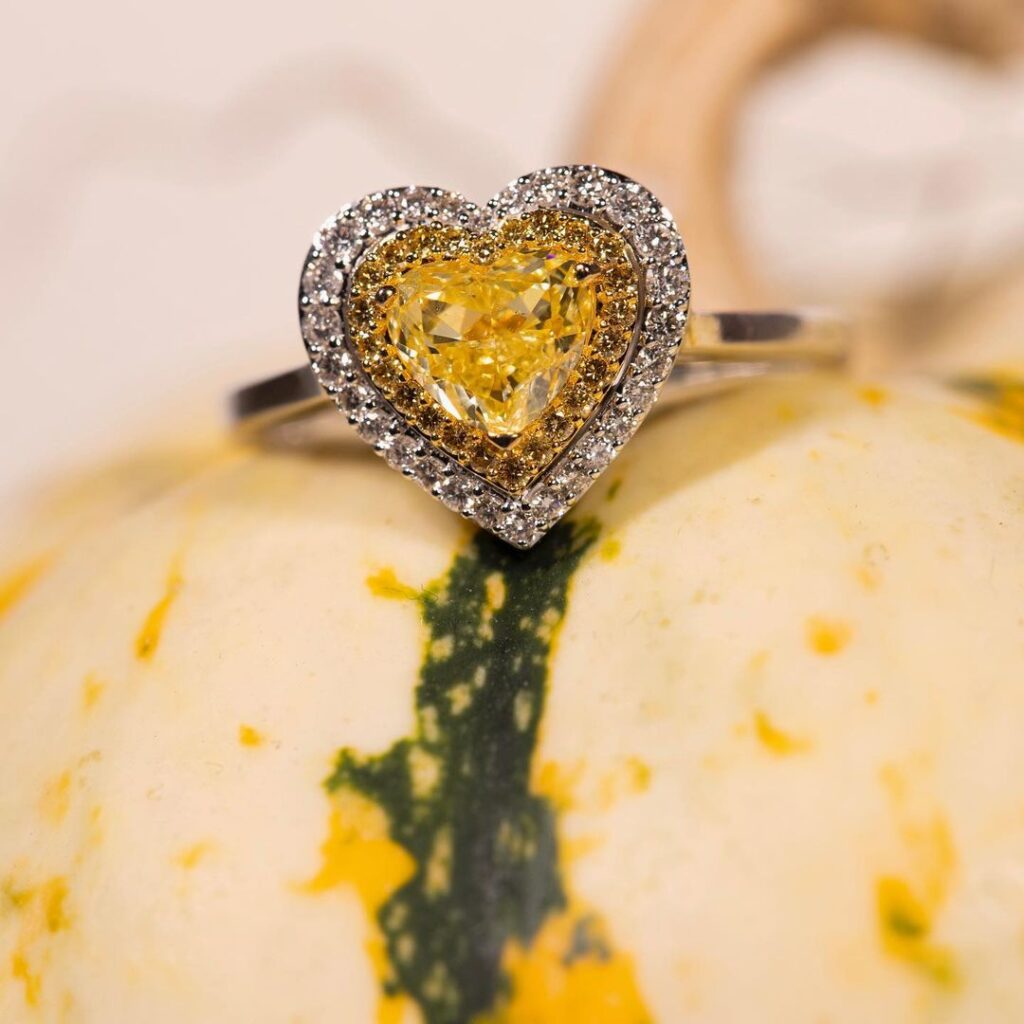 Courtesy: @stella_gems
#11 This Tiffany yellow diamond engagement ring consists of a smaller yellow gemstone in the middle followed by a little larger-sized double halo around the center stone. This allows you to explore your love for diamonds in the ring while exploring the fascination with a colored gemstone in the most precious jewelry you'll ever own. We love how the band of the ring is further lined with diamonds for an added sparkle.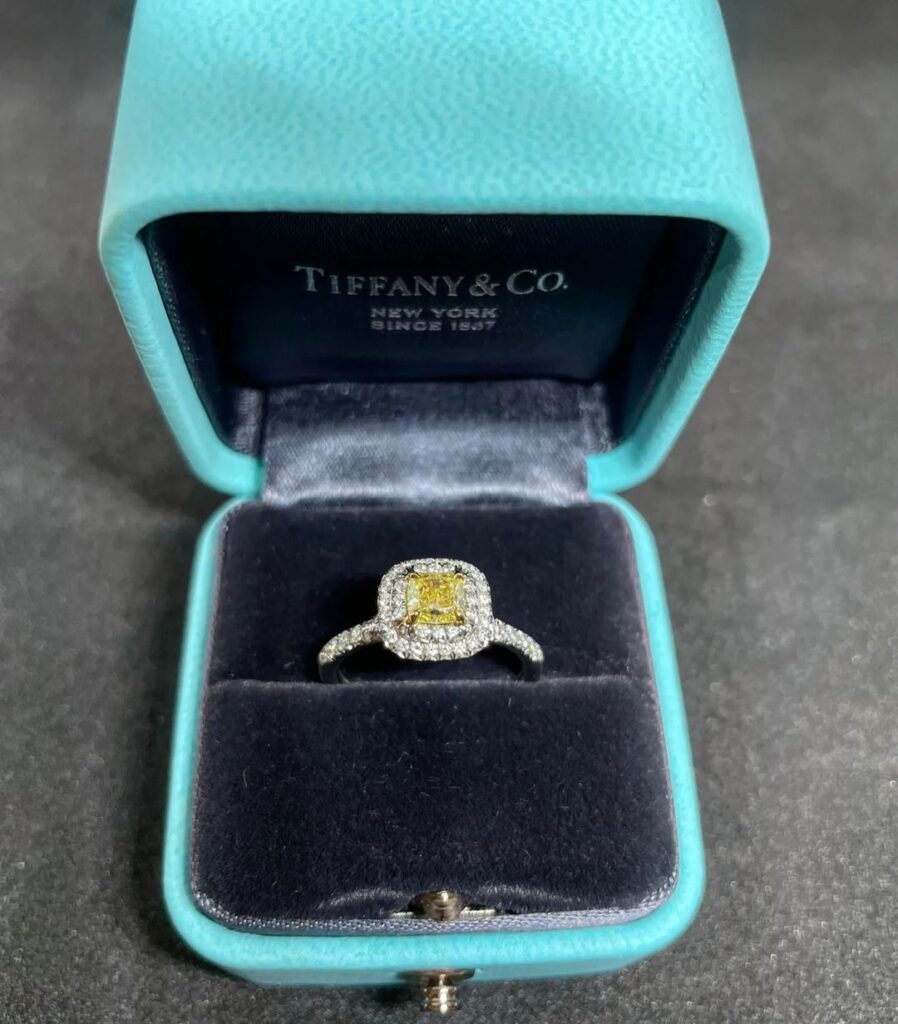 #12 Oval cut yellow diamond engagement rings are also popular among women as their engagement ring or any other prominent commitment celebrations like a promise ring or an anniversary ring, etc. Colored gemstones are a great option for these other celebrations for women who'd prefer a diamond for their engagement but would want a colored ring in their collection too. Men, take note, they will be dropping subtle hints about their preference and you need to keep up with them to pick the perfect bauble.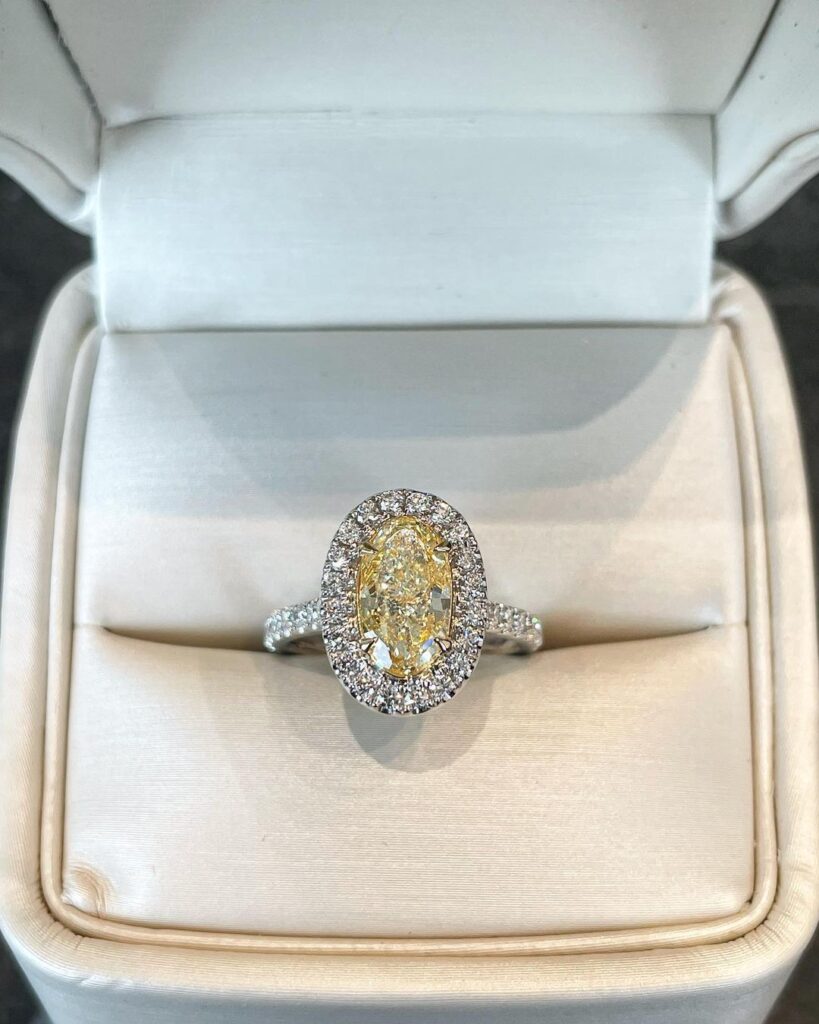 Courtesy: Damiani Jewellers
#13 We're totally swooning over this Tiffany yellow diamond engagement ring. It's simple, unique, and captivating – qualities hard to find in one trinket itself. It features a cushion-cut yellow diamond solitaire with no colorless diamonds whatsoever. There's no halo or pave diamonds as well so all the attention remains on the center stone. Further, using yellow gold was a smart choice to align with the style as white gold, though a good contrast, doesn't blend as well with the hue as the yellow gold.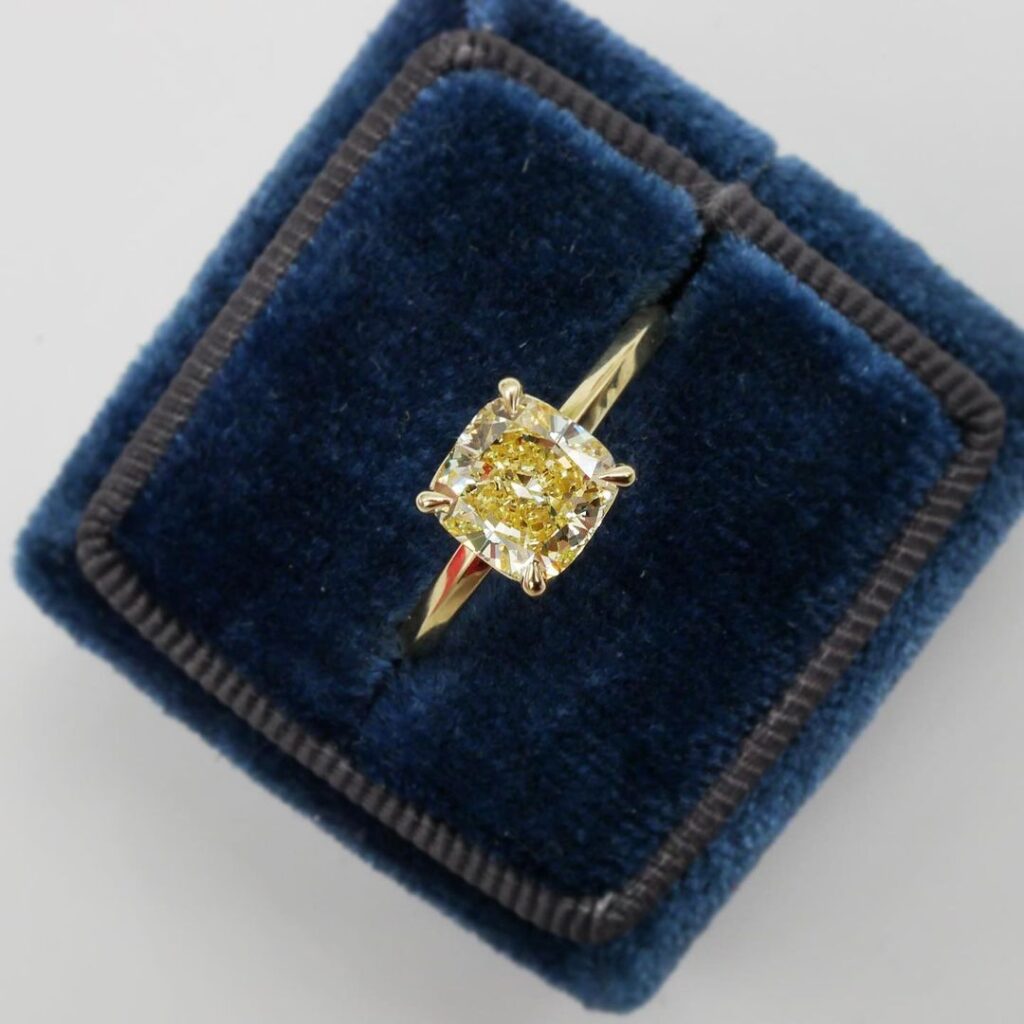 Courtesy: @debebians
#14 This canary yellow diamond engagement ring is exceptionally gorgeous and captivating in every sense. The brilliant-cut diamond takes all the attention and the baguette side stones enhance the center gemstone even further. That's the point of baguette side stones anyway! They accent the center stone and give it a very exclusive vibe. The setting is also very versatile and can work on all diamond stones & shapes – from emerald to round and cushion-cut – you can employ its majestic charm on your favorite ring type.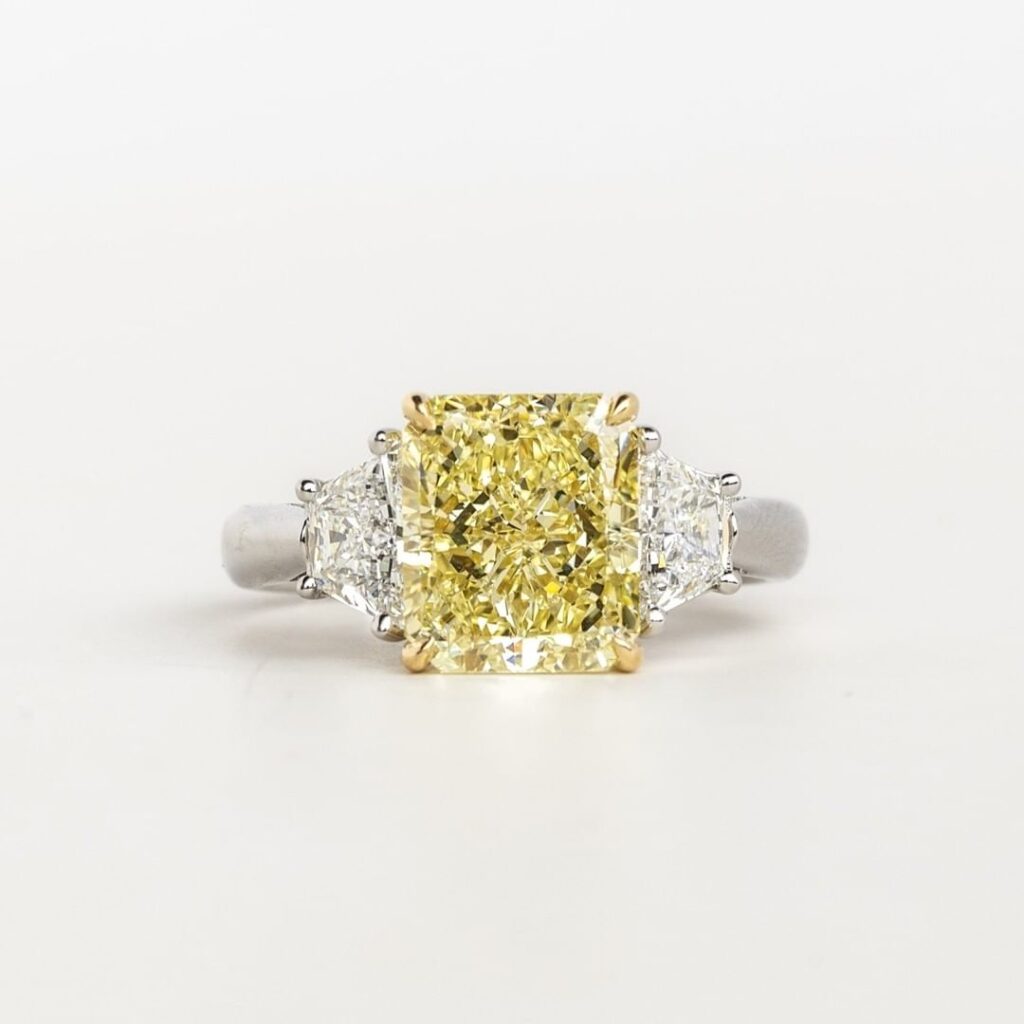 Courtesy: Barry Bogo Jewelry
#15 The next one of the yellow diamond engagement rings has a beautiful, orangish hue. When a yellow gemstone has a different hue, it doesn't mean it's not an original diamond. Every yellow diamond has a different hue because of the unique process it undergoes during formation. Generally, the more vivid the tint, the more expensive the diamond will be. But sometimes the value is also affected by the making and the number of carats. This sunshine yellow ring is priced higher than its counterparts (at $350,000) because it has a deep hue and is a 10-carat yellow diamond.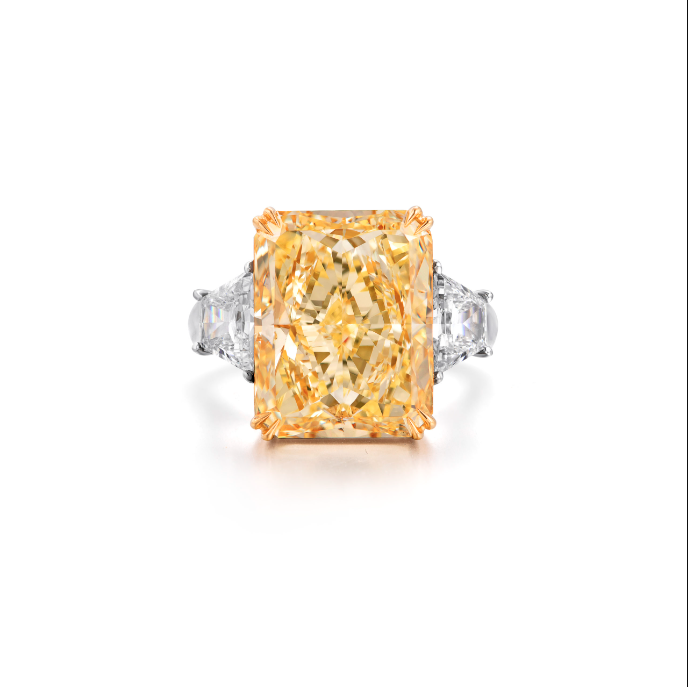 Courtesy: Gemma FJ
#16 Baguette side stone is a very popular style at the moment and the favored one to add a distinctive and timeless touch to your precious ornament. Here, this design is seen on a gorgeous princess-cut yellow diamond in a solitaire setting and no pave diamonds on the band as well so the center stone and the baguette style take all the attention. The entire ring pattern is nothing short of brilliant!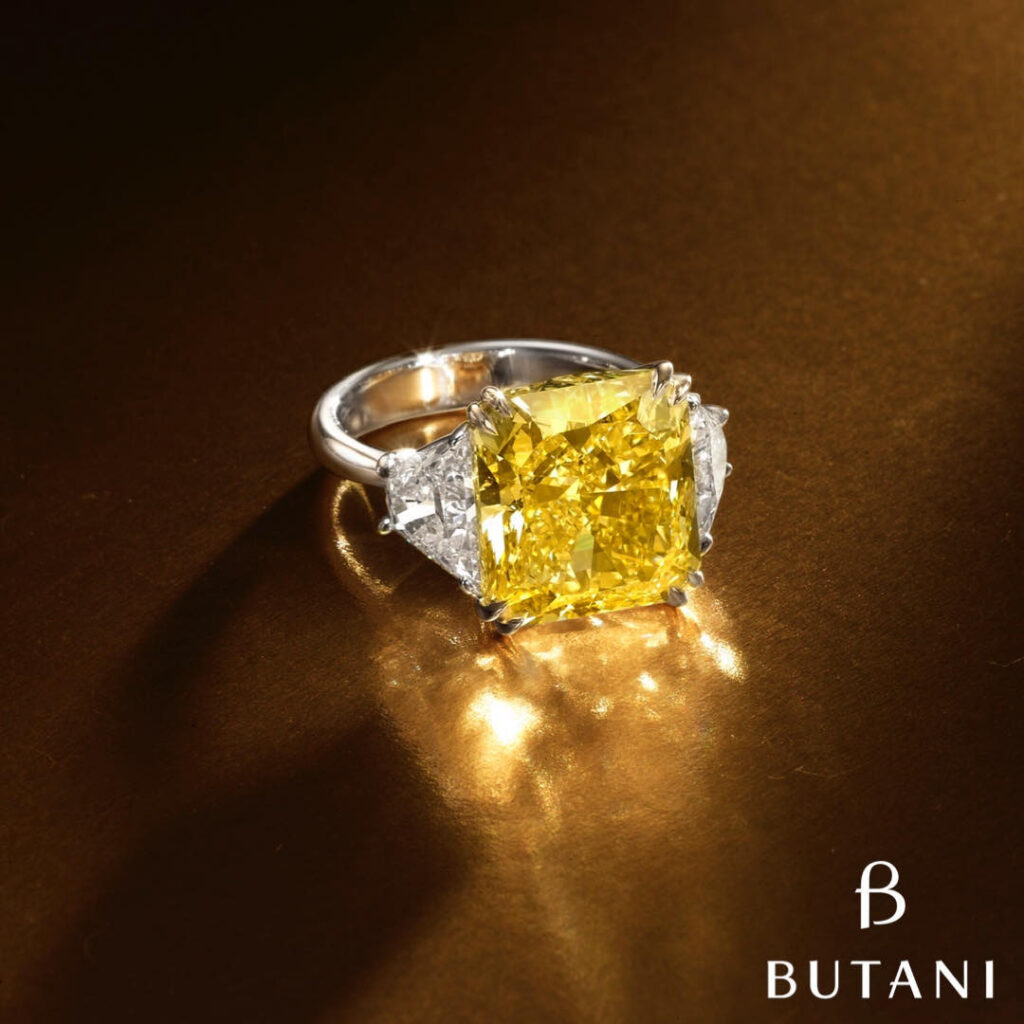 Courtesy: Butani Jewellery
#17 This gorgeous elongated cushion-cut yellow ring had our hearts at the first look! The picture also perfectly portrays how beautiful the ring will look in natural lighting as the yellow tint of the ring bounces off the natural light of the Sun. Another unique detail of the ring is the tapered edges on the sides to give a beautiful aesthetic effect to the stunning design.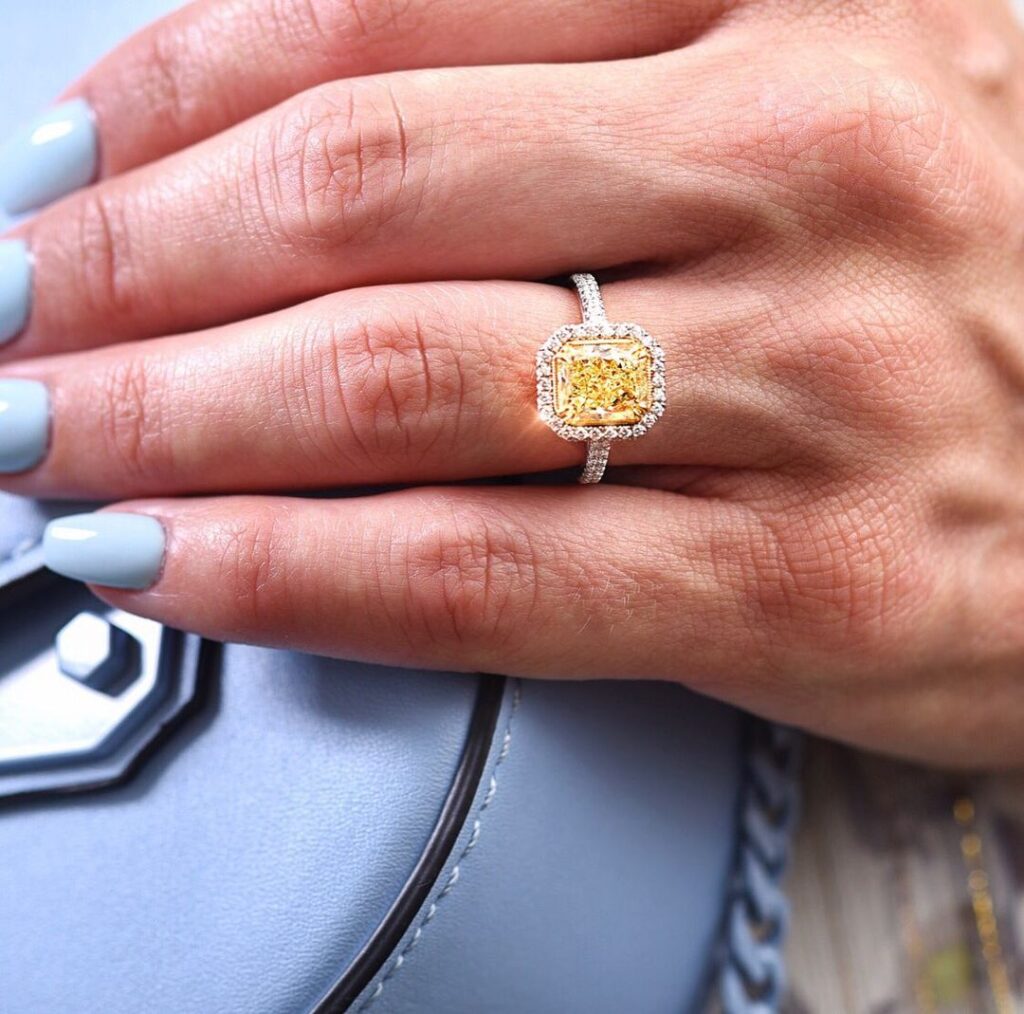 Courtesy: RF Collection
#18 This is yet another similar one of the yellow diamond engagement rings as the one featured above. It also has a tapered halo to flawlessly surround the center stone and the entire band is covered in diamonds so the band looks made of diamonds instead of metal. The matching diamond earrings look utterly fabulous and you can also add a similar necklace to the collection for a complementary look. 
Courtesy: Joe Escobar Diamonds
#19 Raw diamonds are unexpected, but a stunning choice for your engagement ring. Diamonds when mined from Earth don't have shine. It takes several hours of man work that includes cutting and polishing, which gives diamonds their brilliant shine. But even without the glare, they are still your precious diamonds and when coupled with a glistening yellow diamond, they can look fabulous. Raw diamonds also cost less since they need almost no man work and are a cheaper alternative to polished ones. 
Courtesy: @fanCdiamonds
#20 With over 50 years of experience, Jack Kelege jewelry is designed by Jack himself by his team of artisans with an average 20-year membership under him. Some pieces take even months to plan & execute. Given the careful ideation, it's not a surprise that the next one of the yellow diamond engagement rings is a visual treat to the years with a touch of vintage and style in one. It's just the perfect piece you'd want to pass on as an heirloom for your future generations.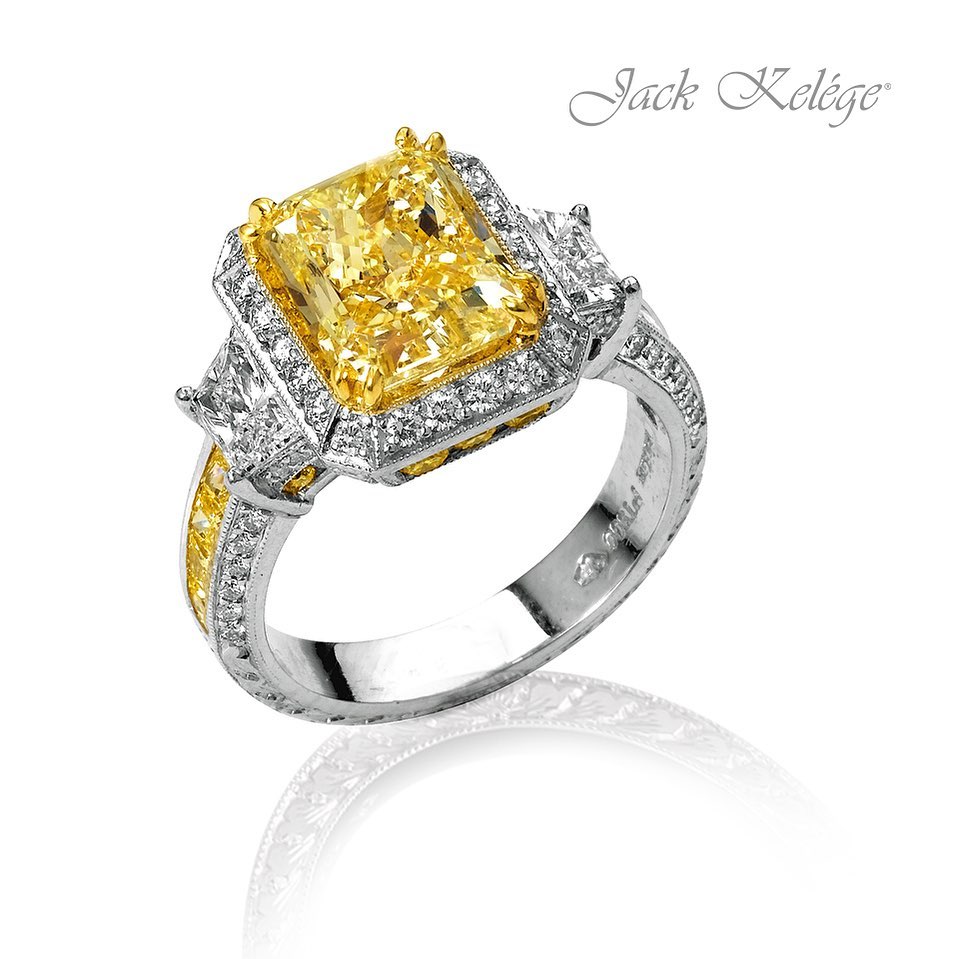 #21 In 2022, one of the major trends in engagement rings is the two-stone engagement ring. Popularised by celebrities like Megan Fox & Ariana Grande, the two-stone engagement rings hold a special significance for couples as it basically means when two people come together in marriage, they basically become one. If you love the hearty significance behind this ring style and are also a fan of yellow diamonds, here's a ring you'll absolutely love! The pear-shaped diamonds look gorgeous, but you can also try the style with other shapes like round or elongated cushion.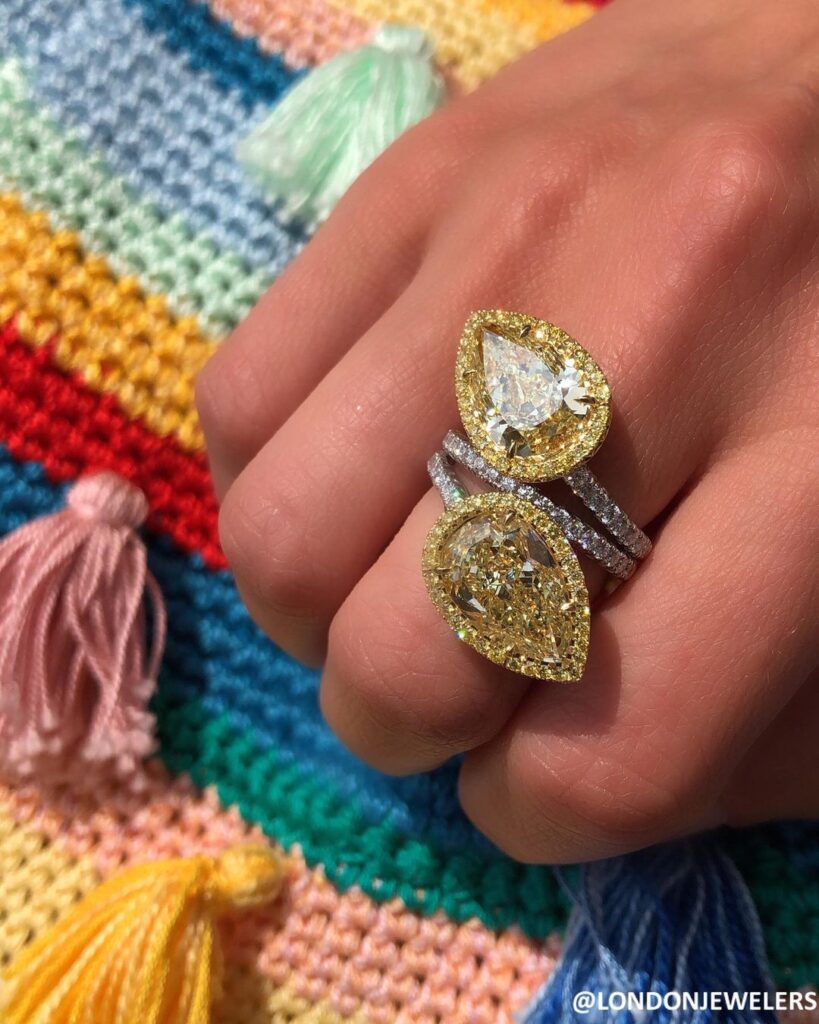 Courtesy: @londonjewelers
#22 It's hard to not have your heart set on the next one of our yellow diamond engagement rings. It features the three-stone engagement ring style with the yellow gemstone in an oval shape and the two diamonds on the side in a trillion-cut and they are all encompassed within a single halo that merges on the pave diamonds band. The sheen of yellow & smaller diamonds makes this diamond ring an extraordinary one on the list!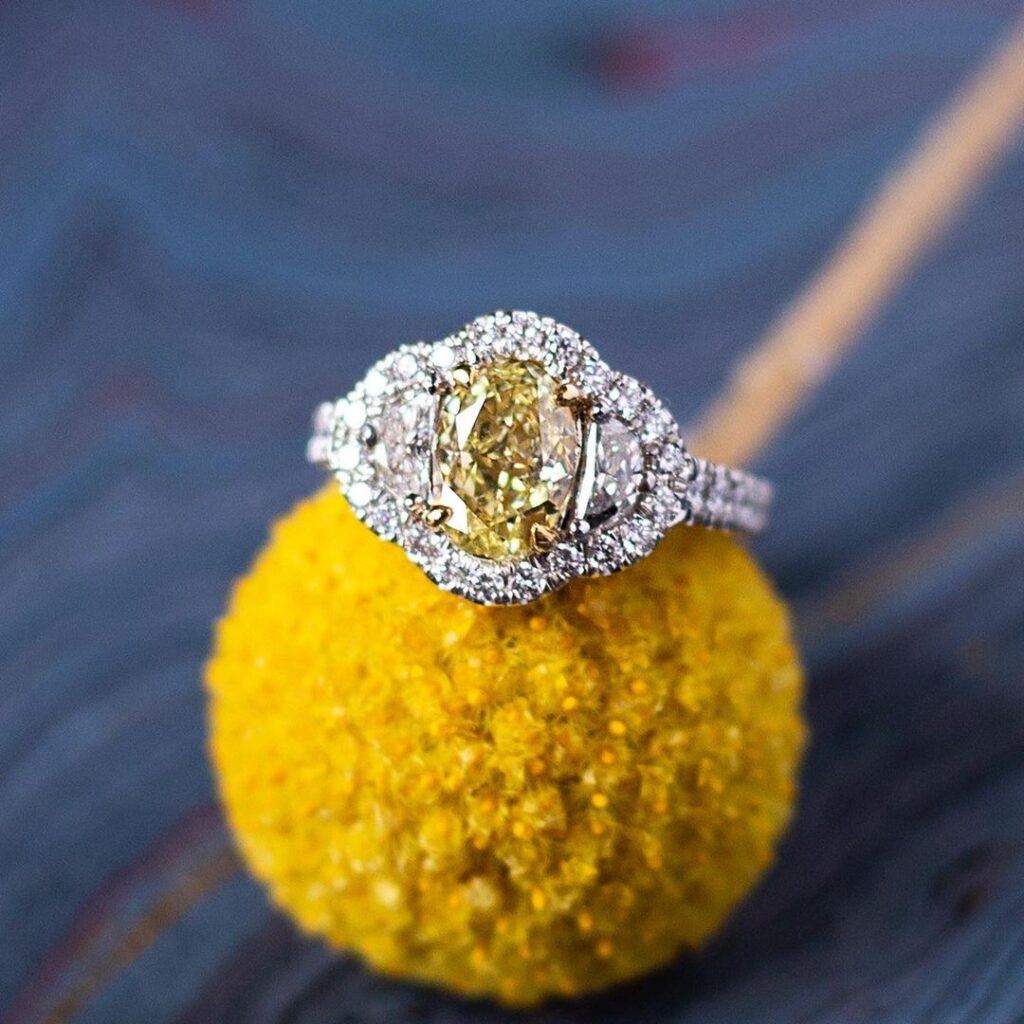 Courtesy: @waltonsjewelry
#23 Not just one, the next picture features three delightful yellow diamond engagement rings. Two of them feature a halo of yellow diamonds in yellow gold and it looks amazing, doesn't it? The way the hues of the palette blend together to give a bigger appeal to the center diamond is exquisite. If you want to give an illusion of the increased size of a yellow gemstone, this is a great idea. Or opt for a cleaner look, like the one presented in the middle ring.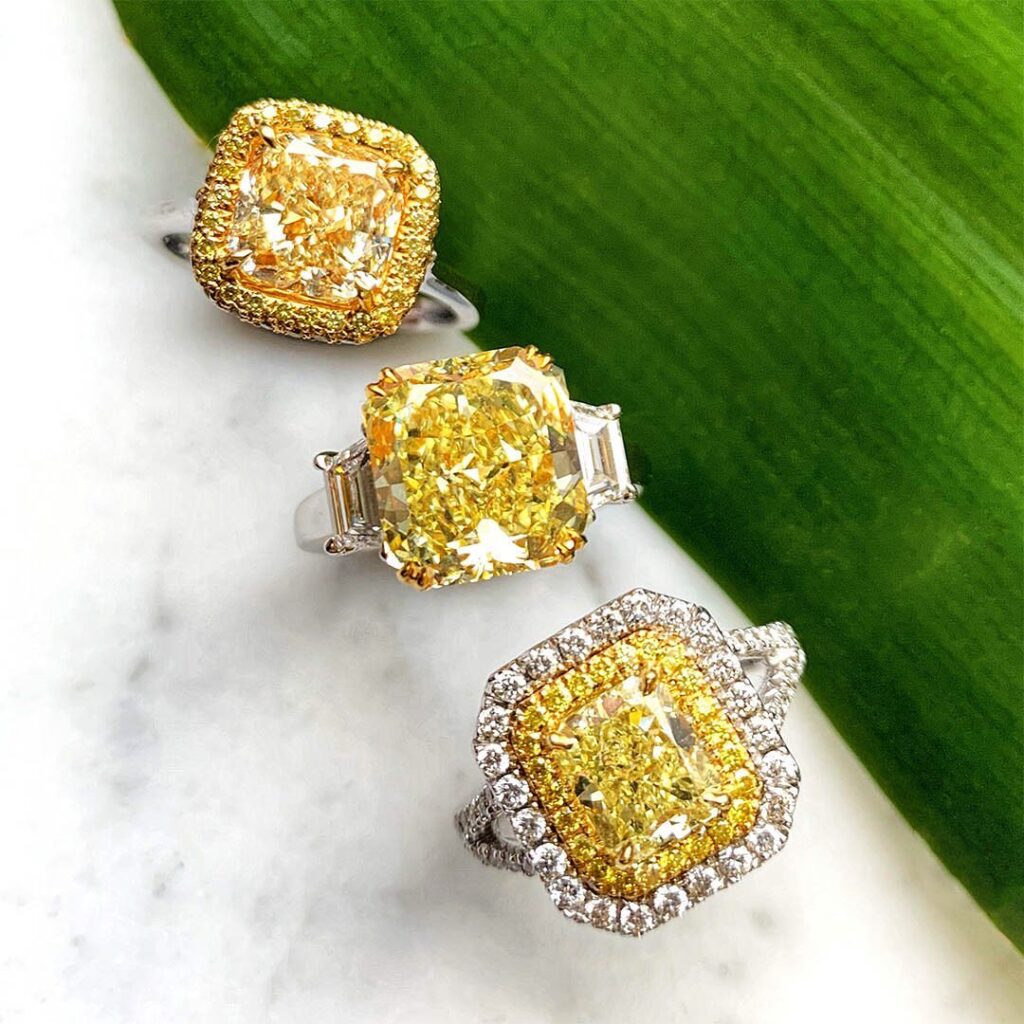 Courtesy: @novelcollection
#24 We love the star-shaped halo next to the yellow diamond engagement rings the halo. When you look from far away it looks like the diamonds are cut in this manner, but the diamonds are round, it's their placement and the prong placement which gives the illusion of the star. While many brides opt for a cleaner, straightforward look for their precious trinket, if you want to stand out from the crowd, this captivating engagement ring is a great option!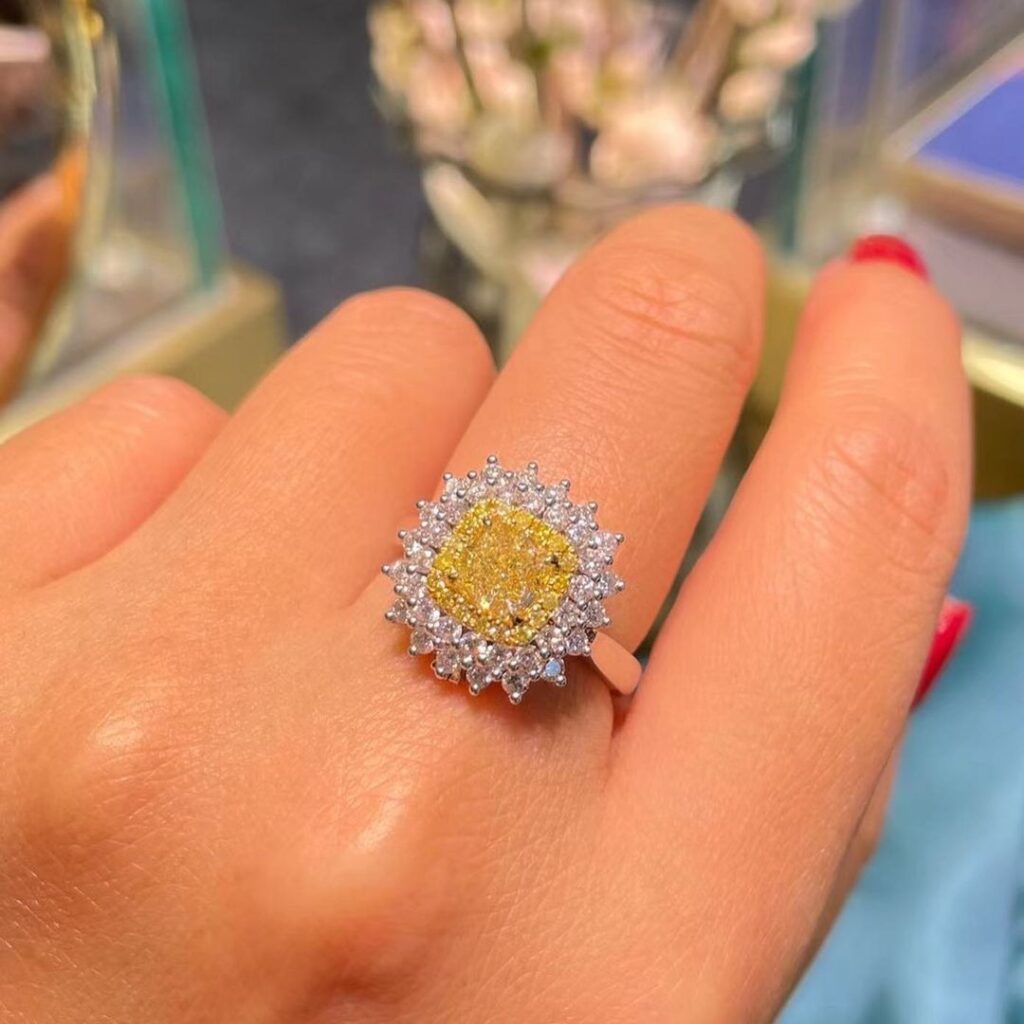 Courtesy: Mansa Jewels
#25 The baguette-cut side diamonds are most commonly placed with an emerald-cut or a cushion-cut diamond of a bigger size to complete the solitaire's look. It's also the design of Priyanka Chopra's $200,000 engagement ring from Tiffanys. We love how the prongs are made of yellow-gold, which is quite common as white gold prongs can take away the uniformity of the hue and ruin the flawlessness of your solitaire. For those who want a solitaire look, this ring can be a great inspiration.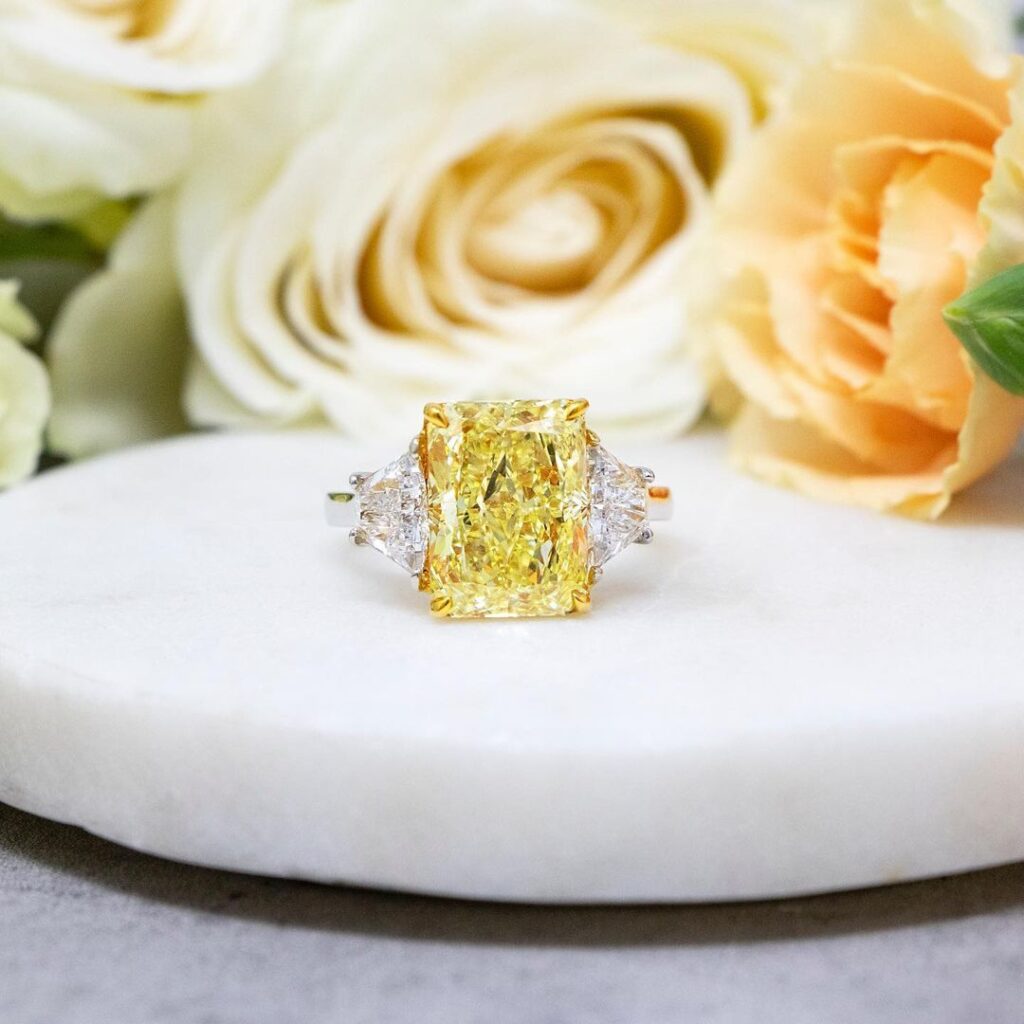 Courtesy: @kwiatdiamonds
#26 Why stick to just the ring when you can get matching earrings and necklaces made of the same style? To drop hints, send this post directly to your beau and he will know that a ring isn't enough to woo his lady-love, it will take something extra. Or you can get this made as a wedding gift. Anyhow, we'd definitely recommend exploring colored gemstones in other baubles as well. And if you love colored gemstones but want the ring to be colorless, getting a necklace or earrings done in them can be a perfect way to experience the best of both worlds.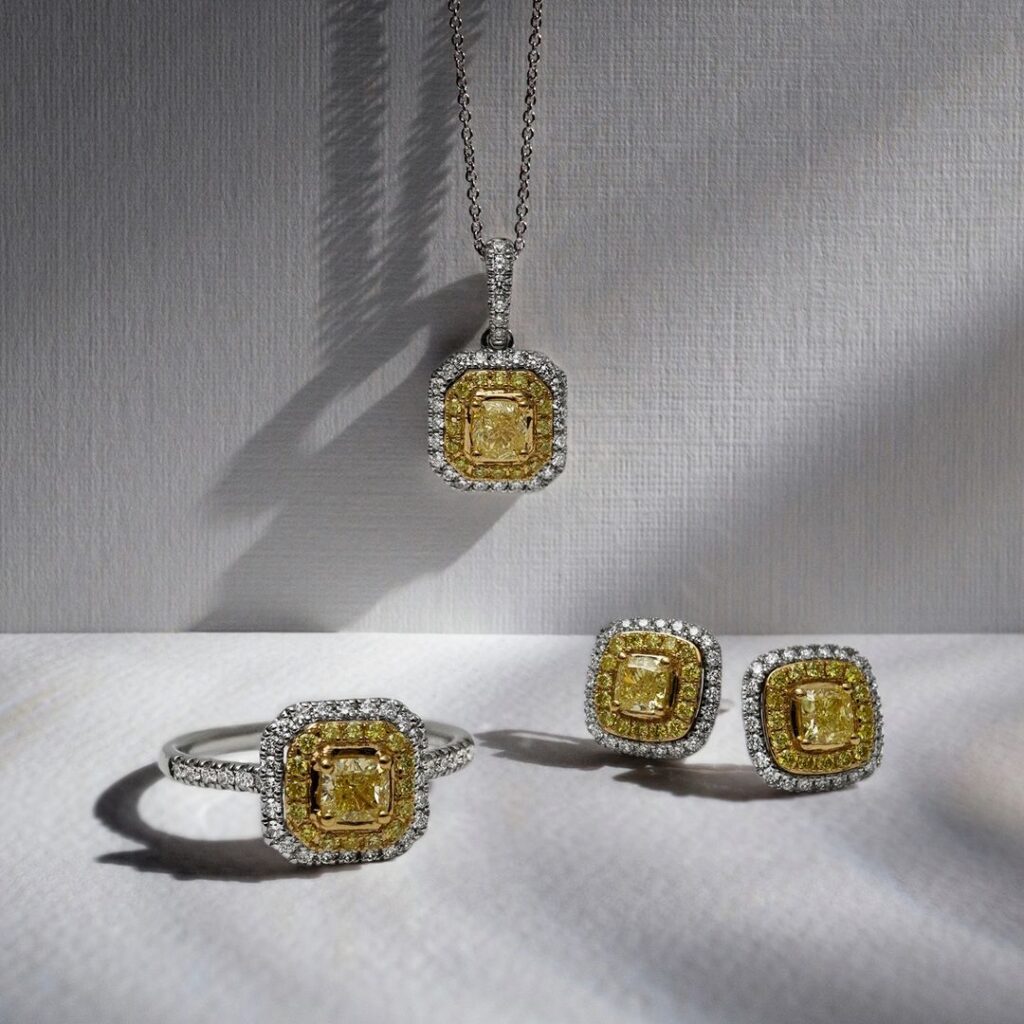 Courtesy: Le Vian Jewelry
#27 This oval yellow gemstone ring with a single halo is just gorgeous! We love the smaller pave diamond setting so the bigger gemstone keeps the sole attention in the design. Side Note: If you're planning to buy your yellow diamond ring from South Africa, don't purchase it without the GIA certification. Anyhow, the ring from the largest producer of raw diamonds may not be as cheaper as you'd think! It's mainly because the mines produce raw diamonds and they have to go through the cutting and polishing which makes it more expensive. In fact, in most commercial places of the country, it's more expensive to buy a diamond than probably your hometown.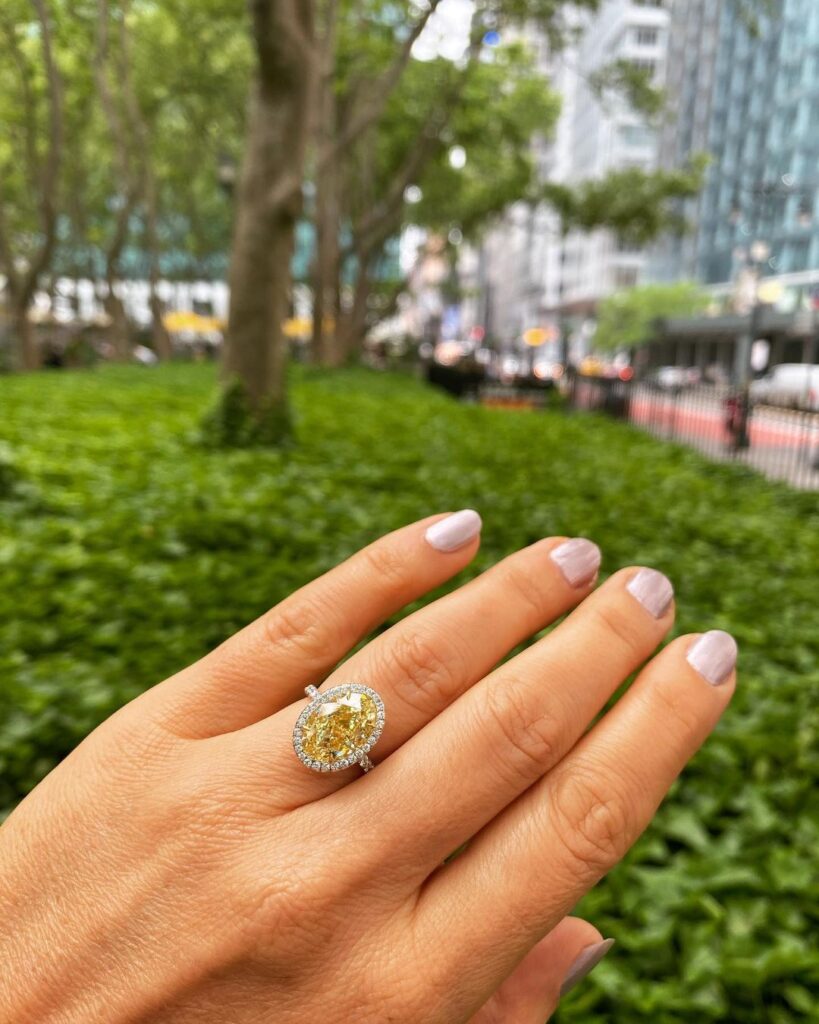 #28 This chunky rectangle-shaped brilliantly-cut yellow diamond engagement ring is just spectacular! We love how it's represented in a complete yellow aesthetic and yet it manages to capture the attention of anyone looking at the image. Though, when you're wearing a ring of this size, it's going to grab the attention, and if you're a fan of chunky baubles and yet want a better option – price-wise- a yellow diamond engagement ring can do the job.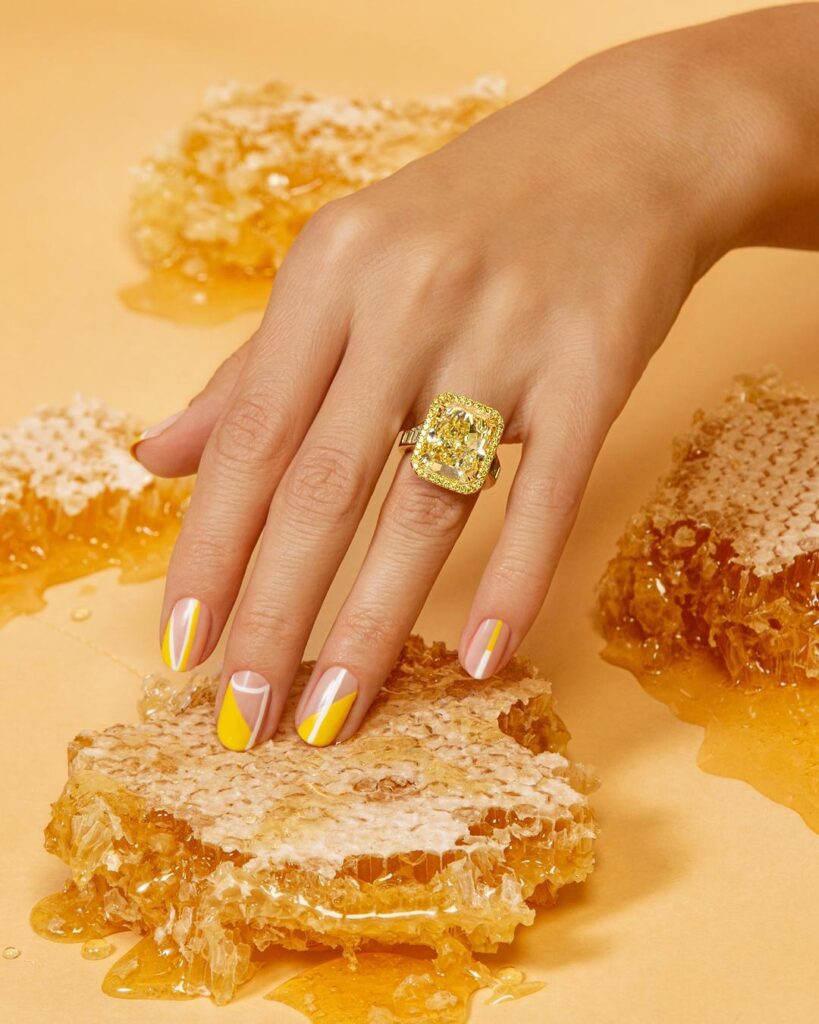 Courtesy: Jean Dousset
#29 Current engagement ring trends all the way towards minimalism but with a distinctive design. This one fulfills both with a subtle-sized yellow diamond in the middle followed by a halo and a flower-shaped design offering the distinguished appeal. The simple band keeps the minimalism alive as well. This is the kind of jewelry that makes heirloom pieces and if you're serious about owning jewelry that you will pass on to the coming generations, this is the piece you will love to own!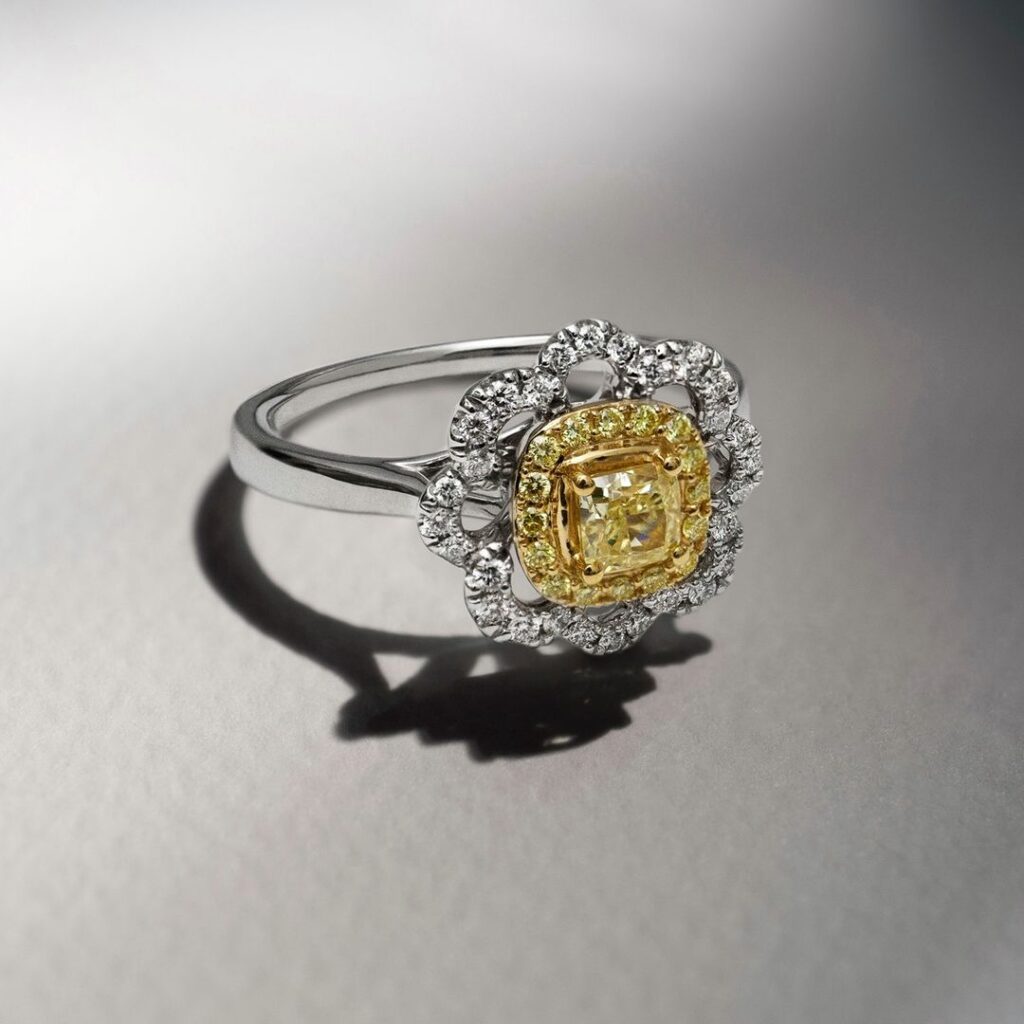 Courtesy: Le Vian Jewelry
#30 While emerald cuts are mainly in the rectangle shape, they can also be square. The emerald cut is basically a diamond cut to emphasize the long parallel step cuts along with clipped corners to fashion a sort of octagon-like shape. The square variations are less common but equally stunning! Here, this uncommon shape is done in the yellow diamond which is further surrounded by two baguette side diamonds for a beautiful appeal. 
Courtesy: Enzianni Jewellery
#31 If extravagant rings are your thing, then this cushion-cut stunner will be love-at-first-sight for you. The ring is designed by Jean Dousset, a direct descendant of Louis Cartier and owner of his eponymous brand popular for made-to-order fine jewelry and engagement rings. For those looking for sustainable options, the jeweler just launched their lab-grown diamonds collection "Oui" featuring many styles to wow each & every preference. 
#32 With over 1 lakh followers on Instagram, Ice Rock Diamonds is a jewelry brand based in Los Angeles and specializes in colorless diamonds with some colored gemstones to add versatility to their collection. This collection of yellow diamond engagement rings features elongated cushion cuts with baguette side diamonds in different shapes to give you an idea of how the size of the main stone and side stones affect the entire look. You can also reverse the color and opt for a big colorless diamond followed by a yellow baguette on the sides and it will look amazing as well!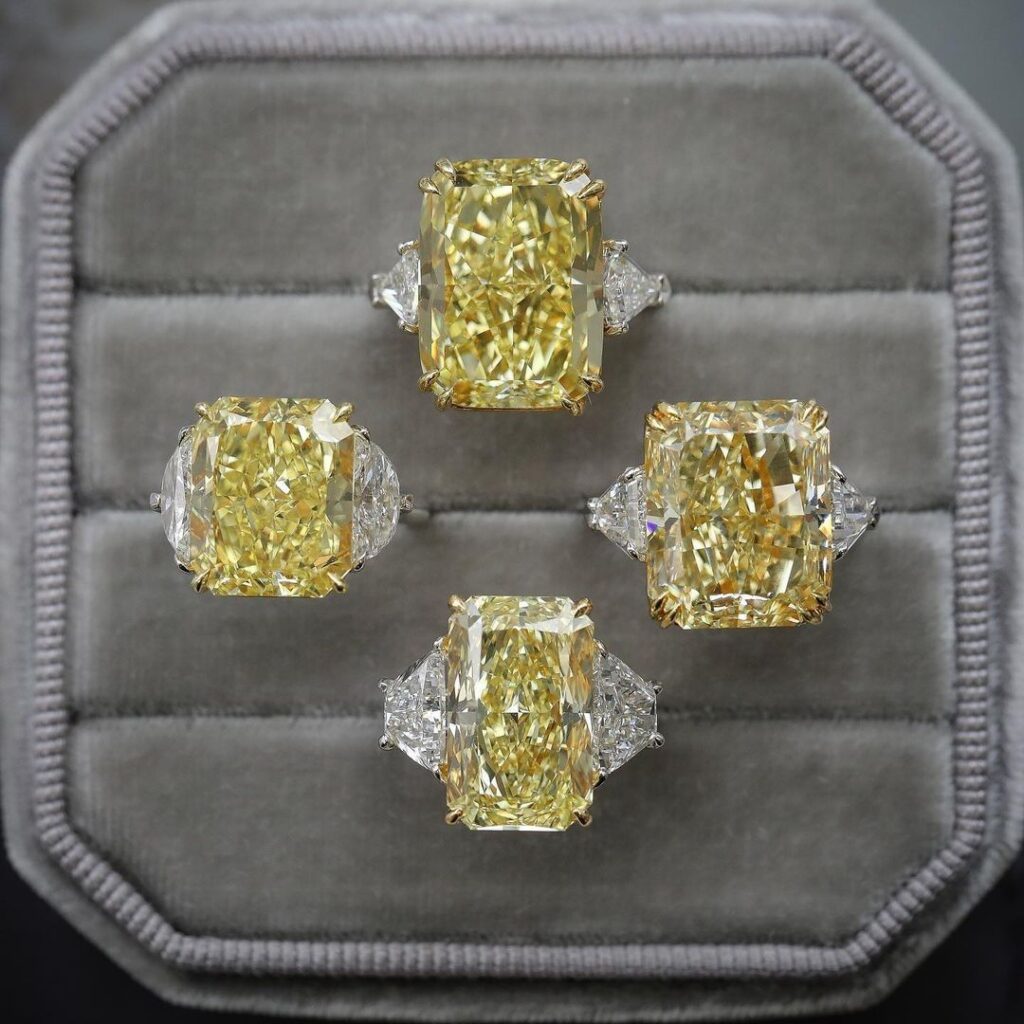 #33 If you want your engagement ring to be a colorless diamond, then opt for yellow diamonds in your wedding band with this pristine oval-shaped setting in yellow gold. And for women who don't want a typical engagement ring, this can also serve as their precious bauble.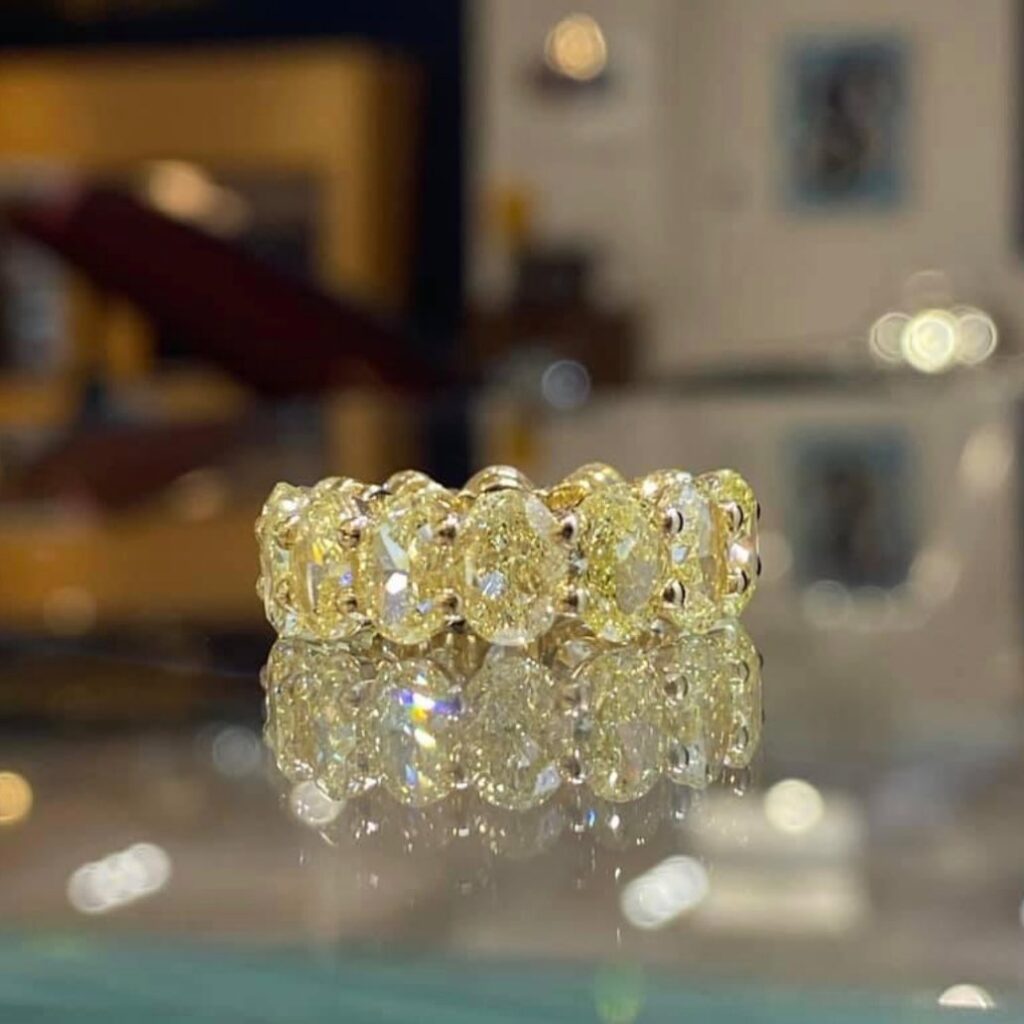 Courtesy: Namdar Diamonds
#34 Featuring a pear-shaped cut center stone, this yellow gold diamond engagement ring radiates brilliance to another level. Auctioned at Christie's Jewels, this 3.02 carats stunner is sure to wow your lady love and scream a YES during your proposal. If you're already engaged and have a milestone anniversary coming up or just want to surprise your partner, for no good reason whatsoever, then this can be the perfect trinket to take her by surprise and bring a huge smile to her face and her heart!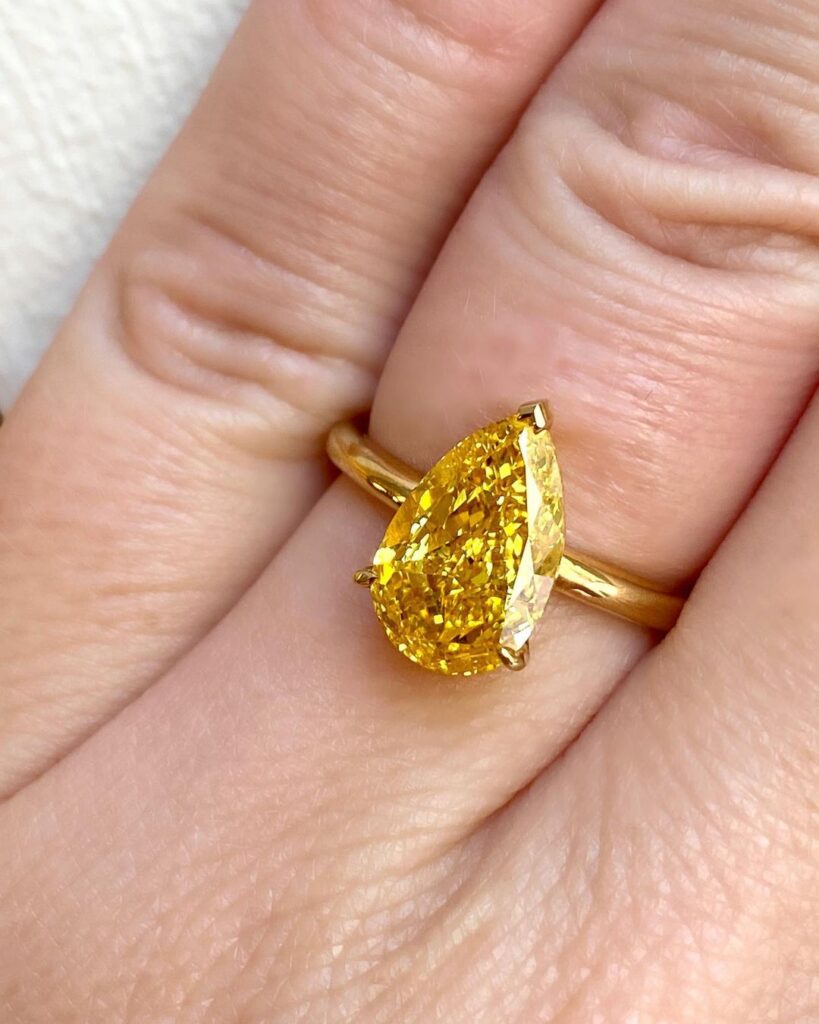 #35 This chunky one of the yellow diamond engagement rings is gorgeous and grabs the attention for its shine and brilliance. The yellow diamond is flanked by two trillion cut diamonds on the sides to make for what's called a three-stone ring. Side stones are a great way to alleviate your center stone and some further radiance to your ring.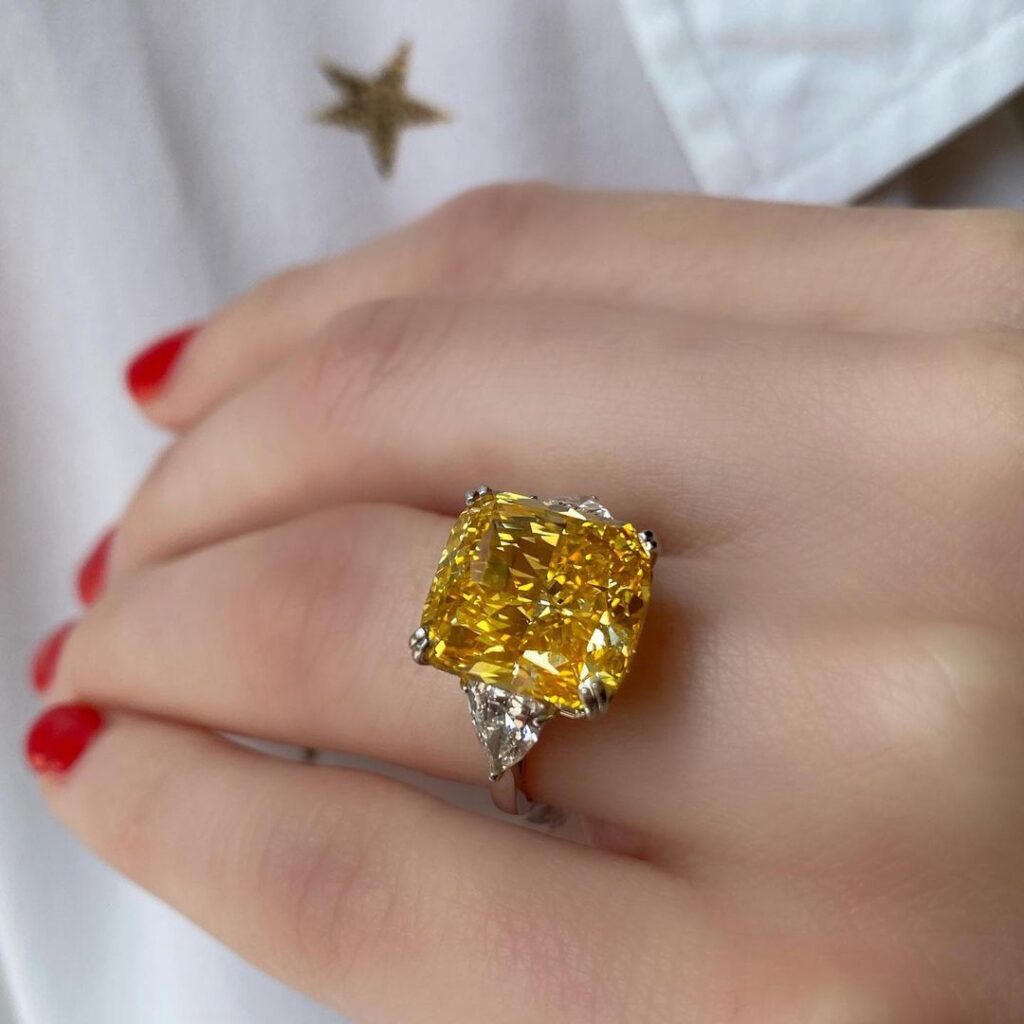 Courtesy: Christie's Jewellery
#36 Two-stone engagement rings are trending and are also celebrity-approved. They also have a beautiful significance. Also termed as "Forever Us" diamond rings, these rings represent how two people become one when they come together in marriage. This ring, designed by Rosenberg Diamonds, features one canary yellow engagement ring and a heart-shaped diamond for a spellbinding style. Two diamond engagement rings are also popular for those who want an opulent ring, but not a chunky diamond.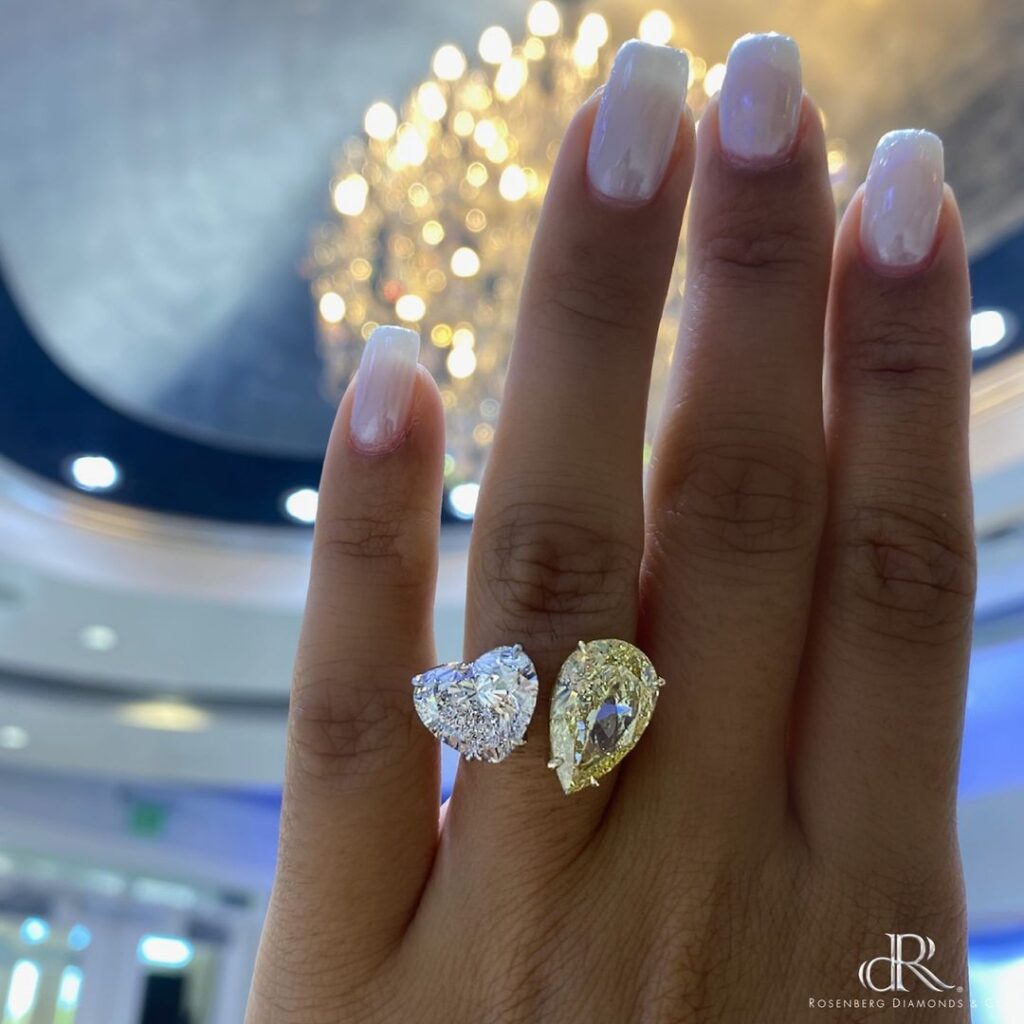 #37 This canary yellow diamond engagement ring has a beautiful oval diamond in the middle followed by a halo and a subtle split-shank on the band. The ring is designed by Dubai-based Cara Jewellers who offer GIA-certified diamonds in their collection. Oval diamonds aren't a common choice but say a lot about the individual who chooses them. It signifies individuality and uniqueness and is a captivating and elegant shape to gift to your lady love. Since the oval is also in the shape of an egg, it also symbolizes rebirth, fertility, and family.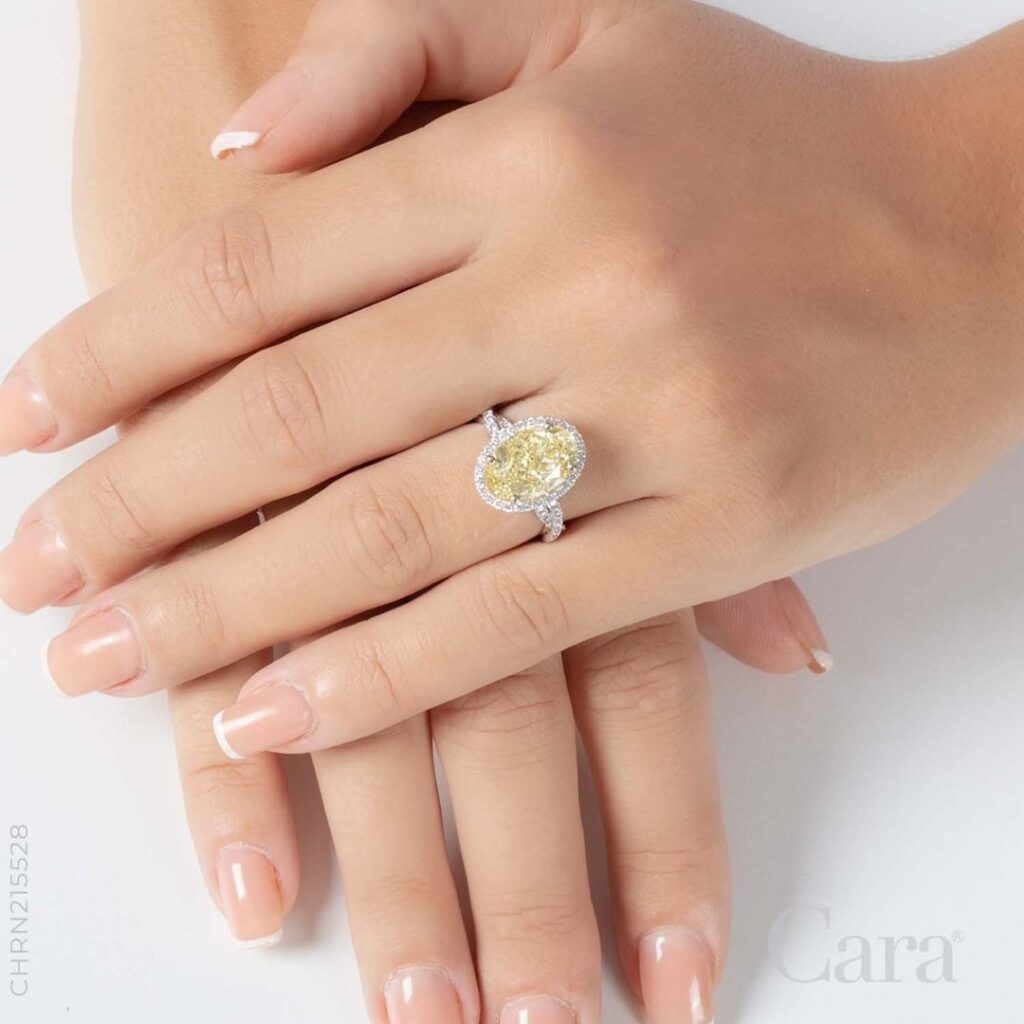 #38 If a deep yellow diamond isn't your thing, then this canary yellow diamond engagement ring will awe you at first look. Designed by UK-based Nicholsons Jewellers, the ring features a GIA-certified cushion-shaped, brilliant cut yellow diamond that is set to a surround of 20 brilliant cut diamonds to a square cushion-shaped head with a raised, open-work gallery the side profile and under bezel of which are set within a further 20 brilliant cut diamonds. The band is made in hallmarked 950-grade platinum and has around 9 to 10 diamonds in a pave setting for optimum brilliance and design quotient.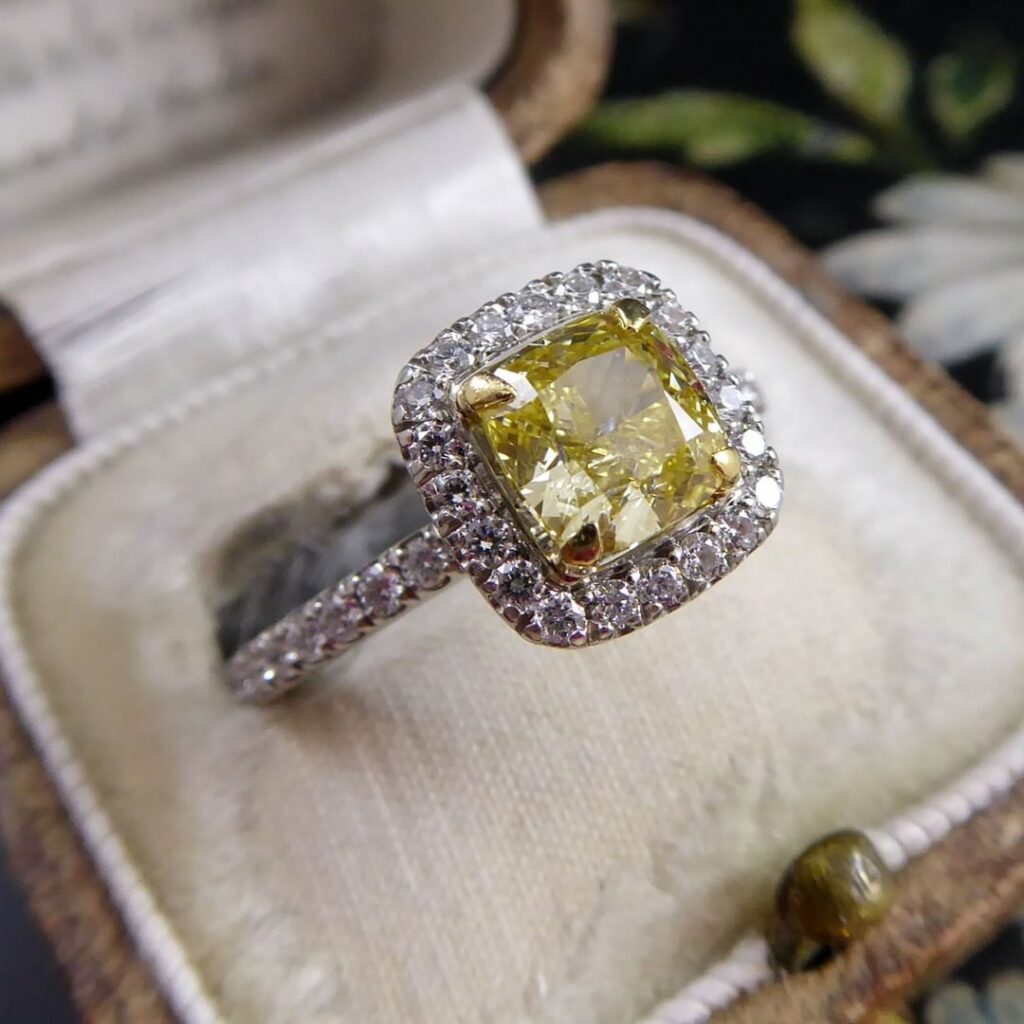 #39 The next stunner on our list is designed by jewelers at Harry Winston, one of the most prestigious jewelry manufacturers in the world. The company was founded in 1932 by Harry Winston who is also known by many as the "King of Diamonds". With boutique stores in many locations like the UK, China, France, Germany, Japan, Russia, Singapore, Taiwan, Turkey, UAE, etc., and headquarters in New York, the company still possessed some of the rare jewels in the world and when you purchase a ring from them, you can be assured of the highest quality and design aesthetic, as the one featured below.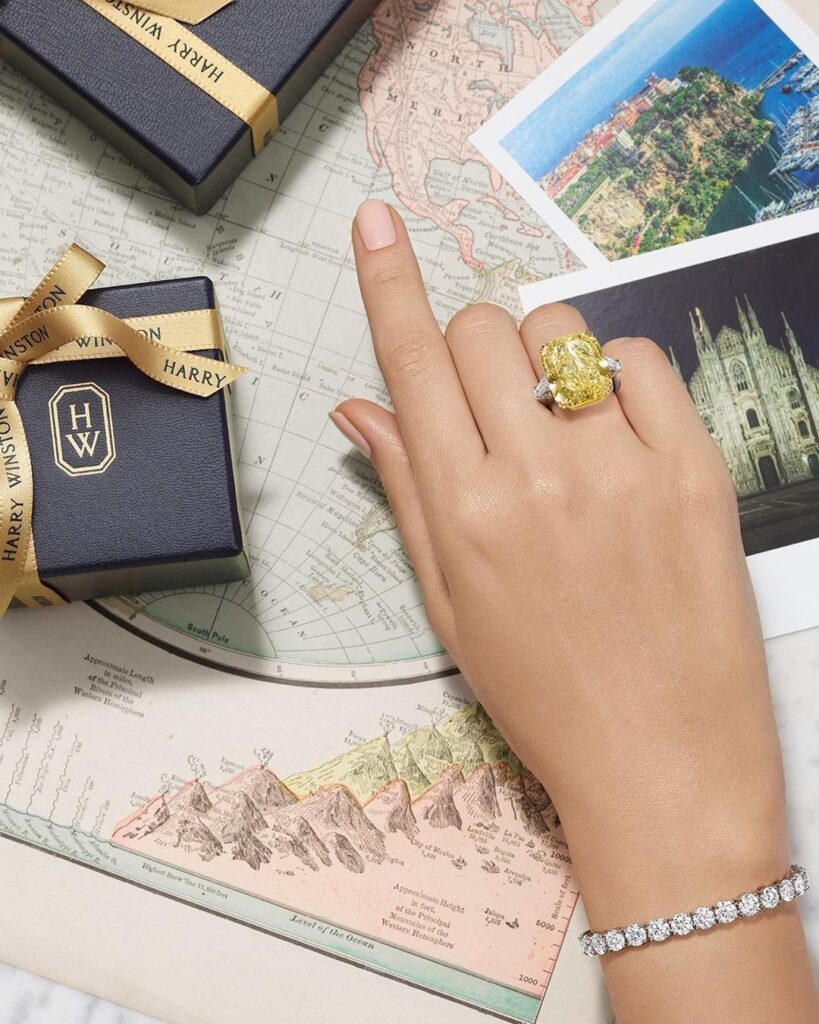 #40 This stand-out yellow engagement ring consists of a beautiful 5.22-carat yellow diamond with over 2 carats of accent diamonds on the halo and the three-row band. As stated earlier, it's always a good choice to use yellow gold for the prongs of the yellow diamond as it doesn't contrast with the color of the stone and rather blends beautifully for a complementary look.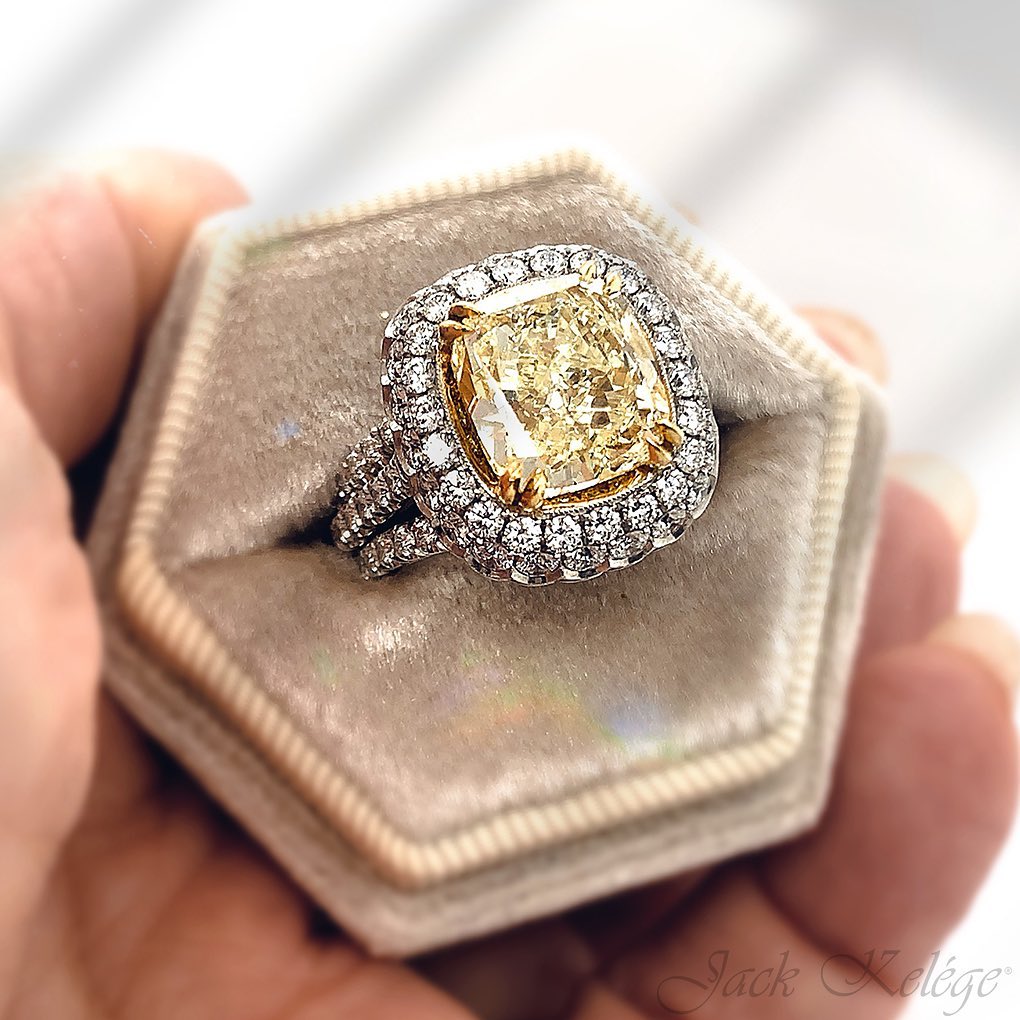 #41 A cushion-cut engagement ring is known for its brilliance, elegance, and timeless attribute. An elongated cushion cut, on the other hand, takes all these qualities and also adds a mix of the modish element to the diamond. The choice of yellow diamond further adds to the glare of this engagement ring cut – as also portrayed in the picture below. Set on a platinum band, the center stone is accented further by two trillion cut diamonds on either side.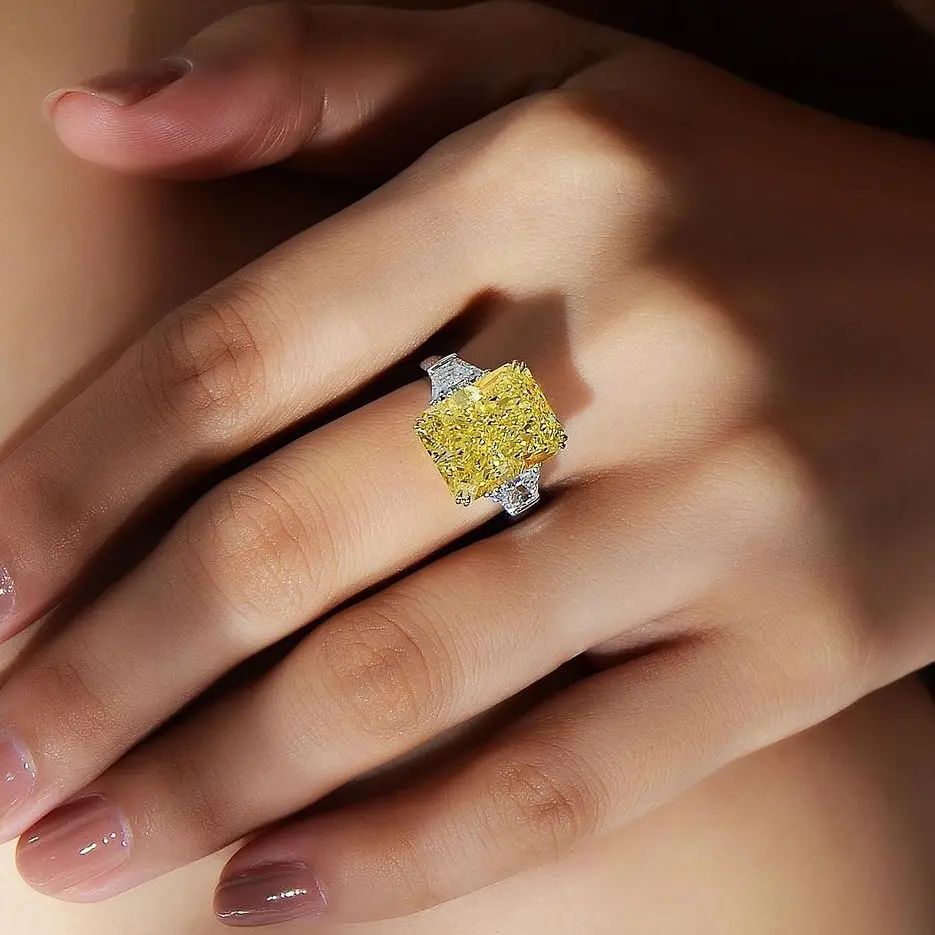 #42 Taking inspiration from the yellow diamond engagement ring portrayed above, this one presents the dazzle of the elongated cushion-cut in a threes-stone engagement ring flanked by trillion-cut diamonds on both sides. You can also opt for baguette diamonds instead of the trillion-cut as they are also a favored option for side stones and act as an apt bedecking for a bigger stone in the middle.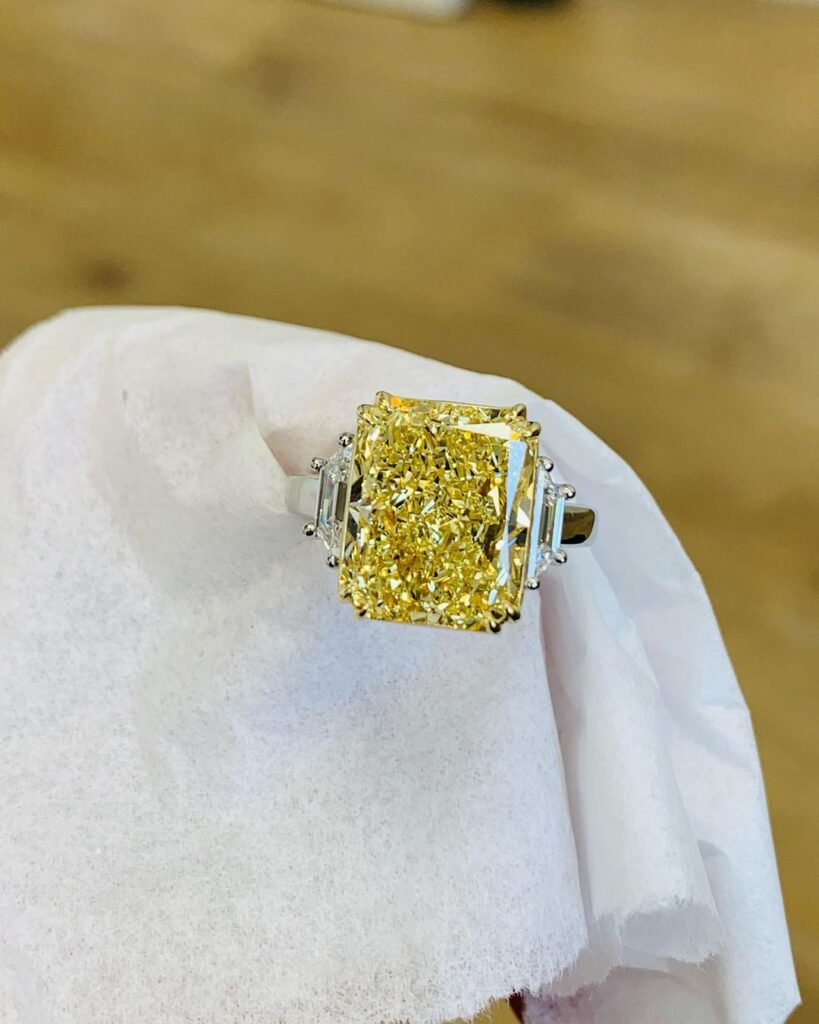 #43 The next bauble on the list is a celebrity yellow diamond engagement ring, presented to Heidi Klum by her ex-husband Seal in 2004. Seal proposed to Klum in Canada in an ice igloo purposefully built for him to ask the question. He flew her there by helicopter and had the igloo decorated with rose petals and candles. "It was hardcore, but I was ecstatic," says Klum of her proposal. Her dramatic 10-carat yellow diamond engagement ring was designed by Lorraine Schwartz and was priced at a whopping $150,000.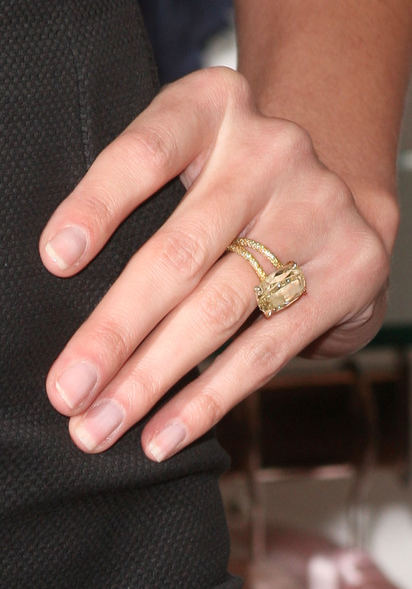 #44 Another celebrity with a yellow diamond engagement ring is Kelly Clarkson. She was proposed to by her ex-husband Brandon Blackstock with a yellow diamond ring in a stunning princess cut with a halo in the classic pave setting. To add more dazzle, the band of the ring is covered in small glistening diamonds as well.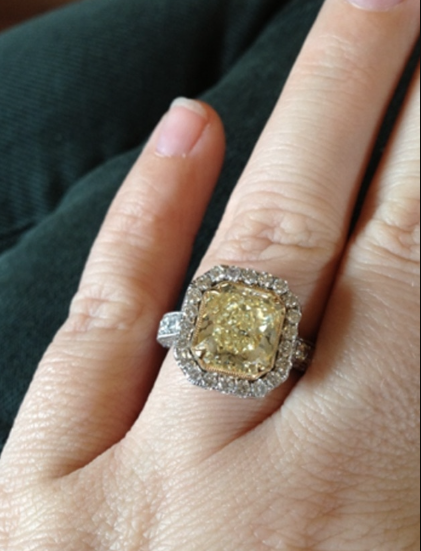 #45 The next celebrity yellow diamond engagement ring on the list is that of Rebecca Romjin, who was proposed to with a 6-carat yellow engagement ring in an oval shape by her long-time partner and husband Jerry O'Connell in 2005. She later got her ring resized by Lorraine Schwartz during her pregnancy.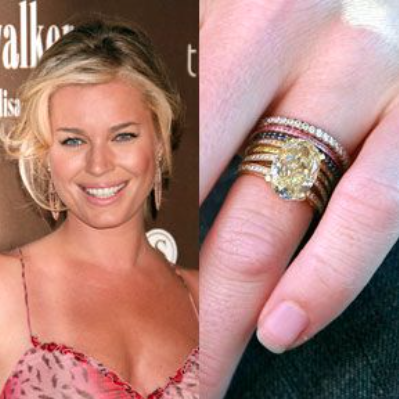 #46 This one of the yellow diamond engagement rings with a yellow band comes in a small oval-shaped solitaire with similar colored prongs and colorless diamonds on the band in a beautiful pave setting for increased dazzle. A yellow band with yellow diamond solitaire is a great option as the yellow complements the tint of the center stone beautifully.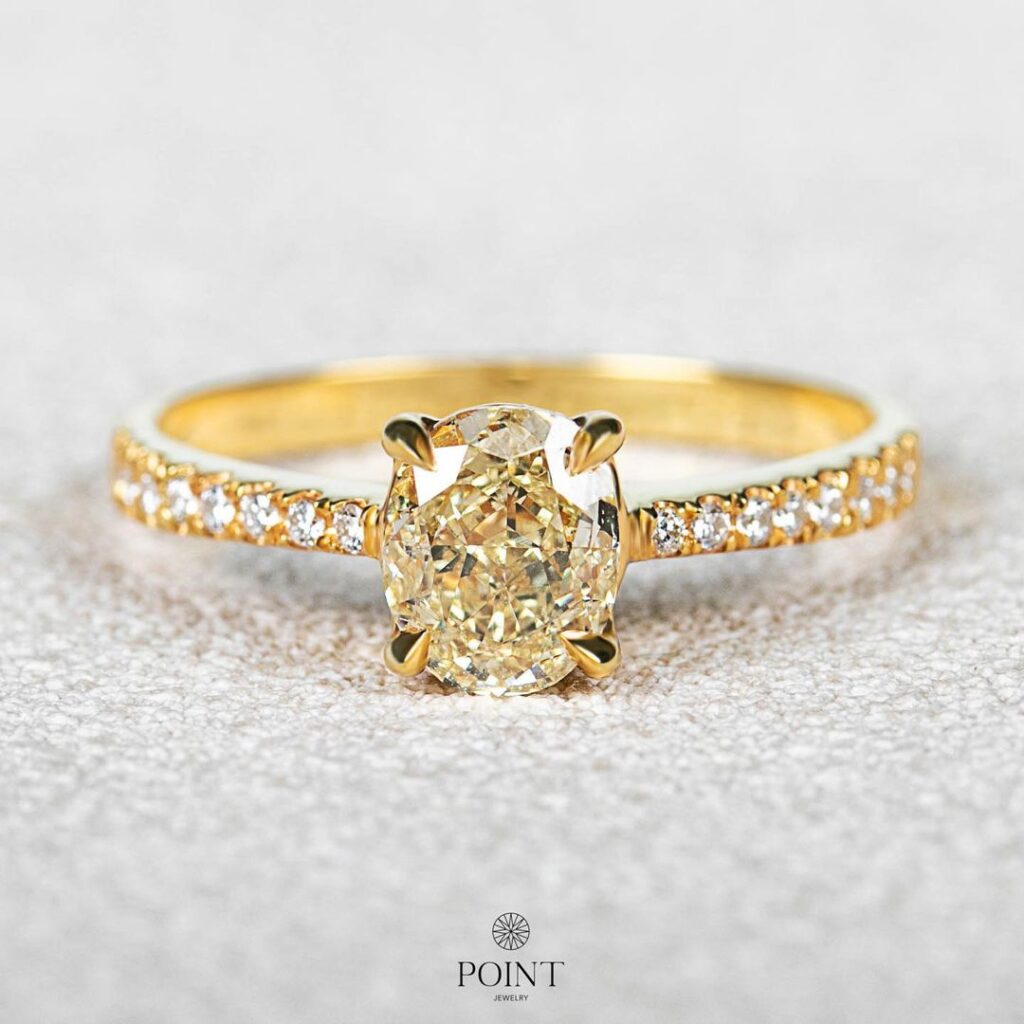 #47 A chunky diamond stone, pave band, and distinctive design – this engagement ring has it all! Princess-cut rings are the next popular choice for brides after a round brilliant ring. Hence, they are quite expensive in colorless diamonds. If you love the cut and want a budget option, then opt for colored diamonds instead – like yellow or brown, as they are the most available colored diamonds in the world. 
#48 We can't tell what we like the most about this beauty – the tilted pear-shaped setting, the leaf design aesthetic, or the stunning baguette diamond for a surprising touch to the uniformity. The ring is designed by New Zealand-based Layla Kaisi who made it for a client who wanted a trinket radiating her love for champagne and yellow tones in a strongly asymmetric design. If you're a sucker for unique, eye-catching yet elegant designs, this ring is the one for you!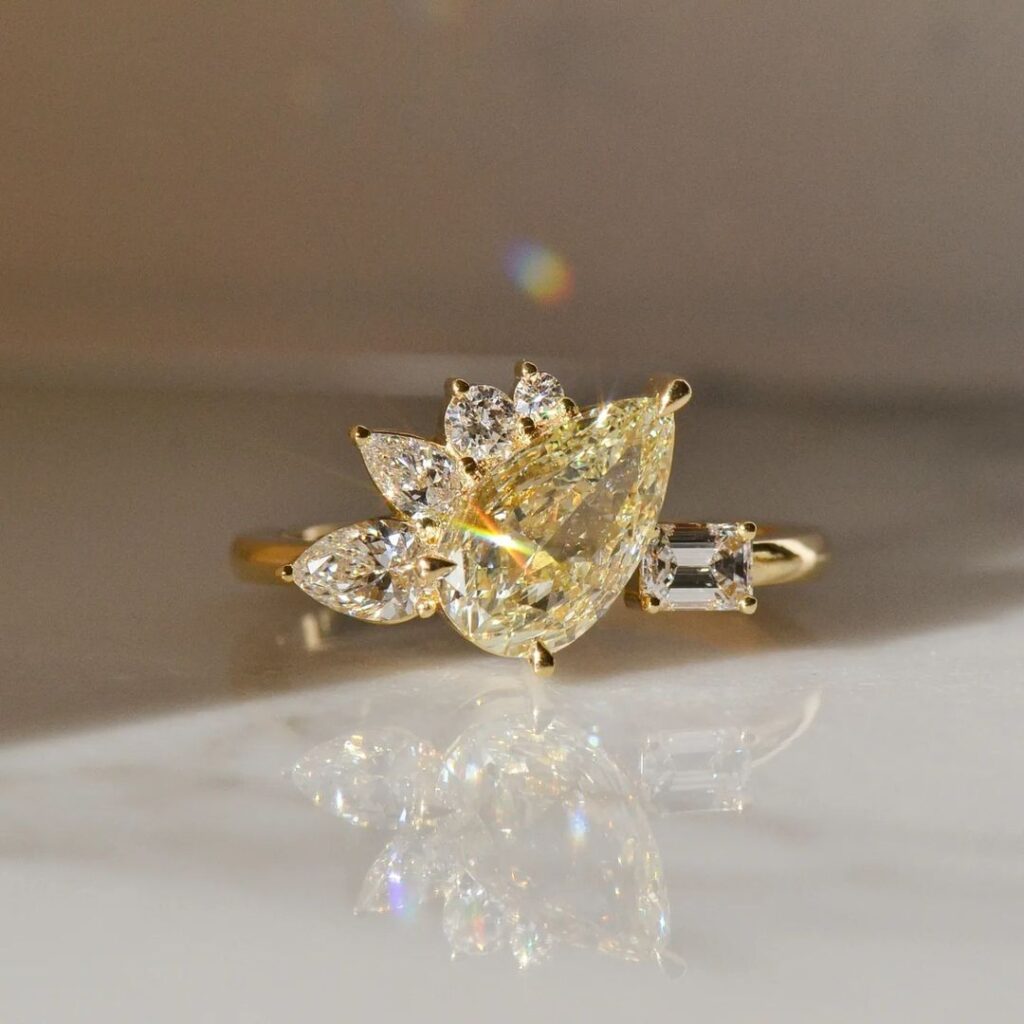 #49 Crafted by LA-based Uneek Jewellery, this cushion-cut yellow diamond ring comes in a modern, classy, and no-fuss platinum halo setting with a double shank that splits at the top to create a subtle peekaboo effect at the shoulders. The main stone is held down by 18K yellow gold prongs for a design that truly pays attention to details.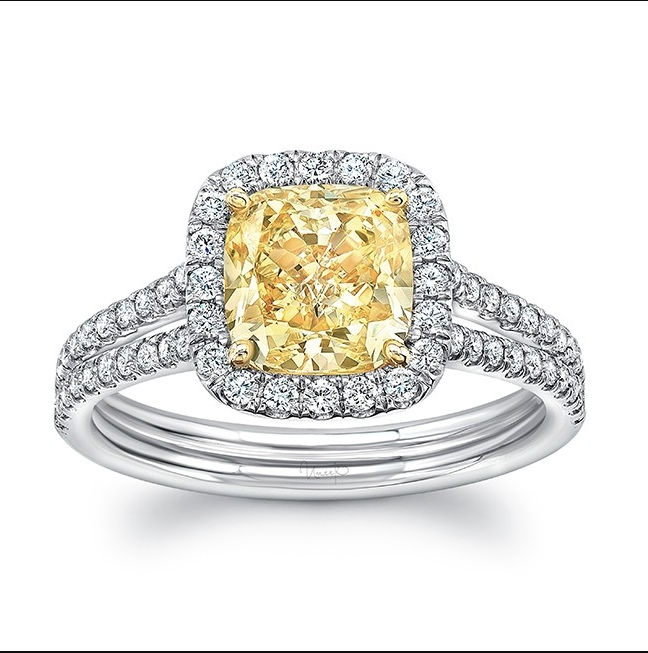 #50 It doesn't get more magnificent than this fancy 2ct yellow cushion diamond ring flanked by pear-shaped diamonds on either side and all set platinum. When you have a simple ring, it gives you the opportunity to opt for a more dazzling wedding ring so they both balance out each other. Here, the wedding band comprises of classic eternity band with 0.15 ct round diamonds each.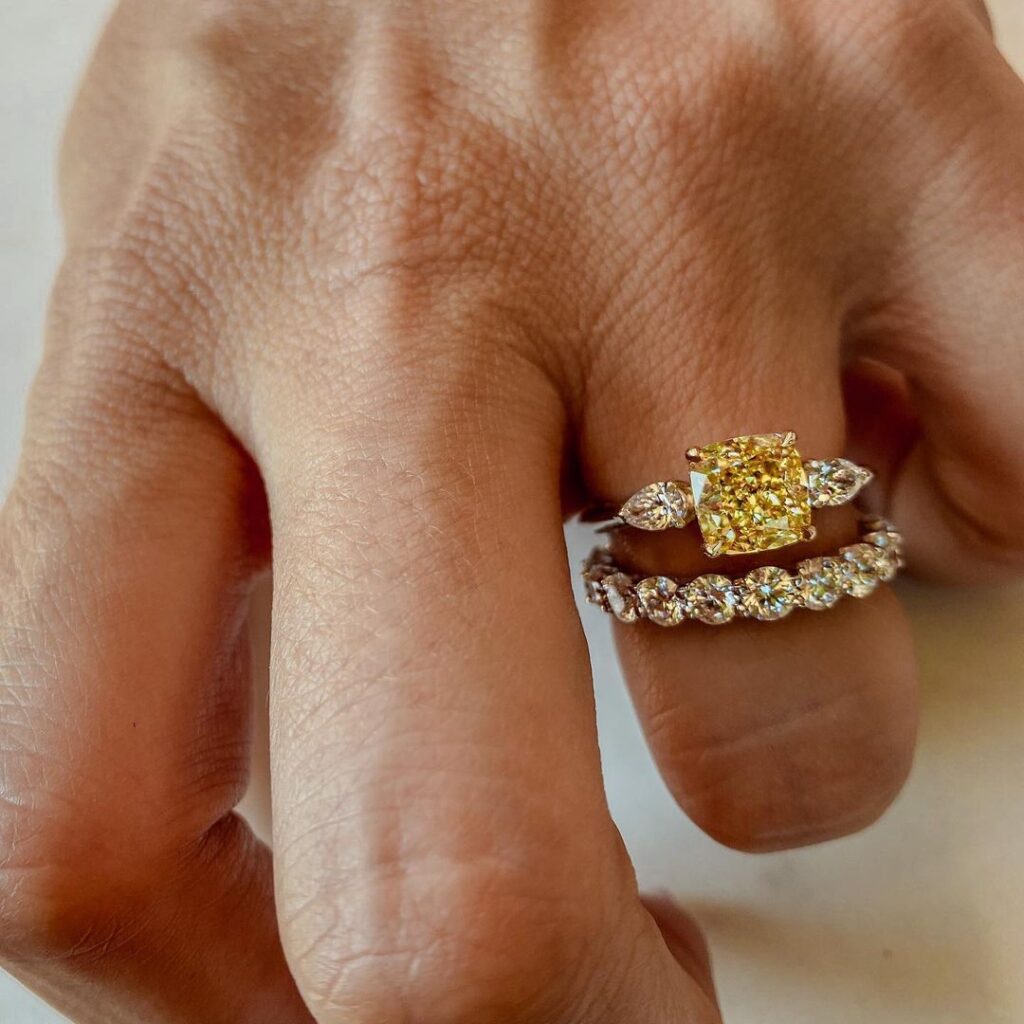 Courtesy: Jugar N Spice Jewelry
#51 This emerald-cut yellow diamond ring is stunning for many reasons, but the main one is the unique double halo surrounding the main center stone. One halo is done in yellow diamonds and the next one is done with different shaped diamonds to add an extraordinary touch. These remarkable details accentuate the center stone for a one-of-a-kind look.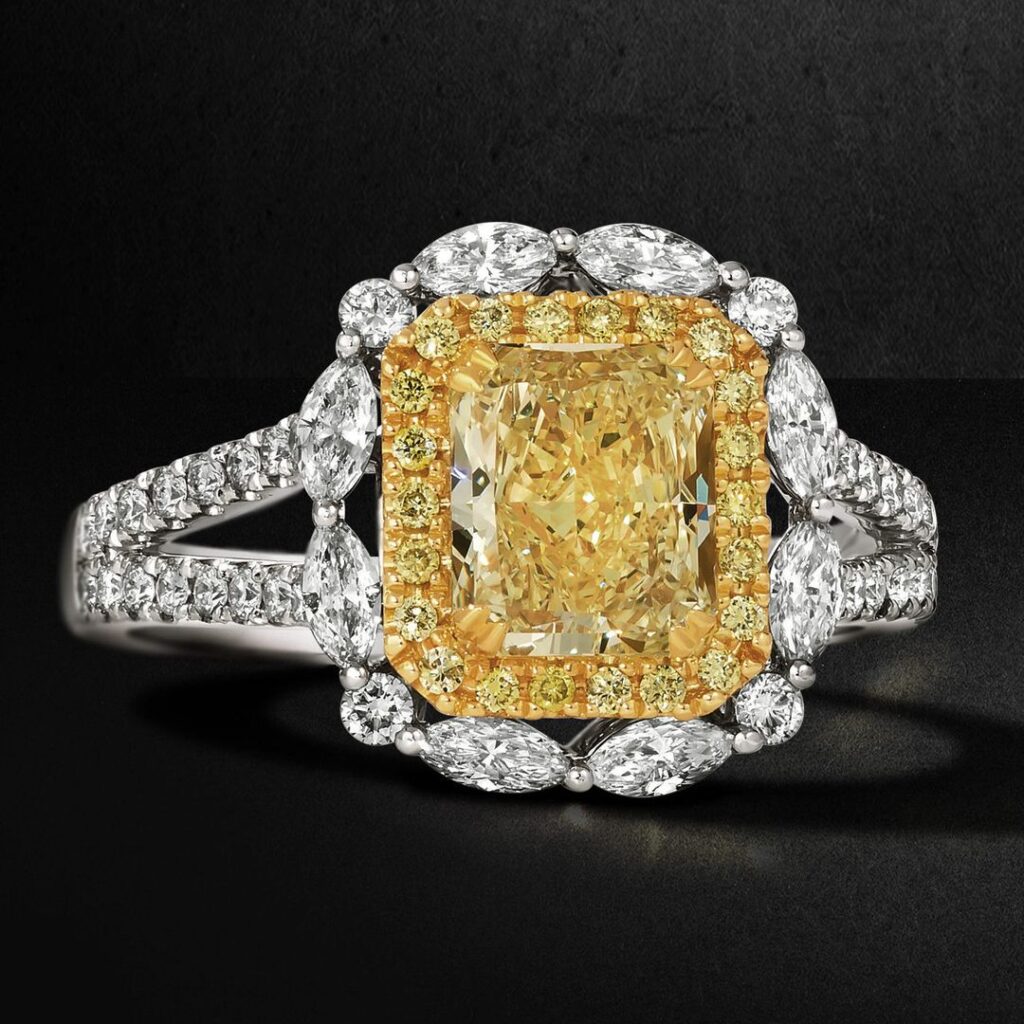 #52 California-based Diamonds by Wire designed this fancy yellow diamond ring with 1.69 ct GIA-certified diamonds and an elegant white gold setting. Despite the name, GIA doesn't certify diamonds, but rather rigorously grades them on the 4C's: color, clarity, cut, and carat weight, of diamond quality.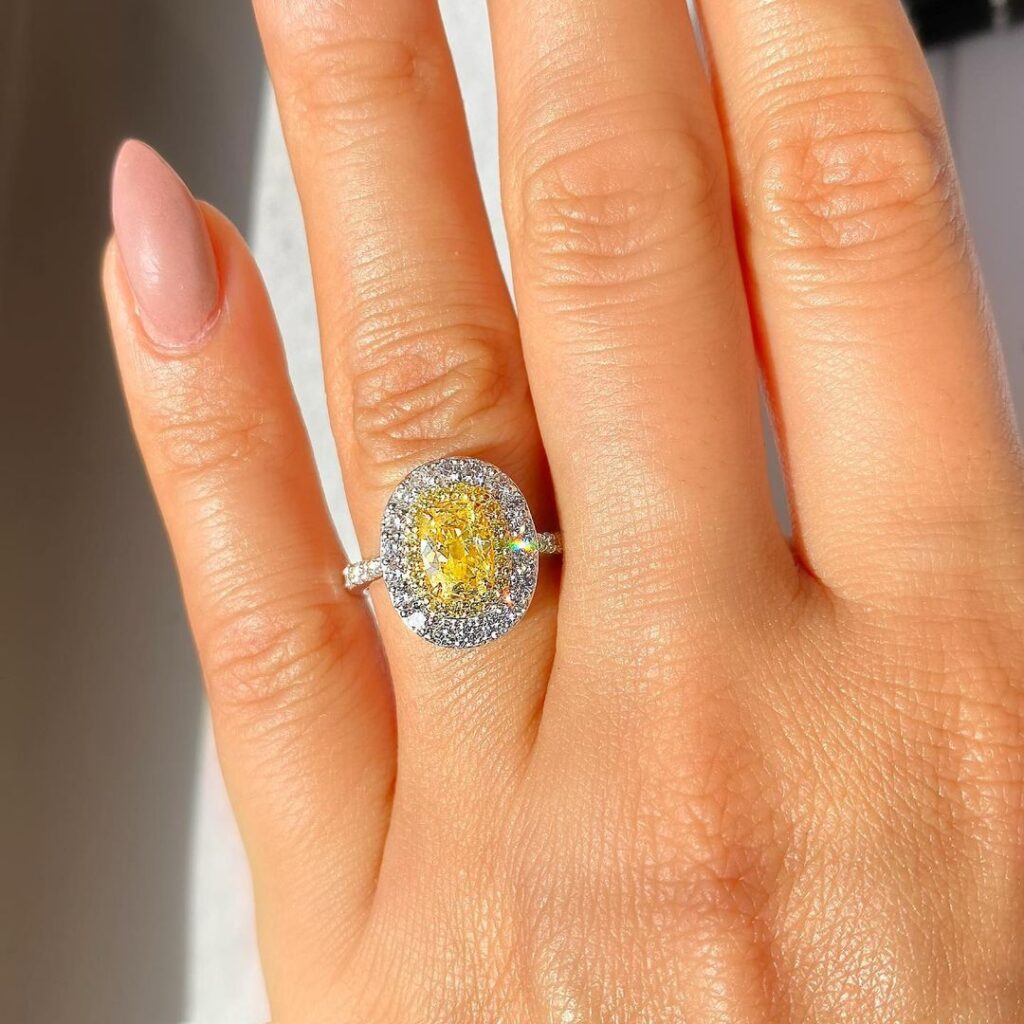 #53 Admiring the refined beauty of this Dehres radiant-cut yellow diamond of over 7 carats. Following the clean lines of this center stone is a halo of diamonds in a pave setting followed by a double spit shank encrusted with sparkling diamonds.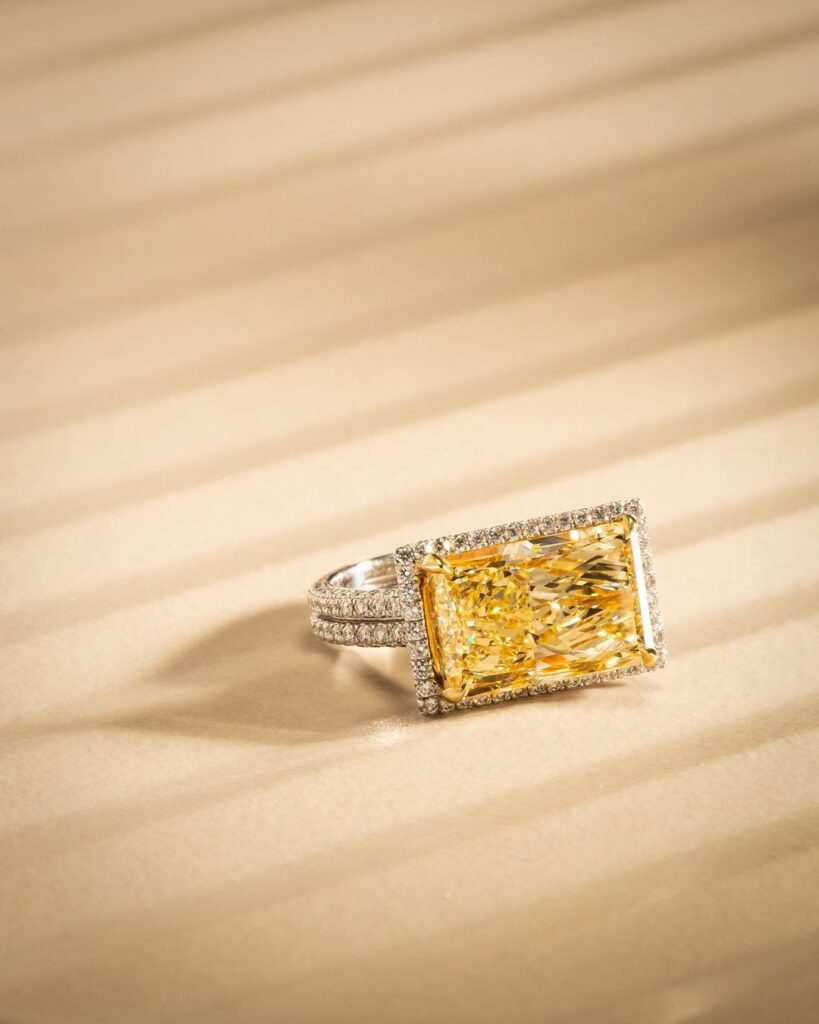 #54 A great way to enlarge the size of your yellow diamond is to surround it in a halo with yellow golds and diamonds. A row of micro-pave diamonds on the second halo and the band further beautifies the center stone and adds to the beauty of the entire ring.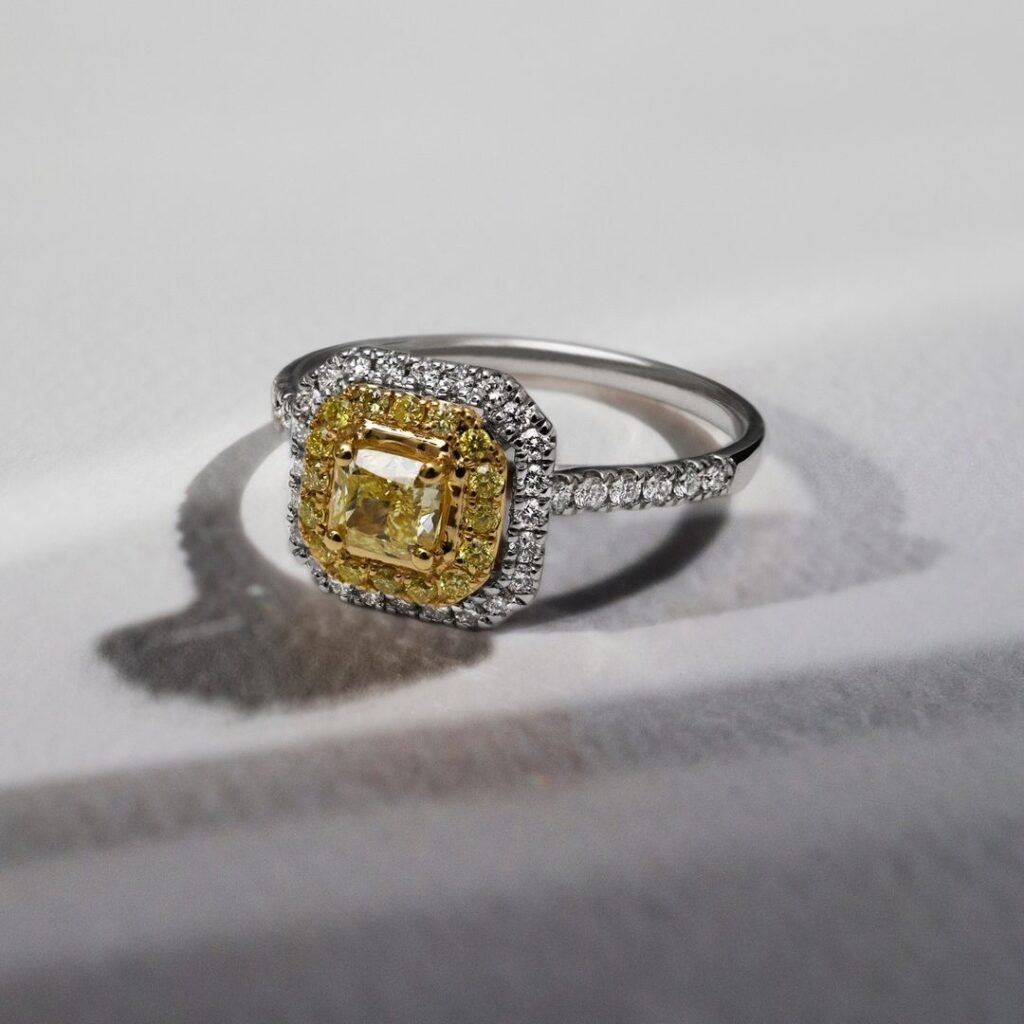 Courtesy: Le Vian Jewelry
#55 Despite the popularity of halo engagement ring styles, solitaire designs remain popular for their simplicity and beauty. Among the many yellow diamond engagement rings, only a few represent this style – and here's a pictorial representation of their minimalistic charm.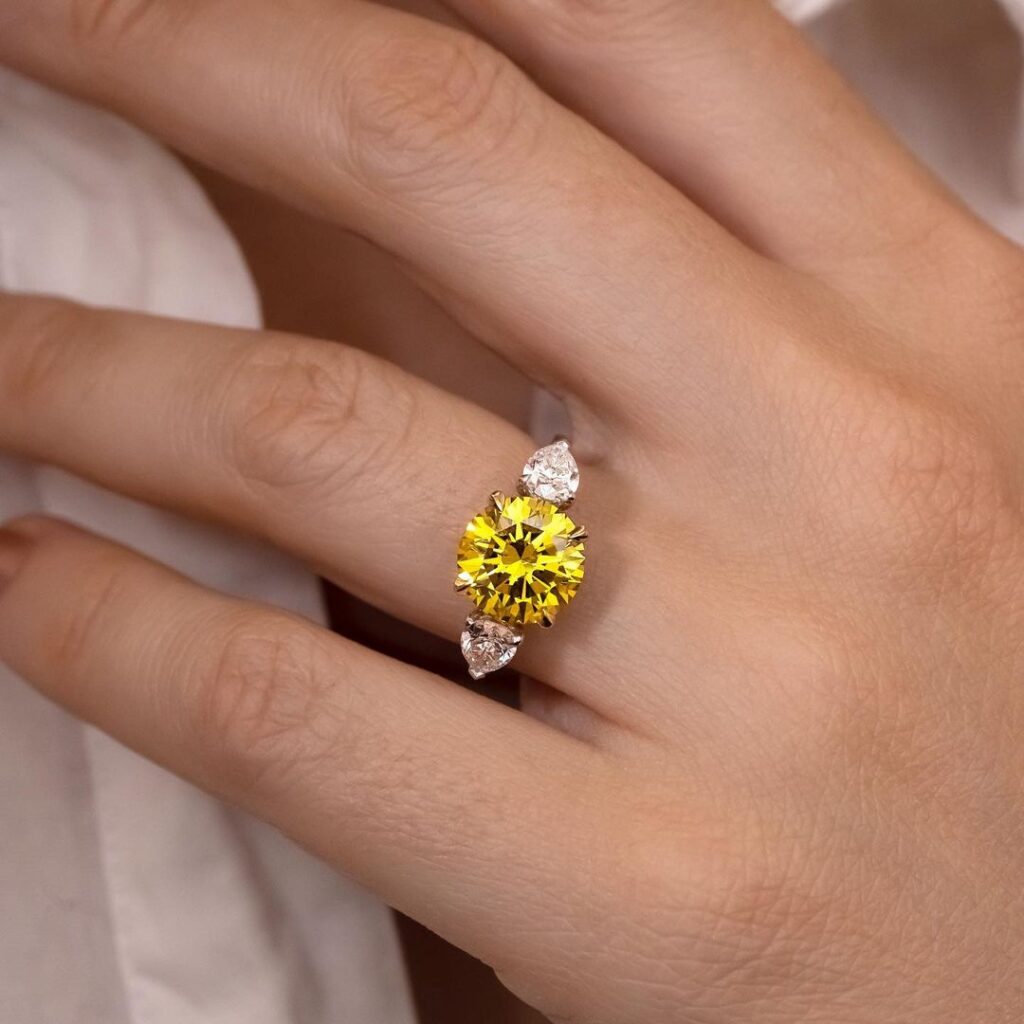 Courtesy: Flawless Fine Jewelry
#56 The aesthetic appeal of these rings is just mind-blowing! The four yellow diamonds come together for an illusioned solitaire look, while the flower-shaped halo makes for a stylish element in the exquisite design.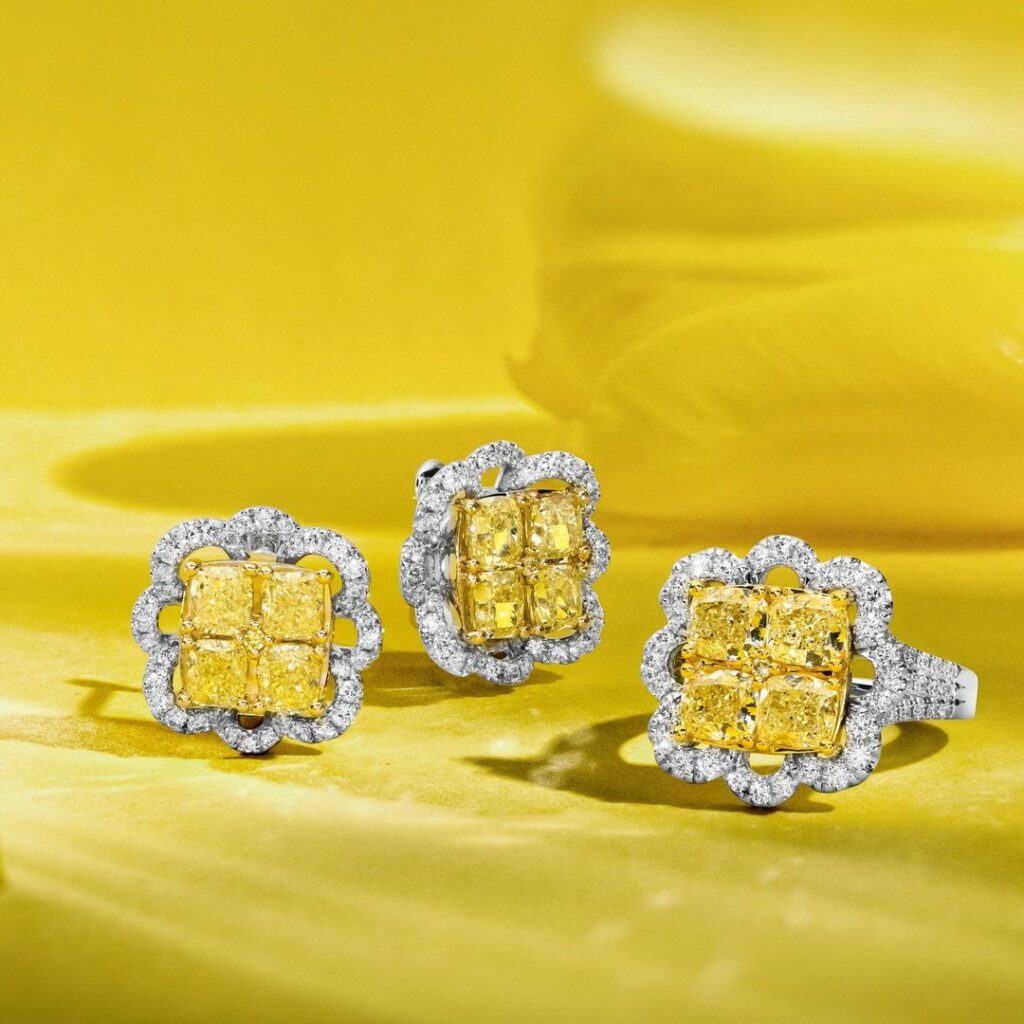 Courtesy: Le Vian Jewelry
#57 Having a fancy ring design as your engagement ring doesn't just grab tons of compliments but also gives you an artistic design to pass on to future generations. Featured below is a beautiful culmination of colors & colorless diamonds in a decorative pattern.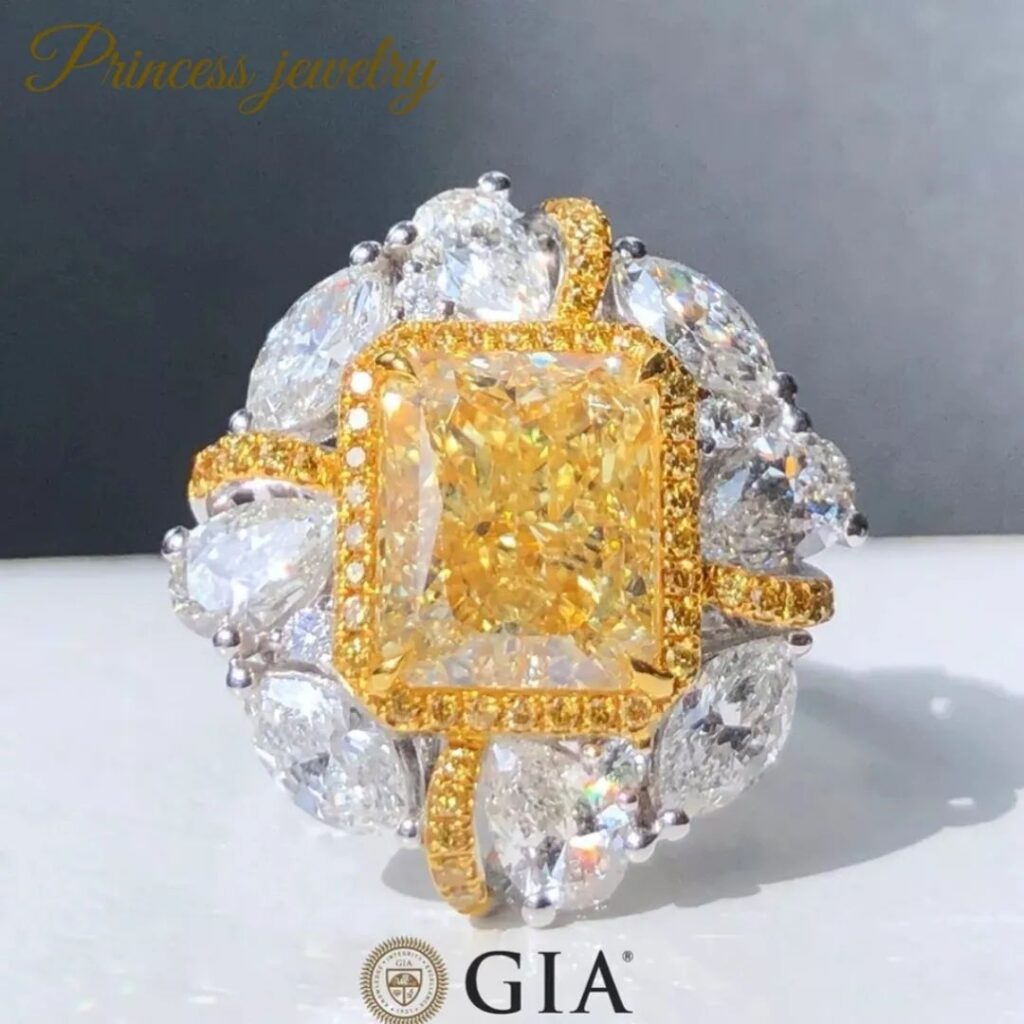 Courtesy: Princess Jewelry
#58 Why settle for one colored diamond in your ring when you can have two? The next stunner on our yellow diamond engagement rings list consists of 1 carat of yellow diamonds, ¼ carat of strawberry diamonds, and ¼ carat of vanilla diamonds all set in 18K two-tone gold!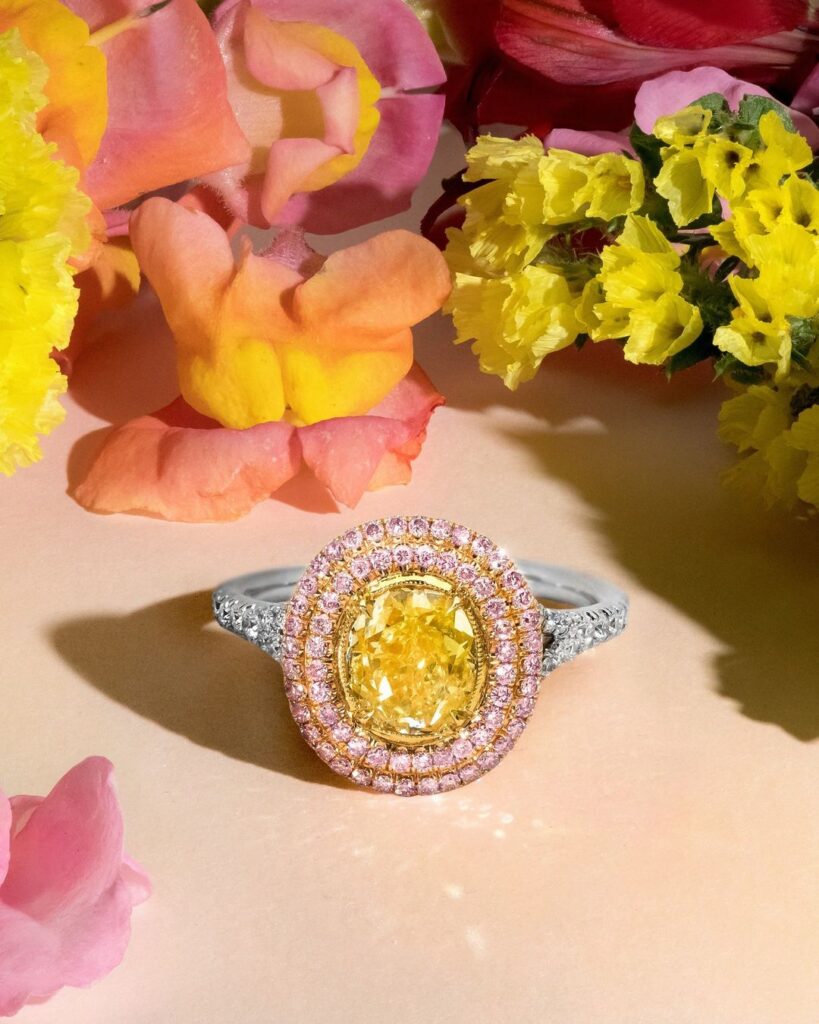 Courtesy: Le Vian Jewelry
#59 If she is a fan of chunky baubles, then the next ring on the list is for her! The elongated cushion cut ring is surrounded by a single halo and is followed by pave diamonds on the band for a finished look.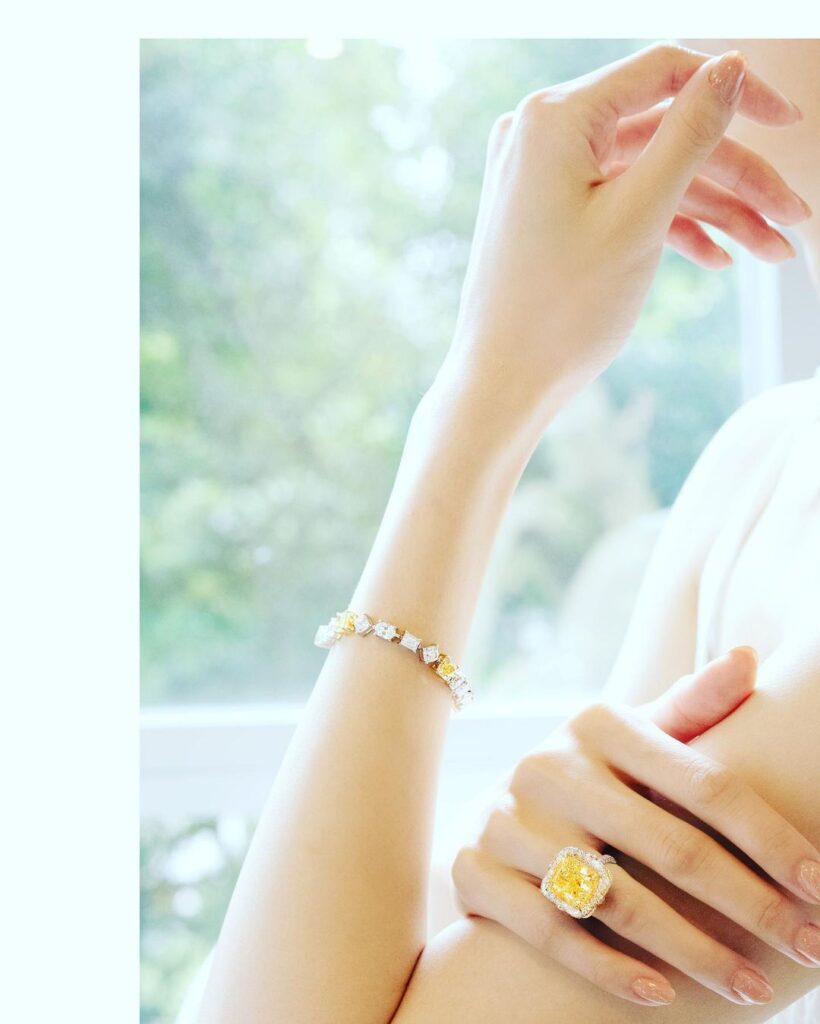 Courtesy: Princess Jewelry
#60 Want a ring that makes a statement? This yellow gold diamond engagement ring with a yellow halo on the interior and a colorless diamond halo on the exterior will do the trick. To add to the glam, the ring's band has a unique geometric setting for a complete look.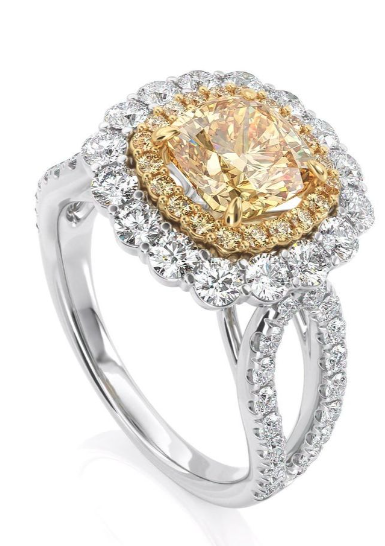 #61 This Tiffany yellow diamond engagement ring is one of Jean Schlumberger's most iconic designs. Featuring a cushion-cut unenhanced yellow sapphire of over 8 carats flanked by a round brilliant diamond encrusted X's, this ring is a work of art and sure to woo your lady love – no matter when you plan to present it to her.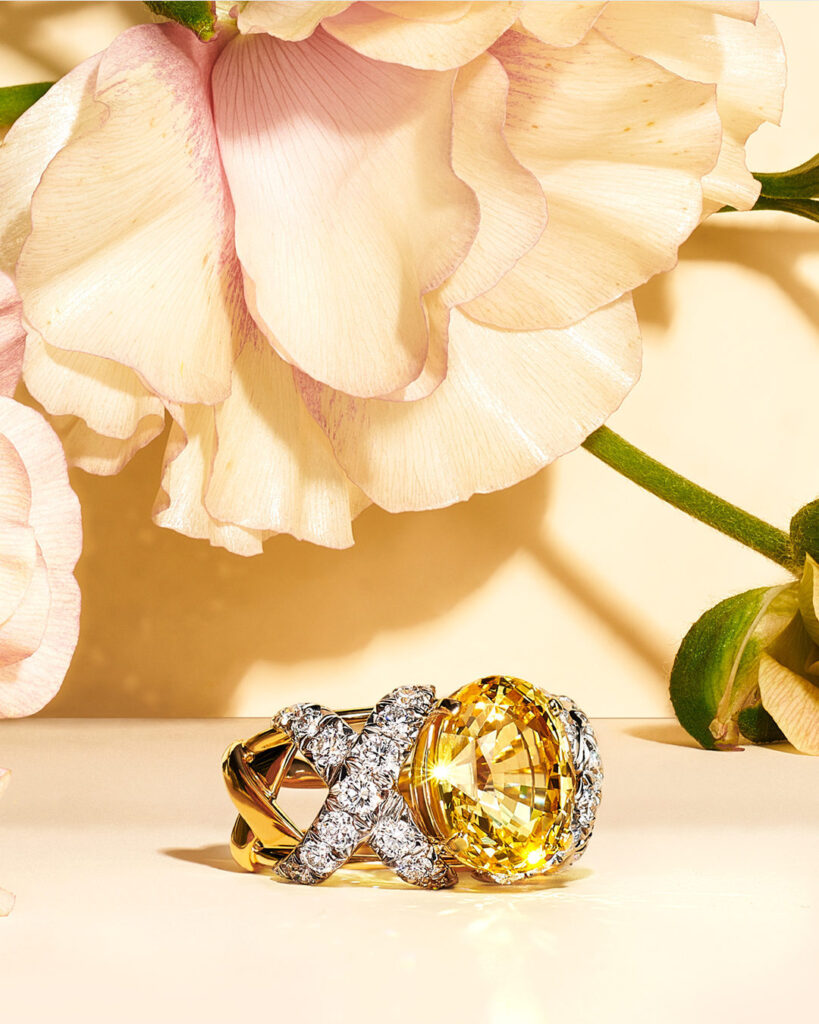 Courtesy: Tiffany
#62 This oval-shaped yellow ring consists of prongs in yellow gold for a seamless complement to the center stone, followed by two baguettes cut diamonds on the side to elevate the solitaire's look without taking away the attention from it.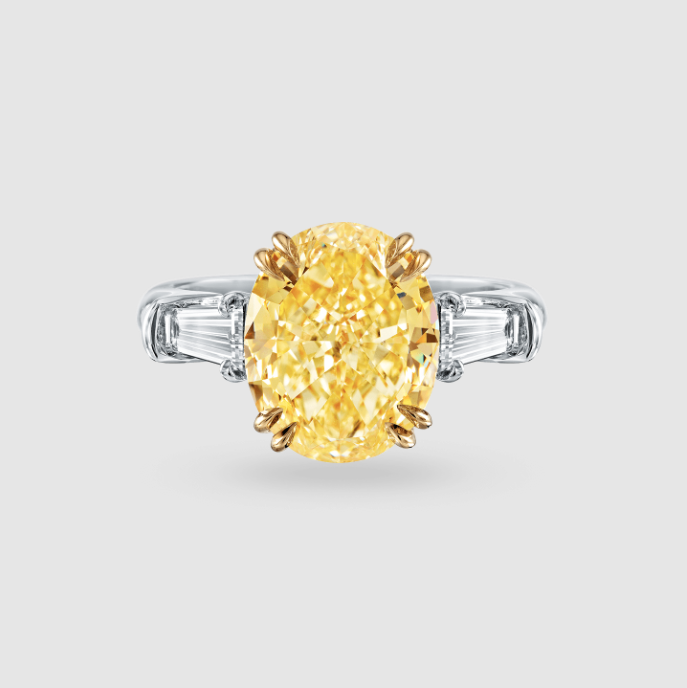 Courtesy: Harry Winston
#63 Yet another yellow diamond engagement ring designed by Harry Winston, also known as the "King of Diamonds". Baguette side stones are popular as they add richness to the solitaire and yet, don't add unnecessary shine that takes attention from the bigger diamond.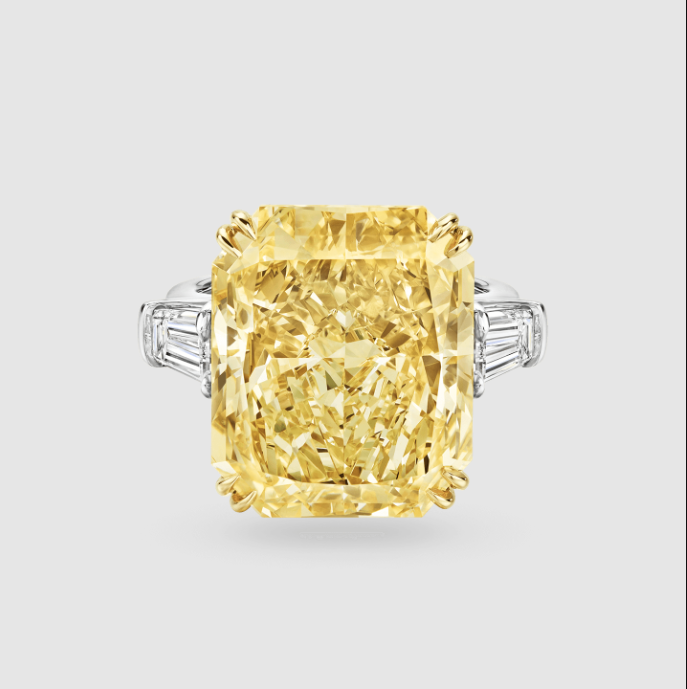 Courtesy: Harry Winston
#64 This Neil Lane engagement ring with a twisted band is equal parts timeless and stylish. The canary yellow diamond is ideal for women who prefer a subtle shade in their colored diamond as opposed to a bright one.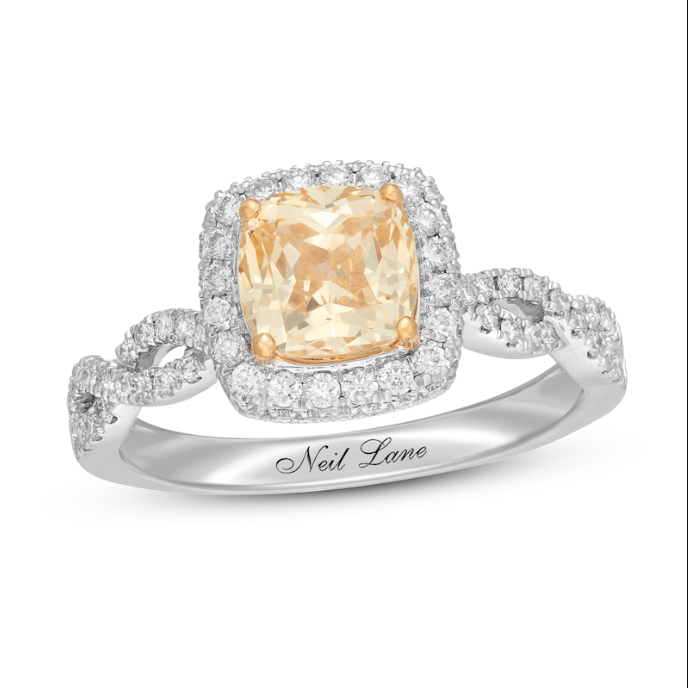 Buy it here for $14,499
#65 Tiffany yellow diamonds are expensive but you can be assured of having the best quality diamonds in your collection. This gorgeous solitaire screams exceptional quality and fine cut and makes for a great ending for our yellow diamond engagement rings blog.