It's been a while since we have featured a proposal story on our blog – and Sahil & Nishi's romantic proposal in Havelock Islands, Andaman is the perfect, dreamy proposal to break that chain. The duo has been talking about scuba diving in the Andaman islands for months. After multiple attempts of planning this diving trip with their friends, the two decided to just take the plunge and went ahead and booked the holiday. 
Once the flights were booked, Sahil just knew that this was where it had to be done. Luckily he had a month to plan the ring and the proposal. What he didn't realize was how remote this island was. So, he spent a good amount of hours carefully planning the proposal and connecting with the right vendors who can meet his vision. He knew it would take the best people in the industry to curate a proposal setting he wanted. Luckily, he found the team right on the island who really took it upon themselves to make this happen – @satya_andaman.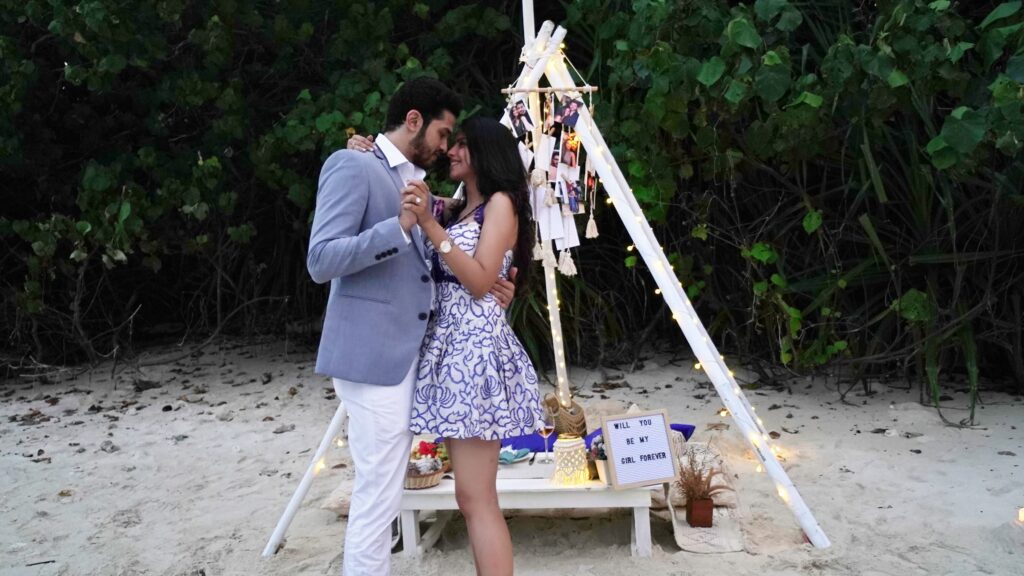 A week before the proposal, all the decor that had been ordered online for the islands refused delivery. Overnight, there was a change in plans and Sahil decided to source the majority of the decor from Mumbai and carry it in his suitcase. That was one heavy suitcase, but it had to be done! 
The Proposal Day || How He Asked 
Faking a private party by the beach, on the first day they got to Havelock Island, Sahil got Nishi to wear the best day dress she had carried. He had made arrangements for them to be picked up and escorted to a location that neither of them had ever been to Kala Pathar Beach, Havelock Island. 
Nishi was confused about Sahil's choice of clothing, something that he had never done before (who wears that to the beach?). As soon as they got out of the car, there was a lady dressed in the hotel uniform who put a jacket around Sahil and handed him a box (this felt like a scene out of an SRK movie). There they were, right at the beginning of a candle-lit pathway that led to a beautiful white bamboo tent in the middle of a completely deserted public beach. 
A few more steps into the candle-lit pathway. Sahil held Nishi's hands, went down on his knee, and asked her to be his girl for the rest of his life. It was a firm "Yes", followed by hugs, kisses, a bottle of Rose, and a delectable cheese platter. They danced to their favorite love song, holding hands under the stars with a surreal ocean view in the front.
With the Sun setting across the ocean, it was by far the most romantic & picturesque moment that these two had experienced. The set-up, as good as it looked in daylight, looked twice as pretty once the Sun had gone down. 
Little did Nishi know, but Sahil had organized a private session with the hotel mixologist, who was going to teach them how to make a few cocktails, followed by a 5-course candle-light dinner. Every single ingredient that was used in the cocktail and the dinner was organically grown on the resort of the island which made the essence more natural and tasteful. Thus, making it the most important, special, and intimate moment of their life, leaving no stone unturned.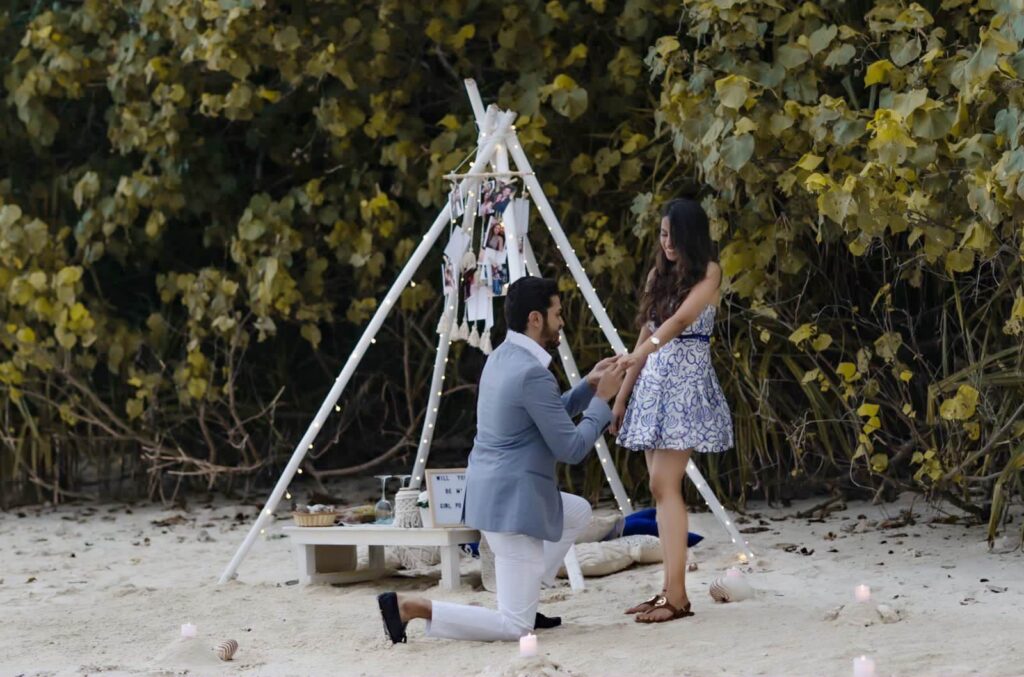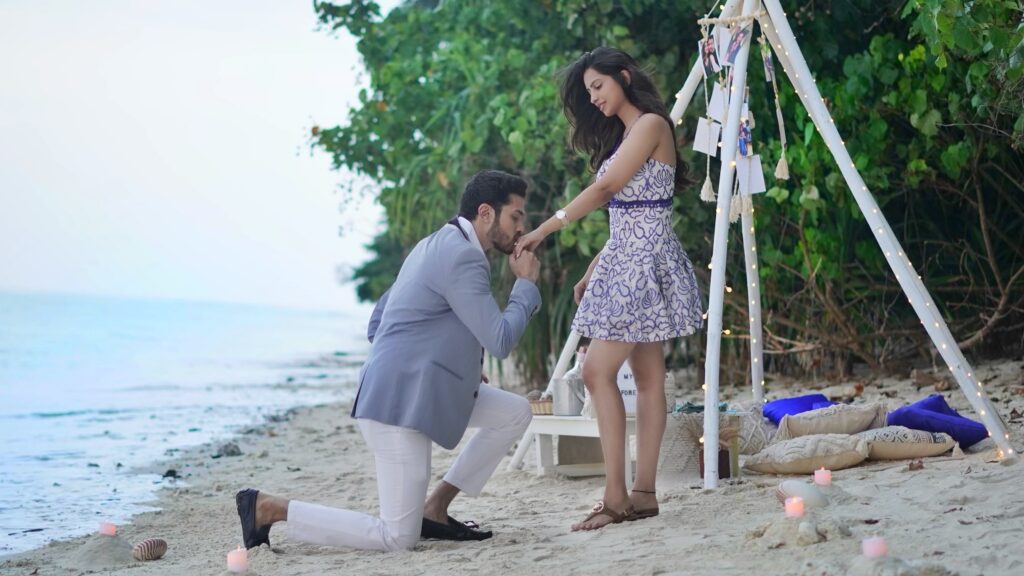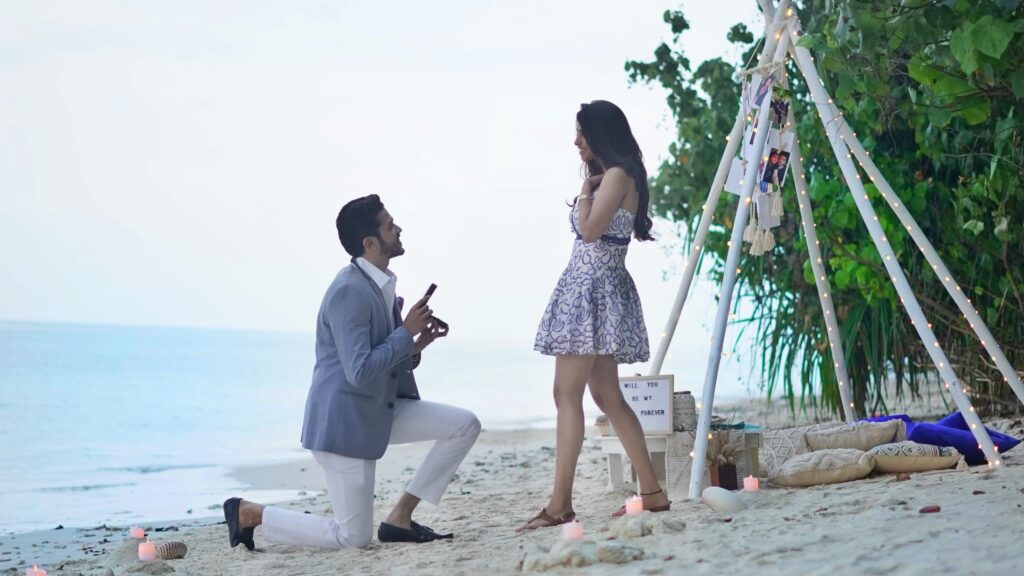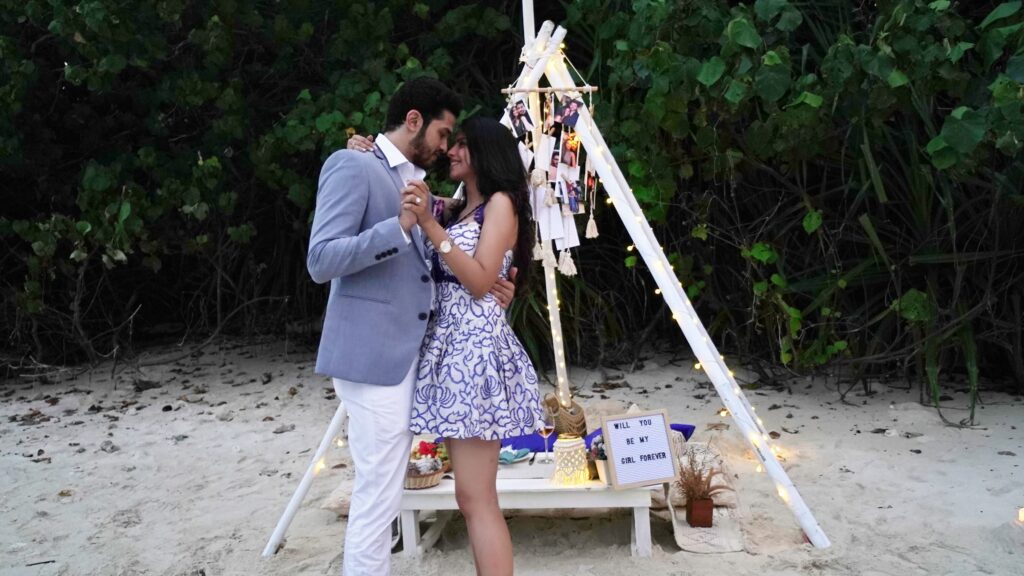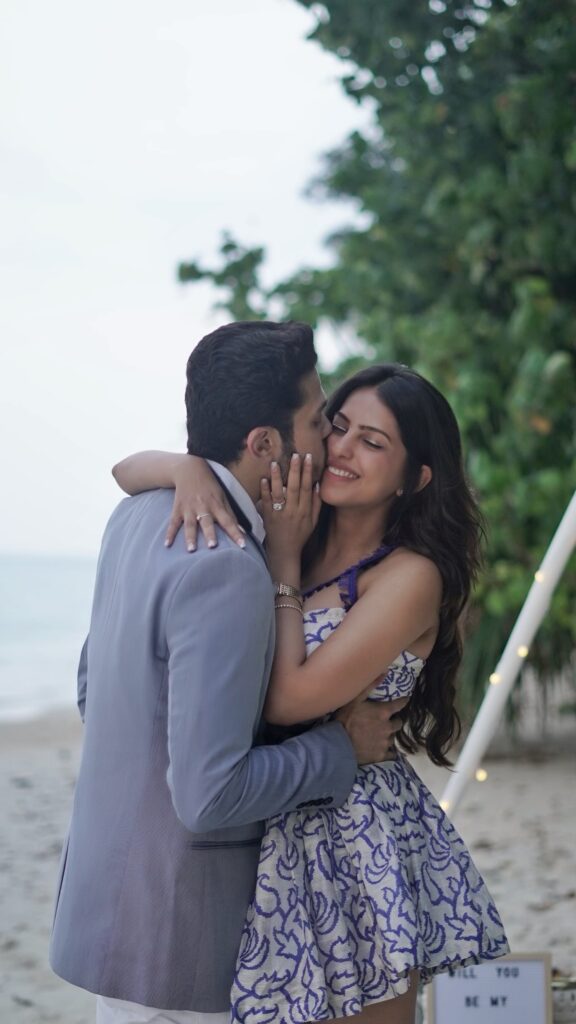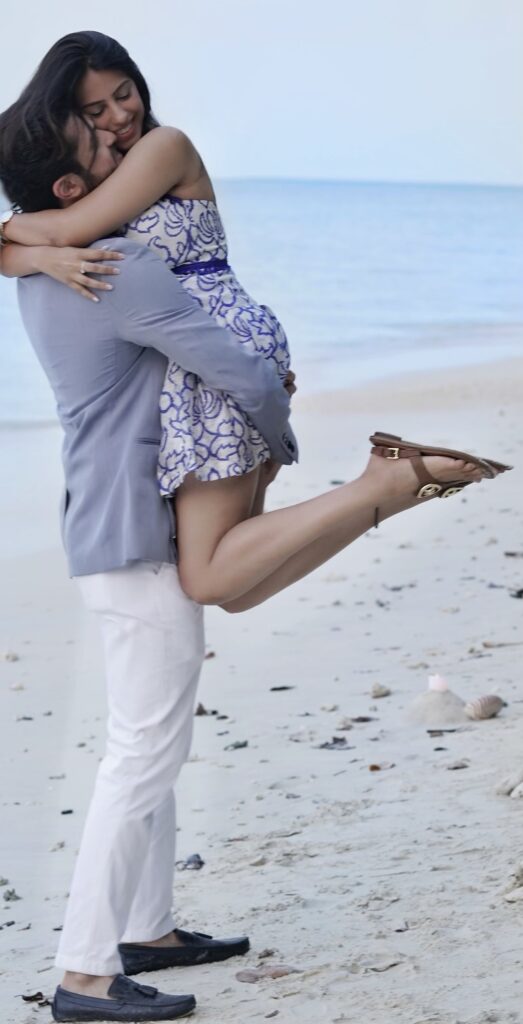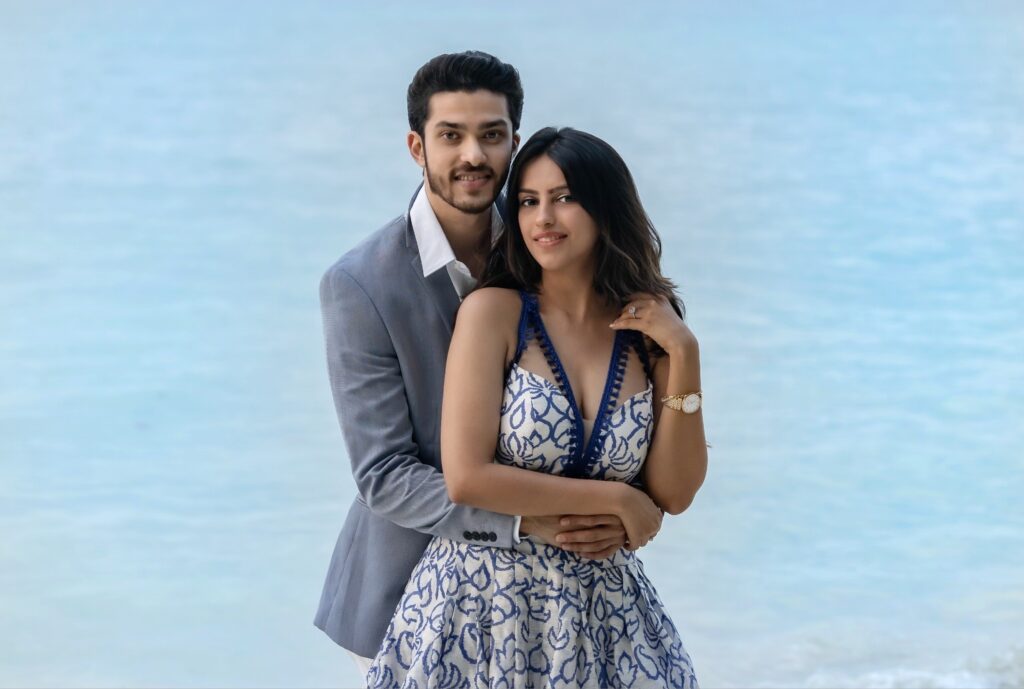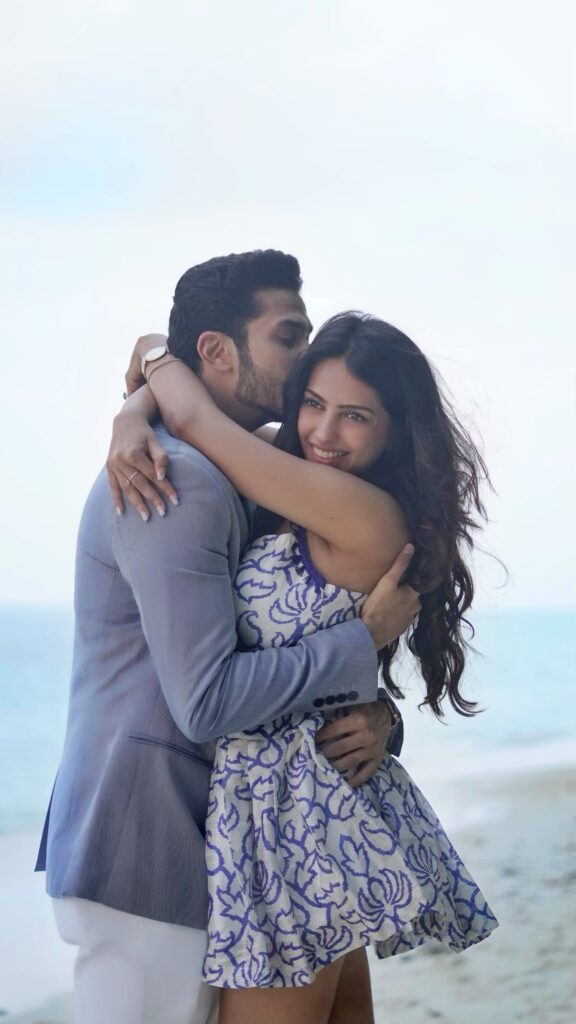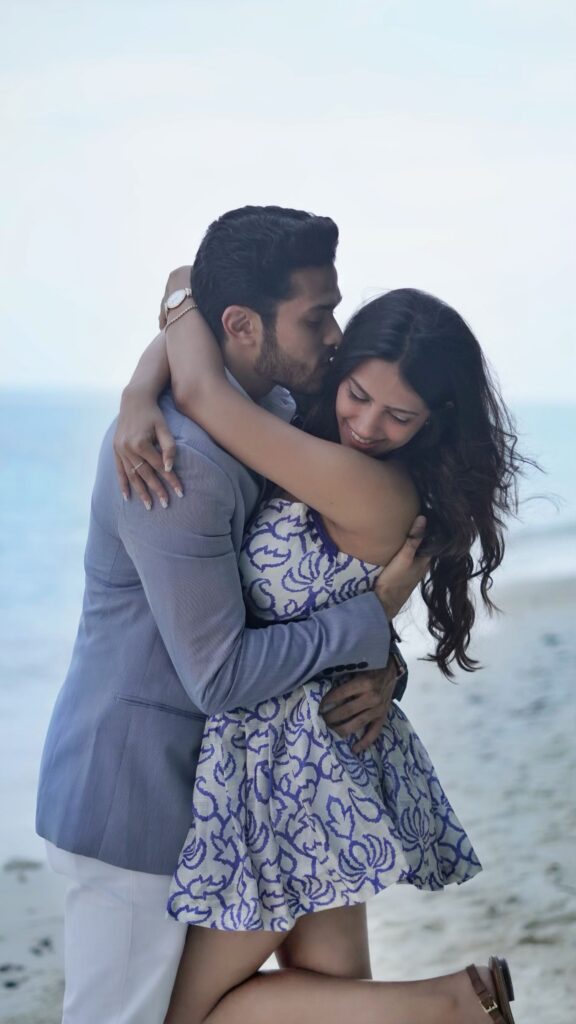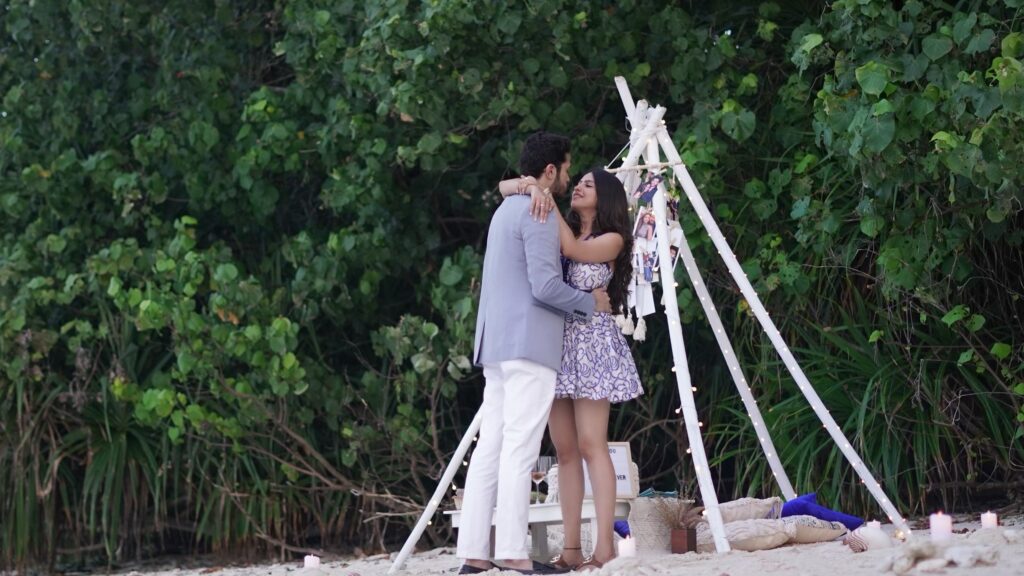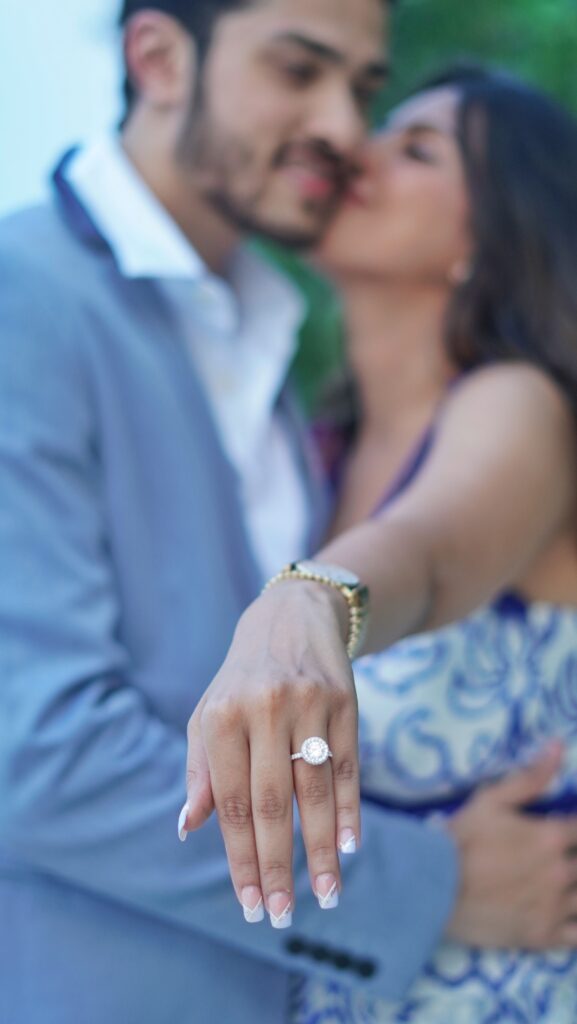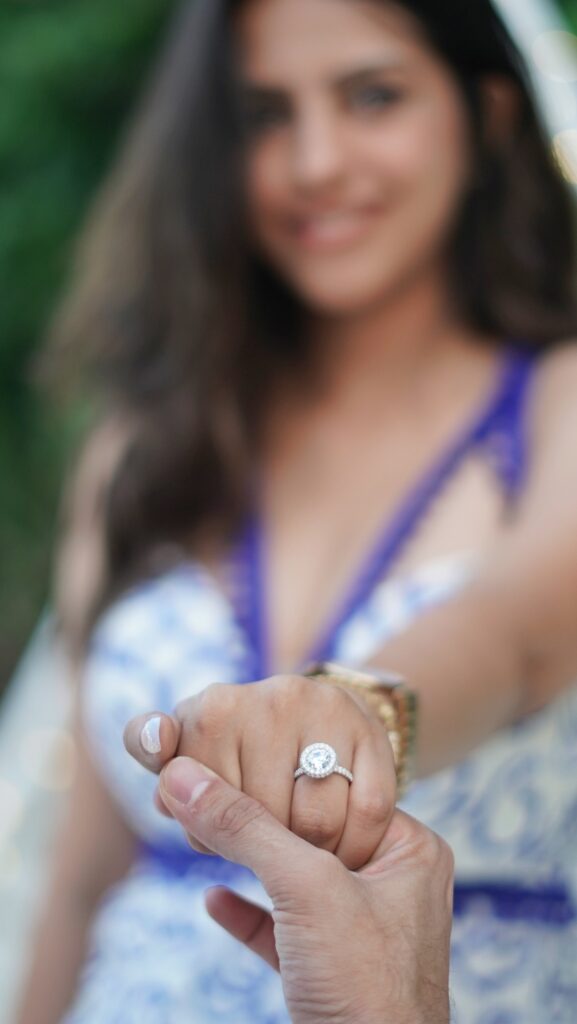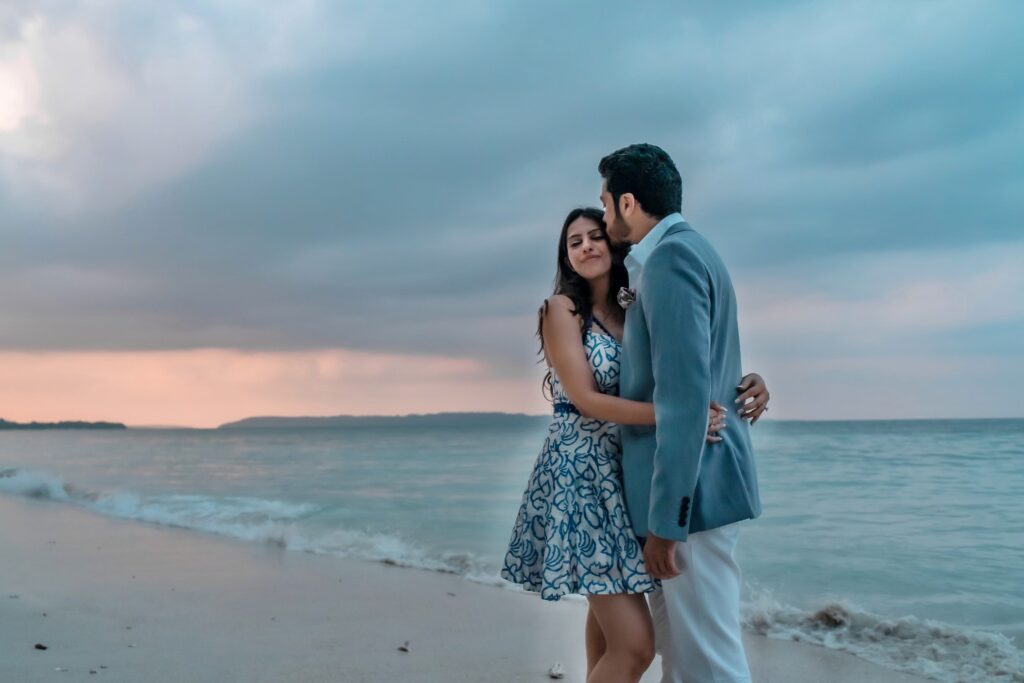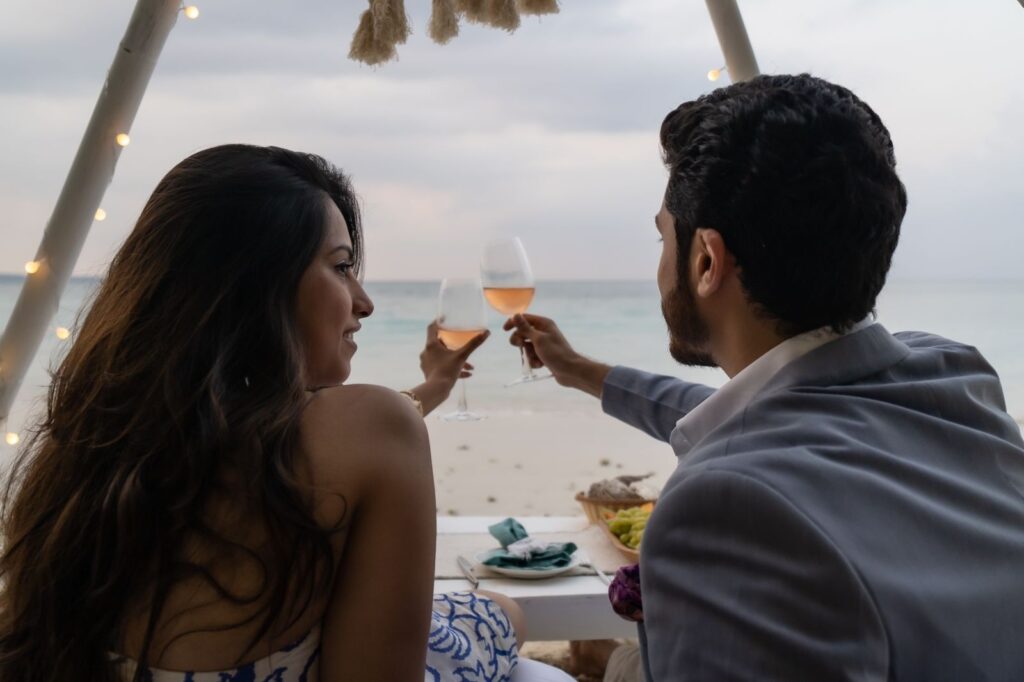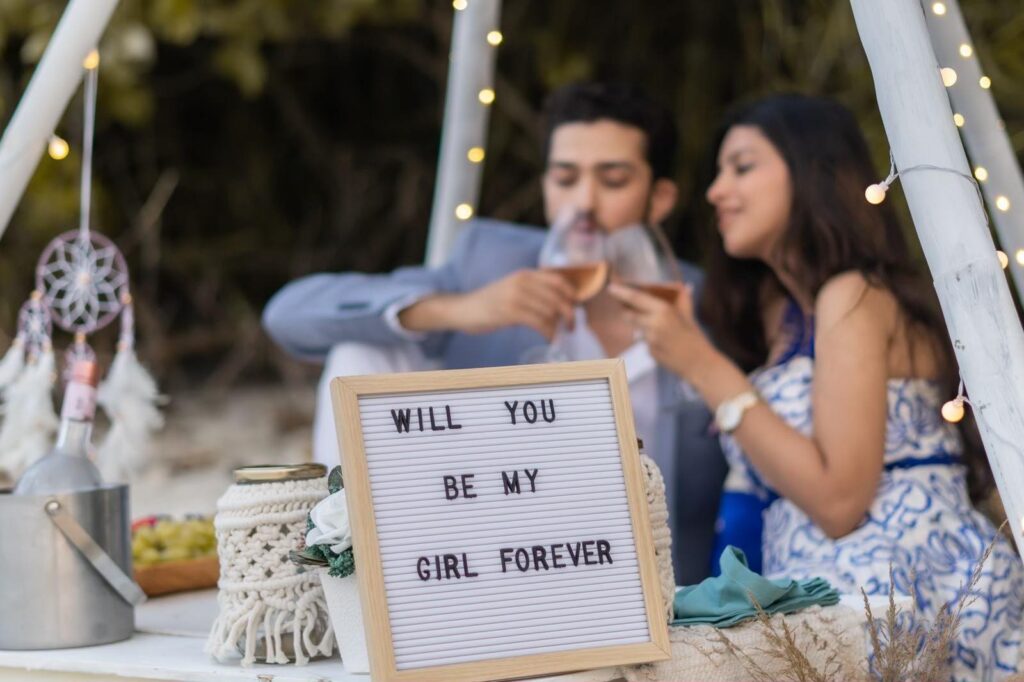 Their Story
Here's their beautiful love story in bride-to-be Nishi's very own words, "A very good friend of mine called me one day and asked me if I was single and wanted to meet her husband's very good friend as apparently he had seen me somewhere and thought I was cute to which I replied, "Yeah, why not?". We ended up exchanging numbers and decided to meet for lunch. That lunch went on for about 5 hours till the restaurant literally had to shut down. We had so much in common and we couldn't stop talking. We just clicked. We met every second day and fell more in love every time we met. One day Sahil decided to take me to Machan where he asked me out in the middle of the forest with a beautiful and surreal nature view. He knows how much I love nature so he even decided to propose to me in the middle of the beach, with the ocean and golden hour sunset view in front of me and lots of greenery on the side of the beach which just made my heart melt and love him even more." 
Since then, it has been an uphill journey for the couple which led to their stunning proposal. 
Bride-To-Be: Nishi Jain|| Groom-To-Be: Sahil Jhaveri || Decor & Property: @satya_andaman ||
Photography: @seanematicfilms || Ring: @shanzayindia