Saif-Kareena wedding created a buzz and excitement in the Bollywood realm and the general public alike. The power couple, lovingly dubbed as #Saifeena, tied the knot 9 years ago on 16th October 2012, after dating for 5 years. How they met though is nothing short of a typical B'wood love story. Both of them were coming out of serious relationships and found love when they were least expecting it. The duo met in 2007 on sets of Tashan, fell in love, Saif even hinted at marriage while filming (twice), but Bebo wanted to take her sweet time to get to know him. A few months later, Saif proposed to Kareena in the city of romance – Paris, they started living together and got married in 2012. Below, find all the details of their wedding events and a relationship timeline of the couple. 
Saif-Kareena Wedding
October 14th, 2012 – Sangeet/ Pre-Wedding Party 
On 14th October 2012, Kareena & Saif held a fun pre-wedding party cum Sangeet at the former's residence. It was a private affair with the terrace (where the event was arranged) covered entirely to prevent any media coverage. Only close family members & friends like the couple's parents, Neetu Kapoor, Manish Malhotra, Soha Ali Khan, Saba Ali Khan, Amrita Arora & her husband, Kunal Khemu, Sanjay Kapoor, etc. were present. Kareena wore a golden & yellow lehenga set by her favorite designer Manish Malhotra and styled the attire with a low bun, Kundan choker, and her classic kohled eyes-clean face makeup look. Saif, on the other hand, wore an ivory achkan designed by his go-to couturier Raghvendra Rathore. The dressmaker created the attire taking inputs from the actor and ideas from his father's timeless closet.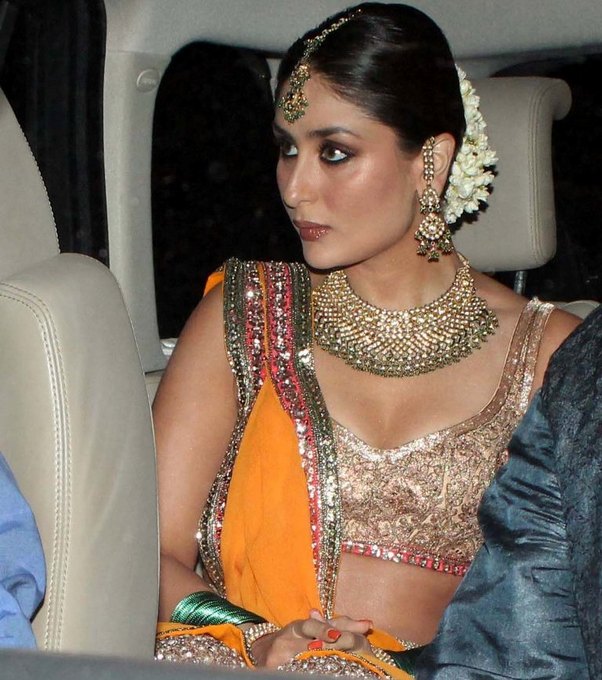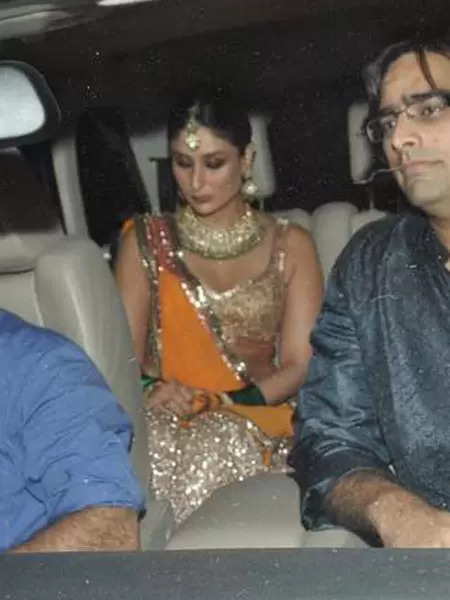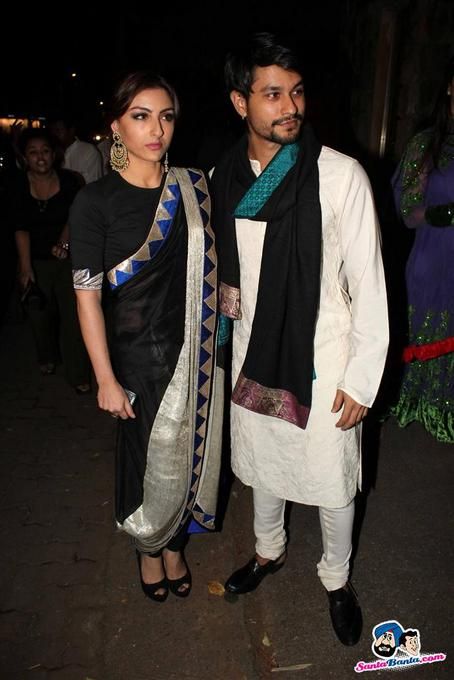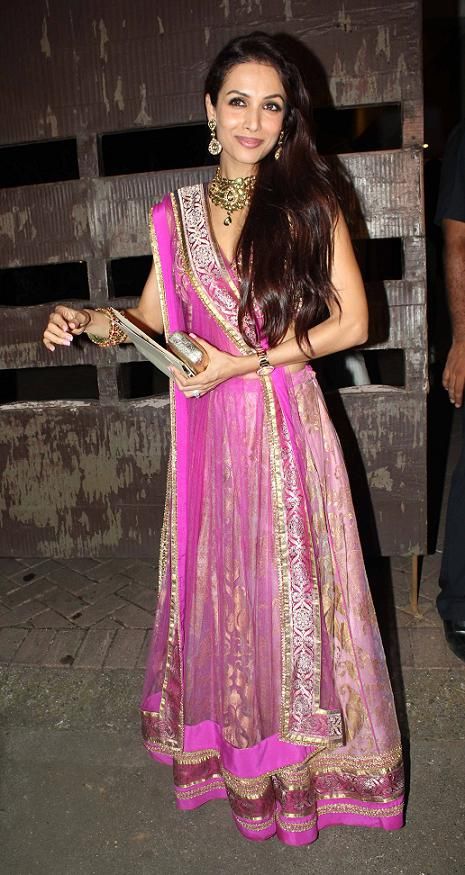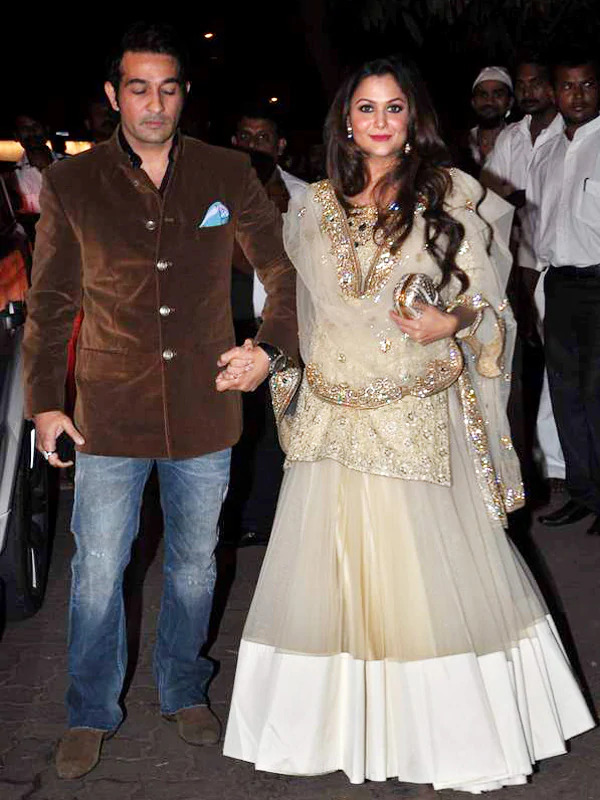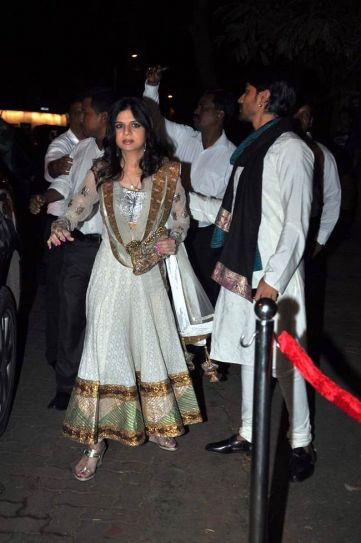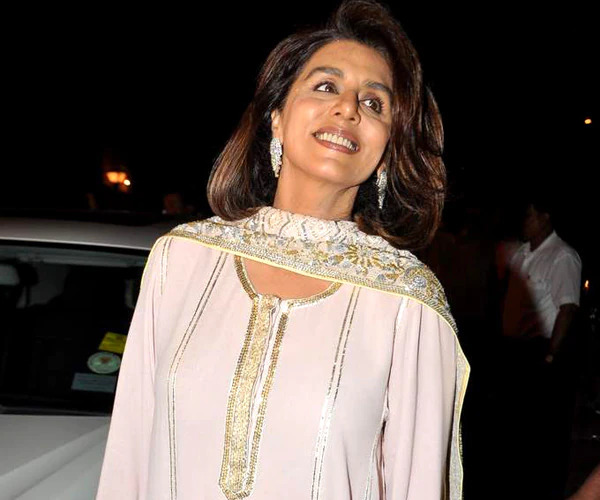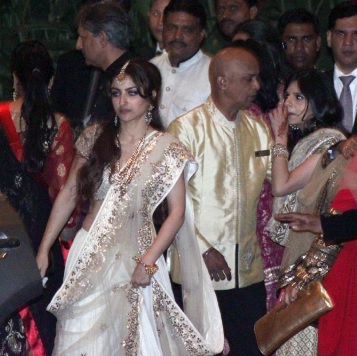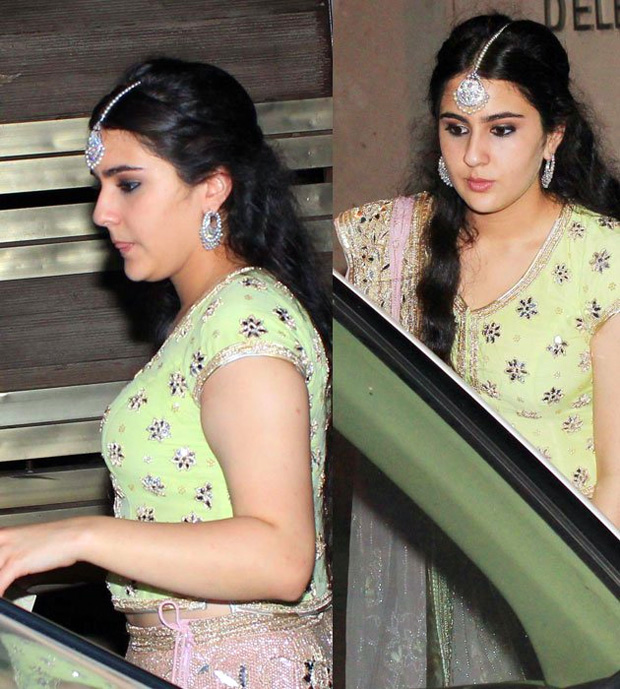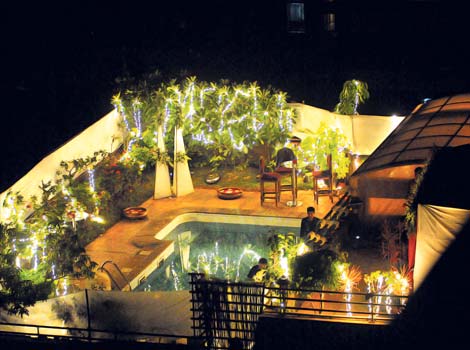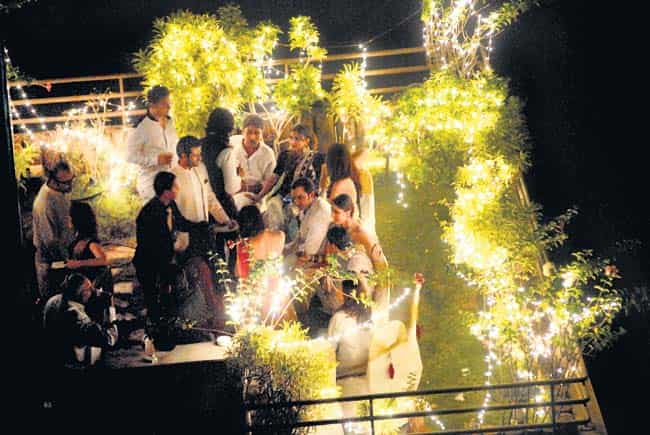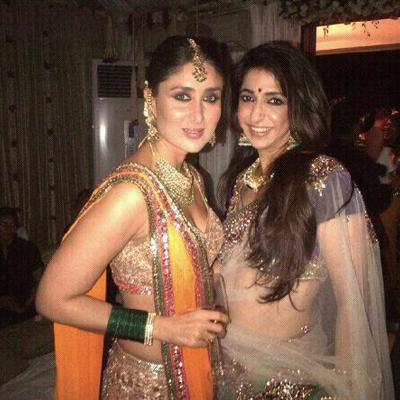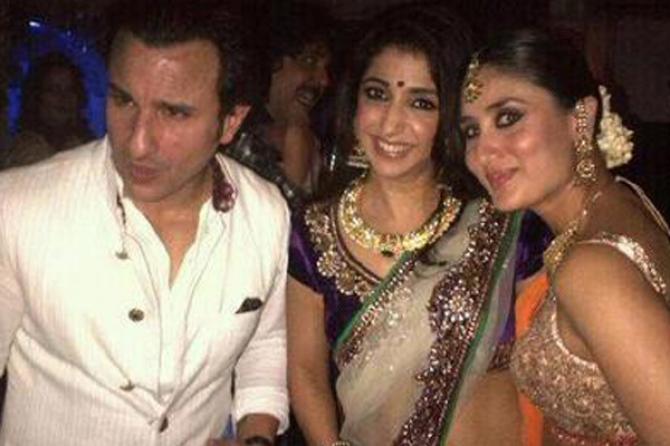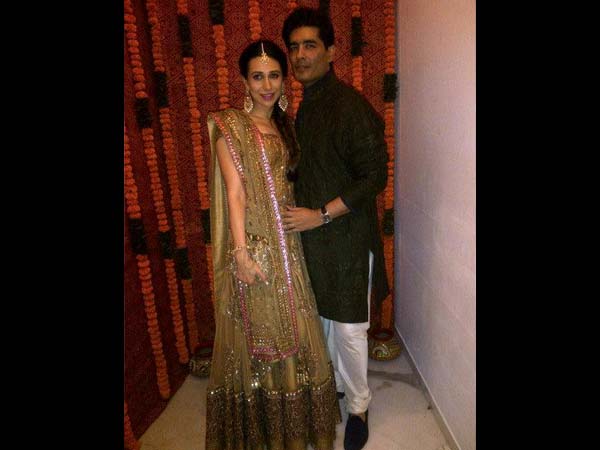 October 15th, 2012 – Mehendi/ Sit-Down Dinner
For the second of their prewedding functions, Saif-Kareena hosted a sit-down dinner/ mehendi at the Taj Mahal Palace hotel for only their closest bunch. Kareena was seen in a pink glimmer saree by Malhotra, who was also present at the dinner btw, and Saif was spotted in a 3-piece suit with a bow-tie, channeling his inner Princely style. See the pictures of the guests arriving for the dinner.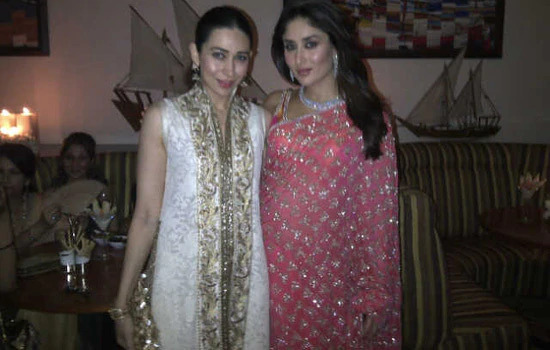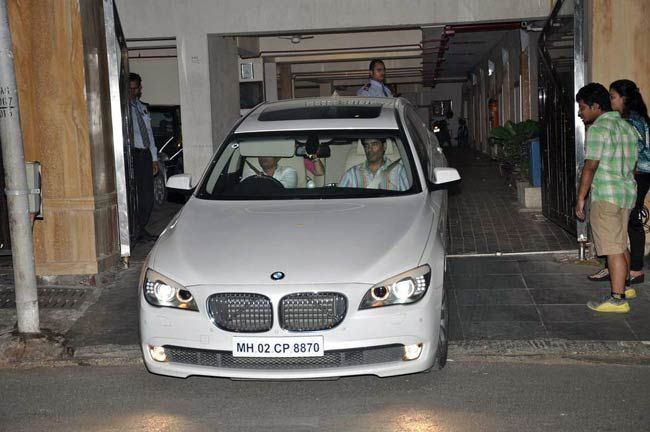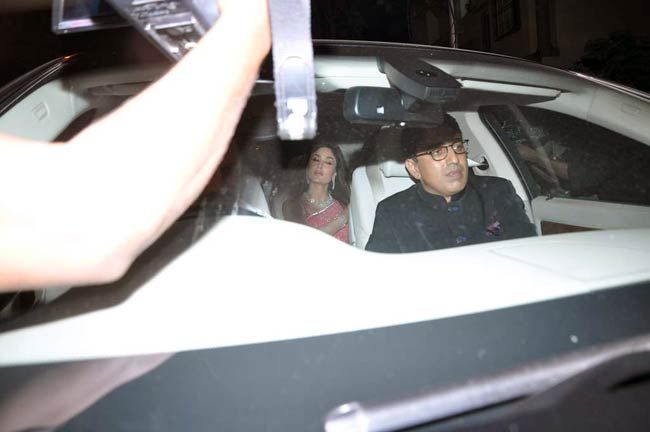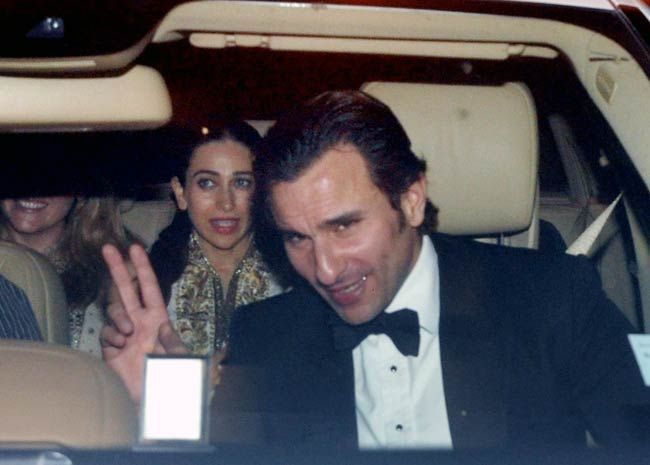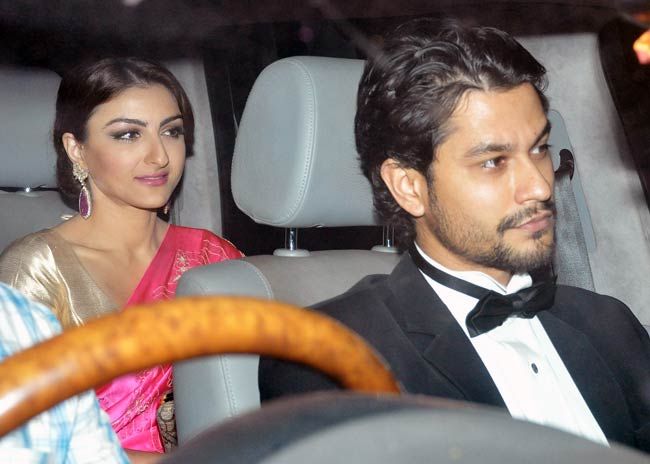 October 16th, 2012 – Court Marriage, Nikah, Post-Wedding Party
On the morning of October 16th, 2012, Kareena & Saif tied the knot and gave us a glimpse of their happy faces soon after. The then 32-year old actress wore a mehendi green straight suit with a red dupatta, while her beau, exactly 10 years her senior, was seen in a gray kurta with white pajama. Only the couple's immediate families – parents and siblings – were present at the official wedding. The registered Saif-Kareena wedding took place at Saif's former residence Fortune Heights with three witnesses – Randhir Kapoor, Babita Kapoor, and Sharmila Tagore.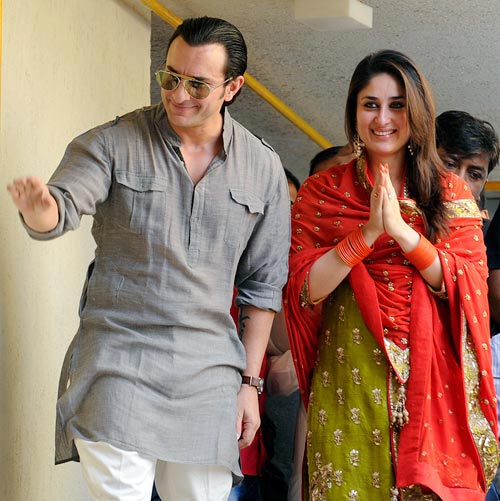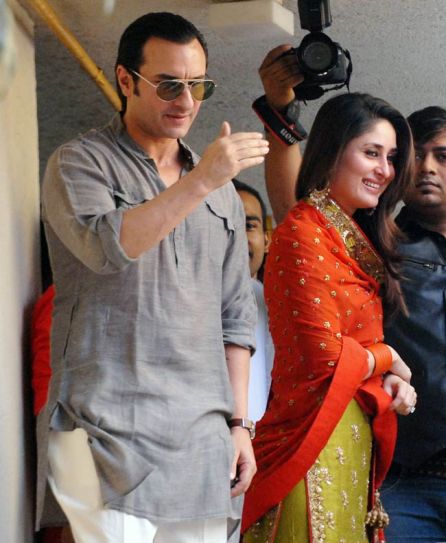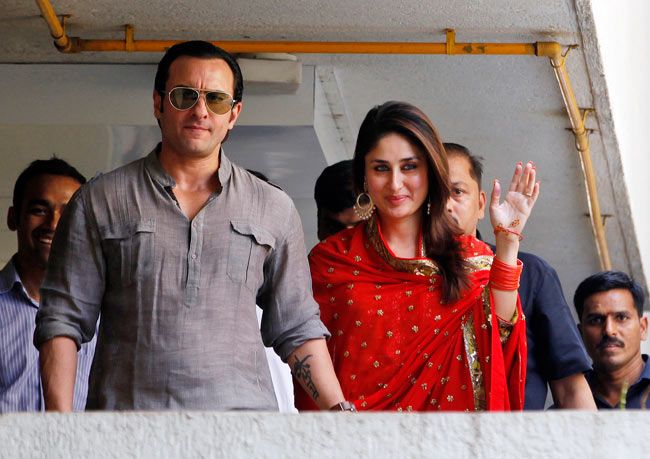 Right after their registered wedding, Kareena & Saif held a Nikah ceremony at the Taj Mahal Palace Hotel, Mumbai. It wasn't a conventional Nikah but just an exchange of vows between the couple. "There were no saath pheras. They didn't adhere to any particular style (of wedding)," confirmed their close friend and wedding attendee, Manish Malhotra. Many channels were speculating a change of religion on Kareena's side before marrying Saif, just like his former wife Amrita Singh and mother before marrying Mansoor Ali Khan Pataudi. But as per the "Indian Special Marriage Act, 1954", a religious wedding ceremony isn't necessary for the couple to be legally married; registration of marriage is sufficient.  While Kareena has stayed mum on the topic of religious conversion, considering the question baseless and very personal, Saif was upfront about it: "I would never want Kareena to change her religion. That's the trouble with religion, really. It expects conversion. I don't believe or buy that."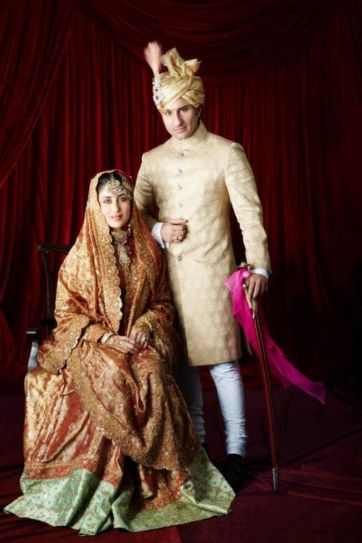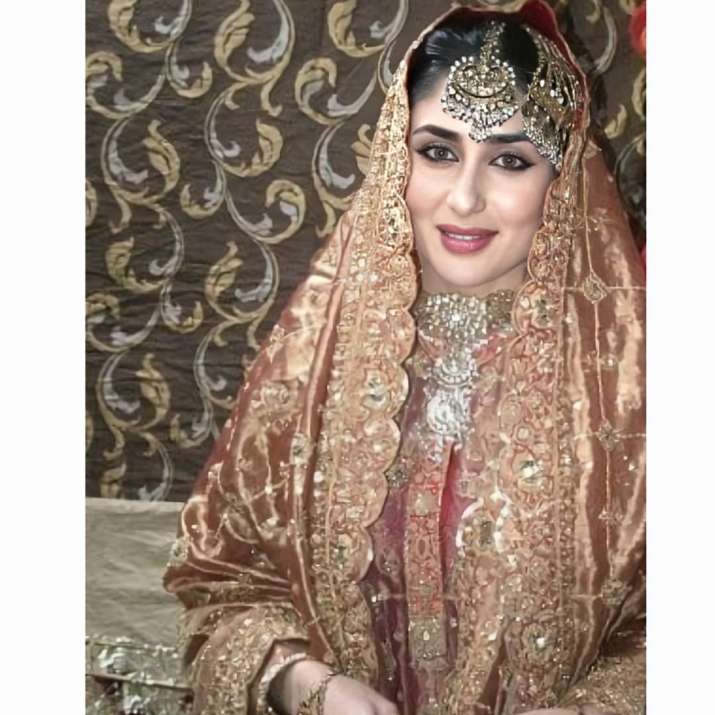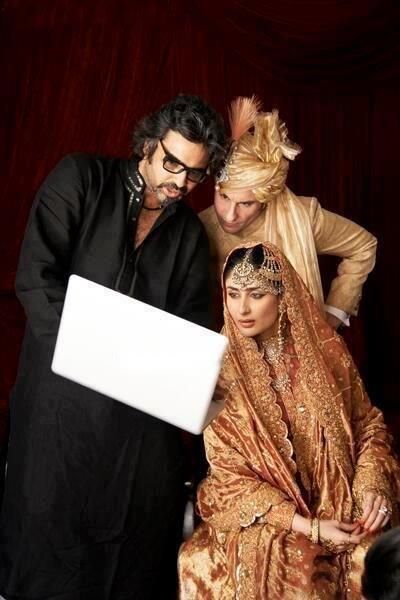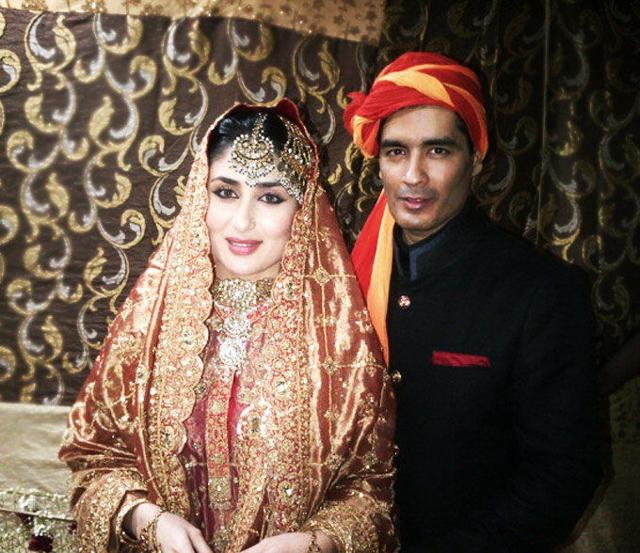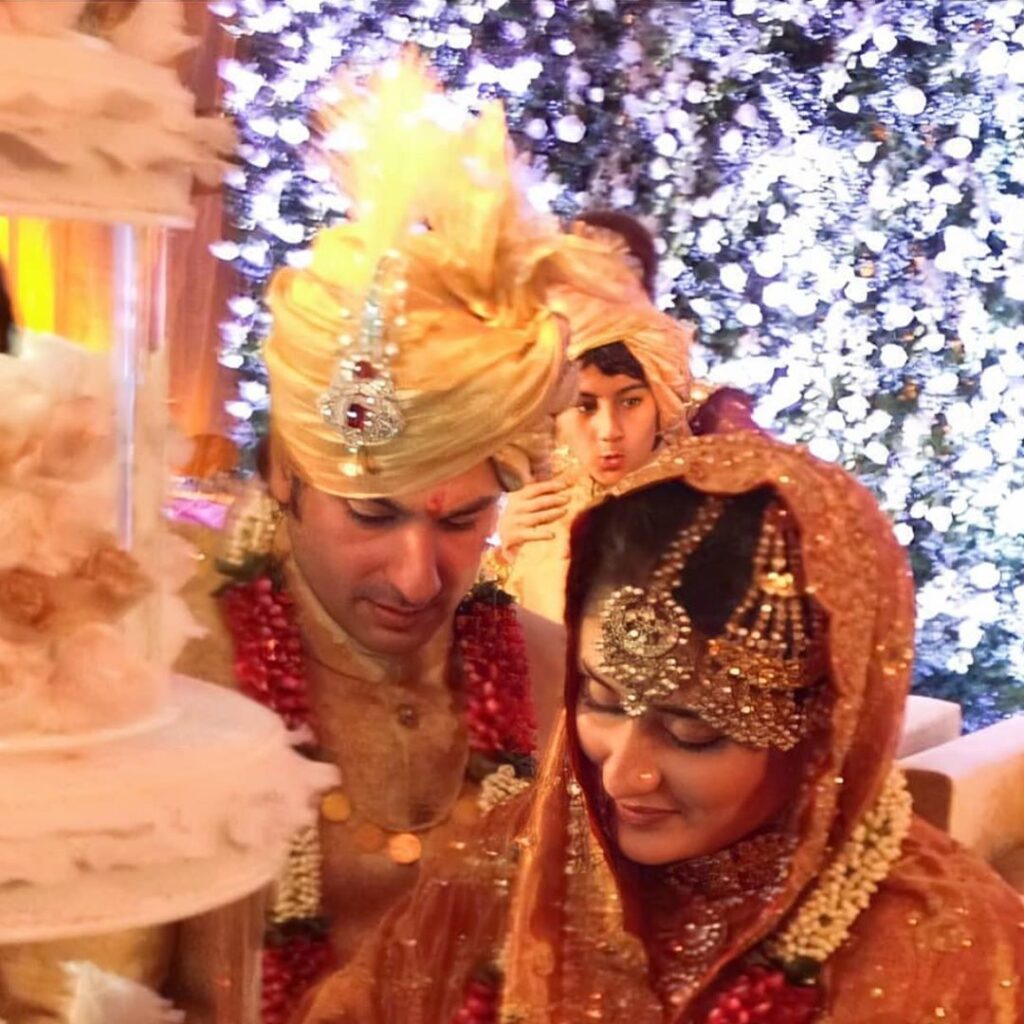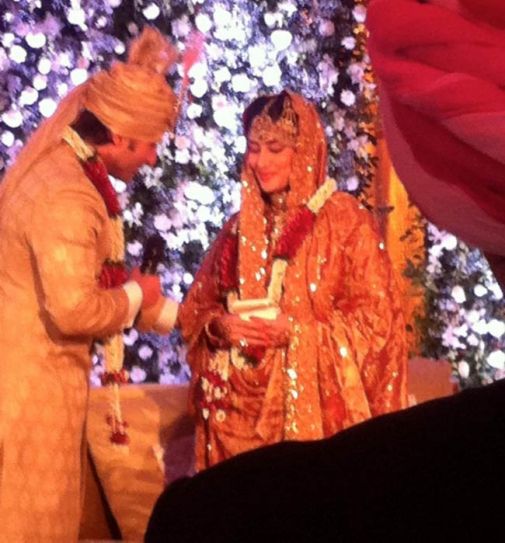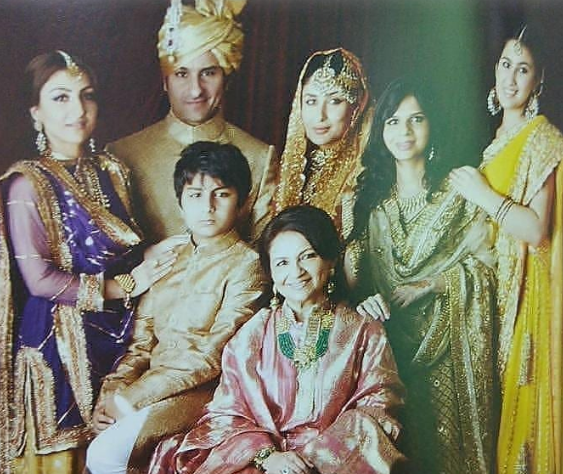 Kareena's Heirloom Bridal Sharara Caught Much Attention
For the Nikah, Kareena wore a family heirloom sharara set passed on to her by Sharmila Tagore, who also wore it at her wedding. The attire originally belonged to Saif's grandmother Sajida Sultan, who belonged to the Royal Family of Bhopal. The three-piece ensemble in gold tissue has intricate gota work and zardozi details making it an antique masterpiece. It has a rustic orange hue with a splash of gold and a contrasting mint-green border on the end. Before Kareena wore it, the bridal outfit was revived and restored by veteran designer Ritu Kumar. It took 6 months of restyling so that the attire doesn't lose the intrinsic quality while looking gorgeously fitting on the wearer – Kareena. With her styling, the actress preserved the old-world charm of the ensemble. She paired the look with a gold choker set, paasa, and minimal makeup. In the world of customized lehengas, Kareen's D-Day look stands out and stays relevant even today.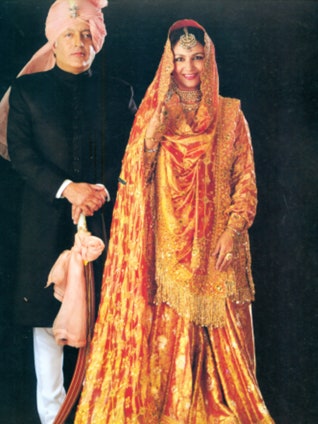 Kareena Changed Into A Burgundy Lehenga For The Post-Wedding Party
After the religious ceremony, Kareena changed into a deep burgundy lehenga by Manish Malhotra. Both the choli and lehenga skirt were embellished with zardozi work and the star teamed the attire with a choker set, taut bun, and fresh face makeup. The affair was held at the Taj Mahal Palace Hotel itself, and many B-town celebs made an entry to shower their love & blessings on the newly-married couple. Some known faces included Shahrukh Khan with his wife Gauri, Preity Zinta, Karan Johar, Amrita Arora, Arjun Kapoor, Sonam Kapoor, Anil Kapoor, Malaika Arora, and Kapoor family members Ranbir Kapoor, Rishi Kapoor, Sanjay Kapoor, Ridhima Sahani, etc.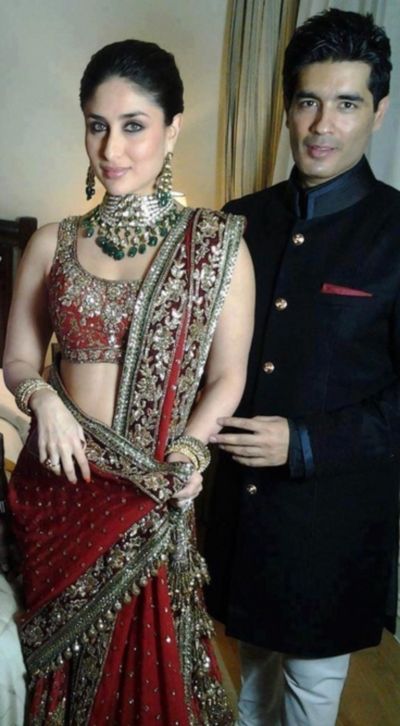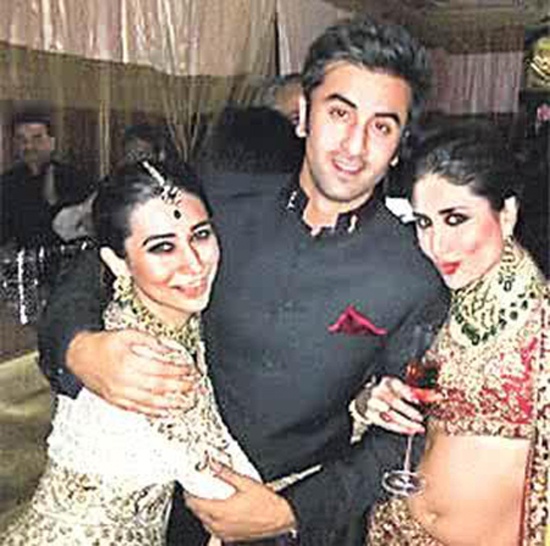 October 18th, 2012 Mughal-Themed Delhi Wedding Reception
Brand new Begum of Pataudi and Nawab Saif Ali Khan arrived in Delhi just a day after their Mumbai wedding to host their Delhi reception. The event was attended by around 600 people and decorated with a Mughal theme in mind. Antique props that were about 200 years old were used to add the authenticity of the reception's theme. Kareena was dressed in a ravishing pink gharara with traditional jewelry and Saif wore a traditional sherwani. The bride & groom looked lovely together. Some of the popular politicians attended the party like Arun Jaitley, Jyotiraditya Scinidia, Sitaram Yechury, Sonia Gandhi, Rahul Gandhi, Shashi Tharoor, Sheila Dixit, and known faces Madhur Bhandarkar, Kapil Dev, Ajay Jadeja, Manish Malhotra, Ritu Kumar, Imtiaz Ali were seen attending the reception. Saif's children Sara Ali Khan & Ibrahim also attended the party.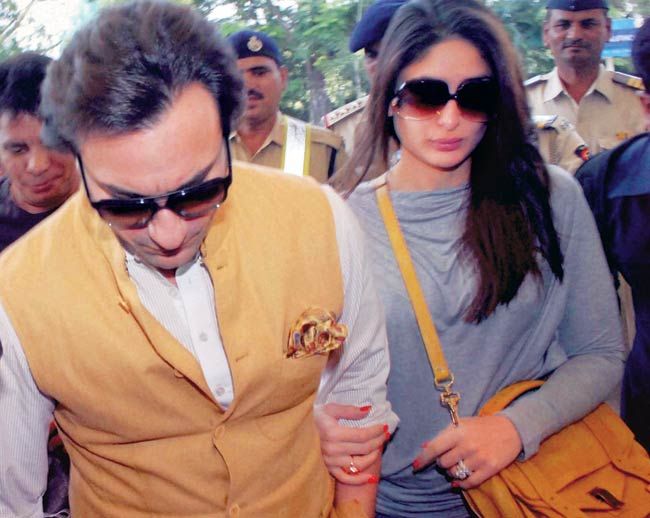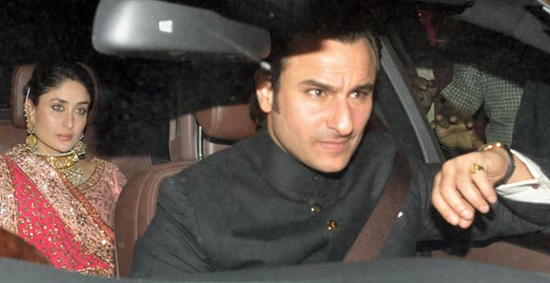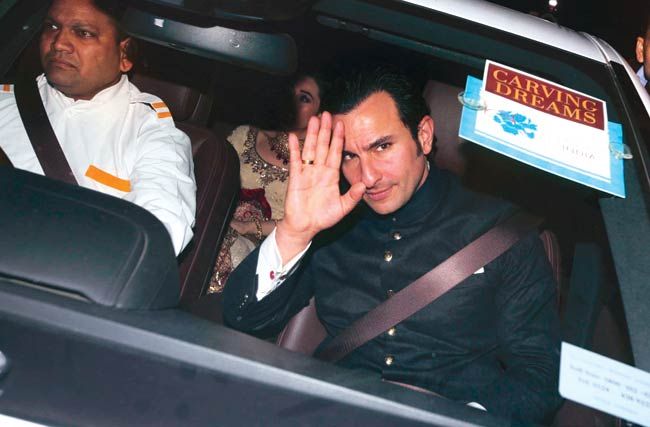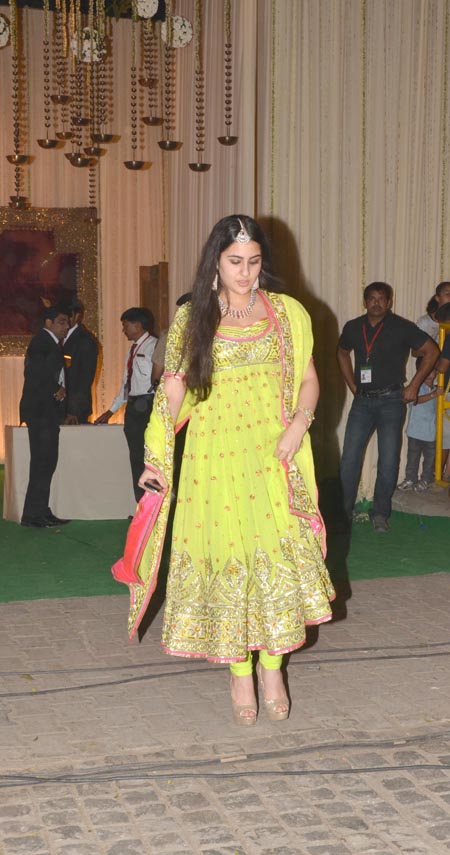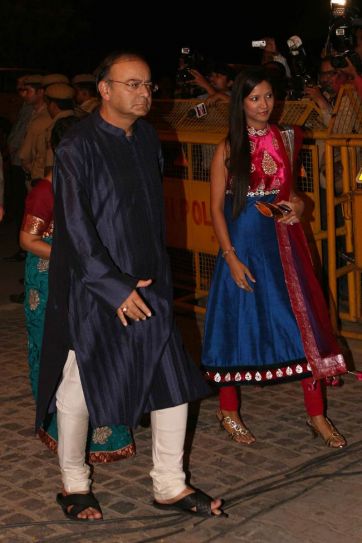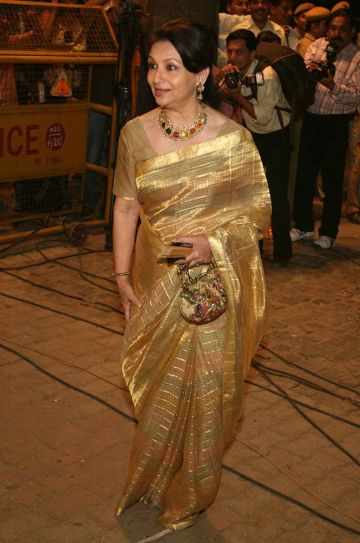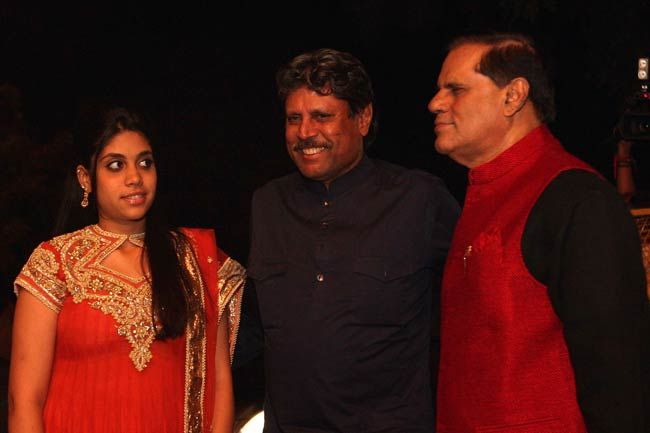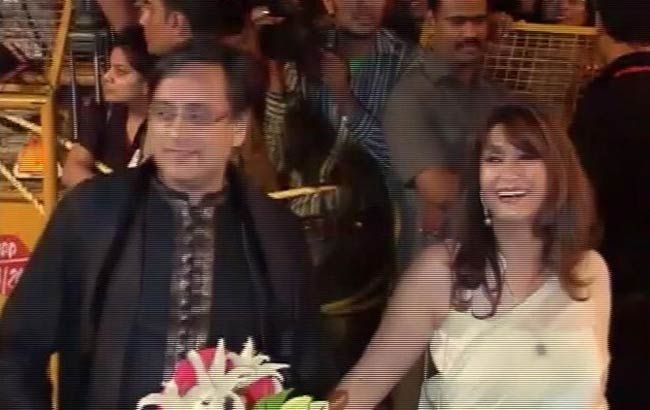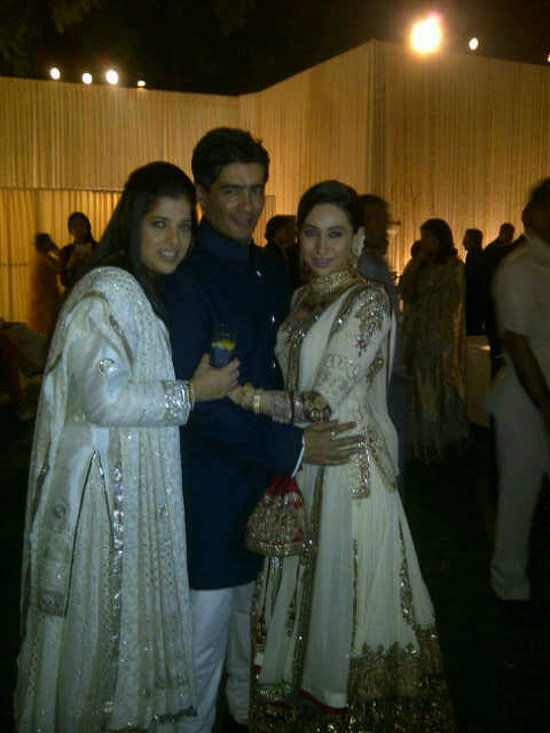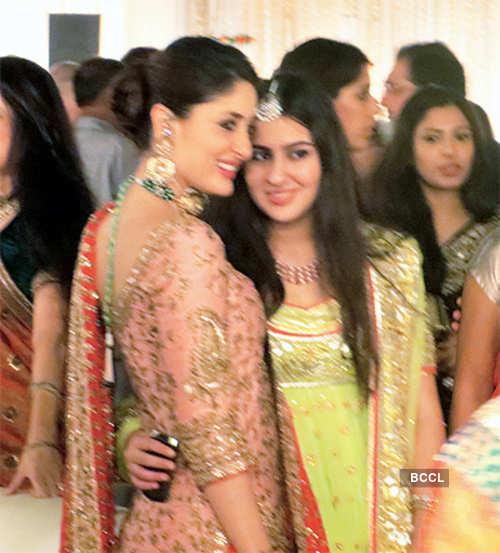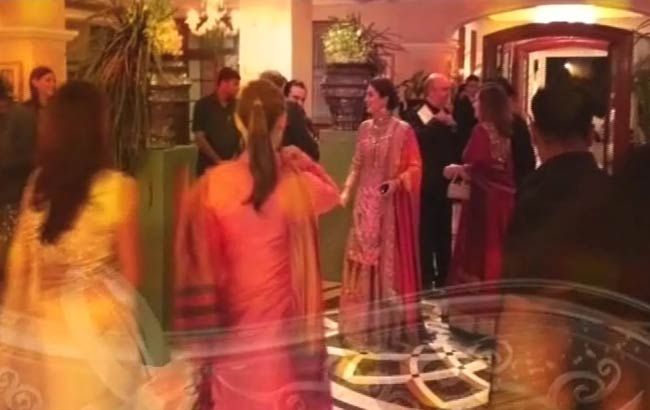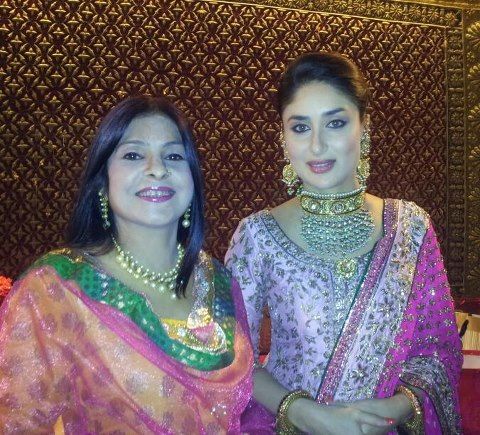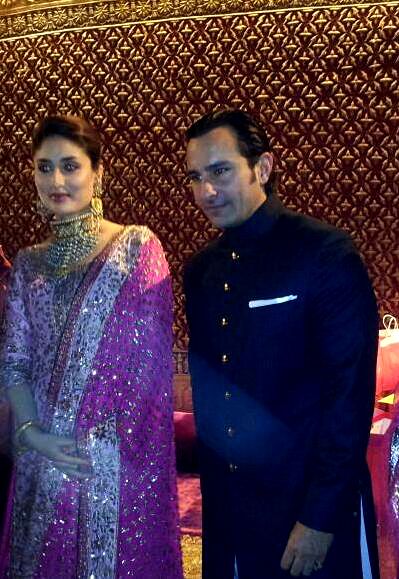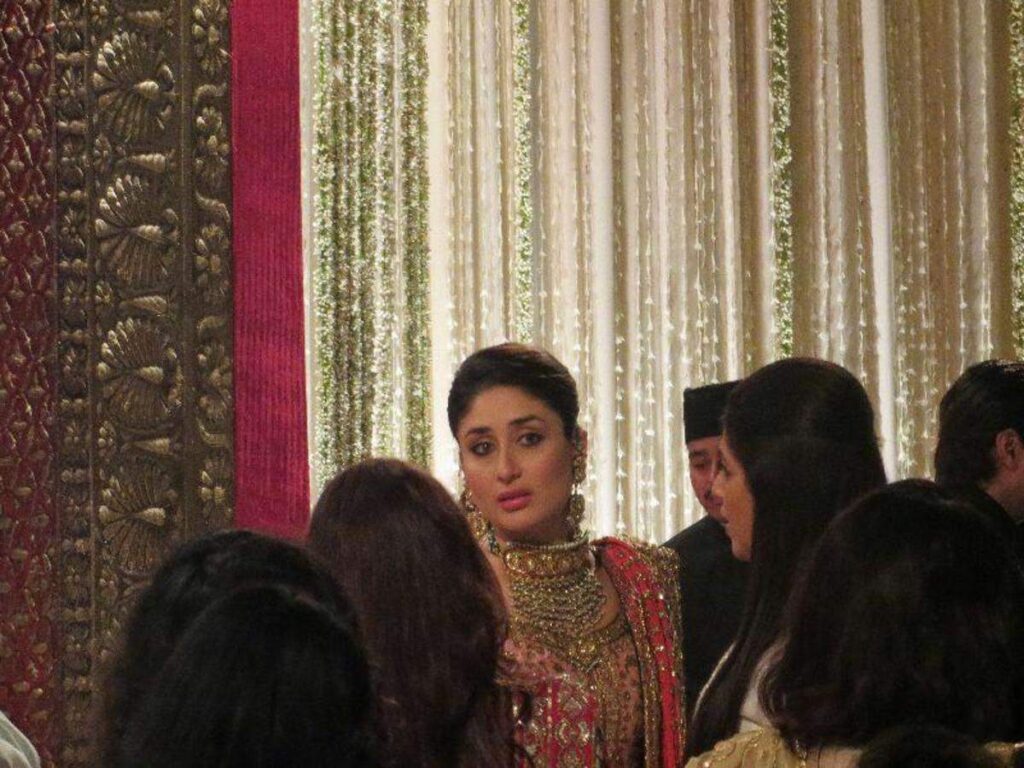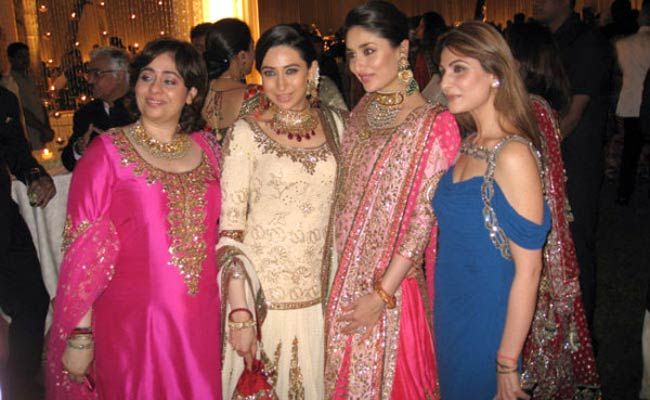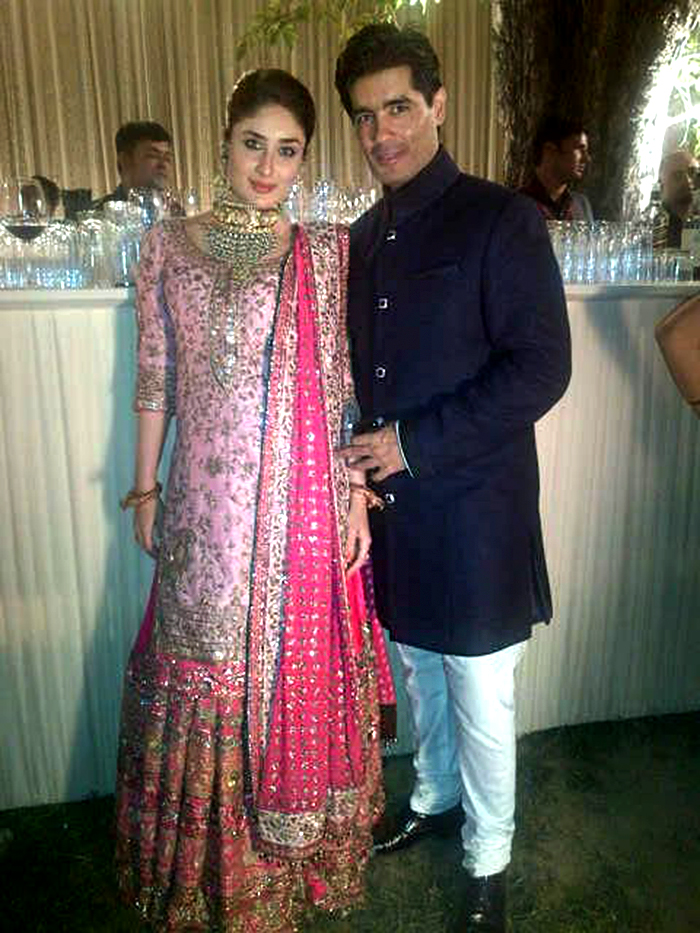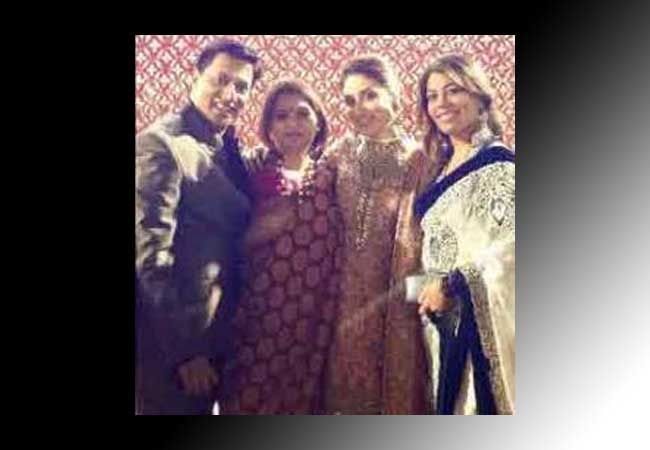 Relationship Timeline
2007: Love On The Sets Of Tashan
Kareena & Saif had met earlier on the sets of Omkara and LOC: Kargil but nothing happened then. In fact, the duo had met way back when Kareena was just a kid. "She doesn't remember it but when I first met her, she was just a 14-year old kid, sitting outside her sister's makeup room and staring into space. When I asked about her, somebody said she is Kareena Kapoor and one day, she will be a star. I was like maybe she will," Saif shared with a news outlet. Sparks flew between the two when they were shooting for Tashan. They immediately grew fond of each other and fell in love. In a Humans of Bombay post, Kareena revealed how grateful she was to have Saif at a time when things were not going right career-wise. 
"Just when I thought I was falling, Saif caught me. I'd met him before, but while we were filming Tashan, something changed. I wore my heart on my sleeve! He was so charming; I fell for him hook, line & sinker. I remember while shooting in Ladakh & Jaisalmer, we'd go on long bike rides for some alone time. We'd enjoy the beauty, have great conversations & just bond! He's 10 years older than me & has 2 kids. But for me, he was just Saif–he helped me heal & love myself. Maybe it was the fact that we're so different–he's more private & not 'Bollywoodised', but I imbibed that from him. I learned to balance things & not let them get to me." Saif felt the same strong connection with Bebo. "I knew it would be serious from the start. Our families also know each other. I was sure it wasn't going to be a short fling or something," he said.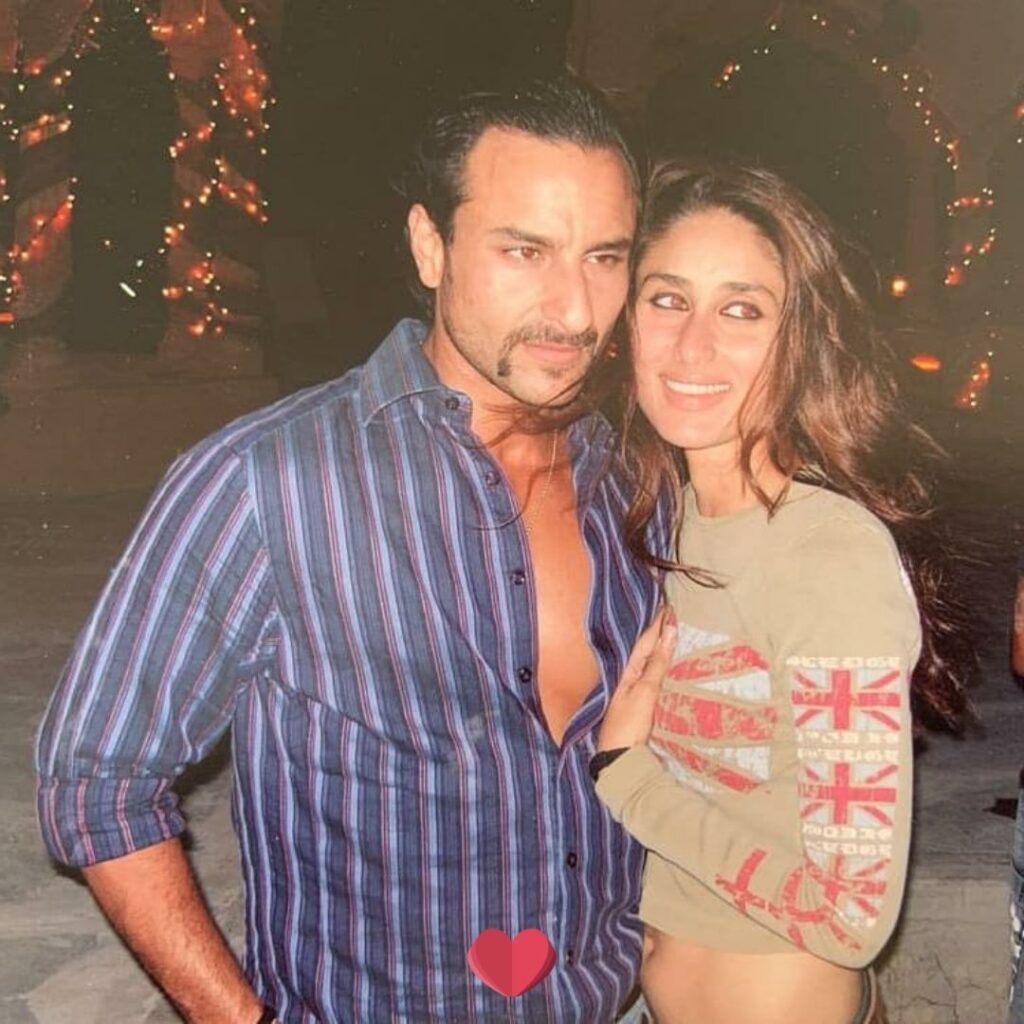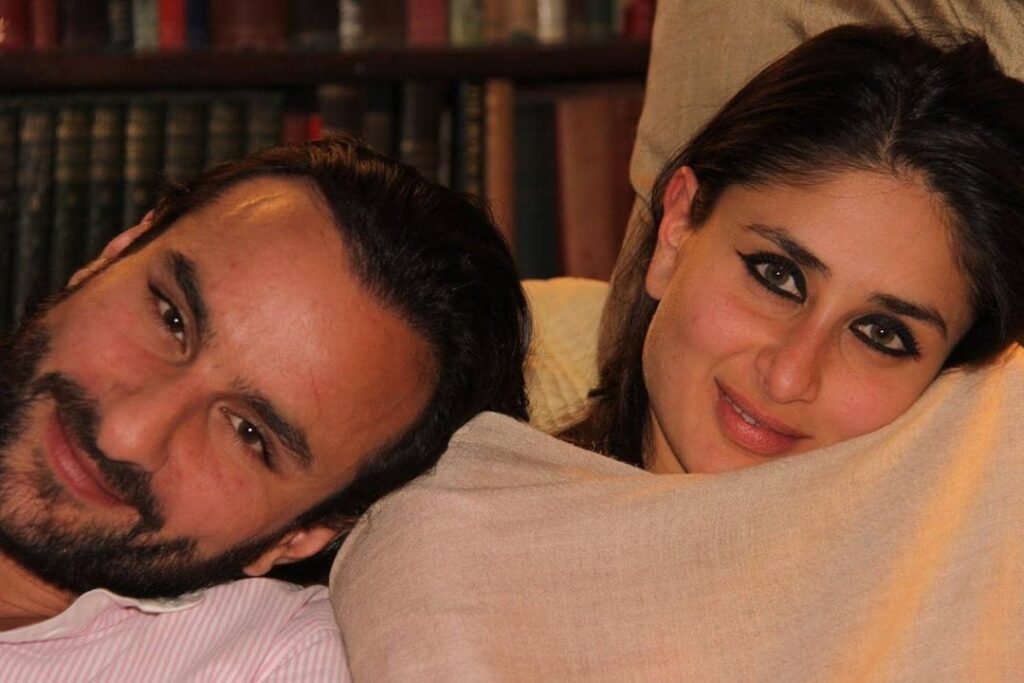 2008: Proposal(s)
Getting an A-lister to say "Yes" to your proposal isn't a clear-cut road. Saif touched the wedding topic twice during Tashan's shoot – once in Ladakh and second time in Greece. Kareena recalled the memory of the latter in her 2018 Koffee With Karan appearance. "We were shooting for "Challiya Challiya" and he stayed back. He just woke up one morning and said, "Listen, let's get married, I wanna marry you. Let's go to the Church. Let's do it right here." I was like, "are you mad" He just said, "I wanna spend my life with you, and I can't see it any other way" That's when I think I just realized this is it." But the now Begum of Pataudi didn't say "Yes". "It wasn't really a 'no' but it was more like an 'I want to know you better' she revealed in an interview with Pinkvilla. 
The proposal where Kareena said "Yes" happened when the couple was holidaying in Paris. He proposed twice in Paris too – once at a bar and once in the Notre Dame Church. "He actually proposed to me a couple of months after we met in Paris. In fact, his father proposed to his mother also in Paris when she was shooting a film 'An Evening in Paris'. And we were on a holiday in Paris as well and I was just like 'Yeah, of course'," Kareena said on the Vogue BFF's show.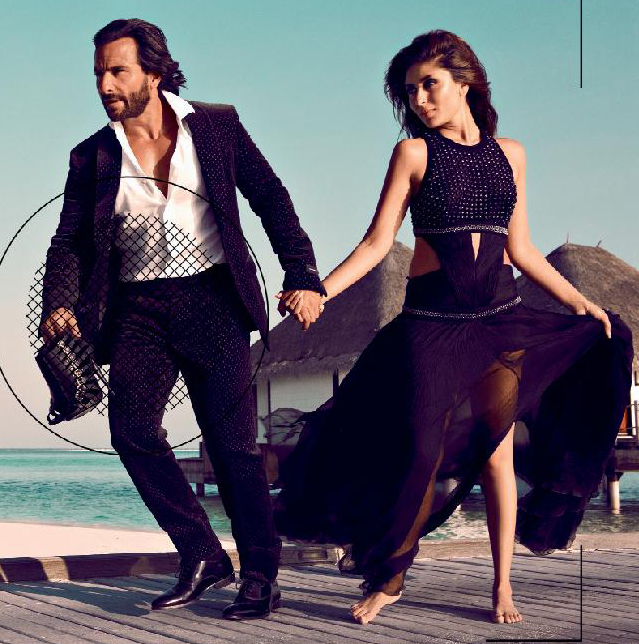 2009: Saif Got Inked
While the #Saifeena rumors were swirling in the air, Saif decided to end the rumors – but not the usual way of giving out a statement about the relationship, but instead, he chose to profess his love by getting his lady love's name inked on the forearm. The famous Kareena tattoo made an appearance in 2009 and has been on the actor's arms since then. "The tattoo is very much permanent. I remember the day, we were just talking about David Beckham, I don't know how the conversation started," Saif revealed to a media outlet the same year. "And then I was like, 'Maybe I should get a tattoo on my shoulder' and she said, 'why shoulder? Put in on your arm' to which I replied, 'maybe a nice K?' and she said, 'that's a bit ambiguous.'" The tattoo spells Kareena's name in Hindi and made headlines when it was first spotted. 
Kareena admires the gesture even today and said, "it's the most romantic thing he has ever done." She also spoke about how her son Taimur keeps looking at the tattoo and "Saif is like, 'this is your amma's name'. That's a very special moment for me." Kareena also added that the actor is the more romantic partner between the two.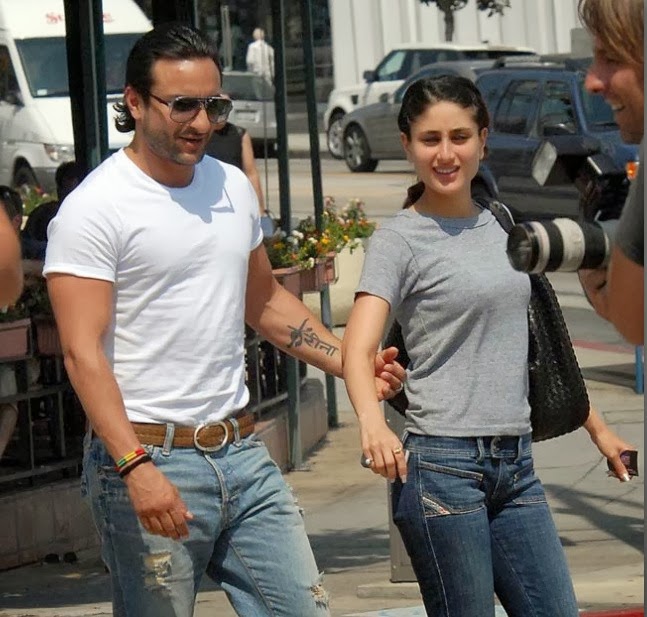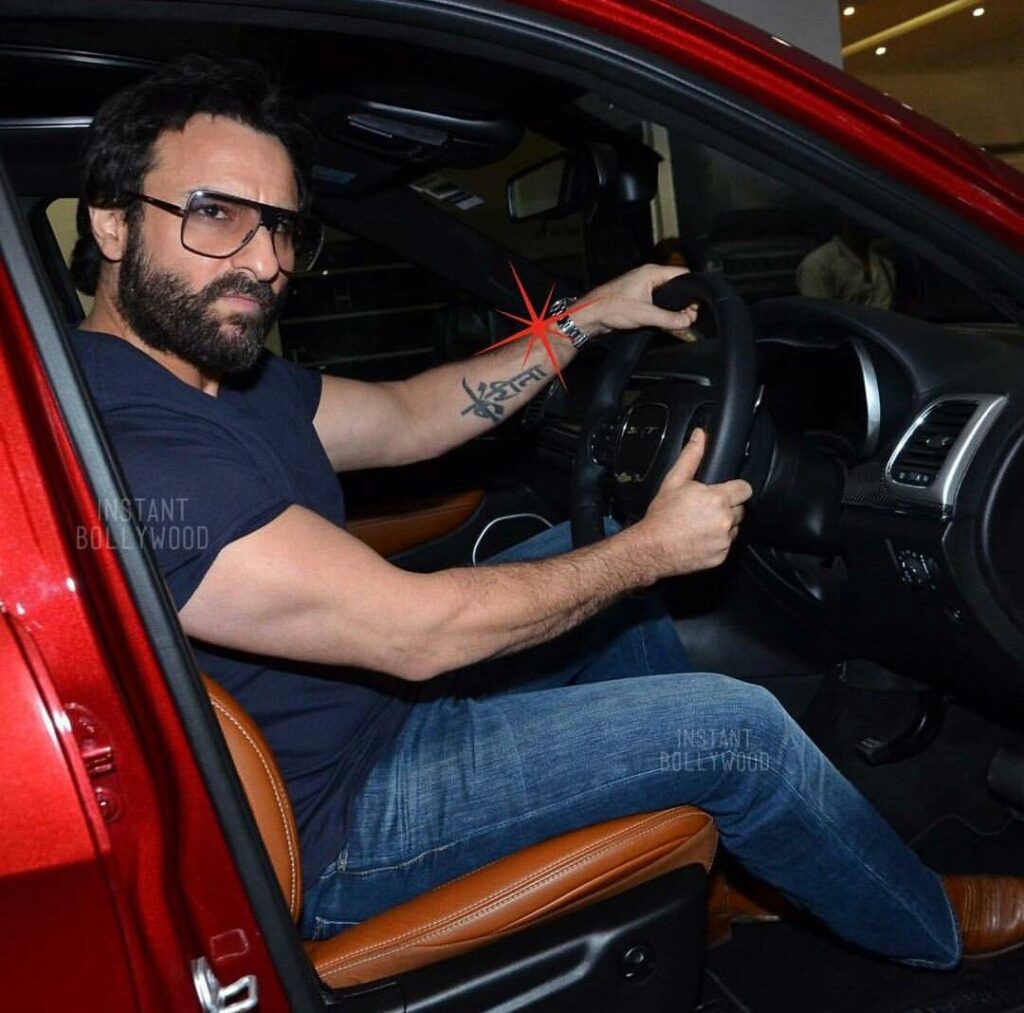 2009: Living In Together
Given their relationship's sincerity and seriousness, Saif approached Kareena's mother Babita for their decision of moving in together. Recalling the experience, Kareena said, "He told my mother he's not 25, and can't keep dropping me home every night. 'I want to spend the rest of my life with her. We want to live together.'" Babita gave her blessings right after, there were no discussions. "Everything is just so easy with him. Even when we were getting married, everything just felt right," says Kareena.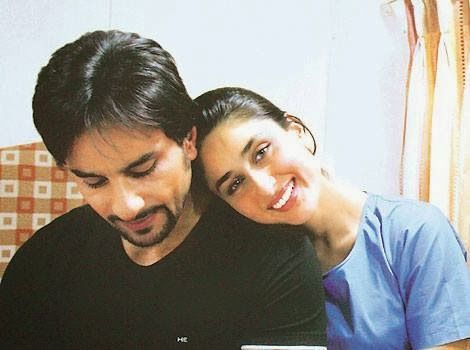 2010: Saif Ali Khan & Padma Shri Award
Out of all the sweet relationship moments of Saif & Kareena, the coyest photographs (till the time) was definitely shot at the time when the actor was bestowed with Padma Shri Award. The couple was dressed in all-white and Khan's mother Sharmila Tagore was also present. Since receiving the honor, Khan has been accused of buying the Padma Shri and pulling off strings to get the award. On his recent appearance on Arbaaz Khan's show Pinch, he clarified the rumors. "It's beyond me to bribe the Indian government," he said. He came to a point when he wanted to return Padma Shri when he remembered something his late father said – that he was not in a position to 'refuse the Indian government'. Saif accepted that there are many senior actors who haven't received the award, and it was embarrassing at the time, but also there are many recipients who have done less than him. "I'm not done yet and I'm enjoying acting. I hope in time people look at it and say 'I think he deserves the honor for the work he has done'." the actor added.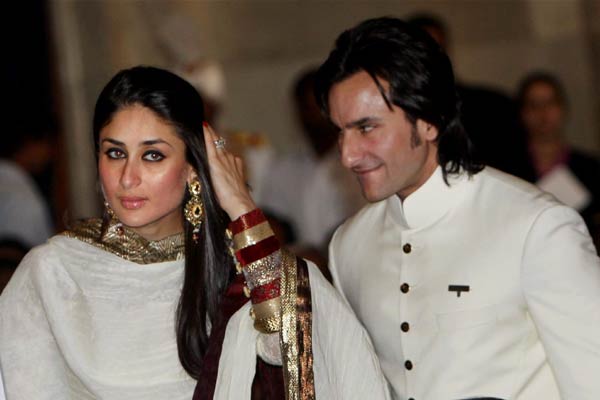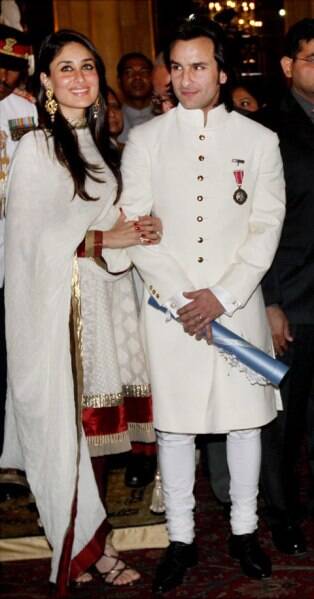 2011: Koffee With Karan Appearance
When Kareena was at the very peak of her career, she and Saif appeared on the Season 3 of Koffee With Karan, and every bit of the episode has been analyzed, reported, and talked about to date. One of the highlights was when the official PC-Kareena cat-fight started on screen, and while the tiff has subsided, the trolling and subsequent hit back remains one of the most controversial Bollywood moments. This is also the first sit-down interview of Saifeena, and the couple's chemistry and love for each other were oozing from the screens.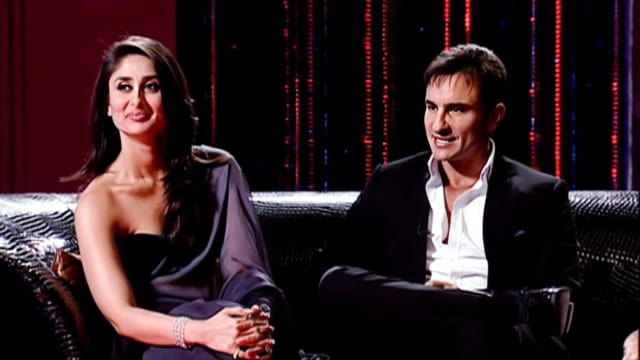 2012: Hotel Brawl Controversy
Just like other Bollywood stars, Saif & Kareena have had their fair share of controversies up their sleeves. One of them being a 2012 Hotel Brawl case where Saif and his two friends, Shakeel Ladak and Bilal Amrohi were arrested after physically assaulting an NRI business Iqbal Mir Sharma. The three were later released on bail, but are yet to be exonerated from the charges. According to statements, Sharma protested the raucous chatter of Saif, and his two friends, alongside Kareena Kapoor Khan, Karishma Kapoor, Amrita Arora, and others. This lead to Saif allegedly threatening him and subsequently, punching and fracturing his nose. Saif, on the other hand, alleged that Iqbal made provocative statements about his lady friends which triggered the spat.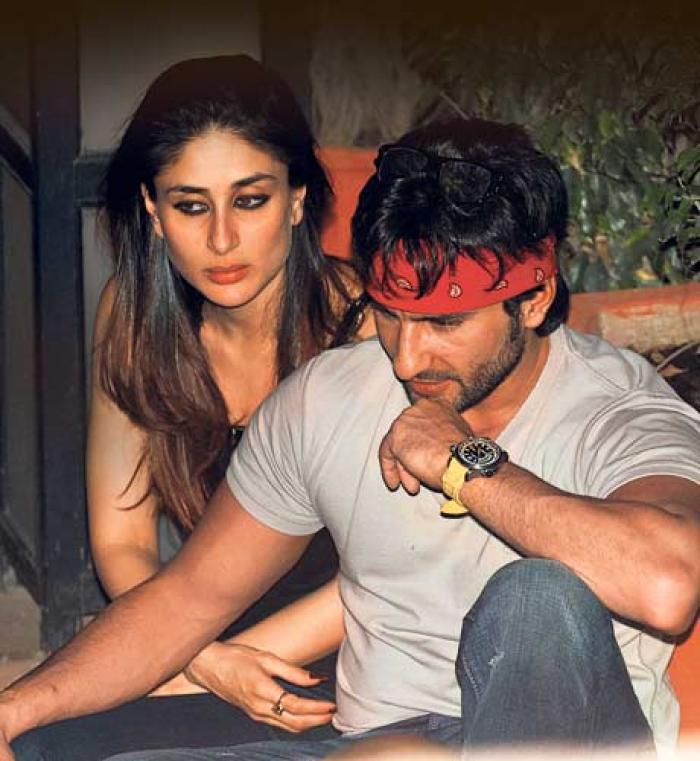 2012: Marriage 
After a lot of speculation, Kareena Kapoor & Saif Ali Khan married in a registered marriage at the latter's home in Bandra, Mumbai. At the time, they planned the nuptials their way – no religious ceremony, no designer clothes, no Bollywood people, and no fane frenzy. Just the two of them. In fact, they threatened their parents to run away and get married if they didn't let the wedding happen their way. "Over the years of courtship and being together, we realized that there was no value left for anything. People just want to know what we're eating, which designer I'm wearing, who we've invited. Saif and I decided that we wanted to keep the purest part of our relationship sacred. We followed protocol by going out onto the terrace and waving at the media after officially registering the marriage, but they didn't need to know more than that," she said in an interview with Vogue Magazine. The couple waved at the media after the wedding, and we also got to see (for the very first time) Kareena's engagement ring, which was a total of 5 carats and worth Rs.75 lakhs.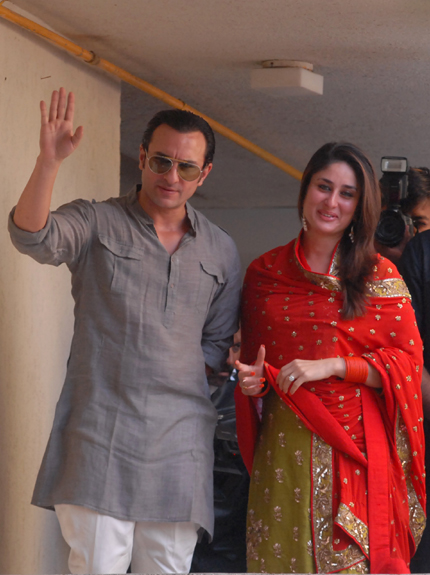 2016: Pregnancy Announcement
In 2016, reports started circulating that Kareena is reportedly pregnant; this was the time when she was around 3 months into her first pregnancy. Later on, it was also reported that Kareena visited a doctor in London, who told her she was going to have a baby boy. While Saif released a statement announcing their pregnancy, no confirmation of the latter news was released. Gender determination isn't a crime outside of India, and the reports were correct since after about 6 months Kareena gave birth to adorable Taimur Ali Khan. Kareena's maternity fashion made headlines through her first & second pregnancies and lots of comfortable kaftans can be an inspiration to women pregnant right now.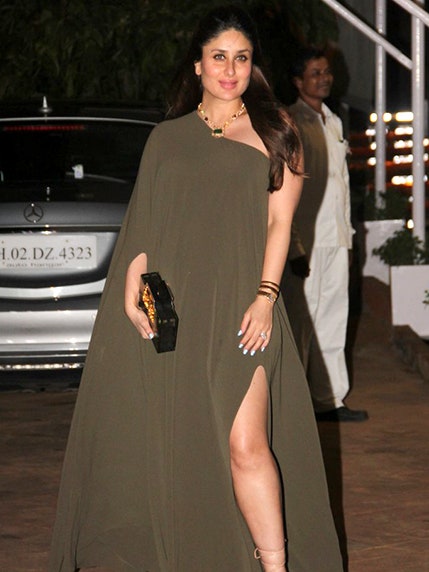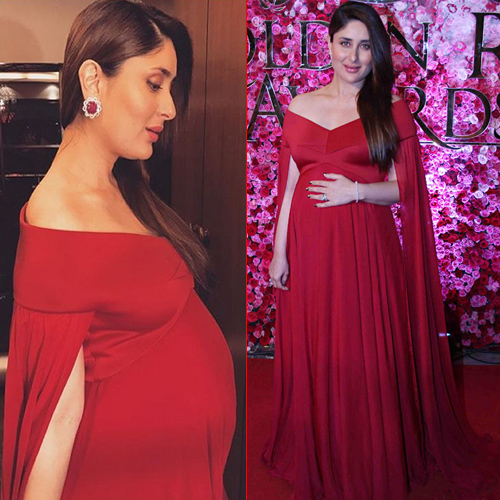 2016: Baby Taimur Arrives
In December 2016, the viral sensation baby Taimur arrived creating a huge controversy surrounding his name. The pressure even lead to Saif thinking of changing his son's name and pondering over his decision to name the child, as reported in a Times of India interview. In yet another interview, he clarified that the name of his son isn't kept after Turkish Invade Timur, but rather from a Persian name that means Iron. Kareena reiterated the same in another talk show.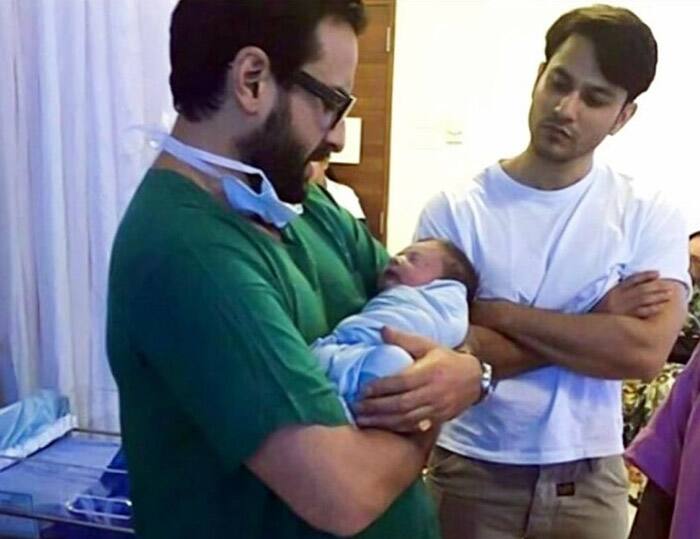 2017: Every Appearance With Taimur Makes Headlines
Saifeena's little cherub made his first official appearance when he was 6 months old, and the pictures were circulated extensively on the Internet. Since then, each and every activity of this adorable little munchkin has been widely reported and pictures admired by thousands of fans. Though the parents have shown concern from time to time surrounding the media attention and how it would affect Taimur. They've also revealed their plans to send him to boarding school, just like all the other Pataudi kids; Saif, Soha, Saba, Sara, and Ibrahim.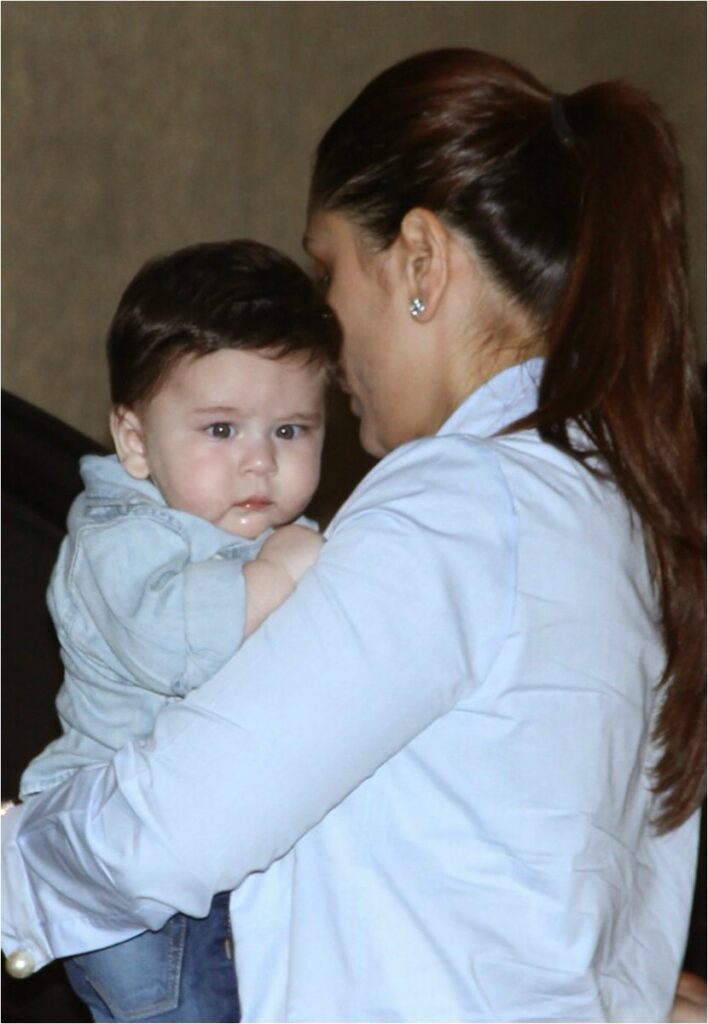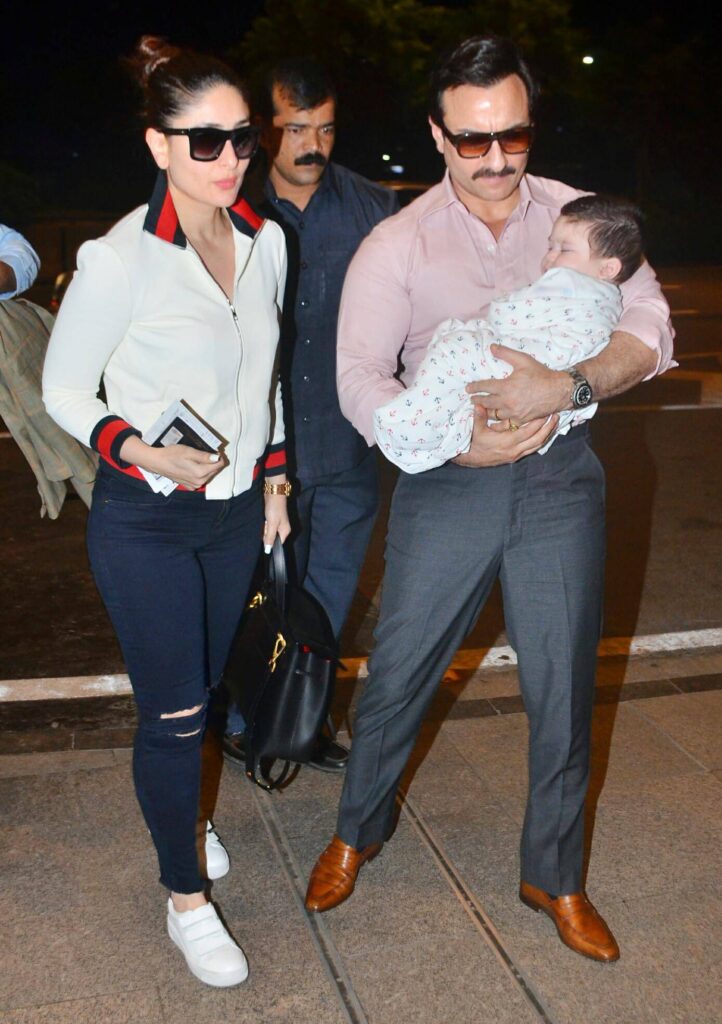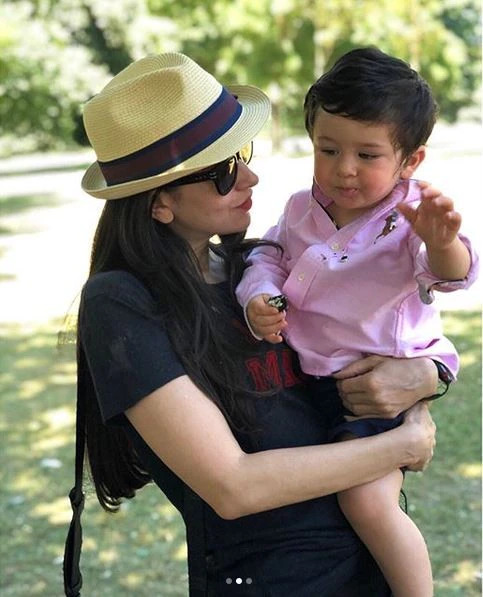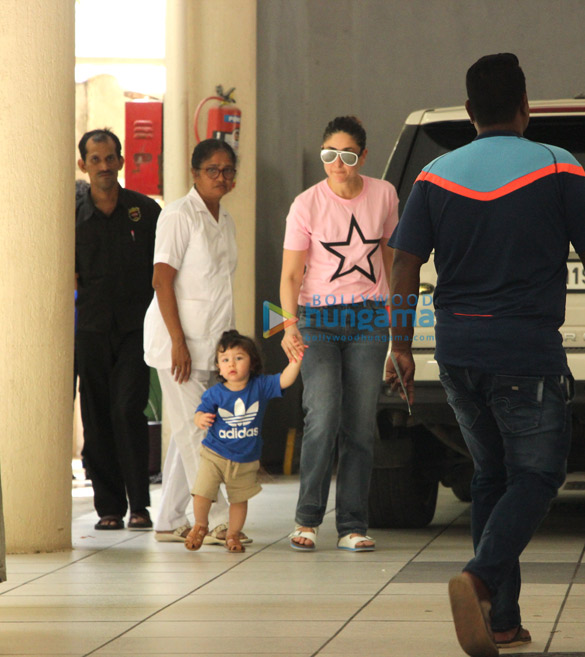 2020: Second Pregnancy Announcement
In August 2020, Saif and Kareena announced an addition to their family with an official statement.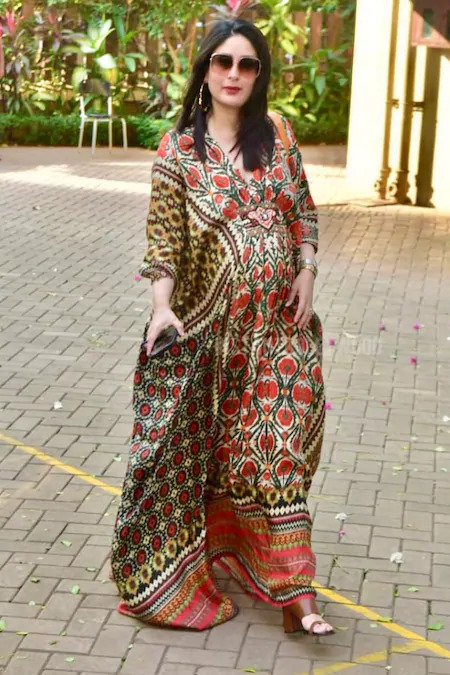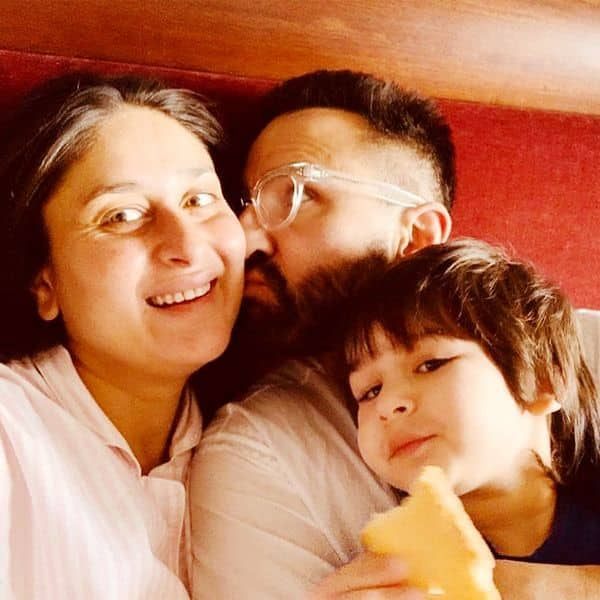 2021: Arrival Of Second Son, Jeh
The couple welcomed their second son Jehangir Ali Khan in March 2021 and just recently made his pictures public. Right around the 6 months' time, when they also let the media capture Taimur's pictures. Recently, the couple celebrated Saif's 51st birthday in the Maldives.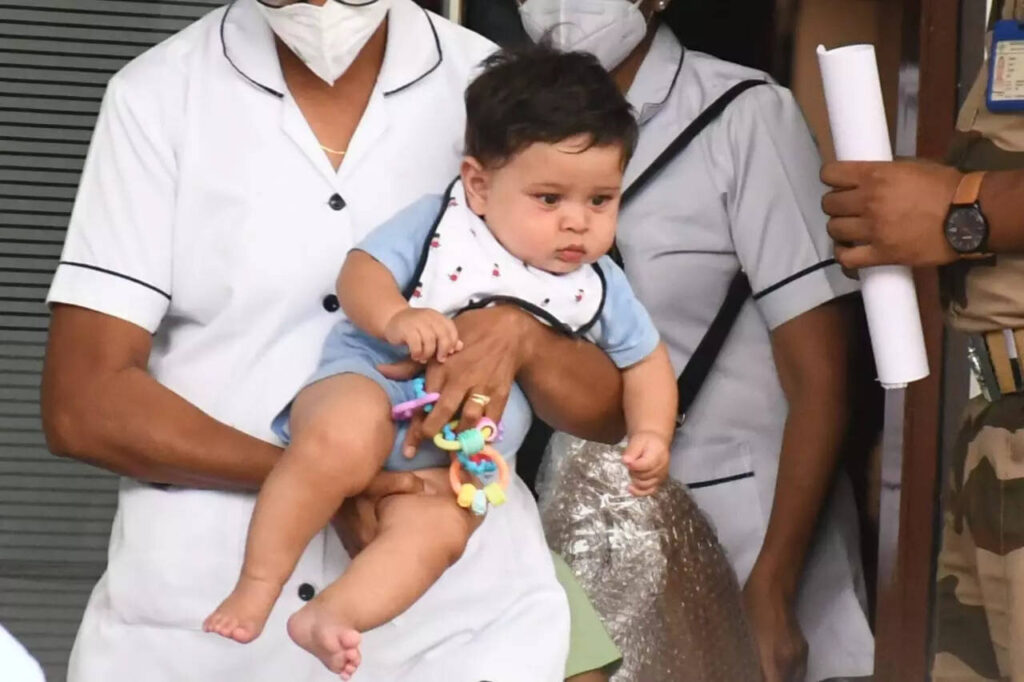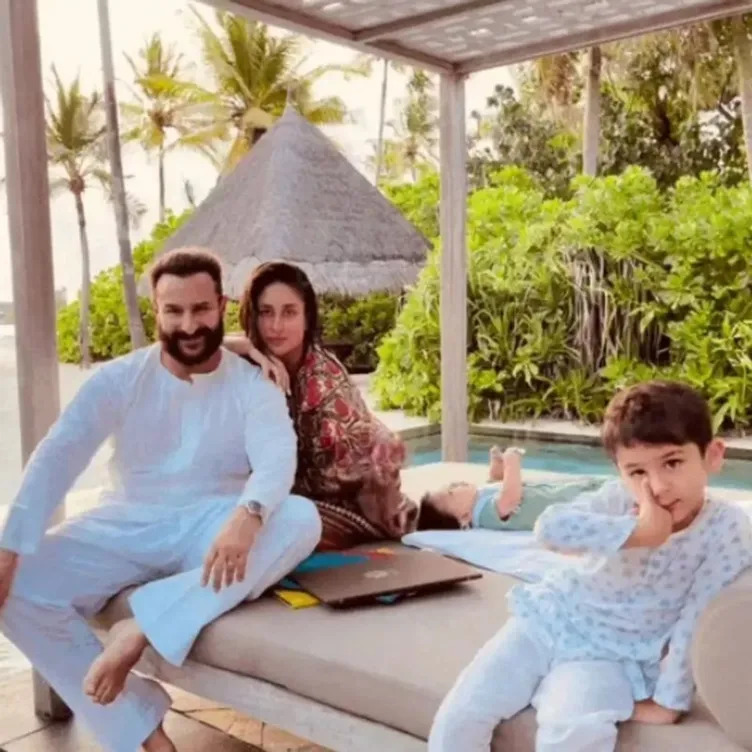 15 years of togetherness, and the couple still seem very much in love and going strong together. With two young kids, they already have their hands full. On the work front, both have them have their own projects brewing and new ones launched. Saif recently appeared in the comedy horror film Bhoot Police alongside Yami Gautam, Arjun Kapoor, and Jacqueline Fernandes. He will be seen next in Bunty Aur Babli 2 and Adipurush. Kareena, on the other hand, just released her own book titled "The Pregnancy Bible". Screen-wise, she will be seen in Laal Singh Chaddha alongside Aamir Khan, and Takht, a multi-starrer movie directed by Karan Johar. In late 2021, Mrs. Khan also announced her first venture as a producer with director Hansal Mehta in which she will also appear as a protagonist.