If you haven't been living under a rock, you'd know that strong rumors of Katrina Kaif & Vicky Kaushal getting married in December are swirling across the media. The upcoming wedding is scheduled to happen from December 7 to 9 at Six Senses Fort Barwara – India's first Six-Senses Hotel that opened in September 2021. Earlier, in August 2021, it was reported that the couple got engaged in a secret roka ceremony. Although the couple has denied rumors for both events, the sources are coming out strong this time. Plus, it's not uncommon for celebrities to deny their wedding rumors. Deepika & Ranveer denied their wedding rumors in October 2018, only to announce their wedding 2 weeks later on social media, and get married the following month in Italy. 
The Six Senses Hotel Tells The Story Of A Bygone Era
The Six Senses Fort Barawara took the number of resorts of the International hotel conglomerate to 21. Just like every other of their luxury hotel, this resort is rooted in its unique location, its commitment to wellness, and indulgent state-of-the-art facilities. It took 10 years for the resort chain to convert this 14th-century fort into a truly opulent experience for the visitors. With an old-world charm mixed with luxurious facilities, the palatial hotel serves as the perfect setting for Katrina Kaif & Vicky Kaushal's nuptials. There are 48 suites in contemporary Rajasthani style, so we can assume it will be an intimate wedding for the couple followed by a grand reception in their residential city – Mumbai.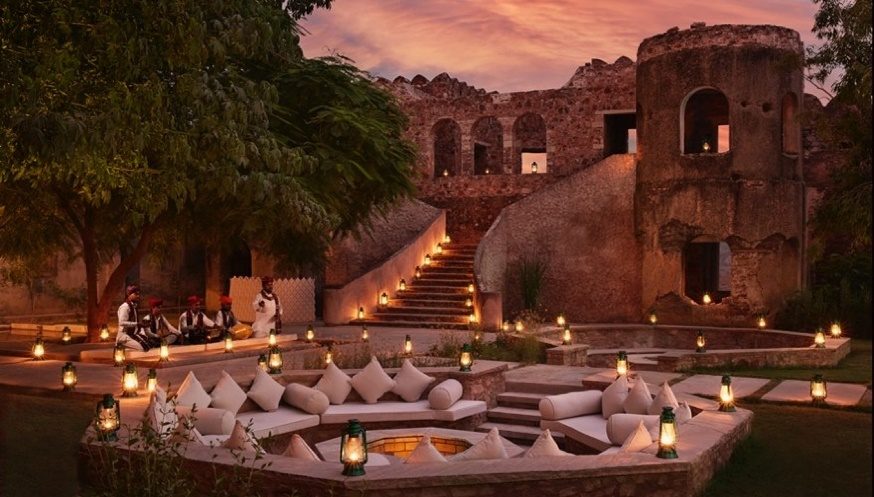 See current ratings & reviews here. 
Katrina Kaif & Vicky Kaushal's Love Story & Relationship Timeline
It's said, in January 2019, Karan Johar played cupid for the couple on his talk show "Koffee With Karan". During Katrina's appearance, she praised Vicky Kaushal's acting skills and she'd love to pair up with him as they'd look good together. When Vicky Kaushal was told by Karan about what Katrina said he was so flattered that he acted to faint on the couch. It's still not clear if the two were involved in some kind of dating before the show, but after the show, it became quite clear that the two were quite fond of each other. 
March 2019 
In March 2019, at the Ambani Holi party, the two were caught several times with each other. One of the viral videos showed them playing Holi with each other while the other showed them dancing together.
Post this video, Vicky Kaushal was often spotted visiting Katrina Kaif's home. "I understand that the paps are doing their job. I also understand that people have an interest in our personal lives, by the virtue of us being public figures. That's fair. But it's completely up to me if I wish to share. I am not comfortable opening up my personal life for discussion. It's important to me that I guard the good things," Kaushal said in the Mid-day interview. Besides, they were often spotted at dinner dates and mutual friends' parties. Later that year, the couple were also seen at a Diwali party together and the pictures went viral soon enough. 
Award Show Subtle Romance
Before the pandemic put a stop to awards shows, Katrina & Vicky Kaushal came face to face during two of the functions. One time, Vicky even proposed to her during the award show. He said, "aap kisi vicky kaushal ko dhoondhkar shadi ku nahi karleti. Kabse socha hay ye question poochne ka aapko," to which Katrina replied, "kya?" and Vicky said, "Mujhse Shaadi Karogi?". Here are the videos of their palpable romance at award functions. 
New Year Together
Katrina Kaif & Vicky Kaushal spent the New Year 2021 together. They both posted pictures from their secret trip. While Katrina was seen hugging someone wearing a mustard yellow shirt, Vicky soon posted a picture wearing a shirt in the same hue. Fans didn't take long to notice this small detail. Other times, fans have also caught their similar backgrounds in pictures to conclude that the two were indeed spending some time together. When asked directly if he was dating Katrina, Vicky replied, "I hope you respect this. I really want to guard my personal life to some extent because if you open up, it leads to discussions and interpretations, and misinterpretations. That is something I am not inviting. I guess it is better that way, that I guard my personal life to some extent and I don't want to open up about anything,"
Later the same year, Harshvardhan Kapur took it upon himself to reveal the affair. During an interview with Zoom TV when asked what rumors about the industry did he think were true, he said, "Vicky and Katrina are dating. That's true." 
(Find it at 40:20) 
Wedding Rumors 
In August 2021, rumors of Katrina & Vicky Kaushal's engagement started doing rounds and since the last 2 days, some strong wedding rumors are out in the open. On the 27th of October, both Katrina & Vicky were seen at their manager's office, starting a conjecture that it was because of the leave for their wedding. On the 28th of October, Katrina's mother and sister were spotted shopping for ethnic clothes, supposedly for the wedding. If sources are to be believed, Katrina's lehenga is designed by Sabyasachi and they're currently in the process of choosing the material. The design is already finalized and other wedding planning activities are also on in full swing. 
Just recently, it was also revealed that the couple visited Juhu's high-rise apartments where Virat & Anushka also reside. The duo really liked the apartment and have visited several times since. It's reported that they both have already bought a home here & will be moving to their new home after their marriage. 
If this is all true, we can't wait to see Katrina in her wedding outfits and the adorable couple's pictures. They definitely look cute together and we're just awaiting final confirmation.