Cricketers being in a relationship with B'wood actresses isn't new. Be it Virat Kohli-Anushka Sharma, Hardik Pandya-Natasa Stankovic, Yuvraj Singh-Hazel Keech, or veterans like Mansoor Ali Khan Pataudi & Sharmila Tagore. Given their common circle of glamour and fame, it isn't also surprising that their paths often meet, and sometimes love connections happen. One such popular connection at the moment is that of KL Rahul and Athiya Shetty. Rumors of their marriage have been swirling across social media and I think it's time we give you a little glimpse into Athiya Shetty & KL Rahul love story & relationship timeline. Scroll to see it all: 
2019: The Journey Begins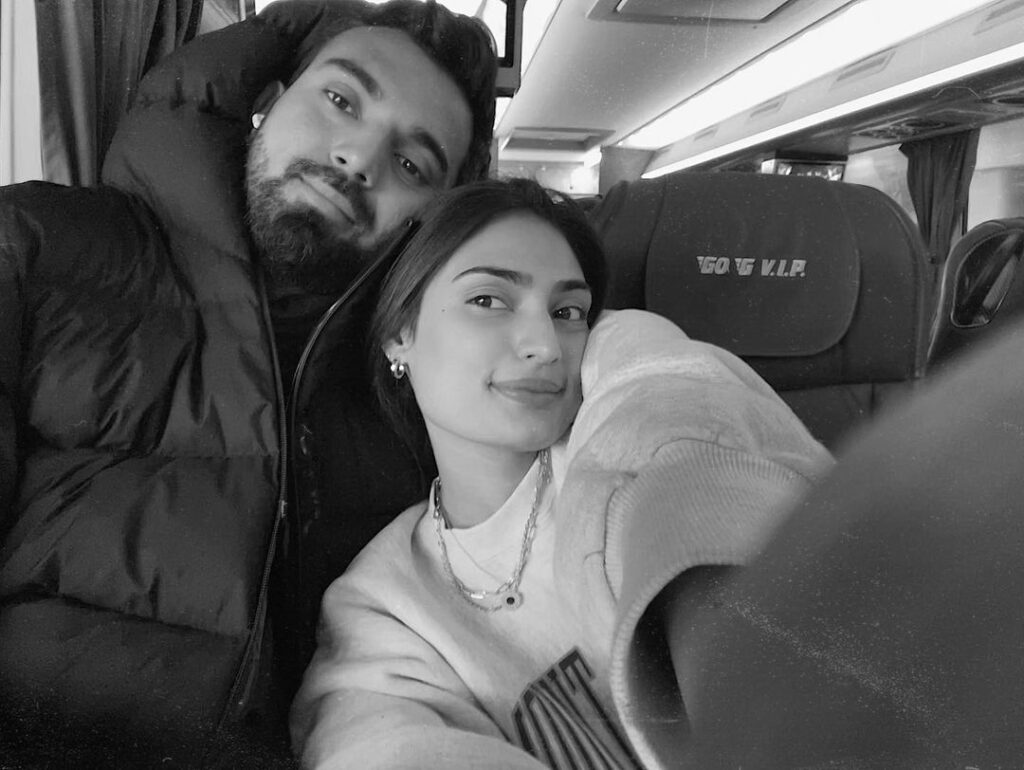 It's reported that the duo was introduced to each other by a circle of common friends. Given B'wood and cricketers enjoy the same fandom, it's not surprising that they hang out in the same circle and their paths met. The same story hasn't been confirmed yet, but their dating rumors started doing rounds right after they met and KL Rahul's post with the actress in December further piqued the interest of the fans and media alike. 
December 2019: KL Rahul Posts Their First Picture On Instagram Together
Just when some rumors here & there started swirling about Athiya Shetty & KL Rahul's relationship, the latter posted his first-ever picture with the Mubarakan co-star on his Instagram. In the picture, the duo are in a phone booth where Rahul is holding the phone acting serious and Shetty is having a good laugh behind. The photo is captioned 'Hello? Devi Prasad..'. The comment section was full of praises of how cute the two look together. It's reported that the couple had visited Thailand to ring in New Year 2020 along with their friends. 
April 2020: Athiya Shetty Posts First Picture With KL Rahul On His Birthday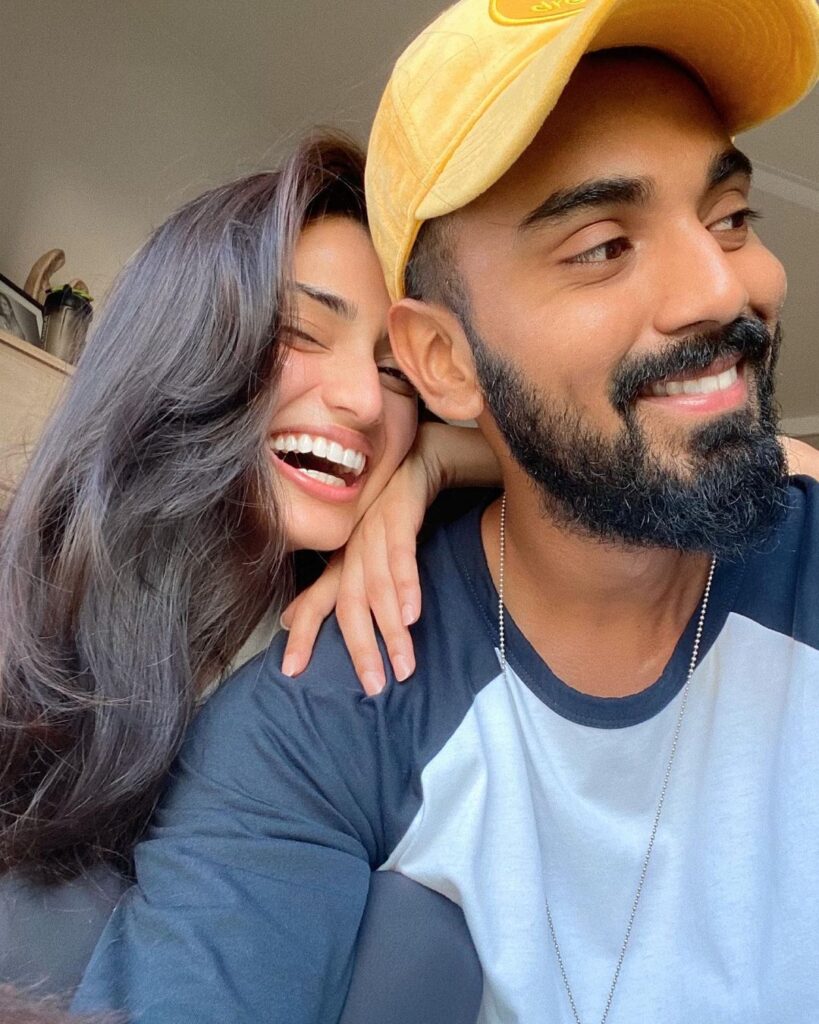 After KL Rahul making Instagram debut with Shetty, the latter also posted their picture together a few months later on the occasion of Rahul's birthday. She captioned it, "Happy Birthday my person"; slyly confirming their romantic relationship. 
November 2020: Birthday Love Continues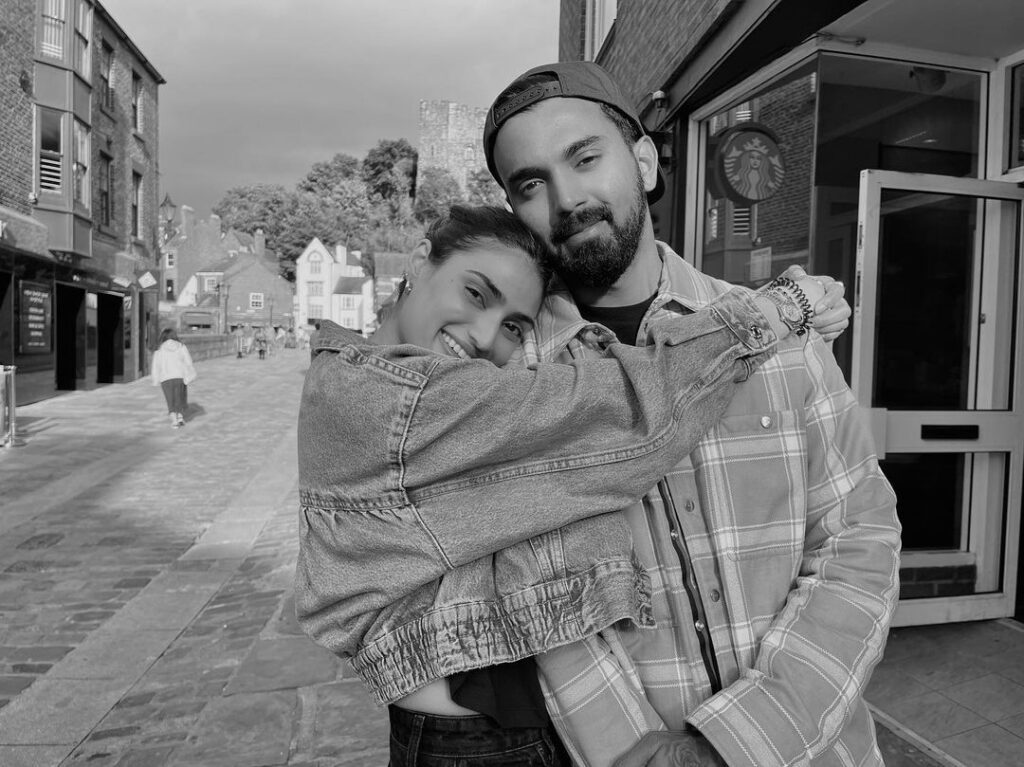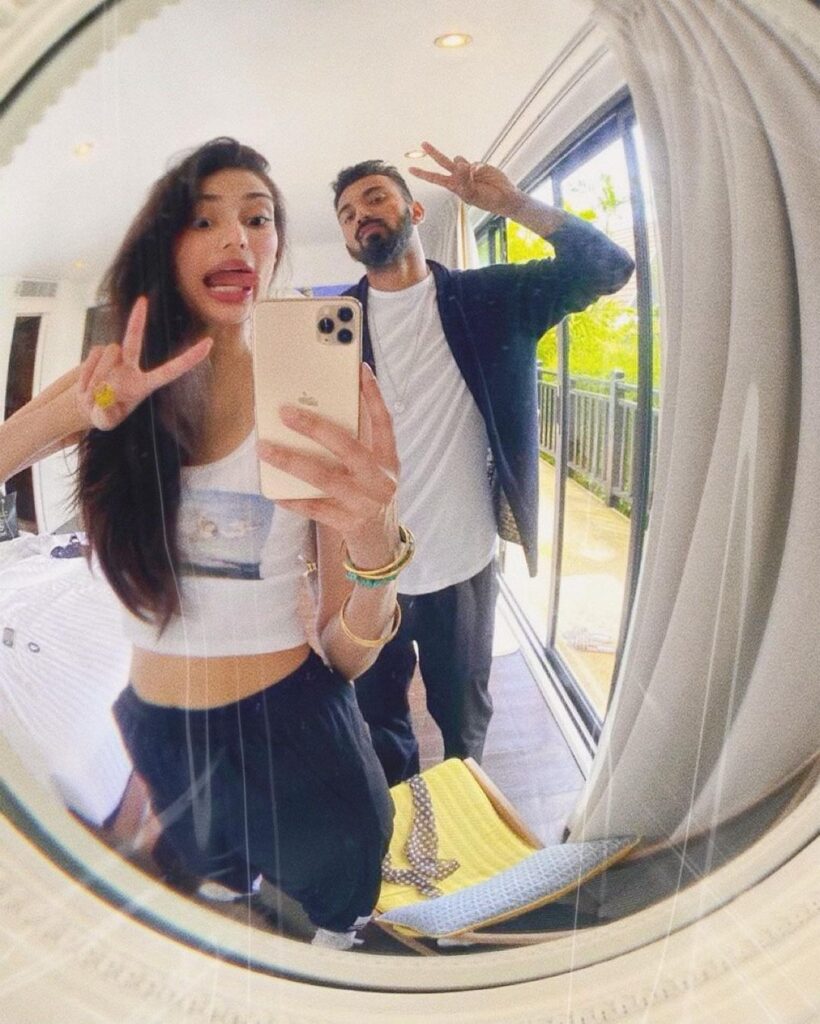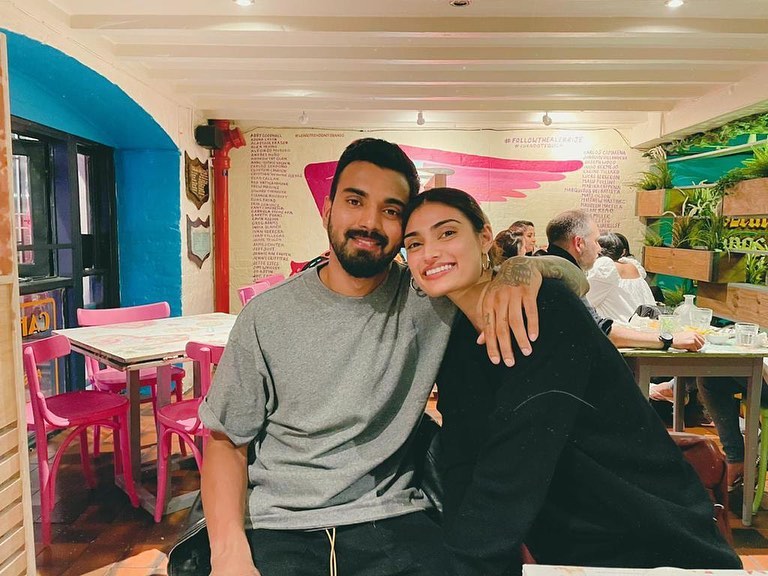 Since then, the couple has made sure to express their love on their respective birthdays. Rahul has shared pictures with Athiya captioned, "Happy Birthday mad child" and "Happy Birthday my ❤️". Recently, Athiya shared sweet monochromatic pictures with Team India's vice-captain on his 30th birthday. In one of them, he is sweetly hugging him, in another one they're seen casually walking through the forest, and in the last one, they're seen enjoying a ride on the bus. The post was captioned, 'Anywhere with you, Happy Birthday".  
June 2021: First Brand Deal Together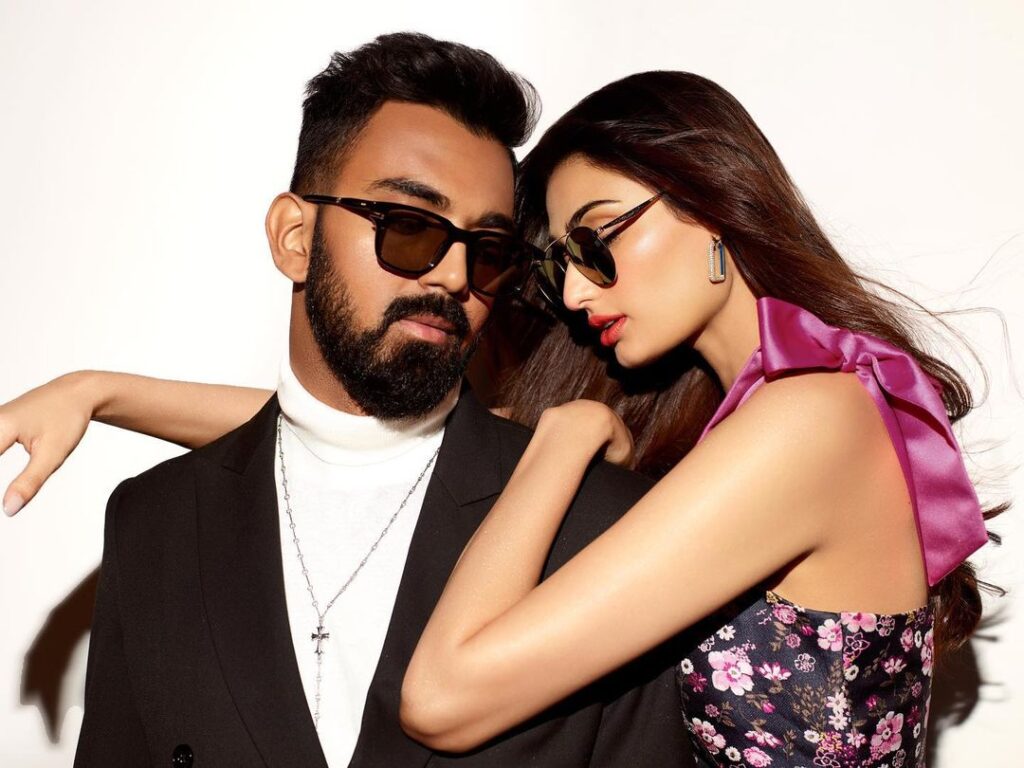 In June 2021, the couple teamed up for their first brand deal together for the Paris luxury eyewear brand NUMI Paris. In their respective statements, the couple comments the following on the association. Athiya Shetty said, " I am delighted to collaborate with a brand like NUMI Paris. Their ethos celebrates precision and class, something that has been an inherent part of my outlook, be it in films or outside of it. I can't wait to see the magic we create together." KL Rahul added, "I am super excited to be welcomed into the NUMI Paris family. NUMI has all the attributes that I always look forward to when I indulge in a brand. And I am happy to share that NUMI is the perfect extension of my personality."
July 2021: Shetty Accompanied Rahul On Team India's Overseas Trip & Suniel Shetty Opens Up About The Couple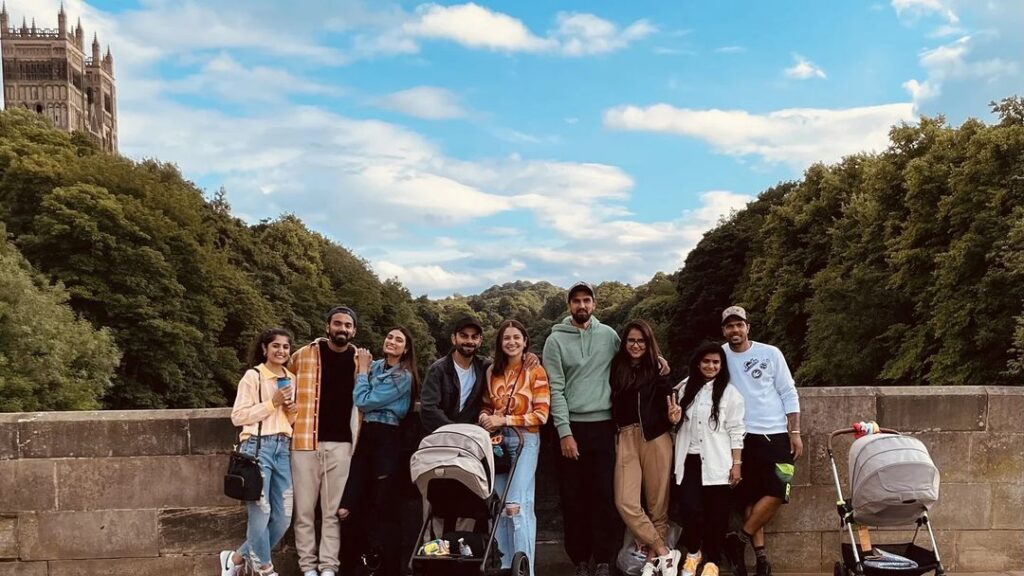 Athiya Shetty accompanied KL Rahul on Team India's overseas trip to England. While it was rumored she would be going with them, Anushka's Instagram post featured Athiya Shetty & Rahul KL together. When Suniel Shetty was asked about Shetty's visit to England to which he replied that she is there with her brother Ahan. When further asked about their recent brand collaboration, he said, "As far as the ad goes… I mean it is an international brand and they chose to take the two of them as the ambassadors. I think they look brilliant together. They are a good-looking couple, na? So, it totally works from a brand perspective. And I must say, they look good together, well, in the ad (laughs!)."
December 2021: First Public Appearance At Tadap's Screening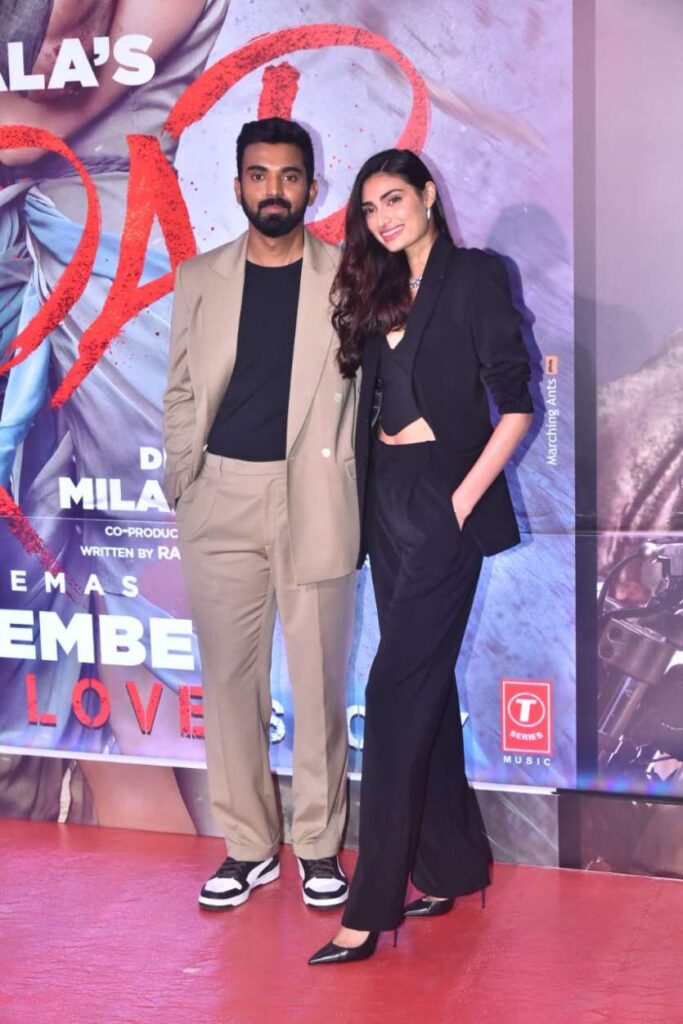 To show support to Athiya Shetty's younger brother Ahan Shetty, the entire Shetty family, including KL Rahul was present at the movie screening. The couple happily posed for the paps together, and alongside other family members as well. 
March 2022: The Couple Makes An Appearance To Promote Puma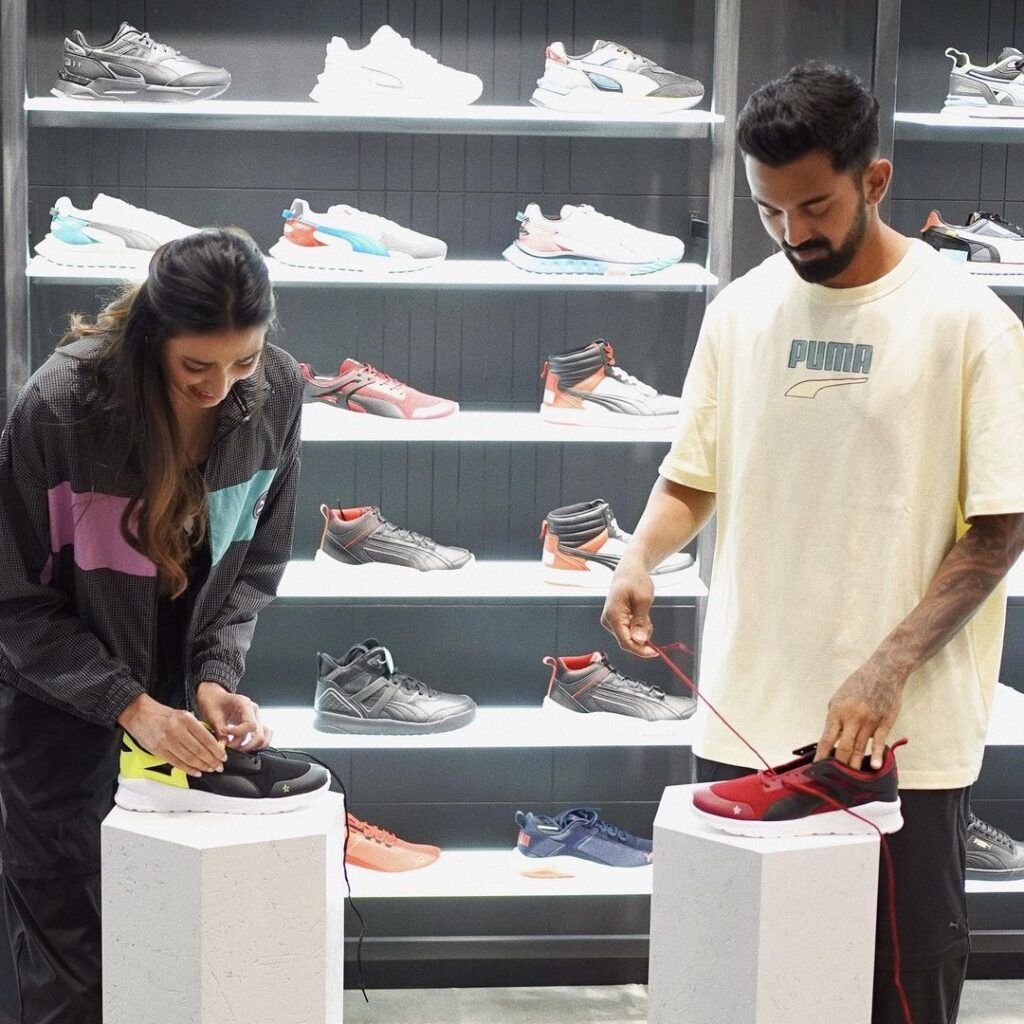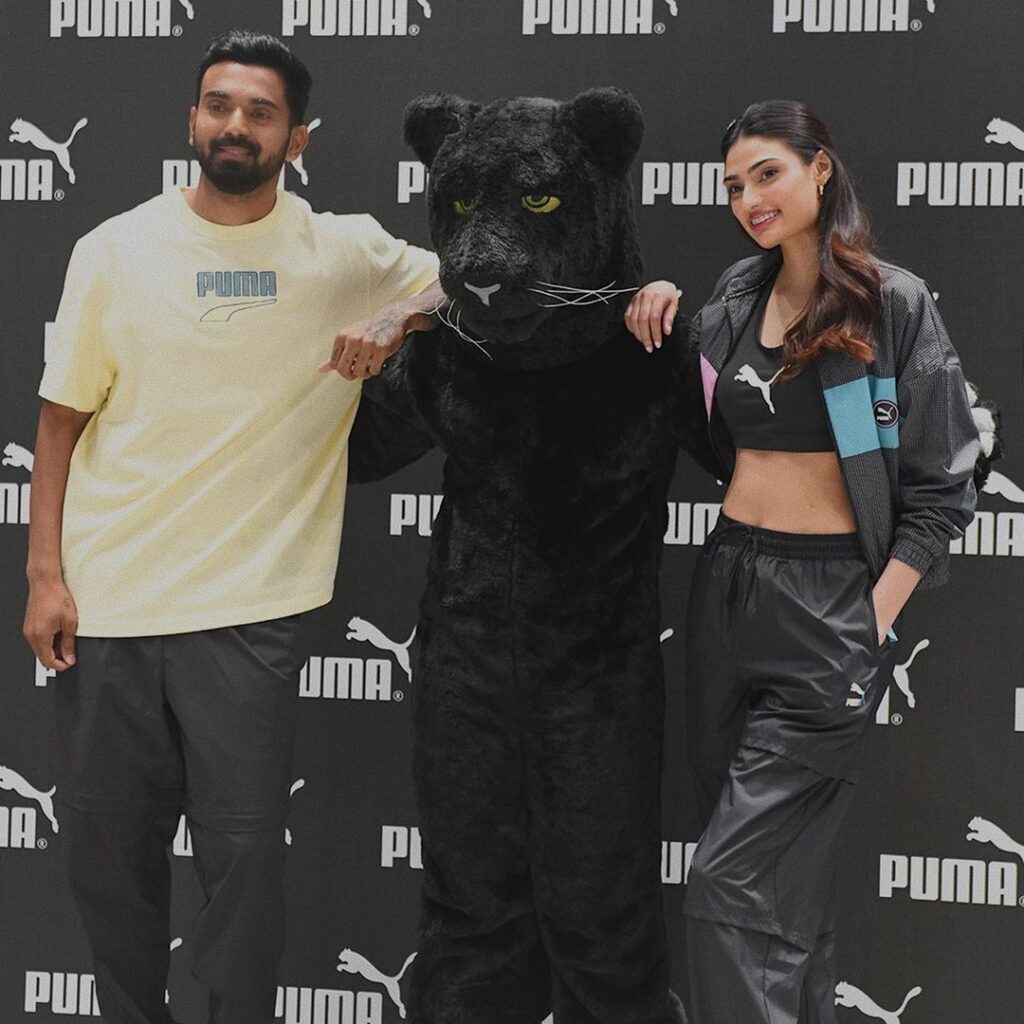 Just last month, the lovebirds were present at a PUMA store opening in Bangalore. They both entered into a brand endorsement deal and were present at the press event and also shared the pictures and videos from the event. During the event, a reporter asked what is it like working together to which Athiya replied, "Rahul is very easygoing. Given his sports background, he's disciplined, both in his professional and personal life. I've definitely learned to be calm, thanks to him. Even when there's a whirlwind going on in his head, he's very composed — I'm pretty envious of that!" Rahul then replied laughing, "We are very similar yet different in a lot of ways but I love that she's just herself, no matter what. I'm learning how to be just me, be more expressive and open. I'm spontaneous but I also hold back. Athiya encourages me to speak up. Then again, she's more fun than me. I can be boring and lazy."
April 2022: IPL Appearance, Media Statements, Marriage Rumors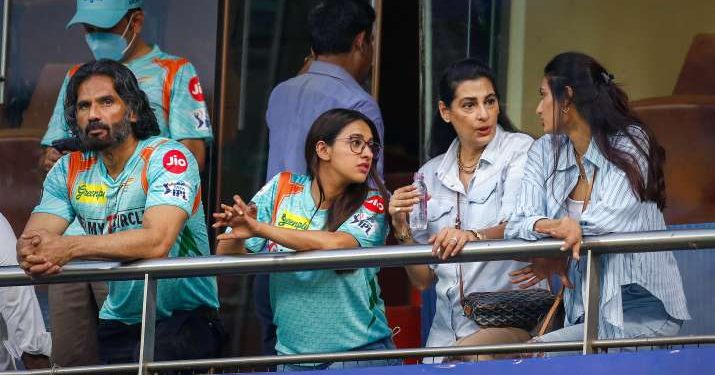 In the ongoing IPL 2022 season, cricketer KL Rahul has been drafted by Lucknow Super Giants as their captain for 17 crores, making him the joint highest-paid player in the league. He was earlier playing for Punjab Kings. To show their support for the cricketer, Athiya Shetty, Suneil Shetty, and Mana Shetty were seen in the stands cheering as Lucknow Super Giants played against Rajasthan Royals. Athiya Shetty also shared a picture of her stories of her mom Mana Shetty and BFF Akansha Ranjan Kapoor where the ladies were seen posing in front of KL Rahul's wall poster. 
In the next match, KL Rahul scored a 56-ball century in his 100th IPL match. His proud future father-in-law took to Instagram to congratulate the cricketer and made an Instagram post featuring his picture and written "100 in his 100th" on the top and "work hard in silence, let your success be the noise" on the bottom. The comments were rife with playfully teasing their bond and included remarks like "damaad Ji ❤️", "Rishta pakka 😂", "congratulations to the whole family", etc.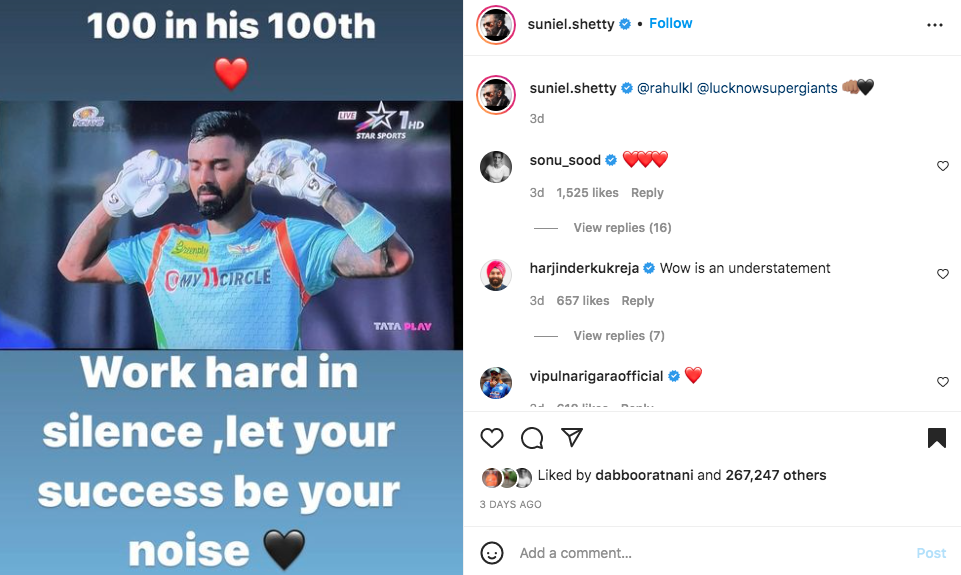 A few days earlier, KL Rahul spoke fondly about his relationship with Suniel Shetty on Breakfast With Champions Season 7 by Gaurav Kumar. When the host asked, "Is there a bigger cricket fan in the world than one of my favorite people, which is Anna, who I call Anna – Suniel Shetty?, the cricketer replied, "No, I don't think so. And he's not just a fan. He understands the game really well. He's borderline obsessed. And we do have some conversations, and like argument, sometimes." to which the host asked, "Disagreements?" and the cricketer said, "yes, disagreements because he talks sense because he understands the game. You know like you're not fit enough, you're getting injured, you're not eating healthy. He's all about a healthy lifestyle and training. If you look at him at 60-61, he is as fit as anybody else. Great to see, for us as youngsters, if he can do it at 60, I don't see why I can't do it." 
(The part where he starts talking about Suniel Shetty begins at 19:31) 
On 20th April 2022, the media reported Athiya Shetty & KL Rahul love story is hitting another milestone as they are planning a winter South-Indian wedding. Both of them have their roots in South India, as both their parents were born in Bangalore, Karnataka. We can hope to see a traditional Konkani wedding for the couple and Athiya dolled up in a gorgeous silk saree. It's quite possible that there won't be any confirmation of the wedding – just like other B'wood couples – and we will straight away see them post their drunk-in-love wedding pictures. For now, we will just wait.